Asia Part 4: Chinese domestics, inc. Joy Air Xi'an MA60
This is part 4 of 5 covering my recent trip to Asia.
Part 1, Lufthansa London to Nanjing, Economy Class
Asia Part 1: LHR-China With LH (LHR-MUC-FRA-NKG)
(by
gabrielchew
Jul 4 2011 in Trip Reports)
Part 2, Cathay Pacific Shanghai to Tokyo via Hong Kong, Business Class
Asia Part 2: CX Business To Tokyo (PVG-HKG-HND)
(by
gabrielchew
Jul 6 2011 in Trip Reports)
Part 3, ANA and Air China Tokyo to Beijing via Shanghai, Business Class
Asia Part 3: NH & CA Business (NRT-PVG-PEK)
(by
gabrielchew
Jul 11 2011 in Trip Reports)
Flight map covered in this trip report
And then zoomed in. As you can see I've been moving around on the fringes of China's deserty scrubland
After a great night out in Beijing, I ended up getting back to my hotel close to 4am. My flight to Dunhuang, the last flight on the Star Alliance redemption, would be leaving Beijing at 0720.
Beijing is very pretty in the early morning. I was feeling a little bit too delicate to fully appreciate it though! You can see a line of PLA (People's Liberation Army) marching somewhere. I was staying on Donzhimenwaidajie, which is home to a lot of embassies, so there are [plenty of guards around – safe neighbourhood!
I got a taxi, and snoozed my way to the airport. Despite not having to check in any luggage, and already having my boarding pass, I think I overestimated the time I needed, so when we arrived exactly 30 minutes before departure, I was a bit anxious about making the flight. I made a beeline for security, which was absolutely packed. I managed to skip most of the queue by waving by boarding pass about. Once through, I ran most of the way to the gate, where the final few passengers were lining up. Phew!
I thought we might be on the Air Macau machine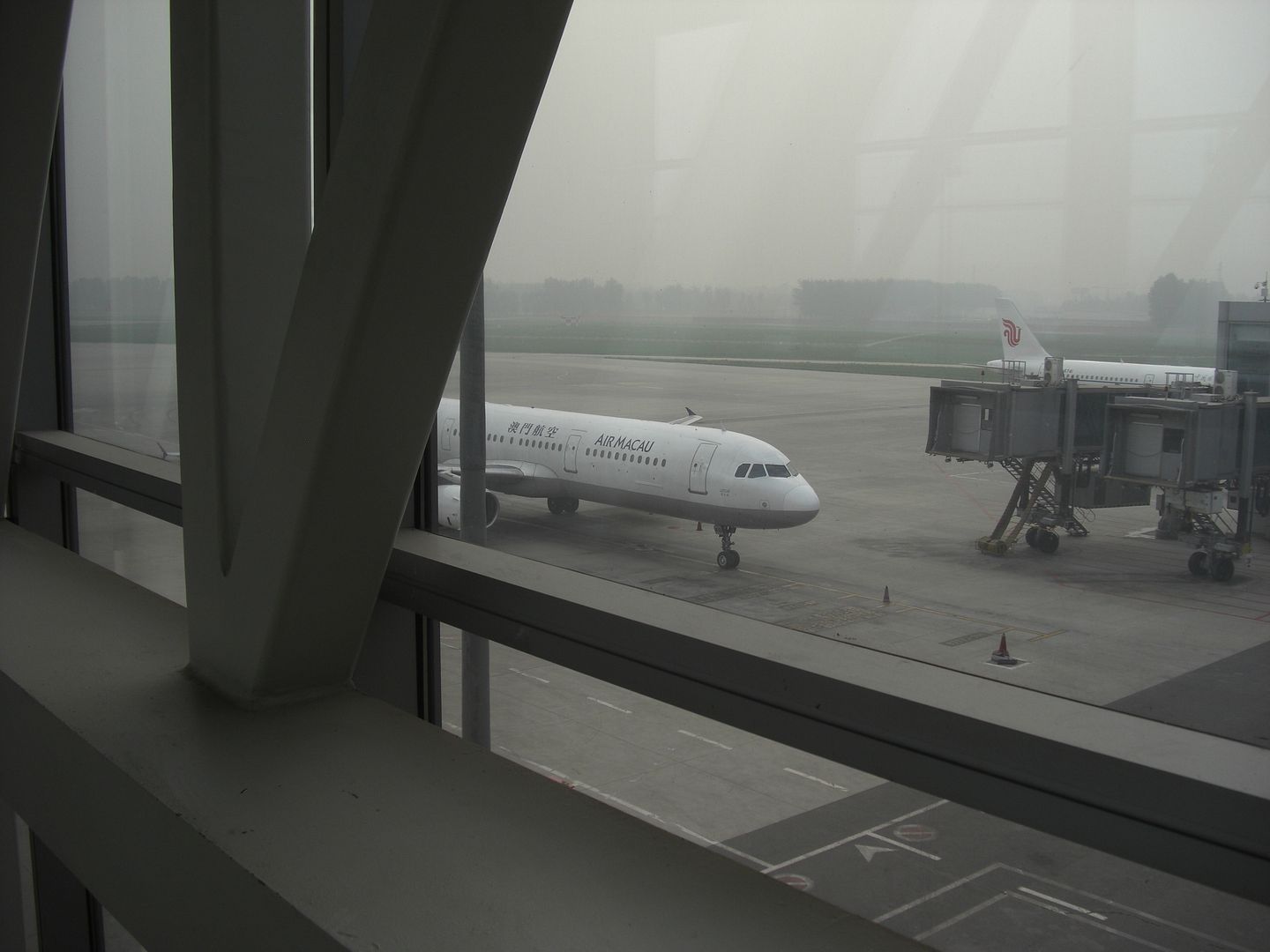 It turns out that we were being bussed somewhere else
Our B738 was parked at the far end of the International terminal. If you know the layout of PEK T3, you'd know that this is quite a long drive. We finally arrived at a grubby looking B737-800 – I was up the stairs fairly quickly.
June 2011
Beijing (PEK) – Dunhuang (DNH)
Air China CA 1287
Scheduled: 0720-1035 (2h15m)
Actual: 0815-1051 (2h36m)
Boeing B737-800 B-5326

The flight seemed to be full of mainly Chinese tour groups (and an American family from Texas taking up most of First Class), but thankfully there was en empty seat next to me. As I was still feeling rather groggy, I asked an FA for a glass of water, which was brought promptly and with a smile.
There was an explained delay (the apron seemed very busy), and we ended up taking off nearly an hour late. Some views of PEK in the morning rush hour: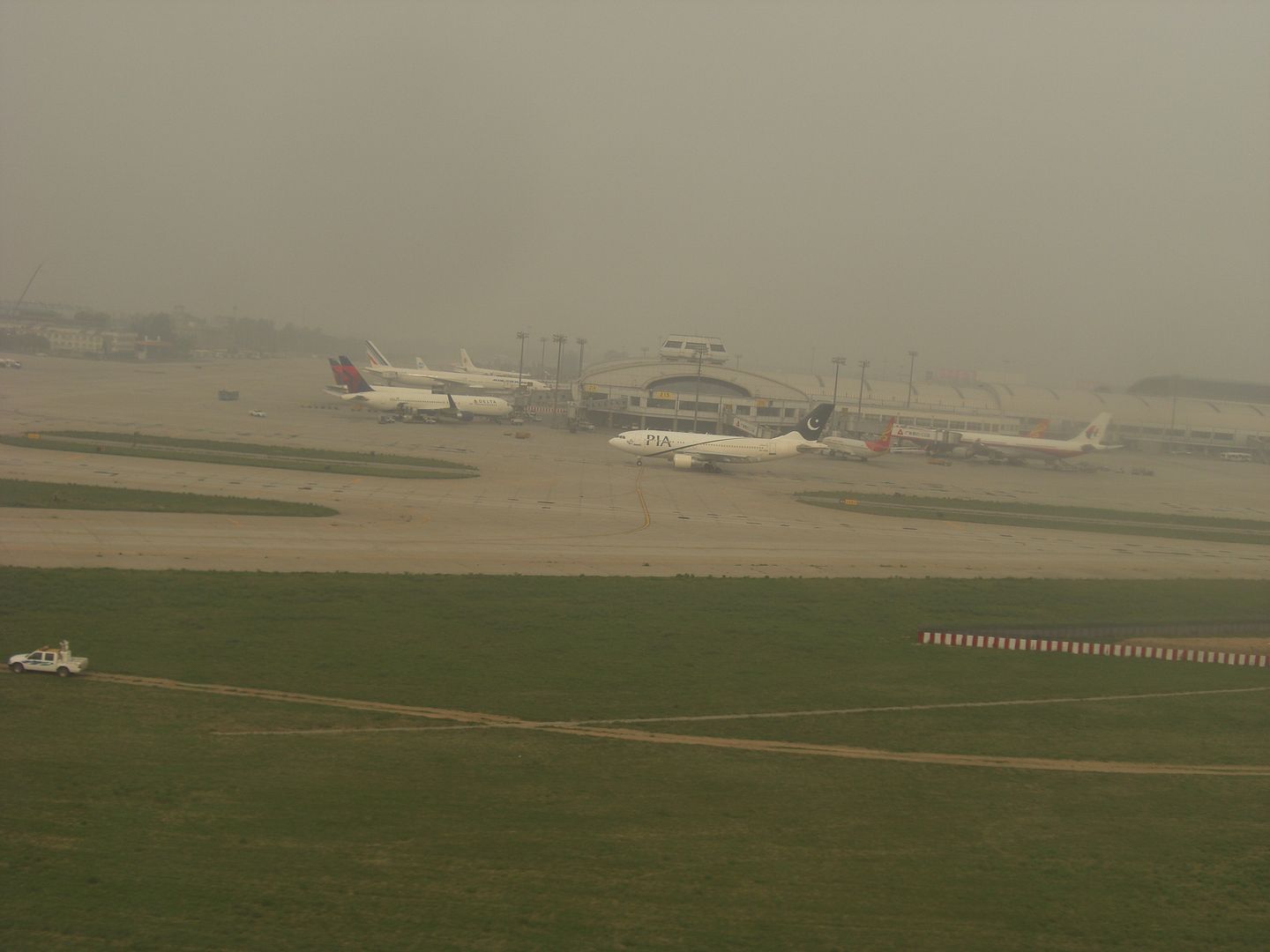 Mountains on the outskirts of Beijing Municipality
There was a hot meal served (I think two choices). I, however, decided to forego breakfast, just 'enjoying' two glass of water.
Catching up some of our delay, we landed at the deserted Dunhuang Airport at 1051. I was expecting a dry hot climate, however, it had just finished raining quite heavily.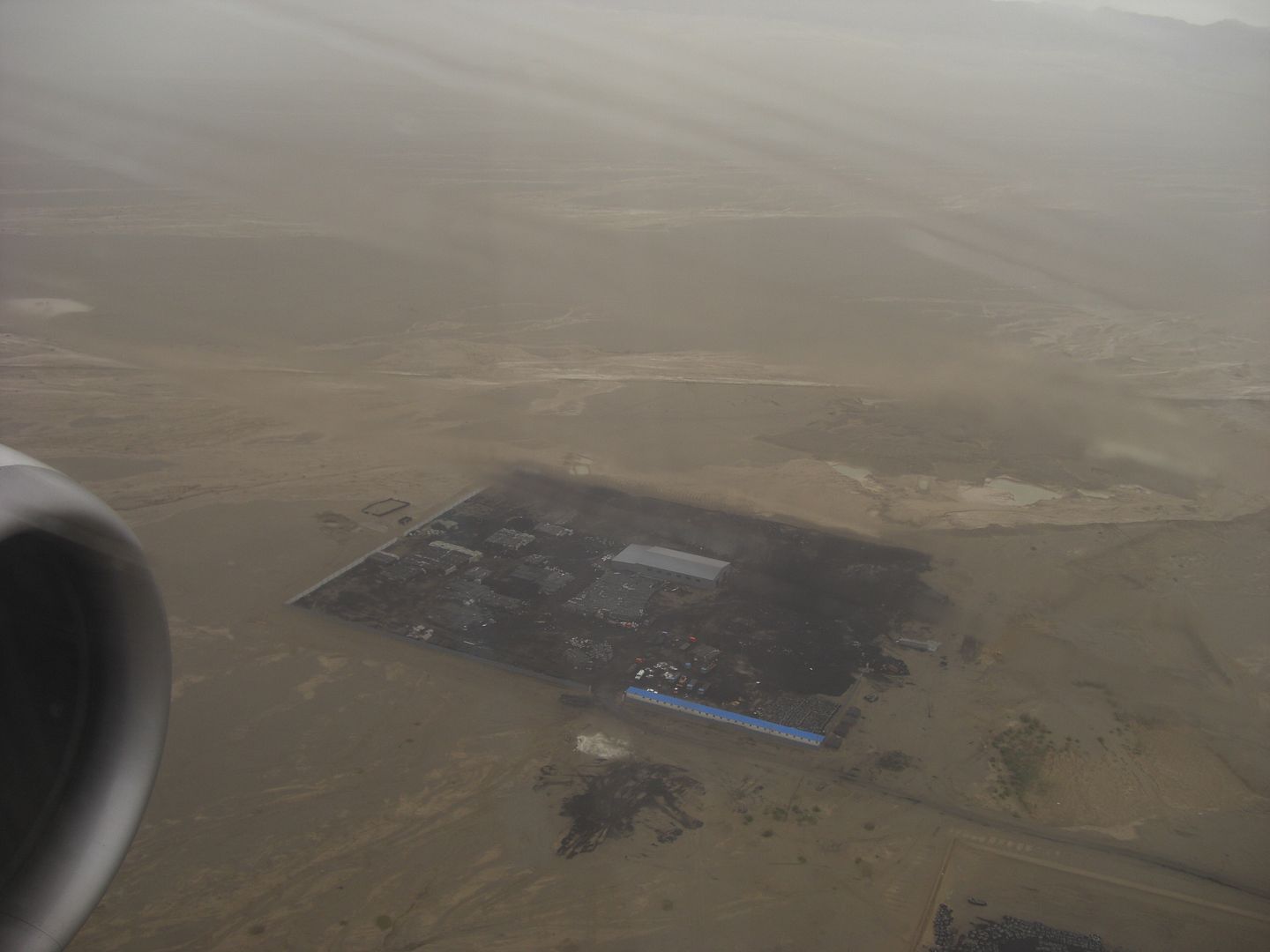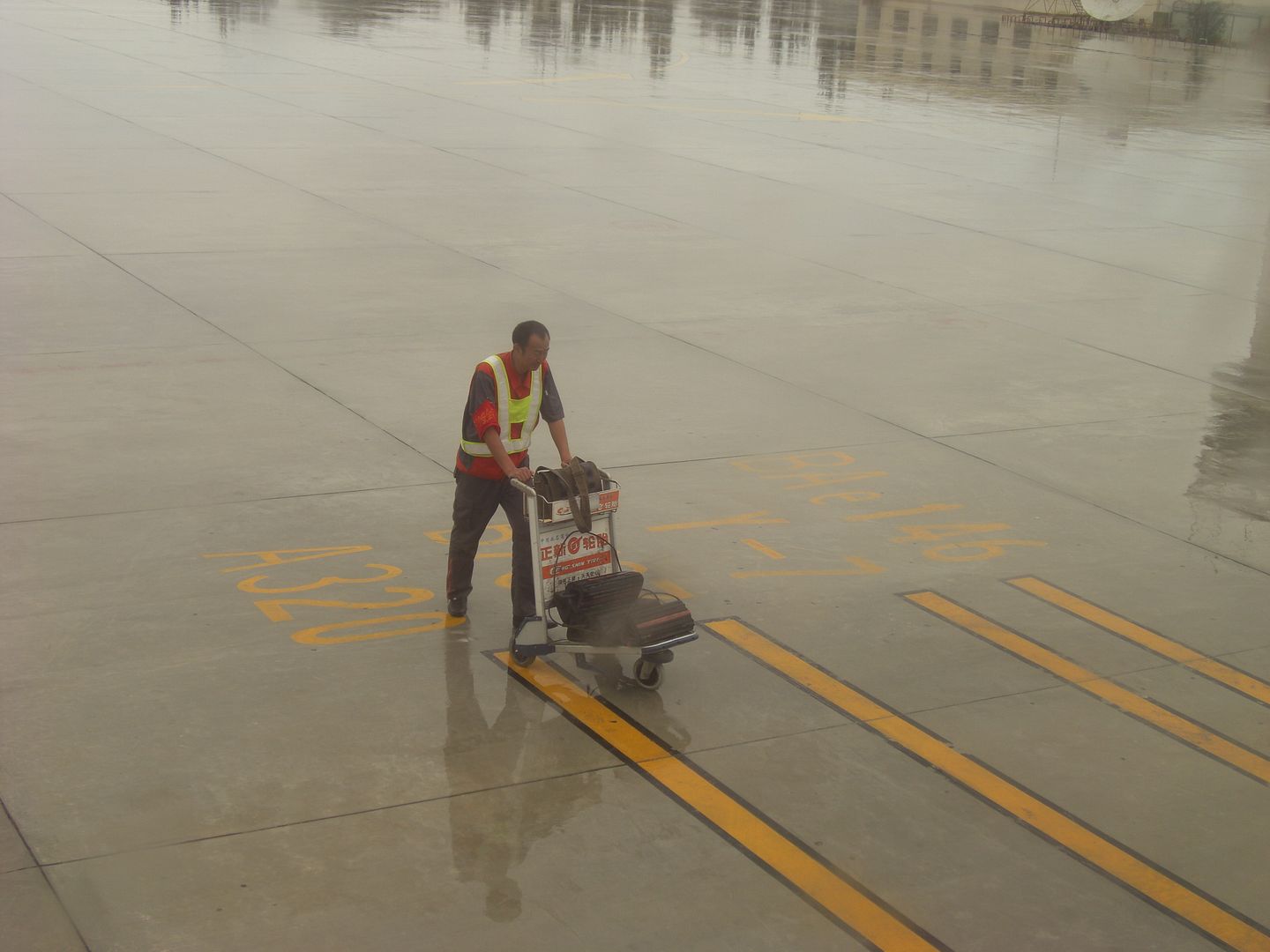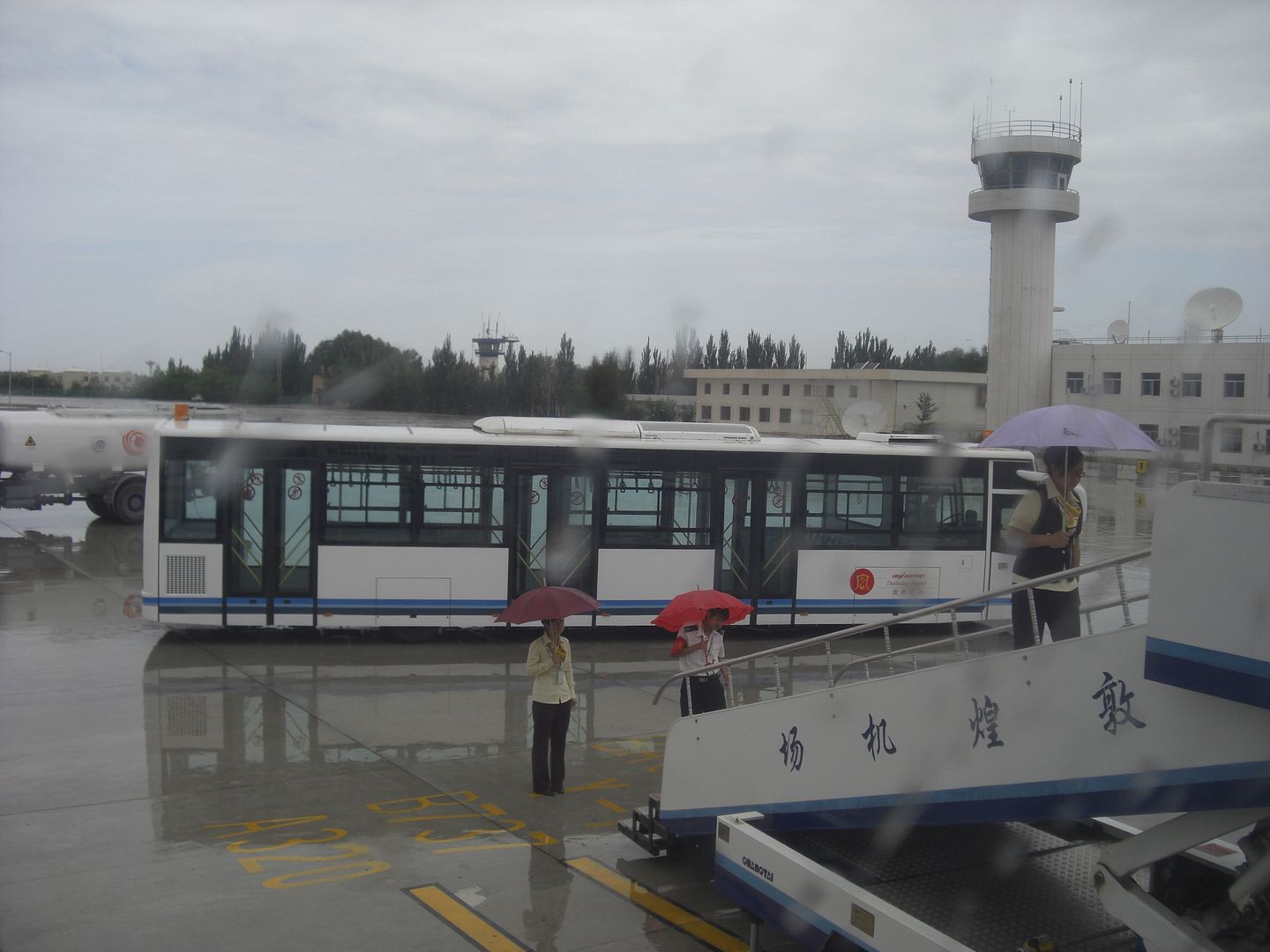 There was a bus on the tarmac to take us to the terminal, however, as it had stopped raining by the time we disembarked, everyone walked to the terminal instead.
Bags were out pretty quickly, and before long I was in the airport minibus heading for town. After a bit of confusion, I managed to find my hotel. Once I got myself sorted, and had a shower, I headed off to the Mogao Caves.
Unfortunately, photography was prohibited inside the caves, but there were a couple of mock-ups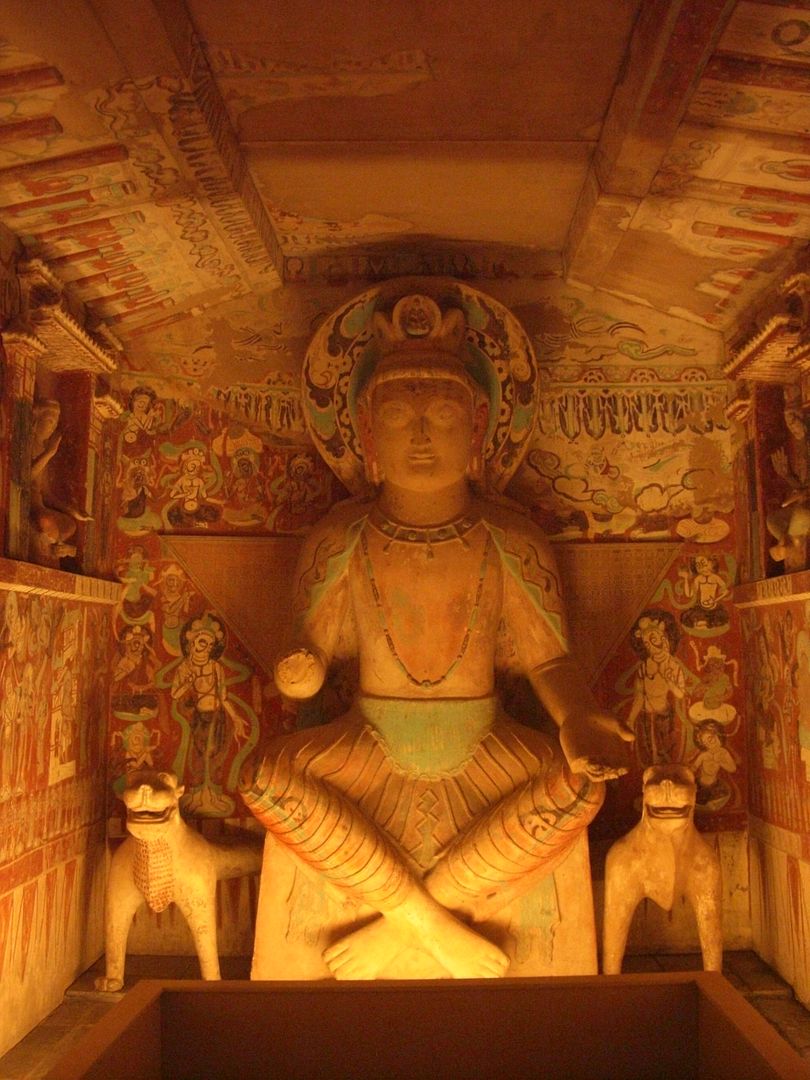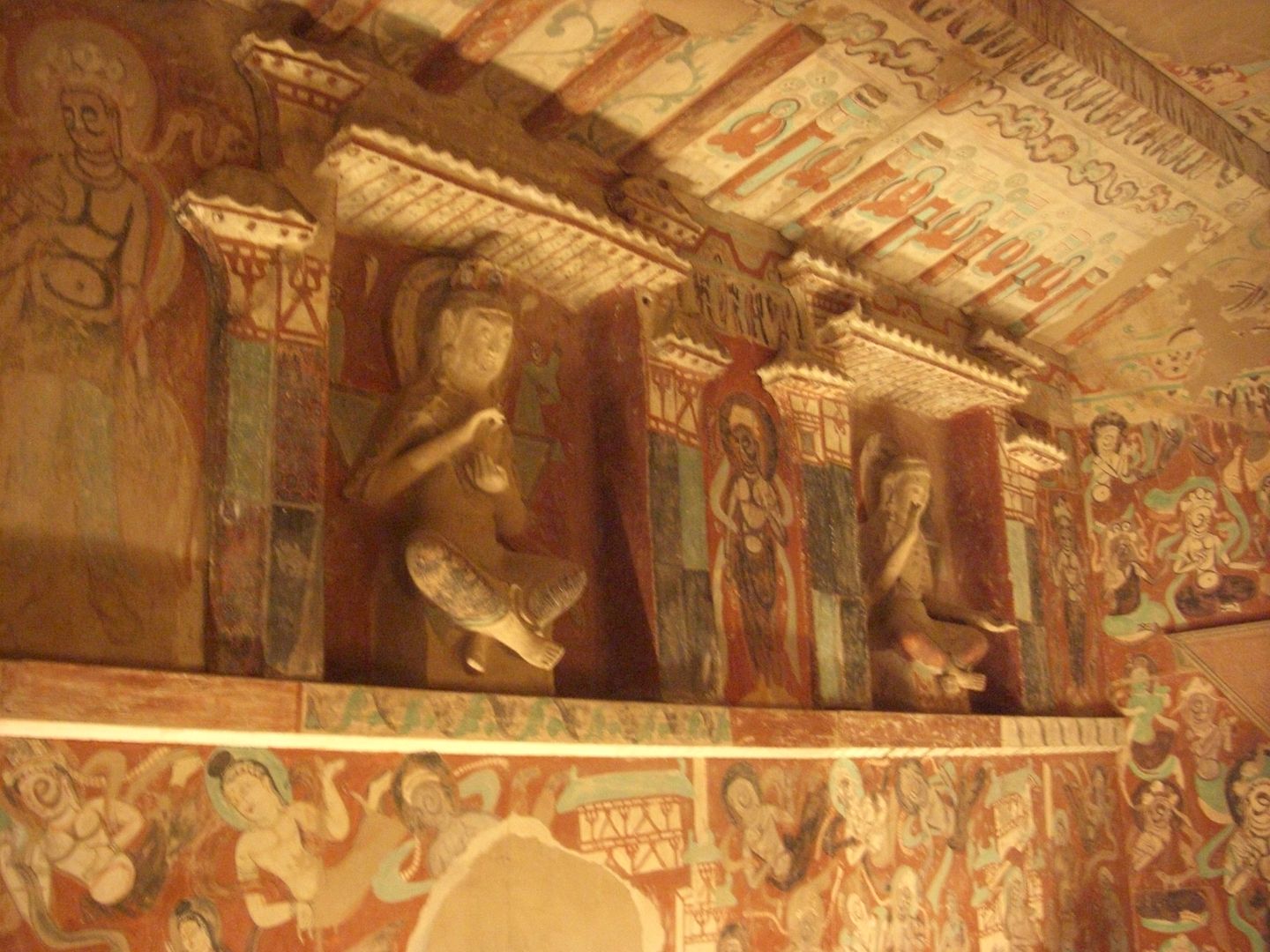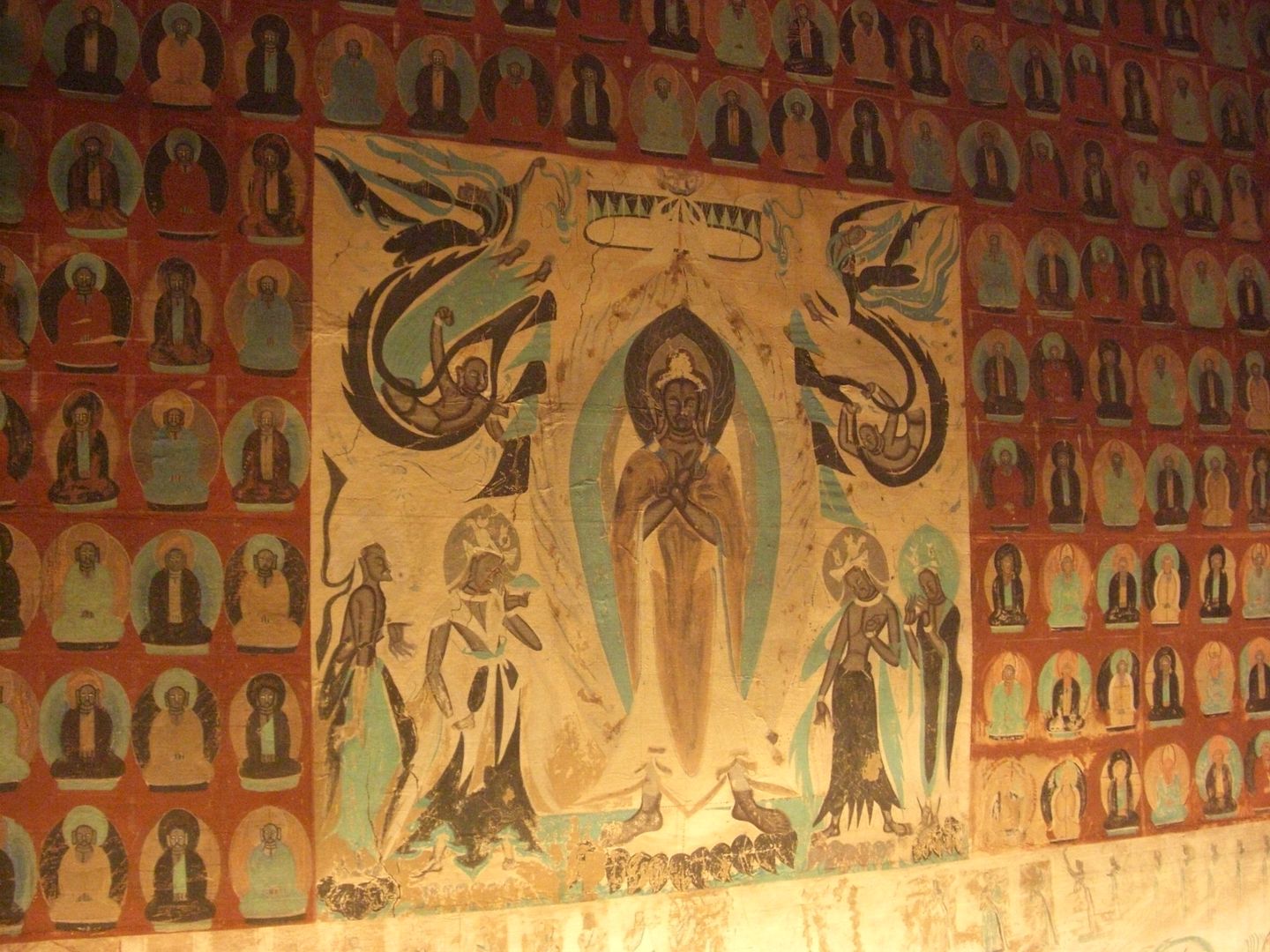 Outside the caves
The caves were stunning. Carved, painted and filled over an enormously long timeframe stretching back thousands of years, the caves hold (well, held) priceless artefacts, including the world's oldest printed book. Most of the 'paperwork' was 'relocated' to the west in the early 20th Century. Whilst the Chinese may not be happy about this now, it's only fair to say that the Western 'thieves' probably saved them, given the trigger-happy nature of the cultural revolution.
Some photos of Dunhuang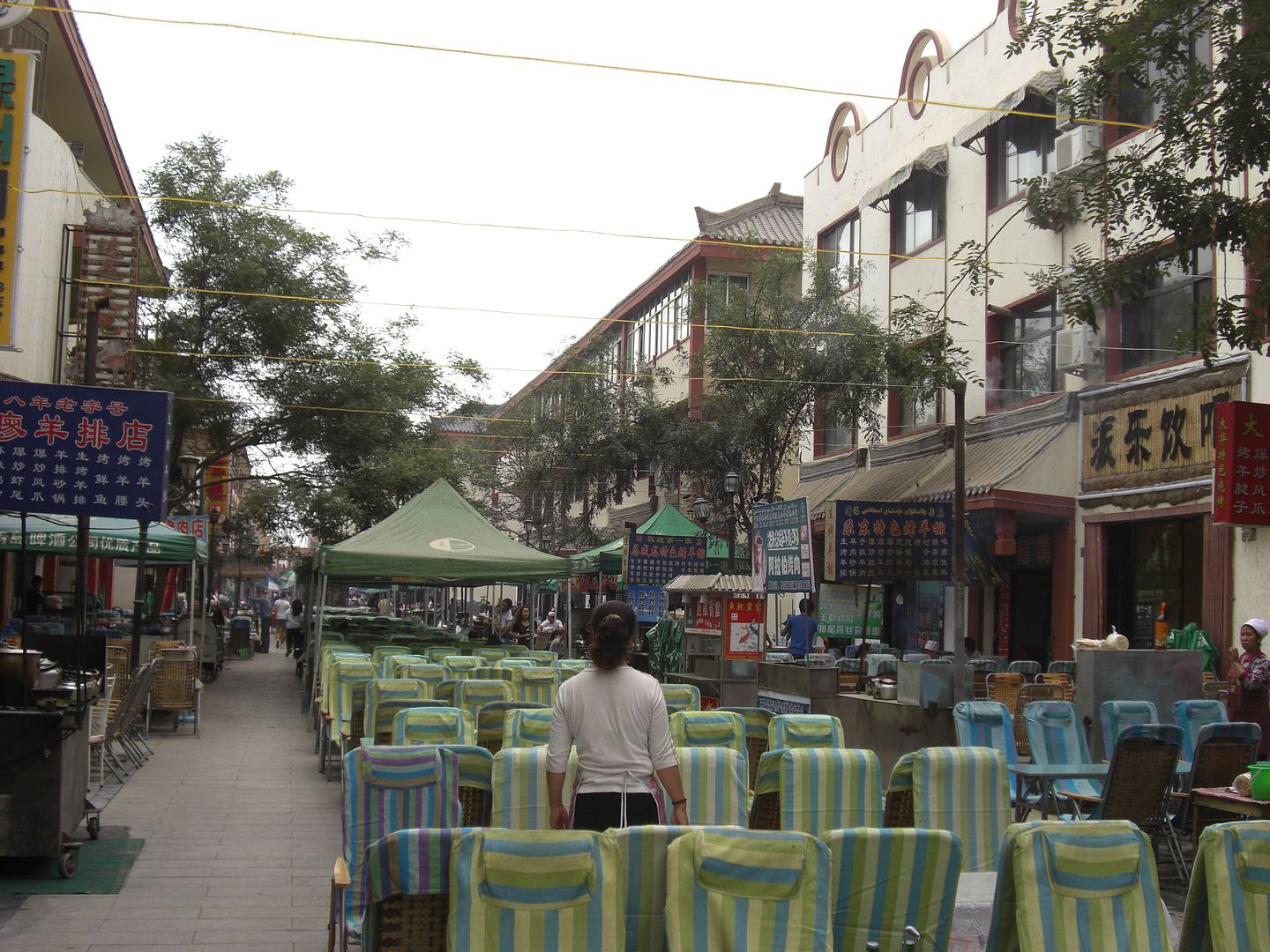 To locate yourself…
Dunhuang station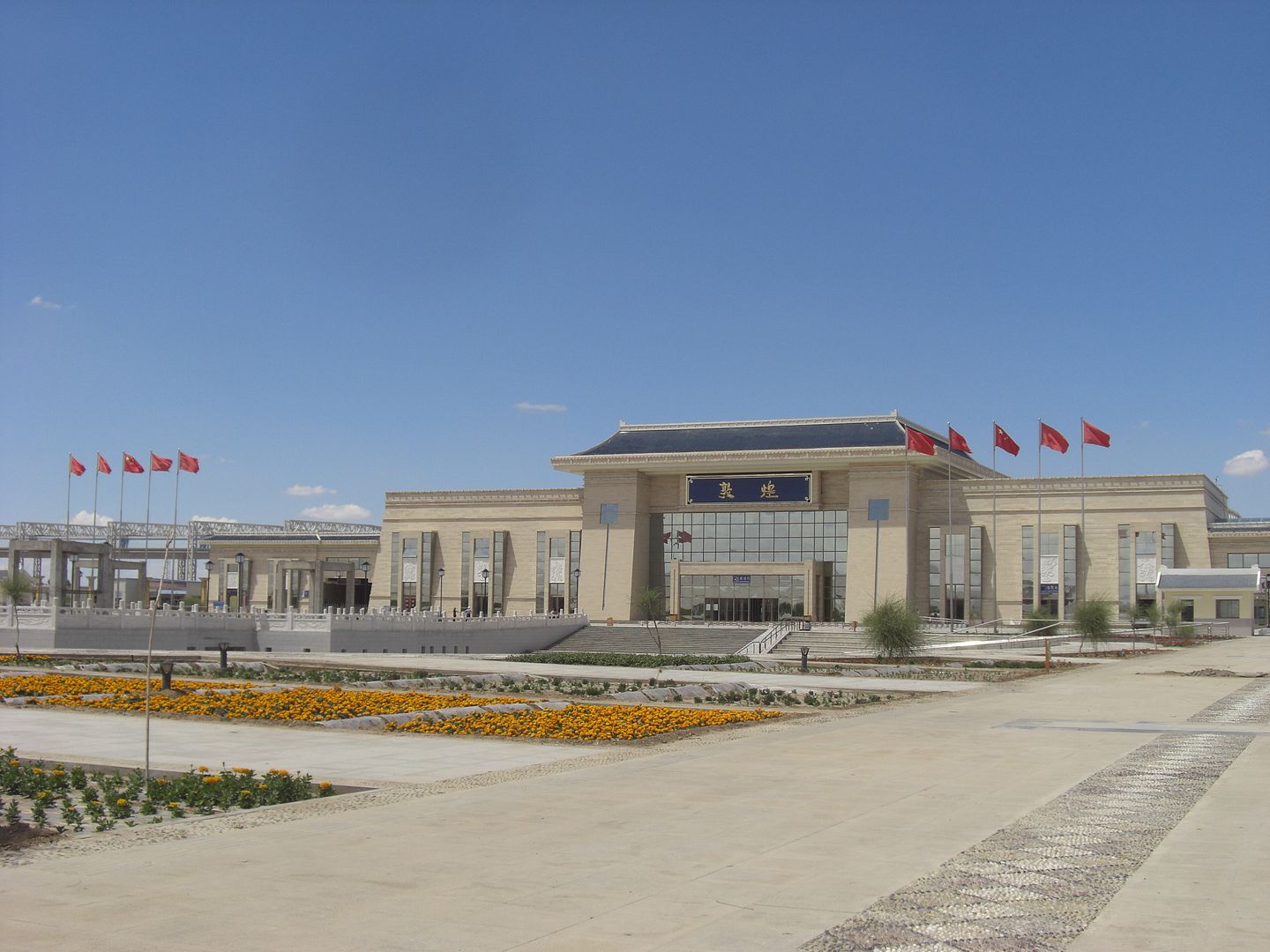 Not sure what promise they're referring to.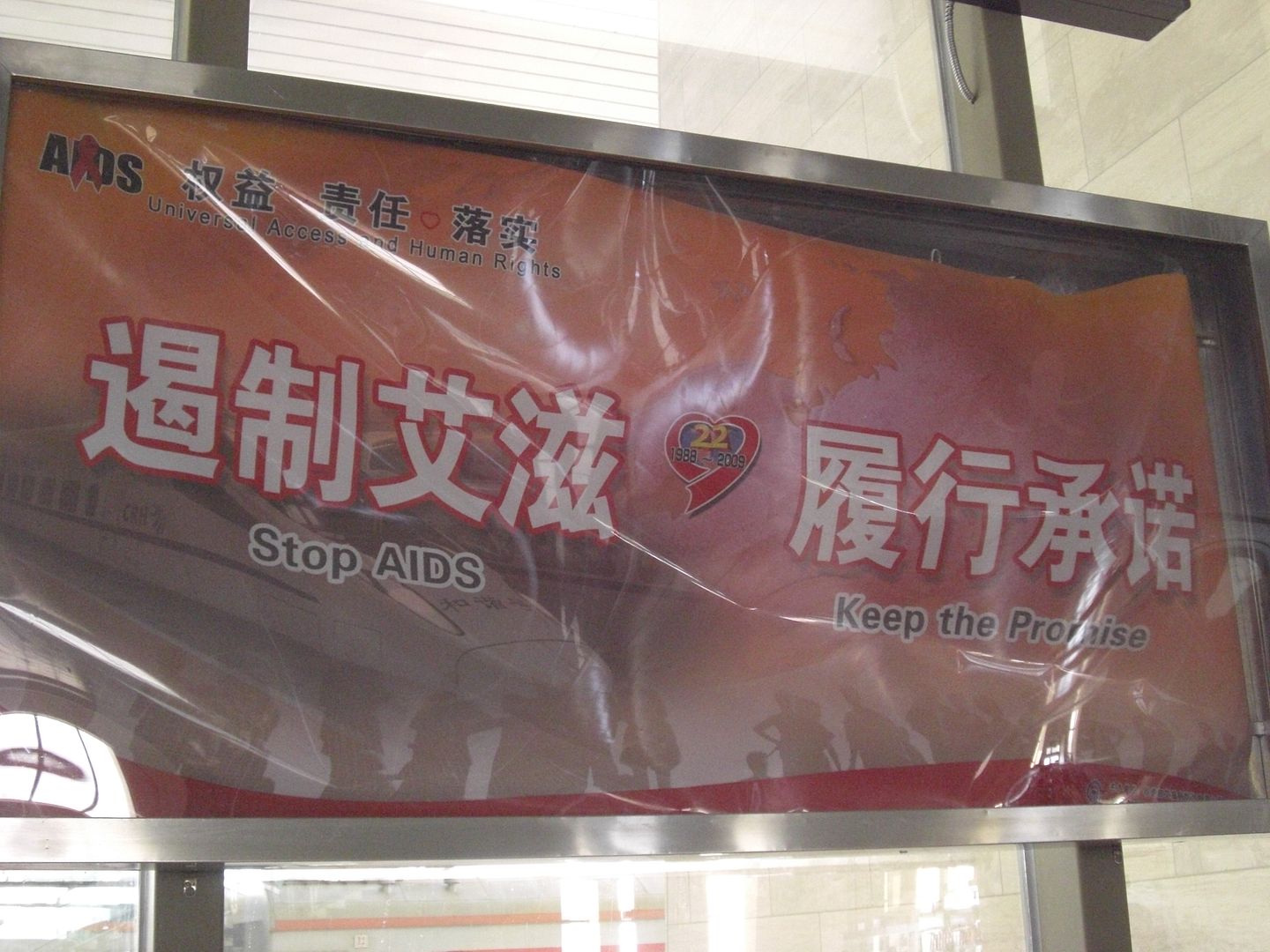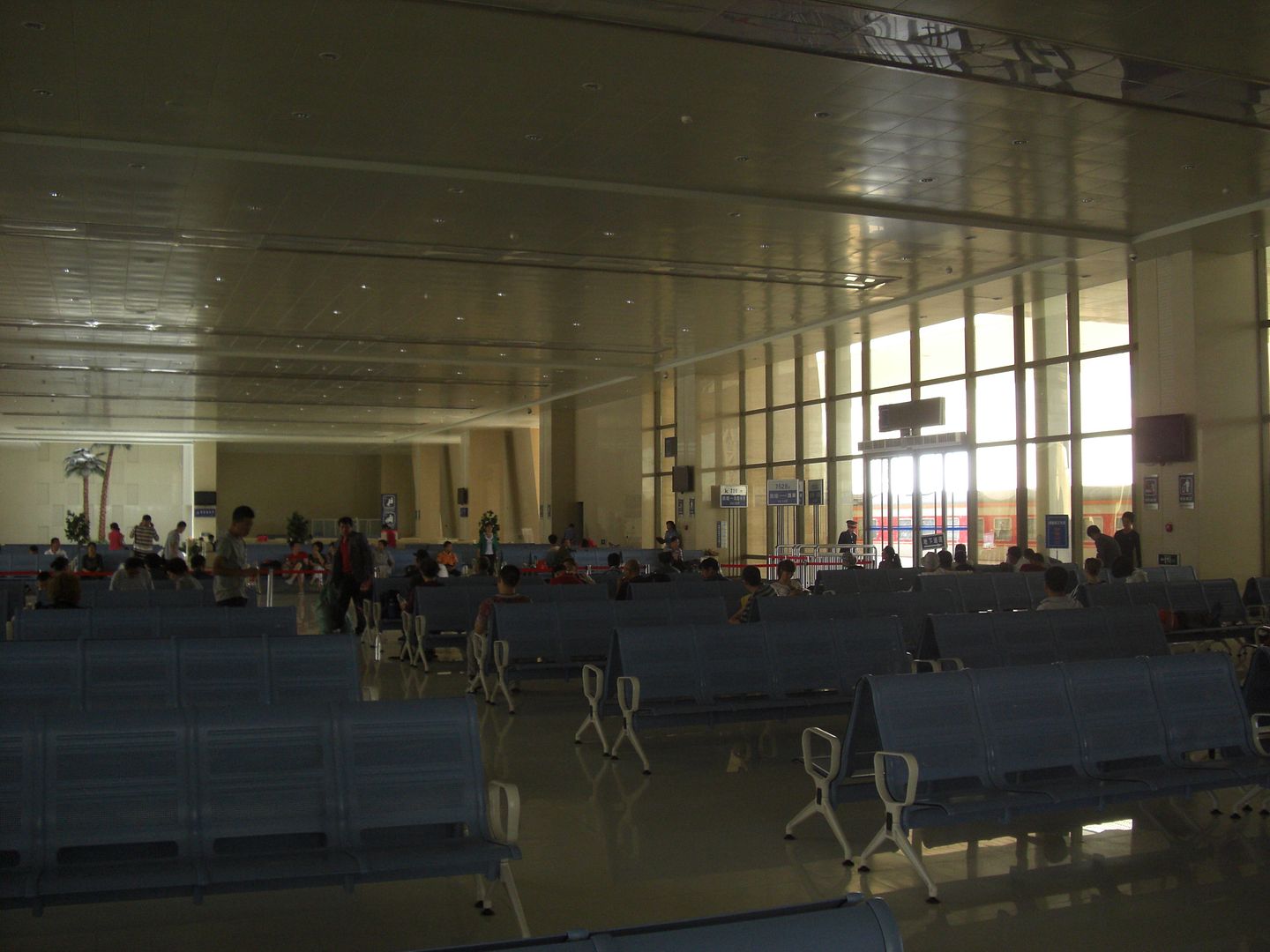 The city of Jiayuguan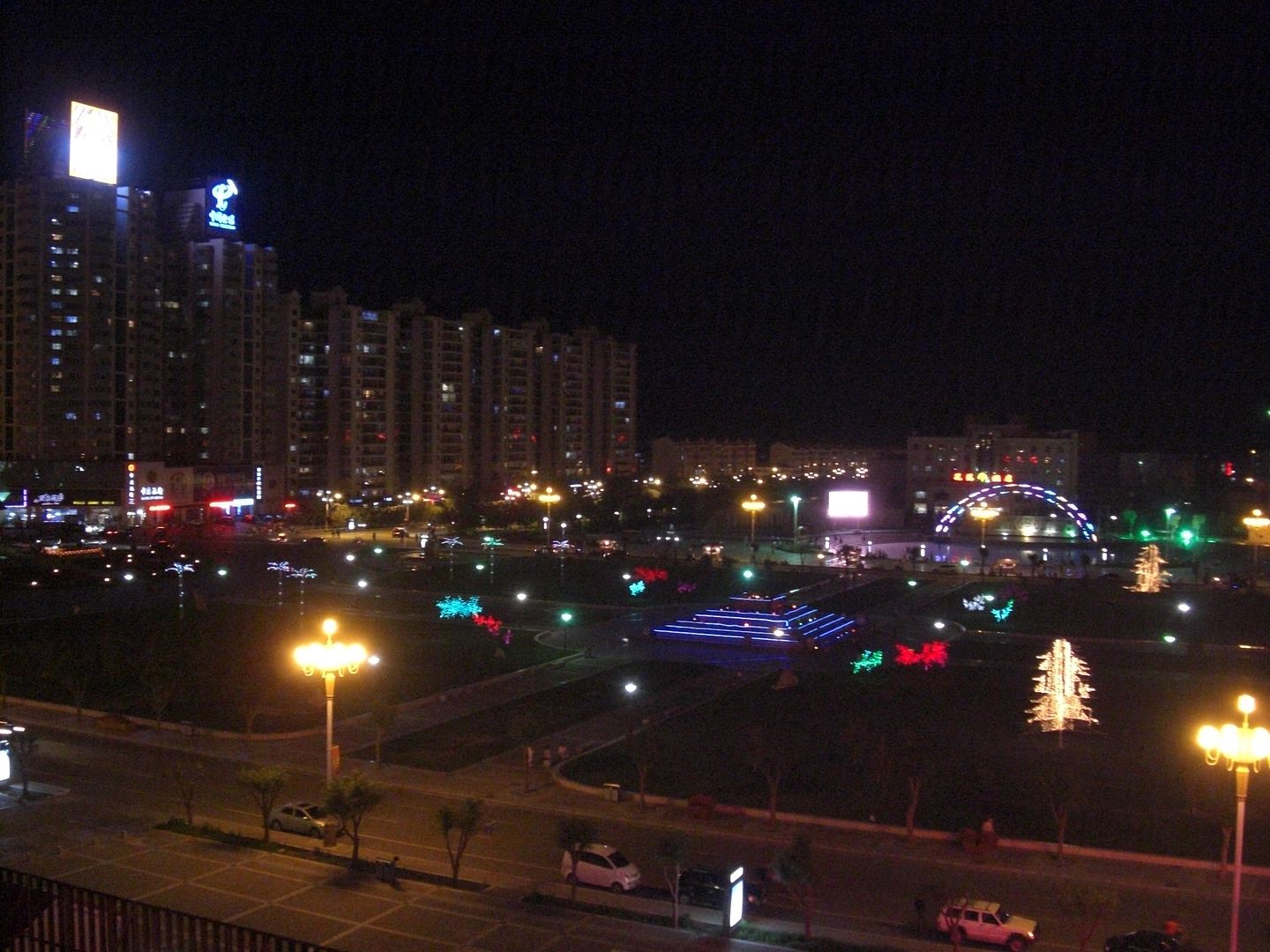 The main reason to come to Jiayuguan was to visit the 'final frontier', the last fort of the Great Wall. Historically, this is was the border of China, before heading into the deserts of Central Asia. During my time in China, I've visited the Great Wall around 25 times, mostly in Jinshanling and Simatai, but I've also been to the other end of the wall as it hit the East China Sea, so doing the other end had been on my 'to do' list for quite a while.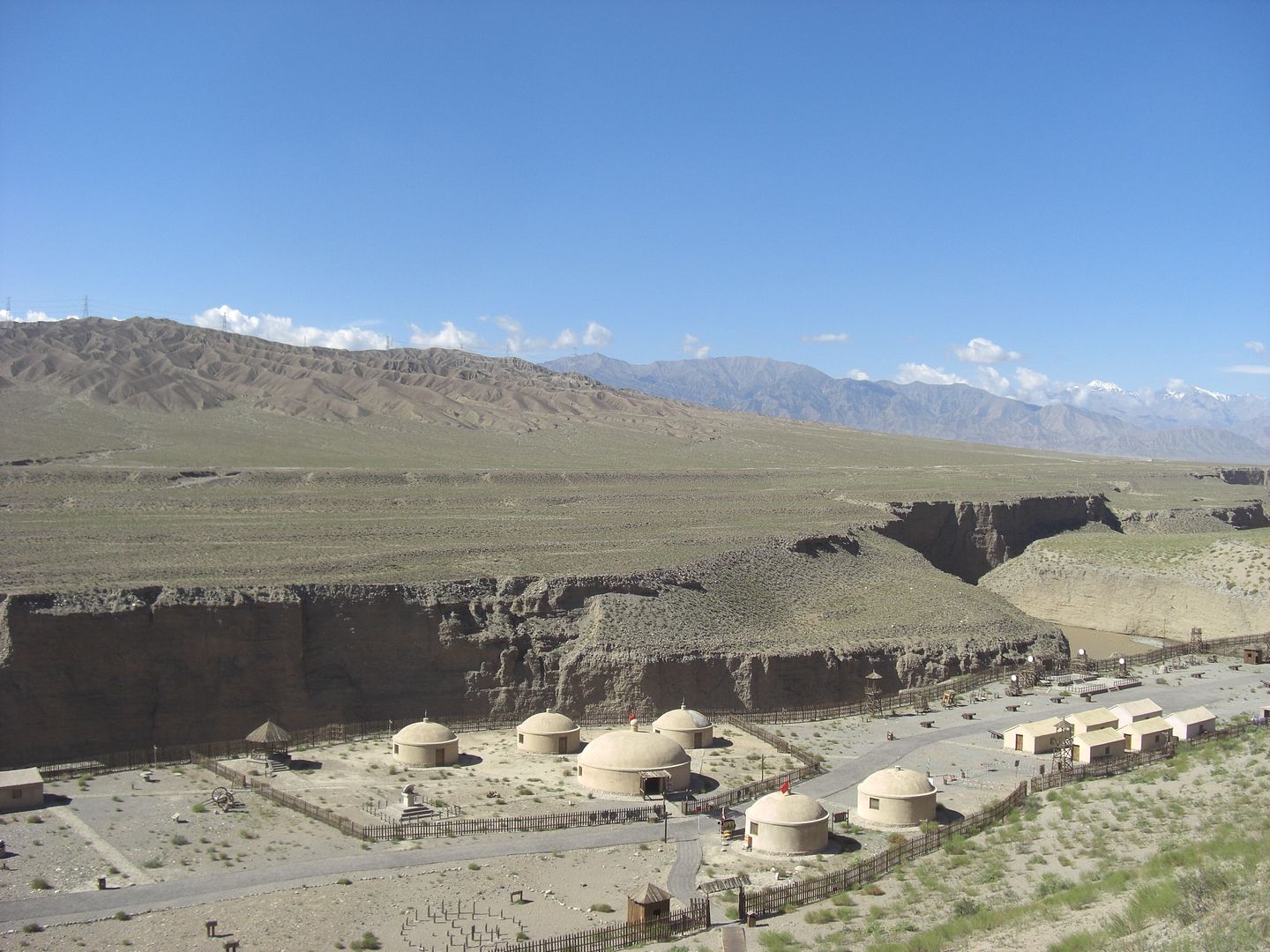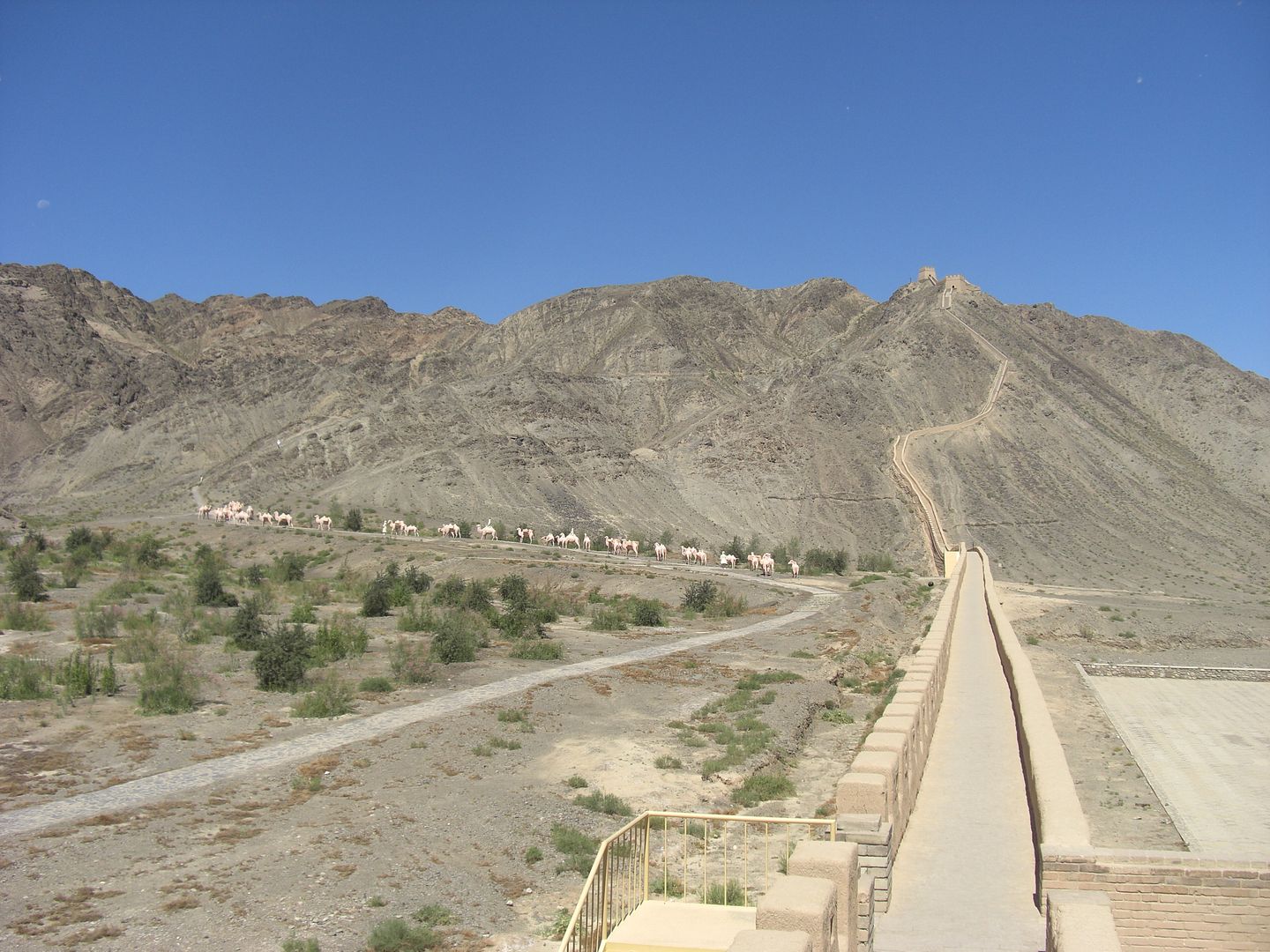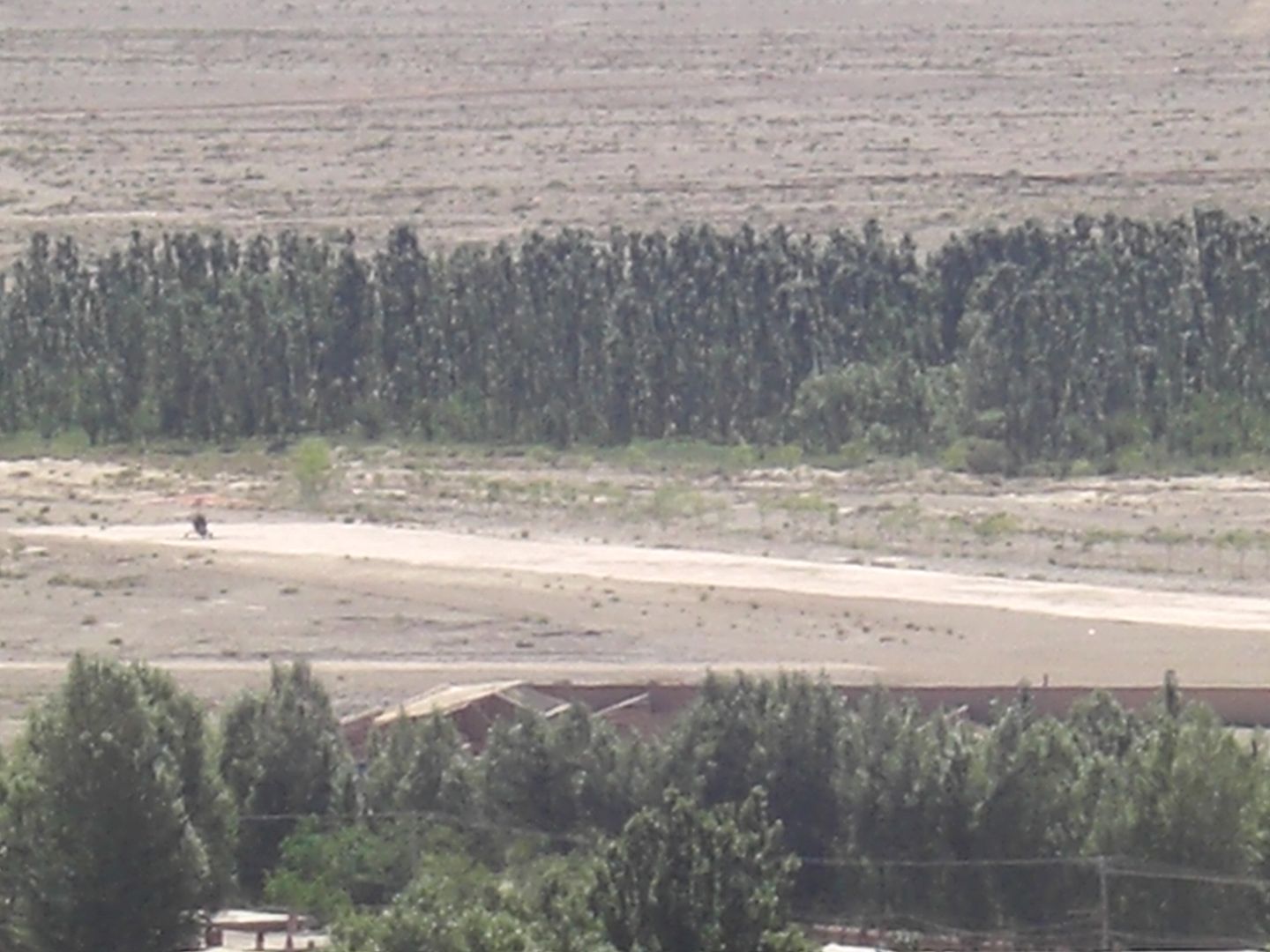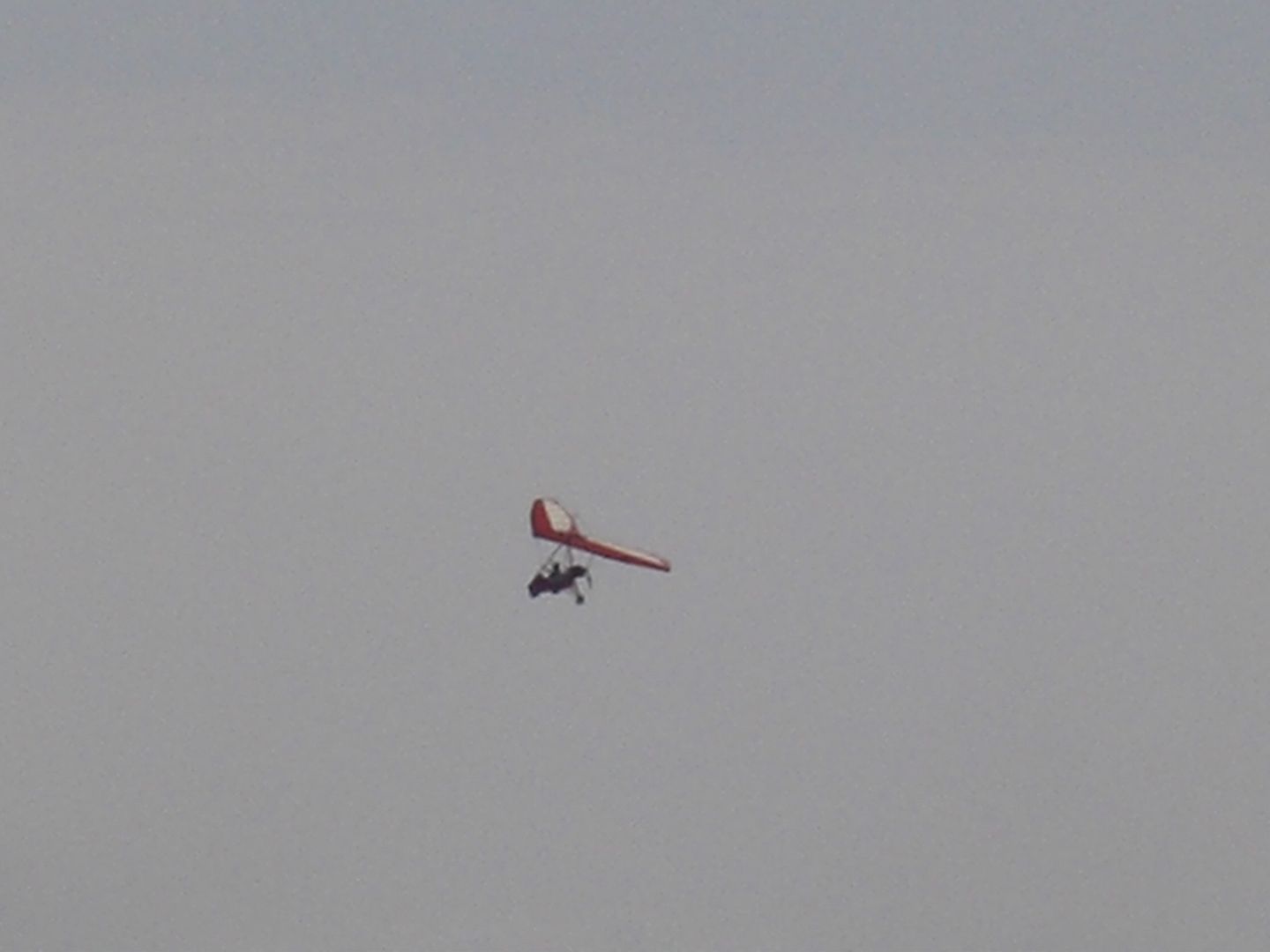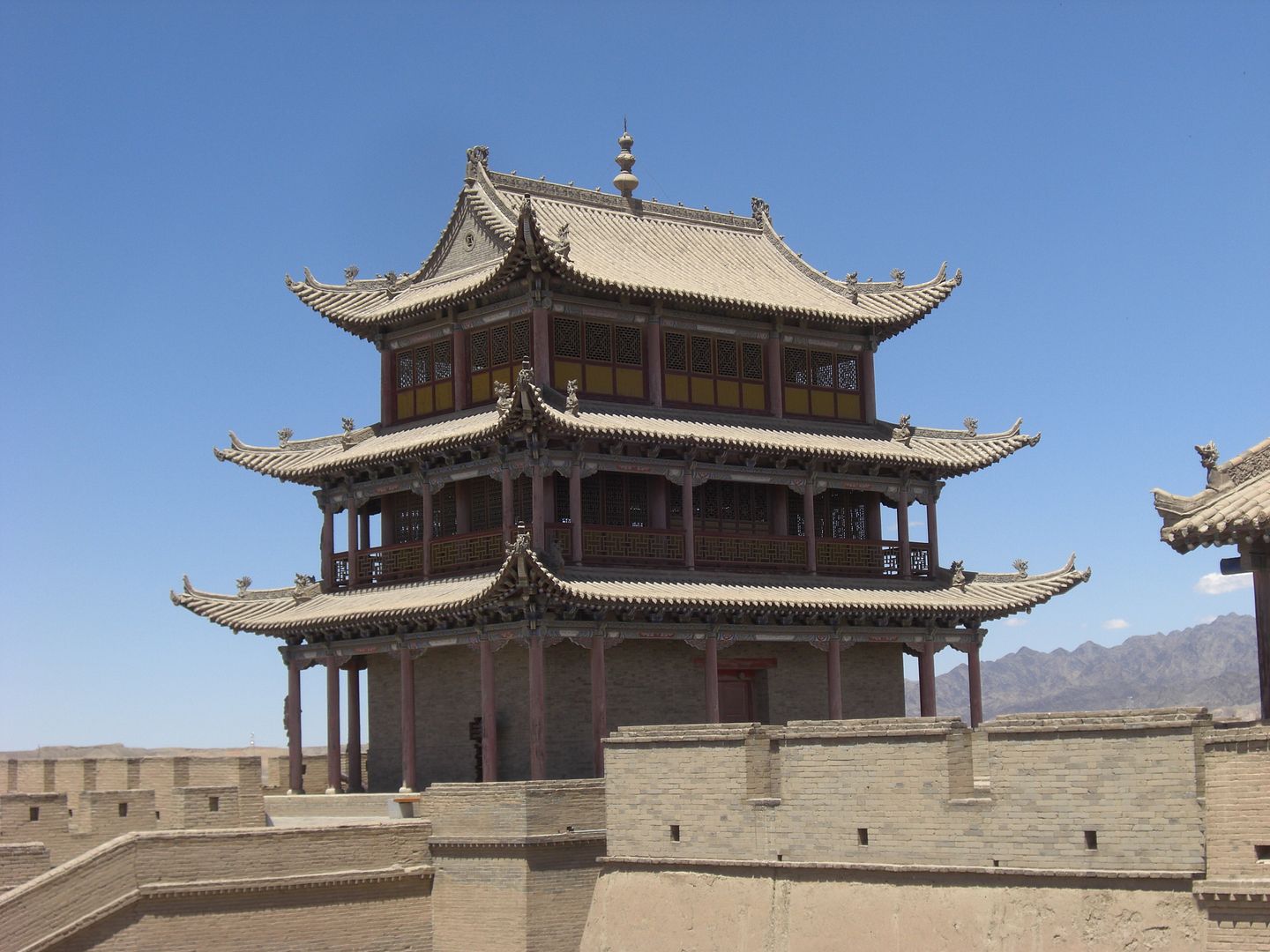 From Jiayuguan, I was planning on taking the train overnight to Hohhot in Inner Mongolia to go horse riding in the Grasslands. Unfortunately, the train I wanted wasn't available for a couple of days around my preferred date. As I was on a very tight schedule, I had to make some alternative plans pretty quickly. After a thorough search of elong.net (Expedia's Chinese arm), I decided on booking a flight for the next day to Xi'an. Xi'an, home of the Terracotta Warriors, was not on my itinerary, having previously been there many times, but there were precious few other options. On the plus side, the flight would be operated my Tianjin Airlines (new airline) on an Embraer 145 (my favourite jungle jet). I caught a taxi out to the airport, arriving just over an hour and a half before the flight.
Jiayuguan Exterior
General check in area
There were another two flight heading out at the same time, so the terminal was pretty busy.
I managed to time my journey through security so that it only took a minute, and before long I was in the departure lounge. Our flight was being instructed to wait on the ground floor, whilst the Beijing and Shanghai flights were on the first floor, so could use the air bridges.
I managed to find some free wifi from somewhere
Scene from the window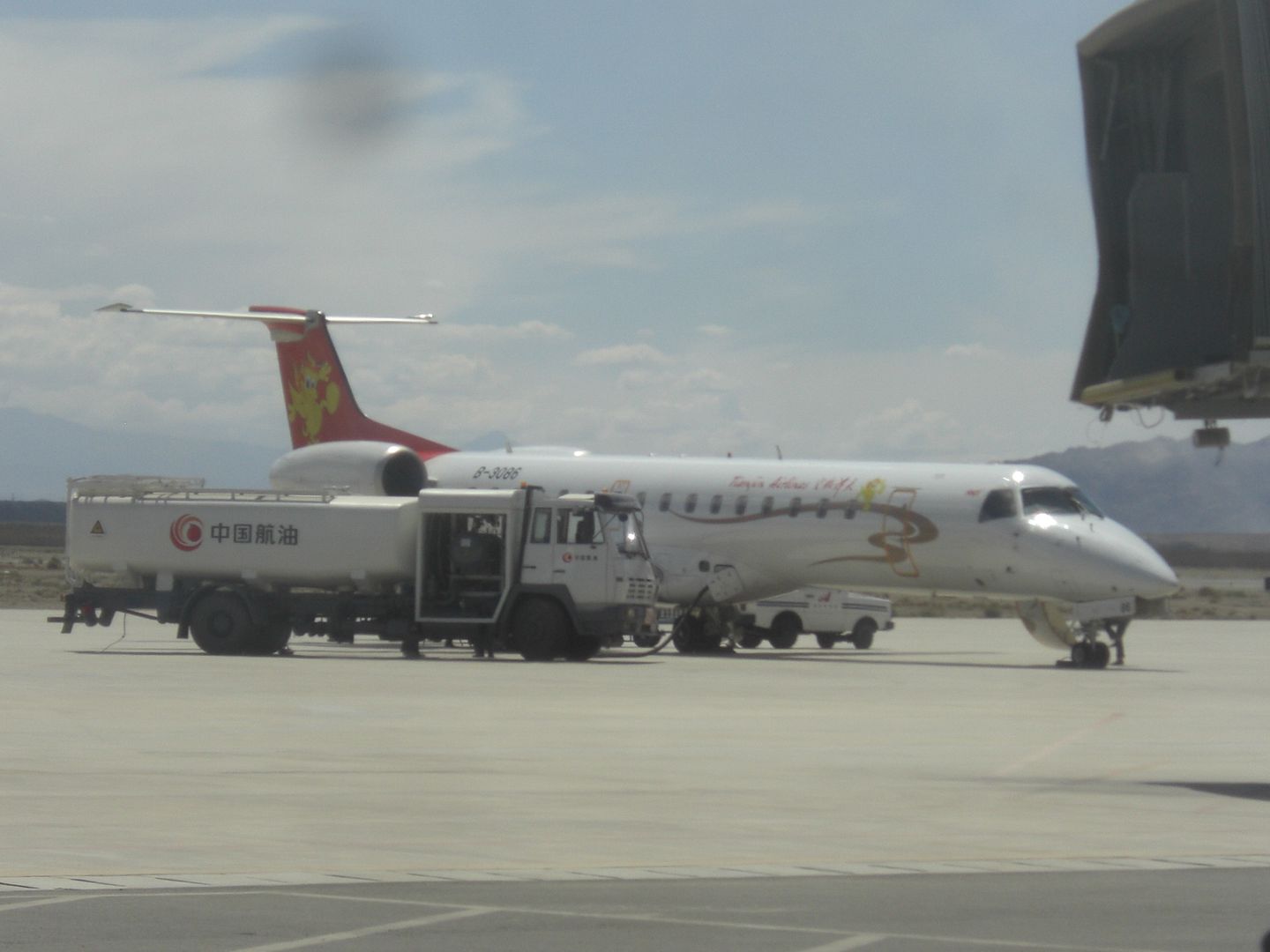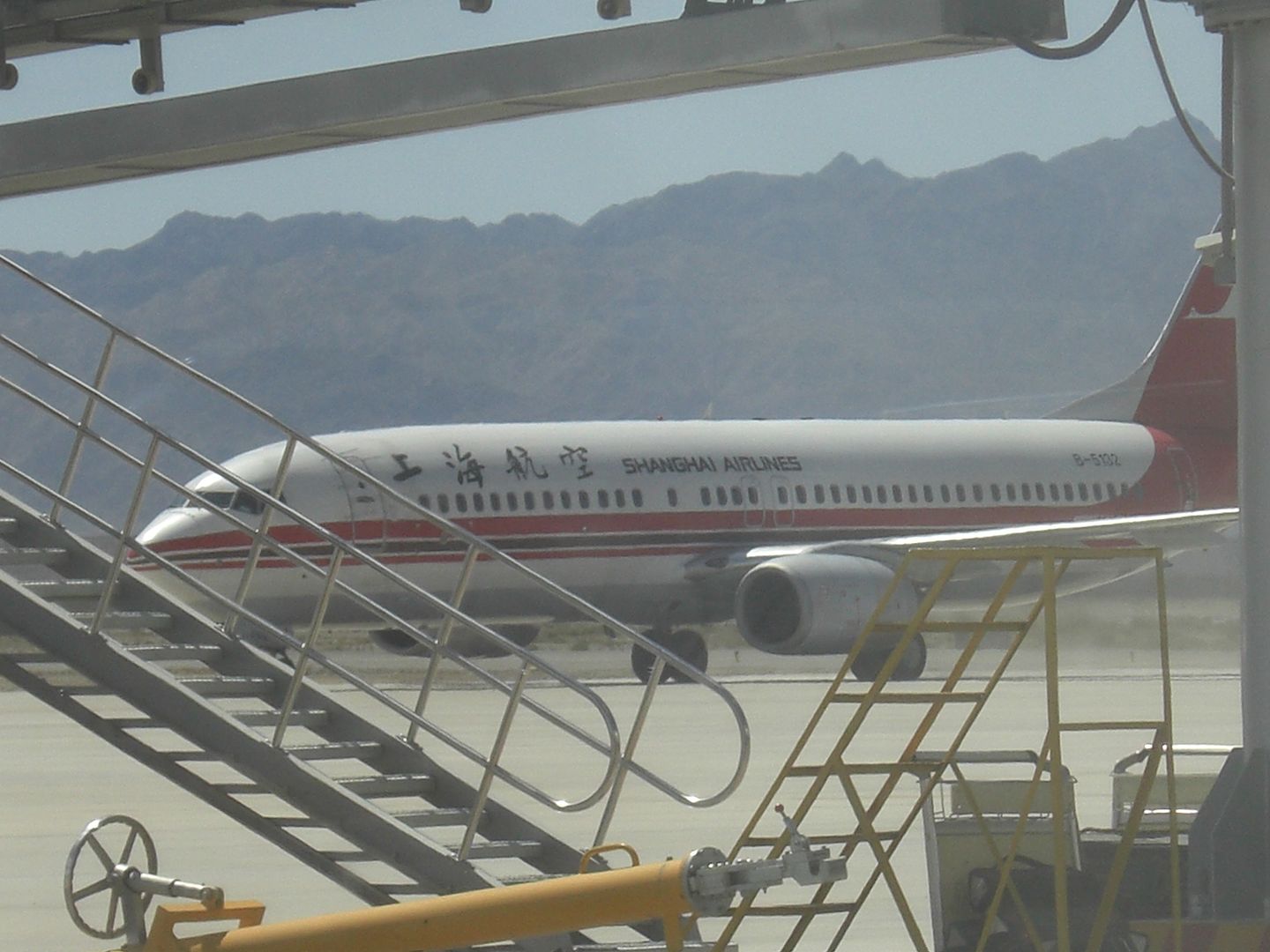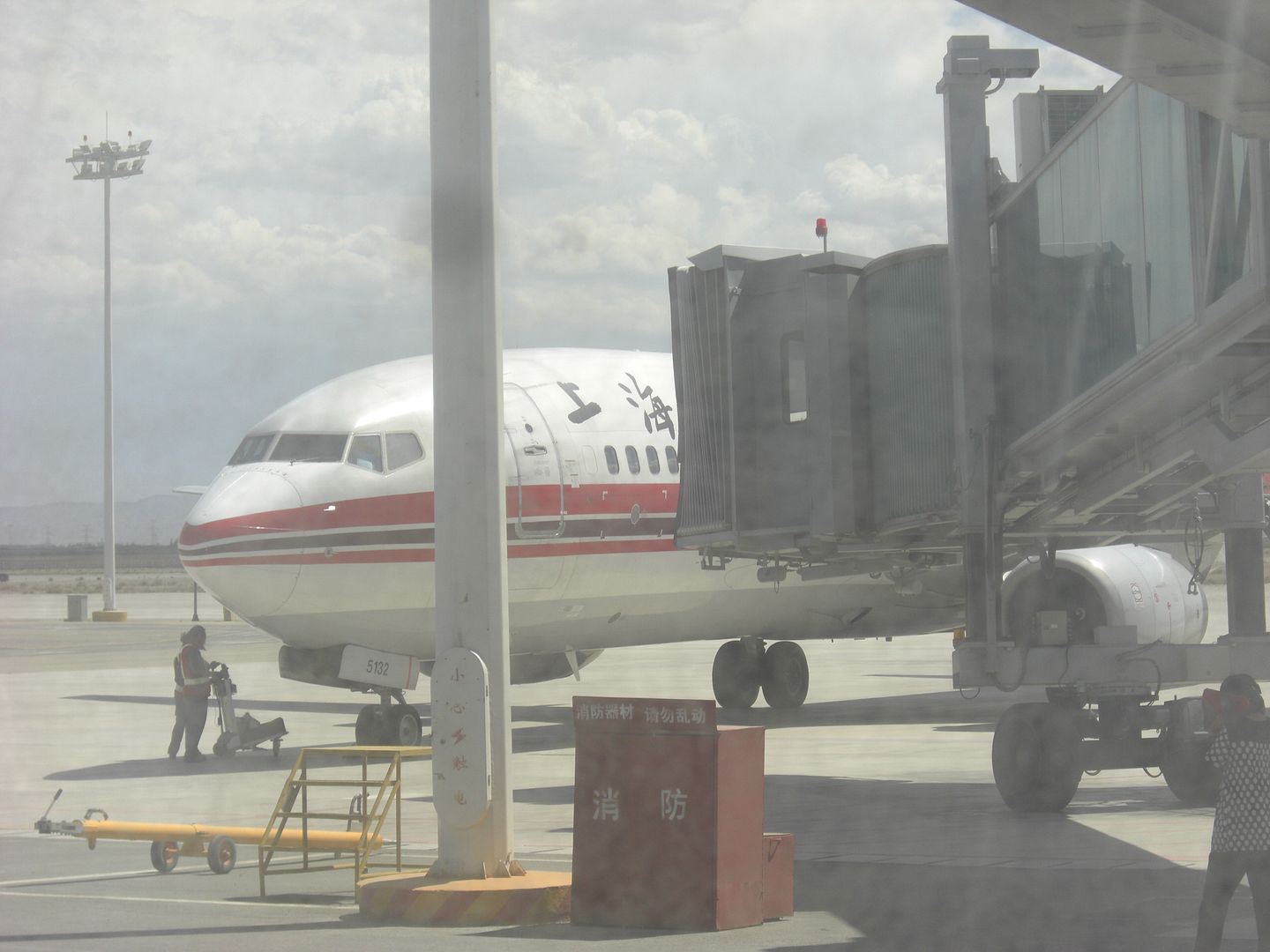 The gate
After a bit of a delay, we were called for boarding. Despite being at a remote gate, we didn't get bussed, but walked across the tarmac, just as the China Eastern flight for Beijing was taxiing in.
June 2011
Jiayuguan (JGN) – Lanzhou (LHW)
Tianjin Airlines GS 7428
Scheduled: 1555-1705 (1h15m)
Actual: 1603-1708 (1h05m)
Embraer 145 B-3086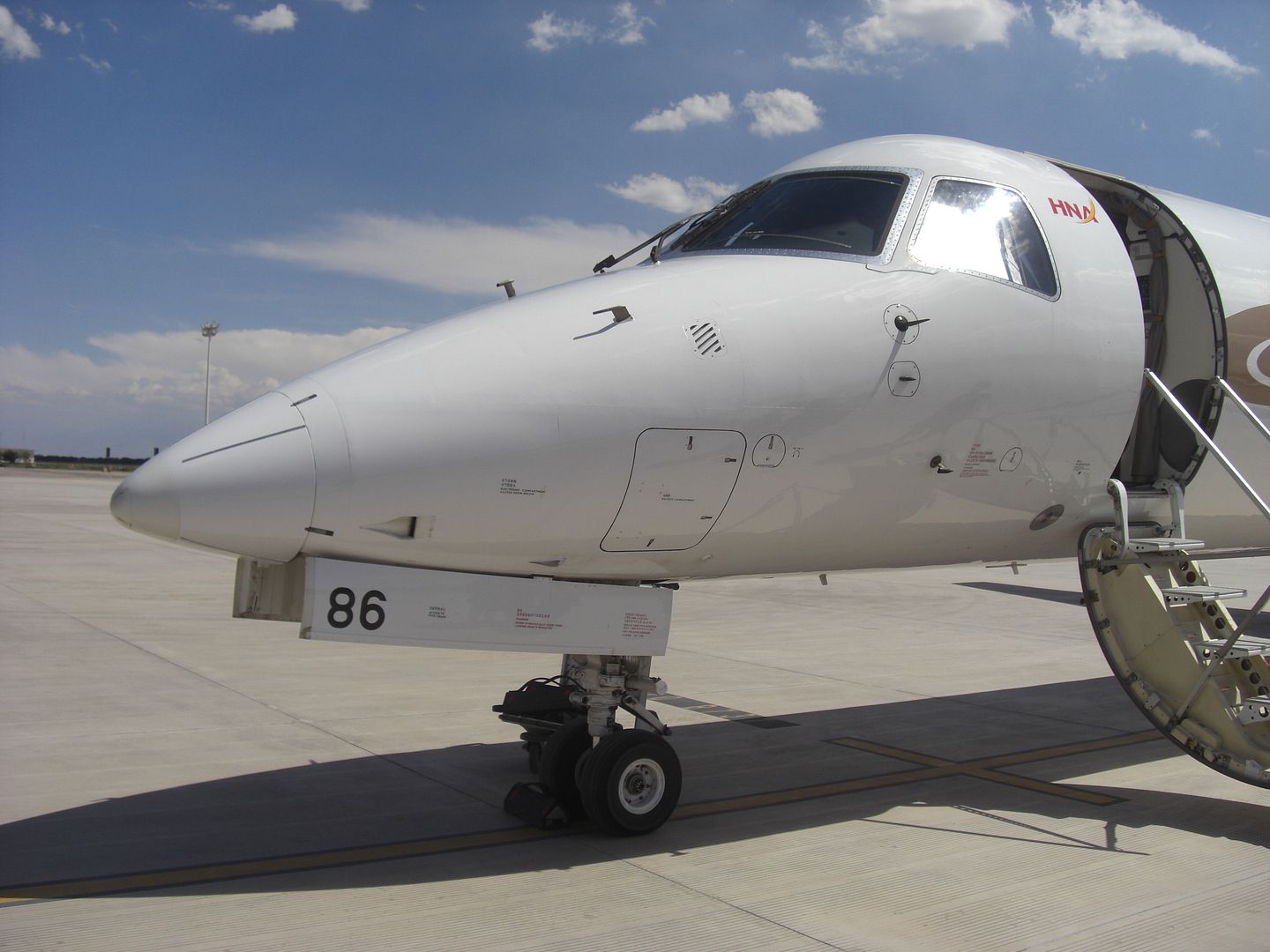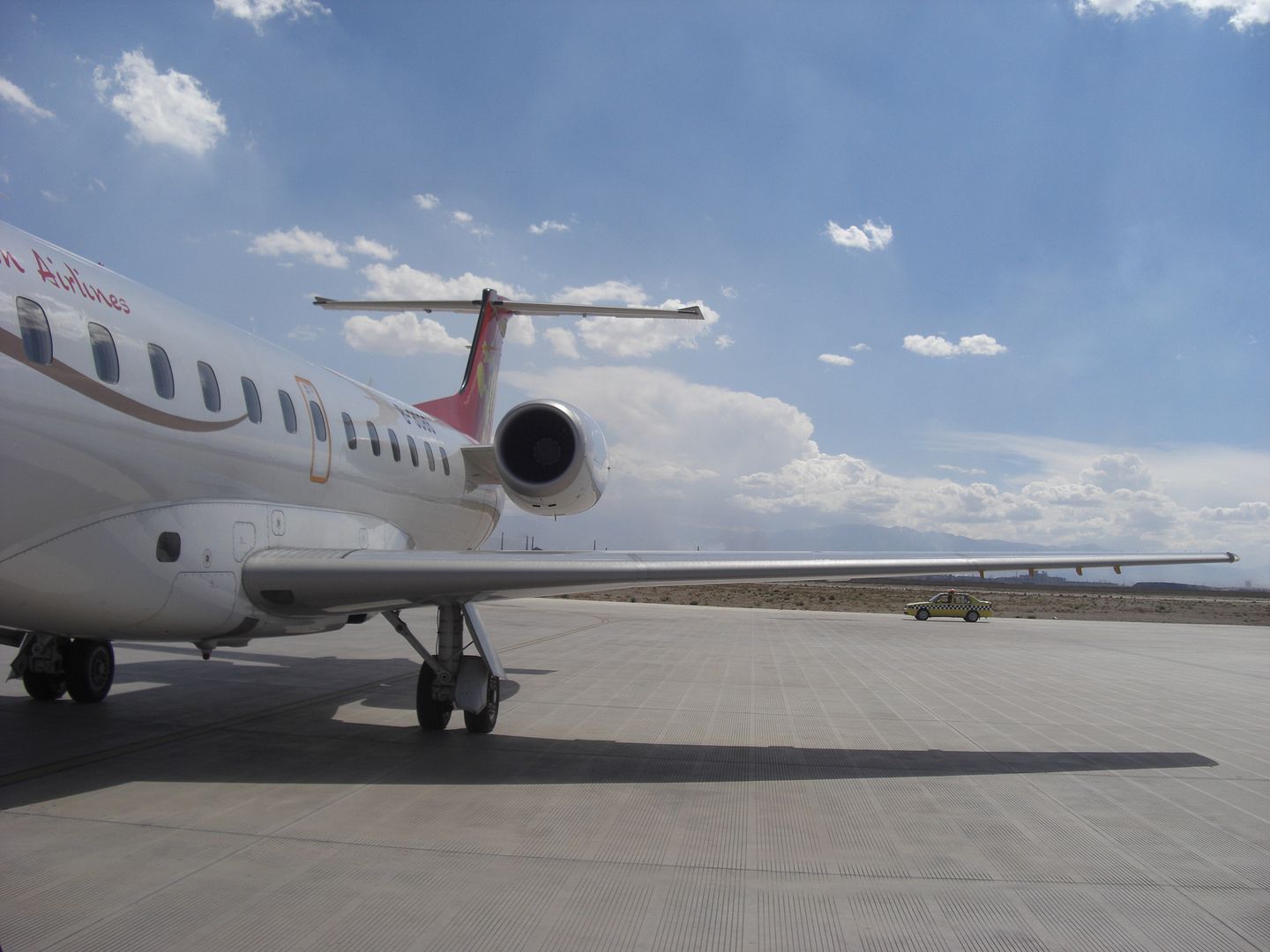 The cosy cabin of Tianjin Airlines' ERJ 145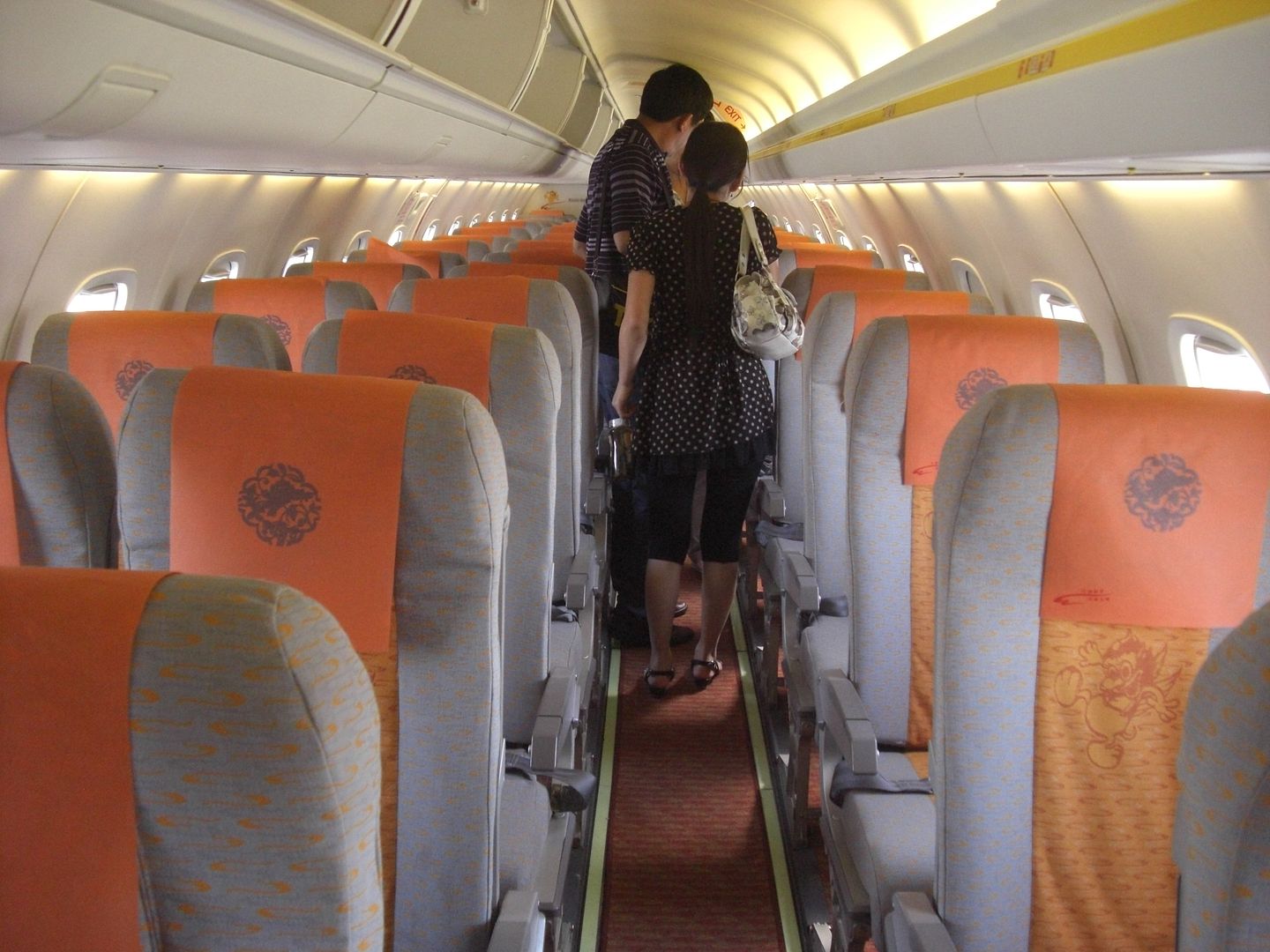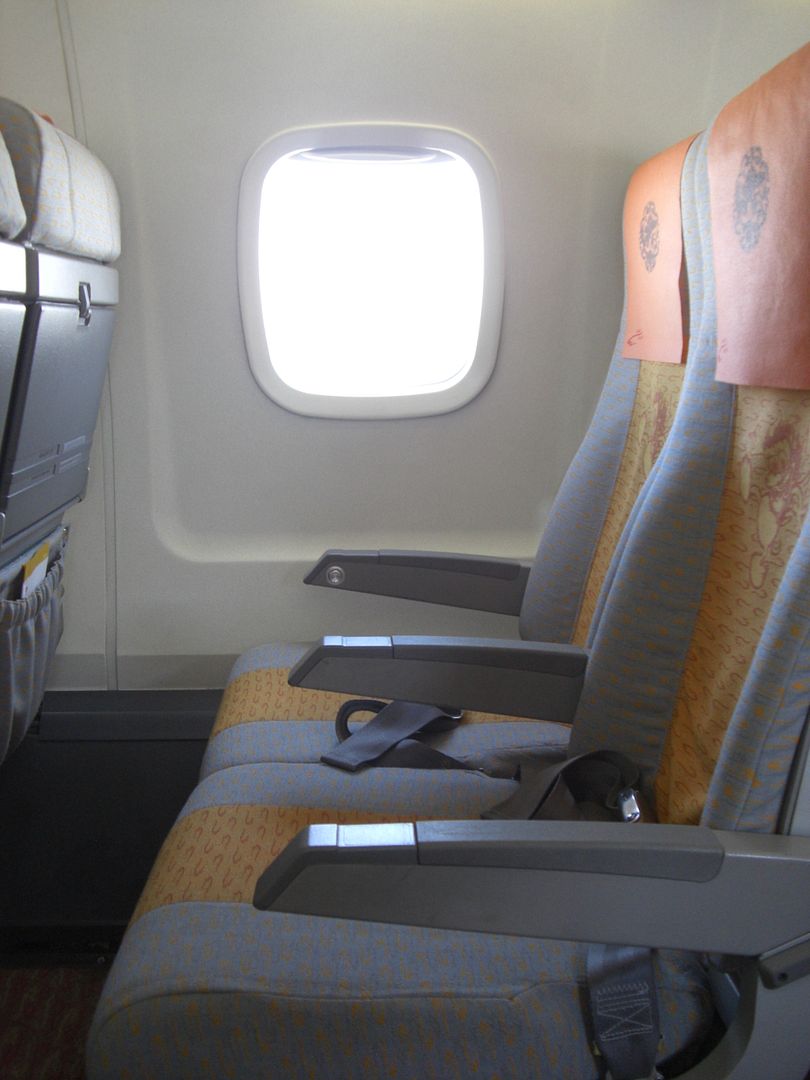 I had requested a window near the front, but was told that there was nothing further forward that the wing. Not ideal, but in the end, it turned out that the wing was so small that it barely impeded viewing at all.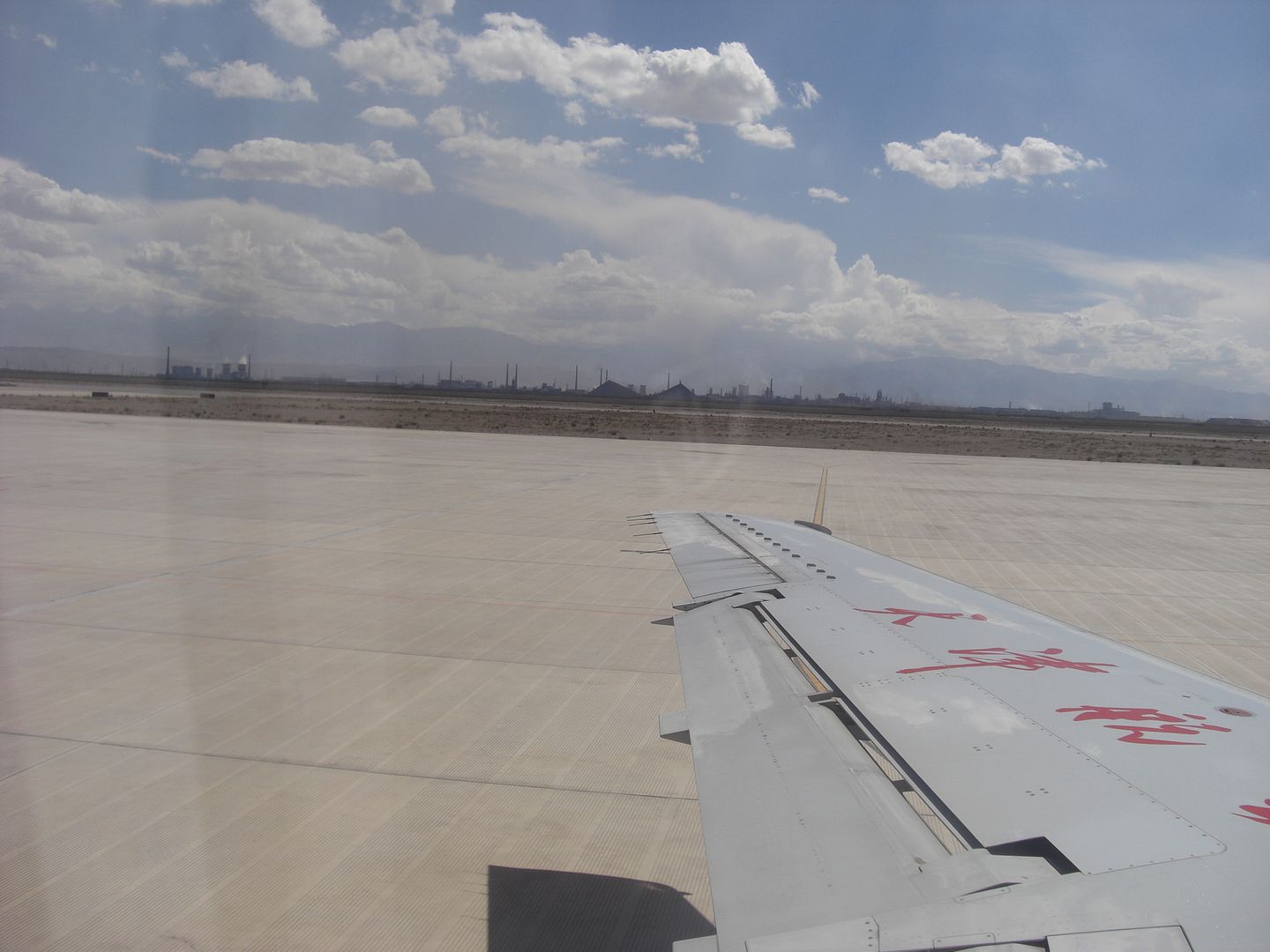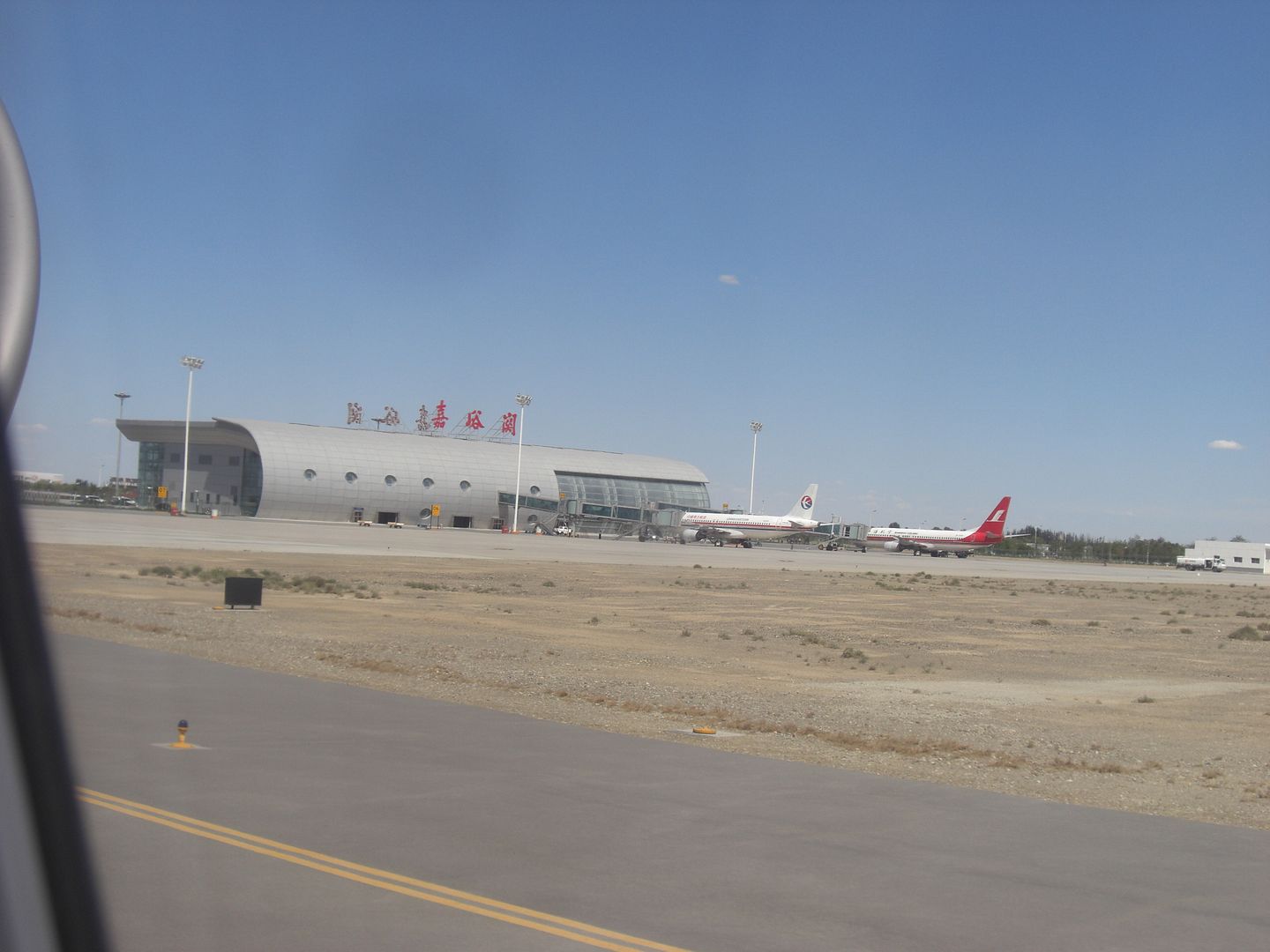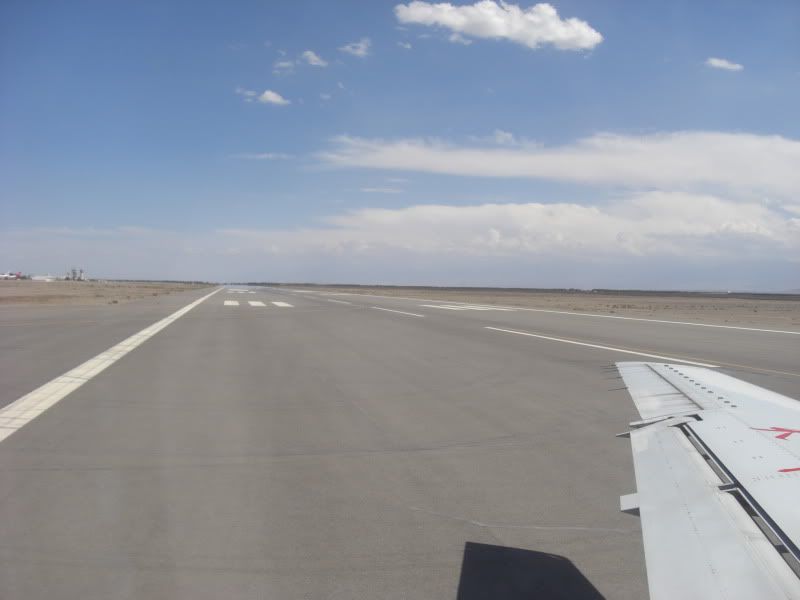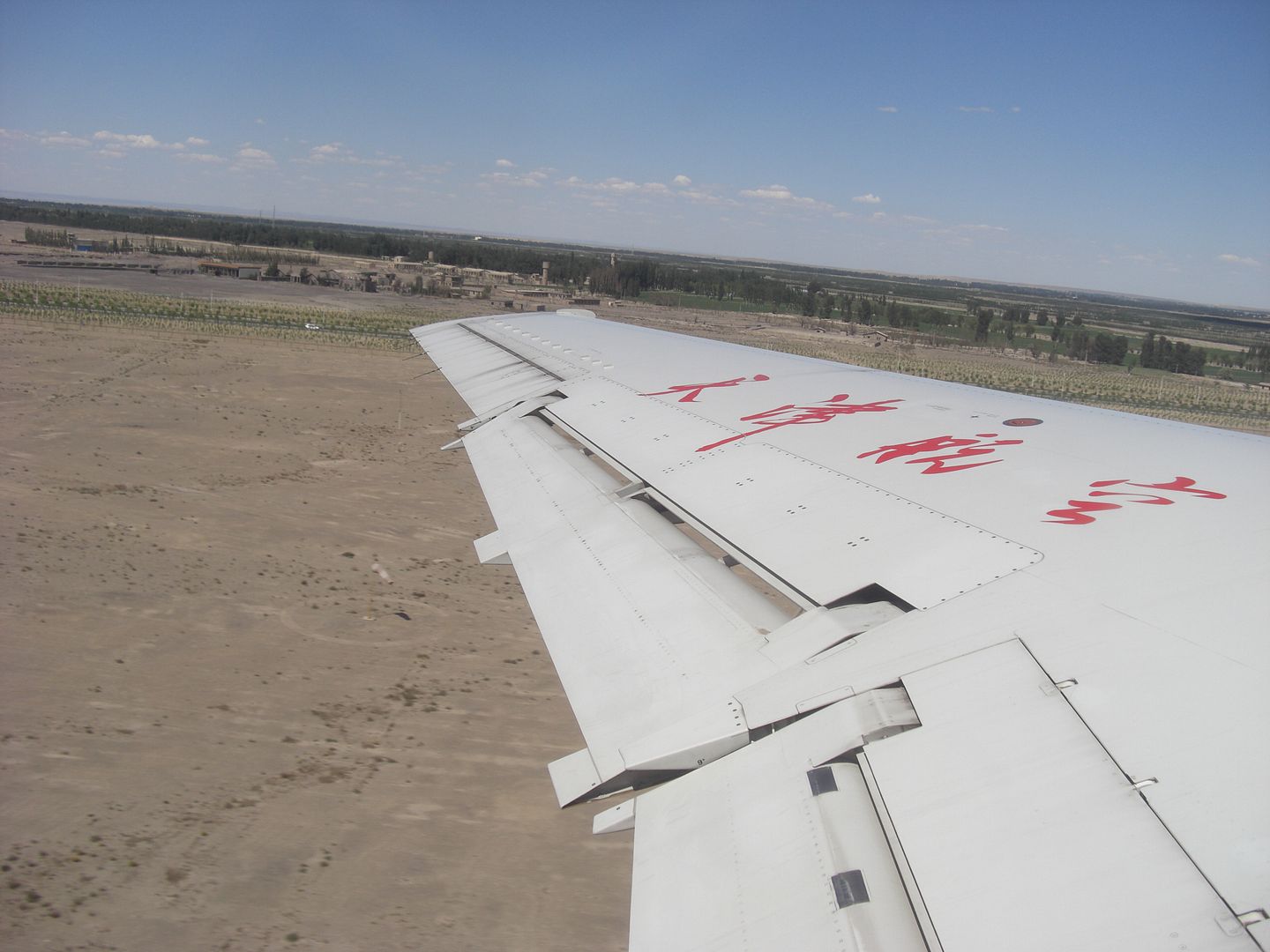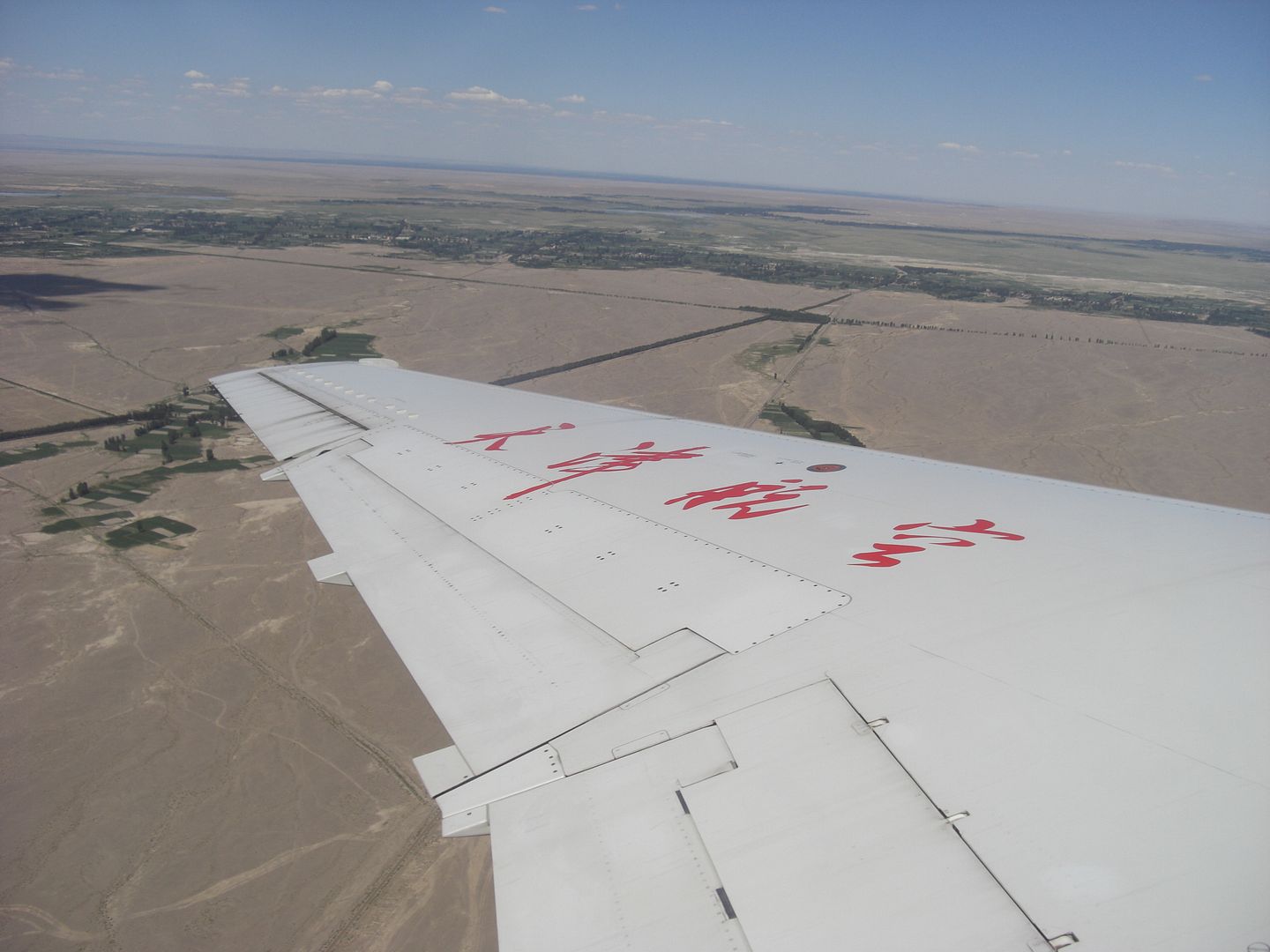 Jiayuguan Airport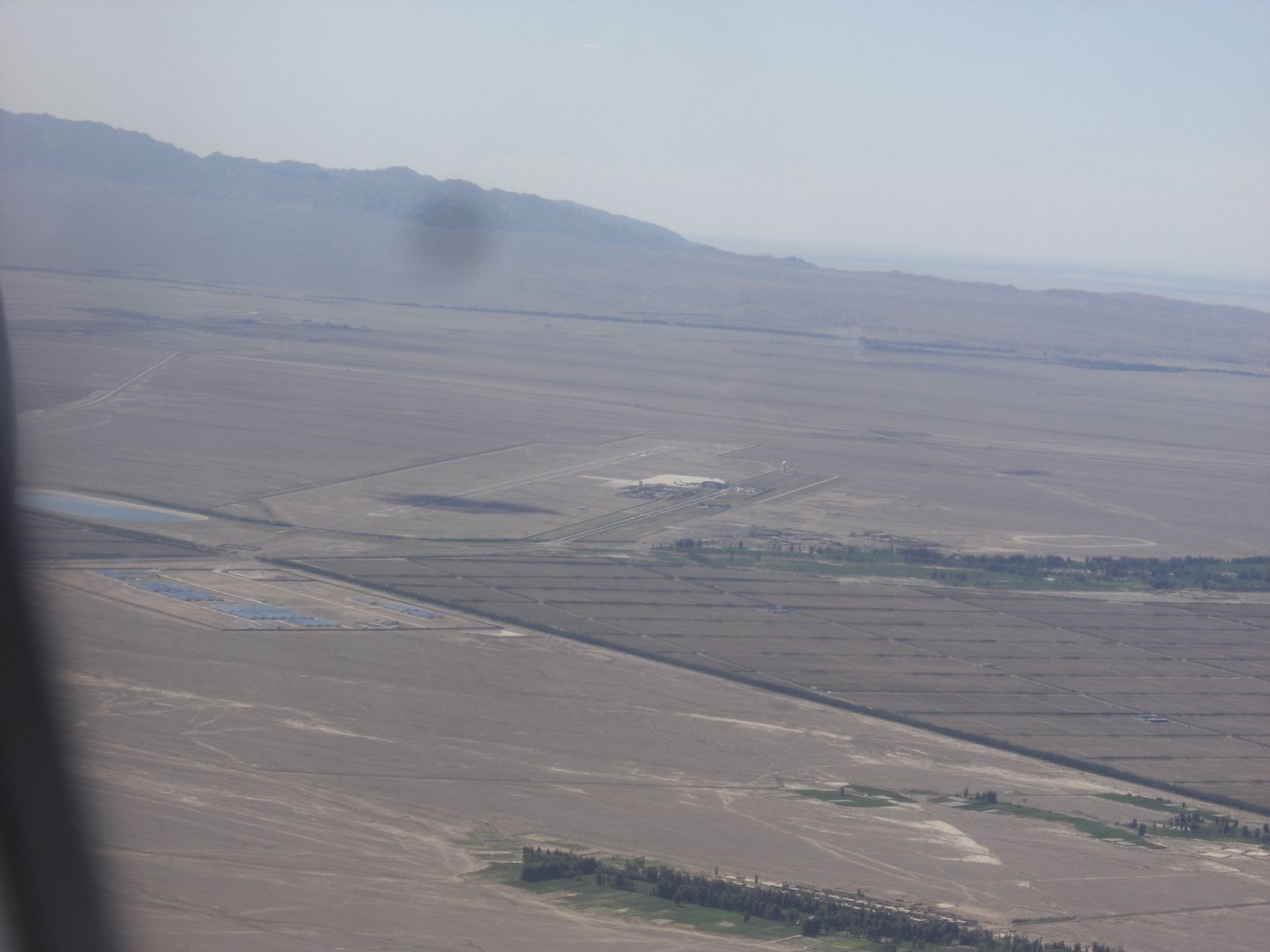 There were two cabin crew on this flight, a guy and a girl, both dressed so causally that at first I thought they both passengers. I didn't get a good photo, but white trainers and t-shirts were the order of the day. That being said, I did quite like the uniforms! Service on this flight consisted on a drink, whilst watching the deserts vanish beneath us.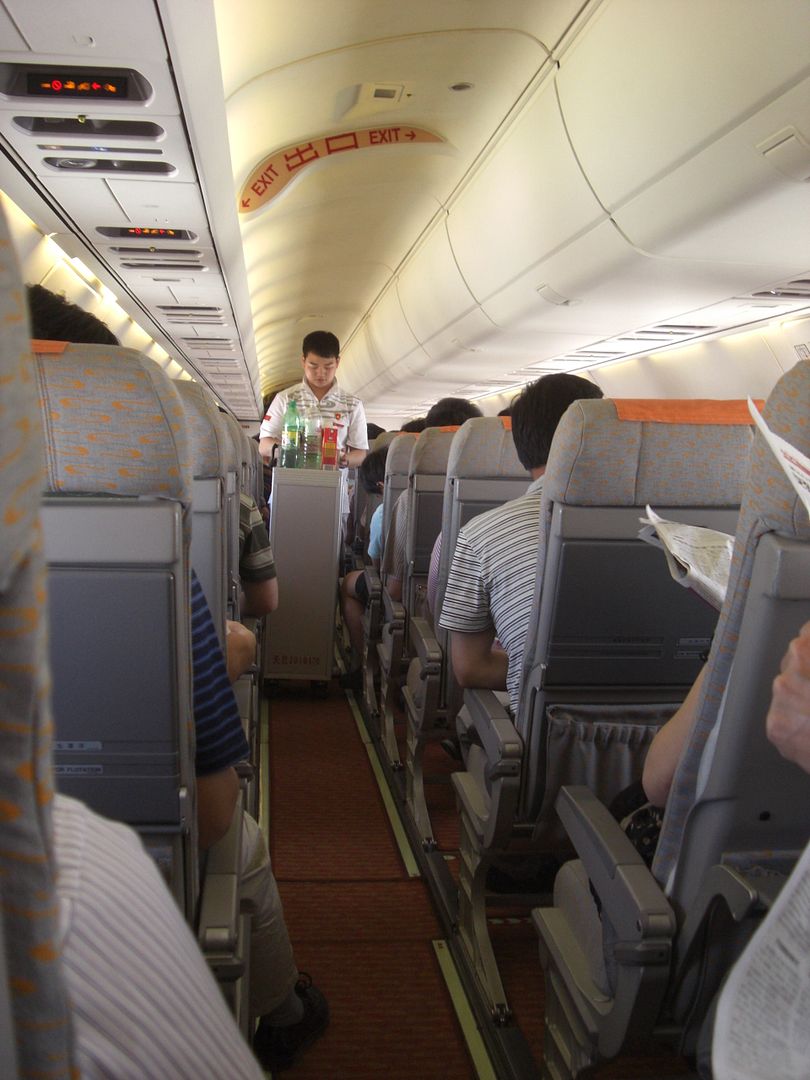 We began our descent into Lanzhou (a quick stopover en route to Xi'an) just under an hour after setting off from Jiayuguan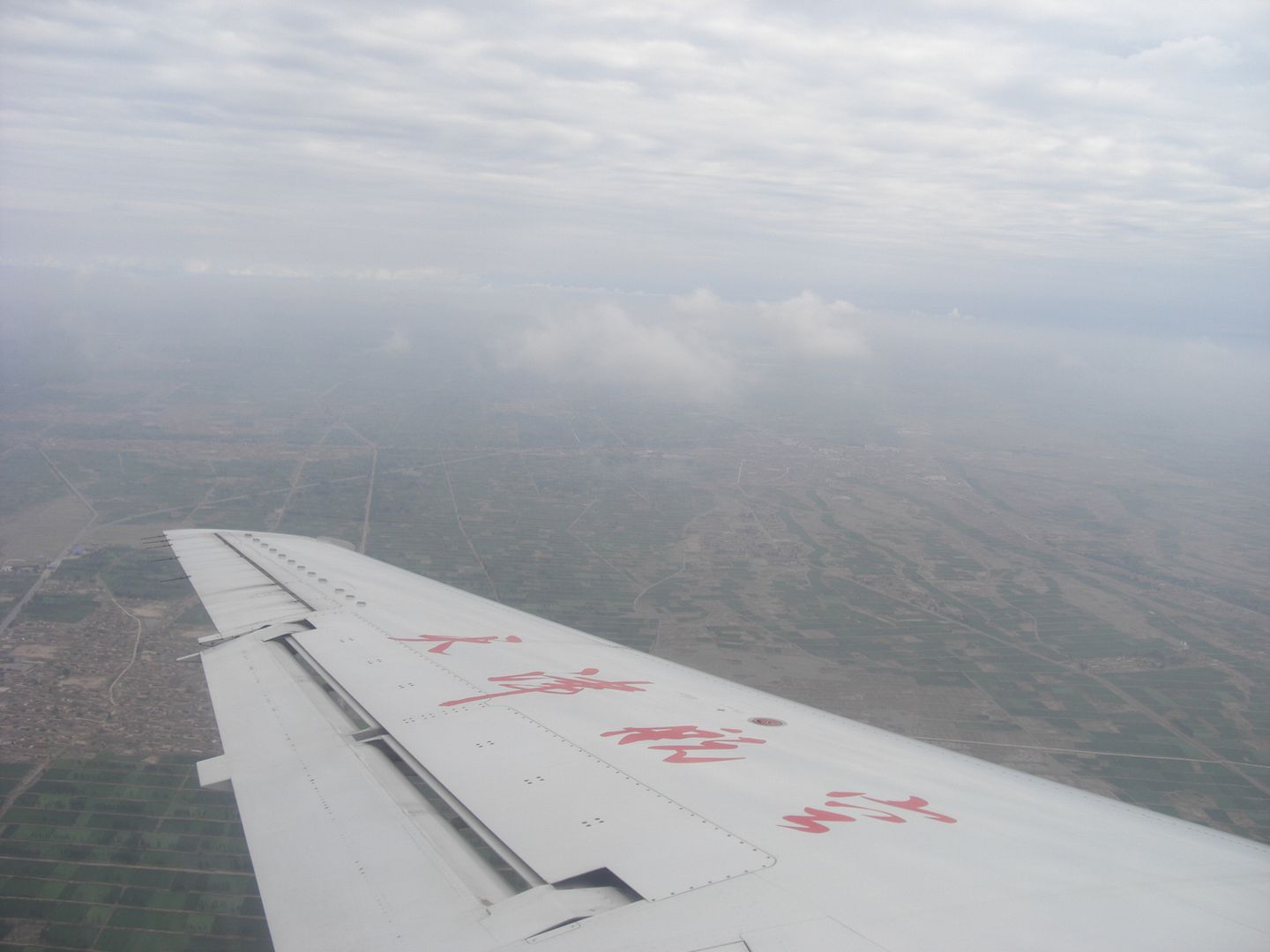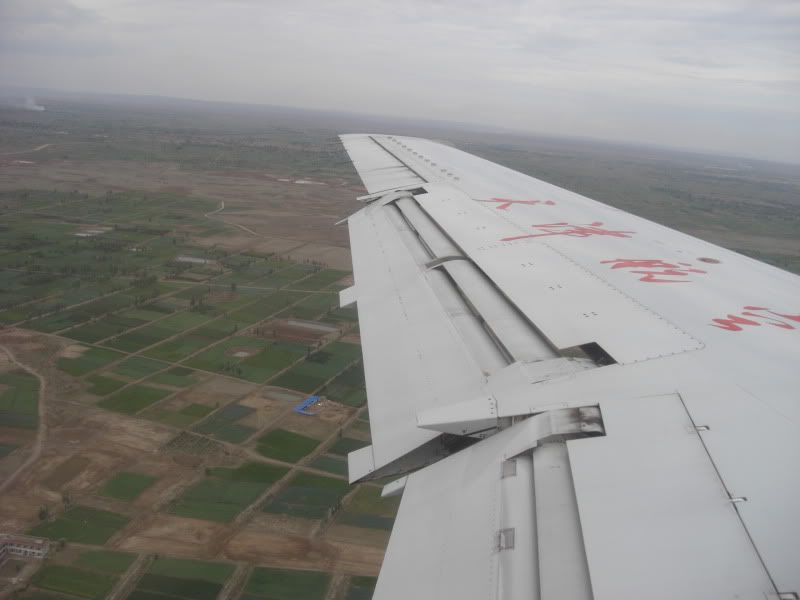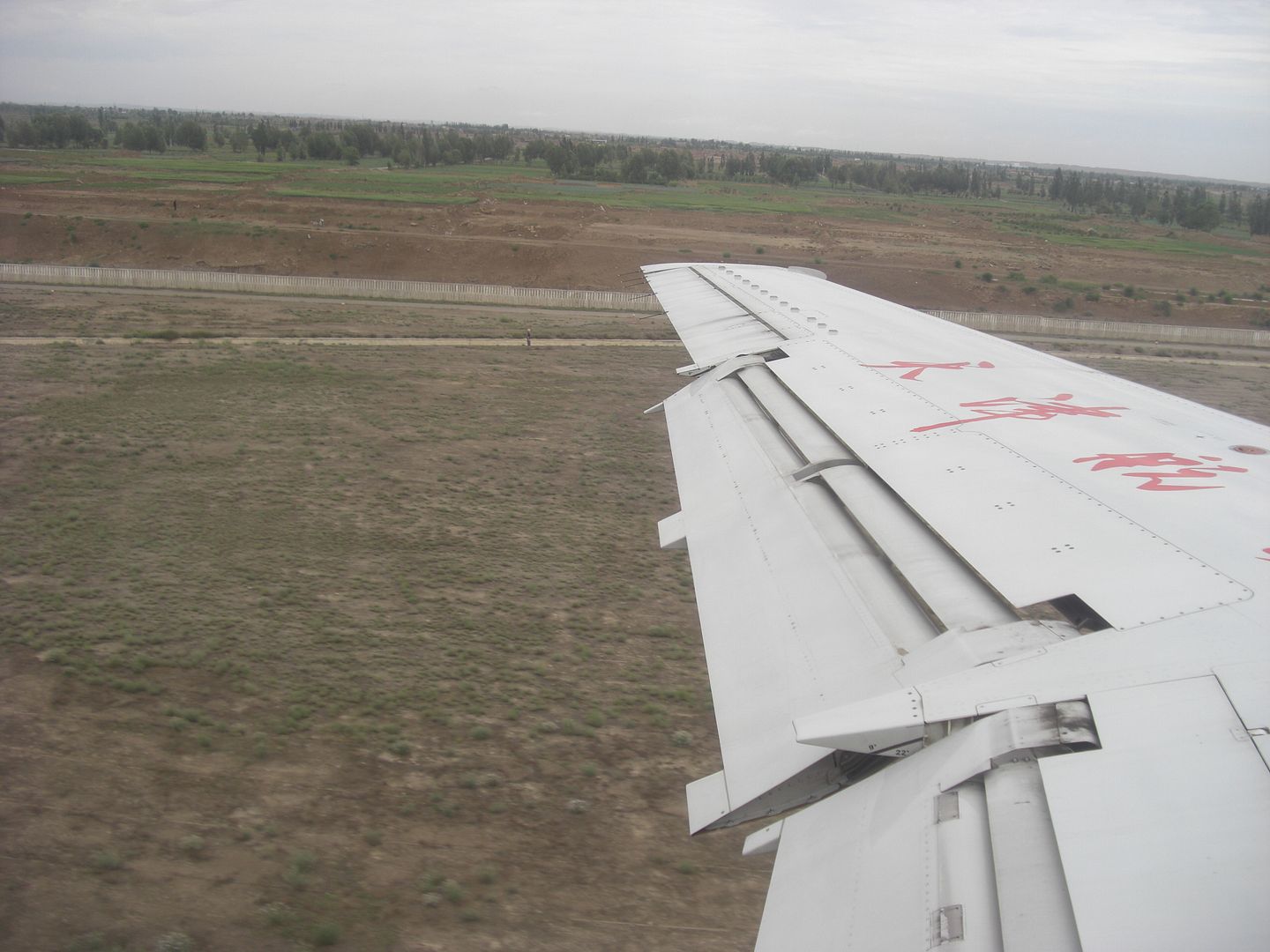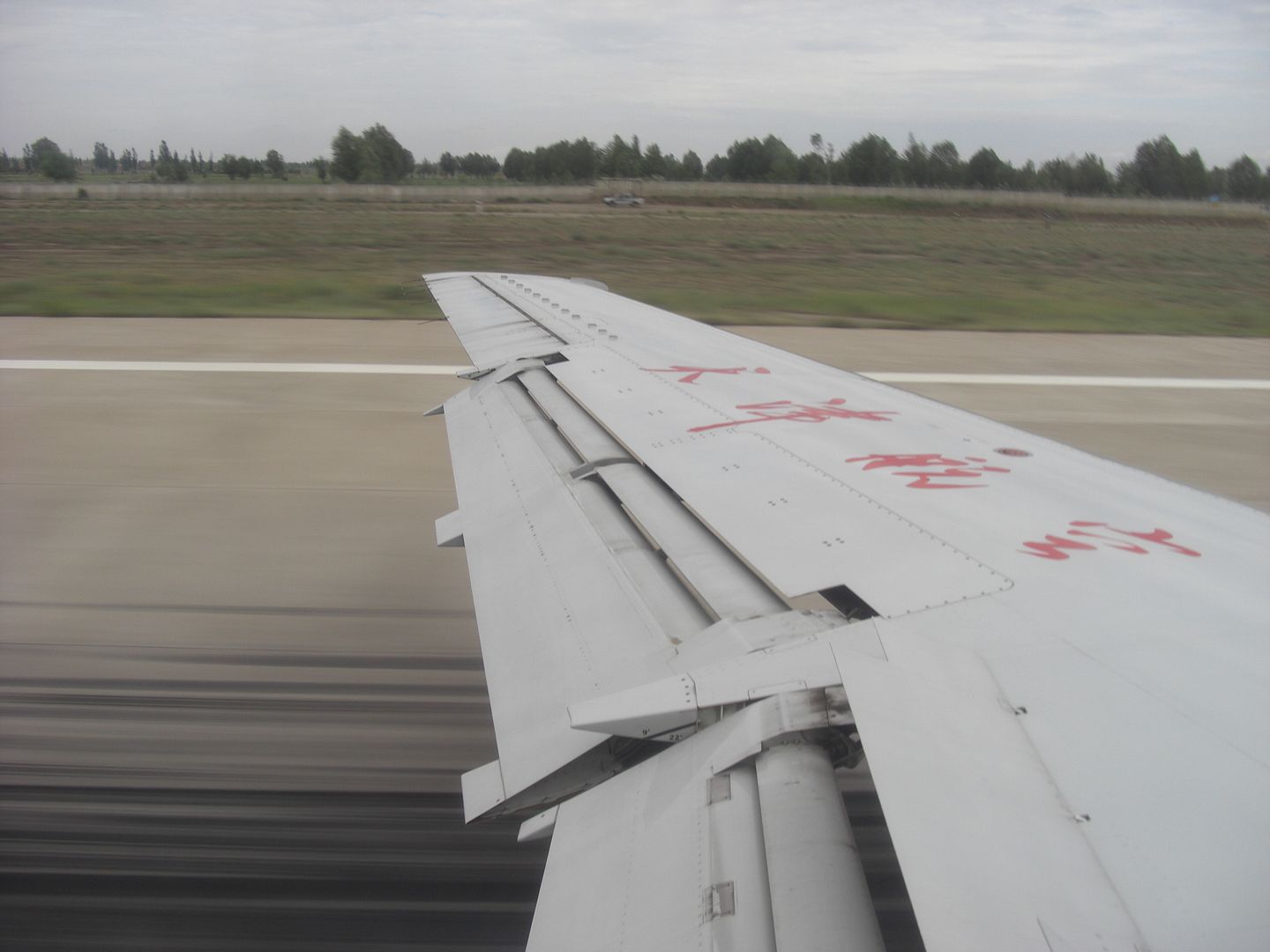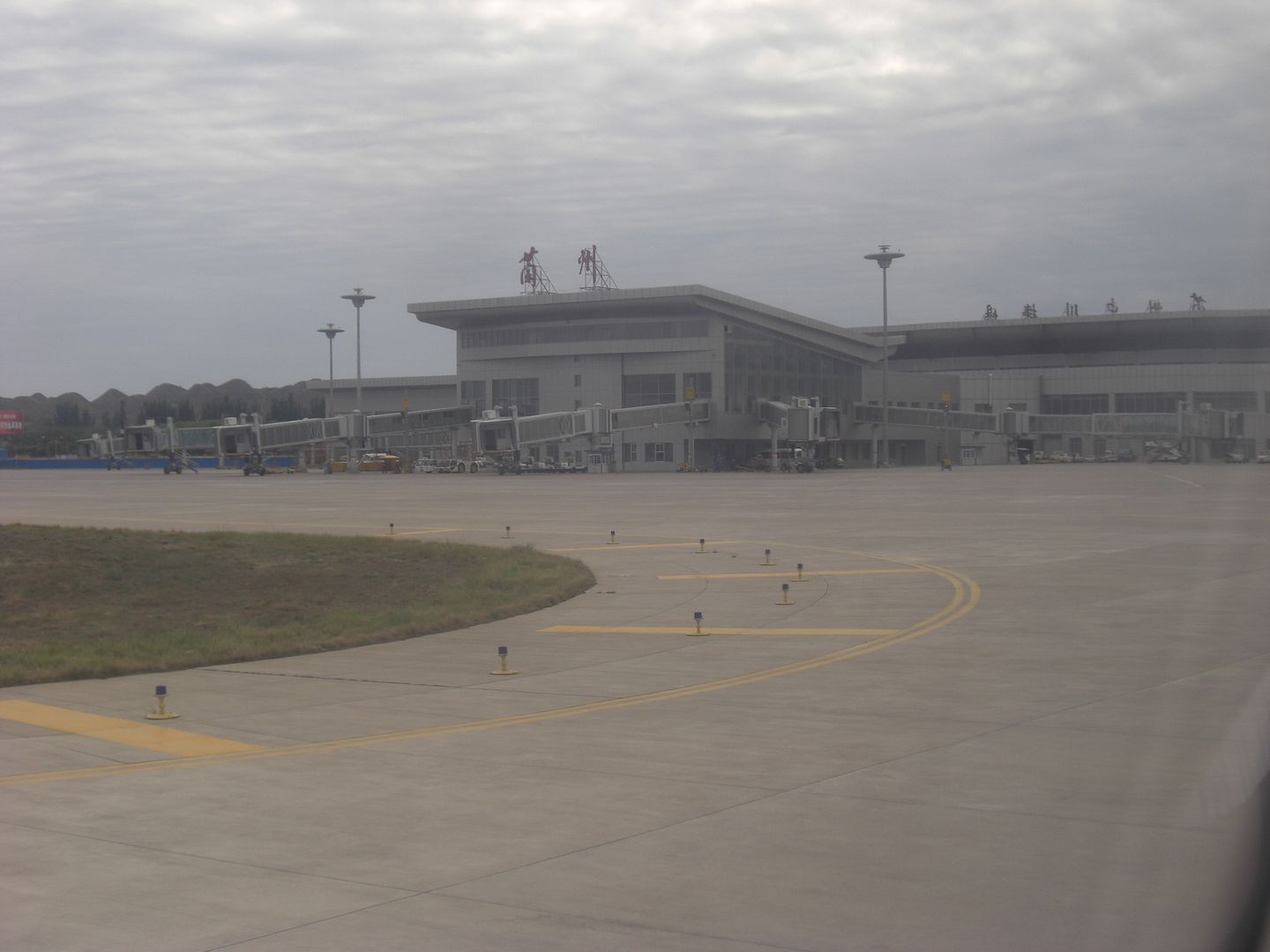 We were advised that our stop in Lanzhou would only be a short one, and that all passengers needed to disembark. I nearly missed the stop for transit passengers as there was only a muffled announcement in Chinese.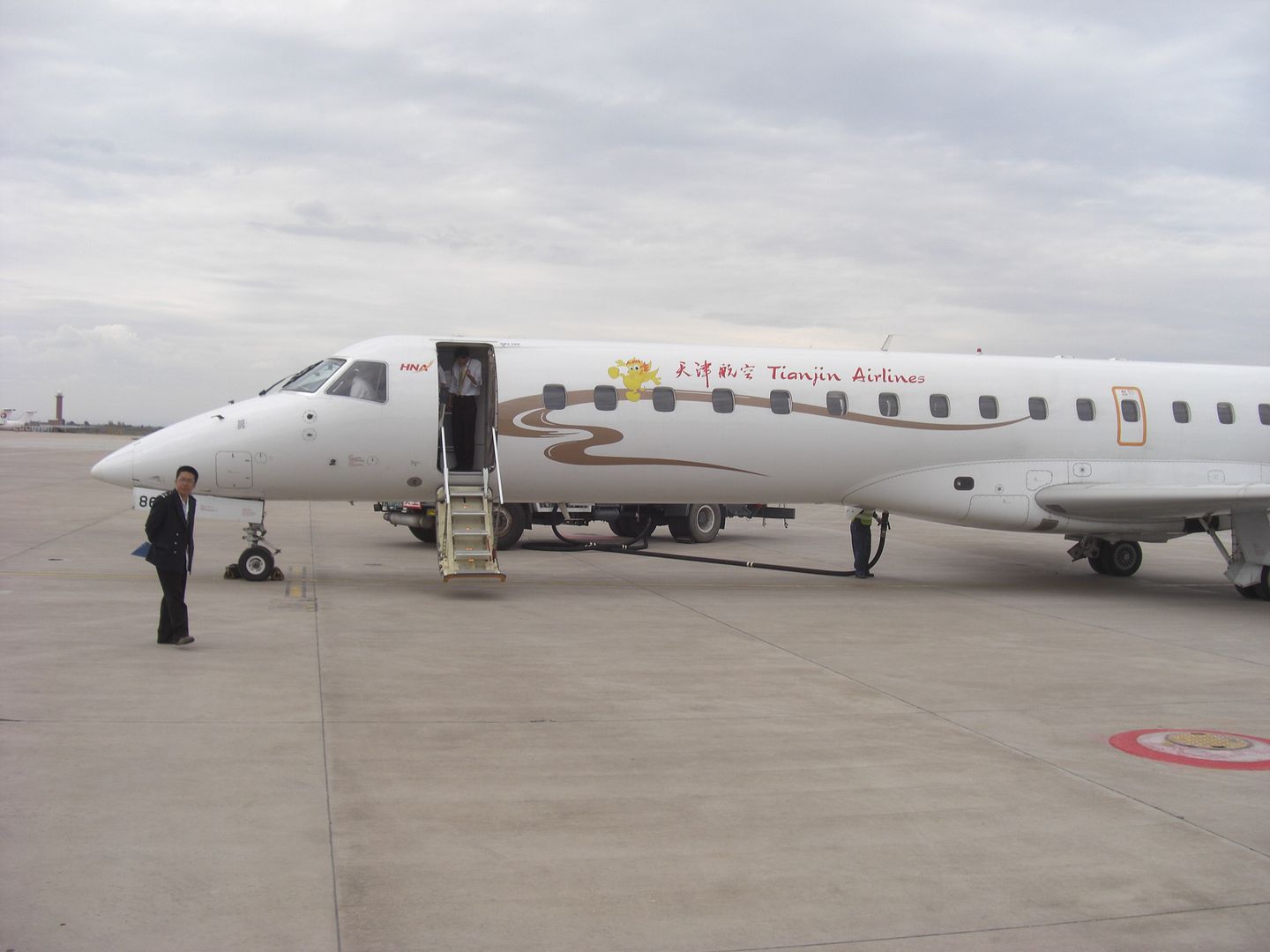 The gate area that we were let into was small, with just one shop, and a few benches, filled mainly with passengers joining us for the second leg to Xi'an. The majority of passengers were terminating in Lanzhou.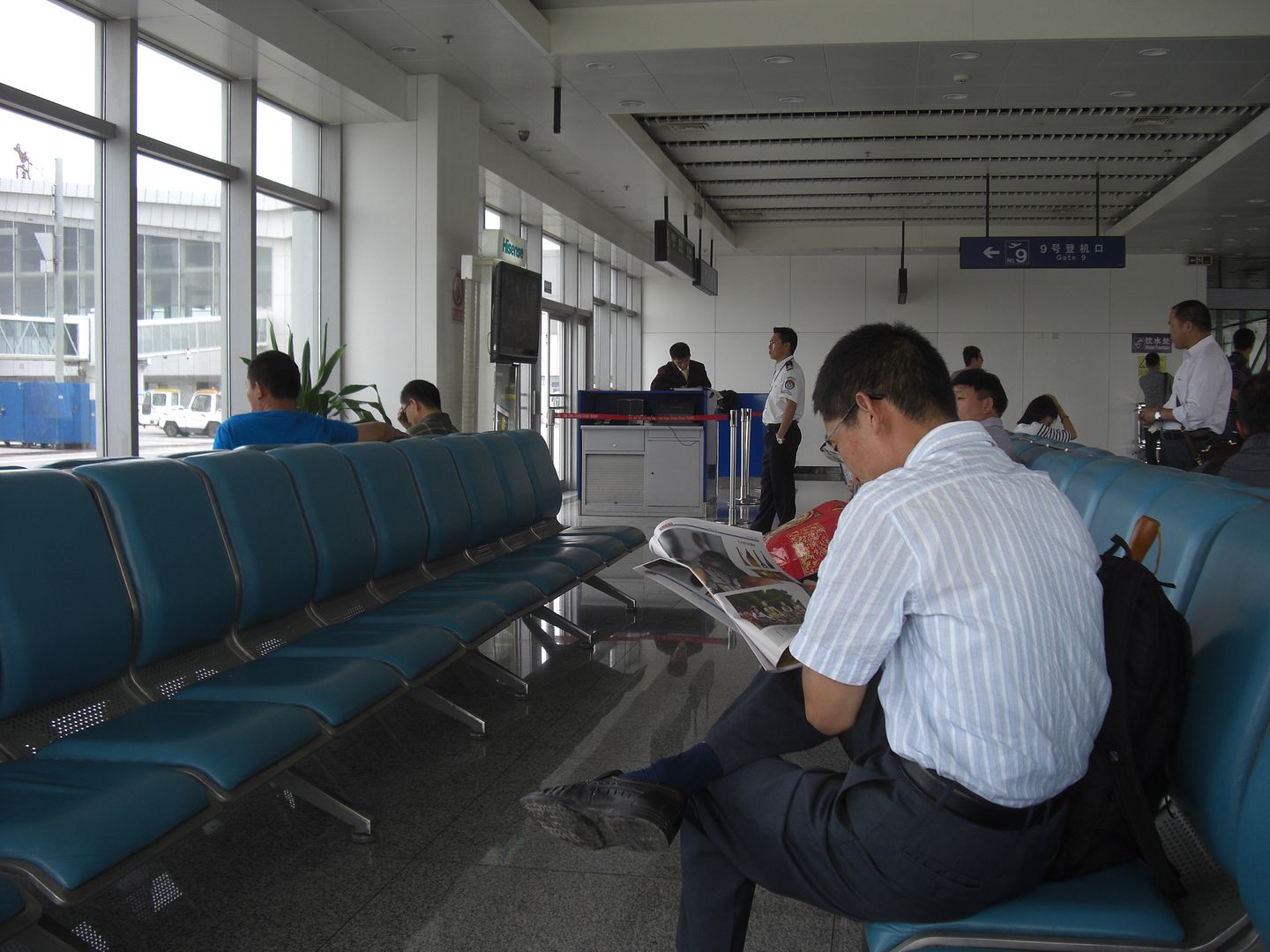 I was browsing the shop, and about to buy an ice cream (it was pretty hot), when boarding was announced.
June 2011
Lanzhou (LHW) – Xi'an (XIY)
Tianjin Airlines GS 7428
Scheduled: 1740-1835 (0h55m)
Actual: 1740-1847 (1h07m)
Embraer 145 B-3086
The drive back to the aircraft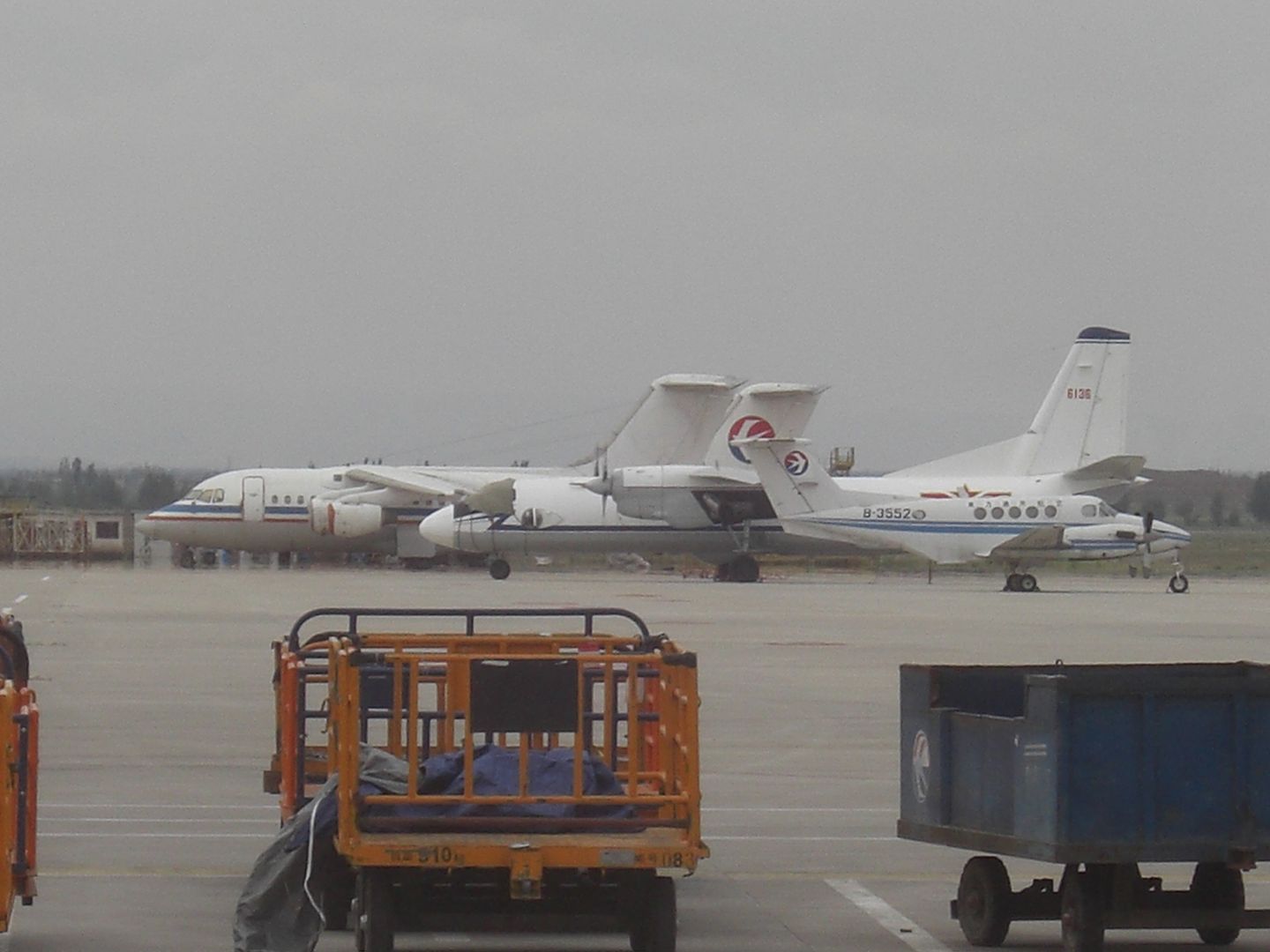 I had the same seat as my previous flight.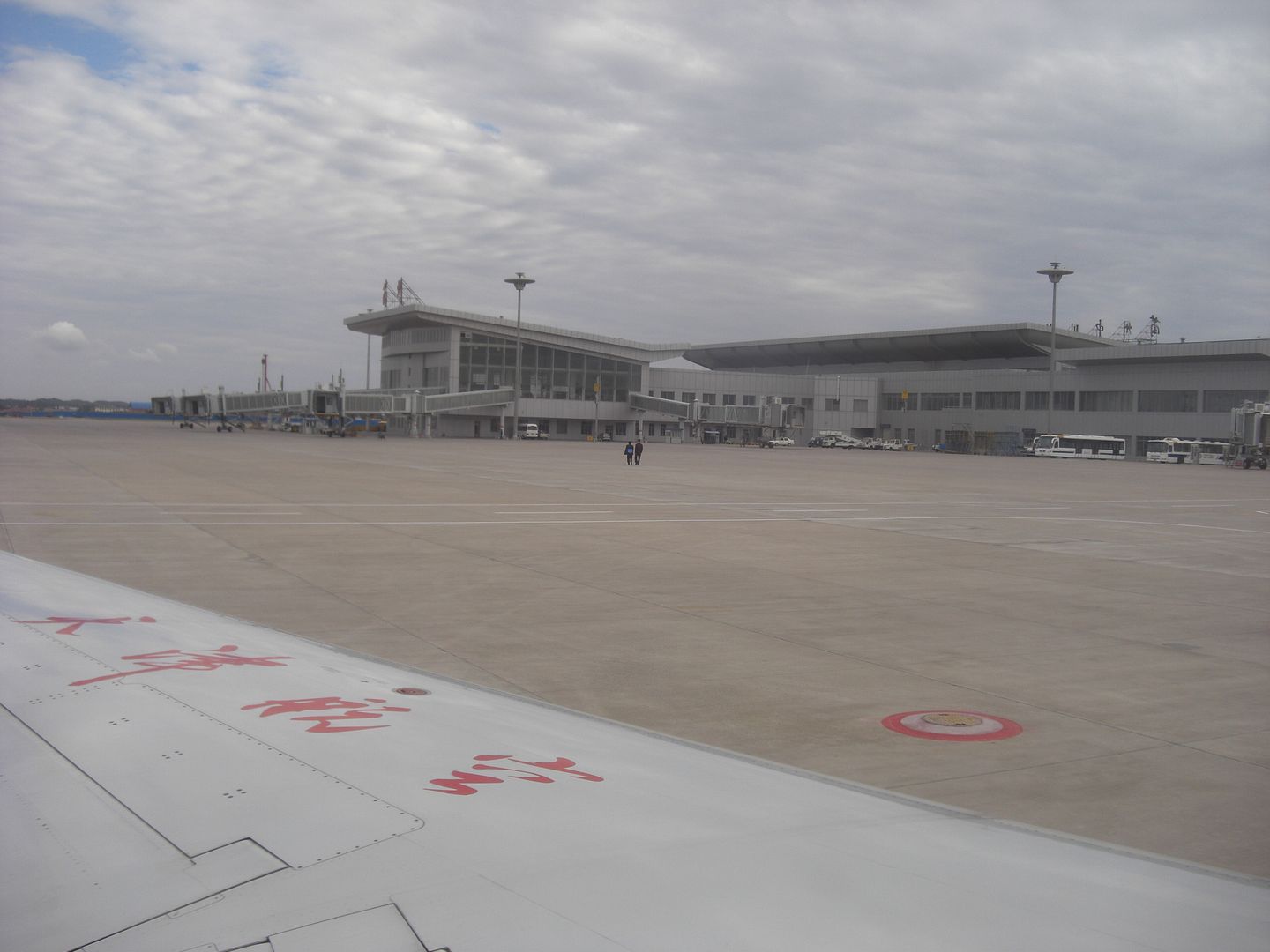 Some abandoned BAe 146s of China Eastern. They've been stored in LHW for years.
This leg had a more complete service, with another yellow box of food being served. This is what I got this time.
This was the meal I got in 2009 flying China Eastern from Guangzhou to Wuhan on an ERJ. Rather similar!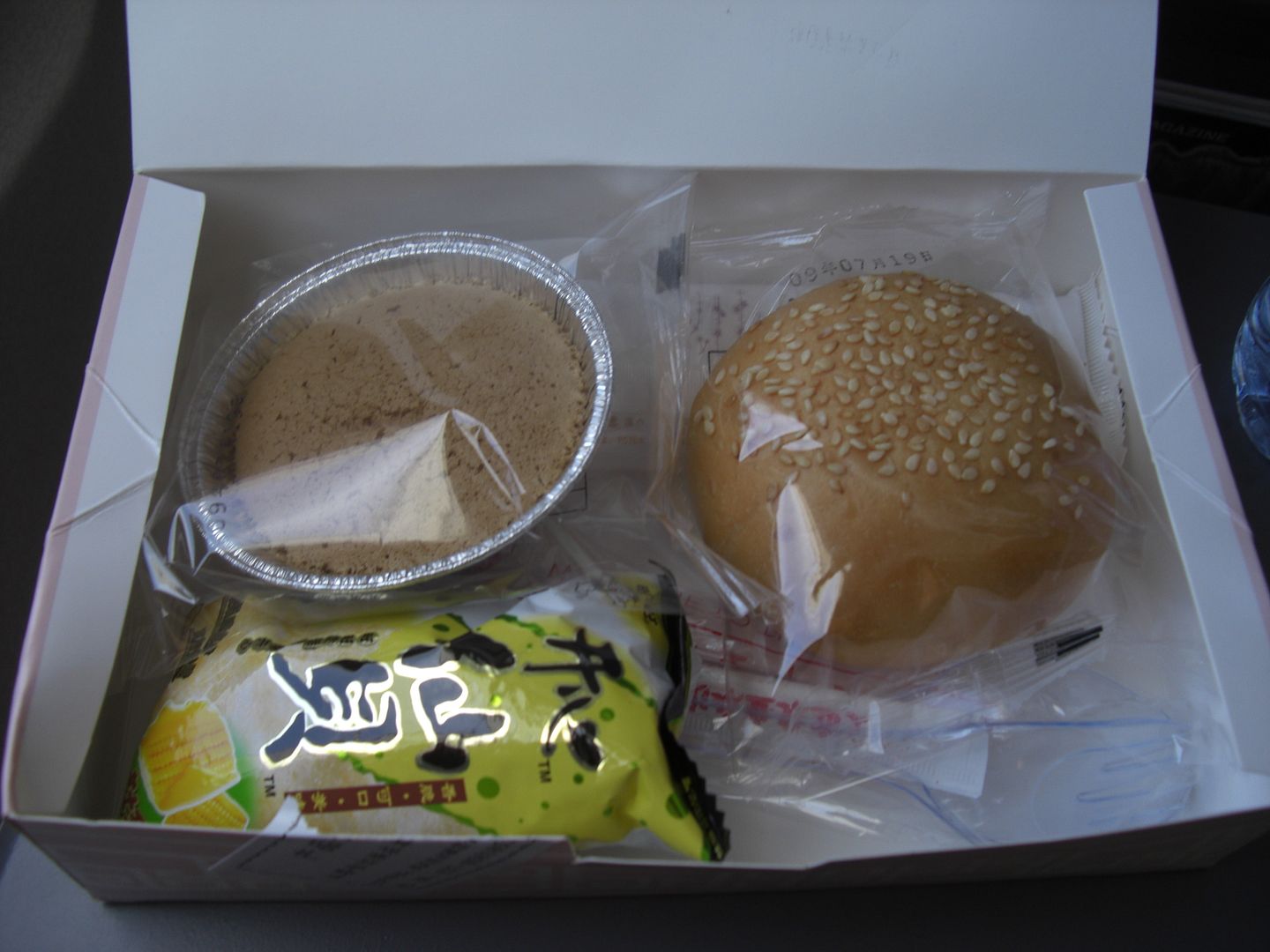 Approach to XIY was a bit turbulent, with low lying clouds.
Retired (?) D328 Jets of Hainan Airlines – these are such nice aircraft, I can't believe they aren't being used anymore. I flew on one of these a few years ago from Yinchuan to Taiyuan.