Introduction
Please bear with me, as the introduction section of this particular trip is rather long and winding... the reasons you can find by reading it
.
So, after last weekend's trip:
The Meet At FRA + Number 200: HEL-DUS/HHN-STN-VST
(by
FlyingFinn76
Jul 12 2011 in Trip Reports) I had now fulfilled my primary goal for this year, which was bringing the total number of airports in my log up to 200. Now was the time to focus on adding some more carriers instead. Lots of browsing for various options I finally figured out I could log two on one trip by first flying from Nice to Fiumicino with Blu-Express, the low cost arm of the Italian charter carrier Blue Panorama and then up to Prague with Smartwings, the low cost arm of the Czech charter carrier Travel Service (wow, is there a pattern here?). That sounded like a good idea, so the flights were quickly booked - the former was under 40 EUR and the Smartwings one around 65.
To position myself to Nice, the HEL-NCE service with DY had perfect timing for Saturday mornings with a couple of hours of transit time, so that's what I booked next. Price was 85 EUR.
I decided to spend the night in Prague, and continue onwards from there. I really couldn't resist adding another new airport to my log anyway, so I decided to fly to Eindhoven with Wizzair, that ticket cost a bit under 40 EUR.
From Eindhoven it was a choice to fly somewhere with FR or just take the train to AMS and fly from there. Well, I don't really know why, but I ended up booking FR to NYO for 38 EUR all-in, including priority boarding. Maybe because the flight timings were such that it allowed me some time to visit the city of Eindhoven.
Anyway that flight arrived a bit late into Skavsta and when you factor in the travel time to Stockholm and eventually Arlanda it meant that the only way to get home would be the SAS midnight flight. That didn't sound very good to me, so I decided to get a bit more creative and book Finncomm from nearby NRK the next morning instead. That 43 EUR ticket would actually entitle me to my 100th flight with FC, so I thought that was pretty neat, too.
So, here's the itinerary I thought I would be flying: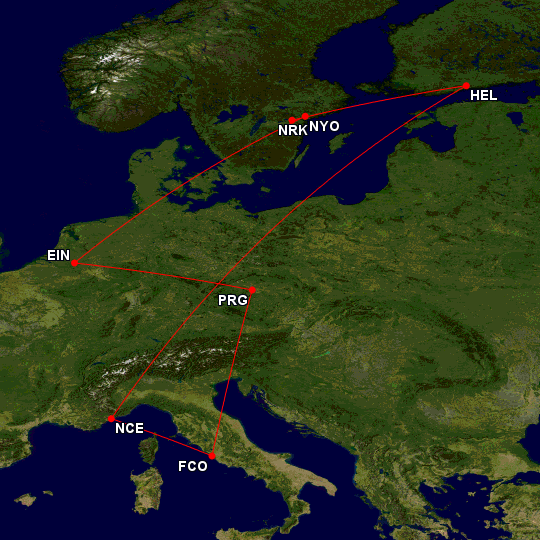 Now fast forward a month or so and one day I find an Italian language email in my inbox. It is a bit hard to decode, but basically it looks like the Blu-Express flight had been retimed, now it actually departed NCE a good hour BEFORE the Norwegian one arrived, which of course wouldn't do it for me. So it's time to assemble an emergency reaction task force (just me and my credit card) and start the damage control process. After lots and lots of looking into various options, most of which would've cost an arm and an leg (mid-July is high season, after all) I reached what I thought was an acceptable solution.
So the first thing was to call Blu-Express and to request a refund - a surprisingly straightforward process despite having to listen to drab waiting messages for 15 minutes. Once I got through the girl there spoke perfect English and agreed to refund the ticket just fine. Well, apart from the fact that it's now been over a month and the monies haven't yet shown up on my credit card...
Then I ponied up the 35 EUR change fee for the Norwegian flight, and changed that to HEL-FCO on Friday morning - a day earlier. I still wanted to fly Blu-Express, so I booked another ticket with them doing FCO-GOA early Friday evening, which was cheap at around 35 EUR. I was to spend the night in Genoa and then fly back the next day with Alitalia for 43 EUR. This allowed me to resume my original itinerary by the SmartWings flight.
So the itinerary had now transformed into this: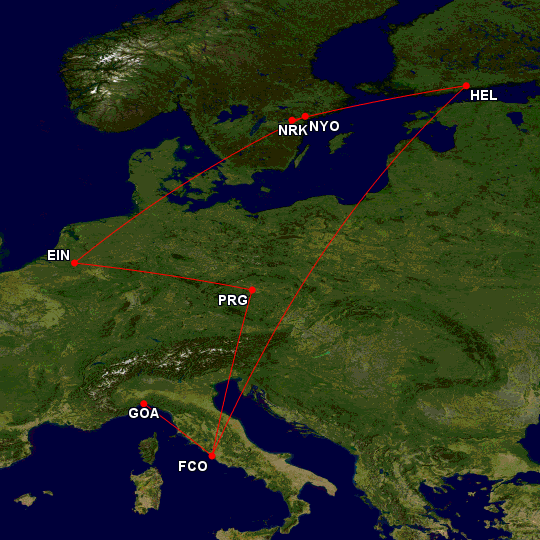 Well, of course that wasn't enough, barely a couple of days later I get a phone call from the US Expedia (who I used to book the Smartwings flight) call centre advising me that they had changed the schedules and the flight wasn't operating on Saturdays anymore. They offered me a flight on either Friday or Sunday, but that wouldn't do. I asked whether they were willing to rebook me on another carrier (I very much doubted this) and the girl said she needed to contact the airline and call me back after that. While she was doing this I checked the alternatives, and was VERY relieved and happy to find out that Wizz had a FCO-PRG flight only an hour later than the Smartwings flight would have been and that was available for under 70 EUR, pretty much the same as the original price. So when she called back and gave me the expected conclusion that there would be no rebooking on alternative carriers I asked for a refund (which was processed quite promptly and showed up on my credit card account less than two weeks later, very good) and I booked the Wizz flight.
Finally there was schedule change for the BV (who else) FCO-GOA flight which got pushed far later than I wished it would be, cutting down my time in Genoa quite short. Oh well, nothing to do here really but to roll with the punches.
So I crossed my fingers and hoped that at least the actual trip would be much smoother than the planning phase...
Friday 15.7.2011
I did my usual thing the previous night - made a detour via the airport on my way home from the office to check myself in using the Norwegian self-service machines and to ensure a great seat - bulkhead 1F. No need to pay for a seat reservation this way...
. So this morning I'm at HEL T2 (where DY just recently moved from T1 now that Ezy left some extra space) around 6.50. Plenty of people around as can be expected during the peak holiday season, but the new security setup seems to be working wonders here and getting through is actually quite straightforward - at least for those of us who know the drill by heart - many vacationers seem to be having much more trouble understanding the process...
Airside I'm thinking about getting some breakfast, but need to stop at a loo first. Now this proves to be bloody hard as Finavia apparently has closed all the closest ones to the security checkpoint - replaced by a new cafe and a building site, most probably for new shopping establishments. Finavia, have you ever heard of Maslow's hierarchy of needs?! Human beings have a tendency to fulfill their most basic needs first, and going to the loo just happens to come WAY before shopping or spending money at one your overpriced cafes...
Oh well, eventually I find the new toilet site, it is actually upstairs where once upon a time there was a lounge complex... Turning lounges into loos, way to go. Having fulfilled the most basic of my needs I decide to climb up the ladder a few notches by grabbing some coffee and a helluva overpriced but good sandwich (basic needs, level 2: sustenance) from the coffee shop right next to my gate and to shoot a photo of my chariot of the skies for this morning (level 3: flying machines):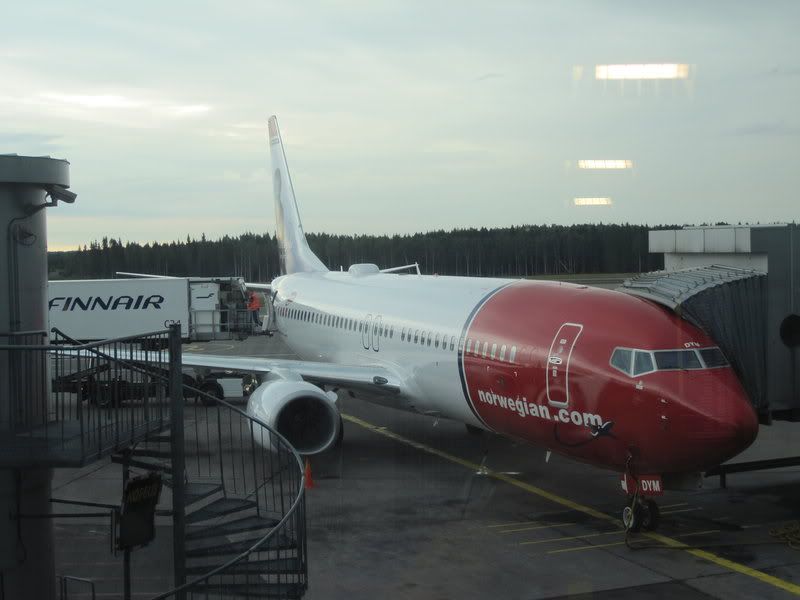 LN-DYM, a new bird for my log. The bulge on the back looks promising, so I hope that wifi will be offered on this flight.
Boarding is called around 25 minutes before departure. They try to enforce it by row numbers, but as always here it just doesn't work at all, so I decide to ignore it as well and board at my leisure, despite being seated in the very first row.
HEL - FCO
DY5870
B737-800 LN-DYM
Seat 1F
7.59 - 10.30
The male purser is the same I had on the inaugural flight to RVN two and half months ago, he doesn't seem to remember me though. He also happens to be the only Finnish crew member on this flight, the rest is all Estonians (apart from the captain). The cockpit door is open:
The bulkhead 1F is a great seat - tons of legroom: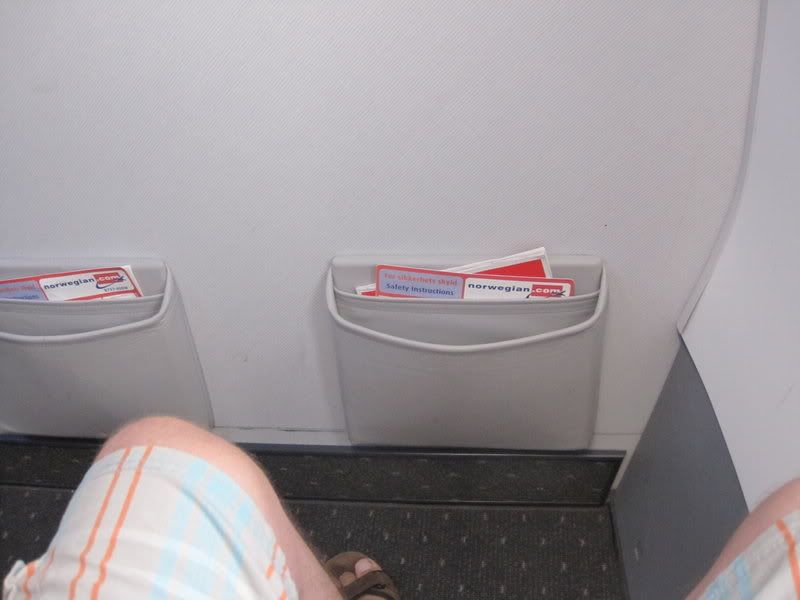 It has started raining outside - I'm just SO happy to be going to sunny Italy!
Mood lighting: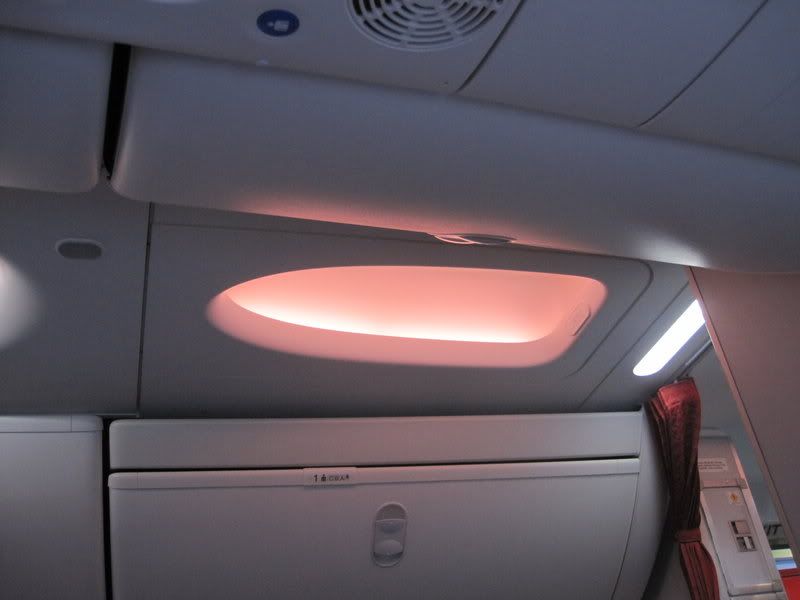 Quite a lot of Russian passengers on this flight, well that's not really a surprise at all. Despite a very good load of over 90% I score the entire block of three for me - another advantage of doing the self service check in thingy as I think the agents will not assign these seats until the plane is completely full (there are three young persons on 1ABC though).
Our captain sounds like Norwegian, especially as he welcomes us onboard this "Norwegian Air Shuttle" flight. Flight time this morning will be 3h20mins. No mention of wifi being available, and I try later inflight - no signal. Bugger.
Safety demo is played on the screens - I don't think I have seen it before, but then again my memory isn't that good these days anymore:
Push back is a minute early. This morning all take offs are from runway 15 - now that's very rare on a jet plane due to noise abatement reasons (turboprops do it somewhat more often), but apparently the wind direction this morning is dictating so. Too bad I'm on the wrong side to see my house, but at least we are treated to a nice view over the Helsinki city center:
AY spraying some water: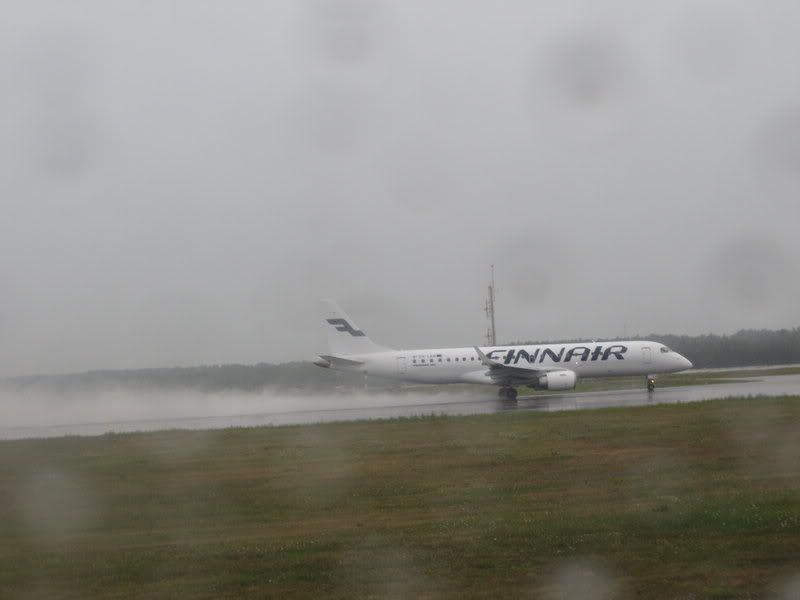 Primera, off to somewhere sunny and nice: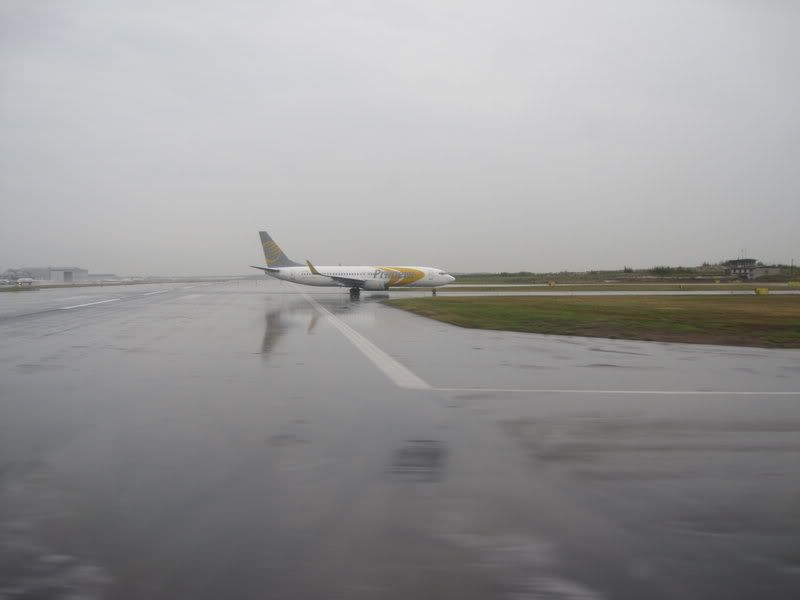 I bet they feel right at home with the weather today:
Bye, HEL: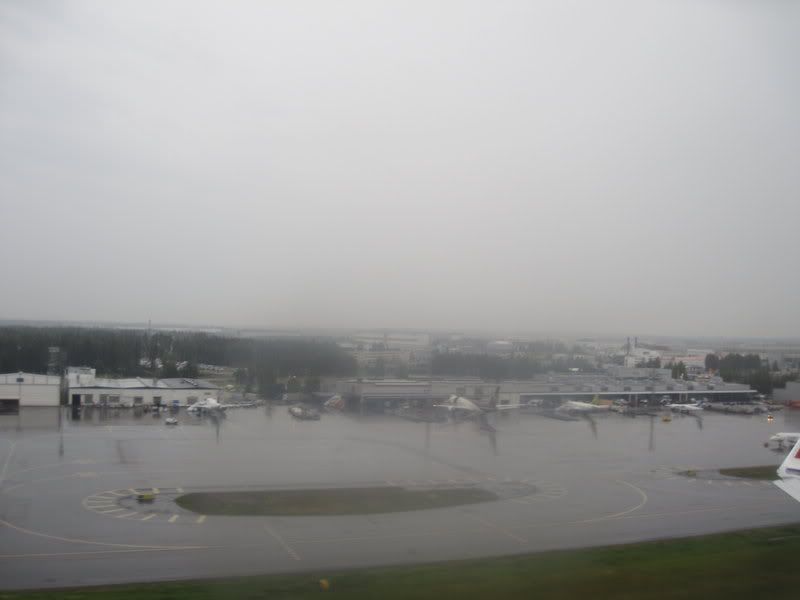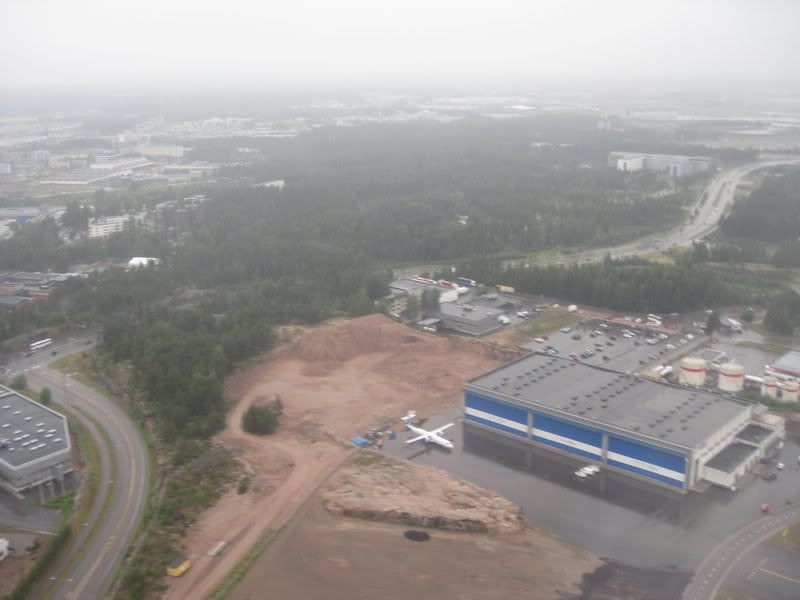 This just happens to be the busiest road intersection in Finland, as somebody who regularly drives through it I can certainly agree with that:
This is the reason why this runway is rarely used - lots and lots of houses underneath it: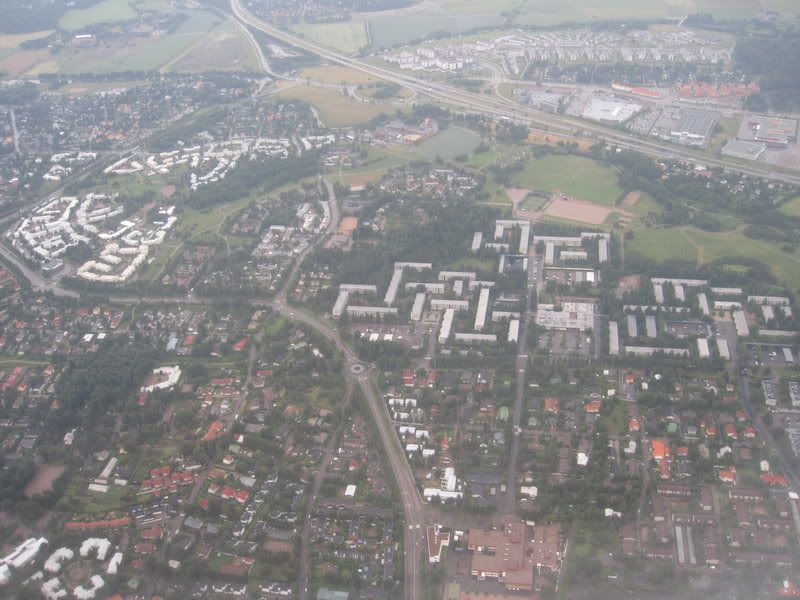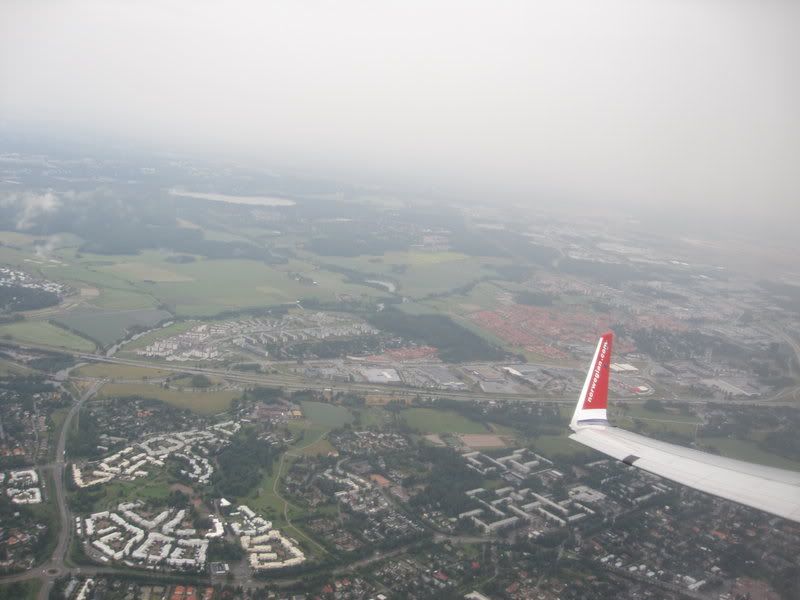 The Hartwall Areena, a venue for hockey games and mega concerts: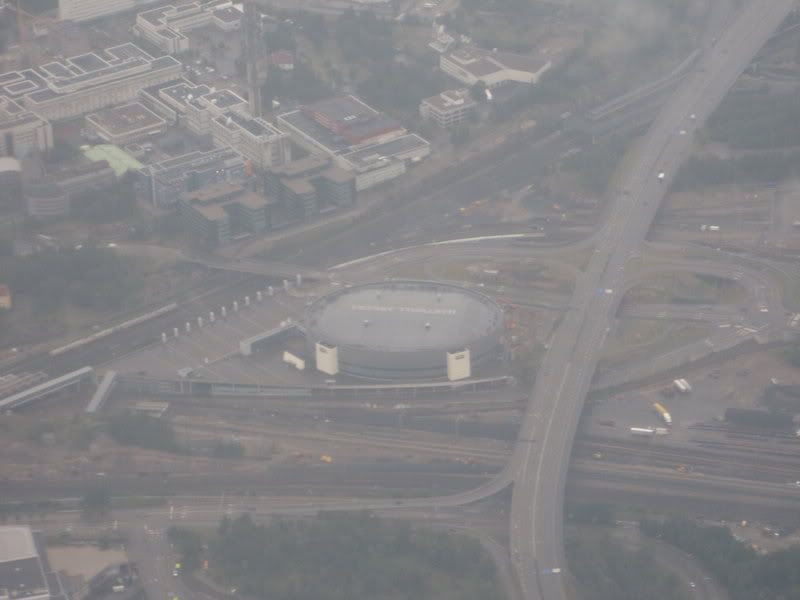 The Pasila railway station (think of it as "Helsinki North") - I pass through here daily:
The Olympic Stadium built for the 1952 Olympic games with its distinct tower:
The famous rock church in the middle of Töölö:
Leaving land behind over Hernesaari, looks like a cruise ship is in town: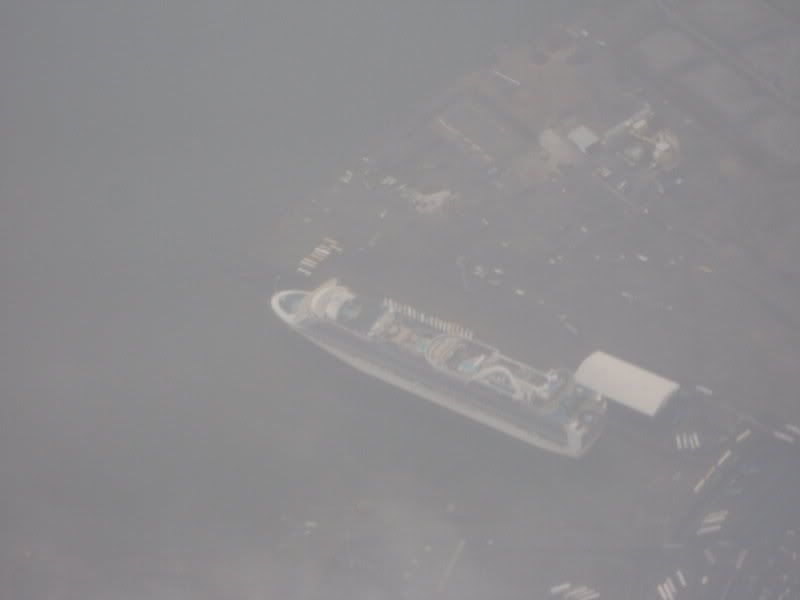 I bet airlines get stock discount on old Disney cartoons - a week ago I was watching the same clip on Air Berlin:
Somewhere near the Lithuanian-Polish border I see this AY Airbus flying very near us: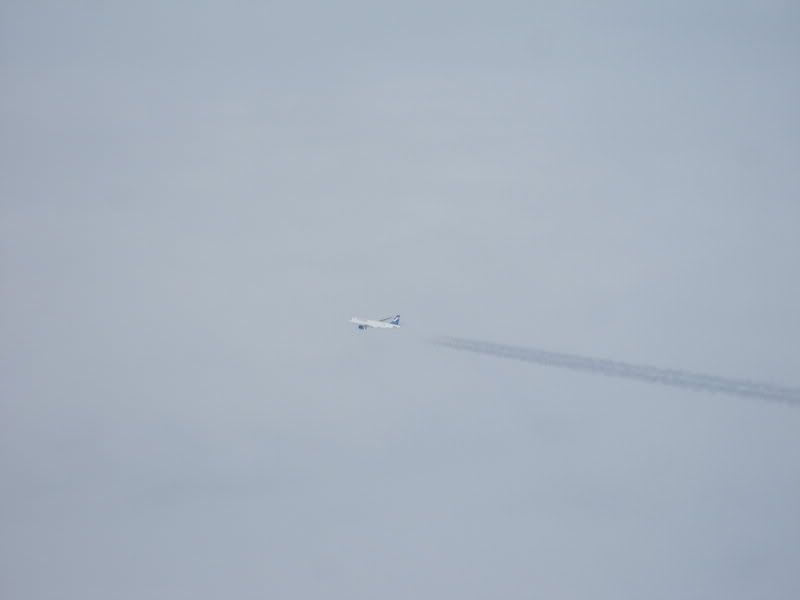 Plenty of traffic over Poland anyway, I see an LX Airbus crossing very near, but am too slow with the camera. Here's a TUIfly 738, heading to Turkey or Bulgaria:
Beautiful: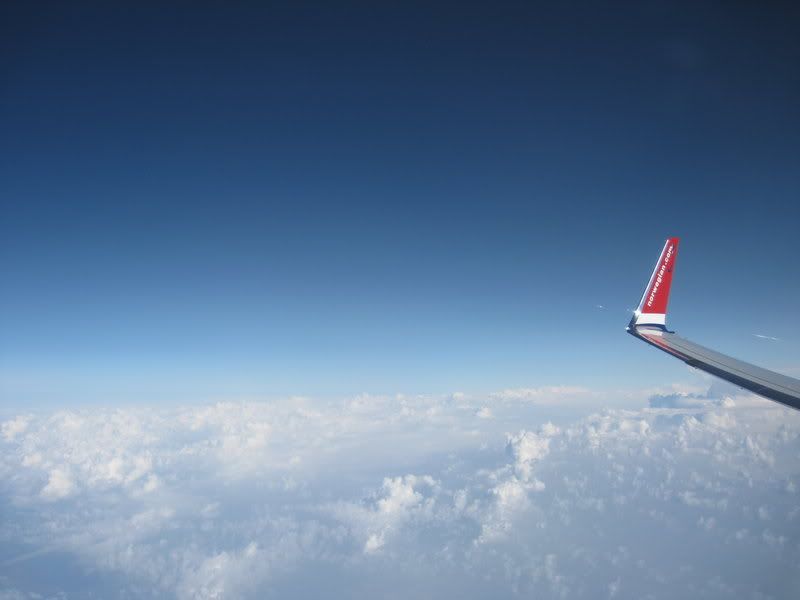 Over south Poland the Estonian first officer makes an announcement, describing our route as "Helsinki - Poland - Slovakia - Hungary - Croatia - Bosnia and Hertzegovina - Adriatic Sea - Rome" where it is 24 degrees and sunny. Interesting route, quite a bit more easternly than I'd expected.
His Estonian-accented and somewhat pigdin English is so thick that the young lads and gal over at 1ABC can't stop laughing and making fun of it - now that's quite rude if you ask me. Well, they seem to spend more money on booze during this flight than I did on my ticket...
Over Hungary the clouds finally give way for some nice views of the ground.
Lake Balaton: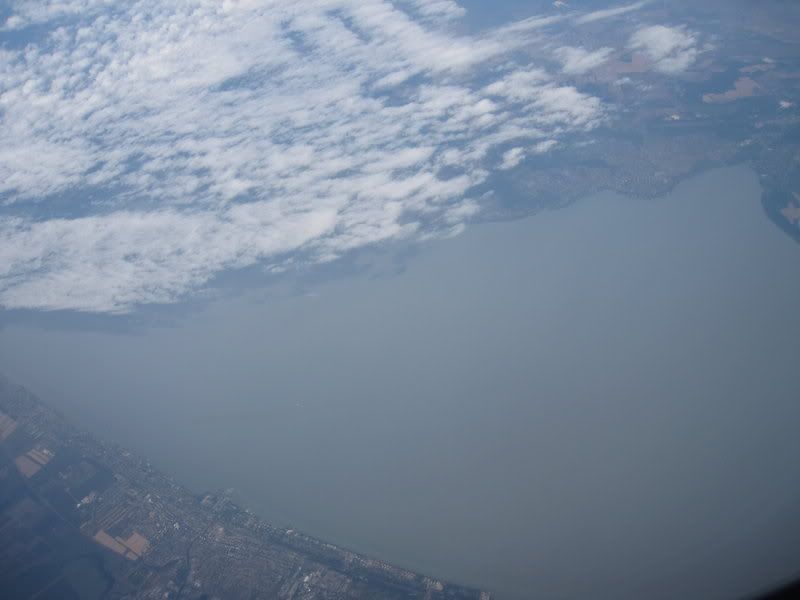 Flybalaton airport, where Ryanair once flew:
Somewhere over southern Hungary or Croatia - these villages built along the roads look like necklaces to me: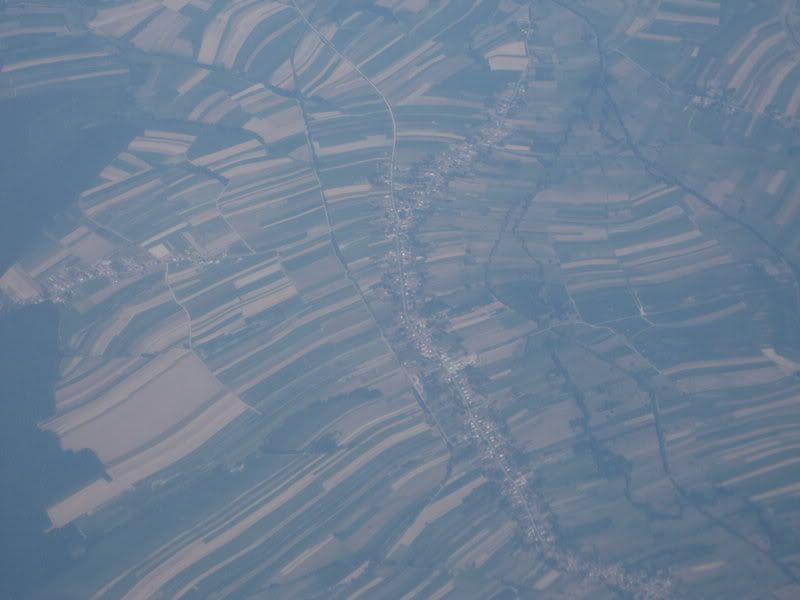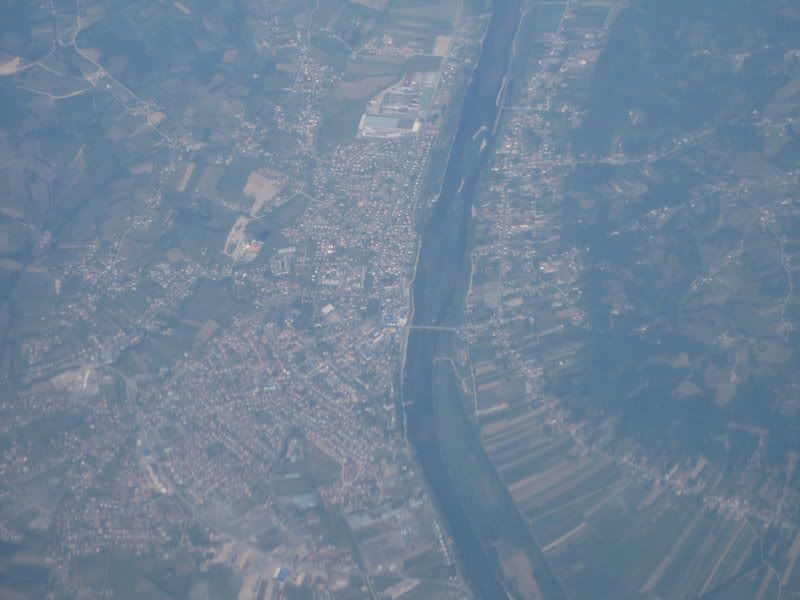 The Balkan is always good for some impressive scenery: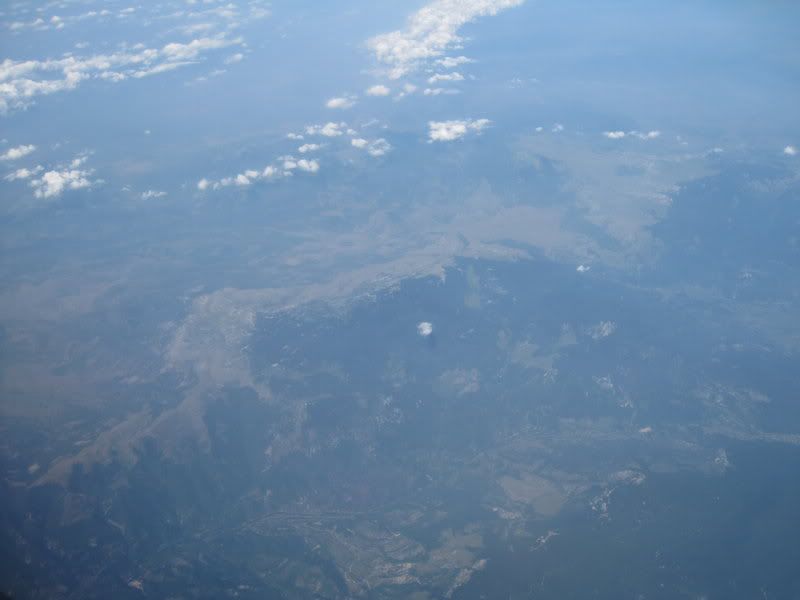 The Adriatic on sight - overflying the lake of Prokljansko jezero, halway between Zadar and Split: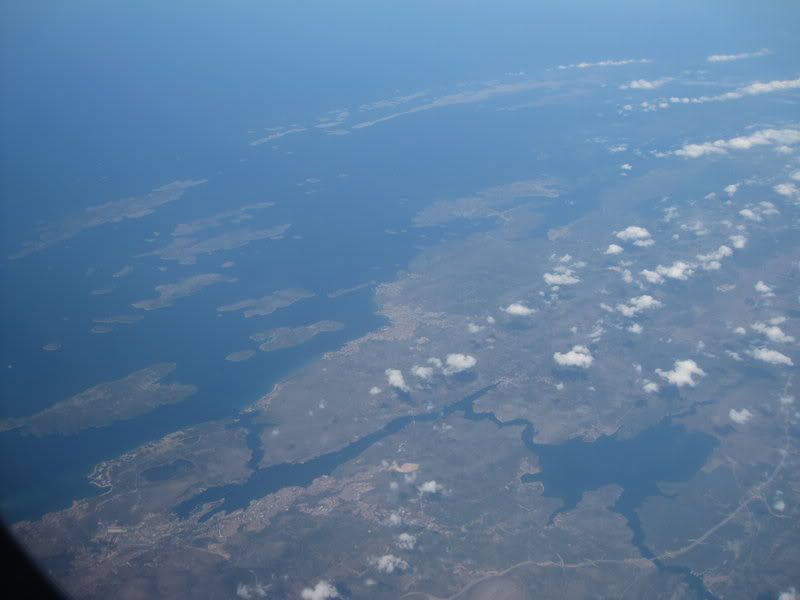 The town of Šibenik:
Crossing the Adriatic doesn't take too long and soon the Italian coastline comes to view: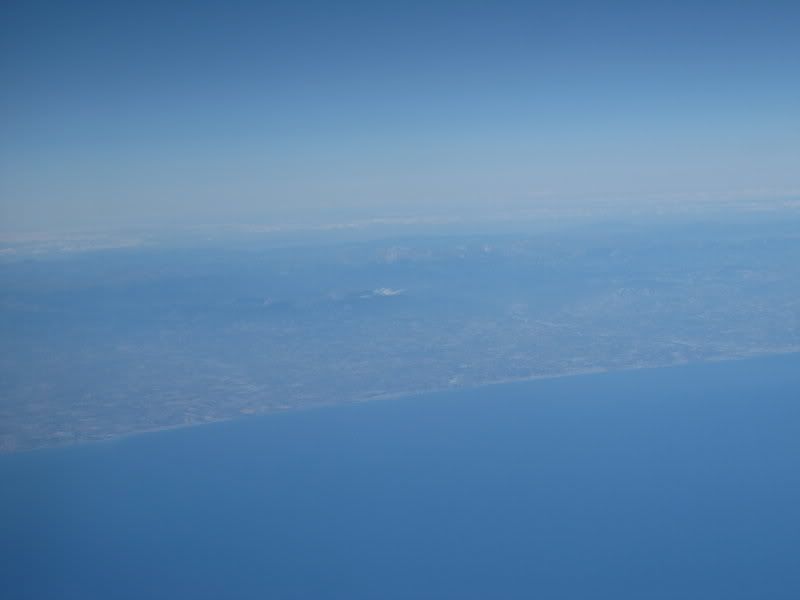 Making landfall directly over Pescara:
The Apennines provide some impressive views as well:
L'Aquila: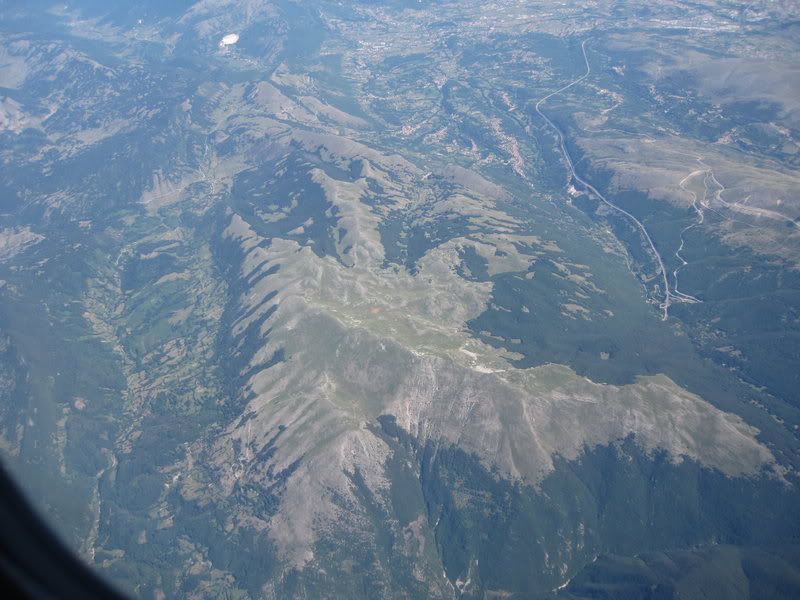 Lago de Salto - I really would like to dip into that lake for a refreshing swim: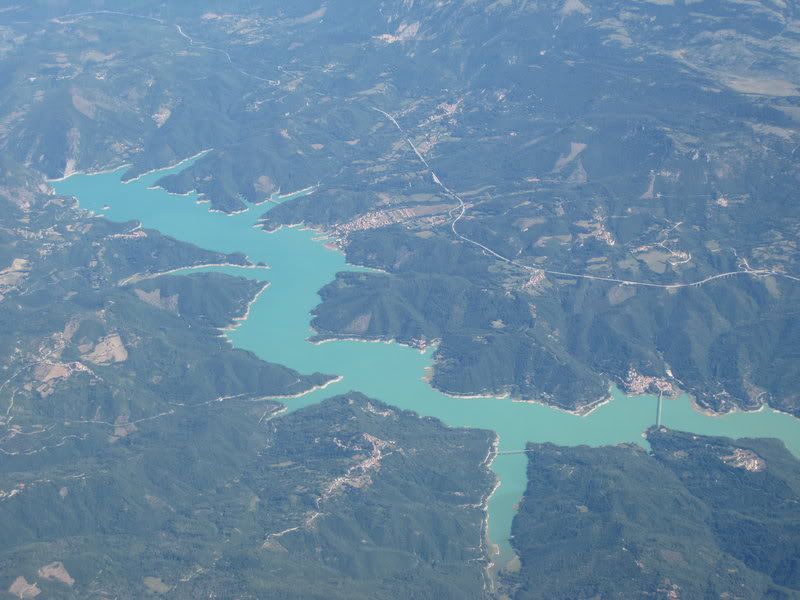 Soon enough descent is announced, but not before "last call" for any drinks - guess who want to have another round?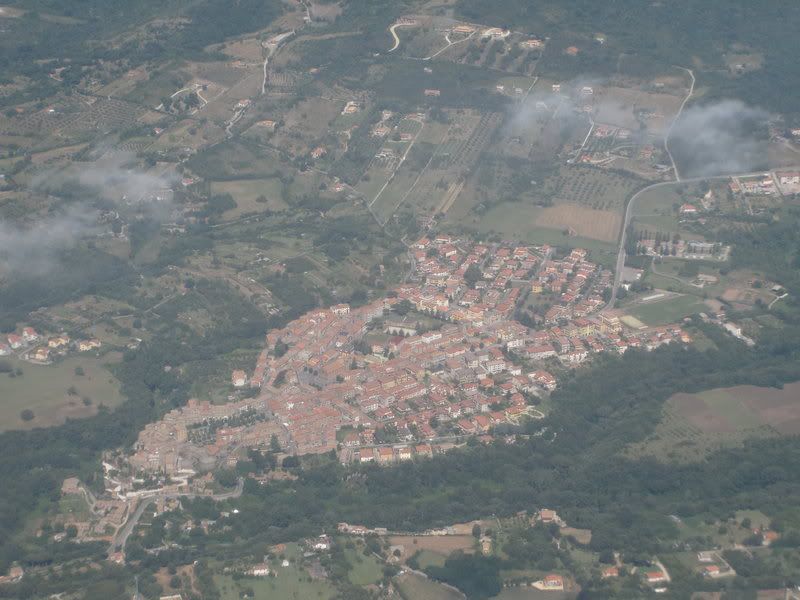 The Tyrrhenian Sea on sight: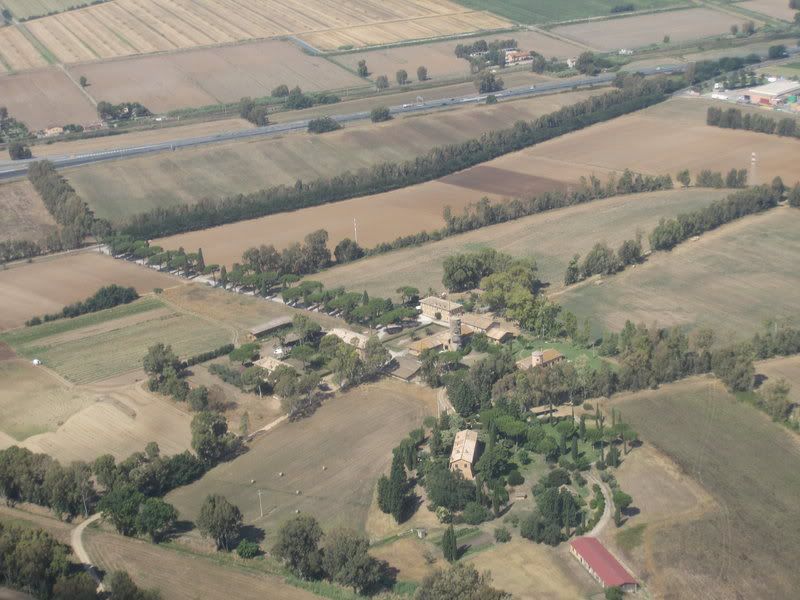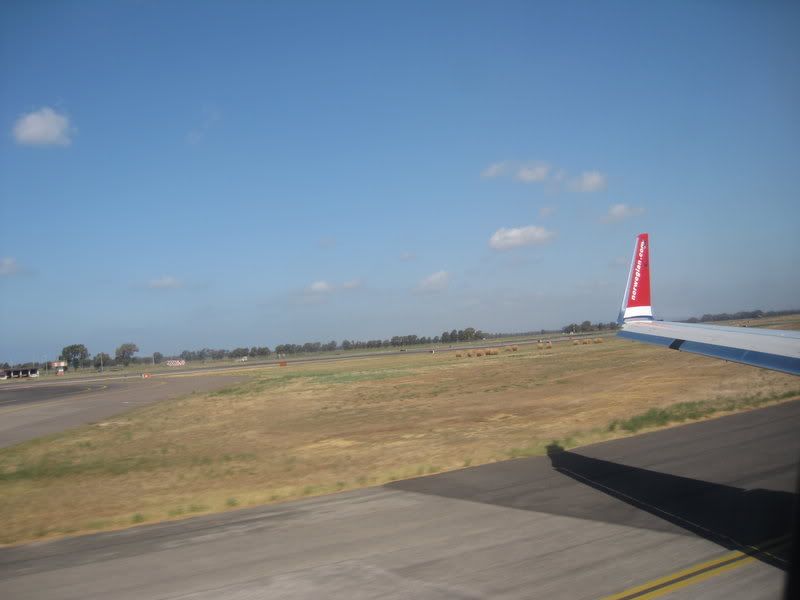 Landing is on runway 16L bang at our scheduled arrival time after a flight time of around 3h20mins.
Something smoky taking off, must be an Alitalia Super-80:
Taxiing to the gate takes a good ten minutes, during which I am wondering whether I can make it on time for my bus at 11.10. Bus to where? Read on!
A bit of a queue for take off on runway 25:
Will this be my ride for the evening: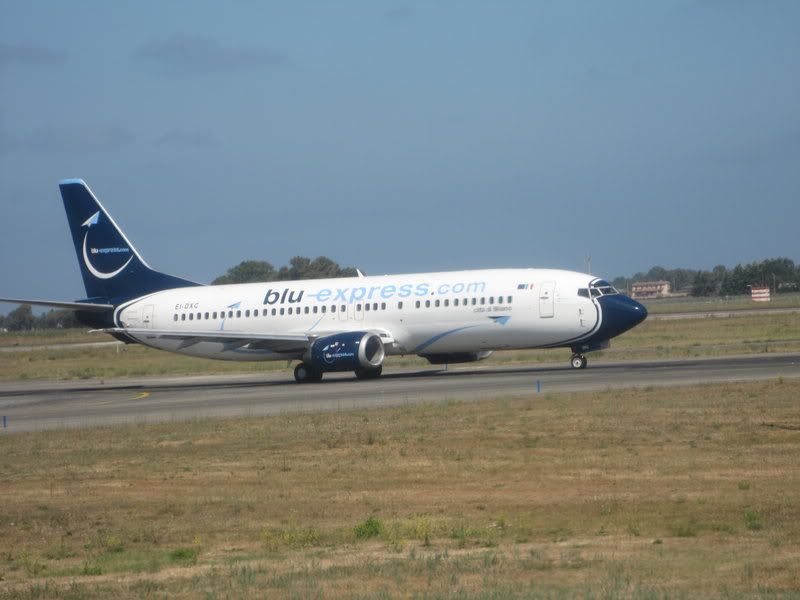 Beautiful: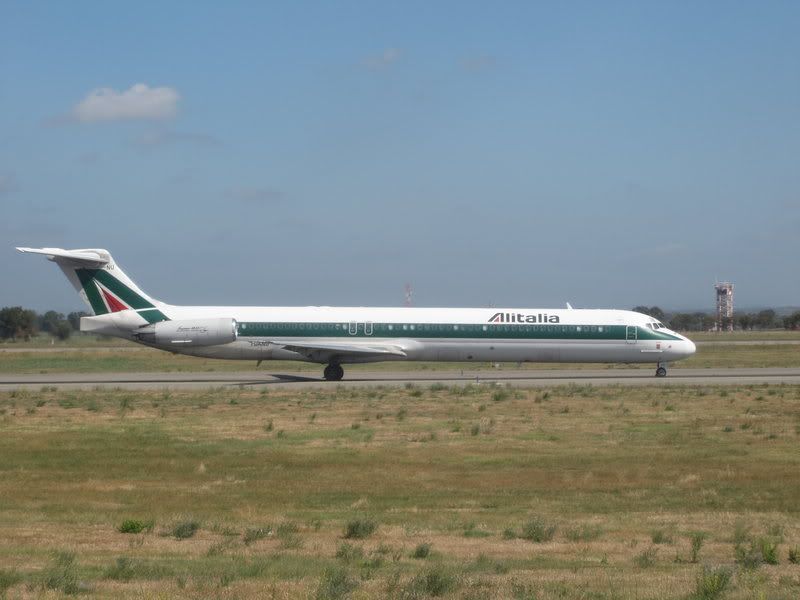 The green livery looks good: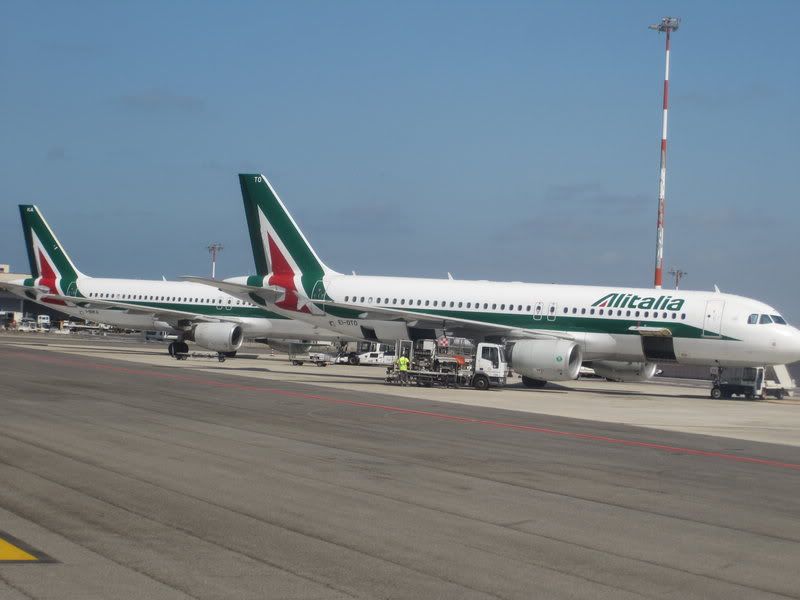 It's not all jets: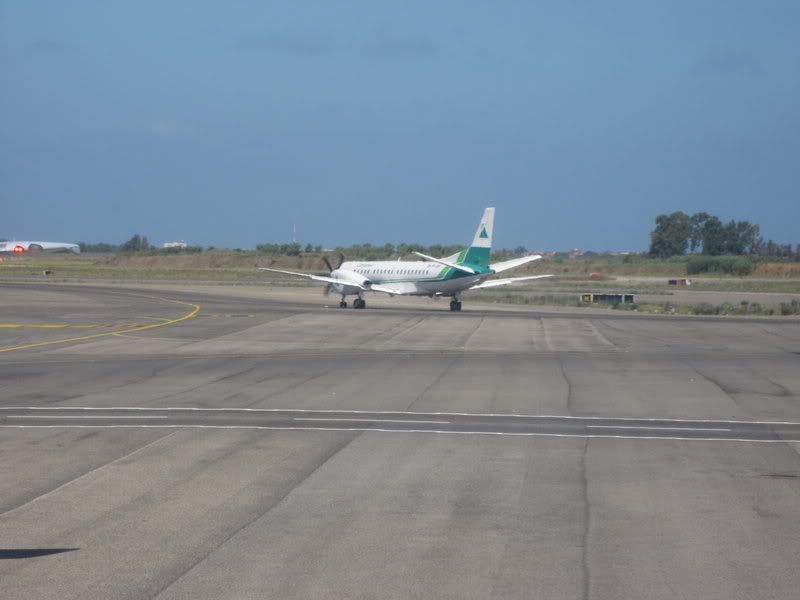 We get a jetway parking position, ironically next to this AY Airbus who left HEL ten minutes before us: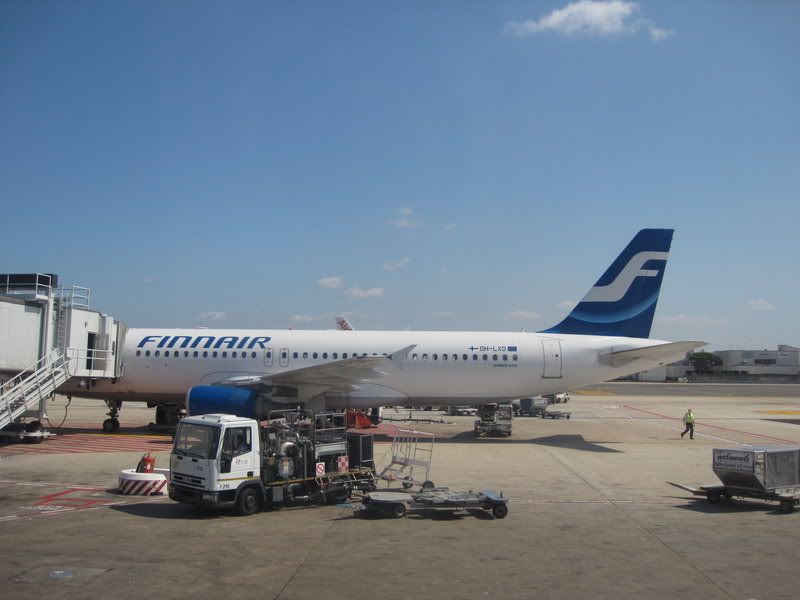 Rome Fiumicino Airport, take 1
I'm one of the first ones off the plane, it's a bit of a hike to arrivals and the way isn't exactly clear. So baggage hall and exit is straight through the wall from here?
Well, eventually I make it out to the arrivals hall with plenty of time to spare, so I drop into the tobaccionist to buy some bus tickets and then do the real Italian thing - have a delicious, cheap espresso standing up at the coffee bar opposite.
Afterwards I head outside to wait for my bus in the glorious sunshine: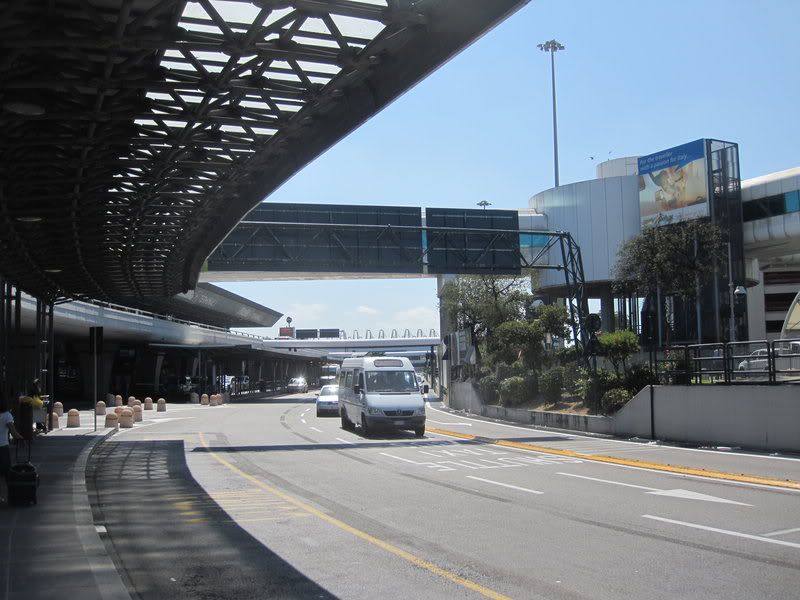 I have a layover of around nine hours before my flight (or so I thought). I'm not a very big fan of Rome, so while thinking what to do during that time going to the city wasn't very high on my list of priorities. Luckily there's a far better alternative - the town of Ostia (often called Lido di Ostia) which actually isn't a town at all, but instead just part of Rome is nearby, has regular buses to and from the airport and most importantly has a large beach. That sounds like the perfect place to get some sunshine between flights, so I decided to head there. The bus tickets are cheap - only 1.20 EUR (you gotta love public transportation and the Italian taxpayer!) and the ride takes around half an hour.
Ostia
I spend some lazy hours just wondering around, eating lunch and getting some sunshine.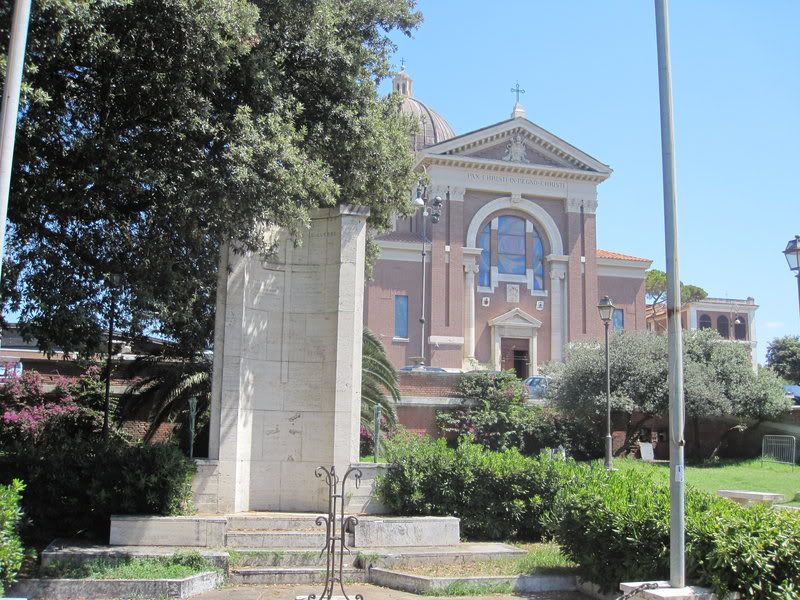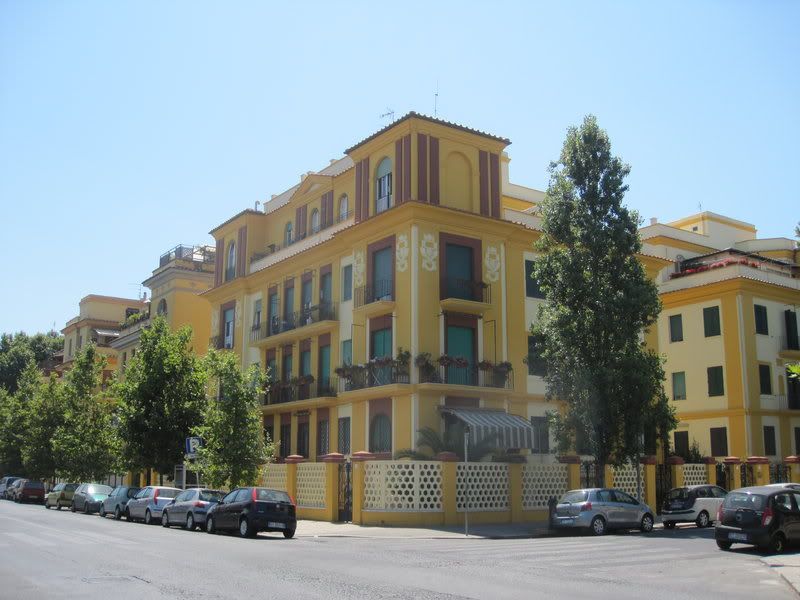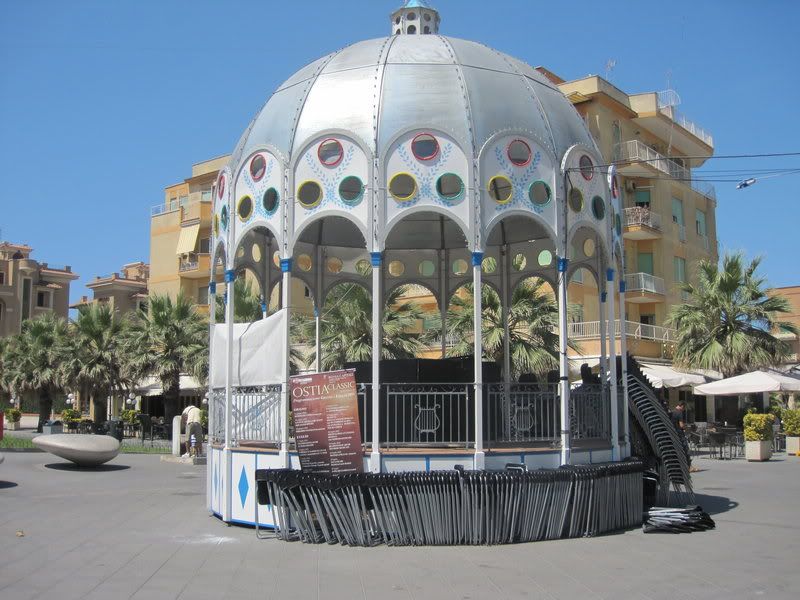 See, awfully clever: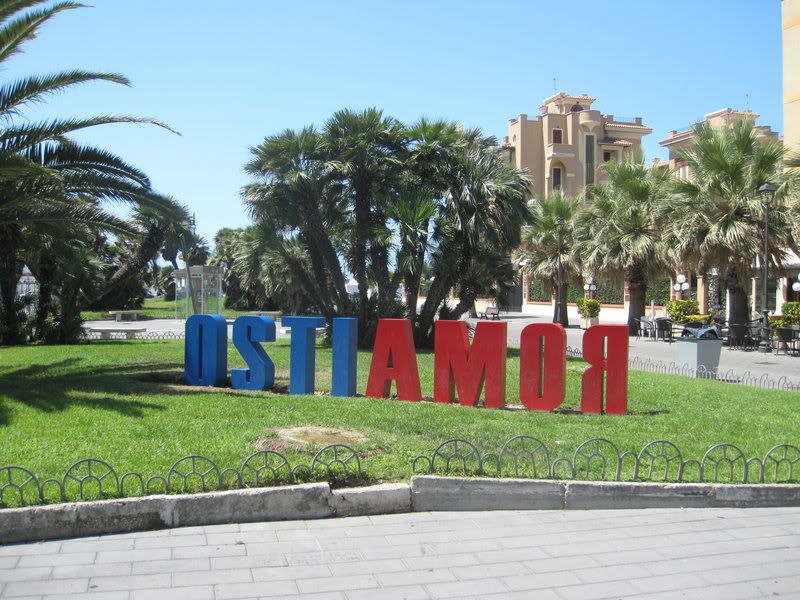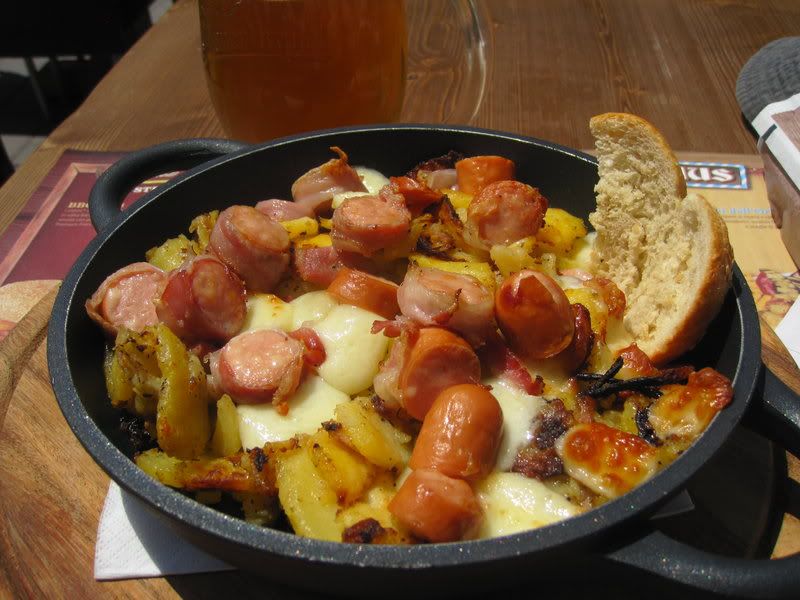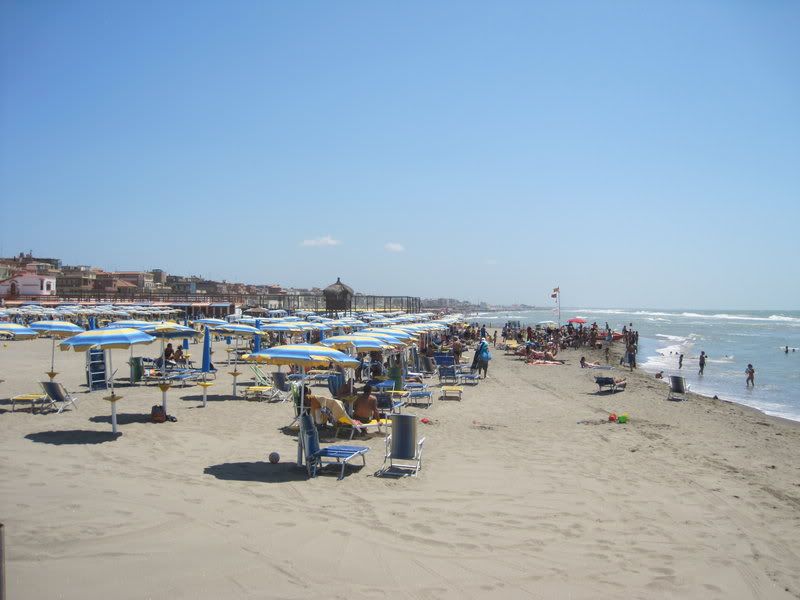 It was quite windy, with matching waves:
The place is packed with Italians and Romanians, and a surprisingly number of Swedes as well.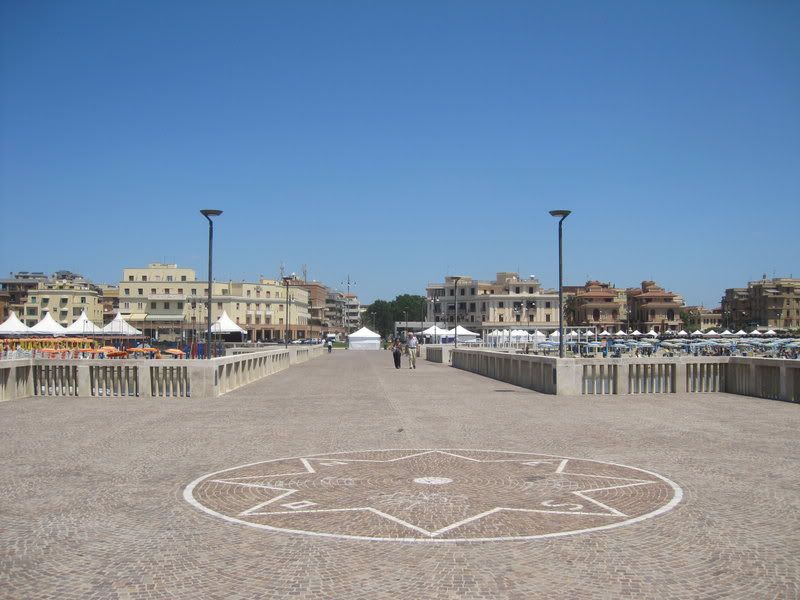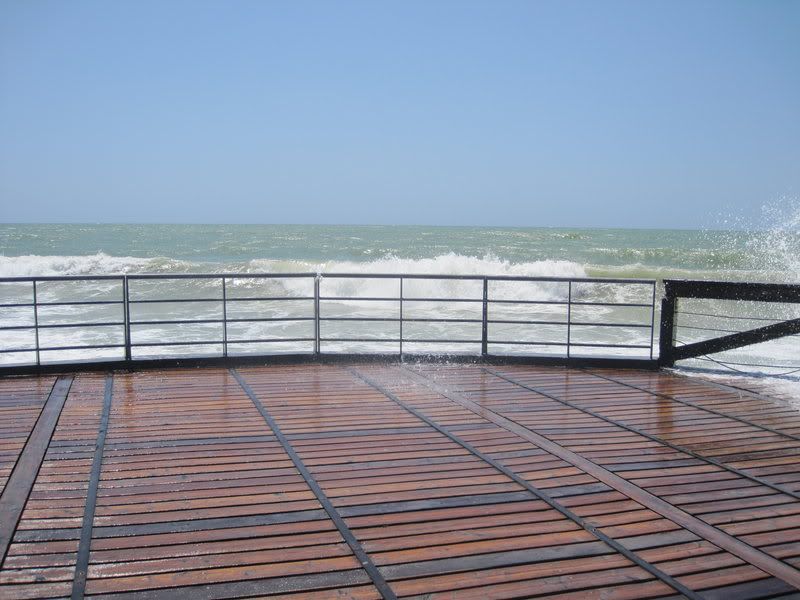 Some live music - this duo played incredibly bad cover versions of famous songs: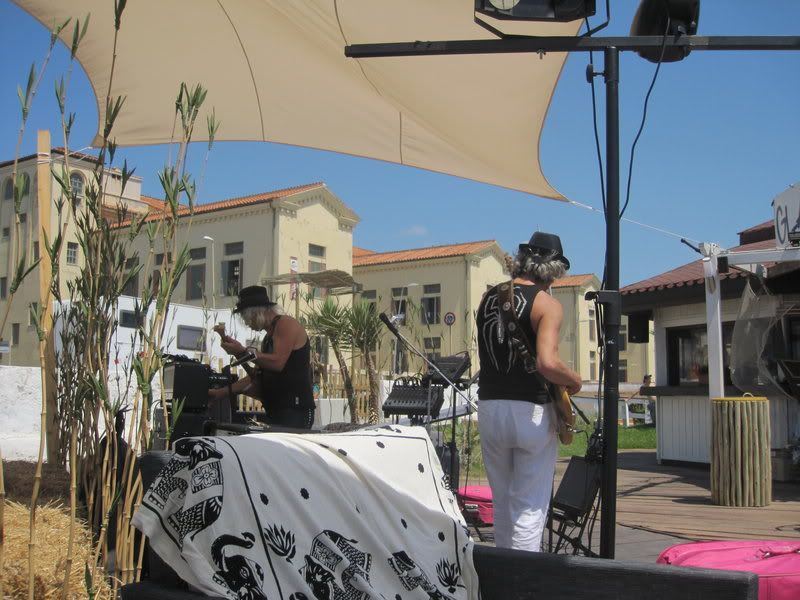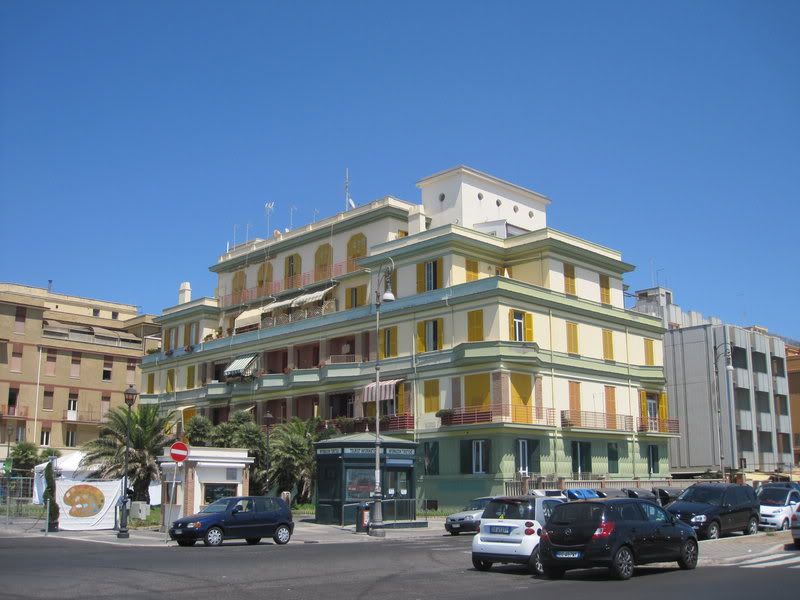 This amusement arcade was closed: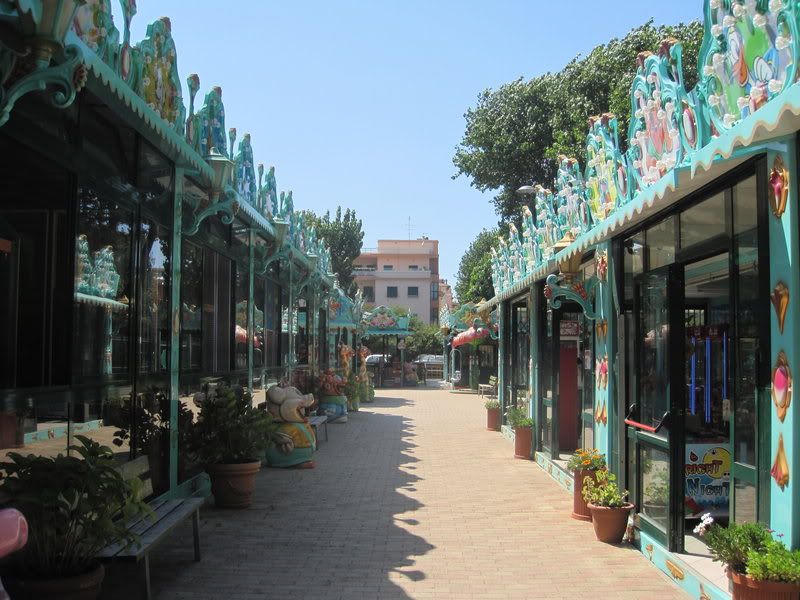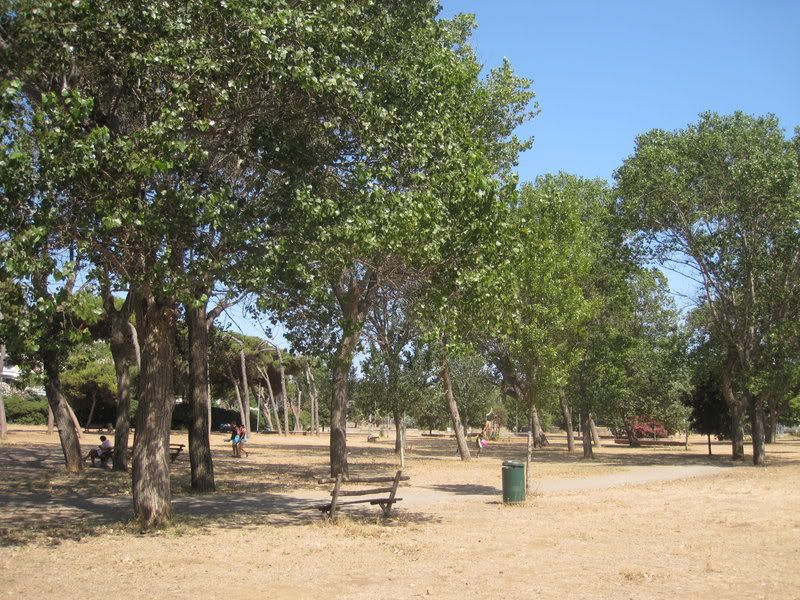 Eventually it is time to take the bus back to FCO. Definitely a recommendable place for anybody with a long stopover!
Rome Fiumicino Airport, take 2
Back at the airport I sure am glad I did OLCI - masses of people in the check in halls:
And lots of pax in security as well, but luckily most of the lanes are open. Ok, I will, but only because you are begging: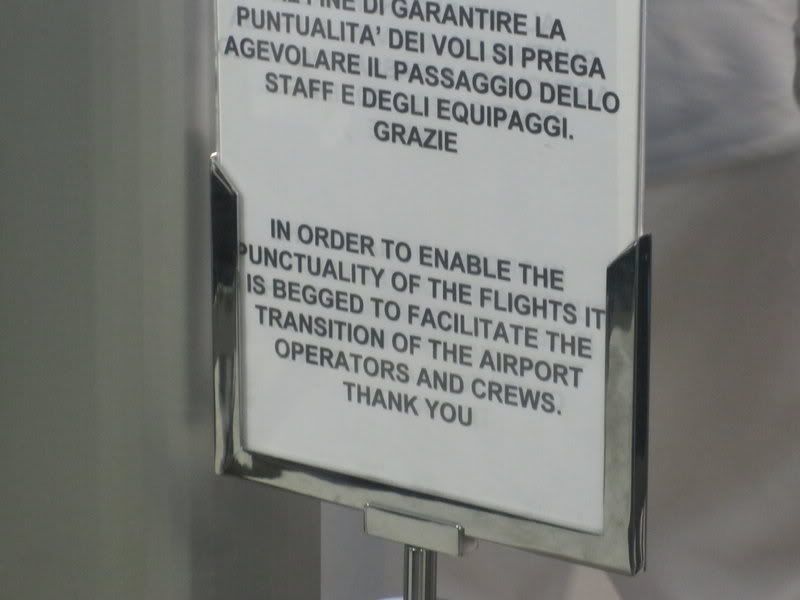 Busy: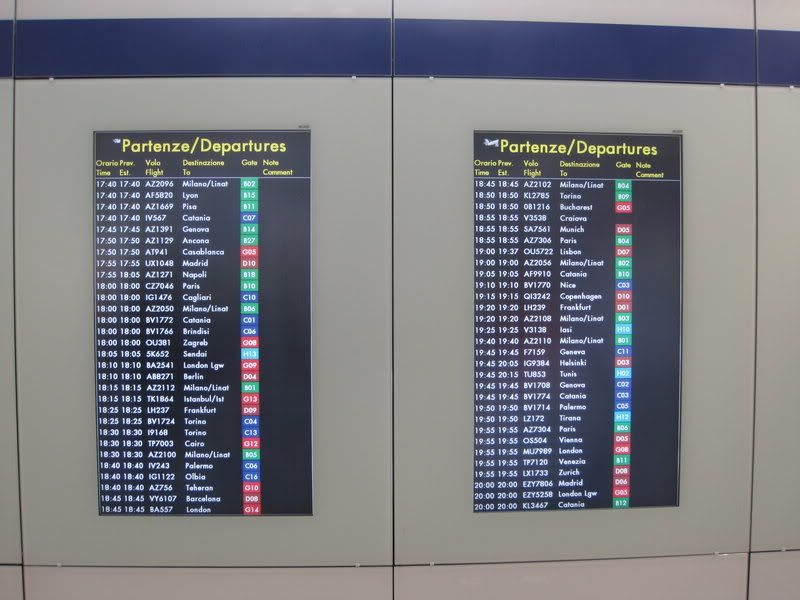 I then make a beeline for the lounge, I'm desperate for a drink after the hot bus ride: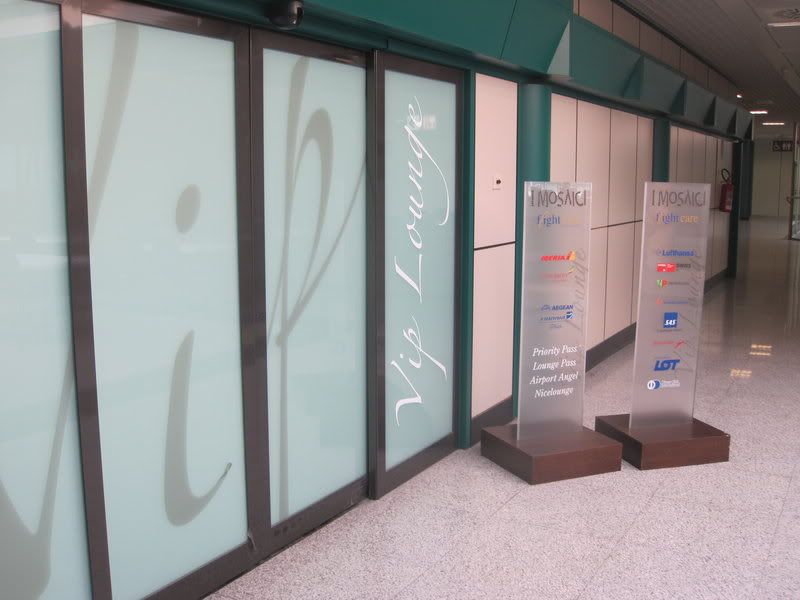 Now this flightcare lounge turns out to be a huge disappointment - no wifi, only two ancient computers to use, dirty, stuffy, nasty and smelly toilets and a staffed bar with no beer! The food offerings are plain as well, some sandwiches, totally tasteless mini pizzas and french fries (but no ketchup and by the time they bring out the fries all the forks are gone - are you supposed to eat with your fingers?). One of the worst lounges I've ever been to, that's for sure...
Ok, the espresso was fine, I give them that:
After some time with the computer which keeps crashing on me I decide to head for a little stroll around the public areas. There aren't many places where you could find a glove shop in an airport: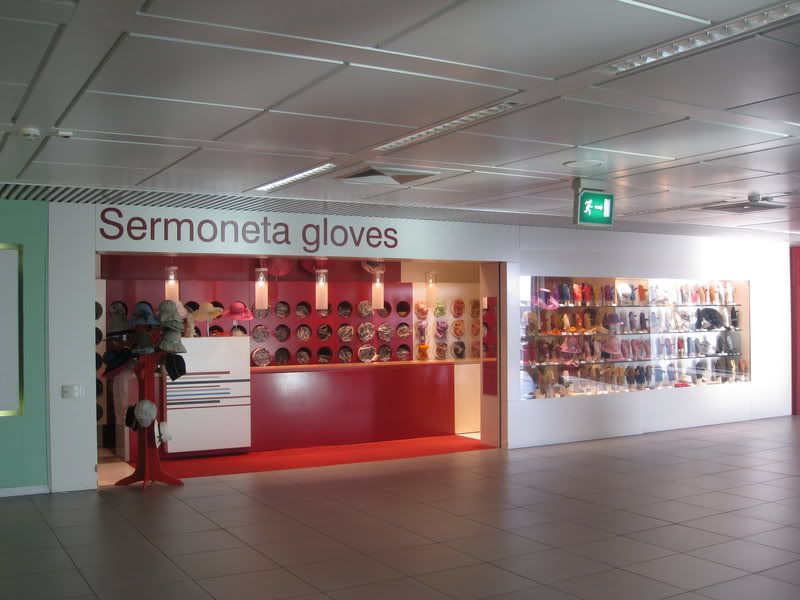 Eventually I make my way to the gate - a weird bus gate area downstairs with lots of people, inadequate seating and a very depressing feel to it:
Next to us are company flights to PMO and NCE - on both gates the agents announce something in Italian which is met with a collective sigh from the people - quite funny actually. Our flight is still showing up as on time:
When NCE finally boards (late, of course) the whole crowd queuing there breaks into spontaneous applause - somehow I get the feeling that this is business as usual for Blu-Express...
Then a small, 25 minute delay is announced for us. Ok, nothing bad, so I decide to go for another walk. This just about summarizes it up: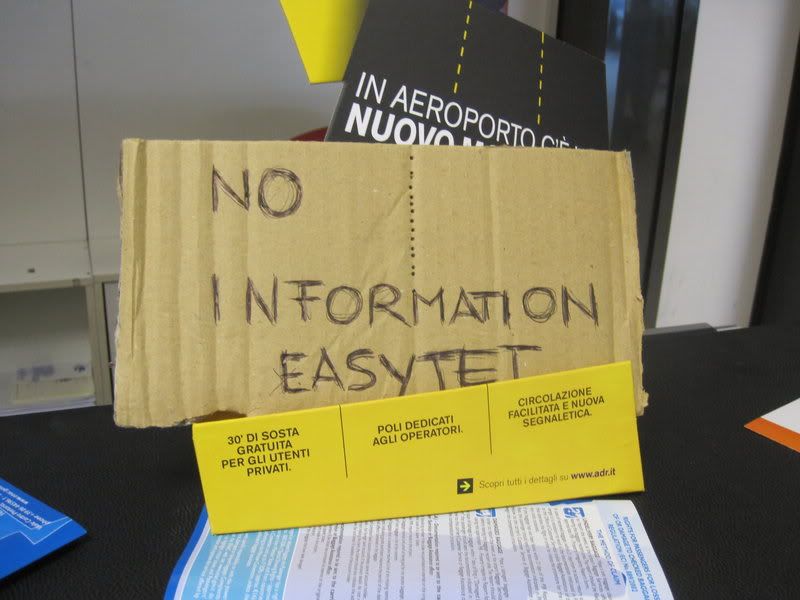 See, all the Blu-Express flights are delayed: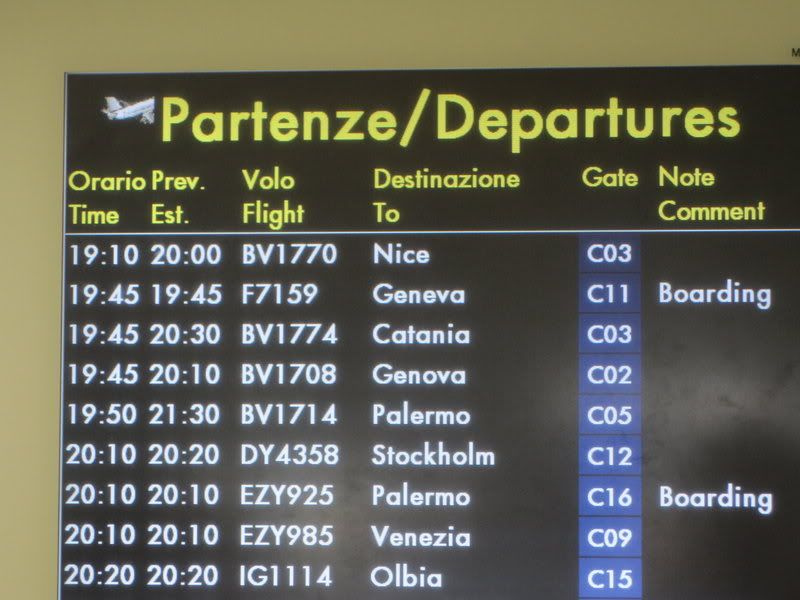 Top