Hello,
For a long time I've wanted to ride a heavy airplane on a short route. What better than to actually do it between some place and one of the closer airports to my home. Korean Air allows you to book the VIE-ZRH leg, which is flown three times a week, for 120 Euros one way in Economy. Not the cheapest option on this route, as it's flown about 14 times daily by OS, LX and HG, but still a very good price considering the luxury of flying a 747.
So I planned a day trip with a morning flight to VIE, spending the day in Vienna and then head back in the evening on KE 933. As I'd purchased the Air Berlin City Tour pass which allows you to book five flights for 220 Euros I spent one coupon for a flight on the 9 AM departure by Niki to Vienna.
In the early morning of July 7 I first had to take a 90 minutes train ride to Zurich airport train station. I'd checked in online on the evening before and got myself seat 4A on the Niki A320.
From: Zurich Kloten ZRH
To: Vienna Schwechat VIE
Flight number: HG 8151
ATD: 0901 LT
ATA: 10:05 LT
Flight equipment: Airbus A320-200
Registration: OE-LEU
After quickly clearing security I had to wait another thirty minutes or so for boarding to be announced. So I had time to wander around and also to look at the progress that'd been made on the new Dock B to be opened in about 4 to 5 months.
About 45 minutes prior to departure the Airbus A320 named Hip Hop with the distinctive fly on its nose appeared at Gate A68.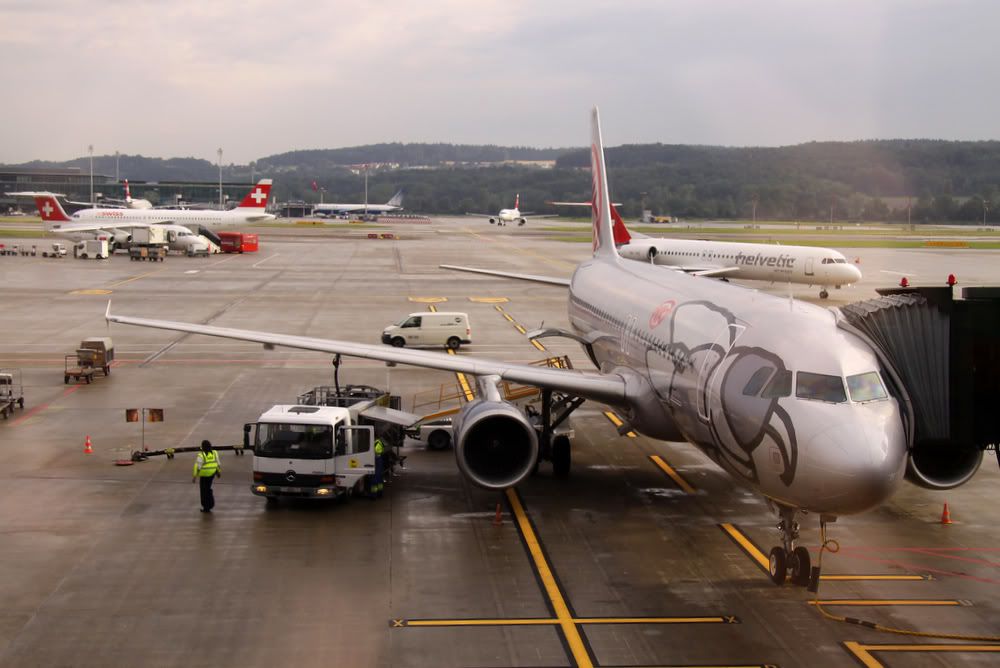 Boarding soon began and along with about 120 other passengers I entered via the jetway. It was my first flight on Niki and I was a bit baffled by the outfit of the cabin crew being just regular blue jeans and a pink blouse. Nevertheless I felt very comfortable aboard, and after everyone was seated the FAs came around to distribute newspapers and magazines. Just at about 9 am we made our takeoff roll on runway 28 to the West.
Some views after departure
The morning was perfect for some nice panoramic views over first the Swiss and then the Austrian alps. Shortly after reaching the cruising altitude the FAs came around with a choice of three different sandwiches.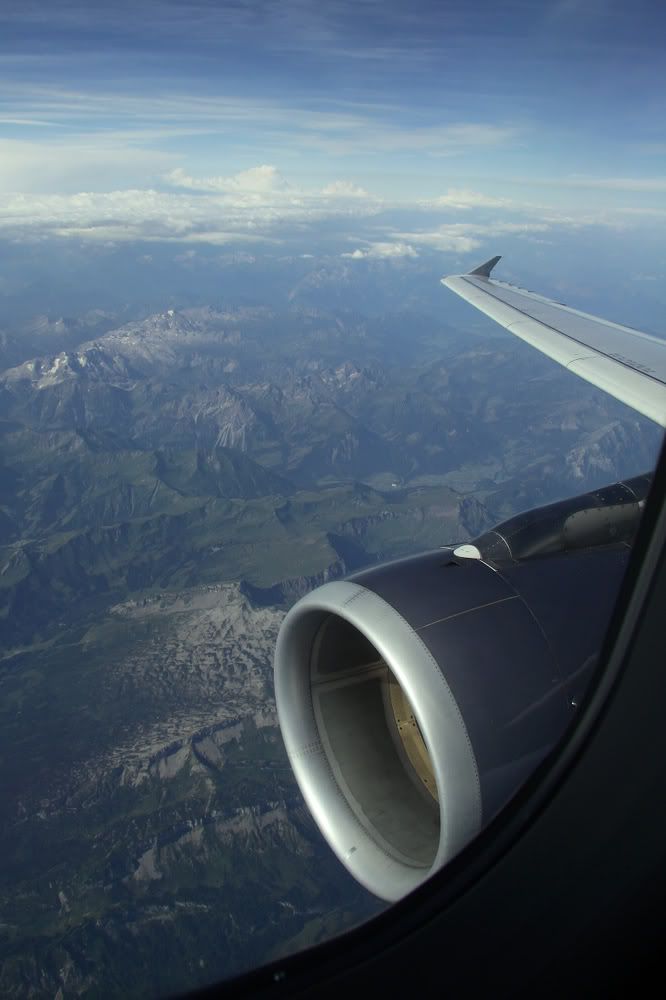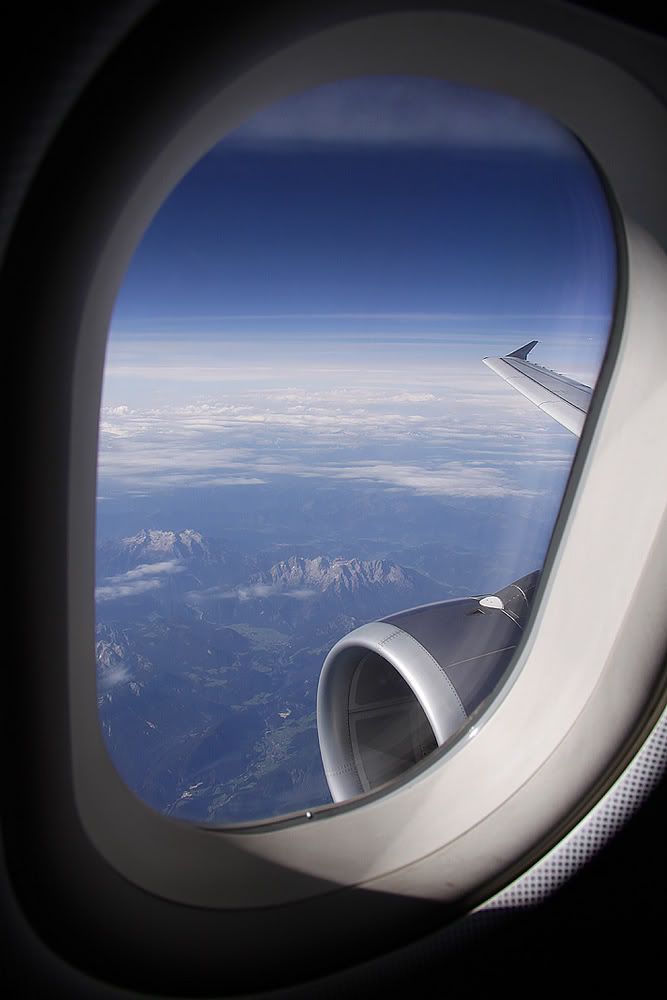 Crusing towards Vienna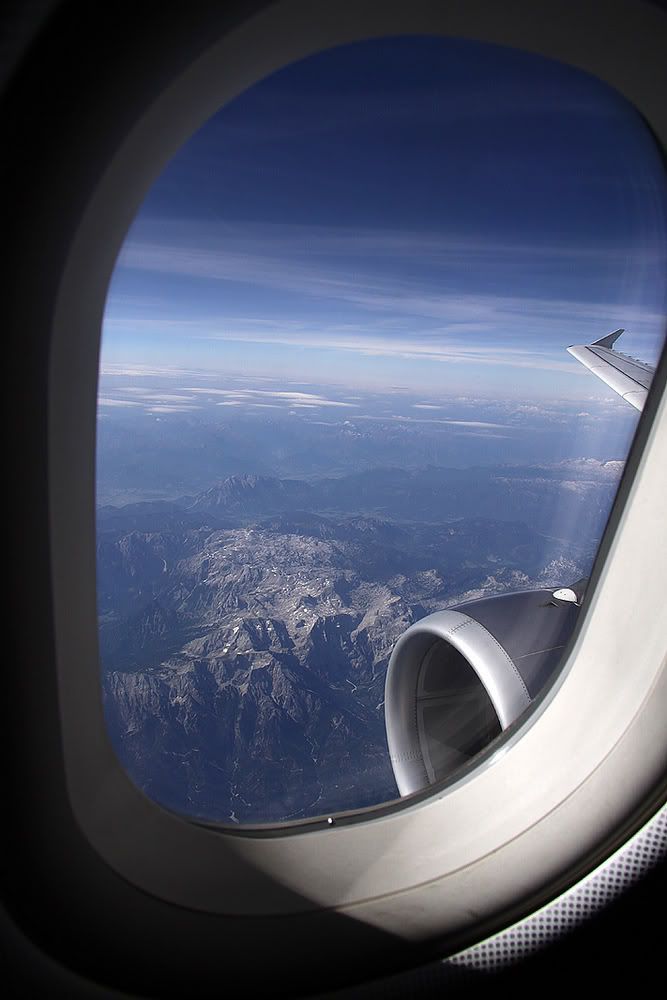 And finally after about 45 minutes in the air on the right hand base the lovely city on the blue Danube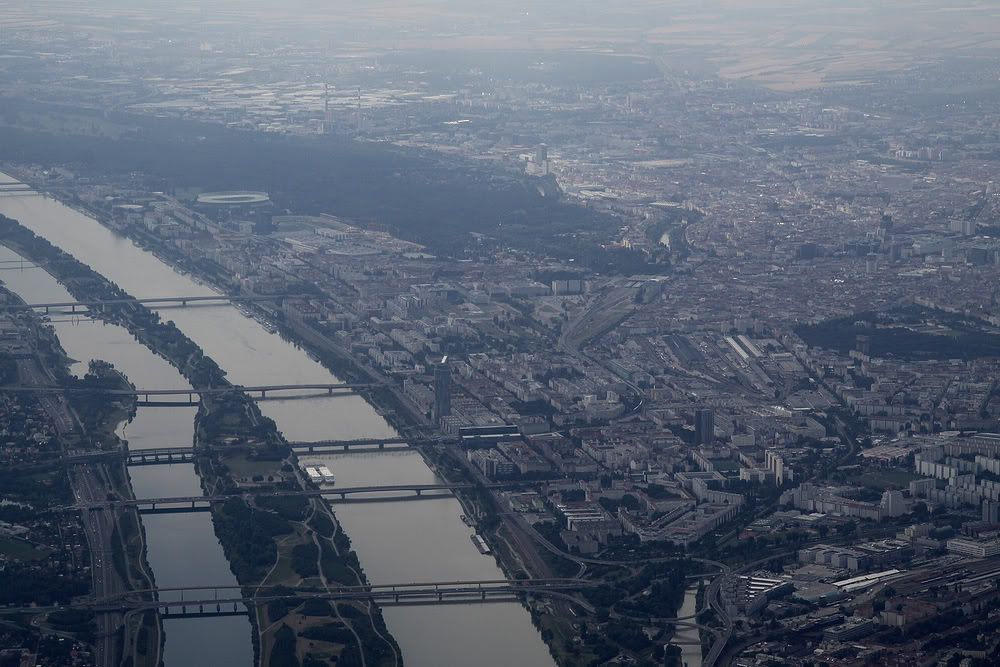 After a 180 turn to the right ILS 16 was established and the Airbus swiftly touched down at its home base in VIE.
Lovely view of a river boat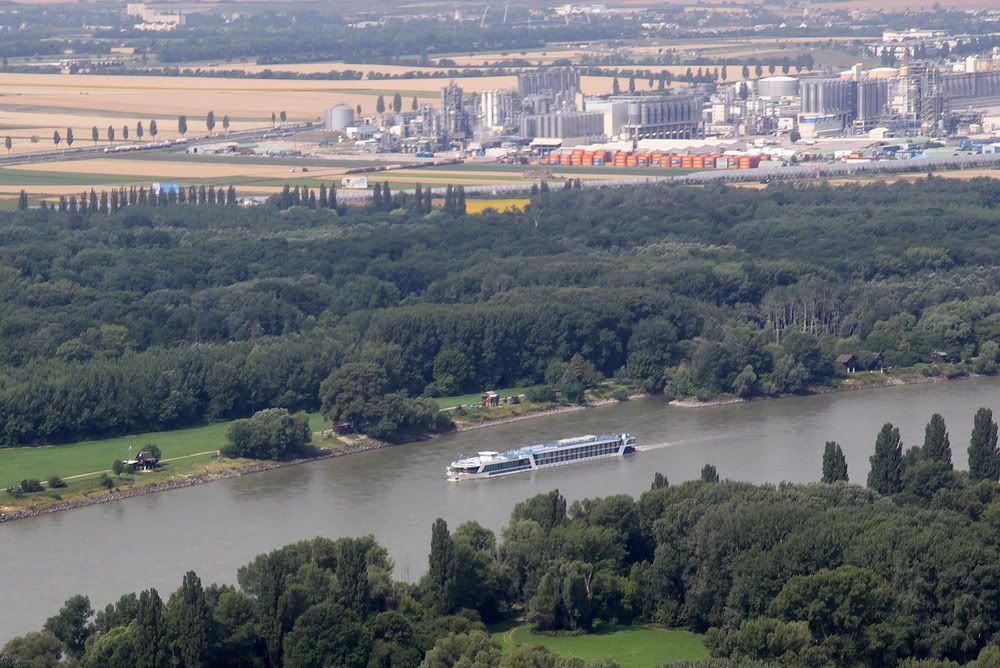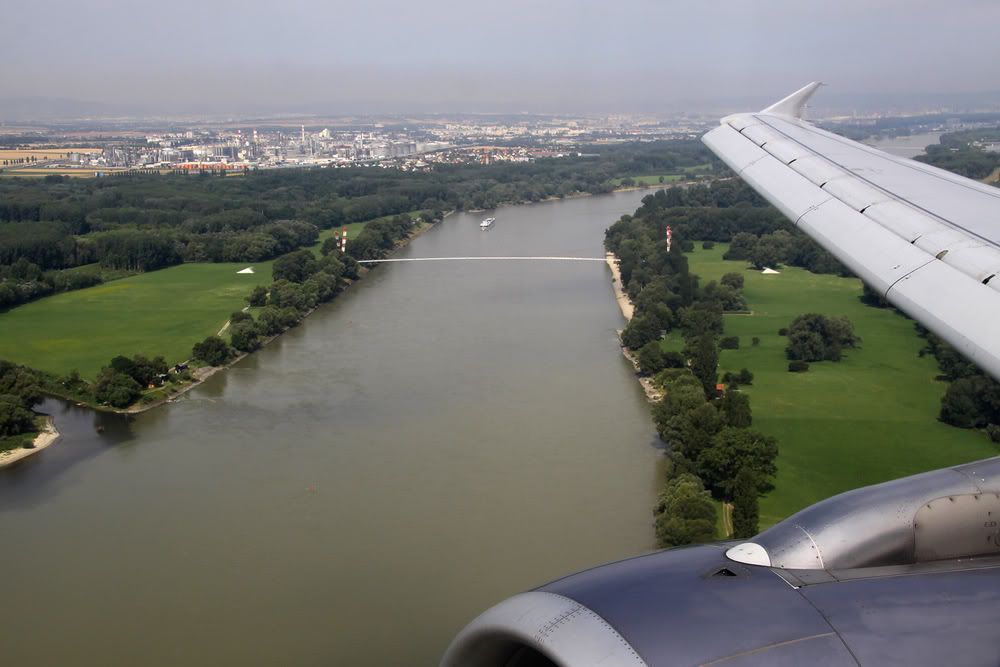 And finally the famous VIE ATC tower
And the soon to be opened Skylink terminal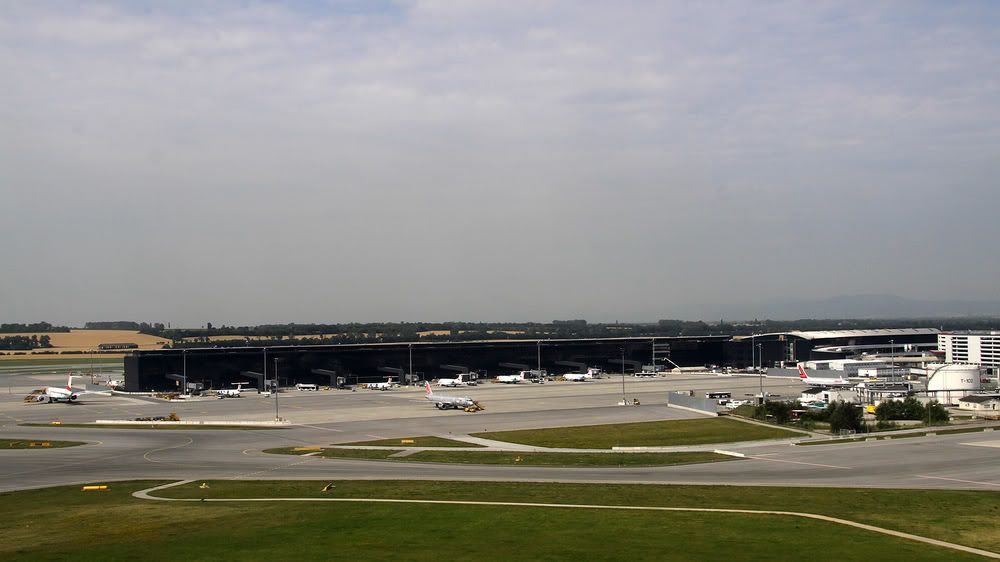 After a quick bus ride to the arrivals terminal I hoppened on a Airport bus to get to Schwedenplatz in the city centre. I spent about 5 hours in Vienna just walking around and enjoying the beautiful summer afternoon.
Karlskirche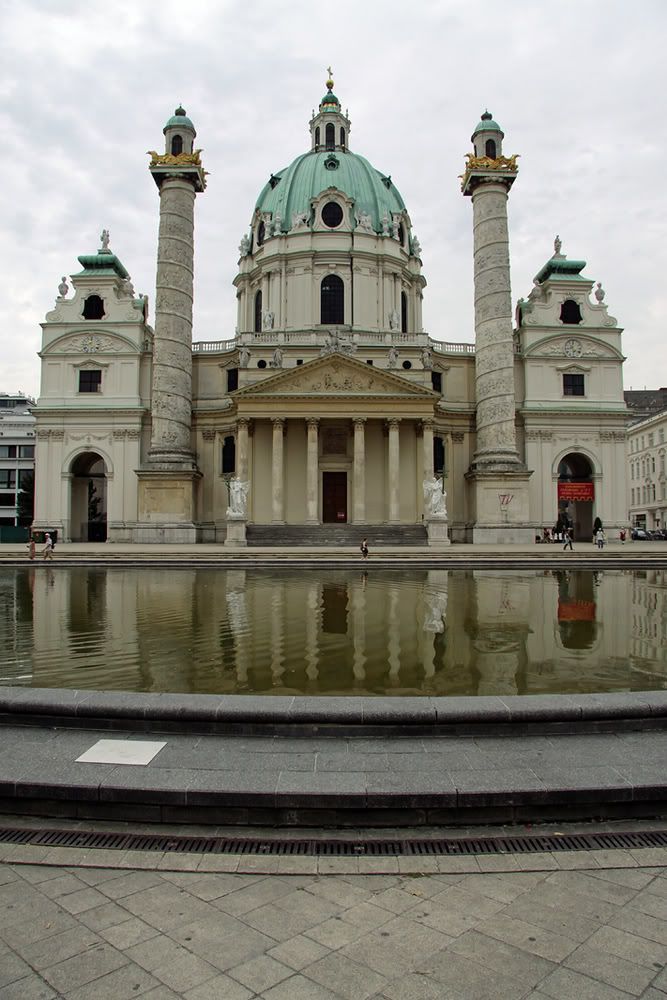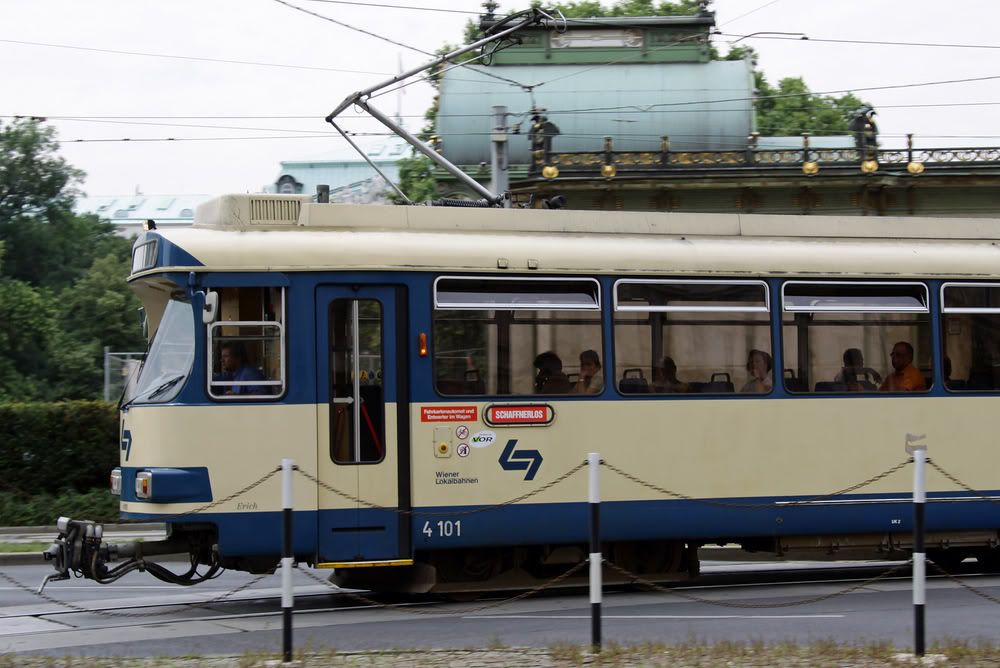 The opera house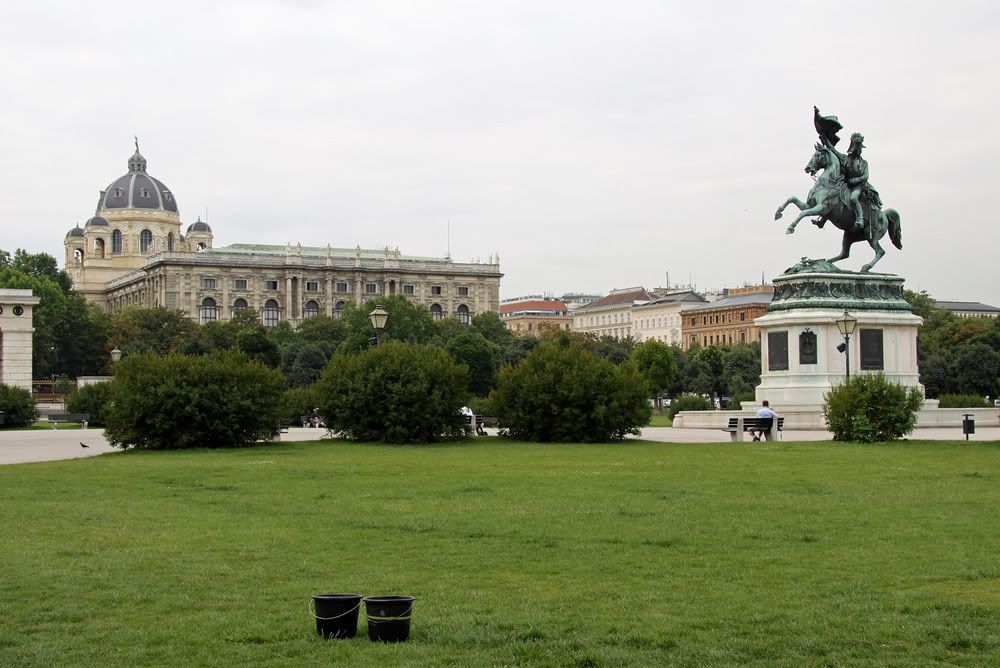 The Stephansdome amidst construction
Nice afternoon atmosphere at Belvedere castle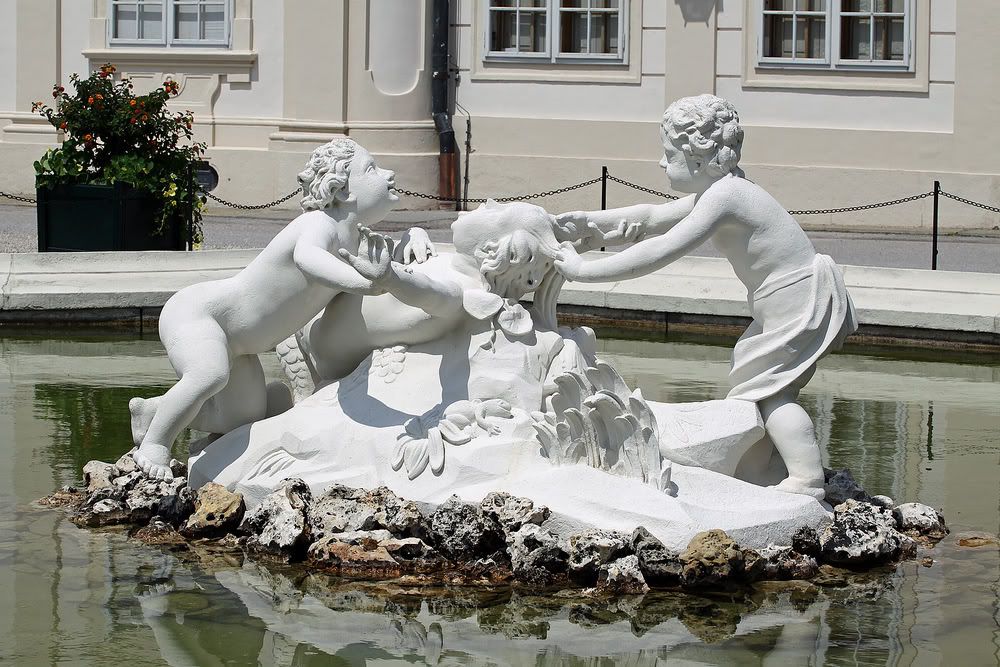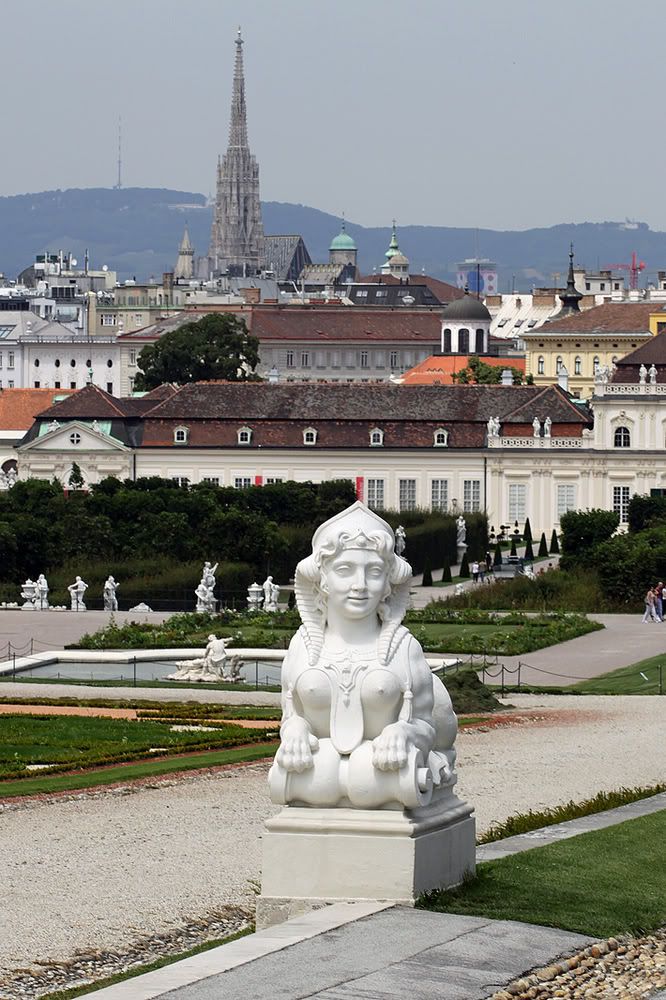 In the late afternoon I returned to the Danube river and took the bus back to the airport in order to check in at Korean Air.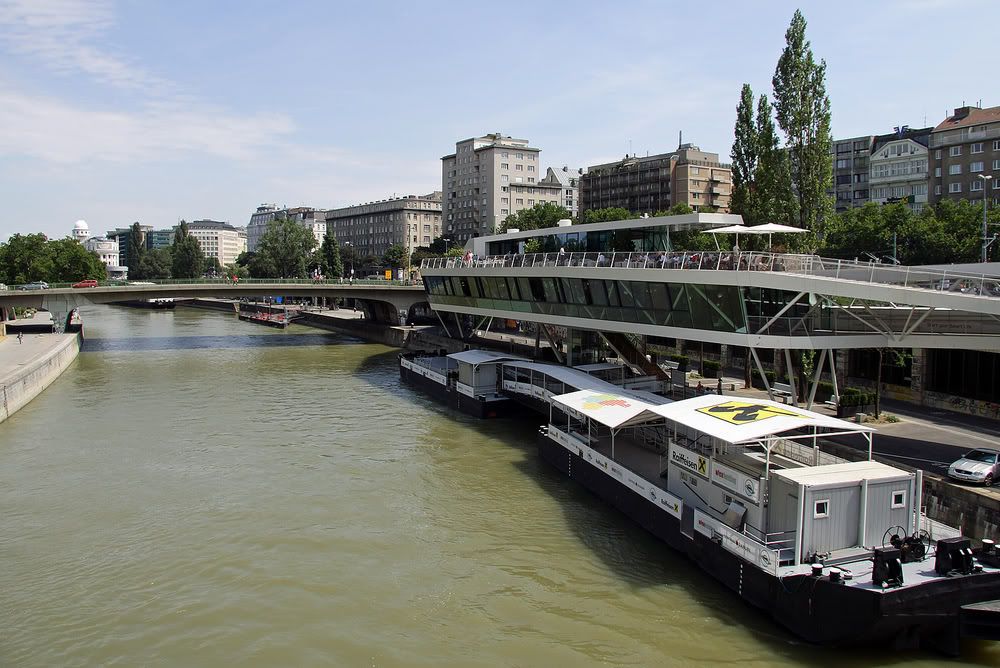 Check In was done rather quick although it must have been baffling to the waiting fellow passengers to see somebody check in just with a small bag like mine. I requested a window seat on the left side of the airplane only to later find out that I was seated over the wing, not exactly what I had in mind. I then proceeded through passport control in the D-gate area. Unfortunately it's not a very nice area to wait more than an hour for a flight as there are only a limited number of food stores and shops around. The security check points are located just before the gates meaning you have to proceed through there only minutes before departure, not something very modern in my mind.
Anyways, as my flight to ZRH was delayed for more than an hour I spent some time using the free Wifi at Vienna airport (thumbs up for that). At around 7:20 pm boarding was announced for KE 933. The flights routing is ICN-VIE-ZRH-ICN. All passengers have to leave the plane in Vienna and in Zurich in order to allow refueling and cleaning of the plane. The crew usually changes in Zurich.
From: Vienna Schwechat VIE
To: Zurich Kloten ZRH
Flight number: KE 933
ATD: 1945 LT
ATA: 2045 LT
Equipment: Boeing 747-4B5
Aircraft Registration: HL7492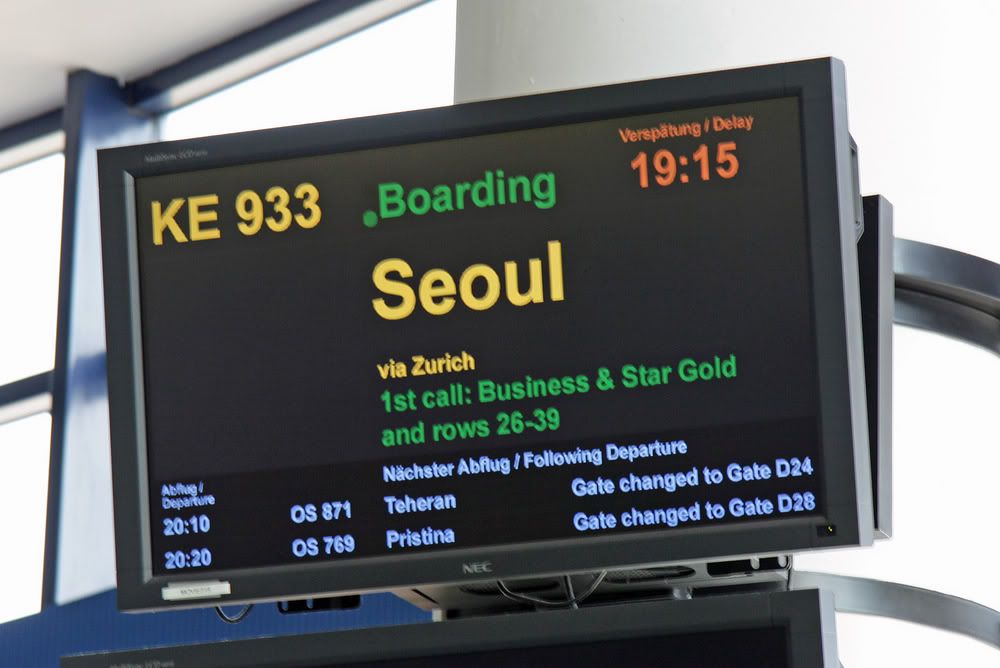 Boarding went rather quickly considering there were about 250 people to board. As mentioned above I was given a window seat above the wing which I didn't like very much. But realizing that the weather had changed much to the worse I decided not to bother the crew with a seat change request. I settled into my seat and enjoyed the sun for the last time this day.
Next to the big 747 was an Austrian A320 to Pristina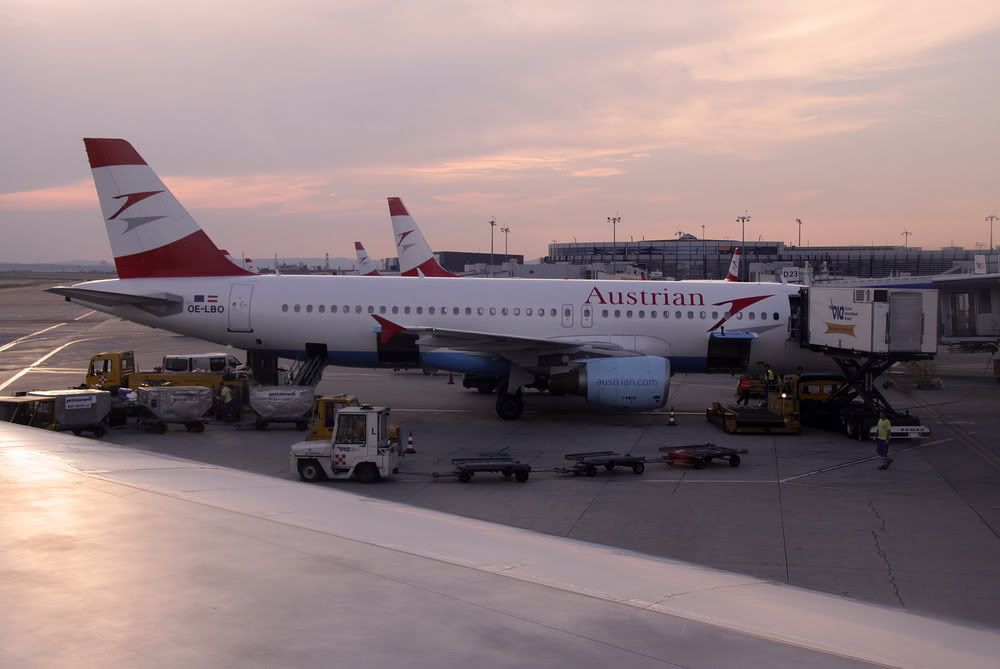 After push back another view of the scenic ATC tower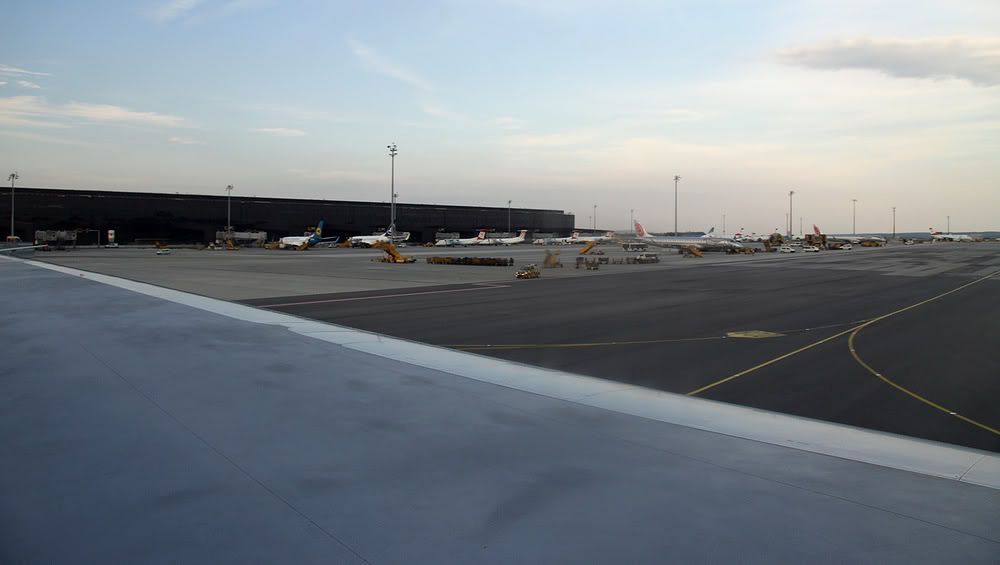 During taxi the safety demonstration was done via the individual inseat video screens. With a delay of about 50 minutes the 747 HL7492 lined up on runway 29. The engines roared and after about a quite short takeoff roll we lifted off followed by a pretty steep right curve heading to ZRH.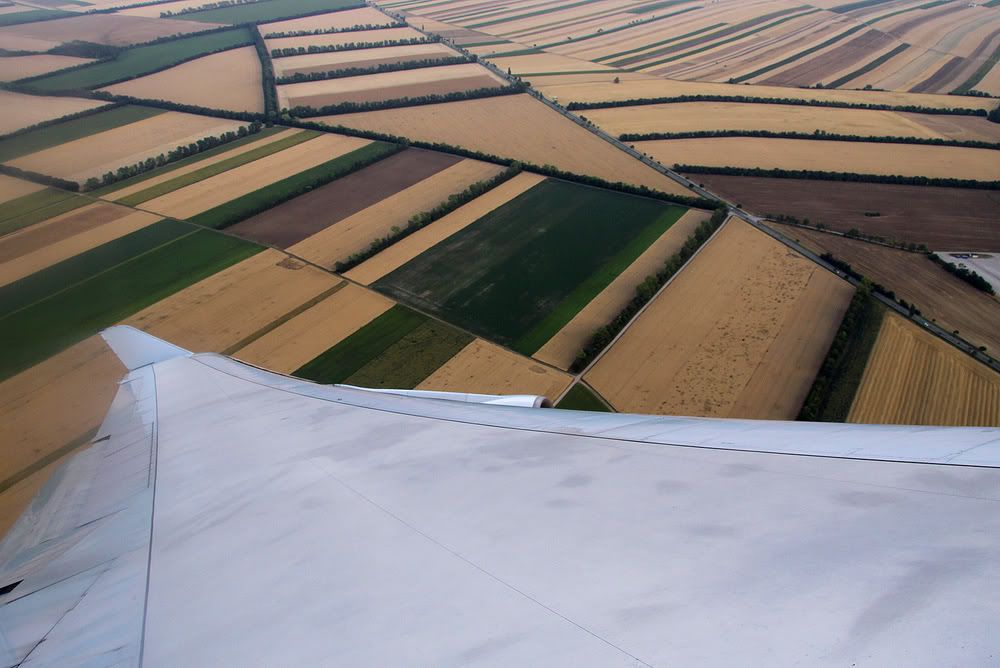 VIE can be seen looking over the wing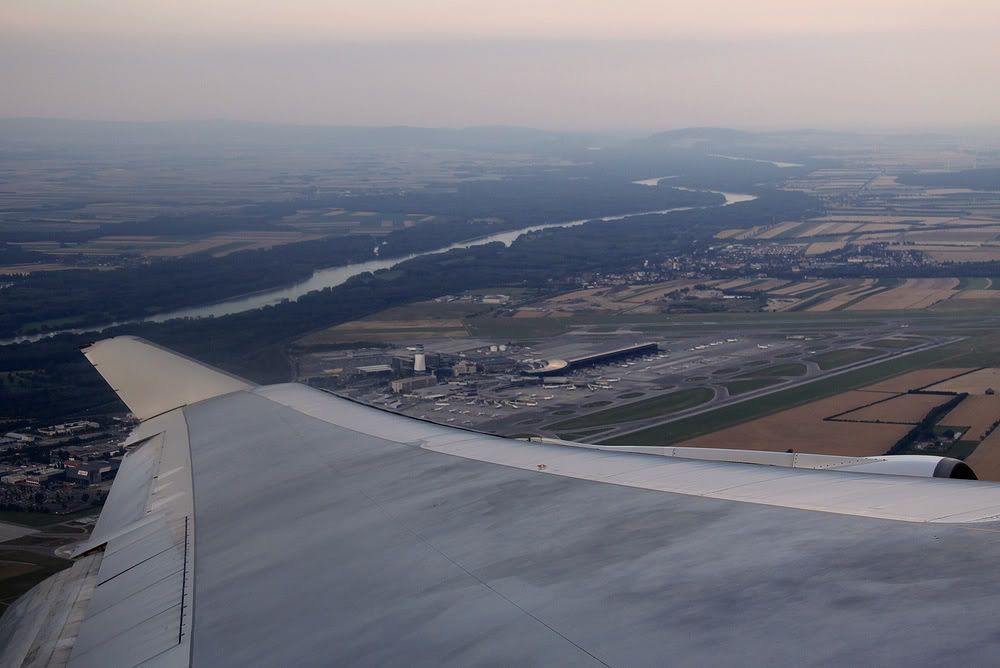 As I said above the weather got really bad at that time. We cruised through clouds and I was glad I at least got some nice inflight pictures on the morning leg to VIE. So I settled down to following the flight's progress on the AVOD screen.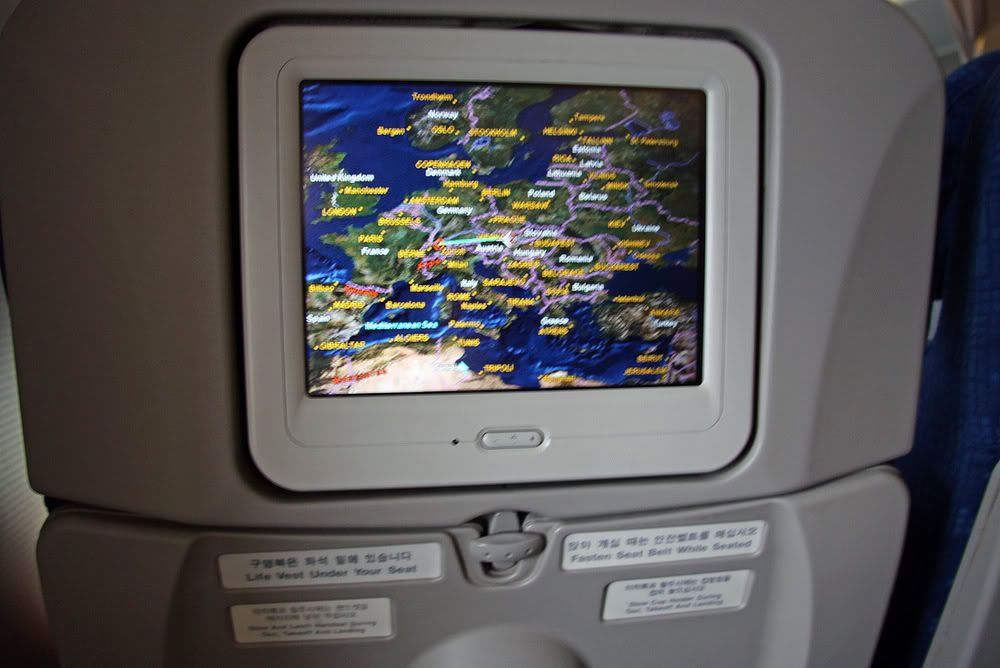 Just to give you an impression that the weather could've been much better for such a flight experience.
Soon we had crossed the Swiss border and Lake Constance. We then had to fly in a holding pattern in order to later join the runway 34 approach from the South as all the other planes would approach ZRH at this time from the East on rwy 28.
The captain of this flight by the way was Swiss as I found out recognizing his Swiss English accent. As I later realized he is the guy who has written a book about his experiences on flying the Korean 747 etc.
If anyone is interested, here is the cover of the book in German only: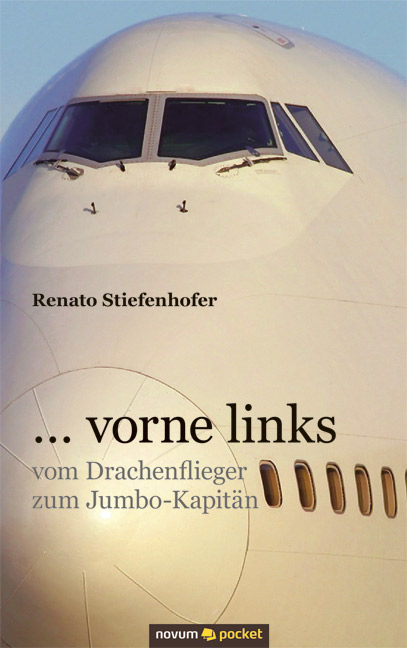 Holding pattern over eastern Switzerland. By this time it was too cloudy and too dark outside to take any pictures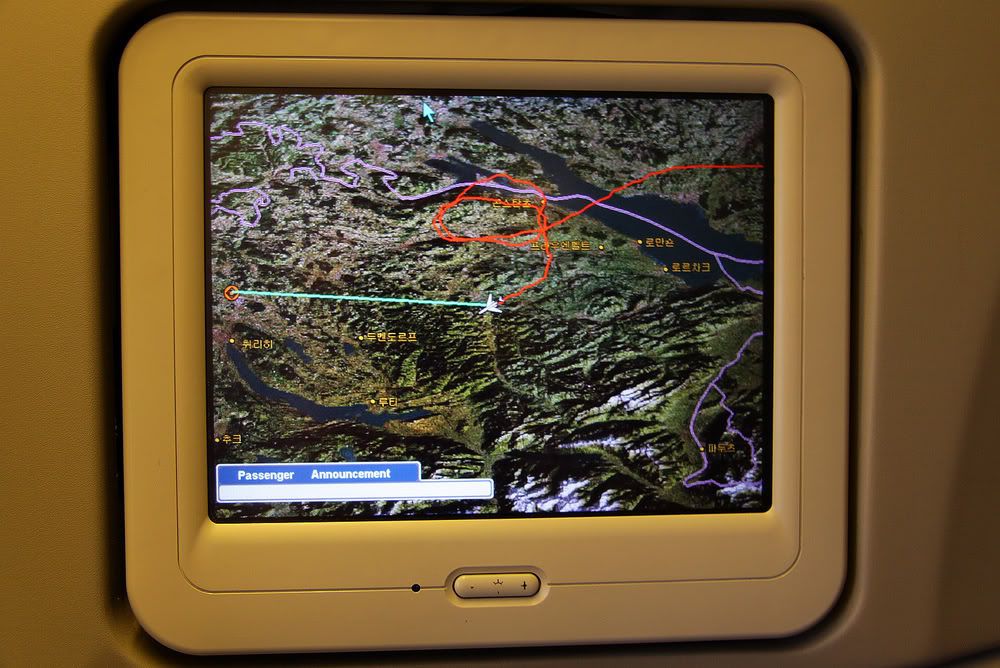 Flying along Lake Zurich on the rwy 34 approach.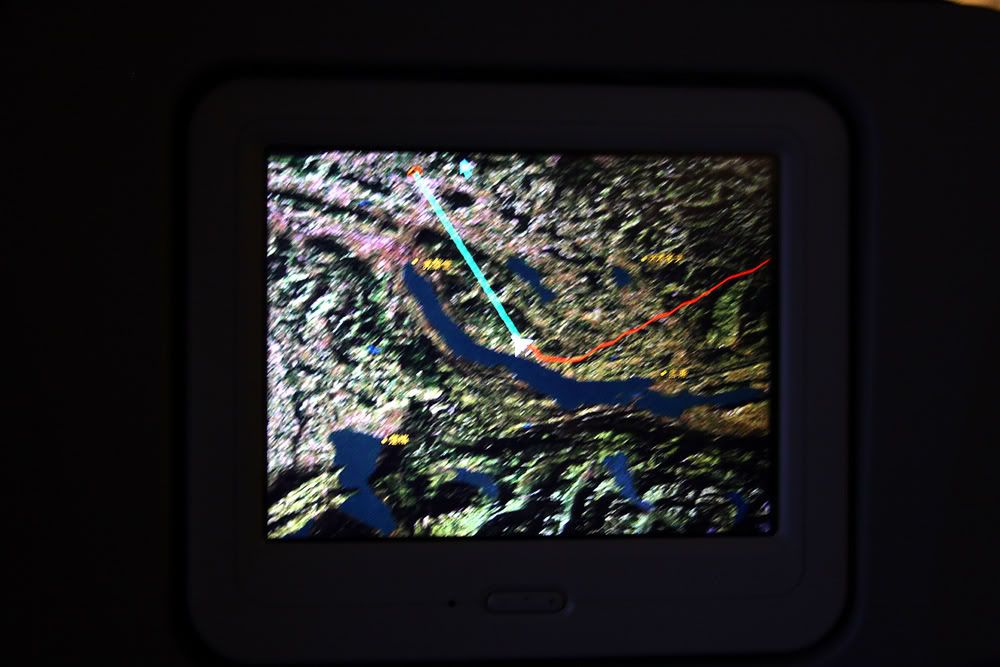 The closer we got to Zurich the nastier the weather got. It was now storming outside.
We touched down in heavy rain and taxied to our gate at Dock E next to the Swiss San Francisco A340. This bird by the way will get repainted in mid August.
After exiting the plane in the jetway was a sign dividing passengers who would remain on board to ICN and passengers who would exit here in ZRH. I of course proceeded to the skymetro station below Dock E but had to take a last picture of the blue beauty. Although the flight was a bit tinted by the bad weather it was still a nice experience to fly the Jumbo jet after almost four years of not flying on one.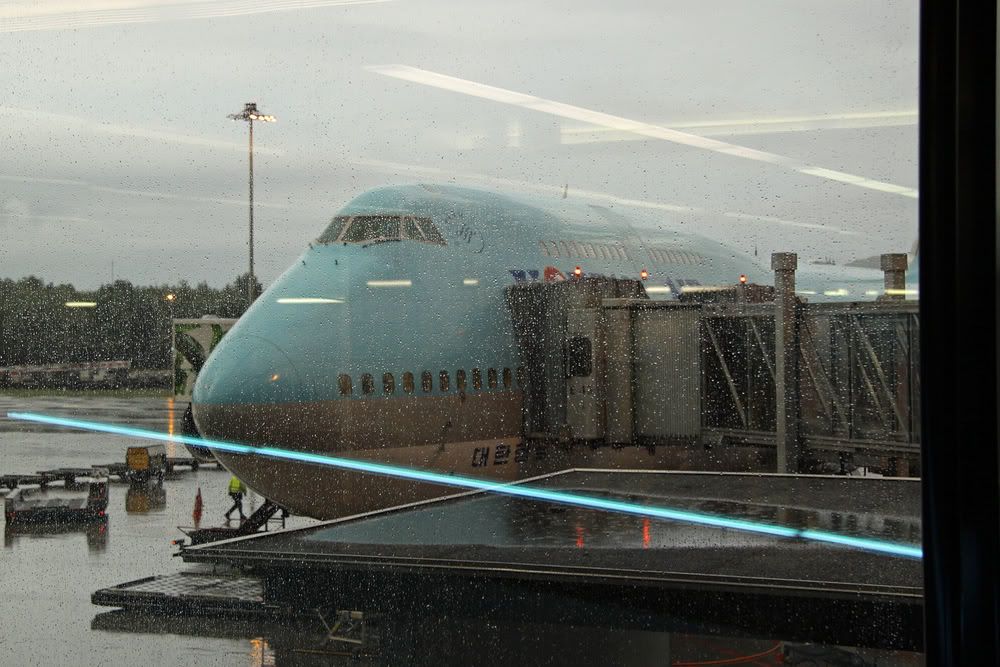 I then went down to hop on the skymetro train and proceeded to Swiss immigration.
The guy at the immigration desk swiped my passport and probably noticed that I didn't really exit Switzerland or the Schengen countries. So he asked me where I just came from. I replied ''Vienna sir''. He had a confused look so I just said, ''you know, you can fly Korean Air from Vienna to Zurich''. He agreed and let me through. It put a little smile on my face knowing that probably not too many people fly just this short route on the Asian airline.
I then hustled to the train station only to see my train leaving from above the platform. Not that big of a deal for me as I took the train thirty minutes later and was home by about half past eleven.
I hope you enjoyed this brief report. I wish I could've provided you with some more pictures of the Korean flight but unfortunately the weather didn't play in my favor this time.
Please feel free to ask questions or add some remarks. I appreciate it.
Next trip report coming up will be about touring Spain including a Monarch flight to Gibraltar and an Air Europa A332 on a Spanish domestic leg.