Introduction
For introduction and the story so far, please see the first part here:
Italian Duel: HEL-FCO-GOA-FCO
(by
FlyingFinn76
Jul 19 2011 in Trip Reports)
This story continues directly from the first part, which left me at FCO airport having just arrived on Alitalia from GOA.
Saturday 16.7.2011
After having some lunch I'm not sure whether I should head outside for some sun or just to the depressing lounge. Well, laziness wins this time, so I again head to the lounge. On the way I pass a gate with this interesting flight - it doesn't appear to be a codeshare:
Looks like it's Lithuanian charter day:
This time the two computers are occupied by some Danish kids playing games so I just read and enjoy their rather decent Italian red wine.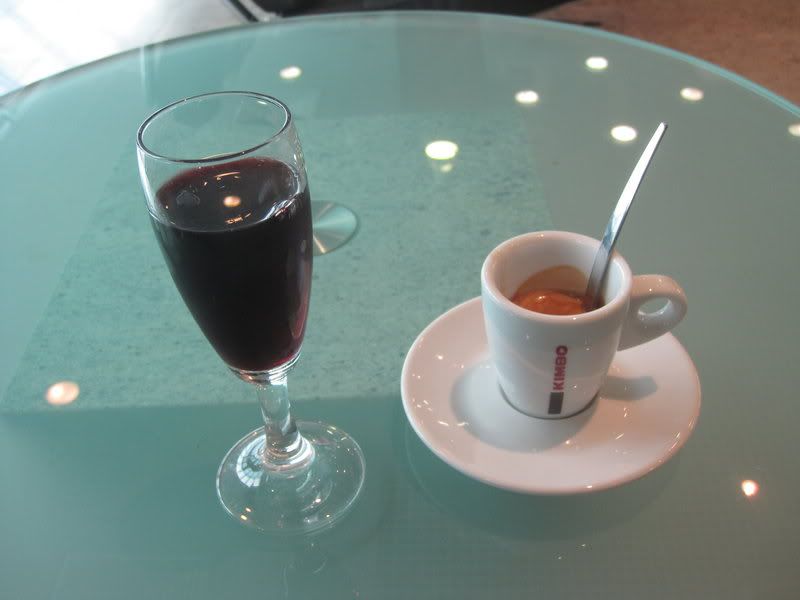 At least the toilets are much cleaner now than the previous day and the bartender is a different guy, a very jolly fellow who I chat some with. Time passes surprisingly quick, and soon it is time to head to the gate. A queue has already formed there. I find a purse somebody left on a bench next to the gate, feeling it it looks like there's a wallet and something else inside so I give it to the nearest gate agent, performing my good deed of the day! Next I ask the gate agent whether I get priority boarding as I paid for extra legroom (this is a recent change in Wizz's procedures and something I really like) - she tells me yes and asks me to queue on the other side.
Boarding commences around 16.00, the few of us with priority boarding get our special, cordoned off section in front of the bus, which makes me feel a bit too self conscious, after all I am a Finn and modesty is something very deeply woven into the Finnish psyche. Soon we drive to the plane, which is parked on the apron between the Schengen pier and the non-Schengen satellite terminal.
HA-LPQ, Papa Quebec is a new registration for my log.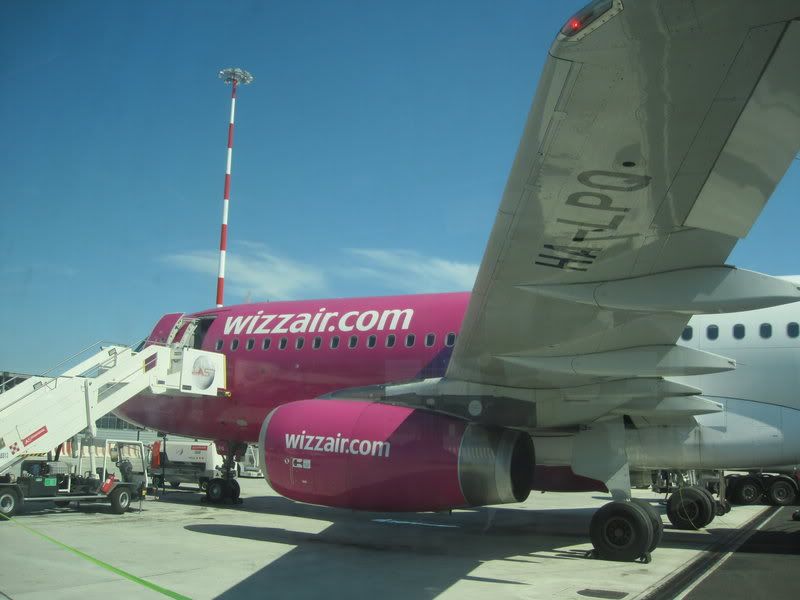 FCO - PRG
W62686
A320 HA-LPQ
Seat 1F
16.46 - 18.28
Those of us in the priority section are left off first and I'm the very first one boarding the plane. For a chance I decide to try the bulkhead row as it offers better photo opportunities from outside than the exit rows where the wing and the engine are on the way... more on this later.
I ask the smart Czech crew about the weather in Prague - 25 degrees and sunny sounds nice to me. Load factor is around three quarters full, I end up with the block of three for me which of course is nice.
The boarding took its sweet time, mainly because we waited for the second bus quite some time so in the end push back is 16 minutes late.
They seem to be building a new (Schengen?) pier:
One of the new AZ A330s:
After this photo one of the two crew members on the front jump seats comes to me an tells me in a stern voice to stop taking photos and to put my camera into the seat pocket - crud, it looks like they saw me. So no photos from take off or landing on this flight.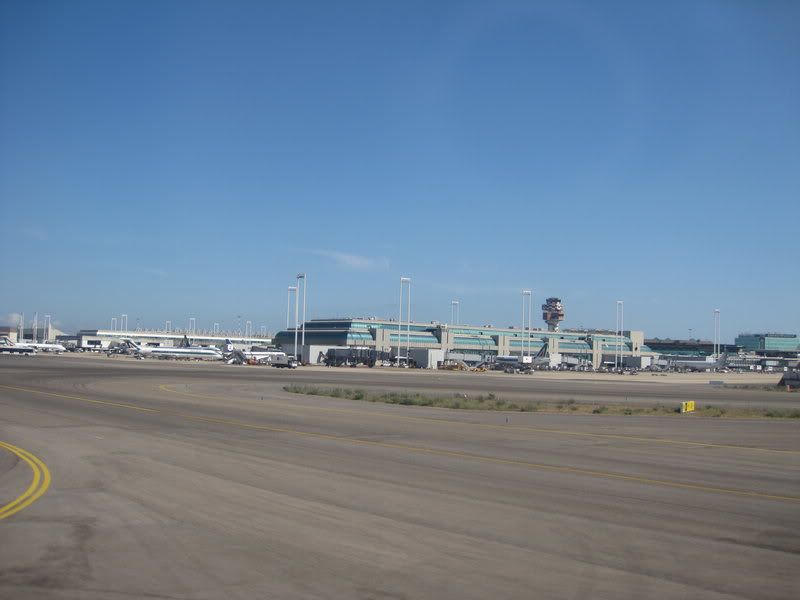 We hold short of runway 25 for a while - the captain makes an announcement that we are number two for take off, but there's some landing traffic on 16R that we need to wait for. Once airborne the flight time to Prague will be a 1h30mins, with the route roughly FCO-BLQ-BZO-INN-MUC-PRG.
This is the first picture I manage to take after the seat belt sign is switched off, after we have already turned over the Tyrrhenian Sea and are heading northeast: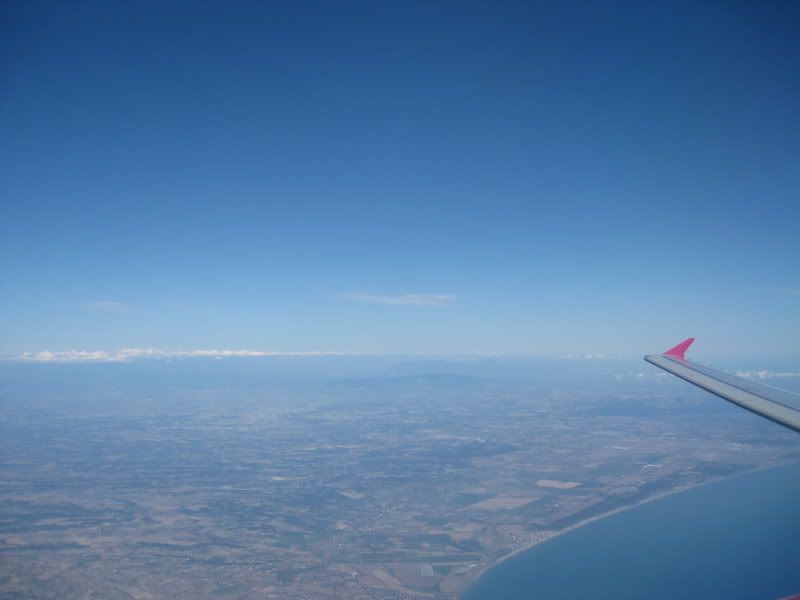 More landing traffic on 16R: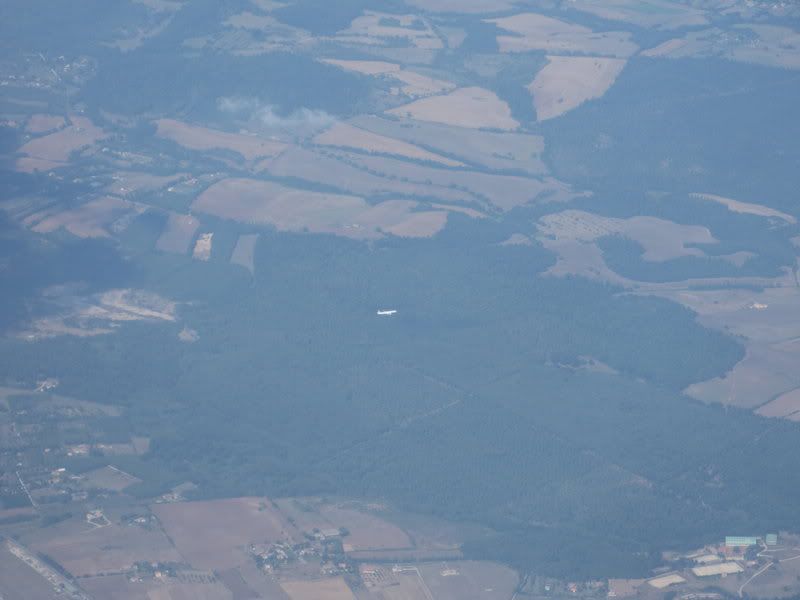 Interesting clouds:
I think this is Padova:
Some nice clouds along our route:
The Alps, not the best views today: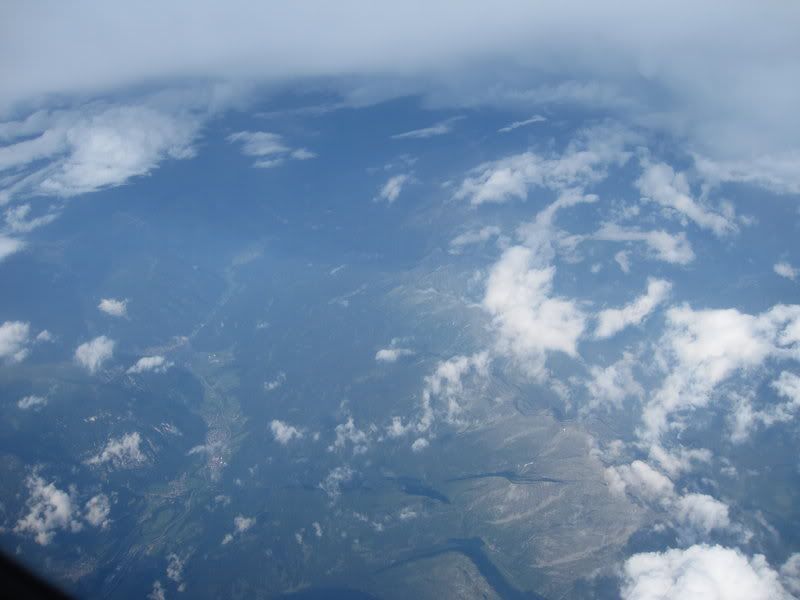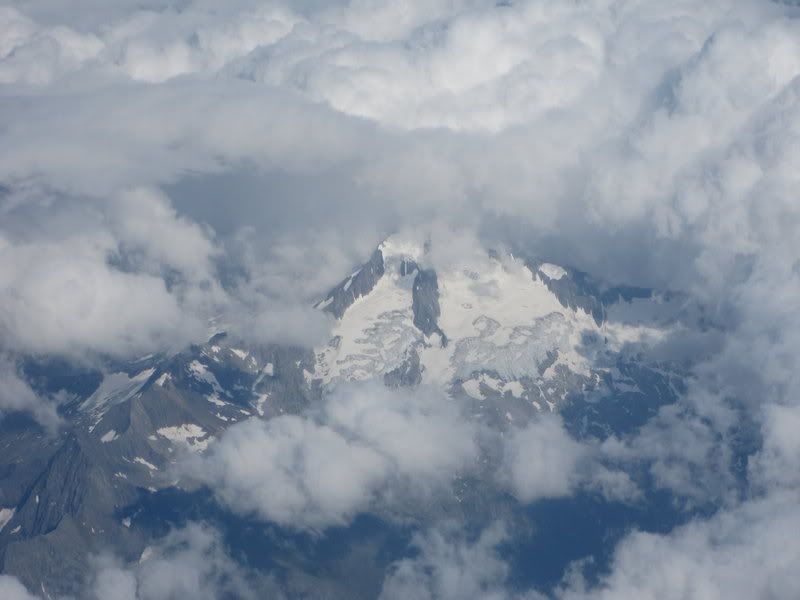 A SAS CRJ-900 passing the other way over the Alps:
Other side of the Alps, this is lake Chiemsee:
The island of Herreninsel with the famous castle of Herrenchiemsee built by Ludwig II of Bavaria or more familiarly "Mad King Ludwig" whose megalomaniac castle building projects emptied the state coffers: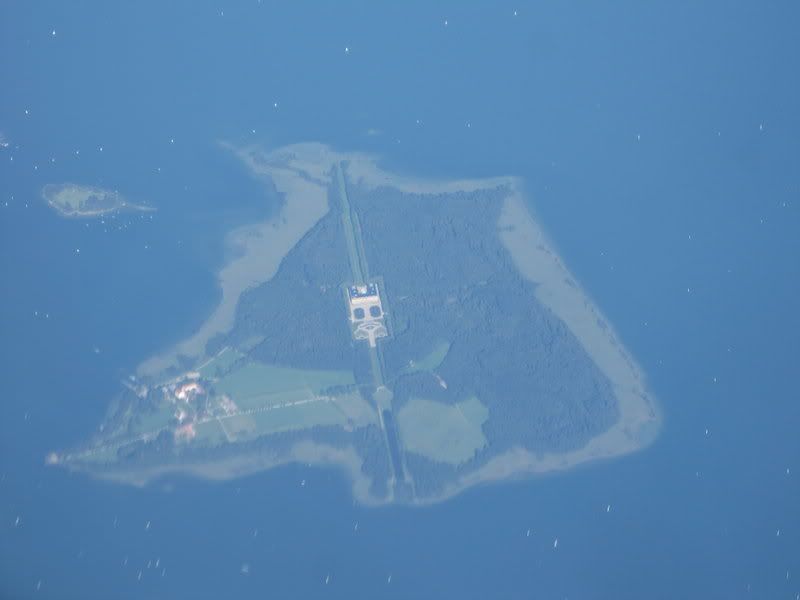 Salzburg in the distance:
The Salzach river, forming the border between Germany and Austria:
The city of Burghausen and the large oil refinery:
The confluence of the Salzach and Alz rivers: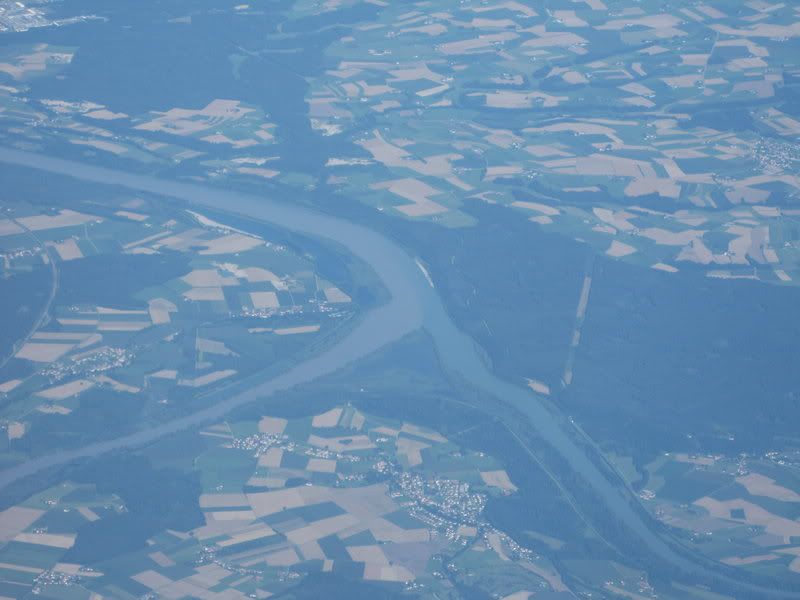 The city of Passau: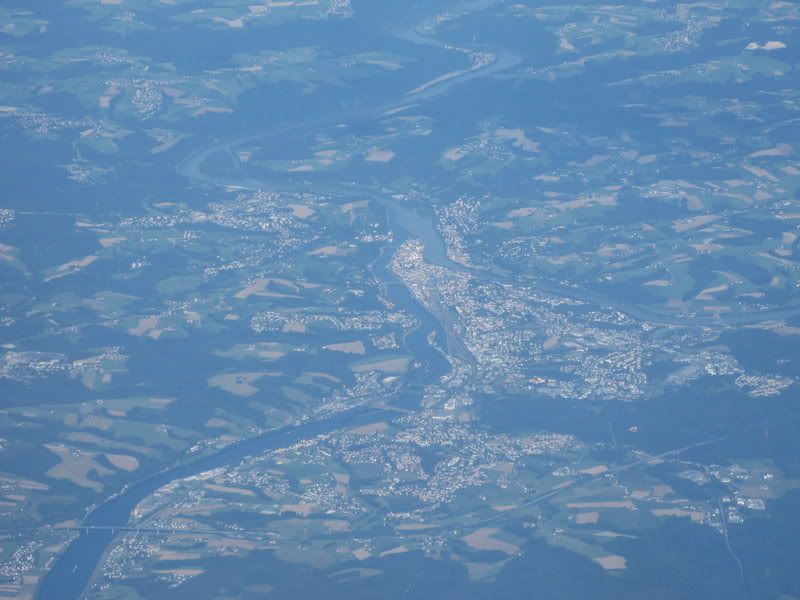 Quite a few sailboats on the Vltava river:
Right after this we start our descent and Prague comes into view: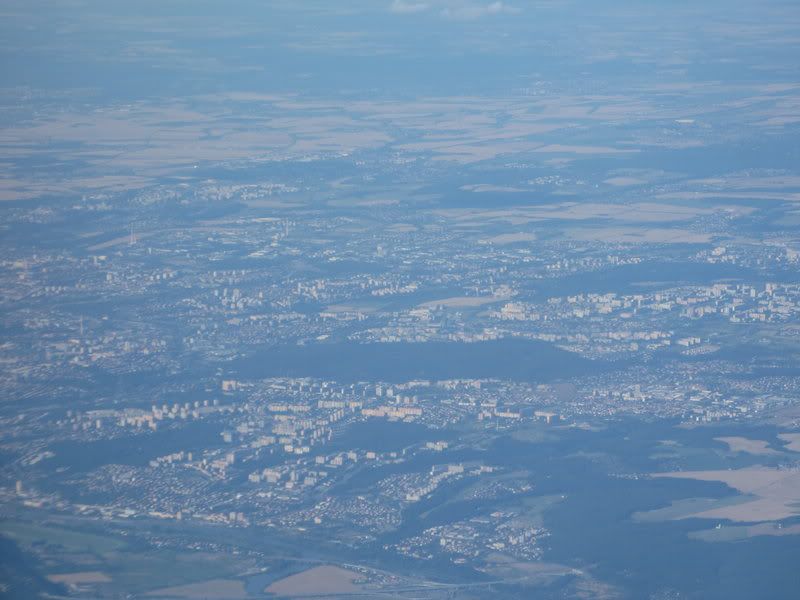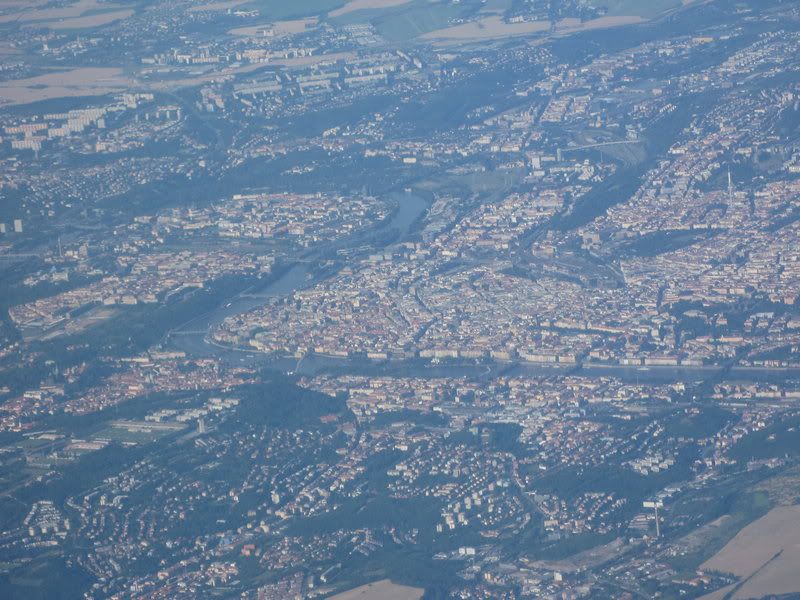 Our approach is nice as we pass right over the city centre, but unfortunately I have to stow my camera away again far too soon after these pictures: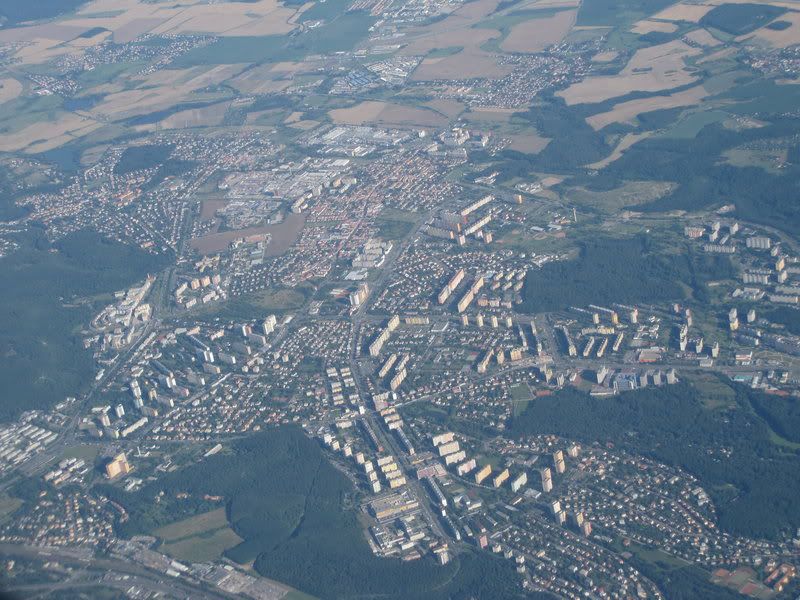 Baseball, anyone?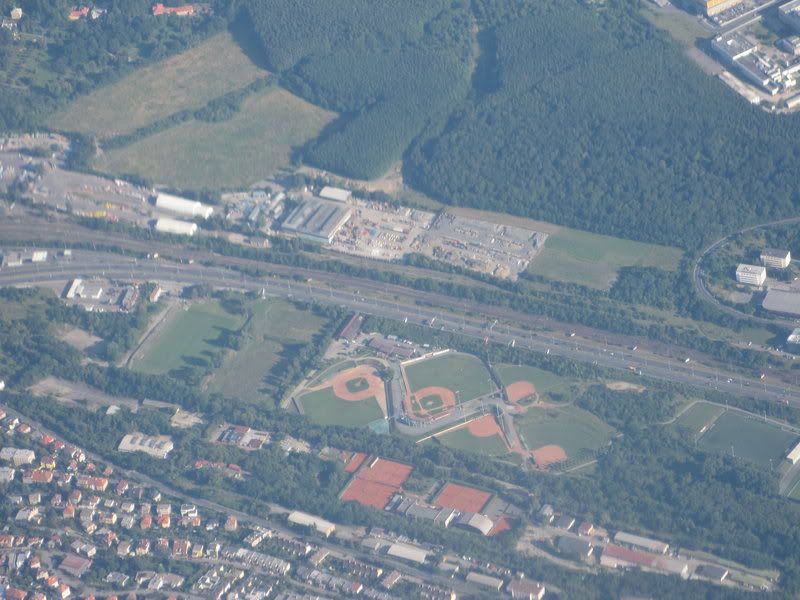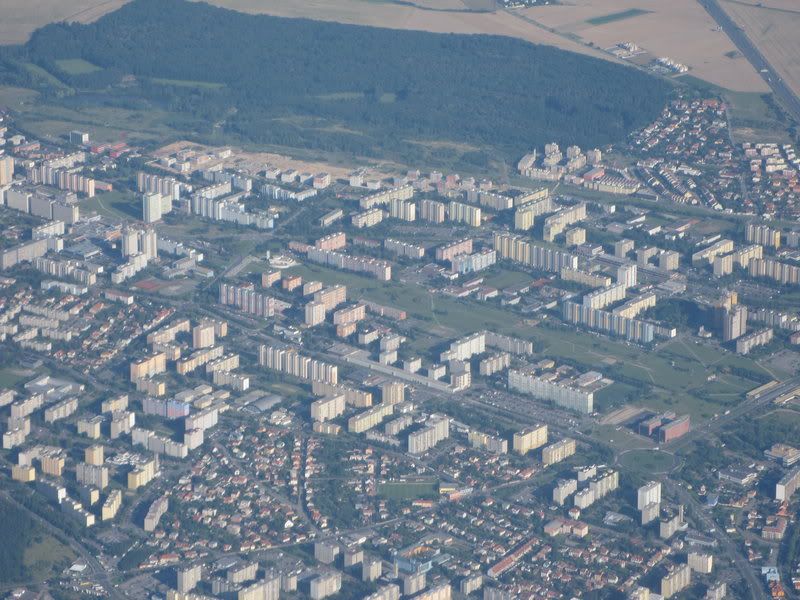 We fly quite far before turning around an commencing our approach towards runway 24 where we land after some one and half hours in the air.
Apron parking position, as seems to be the norm with Wizz here. Nice to see a KE Triple Seven in town:
Bye: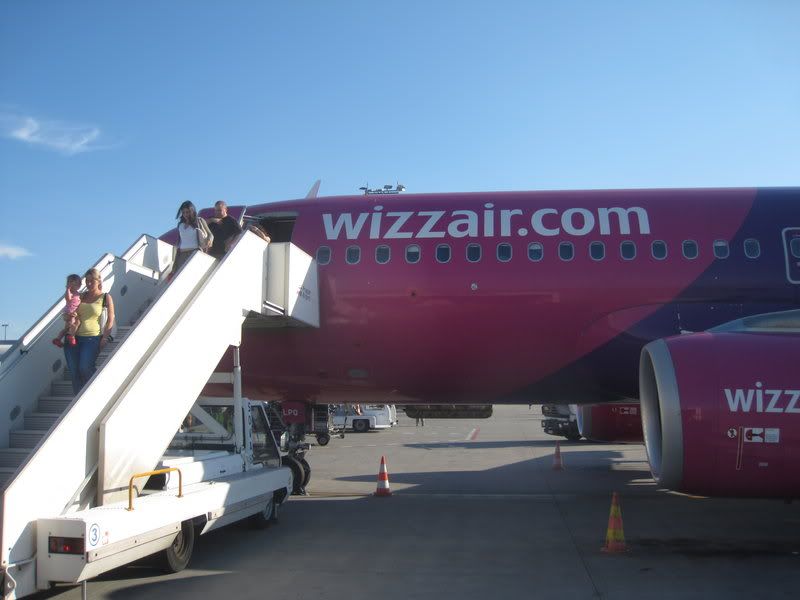 Prague Airport
I'm staying at the Marriott Courtyeard Prague Airport - very conveniently located just opposite the terminals where I found a great fare for only 45 EUR per night. A very nice property, with a large and well-appointed room. The only bad part is that they charge a ridiculous price for Internet access in your room, but it is free in the public areas using the wireless network.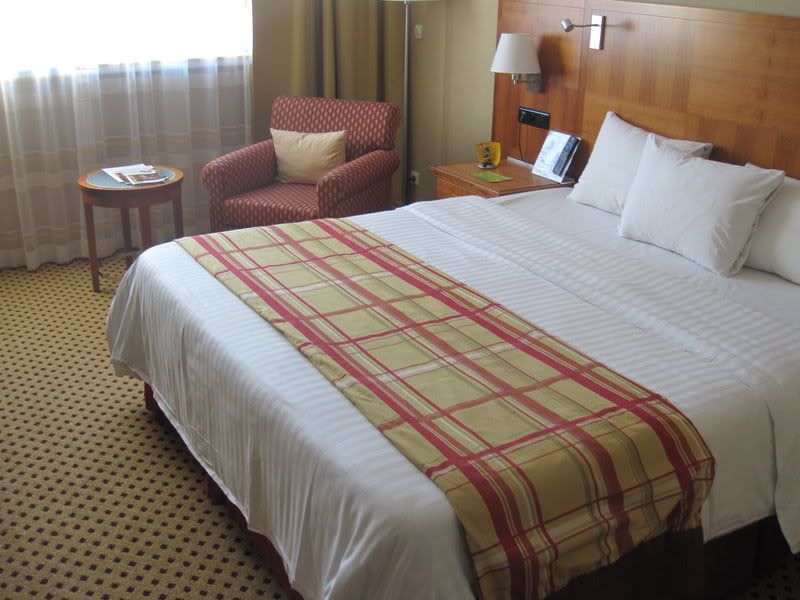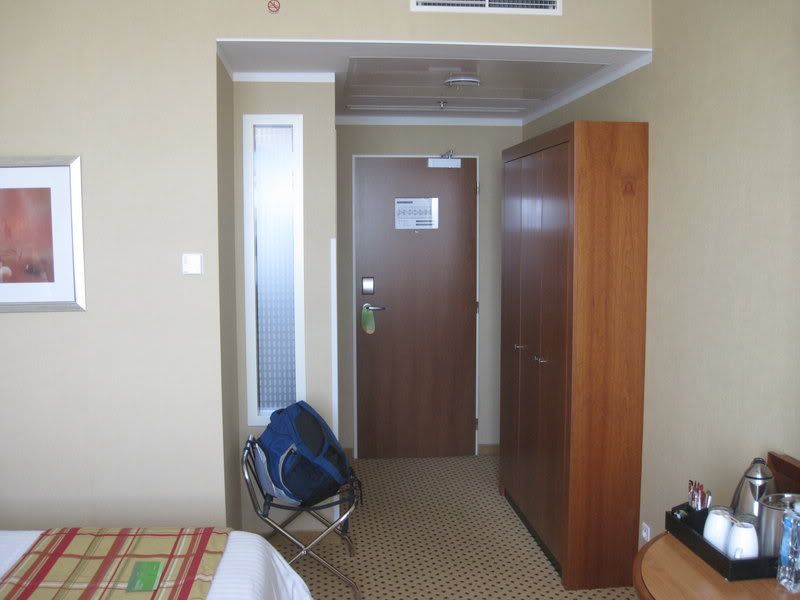 The KE crew are staying here as well. Nice views from my seventh floor room window - would be a good choice for spotters: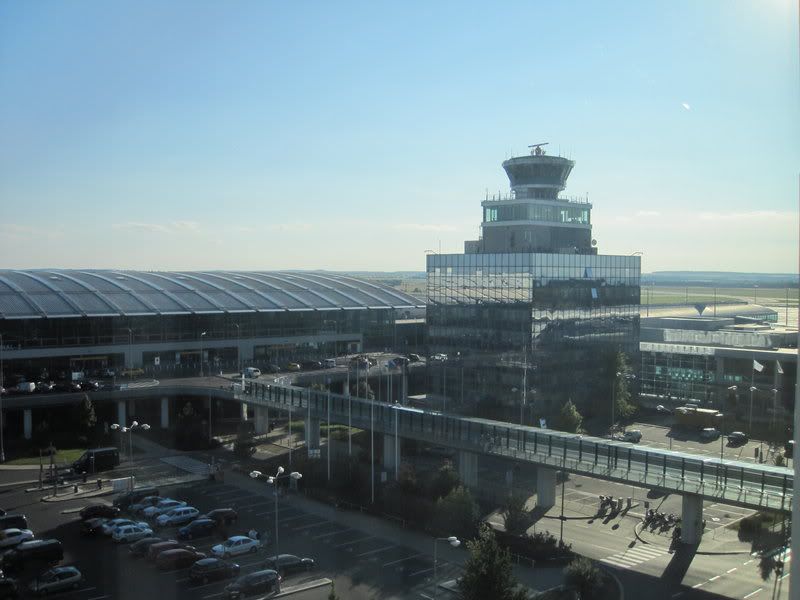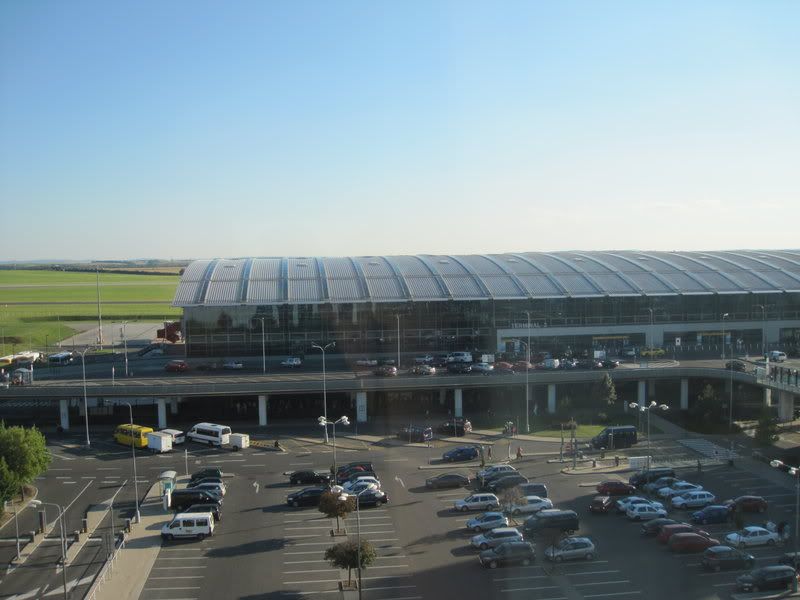 My room has a copy of the CSA inflight magazine - thank you, very much appreciated: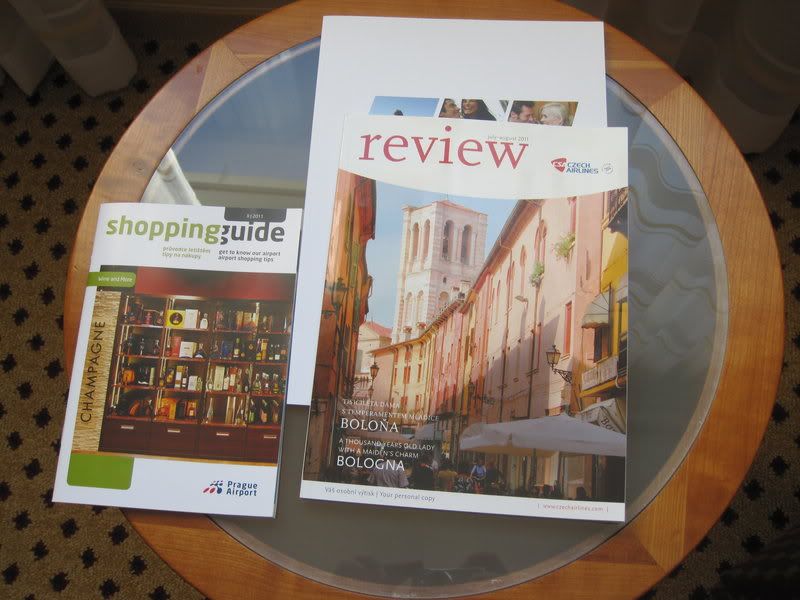 A CSA ATR being towed ahead of another flight: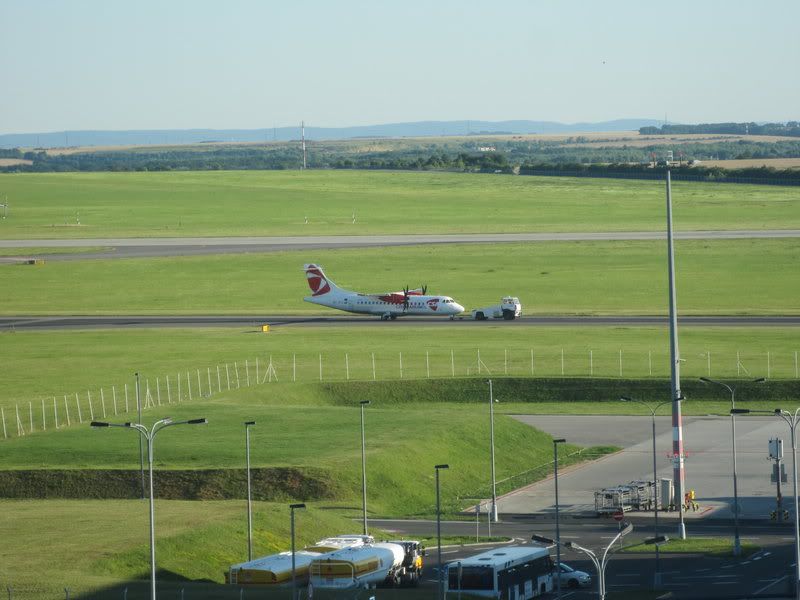 The hotel is in the same building as a shopping centre, which has a nice supermarket (with real supermarket prices, not inflated airport ones!) handy for stocking up on cheap Czech beer and a nice restaurant with free wifi where I head for a dinner.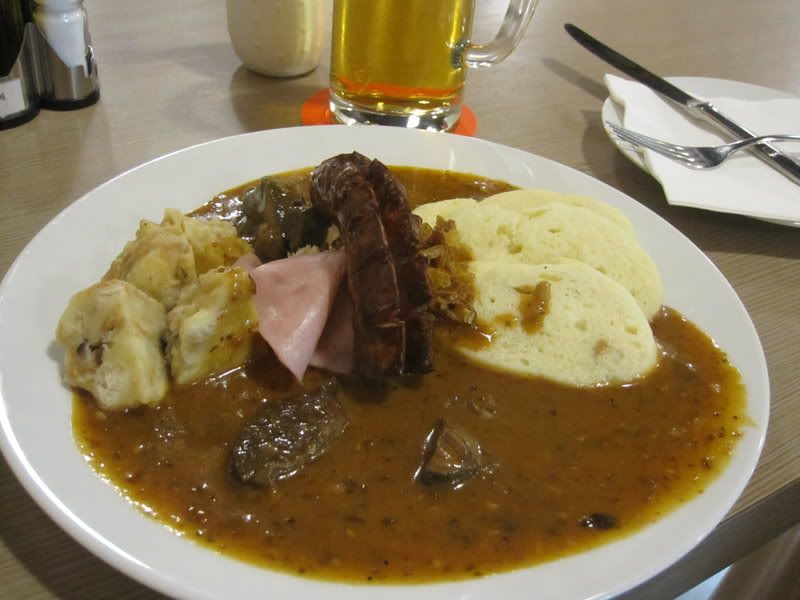 Interesting departure to Braunschweig - I didn't even know they had an airport there: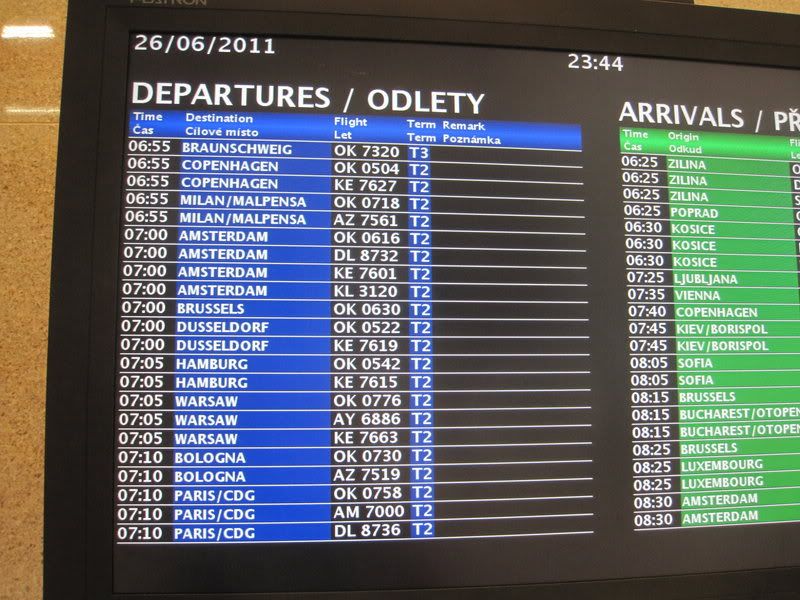 Feeling lazy I decide to skip the planned city visit - I've been to Prague a few times and the airport just feels a bit more beckoning right now, despite the good weather. Then again why not make a tourist tour of the airport since I'm here?
Tour of the Prague Ruzyne Airport
Ok, apparently it's the best: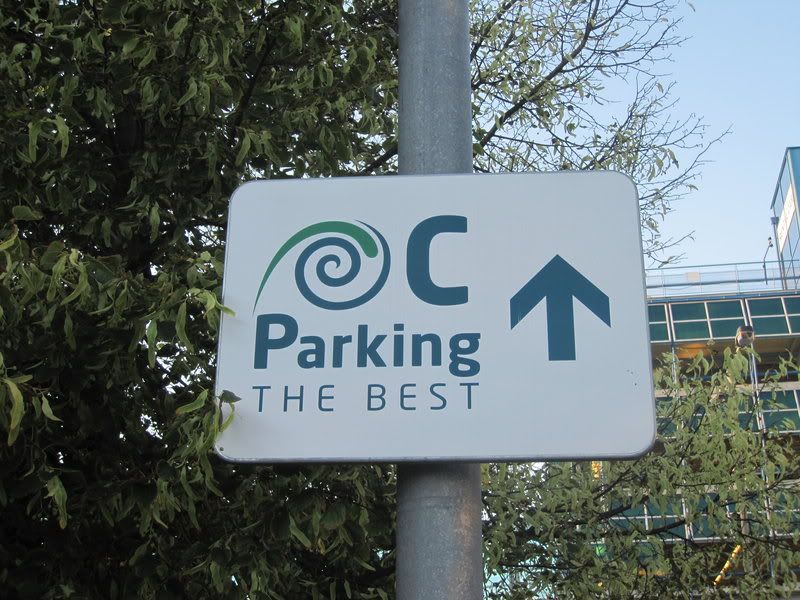 Let's start with Terminal 1, the older part of the airport: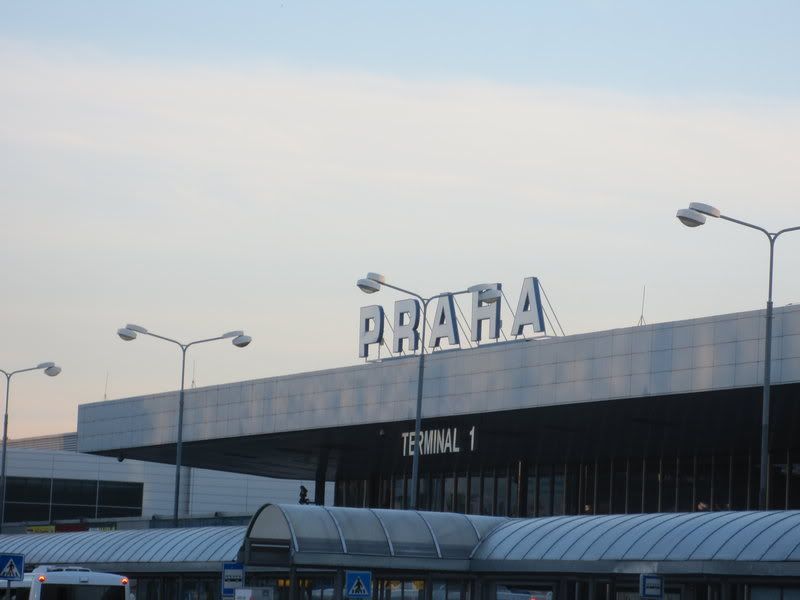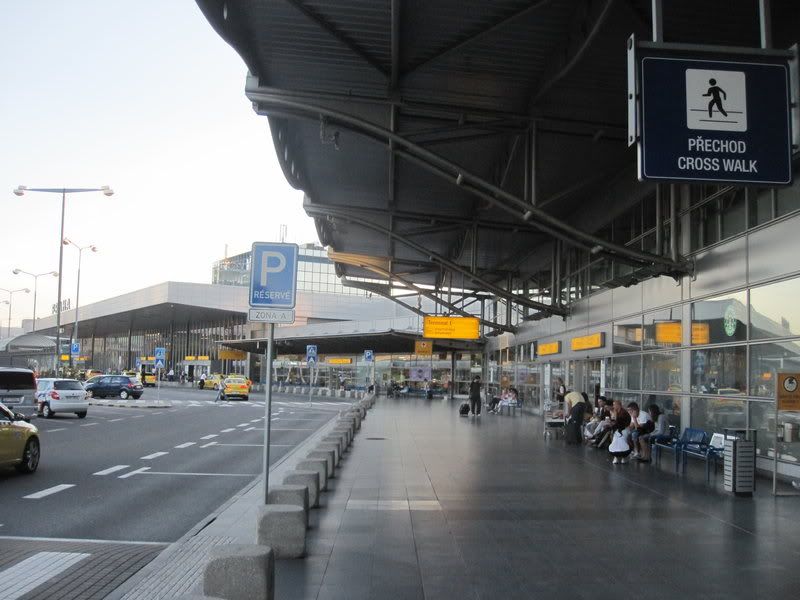 Terminal 1 is nowadays used for non-Schengen traffic, you will find airlines like British Airways, Turkish, Korean Air and Aeroflot here: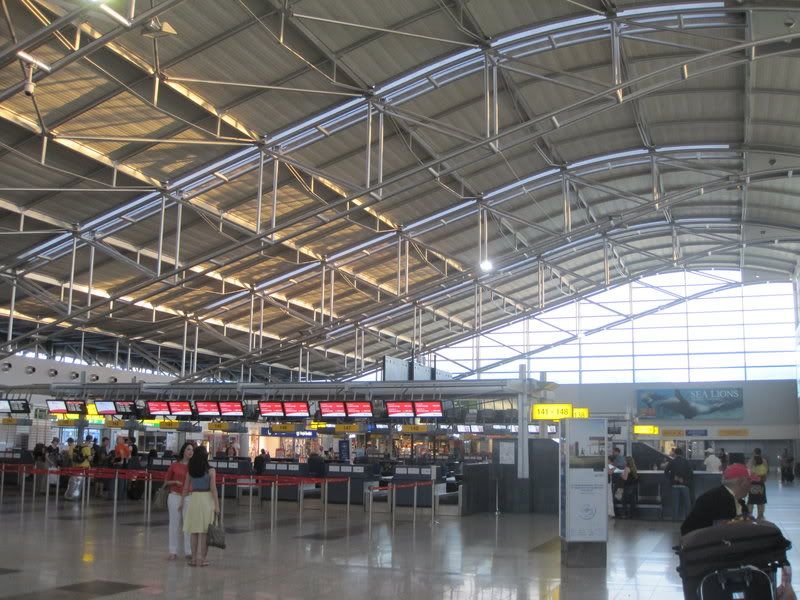 Moving towards the new Terminal 2, used exclusively for Schengen flights. This is the connecting part, serving now as T1 arrivals: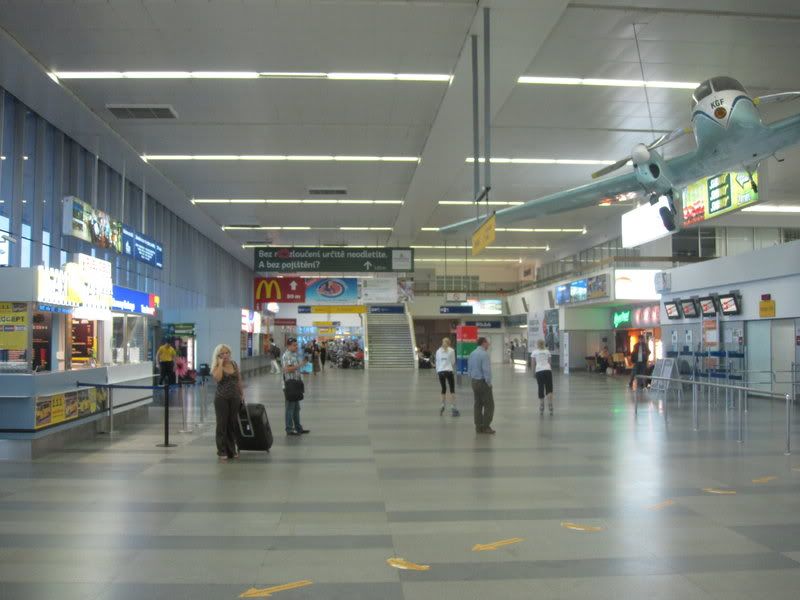 Aren't you glad that planes nowadays are more advanced than this: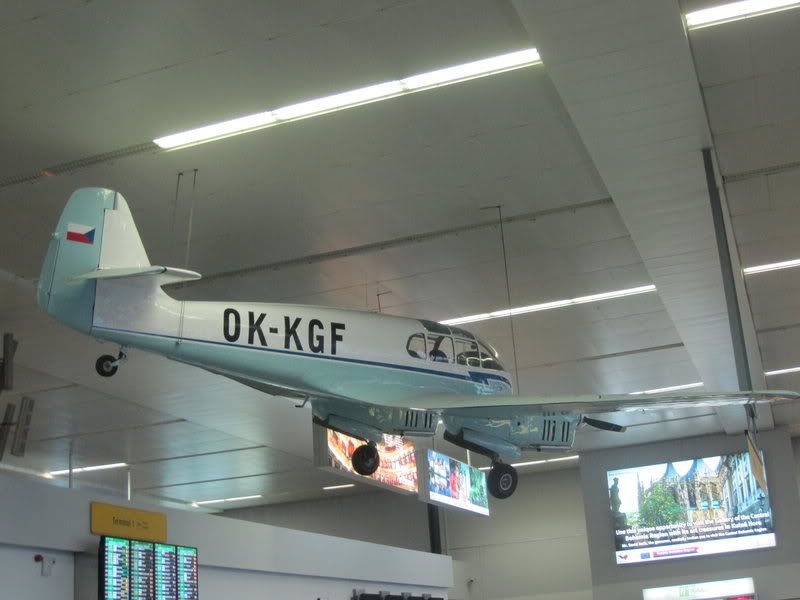 Still thinking of the days of Czechoslovakia and endless queues for nothing - think again! The airport (like the whole country) has all the usual multinational companies present: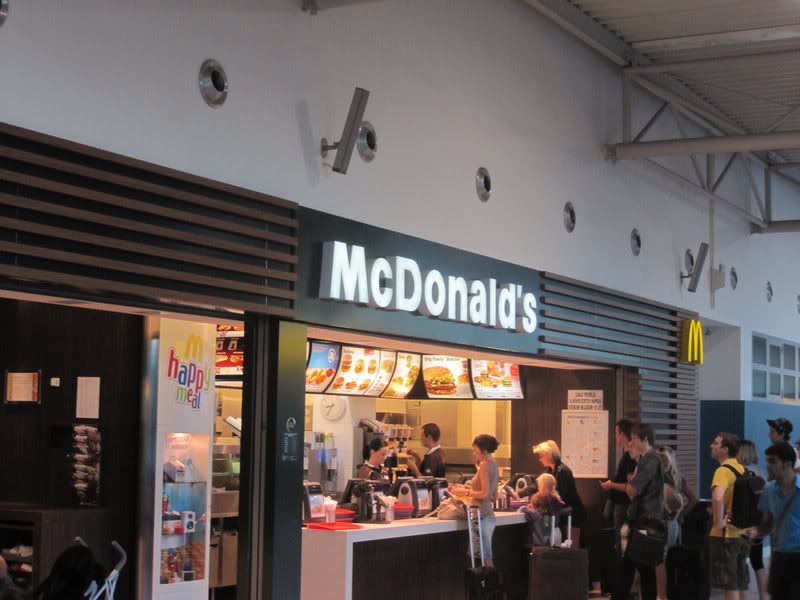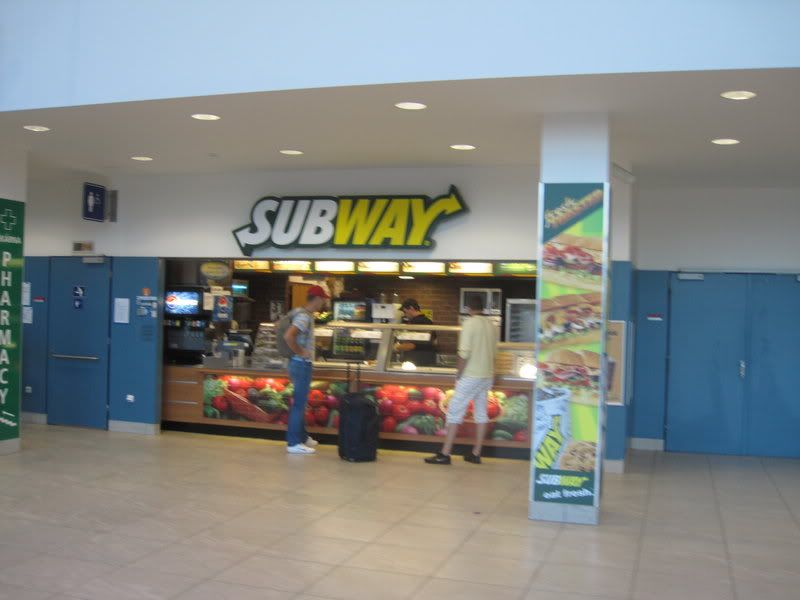 Moving further towards T2, what's that "BILLA" thing?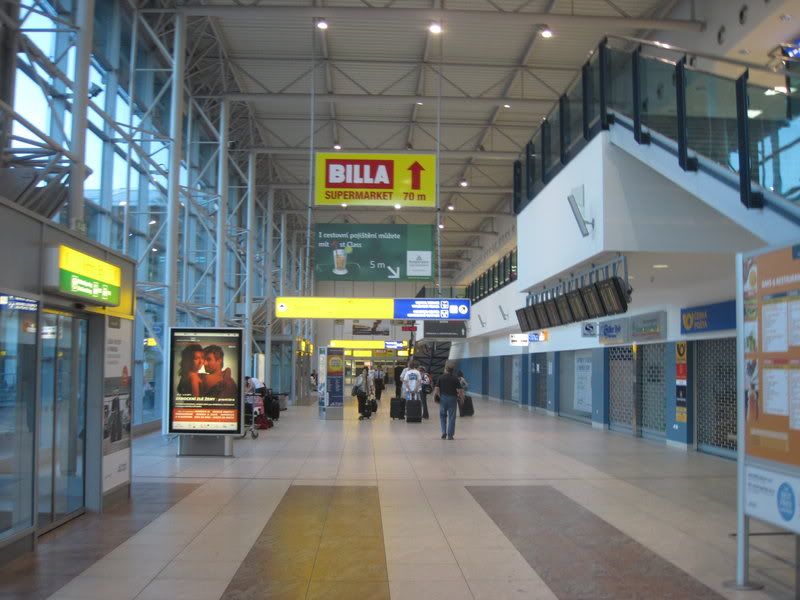 Oh, it's a branch of the Austrian supermarket chain - perfect for stocking up on supplies before your flight: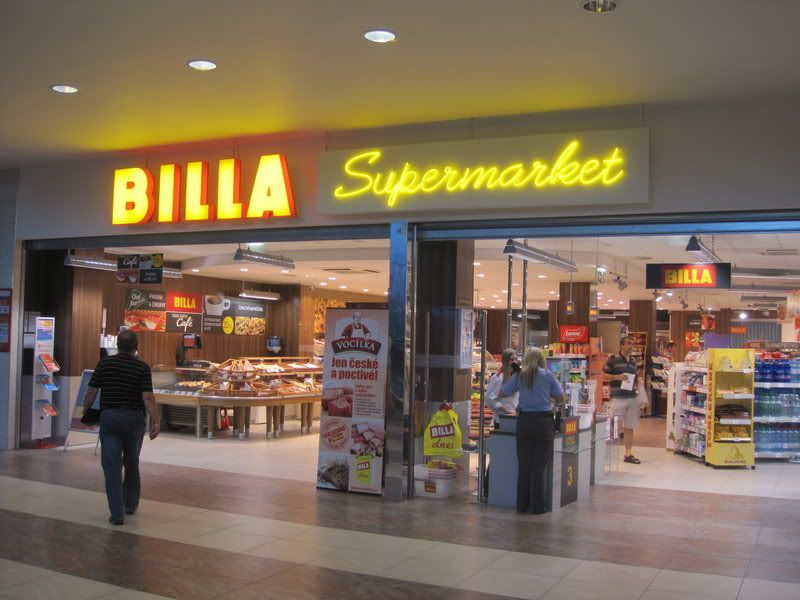 The check in hall of T2 follows the same clean architectural principles as T1: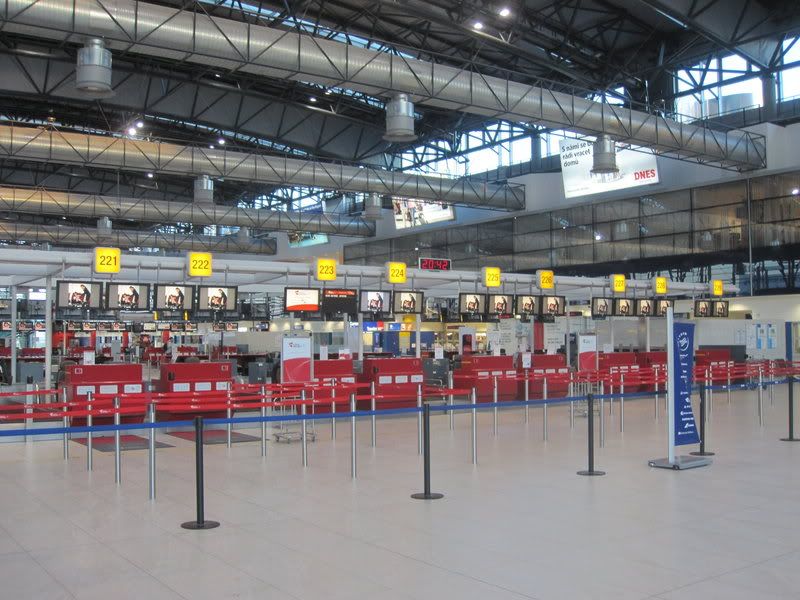 There ain't a place in this world you cannot reach from Prague Airport: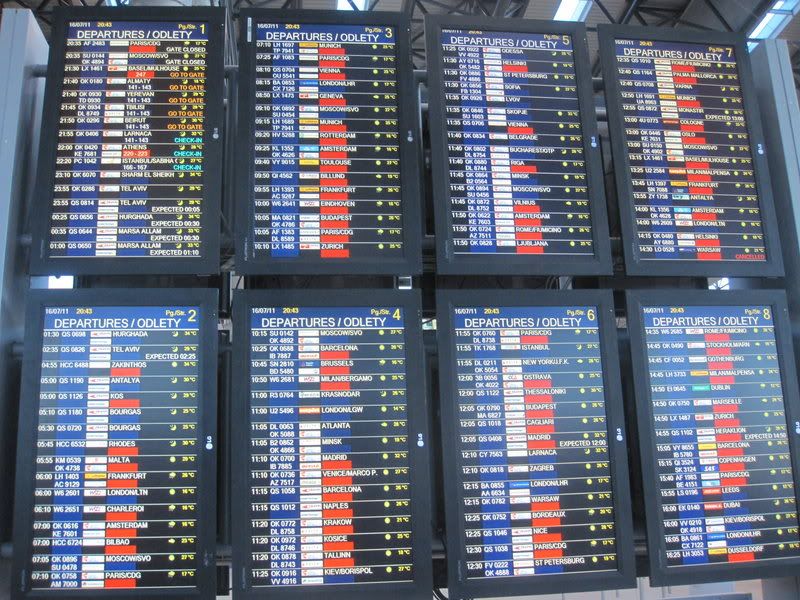 Well, sometimes you need to adapt to your visitor's habits - this time the Brits: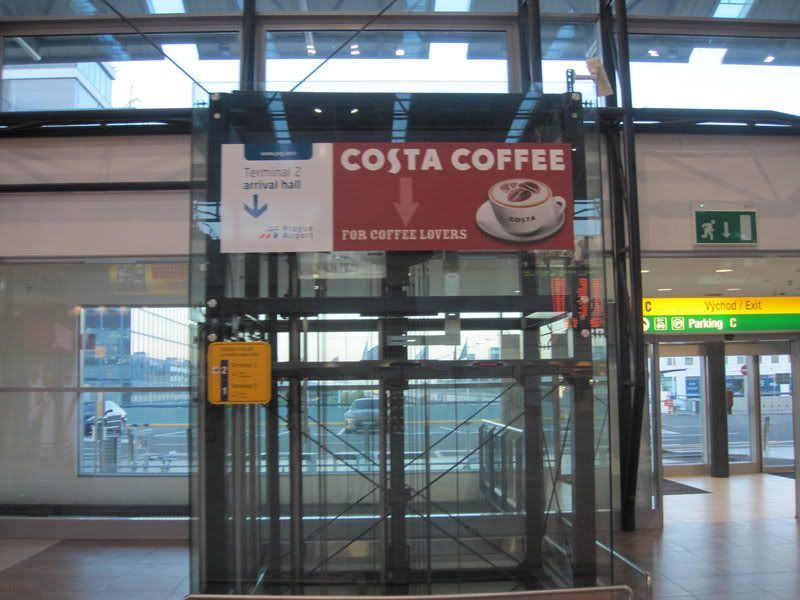 Prague Airport offers the world on your hands (ignore the homeless guy in the picture, he will be disposed of accordingly):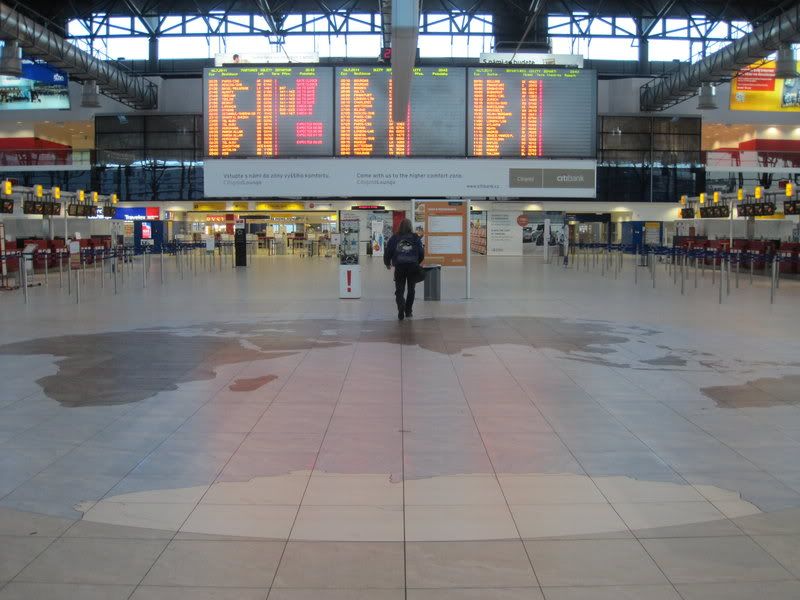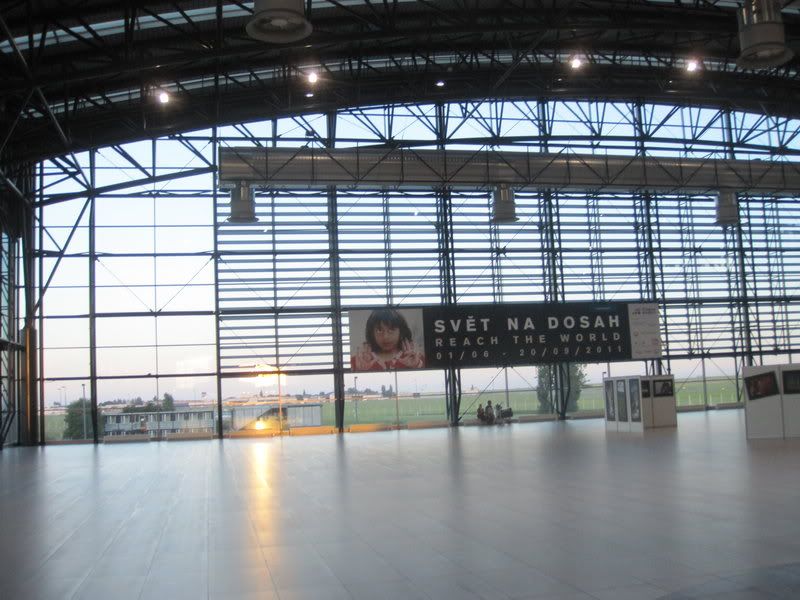 You can reach all these destinations with convenient non stop flights - only from Prague Airport: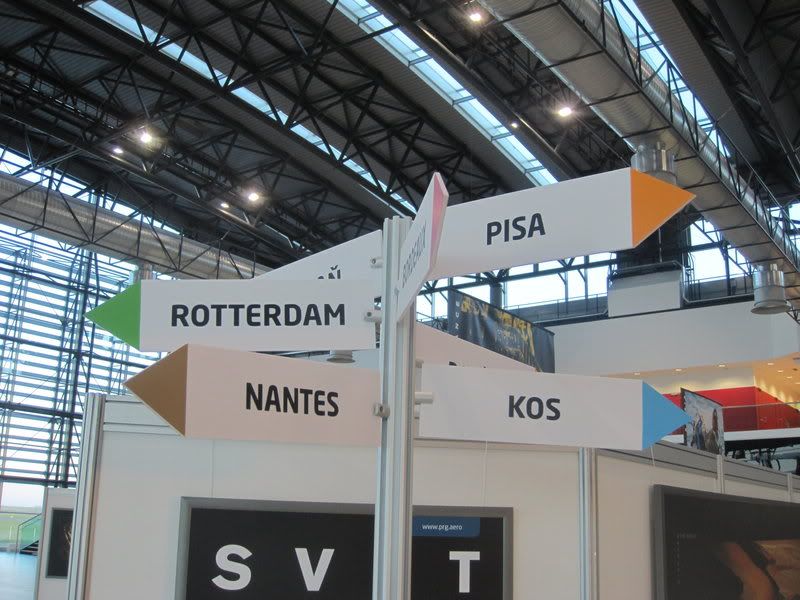 From time to time there are art exhibitions here - just to make the passengers feel more at ease: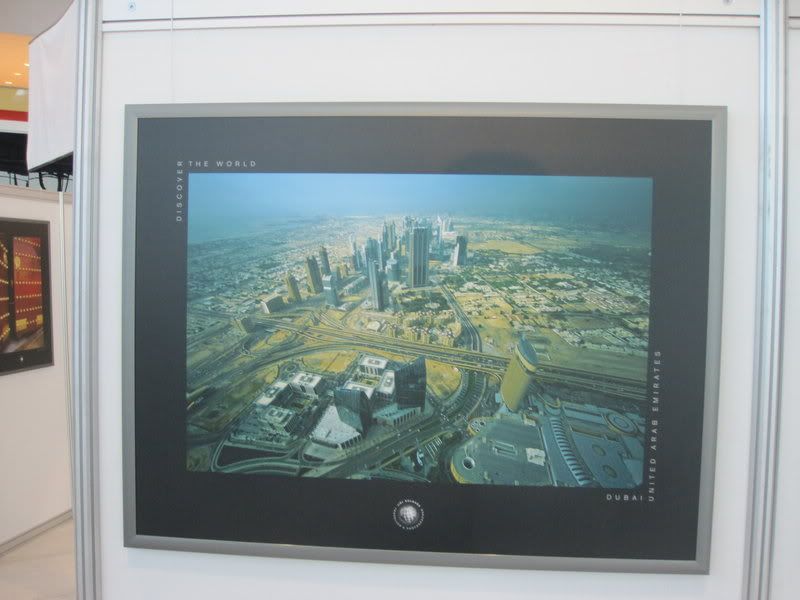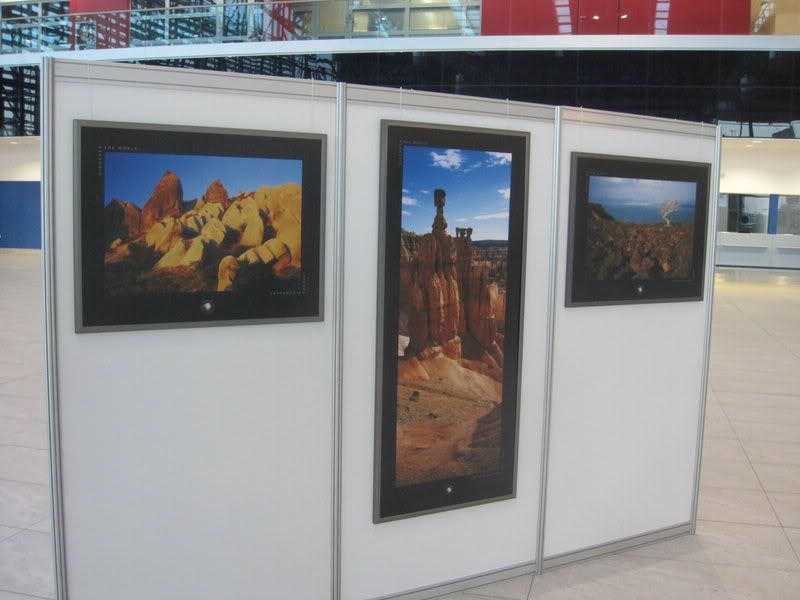 Plenty of expansion potential for new airlines - call us now!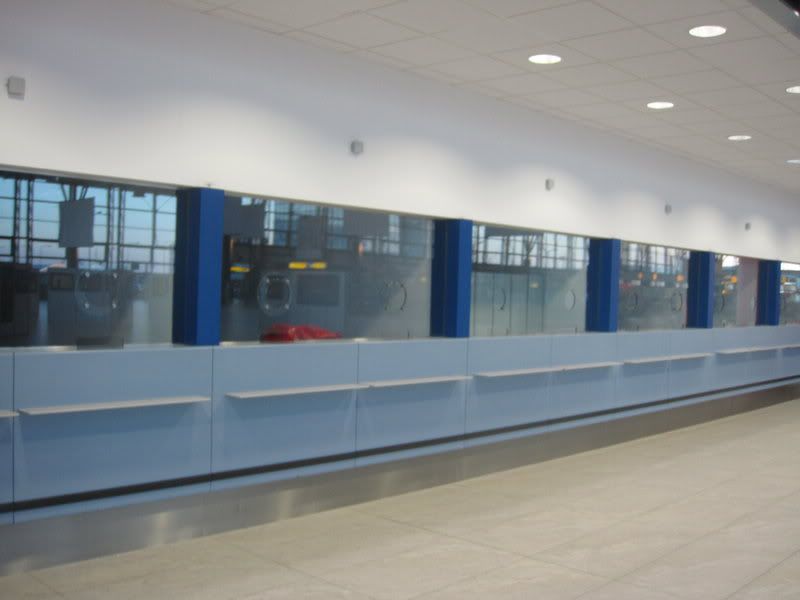 Even planes need a good night's sleep, so here's one of the areas specially reserved for that: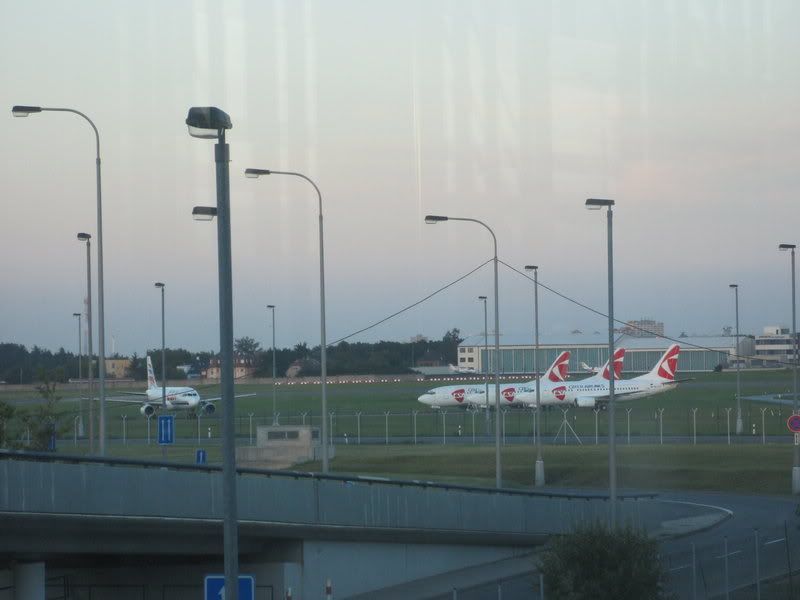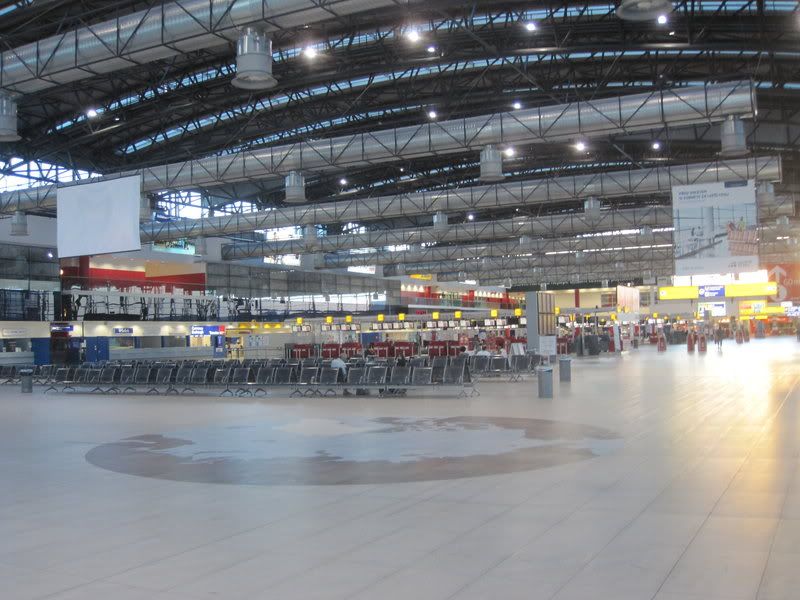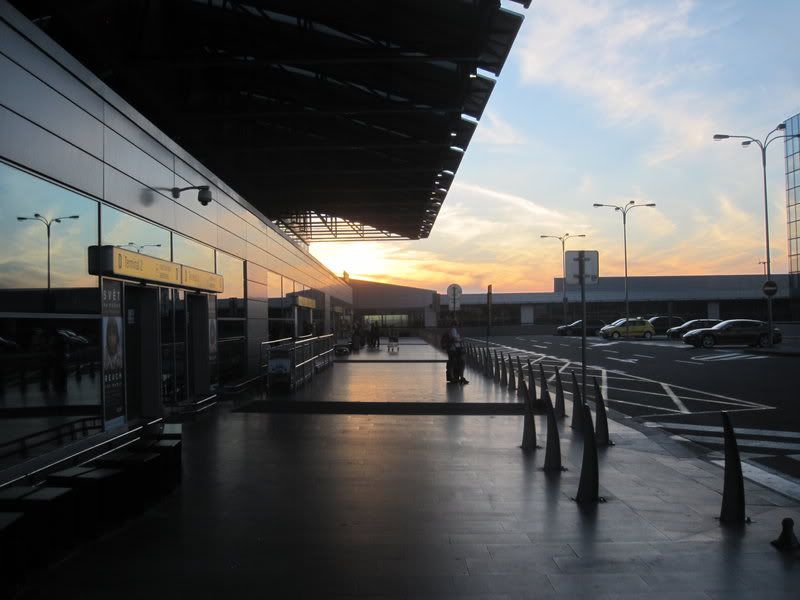 The facilities represent state of the art and fulfill even the strictest safety regulations: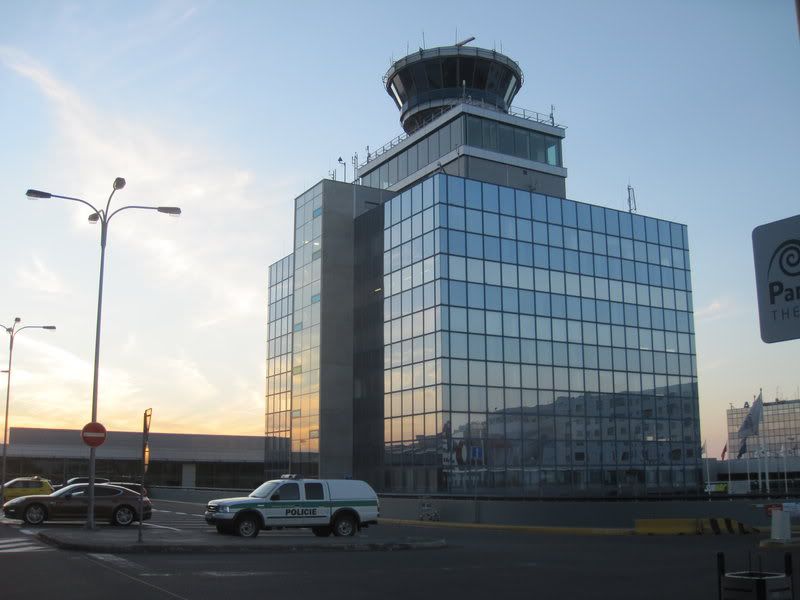 There's also plenty of accommodation nearby should you need to spend the night here: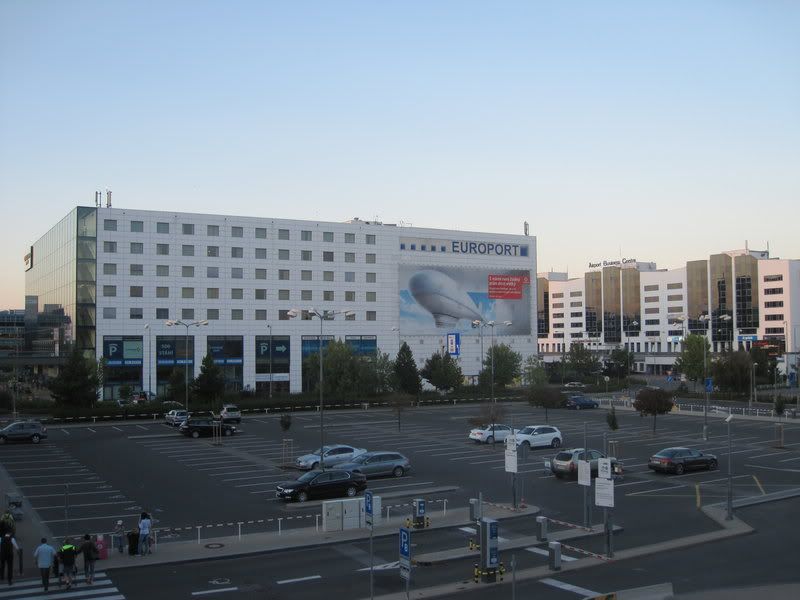 The sun is setting on another busy day at Prague Airport - the crossroads of Europe. But fear not, tomorrow will be another day with plenty of flights to exciting destinations all around the world. Prague Airport, come to visit, stay to enjoy it!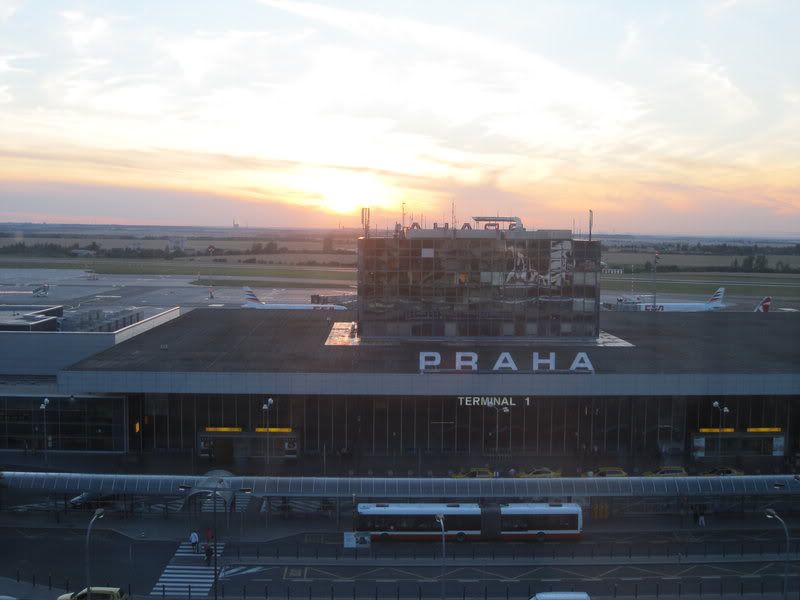 Disclaimer:
This tour was not sponsored nor paid for in any way by the Prague Airport or any shareholders. However should you wish to have your airport described in a report like this, feel free to contact me with an offer - my rates are perfectly reasonable and I am very flexible.
Sunday 17.7.2011
Another morning, another wake up at seven, another shower, another packing up, another checkout, another walk to the terminal and yet another security check. Caught in a rut - who me? Hell, no!
So I find myself airside of the new Terminal 2 - somewhere I've never been before. Quite nice actually, plenty of shops and I like the fact that they have introduced centralized security control - T1 has security at the gates a'la Atatürk and that is always a mess.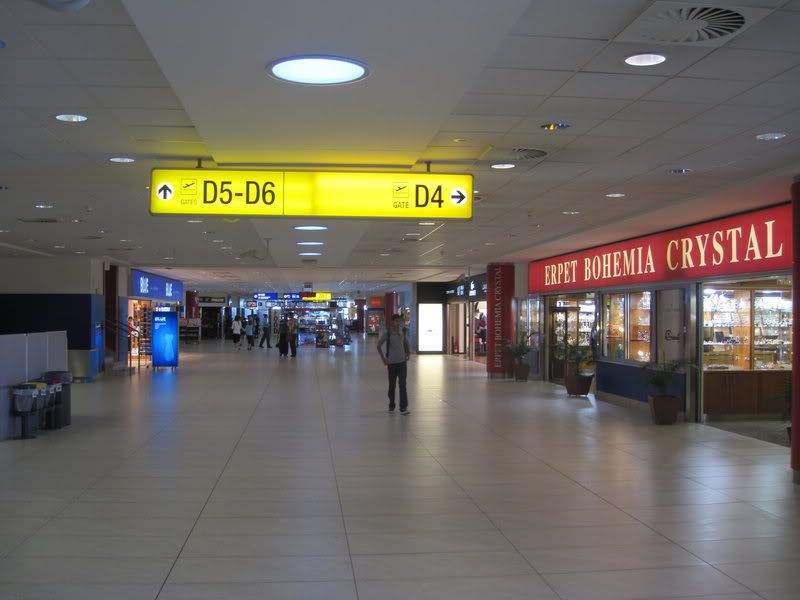 FIDS: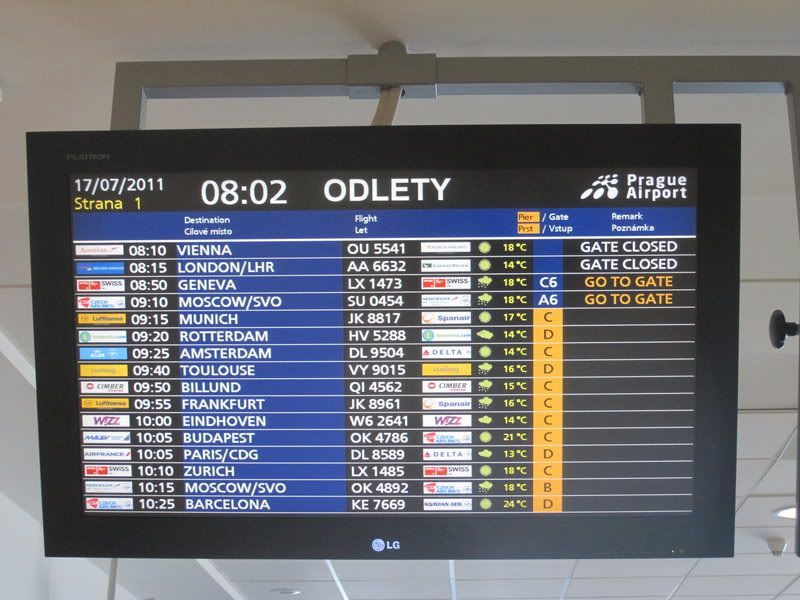 We are in Bohemia, after all, so the obligatory crystal shops are there: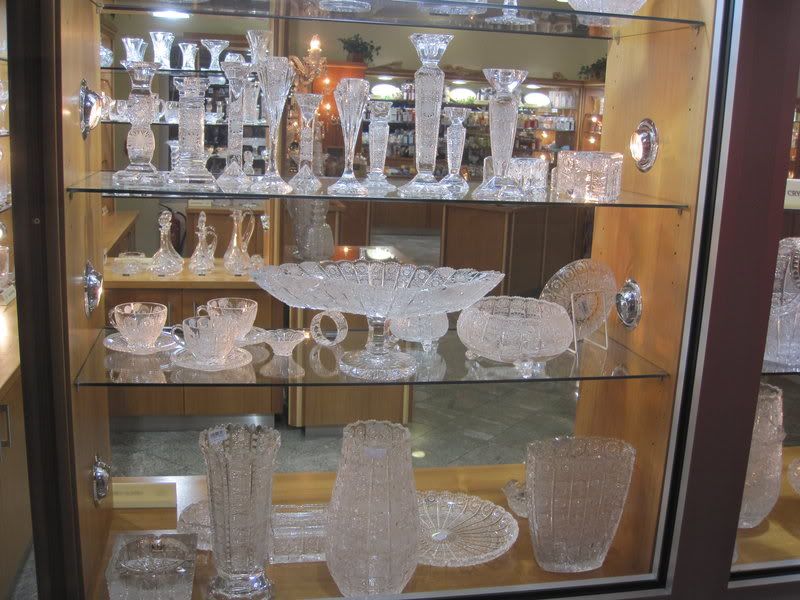 I used to love him as a kid:
Anyway after taking a look around I head upstairs to the CSA Crystal Lounge for some breakfast.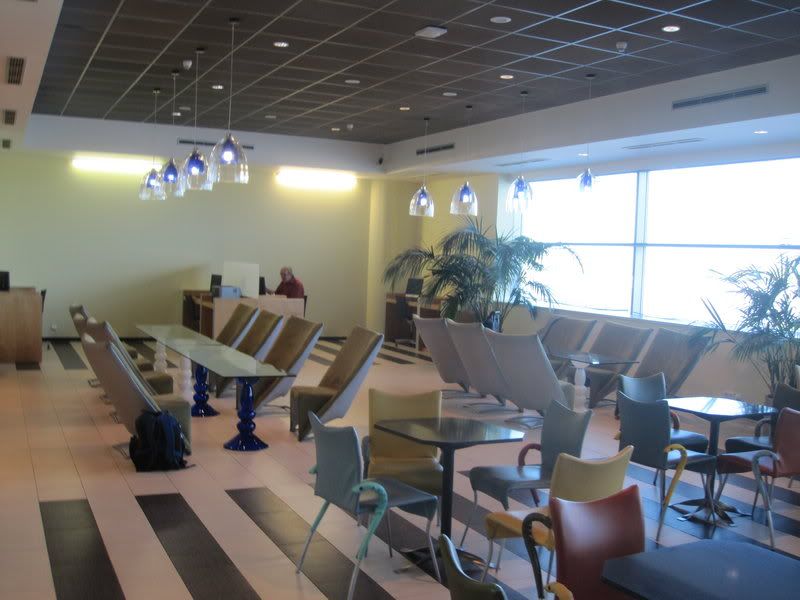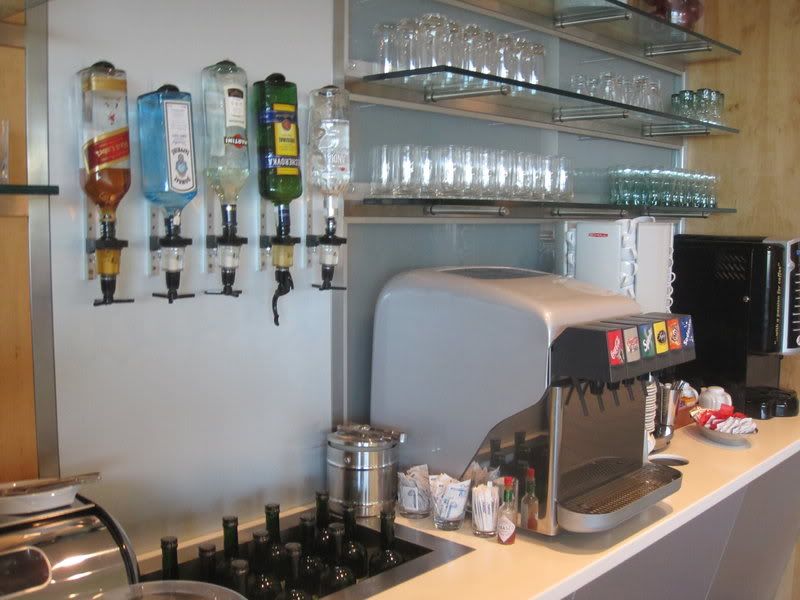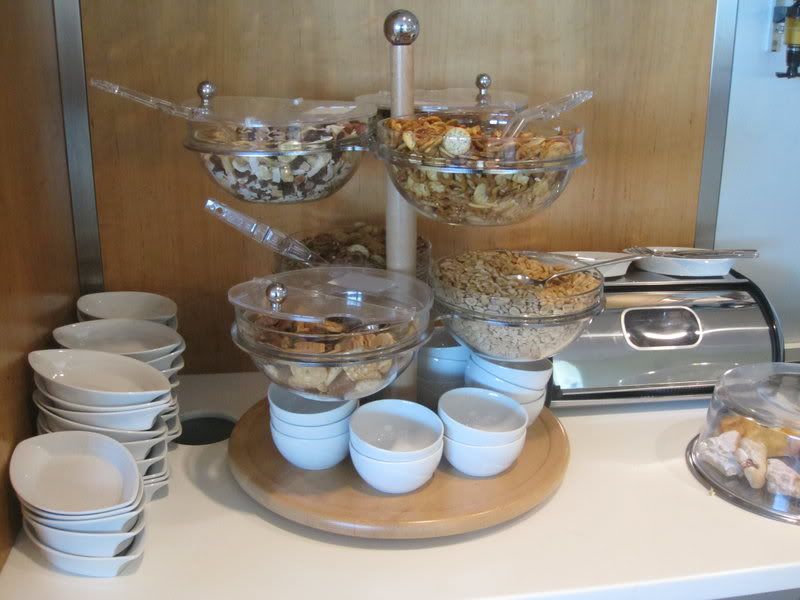 Not very impressed by this lounge - sure it is clean, quite modern, has plenty of seating and decent offerings but somehow you'd just expect something a bit more grand or stylish, after all this is supposed to be CSA's flagship lounge at its homebase.
These small sandwiches, however, are very tasty: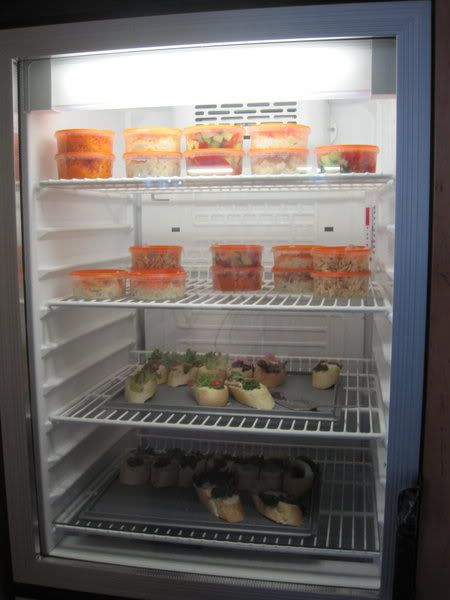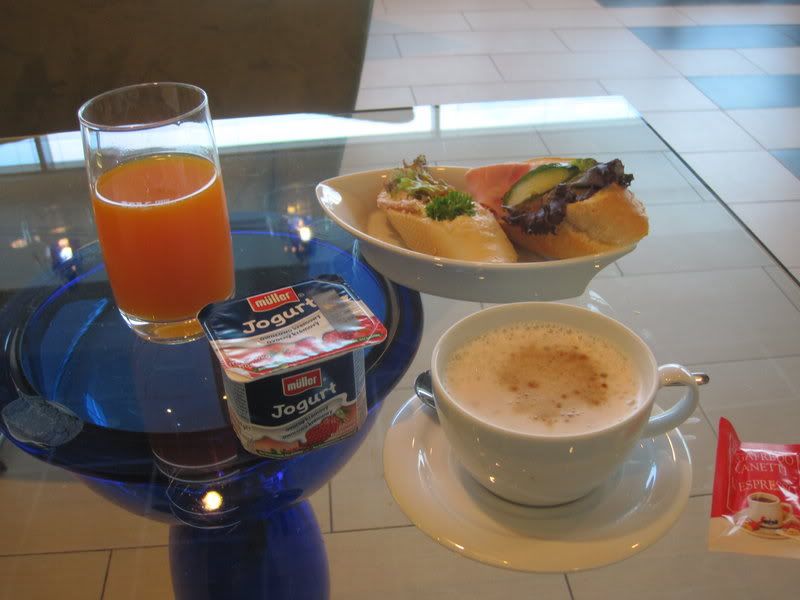 CSA motif on the glasses - sorry for the dirty fingerprints: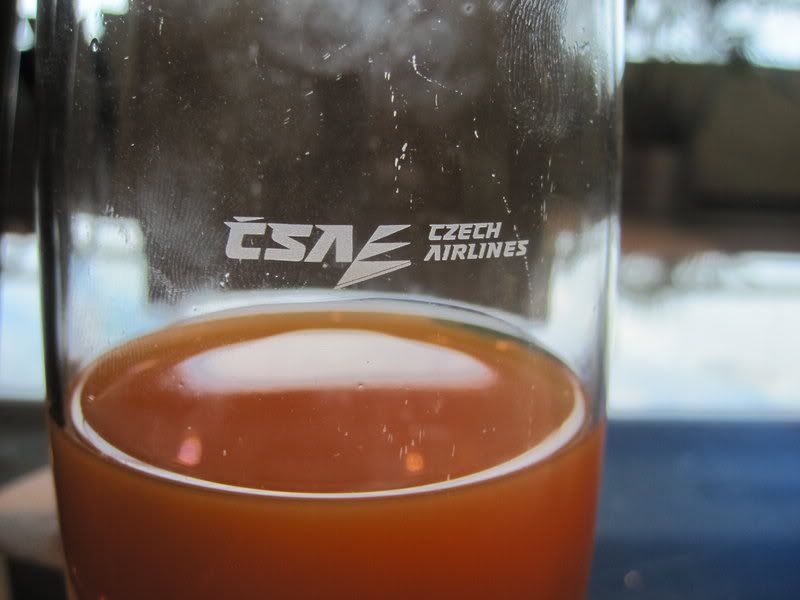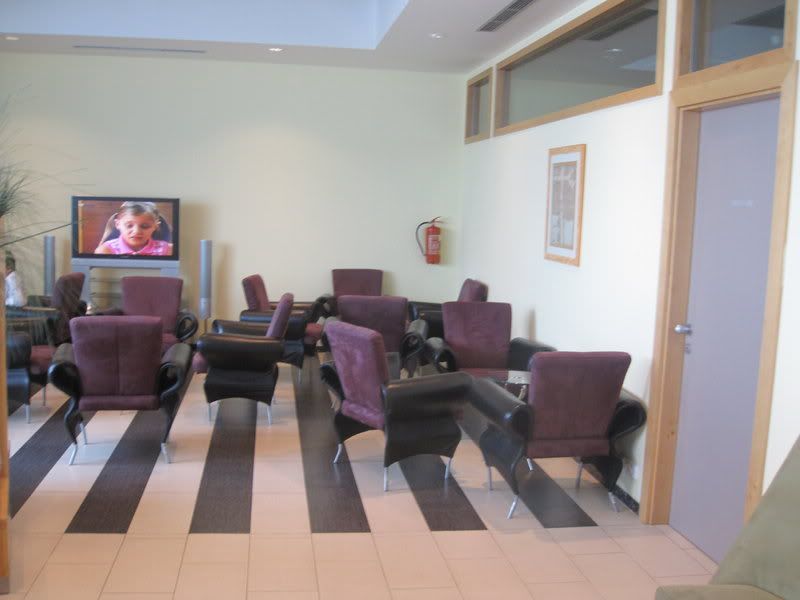 When was the last time you saw somebody using a payphone: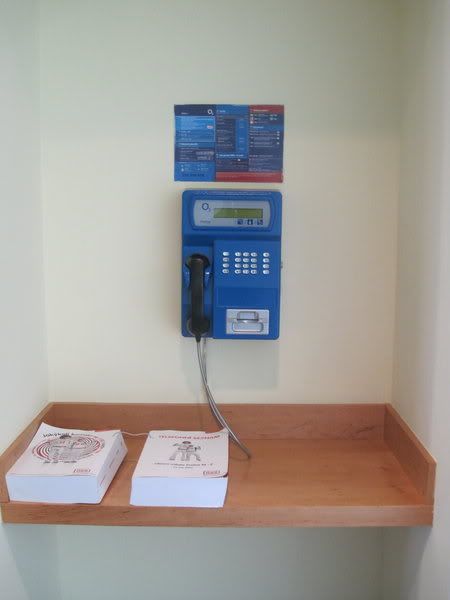 Luckily the whole airport has free wifi, so food, coffee and that make the time pass pleasantly fast. Our gate today is C21, a bus gate pretty much as far away from the lounge as you can get in T2.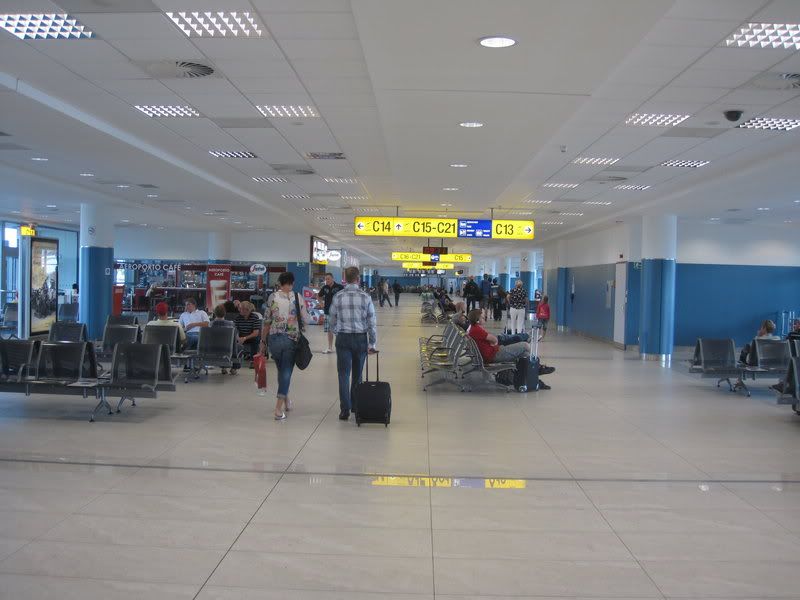 By the time I get there the scene is rather civilized - instead of the usual long queues a long time before actual boarding everybody is sitting down, nice and orderly. Very good.
I see our plane landing from it's first sortie of the day, CRL five minutes early, around 35 minutes before our departure time. Right away the gate agents start setting the gate up for boarding and soon enough a small queue starts forming, so I make my way towards the head of it (I decided to skip priority boarding or extra legroom seat for this short flight).
Soon enough we board the first bus, there's another roped off section for the few priority pax, just like in FCO - maybe this is a new Wizz requirement: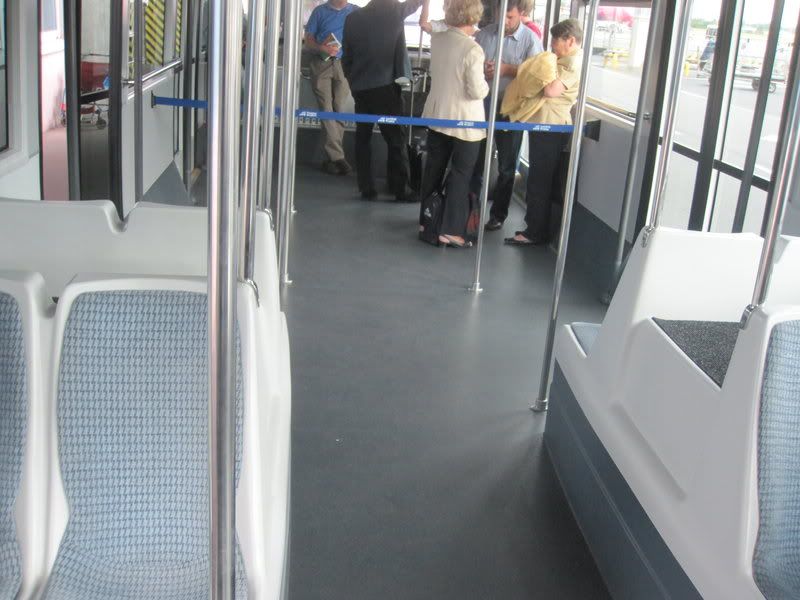 There are two buses, with lots of confusion as most of the passengers try to cram themselves into the first bus even when it is already packed full - they just seem to have a hard time figuring out that they could also board the other, half empty bus behind ours. The fact that nobody from the gate crew bothers to come outside to direct people doesn't help either...
Lots of red tails, as can be expected:
A short ride takes us in front of… Papa Quebec again, my plane from yesterday! I was afraid of this as there aren't too many Wizz birds based here. So second flight with her already.
PRG - EIN
W62641
A320 HA-LPQ
Seat 30F
10.02 - 11.10
My problems with photography and the bulkhead seat still on top of my mind I board through the back and snatch a window seat in the last row instead. I almost get two seatmates, but the young Dutch couple decide to move somewhere further ahead after finding no place in the overhead bins for their carryons. A bit later a Dutch guy sits on the aisle seat, dumps his newspapers and jacket on the middle seat which ensures it stays empty - nice for both of us. Another good load on this flight, over 90%.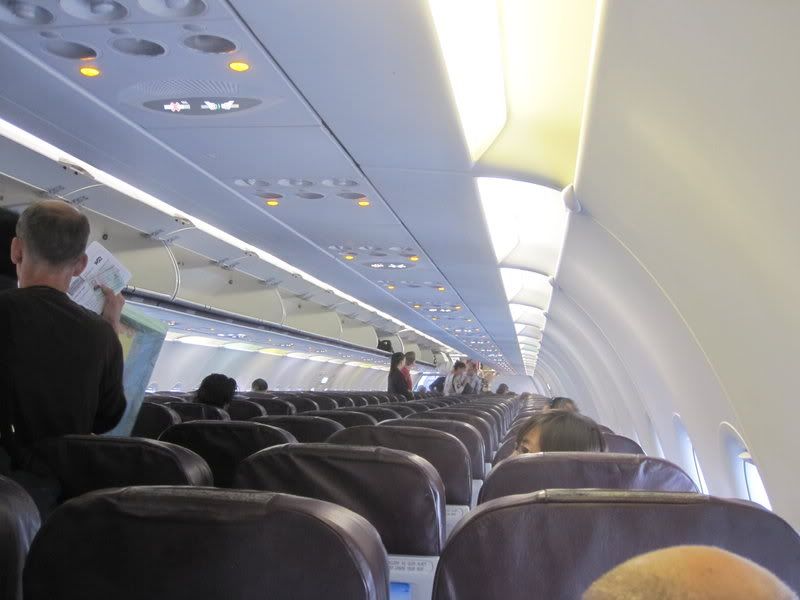 Cimber to CPH next to us: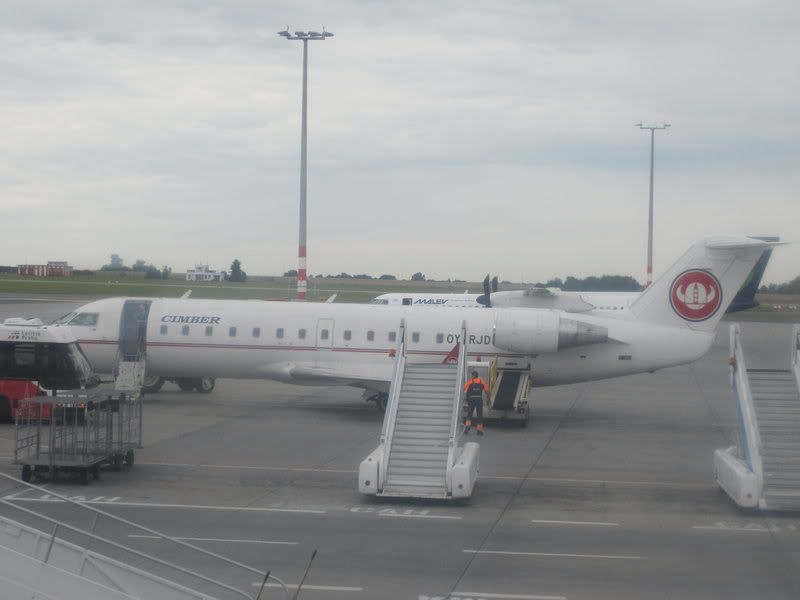 Cimber soon leaves, revealing a MA Dash: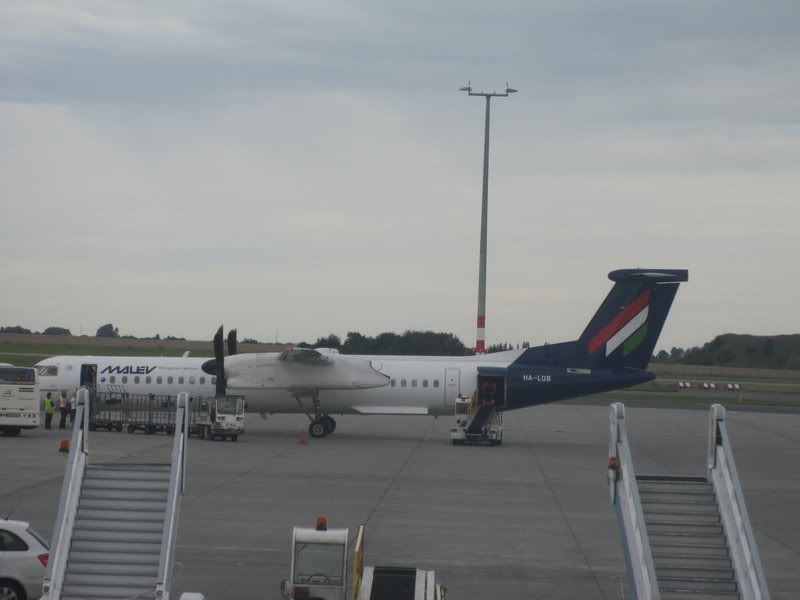 Ahh, Travel Service/Smart Wings, so missed: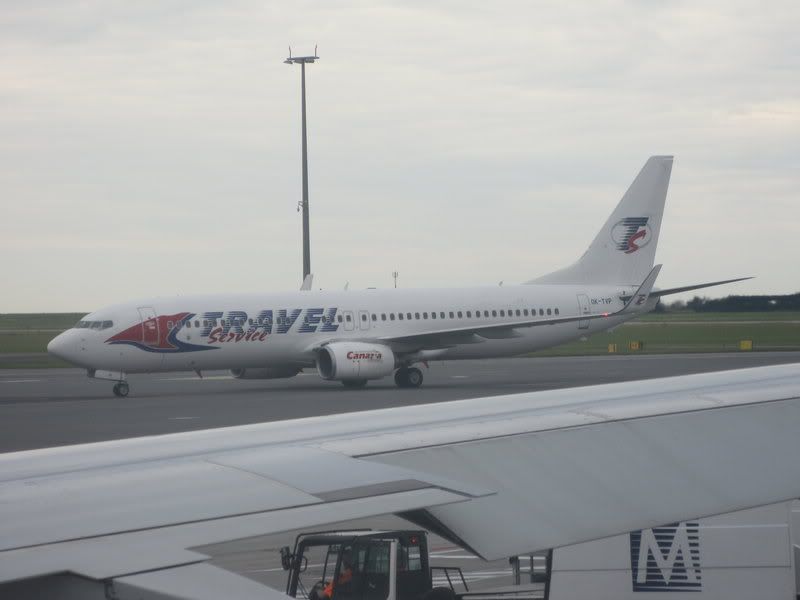 Flight time this morning is a quick 1h5mins, with push back two minutes late.
I tried to get a shot at the Belavia 737, but this tail shot was the best I could come up with:
Top