Map generated by the Great Circle Mapper - copyright © Karl L. Swartz
Background
In the middle of the cold and snowy December 2010 my brother and I decided to escape to the US West Coast for a few days in early February. My brother hadn't been to that part of the country yet and he was very interested in visiting Las Vegas, Los Angeles and San Francisco. I always enjoy going to California and saw the chance to meet some very good friends again. We came to the conclusion that it would be a good opportunity to exchange accumulated miles for Business Class tickets. After checking all possible flight options on the Miles & More website, it was clear that we would try SWISS' new intercontinental Business Class with lie-flat seats. That innovative product was available on all A330-300s and a few A340-300s. Destinations served by the retrofitted A343s in early February were San Francisco, Boston, Hong Kong, Los Angeles and New York (once weekly).

I was first considering to take an A330 flight to Chicago and an A340 flight from Los Angeles or San Francisco so that we would be able to get both types. But I quickly scrapped that idea because I didn't want to risk being stuck at Chicago in a possible snow storm. So we finally booked Munich-Zurich-San Francisco and Los Angeles-Zurich-Munich, operated by Swiss A340s, a Swiss European Avro RJ100 and a Lufthansa A319. At the end of the convenient booking process we were able to select our seats on all four sectors - and there were still many empty seats, so we got exactly what we wanted: single window seats on the flight to SFO and center seats in the two-row forward section (so-called "Stübli") on the return flight from LAX.

Here's the seatmap:
http://www.swiss.com/web/EN/about_sw...ircraft/Pages/airbus_a340_new.aspx

After booking the long-haul flight combo, we added a few domestic hops. Of course I wanted to get some new airlines, so we decided to book a San Francisco-Denver-Las Vegas connection on Orbitz. There would have been cheaper options (including numerous nonstop flights), but Republic Airlines (Embraer 170) and Frontier Airlines (A319) were new carriers for me - and I had never been to Denver. Then we booked a cheap US Airways A319 flight from Las Vegas to Los Angeles. I would have preferred one of the few hops operated by Mesa Airlines CRJ900s in order to get another new airline, but departure times weren't favorable.

Since my brother had never been to the Grand Canyon, he suggested to add a scenic flight from/to Las Vegas to our itinerary. After checking all available options, we booked a one-hour flight offered by Vision Holidays and operated by Vision Airlines. It wasn't cheap, but we were sure it would be a special experience - and I would get another new airline and even another new type, the rare Dornier 228.

Parts I, II and III can be found here:
Fully Flat Bed to SFO: SWISS' New Business Class
San Francisco Sunshine...and A Frontier Fiasco
Grand Canyon & More: Scenic Flight On Dornier 228
Sunday, February 2011
Las Vegas (LAS) - Los Angeles (LAX)
US Airways US104
Scheduled times: 10:50-12:02
Actual times: 10:46-11:51
Flight duration: 00:43 (hrs)
Distance: 236 miles
Economy Class, seat 21B

Airbus A319-132
N838AW (MSN 2615)
First delivered to America West Airlines in 11/2005
1st flight on N838AW
18th A319 flight
65th A32X flight
More than two hours prior to departure, we took a shuttle from the
Bellagio
to the airport and went straight to the US Airways check-in kiosks. After paying $25 for each checked bag, we got our boarding passes with the pre-selected seats in the second last row. There weren't long lines at security, so we soon arrived in the gate area. After having breakfast, I started spotting while my brother took a few pictures.
Where else do you find such a scenery at an airport?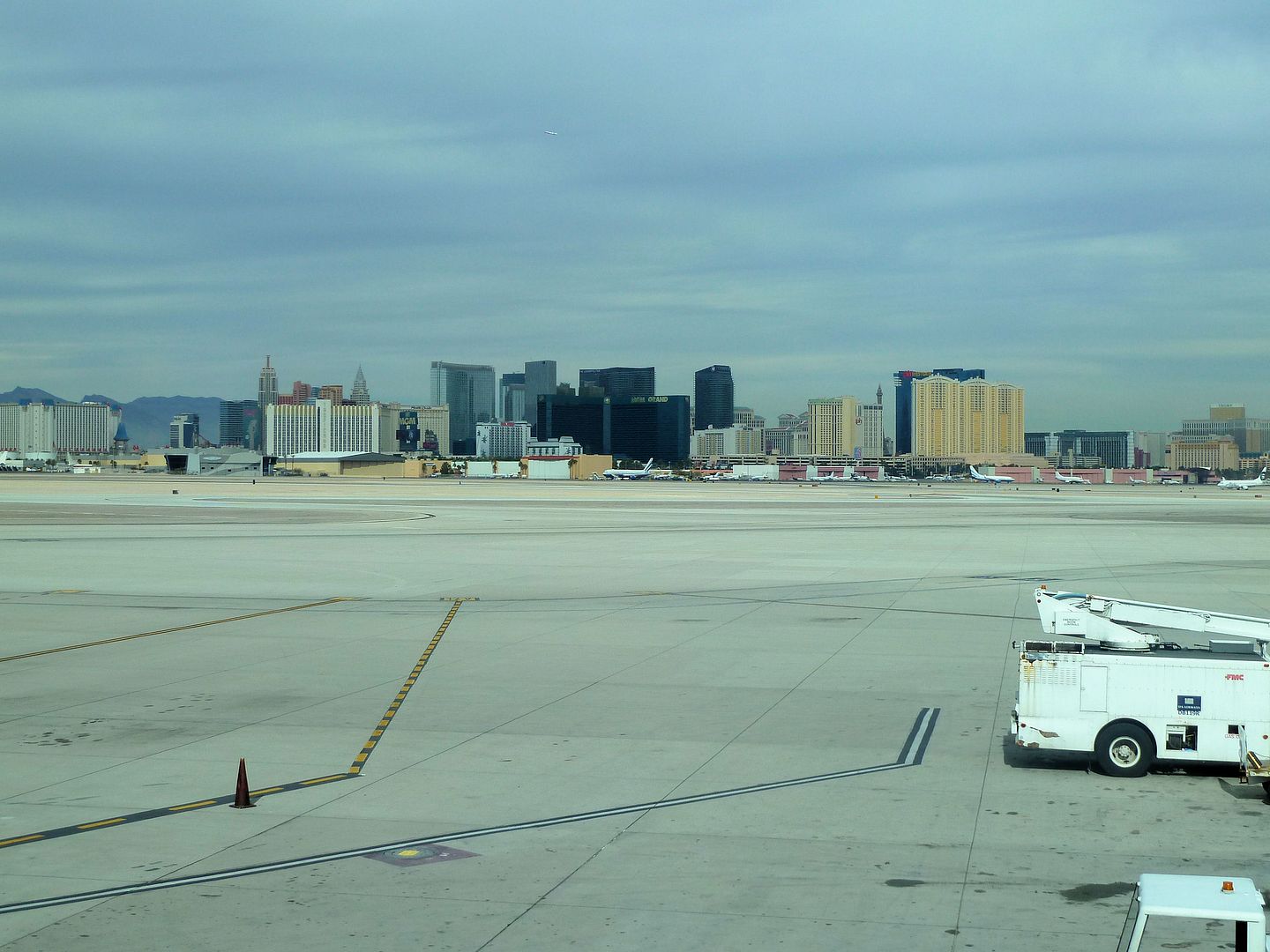 Picture taken by my brother
Las Vegas Sands Boeing 767-300ER in the background: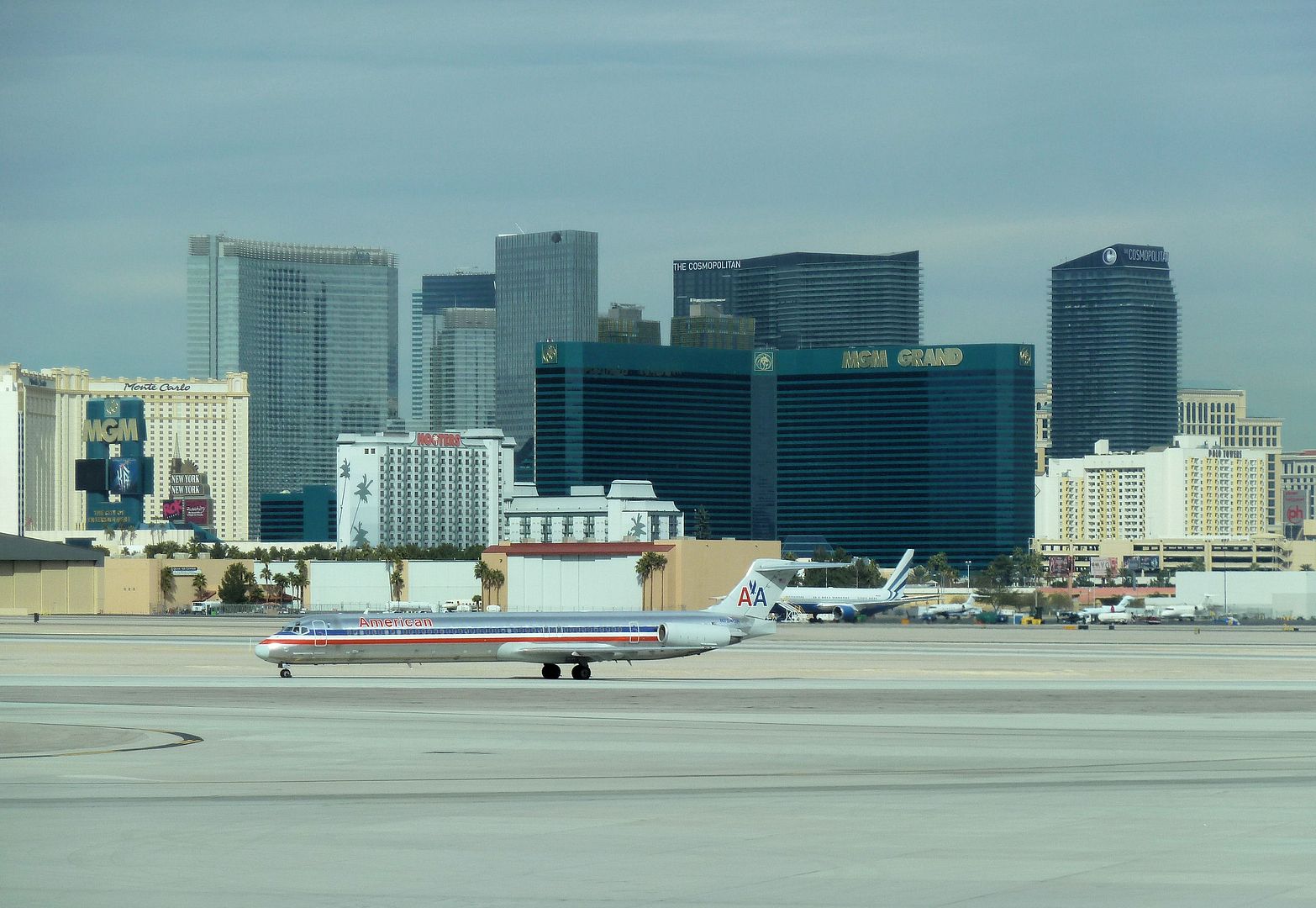 Picture taken by my brother
Picture taken by my brother
"Canyon Blue" is dominating at LAS: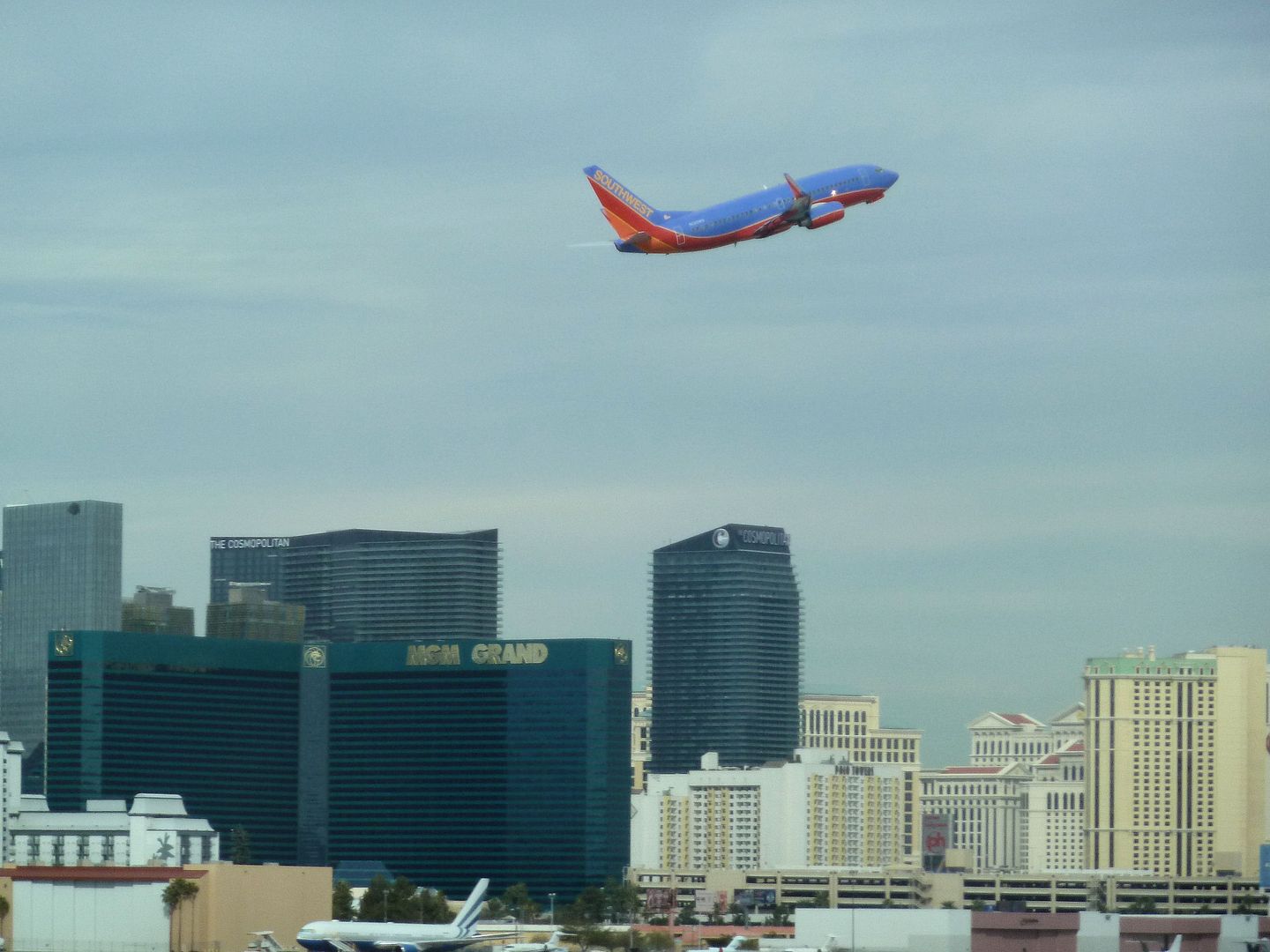 Picture taken by my brother
I hadn't been expecting too much from that upcoming standard US Airways A319 flight, but I was positively surprised when
N838AW
showed up at our gate - it's one of several retro jets in the fleet. Well, the plane just wears America West's last colorscheme, but it's still something special in the carrier's 93-strong A319 fleet:
This logo next to the main door represents four carriers once merged into USAir/US Airways. Can you name them?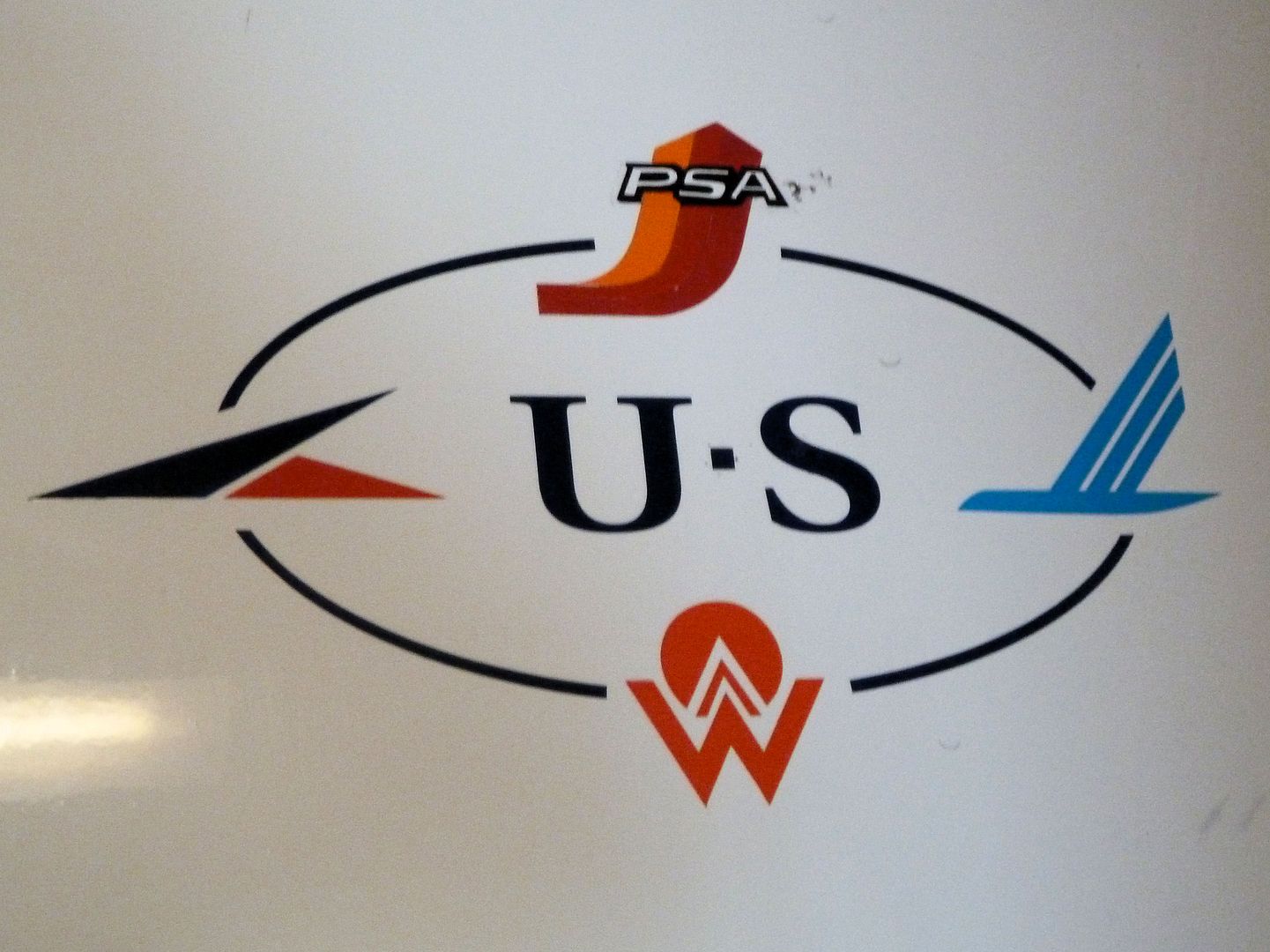 Here's the solution (clockwise from top): PSA Airlines, Piedmont Airlines, America West Airlines and Allegheny Airlines.
I noticed one friendly flight attendant when I entered the cabin, the others apparently weren't in good mood. The leather seats were okay...
...and legroom was acceptable for that short hop: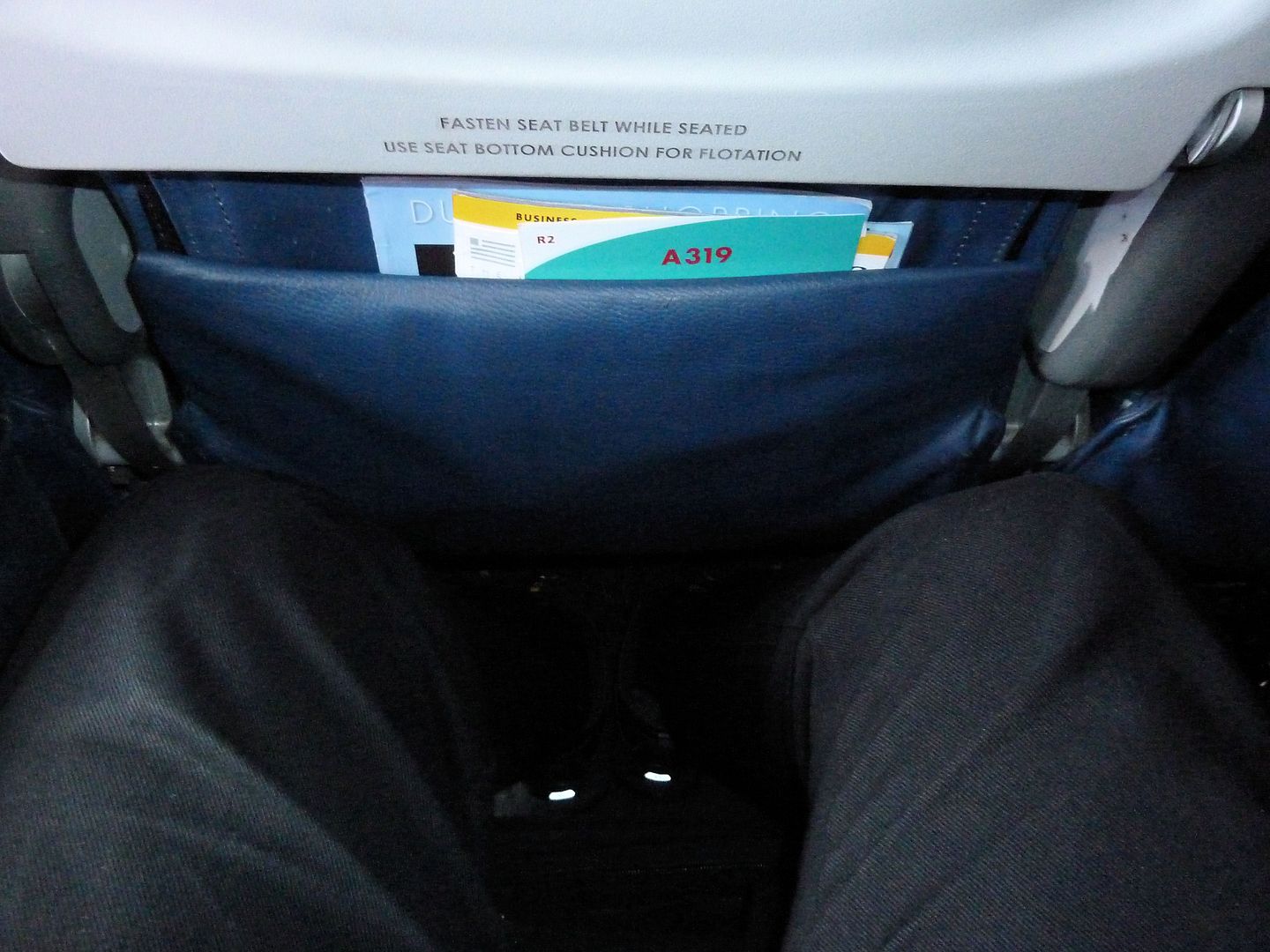 The flight was packed, I didn't see an empty seat in Economy Class. However, it would only be a short flight, so I didn't mind about being stuck in the middle seat.
In the background you can see a nice bunch of Boeing 737-600s operated by defense contractor EG&G and mostly used for shuttle flights to the
Nevada Test Site
, most notably
Area 51
: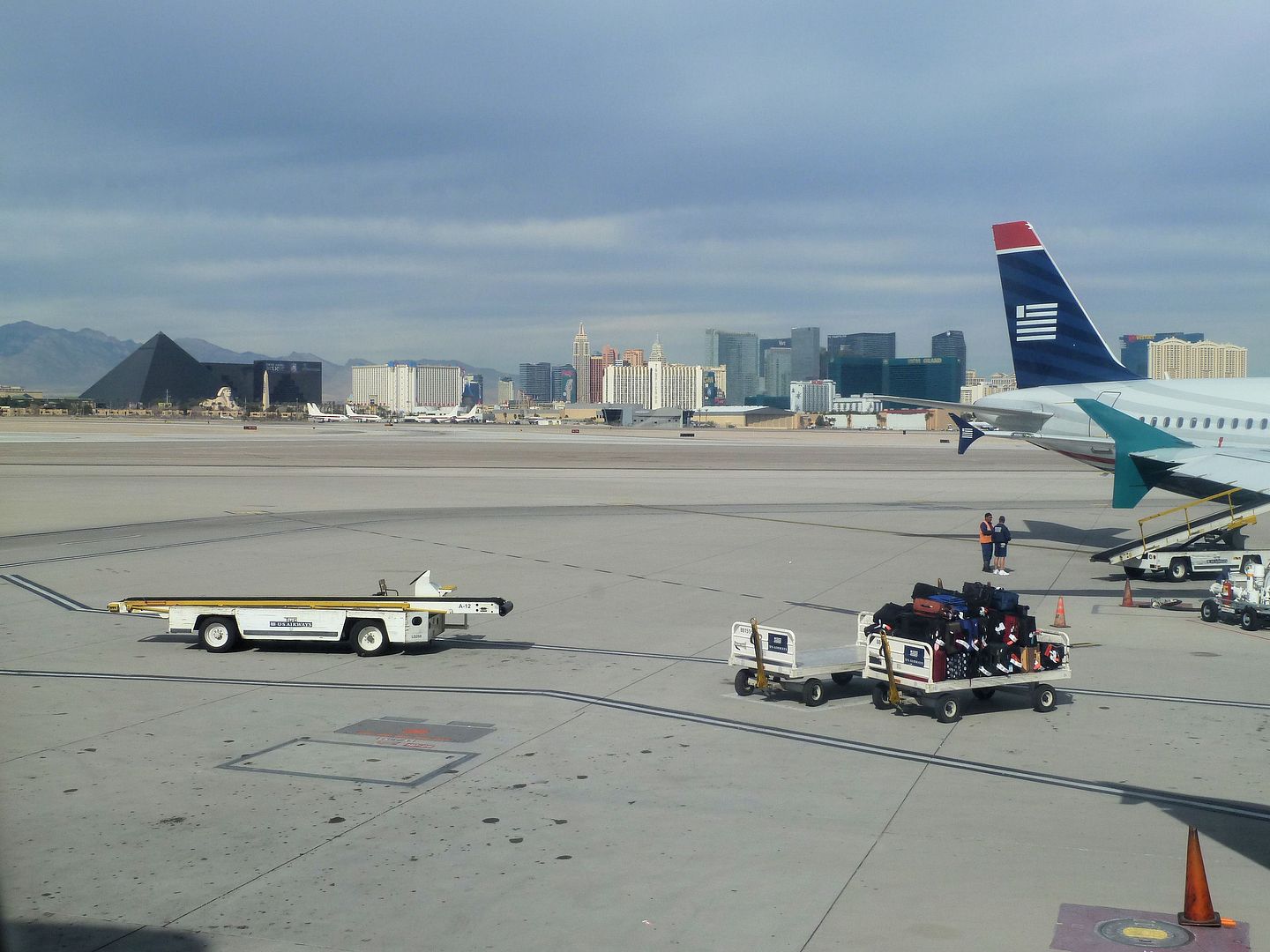 Picture taken by my brother
More "Canyon Blue":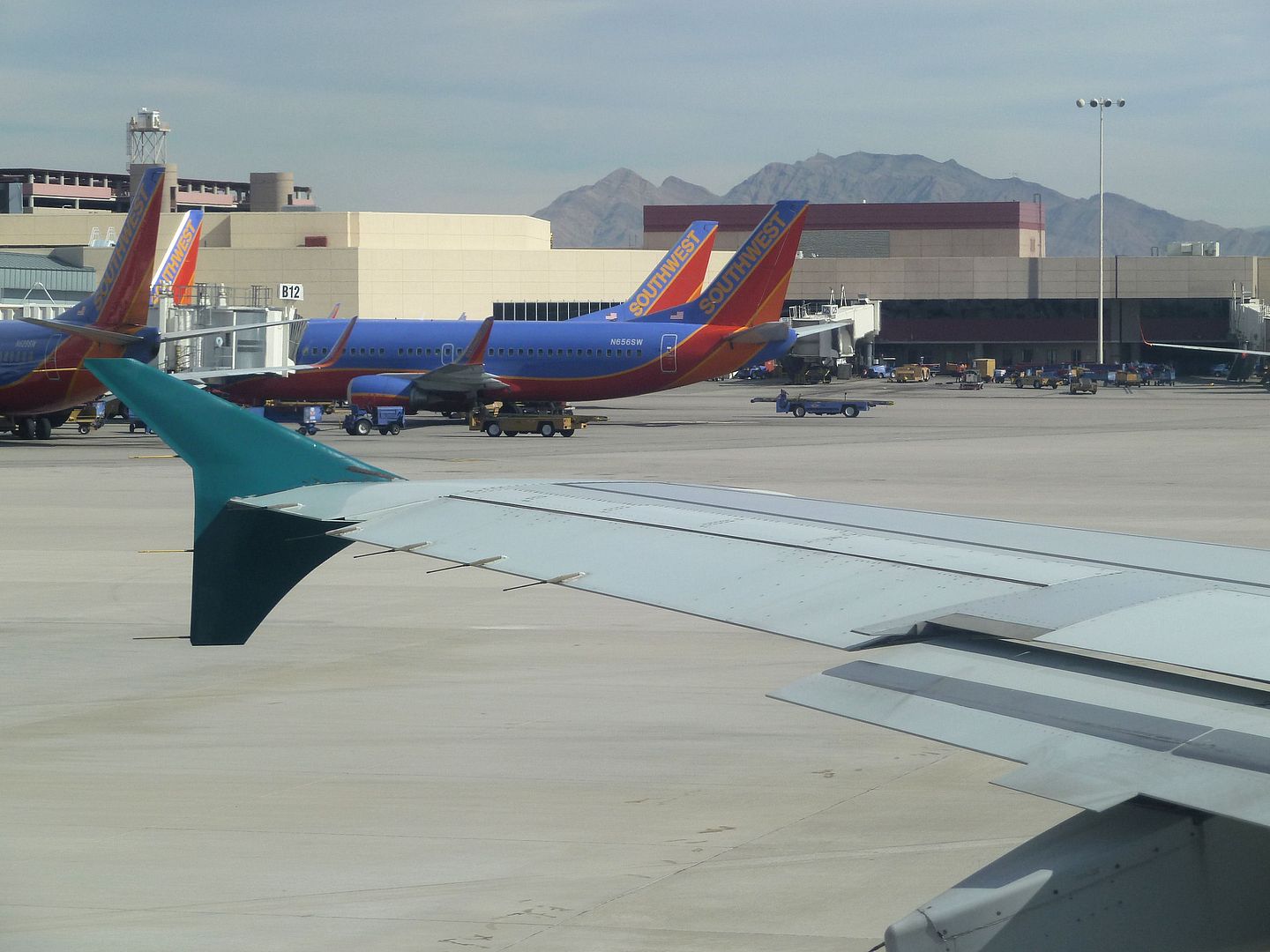 Picture taken by my brother
We took off from runway 1R...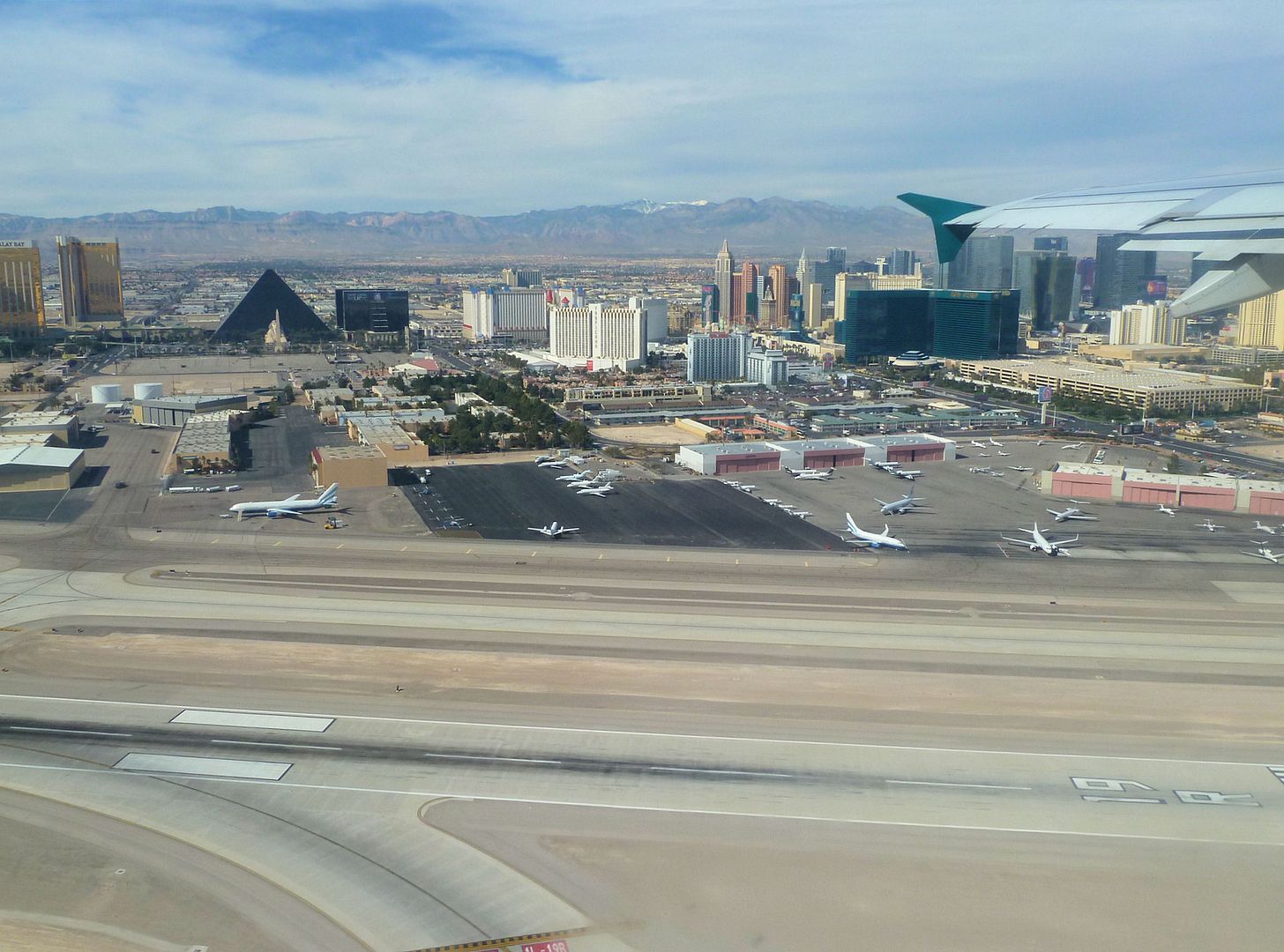 Picture taken by my brother
...and soon turned left - it couldn't have been any better: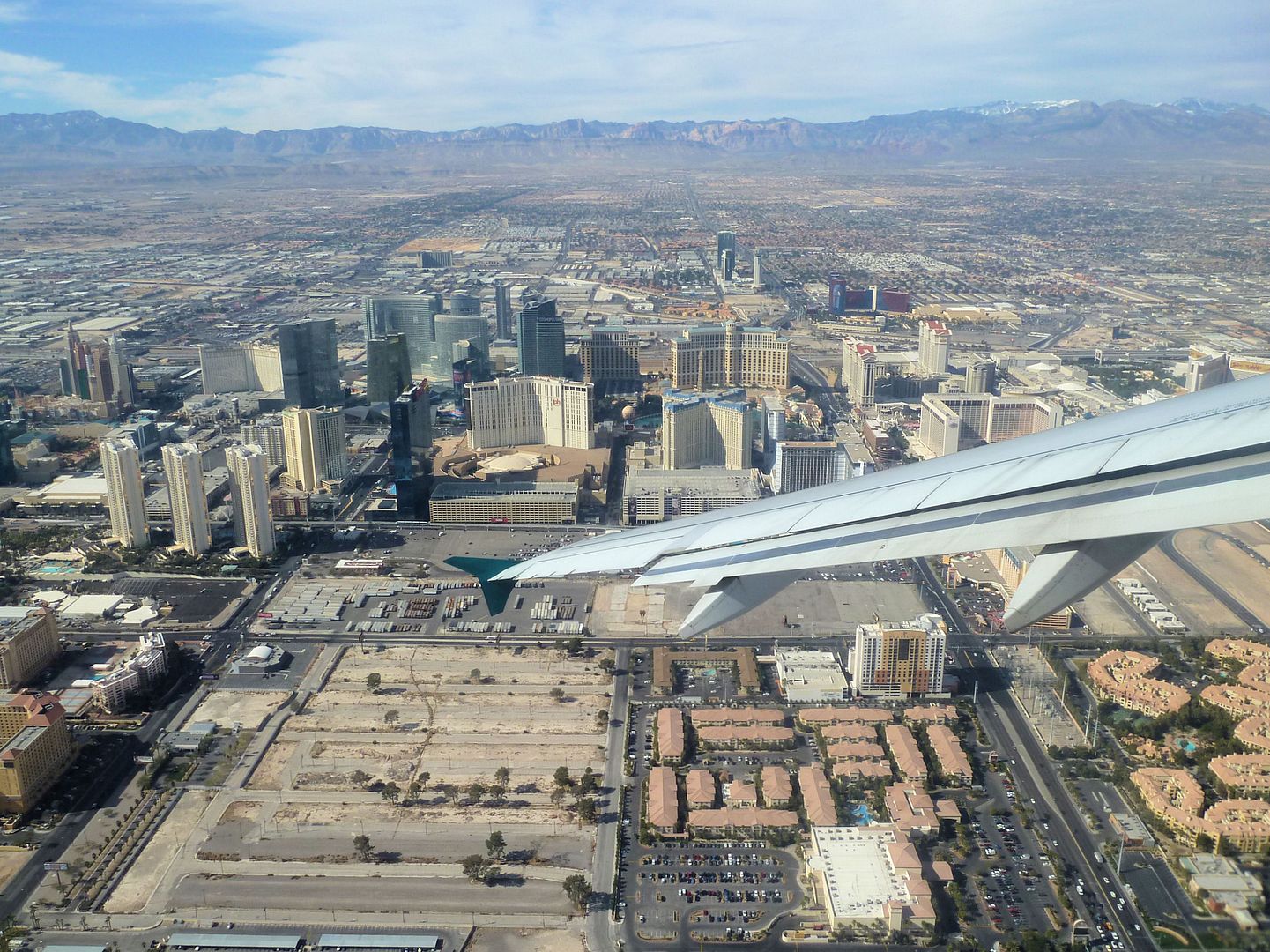 Picture taken by my brother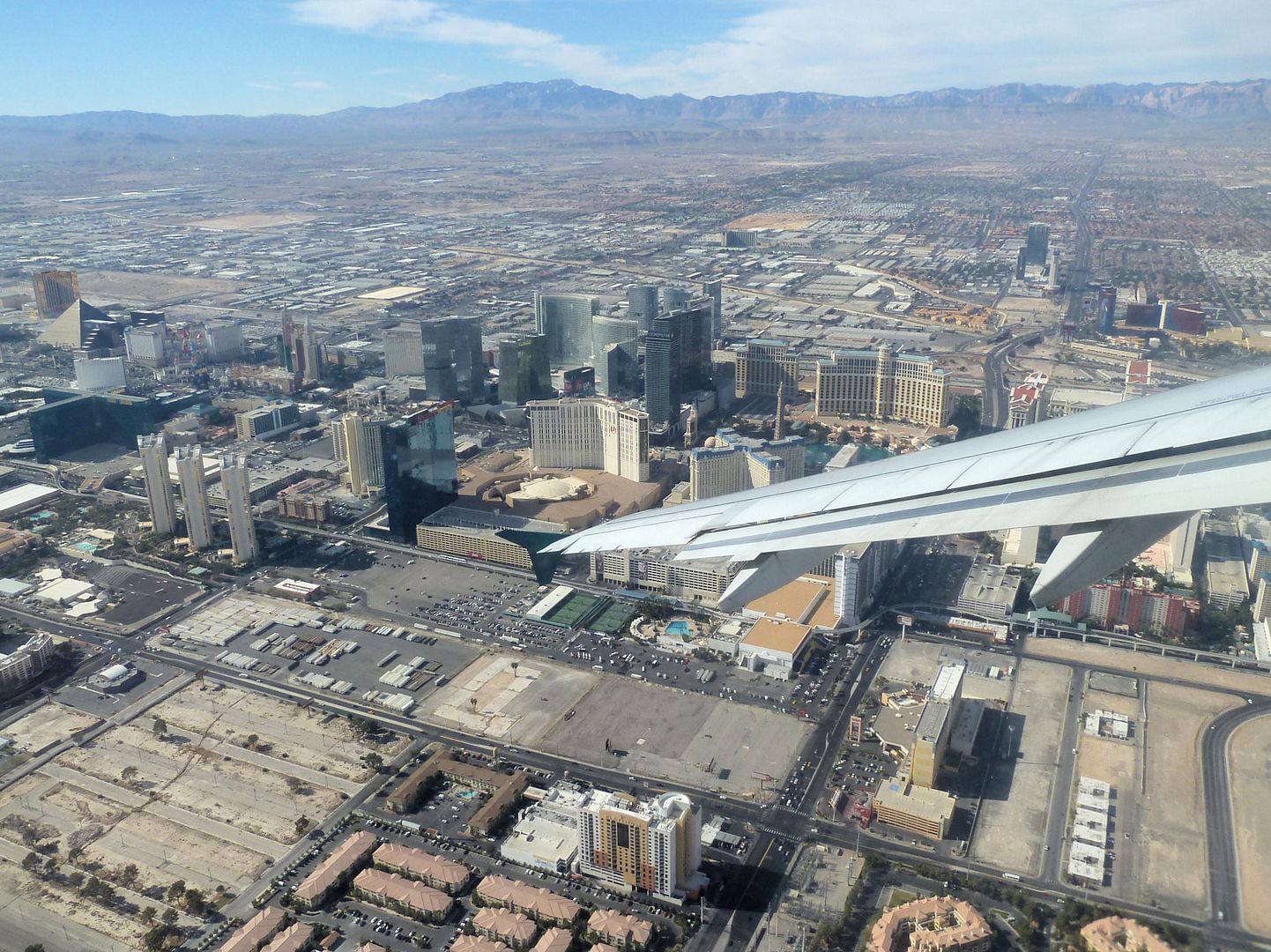 Picture taken by my brother
Picture taken by my brother
These buildings are huge: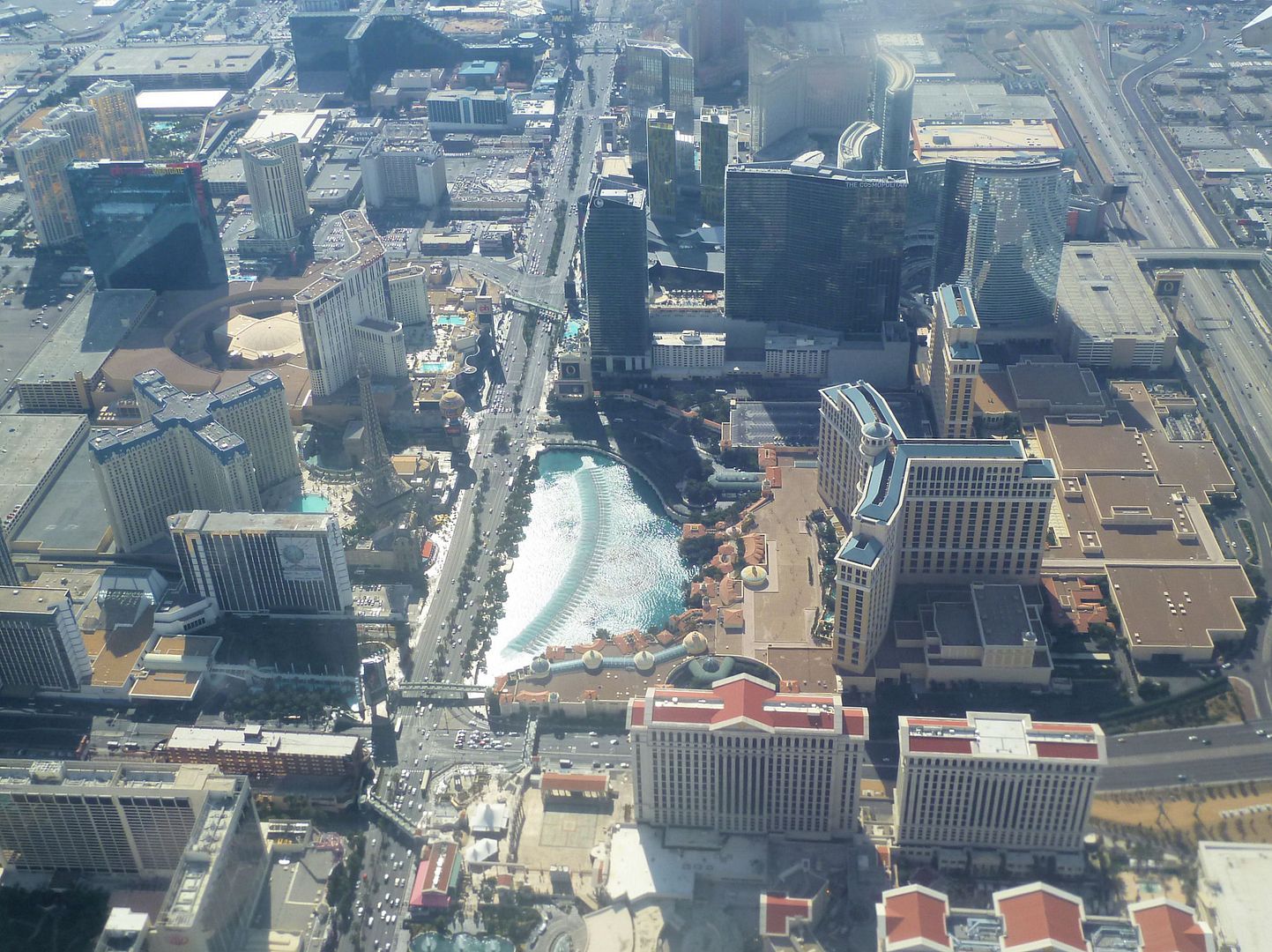 Picture taken by my brother
Out into the desert again:
Picture taken by my brother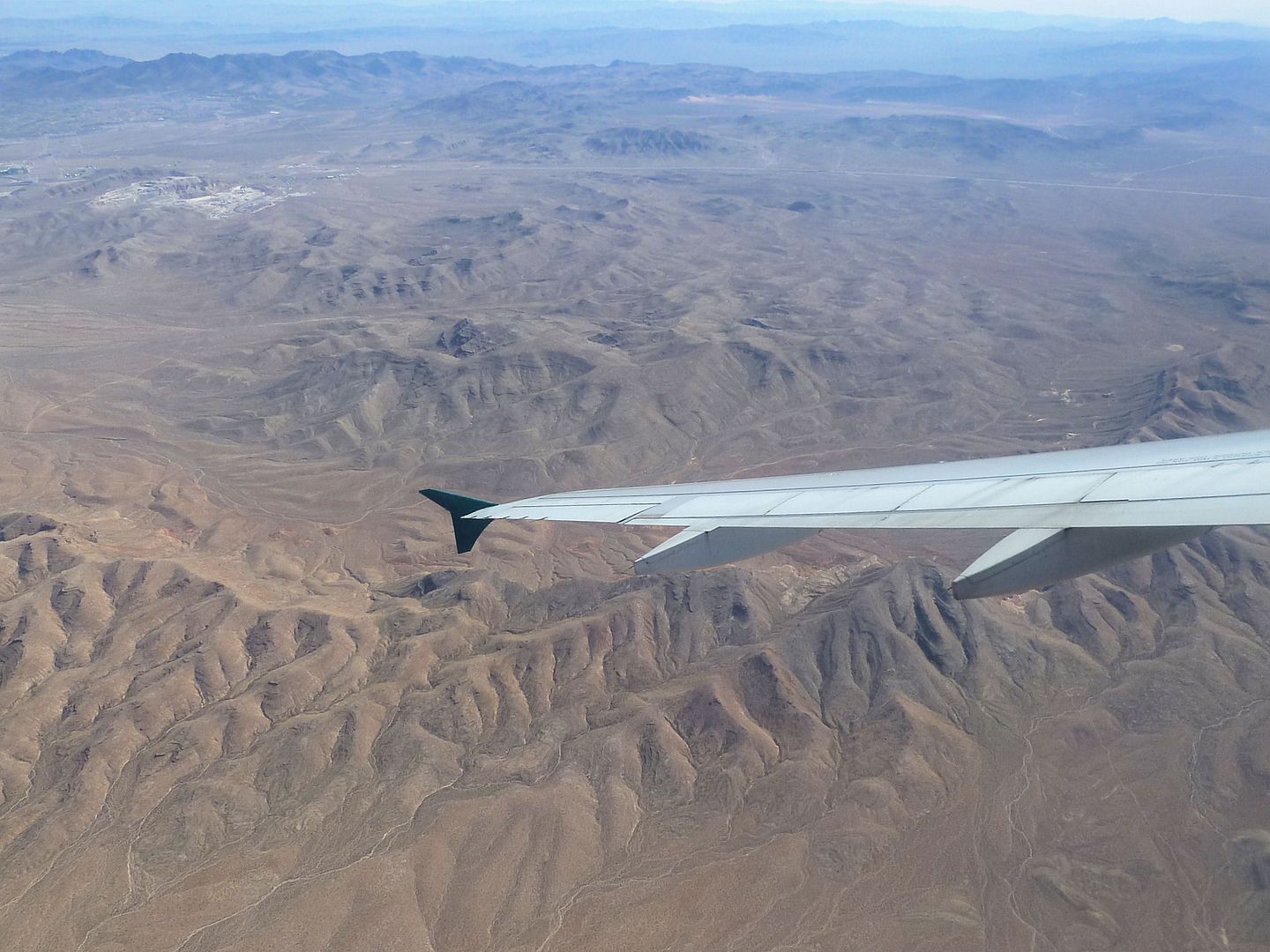 Picture taken by my brother
Here's what I found in the seat pocket. In-flight magazine...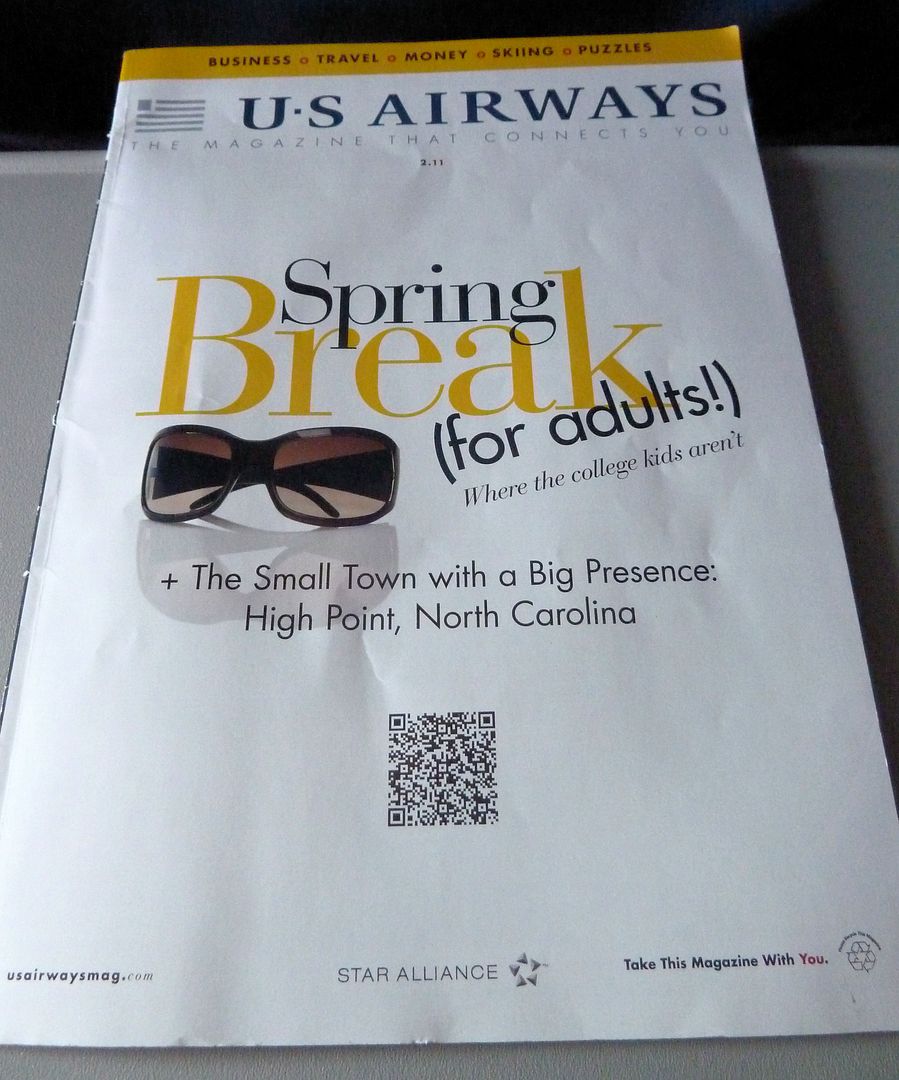 ...and buy-on-board menu (no sale on this flight):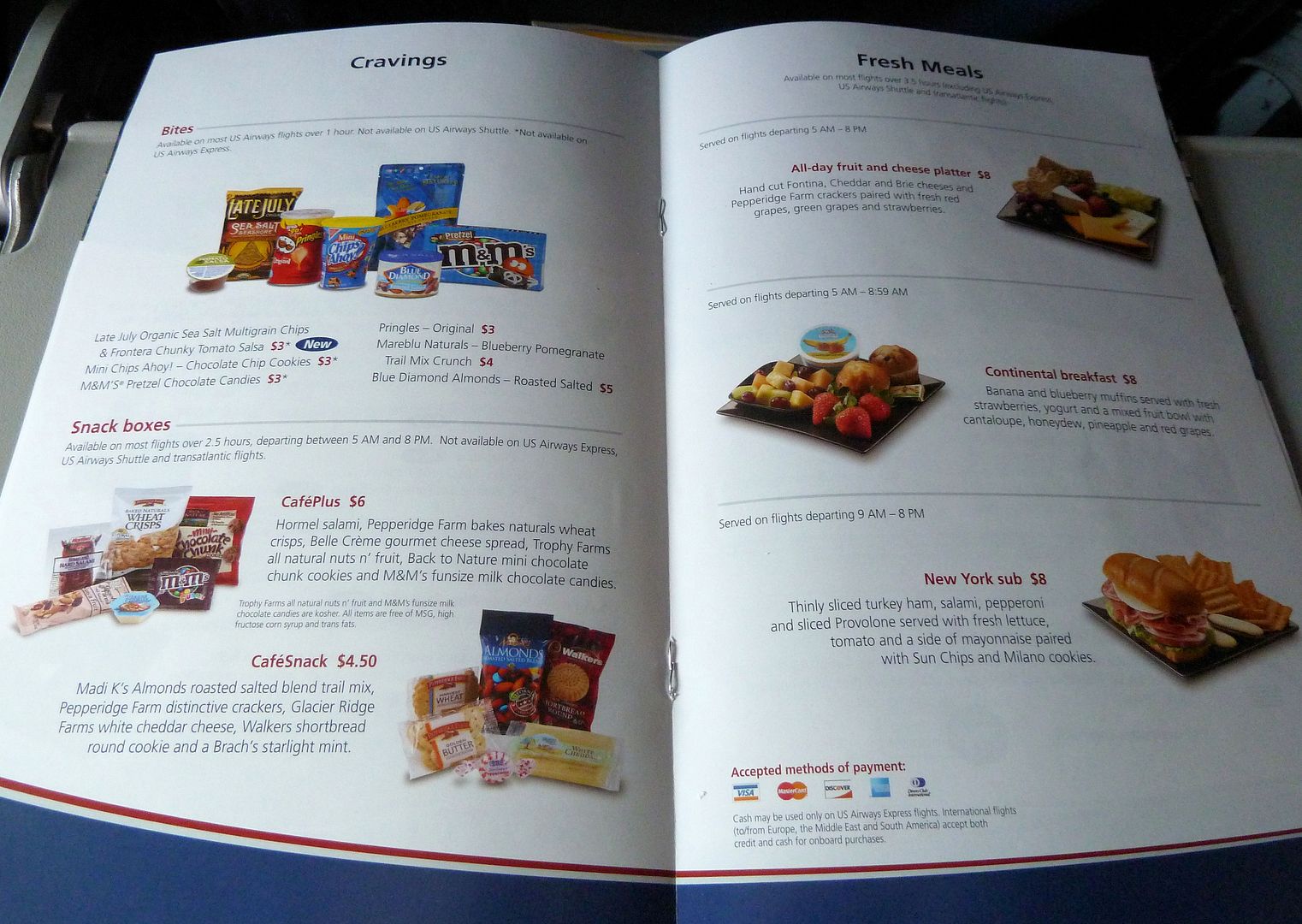 Non-alcoholic drinks were served free of charge. Ginger ale for me, of course:
No PTVs and not even fold-out screens - that's what a US Airways A319 cabin looks like:
The snowy mountains indicated that we would soon start the descent into LAX: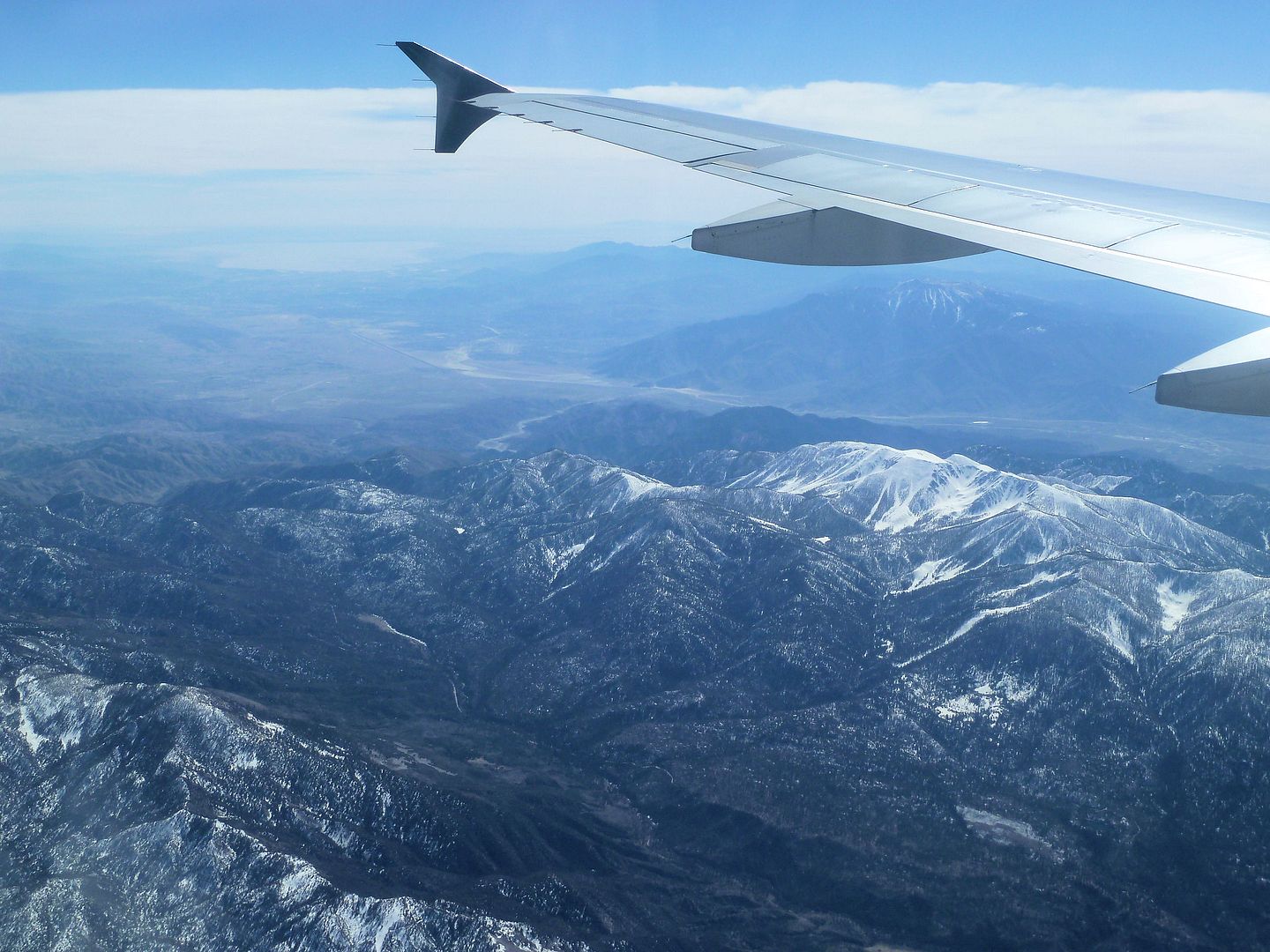 Picture taken by my brother
On final approach to LAX - always such a pleasure! Note the American Boeing 767 in "stealth mode":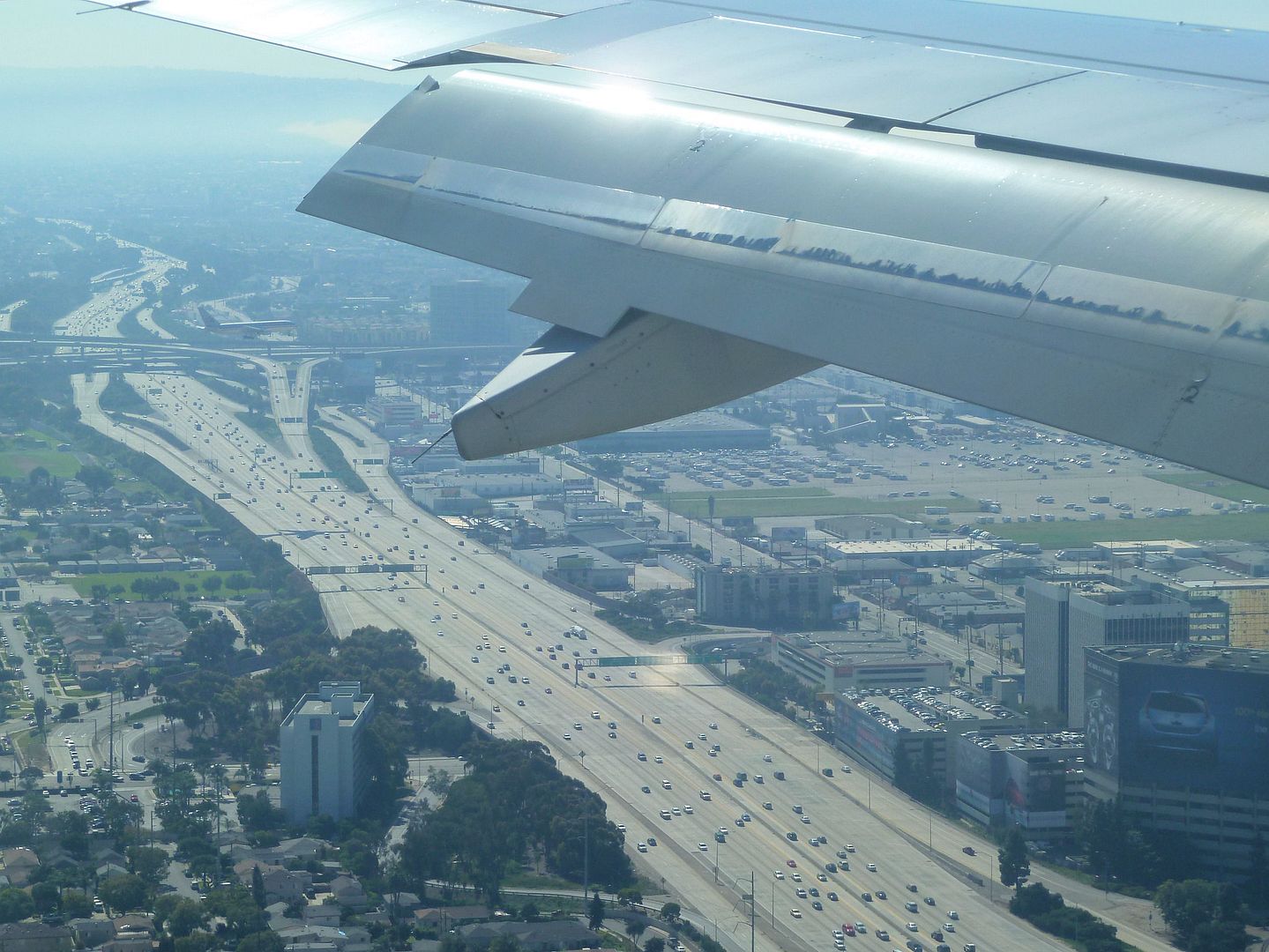 Picture taken by my brother
We touched down after a flying time of 43 minutes and arrived at the gate more than ten minutes early. 20 minutes later, we grabbed our luggage and were welcomed by a good friend who drove us to his family's house in Whittier where we would have a great party and spend the night.
Los Angeles Sightseeing & Spotting
On the next morning my friend Lars aka
The777Man
picked us up and drove us to Hollywood and Beverly Hills where my brother hadn't been before. While strolling down the
Walk of Fame
, we met Marilyn Monroe...
Picture taken by my brother
...and had a look at Michael Jackson's star: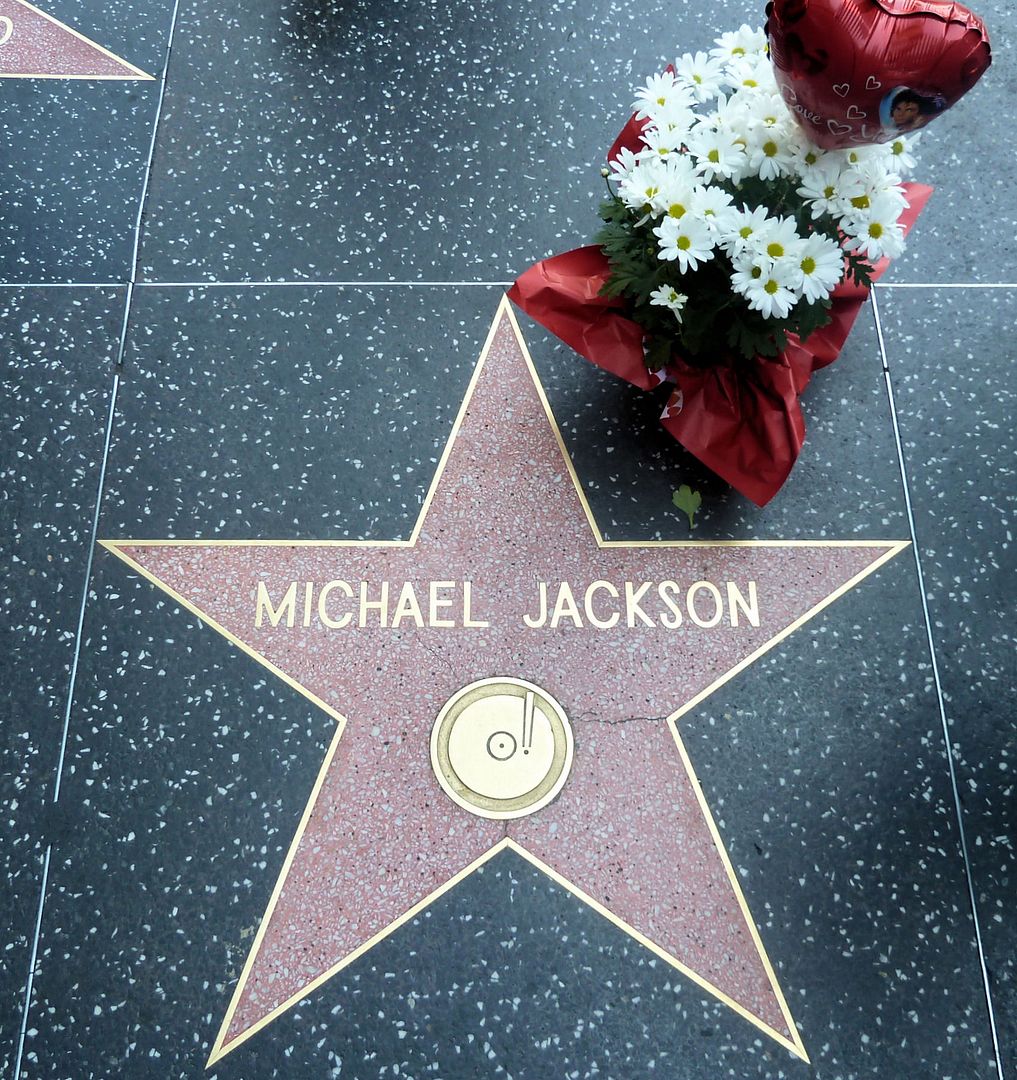 Picture taken by my brother
Finally, we went to the famous
In-N-Out
at South Sepulveda Boulevard, took a seat outside..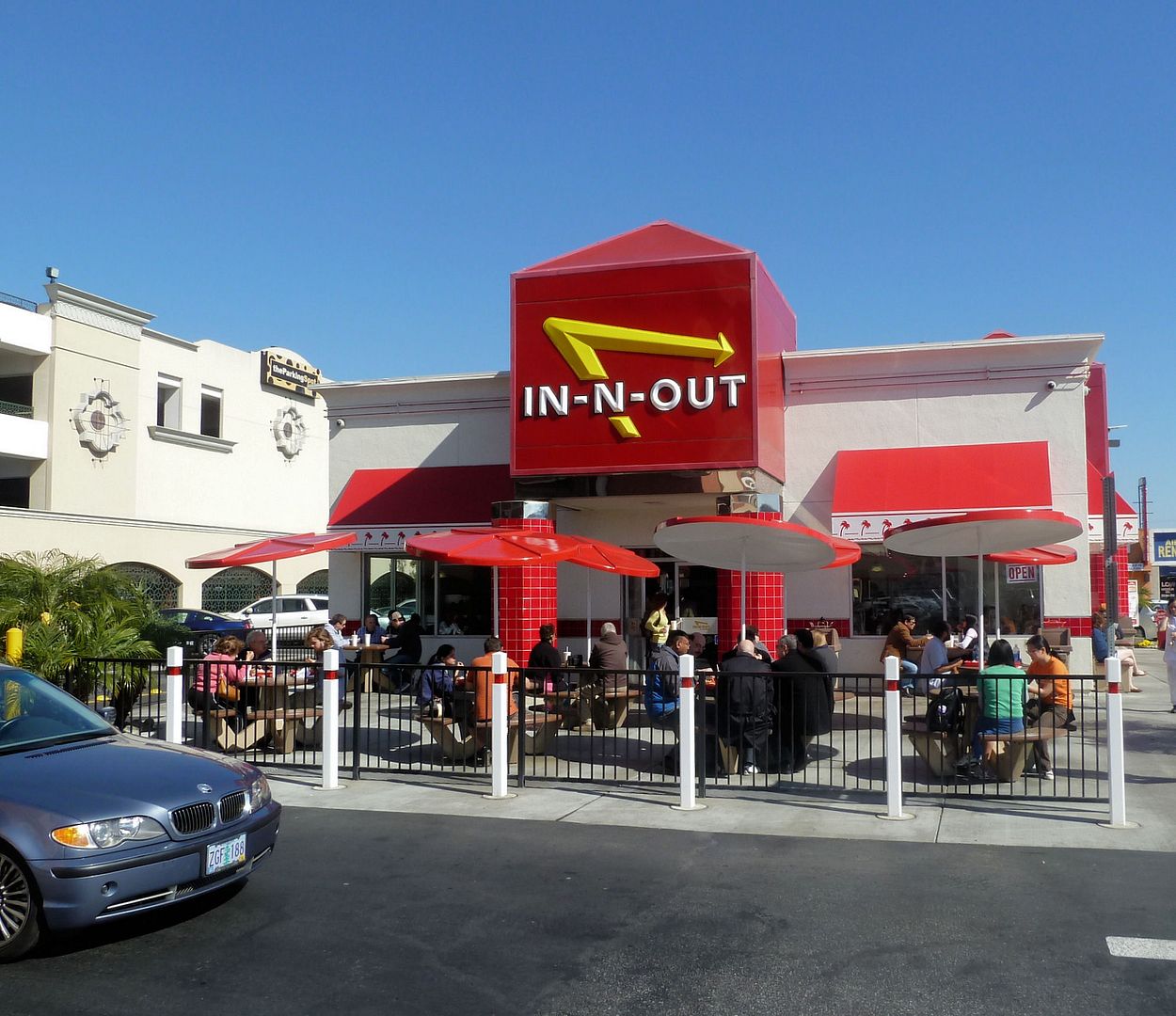 Picture taken by my brother
...and enjoyed great hamburgers and spectacular views of approaching aircraft: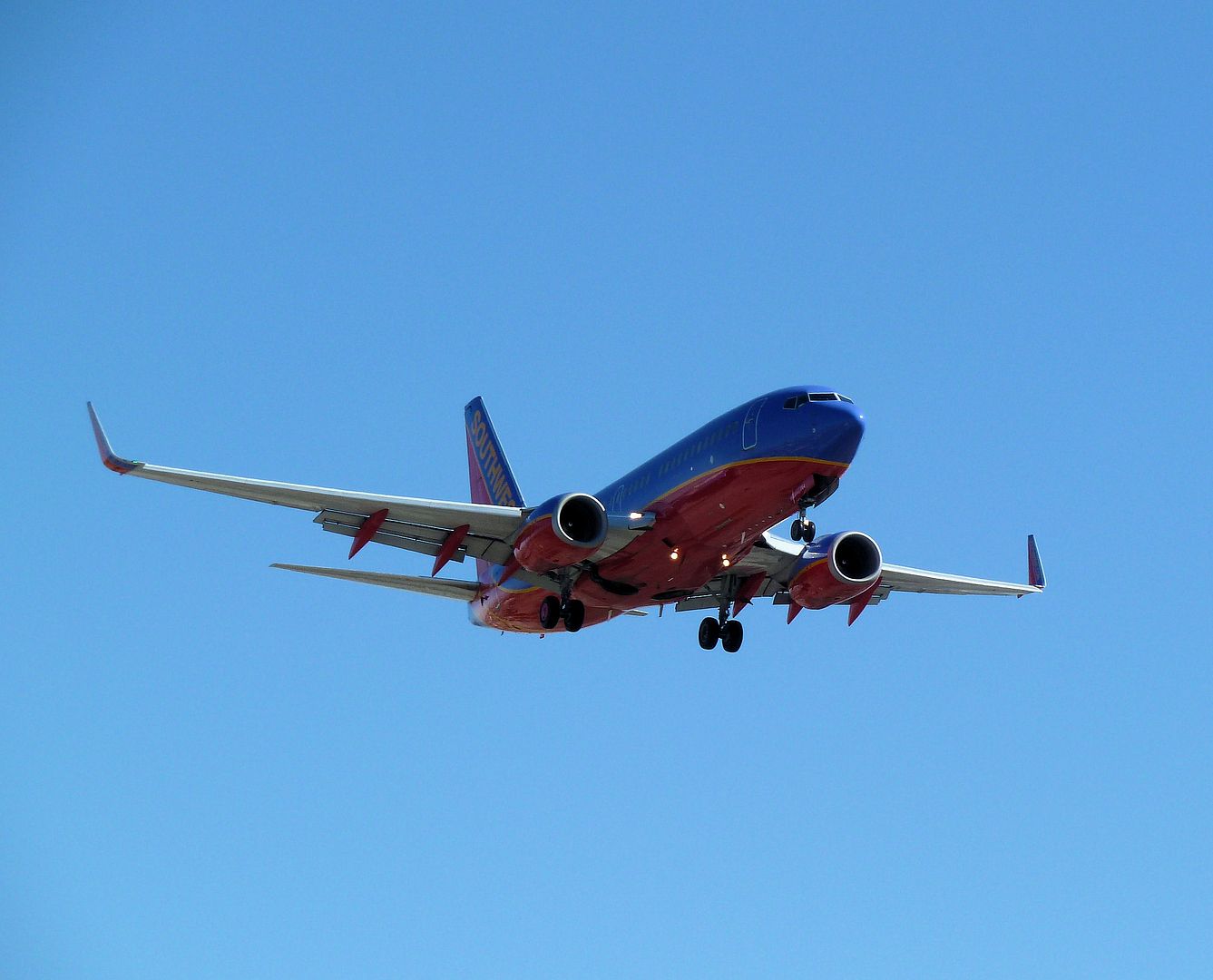 Picture taken by my brother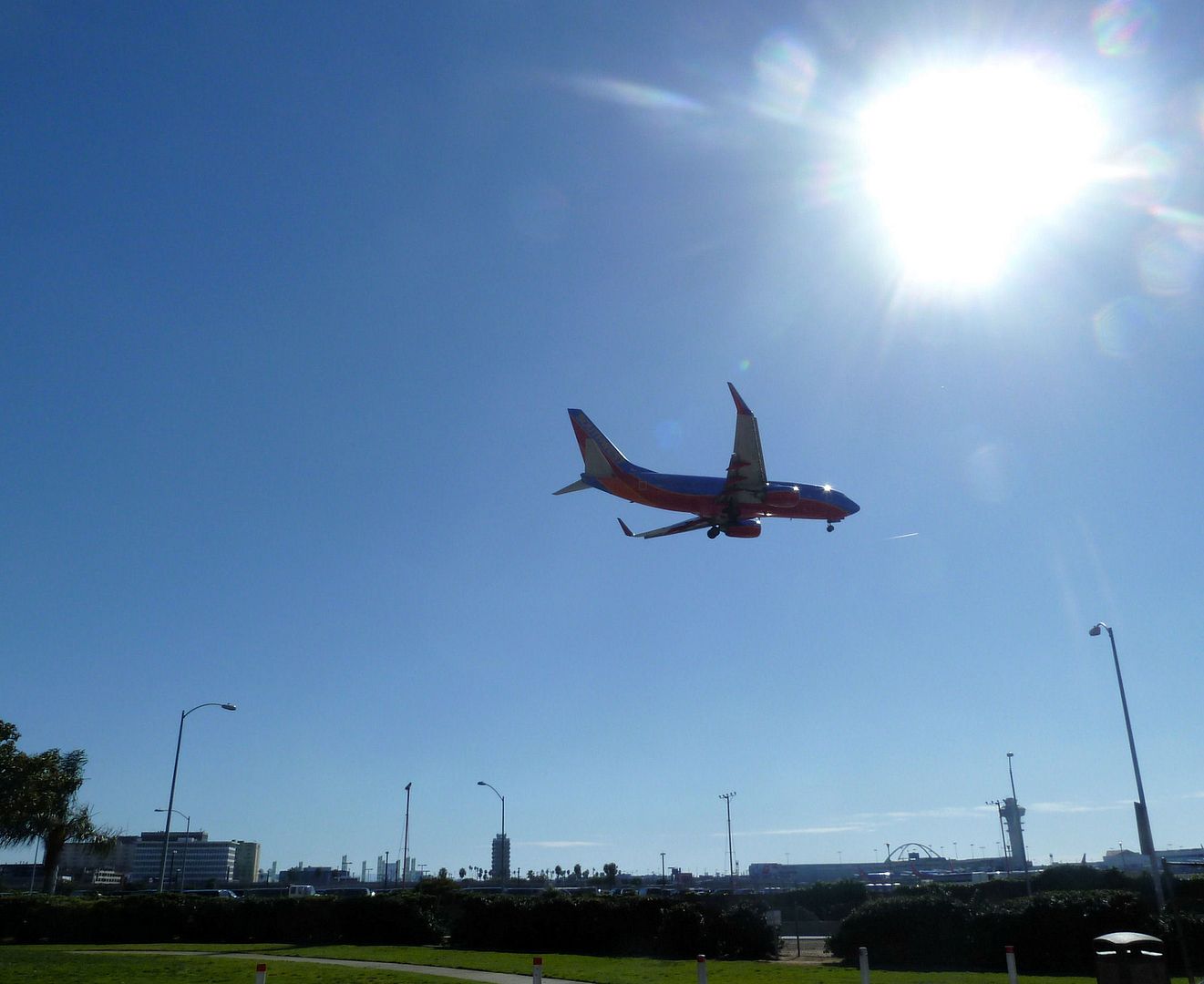 Picture taken by my brother
Picture taken by my brother
Later in the afternoon we went to the spotting spot at
Imperial Hill
on the opposite side, enjoyed the warm February sun and many interesting movements:
Picture taken by my brother
Picture taken by my brother
The time flew by - it always does when I meet Lars. On the way to the Tom Bradley International Terminal, Lars took a detour along the cargo ramp so that I could write down a few more FedEx registrations. Finally, it was time to say goodbye and we went to the Swiss check-in area.
Monday, February 2011
Los Angeles (LAX) - Zurich (ZRH)
Swiss Int'l Air Lines LX041
Scheduled times: 19:20-15:45
Actual times: 19:18-15:25
Flight duration: 10:52 (hrs)
Distance: 5938 miles
Business Class, seat 5G

Airbus A340-313X
HB-JML (MSN 263)
First delivered to Austrian Airlines as OE-LAL in 03/1999
1st flight on HB-JML
8th A340-300 flight
11th A340 flight
Former appearances as OE-LAL:
The Business Class counters were deserted, so it took only a few minutes until the friendly agent handed out our boarding passes. While my brother had a look at the shops in the public area, I went to a window on the second floor and watched arriving and departing planes on the north side. Finally, we passed security and went to the nice Star Alliance lounge which is equipped with 210 seats for Business Class passengers. Many seats were already taken, but we still found a nice corner where we would spend the remaining time at LAX: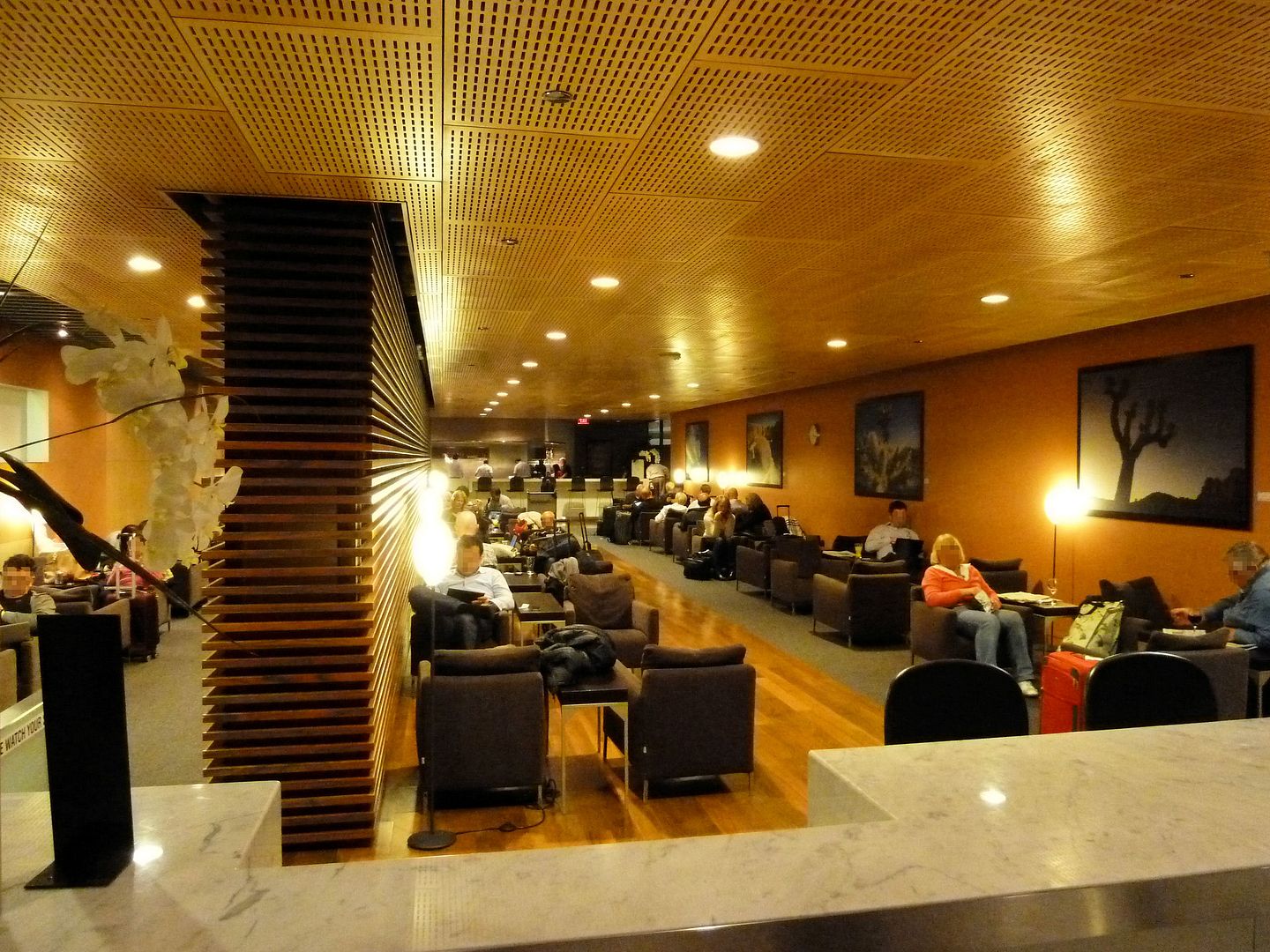 In addition to all kinds of drinks, we could choose between different cold snacks, soup and pasta: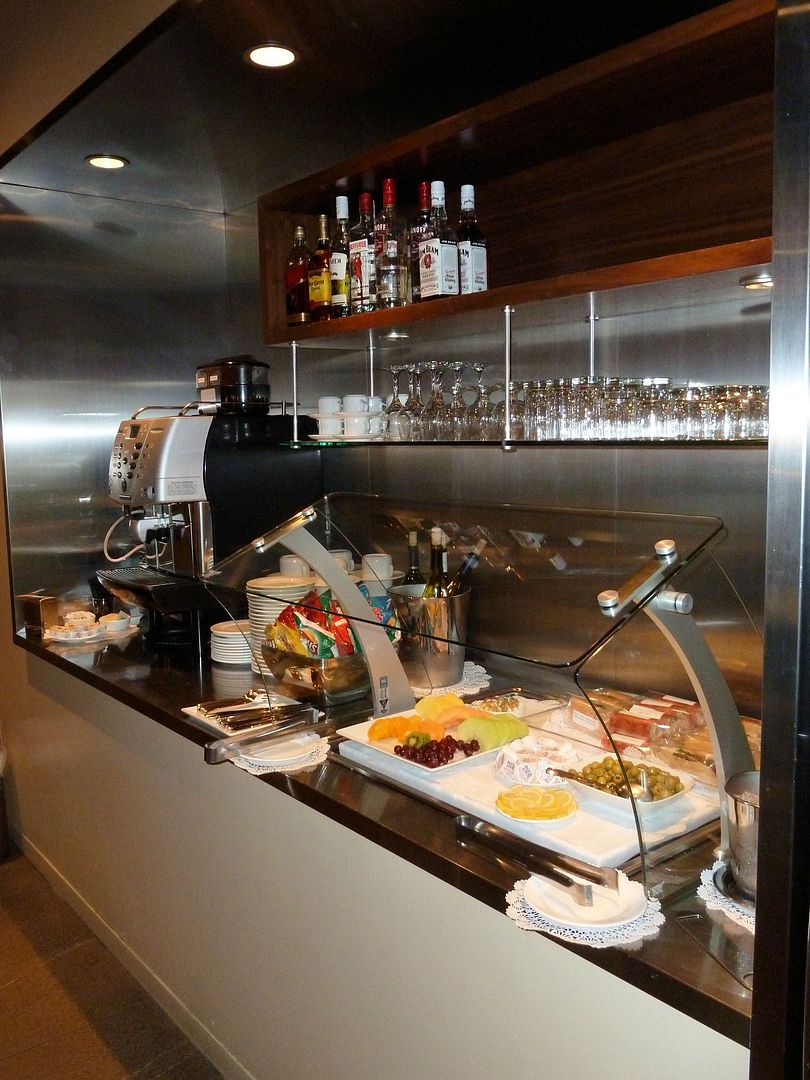 Considering that we would get exquisite food and beverages on the plane, I only ate some (tasty) pasta and drank a can of ginger ale: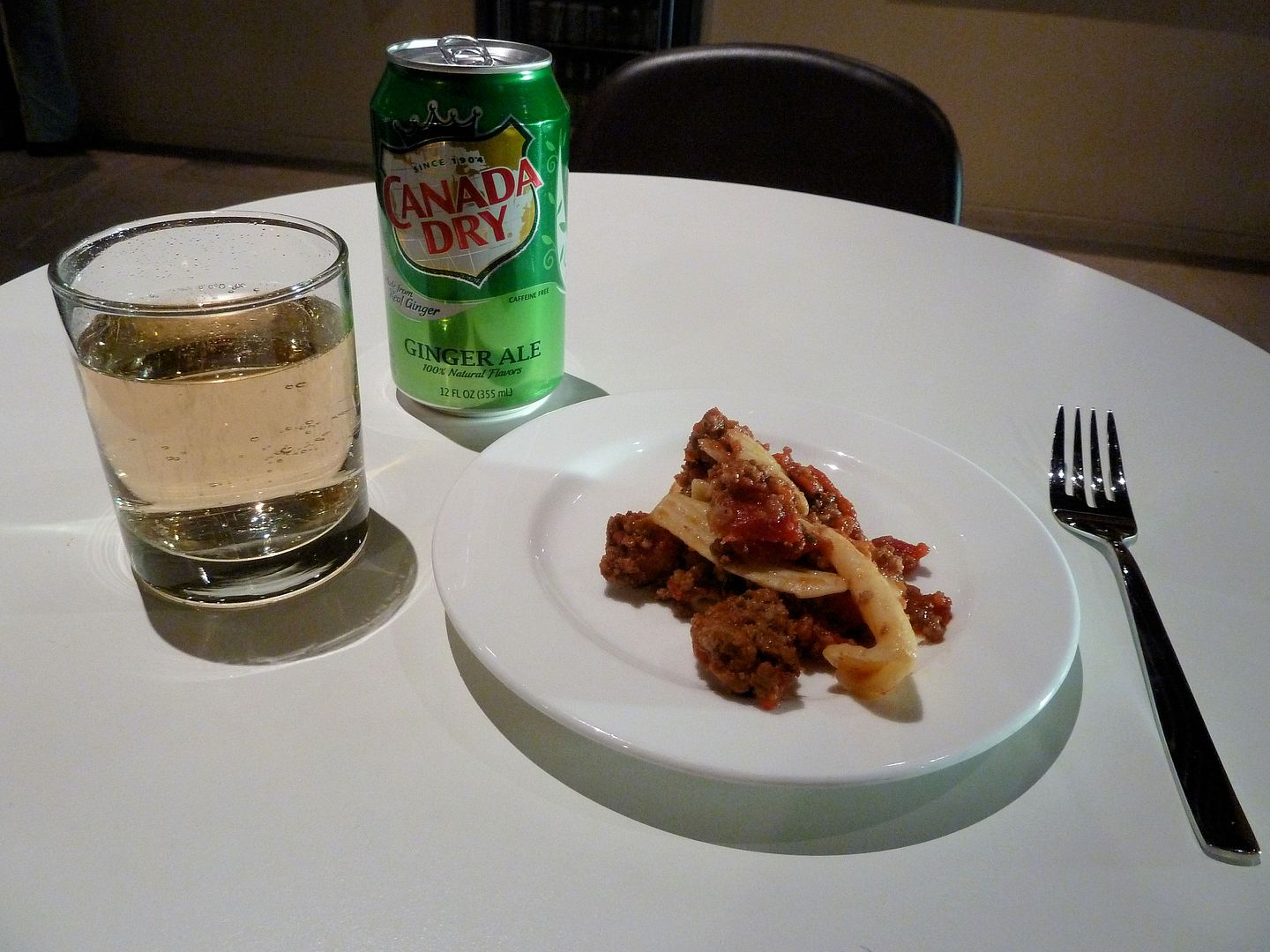 Shortly before 19:00, the official boarding time for J Class passengers, we left the lounge and arrived at the gate five minutes later. The gate was totally deserted, most other passengers had boarded already. Even though I had already heard from my girlfriend that
HB-JML
would operate our flight according to Zurich Airport's website, I wanted to have a look myself - you never know if these websites get it right in any case. Btw - I had certainly been hoping again that HB-JMJ (San Francisco livery) would show up, but that had been assigned to the Miami route today according to the ZRH website...
Well, back to LAX. Unfortunately, it was absolutely impossible to see a relevant part of the aircraft, so I had to ask. After having received a friendly welcome by the Maître de Cabine (purser), a stout and tall man in the late 40s or early 50s, I asked him for the registration.
"It's Mike Lima"
, he quickly said.
"Very good!"
, I replied and smiled. I guess by this point he was already assuming that I wasn't a "normal" passenger.
Btw -
HB-JML
is also an ex-Austrian Airlines, just like
HB-JMK
which I had on the ZRH-SFO sector. Both planes once formed Austrian Airlines' two strong A340-300 fleet, operating as OE-LAL and OE-LAK.
Swiss' new Business Class layout provides a private feel - but it feels even more private in the two-row mini cabin behind First Class. That section is unofficially called
"Stübli"
- actually I heard a flight attendant using that term during the flight. Here's a "Stübli" cabin shot - rows 4 and 5, that's it: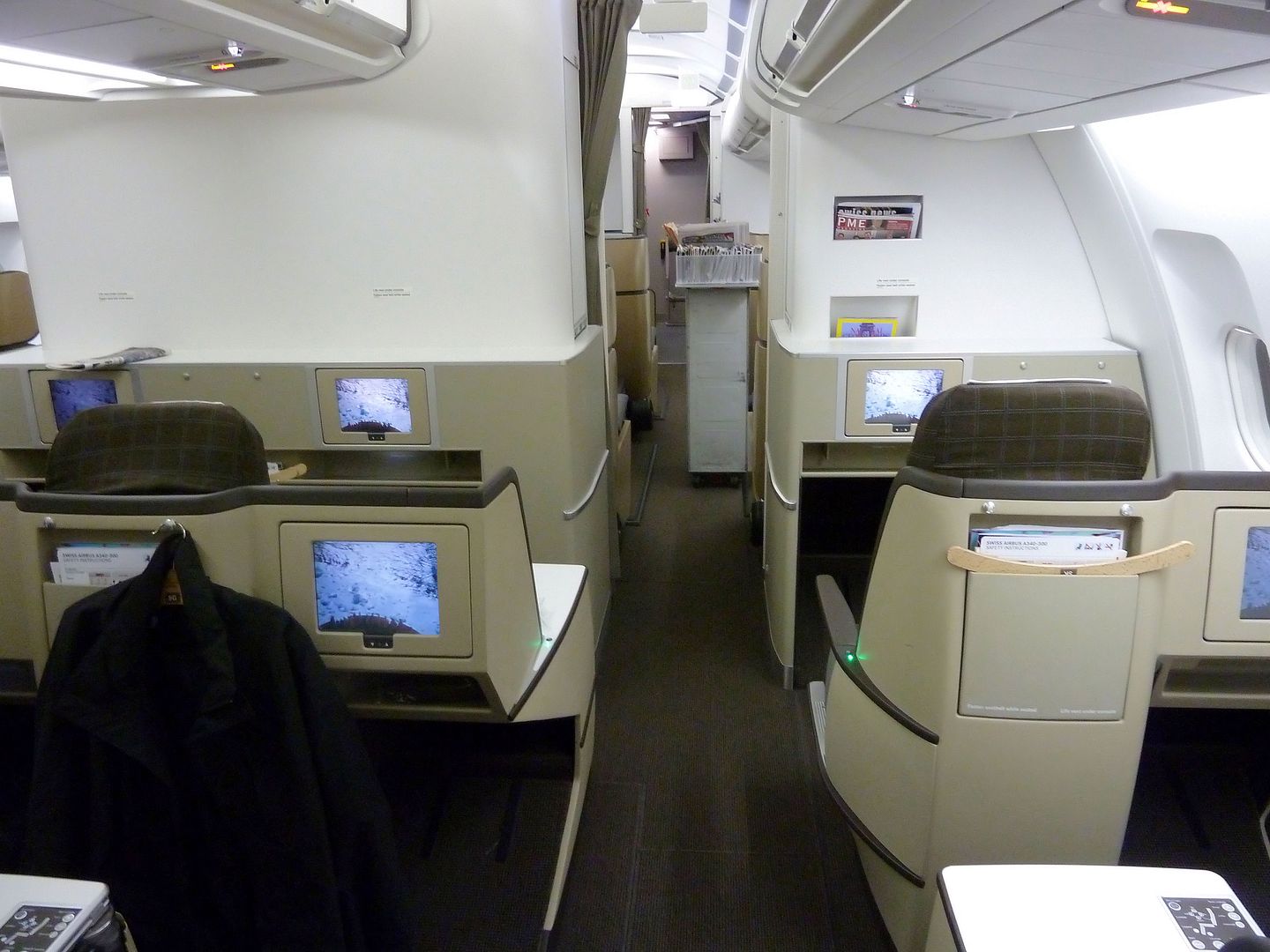 Our comfortable seats for the next 11 hours: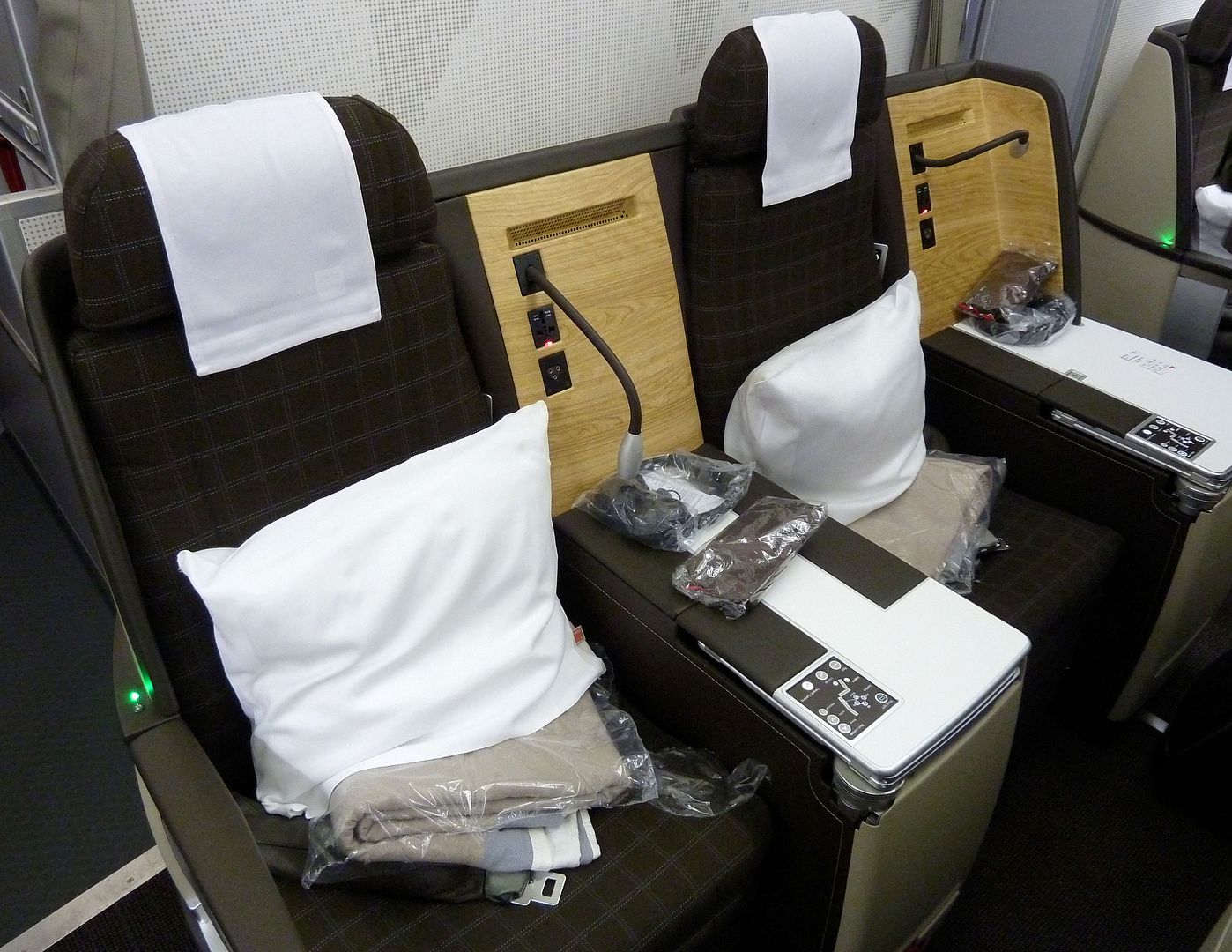 More than enough legroom: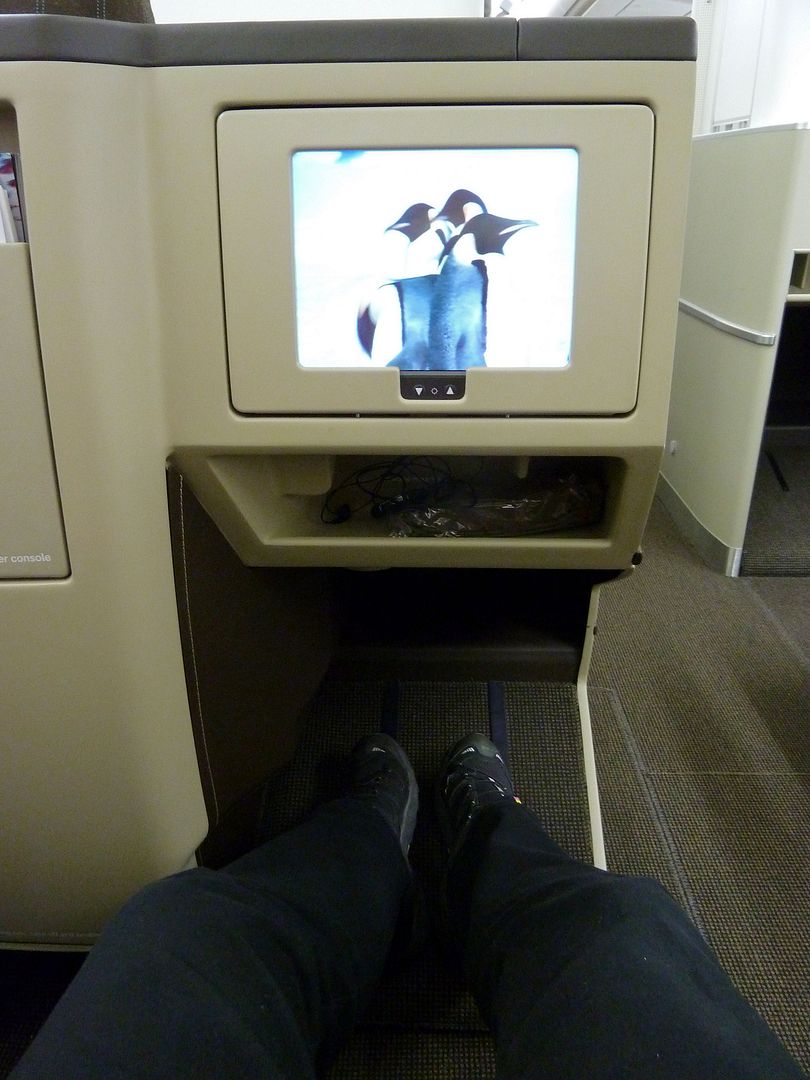 If you want to read more about the seats and the IFE, have a look at Part I of my series:
Fully Flat Bed to SFO: SWISS' New Business Class
After we had taken our seats, a young female flight attendant offered different American and Swiss magazines and newspapers. She was quite reserved and her smile appeared artificial which didn't leave a good first impression.
In contrast, pre-departure drinks were served in a friendly manner by another flight attendant. Champagne for me, of course: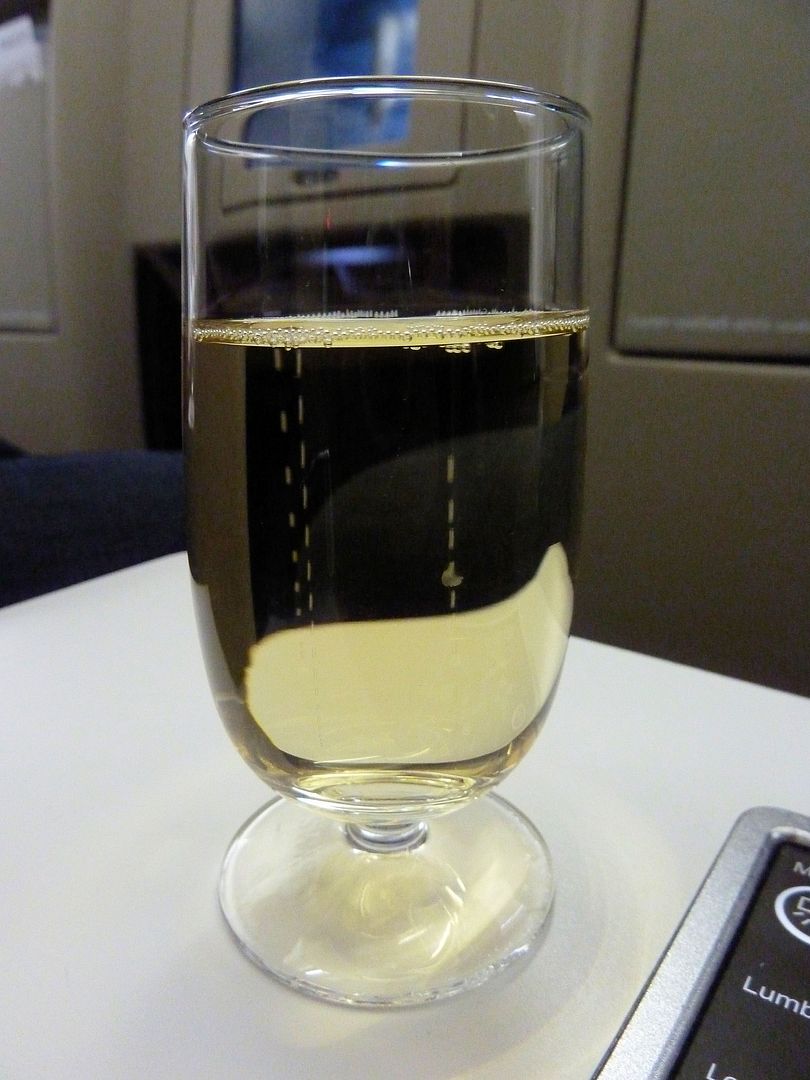 Our jackets were taken away and I shortly watched a pre-departure TV feature about penguins...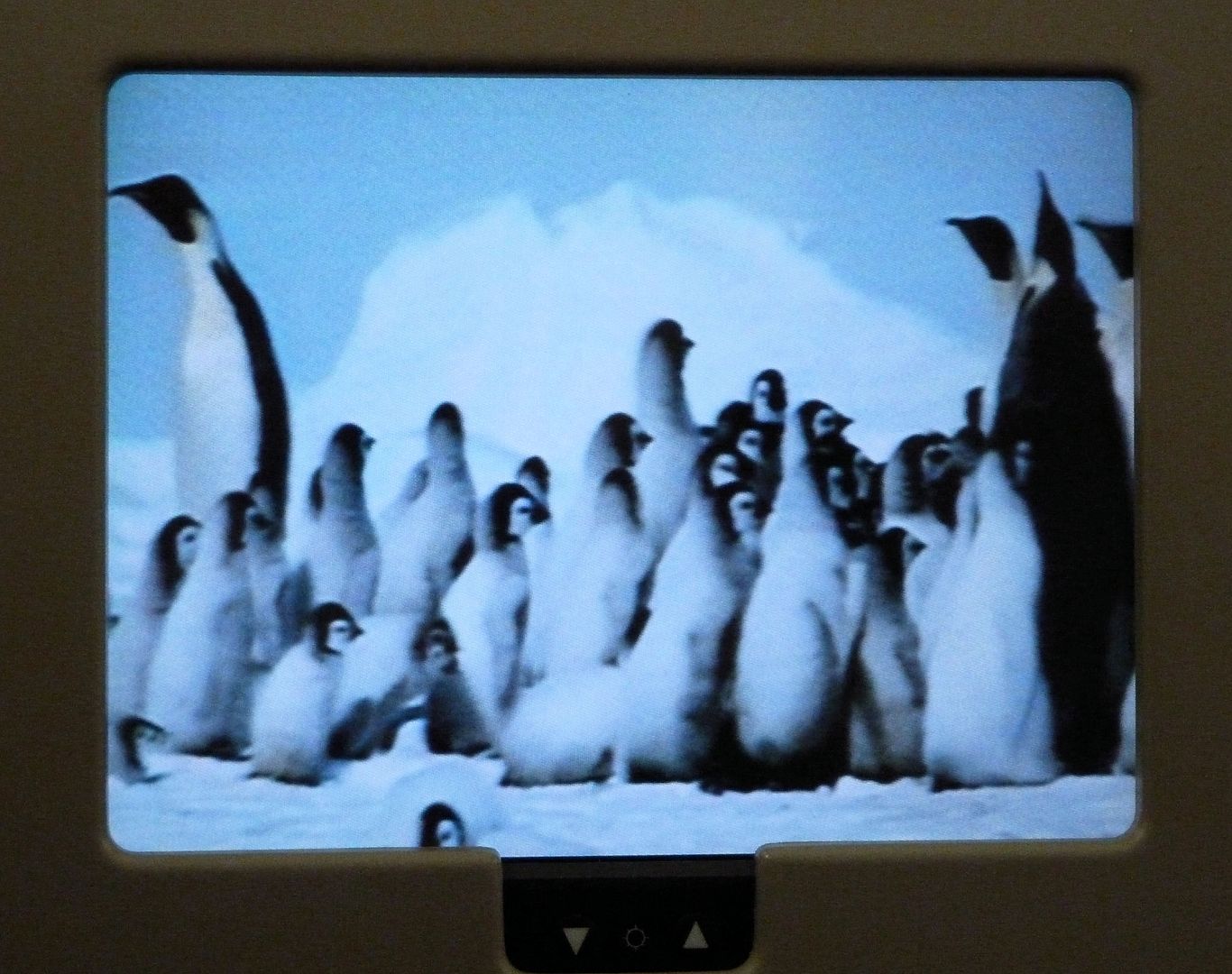 ...but I was much more interested in the amenity kit. It was a different one this time and I couldn't find out whether it was also made by
Navyboot
like the one I got on the ZRH-SFO flight: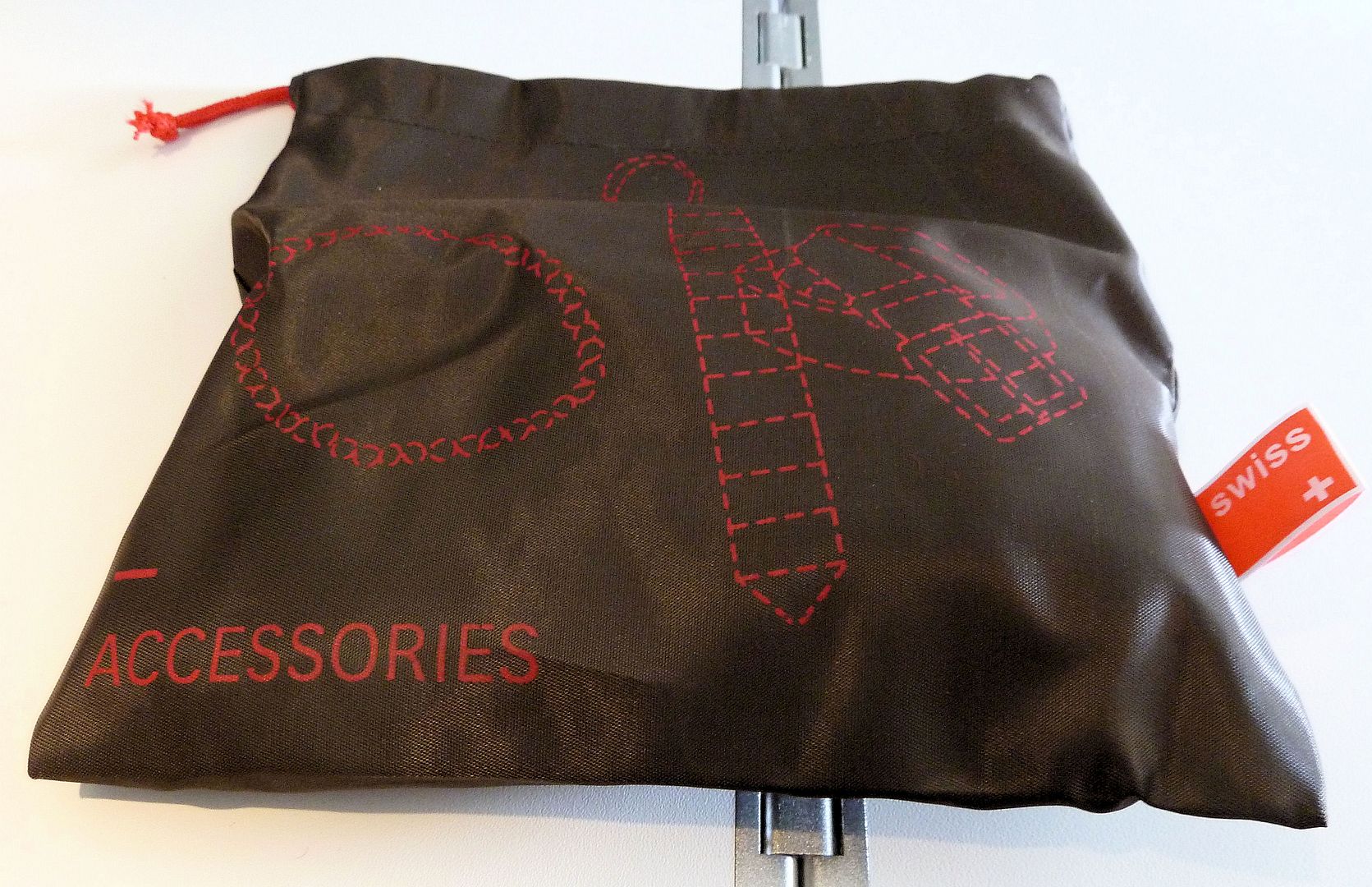 Most seats in the "Stübli" had been taken, but it still felt very private in that superb section. What I found irritating was that the famous Christmas song
"I'm Dreaming of a White Christmas"
was played for a few seconds after boarding had been completed - apparently someone had pressed the wrong button.
The Maître de Cabine made a welcome speech and also mentioned that - due to U.S. security regulations - passengers should not cluster in the aisles and in front of the lavatories during the flight.
After we had left the gate (two minutes early), the captain introduced himself and announced that we would take off from runway 25R in about three or four minutes. He also informed us about a left turn after takeoff and gave some details on the routing. Exactly as announced,
HB-JML
soon turned onto the runway without any further delay and lifted off into the night sky after a typical A340 classic style takeoff roll.
The flight attendants set the tables after a while and offered crackers and drinks. In contrast to numerous other airlines, Swiss doesn't serve nuts or crackers in small bowls. I asked for another glass of champagne and sparkling water - but the latter turned out to be still water:
Interestingly, a very friendly female flight attendant in the 40s (I'll call her
S.
), mostly serving in my aisle, continuously addressed me by name. In contrast, my brother didn't receive the same personalized treatment by the flight attendants serving in his aisle.
Anyway, it was time to study the menu card: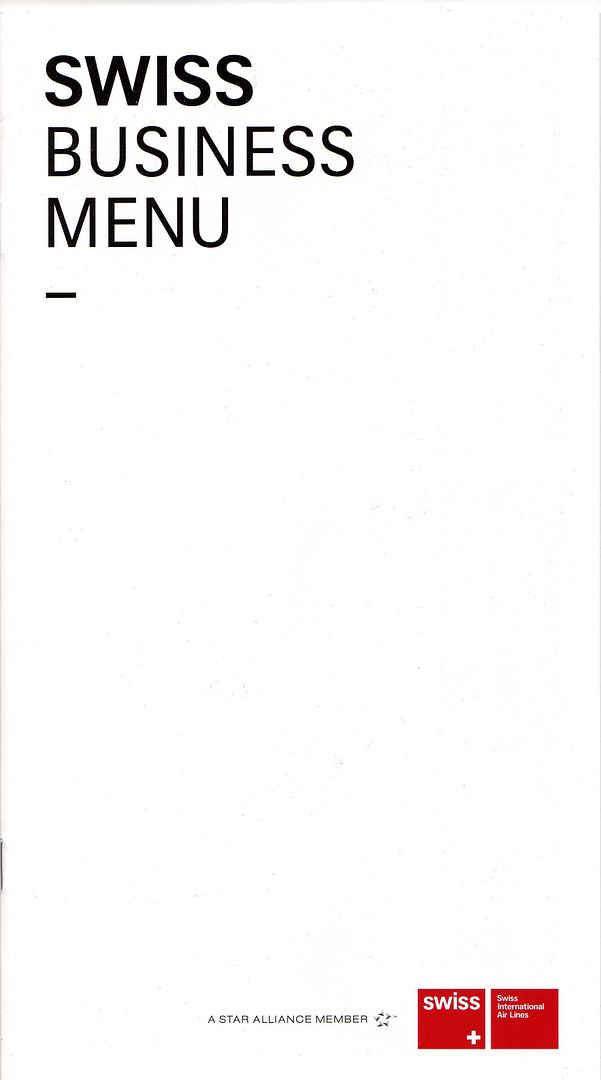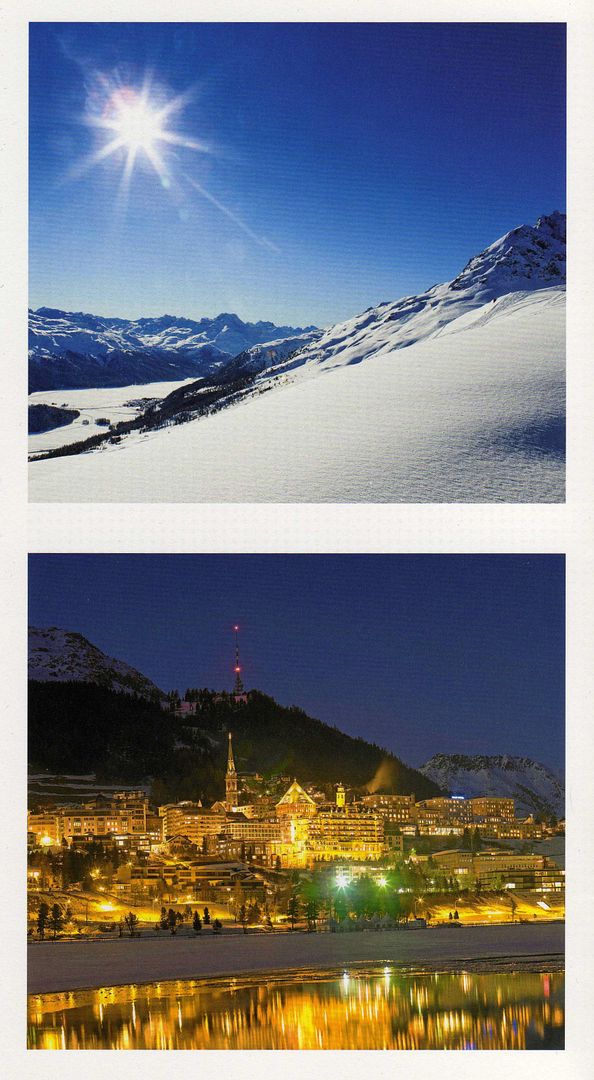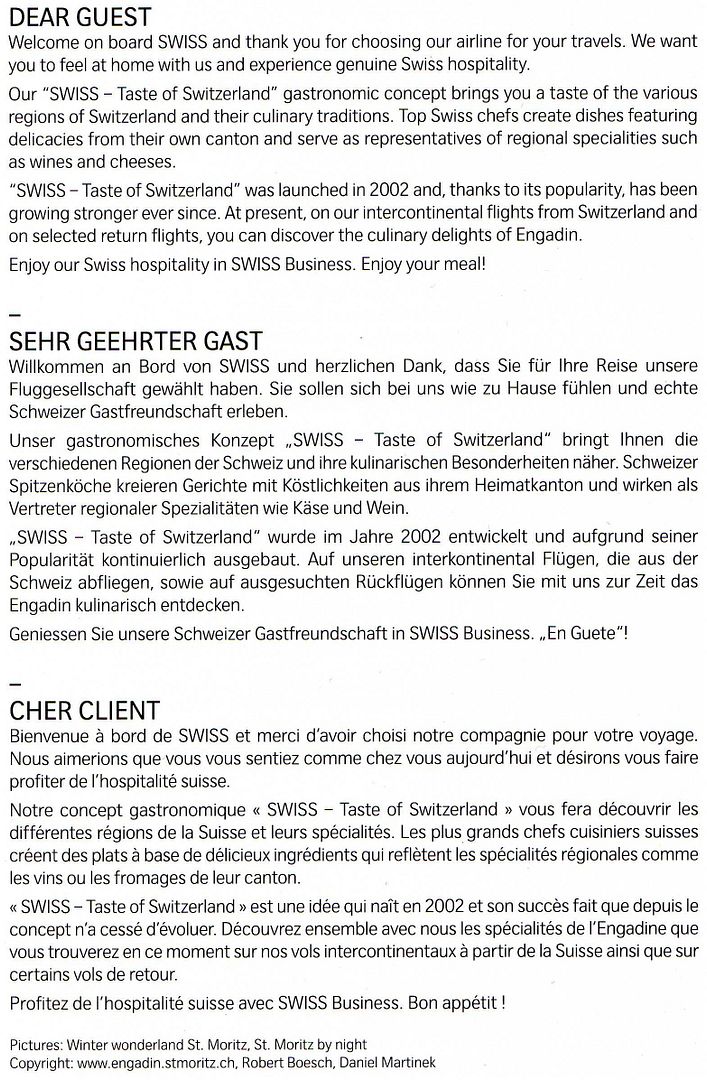 This time, only one option had been created by Chef Mattias Roock, responsible for the four restaurants of the
Kempinski Grand Hotel des Bains
in St. Moritz. Nevertheless, everything sounded delicious: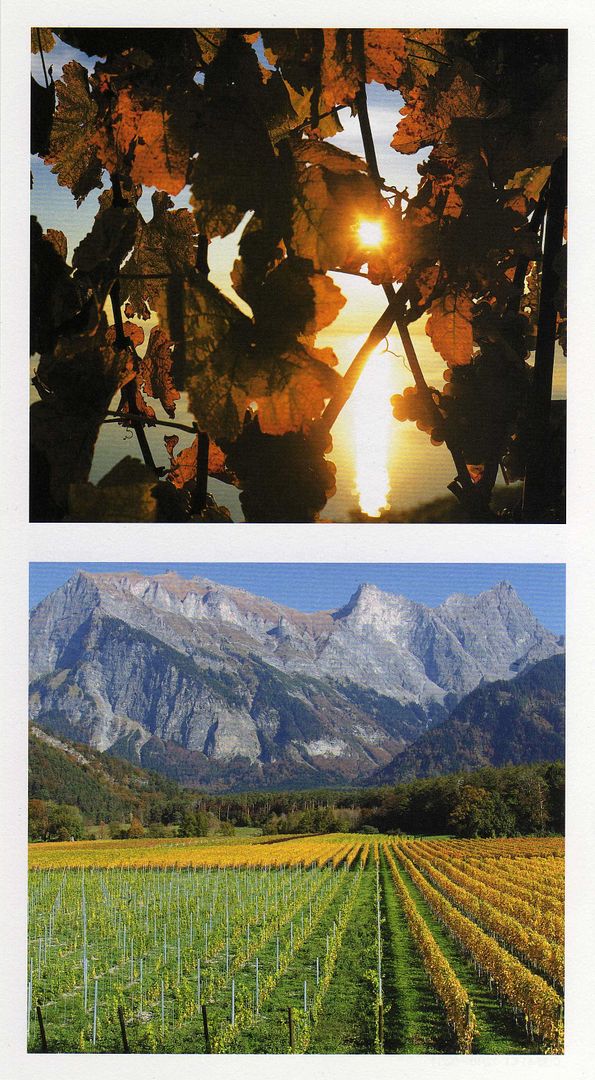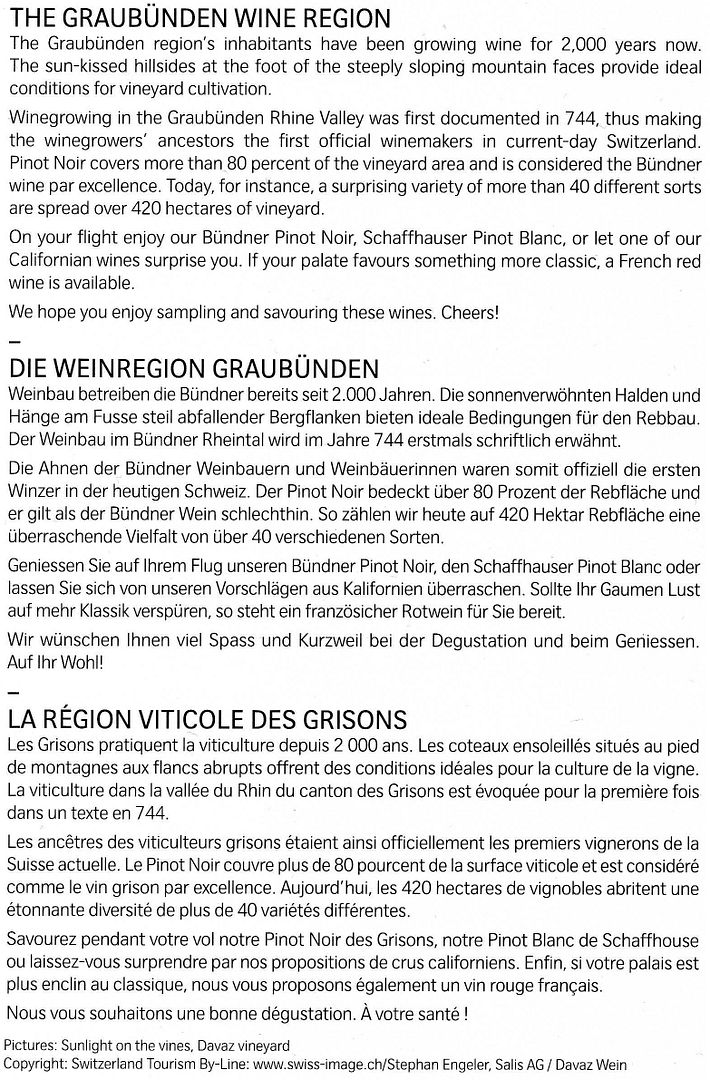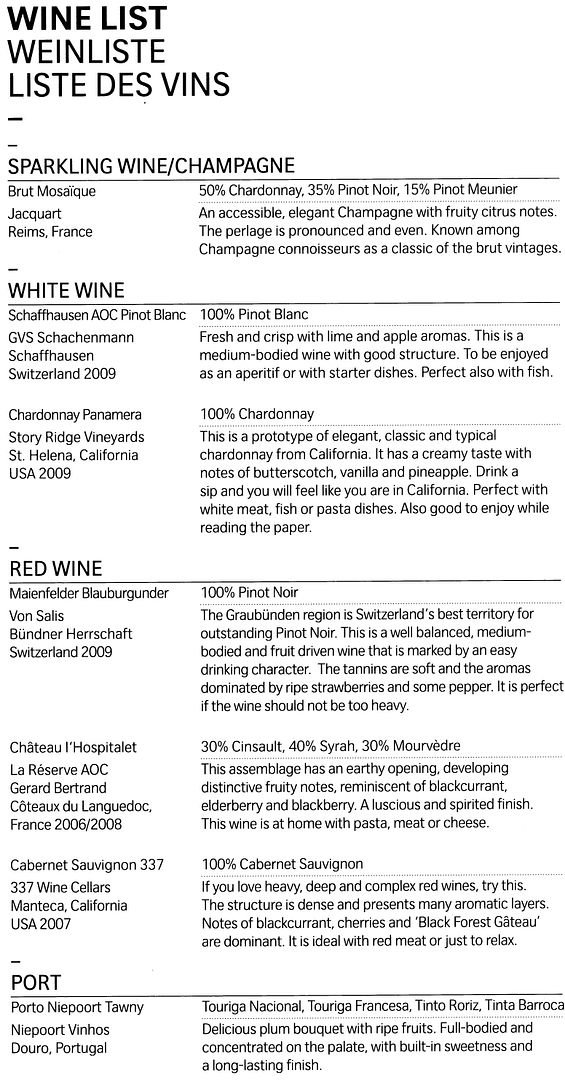 I decided to start dinner with the shrimps - and shortly after my order a nice tray was delivered to my table. In addition, I took a warmed bread roll from a basket and asked for a glass of white wine and a glass of sparkling water which were promptly (and correctly) served: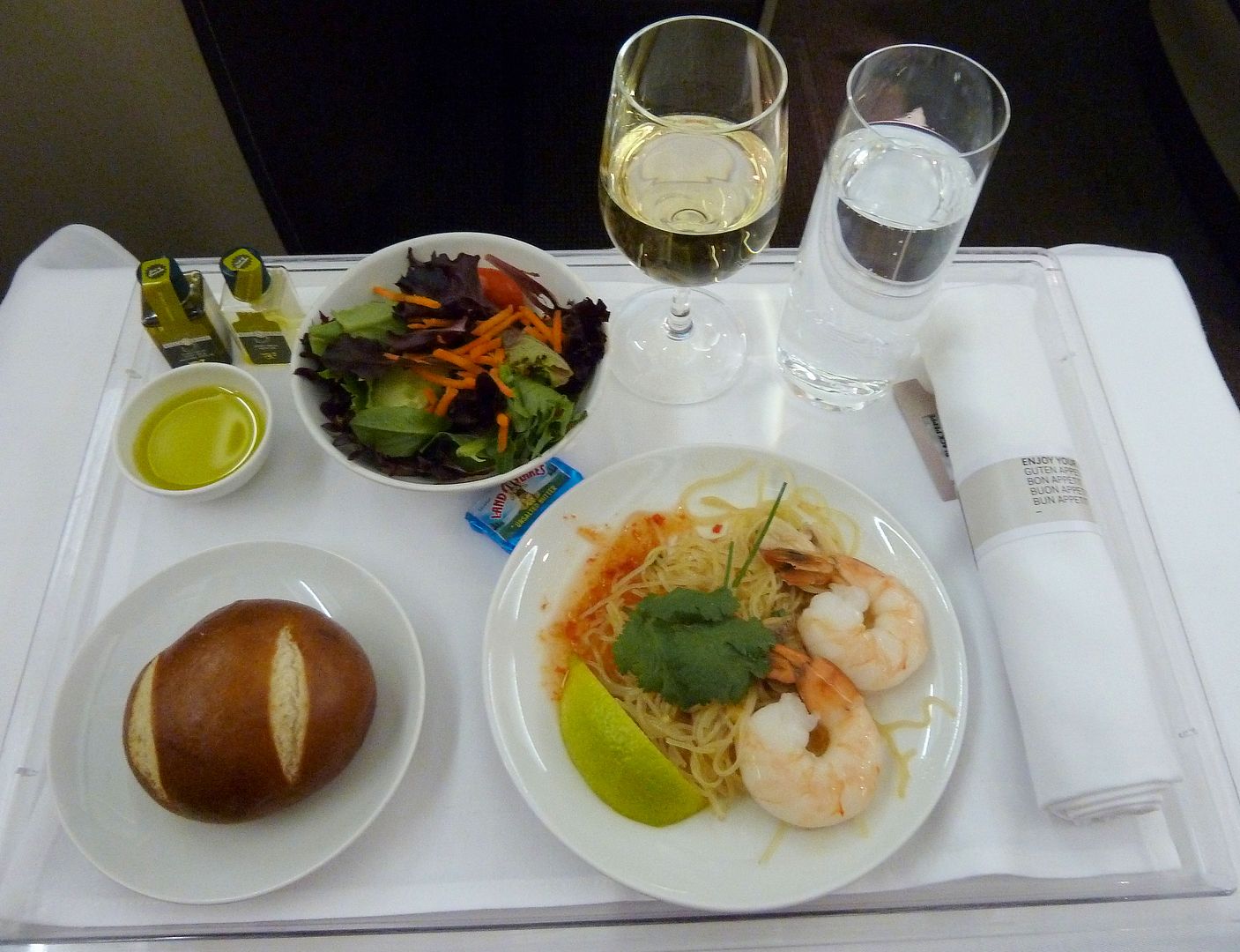 The shrimps and the sweet and spicy sauce as well as the salad and the oil dressing tasted very good, but the Chinese noodles weren't exactly to my taste.
Now I was really looking forward to the fillet of beef - would the meat be as tasty as on the ZRH-SFO flight? It looked quite promising and smelled mouth-watering: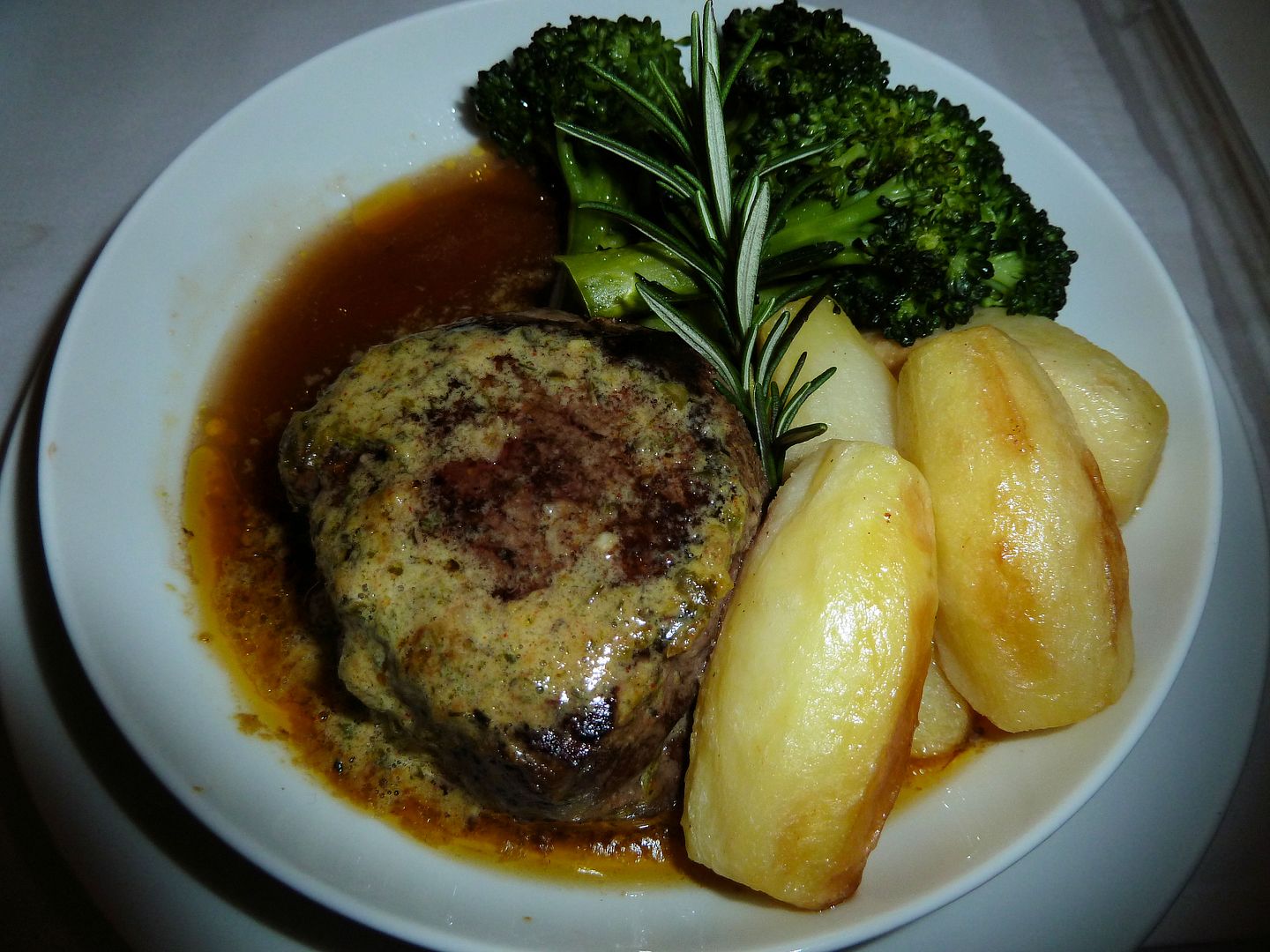 So how was the meat after all? Just one word:
e-x-c-e-l-l-e-n-t
! No doubt, it was one of the best steaks I have ever eaten. And the potatoes, the broccoli and the herb butter tasted great, too.
My brother and I were so impressed that we took close-up pictures of the meat. Doesn't it look perfect?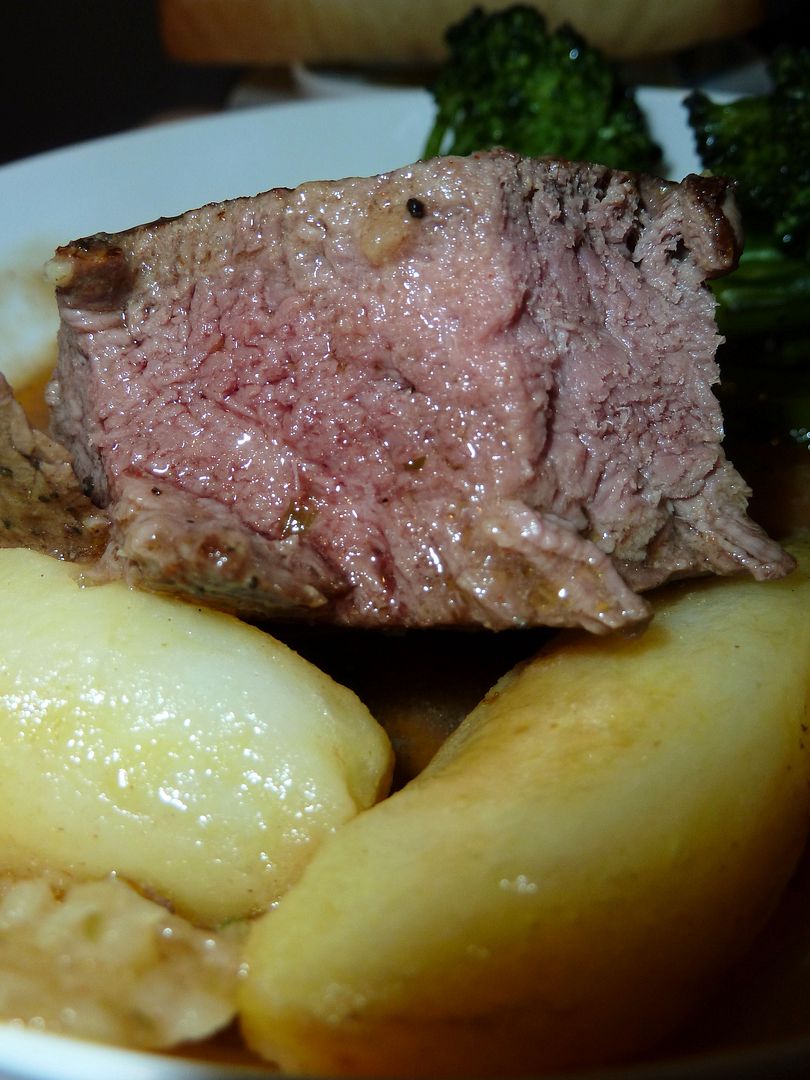 While my brother and I were taking pictures of the meat - and we had to take quite a few to get sharp ones - I noticed that someone was standing just behind the curtain on the left. I was able to see a nose and glasses, so I assumed it would be the Maître de Cabine watching us. Well, I was right: Some moments later, after we had started eating, he showed up next to my brother and asked with a concerned expression on his face:
"Is everything alright with your meal?"
"Of course! It's excellent!"
, we replied and the Maître de Cabine was visibly relieved. I guess at this point he was absolutely convinced that both of us weren't "normal" passengers...
Fruit salad or vanilla mousse with blueberry compote? I opted for the latter: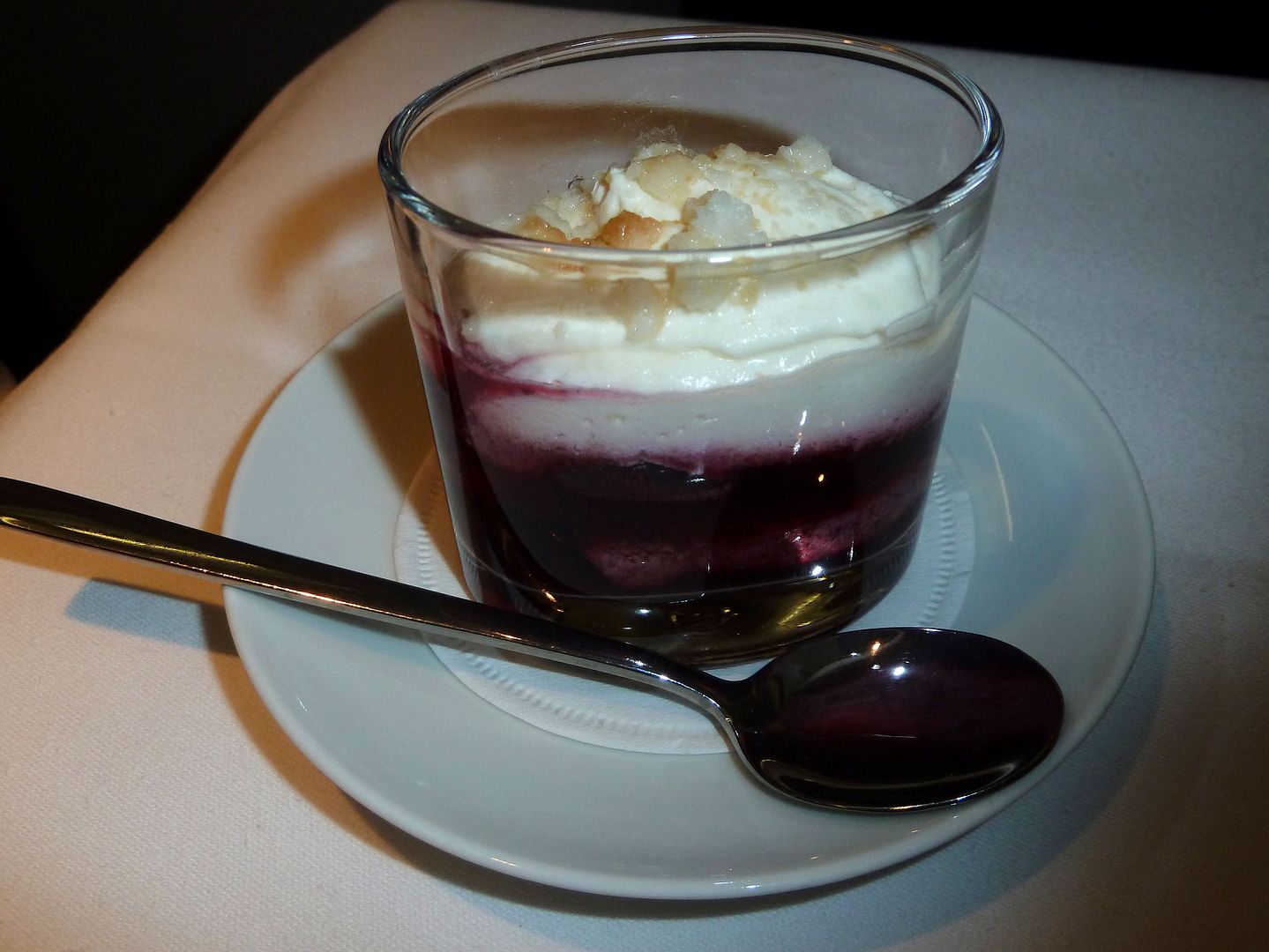 The dessert tasted very good, but not as outstanding as Chef Mattias Roock's crunchy chocolate mousse with mango sauce on the ZRH-SFO flight.
I also had some cheese, of course:
Another round of drinks was served, this time by a male flight attendant in the mid-40s (I'll call him
H.
) and a female colleague in the 30s, both of them appeared a bit reserved. I just asked for a small sip of port, but he didn't tell that to his colleague who had the bottle. She filled up the whole glass and handed it to
H.
who placed it on my table and humorously said:
"Well, it's a rather big sip."
Finally,
S.
showed up by with golden
Lindt
boxes and offered delicious chocolates. I selected two of them and ordered a tasty espresso: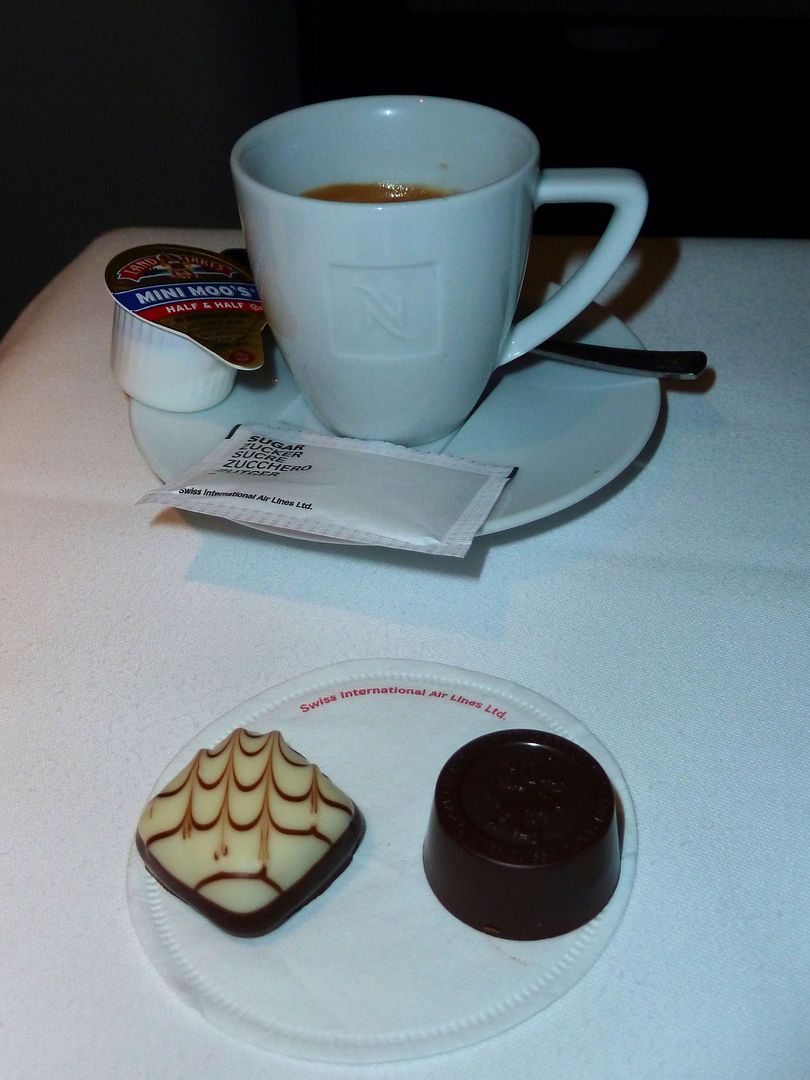 Some minutes later, I asked
S.
whether I could get another espresso - but decaf.
"Of course!"
, she kindly said. Two minutes later she was back with the decaf espresso which tasted great.
After dinner I continued chatting with my brother for a while, but then I moved my seat into lounge position and relaxed while listening to music and watching the airshow. While most other passengers in the "Stübli" sooner or later put their seats into lie-flat position, I didn't get tired at all and decided to watch a movie or TV feature. There had been problems with the IFE system after takeoff, but it was working fine again after a reset.
Language selection: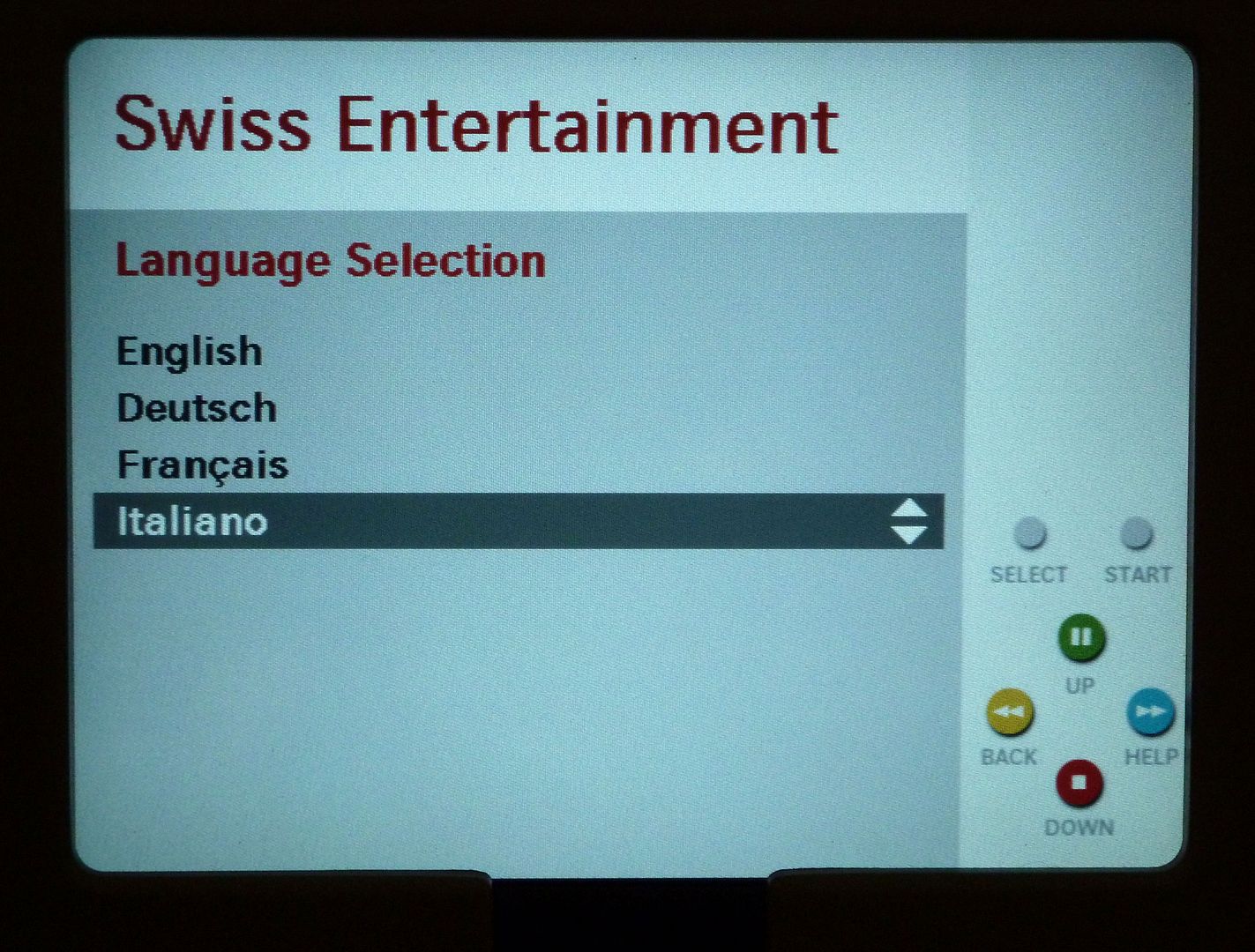 I was surprised to find
"Top Gear"
in the list - unfortunately, I had already watched the very episode last year: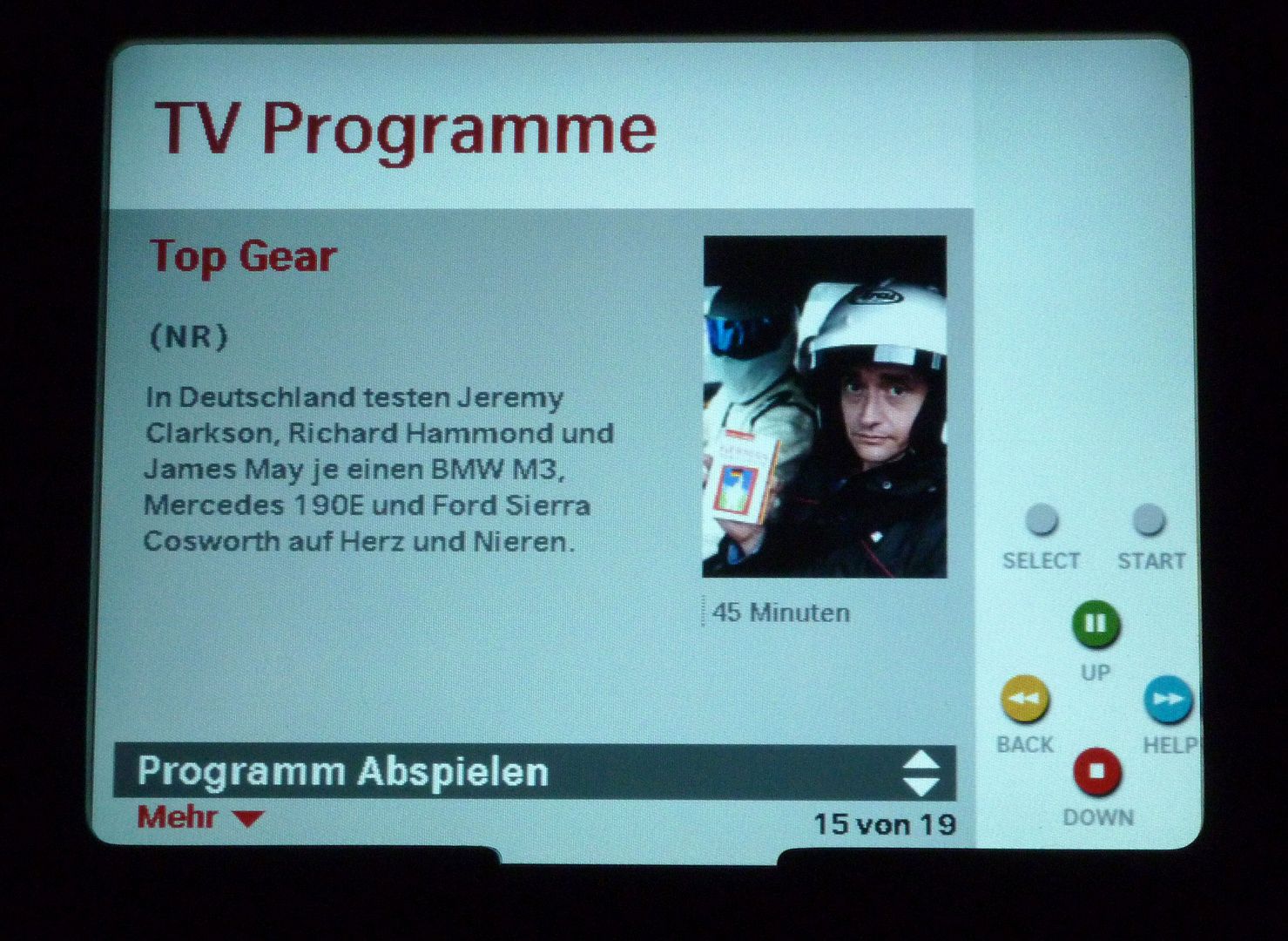 Finally, I played
"Who Wants to Be a Millionaire?"
for a while: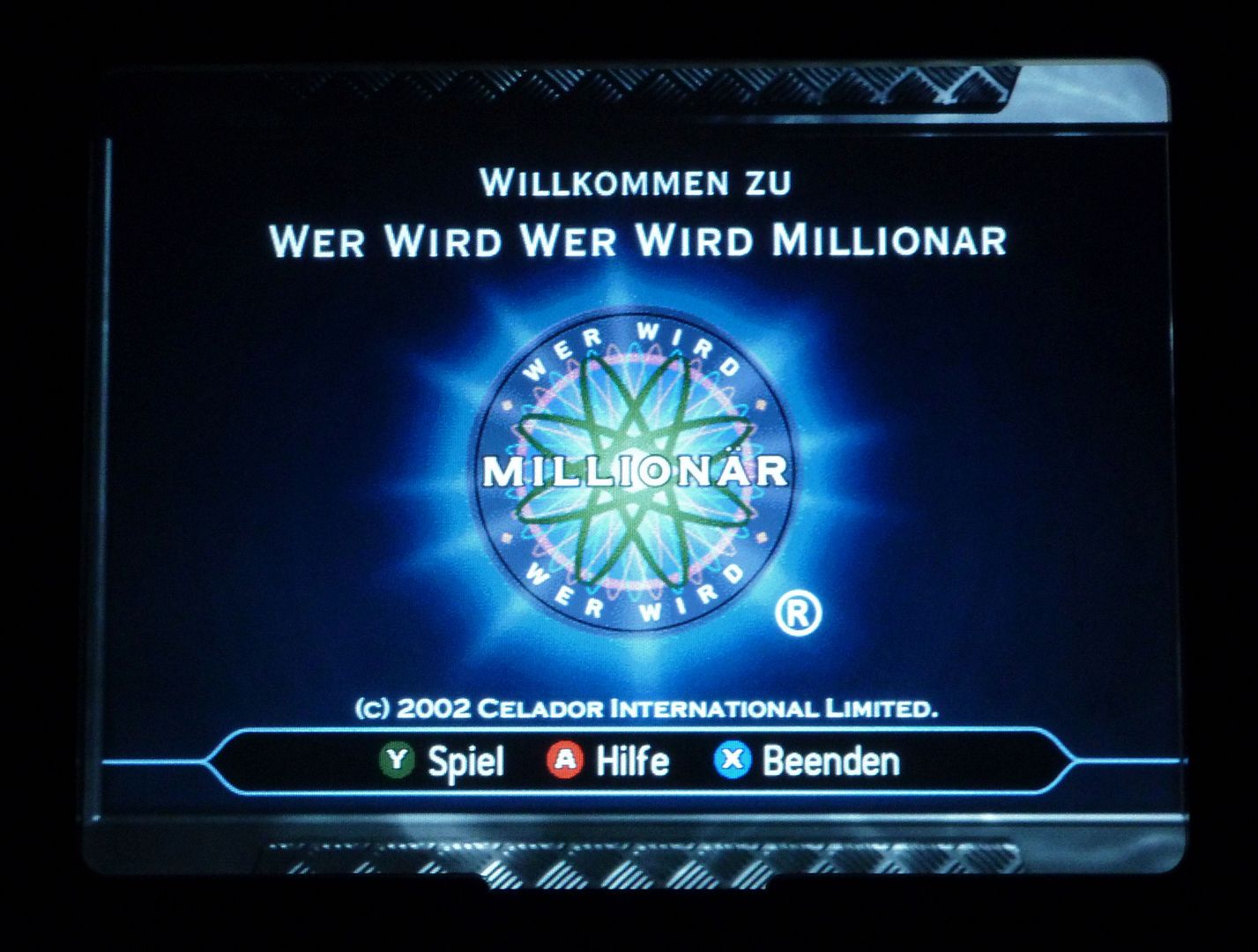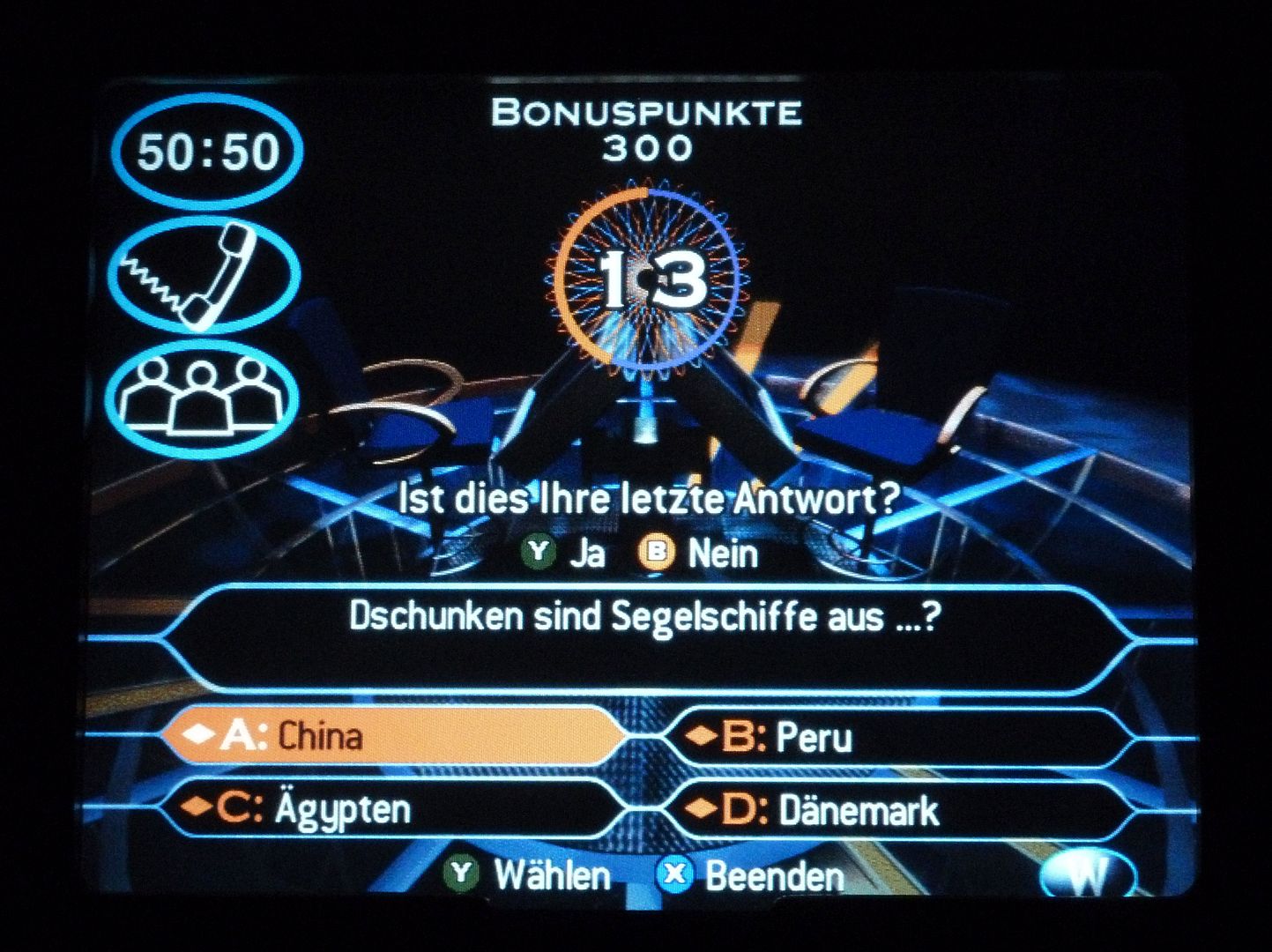 Some hours after dinner, I decided to stretch my legs and walked to the rear section and back. While the Business Class cabin looked quite full, there were numerous empty seats in Economy Class. Some passengers had been lying across several seats with their feet extending into the aisle, so I had to watch out.
The young female flight attendant and
H.
were chatting in the forward galley and I decided to join them. I soon found out that they weren't as reserved as I had assumed earlier. I asked a few questions and found out, amongst other things, that the whole First Class section had remained empty.
During our conversation I mentioned that I post reports about my flights on the Internet and
H.
reacted totally different as expected:
"And are there any people who read that?"
, he sneered.
"Yes, several thousands"
, I replied. Then he bowed theatrically and said:
"Oh, that means I have to be very kind to you!"
No doubt, that man had a special sense of humor!
Nevertheless, they found it quite interesting to hear about my policy to try as many airlines as possible.
Anyway, before returning to my seat, I mentioned that I wanted to grab a small snack.
"We also have big snacks"
,
H.
ensured. I was happy with some chocolates: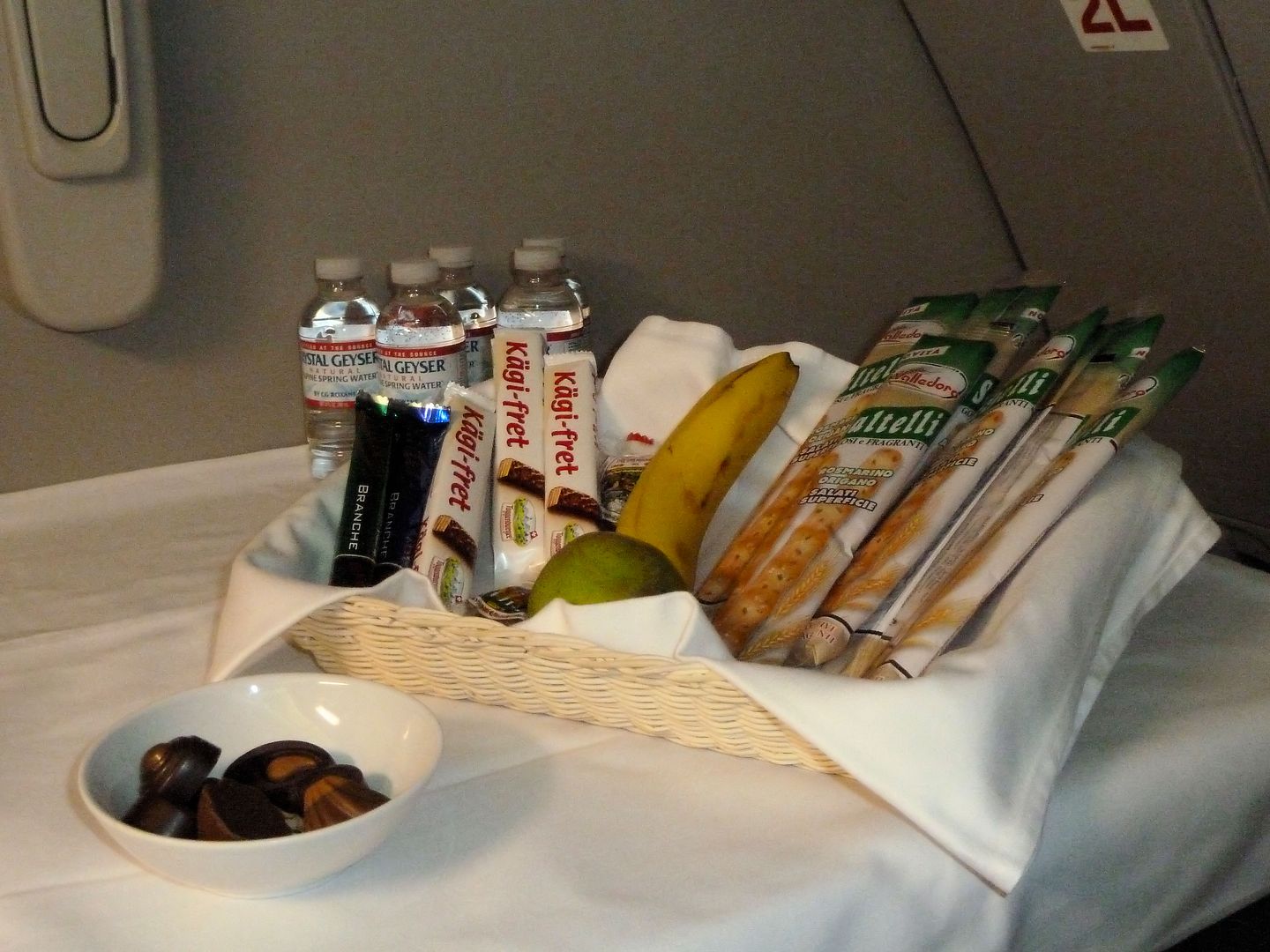 I still wasn't feeling tired, so I continued using the IFE system. Interestingly, we were flying on a relatively southern route - and I noticed that Swiss belongs to the carriers which display accident sites of maritime disasters on the map: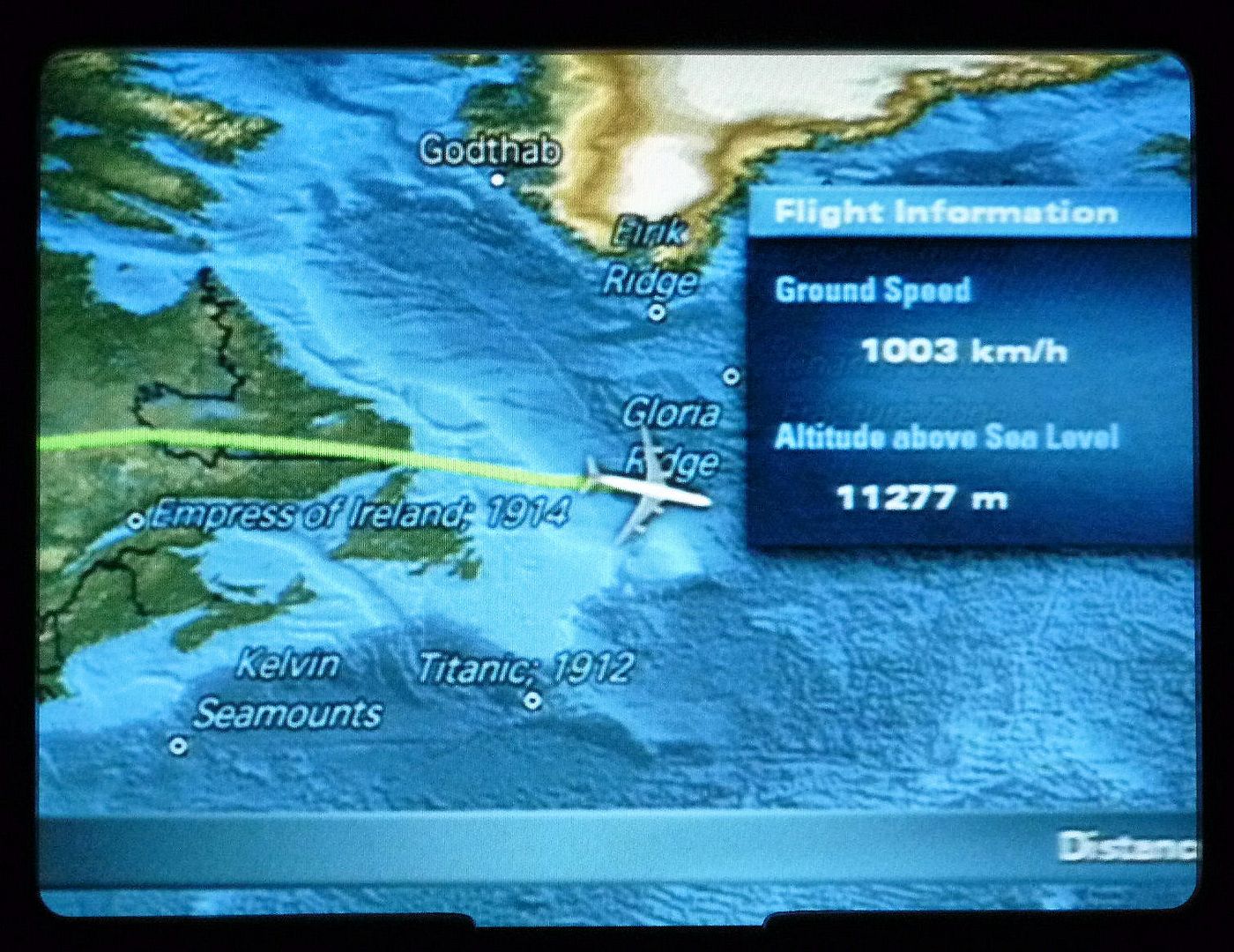 When I went to the galley in order to get a drink, I met the Maître de Cabine (I'll call him
M/C
) and the young female flight attendant (again). I jokingly asked why Swiss hadn't sent sister ship HB-JMJ (San Francisco livery) to Los Angeles as so often recently.
"I guess that's on the San Francisco route",
M/C
said.
"No, it went to Miami today"
, I replied which astonished him. He asked whether I work in the aviation business and I told him about my hobby and the fact that I write reports about my flights.
Now we started talking intensively about aircraft types and airlines in general as well as Swiss in particular. I told him things which he hadn't heard before and he told me lots of things about Swiss which I hadn't known yet - I won't go into detail here, though. Anyway, at one point I mentioned that I didn't want to keep him from doing his work, but he just said:
"There's not much to do at night, so I have time."
Of course I praised the new Business Class and he was glad to hear that. I asked about general acceptance and he said that a vast majority of passengers has reacted positively to the new product. Well, he also told me about a special passenger who was permanently complaining about the seat and permanently referring to allegedly better products on other carriers.
"I have tolerated his criticism for a long time, but then I spoke my mind!"
,
M/C
said and smiled.
I also took the opportunity and asked whether I could have a look at the flight deck after landing.
"I will certainly ask the captain!"
,
M/C
promised.
After about 45 minutes (or even longer) I finally returned to my seat. And that's what I found there:
My brother said that
H.
had placed two bags of this kind at our seats. Very nice!
Only 1445 miles to go: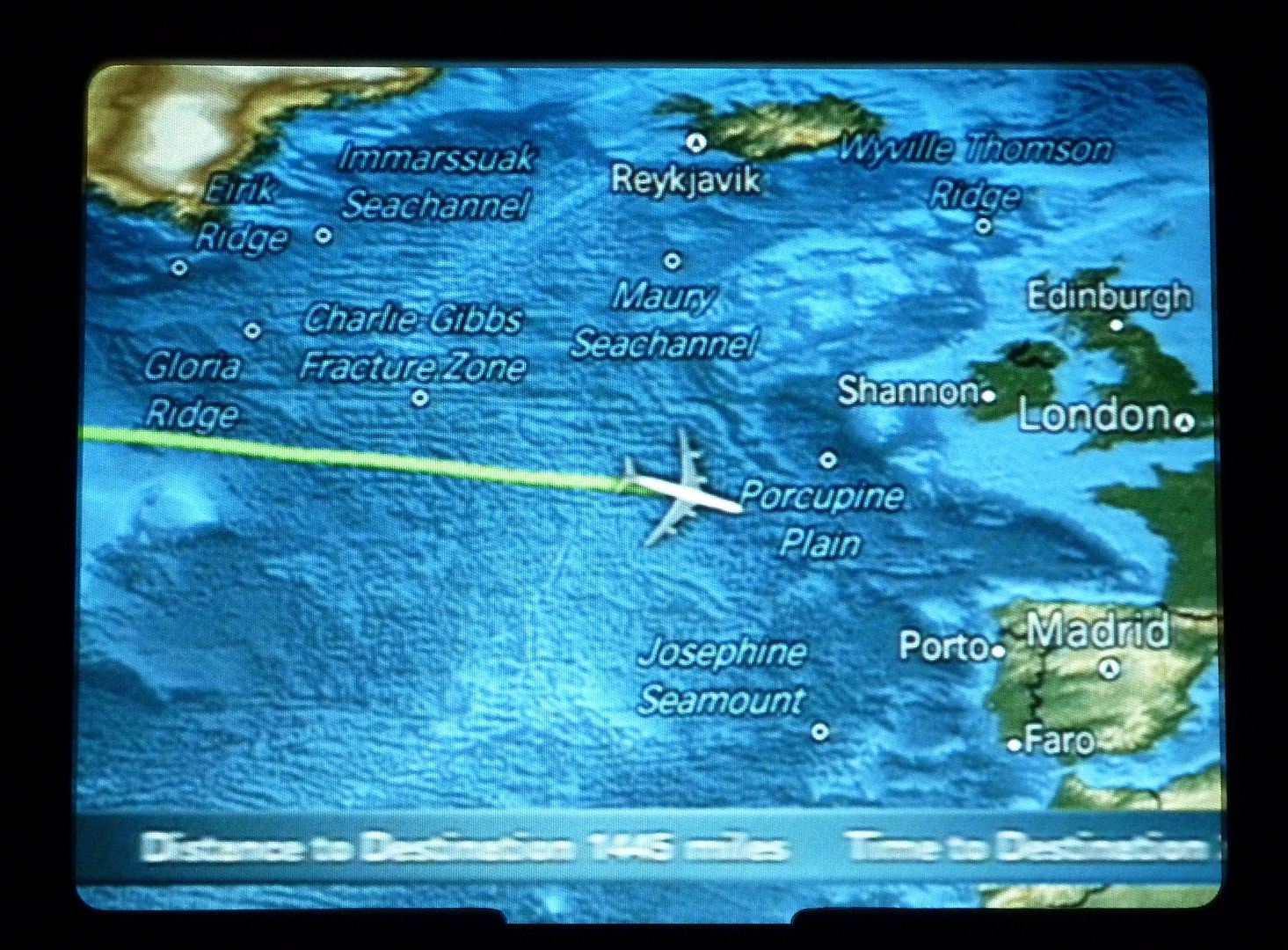 Time literally flew by - it even made me a bit sad when
H.
passed my seat and said:
"Two hours left."
About 1.5 hours prior to landing, tables were set again and
H.
soon showed up with a breakfast trolley: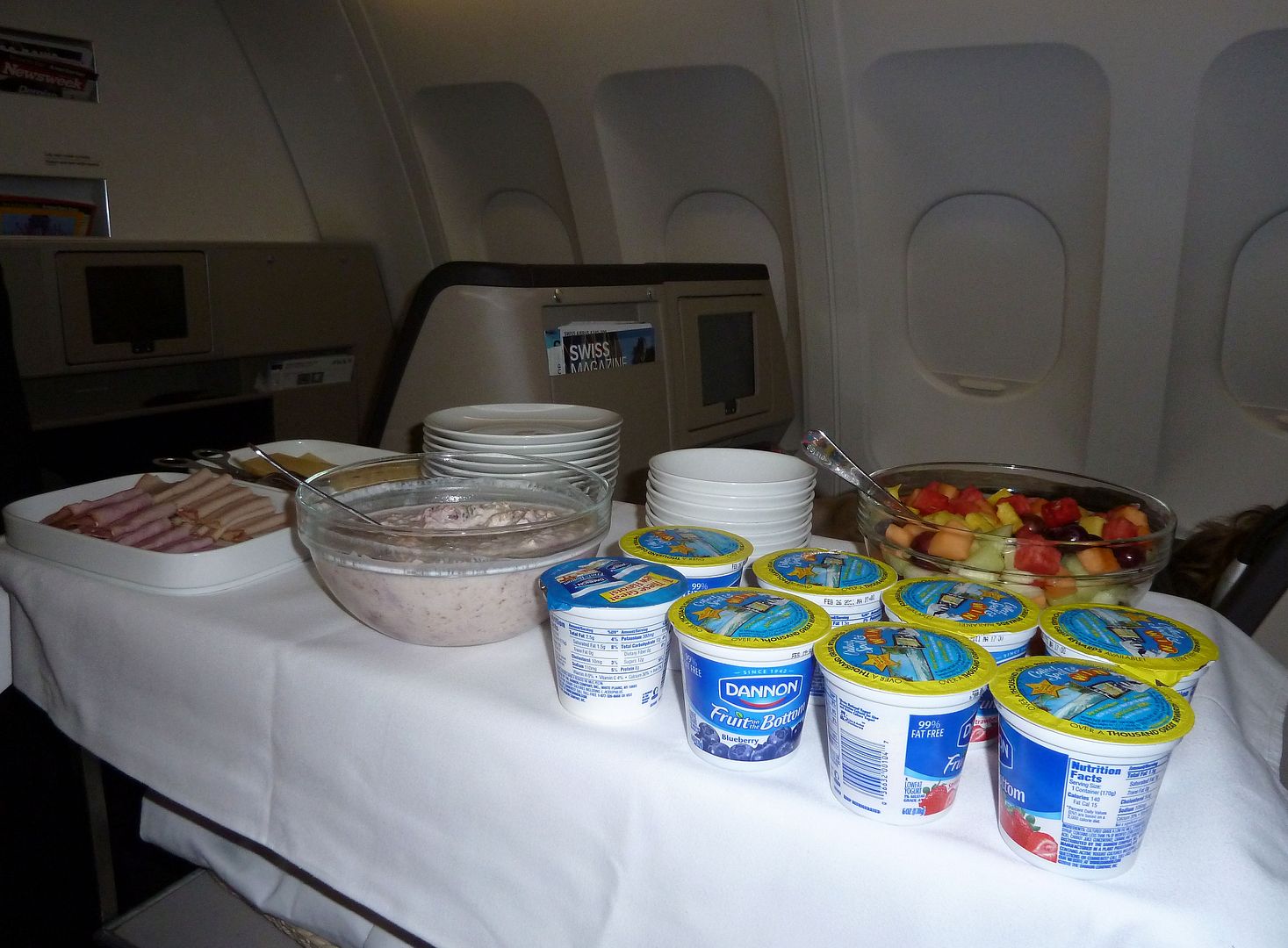 H.
placed a tray with empty plates and bowls on my table and said:
"This is our low-calorie breakfast. Enjoy your meal!"
That guy was really funny!
Then he asked me what I'd like to eat and since I was undecided, he suggested:
"Would you like to try a little bit of everything?"
That was a good idea and I agreed. After all cold items had been placed on the tray,
S.
brought a plate with hot items. In addition, different kinds of bread and rolls were offered. Now that's what I call a decent breakfast: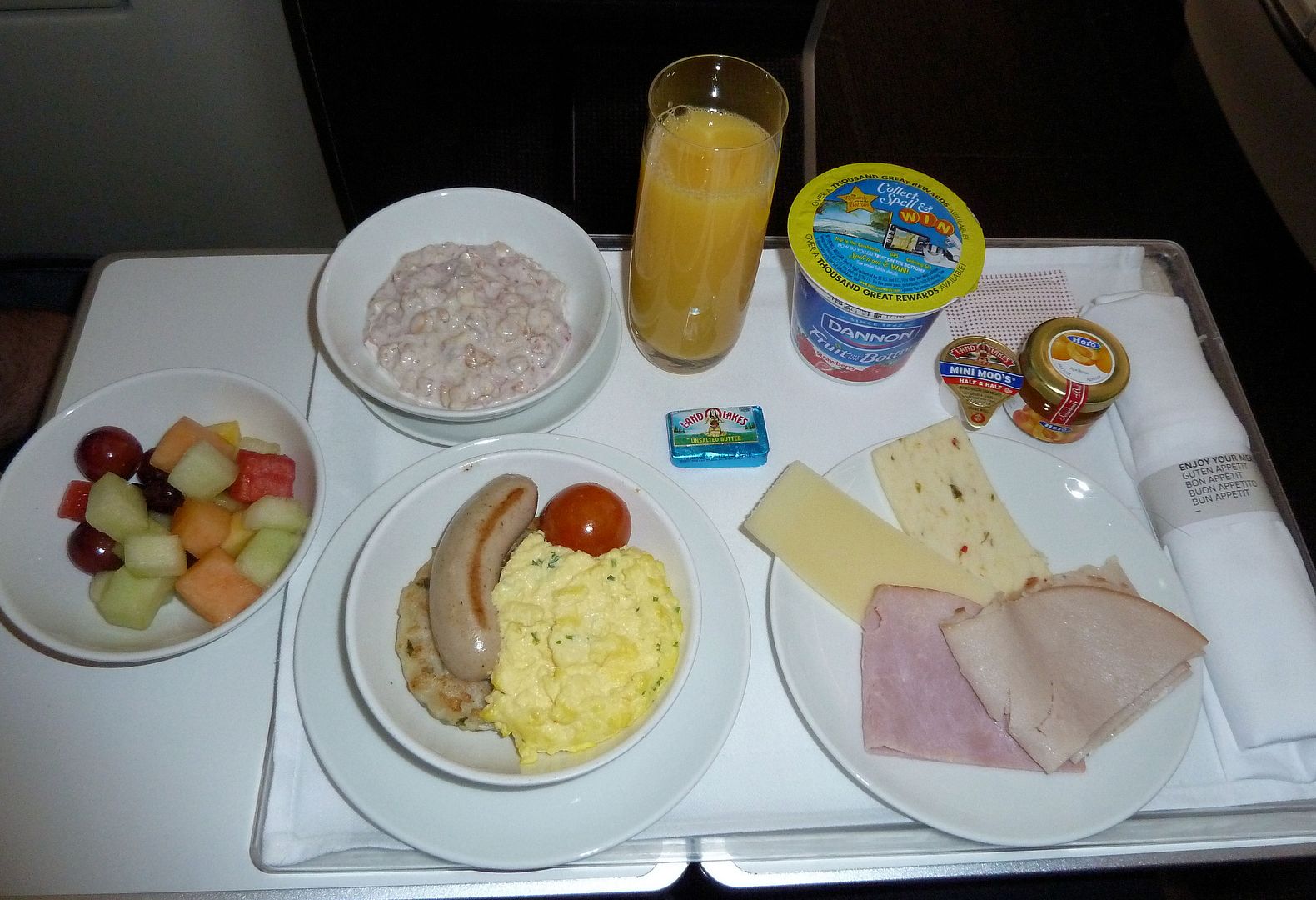 S.
asked me whether I wanted to have tea, coffee or anything else and I ordered a decaf espresso again.
"Sure. Would you like to have a double espresso?"
, she replied and I agreed. That pro-active service was really impressive!
As for the breakfast - what to say? Both quality and quantity were excellent, everything tasted great. Even though I usually don't eat muesli, I was totally impressed by Swiss' outstanding
Bircher muesli
.
After I had finished eating,
M/C
came by with good news:
"The captain will be expecting you on the flight deck after landing."
Some time later, after descent had commenced, I wanted to go to the restroom, but both Business Class lavatories were occupied. And that didn't change anytime soon, so I asked
H.
, who was just passing by, if there's another lavatory for Business Class passengers – I didn't say it, but what I meant was the First Class lavatory. He understood and said:
"Please wait a minute."
He shortly disappeared in the First Class section, came back and asked me to follow. Then he pulled the curtain aside a bit and said:
"Use your chance."
However, what surprised me was the fact that the First Class lavatory was neither larger nor better equipped than the (rather ordinary) Business Class lavatories.
Some time later,
S.
gave me an envelope and asked me to give feedback about the flight. On approach, shortly before the flight attendants took their seats,
H.
passed by again, expressed his dislike of the weather in Zurich and told us a joke:
"How do you know that you are on approach to Zurich?"
Of course we had no idea.
"When you look out of the window and don't see anything."
Final approach from an usual perspective: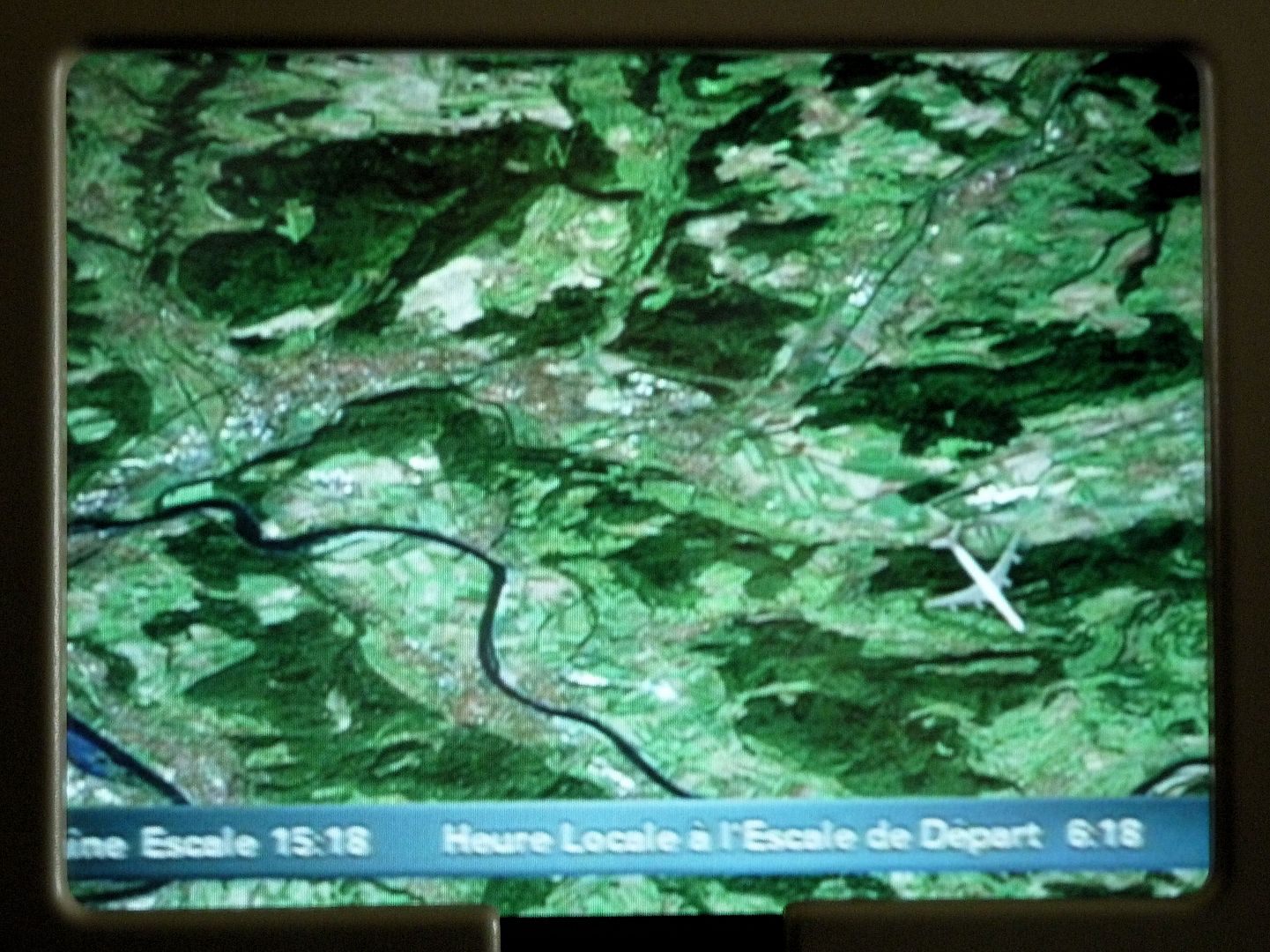 We touched down smoothly after a flying time of 10 hours and 52 minutes. And now believe it or not - while we were taxiing to the gate,
"I'm Dreaming of a White Christmas"
was played again for a few moments and I heard
H.
saying from behind:
"Oh no, not again!"
The plane arrived at the gate 20 minutes ahead of schedule and it was time to say thank you and goodbye to
H.
. On the way through First Class (old version on all A340s) I took a seat picture...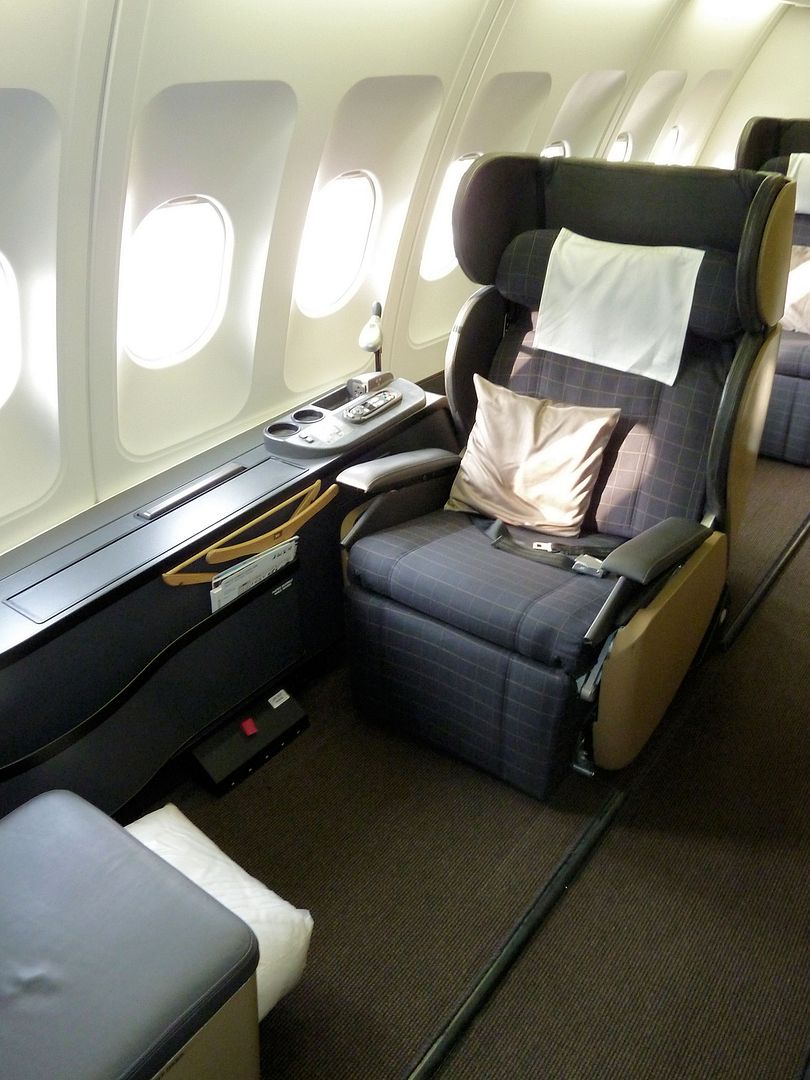 ...and
S.
immediately offered to take a picture of me sitting in a First Class seat. Of course I agreed. Then we exchanged some more words and I also thanked her for providing an outstanding service.
Then I walked towards the flight deck and
M/C
waved me in. The captain, a very friendly man, welcomed me and - surprisingly - even addressed me by name. Who knows what
M/C
had told him.
I expressed my surprise about the routing and the captain explained that the wind conditions had been the reason behind this. Then he gave me a small printout of the route and I asked if I could take a picture. He kindly agreed: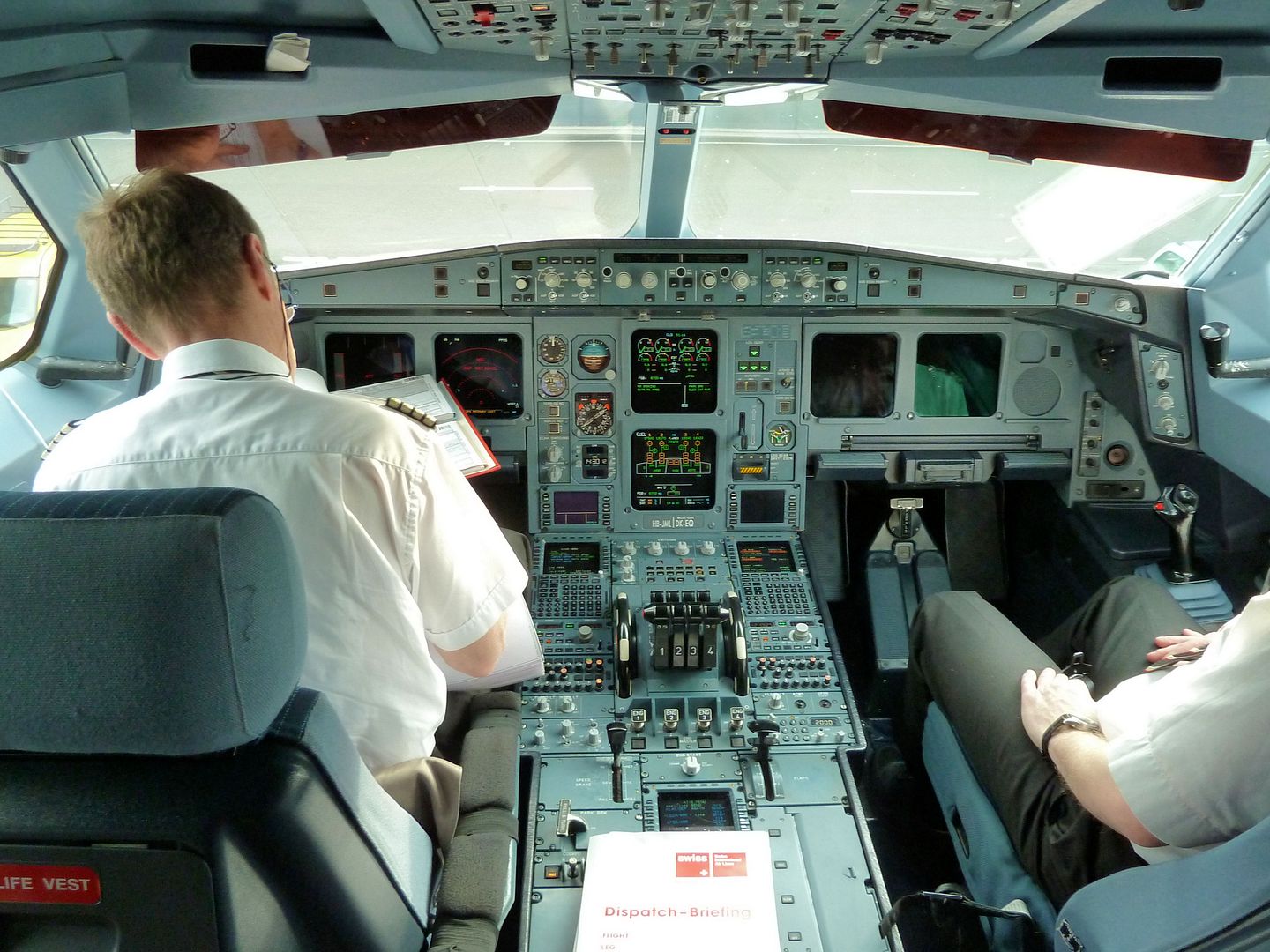 Before leaving the aircraft, I thanked
M/C
for his efforts and told him how much I had enjoyed this flight. We shook hands and he wished us a pleasant onward journey to Munich. I wish I could have gone straight on another flight with these superb crew members!
Goodbye,
Mike Lima
!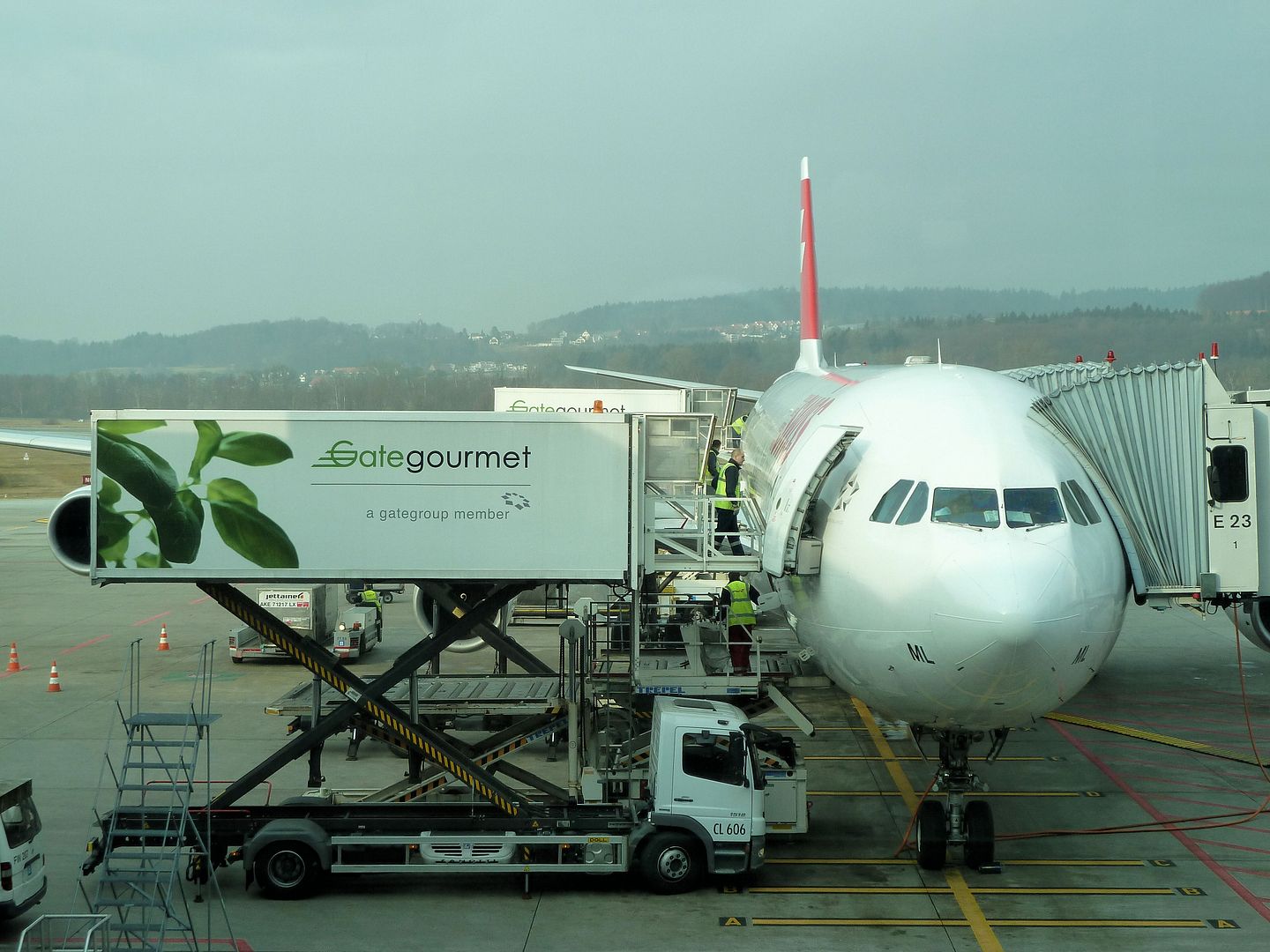 Transfer at Zurich
We took the train to the main terminal, passed passport control and headed towards the Swiss Business Lounge. Swiss narrowbody planes and Niki Embraer 190 parked at Dock A gates: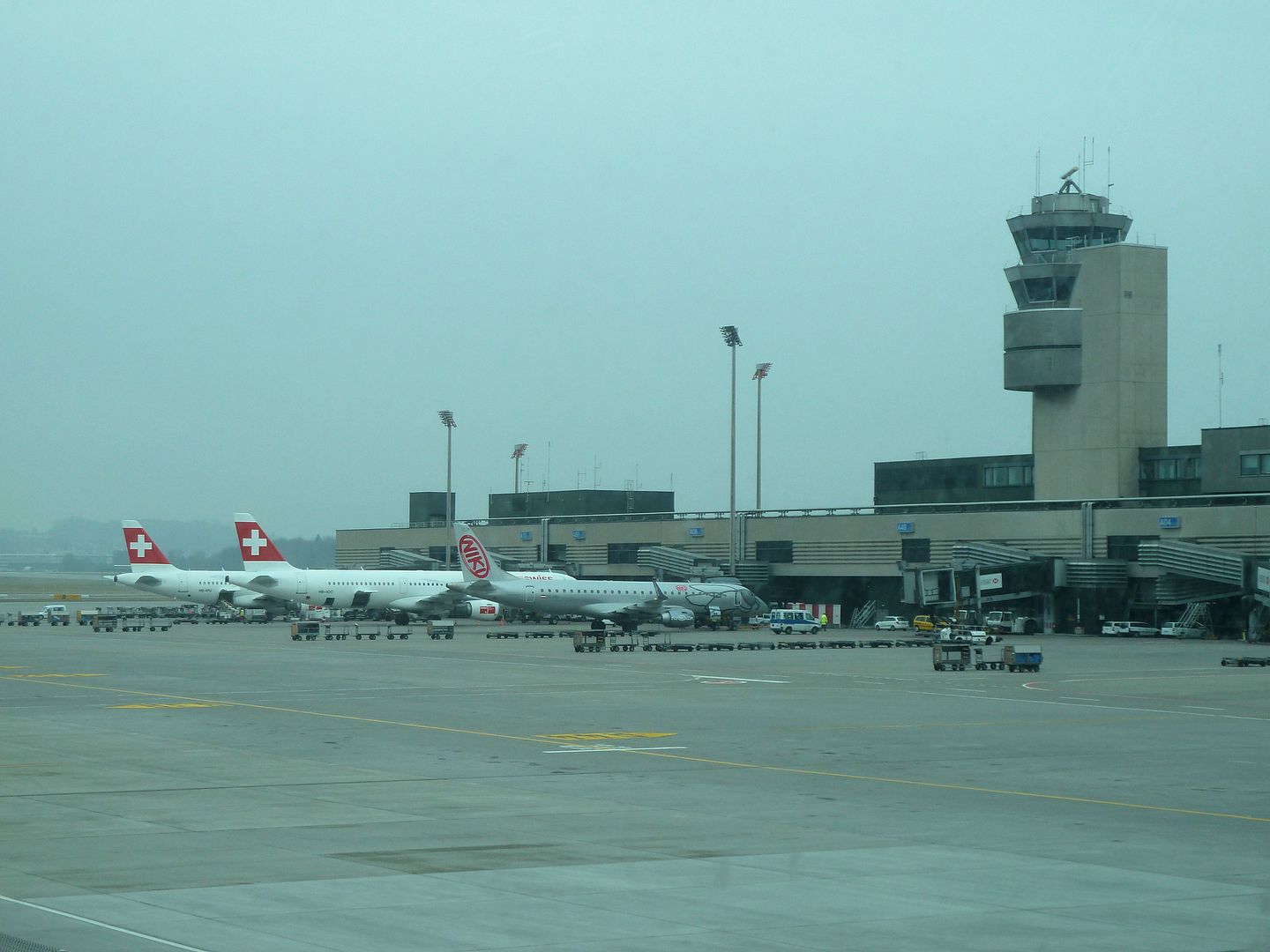 I wanted to use the transfer time for spotting, so I didn't accompany my brother to the lounge and went to the Dock A gate area instead. I still managed to get 17 new registrations which wasn't bad.
Tuesday, February 2011
Zurich (ZRH) - Munich (MUC)
Swiss European Air Lines LX1110
Scheduled times: 19:10-20:00
Actual times: 19:09-20:12
Flight duration: 00:44 (hrs)
Distance: 162 miles
Business Class, seat 4F

BAe Avro RJ100
HB-IYT (MSN 3380)
First delivered to CityFlyer Express as G-CFAD in 01/2001
1st flight on HB-IYT
2nd Avro RJ100 flight
4th Avroliner flight
Former appearance as G-CFAD:
As soon as our gate number was announced, I had a look at the plane.
HB-IYT
, a former BA CityFlyer bird, was scheduled to operate the short hop to Munich - unfortunately, it wasn't possible to take a decent picture through the gate window. Interestingly, there wasn't a separate boarding announcement for Business Class passengers, so we had to wait in queue for a while.
The leather seats in Business Class are the same as in Economy, but the middle seat remains empty...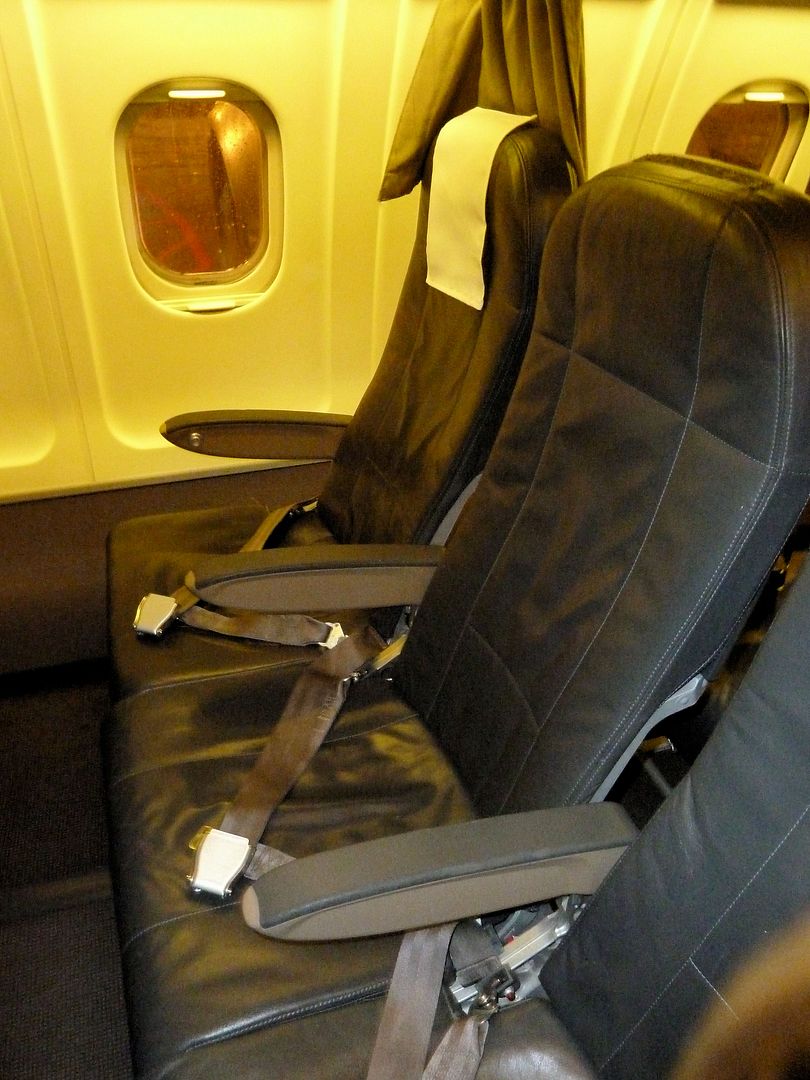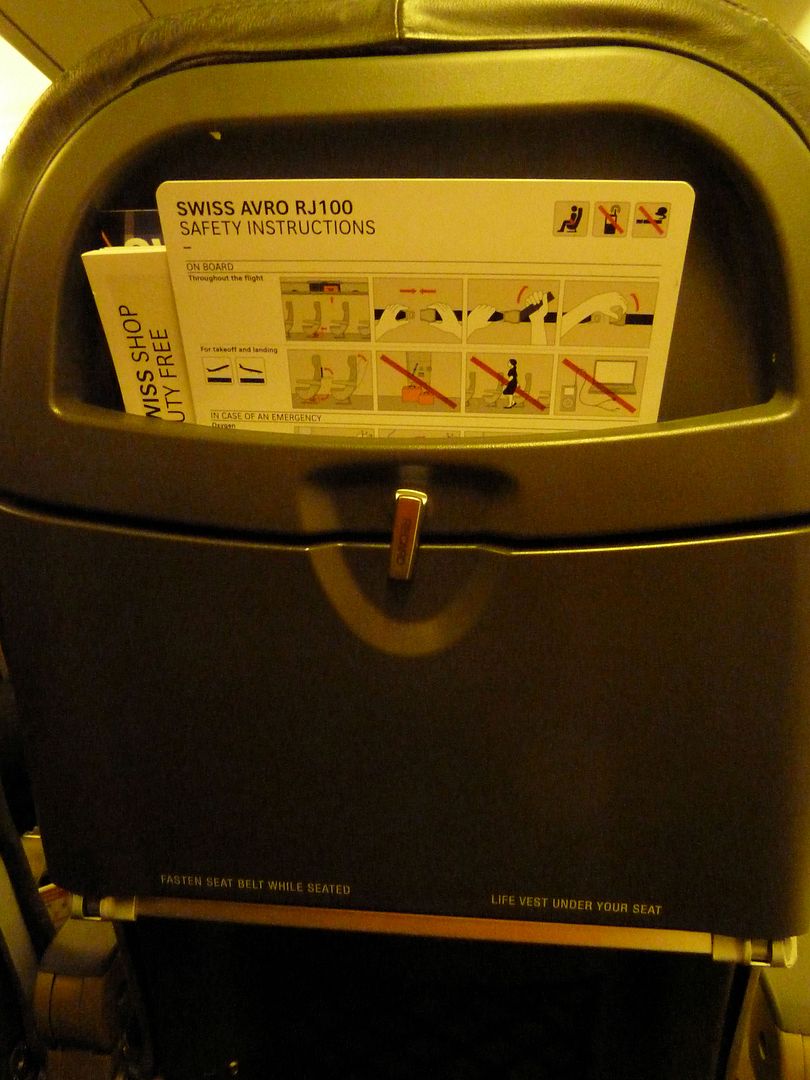 ...and legroom is more generous: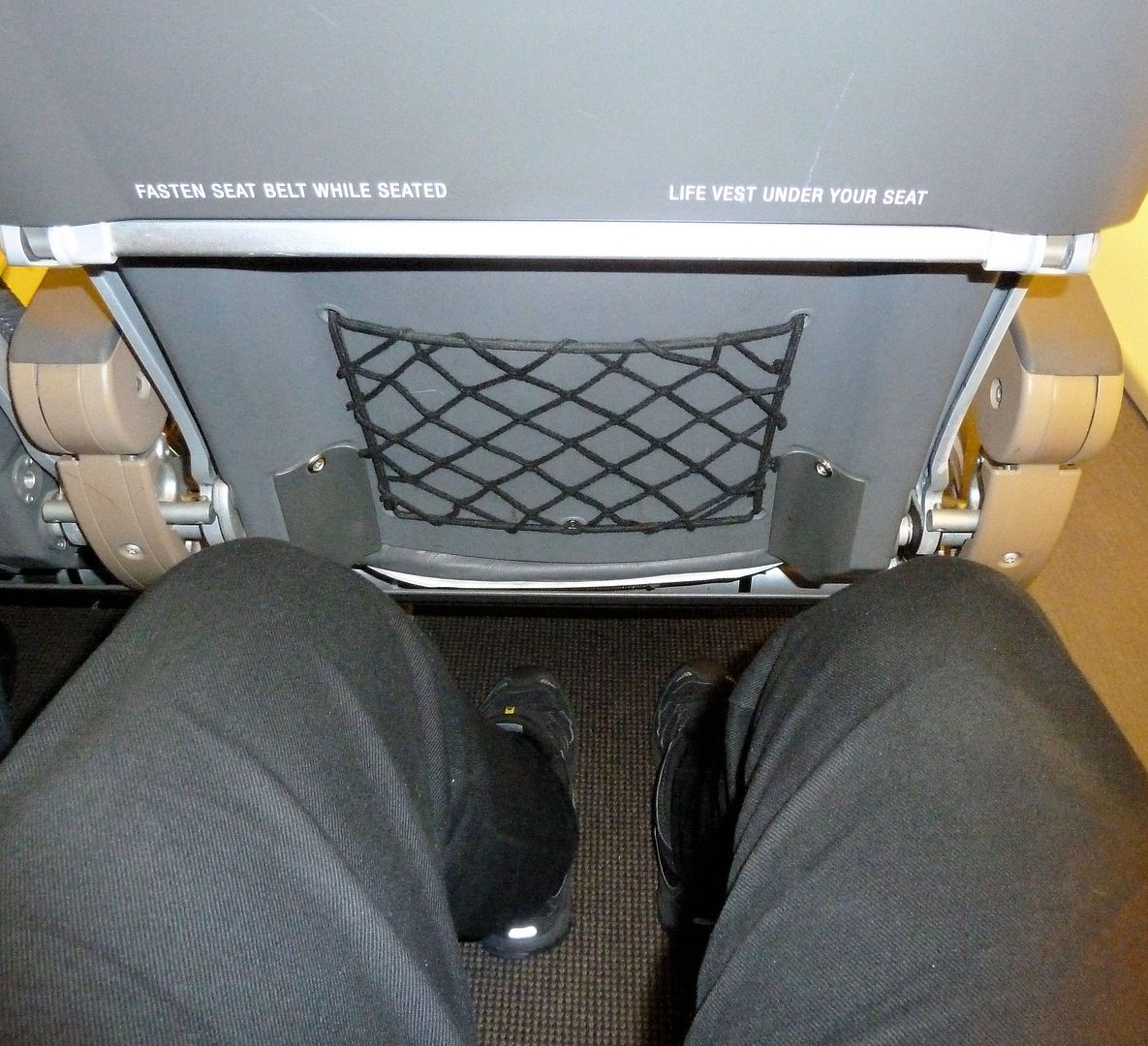 Shortly after we had taken our seats, the friendly female Maître de Cabine offered magazines and newspapers and handed out bottles of water and refreshing towels: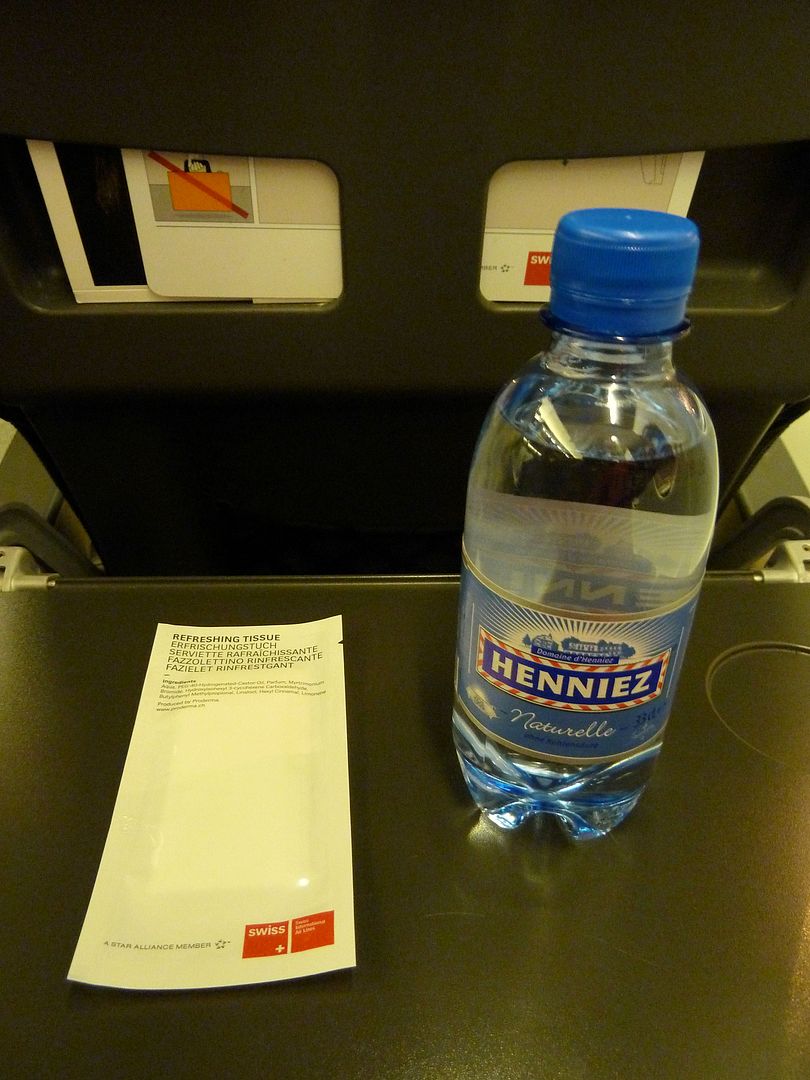 Most seats in Business Class were taken and Economy Class was packed, too. Unlike on the MUC-ZRH flight on Lufthansa, a jacket storage service was available.
Cold and wet outside, welcome back to Central Europe: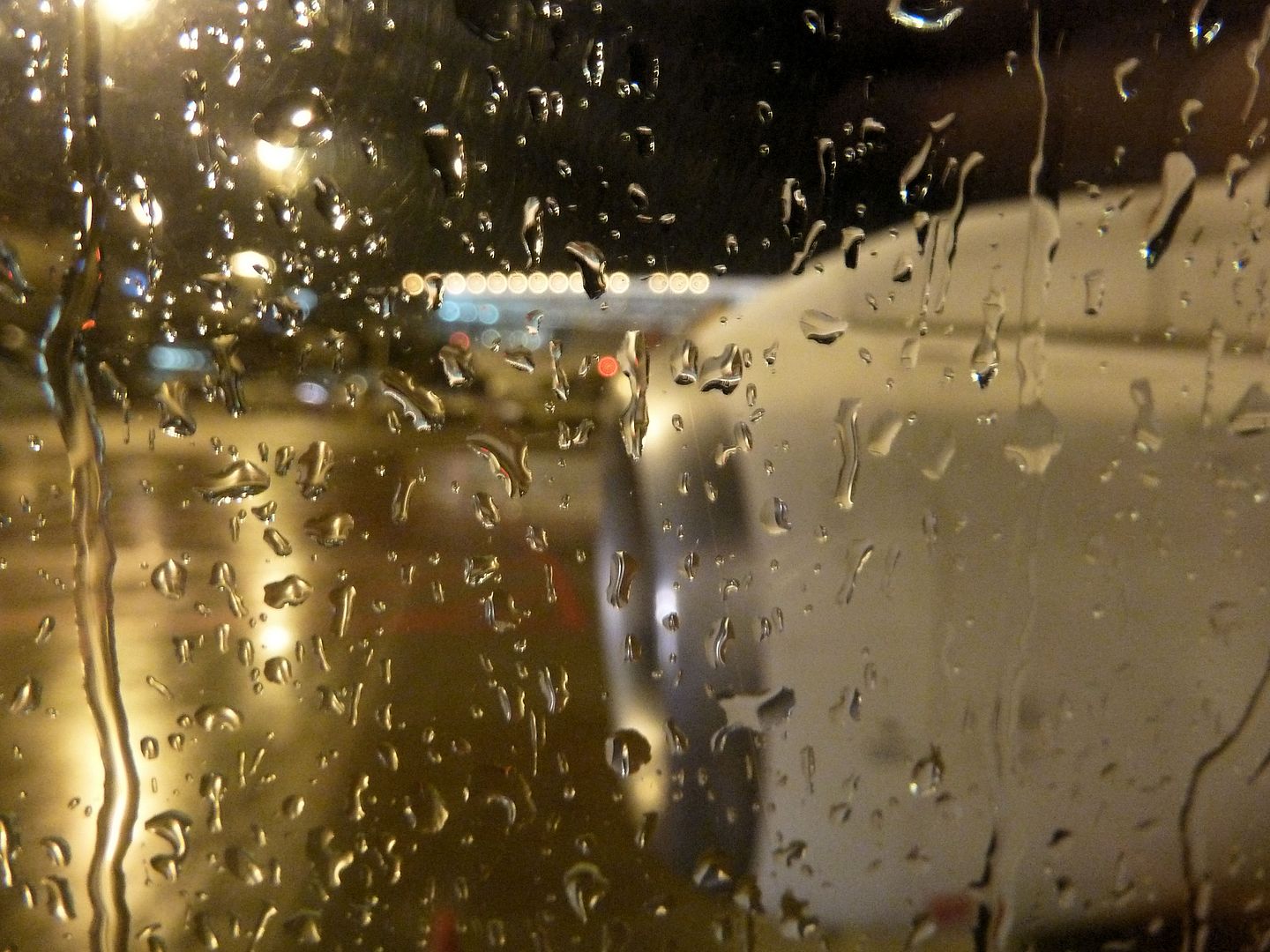 We left the gate early, but due to heavy traffic we had to wait for a while until we could finally take off into the dark sky.
Only a few minutes after takeoff, the Maître de Cabine handed out trays and I was totally impressed:
No matter if cold cuts, cheese, antipasti, salmon, cucumber salad or chocolate mousse - everything tasted great, what a fancy little meal!
Then the Maître de Cabine offered all kinds of drinks and I had a good coffee. Finally, she walked around with a basket full of the airline's famous small chocolate bars. I finished my coffee after we had already started descending and the Maître de Cabine even asked if I wanted another cup.
After circling for a while, we finally touched down after a flying time of 44 minutes. Even though we had left the gate at ZRH on time, the plane reached the final parking position at MUC 12 minutes behind schedule - and we still had to take a bus to the terminal. We didn't mind, but some other passengers were in a hurry and started running as soon as the bus arrived at the terminal. I guess they had tight connections - definitely not to my taste!
The last two pictures of this trip: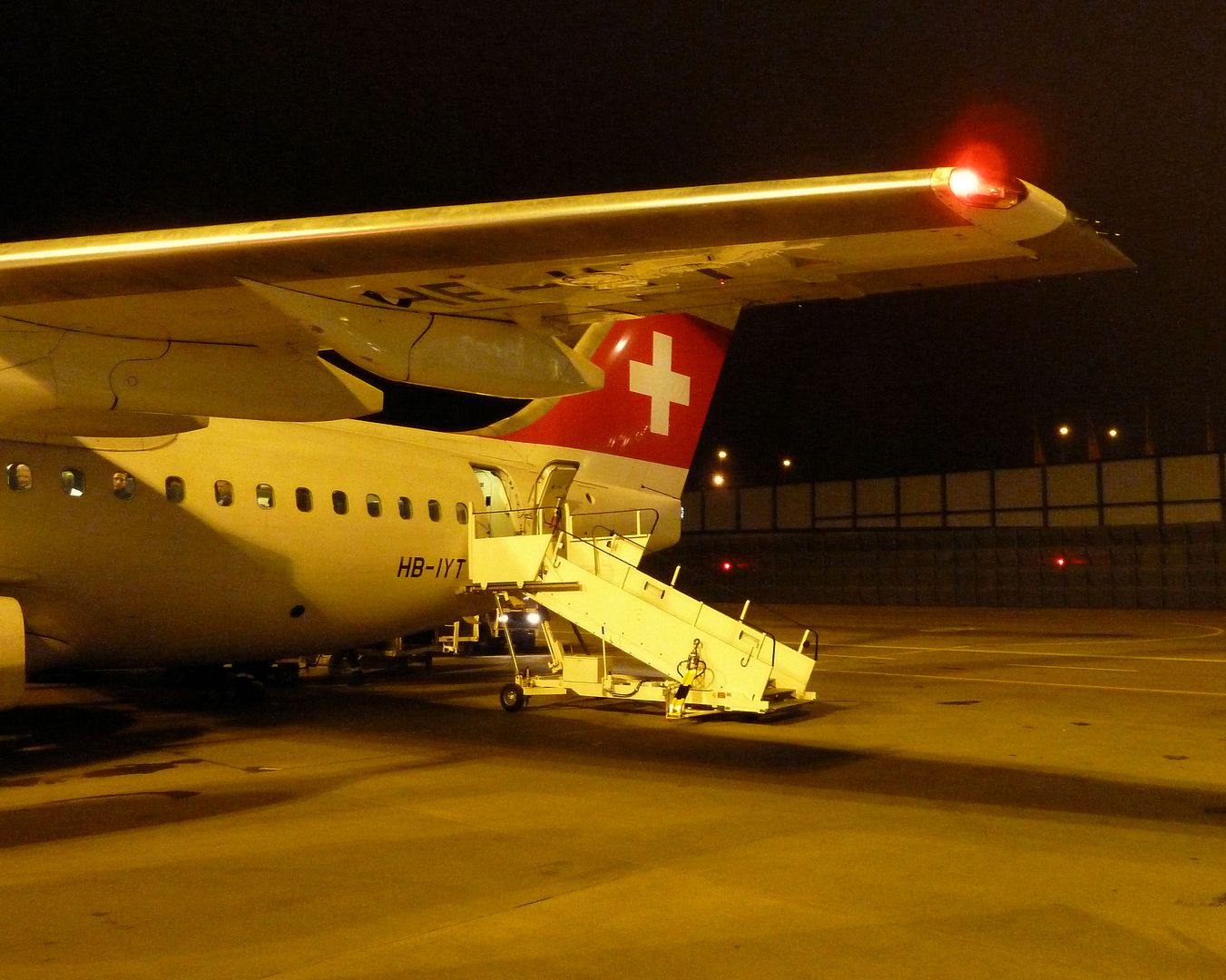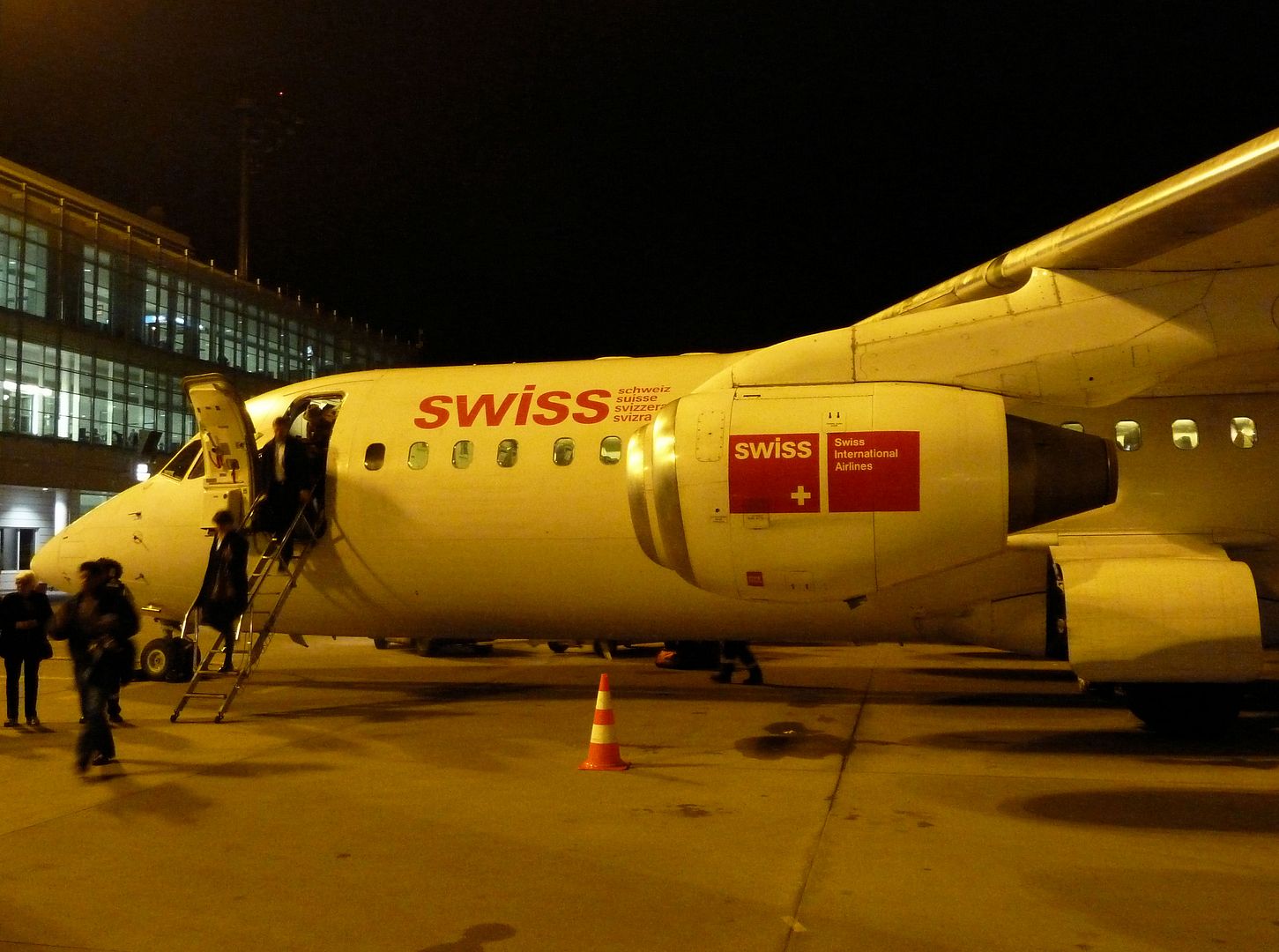 Our luggage soon appeared on the belt and we headed to the S-Bahn for the short ride to our parking garage. A truly wonderful trip had come to an end - but in exactly four weeks I would return to MUC to go on another trip to warmer climes.
Conclusion
The LAX-ZRH flight on
SWISS
was another magnificent experience: excellent food, great crew, outstandingly personalized service.
H.
,
S.
and
M/C
made this flight a very special and memorable one. I have already praised the new Business Class hardware and criticized the IFE in Part I of my series, so I won't do that again. I can only recommend SWISS' new J Class - which provides an even more private feel in the
"Stübli"
.
I also highly enjoyed the short hop from Zurich to Munich on
SWISS European
- the Maître de Cabine provided a very good service and the catering was awesome.
There's not much to say about the short
US Airways
flight. The airline brought us to the destination on time and provided a free drink - that's it. I cannot think of anything special apart from the livery. What I'll definitely keep in mind is the fact that US Airways charges $25 for a checked bag - other airlines charge less or nothing.
Long-haul Business Class flights, nice sightseeing tours, meetings with good old friends - all that certainly contributed to the conclusion that this US West Coast trip belongs to the most enjoyable ones I have ever made. And another contributor is the fact that I flew on three new airlines and one new type, visited two new airports and logged a total of 143 new registrations.
Best Regards,
PlaneHunter
P.S.: Just in case you missed them - my previous trip reports:
Grand Canyon & More: Scenic Flight On Dornier 228
San Francisco Sunshine...and A Frontier Fiasco
Fully Flat Bed to SFO: SWISS' New Business Class
Mountains, Meals & More: SunExpress Vs. Pegasus
Crossing Two Oceans: AKL-SFO-MUC, NZ 777 & LH A346
Bad Weather & Other Bad Luck: Touring New Zealand
Trans-Tasman Treat: Aerolineas Argentinas A340-200
Detours To Sydney: Wildlife, Tiger, REX & QFLink
Thai Fails To Impress: MUC-BKK-BNE On 744 & 777
Painful Delay & My 100th Airline: AF A380, VO F100
Fifth Freedom Tidbit: Kuwait Airways A300-600
Ship Vs. Plane: Porto Santo Line & Sata Air Açores
Awesome Approach, Splendid Scenery: LIS, FNC & TAP
Guernsey, Ash Cloud Alarm & Mostly Empty SQ 77Ws
Totally Thrilling: Scenic Flight On Lufthansa A380
Cirrus D38, Adria CRJ & Captain Niki Lauda On Duty
Monarch Hot Meal, E195 & More: PMI-ALC-MAN-MUC
Premium Meal & Palma Spotting: MUC-PMI, DE 757-300
The Dead Slow Transfer: PEK-MUC On Air China A332
Cancellation Brings Joy: HKG-PEK on Dragonair A330
A380 Cacophony, 777 Star Livery: DXB-SIN-HKG on SQ
The Next 5* Carrier? MUC-MCT-DXB, Oman Air A330
Turkey For 1.5 Hrs: Daytrip To AYT On Sky Airlines
CO Scores Again: ATL-IAH-EWR-FRA On ERJ, 752 & 764
Riding The Ultra Long-Haul Twin: Delta 777-200LR
Pacific Coast Jaunt: 3 Carriers, E120, E140 & Fog
The Ultimate 737: LHR-IAH-PDX On CO 777 & 739ER
Bye Bye, Hell! TRD-OSL-TXL-NUE - DY/AB/HE DH4
My Trip To Hell: NUE-CPH-OSL-TRD On Cimber & SAS
SFO-YUL-FRA: Map- & Sleepless On Air Canada's 77W
Sin City Gloss & Virgin America's Chic First Class
Seat Dilemma & Canyon Glamour: FRA To LAX, AC 763
On Par With Air France? DTW-AMS-MUC, KLM A330
Goodbye, Red Tails! DC-9-40/50 & Chicago Tour
Champagne & World Of Coke: Air France A340 To ATL
"Mission A380": Disappointing Legs On BA/BD/EI
Delights Of Doha, 773 & 77W: DOH-DXB-LHR On EK
A380 Really a Step Forward? LHR-DXB-DOH On EK
Quality & Style: HKG-LHR On Air New Zealand 744
Taiwan Trio: TransAsia, UNI Air And The Taipei 101
"The Wings Of Taiwan": EVA Air A332, 744 Combi
SHA-SZX, Shanghai 757: Delayed By The Military
PEK-SHA, China Eastern A330 & Shanghai At Night
Striking Newcomer: Berlin-Beijing On Hainan A330
Short & Splendid: MXP-MUC On Air Dolomiti's 146
3 Hours On Blue1: HEL-MXP On The MD-90
Winglets On A Classic: MUC-RIX-HEL On Air Baltic
BCN-MAD-ZRH-MUC: UX Shuttle Meets Swiss Quality
MUC-MAD-BCN: Star MD-87 & The Pain Of Vueling
Low Fares, Lovely Island: AK & Best Of Langkawi
4 Stars Or 5 Stars? FRA-KUL-FRA, Malaysia 777s
First And Last Time? JFK-FCO-MUC, Alitalia 777
JFK For 1 Day: Transatlantic Hop On CSA's A310
Sardinian Sun, Shiny New 73Gs & Cramped Mad Dog
Top And Flop: KIX-HEL-MUC, Finnair A320 & MD-11
The 524-Seat Twin-jet: HND-ITM On ANA 777-300
Kobe For 1 Hour: 767-Quickie On ANA & Skymark
Rocketing To Tokyo: FUK-HND On JAL (ex-JAS) 777
Oddities & Okinawa: JTA 734 & JAL 744D(Domestic)
MUC To Nagoya: Finnair E170 & (Old) "New" A340
Mad Dog, A320 Tech Delay & Best Of Lanzarote
Canaries Prop-Hopping: Islas Airways & Naysa
Canaries And Confusion: LH CRJ900 & Spanair A321
Hubbing For 162 Miles: HOQ-FRA-STR Ret On IQ/EW/LH
BOS-JFK-AMS-MUC: SSSS-Check And KLM 777
ATL-PIT-JFK-BOS: FL B717, JetBlue E190 And Delays
MUC-AMS-MEM-ATL On NWA A332 And 40-year-old DC-9
FRA-BKK-FRA Via CMB: SriLankan A332 & A343
BNE-SIN-DXB-MUC On Emirates B772ER & B773
2 Hours In Paradise: Hamilton Island (JQ/DJ)
BNE-SYD-BNE: Domestic Run On QF's Oldest B747-400
Testing Qantas: SYD-MEL-SYD-BNE (B738, B763, A332)
Going Down Under: MUC-DXB-SYD On EK A332 & A345
9/11 Review: Failed Trip To LAX - Fuel Dump Pics
Surprised By NIKI's Newest A320 & Screw-up By AB
Leisure Vs. Full Service: Condor & SN Brussels
"betterFly" On LH: Business Class For 99 Euro
Weekend Transatlantic Trip (2): US A321 & B762
Transatlantic For A Weekend (1): MUC-DCA On US
[Edited 2011-07-20 11:08:39]