Asia Part 5: Lufthansa A380 and E90 (PEK-FRA-LCY)
This is the final instalment covering my recent trip to China and Japan, and will cover my return flight to London City on the Lufthansa A380 via Frankfurt.
Today's flights: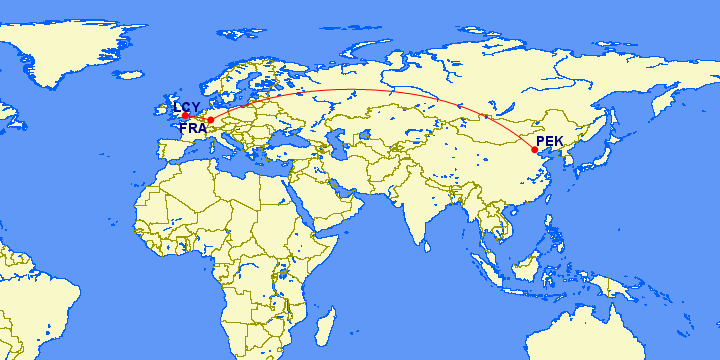 The other four parts can be found here:
Part 1, Lufthansa London-Munich-Frankfurt-Nanjing, Economy Class A321 and A343
Part 2, Cathay Pacific Shanghai to Tokyo via Hong Kong, Business Class A330 and B747-400
Part 3, ANA Boeing B767 Tokyo to Shanghai, & Air China Airbus A340 Shanghai to Beijing, Business Class
Part 4: Chinese domestics, inc. Joy Air Xi'an MA60, Tianjin Airlines ERJ, and China Express Airways CRJ
After a late night arrival at the Holiday Inn in Datong, I spent two days seeing the sights of this dust-bowl mining town. On the first day, I took a local bus (to the horror of the concierge at the hotel) to the Hanging Monastery.
On the second day, I went out to Datong's main attraction, the Yungang Caves. Carved on and off since the 5th century, these are some of the best examples of Buddhist Art in the world. They were probably as good as the Mogao Caves I saw in Dunhuang, although as there is lighting inside the caves, and photography is tolerated, the visit was more enjoyable.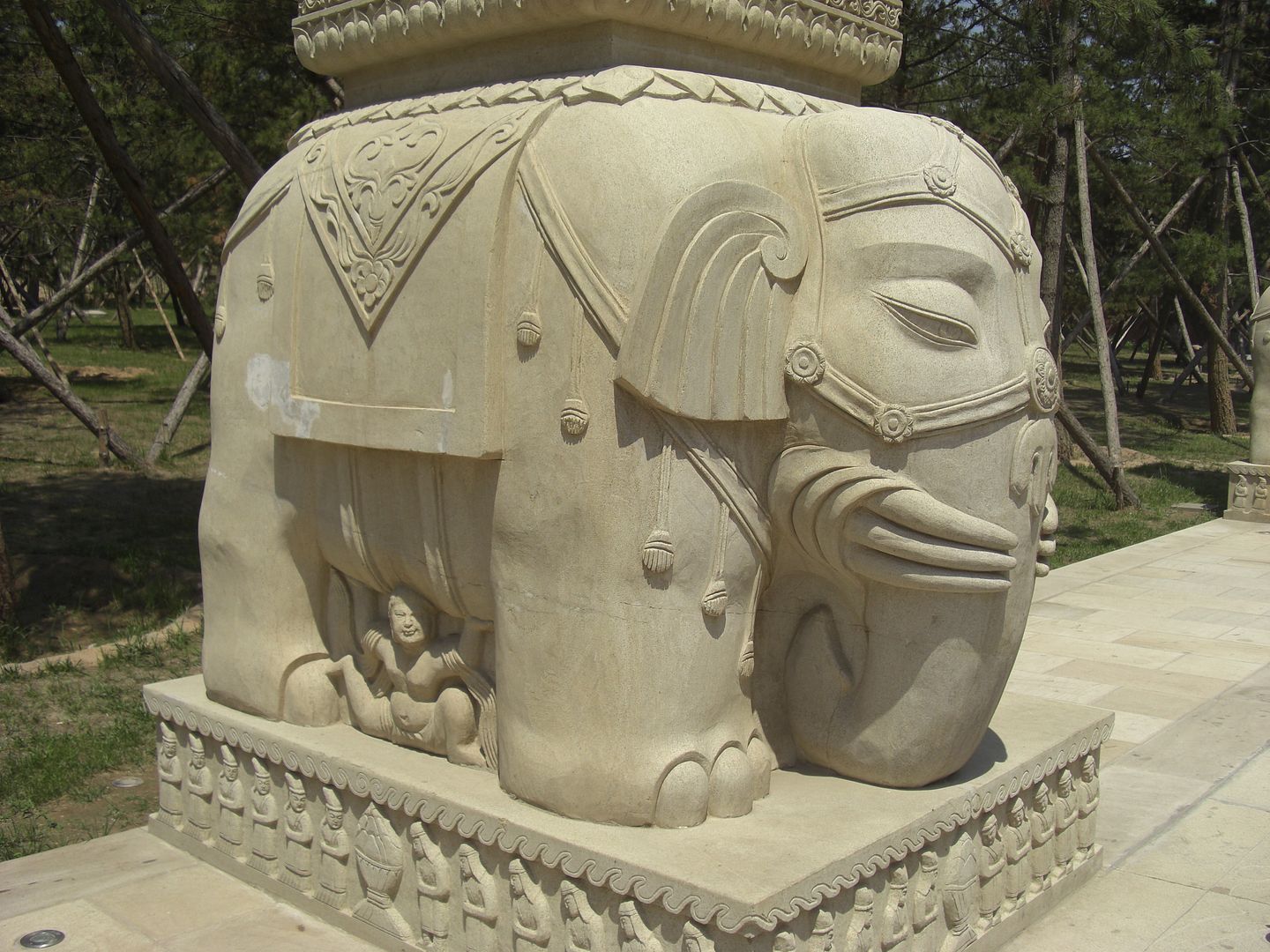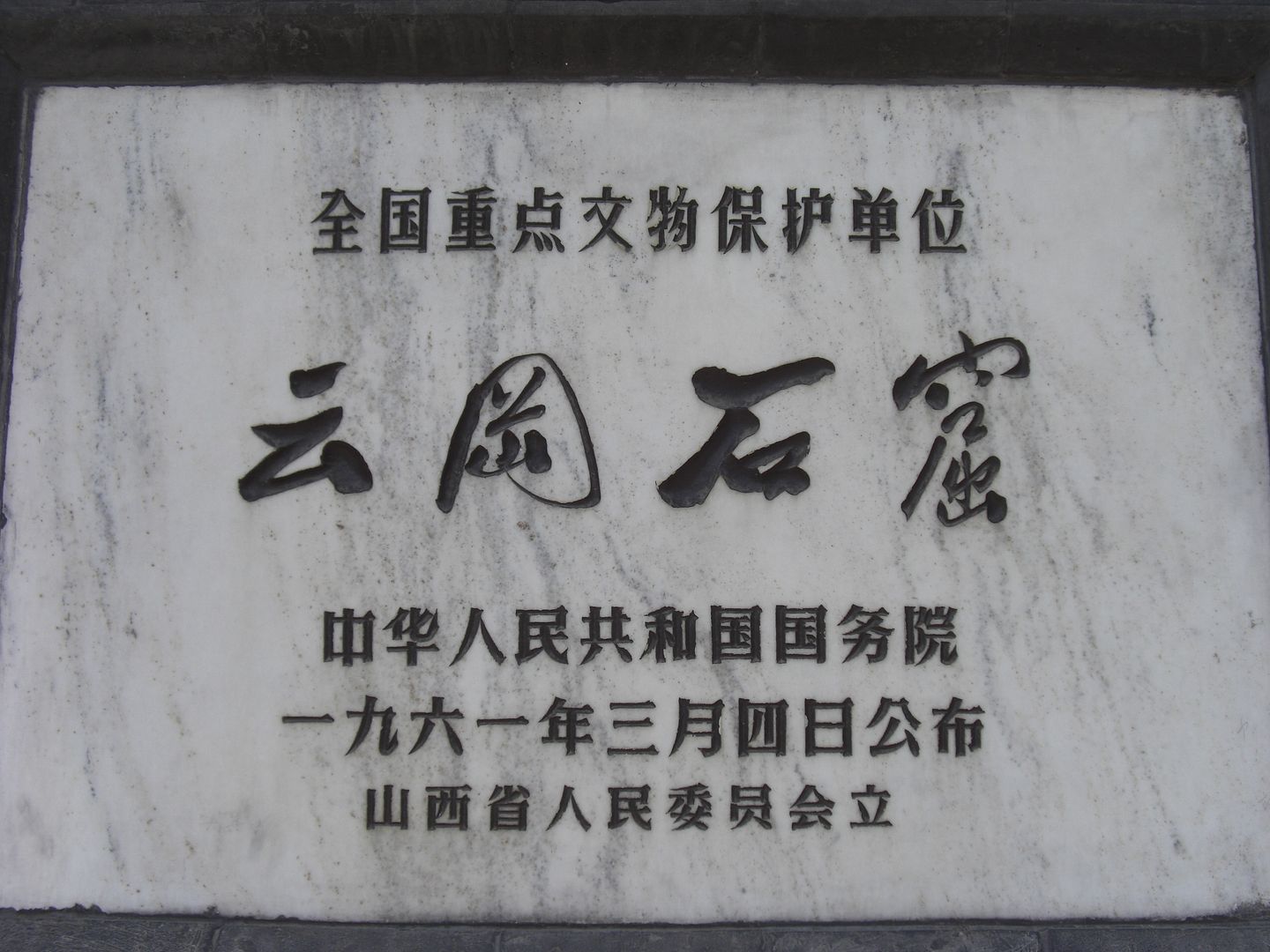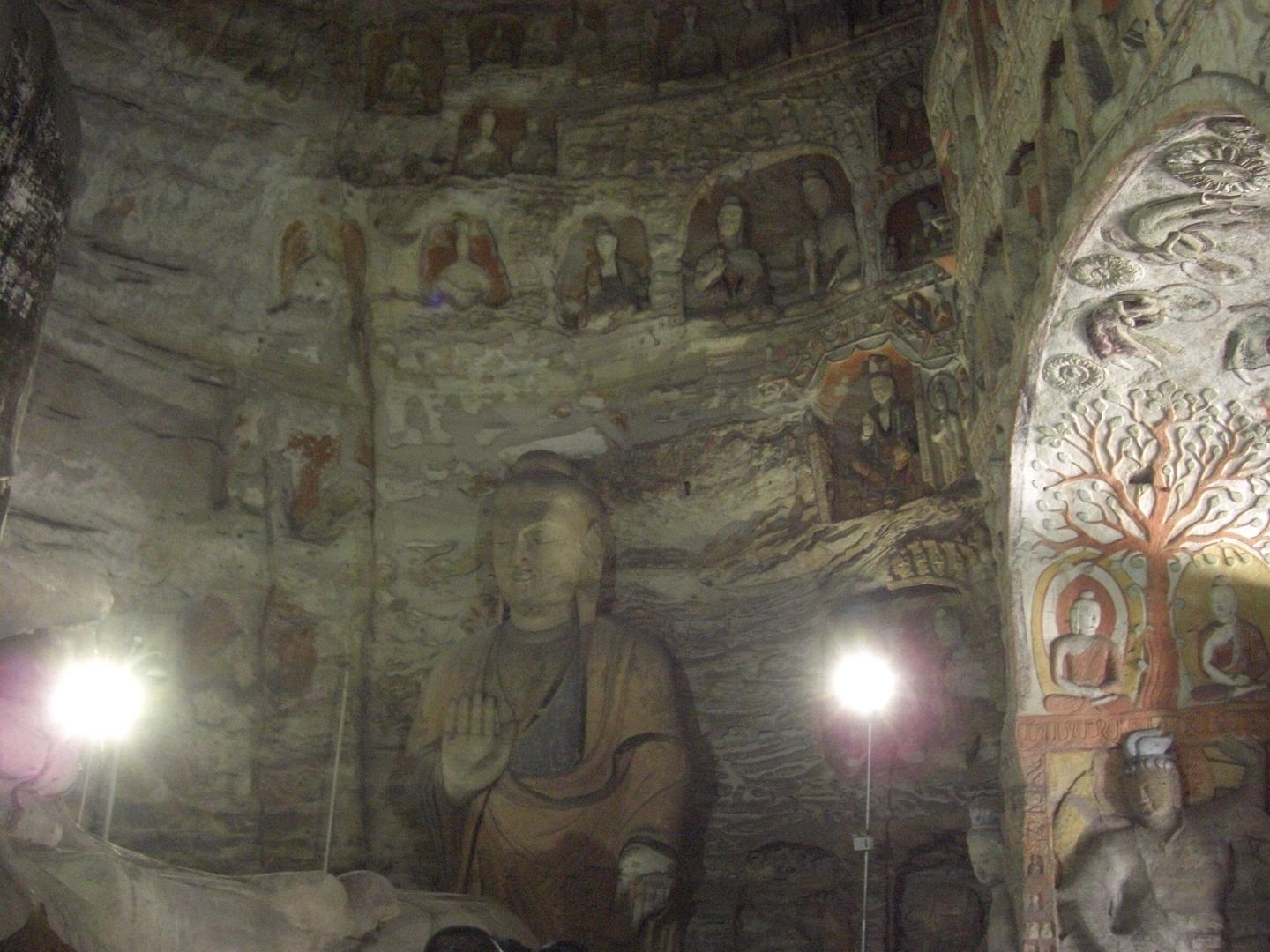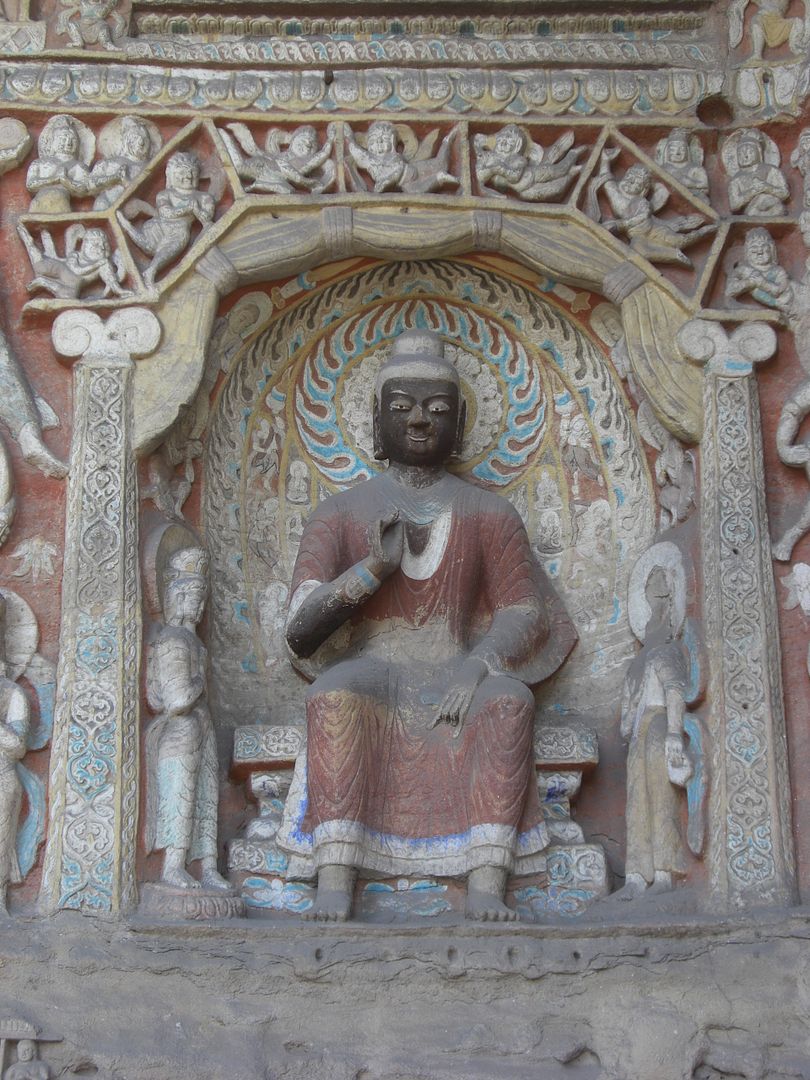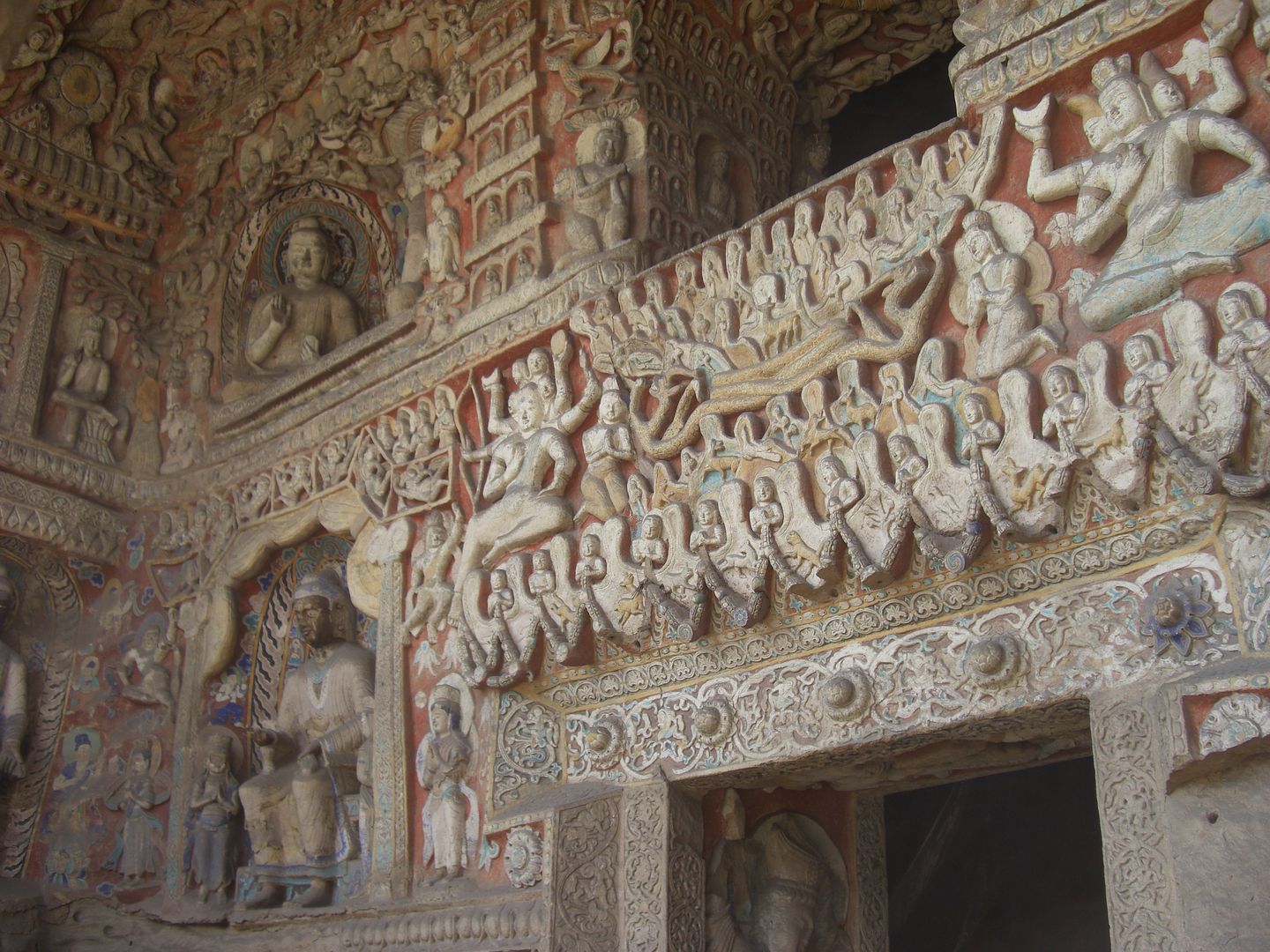 The revenge of the Chinese tour group!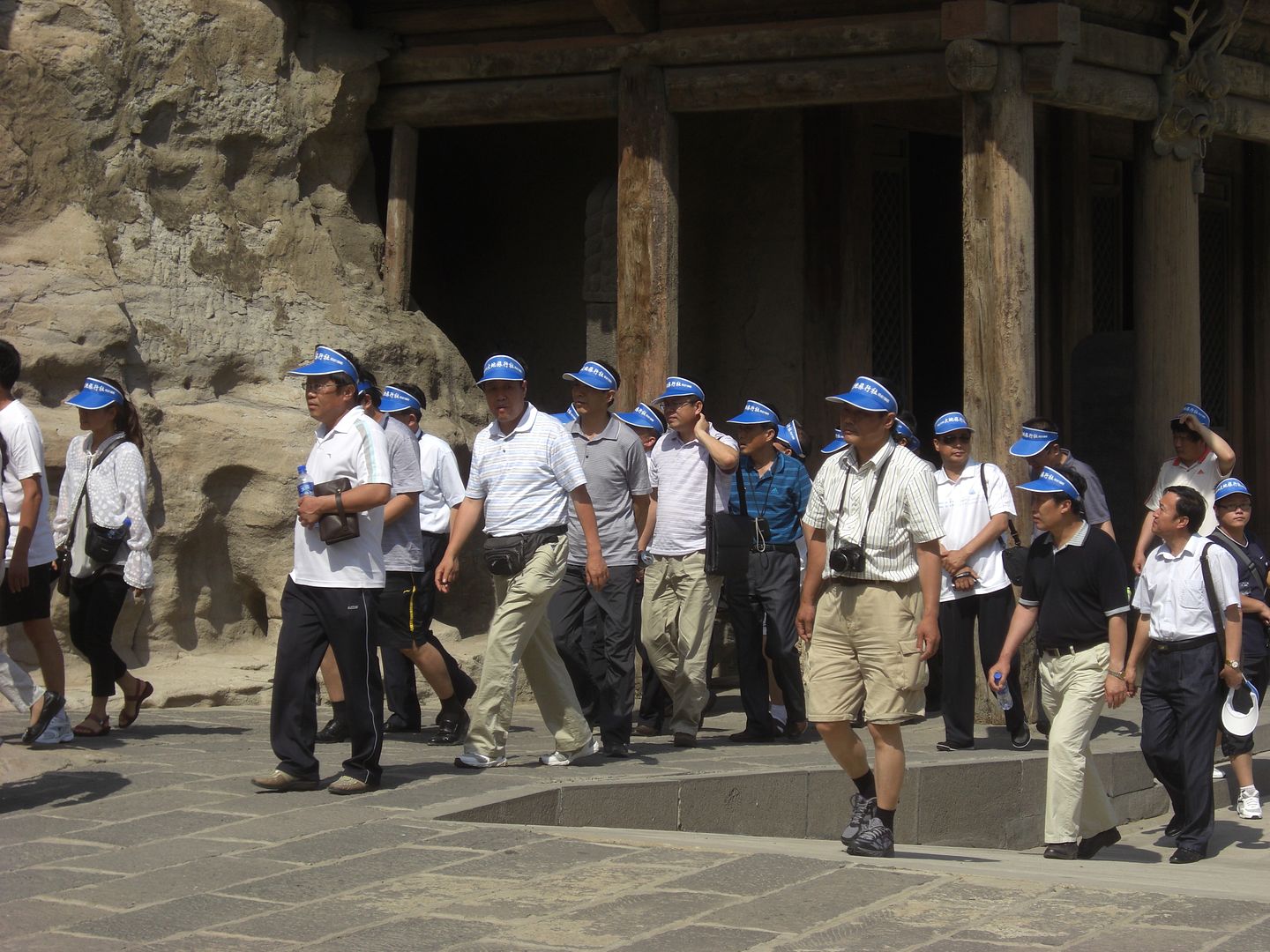 Datong City Views
Whilst I enjoyed my trip to the Yungang Caves, I shouldn't have stayed so long in Datong (48 hours!). as it was, I decided to take a sleeper train to Beijing, arriving in Beijing around 24 hours before my flight home. I decided to entrust the ticket purchase to the hotels' front desk. I paid up front, and they said they should have the ticket the same evening (this was the first day). When I didn't arrive that evening, I asked at the front desk the next morning. I was told it was "on it's way". Not a good sign. At lunchtime I asked again. Same response. After my trip to the caves, I came back, slightly worried as the train for this evening (albeit at 2am, arriving in Beijing around 9am). I was told, it had just been purchased, and would be at the hotel soon. I went off, and had the hotel buffet. I went back to the front desk, and was told it was one it's way still. A few minutes later, the manager came over and told me "there was a little problem". The train was either sold out, or didn't exist, so everyone (as I had imagined) was lying to me for the last day. I was told that there was an earlier train leaving around 11pm, which arrived into Beijing at 5am that I could get a sleeper on. Not having many options left, I accepted. Arriving at 5am was far from ideal. However, as I was staying in another Holiday Inn in Beijing, I asked them to call and request an early check in (which they did).
I was given a complimentary cup of tea once my ticket arrived, and I waited for the train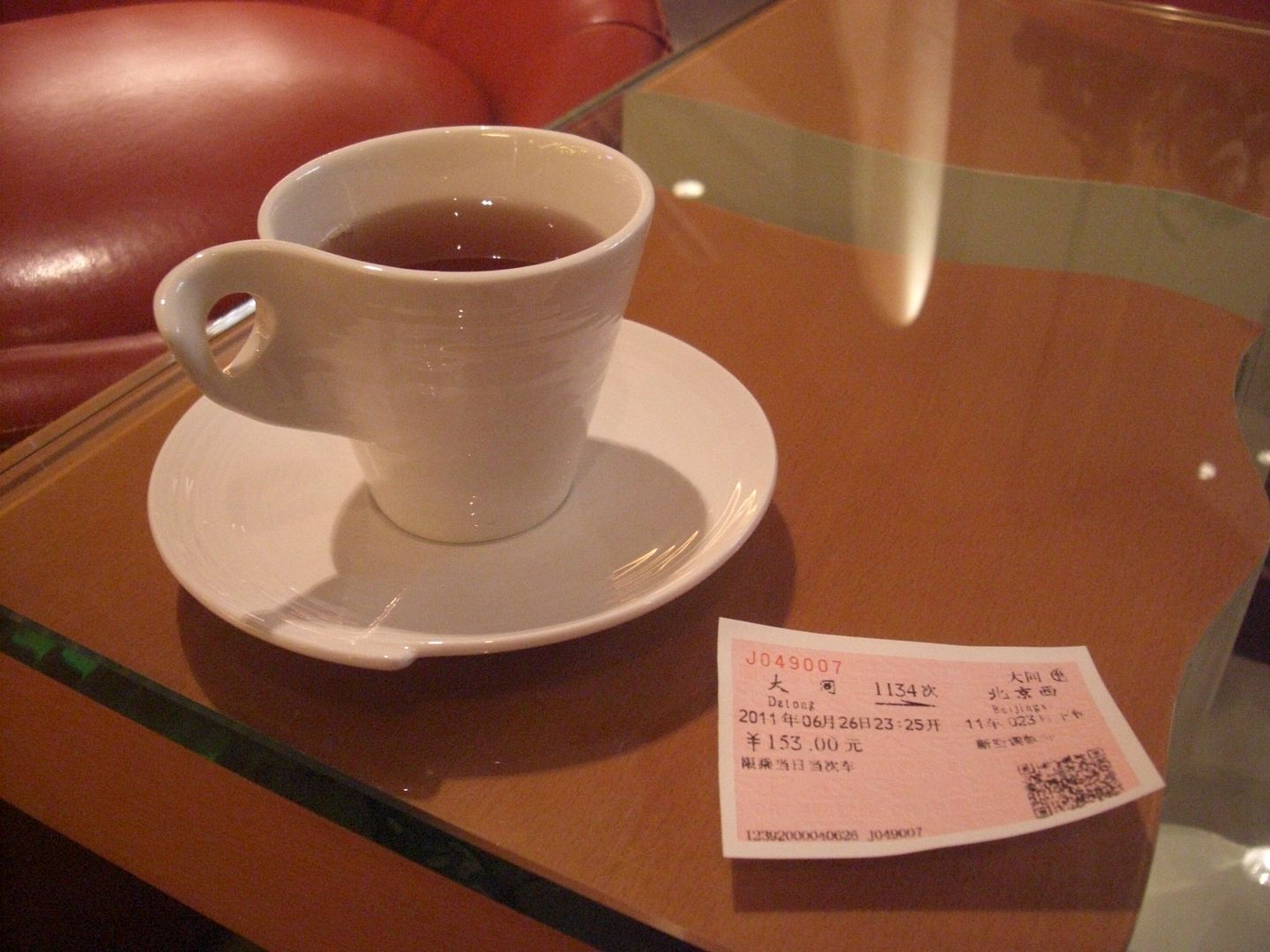 Datong Station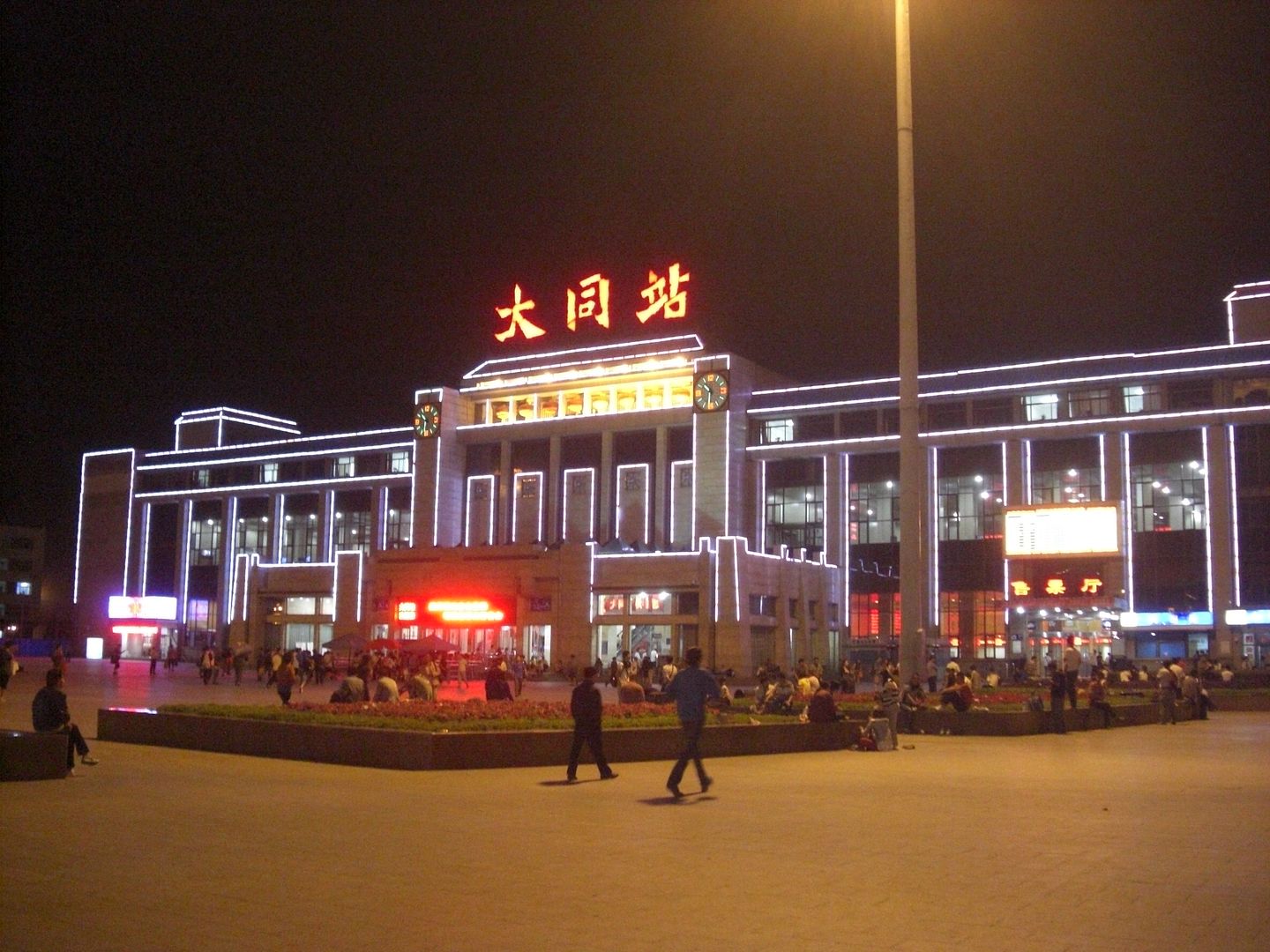 I went to the ticket office before going through 'security' at the station, where I found that this train was sold out for days in all classes – how they managed to ruffle up a ticket with an hours notice is beyond me. I was hoping it wasn't a fake.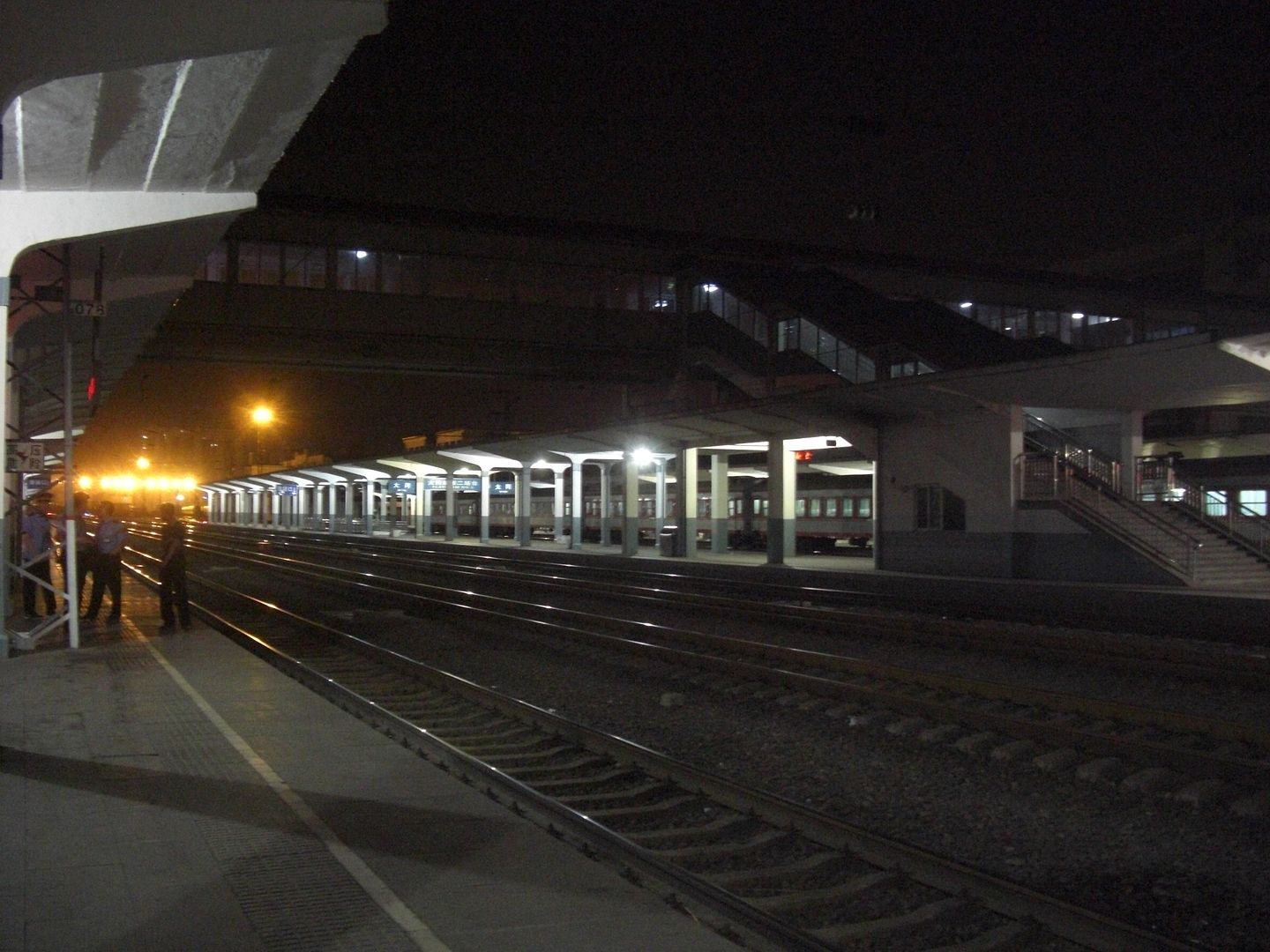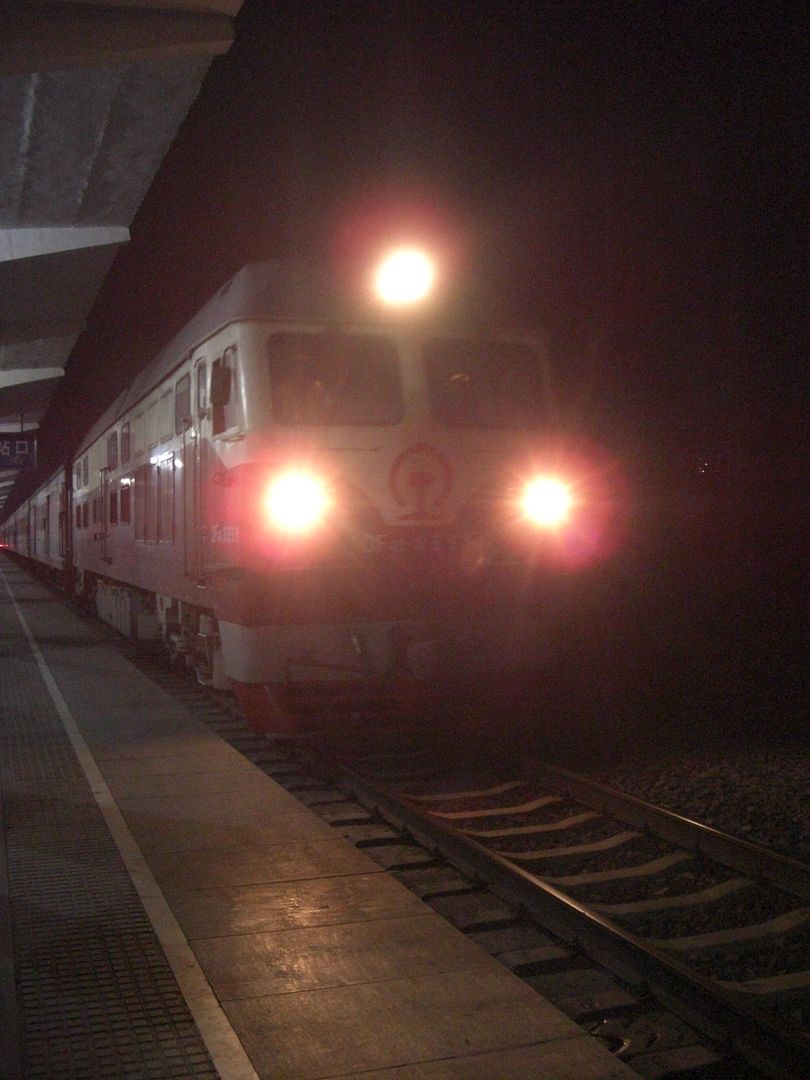 Luckily, the ticket wasn't a fake, and I made it unscathed to Beijing West Station bright and early the next morning. A few photos from the taxi ride to my hotel, via Tiananmen Square – another beautiful morning in Beijing.
With some relief, I climbed into bed at the hotel around 0550, and slept for a few hours
I spent a very pleasant day in Beijing, catching up with some old friends for lunch, doing some retail therapy in Sanlitun, then going to a friend of a friends birthday party in Wudaokou. I managed to get back to my hotel around midnight this time, so I didn't have too rough a morning the next day.
After a tasty complimentary breakfast at the hotel, I grabbed a cab to take me to the airport. We passed the Lufthansa Centre on the way (home to quite a few airline office, the Kempinski Hotel, and a mall).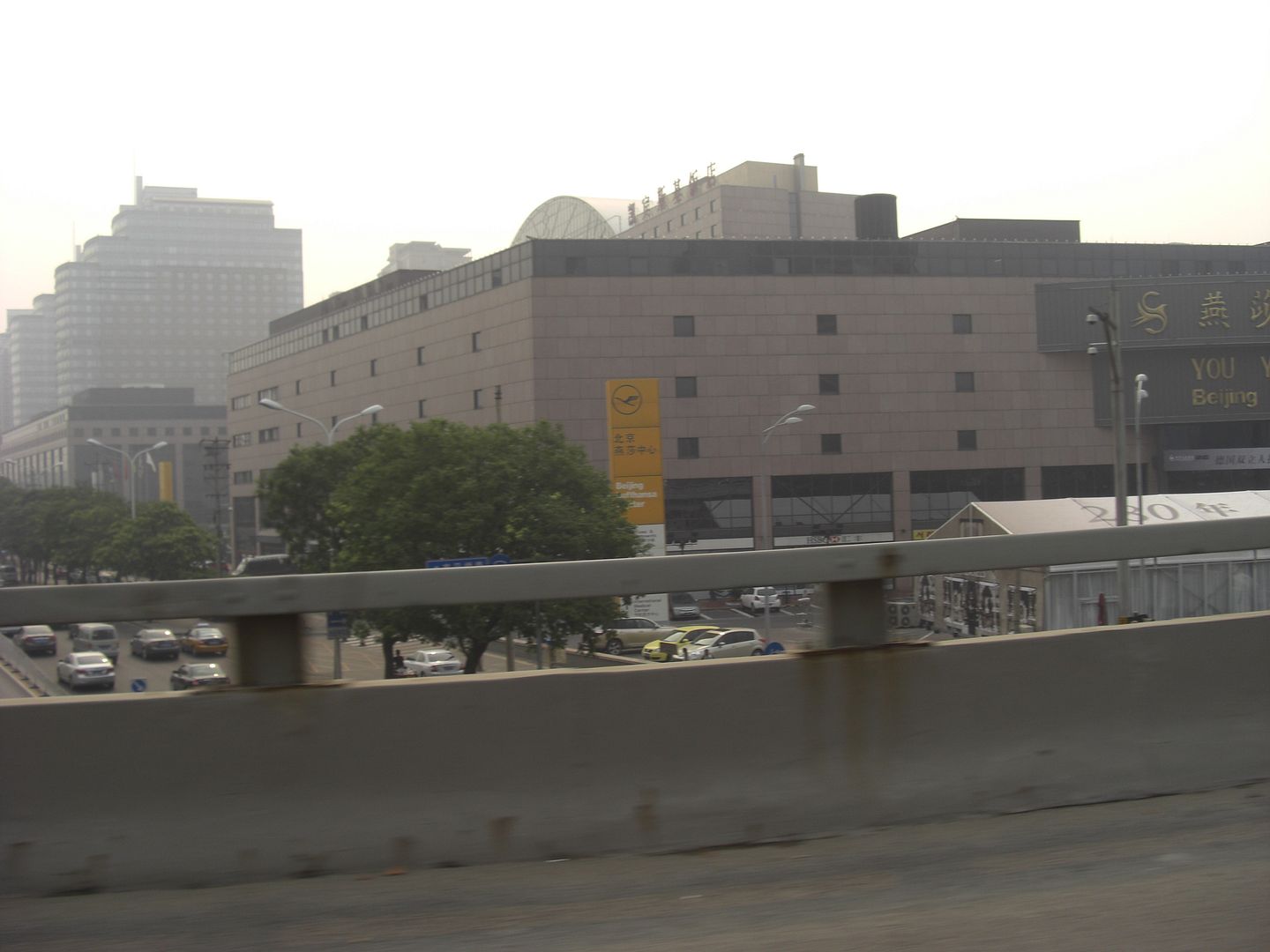 Approaching the terminal. I arrived just over an hour before the flight.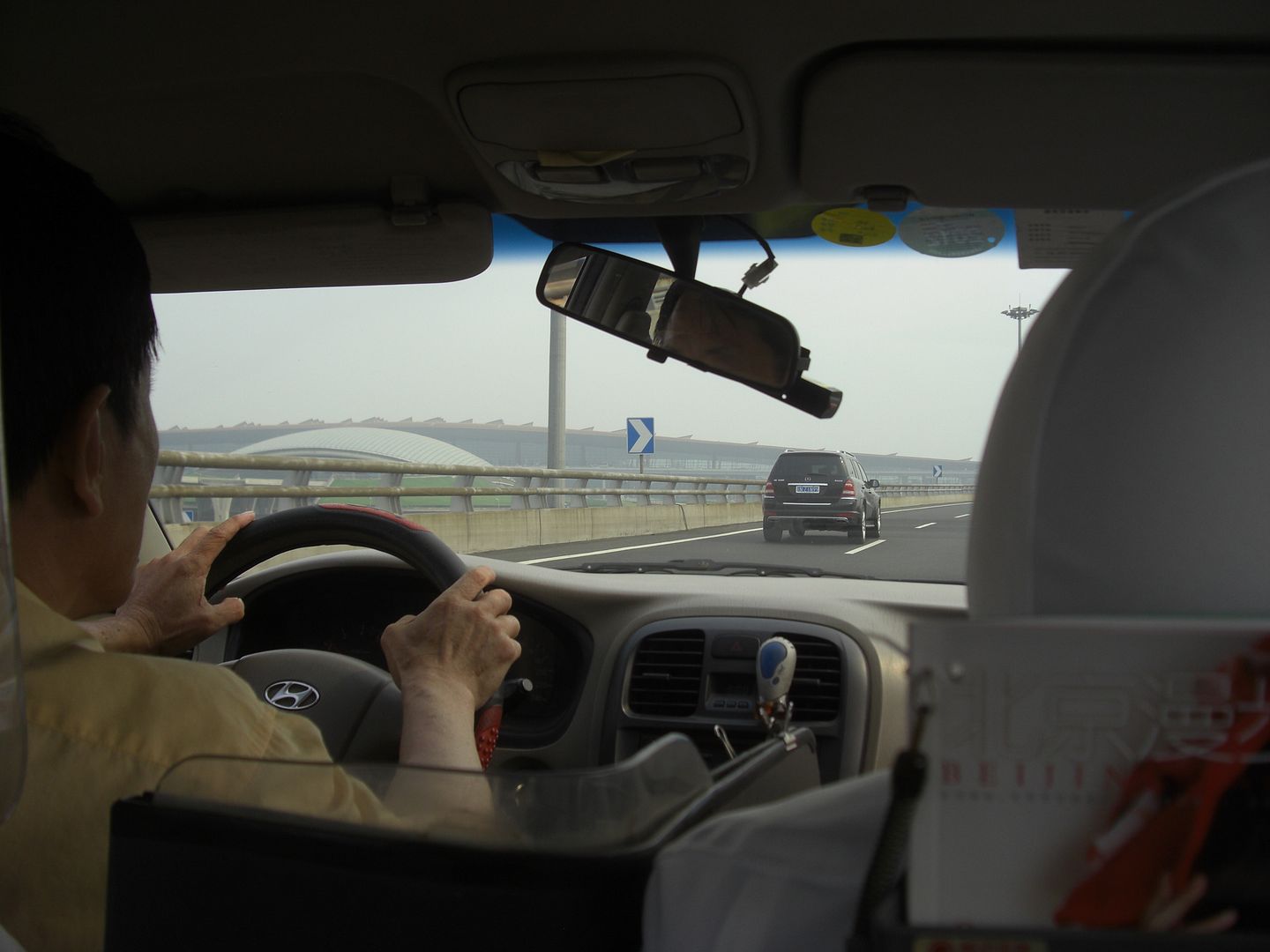 Terminal 3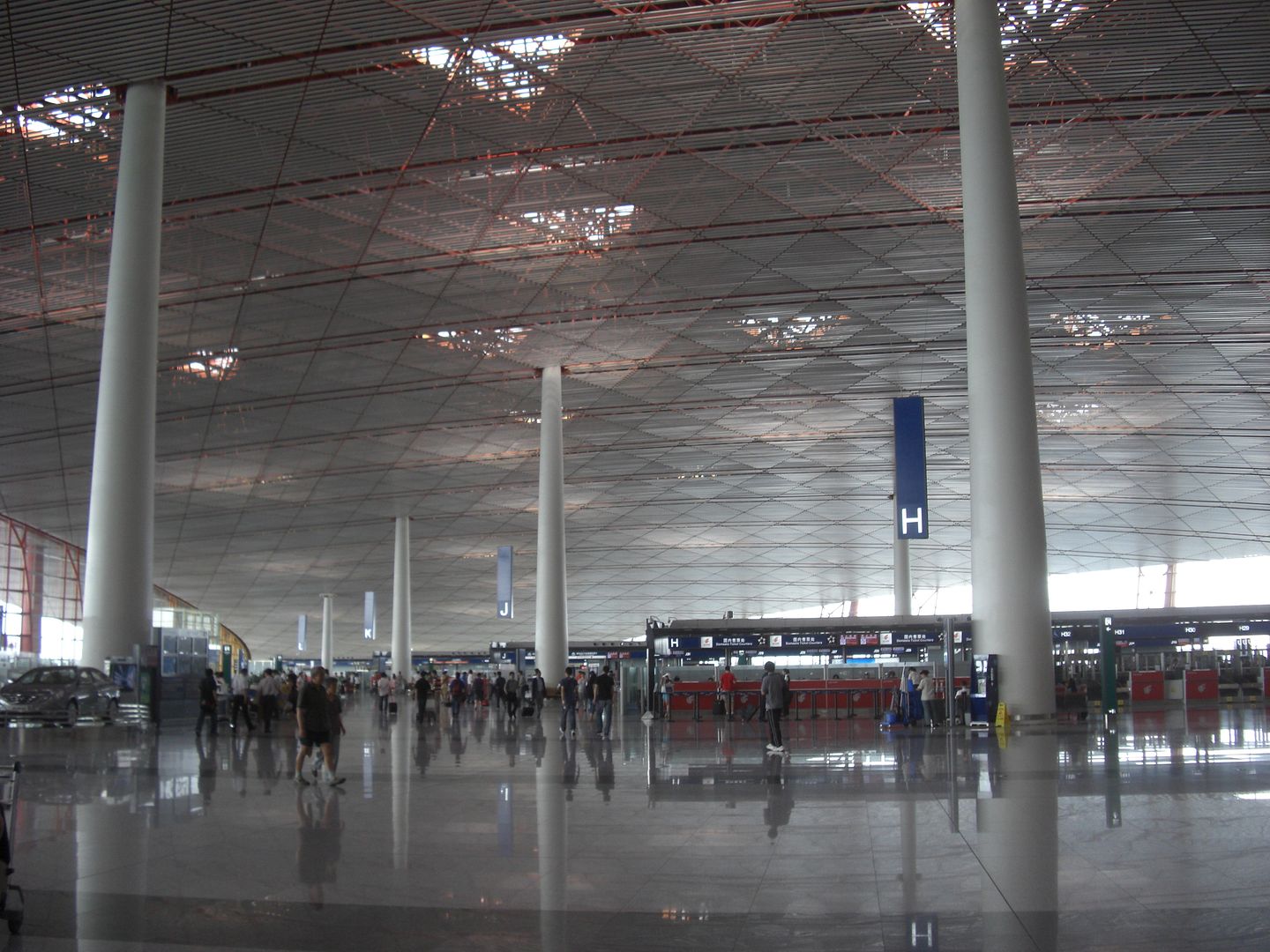 When I originally booked these flights, I went online to reserve specific seats. The front section of the A380 was all blocked out. I gave LH a call, and was told that these were only for Star Gold, until online check in, whereupon anyone could get them. I dutifully waited until T-24, where the seats were still unavailable (but check in was open). I waited another hour (T-23) when check in should officially open, and the seats are still unavailable. I give LH reservations a call, who say that the flight is under airport control. I call the airport, who say that as LH Silver I can get those seats through online check in (which I can't). The lady then says that they have no control between T-24 and departure….. what? So no one has control in the last 24 hours? Confusing, and annoying. I ended up sticking with my original seat, and not checking in online.
I headed off to find the check in desks to get my boarding pass and tags my bags. As I'm a LH Silver, I could use the Business Class desks. The lady there wasn't very friendly. I asked if it was possible to upgrade to business, but was told that my fare class was too low to be upgraded – shame. My boarding pass showed No. #473, my highest ever sequence number. With a maximum 526 passengers on the flight, it seemed the load was pretty good. I didn't actually see any free seats in Y, but maybe upstairs there were some empty seats.
FIDS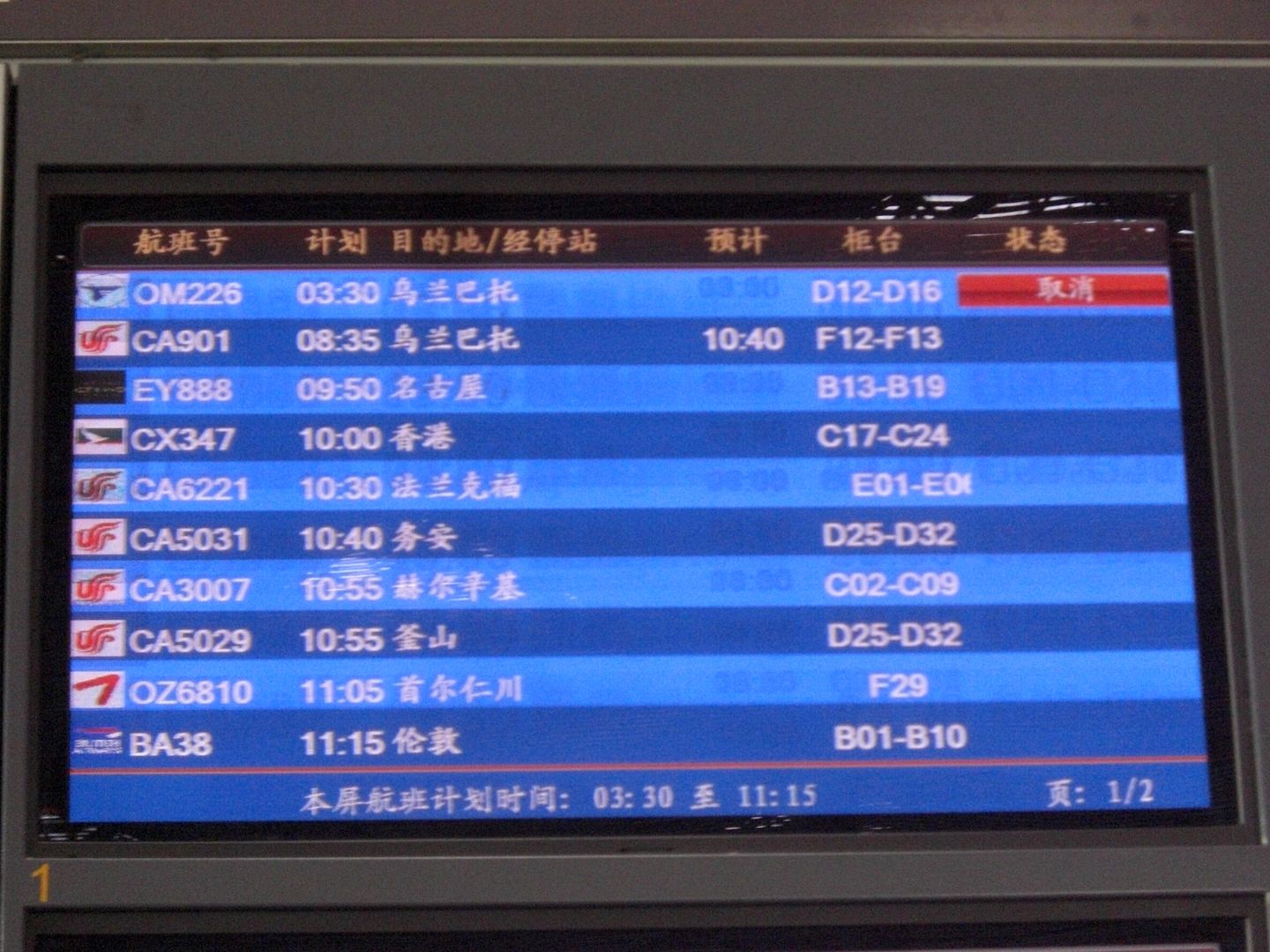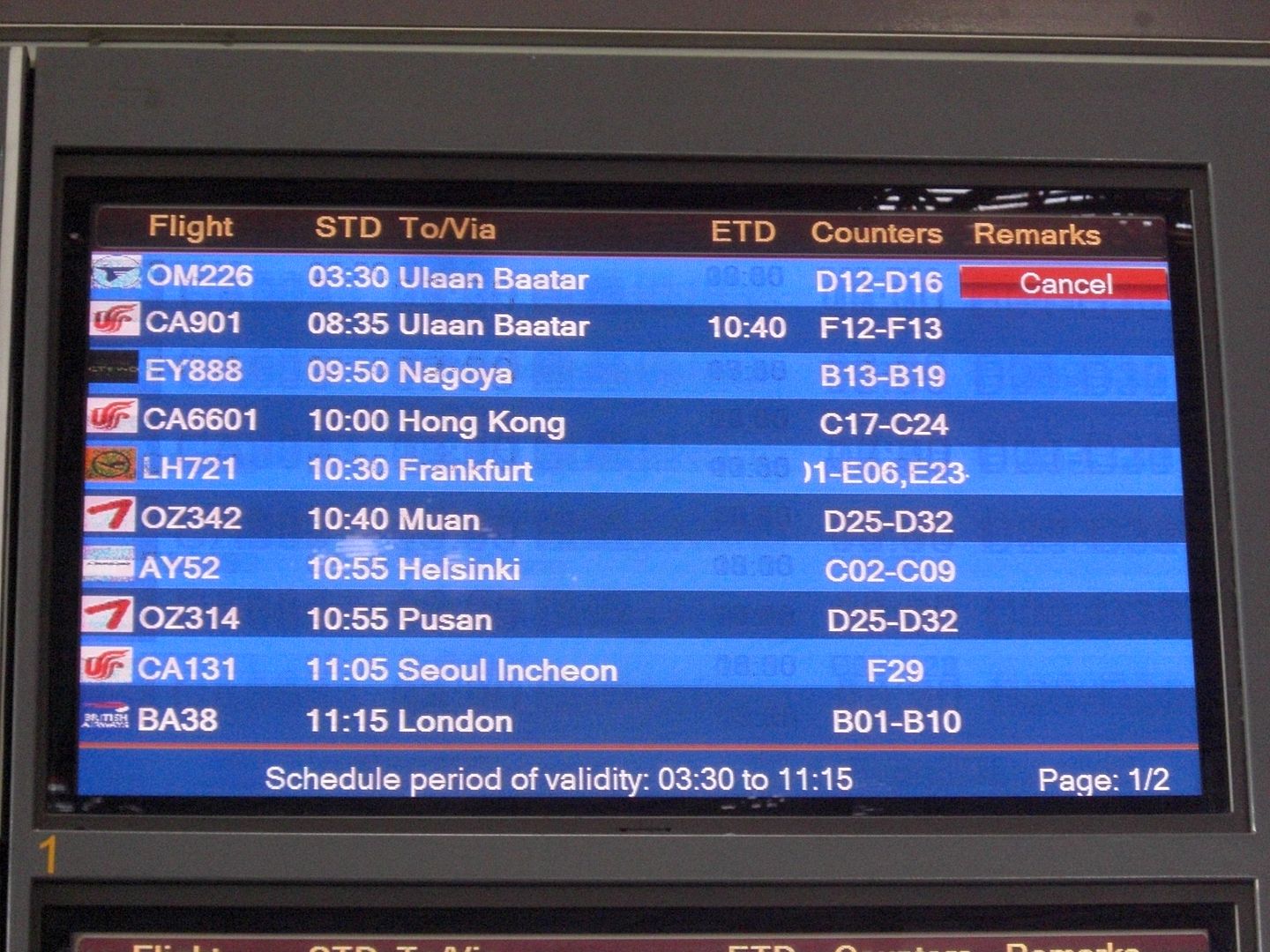 I had my boarding pass checked, then was sent down to the terminal transit train (all international flights leave from the far satellite). I have flown in and out of T3 many times, but never outbound internationally. Security and passport control was carried out fairly quickly at the international satellite.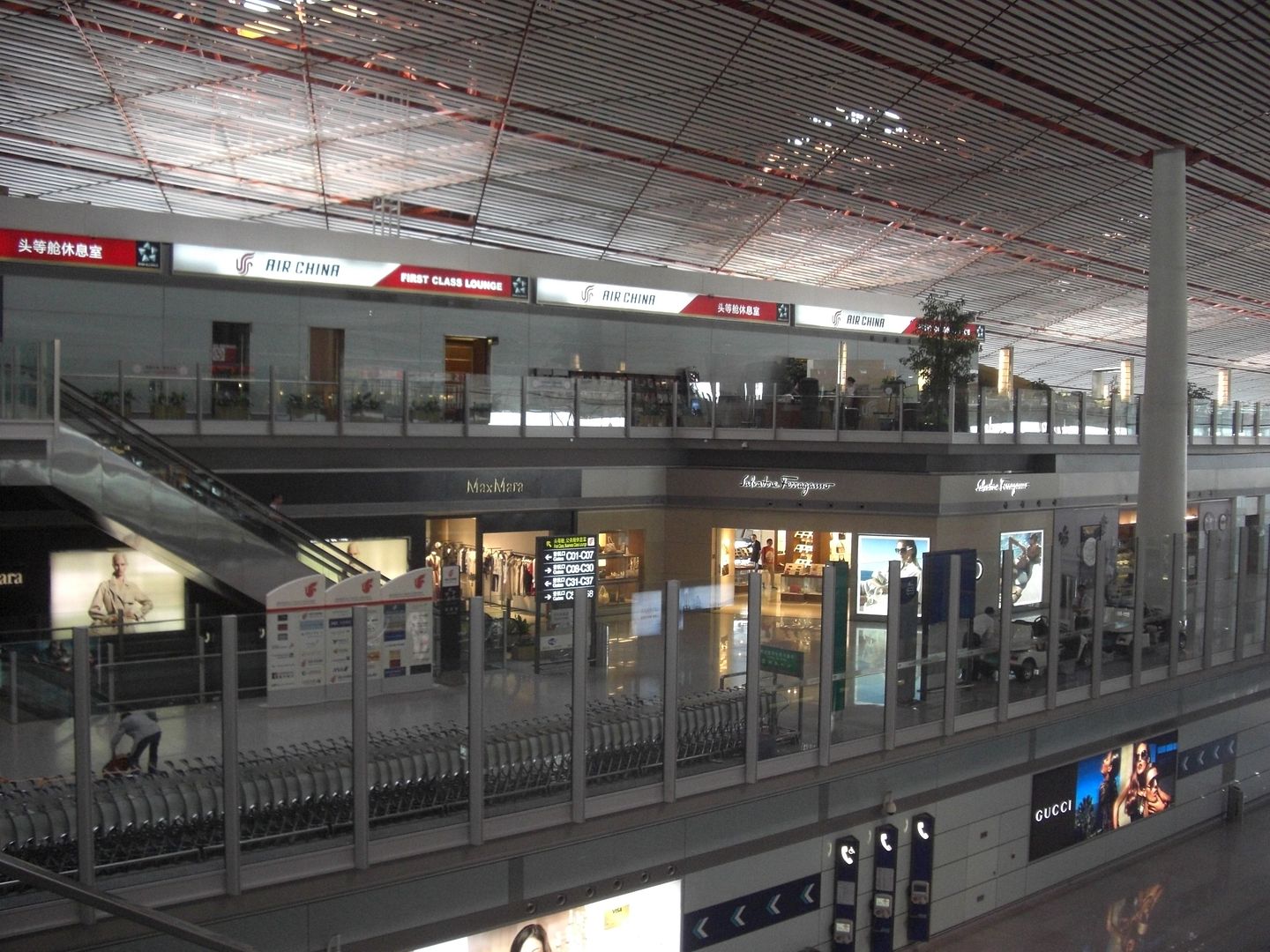 There wasn't a lot to do or see in the terminal, so I just walked around a bit. Bizarrely, there were around 5 stores of Cathay House, selling a range of useless items. The terminal could really do with a slightly wider range of shops.
FIDS in the satellite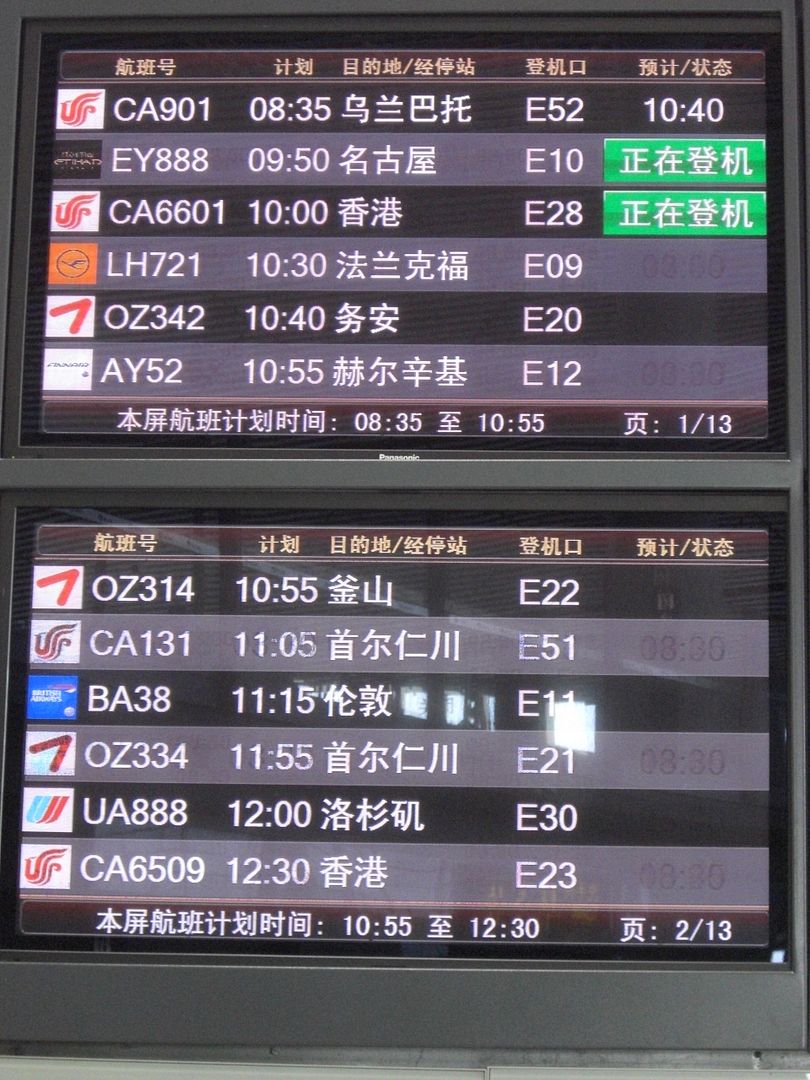 Views from the terminal. The EY aircraft was heading on to Nagoya – I didn't know they routed AUH-PEK-NGO.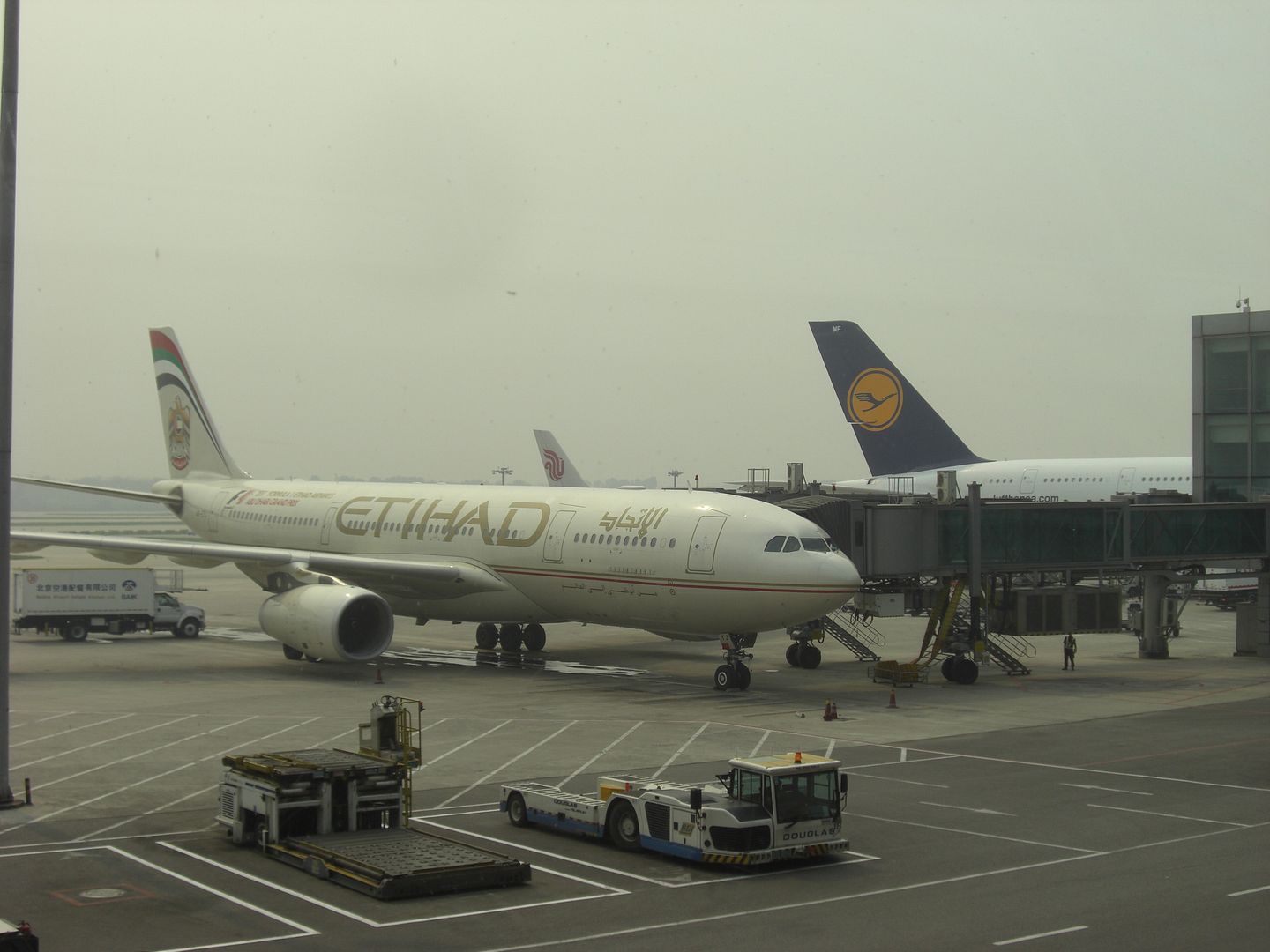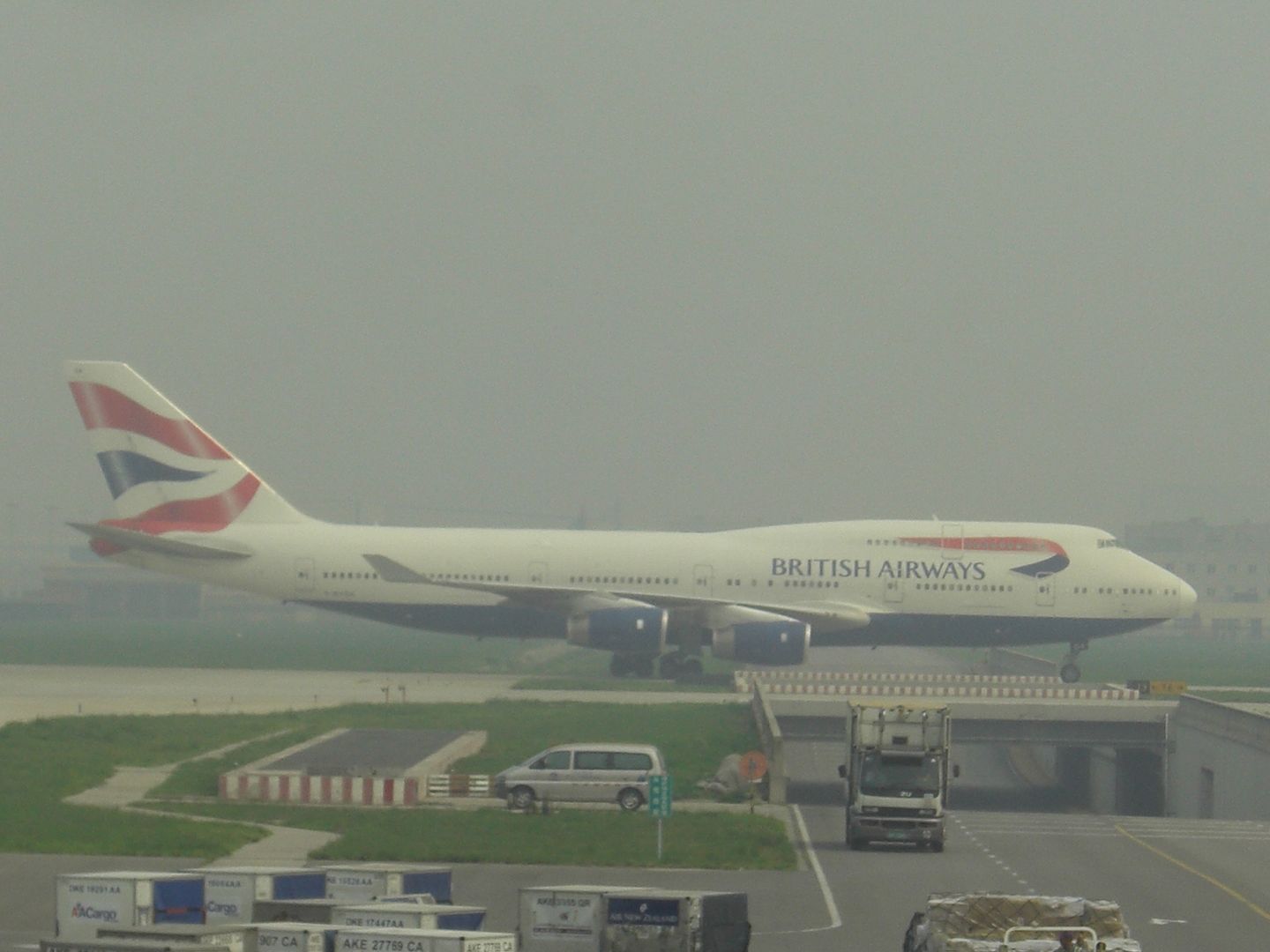 Food options
As I was walking down this corridor, a tray of food was pushed out from that door. Unfortunately, the trolley clipped the door frame sending a bowl of noodles to the floor. Hope it didn't come out of her wages, or else she'd probably end up owing money for that day.
I was quite glad to see 'Zurich' at the gate, LH's second newest A380 having been delivered just under three months earlier.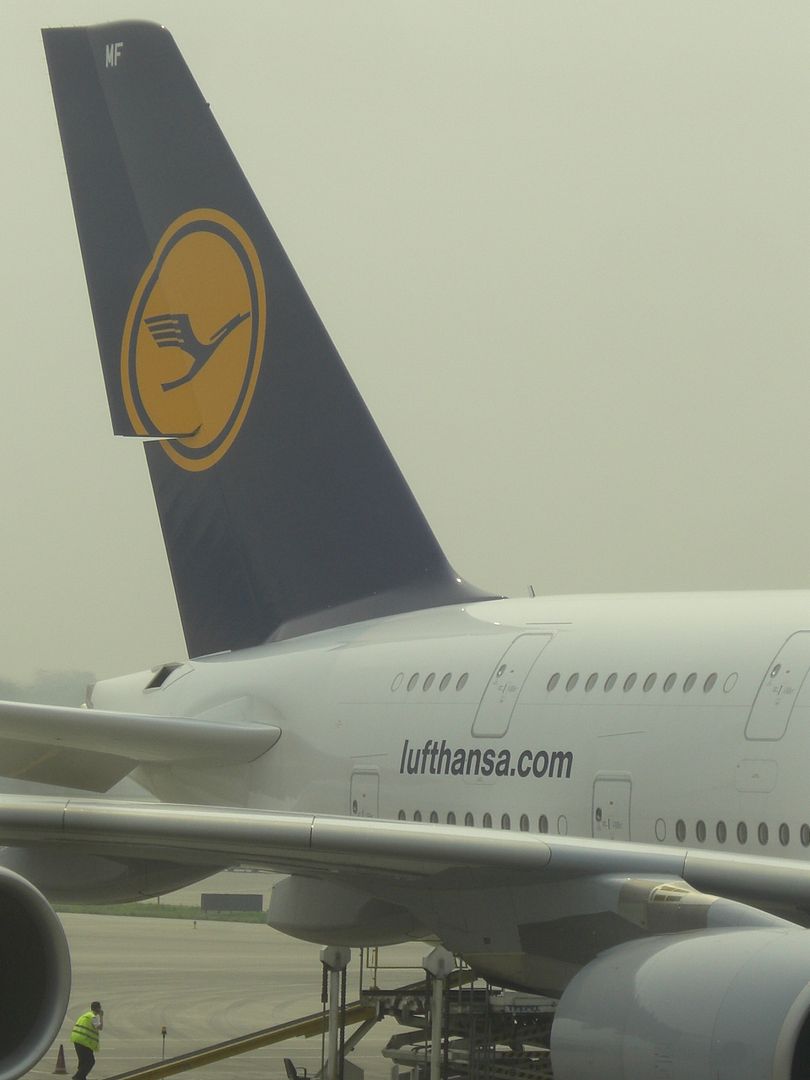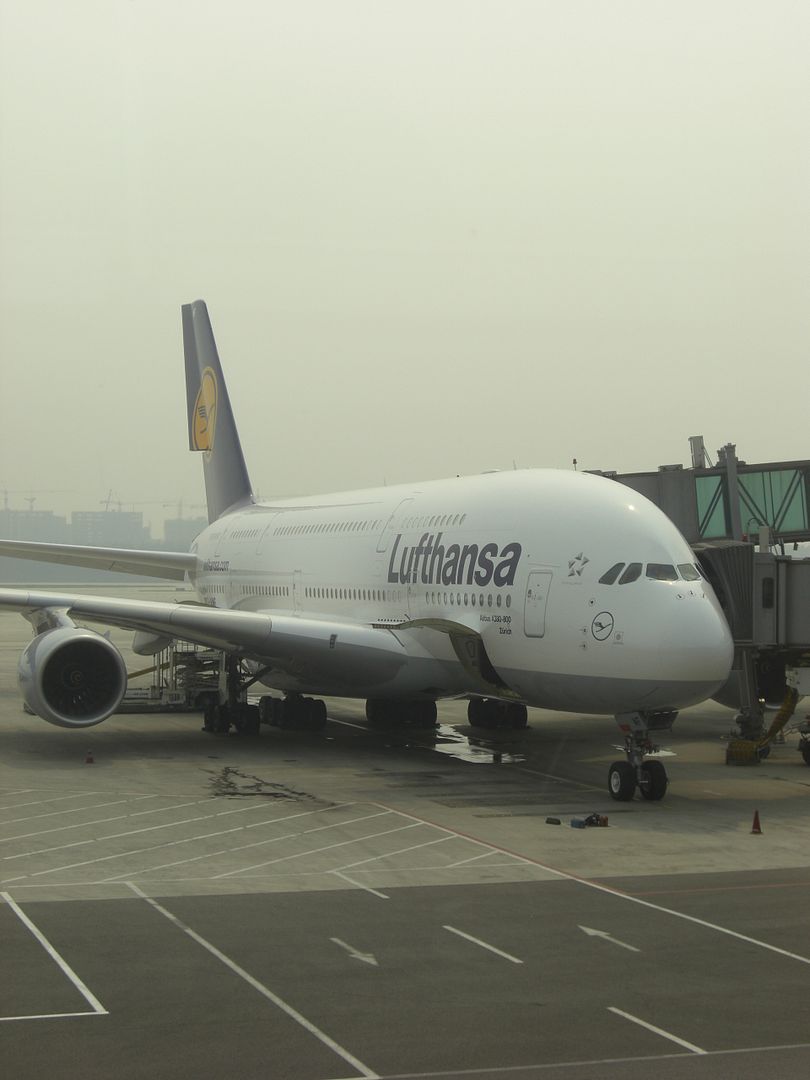 June 2011
Beijing (PEK) – Frankfurt (FRA)
Lufthansa LH
Scheduled: 1030-1440 (10h10m)
Actual: 1048-1410 (9h22m)
Airbus A380-800 D-AIMF

When I finally arrived at the gate, boarding was just commencing. I joined the Business class line, and was thorough in a few minutes. This lady with the camcorder was so excited she went the wrong way
Boarding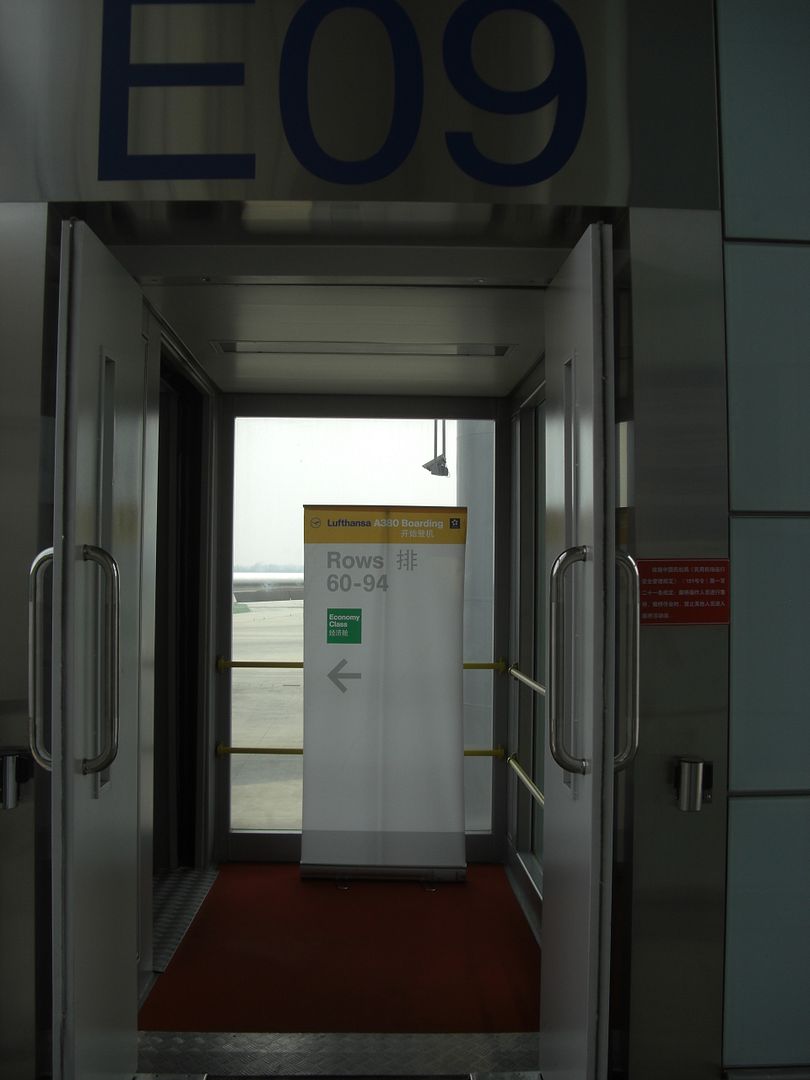 I was one of the first passengers to make it to the rear section of the Beast, so managed to get a few photos.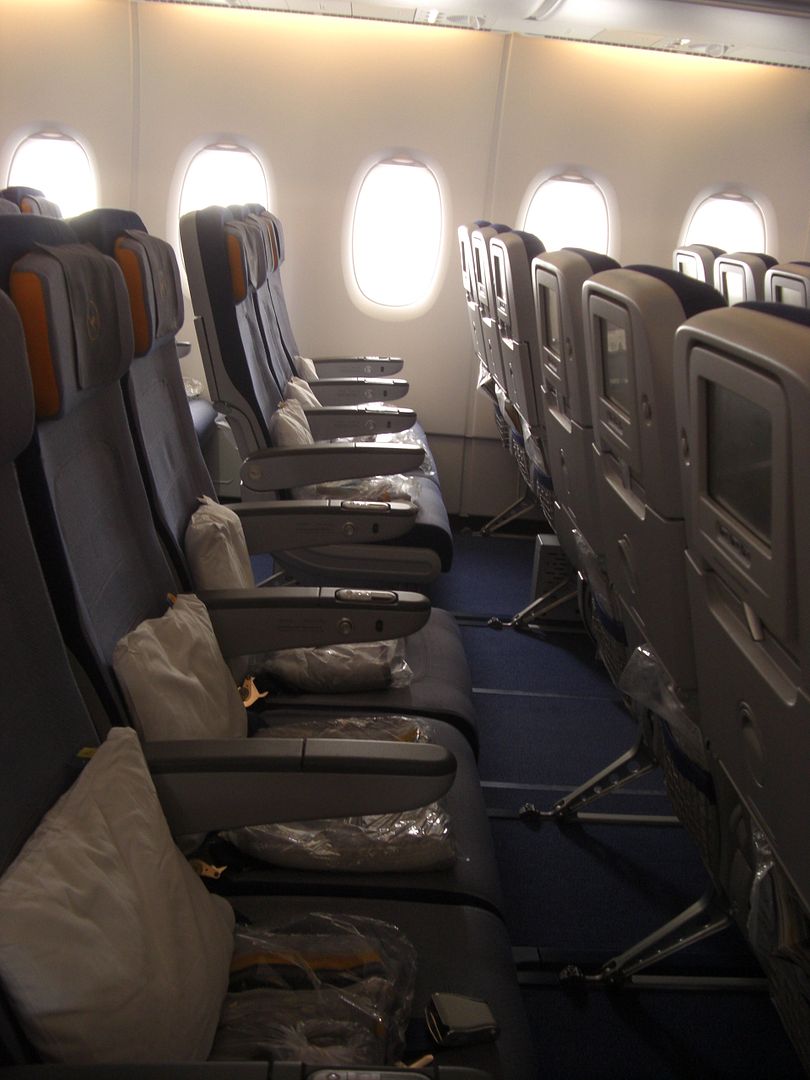 As I passed the penultimate galley, I asked if they had any small bottles of water onboard. I was told that there weren't, but she would get me a glass of water.
Legroom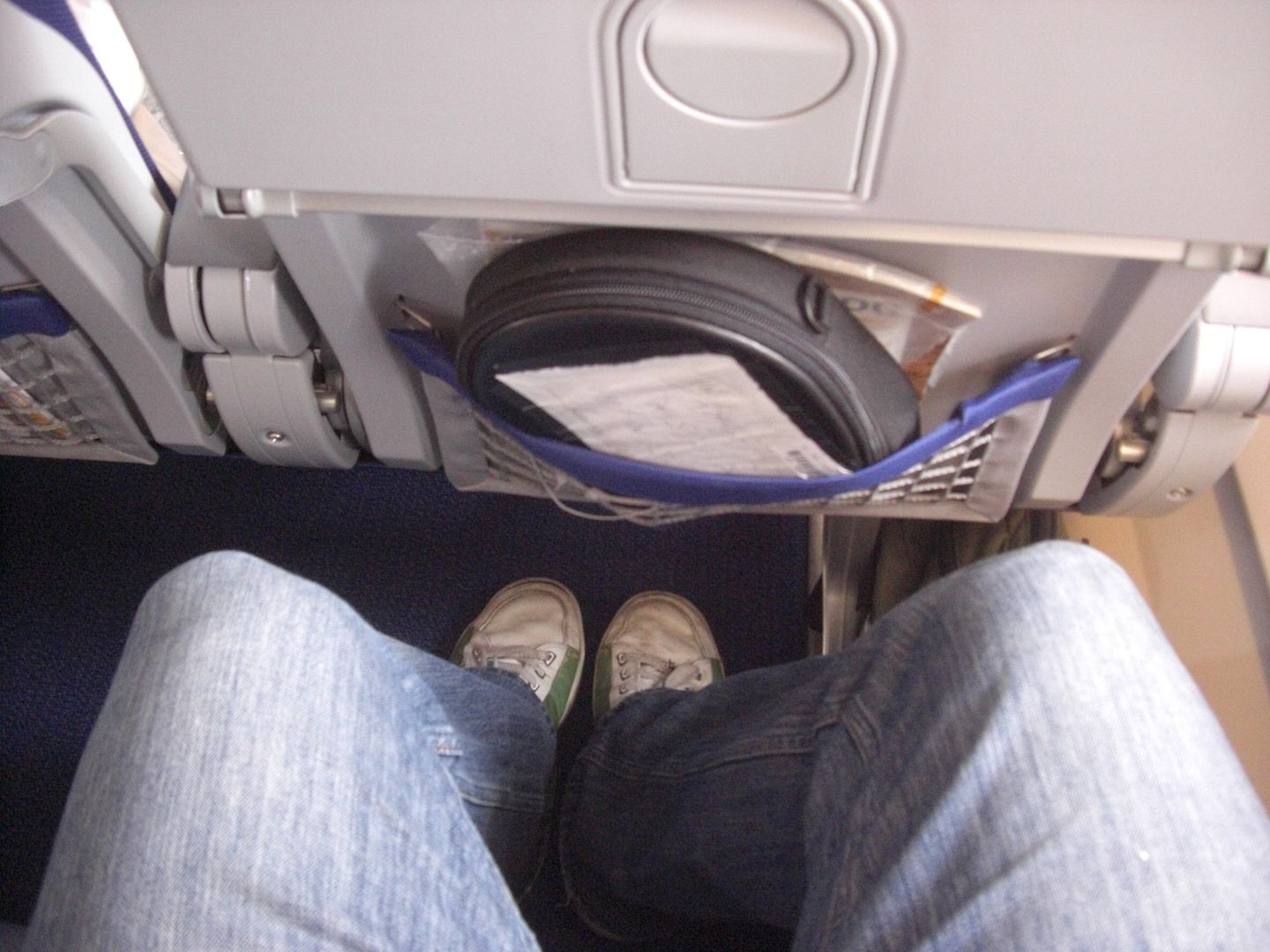 IFE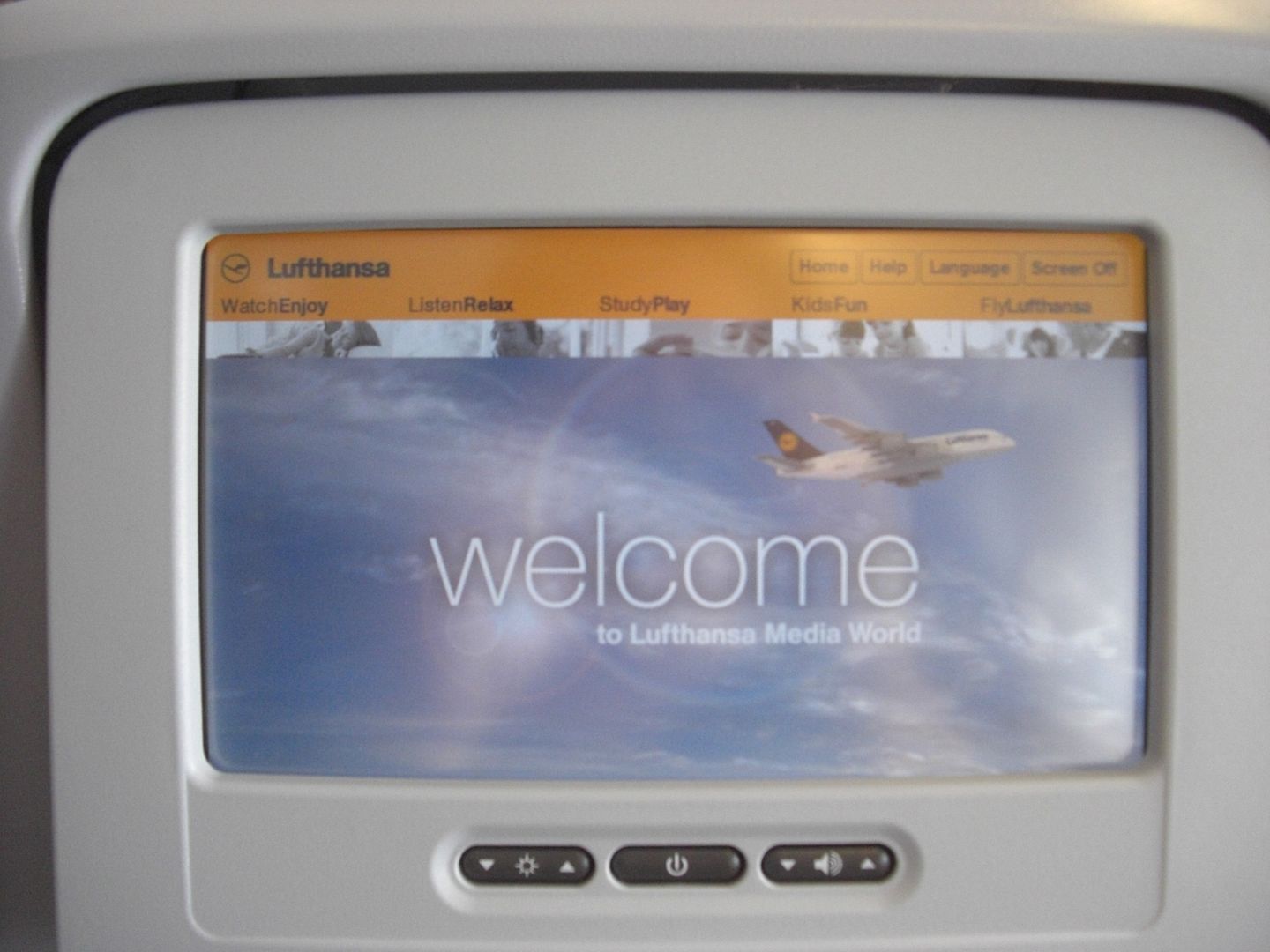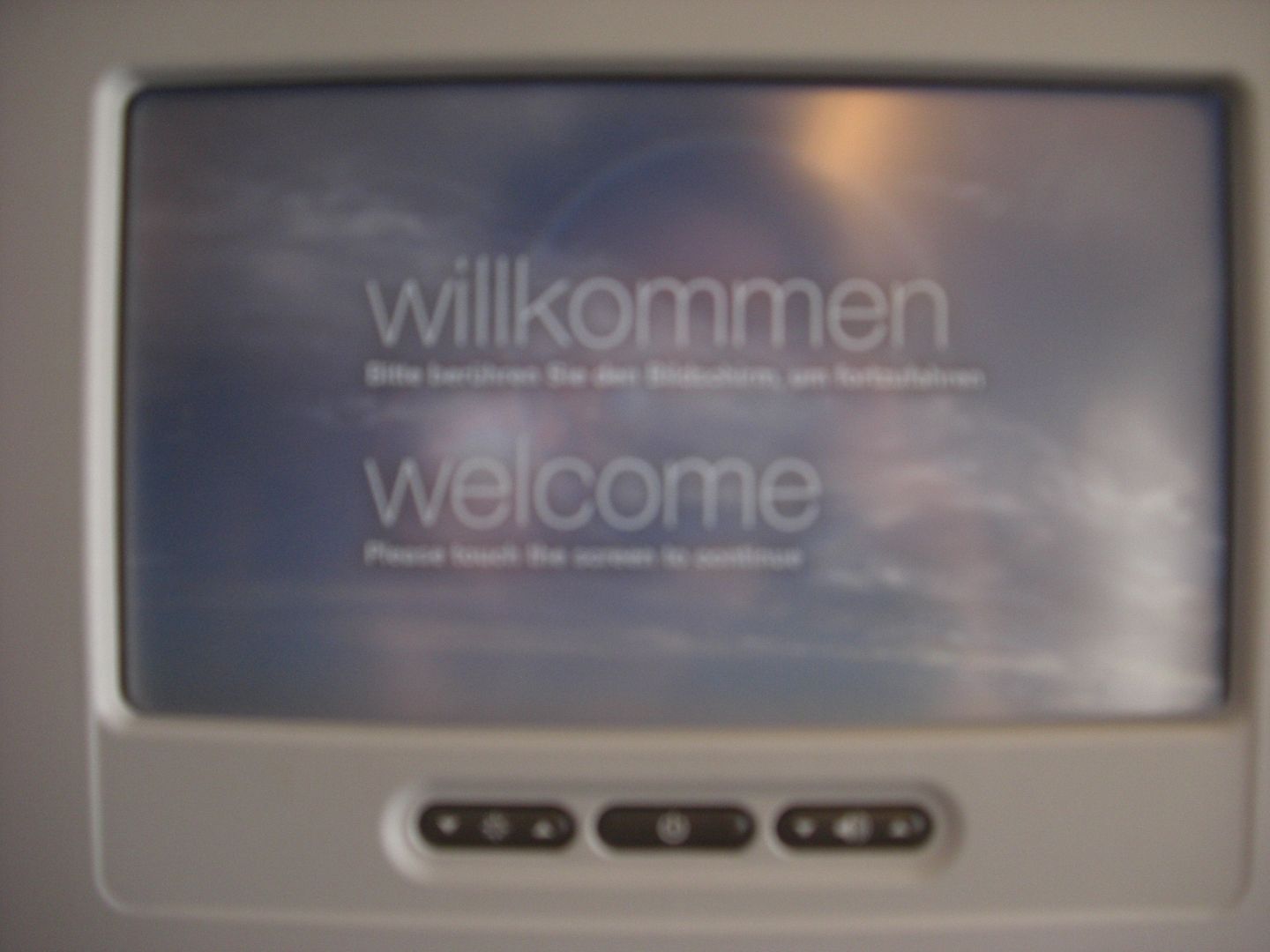 The neighbouring flight to London. I swear that I saw that same AY aircraft in HKG, NRT and PEK.
Safety Info
Boarding took quite a while, and the rear section was filling up very slowly. I was hoping to have a bit of space top spread out in. However, a group of Chinese school kids (around 16 years old, all in awful Chinese tracksuit uniforms) boarded, filling in all the empty seats in the rear section. Grrrr. Thankfully, the kids were great. They were quiet, and accommodating. I'm surprised that the group organiser (or LH) hadn't arranged for group seating. It seemed very strange that they were randomly seated throughout the cabin. I had a boy and a girl sat in the middle and aisle. I chatted with them a bit during the flight. They were enroute to Sweden (ARN) for 2 weeks. I was unable to establish (maybe they weren't sure either) what exactly they would be doing there. They didn't speak any Swedish! There was one FA who was very good at getting them all seated (I don't think many had done a lot of flying before), and chatting to them. I don't think many other European FAs would spend time chatting to Chinese teenagers!
Tail mounted camera
We were welcomed aboard in German, English and Chinese. Amusingly, the purser informed everyone that we were flying on a "new A380, named after Zurich, the capital….er….um….city of Switzerland". He didn't correct himself!
Passing the terminal
This guy ran down the steps of that B737, and started snapping away – I think the serendipitous timing made his day!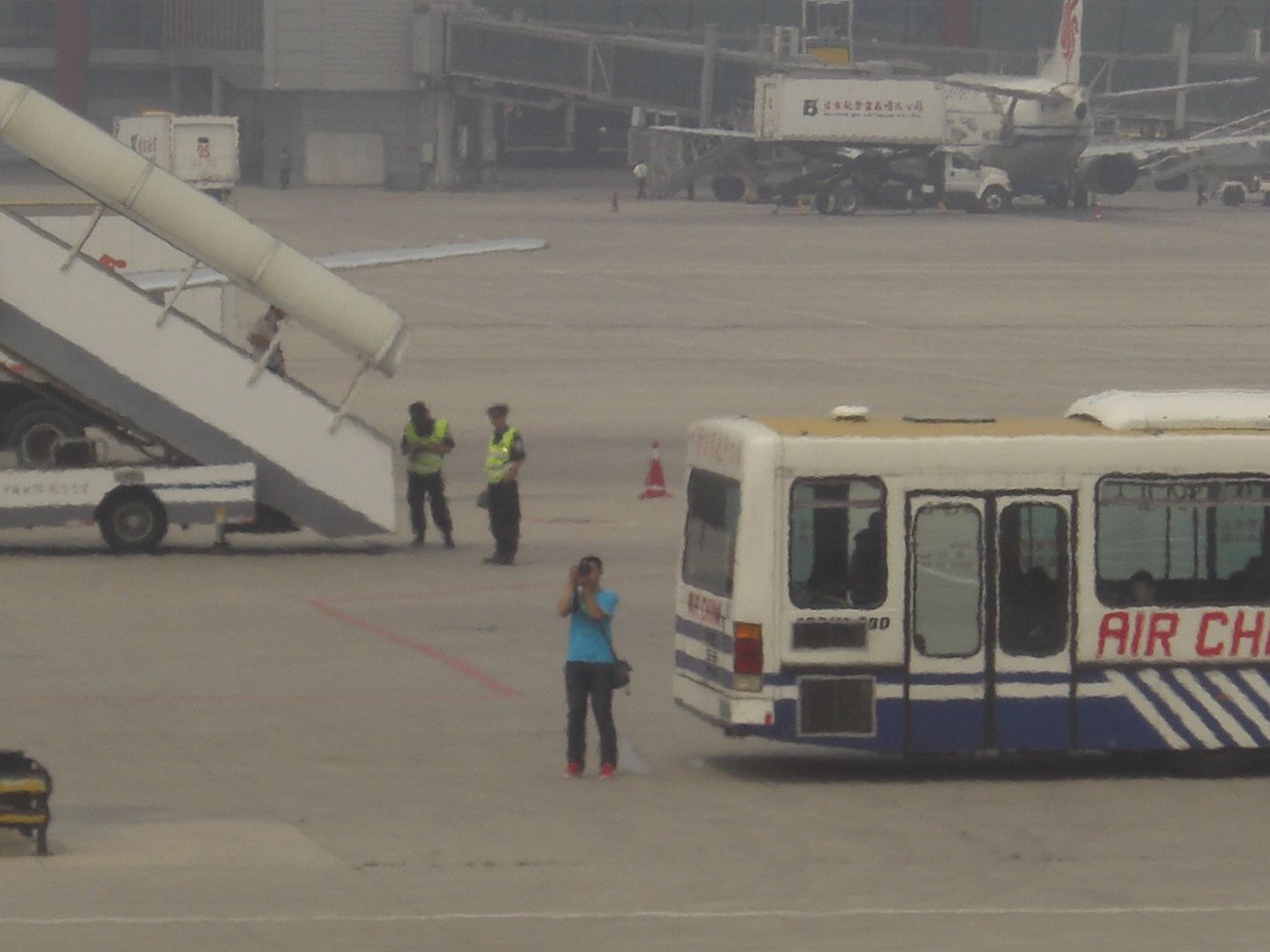 Onto the active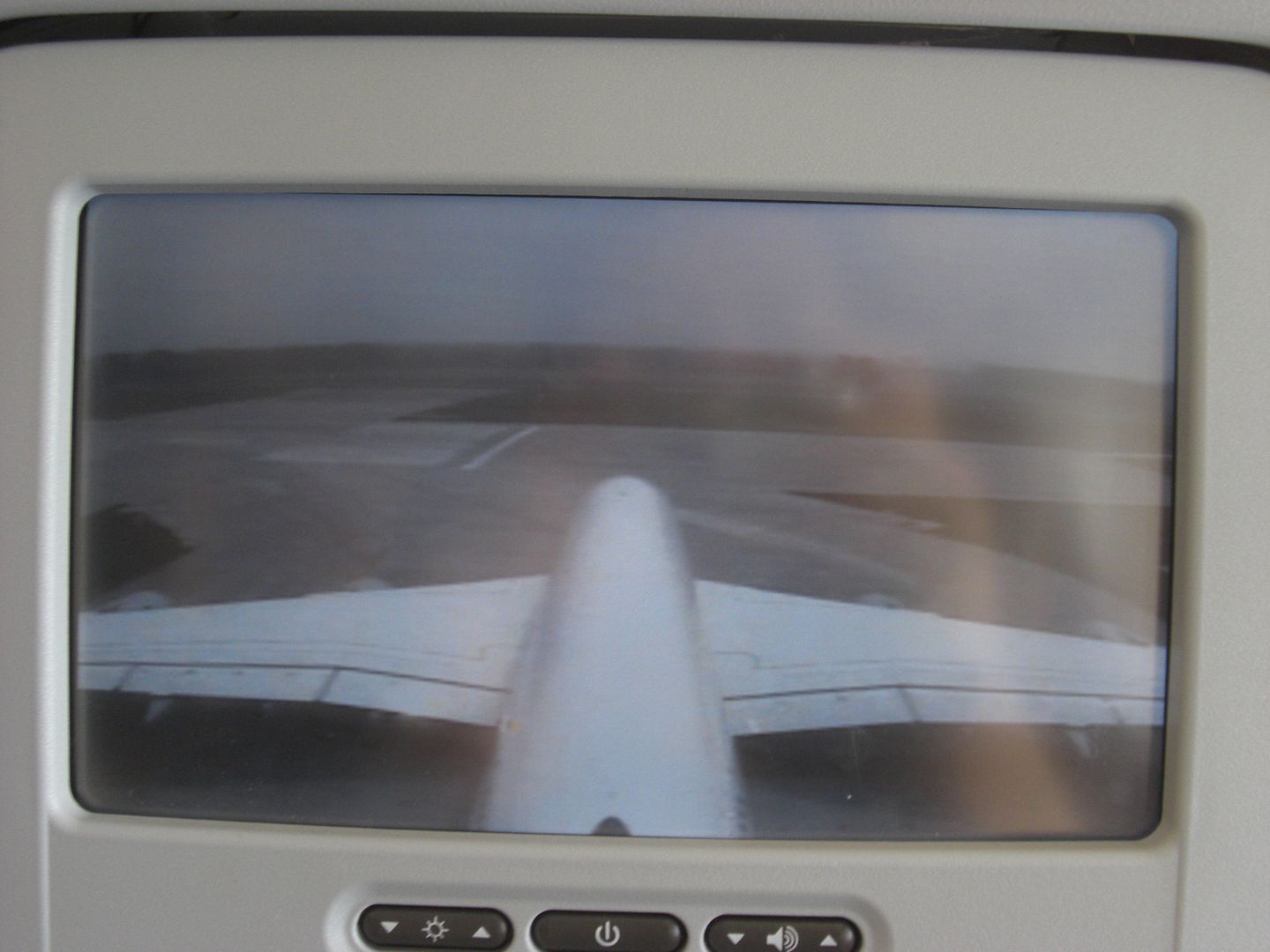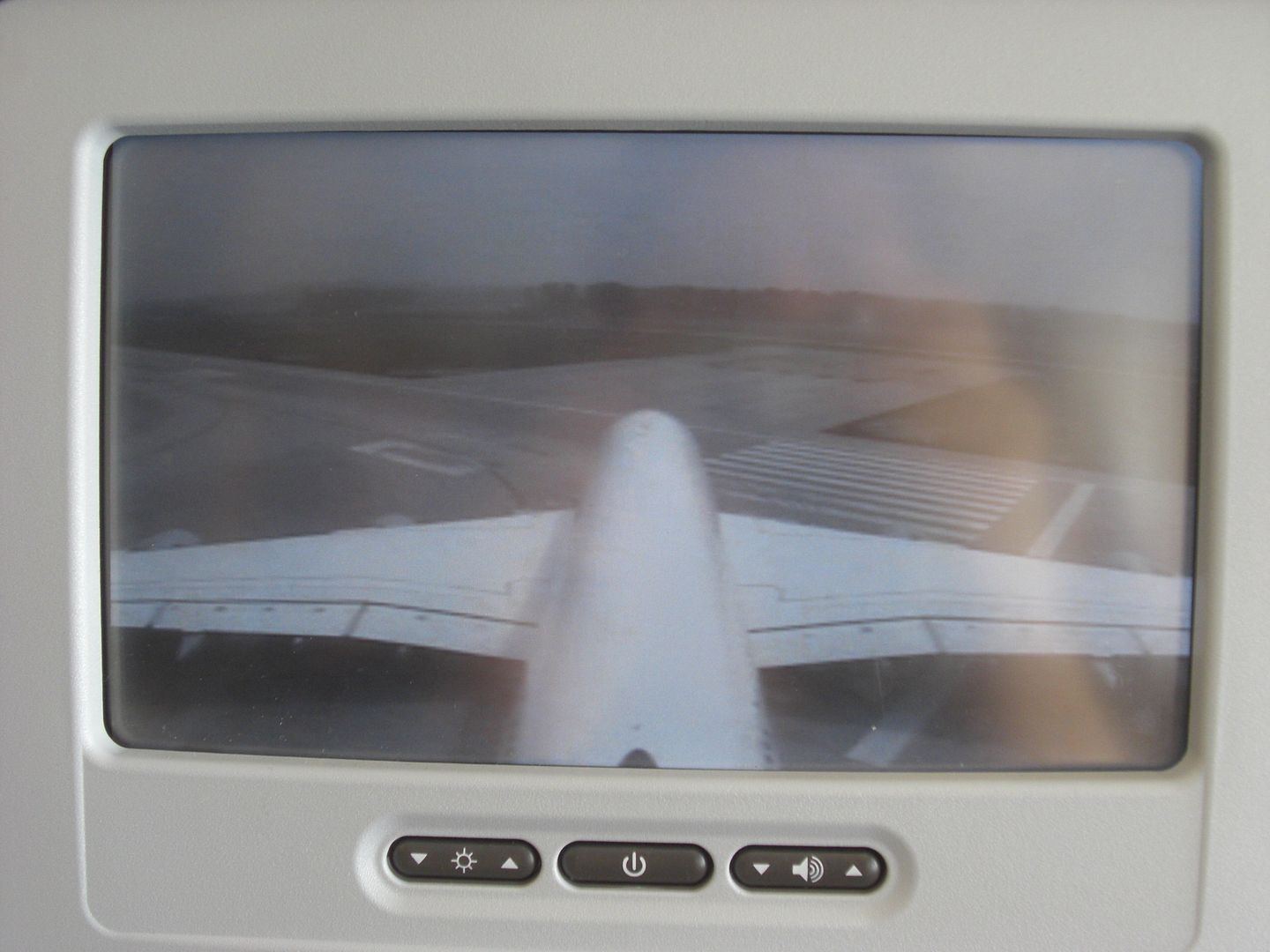 With a fair amount of effort, we took off into a smoggy Beijing sky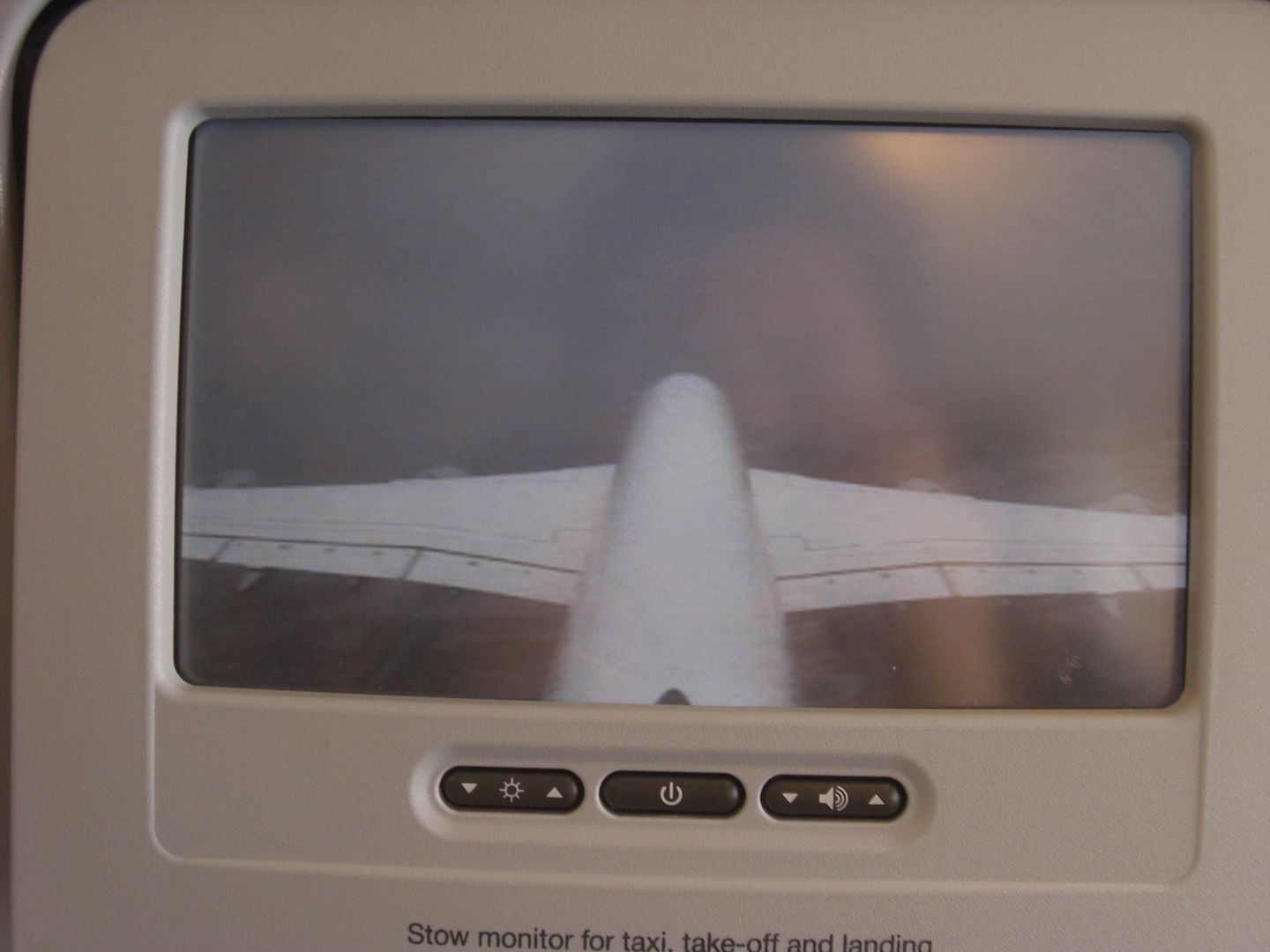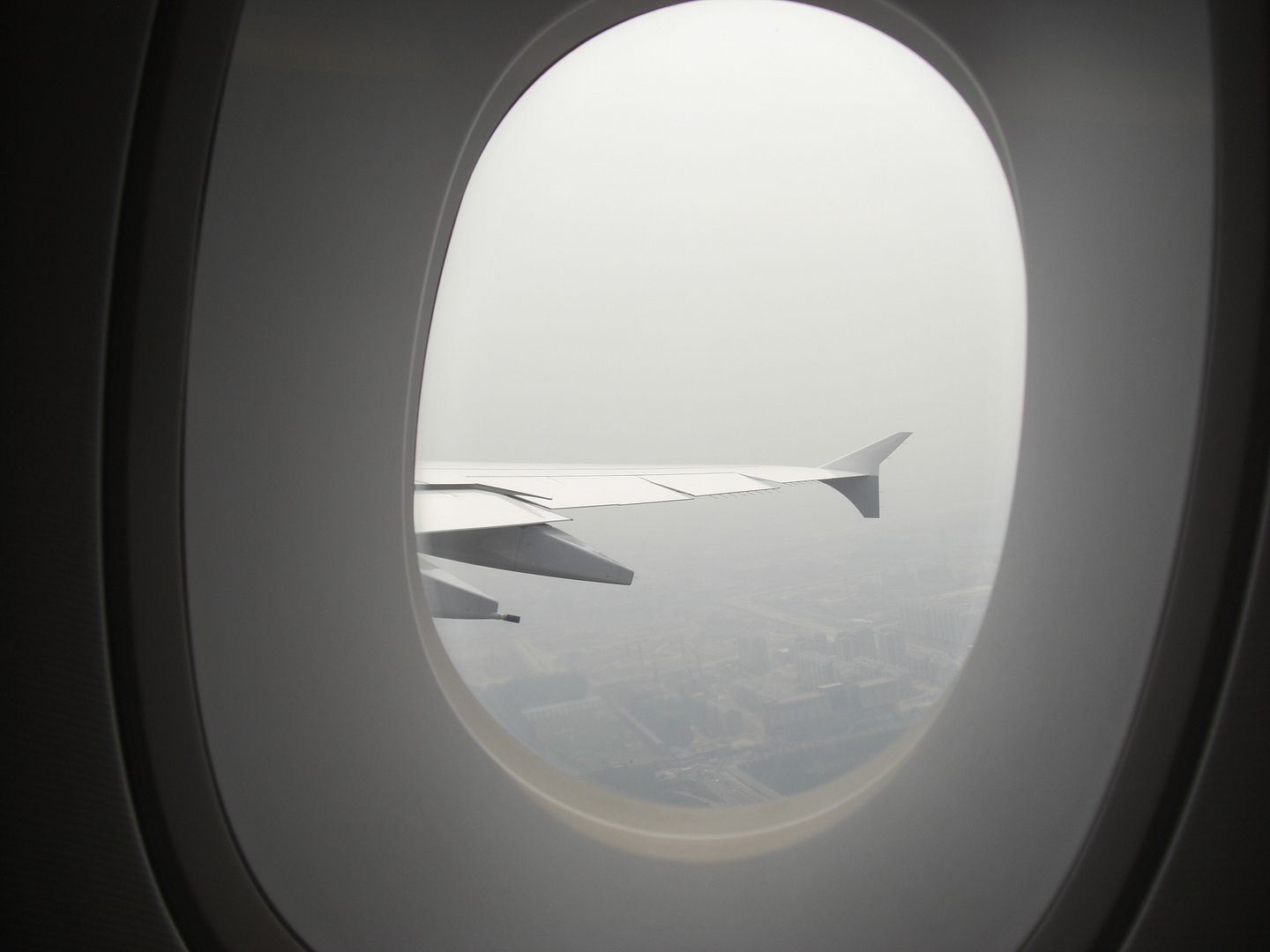 About half an hour after departure, drinks and snacks were served, and menus were handed out. I was very happy to see (given that I was in row 91 of 94), that service started from both the very front, and very back, so I also got a choice of meals, and reasonably fast service.
Views whilst waiting for lunch
Hot towels were handed out
Lunch is served. I went with the stir fried chicken and black bean sauce – no complaints.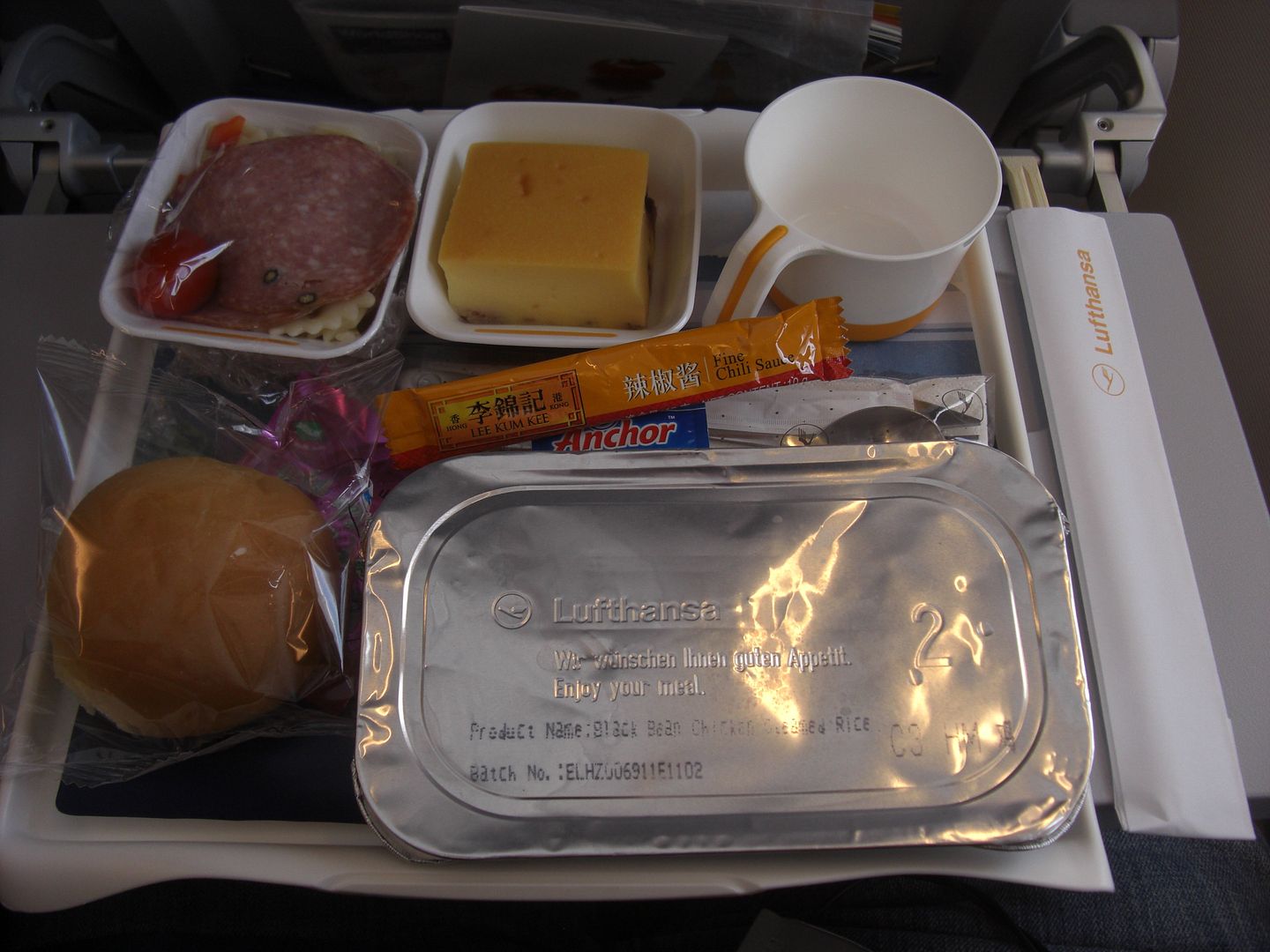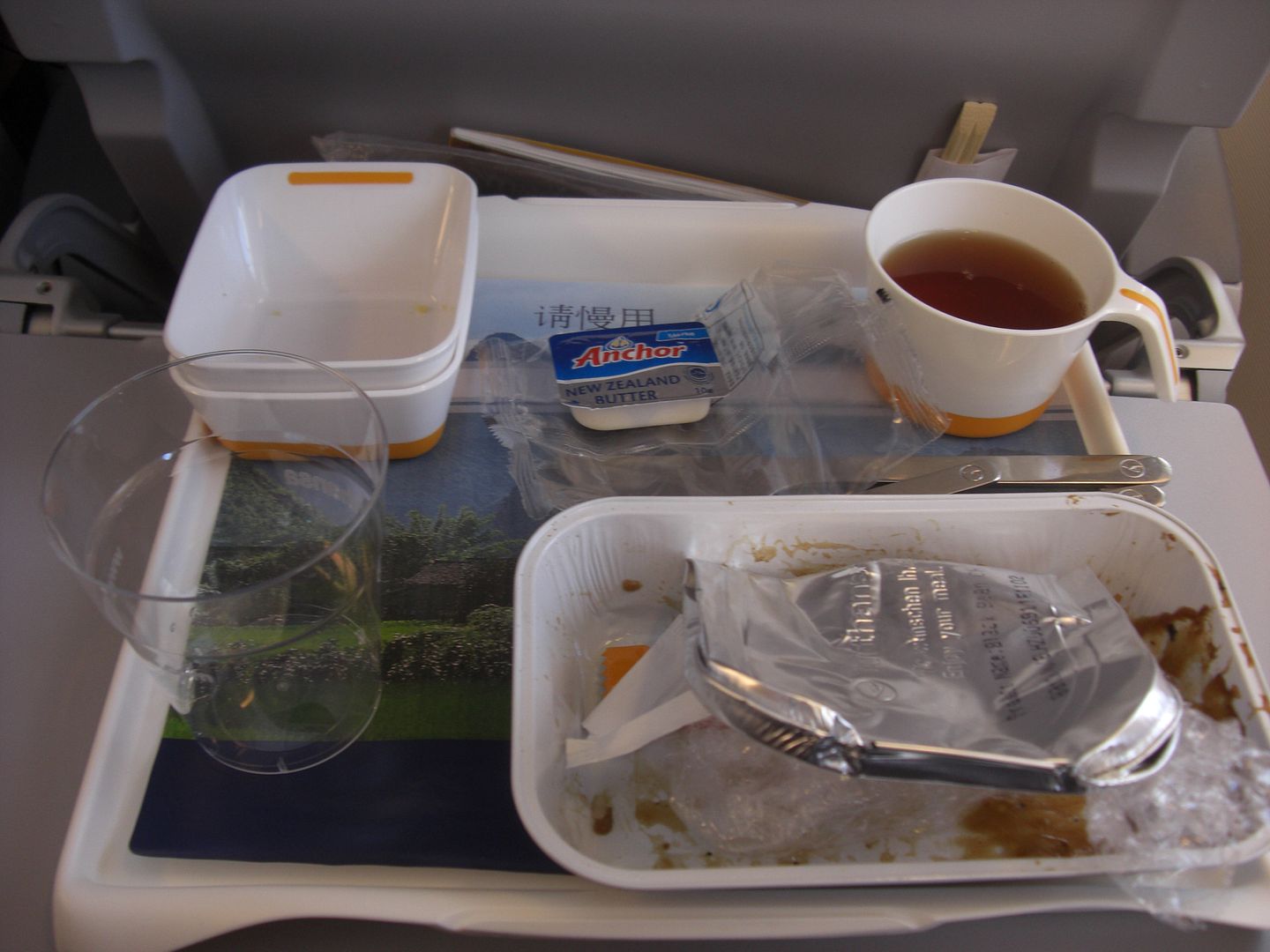 Cabin Views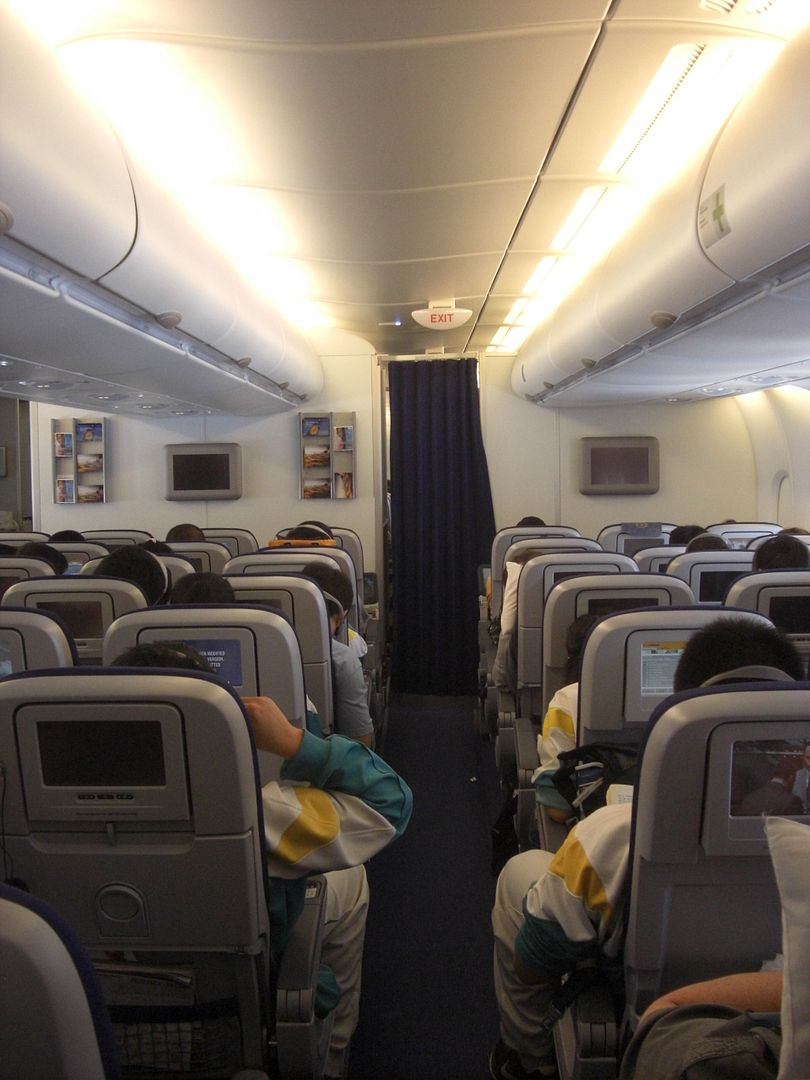 Outside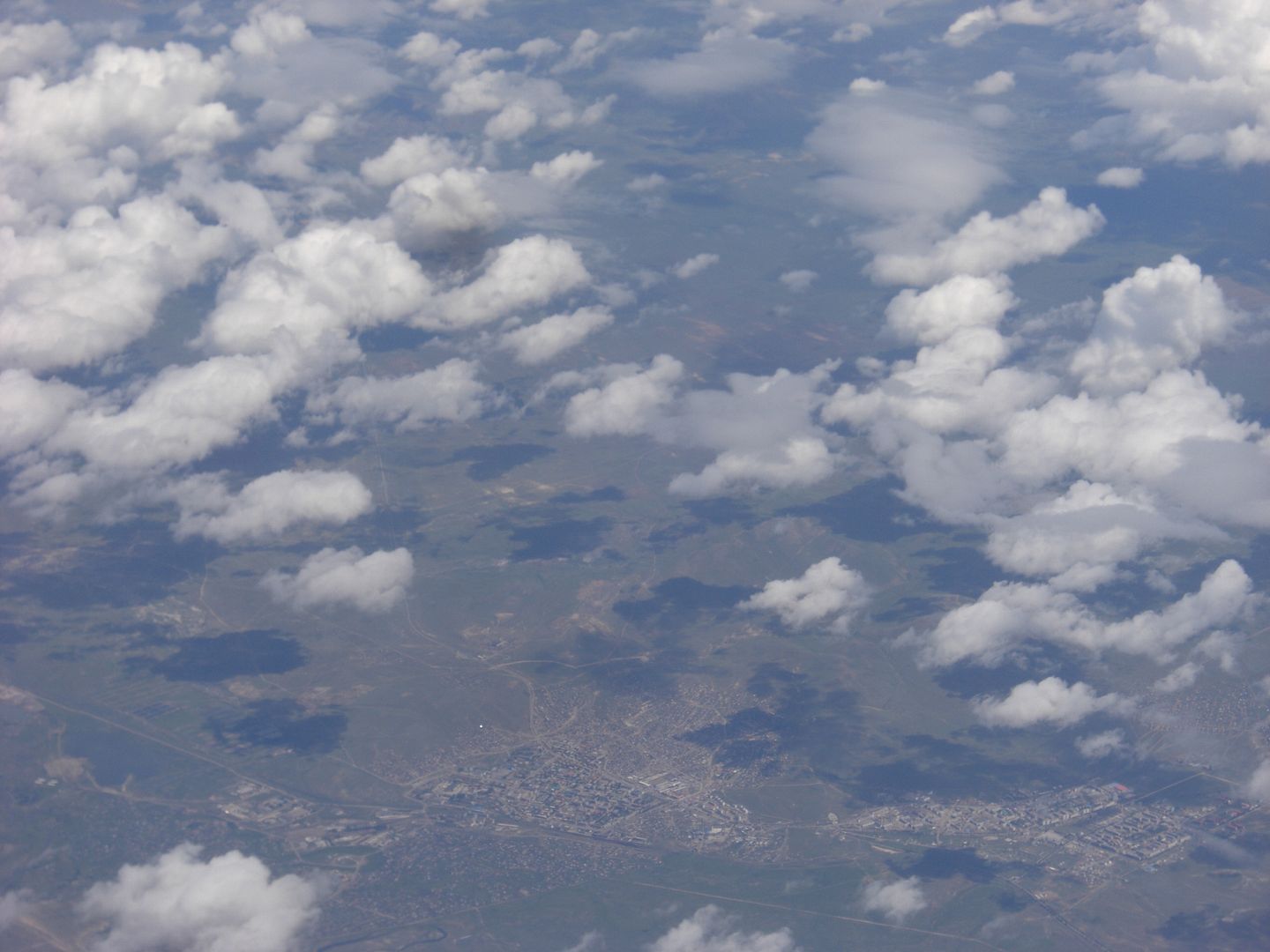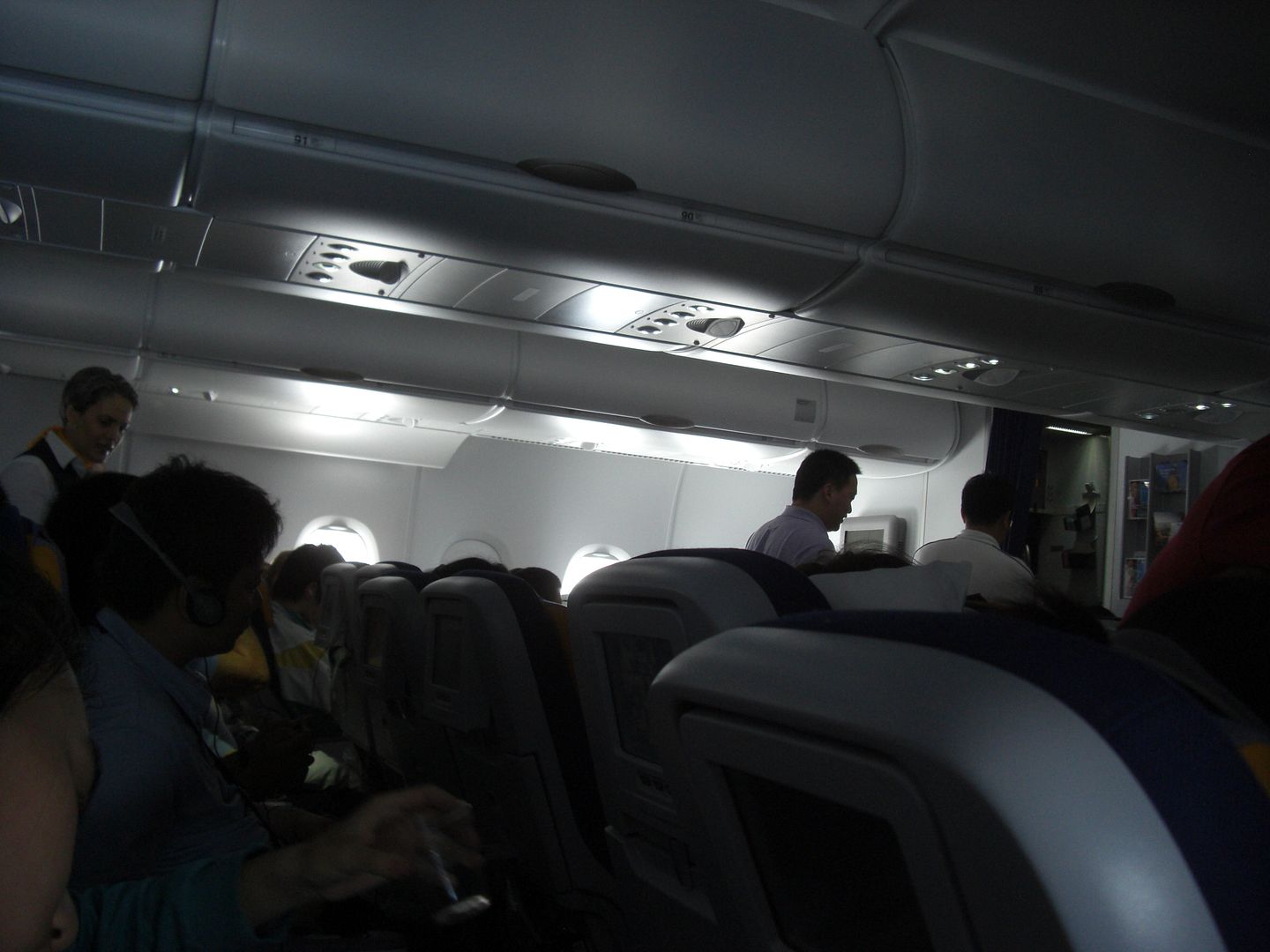 A couple of hours after lunch, I had a G&T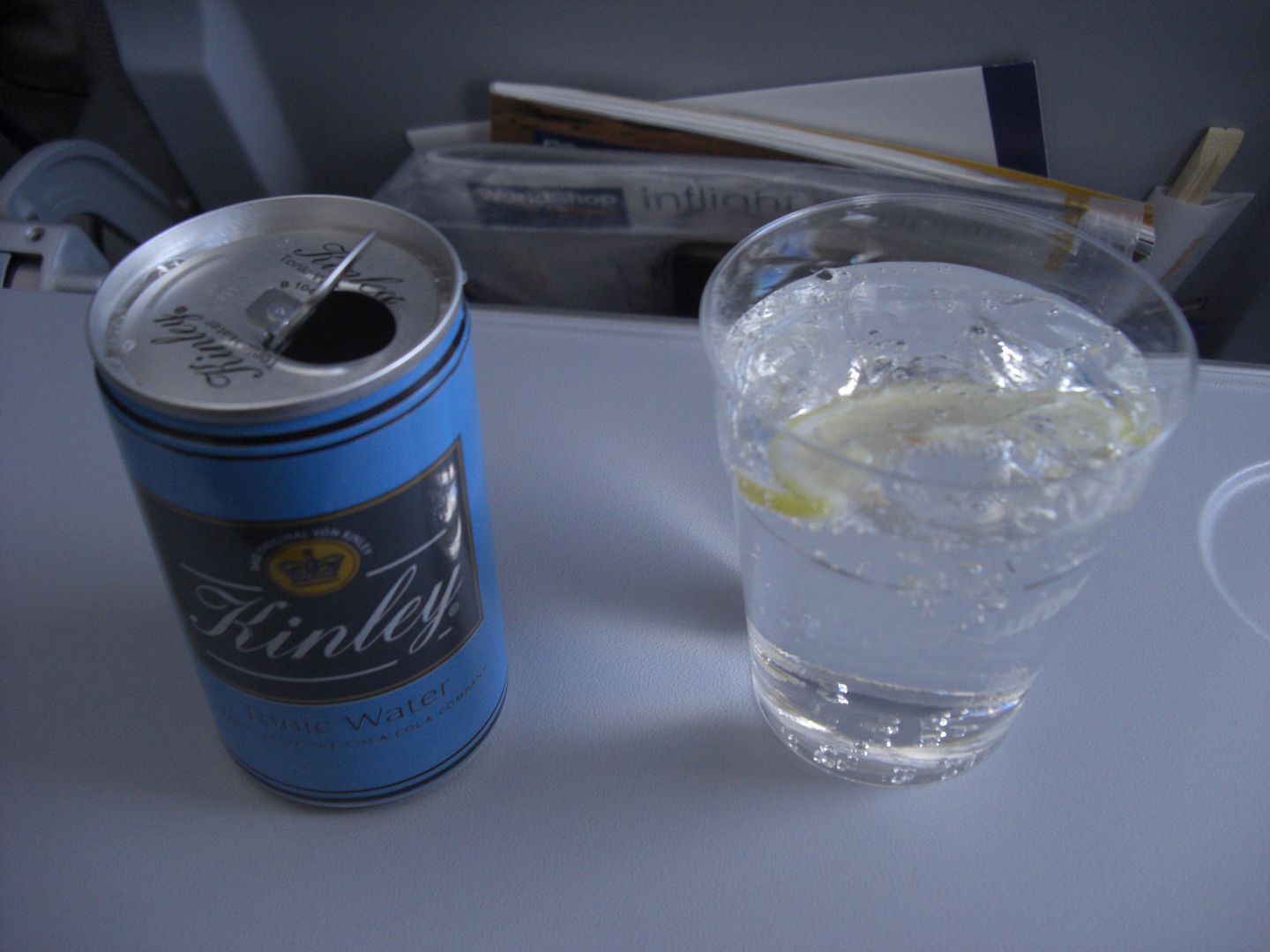 Half way through the flight, there was a sandwich and drinks service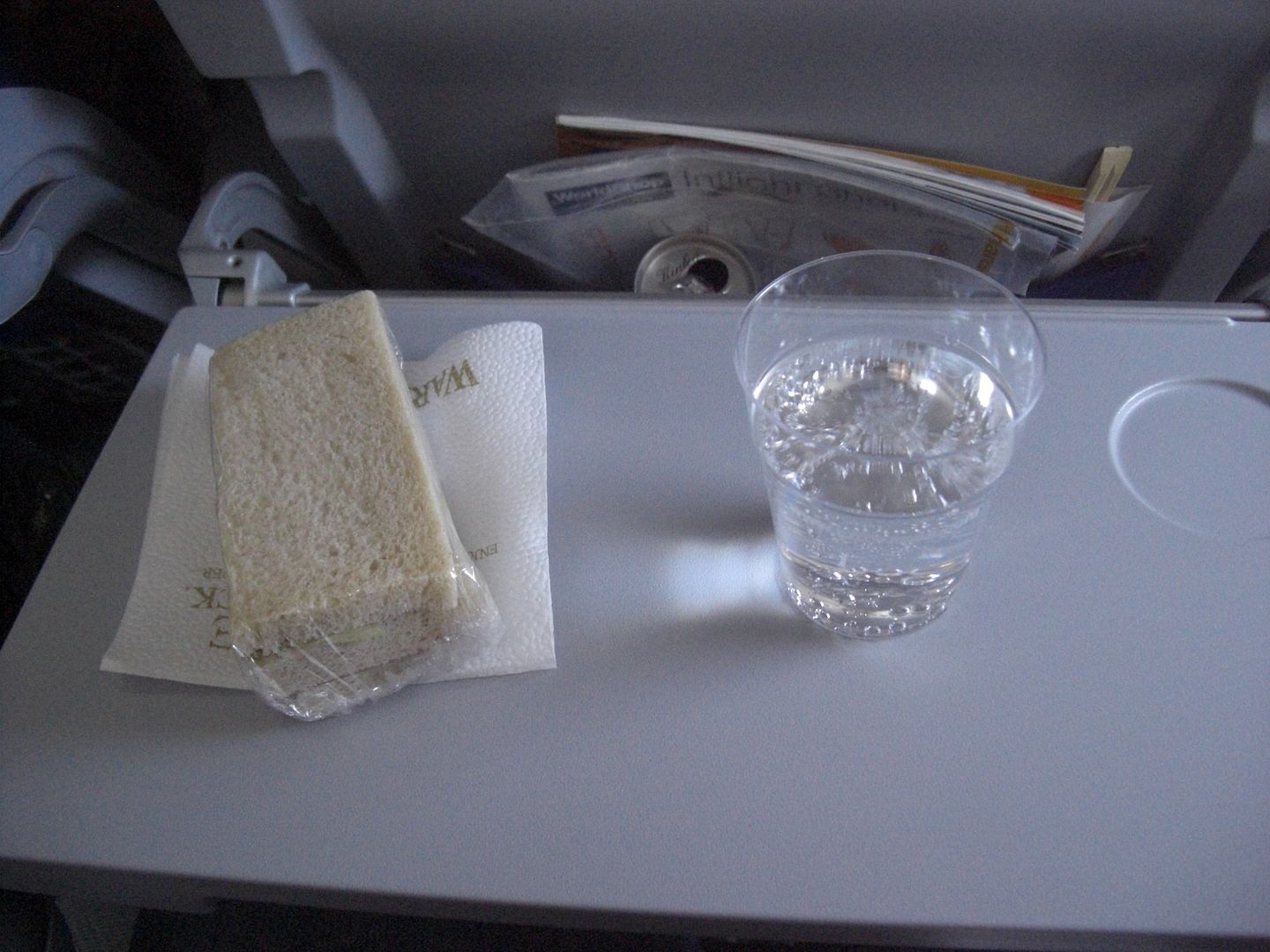 Passengers milling around mid-flights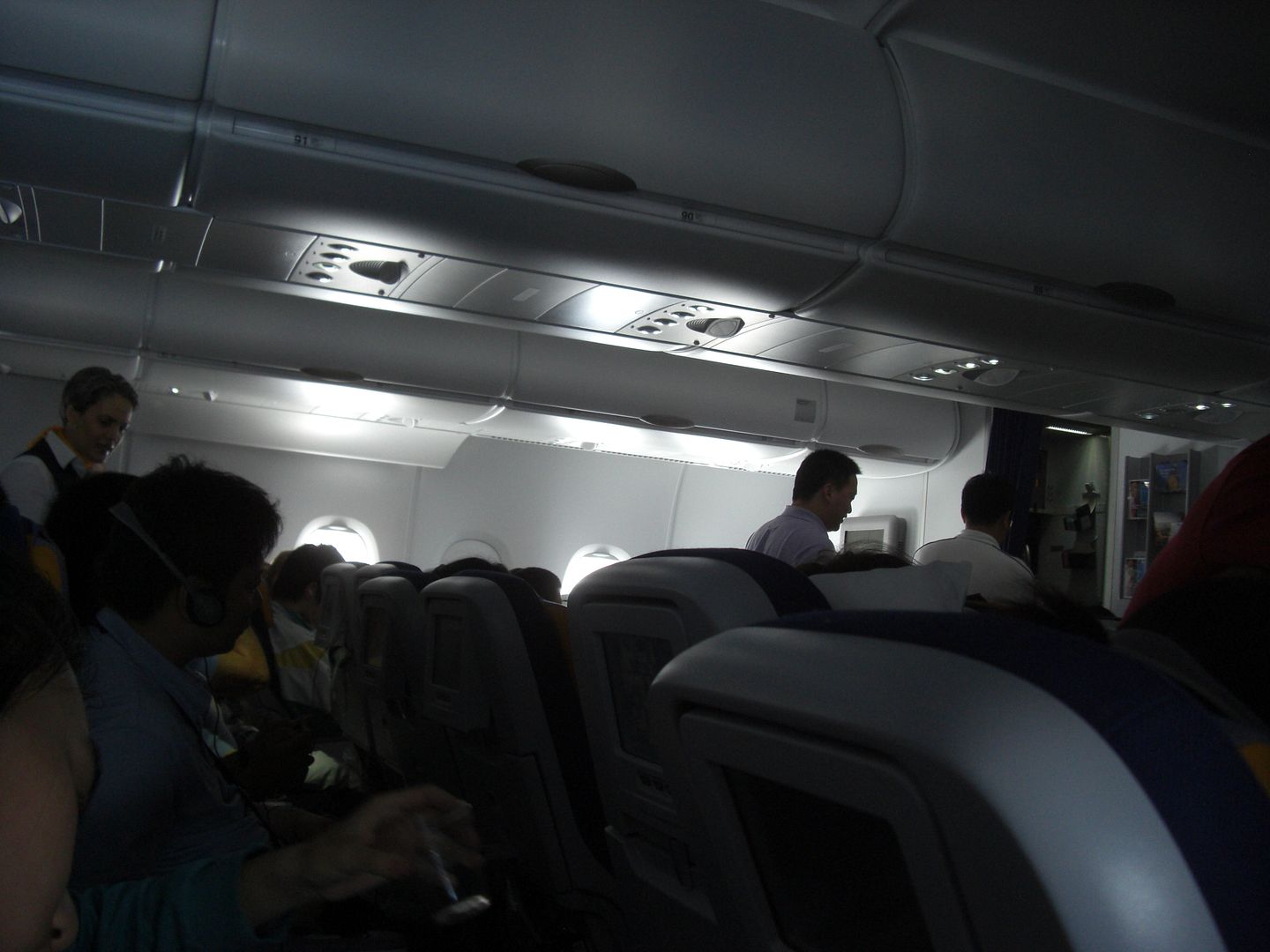 A couple of rows ahead, there was a group of Chinese pax playing cards – they were there for hours, leaning on the seats in front and behind – I would have got rather annoyed if I was sitting closer.
Clouds and wing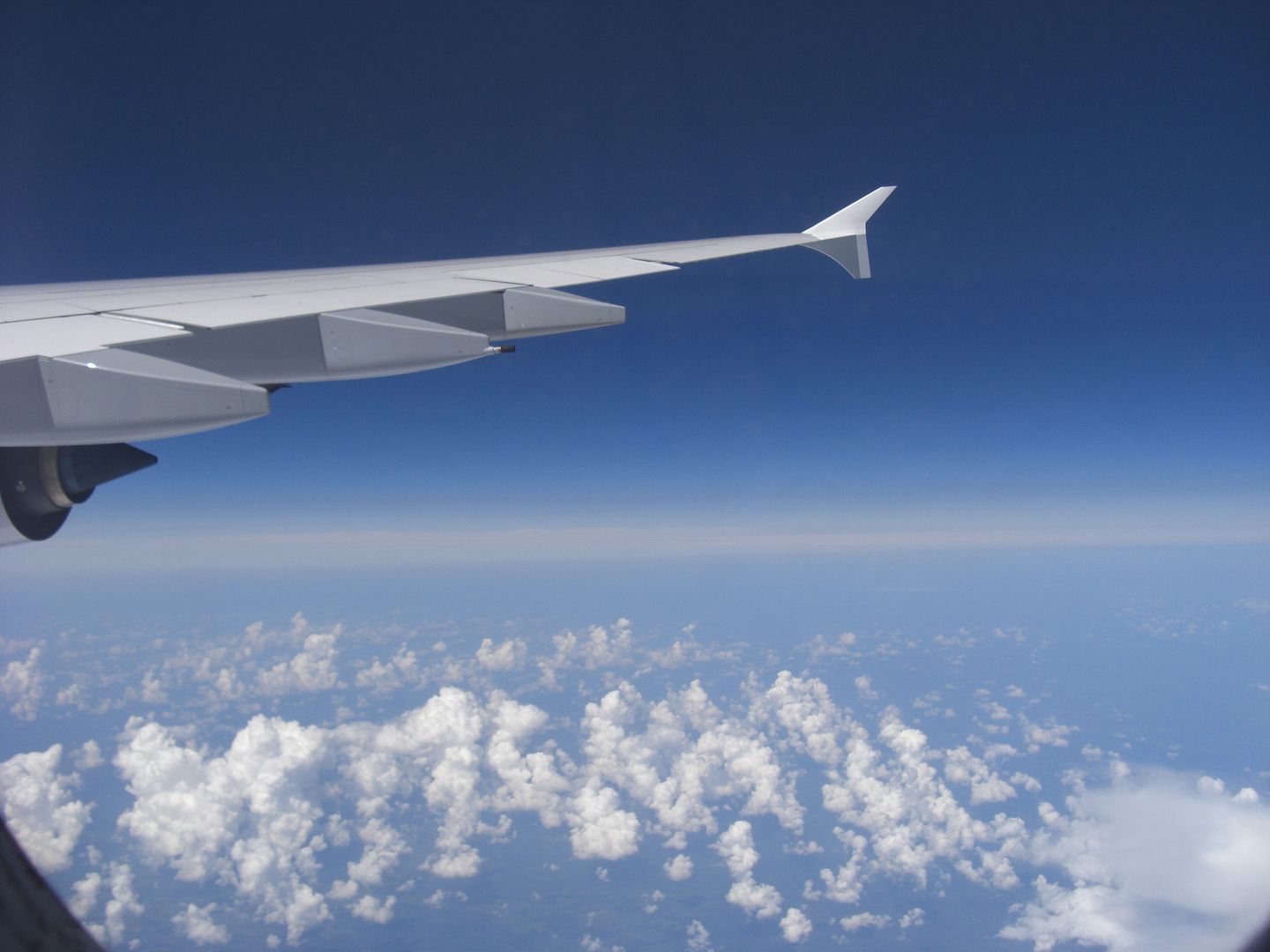 Notice all the identical tracksuits of the school group
The IFE was ok, although the moving map wasn't working, which was very annoying. During the flight, I watched The Heist, The Adjustment Bureau, Just go for it, a documentary about Russia, and a very interesting film about the introduction of football in Germany (The Dream of the Beautiful Game), which I would highly recommend. Being a Brit (who admittedly isn't a football fan), on a flight to Germany, it was a good film to watch.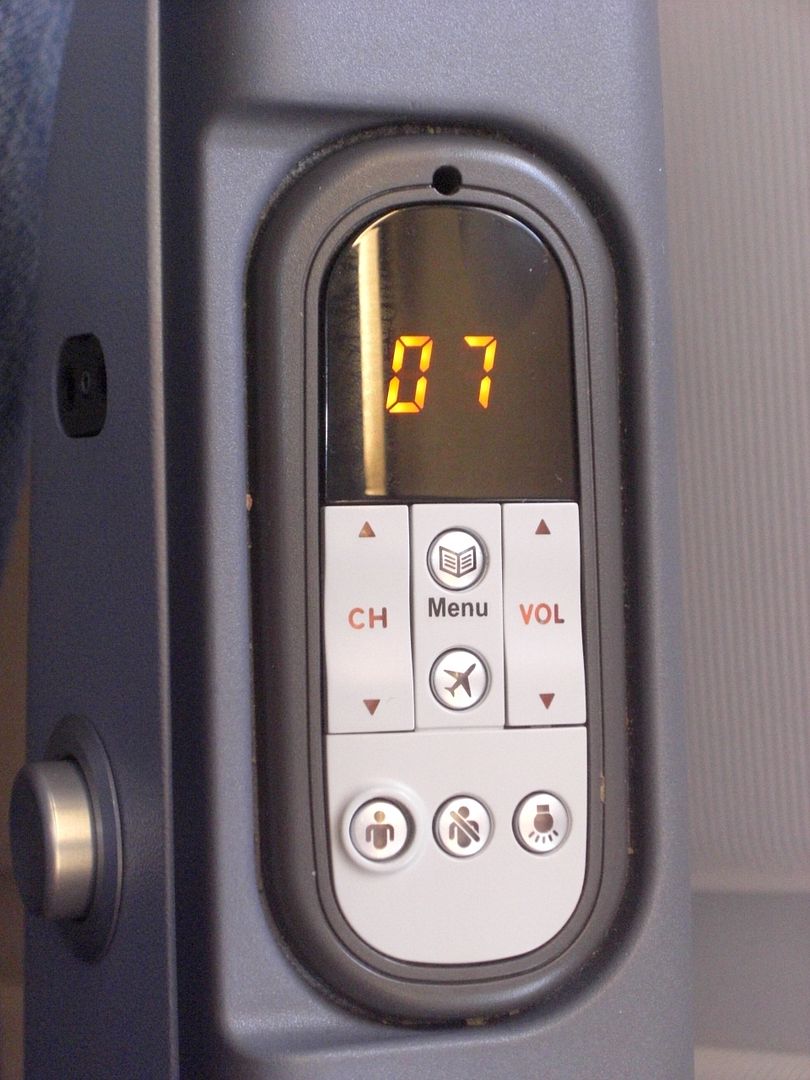 As is becoming a bit of a custom, I filled in a comments form, mentioning both the faulty moving map, and the excellent service from the FA mentioned earlier (during the flight, she'd been constantly cheerful, and quick with topping up my G&Ts!). About half an hour after I handed it in, the aforementioned FA came around, thanking me for my comments, and asked if the map was working again or not. It hadn't, but I could deal with it – I was more just letting them know it wasn't working. About two weeks after the flight, I was sent this email – excellent customer service:
"Thank you for your online feedback. We apologise for the delay in our response.
We would like to thank you for taking the time to write your kind words about the friendliness and dedication of a member of our cabin crew, from whom you received such hospitable service onboard your Lufthansa flight LH721 from Beijing to Frankfurt. We have forwarded your comments to Ms. XXX and her supervisor, who were all naturally very pleased to hear of your satisfaction.
Friendliness and dedication to customer service are very important to Lufthansa and we are delighted to see that our efforts in this regard were borne out in this case. Such feedback is a great motivation to us all and helps maintain the high standard of service we have set ourselves.
It is also with great regret we learned of your dissatisfaction with the in-flight entertainment system onboard. We regard the provision of these services as essential elements of our flights and completely understand your frustration when this amenity was unavailable onboard your flight. Please accept our sincere apologies for any inconvenience this has caused.
We are aware that our customers expect their ground and in-flight experience to be as seamless and comfortable as possible. We make every effort to maintain or improve the high standard of service we offer our valued passengers, and when we fail to meet our customer's expectations we feel it important to acknowledge this.
Whilst we can not atone for your experiences, as you are a Frequent Traveller we are pleased to credit your Miles & More account with 3000 miles which we hope you will accept as a token of our goodwill.
We look forward to welcoming you onboard again, and we assure you that we will do everything we can to make sure you continue to enjoy flying with Lufthansa. "
The 3000 miles were indeed credited. Excellent!
Around two hours before arrival into Frankfurt, a second meal was served. It wasn't as good as the first.
Flying over Poland
I quite fancided winning the trolley, but nothing caught my eye in the duty free magazine
Approaching FRA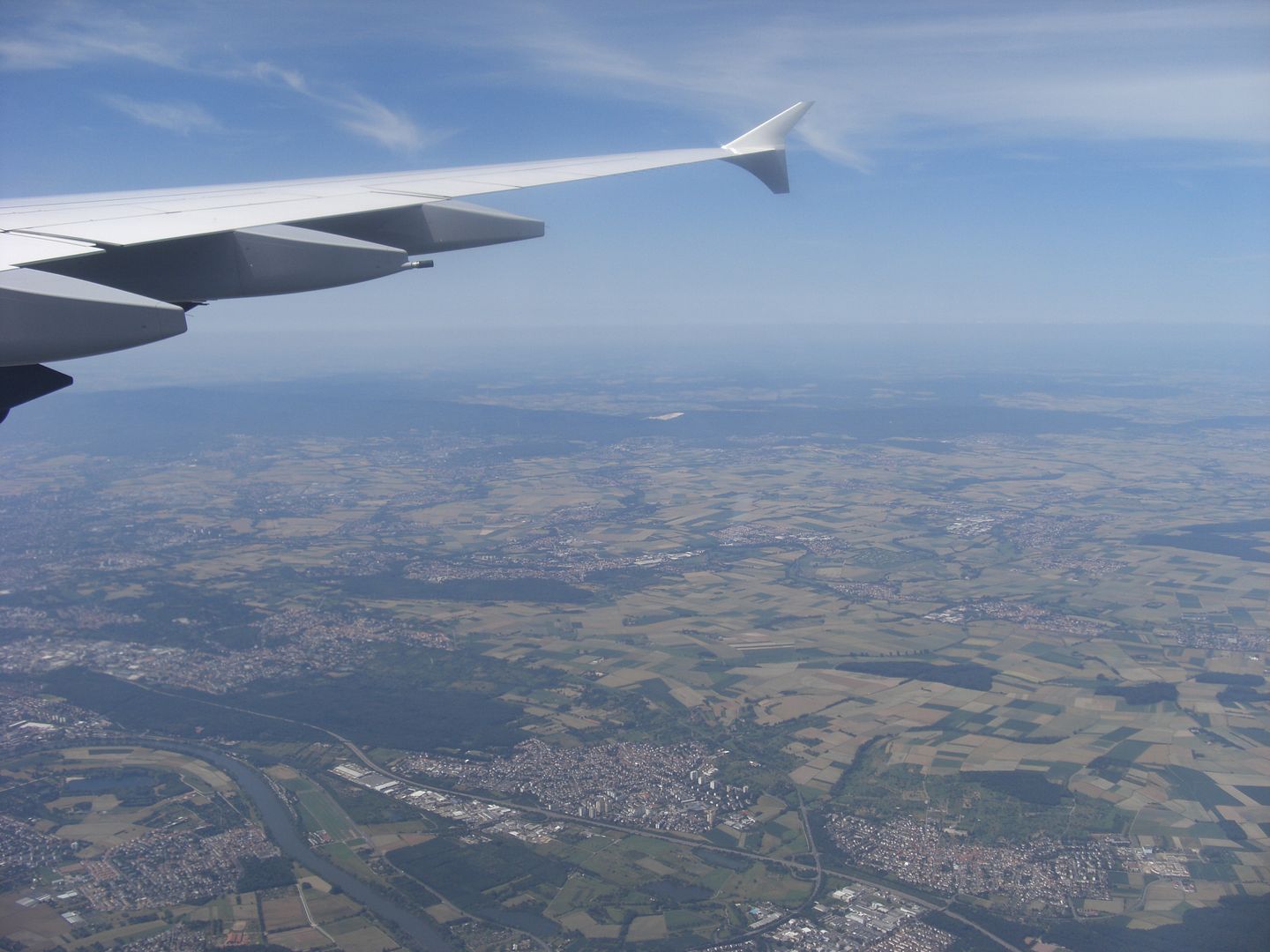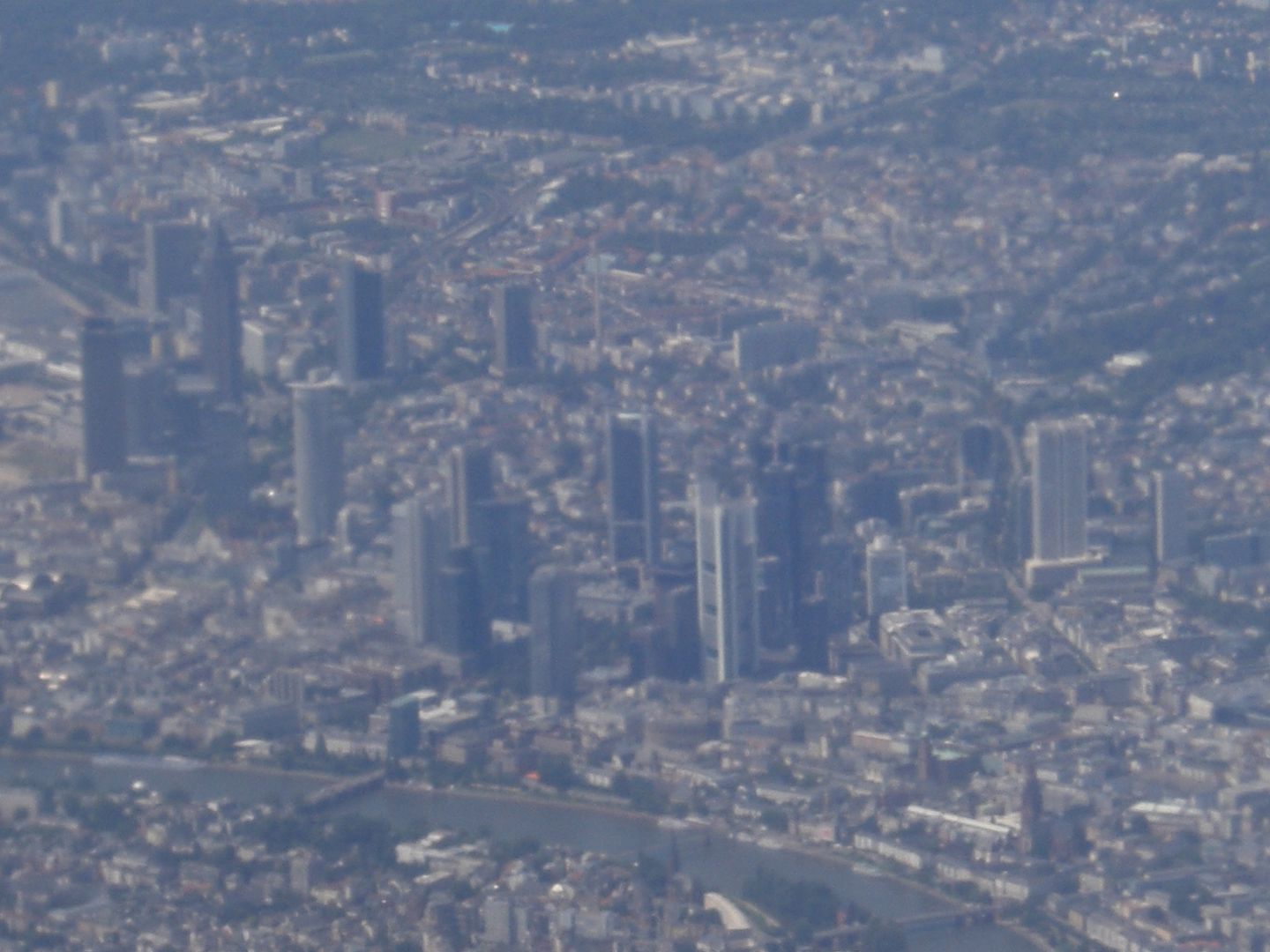 Even excluding the excitable school kids, there were a lot of people taking photos on board. I didn't feel at all out of place!
Approach to FRA was a good 40 mins early.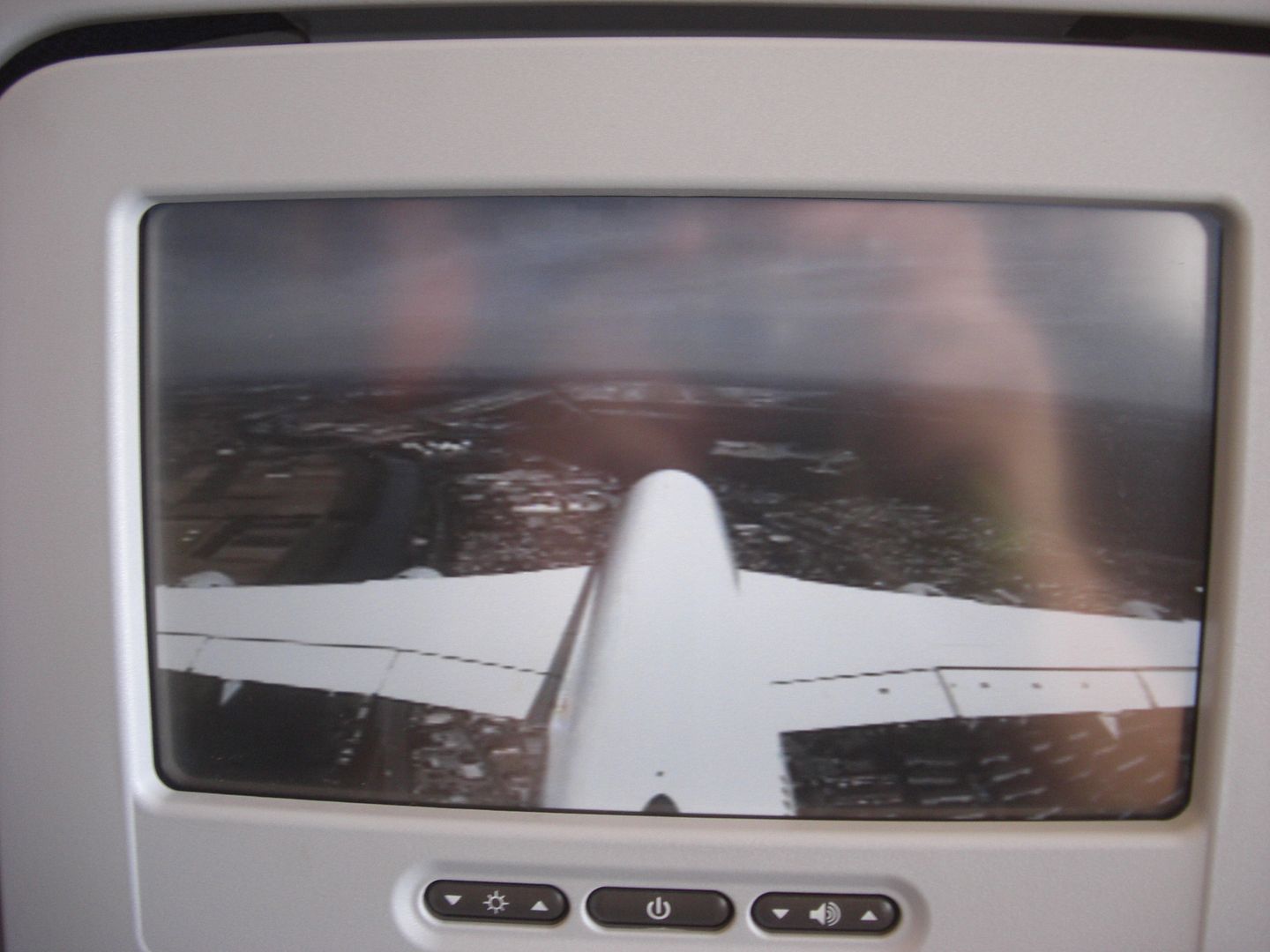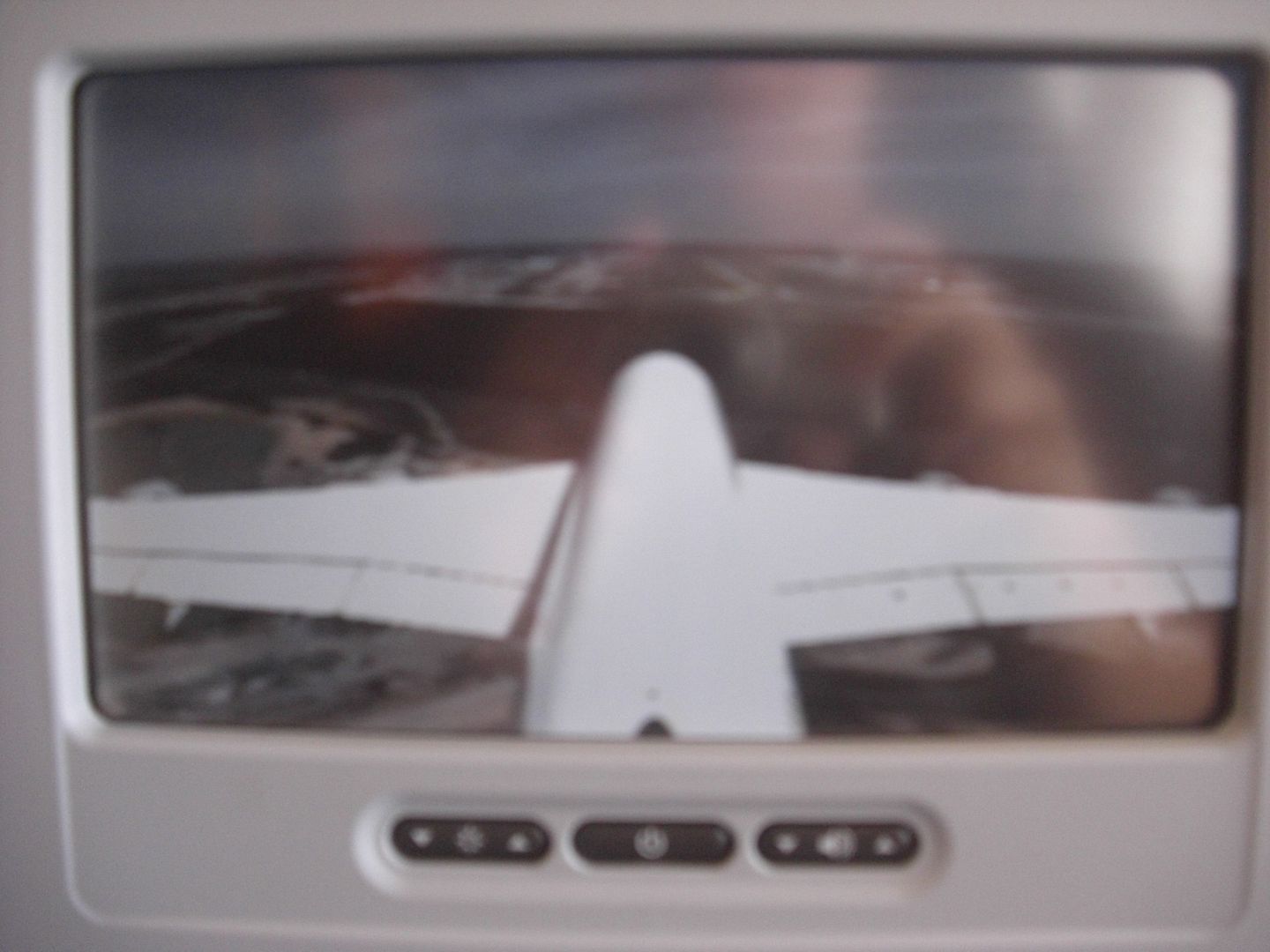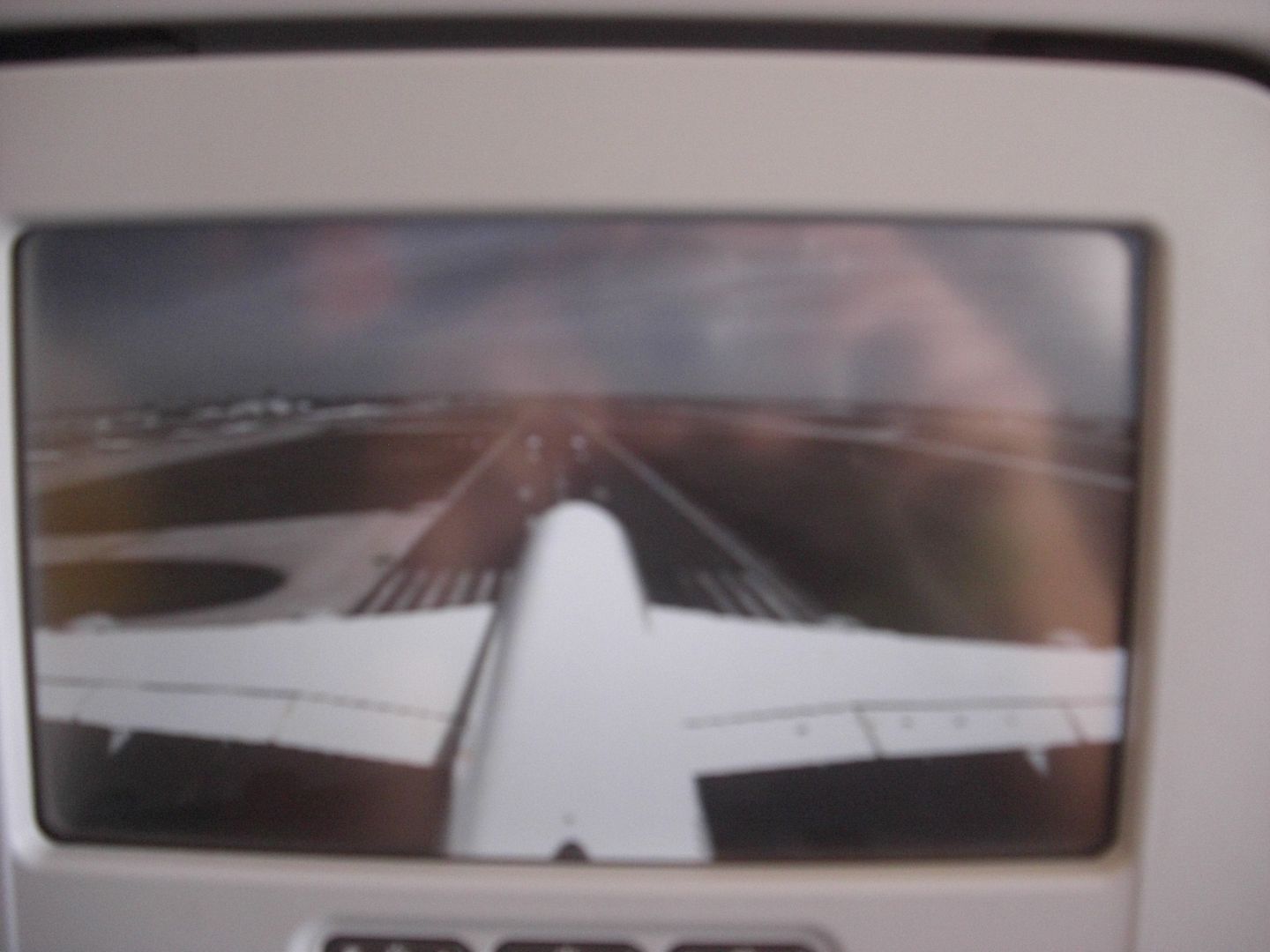 Landing was pretty heavy, with quite a few screams. The pilot came on to welcome us to FRA, saying "sorry for the rough landing. This aircraft can be landed smoothly!". There was also a announcement in Chinese only reminding everyone to keep their seatbelts fastened.
As a result of landing 30 minutes early, our gate wasn't ready, or more accurately, there was something in the way. We ended up sitting on the taxiway for 40 minutes, before we could finally taxi into position.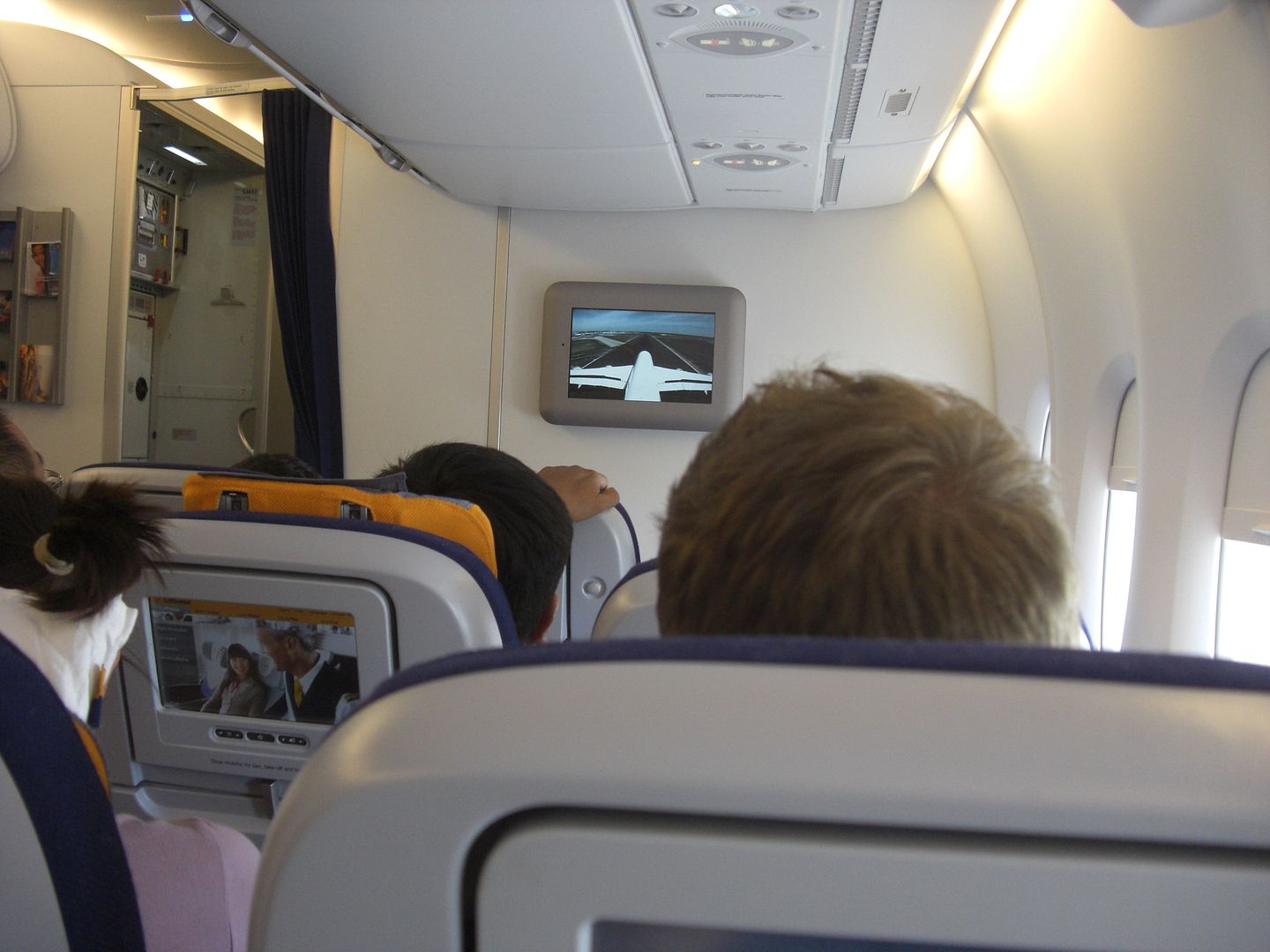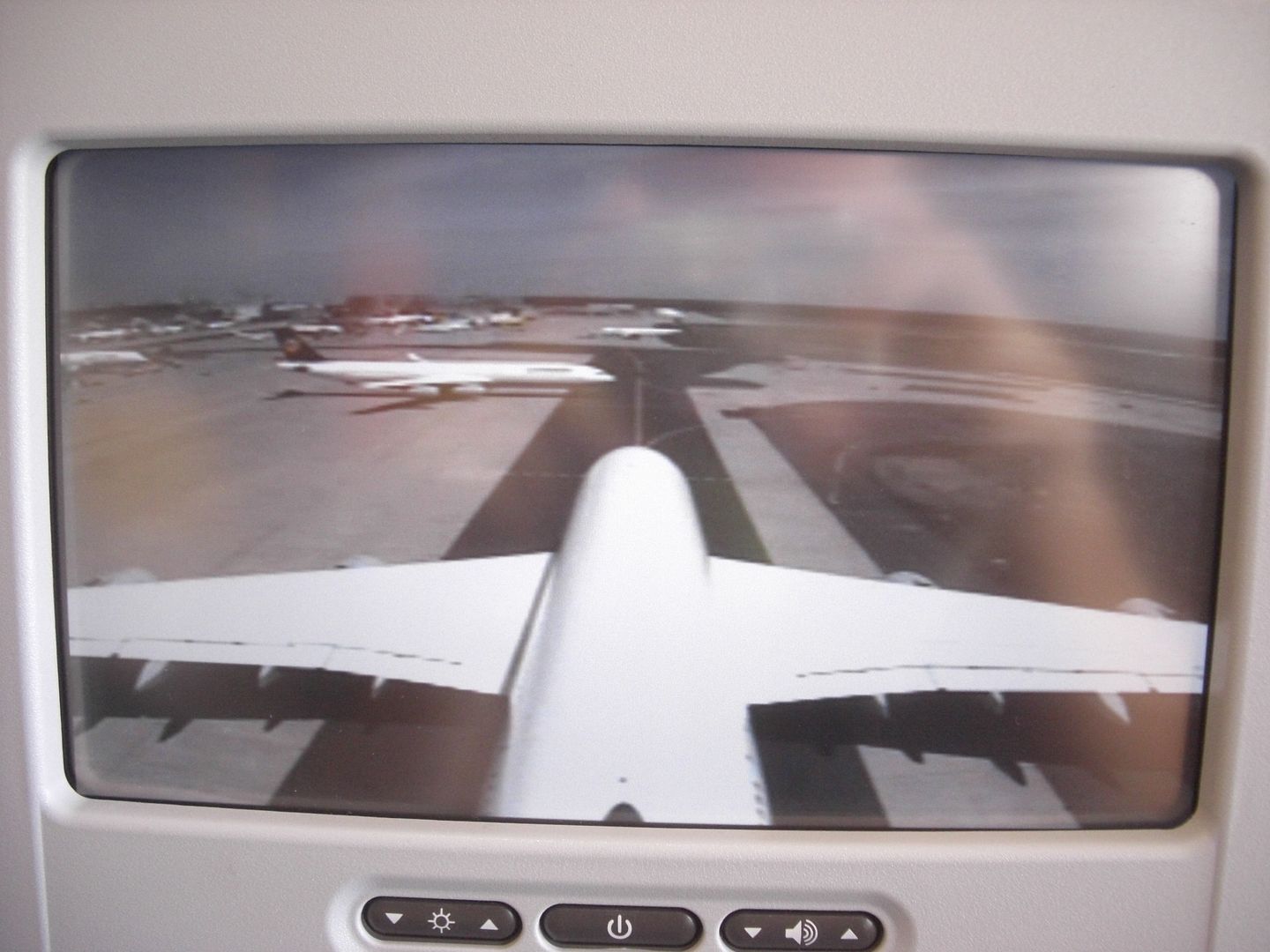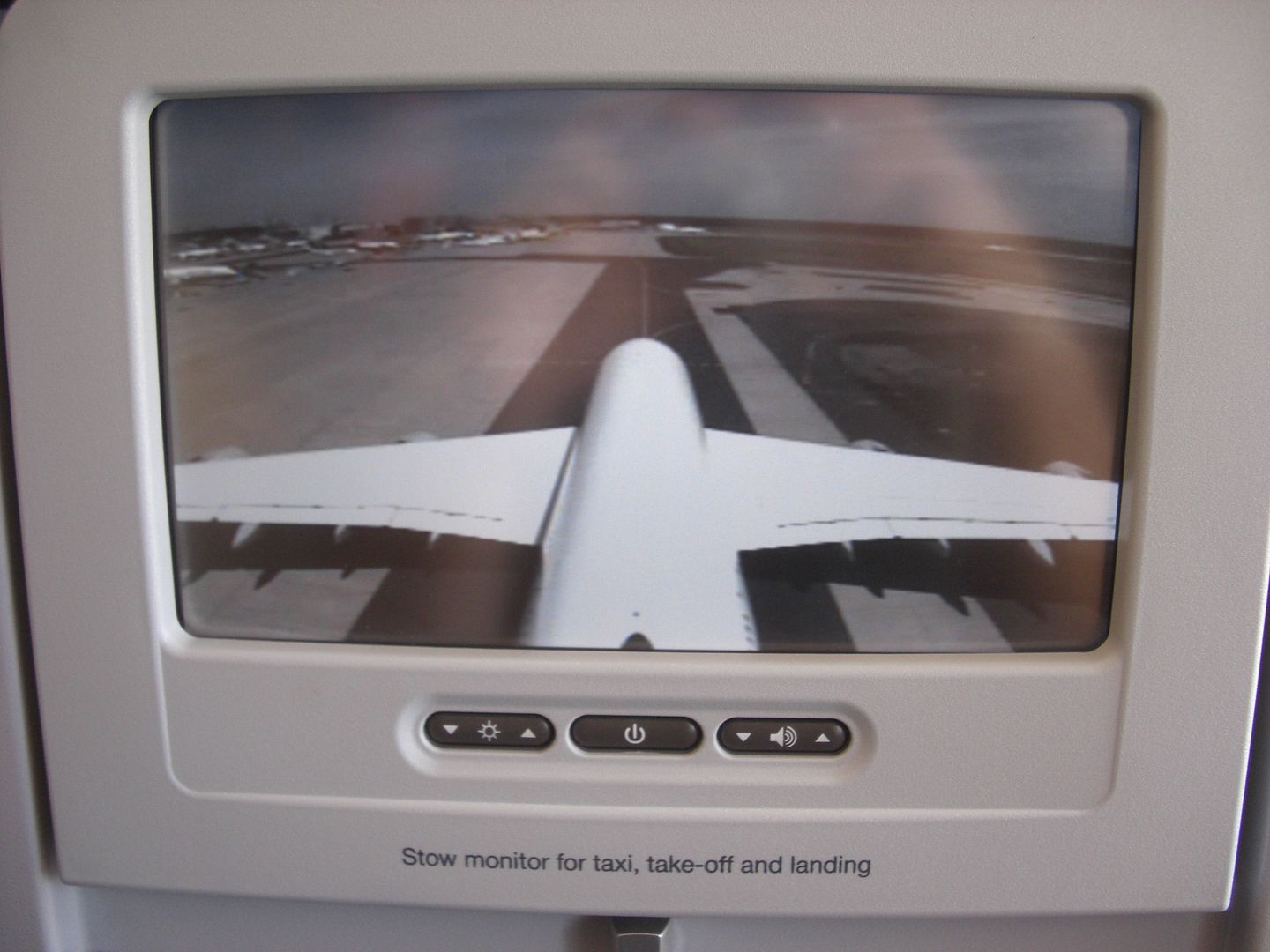 http://my.flightmemory.com/shefgab
Upcoming flights: AMS-RIX-BUD-VDA,ETH-TLV-FCO-LHR,STN-TXL-LCY,LTN-CPH-LTN,LGW-SZG,MUC-LHR