London – Milan
What airline am I flying again? Lufthansa/bmi/Lufthansa Italia LHR-MXP
During my trip to
China
last month, I met up with an old friend (actually the one who took me drinking before my early morning flight to
Dunhuang
). She's Italian, but works in Beijing. As she would be back in Milan in late July, she invited me over, an invitation I couldn't refuse. After a good few hours of comparing the various flight options, I went with an outbound from LHR to MXP with Lufthansa/bmi, and a return on the same route with BA. I'd been getting plenty of email from LH in the past few months telling me about the great fares on the LHR-MXP route. Unfortunately, for the day I was looking for, the only cheapish fare was on the 0700 flight. I don't like early starts, so generally have a "not before 0900" policy on flights, although it seemed that I'd have to break my policy for this flight.
Today's route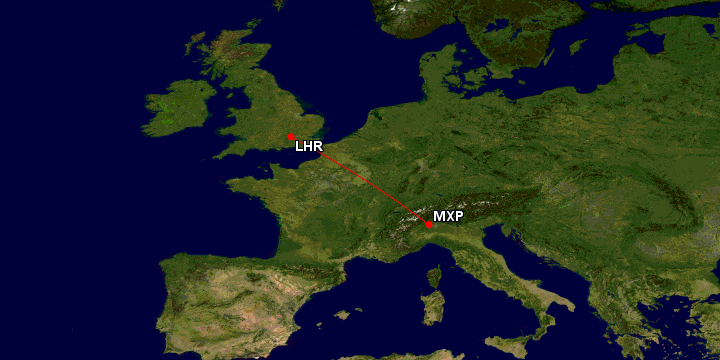 I left home at 0400 to walk down to the station to get the bus to LHR.
Waiting for the bus – ouch, so early
Thankfully, at this time in the morning, the bus was empty, and there was no traffic, so we arrived pretty much on schedule. I walked over to Terminal 1, and up to the check in area. As the title may suggest, I was slightly confused as to what airline I was flying on. I had booked the flight on LH.com, where it said the flight was operated by BD. The BD website said it was operated by LH. Hhmm. In T1, the LH desks are situated quite a long walk from the entry point, and my walk towards them brought me past the BD premium desks. I thought I'd try my luck, and the lady said it was fine for me to check in for the 'LH' flight here. My bag was tagged with a priority label, and I was given a window seat. You can't normally check in for LH flights at BD desks, so it seemed like the flight was more BD than LH.
I made my way through security (the guy issuing plastic bags was in a terrible mood, riling up nearly everyone passing through), and then down to the lounge. On BD operated flights, I don't have lounge access with LH Silver – I only have it when flying LH/OS/LX/LO. However, I was let in without a problem.
The lounge was fairly empty, so I grabbed some pastries, a coffee and some water, and took a seat in my favourite chaise-longue by the window.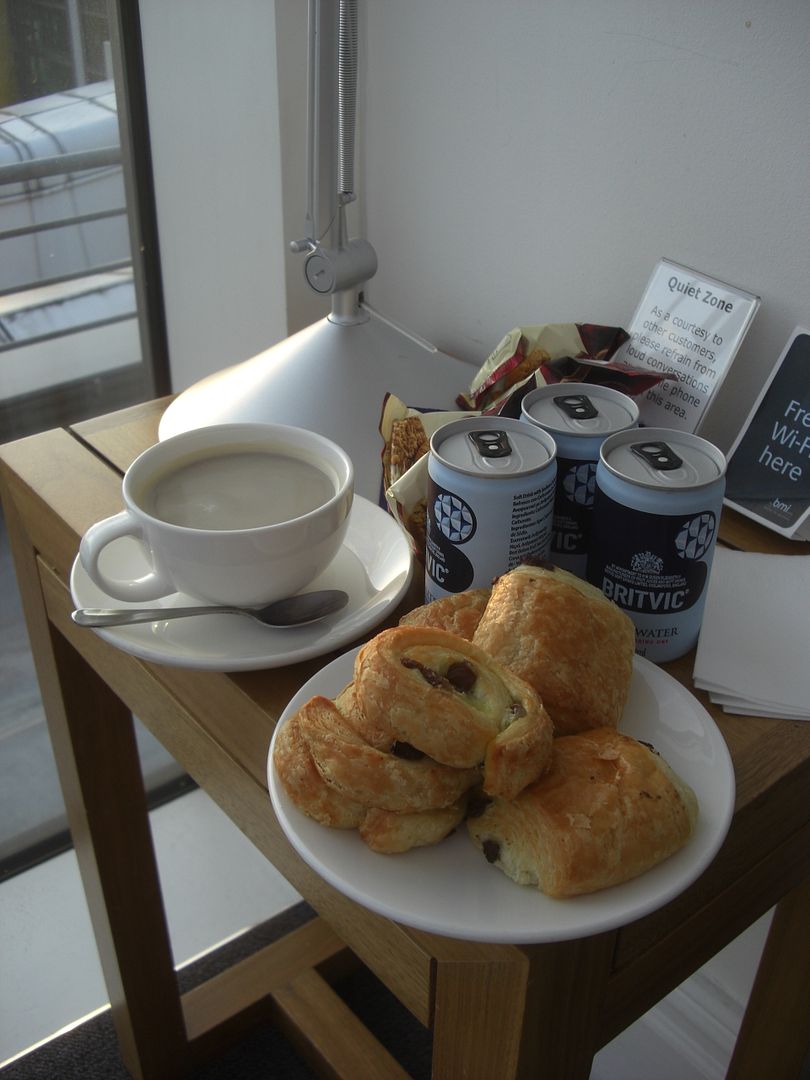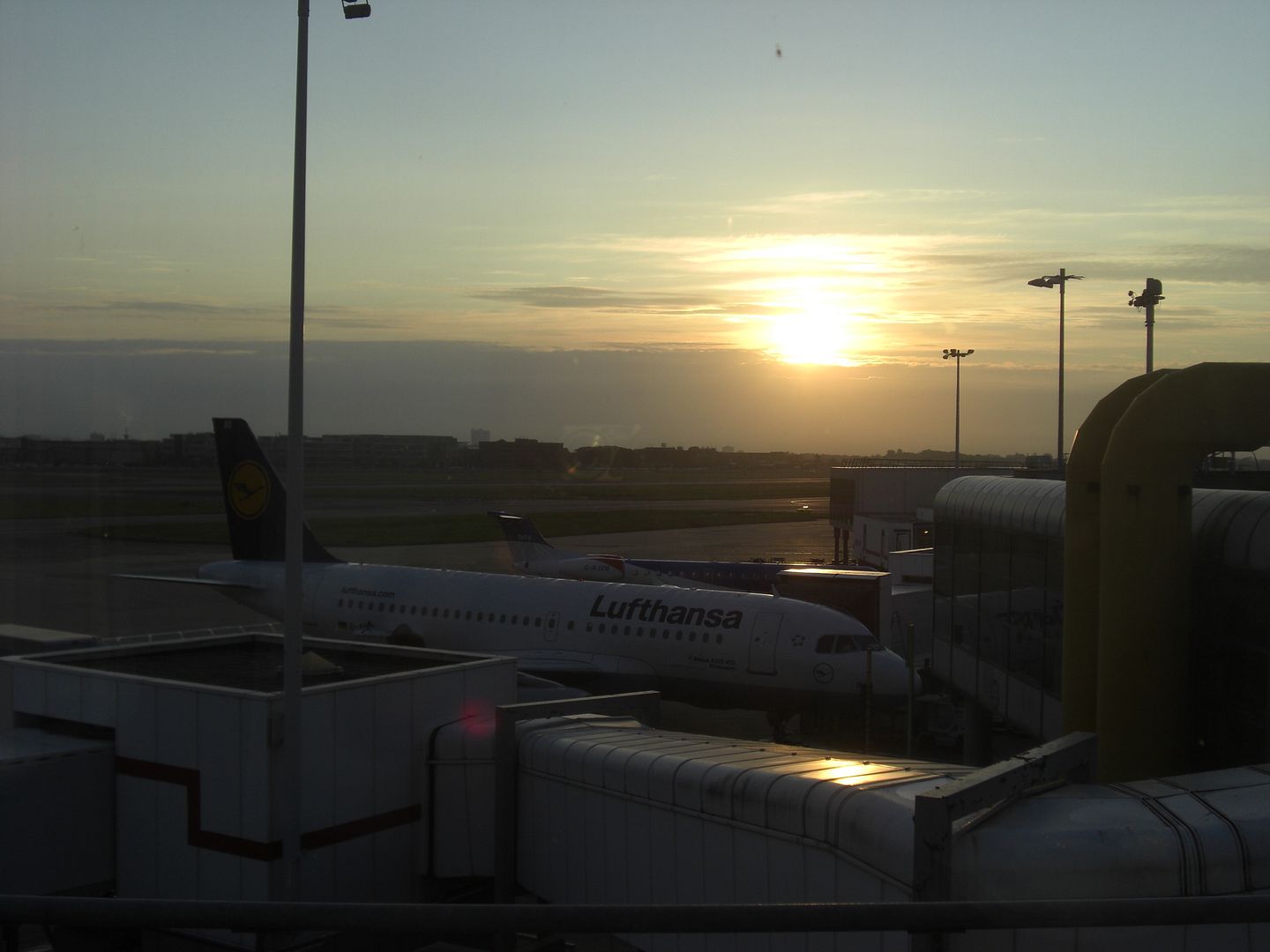 There wasn't a lot of activity this morning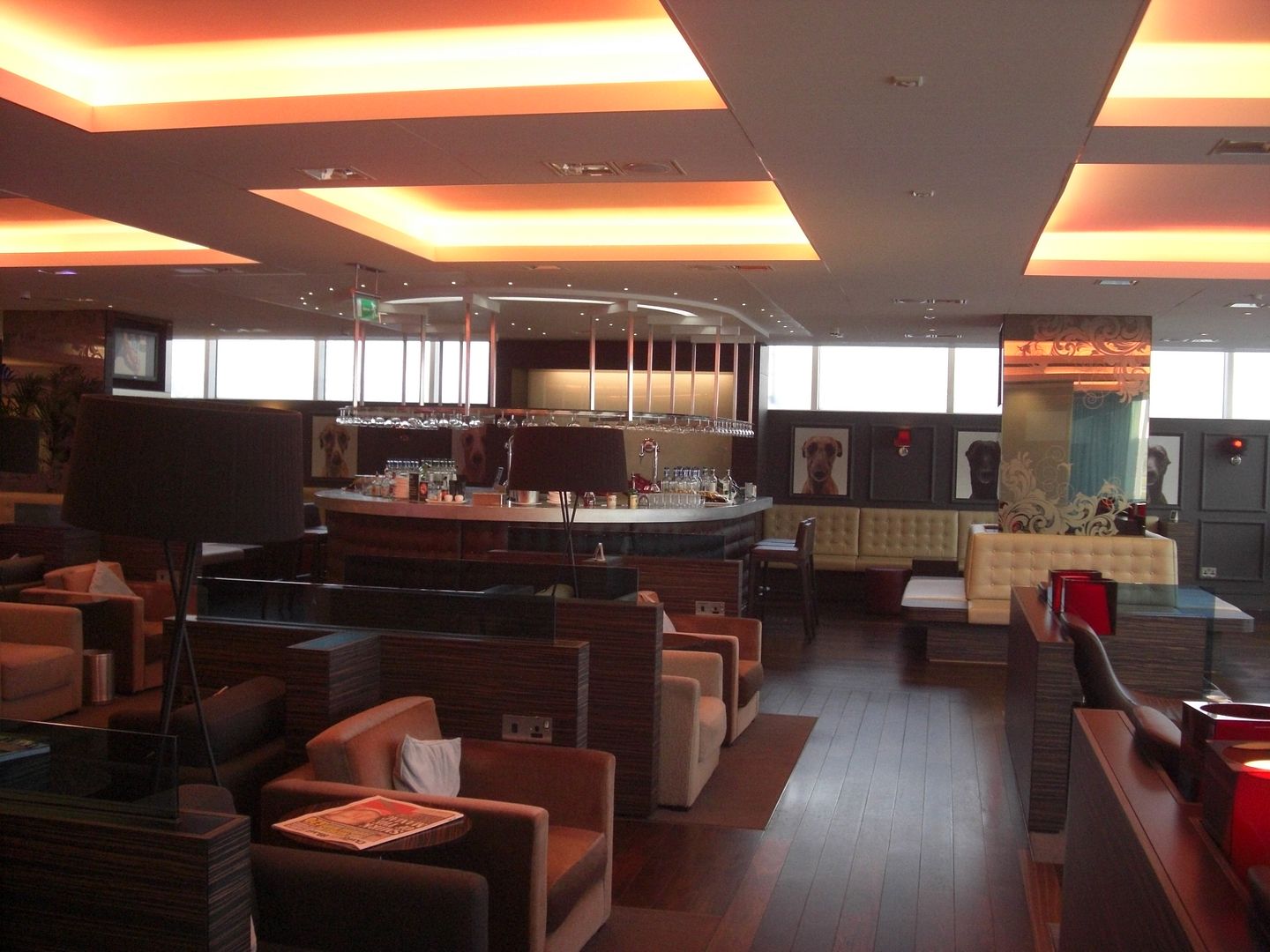 After a very acceptable breakfast, I left the lounge, and headed for the gate.
As expected, there was a BD aircraft at the gate.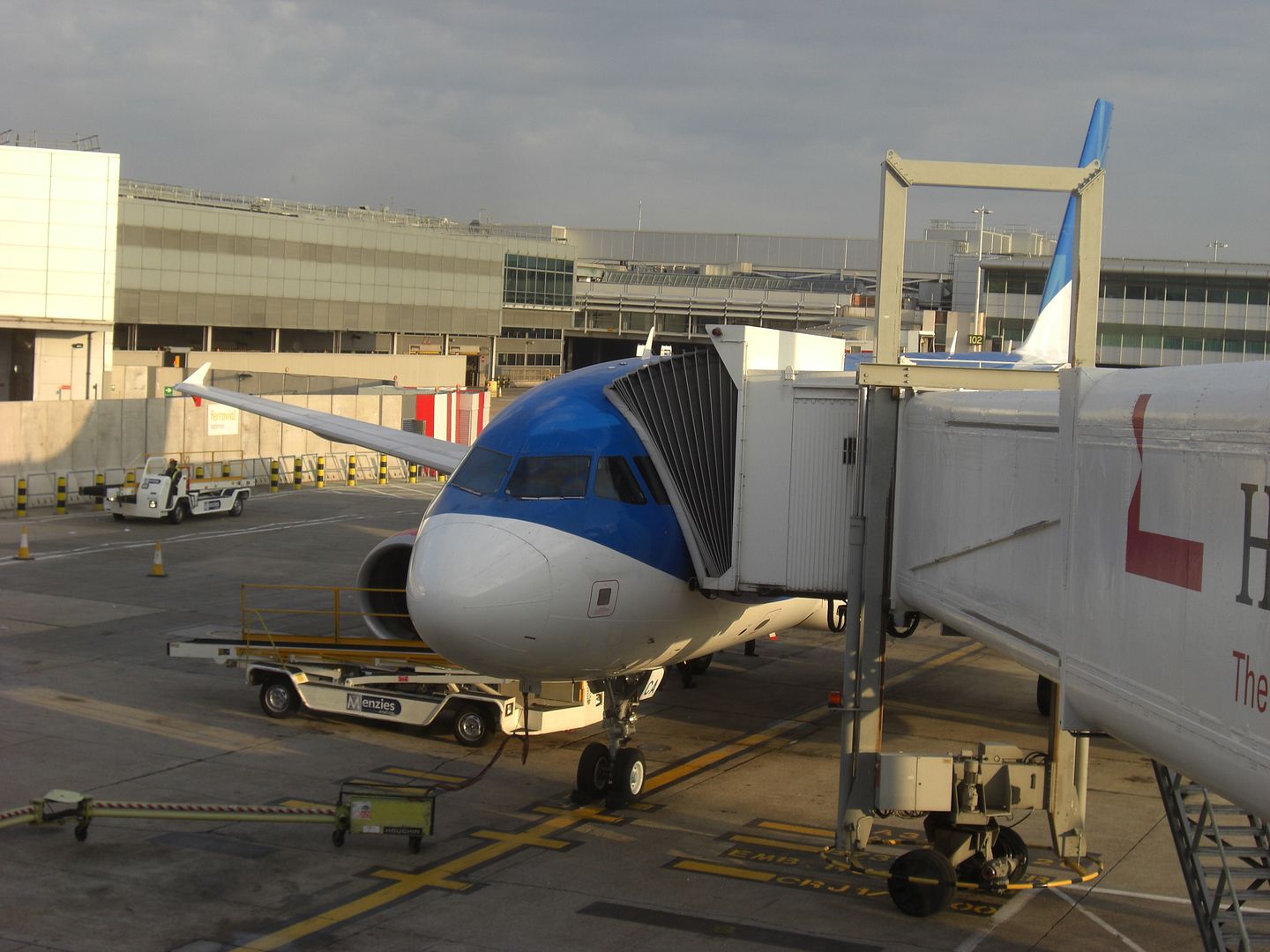 We were called to board by row numbers at 0640.
July 2011
London Heathrow (LHR) – Milan Malpensa (MXP)
Lufthansa LH 3781
Operated by bmi British Midland (BD) for Lufthansa Italia
Scheduled: 0700-1000 (2h00m)
Actual: 0724-0923 (1h29m)
A319 G-DBCA
I was welcomed on board by a cheerful member of BD crew. There were two English cabin crew, and one Italian speaker. I made my way down to row nine where two girls in their early 20s were sitting in my seat (well, one of them was!). I told them that this was my seat, and they looked very confused. Obviously, they were more used to U2 and FR seating policies. I had to explain how the seat numbering worked! The flight gradually filled up until we had around 90% load, although I had a row of three to myself. The other side of the exit row aisle was full.
Legroom
The cabin of the aircraft, despite the BD paint on the outside, was unmistakably LH, with plenty of Cranes around the cabin. However, the headrests were that of LH Italia.
In my seat pocket there was a BD safety card, and a LH magazine.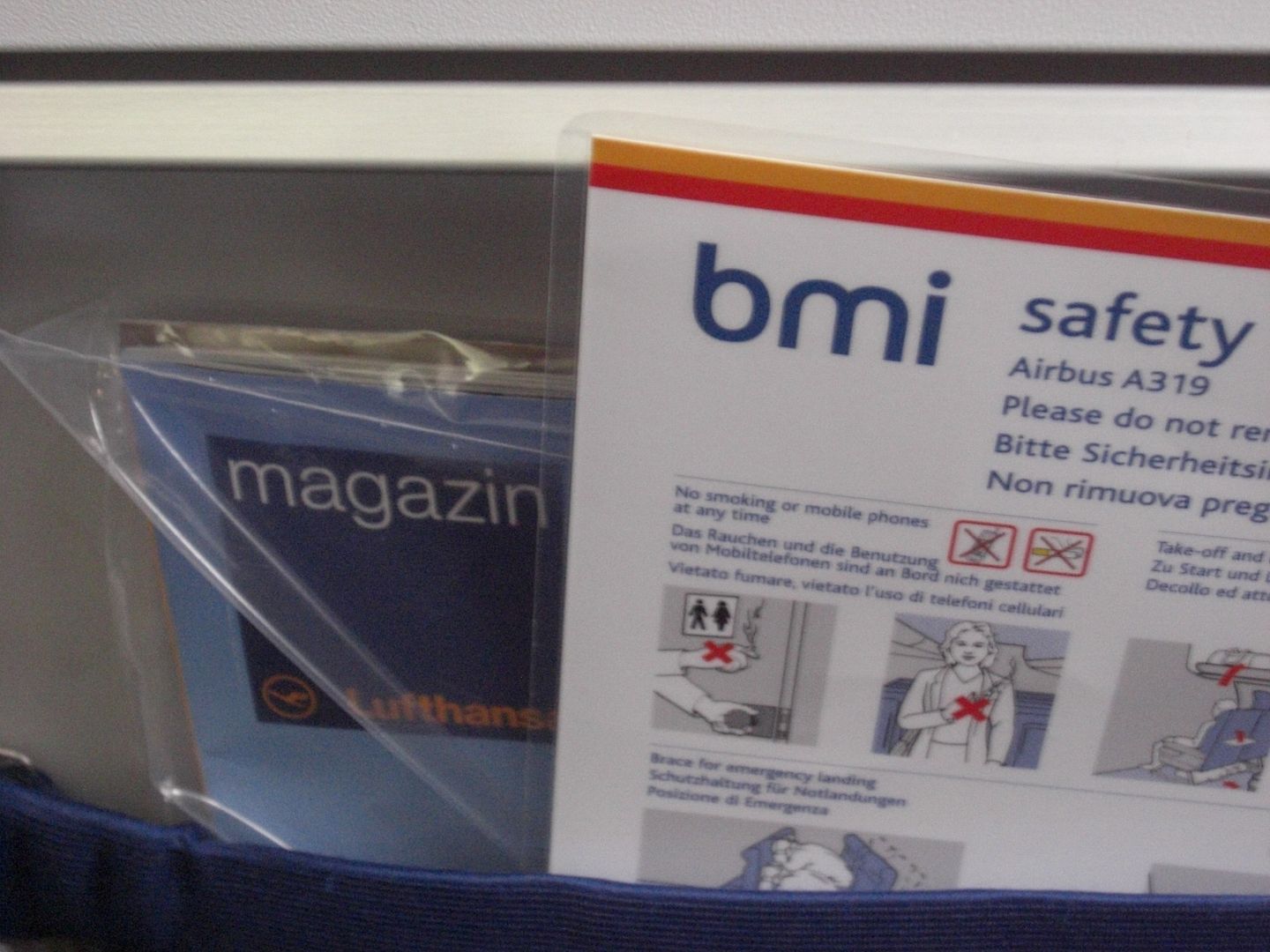 In the middle seat pocket, there was also a LH Italia magazine.
The emergency exit signs were in English and Italian (no German)
Hmm, an interesting selection of airline memorabilia! We pushed back a little behind schedule, and taxied to the runway. (sorry, still haven't managed to get my camera lens cleaned, so that annoying black blob is still on some photos).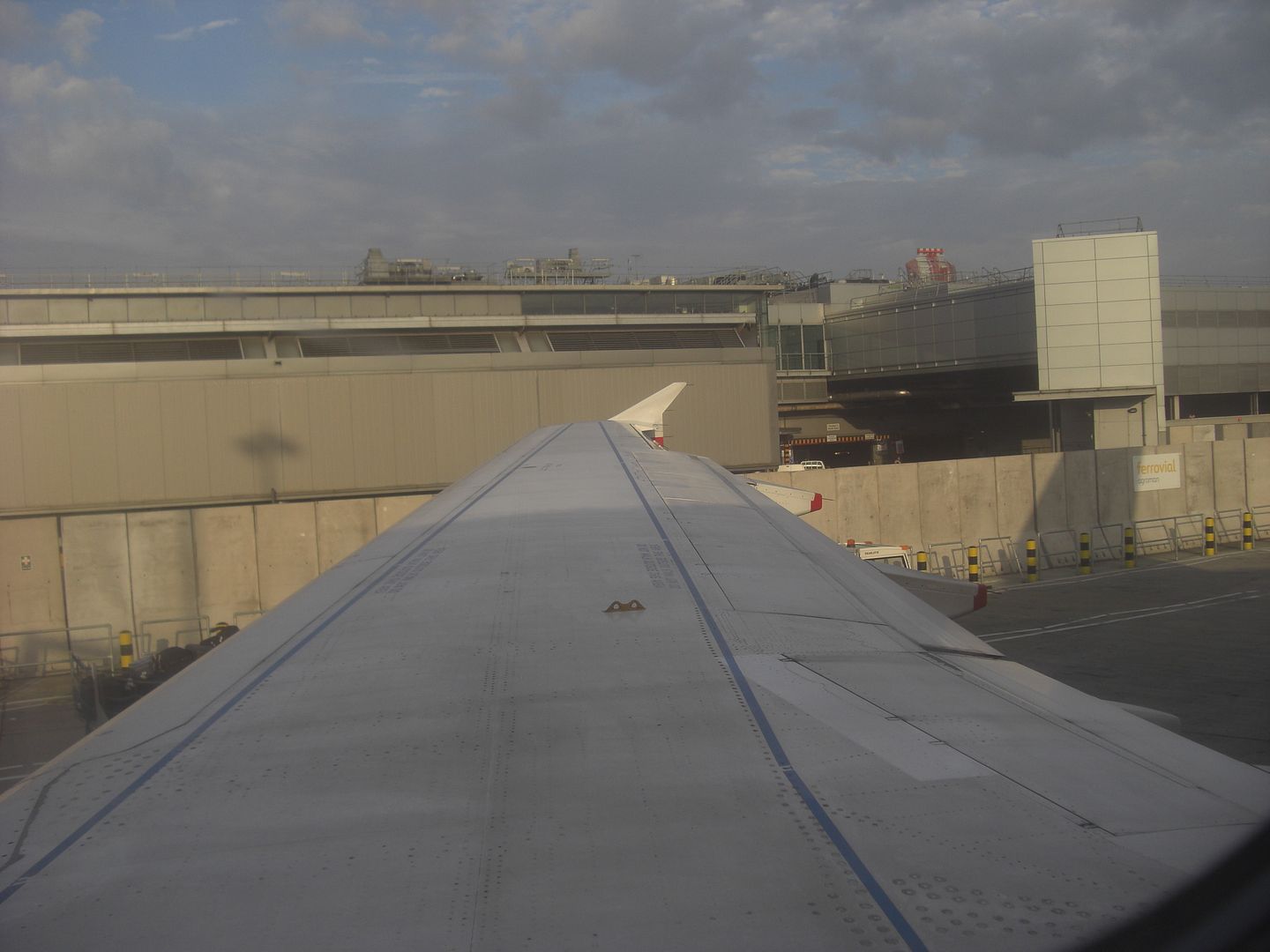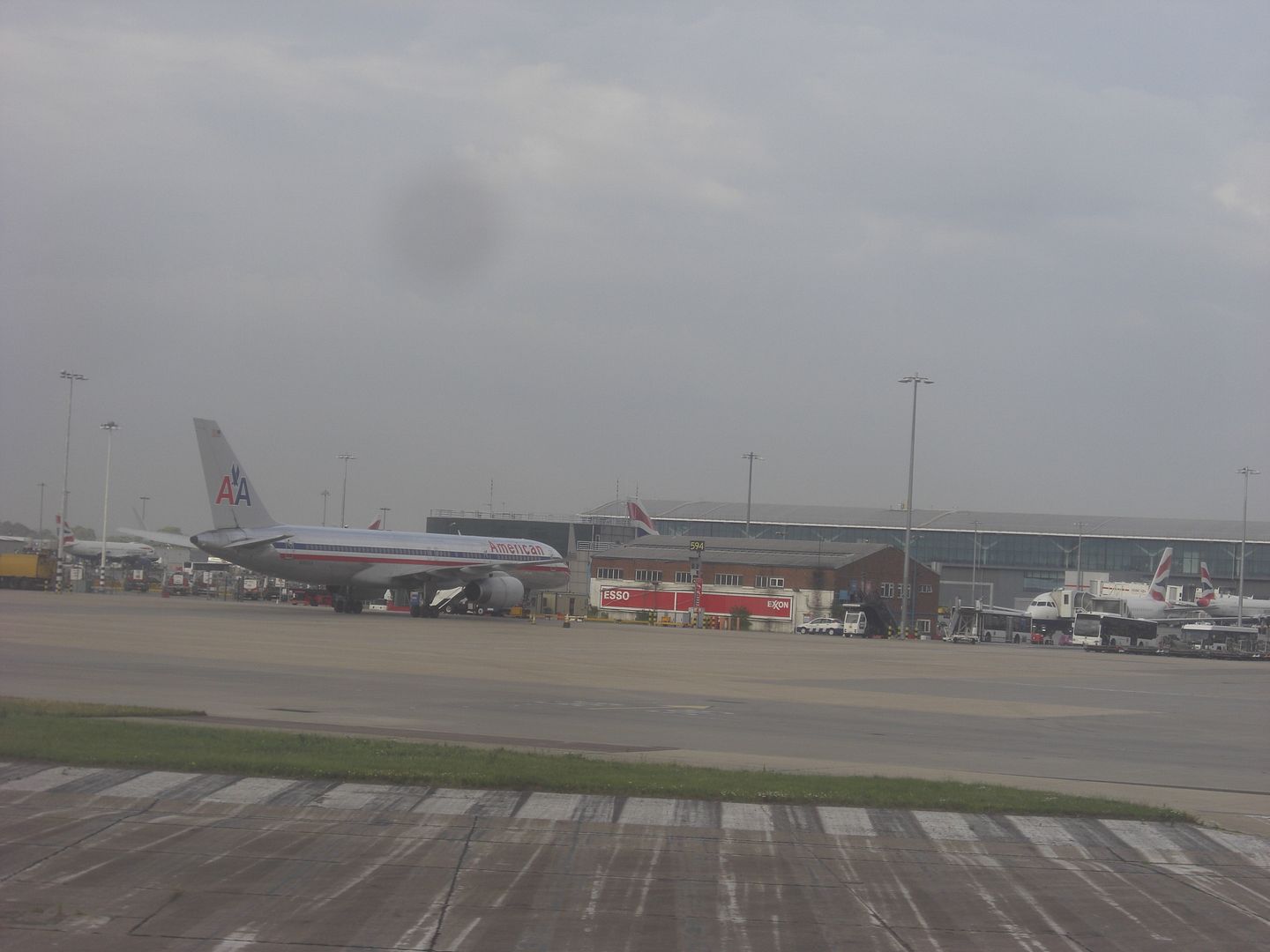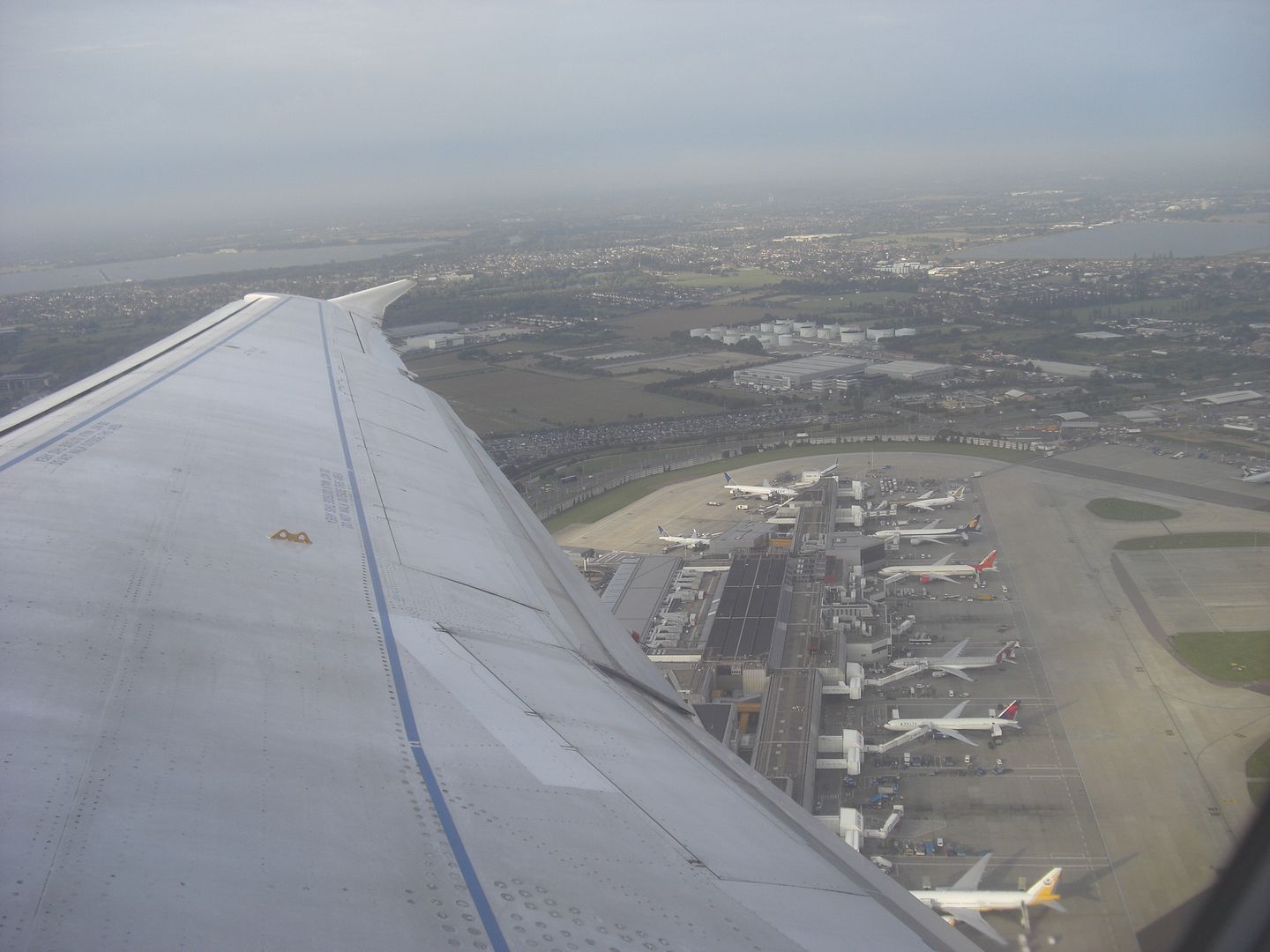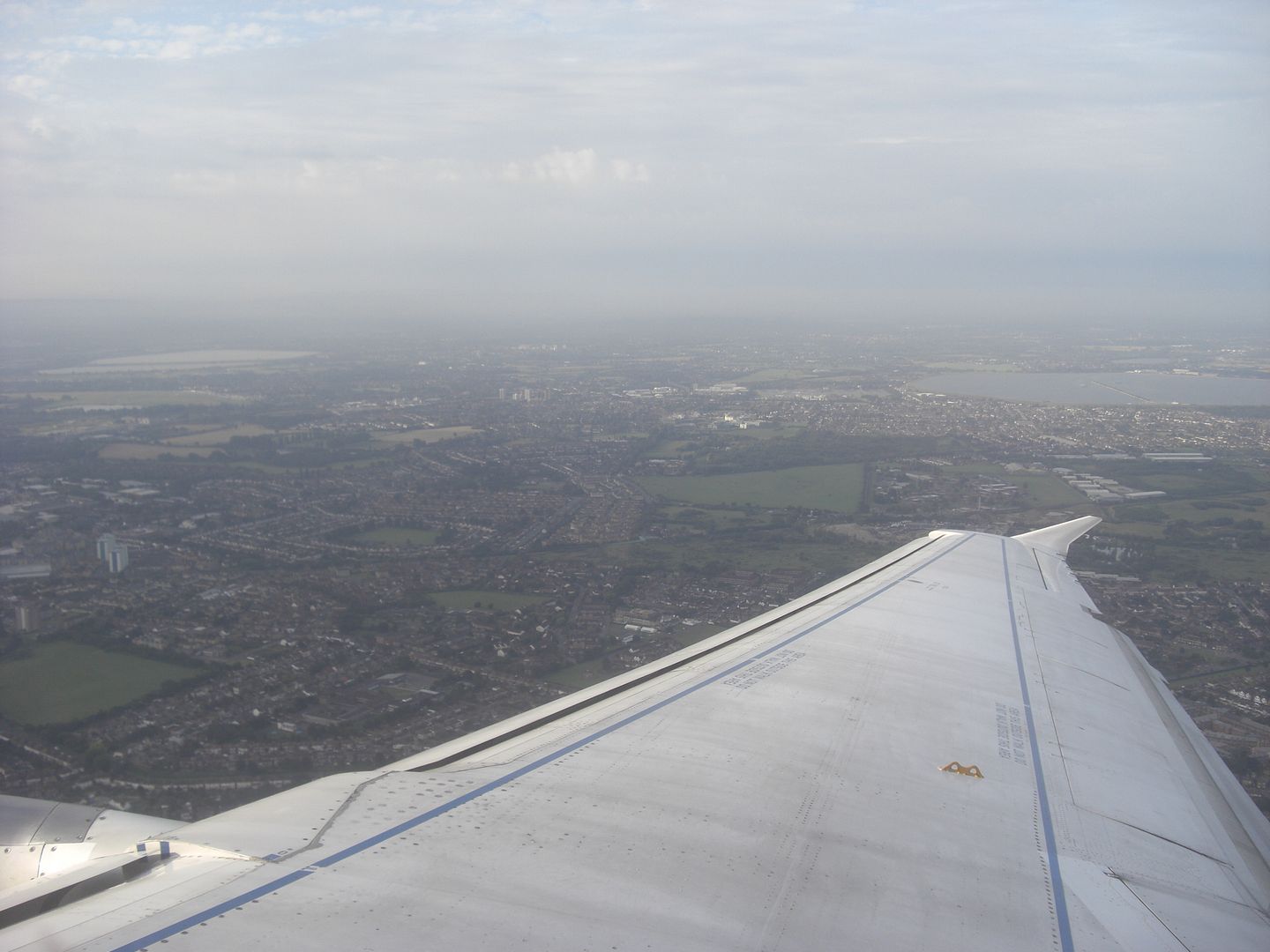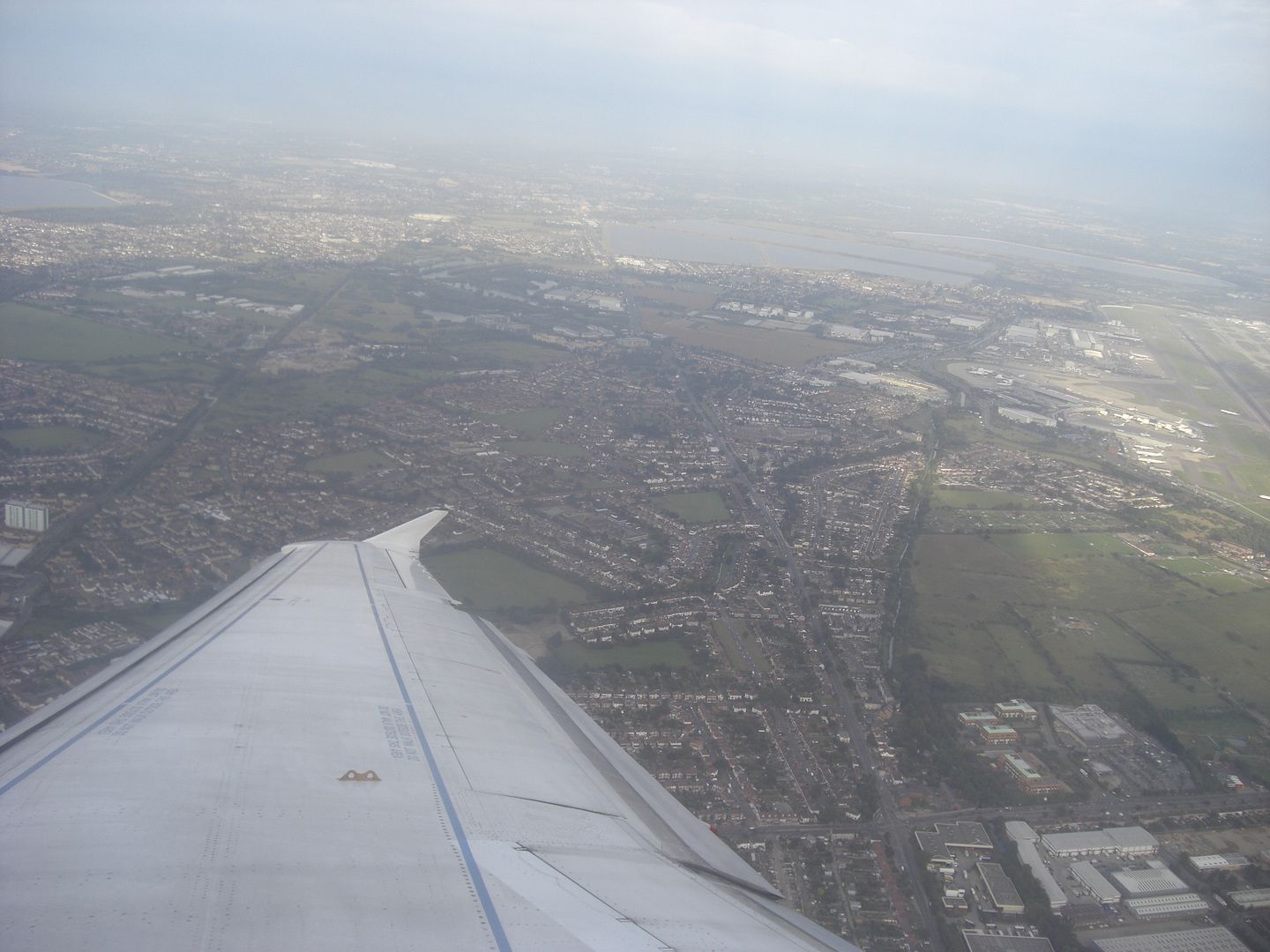 There was a fair amount of cloud coverage, although the flight was pretty smooth.
A quarter of an hour after take off, the (LH branded) trolley was rolled to the front of the cabin.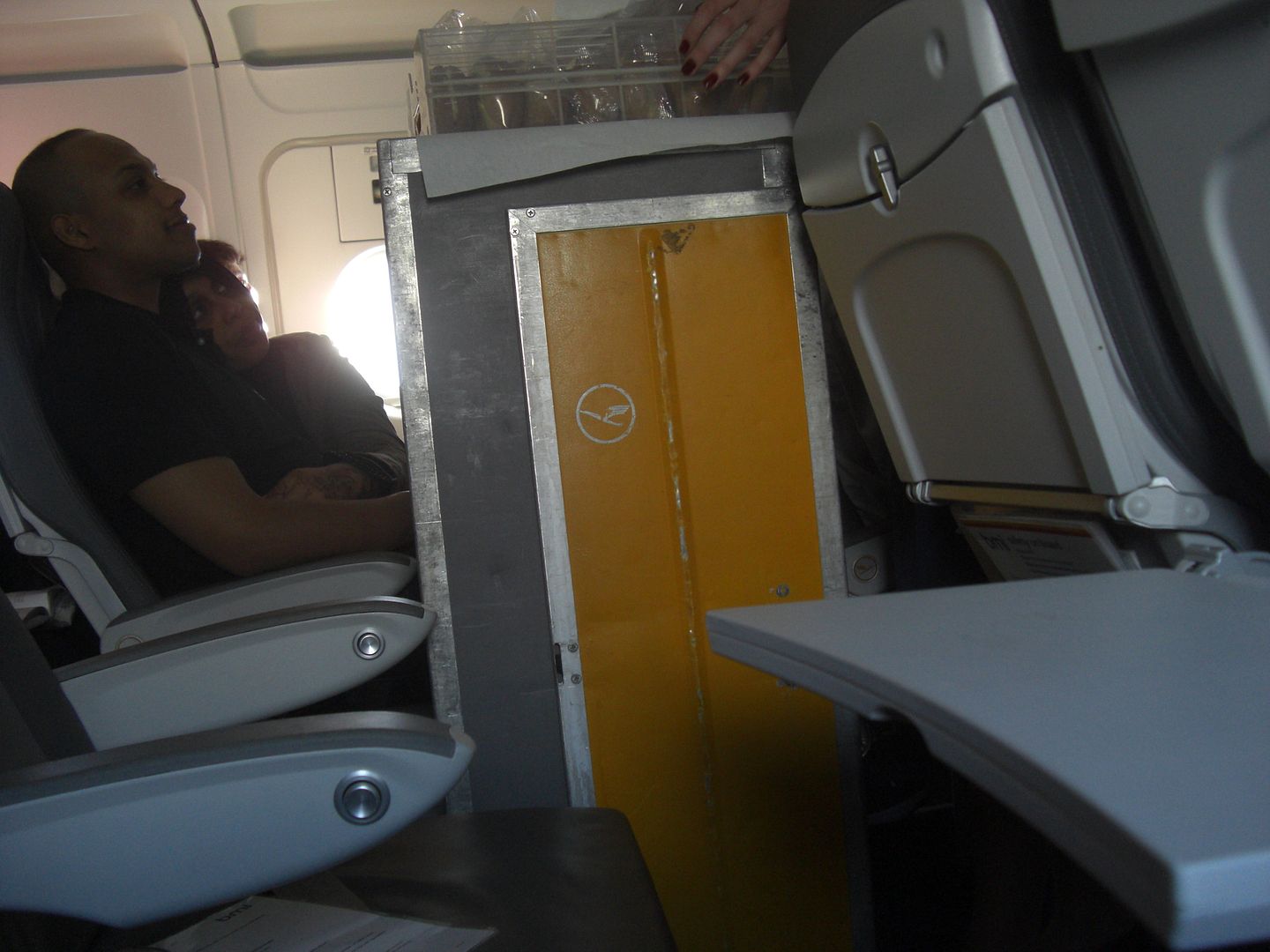 A sandwich (cheese and lettuce) was handed out, along with a choice of drinks.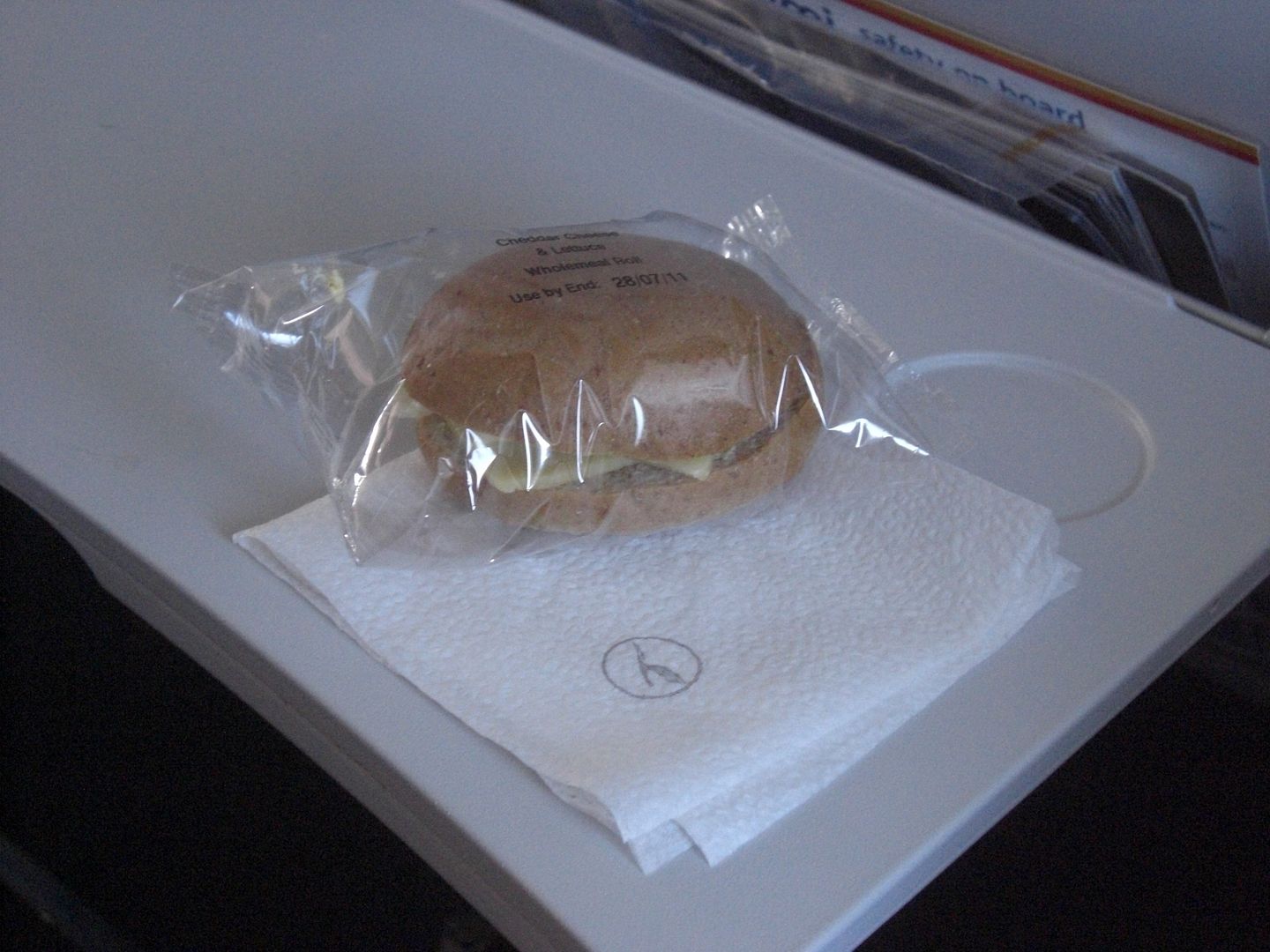 As you can see, it was a LH Italia cup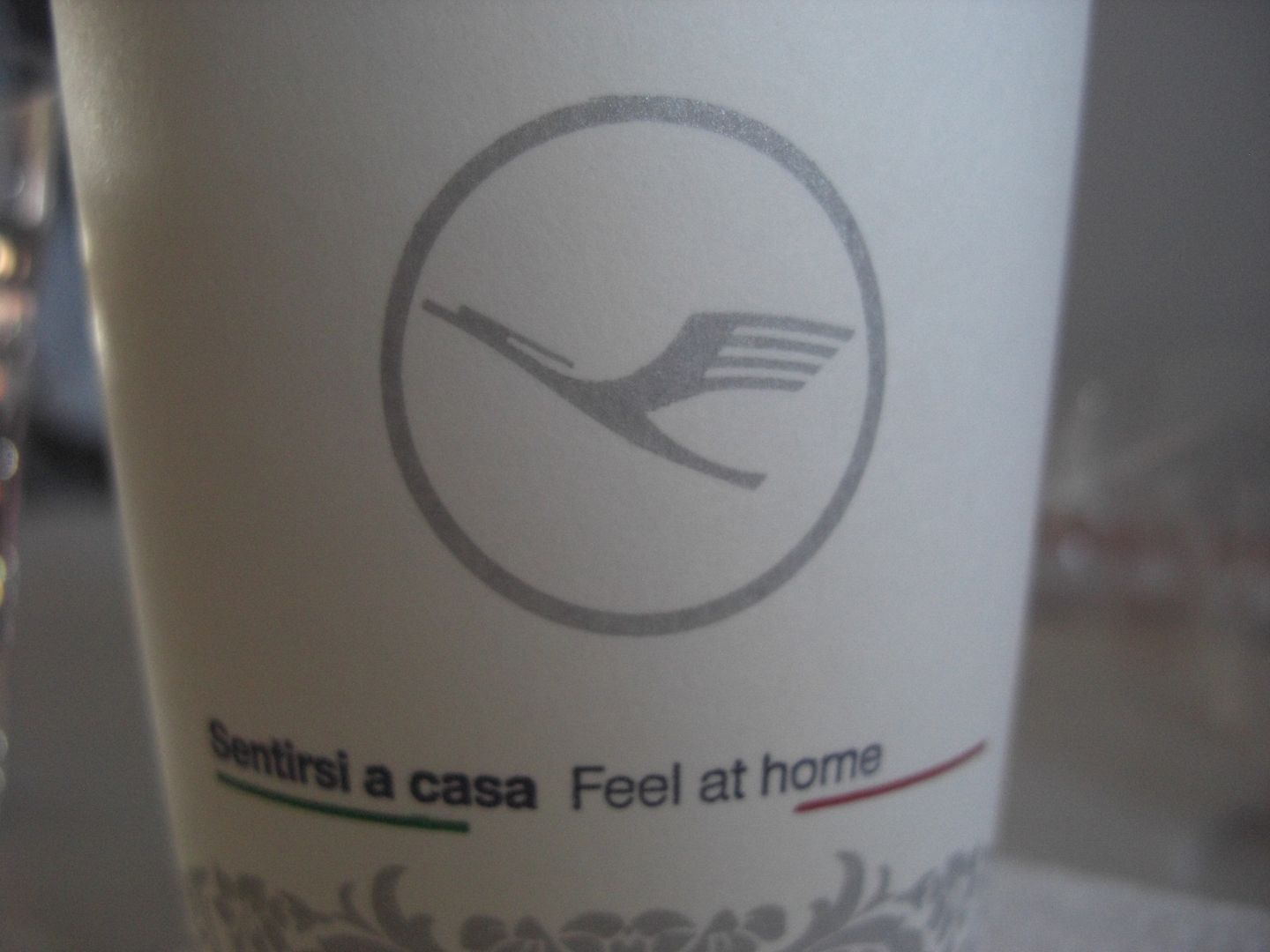 After breakfast, I took a siesta until we began our approach to Milan.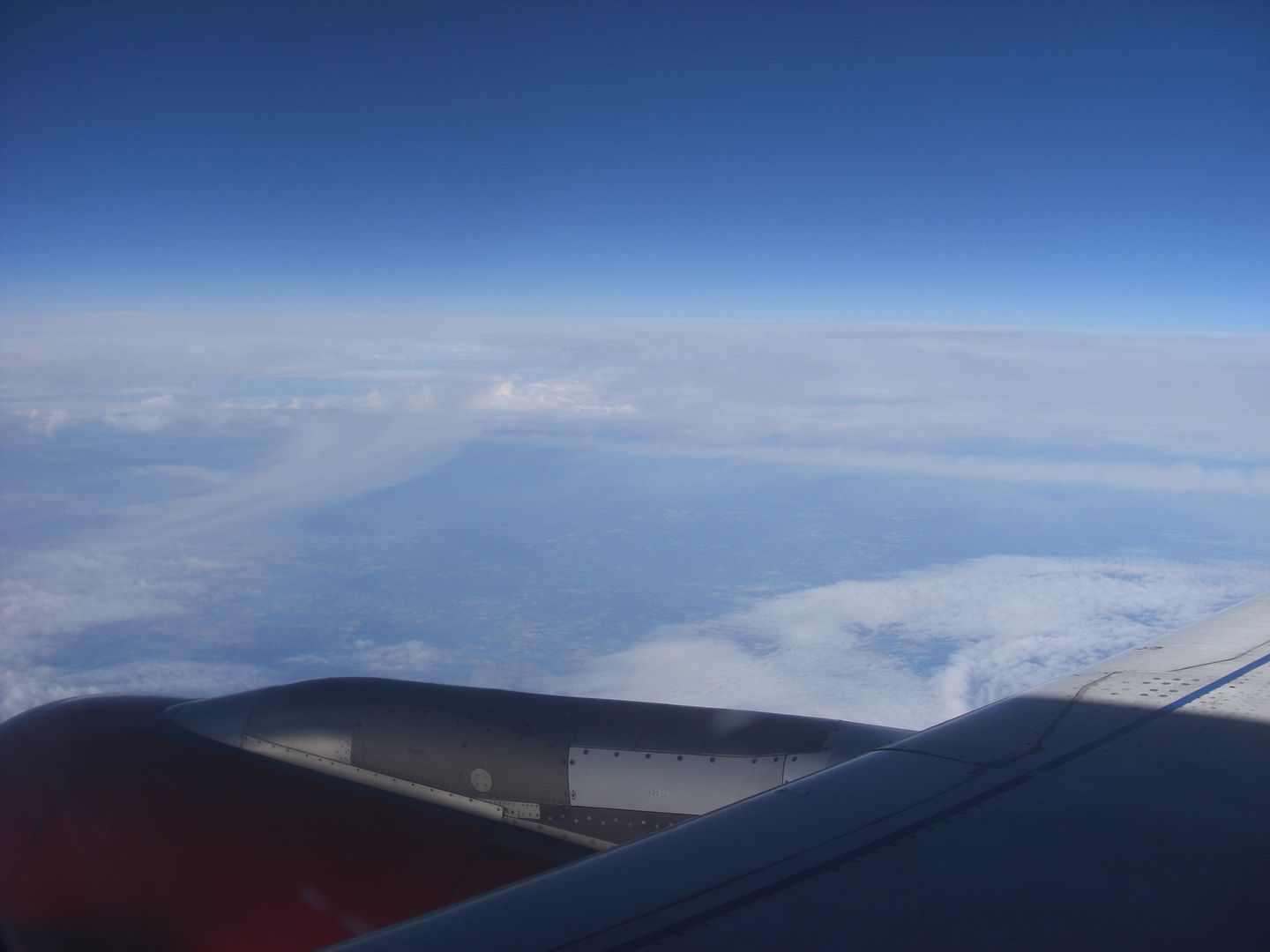 The LH-style cabin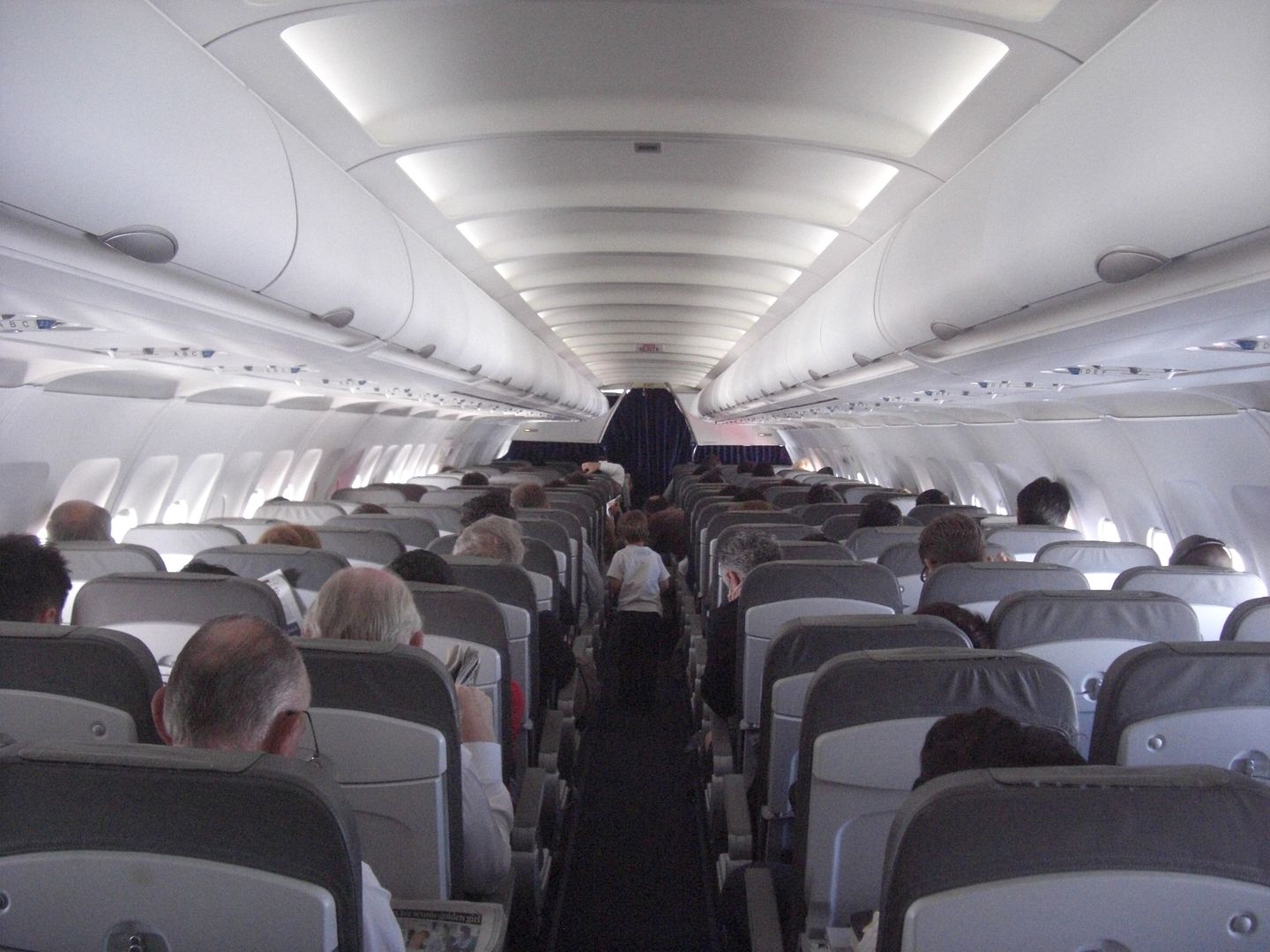 Unfortunately, my window fogged up quite a bit on approach, so the photos aren't very good at all.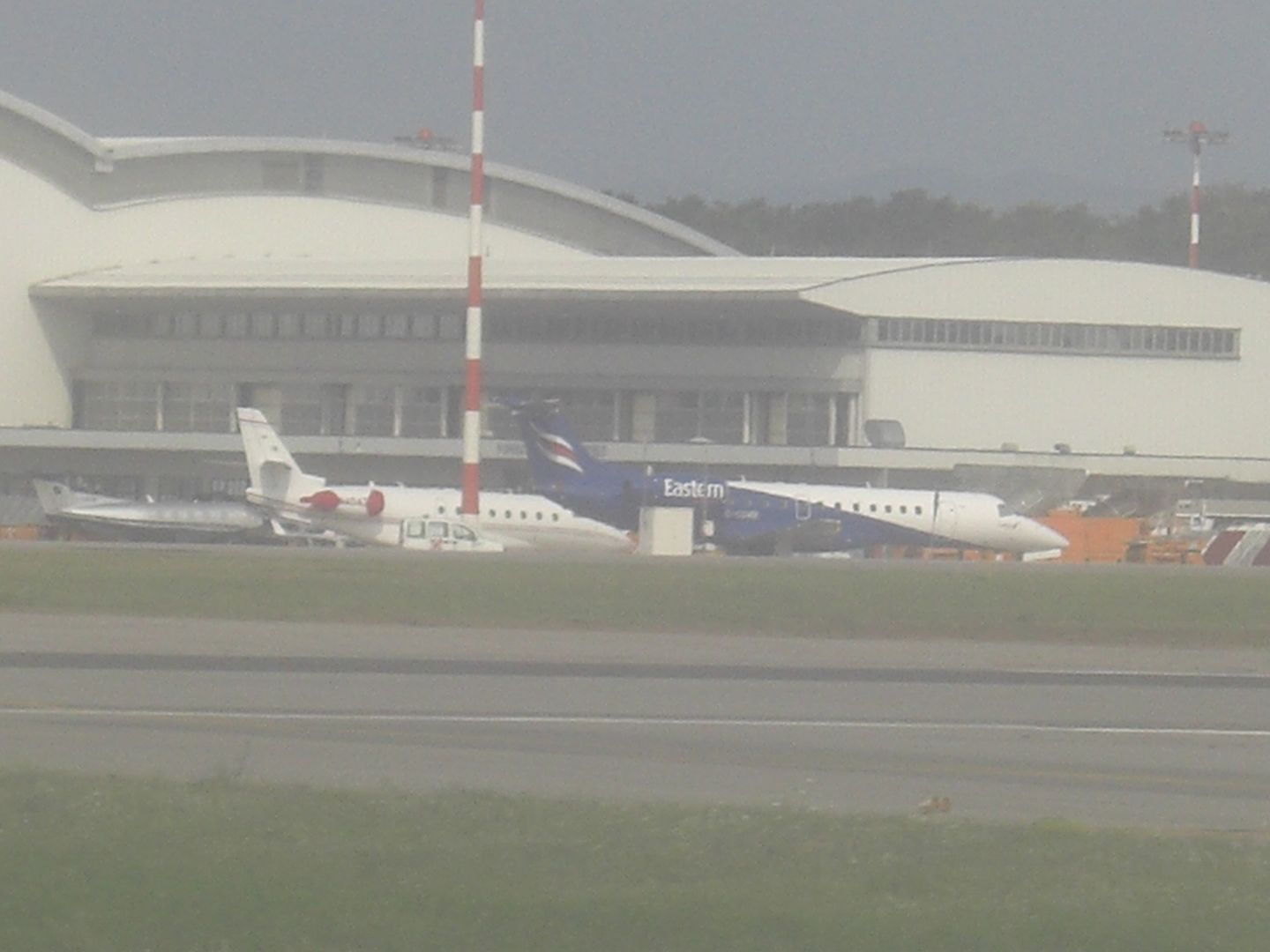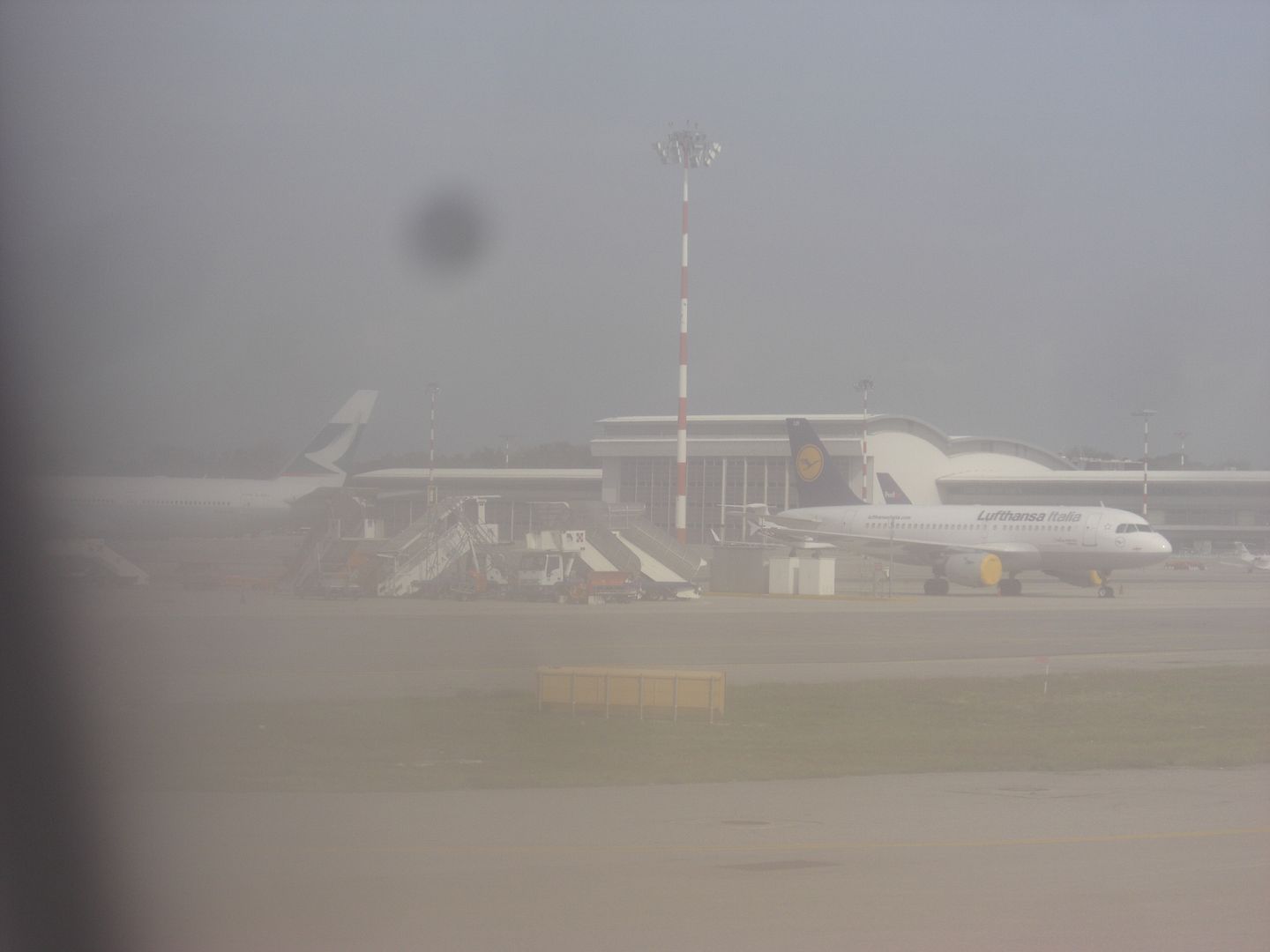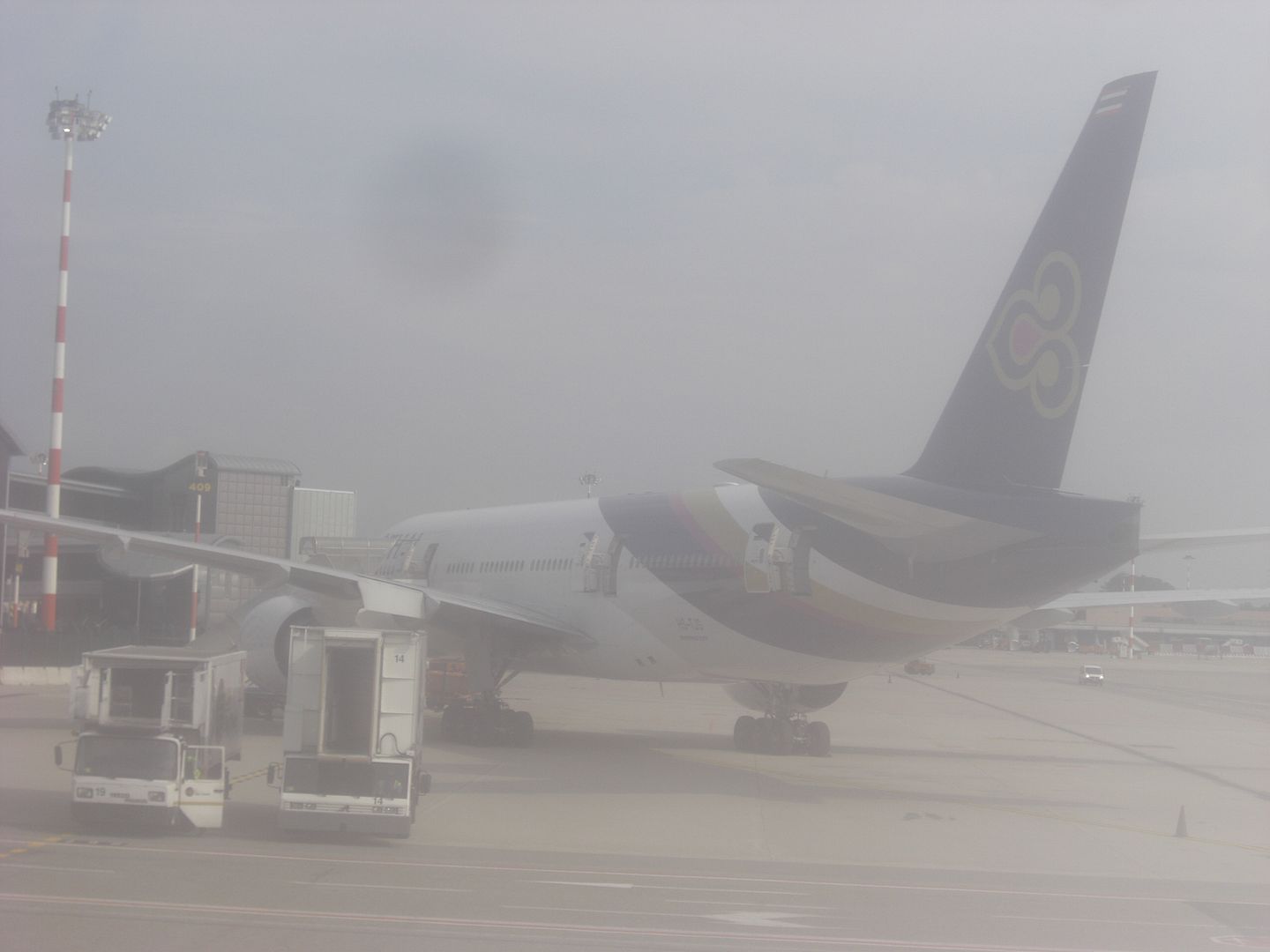 Disembarkation was fairly swift, and before long, I was heading through the very green corridors to the arrivals area.
Our BD/LH aircraft in MXP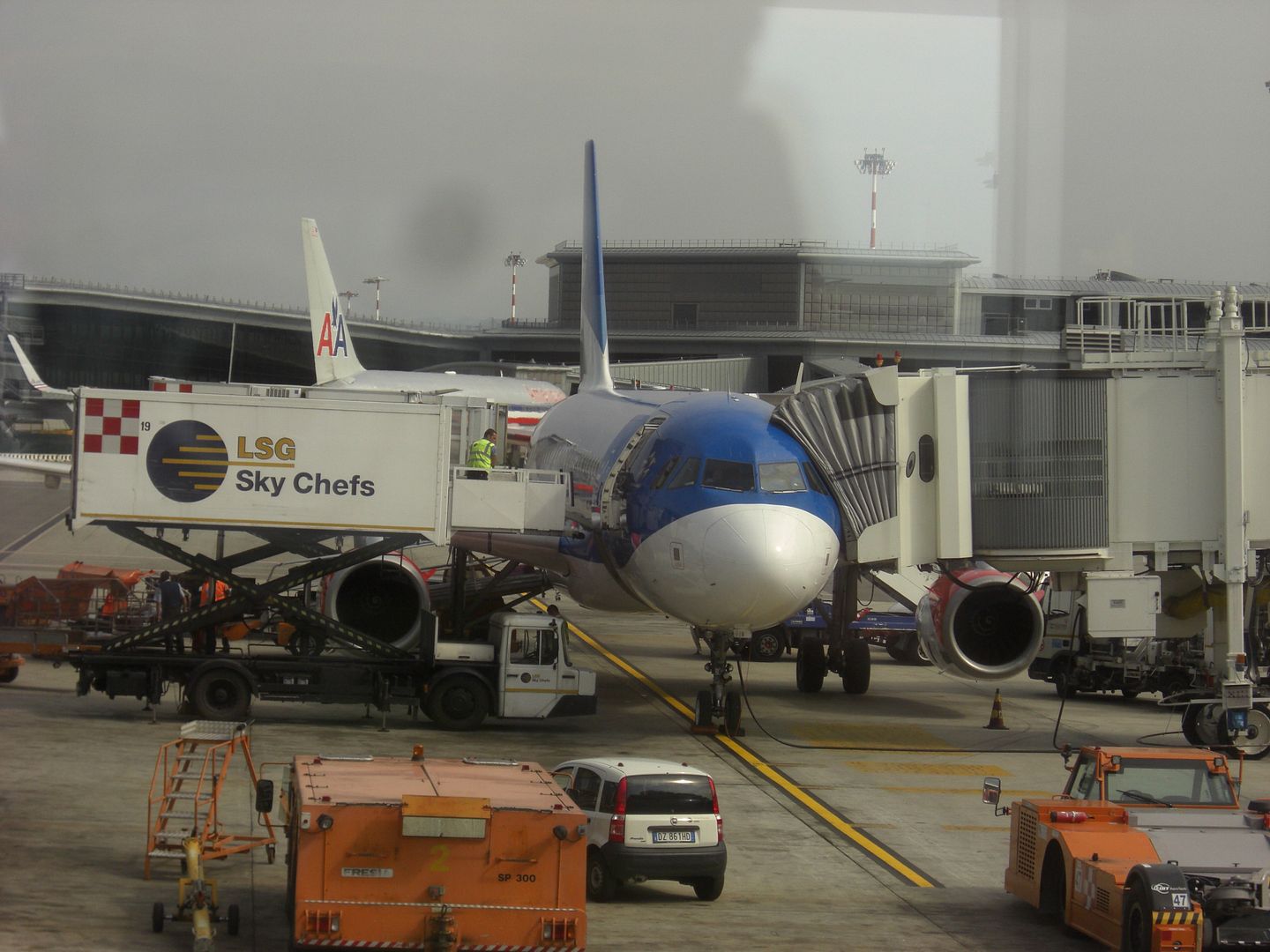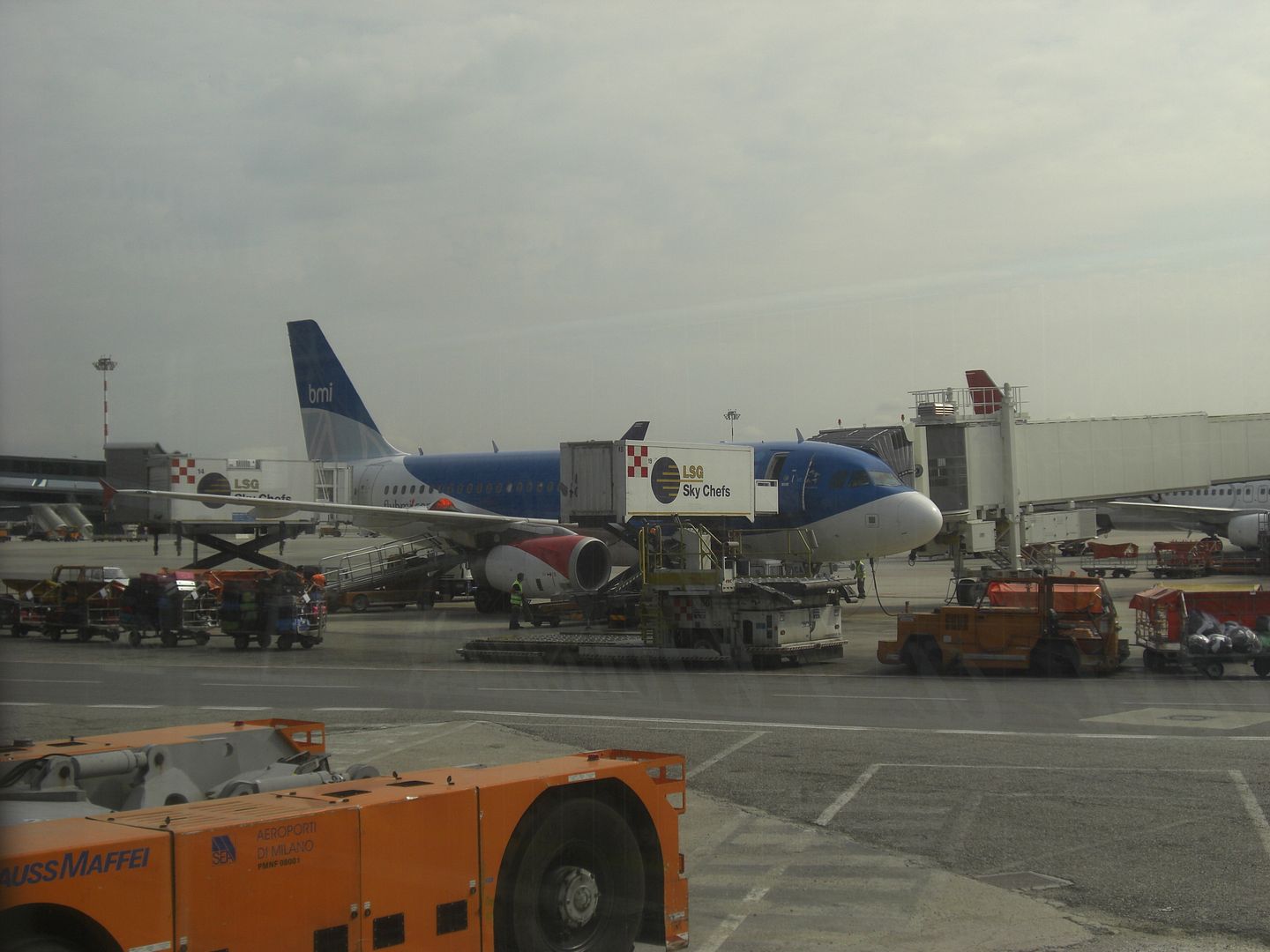 Immigration was very quick. The baggage hall (along with the rest of the airport) felt very tired, and in need to a 21st century revamp.
My bag came out around half way through, despite being priority tagged. I made my way outside, and onto a bus headed for the city.
Despite the rather schizophrenic nature of the airline in question (and I'm still not sure if I flew BD, LH or LH Italia), the flight was good. Having the exit row to myself of a full flight was a nice perk too. With LH Italia going the way of the dodo pretty soon, I guess this aircraft will either be put back the way it was (BD style) or amalgamated into the LH fleet.
A few photos of Milan
High Fashion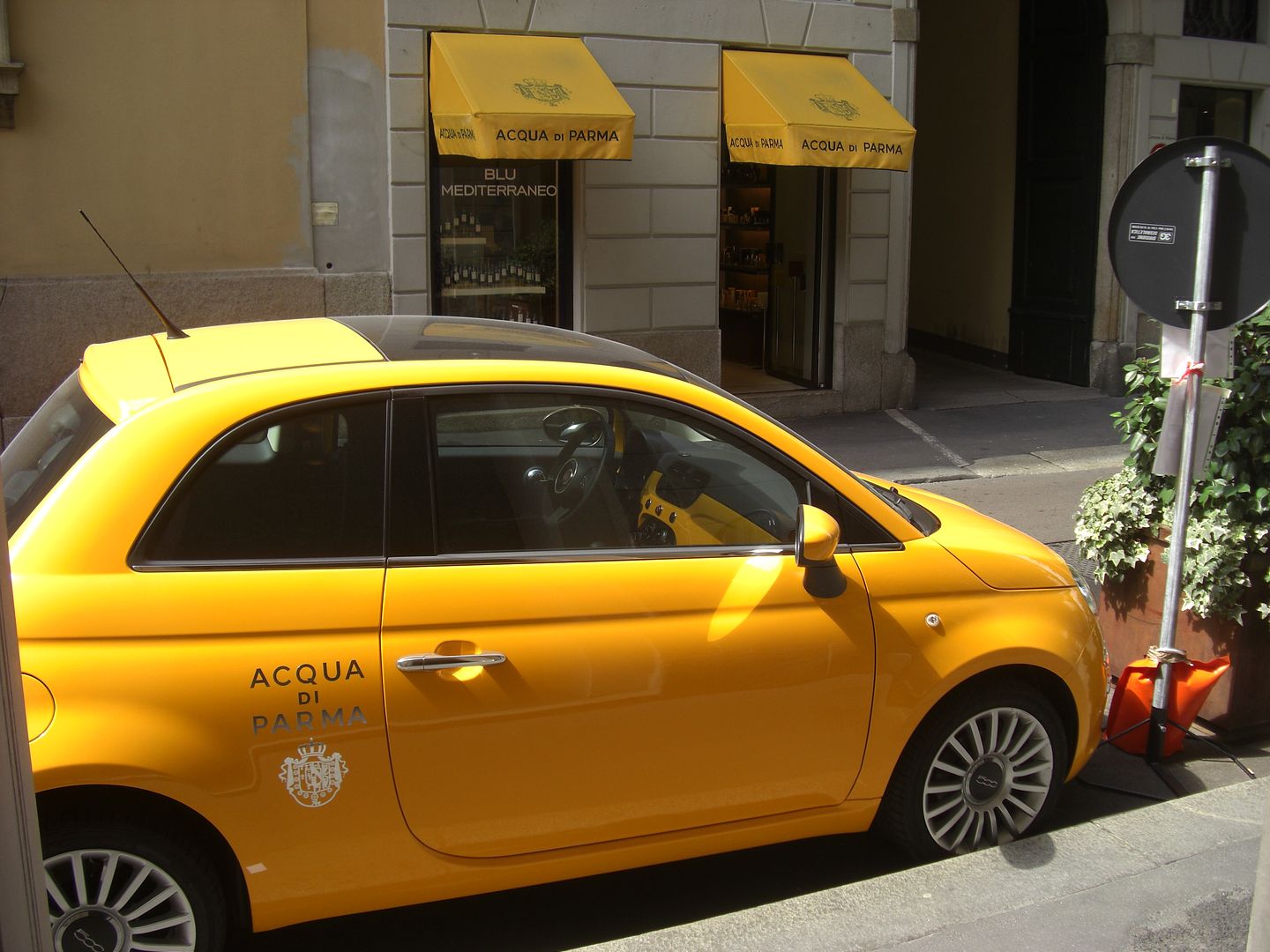 The Duomo (Cathedral)
On the roof of the Duomo
Ice cream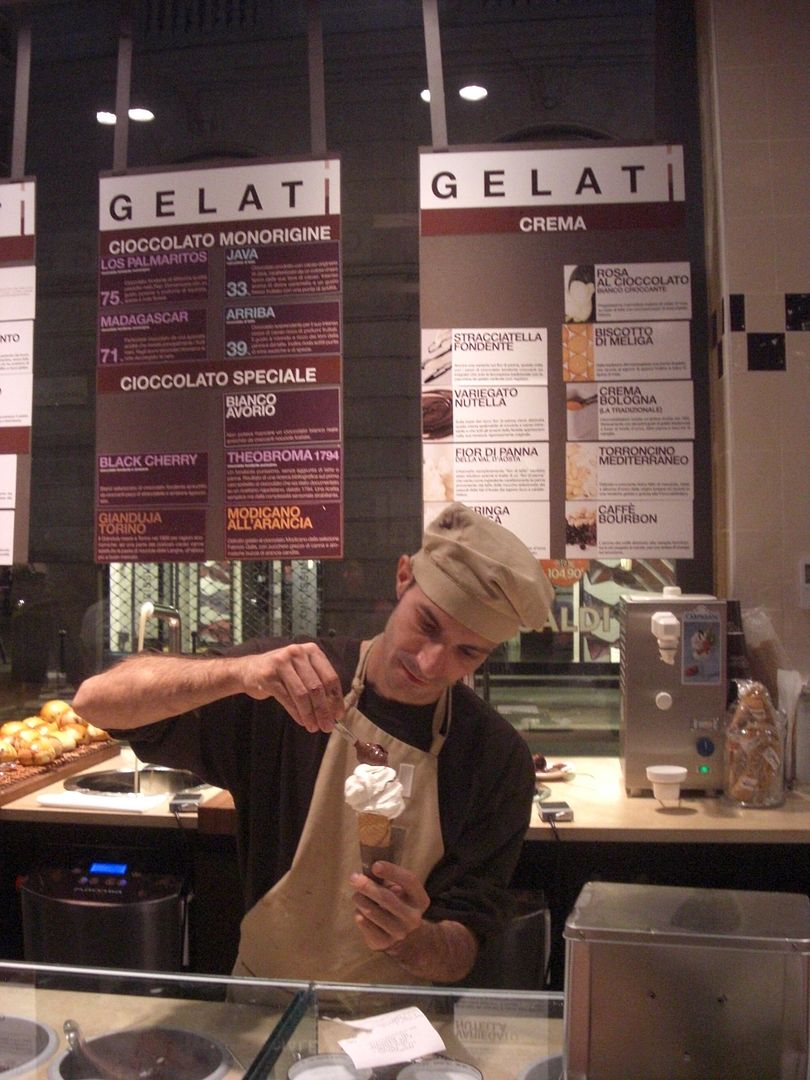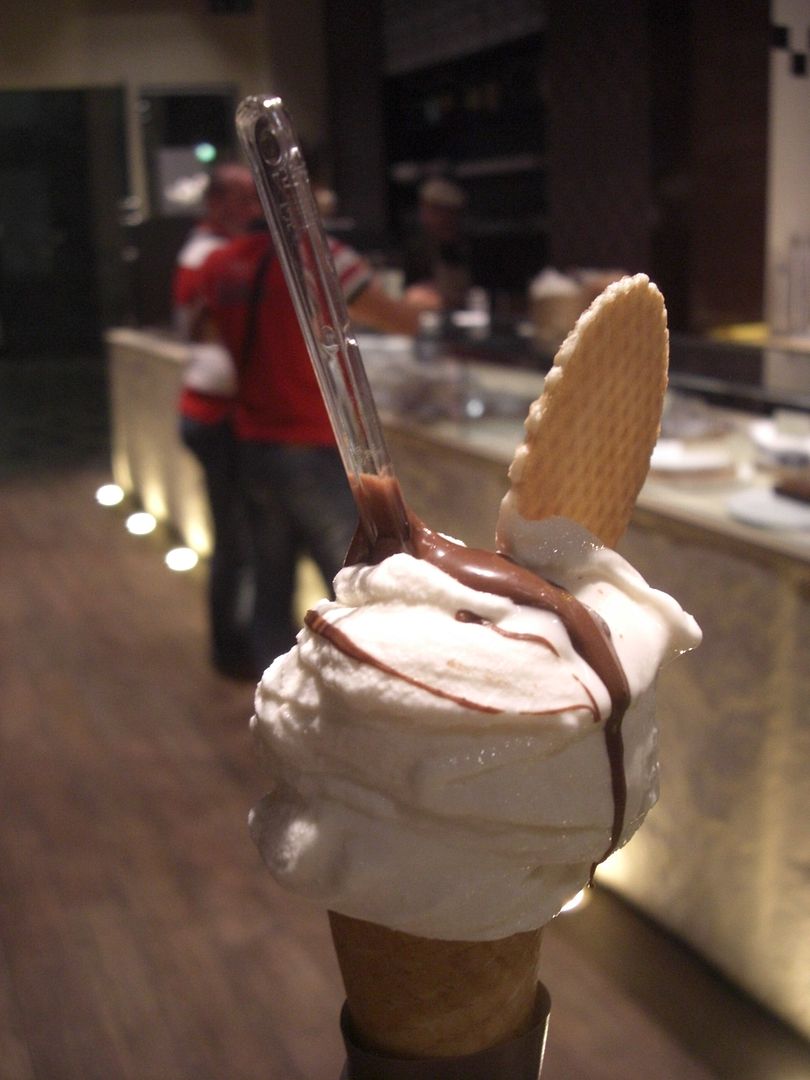 Lake Como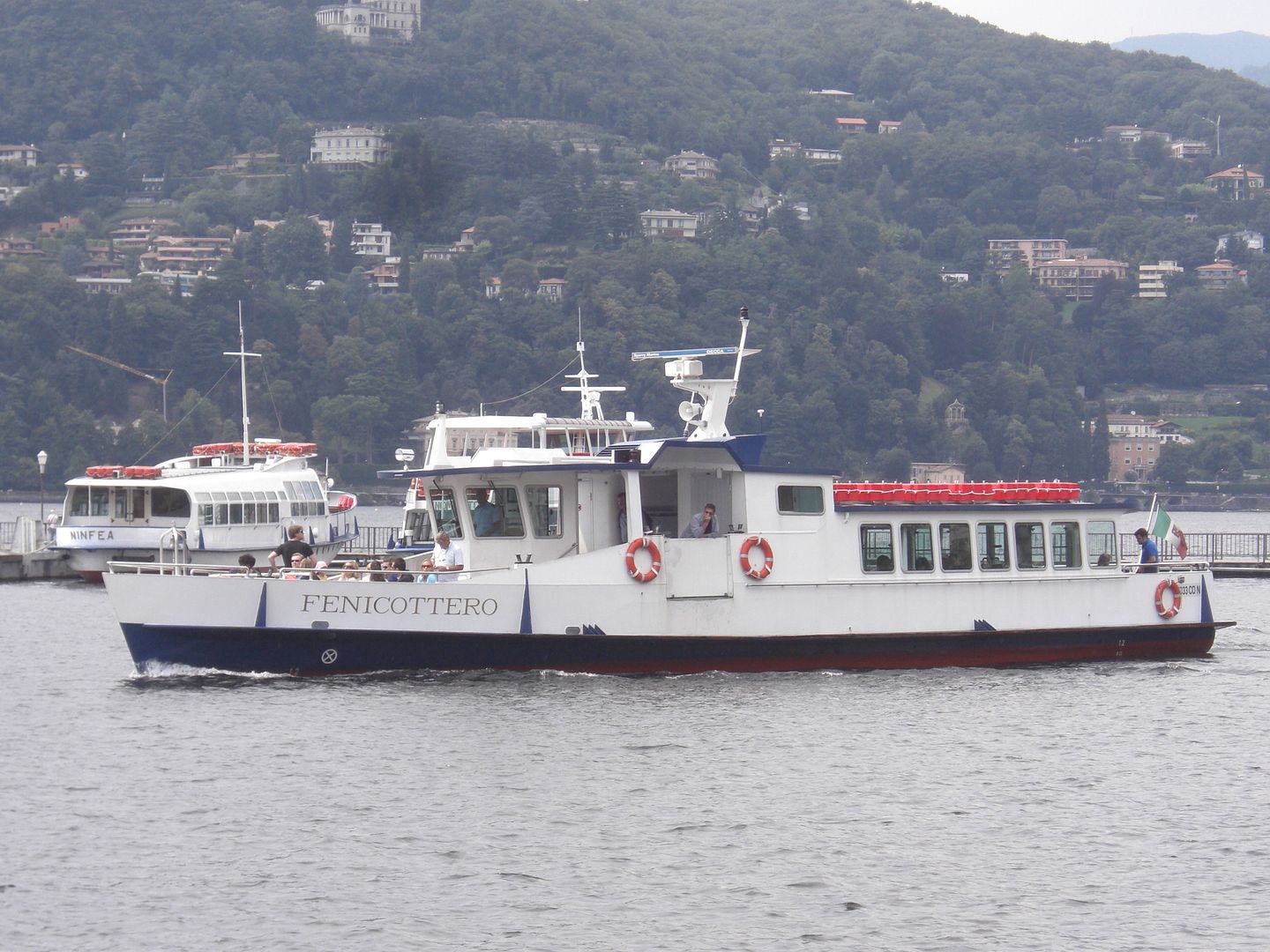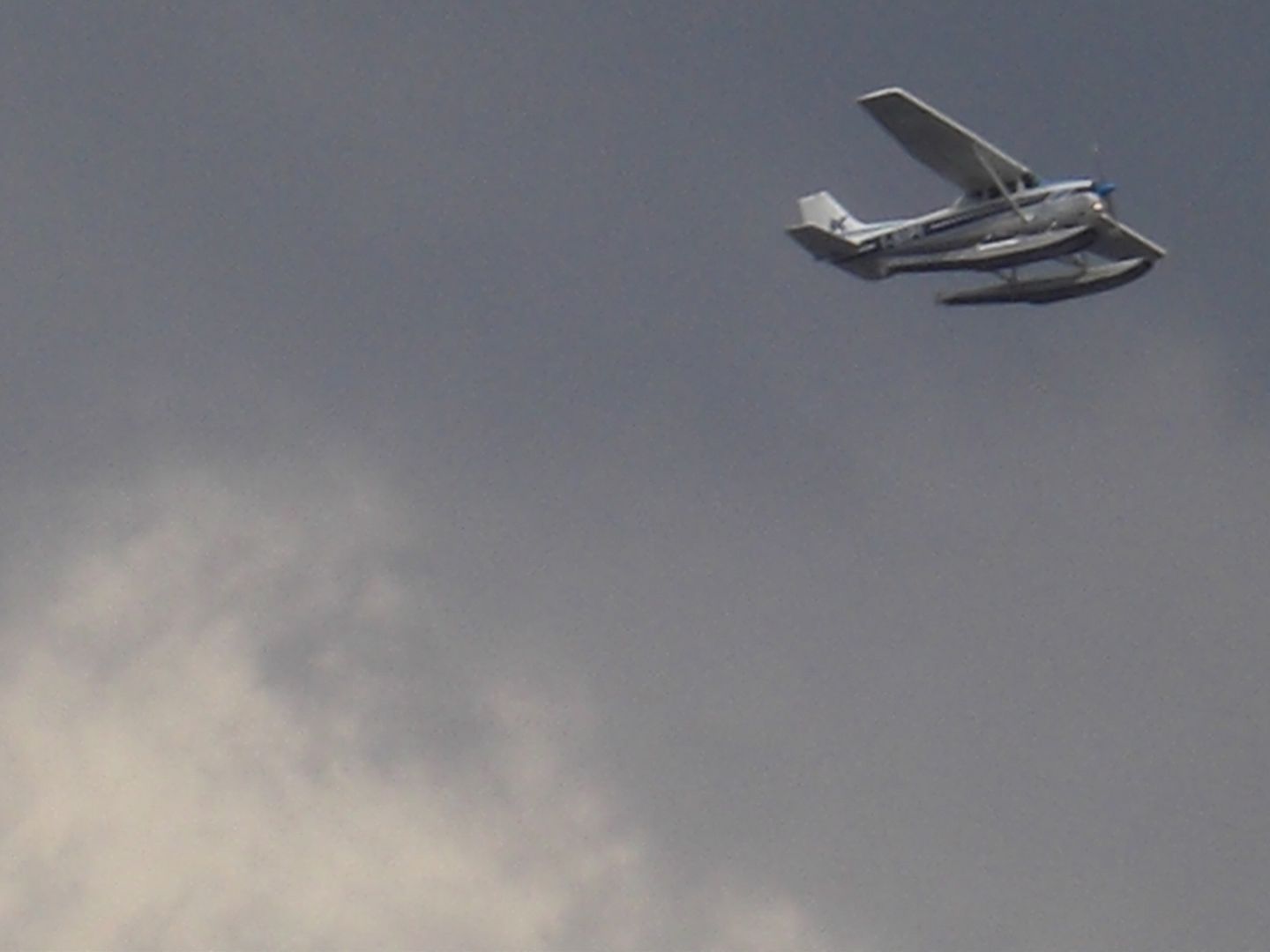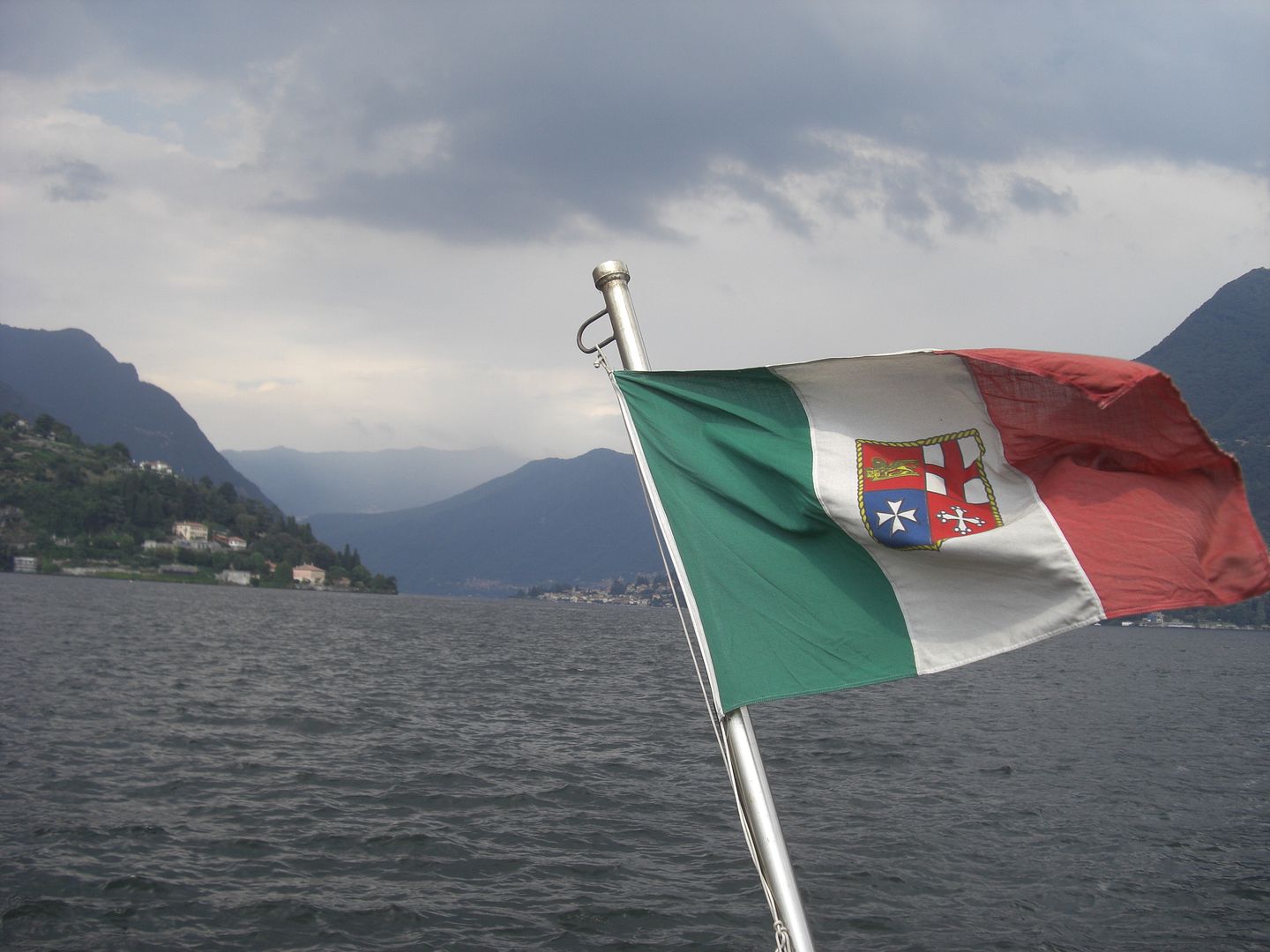 The return part of my journey on BA will be up soon. Comment and questions welcome!
Some of my other TRs:
Part 1, Lufthansa London-Munich-Frankfurt-Nanjing, Economy Class A321 and A343
Part 2, Cathay Pacific Shanghai to Tokyo via Hong Kong, Business Class A330 and B747-400
Part 3, ANA Boeing B767 Tokyo to Shanghai, & Air China Airbus A340 Shanghai to Beijing, Business Class
Part 4: Chinese domestics, inc. Joy Air Xi'an MA60, Tianjin Airlines ERJ, and China Express Airways CRJ
[url=
Asia Part 5: Lufthansa A380 And E90 (PEK-FRA-LCY)
(by
gabrielchew
Jul 21 2011 in Trip Reports)]Part 5: Lufthansa Beijing-Frankfurt-London City, Economy Class A388 and E90[/url]
5 Countries, 5 Flights, 5 Days, with Ryanair (FR)
bmiFriday: Welcome to Sunny Norway, London to Bergen, A319)
Royal Jordanian, London to Aqaba via Amman. A330 and A320
Royal Jordanian, Amman to London, A330
London City to Antwerp with Cityjet and the Fokker 50
Croatian Airlines, LHR-ZAG,PUY-ZAD-ZAG-LHR, A319 and Dash 8
British Airways, Iberia & Binter to Tenerife and Gran Canaria, LHR-MAD-TFN-LPA-MAD-LHR, A320,ATR, A321
British Airways, London To Amsterdam, LGW-AMS-LHR, B737 & A321
British Airways up to a snowy Glasgow, with a change of flights and delay, LHR-GLA-LCY A321 and E90
Turkish Airlines Business Class from London to Istanbul. From Terrible To Fantastic
Turkish Airlines Business Class from Istanbul to Batumi (Georgia). Not again!
bmi Business Class, Tbilisi to London via Azerbaijan
Tallinn to London, with Estonian Air and BA, via ARN
Cuba! BA/IB London-Madrid-Havana, Business Class
Aerocarribean, Baracoa to Havana
Asia Trip, Pt 1: Qatar Airways Business Class (LHR-DOH-ICN)
Asia Trip, Pt 2: China Southern and Hainan Airlines (A321/A346)
Asia Trip, Pt 3: Malaysia Airlines, Hong Kong to Penang
Asia Trip, Pt 4: Qatar Airways Economy (HKG-DOH-LHR)
A weekend in Transylvania with Blue Air (LTN-SBZ)
Helsinki for the weekend on BA and KF
Easter in Ukraine with Austrian
UAE and Oman with BA and Air Arabia. Y & Y+
HKG-LHR-HKG Air New Zealand, Premium Economy and Economy
US Airways LGW-DCA-MSP-LGA-LGW
London Heathrow - Zurich - Venice on Swiss Business for the weekend
Chasing the Eclipse on China Eastern
Taiwan: EVA Air (HKG-TPE rtn), UNI Airways (TSA-HCN), Daily Air (TTT-KYD rtn)
UA HKG-SIN-HKG Y Class, SQ KUL-SIN C Class
Bangkok to Beijing, Egyptair Business Class
Air China Beijing to Harbin, B777 Economy outbound, A330 First Class return
Tiger Airways, Singapore to Darwin return
A selection of Chinese Domestics; China Eastern, Air China and Shenzhen Airlines
Hong Kong to London on Singapore Airlines (744/380/77W)
Qatar Airways Beijing-Doha-London Heathrow (A330/A340)
Air China First Class. Beijing-Guilin via Xi'an
Round Asia Trip. URC-HTN,OSS-FRU,ALA-URC-LHW-KMG-JHG-KMG-SYX,HAK-NKG-PEK-NRT-LHR, Hainan Airlines, China Eastern, China Southern, Lucky Air, ANA, Economy and Business Class.
SAS and Lufthansa Business Class, LHR-OSL-FRA-FRA, B73G and B744