Background:
Summer is here, and I jumped at the opportunity to go on a short city break, and after some careful planning, I decided to go to Berlin which I haven't been to for many years. My rather demanding travel partner requested a direct flight, and the cheapest ticket came up at £450 with BA, which was just around £30 more than LX. This seems to be quite a good fare seeing as I was booking just one week in advance during peak season, so I booked the flights immediately, leaving my itinerary as follows:
28.07.2011 BA 982 LHR-TXL 08:50 – 11:35
31.07.2011 BA 991 TXL-LHR 11:05 – 12:05
My previous experiences with BA have overall been poor on short haul sectors, mostly because of poor service, delays and strikes – all of which have contributed to the rather negative connotations I associate with this airline. I was filled with hope that my previous experiences were unusual in everyday business. This trip will also let me try out T5 at Heathrow for the first time.
Booking was simple through ba.com, which gets the job done quickly and easily – in spite of the constant prompts to purchase additional services including seat selection. BA charge £20 for seat selection prior to check in, even for Club Europe passengers, a service which should be free for premium classes. Interestingly, of my £450 ticket, over £100 went towards taxes and charges – something that continues to astonish me.
Welcome to my fourth trip report.
LHR and prior:
Naturally, with no opportunity to select my seat prior to check-in without paying, I checked in online as soon as it opened, twenty-four hours prior to departure. The process is very accessible and can be completed, again, quickly and easily. Boarding passes were in hand well within five minutes.
My taxi showed up at around 5:50 the morning of the flight, and the trip to LHR at this time of day is very fast. The entry into Terminal five was simple, and club world and First class check in desks are located to the right of the check-in hall, in a separate area. We proceeded to Club bag drop and were processed quickly by a friendly agent, who informed us that there was no delay as of yet and asked the standard security questions. The hall really is very spacious, and a little overwhelming at first when you take in the roof line and electronic billboards. Overall, arriving at the terminal was a very pleasant experience.
Fast track immigration and security are conveniently located to the left of the Club World check in desks and are discretely signposted. The queue was quite long for fast track, but we were handled promptly and were through security in a few minutes.
The lounge located to the right of security is dedicated solely to First class passengers, and we were directed to the other 'Galleries' lounge, to which we proceeded after some shopping in the main area. Compared to many airports the spaciousness of this terminal is not at all revolutionary but what is good is the efficient use of space. There are a great many stores of all variety and these cater for all budgets, and most of the major brands and designers can be found here. Although I love his restaurants, I did not try the Gordon Ramsay restaurant today, but from what I have heard it is a bit of a gimmick.
The other Galleries lounge area is very large and the Club World lounge is located on the top floor, and looks very functional. The lounge clearly caters for very many passengers, as the reception area looks like a row of immigration counters, and there are several seating areas, each of which have different atmospheres. The lounge wasn't particularly busy when I arrived but the pace did pick up after a while, leading to very little privacy. I also noticed a large amount of dirt around the lounge – especially on the surfaces. This is surprising considering how early in the day it was.
The Lounge:
Views: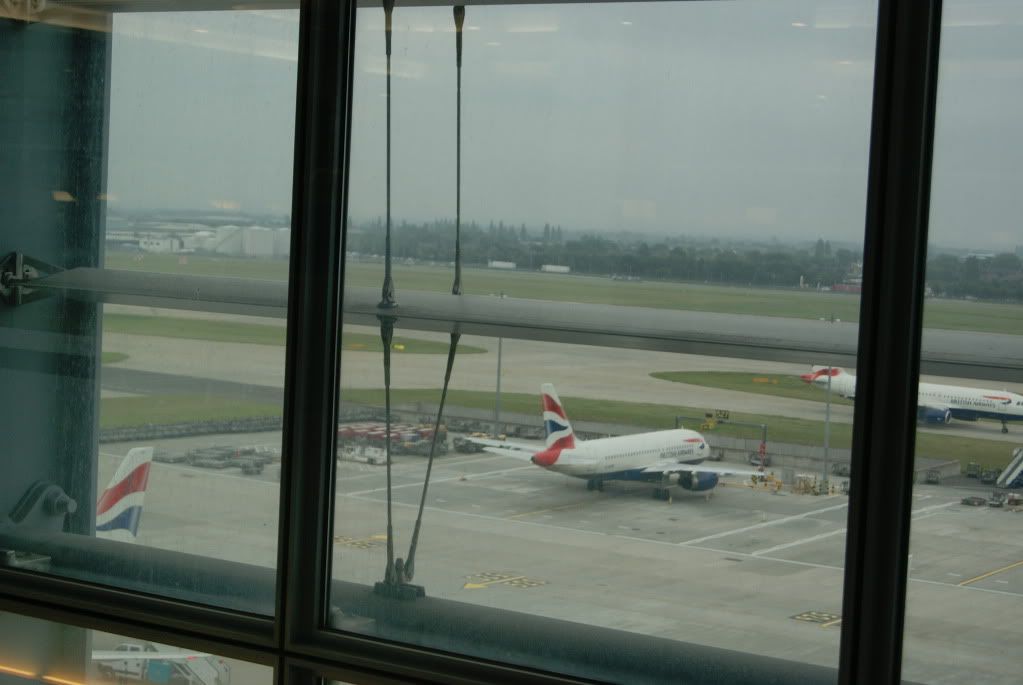 Surprisingly, there was no full English breakfast buffet as expected, but instead a buffet of cold cured meets, cheeses, etc. were on offer. There were also bacon sandwiches available and a vegetarian option of mushrooms instead of bacon as well. The beverage selection was outstanding with a massive range of alcoholic and non-alcoholic beverages which should more than cater for everyone's tastes. There is also a large variety of international newspapers, and very fast free WiFi connectivity (the password is available from the departure boards).
We were both very comfortable, and the lounge offers unique views of runway 09R, from which aircraft were departing. The windows are in fact parallel to the runway, which begins at the midpoint of the windows. The boarding passes I had printed at home stated that boarding would close at 08:30, so we left the lounge just after eight, towards gate 9A, from which our aircraft would board.
After some more impulse purchases, we arrived at the gate at 08:15, but the screens still displayed 'please wait'. Boarding did not begin until twenty-past, after which we boarded through the clearly marked priority lane. To board the aircraft, passengers must descend an escalator and then we passed through a very steeply slanted aerobridge with little friction, which gave me and my leather-soled shoes a hard time. We were onboard and took our seats in the rear of the Club Europe cabin in no time.
Neighboring aircraft: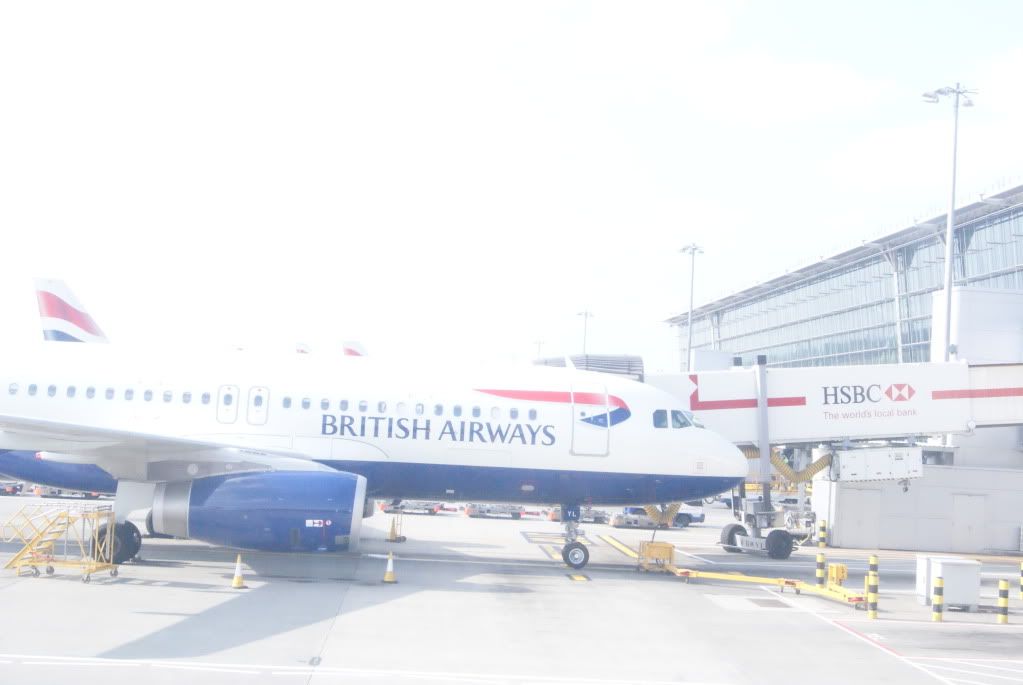 28th July 2011
British Airways BA982
LHR - TXL
Departure: 08:50 (08:57)
Arrival: 11:35 (11:35)
Scheduled Duration: 1:45
Equipment: A319
Cabin: Business (65% full)
What became immediately obvious is the prominent signs of wear and tear on the seats, and this aircraft really was showing it's age, as the leather was torn in places, the armrests and seat backs were flimsy and the seat pockets were falling apart. There were also no welcome drinks or towels offered, which really did not impress.
Seats and Legroom: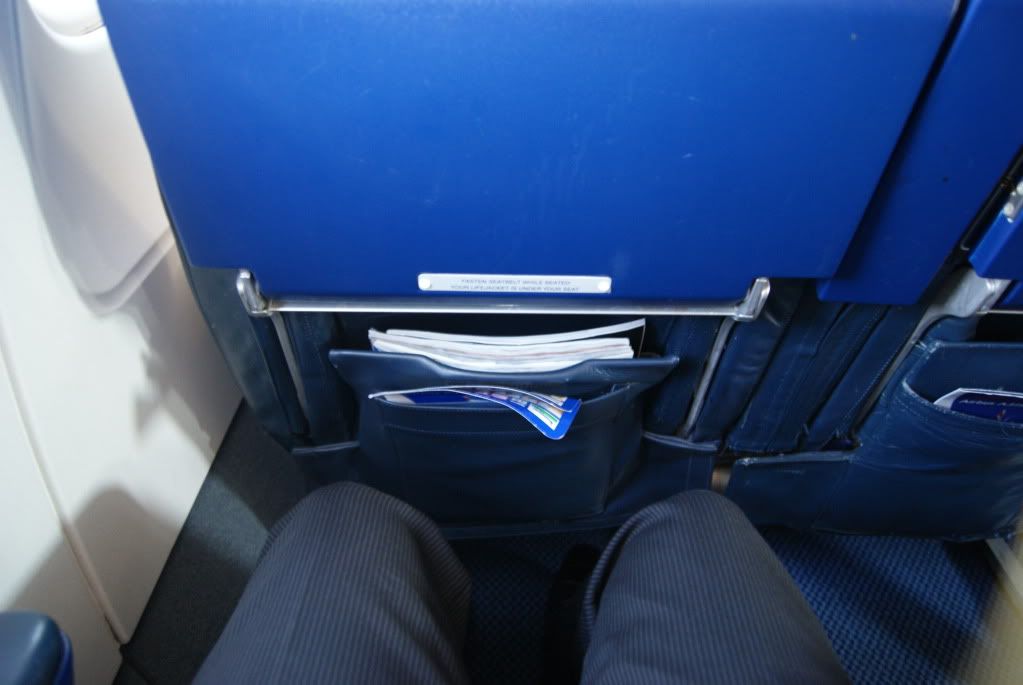 Boarding was completed quickly and only thirteen of the twenty seats of this cabin were occupied, meaning I changed to the seat in front, which offered noticeably greater legroom as well as less visible damage to the seats. In addition, the seats on the right side of the aircraft have three, full sized seats, which meant more room between passengers. Once the door was closed and push back completed, the taxi to runway 09R took little over a minute and we were on our way very quickly.
In Flight: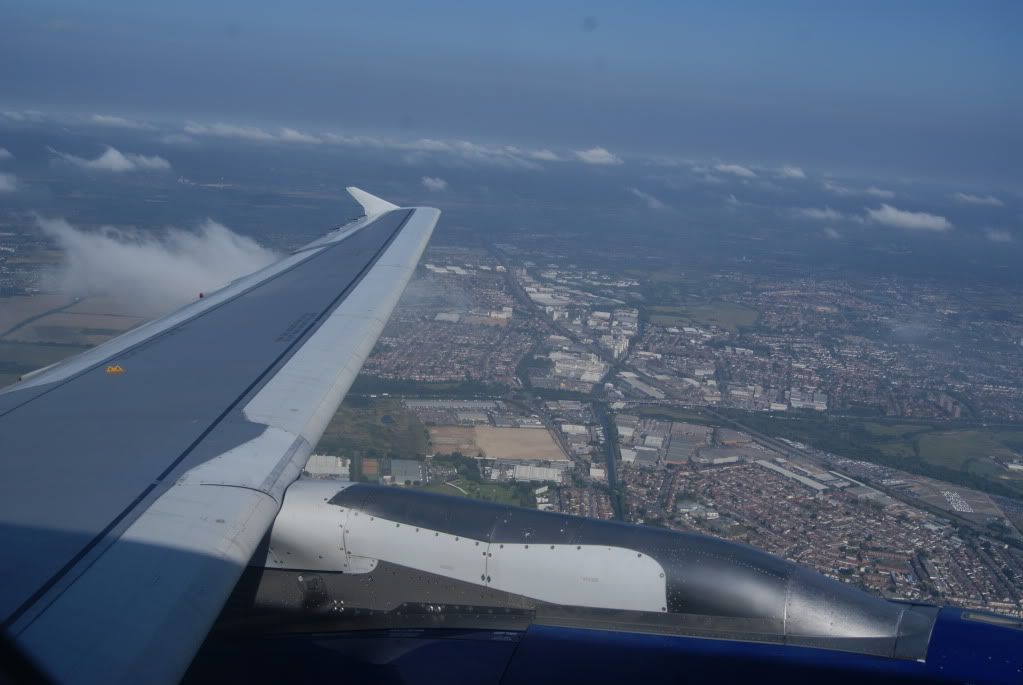 After departure, announcements were made by the ISM (who served the J class cabin) about the breakfast service, which commenced immediately. I haven't seen a Business class cabin of this size served by only one FA before, but service was very efficient and he was at all times courteous and professional. However, meal distribution did tend to be slower than usual because he was working on his own. The meal trays were distributed first, followed by juices, then tea or coffee, and then water was brought around. I the midst of this two bread/pastry runs were completed and trays were collected all within one hour. This must be overwhelming but from a service point of view I cannot fault the speed and efficiency with which tasks were carried out. The meal was standard for a regional J class flight of this length in Europe, so nothing really to report there.
Breakfast: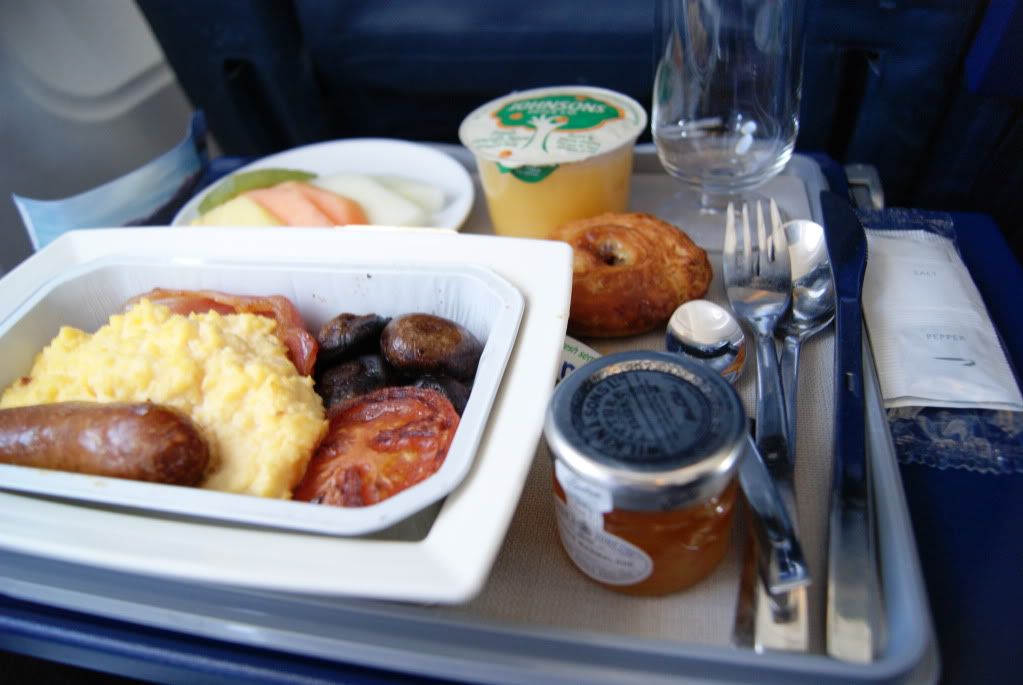 I couldn't help the feeling that everything around me was created with a 'that will do' attitude, whether it be the obvious discrepancy of seat width, or the shoddy maintenance, the old and damaged magazines in the seat pocket, or even the allocation of just one FA to the Business class cabin – especially surprising when I hear of the substantial increase in premium traffic across the BA European routes.
In Flight: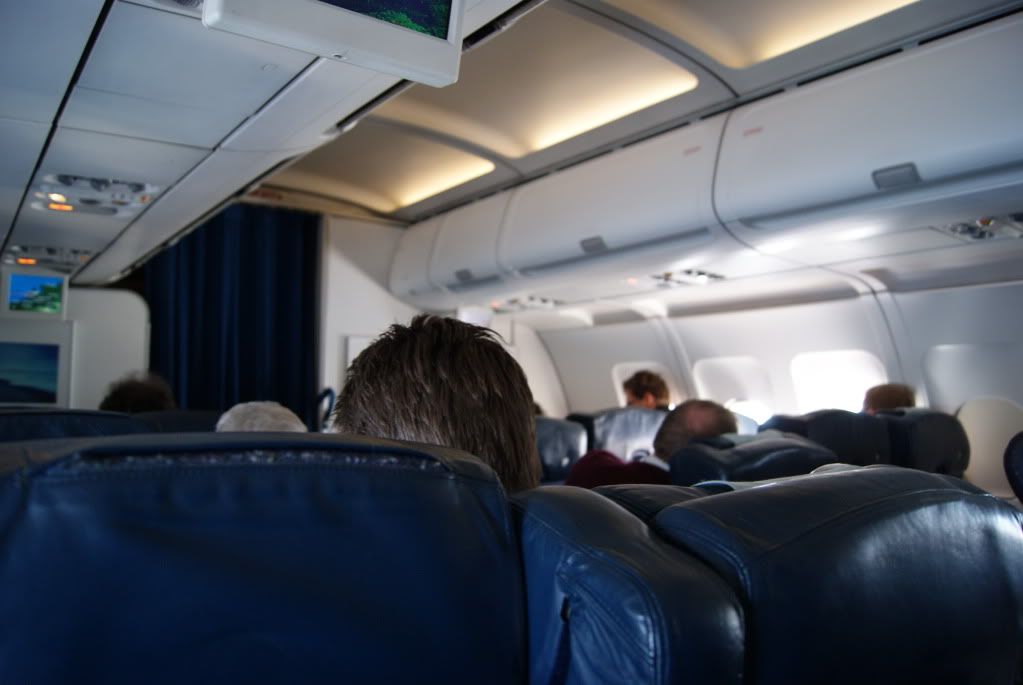 More announcements were made, and the duty free was brought around. After this we descended into a cloudy Berlin where we were on the ground on time with no turbulence during descent. I have never previously experienced the arrivals system in place at TXL before. When you disembark the aircraft and exit the aerobridge, passengers are immediately faced with immigration counters, followed by a baggage reclaim belt in the small hall behind the counters. One then passes through customs and is quickly on their way and out of the terminal within minutes. The one downside is that a crowd of passengers are left waiting for ten minutes in that small hall until the baggage arrives, and to be honest I would rather be walking through a terminal than waiting around for that time.
Overall a good flight, mainly due to the very good service and the use of terminal five, which appears to have improved customer experience substantially. This is also one of the few times that the priority label on by baggage has actually led to mine being one of the first bags on the belt. I don't even get this at HKG. Taxis are conveniently located, and even better - they are mostly E-Class Mercedes-Benz sedans. The ride to our hotel in central Berlin took around fifteen minutes and cost us under twenty euros.
Our stay in Berlin was pleasant despite continuing rain, but it was soon time to leave. We checked-out of the hotel at 06:00 and proceeded to Tegel airport which, again, is a quick taxi ride and does not involve any autobahn travel. The taxi driver asked our destination and departure time, and stopped on the airport access road, where there is a large board displaying all departure information by terminal. Our flight was scheduled to leave from gate A04, so we were driven to the A terminal, which is in a circular shape and is to where we arrived three days earlier. This building really does look like an old military airbase from the outside, and not like a modern airport terminal. The taxi dropped us off near gate A06, from where we proceeded to A04.
Advert for Berlin's New Brandenburg Airport: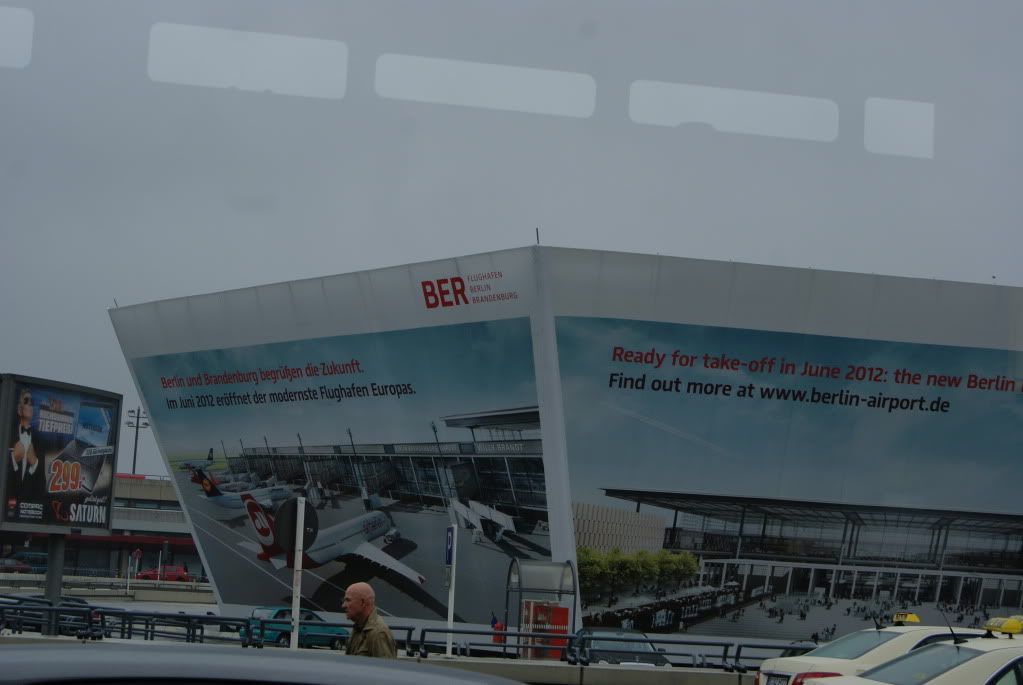 As previously stated, this style of airport is very new to us, so we did not know what to expect. The check in area near A04 was open, but not for BA flights. After walking for well over ten minutes, we found the British Airways Terraces lounge which is accessible by stairs or lift and is located one floor above the main area. The lounge only had one other passenger, and we were admitted by a very warm and friendly agent, who also printed out boarding passes and informed us that this aircraft has three rows in the J cabin, with six passengers.
Airport Interior: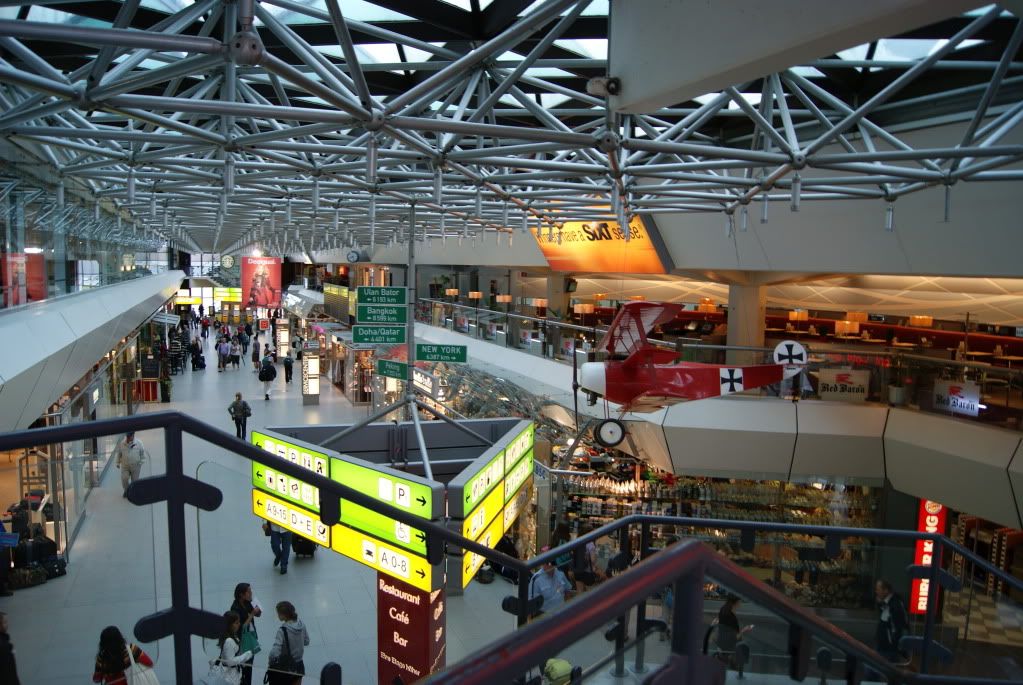 The lounge itself is like something from the 90s, with worn, old style furniture and a very modest selection of food and beverage. There were no hot dishes, and the only cooked food available were hard boiled eggs, kept in ice. The lounge also only offers very restricted airside views and vast views of the airport bus stop. Having said that, I was impressed that BA had their own lounge at TXL, even if the internet did not work.
Lounge:
Restricted Air Side Views: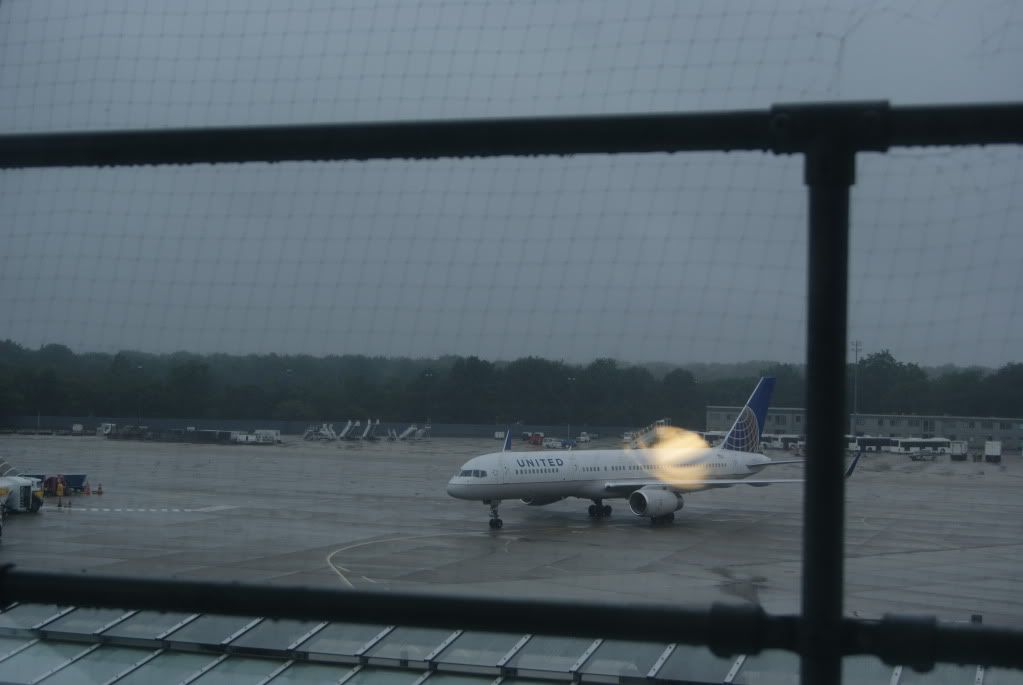 Time flew by and when the time got to 10:15 we left the lounge and headed for the departure gate – still A04 because we still had to check in and go through security. The layout of this airport really did fascinate me, as I have never experienced anything like it before, and I can't figure out if the system works for long haul flights, or even flights to the USA. When we got to the check-in desks, the queues for all classes were empty, but there was an orderly line of people curving around the check-in area waiting to go through security. One thing that became apparent was that there was much need for more space due to the slow pace at which everything moved.
Once checked in we were informed that there was no fast track security, and so we joined the back of the queue that had gotten even longer now. After fifteen minutes it was my turn to go through (people were let through one by one). There was only one immigration counter followed by one x-ray machine and metal detector, which explains why the wait was so long. After this was a further wait in a waiting room that followed the security area. Boarding was called, and we proceeded to queue again to enter the aerobridge (one queue, with no priority lane).
31th July 2011
British Airways BA991
TXL – LHR
Departure: 11:05 (11:00)
Arrival: 12:05 (11:35)
Scheduled Duration: 2:00
Equipment: A319
Cabin: Business (75% full)
Once onboard, we were greeted by a friendly FA and took our seats at the rear of the three row cabin. Already, I noticed slightly more legroom to the previous A319 as well as significantly less wear and tear throughout the cabin interior. Boarding took a while and the Y cabin was almost completely full. Again, no beverages prior to takeoff. There was a BD flight scheduled five minutes before us and leaving from gate A05, but we were pushed back before them, blocking their path. We were soon on the move towards the runway and took off ahead of schedule.
In Flight: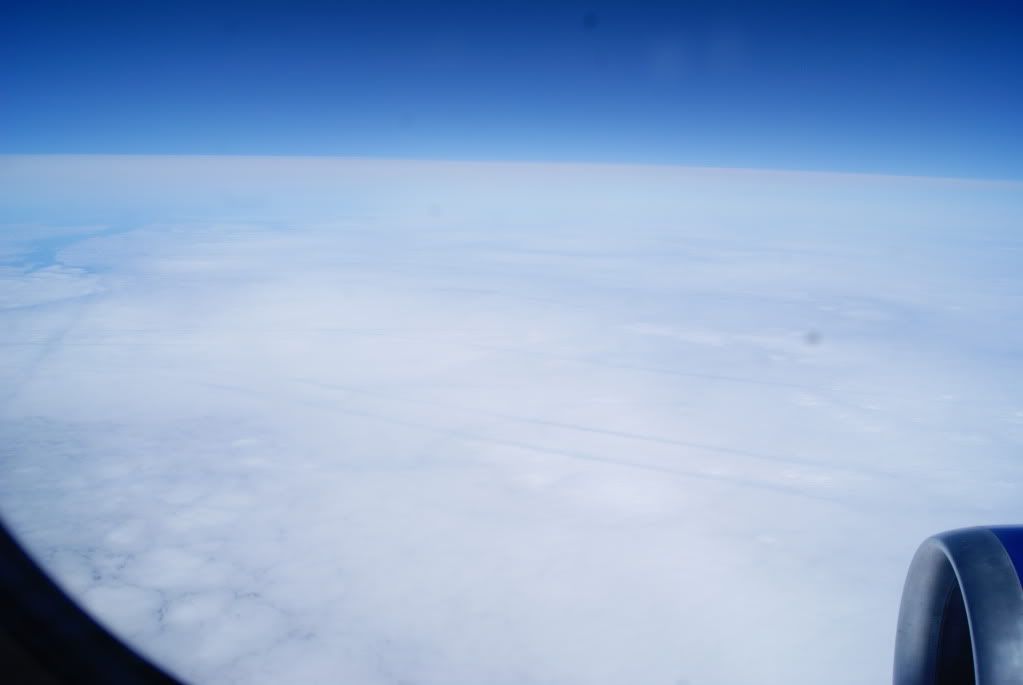 Legroom: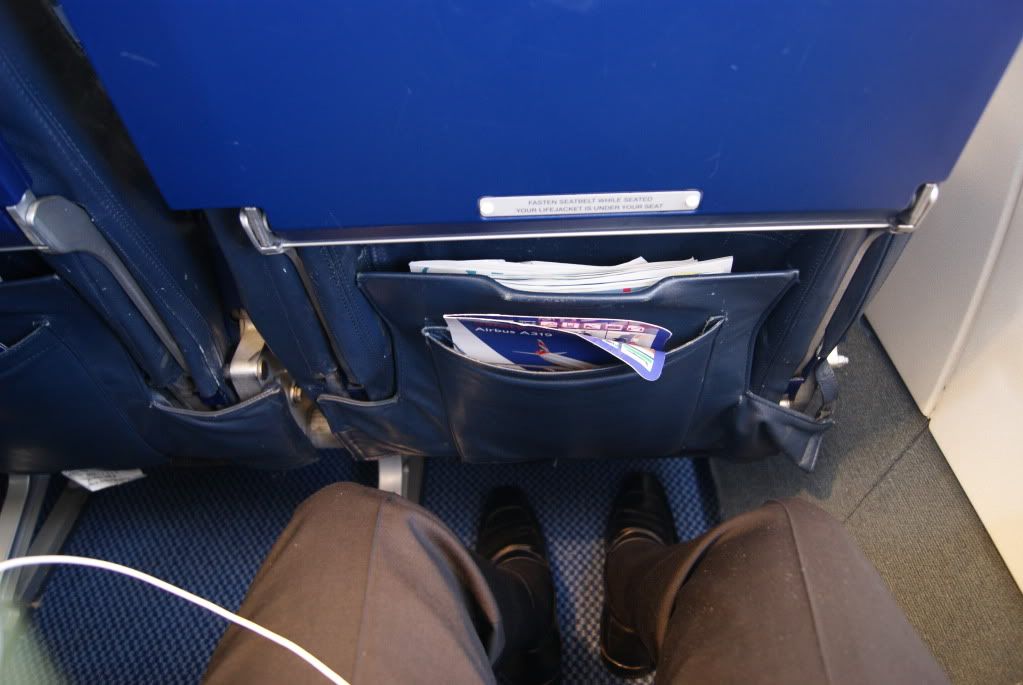 IFE screens dropped down, and displayed the airshow throughout the flight. A cold, 'extended breakfast' was served prior to takeoff, and consisted of ham, cheese, relishes and grapes, all on the same plate with salad. The quality of the food and effort was frankly poor, even for a flight of this length. Service, like the previous flight was flawless, and the FA serving J class was very professional and attentive.
Meal:
After the meal, there was vey little to do except stare out of the window, and in doing this I noticed an EK 773 pass us at the same altitude, travelling in the opposite direction. This was closely followed by a BD A320, with both aircraft passing two fast for me to take a photograph. I had noticed that throughout the flight we were nearing LHR very fast, and unsurprisingly the Captain announced that we were making excellent progress through to London, but we were told that we would have to wait to land and find a gate. This was then followed by another announcement that stated that LHR had changed their mind, and we would be landing within ten minutes. We began descent and soon passed the mouth of the Thames, following it until it reached London. There was a right turn at King's Cross station, and another as we passed the Houses of Parliament. We saw most of the sights in London, and continued to descend and land into LHR in a straight line.
Wind Farms on Descent: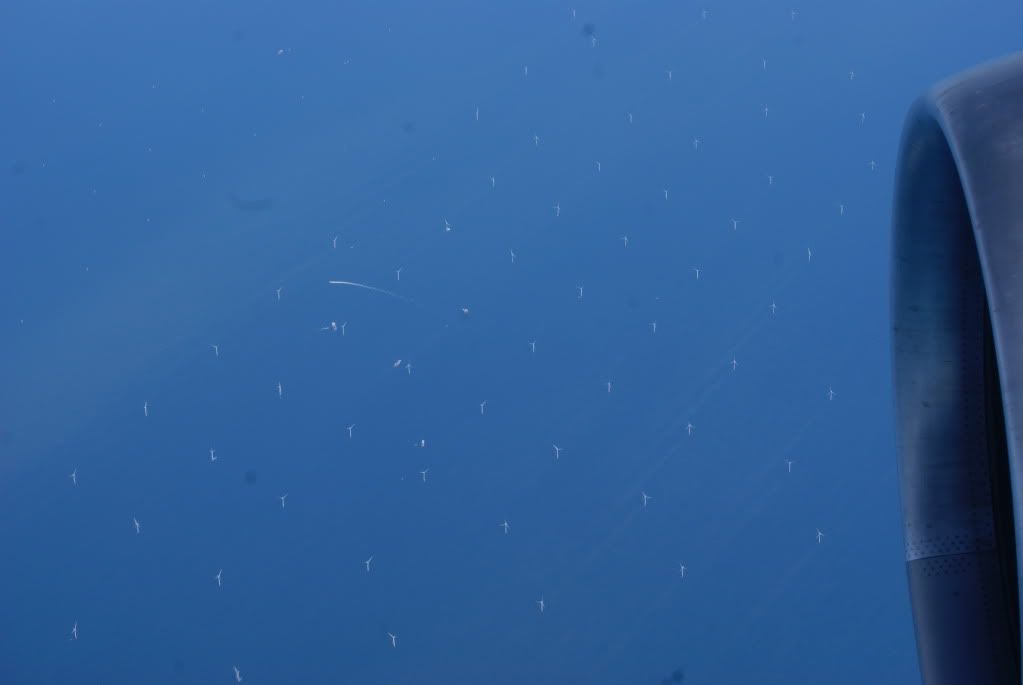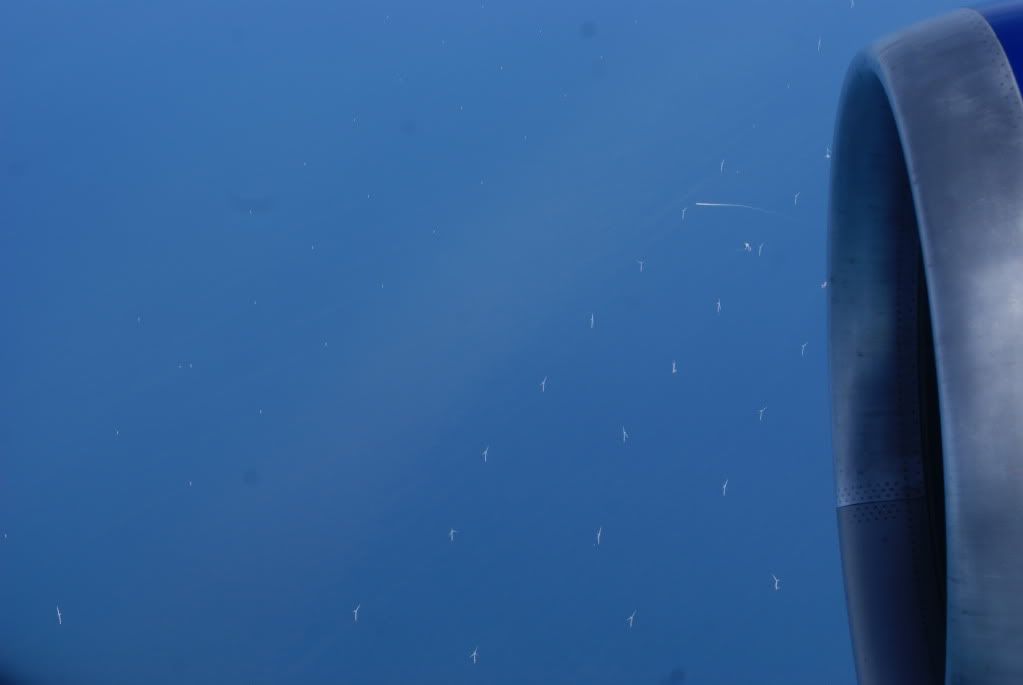 Descent:
Taxi to Terminal 5A was quick and we were given a gate immediately. Arriving into Terminal 5 is no more enjoyable that any of the other terminals. After travelling to the immigration halls, fast track was closed – but just until we had reached the middle of the other queue. There is a further walk to the baggage reclaim, which was followed by a long wait for my bag which didn't arrive until most of the other bags had.
Landing and Taxi: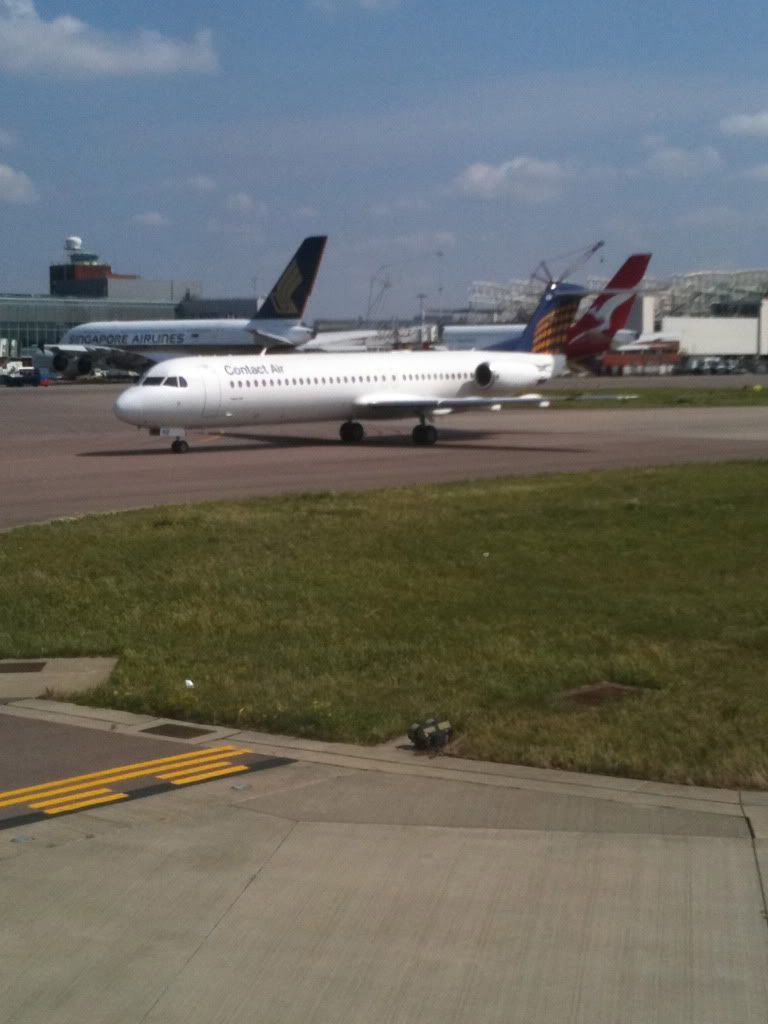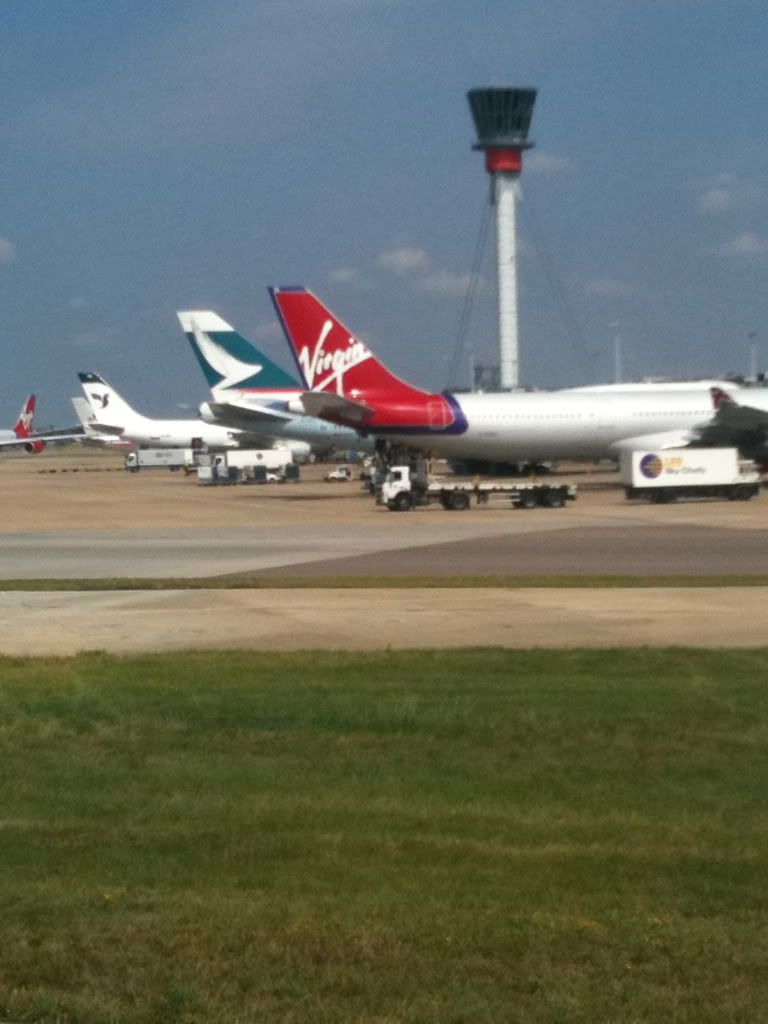 Overall, I feel disappointed with my experience with BA and I'm left with the feeling that I received poor value for money. The cabins are tired, legroom and seat width were inconsistent, and meals demonstrate a lack of enthusiasm from the airline. The reason I weight this so heavily is because on a flight of this length there is very little else to rate, which makes me wonder why BA is so popular with frequent business travellers in Europe. Having said that, I am very happy with the overall Terminal 5 experience and the excellent onboard service from the FAs.
I can't think of much more to say, so I shall end this TR there. As always, comments and suggestions are welcome, and thank you for reading.