This trip report relates to a holiday we took in 2009 - now that I've signed up I thought I might as well post this here for anyone who is interested.
Apologies for the formatting... I've tried sorting it out but don't know what has gone wrong!
Introduction
The other half her first Amex 2-4-1 voucher through her BA Amex card in October whilst we were in California in 2008 and it so happened that BA announced details of a ½ price miles sale on all routes and in all cabins. This coupled with the 2-4-1 voucher meant that each person was effectively travelling for ¼ of the normal required miles.
We had briefly discussed our next holiday albeit had no immediate plans to book it - at this point in time we'd just separated after 3½ years (we actually got engaged on this trip!).
However, this offer proved too tempting and we decided if we were able to get suitable dates we'd book something, it could always be cancelled at a later date.
We always like to travel in September/October time – gives us something to look forward to plus we're not surrounded by kids on summer holidays! This year we had to travel towards the end of September as London Design Week is in the middle of the month (the other half attends this with work). We also had to take the outbound flight by 9th October as that was the expiry date for the 2-4-1 voucher.
We fancied going back to Asia (visited Japan in 2006) and potentially visit Thailand, Hong Kong, Malaysia, Singapore and Indonesia. It was clear at the outset we couldn't visit all so it was more a case of what was feasible.
Getting to Asia to back
We decided that we'd try to get Club World (CW – Business Class) flights from London to Bangkok/Singapore and back and then plan our route from there. Using BA's very online tool I quickly established there were no CW seats available during September or October which unfortunately meant we'd have to travel First class instead… the hardship!
There was also very limited availability but I eventually managed to find two seats in First to Bangkok flying on Wednesday 30 September and returning on Wednesday 14 October for 120,000 miles and approx £780 in taxes. Given the strain on the BA website it took quite a time to make the booking but I eventually got there and got it all booked online.
As we were travelling in First we were entitled to choose our seats following booking. All seats were available with the exception of 1A and 1K (Golds only, the other half is Silver) and that we had been allocated 4E and 4F both directions. Having flown First only a month before we moved ourselves to 2A and 2K in both directions.
So that was us, we had flights booked to take us to Asia and bring us home - now the fun of planning where to go whilst we were there!
Inter-Asia – Planning the Route
We knew that we definitely wanted to visit Hong Kong and the only budget airline that could take us between Bangkok and Hong Kong was AirAsia.
Over a period of 4-6 weeks we looked at a variety of options which took us to Malaysia, Indonesia, Singapore and Hong Kong with Phuket also featuring. All of these flights involved flying with AirAsia and in some cases quite lengthy 3-4 hour flights.
The biggest cost of these options was the flight from Hong Kong to Bangkok of which the cheapest was flying with AirAsia. I looked at the option of flying with Cathay Pacfic using some of my BA miles but this proved a complete waste of 40,000 miles to fly economy.
I had some BMI miles from the credit card and the odd flight with them and thought about buying some additional miles to fly economy with Thai Air from Hong Kong to Bangkok. As I had never booked a redemption with BMI (or Star Alliance) I put up a quick post in the BMI forum to ask if my calculations were correct.
It quickly became apparent thanks to the helpful and knowledgeable members on the BMI forum that Miles & Cash was the way to go and would allow us to fly HKG-BKK in Business for £75 each plus taxes.
However, it very quickly spiralled out of control (in a good way) with people suggesting BKK-NRT with stopovers in SIN or HKG.
After spending hours on the ANA site and discussing the options with my better half we ended up with the following proposal… Bangkok – Tokyo – Hong Kong – Bangkok, with enough time at the start of our trip to go down to the coast of Thailand and visit an island.
The plan was to purchase two one-way redemptions through the Diamond Club. The first would be Bangkok to Tokyo and the second would be Tokyo to Bangkok with a stopover in Hong Kong.
I made one final check on the ANA site to check the flights we wanted were available in Business Class and then bought the additional BMI miles I needed.
On advice of BMI forum members I made a note of the flights I wanted to book and phoned the Diamond Club. I got a very helpful person (can't remember her name) who successfully managed to book all the required flights and calculate the taxes for the first booking. When it came to the second booking her computer froze but she promptly called me back five minutes later and successfully booked the return trip to Bangkok via Hong Kong.
The last flights to be booked were our internal flights to Ko Samui with Bangkok Airways. The only decision that took a bit of time was which flight to get for our return to Bangkok but these flights were easily booked on the Bangkok Airways website. Before booking I signed us both us to their frequent flyer scheme as it automatically gives you an additional 10kg when checking in bags!
The Finalised Schedule...
30 September 2009
London – Bangkok
British Airways BA009
Depart 22:00 Arrive 15:20 (+1)
First Class
2 October 2009
Bangkok – Ko Samui
Bangkok Airways PG123
Depart 09:40 Arrive 10:45
Economy Class
4 October 2009
Ko Samui – Bangkok
Bangkok Airways PG128
Depart 10:00 Arrive 11:05
Economy Class
6 October 2009
Bangkok – Tokyo
ANA NH954
Depart 08:15 Arrive 16:20
Business Class
9 October 2009
Tokyo – Hong Kong
ANA NH909
Depart 10:00 Arrive 13:35
Business Class
12 October 2009
Hong Kong – Bangkok
Thai Airways TG603
Depart 08:00 Arrive 09:40
Business Class
14 October 2009
Bangkok – London
British Airways BA010
Depart 00:20 Arrive 06:15
First Class
London to Bangkok – British Airways – First
30 September 2009
London – Bangkok
British Airways BA009
Depart 22:00 Arrive 15:20 (+1)
First Class
Check-In
Our flight was an evening departure and whilst 1A and 1K opened up and were available, we decided to remain in 2A and 2K. We knew the seats, liked the space and privacy and knew we wouldn't be disturbed by people accessing the wardrobe.
I checked us in online the evening before we flew and opted to collect our boarding passes at the airport. At this point, 8 of the 14 seats were occupied.
We had booked a car to take us to the airport from Clapham and left at 6.30pm to venture into the London rush-hour traffic. Amazingly there was little traffic and we arrived at Heathrow's Terminal 4 just after 7pm, 3 hours in advance of our 10pm departure.
Once inside T4 we proceeded to the BA check-in area which was very much deserted. Using First check-in we were quickly given our boarding passes and bags we tagged.
Fast-track security was in operation and there were only a couple of passengers in front of us so we were through and on our way to the lounge within a matter of minutes.
Lounge
On arriving at the lounge it was relatively quiet but we found a quiet corner by the window to sit down and relax before the flight and proceeded to crack open the first holiday beer.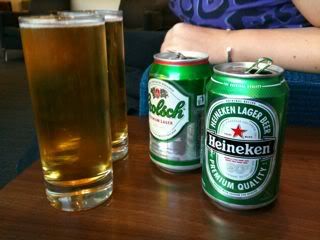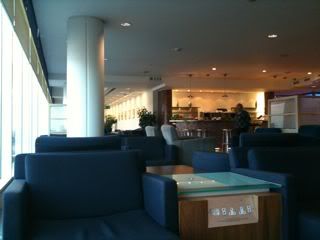 The buffet was open but nothing was particularly appealing and so we got 'invitations' for the First dinning area.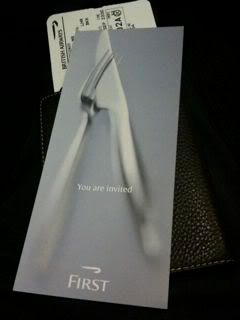 I had veal and other half had pasta – both were delicious and we then shared a chocolate pudding.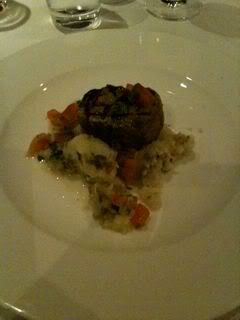 After dinner we made our way back to our seats in the corner for a cup of coffee and a cup of tea. By this point we'd had enough of the lounge and went for a walk through the terminal towards the gate.
Boarding
Boarding was a total shambles.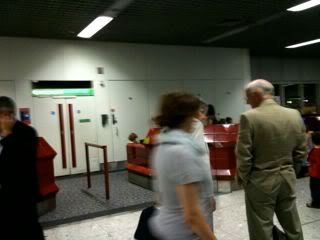 Why can't BA get this right for premium passengers! A total mass of passengers at the gate, all trying to get to the gate, passengers with kids got to go first and then everyone else. Fast-track was in operation but it should really be priority where First, Business and BAEC Silver/Gold members board first and then economy passengers… as a result this is what we were faced with on the single airbridge.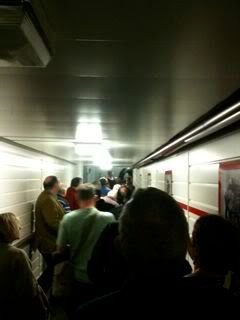 On board and there was no welcome by name and we were pointed in the direction of First. The cabin tonight was full with a number of last minute upgrades from business, most of whom seemed to be going all the way to SYD.
Other half promptly given a drink but it took 5 minutes before I received one, most of the other passengers boarded and received a drink before I did. After that service seemed to pick up as the crew got to grips with a full cabin following the last minute upgrades.
Seat/Cabin
Amenity kits, PJs and menus were distributed although I already knew the dinner choices thanks to emailing YouFirst a few days prior.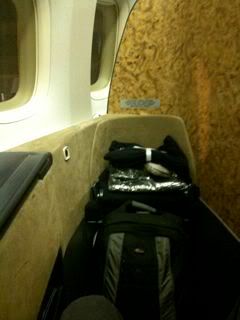 I like the current First seat on BA – spacious, private and more than meets my needs. I'm not into all the bling and I find it more than comfy for both sitting and sleeping. I've yet to try the new First seat but I must say it looks elegant and impressive.
Meals
Chose dinner options but then I suddenly didn't feel particularly well – cabin far too hot and so I decided to get some sleep. FA made up my bed mid-dinner for other passengers and I managed to sleep for about 7 hours waking for breakfast and a lovely strong cup of tea.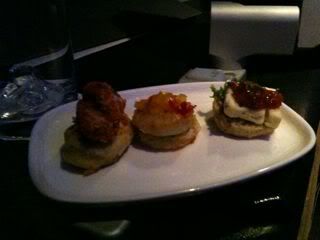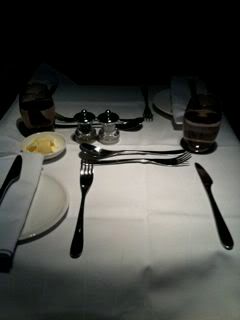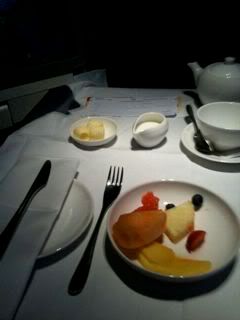 IFE
Given the time of the flight I didn't make much use of the IFE. I briefly watched a film prior to dinner and then again after breakfast before landing. The selection appeared good and there were no flaws. However, the screen in comparison to many competitors is very small in F and in need of upgrading which has subsequently been done in the new First.
Service
To begin with the service seemed rushed as the mass of passengers boarded and with First full following upgrades it took a short while for everyone to get settled, menus handed out, etc. However, once the initial rush was over service was excellent, very friendly cabin crew who were only too willing to help.
Arrival
We arrived slightly ahead of schedule and were given vouchers for the premium immigration lane at BKK. Other passengers held back whilst everyone in First got off first and then we walked through BKK to immigration.
Not a single person in the premium area… we were through in minutes! Bags had begun arriving but BA had no ability to deliver priority bags first. We then exited through customs and followed the signs to the Novotel Shuttle where we would be staying for the night before flying to Ko Samui.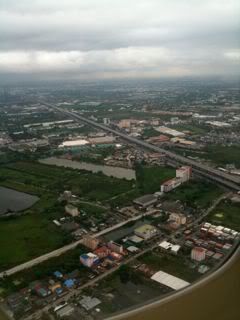 Novotel, Bangkok Airport
I decided to book a night at the airport to save the hassle of going into Bangkok but also to give us a bit more time when checking out in the morning for our flight to Ko Samui.
The booking was made via Expedia on a non-refundable rate which suited us. Having looking at alternatives – there were none in close proximity to the airport or of a similar standard.
There was a free shuttle to the hotel which operates 24 hours and takes all of 5/10 minutes.
First impressions were good – a nice, new, open reception/lobby. Check-in was easy although the reception desk would benefit from not being square is it does cause some confusion as to who's next, etc when some people queue in various directions.
We were soon on our way to the room which was a good size, clean and looking out onto the pool in the centre of the hotel. Given our short duration we didn't go for a swim but did go and get some food which wasn't bad.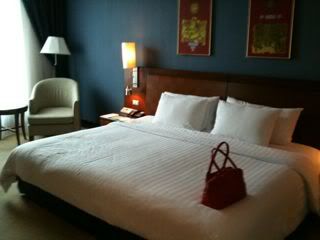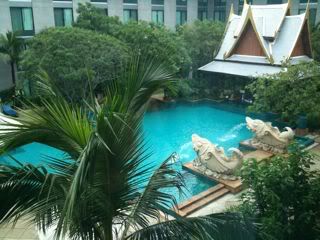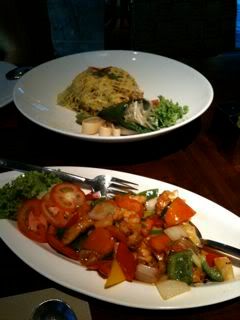 Bangkok to Ko Samui – Bangkok Airways – Economy
2 October 2009
Bangkok – Ko Samui
Bangkok Airways PG123
Depart 09:40 Arrive 10:45
Economy Class
We made our way to the airport using the shuttle bus from the hotel. Check-out was slow – lots of people checking out early and no real order to the queue – everyone queuing from different sides.
Check-In
Check in was quick and easy at the airport. There was one queue for all economy passengers travelling to any destination with Bangkok Airways and this quickly moved.
We got through security with easy, there were some queues but there were only normal.
Lounge
Stopped for a croissant and coffee/tea – I've had worse and better. It wasn't the best selection of western food for breakfast but it was a nice start to the day.
Bangkok Airways have their own lounge for economy passengers offer free tea/coffee/OJ. Snacks are poor but they also offer free wifi which worked well.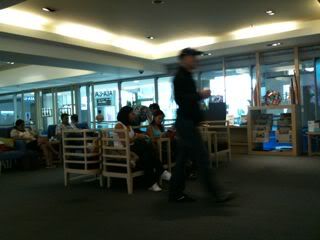 Boarding
Boarding was done quickly and efficiently. Business passengers invited to board first followed by those needing extra assistance or travelling with young children.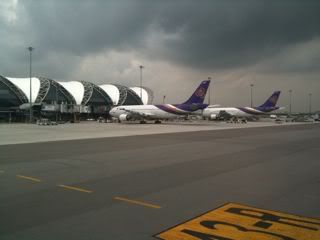 Seat/Cabin
The plane was in good condition with little signs of major wear and tear. The leather covered seats were comfy with enough leg room for the short hop south to Samui.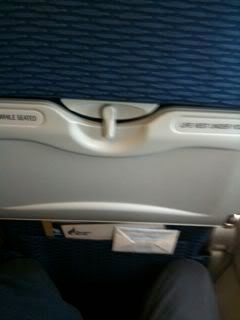 Meals
Even on a 1 hour flight we were given a free soft drink and sandwich although I didn't opt to have the sandwich.
IFE
Drop down screens played an out-takes programme which was perfectly adequate for the short flight and more than you would get in Europe.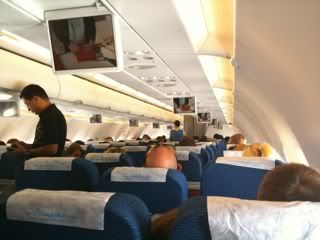 Service
Not much to say on service - cabin crew were friendly, wore nice bright uniforms and served us with a smile.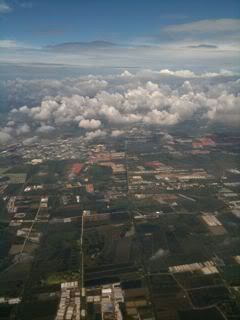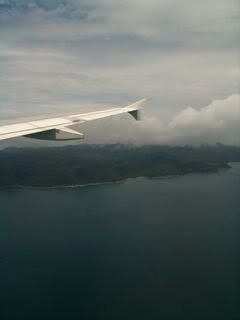 Arrivals
Arrived on time to a very small airport and we were taken back to the terminal in large golf carts. Bags arrived shortly afterwards and we then went to the pickup area to be met by a driver from our hotel.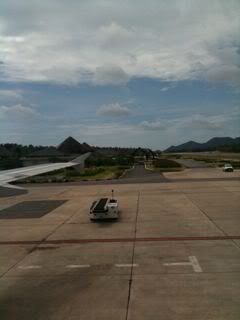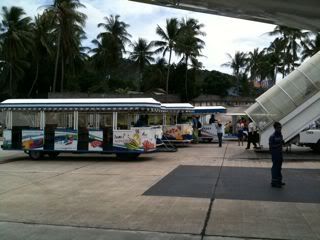 Sandalwood Villas, Ko Samui
This was selected by my other half, she went on to TripAdvisor and started at the top – we liked the look of it and so booked to stay in the Plumeria Villa for both nights of our stay.
We were picked up at the airport by the hotel and given a very welcomed cold drink – temperature was getting hot! Upon arrival at the Villas we were shown around the property, spa, pools, restaurant, etc.
We had a nice Thai lunch at the restaurant and then access to our villa – beautiful! Our villa had a private pool and sun loungers which would have been more ideal had you been staying a week.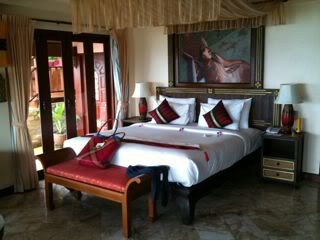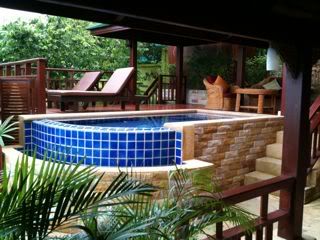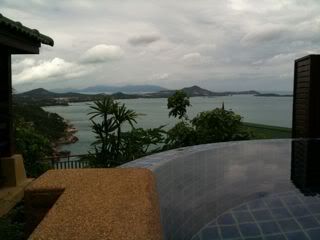 One benefit about Sandalwood is that they run their own taxi service and provide you with a Thai mobile so you can call them when you're out and about and require picked up.
Ko Samui to Bangkok – Bangkok Airways – Economy
4 October 2009
Ko Samui – Bangkok
Bangkok Airways PG128
Depart 10:00 Arrive 11:05
Economy Class
Our flight back to Bangkok departed at 10am and we were driven back to airport by hotel, a short 30 minute trip.
Check-In
Checked in was quick, only a short queue but re-directed to business class desks. We walked through the open-aired terminal, through security and to the gate area.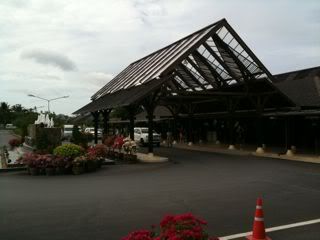 Lounge
There was no lounge as such but free water, soft drinks, etc were available at the gate and free wi-fi although it was rather poor signal.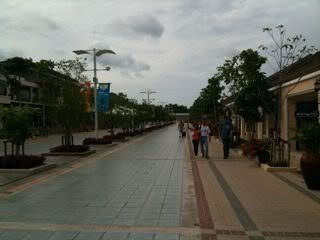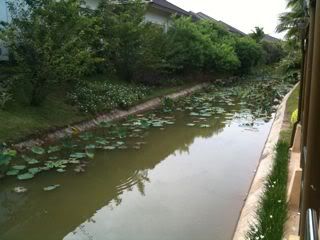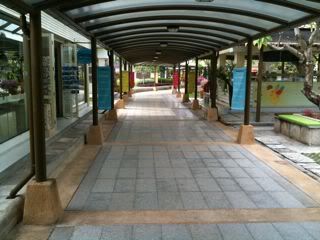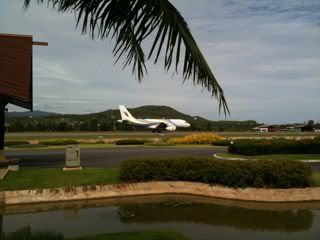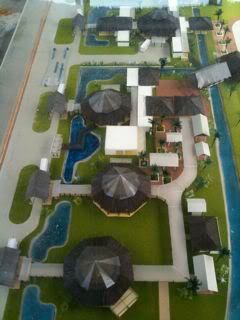 Boarding
Boarding was done quickly and efficiently in the golf carts. Doesn't seem as bad compared to the T5 buses!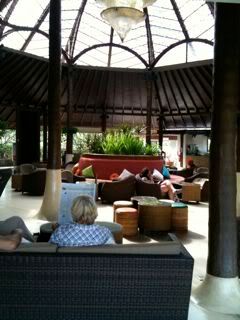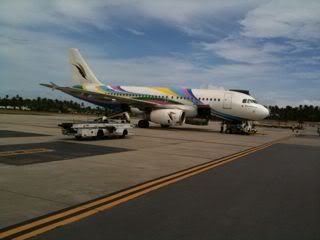 The Flight
Meals, cabin, crew, service, IFE was all the same as our trip down – no complaints at all for the short hop and in fact better than you would receive in Europe.
Arrivals
Arrived on time.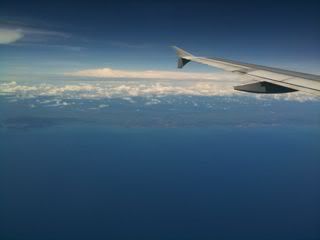 Marriott Resort & Spa, Bangkok
Off the plane and BKK, collected our bags and we then went to AOT to arrange a car to hotel. They had an offer giving 50% off return trip if booked there and then so we did. 2,100 bahts return – approx £10 per person each way!
We chose the Marriott as the other half had stayed here with work, liked the room, location and enjoyed the service.
We checked in and our room was ready around midday. We were taking through the maze of buildings to the room. The room was spacious with a river view – there must be more 'exclusive' river view rooms.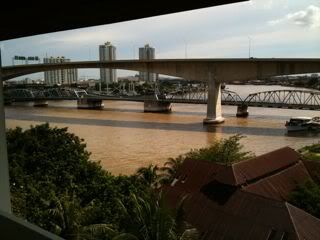 We had a nice lunch in the hotel before setting out on our travels. Whilst not the cheapest it certainly was good food. The hotel run a free boat to the skytrain station.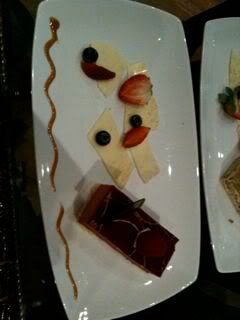 Breakfast was included in price and an impressive choice. Internet is chargable – something that really annoys me.
Bangkok to Tokyo – ANA – Business
6 October 2009
Bangkok – Tokyo
ANA NH954
Depart 08:15 Arrive 16:20
Business Class
Check-In
This was a very early started but getting picked up by the AOT service was definitely worth the money. The trip to the airport was quick and we were dropped outside the correct entrance.
We made our way to the ANA check-in where there was no queue at the Business Class desk. The check-in lady asked to see our onward flights and said we'd need the information when entering Japan (we were never asked in Japan for it).
We had pre-selected seats 1G and 1H online at ANA (great system) and received our boarding passes together with lounge invitations for the Thai Airways lounge. We went through security, no fast-track and quite a lengthy queue – lots of business men.
Lounge
On our way to the lounge we found a Whittards of Chelsea so had breakfast there. Nice pastries and good tea/coffee. It was very quiet and relaxed which we both appreciated at that time of the morning.
The Thai lounge on the other hand was very busy with lots of business travellers all about to set of. There appeared to be a large number of LH passengers.
We had a drink but no food – selection was very poor. No window seats available at first but eventually managed to get one for the hour wait we had prior to boarding.
Boarding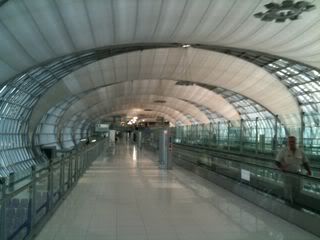 Boarding started on-time and priority boarding was adhered to. However, due to weather storms en-route departure was delayed by 20 minutes.
Passengers need assistance boarded first and then Business Class were called at which point we proceeded to the gate, had our boarding passes scanned and were wished a pleasant flight.
We were welcomed aboard and directed to our seats on the far side in row 1.
Seat/Cabin
My initial thoughts – much better than I expected.
We had ample leg space being in row 1. I liked the layout of 2-1-2 which is a bit different. Business class was pretty full with only 5 empty seats.
The seats had a good recline for the 6 hour flight and were comfy both sitting and sleeping. We didn't find being in row 1 an issue with the toilets and I certainly appreciated no-one reclining into me.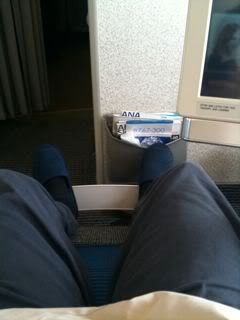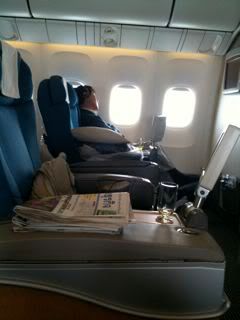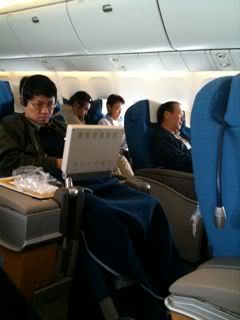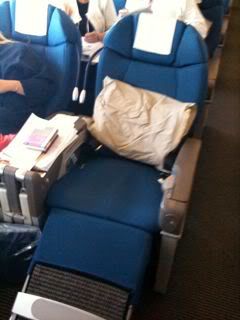 Meals
There was a choice of Western or Japanese. I had western which wasn't bad. My other half was sleeping and once awake was asked if she wanted dinner, by then only Japanese was available which I don't think was quite as appealing. However, she did appreciate the fact that they still had a meal available and were happy to serve it once she was ready.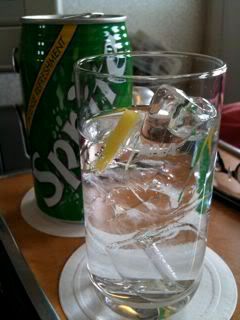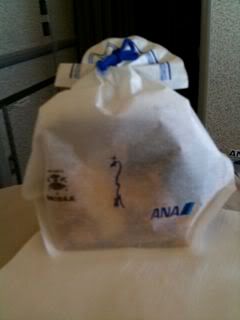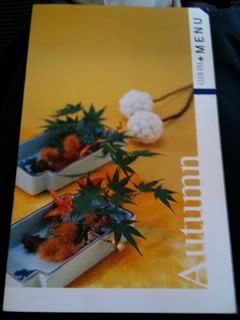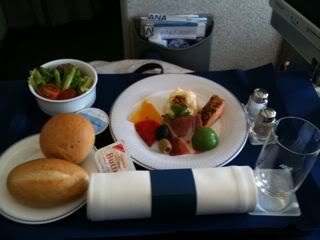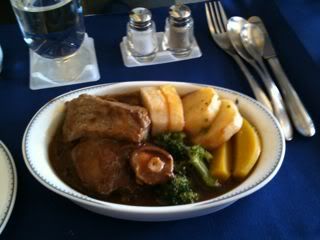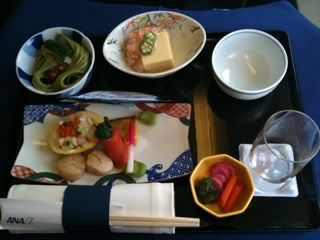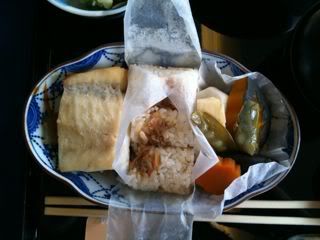 IFE
Worked flawlessly throughout the flight and I was impressed with the selection. The screen size was perfect.
Service
For business class they had a large number of crew working the cabin as a result the service was excellent and language was not an issue.
Arrival
We arrived and proceeded through customs without an issue, collected our bags which had been delivered in the first batch along with other 'priority' tagged items (BA take note!)
We then bought our tickets for the super efficient limousine bus right to the door of our hotel.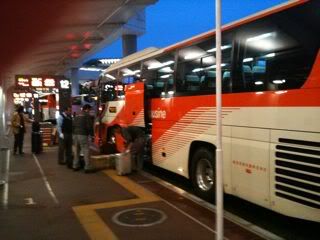 Crown Prince Shinagawa, Tokyo
Not much to say. This is the hotel we had stayed at 3 years ago and whilst small rooms (very small!) it's a great location for getting about.
Tokyo to Hong Kong – ANA – Business
9 October 2009
Tokyo – Hong Kong
ANA NH909
Depart 10:00 Arrive 13:35
Business Class
Check-In
An early start with the Limousine Bus back to the airport. We arrived in plenty of time and proceeded to check-in. I had pre-selected seats on the upper deck following the recent switch from the 777 to 747 and managed to secure the exit row seats.
Security and immigration was pleasant and quick as you'd expect from the Japanese and we proceeded to the ANA lounge via a coffee shop to pick up some breakfast.
Lounge
The new ANA lounge was very nice - ample space and clean. It sasn't too busy and we were able to get a good seat by the window although limited plane spotting – they must have been elsewhere! We had a bit of time to kill but it was fine although the lounge was much busier by the time our flight was ready for boarding.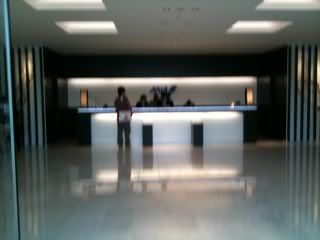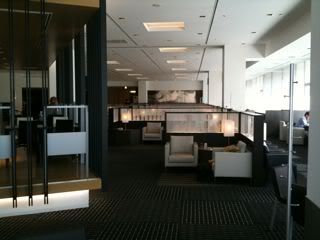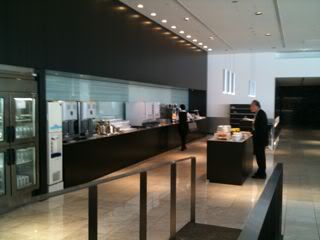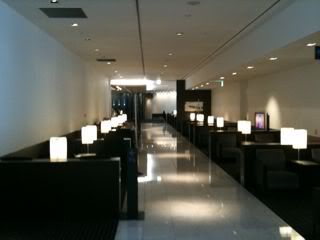 Boarding
Boarding gate was busy and slightly delayed due to maintenance on the aircraft. Business class was called and we joined the line once it had calmed down a little.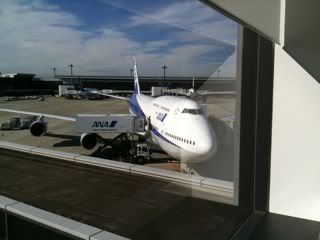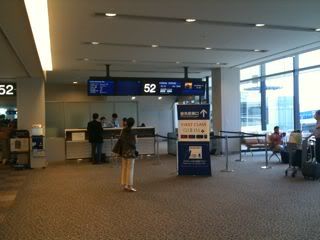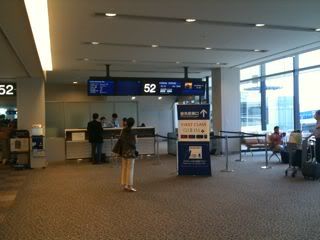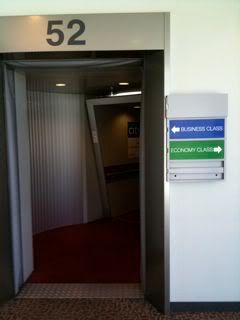 BA take note!
Welcomed on board and directed upstairs, would be interesting to see how it compared to BA Upper Deck.
Seat/Cabin
We got upstairs and our boarding cards were inspected by a member of the crew and we were directed to our seats at the emergency exit. The seats on the 747 are the flat but angled seats.
Being situated in the emergency exit meant that we had ample space in front of us. The seats are very pretty comfortable although in my opinion, when in the landing/take off position the seats on the 767 are comfier.
When full extended I found it strange trying to sleep at an angle whilst I found the 767 seats easier to sleep on albeit if it was an overnight flight I think I would opt for the 747/777 flat seats instead of the cradle seats on the 767.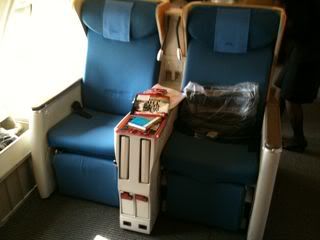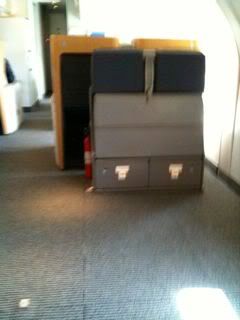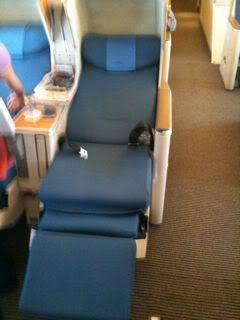 Meals
Again there were two options on the menu and we each opted to choose one in order that we could sample both the western and Japanese meals.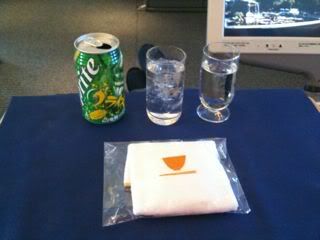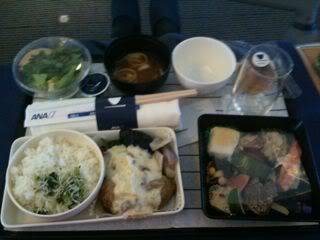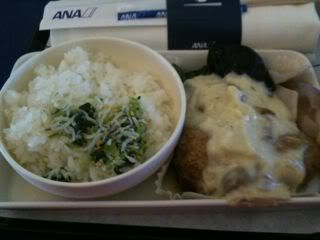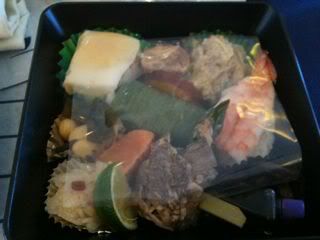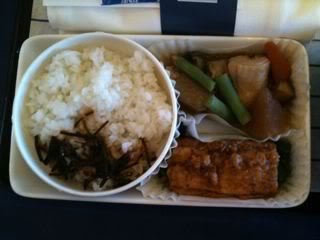 IFE
I opted to watch a film (can't remember which) during the dinner service and then put the seat flat in order to try and get an hours sleep which I managed before arriving in Hong Kong.
Service
As with our flight to Tokyo the service was excellent. The crew on the upper deck worked hard throughout the flight with only two free seats.
However, given the nature of the 767 I found the service slightly friendlier going to Tokyo.
Arrival
Again our bags arrived early with the priority tags working (BA take note!) and we then proceeded to get the shuttle bus to our hotel.
Metropark Causeway Bay, Hong Kong
This was a nice hotel (can't find the pictures), the room was a good size with views overlooking Victoria Park and the harbour. Breakfast was included and was good and the hotel offered FREE internet.
There was a great pool on the roof that had superb views over HK in the evening.
Hong Kong to Bangkok – Thai Airways – Business
12 October 2009
Hong Kong – Bangkok
Thai Airways TG603
Depart 08:00 Arrive 09:40
Business Class
Check-In
Another early start but this time only a short taxi to train station.
Had read of the ability to check-in at the train station so opted for that as it meant we wouldn't have to carry our bags all the way there. Check-in was nice and quick at the station although we were given different seats from those I had selected after booking and advised of an aircraft change. Excellent being able to check-in at station and made the train journey that much easier.
Nice journey to the airport and we headed to T2 – this is where the airport said to go and also our booking confirmation. As we had already checked in we headed straight for immigration and security. We did not see a single other passenger! We had the whole security area to ourselves. Friendly staff and the most pleasurable experience of going through security! This is when we discovered that we could probably have gone to T1… we have to get a shuttle to the departure gate… in T1!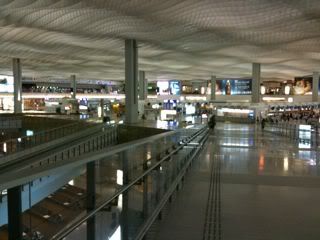 Lounge
Went to Thai lounge which was my favourite lounge out of the ones we had visited in Bangkok, Tokyo and Hong Kong. We were on the first flight to Bangkok and it was very quiet. The lounge looked new, it was very clean, open aired and bright.
The selection for breakfast was excellent – breads, pastries, cereals, fruit, yoghurts, etc. Definitely the best selection of the lounges we had visited.
Used the free internet access in the lounge to try and figure which aircraft we now had!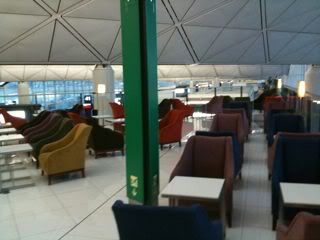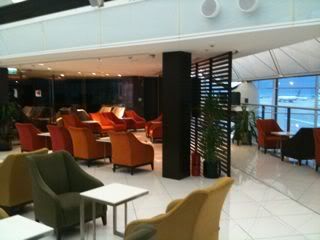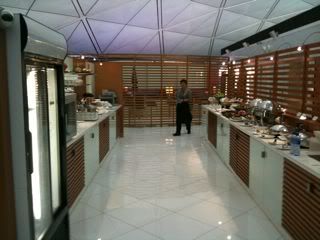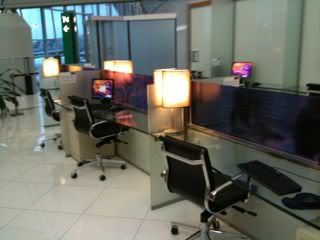 Boarding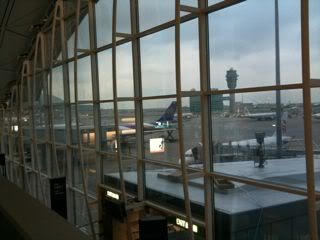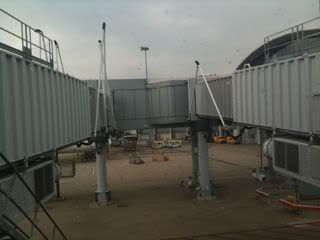 Boarding was in progress as we got to the gate with a big queue for economy and no queue for business/fast-track boarding. We made are way round to the fast-track side and when we presented our boarding passes to the gate attendant who looked at them and asked us to go and join the end of the economy queue! At this point, another gate attendant must have clearly seen our boarding passes (and then said something to the other member of staff), promptly took them from us, scanned them and let us on to board wishing us a pleasant flight.
It transpired to be the same aircraft as was planned for the flight and no-one was sitting in our seats! However, someone was sitting in what would have been the seat behind us and when we landed in Bangkok he was met from the plane by Thai staff… maybe we were moved so we didn't recline into him?
Anyway, business was very empty, c. 25% load but with no shortage of flight attendants. We stowed our bags in the overhead lockers and made ourselves comfy.
The FAs were quickly round to offer us a drink pre-departure – it was 8am so I stuck to the OJ! Headphones and blankets had been distributed.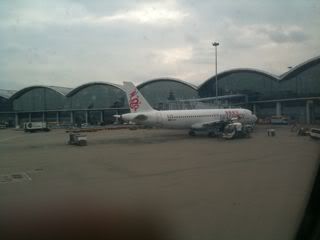 Seat/Cabin
For a 3 hour flight the seats were pretty good although the poorest of the three Asian flights we took. However, compared to what you would get in Europe for a 3 hour flight they were a class above.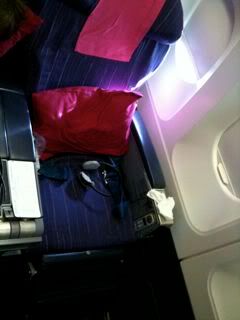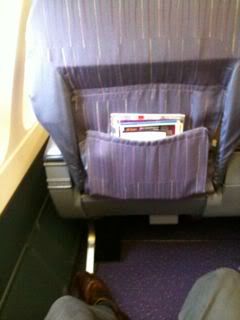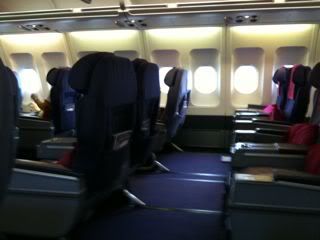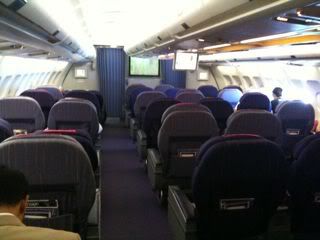 Meals
I'd had quite a bit a substantial breakfast in the lounge at Hong Kong and wasn't all that hungry. The menu wasn't the most appetising for an 8 am departure but I had a bowl of fruit and a few cups of tea.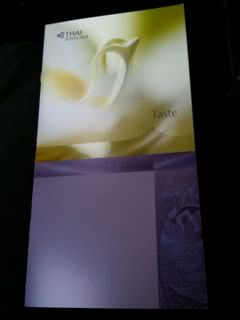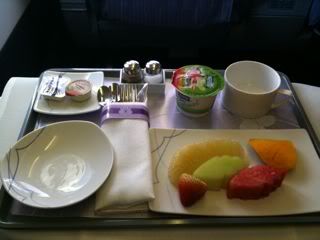 IFE
It wasn't AVOD but I found a funny programme to watch for a period of the flight and then stuck to the moving maps. The poorest out of all IFE systems we encountered on our trip but I didn't find it a major issue for such a short flight.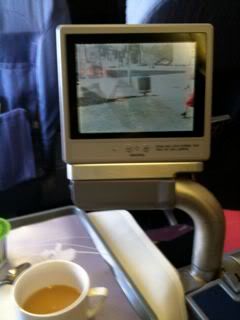 Service
The service was very good as you would expect with so few passengers. Everything was done with a smile and they were only too happy to get me a fresh cuppa!
Arrival
Second international arrival to BKK in two weeks and whilst no premium arrivals this time the queue wasn't long. We were through to collect our bags in no time – again the priority tags worked!
Le Meridien, Bangkok
This time we went for the AOT premium service which worked out to be £15 per person each way in the 7 Series and meant for a very niice and relaxing journey to the hotel.
What can I say about the hotel – possibly one of the nicest I've had the pleasure of staying in. Sure you get nicer hotels but the design, service, etc was superb. We were checked in and on the way to our room in minutes. Beautiful rooms and everything still very fresh as it should be for a hotel only 9 months old.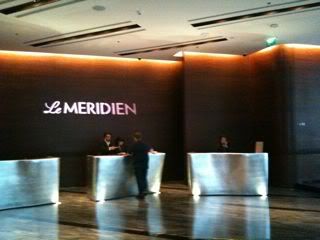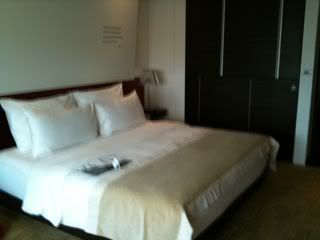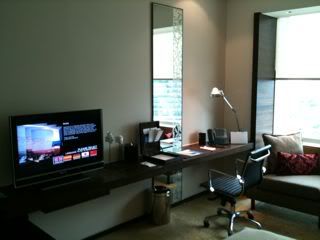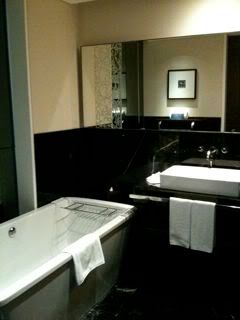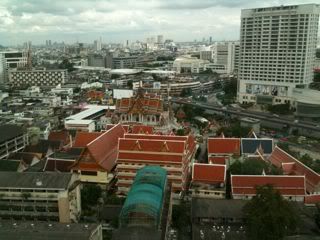 Breakfast was included but again internet was not free! However, given we paid about 40% of the normal rate (booked at the hotels website!) I wasn't too bothered.
We went out for the day and ate dinner in the hotel at night. Streets so busy outside yet so peaceful inside.
Restaurant was very quiet. Amazing dinner – superb selection and ½ portions available for the majority of main courses meaning we could order a wider selection of food available and share. Great recommendations from staff.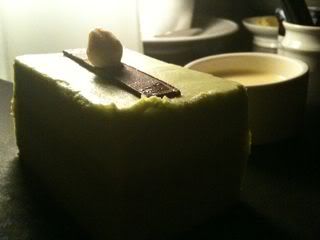 Breakfast again was great – a massive selection with the chefs prepared to cook you anything – even just to trying out something new they were working on!
We had part of a day as we left that evening and it was also raining - heavily! The concierge were great recommending several things to do that were easy to get to.
After our travels we went back to the hotel for coffee and cake in the café on the ground floor of the hotel. Car arrived on time and 3 members of staff took care of us and our bags!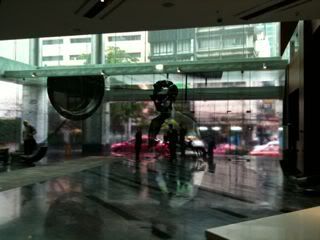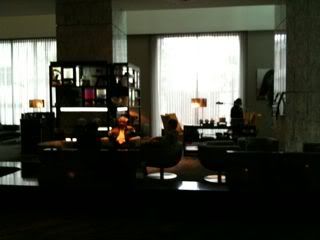 Bangkok to London – British Airways – First
14 October 2009
Bangkok – London
British Airways BA010
Depart 00:20 Arrive 06:15
First Class
Check-In
Our car was picking us up at 7.30pm from the Le Meridien in Bangkok and the drive took less than an hour.
Arrived at airport, other half felt ill and faint so we had to have a seat in the terminal before finding the check-in desks.
There was no queue at the First check-in and for the first time in a long time we got proper BA boarding passes! (With colour!) Our seats had been pre-selected (at time of booking) in 2A and 2K, our bags were tagged with priority labels and despite weighing more than 23kg we were not charged any additional fees.
We were given directions to both the lounge and fast-track security and immigration areas and were on our way to London.
Security again was deserted with the exception of ourselves and one other passenger and equally immigration was quick and easy.
Lounge
We proceeded to walk to the BA/QF First lounge and what a walk it was! Through masses of shops and restaurants we eventually arrived and were welcomed in by a friendly attendant.
It was very quiet and we found a nice quiet corner looking out of the terminal with plenty of space for our bags and the ability to charge phones and laptops, etc for the flight ahead.
Had a couple of drinks with some snacks – food selection was very poor. I had a look through some of the magazines on offer and checked in for my flight GLA in the morning.
The other half was now feeling better but decided that she would rather sleep on board and so I ventured through the terminal to the sushi restaurant we had passed and ordered a good selection of sushi for us (primarily her) to eat in the lounge. The sushi was actually pretty good – just a shame we'd been to Tokyo and were now somewhat critical with our comparisons!
We pottered away a few hours in the lounge, generally taking it very easy and relaxed – I couldn't even be bothered to take a look in the business class lounge across the corridor so sorry if you were expecting pictures.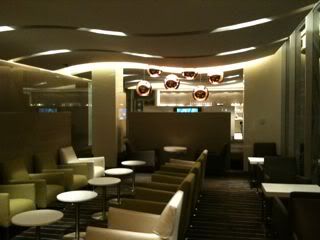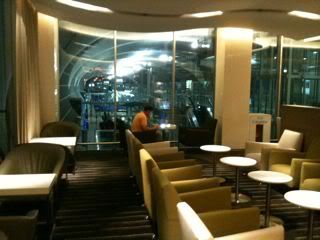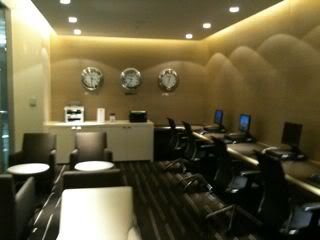 Boarding
Whilst BA are incapable of boarding correctly at Heathrow, in Bangkok it was done correctly. All First, Business and BAEC members were invited ahead of the masses. Not only that but two airbridges were in use meaning no queue and we entered via door 1L.
It was a swift left turn and into a relatively empty First cabin. In the end 8 of 14 seats were occupied.
Seat/Cabin
Plenty of reports about BA First. The cabin was in pretty good condition and IMO was a haven for the next 12 hours. Was delightful after 2 weeks of heavy travelling, lots of flights, to hear a British accent!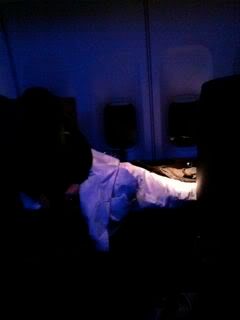 Meals
Even though it was a midnight departure I had prepared myself to have a full meal onboard and then sleep for a good 7 or 8 hours after… and boy did I!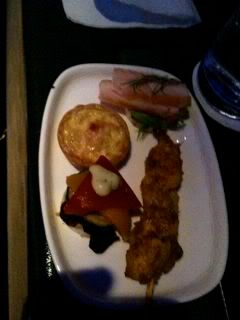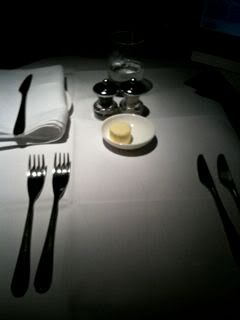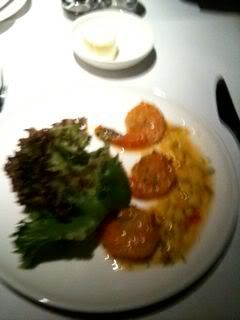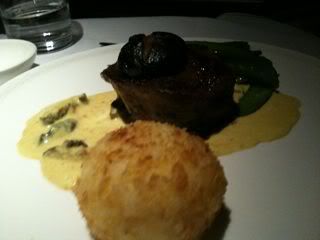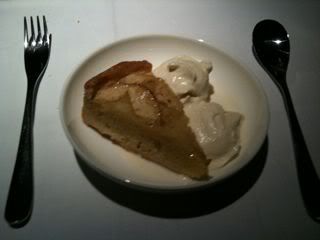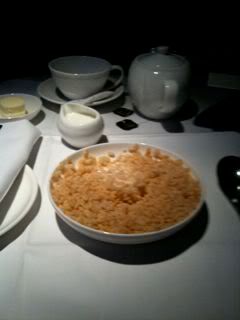 I think one maybe two passengers had anything to eat so the service was superb and the food excellent.
IFE
Another good film selection with ample choice of films, tv programmes, music, etc. My only real complaint is that the TV screen is rather small although that's now being adjusted.
IFE worked flawlessly throughout the flight and I enjoyed The Simpsons movie during my dinner of prawns, fillet and apple pie!
Service
The service was excellent with 8 passengers, most of whom slept. Dinner was served at a nice pace and when I requested to wait following my main course this wasn't an issue.
Cabin crew were happy to have a bit of a chat following dinner service which made for a nice end to the evening before some sleep.
Arrival
We arrived early into Heathrow and were promptly off the plane and on our way to arrivals. There was a small queue at immigration but we had plenty of time.
Our bags were out relatively quickly but BA should learn how to do it properly – priority should mean just that – first out!
We then headed to the Arrivals Lounge for a decent breakfast before I said my farewells and whilst my fiancé went home I went to check in for my last flight to Glasgow.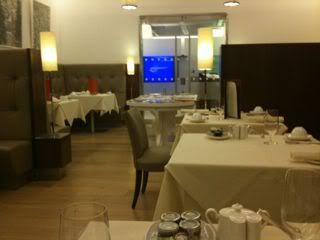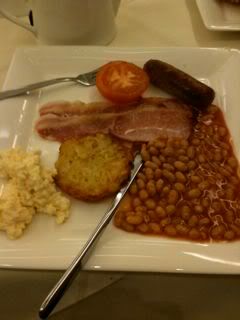 I checked in but had a short wait… it's a tough life!
Conclusion
Well BA First was good, better on the way back from the point of view I felt well and enjoyed dinner. The seat/bed provided a very comfortable sleep in both directions. If you want to experience it go during the day although the service and food on the return was exceptional.
Here are the best and worst…
Check In
Best – BA… it should have been given it was our only F flight.
Lounge
Best – I liked the Thai lounge at HKG, ANA at NRT was also good.
Worst – Thai lounge at BKK was poor but could have been just the one we chose or the time of day.
Boarding
Best – ANA and Thai
Worst – BA – no contest!
On Board Meals / Service
Best – BA (BKK to LHR)
Best in Business – ANA (BKK to NRT)
Seat
Best – BA and so it should be given it was in First.
Best in Business – ANA (BKK to NRT) just my preference
Any comments or questions let me know.
[Edited 2011-08-04 02:21:08]