Hi, dear readers!
A few days after returning home from FRA (report:
Lufthansa – The Upgrade, Some Lounges & A.net Meet
(by
airbuseric
Jul 11 2011 in Trip Reports) ) , where I attended the a.net tripreporter meeting, it was time to fly again. Yes, after a long time on the ground, but having some more free time recently and suddenly, I was in the need for some relaxing days. I quickly checked my options here and there, since everything had to arranged on short notice fares where far from good. Finally, easyJet was doing a nicely timed flight to sunny (hopefully) Barcelona in Spain. Always good for a few days since this is one of the best cities in Europe, offering culture, nice food, a beach, good shops and a large variety of hotels.
Let's Fly Away - easyJet AMS-BCN v.v. on A319
I didn't fly on easyJet for a long time, I think about 2 years ago since I last took a flight on them. Booking was convenient, we paid for 1 bag (expensive!), and checked in online.
My partner came from work, arrived at home around 15:30hrs, just 1 hour later we jumped on a busservice to the airport which is just a convenient 15 minutes away for us.
We arrived at the airport a bit over 2 hours before departure and went up to departure hall 4, check-in desks 31. Several counters open, staffed by Menzies groundhandling. One desk for the speedy boarders, 3 baggage drops and 3 airport check-in. Really good so far. We were served in minutes, friendly staff who advised that they were speeding up today, so we'd better be ontime at the gate.
Our gate, M3. Now, I totally forgot about this but that waiting lounge is very small and not offering much facilities either. No restaurants (we wanted to snack a dinner), and more important, no good taxfree facilities. We had no choice then to eat at Burger King, hate that place on Plaza nowadays (not relaxed, too busy), and also my intended purchase from duty free was finally not on stock in that small shop, which is behind the general security checkpoint.
I discussed my options with the very friendly staff, order and delivery on arrival was even not possible because she couldn't order from the other shops stock (strange!), and on internet (pre-order) they only do the special prices. Hmm, how come I asked and she answered that easyJet isn't paying enough money for it.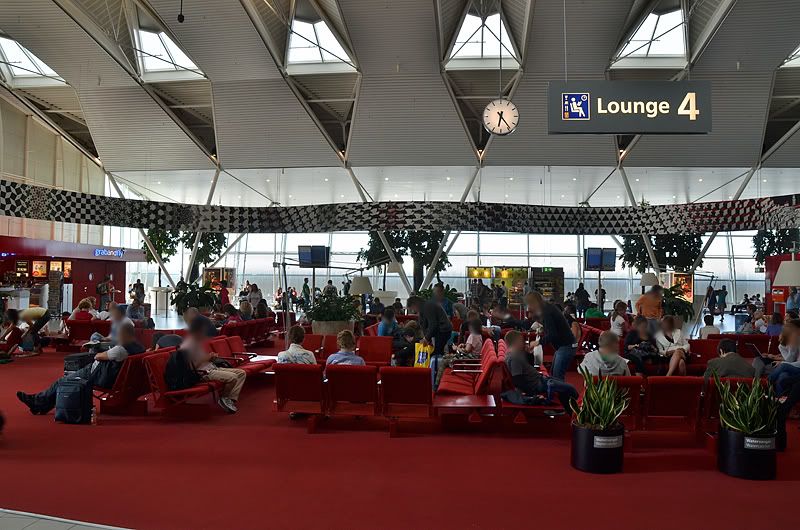 Amsterdam Schiphol - the lowcost Departure Lounge 4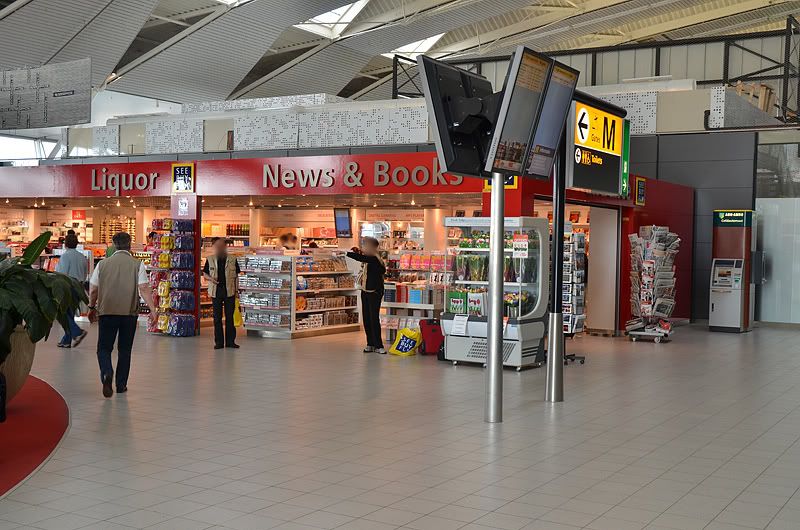 Amsterdam Schiphol - the lowcost Departure Lounge 4
Anyway, we almost forgot to check our flight, the inbound from LTN was early by 15 minutes or so, "wait in lounge" was of course changed in "go to gate", you can imagine the queue for boarding now... We could only wish for a window seat now.
Ouch! The queue for our gate is already very long...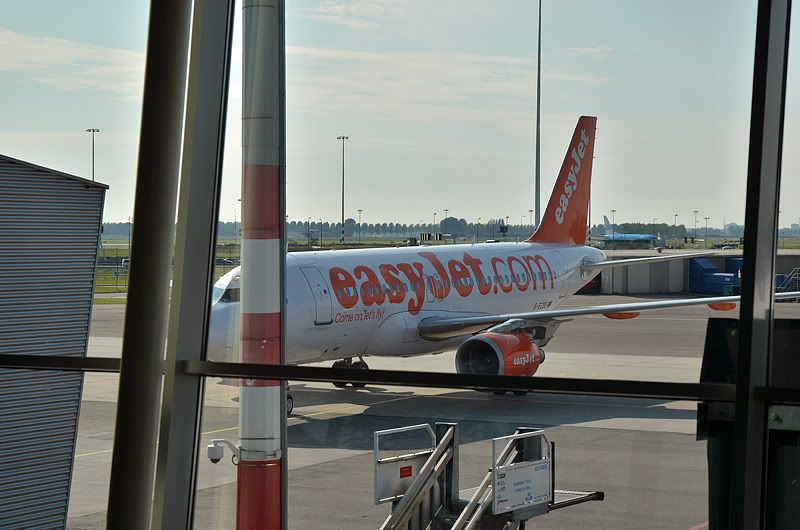 The expected A319 seen pulling into parking position, arriving from LTN
A special call for speedy boarding was heard and there we went (after the speedy ones of course). Strict check of the 1 piece handluggage rule, no problems here.

Boarding the rear stairs of our A319
The aircraft is parked on stand, steps attached, you walk to the aircraft. Boarding also via rear door where the boarding pass is checked once again. We were greeted friendly at the door by one of the Luton based crew. And busy it was..., only 3 remaining rows completely empty, we quickly took seats on rows 17, meanwhile the cabin filled up. At 19:05, 5 minutes before departure, a family showed up with a little baby and a small child, wanted to sit together. The purser came and asked my partner to move away from my row to sit elsewhere, so the family could sit together which they requested. I declined on her/their request though, why were they so late? Now they have to take the consequences and not make us a 'victim' in this. So, other arrangements were found apparently, leaving us with 3 seats for the 2 of us. Life was good!
AMS-BCN
STD
19:10
ATD
19:10
STA
21:15
ATA
21:11
A/C:
G-EZDE
(Airbus A319)
S/N:
17F
(Single class/Y)
View Large
View Medium


Photo © Markus Mainka
Doors closed all just in time, departure info was given,also with the Spanish taped version. Pushback was bang on time, really good performance. Safety demo, still manually played here, was done during the push and start-up. It seems the time easyJet crew take to do the demo is quite lenghty, compared to other airlines. It seems they take this really serious, which of course is their no.1 priority, I felt safe completely LOL!

Taxiing out from the apron - AMS ATC in the background
Taxiing didn't take long either, not much traffic around, after a Malmø Aviation RJ100 (what was it doing here?) we lined up to runway 24 and departed in South-Westerly direction, into a beautiful sunny summer evening.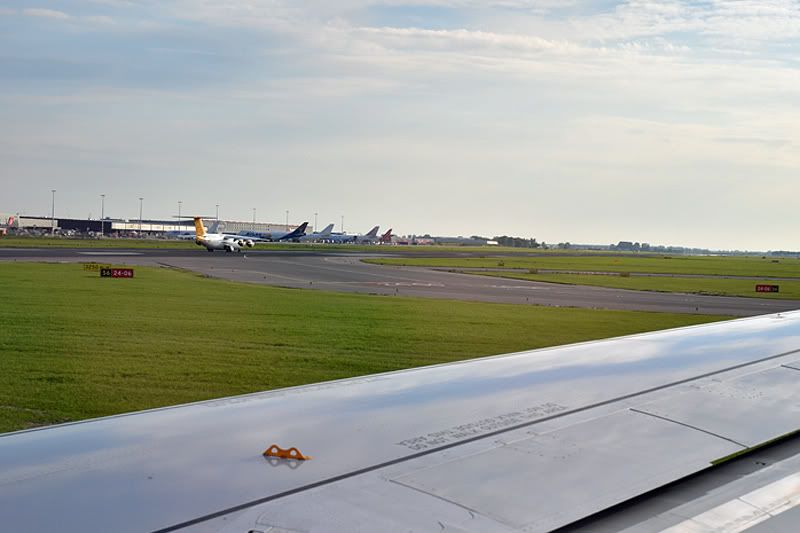 Lining up runway 24 for departure. Interesting: what is Malmø Aviation doing here?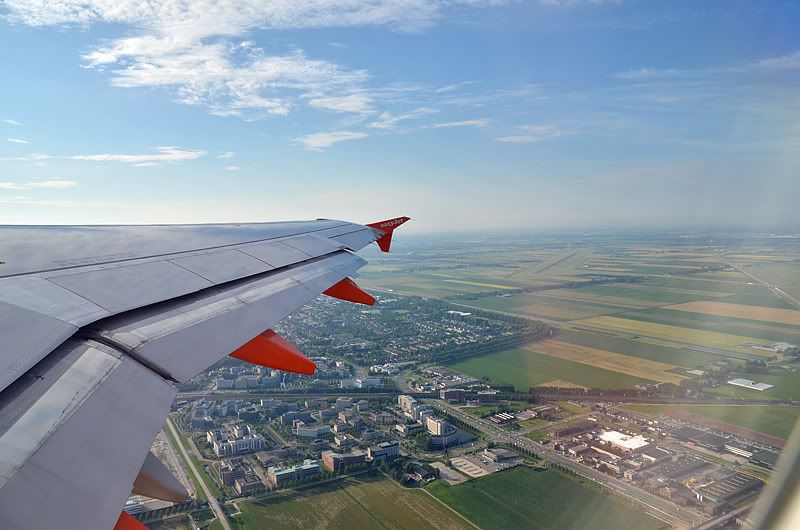 Airborne from runway 24 - note runway 18R-36L in the background

Dedicated to Martijn - his studio is in this picture (2 of my previous appartments also)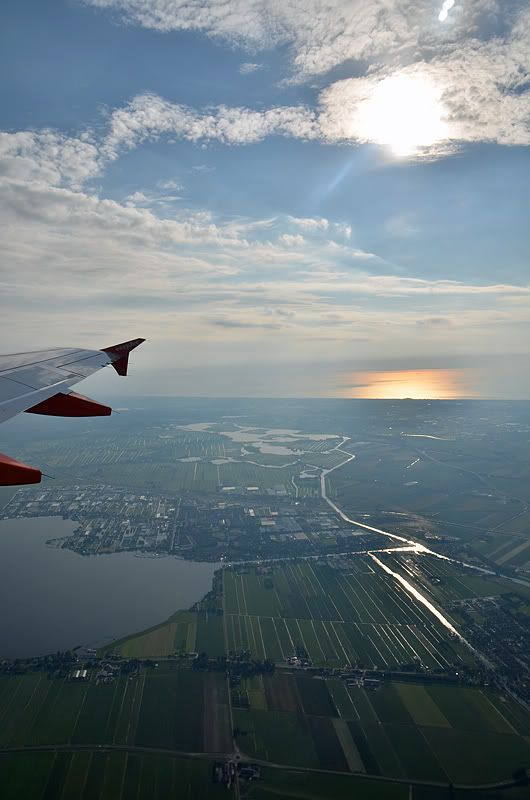 Nice reflections on the Dutch landscape - the evening sun is setting!
During the flight the sunlight became a bit irritating so I had to close the window blinds a bit, giving me time to start writing on this tripreport. I'm glad to have the iPad with me! Crew was doing their sale of food and drinks from the 'Boutique & Bistro', and we were satisfied with their Starbucks coffee and some chocolate bar. Average prices, can be found cheaper on some other lowcost airlines, but this is Starbucks, so no complaints hehe.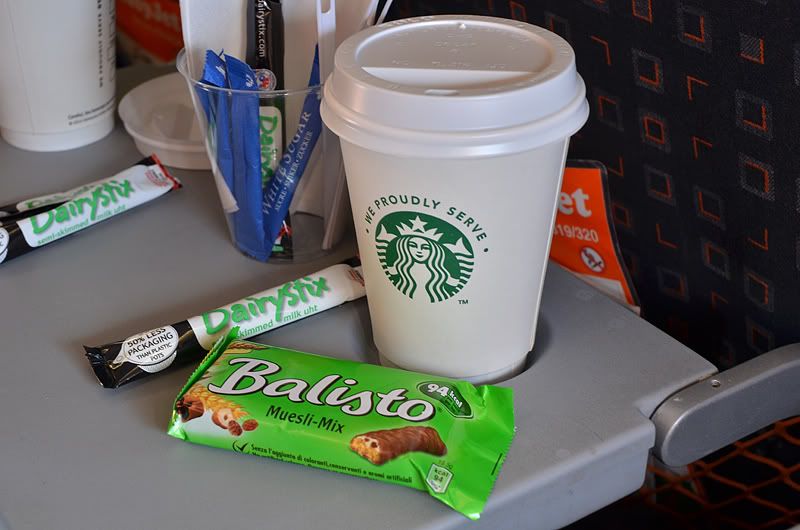 EUR 4,50 deal - Starbucks coffee and a chocolate bar
My opinion about the legroom is good on easyJet, it feels better then on many other companies in this segment, sufficient for this 2 hour flight. Reclining is not possible (anymore), which is good imho.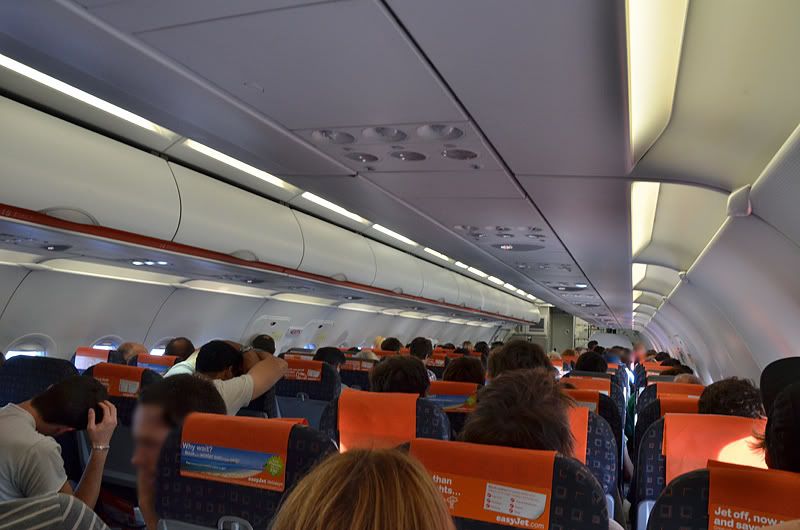 Cabin view from my seat during the flight over France
The cruise itself was really boring, with mostly cloud layers over France, disturbing me for good views on the ground. Info from the flightdeck came on the way, mentioning our cruising altitude of 39,000 feet. Arrival info for BCN was a very fine temperature of 24°C, and a light southwesterly breeze. Some scattered clouds were making this forecast complete.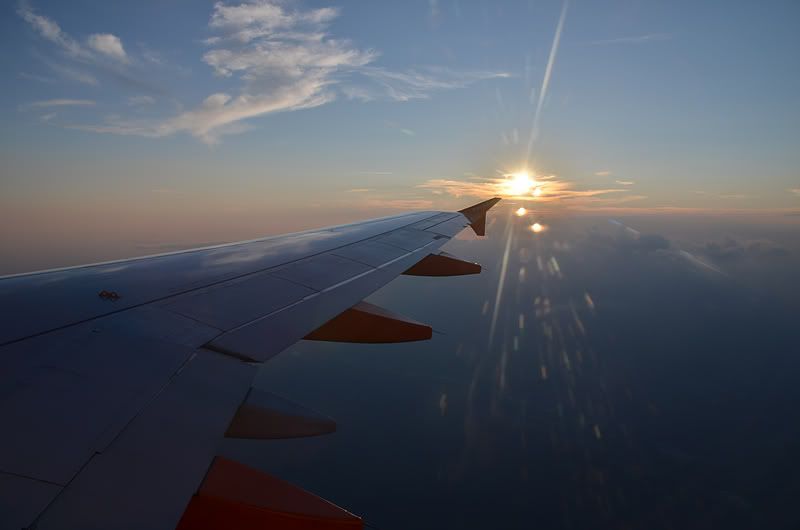 A relaxing flight, setting sun on the horizon, over France
Approach was from the North, actually quite straight in towards the airport, and beong seated on the righthand side, some fantastic sights on the city and harbour. A bit dark though while the sun was gone behind the mountain range already.

Barcelona city visible during approach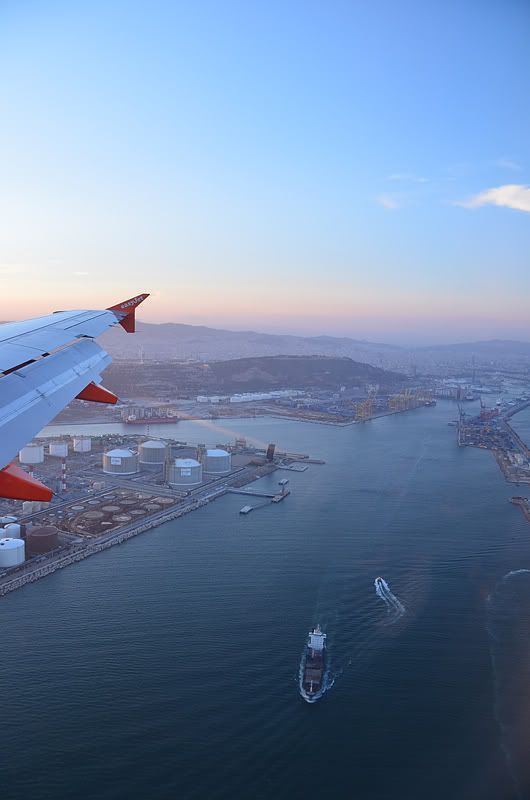 Port of Barcelona (during approach for runway 25R
We touched runway 25R some minutes ahead of schedule, followed by powerful brakes applied, apparently to enable a shortcut to our remote parking position on the apron.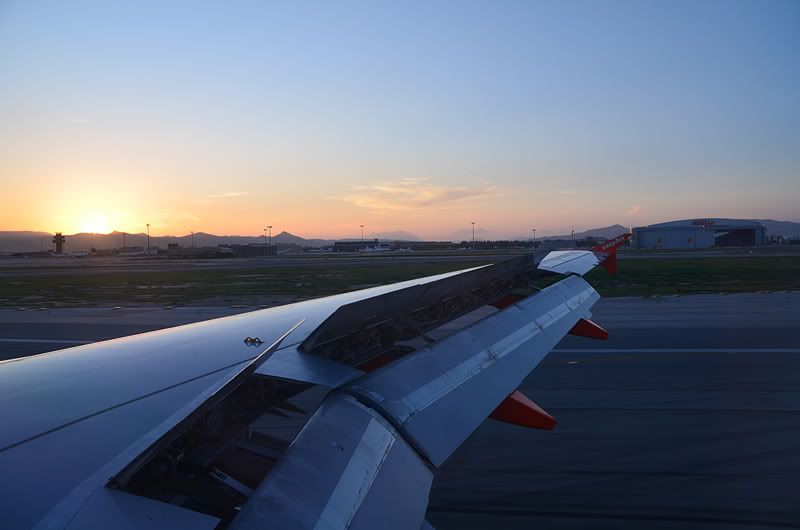 And touch down at BCN runway 25R
2 buses were standing by and without further wait we were driven to the Schengen/EU arrivals hall and baggage reclaim, which took more then 30 minutes to get the luggages on the belt, not the best performance here from the Spanish airport workers... Everything was fine though and we were on our way into town, by use of the convenient Renfe train. Fare is €3.75 oneway to Sants station, very interestingly the way back, same track, we had to pay €3.15 for the ticket. Ah well, this is just a detail...
--
A couple of days in the city went by too fast, weather was ok, although one day there was some cloud activity around making the hotel to decide that it would be better to close the rooftop swimming pool on Sunday (exaxtly when we were planning to spend some time there). This was, in our opinion, one of the few shortcomings in the Expo Hotel, which is rated with 4 stars.
--
On Monday we were returning home. After breakfast and a last minute shopping walk we checked out around noon and continued our way to the airport. As metioned by train, which delivers you right in front of terminal 2, from where the lowcost carriers and charters are operating from.
easyJet though has even their hands on a dedicated check-in zone, also called zone C, a long walk from the main building, but a modern looking area.(In my opinion it's the biggest nonsense to have this dedicated area, since Terminal 2 has too much capacity unused on the main building!). One snackbar provided, several desks staffed but a 'typical Spanish' organization. Queues were formed in a weird way, not corresponding the signage, some other passengers were having a passport issue at another desk... But after we dropped the bag off, it continued calmly. No wait at the security checkpoint, leading to gates M0. After security we had to go trough the only taxfree shop provided in that area, offering not a complete assortment of goods either. Some more? Yes, a small snackcorner, or walk along the dozen of closed former taxfree stores. Further down the path, near gates M3, 2 placea with restaurant facilities, selling €6.75 baguettes, really overpriced, plus bad quality. As said before, this former nice and livingly terminal is now a dump. The building is still nice, but has nothing to offer anymore. Really a shame, especially since the newly build T1 accross the runway can be counted among the best terminals in Europe including shoppers paradise. Some pics:

Unused capacity (check-ins) at T2, recently build but 'never' used. What a waste!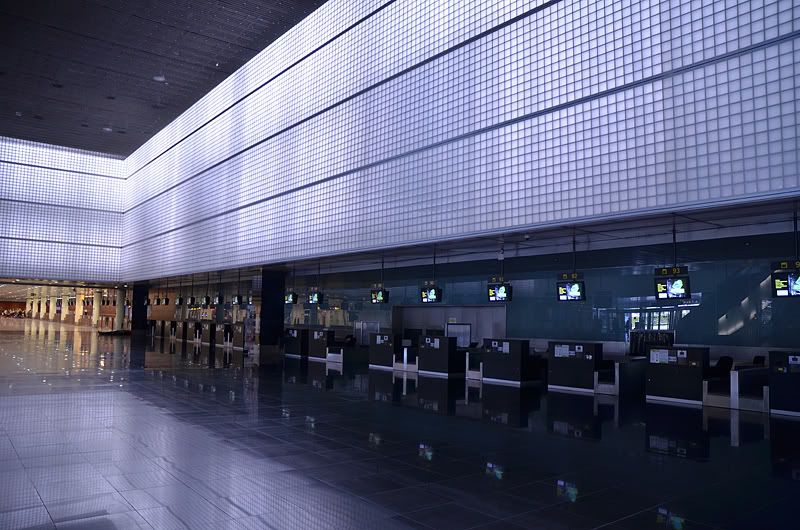 Unused capacity (check-ins) at T2, recently build but 'never' used. What a waste!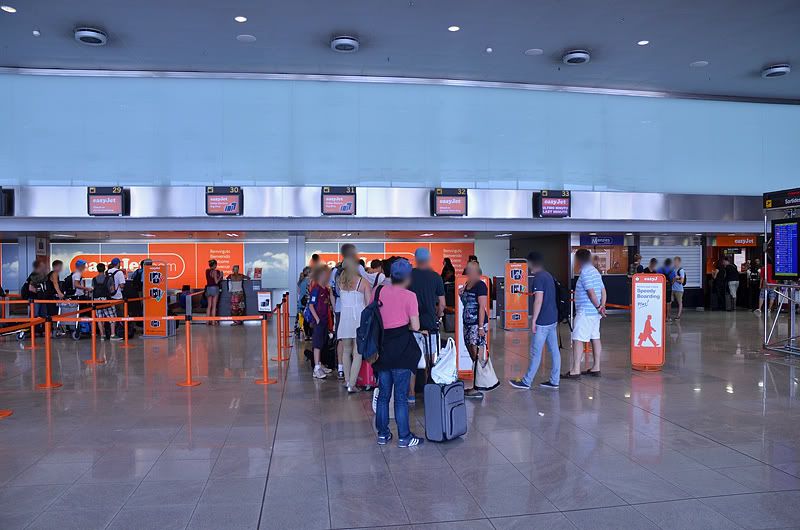 Dedicated easyJet check-in area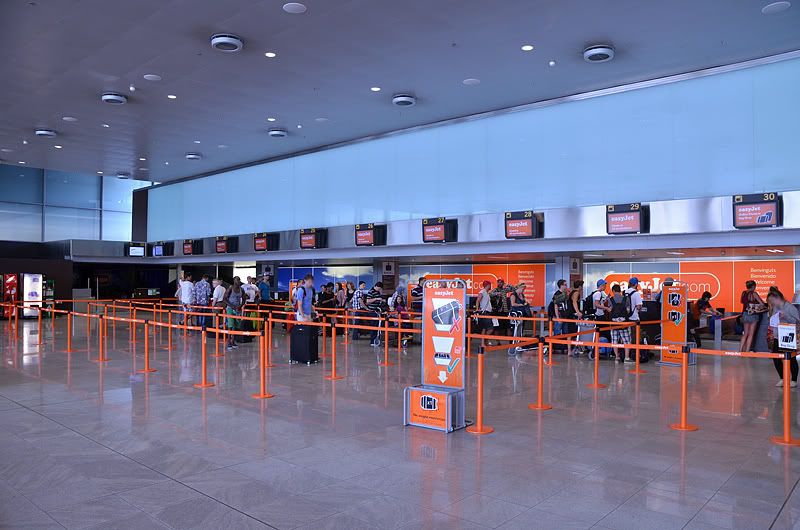 Dedicated easyJet check-in area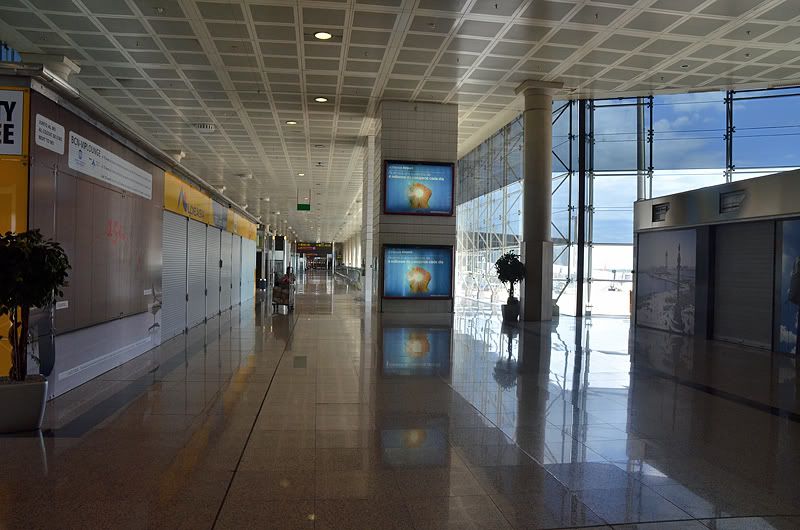 Empty corridors behind security. Former taxfree shops all closed, really a dump nowadays!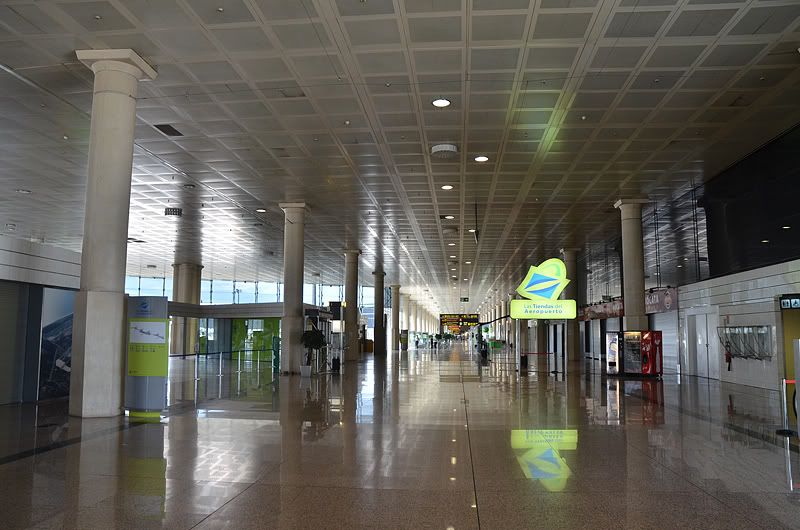 Empty corridors behind security. Former taxfree shops all closed, really a dump nowadays!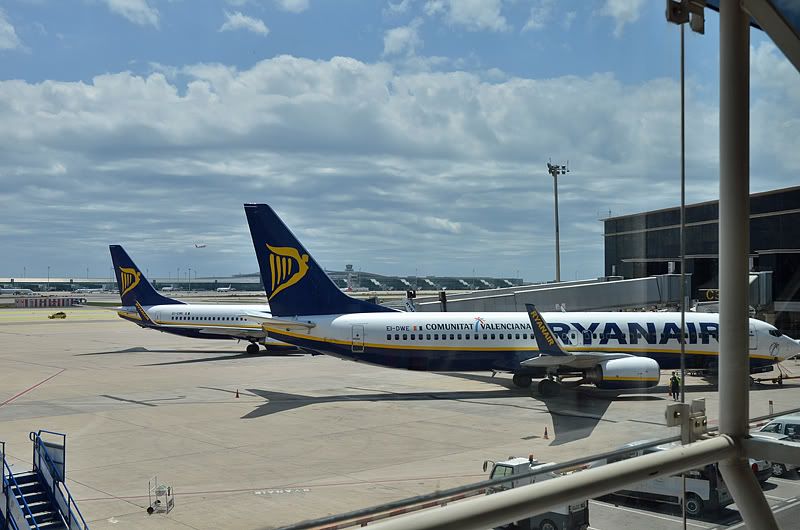 A well-known FR aircraft for me (EI-DWE), did LTN-DUB on this one
Anyway, gate was announced to be M0-17, a busgate downstairs. Hmm, it seems we are a bit late once again, a line has formed and that would the second bus for sure.
So, the first bus left, we got indeed on the second one, and after we noticed a very annoying group of British teenagers we firstly worried about them being on the wrong bus (a flight to Bristol was also boarding), but it was not the case of course and they ended up occuping the rows in front and next so us. After party in Lloret de Mar now a joint in Amsterdam?! Lets see how that works out during the flight...
From the bus we quickly went up the rear stairs, in the mood to score a free row and window seat, we succeeded on row 15 after a friendly greet from a Luton based crewmember.
BCN-AMS
STD
15:05
ATD
15:03
STA
17:35
ATA
17:28
A/C:
G-EZDL
(Airbus A319)
S/N:
15F
(Single class/Y)
View Large
View Medium


Photo © Terry Wade
A welcome from the flightdeck, duration forecasted as 1 hour and 55 minutes, and welcome in English and Spanish from the purser (who was fluent in Spanish). Safety demo was on tape, one of the younger girls on board was performing the demo at row 12, disturbed all the time by those shitty guys from row 14. She said, you're alright?, and made note of their seatnumbers, and in the end they didn't get any service (no drinks, especially no alcohols). Good job from her.
We taxied out a bit early, but taxiing took forever (why complain about AMS runway 18R, this was worse!), all the way around runway 07L/25R, then further towards 25L which was in use for departures.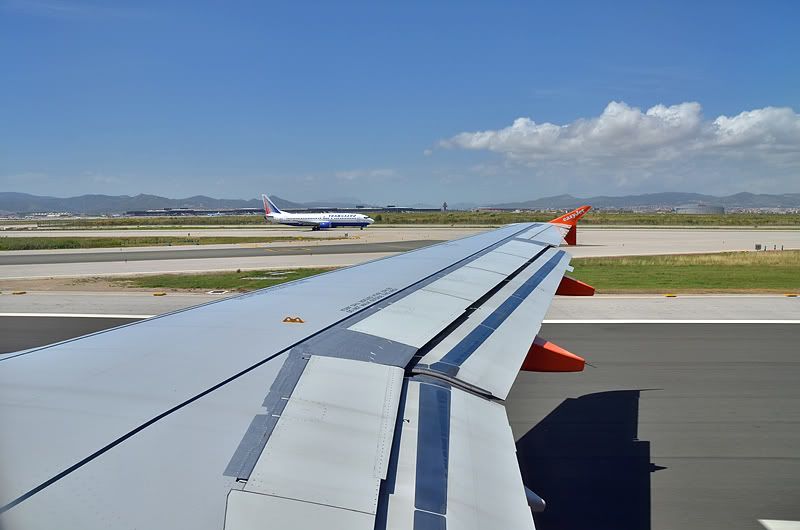 Line up runway 25L
A typical BCN departure, banking left towards the sea immediately after takeoff, and then followed by some righthand turns to the North. Due to the mostly clear skies, some good views down including the airport and in the background, Barcelona city.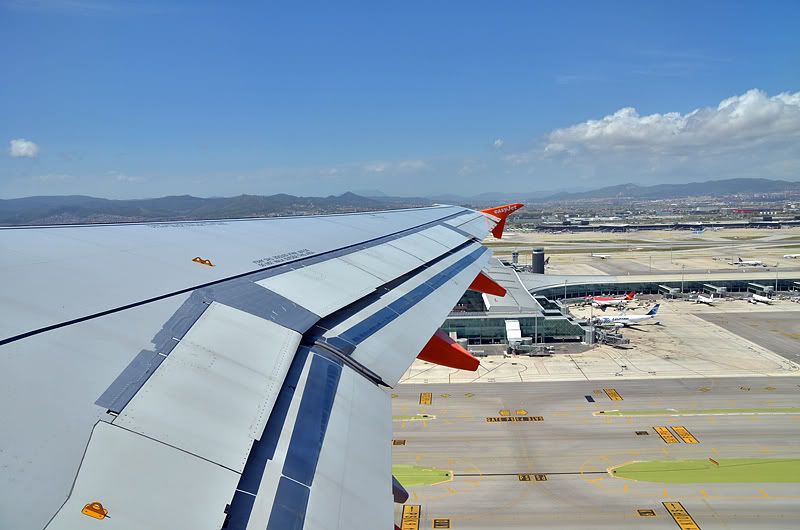 Airborne! Note the Egyptair A330 and Avianca A330 parked at T1

Turning left towards the sea...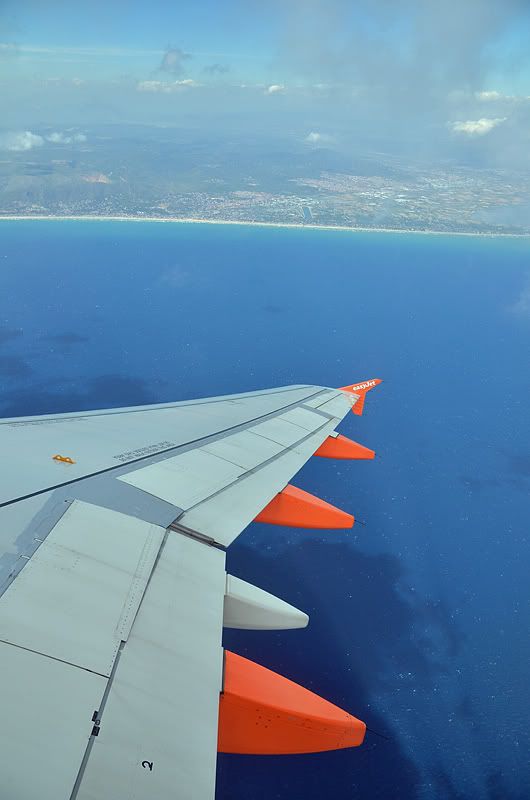 Turning right again...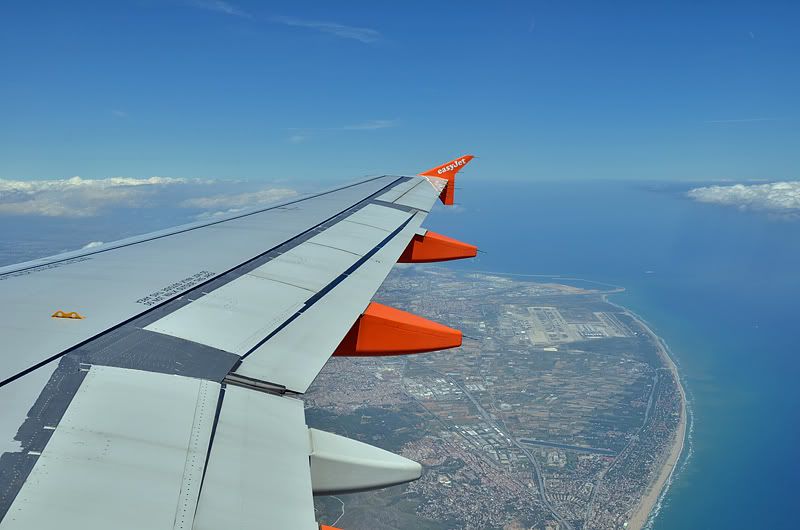 BCN airport seen from above during climb
We climbed further and the crew announced their onboard menu, the choice in sandwiches etc. The menu is in a small booklet in my seatpocket, we decided for another Starbucks coffee and the muffin, which is available in blueberry or chocolate taste. It's a "menu deal", so we saved 3 Euro's by making this combo. The crew was friendly also here, one is serving, the other in the role of cashier.

[Starbucks coffee and blueberry muffin. A good deal on easyJet!
As said before, the guys in row 14 didn't get served, the crew passed them quickly, maybe also to avoid discussions, but.... I give the guys a plus for them being mostly quiet during the flight itself, most of the group were sleeping throughout!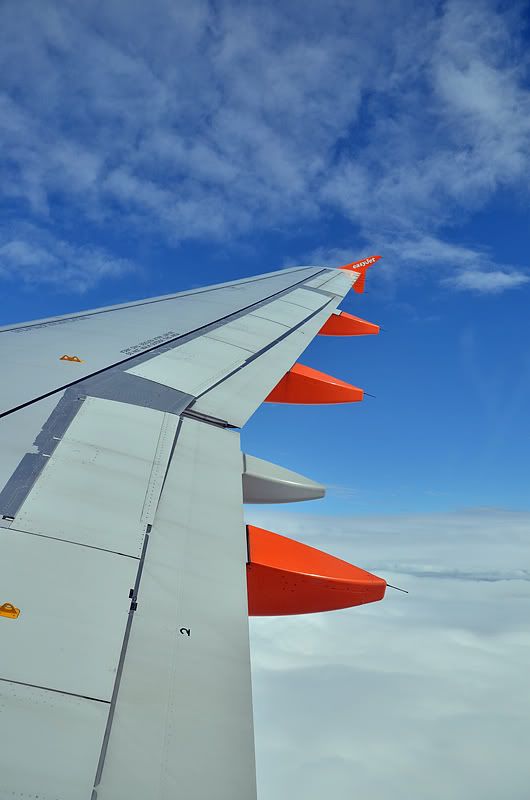 Clouds enroute
Views were not really good during this flight, since France was covered by clouds mostly, as were Belgium and the Netherlands. Just west of Paris, our decend started down from 38,000 feet to 37,000 feet initially when the captain came on with arrival informations; completely cloudy, visibility 5000m with drizzling rain, 15°C and expected landing on runway 18R. Good information so far, but this weather was not really welcome of course.

Approach to AMS (Northsea coastline) - No sun anymore... and quite windy!
Approach was over Rotterdam, the Northsea coast and a right turn over the steel factories at IJmuiden, indeed for runway 18R. But what a bad weather here, a little bit more them just drizzle, cloud base was very low and intense showers around, gusty wind also when on finals. Landing was good though, on the very wet runway. As promised, ahead of a schedule.

Final approach - what a terrible weather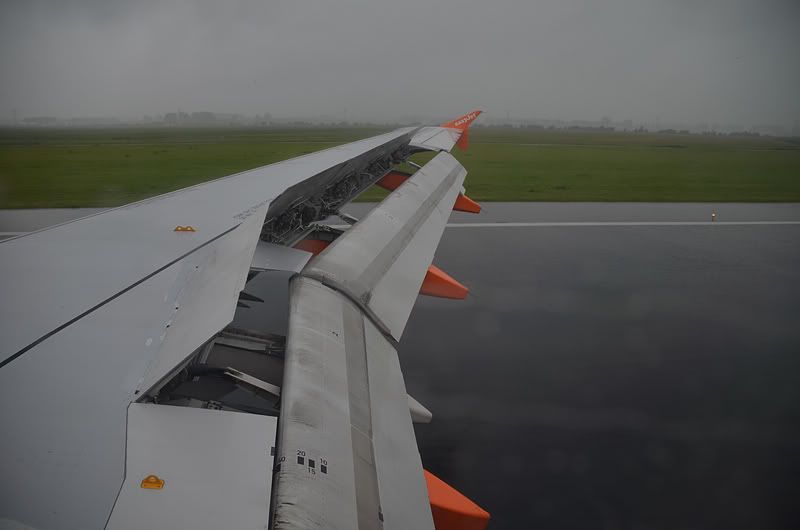 Landing on a wet runway 18R
During taxiing I noticed that 1 engine was switched off, this can be a (new?) company procedure by easyJet to do some fuel saving/cost reduction. Nothing special though, the company I worked for had similar procedures on the B747 fleet.
We crossed the inactive runway 18C/36C at W5, meaning a shortcut. Soon we arrived on our stand at the lowcost pier. M01 was our stand (=H01). Via stairs on the apron and a short walk into the building. It stopped raining, good for us!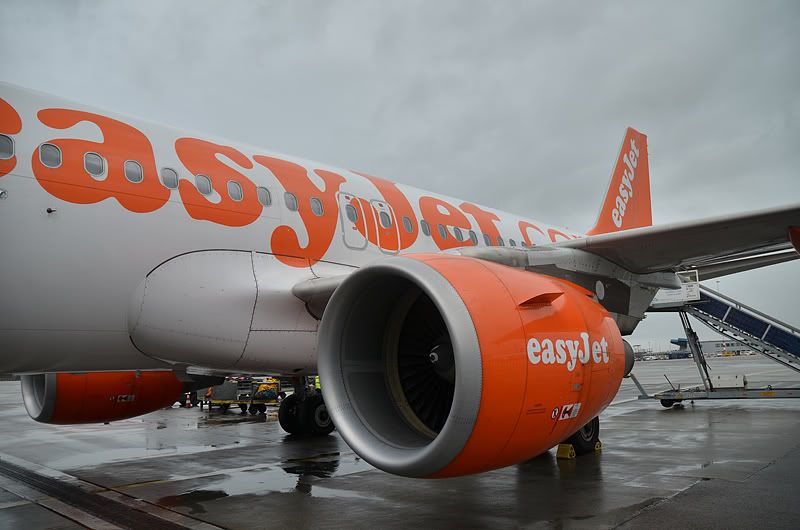 After disembarking I got one more photo moment
Baggage was delivered in arrival hall 4, belt 21. Exactly 15 minutes after arrival we got it, a big impression and achievement here from ground handler Menzies, but I know from own work experience that the baggage delivery is having top priority at this handling company. It worked fine also on my flight and that leaves me with good impressions.
I hope you liked the report on these standard, actually not so special easyJet flights. The crew were good in their job, the aircraft were clean and the flights on time. I noticed the baggage fare is quite high, as well for speedy boarding. On board, the inflight menu offers a good range of food and drinks, the combo's make the price bearable.
easyJet is doing really well in AMS, and also these relatively new BCN flights were both nearly fully booked. Other new destinations were e.g. SXF, SPU, PRG, with VIE coming up this winter also. I hope that they will manage to open a base at my home airport, since that might lead to new opportunaties also.
Thanks for reading, and you know, your comments are always welcome.
Next flights are up North to Scandinavia, over 10 flights are fixed now for August... Stay tuned, they will pop up here soon again.
Happy flying!
Eric
A small random selection of Trip-Reports on my previous flights:
Lufthansa – The Upgrade, Some Lounges & A.net Meet
(by
airbuseric
Jul 11 2011 in Trip Reports)
On Duty To Japan: JAL (C) And KLM (Y) On B777-200s
(by
Airbuseric
Dec 6 2007 in Trip Reports)
The Little Surprise From LH On A Domestic Route
(by
airbuseric
Aug 24 2010 in Trip Reports)
Crossing The Atlantic On BA (Y): AMS-LGW-JFK
(by
Airbuseric
May 3 2009 in Trip Reports)
Royal Air Maroc: Nador - Amsterdam On The B737-400
(by
airbuseric
Jul 23 2010 in Trip Reports)
Amsterdam Airlines – The New Wings From Holland
(by
airbuseric
Jul 8 2010 in Trip Reports)
Riding The ICE To Catch My Cirrus Air Dornier 328
(by
airbuseric
Mar 7 2010 in Trip Reports)
FlyBaboo & The Q400: From The City To GVA + 2 More
(by
Airbuseric
Jan 31 2010 in Trip Reports)
Brussels To London: The American Way & Back To AMS
(by
Airbuseric
Jan 17 2010 in Trip Reports)
Catching Up With The LAN A340 And More ... (+pics)
(by
Airbuseric
Oct 16 2008 in Trip Reports)
My Visit To Berlin Tempelhof, Daytrip On KL+SN+HV
(by
Airbuseric
Oct 12 2008 in Trip Reports)
"Europe Select" On KLM, AMS-ARN-AMS (+pics)
(by
Airbuseric
Jul 30 2008 in Trip Reports)
Flying Flemish, A Dutch Lady Between 2 Harbours…
(by
Airbuseric
May 30 2008 in Trip Reports)
Props Around The UK (12Feb08); Many Pics/videos
(by
Airbuseric
Feb 20 2008 in Trip Reports)
AMS-NRT On JL412 In JAL's C-class + Pics
(by
Airbuseric
Jul 17 2006 in Trip Reports)
A Mad-Dog To Denmark, Bornholm & More On SK/QI/DY
(by
airbuseric
Jun 26 2010 in Trip Reports)
Air Dolomiti & The Embraer 195 Visiting BLQ
(by
airbuseric
May 11 2010 in Trip Reports)
Inaugural Day Of Service: BA Embraer 170 LCY-AMS
(by
Airbuseric
Sep 28 2009 in Trip Reports)
To The Land Of The Rising Sun (JAL In J-class)
(by
Airbuseric
Jul 19 2009 in Trip Reports)
Combination AA + BA Across The Pond: JFK-LHR-AMS
(by
Airbuseric
May 20 2009 in Trip Reports)
Back Home In C-class/Upper Deck On KLM's B747-400
(by
Airbuseric
Feb 19 2009 in Trip Reports)