Hello guys, this is a follow up trip report from my previous "Helping Out Robin Hood". As I returned from Tenerife, and had few hour sleep I was on my way for another 1 week of fun! This time in Nicosia, the last divided capital city of the world.
The reason behind this trip is an MUN conference to which I was invited by a well respected member ju068. He was organizing CyMUN in July and my birthday fell on the dates of the conference, so why not treat myself with a little birthday treat? So in February I booked my tickets from LHR to LCA via VIE. Austrian Airlines would take me there, on 3 different aircraft types. Later on I found a cheap way to get to LHR since the departure would be early, I booked BD flight from MAN to LHR on the exciting Erj145. And to get back I'd try the British Airway service. So let's begin?
On 23rd July, at 14:44 I had to depart Doncaster. The town is served by 8 train companies, more than any other city in the UK, therefore the train connections are very good and there are several trains an hour to London, Manchester and other major cities. The train to Manchester is full, I manage to get a seat, unfortunately it's backward faced. Never mind. Soon I arrive at Manchester airport, it would be the 3rd time I depart the airport, and first time it's a departure from Terminal 3.
Getting to terminal is a bit annoying as you have to get to terminal 1, then take a lift and then walk. I get there quick. The check in area seems small, I use one of many BMI check-in kiosks and select seat 16A which would make me feel like I would be flying business class...not. But it would be a new experience. I then give my luggage away hoping that it would not get lost.
I had about 2 hours to kill during which I did some duty free shopping, found out that Amy Winehouse has died, and when I saw some exotic birds such as CSA Holidays! It was soon time to board the aircraft. We were called to this small waiting area and soon we began boarding, I was the third person to enter the bridge, and first person to get onboard the aircraft. Oh the over size luggage!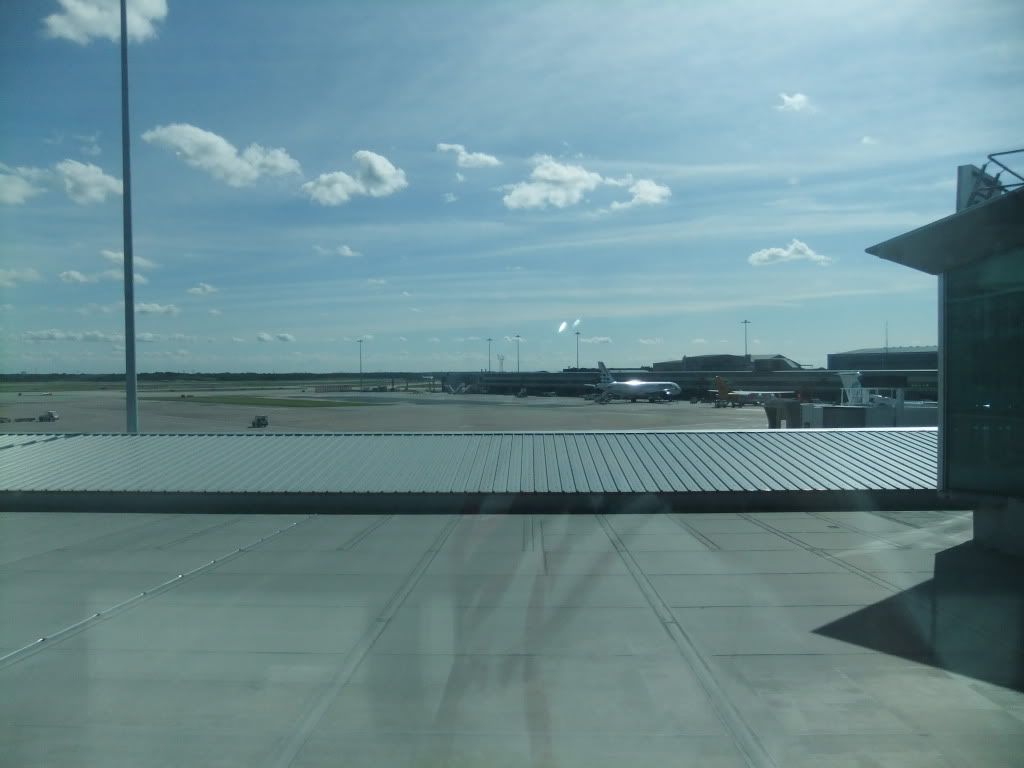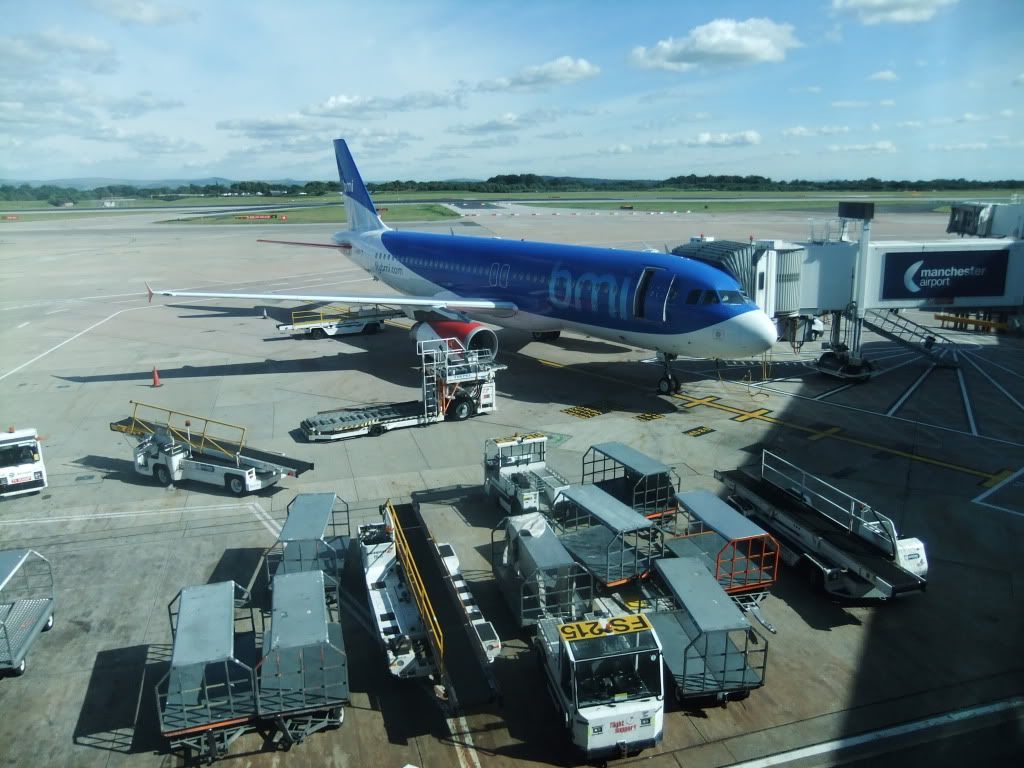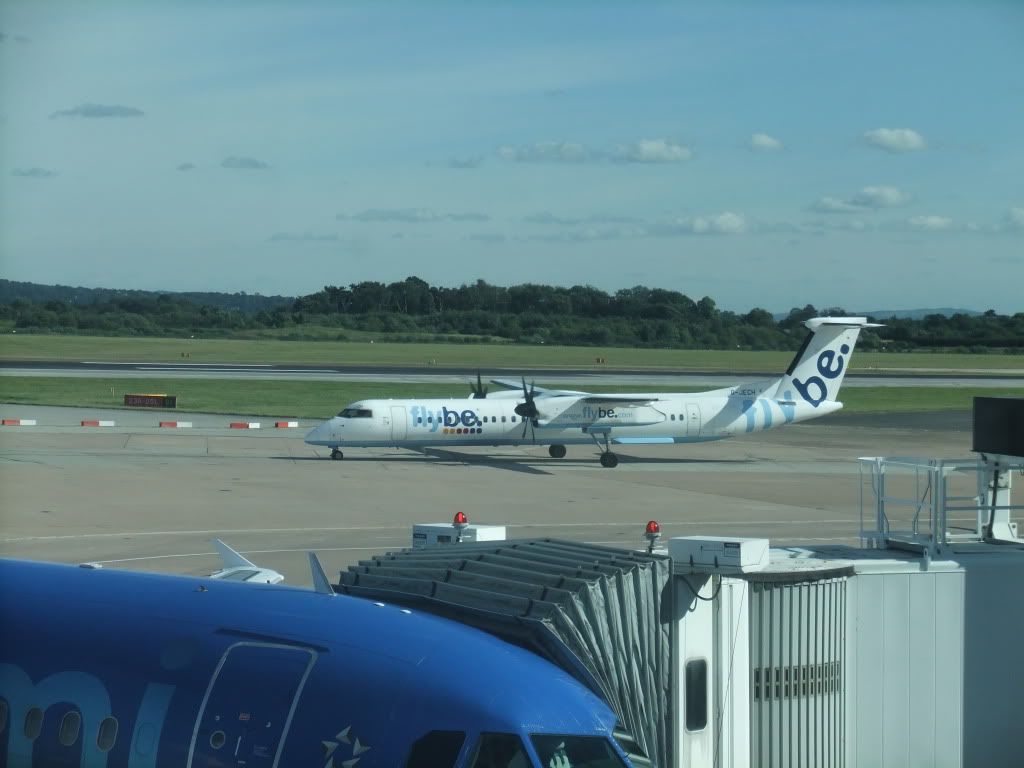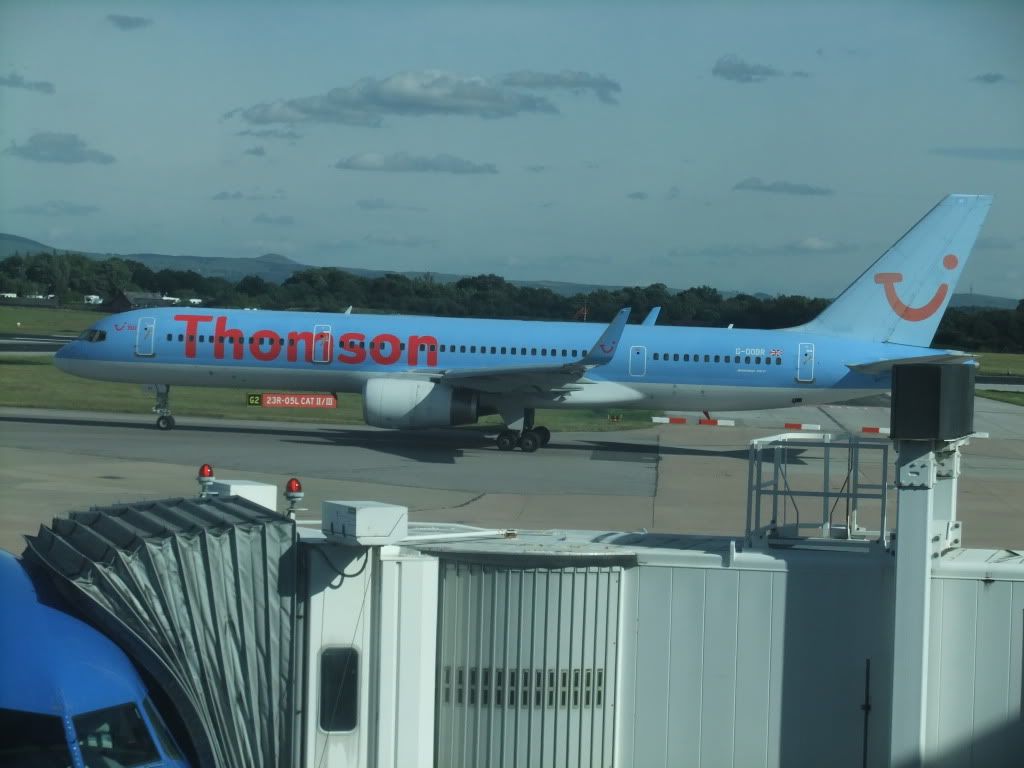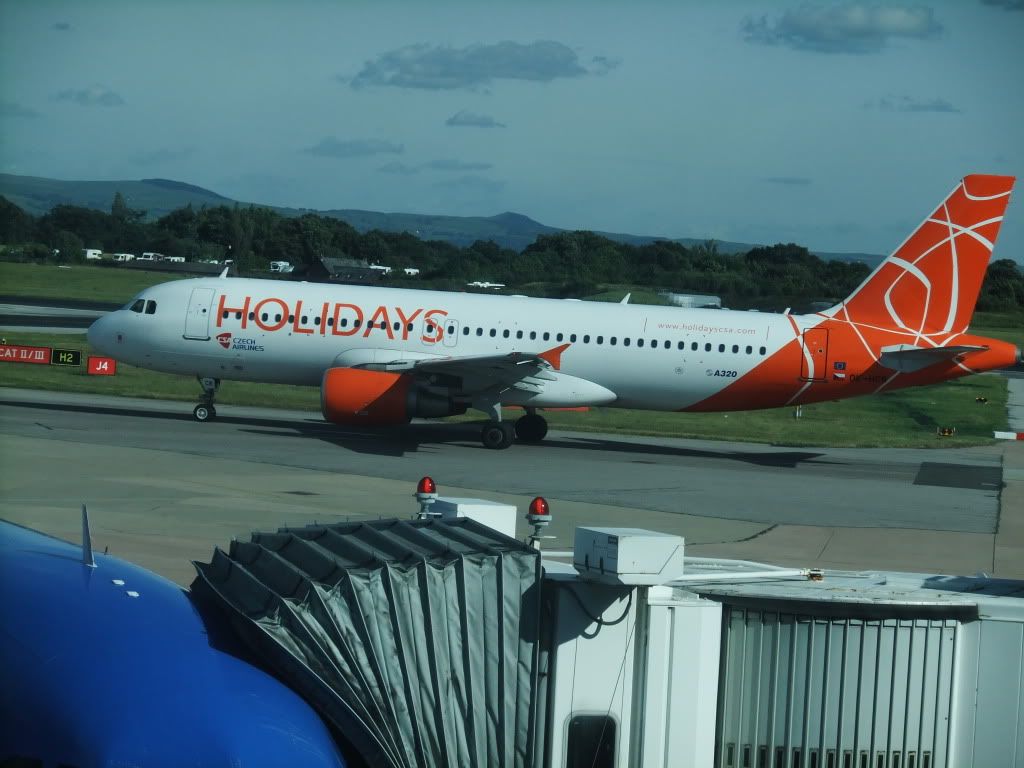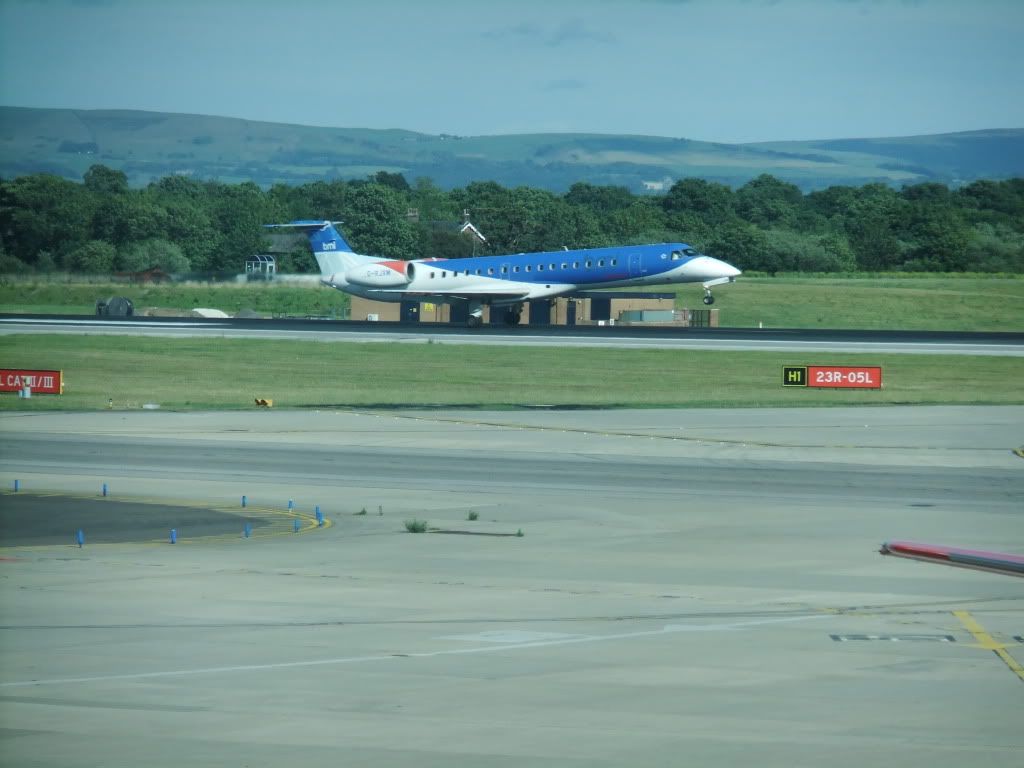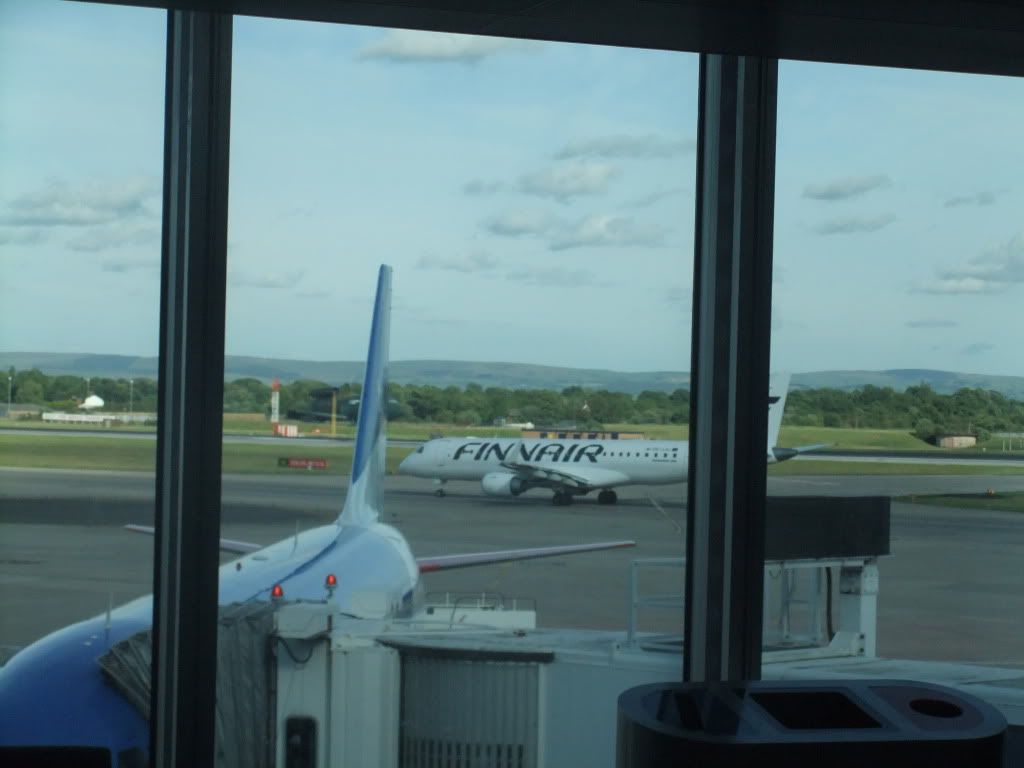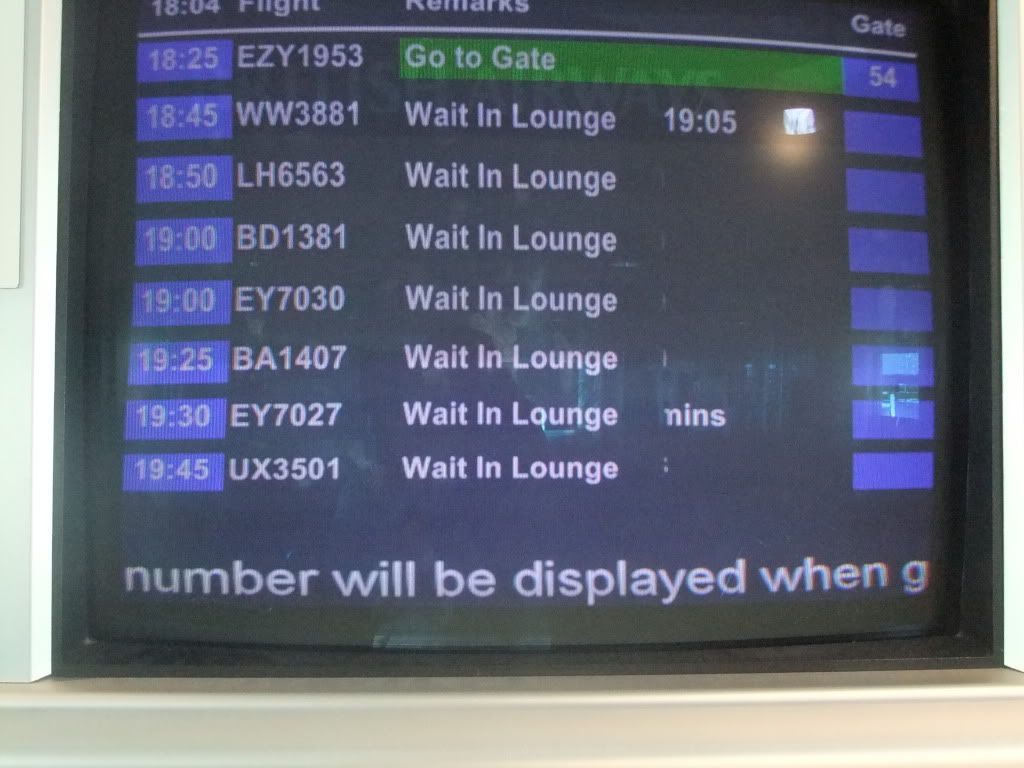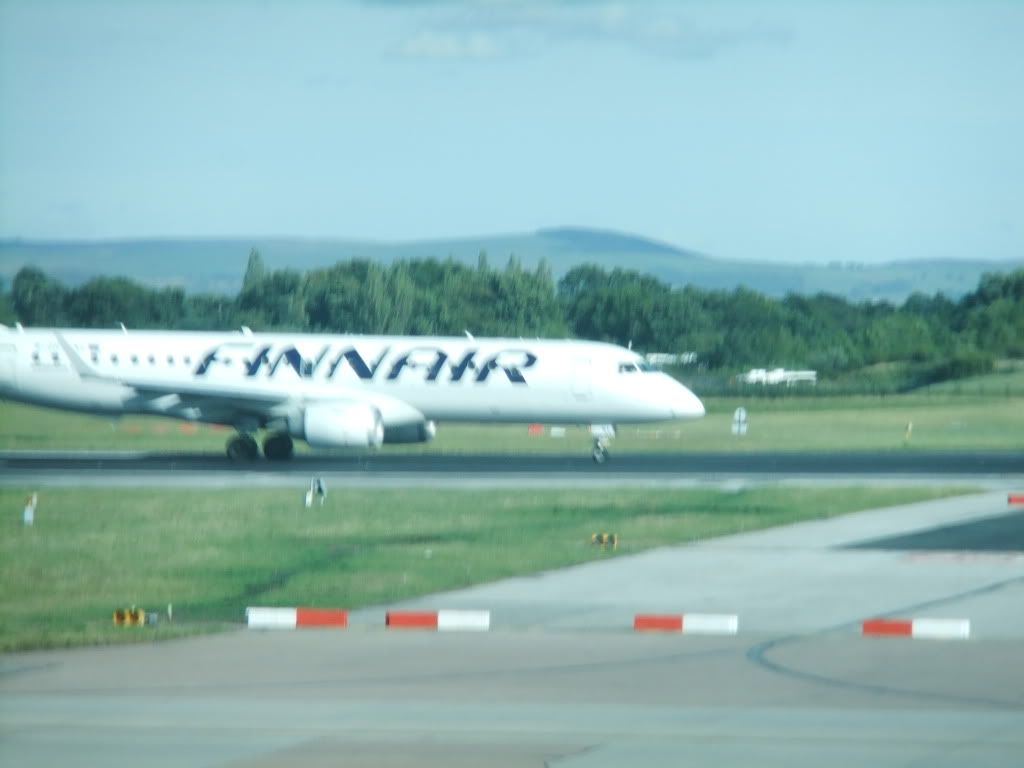 23rd July 2011
Manchester - London Heathrow
19:50 - 20:50
Embraer 145
G-RJXM (5 years old)
BMI Regional (2005 delivered to BMI Regional)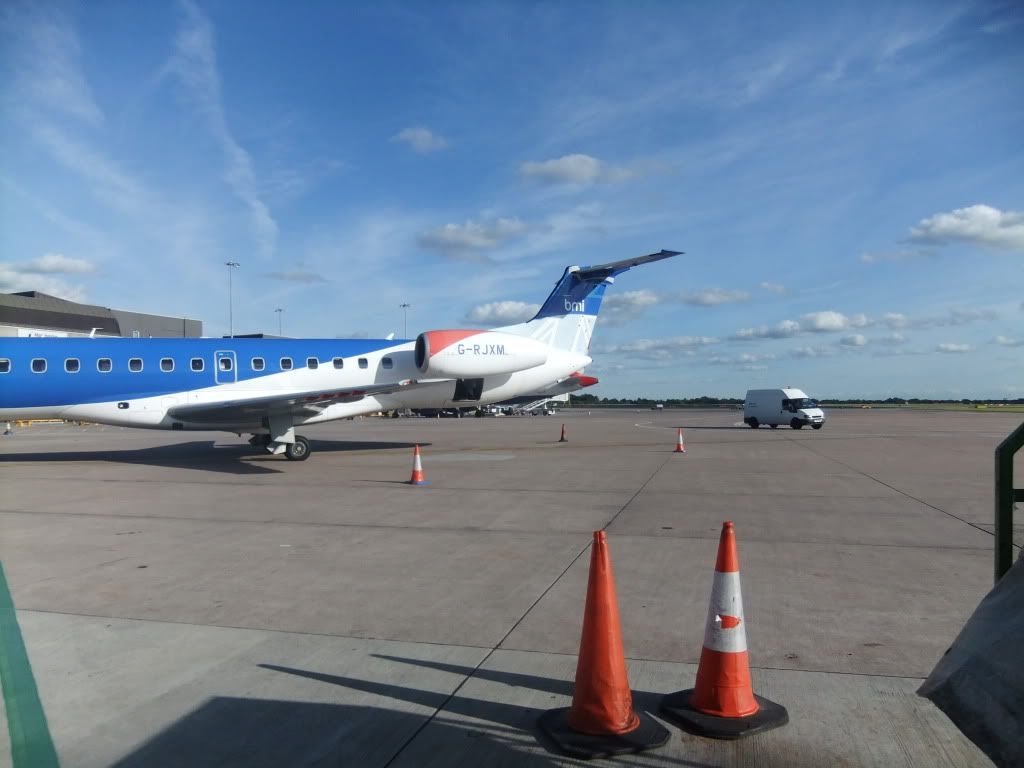 The taxi is short and the take off is, well, not as powerful as I had expected. People have told me that the sound and power of the take off are very immense for the aircraft, it felt, like a car! Anyways, we don't get that high, and luckily for England that day was sunny so we got to see the buildings and stuff. It was a good flight. The crew had a quick snack sale; some people ordered something I did not since I had a wonderful hot chocolate before. Did I tell you how much I love hot chocolate when I travel?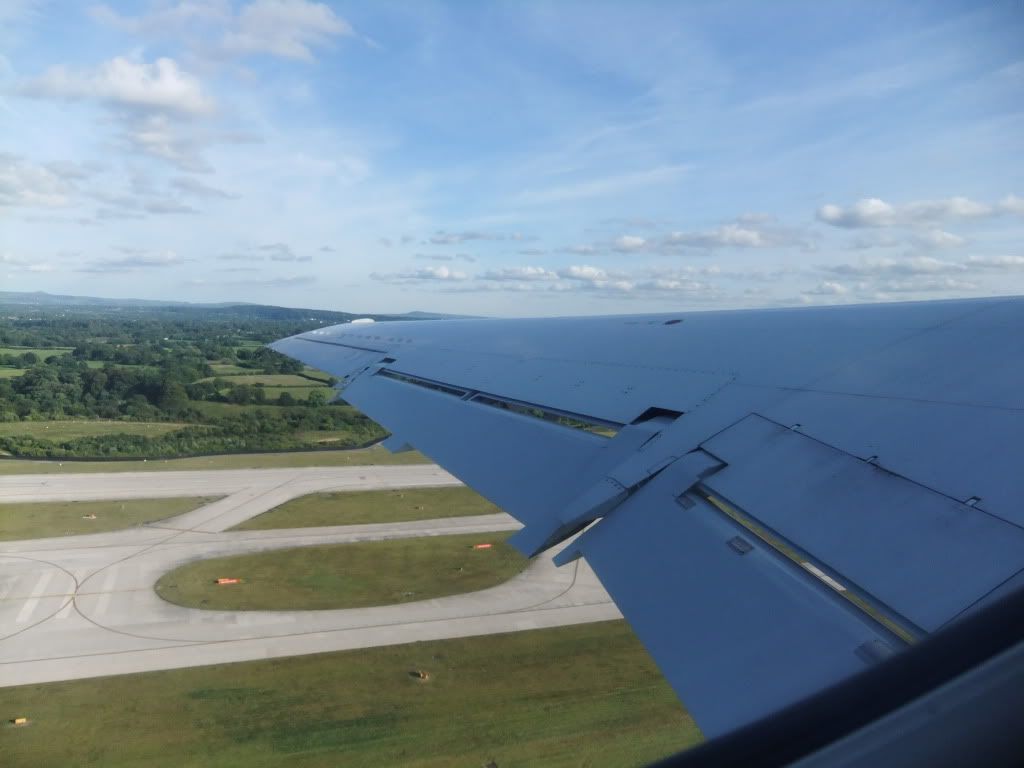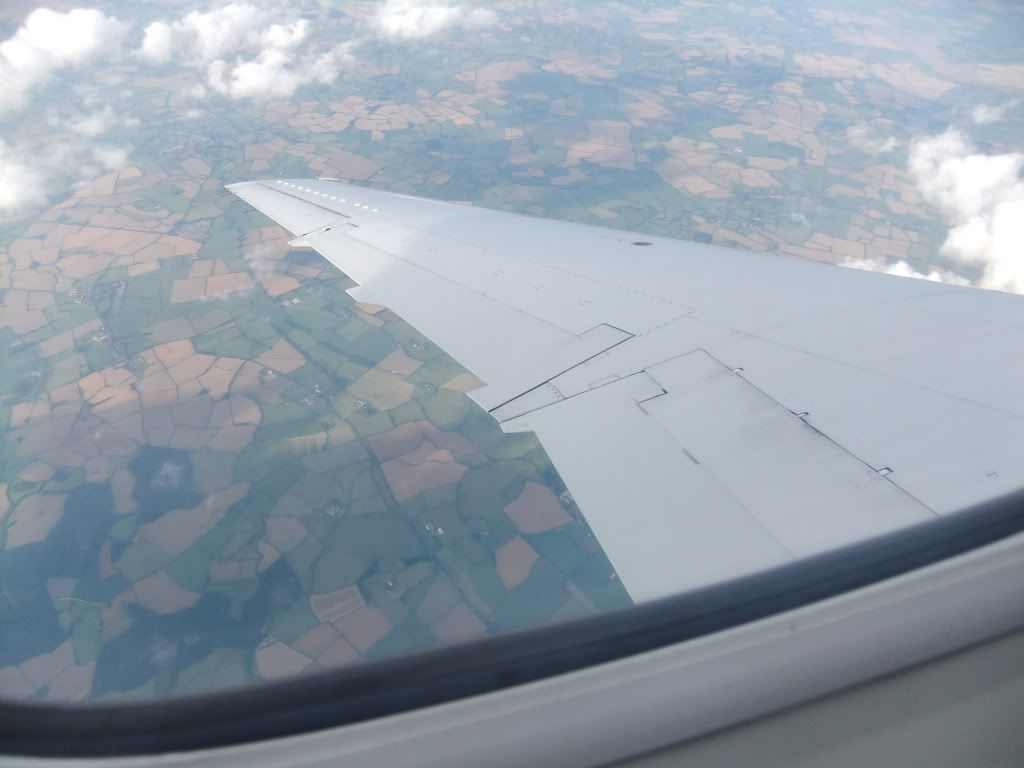 The aircraft is only 5 years old; it felt a lot older though. The seats were leather but felt like something from 90s. The colours of the over head panels were a bit dull and I guess that added to the age feel. The experience however was very great! The BMI Regional crew were very professional, not only were they good looking them also kept being very professional throughout the flight helping the passengers.
On the approach to London, I see an airport, it takes me 5 seconds to realise it's Luton because of the large EasyJet terminal, the orange one, you know what I'm talking about. I see nothing else...whereas the other side gets to see The Olympic Village and central London. Curse you!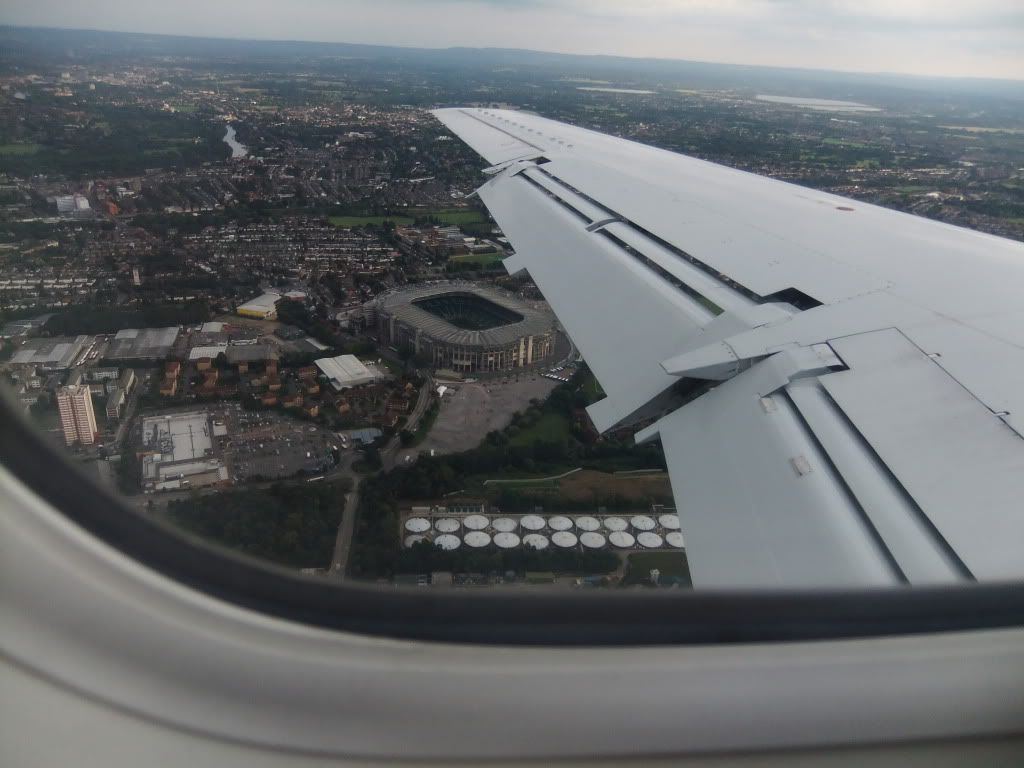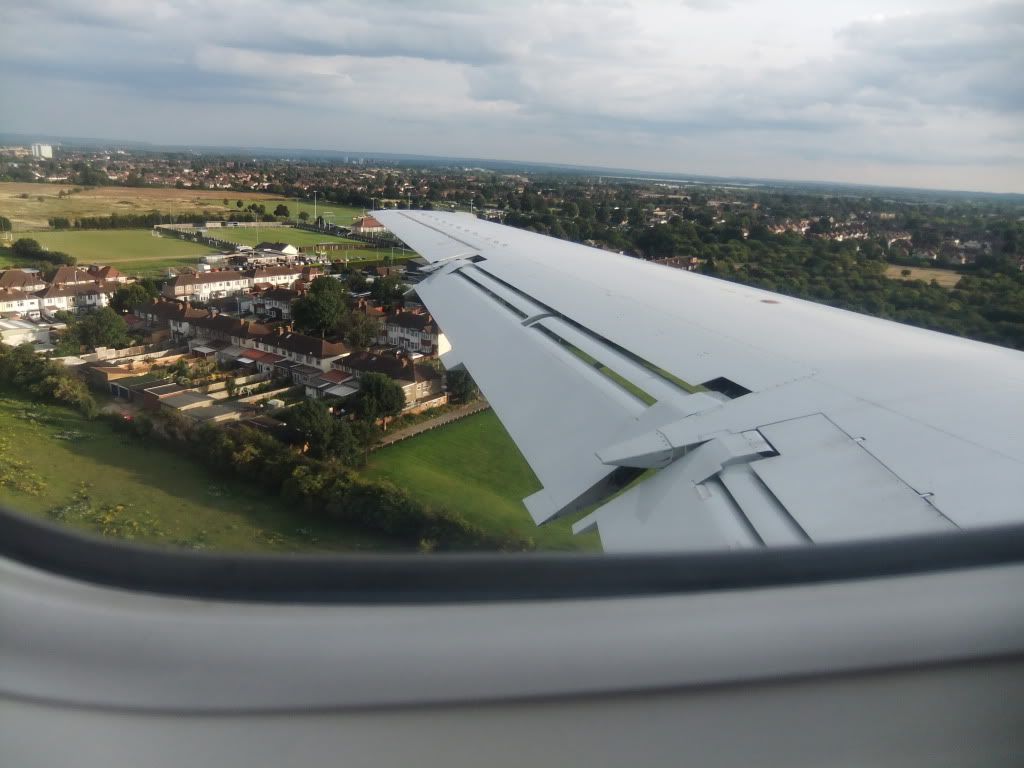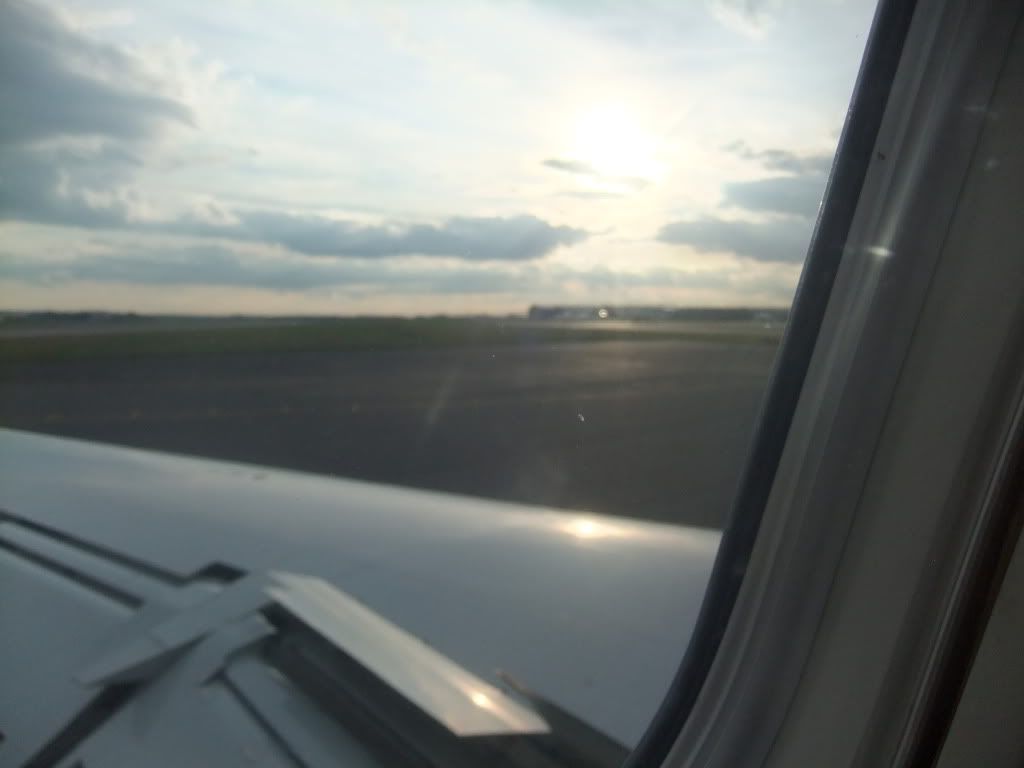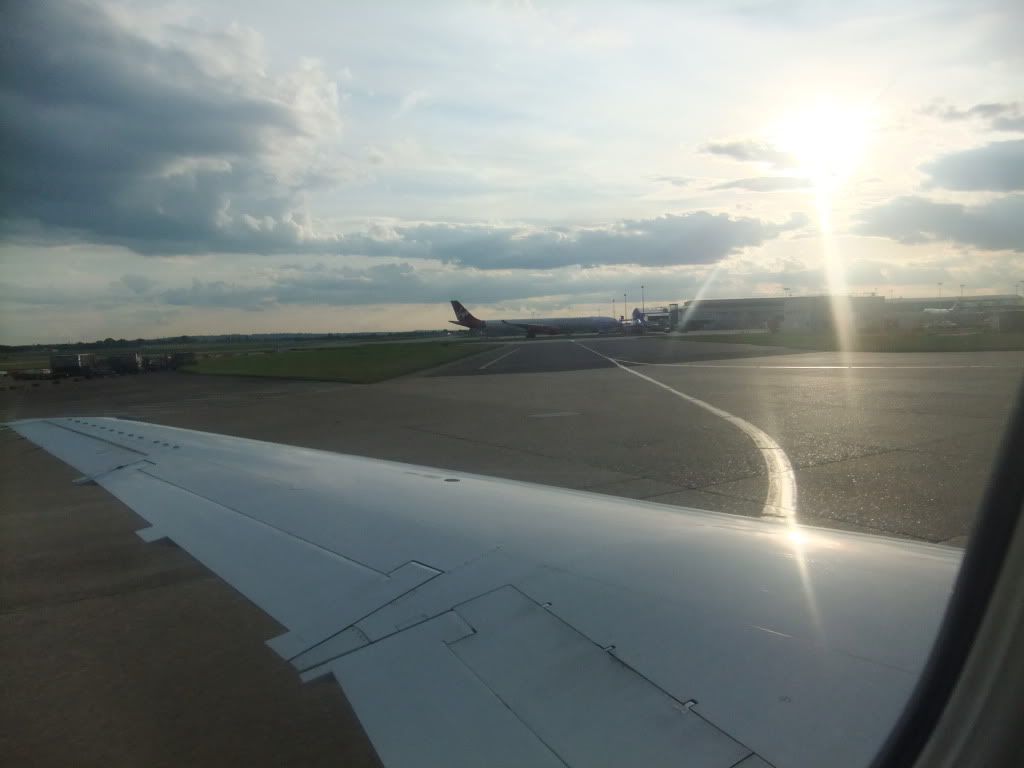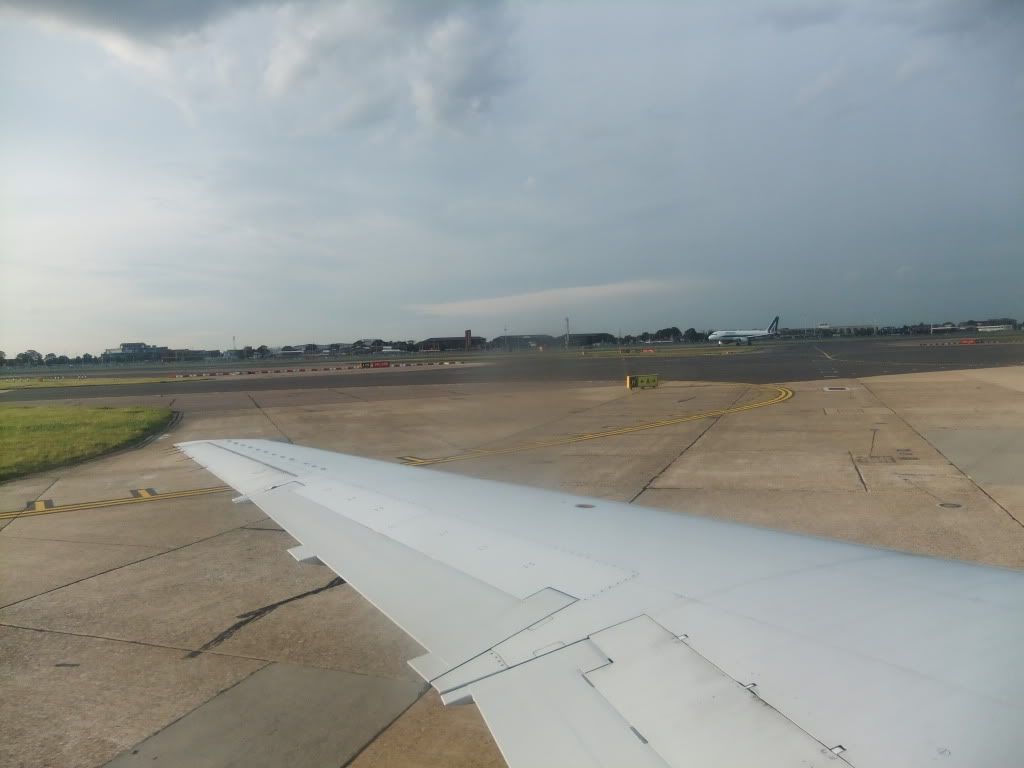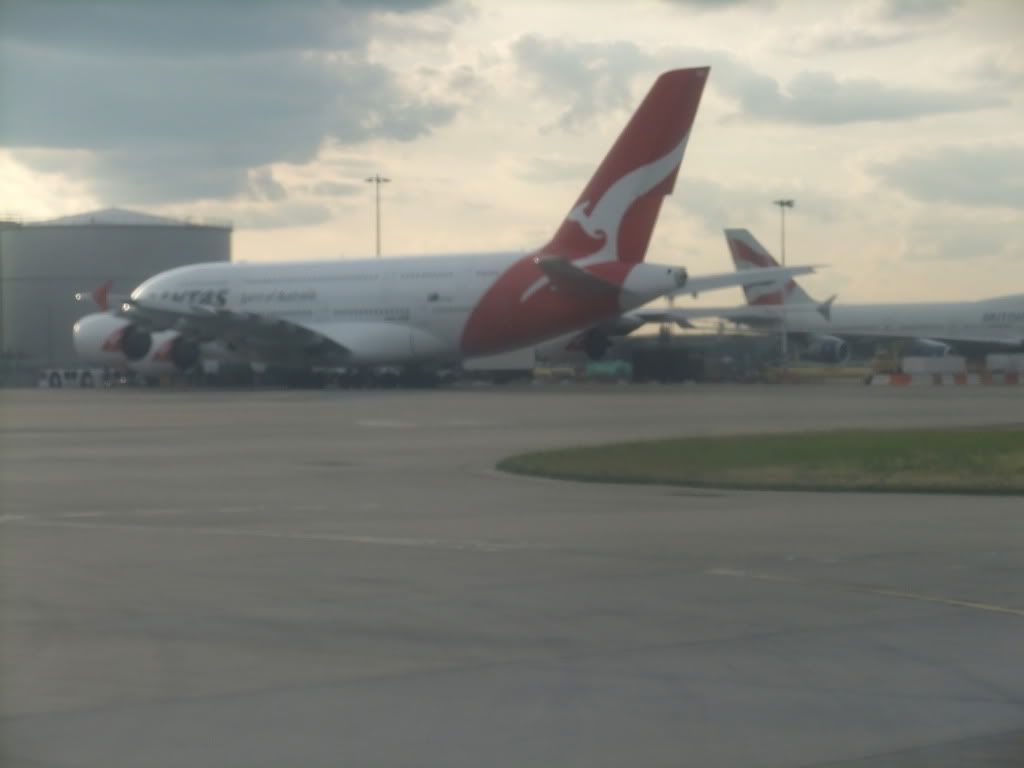 The arrival at LHR is magnificent, it feels so crowded. We get to see Airbus A380 of Qantas, a bunch of BA B747s and so on. Most of you know LHR traffic better than I do. This was also my first time at LHR. We get pulled to our gate next to LH A320.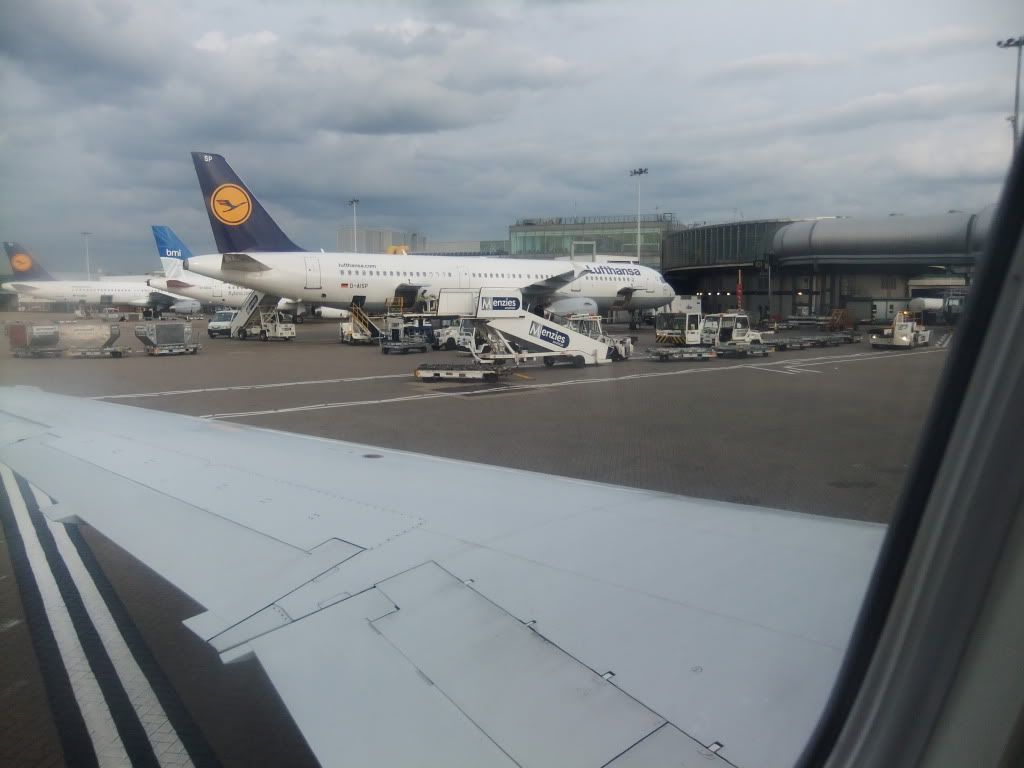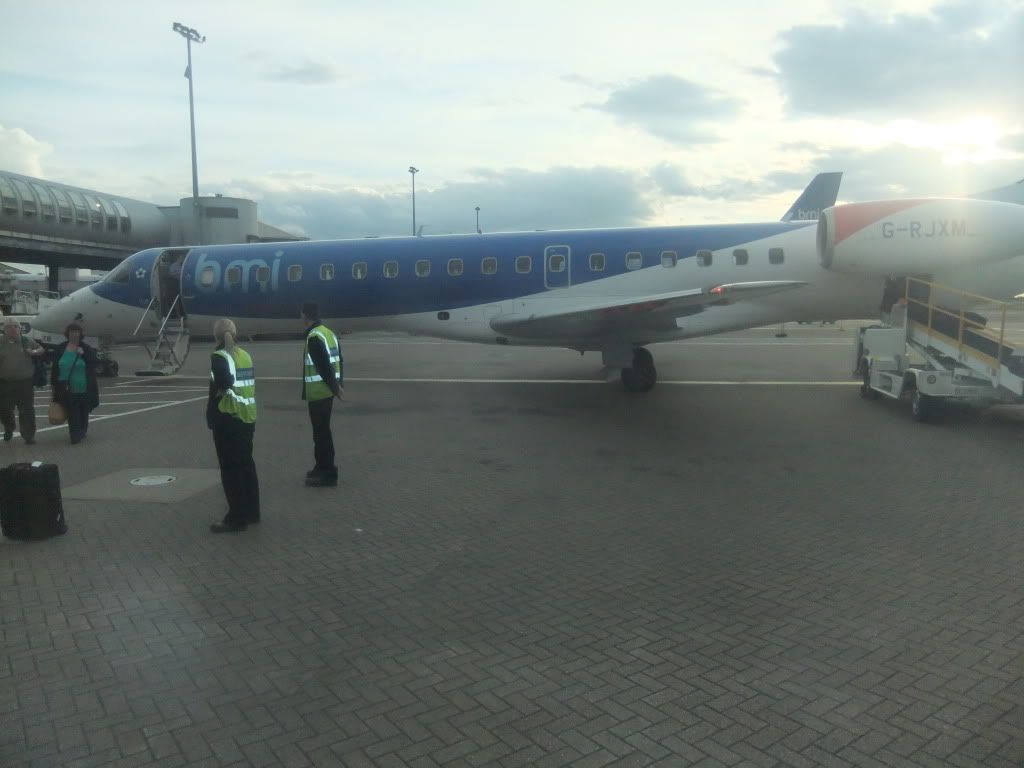 Getting our luggage took no time, whereas finding the bus to hotel took me some 20 minutes, I think because I was too busy looking for wi-fi. The Hotel Hoppa Service costs £4.50 and takes you to a bunch of hotels. My hotel for that night would be Premier Inn, I checked in and got room number 2008.
The room was big and spacious, but it had no view to LHR (some of the rooms had it) so I was disappointed. I got my clothes for the next day, had a shower and watched some TV. As soon as I was ready to sleep, a woman was enjoying herself loudly for about 4 hours? So I managed to sleep only for 3 hours that night. Premier Inn didn't keep their promise of a good night's sleep.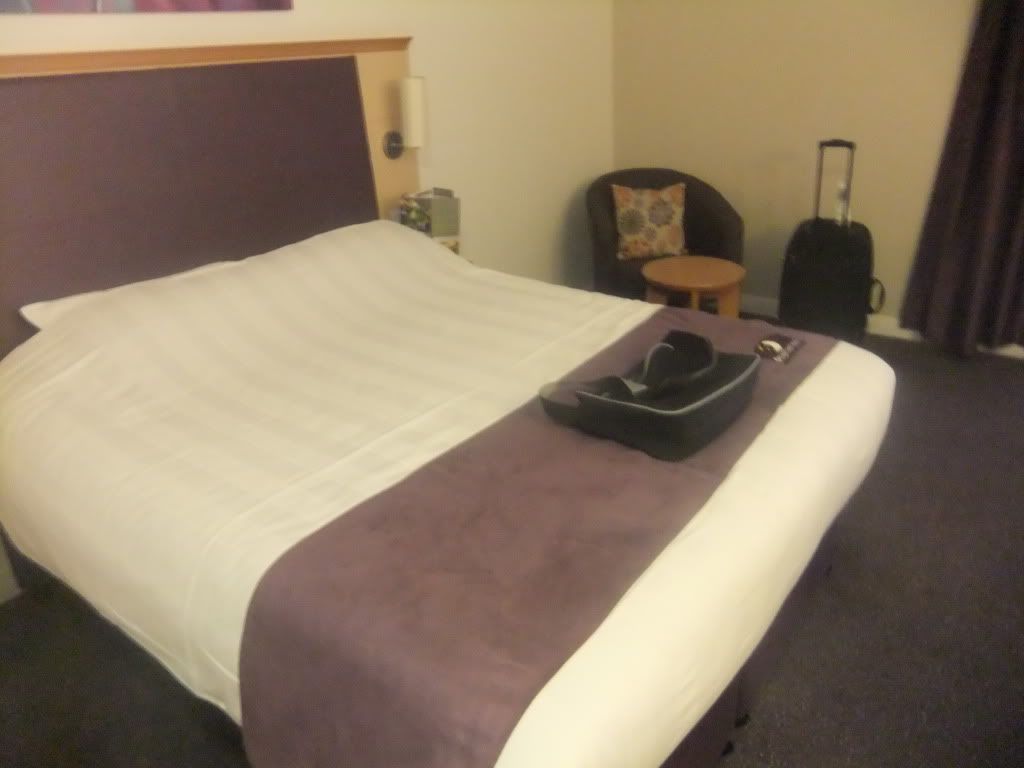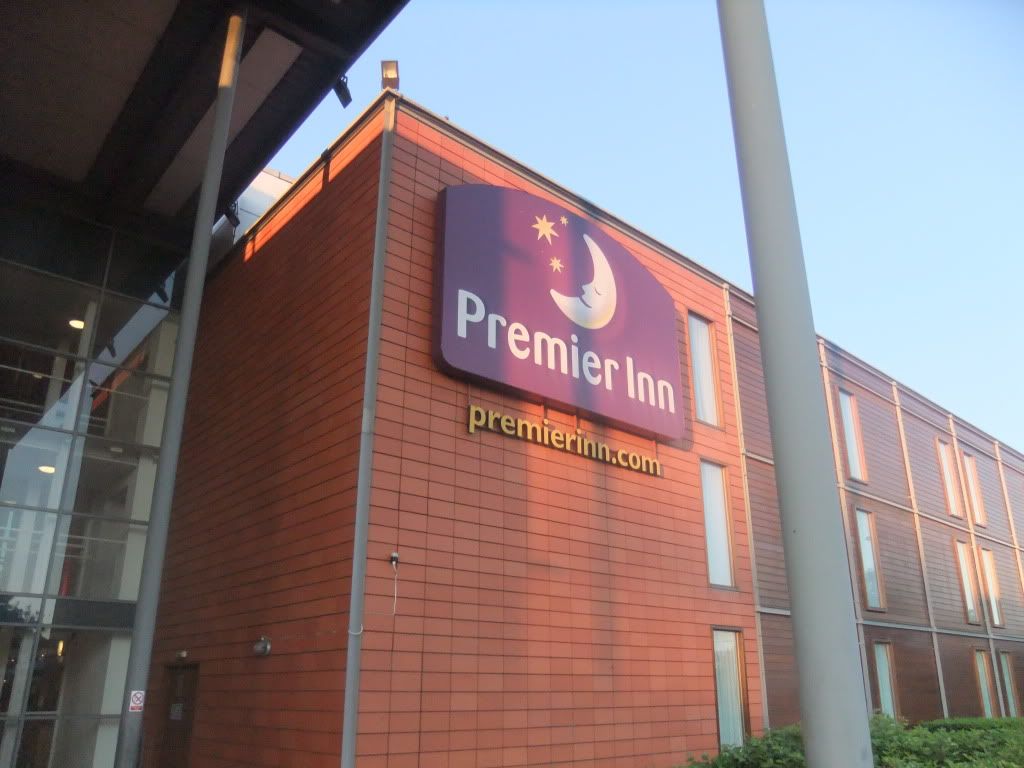 The next morning I quickly packed my bag and get off to airport. The morning was clear, but, it was very cold. The hoppa bus arrives and I am one of the few people onboard the bus, I hear some people talking about their connections to Australia, one couple is going via Singapore whilst the other through Dubai.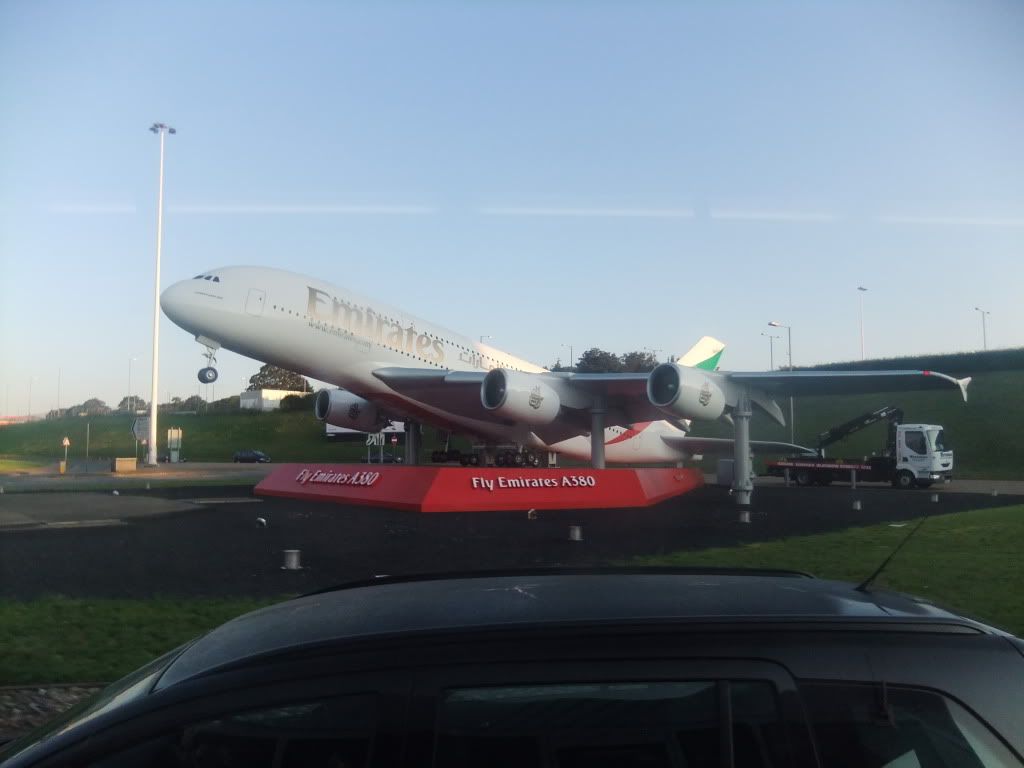 The airport seems to be very busy this morning; there are queues at almost every airline check-in desk. I am very glad I went to see where the Austrian desks are located last night because that saves me time. I join a long queue, and it takes me 1 hour to reach the check-in area! There are a lot of people; most seem to be travelling with Lufthansa. I use the check-in kiosk and get my boarding pass, that also lets me to cut the queue and get in front of some people. I then advance onto the security check.
The security as always is quick; I never beep and never get checked unless I am carrying a bunch of chocolates via Norway. After the security, I find myself in a large shopping centre. A lot of shops. Having 2 hours to kill I have my breakfast at the Tin Can Restaurant (not sure on the name) and try to spot some aircraft which seems a bit impossible at this airport.
I think the highlight of my Heathrow trip so far was hearing an American couple walking past FCUK and saying "That looks like a bad spelling of a really bad word" I just found it so funny, I assume they are Christians and never say a bad word, just like Flanders from The Simpsons.
The flight is delayed by about 20 minutes, and once it arrives the gate appears and I walk to it. The gate next to us had a BMI A330, oh what a beautiful aircraft. You can also see United B777 in the brand new livery waiting, and another 9 or more United aircraft, in 3 different liveries and 3 different aircraft types! I don't bother counting how many people there would be since I have a feeling the flight will be FULL!
The boarding finally starts and BMI staff is doing the procedure, one of them is about 60 year old lady and boy, she is so irritating! Just shouts at people...I get to my seat and settle in.
24th July 2011
London Heathrow – Vienna
08:50 – 12:10
Boeing 737-800
OE-LNR (6.4 years old)
Lauda (2005 delivered to Lauda, wears Austrian Airlines colours)
First impression of the airline is very positive; the crew are welcoming everyone with a smile. The cabin looks alright, and best of all the seats look comfortable. My seat (29F) is very comfortable and being just behind the wing I get good views of the outside as well as the wing.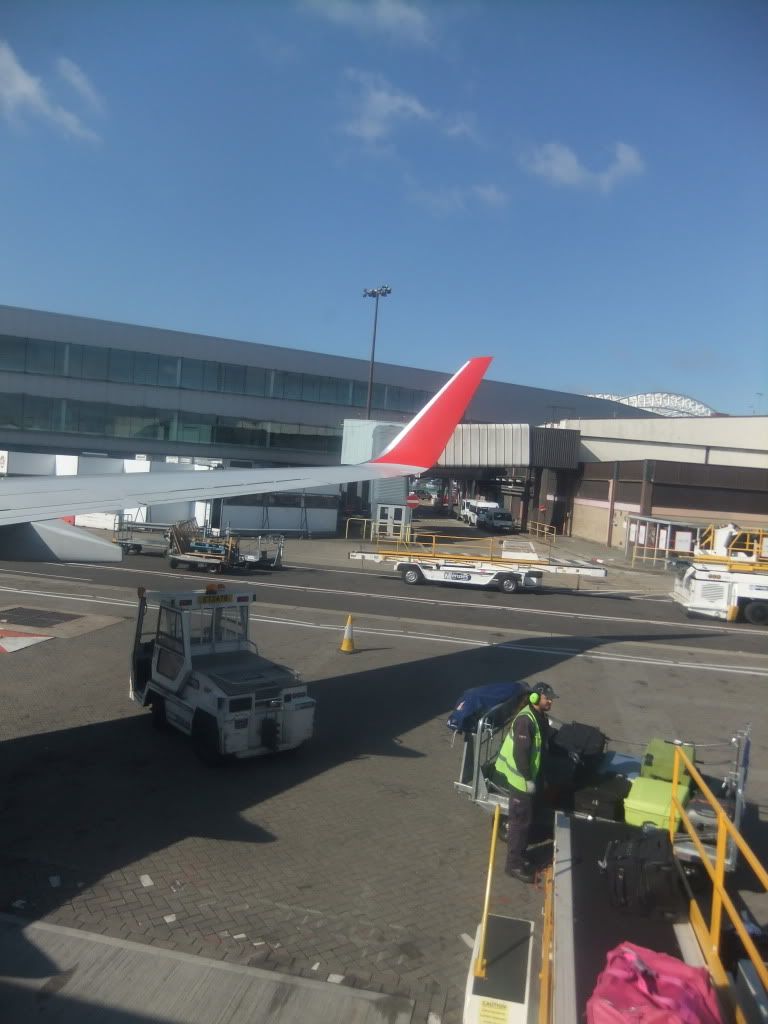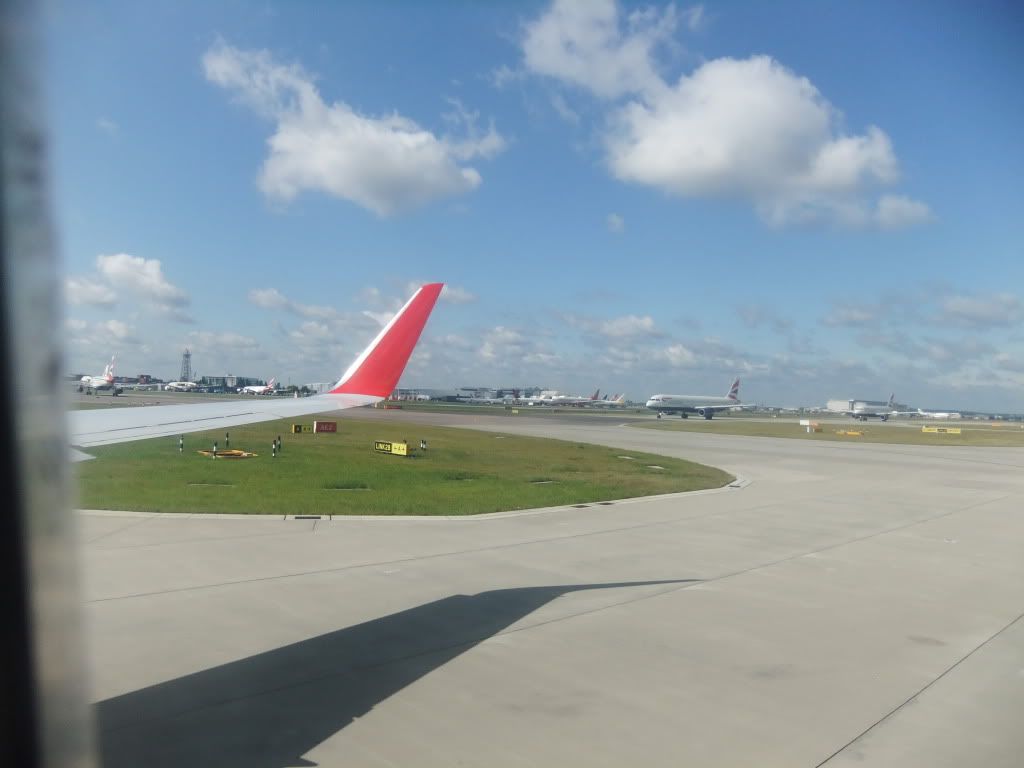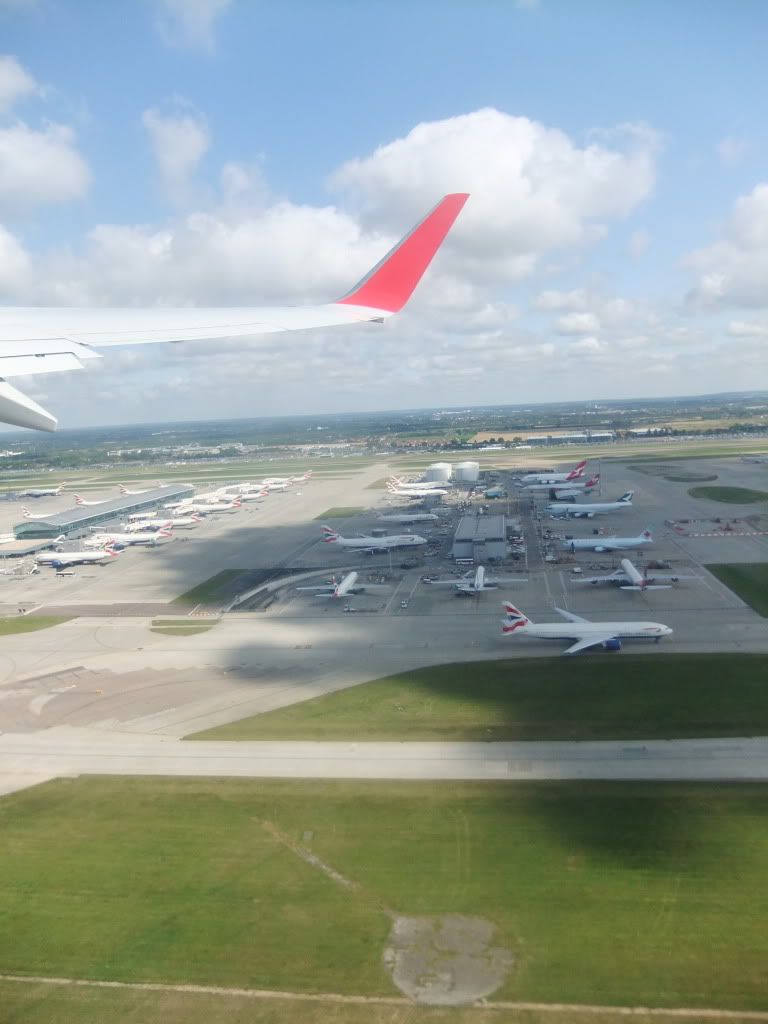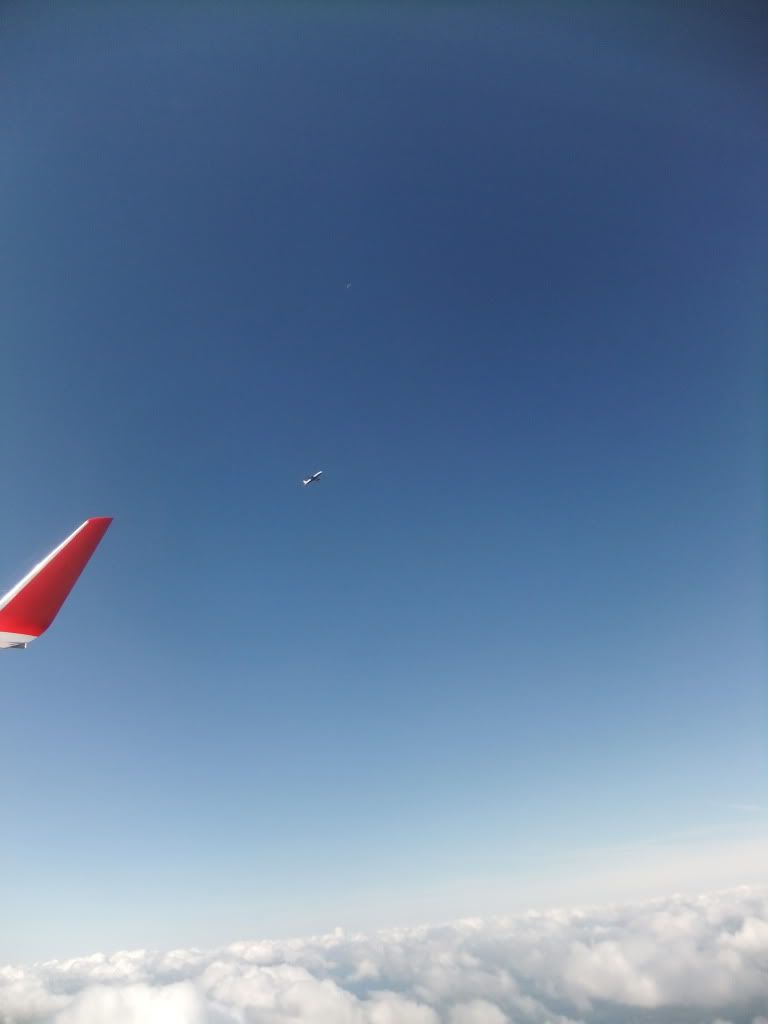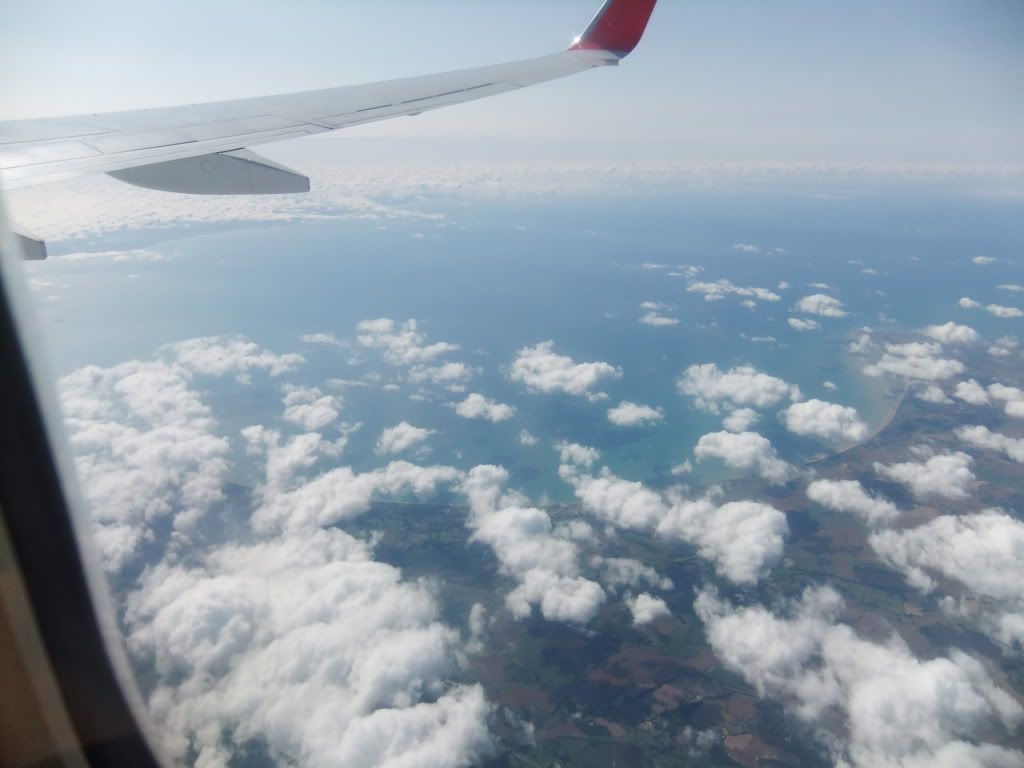 The safety demonstration is shown via the IFE screens; sadly it looks a bit blurry and old. Never the less it does what it's meant to do. The take off is very powerful, I enjoy it. We fly south to Dover, just 10 minutes into the flight American Airlines, shiny Boeing flies under us and few minutes later a British Airways Airbus (?) passes above us. Oneworld seems to be hunting Star Alliance.
We fly over Amsterdam, Luxembourg, Frankfurt, and go straight into Vienna. The flight is calm, and throughout it the route map is shown with the occasion of adverts about destinations. Some of the passengers are getting worried and start asking the crew about their connections, we were 1 hour late already. Some of them have missed the connections, and they are told to visit the help desk to be rebooked. Some of the passengers will have to get off before others because their flights are waiting for them and so. Many of the passengers are connecting to Lviv in Ukraine, Tokyo in Japan and Belgrade in Serbia.
Most of the journey is cloudy and it blinds your eyes. I read the Austrian Success magazine; have their muffin – so delicious! I also asked for a cup of tea, but it was never delivered  ah well. I must say that from all of my flights Austrian Fa's are the most professional ones and the ones that look like they really care about their customers.
We soon start descent into Vienna and the captain told us that it's cold, overcast and will rain. The arrival into the airport seems dull. It just seems boring, I guess that's because we do not have any sunshine.
After passing through the boarding control I go direct to the train station since I do not want to waste time and remain at the airport. I don't go for the CAT train to Vienna which is a rip off! Instead I go for the S7 line to Vienna, it costs 7.20 Euros return, I pay only 3.60. It doesn't take that long, I get off in one of the Vienna stations, and first thing I notice is an observatory wheel. It looks nice so I walk closer to it, and then just randomly walk around Vienna picturing some of the sights.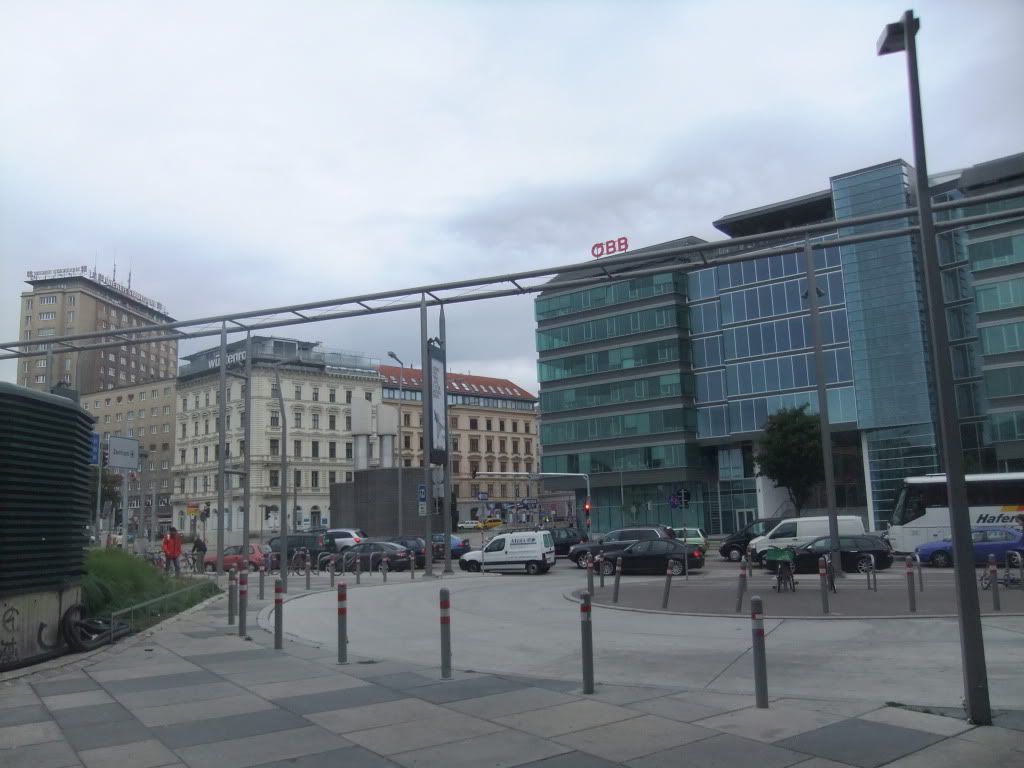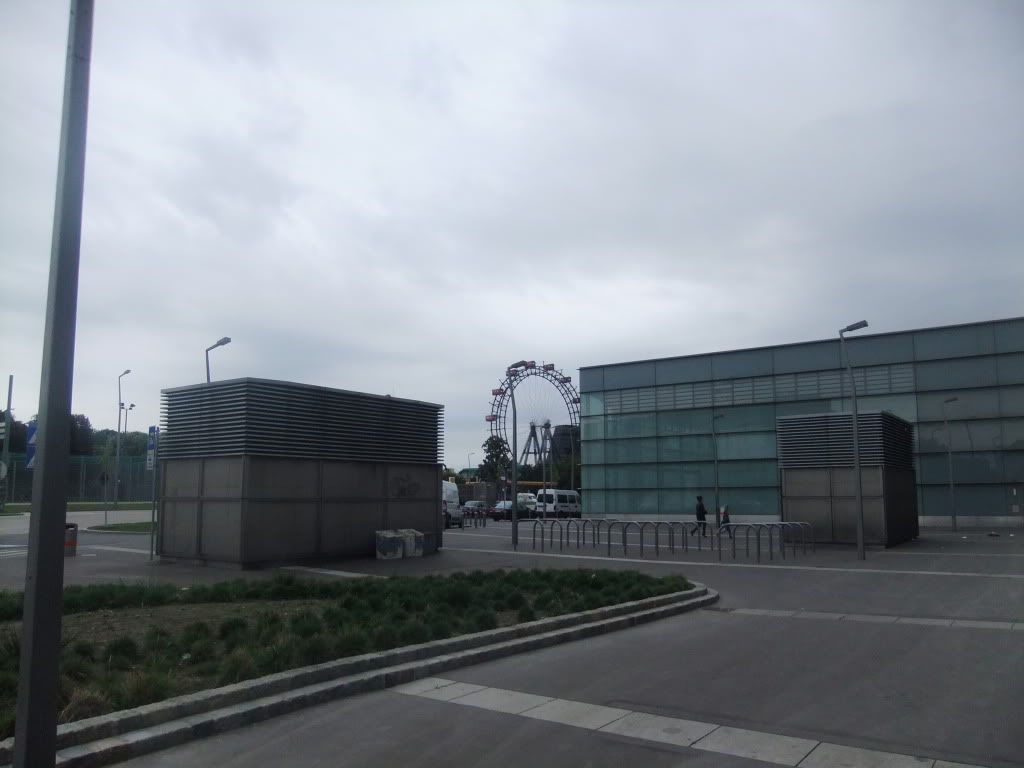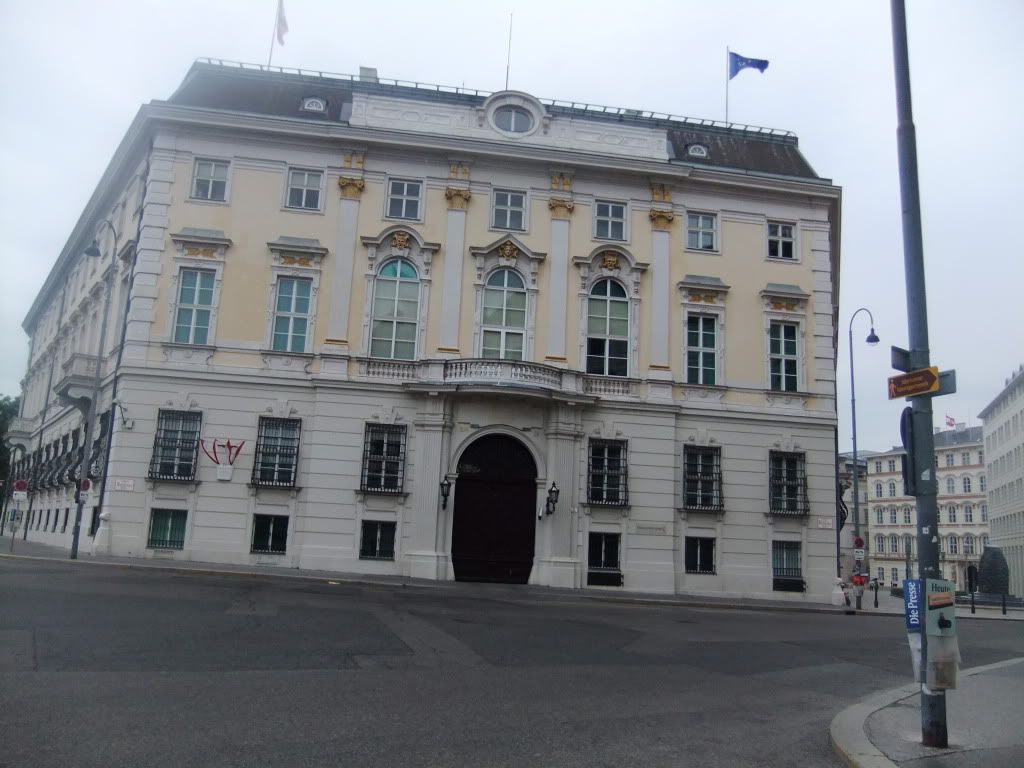 The city looks like bigger version of Riga. The streets, buildings, cars and people – it makes me feel like I'm back in Latvia. I spend about 6 hours in Vienna, through which I experience Central European Rain, Turkish protests, almost getting run over by a tram, getting mistaken for a local resident and so on. I really enjoyed the city.
Once I get back to the airport I pass through to the shopping area, it feels like a bus station. I walk around but it gets really boring. I have a thought of making myself a little birthday present by experiencing lounge, my first attempt is at Jet Lounge but they tell there's no view of aircraft. I then go to Austrian Airlines Business Lounge and they let me in for the price of 35 euro. The lounge looks so good, fresh but the food menu isn't one of the best. From what I've seen on here there are always sandwiches and so on. I just make myself coffee and take some biscuits. What I love about the lounge is the views (although they are damaged by the rain) and the quietness. It feels so great, no one is disturbing me. It feels very private.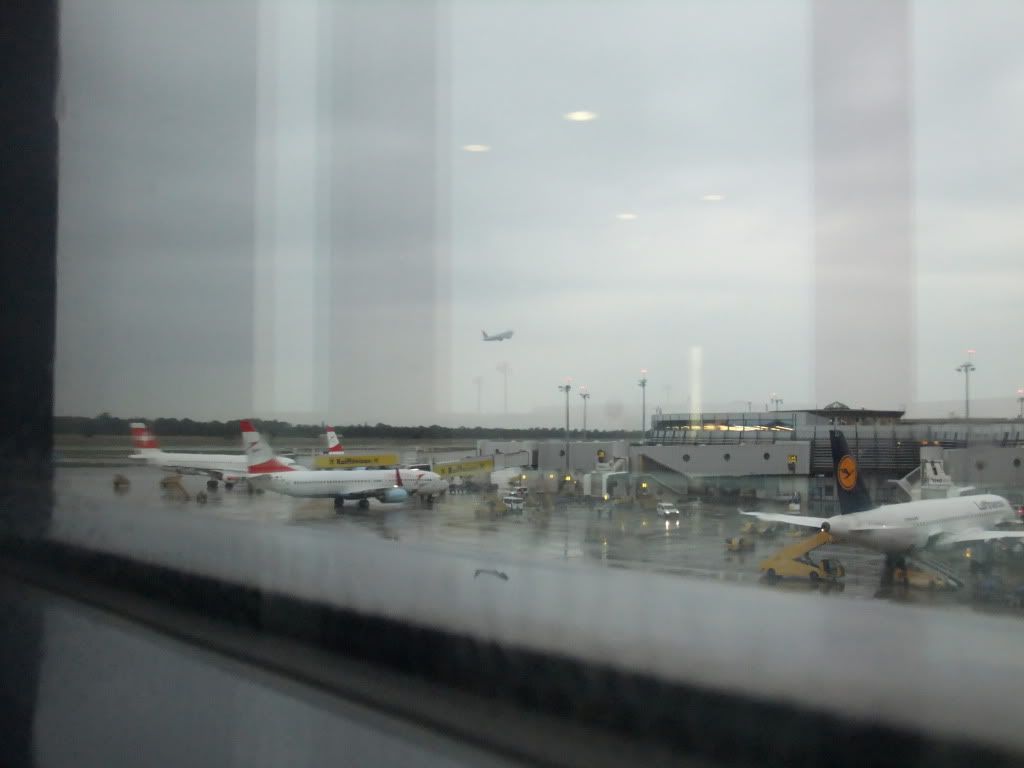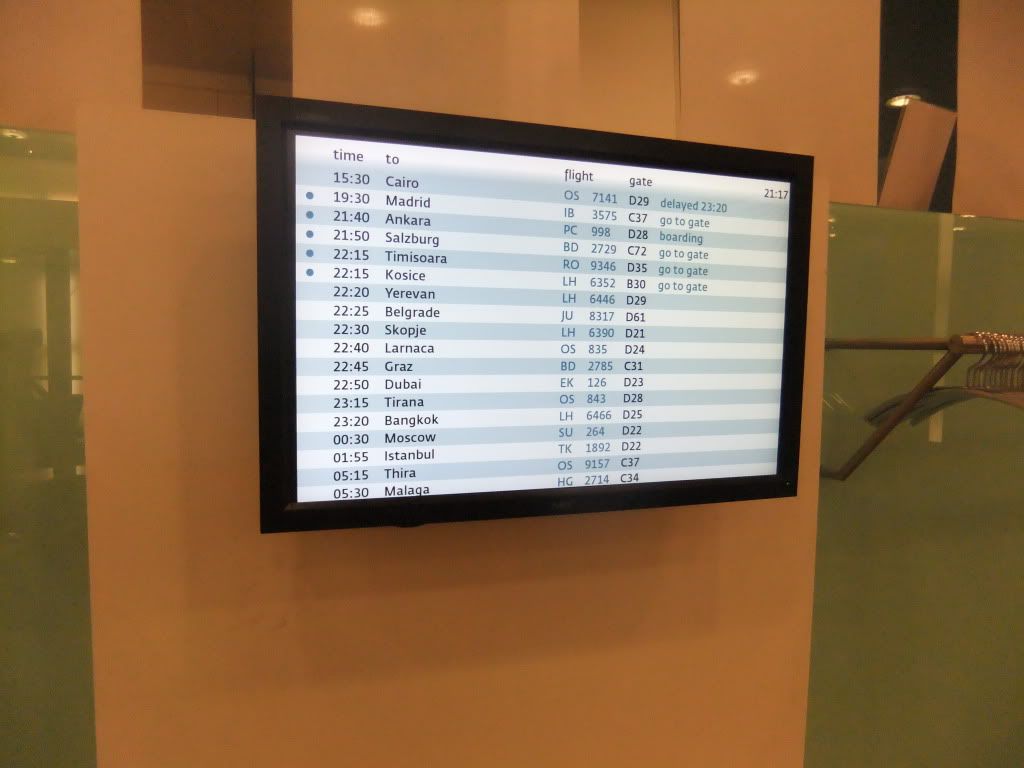 I then decide to see what else is around in the lounge; I get onto computers and print some stuff out. Watch some TV and it's time for me to go. One of the lounge ladies asks me what time my flight is and then tells me what time it would be best to leave the lounge. She is very friendly. Overall I enjoyed my lounge experience. Happy 17th Birthday Mr Indans.
24th July 2011
Vienna - Larnaca
22:50 – 02:45
Airbus A320
OE-LBT (10 years old)
Austrian Airlines (200- delivered to Austrian Airlines)
The boarding for my flight to Larnaca has begun, and everyone is boarding the aircraft.
I feel so tired, so I just get to my seat and try to sleep. The take off is amazing, and very steep. We fly through the Balkans, Turkey and directly to Larnaca.
Once again the crew is fantastic, they distribute the warm meals – I think it was lasagne. The "New One" seats are great, they're comfy and spacious. After the meal I just try to sleep. The view out of the window is just fantastic, there are about 10 other aircraft flying, I think one of them was El Al to TLV. But the thunder is scary; it just follows us throughout the journey, from Balkans to Turkey. At some times it is so close that it feels like it's going to hit us. The journey is also very turbulent.
I manage to sleep for about 30 minutes, and the descent into Larnaca is amazing, there are so many lights and it looks beautiful. The airport is quiet, with a bunch of Cyprus Airways and Aegean aircraft there. At the time we arrive there are no other arrivals into Larnaca. The passport control is quick and I soon exit the airport.
The aircraft would get 5 stars from me, but I was so tired I don't remember doing anything other than watching the lighting strike the land and trying to sleep.
I had fantastic time in Cyprus, I met so many great people from all over the world. I must say, my birthday was fantastic as Greeks made me some nice surprises, and it all was great. I am happy that I did this journey. One of the funniest moments was when I and my friends came close to the Northern Cyprus boarder and I got a short message from the network saying "Welcome to Turkey" so I got to visit 3 new countries in one trip report. Somehow I felt very far away from Turkey. I felt like I was in Greece.
It was soon time to return back home. I was very sleepy so I will just outline some of the highlights of the morning flights back to London.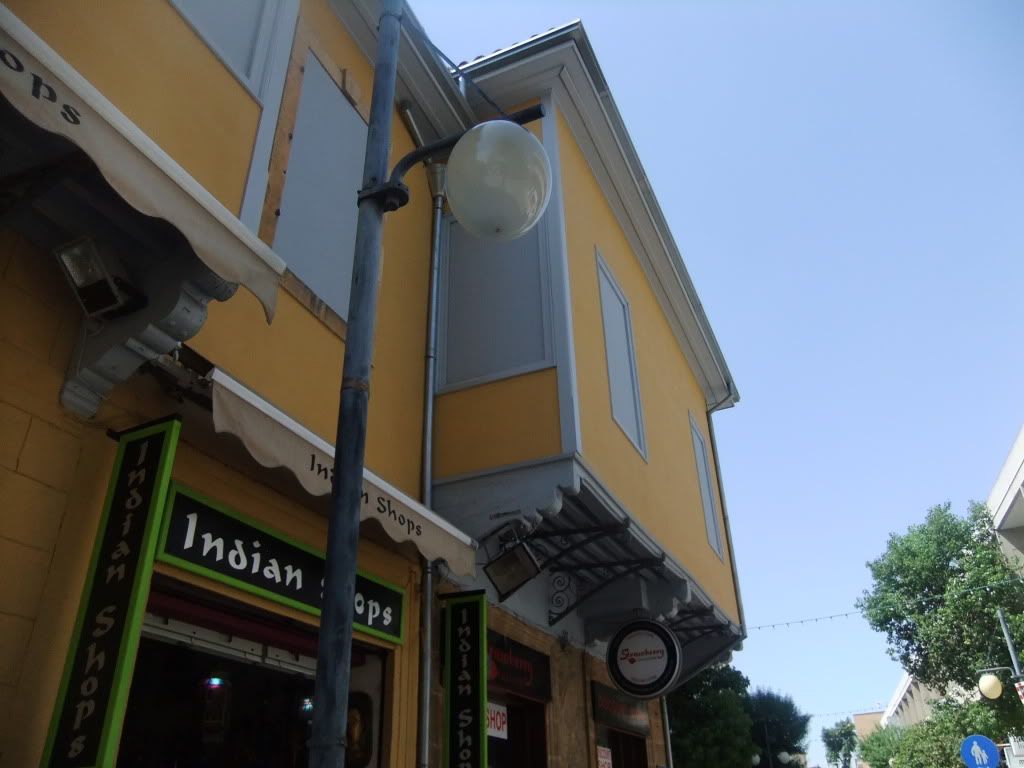 The flight from Larnaca to Vienna was good, it was an Airbus A321, I had seat 5F and I just slept throughout the flight, the food served smelt nice but I opted out of it since I was so tired. It was a bit cold even if I had the Austrian blanket on me. We soon arrived into Vienna, once again a dull day in Austria. I have my breakfast at Starbucks; the cinnamon roll is so great when it's warm.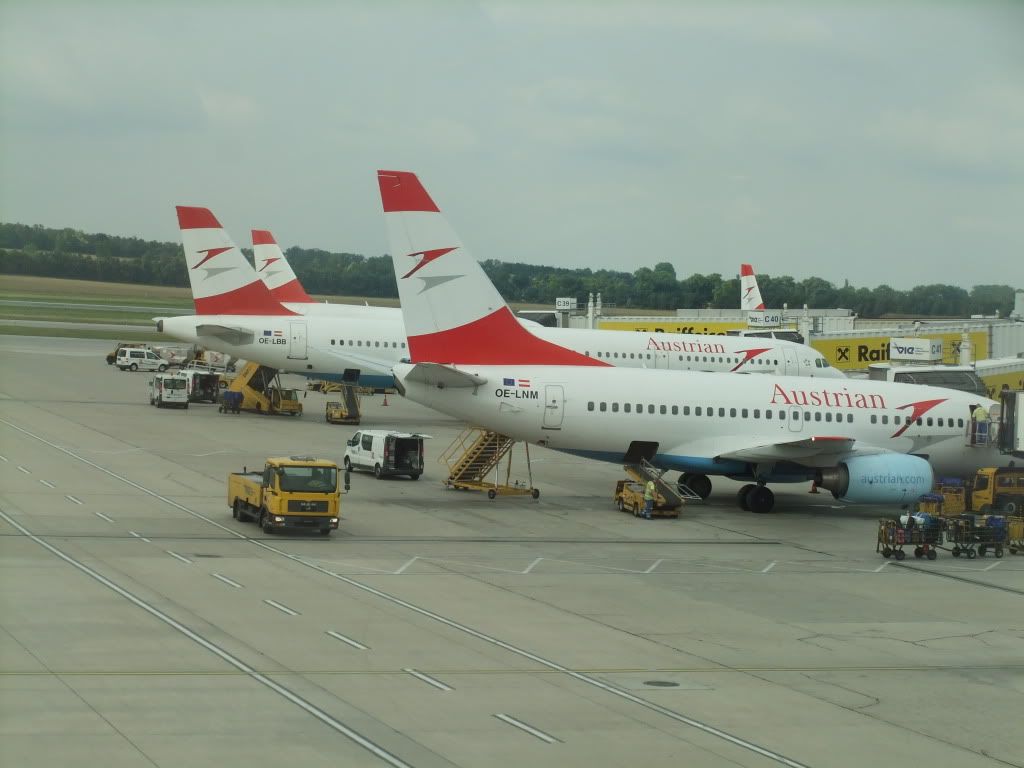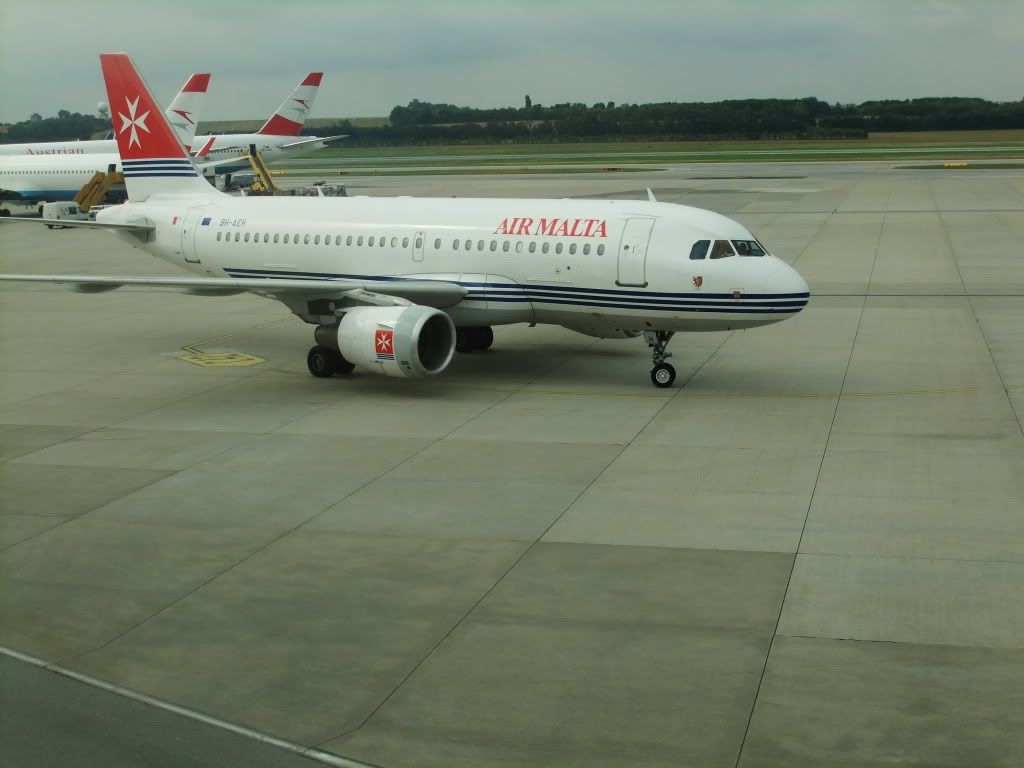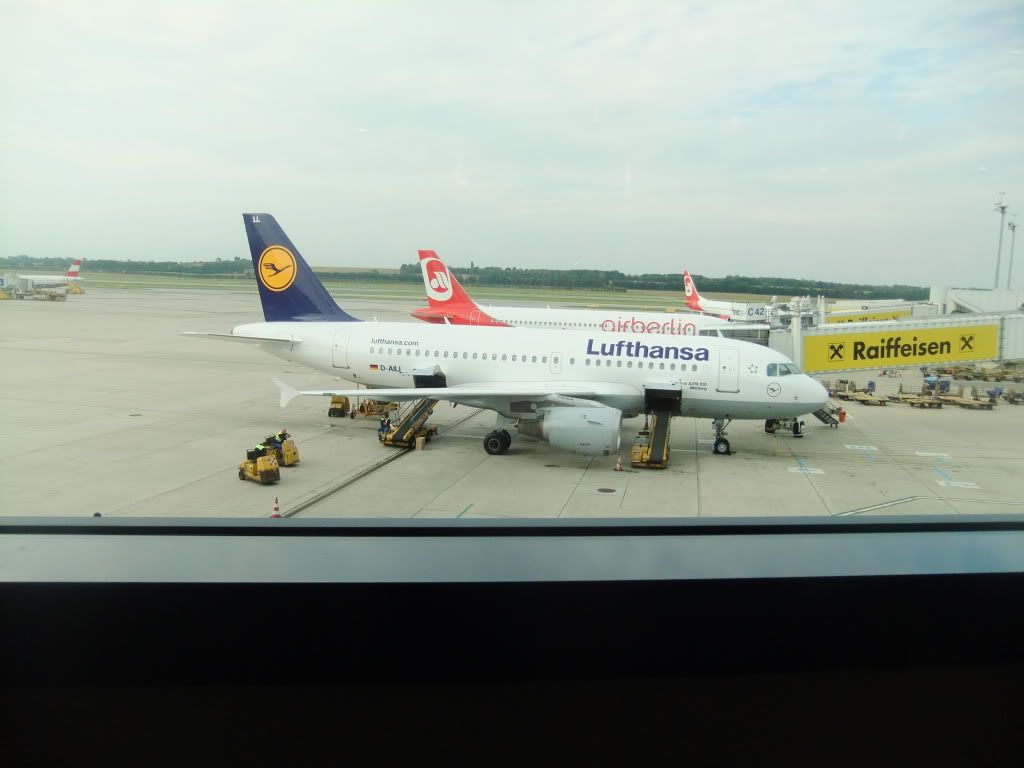 5 hours later, the gate is shown so as sleepy as I was I go there. We then find out that the flight is delayed by 1 hour, and then another 30 minutes. I fall asleep for about 30 minutes, again! As soon as I wake up the boarding begins, we get into a bus and get bussed to a Lauda Boeing 737-800. So I get to fly on another airline for no extra cost. Nice.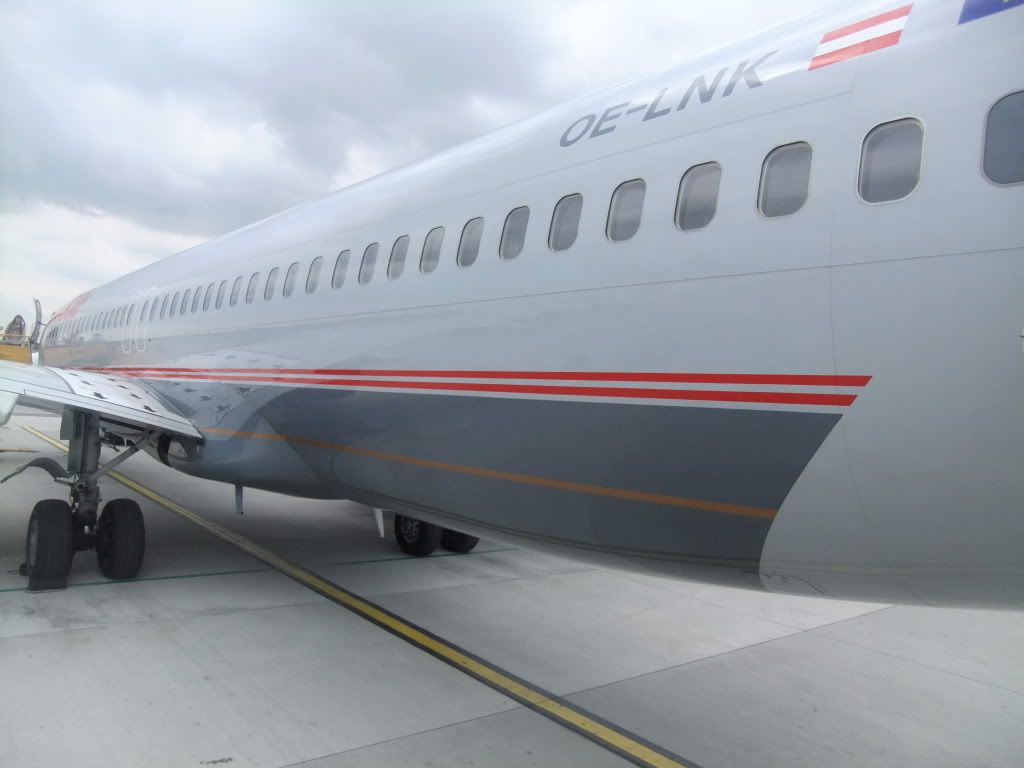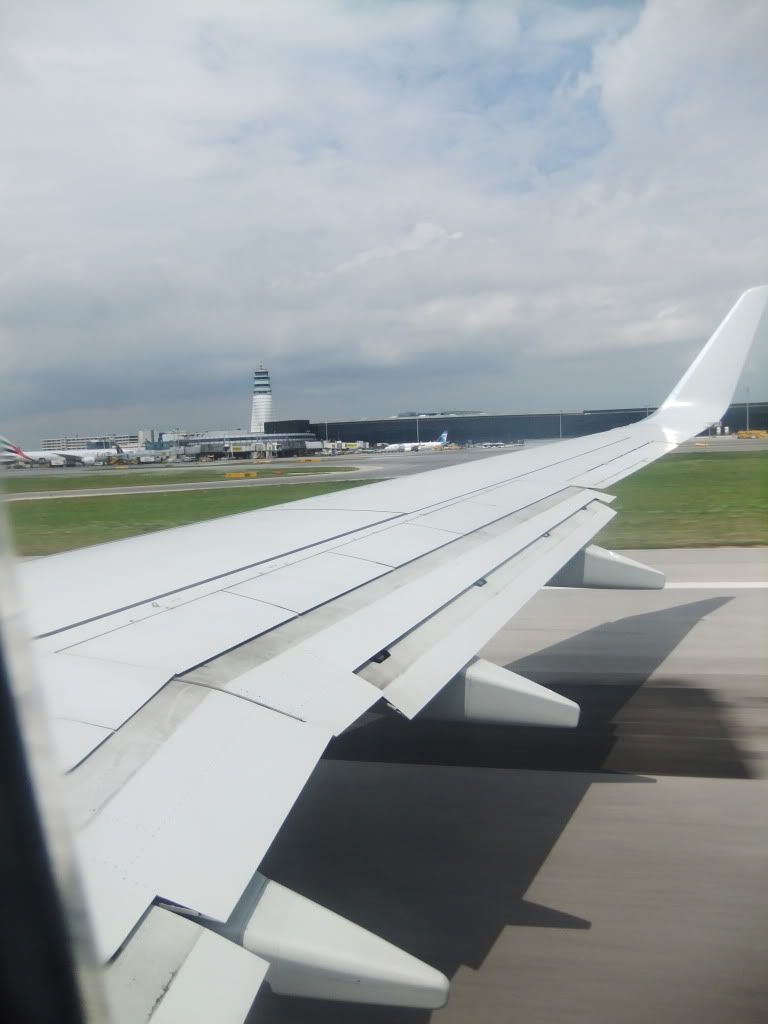 The seats look very basic, covered in cloth. I go to 22F, my seat. It is not bad, feels comfortable. I now don't feel as tired. The flight back to London is exactly like the one to London, over Frankfurt, Luxembourg, Amsterdam, but instead of Dover we fly via London, I manage to see the Olympic Village, LCY and Greenwich University which is one of my 5 choices for university. By time we land, we are delayed by 1 hour and 15 minutes. Oh well, it's all fine. I collect my bag and go to Terminal 5.
The next and last flight of this trip report was to Manchester. I've never been on British Airways flight even if living in the UK. So I really wanted to try it out, as the British Airways service is seen to be very good. So, I booked flights from LHR to MAN for £58. I could have taken a bus and train back home, got there for cheaper and faster but I don't care as I love to fly.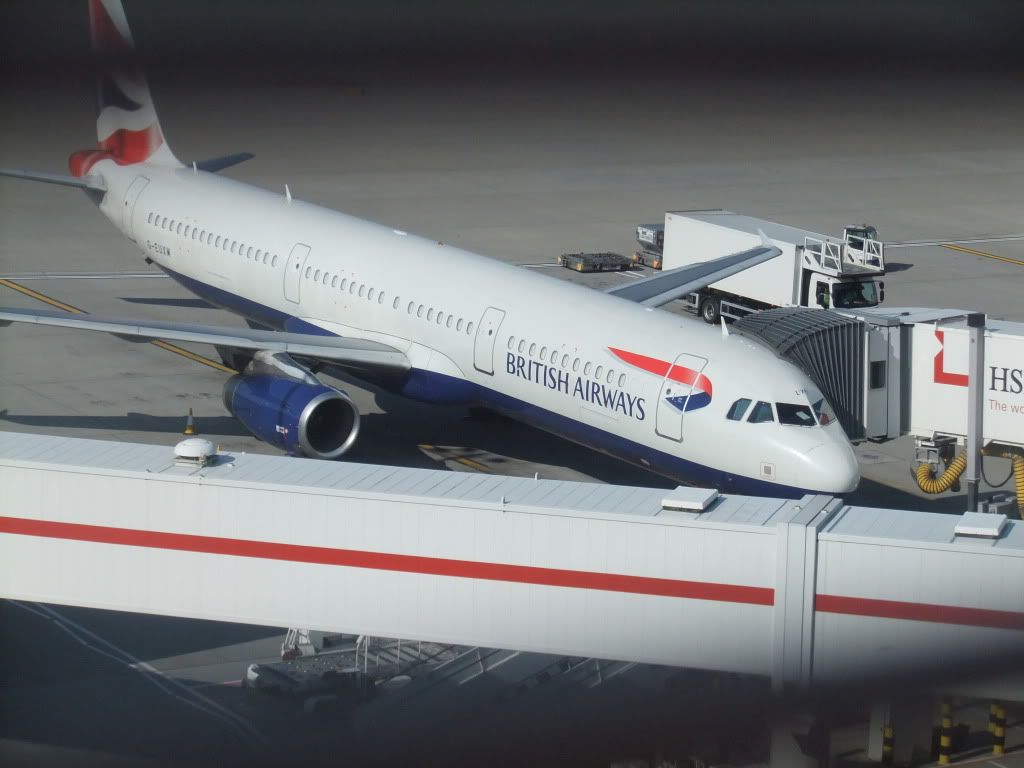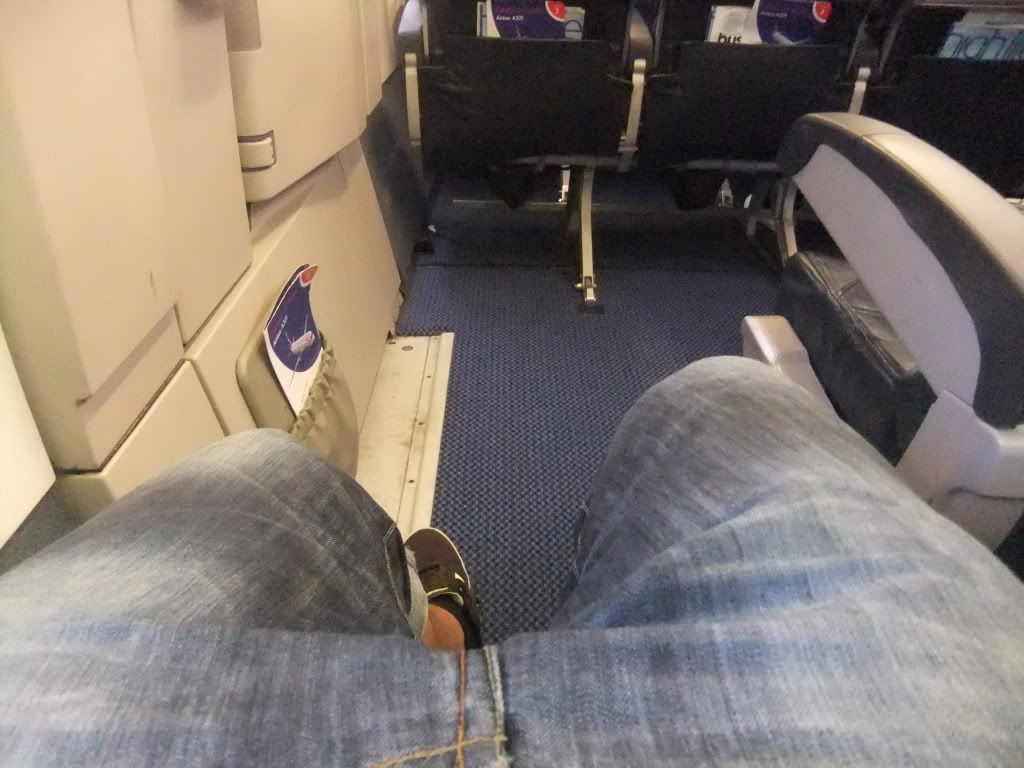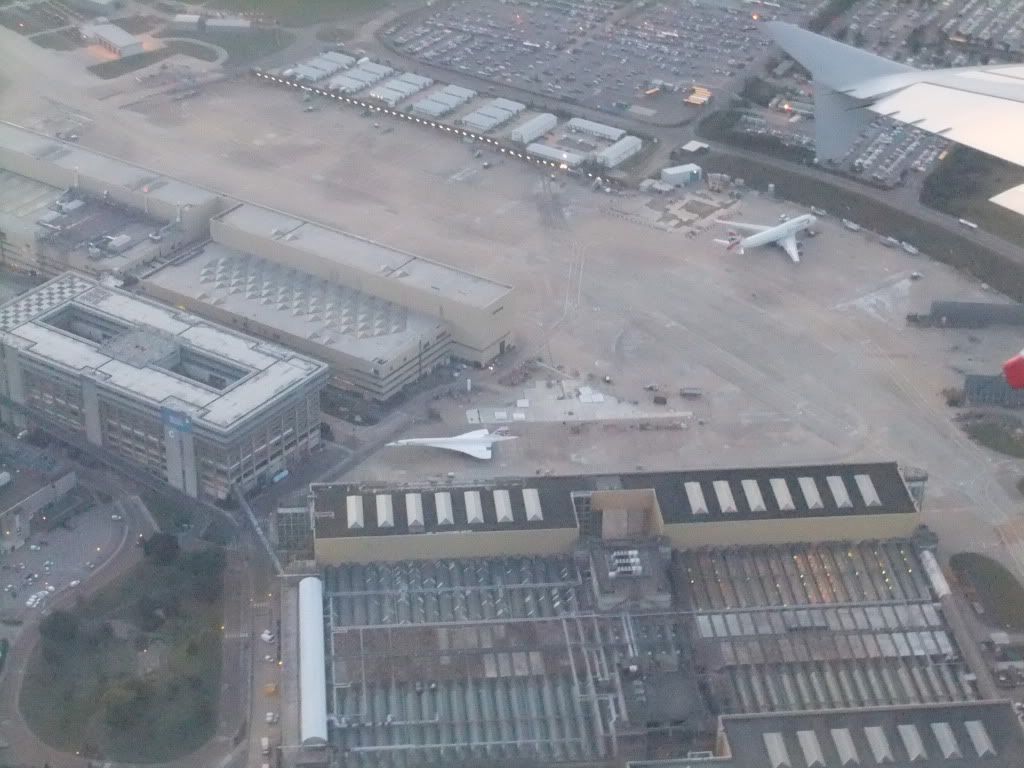 I checked in and I was assigned to seat 22A, I checked it on the seat map and I was glad I didn't change it as I had the first class ticket for the price of economy, alright it wasn't first class but I had unlimited legroom. I have my meal in Starbucks again, and just spot planes from Gate A9. The flight once again is delayed by about 20 minutes. But it arrives soon. We board the aircraft; it's a nice, but rather old looking A321. It turns out that it was only 6 years old.
The crew looked a bit weird, unlike with other airlines where the male crew look like male, we had 2 males which looked a bit feminine – however they were really helpful and did their jobs very well so I am happy of them. The flight was short, it felt much quicker than the BMI Regional one, and this was first flight this summer which was not 100% booked other than the BMI one. So it was all good.
I enjoyed British Airway flight and I will surely use them again. They have good price, especially if you fly into LGW. And although we were delayed to depart we arrived on time to Manchester.
So, I think the way this trip report is set makes you realise how I felt throughout the journey, in the beginning I was all good but by the end I was tired. This trip report is special because I managed to fly on 4 new airlines, 6 new aircraft, 1 new aircraft type, and be at 3 new airport.
My favourite aircraft from the lot must be the Erj145, favourite airline is Austrian (on A320/321 flights), crew award goes to Austrian. Airport award goes to Manchester because it never fails to make me happy where as LHR is full of delays and is confusing and Vienna is just dull. Larnaca is average.
Thank you for reading this trip report, I hope that you have enjoyed it.
Aivis