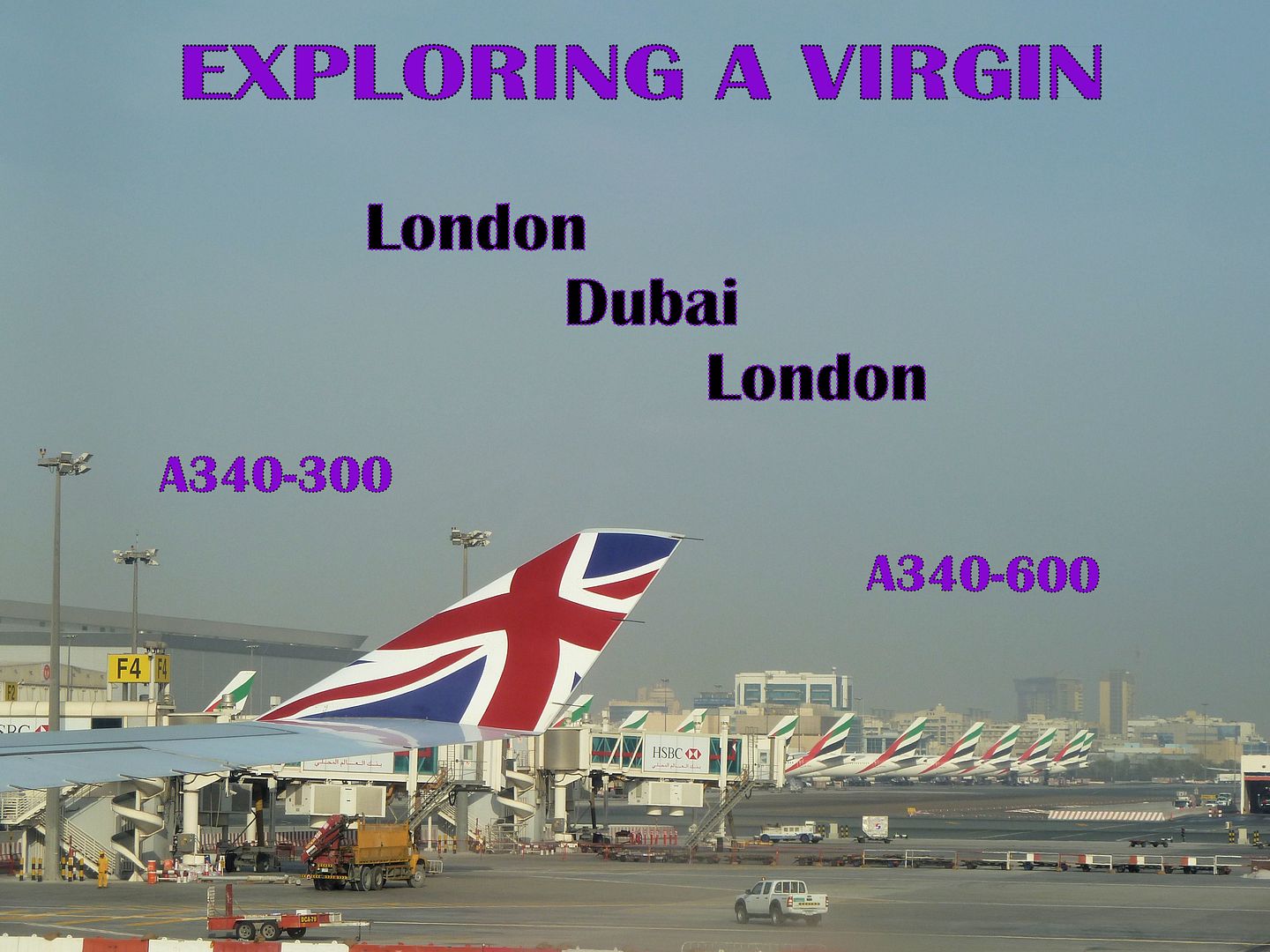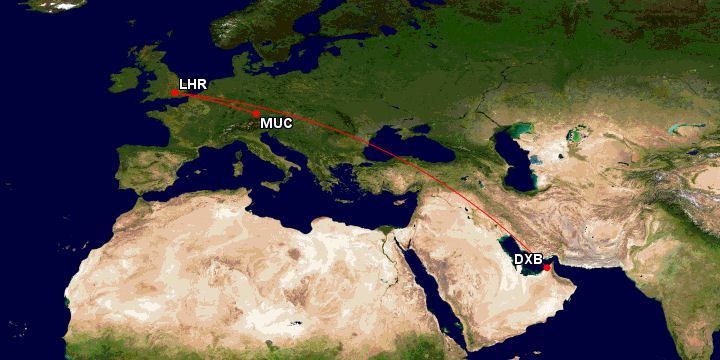 Map generated by the Great Circle Mapper - copyright © Karl L. Swartz
Background
My girlfriend and I had been planning for a long time to spend a vacation in the United Arab Emirates again. Early this year we came to the conclusion that March would be a good time to go. We also decided to take my girlfriend's aunt with us - because she doesn't travel much and had always wanted to visit Dubai one day. She had already been expressing the wish to accompany us on such a trip for a long time.

Good beach hotels in Dubai are over-priced, so I suggested to spend two nights in a city hotel and five nights in a beach hotel in another emirate. After comparing countless hotels on various websites, we decided to stay at the Rose Rayhaan by Rotana at Sheikh Zayed Road in Dubai - the world's tallest hotel - and the Hilton Ras Al Khaimah Resort & Spa. Now we needed to find suitable flights, preferably on a quality carrier. Qatar Airways - still missing in my log - offered low fares, but either departure/arrival times or transfer times weren't favorable at all. Swiss would have been another cheap option, but I had just flown on that carrier. Finally, I discovered an attractive combo offered on Expedia: London-Dubai-London on Virgin Atlantic Airways plus connecting flights on British Airways (MUC-LHR) and Lufthansa (LHR-MUC). I had always wanted to try Virgin Atlantic - and I would get the chance again to fly on the Airbus A340-600. My girlfriend also found that option quite interesting, so I quickly booked the flights. All four flights were on the same ticket (issued by Virgin Atlantic), so we didn't have to worry about possible delays or cancellations.

After we had received the reservation code, I went to Virgin's fancy website where I could conveniently select our seats on VS400 (LHR-DXB) and VS401 (DXB-LHR). In either case, I chose a window seat and an aisle seat in the rear section plus a window seat in the row behind. Some weeks later, while randomly checking the booking on Virgin's website, I suddenly discovered that there had been an equipment change on VS401: the A340-600 had been replaced by an A340-300. Of course I was quite happy about that because I would now also get the chance to try Virgin's A340-300. However, the seat reservation was gone - we suddenly had a middle seat and an aisle seat together plus an aisle seat in another section of the cabin. Only single window seats were still available, no more two-seaters. Of course we wanted to sit together somehow, so I was forced to take one of the last few middle rows consisting of three seats. Well, there was still some hope left because, according to Virgin, a certain number of blocked seats would become available at the beginning of the check-in period. And I also kept hoping that Virgin wouldn't downgrade VS400 to an A340-300, too.
Connecting Flights
There have been countless reports about standard British Airways and Lufthansa short-haul flights, so I won't go into detail about ours. Both flights arrived at the destination on time and, fortunately, I got two new registrations: A319
G-EUPS
and A321-200
D-AIDA
.
What I found interesting was the check-in process at MUC. The friendly female British Airways check-in agent was quite surprised when she saw our itinerary.
"Oh, you won't continue on British Airways, but on Virgin Atlantic?"
, she asked and continued staring at her computer screen.
"I didn't know that Virgin flies to Dubai. I thought they only operate to the United States. Is that a charter flight? I have never seen that!"
, she said. I explained that Virgin does indeed fly to numerous worldwide destinations and that scheduled services to Dubai had already commenced some time ago. The agent didn't stop wondering and even called a colleague:
"There is a Virgin flight to Dubai - have you ever seen that?"
The other agent reacted with surprise, too. Well, my girlfriend and I really weren't able to suppress a smile...
Anyway, our luggage was checked through to Dubai, we finally got our luggage tags (boarding passes already printed at home) and the agent wished us a pleasant journey. After we had left, the agent and her colleague continued discussing while staring at the computer screen...
Tuesday, March 2011
London (LHR) - Dubai (DXB)
Virgin Atlantic Airways VS400
Scheduled times: 21:10-08:00
Actual times: 21:10-08:09
Flight duration: 06:28 (hrs)
Distance: 3421 miles
Economy Class, seat 63H

Airbus A340-642
G-VGOA (MSN 371), named "Indian Princess"
First flew in 06/2001 (2nd prototype) and delivered in 08/2003
1st flight on G-VGOA
2nd A340-600 flight
12th A340 flight
113th airline
After arriving at Terminal 5 on BA955, we took the next airside shuttle bus to Terminal 3. We passed security and went to a Virgin Atlantic transfer desk. We had already checked in online and printed our boarding passes, but I asked whether Virgin needed to know our luggage tag numbers. The friendly agent checked our data and confirmed that everything was fine. Then we had to "wait in lounge" because the gate number hadn't been announced yet - how I dislike that at Heathrow!
Finally, about 45 minutes before departure, we could proceed to the gate. When we arrived there, we could straight go on board without waiting in queue. Of course I needed to check the registration first and take a picture. Nice perspective, isn't it?
The plane turned out to be
G-VGOA
which made my day: It's the second A340-600 prototype and therefore the oldest frame in commercial service. If Virgin had asked me in advance which frame in the 19-strong A340-600 fleet I would like to get, I would have demanded exactly that one.
Once we stepped on board, we received a friendly welcome by smiling flight attendants. The same happened again while we were walking down the aisle. The cabin was equipped with red and grey seats - not really to my taste: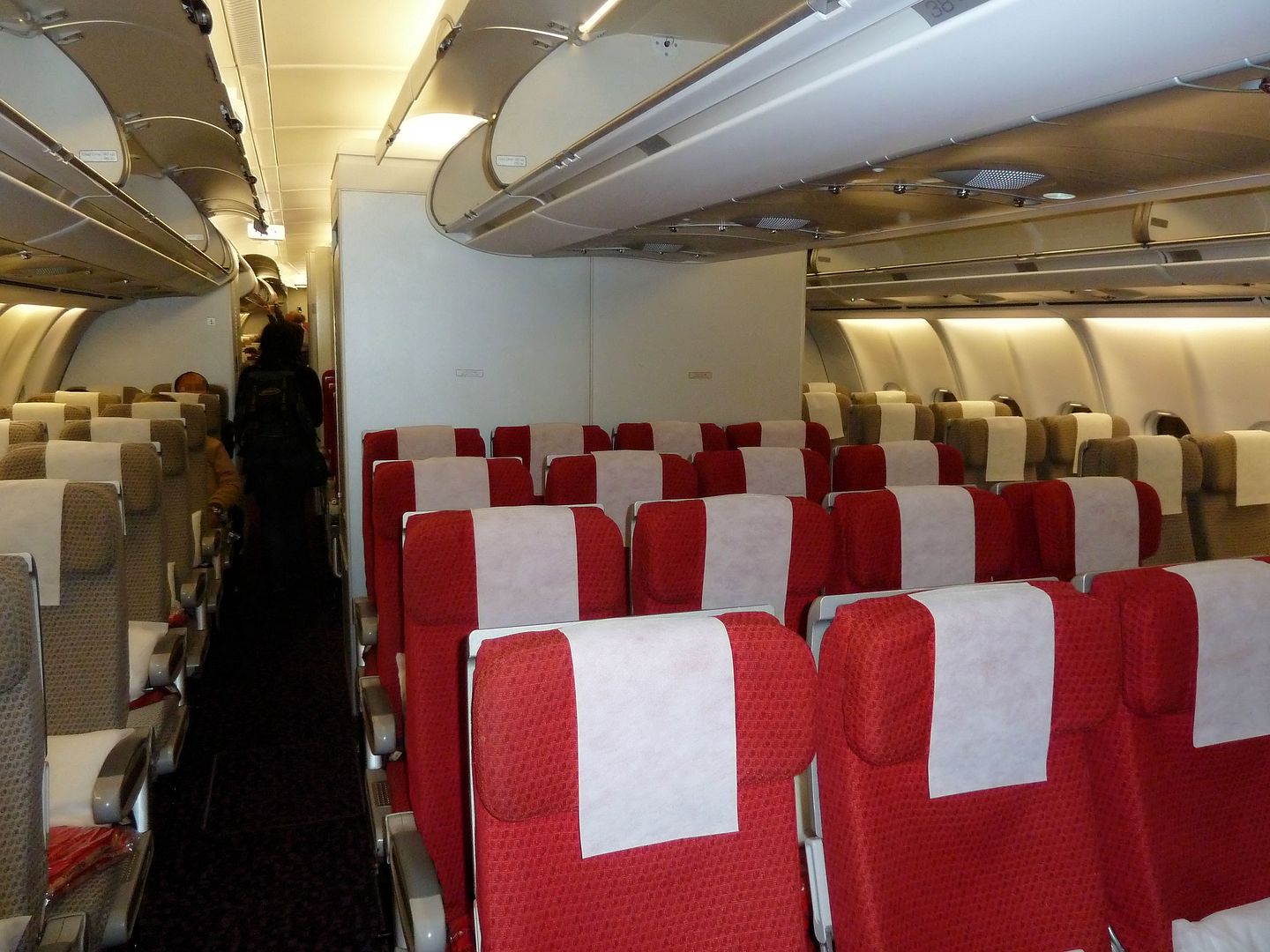 Virgin chose an interesting seat back design, but the silver plastic surfaces around the 9 inch screens can easily be scratched, as was evident:
The 17.5 inch wide seats were comfortable...
...and legroom (32 inch pitch) was sufficient, too:
IFE boxes are installed under all window (A and K) and G seats, but they don't take away much space:
What I had never seen on a plane before were chromed air nozzles: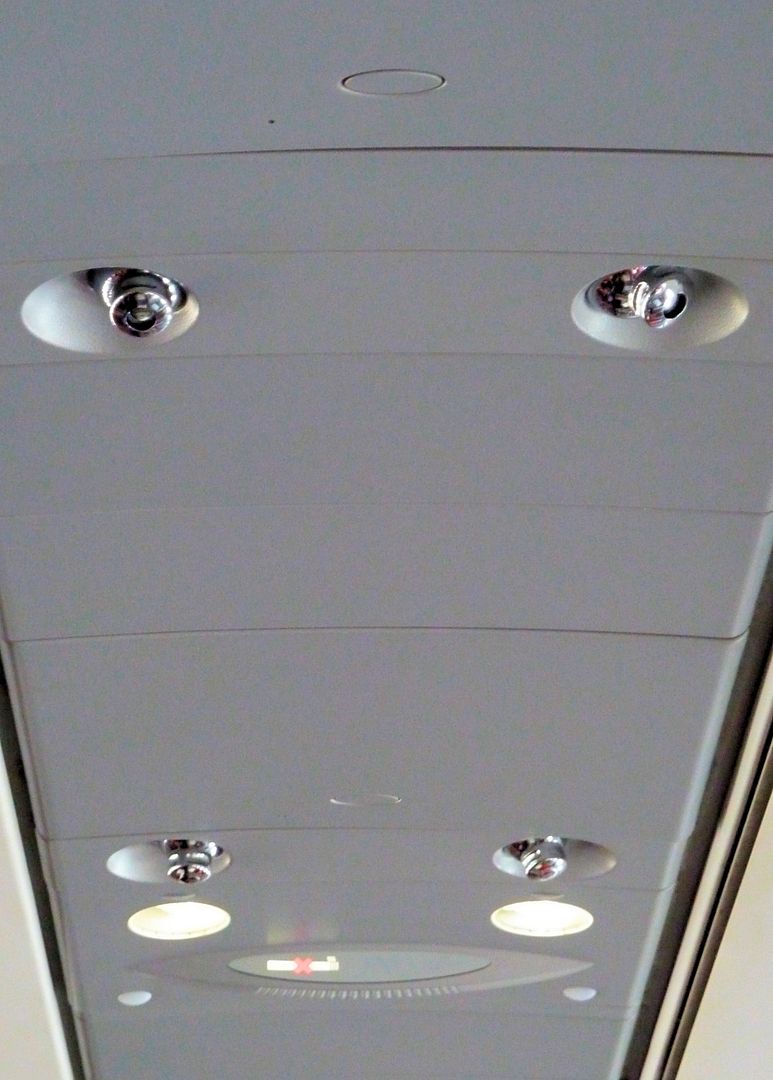 Worn-out handset:
Safety card and inflight shopping magazine: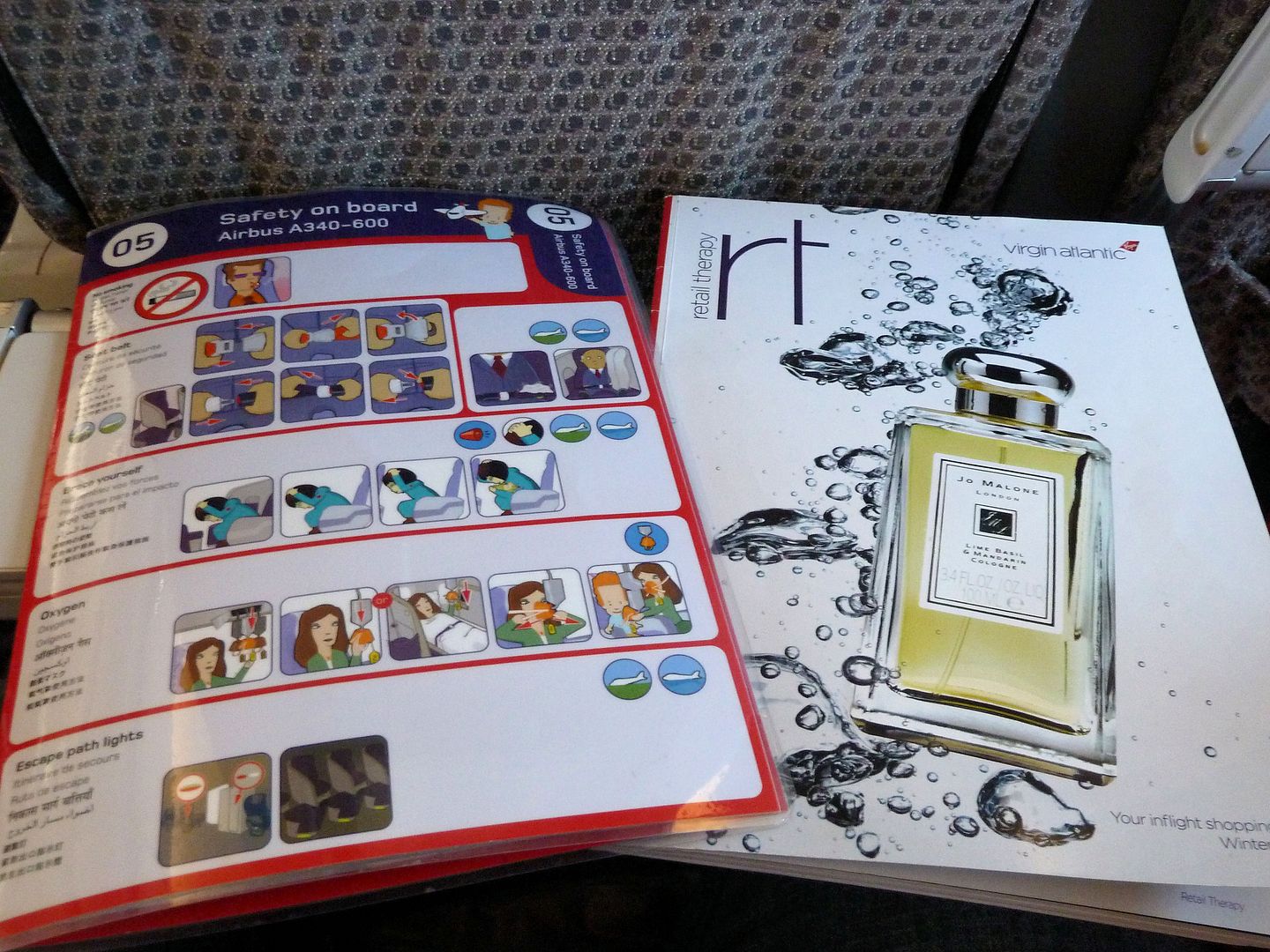 Virgin Atlantic belongs to the decreasing number of airlines which still hand out amenity kits in Economy Class - and it's quite amazing that those are even provided on one of the carrier's shortest routes: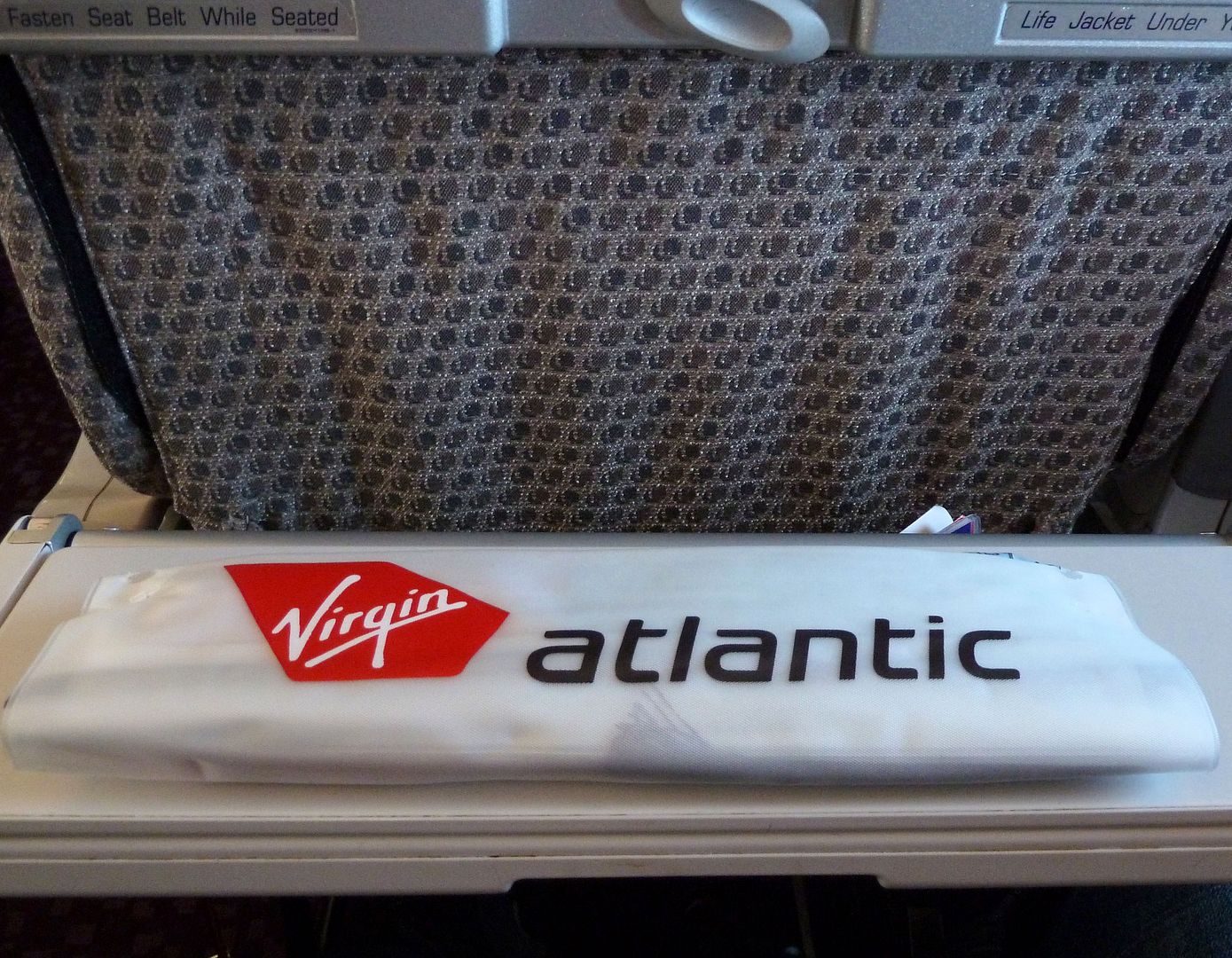 In addition to the usual items, you even get a pen. And I like the design which you find on every single item - very cool stuff!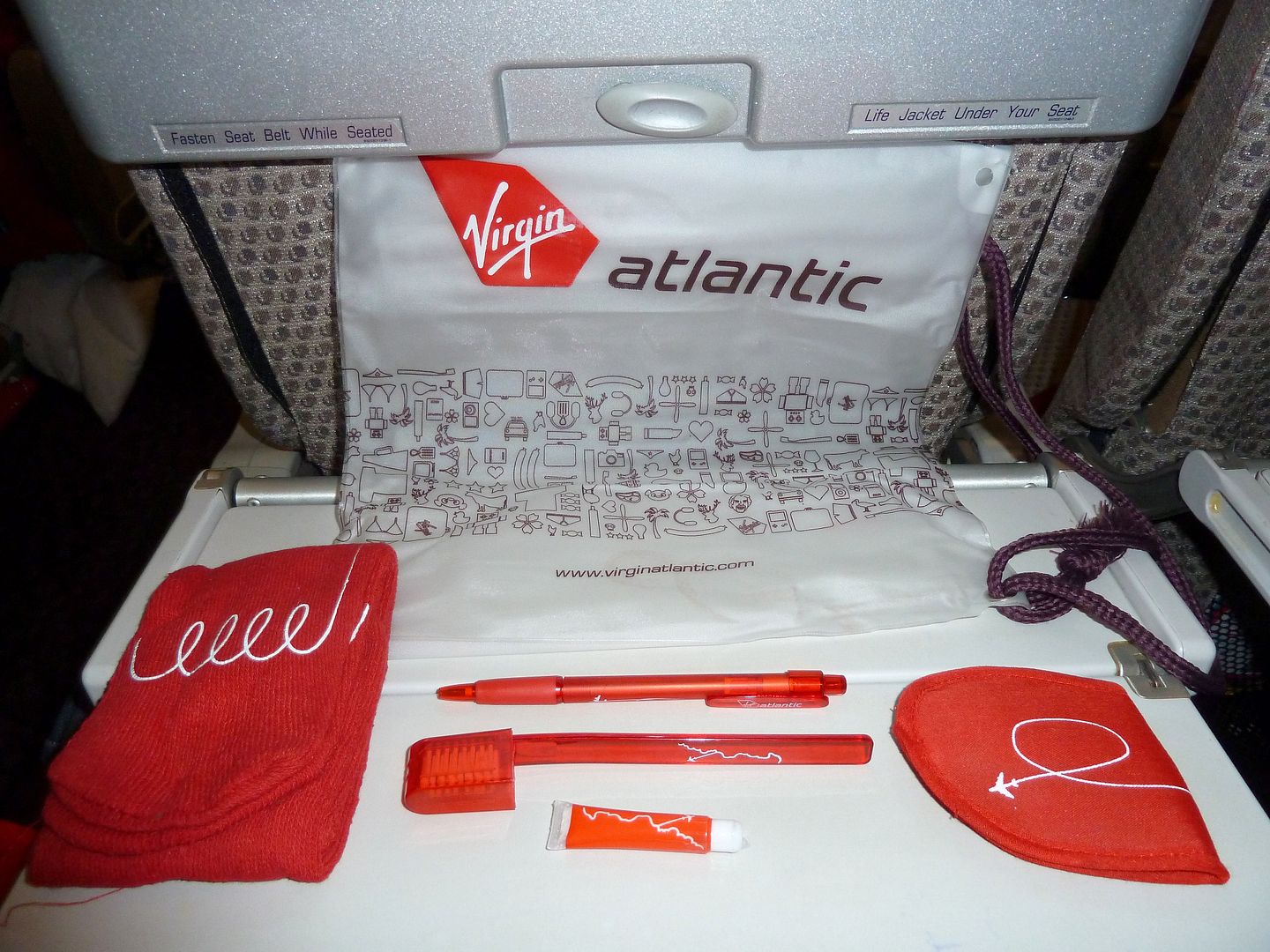 It was clear soon that many seats would remain empty. One of several nice and personal pre-departure announcements contained detailed information on that subject:
"There are 185 passengers, 11 cabin crew and two flight crew on today's flight"
, the flight service manager (FSM) said. I had never heard something like that!
Considering that there are 306 seats on the plane I was really pleased that VS400 hadn't been downgraded to an A340-300.
Some time later the FSM added that passengers would be invited to move to one of 121 empty seats - but only after takeoff. We also learned that two captains were in charge of the aircraft today.
After one of the captains had made a short welcome announcement, a funny safety video was shown: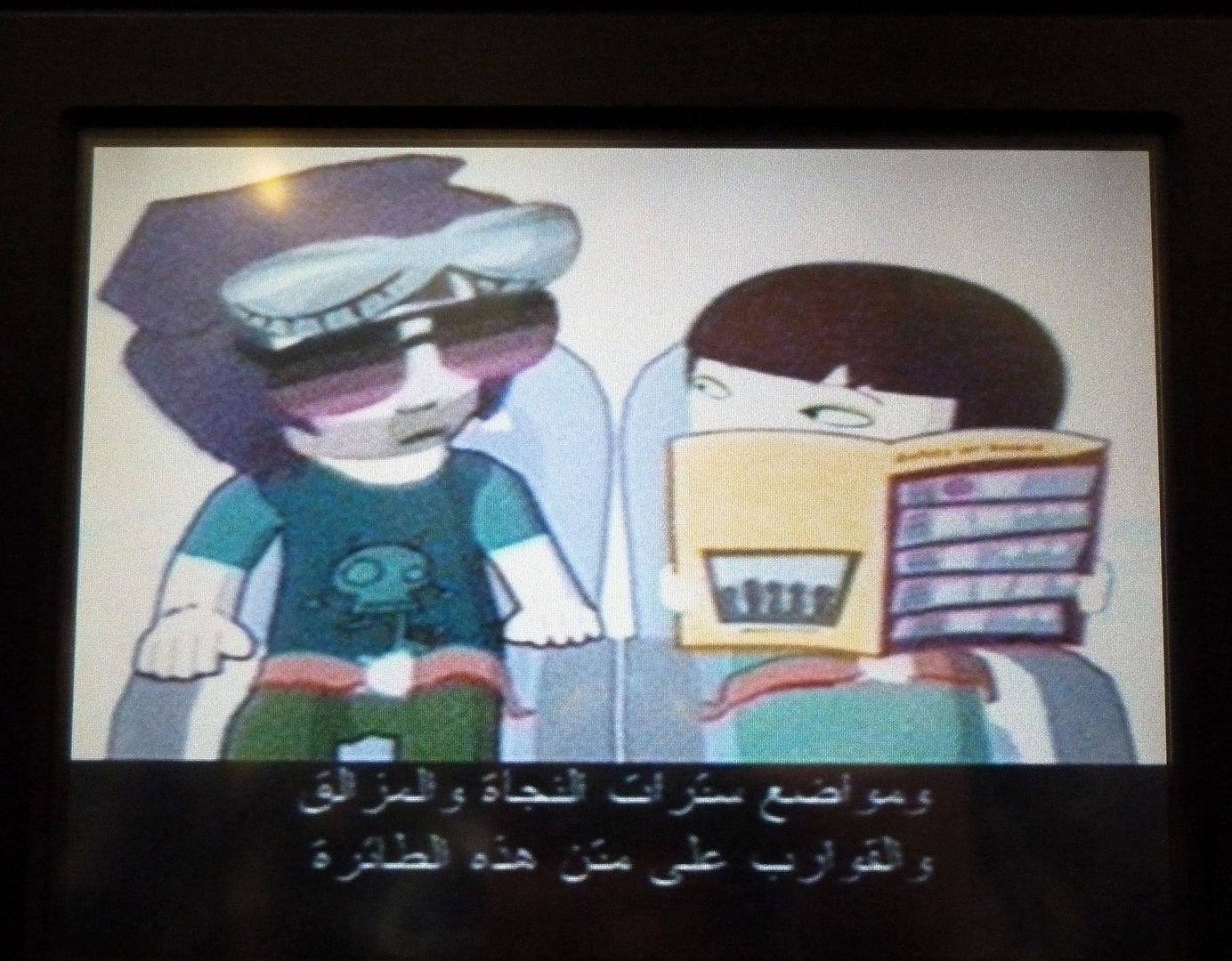 If you want to watch the video, just click here:
http://www.youtube.com/watch?v=a7QsXB9WRkg&feature=related
We left the gate exactly on time, but due to heavy traffic it would take another 25 minutes until
G-VGOA
gently lifted off into the night sky.
Unfortunately, the IFE system wasn't activated earlier than about 30 minutes after takeoff. All A340-600s and several 747-400s are equipped with an audio/video on-demand system called
V:Port
: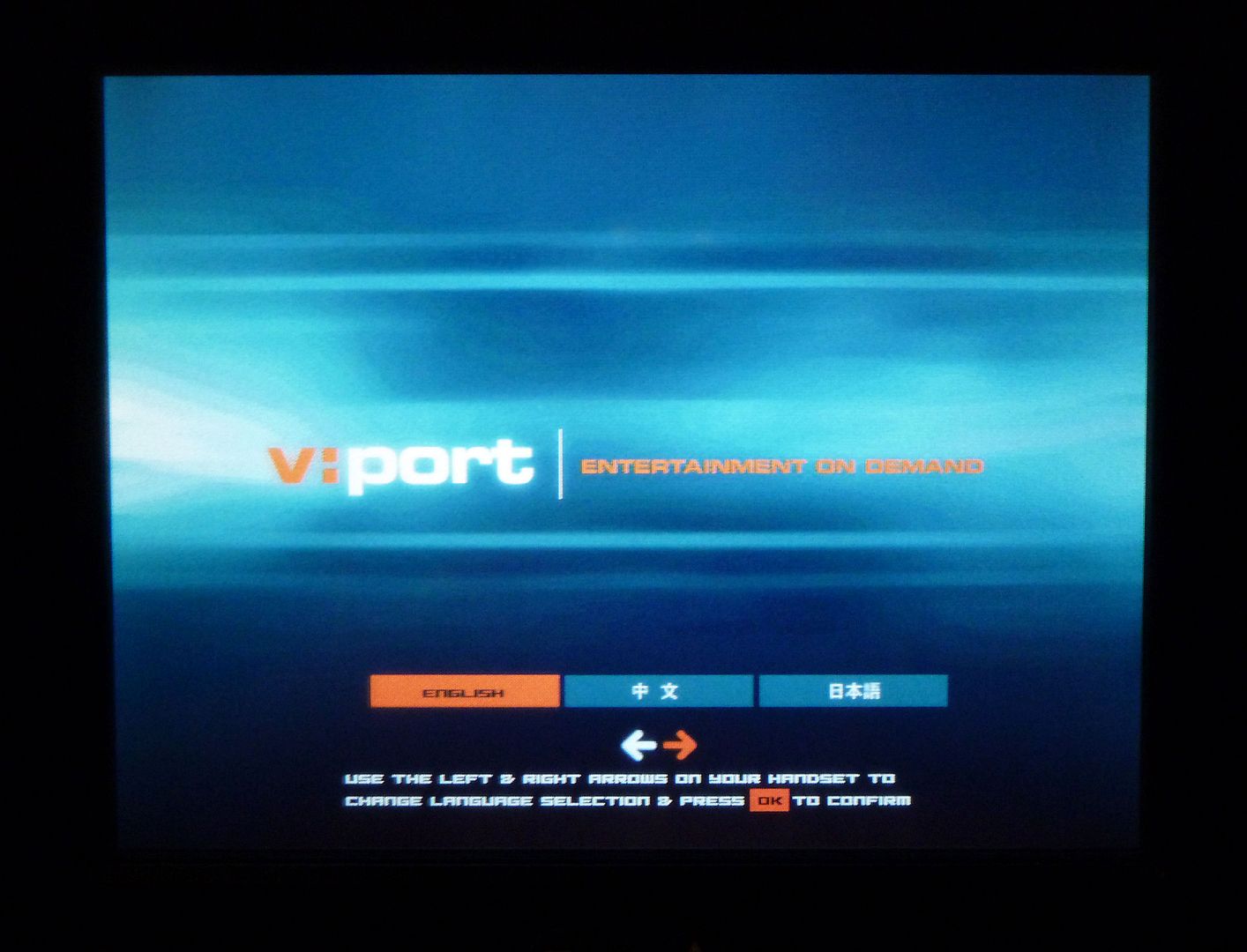 Main menu:
V:Port
features 300 hours of video on demand content (including 61 movies), 14 channels of audio on demand and a jukebox with over 45 CDs, a selection of audio books, 15 games, a "Quick Find Facility" that allows passengers to look for films starring their favorite movie star, comedy shows or language programming. A dedicated "Kid's Zone" has its own menus and contains programming suitable for children and a parental block. Allegedly, the system allows passengers to send emails and SMS messages, but I didn't check that. Interestingly, several movies are also available in German and French - that's quite remarkable considering that Virgin's focus is on O&D traffic.
The inflight magazines gives a good overview of all available features: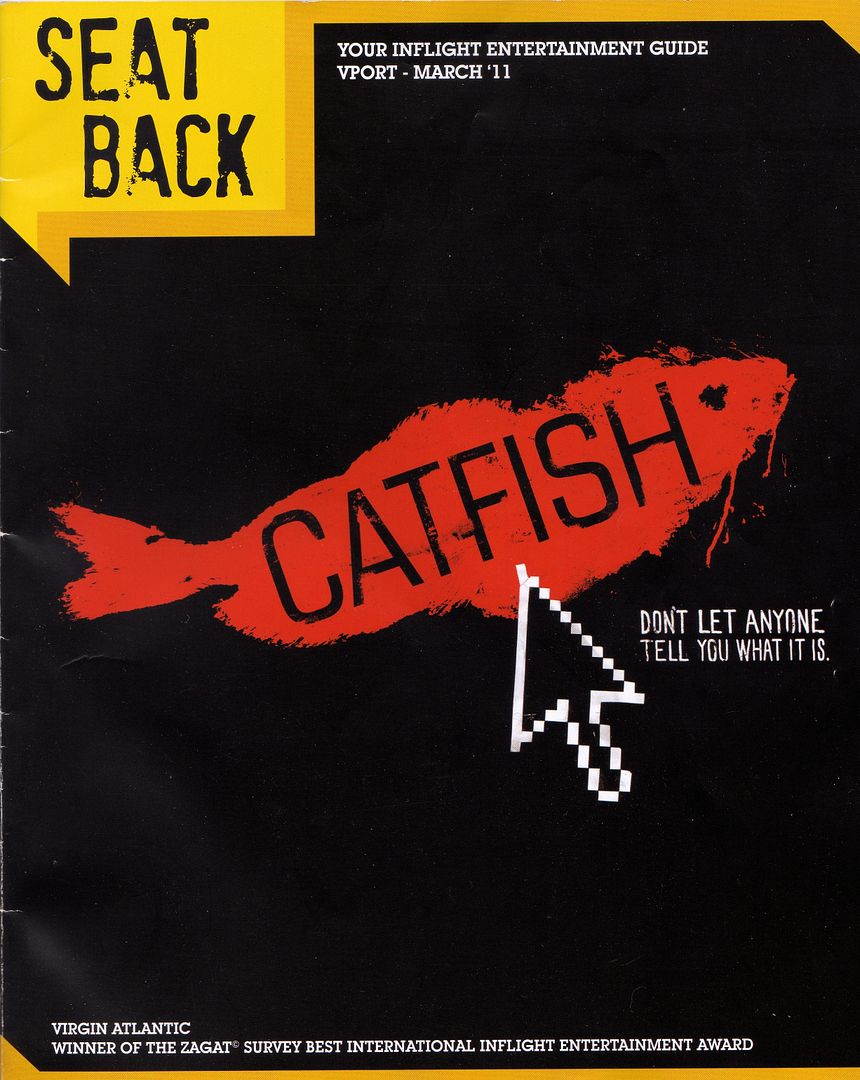 As usual, I watched the airshow most of the time. The interactive map application is called
iMap
: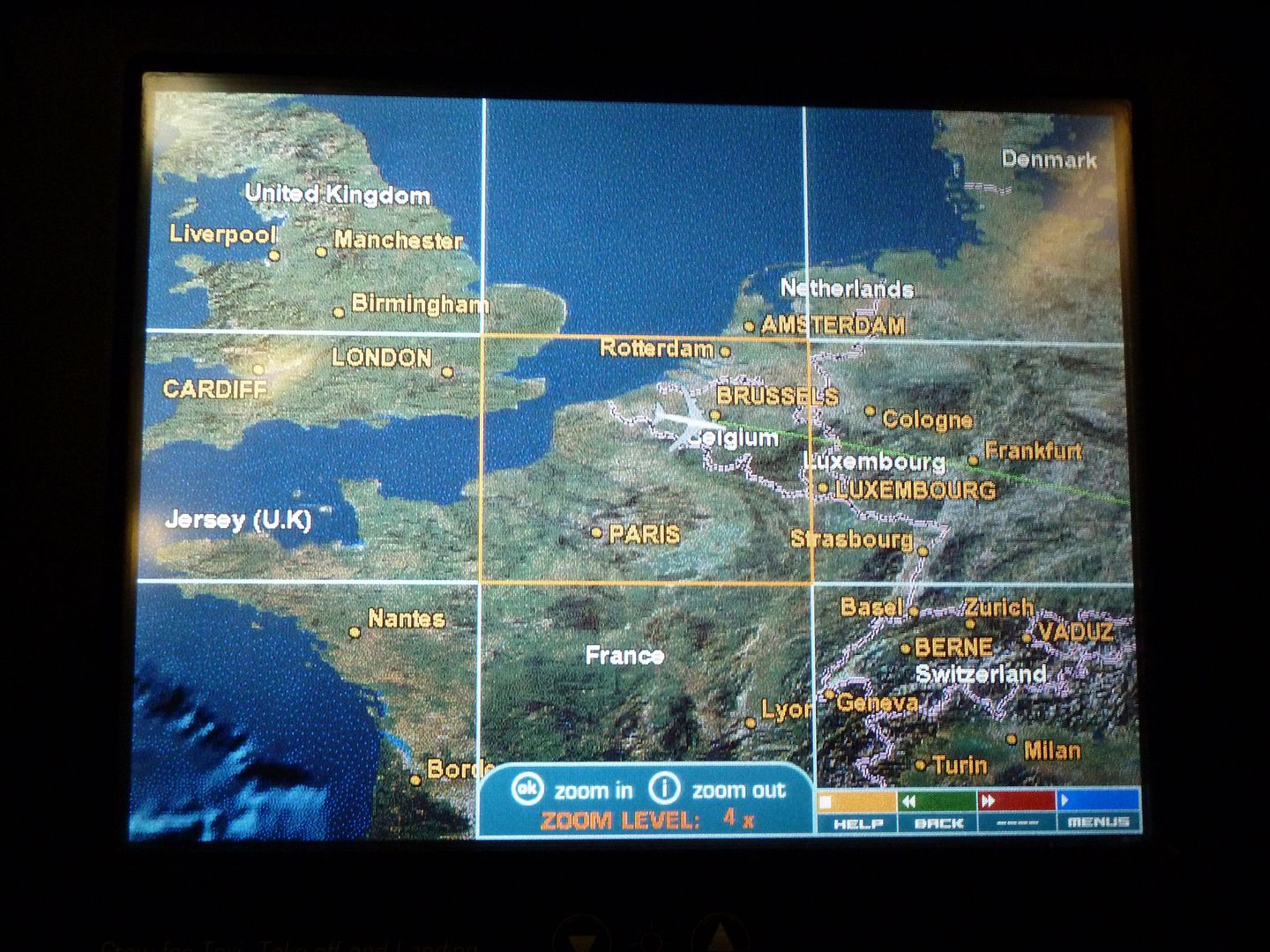 Unfortunately, the plane symbol got stuck on the map sometimes. The zoom function didn't work properly either.
Dinner was served about 45 minutes after takeoff. Menu cards weren't available, but I heard a flight attendant offering fish on the other side. When her colleagues arrived at our row, we had the choice between shepherd's pie and vegetarian chili. We would have preferred fish, but apparently it wasn't available any more. And we weren't keen on shepherd's pie at all, so we ordered the chili - and our expectations weren't high, to be honest: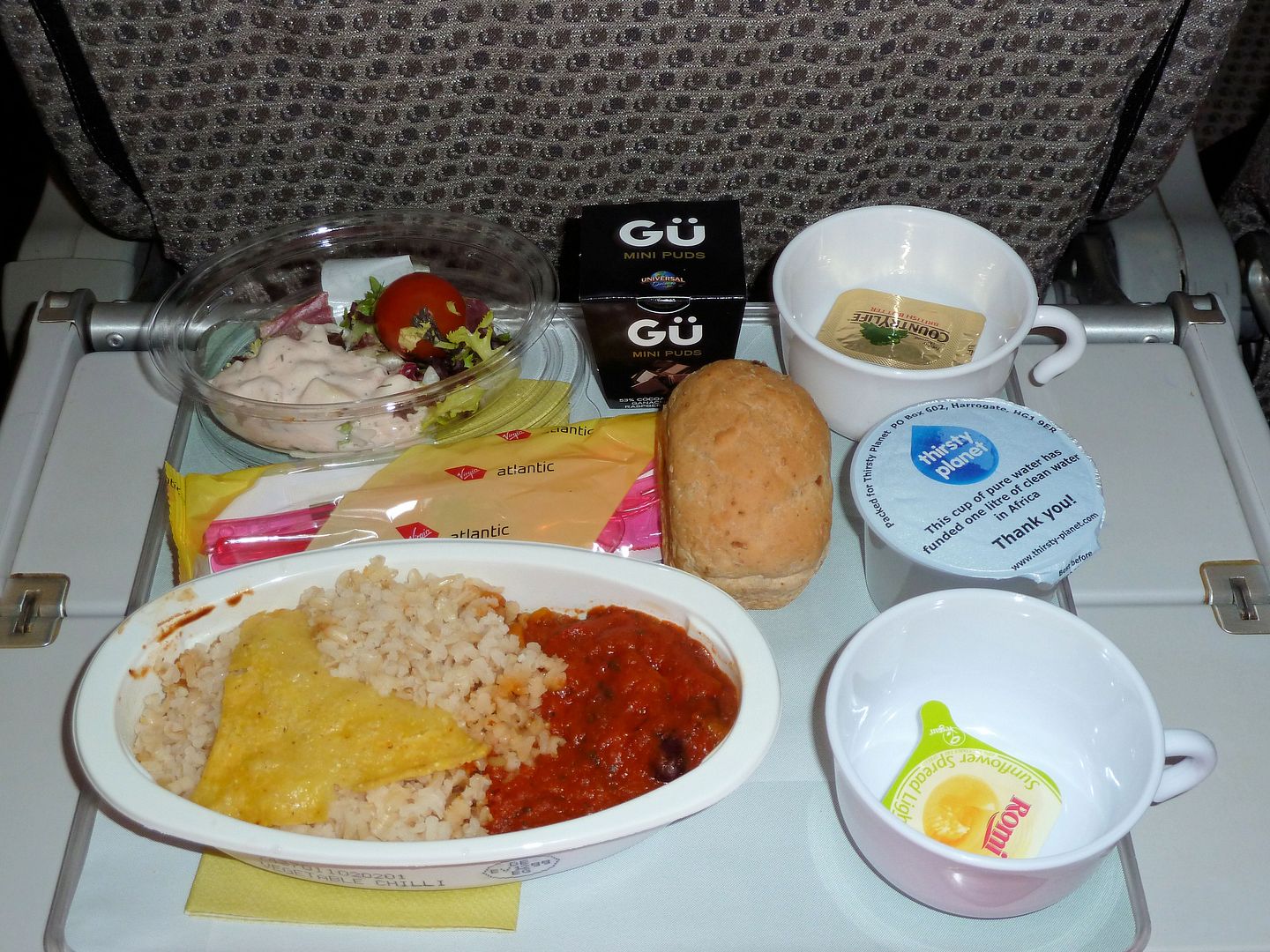 However, the main course tasted quite good, just like the salad.
The
GÜ
dessert (chocolate mousse with raspberry compote) was quite small, but it turned out to be delicious - one of the best desserts I have ever eaten on a plane:
What I found disappointing was the fact that I only got 150ml cans (Britvic) whenever I ordered ginger ale.
I continued watching the airshow and finally fell asleep for about three hours. When I woke up again we were already cruising over Saudi Arabia: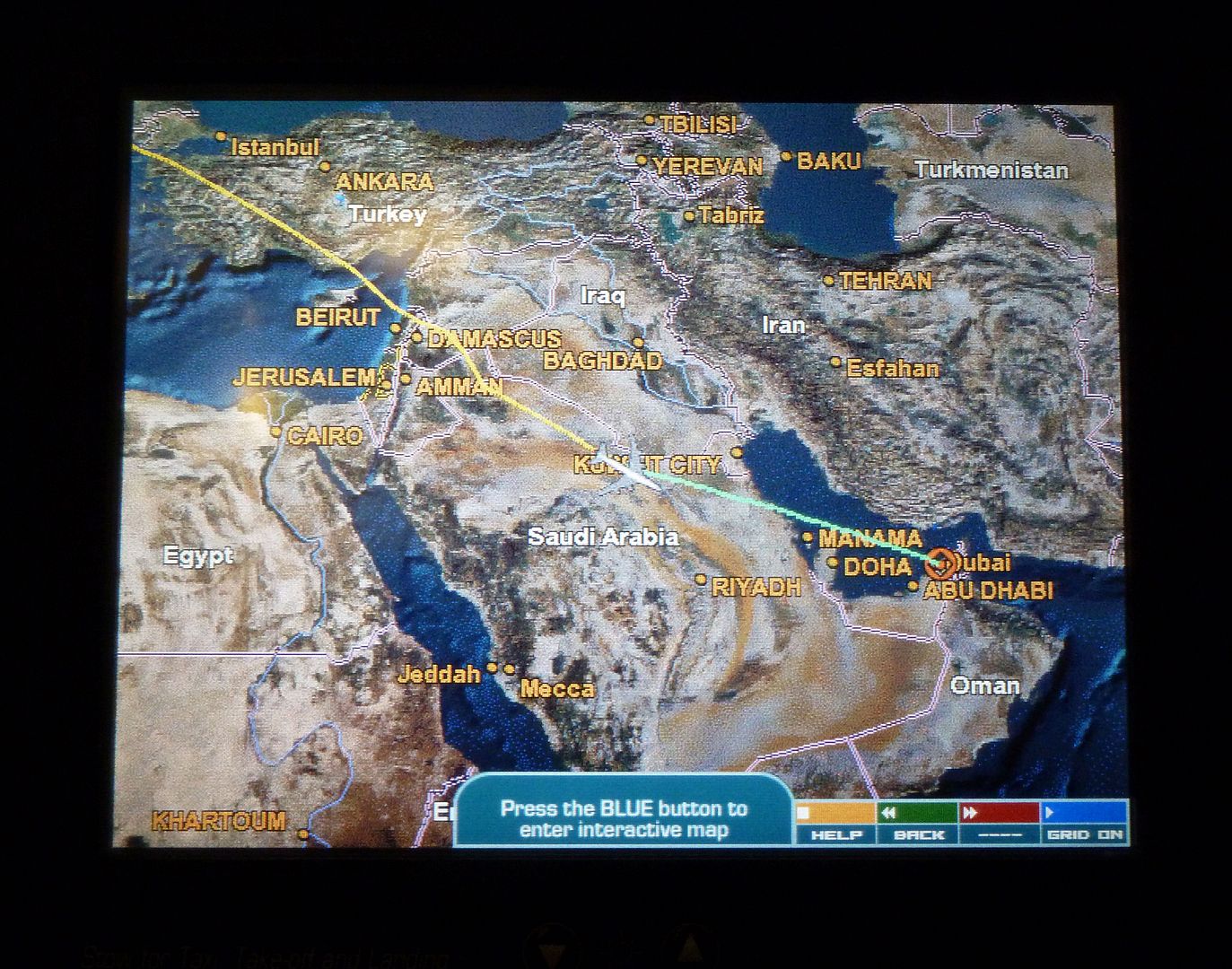 A small breakfast was served about 1.5 hours before landing. Virgin's tea and a currant and chocolate soft cookie tasked okay. Quantity was fine, I wasn't very hungry: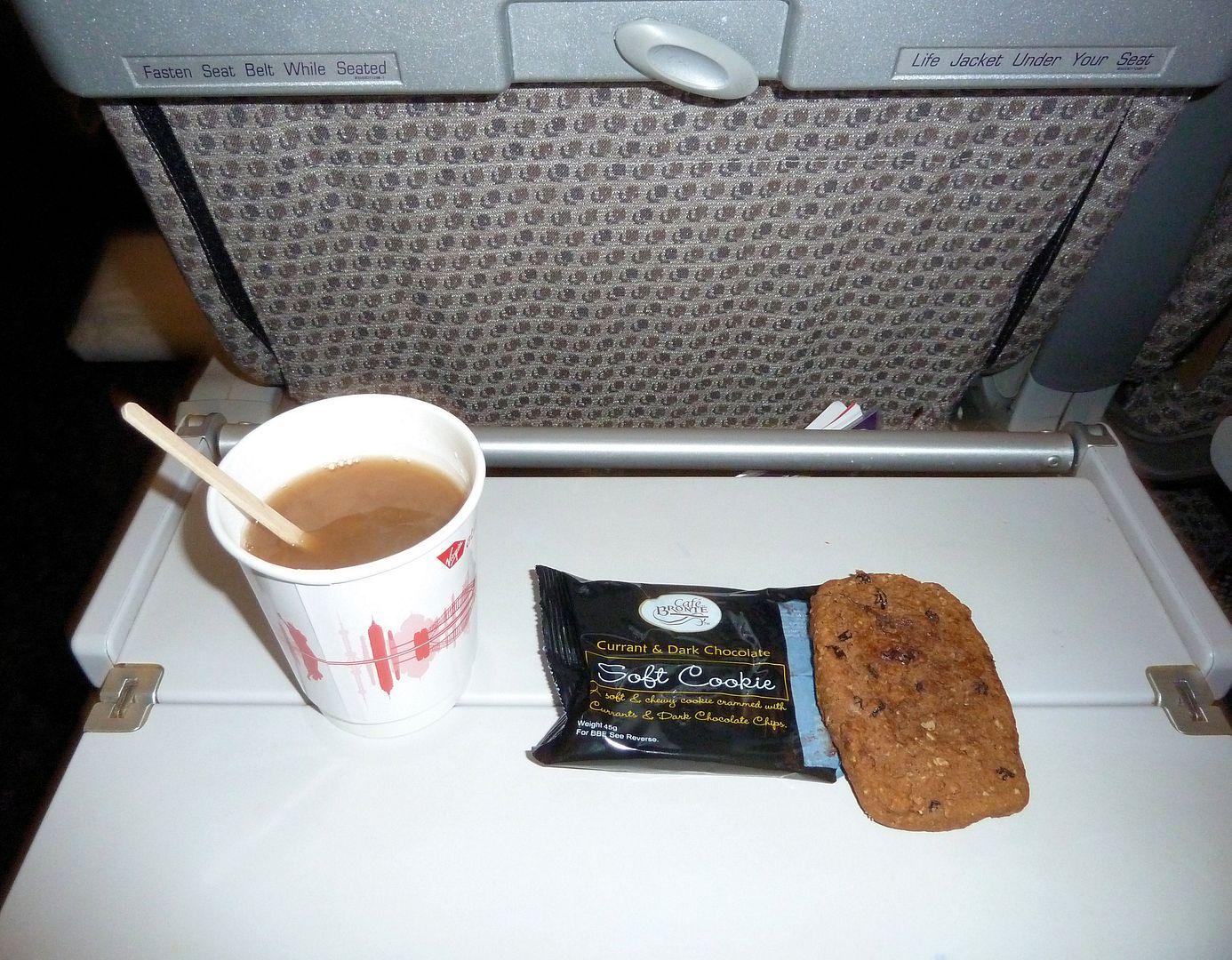 What I found very cool was the blue mood lighting in the lavatories - actually it gets replaced by normal light when you lock the door: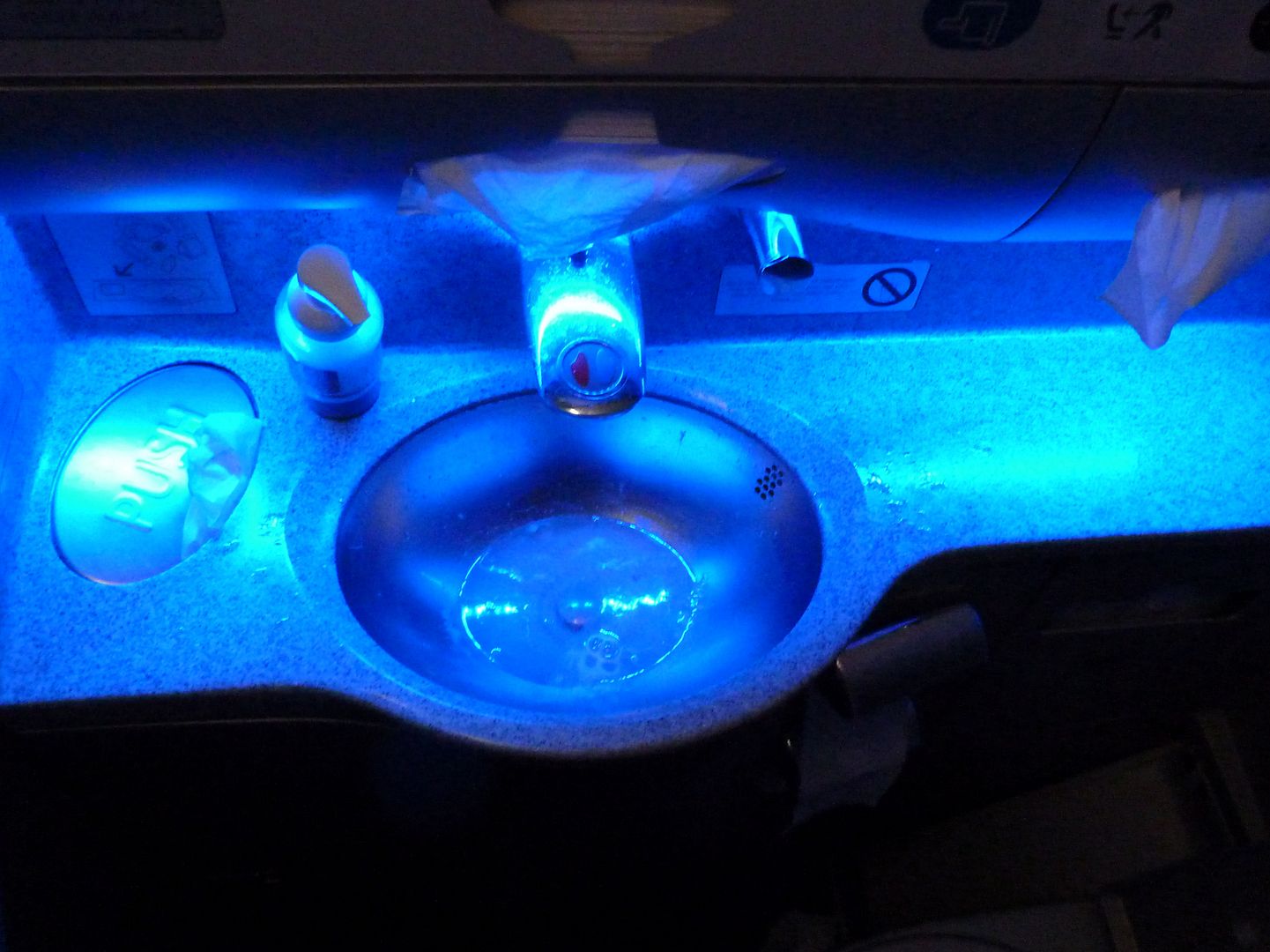 The windows in our section were still steamed up - they had already been in that state at Heathrow. I had never seen that to such an extent: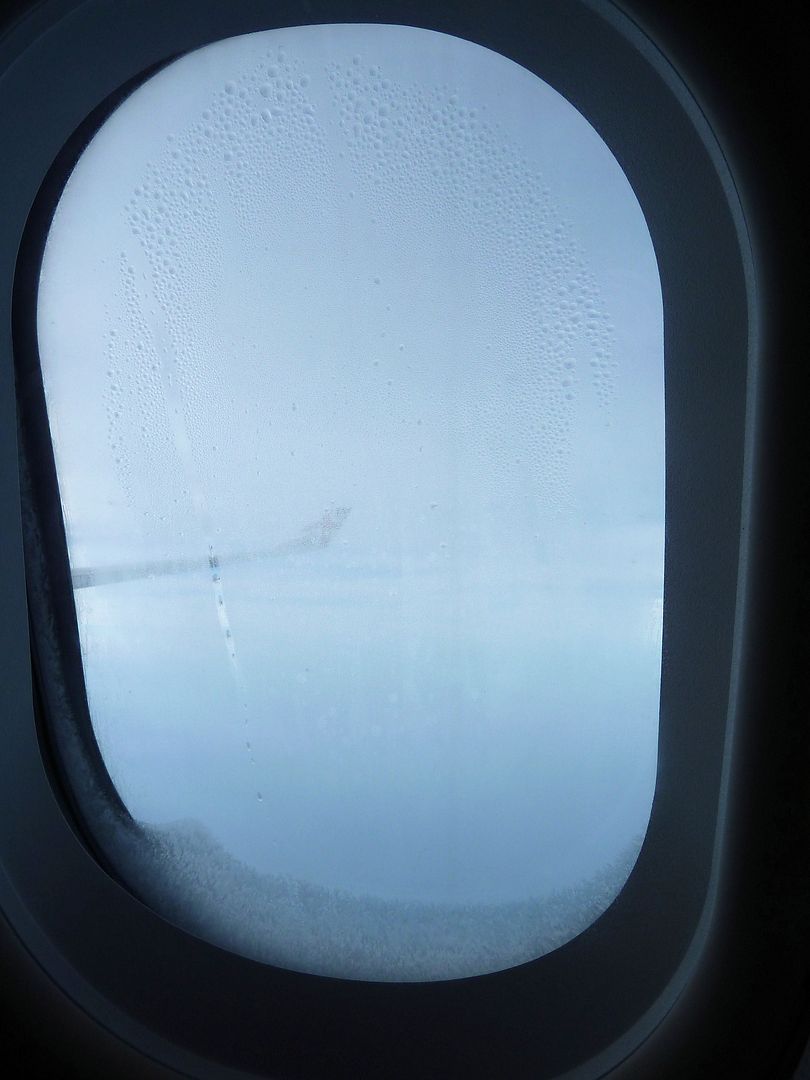 Tasty Love Hearts were distributed ten minutes before landing: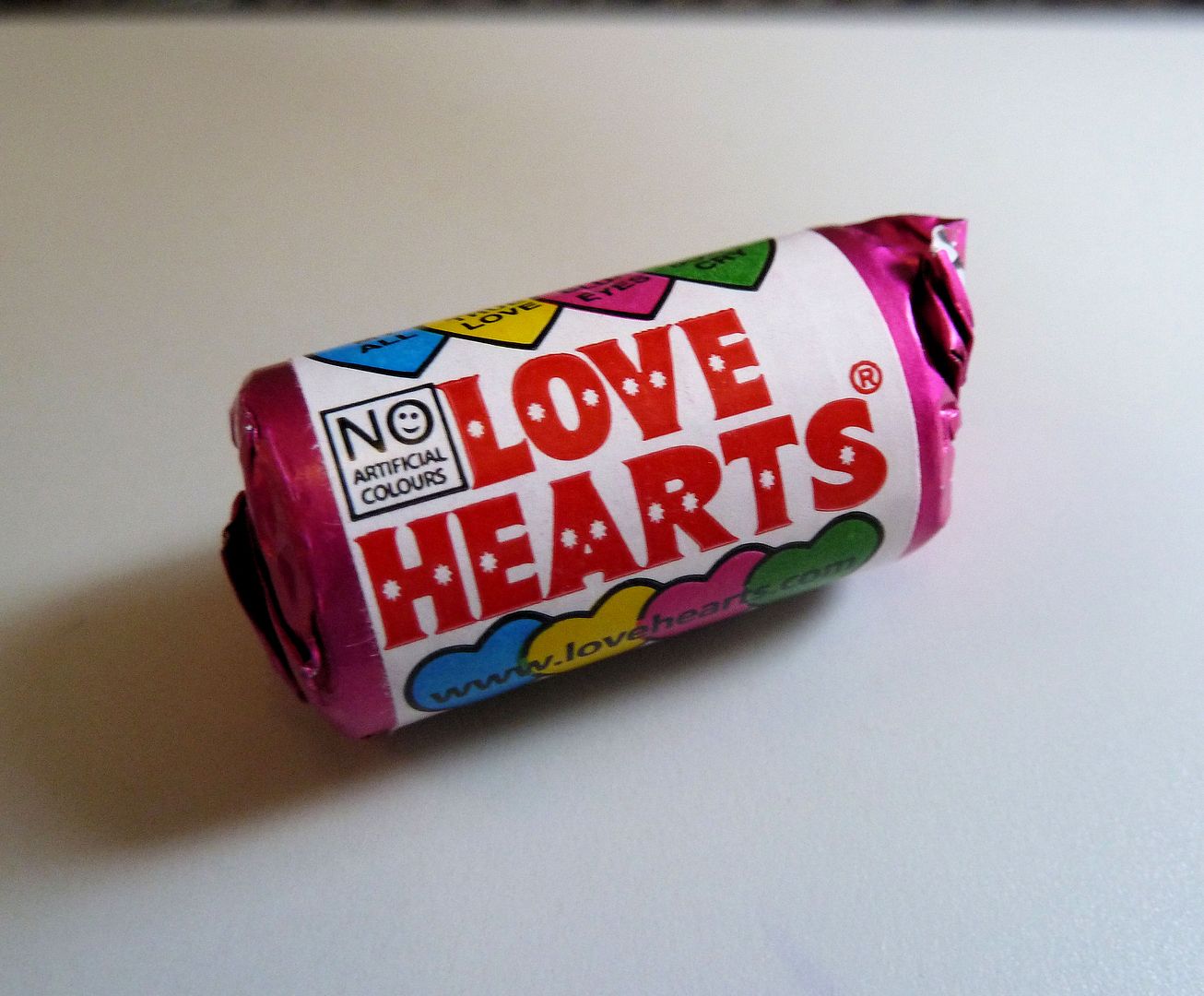 The window in the row in front of us didn't look as bad as ours, so I switched seats in order to take a few pictures on approach: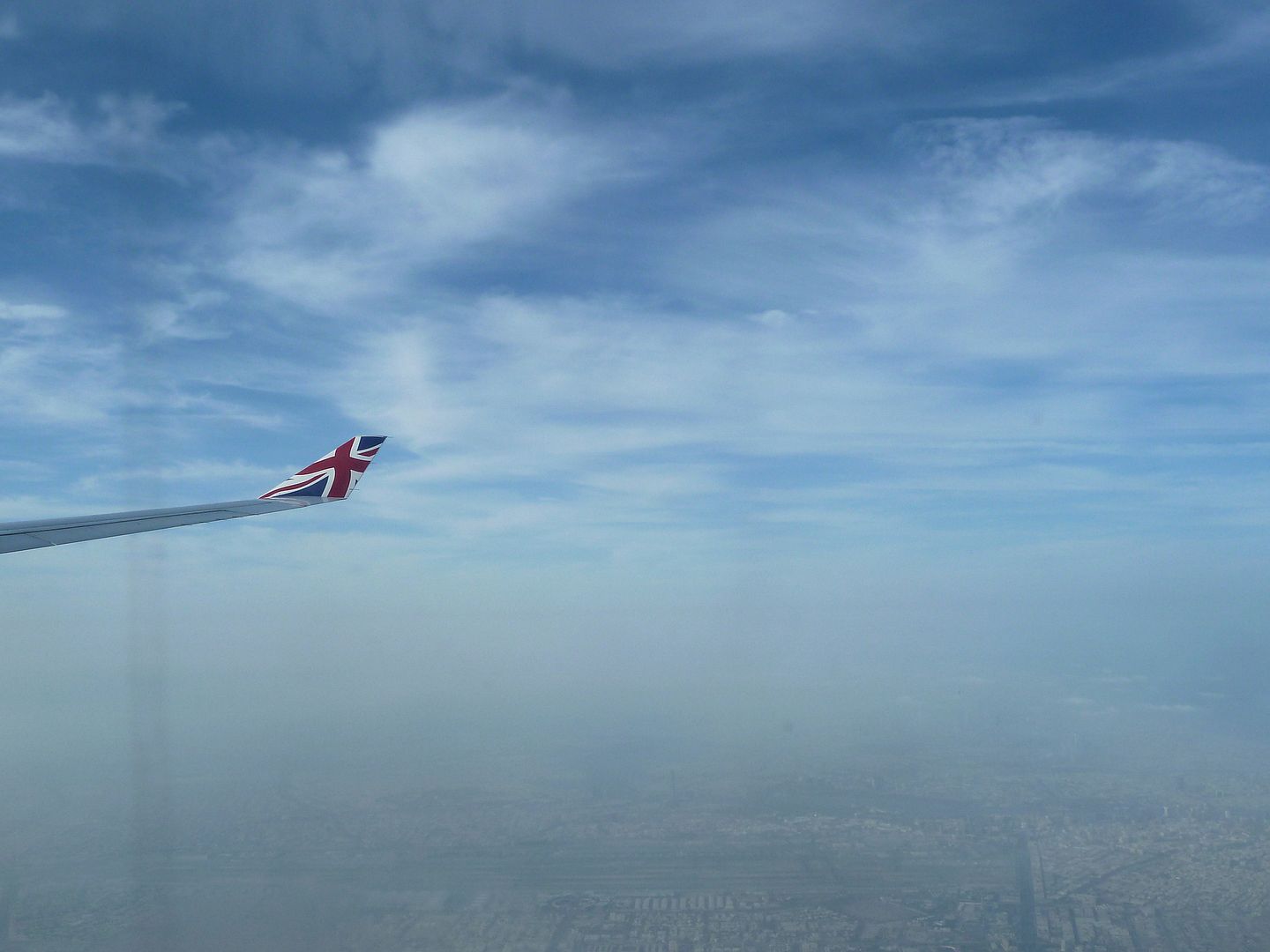 Virgin Atlantic's winglets belong to the prettiest ones in the industry: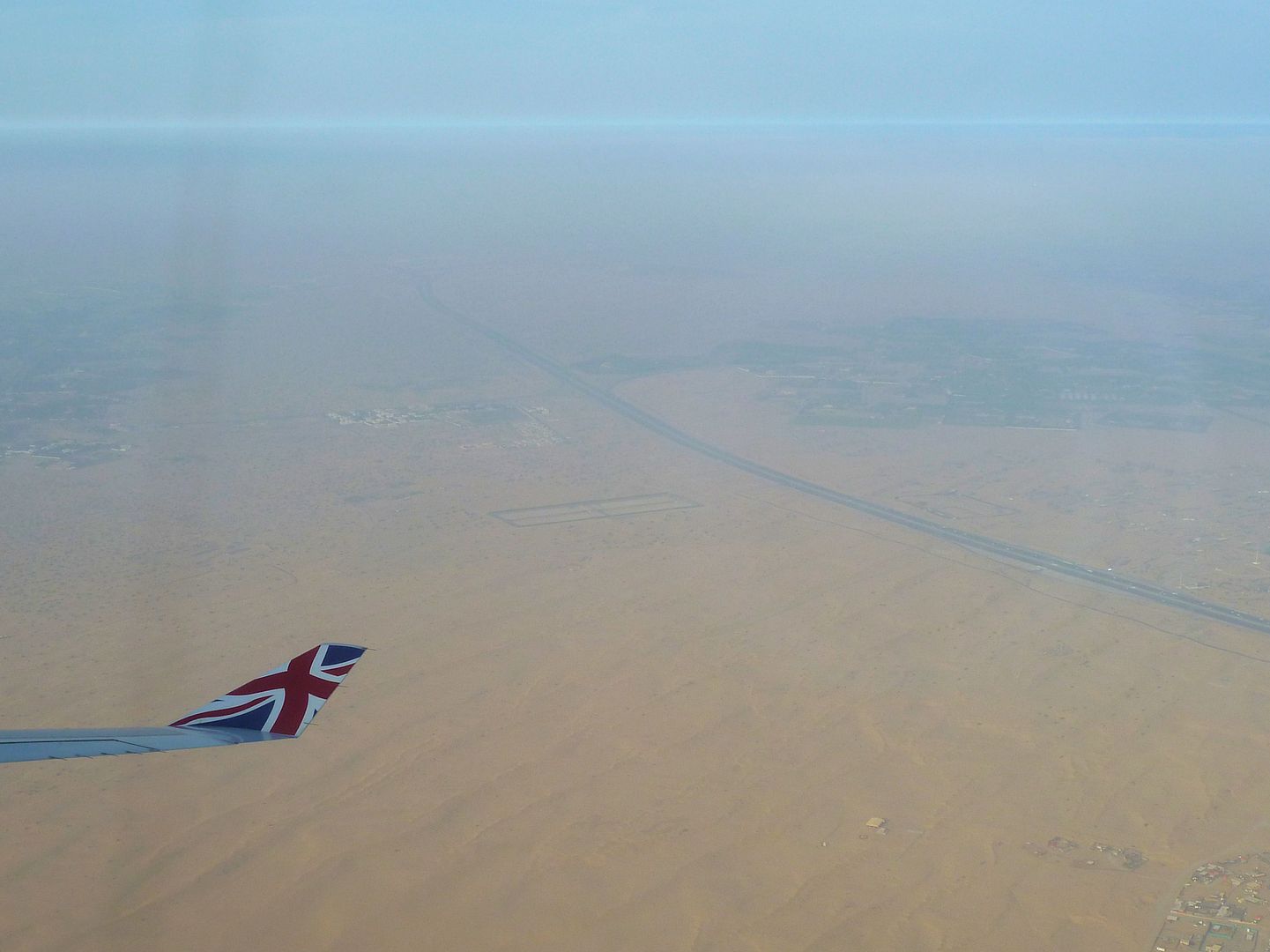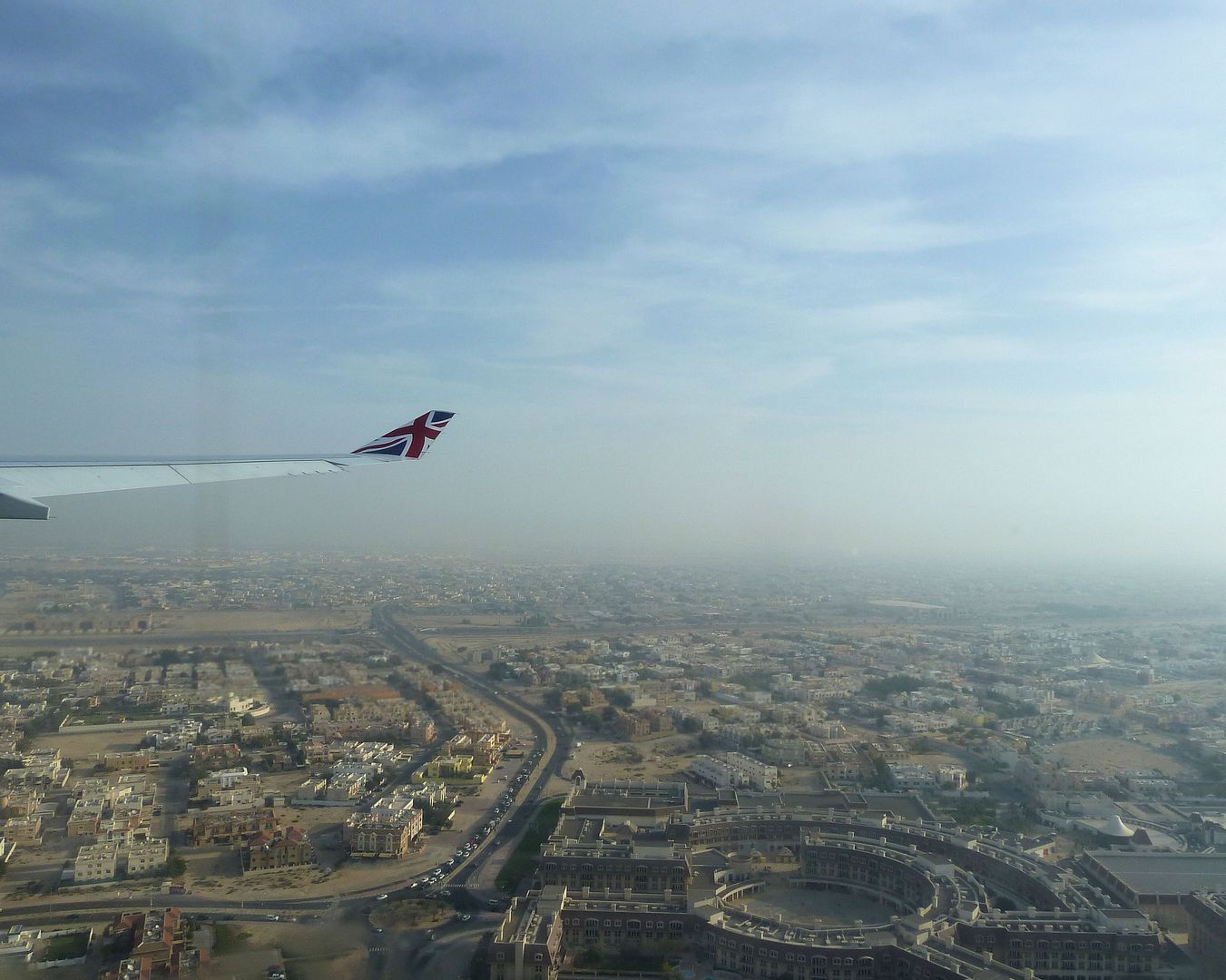 Only a few more moments to go: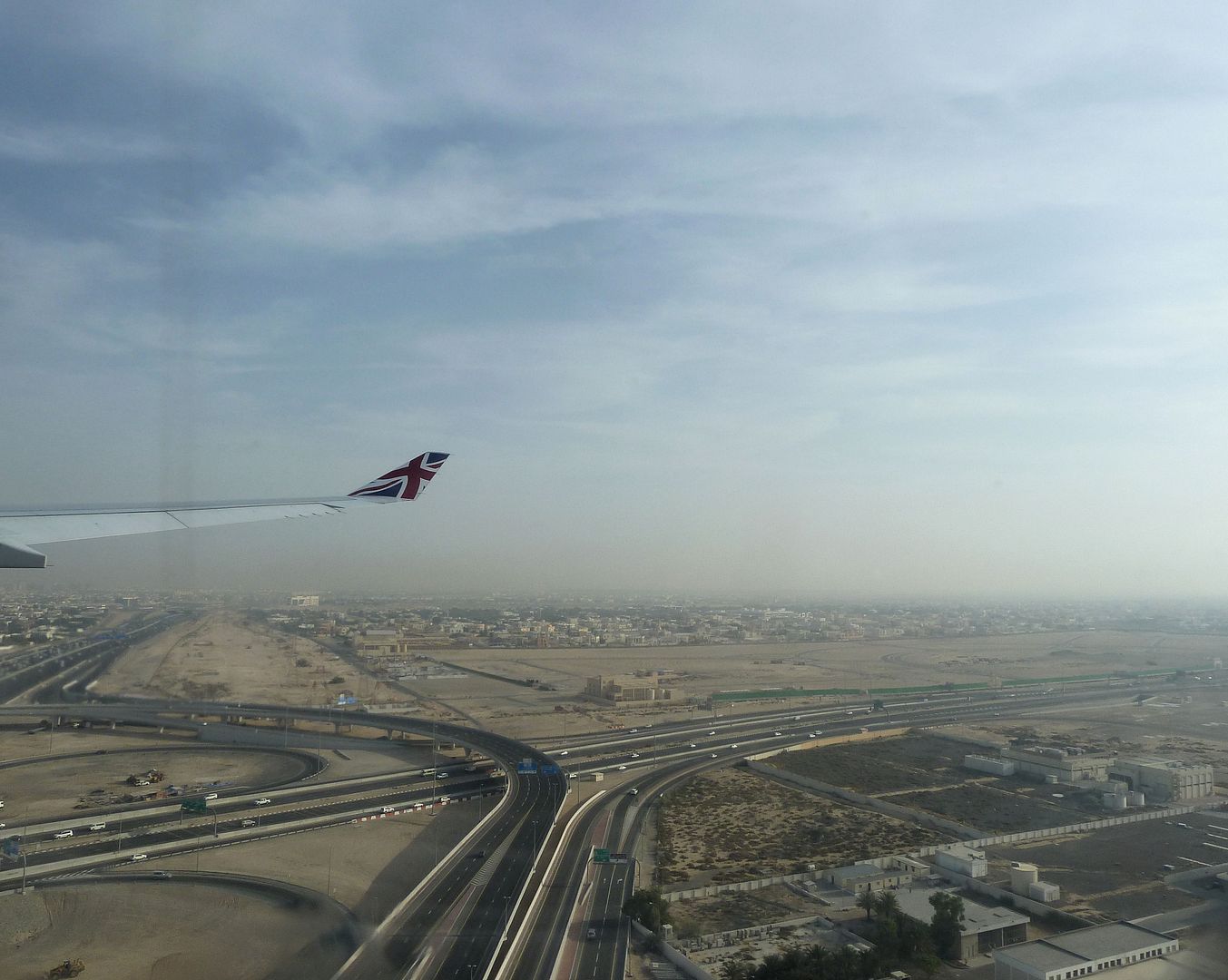 Touchdown after a flying time of 6 hours and 28 minutes:
One single Union Jack and countless UAE flags: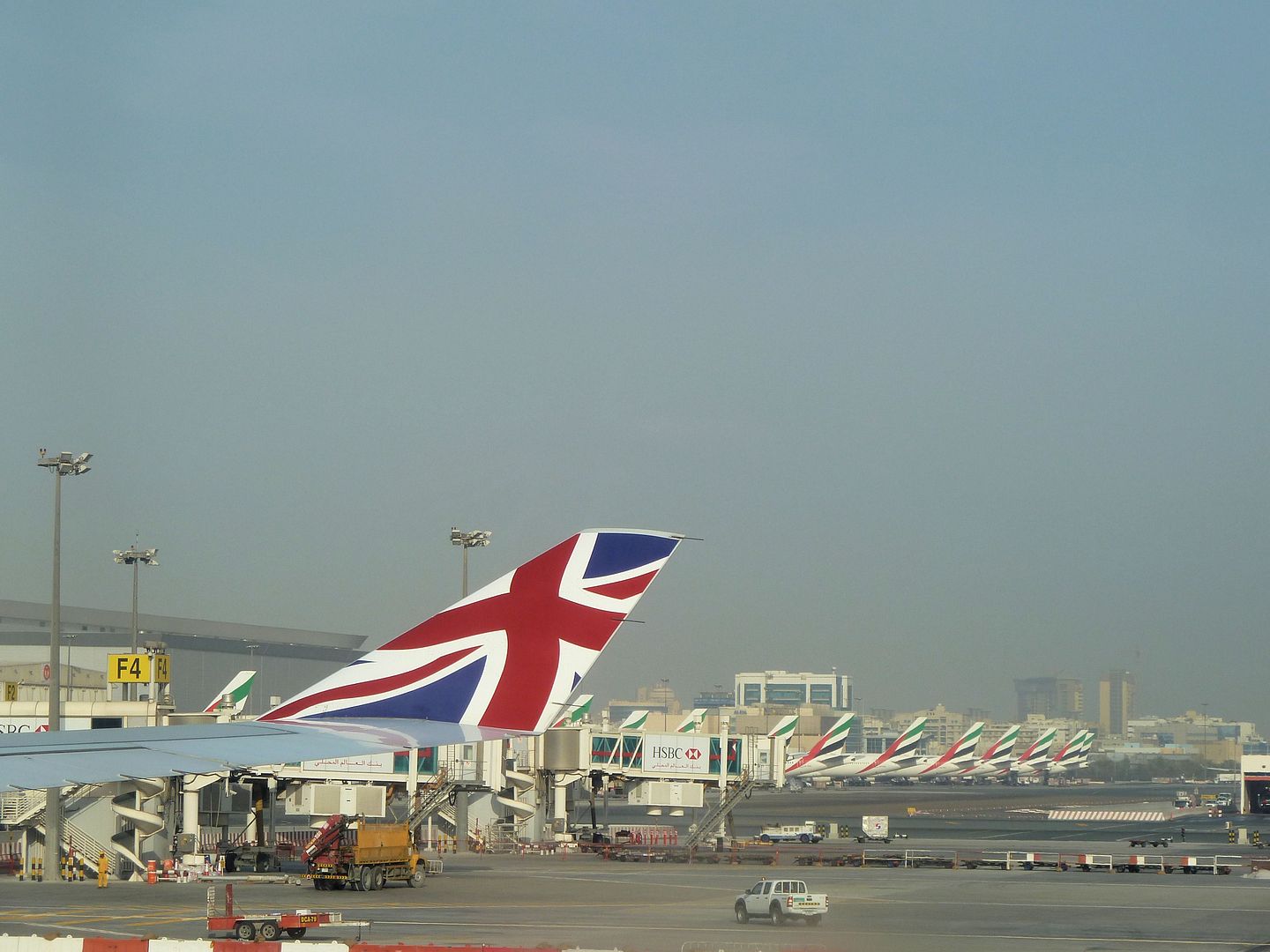 We arrived at the gate nine minutes late, but were soon able to disembark due to the light load. Last shot of
"Indian Princess"
, "Air - born August 2003":
Our terminal area was quite deserted and there were only short queues at immigration. We soon grabbed our luggage and took a taxi to the
Rose Rayhaan by Rotana
at Sheikh Zayed Road.
Dubai Sightseeing
Very friendly receptionists welcomed us at the world's tallest hotel. This is how the 333 meter (1093 ft), 72-story hotel looks from the pool area on the fourth floor:
Due to our early arrival, one of our rooms wasn't ready yet (high floor requested), so we either had to wait or take another one. We came to the conclusion that we would only sleep there anyway, so we took the available room on one of the lower floors. The rooms were comfortable and looked nice: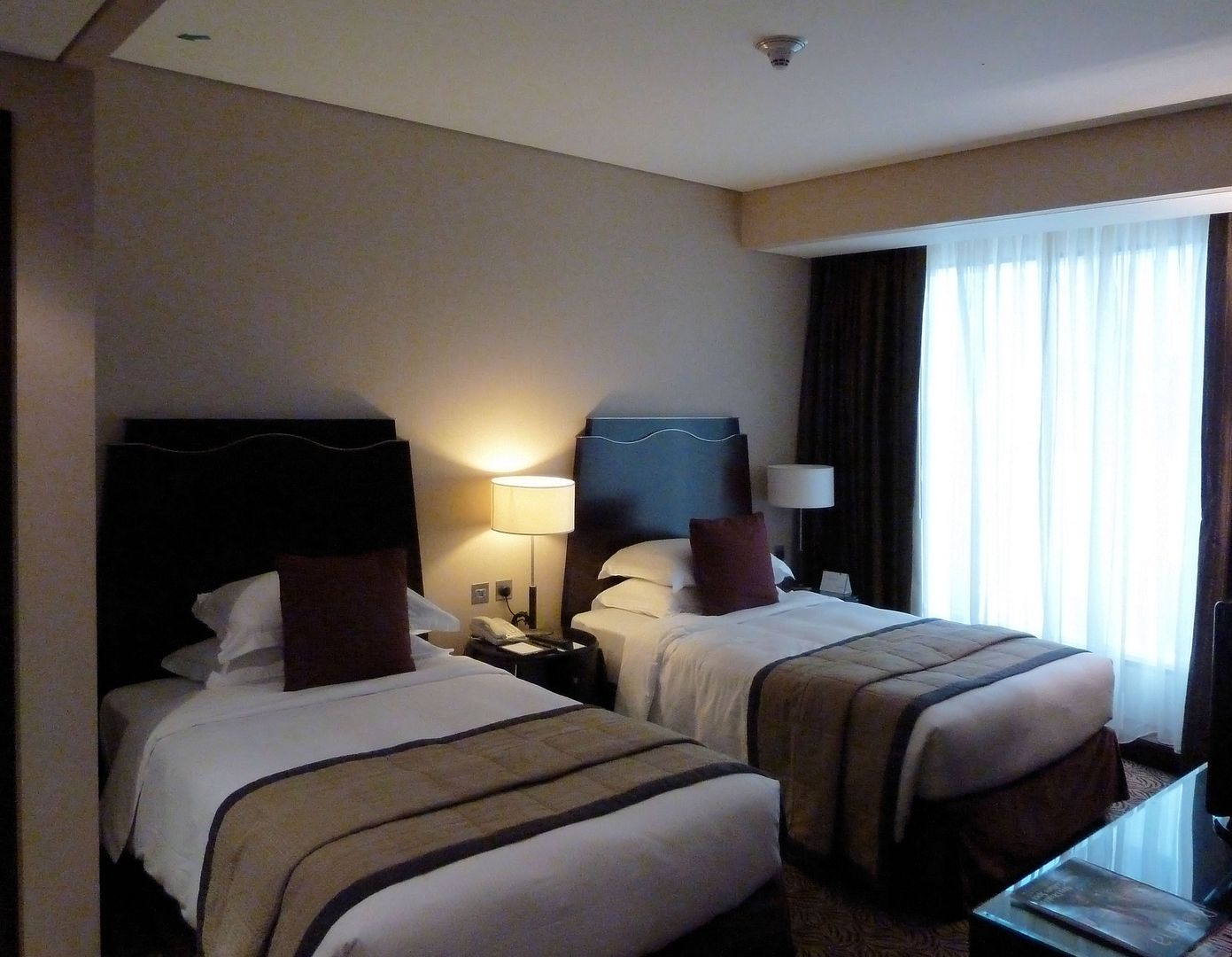 Sand and dust on the window: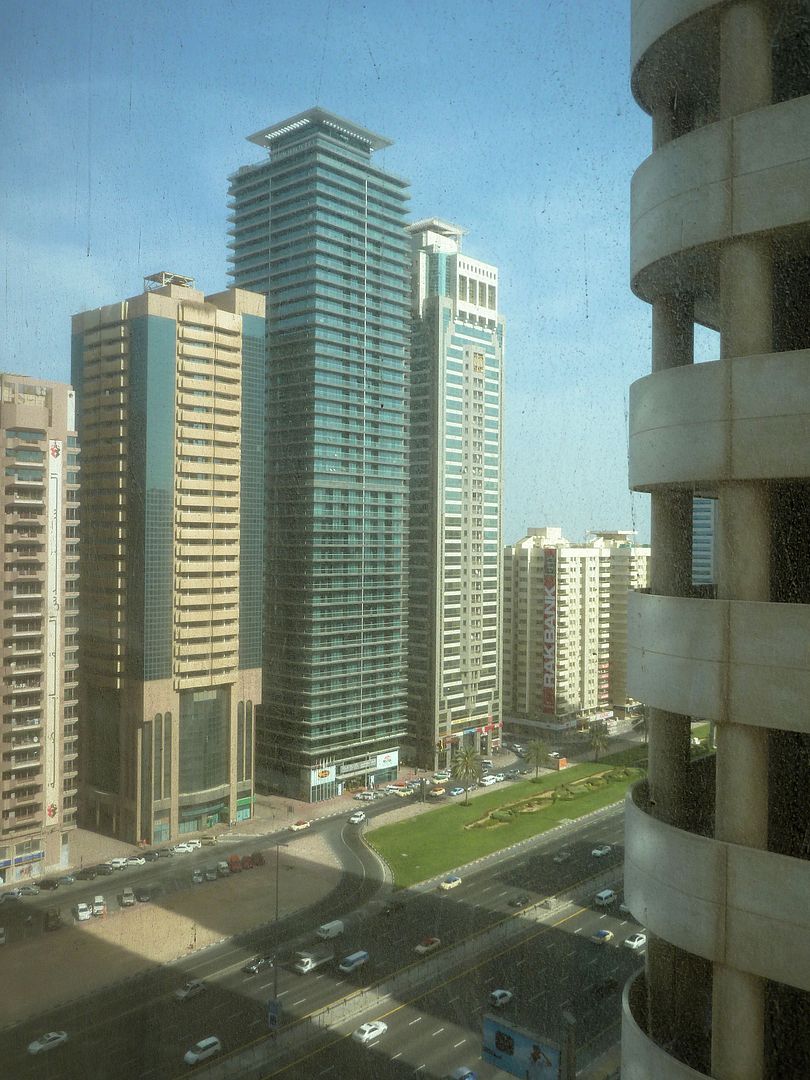 After resting for a while, we left the hotel...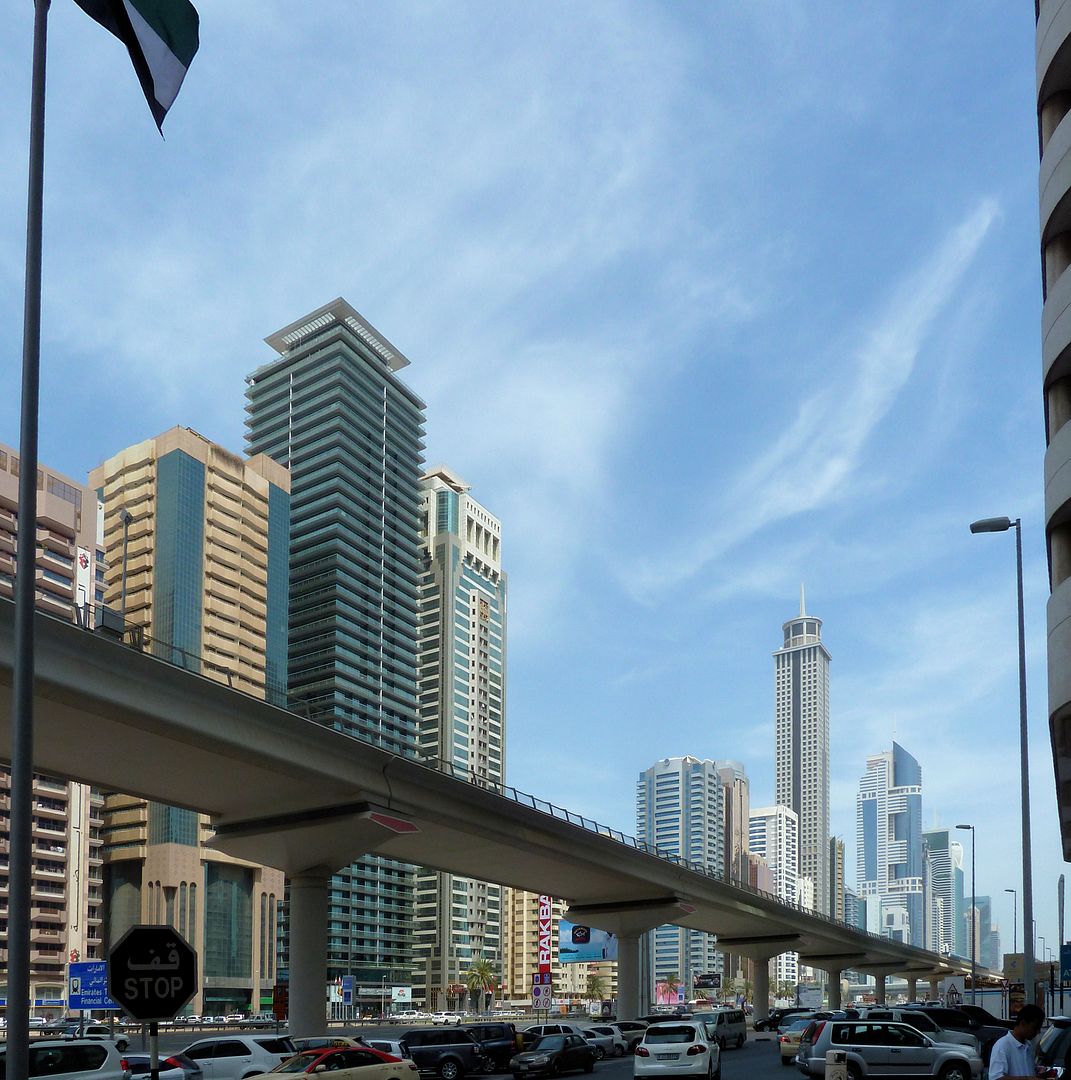 ...and walked to the nearby metro station: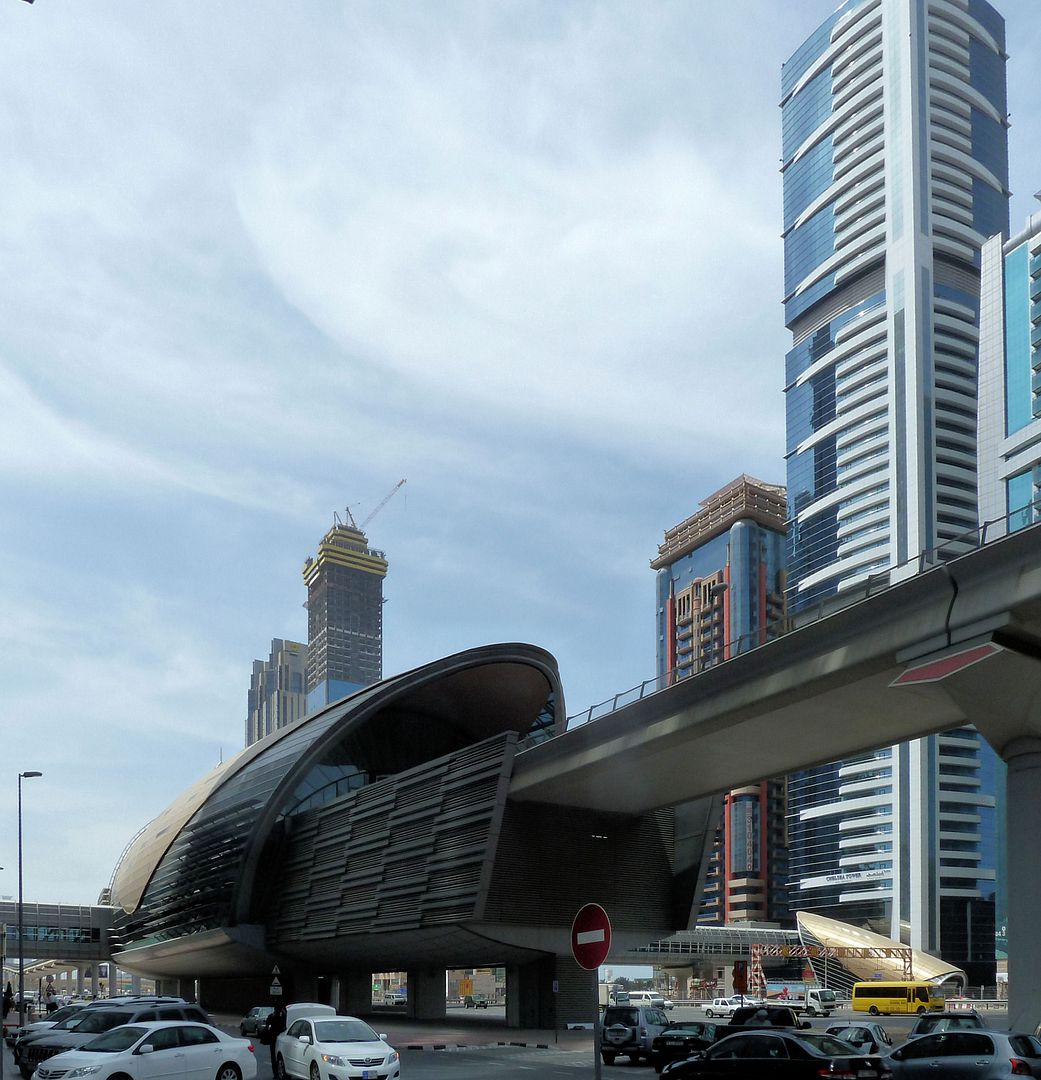 While the stations and trains are modern and clean, they can become crowded at certain times. And it took some time until we got our tickets because one vending machine was out of order and the other one couldn't return any change. At least you find friendly and helpful metro stuff there, immediately offering assistance.
We got off at
Dubai Marina
and took a taxi to the amazing
Atlantis, The Palm
at
Palm Jumeirah
: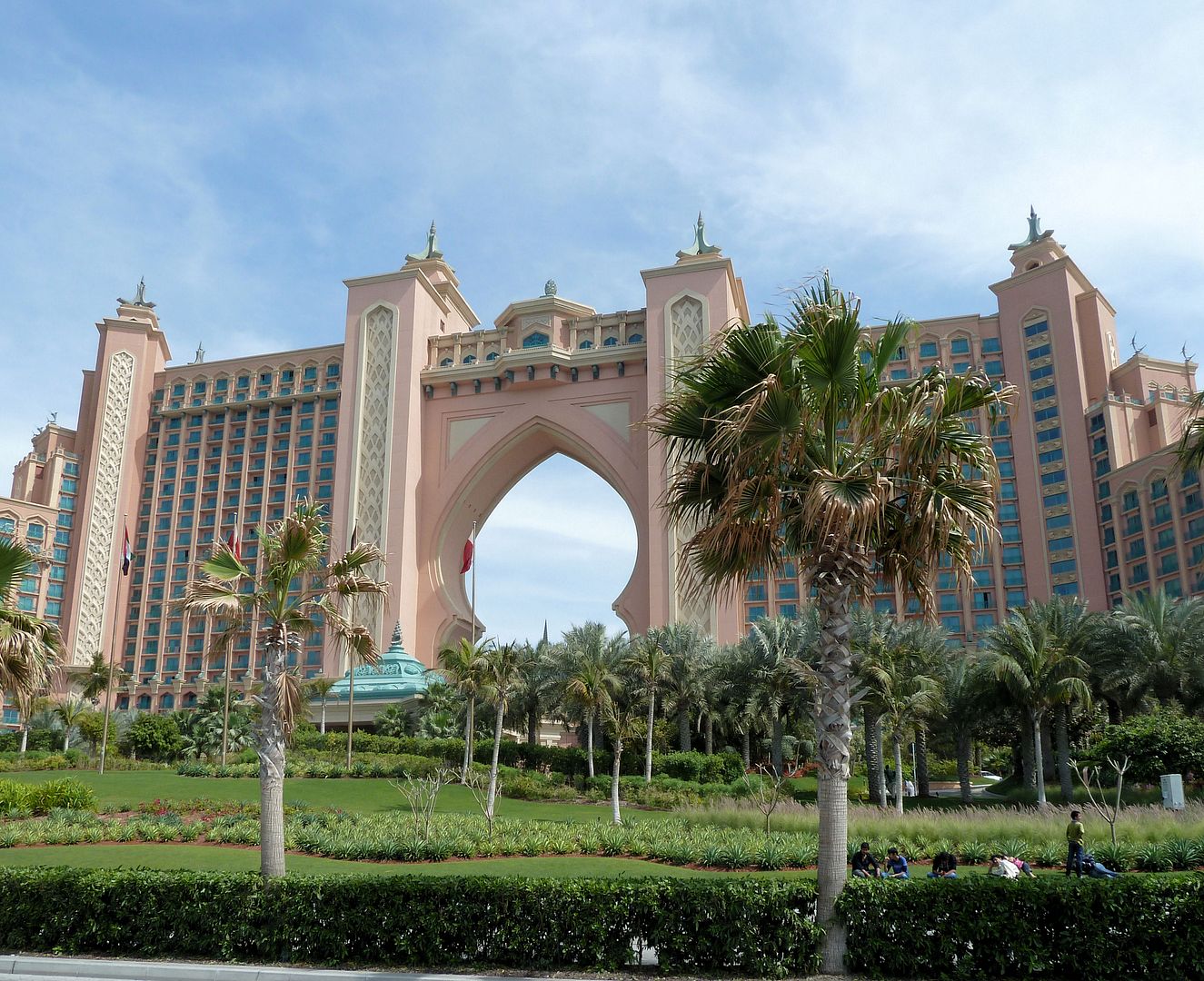 The next destination was the
Mall of the Emirates
, Dubai's second biggest shopping center:
Of course we had a look at the integrated indoor ski slope,
Ski Dubai
: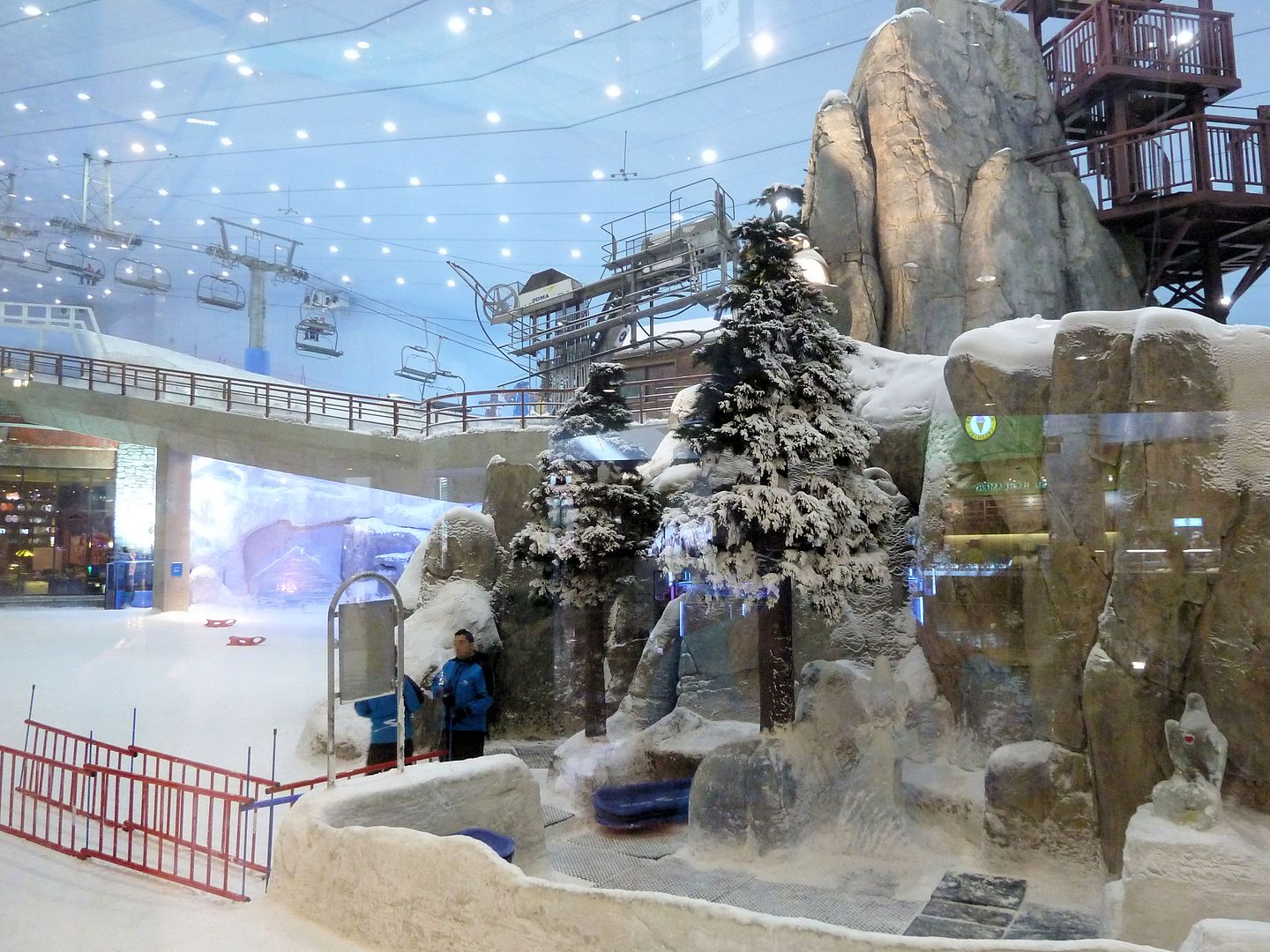 Whenever you have to wait the mall's taxi stand, you can have a look at fancy cars parked in front of the entrance. Here's a Lamborghini Murciélago: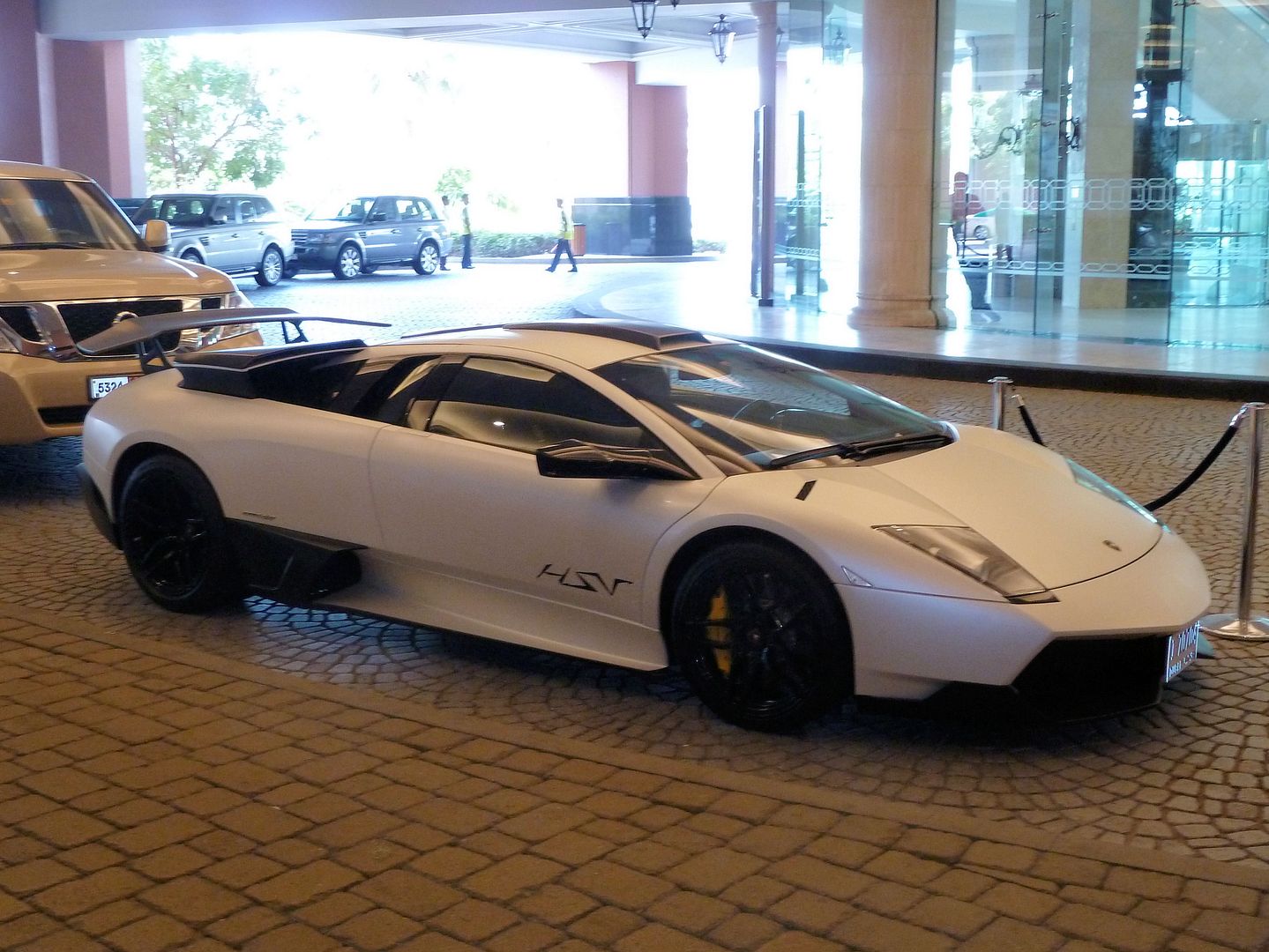 In the course of the afternoon I had exchanged a few messages with legendary trip reporter
ronerone
in order to arrange a meeting. He picked me up at the hotel after dinner and we went to a place where we could watch planes on final approach. It was dark already and I couldn't log any registrations, but that was a secondary issue. We had a nice chat about trips, a.net and aviation in general - time literally flew by. Some hours later
ronerone
drove me back to the hotel. It was a great meeting - many thanks again to you,
ronerone
!
On the next morning, after enjoying a great breakfast, we took a taxi to the tallest structure in the world,
Burj Khalifa
. I had bought observation deck tickets for the 11:00 slot and we still had plenty of time, so we first visited the attached
Dubai Mall
, the world's largest shopping mall based on total area. This is a part of the mall's forecourt:
This building is simply amazing:
Shortly before 11:00 we returned to the entrance of the visitor center. Many people were waiting there, but all those who hadn't bought tickets in advance had to realize that they wouldn't be able to go on top anytime soon. Regular tickets (AED100 = EUR20) were outsold for most time slots on the same day and the next day. I guess there weren't many people willing to pay AED400 for immediate access.
Illuminated model:
These figures speak for themselves: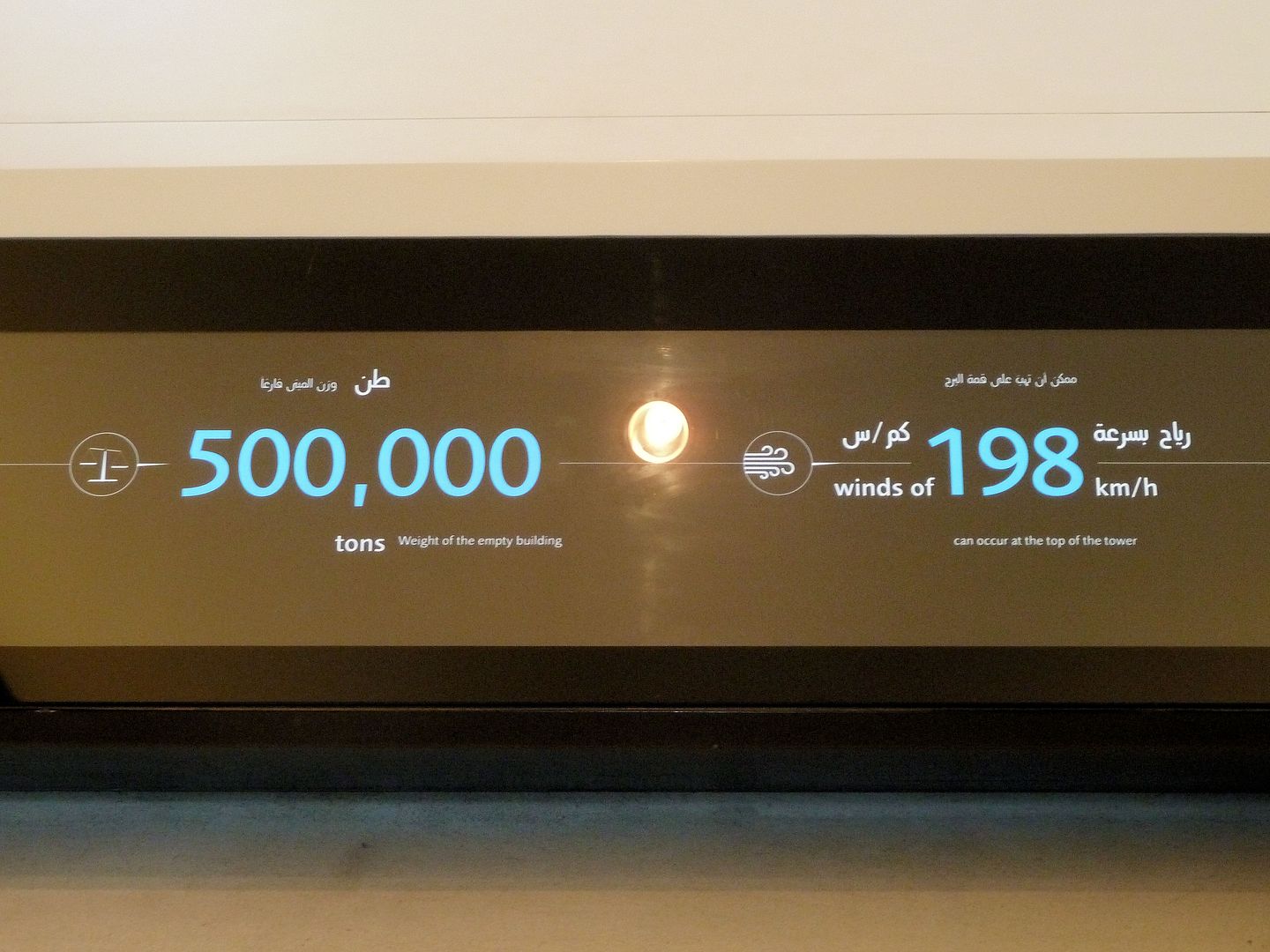 On the way to the high-speed elevator, I noticed this saying:
I had already wanted to visit the observation deck during a short stay in February 2010, but it had been closed due to an elevator malfunction. This time everything worked fine, the elevator with the world's longest travel distance from lowest to highest stop shot us up at an incredible speed of 10 m/sec.
Welcome to
At the Top
, the world's highest outdoor observation deck, located on the 124th floor at 452 m: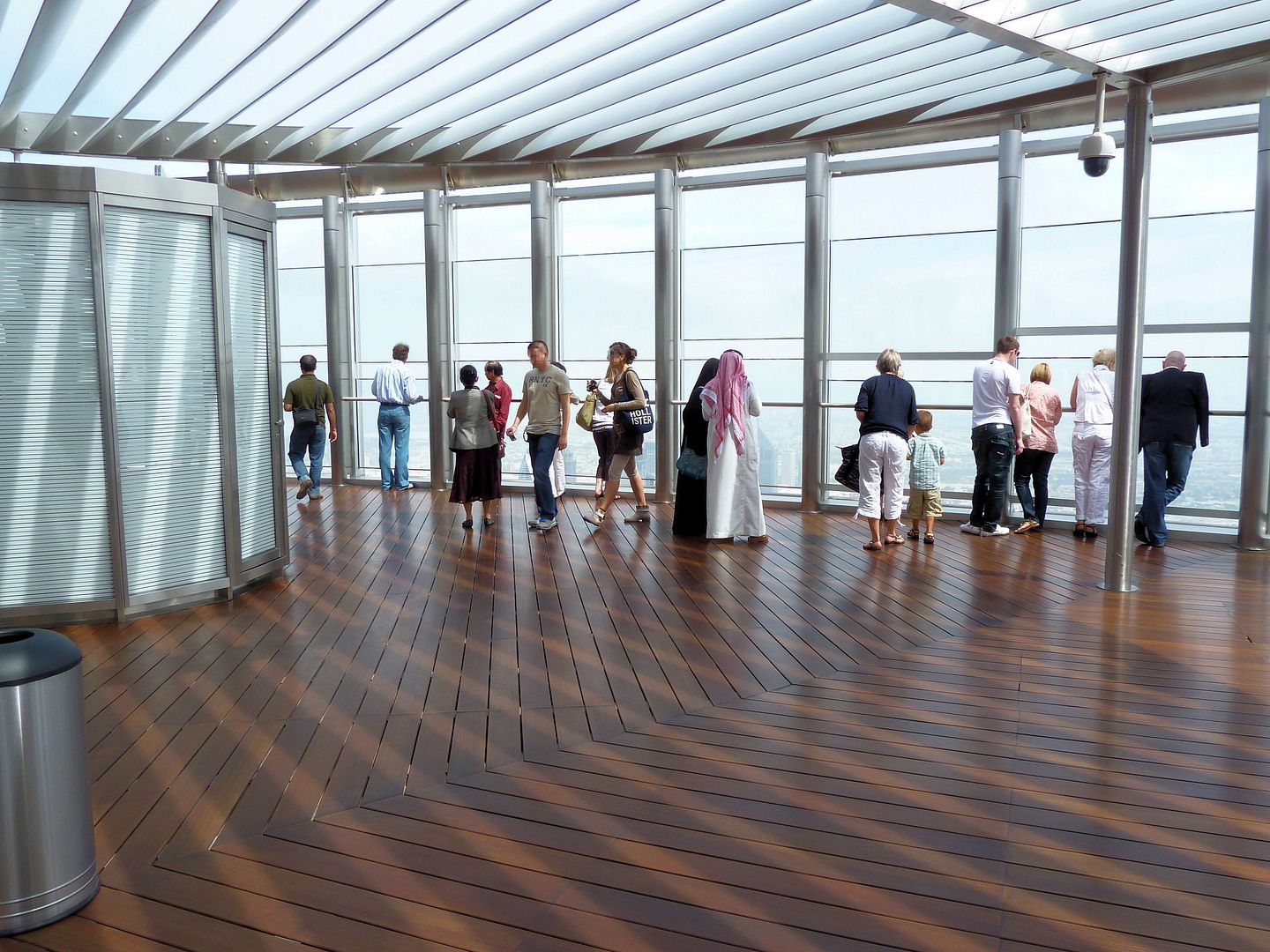 The views were breathtaking:
Dubai Mall
:
The Address Downtown Dubai
:
Countless buildings under construction: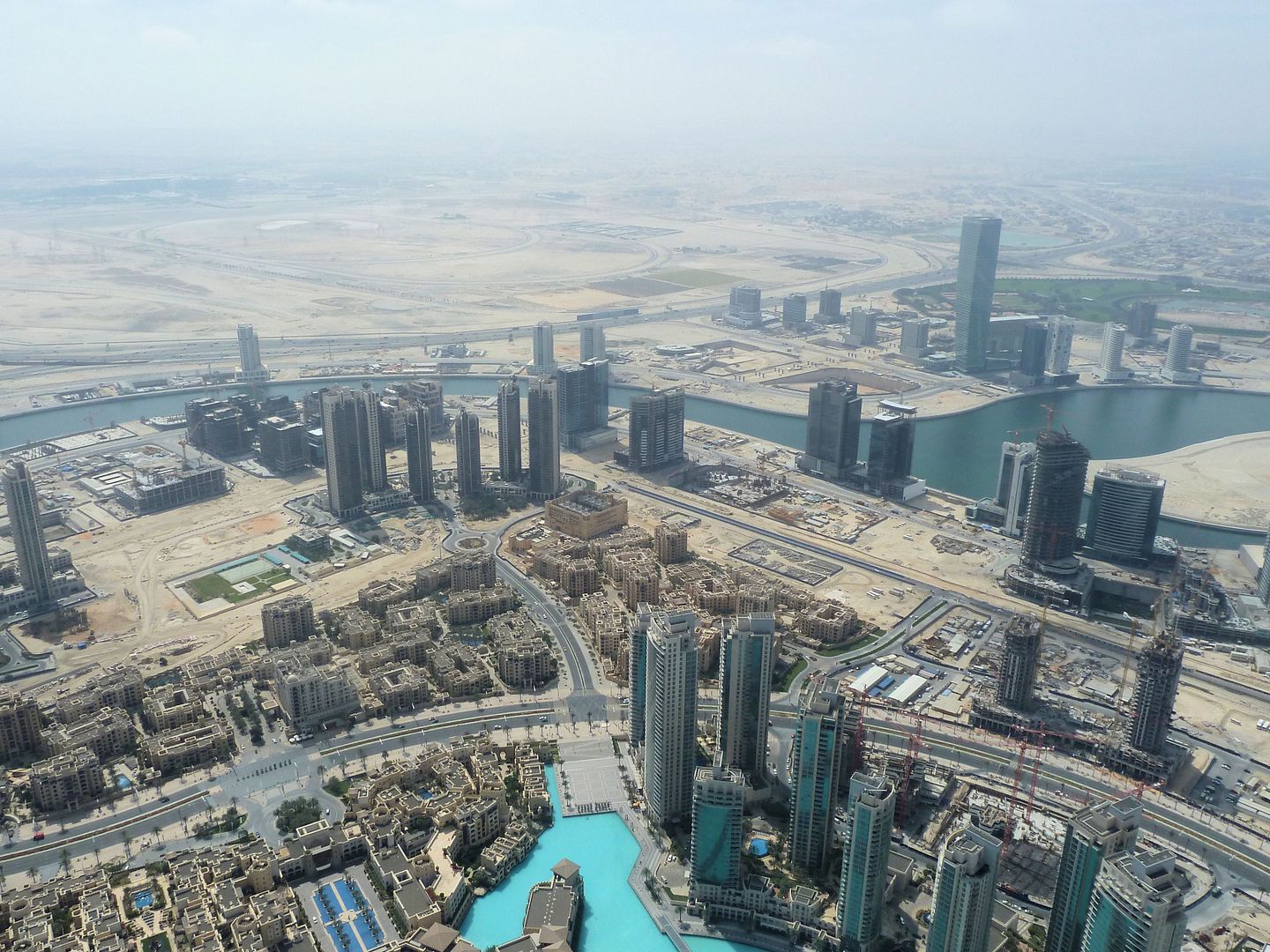 Skyscrapers along Sheikh Zayed Road: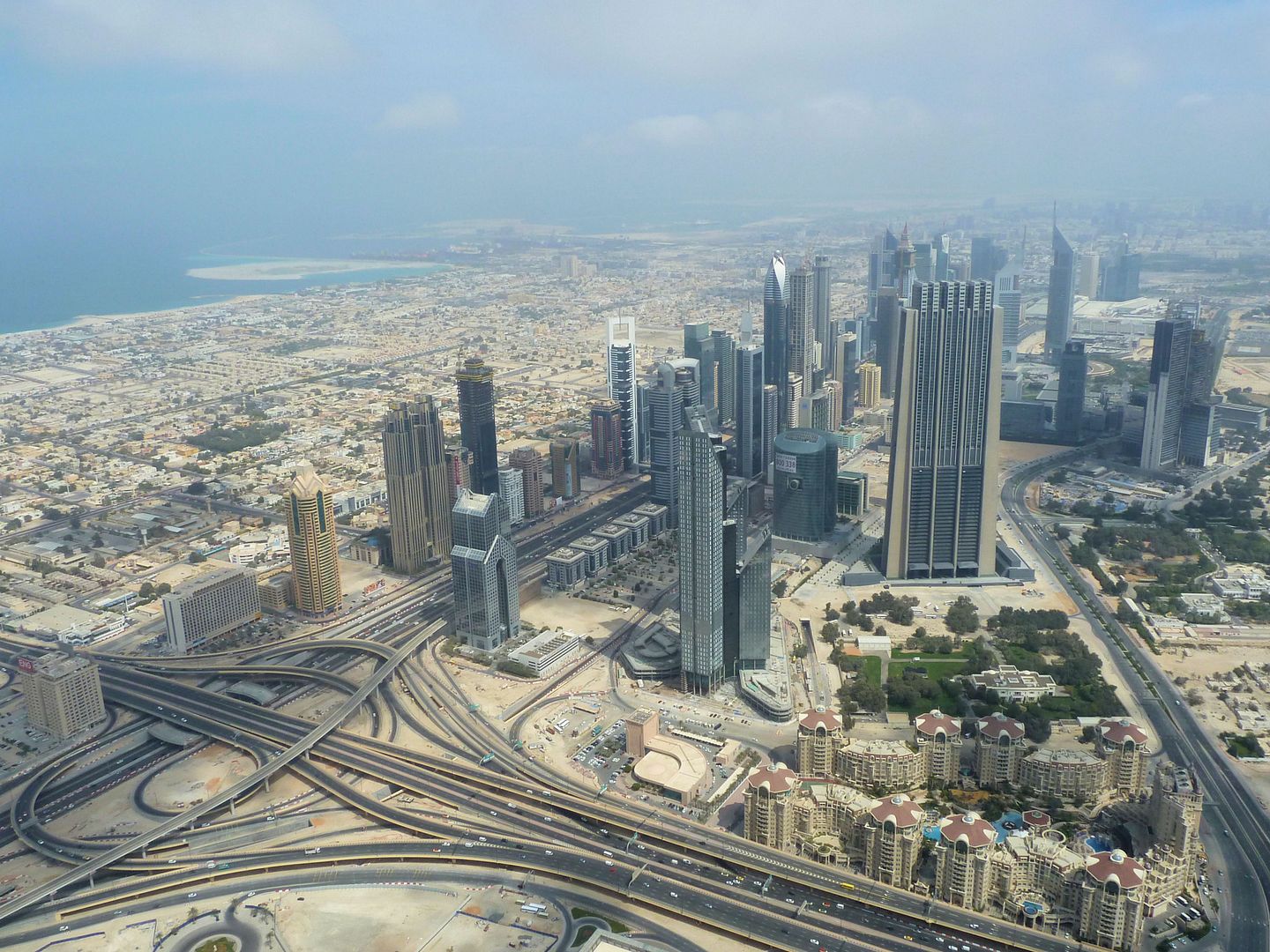 The
Rose Rayhaan by Rotana
aka
Rose Tower
stands out: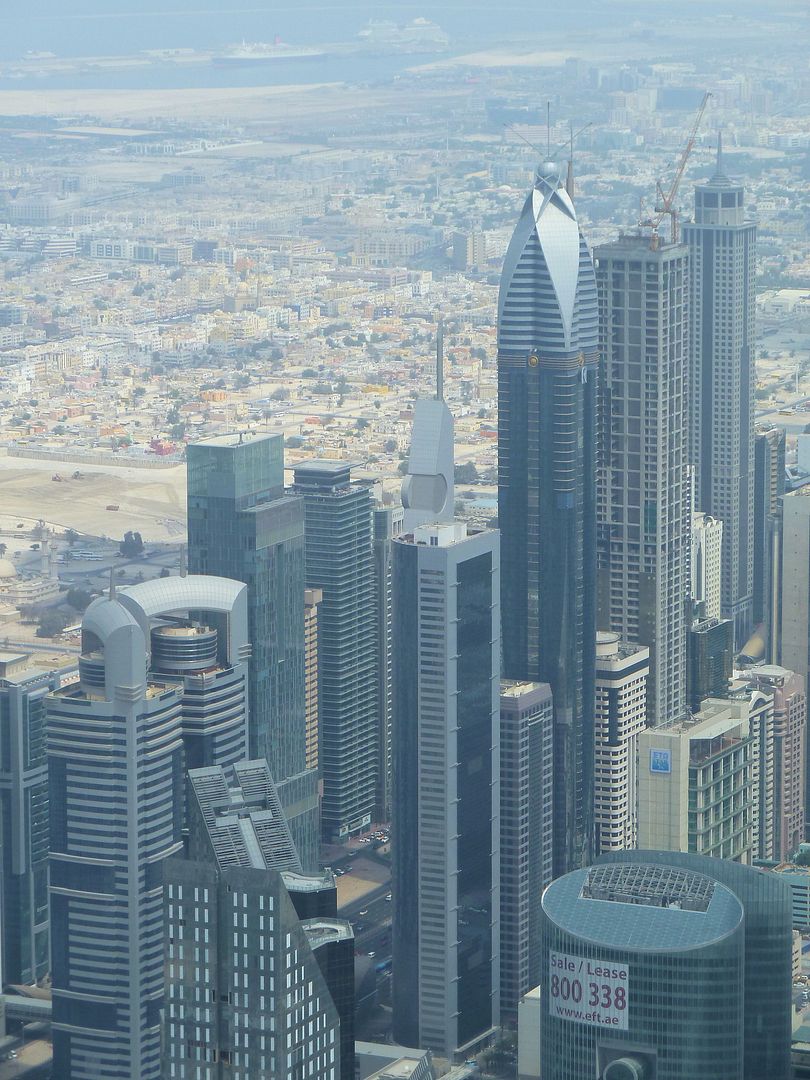 Btw, slightly to the left of the center you can see the
Four Points by Sheraton
with its roof top bar area - that's a nice place to go at night.
Emirates Towers
and
Dubai World Trade Centre
in the middle: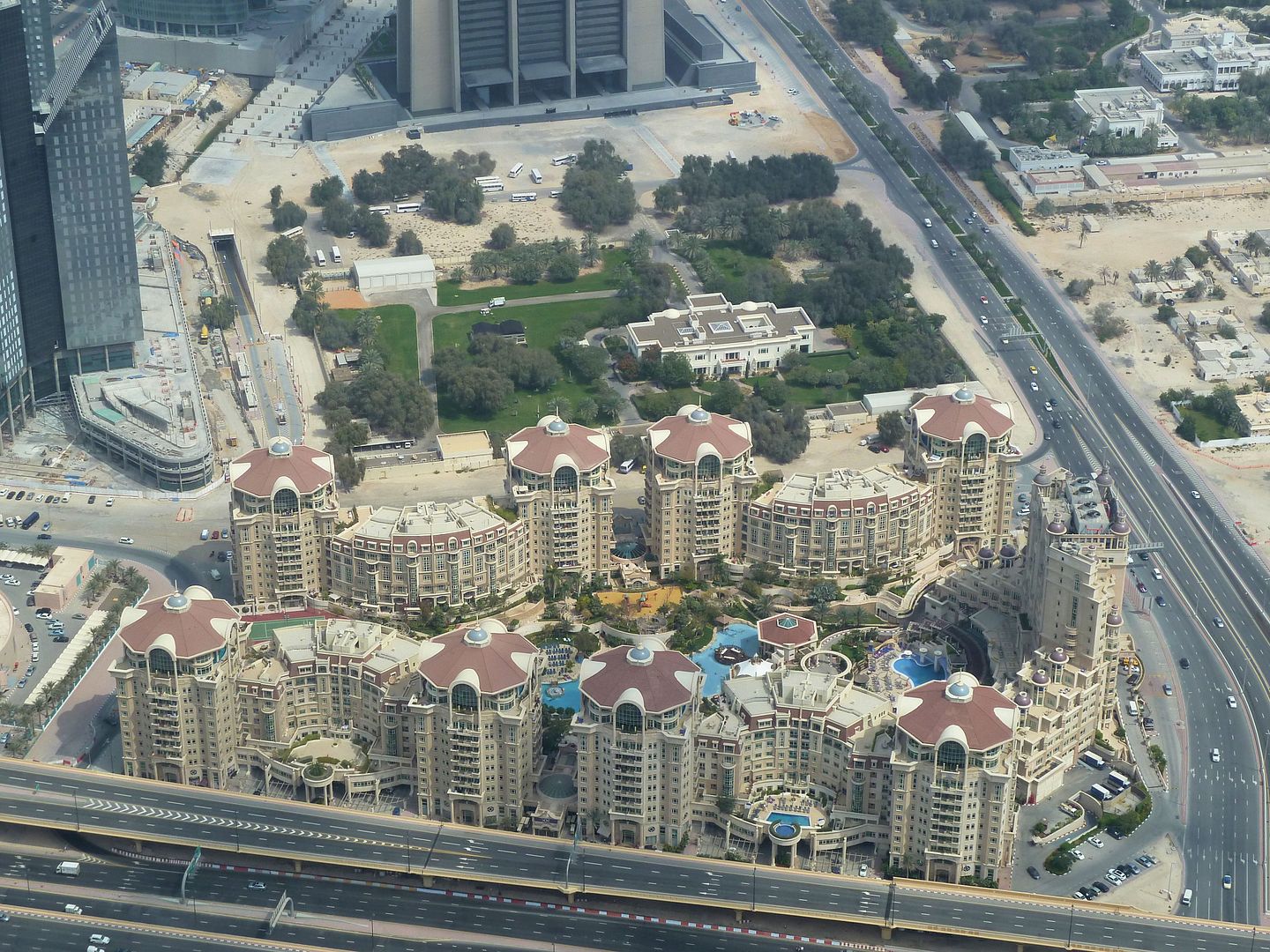 Burj Khalifa Metro Station
to the right: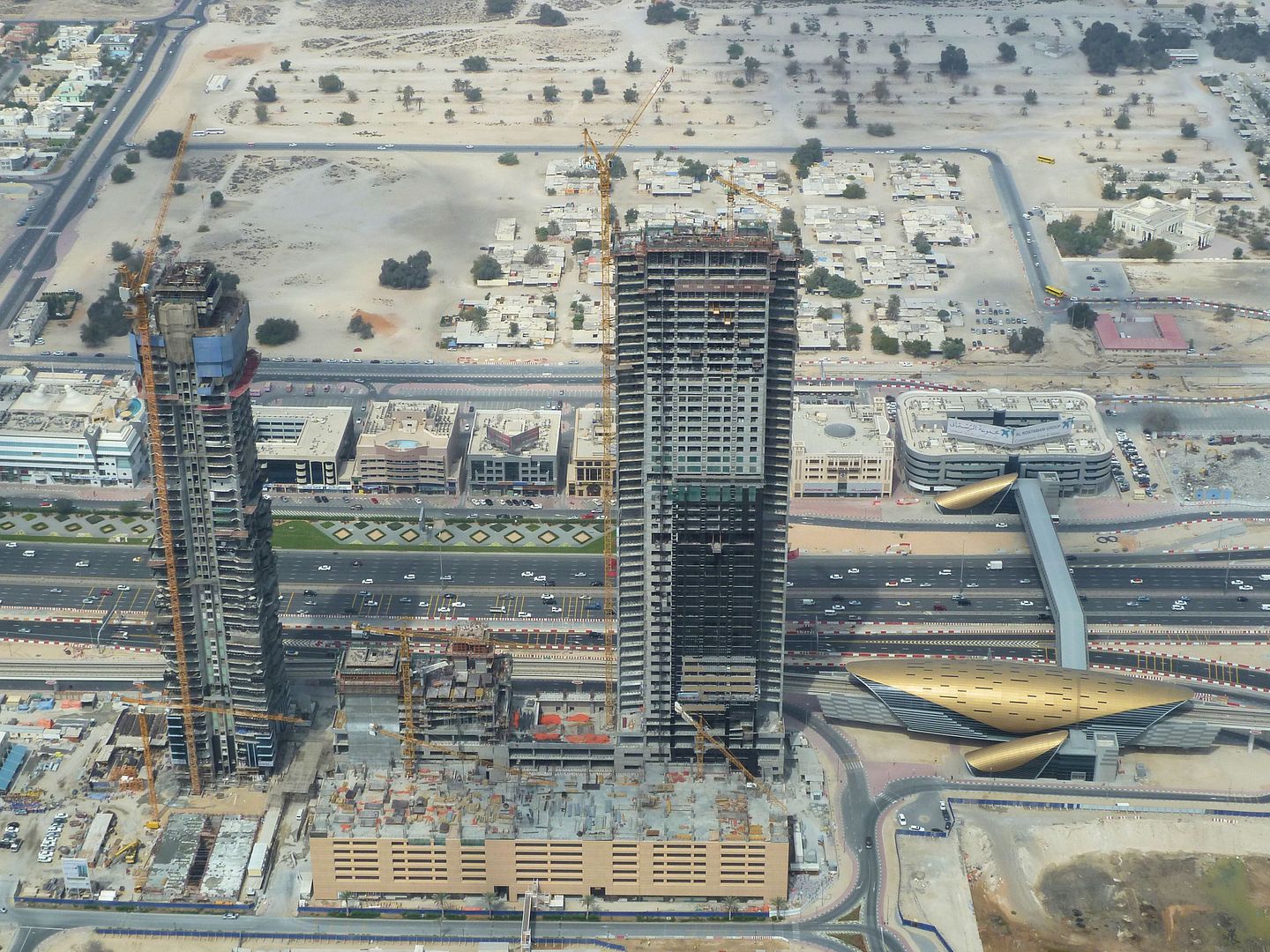 It was too hazy to see the
Burj Al Arab
, but at least we could have a look at
The World
:
After walking around a few times, we went down again and passed this wall: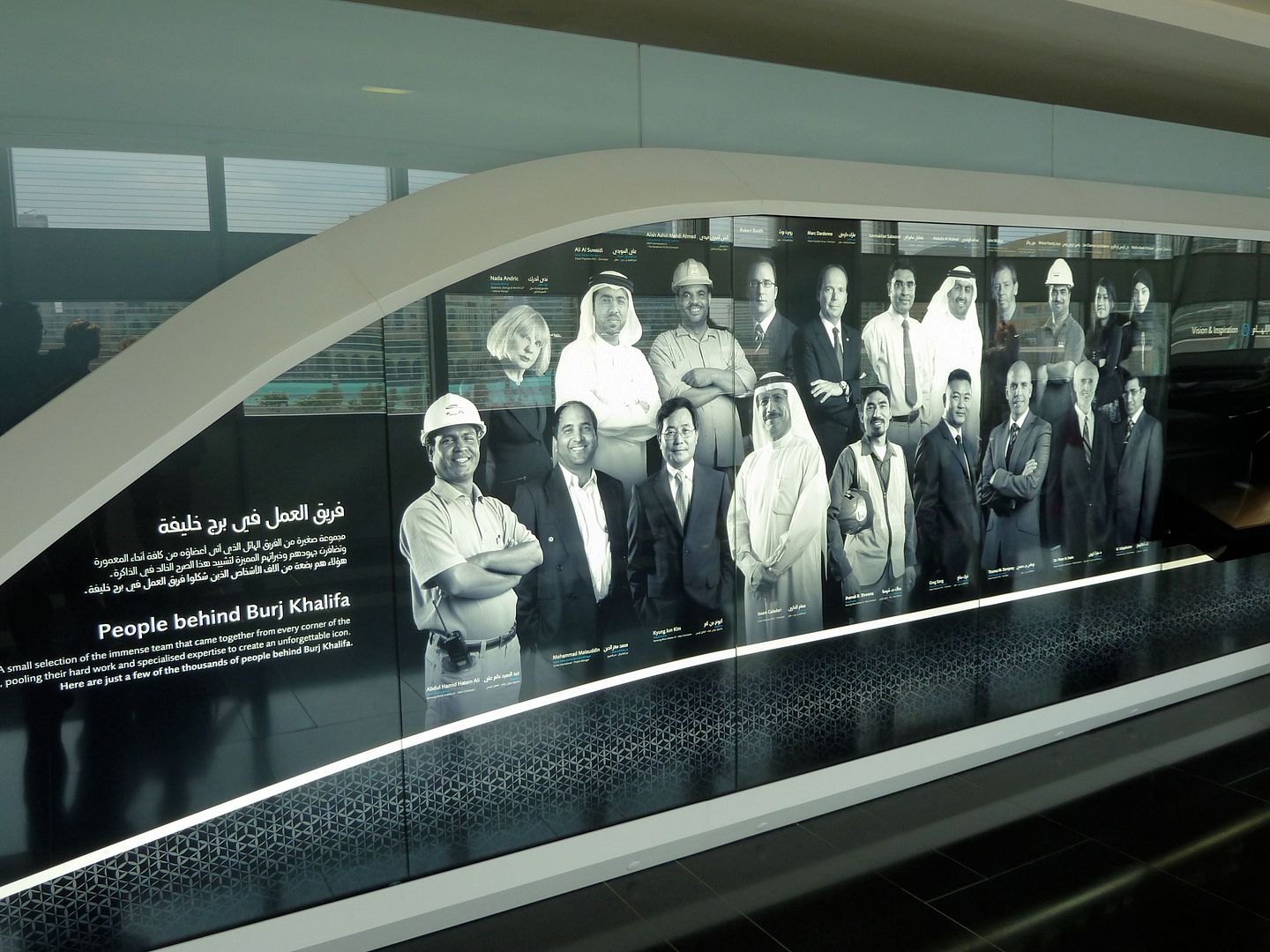 That's what we saw when we stepped outside - job application, anyone?
It looks unreal, doesn't it?
My girlfriend and I had already made a classic city tour some years ago, but we booked another one this time so that her aunt could also see Dubai's most important sights, e.g.
Jumeirah Mosque
...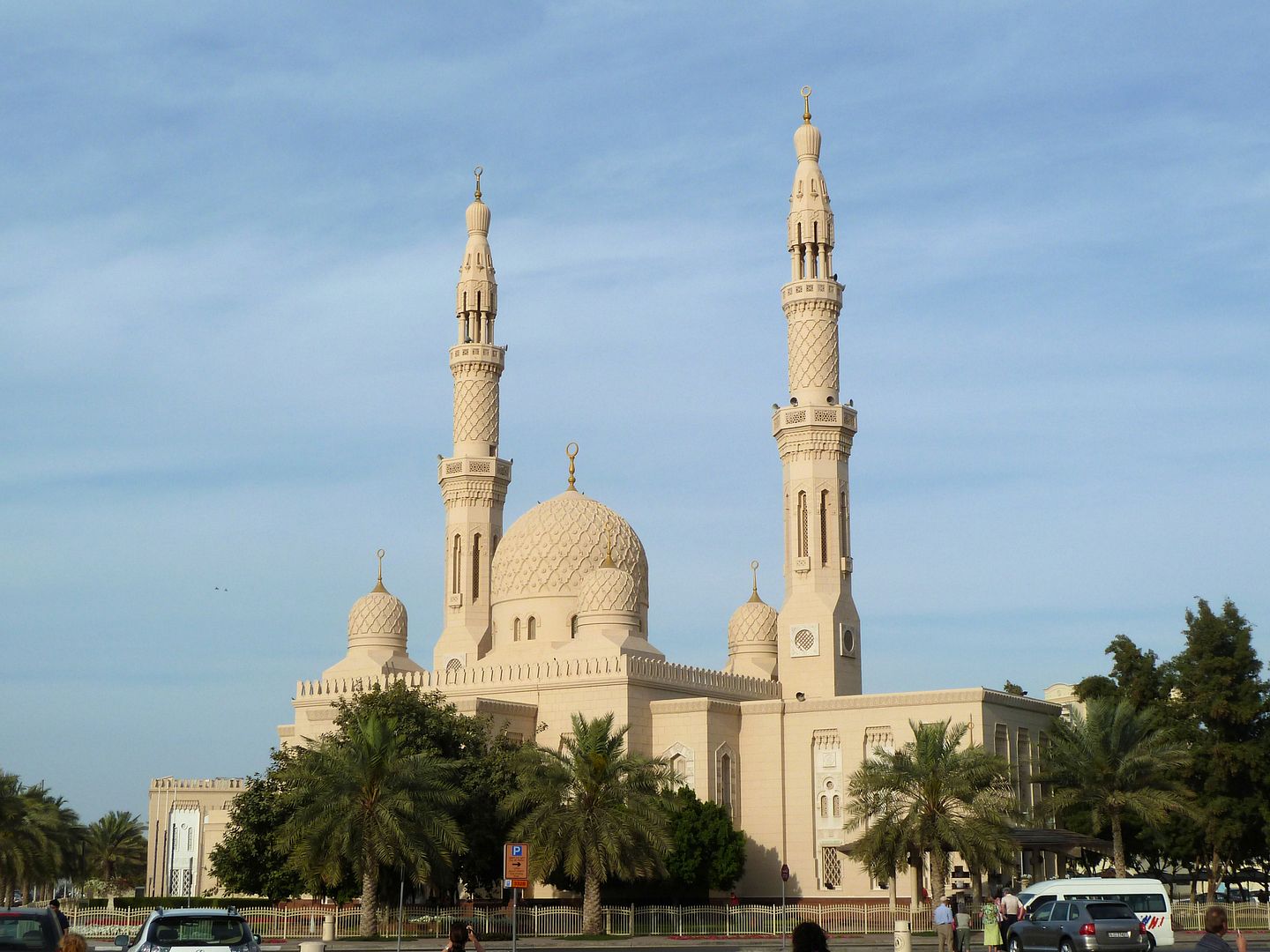 ...Dubai's old downtown in
Deira
...
...and the
Al Fahidi Fort
with
Dubai Museum
: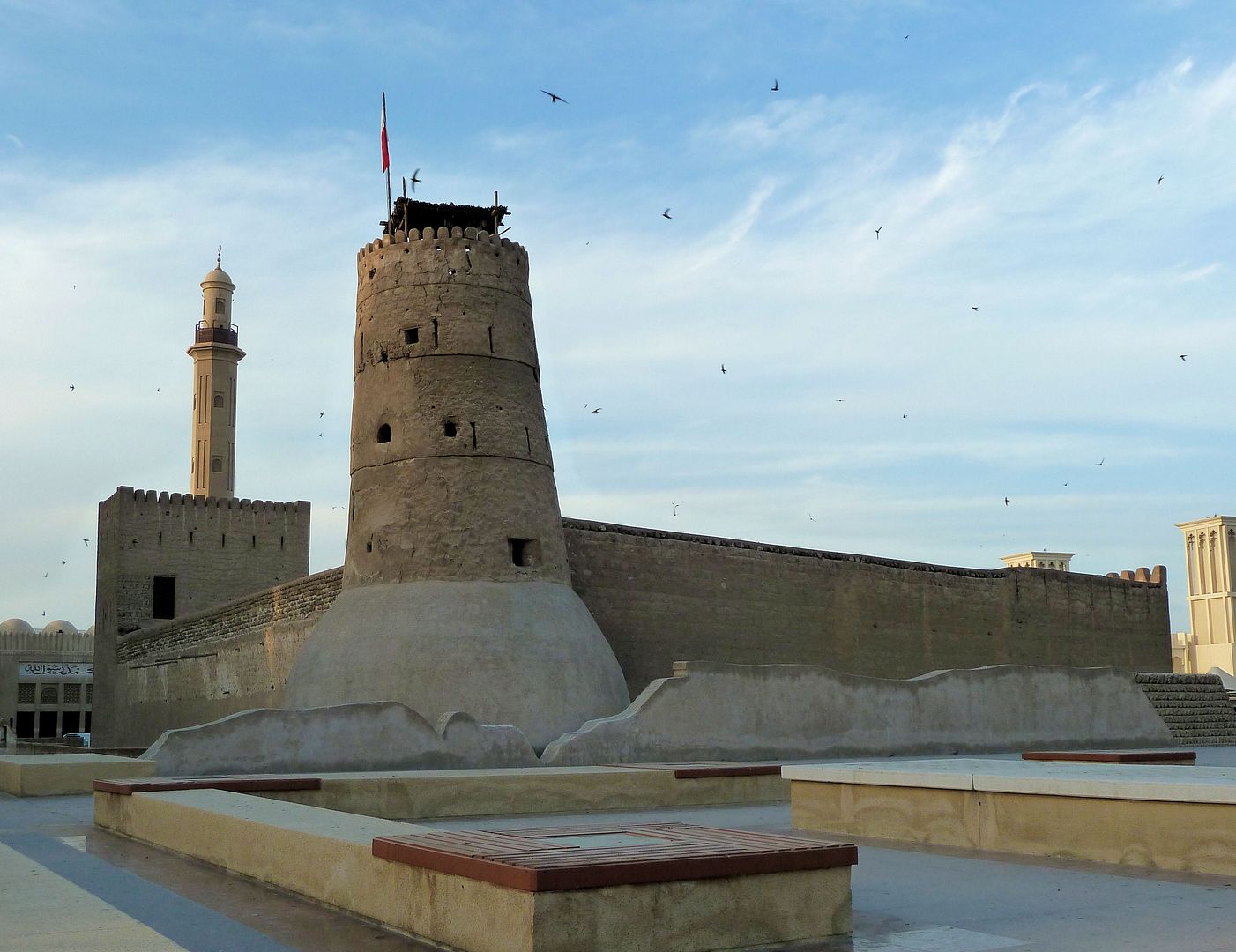 Of course we crossed the
Dubai Creek
on a water taxi:
The
Deira Twin Towers
aka
Rolex Towers
in beautiful evening light: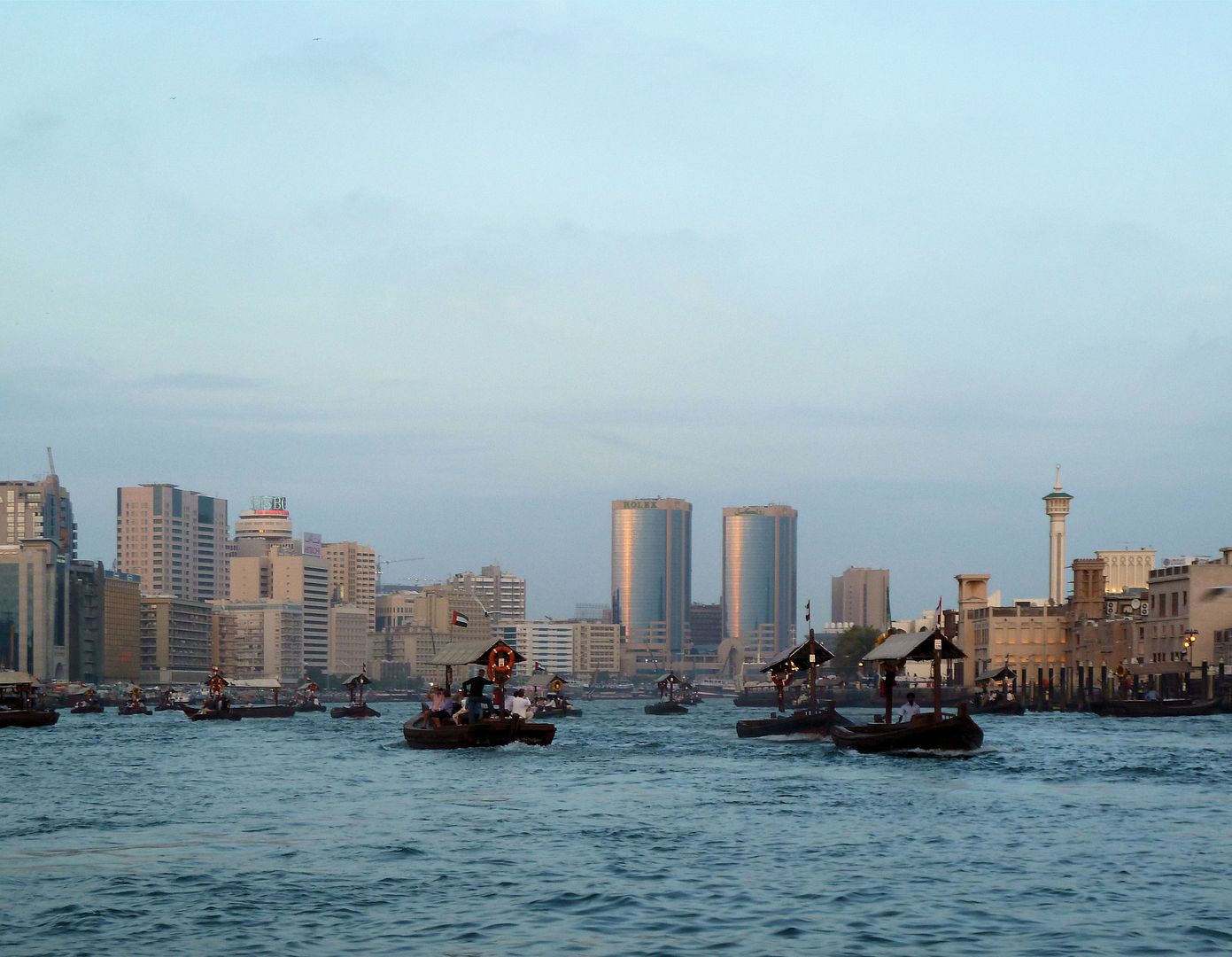 After doing some shopping at the
Bur Dubai Souk
, we returned to our hotel, had a great dinner at a Persian restaurant and finally took a taxi to the
Jumeirah Beach Hotel
where we enjoyed some delicious drinks at the legendary
Uptown Bar
- stunning views included:
The
Burj Al Arab
celebrated
St. Patrick's Day
, joining the global green lighting phenomenon of city monuments: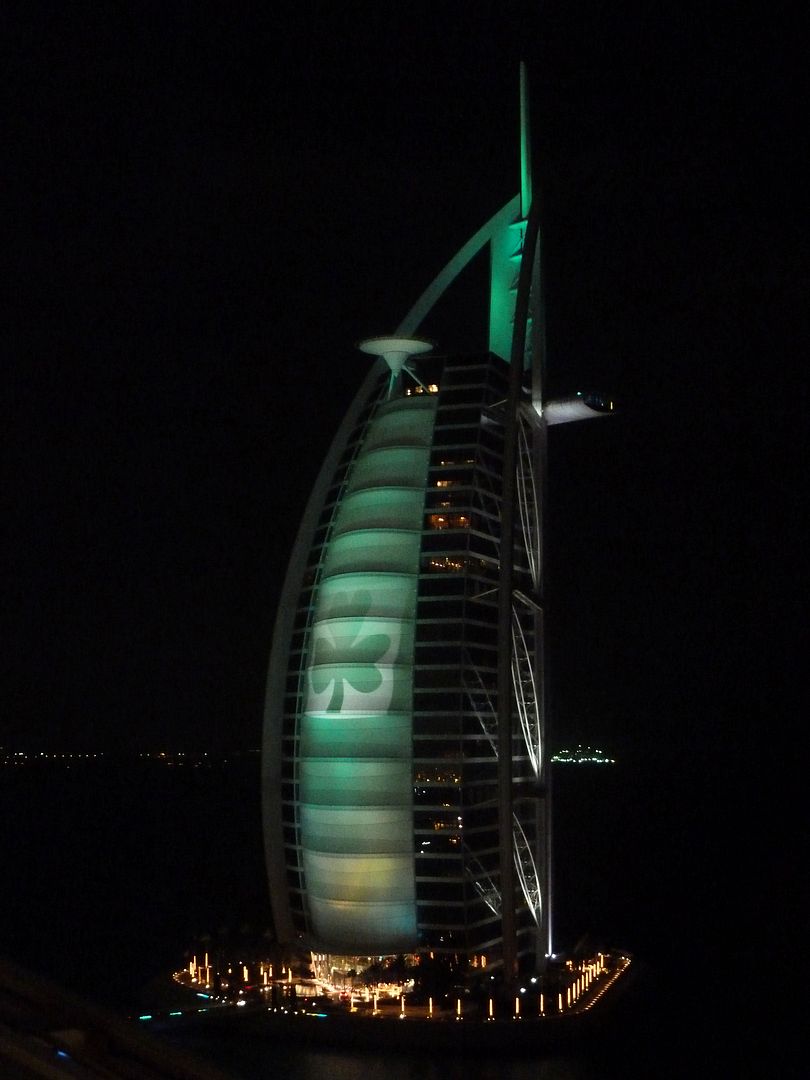 Ras Al Khaimah
On the next day it was time to say goodbye to Dubai and we took a taxi to Ras Al Khaimah where we arrived after a 60 minute drive. The
Hilton Ras Al Khaimah Resort & Spa
came up to our expectations - it's a fantastic hotel with friendly staff and great buffets.
Very elegant lobby: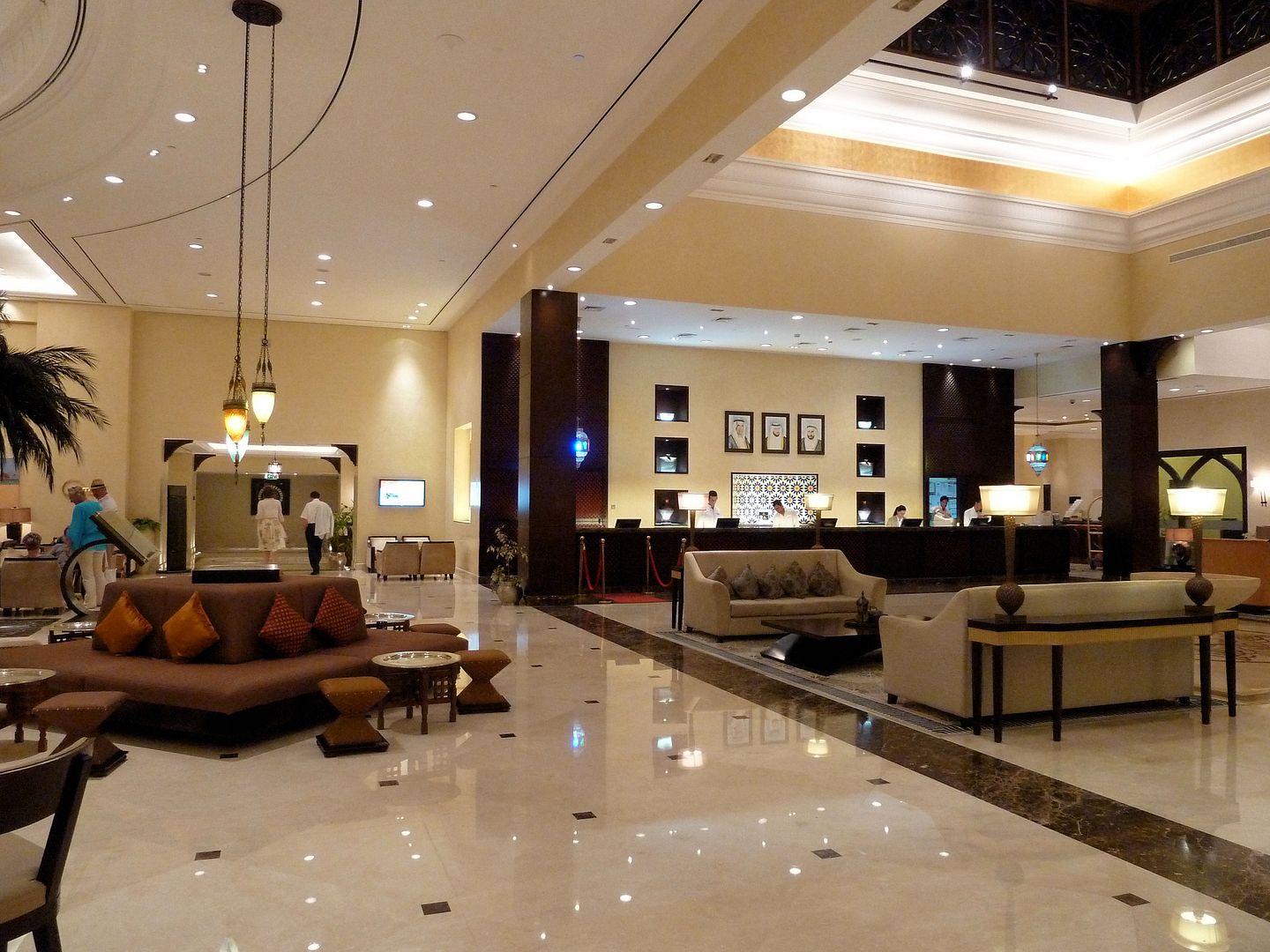 That's the way to the integrated duty free shop where you can buy all kinds of stuff at attractive prices (including beer from various countries):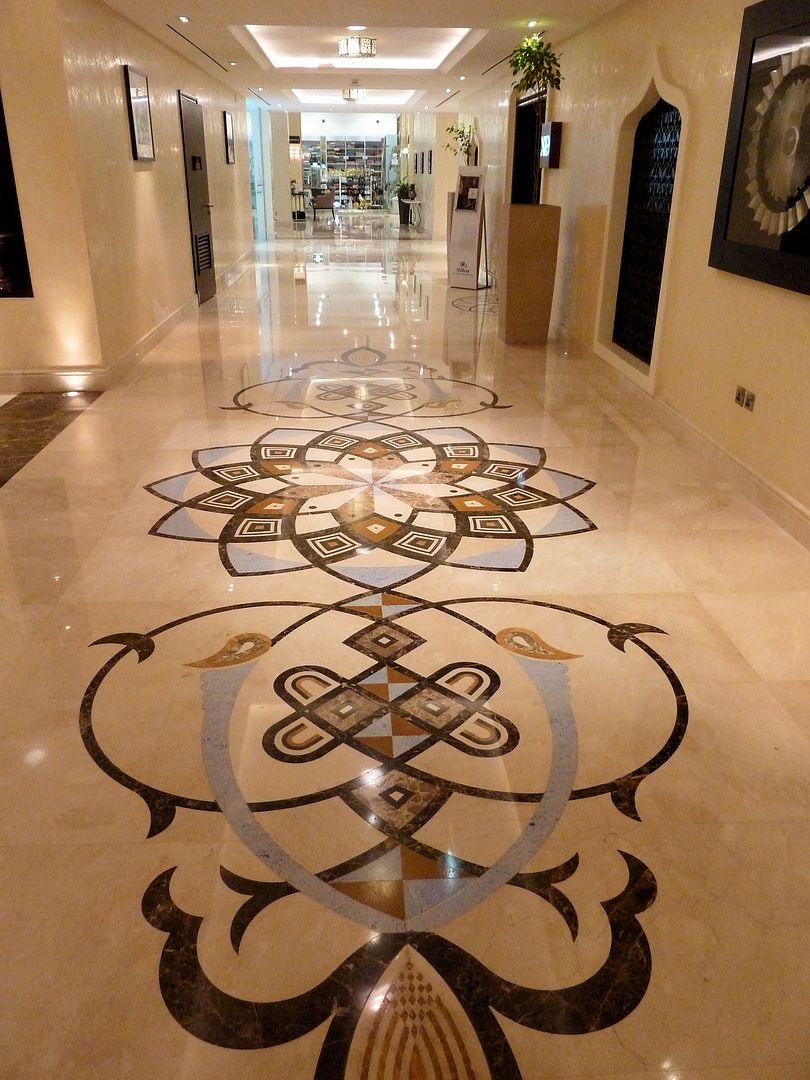 Our awesome deluxe room was equipped with all kinds of amenities: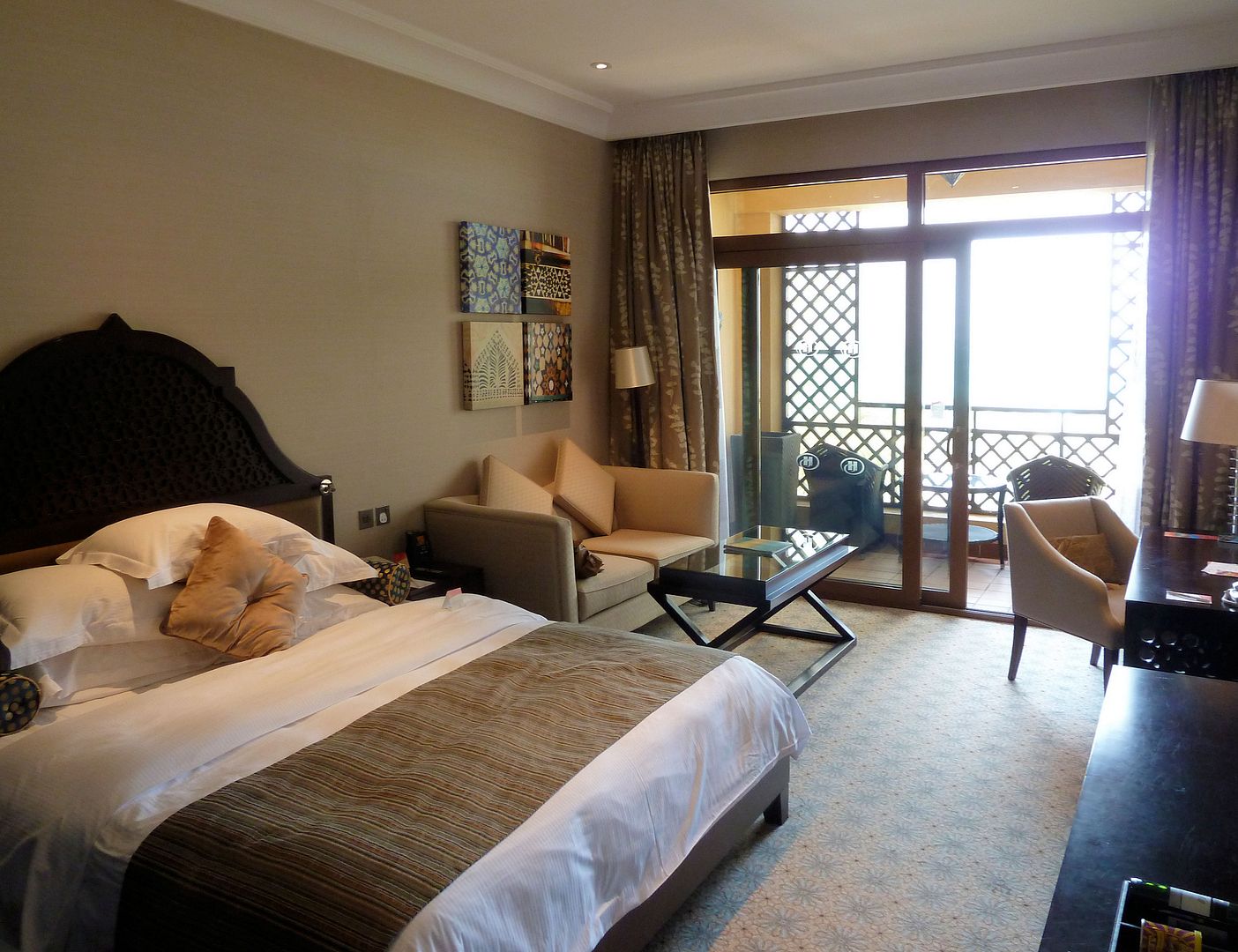 View from our balcony: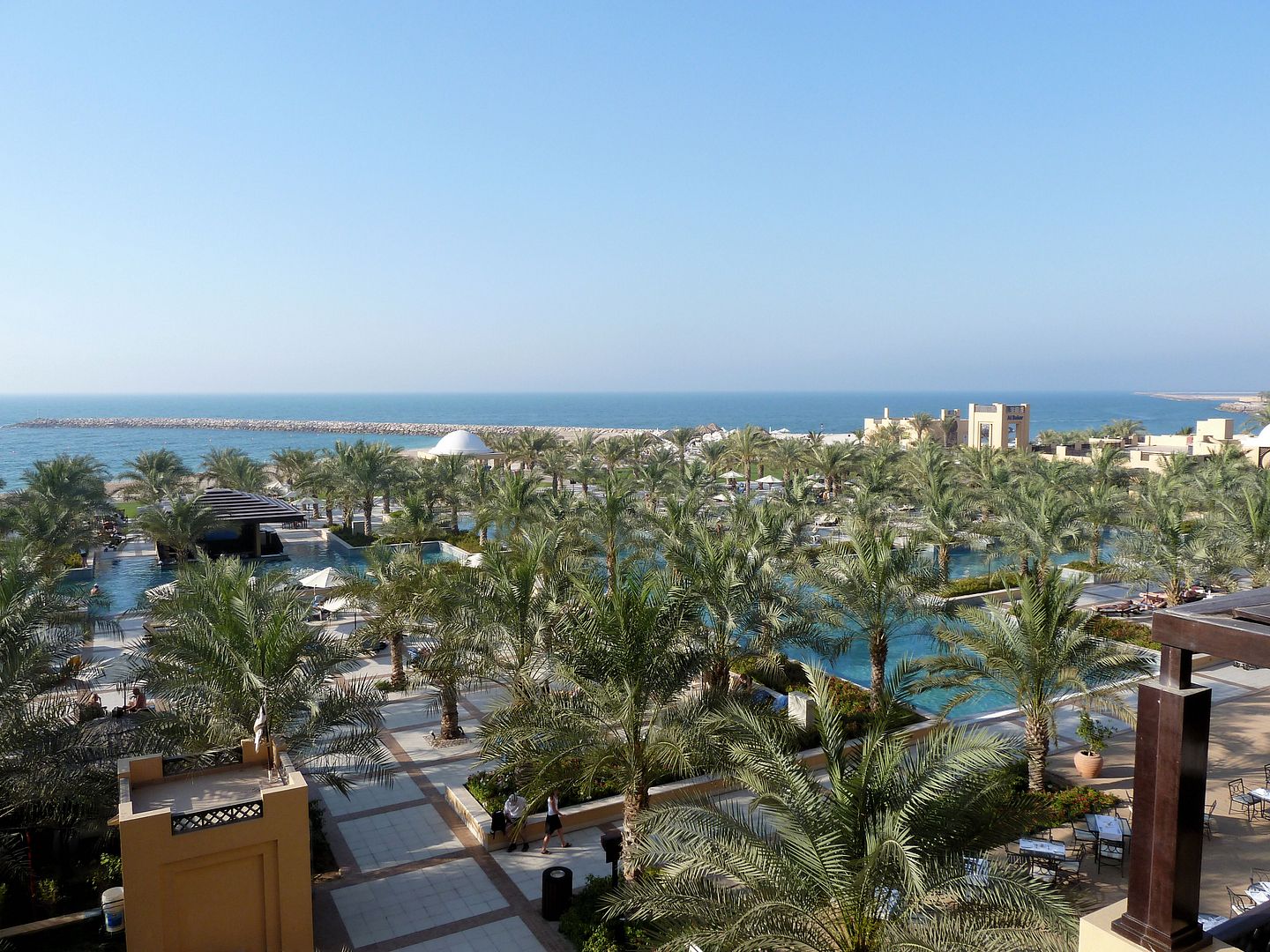 Pool bar in one of the six outdoor pools:
The whole complex was very nice and well kept:
White sandy beach and clear water - perfect!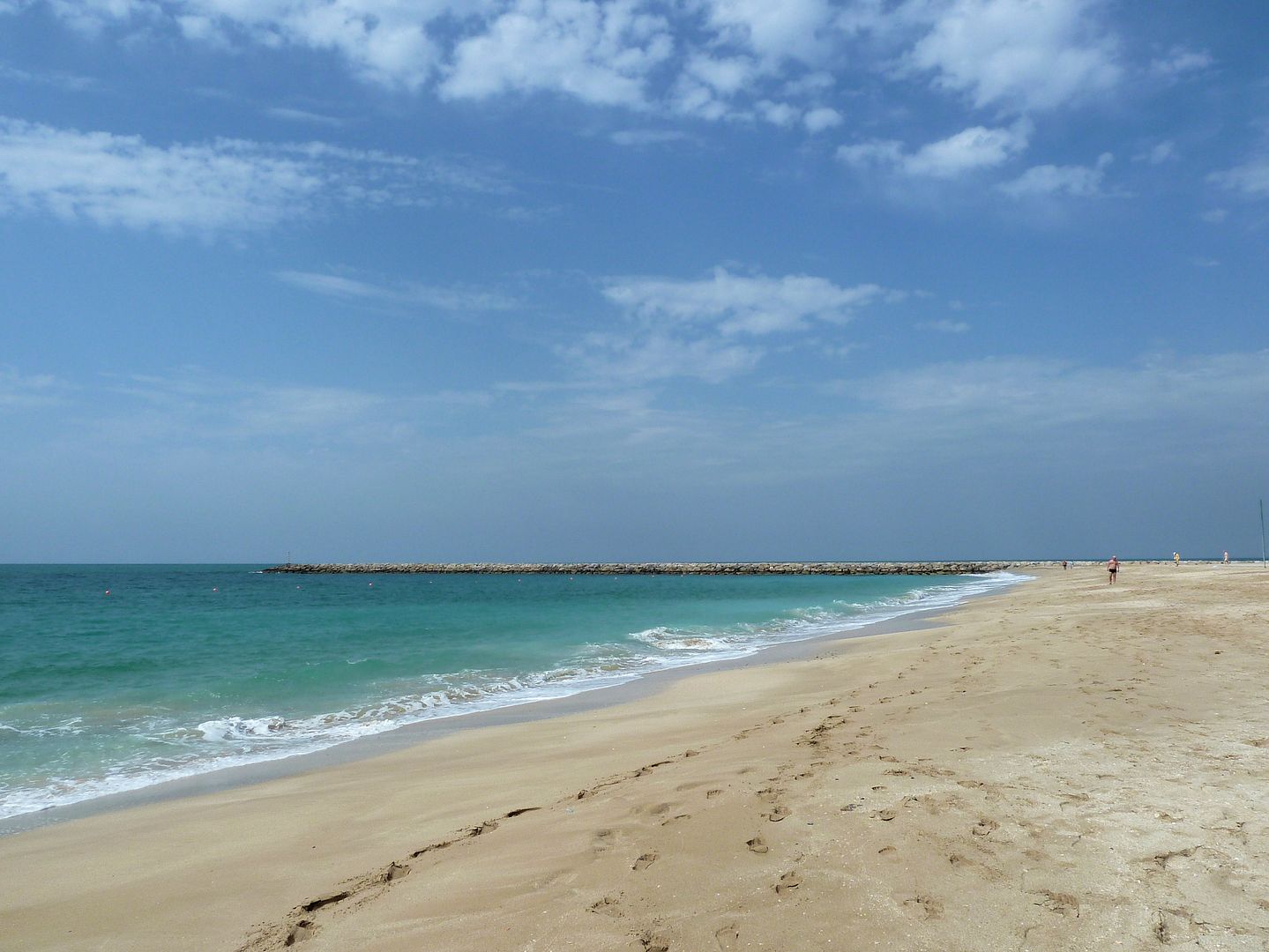 The hotel's main building, seen from the beach: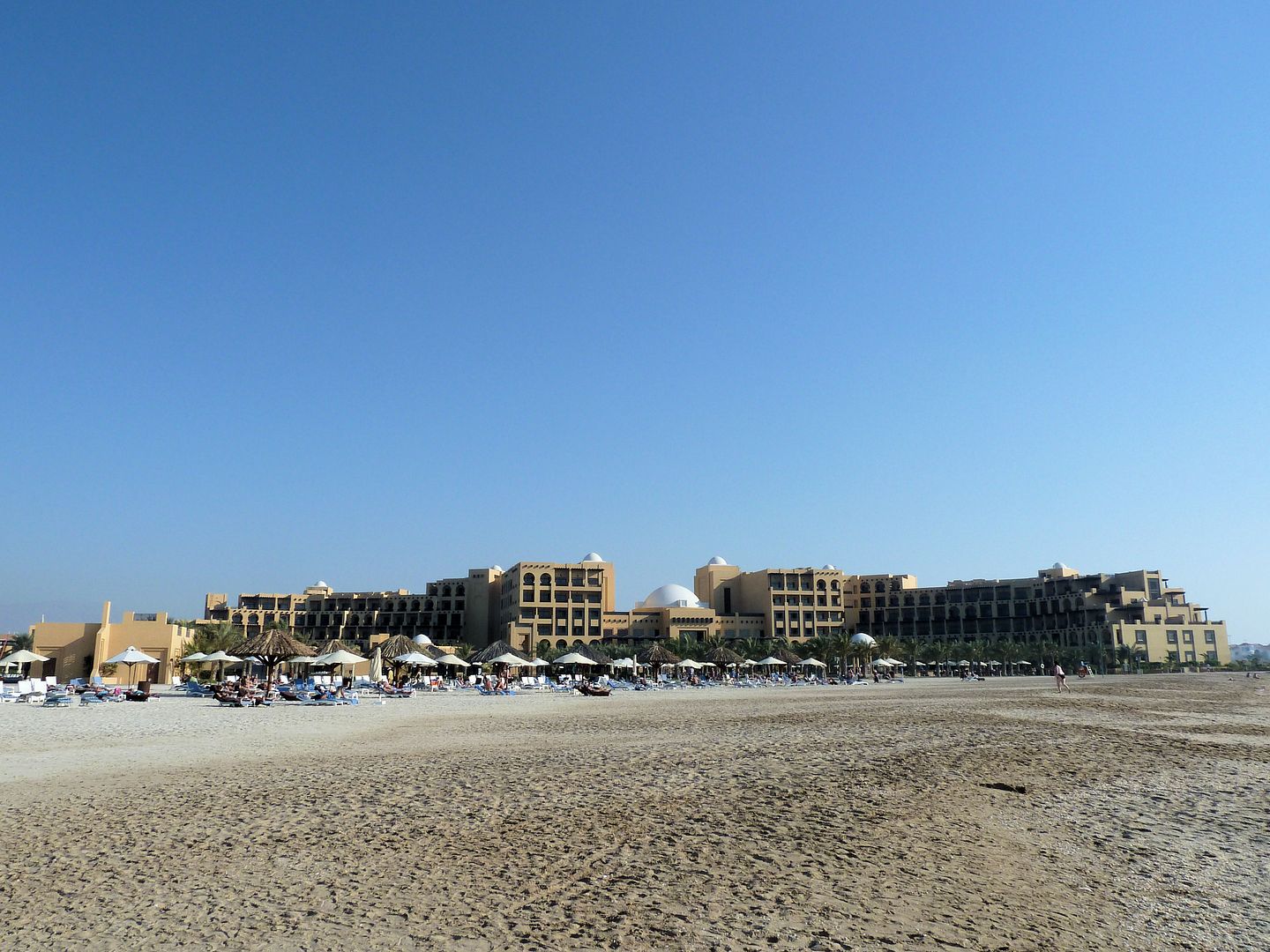 And here's another part of the huge complex: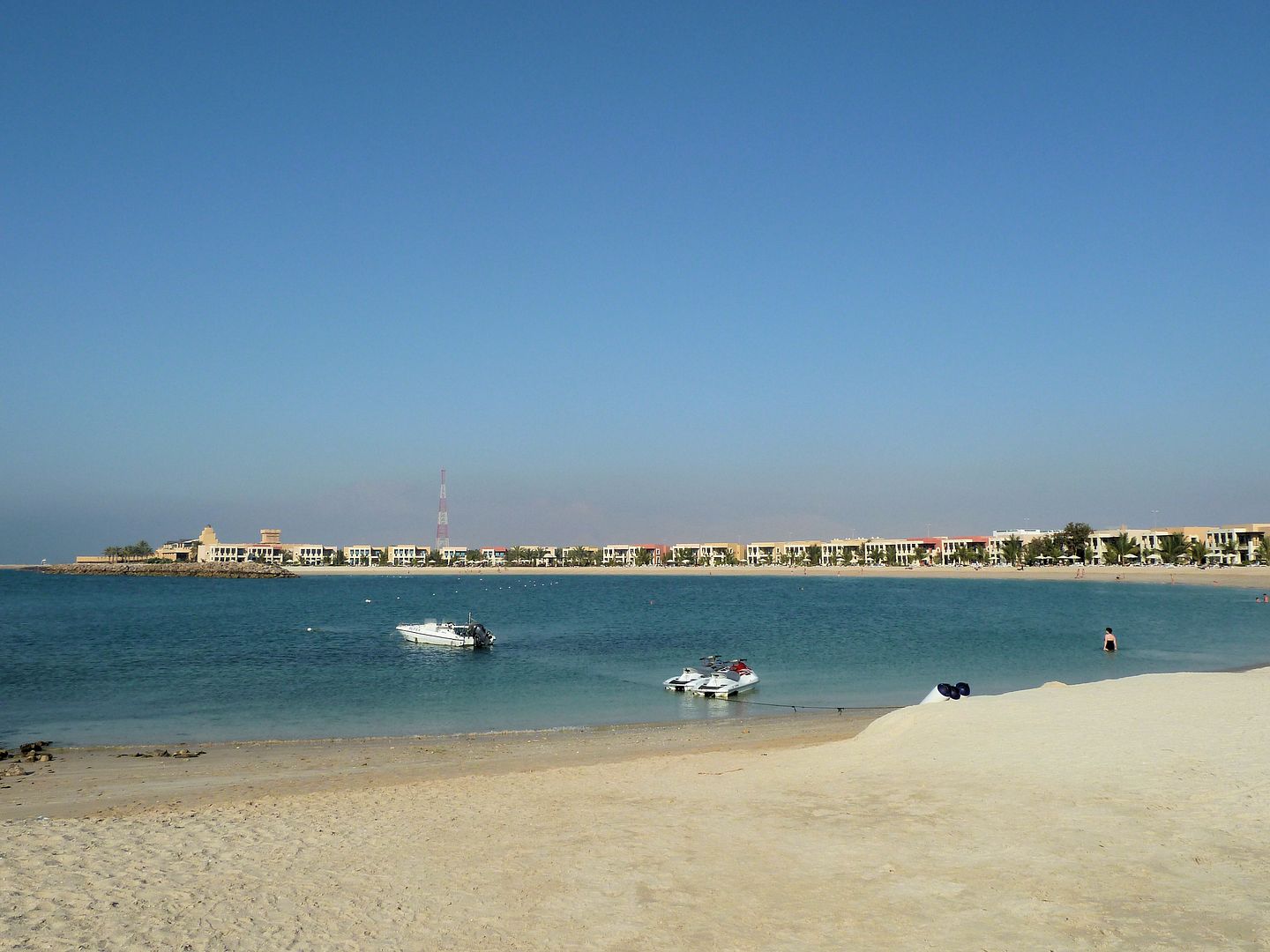 A look beyond the hotel property:
The buildings, all pools and even palms are nicely illuminated at night: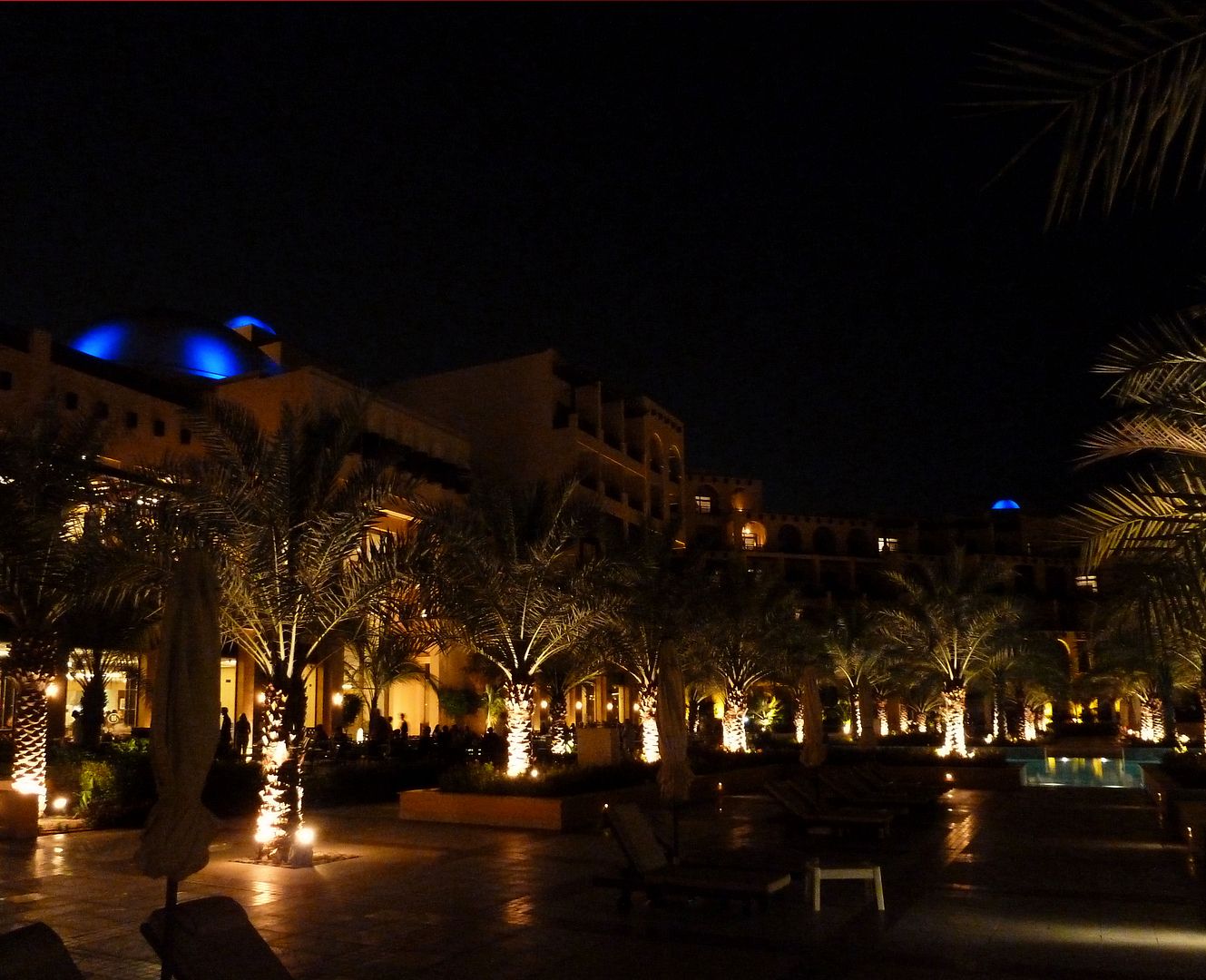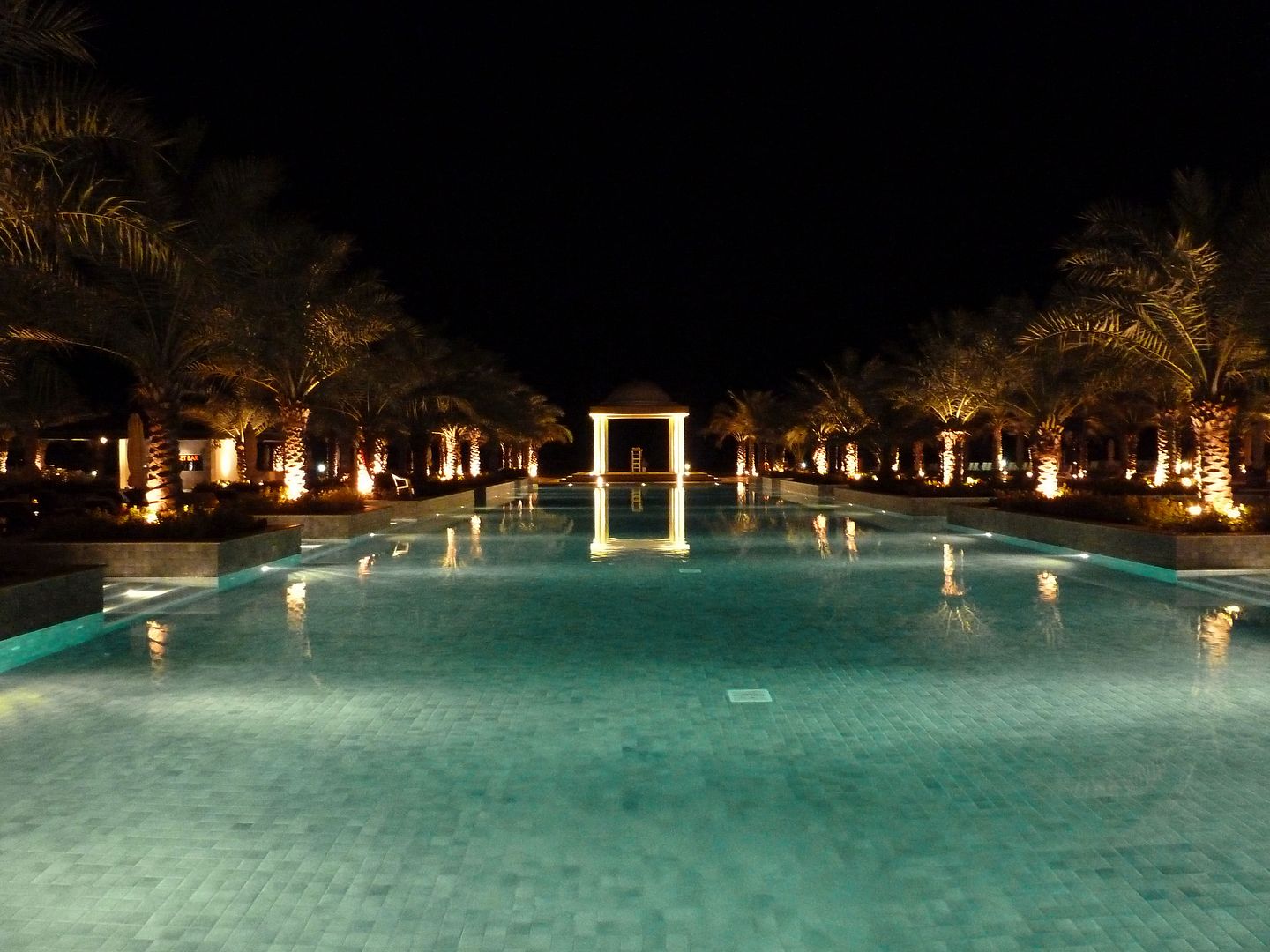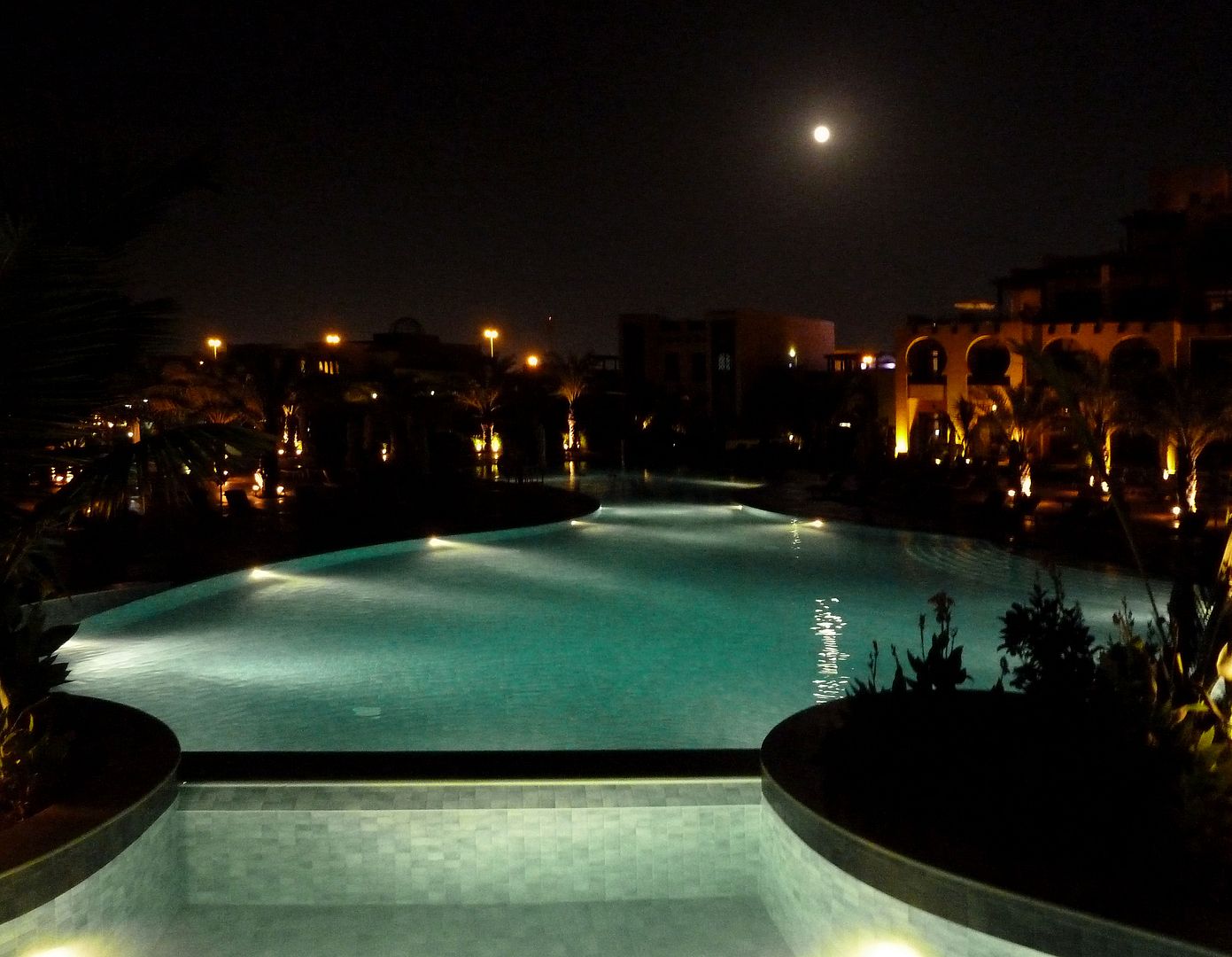 During our stay at Ras Al Khaimah we booked a desert safari tour. We had already highly enjoyed such a tour a few years ago and it was about time for another one. Before we entered the desert, our driver reduced the tire pressure at the tour meeting point. This is done to gain more traction by increasing the footprint of the tire: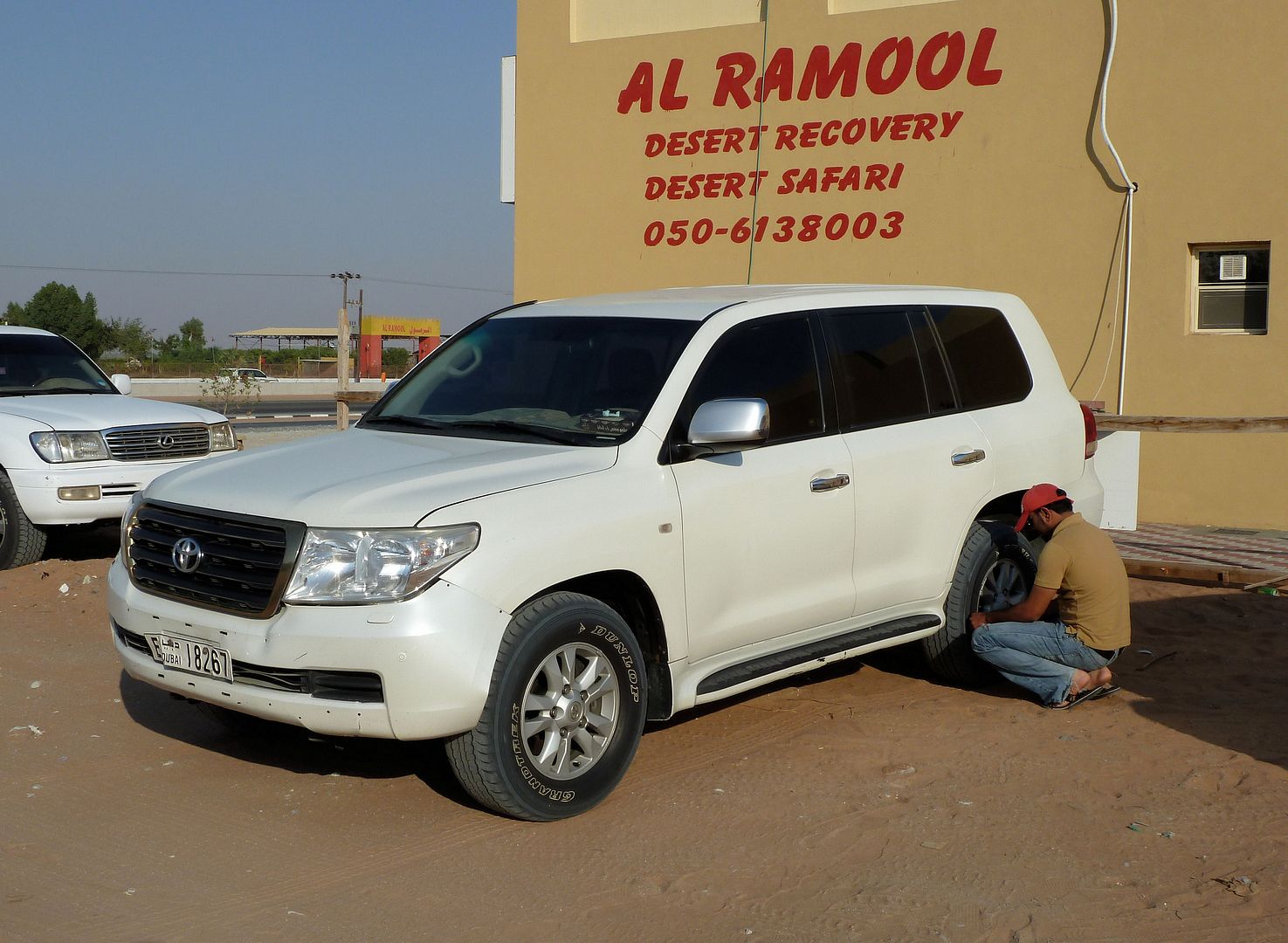 In the meantime, we had a look at a baby camel and other animals at the meeting point:
Finally, it was time for dune bashing:
The ride was awesome, we enjoyed a much more aggressive driving style than a few years ago!
We also made a stop in the middle of nowhere and met some nice camels: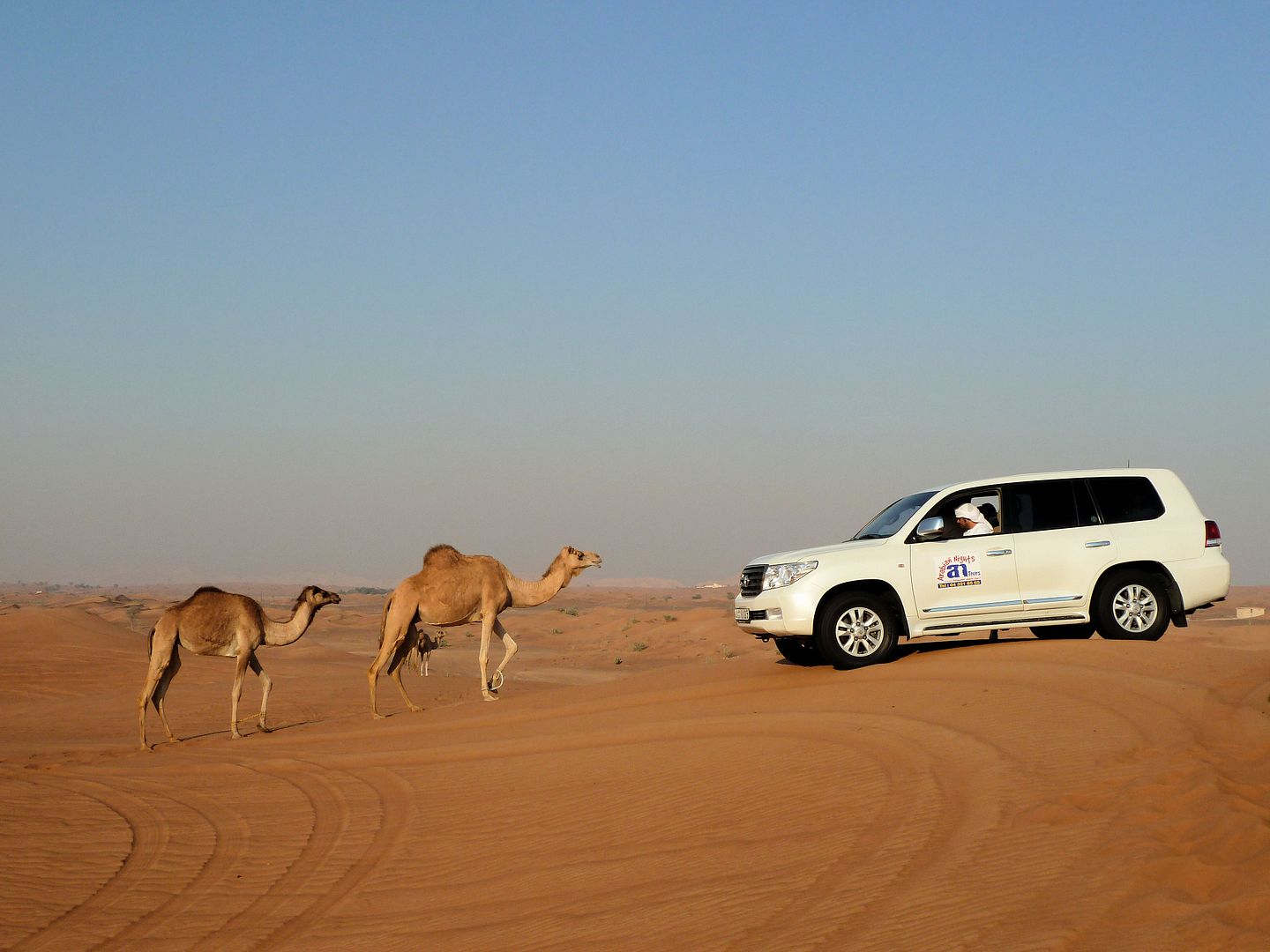 The tour also included a barbeque and a belly dancer and derwish show in a desert camp.
After five relaxing days at the outstanding
Hilton Ras Al Khaimah Resort & Spa
, it was time to say goodbye. Sunrise on departure day: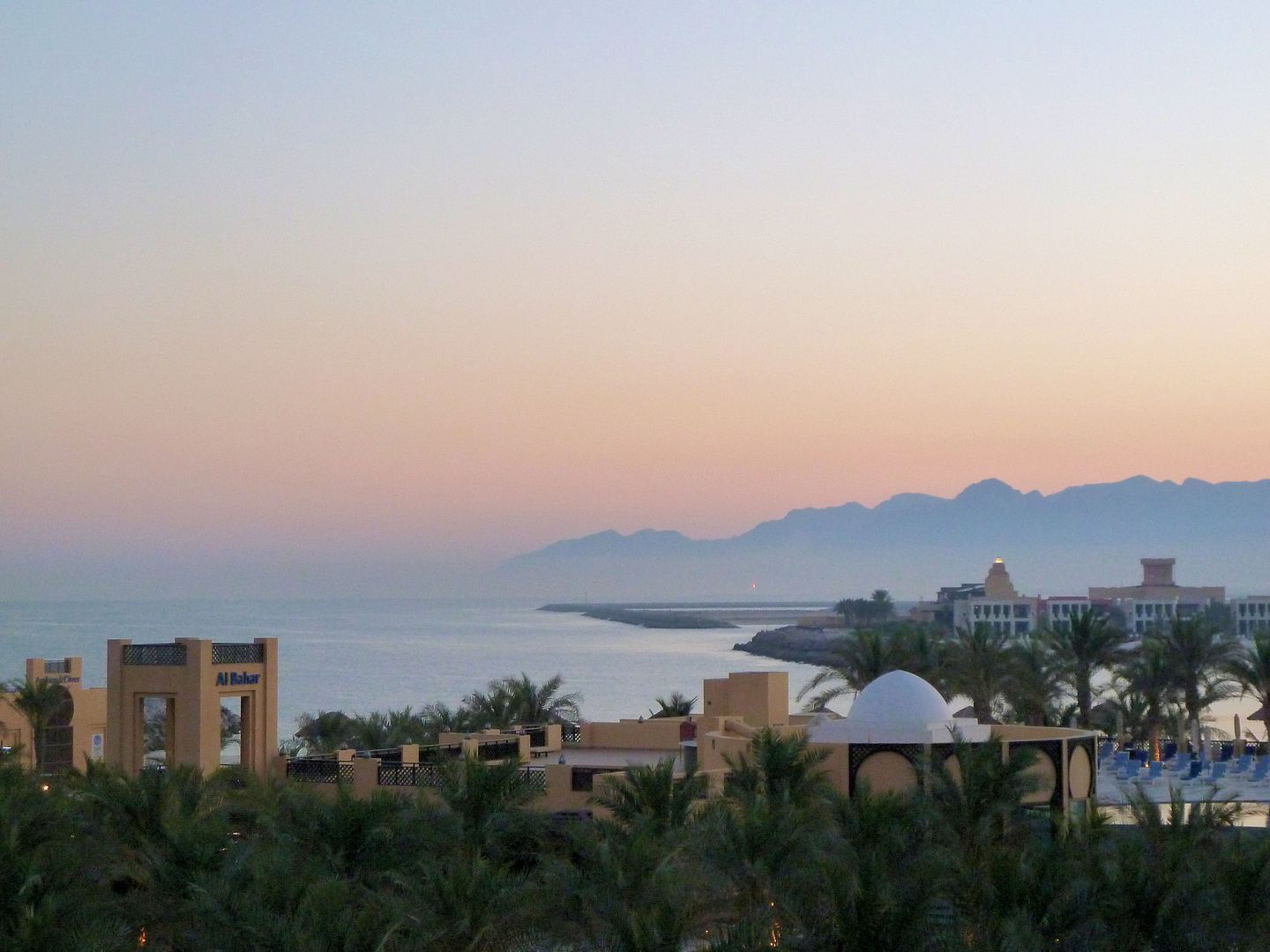 Wednesday, March 2011
Dubai (DXB) - London (LHR)
Virgin Atlantic Airways VS401
Scheduled times: 10:00-14:05
Actual times: 09:50-13:30
Flight duration: 07:16 (hrs)
Distance: 3421 miles
Economy Class, seat 62D

Airbus A340-313X
G-VAIR (MSN 164), named "Maiden Tokyo"
Delivered in 04/1997
1st flight on G-VAIR
9th A340-300 flight
13th A340 flight
We arrived at Terminal 1 after a 50 minute drive and went straight to the Virgin Atlantic counters. I had already checked in online on the day before, but hadn't been successful in securing better seats. Even though I had logged in exactly 24 hours prior to departure, no other seats had been available. Of course I was disappointed because it said on Virgin's website that a certain of percentage of seats would become available at the beginning of the check-in period. So we had to accept sitting in the middle.
The gate wasn't accessible yet, so I took a seat nearby and logged registrations of departing aircraft. My girlfriend and her aunt were meanwhile exploring the airport shops.
I had hoped to get one of the two oldest A340-300s in commercial service (MSNs 002 and 003, built in 1992), but Virgin had sent
G-VAIR
, a -313X model delivered in 1997: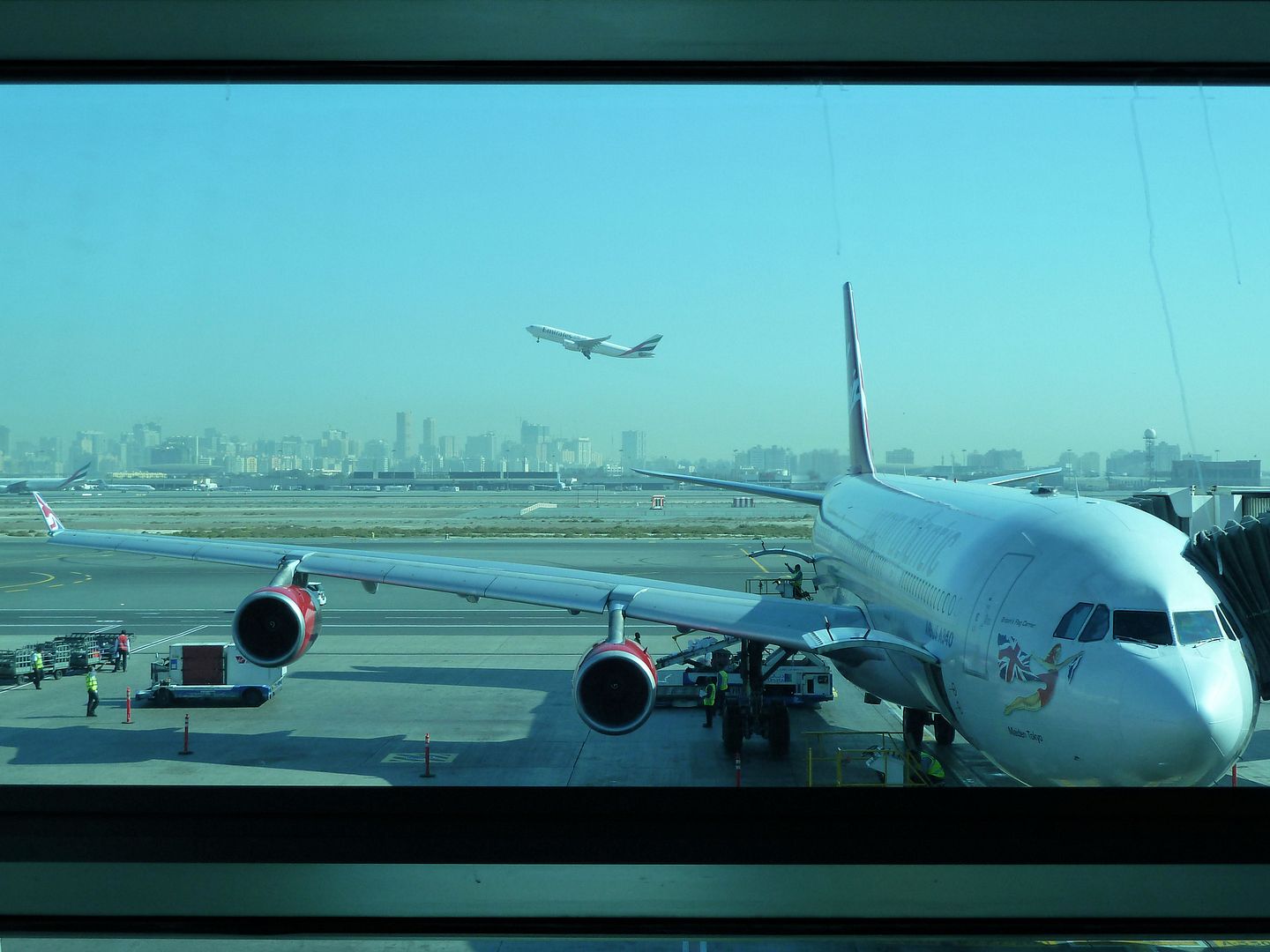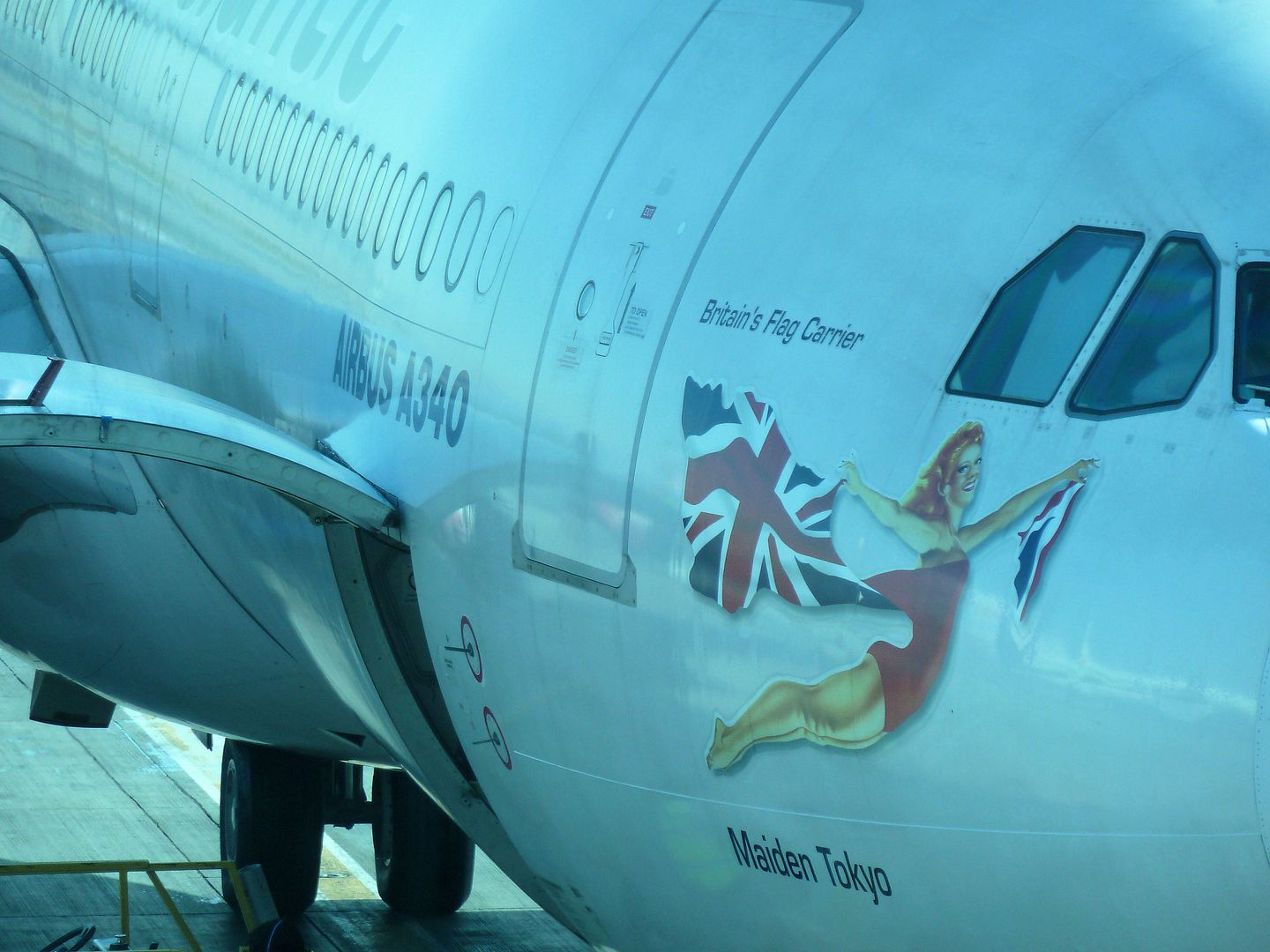 Btw - the two oldest frames have meanwhile been retired. G-VHOL (MSN 002) left the fleet in June, G-VSEA (MSN 003) followed in July. Only four A340-300s are left in the Virgin Atlantic fleet.
We remained seated in the gate until most people had boarded, so I had been able to log some more registrations. Friendly flight attendants welcomed us at the door and we walked to our row in the rear section - interestingly, I didn't spot any empty seats except for ours.
The plane was still equipped with old-style seats, but they weren't bad at all:
Legroom (32 inch pitch) was the same as on the A340-600:
Most A340-300s and some 747-400s are equipped with a non-AVOD IFE system called
Odyssey
. Highlights coming up? Let's wait and see...
Old-style handset:
Headphones: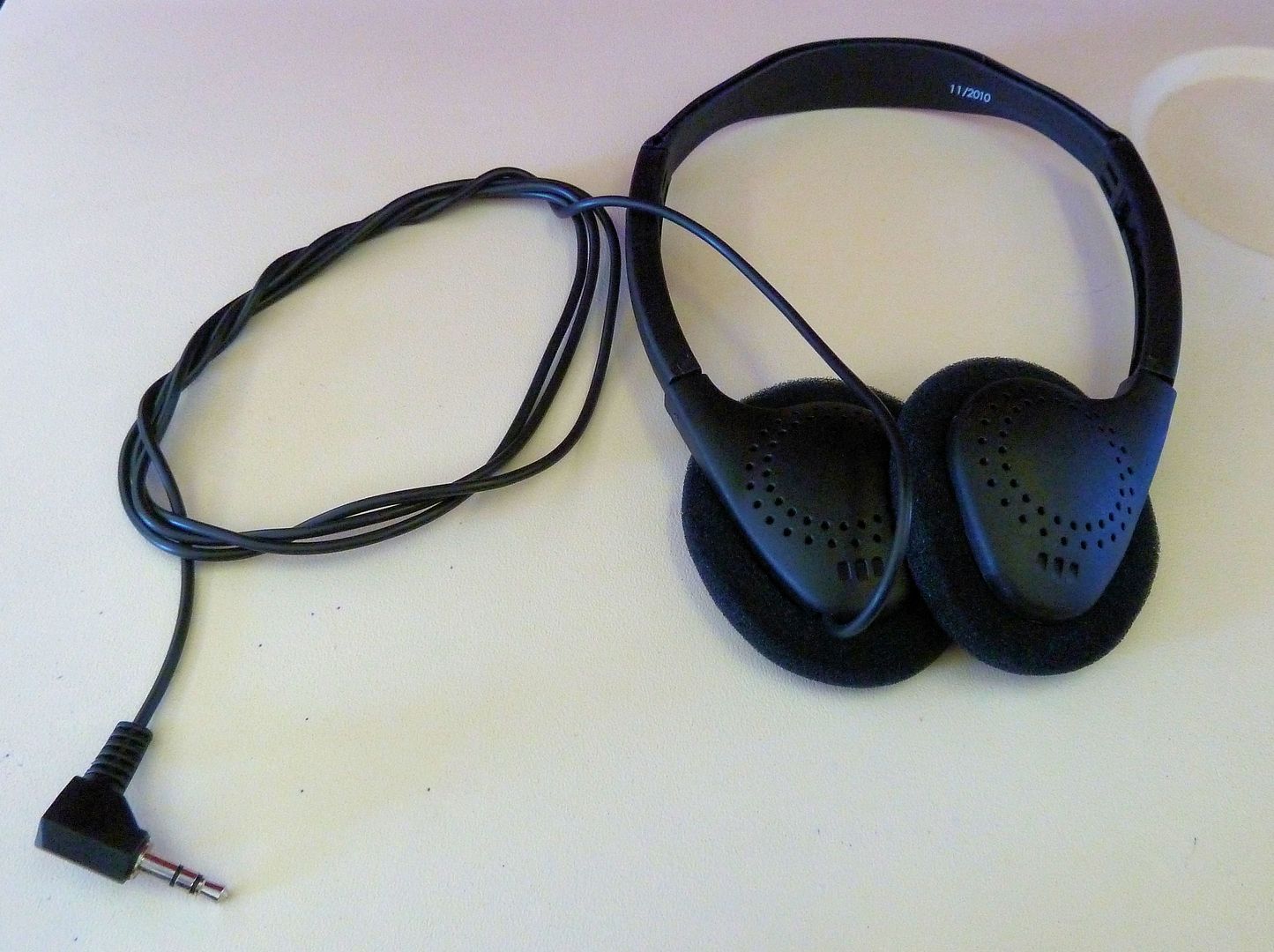 I was impressed that Virgin even handed out an amenity kit on this daylight flight: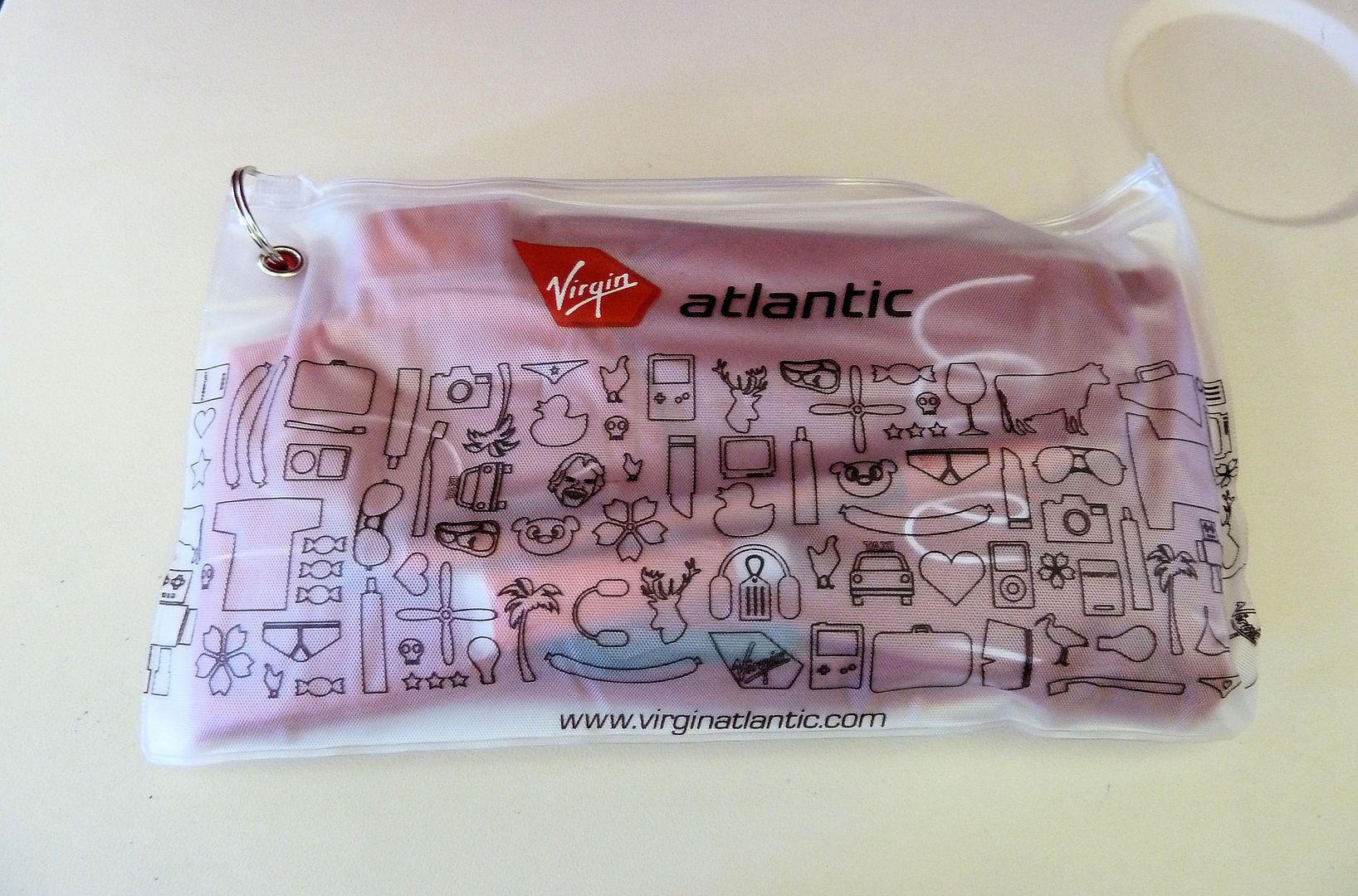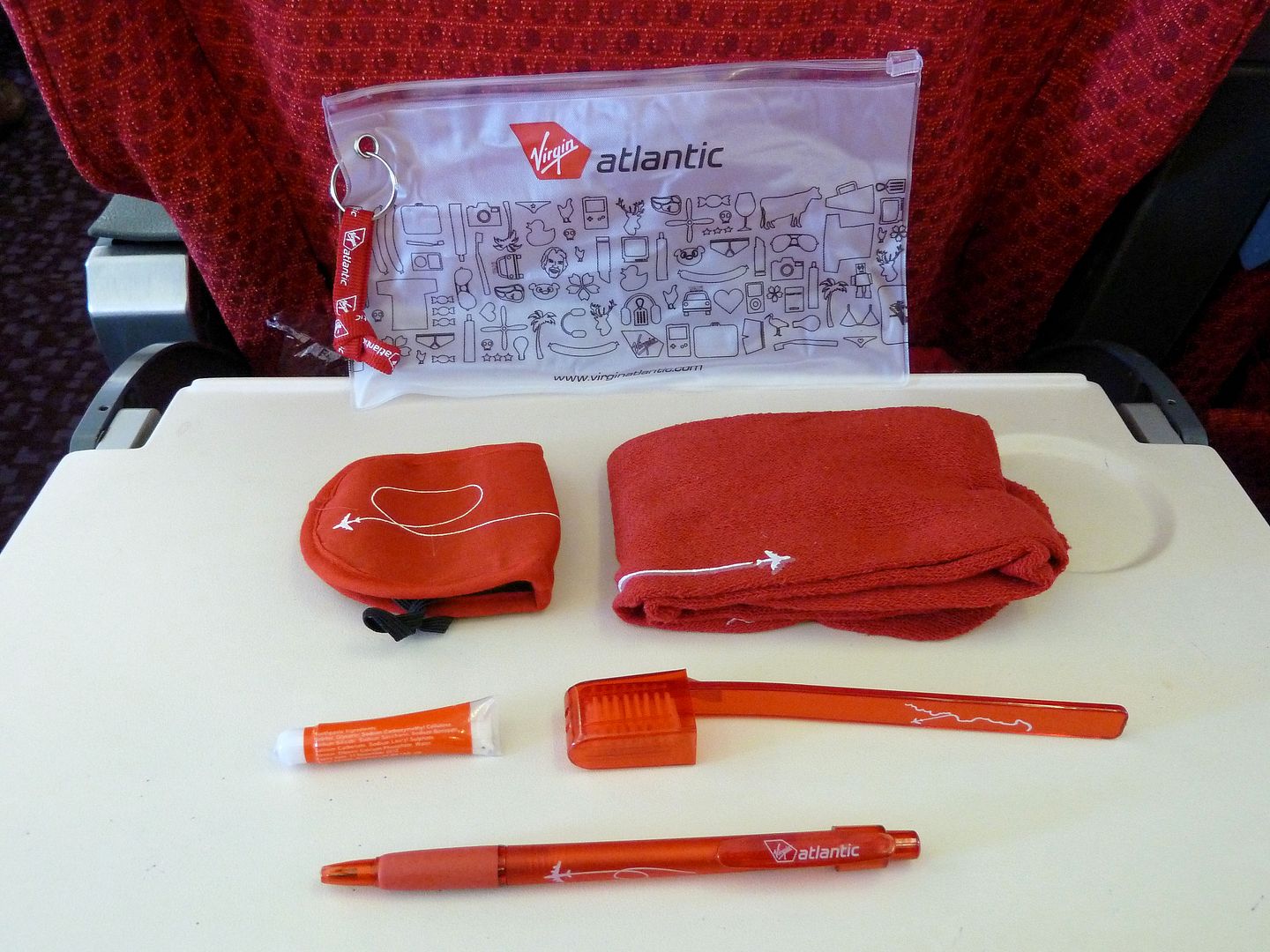 There weren't as many pre-departure announcements as on VS400, and they weren't as cheerful either. The captain made a short welcome speech and informed that we would fly over Kuwait, Iraq, Turkey, the Black Sea, Hungary, Austria and Germany. Before the safety video was shown, flight attendants sprayed the cabin - not without an announcement referring to certain regulations.
We left the gate 10 minutes early and soon lifted off gently after a long take off roll. The passengers on the left side enjoyed great views of the skyscrapers along Sheik Zayed Road and the artificial islands - too bad I wasn't able to take any pictures.
Shortly after takeoff, I had a look at the
Odyssey
IFE system. Aircraft delivered between 1997 and 2002 were fitted with that non-AVOD system featuring 10 movie channels, 2 kids channels, 8 TV channels, 14 audio channels, 35 Nintendo games and an airshow. Let's start: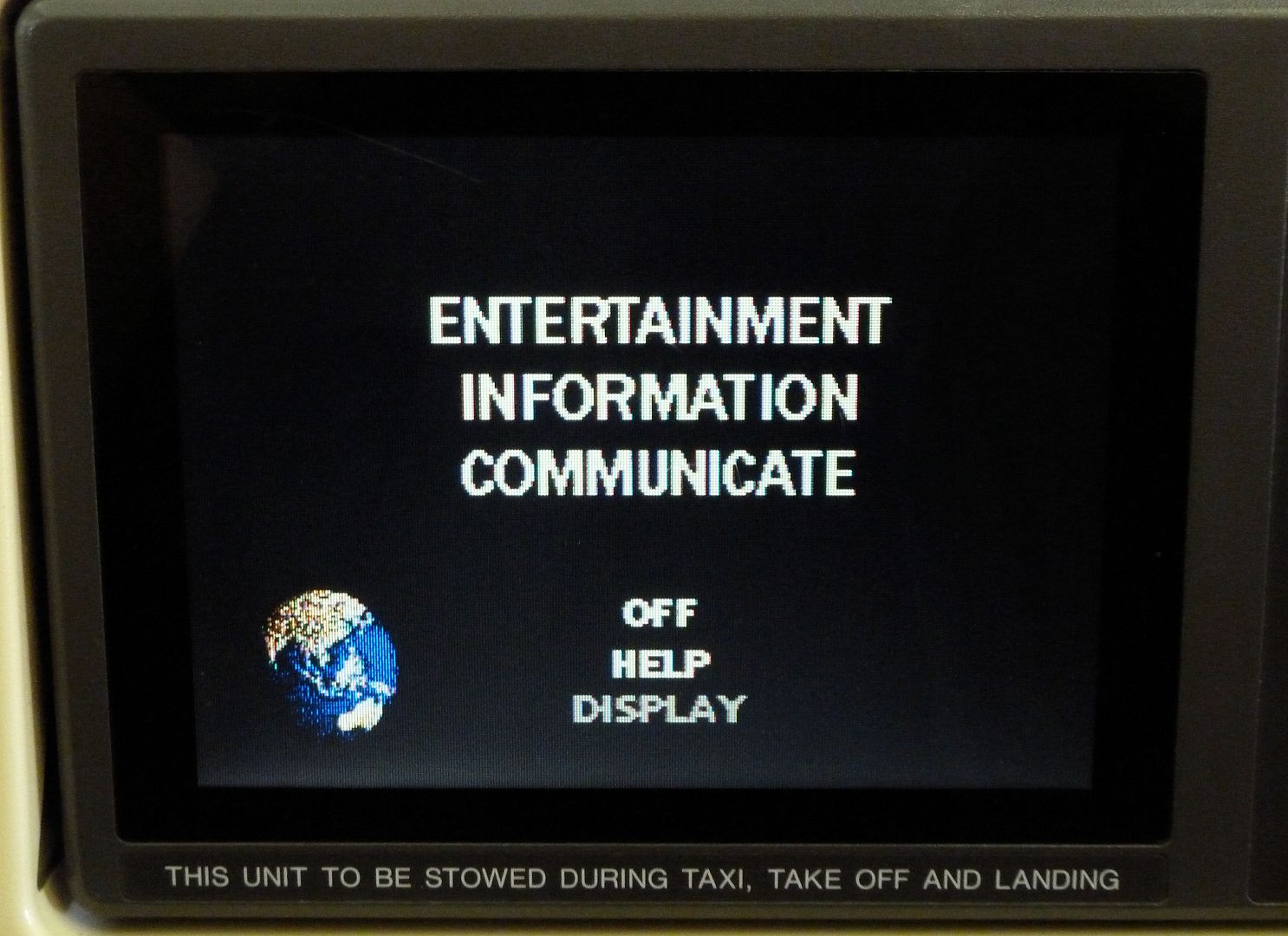 That looks quite basic, doesn't it?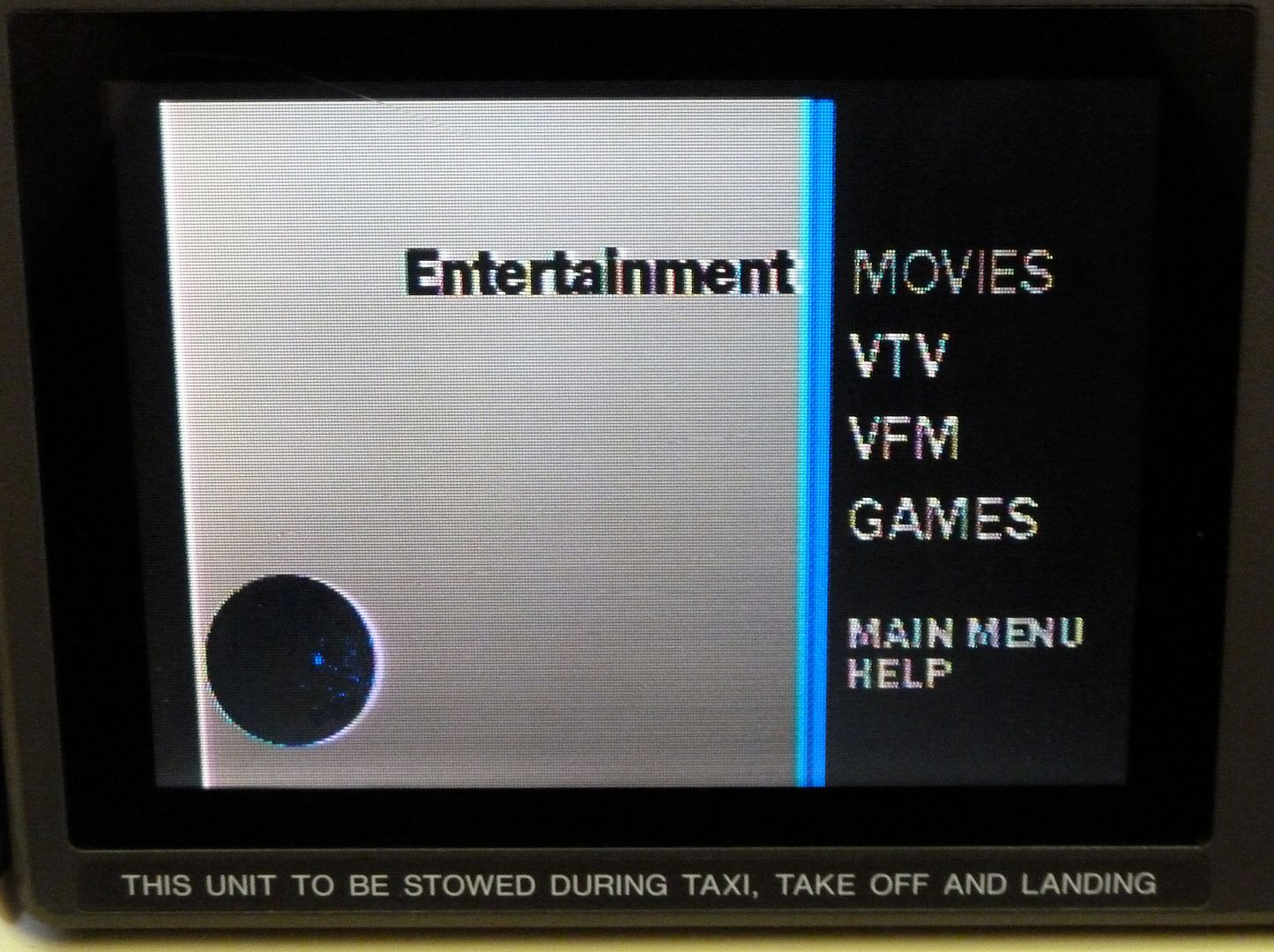 IFE guide:
Of course my preferred choice was the
Skymap
...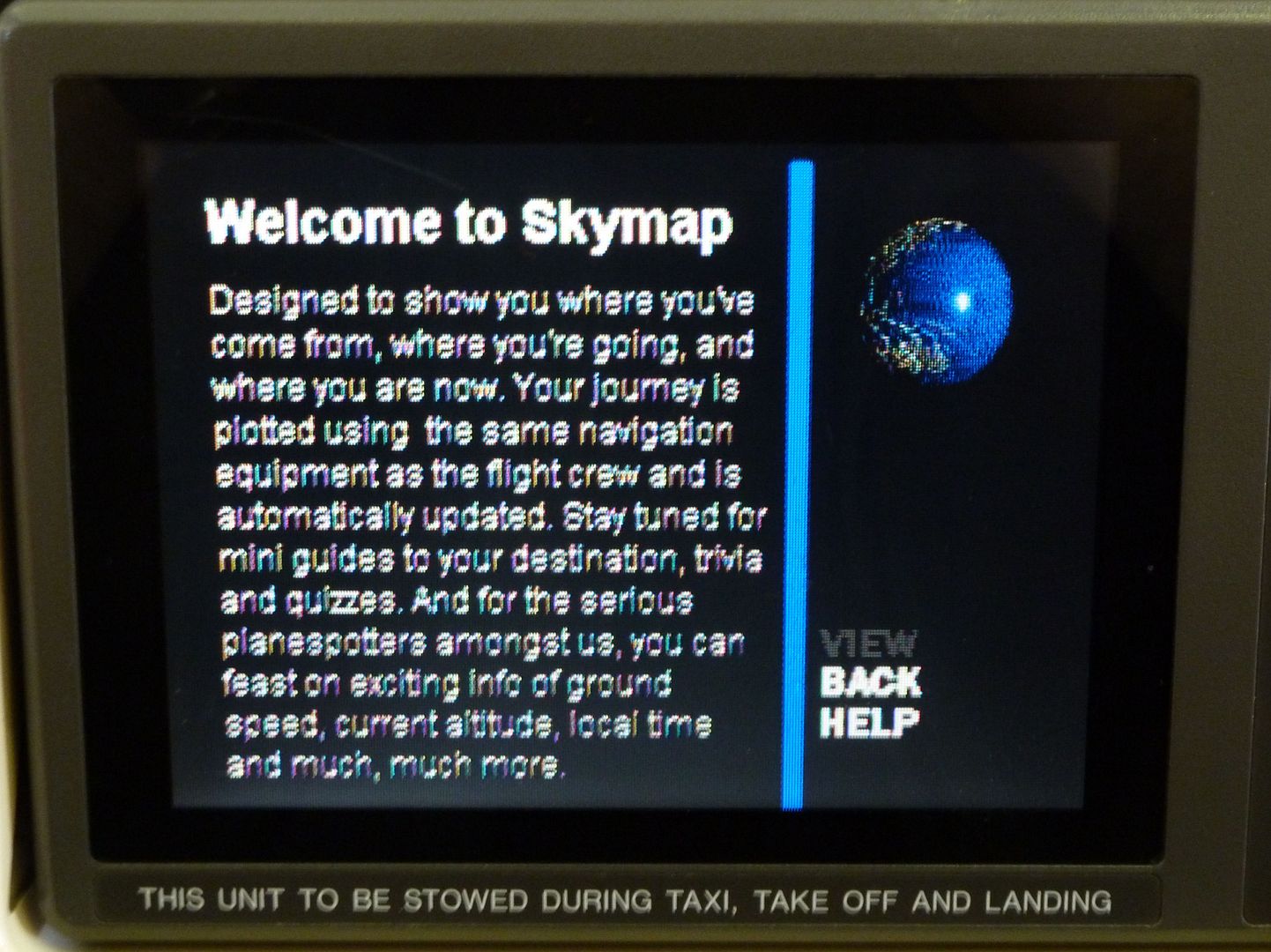 ...but the screen remained black. I soon told a flight attendant about that and she promised:
"I will double check."
Some minutes later she returned with bad news:
"The Skymap doesn't work today, unfortunately."
No window, no airshow - that was really frustrating!
Sour cream and chive pretzels and drinks were served shortly afterwards. One half of the duo working in our row was a skinny young lady wearing too much signal red lipstick and apparently unwilling to smile. I ordered a ginger ale, but that's what I got:
The liquid in the cup turned out to be gin - now that was odd. I don't think that my pronunciation was so bad, but who knows. I wasn't in the mood to start a discussion, so I accepted what I got.
Before the flight attendants returned with lunch trolleys, I used the opportunity to take a cabin picture:
Unlike on VS400, menu cards had been distributed on this flight. The options sounded quite promising:
We wanted to try the chicken, but it wasn't available any more. We took the fish instead: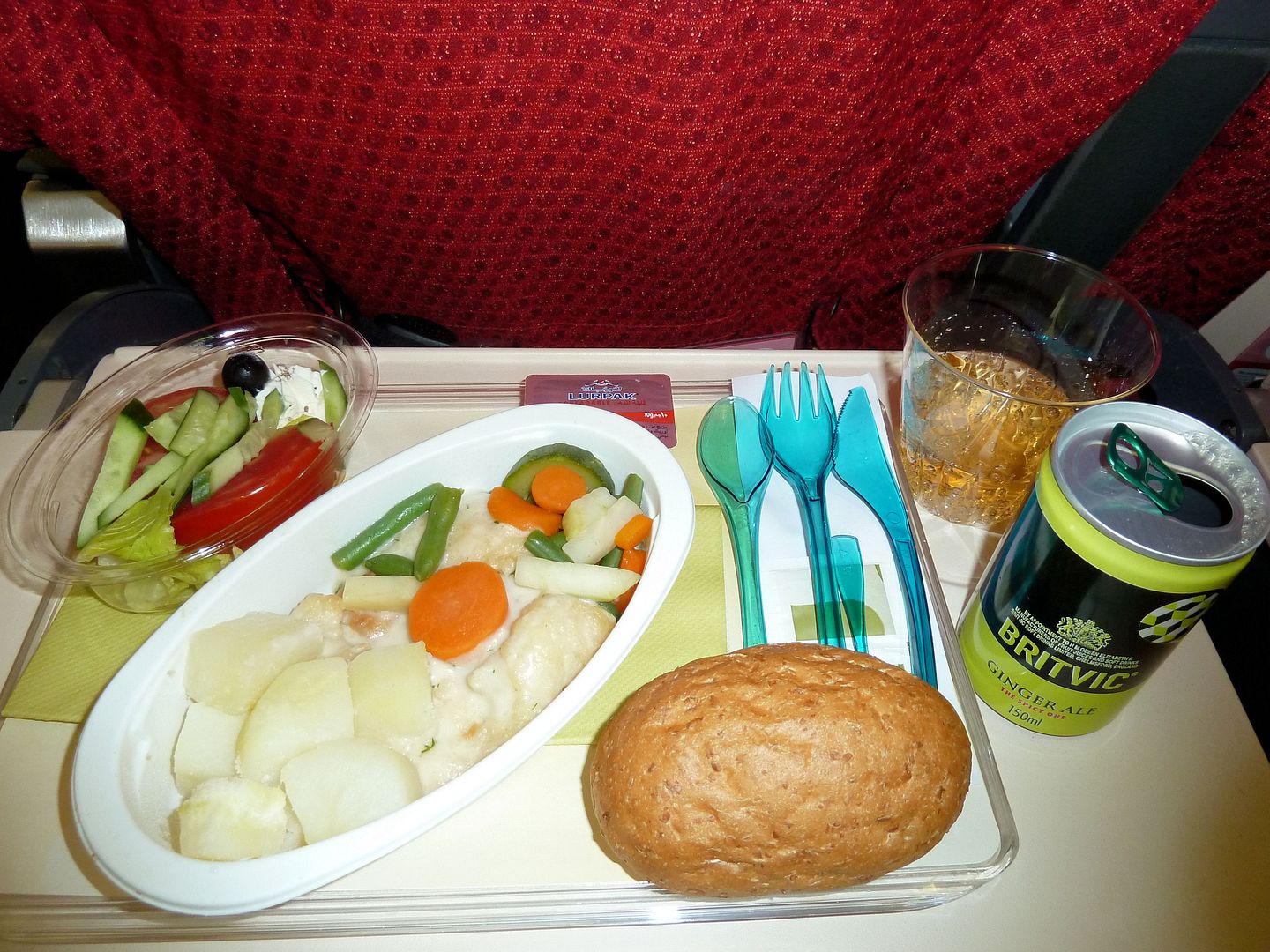 The main course looked quite good - and it tasted very good! The fish wasn't dry at all and the vegetables and the potatoes weren't mushy either. The sauce and the salad tasted good, too.
Interestingly, the dessert was served afterwards - actually a very good idea. The apple strudel turned out to be quite tasty, too. And I cannot complain about the tea either: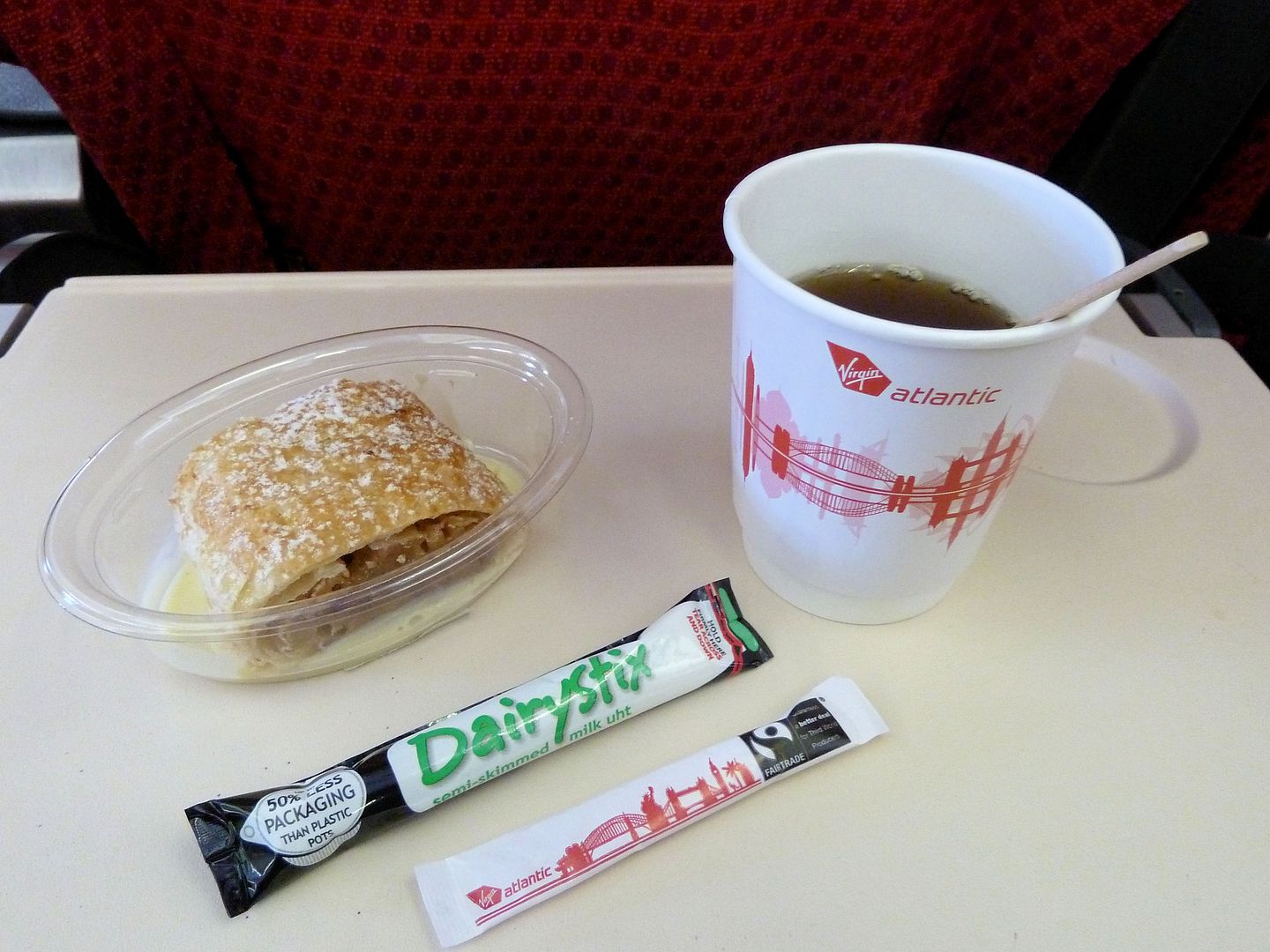 About 1.5 hours later, the flight attendants handed out ice cream bars - another nice surprise!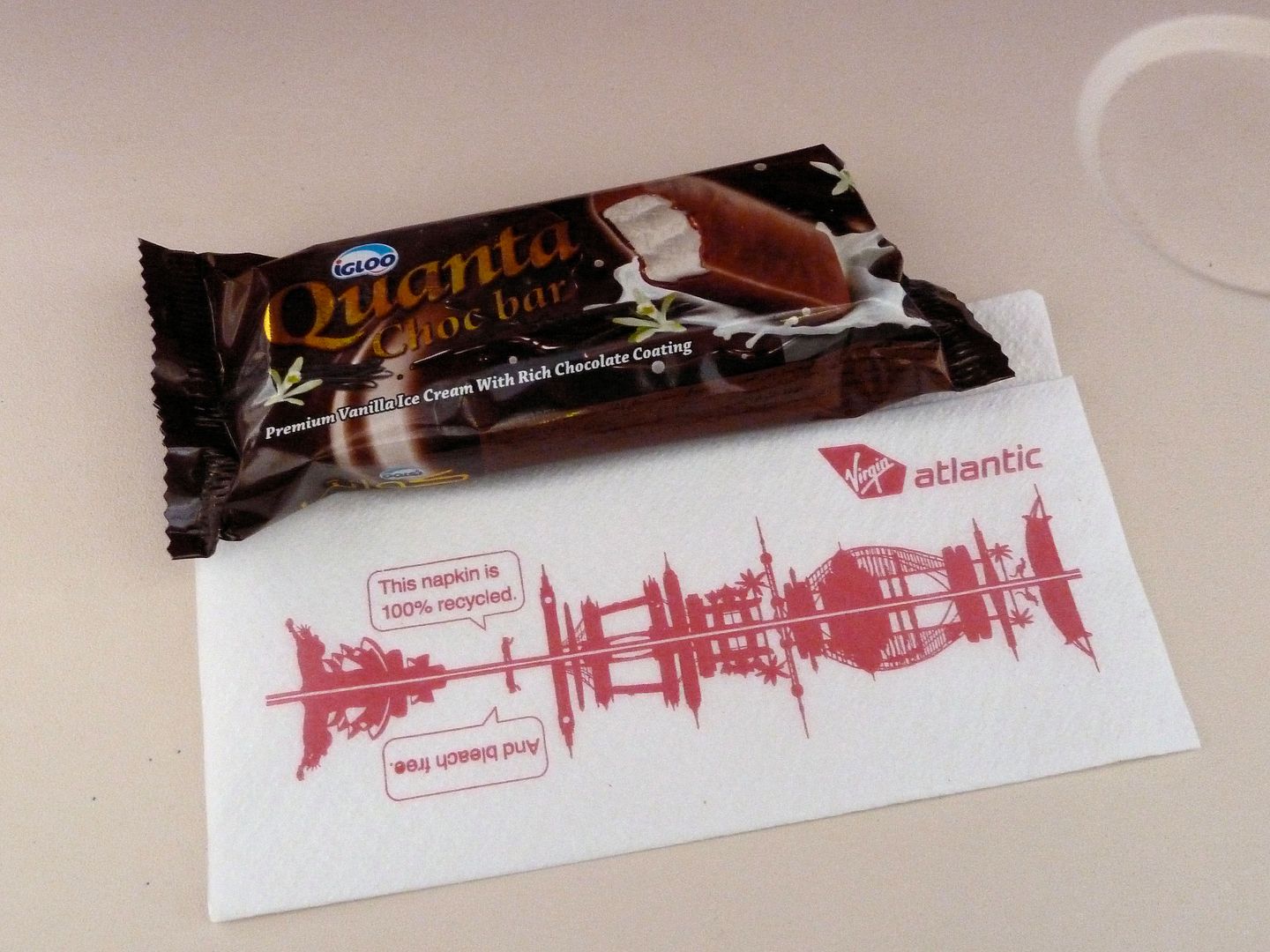 Shortly after the ice cream service, my girlfriend went to a rear lavatory - and when she returned she told me that she had been hit in the face by a female flight attendant!
Well, of course it hadn't been intentional. A group of flight attendants had been chatting in the galley and one of them had been gesticulating intensively - and exactly in the moment when my girlfriend was passing, the flight attendant's hand hit her under the left eye. The very flight attendant was shocked by that and the whole group asked my girlfriend if she was okay. Finally, the "punchy lady" promised to bring champagne as a compensation.
About 20 minutes later, she really showed up with a bottle of champagne, wrapped in a plastic bag. We didn't want to drink the whole bottle in the remaining few hours, so we asked whether she could seal it in a special bag, referring to our connecting flight.
"Oh no, you have a connecting flight?"
, the flight attendant said visibly surprised.
"I need to find a plan B"
, she added and disappeared again. 10 minutes later she returned and informed us that it hadn't been possible to seal the champagne, but she placed something else on my girlfriend's table - delicious pastries from Upper Class:
Some time later the punchy flight attendant showed up again - with pretty salt and pepper shakers from Upper Class...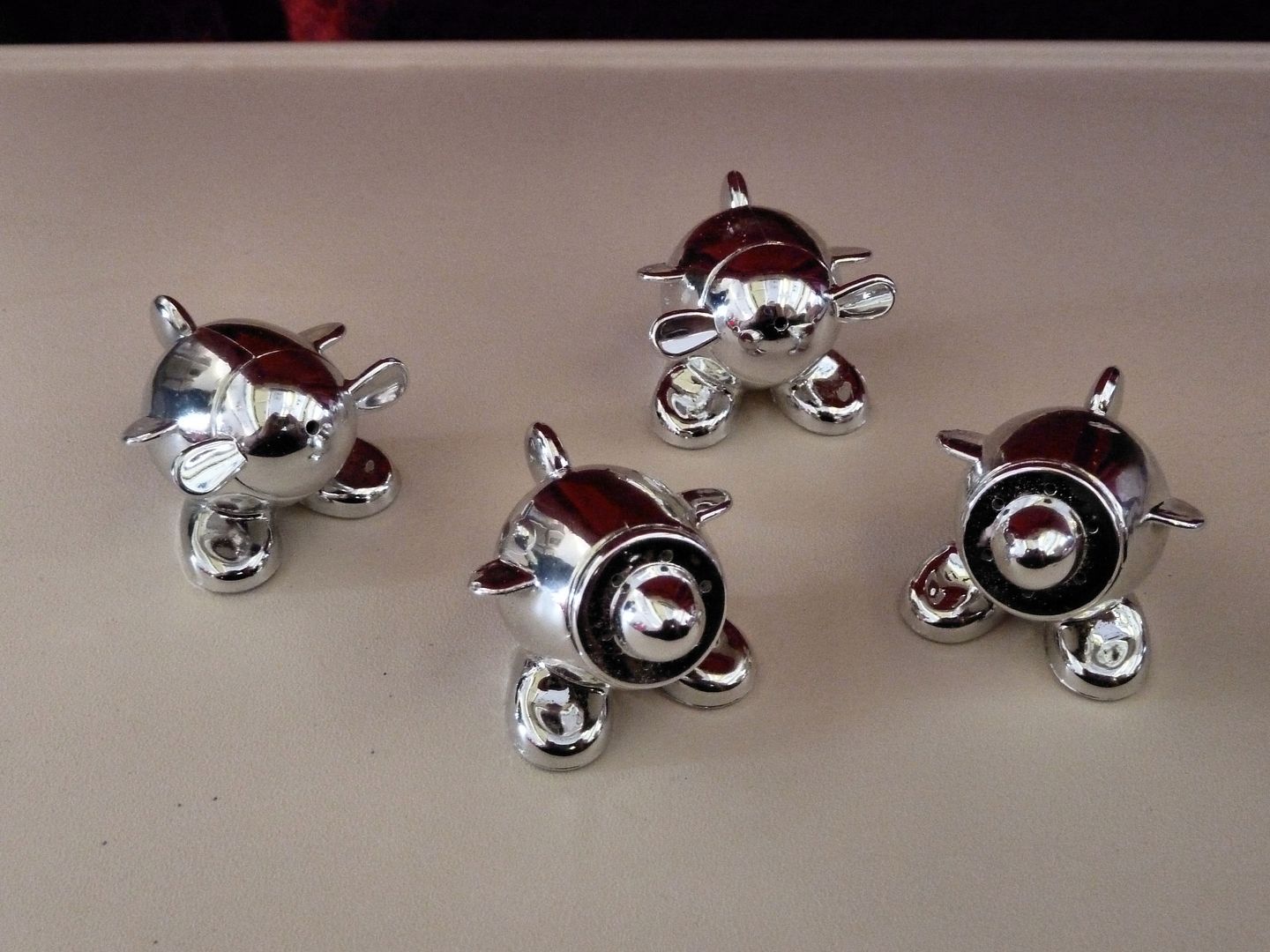 ...and a bag full of candy: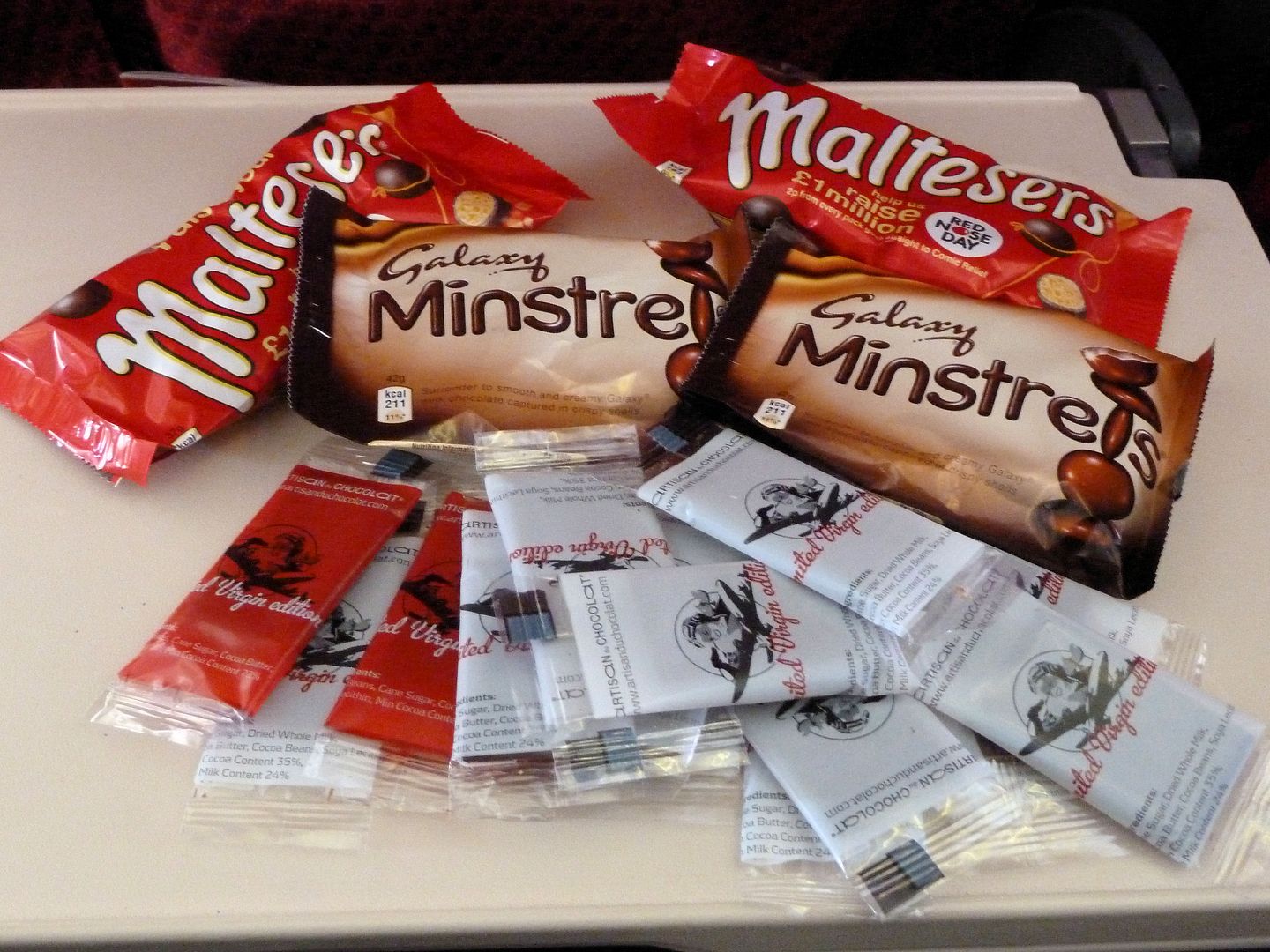 Tasty wine gums were handed out shortly afterwards - but they were part of the regular service:
I was still disappointed that the airshow didn't work, but at least I could play the
Trivia Challenge
. Aviation was my preferred category, of course: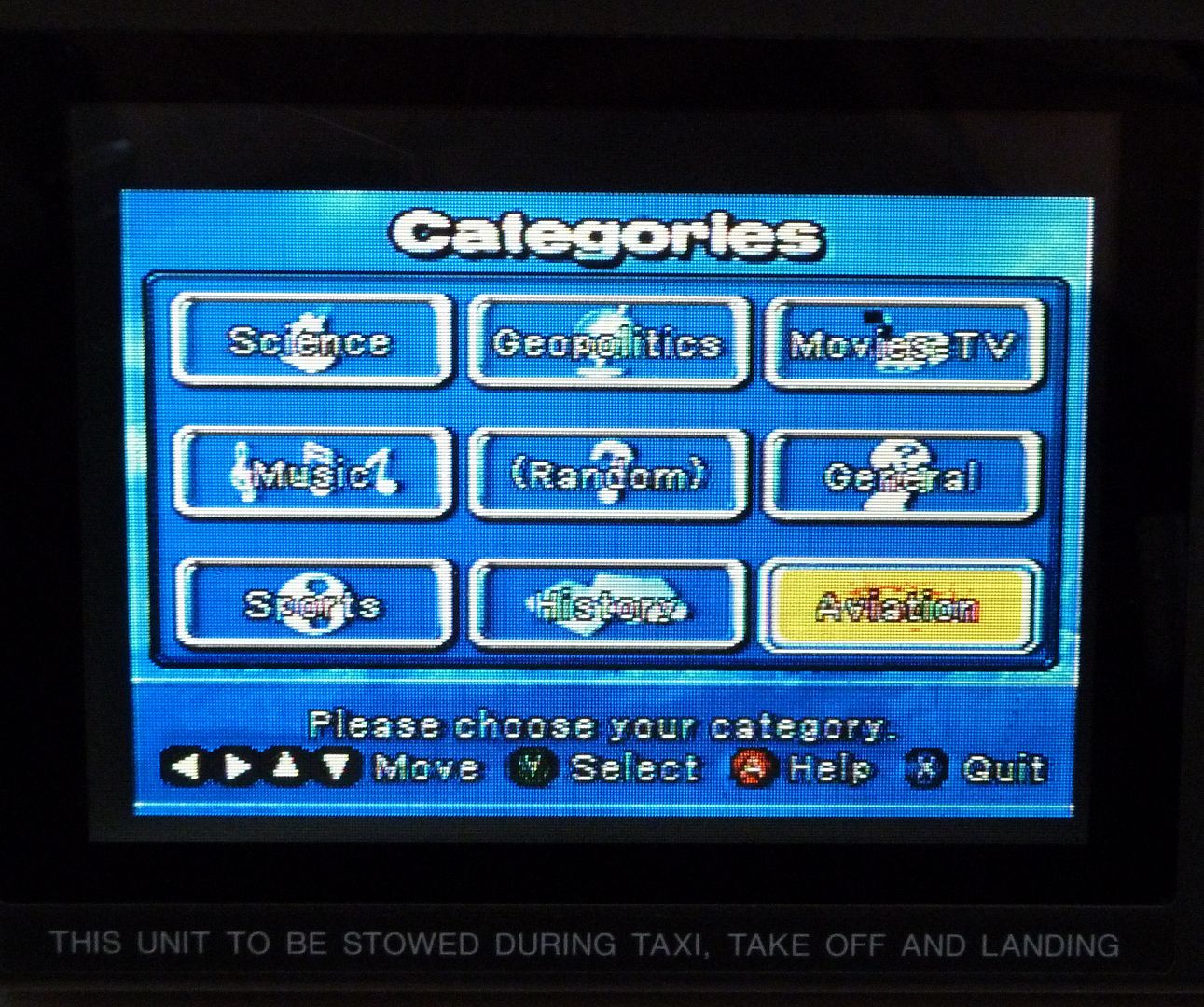 The "punchy lady" showed up one more time and handed out a bag of chips: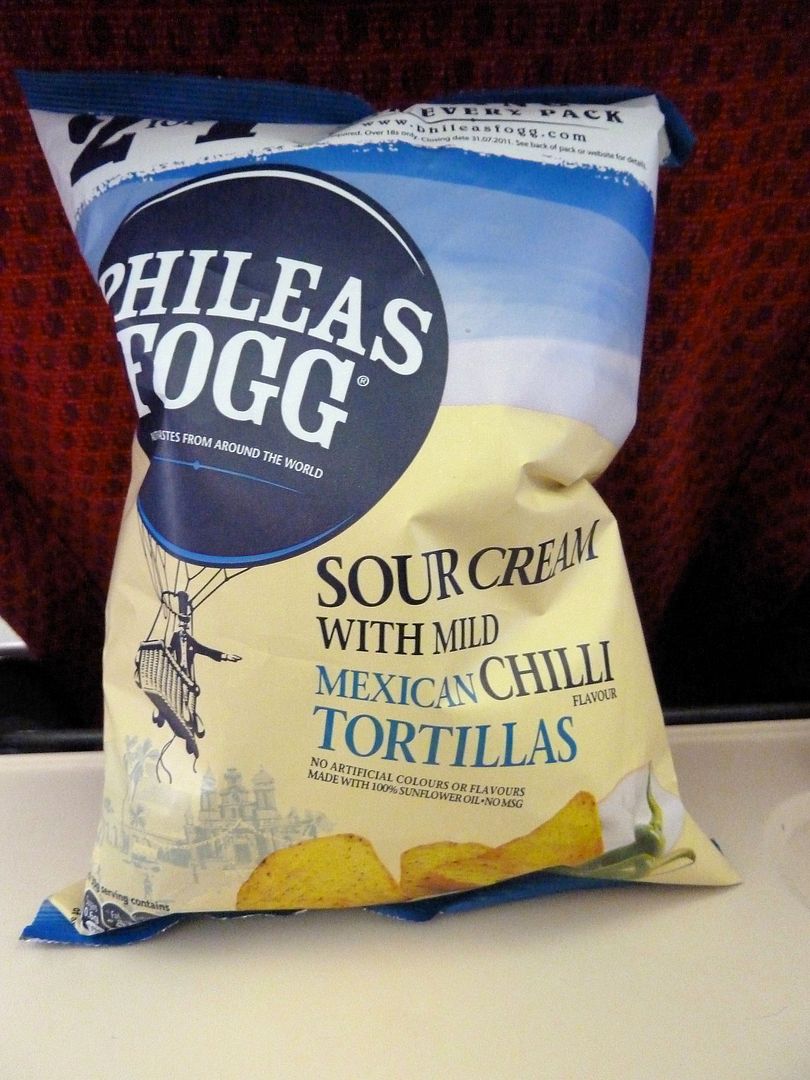 Some 45 minutes before landing, "afternoon tea" was served: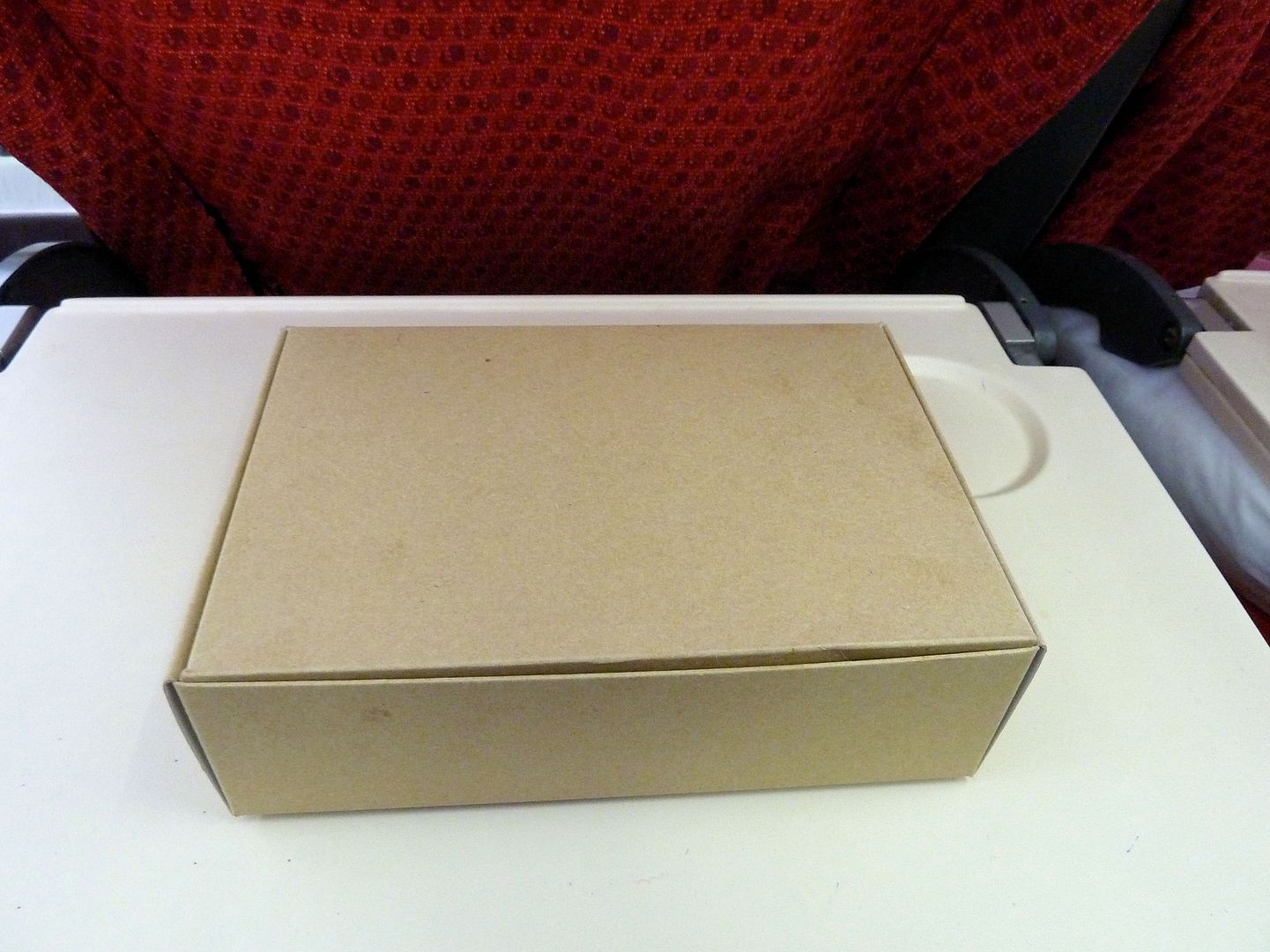 The box contained a cheese and tomato roll and a walnut cake - both items tasted quite good: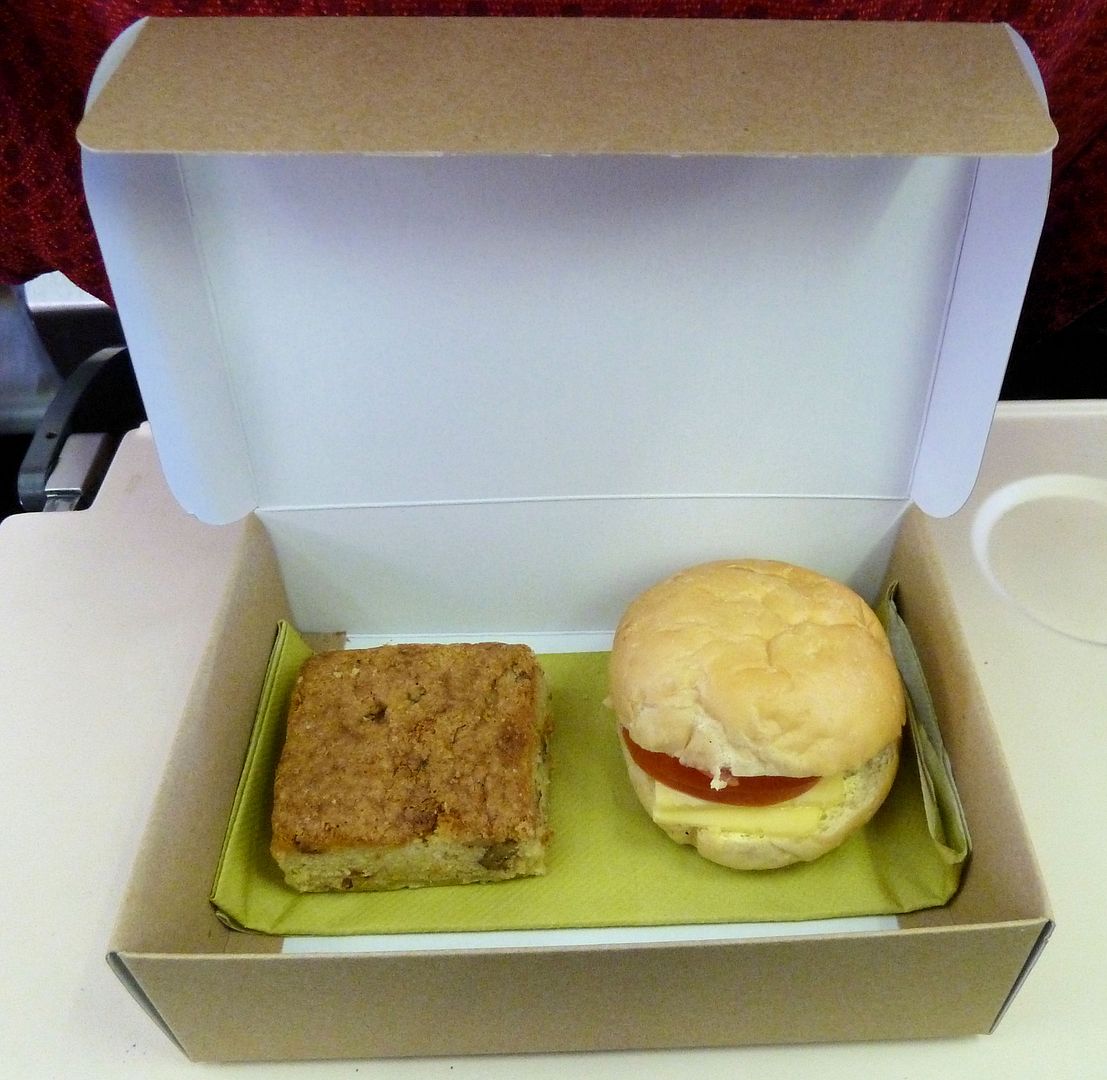 We were really full after finishing the pre-arrival snack, Virgin's catering was more than sufficient on that flight.
The rest of the flight was uneventful. We touched down at Heathrow after a flying time of 7 hours and 16 minutes and arrived at the gate 35 minutes early. Some hours later we arrived at MUC on Lufthansa's A321-200
D-AIDA
after an eventless flight, a great holiday had come to an end.
Conclusion
I have read many negative comments about
Virgin Atlantic
, but I enjoyed my first two flights on that carrier. Seats were comfortable and pitch was sufficient on both planes. The
V:Port
IFE system on the A340-600s and selected 747s keeps you entertained for a long time. The new A330s are equipped with a more advanced system, called
JAM
. Hopefully, the A340-300s and 747s with non-AVOD systems will also be retrofitted. The catering was very good both in terms of quantity and quality, especially on the DXB-LHR flight. And it's quite impressive to get amenity kits on these relatively short flights between London and Dubai. Ground staff members and most flight attendants were friendly and helpful - and it was nice to see how the "punchy lady" reacted after her mishap. No doubt, I would certainly fly Virgin Atlantic again - preferably on the carrier's new A330-300.
There's not much to say about Dubai and Ras Al Khaimah - they're great holiday destinations, always a pleasure to be there. The excellent
Hilton Ras Al Khaimah Resort & Spa
will see us again, no doubt about that. Just for the record: I logged 23 new registrations which is not too bad considering that the trip was more or less a classic holiday trip.
Best Regards,
PlaneHunter
P.S.: Just in case you missed them - my previous trip reports:
Superb Stübli & Crew: LAS-LAX-ZRH-MUC, LX J Class
Grand Canyon & More: Scenic Flight On Dornier 228
San Francisco Sunshine...and A Frontier Fiasco
Fully Flat Bed to SFO: SWISS' New Business Class
Mountains, Meals & More: SunExpress Vs. Pegasus
Crossing Two Oceans: AKL-SFO-MUC, NZ 777 & LH A346
Bad Weather & Other Bad Luck: Touring New Zealand
Trans-Tasman Treat: Aerolineas Argentinas A340-200
Detours To Sydney: Wildlife, Tiger, REX & QFLink
Thai Fails To Impress: MUC-BKK-BNE On 744 & 777
Painful Delay & My 100th Airline: AF A380, VO F100
Fifth Freedom Tidbit: Kuwait Airways A300-600
Ship Vs. Plane: Porto Santo Line & Sata Air Açores
Awesome Approach, Splendid Scenery: LIS, FNC & TAP
Guernsey, Ash Cloud Alarm & Mostly Empty SQ 77Ws
Totally Thrilling: Scenic Flight On Lufthansa A380
Cirrus D38, Adria CRJ & Captain Niki Lauda On Duty
Monarch Hot Meal, E195 & More: PMI-ALC-MAN-MUC
Premium Meal & Palma Spotting: MUC-PMI, DE 757-300
The Dead Slow Transfer: PEK-MUC On Air China A332
Cancellation Brings Joy: HKG-PEK on Dragonair A330
A380 Cacophony, 777 Star Livery: DXB-SIN-HKG on SQ
The Next 5* Carrier? MUC-MCT-DXB, Oman Air A330
Turkey For 1.5 Hrs: Daytrip To AYT On Sky Airlines
CO Scores Again: ATL-IAH-EWR-FRA On ERJ, 752 & 764
Riding The Ultra Long-Haul Twin: Delta 777-200LR
Pacific Coast Jaunt: 3 Carriers, E120, E140 & Fog
The Ultimate 737: LHR-IAH-PDX On CO 777 & 739ER
Bye Bye, Hell! TRD-OSL-TXL-NUE - DY/AB/HE DH4
My Trip To Hell: NUE-CPH-OSL-TRD On Cimber & SAS
SFO-YUL-FRA: Map- & Sleepless On Air Canada's 77W
Sin City Gloss & Virgin America's Chic First Class
Seat Dilemma & Canyon Glamour: FRA To LAX, AC 763
On Par With Air France? DTW-AMS-MUC, KLM A330
Goodbye, Red Tails! DC-9-40/50 & Chicago Tour
Champagne & World Of Coke: Air France A340 To ATL
"Mission A380": Disappointing Legs On BA/BD/EI
Delights Of Doha, 773 & 77W: DOH-DXB-LHR On EK
A380 Really a Step Forward? LHR-DXB-DOH On EK
Quality & Style: HKG-LHR On Air New Zealand 744
Taiwan Trio: TransAsia, UNI Air And The Taipei 101
"The Wings Of Taiwan": EVA Air A332, 744 Combi
SHA-SZX, Shanghai 757: Delayed By The Military
PEK-SHA, China Eastern A330 & Shanghai At Night
Striking Newcomer: Berlin-Beijing On Hainan A330
Short & Splendid: MXP-MUC On Air Dolomiti's 146
3 Hours On Blue1: HEL-MXP On The MD-90
Winglets On A Classic: MUC-RIX-HEL On Air Baltic
BCN-MAD-ZRH-MUC: UX Shuttle Meets Swiss Quality
MUC-MAD-BCN: Star MD-87 & The Pain Of Vueling
Low Fares, Lovely Island: AK & Best Of Langkawi
4 Stars Or 5 Stars? FRA-KUL-FRA, Malaysia 777s
First And Last Time? JFK-FCO-MUC, Alitalia 777
JFK For 1 Day: Transatlantic Hop On CSA's A310
Sardinian Sun, Shiny New 73Gs & Cramped Mad Dog
Top And Flop: KIX-HEL-MUC, Finnair A320 & MD-11
The 524-Seat Twin-jet: HND-ITM On ANA 777-300
Kobe For 1 Hour: 767-Quickie On ANA & Skymark
Rocketing To Tokyo: FUK-HND On JAL (ex-JAS) 777
Oddities & Okinawa: JTA 734 & JAL 744D(Domestic)
MUC To Nagoya: Finnair E170 & (Old) "New" A340
Mad Dog, A320 Tech Delay & Best Of Lanzarote
Canaries Prop-Hopping: Islas Airways & Naysa
Canaries And Confusion: LH CRJ900 & Spanair A321
Hubbing For 162 Miles: HOQ-FRA-STR Ret On IQ/EW/LH
BOS-JFK-AMS-MUC: SSSS-Check And KLM 777
ATL-PIT-JFK-BOS: FL B717, JetBlue E190 And Delays
MUC-AMS-MEM-ATL On NWA A332 And 40-year-old DC-9
FRA-BKK-FRA Via CMB: SriLankan A332 & A343
BNE-SIN-DXB-MUC On Emirates B772ER & B773
2 Hours In Paradise: Hamilton Island (JQ/DJ)
BNE-SYD-BNE: Domestic Run On QF's Oldest B747-400
Testing Qantas: SYD-MEL-SYD-BNE (B738, B763, A332)
Going Down Under: MUC-DXB-SYD On EK A332 & A345
9/11 Review: Failed Trip To LAX - Fuel Dump Pics
Surprised By NIKI's Newest A320 & Screw-up By AB
Leisure Vs. Full Service: Condor & SN Brussels
"betterFly" On LH: Business Class For 99 Euro
Weekend Transatlantic Trip (2): US A321 & B762
Transatlantic For A Weekend (1): MUC-DCA On US
[Edited 2011-08-08 10:38:33]