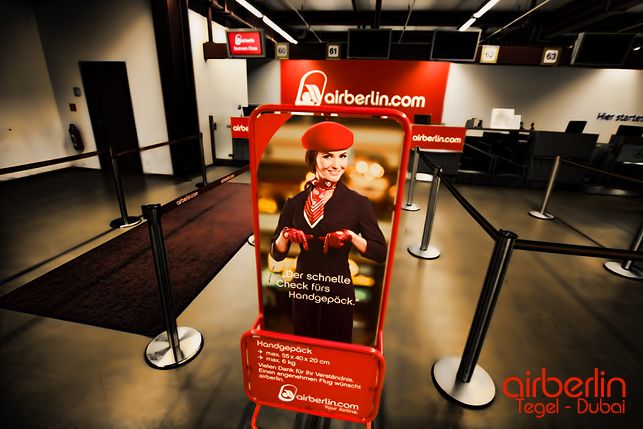 I N T R O D U C T I O N
The airline charter and tour operator businesses -while obviously a major part of the industry- seem like an independent operation sadly overshadowed by other major -and more important- events in aviation. For example, I have lost track of how many times TUI had spawned an offspring bearing one of those unique names but with a 'TUI-fied' logo, or what airline Britannia turned into, or what tour operator took over which airline, and so on and so forth. Well a lot of that in this sub-industry continues to happen but for some reason, I seem to barely know of it.

Air Berlin is one of those carriers with an identity crisis. Much like the multiple Australian Virgin confusions across the other side of the globe, this airline -while with its single identity- is more or less a little bit of everything. A true hybrid airline, Air Berlin is not only a mix between low-cost and mainline, but I find that it is even more of a batter consisting of scheduled service, and holiday fiesta charter sensations.

With roots dating back to 1978, who would have known that Air Berlin was formed as a charter airline by former Pan Am pilot Kim Lundgren, and with a base in the United States? Well since then, the airline's specialty was charter flights to the Mediterranean and the Canary Islands. However, since the 1990's and after Germany's reunification, former LTU manager Joachim Hunold took over as CEO, and the airline adopted what now seems to be a confused strategy which began by steering closer towards offering scheduled flights.

The more modern times at Air Berlin saw the likes of an acquisition of a 24% stake in Niki (an Austrian LCC), a partnership with Germania (another charter airline), a full acquisition of both dba (another LCC) and LTU (a long-haul holiday airline), and the recent intention to join the Oneworld alliance (a 'mainline' type of initiative). Needless to say, there's enough for anyone!

Many analysts claim that this type of rapid expansion -while uniquely impressive in terms of capacity growth- may spell disaster for Air Berlin due to the complexity of its market segments, which are almost endless. However, one cannot doubt the growing power of this airline when it is now Germany's second biggest, owning 34% of the domestic market; a typical fit to be Lufthansa's worst enemy, and we all know what it feels like to be hated by the mother of powers! And it doesn't end here, Air Berlin is now Europe's sixth largest airline in terms of passenger numbers; quite an impressive accolade if you ask me!

Perhaps the airline's marketing slogan -Your Airline- is quite fitting, as there really is something for everyone at Air Berlin. And today, I found something in it for me too! So join me as I discover what Air Berlin is all about on its relatively new route to Dubai!
CONTINUED BELOW