Hi folks. Another trip report here for you. Lets get going shall we?
Introduction:
With my quest for Lufthansa and partner airline segments still alive it was time to get some more numbers showing on my Miles&More account.
As usual I make my way to Expedia UK for the booking. Looking for a new airport and routings (as always) I try Graz (GRZ) as a destination..... Bingo!!! That will do nicely. 5 segments, all M&M qualifying and a night in new surroundings. Start to finish in under 5 minutes for the whole booking process.
While i'm here lets get some accommodation sorted. A quirky little place shows up just a few kilometres from the airport. Looks to have the boutique style but at a good price, some £58. Free Wi-Fi too. No questions then, lets book this.
Here is the route flown courtesy of GreatCircleMapper.
New routes here for me are FRA-GRZ-MUC-DUS and GRZ is the new airport for the log.
Day of Departure 06:08:2011
I had my bag packed and everything ready to go the night before. I like to be organised. With a 13:10 departure on the cards there is no reason for an early morning wake up call to drag me out of bed. I decide on the 10:00 train to Manchester and set the alarm accordingly.
Next morning i'm down at the station for 09:50 after the Mrs drops me off. I part company with nearly £20 for a return ticket and wait for the train to roll in.
Platform 1 for Manchester.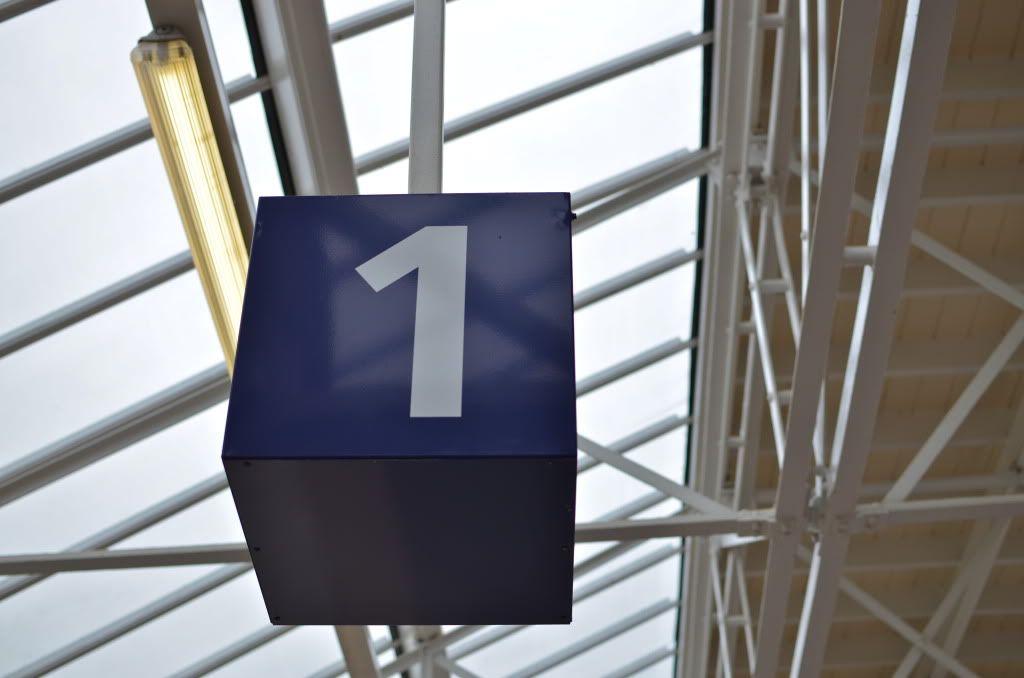 Hey, what's this? Still a crap box but much better than the usual heap of junk.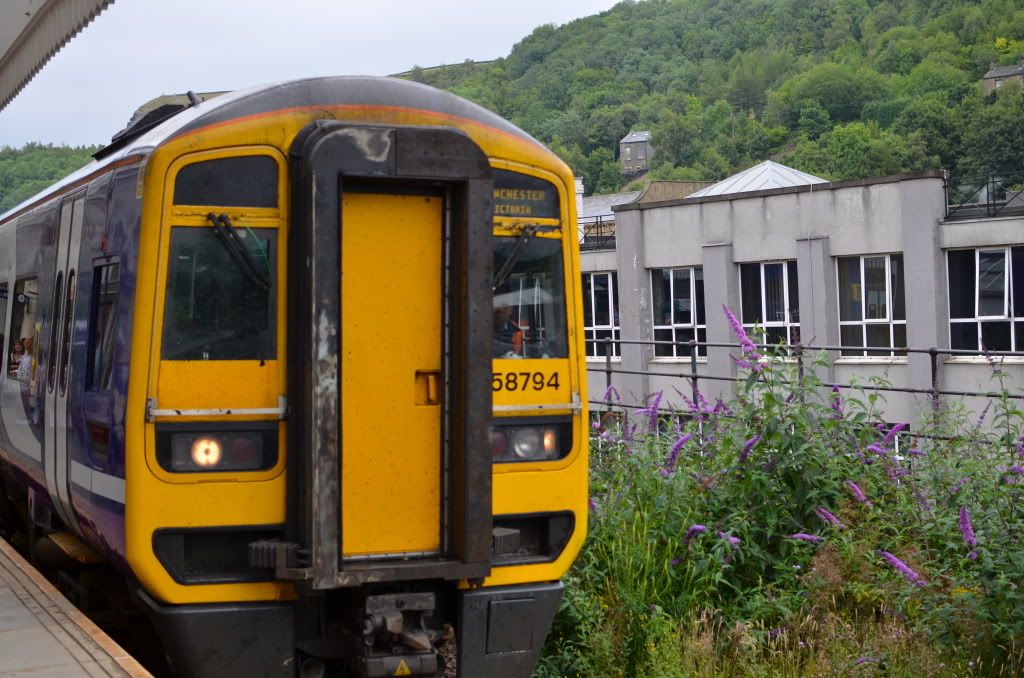 This train makes just a handful of stops before terminating at Manchester Victoria so the journey is less painful than usual.
Time for a few sights around manchester then? It's not raining so much, lets do it.
The Manchester Eye.
Signage.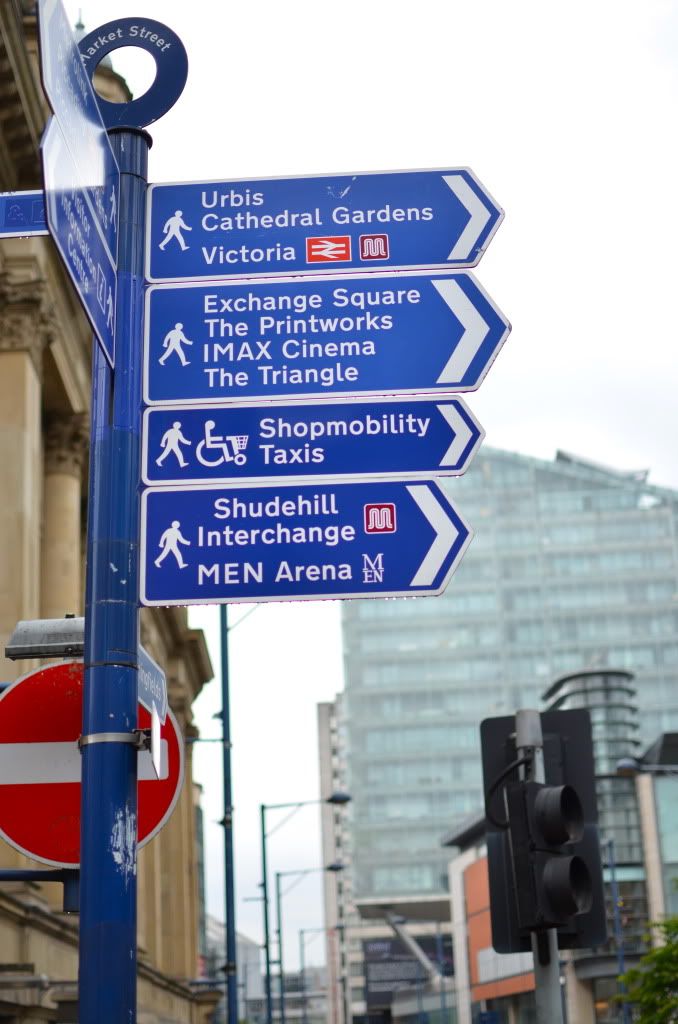 Busking must be tough in a recession.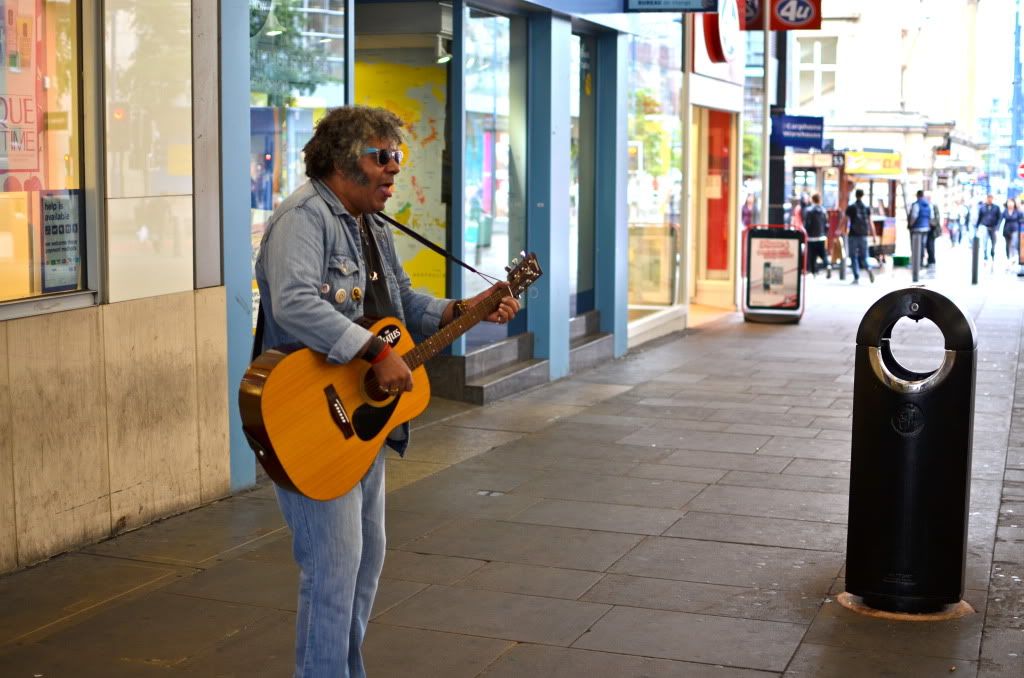 Bright colours on a dull morning.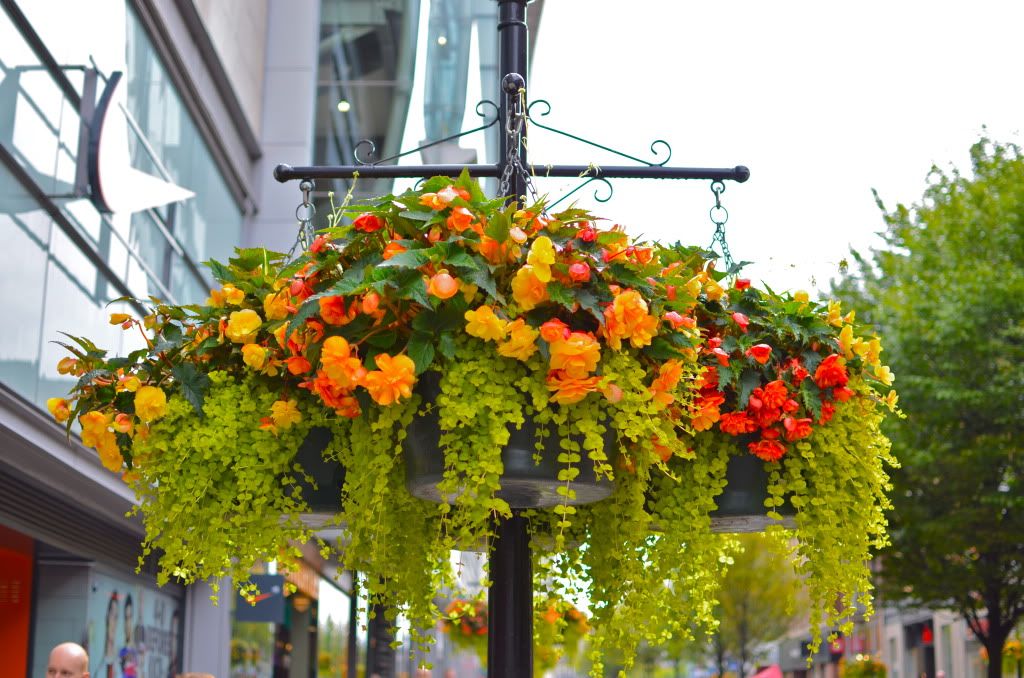 Enough of that, lets head for Piccadilly station for the airport train.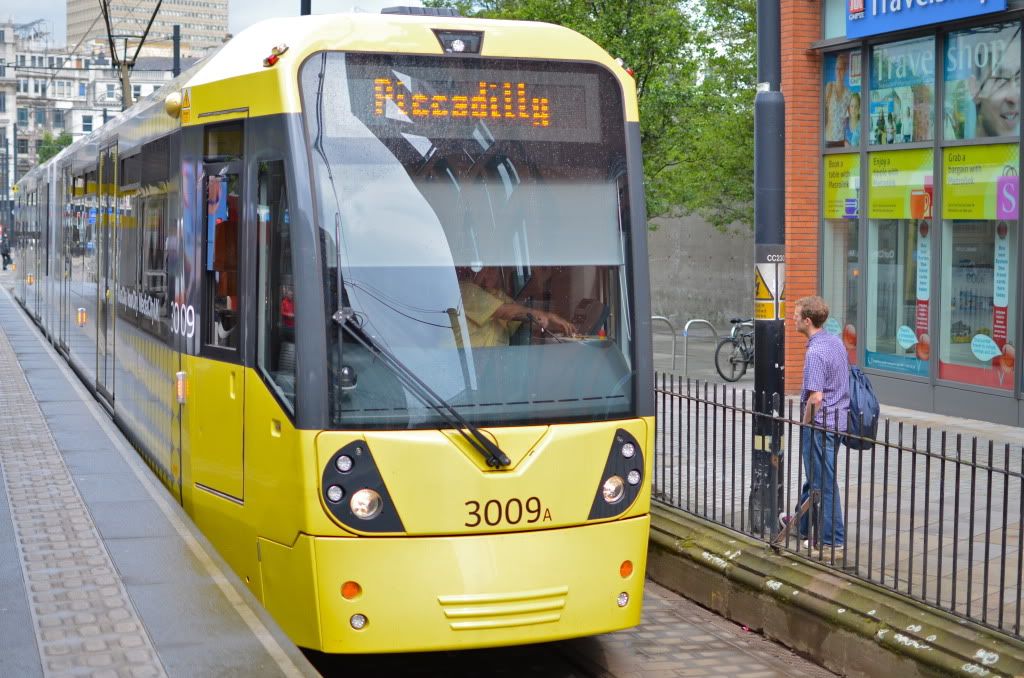 I only have to wait a few minutes at Piccadilly before i'm on a train heading to the airport again.
Check in for all flights done through the Lufthansa mobile boarding pass. Very convenient to travel this way. I still like to keep my boarding pass stubs when get them, but this could be less often now.
Very quiet for the security checks and no naked scan for me, well thats a shame for the person watching the screen. I had around 1 hr to wait so I just hung about for a while.
Decoration.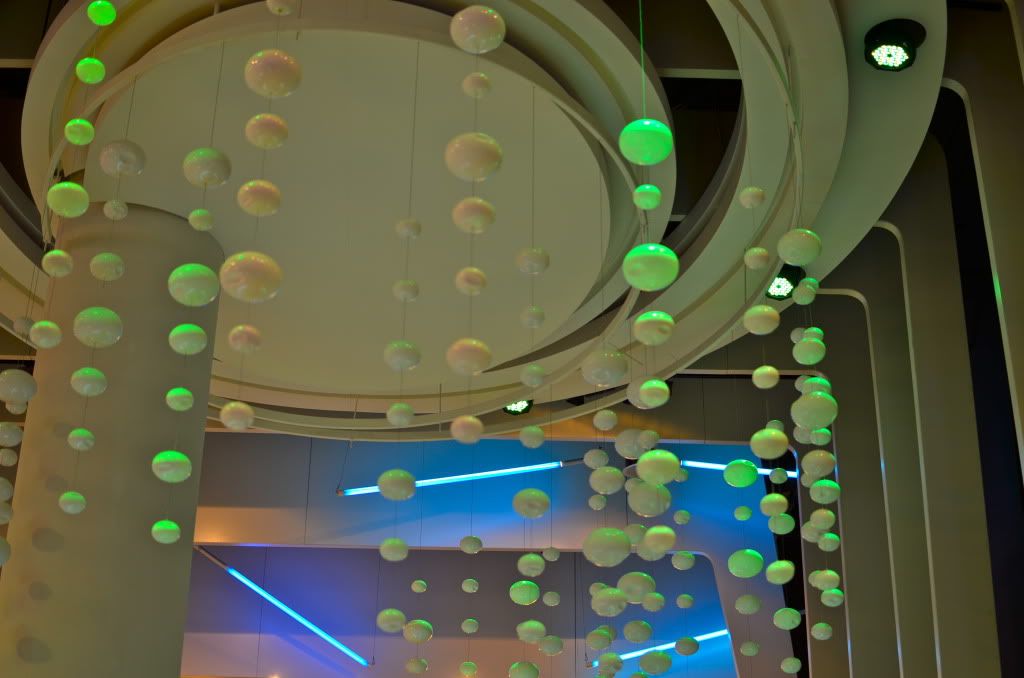 FIDS. Looking ok so far for the LH 943 service to Frankfurt.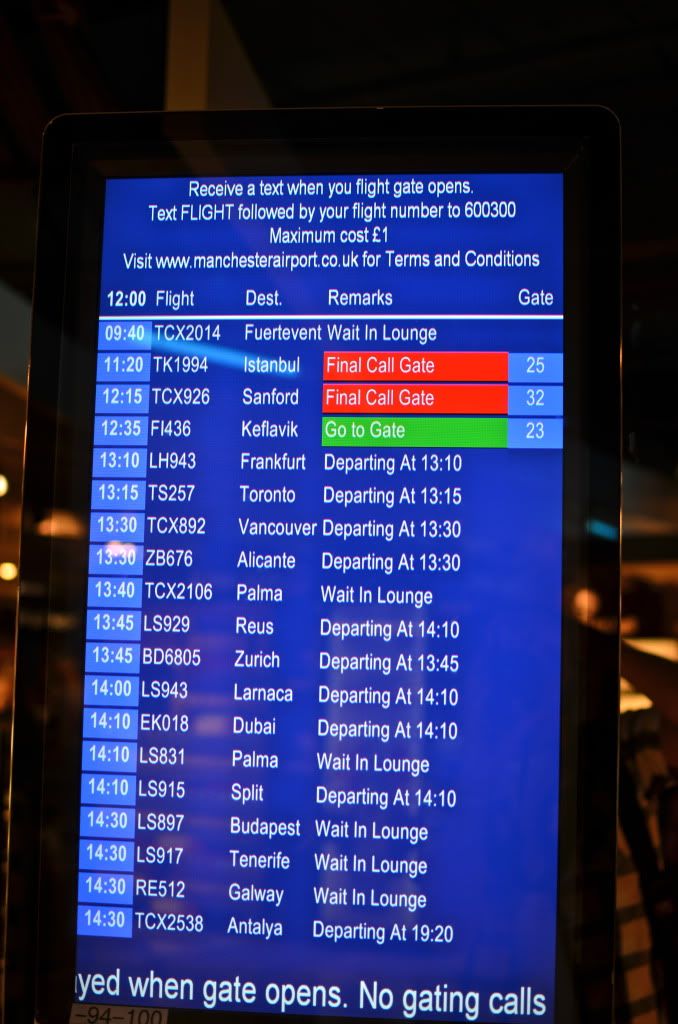 Boarding called on time and it's no surprise for me to see my old friend G-MIDO at the gate. Ah well.
Flight No: LH 943
Route: MAN-FRA
(6th time flying this route)
Aircraft: A320
(28th time flying on this type)
Airline: bmi
(16th time flying on this airline)
Registration: G-MIDO
( 3rd time flying on this aircraft)
Seat: 6A
New style interior on this bird. Lufthansa's old seats re-trimmed with this nice style.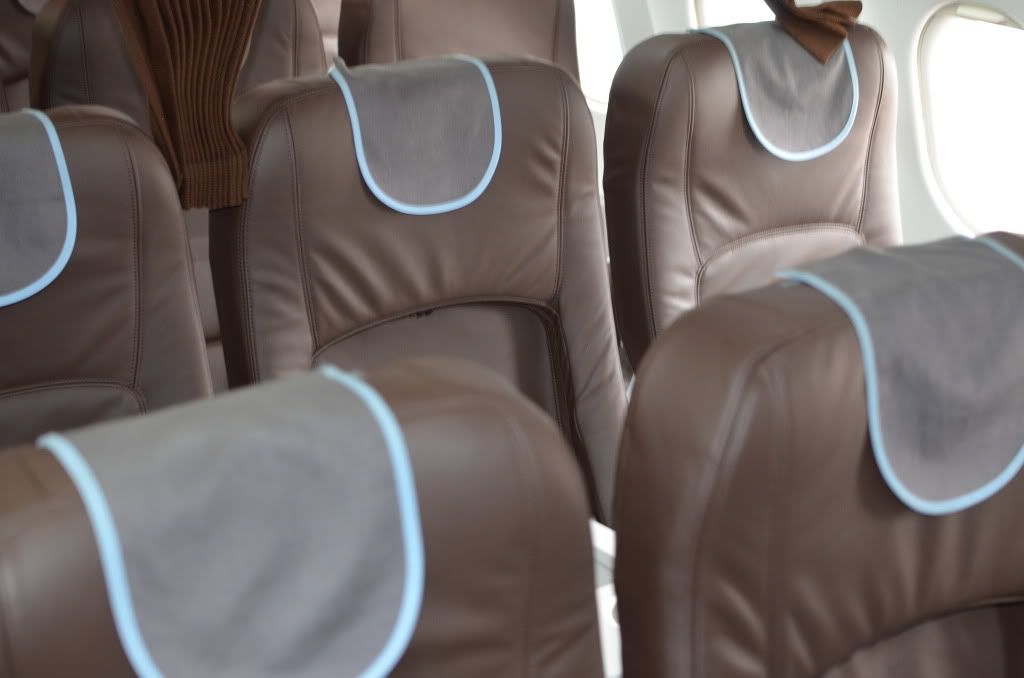 Almost a full house in economy and no empty seat at my side. Captain introduces himself and his crew, he sounds like quite a chatty guy. He then goes on to tell us we are ready to go, but Euro Control have other ideas. We end up pushing back 25 minutes behind schedule. This is some cause for concern with me. A tight 1hour connection in FRA is being eaten away. Looks like I should prepare for a run through FRA...AGAIN!!!
KLM heading to AMS.
The now old style Airbus panel.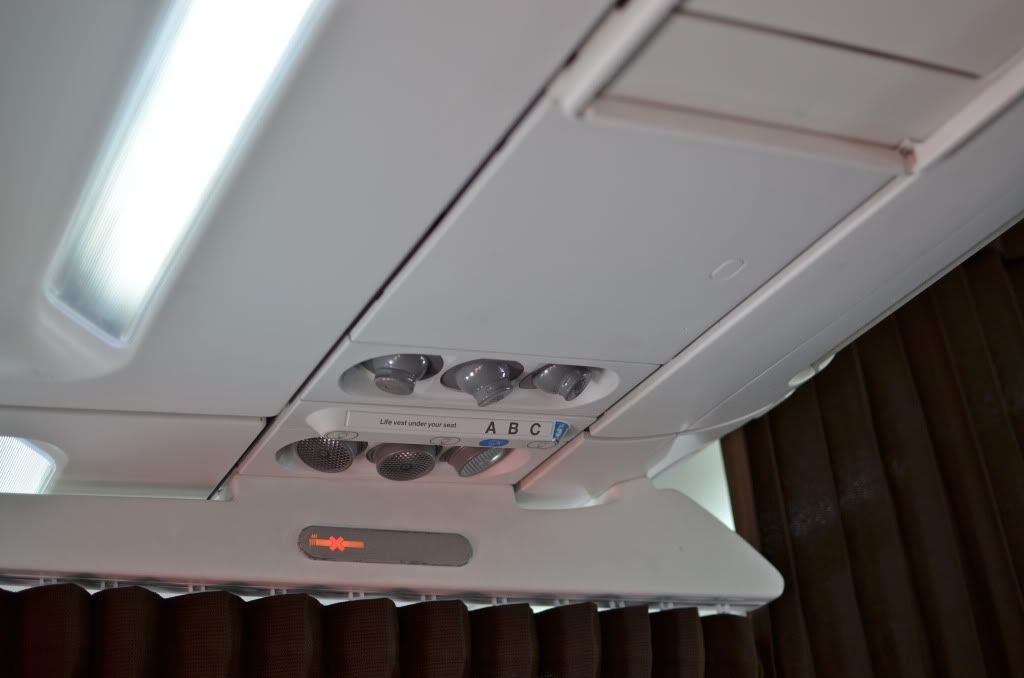 Busting out of the cloud tops.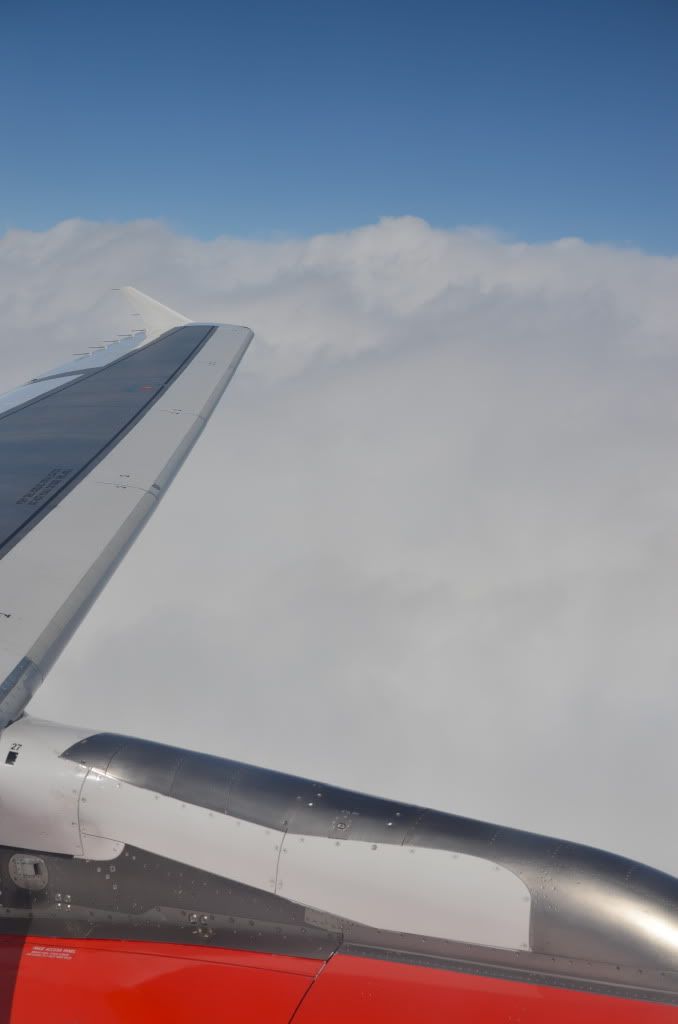 Snack service. Good quality as usual with bmi. Thumbs up.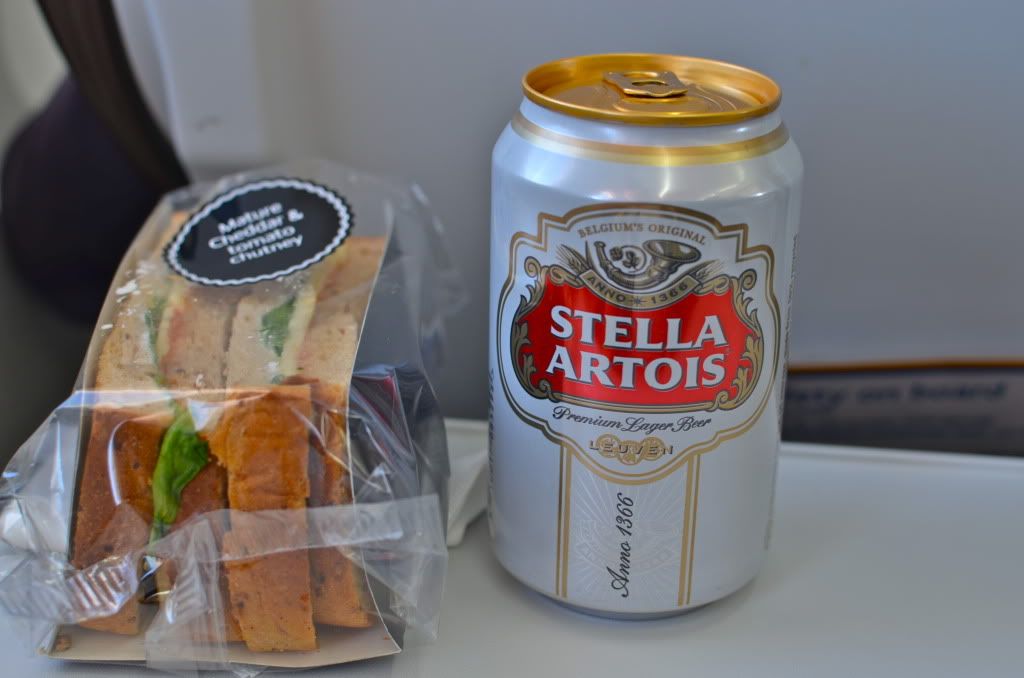 Wing views as we start to descend towards FRA.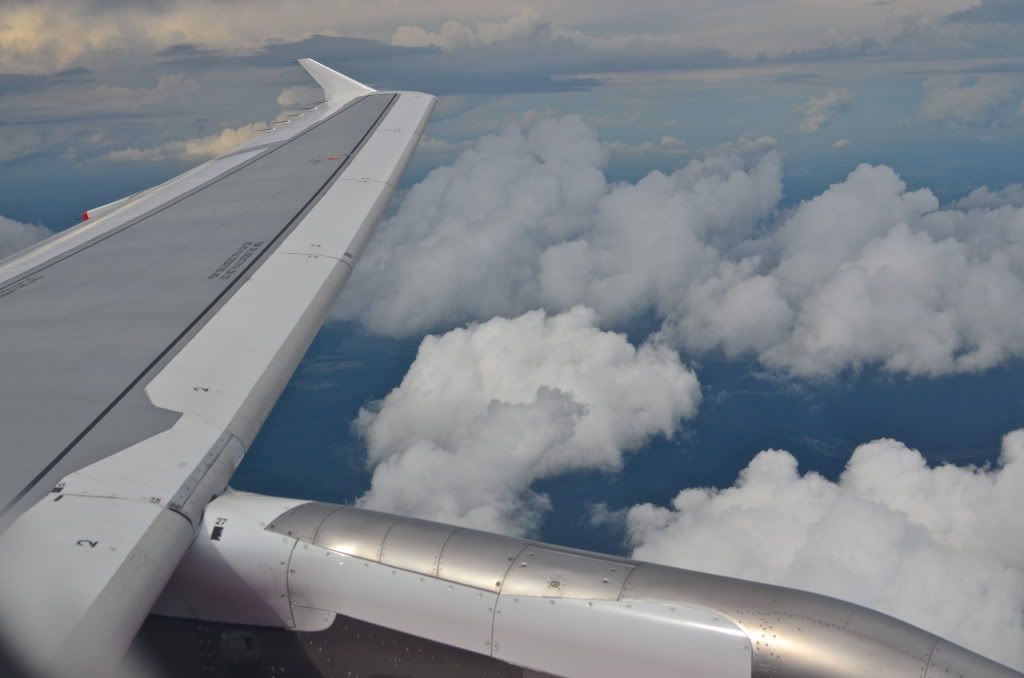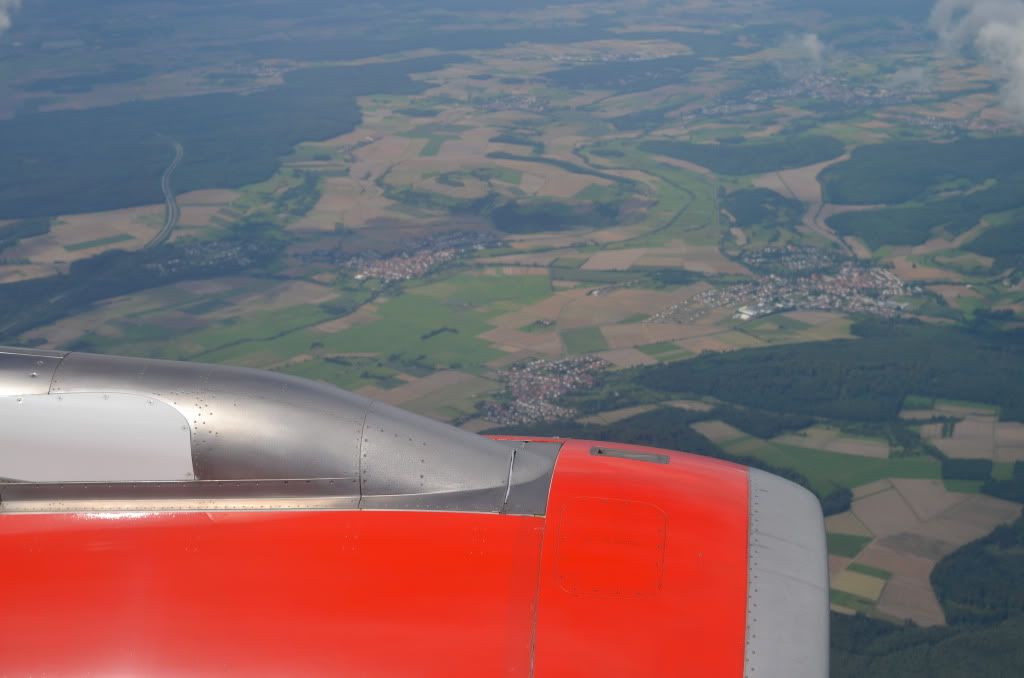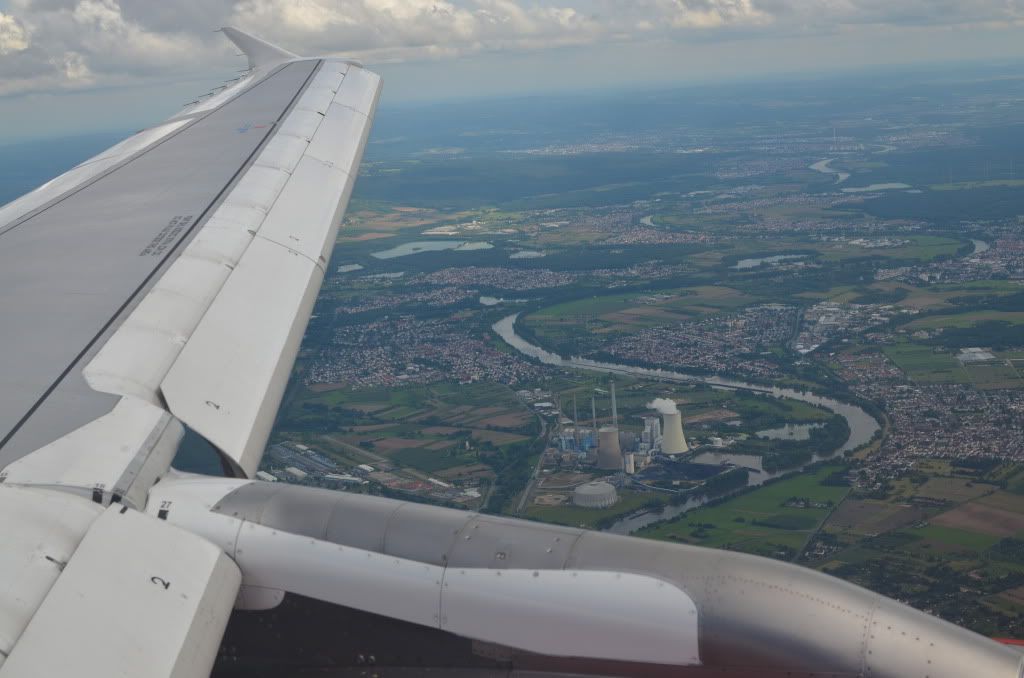 We land just as a light rain shower starts to pass over. I'm looking at a connection of just under 30 minutes as I step off the plane onto the bus transfer. This could go either way I guess? The bus pulls up at its stop and I bolt up the escalator like a race horse. Quite a few people waiting for the passport check. I go straight to one of the EU only check areas as they move quite a bit faster than the "All passport" lines. Maybe 5 minutes here and then a sprint down to baggage screening. "Bloody UK non-Schengen crap" I mutter to myself. 5 more minutes wasted here. Now the long one. Down the steps, through the tunnel shouting "Excuse me" as I leg it passed people. The steps up the other side to the A gates always get the legs burning after that long run, but if I want this flight I will have to keep going. Gate A5 for me so I hang a right and run the last couple of hundred yards. The gate agent is shouting "Graz Graz" at me as stagger to the podium. "Yes" I try to say fumbling in my bag for my passport and boarding pass. Phew, I made it with not much time to spare. She says "well done Mr Shaw, the bus is waiting for you down there".
Flight No: LH 1264
Route: FRA-GRZ
(1st time flying this route)
Aircraft: Boeing 737
(21st time flying on this type)
Airline: Lufthansa
(15th time flying on this airline)
Registration: D-ABIK
(2nd time flying on this aircraft)
Seat: 18F
Out onto the ramp again and the rain is quite heavy now. Still time for a picture or two though.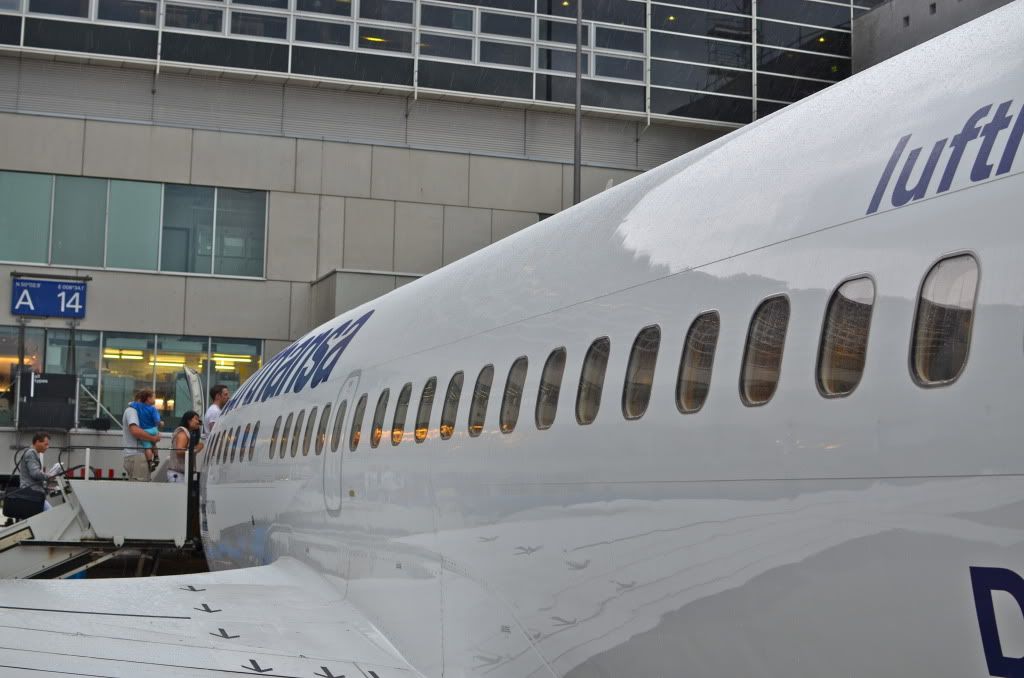 Vertical stabiliser.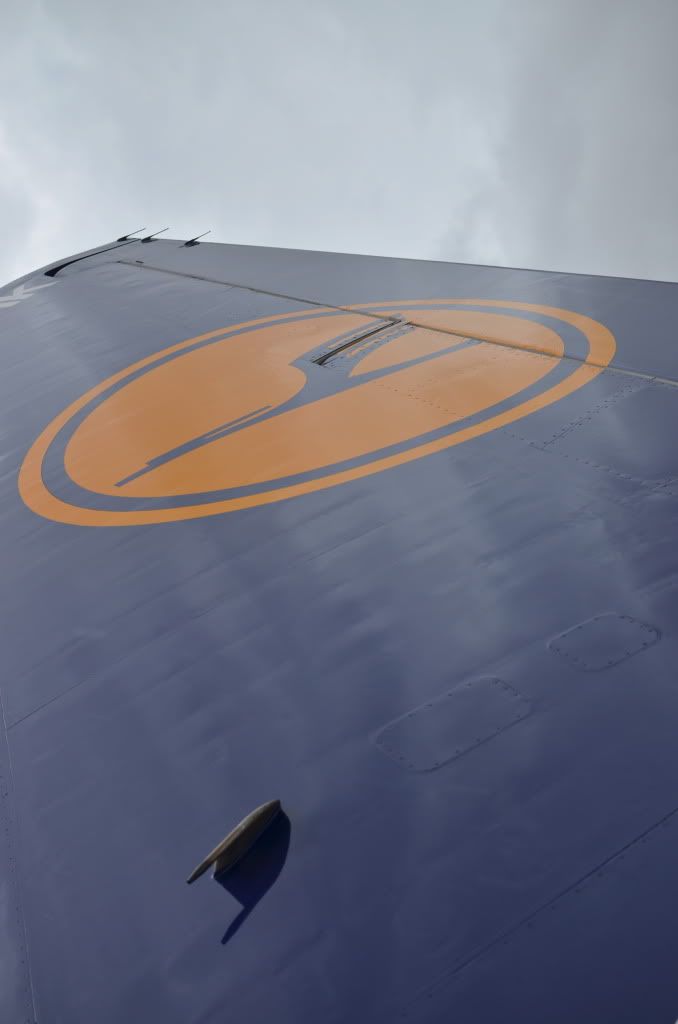 UNITED (Continental) 777 waiting in the rain next to us.
737 cabin with the old school overhead panel.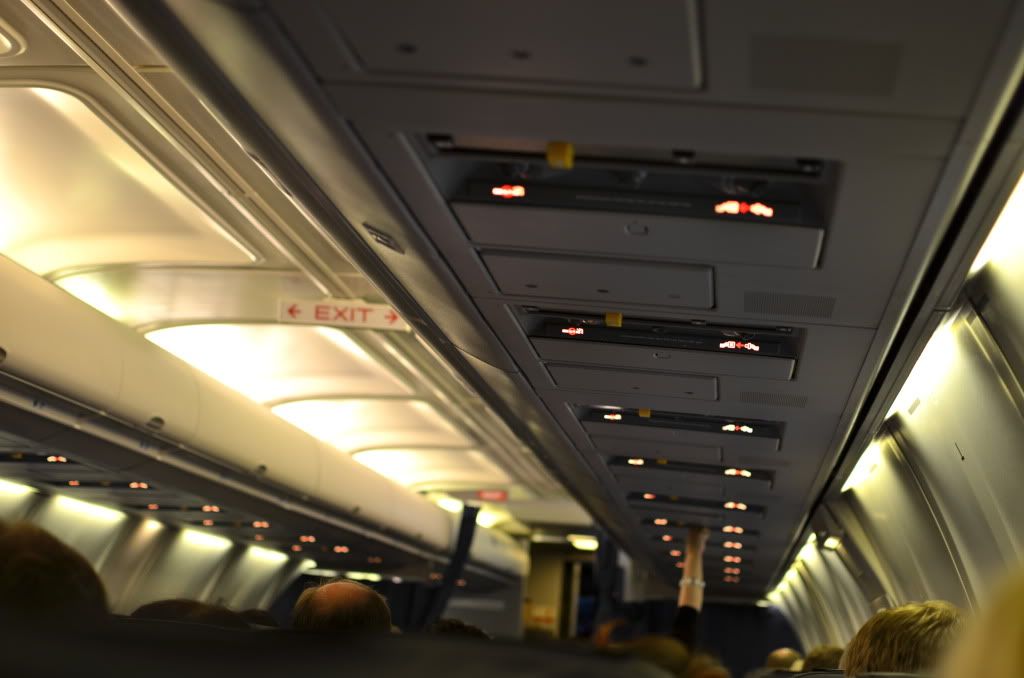 Again, slot restrictions are in place delaying the departure. Soon after we are informed of this the heavens open BIG style. In fact, the rain is so heavy ground ops are suspended for 15 minutes delaying us further.
During the delay the crew bring out some snacks and drinks. Very good service idea.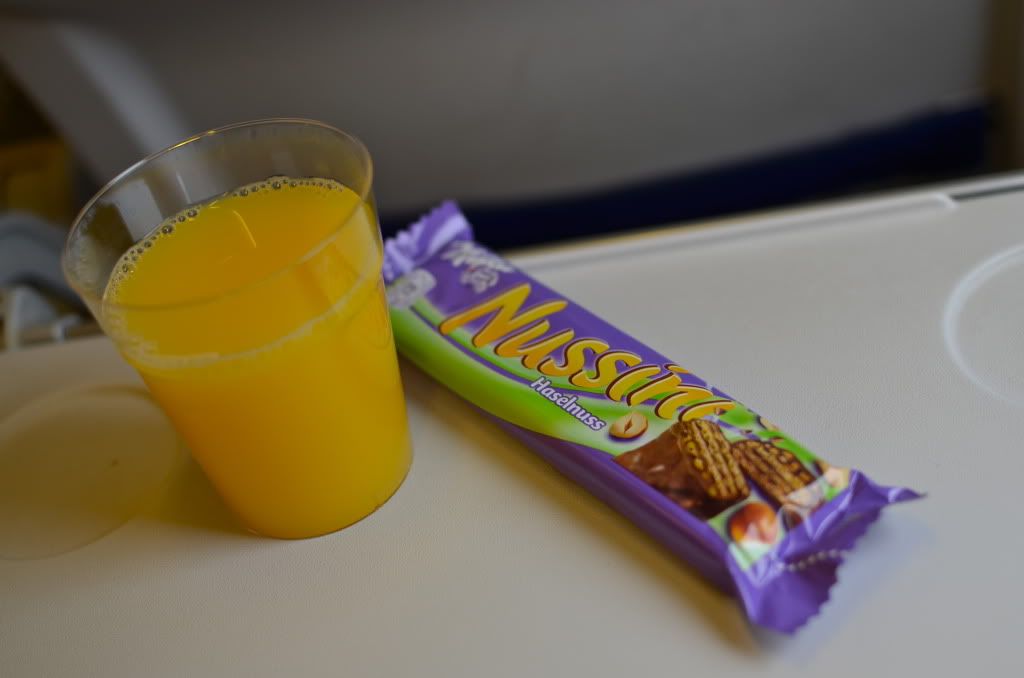 Eventually we move off through the soaking taxiways out to runway 18 for takeoff.
Some views from the climb out.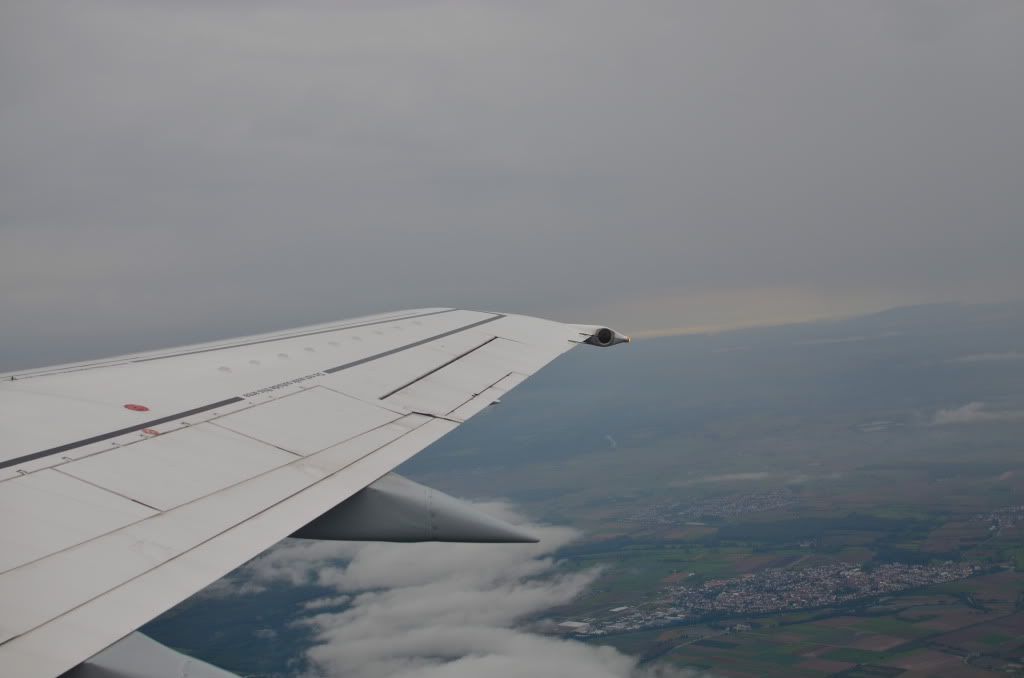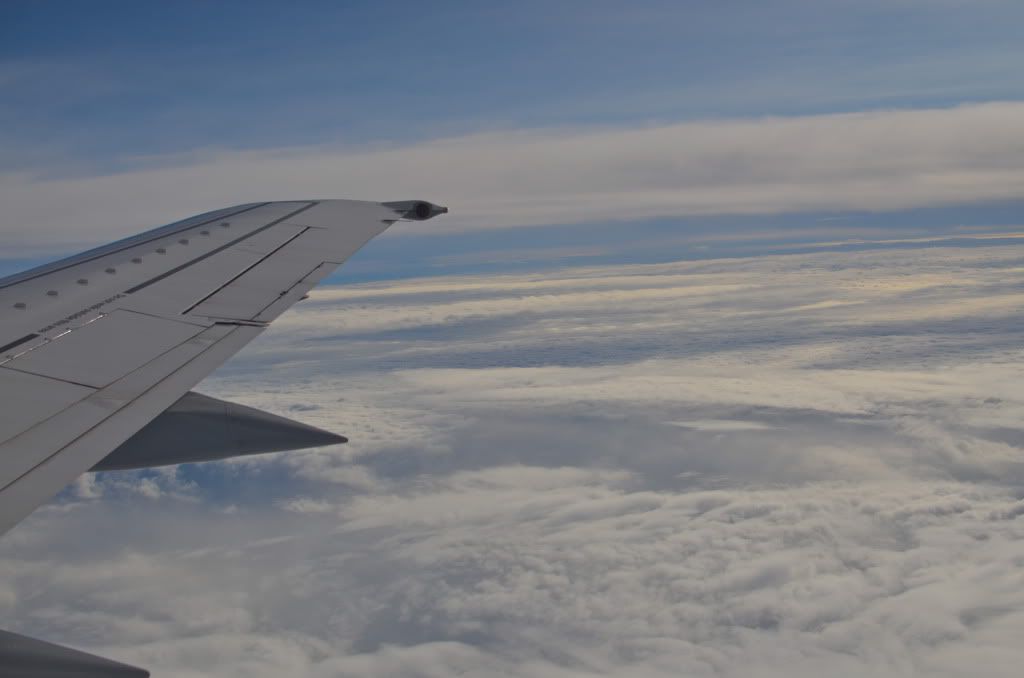 We have a load of around 60% here and the middle seat in my section remains free.
A new style snack for me. Not to my taste if i'm honest but my seat buddy and I were offered double portions.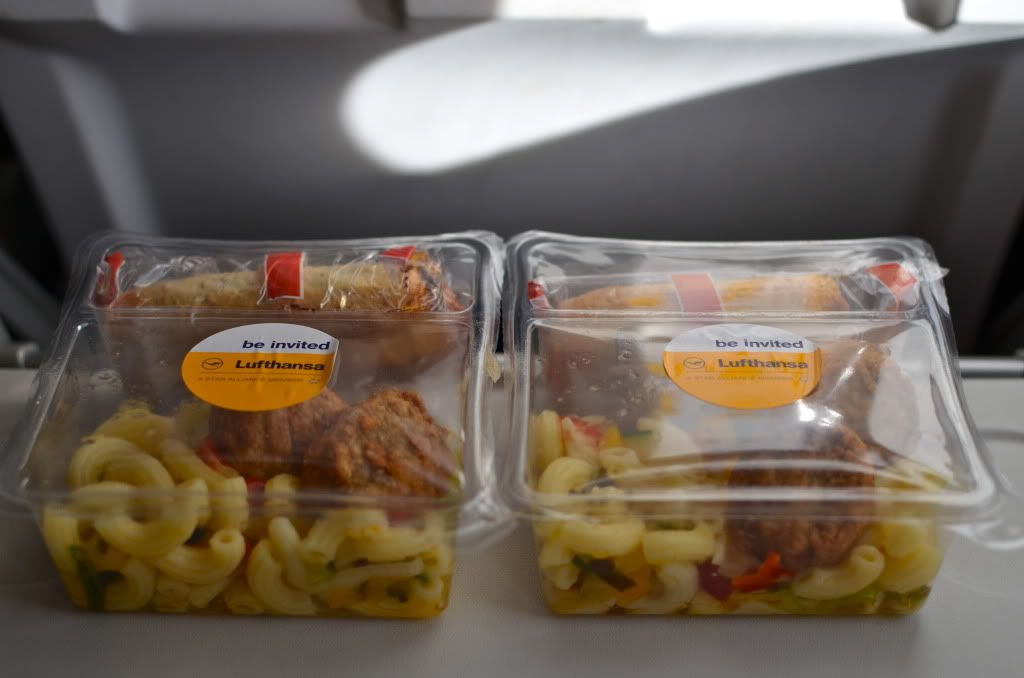 Time to relax with some tunes and some Alpine views. Here are some of the views from this part of the world.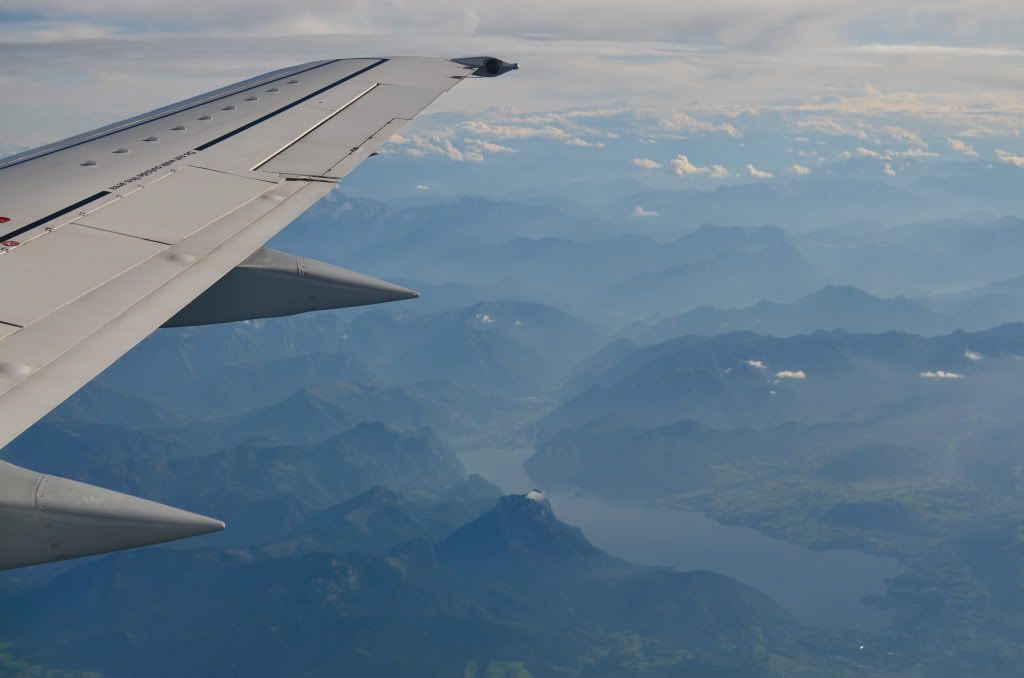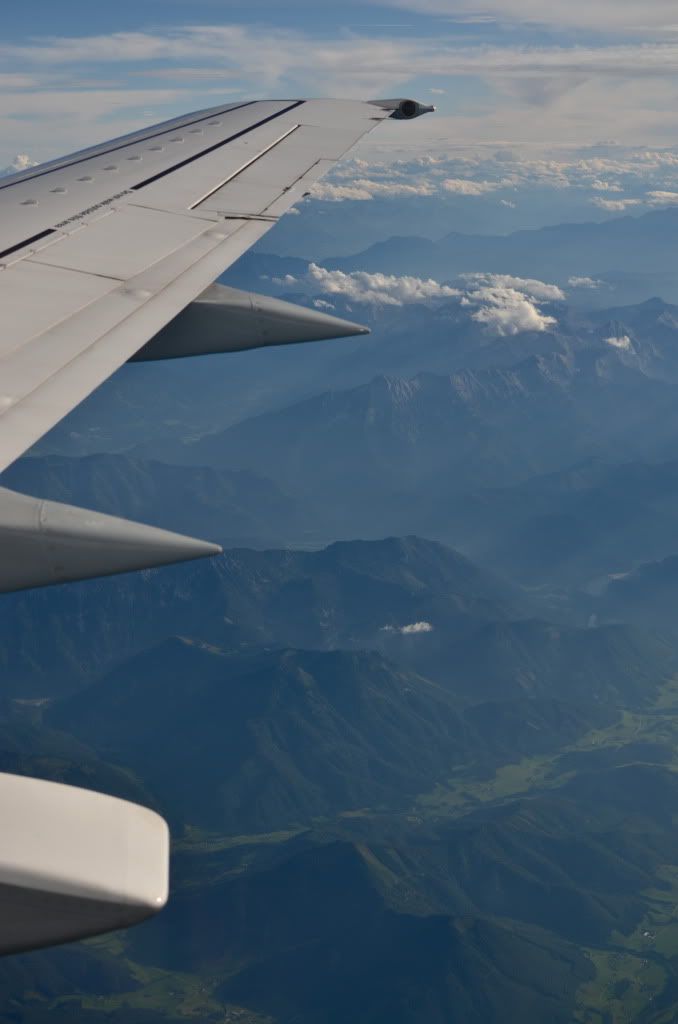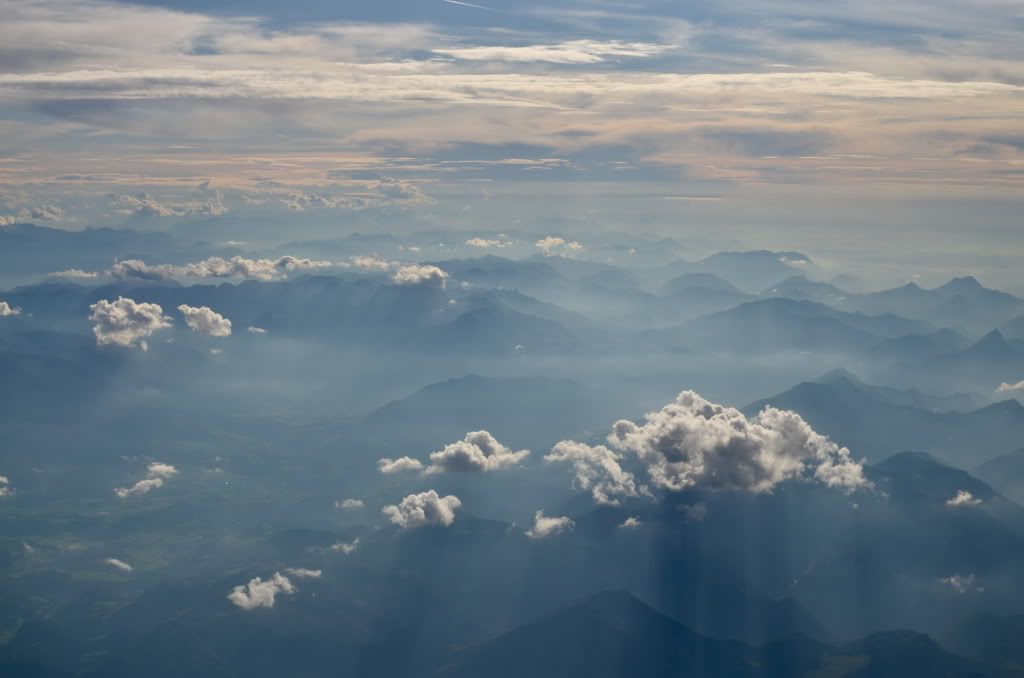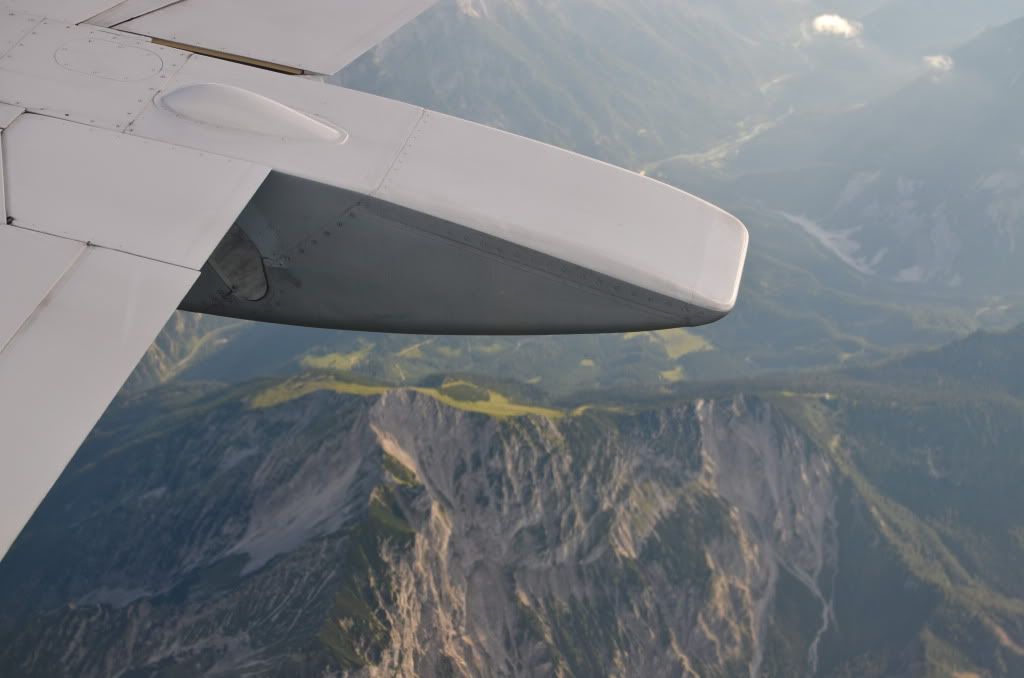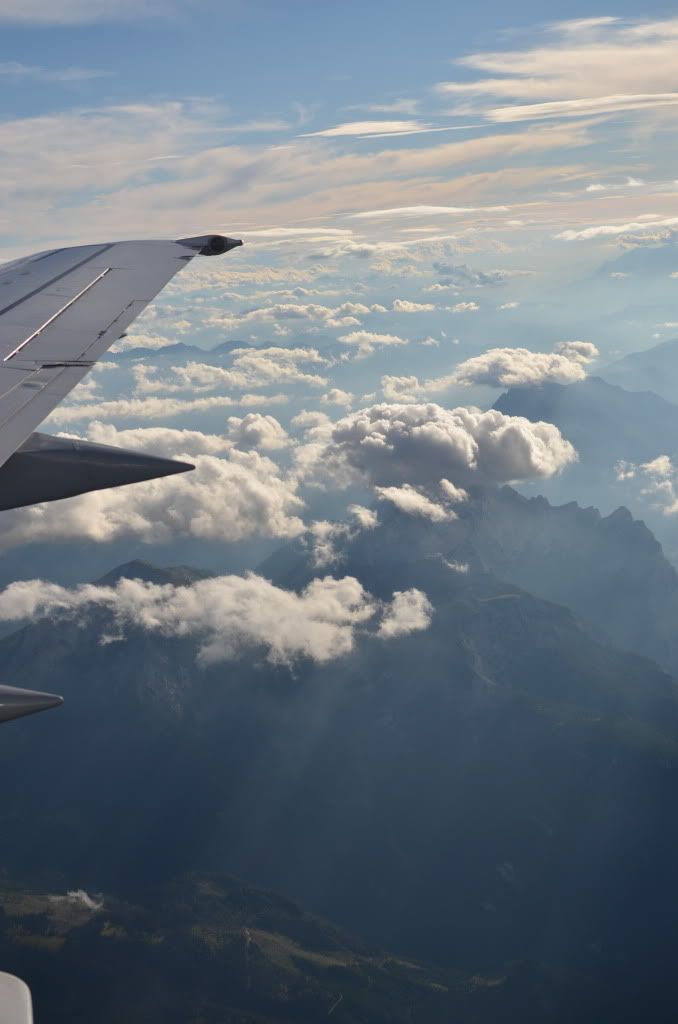 Here we go with some approach views into GRZ.
Me and my shadow.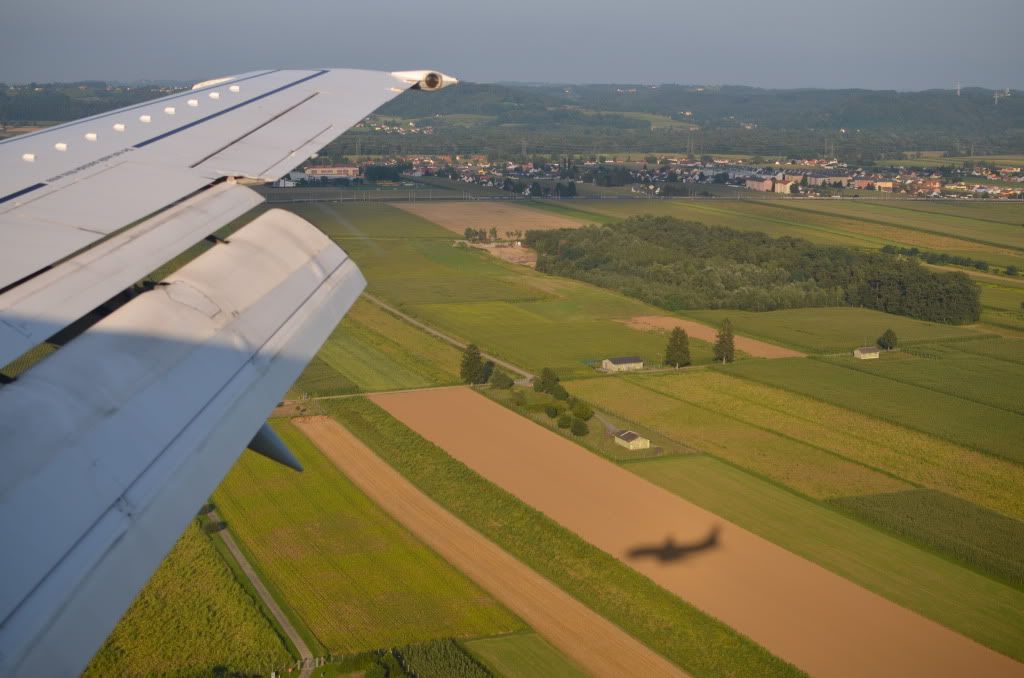 Ground spoilers.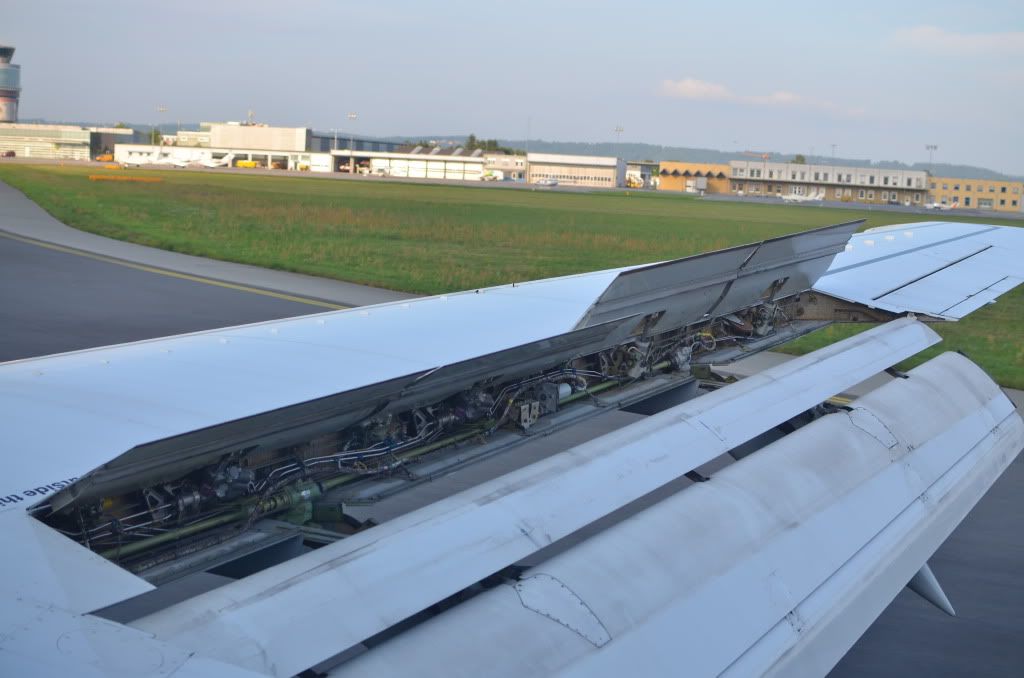 As we turn to park up I notice a viewing terrace. Cool, and its sunny and warm. Might spend some time here.
Off the plane and time for some exterior views.
Port Navigation Light.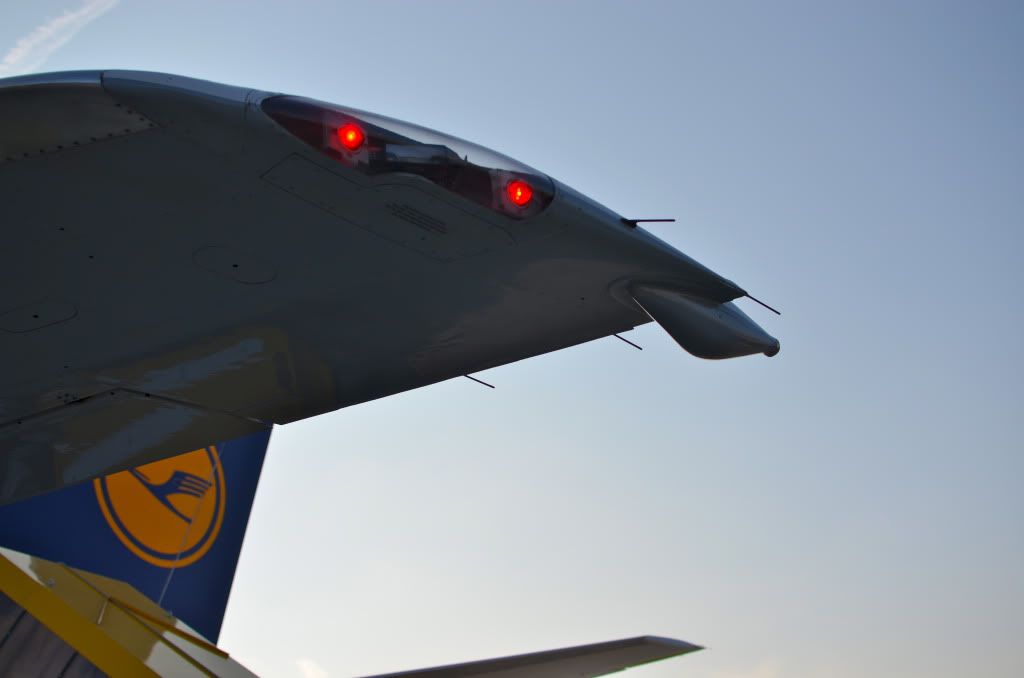 Tail with the sun going down behind.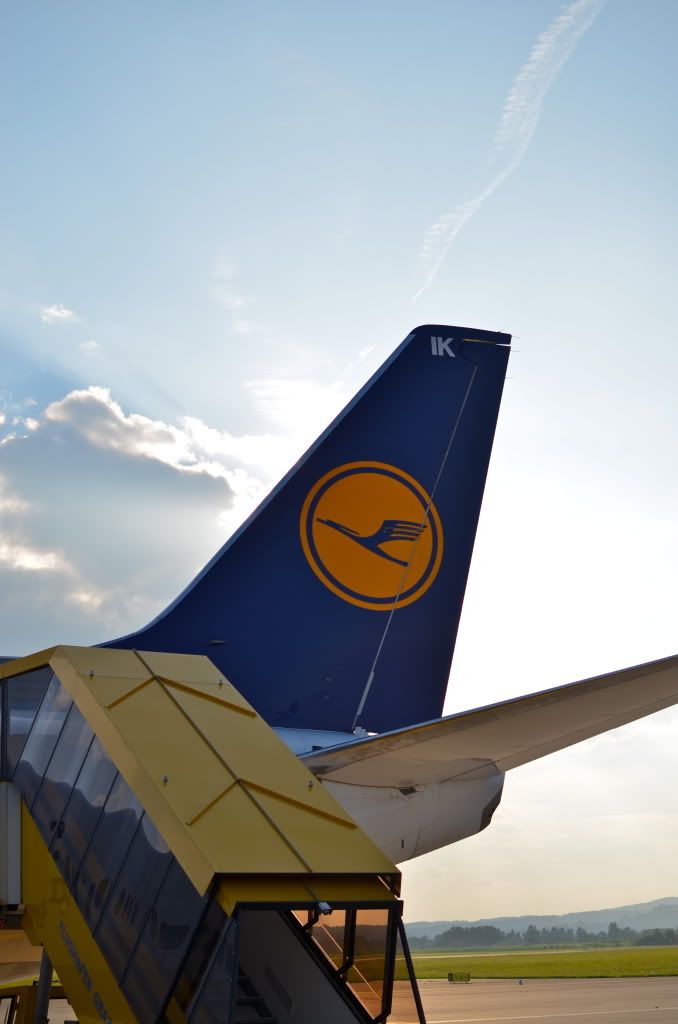 Random scarecrow in the baggage reclaim.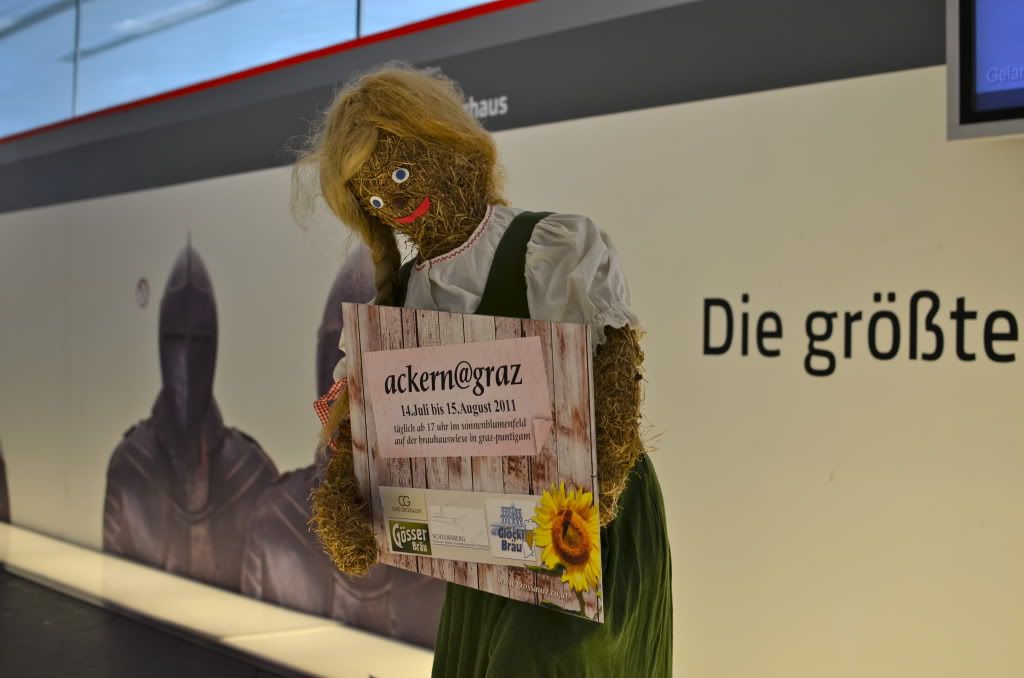 I had a look upstairs to check out the terrace. Looks good and it's free. I will return to check this out tomorrow. Time to head to the hotel now though.
I drop lucky and snag a 5 series BMW for the ride. Hey, if i'm paying €15 for a 5 minute taxi ride I want a decent chariot.
The hotel car park is empty and I have been e-mailed a code for the front door to let myself in as there are no staff working at this time. The taxi driver makes a joke about how quiet it is. Hey mate, don't creep me out. This is already looking a bit strange. The door code works fine and I let myself in. Not a soul to be seen or a sound to be heard.
I find this friendly letter and go up to my room.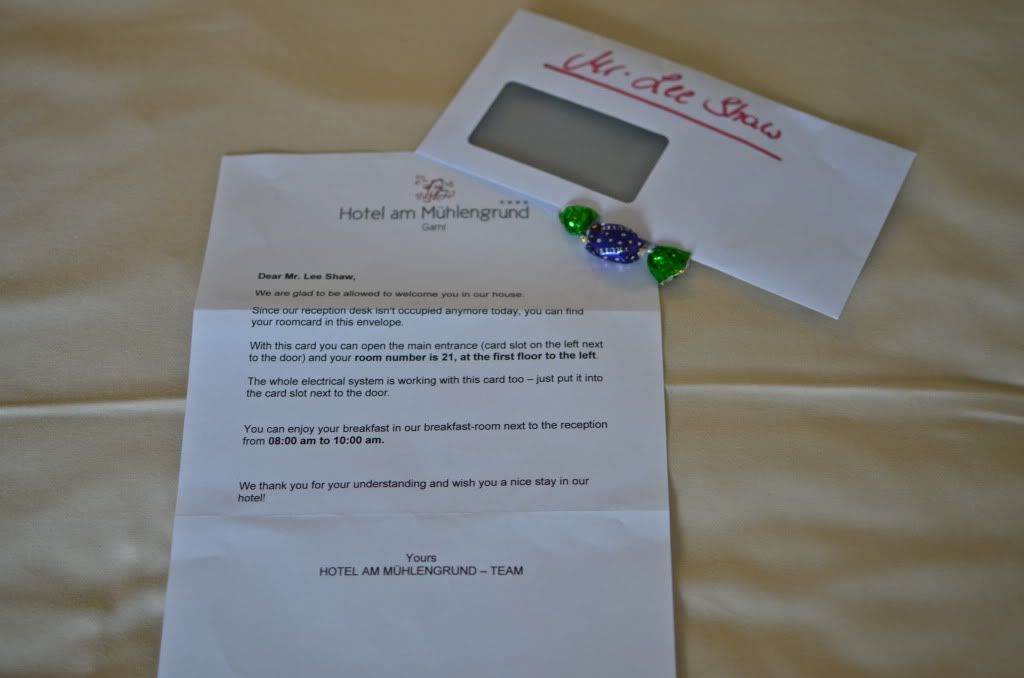 This is ok actually.
Balcony views.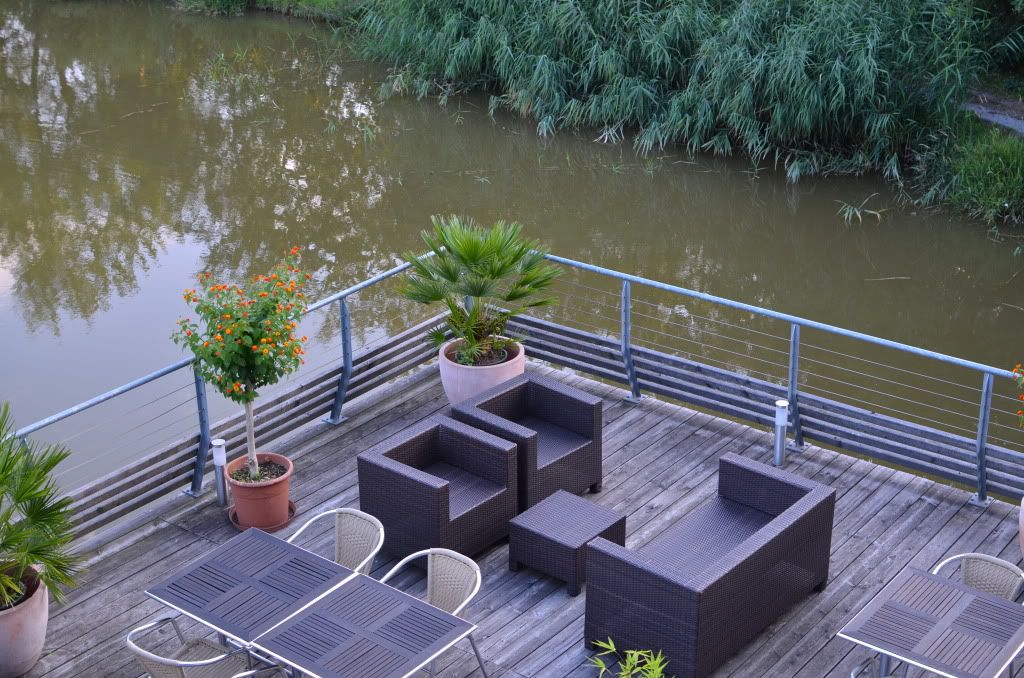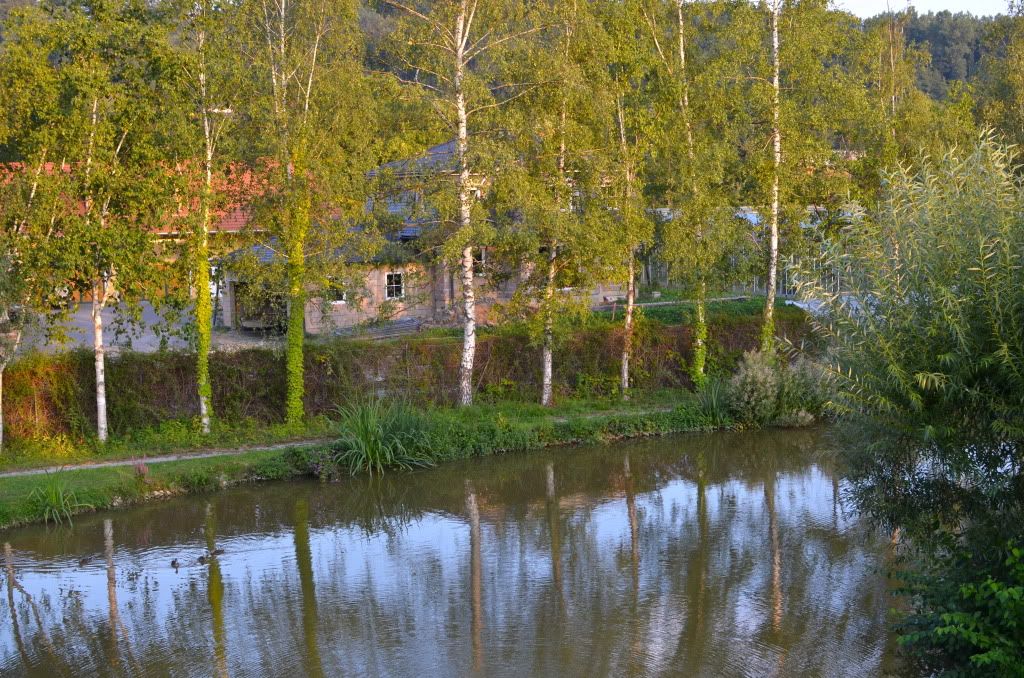 Balcony seating.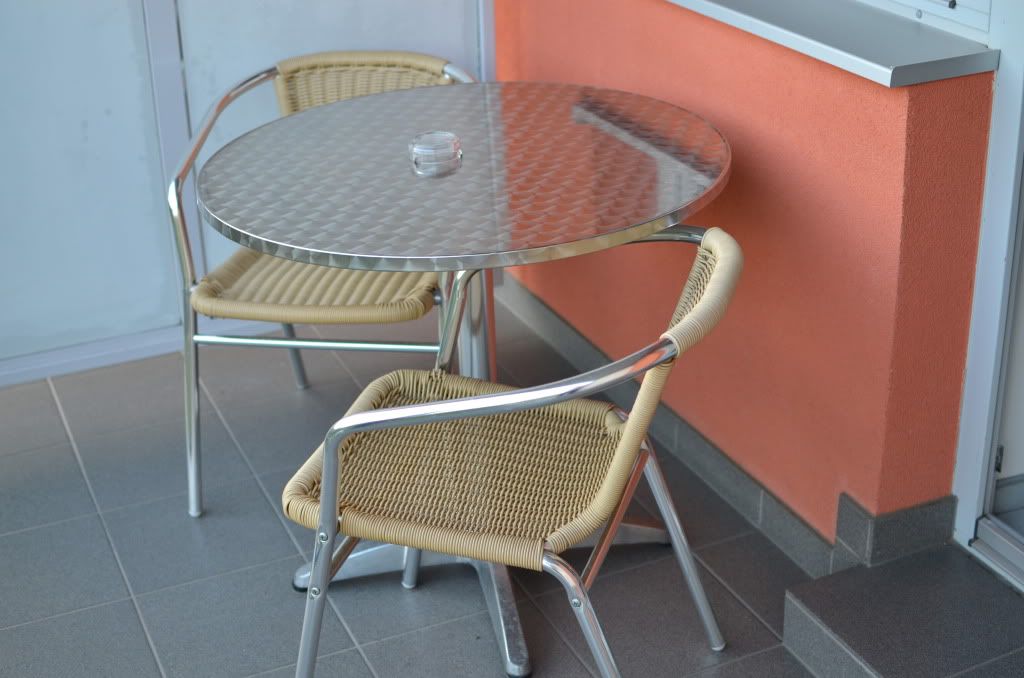 With nothing going on at the hotel I just tucked into a few snacks I bought at the airport and watched some ducks fighting in the pond before jumping into bed and drifting off.
I awoke the next morning around 06:30 which was perfect for the 07:00 breakfast. I freshened up and headed down to see what was going on and if there were any other guests.
A young girl was just starting to prepare the restaurant for breakfast so she offered me a seat out on the decking and some fresh orange while she did this. Very relaxing start to the day.
View from my table.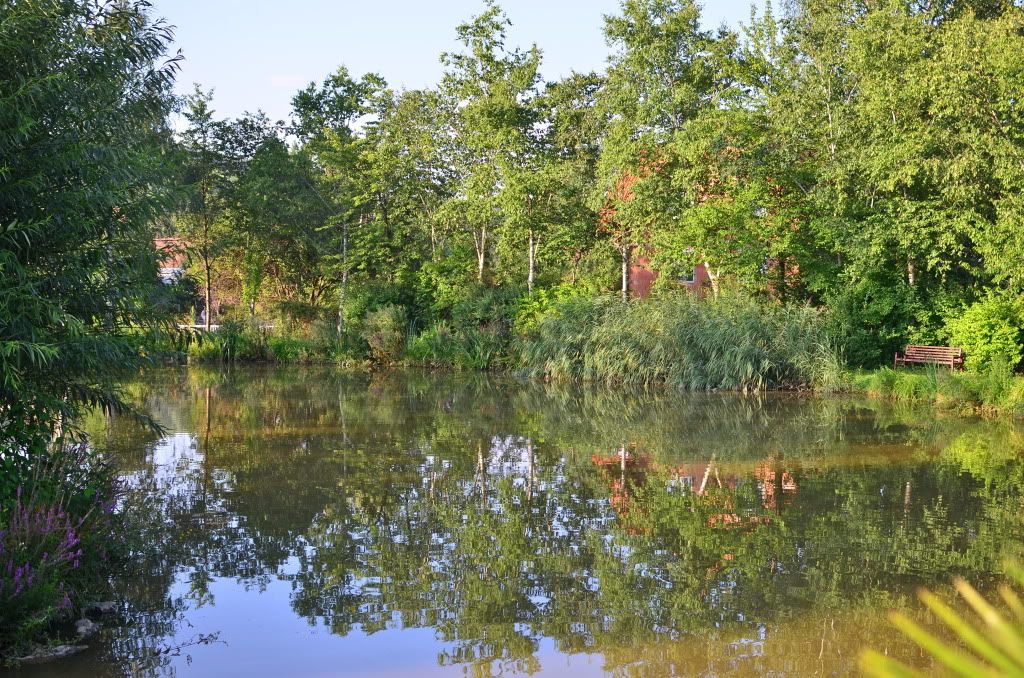 I asked for a few bits off the menu and she returned with this nice plateful.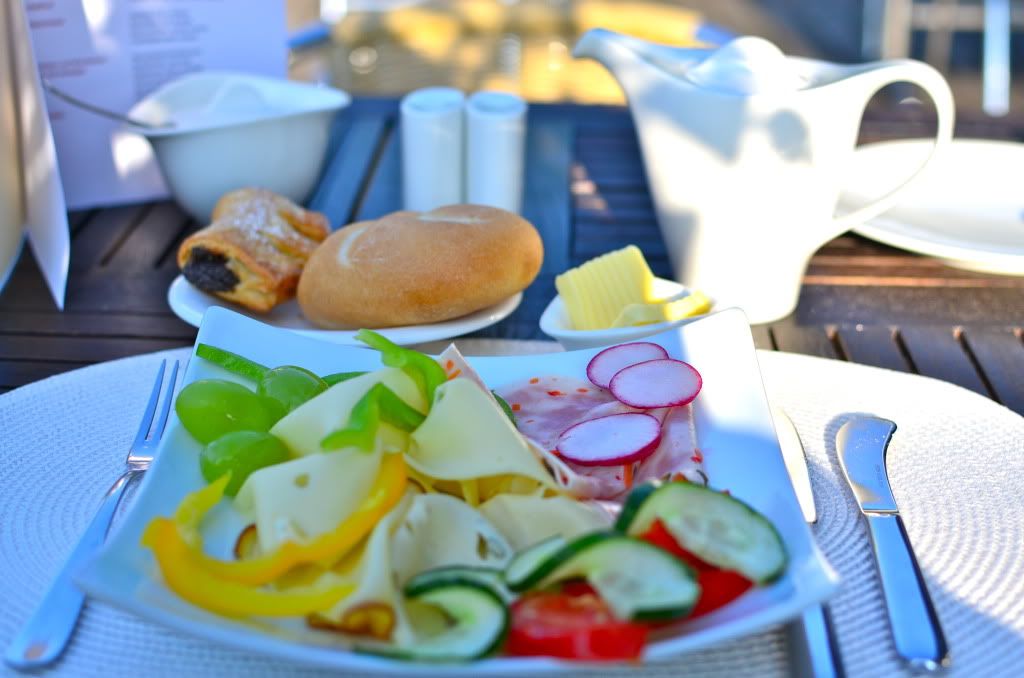 After breakfast I headed out for a walk around. Not too much going on really. Looks like a new road was being built or something?
Hotel from a distance.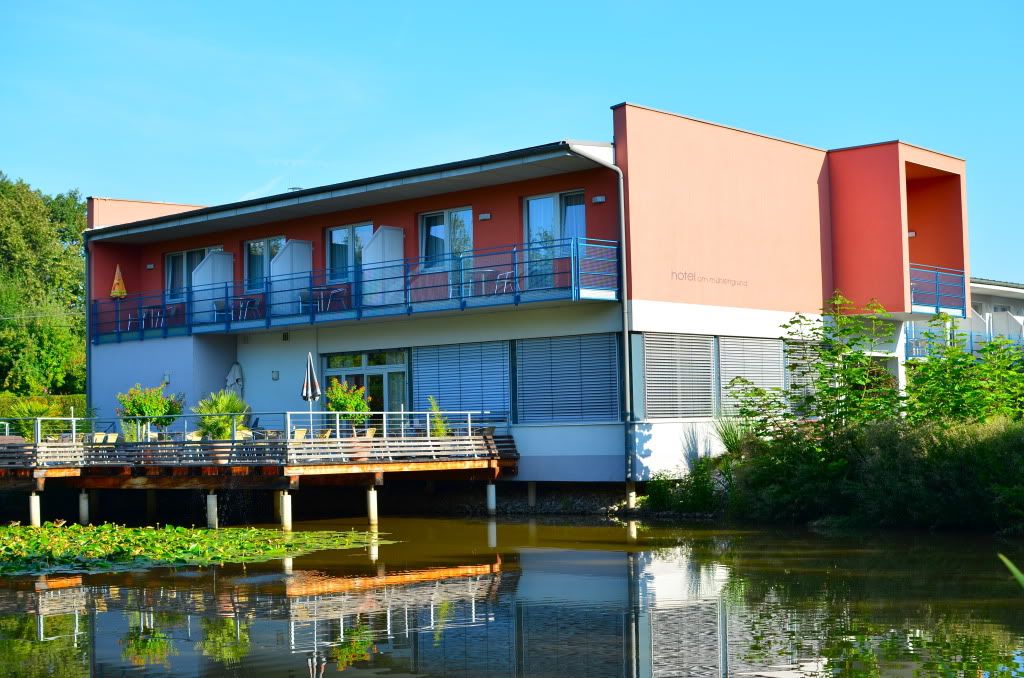 Nearby building.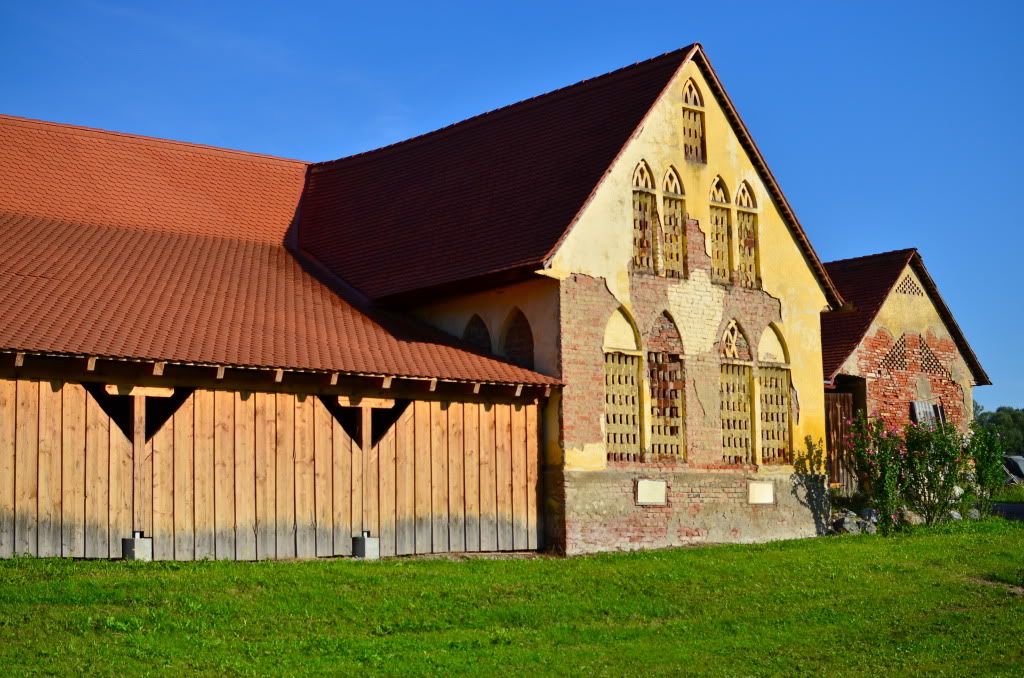 And from a different perspective.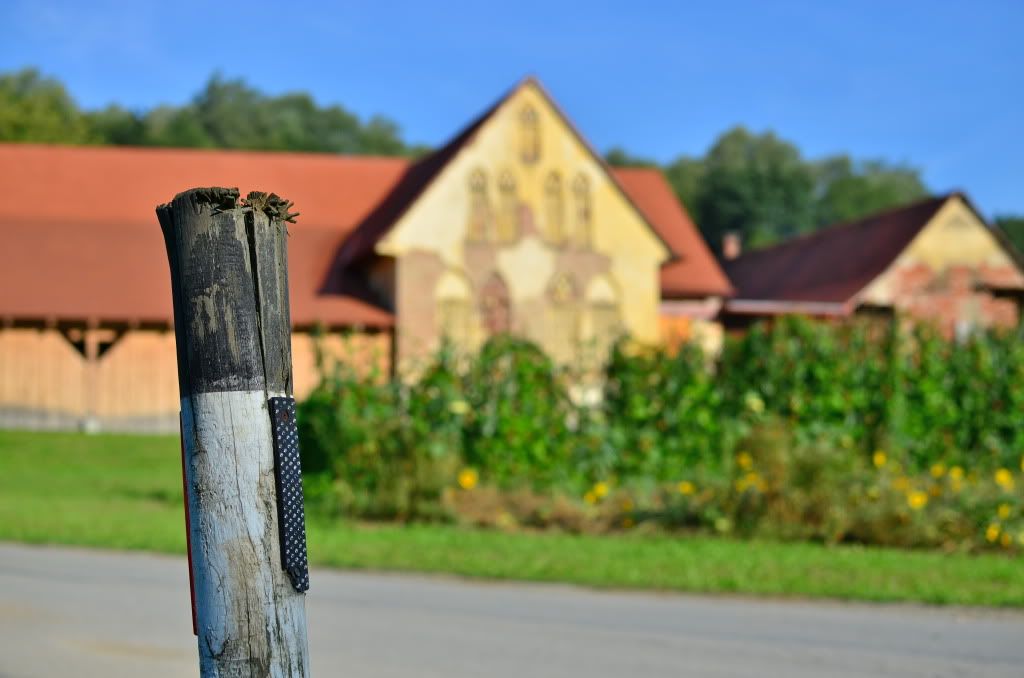 Not too much to see as I said so I returned to the Hotel. This is the lobby area with the steps leading up to a bunch of the rooms.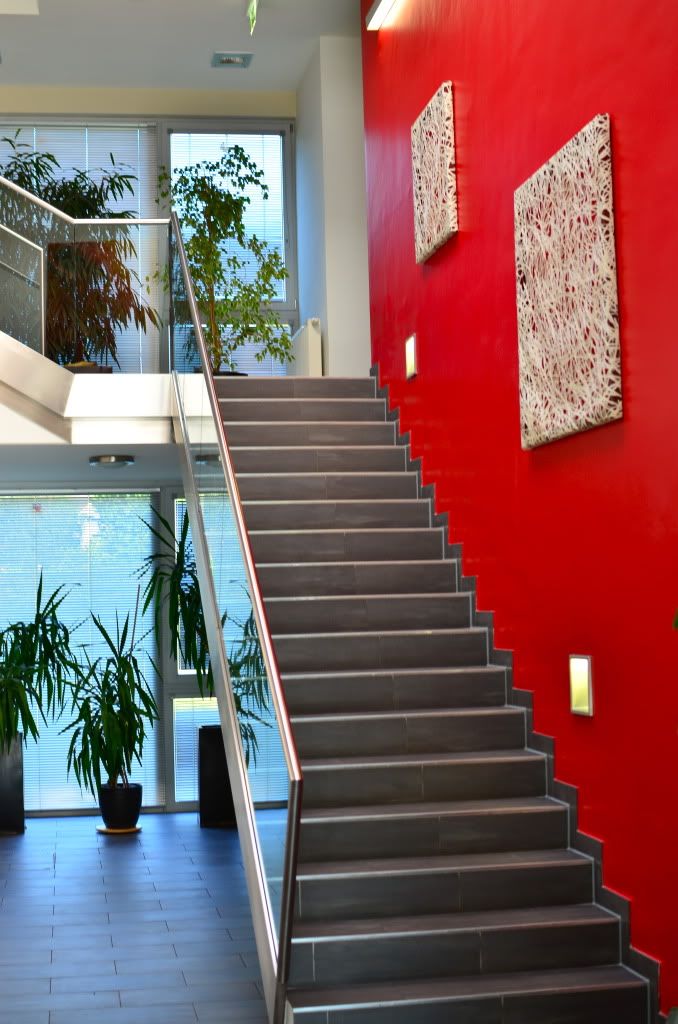 I had a few hours to go yet until my flight, so I watched a dvd on my laptop for a while before heading down to reception to check out. The girl explained that it was so quiet as this hotel is mainly used by business travellers. As it's the weekend there was only three other people staying. Well that explains that then.
I checked out and got a taxi to the airport with a very chatty driver. He had spent most of yesterday driving back from Berlin, 10 hours in fact!! "I hope you are ok to drive the taxi today?" I ask him, "Yes, not too tired, besides I love to drive" You picked a good job then if you love driving.
Another €15 down and i'm back at GRZ.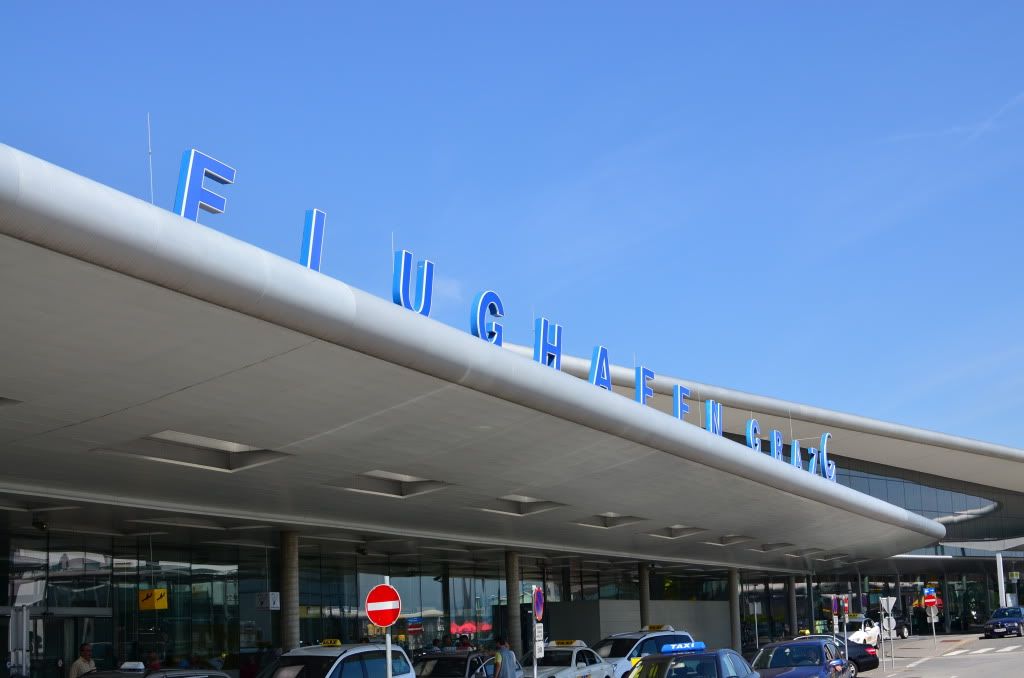 No reason to check in, but here are the counters.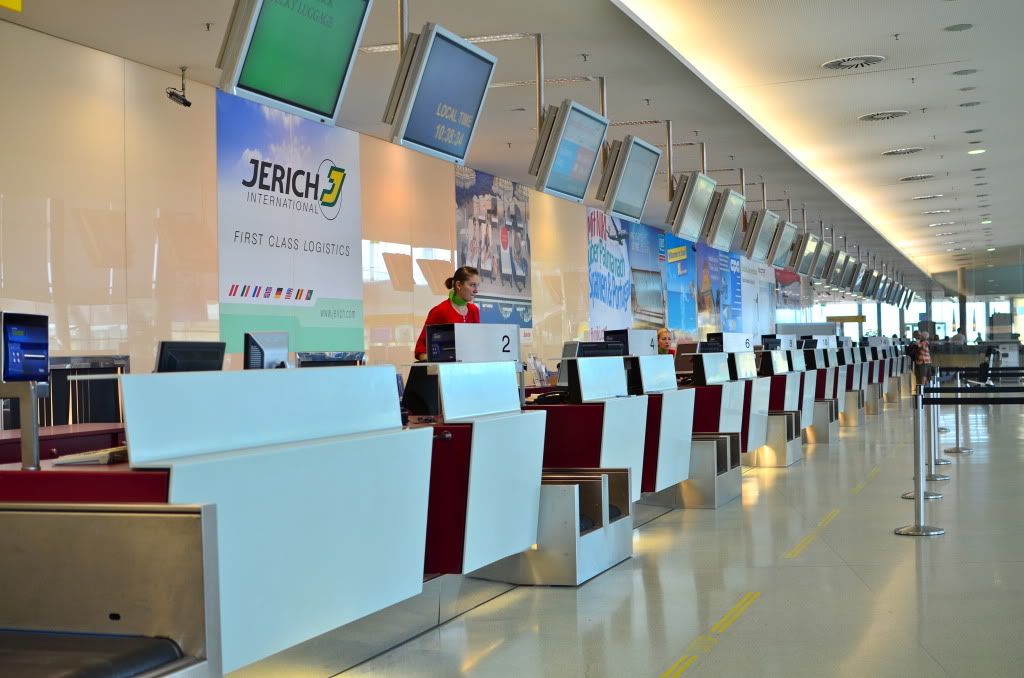 Lets go and see the viewing area for a while. Maybe something more than a 35mm lens would be ideal but thats what I have. Some pictures anyway.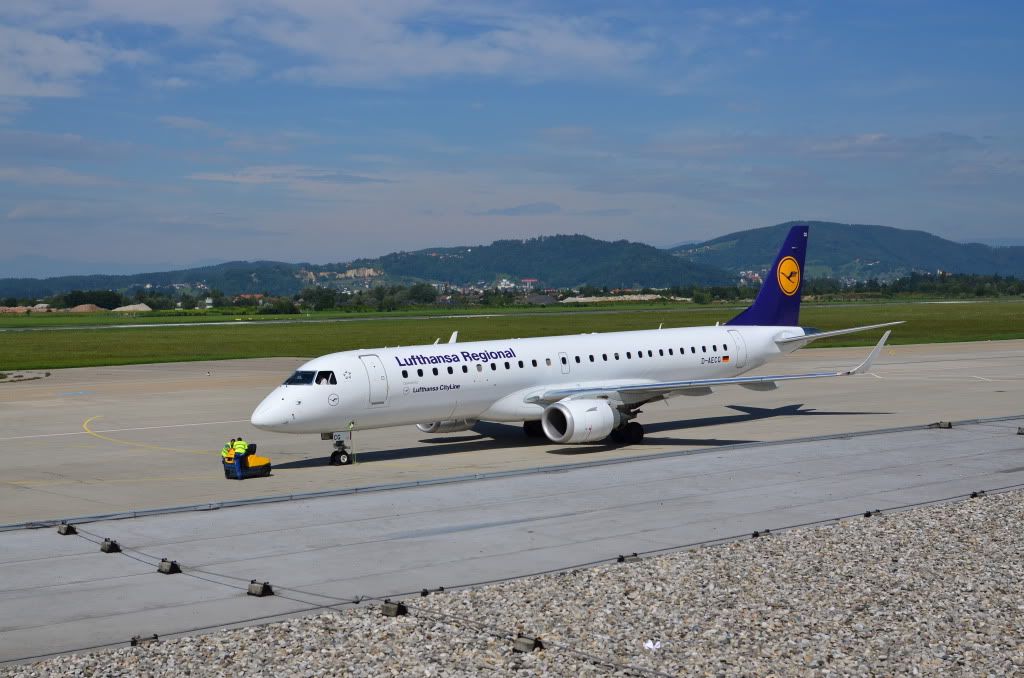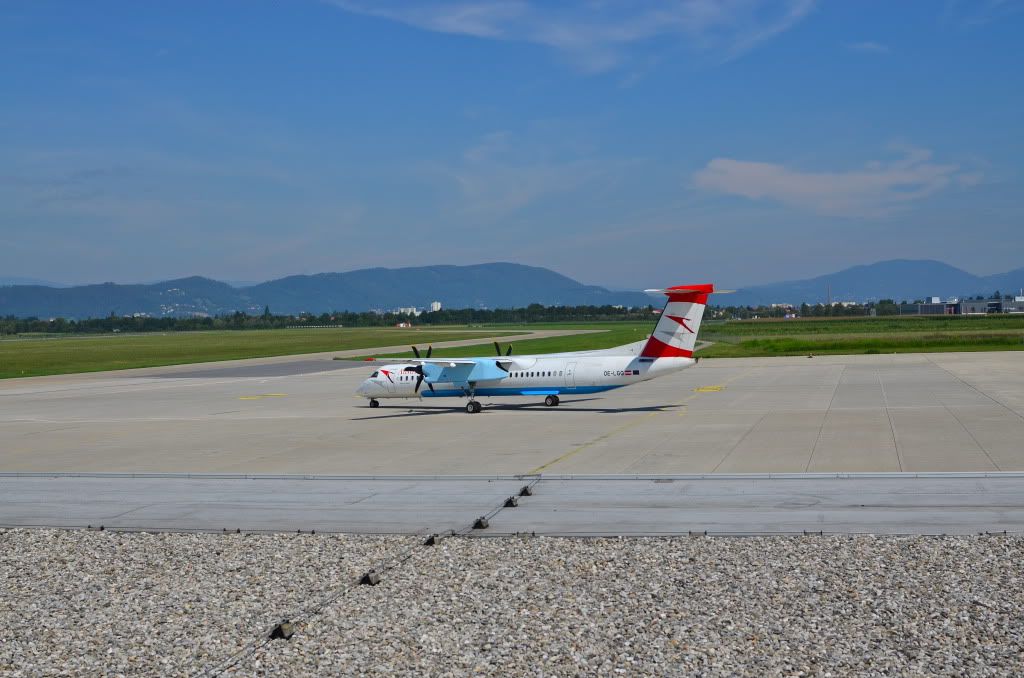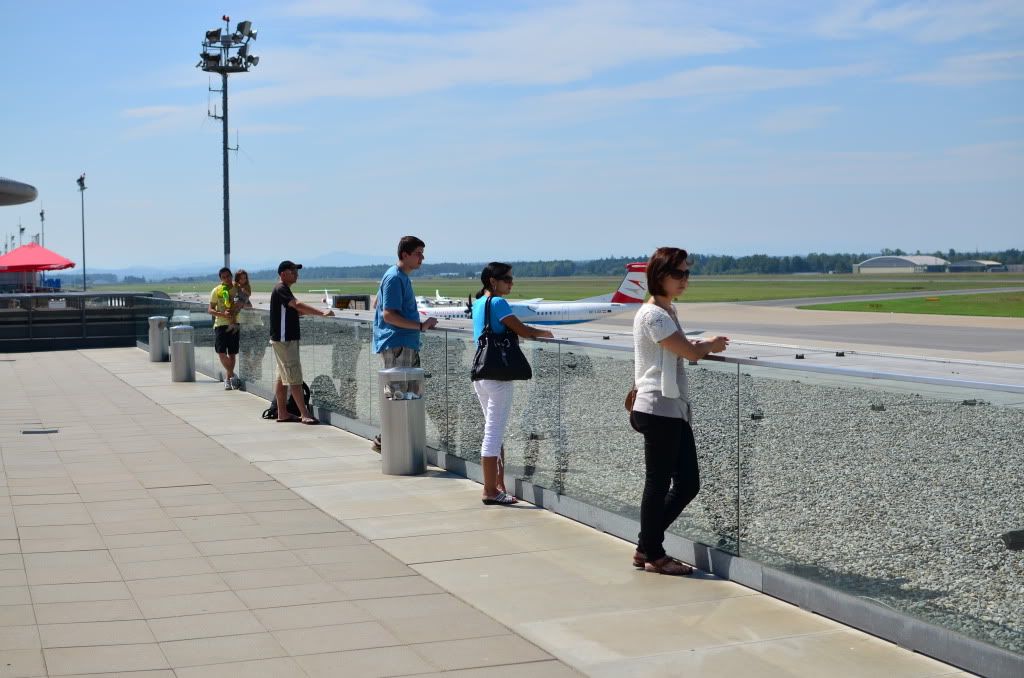 I head back in and go airside to wait for the next flight. My first ride on an ATR
Flight No: LH2343
Route: GRZ-MUC
( 1st time flying this route)
Aircraft: ATR-72
(1st time flying on this type)
Airline: Air Dolomiti
(2nd time flying with this airline)
Registration: I-ADLW
(1st time flying on this aircraft)
Seat: 5A
Some views from the walk out to the aircraft.
Port Navigation Light.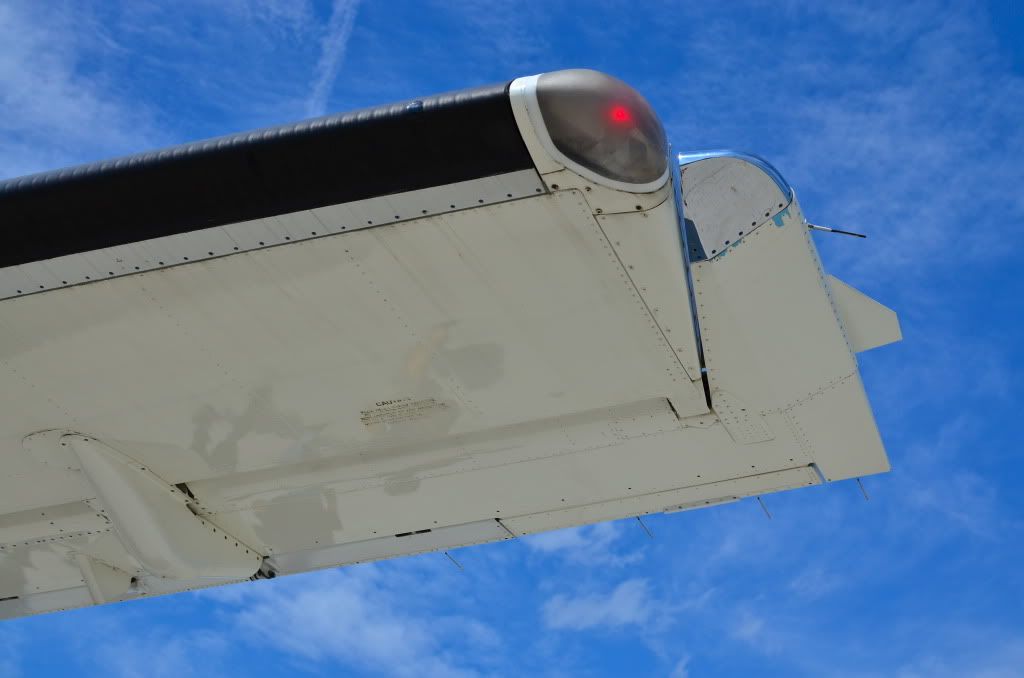 Engine view and registration check.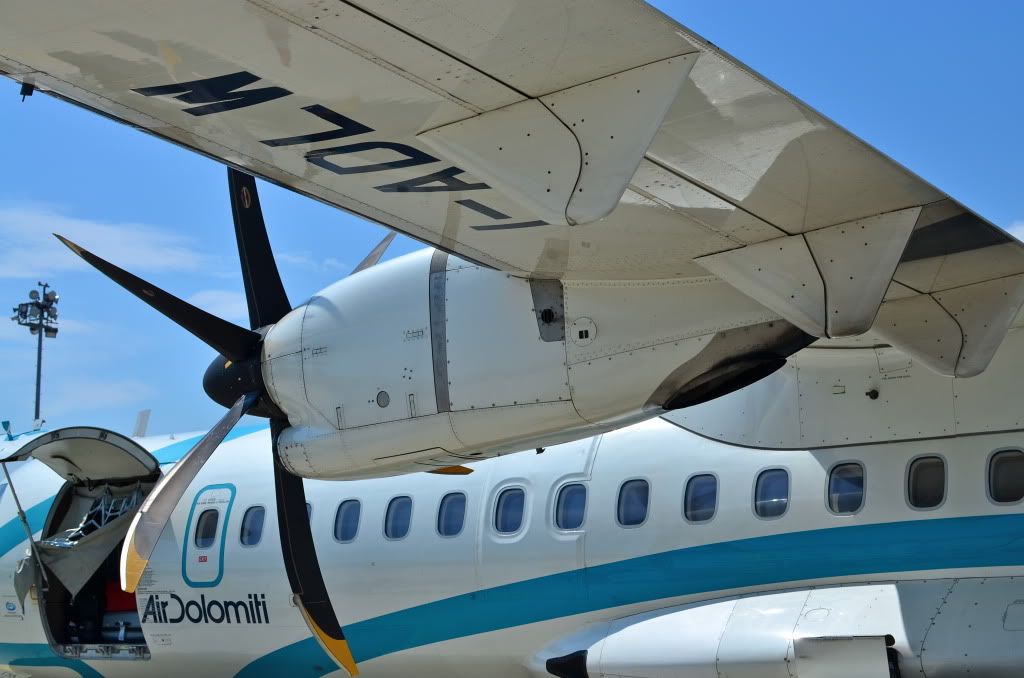 Tail section.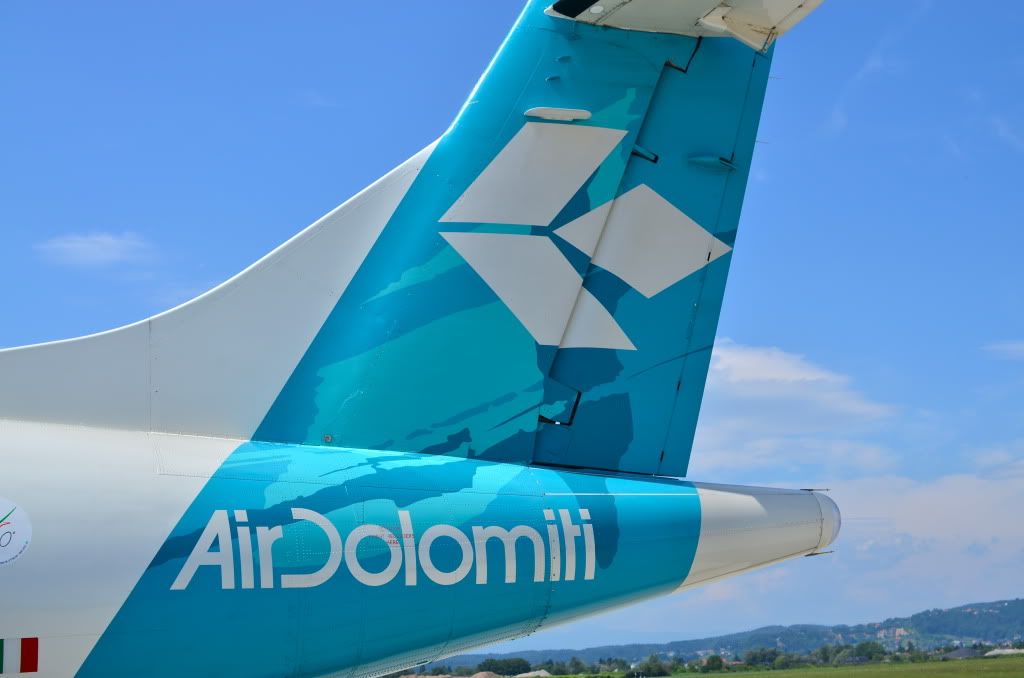 View from 5A with a scratched window.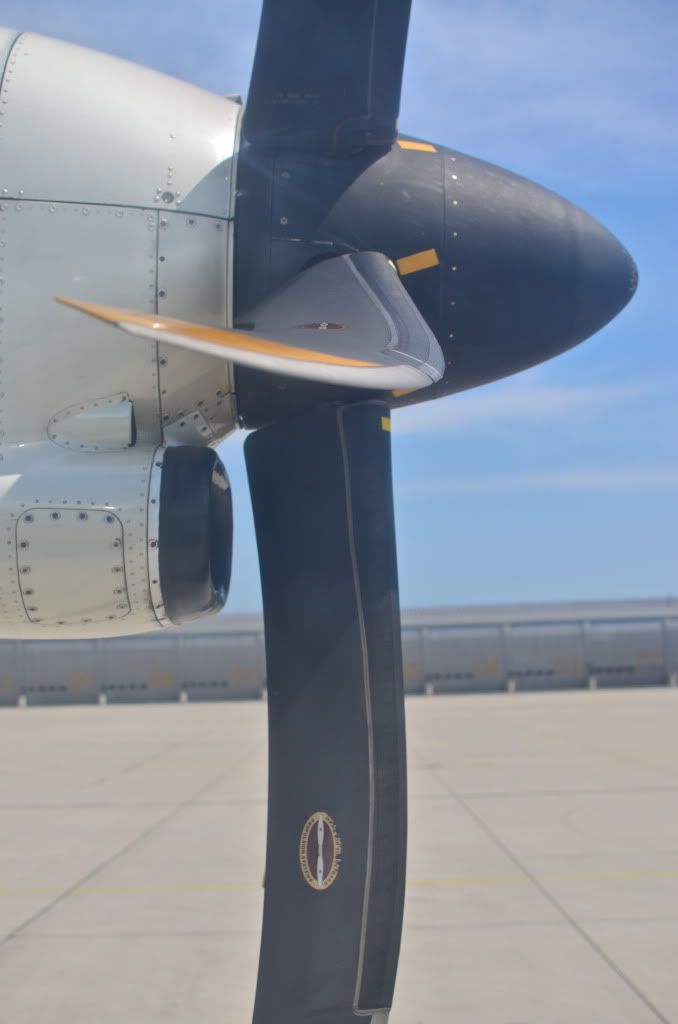 10 minutes late departure off runway 17C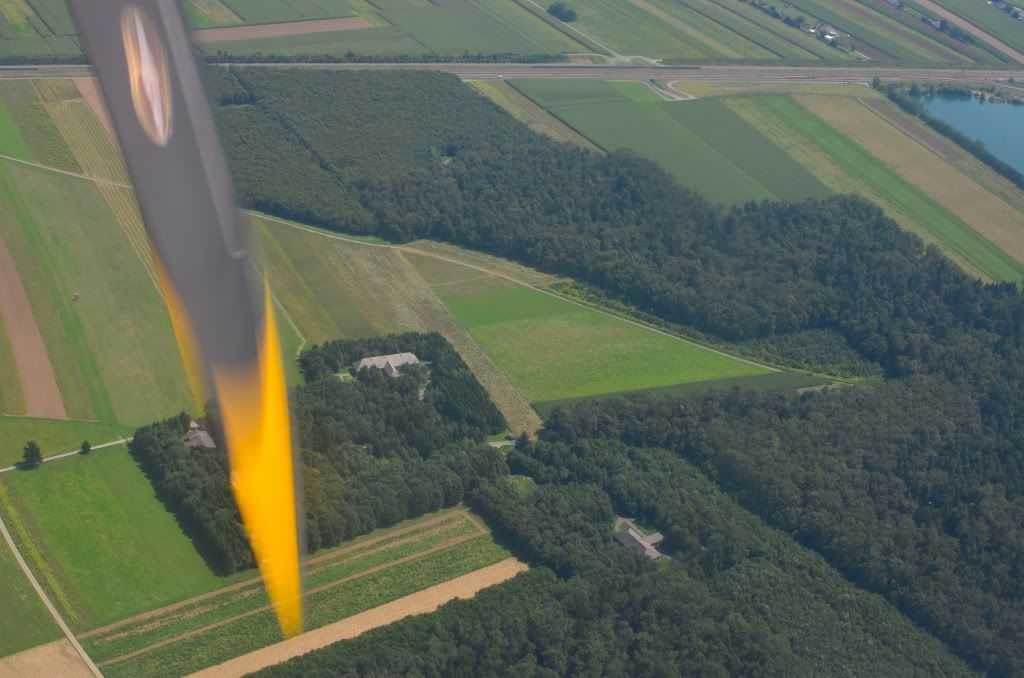 Climbing.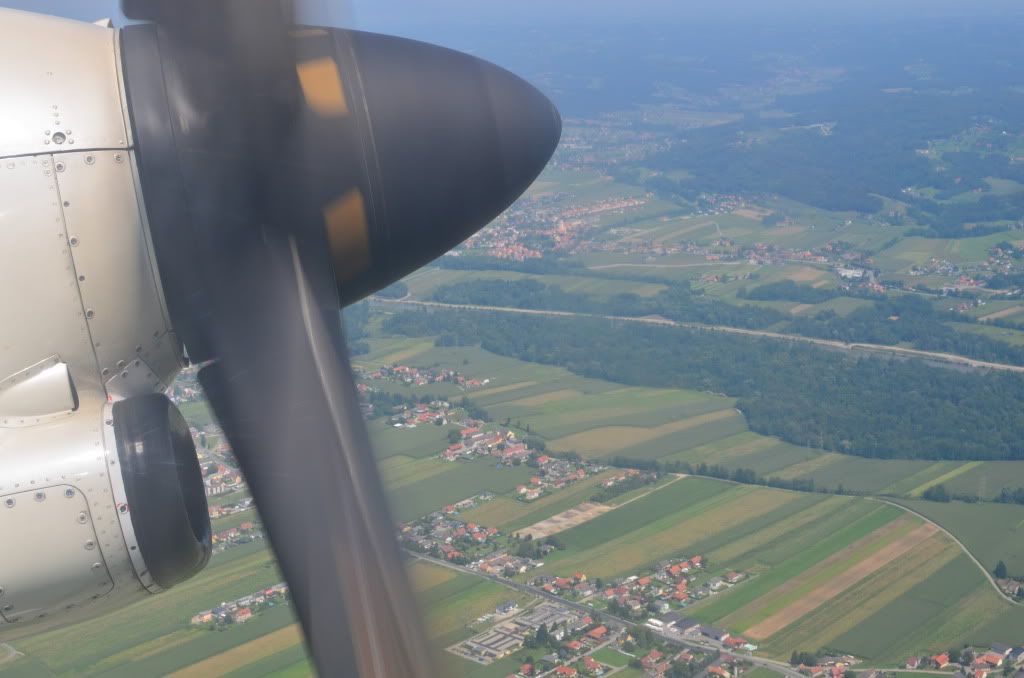 Airport overview after the turn.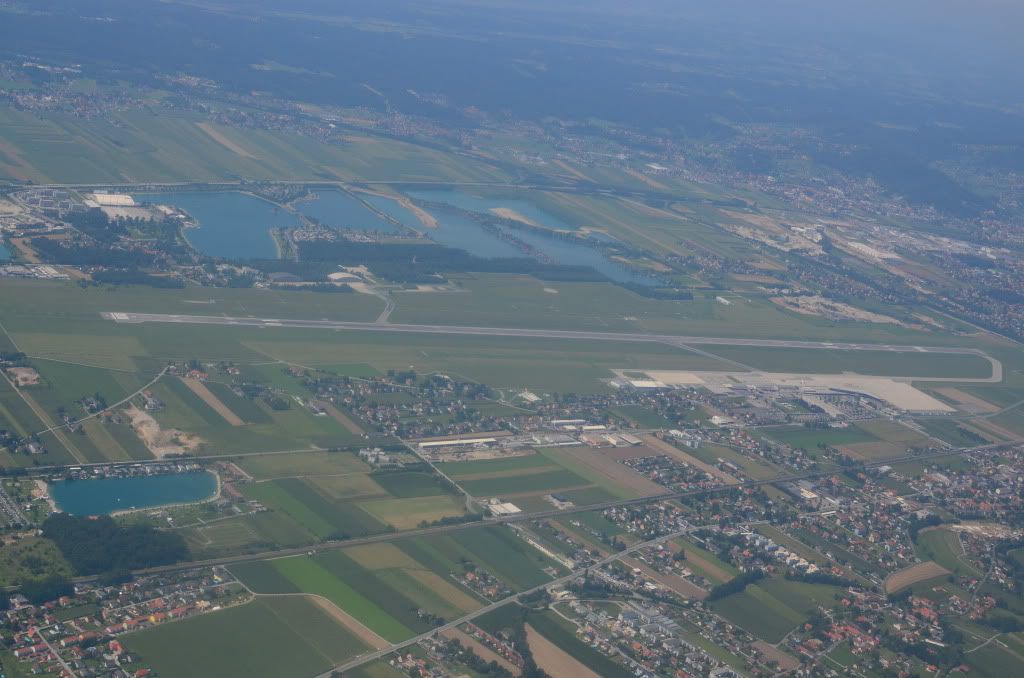 Small sandwich service with a packet of wipes.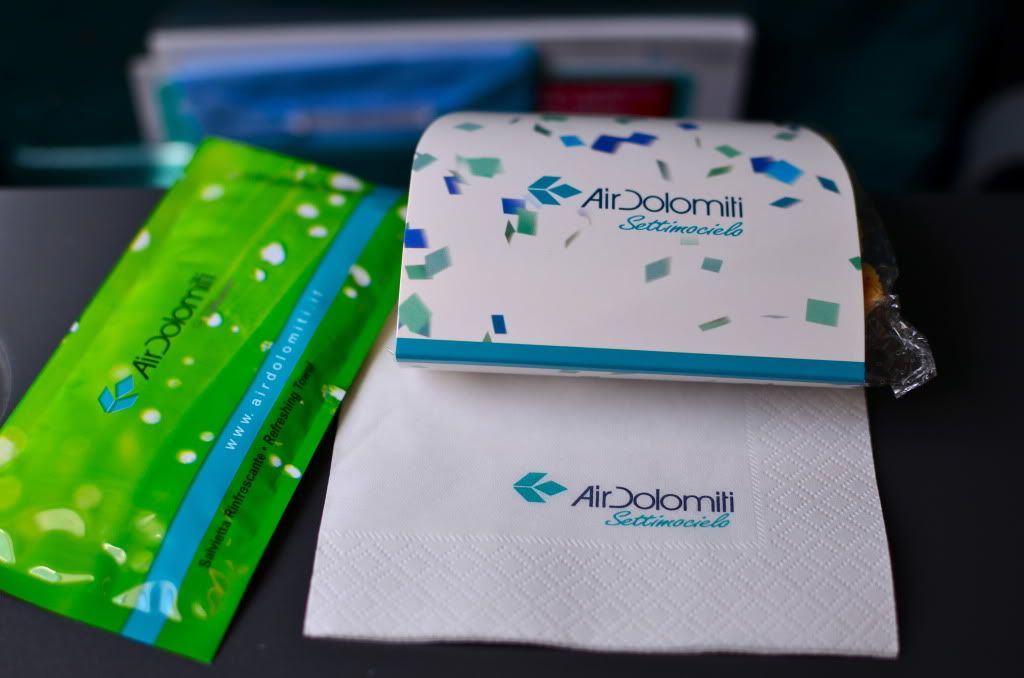 The magazine.
The flight was quite bumpy as we head out over the Alps again. Some de-tours for large clouds.
Seat belt sign stays on for most of the 56 minute flight.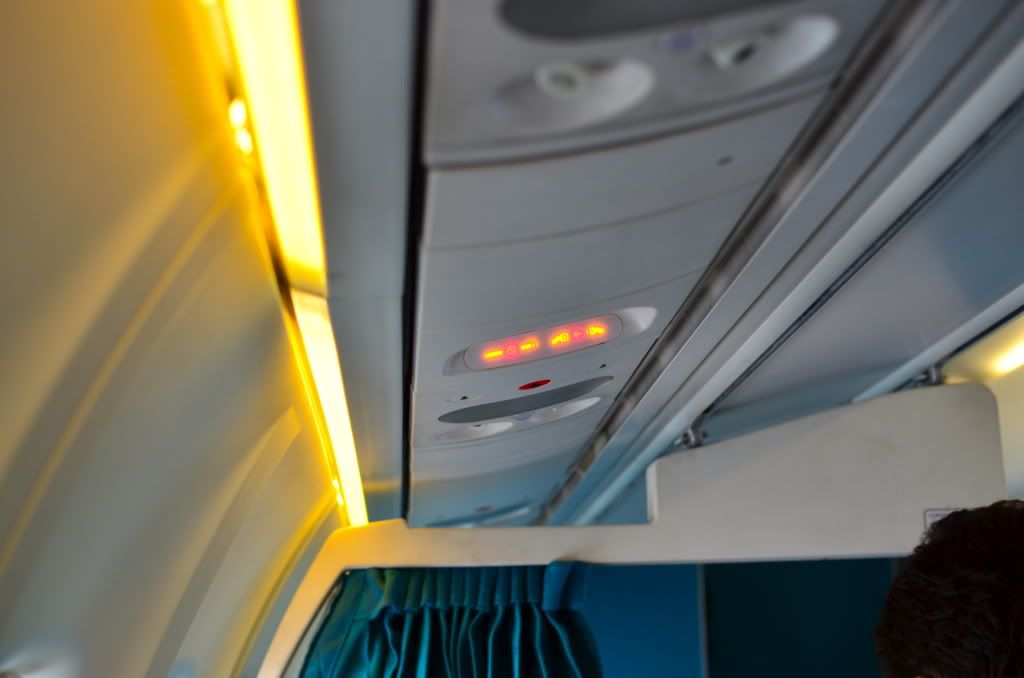 We land in Munich with rain falling again. Looks like the Alps were doing some weather shielding for Austria this weekend.
Seating as I leave the aircraft.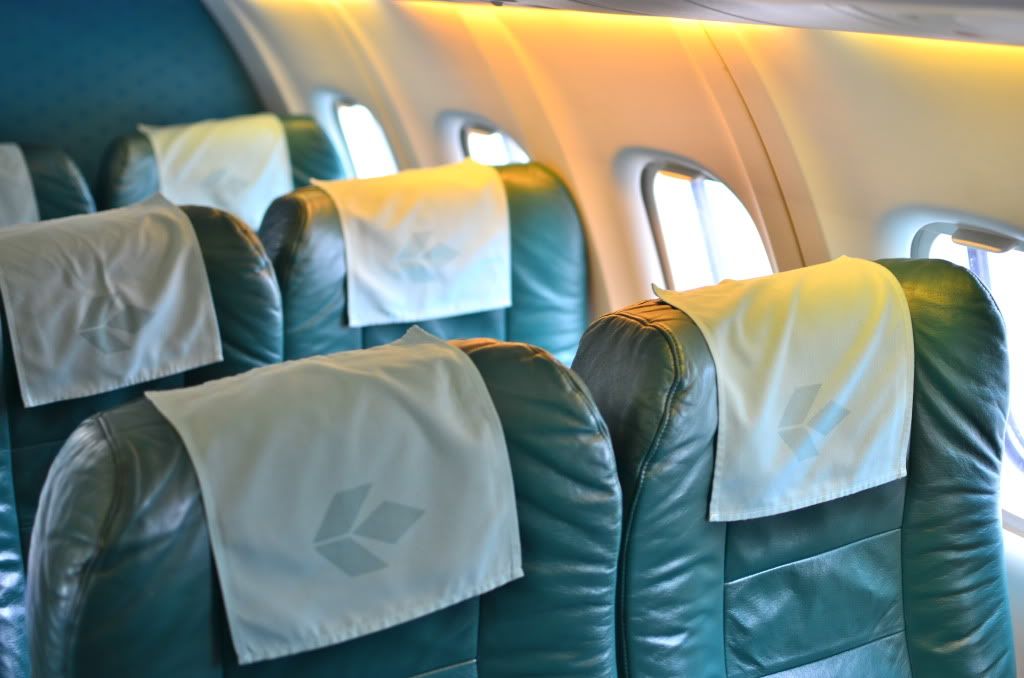 Even with the small delay I still have a steady 1hr 30 min to connect with my next flight to DUS. I spend some time walking around the gate areas and drinking the free Hot Chocolate.
Airport gate view.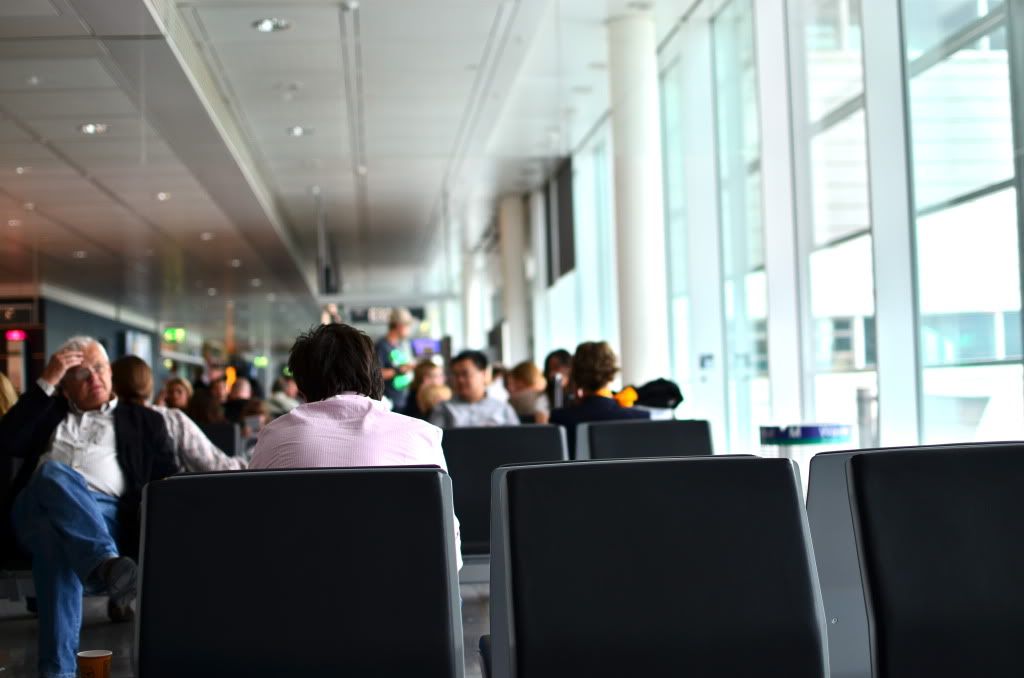 The lay over passes by quickly and it's time to go with Lufthansa again.
Flight No: LH 2014
Route: MUC-DUS
(1st time flying this route)
Aircraft: A319
(18th time flying on this type)
Airline: Lufthansa
(16th time flying with this airline)
Registration: D-AILX
(2nd time flying on this aircraft)
Seat: 25F
Interior with the NKE seating.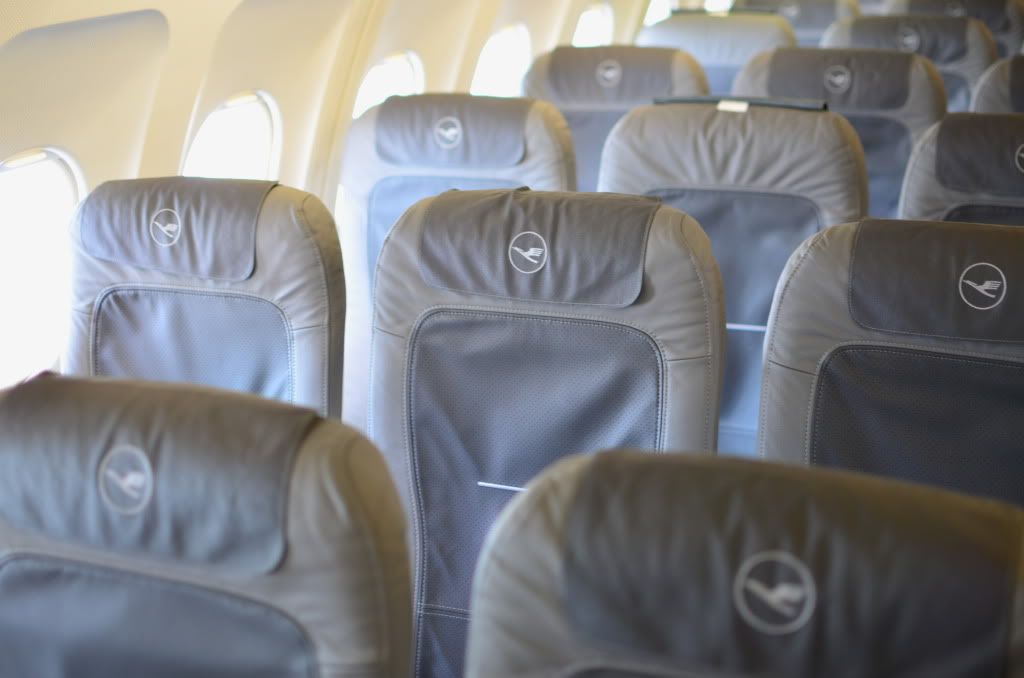 I pick the last row in the house at row 25. Middle seat remains empty and recline is possible here. Load, around 60%.
View looking forward.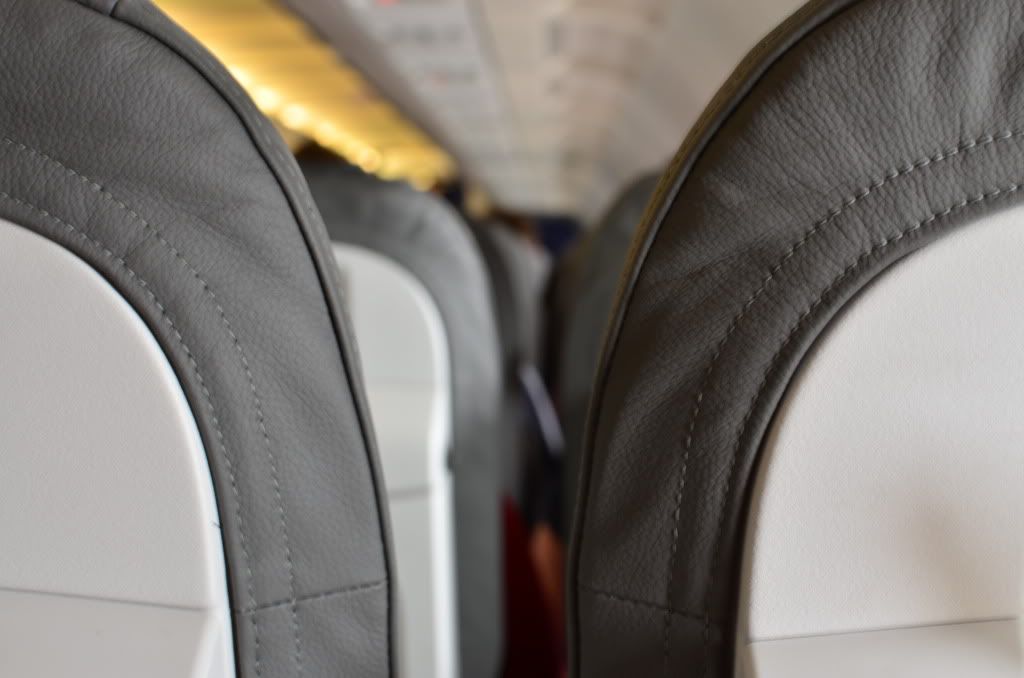 Drinks service.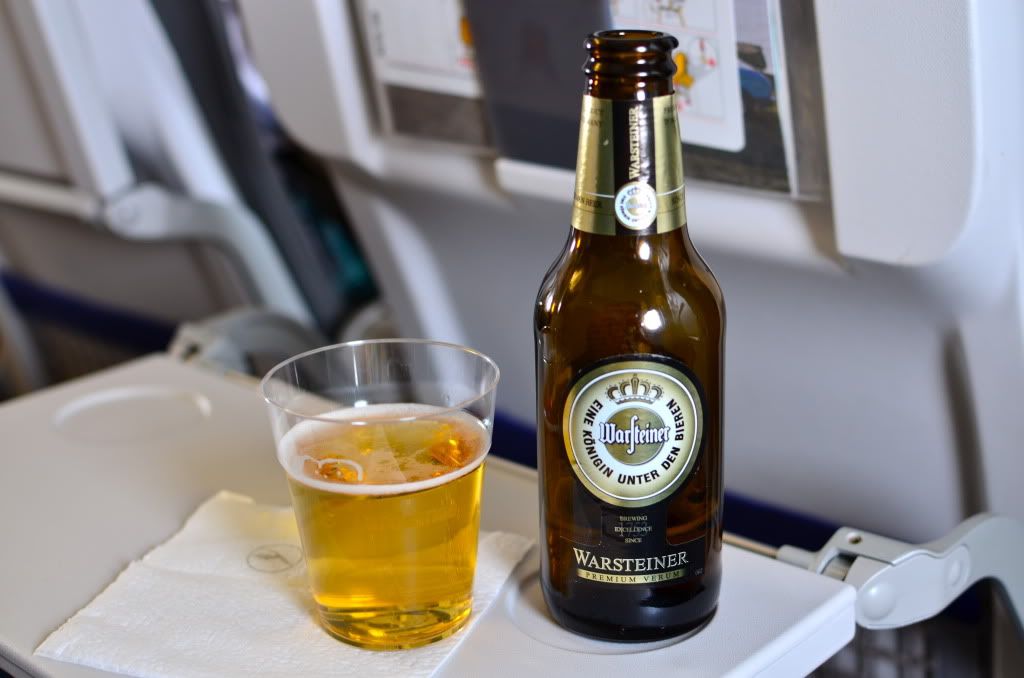 The same Milka chocolate snack is served as on the FRA-GRZ leg during the ground delay.
Wing view. The window had some kind of glue like residue on the inside.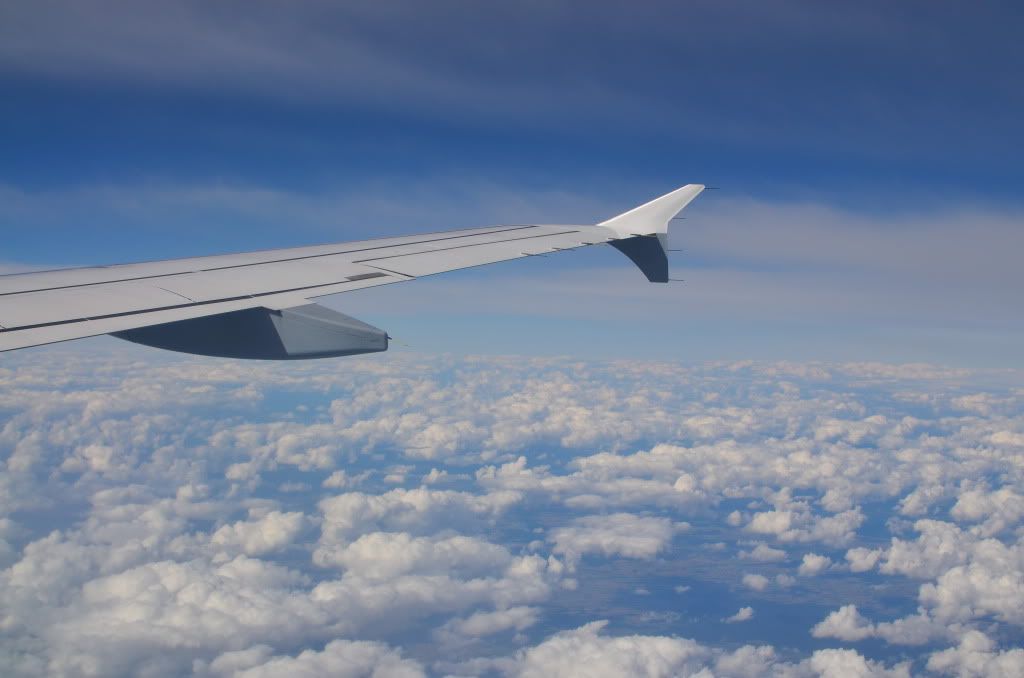 Cool looking LH logo at the rear bulkhead.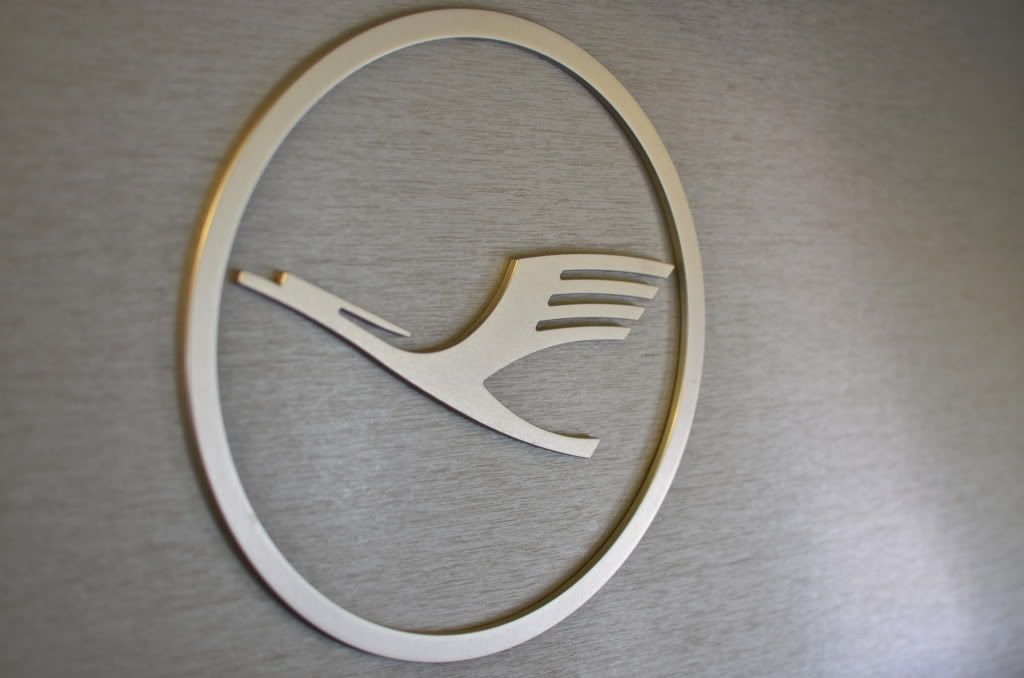 The plane touches down in DUS pretty much on time leaving me about 2hrs until the final leg. I grab a drink and a sandwich to eat as I watch the world go by, also picking up some perfume for my good lady. Keep in the good books, you know.
Boarding from the Non-Schengen gates downstairs at the same time as a flight to Birmingham. Most people go for this flight leaving only around 35-40 people for the leg to Manchester. A good chance for a free seat next to me then? Lets see.
Onto the bus and we head out to a bunch of CR9s parked up. We make for either ACNA or ACND. Please not NA, I flew this just the other month.
Well, my luck was in ND takes us to Manchester this evening.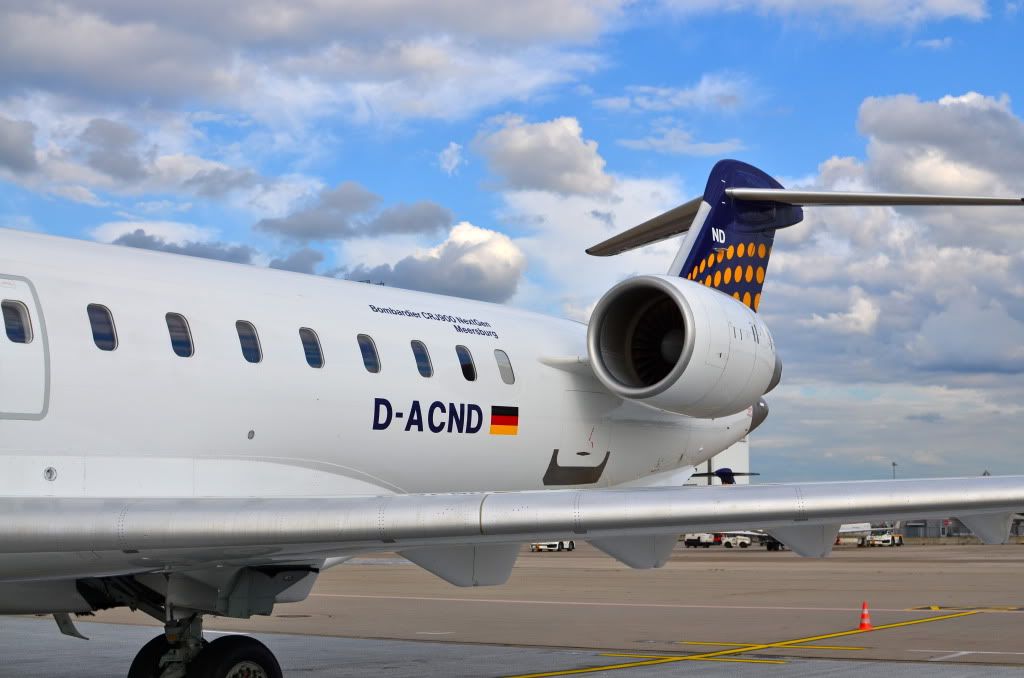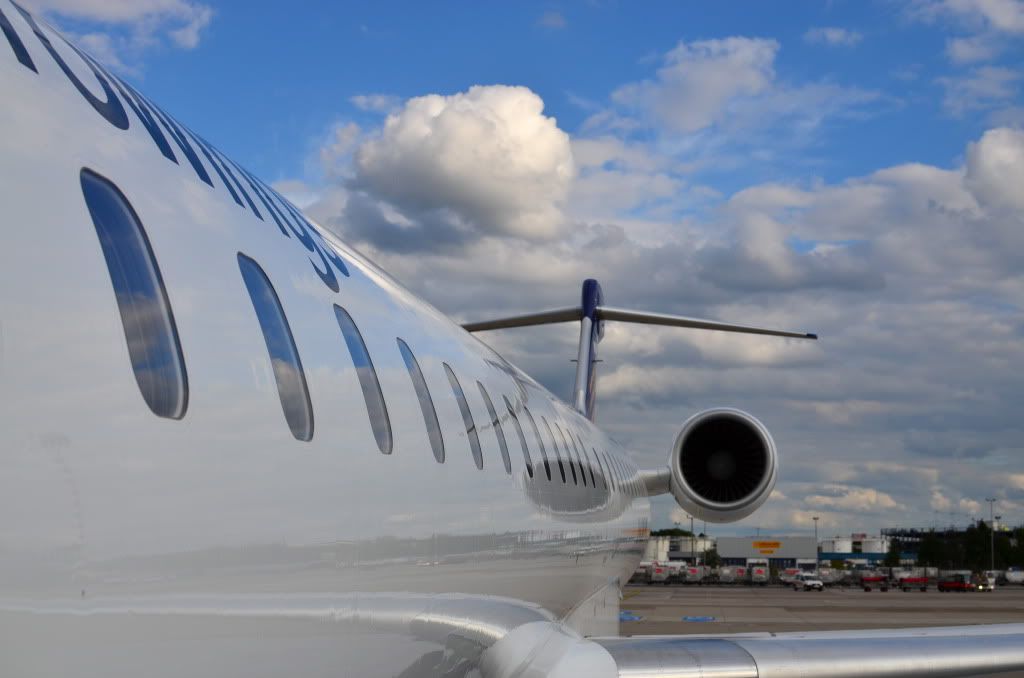 Flight No: LH 3434
Route: DUS-MAN
(2nd time flying this route)
Aircraft: CRJ-900
(3rd time flying on this type)
Airline: eurowings
(2nd time flying with this airline)
Registration: D-ACND
(1st time flying on this aircraft)
Seat: 11F
Everyone on board and the seat next to me remains free. Cool. I love these 900s, in the top 5 favourites anyway. We push back a few minutes early for an on time takeoff.
Wing views from the climb out.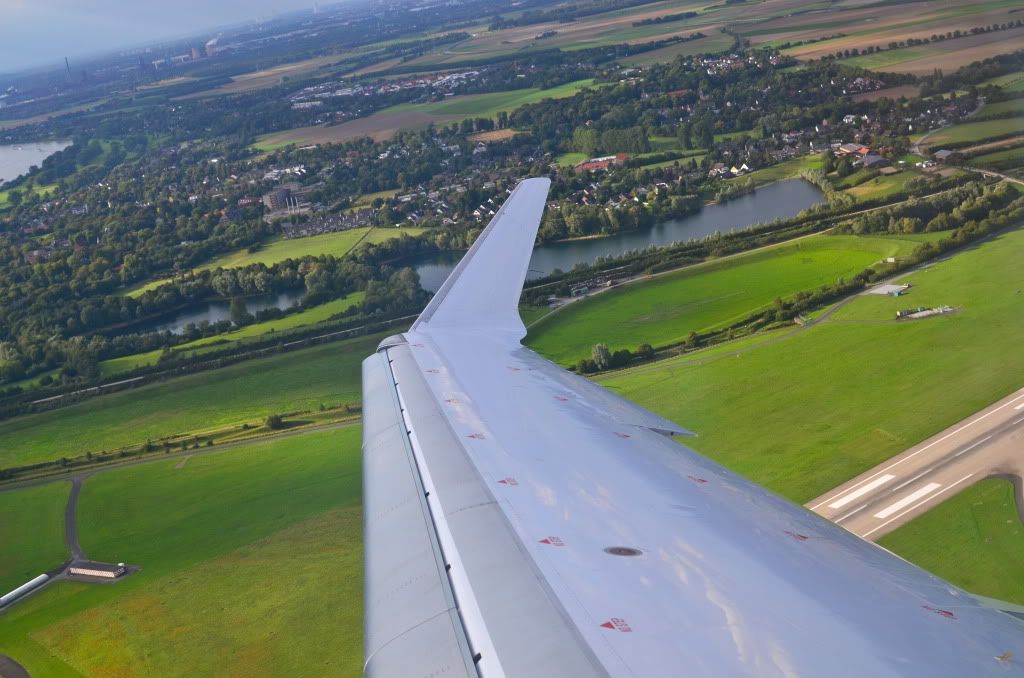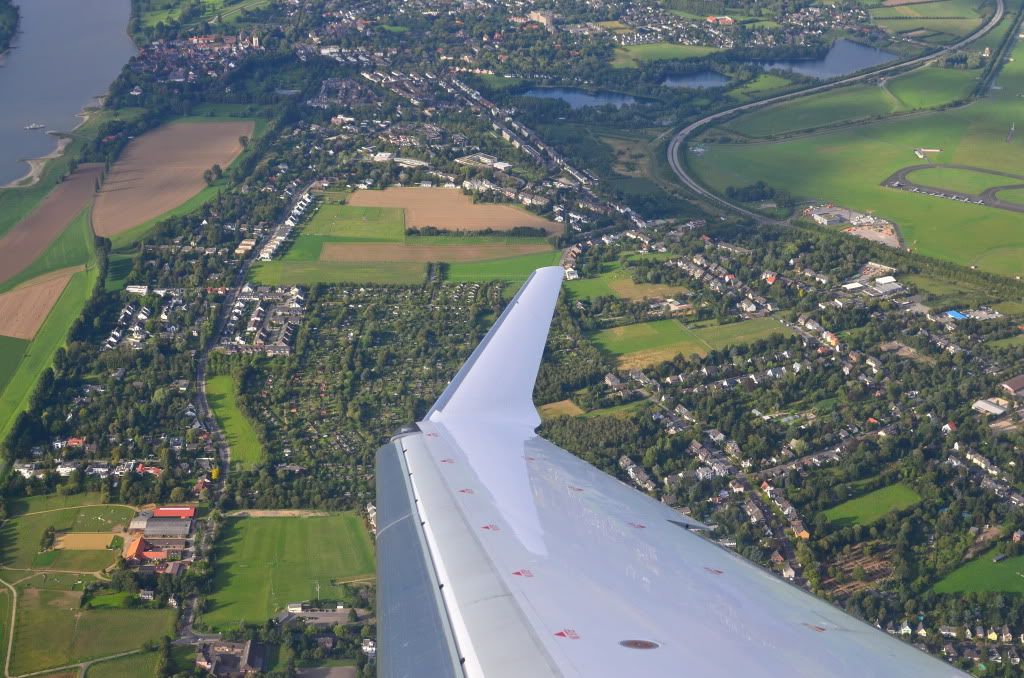 Overview with an SK Mad Dog in Star colours turning off the runway.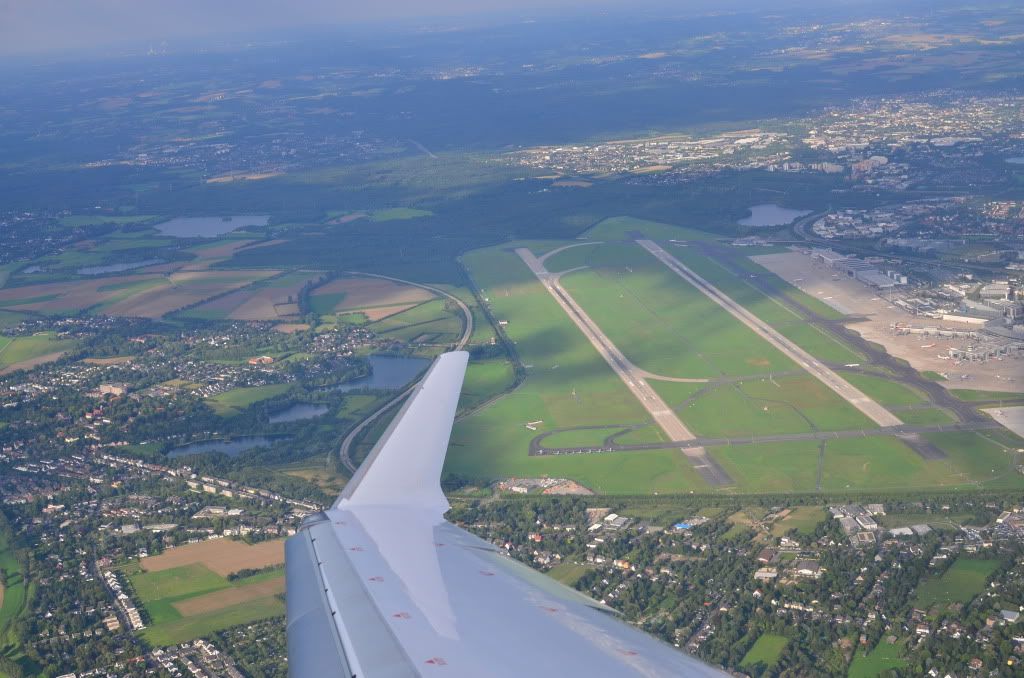 Into the cruise.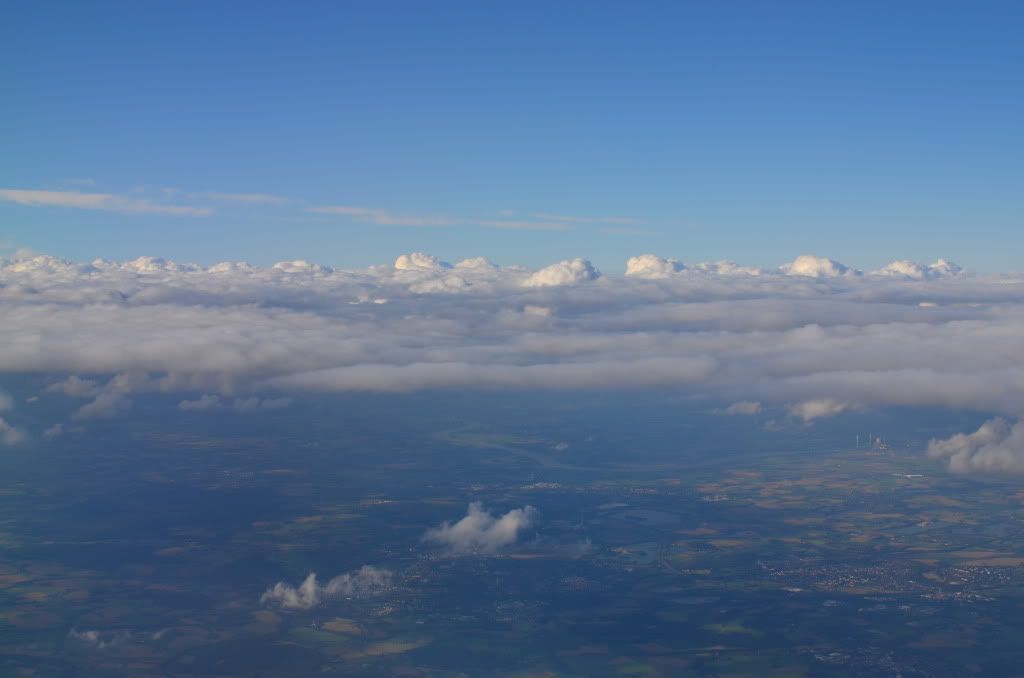 Drinks service with the full size bottle.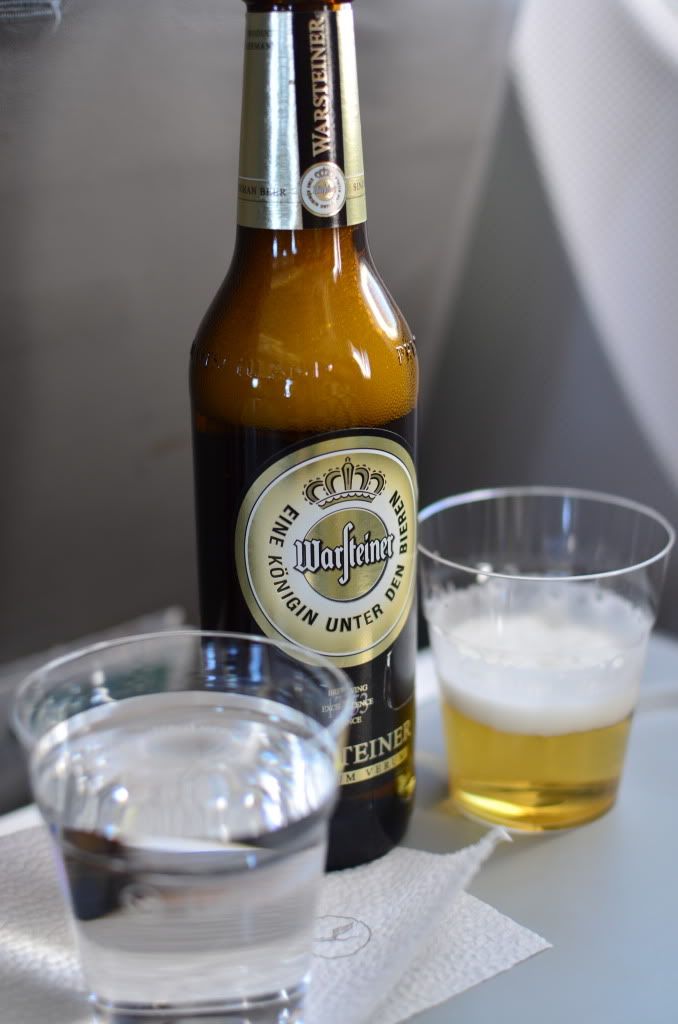 Overhead panel.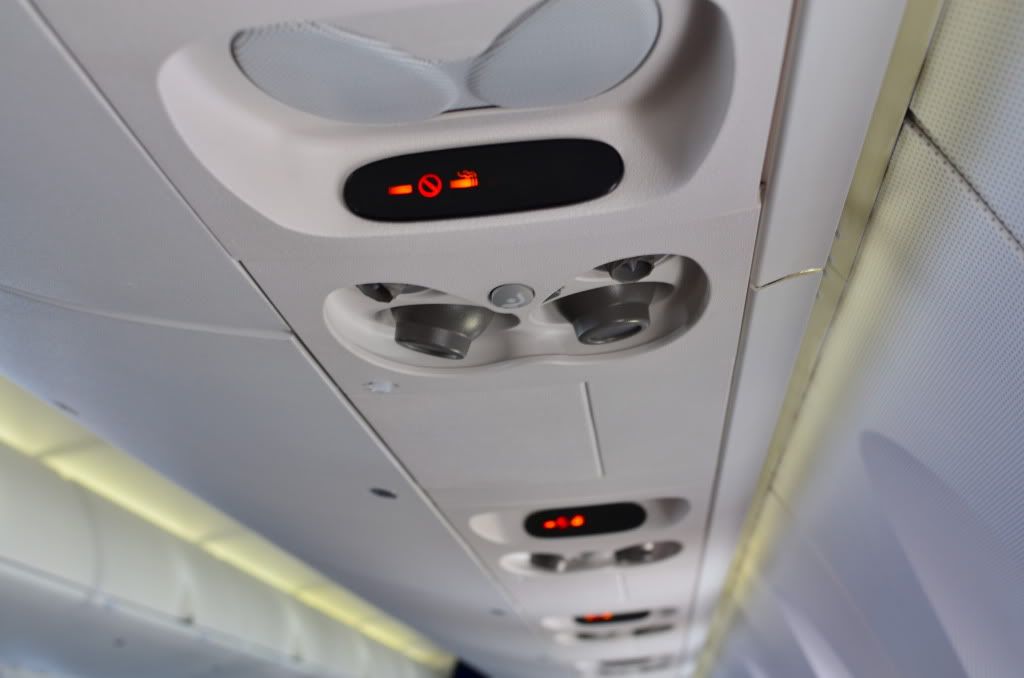 Reading material.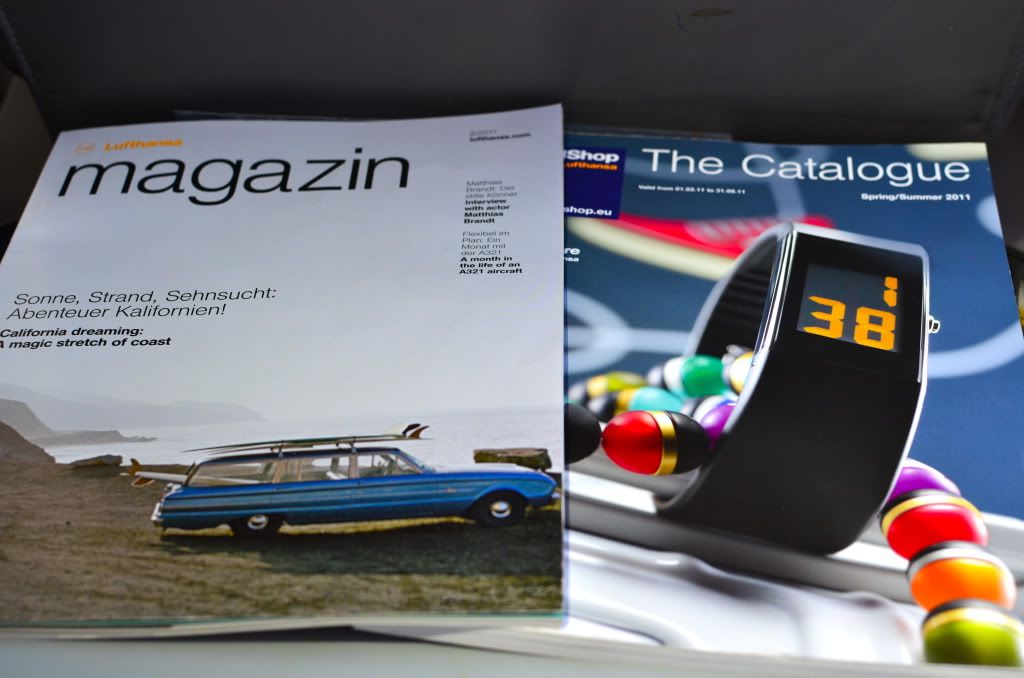 Close up.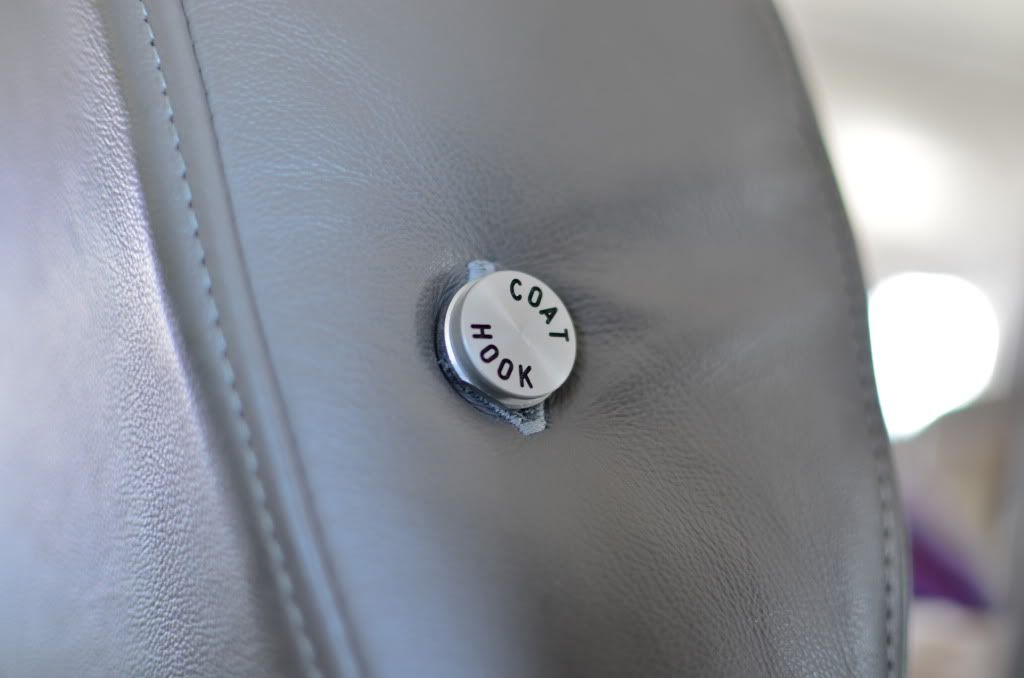 As we cruise along I get the feeling that this is one of those nice flights where everything just seems to come together nicely. Really relaxing just listening to some tunes looking out of the window and plenty of room.
Snack service was the pasta again, same as yesterdays GRZ flight.
Another wing view.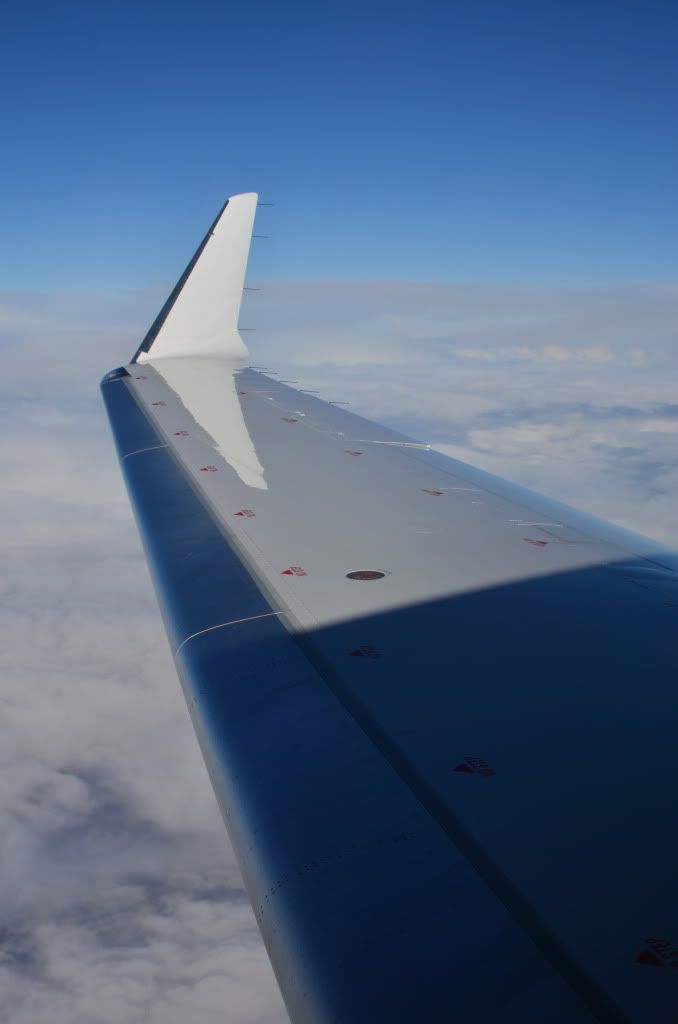 Fluffy clouds.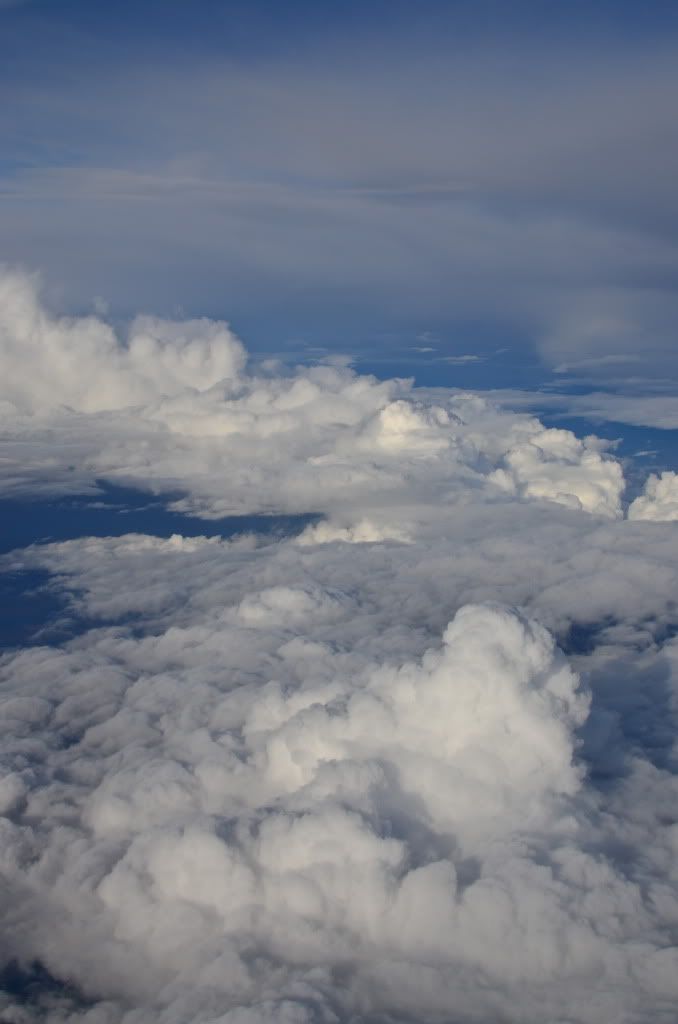 Descent into Manchester with some sun flare.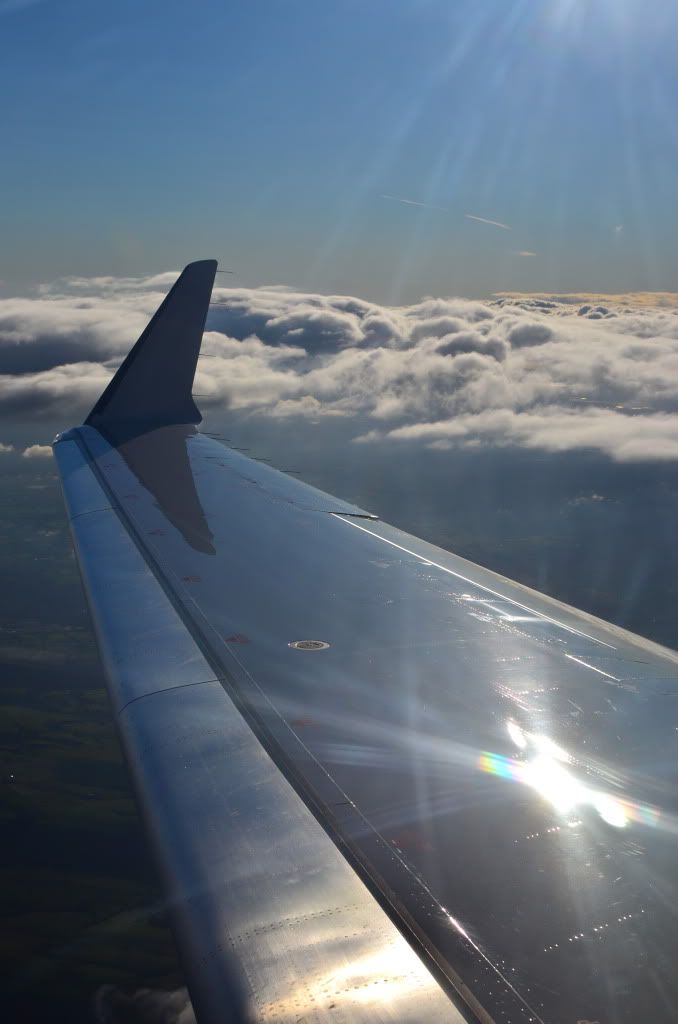 Excavation works.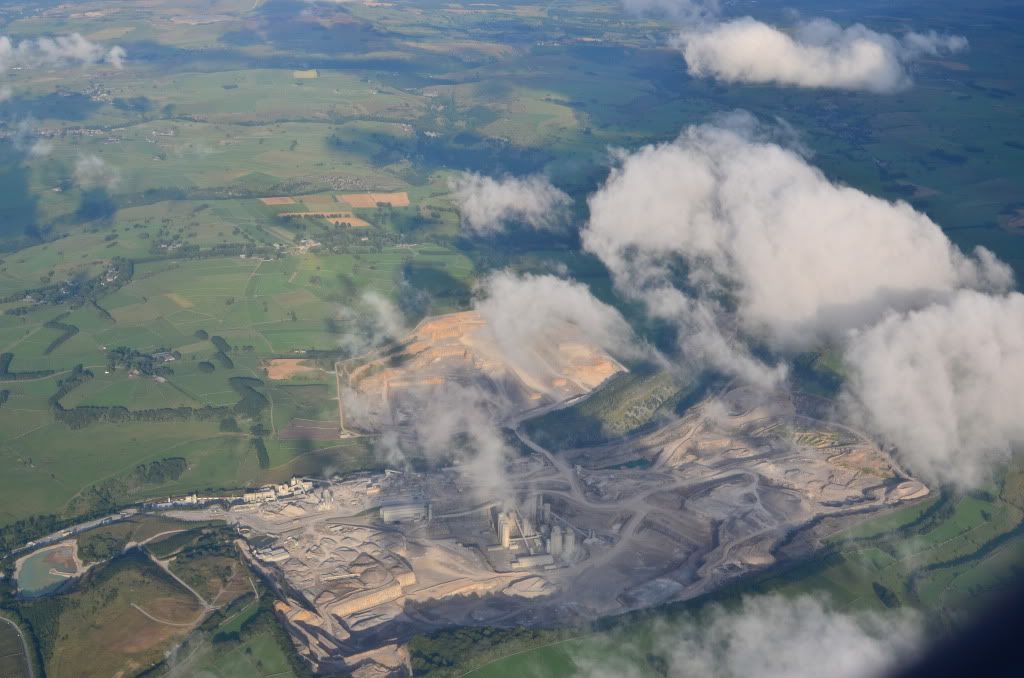 We land with the sun on my side of the plane making it tough to get any pictures, but we touch down ahead of the scheduled time.
All that is left then is the train ride home. This turns into a nightmare as the trains to Halifax are replaced by a bus service due to engineering works. I manage to get a different route to work out for me and end up about 1hr late getting home.
Overall, a very enjoyable weekend with good solid service by all carriers. Just a shame about the delay on the first day but hey, it worked out in the end, just.
Cheers, Lee.