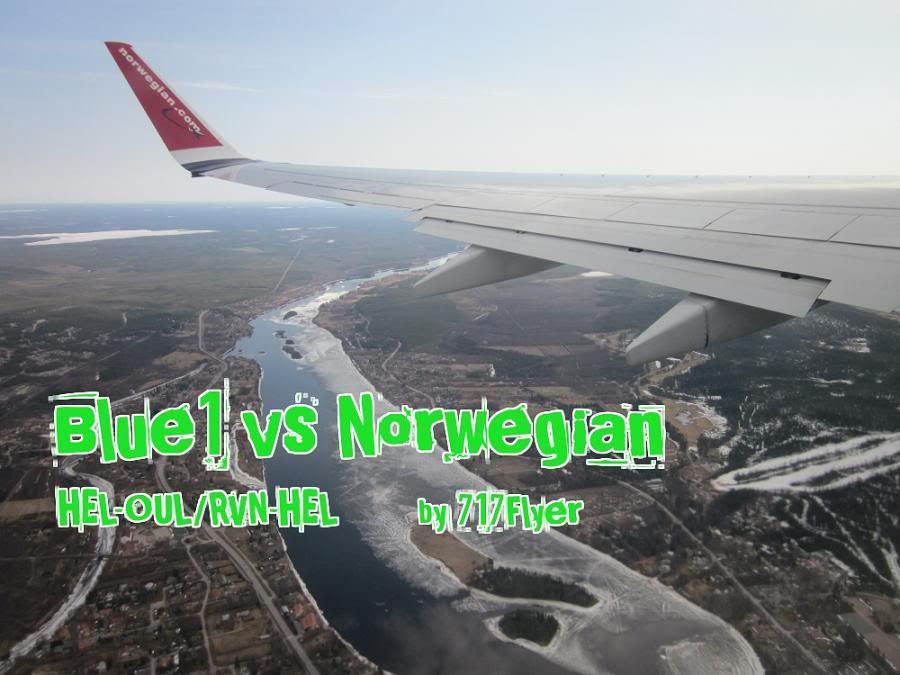 Hi all,
and welcome to my fourth trip report. In case you missed my last trip report featuring the Boeing 717 and Blue1's new route to Edinburgh, you are welcome to view it here:
Edinburgh, Blue1 And The Boeing 717! HEL-EDI-HEL
(by
717Flyer
Jul 9 2011 in Trip Reports)
I can also add that the eyecatcher picture above is an older one, we don't have snow in Lapland during the summer...
Now you're welcome to follow me on my newest adventure, starting halfway into July this year.
Background
I have some relatives living close to Rovaniemi in Lapland that I try to visit always when I get a chance. The natural choice is therefore of course to fly to RVN, but I always try to come up with something new.
The choice of direct flights HEL-RVN is restricted to Finnair and Norwegian Air Shuttle. Blue1 also used to operate the route during the winter season, though it is now unclear if they will continue to operate the route the upcoming winter.
The last time visiting Lapland was this easter (see report here:
Atlantic And Norwegian Rides To Lapland
(by
717Flyer
Jun 5 2011 in Trip Reports) ) I flew HEL-RVN with Blue1 (operated by Atlantic Airways) and returning RVN-HEL on Norwegian. Now, DY is of course the cheapest option, offering one way tickets starting at 36 EUR.
As Norwegian announced a sale in May where they sold flights on this route for only 25 EUR I of course went ahead to book a ticket. Those cheapest tickets were only available on Tuesdays, which was no problem, so I booked a RVN-HEL ticket for the beginning of August. Without any seat assignments, hotels, car rentals, suitcases, dishwashers and hair dryers (I guess you got the point) - I really ended up paying only 25 EUR for the ticket. Now that's a bargain!
Definitely wanting to log at least something new, no matter if it being an airport, airline or aircraft type I soon discovered the idea of flying to Oulu on the outbound journey. I am embarrassed to confess that although passing the city many times I have never before used that airport. The options were either DY or KF, 36 EUR vs 41 EUR, the 737-800 vs the 717. The choice was clear - and I booked an afternoon flight with Blue1 for a Thursday in July.
Finally, to fill out the gap, a train ticket from Oulu to Rovaniemi on one of the InterCity trains costed my wallet another 17 EUR.
Here's the routing, made possible by Great Circle Mapper: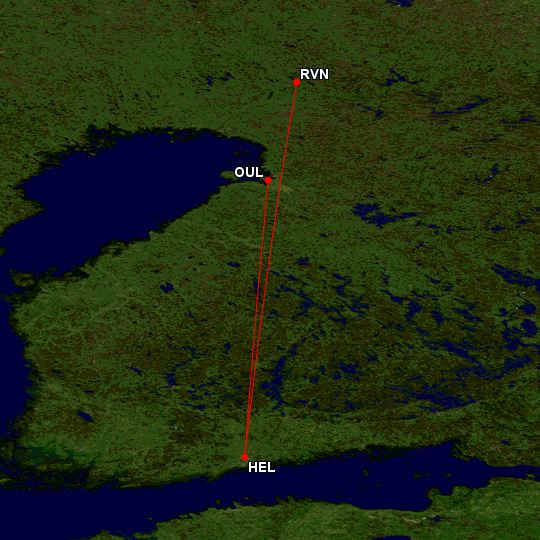 Now that's enough of planning - let's go and answer the question:
Who wins, Blue1 or Norwegian?