Feedback always appreciated.
I > Background:
Sometimes, it is far easier to go explore other parts of the world and conveniently forget what is within reach. We are often guilty of not doing touristy things in the cities we live in; or, explore more of our own countries. In the same vein, I had three "missing" countries in Latin America that I had never been to - Bolivia, Guyana, and Suriname. One of my "goals" is to have done all 3 by end of 2012 - so what better way to kick off that in 2011 but to visit Suriname.
Now getting to Suriname was no easy task - though, I was supposedly close-by in Venezuela. So I ended up designing an itinerary which involved a great NY-eve celebration in Brasil, followed by some relaxation in Belém. The initial idea as to try META (http://www.voemeta.com/empresa/site/default.asp) on its BEL-PBM link and then fly Suriname Airways out of PBM. Of course, flying these obscure airlines sometime never goes to plan and as departure days arrived, I found out that META had canceled their flight. I had to call the mobile number of the operations chief to get this information after their online engine did not return this flight, and I was not going to believe that the flight had been sold out! Thankfully, they were pretty fast with refund and my Brasilian friends credit card was promptly refunded back.
So after a week in amazing Suriname (really incredible place), it was time to head back. I had a business meeting in Miami, so decided to first fly PY to PBM, and then BW to FLL.
I believe this is the first report on Suriname Airways' 737 operation and the first that covers PBM-POS. Kappel has some great PY reports (http://www.airliners.net/aviation-forums/trip_reports/read.main/181072) and there is LatinAviation's excellent report as well (http://www.airliners.net/aviation-forums/trip_reports/read.main/142017) focusing on PY's intercontinental operations.
II > Pre-Flight:
a) Before Airport:
Establishd in 1955, Suriname Airways (SLM) is the national airline of Suriname, based in Paramaribo. It operates regional and long-haul scheduled passenger services. From its hub at Johan Adolf Pengel International Airport, PY flies to several cities in the Americas and maintains the crucial link to Amsterdam.
While PY maintains a functional report at
http://www.slm.nl/,
I wasn't able to use it to make my purchase as it would choke when taking my credit card information. So after many attempts, I gave up and had my Caracas angel (best agent in CCS: let me know if you ever want obscure ticketing done) get me my ticket. I was not able to view my itinerary online, and was never able to contact their call center for seat assignment. Not impressive!
b) At Airport:
Paramaribo's airport is located quite a distance away, and the 6,15am departure meant leaving my hotel at 3,00am. UUGH. Anyways, arriving at PBM, I was greeted by a very tropical airport which could have been anywhere in the Pacific Islands. The airport is itself interesting as you walk-in to this secure air conditioned area and check-in, then leave to be "outside", before going back "inside".
I am sure to confuse people, BW also has a flight to POS at that time. Since I apparently did not look like a PY customer, I was told to go to the BW counter. BW does well on PBM flights to feed its network at POS to the U.S. and Canada. After much convincing and disbelief, I was allowed to stand in queue for the flight to POS which incidentally also continued to CUR.
Check-in was rather quick and the agent was able to respond to my request for my exit row window seat - guess one of the nicer things about not having OLCI is that you can show up at the airport, and have an exit row! She was stunned that I had no check in luggage, and told me to be at the gate 45 minutes prior to boarding.
After check-in, I went past dogs and other animals, to the outside café for a tremendously expensive coffee and then back through a fast immigration, and a rather annoying security check where I was selected to go through intensive bag checks. Not having any hold luggage is apparently suspicious. Go figure.
When boarding was called in, everyone jumped and we were all herded to our bus to our 733 which looked rather exotic in the middle of the ramp.
Greeted at the door, the crew were a tad surprised by my "Good Morning" as most passengers were walking indifferently to their seat. Y load was around 70%, J load was around 80%.
Airport - External:
(Paramaribo Airport)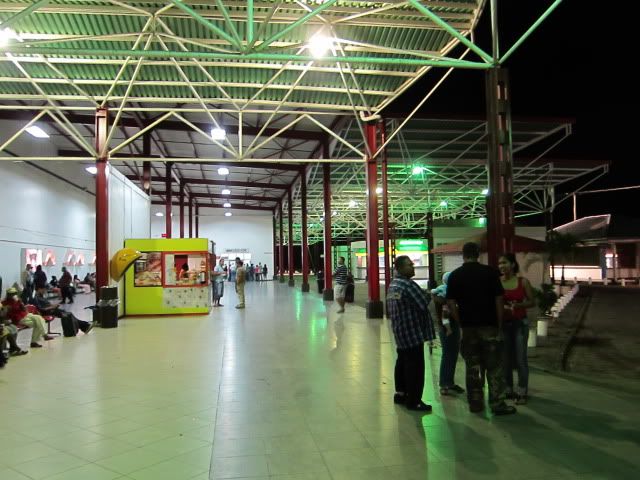 (I wonder where I am flying to?)
Check-in:
Airport - Internal: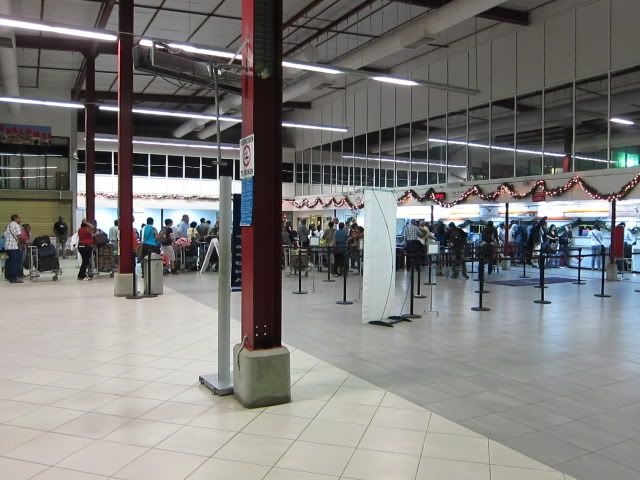 *
(FIDS: What is that?)
NONE
(Post Security @ PBM)
NONE - look at the gate area and that was pretty much it!
*
Scenes of the tarmac:
NONE
Lounge: NONE
Boarding:
(Gate Area)
(Boarding - the inevitable crazy rush)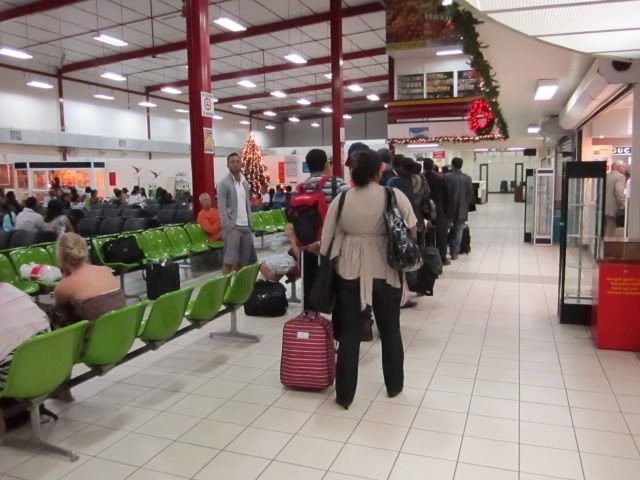 III> In-Flight:
a) Service Schedule + Impressions:
Light stayed off throughout the flight, and there was a small breakfast offering about 45 minutes into the flight. Nothing beyond that.
b) Aircraft + Seats:
Perhaps PH can tell us a bit more about the pedigree of PY's 733's? For the age of the aircraft, they were moderately maintained. As was expected of an aircraft of this age, the bathrooms and lighting were definitely of a different era. However, everything worked, and the seats were comfortable enough. There was decent legroom in the exit row, and the recline was regular economy standards. In other rows, legroom was far more tight.
Aircraft:
(PY 733)
Views from Aircraft:
(Sunrise)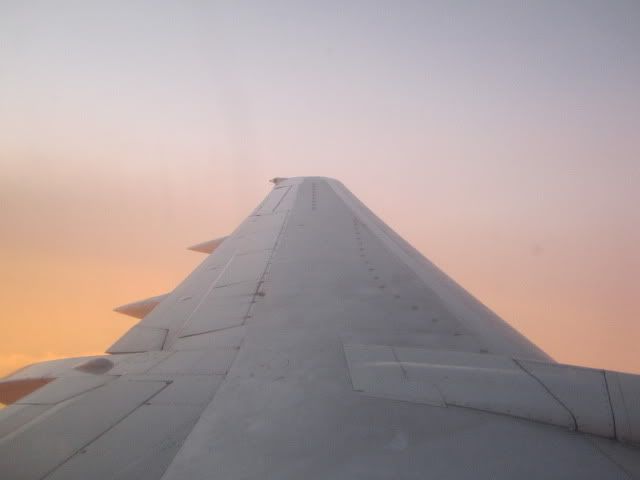 General Seat Views + Seat Legroom
(Seat)
*
(Front of seat)
NONE
*
(Seat controls)
NONE
*
(Legroom)
Seat Recline + Angle View:
NONE
*
Cabin:
*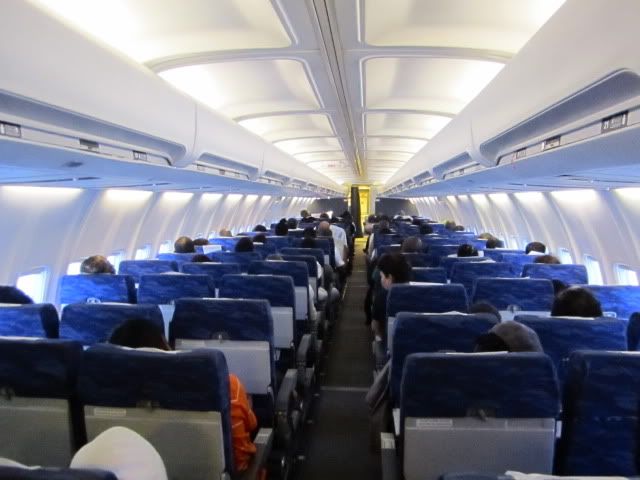 (Blanket ++)
NONE
(Bathroom)
c) Meal + Beverage:
45 minutes into the flight, the meal service commenced. On board today was a sandwich made of cheese and some form of meat - no idea what it was. It was OK - and very average - but common on flights in Latin America. Accompanying the food was various beverages and a good hot café which hit the right spot.
No other meal or beverage service offered, and the crew did not come with water or anything.
(Breakfast)
*
(Excellent café)
d) Inflight Entertainment:
There was no in-flight magazine in the form of audio and video. Their in-flight magazine "Sabaku" provided a good update of the country and its history. I always find it great that these flag-carriers of smaller airlines are so good at creating awareness of their unique cultures and countries.
("In-flight magazines", Boarding Passes, etc.)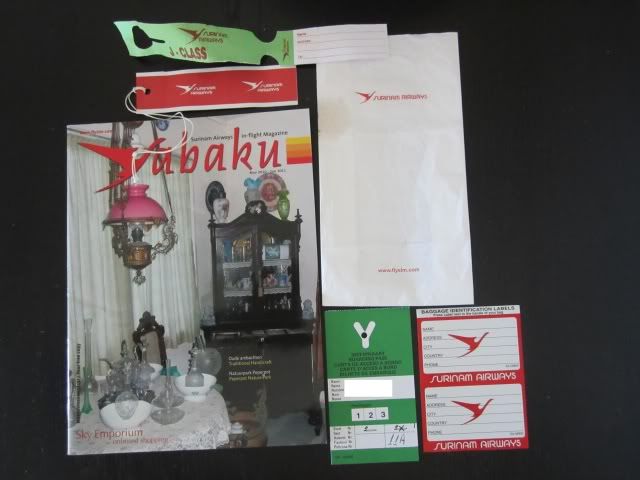 e) Crew:
The Suriname Airways crew were OK. They went about doing their job with basic smiles - nothing too intrusive, and nothing too friendly. Just did the usual runs and service offerings before going back to the galley. The purser was an older more experienced woman and she definitely had a much more motherly charm about her. Overall, nothing memorable - but then again, nothing to complain about either.
IV> Post-Flight:
Landing in POS was hard, and the taxi to the terminal fast. I am amazed at how much POS looks like a generic south U.S. airports and I fail to understand why it does not do much more to incorporate local elements. Anyways, immigration was a breeze, and I was soon landside.
(Approaching POS)
(POS Airport)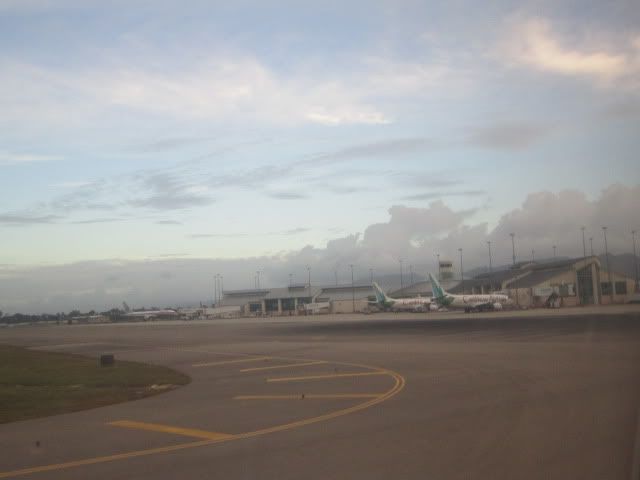 (The 757 remains such a beautiful aircraft)
V> Impressions + Scores:
Suriname Airways gave me a no non-sense approach to getting me from point A to B. On these small flight, I do not have major expectations, and I guess PY went ahead and matched what I thought of. No aspect of their overall service stood out - but none were unpleasant either. I wish their booking engine was more dynamic; other than that, no real complaints. While it would be nice to have an IFE option, it is not required when your average stage length is not high.
Overall, neither a thumps up or down. If offered the choice, I would fly PY if the price and schedule was right again. I would not go out of my way to avoid it; nor, fly it.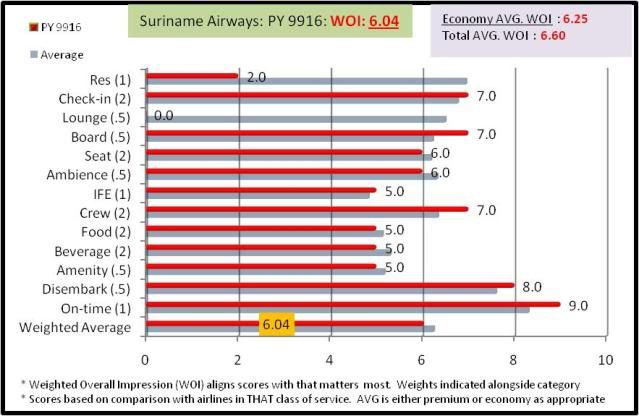 VI> Other Trip Reports:
PREMIUM:
9.27: JET AIRWAYS **FIRST** (110): LHR-BOM: 10/2010
9.27: THAI AIRWAYS **FIRST** (108): BKK-LHR: 07/2010
8.66:
Brussels Airlines (93): FIH-BRU: 01/2010
8.64:
Turkish Airlines (59): JFK-IST: 11/2008
8.63:
Jet Airways (88): JFK-BRU: 10/2009
8.61:
Air Canada (49): YYZ-SCL: 06/2008
8.54:
Turkish Airlines (77): GRU-DKR-IST: 04/2009
8.36:
Kingfisher (98): BOM-HKG: 01/2010
8.30:
Jet Airways (74): KWI-BOM: 04/2009
8.23:
United Airlines (72): SFO-SYD: 03/2009
8.11:
Aeroflot (33): MOW-DEL: 09/2007
8.05:
Air India (80): CCU-JFK: 06/2009
8.04:
Korean Air (40): NRT-ICN: 10/2007
8.02:
Delta Airlines (24): JFK-CDG: 08/2007
7.82: UNITED AIRLINES **FIRST** (110): SFO-ICN: 10/2010
7.82:
Singapore Airlines (06): EWR-SIN: 09/2006
7.66:
Sri Lankan (104): DEL-CMB: 07/2010
7.64:
Royal Jordanian (91): AMM-YUL: 12/2009
7.61:
China Southern (103): LOS-DXB: 04/2010
7.57:
Pakistan Airlines (102): ORD-BCN: 06/2010
7.46:
LAN (55): YYZ-JFK: 09/2008
7.38: AMERICAN AIRLINES **FIRST** (112): LHR-JFK: 10/2010
7.38: CATHAY PACIFIC **FIRST** (109): HKG-LHR: 10/2010
7.25:
Iran Air (88): BOM-IKA: 12/2009
7.23:
Virgin Atlantic (81): BOS-LHR: 07/2009
7.14:
Swiss (52): SCL-GRU: 06/2008
7.11:
Aer Lingus (105): MAD-IAD: 05/2010
7.11:
Austrian (79): VIE-JFK: 06/2009
7.07:
Privatair (84): BOM-FRA: 08/2009
7.02:
Qatar (68): DOH-JFK: 01/2009
6.96:
Etihad (61): JFK-AUH: 12/2008
6.93:
Delta Airlines (18): SEA-JFK: 11/2006
6.84:
ConViasa (65): CCS-DAM: 01/2009
6.82:
Air Burkina (106): BKO-OUA: 06/2010
6.81:
Air Canada (17): ICN-YYZ: 10/2006
6.75:
Afriqiyah + Libyan (113): CAI-TIP: 11/2010
6.70:
KLM (32): EBB-AMS: 08/2007
6.52:
Emirates (99): LHR-DXB: 02/2010
6.39:
South African (97): EZE-JNB: 01/2010
6.36:
Privatair (60): MUC-BOS: 12/2008
6.29:
TAM Brasil (96): POA-EZE: 02/2010
6.25:
Korean Air (45): NAN-ICN: 10/2007
6.21:
Iberia (87): BOS-MAD: 10/2009
6.11:
A SKY (107): OUA-COO: 06/2010
6.11:
TAP Portugal (53): GRU-OPO: 06/2008
6.00:
Gulf Air (75): BOM-BAH: 04/2009
5.88:
African Express (89): DXB-NBO: 11/2009
5.75:
Singapore Airlines (16): CCU-SIN: 10/2006
5.64:
SATA Azores (101): BOS-PDL: 04/2010
5.64:
NorthWest (46): ICN-NRT-SEA: 10/2007
5.54:
Ethiopian Airlines (95): ADD-BOM: 01/2010
5.46:
Icelandair (83): KEF-BOS: 08/2009
5.39:
LOT (54): WAW-JFK: 06/2008
5.21:
Egypt Air (73): CAI-IST: 02/2009
5.11:
Tunisair (115): TUN-ORY: 12/2010
5.07:
TACA (66): JFK-SAP: 01/2009
4.89:
TAAG Angola (117): TMS-LAD: 12/2010
4.42:
Air France: CDG-JNB (25): 08/2007
ECONOMY: Long + Medium:
9.26:
Air India (48): JFK-DEL: 02/2008
7.38:
Avianca (01): BOG-LIM: 07/2006
7.07:
Sri Lankan (62): KWI-CMB: 12/2008
7.00:
LAN (94): IPC-SCL: 01/2010
6.81:
STP Airways/Euro Atlantic (116): LIS-TMS: 12/2010
6.41:
Avianca (78): JFK-BOG: 05/2009
6.41:
American Airlines (58): LHR-BOS: 11/2008
6.39:
Condor (85): SEZ-FRA: 09/2009
6.26:
Jet Blue (21): CUN-JFK: 02/2007
6.06:
Air Canada (04): YYZ-YVR: 09/2006
5.89:
USA 3000 (19): PUJ-BDL: 01/2007
5.85:
Spanair (69): MAD-LPA: 02/2009
5.79:
Air New Zealand (42): RAR-NAN: 10/2007
5.52:
Aerolineas (86): USH-AEP: 10/2009
5.46:
TAP Air Portugal (23): OSL-LIS: 05/2007
5.19:
Air Europa (70): LPA-MAD: 02/2009
5.16:
Iberia (71): MAD-BOS: 02/2009
5.11:
Air China (82): FRA-PEK: 08/2009
ECONOMY: Short
8.56:
Paramount Airways (38): BLR-MAA: 09/2007
8.56:
Kingfisher (64): HYD-CCU: 12/2008
8.24:
Kingfisher (14): IXA-GAU: 10/2006
7.87:
Indian (34): BOM-MAA: 09/2007
7.72:
Alliance Air (13): CCU-IXA: 10/2006
7.57:
Indian Airlines (10): DEL-CCU: 09/2006
7.23:
West Jet (03): YYC-YVR: 09/2006
7.15:
JetLite (37): BOM-GOI: 09/2007
6.98:
Air Koryo (100): PEK-FNJ: 04/2010
6.70:
Spice Jet (09): CCU-DEL: 09/2006
6.63:
Air Fiji (44): NAN-SUV: 10/2007
6.63:
Jazeera (67): DAM-KWI: 01/2009
6.58:
Air Tran (02): EWR-MDW: 08/2006
6.48:
Air India Express (63): CMB-MAA: 12/2008
6.44:
CO Micronesia (39): ROR-YAP: 10/2007
6.41:
Pacific Sun (43): NAN-SUV: 10/2007
6.37:
Skybus (47): SWF-CMH: 02/2008
6.33:
Kenya Airways (29): NBO-BJM: 08/2007
6.33:
Sky Europe (56): LTN-BTS: 10/2008
6.31:
Indigo (15): GAU-CCU: 10/2006
6.31:
easyJet (57): BUD-LTN: 11/2008
6.22:
Air Link Swazi (28): MTS-JNB: 08/2007
6.22:
Air India (36): HYD-BOM: 09/2007
6.13:
Adam Air (07): SIN-CGK: 09/2006
6.13:
Air Rarotonga (41): RAR-AIT: 10/2007
6.04: Suriname Airways (118): 01/2011
6.00:
Transairways (27): INH-MPM: 08/2007
5.95:
Air Canada (05): ALB-YYZ: 09/2006
5.85:
SAS Norge (22): OSL-AES: 05/2007
5.81:
LAM Mozambique (26): JNB-MPM: 08/2007
5.69:
Air Deccan (12): IXZ-CCU: 10/2006
5.67:
Rwanda Air Exp (30): KGL-NBO: 08/2007
5.52:
Sevenair (114): TOE-TUN: 11/2010
5.37:
Felix Airways (92): SCT-SAH: 12/2009
5.11:
Aero Republica (76): BOG-CCS: 04/2009
5.07:
Go Air (35): MAA-HYD: 09/2007
5.00:
Sky Airline (51): IQQ-SCL: 06/2008
4.96:
Valuair (08): CGK-SIN: 09/2006
4.78:
Air Comet Chile (50): SCL-IQQ: 06/2008
4.74:
Fly 540 (31): MYD-LAU: 08/2007
4.33:
Viva Aerobus (20): ELP-MTY: 02/2007
4.11:
Air Sahara (11): CCU-BOM: 09/2006
(Note on Codes: Y – Economy, J – Business, F – First :: I/D – International/Domestic :: SR/MR/LR – Short/Medium/Long Haul)
(Note on Date: Dates are modified to be +/- 3 days from actual flight date to not reveal actual flight pattern)
VII> Other Pictures:
(Pictures of Paramaribo and around)
(Looks more like a U.S. university campus)
*
*
*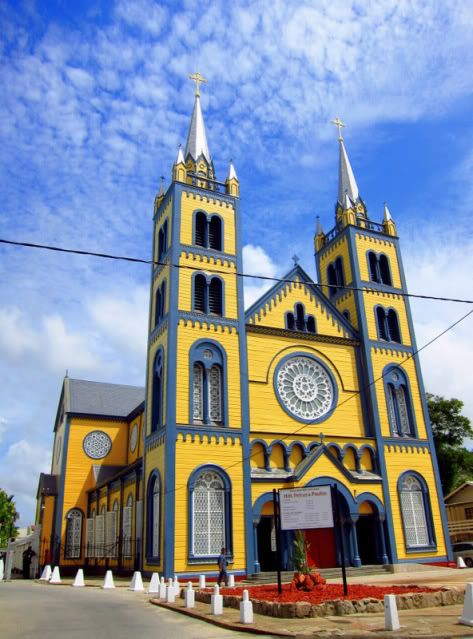 *
*
*
*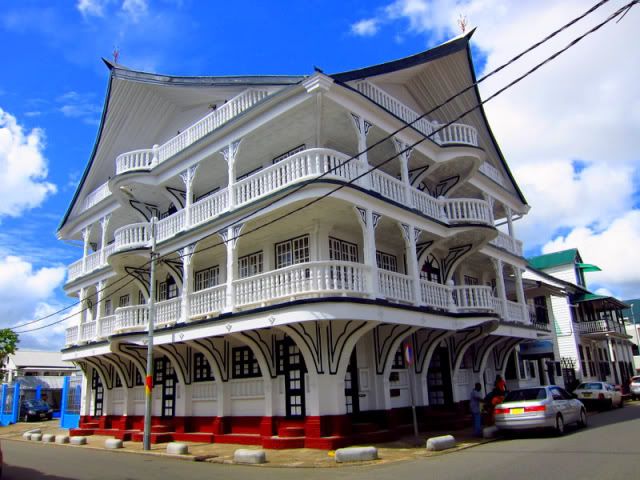 *
(And my favorite picture - the agent who I went to confirm my ticket in BEL gave me my e-ticket printout in this - what a trip down memory lane!)