Off to Sweden: AMS-CPH-LPI on Cimber, Nextjet & KLM
Hi dear a.netters!
I was off flying again lately. This time up North, to catch up the for me still missing Saab 340. It is for me quite difficult to get on it in combination with just a daytrip, therefore I was delighted to see AF-KLM offering the special Flying Blue discounted tickets on the LPI flights, now available for just 6250 miles oneway. With a well timed evening departure to AMS, and my knowledge about an excisting Saab 340 service on Nextjet from Copenhagen to Örebro in Sweden, with an enroute stop at Linköping. Let's see if I can manage to get an affordable itinerary.
Well, I knew only about my free time just 3 weeks before, with most tickets at higher fares. Still I was smiling with a low fare on Cimber Sterling on their relatively 'new' route from AMS. Now my hope was also for the little ATR-42 prop but this turned out to be a flight on their CRJ-200. Definitely not my favourite type, but I'll do with it, and since these also become more rare around Europe in these days, quite welcome also.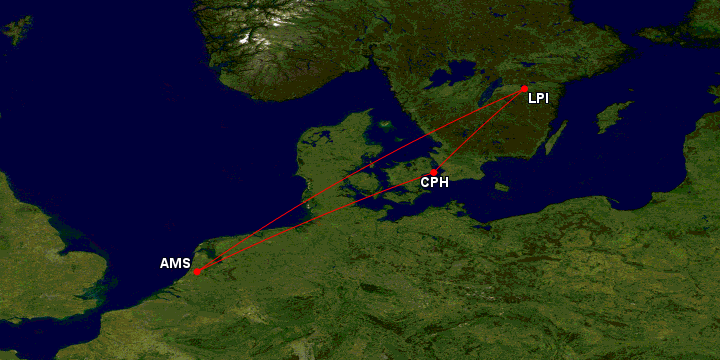 Credits to GC Mapper
A good friend of me preseated me on my desired seat, she works at the handking agent for Cimber Sterling in AMS. Well, online check-in is not available on this flight, so I had to be at the airport a bit early.
Thursday August 11, 2011
My alarm bell rings at 07:20, on time to help myself with a quick breakfast and I had to give some food to the cat from our neighbours. It was nearly 08:30 when I took the direct bus towards the airport. Not much later I arrived and went up to departure lounge 1, desk 6, which is were 3 counters were opened for my flight to CPH. Friendly staff here, and I was advised to be at the gate early since it was a bus-gate.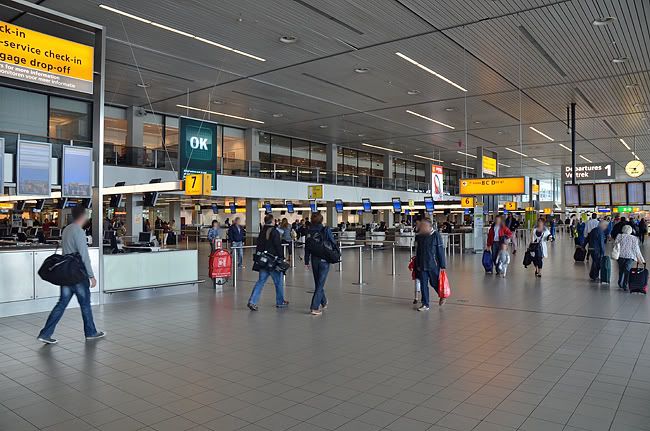 AMS Departure lounge 1
Meanwhile I noted that Martijn had blocked the seat next to me also, thanks for that! He works also for the same groundhandling agency and was able to do this for me. Really welcome on the small CRJ.
Security check was not too busy this morning, so served immediatly. Although this time, they found the need to get my bag opened for additional checks of all my camera equipment and electronics. A first for me, and it doesn't make me happy (new stricter rules again?!). Anyway, the officer was friendly, and I just had to deal with it.
A while later I got a message from Martijn; he was working on the LH flight (not really working, his A321 was basically empty), so we agreed to hae a small meet at gate B35, no problem since my own gate was B03, nearby anyway.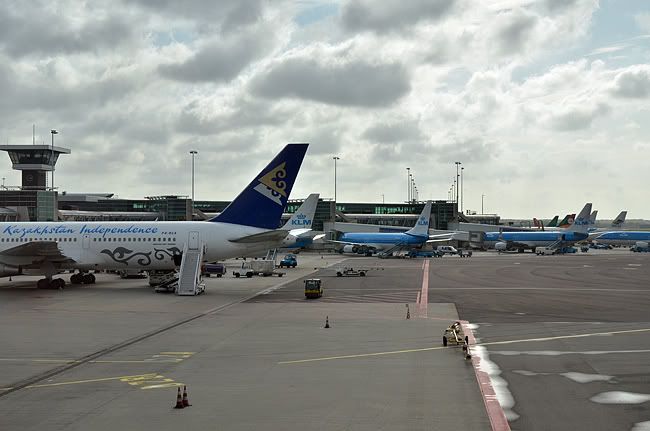 It's morning rush hour. Nice to see the Air Astana 767 from Kazachstan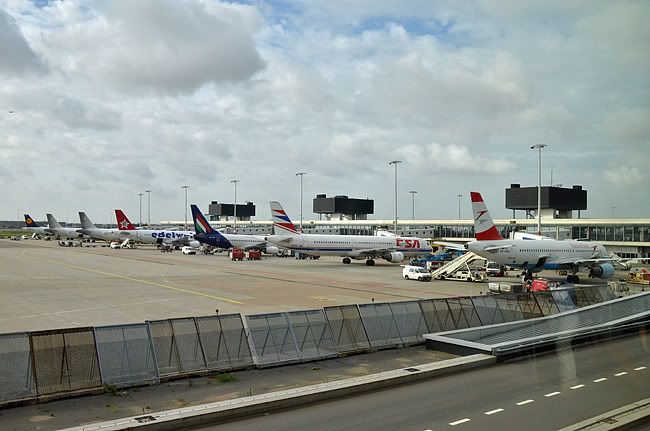 Many European flights on the B-gates
We had a nice talk about Martijns intention to ge on the A300 at some stage, maybe something to plan together since I would like to give it another go also.
When he had to leave to get the LH flight out I walked to my gate also, where boarding (the bus) started at 10:03.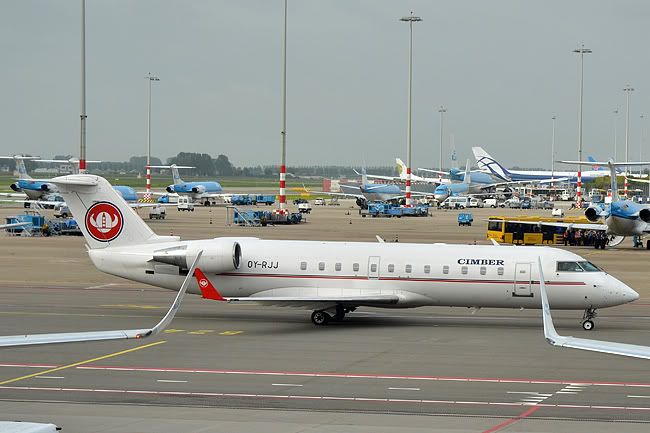 It seems that my aircraft is arriving from CPH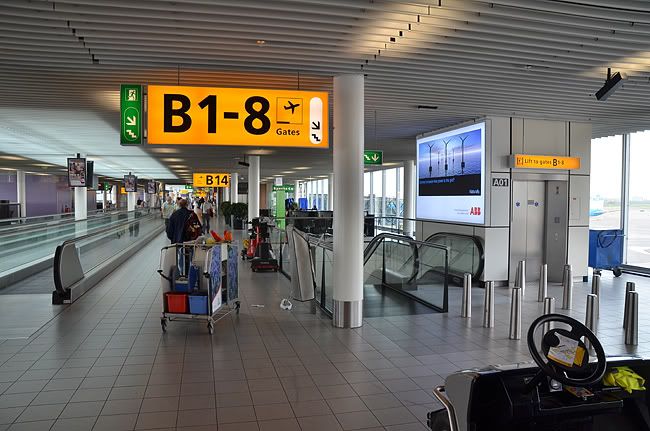 Let's go downstairs to my gate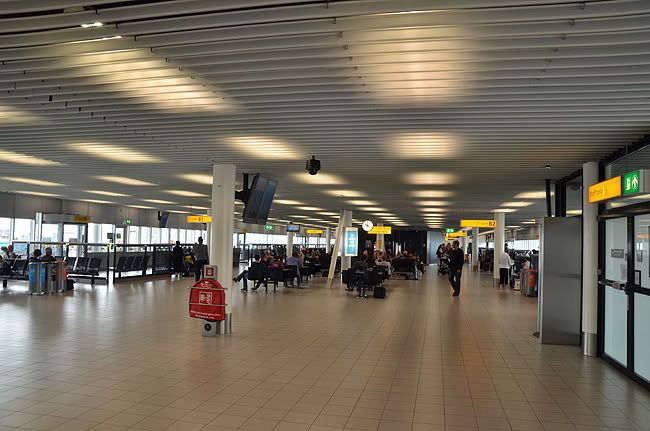 B-gates lower level (bus-gates)
AMS-CPH
STD
10:30
ATD
10:27
STA
11:55
ATA
11:33
A/C:
OY-RJJ
(Bombardier CRJ-200ER)
S/N:
02A
(Single class/Y)
View Large
View Medium


Photo © Ellinger
A total of 32 passengers on my flight, out of 50 available seats, so boarding took only minutes. The bus brought us to the remote position where the expected CRJ200 was waiting.
Welcomed by the single female flight supervisor, notmthe youngest lady around and also not too friendly this morning. She seemed to be a strict 'listen to me' character type, and some younger guys on board would experience that themselves later...
So, safety demo was done, very quickly for my liking, especially compared to my recent easyJet experience. During this demo, the FA was annoyed by sound of music coming from one of these guys on row 4, and she rudely told them to turn it off (second warning apparently). We taxied out after the flight attendant notified the cockpit crew about the situation in her cabin. Then, she seated herself on seat 1C, so I was not able to grab my camera since she would've noticed for sure. Luckily when the takeoff signal was heard she changed to the crewseat (backwards on the cockpit door).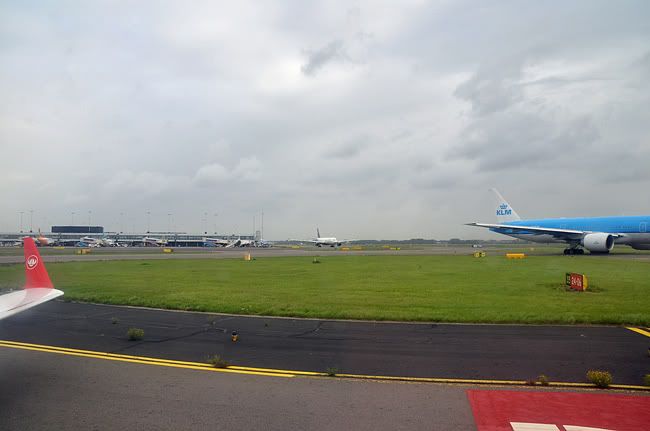 I was able to make pictures from this moment. Lining up the runway!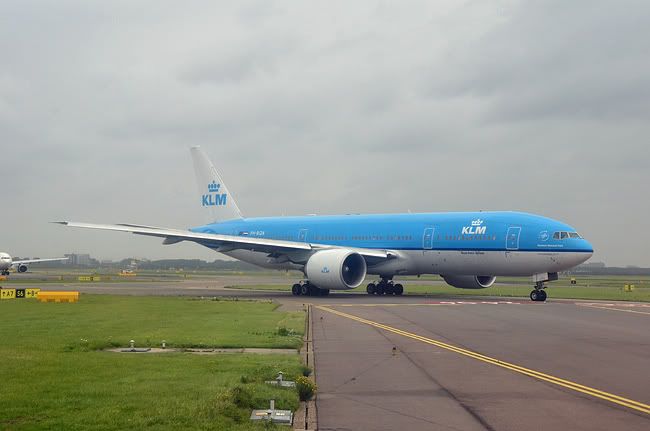 KLM's B777-200ER 'hold short'
Takeoff was powerfull and quiet, mainly because my forward seat of course. A righthand turn "Spykerboor departure SID" was performed and we climbed to somewhat higher levels. Although, I cannot say which level we cruised, since there was no information from the front office so far.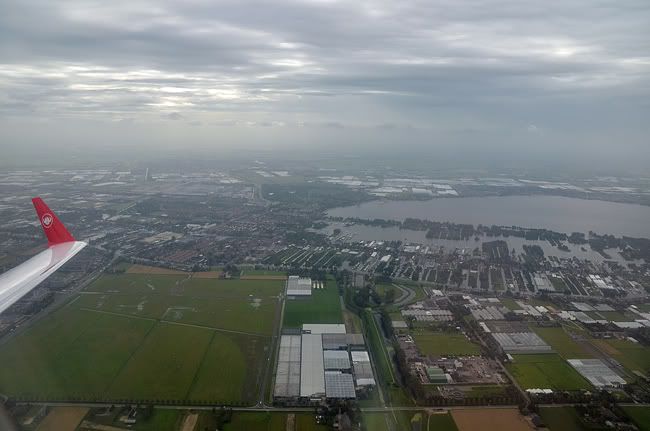 Airborne! View in the direction of Aalsmeer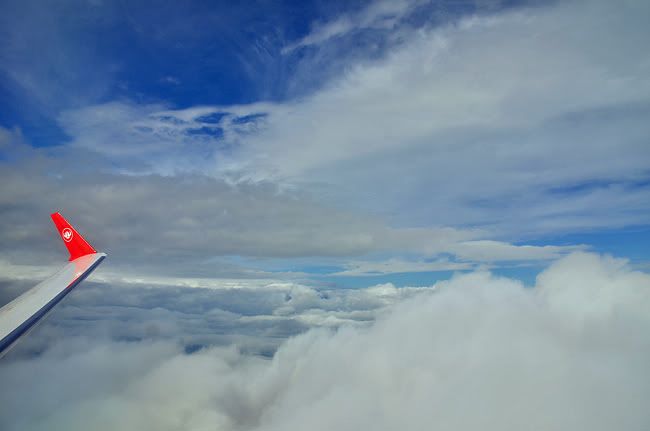 Climbing out of runway 24 on a SPYxx departure
During the cruise to CPH, the buy-on-board menu was on sale, but expensive for my liking (e.g. EUR 3.50 for coffee). Also it was urgently requested to pay by creditcard only since the amount of cash on board was very limited. Not really an issue probably, I noticed only 3 people making a purchase.
After this, nothing else happened and my sights out of the window were boring also, with only a white carpet of clouds below me for the complete duration of this flight.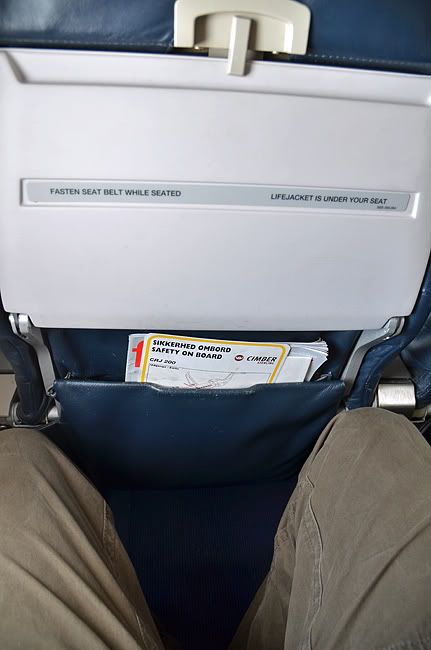 Legroom on Cimber Sterlin CRJ-200
Your IFE from the seatpocket is a safety card and the magazine 'Fly Away'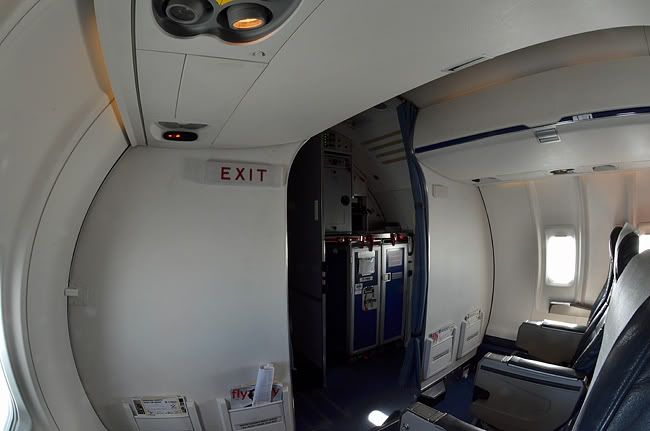 Cabin view from my seat in row 2 (forward facing)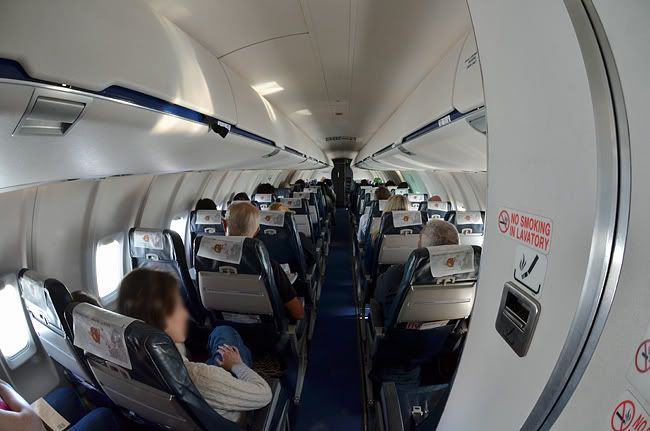 Cabin view on the CRJ-200 from the back of the cabin facing forward
Finally during descend, some shory info from the pilots. It was the weather forecast which they better kept for themselves: rain, 13°C. Not really summer in Denmark either, so it seems.
Final approach at CPH
Landing was on runway 04R in rain, with the SQ 772 waiting for her takeoff back to Singapore. We had a smooth touchdown though despite these conditions, followed by a real short taxiing to remote stand no. 91. A bus was arriving soon after our early arrival and delivered us at the terminal within minutes.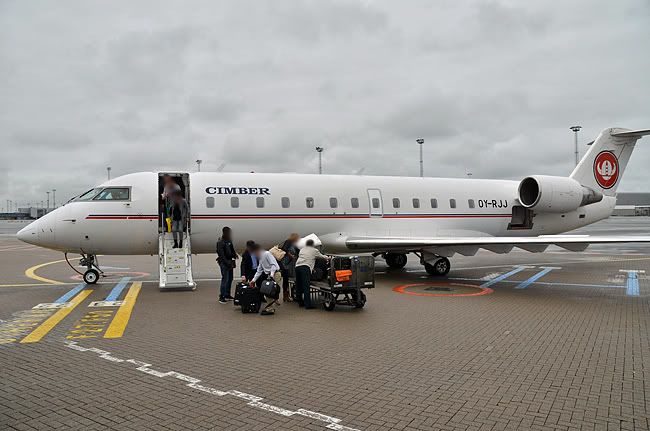 Disembarking on the apron. Handluggage items could be picked up from the cart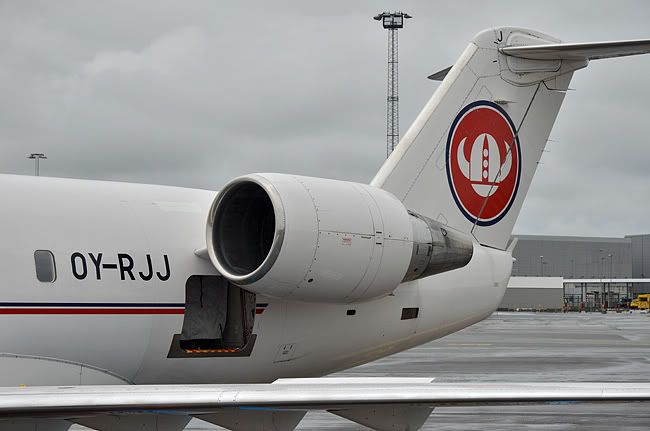 OY-RJJ close-up. Bye bye!
At CPH, I made my way upstairs to "flight transfers". My next flight on Nextjet was handled by SAS, so they could take care for check-in and my boarding pass. Online check-in was not possible for this flight. A friendly male agent took care of my request (requesting row 1 or 3, for pictures) and advised about free seating policy on my flight. I would take care about this myself I thought.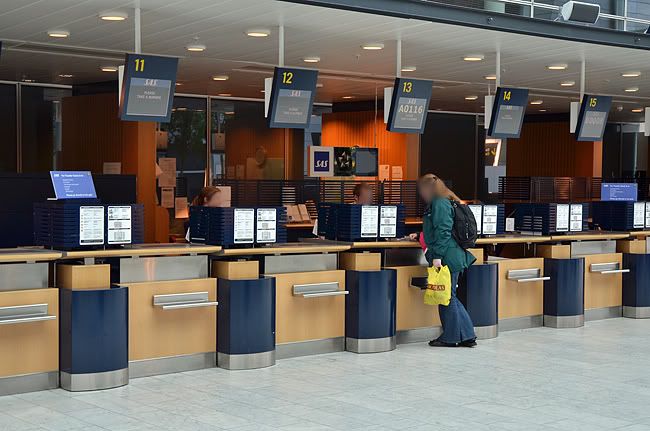 Flight Transfer Handling desks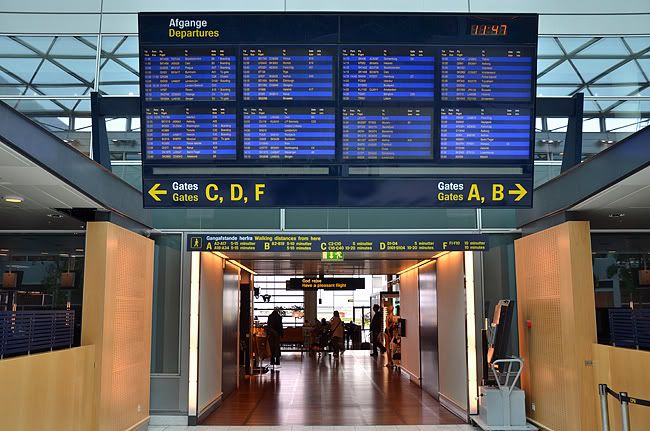 Way back to the central area. Nice design!
During my 2 hour stay in CPH no chance to catch a lounge, but a text message with my good friend and fellow tripreporter "the FlyingFinn" (also in Denmark at that time), cleared up the login codes for free WiFi (thanks, SAS), so I was able to do some updates online.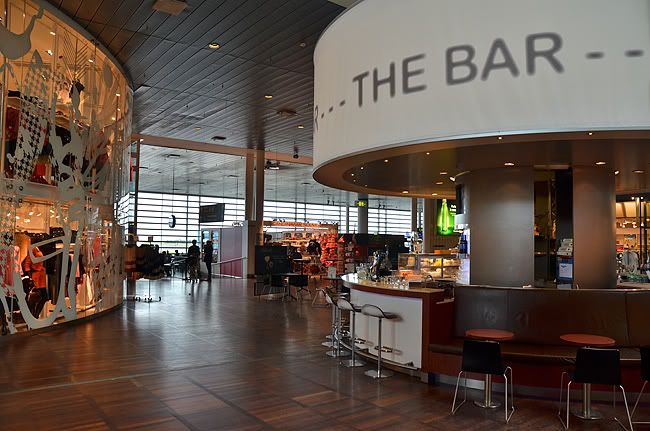 CPH terminal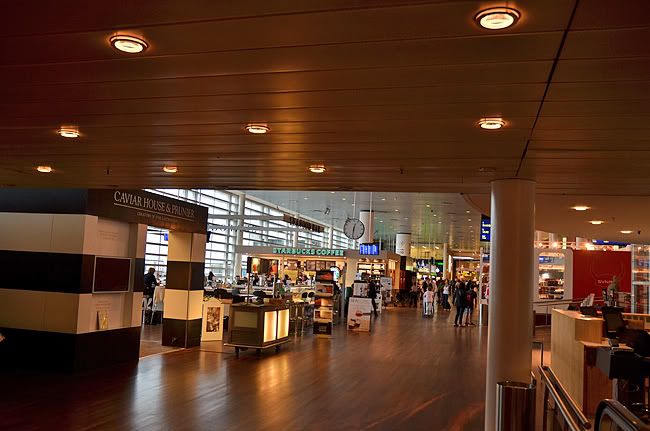 CPH terminal
After that I enjoyed some looks around in the great terminal and had a coffee with a delicious raspberry cake at Starbucks. Btw, staff was really kind, well done. Paid with my Amex, pincode Sir? Yes, I have. Great, go ahead. In the end I've to sign anyway...strange.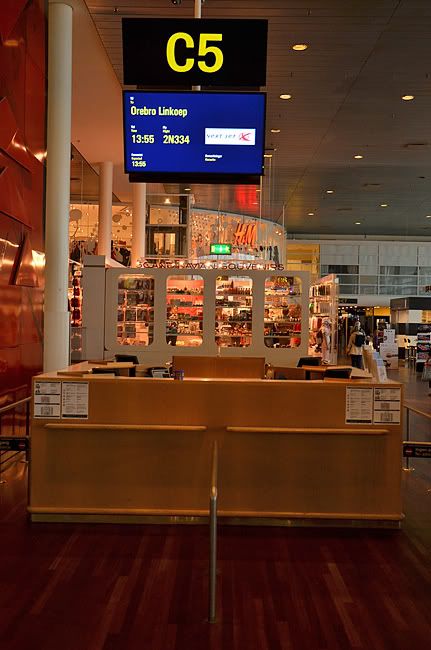 Boarding gate C05
Half an hour before departure time I went to my gate, C05. Nobody around but the SAS groundstaffs arrive a few minutes later. Boarding started immediately, and finally we have a load of 10+1 (infant). Not full at all, even not for a small Saab 340!
A large bus brought us to the remote parking spot where I found the expected Saab 340, a type I was looking for since a long time!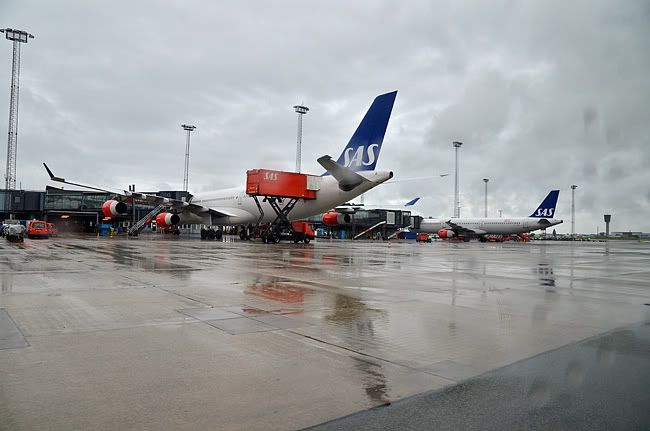 Some big ones on the ground in CPH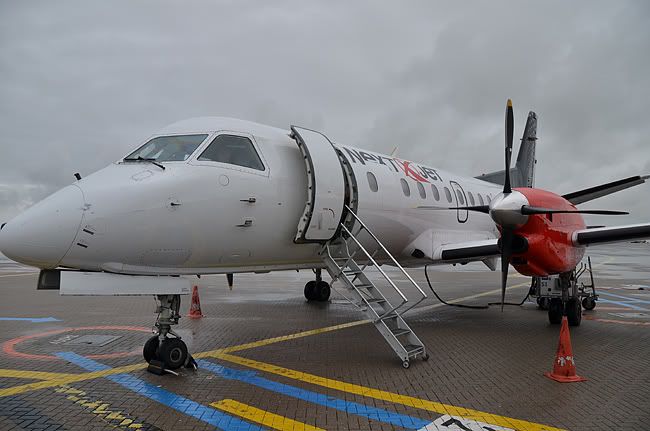 The Saab 340 waiting for my flight to LPI and ORB
I quickly snapped a picture and went up, in the mood for my desired seat.
I was friendly greeted by a female cabin crew and told to take a seat behind row 7, for weight and balance reasons. Not amused actually, but no choice. Except the 2 last boarders, who were allowed in the forward part of the cabin.
CPH-LPI
STD
13:55
ATD
13:49
STA
15:05
ATA
14:49
A/C:
SE-LMR
(Saab 340)
S/N:
07F
(Single class/Y)
View Large
View Medium


Photo © Niklas Kull - Ostersund Photography
Doors closed really early of course, and a safety demo was given without voice. The single FA on board showed how to use the seatbelt, oxygen mask and life vest, afterwards checking the cabin. Meanwhile the engines were fired up and running, and by own power we taxied out to runway 04R again.
Rain was still pouring down, not giving me good photo opportunaties.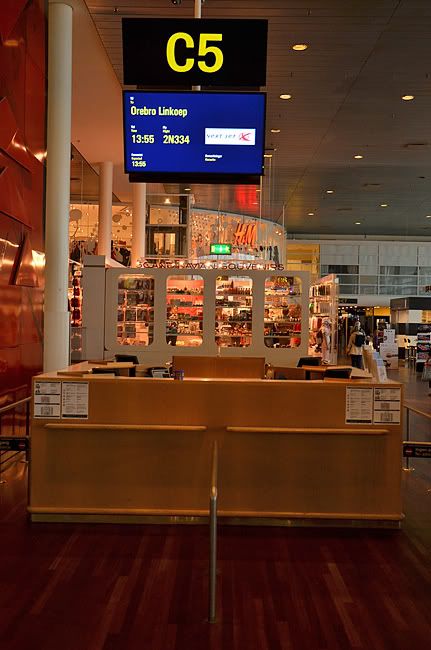 Taxiing to the runway. An LX A320 from ZRH seen arriving
Takeoff was nice, a very short roll till airborne on this nearly empty aircraft. Some last views on CPH but soon we dissappeared in the low clouds. And, we would not get out anytime soon! That annoyed me a bit, knowing that the weather would be crap and the Saab 340 wouldn't climb to real good altitudes to get out of it.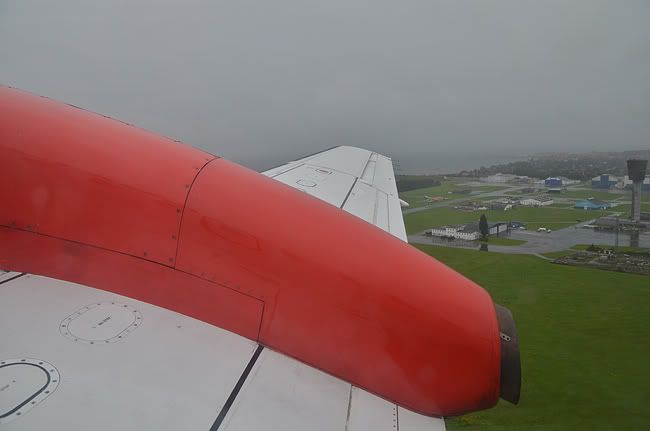 Airborne and on my way to Sweden now...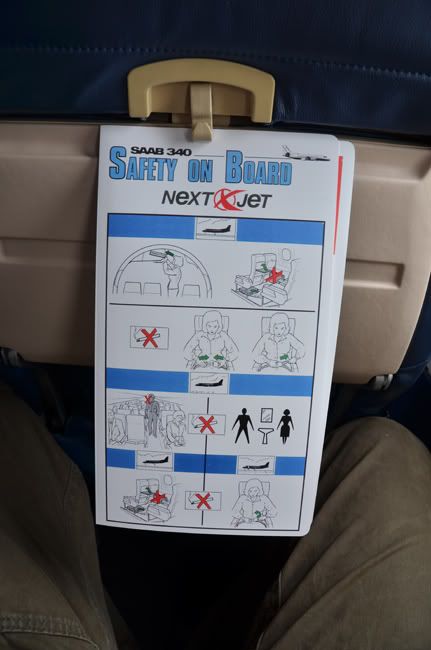 Legroom and safety card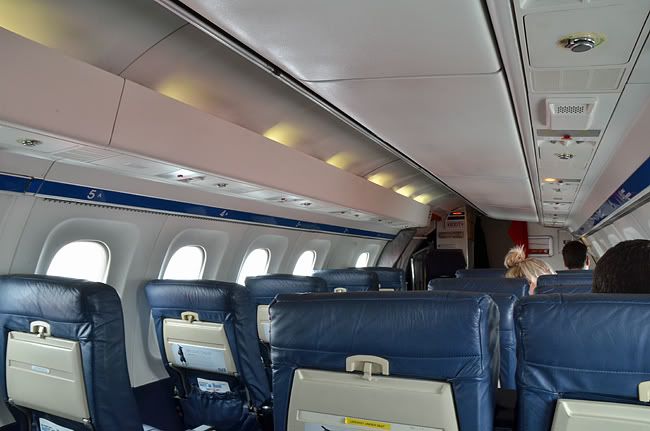 Cabin view
During the flight a buy-on-board service was performed, although nowhere prices to be found. It wasn't told either, at least, not in English but I think not at all. I saw 1 passenger buying coffee, and I think that the FA did a complimentary refill.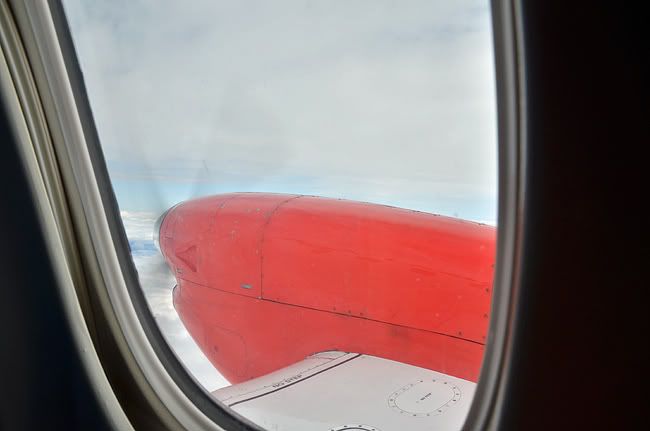 Blue sky ahead of us?
Then suddenly a moment of open sky was ahead, somewhere over Sweden. I quickly made some pictures and went up from my seat to make a few pictures from seat 01A, after an OK from the FA. During my picture taking, the FA was enjoying her time with the infant and her mother, also among the passengers. Really kind attention and the child was laughing instead of crying. Way to go!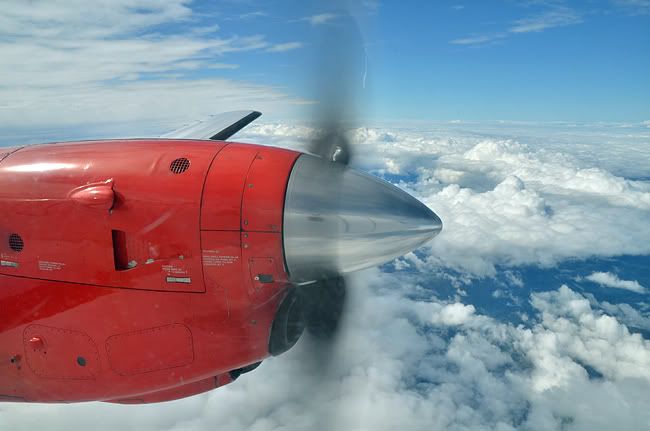 At least much better conditions to take a picture now
Although I got really surprised when the FA took the mother and child to the cockpit, opened the door and let them in (door was open for about 5 minutes), and the flightcrew was chatting and playing a bit with the child. Of course, it's not a big deal, but when they finished I asked the FA to have a look (during flight), but was quickly told that they were not allowed to open the cockpit during flight. Interesting isn't it? So, I asked if it's ok to have a look after landing, to make a picture if they were fine about it, but also that was denied, since photography of the cockpit is officially forbidden due to many electric systems there. Completely nonsense, but what can I do about it. Sorry, no pics from the frontoffice today for you...
Then, clouds returned and we started a descend to Linköping. When we got below the cloud layer, a few glimpses on the nice Swedish landscape were visible before we turned in for finals to runway 29, the airports single runway here. Touchdown was really smooth and we rolled out towards the small apron.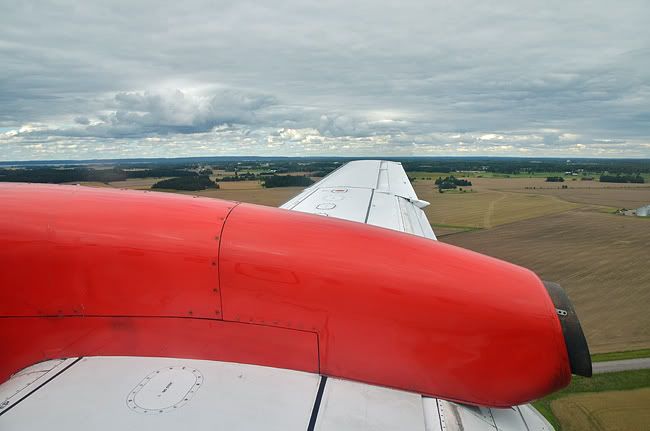 Approaching LPI
It was advised that the groundstay at LPI would be 10 minutes and the passengers to ORB could stay onboard. It was clear to me that the majority was leaving here though and only 2 passengers would remain on board. This flight does not accept new passengers from LPI, so it's just an offloading airport here.
I went off, was said goodbye, made a few pictures in a relaxed way before entering the terminal building of Linköping City Airport.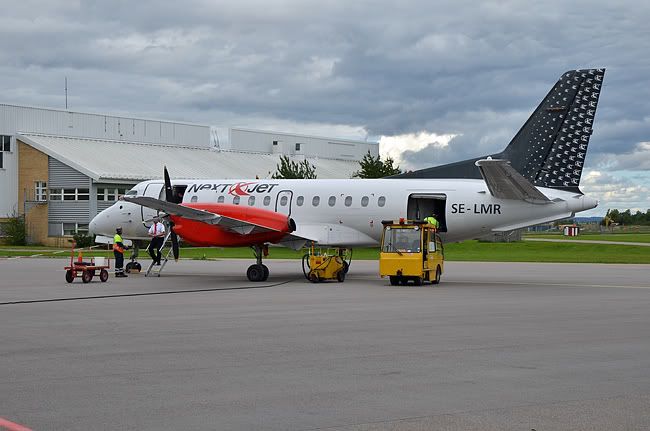 The Saab 340 after I left, on the ground for a few minutes in LPI
There was actually a baggage belt immediately after entering the building, a really small area with the green and red lane to enter Sweden. After my observations there I entered Sweden and met with fellow member and tripreporter Jonas (LH4116). He still had holidays so was able to enjoy a long trainride to the city and meet up with me for a while at this airport. We had a chat and a beer (thanks for that!), in the airport bar/cafe upstairs. It's a small place, but well kept with good views on the empty apron and unused runways. Yes, because aside from my the Nextjet flight I had and my next leg back to Amsterdam, it seems no other traffic at this airport.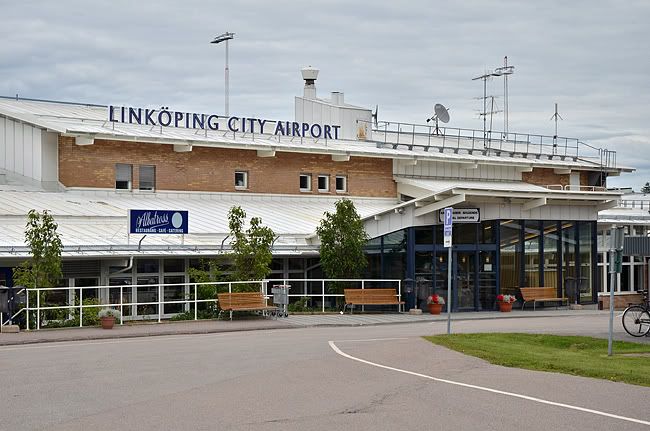 Airport building from the parking area in front of it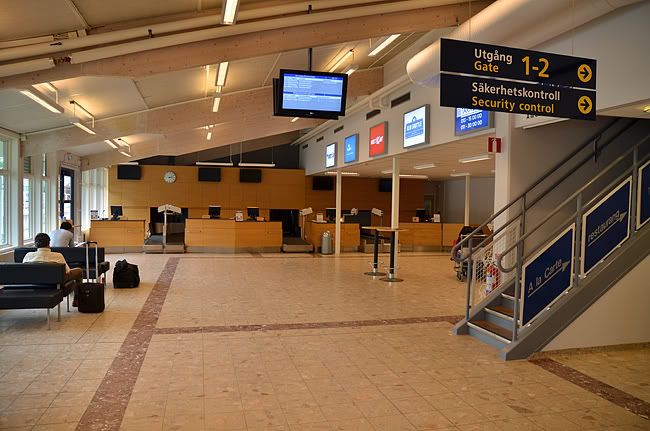 Check-In area at LPI
We went outside to make a few pictures of my incoming Fokker 70. Next to the terminal building is a fence through which I was able to see it taxiing in after landing. After making a few pictures we went inside the building to say goodbye to eachother.
But before this, I was stopped from behind by some security guy. He talked in Swedish to me, to which I replied that I didn't speak his language so he could speak English to me instead. This man pointed out that photography was forbidden at LPI due to the SAAB facilities at/around this airport. I told him that it was nonsense and I only pictured the KLM aircraft I was going to fly on, but he insisted about the rules and I should've known since it was stated on signage. It could be me, but I did not see, read or smell any signs about this, and also didn't expect this from a free country like Sweden. Anyway, there was no choice for me left then to delete the pictures made in LPI, keeping in mind that SAAB is partly owner of the airport. I deleted only the Fokker 70 of course... Actually I was surprised that he was ok with that and left. So after this I said goodbye to Jonas and went to the small security checkpoint which was hassle free of course.
When I arrived in the waiting lounge, which is small too, I saw 'my' Saab 340 on her way back to CPH. Plus the F70 on the apron. Of course I felt free to picture these moments again, and did not experience any troubles. In the lounge were about 35 passengers for the KLM flight to Amsterdam. Not a good load at all, but at least, good for me since it gives me a more comfortable flight.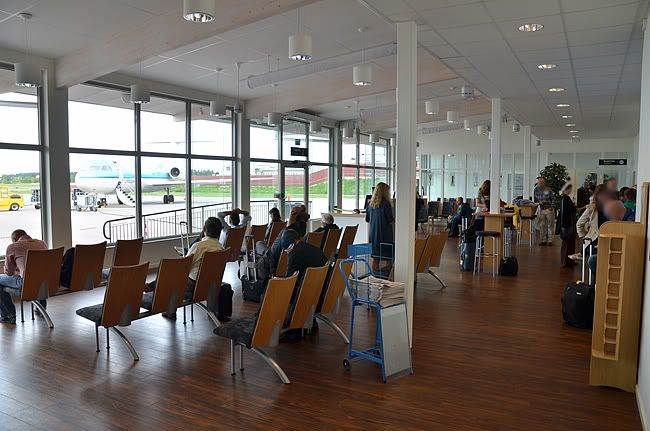 Not so many people for my flight to AMS
Boarding was announced for Elite passengers at 16:50, well on time. Boardingpass was checked and then I was free to go and walk to the aircraft. Onboard I was friendly greeted by a female flightattendant and halfway by another one.
I noticed that there are no newspapers for me during boarding.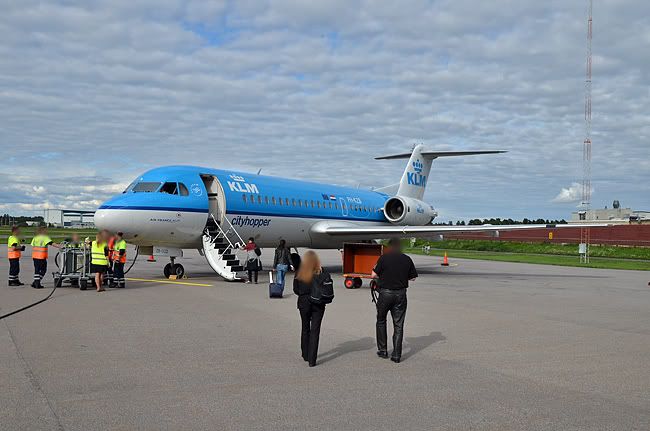 Boarding my Fokker 70 for AMS
Boarding of the other passengers went quick also and meanwhile I explored my seat in row 16. It's the best seat for an aviation geek, just in between the engine and the wings. Legroom was just ok, not great but good enough for shorter flights. Cabin layout is as on all these Fokkers in a 2-3 seating. The KLM interior was in a well kept condition, seats were of blue cloth with blue leather headrest covers.
LPI-AMS
STD
17:10
ATD
17:20
STA
19:00
ATA
19:06
A/C:
PH-KZB
(Fokker 70)
S/N:
16A
(Economy class/Y)
View Large
View Medium


Photo © Joey Collura
Around the expected departure time we got welcomed by the crew informing us about a delay caused by ATC. Our arrival in Amsterdam would be in a busy moment and therefore we could not leave on our schedule (interesting... with 2 arrival runways in use at AMS). According my knowledge, this explanation could not be correct. Especially since we were ready on time. Anyway, about 10 minutes delay was announced.
Doors were closed and meanwhile the crew performed the safety demo, so these 10 minutes passed quickly enough and engines were started at 17:20 as promised. And, that means that it got quite noisy around my seat (if you want a quiet cabin, make sure to be seated as much forward as possible!). We taxied out and about 20 seconds later we arrived at runway 11 for takeoff. The cockpit crew advised the cabin to be seated now, and just seconds later we started our takeoff roll on the 2,120 meters long runway.
Goodbye to Linköping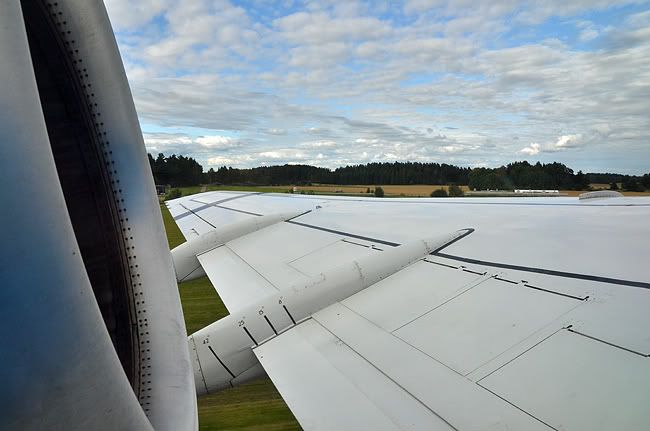 Airborne from runway 11
Takeoff was as expected interesting again and after we were airborne, a sharp righthand turn was performed to get headed to the Southwest. We climbed further to 34,000 feet for our cruise. This was informed by the captain just after takeoff. Also our flight would take 1 hour and 35 minutes.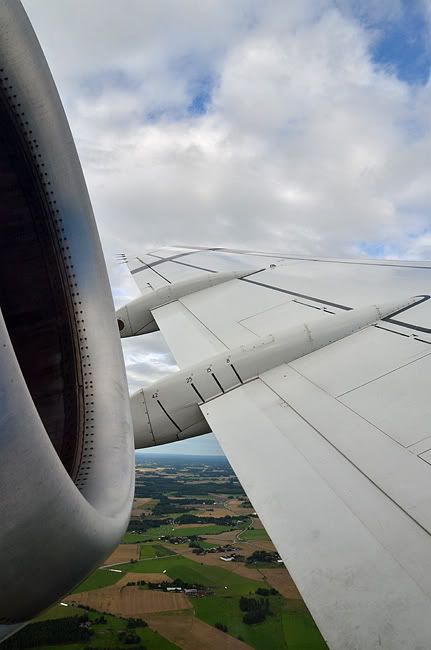 Turning right...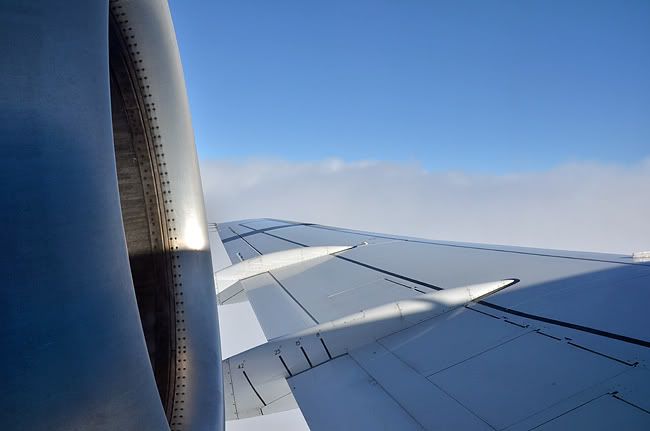 ... and above the clouds
When we levelled off, the crew performed their service, and handed out a 'trattoria' sandwich pack, plus offered drinks. I got a white wine and some mineral water. The sandwiches were a bit dry taste, one was with chicken filet, the other with egg-salad. Nothing really 'special' to be honest.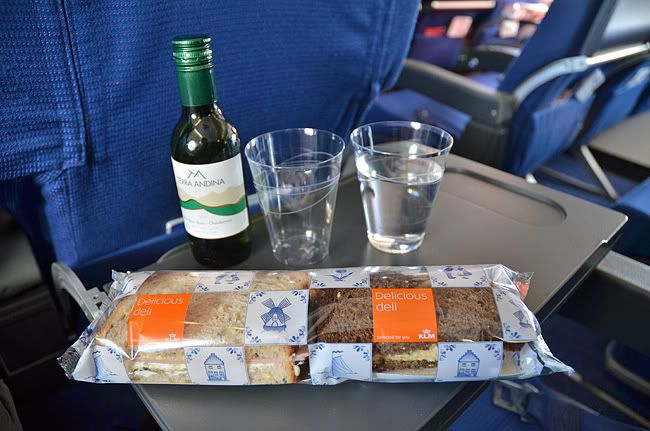 Sandwich mealservice as usual on KLM's European flights
The flight continued over Sweden and Denmark, both covered by thick layer of clouds. Since I was a bit thirsty, I notified the crew and requested a coke, delivered to me in a small 150ml
can.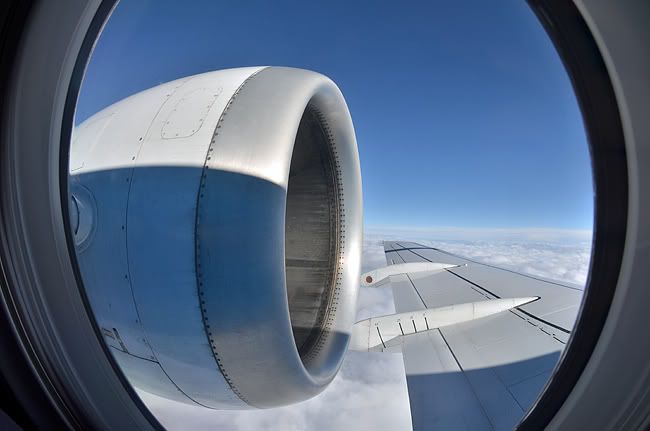 Seat 16A is the best one in the house tonight!
In the seatpocket the 'Holland Herald' magazine

My seat and legroom (seat 16A)
Cabin View on PH-KZB
About 45 minutes before landing another service round was done, with coffee and tea. Also the small caramel biscuit was handed out. I was very surprised though, to see that the crew did not bother to ask me for cofee or tea. They just placed the cookie on my table. Why did they do this to me? Because I had the coke before and they judged that I was not worth it to receive another drink? Anyway, it was interesting to see this mistake, and I found it very unprofessional.
Another info came from the flightdeck, informing about the weather in Amsterdam. According the captain this was less good then in Linköping. Temperature was 17ºC, low clouds and visibility and light rain. Not something I want in August, but it seems routine for our region this year. The crew expected arrival with 'only' 5 minutes delay, and landing would be on runway 18C.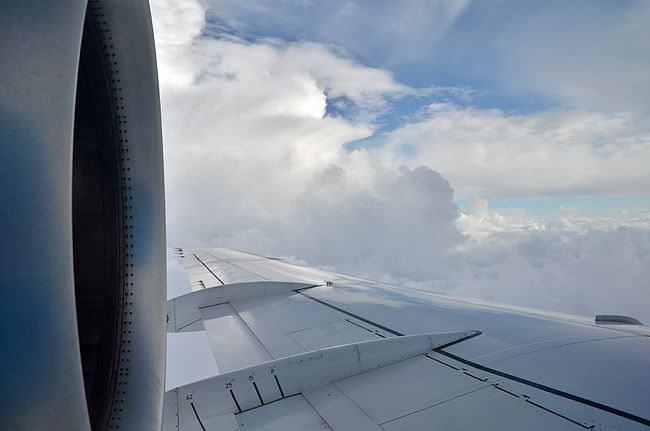 Approaching to Amsterdam. Hello clouds again!
Approach was already in progress when the cabincrew was advised to prepare for landing. Still, I didn't see anything but clouds. Landing was a few minutes later indeed, on the expected runway 18C. This meant that taxitime would be short, and indeed a few minutes later we parked on B53, a remote position on the commuter apron.
Landed! Back at AMS...
A bus was standing by and drove us to the arrivals hall, very convenient actually and just minutes later I was out of the building (I had no luggage with me of course).
All together I can conclude this day to be a successfull one. Cimber Air was OK, they did the job to bring me to CPH for a good price, and flying the CR2 is interesting but not very pleasant either. Crew could've been friendler on Cimber.
NextJet was main goal and achieved to score the Saab 340 now. A good flight, and I really like these aircraft. I was just unlucky with the weather so not really good for pictures. Maybe I should try to book another flight on this type some day (and I think I will).
KLM was very reasonable, thank you for the good campaign offer. Thanks to them I was able to make this trip fitting in one day. I missed newspapers on KLM, also I missed coffee/tea. Don't forget to ask me next time, because I think it does not fit the product they want to offer.
The sandwiches look good in the package, but tasted a bit dry. Maybe it's time for an update on your European catering? I've seen enough 'trattoria' with KLM now, and prefer LH's variating catering concept much more these days.
Next: another Scandinavian story, this time to Norway with some less interesting metal but interesting route for me. Now, I can only hope for better weather!
Thanks for reading and you know, your comments are mostly welcome and appreciated.
Have a good flight!

Eric