KLM C-class AMS-OSL on the B733 & new catering
Hi dear a.netters!
Just a week ago since my last flights to Scandinavia (
Off To Sweden: AMS-CPH-LPI / Cimber, Nextjet & KLM
(by
airbuseric
Aug 15 2011 in Trip Reports) ), it was time to hit the road once again. This time with a visit to a for me new country: Norway. I figured out that some planespotting would be nice, and picked TRD as my goal on this trip. I found a reasonable fare on the KLM website which would bring me to OSL, and onward, a reasonable prices oneway on SAS would bring me in TRD. The return home will be fixed on WF and DY, making up to another interesting trip on 4 airlines, some new destinations and now I could only hope for good weather as well. I decided to bring this trip in 2 reports, first this report will only feature on KLM to OSL.
During online check-in on KLM.com, I noticed that the Business Class seats were visible to me (Elite member), a first for me (not sure if this is available for everybody). Since KLM pre-seated me on an aisle seat I had to change, and 19F was the only available window seat for me. Business Class was available for me against an additional fee, which I gladly accepted and I processed my reservation with a window seat on row 3. I would pickup my boarding pass at the airport the next day, to save me some homework with printing etc. Also, I prefer real boarding passes.
The night before my flights were not really great, since we got in trouble with neighbours in the middle of the night and even had to call police for assistance. You can understand that I couldn't sleep at all (even not for 1 minute), and my bus to the airport would leave at 04.56 am. So, I was really tired and not so relaxed when I took the bus, direct to the airport in short time.
August 16, 2011
I arrived at the airport at 05.15am and went up to departure hall 1, where I would find the KLM check-in zone, starting at row 8. I was welcomed by a friendly groundstaff who is there to check the ticket, since I was using the priority zone for Business Class passengers and Elites. The tag on my bagpack was enough to convince her and I was able to proceed. I printed the boarding pass from a selfservice kiosk, after my input of the reservation code, as well my destination. KLM's boardingpass is now only a thin sleece of recycled paper, without the small stub, and not really nice to keep in the collection. But still, it's better then any homeprinted A4-sized white paper sheet.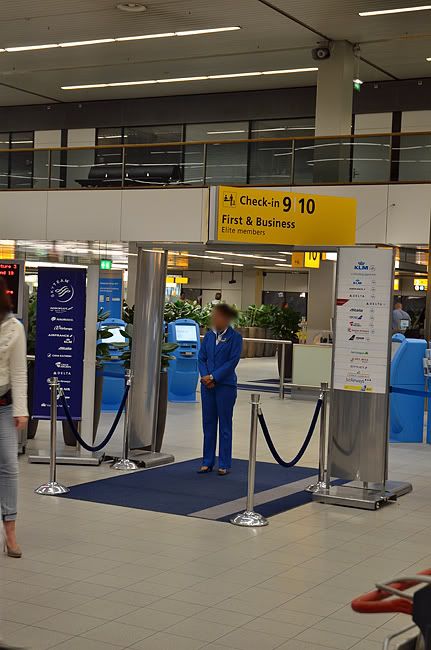 Priority check-in Area for KLM
From there, I proceeded to the security gate where uninterested staff waived me into the priority lane. Remarkable that some economy passengers were able to use the priority x-ray point also (after the seperate waiting queue), but now I had to wait until 4 economy passengers were screened before it was my turn. What does make the difference now to have a seperate lane? The check was done in a minute, staff was OK. Though I was subject to body-search as 'random' selected person, just my bad luck. Also this officer was friendly and we had a laugh about it.
Now it was time to hit the KLM lounge in the European/Schengen area, located on the upper level at the entrance of the D-gates (near the newly opened open-air garden). It's a KLM crown lounge and I was greeted by my name after showing my boardingpass.


Entrance of the KLM Crown Lounge
I had about 1 hour to spend and I would be taking something for breakfast here. First I made a few pictures, the lounge was still quite empty (20 minutes later it would be much more busy with lots of passengers arriving from the longhauls and with onward connex to a European destination). Then I checked also out on the buffet. On offer were American pancakes (they are the same as the Dutch pancakes, plus, real American ones are better imho). Also a yogurt with fresh fruits inside, some pastries, all kind of drinks and some bread with ham or cheese. I prepared something for my liking and took a seat. Also, I took a copy of the days morning newspaper, to take with me all the way of course.


Overview on the seating in the KLM lounge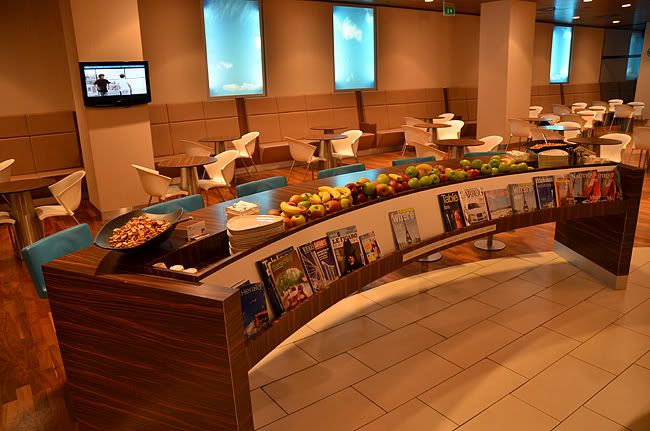 Table setting to eat and fruit bar / magazines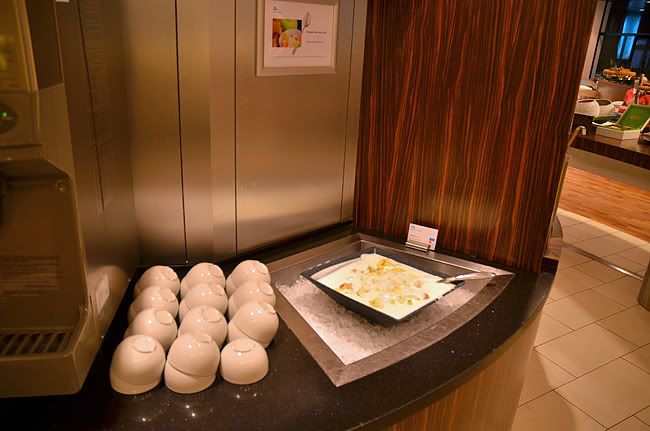 Yoghurt with fresh fruit inside


Additional breakfast offerings…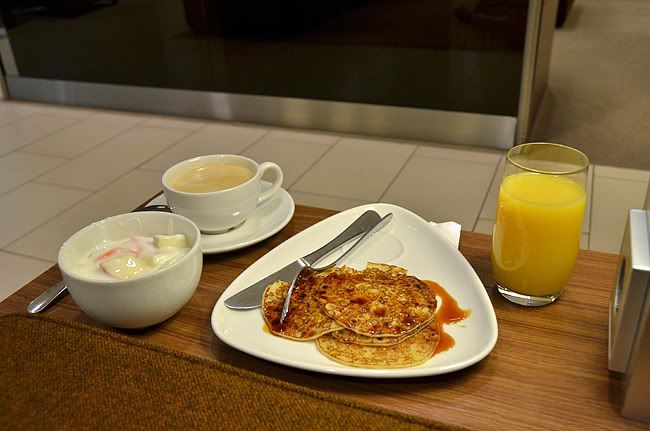 I created this breakfast for me, looks good isn't it?
About 30 minutes before my departure time it was time to leave, and walk to the gate. Boarding was in progress according the screens, and from the lounge to gate D82 it would be at least a 10 minutes walk. From a little distance I noticed my aircraft, being one of the last 2 remaining Boeing 737-300s in service with KLM, and due for retirement really soon now. I was really happy to get on this one, probably for the last time ever with KLM. When I arrived at the gate they just opened the bridge for Business Class and Elite members, and I was able to make use of this boarding. So I was still able to pass along a big amount of other travellers.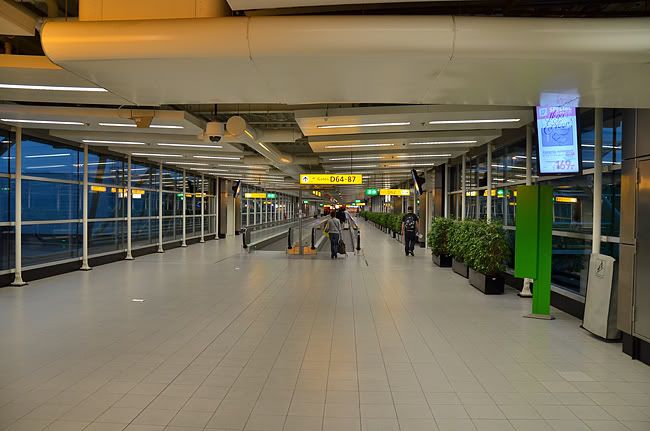 It's a long walk to D82…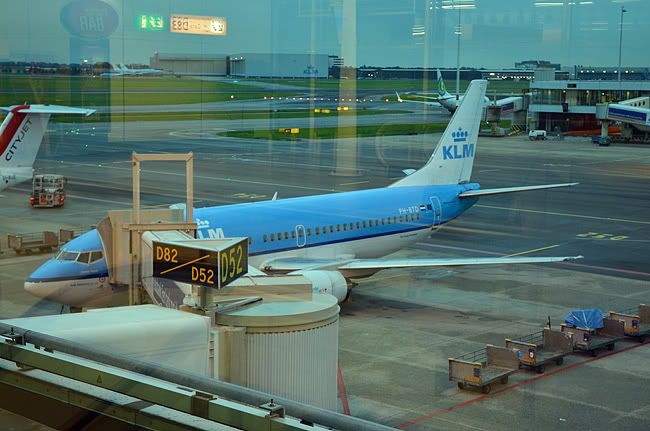 Yes! I will get another ride on KLM's B737-300, which is due for retirement soon!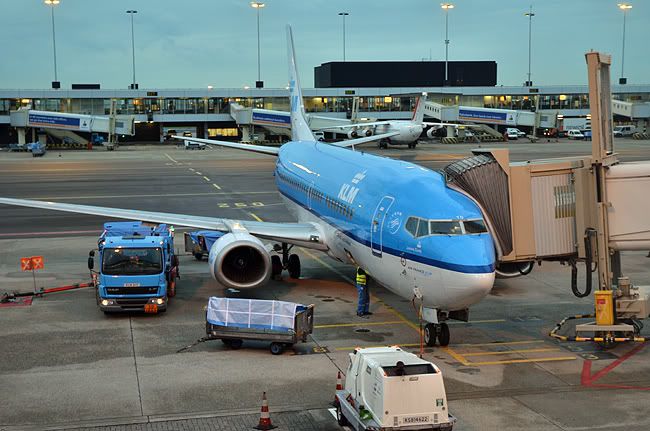 Close-Up on PH-BTD prior my flight to OSL
AMS-OSL
STD
07:00
ATD
07:04
STA
08:45
ATA
08:55
A/C:
PH-BTD
(Boeing 737-300)
S/N:
03F
(Business class/C)
View Large
View Medium


Photo © Peter de Jong
This Boeing 737-300 was delivered factory-fresh to KLM in 1992, reaching an age of nearly 20 years now. Still inside the aircraft was in a good condition, although you can notice that it's an older frame, especially when visiting the lavatory (older style etc.)
Onboard I was friendly greeted by Johan Pontesalvador, the purser, and in the aisle was a female flight attendant taking jackets from passengers in the Business. She also offered me a selection of newspapers.
The front section was seperated from Economy Class with the curtain behind row 3, therefore 9 business class seats were on sale, and 4 of them were actually sold, making the loadfactor under 50%. I did only see very few remaining vacant seats in Economy Class, so it seems like a good load in general.
Doors closed on time, but a friendly welcome from the captain on this flight informed that we would see a minor delay due to absence of 1 passenger. As a result, loading staff were looking for one suitcase to be offloaded from the flight. He requested some patience, but assured that we would still arrive on schedule in Oslo.
Then the purser took over the mike, to do a live safety demonstration with the 2 girls in the cabin. One was assigned in row 1, the other in row 3, which brought some confusion with one of the female FA's. The demo was given in English only, quite interesting since usually it's at least also in Dutch language. When they finished, the FA came to the front and discussed with her 2 collegues openly about her confusion about the position to stand during the demo. It was clearly visible that the purser was not fully amused by her, but handled well to keep the discussion really short. Probably this is one of the new FA's recently hired by KLM.
Meanwhile the baggage was found since we started pushback only minutes late, simultaneous with a Cityjet RJ85 which was bound for LCY. Startup was done and then we taxied to runway 24, via entrance S7 for departure. This took a few more minutes with lots of other European flights departing at the same moment (and only 1 runway open for takeoffs). Finally we took off and followed an 'Andik' departure route towards the North.


I'm seated. Ready to go!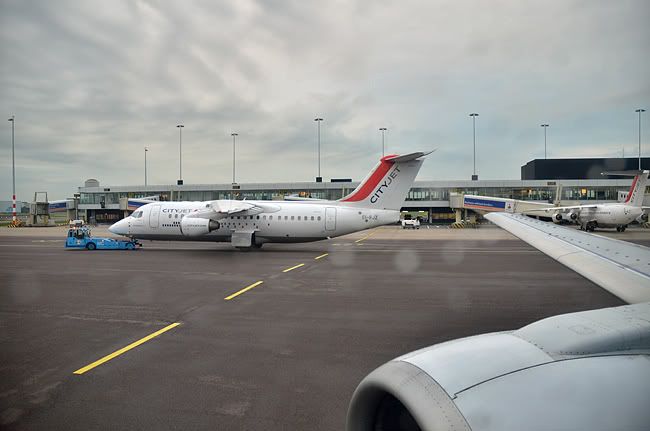 Pushback, simultaneous with the Cityjet RJ-85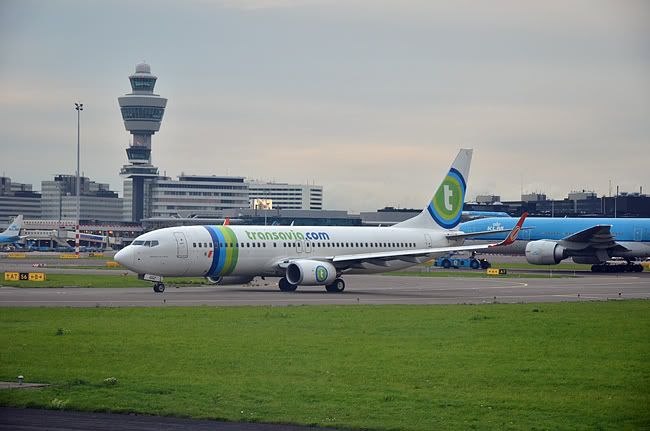 Transavia leased this B737-800 from GOL Linhas Aereas for the summer season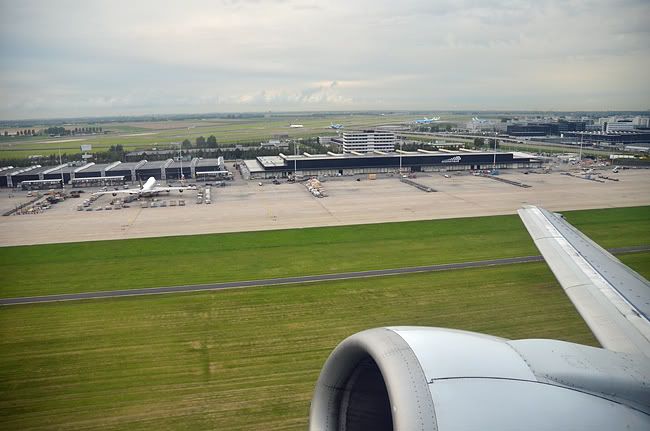 Airborne, from runway 24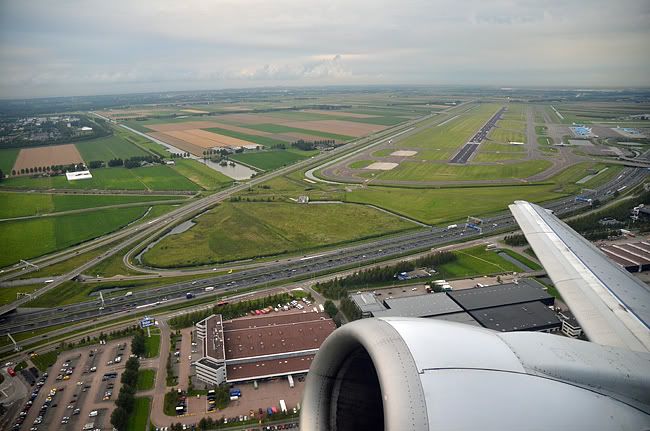 One more,… runway 18C-36C visible here as well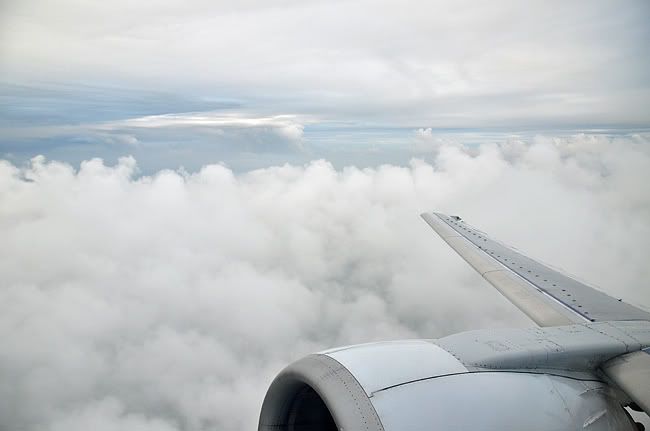 … and soon we're in the clouds. Where is the sun?


A little view on the Dutch landscape below
As soon as the seatbelt sign was off the crew came to life. Curtain was closed and I heard preperations for service coming from the galley. I was really tired though and didn't really follow what was going on. But meanwhile the other passengers were already offered breakfast until suddenly the purser approached me with a complete full tray, including a hot dish. Wow, totally unexpected, but really nice and part of the new Business Class catering inspired by renowned designer Marcel Wanders. I excused myself for my sleepy behavior to him, but then he admitted that he overslept that morning and turned up 30 minutes late for crewbriefing. So genuine to tell the truth, and we're nothing different in the end. He brought me coffee with milk seperately.
The meal was apparently a choice of 2 dishes, but luckily I didn't get the first choice which consisted of pancakes. I had pancakes already in the lounge and therefore I was happy with my Scrambled Eggs with tomato compote. Aside from the hot dish came assorted breads (warm), some cold cuts of spicy Beemster cheese (not my favourite), sliced roast beef and fricando. Dessert was an organic yoghurt with cherry coulis. Really good looking and the taste was great too. The silverware was inspired by Marcel Wanders and all new for KLM, as well the little box containing butter and salt & pepper. I must admit, the intricate pattern with KLM logo on the tableware is really nice. I enjoyed my meal for sure, thanks KLM.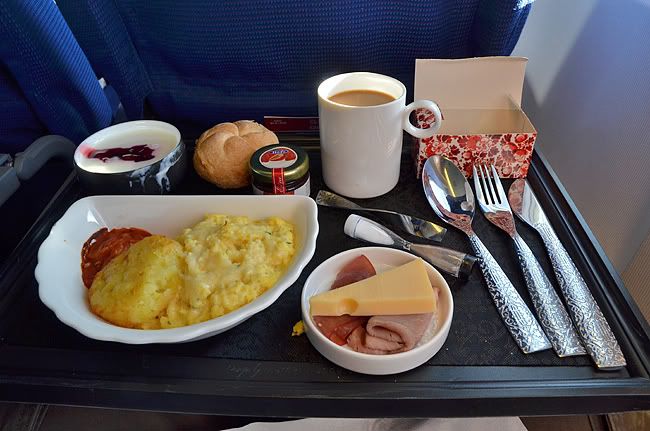 My Business Class breakfast meal on KLM (Marcel Wanders)


Compulsory legroom shot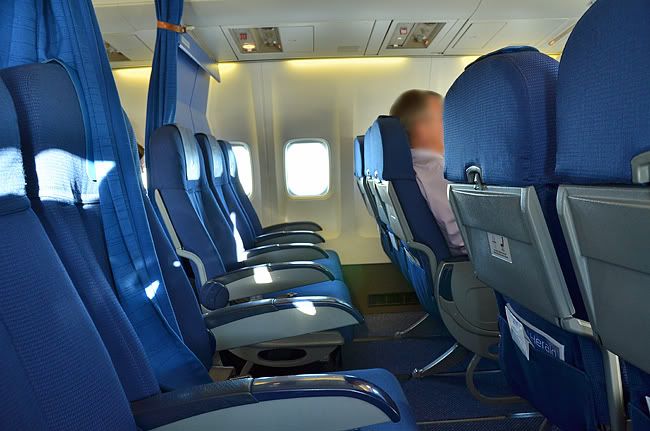 And my view to the left… the cabin on the ageing 737-300 still looking good!
Of course I got refills of coffee during the flight, and didn't bother to ask for other drinks, since coffee was my only therapy on this flight (and remaining of the day).
Enroute I enjoyed my views and the warm sunlight shining through my windows. While it was mostly cloudy on the first part of the flight, a clear sky was visible over the Northsea towards the Norwegian coast. Also some good views were possible on the coastline. About 35 minutes before landing some info from the flightdeck again with arrival informations. First noted that we had some good views on the Norwegian fjords, but soon clouds were taking the views he said. Weather in Oslo would be grey, at least dry, but with low clouds and a temperature of 13ºC under light winds.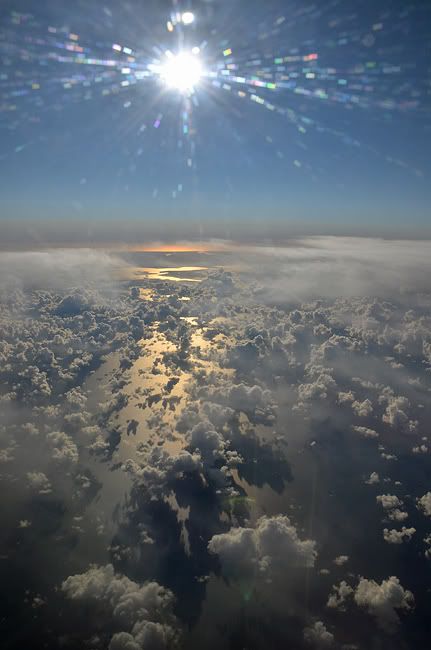 Great views above the Northsea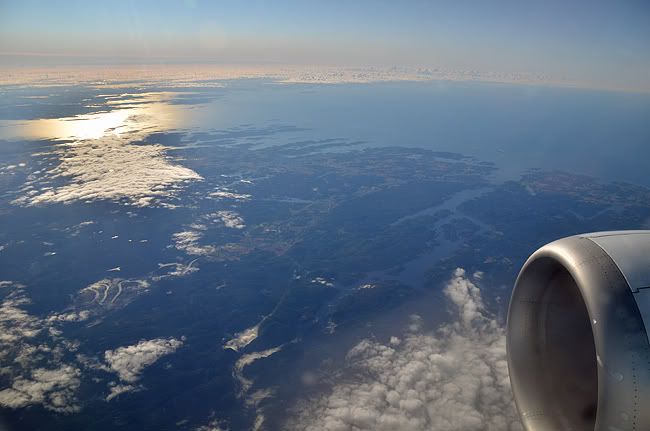 As well good views on the Norwegian coastline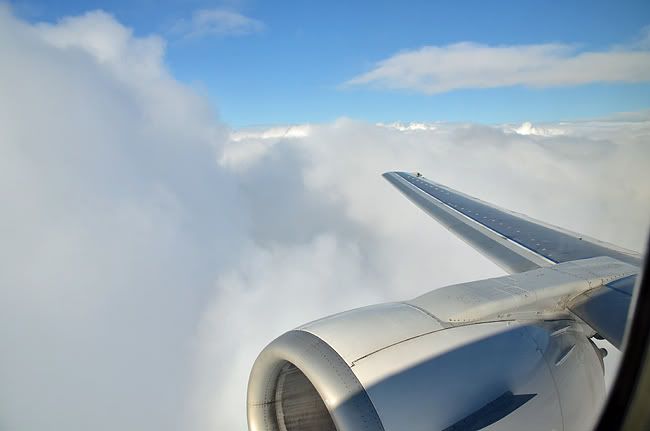 But during descend, we had to see the clouds again…
And the captain was right, clouds took my sight and during descend indeed no further views on Norway. The cabin was prepared for landing and not much later we escaped under the clouds just on final approach.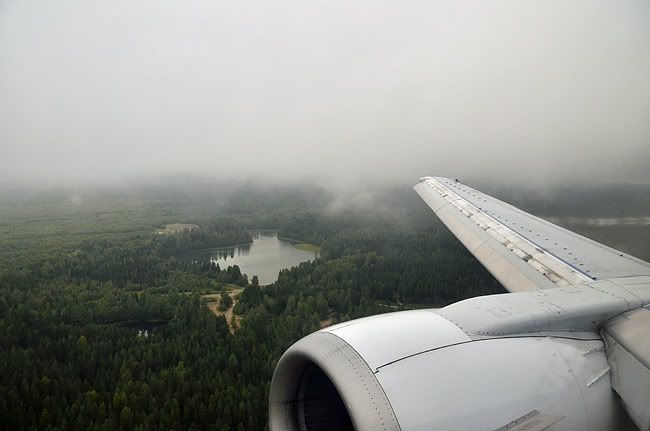 Final approach. With low clouds on approach for 19L
Landing was rough, on runway 19L, about 5 minutes behind schedule, making it on a 10 minute arrival delay when we got on blockes at gate 41 in OSL.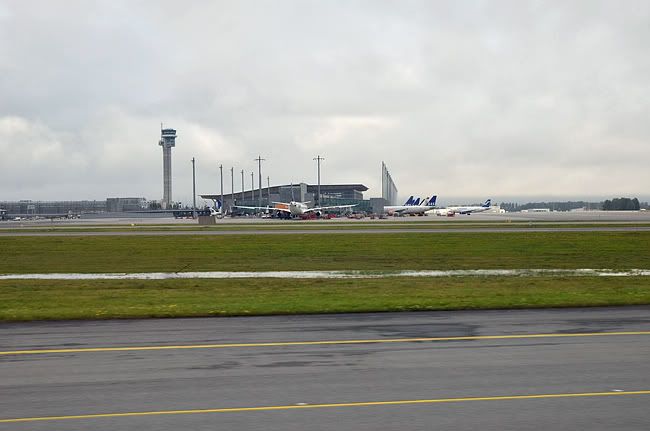 And… on the ground again! OSL terminal in the background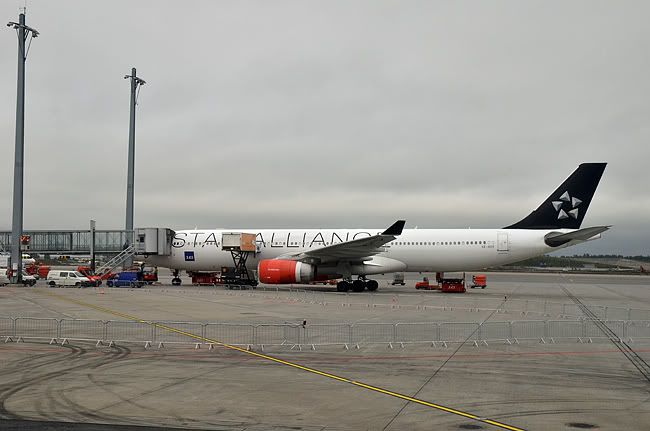 Nice to see the SAS A330 in Star Alliance colours here…
The door was opened very quickly and before deplaning Johan informed about a passport control inside the passenger bridge. I thanked him for the service and he wished me a nice day.
In the bridge, halfway, indeed 2 persons in casual clothes (jeans, fleece jacket) asking for my passport. It was that they had an ID card to proof, otherwise I wouldn't show it immediately since they really were not visible as custom officers. It took about 10 seconds and I was waived through, on my way to 'domestic transfers', read: 'exit' (you have to exit first before you can enter the terminal again to reach your domestic transfer flight and yes you will have to do another security/x-ray check again). More on that in my next tripreport, which will include the 3 further flights I took on that day.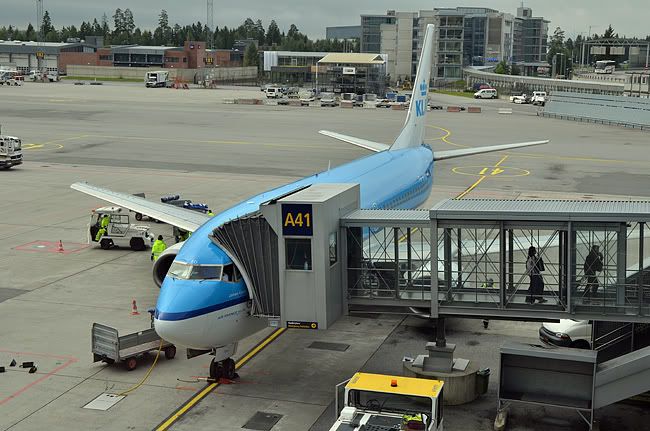 Finally, one more view on PH-BTD. My last ride on KLM's 737-300? Probably it was…
---
All together this was a little report on KLM's latest Business Class product on European flights. Please note that middle seats are not for sale anymore on the Boeing 737 fleet and therefore the seating is on par again with some competition airlines like LH, LX or BA. I think that the catering for the flight was really good, well inspired by designer Marcel Wanders (good looks of the tableware), quantity of the food was enough and aside from that, it was all delivered by a genuine friendly crew.
I think that KLM made good effort with this improved catering compared to the 'boxed' meals before.
Thanks for reading and please leave a small comment below, which I always appreciate. Hopefully people will start to love KLM a bit more again, because since my most recent flights I feel more at home then before on this airline.
Next: OSL-TRD ; TRD-CPH-AMS … stay tuned!
Happy landings,
Eric
[Edited 2011-08-18 12:14:21]