NORTHERN EXPOSURE PART 1
This is the continuation of a series of flights I took for my sabbatical. The
Perth portion was covered in an earlier trip report
. After reporting back to base in Singapore, there were still a few more flights to complete mainly up north to KUL and BKK. I seldom lump two trips into one report but seeing how these sectors have been covered ad nauseam, I will just do a quick run through of the flights. SIN to KUL / BKK is after all one of the busiest routes one can experience in this region!
Singapore Changi Airport Terminal 1 – Kuala Lumpur International LCC-T
Air Asia Berhad
AK 716
Airbus A320-214 (9M-AFE, ABL-Jet)
1910 – 2015H
Duration 1hr 5min
Mainly pictures for the outbound flight with limited narrative. I thought the return journey would better to write about since I flew out from KL's LCC-T.
Renovation for Terminal 1 is more of less complete. Now it looks like a scaled down Terminal 3 so we've lost the iconic clack-clack gigantic FIDS.
Terminal 1 airside… Looks green enough. What are missing are apes hanging from the ceiling.
Some of the sights out into the busy apron include an unshowered Frenchie and a Lion who loves getting his tail scratched.
Let's see, who's going where tonight?
Jetstar recently started SIN-AKL / MEL with a pair of daily A330s. No wonder SQ is getting her underarms damp trying to get into the long haul LCC game. With Air Asia X up north - and in SIN we have Jetstar and Durian Emeritus Airways (who knows what the new SQ LCC will be called?), very interesting times ahead.
I know there's rioting in London at the moment, but come on! Margaret Thatcher would definitely throw her scented hanky over this shit!
Here's my ASEAN Basketball League vessel. No sweaty players on board, just indifferent passengers like me getting from point A to B.
A quick glimpse of my fellow passengers – included a pair of proud parents photographing their first child's every moment to a Falungong disciple who thinks she can attain enlightenment by meditating sitting crossed legged on the floor facing a pillar. This is an A380 ready gate which explains the larger than normal space for a departure holding lounge.
And in we go….
Air Asia hosties in tightie-reds.
Seat pocket junk. That's a lot of crap!
Approach to KLIA saw us journey up north towards KL before turning back south.
Arrival at 2015H saw this as one of my longest SIN-KUL flight to date, no thanks to airspace congestion.
With no check in baggage to claim, I headed straight for the exit to look for that elusive shuttle bus which would take me to an express train station to end up in KL Sentral. No luck, a sign at the ticket counter read "CLOSED. PROCEED TO DOMESTIC ARRIVALS". Headed to domestic arrivals but to no avail. Didn't see any sign for this mentioned service so ended up in the side terminal to take another bus directly to KL Sentral, negating the need for a train transfer. No big deal.
Kuala Lumpur LCC-T – Singapore Changi Airport Terminal 1
Air Asia Berhad
AK 719
Airbus A320-214 (9M-AFL)
1950 – 2050H
1hr
This trip up to Kuala Lumpur was at insistence of friends up there who were determined to get my butt into the throbbing nightlife that has come to be associated with this city. Thus, this rather out of habit flight to KL was part of the itinerary. It is actually much more convenient to drive up there from Singapore. Fun, there were lots. Food, there was even more. Clubs, there were only that many I could humanly grace. Plans for a "Sunday brunch" were thrown into disarray when I was rudely roused from bed at 4pm on a sultry Sunday afternoon.
"WAKE UP!!! You are supposed to be at the airport!!!"
Crap… I was running late.
Pathetic, I did feel like an aging party animal in this aspect. Didn't even get a chance to shower, we hastily dressed and rushed out into the car for a quick sprint to KL Sentral. Thank God I was a t-shirt / jeans type of man and had little hair on my head to tease.
"I thought you were supposed to wake me up for brunch?" I asked my friend
"I thought you were supposed to wake me up so we could go?" was her response
There was no winning this. In record time, I made it from bed to train in 30 minutes.
While the area for flights check-in was a picture of upmost tranquillity, radiating the charm of a mausoleum…
… the central atrium where several lines of inter-suburban trains meet was teeming with activity and human traffic. KLIA Transit was relegated to this area.
Hell bent on trying the KLIA Transit to LCC-T, it involved a ride on a hybrid express / commuter train to Salak Tinggi (this train eventually goes to KLIA via a few stops en route) before a hop on a shuttle bus for the final leg of the journey to LCC-T. Unlike the inbound, this time everything fell together seamlessly with well posted signs to show the way forward. There was no guessing involved where what was, and what was where. If only all facilities in Malaysia could be like this.
Malaysia's federal administrative centre, Putrajaya.
Salak Tinggi train station, before a bus transfer to LCC-T. Looks like a view we'd see after coming through the slimy birth canal of a giant bitch ALIEN and our face ends up in between her legs looking out. Ripley, here we come!
Configuration of the transfer bus had a most peculiar configuration. Makes it more comfortable, actually!
Arriving at LCC-T, I was keen to explore a little bit more of this airport because my last experience was rather horrendous with all the renovations going on, really a construction cess-pool. By now it should have been completed.
From the exterior, the LCC-T looked similar from what I remembered. However, real changes were on the inside. It has been expanded perhaps two or three fold. Retail and F&B options seem to have multiplied with all of them well placed at different locations with a little bit of something for everyone.
However this being the hazy, cloudless and sunny day it was, the very high late afternoon temperature outside was easily conducted by the metal structure of this terminal building into the interior. Air conditioning was having a difficult time coping with large parts of the terminal engulfed in a stuffy stench which was hard to hide from.
Heading into international check in area, it was filled with nothing but Air Asia signs and counters. Different areas were allocated depending on where your flight was headed to and mine bound for Singapore, was lumped together with flights destined for Philippines, Myanmar, Vietnam, Thailand, Cambodia and Brunei. My preferred aft window seats were all taken so no choice but to take the ones in front of the aircraft.
I find it very difficult not to be impressed by Air Asia's achievements judging by their growth pattern and balance sheets especially in such a short time.
Not wanting to feel left out, MAS and subsidiary Firefly inch in on the action despite not flying out of this terminal.
As Air Asia moves towards a self-serve modus operandi, there will be less of manned check-in counters in time to come – with more self-serve kiosks being placed throughout. My last experience with the latter was unfortunately unsuccessful because it failed to recognise my non-Malaysian passport. Hopefully this issue has already been resolved.
All thanks to the quick commute and fast check in process, I had time to indulge in a pet weakness of mine – Sheperd's Pie! But not before freshening up by brushing my teeth first!
I'd kill a guy for Sheperd's pie! I'd die for Sheperd's pie! I'd cry for Sheperd's pie! More importantly, I love to taste Sheperd's pie from all over to see how it doesn't compare to mine. Hahaha…
Soon it was time to head airside.
A glimpse into the distance at KLIA's satellite terminal…
Thought I spotted someone familiar…
Oh hello, 9M-MTD! How have you been since we last met on my flight back from Perth a few weeks ago?
There was nothing but MAS planes there but the immediate vicinity of LCC-T didn't yield anything more interesting either – it was full of Air Asia planes.
I did mention earlier how the interior of this building has changed. The difference between then and now is like night and day. Airside alone has expanded into the horizon with ample room for passengers to wait for flights, unlike the morbid mad house it was before. More shops have opened up (of course) with island counters peddling anything from Tune Mobile's (Tony Fernandes' telcom business unit) items to tasty Malaysian "kueh".
Now…
Now…
Now…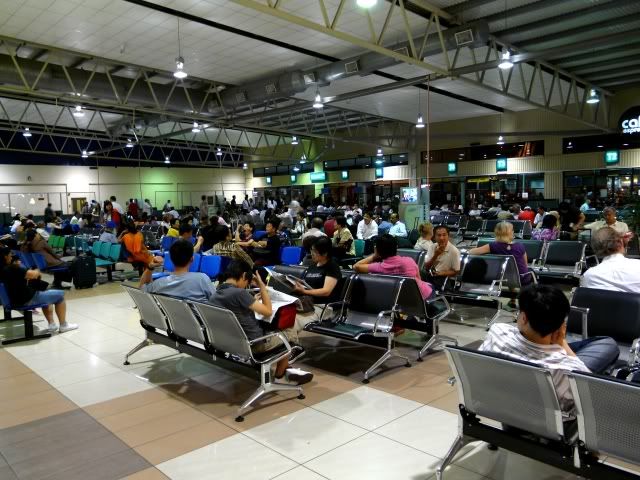 Then… Mar 2009.
At the rate Air Asia is expanding, it isn't any wonder why a brand new LCC-T has to be built nearby. Unfortunately this airline is being held at the mercy of feet-dragging government officials and the new airport's operationally-ready date has already been pushed back many times. At least some signs of construction have already begun.
At roughly 30 min past 7pm, boarding call was announced for my flight and an orderly process was ensured. To make sure we didn't walk to the wrong plane, the assigned gate was flashed on the LCD screen beneath our flight number albeit slightly smaller in fonts. I wonder if anyone had boarded the wrong aircraft seeing how there weren't any ushers along the way?
9M-AFL, my ride home to SIN.
We could choose to board either from the front of rear doors, although there didn't seem to be any specified pattern as to which one to choose.
Air Asia's interior needs no introduction. Typical LCC layout clad in smart black leather for all its fleet covering every franchise. It was indeed a full flight and I was relegated to the front just ahead of the aircraft engine. Boarding was completed very quickly but we still had to wait for our slot for pushback despite us being about 10 min early.
Sun had crept below horizon by the time we taxied. Since it was a night flight, views out of windows were rather limited to lights from sporadic kampungs and cars along the highway. Really nothing interesting other than looking at my seat neighbour's knees and observing how different they looked from mine.
Cruise time of slightly over 20 min, there were people who actually ordered meals. Perhaps they didn't know how short airborne time was.
Cabin darkened for landing in SIN. Some passengers across the aisle were still wolfing down their food quickly as we were on final approach into SIN. Take a note people, KUL-SIN flight time only allows you half a fart, at most.
2050H: Docked safely at Gate C11 which is about as close to immigration as possible at Changi Airport Terminal 1. I do wonder about these budget carriers sometimes who get assigned to these "golden gates" at airports. Do they pay an extra premium for it? This flight was really too short to experience any proper service. The Air Asia hosties did all they could and as far as I could see, not much fault to be seen. Although, I did encounter a Filipina stewardess on this flight. Could a Pinoy Air Asia be in the horizon? I sure suspect so…
NORTHERN EXPOSURE PART 2
Singapore Changi Airport Terminal 1 – Bangkok Suvarnabhumi International Airport
Thai Airways International (code share with Air Madagascar)
TG 404 / MD 1180
Boeing 777-3D7 (HS-TKA, Sriwanna)
1240 – 1350H
Duration 2hr 10min
Before I could get settled, I found myself heading to the airport again after a day – this time bound for Bangkok. With bags packed and raring to go, I hopped into a cab for a quick ride to Terminal 1 again for the 2nd time in so many hours.
Quick summary of the outbound is in order.
Check in was a leisurely affair this being a mid-afternoon flight. Elsewhere around the empty terminal, the other island which had any sign of activity was – of course, the Air Asia one.
How lovely Terminal 1 looks now…
Sky rockets in flight, afternoon delights.
You've got to be kidding me. Have they started Business Class AGAIN after how many failed attempts?
I miss the GIANT black clacking flipping FIDS. These LCD ones are so boring!
Terminal 1, airside.
It's time for Air Asia to tell everyone to kiss her butt because she's just bought a stake in Malaysia Airlines!!!
Feeling lost, Jimmy wonders what to do after waking up from a slumber to find out he's missed his flight…
Dee khaaaa… The royal jumpee awaits my arrival.
I really love the way Terminal 1 looks now.
HS-TKA looked immaculate from the inside out. This plane, I am assuming, is TG's very first 777-300 which was delivered way back in 1998.
And in we go…
Look at this picture, makes you want to savour the floral scented scenery doesn't it? Makes you want to sniff your computer screen, no?
A TG welcome by the ladies is always unparalleled. So I was a little perturbed by a steward who was thankfully on the other aisle who remained in that same expression throughout the flight.
Oh hello, knee shot time!
Safety video failed to start leading to an urgent announcement "Flight attendants! Oxygen mask, seatbelt, lifejacket… Manual safety deee-monstration positions, please!"
As these poor girls ran to get their equipment and stood at their assigned locations, the video came back on leading to the stewardess near me to silently mouth something in Thai which I assumed could only mean "WTF?". Hahahaha…
Off we go into the sky.
All the 3 terminal in its entirety.
When you have 3 seats to yourself, make the best out of it!
Stretch out!
Past FL100, meal service preparation began in earnest.
Cabin was pretty empty where I was.
Very quickly - even before we reached Kuantan, meal trays were already being distributed. Two choices were offered (chicken or fish).
Fish curry… Succulent, flavourful, rich! Came with a Thai taro dessert and tuna salad.
Dessert was most interesting. A layer of glutinous rice with smashed pieces of tako (yam) held together with coconut milk, topped with a jelly fruit cocktail cocktail. The yellow garnished was best described as a heavily jasmine flavoured jelly shaving (??). Whatever the name of this is, I want more of it!
This caused service to be halted. It was bad enough for flight deck to yell over the blower for everyone to be seated, including flight attendants. The roller coaster ride caused spilled drinks on our meal trays, but it wasn't anything I have not encountered before.
Strapped in during turbulence, same expression from before – yes? Should he join the ranks of Wilma from EK? Madame Tussaude bound? Definitely not customer service oriented. Just as well he had a double chin.
By the time lunch and turbulence played themselves out, we were approaching the Gulf of Thailand.
A bit of shut eye after lunch.
By now, these ladies have changed out of their lovely Thai outfits into the ground uniform.
Coasting in over Meuang Rayong.
OMFG, is that a ghost of EK's Wilma creeping about?!
I wanted to try the express train to Makkasan this trip so decided to head to the bowels of this airport.
Of course, the interior cannot be compared to KLIA Express.
Nice view of the airport compound as train sped away from Suvarnabhumi.
Makkasan station. Felt like I had to talk in whispers because it was so quiet.
Overall the train + taxi option to the hotel saved me about 100 baht (USD3.00). On a quiet day like this with no traffic jam, I'd say hop into a taxi directly from the airport and save the hassle of lugging your bags on and off the train. Savings is not worth the trouble.
Bangkok Suvarnabhumi International Airport – Singapore Changi Airport Terminal 1
Thai Airways International
TG 401
Boeing 777-2D7 (HS-TJF, Phanom Sarakham)
1940 – 2250H
Duration 2hr 10 min
Recalling my unsuccessful nightmarish commute attempt to Suvarnabhumi during a weekday rush hour about a year ago, I decided to cater ample time for the taxi ride this time without any last minute diversions to Makkasan. While the express train to the airport is a God-sent for a city like Bangkok, it just isn't THAT much cheaper considering you still need to take a taxi to the station.
Check in was a little adventurous. Since I was travelling with a friend, the agent informed us we got assigned separate seats in the aircraft. However, he was nice enough to put a remark in the system for us to be seated together once boarding commenced. Apparently, this flight was 100% sold. Not surprising this being a Friday evening, it would have been a popular flight for those here on work trips returning home to SIN.
It's been a nice getaway and having 3 weeks' worth of holiday time at one go, that is pretty rare for someone like me. It seems as if everyone I knew was in BKK for the weekend because of a long holiday ahead, so I was glad to be avoiding the crowd. As I headed out for lunch earlier, throngs of eager Singaporean shoppers were already within earshot, evidently having arrived on the first few flights. Just hearing them already sent my blood pressure rising into stratospheric levels.
Not sure if I have gotten used to how shitty this airport looks airside, but it doesn't seem to offend me as much these days. Is it my imagination, or have they solved the air conditioning issue? No more warm spots experienced.
Just as I was mentioning how everyone is in BKK, I heard my name being hollered across the hall and there she was – a friend from Jakarta was in transit bound for Brisbane. F&B options were never the highlight for me at Suvarnabhumi, so we settled down at Mango Tree for a quick dinner which was good but not fantastic. I do miss the old Don Mueang Airport where TG operated a few splendid restaurants dotted about the terminal serving awesome curries and other mouth-watering Thai staples.
Meanwhile, my other friend who was travelling with me and didn't join us for dinner had already boarded first. I received a cryptic text on my phone from him which left me puzzled…
"I am going to kill you!"
Not knowing what that meant, after a shrug of my shoulders and a few looks into the mirror to make sure I looked gorgeous – the boarding gate D7 beckoned.
"Good evening Mr Soh…" ok, the gate agent seemed happy to see me.
"Hello." I replied, ego slightly boosted from this unexpected hospitality.
"Your friend inside plane waiting already. Now I put you two together side by side, ok?" she smiled.
Ok? Of course it was ok. It was all "OK" until I saw her scribble "50E" on my boarding pass. Oh no, THAT'S THE MIDDLE BLOCK! NOT JUST ANY MIDDLE BLOCK, BUT RIGHT SMACK IN THE MIDDLE-MIDDLE-BLOCK!
"Wait, wait… I want…."
"Bye bye Mr Soh, preasant fry ok?" she shooed me off.
As I held on to my boarding stub looking out into the dark towards the 777-200 waiting for me, it felt as if I was forced to purchase something I didn't ask for. I bought a pair of Calvin Klein killer boxer briefs which would have made me look like Mark Wahlberg back in the day, but instead when I got home - all I found in the bag was a pair of winter leggings meant for the Olsen twins with a little Hallmark card embellished with words like "let us remind you about our no return / no refund policy due to stupidity…".
Now my friend's SMS suddenly made sense to me. You see, both of us are plane fanatics and window seat whores. This being an evening flight, we had already planned for him to take the window seat since there was not much of a view outside anyway so no big deal for me. But now neither one of us could stare outside – what's worse...
"Mr Soh, welcome on board!"
… TG assigned a non-PTV 777-200 on tonight's flight to SIN.
As I arrived at 50E, my friend was already there at 50D with a pseudo stroke looking all contorted and unhappy.
"Enjoy your middle seat", he quipped dryly
Looking at the bright side of things, at least it was a bulkhead so it wasn't THAT disastrous after all. But my PTV… Where's my PTV? I had one huge white screen in front of me which I had to be a Chinese acrobat in order to look at it, either that or a giraffe with a really long neck. It was totally useless.
Seriously miffed about the seat mishap…
I……. can't…….. see…….
With that drama behind us, it was time to take in the surroundings of this refurbished plane. HS-TJF belongs to the first batch of 777s delivered in 1997. As TG rebranded herself some 7 years ago (Geez, has it been that long?), interior refurbishments were carried out in earnest resulting in this multi coloured concept for YCL.
Taxi out to the runway was painstakingly slow due to heavy traffic. Or it just felt like that since I had no window to get a gauge of our position?
For the first time in a long while, I had really no idea which runway we departed from. It was just a blur of lights from distant windows flashing by in a darkened cabin. From what I could tell, these undeserving window seat passengers weren't interested in even remotely perusing that hole in the fuselage.
Cologne in a YCL toilet. Not bad!
As much as I have raved about TG's catering prowess in the past, this is probably the first time a correction has to be made.
Dinner service commenced quickly as soon as we stabilised on climb and none too soon, a steward appeared and asked if we liked the prawn or chicken. Recalling the tasty orgasmic prawn curry from a last flight, I immediately opted for the former while my friend the other option.
Lifting the foil off, a hot casserole dish contained fried rice and an omelette.
"Where's the prawns?" I remarked rather loudly
"Sir, it's inside the egg." said the steward who was still nearby and heard my diva-esque tantrum
It was absolutely tasteless. The rice, omelette, dessert… I could not even finish the meal. Chicken was a stir-fry type with plain rice which wasn't a culinary delight either. Goodness TG, what's wrong with you? Did you run out of ideas - Fried rice and omelette? And that panna-cotta dessert - did you forget sugar? Dessert needs to be sweet? Hello? Ding dong bells… Anyone home?
Horrendous, horrendous, horrendous. Thank god for Mango Tree earlier on because I would have hated to board the plane with an empty stomach from an all-day meeting only to be presented with this meal.
Can't take another bite
With no IFE, we resort to our own.
Some of you might say "Oh if you fly in the US, see you if you even get a meal blah blah blah…". But darlings, this ISN'T the US of A. This is Asia, where passengers do not get urinated on while they sleep.
Thank god the meal was cleared away in no time and cabin darkened for passengers to take a cat nap before arrival.
Sigh… What sort of entertainment is anyone supposed to have on such an aircraft?
In no time, the aircraft nose inched downwards and arrival process commenced. By now, the TG Girls would have magically transformed themselves into their ground uniform as if by magic and giving out brooches of fresh orchids to female passengers.
One thing which didn't fail on this flight was the service. Regardless of male or female, this team was very much together in putting up a concerted effort to please.
That's the end? I am afraid so.
Yes, this concludes the end of a series of flights I took for this rather lengthy holiday of mine. No matter how long a holiday is, going back to reality is always a pain. But going back to reality feeling all recharged is another matter altogether.
THANK YOU FOR READING!