Well after 2 and a half of weeks of a great holiday i thought i'd share some of the highlights. We booked the holiday about 3 months ago having considered Orlando and other locations throughout the USA and Dubai. As my girlfriend was coming with me and my family for the first time on holiday we decided to make it a bit extra special, we would fly to Miami, stay and enjoy five nights and then fly down to Cancun for the remainder week and a half. The routing was as follows.
2/8/2011 British Airways 1387 8:15am
MAN > LHR
G-EUPL Airbus A319
View Large
View Medium


Photo © Tommy Desmet
I didn't get any pictures onboard this flight as i didn't have a window seat however getting a bacon roll and full drinks service on such a short flight was pretty good, literally we took off from Manchester and by the time the drinks trolley was out we were descending. London however being London we were placed in a hold over i presume BNN as the morning rush into Heathrow kicked in. Altogether though i was impressed with BA's service on what is such a short flight, many airlines barely serve snacks on flights under an hour which is what happened when i flew to Paris with Air France in February.
Anyway the landing in Heathrow was very smooth and we disembarked at Heathrows Terminal 5. This was my first time in BA's new terminal and suffice to say it was excellent. The variety of shops is quite unbelievable from Tiffany & Co to Gucci, it's basically a huge shopping mall with jetways attached to it.
Continuing the treat theme we had prebooked a trip to Gordon Ramsay's Plane Food, Gordon Ramsay is one of my favourite chefs and this would be the first time in one of his restaurants. Some people before we went said wow that's going to be expensive but the thing is at Manchester Airport a full english at a cafe costs something along the lines of £9 and a full English at Plane Food was £8.95, not bad really! I'd definitely recommend it, their cocktails also are amazing and got us in the holiday mood. We had another cocktail or two and then went to look around the shops, after an hour or so our flight on the boards now had been assigned a gate.
2/8/2011 British Airways 209 1:35pm
LHR > MIA
G-CIVN Boeing 747-436
View Large
View Medium


Photo © David Lilienthal
One word of warning if you ever travel through Terminal 5 on a BA long haul route, the gates are miles away and you need at least 15 minutes to get there as you need to get on a train from the main terminal building to the outer terminal buildings so don't leave it until the last minute to get across. We reached our gate 15 minutes before boarding which today was B47.
Boarding commenced around 12:45pm and we got onboard, this was to be my 2nd time on a 747, previously i had travelled from Chicago to Los Angeles with United but this was my first time in quite a few years so it was a little extra exciting. The aircraft once we got onboard was VERY hot, it was a warm day at Heathrow but for some reason the aircrafts air conditioning either wasn't on or it wasn't doing it's job and we were very uncomfortable until we got going. The flight time today was going to be approximately 9hrs and 30minutes.
We departed pretty much on-time and lunch service started around an hour into the flight after the drinks trolley which was excellent, i'm used to flying with Easyjet where even a coke isn't free so being able to just have a beer or anything without worrying about finding some change to pay for it really added to the experience. The IFE system was also excellent and the selection was huge, i knew i'd be kept busy on this long flight. Being a Manchester City supporter i first opted to watch highlights of our FA Cup Final win which was brilliant and ate up half an hour. I then watched a review of last years Premier League season followed by an episode of Top Gear and by that time the strong smell of lunch was filling the air and we were just passing Ireland heading across the Atlantic.
Todays choice of food was either a Roast Beef dinner or Spanish Paella, i opted for the Paella because i was heading on holiday and wanted to get in the mood. The food was excellent and i washed it all down with some white wine, brilliant!
I then opted to watch a film, the first one being Limitless which was really good, i had hoped for the new Harry Potter film to be on the IFE system but i guess i was a month too early but never mind. After being awake for quite a long time i settled in the best i could and slept for a few hours. I later woke up and watched yet another film (i'm a big film watcher!) and by this time we were routing south over Boston and New York, unfortunately there wasn't much to see with the cloud cover.
Long flights aren't exactly my forte and after watching a few more films i was glad that it was coming to an end, BA were brilliant but unfortunately i just don't do long flights very well and at this point of being tired i just wanted a real bed. Anyway our descent began heading down the Florida coast, the Captain advised us of scattered thunderstorms in the Miami area and we could be delayed. I recall my last visits to Orlando, in the afternoon massive thunderstorms would build up and it was a bit unnerving knowing it could be like that in Miami but what can you do. It turned when we got closer that the thunderstorms had long moved on however there was still a lot of cloud in the area.
Following our descent we turned to land on Miami's 08R, taking us over downtown Miami and the incredible stadium they are building for the Florida Marlins.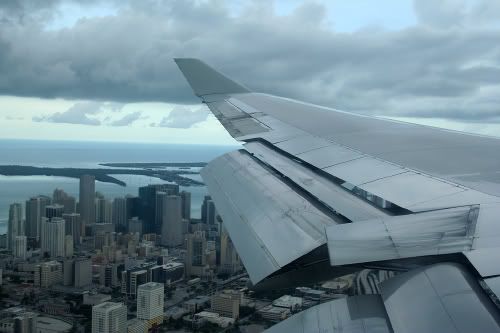 We landed around 20 minutes early in Miami and it was time to negotiate customs. We all had our ESTA's sorted but still the queue to clear customs was really insane, we were there for a good hour or so and picked up our bags. As an extra treat my dad had surprised us with a limo into South Beach, it was brilliant! The thoughts of wanting my bed faded away, we literally 'rolled' into Miami it was brilliant.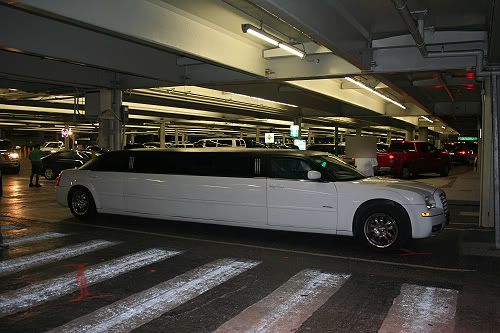 Upon arrival at our hotel we went across the road to Jerry's Famous Deli and then went to sleep.
I saw many things in Miami and had many great meals, i can definitely recommend the Maya Tapas and Grill restaurant the service was incredible and the fillet steak was the best i've ever had. I'd also recommend a trip to GatorPark to see the Everglades, it was quite sad to see though there had been some pretty bad fires in the park some of which were still burning which has seriously damaged the area and i do hope they subside soon.
Here are a few pictures from our stay in Miami, i got many more but many of them are in my camera which i don't have with me right now.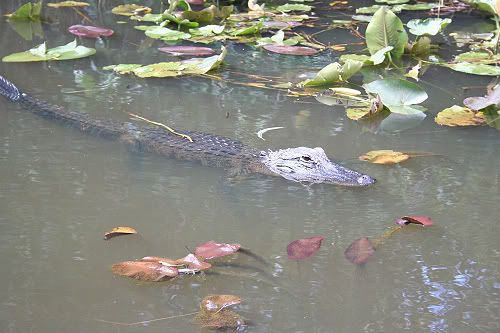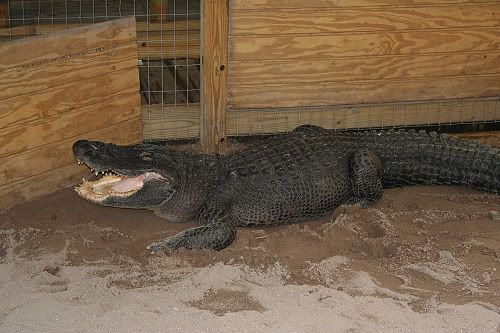 Following a good few days in Miami enjoying the sights it was time to head to Cancun. Miami is an amazing city and i'd definitely return if not to see a little more and get more time on the amazing beach but now it was time to move on.
7/8/2011 American Airlines 2158 2:25pm
MIA > CUN
Unknown Registration (Boeing 737-800)
View Large
View Medium


Photo © Ben Wang
Well onto Cancun we got a yellow cab over to MIA and check-in and everything was very simple, we were to depart from Concourse D. Upon boarding the aircraft there was a massive buildup of thunderstorms, just sat on the aircraft we could hear crackles of thunder overheard and the captain soon came over the tannoy and explained we would be delayed for a while as ramp staff had been called in due to lightning. It's quite scary to think that you are sat on a bomb containing tons and tons of fuel while lightning is striking around you but still the flight attendents put on a movie for us and i was very impressed with American for their handling of the delay, they brought round water and juice for us while we waited which was great.
No pictures on this flight as i again was on the aisle. An hour late we headed out to 08R at Miami and despite the thunderstorm being very close we departed and flew around the thundestorms, it was quite cool to watch and surprisingly the ride up was quite smooth. The flight to Cancun was around 1hr and 30mins so we weren't up very long and very soon after drinks service we were into our descent.
In contrast to Miami Cancun was cloudless but the ride in was very bumpy, below 15,000ft i guess we were hitting some really heavy turbulence and the pilot man handled the aircraft onto the runway, nevertheless the real holiday had now started. The hotel we had chose for this part of the trip was the ultra all inclusive Moon Palace Resort. In essence this part was all about free food, free drink and total relaxation in Cancun's great weather and it wasn't to disappoint.
For the first few days of our Cancun trip we just relaxed in the sun, had good food at night and relaxed more, the resort was truly brilliant and we made many friends, some American, some British it is a great place to go and the atmosphere there was great, some nights we probably had one tequila too many but it was brilliant.
As per the subject title your probably wondering where a twister would fit into this trip well one day we went out to the Mayan City of Tolum, the weather in Tolum was outstanding and very hot, the Mayans built the city as a sort of outpost between the famous Chichen Itza and other locations nearby, it's proximity to the sea probably had some bearing on the choice of location by the Mayans too, all in all it was a good trip with an insight into a mysterious civilization. The beach at Tolum looked incredible but i'm guesing due to green/eco rules it is now closed. The city also seems now to have a new master, see the pictures!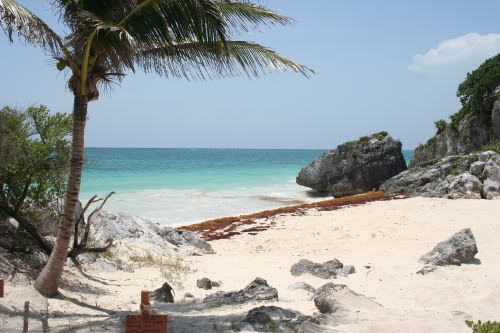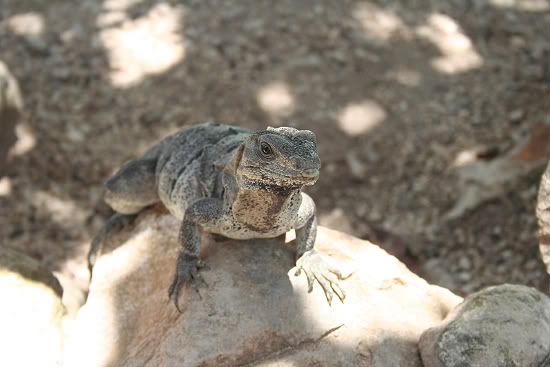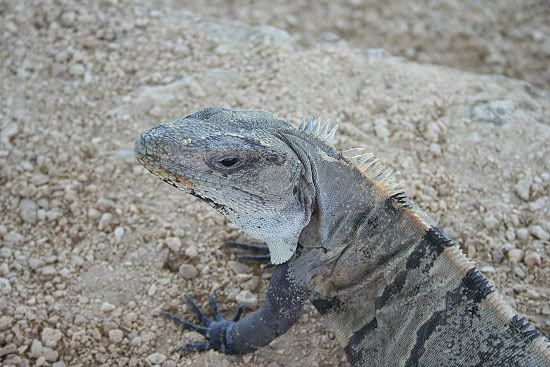 Now this is where the eventful part begins, as part of the Tolum trip we were shuttled over to one of the other hotels owned by the Palace company, named Aventura Cove. Upon arrival we were all hungry and quickly ushered ourselves into the buffet area. Being another Palace hotel this allowed us to enjoy again free food and free drinks. While sat at our table looking out at sea there was a huge cloud build-up, soon after it was obvious a huge thunderstorm was building and lightning could be seen striking the sea and it was quite loud but watching the cloud movement we decided along with the packed dining area to stay put and carry on eating.
This cloud soon moved inland to our right and didn't cause the hotel any problems and we were untouched by the rain we could see over the ocean. Now another cloud was building behind it, a little further to the left. My experience in Miami taught me that it seems when these clouds buildup over the ocean they can pretty much come one after the other and this was probably going to be the case. This was going to be different though, this cloud was different and the rain was easily visible and obviously a total downpair. After watching it move across out above the ocean out of nothing on the right of the cloud we could see the ocean being disturbed and water being thrown in the air, a waterspout was forming!
It was truly incredible, being from England i've seen a lot of rain and that's about it but this was something else, upon seeing it i figured it'd just dissipate after a while but then ANOTHER formed, it was really incredible to watch. Once the wind started to really pickup at the hotel we started fearing a little that it would come our way but after watching it move from left to right, we figured we were quite safe, it was really amazing to watch, probably for me a once in a lifetime experience, even the waiters at the hotel had never seen anything like it before and it really did come close to us. I felt quite sorry for a ship that we saw out in ocean it must of missed the waterspout by not much and it promptly disappeared into the cloudmass.
Following that drama a huge thunderstorm passed over and the wind really picked up and we had to retreat inside, lightning was literally striking around us, i'd never heard it so loud. Lots of kids and adults alike were covering their ears and some were getting quite upset, it was a really bad storm. After 15 minutes it passed and yet another was building over the ocean, we took the break to run outside across the pool area into the hotel and we sat by the bar until it was time to return to the Moon Palace, by that time the sun was out and the air felt refreshed, what a few hours!
After another week of relaxing at the Moon Palace it was time to return home, if anyone is looking for a good holiday in the sun and doesn't want to worry about spending money, i'd definitely recommend it. Every room even has a hot tub and room service is 24 hours and totally free!
Depressing as it was we set off for Cancun Airport.
17/8/2011 American Airlines 448 12:35pm
CUN > ORD
Unknown Registration (Boeing 737-800)
View Large
View Medium


Photo © Ben Wang
We didn't get much time at Cancun Airport as the check-in for American Airlines was total chaos and having about 6 check-in desks to share with every American flight out of Cancun was a little inadequate but what can you do. After negotiating security and eating a great burger at Johnny Rockets we boarded our flight to Cancun.
I got a few pictures on this flight, due to the light though they weren't brilliant but we departed over the beautiful Gulf of Mexico before turning North and i got a few decent ones.
The flight was uneventful and lasted for around 3hrs 30mins taking us North through New Orleans and up Central America where we landed in Chicago.
This is where the uneventful part ended, arriving a little early we had previously worked out we'd have 2hrs to connect with our flight to Manchester but as it turns out this wasn't enough, we barely made it. The main problem being for some reason connecting passengers have to clear US Customs despite the fact we wouldn't even set foot US soil, i previously thought we'd have to clear Customs but it'd be a connection type but this was a mix of passengers arriving into Chicago. Unfortunately for us we had to get through customs at the same time as the arrival of a Korean Airlines 747 from Seoul.
To make matters even worst despite our luggage having tags that would take the bag from CUN to MAN via ORD we still had to take our bags off the luggage carousel and walk 100 yards and put them on the drop bag carousel, ridiculous but apparently necessary but it would take an extra 15 minutes.
The Customs officials in the main were also extremely rude, we explained to an officer that we had to skip the line otherwise we could miss our flight but she basically said "Not my problem", i find that attitude really disgraceful because she was totally unwilling to help and we were literally an half an hour away from our connection starting boarding. After 45 minutes of waiting in the end a nice old lady moved us to the front, we were very lucky. The lady who told us it wasn't her problem then told the old lady "No more", i find that quite mad really. I know customs officials have to treat everyone the same but half of the line was arriving into Chicago not connecting but anyway we cleared customs, picked up our bags, dropped them off and we now had under an hour to get to our departure gate.. Which began boarding in 15 minutes.
To get to our departure gate we would have to run (literally) from Terminal 5 as Cancun to Chicago is an international arrival right across to Terminal 3 via the SkyTrain. Luckily the sky trains are quite efficient and arrive regularly, we were rushed through security inside the terminal and like in the Home Alone films ran through Terminal 3 to catch our flight which was literally beginning final boarding. We managed it though just and boarded the aircraft just 10 minutes before it's scheduled departure. The moral of the story is, If you think you can clear Chicago in less than 2 hours, don't bother because you'll miss your flight unless like us you get lucky and find someone who is willing to help.
Now the final leg.
17/8/2011 American Airlines 54 6:10pm
ORD > MAN
N191AN (Boeing 757-200)
View Large
View Medium


Photo © Gareth harvey
After settling in the aircraft pushed back quite quickly and we taxied out to 32L. My experience with Chicago in the past is that usually it takes at least 20 minutes to taxi out and depart but we were pretty much number one today and we were soon on our way. The Rolls Royce engines were surprisingly quiet but it was a very powerful takeoff from Chicago for what is quite a small aircraft on a long route.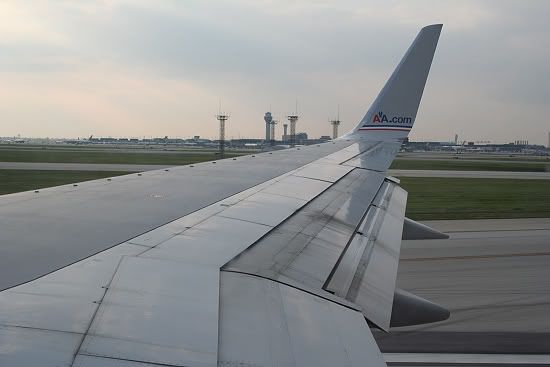 Dinner service soon began and we were given a choice of Cheese Ravioli or Roast beef in a red wine sauce, i opted for the beef as i'm not the biggest fan of pasta, the beef was probably one of the best airline meals i've had, very tasty!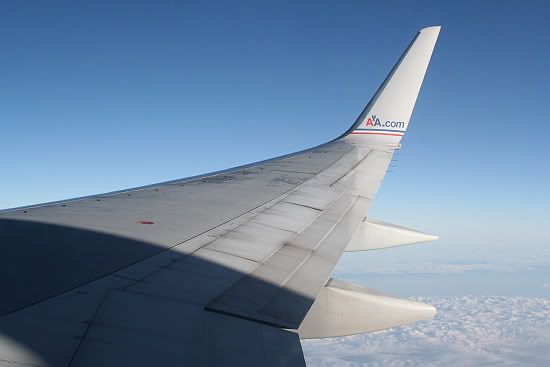 Soon after dinner the cabin crew came round with the final drinks orders and the cabin was dimmed for those who wished to sleep. If i'm honest i slept like a baby, i'd been tired from the day travelling and running through Chicago and i woke up to the morning light over the Atlantic.
My only complaint of American on this journey was the cabin got extremely cold, i'd experienced this on other transatlantic flights but this was a little extreme, every passenger was sat under their blankets and me and my girlfriend were shivering. Not brilliant but we just wanted at this point to get home being a little depressed about the end of a great holiday!
Finally we came into British airspace over the Isle of Man on what i presume a MIRSI arrival and made the turn around Manchester City for runway 23R before making a nice smooth landing. The aircraft taxied to its usual stand at the end of Terminal 3 and we disembarked and that was the holiday over!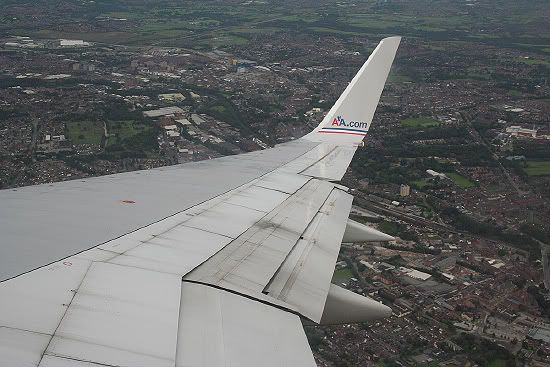 American i thought were brilliant and efficient which is probably the most important and surprising thing for an airline of its size. I expected the experience to be similar to Ryanair or Easyjet where your bussed into an aircraft and it lands then the service stops but i was really impressed and the food was outstanding, my only gripes being with alchohol not being free unlike on their partner BA who i travelled to Miami with.
BA really stole the show for me they were really good from start to finish but in all honesty i'd fly with either airline again and i think a very solid partnership is formed with American. In any future travel to the US i'd always consider flying BA transatlantic and then with American internally. Both airlines were very pleasant and totally unexpected as they are huge airlines and i thought their size may affect the experience.
Anyway that ends the trip report i hope you enjoyed reading! All pictures were taken with a Canon 350D.
[Edited 2011-08-20 11:08:10]