Diversion or not?. Wet and windy in Brest/Brittany
Salut, dear readers,
returned ontime yesterday from Sweden
Always These Upgrades! // MMX And The SK 736
(by
FLIEGER67
Jul 24 2011 in Trip Reports)
Tight connections, but everything worked out well in the end.
Anyone remember Mr.S., the relaxed guy at the scheduling department?. Well, no complaints here by now.
Heading west is the thing to do for today, Brittany is a white place on my routemap, Brest should be the new departure airport. No way to go without a new departed from airport.
Here is the updated map
Departure airports
auf einer größeren Karte anzeigen
and also the latest flown routes
Tripreporter´s Flüge
auf einer größeren Karte anzeigen
It seems, it´s the favour of the scheduling department, by name Mr.S., to send me on quick connections, once again today. One of the not so risky looking examples, from the first view, turned out to be as close as it can be. But it´s not his fault, at least this time, so here we go.
Wednesday, 15.06.2011
.
.
.
.
Service Air France AF 5581 operated by Airlinair
Scheduled: 06.35 // 08.00
Boarding for the first leg is printed at 06.05 am.
Yes, that´s my usual departure time today, definitely.
The cell phone alarm set for 03.30 am, on the road at 04.30 am and at the airport at 05.30 am.
Once again that suspicious red light at the construction site called car park 2 and once again no idea for me what to with it. No one else around and quickly at my usual parking spot!.
The same situation at security like yesterday, long lines, everything busy to the limits.
And me, what worked yesterday at T4 might work also today.
So it is, also the guy at the entrance recognized me, no time to wait there, through in a minute.
Originally booked is STR-LYS-STR with the return on Sunday, but Mr.S. rescheduled me for another more interesting destination during the upcoming weekend. Finally cancelled, cashed back the taxes and booked once again on some miles as a one way. 10000 miles and 50.00 Euro´s is the final fare.
Well, AF getting a bit confused with me booked twice on the same flight, one cancelled, one done, but finally it works.
OLCI shows the AT45 as scheduled, seat 12F, the last row window, no question.
Here it is from gate 312
Time enough to hit the lounge. Something new here?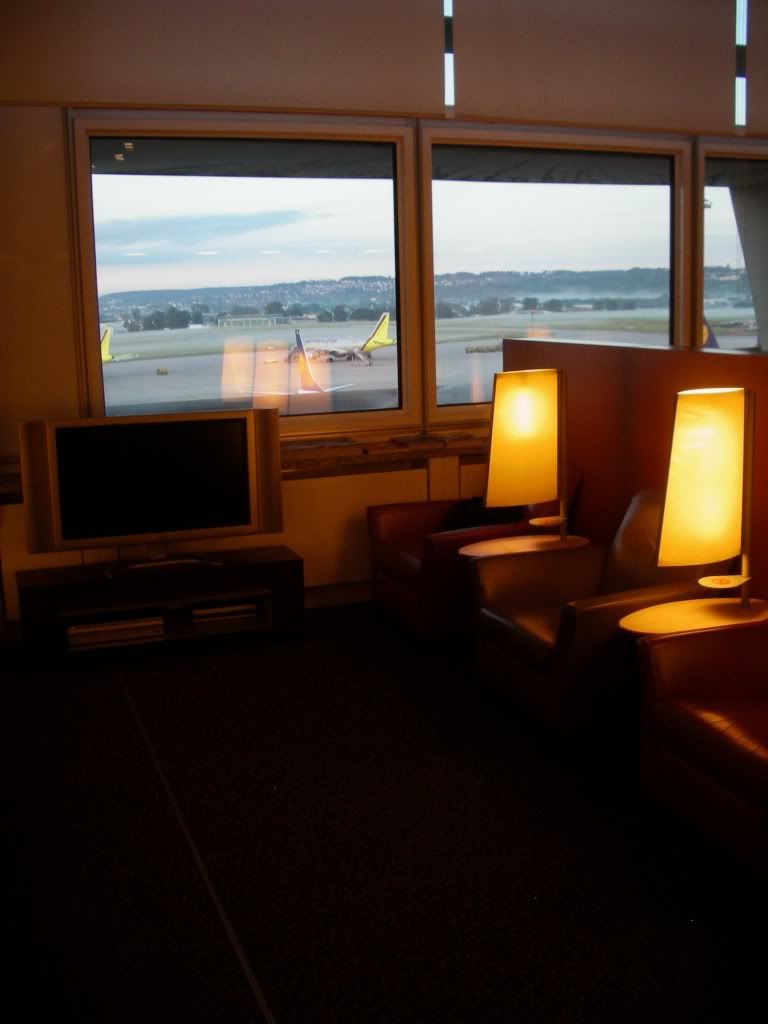 Less customers and the guy at the entrance done often the morning shift, so it seems, he recognizes me from the last visit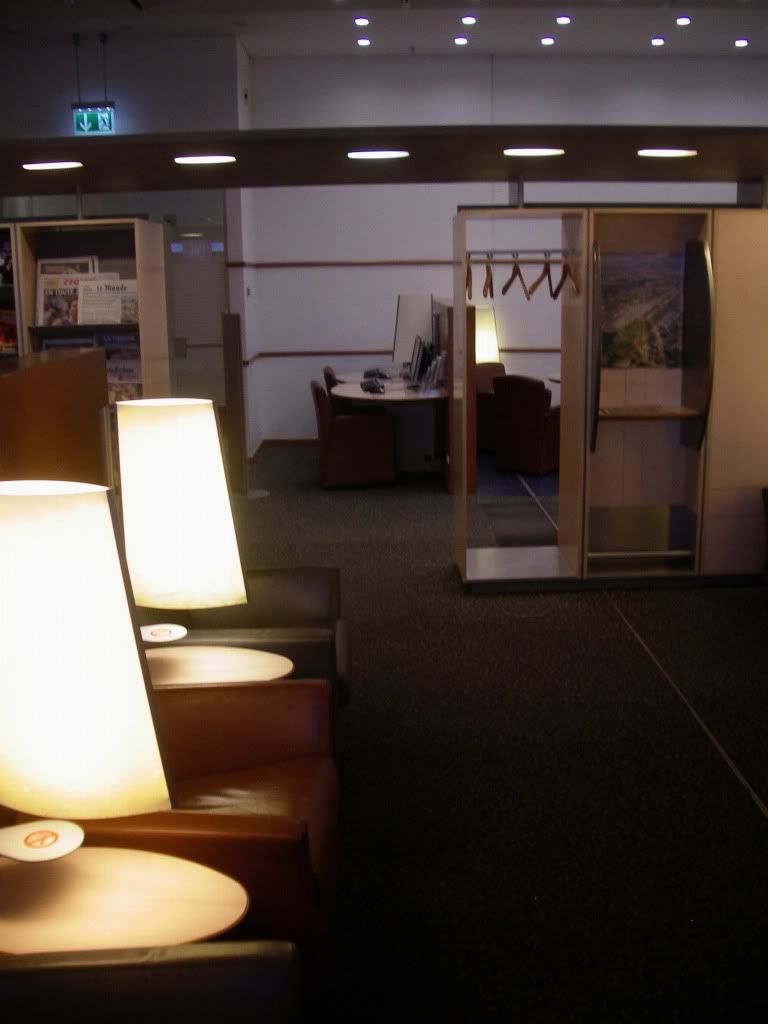 "Sir, give me your flight details again, I will tell you when boarding start´s". Well done, nice service here at STR.
He called me, down to the gate for an ontime boarding.
By bus as usual.
I hope for a new registration, definitely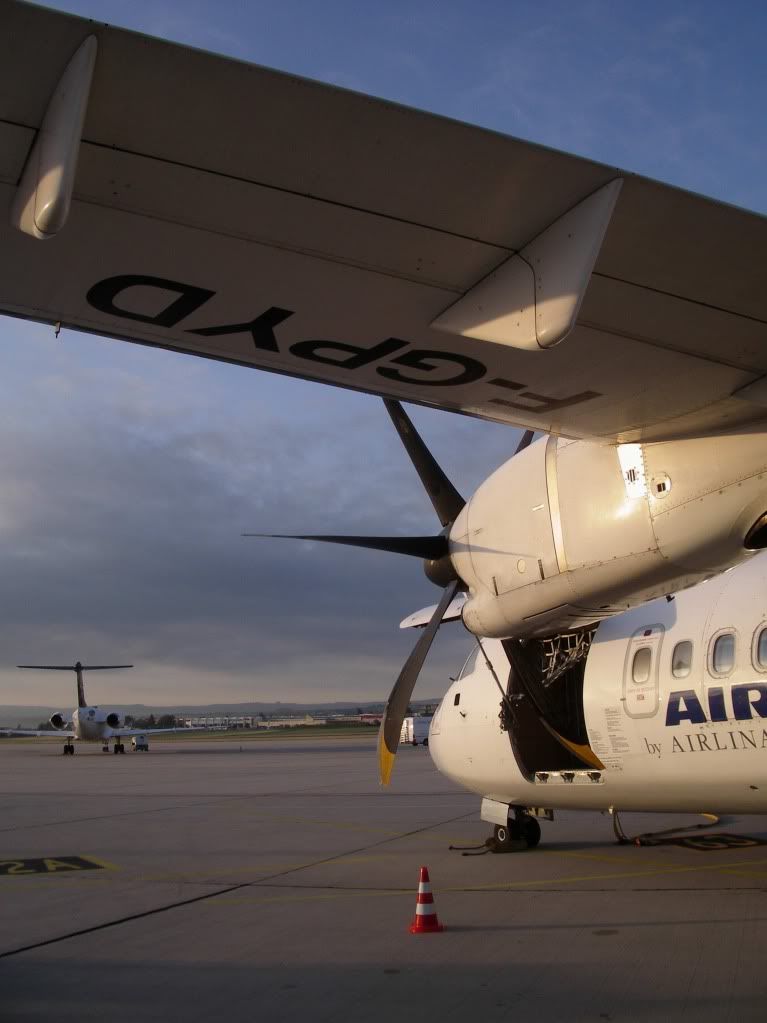 No rain today, that´s something new for me, 13 degrees and clear sky. It´s 06.40 am, close to ontime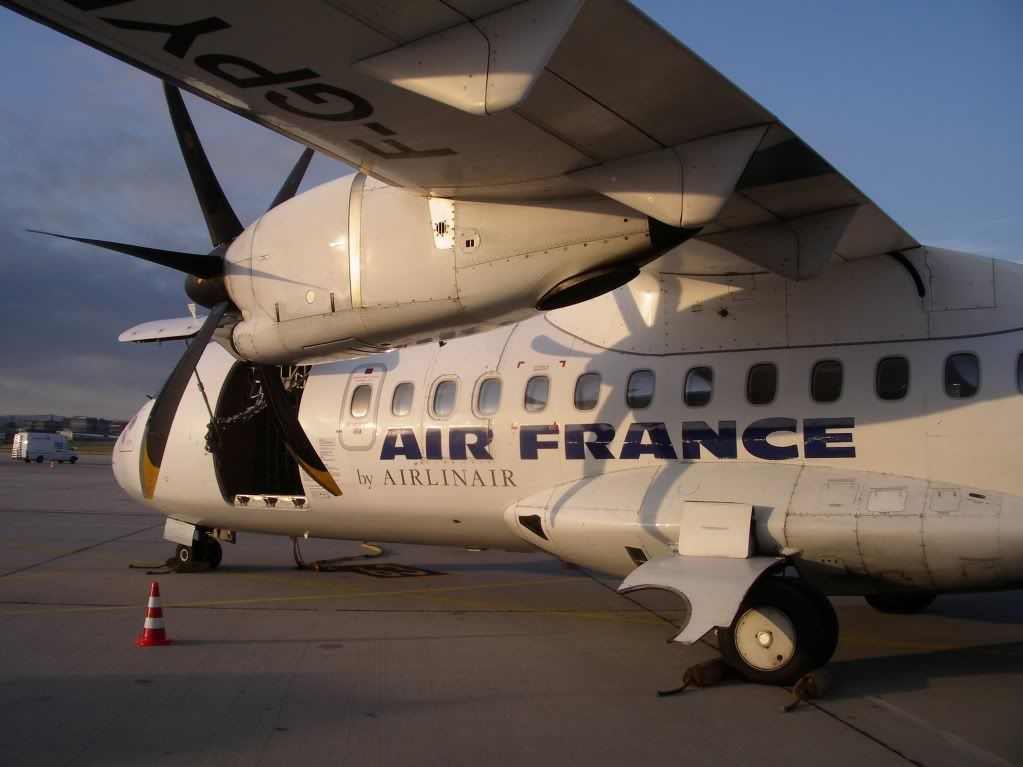 So, this is F-GPYD, the ATR 42 series 500 like on schedule and yes, it is a new registration.
This plane is first in service with Air Littoral from 04.04.1996, leased to Tassili Airlines at 20.10.2002 and finally with Airlinair since 18.10.2004, one of 17 in the actual fleet.
Leg no. 9 for me on type
A french female FA, black hair, slim, working the cabin, I´am the last pax to board and we had a good sense together from the first view.
"Good morning, let me see you´re boarding pass, I will show you the way to you´re seat".
"Bonjour, it´s the last row window, right hand side, just around the corner".
"You´re welcome, do you really need me here or should I better stay in bed?". She answered with a surprised look.
"Sure, I know the way, but it´s better with you here on the plane, definitely!".
Runway 25 for me today. 1 hour 15 minutes to LYS.
Legroom is ok here in the last row, two seats for me, warm welcomed with a close to suits only load of 80%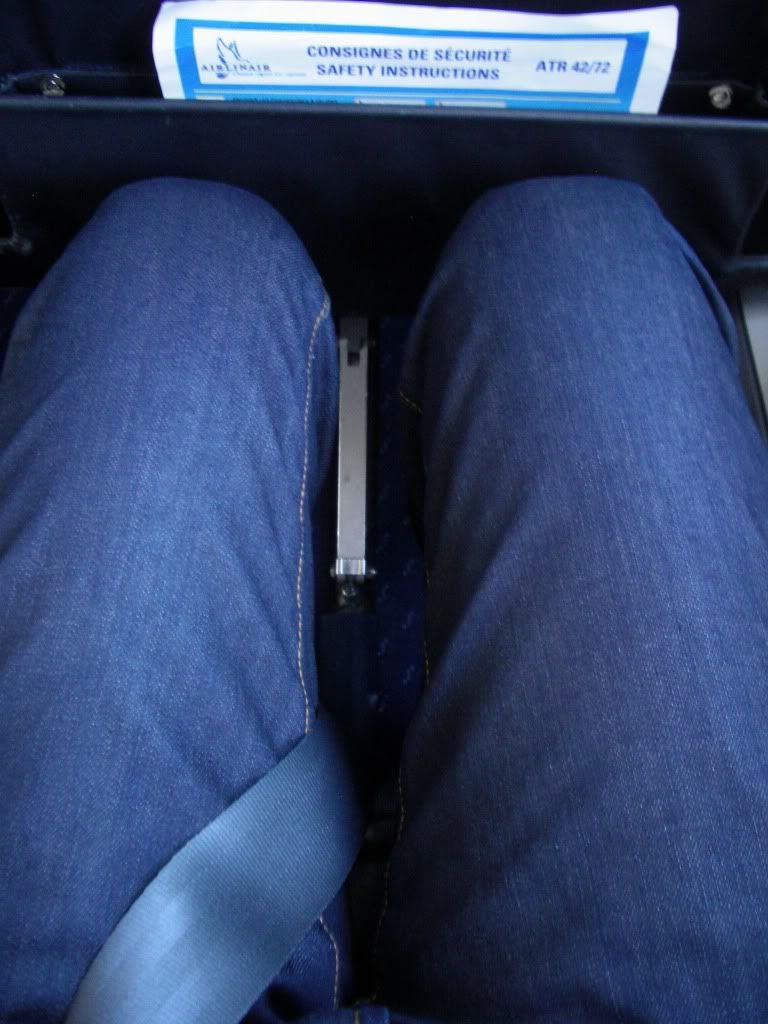 Cockpit crew is from France, the captain with a very nice welcome during boarding, also in german language.
"Consignes de securite"
The very nice young FA noticed me reading my Bretagne travel book.
"Do you travel to Bretagne today, I see you´re book?".
"Yes, it will be only a short stay, but it´s my first time there".
She is born in the Bretagne and showed me here place on the map. We talked about Bretagne, the weather forecast, the frequent and fast weather changes and my intentions today.
Super nice service here on Airlinair.
The good looking actual AF magazine
Service is coffee, water and a brioche for free.
Cabin view, oldfashioned dark blue leather seats, clean so far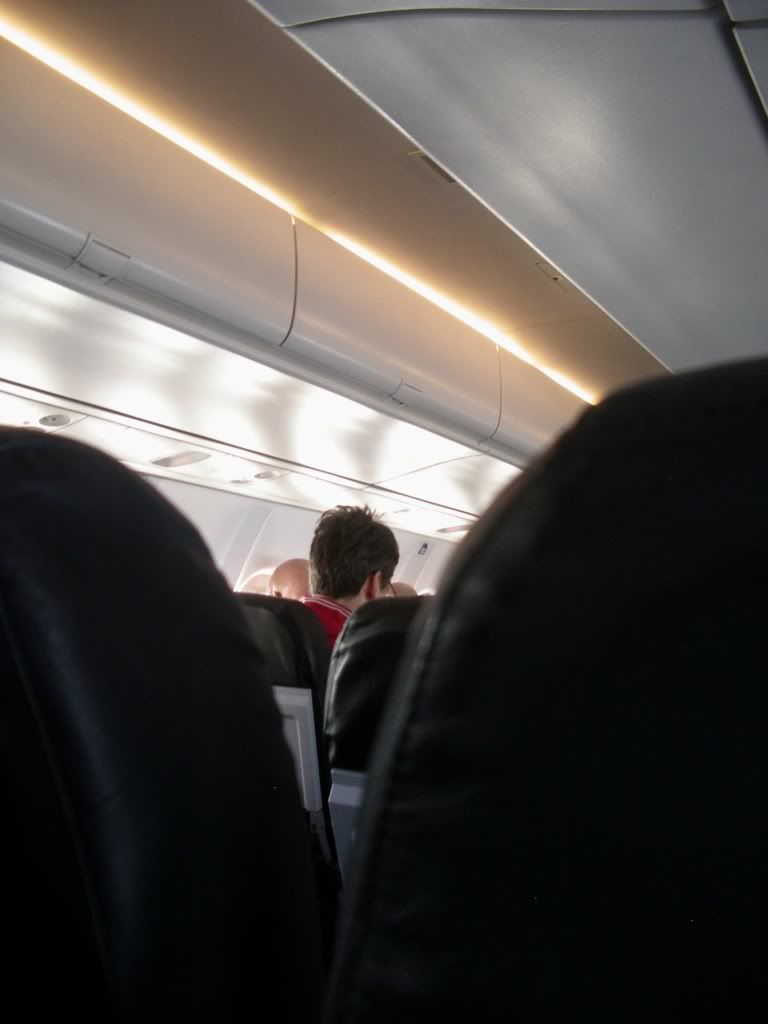 Nice weather along the route to LYS.
The captain is on the speakers again with real detailed infos. We´re cruising via GVA at maximum 23000 feet
Wing view
Not long after the last picture we´re approaching LYS.
The captain again with arrivals informations and a nice goodbye, impressive.
2670 meters asphalt or runway 36R is sure enough for us to come in to LYS. It´s 07.50 am, ten minutes ahead to schedule and the temperature is 16 degrees, cloudy here.
Parked in front off the AF regional terminal, a very nice goodbye from the FA and shortly inside.
The first leg done ontime, ready to go for the next on the list today.
No complaints till now with Mr.S., sitting relaxed in his comfy armchair, a glas of champagne in hand, a la francaise and following me again today.
Wednesday, 15.06.2011
.
.
.
.
Service Air France AF 5791 operated by Brit Air
Scheduled: 08.40 // 10.15
Quick connections, you know, scheduled inbound at 08.00 am, boarding at 08.10 am, ten minutes only. Usually no extra security here at LYS and only short and quick ways to go.
So that seems possible this way, also when the flights are booked on separate tickets, money saving, thanks to Mr.S..
The fare here 50.00 Euro´s booked directly by AF, the cheapest way in terms of fees and else.
As usual a first view to the screen.
No remarks for BES from gate 24C, I´am always impressed with these hub operation here
No lounge visit due to the short connecting time.
Not much more to do than walking up and down the terminal wing twice.
No, that sounds not that really welcoming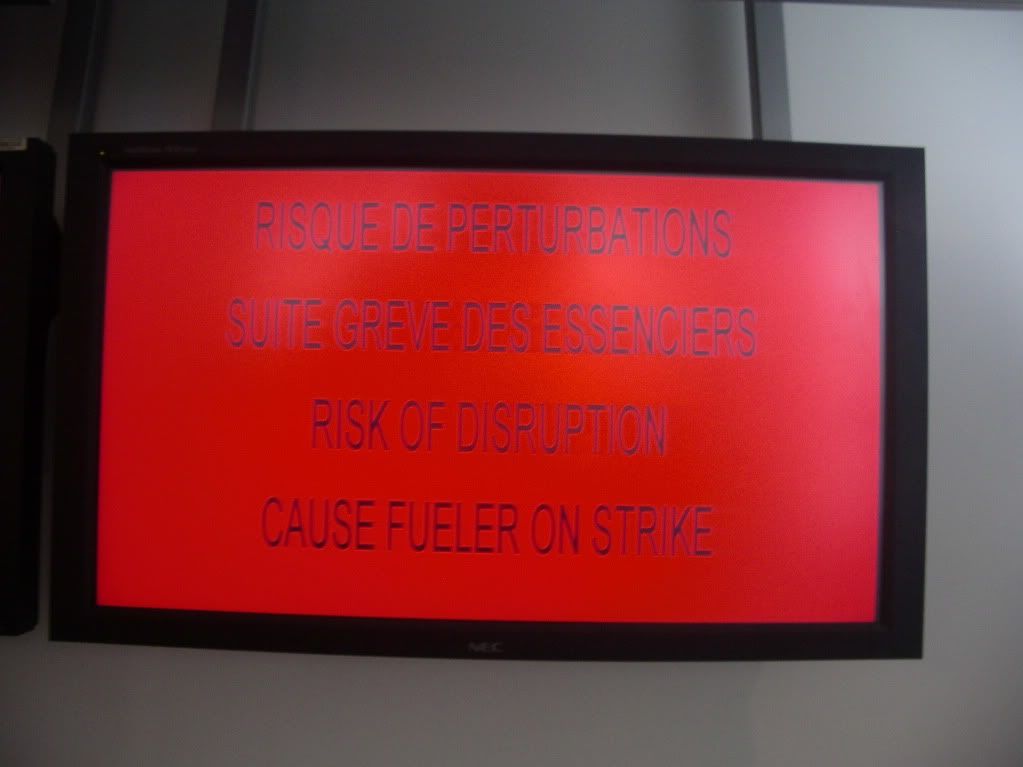 ............................