Hello everyone,
After having read so many nice and interesting trip reports on this forum, I thought it might be time to contribute one of my own. My first report is for a relatively short intra-European journey, from BLL to AMS on KLM. However, there were a few interesting twists involved (or at least unexpected circumstances), so I thought it might be worth writing up, and also a good "starter" trip report. So please bear with me as I attempt to get into the swing of it.

Background:

For both business and personal reasons I needed to travel from Denmark to North America in July. I found a reasonably priced routing through Amsterdam (with Delta Airlines). It was possible through code share arrangements to book and purchase the entire trip on a single itinerary - online at the Delta website. As seems to often happen though, it was much more economical to book the Denmark to/from Amsterdam flights separately from the Amsterdam to/from North America flights. For some reason, purchasing those segments (BLL to/from AMS) separately results in a better price for the overall journey, so that's the way the reservations were made. This report only covers the first part of the journey (BLL to AMS on KLM).

Getting to the Airport
(the taxi experience!)
:
For being the main regional airport on Jutland, and the second largest (or busiest) in the country, it is kind of surprising there are not better public transportation facilities at BLL. There is no train connection, so if you are not driving yourself to the airport, or being dropped off by someone, the only options are to take a taxi, or a really, really, really slow bus that literally stops in every little city and tiny village along the way. I think there are a few cities that do have an "airport express" bus service. However, frustratingly, I am not located in one of them.
Normally I would get a friend or colleague to drop me at the airport, as the taxis can be a little pricey, and, as described above, the bus service just is not a realistic option. However, being the summer season, many people are on holiday and not available, so I decided to go with the taxi option this time. The day before departure I made arrangements for a taxi service to take me to the airport the following day.
The taxi service to the airport is a little strange here in that when booking a taxi, the company does not ask you when you would like to be picked up, or even when you would like to arrive at the airport. Instead they ask you for your departing flight number - and that's all. Then, based solely on that, they assign a specific time they will pick you up, and then literally "that is that!". It is not at all flexible, and kind of crazy that the customer does not have more say, but they are really rigid about it. I've tried a few times in the past to specify a desired arrival time at the airport, but they always revert back to basing it on your flight number. It's like "the taxi company knows best!". (Clearly, this city could use a competing taxi service. Or even better still would be a train connection to the airport!)
Generally, the taxi company aims to get you to the airport approximately one hour before departure. For many people the "one hour in advance" policy probably works fine. But in my experience there is much variation between different taxi drivers and how quickly they actually get you to the airport, and sometimes they stop to pick up other passengers along the way. If you add to that the potential crowding at security check points at the airport, to aim for only one hour ahead of the scheduled departure time is cutting it a little close for me. Plus, I like to have some extra time at the airport. It's nice to have a look around and check out the activities on the ramp. Plus, sometimes I also have lounge access, so I prefer to arrive earlier, with more of a safety margin for time. Also, this makes the taxi ride much less stressful in those cases when there is a lot of traffic on the road, or for some other reason things run slower than expected.
My flight from BLL to AMS was on KLM (KL 1344), scheduled for departure at 11:55. However, in order to get my desired extra time at the airport, when I made the arrangements for the taxi, I specified a different flight number with an earlier departure time, in order to be taken to the airport earlier. Even though it wasn't the actual flight I was scheduled to take, it would provide the desired extra time cushion, and was the easiest way to deal with the taxi company. This all seemed to work out well when I made the arrangements, and the taxi arrived to pick me up at the expected time.
The journey to the airport usually takes approximately 45 - 55 minutes, depending on traffic. Everything started ok, however, the driver soon took a strange turn, which I thought must have been done in order to pick up additional passengers. As it turned out though, it was apparently just done in order to take his "favourite" route to get to the airport (versus the fastest way, which is on the motorway). Normally I would not be too bothered, but when heading to the airport taxi drivers really should prioritize the timing. But since the taxi fare is set in advance, and I knew I had some padding on the timing, I wasn't all that worried about a few extra kilometers/minutes.
After one of the slowest and most circuitous taxi rides I have ever experienced, we finally arrived at the airport. To be fair to the taxi driver, it was raining pretty hard the whole trip. In Denmark it often rains on the way to the airport, but this time it was much harder and much more steady than usual. So the rain might explain some of the slowness of the taxi ride, but none of the circuitousness. Still though, I arrived at the airport more than 2 hours in advance, which is reasonably and comfortably ahead of time.

At the airport (BLL):

After paying and thanking my taxi driver, I entered the airport and approached a self checkin kiosk since I wanted to print an airport style boarding pass to replace the one I had printed myself when I did the online checkin the night before. For some reason though, the kiosk was completely uncooperative. I tried specifying my itinerary number, my frequent flyer number, and even a scan of my passport, but the kiosk just wasn't having any of it. I figured it must just be a technical glitch, and proceeded to the baggage drop line, hoping that as I dropped off my bag they could sort things out and manage to print a boarding pass for me.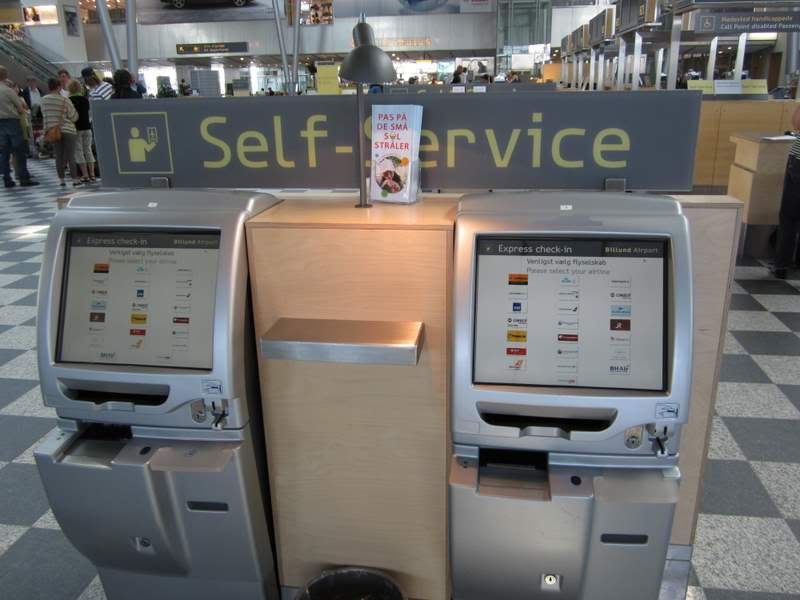 The multi airline self service kiosks at BLL.


People queueing up to drop off bags.

There were three parties ahead of me as I entered the baggage drop queue. Two were handled quickly, and then the passengers went on their way. The third took a while to be processed, but finally it was my turn. As I approached the desk I handed the lady my itinerary and passport. She quickly informed me that the KLM flight to AMS had been cancelled. What!?! Doh!! She explained that due to weather related reasons in Amsterdam (apparently they were having even more rain than Denmark) that the outbound flight to Denmark had been unable to depart, so the corresponding return flight, which was my flight, had been cancelled. I was directed to the airport rebooking office. Horror of all horrors!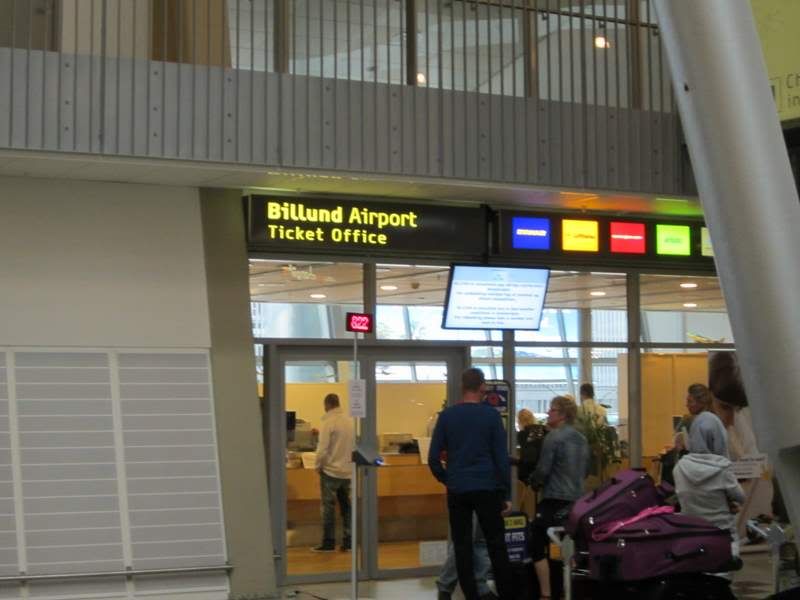 The rebooking office at BLL.

I quickly walked to the rebooking handling office. There were a few parties ahead of me. As I walked in I noticed a "take a number" machine, so I did. Apparently some of the others in front of me had not noticed it, and had not taken numbers. This later caused great confusion, but in the end it was all resolved in a civilized way.
There were two agents helping passengers with the rebooking process. They were nice enough, but as it turned out, only one was able to handle "all airlines", including KLM. It seemed that the other was able to handle "all airlines except KLM". This really slowed things down, at least for the KLM passengers, and was annoying since they all had to be done by a single agent. I waited in the "all airlines including KLM" queue, which, of course, moved much slower than the other.
Finally, I was next in line. The person in front of me that was talking with the agent had apparently also been originally booked on the cancelled KLM flight. I overheard their exchange as:
passenger: "I was on the KLM Amsterdam flight that was cancelled and need to get rebooked."

rebooking agent: "Certainly sir, I think we can put you on the afternoon flight to Amsterdam. Let me check. Yes sir, it looks like we have one remaining seat available on that flight."

passenger: "Ok, I'll take it!"

myself (grumbled in a low voice only I could hear): "Doh!!"

As the agent processed the rebooking for the passenger in front of me and printed the new travel documents, I tried to remember if there was also an evening Amsterdam flight from BLL. I was pretty sure that there was, and hoped that it would still have at least one available seat left. It was looking like getting to Amsterdam, which normally doesn't take that long from Denmark, was going to consume the better part of the day.
When it was my turn I approached the lady and explained that I was also booked on the Amsterdam flight that had been cancelled. Realizing that she had just handed out a boarding pass for the last available seat on the afternoon Amsterdam flight, a grim expression came over her face.
However, in the next moment it was as if she had a "light bulb" mental experience, and proceeded to enthusiastically bang away on her keyboard for a couple of minutes. I wasn't sure what idea had come over her, and just let her run with it as she frantically typed away on her keyboard. I began to prepare myself to wait it out for the evening flight that I hoped was scheduled to run on that day. When the results of the rebooking agent's flurry of keyboard activity returned, her expression eased a little. We had the following brief conversation:
rebooking agent: "Are you traveling alone?"

myself: "Yes, I am"

rebooking agent: "If you can move quickly, there is a way I can get you to Amsterdam by going through Frankfurt. It will be with Lufthansa. The flight to Frankfurt will be leaving very soon. Would you like to be rebooked on that route?"

myself: "Will there be enough time for my (checked) bag to make it?"

rebooking agent: "I believe so, if you can move quickly to the Lufthansa checkin area."

myself: "Yes, please do the rebooking."


The agent proceeded to rebook me and issued new boarding passes. She directed me to the Lufthansa checkin area, and urged me to proceed there immediately. I did so, and dropped off my bag at the Lufthansa bag check desk.
Next I proceeded upstairs to the departure area.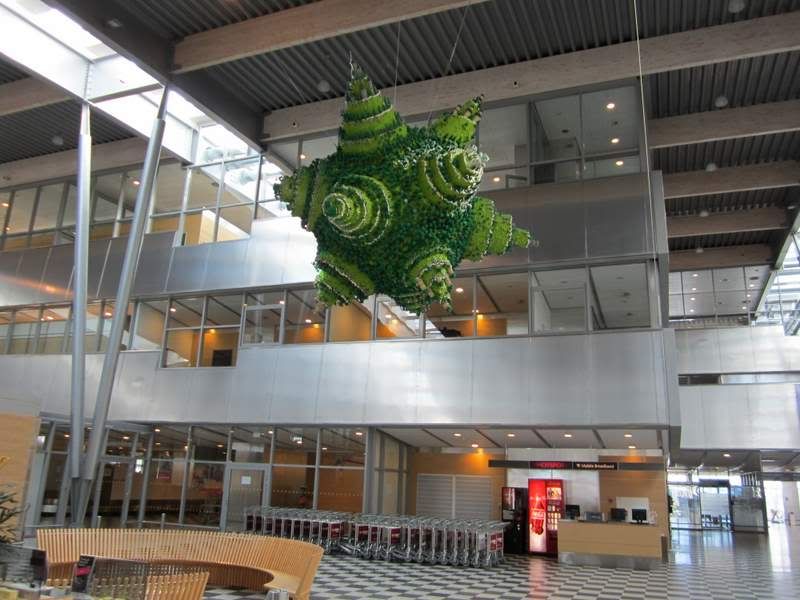 A bit of Lego inspired artwork hanging in the checkin hall at BLL. I wonder how many pieces that took?


The way up to Departures.

Fortunately there were not many passengers at the security check point at that time, and I was able to pass through in just a few minutes. I had planned to visit the lounge before my original (now cancelled) flight. For a moment I thought maybe I could still do so, if only just for a few minutes. It was tempting, however upon glancing at my watch I could see that there just wasn't enough time now, after having been rebooked on the Frankfurt flight, and that I really needed to proceed to the departure gate. Oh well, maybe next time.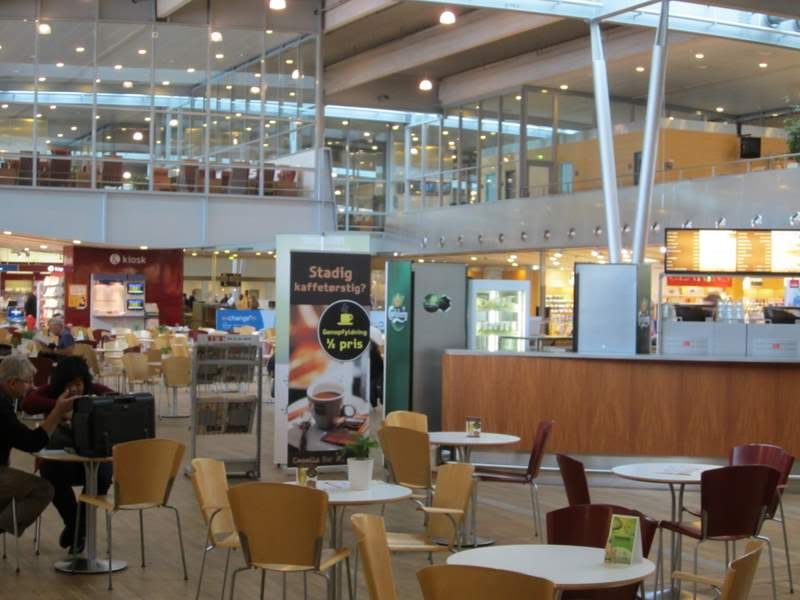 A restaurant and dining area in the Departures area, and on the upper level can be seen part of the lounge that I didn't have enough time to visit.

I checked the flight information display system which informed me I should proceed to gate 11, where the my flight to Frankfurt would soon start boarding. Interestingly, it also showed the status of my previously cancelled flight to Amsterdam as "Departed". Hmmm, did I miss something, or what?!?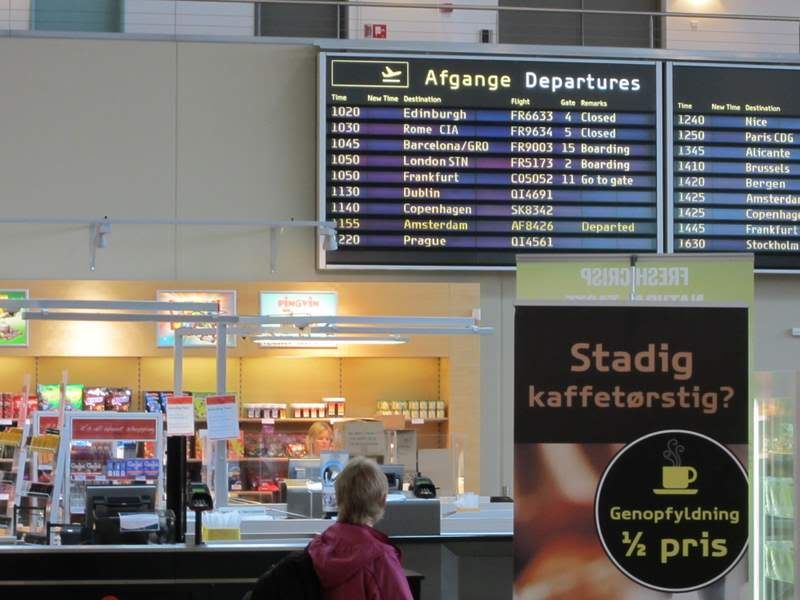 The friendly (but confused and confusing) FIDS.

On the way to the gate I noticed a scale, and was curious so I took a quick measurement of my carryon.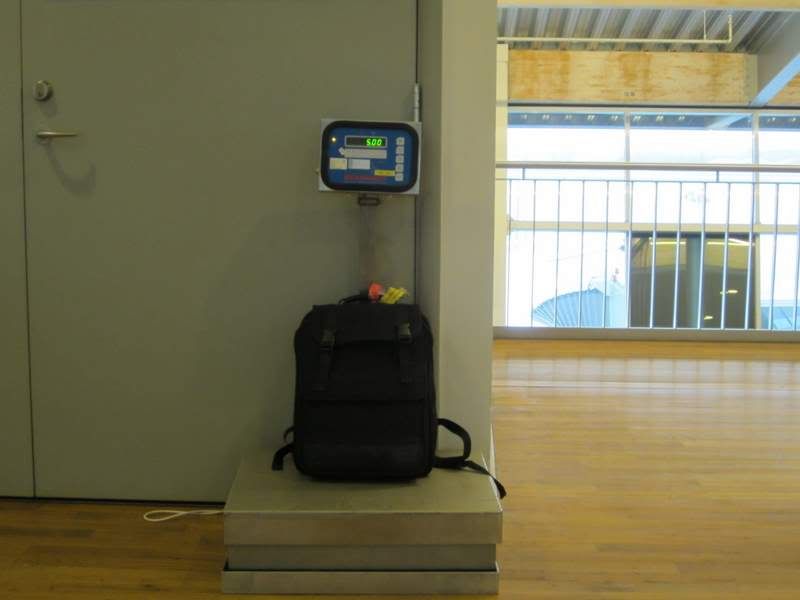 The weight of my carryon - looks like a light load for today.

When I arrived at gate 11 and waited for boarding to begin for my flight to Frankfurt, I remembered that earlier, as the agent had processed my rebooking, something had felt a bit oddly familiar, a bit funny even, about the whole process. It was kind of like a "deja vu" moment, but I wasn't sure at the time exactly why.
Then it hit me. I had just been rebooked onto a flight to Frankfurt in order to get to Amsterdam. Ironically, this flight was the exact same one I had specified to the local taxi company when making arrangements the day before, in order to arrive at the airport early, as I prefer. Unwittingly I had specified to the taxi company the flight I would actually be taking. It was both ironic and kind of funny all at the same time. At any rate, the "extra time" I had managed to schedule certainly did come in handy in this case, as it was the only reason I was now in a position to get onto the flight to Frankfurt, rather than wait for an afternoon or even later KLM flight.
Next, the sound of the boarding process getting started drew my attention back to the present moment. I waited in line for my turn to board.

Lufthansa: LH 837
Date: 14 July
Scheduled Departure: 10:50
Scheduled Arrival: 12:15
Seat: 21C (economy)

I entered the jetway and then walked down to the awaiting 737-500, which was the "Krefeld" (D-ABIC).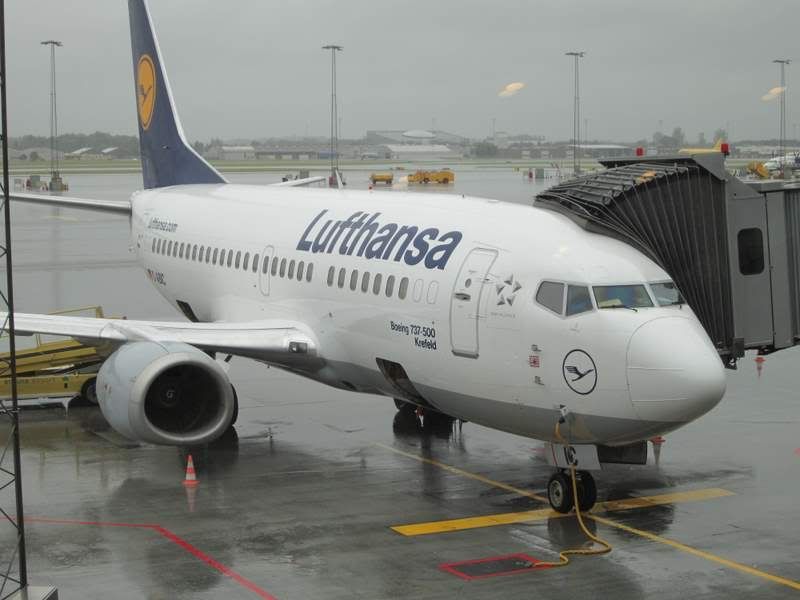 Our ride to FRA.


Walking down to board D-ABIC.

As I boarded I was politely greeted by a flight attendant, and then made my way to seat 21C, in the very last row. I stowed my carry on bag (there was plenty of space in the overhead bin) and sat down, still feeling a little rushed after the cancellation and frantic rebooking, but also feeling happy to be on the flight, and happy that I would soon be making progress (though indirectly) towards Amsterdam. Also, having not been to FRA for a while (and having read the interesting accounts of the a.net meetup there recently) I thought this would be a nice chance to check it out again, if only briefly.
The load on this flight was about 80% in Y, and about 40% in J (the loads were probably helped a little by the cancellation of the KLM flight, and maybe some other cancellations as well). The passengers quickly settled in, the door was closed, and we were soon on our way to Frankfurt. As I expected, given the persistent rain on the ground, we flew through and then on top of cloud cover the whole way to Frankfurt. This, along with the fact that I did not have a window seat, meant there wasn't much chance for capturing interesting images from the air.
This was my first flight on Lufthansa for quite some time, and I didn't really know what to expect. My first impression was that the aircraft was in pretty good shape. I believe D-ABIC was delivered in Dec. of 1990. I'm not sure when the last refurbishment might have been, but the interior seemed to be in pretty good condition.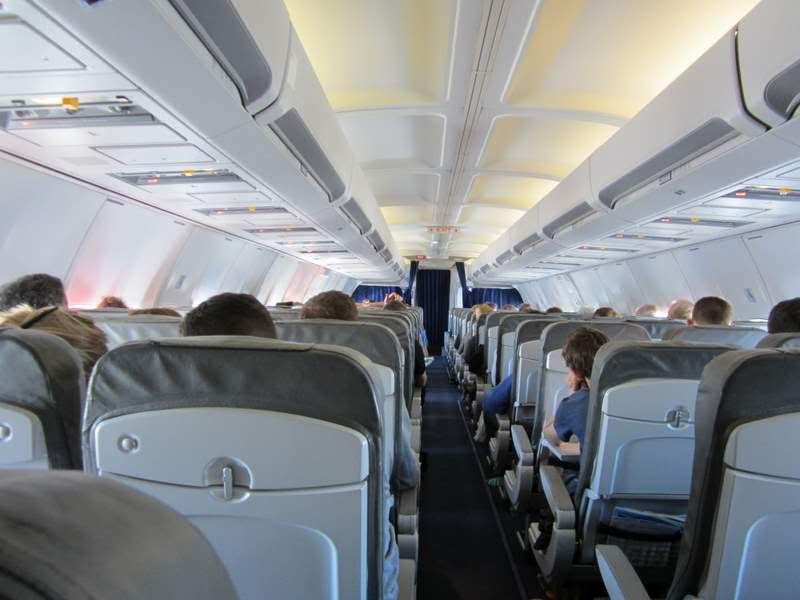 The view from 21C.

There were three flight attendants on the flight, one male and two female. As they were released to start service, I continued to be impressed with Lufthansa. On this relatively short route they had a food offering, which consisted of a ham roll, kind of like a sandwich. It was fresh and tasted quite good. It was also very welcome since I had originally planned to stop by the lounge in BLL and sample their cuisine for a brunch/lunch, but did not have time for that after the rebooking. And, even though I was among the last to be served, being seated in the very last row, I was also able to enjoy a couple of beers (Warsteiner in this case). What efficient cabin service! Unfortunately I did not manage to get a picture of the ham roll before I had finished it - I'll have to blame that on not thinking straight due to the hunger.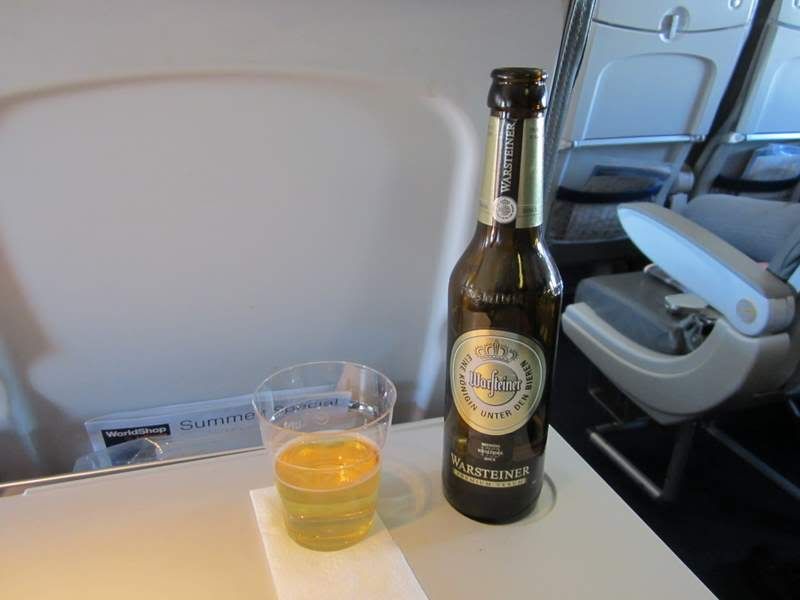 Warsteiner number 1, just after finishing the ham roll.

My inflight entertainment largely consisted of reading. First was the book I had brought along, followed by a look through the Lufthansa onboard "Magazin". Among the articles I read was one discussing the 747-8i, and how Lufthansa really looks forward to receiving it, and how it will be a strategically important acquisition for them. It described how they anticipate the demand in some markets will fit very nicely with the size of the 747-8i. It was an interesting read and provided a little insight for those who are curious about the thinking that goes into aircraft acquisition decisions.
Conveniently, just as Warsteiner number 2 was being finished, we began our descent into the Frankfurt area. The flight attendants came through the cabin to collect remaining service items and check the cabin for landing. Soon we were on the ground, and taxied our way over to the A Concourse. Again, the cloud cover did not allow any nice picture taking opportunities.
Fortunately my connecting flight would be leaving from the same concourse, from gate A19. Getting between the gates was not difficult, and was made even easier with the "people mover" platforms at FRA.

On one of the many "people movers", on the way to A19.

Along the brief journey I really appreciated the nice aircraft views afforded by the strategically placed windows - especially for some of the heavies that were hanging around that day.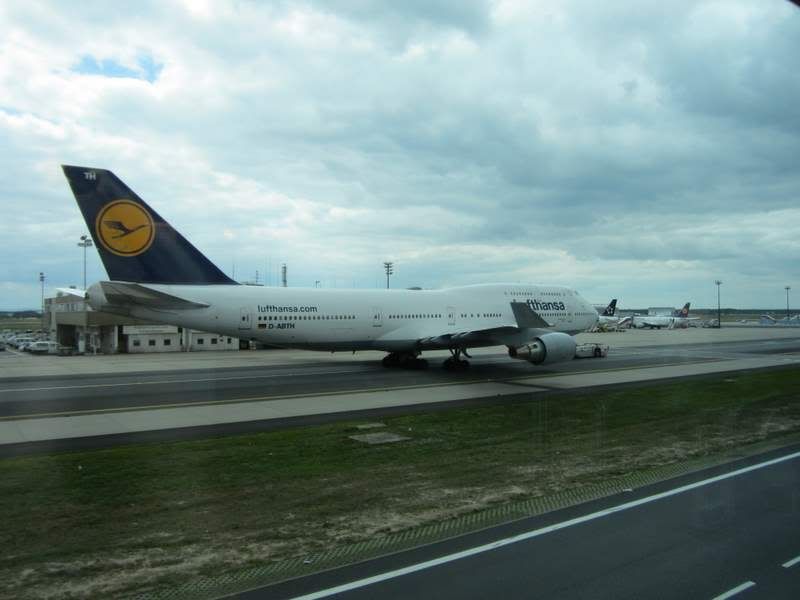 Some of the heavies hanging around. It is nice to get such closeup views.


Well hello there!

As mentioned before, it had been quite a while since I was last at FRA, and as I was heading to A19 I have to admit I kind of wished I had more time there. As it turns out that wish would soon come true, just not exactly in the way I had hoped.
As I arrived at gate A19 it looked like most of the other passengers for this flight had found their way there too. Boarding soon began at the scheduled time. This was my first chance to experience Lufthansa's automatic gatekeeper/boarding pass checker, which worked great. Boarding was to be by bus, so once through the gatekeeper device, I made my way down and hopped on the bus, and we were soon off to find our ride to AMS. Fortunately, though the weather was not great, at least it was not raining at the moment, so there were no worries about getting wet.

Finally arriving at Gate A19.


The automatic gatekeeper devices.


Lufthansa: LH 992
Date: 14 July
Scheduled Departure: 13:10
Scheduled Arrival: 14:15
Seat: 15D (economy)

The bus pulled up to another great looking Lufthansa 737-500, which was to operate our flight to AMS. It was D-ABIL - the "Memmingen". It looked like today's travel was going to be "all 735 all the time".

Welcome, please come up stairs!

I boarded and was greeted by a smiling flight attendant, and then made my way to seat 15D. Just like her sister ship the Krefeld, from all appearances, D-ABIL (delivered in March of 1991) was in nice condition.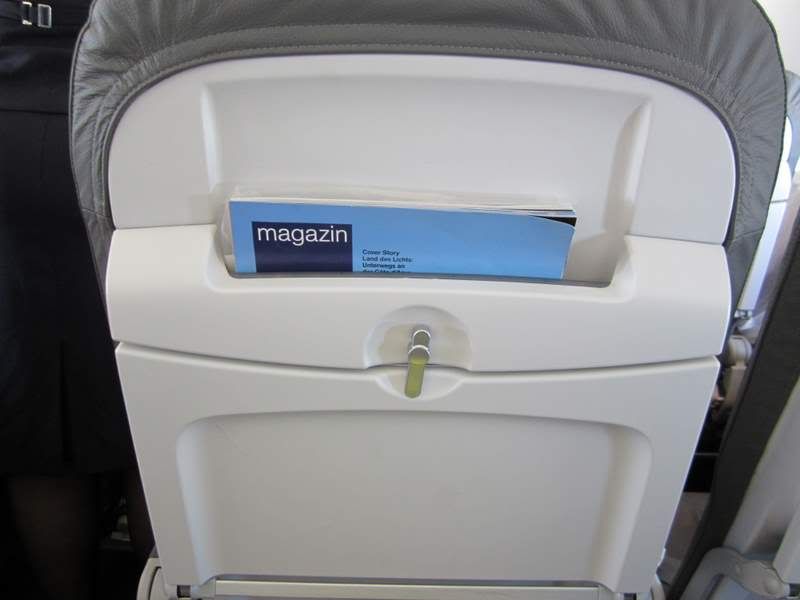 Nice way to stow the inflight magazine.

As the remaining passengers boarded, the flight attendants helped find empty places for their carryon bags. Soon everyone was on board, and the doors were closed. The load factor was about 35% in J, and 60% in Y.
Up until that point, everything seemed normal, like the usual beginning to a typical flight. Then the Captain made an announcement. Being that we were in Germany and this was a Lufthansa flight, he naturally made the announcement in German first. I knew that most likely an English version of the announcement would soon follow, so I did not pay too much attention to it at first. However, as the German version went on and on, it soon became apparent that it was something more than the standard "welcome on board" message. As I started to listen more closely, I quickly began hoping that I was somehow not understanding the German correctly.
The English version of the announcement soon followed, which confirmed that our flight was not off to a very good start. It seems the weather in Amsterdam, which was the reason I had been rebooked in the first place, was still not good. It was continuing to cause delays and cancellations. Though our flight had not been cancelled, it was definitely going to be delayed. The Captain explained that due to the weather at AMS, a ground hold program had been implemented. Our flight had been issued a "slot time" that would enable us to take off in just over an hour. Doh!! My wish for more time at FRA had come true, though this wasn't exactly what I had in mind.
The Captain continued to explain that, though our slot time was more than an hour away, sometimes earlier clearances are granted. He told us that it was good we were all on board with the doors closed, because that would technically enable him to get in touch with the ground hold program controllers (who are apparently at a centralized location in Brussels) and let them know we are loaded and ready to depart immediately. Then, if any earlier openings become available, they will call us and get us on our way sooner. The Captain said that in his experience, earlier clearances come through about 50% of the time, so there was at lesat a chance we could get on our way soon. I was just hoping that if any earlier slots became available the ground hold program overlords in Brussels would pick our flight for early departure.
As the ground hold delay had been announced, there was a little moaning and grumbling by some passengers, but most seemed to understand there wasn't much that could be done about the weather, and just dealt with it. The flight attendants were pretty helpful through the ordeal. As we waited on the ground, they started a water and juice service, which was a nice touch. At first I wondered if it might only be for business class passengers, but they served the entire cabin, which definitely was the right thing to do. They also handed out small chocolates, which were appreciated.
As we waited and waited, and then waited some more, most passengers just settled in to their normal flight mode routine - reading, sleeping, or whatever they would usually do during a flight. Though I kept hoping that an earlier clearance would come through, it never happened. We were not allowed to leave until the previously announced slot time, meaning that we had waited over an hour on the tarmac with the door closed and ready for departure - longer than the actual scheduled duration for our flight to AMS. Oh well, what can you do?
We were finally released from the ground hold and allowed to start our taxi to the runway at 14:25. Soon after we entered the runway and started the take off roll at 14:38. It was good to finally be on the way to AMS!
Soon after take off the cabin crew was released to start service. Though this flight was even shorter than the previous one, the cabin crew managed to do a complete service including both food and beverages. A "chicken wrap" was served along with a beverage of choice. In my case I opted for another Warsteiner.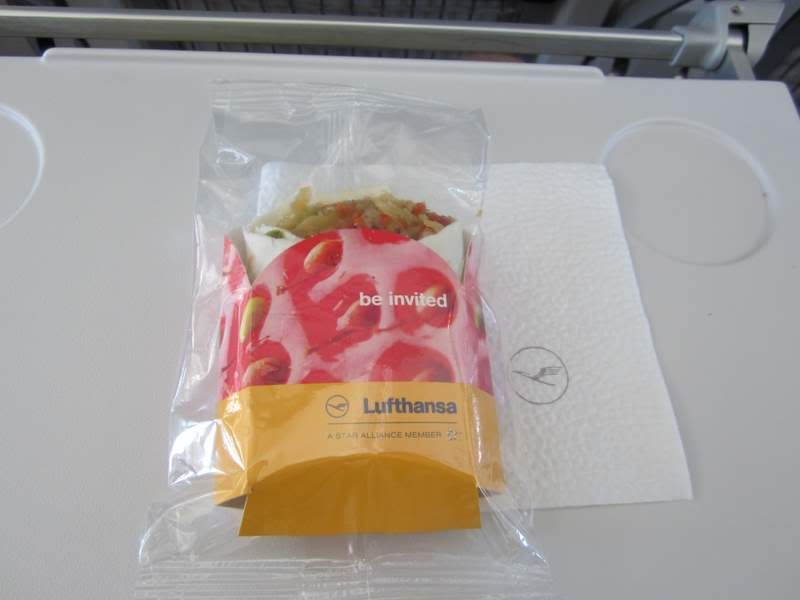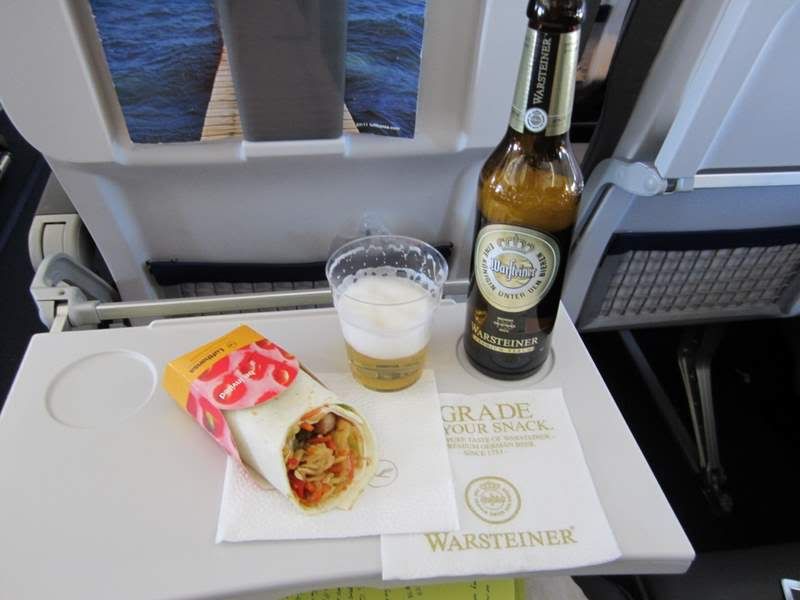 A chicken wrap and a beer please!

Much like the previous flight, we flew through and then over cloud cover for the duration of this one. The closer to Amsterdam we got, the more turbulent it became. Then, as we started the descent into the Amsterdam area, things really got bumpy. Though it was windy and rainy and the plane was bouncing all over the place, when it came time for the landing, the pilot nailed it quite nicely. Nice job!
It was rainy on the ground at AMS, as expected. As we taxied to the gate I was just happy to finally be there. I was also happy that the next segment of my larger overall journey (to the US) was not scheduled to depart until the next day. The delay getting to AMS was an annoyance no doubt, but nothing too critical with respect to the overall itinerary.
After exiting the aircraft I made my way to the baggage claim area. I was really hoping my bag would make it to AMS, as otherwise it would complicate things significantly for the continuation of the trip. (I had a missing bag nightmare at AMS earlier in the year, and was really not wanting to repeat the experience). Fortunately it showed up on the designated luggage belt. As it came into view on the belt, I could see that interestingly, it had been labeled as "Hot". I have had bags labeled with the "Priority" designation before, but had not seen the "Hot" one. Interesting.

First time I have noticed a bag labeled this way.

Having collected my bag I proceeded to Schiphol Plaza, and bought a train ticket to the city. A passenger on the train ride into Amsterdam asked where I had arrived from. He was quite frustrated since he and his mother, both from Amsterdam, had gone to the airport early in the morning, trying to get onto a flight to Sweden, but had experienced one cancellation after another. They had given up and were now returning home.
When the train arrived at the Central Station, I walked to the Renaissance Hotel where I had a reservation. It is a relatively short distance, but in retrospect I should have probably taken a taxi as it was still raining and I got a little soaked on the way. When checking into the hotel, I was pleasantly surprised at being assigned an "Executive Level" room. This was welcome though completely unexpected. I could only reason that, after all the trials and tribulations of the day, maybe the travel gods had decided to smile on me for a moment.
At the checkin desk they also offered nice little towels, to help rain soaked guests that were checking in to dry off a bit, a nice touch.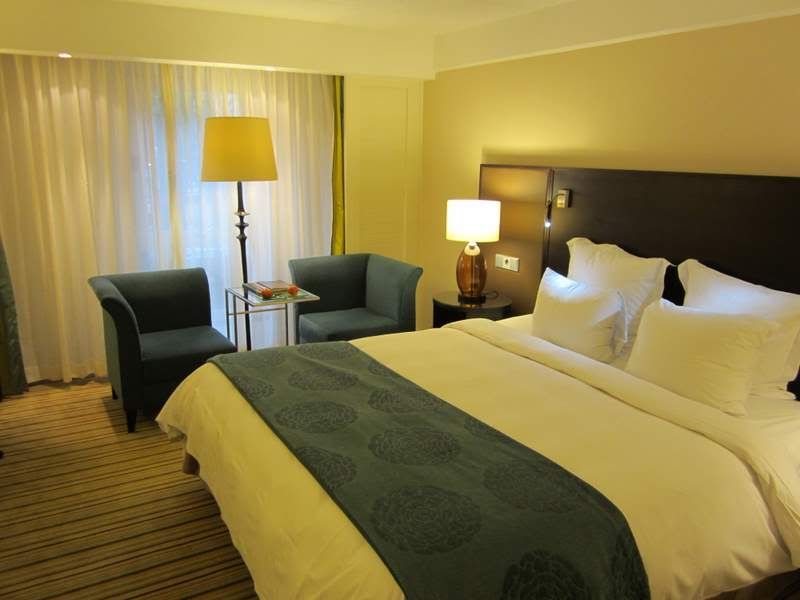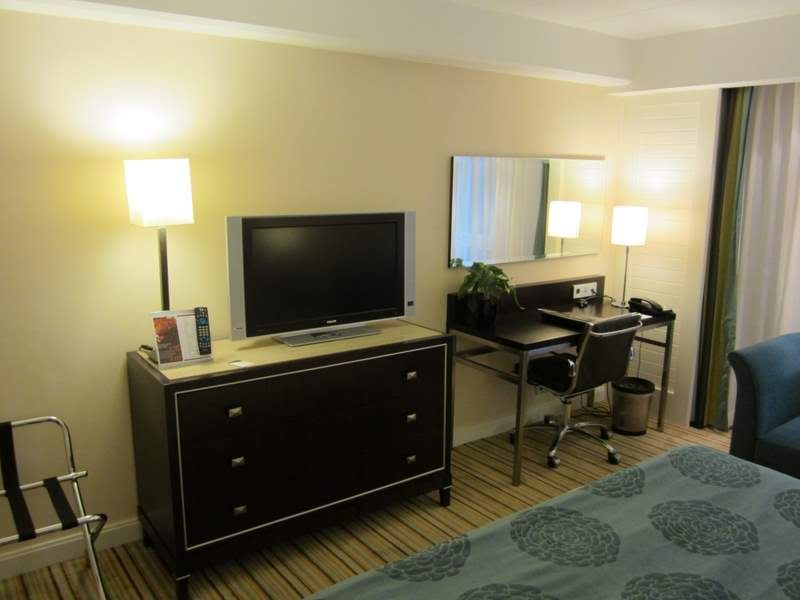 Finally made it to the hotel - some views of the Club Level room.

After unpacking a bit, I figured that since I was on an "Executive Level" floor, and it did not appear the rain would be stopping anytime soon, I might as well make a visit to the Club Lounge, hoping there might be some nice food items on offer. As I walked up to the door of the lounge and tried to use my key, it didn't work. Doh!! (For some reason I seemed to be using that word a lot that day).
I walked down to the reception area and explained to the person working at the reception desk that my room key card wasn't letting me into the club room. He examined it, looked a little perplexed, and then proceeded to reprogram the card. He handed it back and stated emphatically: "it will work now".
As it turned out he was correct. I was able to enter the lounge and sample their food and drink offerings in the relaxed lounge atmosphere. It was just the right way to cap off the day's travel adventures.

One of the seating areas in the Club Lounge.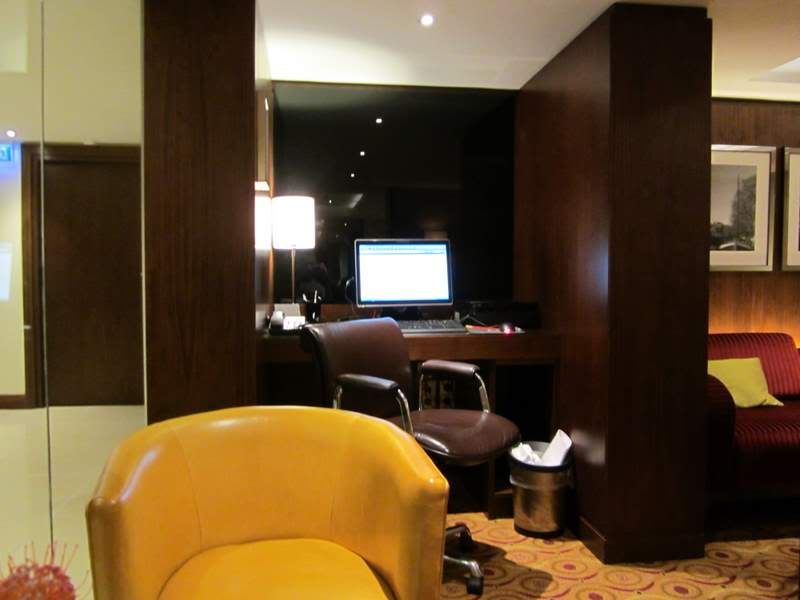 An Internet access station in the lounge.


Conclusions:

The weather was definitely the dominating factor on the day. It ensured that travel just wasn't going to be an easy thing. I kind of started to suspect that might be the case after seeing the unusually heavy and steady rain on the way to the airport in Denmark. It wasn't pleasant to arrive at BLL and find the flight to AMS had been cancelled. However, given that the outbound flight had not even been allowed to leave AMS, one can't really fault KLM for that.
Lufthansa certainly stepped up and impressed on the day. Given my unplanned and somewhat random sampling of their product, I must say I was both impressed and pleased. The aircraft were both in nice condition, and the service was both efficient and pleasant. Spending over an hour sitting on the ground at FRA after having boarded the flight to AMS wasn't what I had planned or hoped for either, but the cabin crew sprung into action and really helped make the situation bearable. The detailed information provided from the cockpit was also appreciated.
Finally, I think I will stick with my "get to the airport early" policy, as when facing a flight cancellation, it certainly provided more options to me on the day. Now, if I could only get the airline to credit my account for those missing frequent flyer miles that never materialized after the rebooking, all would be well.
If you have made it this far, thanks for reading - comments, questions, etc. are of course welcome.
Regards,
dkdaviator