A short ride in Norway and back home: SAS 738, WF Q400 and DY 738

Hi all,
This story is my continuation on a wonderful flight on KLM in their new European Business Class (
KLM C-class AMS-OSL On The B733 & New Catering
(by
airbuseric
Aug 18 2011 in Trip Reports) ). The flights were on Tuesday August 16, 2011.
After arriving in OSL on KLM, it was time to have a final look at my blue 737-300 which brought me in.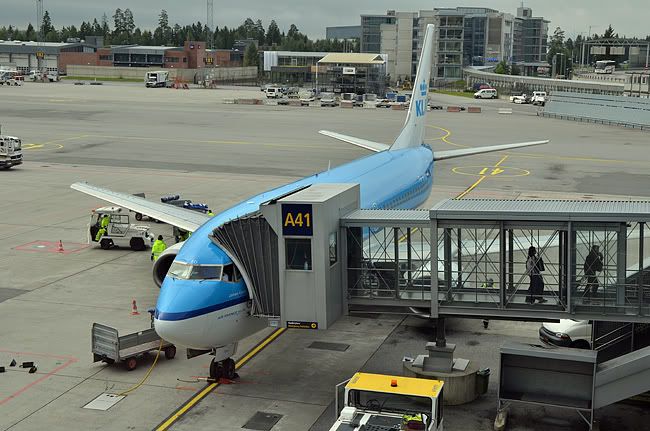 Bye bye, to the KLM 737-300 in OSL
I turn right and follow the way for 'domestic transfers' which would actually lead me to the exit/baggage reclaim. That means, back up to departure level and queue for the neccesary security check again. (A transit point for international transfers was available also on my way out).
I decided to make a quick use of the SAS selfservice kiosk to reprint my boarding pass and queued the line for security. A friendly agent checked my boardingpass and let me through. Another passenger in front of me took more time to get his belongings in the trays used for the xray scan, so he kindly let me pass in front of him. Well, my impression with the Norwegian people is very good so far!


OSL check-in area
Security was a breeze, a bit more friendly talks here and there with both staff and another passenger, before continuing to my gate. According the info screens, gate 13 was assigned for my flight, which means a long walk to the ultimate end of the terminal building. On my way I notice a few interesting planes and snap a few pictures.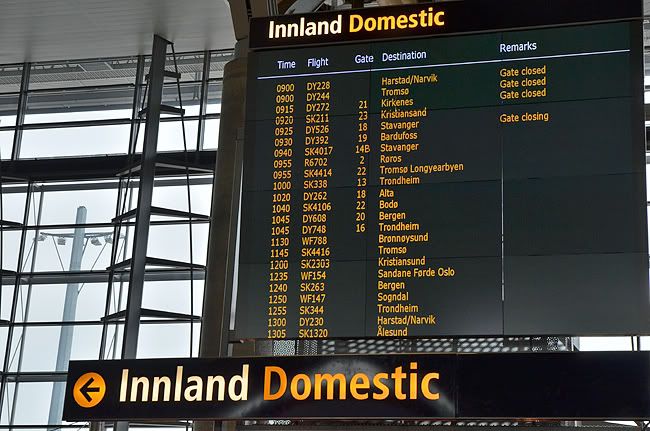 FIDS for domestic flights


On my way to gate 13…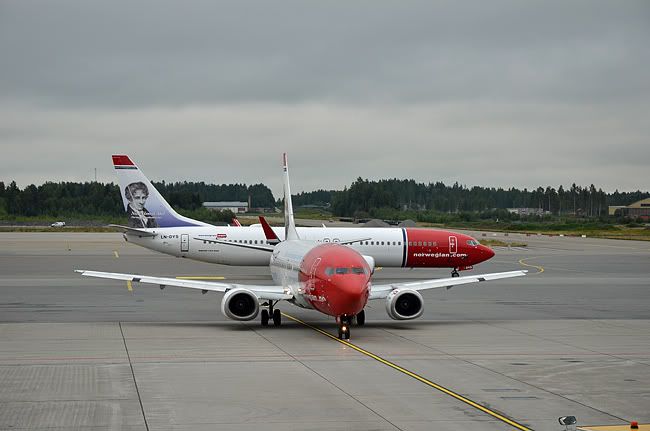 I'm in Norway, so let's bring you Norwegian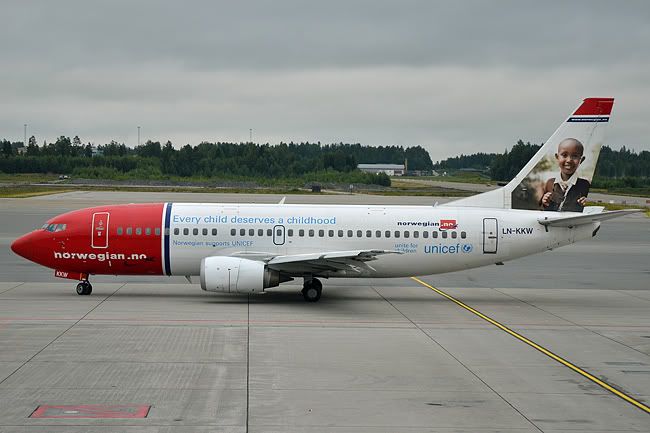 B737-300 LN-KKW is spotting an Unicef livery


Well, this Lithuania registered SF340 is what I like also. From where?
Once at gate 13, I notice a lot of passengers waiting, but no aircraft. 30 minutes before departure time,… that means a delay is to be expected now? Oh wait,… a Boeing 737-800 without winglets was inbound behind a towing-truck, which parked it gently in front of our gate. Always nice to have a 'fresh' aircraft. Everything according plan, the SAS 738 was expected and it would be my first time on this type with SK.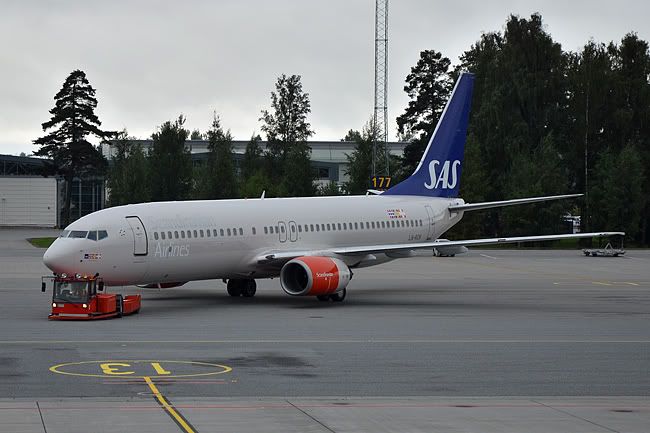 My 737-800, LN-RCN, being pulled into the gate
Boarding was announced a few minutes later (20min before departure time) and using the barcode on my boardingpass, I was on my way and could take a newspaper from the stand just before entering the jetbridge. Not for me though,… only Scandinavian ones on offer here, plus I still got my Dutch newspaper from my KLM experience.
Flight:
SK338 // OSL-TRD
STD
10:00
ATD
09:59
STA
10:55
ATA
10:49
A/C:
LN-RCN
(Boeing 737-800)
S/N:
06A
(Economy class/Y)
View Large
View Medium


Photo © Martin Djupenstrom
At the entrance I was friendly greeted by the SAS crew, 2 of them were waiting at the forward door. So far so good! When I turned right I was facing the all-economy cabin of this 737-800. Well, I was informed by Jonas (LH4116) about a good seat, 6A was the first available row in Economy and that was for sure one with good legroom he said… That turned out to be wrong though and when I arrived at my seat, 2 seatmates had to get out of B and C already to let me (and my bag) in. Hmm,… to be honest, it seems FR legroom is even better. Also the seats are narrow, which makes it a cramped experience.
I prepared my camera again and my noteblock, and felt tired, really tired.


Legroom… SAS 737-800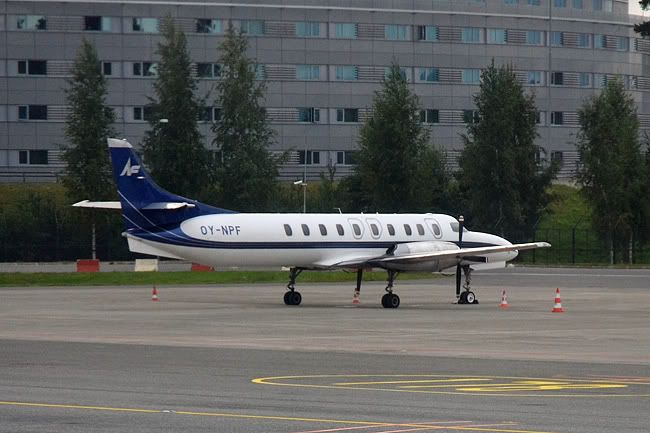 This is also very interesting… Something to do really soon!
Once boarding completed, several crewmembers checked the cabin thoroughly, and we pushed back even a minute early! The safety demo was a manual live demonstration by the crew, in Norwegian and English language. When they finished we almost arrived at runway 19L for our takeoff which was just a standard departure.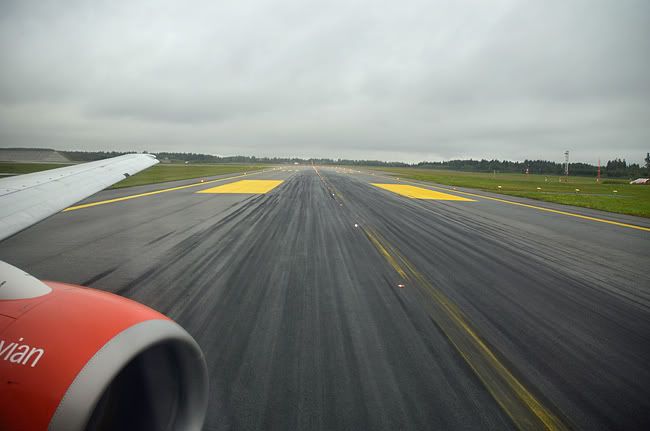 Lining up the runway. Note the yellow marking: that's for winter-operations with snow on the runways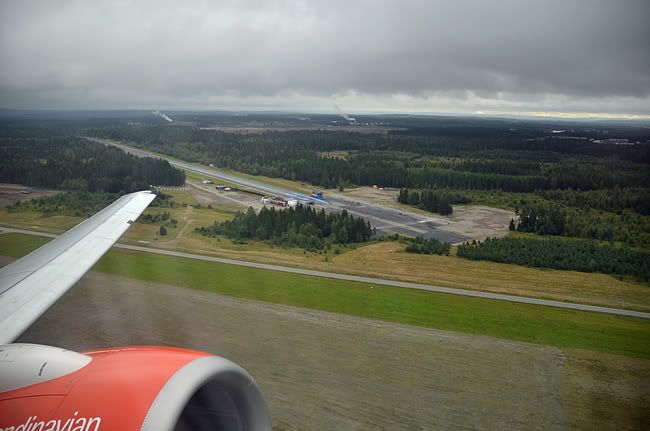 Airborne


And we've blue sky again when above the clouds…
The initial climb was a bit unstable due to the clouds, but once clear of this, and the seatbelt sign was off, crew came in action and started offering a free coffee/tea/water service. A while later refills were offered. I was happy with the cupholder on the backside of my traytable (very good SAS!) since I wouldn't have like to use my table.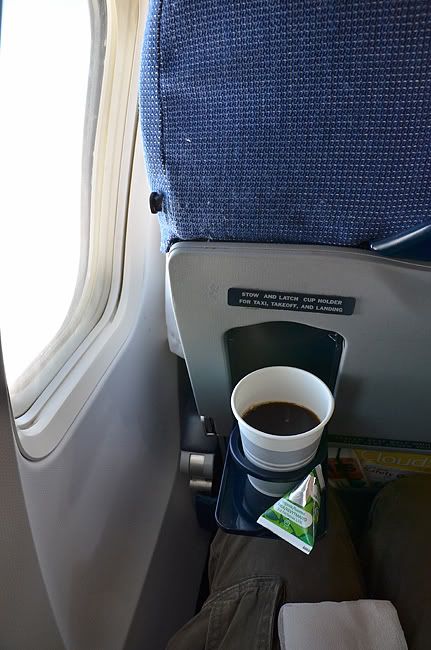 Free hot drinks (and refills) on SAS
Soon descend was announced to TRD, and the crew cleaned up the cabin again before taking their seats. On the speakers came the captain with weather information mentioning something about low clouds, 12ºC and heavy rain. Hmm,… it seems P. was right about the typical Trondheim weather. Maybe because it's located close to Hell…. Who knows!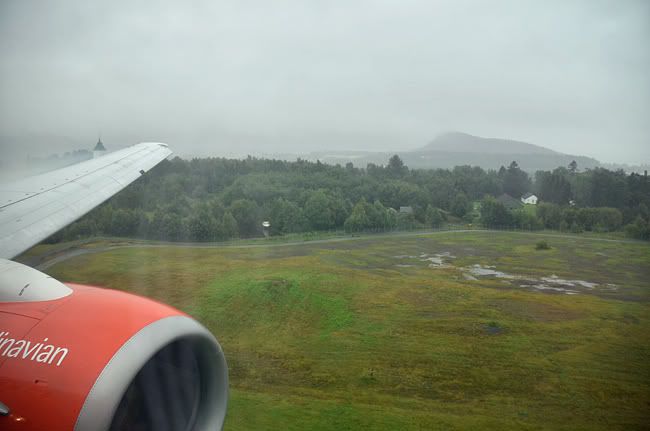 Approach to a wet Trondheim Airport
Landing was a rough touchdown on the very wet surface of runway 27, with good use of the thrust reversers to reduce our speed on the runway. I felt sorry for the airport workers, and some guys doing construction work on the roads around the field, definitely a day to better stay indoors!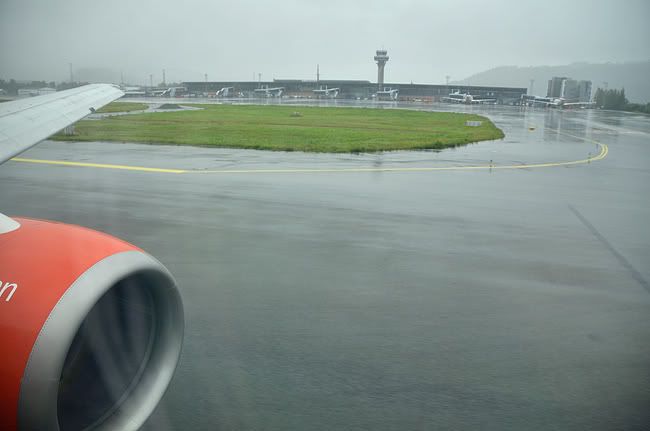 … and landed on the wet runway 27 in TRD
We taxied to the terminal building, were a few other SK and DY flights were around, parking at gate 33, a few minutes early.
When I left the plane I was wished a nice day.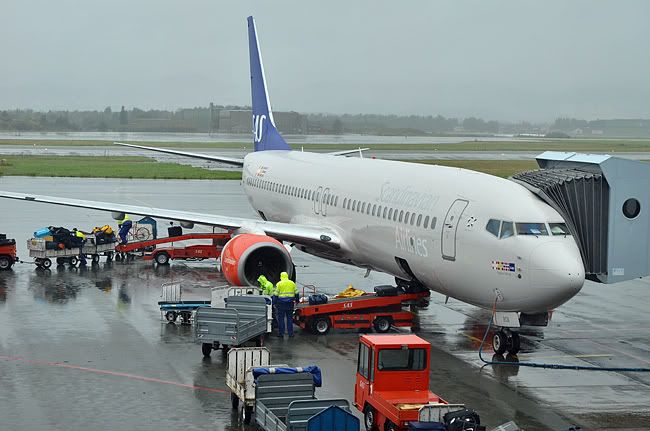 Last view on LN-RCN which brought me in from OSL
I planned to do some aircraft spotting in TRD, outside on a location near the runway. But as you might understand, weather conditions were not great to go out, and I was still tired. My choice was to rather stay inside the building, found a seat with a good view on the apron and activity outside and picked up some vouchers for free WiFi. During my stay I slept a bit, sometimes online, and meanwhile I made some pictures through the glass of the traffic at TRD.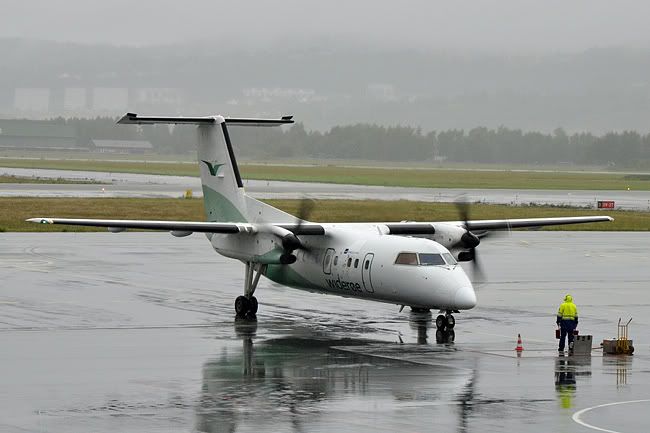 WF Dash 8-100, to operate flights to Norwegian Stolports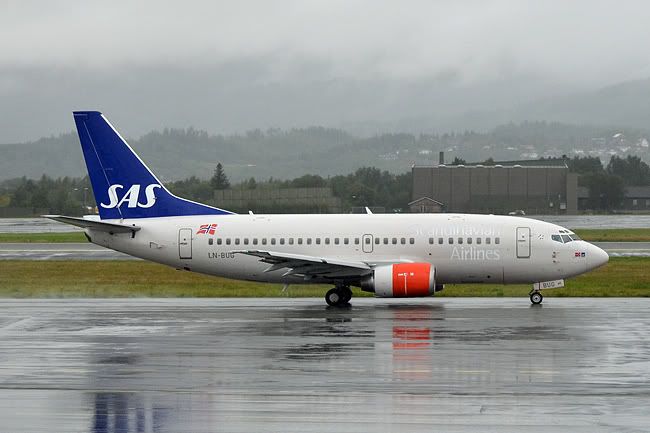 SAS still operates the Boeing 737-500 as well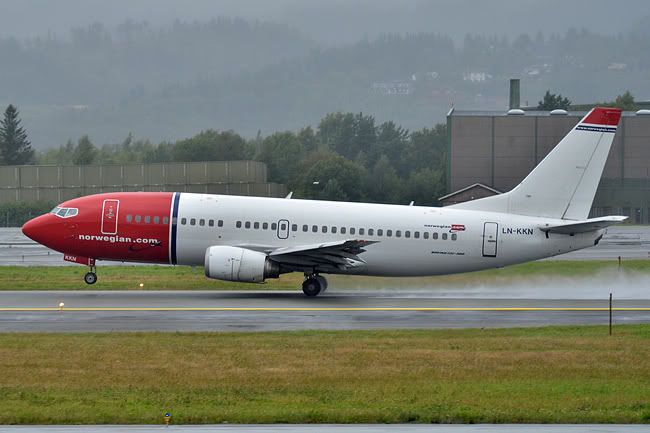 Norwegian Air Shuttle taking off on runway 27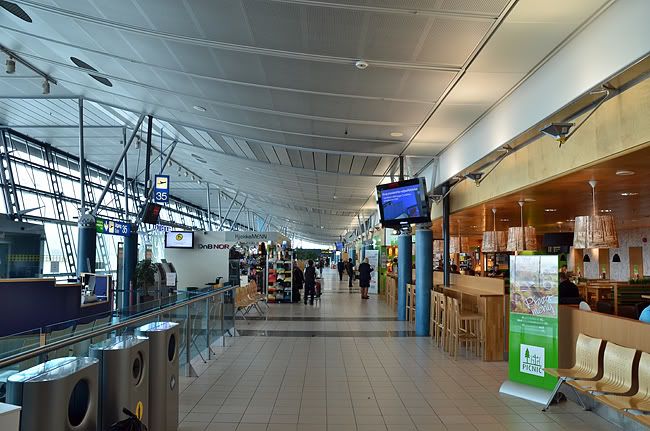 Terminal (secure area) at TRD
After a while I headed outside in the public area, just to have a bit of fresh air, but rain was still pouring down and it was rather chilly outside, so after a short while I decided to get back inside. There I checked the SAS check-in about my seat, and if I would have a seatmate. The agent confirmed that the seat next to me was also taken and I requested another row with 2 seats (if available). It was, and my request was honoured. Thanks SAS!
I went back through security and took my seat another time, to see my aircraft arriving from CPH. The expected Q400 indeed showed up, and for me, this would become a first time on Widerøe.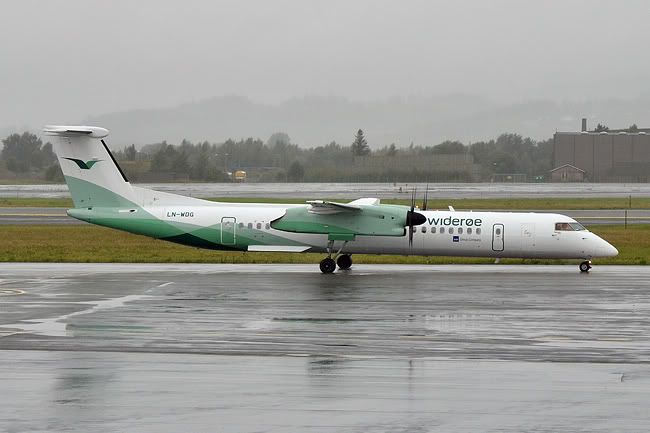 LN-WDG arriving, this would be my next ride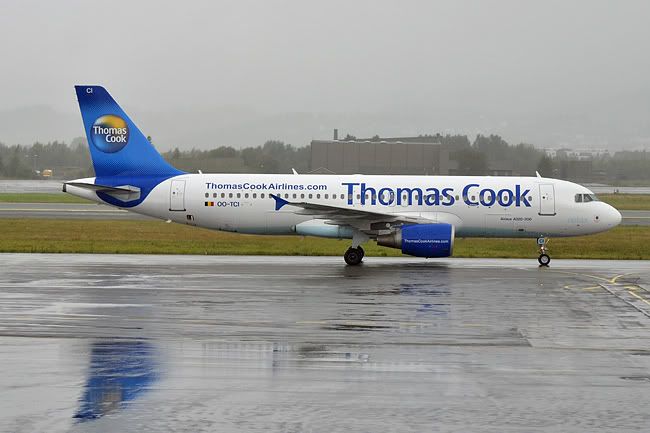 Well, one more picture. This Belgium Thomas Cook A320 is operating for the Scandinavian part of Thomas Cook…
I took my belongings and went through a corridor and downstairs, leading to the taxfree shop. Nothing for me this time, but the A320 of Thomas Cook (Belgium) that just arrived with a full load of Norwegian tourists (back from a beach holiday) also dropped the people nearby. It was funny to see all those Norwegians filling up all their bags with alcohols!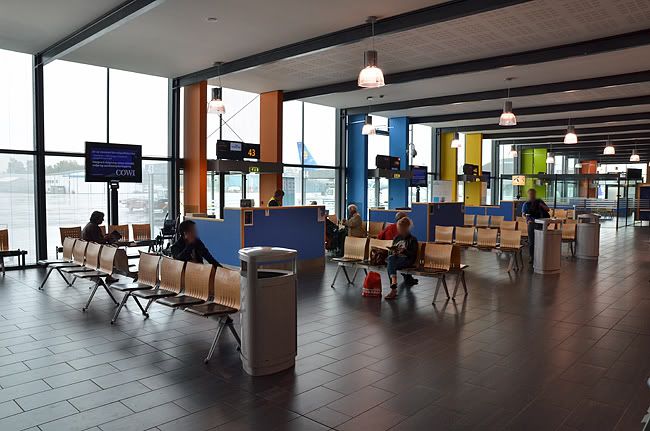 Waiting lounge near gate 43
Boarding for my flight was some 15 minutes before departure, and the door was opened to the apron. That means, a very quick walk (plus one photostop) in the rainy weather… Nice to board an aircraft this way, but next time some sun please!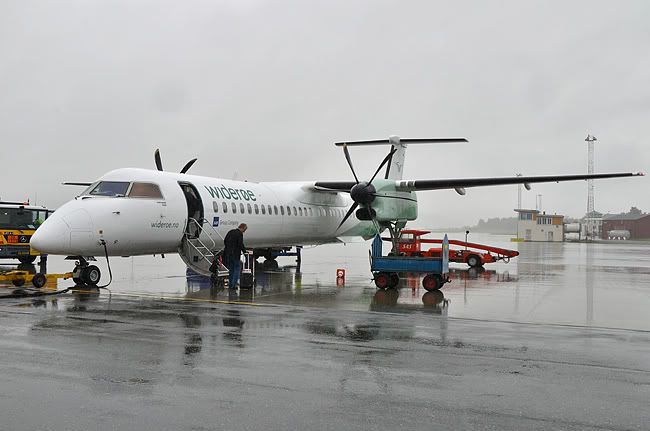 Boarding my first Widerøe flight
Flight:
WF368 // TRD-CPH
STD
15:05
ATD
15:03
STA
16:55
ATA
16:46
A/C:
LN-WDG
(DHC 8-Q400)
S/N:
14D
(Economy class/Y)
View Large
View Medium


Photo © Kristoffer K Rivedal
At the entrance I as friendly greeted by the purser, who let me in and wished me a good flight. My seat was somewhere halfway, and indeed both for me here, really nice. I estimated the load around 70%, not really bad.
When the doors closed, the captain came on the speaker, with an expected fighttime of 1h35min. First in Norwegian language, later also in English. So, for the foreigners on board he said, we'll have good weather during the flight. Then he requested attention for the cabin crew who were going to show the safety demo.
So, that was indeed the case, before and during startup the live safety demo was shown and the interaction between purser and the other flight attendant were visible. They had quite some fun together, making it a funny performance. At least, passengers got attention this time. The cabin was checked and we taxied out to the active runway: 27.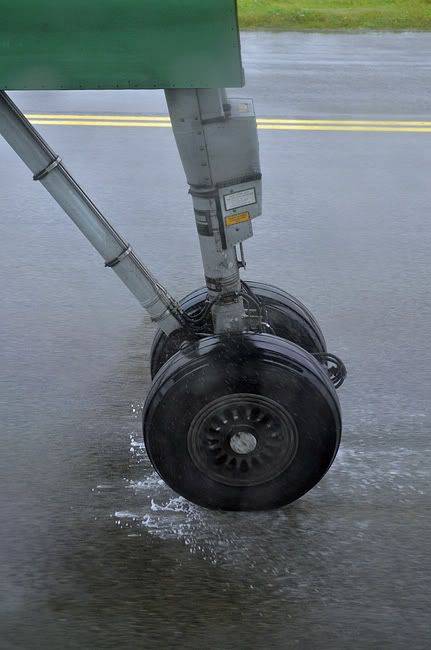 Taxiing to the runway. Yes, still a wet runway condition…
Takeoff was a powerful experience as is most common on these props, a bit unstable also during the climb, mostly caused by the not so favourable weather conditions.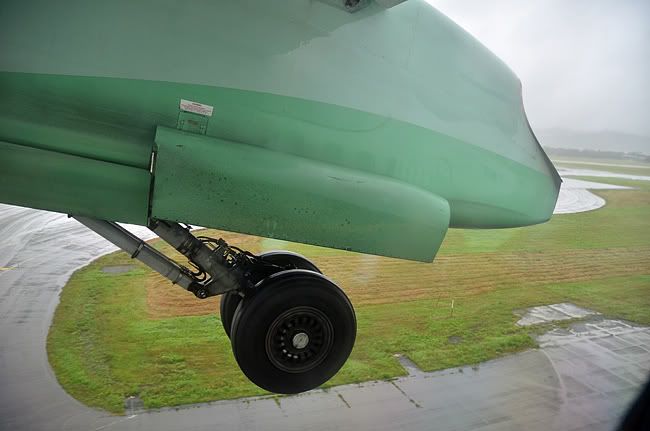 Airborne
I found the seat somewhat narrow, but ok since I had both seats for my use, legroom was good, the cabin looked in brandnew condition (while the aircraft was delivered over 2 years ago) and also here a cupholder on the backside of my traytable.
A buy-on-board menu was announced, but since it's an international flight, also free coffee/tea was served, as well with a snack.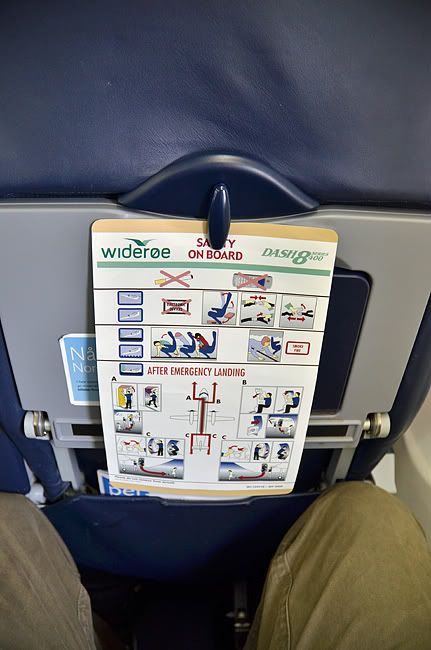 Legroom on the WF Q400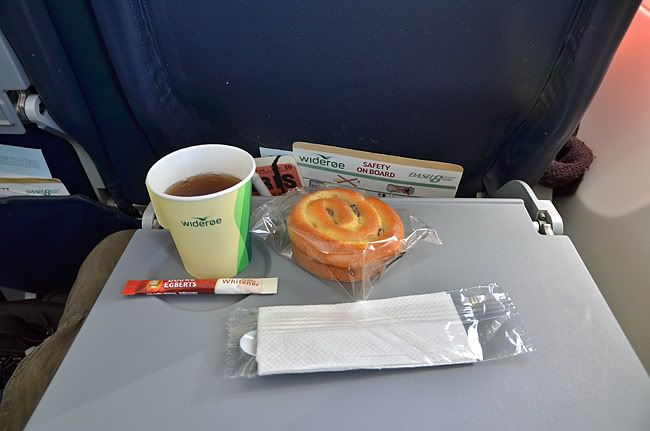 Free snack and drink service on WF TRD-CPH
During the flight we got some updated route information, as well our cruising altitude was mentioned as 25,000 feet. Copenhagen weather was 18ºC and partly cloudy.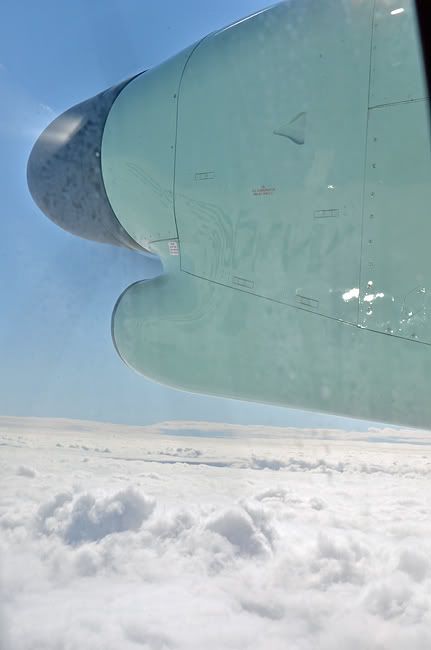 Cruising on the Q400. It's difficult to make a good photo…


… one more view on the prop engine and the wing
I decided to make a few pictures in the cabin and walked around. The crew were both in the aft galley and noticed me. We got in a conversation about Widerøe, aviation in general, the crew duties, my tripreporting etc. Also the purser showed a company video made by him to me, on his iPad. Really nice to see, and it showed to me that WF is a very nice company with friendly and funny staff. After this, the purser went to the cockpit to obtain permission for me to visit during the flight, for which an ok was given. I was of course happy by this answer and went to the front. I introduced myself to the crew, but it was not really possible to have a good chat with those guys since approach to CPH was already in progress. Visible were the south point of Sweden (with Helsingborg) and Denmark (Helsingør), with the Øresund in the background. Really nice weather conditions and great experience.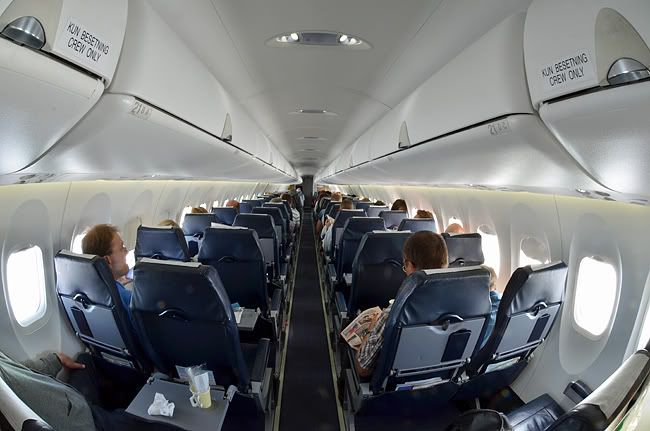 WF Q400 cabin view on LN-WDG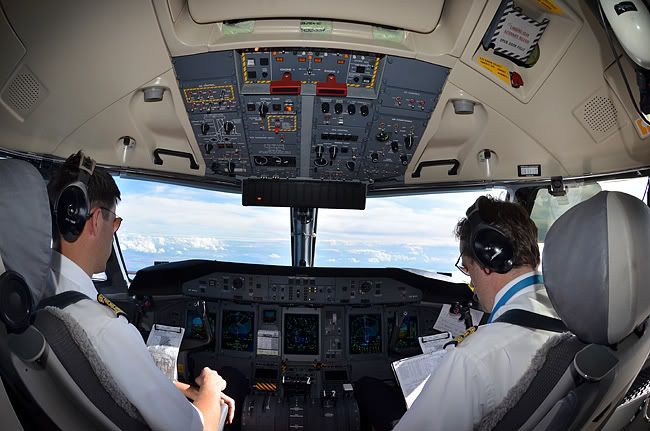 A very welcome visit to the flightdeck, during initial descend to CPH
But as we flew, time also flies, and I had to leave back to my seat. I found a nice 'put it together yourself' carton WF plane on my seat, thanks for the goodie guys! Also a final quick chat with the purser during cabin-check and then finally we were on final approach for CPH runway 22L, where we consequently landed after the expected 1h35min flying time.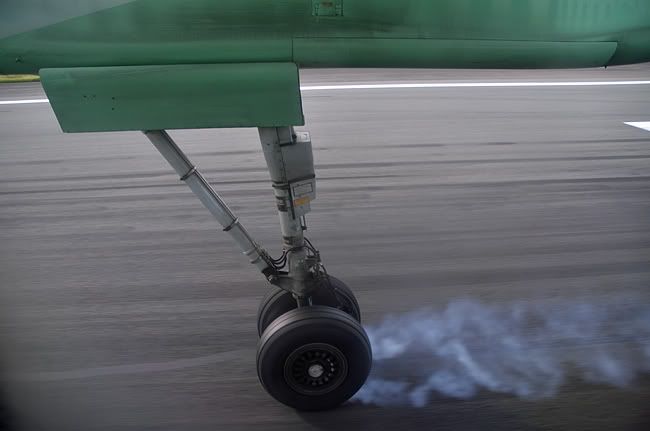 Burning rubber! The Q400 made a successful landing on 22L
After landing we only needed to taxi a short distance to our remote parking spot no. 97, where a bus was waiting for us. I handed some Dutch cookies to the crew when I thanked them for the ride. I'll for sure pay Norway a visit again and have some rides on the Stolports on the Norwegian coast… WF has shown to be a great company!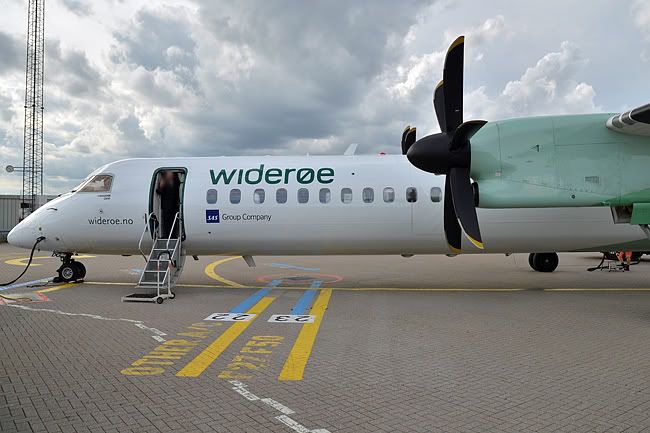 LN-WDG on the apron in CPH. Thanks for the great ride!
Now, let's see how to get home today. I've not checked in yet for the last leg, which was booked on Norwegian.com. I followed my way to the transfer desks in CPH for assistance, and got helped by a friendly male agent. I just requested seat 1F, and the man said 'let me see if it's still open'. Well, apparently it was open, because a boardingpass with my requested seat was given. Good job!
With some time to burn in CPH, first a bit online using WiFi, then a bit of walking around and finally I jump into the noodle bar to have some Asian food for dinner. Seating on the window, good views on the apron. No problem to spend some time this way.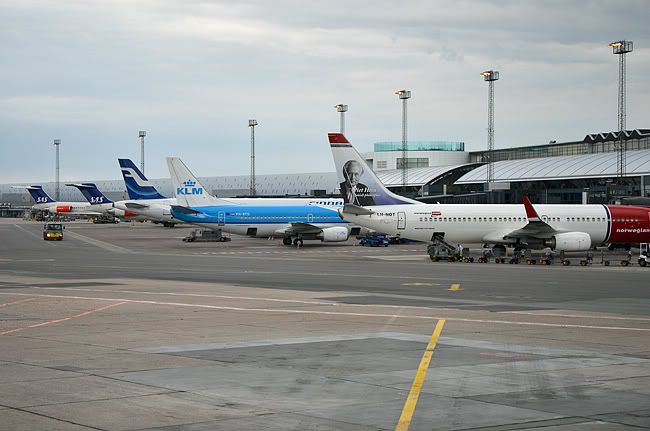 Traffic line up in CPH. The KLM 737-300 is PH-BTD again, it flew me AMS-OSL earlier that day
Around 1 hour before my flight was scheduled to leave I went to my gate, A15. It's a bit of a walk to reach it. I expected LN-NOC, a B737-800 to be at the gate but was surprised to see a very new LN-DYU parked (delivered 01Aug11). Wow, would this be my ride?
I walked further into the gate area and noticed that DYU was operating the flight to OSL, but making a delay.
Finally LN-DYU got a pushback but never taxied out and eventually even returned to the gate. It seems some issues to fix on this brandnew product from Boeing.
Not surprised to get a gate change now, A11 was assigned for my flight so I went there and took a seat. The area got very busy, judging that my flight would have a good load!
Again not surprised when indeed the expected LN-NOC taxied into our gate. Nice coincidence to be the oldest Boeing 737-800 in the DY fleet and build in 2001, previously operated by UX as EC-ICD.
Flight:
DY3540 // CPH-AMS
STD
19:45
ATD
19:52
STA
21:10
ATA
21:32
A/C:
LN-NOC
(Boeing 737-800/WL)
S/N:
01F
(Economy class/Y)
View Large
View Medium


Photo © James Mellon
The inbound flight from ??? was a bit late, leading to a bit late boarding for our flight. On board I was greeted by a crewmember and I took my seat. DY had a sticker on the overhead compartment that it's use was for passengers in row 1 only. Good idea indeed!
No other passengers were occupying seats in row 1, usually costing a few more Euro's (additional fee), but some older man was smart enough to move himself from row 6 to row 1A. What should I think of it? On this flight it's for me personally not a problem. But what if I paid an additional fee and somebody else was taking the same comfort without paying? That would seems to be unfair. I wonder how DY crew will manage such situations if they excist. Legroom was of course really good here.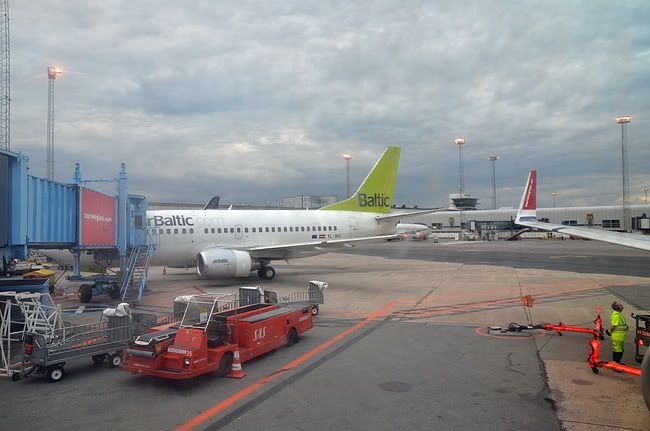 Dedicated to P., our frequent flying Finn on BT
The safety demo was shown on the screens and the cabin checked while we taxied out. The captain informed about the departure runway to the south, meaning that we would basically fly in a straight line to Amsterdam, and he expected to arrive a bit ahead of schedule, despite our small delay on departure.
Unfortunately my window was not in the best conditions, quite some scratches and seemed a bit dirty/dusty/sandy on the outside. So, sorry for the pictures (or lack of) on this flight.
Taxiing from gate A11 to 22R only took a few minutes and we took off almost immediately. Followed by a calm climb in the sunny evening sky, really beautiful!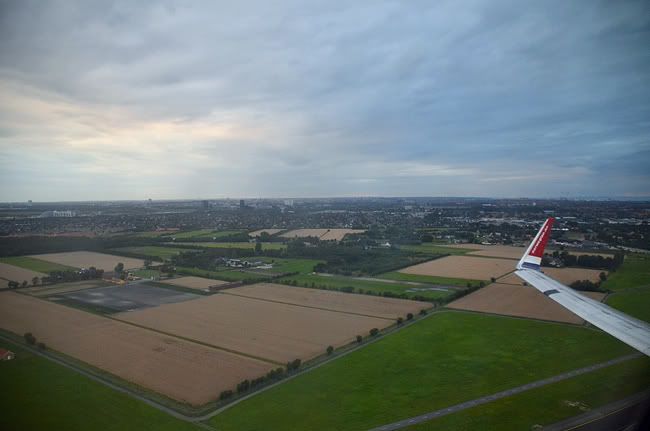 Airborne and on our way to AMS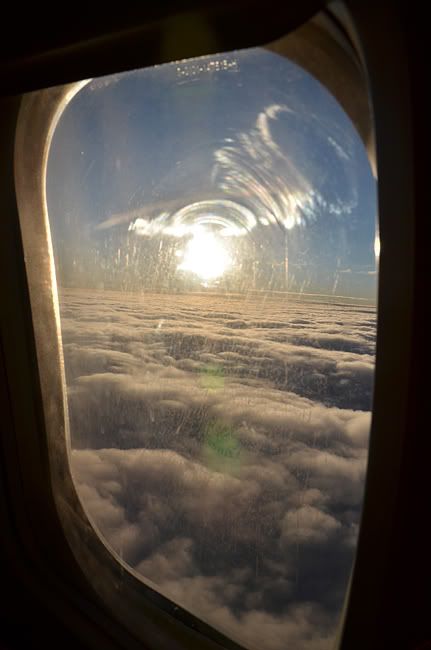 Some scratches on my window, but still a beautiful sunset
DY only offers buy-on-board menu, and they came at my row first. I decided to try their white wine and water combo. The wine came in a can, good looking. But the tast… not really great. I won't recommend this one to others, especially not for the price of DKK 55. I found myself lucky also to have the bottle of water, which tasted much better then the wine.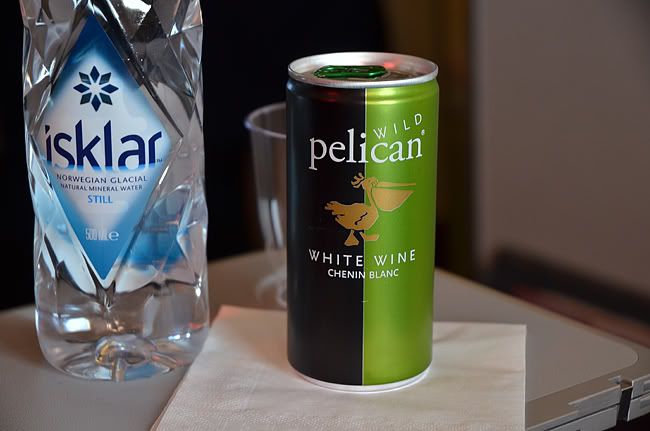 Wine & 0,5l water combo from the BOB menu
During the flight another update about our progress. The captain mentioned AMS weather to be fair, a temperature of 19ºC with westerly winds, arrival ontime. So far, so good.
Approach started and the cabin was fixed for landing already, for me it was a standard approach so far. I thought about runway 27, until we made a strange turn straight over downtown Amsterdam (citycentre). That is something which is not usually done, for safety and environmental reasons. I had some good views on the canals etc.


Strange approach over downtown Amsterdam, seen from 7000 feet
We continued in a levelled flight northbounds, for about 60 miles, a really strange situation since we almost arrived near the city of Den Helder.


In the distance the city of Den Helder and the island of Texel
Then we made a 180º turn and flew back the same distance, for a straight in approach on runway 18R, the so called 'Polderbaan' and most far away located from the terminal. Meanwhile we were quite behind schedule, no reason given, but definitely caused by our approach phase. We taxied via the South to gate D4, also not expected for me since DY usually park on the H/M lowcost gates. Apparently easyJet have too many flights that all gates are occupied in the evening hours by their orange A319's. Finally we were on blockes with 22 minutes delay, not really a good performance here and no further details given.
The passenger bridge was connected about 5 minutes later, another not so good performance here, seems to happen often in AMS (at least, that's my impression compared to so many other airport where this job is done faster).
All together, a nice day out. 4 flights, 4 new registrations, 1 new airline, 2 new airports. WF is a great company and valuable member of the SAS group. Good service, very friendly and openminded. SAS was offering a good product on the short domestic flight. Although seatpitch a bit tight for me, service was very good with free hot drinks and refill on a 50 minute flight.
DY is also a good company, since they can offer really competitive fares, especially for people without luggage. Seat selection is possible against a fee, and onboard a good menu for somewhat higher then average prices. But, it's a Scandinavian company after all, pricelevel is slightly high everywhere.
I was happy with the good end of another day with 4 flights completed. 1 week to be grounded until my next flights… to Scandinavia again. Will they be as successfull as the ones above? Well, not really! Stay tuned , more on that later!
Thanks for reading, comments and feedback is always welcome and really appreciated.
Have a nice flight!
Eric