KLM operated by Privatair Final Days
Since October 2005, Privatair has operated KLM's second service to Houston, and KL 663 and 664 operates six times weekly, and HB-JJA, this all business class Boeing 737-700 BBJ (also known as BBJ 1), has graced Houston countless times through the past six years. Earlier this summer, KL has announced the discontinuation of the Privatair contract, and will take the second daily service itself. It is possibly a sign of growth on this route, due to increased competitions from the Middle Eastern airlines or simply the end of a lucrative premium market in Houston. Regardless of the reason, I can't help to book a flight on this Privatair flight when the summer business class fare was launched earlier in the summer season. I was able to get a nice Z fare for a roundtrip betweem Amsterdam and Europe via this Privatair service from Houston. I am pretty sure this is the closest that I can get in terms of getting a flight on the BBJ, especially BBJ-1. Here is the full report!
Album links:
KL 664 –
http://share.shutterfly.com/action/welcome?sid=8QbNHDNy5bqTe4
KL 663 –
http://share.shutterfly.com/action/welcome?sid=8QbNHDNy5bqTrg
August 20, 2011
KL 664 IAH-AMS Lv2010 Arr1255+1 Boeing 737-700BBJ HB-JJA
Booking:
KLM.com is fairly easy to use and I am able to book the flights and made all the seat assignments accordingly. I like the ability to change seats and flights using the online tool. There is no hassle in booking the flights that I want.
Houston Airport:
I arrived IAH from a Continental flight from New Orleans, and we parked at gate C45 around 4:30pm. Houston airport was busy given the CO hub situation, and I walked towards Terminal D, which was fairly easy to find. Terminal D was fairly quiet after the early afternoon rush and I personally caught the first BA 777 service pushing back from gate. Both AF 77W and LH 744 left by then with only SQ 61 operated by 9V-SWG, which was in its initial boarding stage, and only the Emirates flight to Dubai. My plan was to get the boarding pass from KLM lounge, so I went straight to KLM Crown Lounge, one of the rare overseas KLM lounges. However I was confronted with this sign:
The lounge was closed till 5pm, so I just took a walk around the terminal. I was able to snap a few photos, including a tail shot of 9V-SWG. I wish I could afford an F or J flight on SQ 61/62 one day.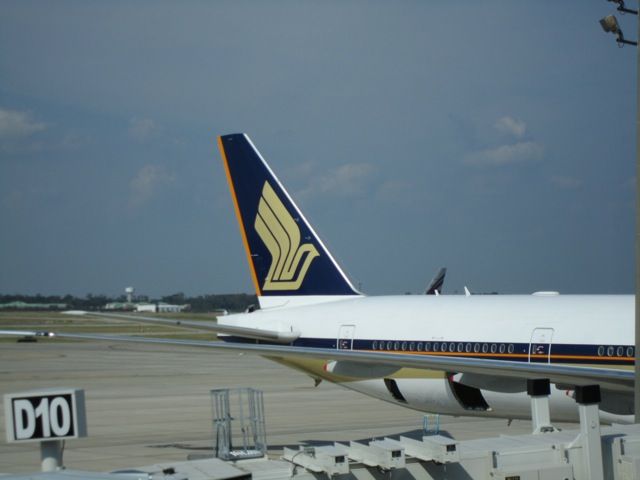 Then I saw Qatar Airways' Boeing 777-200LR A7-BBD arriving from Doha and it was a beautiful airplane.
Beautiful plane
Close-up of the tail
KLM Crown Lounge, Houston
The lounge finally opened around 5:05pm and a couple arrived ahead of me and they seemed to come from somewhere as well. The agent was cheerful and I was welcomed to sit in the lounge, while she logged on the system and printed me the boarding passes. When I inquired about the loading, she was that it was light and around 20 or so passengers. Since the other couple left the lounge for some errands and I took the opportunities to take many shots. There were basically two main seating areas, one dining area, and connected with a corridor. There was a "red chair" circular area and a small business center with four Internet connected computers. Free WIFI was available. It was a mini version of the Crown Lounge in Amsterdam. Just a side note, the lounges look pretty nice here in Houston, and BA Terraces look gorgeous. There was one generic lounge, as well as an Air France lounge.
Entrance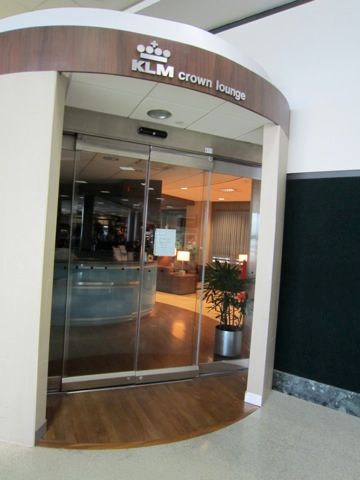 KLM Crown Lounge sign
Main Seating Area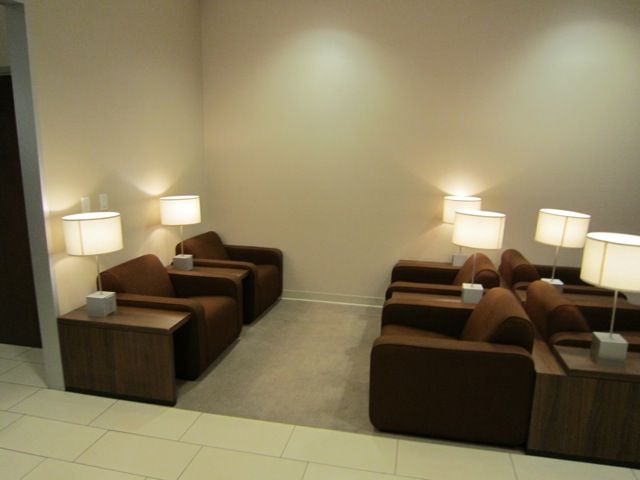 Signature Red Chair Area