I don't know what is the reason that seems to draw me towards Brussels Airlines! Maybe it is the service! Maybe it is still sort of a full service airline (well economy is all BOB)! Maybe it is the livery! When it comes to European business class, it is pretty identical with identical seats as in economy – just a blocked middle seat with slightly more legroom. However, Brussels Airlines seems to provide a bit more for its business class passengers, and with often one row of seats, the service is personable, and the F/As are well trained and looked smart. I can't wait for SN to return to the US in the future.
SN 3734 AGP-BRU Lv1005 Arr1255 Boeing 737-300 Winglet OO-VEH
http://share.shutterfly.com/action/welcome?sid=8QbNHDNy5bqTlY
SN 2719 BRU-GVA Lv1530 Arr1645 Airbus A319-100 OO-SSQ
http://share.shutterfly.com/action/welcome?sid=8QbNHDNy5bqTnQ
Booking:
I used my BD points for this ticket – not the best bargain, but is the best way to fly SN without paying the high price. I called SN reservation center to get the seat assignment. I was able to retrieve the reservation at SN website and printed out the e-ticket with no issue.
Check-in:
Malaga Airport's Terminal Three is another amazing architectural piece with high ceiling and modern architectural design. Similar to Barcelona El Prat International Airport, the Spanish definitely knows how to turn airports into profitable shopping malls. If there are no planes, you will not now that you are at an airport. I like the natural light and high ceiling. The airport looks up to date.
Malaga Airport Terminal Three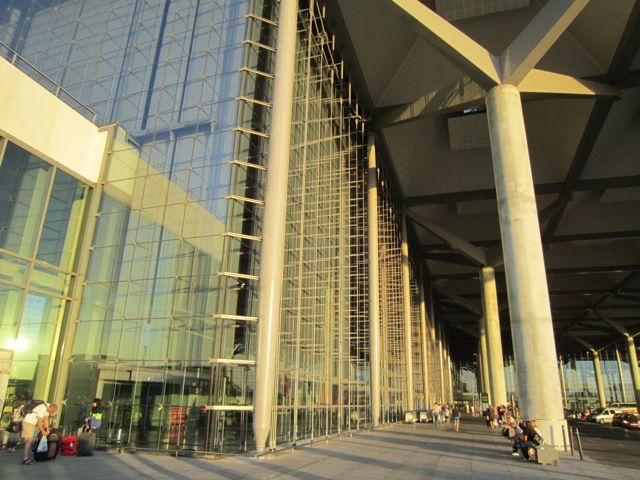 Impressive architecture
Rows of check-in desks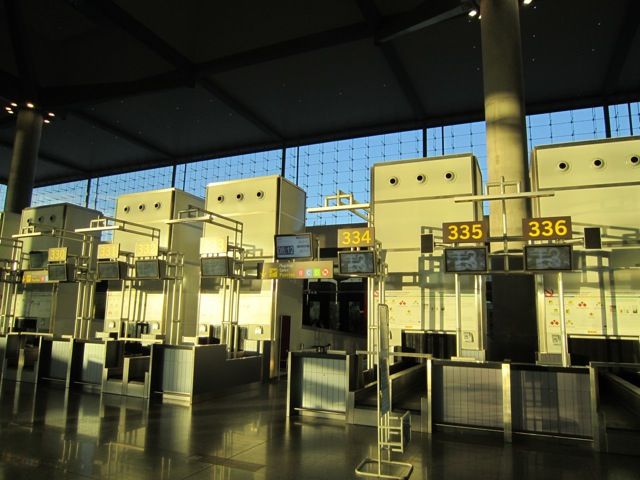 Brussels Airlines check-in desks
Priority lane
Logo
It was pretty busy this morning with many Europeans returning home after summer holidays. All the flights look fully booked with additional charter flights. Brussels Airlines has its own check-in counters – one joint priority/baggage drop off lane, and one general lane. The regular line was busy, but priority line was not busy. There was no kiosk for Brussels Airlines, and I guess since most people are in holidays, not people have access to a printer to print boarding passes at home. The flight was definitely full in the back.
Flight Information Display System
Our flight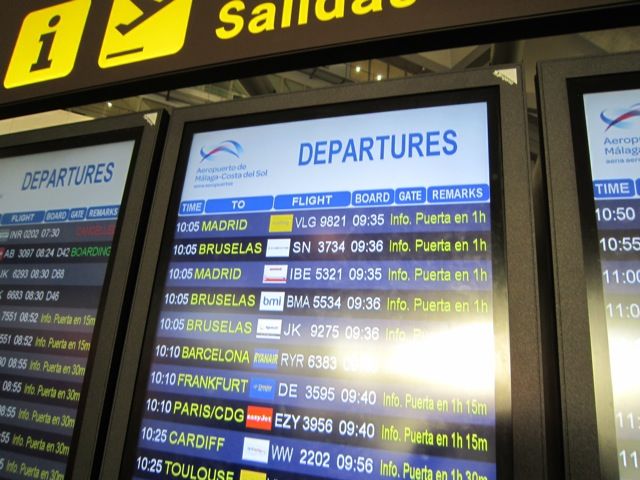 A very delayed Delta Airlines flight to JFK – possibly due to closure of JFK due to earthquake in the east coast