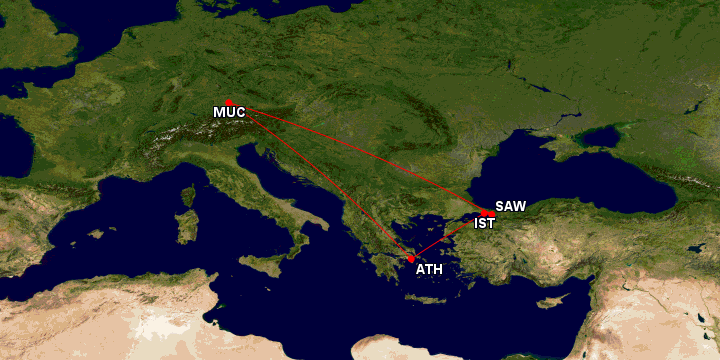 Map generated by the Great Circle Mapper - copyright © Karl L. Swartz
Background
My friend Satchmo and I had been planning to go on a short spotting trip to Istanbul for a long time. ln late February we decided to go in mid-April - right at the beginning of the busy Easter vacation period, but we couldn't find alternative travel dates suitable for both of us. Of course we wanted to get some new airlines, so we had a look at Aegean Airlines, Olympic Air and Turkish Airlines. I'd have preferred to fly Munich-Istanbul on Turkish Airlines, but one-way flights were too expensive. So we decided to fly SunExpress to Istanbul-SAW for a reasonable price. I had already flown SunExpress in January, but I didn't mind too much about a second trip on that carrier. Then we added an Istanbul-Athens flight on Olympic Air and an Athens-Munich flight on Aegean Airlines, so I would get two new airlines in the end. The Aegean flight wasn't cheap, but the fare was still acceptable. Finally, we booked a room at an Istanbul city hotel and a room at an Istanbul airport hotel.
Monday, April 2011
Munich (MUC) - Istanbul (SAW)
SunExpress XQ877
Scheduled times: 14:15-17:45
Actual times: 14:20-17:49
Flight duration: 02:12 (hrs)
Distance: 1002 miles
Economy Class, seat 26C

Boeing 737-8HC
TC-SNO (s/n 3273)
Delivered in 05/2010
1st flight on TC-SNO
21st 737-800 flight
31st 737NG flight
56th 737 flight
The weather at MUC was beautiful on departure day, so
Satchmo
and I met at a spot near Terminal 1 where you have good views of planes taxiing to/from runway 08L/26R. I logged a few registrations and
Satchmo
took some pictures. Air France A320-212 F-GFKS in Skyteam colors:
Picture by Satchmo
SunExpress doesn't offer online check-in and we hadn't pre-reserved seats, so went back to Terminal 1 soon. Unfortunately, a long queue had already formed and we were stuck for the next 30 minutes. Finally, it was our turn. There were still plenty of seats in the rear section available and we chose row 26. After buying some more stuff, we lined up at passport control and security. We were stuck there for a while, but the situation was better than in January when I was heading to Adana:
Mountains, Meals & More: SunExpress Vs. Pegasus
Satchmo
had already found out some hours earlier that our flight would be operated by
TC-SNO
, one of a batch of six Boeing 737-800s delivered factory fresh in 2010. I had been hoping to get one of these birds after flying on a much older sister ship in January:
Picture by Satchmo
TC-SNO
is one of 25 737-800s in the SunExpress fleet:
Picture by Satchmo
A friendly female flight attendant welcomed us at the door, but two younger colleagues didn't consider it necessary to greet. The plane was equipped with new style leather seats which weren't more comfortable than the airline's older models: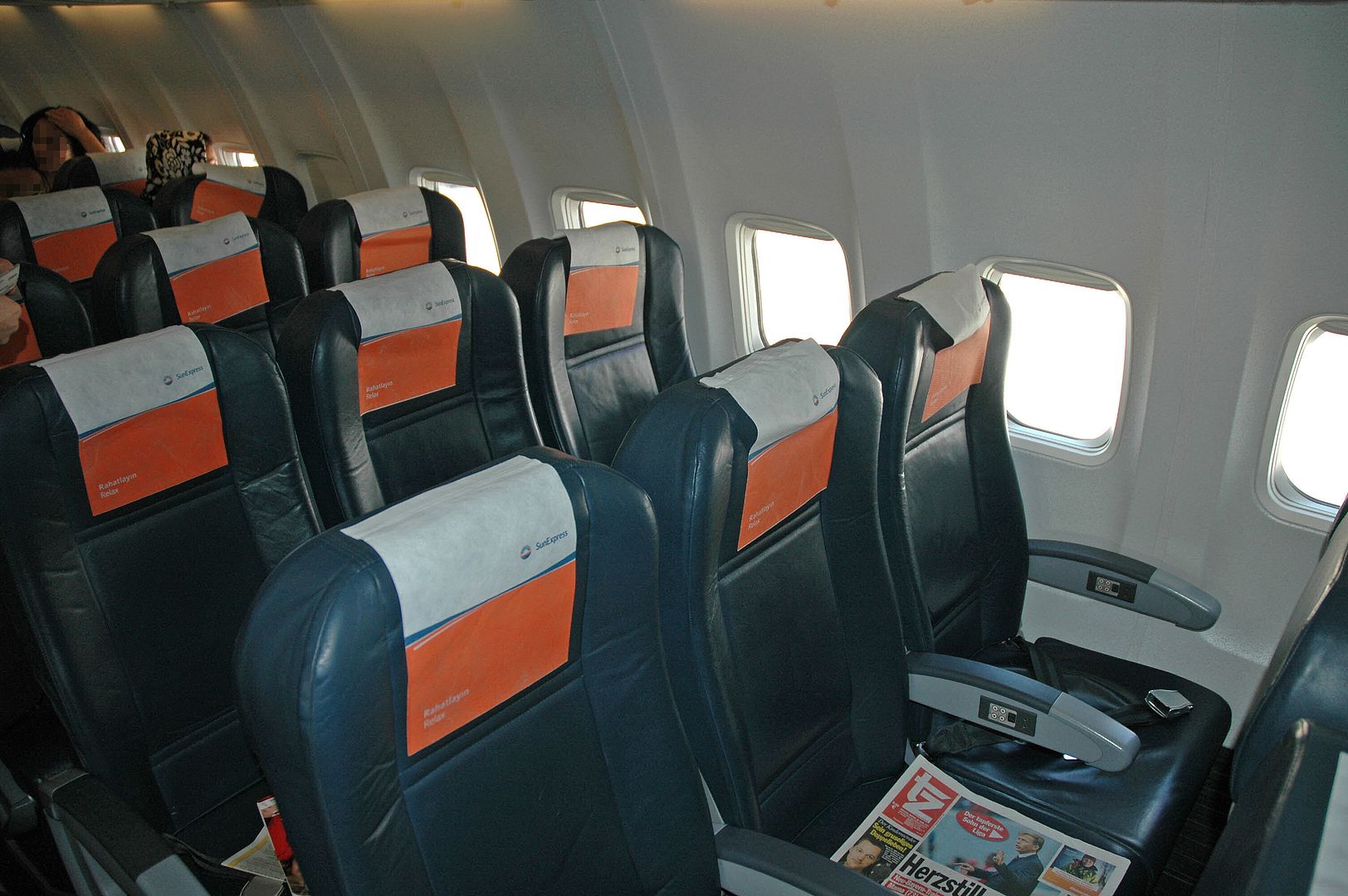 Picture by Satchmo
Seat pitch was just as tight: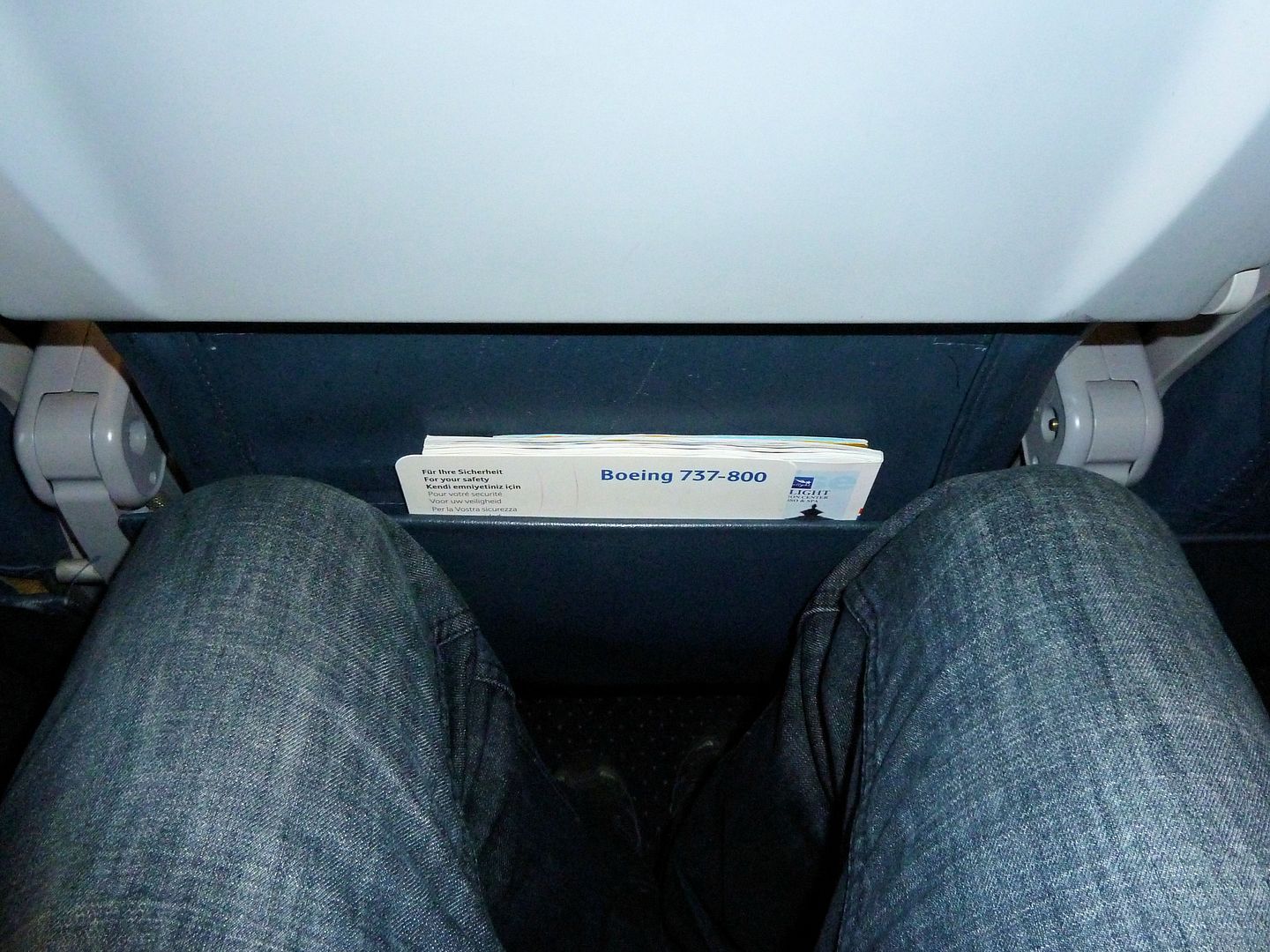 German and Turkish lifestyle and fashion magazines as well as tabloid papers had been placed on the seats throughout the cabin, but my favorite reading material was the inflight magazine. Here's the most interesting page: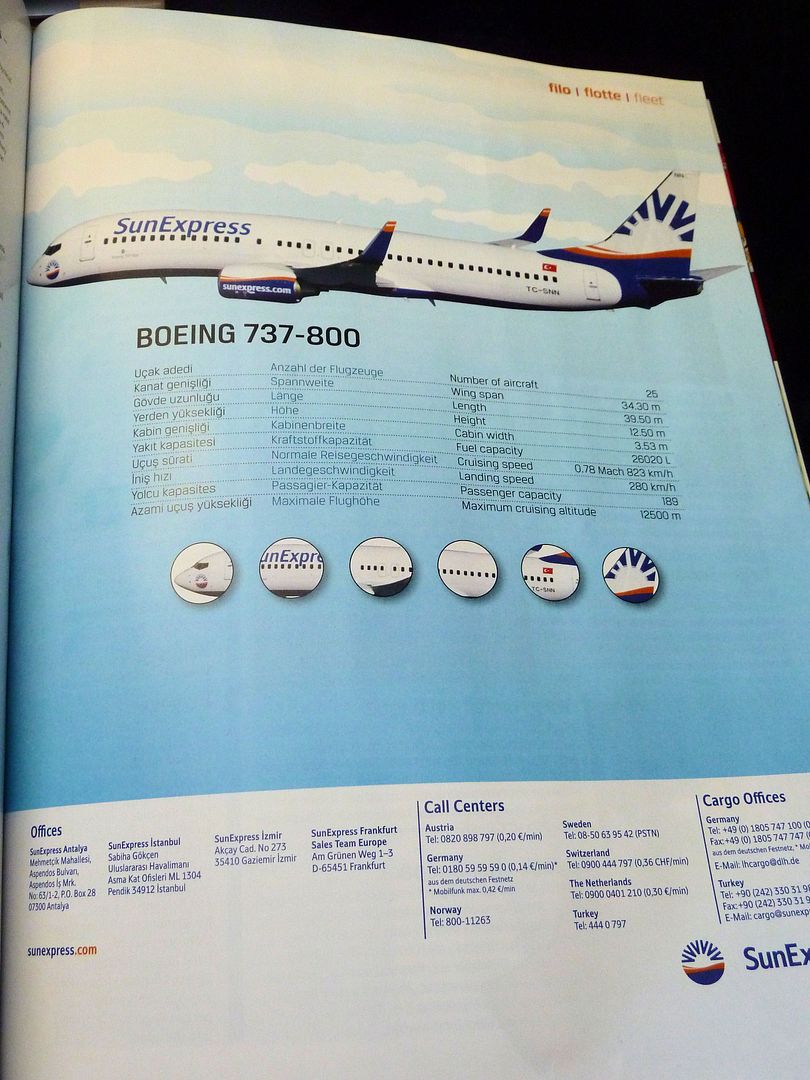 New generation airshow: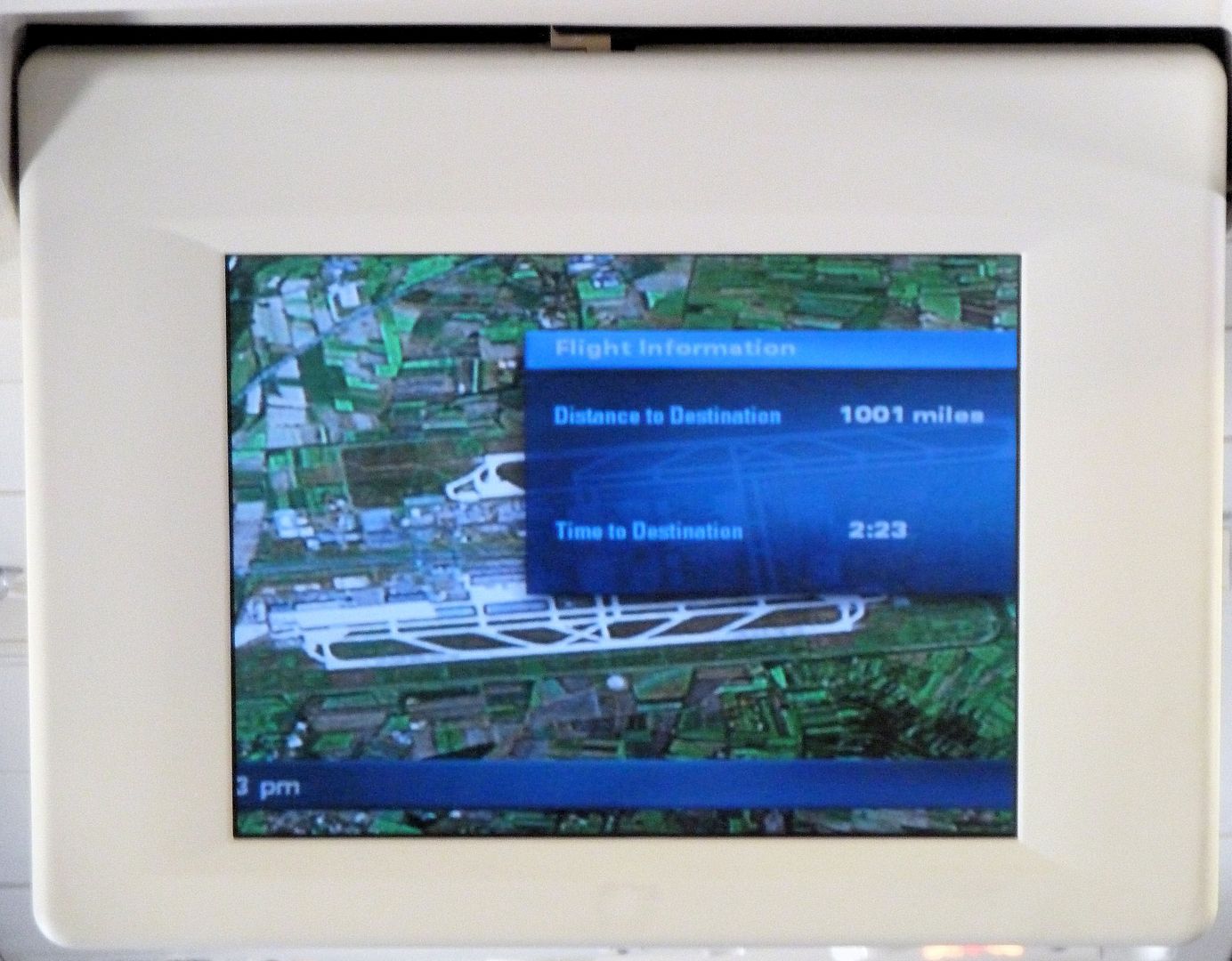 There were only nine open seats on the flight, according to the check-in agent - and one of them was the aisle seat in our row, so we could stretch out.
We left the gate five minutes behind schedule and taxied to runway 08R. Royal Jordanian A320 behind us: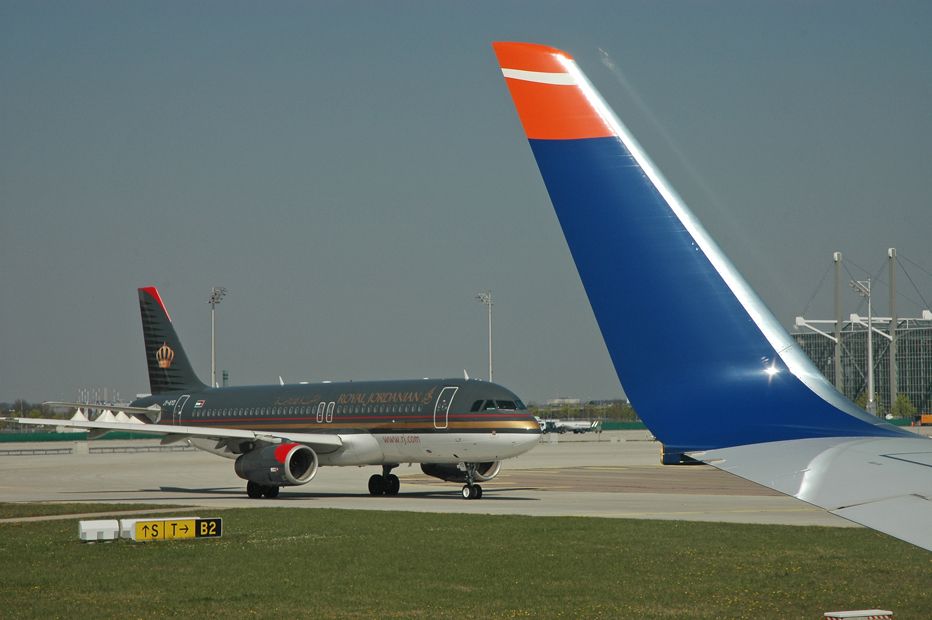 Picture by Satchmo
Goodbye MUC, goodbye good weather...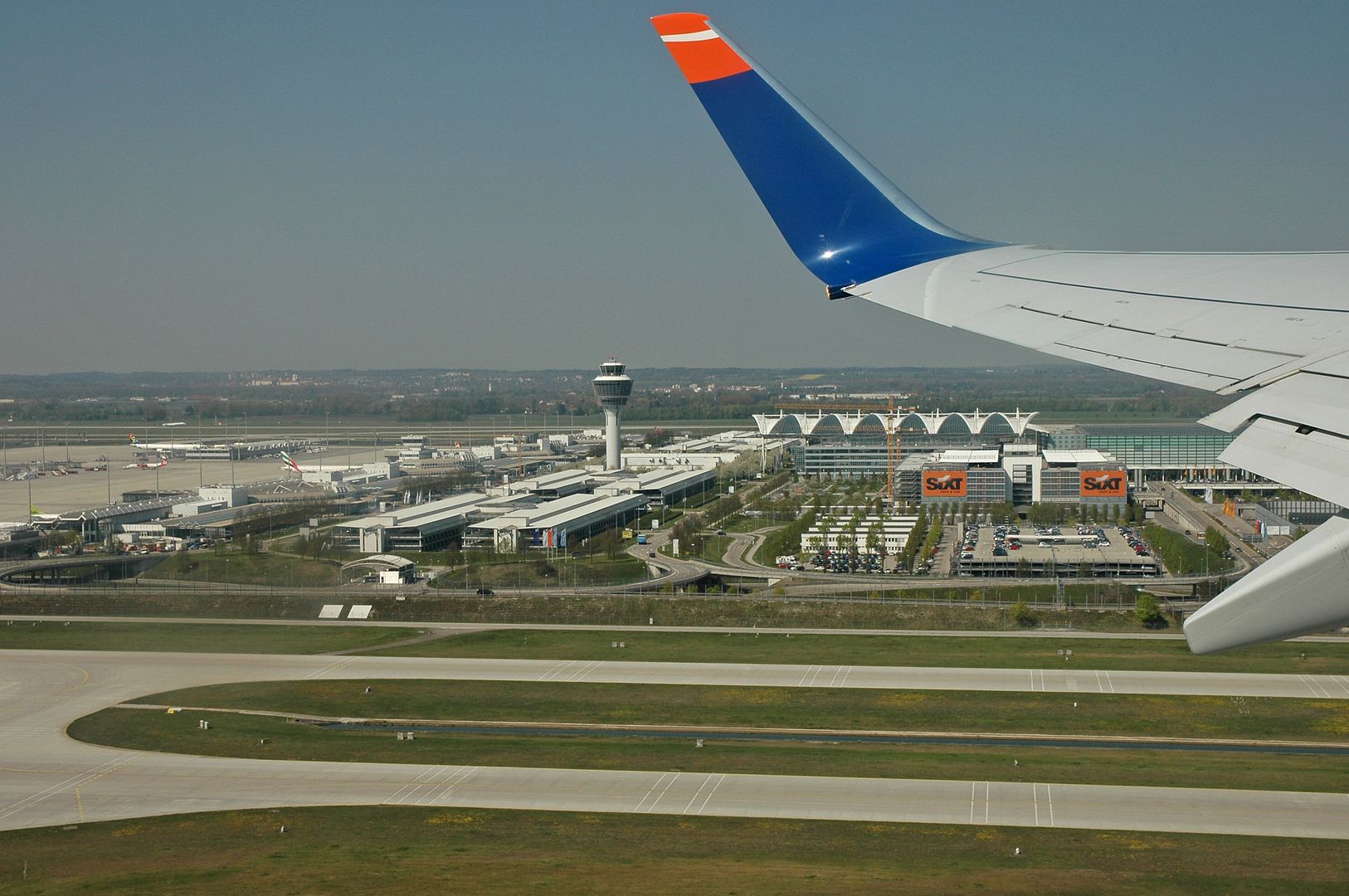 Picture by Satchmo
This is Lufthansa territory: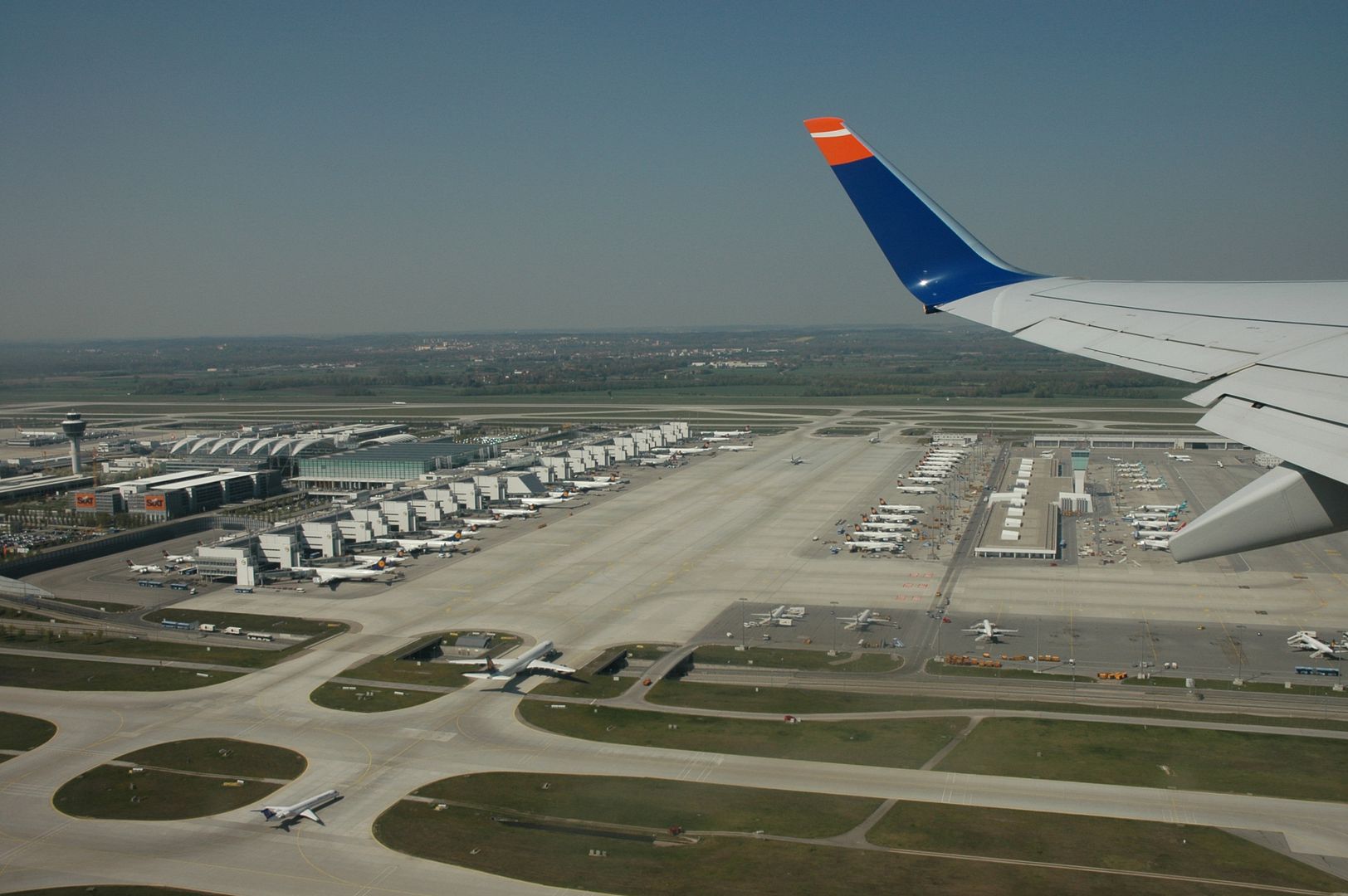 Picture by Satchmo
Beautiful Austrian scenery:
Picture by Satchmo
All those without a window could at least enjoy the 3D airshow: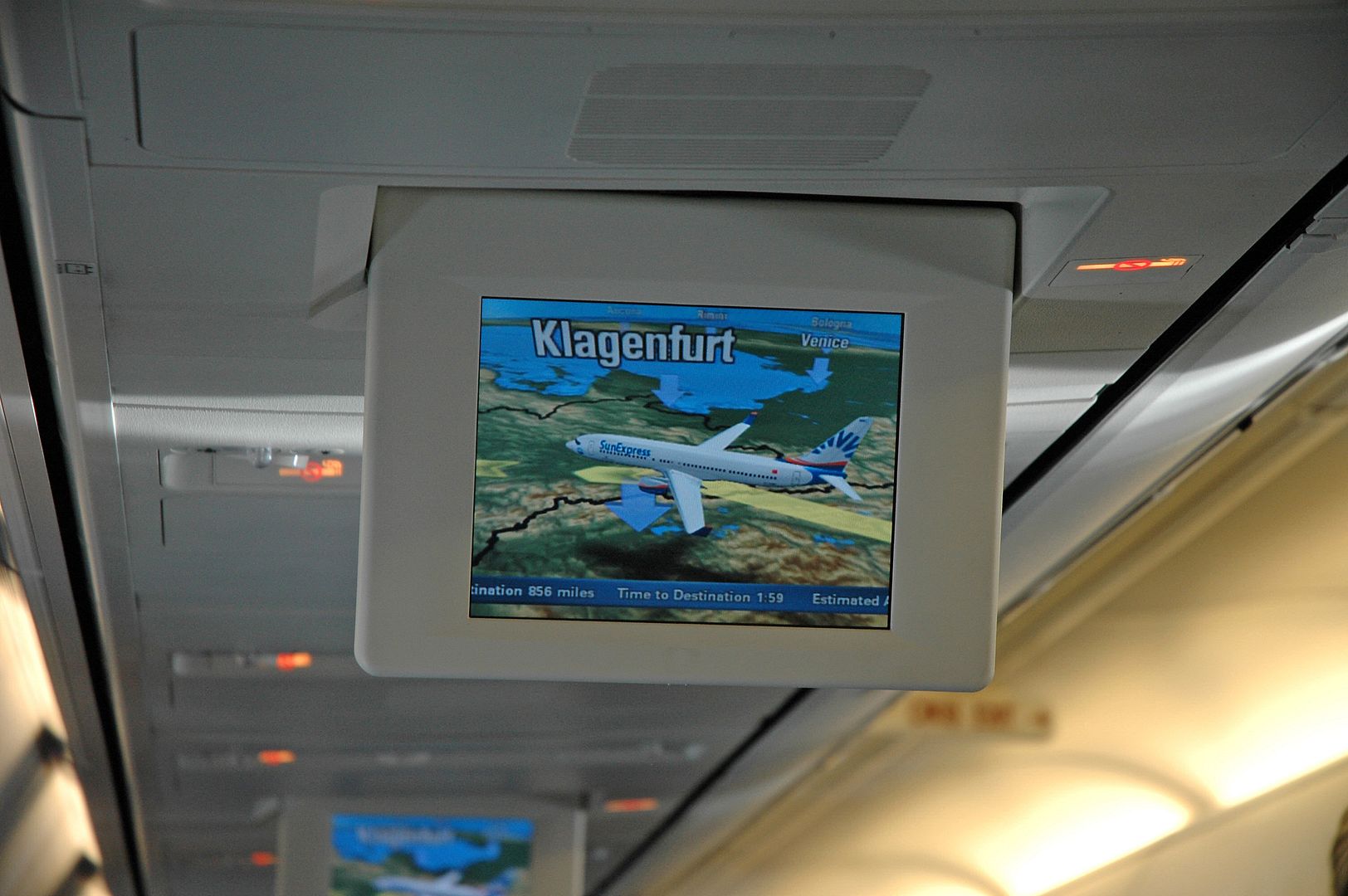 Picture by Satchmo
Half an hour after takeoff, non-alcoholic drinks and snack boxes were offered free of charge. The latter ones contained a warm bread roll, a slice of spice cake...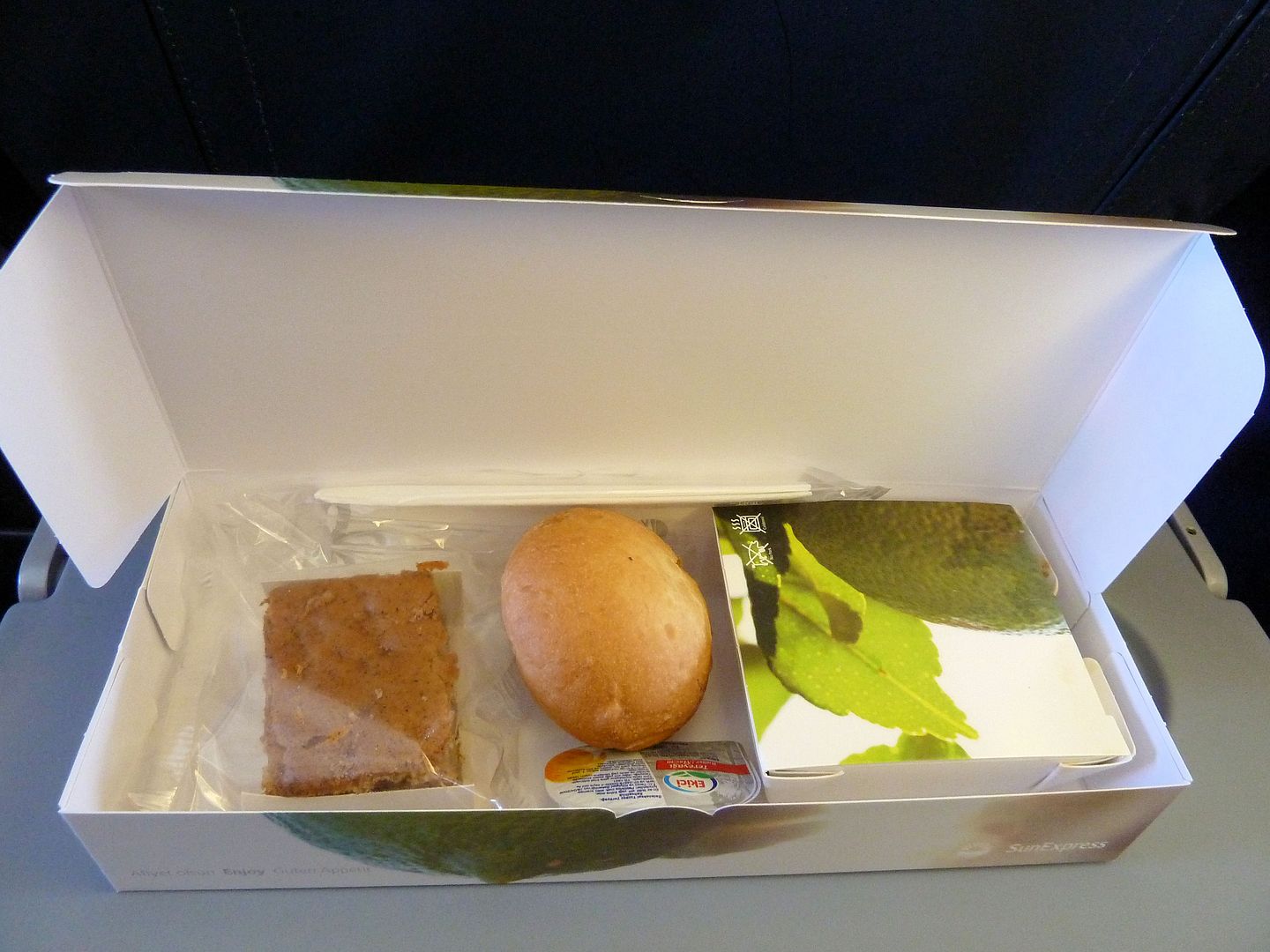 ...as well as pasta, chicken pieces and vegetable sauce: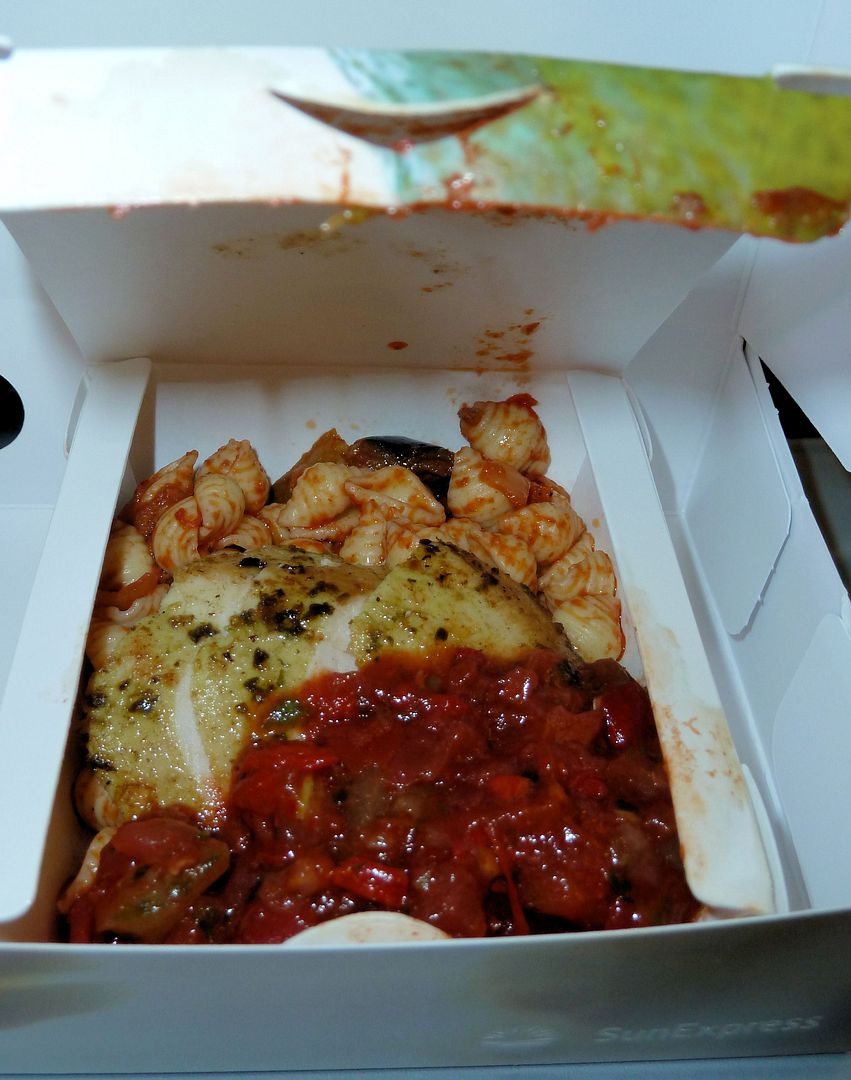 Unlike the curry chicken on my MUC-Adana flight, the main course was served cold this time, but it tasted very good, nevertheless. And the dessert tasted fine, too. Well done, SunExpress!
The cabin was packed: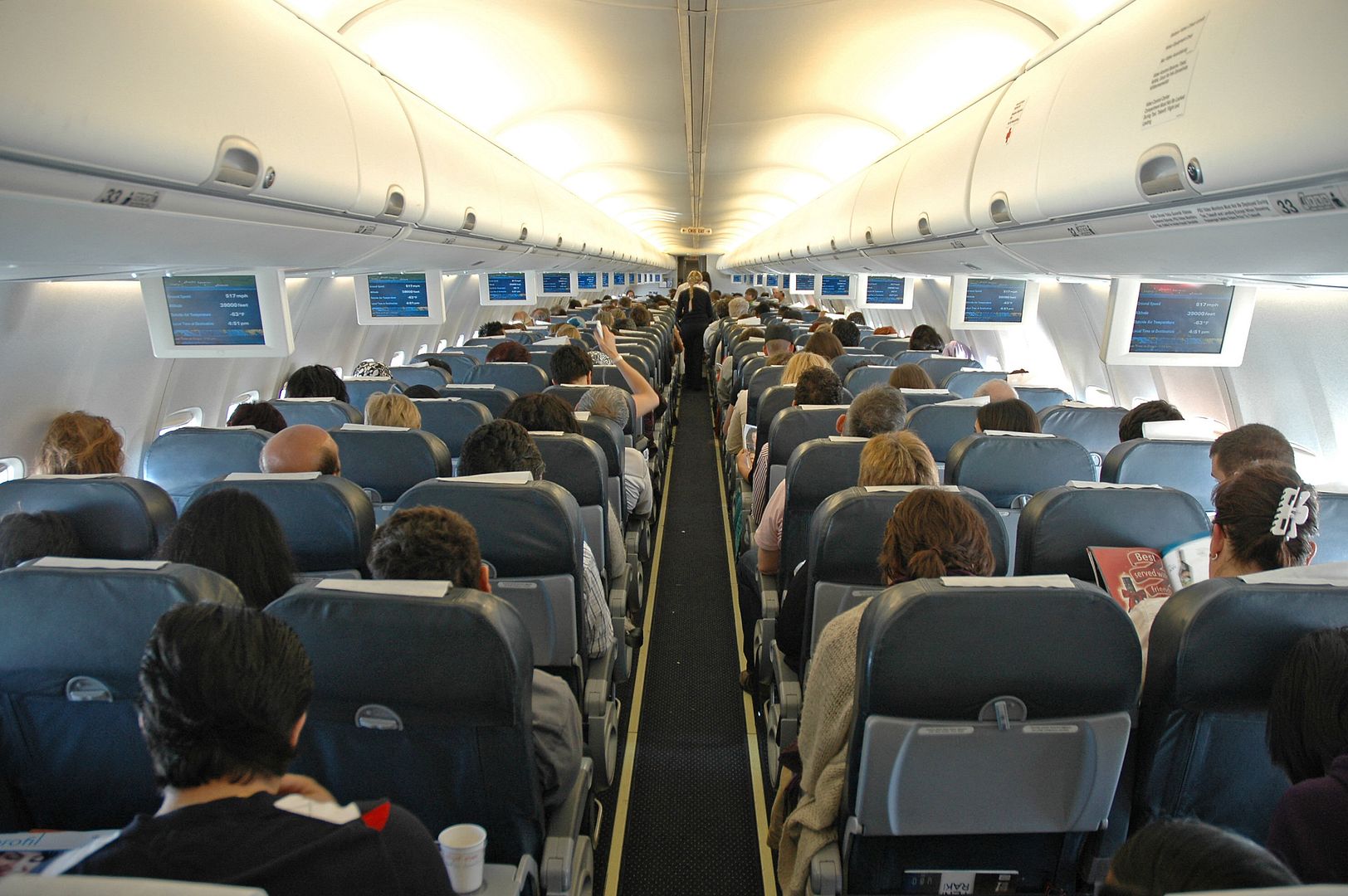 Picture by Satchmo
As forecasted, thick clouds were hanging over Turkey: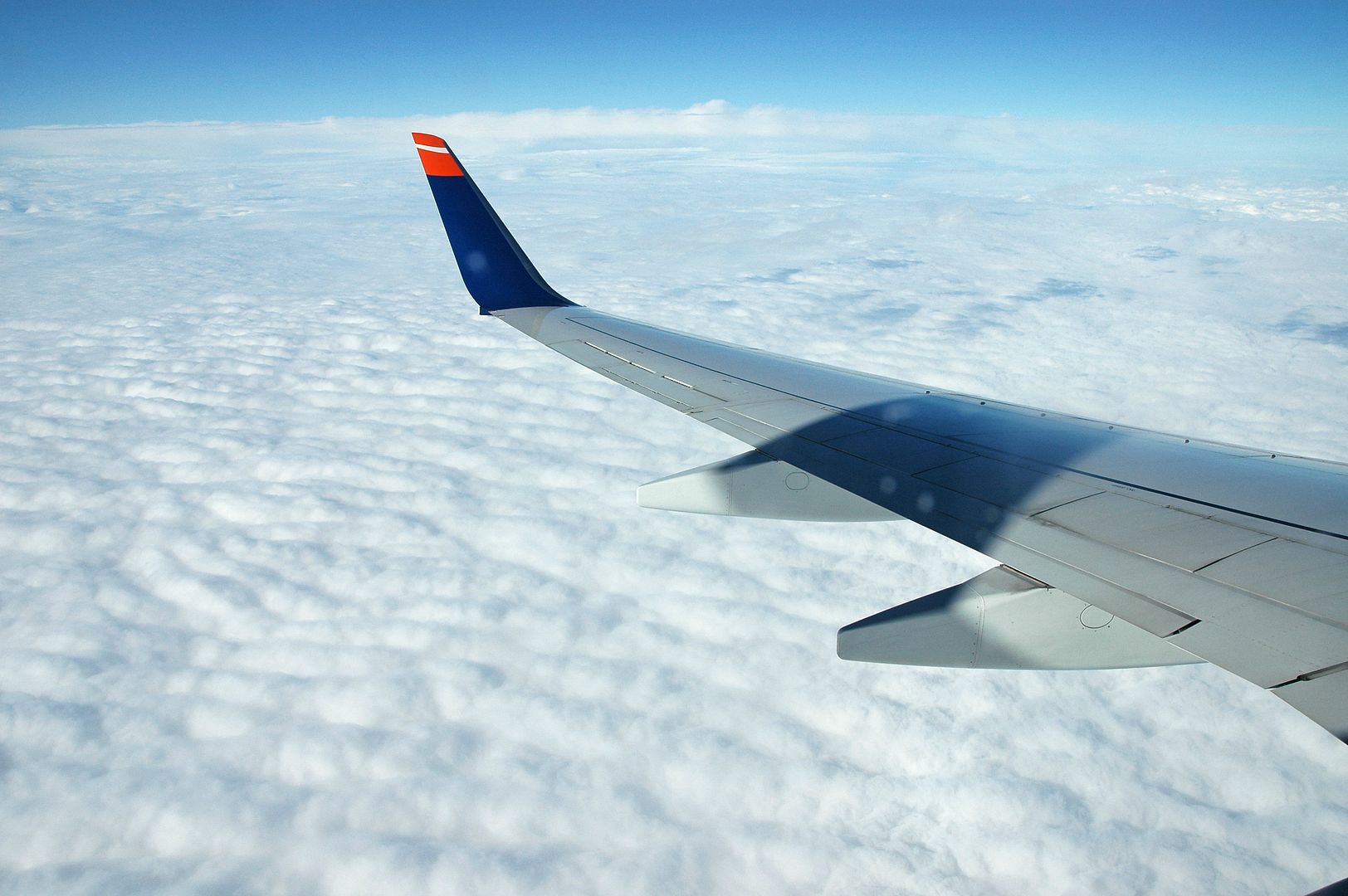 Picture by Satchmo
The weather was really nasty: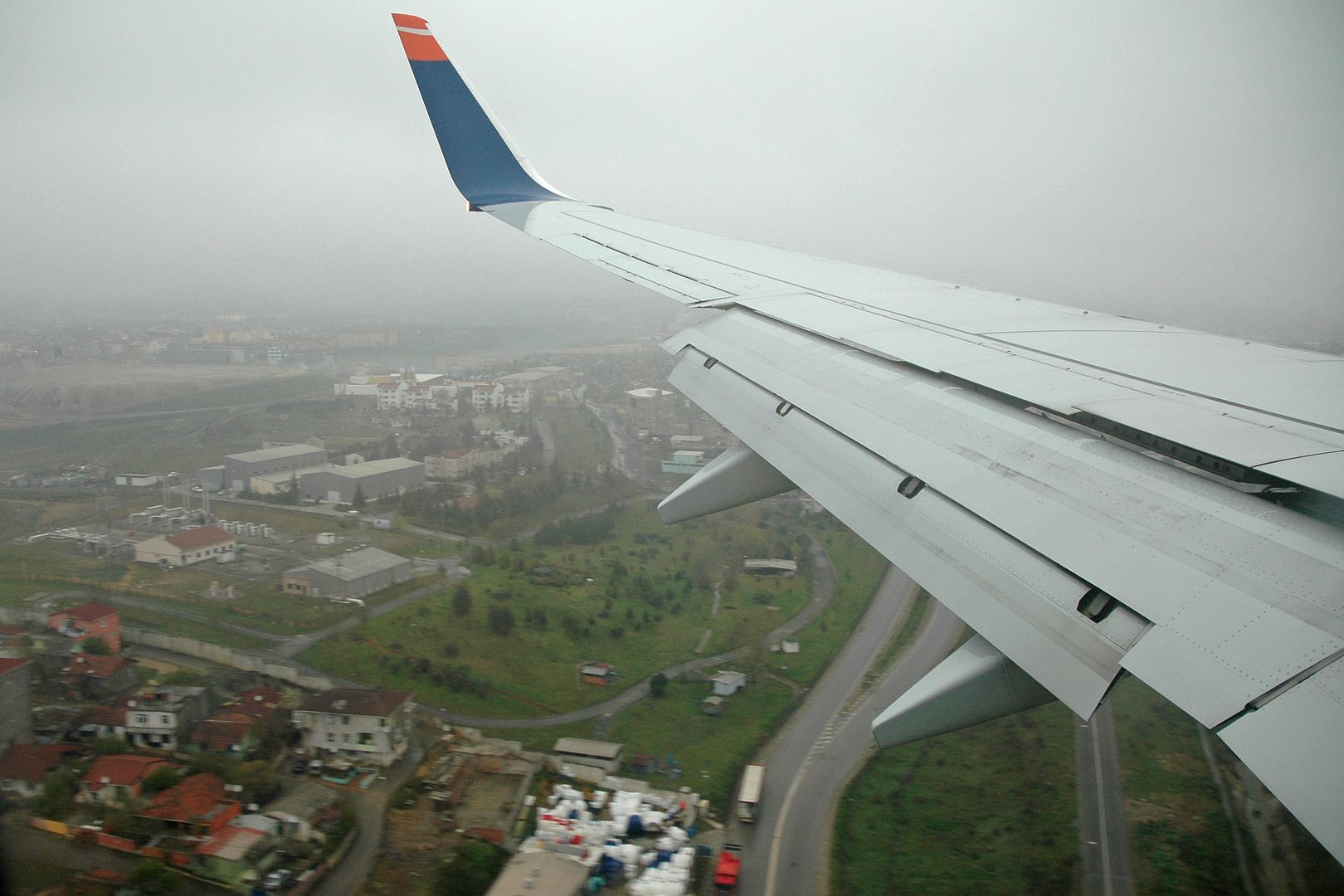 Picture by Satchmo
We touched down after a flying time of 2 hours and 12 minutes and many passengers started clapping...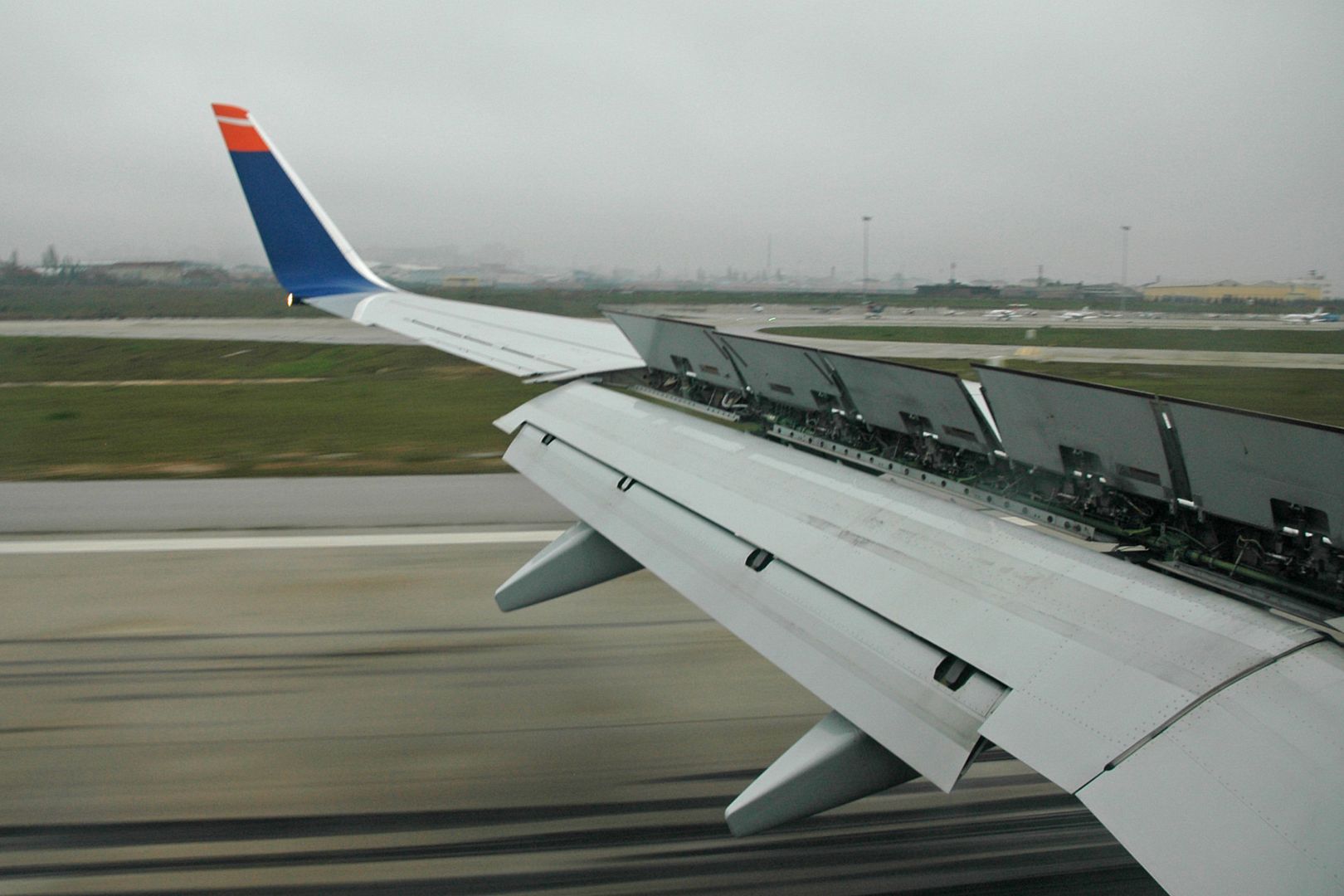 Picture by Satchmo
20 minutes after leaving the plane, we took a bus to
Taksim Square
in the heart of Istanbul. The ride usually takes 60 to 90 minutes, but due to heavy traffic we were stuck in the bus for more than two hours. It was still raining strongly when we got off and took a taxi to our hotel. The driver wasn't able to find it at first, but we finally arrived after he had asked a few people. The
Adora Hotel
is quite small, but the rooms were clean and the staff was very friendly and helpful.
Istanbul Spotting
After checking out on the next morning, we took a train to a station near Atatürk Airport. It was still raining, so we didn't try to find a spot under the approach path and instead took a taxi to the
Fly Inn
shopping mall where you have excellent views of landing and departing aircraft. However, the mall hadn't opened yet, so we went to the
Tarkim Flight Academy
where we were granted access to a kind of break room with terrace:
Students, teachers and other employees permanently walked in and out in order to smoke, but I didn't mind considering that I could log one registration after the other: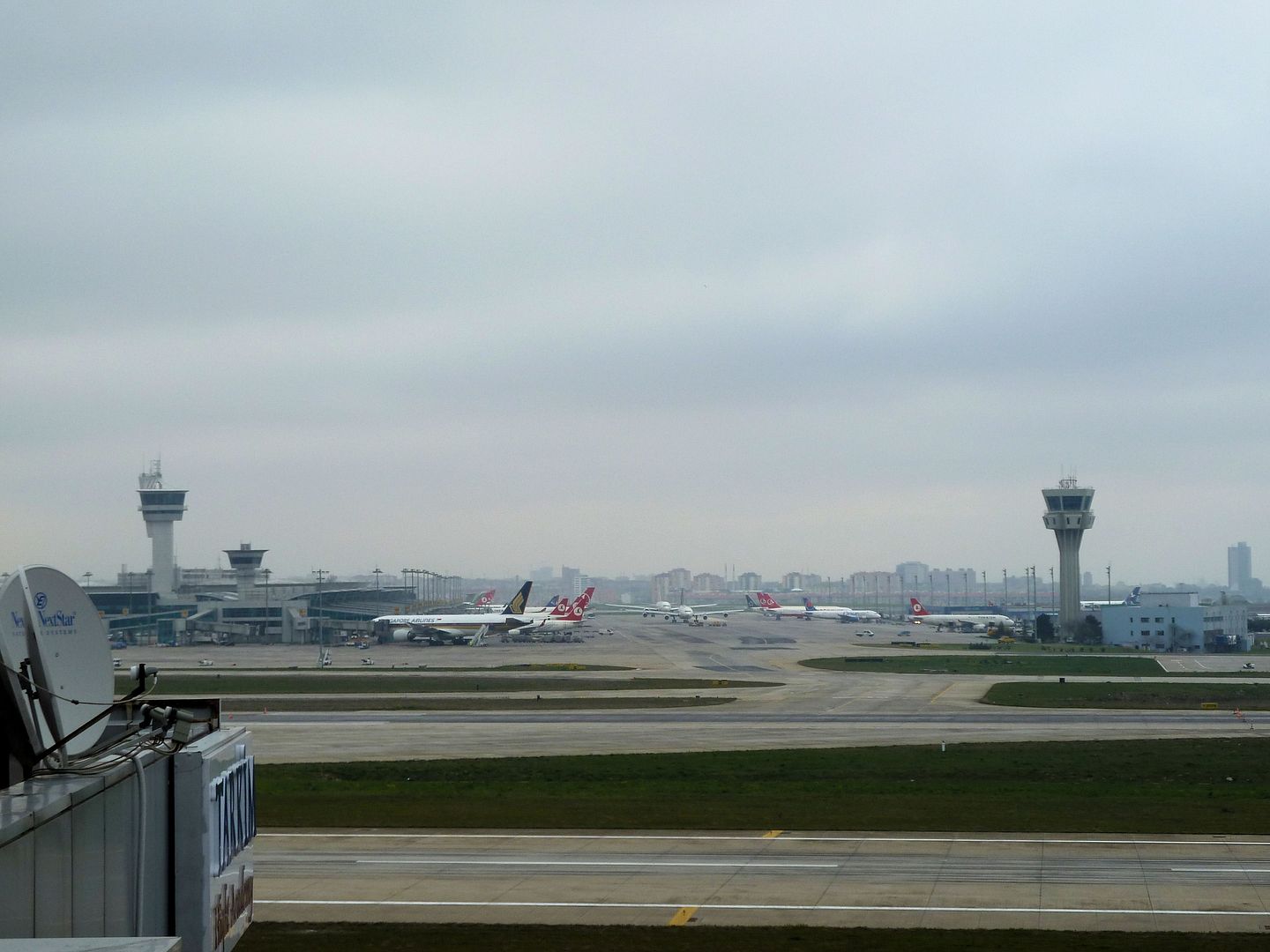 One of the newer Turkish Airlines Boeing 777-300ERs accelerating on runway 35L - magnificent plane, awesome sound:
At midday we walked back to the Fly Inn Mall where you find a nice terrace - unfortunately, it was too cold outside:
Picture by Satchmo
Let's zoom in a bit: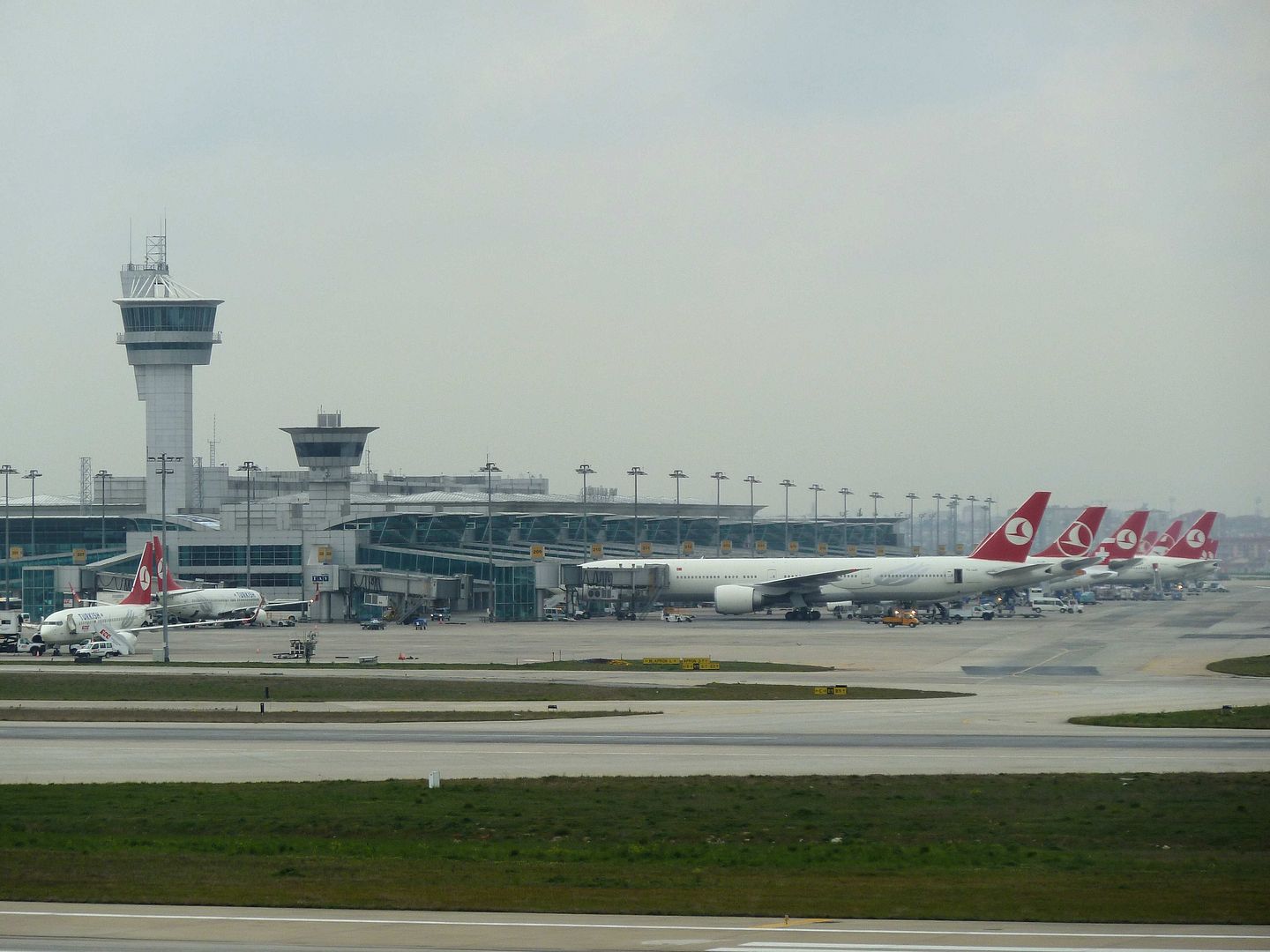 We sat down at a table inside - next to the glass front of course - and had lunch. Numerous self-service restaurants offer something for every taste. Here's my dessert - raspberry chocolate cake:
The weather remained quite bad all day, but
Satchmo
still managed to take many great pictures. Turkish Airlines Boeing 777-3F2ER TC-JJI waiting for takeoff clearance: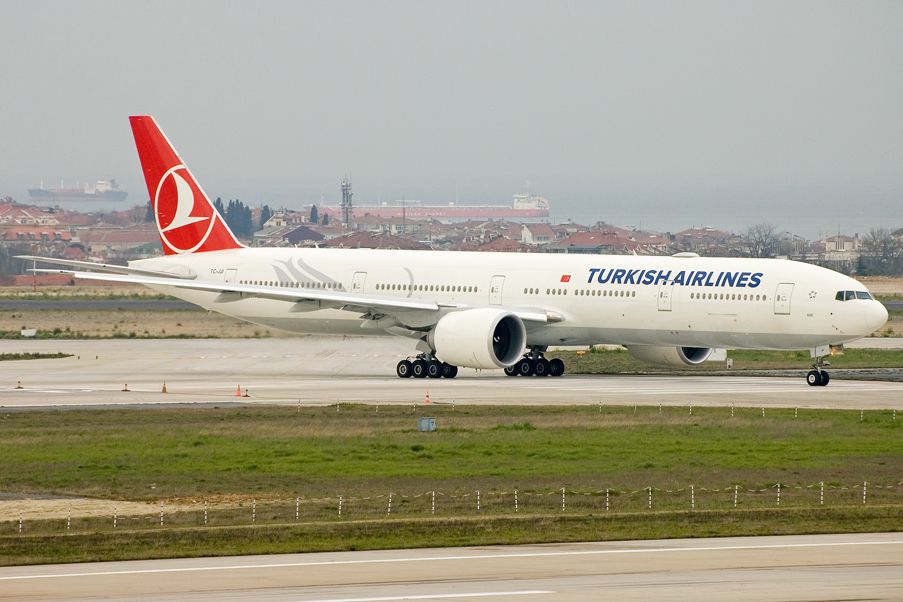 Picture by Satchmo
Turkish Airlines A330-343E TC-JNH - well known to fellow trip reporter
717Flyer
: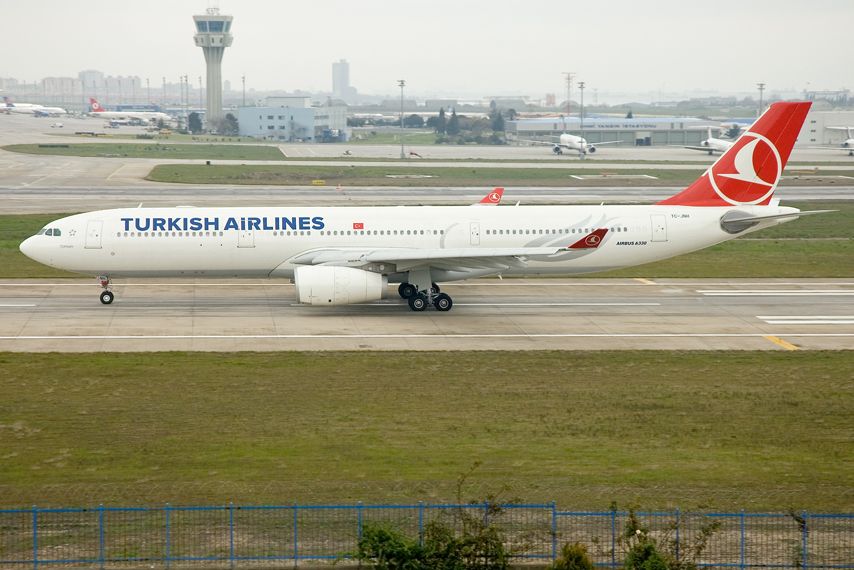 Picture by Satchmo
Turkish Airlines Boeing 737-8F2 TC-JHF in
FIBA 2010
colors: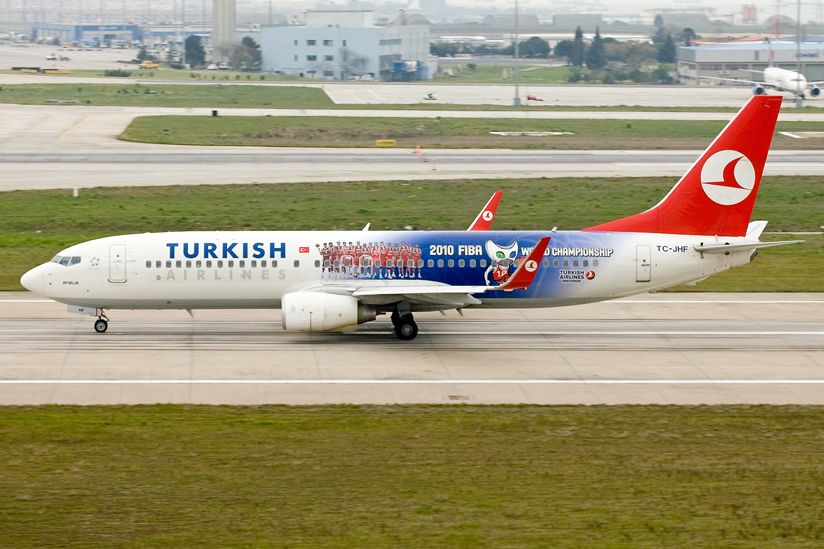 Picture by Satchmo
Atlasjet A321-131 TC-ETN: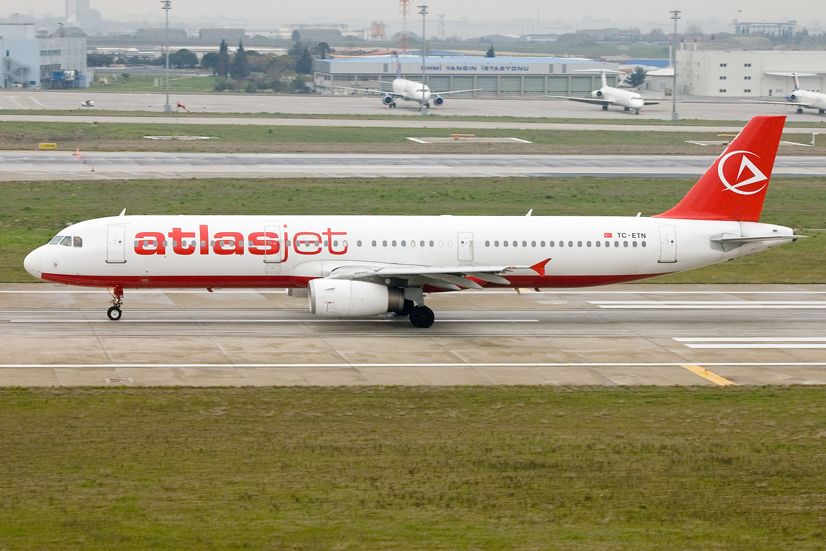 Picture by Satchmo
Azerbaijan Airlines A320-214 4K-AZ79, formerly operated by Air Berlin as D-ABDJ: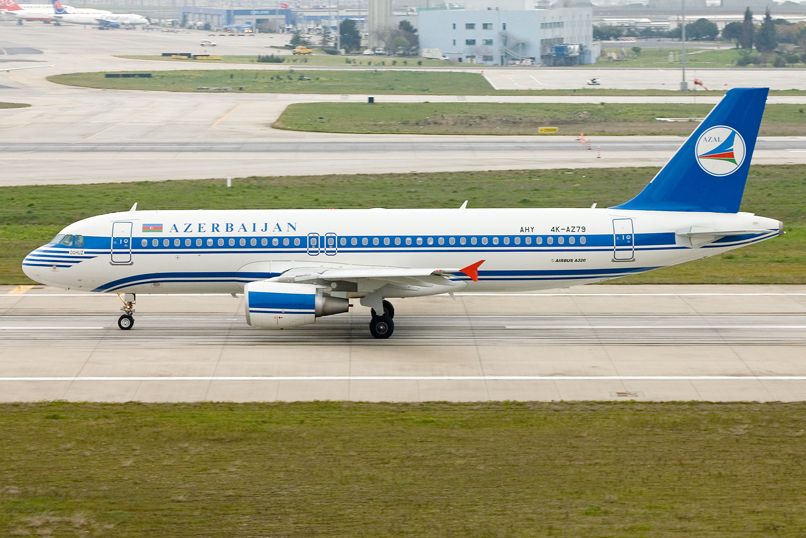 Picture by Satchmo
LOT (Charters) Boeing 737-4Q8 SP-LLL: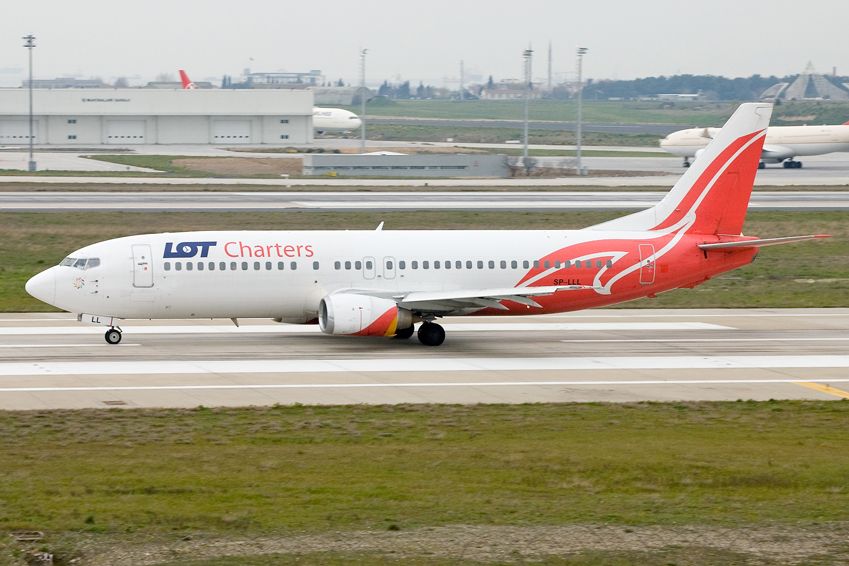 Picture by Satchmo
Qatar Airways A321-231 A7-AIB: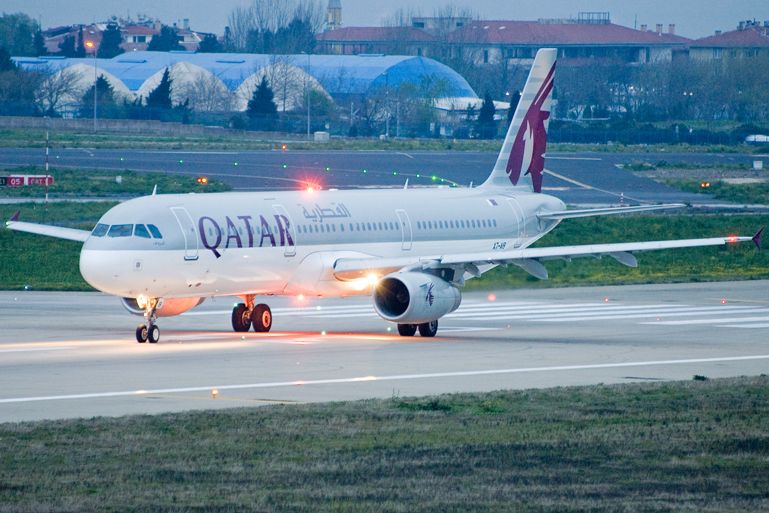 Picture by Satchmo
I logged a total of 113 new registrations until sunset (71 ones belonging to Turkish Airlines) which was a very good result. After having dinner, we took a taxi to the (average)
WOW Airport Hotel
.
Wednesday, April 2011
Istanbul (IST) - Athens (ATH)
Olympic Air OA316
Scheduled times: 10:35-11:55
Actual times: 10:28-11:49
Flight duration: 00:54 (hrs)
Distance: 334 miles
Economy Class, seat 27A

Airbus A320-214
SX-OAU (MSN 4193)
Delivered in 02/2010
1st flight on SX-OAU
37th A320 flight
68th A32X flight
114th airline
One the next morning we took the hotel shuttle to the airport about 2.5 hours before departure. After our luggage had been screened, we found out that the Olympic Air counters were still closed, so we took a seat in a corner of the check-in hall. While waiting there, we noticed a large, high quality backpack which someone had apparently left unattended. We asked all the people around us, but nobody turned out to be the owner. That was strange - and after a short discussion we decided to report it to somebody. Even though all bags get screened at the terminal entrance, you can never be sure, can you?
We didn't see a police officer or other officials anywhere around us, so I went to the nearest ticket counter. I told a male sales agent about the unattended backpack, but he didn't show any interest and just suggested that we should go to an information desk.
So we started walking to the other side of the building and soon passed some of the entrance security checkpoints. A young female screener was watching the proceedings at a checkpoint and I took this opportunity to tell her about the situation. However, she didn't show any interest either and just said that we should go to an information desk.
Two minutes later, we finally arrived at such a desk. It was
Satchmo's
turn this time, but guess what! Both ladies gave the impression that they really couldn't care less and just suggested that we should go to a police office on the other side of the terminal.
Well, honestly, we were pissed off now.
"This is the third time that we are sent away!"
,
Satchmo
said and I added:
"This is a security issue!"
Finally, one of the ladies called somewhere and then she said:
"It's okay, the police will check."
Of course we offered to wait for the officers so that they would be able to find the backpack immediately, but the lady declined and said that this wasn't necessary. Anyway, we decided to wait for the police near the backpack.
So what did happen? Nothing at first. When we came back to the seating area, the backpack still hadn't been removed and police officers hadn't shown up either. The Olympic Air counters had meanwhile opened and we decided to line up, because we would be able to watch the seating area from there. Some minutes later, a man quickly approached the backpack, grabbed it and disappeared. I guess he was the owner and I can only wonder why he had left his belongings there. Shortly afterwards, about 15 minutes after the phone call, two police officers showed up, slowly walked around the seating area and disappeared again soon.
Luckily, it turned out to be false alarm, but all these airport employees and the police have reacted absolutely unprofessionally. Turkey has been facing terrorism for a long time, so unattended bags at public places should be taken serious at any time. Relying on the security checkpoints at the terminal entrance is not enough, in my opinion.
Anyway, only few people had lined up in front of us, so a friendly male agent soon handed out our boarding passes. We had asked for seats in the second last row and got 26A and 26B. Unfortunately, airside spotting options are limited because only passengers of the very flights have access to the individual gates. Shortly after our gate had been opened,
SX-OAU
arrived from Athens: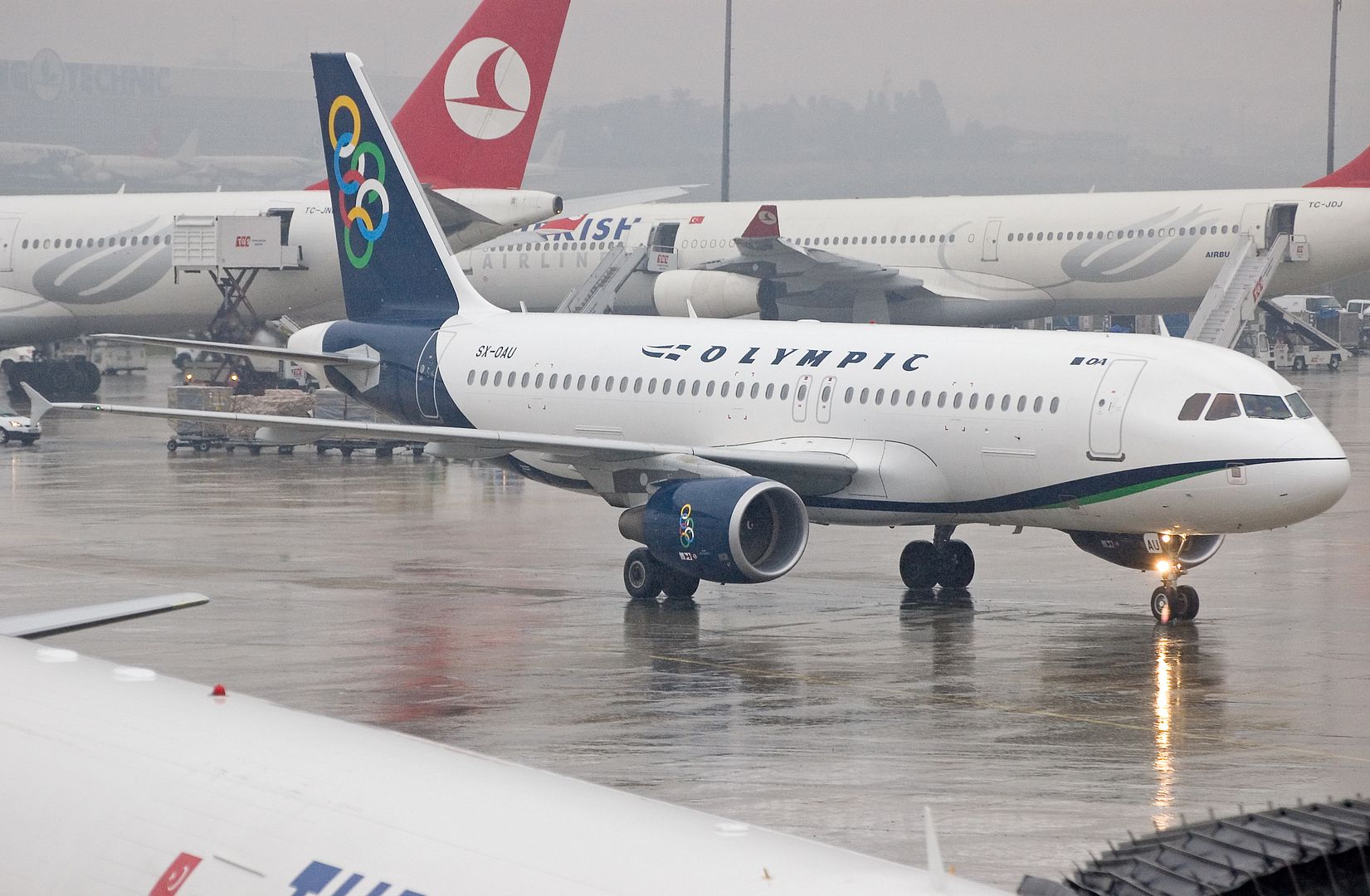 Picture by Satchmo
SX-OAU
, delivered factory fresh in February 2010, is one of five A320s in the fleet: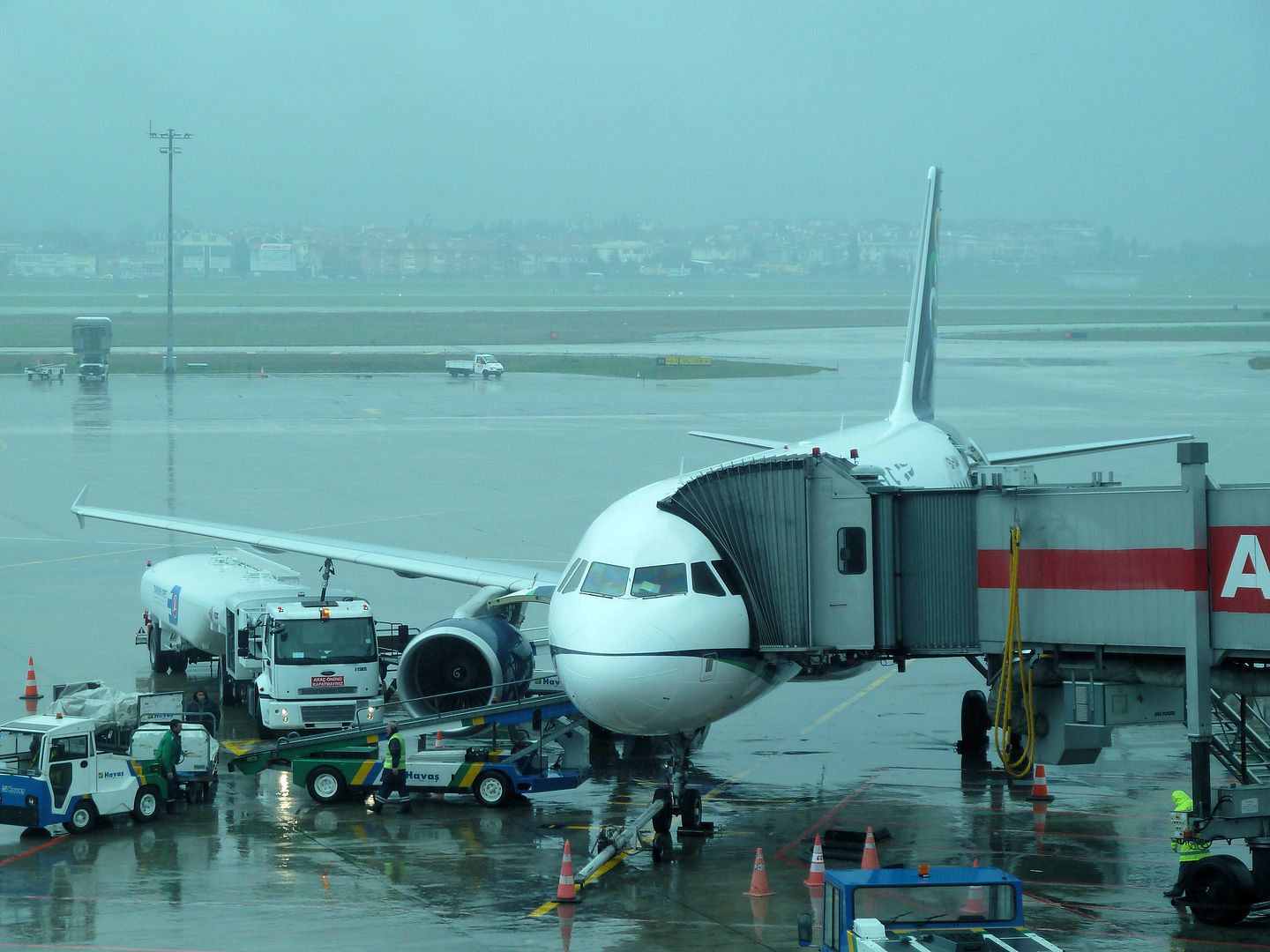 A female flight attendant in the 30s, apparently the purser, received us at the door with a warm smile.
"Hello, welcome aboard, sir!"
, she said and I was impressed.
The gray fabric seats already looked a bit worn, but they were quite comfortable: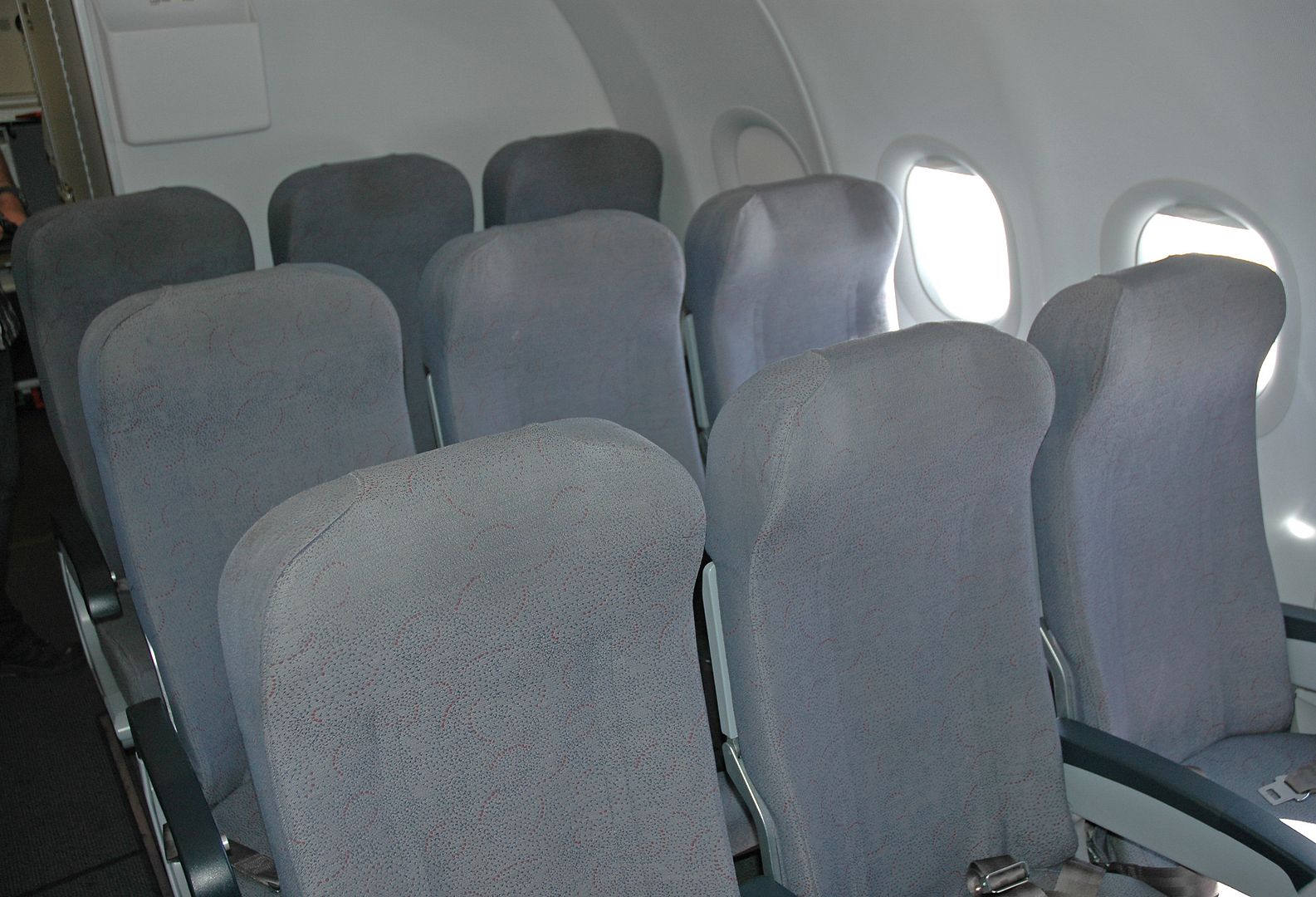 Picture by Satchmo
Legroom was sufficient, too: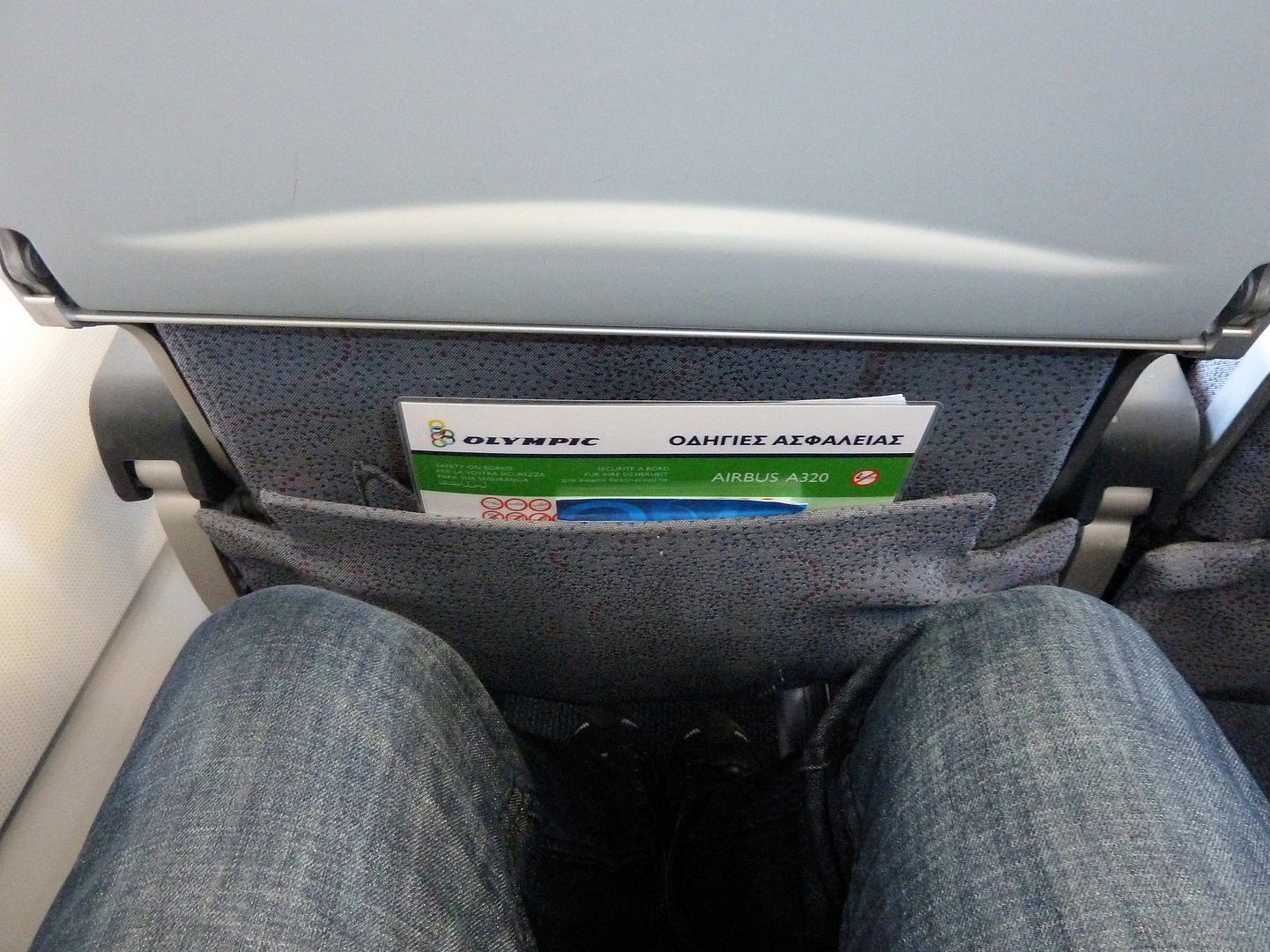 Inflight magazine: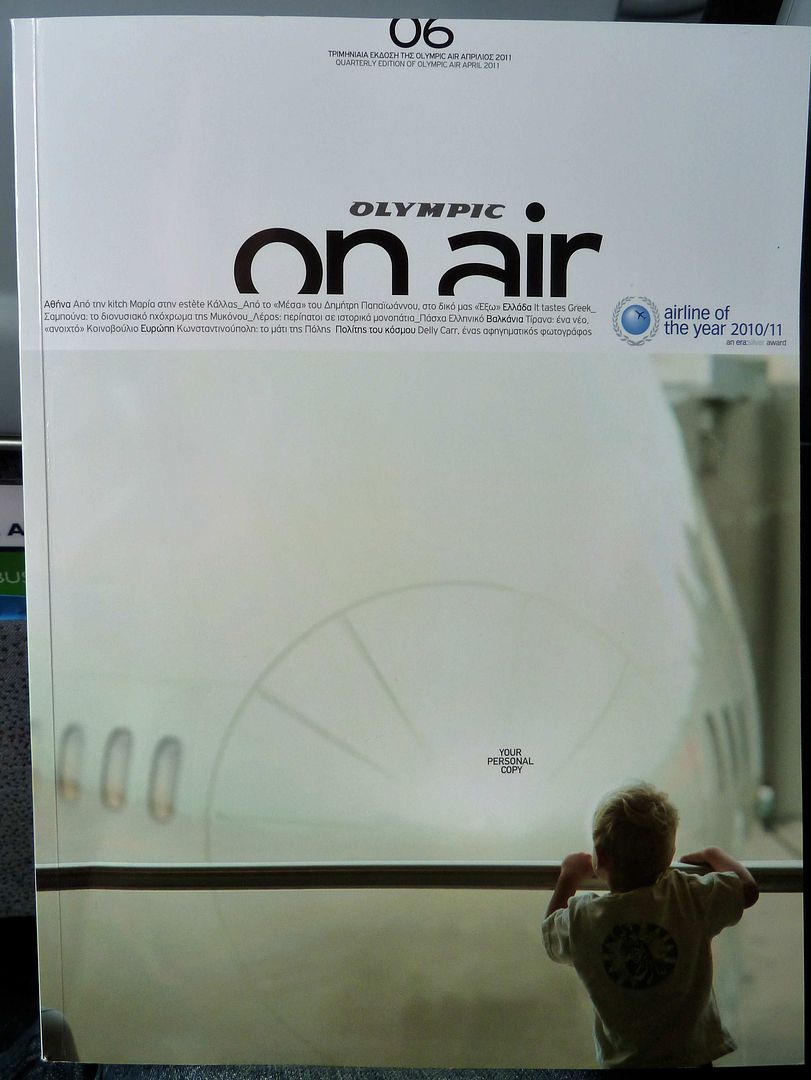 After all passengers had taken their seats, another friendly female flight attendant walked down the aisle with a basket and offered candies. I asked her if boarding had been completed and if I could move to the window seat in the empty last row.
"Yes, of course!"
, she replied with a smile.
The captain made a short announcement which included a
"warm welcome"
. Btw, if I have understood correctly, his name was
Metaxa
.
SX-OAU
left the gate seven minutes ahead of schedule, taxied to runway 17R...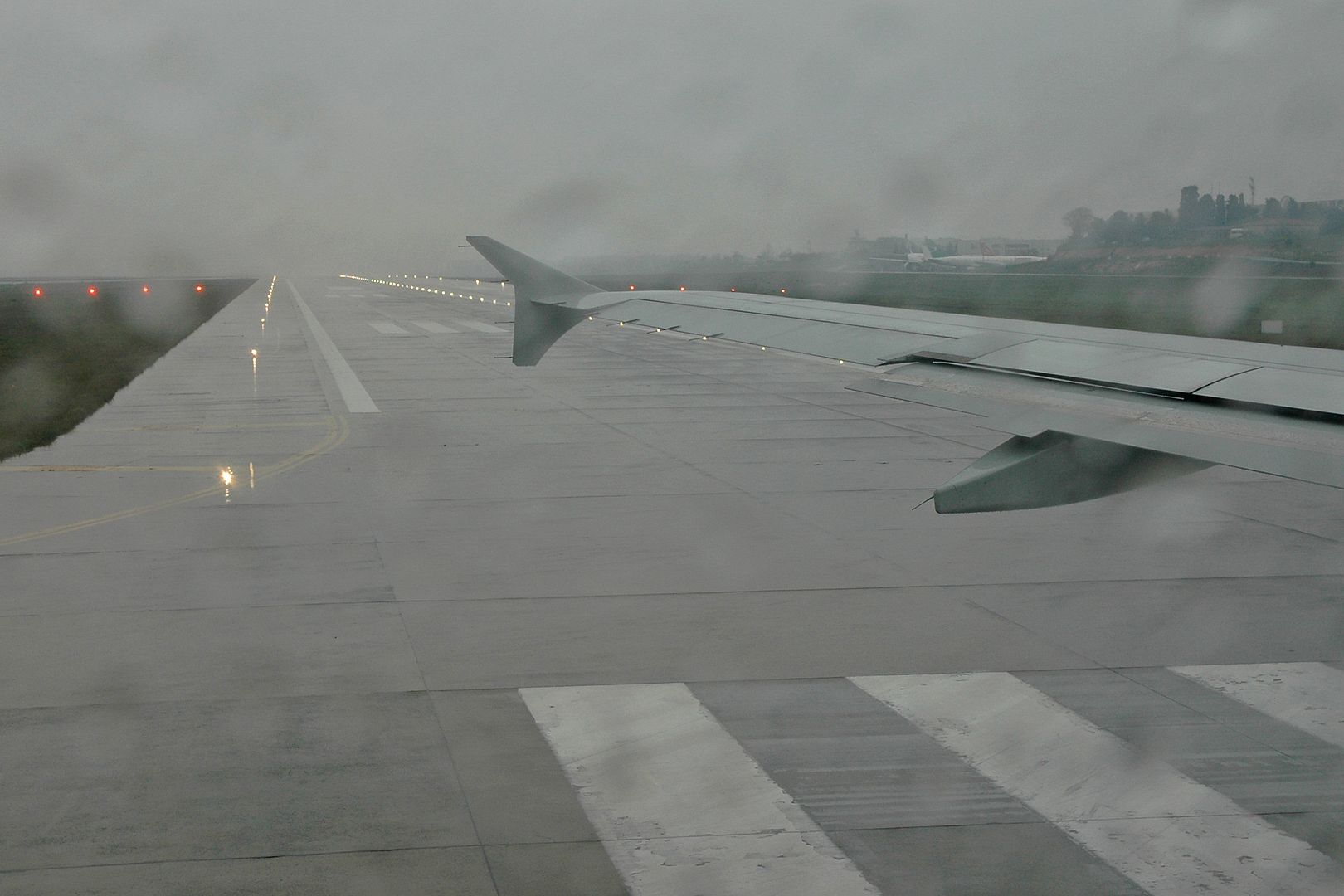 Picture by Satchmo
...and climbed out into a gray, rainy sky: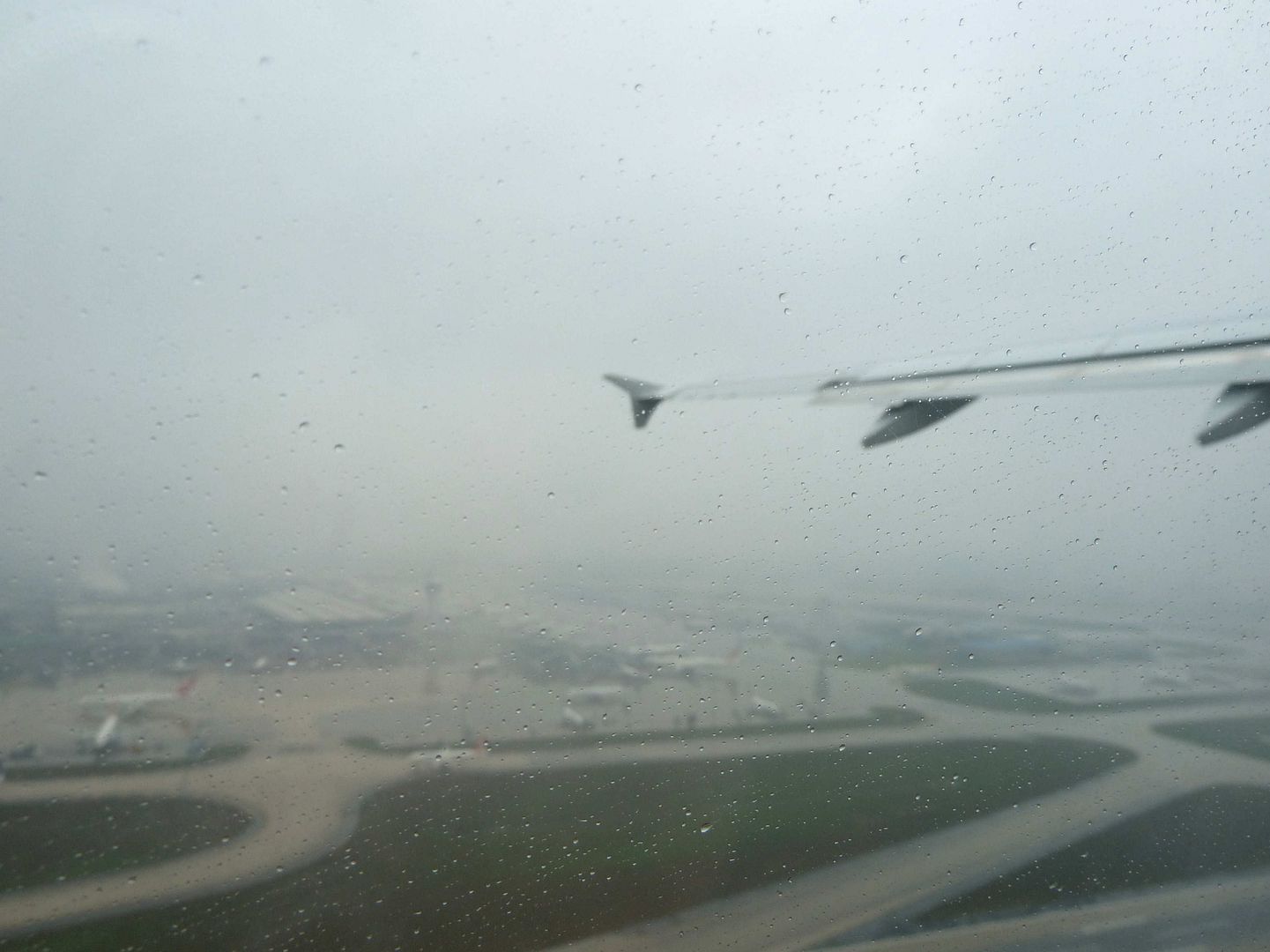 Unlike the purser, the other flight attendants didn't wear a jacket. Interestingly, their dresses were sleeveless - I had never seen a uniform like that. Actually it looks quite sexy: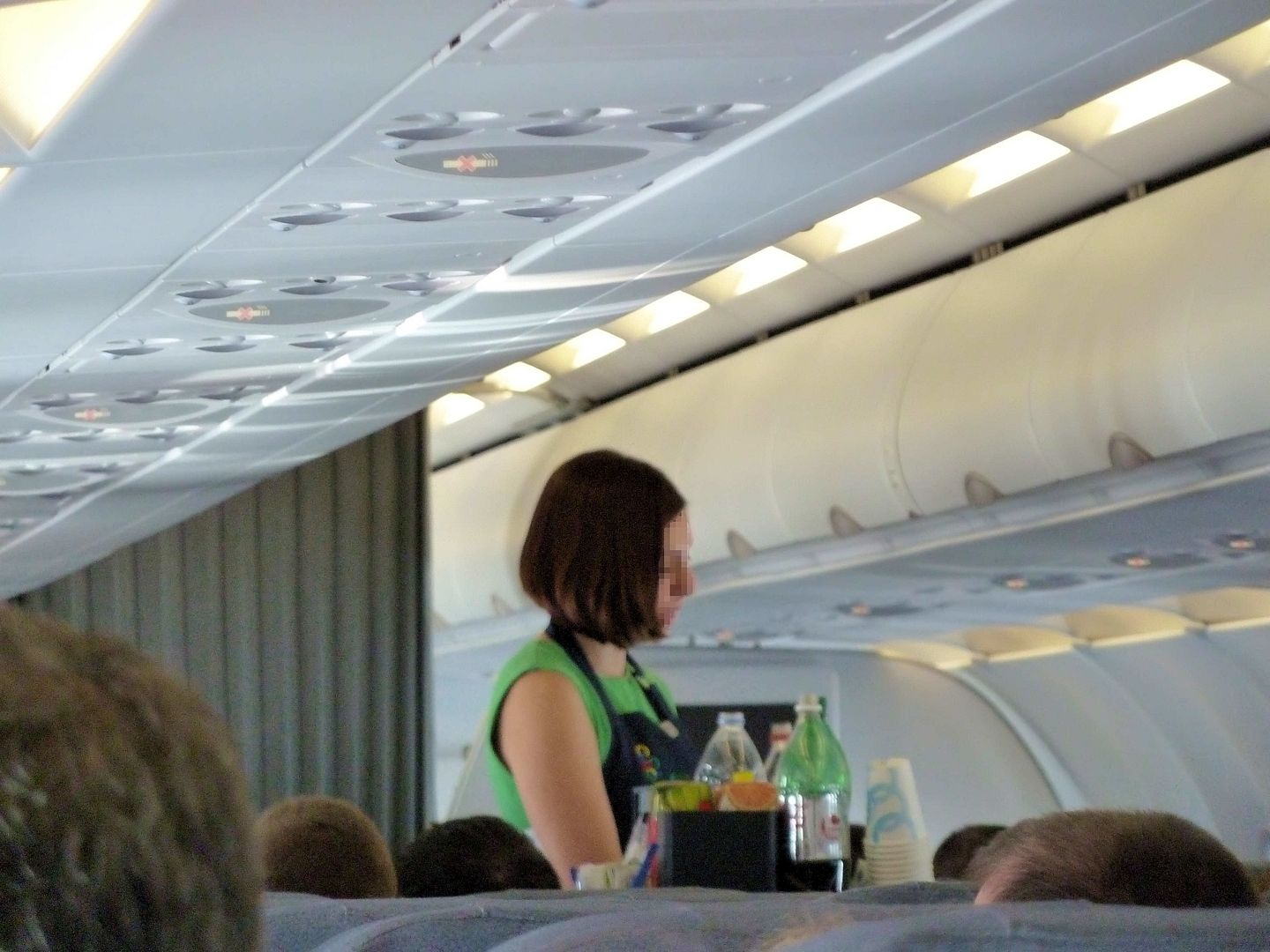 The friendliest flight attendants in the team (the one in the picture above) soon handed out a tray with a nice cold meal and even said
"Enjoy!"
I hadn't expected to get so much on that short flight:
The salad (with dressing) and the chicken and cheese sandwiches tasted good, even though I found a piece of chicken bone. However, the (very sweet) dessert consisting of chopped and caramelized nuts wasn't to my taste.
I asked for a beer and the same flight attendant (the one in the picture above) offered two different ones. After I had failed to understand the brand names for the second time, she quickly grabbed two cans from the trolley and showed them to me. Amstel or Fischer? I chose the latter:
French beer on a flight between Istanbul and Athens on a Greek carrier? Well, the Fischer brewery was taken over by Heineken in 1996 which helps to explain the brand's distribution. It tasted okay, but I'd have preferred a Greek beer.
Satchmo's
cabin shot reveals numerous empty seats:
Picture by Satchmo
Descent commenced shortly after the flight attendants had finished their service: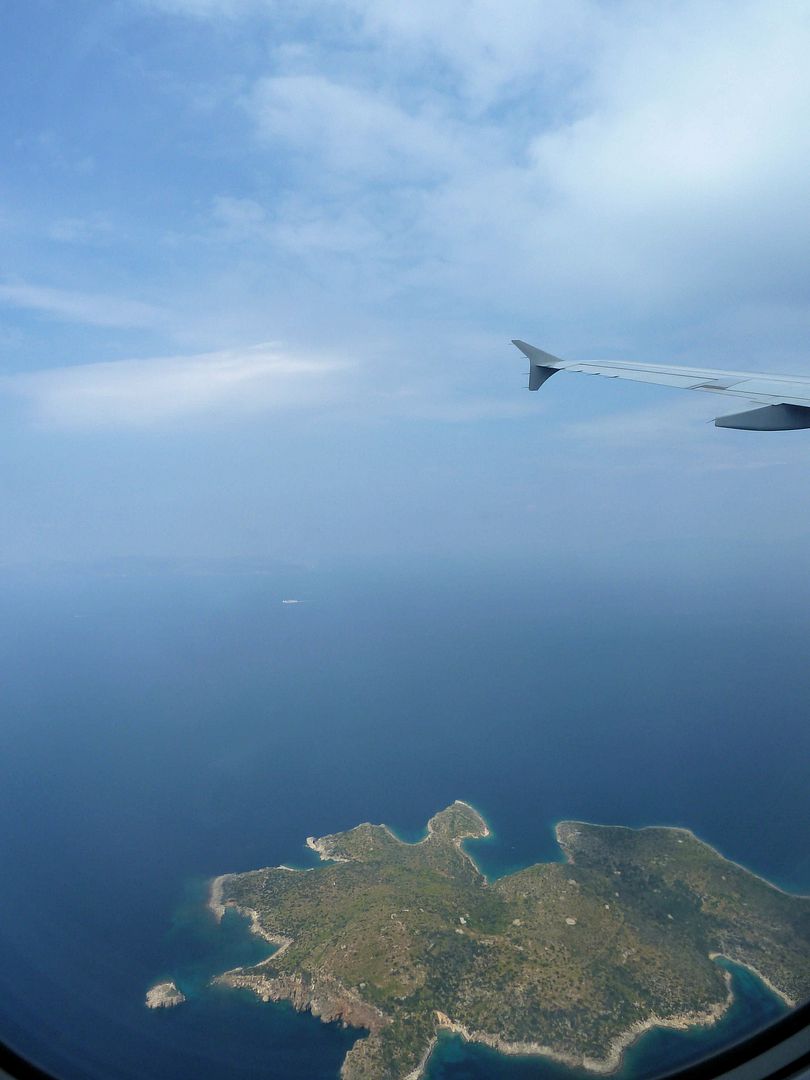 Here you can see the former
Ellinikon International Airport
: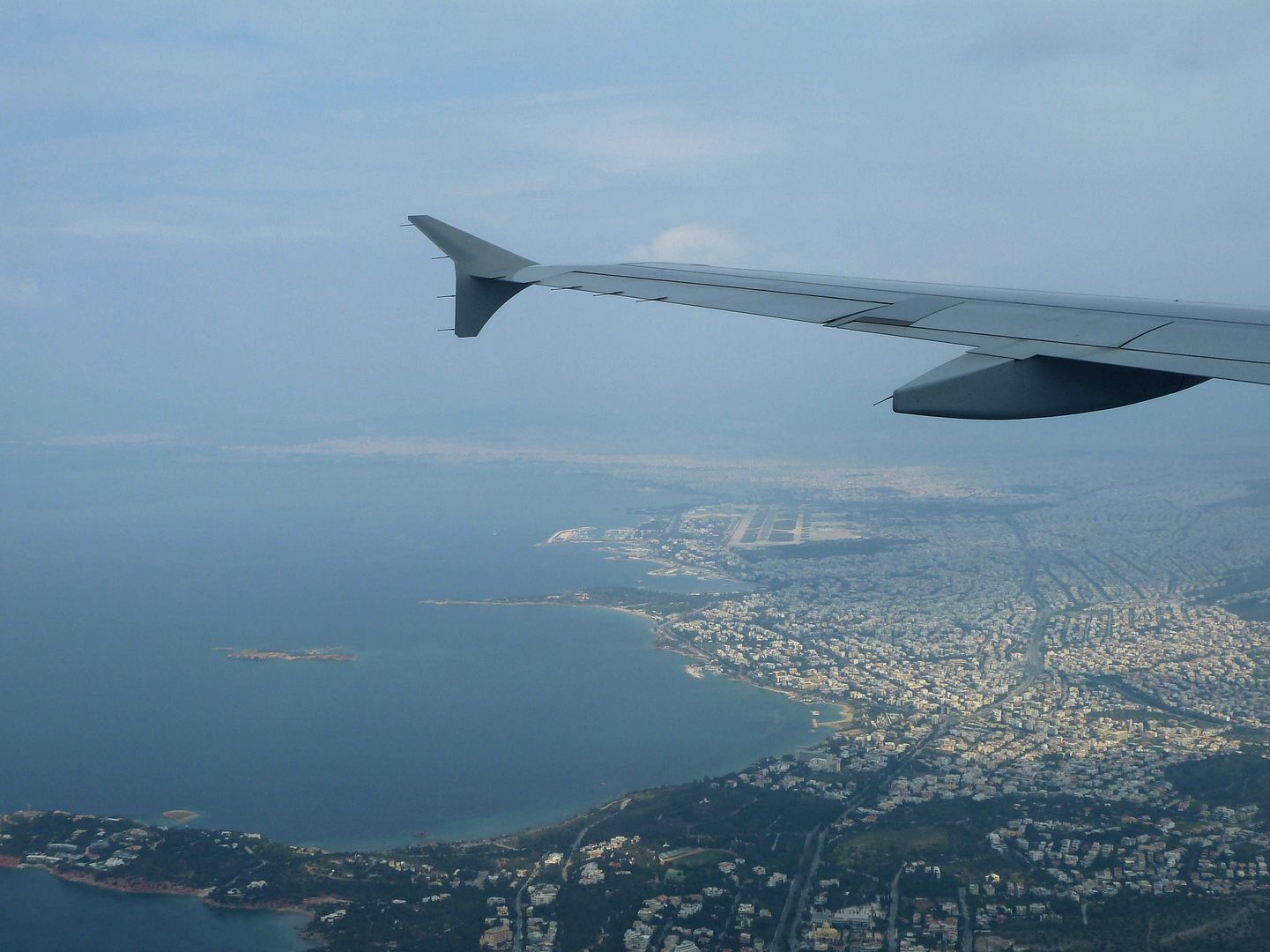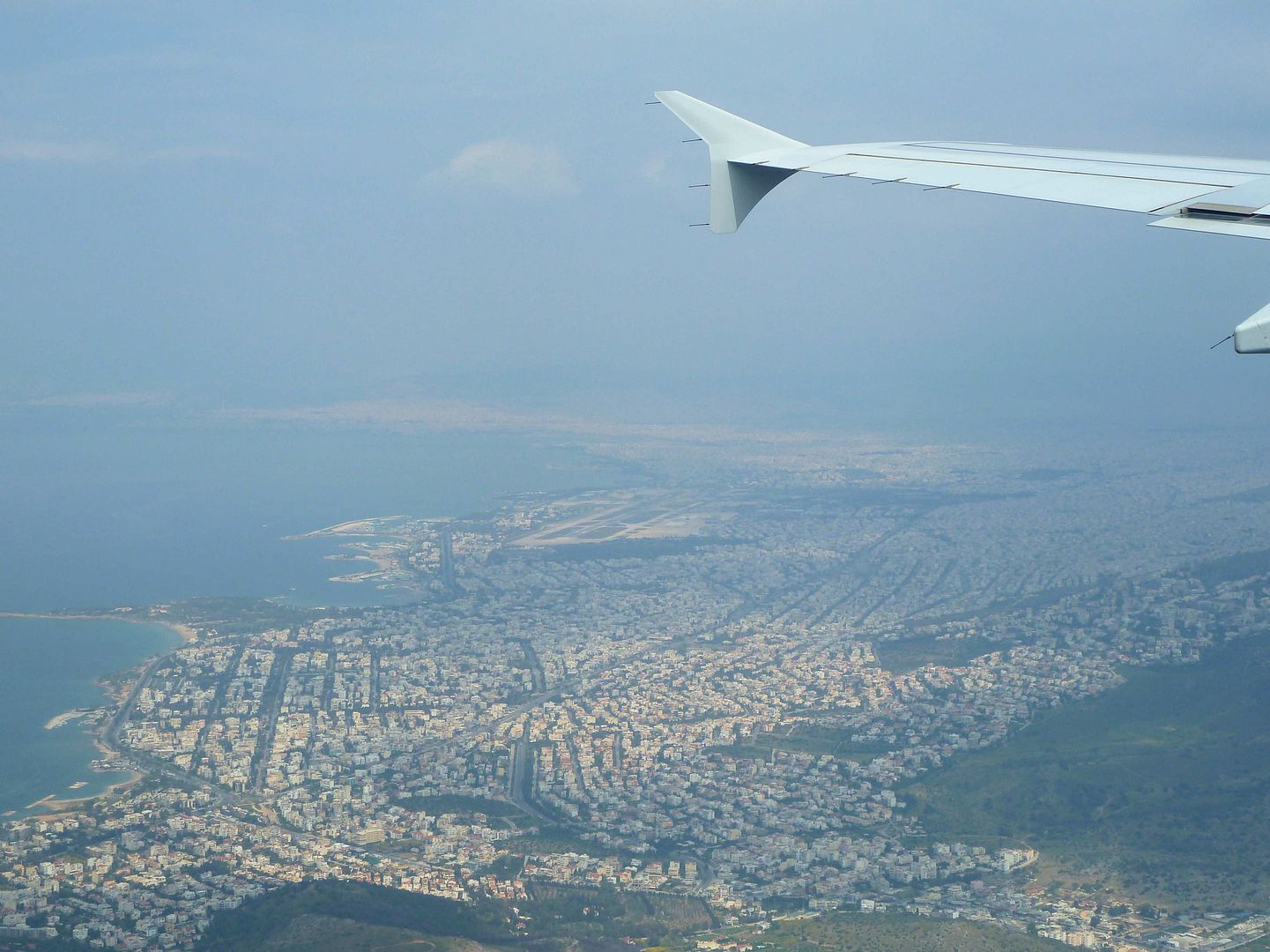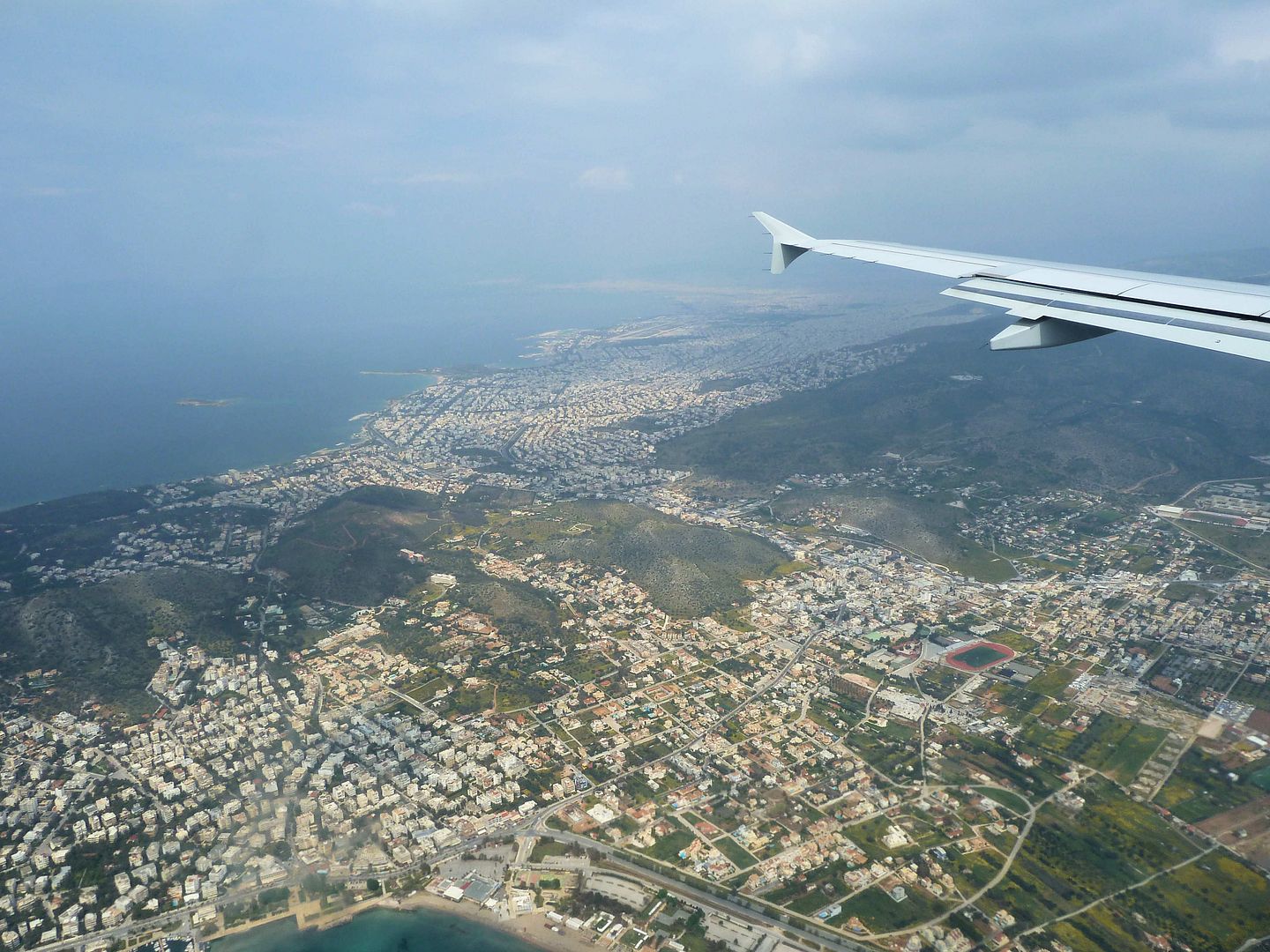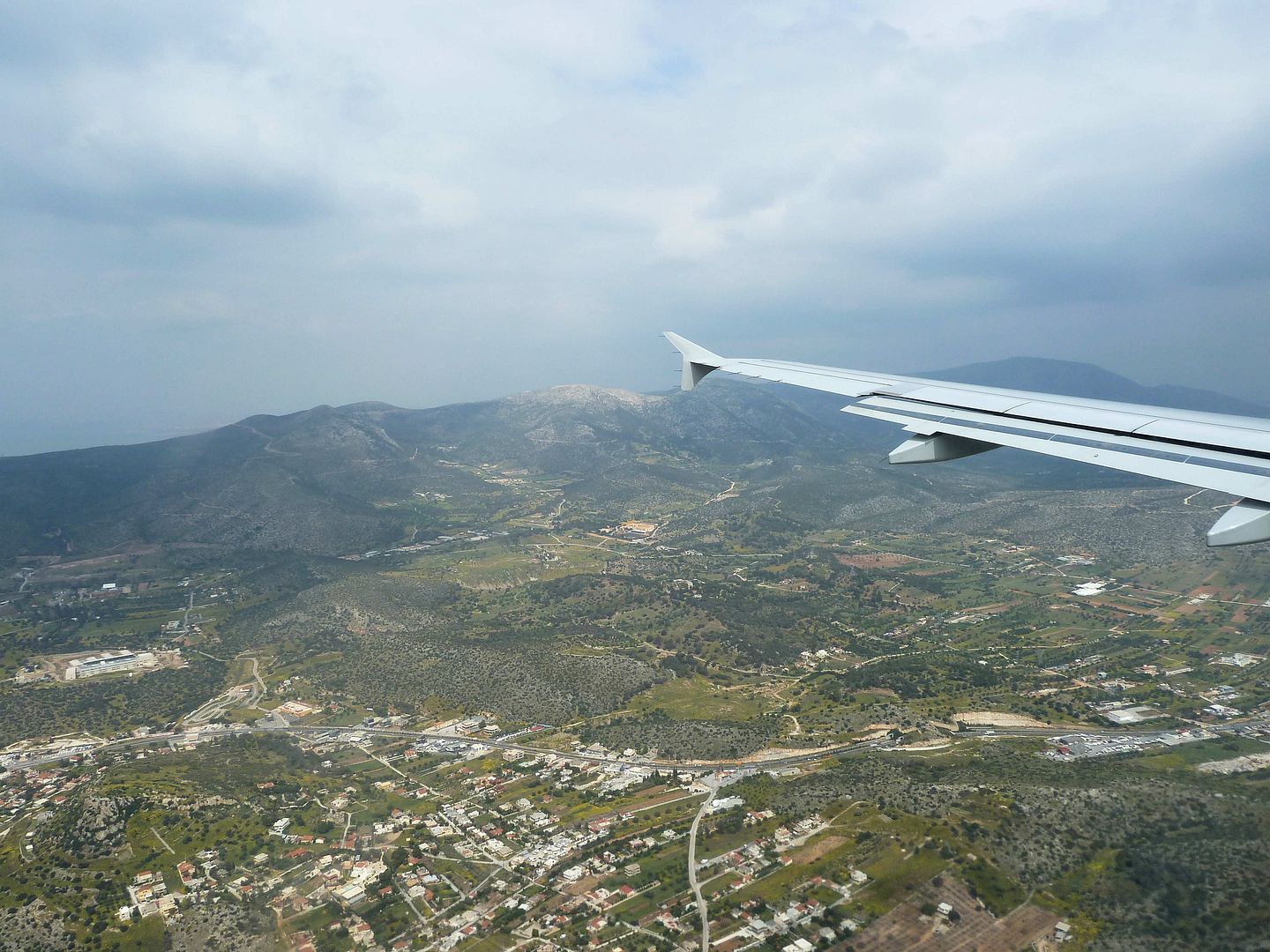 Hillside mine near Koropi:
Koropi is one of many suburbs in the Athens metropolitan area: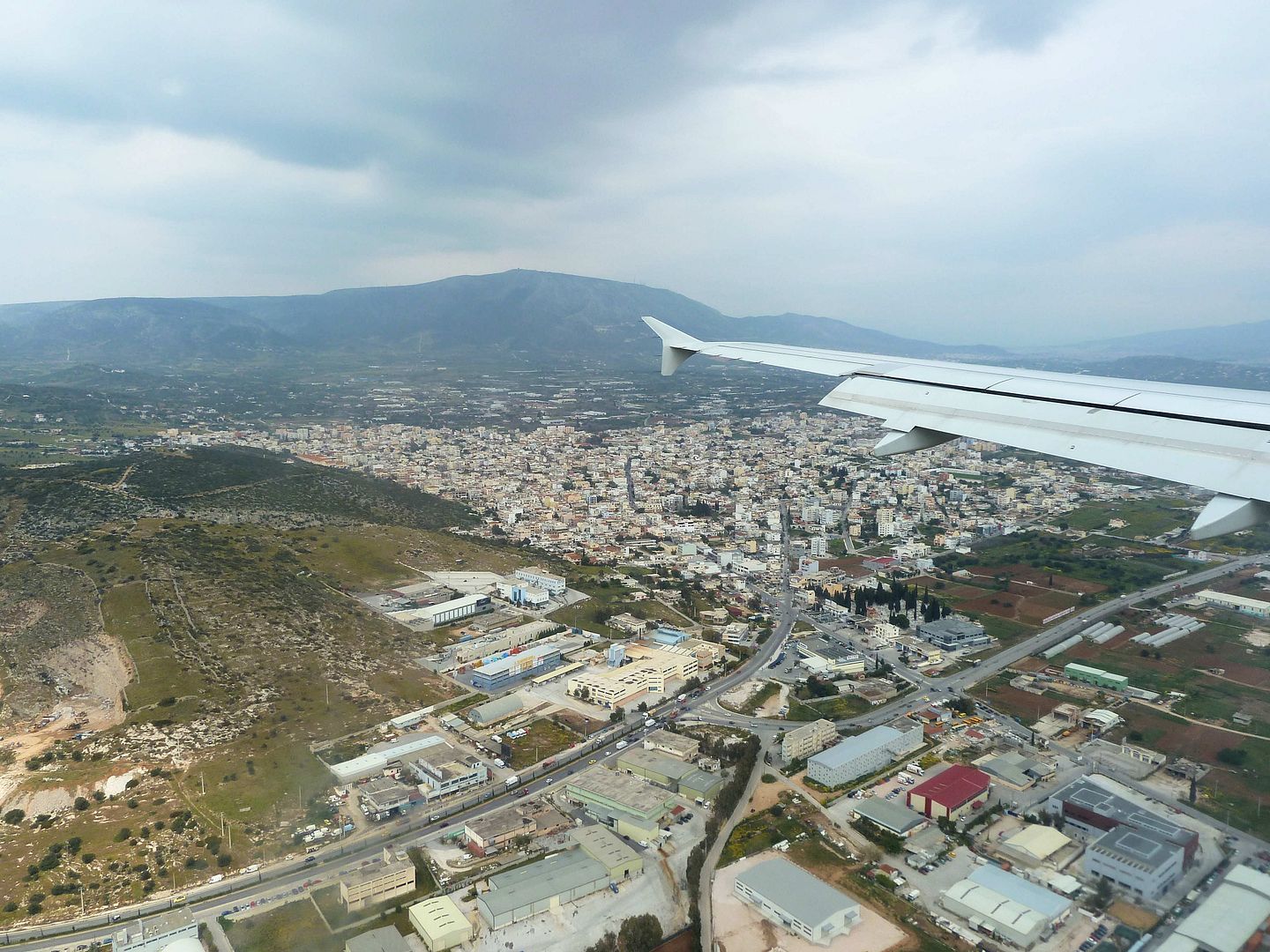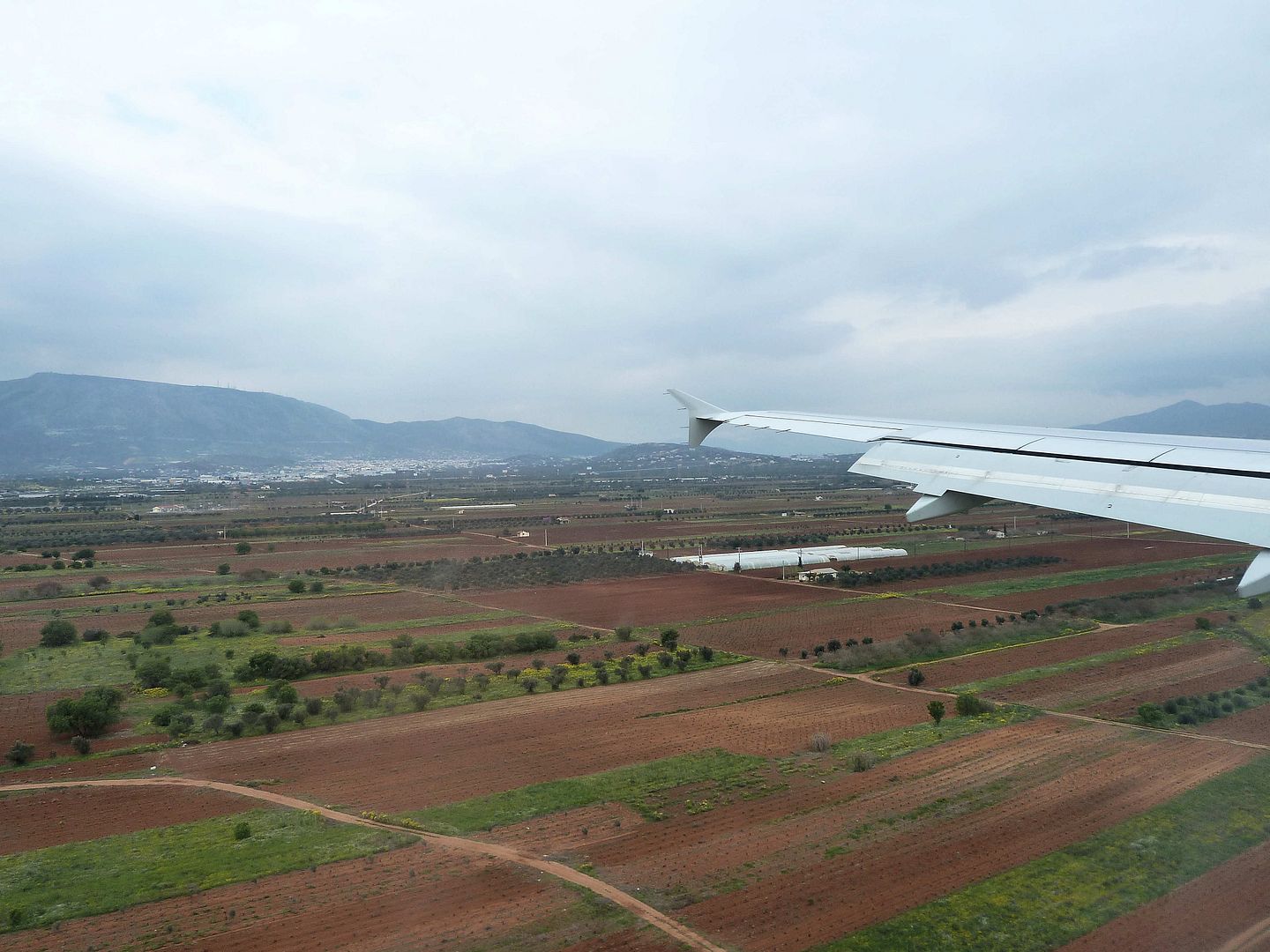 We touched down after a flying time of 54 minutes and quickly taxied to the terminal. Just like during boarding, pleasant pop music was played again. Parked next to us was SX-OAG, one of three remaining A319s in the fleet:
Even though the plane had been parked in front of the terminal, we had to deboard via stairs - I didn't mind, of course. Goodbye,
SX-OAU
!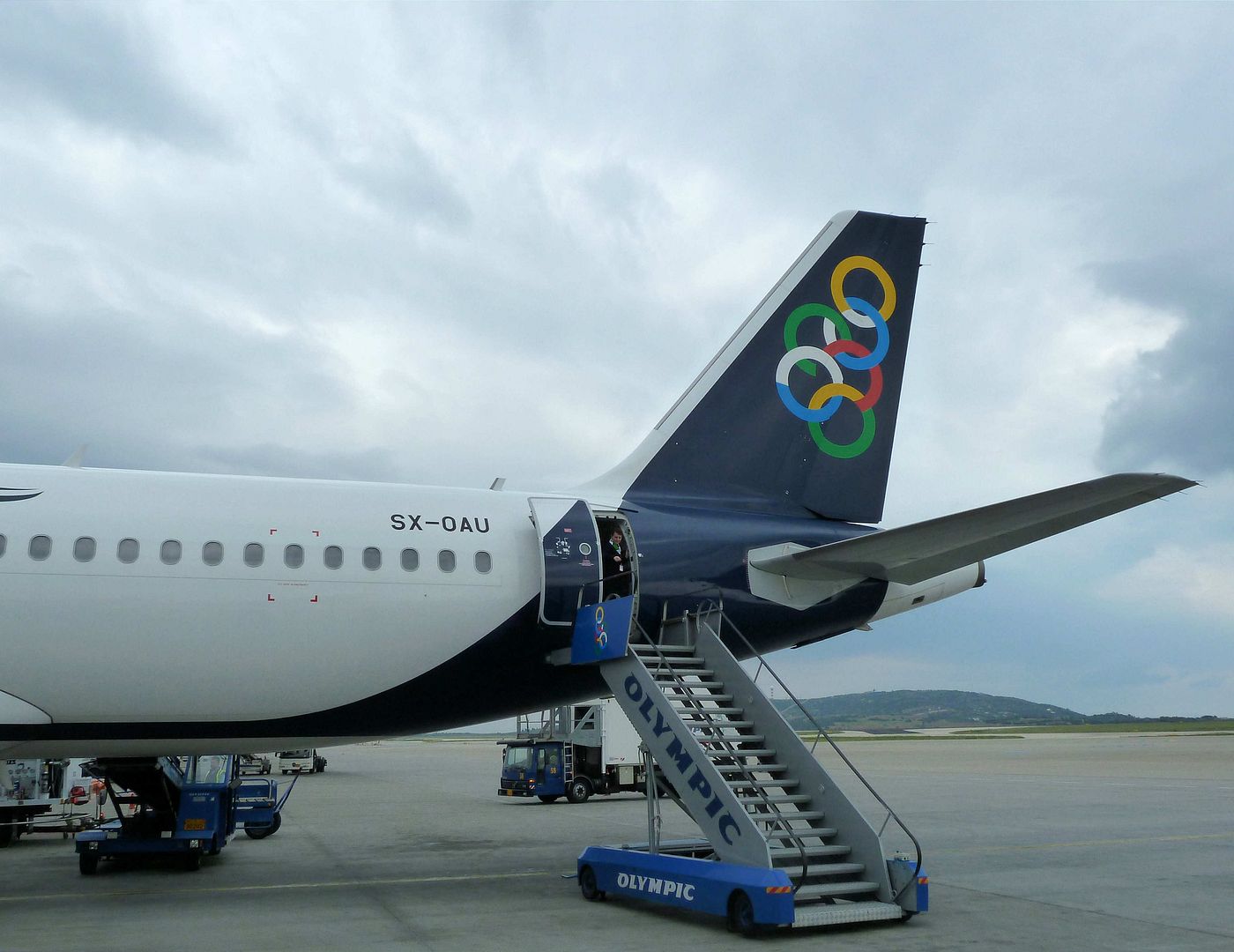 Wednesday, April 2011
Athens (ATH) - Munich (MUC)
Aegean Airlines A3 806
Scheduled times: 15:20-17:00
Actual times: 15:31-17:04
Flight duration: 02:11 (hrs)
Distance: 944 miles
Economy Class, seat 28F

Airbus A320-232
SX-DVY (MSN 3850)
Delivered in 04/2009
1st flight on SX-DVY
38th A320 flight
69th A32X flight
115th airline
We walked straight to the check-in hall, entered our data into a kiosk, chose seats in row 28 and printed our boarding passes. Landside spotting options are limited at ATH, so we passed security and took seats in an area from where we had a limited view of runway 03R and parts of the apron. Taking pictures was difficult, but I managed to log 34 new registrations in a few hours (mostly Aegean and Olympic).
Boarding commenced on time and a bus brought us to
SX-DVY
, delivered factory fresh in April 2009:
I would have preferred a plane with a name, but
SX-DVY
was still better than one of a few ex-Olympic Air A320s recently transferred to Aegean.
The welcome on board was not as warm and friendly as on Olympic Air and the classic boarding music wasn't as pleasant as OA's pop music. Last but not least, Aegean's leather seats were quite hard, definitely less comfortable than OA's fabric seats: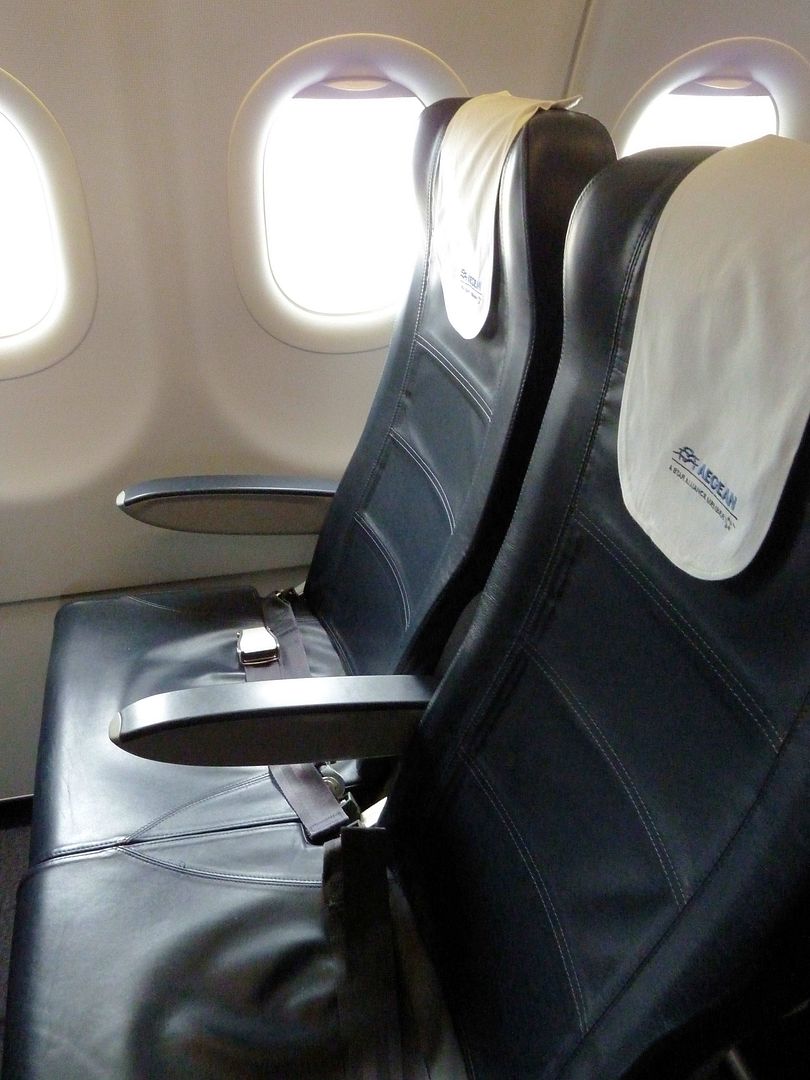 Legroom was identical: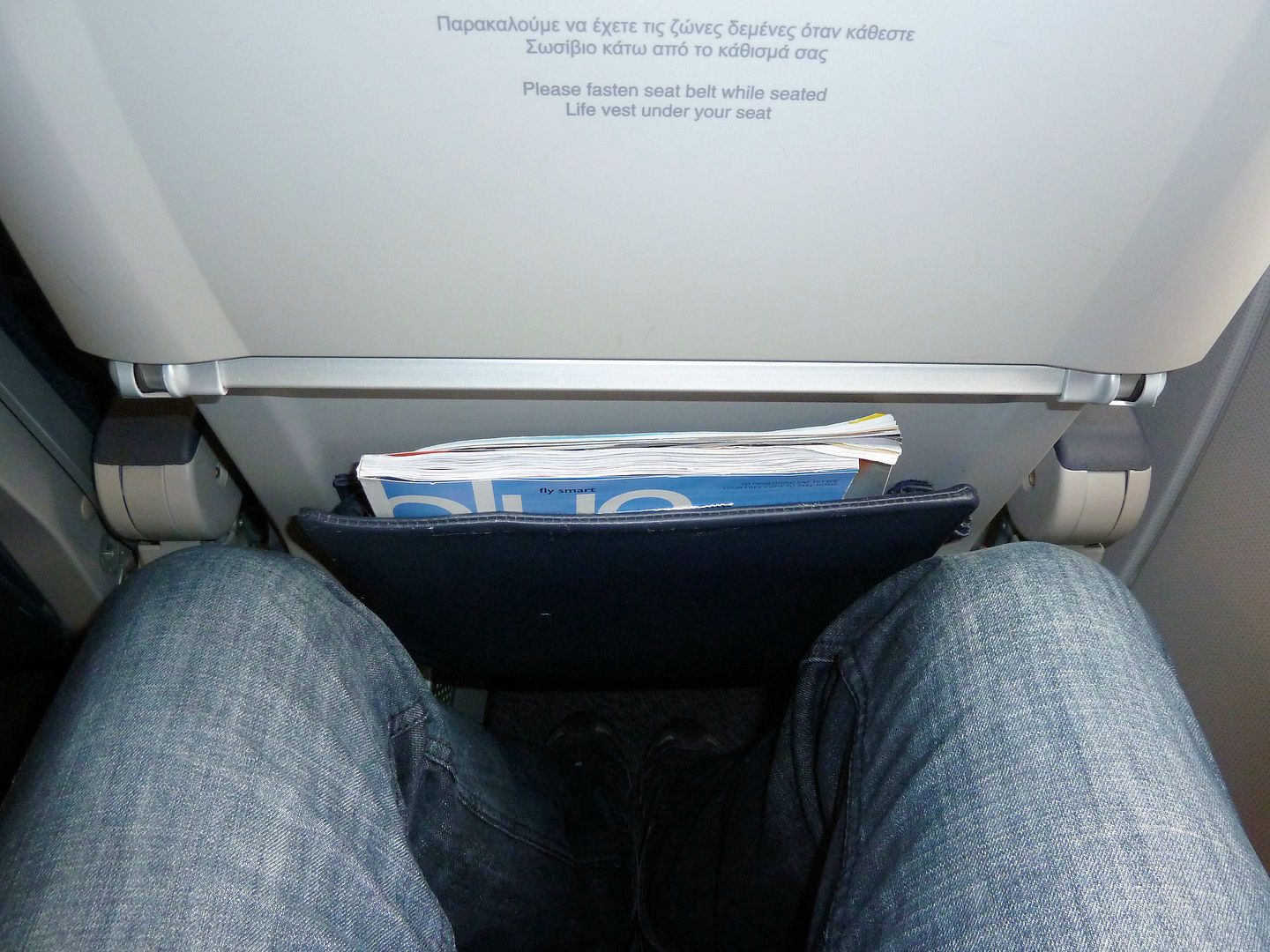 Inflight magazine: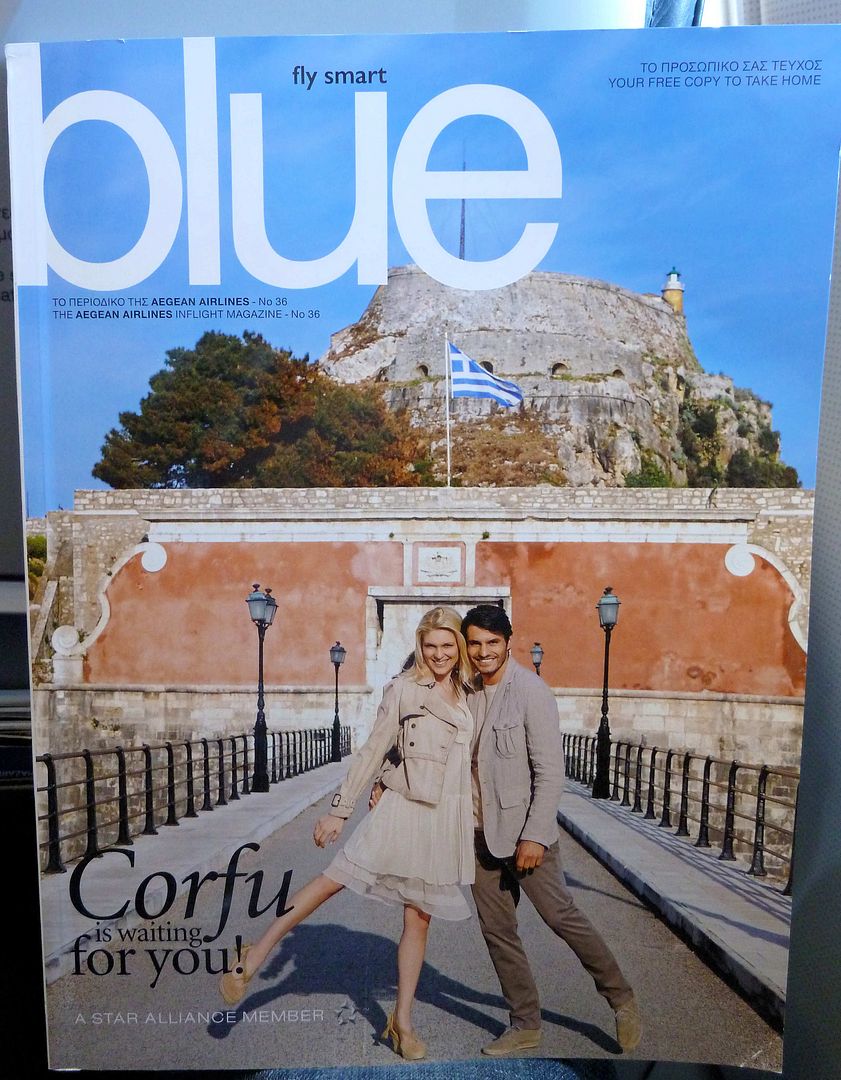 Can you find the mistake here?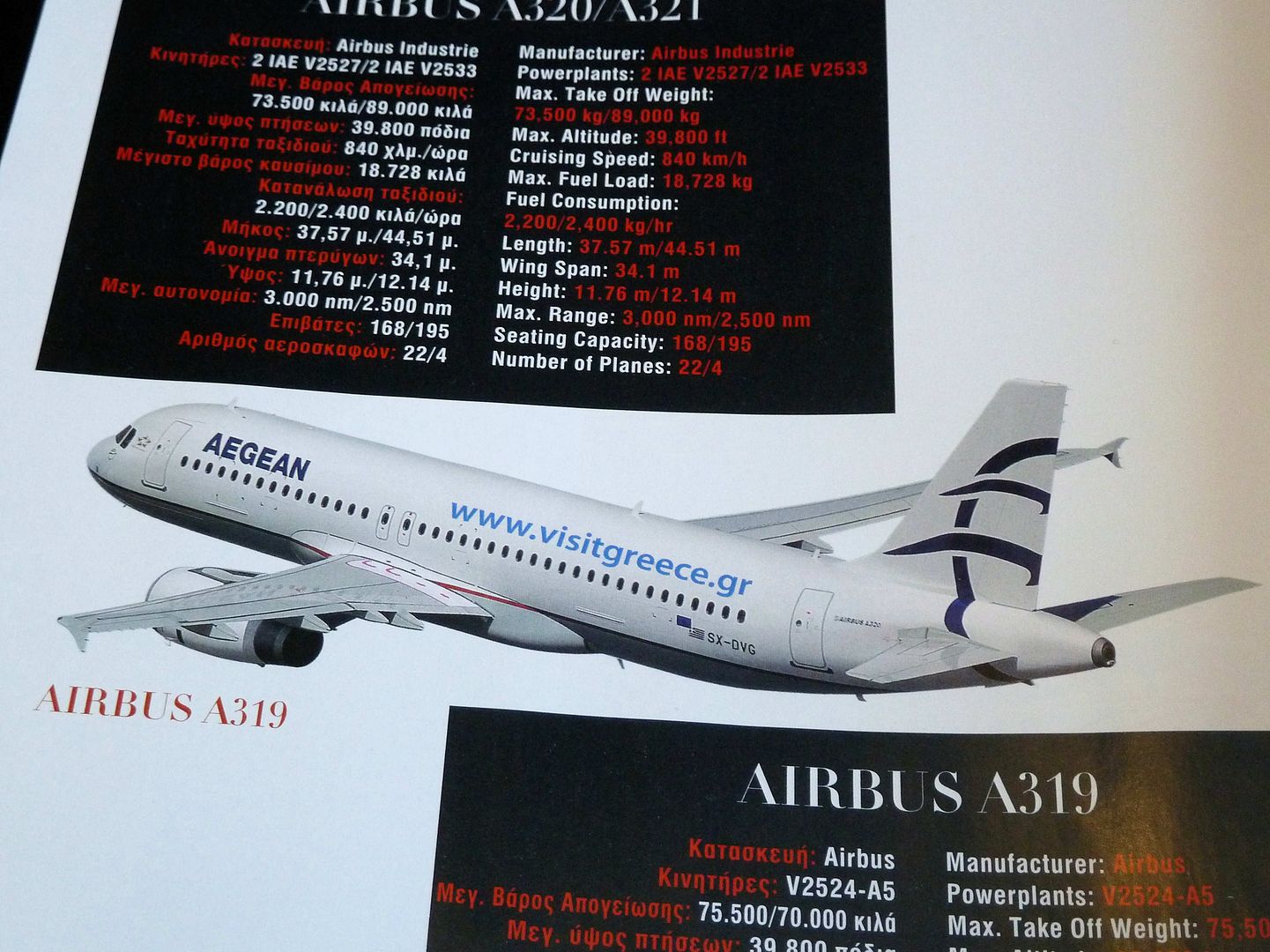 Despite the high load factor (85 to 90 percent), the aisle seat in our row remained empty, so we could stretch out again. The captain made a short welcome speech and announced a flying time of 2 hours and 25 minutes.
We left the gate 11 minutes behind schedule and started taxiing to runway 03L. The 3D airshow had already been activated before takeoff:
Rain in Istanbul, rain in Athens...time to fly back to sunny Bavaria, let's go!
Here you can see a Hellenic Imperial Boeing 747-200, one stored ex-Olympic Airlines A340-300 and an ex-Olympic Airlines Boeing 737-200 which is used as a fire trainer:
Two more Hellenic Imperial Boeing 747-200s and the rest of the former Olympic Airlines A340-300 fleet: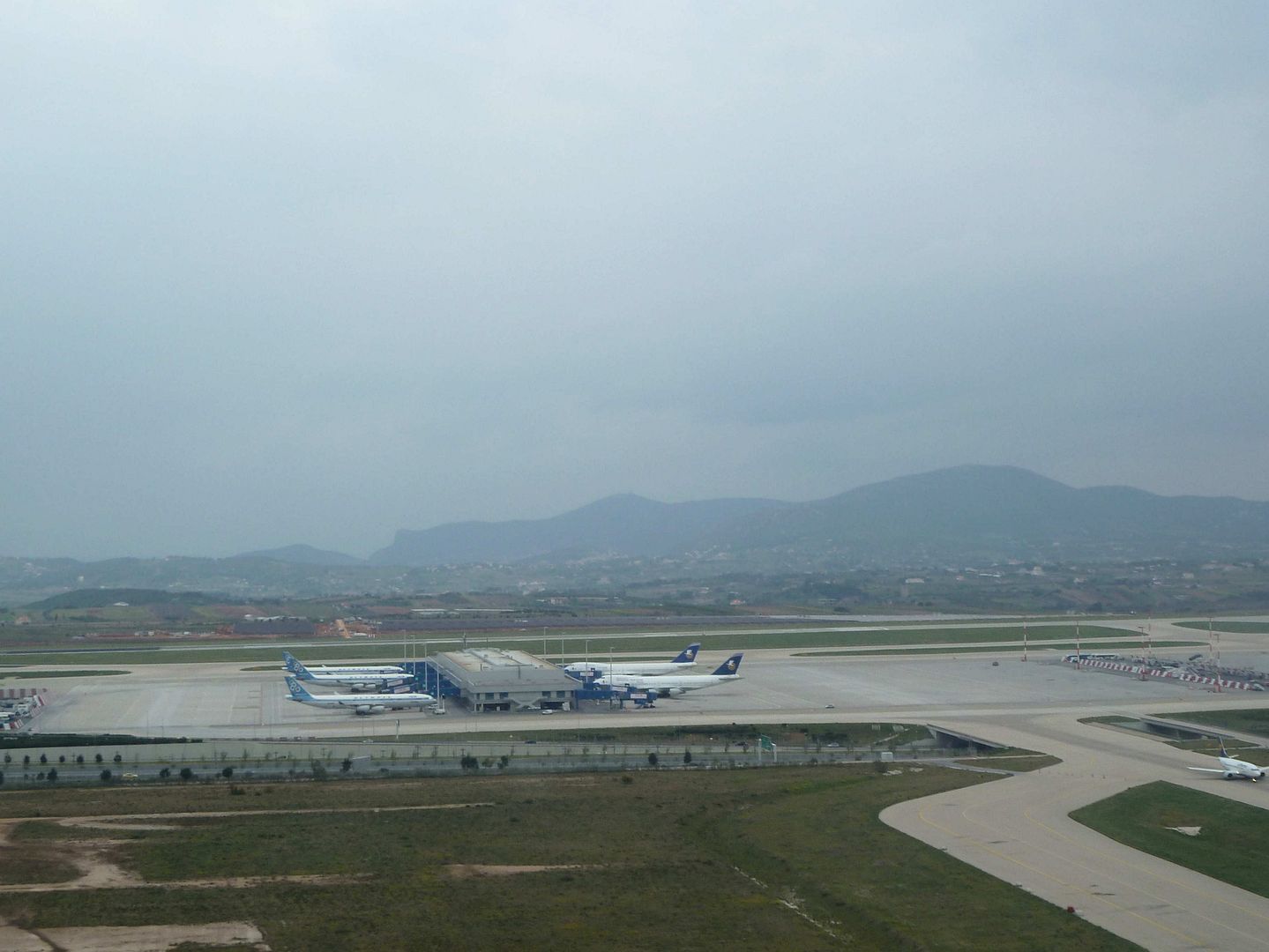 Will these A343s ever fly again? I can only hope so.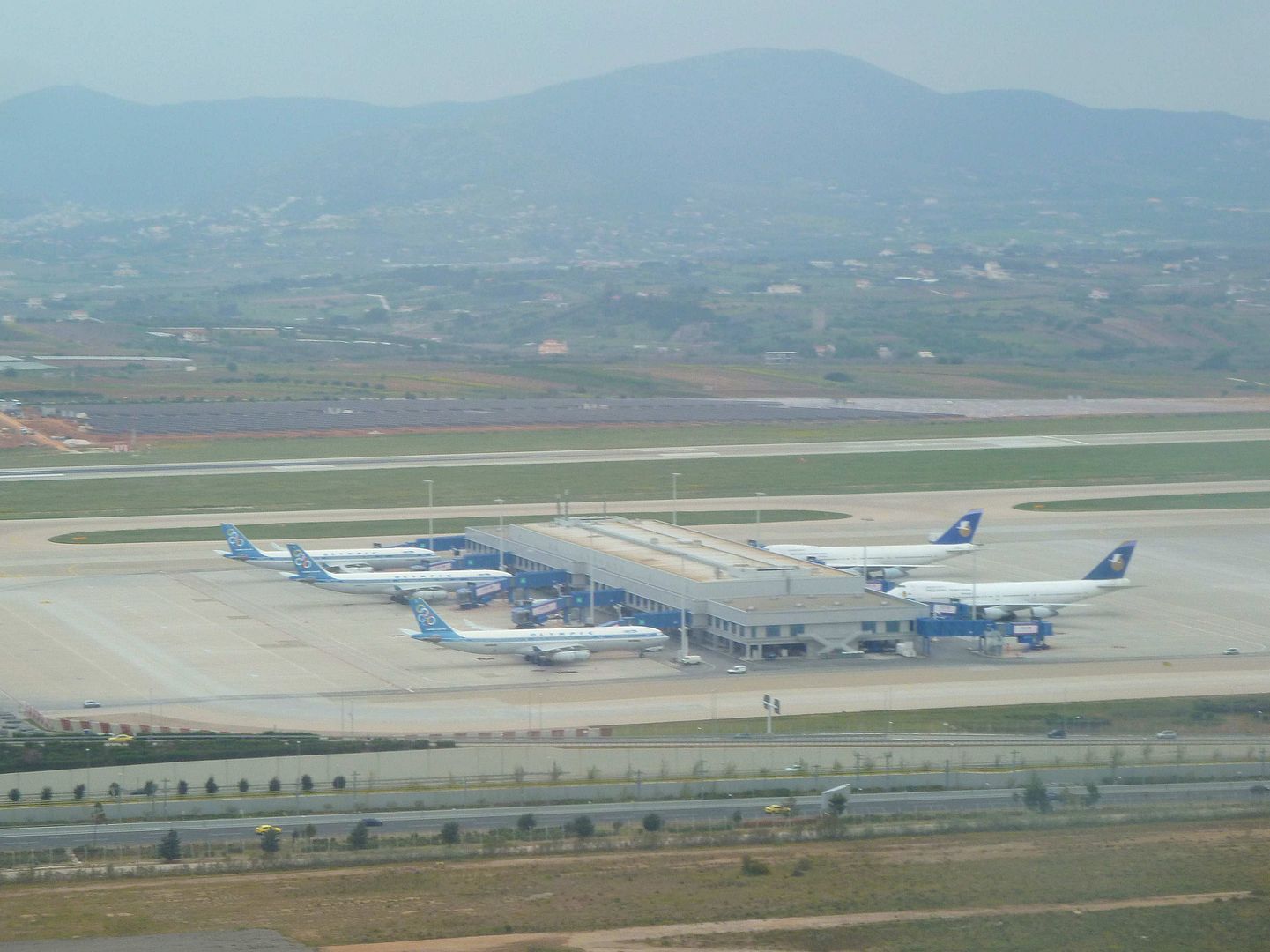 The whole terminal complex: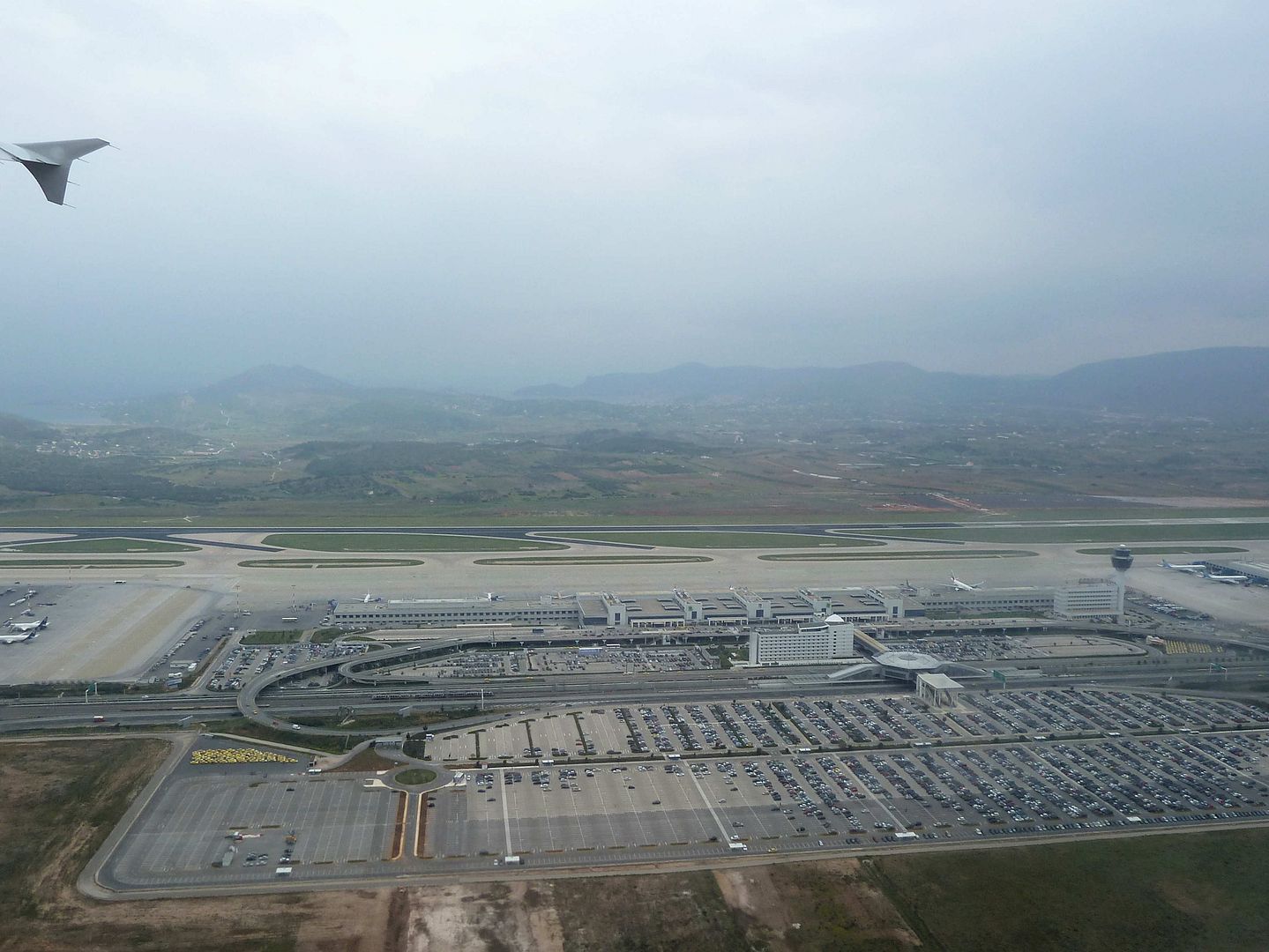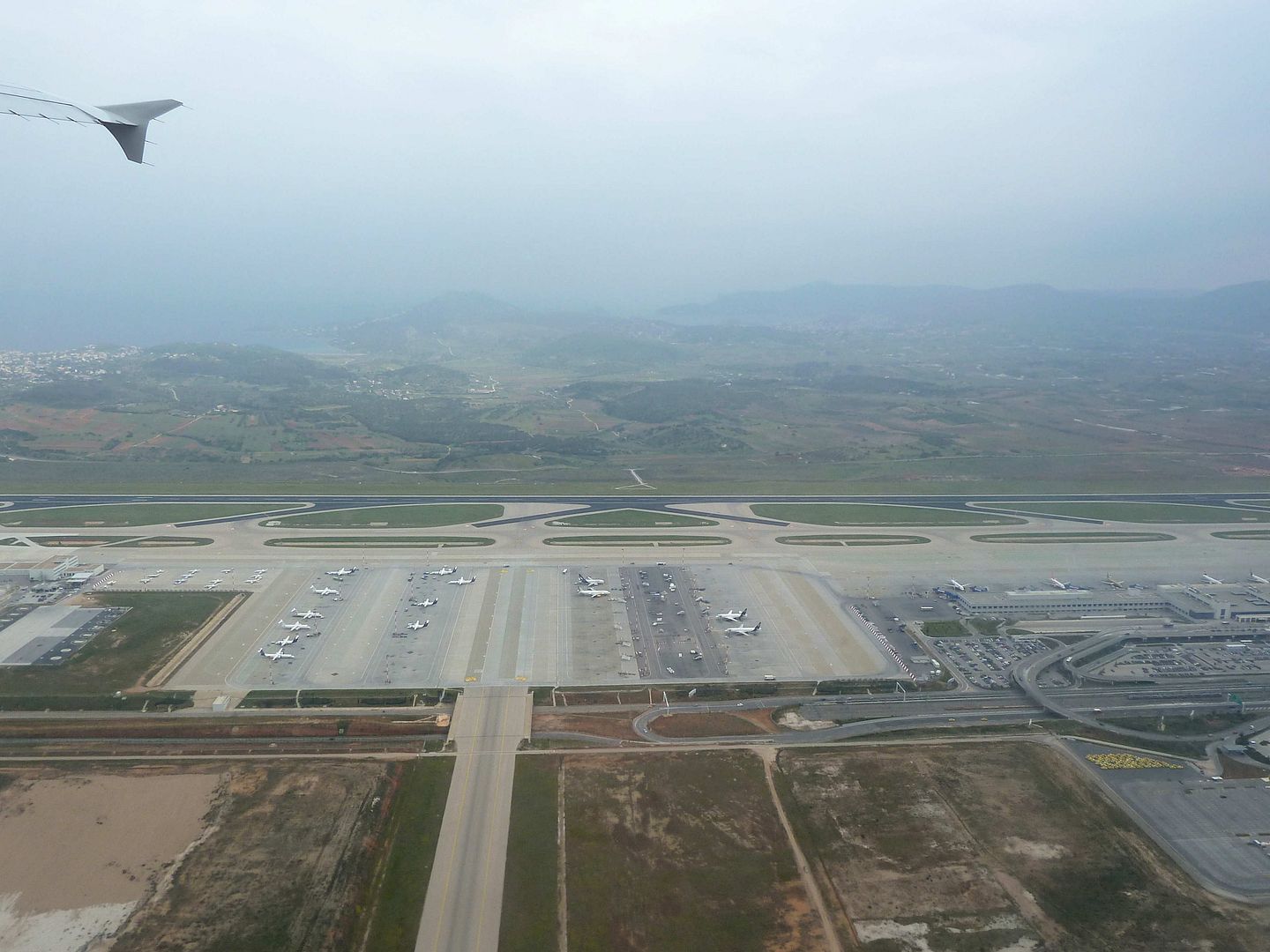 Last shot of ATH: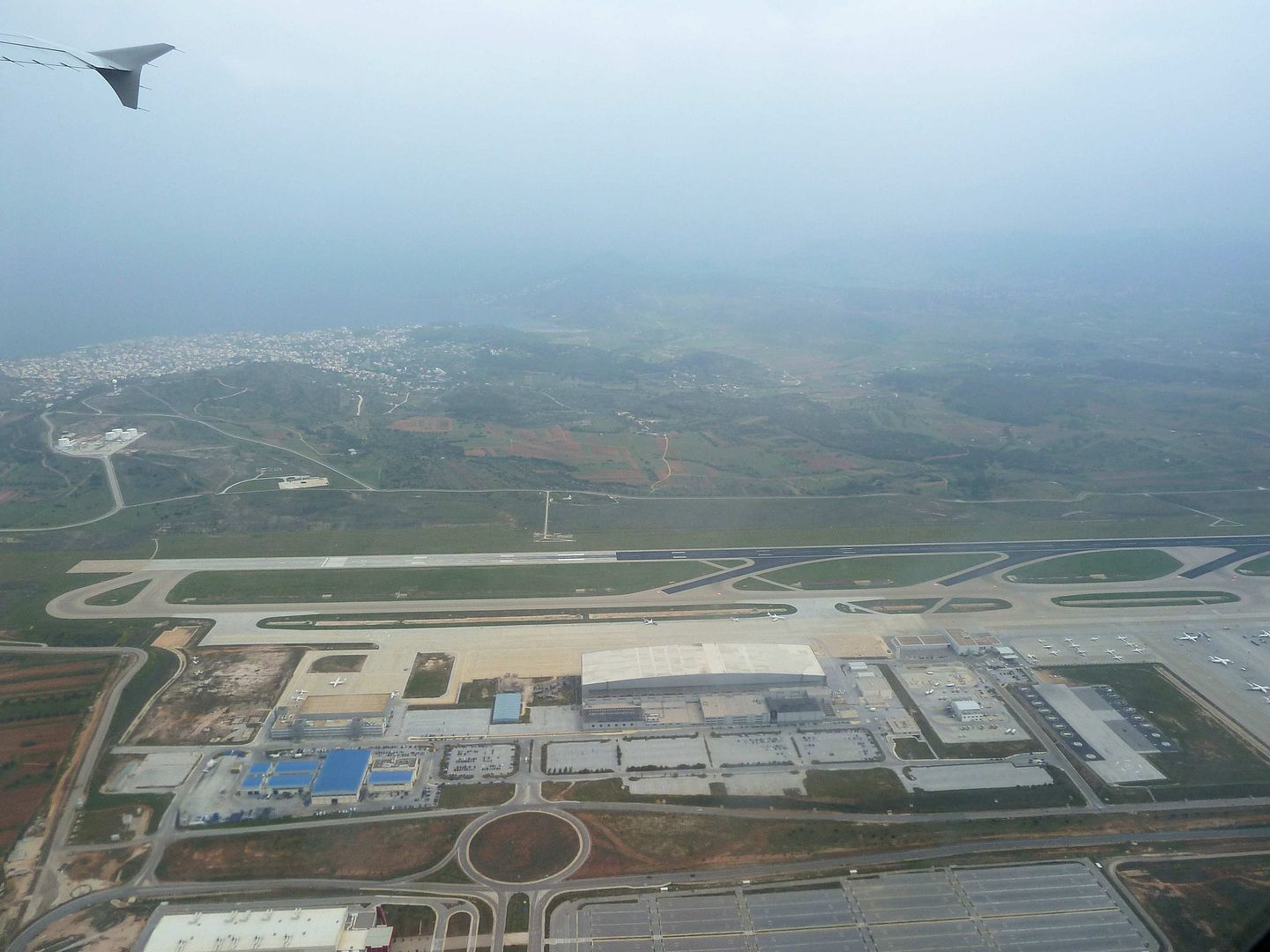 I was really glad that Aegean didn't show anything else but the airshow throughout the whole flight: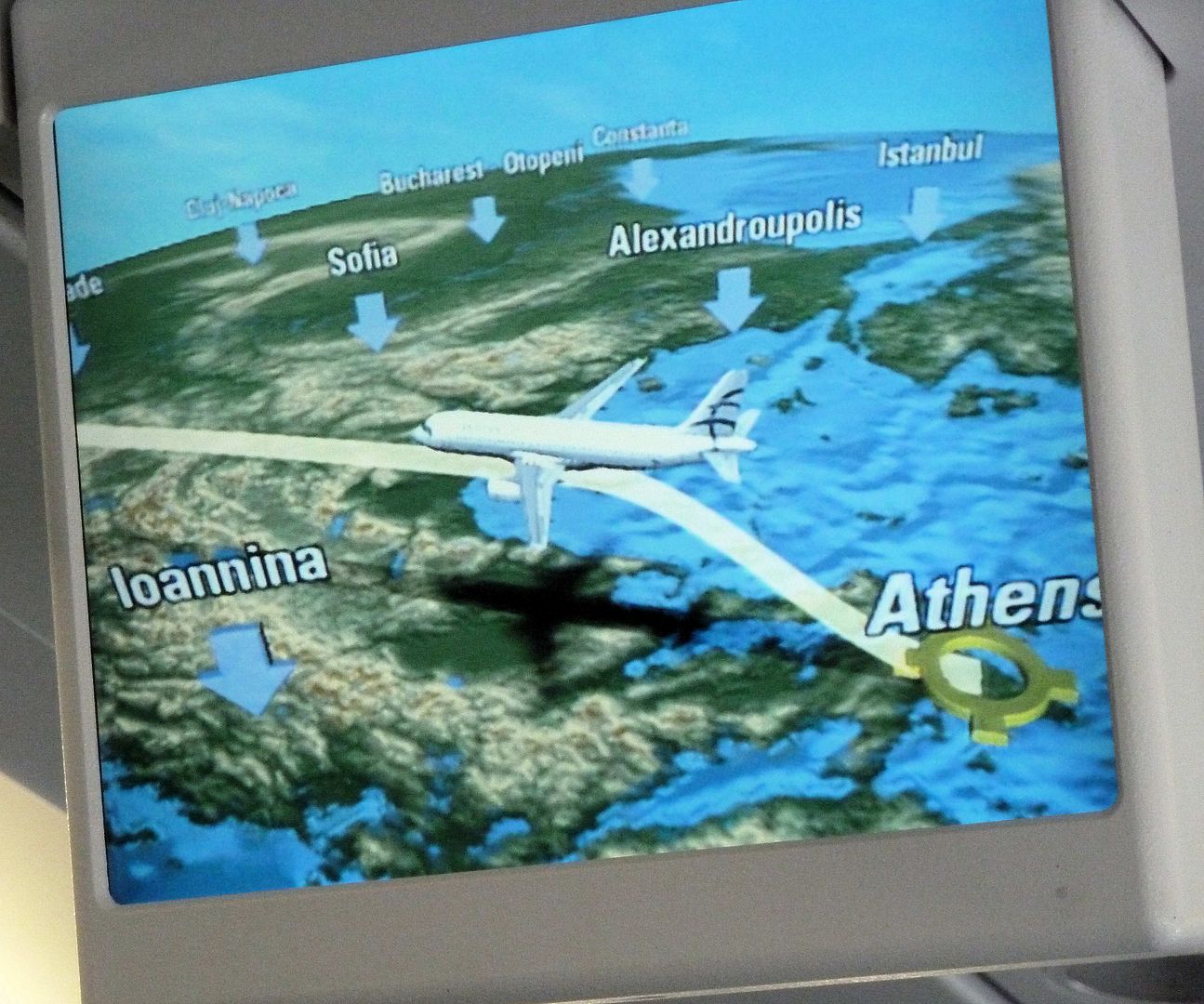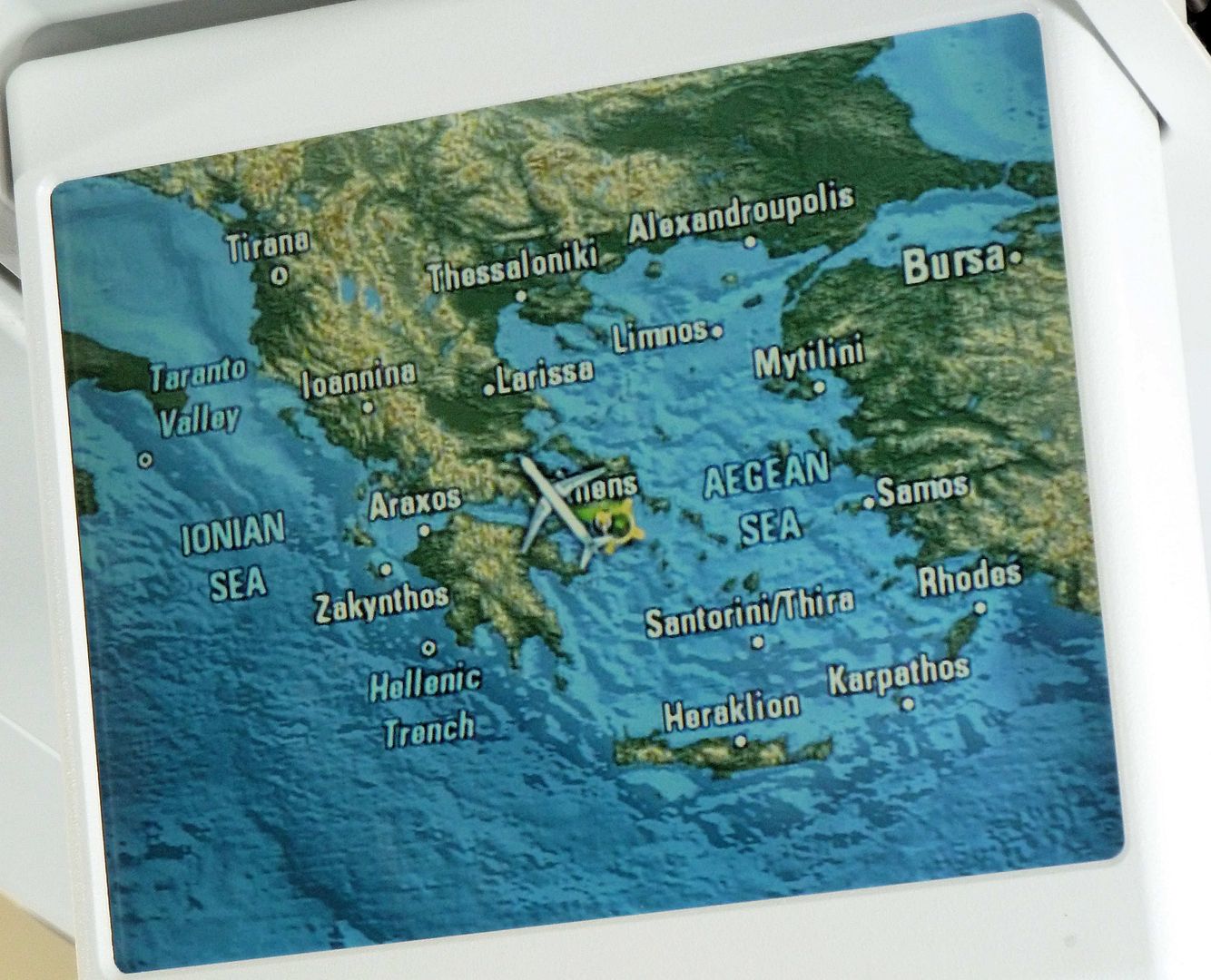 Satchmo
took a cabin picture shortly after the flight attendants had started their service. And what can you see in the distance?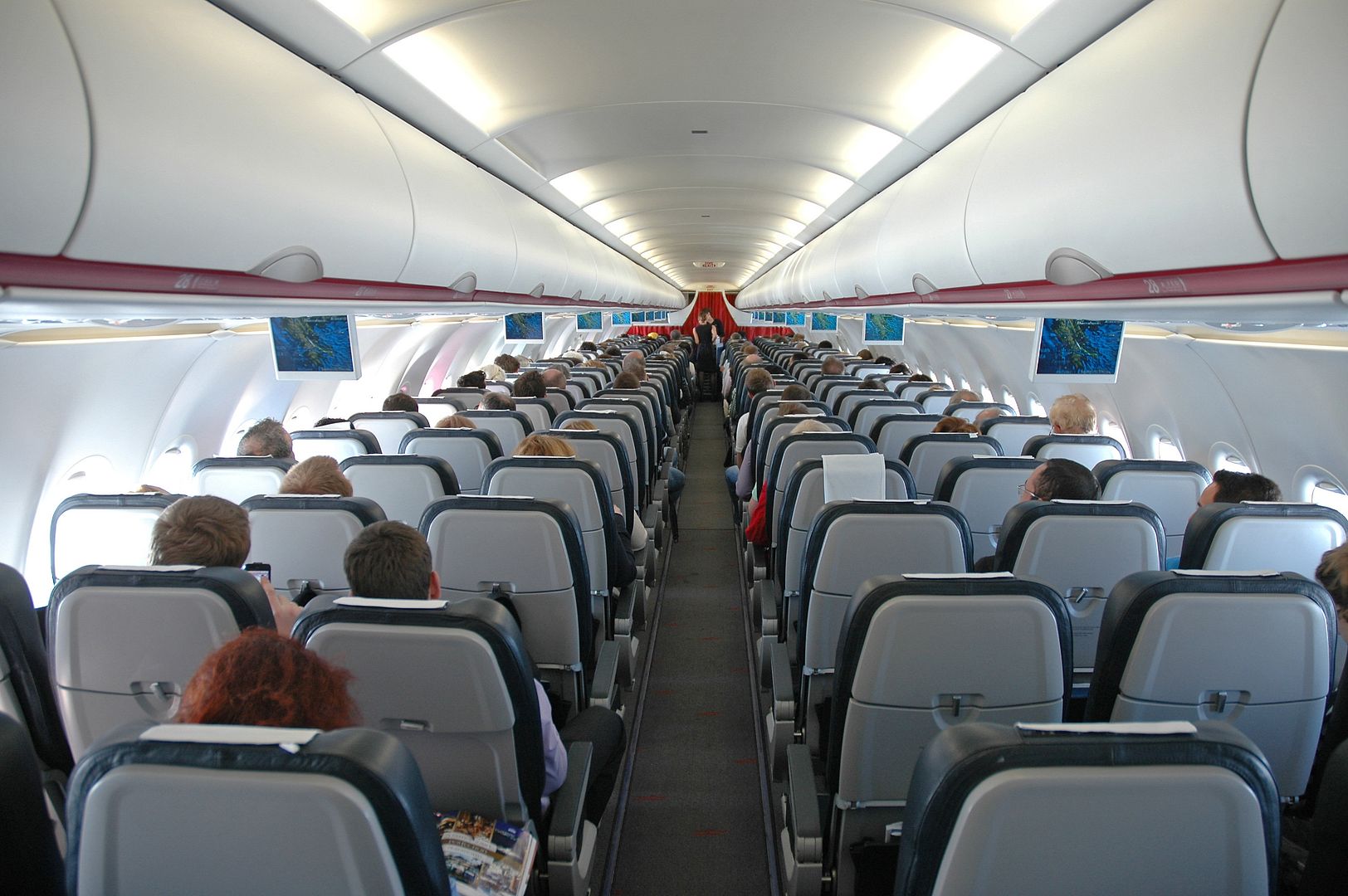 Picture by Satchmo
Yes, sleeveless dresses again - those seem to be popular among Greek carriers. Here's a close-up:
The flight attendants weren't as friendly as on Olympic - the slim blond one in the middle even appeared to be quite stressed - but their dresses were nice, nevertheless.
I was quite hungry and glad to see that hot meals were handed out - but I was irritated when I got this tray without any question and further comments:
Well, I eat fish of any kind, but seeing pieces of octopus tentacles in my meal wasn't a great experience in the first moment...actually I had never tried it and I decided that it would be a good opportunity now. So how did it taste? Average, I would say - not too bad, but not really good either. However, the noodles and the spice bun tasted okay. My favorite was the delicious (nut-based) halva bar.
Of course I'd have preferred a different main course, but probably they had run out of the alternative. The worst part of the catering was Aegean's coffee - it tasted burned, just awful.
The remaining flight was uneventful - on approach to MUC: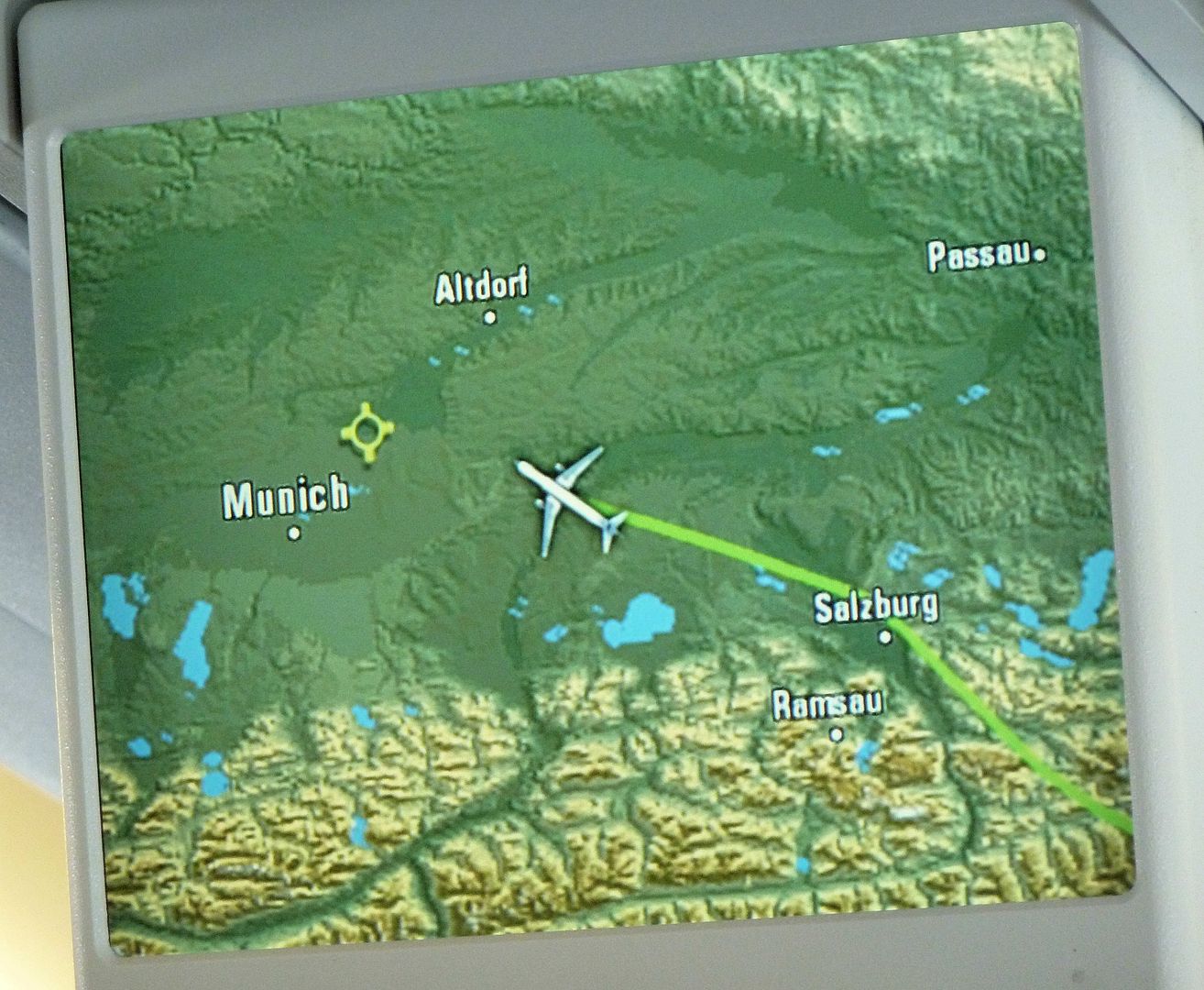 I have already taken many pictures on approach to MUC, so I mostly kept my camera off this time. However, I made an exception to get a decent shot of the
Allianz Arena
: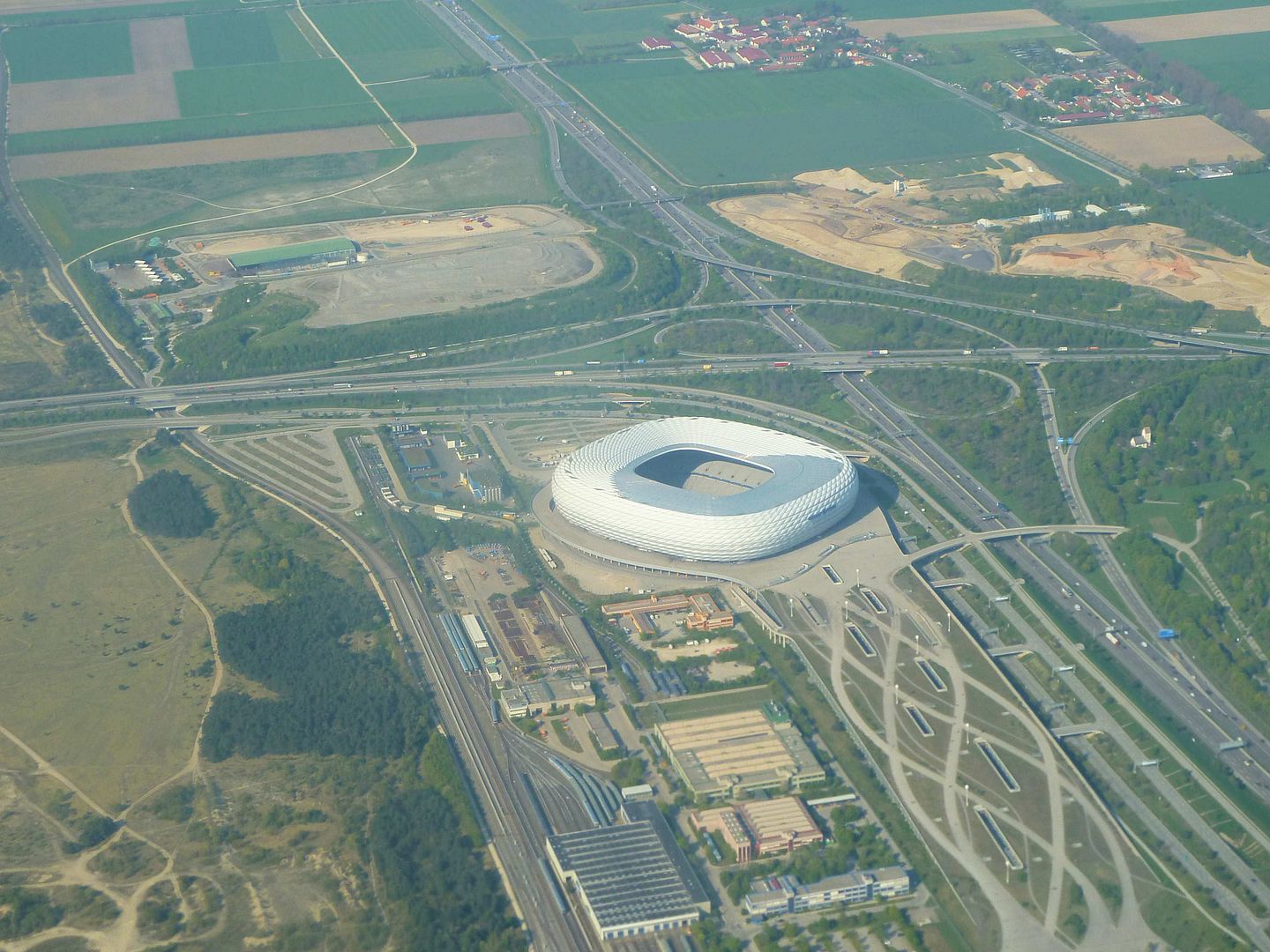 We touched down on runway 08R earlier as originally announced, exactly 2 hours and 11 minutes after takeoff. Not even 15 minutes later we headed to the S-Bahn and left the airport - and it would take me four months to return to MUC, but simply because the next two trips would originate and terminate at Nuremberg.
Conclusion
I had already read numerous positive comments about
Aegean Airlines
and
Olympic Air
and now I can confirm them. While Aegean is a step ahead in terms of hardware (e.g. IFE screens and 3D airshow), Olympic impressed me with an incredibly friendly and service orientated crew. I may have had bad luck with my Aegean meal, but it's good to see that the carrier still offers hot meals on two hour flights. However, what I found very impressive was the cold meal on Olympic considering that many airlines don't serve any food or just a small item on one hour flights. Olympic was my personal winner, but I would happily fly on both carriers again. I really hope Olympic will remain an independent company after the failed merger with Aegean. However, it has transferred some routes and planes to Aegean recently, so who knows what the carrier will look like in the medium term.
Flying
SunExpress
was a bit more enjoyable than in January, mostly because the plane was equipped with an advanced airshow. Seating comfort hasn't been improved on the newer birds, but I was very satisfied again with the catering. No doubt, I would fly SunExpress again.
Last but not least, the trip was very successful from an enthusiast's perspective even though it only consisted of three flights: I flew on two new carriers, passed through two new airports and logged a total of 178 new registrations.
Best Regards,
PlaneHunter
P.S.: Just in case you missed them - my previous trip reports:
Exploring A Virgin: VS A343/A346 & Dubai Delights
Superb Stübli & Crew: LAS-LAX-ZRH-MUC, LX J Class
Grand Canyon & More: Scenic Flight On Dornier 228
San Francisco Sunshine...and A Frontier Fiasco
Fully Flat Bed to SFO: SWISS' New Business Class
Mountains, Meals & More: SunExpress Vs. Pegasus
Crossing Two Oceans: AKL-SFO-MUC, NZ 777 & LH A346
Bad Weather & Other Bad Luck: Touring New Zealand
Trans-Tasman Treat: Aerolineas Argentinas A340-200
Detours To Sydney: Wildlife, Tiger, REX & QFLink
Thai Fails To Impress: MUC-BKK-BNE On 744 & 777
Painful Delay & My 100th Airline: AF A380, VO F100
Fifth Freedom Tidbit: Kuwait Airways A300-600
Ship Vs. Plane: Porto Santo Line & Sata Air Açores
Awesome Approach, Splendid Scenery: LIS, FNC & TAP
Guernsey, Ash Cloud Alarm & Mostly Empty SQ 77Ws
Totally Thrilling: Scenic Flight On Lufthansa A380
Cirrus D38, Adria CRJ & Captain Niki Lauda On Duty
Monarch Hot Meal, E195 & More: PMI-ALC-MAN-MUC
Premium Meal & Palma Spotting: MUC-PMI, DE 757-300
The Dead Slow Transfer: PEK-MUC On Air China A332
Cancellation Brings Joy: HKG-PEK on Dragonair A330
A380 Cacophony, 777 Star Livery: DXB-SIN-HKG on SQ
The Next 5* Carrier? MUC-MCT-DXB, Oman Air A330
Turkey For 1.5 Hrs: Daytrip To AYT On Sky Airlines
CO Scores Again: ATL-IAH-EWR-FRA On ERJ, 752 & 764
Riding The Ultra Long-Haul Twin: Delta 777-200LR
Pacific Coast Jaunt: 3 Carriers, E120, E140 & Fog
The Ultimate 737: LHR-IAH-PDX On CO 777 & 739ER
Bye Bye, Hell! TRD-OSL-TXL-NUE - DY/AB/HE DH4
My Trip To Hell: NUE-CPH-OSL-TRD On Cimber & SAS
SFO-YUL-FRA: Map- & Sleepless On Air Canada's 77W
Sin City Gloss & Virgin America's Chic First Class
Seat Dilemma & Canyon Glamour: FRA To LAX, AC 763
On Par With Air France? DTW-AMS-MUC, KLM A330
Goodbye, Red Tails! DC-9-40/50 & Chicago Tour
Champagne & World Of Coke: Air France A340 To ATL
"Mission A380": Disappointing Legs On BA/BD/EI
Delights Of Doha, 773 & 77W: DOH-DXB-LHR On EK
A380 Really a Step Forward? LHR-DXB-DOH On EK
Quality & Style: HKG-LHR On Air New Zealand 744
Taiwan Trio: TransAsia, UNI Air And The Taipei 101
"The Wings Of Taiwan": EVA Air A332, 744 Combi
SHA-SZX, Shanghai 757: Delayed By The Military
PEK-SHA, China Eastern A330 & Shanghai At Night
Striking Newcomer: Berlin-Beijing On Hainan A330
Short & Splendid: MXP-MUC On Air Dolomiti's 146
3 Hours On Blue1: HEL-MXP On The MD-90
Winglets On A Classic: MUC-RIX-HEL On Air Baltic
BCN-MAD-ZRH-MUC: UX Shuttle Meets Swiss Quality
MUC-MAD-BCN: Star MD-87 & The Pain Of Vueling
Low Fares, Lovely Island: AK & Best Of Langkawi
4 Stars Or 5 Stars? FRA-KUL-FRA, Malaysia 777s
First And Last Time? JFK-FCO-MUC, Alitalia 777
JFK For 1 Day: Transatlantic Hop On CSA's A310
Sardinian Sun, Shiny New 73Gs & Cramped Mad Dog
Top And Flop: KIX-HEL-MUC, Finnair A320 & MD-11
The 524-Seat Twin-jet: HND-ITM On ANA 777-300
Kobe For 1 Hour: 767-Quickie On ANA & Skymark
Rocketing To Tokyo: FUK-HND On JAL (ex-JAS) 777
Oddities & Okinawa: JTA 734 & JAL 744D(Domestic)
MUC To Nagoya: Finnair E170 & (Old) "New" A340
Mad Dog, A320 Tech Delay & Best Of Lanzarote
Canaries Prop-Hopping: Islas Airways & Naysa
Canaries And Confusion: LH CRJ900 & Spanair A321
Hubbing For 162 Miles: HOQ-FRA-STR Ret On IQ/EW/LH
BOS-JFK-AMS-MUC: SSSS-Check And KLM 777
ATL-PIT-JFK-BOS: FL B717, JetBlue E190 And Delays
MUC-AMS-MEM-ATL On NWA A332 And 40-year-old DC-9
FRA-BKK-FRA Via CMB: SriLankan A332 & A343
BNE-SIN-DXB-MUC On Emirates B772ER & B773
2 Hours In Paradise: Hamilton Island (JQ/DJ)
BNE-SYD-BNE: Domestic Run On QF's Oldest B747-400
Testing Qantas: SYD-MEL-SYD-BNE (B738, B763, A332)
Going Down Under: MUC-DXB-SYD On EK A332 & A345
9/11 Review: Failed Trip To LAX - Fuel Dump Pics
Surprised By NIKI's Newest A320 & Screw-up By AB
Leisure Vs. Full Service: Condor & SN Brussels
"betterFly" On LH: Business Class For 99 Euro
Weekend Transatlantic Trip (2): US A321 & B762
Transatlantic For A Weekend (1): MUC-DCA On US
[Edited 2011-08-29 10:47:51]