Hey everyone and welcome to my trip report.
I'm mainly focusing on the photos and will keep the type to a minimum. This was a trip to visit a friend in Germany for a week but due to changed plans the trip was canceled. I got a great deal on the flights and if I subtracted the airline change fees I would have had about a $200 airline credit left so I decided to take the flights anyway. My final routing was LAX-IAH-FRA-HAJ-FRA-IAH-LAS-IAH-FRA-HAJ-FRA-IAH-LAX.
Part 1 Los Angeles to Houston
I flew in to Los Angeles the night before and met up with my friend Aleksei and got a very cheap hotel room at the Four Points by Sheraton for the night. Since the hotel was nothing special we killed time going to In n Out burger and exploring LAX. This airport really is fun to explore and I was surprised by all the hidden interesting areas we could get to before security.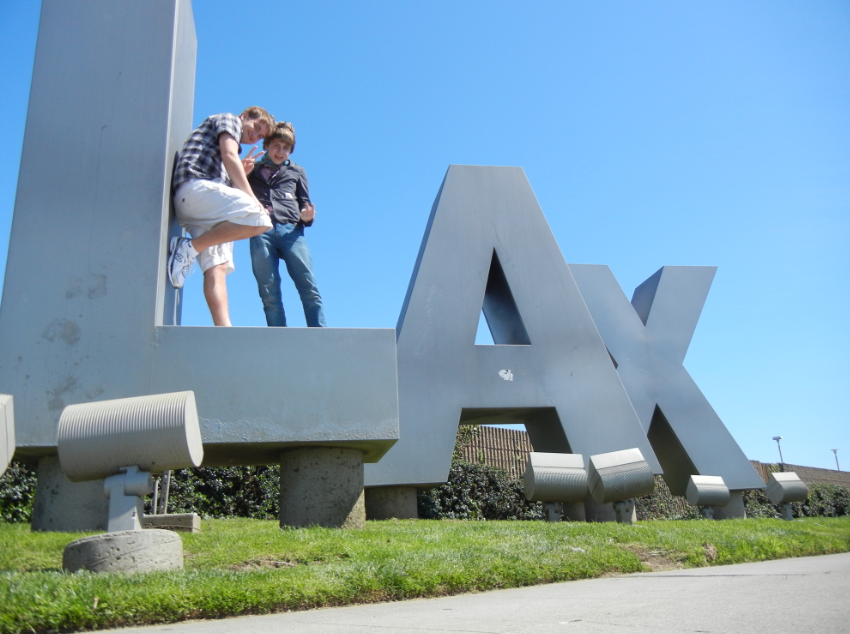 Welcome to LAX!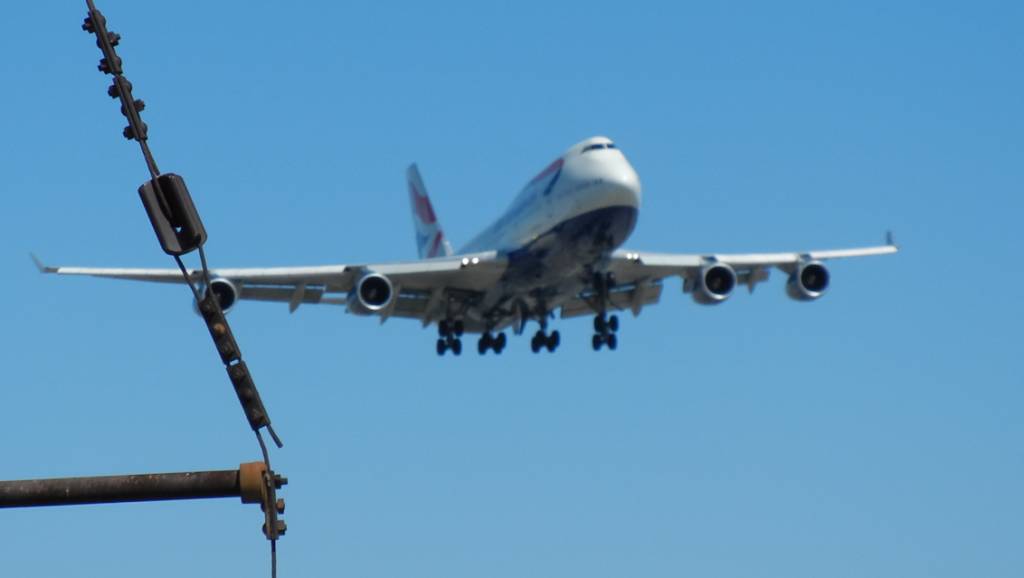 What lovely electrical wiring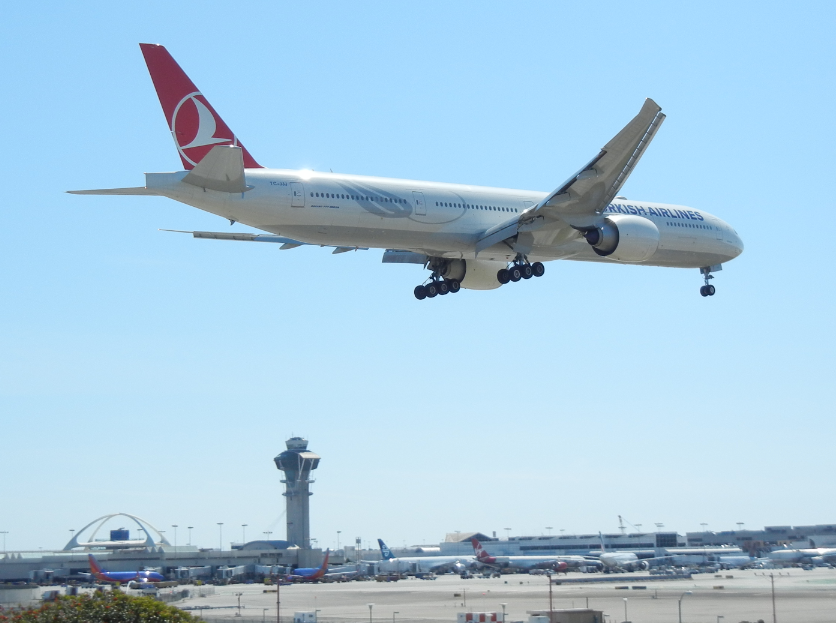 TK triple seven. I just love the -300s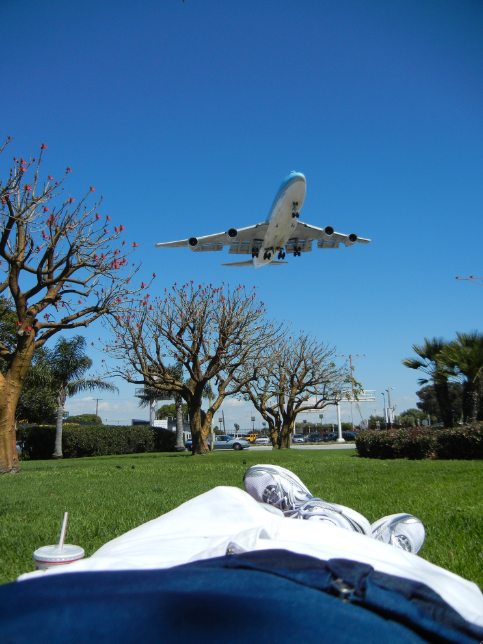 Excellence in flight, on final approach.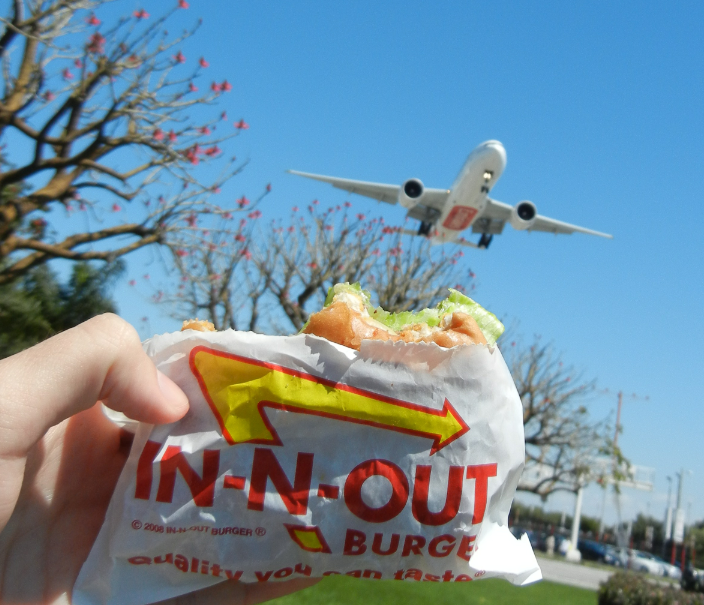 Delish lunch to top it all off.
As you can see by the photos it was a beautiful day outside and it was the perfect way to have the first In-N-Out experience there with great company. After spending several hours there we decided to head over and explore the airport. Here are a few random photos.
With signage like this I almost forgot I was in Singapore or Dubai's airport for a moment..
I think the sign is funny because it shows that most people want to get out of LA then come to LA!
Our secret room we found inside a terminal before security.
This room had great views of the tarmac.
After that we went back to the hotel and had a few drinks before falling asleep and flying out the next morning.
Continental Airlines Flight #1565
LAX-IAH
Depart 11:40 arrive 16:56
Boeing 737-800 featuring SKY interior
Seat 1A First Class
18 days old at the time of the flight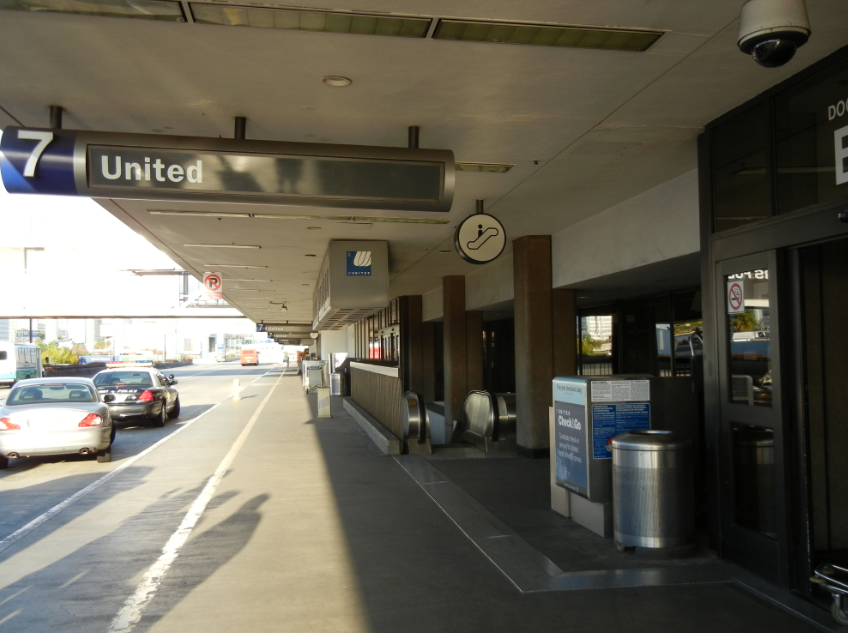 United Airlines curbside drop off
Inside the terminal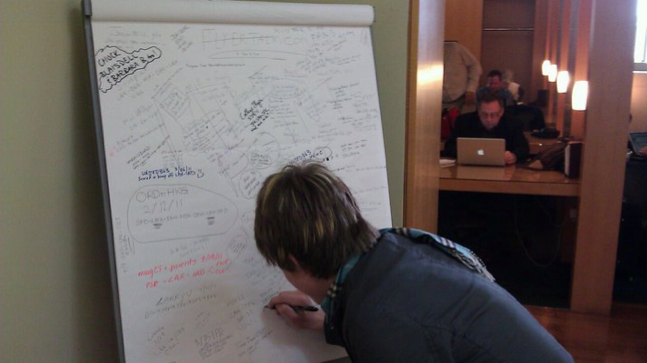 We had about 20 minutes to go to the Red Carpet Club and sign the Flyertalk sign.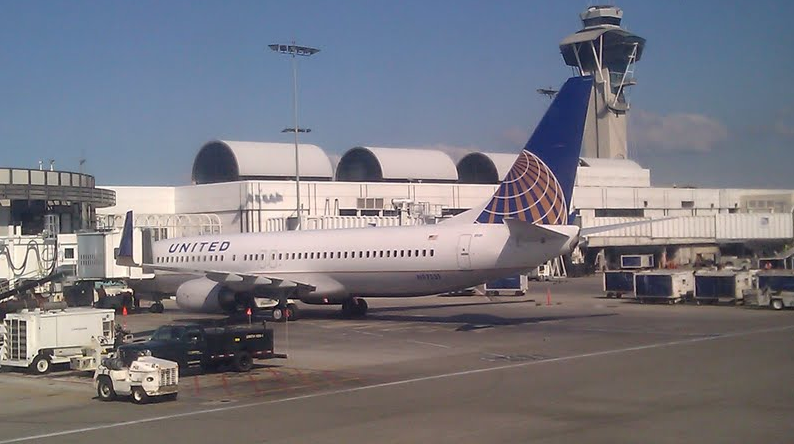 My less then 3 week old 737. No DirectTV on this new bird yet. This photo was taken the night before when I arrived in LA from Las Vegas and she was already parked at the gate.
Sky lights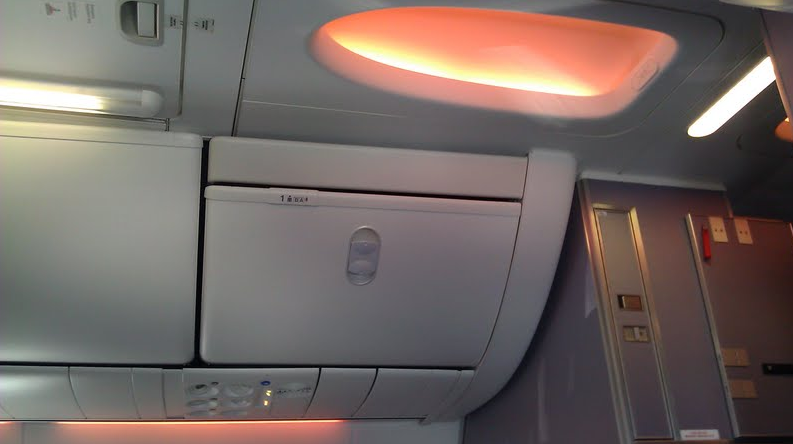 Sky lights photo two. I must say I really like the feel of the 737s with this feature.
New passenger Service Units.
Legroom and my entertainment for the flight.
Pre Lunch glass of white wine.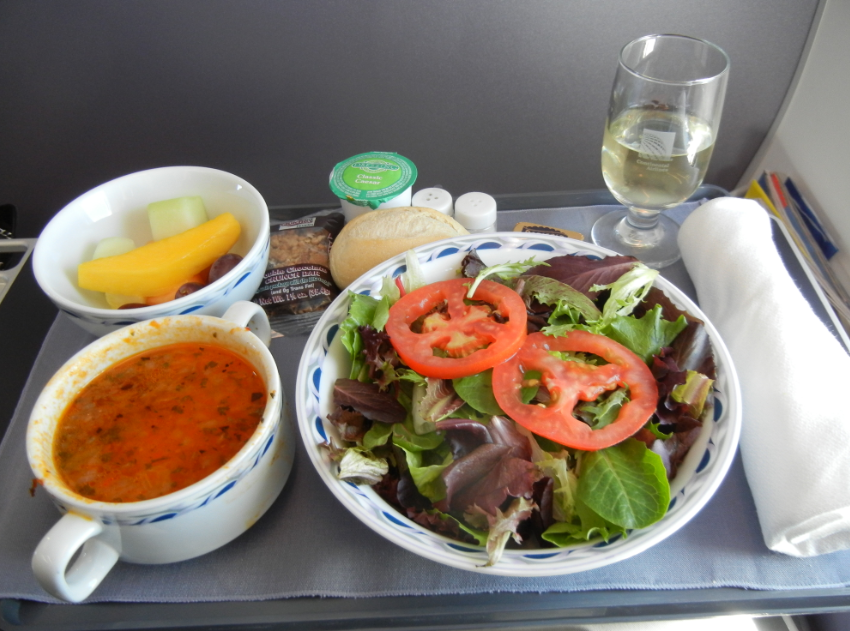 I knew I would eat a lot on the flight to Frankfurt so I decided to go with the salad and soup option. Was rather tasty with a nice variety of greens. The Vegetable soup was also good and served just below the temperature of melting the metal spoon as you dipped it on.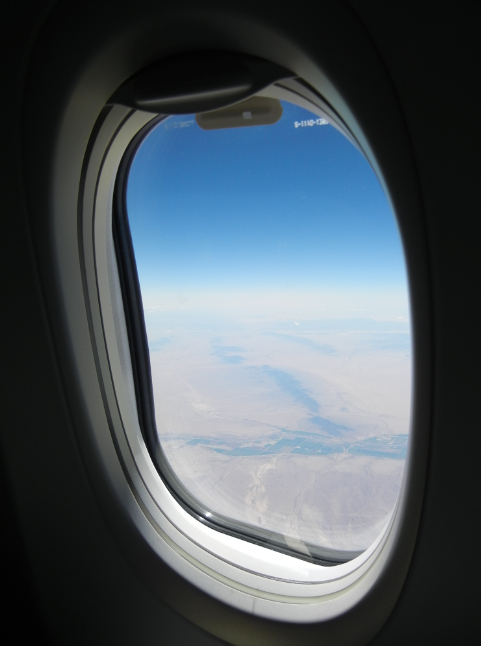 Everyday is a beautiful day to fly.
The flight landed on time and I went over to take a few photos of the plane taking me to Germany before going to the gate to board.
I took a quick refreshing shower in the Presidents Club.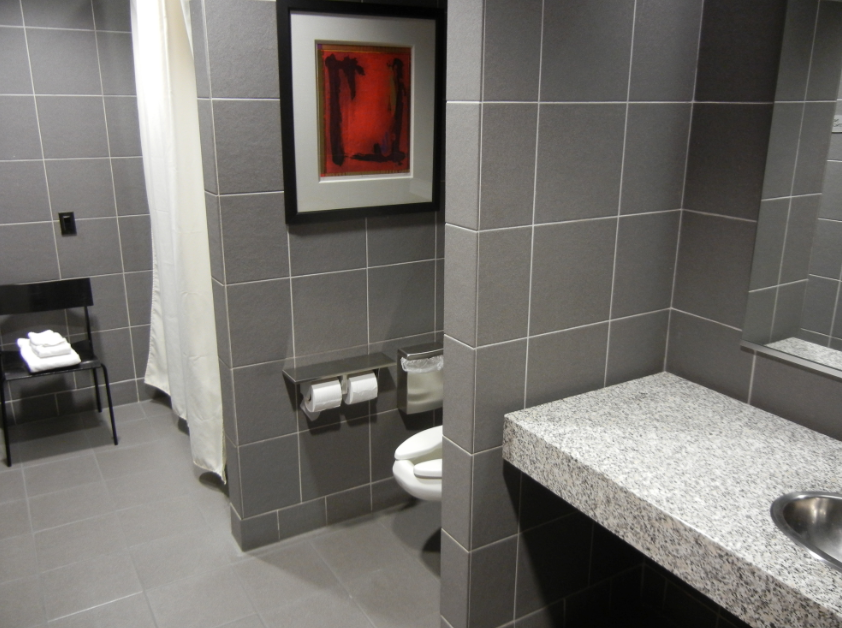 Pres Club Shower
Continental Airlines Flight #46
IAH-FRA
Depart 18:30 arrive 11:35 +1 day
Boeing 777-200ER
BusinessFirst seat 9A
My bird getting ready to board passengers.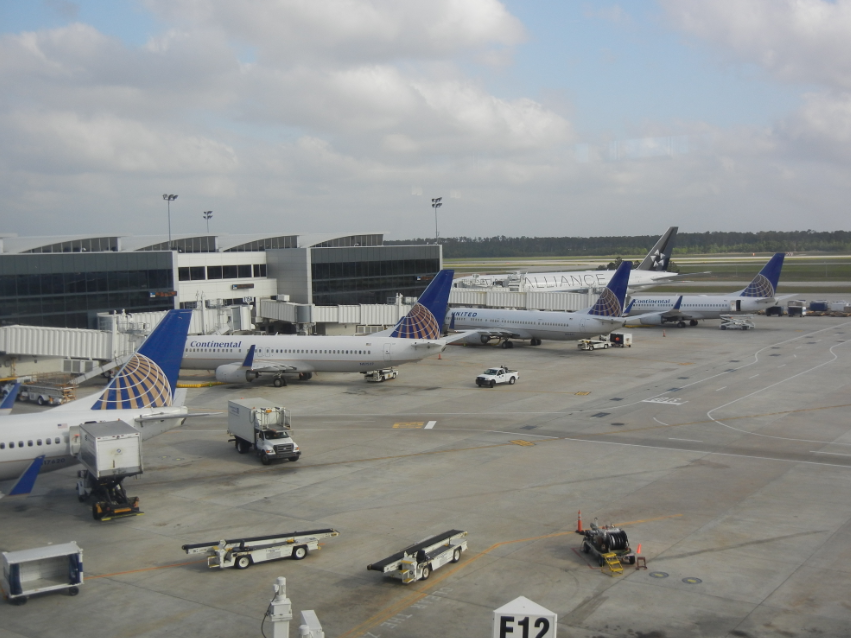 Overview of the field full of the lovely CO globe tails.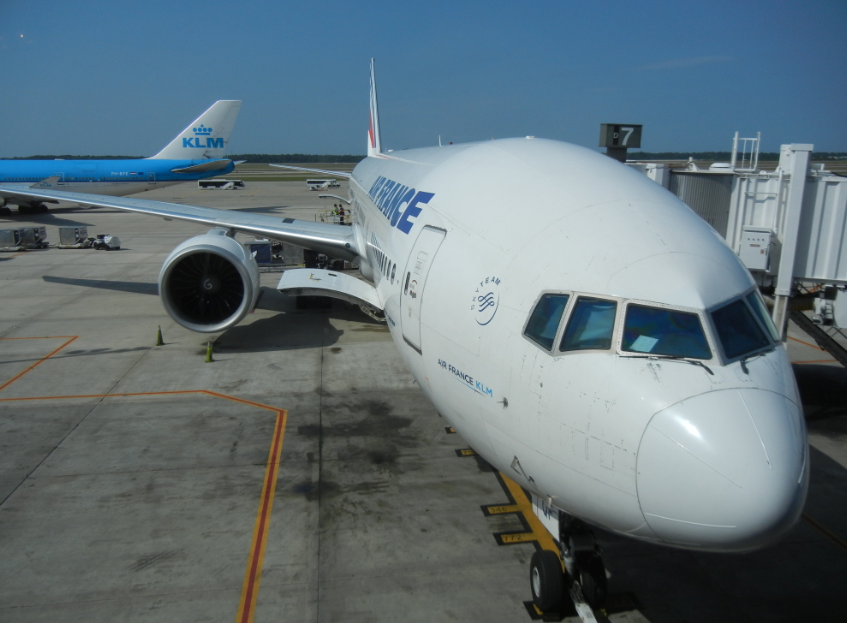 Air France 777 and KLM 747 getting ready for their Europe flights.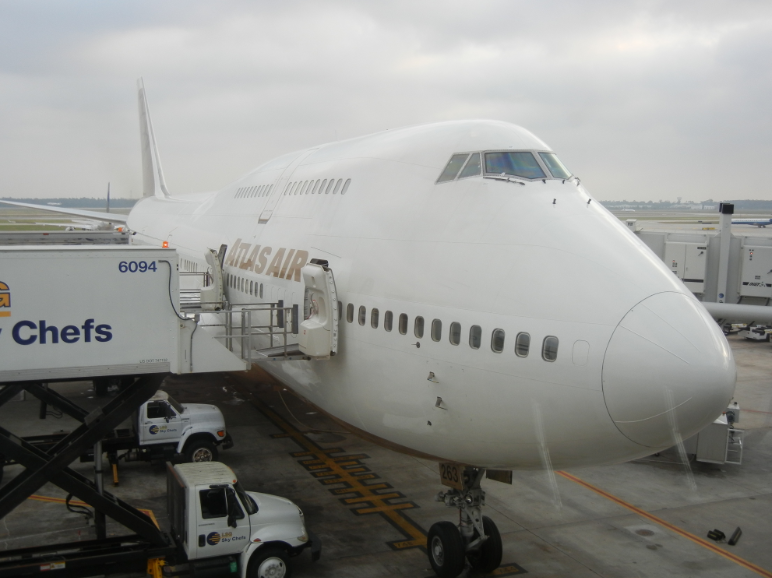 Atlas Air 747-400
Qatar to Doha and Emirates to Dubai
Almost time to board the flight.
Continental's new Flat Bed BusinessFirst seats are great. I would say they are better then United Airlines new Business Class seats so I hope the new airline sticks with these.
Pre flight Mimosa, my traditional pre flight beverage. Kinda tacky to be served in a plastic cup however.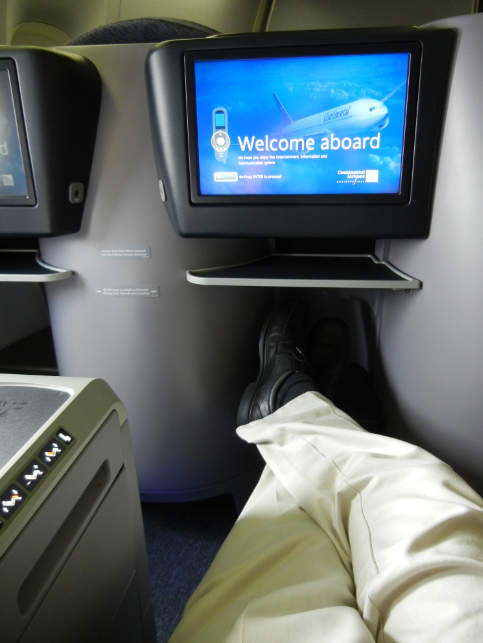 Great amount of legroom. I love the welcome aboard screens.
The BusinessFirst cabin was only about 50% full for the flight making great personalized service with the flight attendants. Also since I was flying home the next day I had the same flight crew back.
Great wing and engine views.
Welcome aboard screen again.
Menus were passed out by the crew so we could decide on the items we wanted.
Inside the menu. Very nice menu presentation.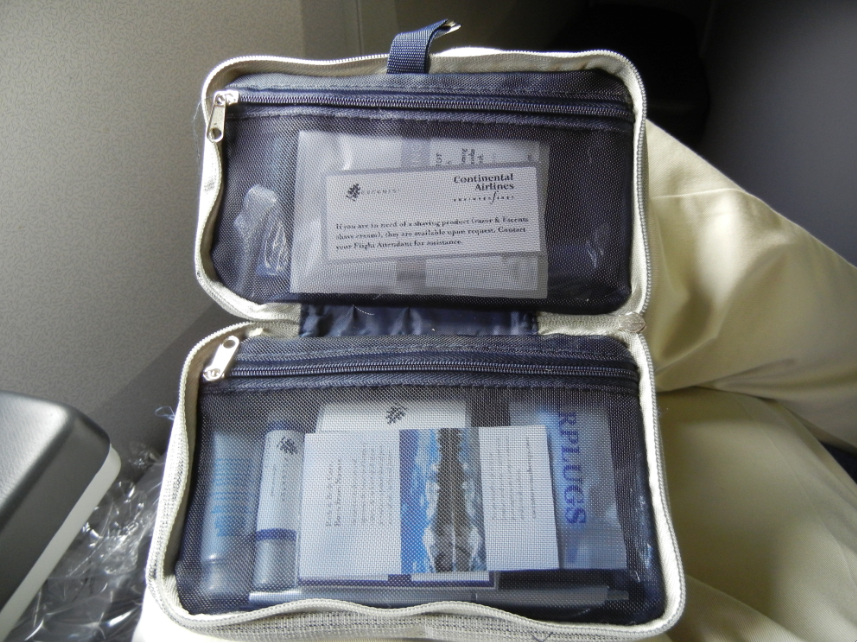 Amenity Kit for the flight. I enjoyed the lotion, chap stick and mints.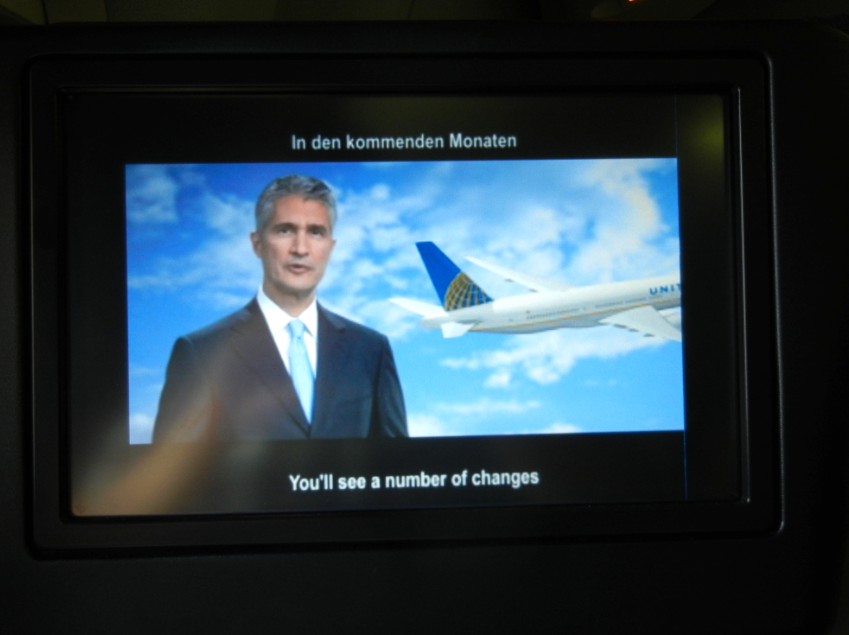 Safety video with the CEO updating us on the merger.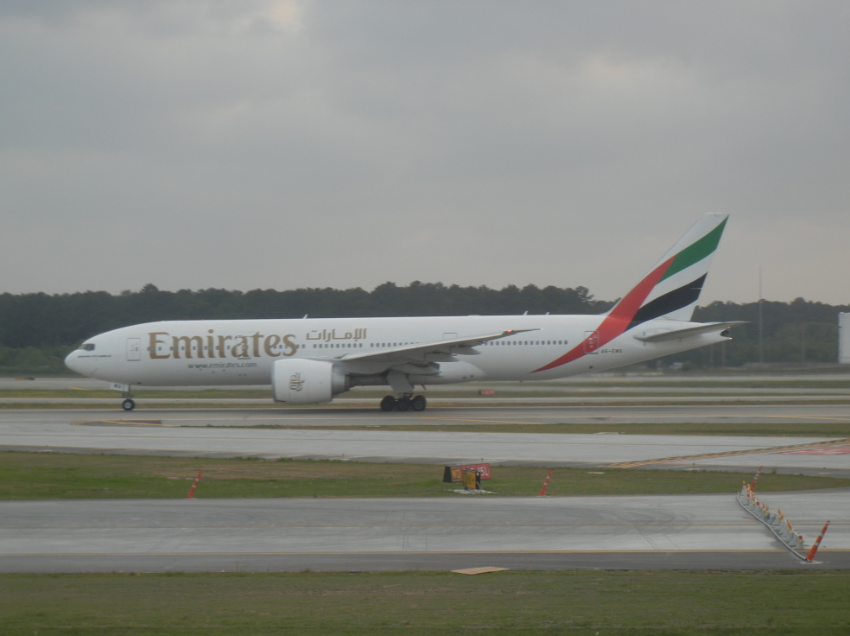 Following the Ultra Long Haul Emirates 777LR flight to Dubai.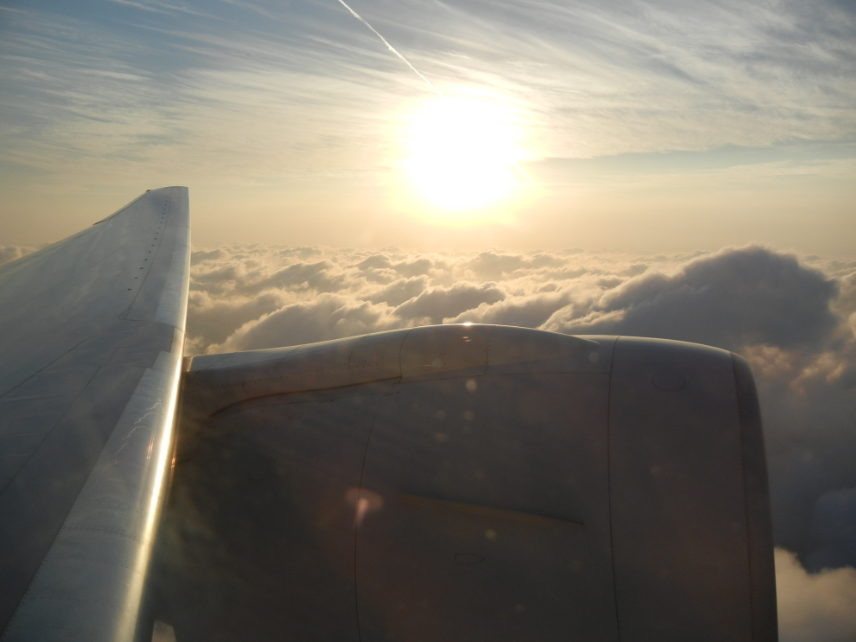 After take off the sun started to set pretty fast. Enjoyed having the window seat and the isle seat all to myself.
Remote for the IFE.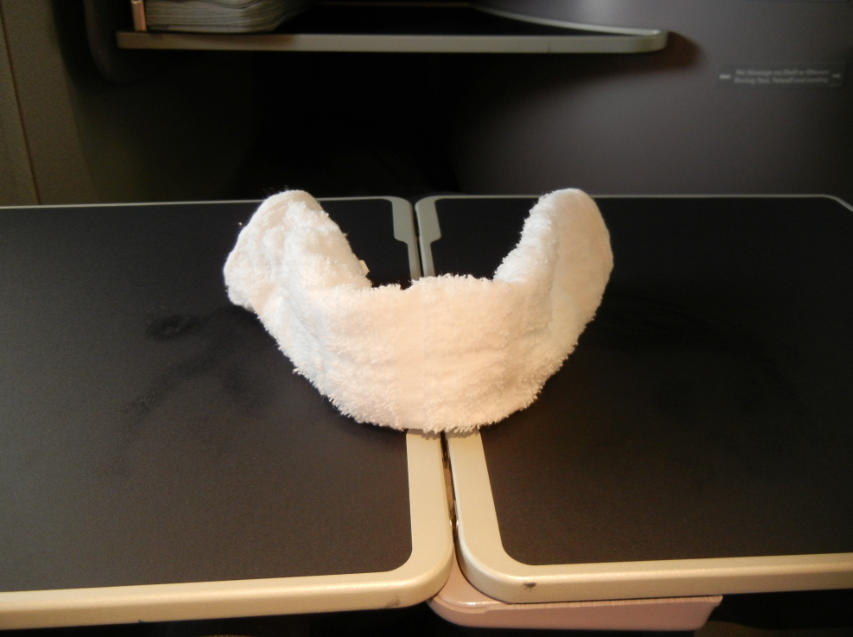 Dinner service started with the welcomed hot towels.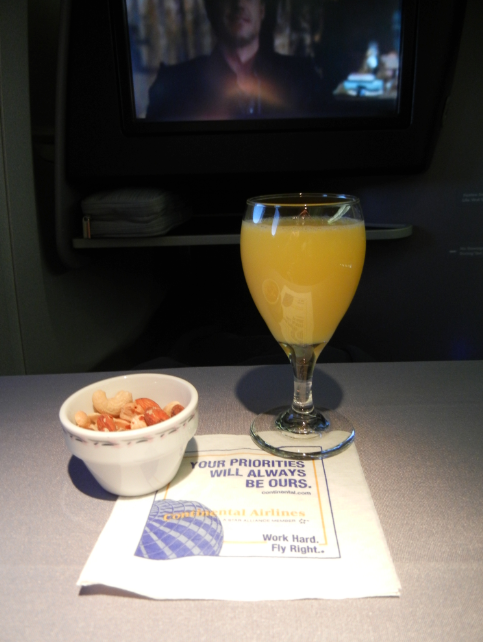 Pre Dinner cocktails and hot nuts. I went for another Mimosa for the time being.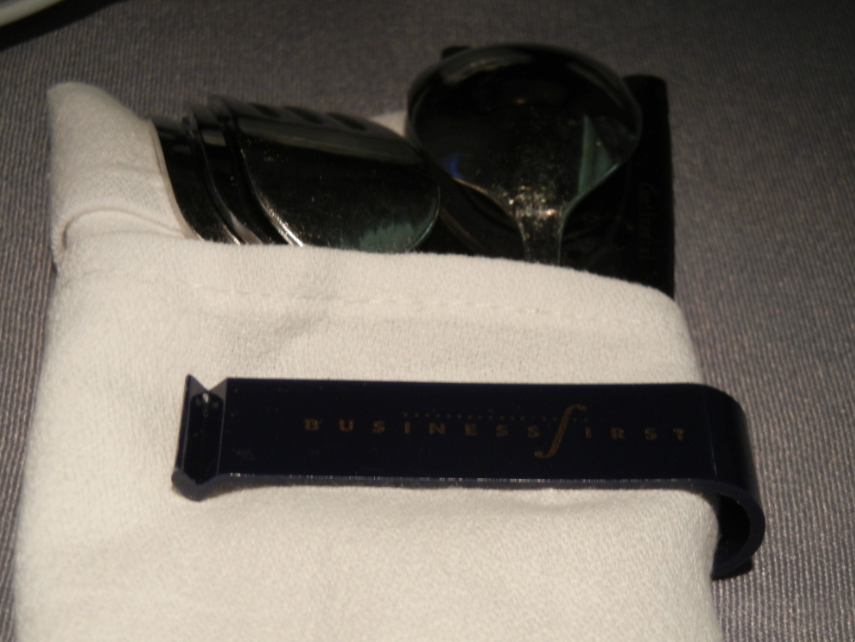 Silverware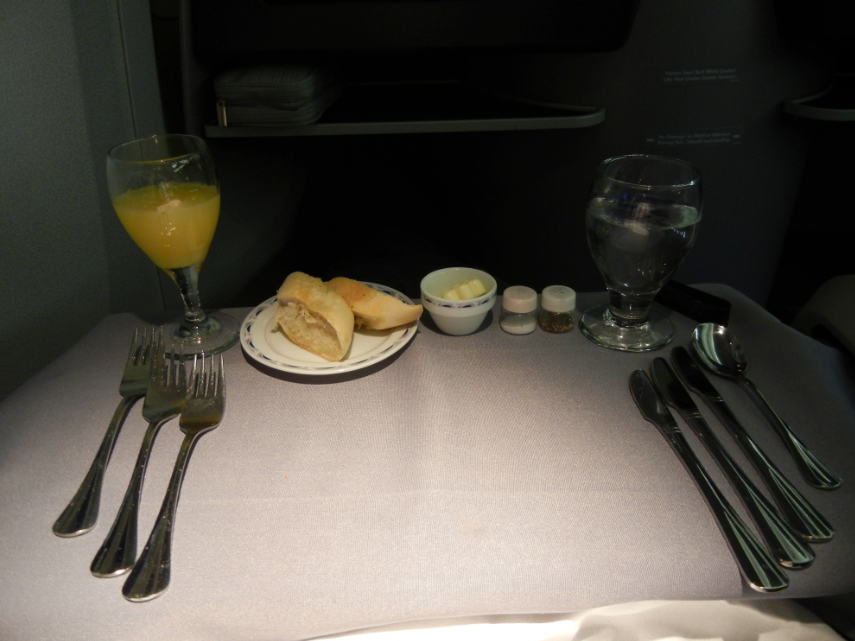 Tray table set up. I absolutely love Continental's hot garlic bread.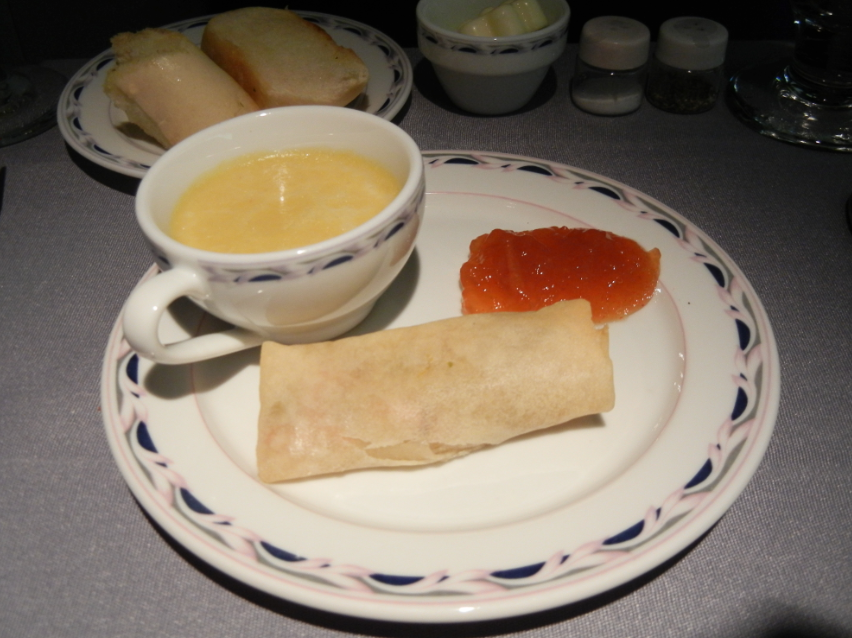 Appetizers were a spring roll with a mango sauce and a lovely little cup of a creamy soup.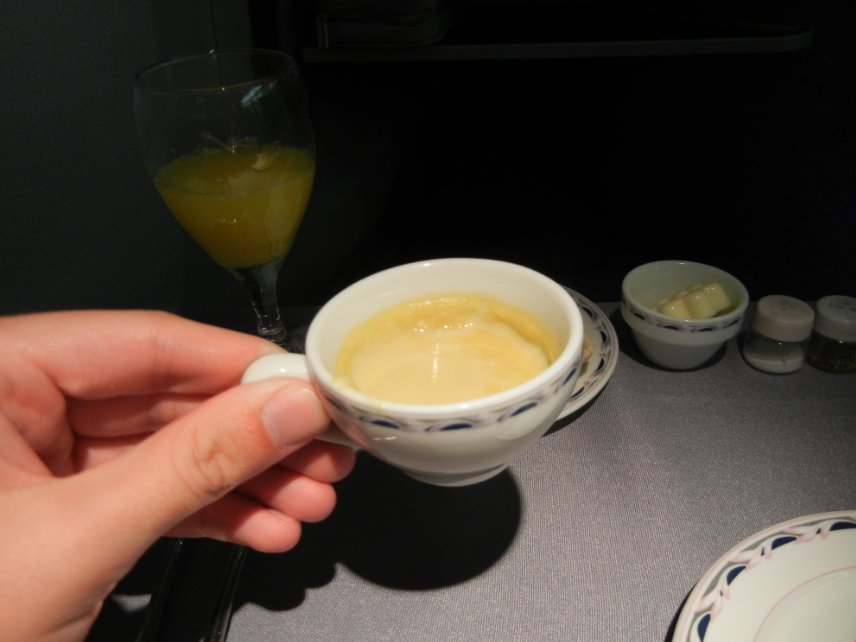 Soup again.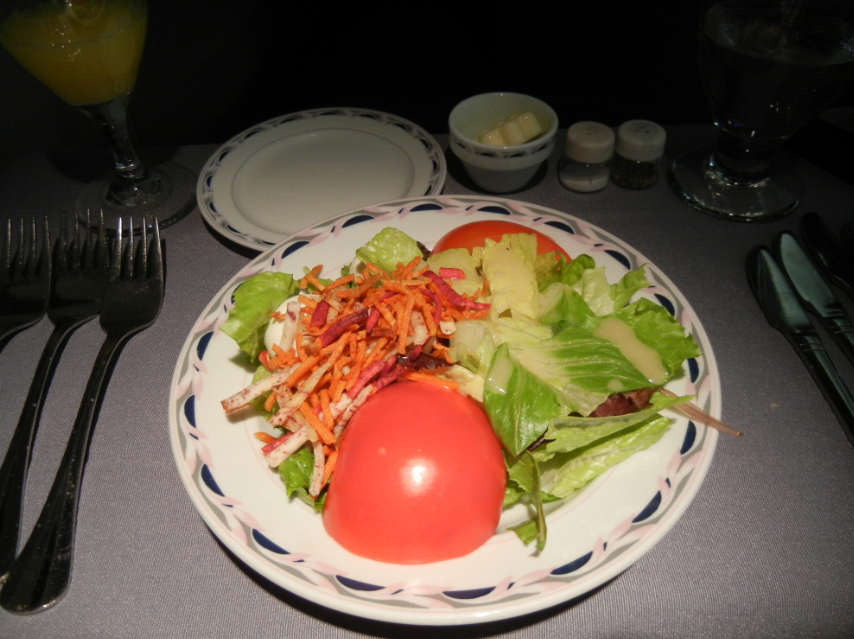 Salad was next and I went for the Champagne Vinaigrette that tasted great. I wish I remembered to ask for the brand.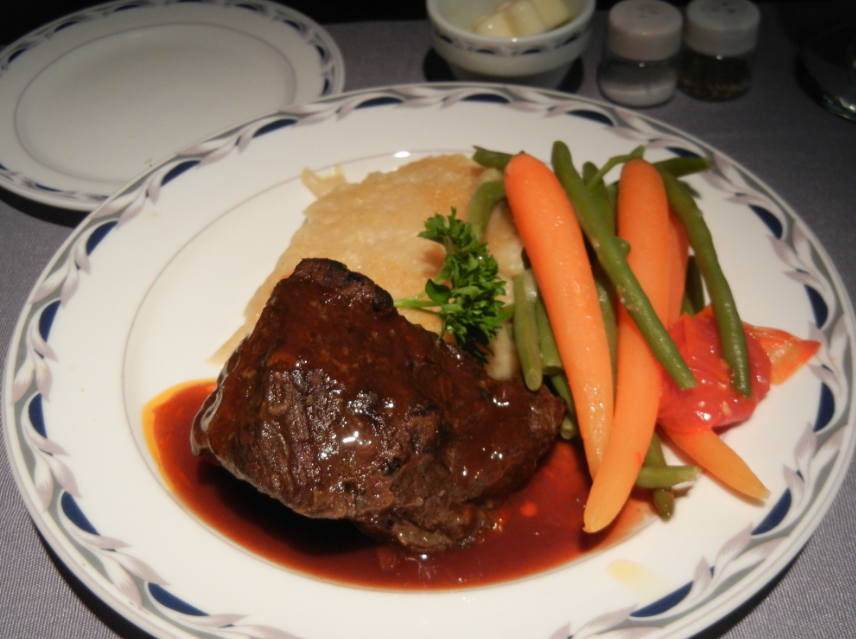 After the salad I had the steak and it was cooked very well.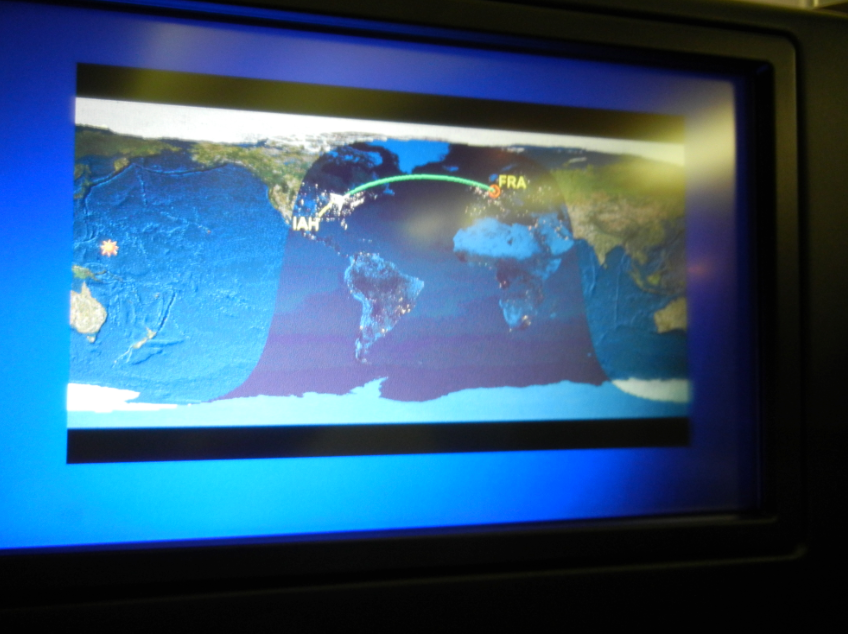 Our location between dinner and ice cream service.
This was a very tasty ending to a great airline meal but I was stuffed after.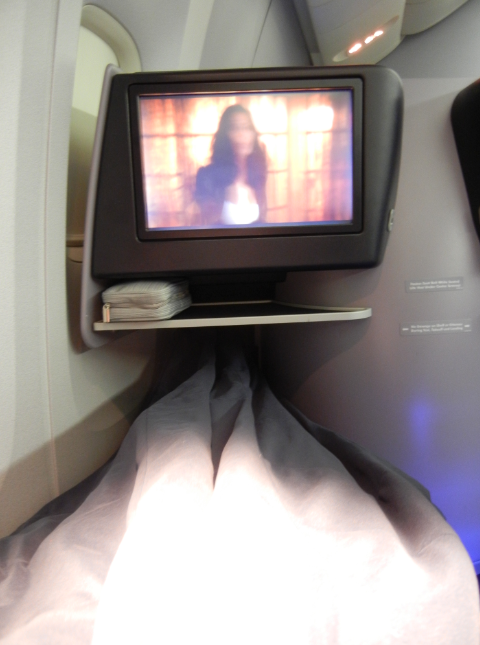 After dinner I decided to lay back and watch some movies. They had around 200 different options to choose from.
Inflight chocolate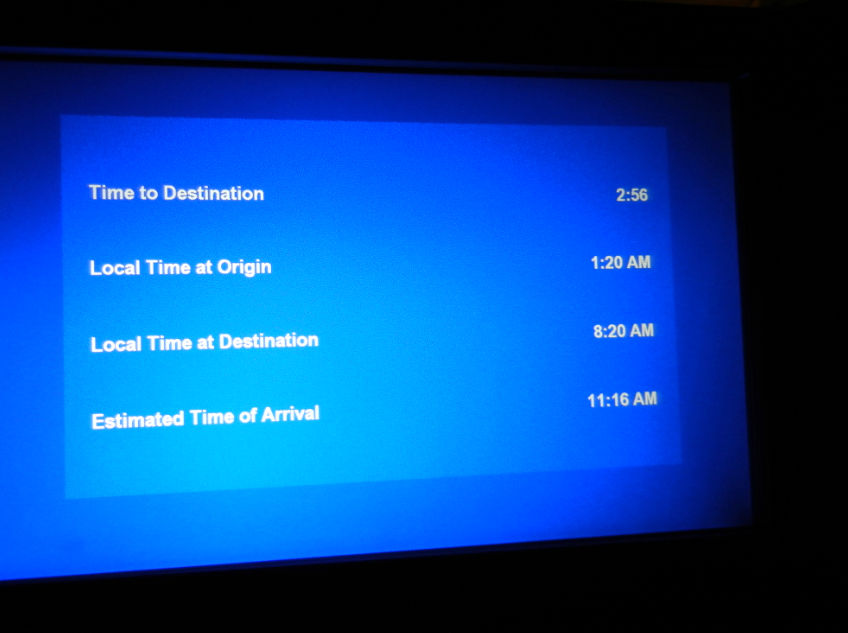 Our flight time left.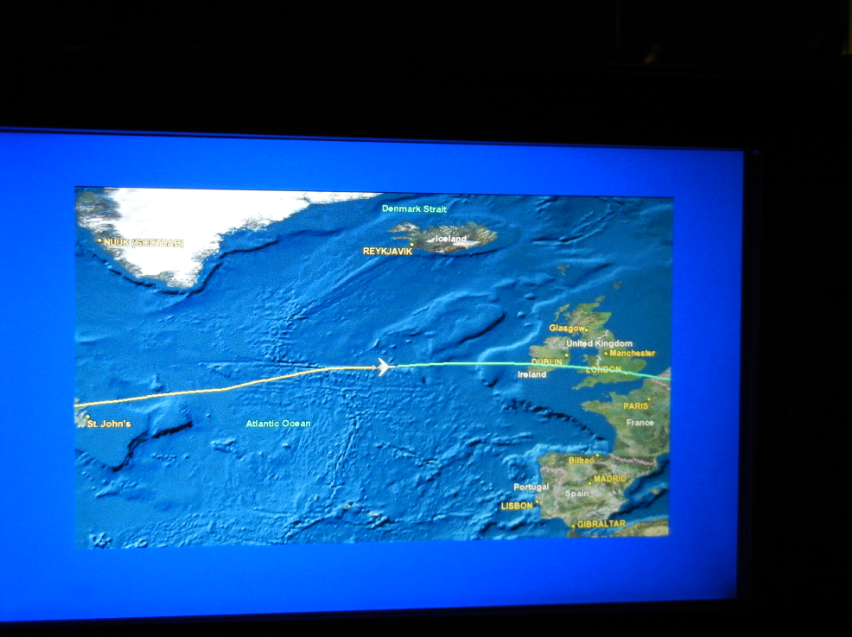 Heading towards land.
Sunrise as the cabin crew started to prepare breakfast.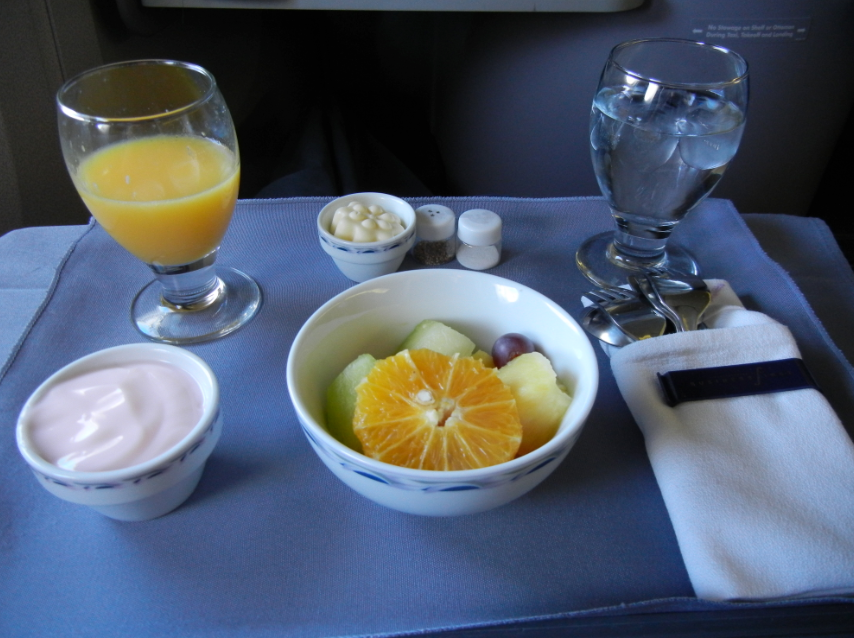 Breakfast started with fresh fruit and yogurt.
Followed by Continental's cinnamon rolls.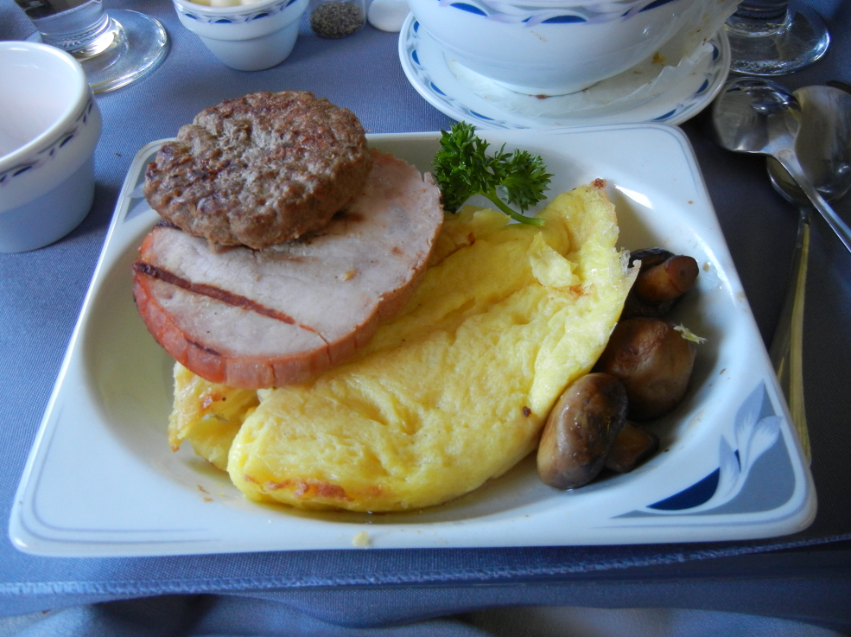 Ended with a cheese omelet with some proteins.
Our location after breakfast.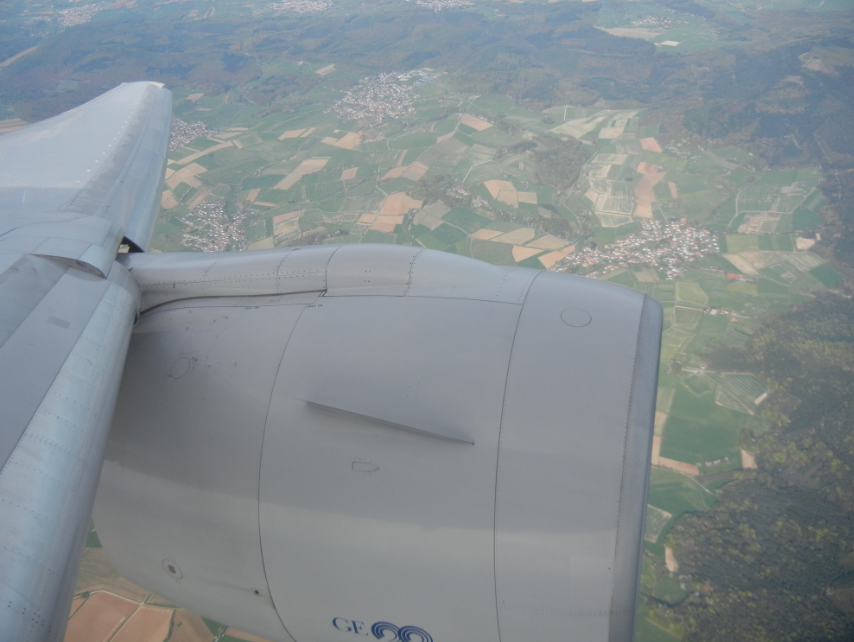 Last view of those engines doing work.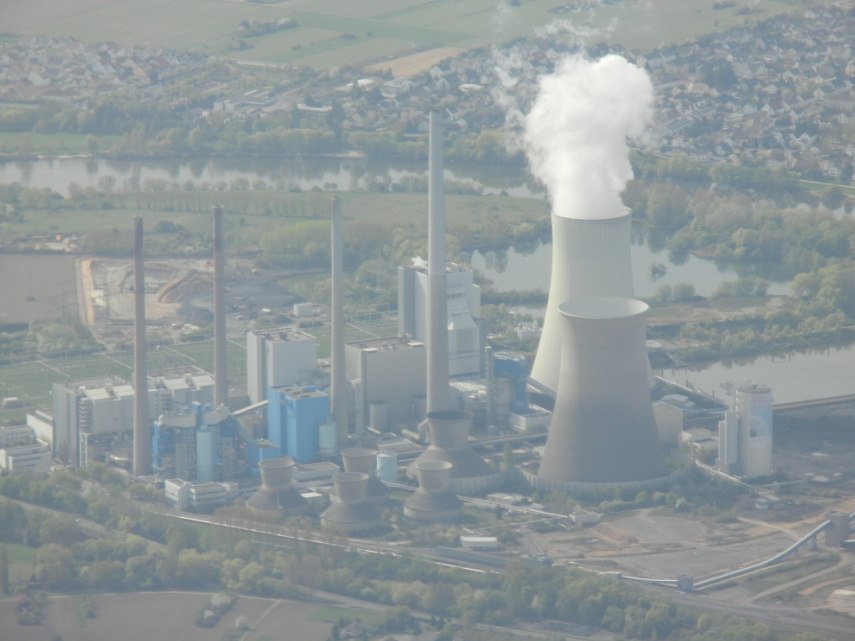 Power plant outside Frankfurt.
From the moment you land at FRA you realize its Lufthansa land.
I went to the airline lounge to kill time before my flight to HAJ and I must say the food was good, the views were great but I found the rest of the airline club to be pretty bad. Unless I couldn't figure it out, they were not offering free wifi to Business Class travelers.
View from the Lounge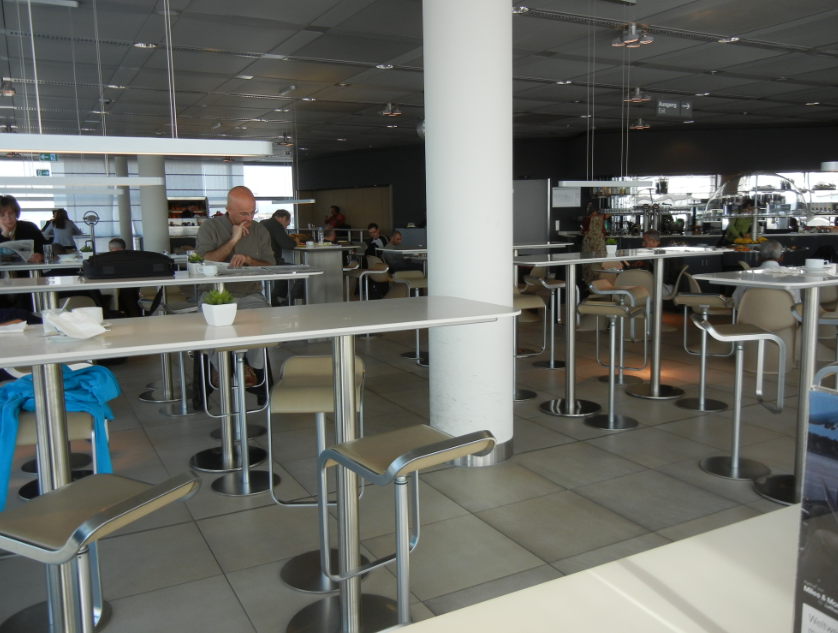 Inside the lounge.
CO 777 coming in from Newark. Same bird that took to me Tokyo a few months prior.
AC 773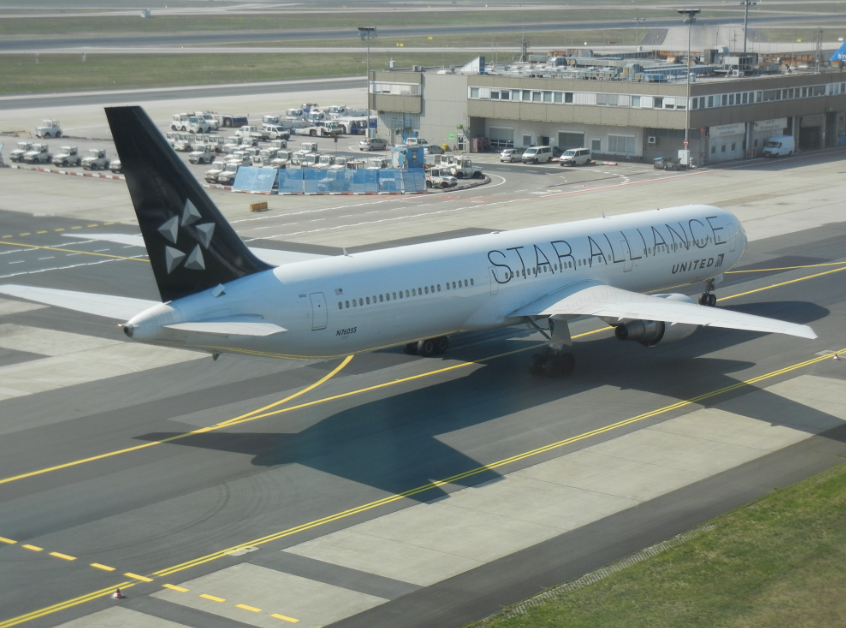 CO 764, this aircraft was the plane I took home on my other flight to FRA later on in the week. Nice to see old friends. :-P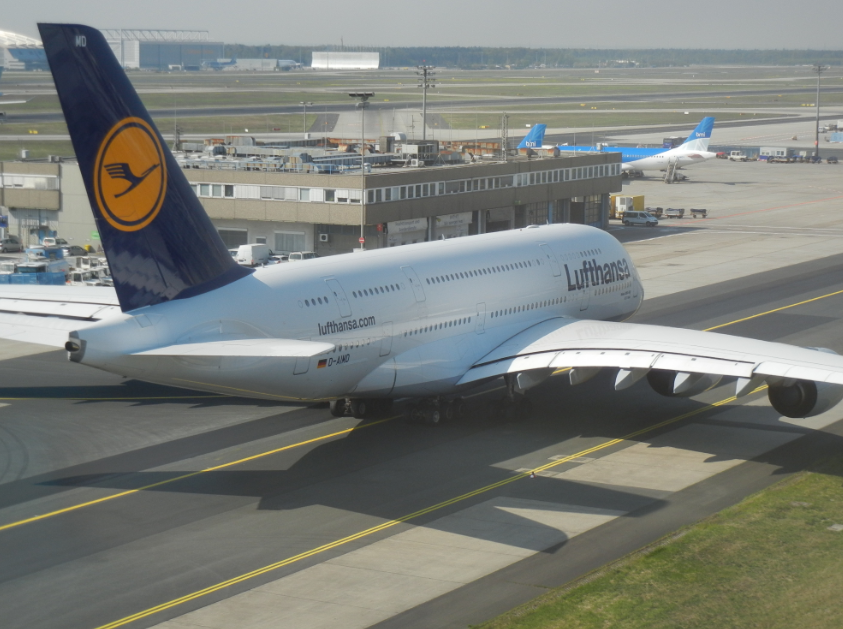 LH A380
I must say the flight was very enjoyable. I thought FRA airport was horrible though. I found a lot of signs to be confusing and some of the employees were less then stellar. My biggest complaint was it appeared that the AC wasn't working because it was way too hot. Both of my Lufthansa flights to HAJ were on time though.
Thanks for reading my trip report! Next week I'm doing one for Continental Airlines to Hong Kong so stay tuned for that.
Thanks in advance for all your comments and feedback also!
James