Hi dear a.netters and tripreporters!
A part of Scandinavia escorts you through a limitless sky

Welcome to yet another of my stories on recent travels to and within Scandinavia.
Blue1 717 and SAS in Business & KL AMS-HEL-ARN-AMS

Just 1 week after returning from a great trip to Norway (
KLM C-class AMS-OSL On The B733 & New Catering
(by
airbuseric
Aug 18 2011 in Trip Reports) &
A Short Ride In Norway And Back Home: SAS, WF & DY
(by
airbuseric
Aug 27 2011 in Trip Reports) ) it was time to hit the skies again. Reason for this trip was to fly another time on a Boeing 717 and to make use of the return trip on KLM from OSL to AMS.
Booking was done as oneway from AMS to OSL via HEL on Blue1, doing the Boeing 717 and RJ-85, which is due to retire in a few days/weeks time. I still hold my KLM ticket OSL-AMS on their Embraer 190. No new aircraft types for me on this trip though. The Blue1 flights were upgraded to Premium Class.
The flights were all on Tuesday August 23, 2011 and I didn't have to wake up too early. KF leaves halfway the morning, what a luxury for me.
Check-in was done on the SK website, on advise 02F, to have a good chance to see the city of Helsinki on approach. I picked up my boaring pass at the SAS counters in Amsterdams departure terminal 1, where I was not immediately served on the Business Class counter since a few Economy Class passengers where dropping their luggages overthere. It took me maybe 5 minutes to get the documents and went on.
Security clearance was a breeze since I used the priority lane, staff was looking to my boarding pass without interest before letting me through. Then I just put the boarding pass back in my passport and jacket, when another security staff is asking for it. I told her that her collegue just checked it. She insisted to do it herself again. Well, a useless job she did imho…, plus not really customer friendly from my point of view. The staff on the x-ray machine was in a good mood though and that leaves me with a good impression this time.
Then I went upstairs to visit the Servisair Business Lounge, which I was entitled to with my flight in KF Premium cabin. Once arrived, I was surprised to read a message that the lounge was closed as per 23 August 2011. Well, that was exactly today,… and I continued to read.
Apparantely a new lounge was opened next to KLM's Crown Lounge, in the 'Airport Garden'. You all know from my previous experience in the Servisair lounge, that it was in a real need of refurbishment or better. (see:
Lufthansa – The Upgrade, Some Lounges & A.net Meet
(by
airbuseric
Jul 11 2011 in Trip Reports) )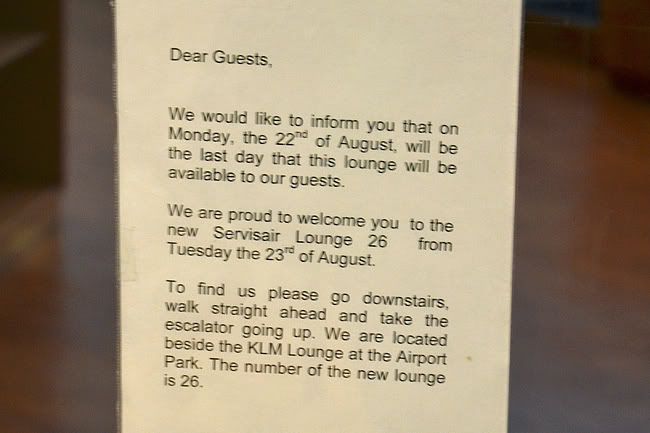 The old Servisair lounge at AMS is closed, yeah!
The entrance looked at least very well designed, nice light and 2 lounge staff welcomes me inside. I confirmed that this was the first day that this lounge was open, and they confirmed. Also she advised that no boarding calls are made in the new lounge. A FIDS screen and newspaper assortment is near the entrance.
Around the corner I found a coffeemachine, and a draft for beer, as well a machine for soda's. The latter ones were not working yet, which was a slight dissappointment. Not for me, but I mean, when you open a lounge, they've to make sure that everything is in working order.
Food options (breakfast) were weak as always. Just a Dutch cake (sorry, no spaces), and the usual selection of crisps and nuts. Nothing like sandwiches, or fruits, a missed chance.
Seating is well designed and large glass walls give a view on the people moving below in the terminal area. Part of the old seats are used again (the blue leather ones, previously used in the bmi/LH lounge area). I did not find an area with computers or internet facilities, which is a let down. WiFi is available (2x 30min free), by use of the KPN network. No unlimited usage here, also pretty poor.
But overall in general, the lounge has some good looks and design, a good place to spend some time.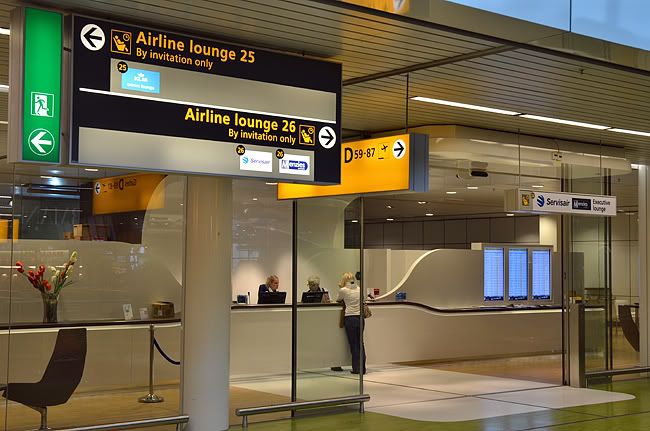 Entrance - New Servisair/Menzies lounge in AMS (Schengen area)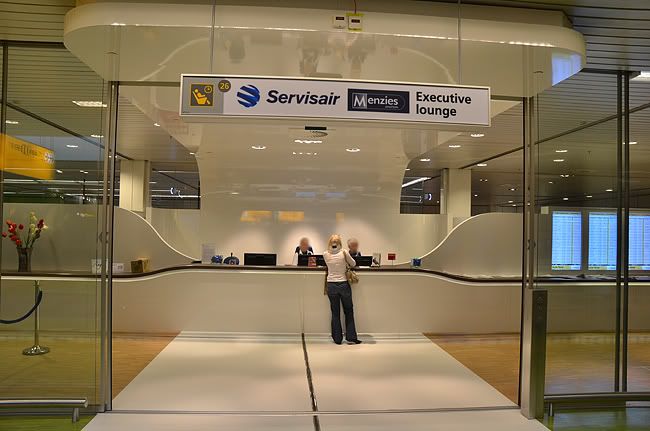 Entrance – New Serviseair/Menzies lounge in AMS (Schengen area)


Lounge interior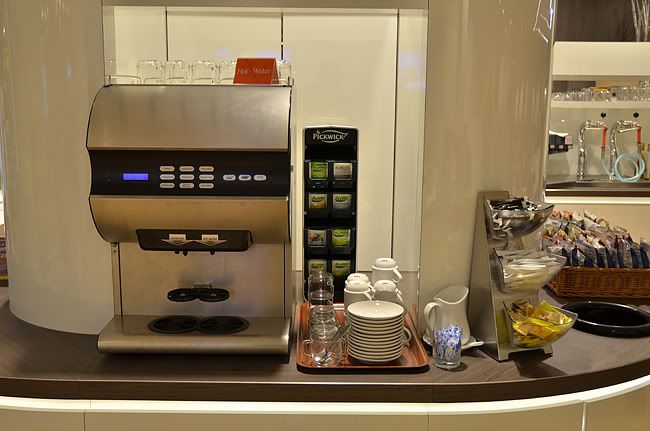 Coffee & Tea maker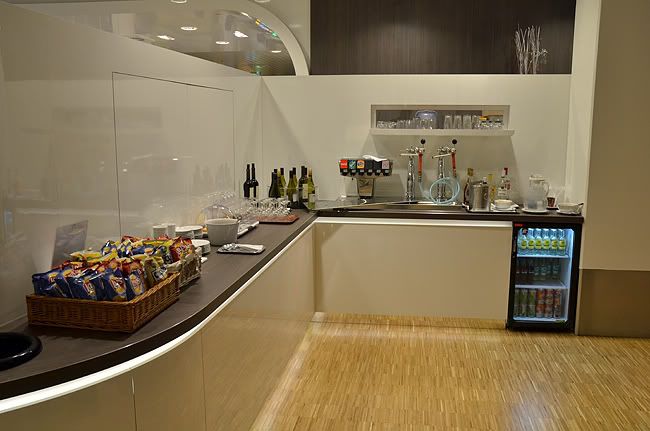 Still a weak point: the other food/drink options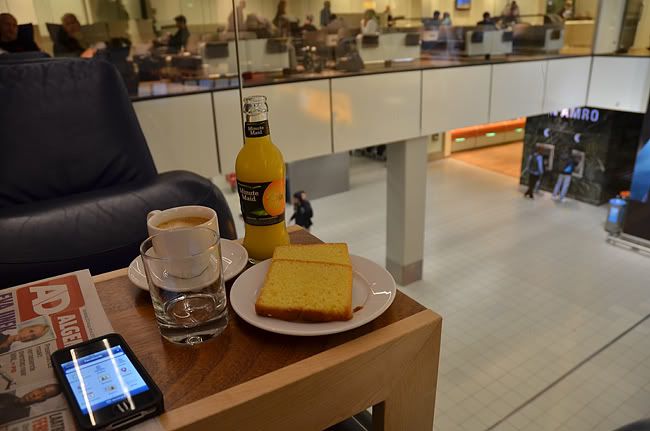 I prepared this 'breakfast' to start my day, plus view from the new lounge
My boarding pass stated a boarding time of 10:25hrs (flight departure 10:55), so I went to my gate C04. It takes about 5 minutes walk from the lounge.


Mostly welcomed, the Boeing 717 did show up indeed. Competition in the background too!
A good crowd of people formed a line already, of course in front of the priority lane. I waited just aside, surprised by no staffs around, no informations, until we started boarding at 10:48hrs. Well, 7 minutes to go, definitely a bit of delay is expected now.
Priority passengers (read: me) were given the correct treatment and other people had to make a new queue in the correct lane. I was wished a good flight and stepped onboard. A friendly welcome by the purser, for sure. Newspapers were located on seat 01D, but only Finnish ones. I feel sorry for the Dutch passengers onboard, puzzling around with the Finnish language.


This one is for PH: No name on OH-BLP
Flight:
KF832 // AMS-HEL
STD
10:55
ATD
11:02
STA
14:25
ATA
14:25
A/C:
OH-BLP
(Boeing 717-200)
S/N:
02F
(Business class/C)
View Large
View Medium


Photo © Airwim
Onboard I seated in my standard seat, seating layout is 2-3 on the Boeing 717 and in Premium Class legroom is slightly better then more in the back of the aircraft. Premium was for rows 1-3, from 4 and further was standard Economy class. No curtain here for seperation, just a small card placed on the seat.
Legroom was ok, traytable a bit sticky on the back since some advertisement was removed. Windows were clean and offering a good view outside.


Seating on Blue1's Boeing 717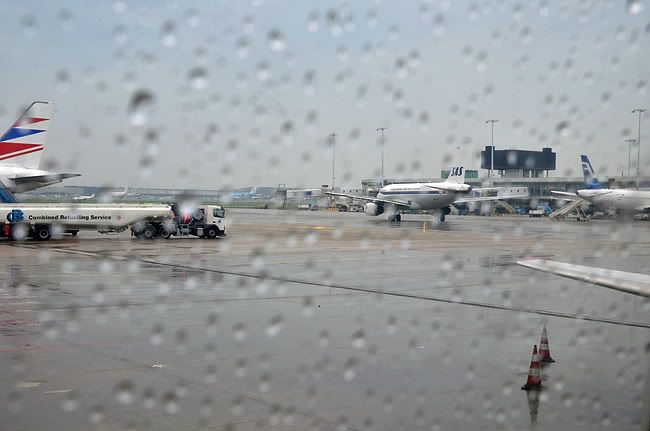 Raining outside. SAS sending in something retro on their A319 from CPH
Meanwhile we were delaying and at 11:05hrs, just 10 minutes late, doors were closed and we were given a live safety demo in English. A few minutes later we got our pushback and startup. I found it interesting that no word of welcome, nor explanation was given about our delay. Not by the groundstaff, not the cabin crews, also not from the flightdeck. This is a bad point for KF.
The Boeing 717 was really quiet in the front, good comfort it seems. But that is with all those planes with tail-mounted engines. The cabin light flickered a bit during taxiing, and caught my attention. We taxied for quite a while, to runway 09, which is a runway which I hardly get to fly from. Runway 09 departures lead of highly populated areas, therefore not really preferred. But it seems that the weather conditions and especially the wind and approaching front with thunderstorms from the Southwest, made us using this runway.
With some traffic ahead including the daily GA A330 flight to DXB and CGK we lined up. Also we were followed by quite a few flights, Sky from Turkey, Pegasus, Cimber Sterling to CPH and SQ to SIN. Our takeoff was powerful as expected, with a few views on the the airport before flying into the low clouds.


Taxiing to runway 09 in AMS. Traffic from Turkey follows us closely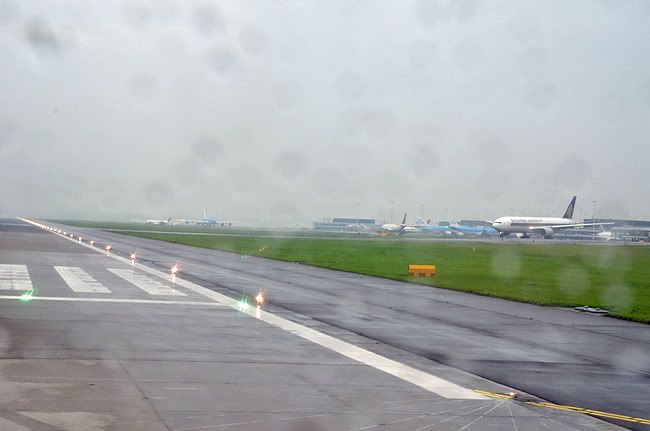 Lining up runway 09, Cimber CRJ-200 and SQ B772 in the background


Airborne and a view on AMS. Some widebodies around there…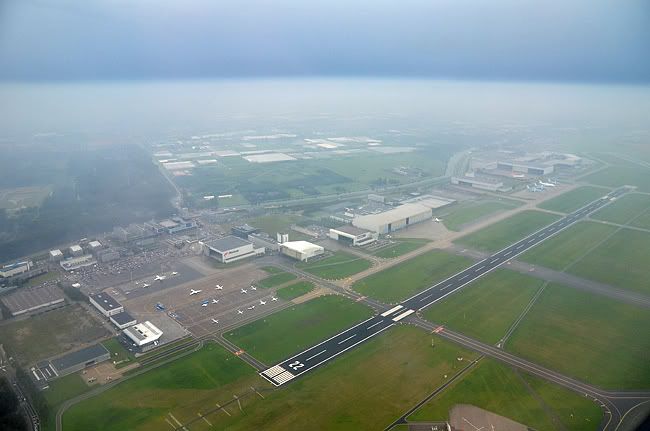 AMS – Schiphol East // General Aviation apron and runway 04-22 visible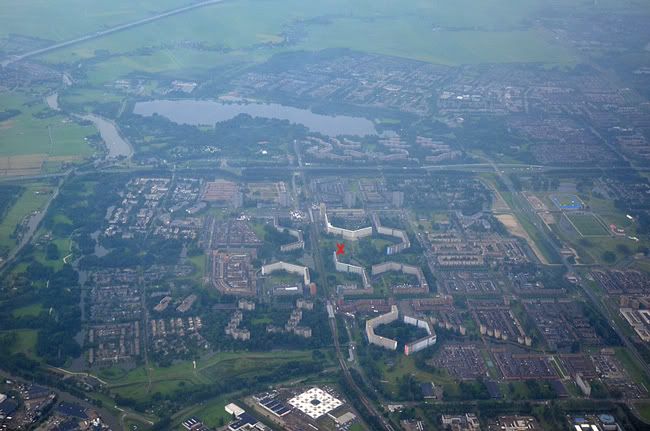 Amsterdam Southeast suburbs
The red cross marks the crash-site of the ELAL B747-200F on October 4, 1992 where part of the apartment building collapsed
After a while the seatbelt sign was switched off and then the flightdeck gave some route information. We would fly over CPH, then south of GOT and to HEL at 37,000 feet. Arrival was expected around schedule, despite the departure delay. Again, no reason why. But at least, they told something now.
Cabin crew also started the show, with the purser doing all passengers in the Premium Cabin. Well, that was me only, so I had a personal waiter on my behalf it seems. The somewhat older lady was really friendly to me and first offered me something to drink. Now, I just had so celebrate with some bubbles, so a sparkling wine had to do the trick (no champagne on board). It was delivered with a real smile; shame about the plastic cup though.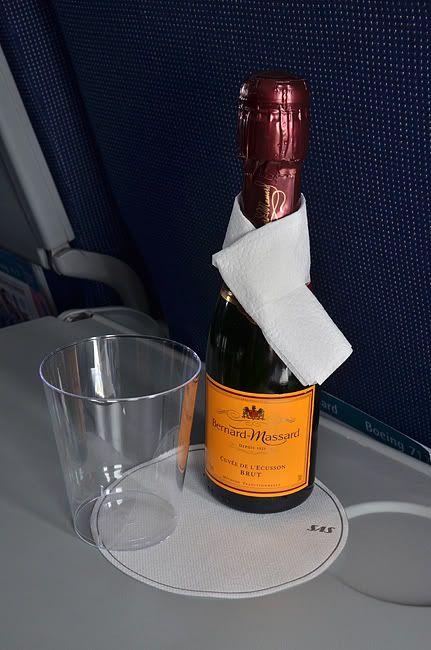 No champagne to celebrate, but sparkling wine to start the day with!


Compulsory legroom shot // traytable not in the best condition
A while later she returned with my (special) meal. I ordered a VLML (Vegetarian Lacto-Ovo Meal) a few days in advance by phone to their callcenter. This worked out well, and the meal was onboard today. Some fresh items here, a nice salad with goat cheese as sidedish. Coffee was offered with the meal, as well additional other drinks, so a white wine did well.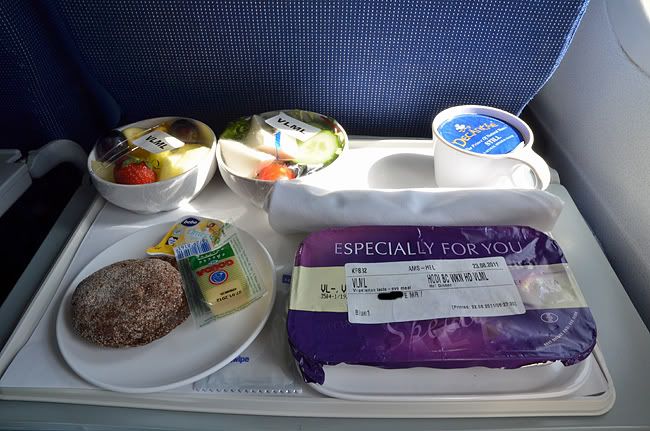 My VLML special meal presentation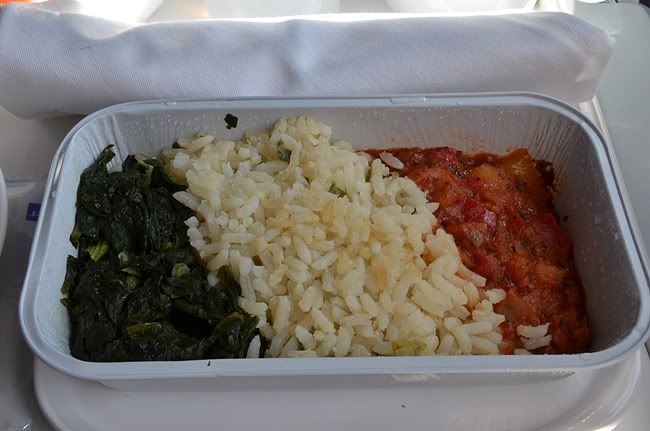 Hot part of the meal – Not too much inspiration used to prepare, but OK meal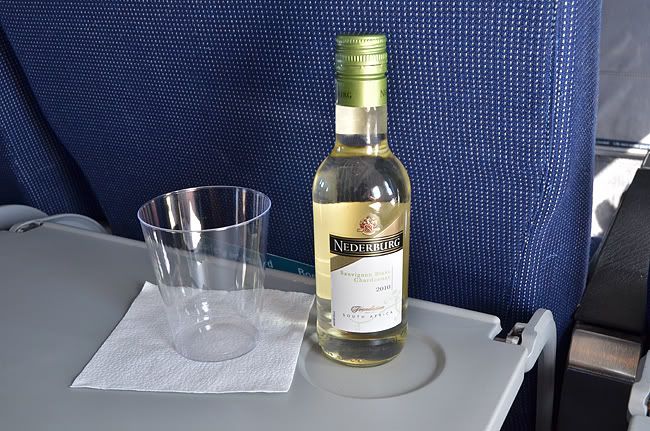 White wine comes with the meal
In the buy-on-board menu card (for Economy class) I noticed my favourite drink on sale as well, so why not having a Baileys with some coffee as well. Delivered with another smile, and the coffee in a nice cup.


Love the Baileys as I love the gimmick as well
Then we started descend to HEL already, and I had to use the lavatory during the time with seatbelt signs on already. The forward lavatory was all the time blocked by a few other passengers (there were also 2 lavatories in the back btw), but I didn't make an issue of it. The crew had no problems with me using it shortly before landing, but it might be better to offer the forward lavatory to Premium passengers only (this is done by KLM also on European B737 flights).
Approach to a cloudy HEL was smooth, not sure if I saw all of the city, but I had some good views before we landed on runway 04L.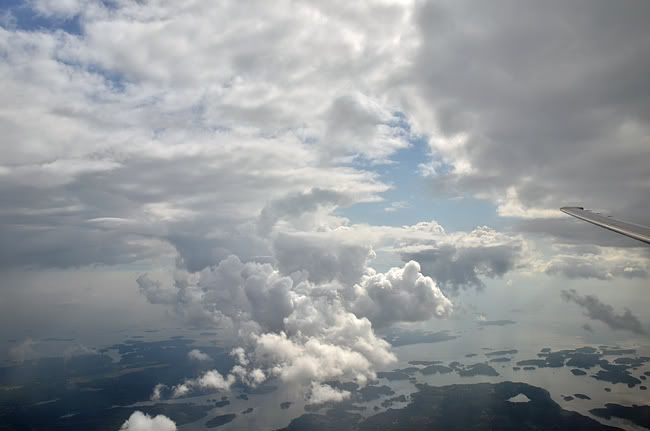 Approaching to HEL
Just after we landed I noticed an AY A330-300 landing on 04R, probably doing a simultaneous approach. Taxiing took a few more minutes until I arrived at our gate, no. 15 in Helsingfors, uhm Helsinki.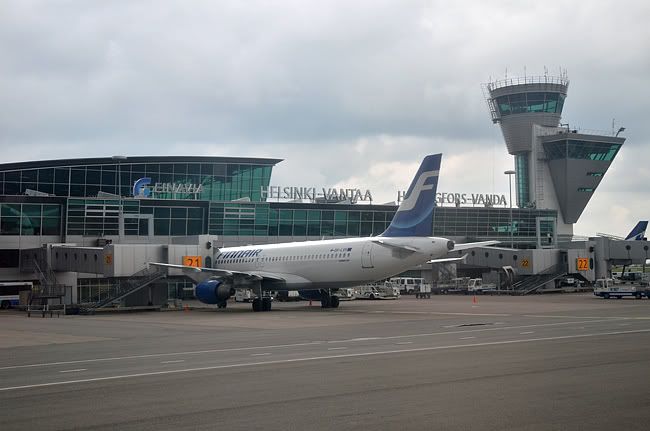 Welcome to Helsingfors/Helsinki
Deplane was via the forward door, using the passenger boarding bridge, I was the first person off, and thanked the crew for a great flight.


Goodbye to OH-BLP, my inbound 717. Another 717 leaving in the background
---
I had a few hours to kill in HEL according my travel plans. A meeting with P. aka FlyingFinn was scheduled, and he booked a flight to ARN later that day, just a bit later after my flight departure to OSL on KF. We agreed to meet at 16:00hrs, since P. had to work first and drive to the airport via home.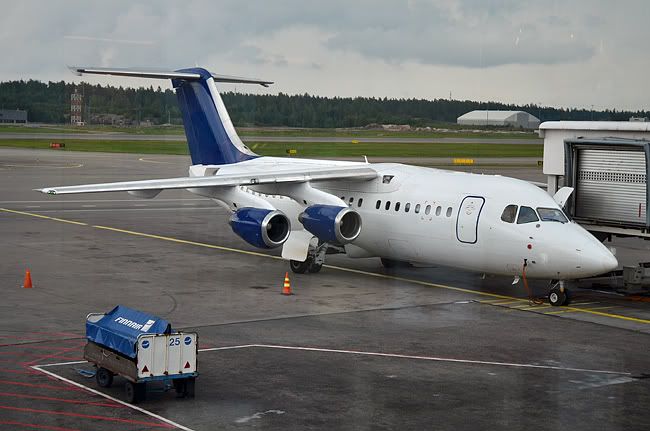 Well, this is also Blue1. The RJ-85 will leave the fleet next month. Titles are removed already so it seems for this one
I walked up and down the terminal, watched the crowds of Japanese travellers for the AY flights to NRT, KIX and NGO, visited some shops to watch the beautiful Ittala Bird-collection until I suddenly noticed a single red line on the FIDS.
Of course, luck was not with me, exactly my onward flight to OSL was showing a delay (already) of nearly 1 hour. And the risk of becoming more, of course.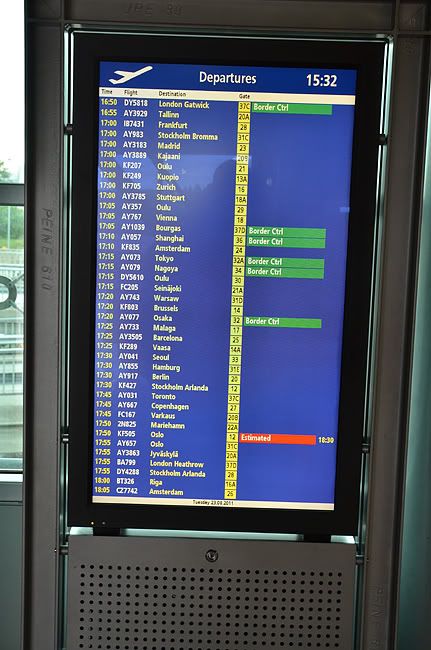 OMG… that's my flight!
I wasn't amused at all now, since my connection in OSL (to my KLM flight, on a seperate ticket) was 1h05min only, and with this delay on my KF flight, basically unable to make. Well, I advised P. about the situation and went to the SK/KF transfer desk near gate 15. Unfortunately the desk was closed, but fortunately a KF groundstaff just came out of the nearby office. She asked me where I was looking for, really friendly and pro-active approach. To her, Heidi was her name, I explained my situation and she told me to wait for a minute. She went back in the office, not much later returning with information that it's not KF responsibility that I would make a misconnection in OSL. Of course, she was completely right in her answer, I knew that very well. But I replied that I was travelling in Business Class, on which she immediately said; oh wait… let me see again for you. Please wait here.
A few minutes later a male agent came out of the office and told me that she's working on the issue for me. Really friendly approach also here.
Well, after some time she came back with my boarding pass and noted down 2 flightnumbers; SK705 to Stockholm first, and then transfer to SK885 to Oslo she said. Please hurry, the Stockholm flight is boarding. You'll get the boading passes at the gate!
At this moment, P. was arriving at the security checkpoint, so I decided to pickup my boarding pass. Really good to see them rebooking me on SAS Businessclass to ARN, and Premium Economy to OSL, with both window seats. Only downside was not to meet with P., so I told the lady that I would be back in a minute for boarding and met with P. at the security checkpoint near gate 13. Quickly I handed some Dutch sweet and minty souvenirs to him and we discussed the current situation. We arrived both at my gate, and I realized that I would fly to ARN on a Boeing 737-600! Well, a new type for me, definitely welcome today also. So, it seems that it would be my lucky day… We said farewell and promised to fix another meet soon, which is meanwhile set already in due time.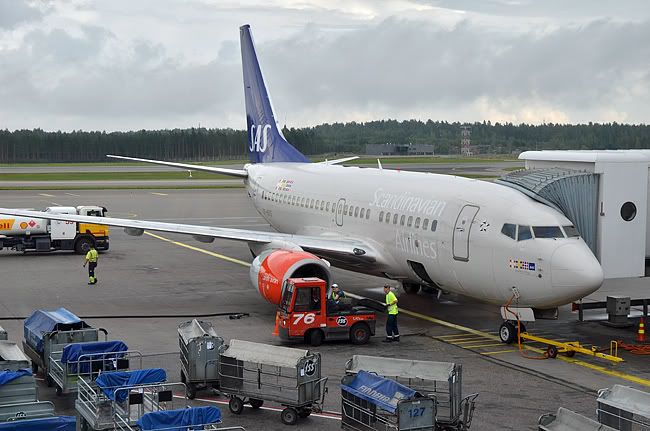 OY-KKS, a SAS Boeing 737-600 gets ready for my flight to ARN
Flight:
SK705 // HEL-ARN
STD
16:25
ATD
16:20
STA
16:25
ATA
16:27
A/C:
OY-KKS
(Boeing 737-600)
S/N:
03F
(Business class/C)
View Large
View Medium


Photo © Mats Salder
I walked down the jetbridge and made a picture at the door entrance, immediately approached by the male purser, really friendly guy! He asked why I was making the picture, and I told him that I like those door-signs on SAS aircraft, as well I told him about the rebooking from my delayed KF flight. Well, such a friendly guy he was, he wished me a good flight and I took my seat on row 03F. The middle seat remains free for personal use, a nice white/black cushion is here for my comfort as well.
Legroom was ok on this Danish registered 737-600. Load in businessclass were 3 including me, the other seats in row 3 (and 4 remain empty).


Legroom/Cabin for Business Class on the SAS 737-600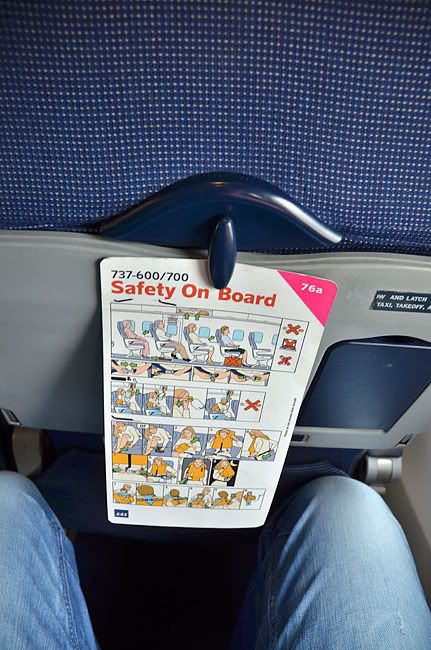 Legroom on OY-KKS, the SAS 737-600
A live safety demo was performed by the crew, and the cabin was checked.
With not a full load on this short afternoon hop to Sweden they managed to pushback early. A wise decision, because we had to queue quite a bit on the taxiway leading to the runway. Actually it looked almost like an airport in the USA. We took off about 20 minutes after our pushback, is this usual at HEL? The climb was nice, good views outside, I really enjoyed the ride on this little 737NG.


A long queue for takeoff here in HEL. Are we in the USA?


Lining up runway 04R in HEL for departure to ARN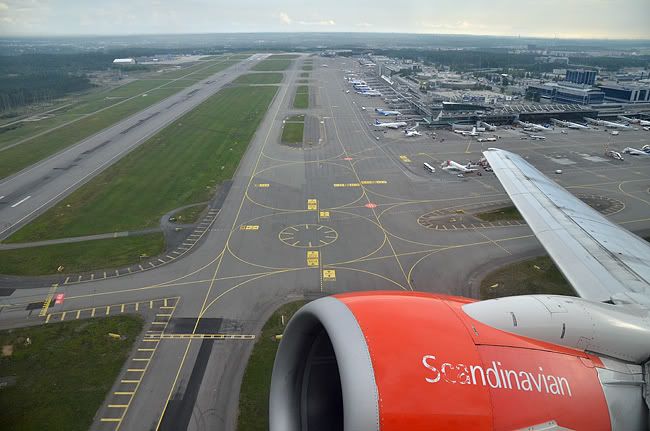 Airborne! Good view on HEL as well…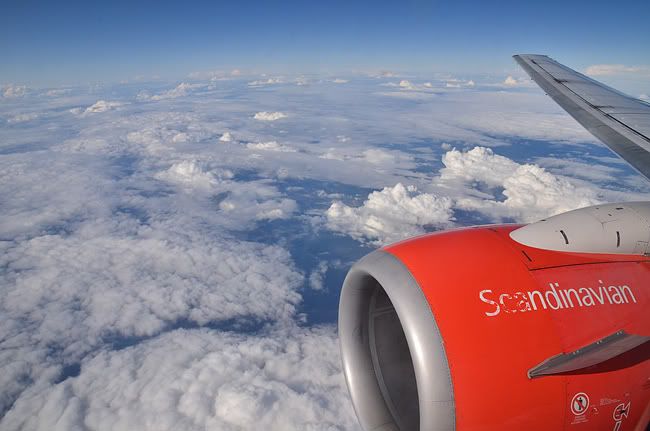 Great views during cruise!
As soon as the seatbelt sign switched off, the crew came in action again. Business Class was served by the friendly purser here, offering a plate with roastbeef on a sandwich. I was so free to decline on this since roastbeef isn't exactly my choice, but was immediately offered a seafood option. Well, in that case! A seafood 'in a box' was brought to me, with lots of fresh shrimps and some kind of couscous. Sparking wine was asked for to drink, but this was a real champagne on SAS. Really nice, and delicious fresh food here!
Meanwhile I had a busy flight, enjoying the meal, but also enjoying my views outside. Great flying weather today and the red engine on this 737 is giving great contrast to the pictures!
A few minutes later also coffee was served.


My meal in Business Class on SAS HEL-ARN (
During the flight information was giving to all passengers with transit flights. Also my next gate info was provided for; gate 1. We would arrive on gate 10.
The crew cleared up all the trash again and the purser came to sit on 03D and asked if my pictures turned out well. I showed him some of the pics, and he showed really interest in it.
I decided to double confirm if I was on a Boeing 737-600, but then he said, that this was actually both a 737-600 and a 737-700. Well, I replied it either one of them, but he confirmed again this was both types. How funny, since the safety card is also for both types.
I didn't mind, and don't discuss either about this, since we had a good conversation for a while and was almost sure that it OY-KKS was indeed a -600 type.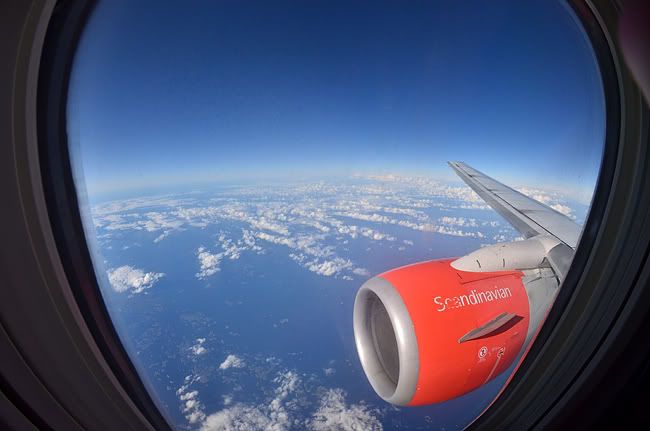 Good flying conditions over the Baltic Sea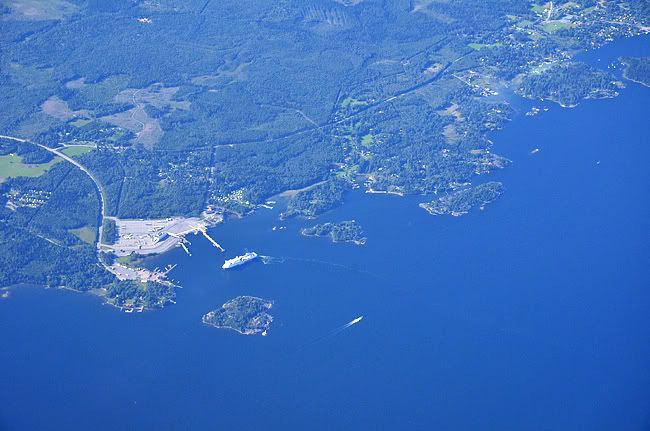 Ferry port of Kapeliskär in Sweden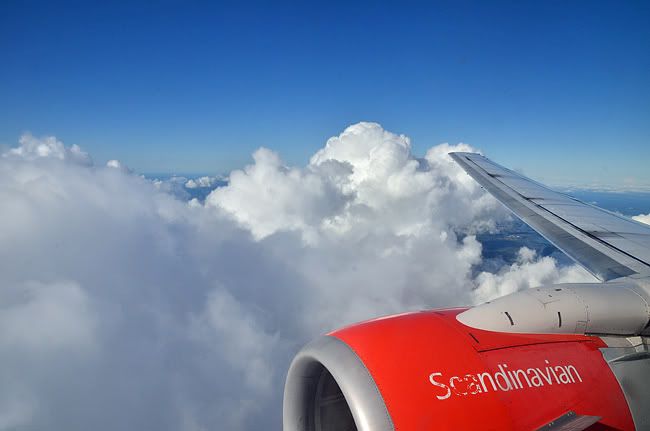 Approaching to ARN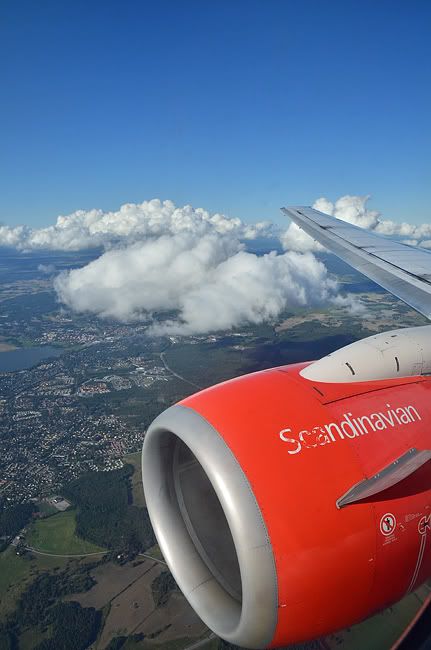 Beautiful weather conditions on approach
We approached ARN from the South, beautiful weather also in this part of Sweden, landing was on the concrete of runway 01L at 16:25, block-in just a few minutes later.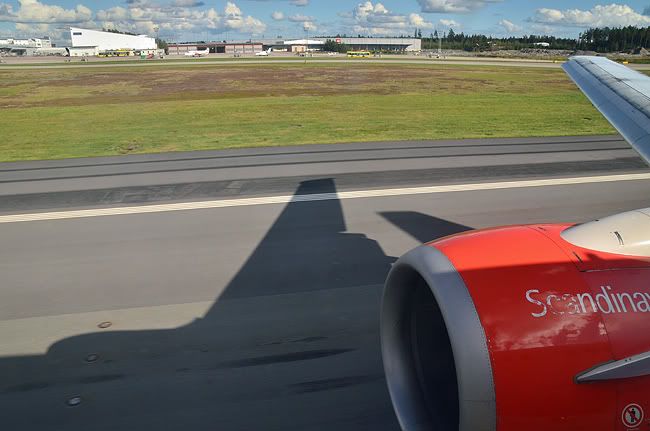 Arlanda landing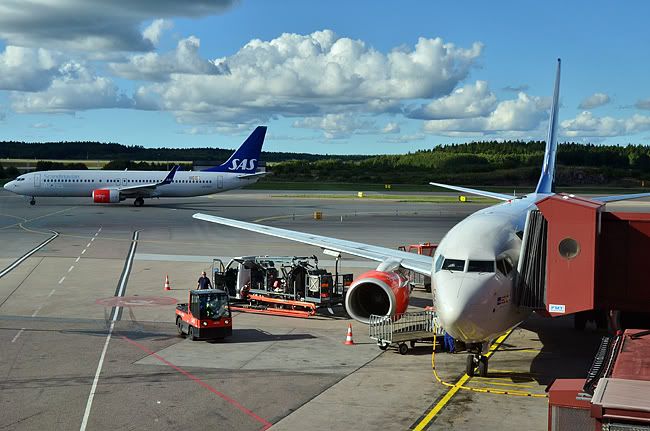 OY-KKS at the gate in ARN, with a company B737-800 leaving
So, the early departure did not resulted in an early arrival, caused by the traffic situation in HEL. No problem though, I had around 1 hour to kill at this airport. I thanked the purser for his great service and went my way to the SAS Business Lounge.
---
I was greeted by a younger male agent and welcomed to the lounge. It's not a big lounge here in ARN, but definitely does the trick to offer some comfort and free WiFi. Children can be dropped behind a wooden wall at the playground and I was able to check out some food options here, containing some pasta salad with garlic, various kind of bread and Swedish crackers, fresh fruit, some nibbles and crisps with blackpepper taste. Draft beer or wine, as well rose wine (thanks!, really nice and not common in lounges).
I took my seat and had some chat with P., who was lounging in HEL and tried to work on his notebook. Also I was informing him that OY-KKS (my plane inbound) was going back to HEL and operating on his flight to ARN later that day.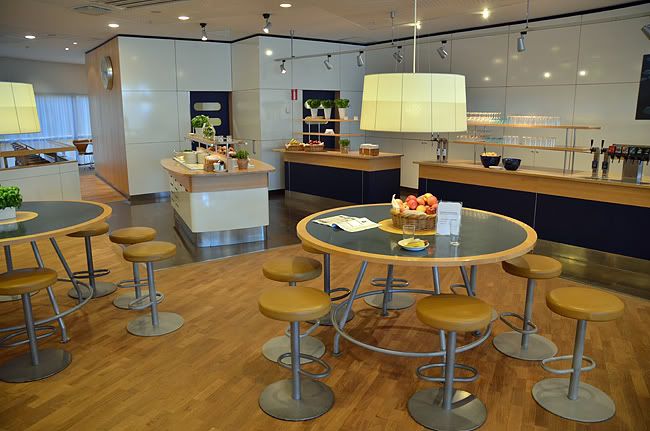 SAS lounge ARN interior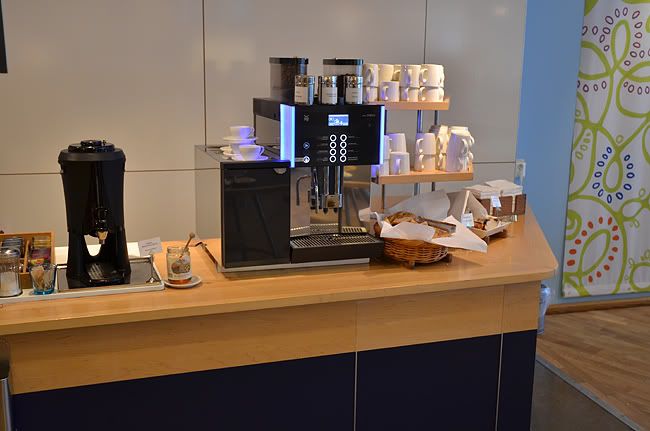 SAS lounge ARN – coffee machine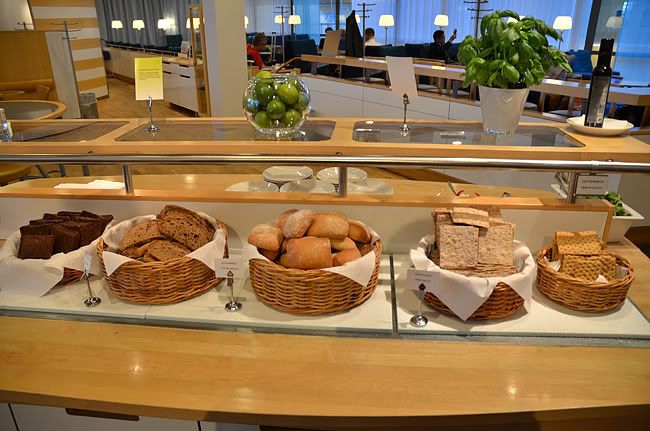 SAS lounge ARN – Food options


SAS lounge ARN – more food options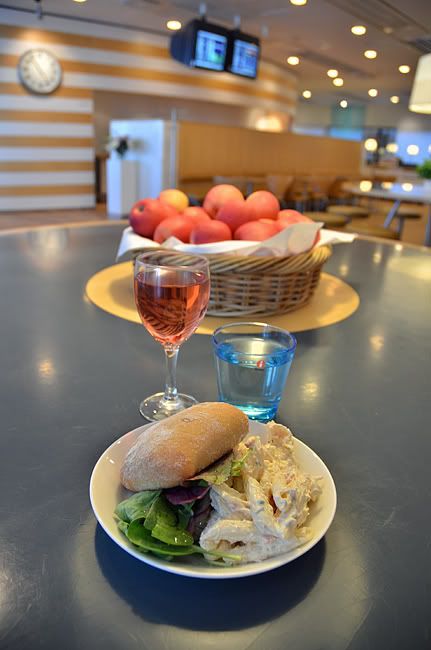 I prepared this for myself, a healthy meal with good wine
But then, the FIDS showed some red colour here, so I checked it out and got really mad to see that my next flight, SK885 to OSL with a departure time of 17:30hrs, got "new info 1730" on the screen. No way that this happens to me, new info means delay. I went to the counter and informed about the status. While the agent was checking the system, I noticed the delay code was set to indefinite delay, while the agent told me that my aircraft (Boeing 737-800 LN-RPR according the system) was having technical trouble and still on the ground in OSL. Well, my knowledge told me that the flightime to ARN would be 1 hours, a turnaround of 30 minutes at least, back to OSL another 1 hour… plus possible slot or new technical troubles in ARN… definitely not good this information. Let's see if there is another possible flight to OSL on SAS, but also this is not the case. For sure my connection in Oslo was gone and I wouldn't make it on the KLM flight to AMS. What can I do now?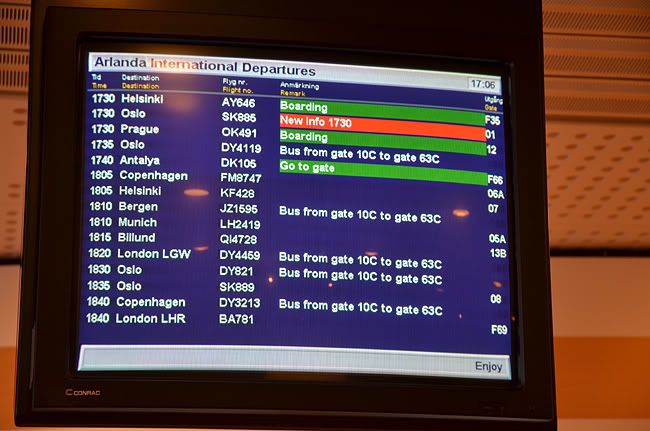 Not happy at all when I see this information…
I thought about my options; last minute ticketing on various airlines, DY from OSL the next day for 210 Euro, FR from NYO to EIN, also the next day for 120 Euro's. SAS would be possible even this night for 300 Euro's oneway via CPH, actually not too bad if you think about it. But how about KLM? There was a Boeing 737-900 (PH-BXT) at gate 14 at this moment, so I go there to consult the staff if they can accept me on the flight, first try to rebook my OSL-AMS ticket on this one, but it turned out to be too late for this flight.
But a phonecall to the KLM/AF ticketcounter was made and they told me to go to their desk.
So, I went to arrivals and immigration, back up again to the departure hall and checked KLM/AF. The very friendly staff at the desk was expecting me already. She told that she called OSL to offload me from their flight. Also she informed that rebooking was not possible on my economy class ticket, so I decided to burn some of my Flying Blue miles on a oneway ARN-AMS flight later that night. The transaction was quickly fixed and signed for, taxes paid by my Amex, and also checked in here. I was given a seat in the forward rows of economy, as wished for, seat next to me would be kept empty she promised me. Good service here, good last minute decisions and assistance, and I went through the security checkpoint again. I went back to the SAS lounge to have some more wine and bites.
Meanwhile the original ARN-OSL flight had "new info 1830" on the screens, it seems to become later and later for this flight. I made a wise decision here.
Around 18:10hrs, I noticed indeed LN-RPR arriving at gate 1, and watched the turnaround. When they almost finished I went to the counter in the lounge to cancel my check-in on that flight since I would work on another solution. They did that for me and I took my seat again, knowing that I would fly home later that night. Eventually the SK flight to OSL left at 18:40hrs.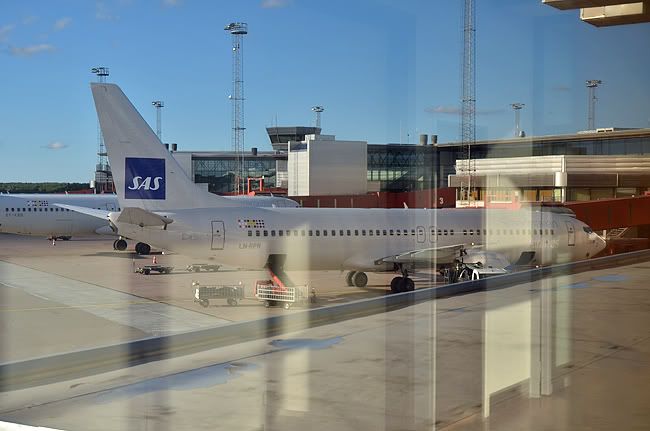 LN-RPR finally arrived at ARN…
Meanwhile P. was also on the way from HEL to ARN on the B736, cruising at 37,000 feet, quite high for such a short flight. He would arrive near my gate for the KLM flight to AMS, so I decided to wait for him and organize a spontaneous 2nd a.net meet that day.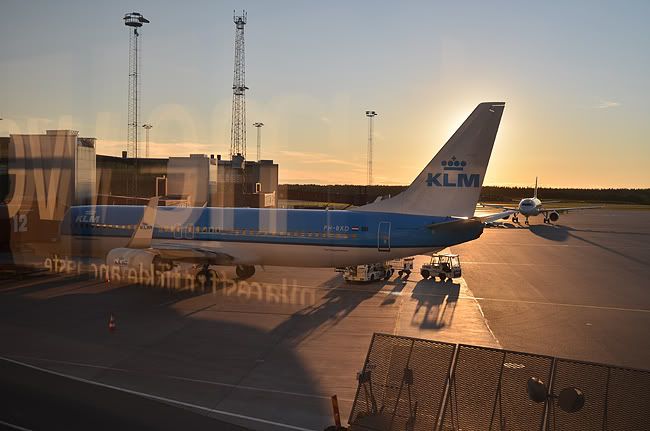 KLM's B737-800 PH-BXD also arrived
So, me standing by at gate 12 for my flight, and P. visible from a distance already, we had a bit more talk about the day. His flight on the 736 was a good one as well, with the same great crew as I had. We checked the FIDS and P. was surprised that his later BT flight was already announcing 'go to gate', usually not the case he said. So, I wished him goodbye again and went onboard, while P. had to deal with some people in the lounge to get some rebooking done for himself as well… What was around that day to mess up our travel plans?!
Flight:
KL1118 // ARN-AMS
STD
20:00
ATD
20:04
STA
22:00
ATA
22:10
A/C:
PH-BXD
(Boeing 737-800/WL)
S/N:
07A
(Economy class/Y)
View Large
View Medium


Photo © Mats Salder
Once arriving at doorside of my KLM Boeing 737-800, which was surprisingly a new registration for my personal log (yeah), I was welcomed by the crew. Really friendly, and at my row the person in the aisle seat had to give way to me, to get in my window seat. My neighbour was a friendly American guy, he slept most of the flight. He was ok with my backbag under the middle seat as well. Did you know that a small IFE box is located under seats A and F on the KLM 737-800's? But there is no IFE (so far). Legroom is very good here, the slimline seats are giving good comfort also.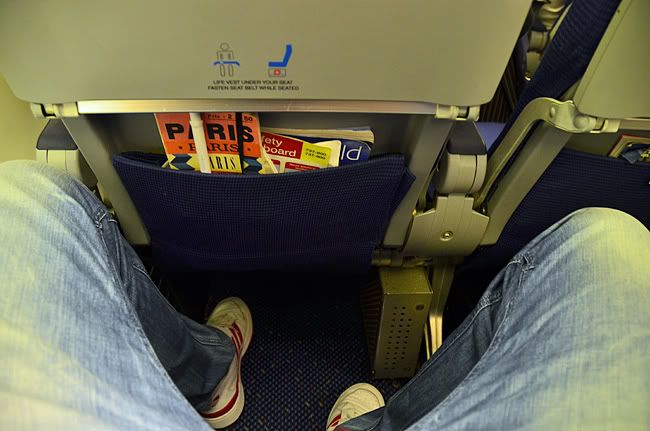 Legroom on KLM's 737-800 plus the IFE box
Boarding finished just in time, and the cockpit with captain Engel was on the speaker to say a word of welcome, and that we would be having pushback soon.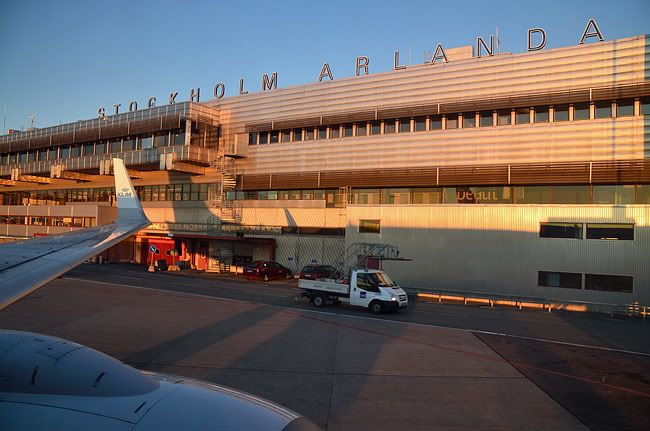 Onboard with KLM, prior pushback at ARN
A safety demo was given live, and cabin well checked for handluggage items. The crew was a bit in good mood tonight and definitely on their way home it seems. They had good interaction with the passengers at all times.
Taxiing was relatively short, to runway 08, and I looked to the right to see the BT aircraft which was operating on P.'s flight to RIX. But I didn't see it at a gate, so apparently something was not right on his flight as well.


Lining up runway 08 in the last light of the day…
Takeoff was performed with a clearly derated thrust on the engines, we calmly took off and climbed in the evening sky, nicely lit by the setting sun. After a while another good and last view on ARN but now from higher levels, before cruising into the skies which got more and more dark when the sun was almost gone.


Another view on ARN, this time from above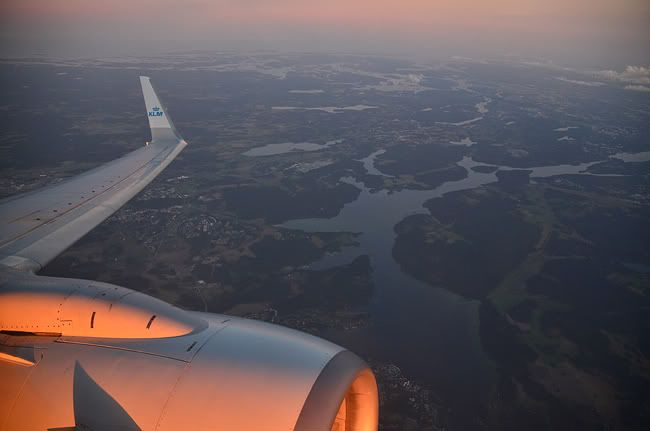 … and climbing to higher altitudes on my way to AMS
Service on this flight was a sandwich pack, so called 'Trattoria' with this time 1 sandwich with Cheese, the other with veal. Hmm, bit of strange choice I think, but I wasn't really hungry anymore after the lounge visit. I got myself the tasty white wine, and some water.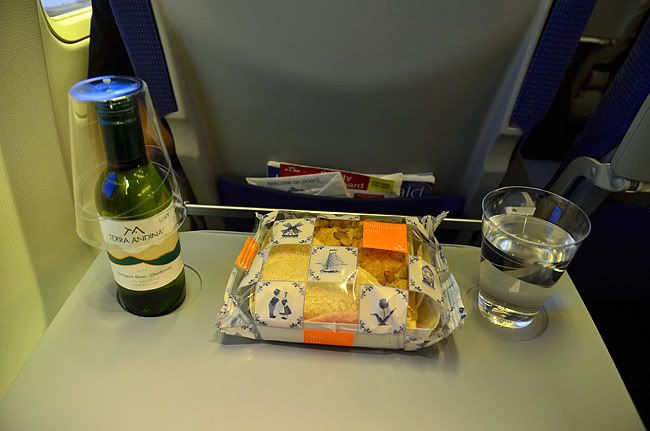 Sandwich service & good tasty wine
Meanwhile we got information from captain Engel again, that we would fly via NRK, MMX, towards GRQ and then to AMS. The standard routing from ARN to AMS. He also confirmed that landing would be just on our scheduled arrival time, but depending on landing runway, and taxitime, the arrival on the gate would be with a few minutes delay, he said.
During the remaining cruise on ths flight, another service was given, being the coffee/tea and caramel cookies. I had a coffee and 2 of the little cookies, since I love them!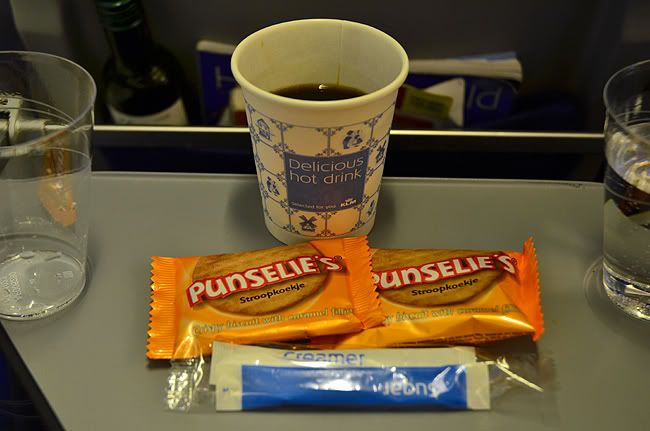 Coffee and cookies, always really welcome
I noticed our descend rather quick again and tried to see anything outside under the dark skies, but it was difficult to recognize something on the ground. Cabin was made up for landing and we eventuelly landed on runway 18R (of course), meaning a rather long taxiing to the gate was followed. This resulted in 10 minutes delay on block-in at our gate C08.
I was off rather quick, and thanked the crew for a good flight, wished them a goodnight, when I stepped off the plane. The crew said back "yes, you too goodnight!". Well, in Dutch of course, but so easy-going people on KLM usually.
With handluggage as my only companion that day, there was no need to wait in the arrival hall/baggage belts, so I was outside in less then 10 minutes to be picked up by my partner for a 10 minute drive home.
So, that was another day with some serious flying. Not the best day to be honest, but it seems to happen once in a while when doing such daytrips on several tickets.
It's good to save up some airline mileage as a backup, unless you won't bother to spend the night or buy a new ticket for usually rather high fares. For me, the solutions I made to fly home on KLM from ARN was the best possible way to do it.
About Blue1 and the 717; a good company although some items that needs attention. E.g., I couldn't find information about the possibility to order special meals on them, even not for their Premium Class. By calling their service center, I found out that it was of course possible. The meal was onboard as well, so good result!
In AMS prior departure, the inbound flight arrived ahead of schedule. Somehow boarding time targets weren't met and we were facing a delay on departure. Nobody on the ground or on board ever made some announcement or gave information. This is just poor performance.
Service onboard KF in their Premium Cabin is really good, I got a lot of attention from the crew who tried to give me even more drinks, which is really friendly of course. She was really looking after me.
The in HEL, a delay occurs to OSL, usually nothing serious, but notorious on KF it seems. I worried about my remaining of the trip and after explanation to groundstaff, KF accepted to rebook me on SK flight. Another bonus point for them.
About SAS I can only be positive as well, despite only a short flight on them from HEL to ARN in Business Class, the crew was outstanding here, the meal was just perfectly fresh and a nice drink. Nothing more needed.
SAS ruined the daytrip by having a delay on the B738 which was doing my flight. Information on the FIDS was updated regularly, but for detailed information I had to check with loungestaff, which was fine. They were glad to assist, but couldn't do much in my case.
KLM was flexible enough to accept my booking on short notice prior the flight, using mileage and brought me home. I had a pleasant flight on them once again.
Thank you for reading, and I hope that it gives a good idea how such trips can suddenly become a bit of 'nightmare'. Make sure to know possible rescue solutions just in case these things happen also to you.
Your feedback is appreciated of course, and always answered.
Regards
Eric