The Amsterdam Jet 2 Amsterdam, seriously!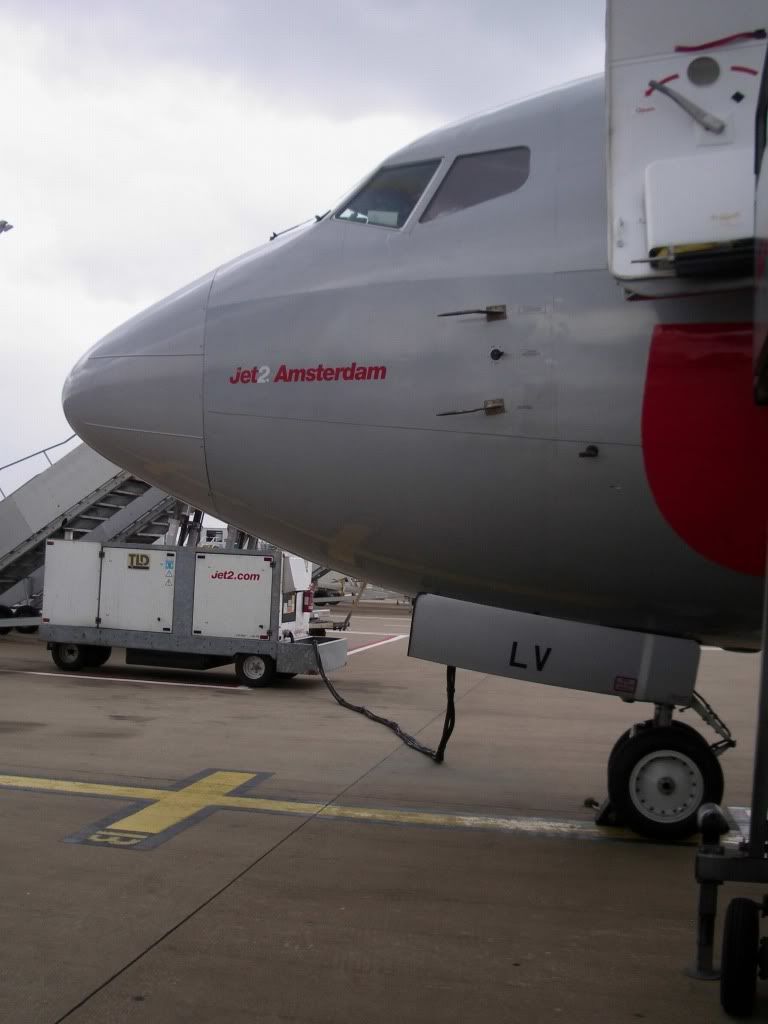 Hello, dear readers,
everyone, who followed my latest story
Diversion Or Not?. Wet And Windy In Brest/Brittany
(by
FLIEGER67
Aug 24 2011 in Trip Reports)
knows, that Mr. S., the lazy guy at the scheduling department, booked me for Wroclaw, outbound on LH Cityline, inbound on Eurolot.
But, you know, not everything is running on schedule, like we want to see it.
Thursday, 16.06.2011, I´am ready ontime at FRA,
checked in for the late morning flight to WRO.
The Senator lounge is waiting for me, spending the time there.
Well done offers
But much to much customers and less seating capacity for my personal liking.
Super nice staff preparing every sandwich what you want fresh
Nice views to the runways and taxiways where you see something like this
Or this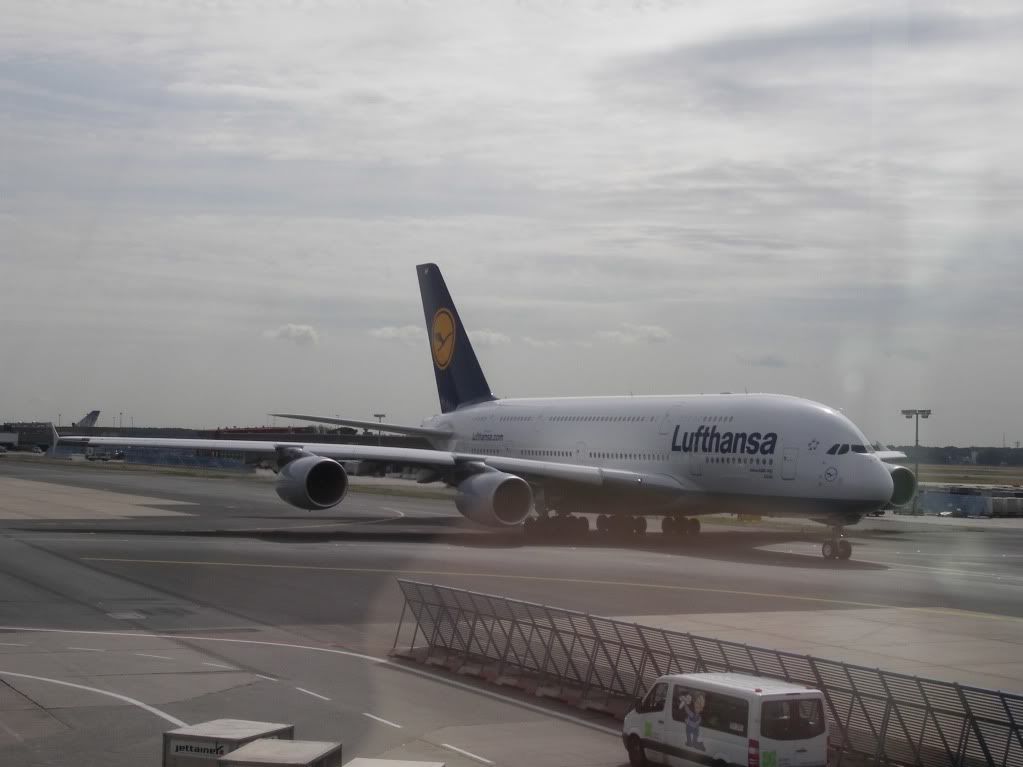 WRO is announced as 20 minutes late on D-AECI, the scheduled Embraer 190
Coming in 30 minutes late from NUE
Not the best day for FRA when we see all that delays and cancellations
Also the LOT morning inbound from WRO is cancelled
More delay and a gate change is announced for my flight.
How to spend the time?. What about a chat with a young polish born US girl, also booked on my flight, we had a really nice talk while waiting.
50 minutes delay now and a plane change
Well, finally the flight is cancelled.
I´ve talked to the nice young female gate agent.
"It seems WRO is a no go for me today, do you know what happened?".
"I´am sorry, we need the original scheduled plane for a more delayed service to FLR.
The crew changed to the new plane and doesn´t accept it due to technical reasons. Total kaputt, completely out of order and there is no more backup plane available on short notice".
So, LH and LOT refunded me fully and I´ve spent the remaining day at home, not bad to do some work around my travels.
Well, it´s Friday now and I should go to the UK, as long as Mr.S. fixed it this way.
Here is the actual route map
Tripreporter´s Flüge
auf einer größeren Karte anzeigen
and the new departure airports log
Departure airports
auf einer größeren Karte anzeigen
Friday, 17.06.2011
.
.
.
.
Service BE 7122 operated by flybe
Scheduled: 10.25 // 11.40
The main intention today is to fly out of LBA on Jet 2, both for the first time.
There is a well fitting LH by Contact Air nonstop STR-MAN which is the original idea.
But Mr. S., that lazy guy at scheduling, ends his work sometimes a bit earlier than his original timetable. When he try to fix it the next day, the fare jumps from an acceptable 70.00 Euro´s to 150.00 Euro´s, no, that´s not funny.
I will introduce Mr. C. from the financial controlling today, you know these guy for sure, working for every company these days. Smart, suit, tie and the big red "no way" badge on his forehead.
Well, S. called C. about his opinion and you know what happened. I am booked on the late morning STR-BHX service instead. Is it possible to reach LBA ontime from BHX, we will see!.
C. joined S. today to follow me, both relaxed with a pint of Midnight Bell in hand extra ordered from the Leeds brewery to spend the day, let the show go on.
This service is booked by Flybe directly, the cheapest way and ok so far with 70.00 Euro´s.
BE informed me by mail a couple of weeks ago that there is a change in departure time, ten minutes later,
I´am impressed, other companies doesn´t see the need for further information with these short differences.
No OLCI, as it´s not possible to select a seat and that means you end usually in an aisle on the Dash 8-400.
Waved goodbye to my home office and on the road at 08.00 am, at the airport short to 09.00 am, no problems today with the car park and at the counter, Terminal 3, to check in soon thereafter.
A young female there.
"Good morning, just me, no bags and a window seat in the very last row, if it´s possible".
"Sure, let me check you´re ID. Ok, here is your boarding
pass, have a good flight".
My plane is inbound from BHX a couple of minutes ahead to schedule
And also outbound looks like ok from gate 129
No time to wait at security, everything much more relaxed than during the last days.
This is something new here at STR, CO/UA introduced the route to EWR just a couple of days ago
No lounge for me with BE today, so down to the ground floor, a quick passport check and at the gate with only a few other pax around.
That looks like not impressive loadwise if there are not many more coming.
Ok, it´s a vacation week, so it seems not that much biz demand for this route today.
Boarding is called ontime, by bus around the apron
The scheduled Dash 8-400 is waiting
Looks good under the clear blue sky
This is G-ECOB, leg no. 22 on type and warm welcomed, a new registration.
This plane is delivered to flybe at 18.01.2008, leased out to Wideroe at 08.08.2008 and back with flybe since 21.05.2009. 54 planes on type are in the fleet, impressive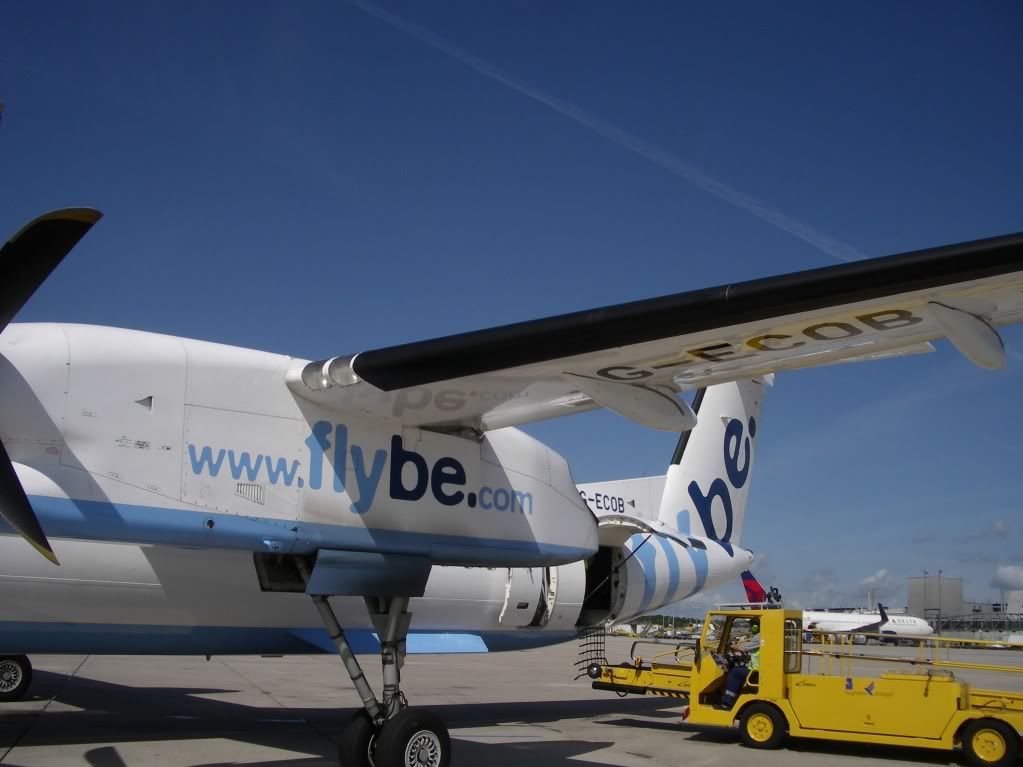 Propeller close up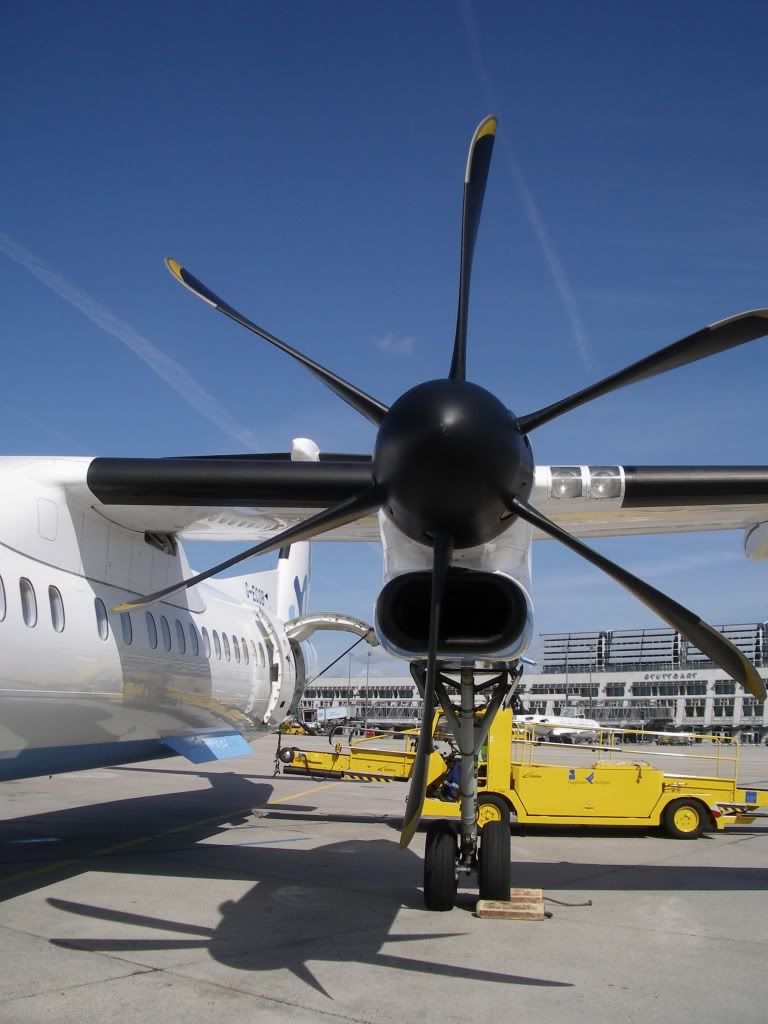 With these low number of passengers, I´am finally alone on the apron while taking pictures, let´s step inside now immediatelly.
The load is 50% only today.
Oldfashioned bright grey leathers seats, no recline
Good legroom, two for me in the last row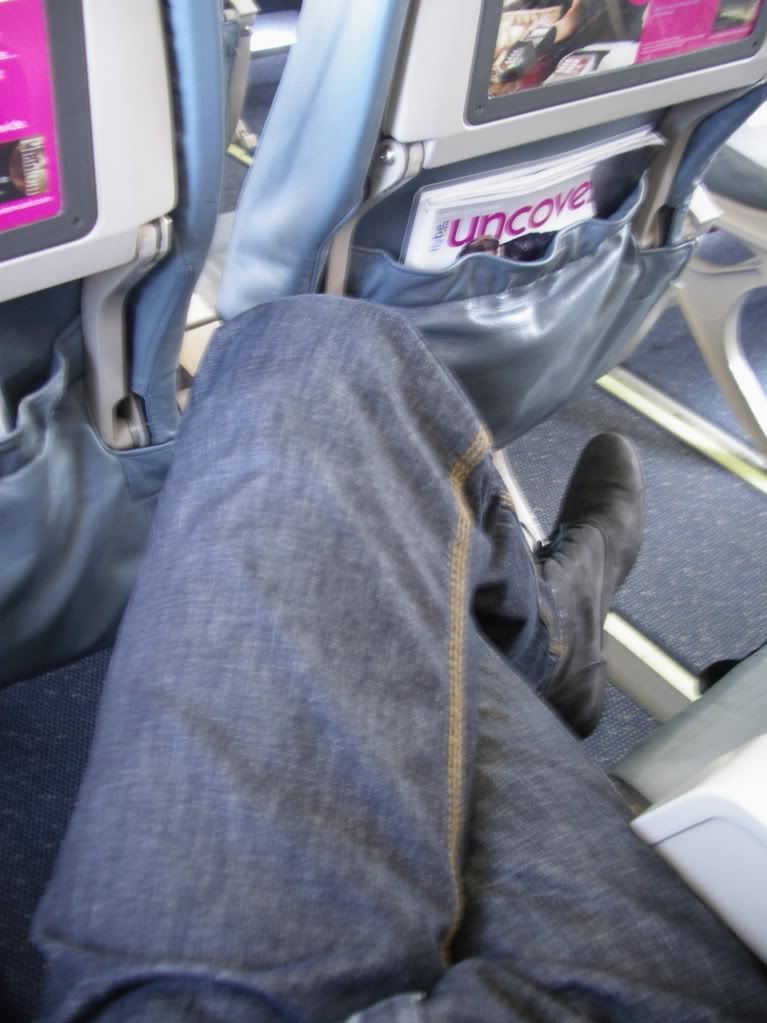 Cockpit crew is from the UK, the pilot with a nice welcome during boarding in typical relaxed UK style.
The cabin is clean so far
One middle aged, nice, male together with one elderly ok female doing the cabin service today.
But why on earth does she feels a personal need to close every overhead bin with a heavy and loud bang?.
My ears are good, till now!.
It´s 10.20 am, some minutes ahead to schedule, superb sunny and 18 degrees.
2 hours, 15 minutes for the midlands leaving from runway 25.
Always interesting to see that safety card also written in french
This is the actual or not so actual flybe magazin
A few clouds only on the way
Service is BOB.
Above Belgium, BRU down there at 22000 feet
The pilot is on the speakers again with real detailed inflight informations.
An engine on the way
Coming in for BHX, well, that looks like typical UK weather
The final approach is very shaky. The wind and the clouds are good for some turbulences. 2605 meters asphalt or better known as runway 15 welcomed us with a very hard touchdown. It´s 11.30 am, ten minutes ahead to schedule, partly cloudy, dry and only 16 degrees by now
The first leg of the day fixed as scheduled.
S. and C. watching me closely, done the first couple of pints and are in a good mood.
But I´am not that really ok with the guys today.
There are less than five hours from arrival at BHX till departure from LBA.
S. want to send me on the train, money saving you know, but not ok when I notice that there is only one possible train connection available.
By train from BHX airport to the city, change there for Leeds and further by bus to LBA airport. It seems much to risky for me to do it this way.
Not that there are any delays possible by the UK rail system.
So the only other option and this is also somewhat tight, is to rent a car, something what I don´t really like.
Best case connection is 2 hours, 30 minutes.
Booking is done by Autoeurope, the fare ok, 55.00 Euro´s.
Out in the public, no time to wait at the rental desk. The car is from Europcar, a close to new small Peugeot, ok for my needs.
It´s noon by now.
The rental car pick up point is not that well signed, or mabye I´ve checked it not en detail with some rain showers around. Some minutes to walk till I´ve done the right direction.
Catched the car and soon on the nonstop motorway drive up the north. Lucky me, no traffic jams and LBA is coming closer mile per mile.
The last ones are running rather long through small cities and along some housing areas, catching fuel close to the airport and present at my target at around 3.30 pm.
Well, that is another one of these close encounters succesfully done.
S. and C., scheduling and controlling, working close together, following me and having fun with the pints by now.
Returned the car for a closer view around my new departure airport.
..........................................