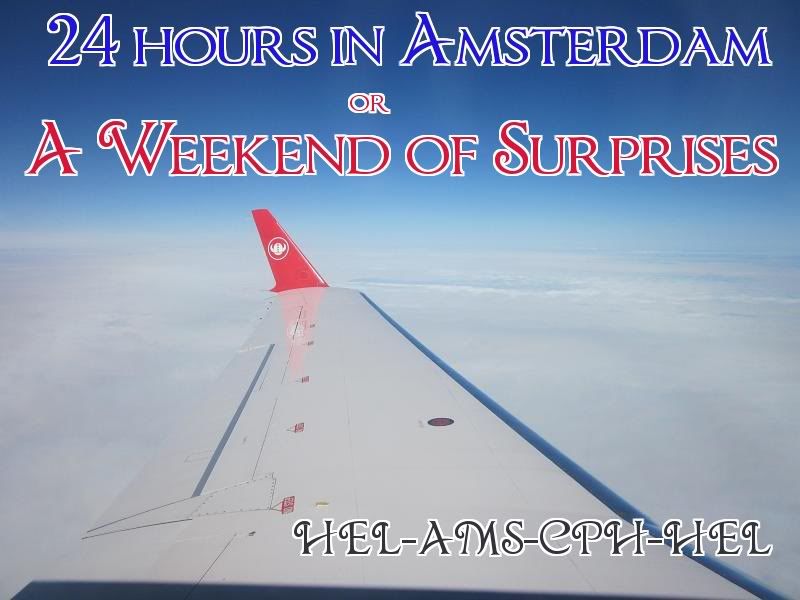 Hi all,
Welcome to my fifth trip report. This one will feature my birthday trip to Amsterdam, including a nice surprise and one, well, not so nice surprise.
This trip begins only after one whole day at home after arriving from Lapland (see report here:
Blue1 Vs Norwegian! HEL-OUL/RVN-HEL
(by
717Flyer
Aug 14 2011 in Trip Reports)).
Disclaimer:
: This report may contain excessive amounts of pictures of the Boeing 717. The author is in no way responsible for any harm, frustration or disease that it may cause the readers.
Background
It all started a number of months ago when Blue1 had a special promotion offering award tickets to Amsterdam for half points. Amsterdam being one of my favorite cities in Europe - and - having some points soon expiring I was only happy to use the promotion and score another ride on the Boeing 717. As the promotion was valid almost all autumn I decided to time the trip for my birthday in August and book the return for a later time in the autumn. I only paid around 45 EUR in taxes, not bad.
Soon came the announcement that Blue1 was to stop operating to AMS, the last flight being on September 3. This was only a good thing for me as the return journey got rerouted via CPH, adding some adventure. That's however a different story - now back to my birthday trip.
As Amsterdam is such a lovely city as it is, I decided not to fly home the same day but to spend a night there. Starting to look for return options I was reminded that I had yet never flown on any aircraft of the CRJ family. Alright, I soon discovered that Danish airline Cimber Sterling was operating the AMS-CPH route. A 10.30 departure the next day operated by the CRJ-200 was booked for 52 EUR. Then, getting home from CPH could have been done with the nonstop DY flight CPH-HEL or CPH-RIX-HEL with airBaltic (though with the horrible 01.00 a.m. arrival time) and wanting something fun I instead found an afternoon flight CPH-HEL on SAS for 45 EUR. Not only that, but it was operated by the CRJ-900, another new aircraft type.
Finally, I know that an Optiontown upgrade for the Blue1 flight, and thus the fact of travelling in Blue1 Premium on my birthday would be nice, but as this was an award trip, not getting any EuroBonus points I decided to leave the upgrade.
Alright, one new airline and two new aircraft types as well as the fact of flying the Boeing 717 on my birthday - not a bad catch! Later I discovered that the time between my arrival to AMS and departure back was 24 hours (and 15 minutes), as long as no delays were to occur. That's the explanation to the headline.
Let's go already!
Thursday 11.8.2011
Having checked in online the evening before (and chosen seat 5A, window, of course) I was in no hurry that morning. Wake up call was set to the human time of 5.30 a.m. and as "better be one hour early than one minute too late" is my motto, I of course found myself taking an earlier bus than planned.
After riding the bus, the local train and another bus (I tend to take weird routings also outside airports!) I step into an empty Terminal 1 at around 7.00 a.m. for my 8.30 flight. Of course I realize I'm here way too early - but what are you going to do.
How many times can you see the word 'Blue1' in this picture? Answers on a postcard, please...
One of the self service machines are more than happy to serve me and spits out my boarding pass (read: receipt) in the way machines do (what a clever sentence!). There isn't a single person in queue for security (brownie points for Finavia...) What catches my attention is the really friendly agent - she's shining like the sun, commenting something like 'what a wonderful morning' and finally wishes me a nice flight.
My gate this morning is gate 12 and only some steps away. On my way there I spot OH-SAL, a soon-to-leave-jumbolino that has already lost the Blue1 stickers: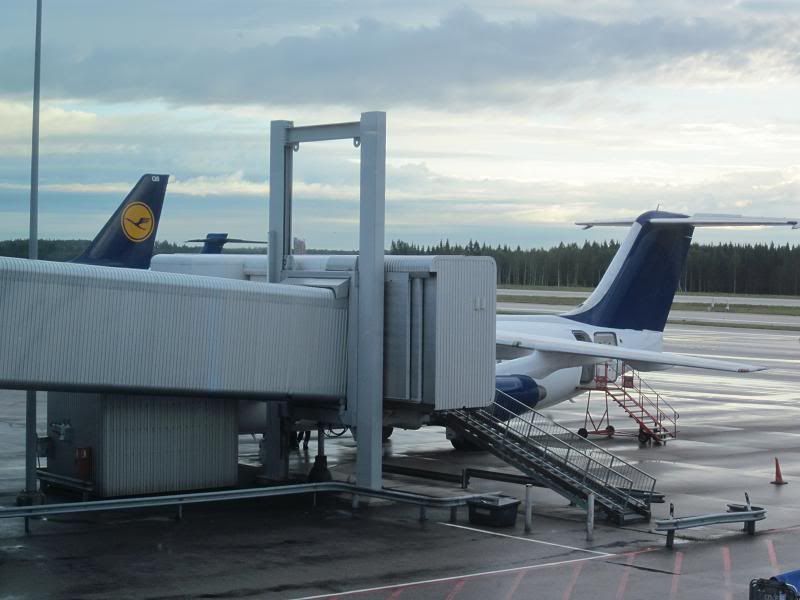 I've already logged flights on every Avro in the KF fleet and so a future goal of mine is to fly on all of the nine 717s that Blue1 is operating. Until now I had been a guest onboard OH-BLJ, -BLG and -BLN. Alright, a new registration would have been a good birthday gift from KF - but when I arrive at my gate I see this: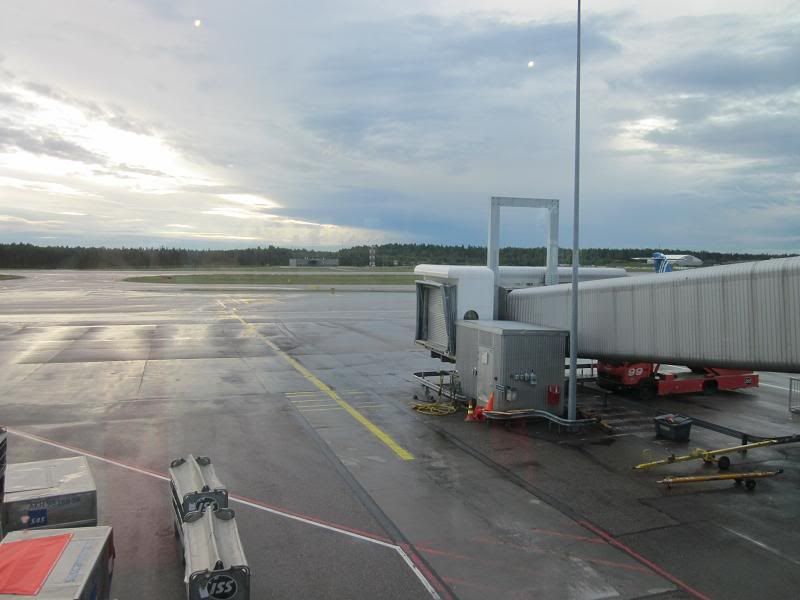 Is our aircraft invisible?
No, these guys are clearly waiting for it: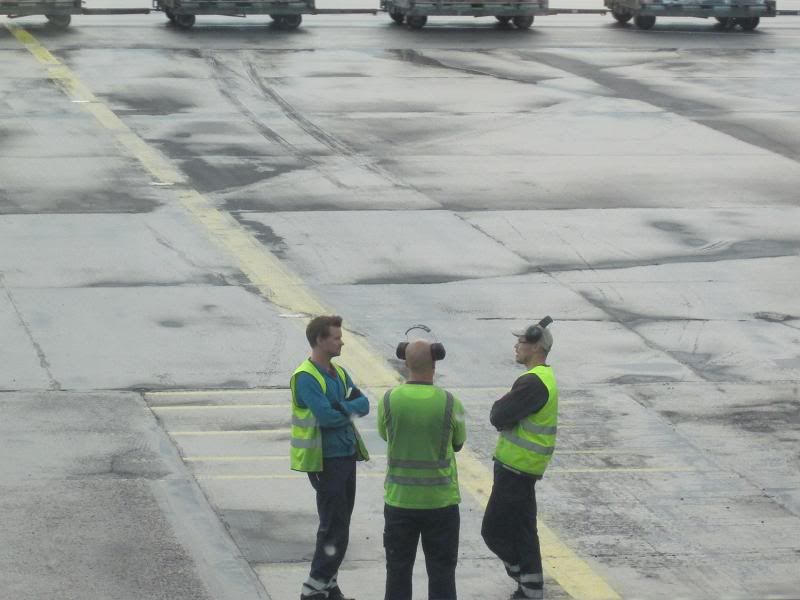 At 7.20 I soon see a beauty landing on runway 15, taxiing, turning: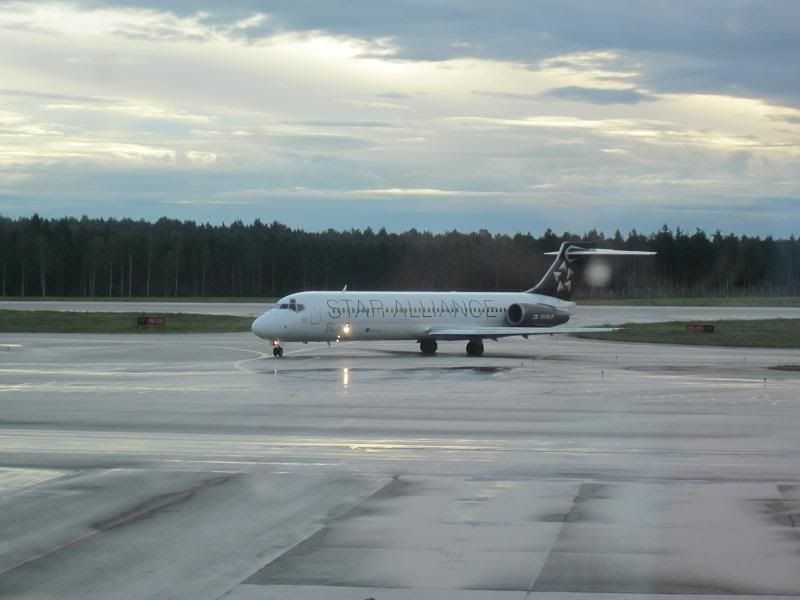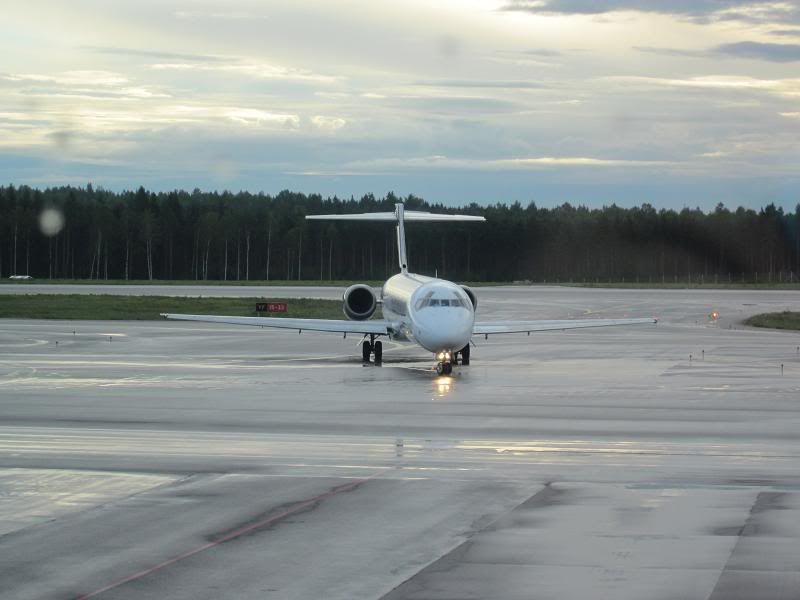 Yes, it is OH-BLP, a new reg for me, thank you Blue1:
I continue snapping pictures of the beauty...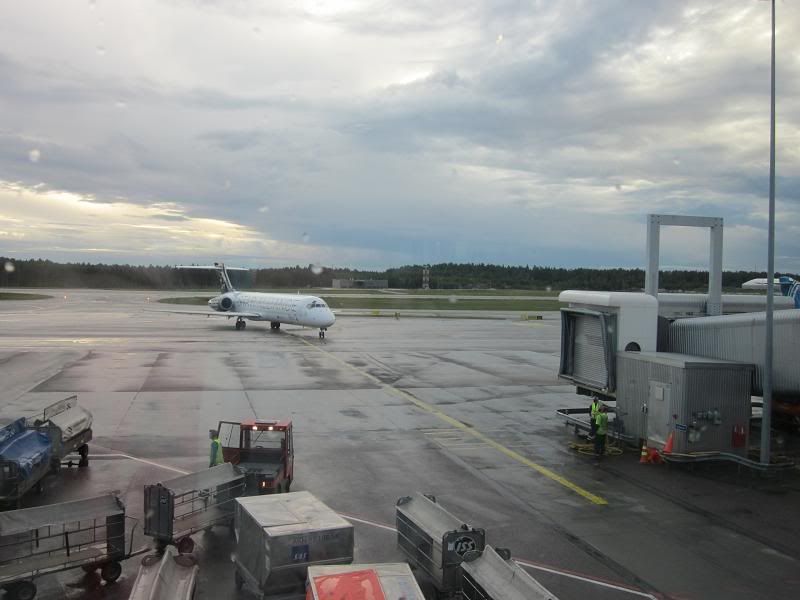 ...when I hear the clicking you can only hear from another camera. Finally, some fellow passenger who understands me, is what I think. I turn around, just to see a young couple snapping pictures of each other. Oh come on, if you at least would do it with the 717 in the background!
Soon the jetway is attached and the passengers arriving from Oulu start disembarking. If anyone is interested, the inbound flight carried a load of 82 %.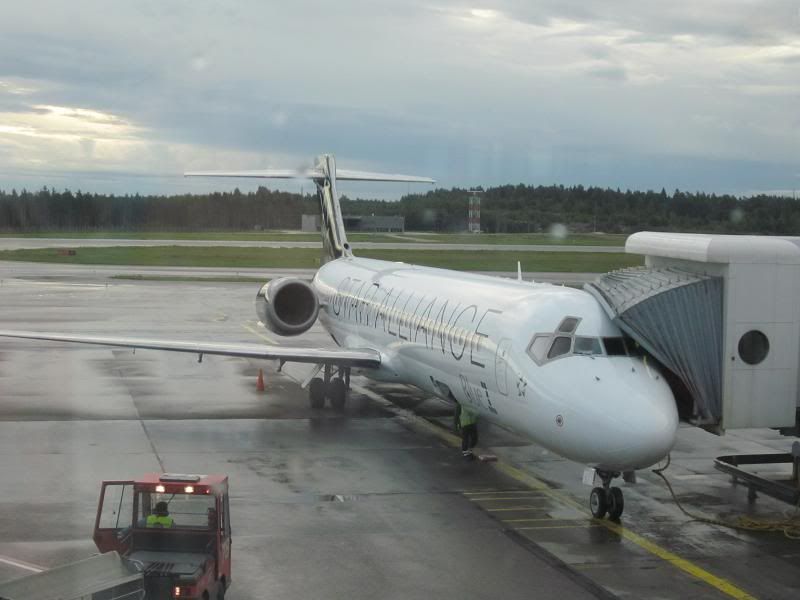 There's also activity around us. Soon the less-Blue1-Avro pushes back for a run to OSL and back...
...and only five minutes after that another Avro, this time in full Blue1 colours, takes the same position. Efficient gate usage, if you ask me: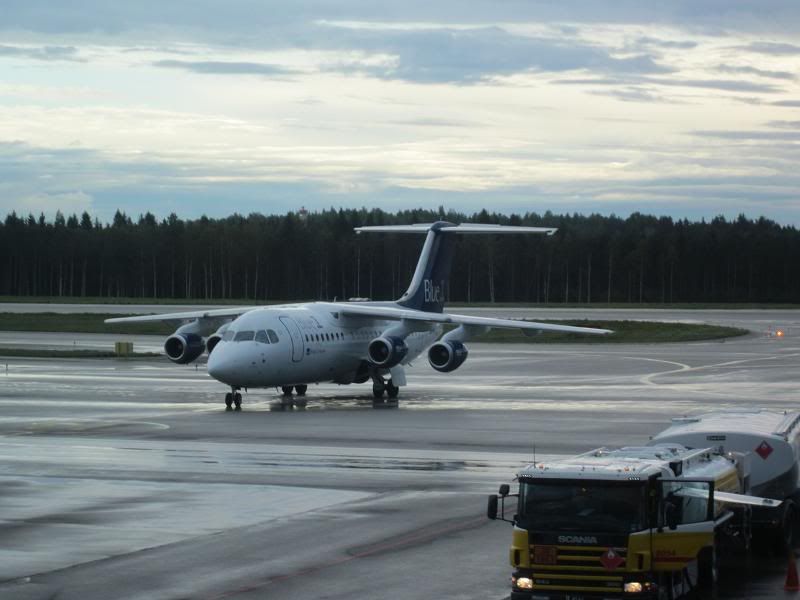 Soon I spot the cabin crew deboarding. I wonder about it as they have no bags at all. They pass us, slowly walking and chatting. Well - I soon get an explanation. The crew (two female, one male) soon return with cups of coffee in their hands and board the aircraft again. Not only that, but I see something familiar in them - more on that later.
Is he washing the window? Nope, it's a document being delivered: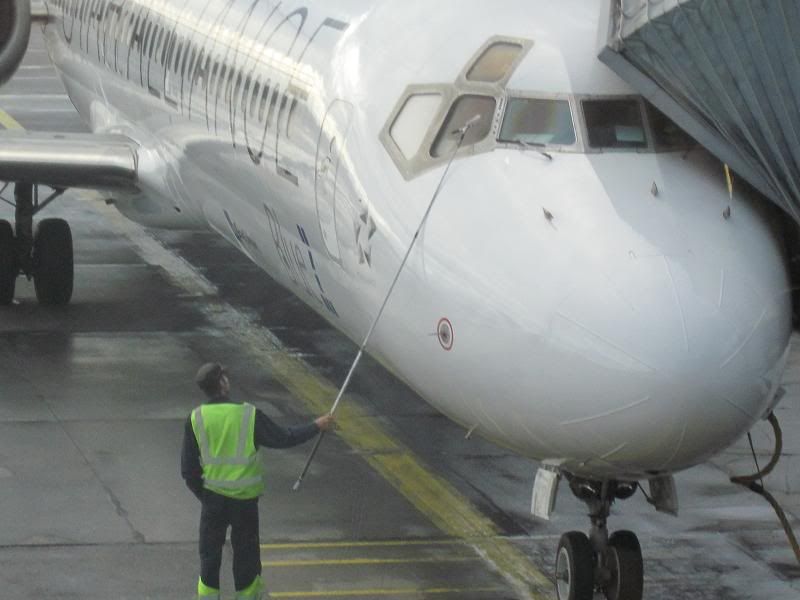 Spot something wrong in this picture: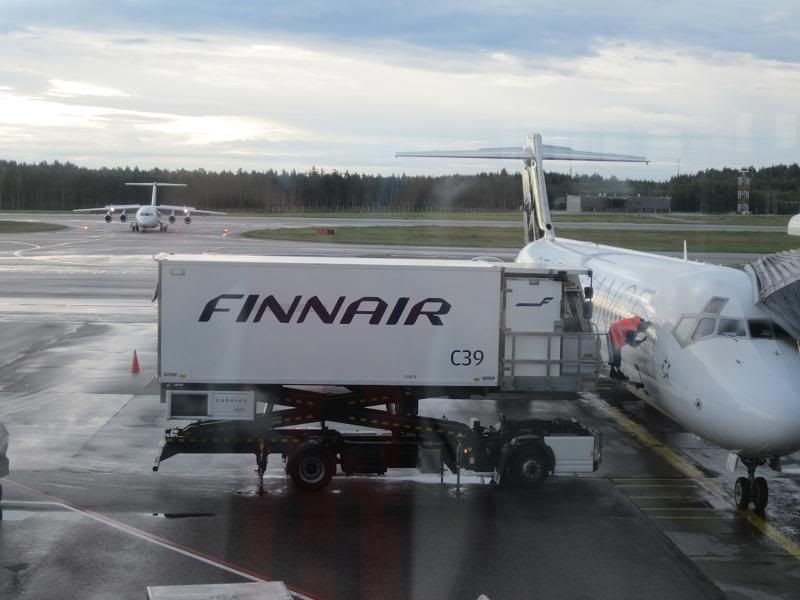 Boarding is announced at 08.03 and there's no rush at all.
Flight Information
Airline:
Blue1
Flight number:
: KF831, Helsinki-Amsterdam
Equipment:
: Boeing 717
Reg:
: OH-BLP, Star Twinkle/Tähtituike, Star Alliance colors
STD/ATD:
: 08:30/08:17
STA/ATA:
: 10:15/09:54
Seat:
5A, window
Load
: 60 %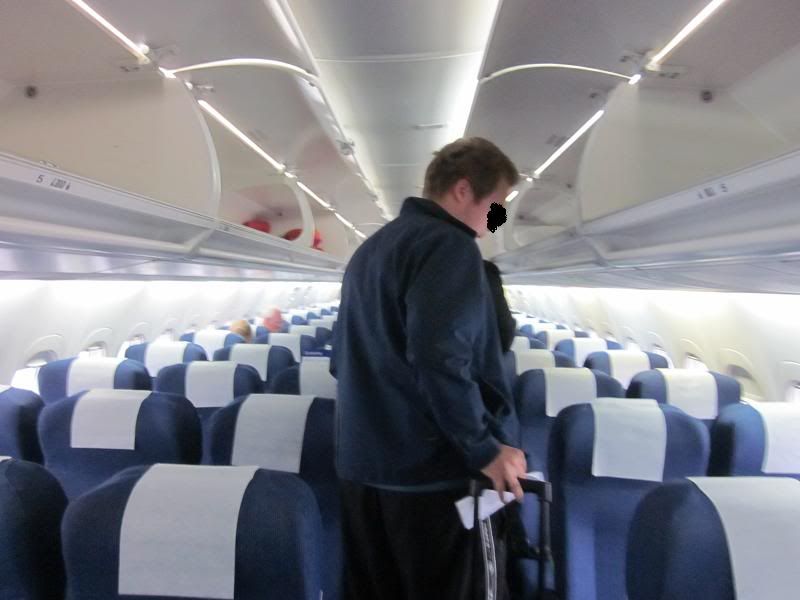 There is three rows of Blue1 Premium today, carrying a load of 0 %...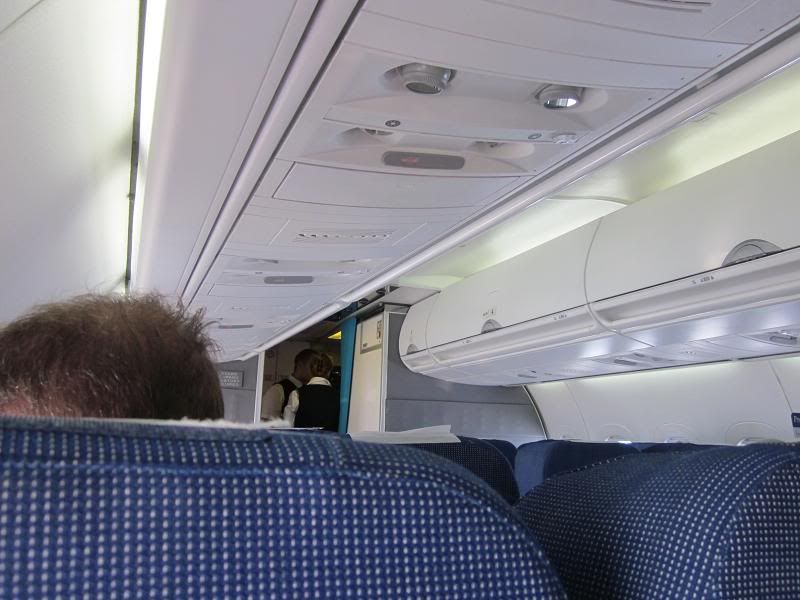 ...but the load is better in economy. We have some 20 free seats here, a load of about 60 % (picture taken during boarding):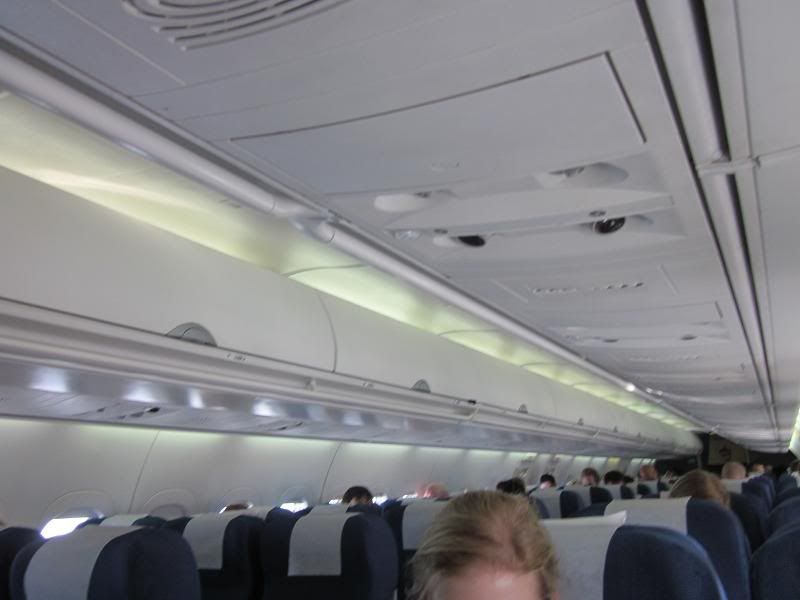 Boarding completed at 08.14 and a friendly welcome by our captain Suontava and flight time announced as 2 hours 15 minutes. Our cabin crew present themselves as Mari, Anna-Stina and Jarkko.
A view of the domestic apron (spiced with rain drops):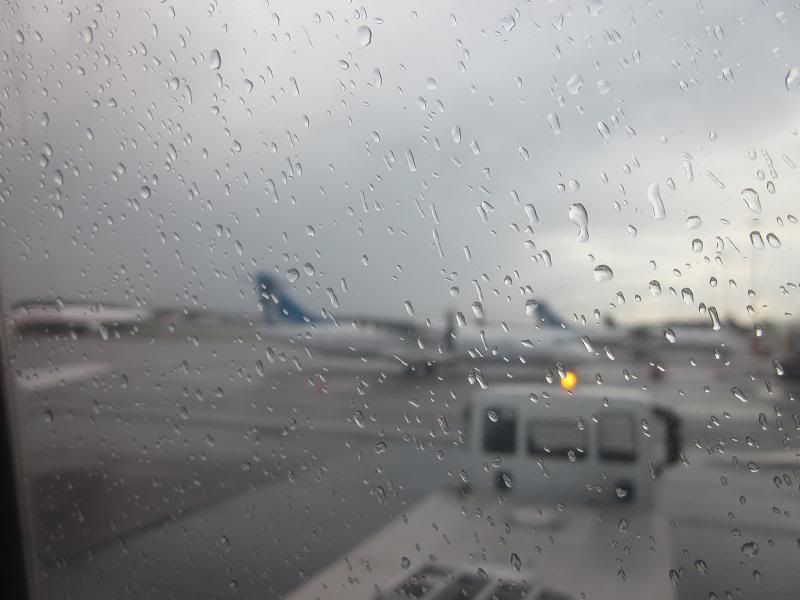 We push back already 08.17 (13 minutes early!) though it takes some time for us to taxi.
During our taxi we pass by this beautiful 717, not just any, but OH-BLQ, the newest example in the KF fleet: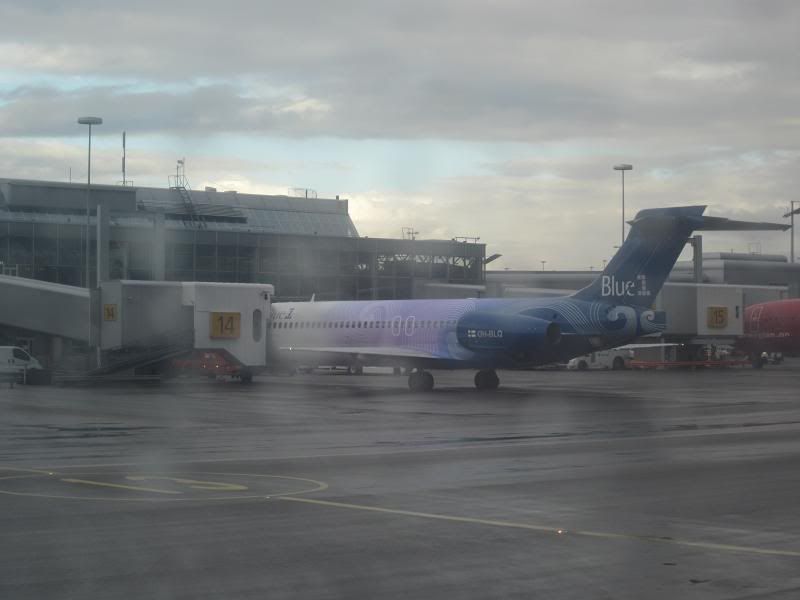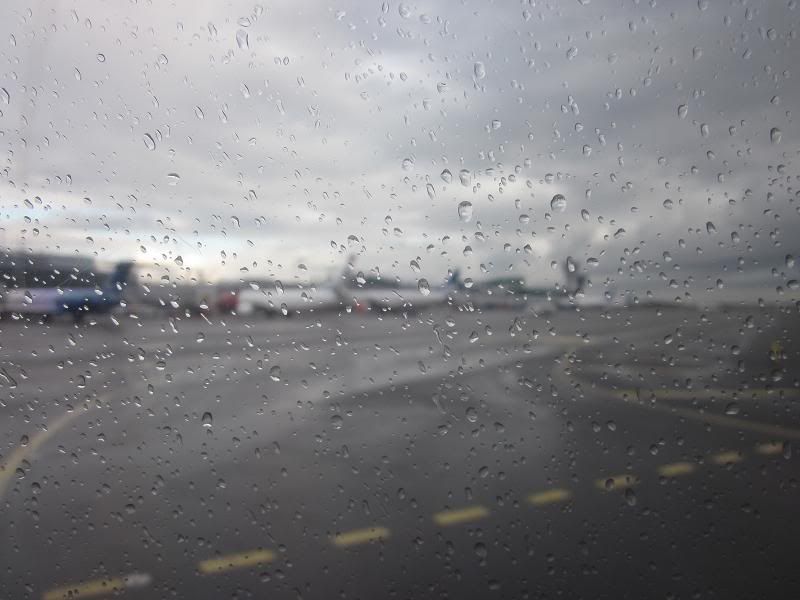 There is three Finnair Airbuses ahead of us, still we take off from runway 22R one minute ahead of scheduled departure:
Bye:
(Not so) beautiful landscapes after take off: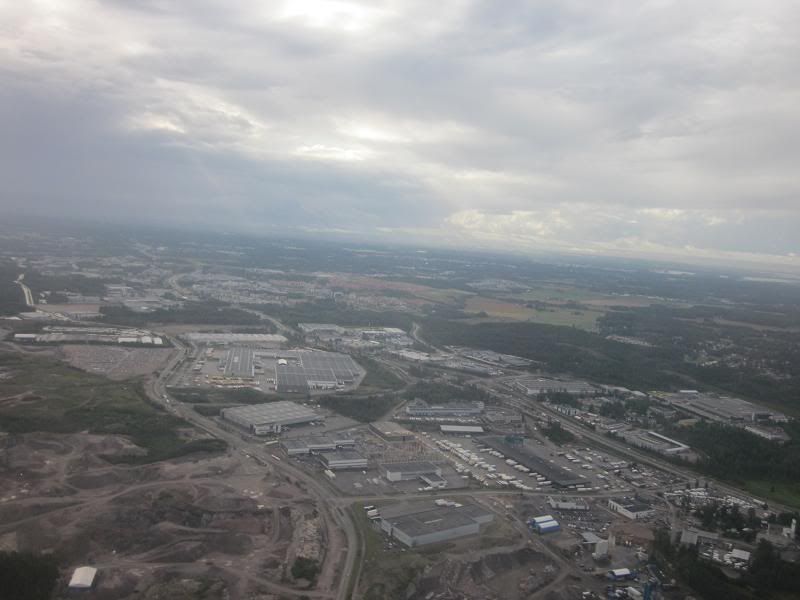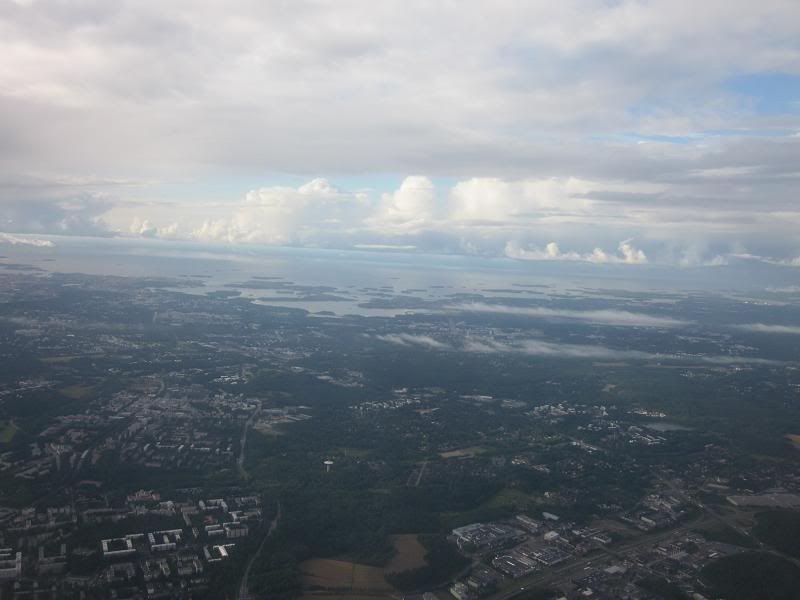 The sky is blue, the clouds are white and the mind is happy:
Top