Hi All,
Welcome to my second TR for this year, where again, my partner and I find ourselves heading back to the UK. Similar to our last trip in January, (http://www.flyertalk.com/forum/trip-reports/1176813-syd-europe-qf-ba-j-a380-lots-pics.html) the key purpose for bringing us back twice in one year was for a close friend's wedding.
In July last year, my best friend in the UK sent me a message to advise her exciting news, that she was engaged and getting married the following year (2011). Of course my partner (Russ) and I were both thrilled for our friends and thought it would be a great reason to come back to UK having not been for 18 months or so. We didn't know at that point we'd have completed another trip to the UK/Europe for another friend's wedding, earlier in the year. Not to worry, if we had to go to the UK again, we decided for once we'd actually have a UK holiday, instead of just flying in and out again.
Our itinerary unfolded after discussion with family and close friends, and we decided to spend a couple of days in the Midlands to see family and friends, then up to Darlington for the wedding, then over to the Lake District for a week of relaxing with some friends.
Given that this trip fell immediately after our 10th anniversary, I decided to make it a memorable one, and got searching for the best flight options. As I had a fairly sizeable miles balance with QF, and some leftovers from VS, I decided to use the VS miles to get us a one-way to HKG in Upper Class, then us QF miles to get us from HKG-LHR on CX in their amazing First Class. This then left just the return portion to secure. After a little bit of research, I managed to find 2 First Class seats on the A380 QF (sold under the BA codeshare) for an absolute steal, so I snapped them up. I had managed to keep the fact that that we were flying in First a surprise until we arrived at check-in for the CX flight. (I like arranging surprises!!)
The itinerary was sorted
SYD-HKG VS J
HKG-LHR CX F
LHR-SIN QF F
SIN-SYD QF F
Then I had to get the hotels sorted out. There was a few to arrange to due overnight stops at HKG, and LHR both ways, plus 3 main destinations enroute. Tripadvisor.com came in very handy for this part. I had already decided on the Langham in HKG as I love it, but as we were looking for more B&B style in the UK, I sought out some recommendations. All of which turned out to be extremely good choices. While I finalised the flights about 5 months in advance, I only finished sorting out the hotels a couple of weeks before departure, and then finally after my usual (painstaking according to my friends) countdown, it was time to go.
On departure day, we woke early, which is normal, but I still get all excited like a kid when I'm going on holiday. I was a little more excited that usual this time, due to all the surprises I had in stall for Russ. Now I'm not someone who normally cuts things too fine, but by 10am that morning (leaving home at 12 midday) I hadn't even started packing. What? It's only 2 weeks worth of clothes, plus suits for a wedding. No worries.. Packing was interrupted when our friend cam round to visit so we could duly instruct her of her duties as chief cat/house sitter for the duration of our holiday. Eventually, I did finish packing, and 3 fat suitcases later we were heading out the door. At exactly midday my driver called to say he was outside, and off we went.
Like every time I leave Sydney, it was a gorgeous sunny day, and Russ and I sat back an enjoyed the ride to the airport. 30 Minutes later we were there, and heading to check-in.
It had been a few years since we'd flown VS (I used to work there in the UK), and we were looking forward to being on a beautiful A346 again. This would later turn out to be the flight that turned us of VS forever.
There was no queue for check-in, so we wandered straight up to the counter, where a rather surly young girl checked us in. Not a good start. When I'm going on holiday, I like to be greeted at the airport by someone who can at least smile, as I'm in a good mood, and want to stay that way. We were handed our documents and lounge invite, and headed through to Fast track security. Thank goodness for Fast track as passport control was really busy, but we got through in a jiffy. It's a long old walk to the Air NZ lounge, but we found it and settled in for a relaxing wait.
The Air New Zealand lounge is a great lounge. Spacious, clean, bright, and a reasonable stock of interesting food and drink. Qantas First it is not, but it beats the pants of the Qantas Business Lounge by a country mile. We indulged in the obligatory pre flight bubbles, and sampled the food on offer. Hot Dogs are yum!!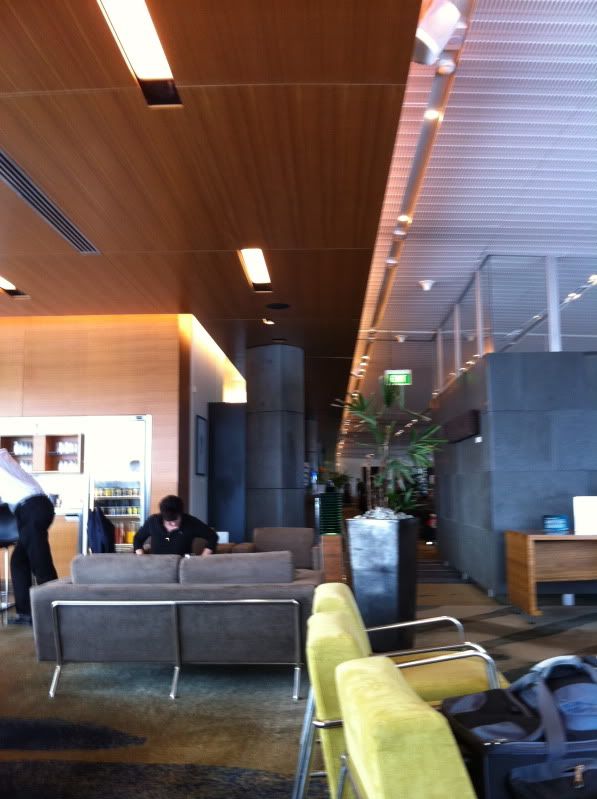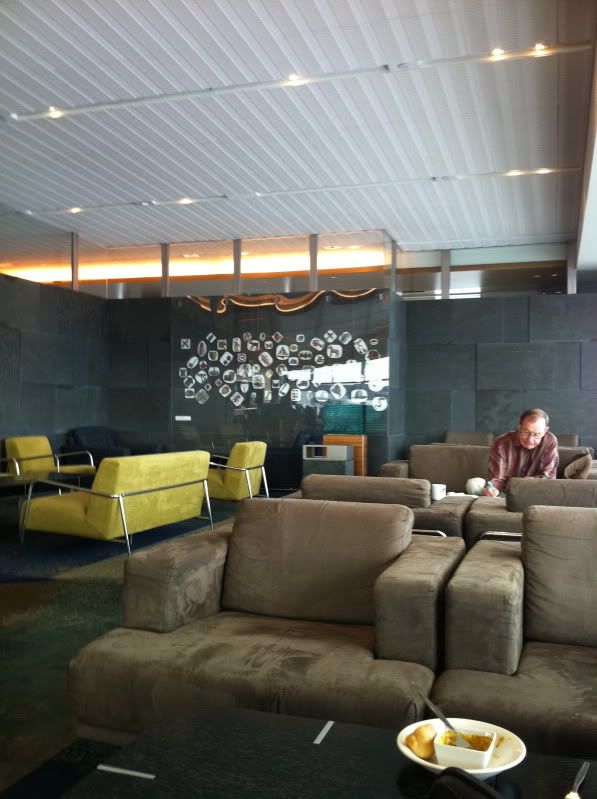 Two UA 744s waiting their departures to LAX and SFO
Eventually, the flight was called, and we headed down to the gate, which was only a minute or so walk.
13/8/2011
VS201
SYD-HKG
STD 14:25
ATD 14:16
STA 21:55
ATA 21:44
Seats: 12K/14K
Aircraft – A340-600
At the gate, my surly check-in girl was waiting (still without a smile on her face). Upon boarding we were directed to our seats, and settled in.
A crew member came along and asked if we'd like a pre-takeoff drink, we of course opted for Champagne. Looking around the cabin, you can really see that the Upper Class cabin is in need of an upgrade. The product is now over 7 years old, and this aircraft, although one of the newer in the fleet, was looking a bit tired.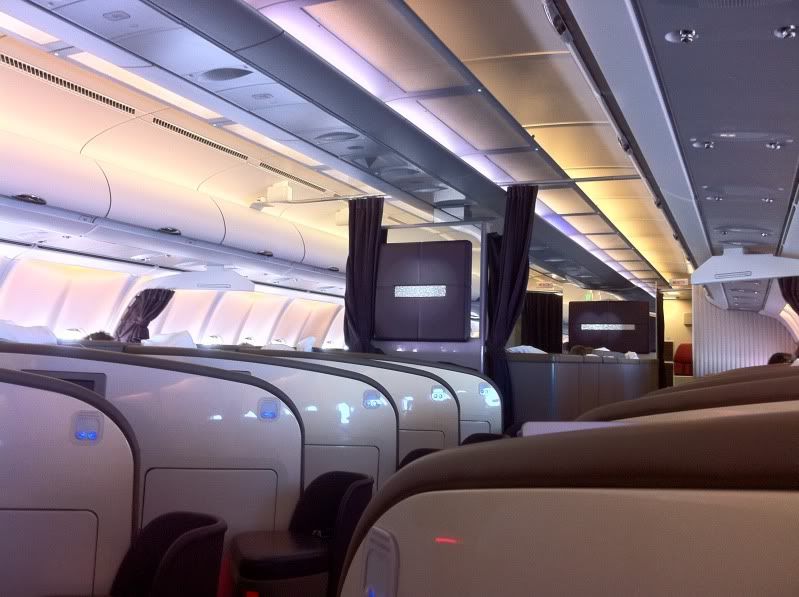 Upper Class cabin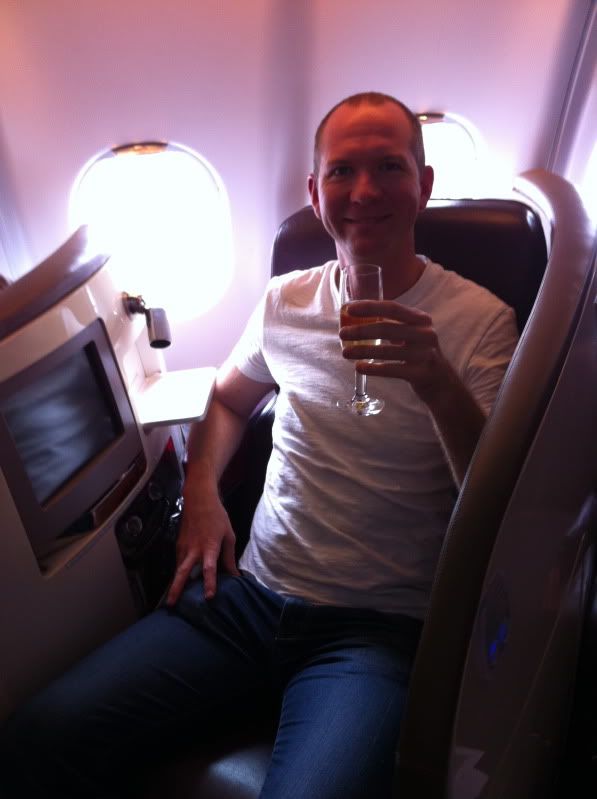 Me with my preflight champagne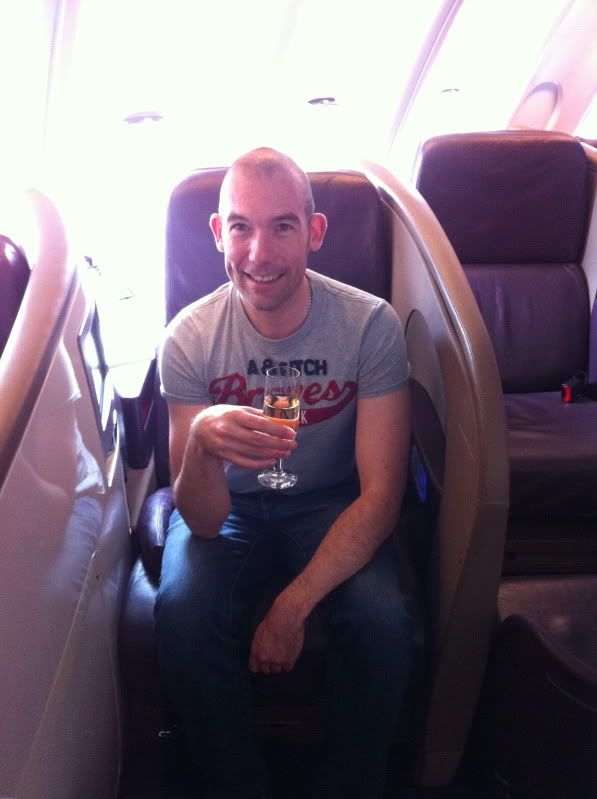 Russ with his.
Doors closed, and we pushed back early, and started our long taxi to the end of runway 34L. After a long takeoff roll, we lifted into the Sydney sky, and got some great views of the City.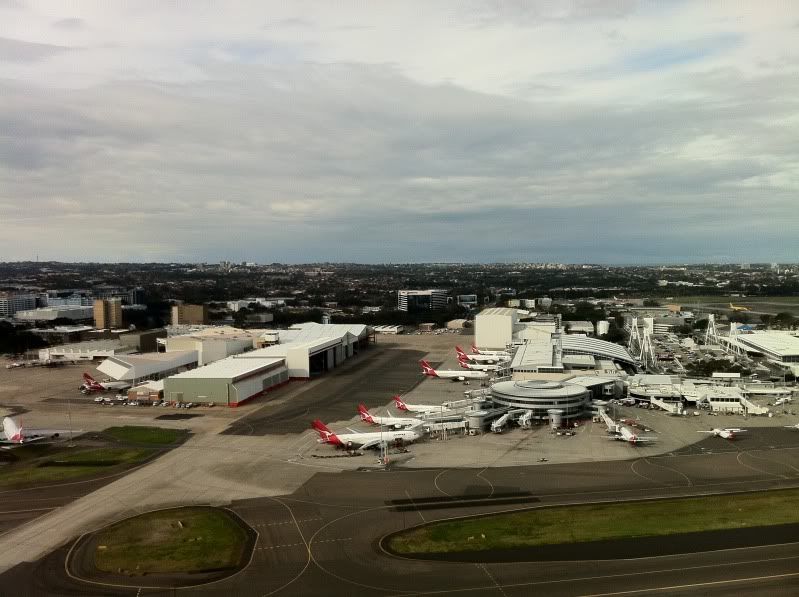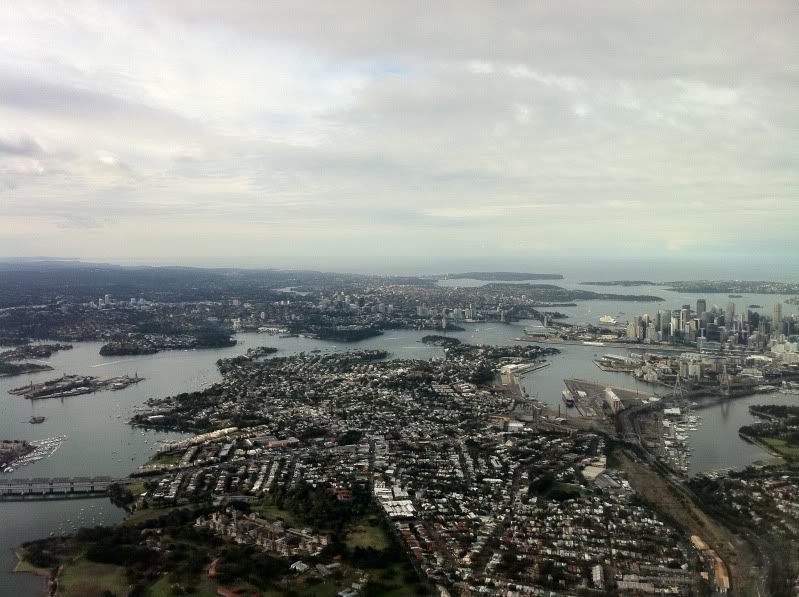 Initially the flight was a little turbulent, and the seatbelt sign stayed on for absolutely ages (over 40 minutes). The poor woman next to us had 3 kids busting for the loo, and was pleading to get up and take them. The crew turned a blind eye in the end rather than have to deal with the kids potentially going in their seats.
After the seatbelt sign went off, the crew started the service, and this is where things started to go wrong. I don't know what has happened, or if we just had a dud crew, but they appeared to want to be anywhere other than on this flight. Drink orders were eventually taken, but took a while to be delivered, and then ordered were taken for Dinner. The menu actually looked pretty good, and choosing was difficult. I did attempt to enlist the advice of the crew member looking after us, but he was not really interested.
Menu below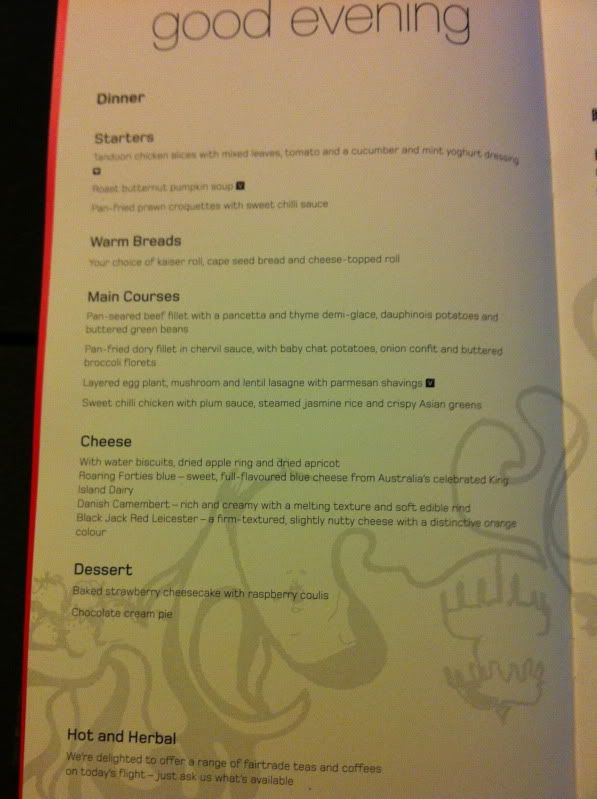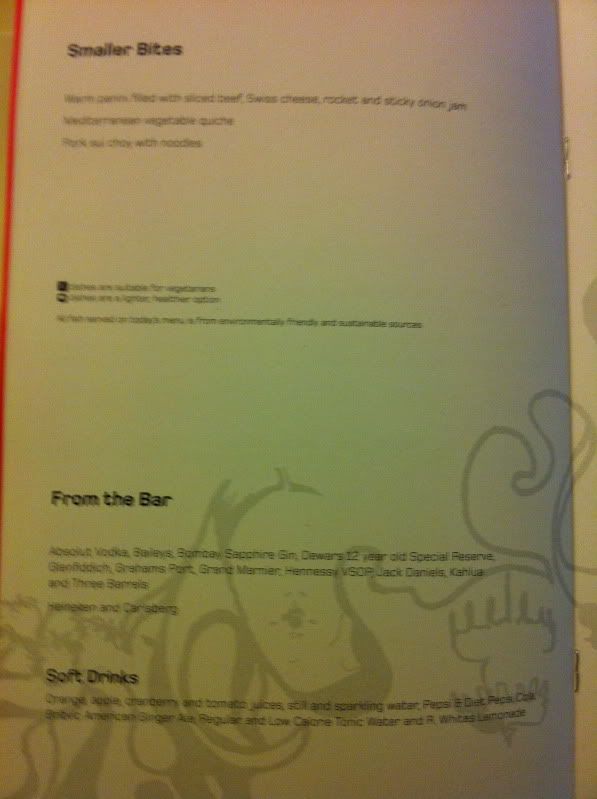 We both opted for the pumpkin soup, which was nice, although barely luke warm. The for mains I chose the lasagne, which was bland and Russ had the Dory. Apologies no pics of mains… forgot.. Dessert saw me devour the strawberry cheesecake and Russ had the Chocolate Pie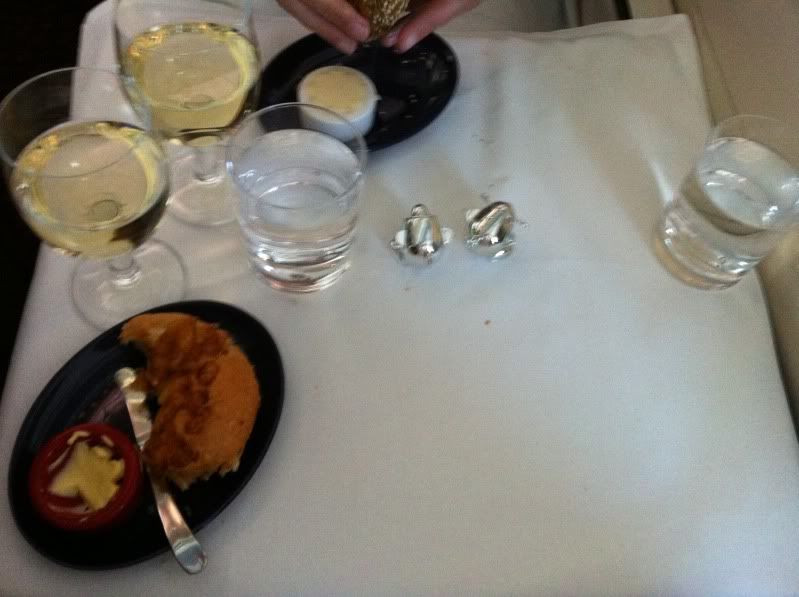 Table set for diner
Luke warm soup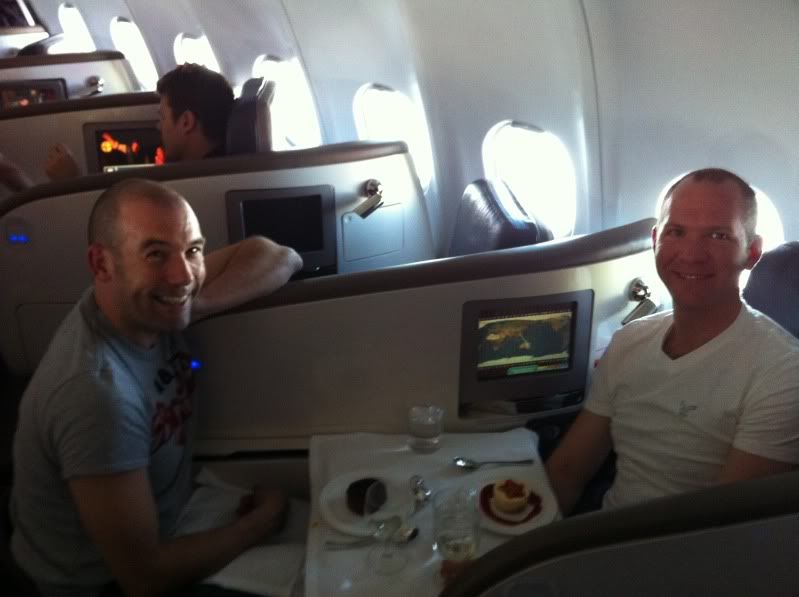 Dessert
Eventually plates were cleared away, and then the crew basically disappeared. Russ and I went to the bar for a bit to have a quiet drink before a nap, and the bar was not manned. Someone came along and fixed us a drink and then disappeared again.
A little while after we headed back to our seats and Russ began feeling very unwell. The only thing we could think of was the his meal had made him sick. He got worse and worse to the point I was getting worried, the crew were completely disinterested in him. In fact, one of the crew actually suggested to me that he was ill due to too much alcohol!! I found that to be completely inappropriate given the limited consumption both of us had had. Anyway, eventually after ridding his system of the offending food, Russ began to feel better, and we ordered some tea and a sandwich each. It was close to landing now, so I went back to my suite and sat out the end of the flight.
All in all, we were both extremely disappointed with this flight. The product has seen better days, though was still comfortable enough for a 9 hour leg. The crew, however, were unforgivably lazy, and at times downright rude. The food, well I've eaten more interesting frozen "Lean Cuisines"!! I'm afraid that is likely to be the last time either of us step foot on VS.
To finish on a positive, at least the baggage came out quickly, and we were on the airport express within 30 mins of landing.
Airport Express in HKG
The ride to our hotel went by in no time, and we arrived at the Langham, and were greeted by that famous Langham scent, and a very friendly receptionist who checked us in and kindly informed us that we'd been upgraded to a suite!.. Sweet ☺ This was a surprise for both of us, as I was not expecting this. The suite was amazing, and really made us wish we were staying longer than 1 night.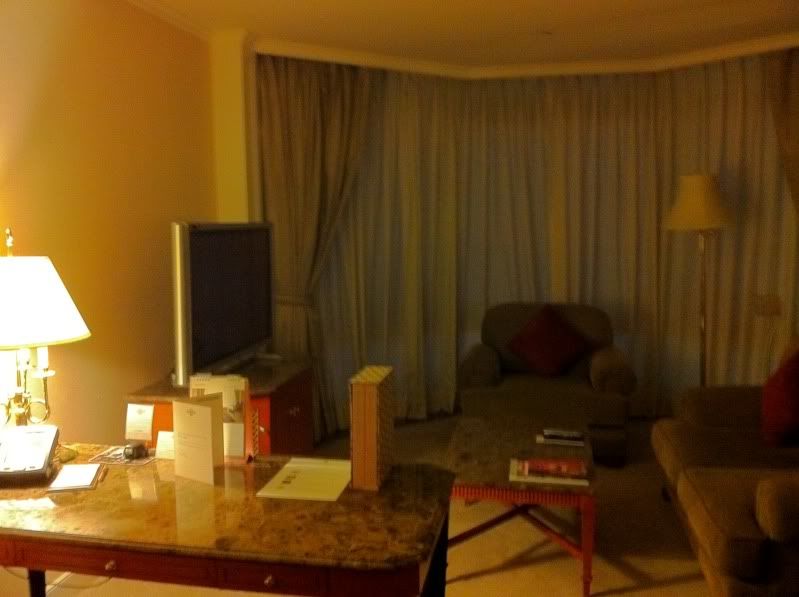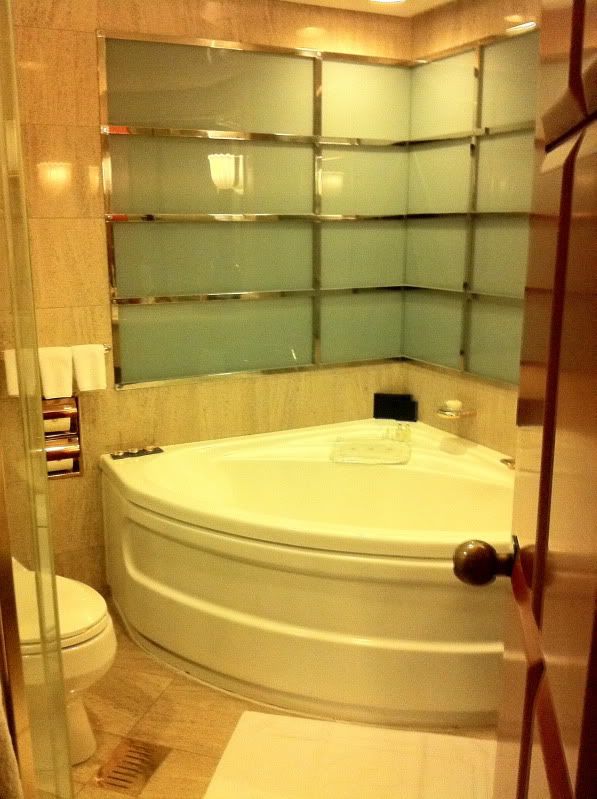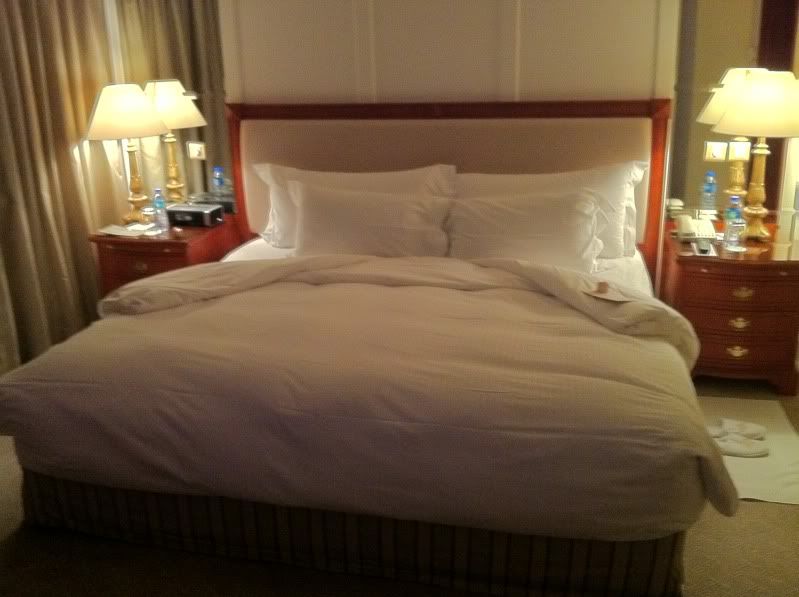 The Langham Hong Kong
Due to the late hour of our arrival, we didn't really get to do too much. A quick wander round Tsim Sha Tsui in the evening, and then to bed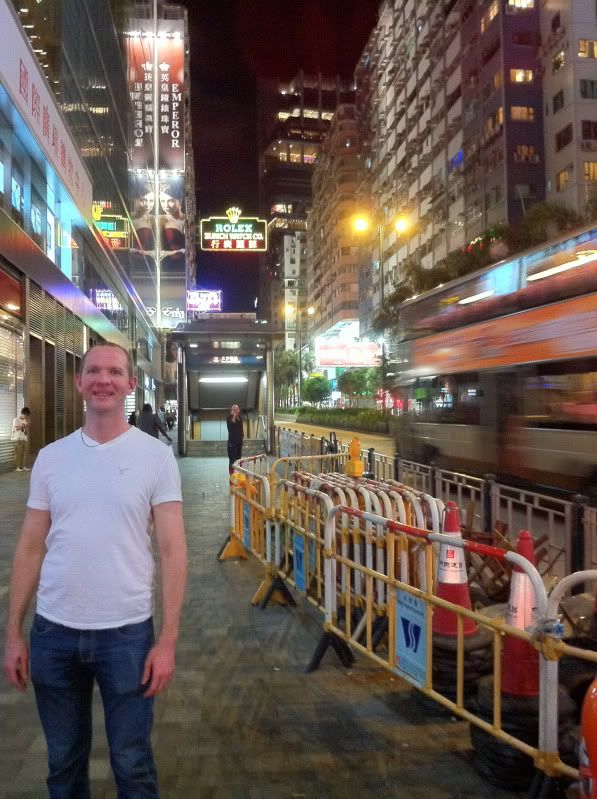 Nathan Road
Continued.....