Earlier this summer, while connecting through Salt Lake City, I was surprised to see a flock of Skywest branded Embraer 120s departing on flights from SLC's regional concourse. While I had a vague recollection that Skywest was still flying some of the old Brasilias I was largely unaware of their operation, as most of my flying is done on the East coast. After observing a dozen of the polished aircraft come and go, I decided that I must fly on one before they all disappear for good.
Helping me out on my quest to fly the Brasilia was the fact that last winter I was accepted into a Delta Air Lines Co-Op program at TechOps in Atlanta. Delta offers a number of Co-Op engineering positions at the Atlanta TechOps base, allowing students to alternate semesters working at Delta and taking university classes. Since last January, I have been working with the Engineering group which supports all of Delta's composites and bonding facilities in Atlanta. Along with the great educational experience, Delta offers its Co-Ops access to non-rev travel within the Delta and Delta Connection system. As a Co-Op, I am entitled to as many flights as I can fit within thirty calendar days, space on the aircraft permitting of course. My low seniority at Delta combined with an overall high load factor within the Delta network makes it difficult to take advantage of these benefits at times, but on a rainy Sunday in September I finally made my Brasilia flight a reality.
In order to take a Brasilia flight, I first had to make it out to Salt Lake City from Atlanta. Delta operates 8 flights from ATL to SLC each day, and in the middle of Labor Day weekend there were plenty of seats available. This was the easy part. Selecting a Brasilia flight was slightly more difficult. Most of the markets served by SkyWest's EMB-120s only see 1 to 3 flights per day. In a situation where I'll be the first to be bumped from a flight, this is hardly ideal. Through a bit of searching, I settled on a quick-turn to Sun Valley, Idaho. This small airport in the town of Hailey is only about an hour from Salt Lake and sees seven EMB-120s per day. This gave me plenty of back-up flights in the event something goes wrong, and provided the ideal amount of time in-flight to enjoy the ride.
Anyways, on to the flights:
KATL - KSLC
Flight # DAL 0983
Equipment:
Airbus A330-200 (N857NW)
Seat:
5C
Scheduled Departure:
09:50
Actual Departure:
09:45
Scheduled Arrival:
11:50
Actual Arrival:
11:55
My first flight of the day not only brought me out to Salt Lake, but also crossed a new aircraft type off of my "to fly" list. Delta operates one daily A330-200 on the ATL-SLC-ATL route, and it happened to work out perfectly with my connecting Brasilia flight. I have flown Delta's A330-300s before, but the eleven -200s in the fleet have proven elusive.
Leaving home, the flight looked relatively empty (about 30 empty seats, with only another 5 employees on the standby list), so I was confident that I would make it on board. Shortly after making it to the gate area I was called to the podium and given a seat assignment in coach, but told that First was looking promising so I should stick around. After all Medallion upgrades cleared and the aircraft boarded, I was handed a boarding pass for the last F seat left, 5C. Sweet!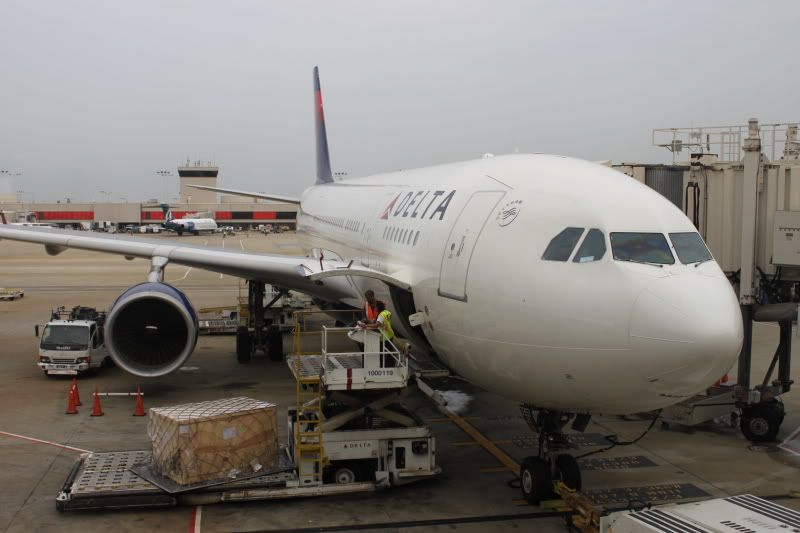 A330-200, N857NW, at Gate E10 in Atlanta.
Boarding the aircraft, I was confused at first, as the Business Elite cabin is bisected by the #2 boarding door. Rows 1-4 are forward of the door, while 5 and 6 are located in their own cabin between the boarding door and coach. Delta's A330s are equipped with ex-Northwest flat-bed seats in Business Elite. These seats will transition to a fully flat bed, but remain at about 25 degrees to horizontal when reclined fully. While certainly a step up from the recliner seats found on Delta's narrowbody and Domestic 767 fleet, these seats leave something to be desired. In attempting to pack a flat seat into a small space, these seats make a number of compromises - the cushions are some of the hardest I have ever felt, the seat backs never fully un-recline, so you're constantly slipping forward in the seat, and the electric motors which power the recline and foot rest are incredibly loud. Given a choice, I would certainly recommend the new lie-flat interiors on the 777s and 767-400s over the Airbus fleet, but it certainly beats anything in coach.
Unfortunately I left my camera in the overhead bin for this leg (no underseat storage at the bulkhead in row 5), so no images for this leg.
The A330s don't have WiFi or satellite TV installed (they spend most of their time far overseas), but a decent selection of videos are available on demand (free in F). The IFE screens on the A330 fold out from the center console, and are very generously sized, probably the best in the Delta fleet. The screens can be controlled either through touch or through a controller in the armrest, and operate quite quickly compared to the laggy IFE installed on the narrowbody fleets.
A lunch service was offered in the First cabin, a choice of a Chicken Caesar Salad or a Hamburger. The crew was very overt about their use of the FEBO system (front-even, back-odd) for taking orders, letting everyone know that they should pick their seats accordingly in the future. Based on my experience, nearly all flights are done front-to-back, regardless of flight number, but this crew was determined to stick to FEBO on this day. Trying to be a good non-rever, I passed on ordering until the front cabin had been given a selection, and ended up with a hamburger.
Lunch service was on Delta's new dinnerware, including the smaller and narrower drink glasses, and a faux-wood non-stick tray (known by most at FlyerTalk as the "bathroom floor" tray.) While the smaller glasses were inconvenient, I thought that the new tray was a step up from the previous plastic design. Photos of the new dinnerware can be found in leg three of this trip report. The burger was surprisingly tasty (served with cheddar, lettuce, pickle, tomato, and onion on the side as well as an odd potato-salad concoction), although I ended up with two "bottom" buns on my burger. I'm assuming someone else on the flight ended up with a difficult to balance burger constructed of two rounded tops...
The 3.5 hour flight passed pretty quickly with a movie and some on-demand TV (with loads of "captive audience" infomercials added in), and I was soon on the ground in Salt Lake City.
KSLC - KSUN
Flight # SKW 7790
Equipment:
Embraer EMB-120 Brasilia (N216SW)
Seat:
9C
Scheduled Departure:
13:40
Actual Departure:
13:40
Scheduled Arrival:
14:50
Actual Arrival:
14:50
Between flights I gave myself a generous hour and fifty minutes, which is more than enough in the morning at SLC. After the arrival of my flight from ATL there were almost no aircraft movements until Skywest's 1:00 rush of RJs and EMB-120s. A Cinnabon and a few laps of the terminal helped pass the time before aircraft started arriving.
SkyWest's operations at Salt Lake City are primarily based out of the E-concourse, a ground level waiting area connected to a pair of finger-like hallways which connect to the actual aircraft gates. All of SkyWest's EMB-120 and CRJ-200 flights depart through a bank of doors which connect to the hallway. Once checked through the door, it is up to the individual passengers to find their way down the hallway to the correct gate to the ramp and the correct aircraft. It seems like SkyWest has an awful lot of faith in their passengers, as my boarding pass wasn't checked once after passing the podium into the airside hallway.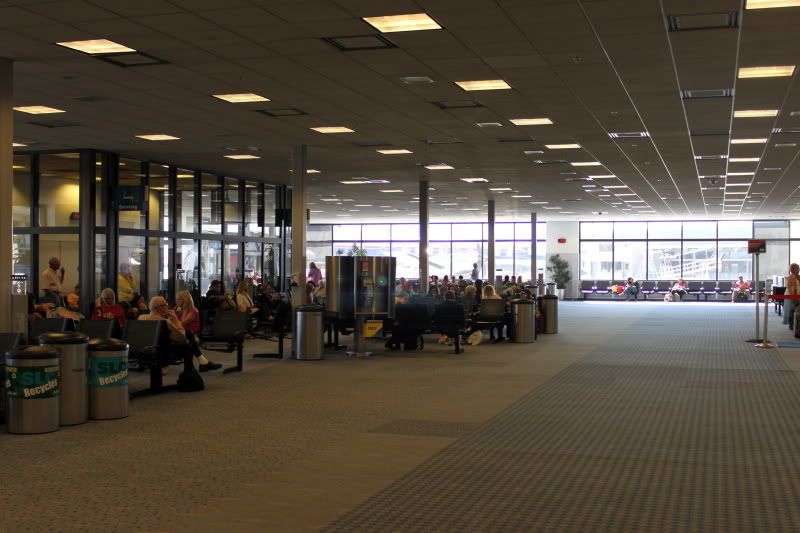 The E-Concourse gate area for SkyWest's EMB and CRJ-200 flights.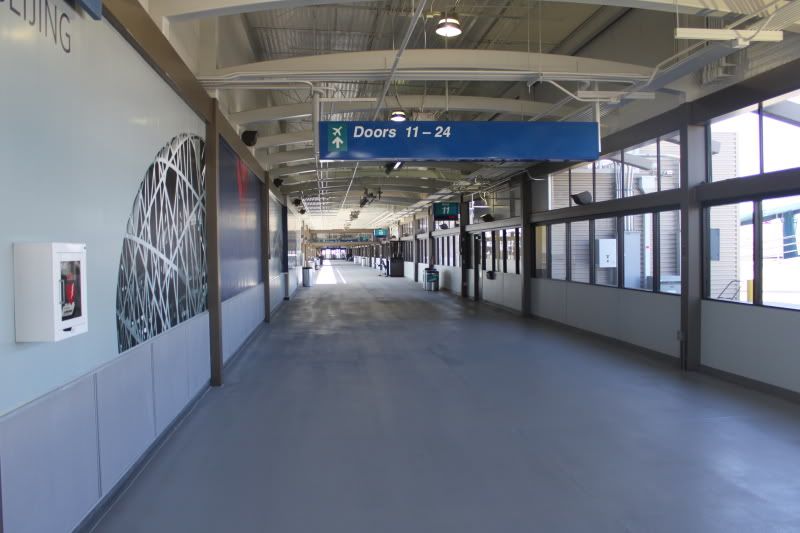 One of two airside "Fingers" connecting to the ground-level boarding doors.
Four separate Embraer flights were scheduled to depart between 1:39 and 1:41pm. About 35 minutes prior to departure, the first of these aircraft came screaming up to the gate. Compared to the slow crawl of the A330, my first impression of the E-120 was certainly living up to its sports-car looks. With 3600shp powering only 15,000lb of aircraft, I can understand how a fast taxi speed could come naturally. The rest of the EMB-120s followed, in a similarly race car-like fashion.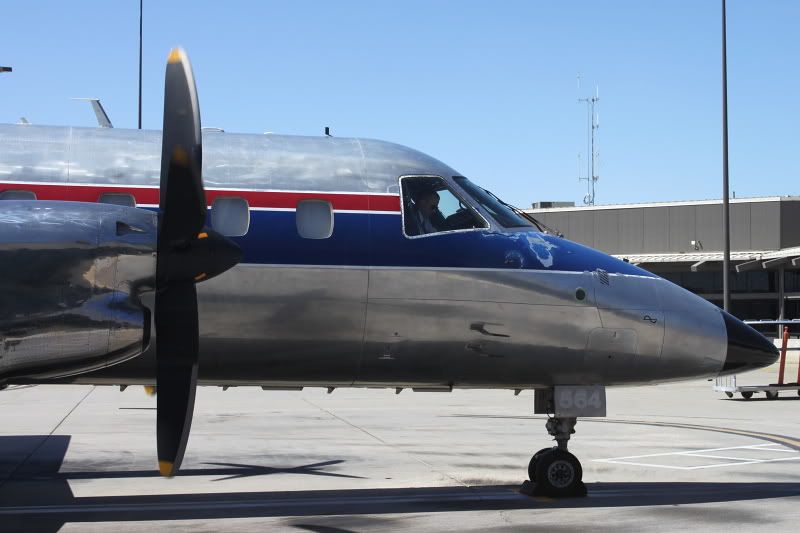 First of the four flights pulling in, I believe this one was headed to Elko, NV.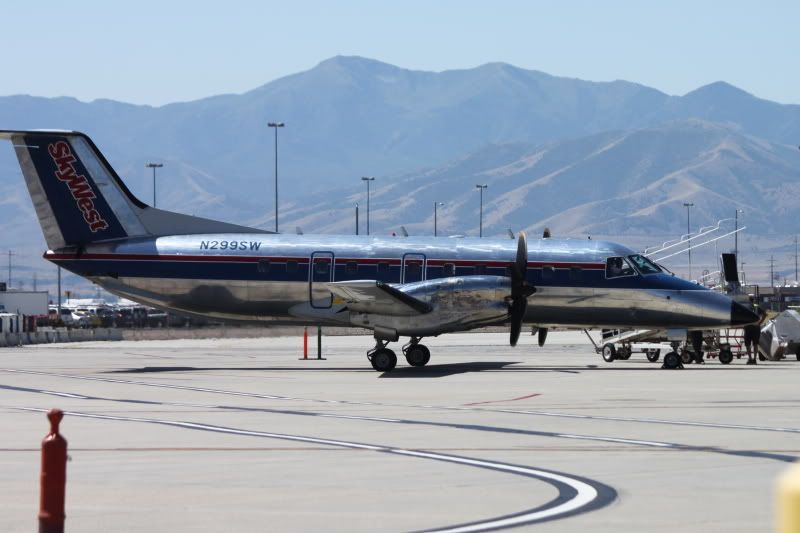 Another shiny-metal EMB-120.
While waiting in the gate area, I began to realize that all boarding announcements were being made for "Delta Connection" flights, rather than SkyWest flights. I had been under the impression that all Embraer flights out of SLC were operated at-risk by SkyWest under the SkyWest banner, in codeshare with Delta. Delta does not recognize the Brasilia as being part of its fleet, and the physical aircraft are still branded with the polished metal SkyWest livery. I'm still not entirely sure how this relationship works, but I was able to get a standby seat as a Delta employee, so I won't complain.
Of the 28 seats available on the aircraft, only ten were booked by revenue passengers. Not surprisingly, I was the only standby passenger and I was quickly cleared into seat 9B, a seat in the aft exit row. Boarding commenced about 25 minutes prior to departure, and it only took about ten minutes for all eleven passengers to make their way on board and into their seats.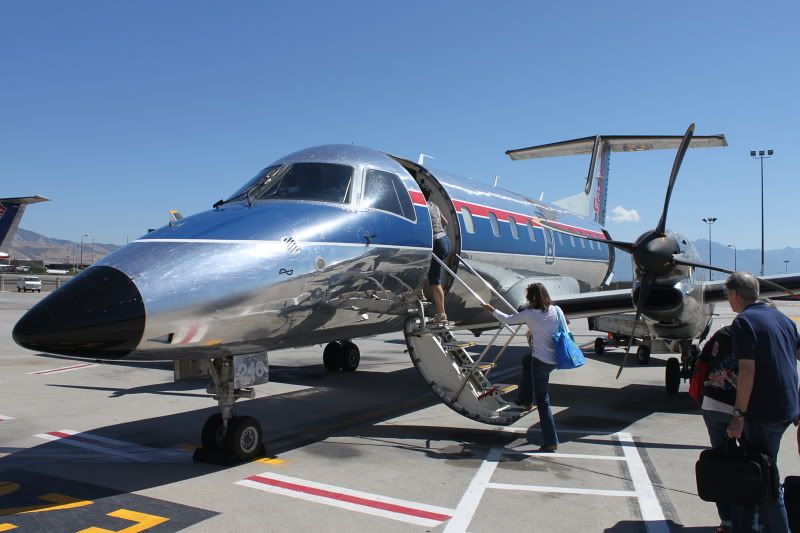 Boarding my ride to SUN and back, Embraer EMB-120 N216SW, S/N 285, manufactured in 1993.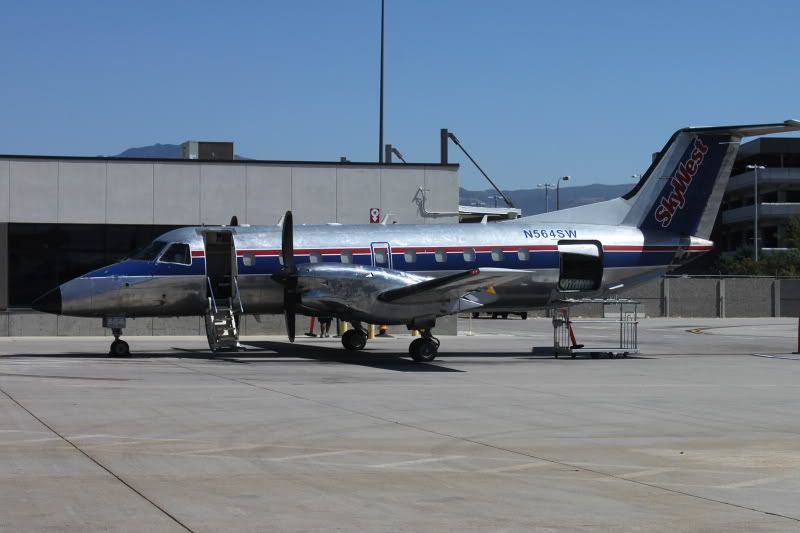 The ELK flight, closing up for departure, as seen from the ramp.
Before boarding I had made sure to keep my camera out and around my neck, to avoid being stuck without photos as I had the last leg. Upon boarding, the sole flight attendant noticed the camera and even commented "Is that the new Digital Rebel?", unfortunately she also made sure to let me know that I wouldn't be able to take photos during takeoff or landing. After such a direct command, I wasn't about to disobey and grab a takeoff or landing video as I had planned.
The exit row at row 9 features a floor-level door, and is extremely spacious. For such a tiny aircraft, I had lucked out on seating. While not quite "you can't touch the seat in front, even if you try" spacious, the empty row and legroom was very comfortable. The overhead bins, on the other hand, were tiny. My small camera case barely fit into the overhead, let alone any full sized backpack or duffel bag. The ERJ line of jets features the same cabin cross section, but the bins feel much larger due to a more modern design.
Ample Legroom.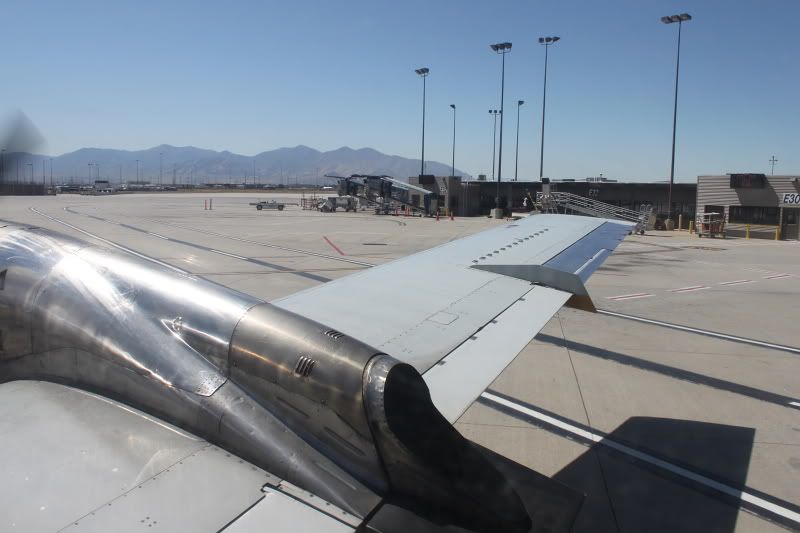 Pulling out of the ramp at SLC.
Engine start was quick and relatively quiet. Soon the prop levers were pushed forward and we surged out of the gate area. No pushback was required, as the E-120s are all parked with room to turn and depart on their own. After a quick taxi, we departed Runway 34L at A3 with a relatively tame takeoff.
Climbout was relatively slow, to the Northwest over the Salt Lake. We climbed up to 24,000ft, although the altitude seemed much lower due to the high ground level in the area. The landscape was rather desolate and featureless for much of the flight, only a few random farms dotted the landscape.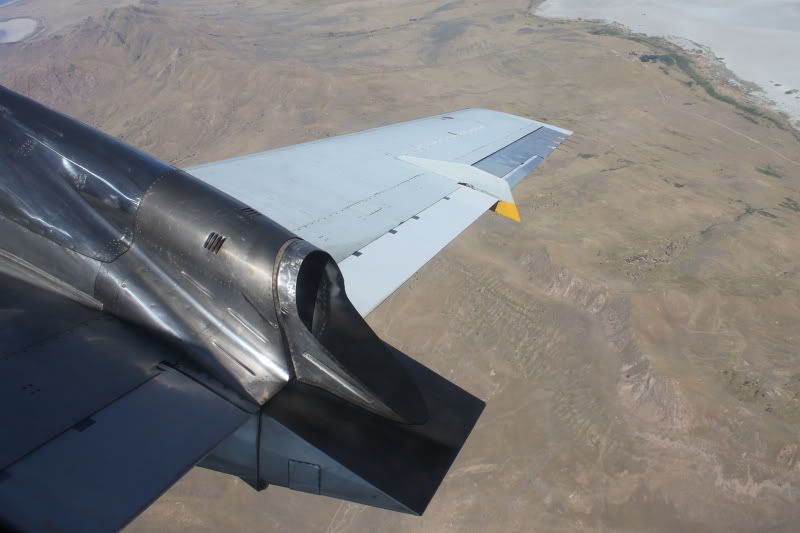 Banking in the only turn we made all flight. It's a straight-shot from SLC to SUN.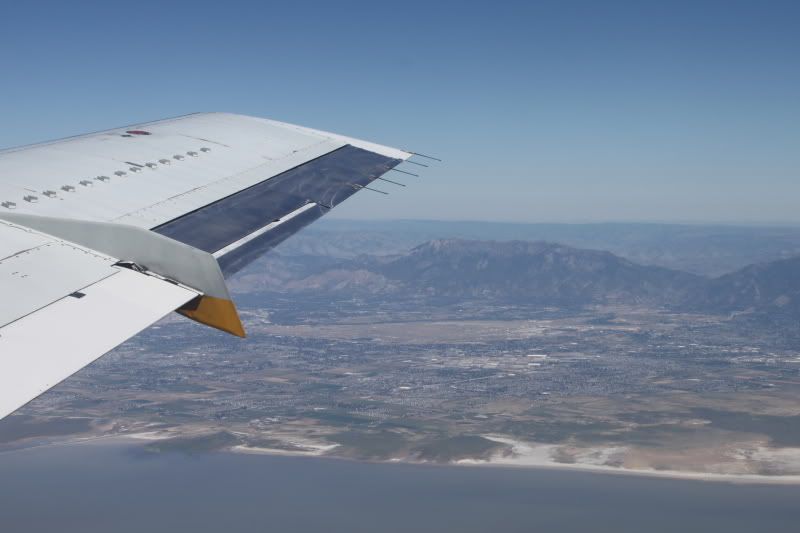 Nearing cruise altitude.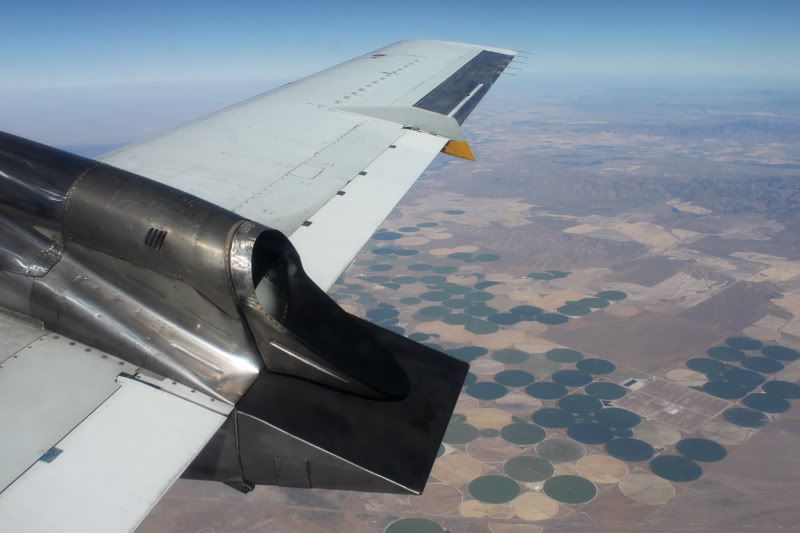 Over some "crop circles". These rings are formed by the large irrigation booms in use at most farms.
Drink orders were taken before takeoff, and the flight attendant came through the cabin shortly after takeoff with a snack basket containing peanuts and biscoff. Drinks shortly followed. Everything was standard Delta fare, including Delta branding on the napkins and drink cups. I'm still not sure why these flights are quasi-Delta connection in branding. In the exit row seat there were no tray tables installed (none in the armrest, and the seatback tables had been removed), so I had to hold on to my snacks or use the seat next to me. On this flight it seemed the flight attendant was practicing reverse-FEBO (BEFO?), as I was served first on the even numbered flight out (seated in the back), and again on the odd numbered flight in. Perhaps the flight attendant just liked me...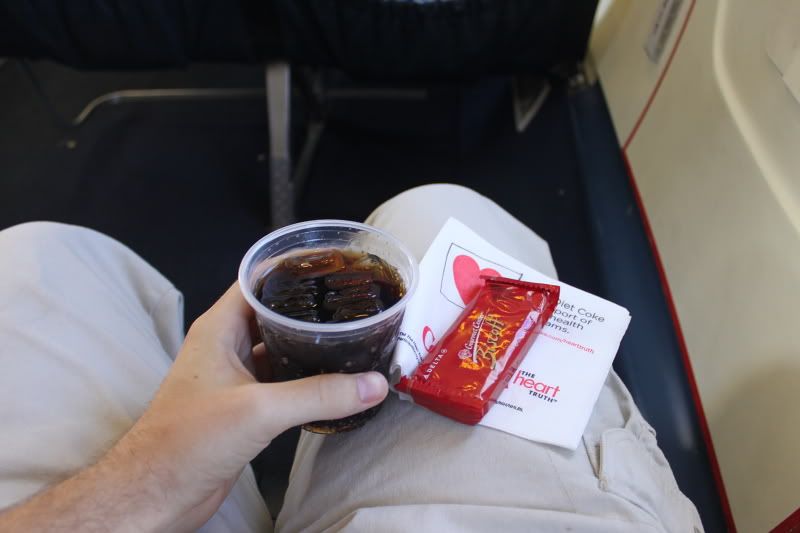 Snack service, in my lap.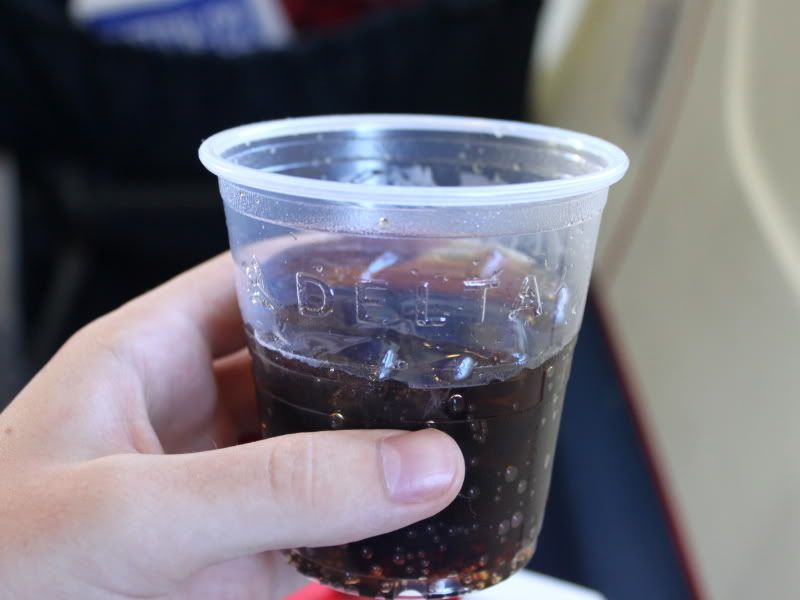 Delta-branded drink cup.
After completing service, the flight attendant came back and offered me the remainder of my Coke can, apparently no one else (of the eleven on board) had wanted Coke and it would have gone to waste otherwise.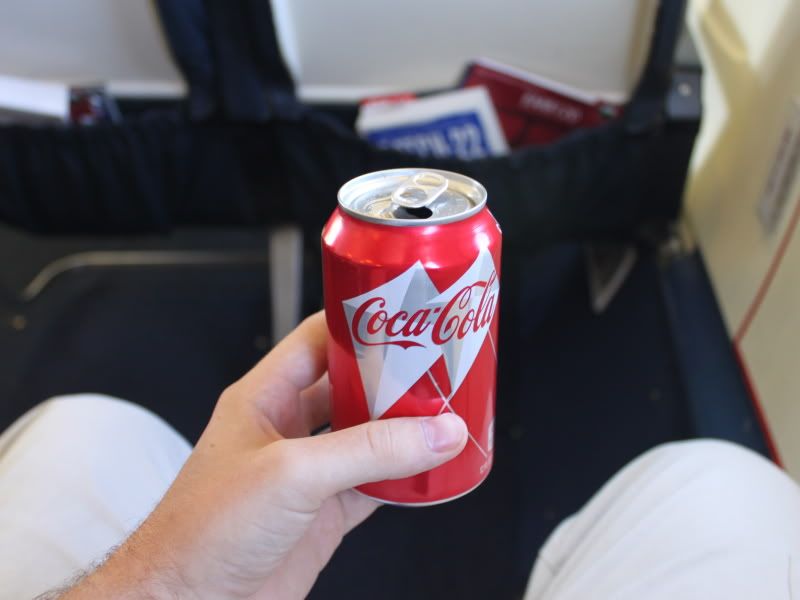 Yay, more free food!
About 45 minutes into the flight we began a very gradual decent into KSUN with no noticeable change in engine noise or pitch throughout the decent. Eventually the terrain began to turn slightly greener and more mountainous, until we entered (what I assume was) Sun Valley on final approach to the airport.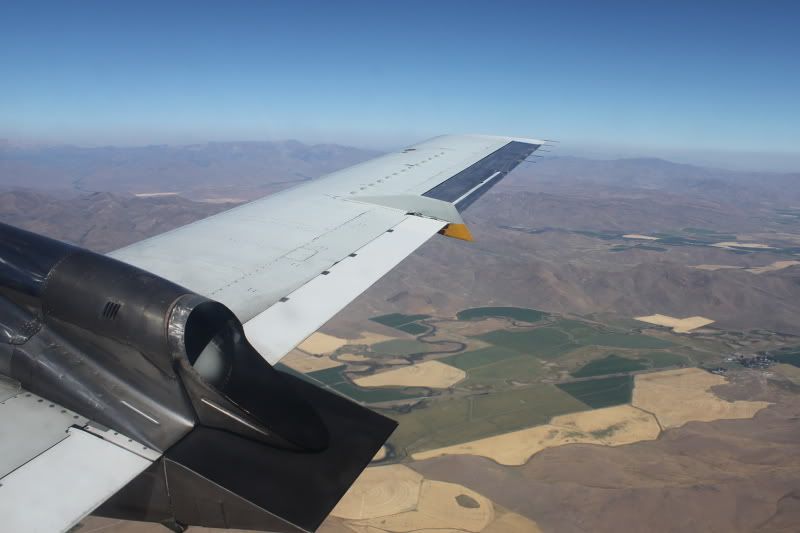 Terrain changing slightly, starting to show some signs of civilization.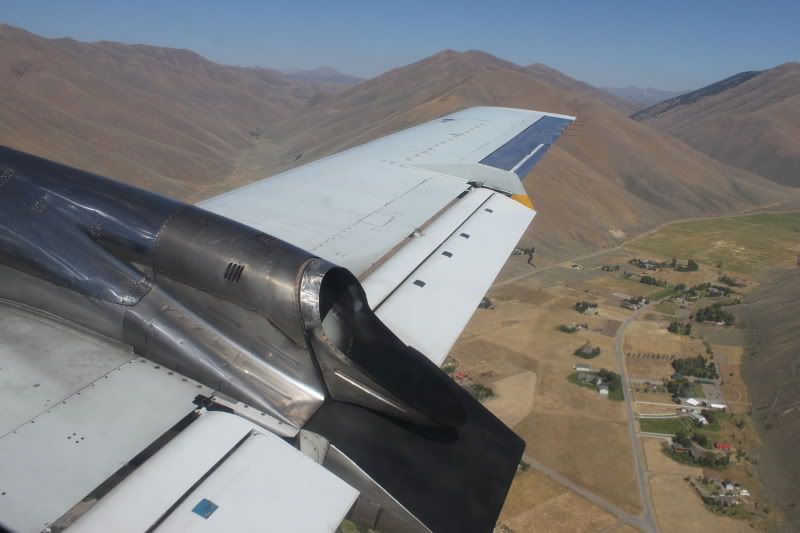 On final to runway 31, ducking between mountains.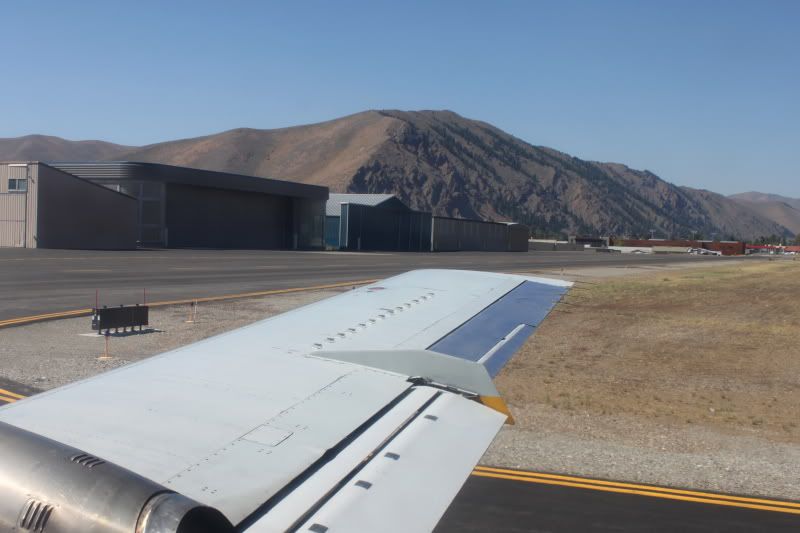 Pulling off the runway in scenic Hailey, ID.
The small airline terminal at SUN.
The Friedman Memorial Sun Valley airport is a very small general aviation strip nestled along a mountain valley. The airport is uncontrolled and features a single 7550' Runway 13/31. The small airline terminal is served by seven daily Embraer 120s from SLC, as well as two daily Horizon Q400s, one to Los Angeles and one to Seattle. During my very brief stay at SUN, my EMB-120 was the only aircraft movement on the field.
As I had initially feared, all disembarking passengers at SUN are directed to a land-side door where they are sent directly to baggage claim. There is no way to make "connections" at SUN without re-clearing security. Luckily I had already checked in at Salt Lake City and had my seat request card in hand. The five TSA workers on duty almost out-numbered the total passengers for the flight, so I was quickly able to re-clear and make my way into the very small gate area. After only ten minutes on the ground I had a new seat assignment in hand and was back on the aircraft.
KSUN - KSLC
Flight # SKW 7791
Equipment:
Embraer EMB-120 Brasilia (N216SW)
Seat:
4A
Scheduled Departure:
15:06
Actual Departure:
15:05
Scheduled Arrival:
16:13
Actual Arrival:
16:04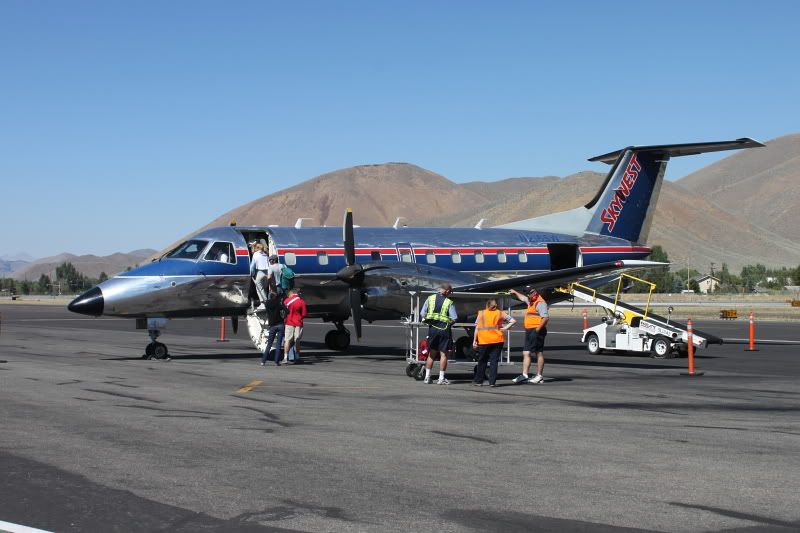 Walking back to the aircraft at SUN.
The flight attendant looked slightly surprised to see me back so soon, so I quickly explained how I had wanted to fly onboard the Brasilia, and a quick-turn like this had been all that my schedule allowed. She didn't seem too shocked by the concept, so I took my new seat in 4A.
The A-side seats on the Brasilia, as on the ERJ series, are single seats with both row and aisle access. This would be the best of both worlds, were it not for the fact that the seats are incredibly cramped. Legroom was reduced to nearly zero, and my camera bag barely fit under the seat in front of me for this leg. The flight was slightly more full (only 8 empty seats on this leg), so there was no option to move to a more favorable location. I'll keep the exit row in mind for future flights in the Brasilia.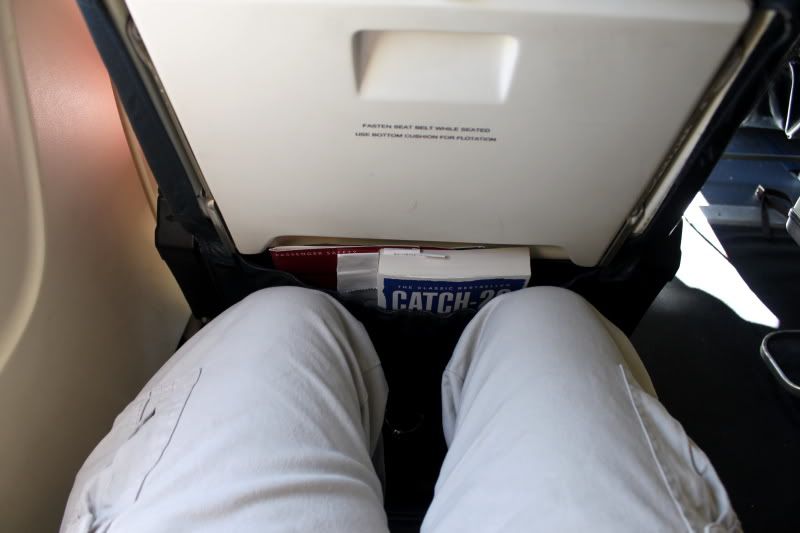 Slightly reduced legroom.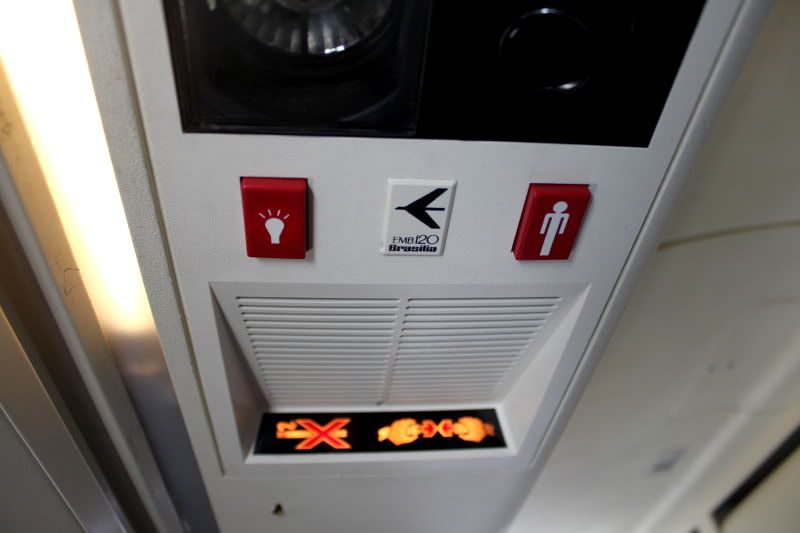 I wish more manufacturers still did this; Brasilia marketing badge on the overhead panel.
After only fifteen minutes on the ground, the door was once again closed and the engines started for a return trip to Salt Lake City. It immediately became clear that the forward cabin was going to be much louder than the aft, where I had been seated previously. The vibration from the propeller's wake pounding against the cabin wall was very much noticeable, even with the engines idling. For the hour flight the vibration wasn't too uncomfortable, but I can't imagine working as a flight attendant seating directly adjacent to the prop arc for hours upon hours. I would certainly bring hearing protection for that sort of position.
A short taxi brought us to runway 13, where we departed in the opposite direction as we had landed. Even though the winds were favoring 13, I'm sure terrain considerations made it much easier to land 31 on the way in instead of circling within the valley to land.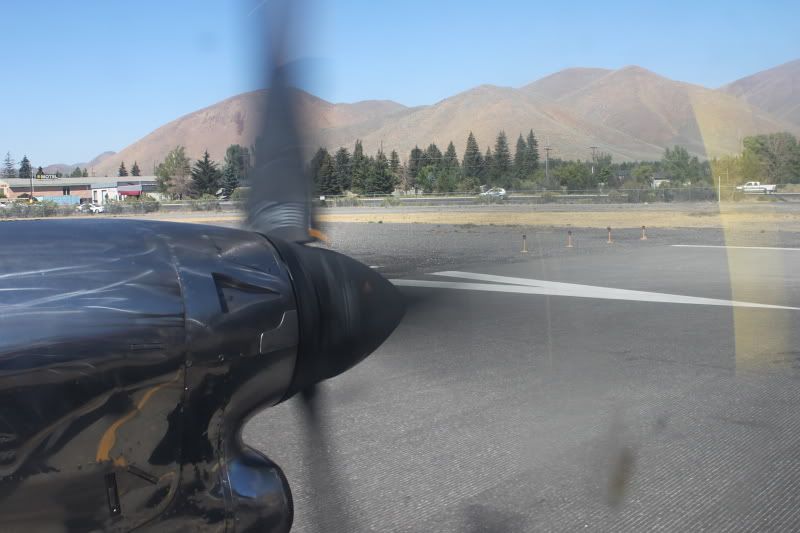 Holding short Runway 13, just prior to departure.
My window shade refused to raise completely, so I had to adopt a CRJ-hunch to look outside. While having an A-seat allowed me to experience both sides of the aircraft, it also meant that I'd be viewing the same scenery anyways.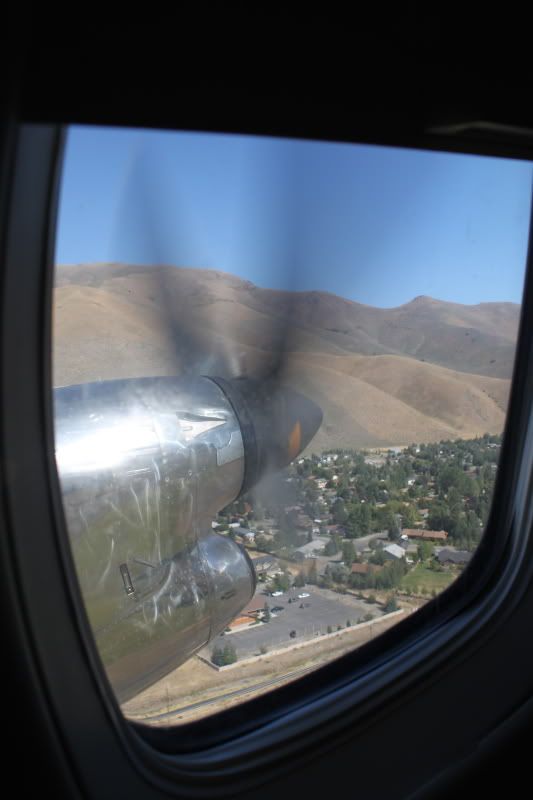 Just after departing SUN.
Snack service was identical to that on the flight out, I chose to change things up by selecting peanuts this time around. After I took my peanuts and napkin, I returned to reading my book, waiting for drink service. By the time I looked up, I realized that my peanuts had run away from me. The vibration from the propellers was so severe that it was causing my peanuts to dance around (and off of) the tray table. Upon opening the peanut packets, I found that even the salt had been shaken off of the nuts and into the bottom of the bag.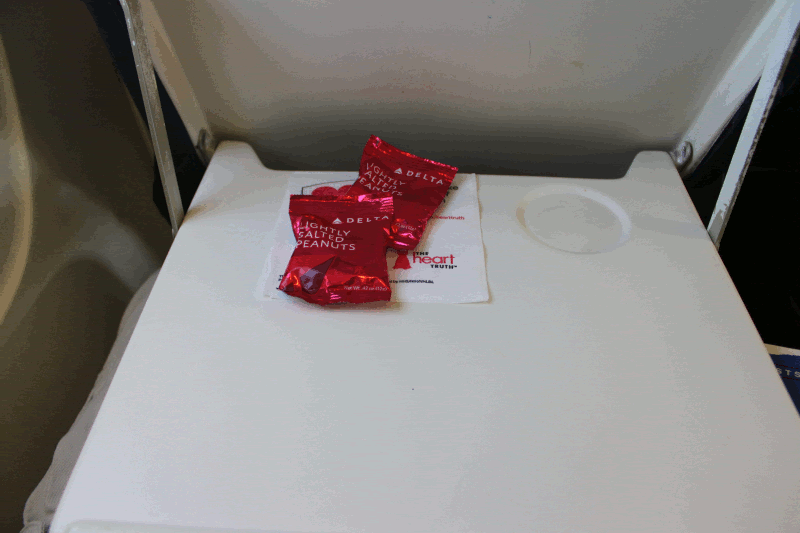 Dancing peanuts.
We flew a long downwind for 34L and pulled back into the exact same parking spot we had departed from just two and a half hours earlier. While my ears were happy to be out of the loud, vibrating environment, I was slightly sad to leave, knowing that small turboprops like the Brasilia are only disappearing these days, and that small EAS communities like Sun Valley are at an increasing risk of losing airline service altogether. Regardless, it was a great experience to fly aboard my favorite turboprop, even for just a short out-and-back flight.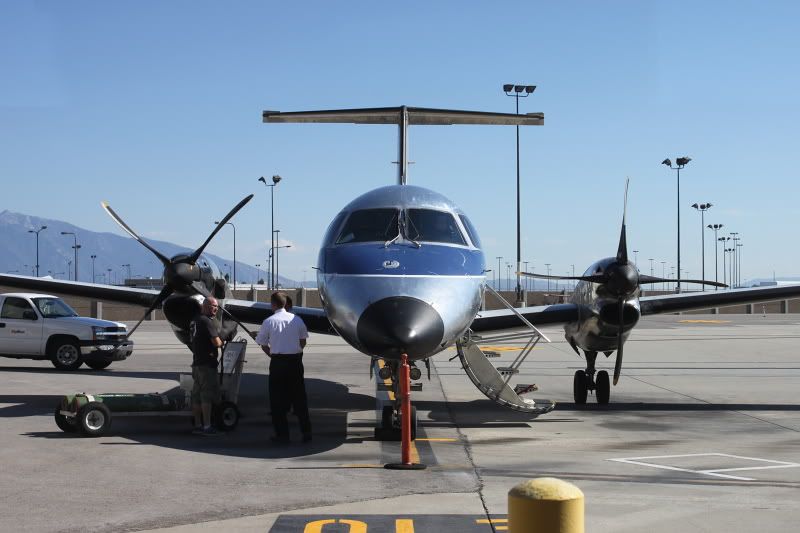 One last look at the Brasilia.
KSLC - KATL
Flight # DAL 1222
Equipment:
Boeing 757-200 (N685DA)
Seat:
7D
Scheduled Departure:
17:00
Actual Departure:
17:00
Scheduled Arrival:
22:49
Actual Arrival:
22:20
I had given myself about an hour connection in Salt Lake City for my flight back to Atlanta, and I was not concerned with my prospects of being assigned a seat. At my last check, the flight was booked to go out with more than 80 empty seats, a very rare occurrence on a Sunday afternoon. Again, it looked like the long weekend was working in my favor.
By the time I made my way to an airside kiosk to check in, the system spat back an error message telling me that I was too late to check in for the flight. Apparently I was trying to check in 44 minutes prior to departure, and I had missed the allowed window by one minute. A customer service agent was able to quickly print my seat request card and I was on my way to the gate.
SLC is a busy place around 5:00, as every Delta hub or semi-hub has a scheduled departure from SLC exactly at 5:00. ATL, JFK, CVG, MEM, LAS, LAX, and many others all have scheduled departures exactly at five. I've been generally impressed by SLC's operations, as the gate agents have consistently been able to hit the scheduled boarding and departure times down to the second when I've flown through.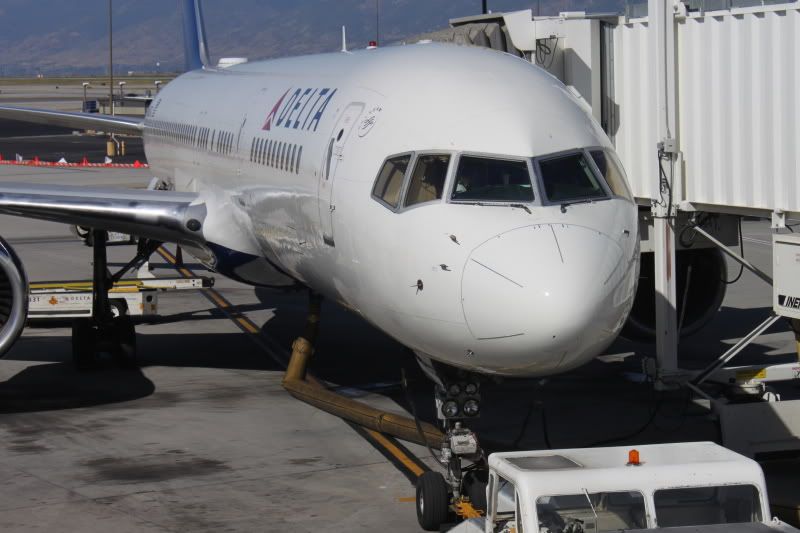 My ride to ATL, a trans-con configured PMDL 757-200, N685DA.
Watching the gate information screen I noticed that 6 First Class seats were still available, and I was #2 on the standby list. Despite the gate agents attempts to sell upgrades at the gate, my good luck persisted and I was assigned 7D, the last row of F on this 757 configuration.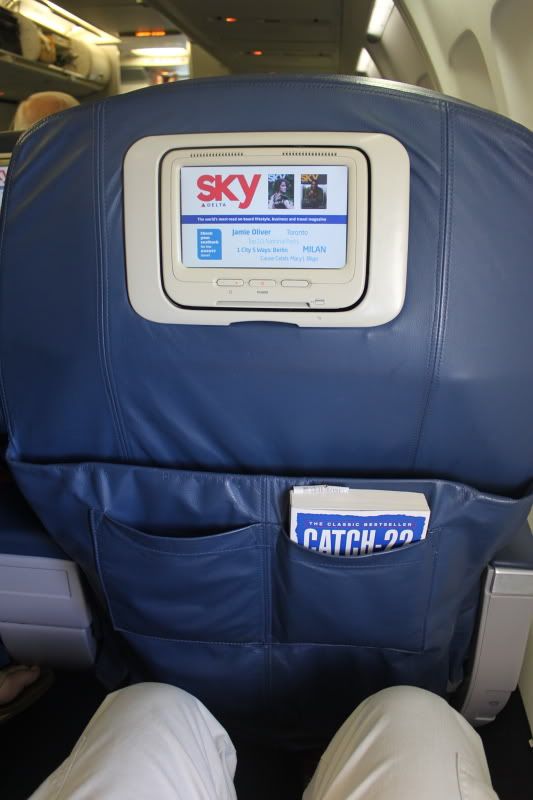 Standard domestic F seat with the small IFE touchscreen and decent leg room.
Pre-departure drinks were served as the coach cabin boarded. All PDBs are served in plastic cups on domestic flights, no-name wine in plastic cups certainly isn't as classy as the champagne in stemware offered in international Business Elite.
Pushback was on time, and we were soon underway back to Atlanta.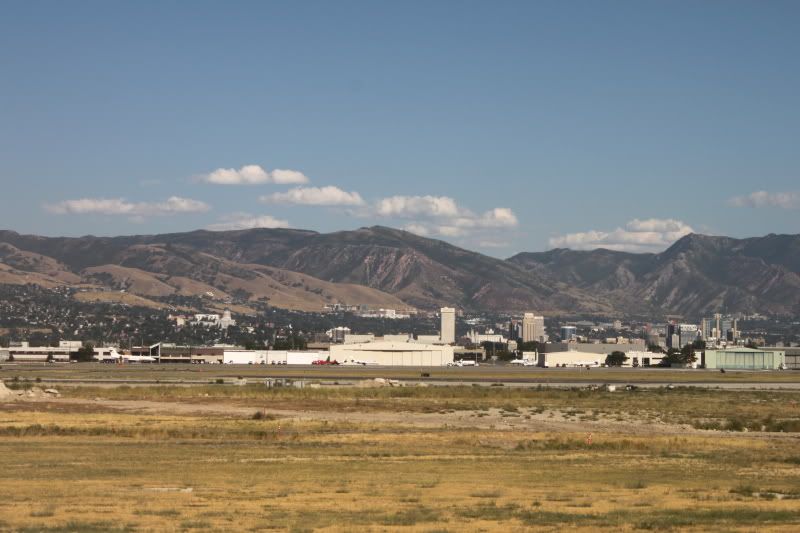 The city of Salt Lake, as seen while rolling on the runway.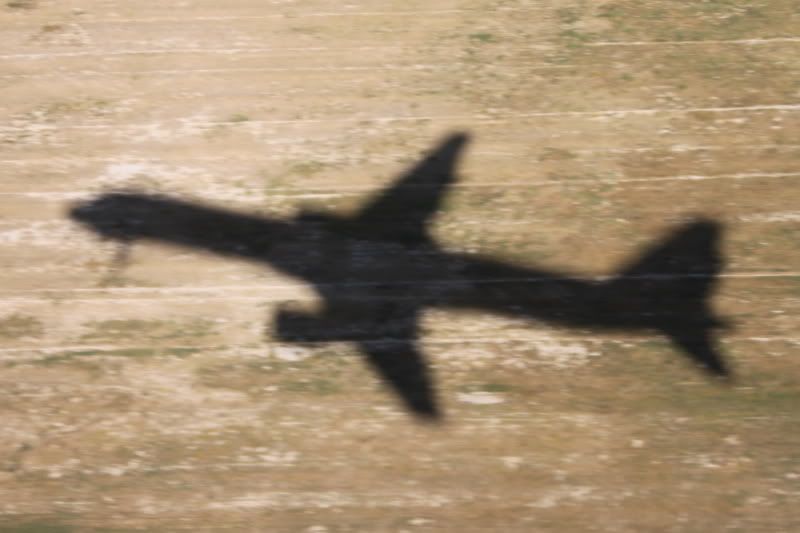 Liftoff!
After takeoff we maintained a northerly heading until clear of the mountains to the East, before turning east and away from the sun.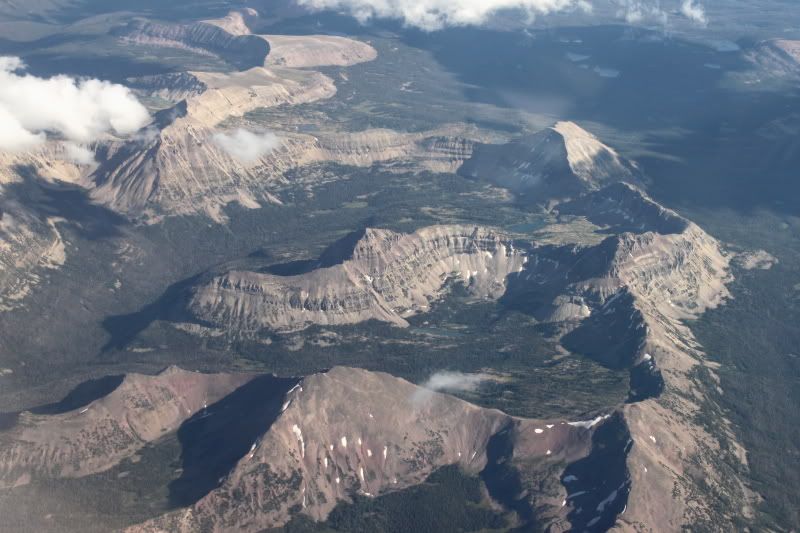 Climbing out over mountains.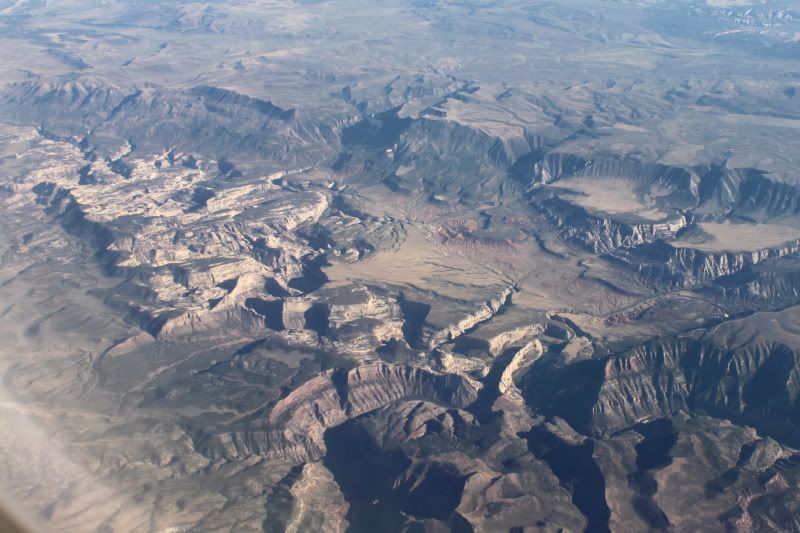 And over Canyons.
Dinner service was offered, with a choice of Pasta in Cream Sauce with Asparagus, or Chicken served over a bed of Polenta. I chose the Chicken dish, as the pasta sounded quite bland.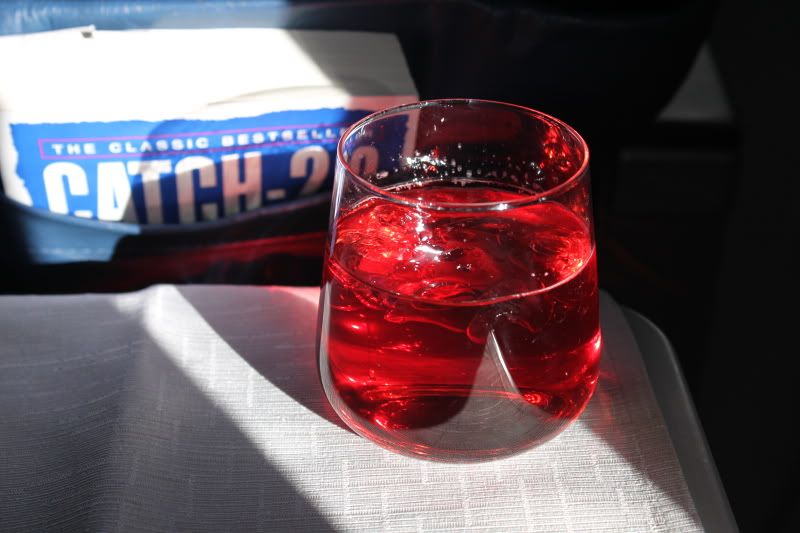 Drink service, Cran-Apple in the new BE glassware. These glasses are significantly smaller than the old style, and as a result any mixed drinks are far more potent. A mini-bottle of spirits takes up more than half the volume of this glass.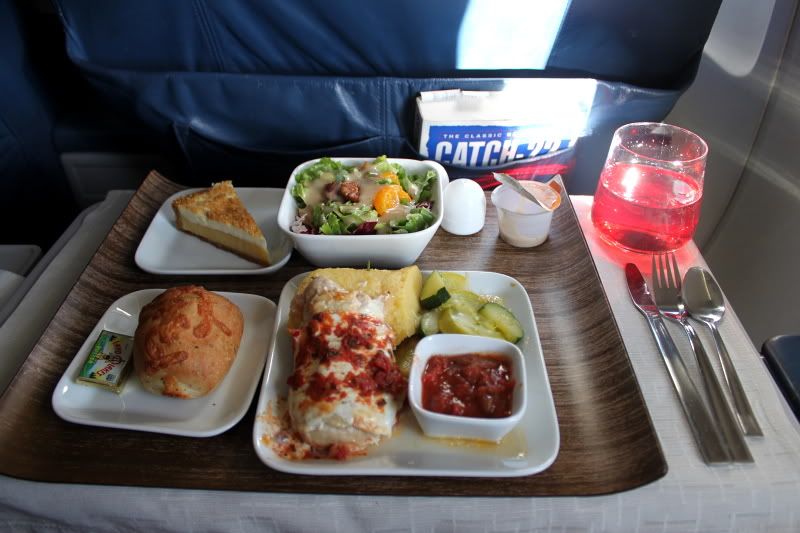 Dinner service, on the "bathroom floor" style tray. Not bad presentation for a domestic flight.
The meal wasn't bad, but I likely would have desired better had I forked over cash for the upgrade. The Chicken was slightly overdone and the Polenta was a bit grainy, but overall it wasn't terrible. The chicken was served with a side of sauteed vegetables, and the side salad was topped with walnuts, almonds, and mandarin oranges. Dessert was a key lime pie, which was excellent.
As I finished my meal the sun was setting, so I sat back and browsed the entertainment options for the flight. The video selection was far more limited on the 757, with only a handful of movies available. I eventually settled upon an episode of Anthony Bourdain, followed by various programs on live satellite TV.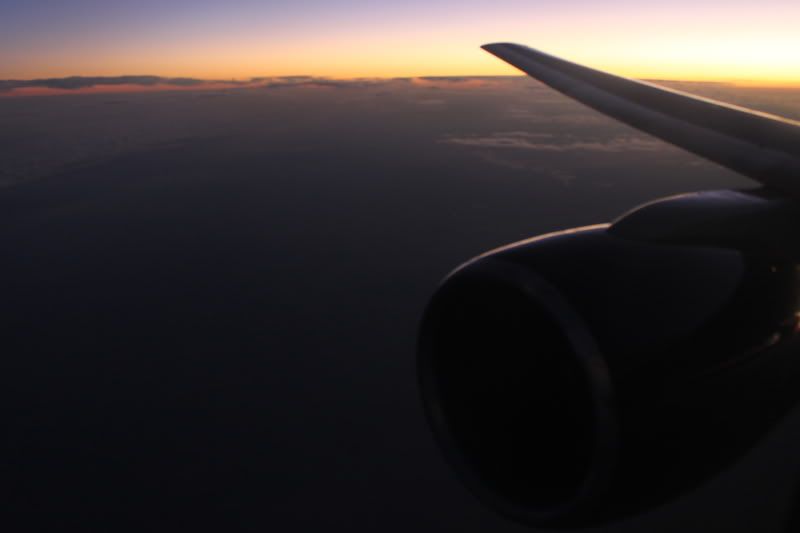 Running away from the setting sun.
About mid-flight the IFE decided to reset itself, running through a full Linux boot screen. The moving map refused to turn back on, but otherwise the flight was entirely uneventful. We landed straight-in in Atlanta on Runway 8L and taxiied straight to a gate on the B concourse. Flight time was just about 3 hours even, arriving almost 45 minutes ahead of schedule. Not bad, considering that Atlanta was supposed to be getting slammed by a tropical depression as we arrived.
The Atlanta airport was in the process of shutting down as I walked out to my car to head home, B concourse was nearly deserted. As I was leaving through the baggage claim, I did notice an odd piece of public art that I had never seen before, a number of giant ants crawling up the airport's ceiling...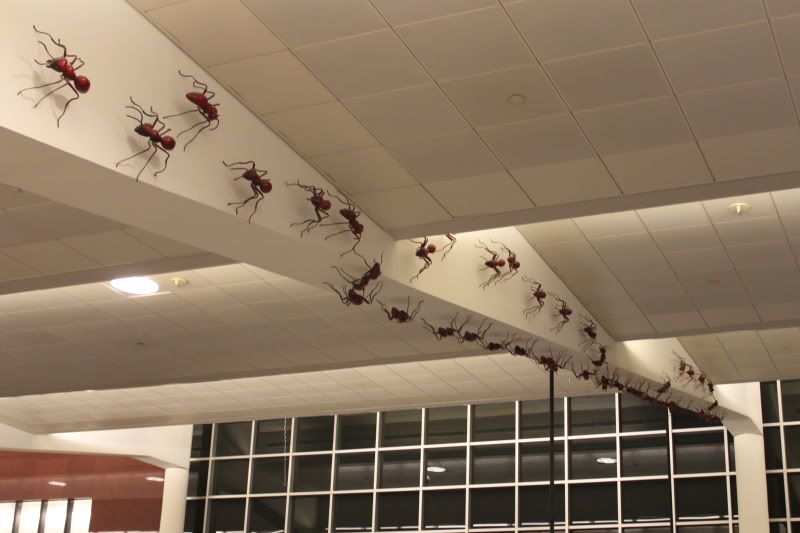 As if I needed anything else to prompt me to question my sanity after 14 hours of travelling...
Overall, this trip was about as perfect as non-reving can get. Empty flights, friendly gate agents, and by some miriacle, two segments in domestic first! The Embraer 120 is certainly a fun little plane to fly, and I would readily do so again given the excuse. The Atlanta airport was surprisingly quiet for a holiday weekend, and I found all of the ground staff to be in good spirits for once. Salt Lake City, as always, was clean and efficient, and was a great place to connect through. Although I didn't see much of Sun Valley, it looked like a great little town, and a well run airport.
I certainly enjoyed my 3000 mile trip to nowhere, I hope you enjoyed reading about it!