Introduction
My mate and fellow (if somewhat random) a.netter AYA333 has a birthday. I know, most of us do. But his was special. At least in that sense that he decided to celebrate it abroad, inviting a bunch of his friends (plus me) to join him (at our own expense, of course...). The chosen venue was Copenhagen, not sure what the reasoning was as I'd opted for something far cheaper and raunchier like Riga but hey, he is calling the shots! The time chosen was the first weekend of September, mainly because that's when his birthday happens to be. The main happening would be on Saturday afternoon and evening.
So I now had a reason and destination for another trip, let the planning begin! Were I your typical guy I'd of course opted on one of the many nonstop flights on either direction, with DY offering 29 EUR fares on both ways. Well, that's not really me, so I decided to do something more fun!
Some time before this I had come across an interesting virtual airline operating in Norway - Air Norway. They fly a single route, Oslo Gardermoen - Ørland (OSL-OLA) with an average of one flight per workday. OLA is near Trondheim (as the crow flies, of course this being Norway the way by road is far longer as there's a fjord on the way) and in addition to serving the tiny town of Brekstad is also called Ørland Main Air Station and is an important NATO air base, which probably explains the route from Oslo. The interesting bit about their operations is that the actual flying is done by the Danish airline North Flying (man, is that a stupid name or what?) with a "Texas Sewer Pipe" or a Fairchild Swearingen Metroliner, a type missing from my log.
Now comes the best part: North Flying is actually based at Aalborg airport in Denmark and the plane flies there for the weekends for maintenance, crew changes and additional charter work - there are no flights to OLA during the weekend until Sunday evenings. To gain additional revenue, Air Norway actually sells quite affordable tickets for the OSL-AAL hop on Friday evenings (and back on Sunday evenings) - for me that sounded like a perfect way to get to Denmark, so I booked a flight for around 70 EUR.
To get to OSL I booked the KF afternoon flight for around 43 EUR.
From AAL I could either continue to Copenhagen the same evening or stay there and fly in the next morning. Prices for Friday evening services were a bit high (except the very last flight quite late) and accommodation in Aalborg tends to be cheaper than in Copenhagen (or so I thought - of course forgetting to factor in auxiliary costs like taxi rides...) so I decided to spend the night there and continue to CPH on Saturday morning. The early bird SAS flight was scheduled to be operated by an A321 and it sounded a fun plane to fly on such a short hop so that was quickly booked for around 45 EUR.
That took care of the trip TO Copenhagen, so let's think about the journey FROM there. That was actually rather easy - I am one of those (sad?) folks who collect Hard Rock Cafe stuff and never skip an opportunity to visit a new one. Hamburg had just recently opened their own cafe, and once I found the SK CRJ-900 noon flight on Sunday available for 53 EUR I was quickly sold.
Finally to make ends meet and to allow me enough time to visit the HRC and perhaps something else in Hamburg as well I booked the late night BT connection back to HEL, arriving there with the notorious (but soon-to-be-retired) Midnight Dash (no Fokker this time). 72 EUR for HAM-RIX-HEL is of course a very good price.
The route turned out to be a nice tour around the Baltic Sea: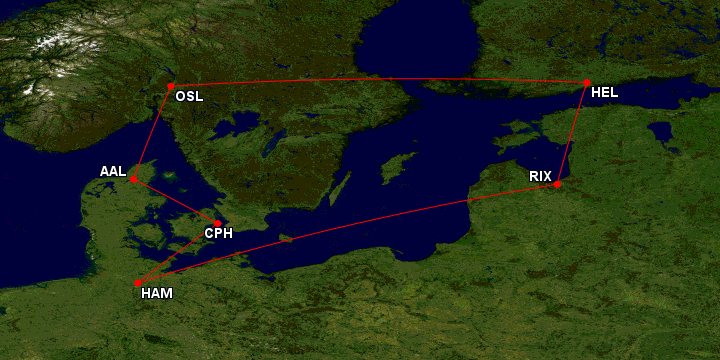 Finally I persuaded another fellow a.netter, makeree, another well known HRC fan to join me on this trip and he soon agreed. We would meet up at CPH airport, do a little beer related sightseeing before attending the birthday party, fly together to HAM on Sunday and then split ways there as he would be returning via CPH somewhat earlier than me.
Friday 2.9.2011
After a morning spent doing some work over at a customer site and the noon and early afternoon doing less work over at my home office it is once again time to hit the road. The familiar airport bus takes me to HEL T1 where I arrive an hour and quarter before SDT. Through security using the priority lane and then a quick stop at duty free since I foolishly forgot my deodorant home... Next stop is the lounge for some relaxation, snack and beer: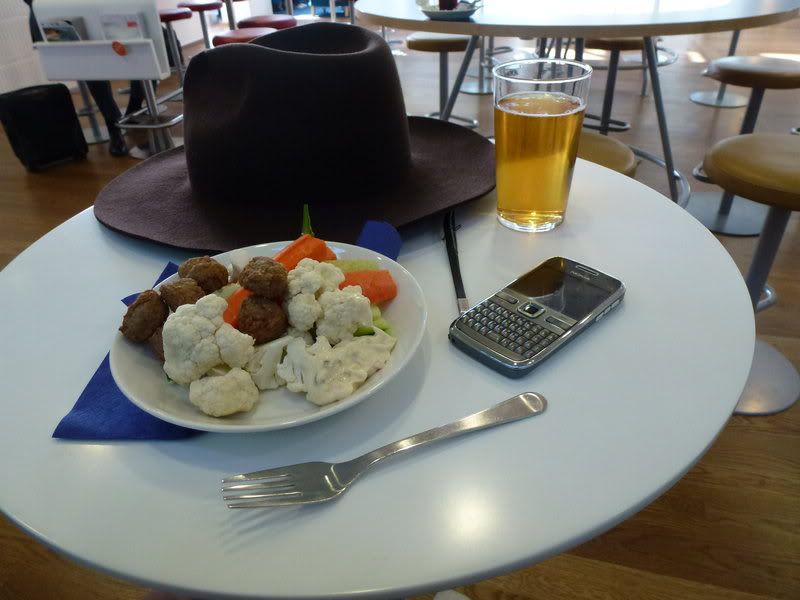 They call boarding quite early from gate 16 - here's my ride for today: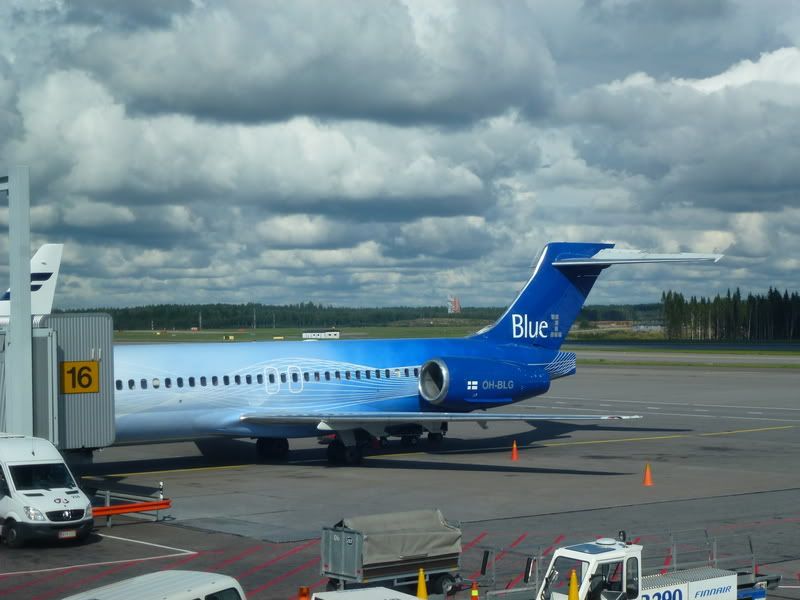 To bad it is another well known bird for me, I have flown with "Blue Flow" twice already.
By the time I get to the gate they are aready showing "Final Call" - I ask the agent there "You really are trying to leave early, aren't you?", which she confirms so I say "Well, that's bad for me!". She looks extremely confused by this comment, so I say "I have far too much waiting time at Oslo already...".
HEL - OSL
KF507
B717 OH-BLG "Sinen Virta/Blue Flow"
Seat 7F
14.15 - 14.39
The plane is extremely hot - I ask the sole male attendant (who I remember from my previous flight with KF) whether they forgot to turn on the APU. He informs me that probably due to "an ATC restriction" it is not on (sounds like a load of bull to me), but will be started shortly.
This actually happens, so in a few minutes time the air conditioning comes back alive and the heat starts to subsidise.
Quite good load on this flight, six rows of Premium are more than half full and economy almost completely full, including both seats next to me that are taken by some Finnish Swedish old folks. They actually try to settle to row 6 DEF which are empty but I shoot myself in the leg by pointing out that it is "En annan klass" and they sit down on their allocated seats next to me, making my life somewhat more miserable...
A Spanish captain on this flight, together with a Finnish first officer. Flight time is announced as pretty standard 1h15mins on this route, and push back is a nice ten minutes early.
Hello, sis: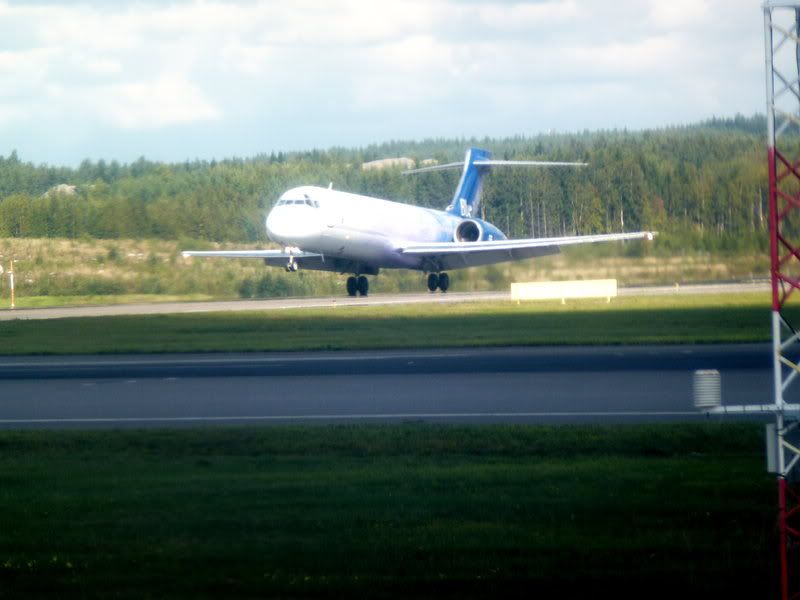 Not much wind to speak of today: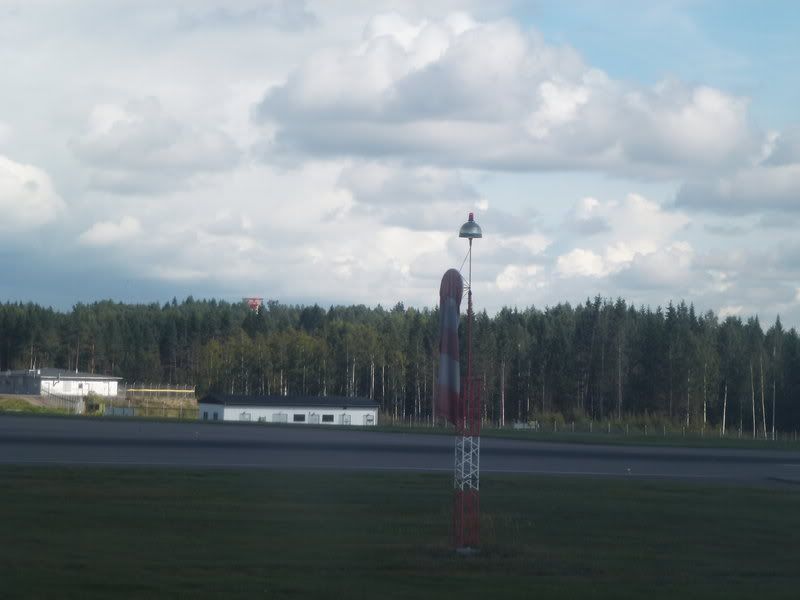 Taking off from 22R there's a bit of taxi ahead of us, but we still manage to get airborne around our scheduled departure time.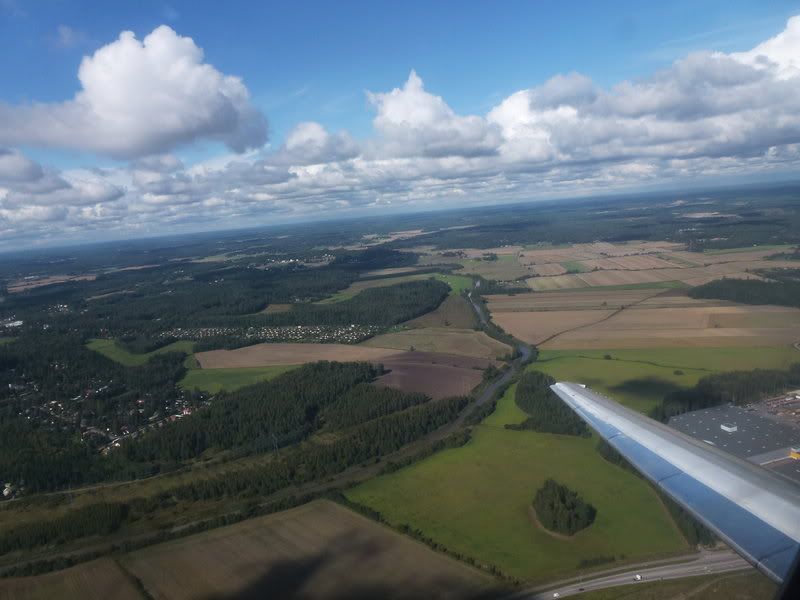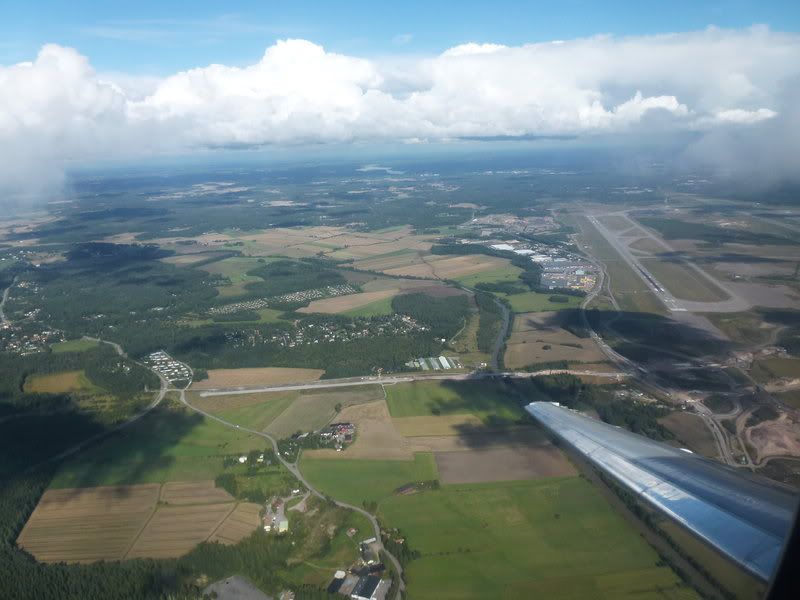 Due to the recent influx of KF 717 reports here I think pretty much everybody here know their economy service concept by heart, but here's a reminder anyway: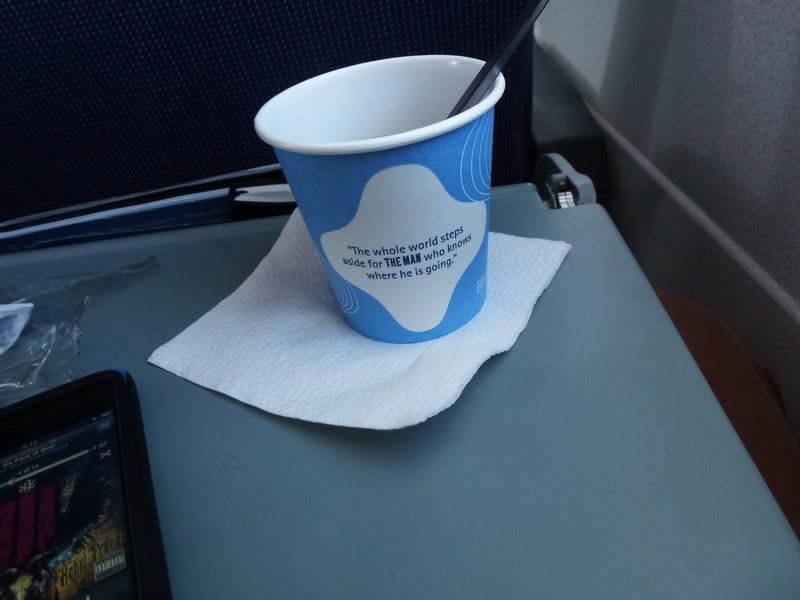 A ferry, far below, heading towards Turku: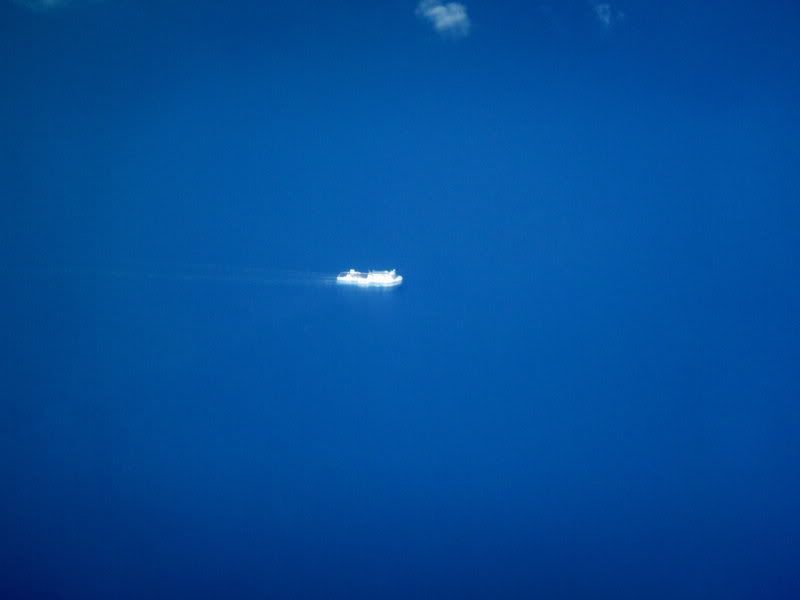 I twiddled around with the colors in this picture a bit - I like the result: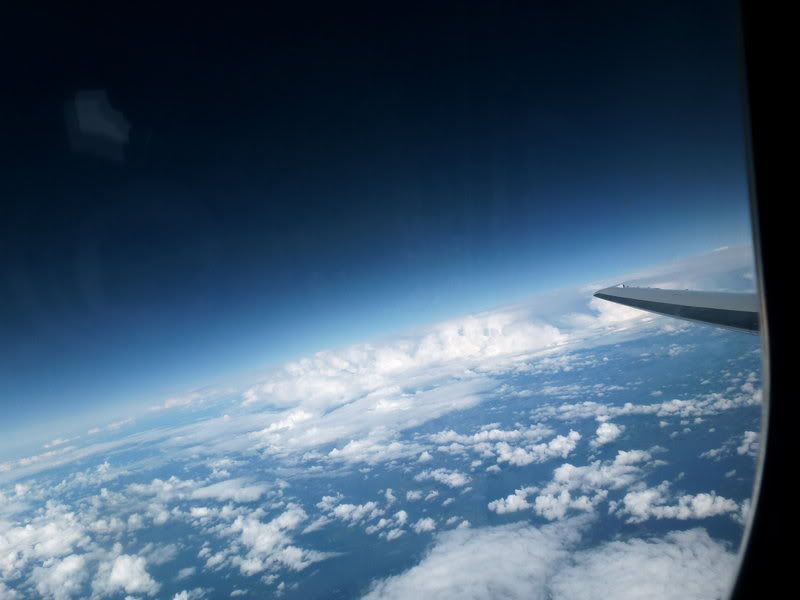 Rest of the flight passes very quickly, thanks to my newspaper and in no time at all we are already well into our descent into Norway.
Ok, it definitely looks like Norway: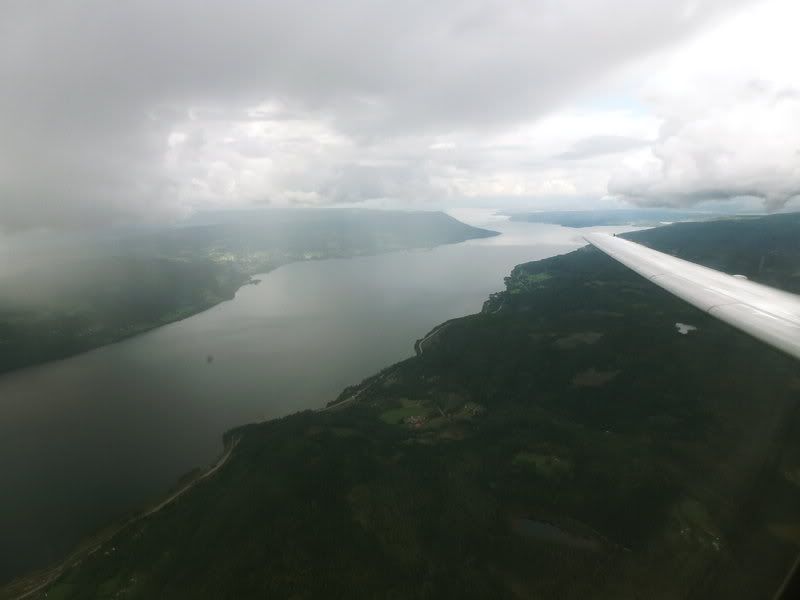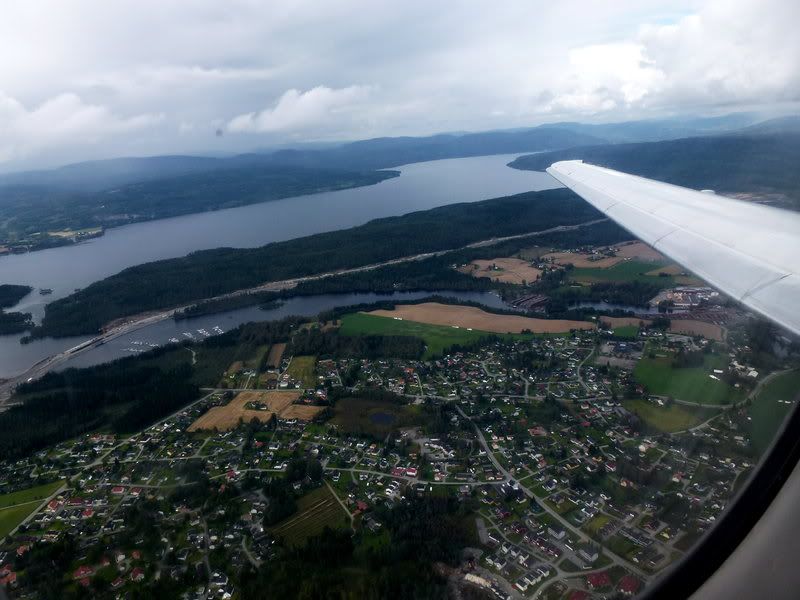 Thai Triple Seven preparing to take off from 19R: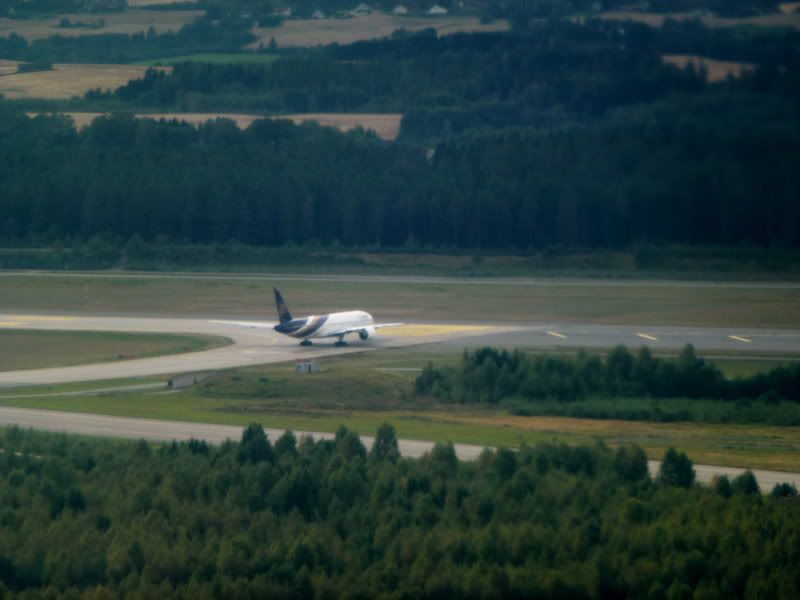 Landing is on runway 19L after 1h15mins in the air.
Sorry for the tilted photo, but I wanted to get a shot of that colorful DAT MD-87, wonder who it was operating for: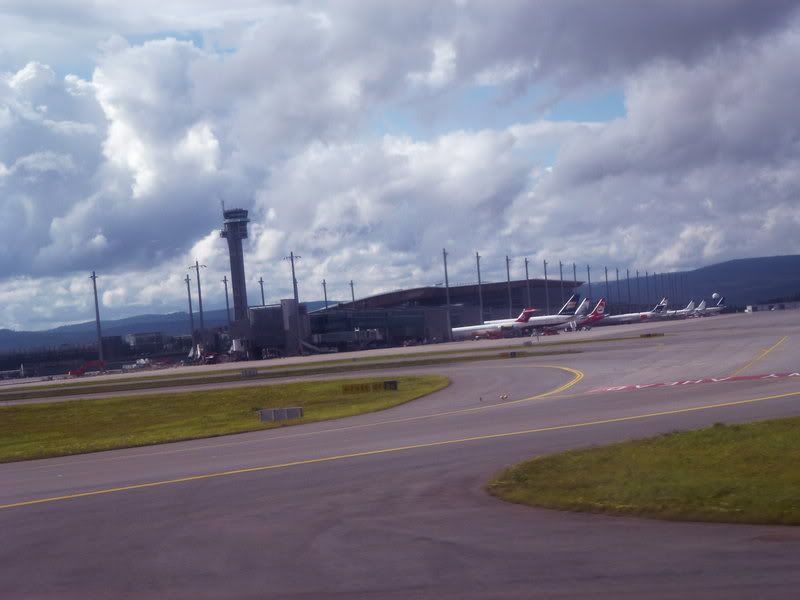 There she goes: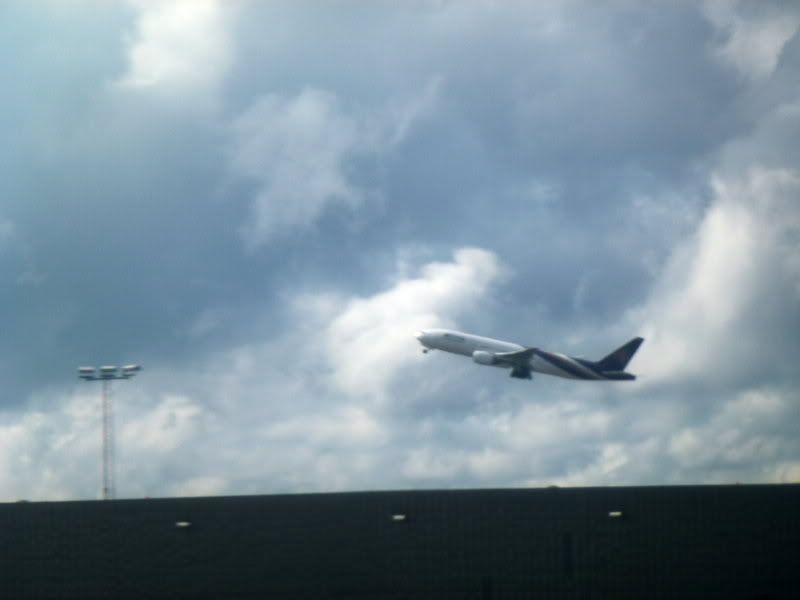 We get a jetway position (as pretty much always in Oslo) at the usual KF gate right next to the main terminal building. I think Eric should try to log this DY 738 next ("Bye, Eric Bye!"):
Bye: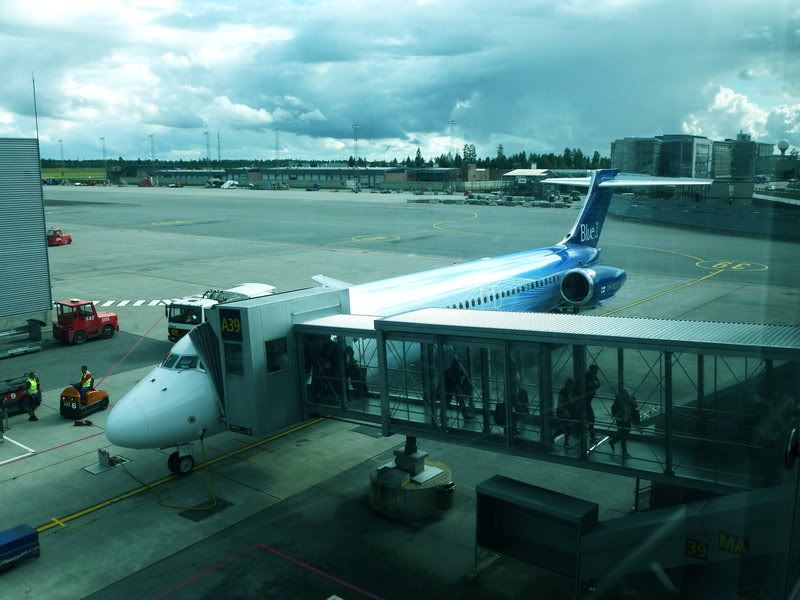 Oslo Gardermoen Airport
I have serious doubts that the transfer desk would be able to issue me my Air Norway boarding pass - but with around five hours of time in my hands it's a good idea to go landside anyway.
Once entering the luggage hall you can tell who of our passengers are Norwegians and who of other nationalities - all the Norwegians turn immediately left to raid the arrival duty free store (claimed to be the largest of its kind in the world), while the others (mostly) continue straight.
I head upstairs trying to see if I could already check in - at this point I find out that SAS is actually handling Air Norway here (so I guess the transfer desk route would've worked anyway). Too bad one can't use the self service kiosks for that, so they direct me to a special set of counters: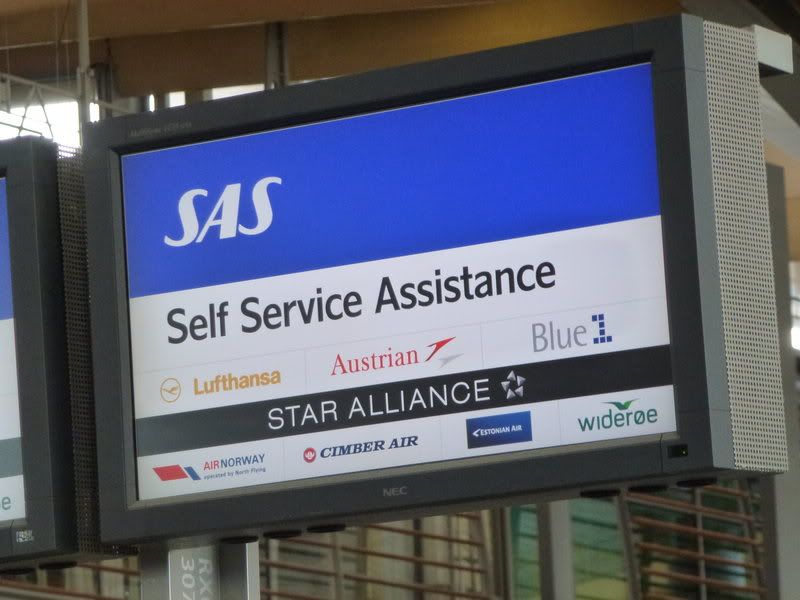 The queue is roped off and there's a girl guarding it. I ask "What are the magic words to be allowed in? Open Sesame?" but she apparently doesn't get the joke, just keeps repeating "What airline are you flying on?" - time to use a more formal approach then.
After being deemed worthwhile to join the queue something dawns on me - these counters are for people who for whatever reason have problems with the self service kiosks - i.e. pax with horribly complicated ticketing problems. And that is definitely the case here today - despite there being less than ten pax in the queue before me every single one of them seems to be having very serious issues, requiring the sole (!) check in agent to place many calls to ticketing desk, her mother, the UN and quite probably the Norwegian Ministry of Silly Itineraries as well while looking extremely frustrated at doing so.
Luckily a second agent arrives a bit later and opens another counter, plus I chat some with a guy from the Norwegian Air Force, who is heading to Ørland (on the same plane as me on its previous sortie) which makes the time pass pleasantly, but still it takes around 30 minutes to get through to the frustrated girl. She is very friendly though, and I know how to break the ice by wondering aloud about the "problem pax", which causes Nadine to roll her eyes and to give me a very nice smile. Oh, and an interesting boarding pass: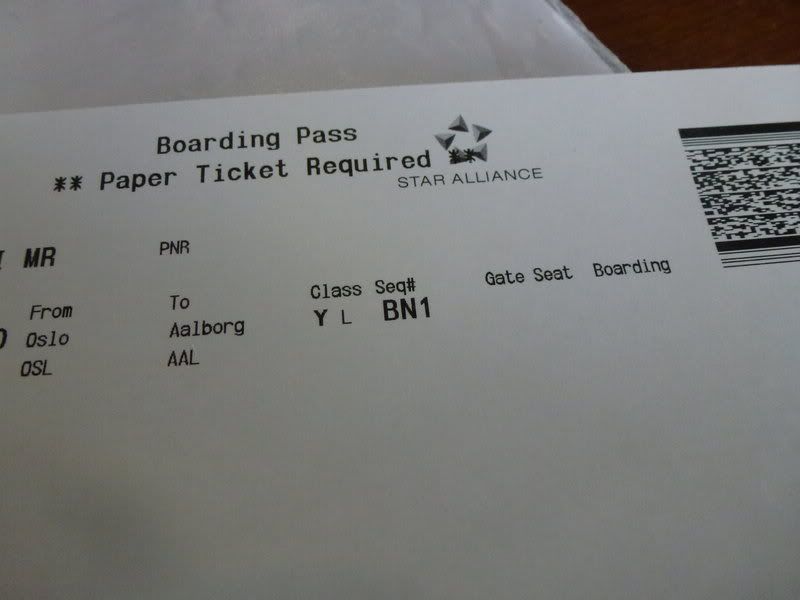 Wonder where my paper ticket is...
Next I pop outside, find a bench in front of the Radisson Blu hotel and sit there for a couple of hours to do some reading. The weather is typical Norway - during the two or so hours I see light drizzle, sunshine and overcast, all for ten minutes or so at a time... That ATC tower really is quite tall: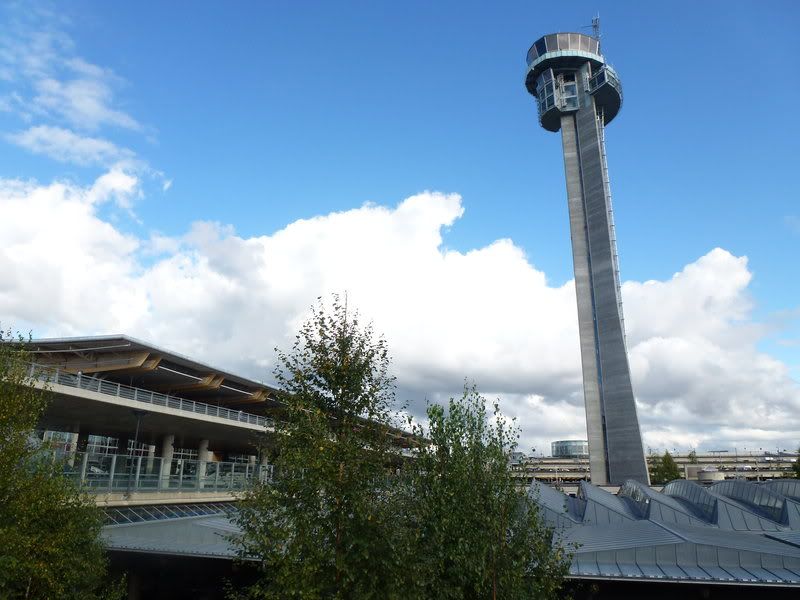 After I get sufficiently hungry I go back inside, buy a nice hot dog with the works from one of the convenience stores, eat that and decide to head airside.
Security has tons of people as always here, but as always is also extremely efficient - something which many airports could learn a lesson or four about... A short walk to the end of the domestic pier to check out the traffic. Mostly the usual suspects around, but this DAT ATR-42 is a nice change: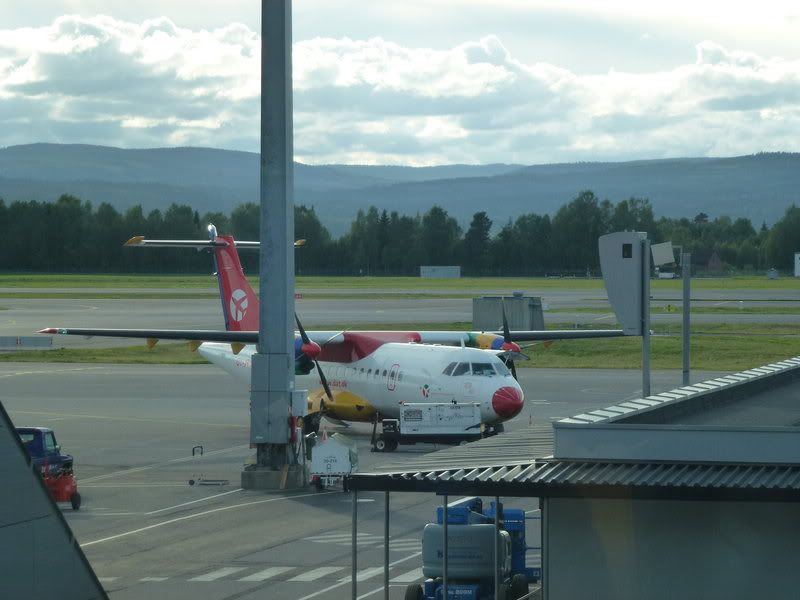 Next stop is the international pier: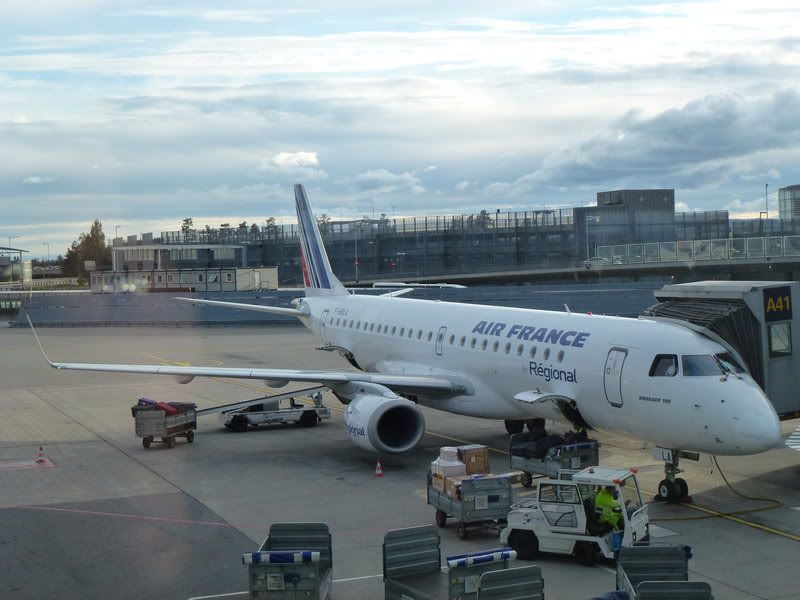 Then I decide to look for my gate - and discover something new about Gardermoen (and considering that I've been through here dozens of times it is nice that there are still surprises to be had): the international bus gates area downstairs: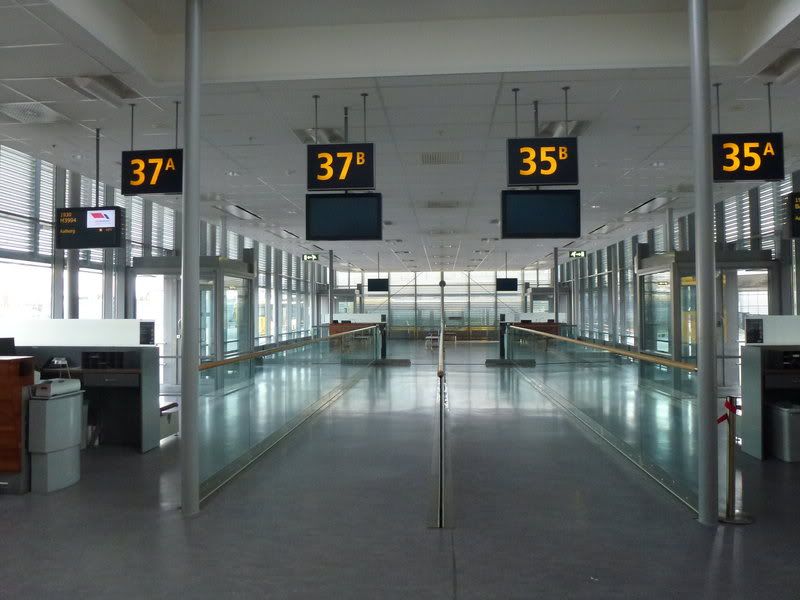 Yes, a Metroliner is just a bit too small to use a jetway!
SunAir FRJ to AAR which boarded from the gate next to us: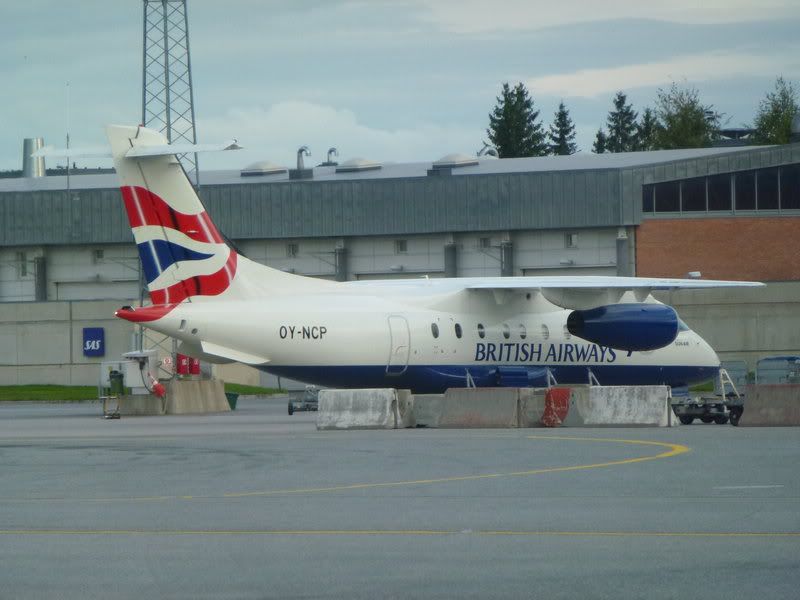 Ahh, at least it should be sunny:
Soon enough a gate agent arrives and a bus stops outside - sure signs of an imminent boarding, which indeed commences in just a few minutes. I count eighteen passengers in the bus, which would imply almost a full load on this 19-seater.
The plane is OY-NPD as expected, the same Metroliner that Eric took from AAL here the previous Sunday and is parked on the commuter apron at the end of the domestic pier: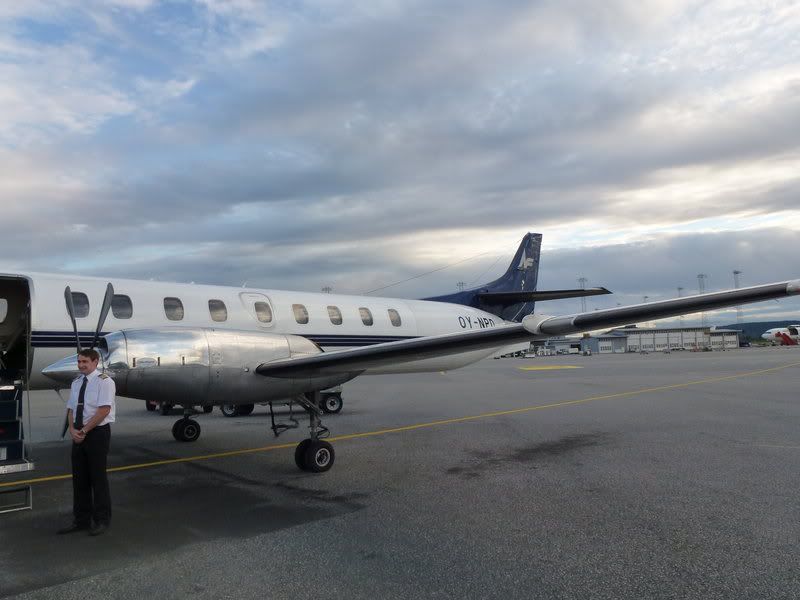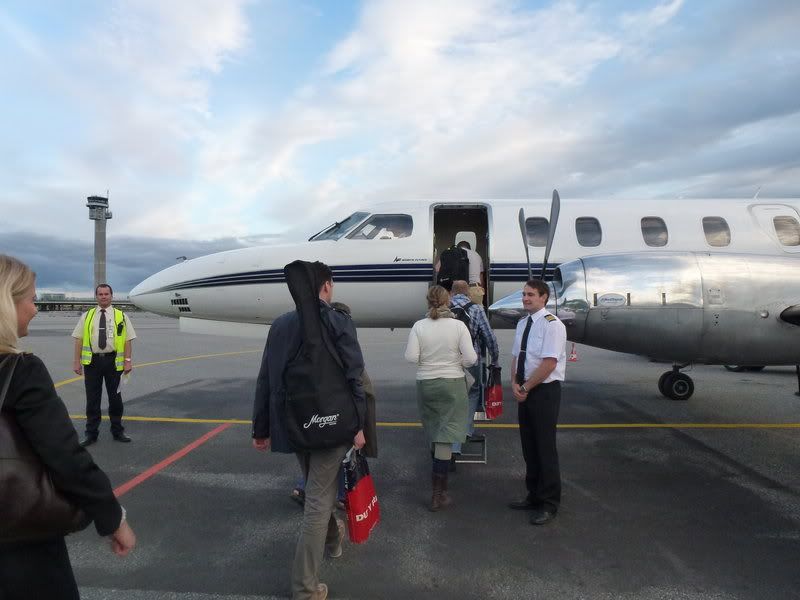 Yay, it is small: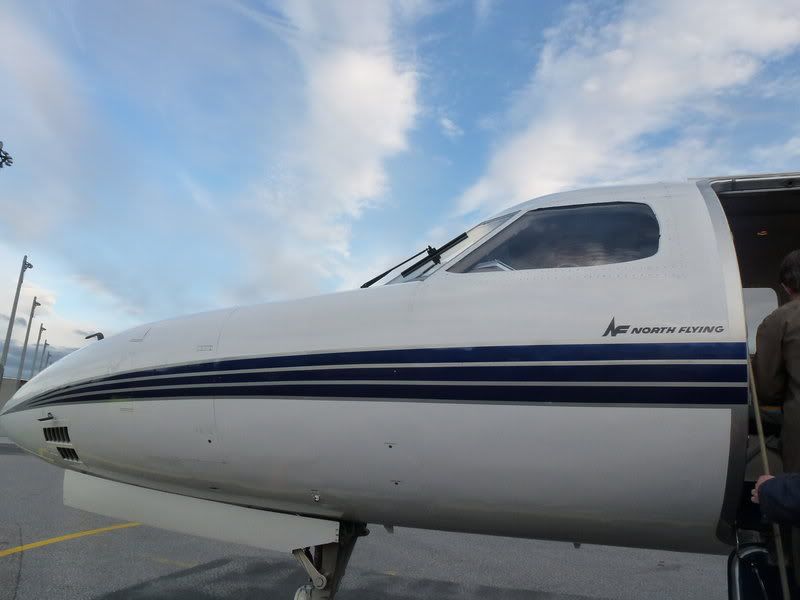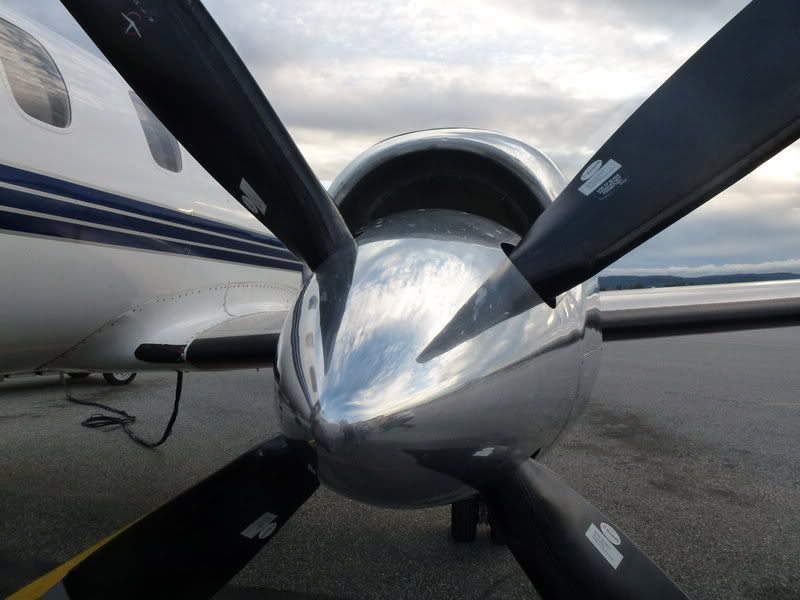 OSL - AAL
M3994
Metroliner OY-NPD
Seat 1F(?)
19.21 - 20.23
I grab 1F, which offers a nice view to the cockpit as there's no door. These Jeppesen manuals are stored between the cockpit and the cabin, I'm tempted to ask one of them for inflight reading: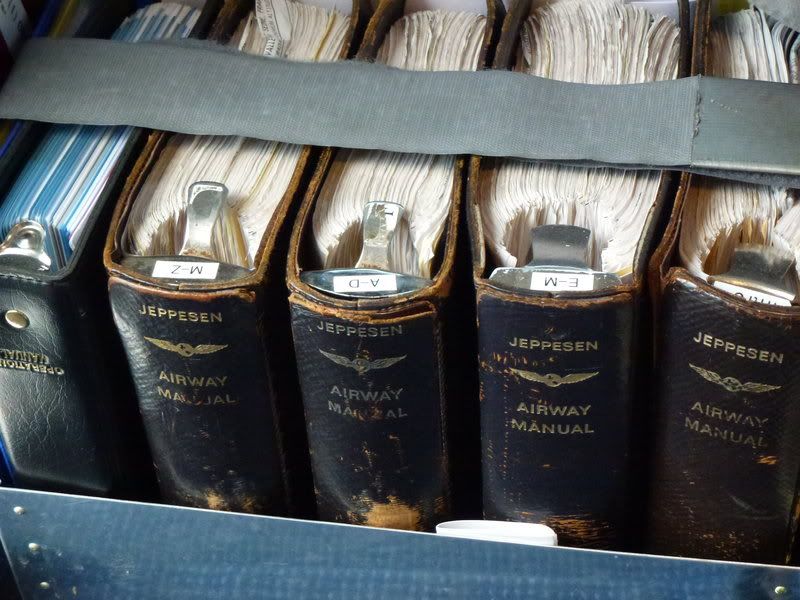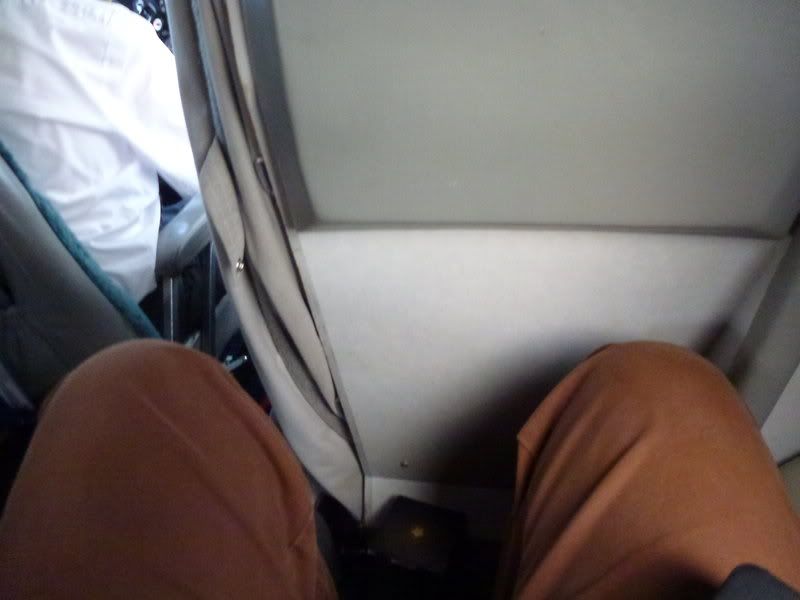 The friendly young captain informs me "There's a bottle of brandy on your feet!". I look down and indeed there's a box of something, which actually turns out to be cognac. I ask what's the deal - "We do this every Friday, pick up a bottle from the Duty Free to get the passengers into the weekend mood. But only on flights FROM Norway, never to". Very nice!
Additionally there's a can of Carlsberg (suitably chilled), a coffee cup and a piece of Ritter chocolate next to every seat: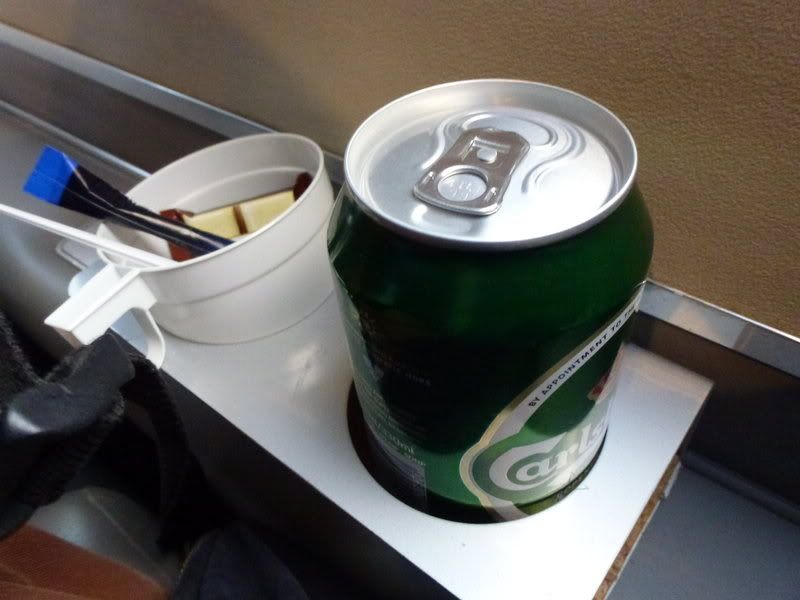 No place for my bag back in the cabin, so I grab my notebook and logbook out and hand it to the FO who puts it somewhere in the hold.
WF Baby Dash next to us: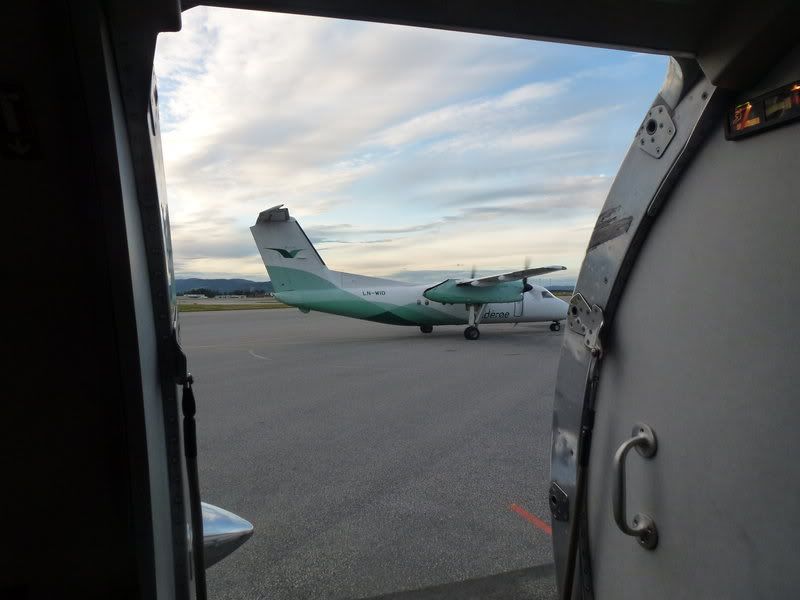 After everybody is onboard the equally friendly FO climbs onboard and closes the door. I ask him "18 pax, right?", but he says, "No, nineteen, full load today". Hmm, maybe I made the classic mistake and did not count myself... Anyway good business for North Flying/Air Norway. Some of the passengers seem to know the flight deck crew very well, though, so not sure if they were actually paying pax or not.
The welcome announcement and safety information being read from the paper: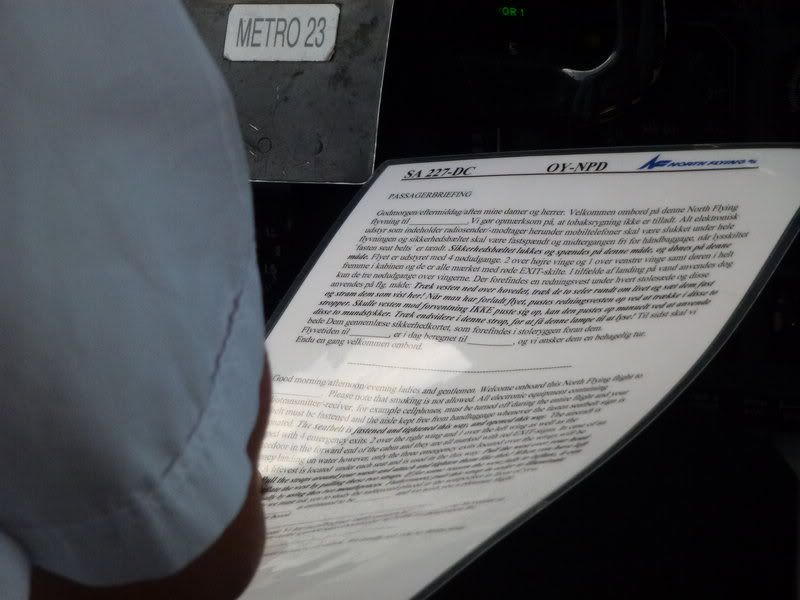 After the official part the captain announces the flight time as an hour, explains that there's a coffee thermos somewhere in the cabin plus mentions the "bottle of brandy" again, during which I raise the box up for everybody to see, gaining some cheers and applause from the pax.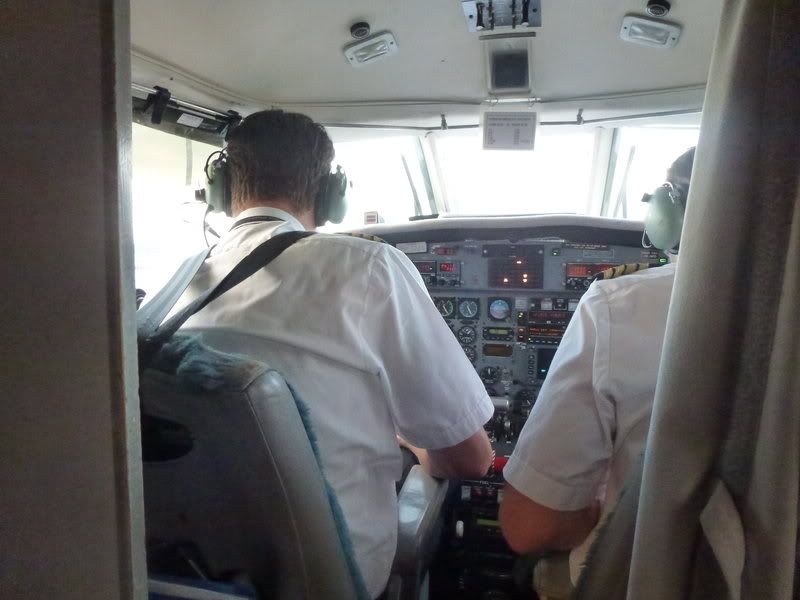 Departure is nine minutes early.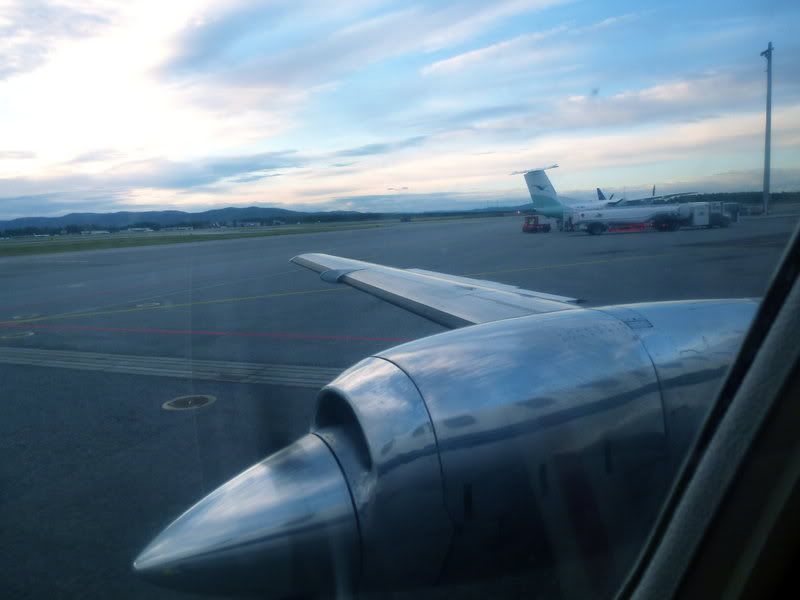 Cheat sheet for crew:
Taking off from 19R: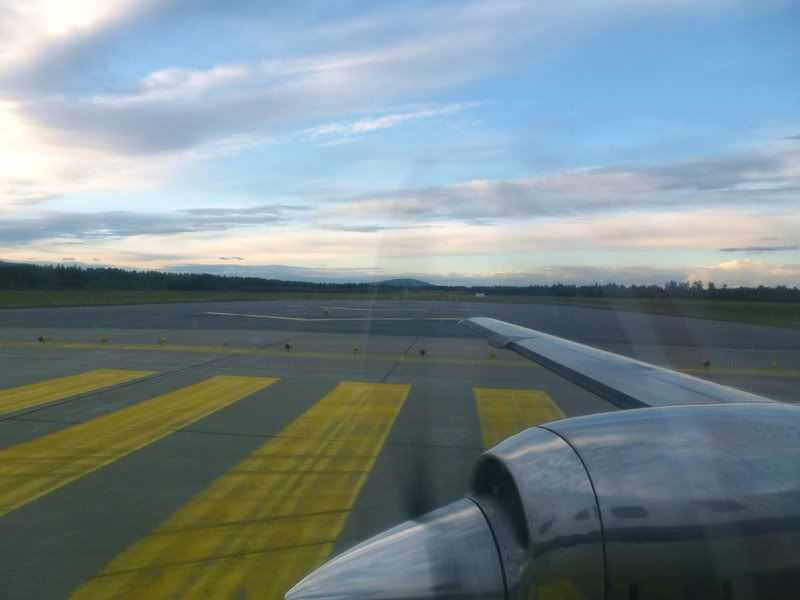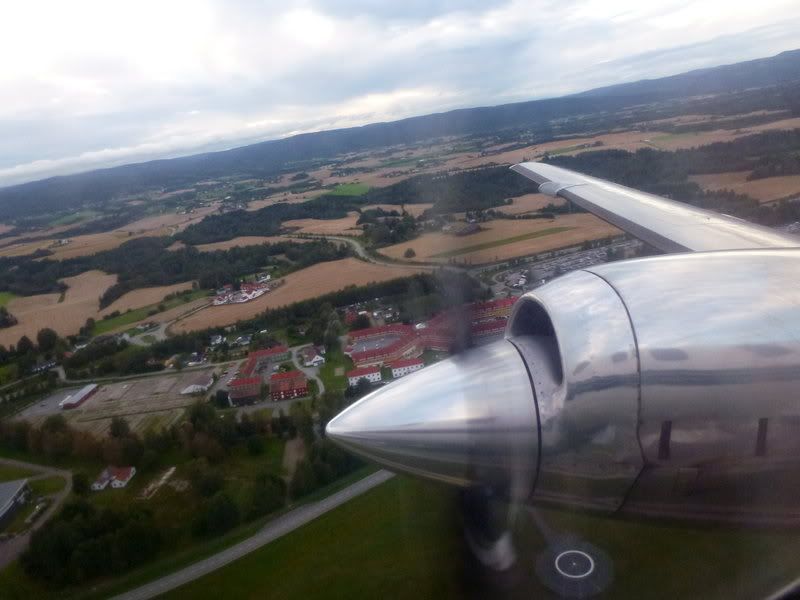 It indeed is very loud in the cabin, but I rought it out without earplugs - after all this is the authentic experience. Bye, OSL: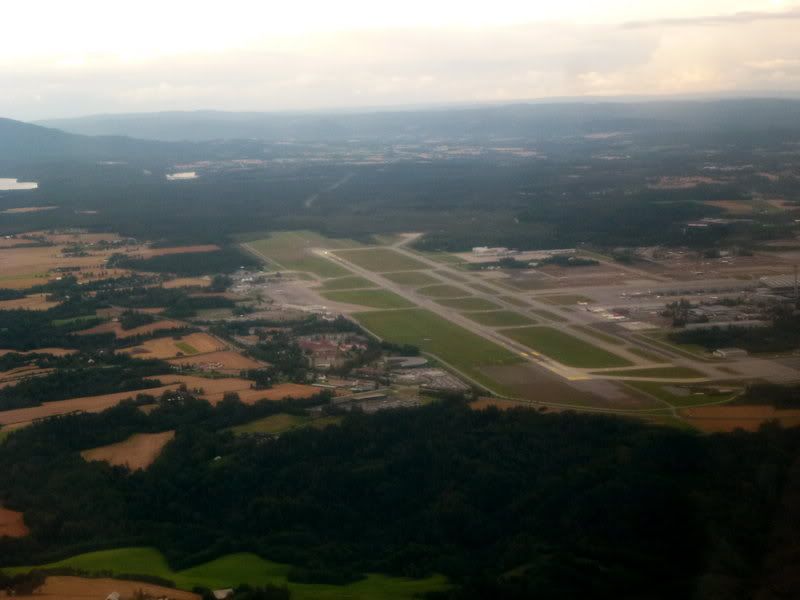 After a while I decide it is time to get jiggy with it and open the cognac, pour myself a generous shot and pass on the bottle.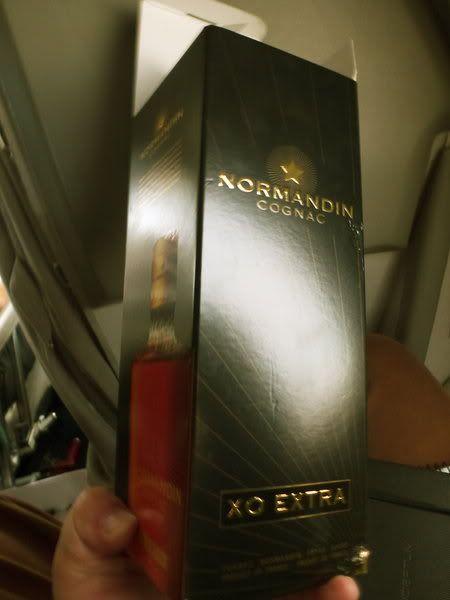 This is the life - sipping some nice cognac, enjoying the beautiful Norwegian landscapes below us, heading to a party.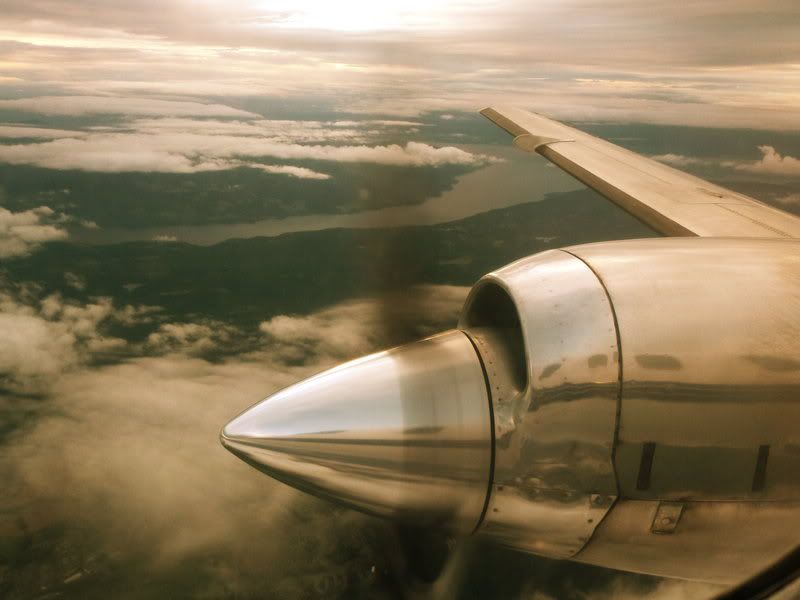 If I did eye catchers, I'd certainly used this picture:
The city of Drammen - one passes through here when taking the train from Oslo to Sandefjord:
Sandefjord/Torp airport (TRF):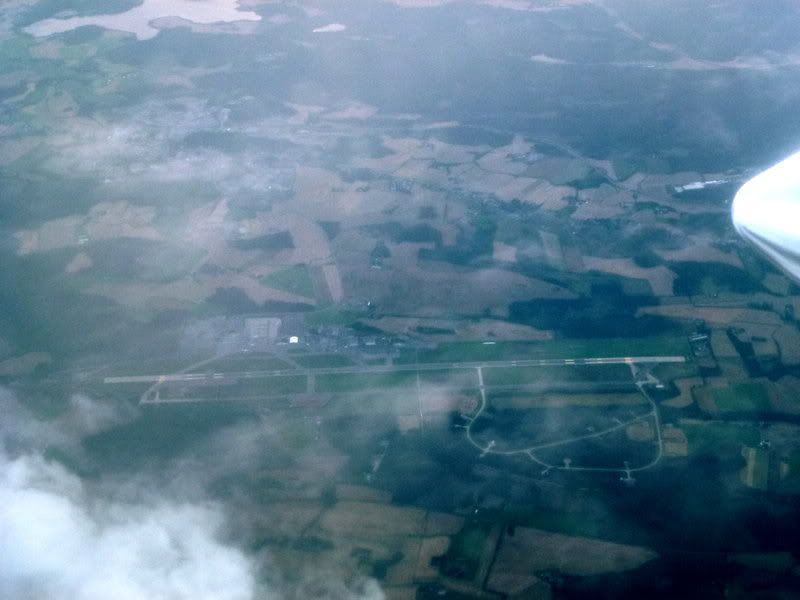 After leaving Norway behind the skies get overcast, but there are nice views of the setting sun: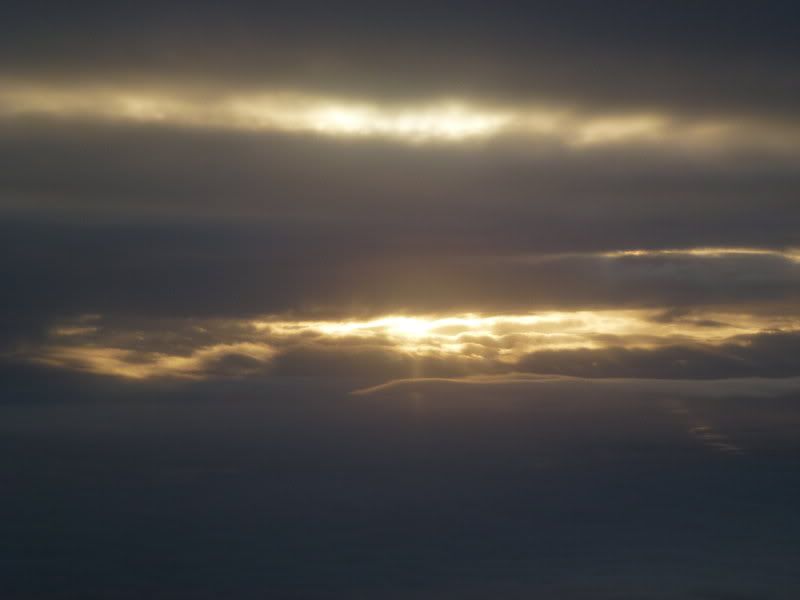 11 300 feet was the highest we ever got: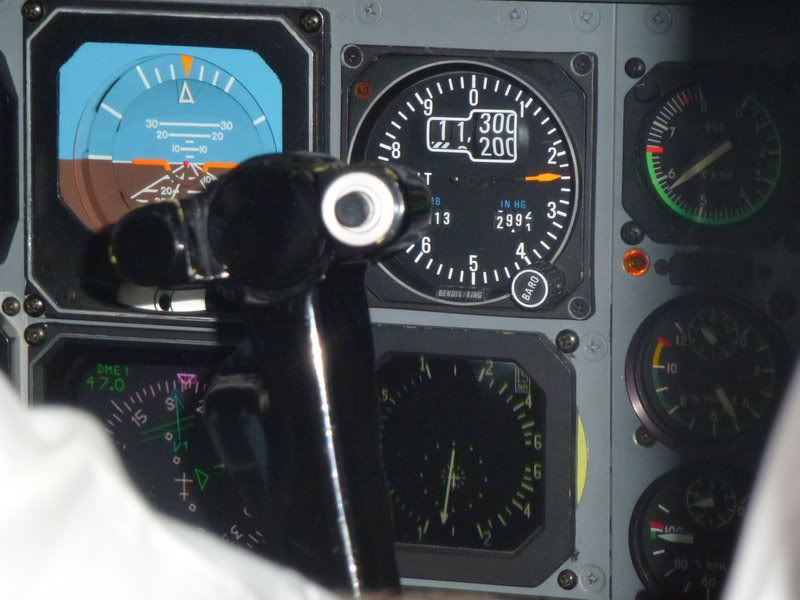 By the time we break the clouds for a first glimpse of Jutland, three quarters of the cognac and all the beer is gone and the mood onboard is very festive...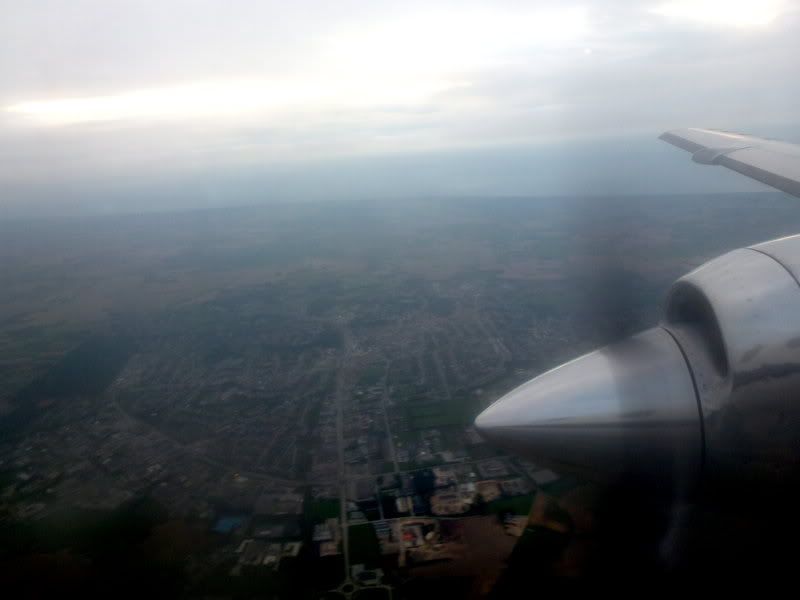 Luckily the cockpit curtain is opened for landing, giving me some nice views like this: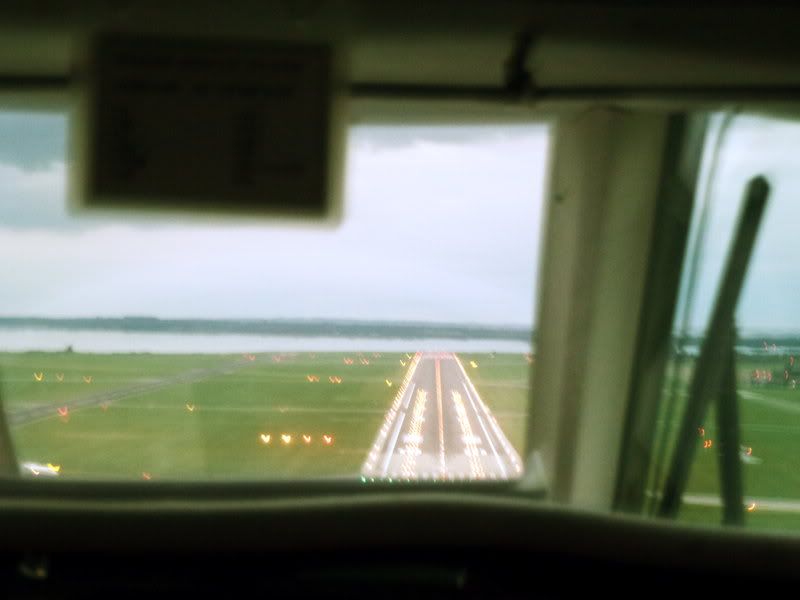 Landing is on runway 26R after just under an hour of flight time: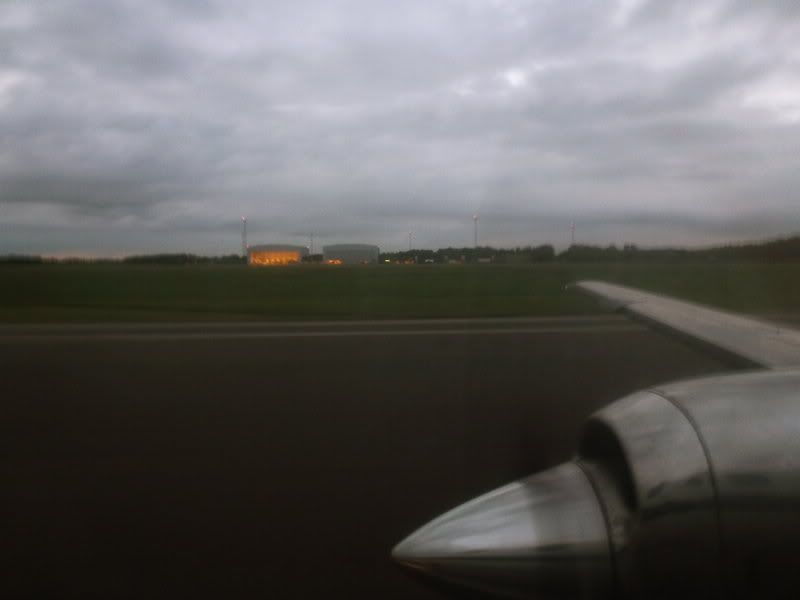 Soon we stop in front of the terminal building, bringing this amazing flight to an end: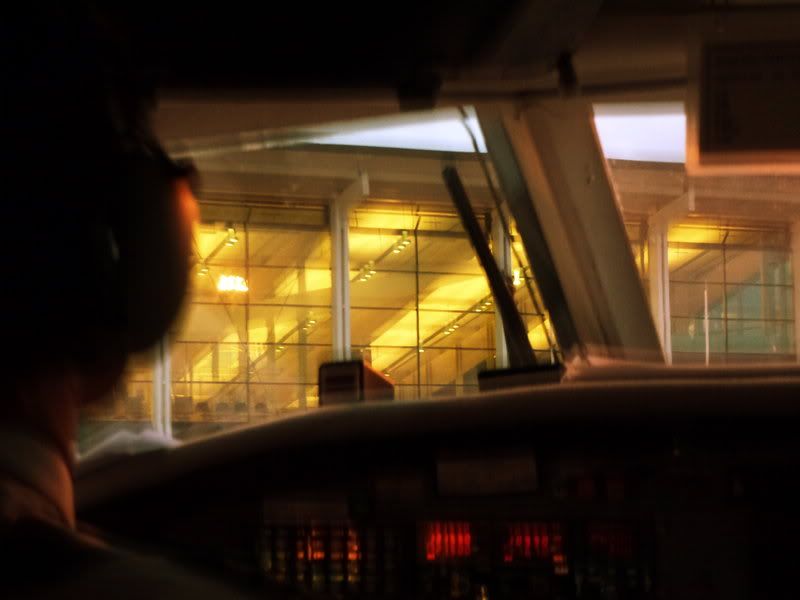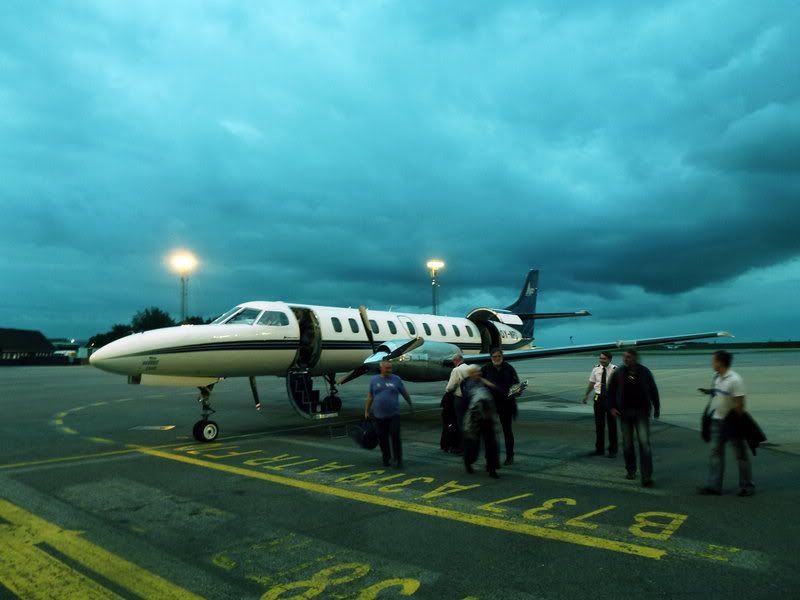 Aalborg
The bus to the city is very infrequent, but luckily one is leaving in just 20 minutes. Catching that I soon get into my place of residence, the CabInn Hotel: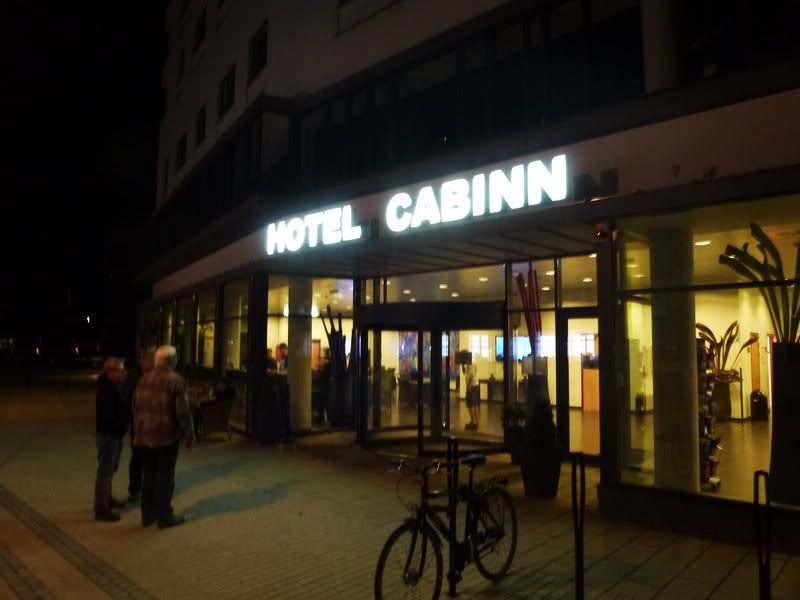 Yeah, it is not much but it was the only relatively affordable option at Aalborg, although 65 EUR isn't exactly very affordable for this: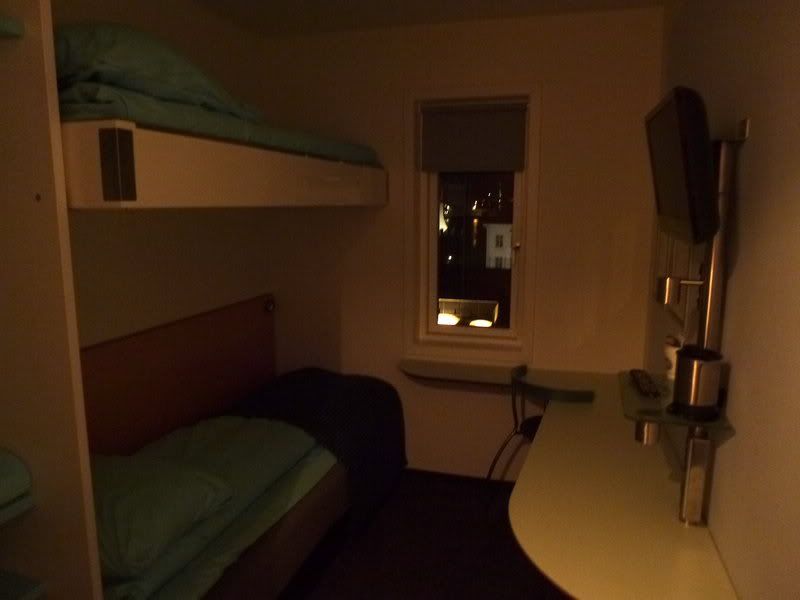 Oh well, it is not like I'm spending much time awake in this room so I just dump my stuff there and hit Jomfru Ane Gade, the famous bar street of Aalborg, which is probably the longest stretch of bars north of the Reeperbahn (which I will hit on Sunday, incidentally):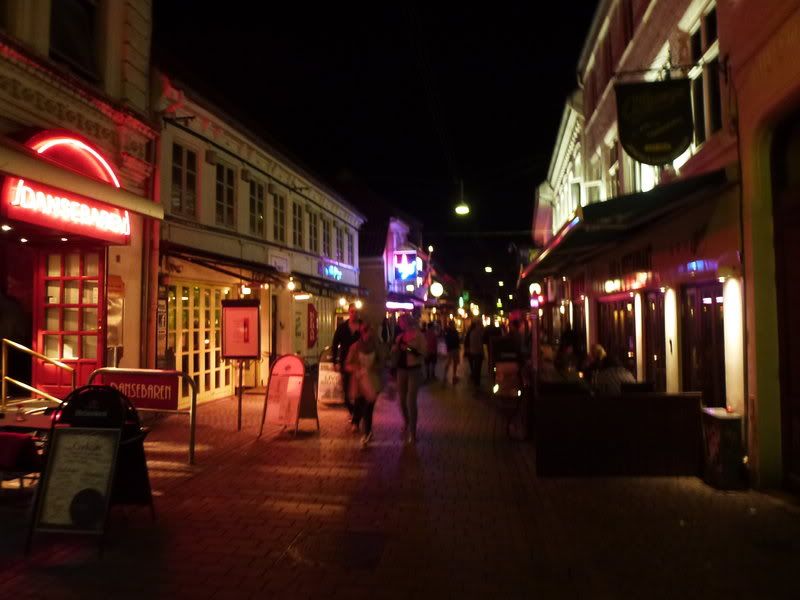 Saturday 3.9.2011
Oh dear, I think I partied a little bit too hard the night before! By the time my alarm goes off at quarter past five I haven't got the slightest clue about where I am or where I'm going to. Somehow I still manage to drag myself out of the uncomfortable bed, hit the shower, pull on a fresh set of clothes, gather my trash, go downstairs, check out and have the reception guy call me a taxi, all in the middle of a slur, running on autopilot. 22 EUR and barely ten minutes later we stop in front of the airport terminal, I bid adios to the driver (who apologised having to make a detour due to some roadworks which added about one minute or one kilometer to our total driving distance...) and head inside.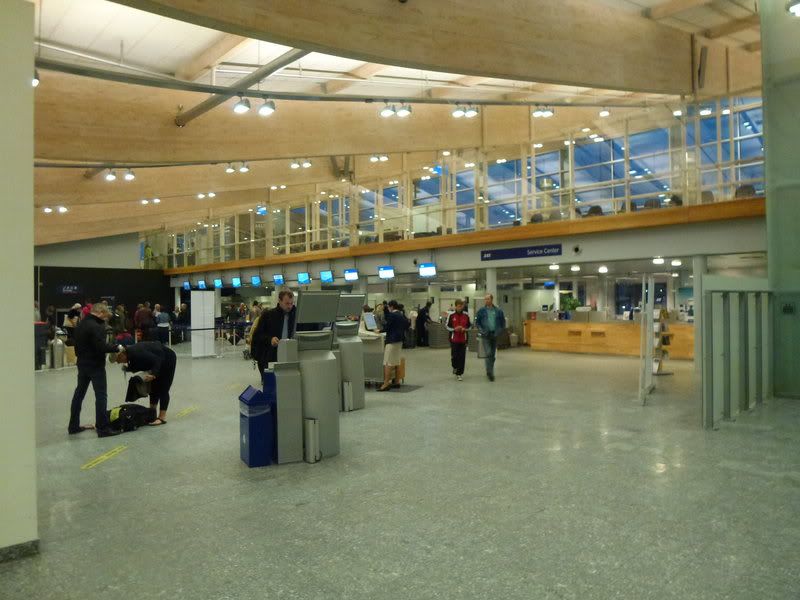 The flights this morning - no doubt which one is the top destination here:
Having done OLCI I hit the security queue right away before the Mallorca-bound throng (they are still at check in) has a chance to. Luckily our gate opens right after I enter the airside area, so quickly through using the self service gate (how I love this) to grab a breakfast bag and some juice and water: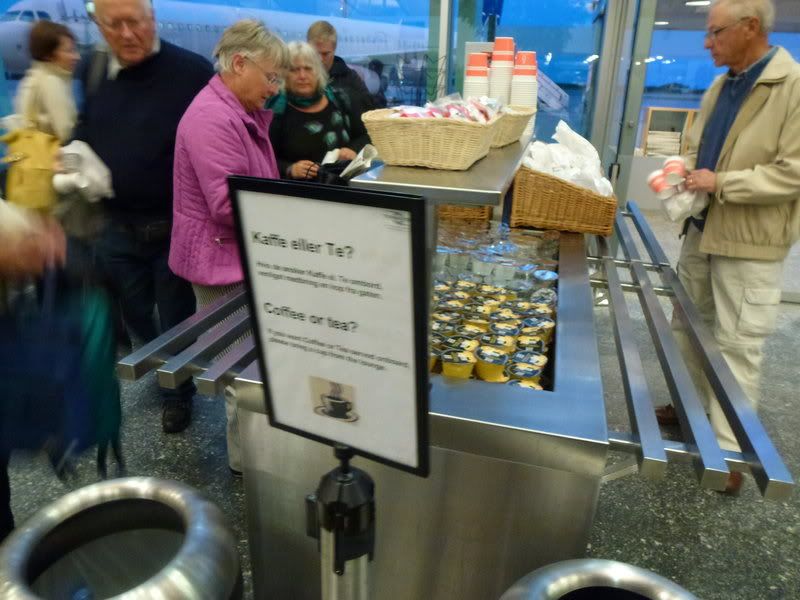 Oh yes, looks like the free breakfast is indeed featured on all domestic flights in SE, DK and NO, so my AAR flight three weeks ago was not an exception. Well, this "breakfast" is quite budget - there's a plain white wheat roll with a bit of butter inside and nothing else: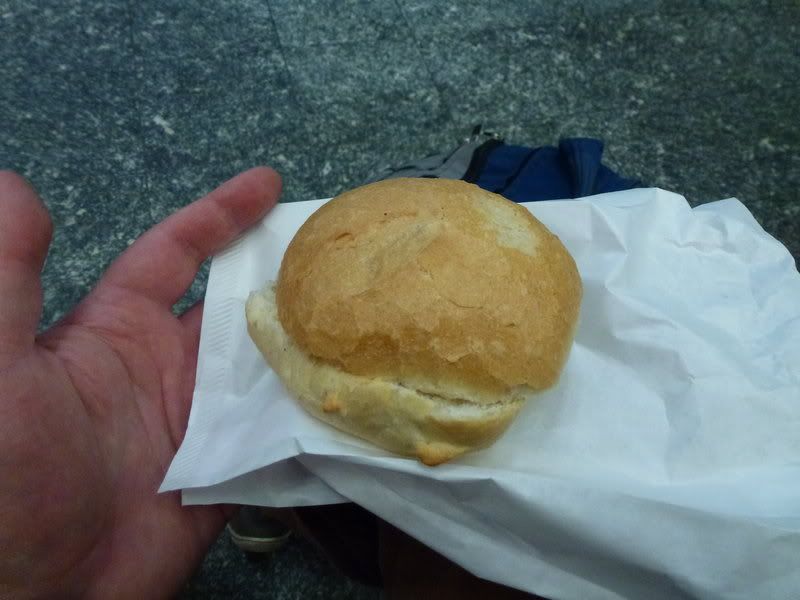 Outside I see the familiar shape of an A321, so no equipment changes this time.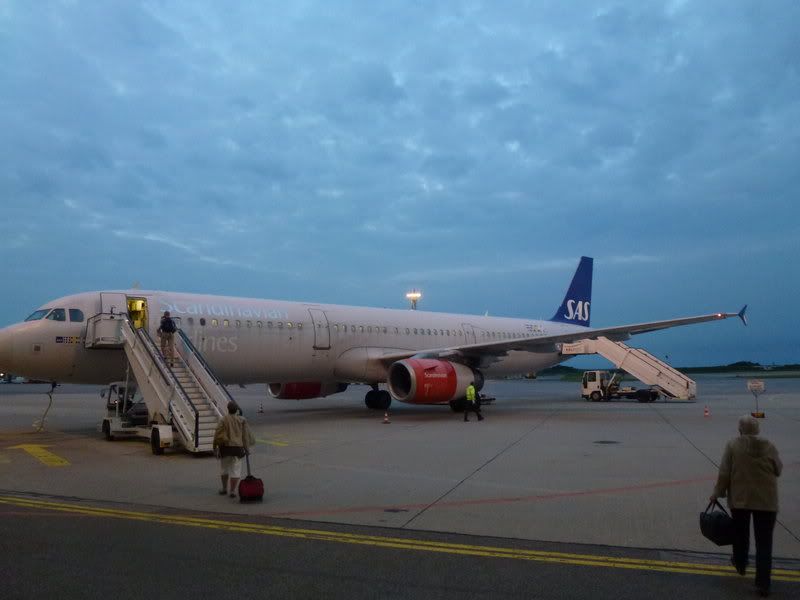 Boarding is called right after I have devoured the meagre breakfast offerings. I grab another tub of water to go and am one of the first ones to walk to the apron. Right at that moment I hear them making an announcement that the KLM F70 that is supposed to depart to AMS right about now "has a burst tire and will not be going anywhere". All passengers are asked to contact the gate or check in desk for rebookings... Looks like dkdaviator's experience with the reliability of Cityhopper operations ex-DK is repeating here as well...
The ill-fated Fokker:
Overnighting Cimber birds, one to CPH and the other to PMI: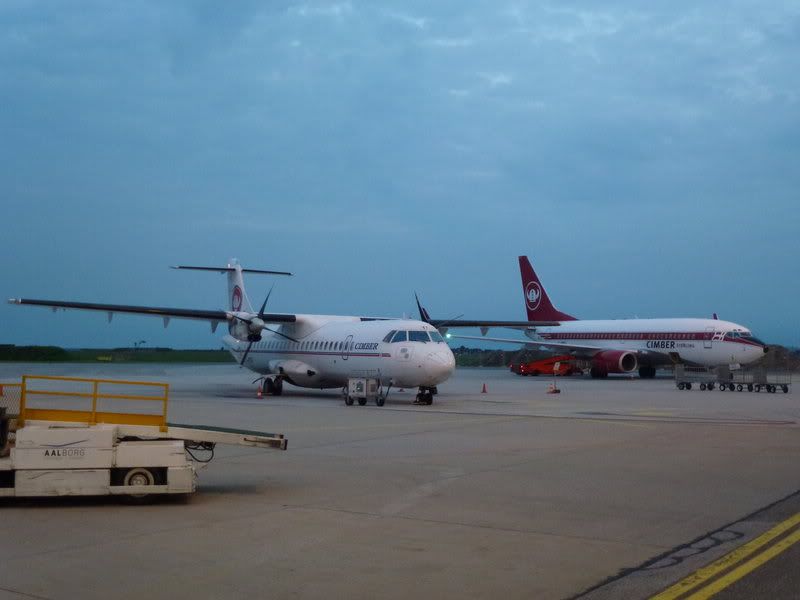 Well, back to our ride - even at my zombielike state I'm pretty happy to find a new registration for my log - "Skapti Viking":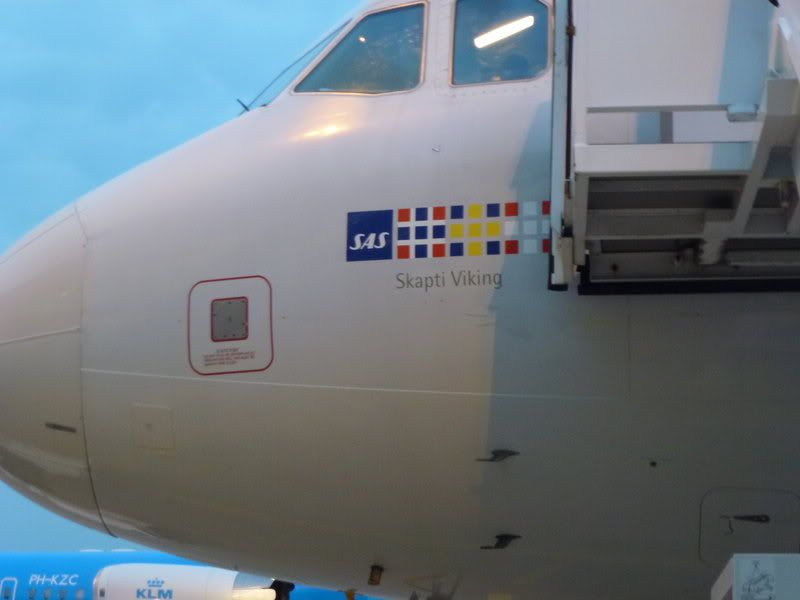 AAL - CPH
SK1202
A321 OY-KBF "Skapti Viking"
Seat 1F
6.48 - 7.25
A far too perky older FA greets me at the door. I mumble something and sit down on the bulkhead seat 1F with great legroom and a chance to be among the first ones off the plane (FIFO, yeah!):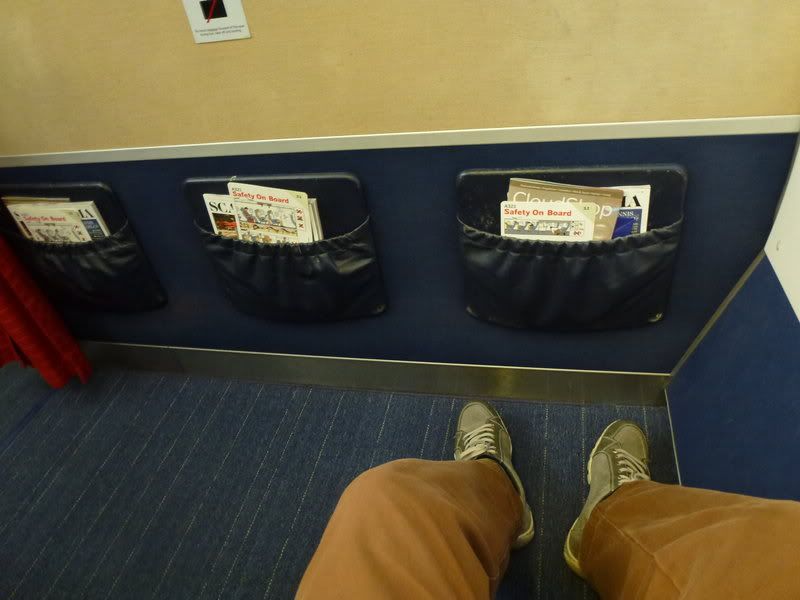 My ride from previous night in front of the North Flying hangar:
I have trouble staying awake already now, but force myself to wait until after take off.
The captain announces a flight time of 30 minutes and a slight delay due to loading of luggage and some last minute passengers - I assume the fastest of the KLM passengers ended up on this flight. Quite a good load for such a short flight and large plane - in the end around 80%. Three for me, though, which is nice.
Departure is eight minutes late, by that time the competition, departing just 20 minutes later than us is already boarding: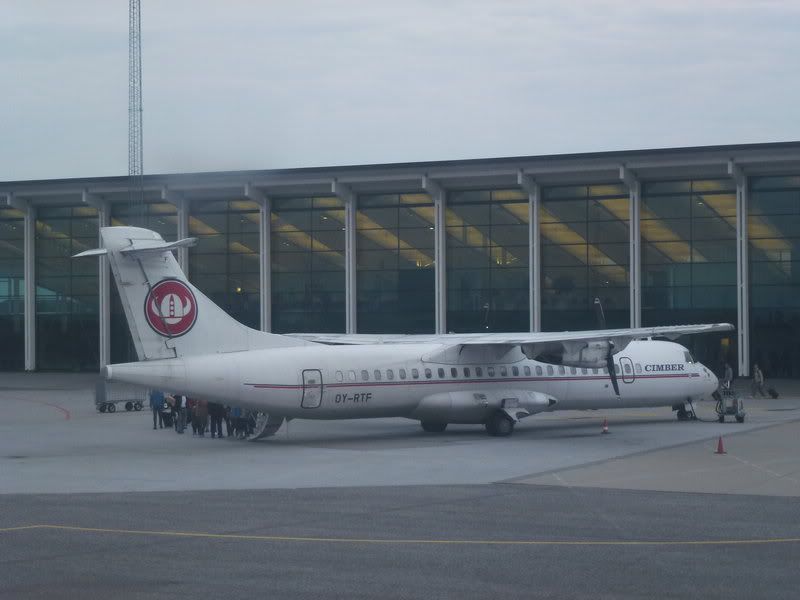 Not a long way to go: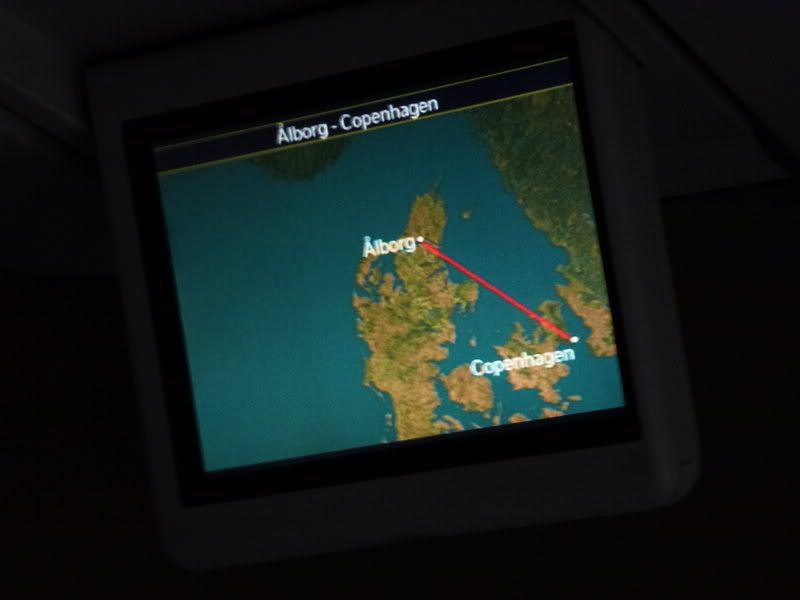 A new day dawning: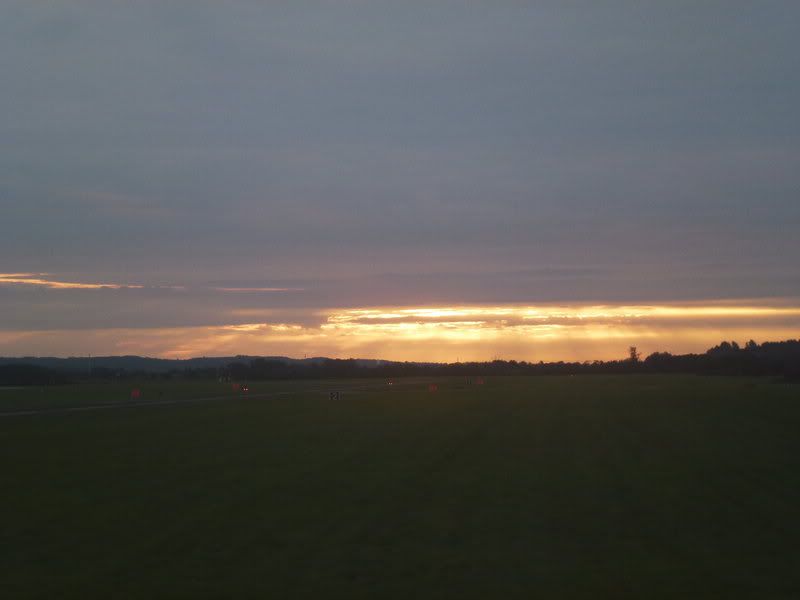 Take off is very powerful from 26R, I take a couple of pictures before allowing myself to fall asleep.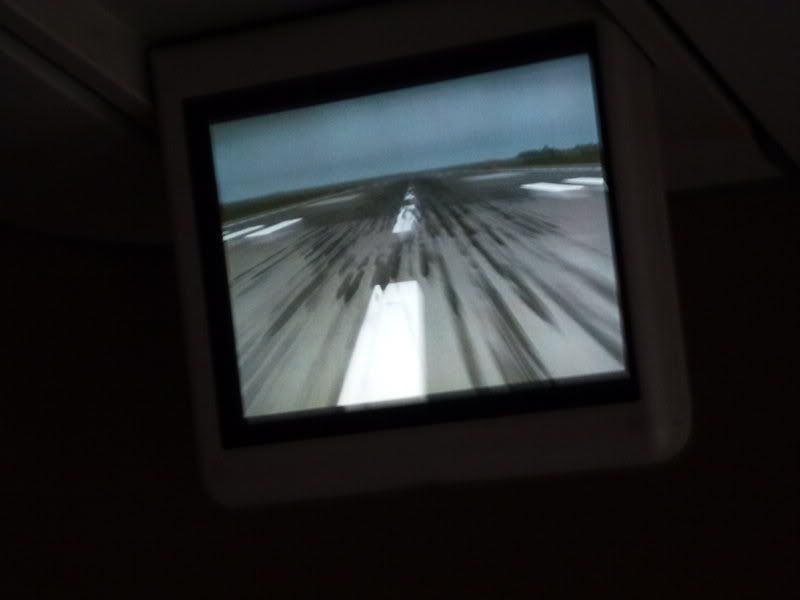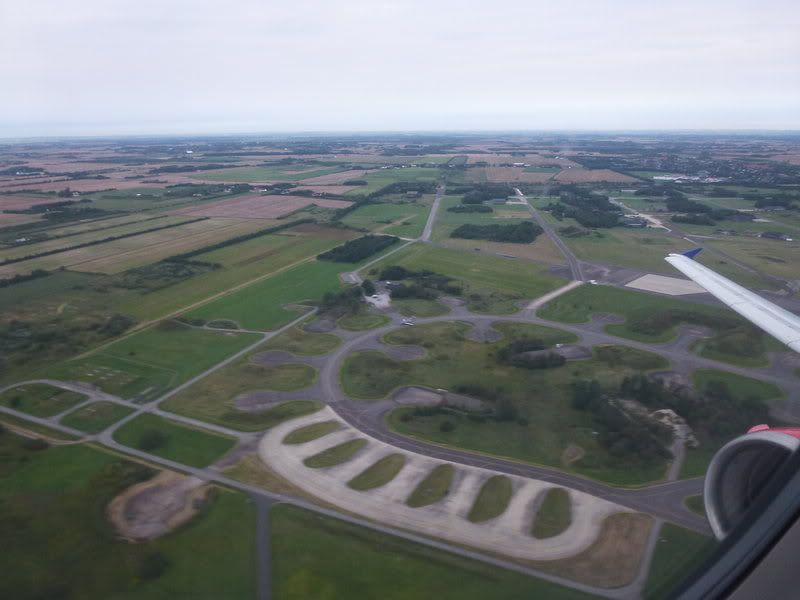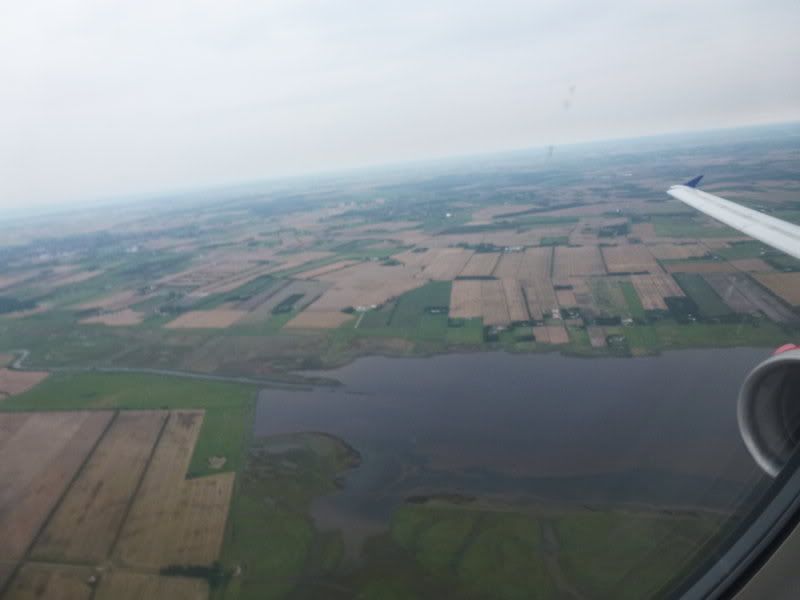 And that's about it - the next time I open my eyes I see we have just landed on runway 04L at Kastrup and are breaking very hard. Flight time was around half an hour. I think this is the first time I didn't wake up for our final approach in all the flights I have taken - a testimony to how knackered I must've been! Surprisingly I'm starting to feel a bit human again, so it was totally worth it!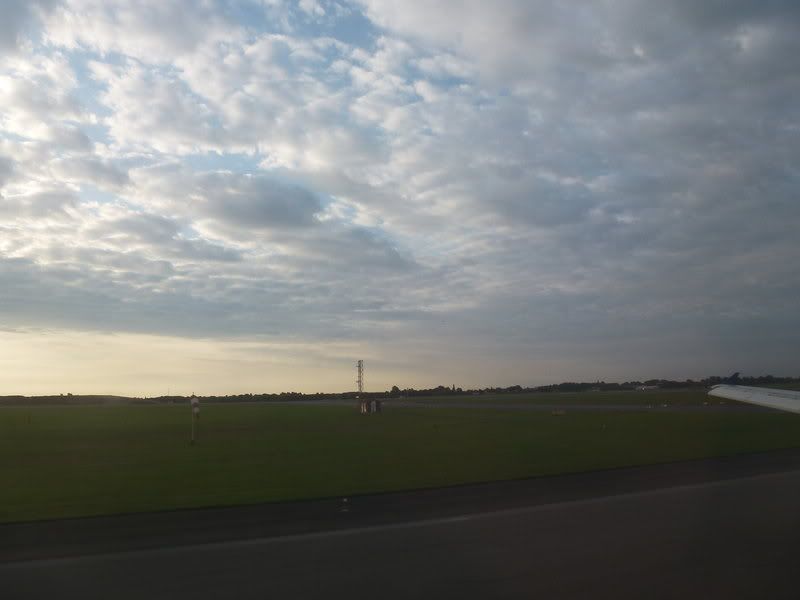 A very moody shot of an Mad Dog taking off: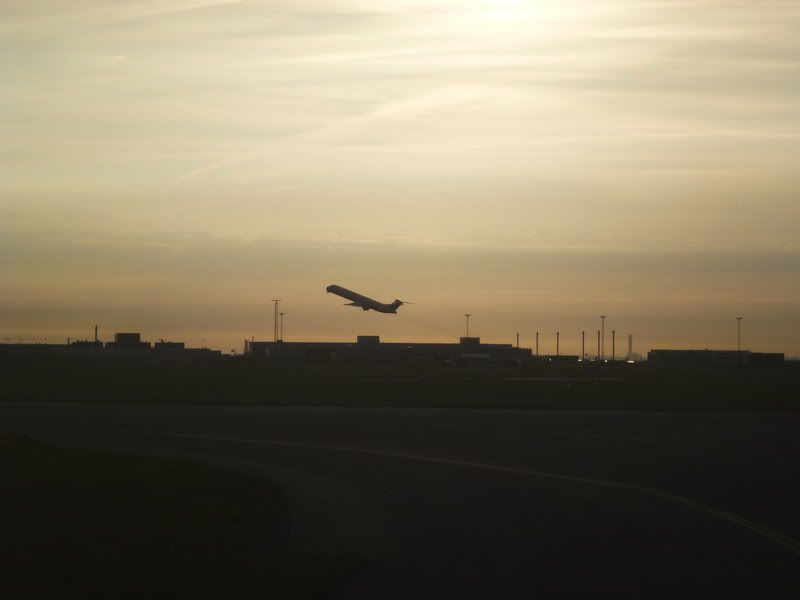 Top