Prologue
Ten years ago, while the horrors were happening on September 11, 2001, I was unsuspectingly cruising over the Atlantic in an Air France Boeing 777. I was heading to Los Angeles to spend an easygoing vacation with my good American friends. However, the vacation was over before it had really started. Shortly after my plane took off from Paris, American Airlines Flight 11 hit the North Tower of the World Trade Center. Only four hours later, when my rerouted plane touched down at Paris again, four planes had crashed, both WTC towers had collapsed and thousands of lives were lost.
I already posted a report about this failed trip five years ago, but on the occasion of the 10th anniversary of 9/11, I decided to start a new thread with an updated text and in different format. Unfortunately, I didn't frequently use my camera on my flights in these days, so you won't find as many pictures as usual.
Background
After visiting my American friends in Los Angeles in summer 2000 after a break of several years, I decided to go again in September 2001. Air France offered attractive fares so I took the chance and booked my flights in early June. I also chose Air France because I wanted to try the Boeing 777-200ER (after previously only flying on the non-ER variant) and Bombardier's CRJ. In order to get both British European's CRJ200 and Air France's A320, I decided to depart from Munich and return to Nuremberg. Last but not least, I chose an early departure from MUC so that I would have enough time for spotting at CDG. Sure, I was hoping to fly on an A320-100, but I knew the chance would be slim.
Tuesday, September 11, 2001
Munich (MUC) - Paris (CDG)
Air France AF1223
Scheduled times: 07:10-08:50
Distance: 425 miles
Economy Class
Airbus A320-211
F-GFKV (MSN 227)
Delivered in 09/1991
My parents dropped me off at MUC at around 05:00 and a friendly Air France agent quickly checked me in. I had been successful in getting window seats in the rear sections on both planes and I was really looking forward to the Air France 777. On the evening before I had already found out on teletext that I wouldn't get an A320-100, but just a regular A320-200, so it didn't bother me any more when I discovered
F-GFKV
at the gate. We departed on time and I enjoyed the scenery enroute to CDG. Breakfast consisted of croissants, juice and coffee. We arrived at Terminal 2A slightly ahead of schedule and I started walking to Terminal 2F.
CDG Spotting
In order to be able to log as many registrations as possible, I had chosen AF's second flight to Los Angeles on that day, AF068, scheduled to depart in the early afternoon. Just as planned, there was plenty of time left and I enjoyed logging registrations of departing and arriving aircraft on the adjacent runway for the next few hours. Some minutes after 10:00, I watched AF062 (bound for LAX) leaving the gate. At this point of time, nobody had a clue yet that this plane would end up at Montreal later today...One of the most interesting planes at CDG on that day was Continental's Boeing 777-200ER N77014 in "New York 2000" colors (designed by Peter Max).
Tuesday, September 11, 2001
Paris (CDG) - Los Angeles (LAX) // returned to Paris (CDG)
Air France AF068
Actual times (estimated): 14:00-18:00
Distance: Unknown
Economy Class
Boeing 777-228ER
F-GSPD (s/n 187)
Built in 12/1998, delivered in 01/1999
Slight delay
Boarding commenced shortly after 13:00 and a bus brought us to
F-GSPD
, AF's fourth 777, some 2.5 years old back then. I was quite impressed by the nice interior with comfortable blue seats. The flight was packed and the seats next to me were taken by an older French couple. They were very nice and even started talking to me in German, very well actually - it soon turned out that they were from Alsace-Lorraine.
A short delay was announced, but the flight attendant didn't give any more details. However, the reason was clear soon. On the left side of the rear Economy Class section four rows had been flattened to make room for a bed device. An older sick man was brought to the aircraft in an ambulance and it took about 20 minutes until the man had been laid down safely. He was accompanied by a younger woman taking care of him.
Two blithe hours
Finally, doors were closed and 15 minutes after leaving the parking position we lined up for takeoff. At around 14:00 CET - 08:00 local time in New York - the two GE90s noisily accelerated the heavily loaded twin for its long journey to Los Angeles. I was looking forward to the next few weeks in California and I really enjoying the flight. I tested several games and earmarked two movies for the upcoming hours. The first two hours of the flight had passed quickly and after leaving behind the westernmost British isles, lunch was about to be served. Even today it's still hard for me to imagine that within these two blithe hours previously unthinkable horrors had been happening.
Unsettling announcement
Suddenly, the IFE program was interrupted and the captain made an announcement. I didn't understand much of what he said in French - but I noticed that two flight attendants in the aisle looked confused and concerned. Then my two neighbors started talking to each other - and they didn't seem to feel comfortable either. And then the captain repeated his announcement in English. I can only remember perceiving the key sentence:
"We have to turn back to Paris, because American airspace is closed."
In the first moment I was just totally irritated. Can this be true? I started talking to my neighbor and he said:
"No, the captain must be joking."
I cannot remember how long I talked to him without looking out of the window, but when I checked the map on the PTV again, I suddenly realized that the little aircraft symbol was already pointing towards Paris. Unbelievable, but true: I hadn't felt the aircraft turning - so intensively I must have been under the impression of the captain's unsettling announcement.
Fuel dump
I was somehow refusing to believe that we would really return to Paris until I saw this - fuel dump!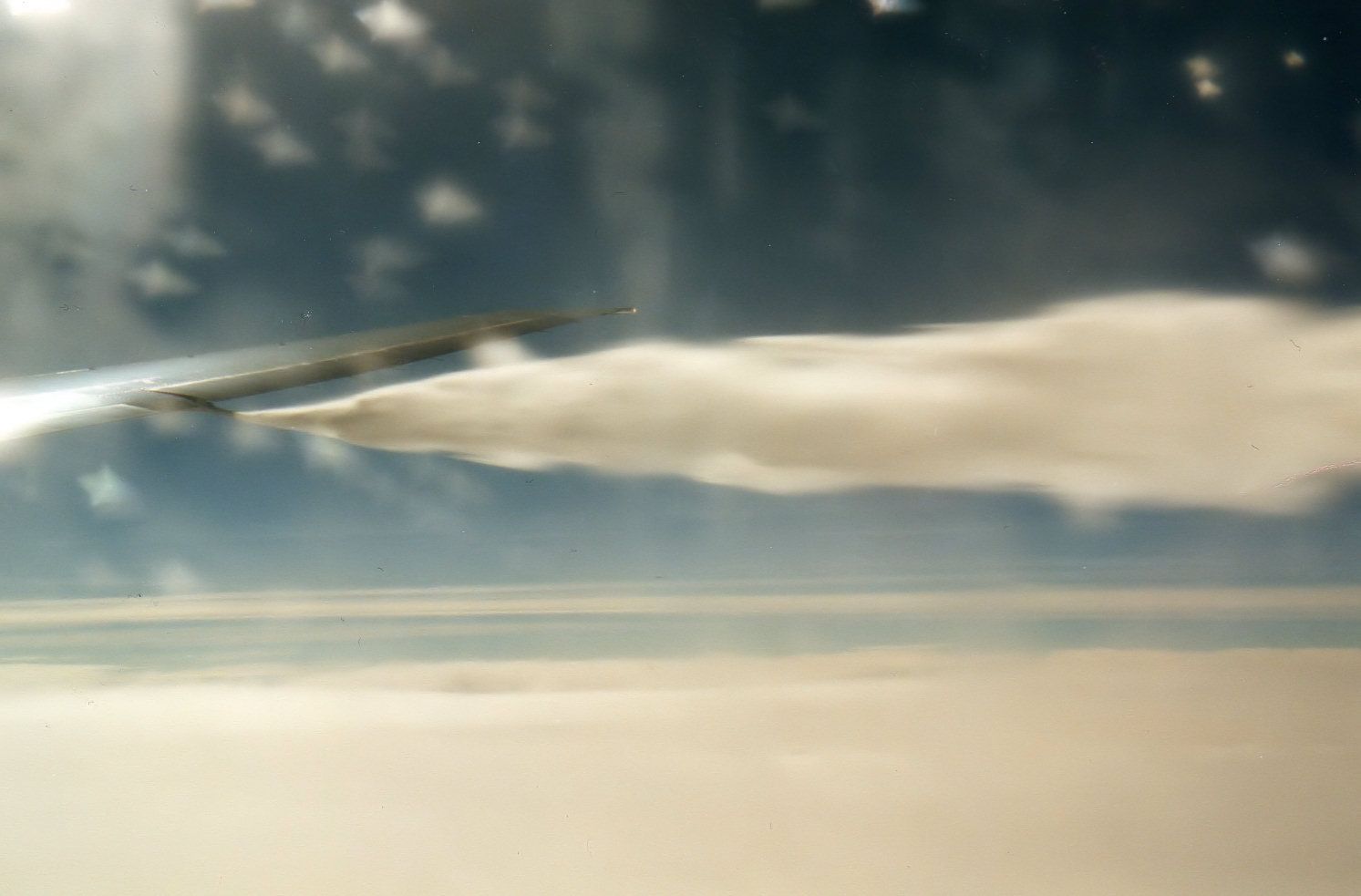 Slowly shrinking after a few minutes: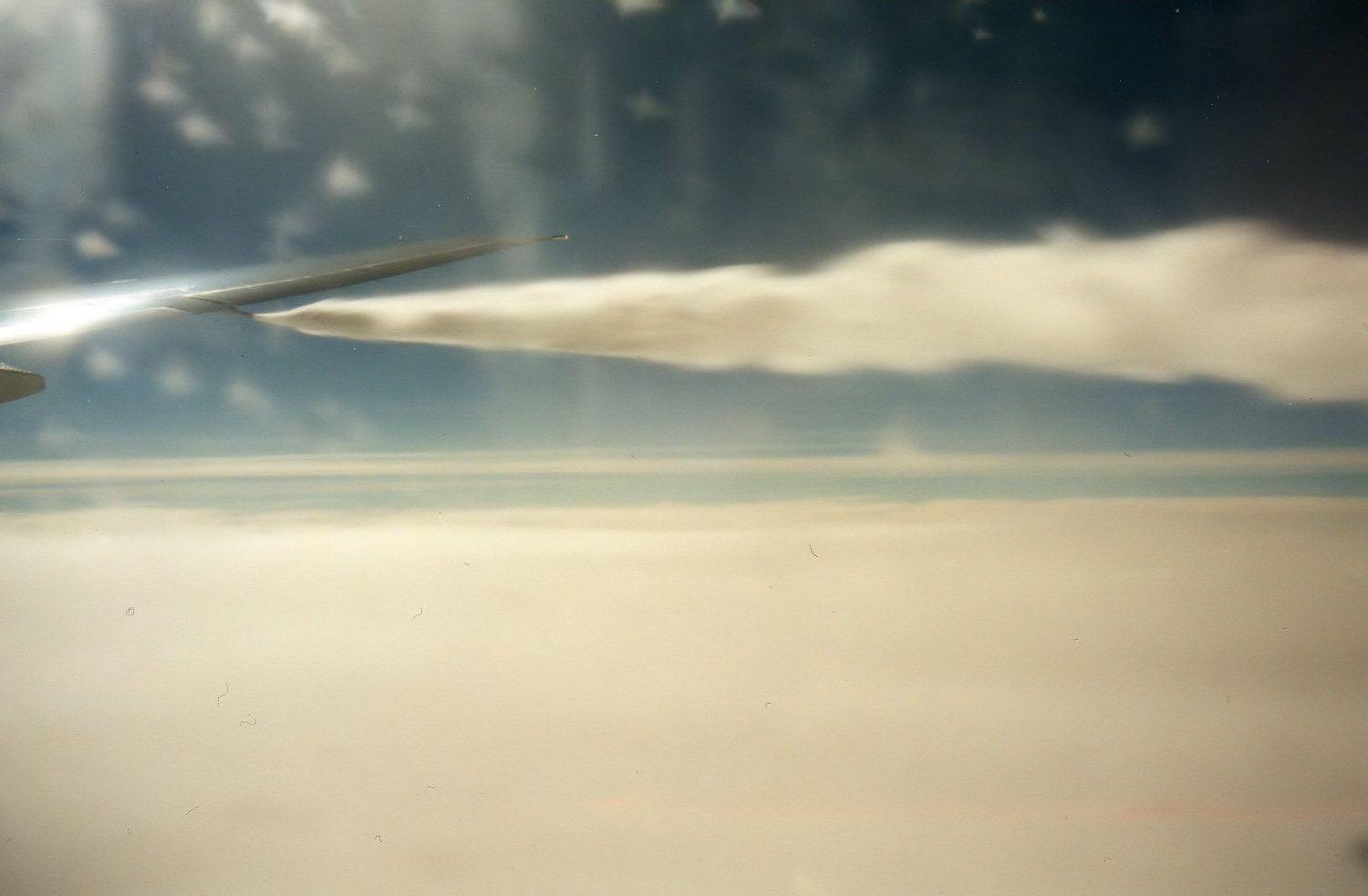 The captain later announced that 40000 liters of kerosene had to be dumped. There's no doubt that the largest scale fuel dumping in history occurred on that day considering the high number of transatlantic flights.
Speculations
Our estimated arrival time at CDG was 18:00, almost two hours to go. Most people in our section were intensively talking to each other and I guess many of them were speculating about the reason for the airspace closure.
"What the hell could cause such a drastic measure?"
, my neighbors and I were asking ourselves. I considered both a military strike and a widespread natural disaster to be very unlikely. I remembered there had been a slight earthquake in California two days before and I was for a moment thinking of the long-predicted "Big One" - but that wouldn't have affected the whole country, of course. I soon noticed that the IFE news channel had been disabled - what I found quite odd. Some time later I suddenly heard a French man saying something like
"Twin Towers boom..."
- probably he had made a phone call. I immediately draw the conclusion that the WTC must have been somehow affected, but I in no way I thought about anything similar to what was actually happening...
Then I started thinking about my trip. What would happen in Paris? When would I be able to continue the journey? I thought of my two heavy suitcases and how difficult it would be to move all the stuff around. I went to the galley and asked a young male flight attendant whether he knew what would happen in Paris after landing.
"I wish I could answer your question, but I just don't know either"
, he replied. The flight attendants continued serving lunch, but I certainly didn't enjoy my meal. I guess most passengers had similar feelings and thoughts - the atmosphere on board was tense.
Hard landing
At around 18:00,
F-GSPD
commenced its final approach to CDG and touched down very hard - it seemed that thrust reversers and brakes were fully deployed. We taxied to a gate at Terminal 2F and I noticed that planes of American carriers were surrounded by police cars and guards of different kinds. I was still hoping that we would be able to depart again later in the day - but then cargo doors were opened and the aircraft was unloaded. According to an announcement, passengers should follow Air France staff in the terminal. With so many aircraft obviously being in the same situation, I was expecting to find chaos in the Terminal - and that turned out to be true some minutes later.
Helping each other
Since I had had a bad experience with AF's ground staff on a trip in 1999, I wasn't really optimistic that the airline would handle the chaos properly. Therefore, I decided to stay together with my seat neighbors. It was the right decision: three flights had been assigned to our baggage carousel - and it would have been a serious problem to keep an eye on one case while trying to catch the other. So we kept looking after each other's stuff until all our luggage had arrived.
Shocking news
Then we were guided to the check-in area where masses of people were hanging around with their luggage. On a positive side, uncountable Air France employees were present – some of them must have been called in on short notice because they wore regular clothes with company IDs attached.
Endless queues had formed in front of the Air France counters and the only option was to wait. Two Germans showed up in the queue next to me and I started talking to them. They were from Stuttgart and had been on the Air France flight to San Francisco. I asked them about the reason for the airspace closure and I remember one of them saying:
"Allegedly, three aircraft have crashed in Los Angeles."
I was quite shocked by hearing that and couldn't believe it.
Returning home
Two hours must have passed before I arrived at the counter. I was still full of hope that I would be sent to a hotel and could simply take another flight to LAX on the next day or two days later. But then I started to realize that the hotels would be filled with Americans currently unable to return home. The agent behind the counter said that it was totally unclear when American airspace would be reopened again.
"This could happen in two days, but it could also happen in ten days"
, he said.
"What we can offer is a return flight to Germany - the alternative is to wait for the next available flight on your own expense."
I quickly decided to fly home because I didn't want to take the risk of being stranded for days.
Helpful agent
The final destination on my original itinerary was Nuremberg, but the last flight there had already departed. So the agent offered one of a few remaining seats on the last evening flight to Munich - and of course I agreed. After receiving the new ticket, I was really glad that I could escape from the chaos in the check-in hall. The French couple had in the meantime been looking after my two suitcases. I said thanks and goodbye and started rushing to Terminal 2A where my flight to Munich would depart in about 45 minutes. A very friendly agent quickly checked me in and then I needed to call home to arrange pickup. Unfortunately, I had decided to leave my mobile phone at home and I neither had any Francs nor a calling card. So I went to a counter again, quickly explained my situation and asked where I could get a telephone card. However, a very friendly female agent gave me her personal calling card and even explained how to use it.
Learning the truth
First of all, I called my parents, but couldn't reach them. Then I called my brother and luckily he answered after a while.
"Where are you?"
, he asked with a slightly concerned voice.
"Have you heard what happened?"
, he asked.
"No, not really."
, I replied. Then he told me the unthinkable:
"The World Trade Center has collapsed after planes crashed into each tower - and another one crashed into the Pentagon!"
I immediately felt paralyzed and wasn't able to say anything. It took me a few moments to recover and I finally told him that I would arrive at Munich in about two hours. He promised to pick me up and I made my way to the gate.
Tuesday, September 11, 2001
Paris (CDG) - Munich (MUC)
Air France AF1222
Scheduled times: 21:15-22:45
Distance: 425 miles
Economy Class
Airbus A320-111
F-GFKQ (MSN 002)
Built in 04/1987, delivered in 02/1991
A320-100, and not just that...
On the way to the gate I was still struggling to process the horrendous news. For the first time in my life, I was totally uninterested in the upcoming aircraft. After entering the gate area, I realized that the flight was delayed by 30 minutes, obviously due to an aircraft change. An A320 was parked at the gate - with cargo doors being closed and the jet bridge not being attached to it. I was expecting that it would be towed away, but soon some ground staff members started working on it. Just for statistics, I went to the window in order to check the registration. I identified "KQ" on the nose gear door...and much slower than usual I started thinking...F-GFKQ...that sounded somehow familiar, I was quite sure that it wasn't a regular A320. Then I checked the wingtips - and winglets were indeed missing: it was a -100 series aircraft. Finally, I remembered that "KQ" was the second A320 frame ever built - and the oldest one in active service (MSN 001 has never left Airbus). I couldn't believe that I would fly on that very special and much desired aircraft on such a disastrous day - I definitely couldn't enjoy it at all. Of course, at a much later date, I was glad about being able to add it to my log. However,
F-GFKQ
will always be connected with that sad day.
The flight itself was rather eventless. It was very quiet in the cabin, most likely because most passengers had already heard the news. After eating a quite generous dinner (by today's standards), I tried to get some sleep. Later at MUC, I was glad that my cases had arrived as well. My brother picked me up and drove me home after that very uncommon daytrip. We listened to the radio news all the time and still couldn't believe what we heard.
Diversion to Montreal
As soon as I arrived at home, I called my American friends who had contacted Air France several times in order to check my flight's status. They already knew that my flight had returned to Paris and they had also been told that AF062 - the first flight bound for LAX - had diverted to Montreal...so I was really glad that I had chosen AF068.
Full refund
On the next morning I called Air France and a friendly agent told me that I had the choice between a full refund and an alternative flight. Initially, I booked another flight which would leave seven days later - because I really wanted to visit my American friends. However, after carefully analyzing the situation, I realized that I wouldn't be able to spend an easygoing and enjoyable vacation in the United States shortly after 9/11. I finally decided to cancel my plans and accepted the refund. I postponed my trip to September 2002 and it turned out to be the right decision.
Final Words
My failed trip and all the experiences on 9/11 will stay forever in my memory. However, while I got away with a nerve-wracking daytrip, thousands of other people have never returned home. Let us never forget the innocent people who lost their lives on 9/11 - and all those who have been suffering from the horrible events and the consequences ever since.
Thank you for reading.
Kind Regards,
PlaneHunter
[Edited 2011-09-11 00:29:55]