September 2011: the last month of operations for airsouthwest, Britain's local airline, the airline which replaced Brymon Airways as Plymouth and the Westcountry's airline. A loyal, lively and friendly crew of pilot's, operations, cabin crew, engineers and ground staff. Many of the pilots started with Brymon on the dash-7's and then moved onto the Dash-8's. Passenger loyalty had always been healthy even through the troubled times of the economic downturn. Peter Davies, the now ex MD led a dedicated team at Plymouth and shouldn't be forgotten for introducing new routes from Plymouth to Glasgow, Dublin, Cork, Newcastle, Guernsey and London City. I flew on the very first flight to London City; a flight full of people from an airport at Plymouth which was forward thinking and looking to promote and develop it's city and to support it's vital businesses including the Navy; a major user of the airport particularly on the Glasgow Service. Peter Davies and the team did well at the time and continued to operate the unique operation of collecting passengers at both Plymouth and Newquay. At the time of the commencement of the London City route, there were also 4 flights a day to Gatwick.
September 2011 is a very much sader time, started when the owners decided to sell airsouthwest then the airport and then to try everything in their power to run the airline and the airport down due to the lack of profit.
So a grey Saturday started with the 10 minute walk to a deserted Plymouth City Airport; no cafe, no check-in staff, no scheduled flights: just two remaining loyal airport staff(and a small dog!) organising a minibus to connect with the last month of operations by air southwest at Newquay; an airport with poor ground links to Plymouth, even by road with a narrow winding 'A' road or a long indirect train and bus link. The real alternative is Exeter which has good facilities but poor ground public transport links: another non motorway so called 'expressway or a slow train plus taxi or bus from Plymouth.
So I boarded the minibus at Plymouth City Airport and took the rollercoaster ride with the non seatbelt wearing Newquay taxi firm to Newquay Cornwall Airport. I checked my bag in at Newquay and was told to leave it by the door: odd as it was just abandoned - several of us checked with staff but was assured it was okay to leave it and someone would collect it in time.......The air southwest crew almost walked into me and the bags on their way to pre-flight G-WOWB.
With about 20 passengers we boarded G-WOWB and I sat on the very last row of seats - it's always fun to fly the Dash's and there is always a friendly welcome by the cabin crew. Due to a very strong tailwind, the flight arrived very early into Glasgow; taking only one hour and fifteen minutes. The service has always been more popular with Plymouth passengers but since the running down of the airport, most of the passengers have rebooked to fly from Exeter. Flybe are due to restart the Newquay to Glasgow route next year using a Saab 340. The pilot's welcomed us to Glasgow but there was no usual 'hope you fly again with airsouthwest soon' since there was only a few days remaining on this route and several other routes that the airline operates.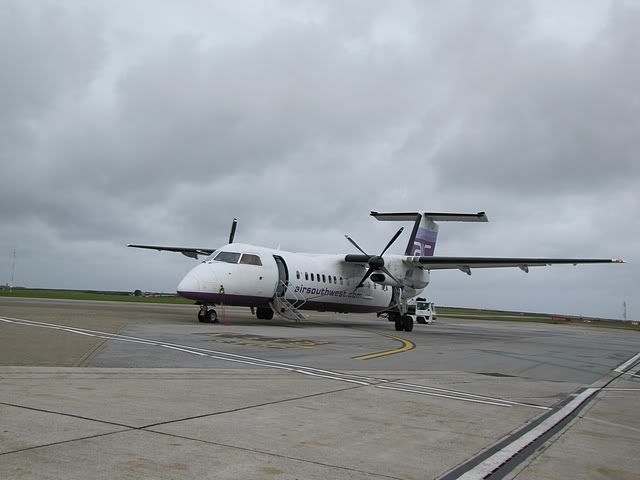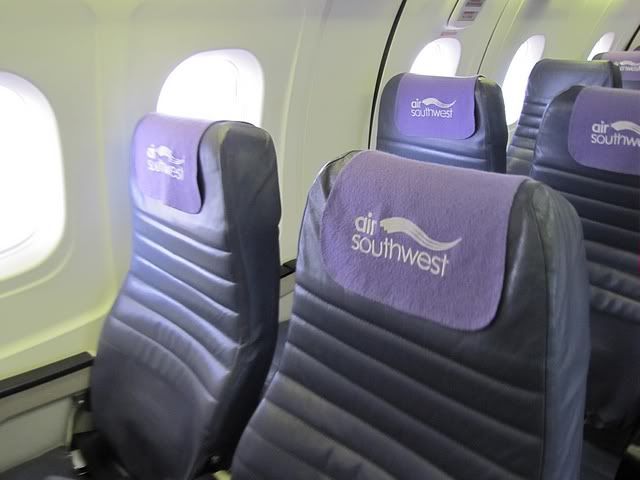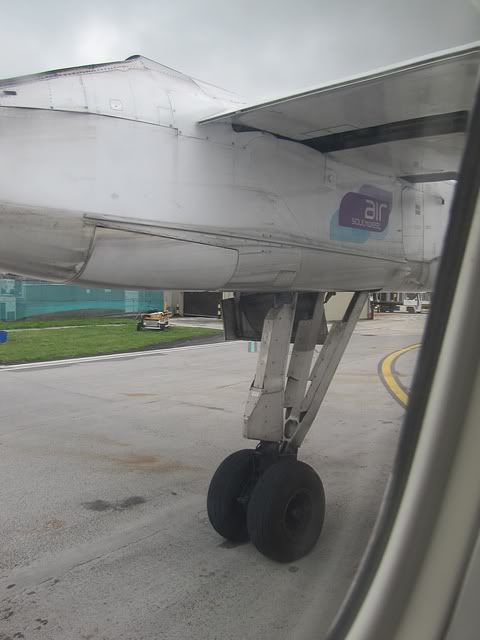 Some other visitors at NQY: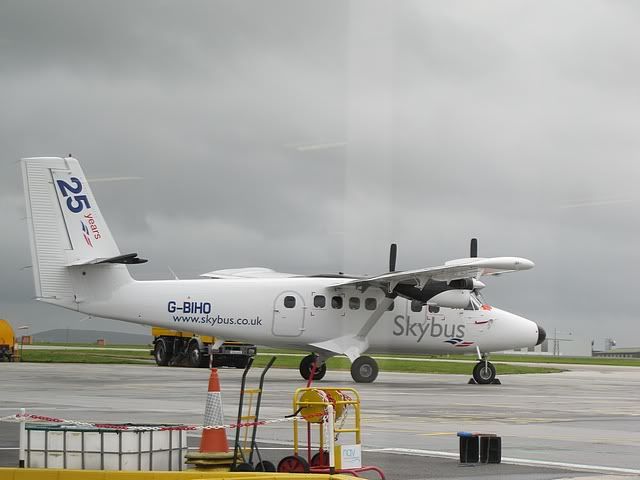 Departing NQY: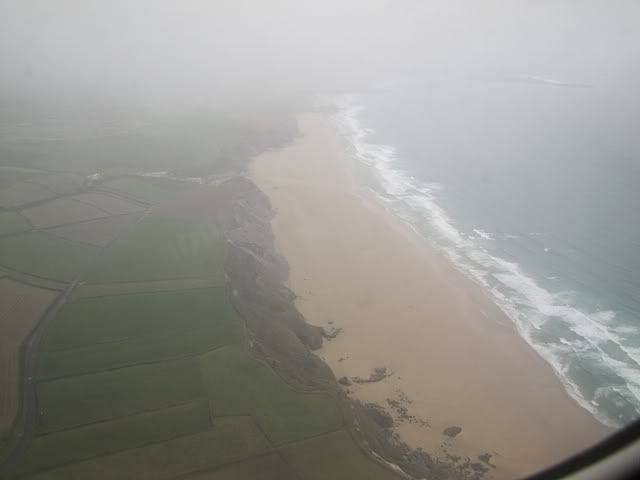 At GLA: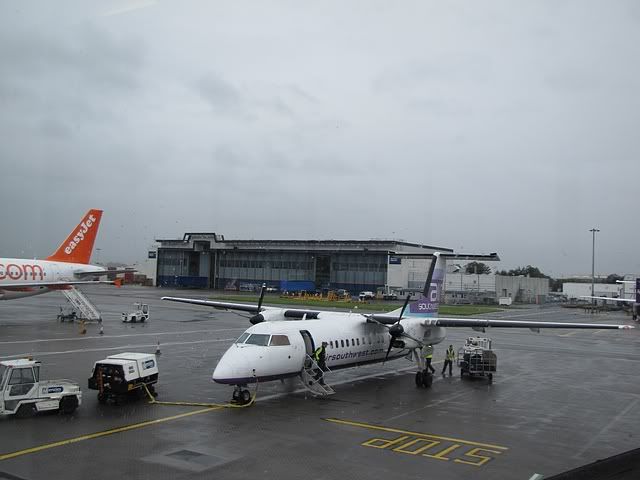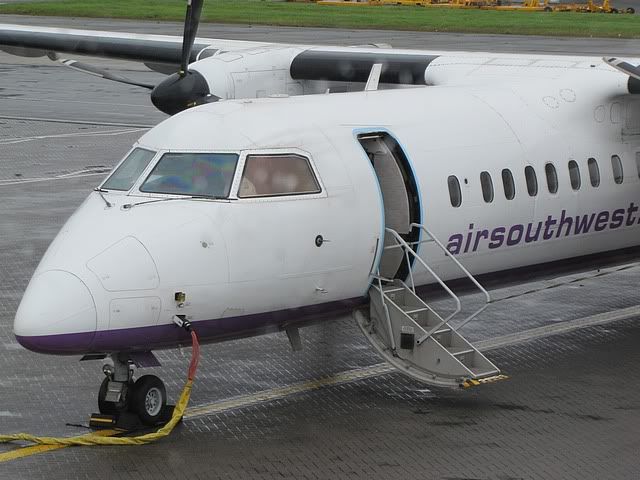 The day arrived for my last airsouthwest flight. I awoke at 6 and ventured out of one of the Travelodge's near to Haymarket in Edinburgh to a bitter very very strong wind and it felt like December! After masses of coffee stops I later boarded the coach to Edinburgh: only £1 each way including free wifi – a bargain! It was raining quite heavily in Glasgow so after another trip to Starbucks I walked in the rain to catch the airport bus.
I've always found Glasgow Airport to be a very easy to use airport – not too busy but quite organised though there aren't a huge range of shops. I checked in almost 2 hours early and asked for a window seat: 4D which would be one of the noisier seats: right next to the prop. This didn't bother me in the slightest as I was looking forward to hearing that distinctive sound of the dash-8-300's engines! I still miss the dash-7 and managed to take a number of trips when British Airways owned Brymon. My first dash-7 trip was from Heathrow to Plymouth via Newquay: The dash-7's were fun with an incredibly short landing and take-off run.
I waited by the gate for the flight and made various checks online to see if the inbound flight had left Newquay: it was showing with a status of 'departed' at around one hour before it was due to leave Glasgow so I expected it to be late. Soon an announcement was made that the flight would be one hour late. I waited with about 10 other passengers for the flight and was pleased to see G-WOWA arrive. I had considered the possibility that they may have substituted a dash for a Jetstream-41 or Saab-2000 but another trip on WA was on the cards for me….
WA arrived and I took this video whilst it shut down upon arrival.
http://www.youtube.com/watch?v=t3NcDWY6Qs8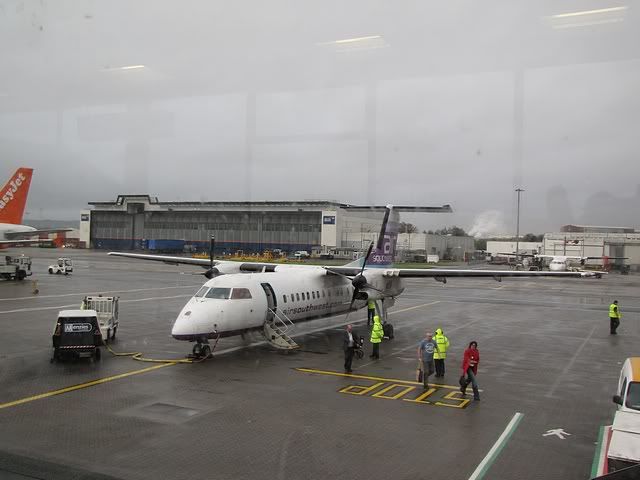 I soon boarded and listened to the sad tales of redundancy from the stewardess and of another mess up of operations earlier in the day by eastern(not by the Plymouth based now redundant operations staff )– the airline has less than a month left of operations and I recognise very few of the staff now. The training captain took me for my first solo flight just over eleven years ago at Plymouth City Airport. One of my very first flights was with another airsouthwest Captain and I've also flown with one or two others who since joined airsouthwest – it truly was a local airline………..
That distinctive sound of the dash-8-300's engines commenced and we taxied out to the runway at Glasgow and with only 10 passengers and a strong wind we leapt into the air like a dash-7!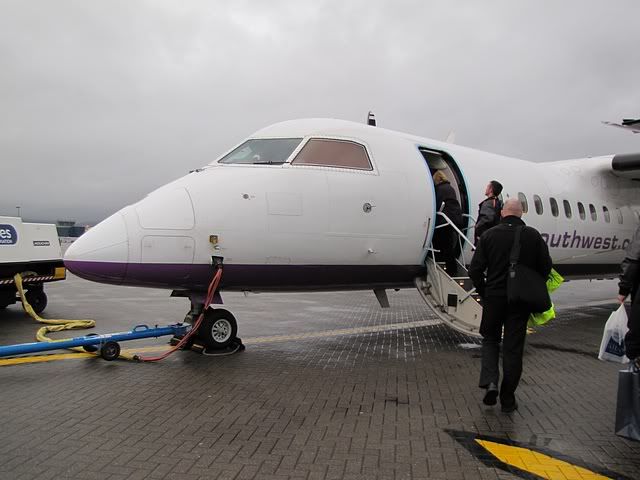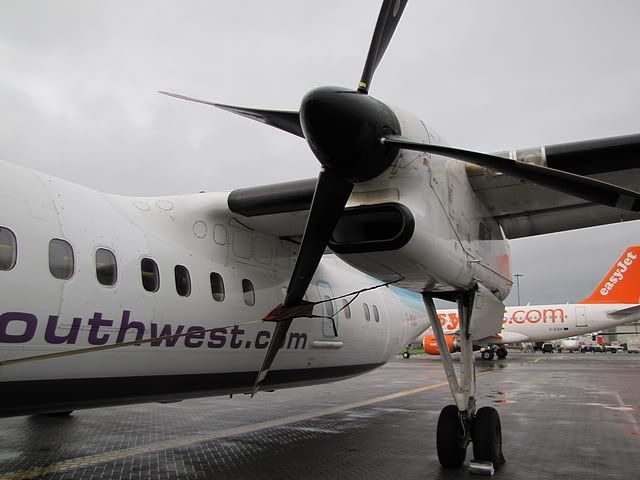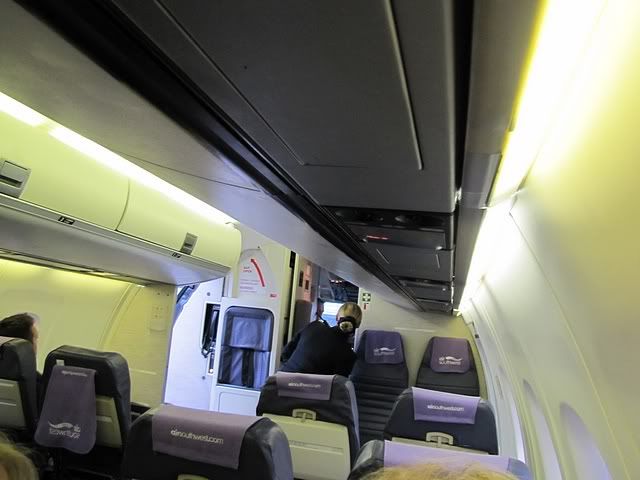 http://www.youtube.com/watch?v=MJ898tuN0Js
I had a complimentary coffee and chocolate biscuit to go with my sandwich and took loads of photos and videos. It was an amazing evening with the sun setting for the duration of the flight and a wonderful pink sky. It was soon time for a visual descent into Newquay and I could see the runway via a right base join for runway 30. After a farewell and goodbye I left G-WOWA and got a bit of a telling of for filming the Eastern Saab on the apron – I've no idea why they didn't like this: I wouldn't normally film on the apron but wanted to film my last airsouthwest flight. I might get another trip on a dash-8-300 sometime in the future….maybe when I next visit Australia.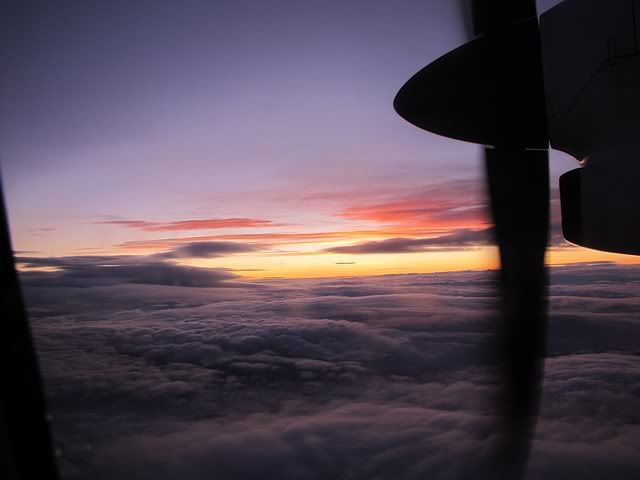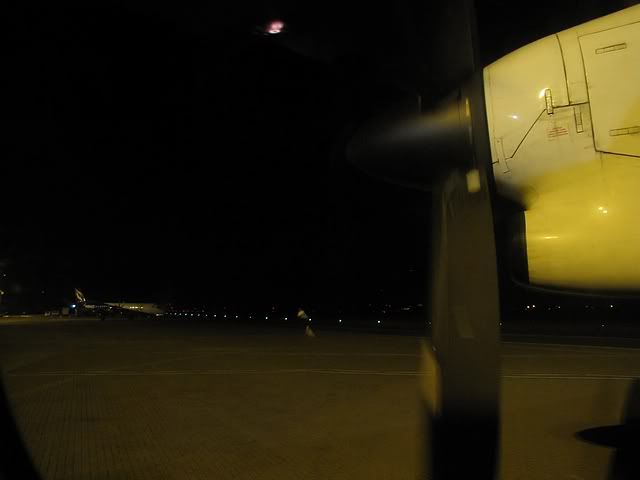 http://www.youtube.com/watch?v=5VoJ9_iLZ_k
To get back to Plymouth I went in a complimentary taxi with two others along the long winding Cornish roads………It was not to be quite straightforward as the driver received a call stating that they required her taxi to take an Eastern pilot to Heathrow! So we waited at a petrol station and swapped to a minibus. Arriving back at Plymouth City Airport at about 2230 it was time to walk back home…………………Goodbye airsouthwest and to scheduled air services from Plymouth City Airport.
Here are some of my previous airsouthwest trip reports:
PLH-LCY-PLH 20/04/09 - 1st Day Of Service
(by
stolport
May 7 2010 in Trip Reports)?threadid=168500&searchid=168500&s=stolport#ID168500
PLH-PER-PLH Jan/Feb 2010
(by
stolport
Apr 9 2010 in Trip Reports)?threadid=167590&searchid=167590&s=stolport#ID167590