Disclaimer:
This TR is NOT about a scheduled heli flight, but a sightseeing trip in the Swiss Alps.
Dear readers,
Welcome to this rather unconventional trip report. Let me give you some background details :
Earlier this year, my husband celebrated a special birthday & obviously I wanted to give him an equally special present. I'd thought about a hot air balloon flight, but still wasn't entirely convinced. Quite by chance, I discovered a report on a Swiss aviation forum about a helicopter flight in the Alps, with lunch at a mountain hut. The photographs were just stunning, so I got in touch with the heli company and purchased a voucher.
The Swiss Alps are full of mountain huts; there are over 300 of them and the majority are run by the Swiss Alpine Club (SAC).Hiking is our hobby and over the years it has become our aim to visit as many of these huts as possible. In the same way that you log new airlines/airports/planes, we log these mountain refuges. However, as much as we like hiking, we have little experience on glaciers and would only cross them with a guide. So as you can imagine, there are quite a few huts that we will probably never visit. The flight included lunch at the Mutthorn hut, perched on the glacier's edge. With an average approach of 6hrs on foot over glacier, this was one out of our reach and all the more reason to book the flight.
A Saturday in August looked like being the perfect day – sunny, too hot for walking and after a couple of phonecalls with the heli company, it was confirmed the flight would go ahead.
Just a note – we both had a camera with us so the photos are a mix of both.
Saturday 20th August
The arranged meeting time was 1015 and with the traffic situation on the Bern motorway being a lottery, we set off at 0715. Not a bad idea, a mysterious diversion had appeared overnight in the neighbouring village which cost us 10 minutes. Apart from that we had a good run, despite the huge volume of traffic already on the road, and arrived at the heli base at 0915. The heliport is at Gsteigwiler, a hamlet between Interlaken & Lauterbrunnen, in the heart of the Bernese Oberland. When we got there, things were still very quiet, but gradually more & more people arrived. It looked like it was going to be a busy day.
The heliport is run by BOHAG, or Bernese Oberland Helicopter Ltd. They have a fleet of 4, although one heli was undergoing a maintenance check. Until a couple of years ago, they used to operate rescue flights, now it's mainly sightseeing & transport flights.
Arriving at the heliport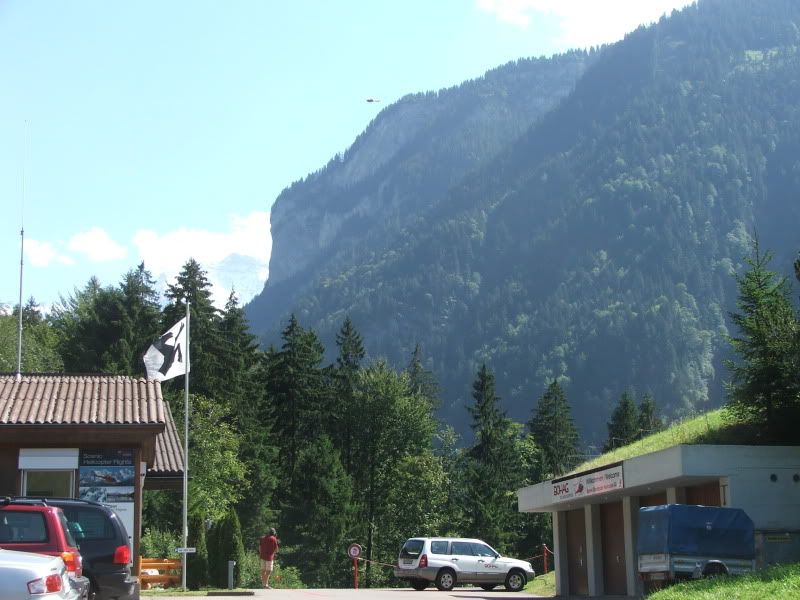 Details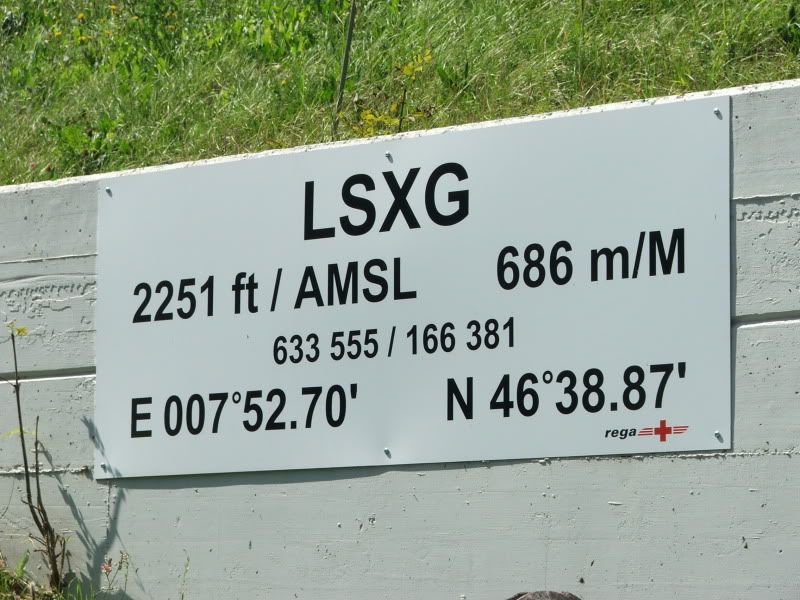 Action :
.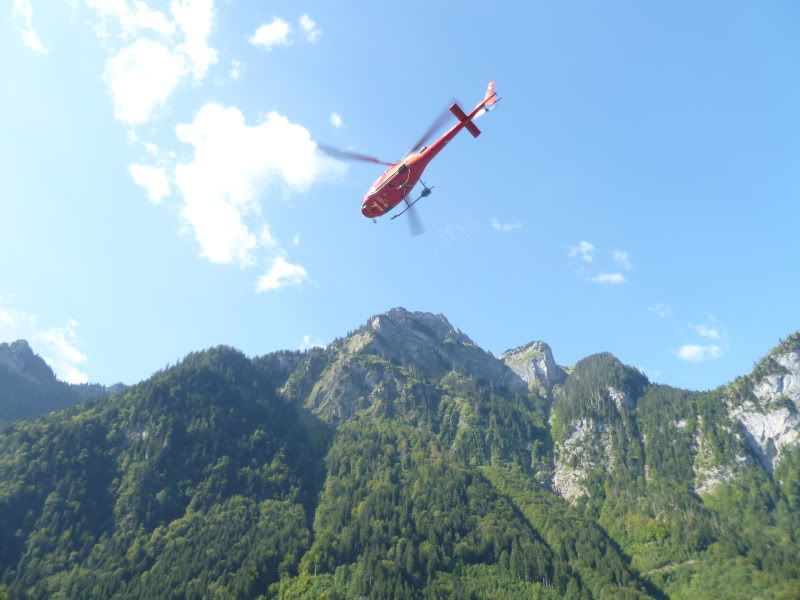 There were helicopters coming and going, lots of tourists about and the poor chap in the booking office was having anything but an easy day: a constant stream of passengers to deal with, the phone ringing and radio messages to listen to. We were eventually called forward along with another couple who were to fly with us. They apparently phoned up the day before and said they'd like to fly somewhere but didn't care where, they were just told how much they had to pay!!.
Then everything happened very quickly. We were told our heli was ready and boarded almost immediately. It holds 5 passengers; the other gentleman took the front seat and his wife sat in the back with us. We even had our very own member of cabin crew, who helped us getting on & off!
HB-ZKT AS 350 B3 Ecureuil
STD 1015 / ATD 1030
ATA 1040
This heli had its first flight in 1998, max speed 287kmh & can fly up to 7000m above sea level.
Boarding pass, sorry for poor quality
Ready for boarding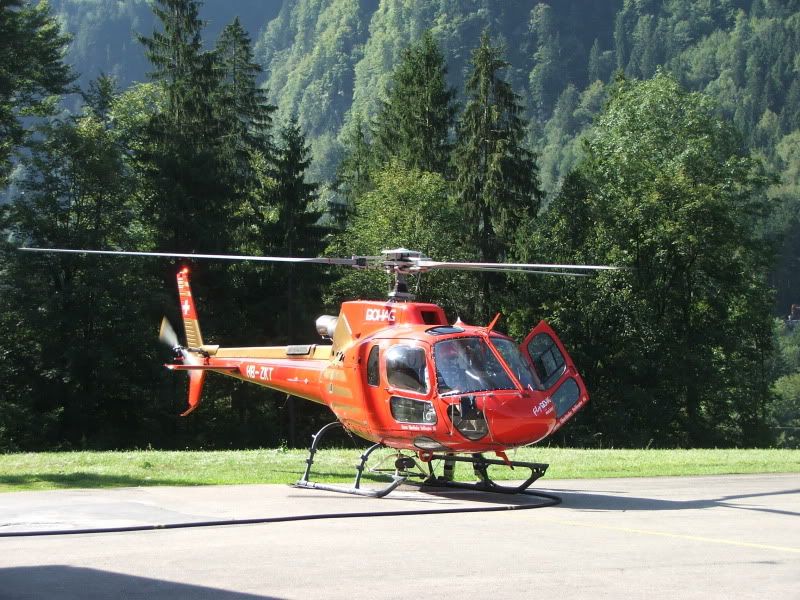 We were helped with the seatbelts and headphones, funnily enough I was asked did I speak English which was a bit random as I'd been speaking in German all morning. I obviously don't look Swiss then!!
Before we knew it, we lifted off the ground after a brief welcome from our pilot, Mr Simon, who is the head pilot with Bohag. He kept us well informed as to what villages & mountains could be seen, although we whizzed past everything so fast it was difficult keeping up photographing everything.
Shortly after lift off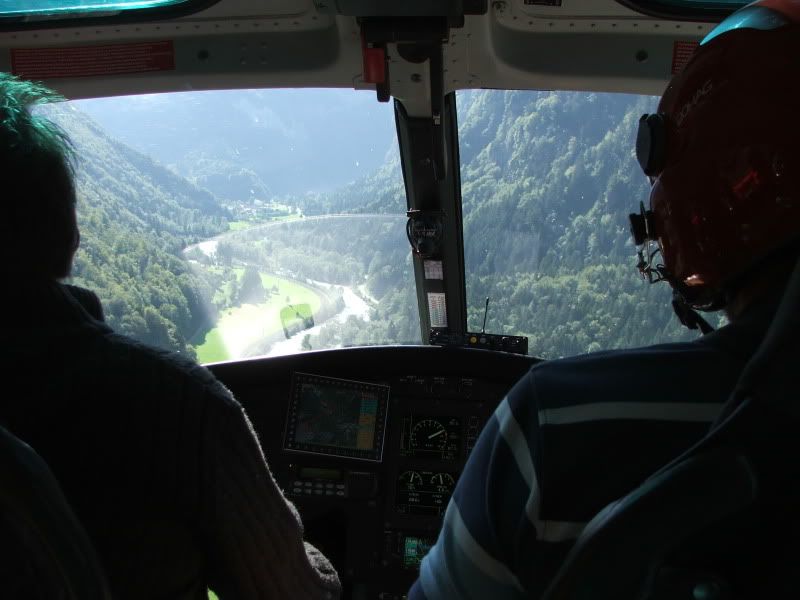 Cockpit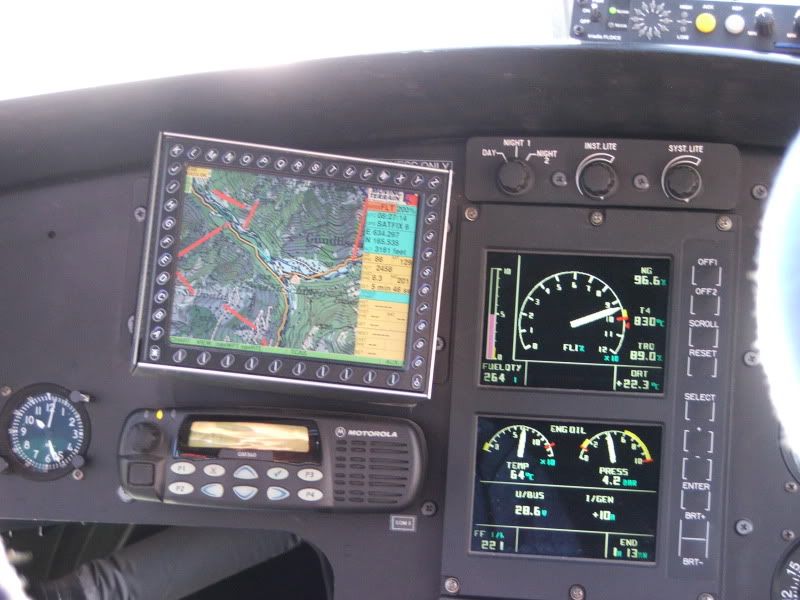 Wengen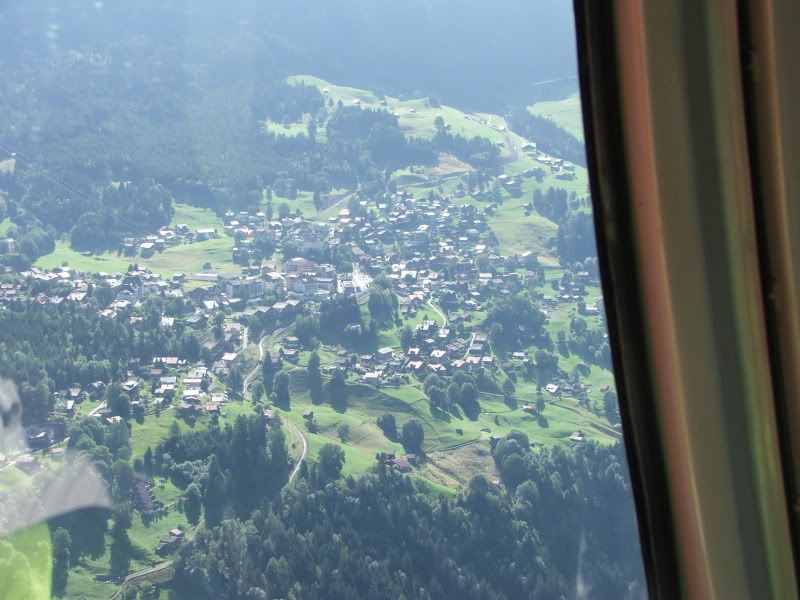 Getting close to the snowy peaks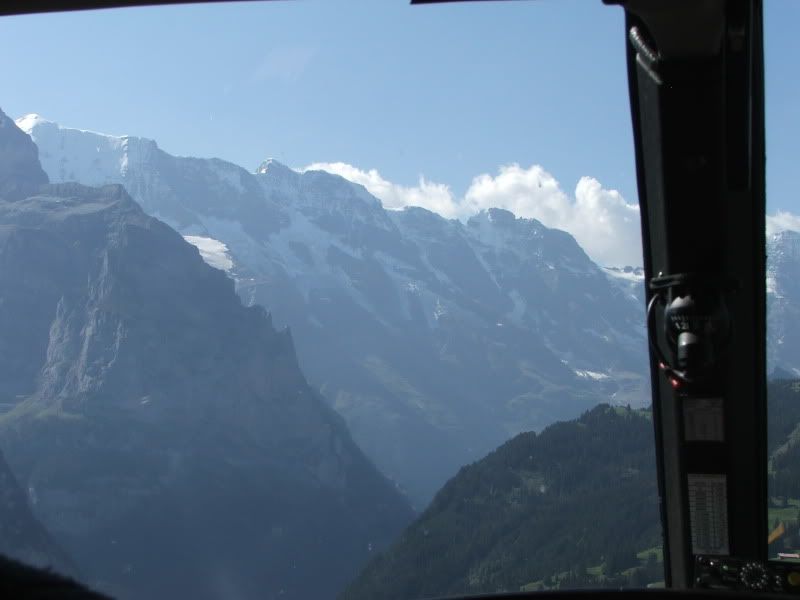 Top station of the Lauterbrunnen-Grütschalp cable car. From here you take a train to the village of Mürren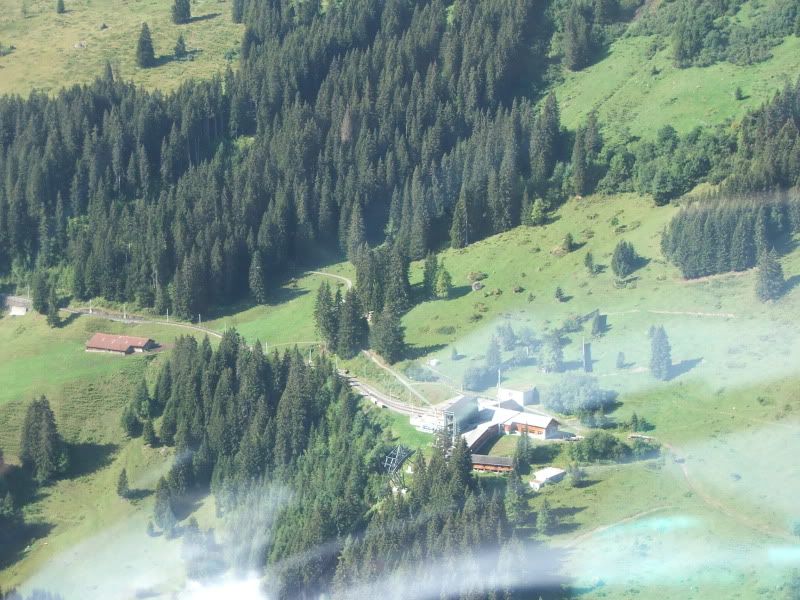 Eiger & Mönch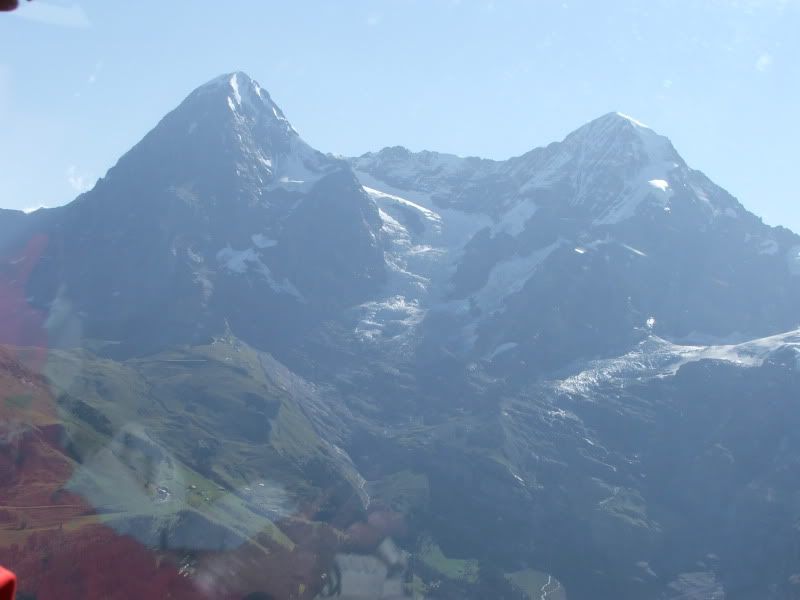 Cable car stations of Birg & Schilthorn, the latter was used for filming of 007 ''On Her Majesty's Secret Service''
.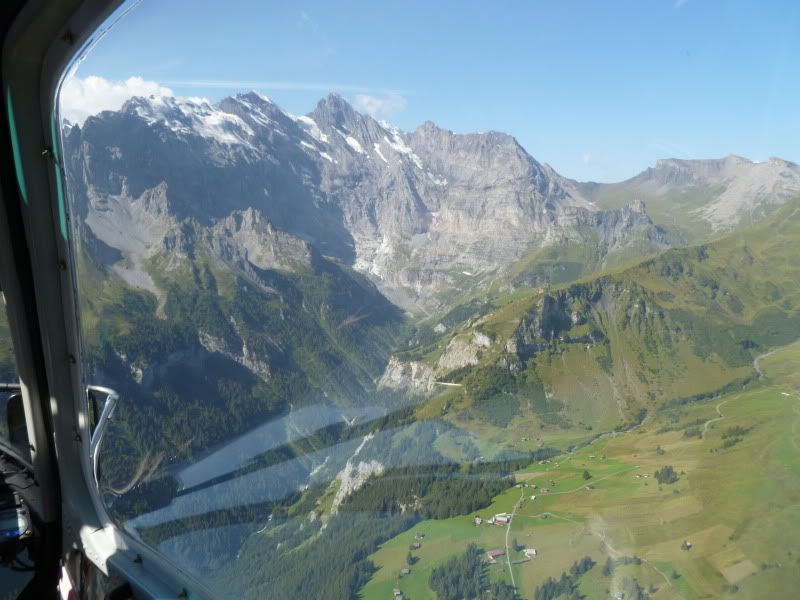 The rock faces of the Gspaltenhörner
Suddenly we reached the Tschingelfirn glacier and a real arctic looking landscape opened up before our eyes. This is how I imagine Greenland to be.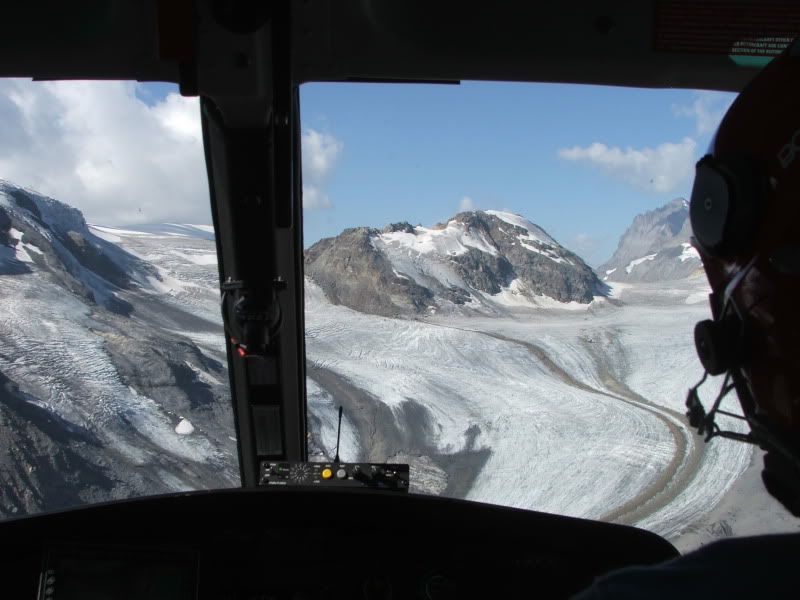 .
.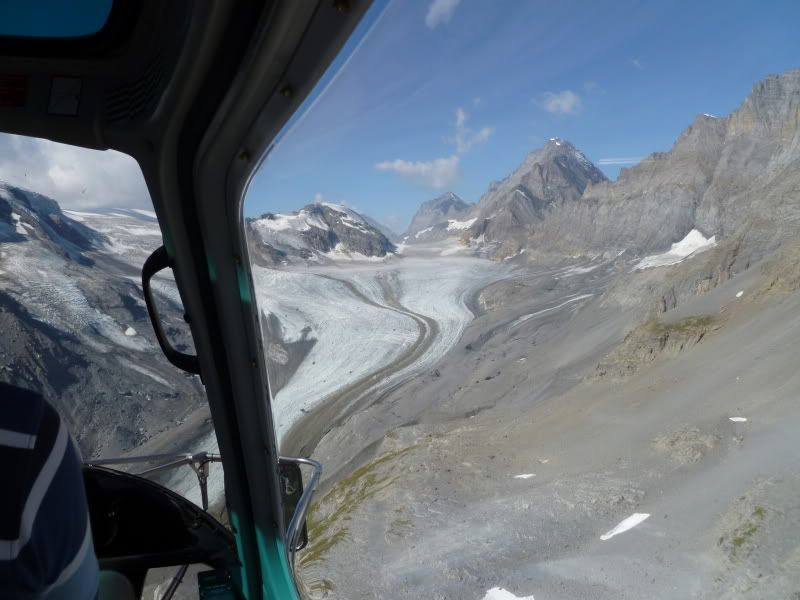 .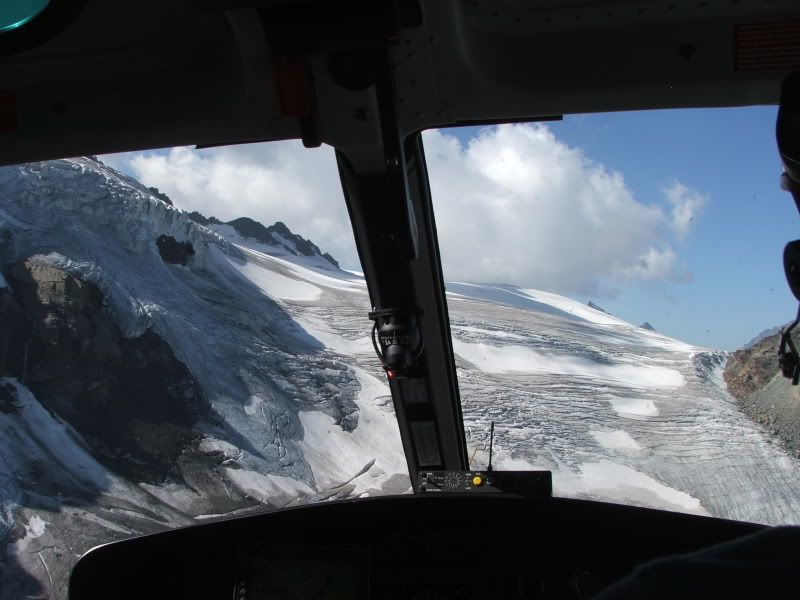 .
Mr Simon announced the hut was now in sight and we both had tears in our eyes at the breathtaking sight. We flew in a steep circle so as to land on the glacier, just a short walk from the Mutthorn hut. We had to disembark pretty quickly, as the heli had to fly straight back to Gsteigwiler to collect the next group of people (a party of 15 were also doing the excursion, meaning 4 runs for the heli) .
First glimspe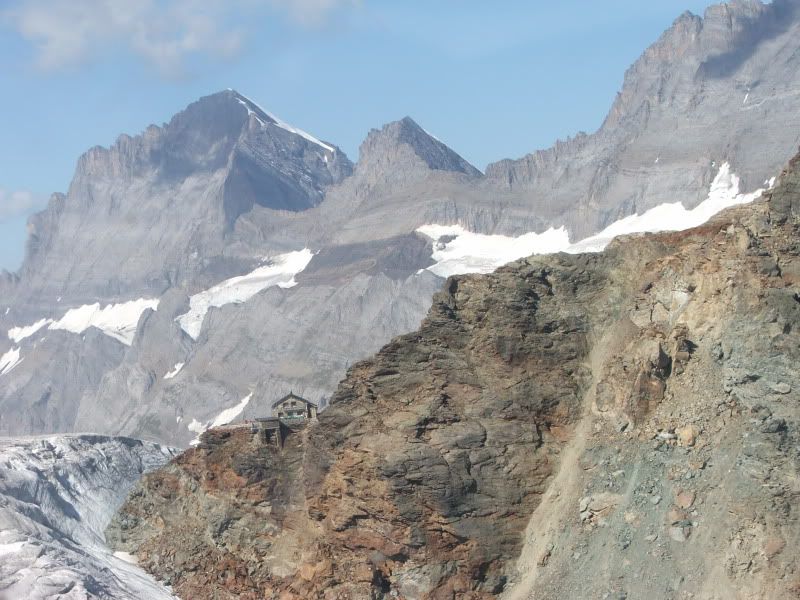 .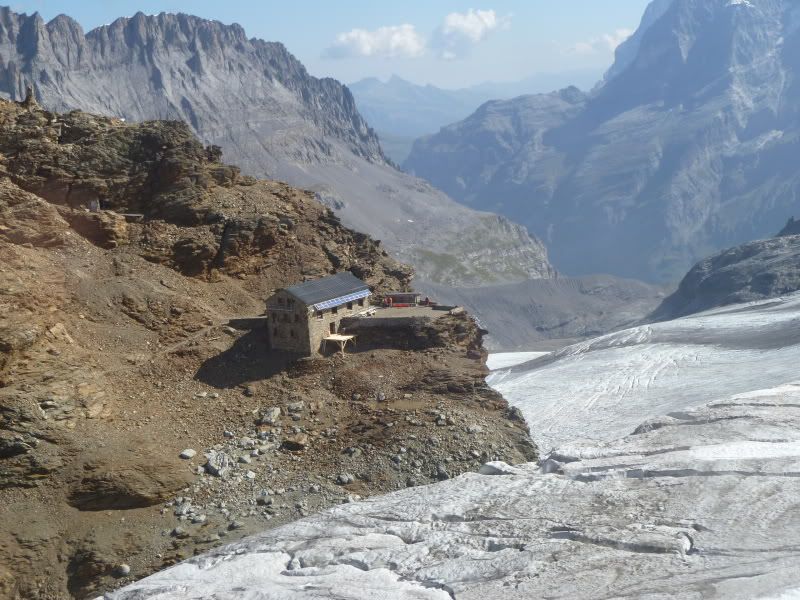 Glacier getting closer!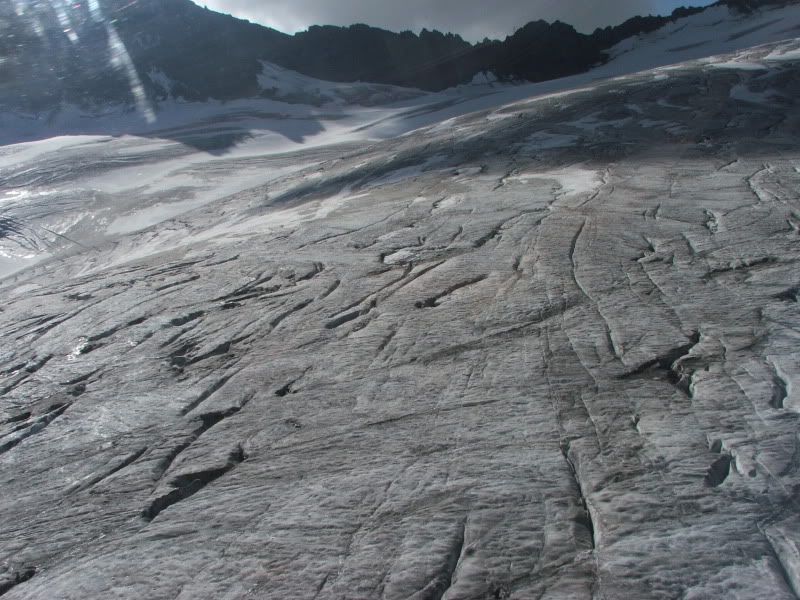 Landing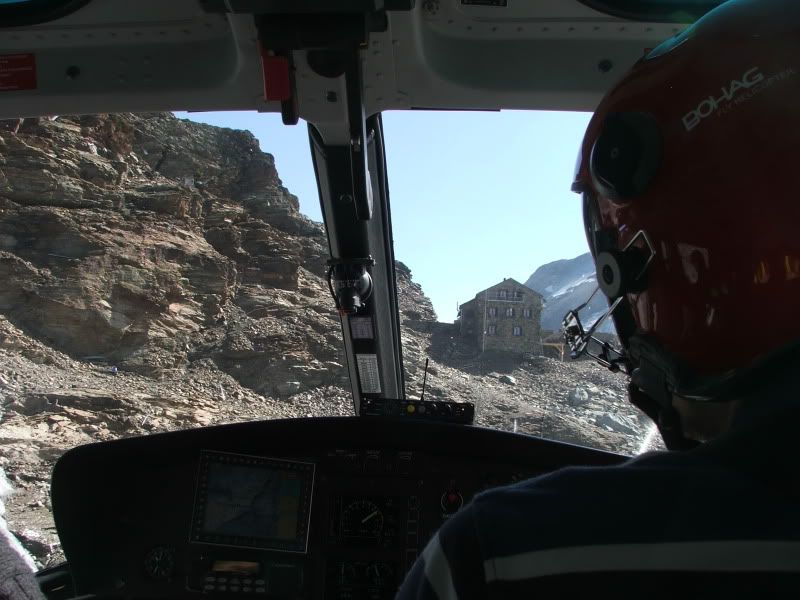 Bye bye!
There was a short walk along the glacier (well marked with poles & rope), then a little climb up the moraine with fixed ropes in place.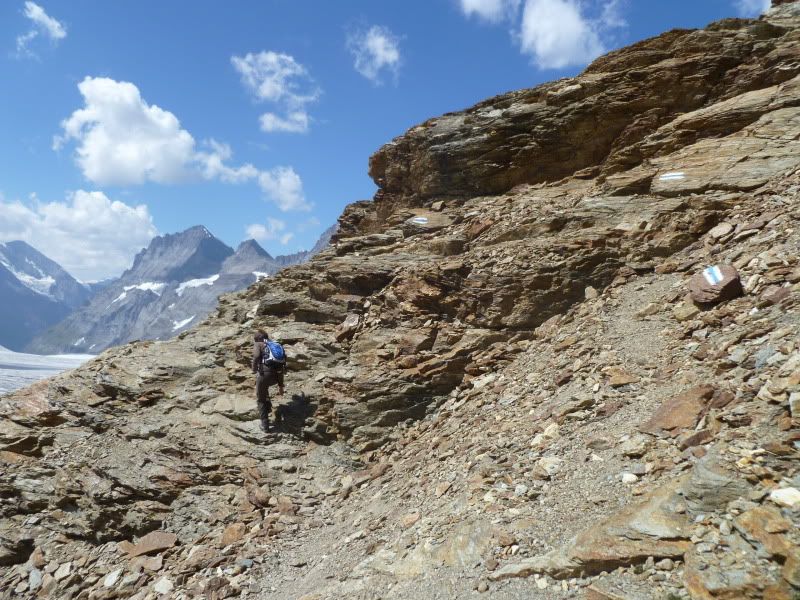 The path (of sorts)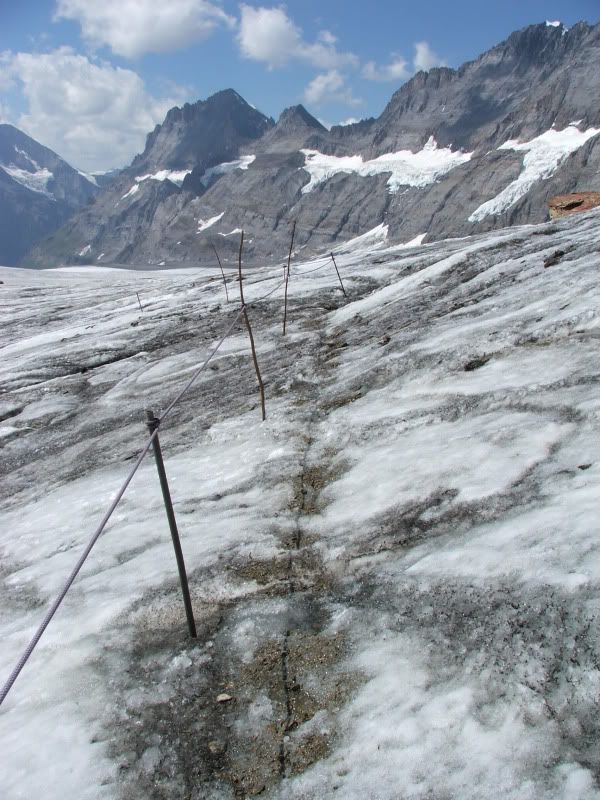 .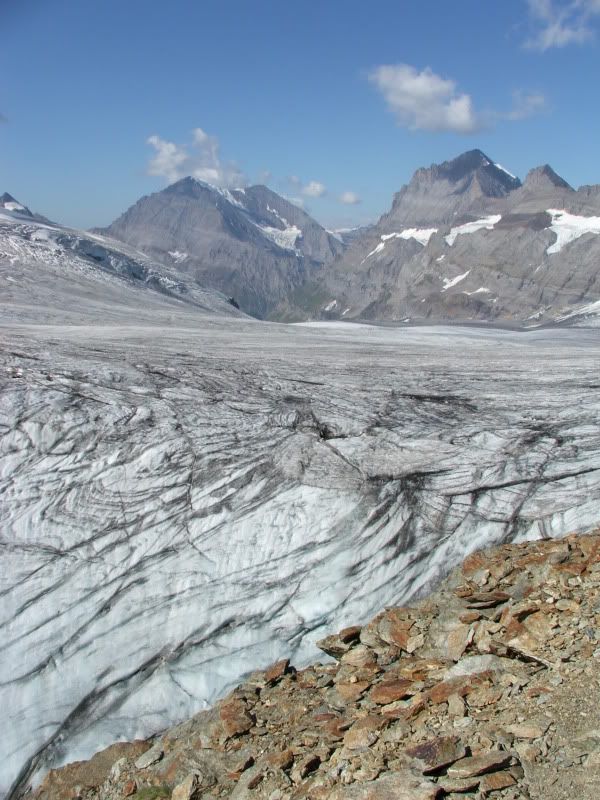 En Detail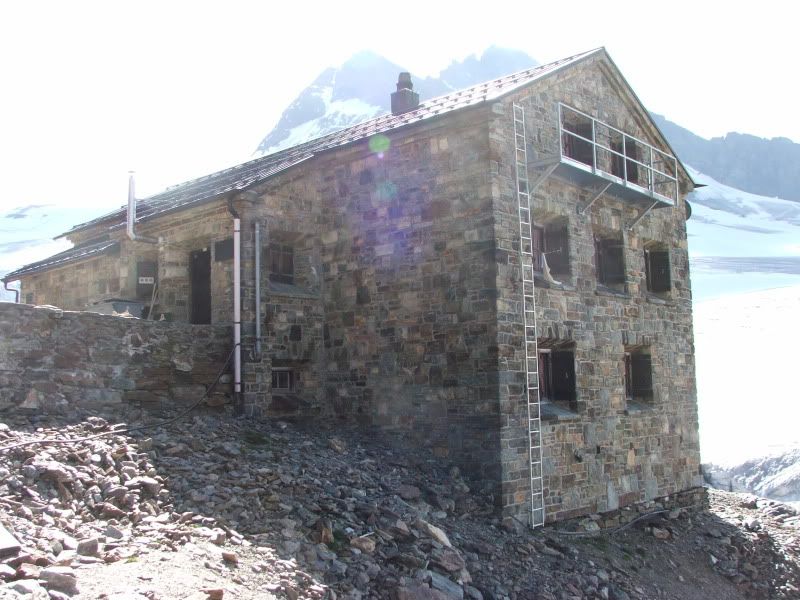 .
.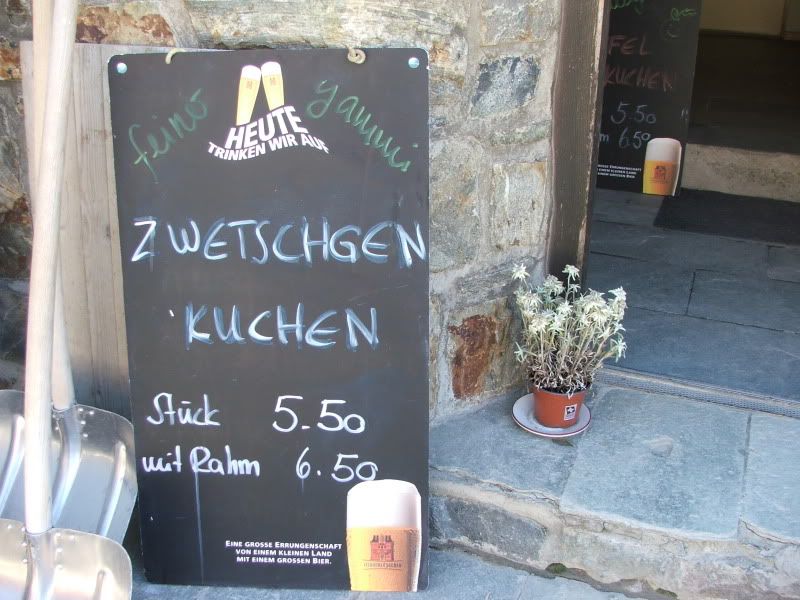 Showing the altitude
Views:
.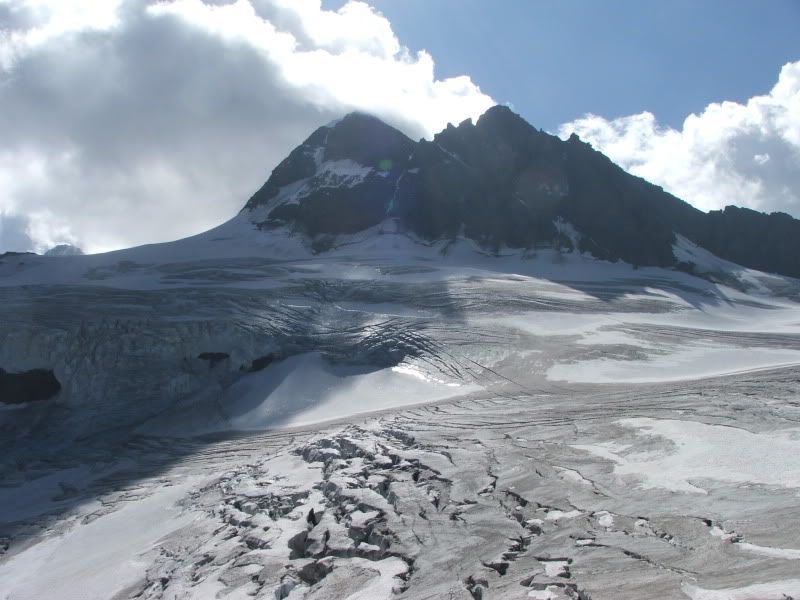 .
.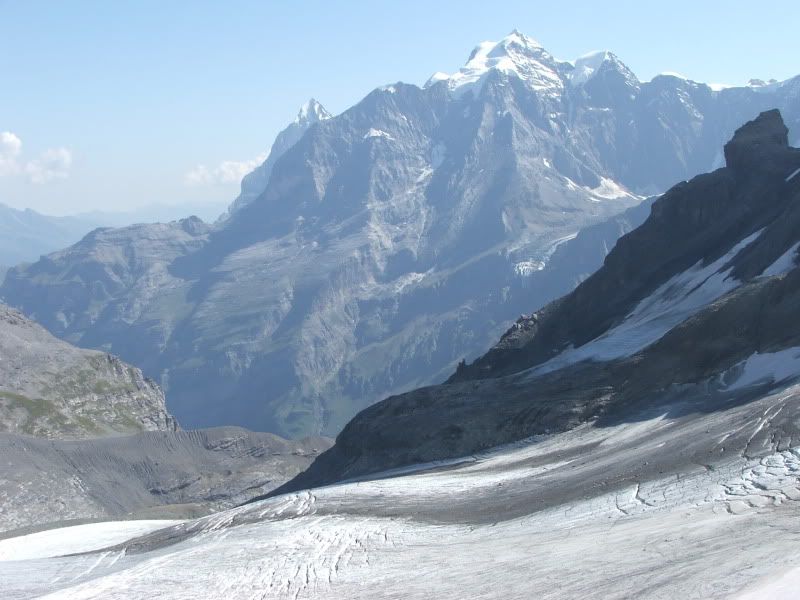 We watched an Air Glaciers heli land on the terrace, this was a transport flight. They brought supplies and took the rubbish away.
Bohag just leaving in the background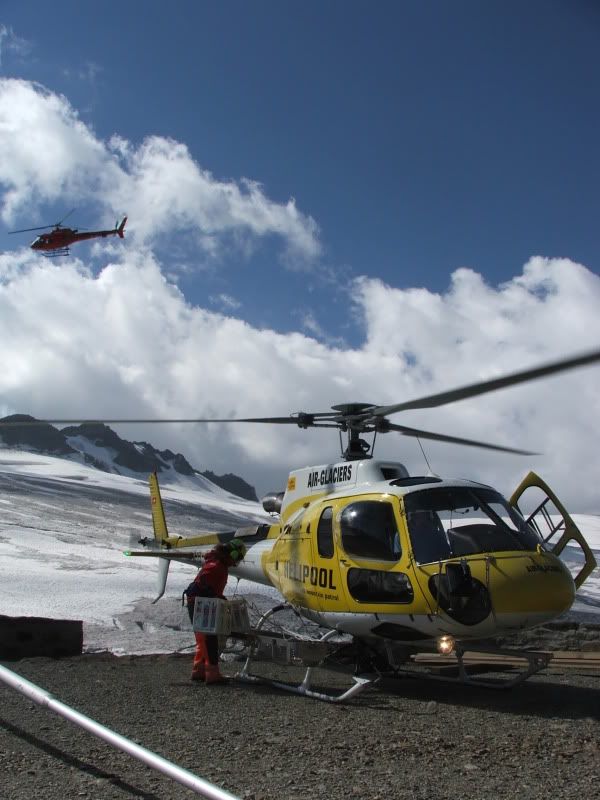 Delivery of bottled water…..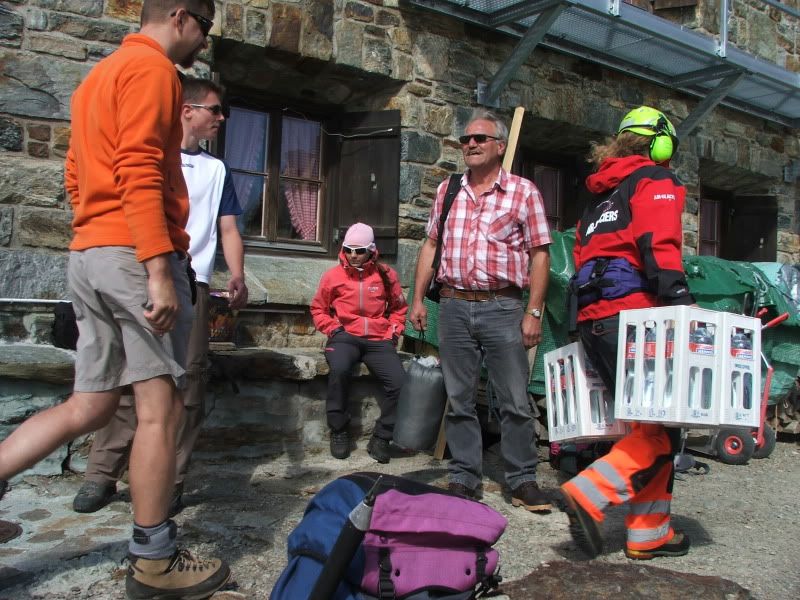 …and securing the rubbish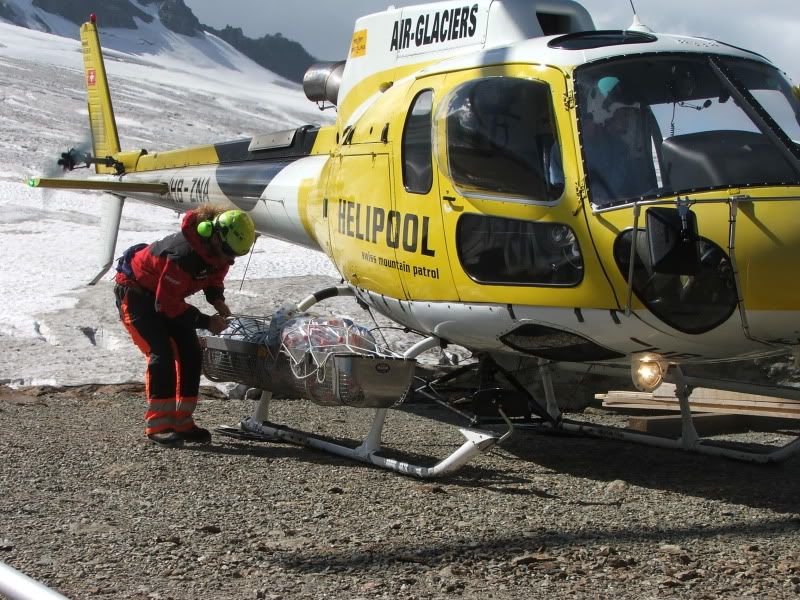 Tschüss!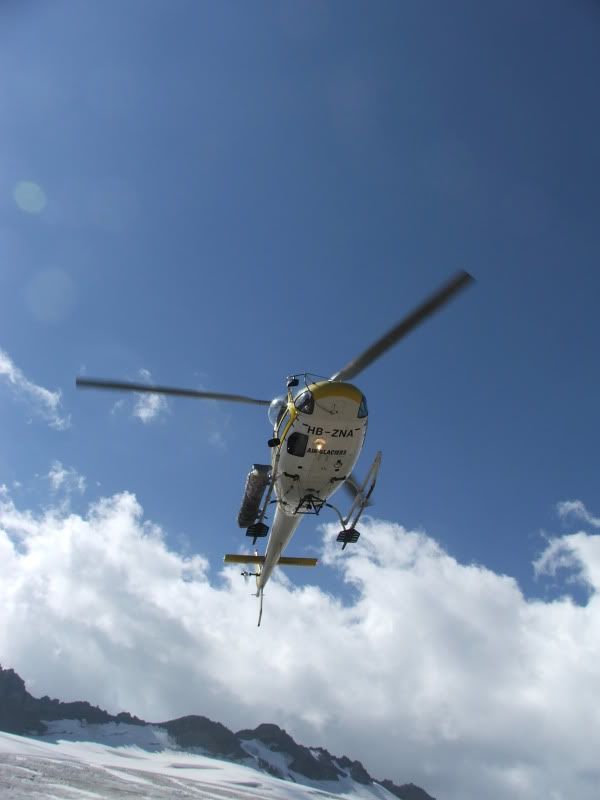 .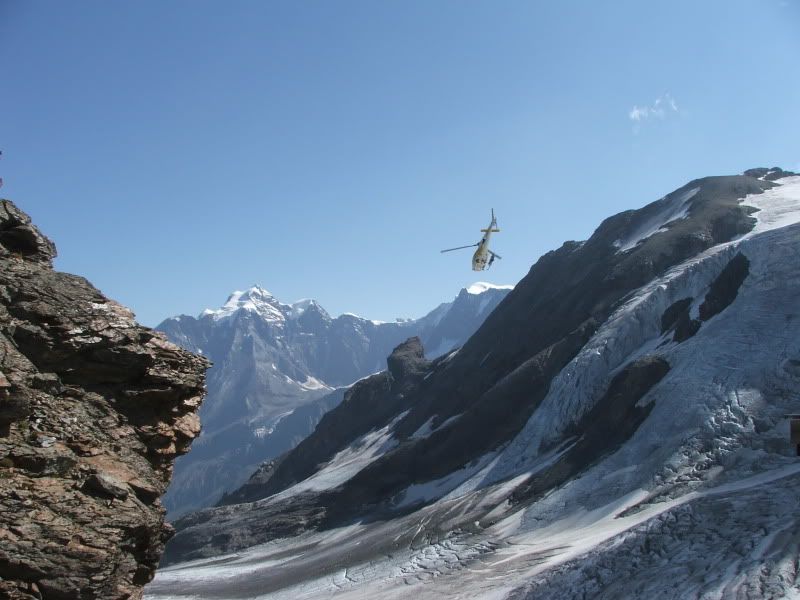 Someone else arriving
Path from the glacier
Although it was still quite early, we were to have lunch in the hut. I had ordered a vegetarian option and the delicious smell of rösti was wafting through the dining area.
Our table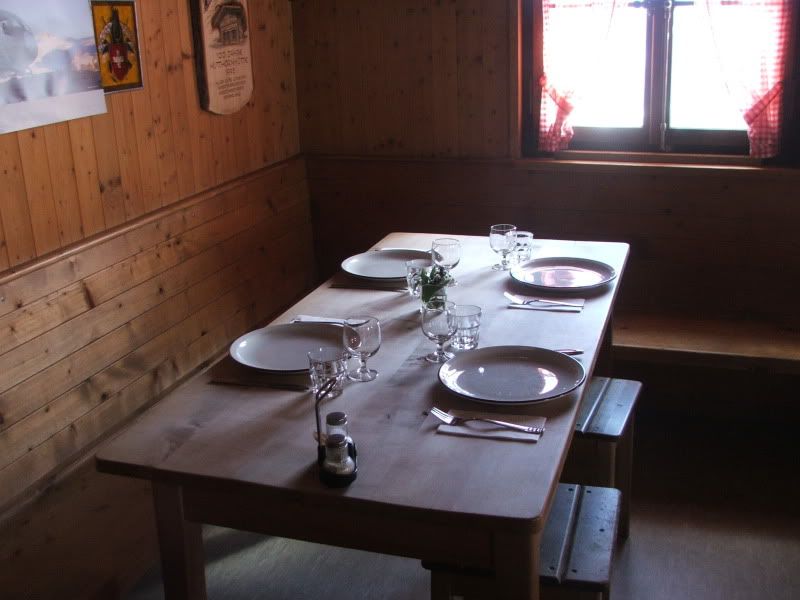 Busy in the kitchen!
We took our seats and soon enough were served a fresh salad, rösti with onions & cheese for me, with bacon for the others. In true trip report style, a photo of the food: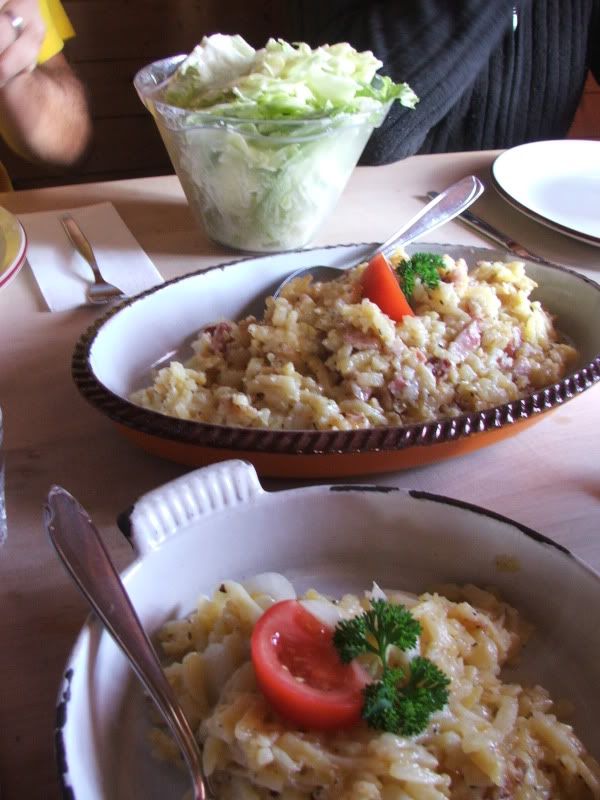 The warden serving us asked the other couple what they wanted to drink and should she put it on the tab or did they want to pay immediately. A rather heated discussion ensued, as the man was firmly of the belief he shouldn't have to pay anything. He said the deal included lunch, so he wasn't paying for drinks. I found it quite embarrassing, let's face it, we're in the middle of the mountains, everything is flown in by helicopter, so you really shouldn't object to paying 5chf for a drink. The girl handled the situation very well, she stayed calm and said that if you book a 5 course dinner in a restaurant, the drinks are not usually included, which seemed to keep him quiet. I suppose with so many day guests being flown in, a lot of them aren't used to how things work up at this altitude.
The group of 15 were also celebrating something special, one of their guests was an elderly man who played some music for us, what a perfect atmosphere!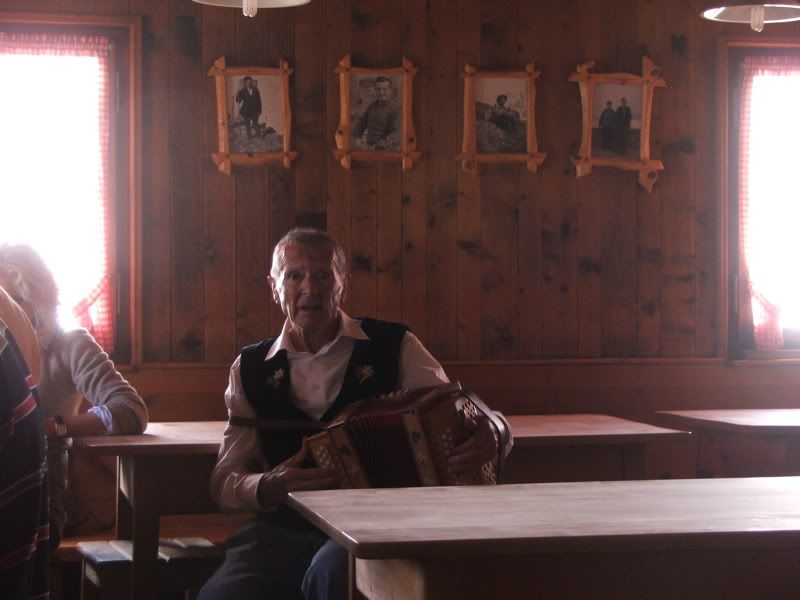 After the rösti, I found room for some fresh apple tart & cream: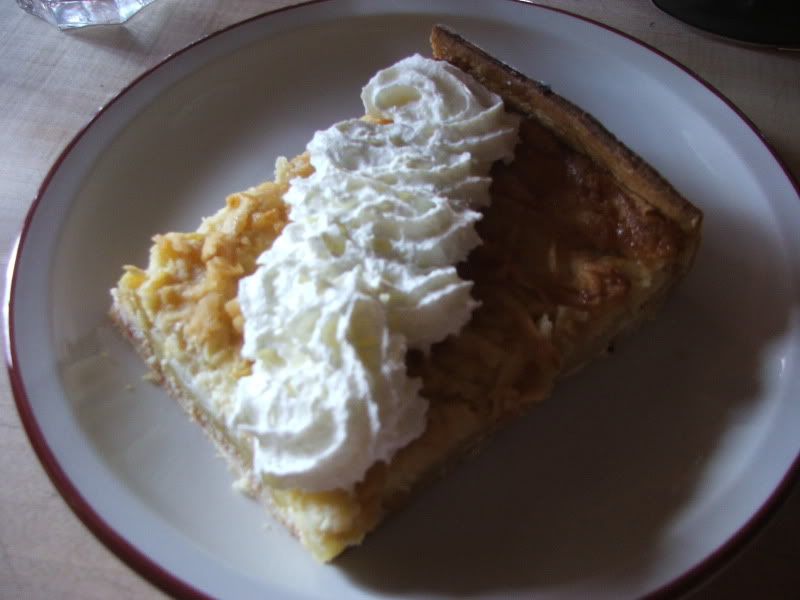 We were informed that because of the busy day Bohag were having, we wouldn't be flying out until 1.30 at the earliest. This was great for us, as I'd imagined it would all be very rushed. As it happened, we had nearly 4 hours up there, so plenty of time to explore & admire the views.
More activity on the glacier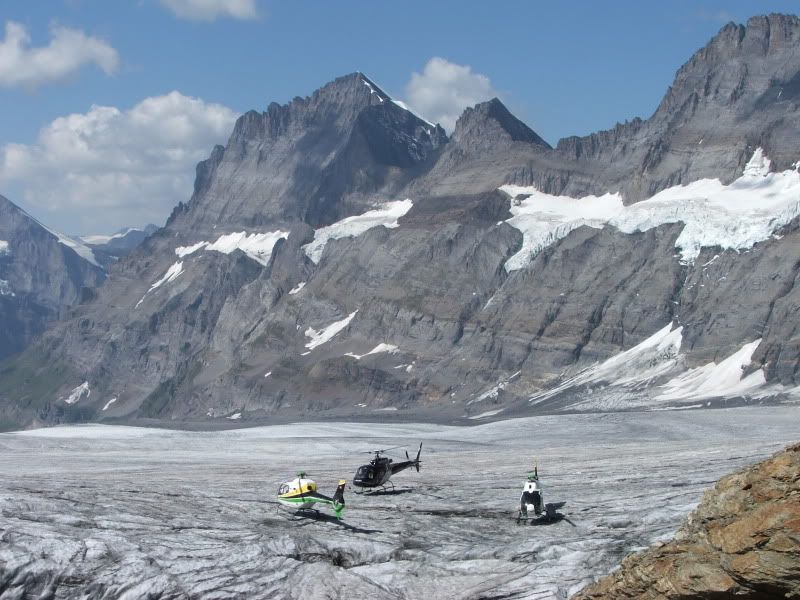 .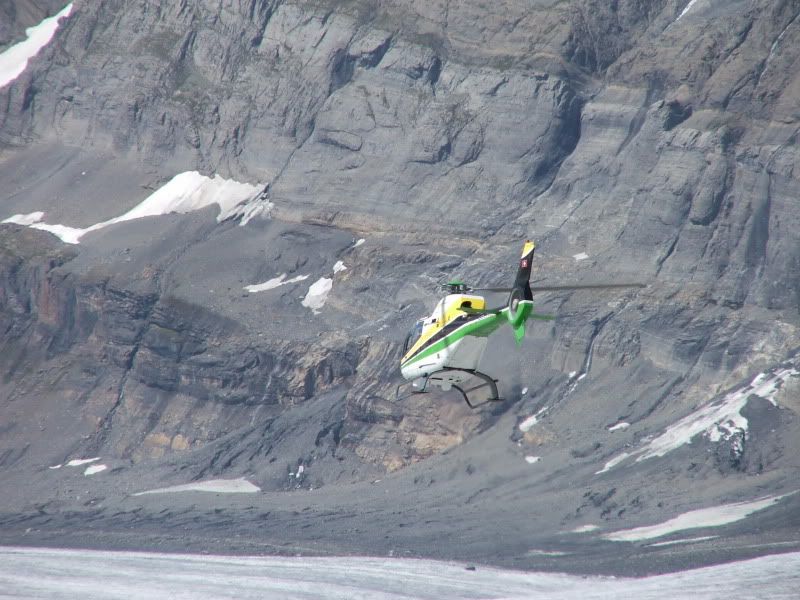 The first hikers arrived over the glacier. It was now clear why this route is only suitable for the experienced, the glacier was full of crevasses and the leader had a job finding the best route. See for yourself: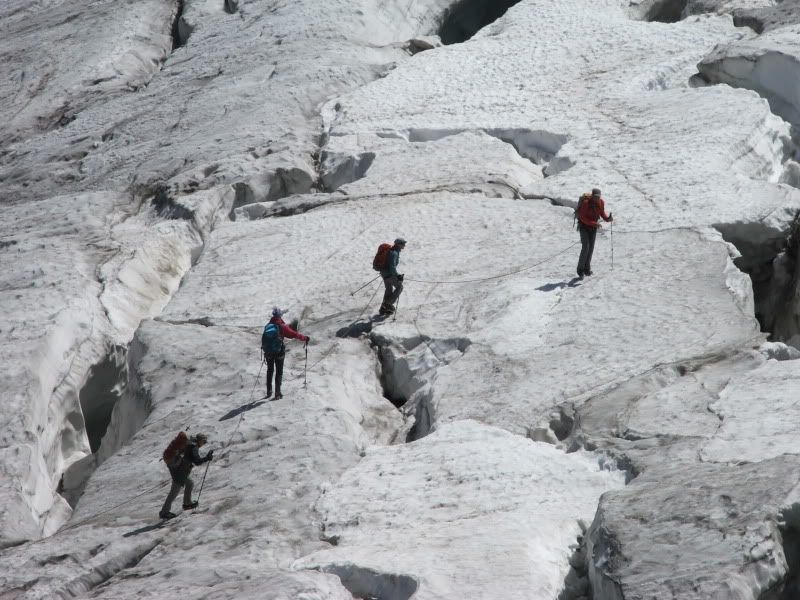 .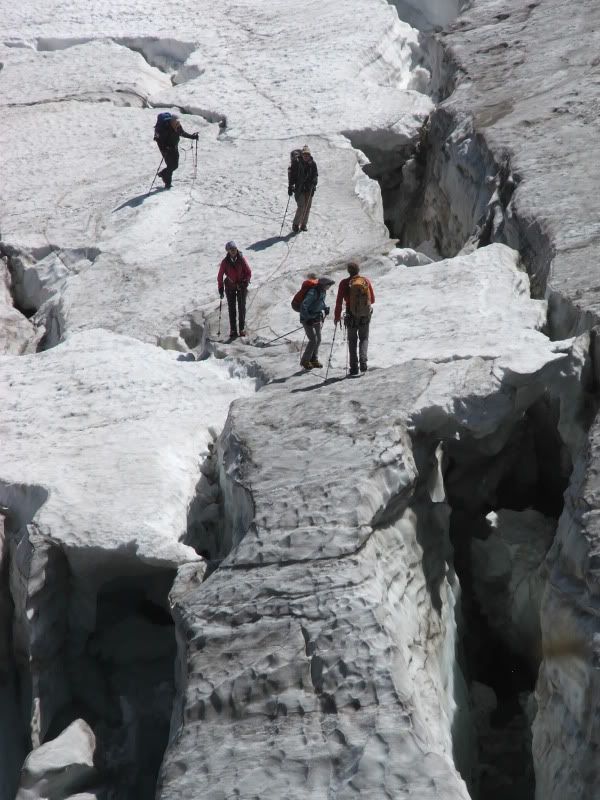 .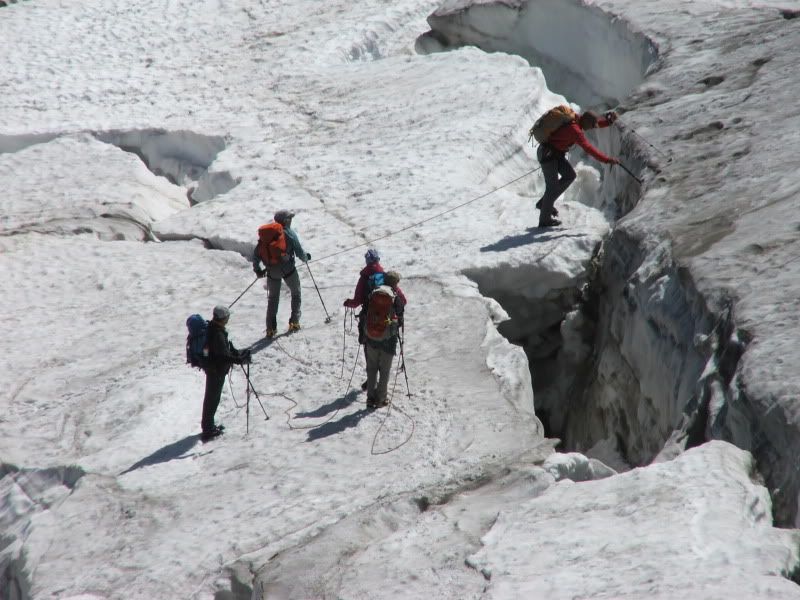 Some company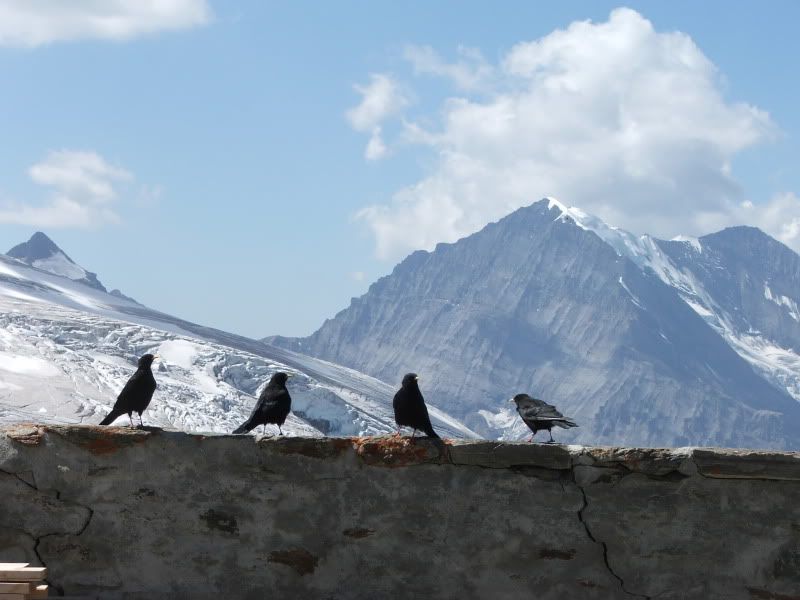 Lonely crampons….
….and boots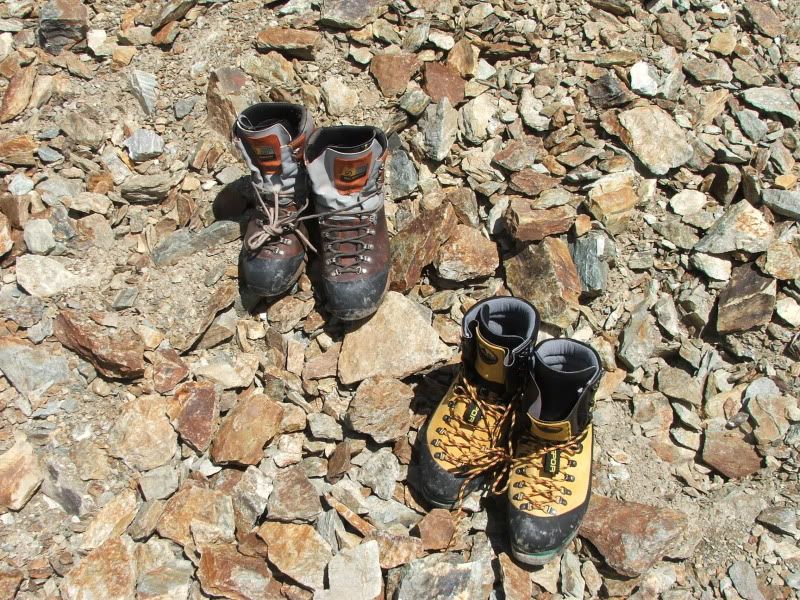 It is common practice to greet fellow hikers with 'Grüezi' here, which we did. But we noticed that a lot of them didn't respond, probably thinking 'bloody tourists being flown in and ruining our peace & quiet '. Let's face it, I can't blame them. I'd be pretty miffed if I'd just done a 6 hour hike only to find people getting in and out of helis !
All day there were helis coming and going, including a few from a rival firm called Heli Gotthard. A private German registered heli landed on the glacier where two passengers alighted, only for to fly up to the hut and land on a precipice, where an elderly man with a stick emerged. Not the best place to take someone who has walking difficulties.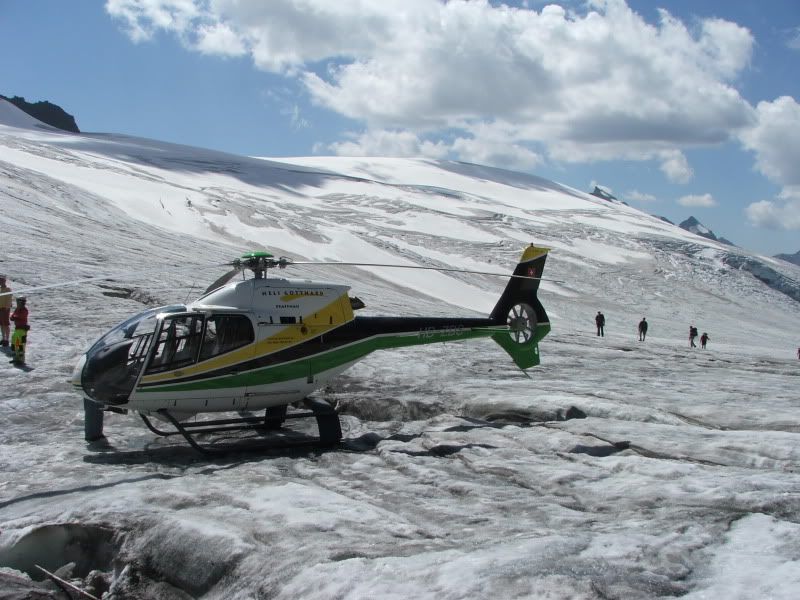 .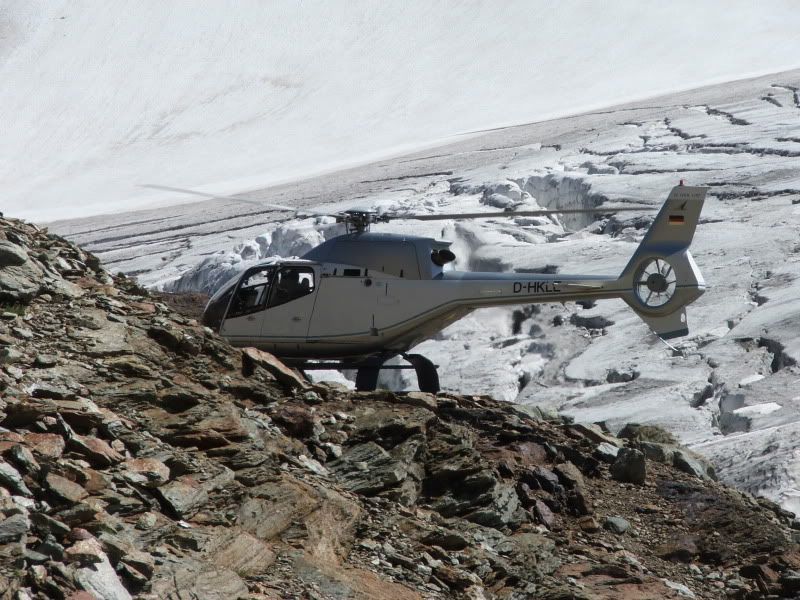 At one point we heard a loud rumble. It could only mean an avalanche. By the time I got the camera out, most of the action had passed, but I managed to get this shot. Thankfully, it was much further down the glacier & not at a point where climbers were likely to be.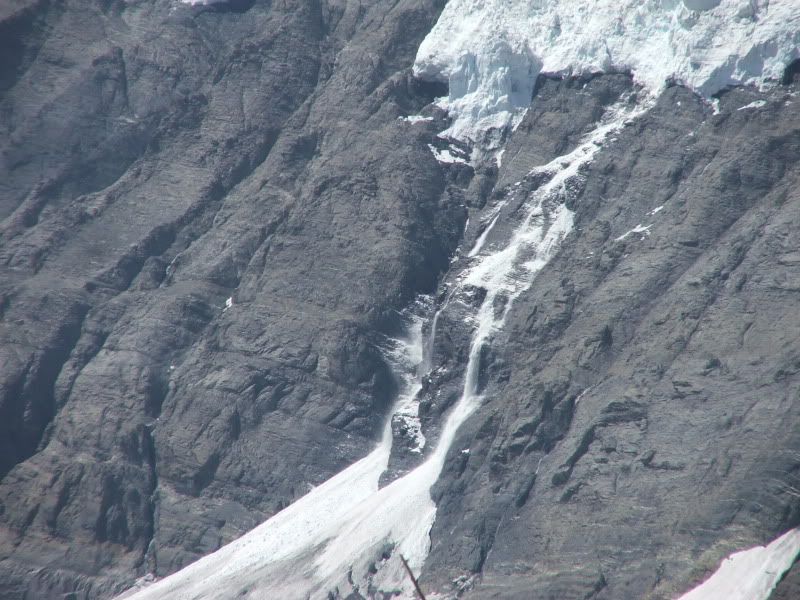 More guests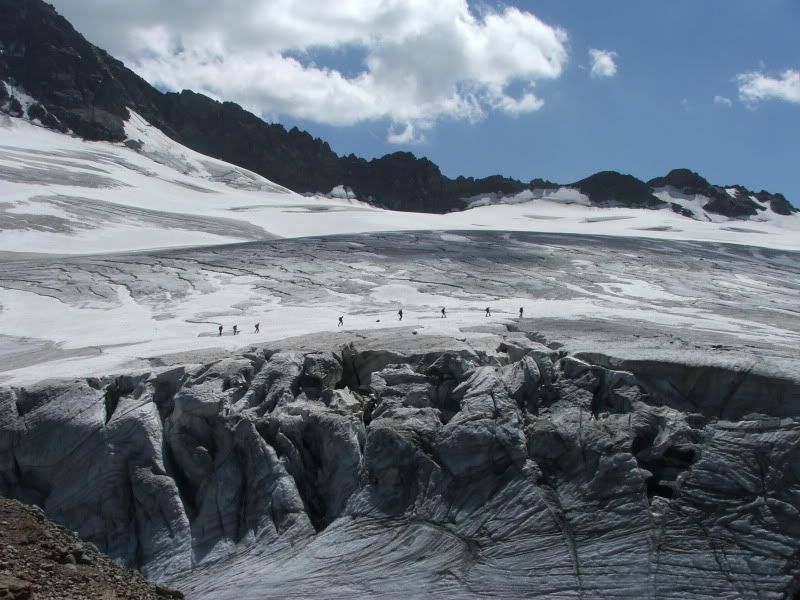 .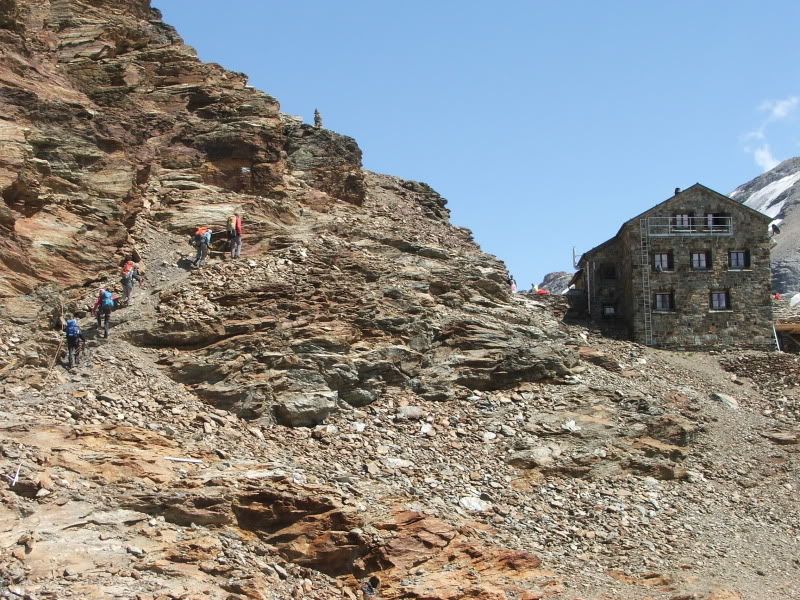 Reflections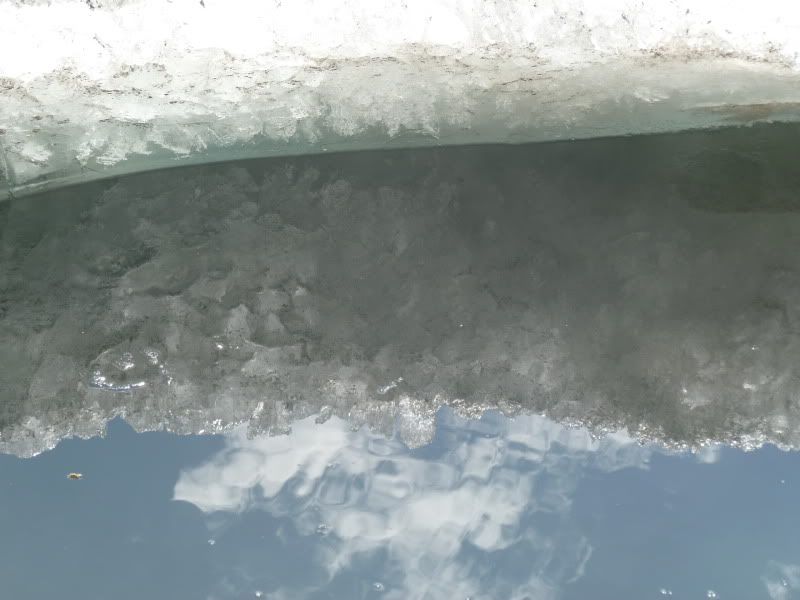 Crevasses
Our heli arriving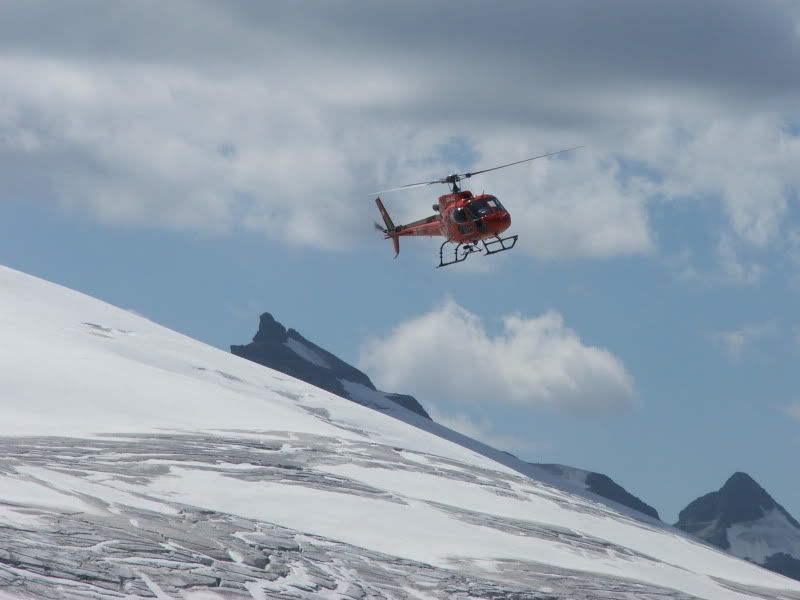 .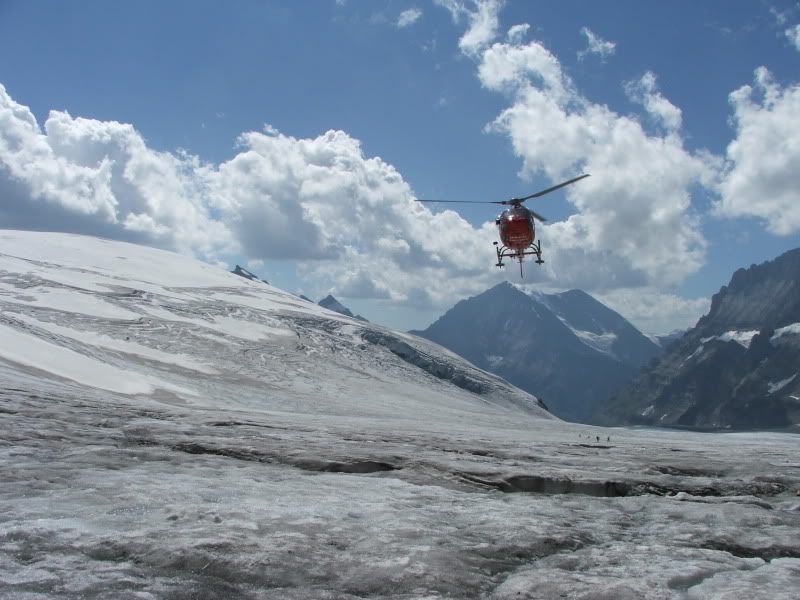 .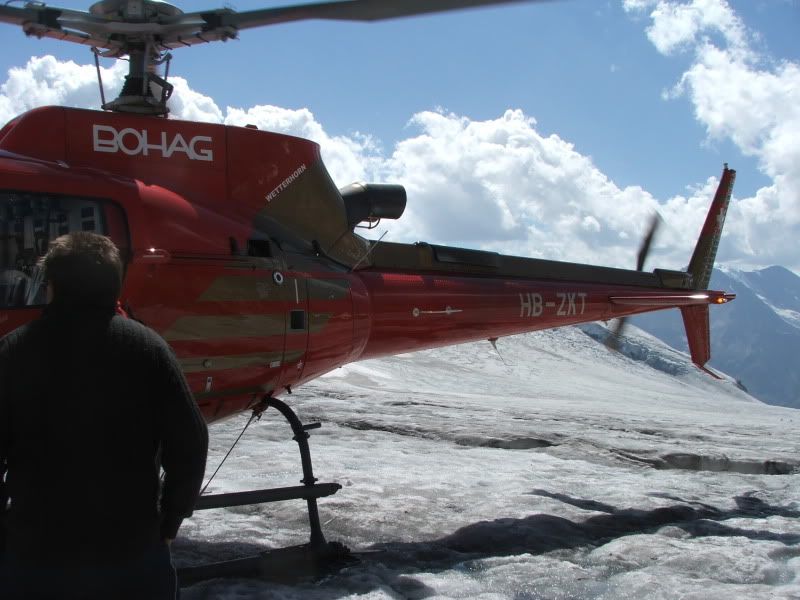 We were the last group to be flown out and passed the time sitting in the sun in a T-shirt, all at nearly 3000m. Finally our time came to leave this stunning landscape.
HB-ZKT
ATD 1450 / ATA 1505
As it was my husband's present, I very nobely let him sit in the front on the return flight. I would have loved to have taken the front seat myself, but it was only fair
Leaving the glacier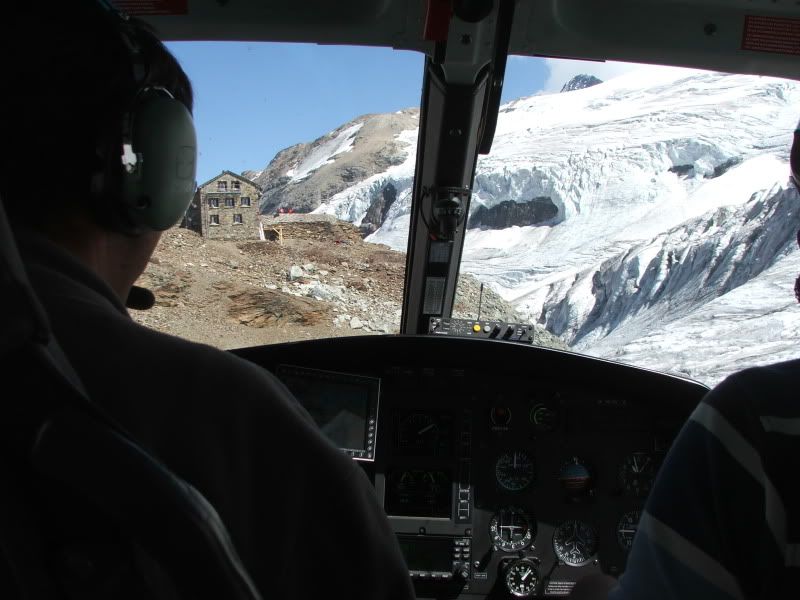 Bye!
Arctic landscape again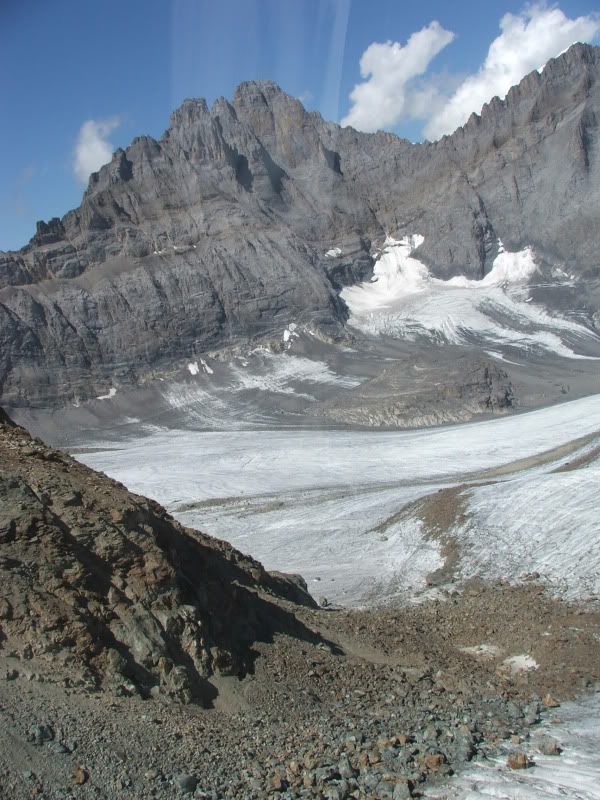 .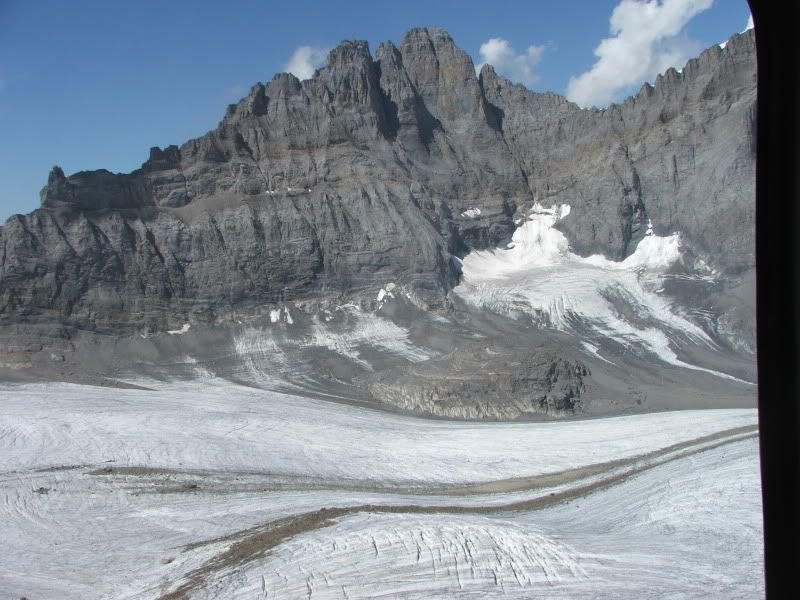 .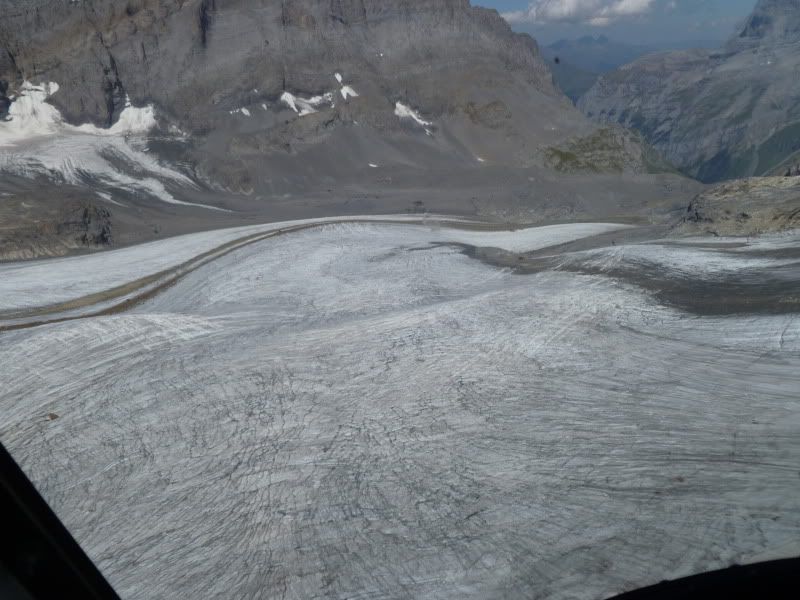 As on the first flight, the pilot was keen to point out as many points of interest as possible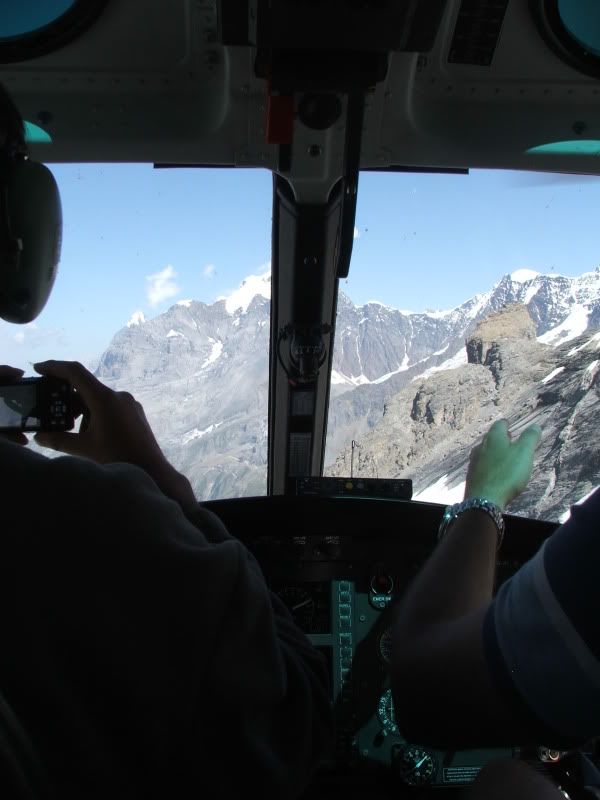 More snow & glaciers
.
Mürren, with Wengen in the background. Look how the villages cling to the edge
Lauterbrunnen valley
The formidable North face of the Eiger approaching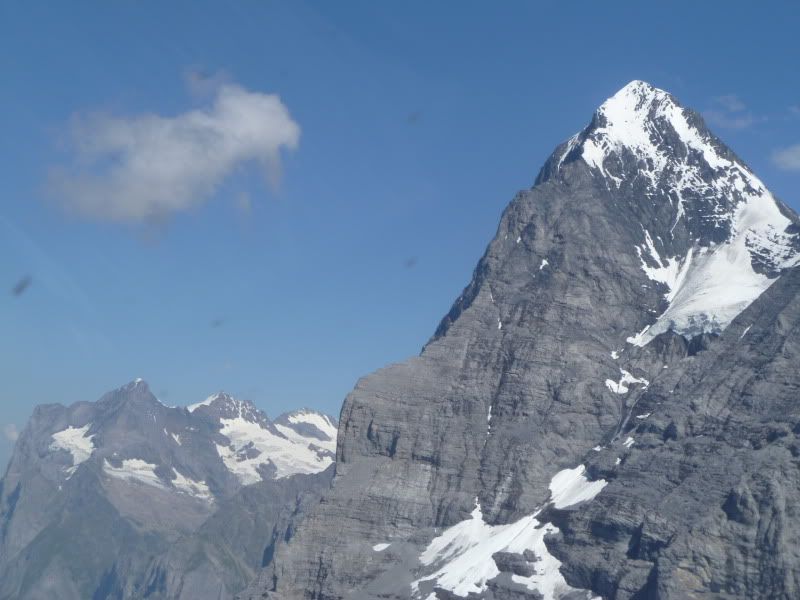 The Silberhorn hut, another difficult 6hr hike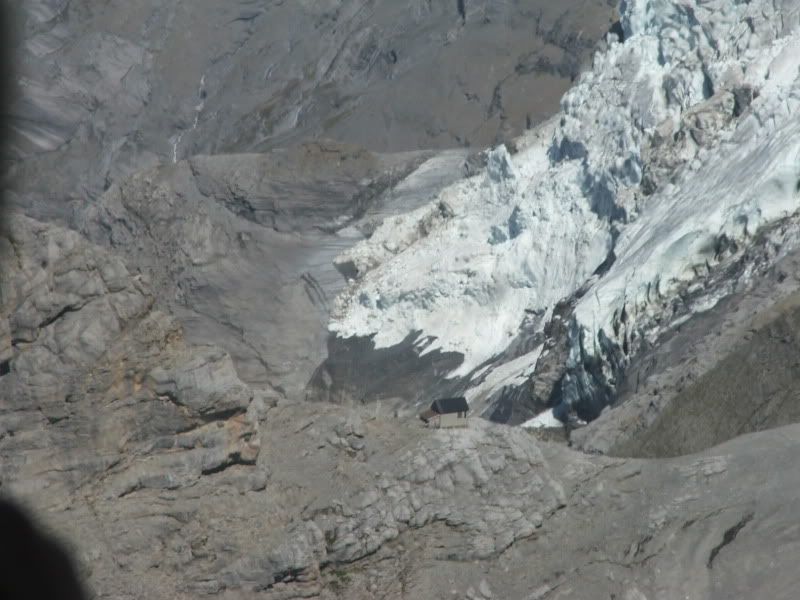 Wengen, Lauterbrunnen in the valley & Interlaken in the distance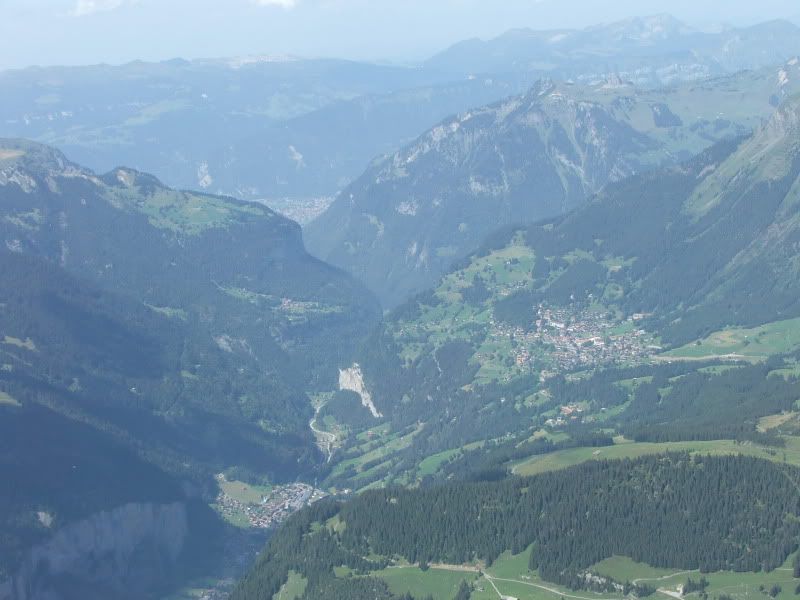 Station of Kleine Scheidegg. This is where you change onto the train to take you up to Jungfraujoch at over 3500m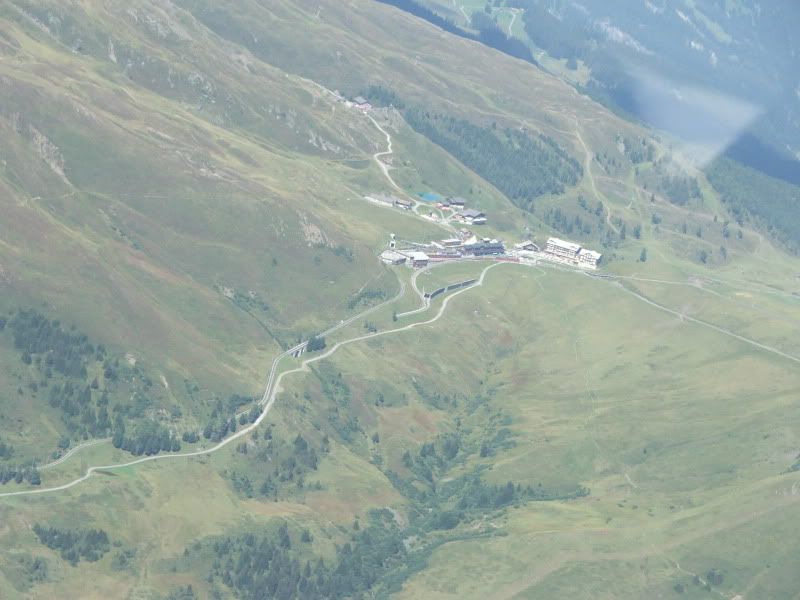 Mönch. The three most famous mountains of this region are the Eiger, Mönch & Jungfrau. According to a mythical tale the monk (Mönch) protects the virgin (Jungfrau) from the ogre (Eiger).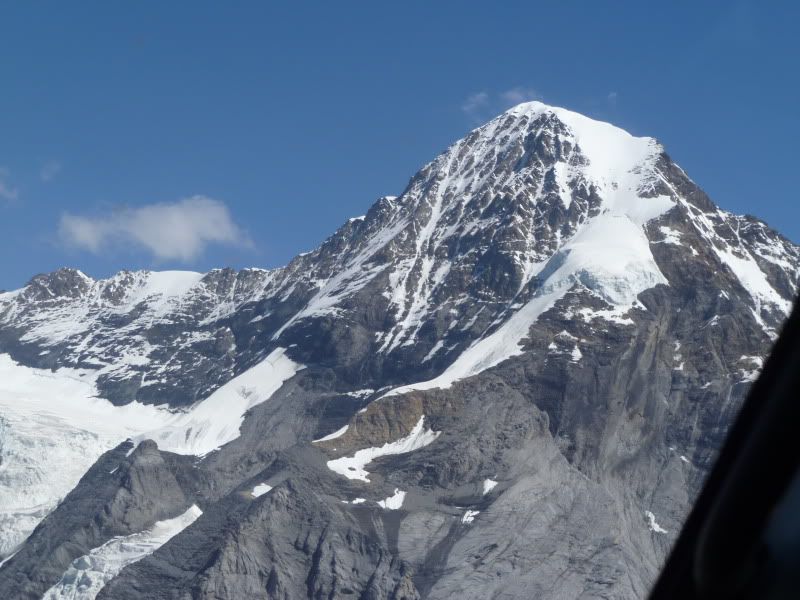 This time with the sphinx on the right, you reach it with the lift from the station at Jungfraujoch
Station of Eigergletscher – at this point the train to the Jungfraujoch enters the tunnel into the mountain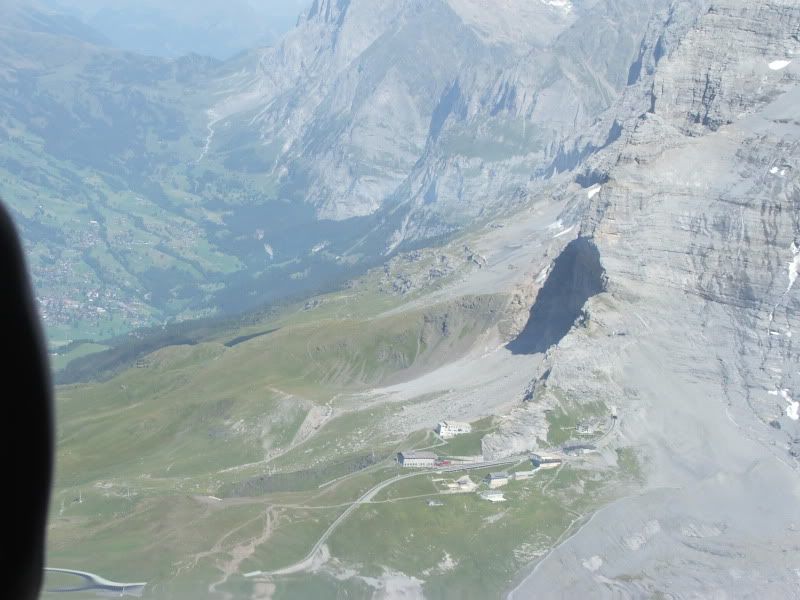 And again, this time with Grindelwald & the Wetterhorn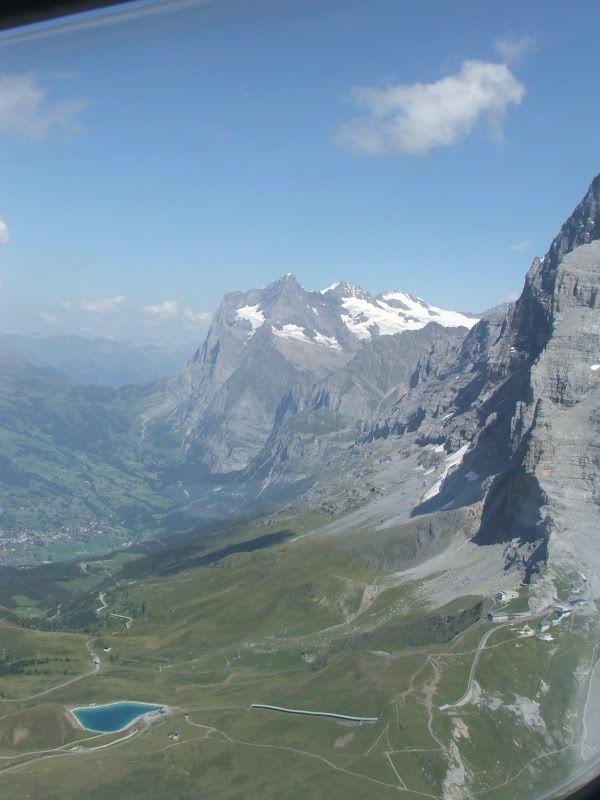 Wengen up close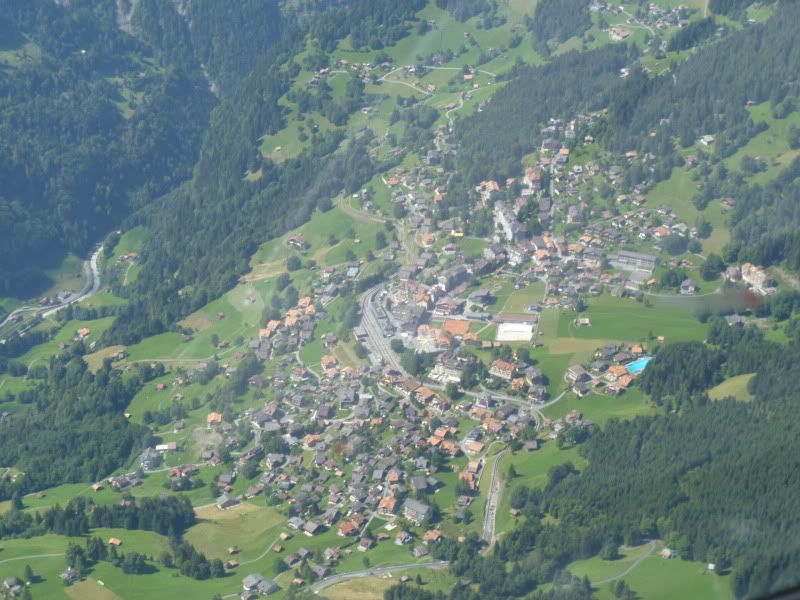 .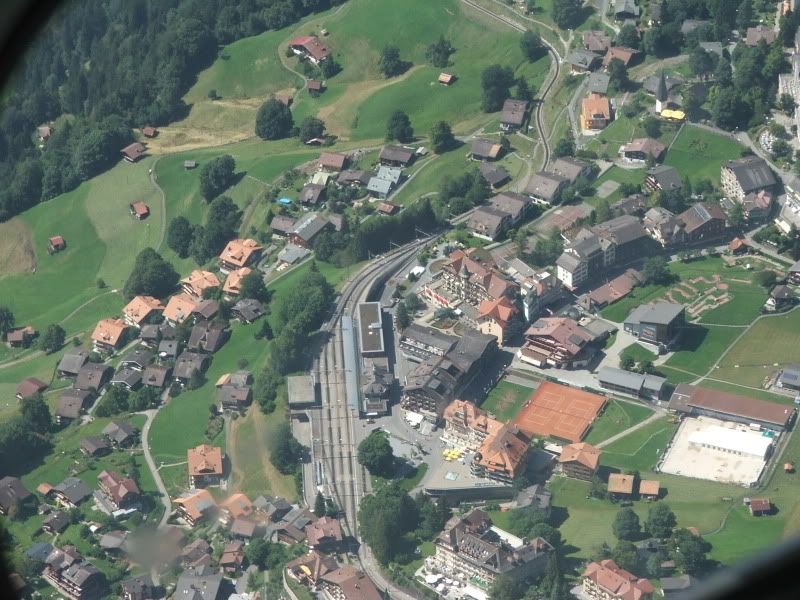 Restaurants at the Männlichen cable car station
Schynige Platte station, a cogwheel trains brings you up here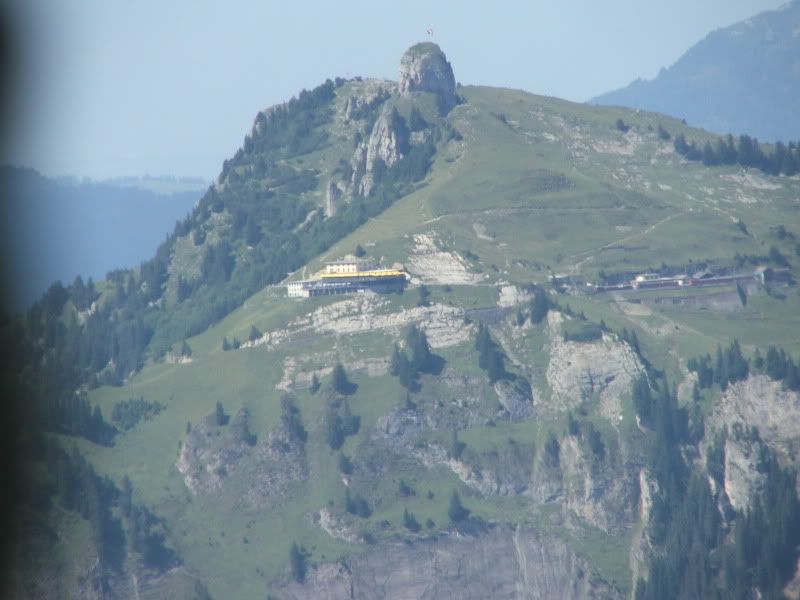 Traffic in front
"Do nothing in haste, look well to each step and from the beginning think what may be the end" - Edward Whymper