TRIP REPORT

The rarest Embraer RJ, twice in a row? Not quite!
03Aug11

Introduction
A subtype still missing from my log which is impossible to catch here in Europe is the Embraer RJ140, a version in between the shorter Embraer RJ135 and the longer Embraer RJ145. With a capacity of 44 seats, the size of the Embraer RJ140 is close to the RJ145. In fact, it's only 1.42 m shorter than the RJ145, but 2.12 m longer than the RJ135.
The only operators are located in the USA and are American Eagle (MQ/EGF) and Chautauqua Airlines (RP/CHQ), with the latter's aircraft operated under the American Connection banner.
When planning a family vacation in the USA for July/August 2011, I realized that there may be a chance to include half a day of flying fun just to catch this rare subtype. Our plans for this holiday were to go to New York for a couple of days and then fly out West to Las Vegas, from where we rented a car to drive to Grand Canyon, Death Valley, the L.A. area and the up North to San Francisco. At first I was planning to fly a rotation from San Jose (SJO/KSJO) to Los Angeles (LAX/KLAX) and back with an American Eagle RJ140 during our stay in the SFO area. However, later I found a better opportunity when we were staying at friends in the L.A. area. So I was now planning to fly LAX-SJO-LAX. A concern was the risk of an aircraft change to either an RJ135 or RJ145, as American Express operates those as well. However after researching all the AA flights from LAX, I found only schedules exclusively planned on the RJ140 (IATA code ERD) from and to LAX, indicating that no RJ135 or RJ140 normally circulate around LAX. Also, I chose the LAX-SJO route because traveling on stand-by tickets meant that if a flight was going to be full I would have plenty of other opportunities on this frequently served city pair, using Southwest Airlines (WN/SWA), Alaska Airlines (AS/ASA) operated by Horizon Air (QX/QXE) or United Air Lines (UA/UAL) operated by SkyWest (OO/SKW) as United Express. So finally, I decided to take the first flight in the morning out of LAX to SJC and then come back immediately on the same aircraft. Ideally, I would have liked to take an AS (operated by QX) Dash 8Q-400 flight back, just to get some variety, but I decided against it as it would have meant a longer wait for my wife back in L.A. to resume our holidays.
Flights

Date: 03Aug11
Route: Los Angeles (LAX/KLAX) - San Jose (SJC/KSJC)
Flight number: AA 3190
Schedule (local times): LAX 0715 - SJC 0825
Scheduled block time: 01:10
Airline/Operator: American Eagle (MQ/EGF) operated for American Airlines (AA/AAL)
Aircraft type: Embraer ERJ-140LR
Registration: N848AE
1st flight on subtype ERD, 37th flight on ERJ family, 1st flight on N848AE, 1279th flight overall
Wake-up call was quite early, around 04:00, at our friends house in the San Fernando Valley northwest of downtown L.A. I was on the road about 20 minutes later. Traffic was still light, but not as light as I would have preferred, and I had to concentrate well to keep the lane around many crazy drivers taking advantage of the uncongested freeways. So this precluded eating breakfast while driving. Finding the correct route to L.A.'s terminals was not so easy, but in the end I managed to arrive around 05:20 at the parking garage near terminal 4, from where AA operates. I then went to the terminal, where tried to locate the check-in area. AA has an area where you can check in using self service machines, but unfortunately due to my stand-by ticket I was not able to use them. A quite long queue had already formed at the non-self-service check-in counters, which were confusingly marked "ticketing". A friendly AA agent check-in the line confirmed that I was in the right queue. It moved painstakingly slow and many passengers were already getting nervous about their flights. I was glad that I had plenty of time! About 45 minutes later it was my turn to check-in and a very friendly agent was able to already assign a seat for me and even better than that - it was a window!
I then went upstairs to the security lines. Other than what you read and hear, the TSA agents were actually quite friendly and the security process itself was ok, apart from having to remove your shoes. Once through, I was looking for a place to have some breakfast and I found a Burger King. The whole gate area was already quite busy and I took a couple of pictures of the planes parked at the gates. About 40 minutes before departure, I followed the signs to my gate 44E.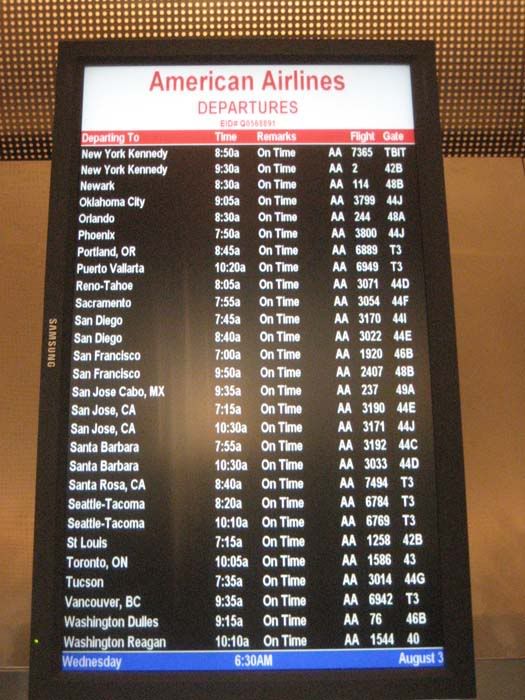 LAX AA departures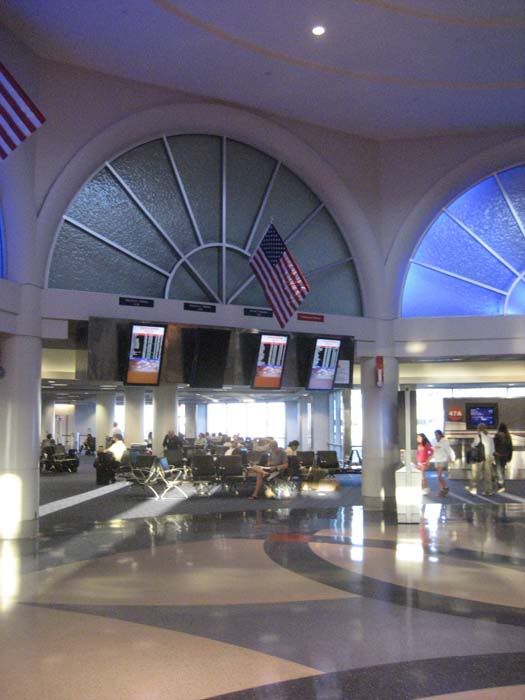 Terminal 4 airside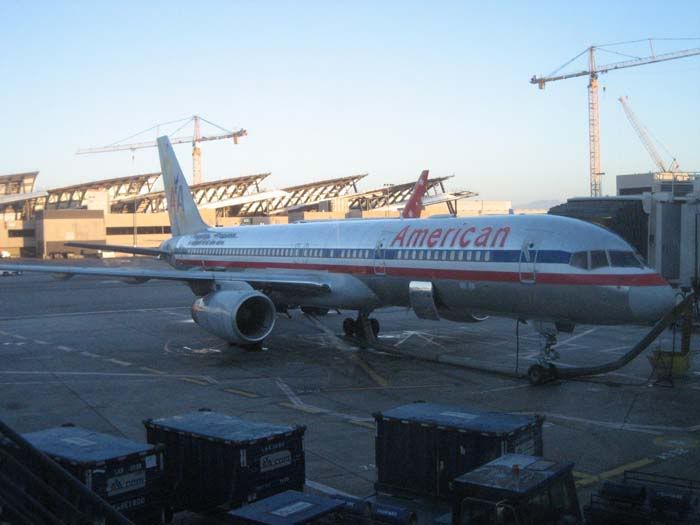 nice bird with special colors...
... and nice heavy metal on the ground and in the air
I went downstairs where a bus would transfer the passengers flying on regional aircraft to a separate terminal quite a distance from the main terminal. I just missed a bus and had to wait 5 more minutes until the next one arrived. It was an enjoyable bus ride across the tarmac, giving me the opportunity to snap some nice aircraft pictures.
nice RJ
during my bus ride to the American Eagle terminal
The regional (or American Eagle) terminal was small but suitable for the number of passengers. The aircraft for my flight to SJC was already parked in front of the terminal, but there was no way to get a view of the registration. Also, I was unable to look at the aircraft in order to be able to determine if this was indeed an ERJ-140. Well, I was set to go now regardless. Boarding started soon after my arrival at the terminal and even during boarding, I wasn't able to see the registration. In this terminal, the aircraft were connected with a sort of jetway, so that passengers would not have to use the stairs of the aircraft but rather a ramp. I guess this is done for the benefit of wheelchair passengers and those unable to climb stairs. When I entered the aircraft, the cockpit door was still open and I took a peek and I was now able to see the registration on a placard in the cockpit: N848AE. Stupidly, I did not have a registration list for the MQ fleet, so I was unable to determine the subtype. A quick text message to a friend in Switzerland and he was able to confirm that N848AE was indeed the sought after ERJ-140. Mission achieved!
the American Eagle terminal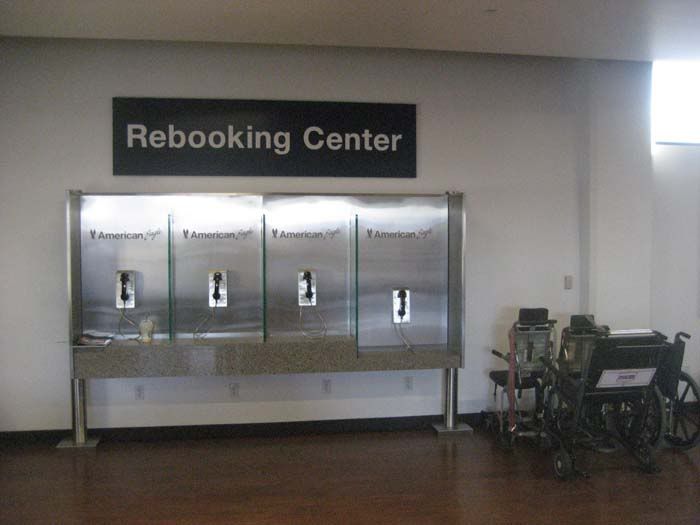 minimal staffing!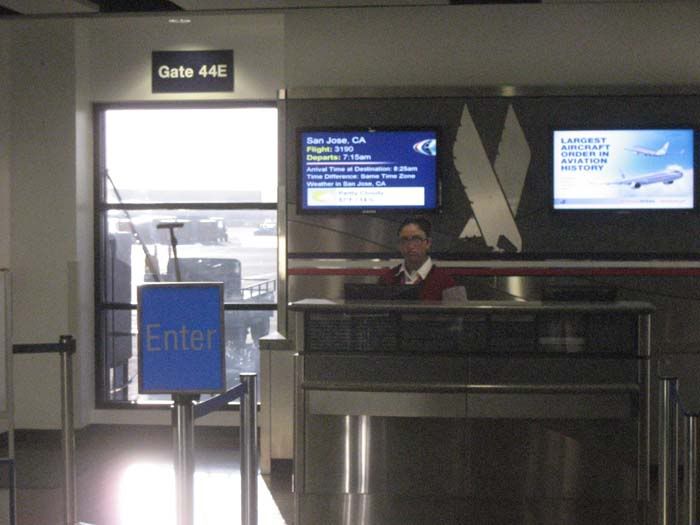 the gate to my flight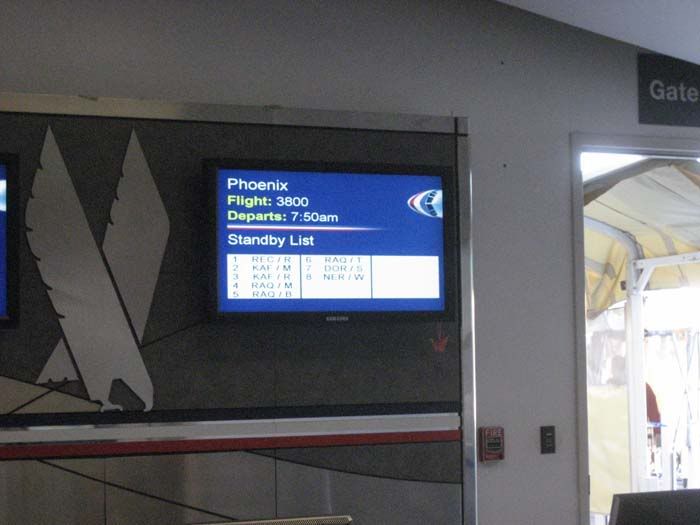 nice way of confirming standby passengers
my name was also there on the next screen
this is how those RJ airbridges looks like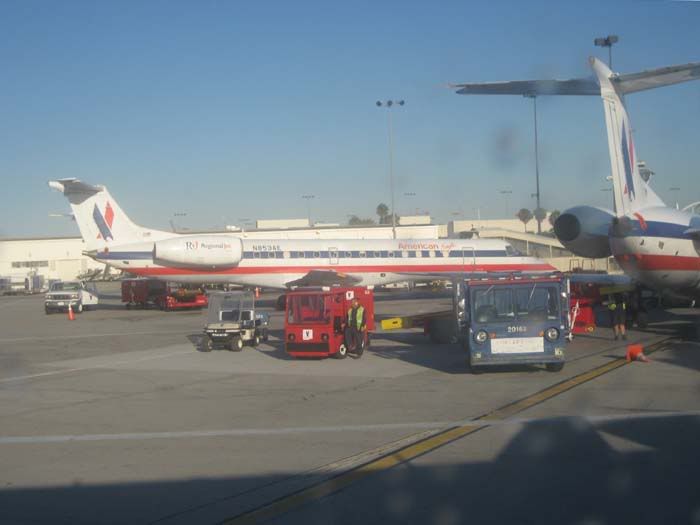 regional jet haven, some ERJ's and a CRJ 700
The flight appeared to be practically full. We pushed back from the terminal, where other ERJ-140's and a CRJ 700 were parked. We taxied along runway 07L/25R to the holding point for runway 25R and I could watch numerous aircraft landing and taking-off on both the 07/25-runways. It was interesting to see the different UA liveries after the merger with CO. UA very old, UA old, UA new (ex-CO) and CO liveries could all be seen. It's still unusual for my eyes to see A319/A320s in the UA new (ex-CO) colors. During our taxi to the runway, a LAN B767-300 with winglets and a Yangtze River Express B747-400 could be seen landing. On the south side of the airport, a couple of FedEx Airbus A300-600 freighters, an ABX B767-200 freighter and - most interestingly - an ATI DC-8-70 could be seen.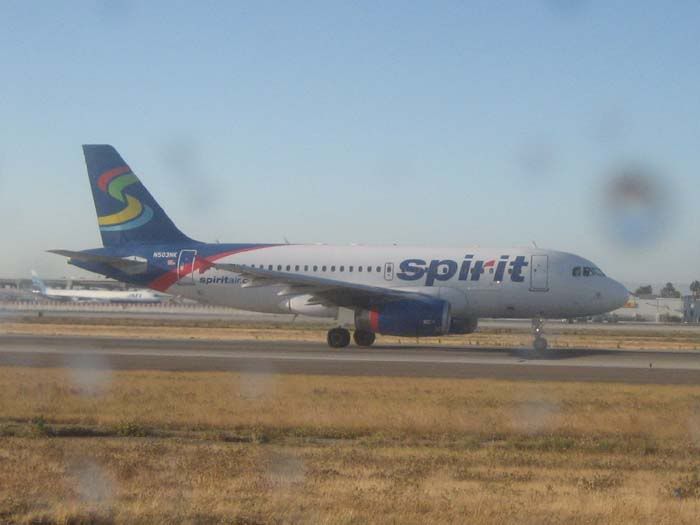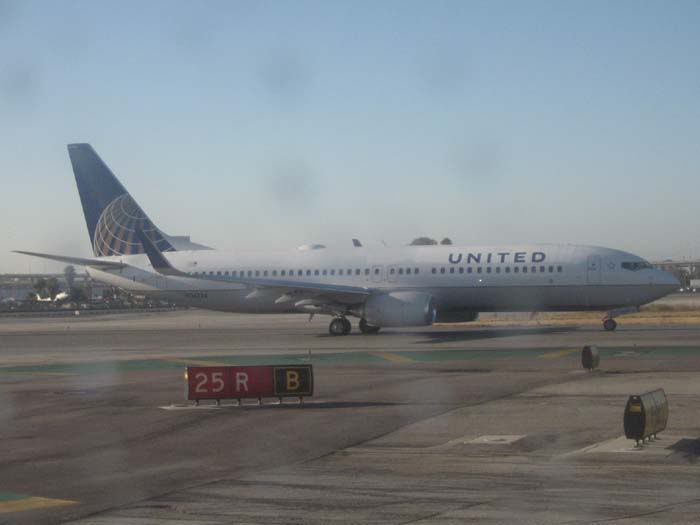 nice birds seen on the way to the runway
line up on runway 25R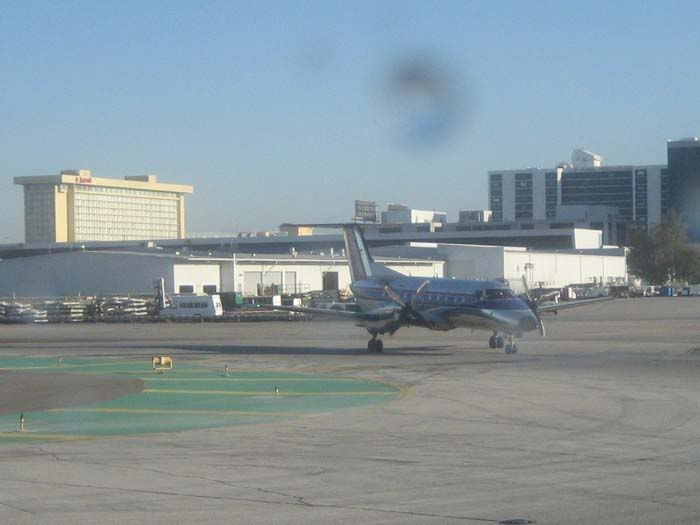 next in the queue for take-off
After line up, we took off immediately, giving me great views of LAX airport. After overflying the beach, we took a right turn and our flight path took us along the Pacific coast.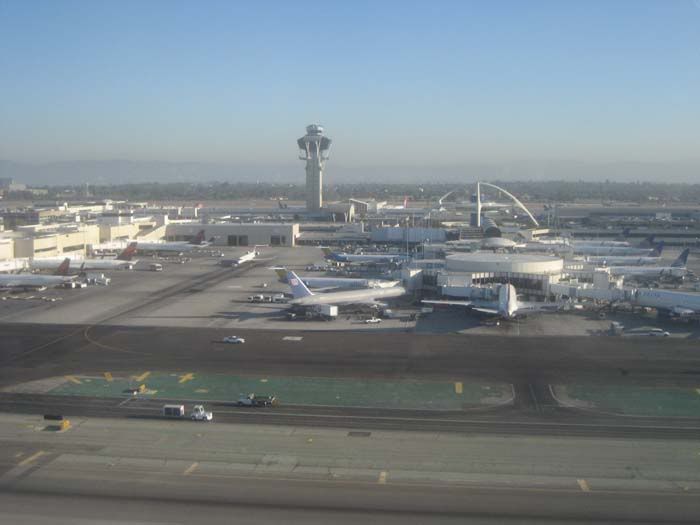 control tower and the landmark LAX Theme Building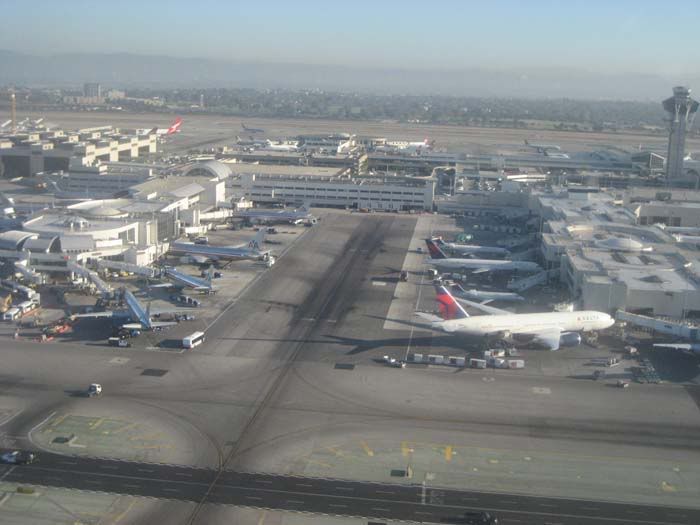 nice birds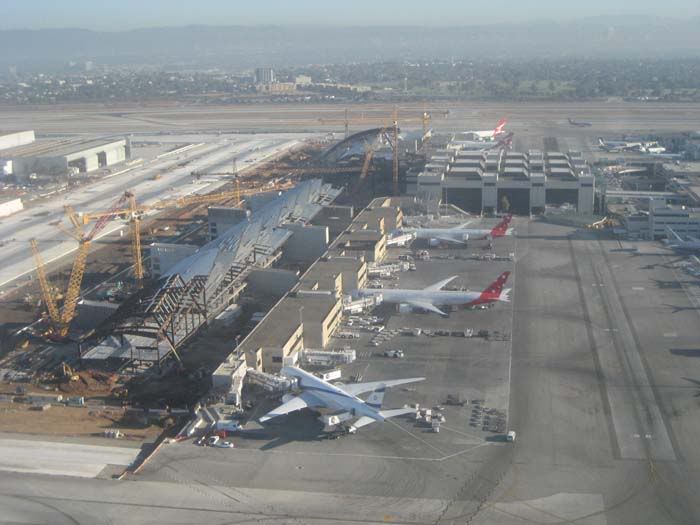 a new pier under construction and two 777 from Australia
nice views of LAX just after take off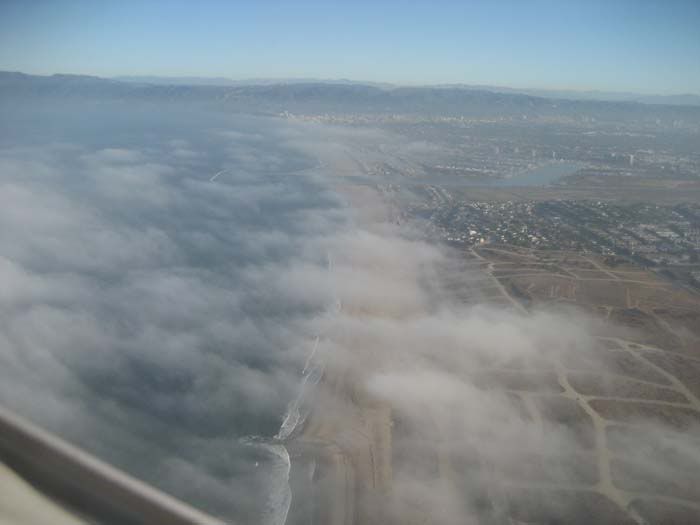 crossing the coastline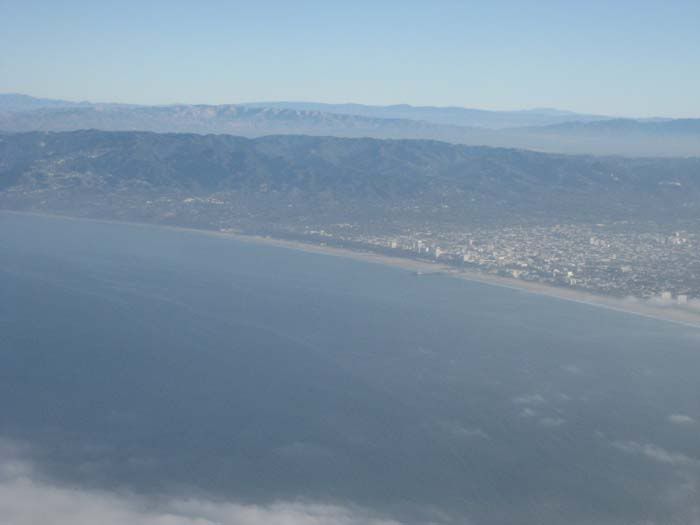 Santa Monica and its pier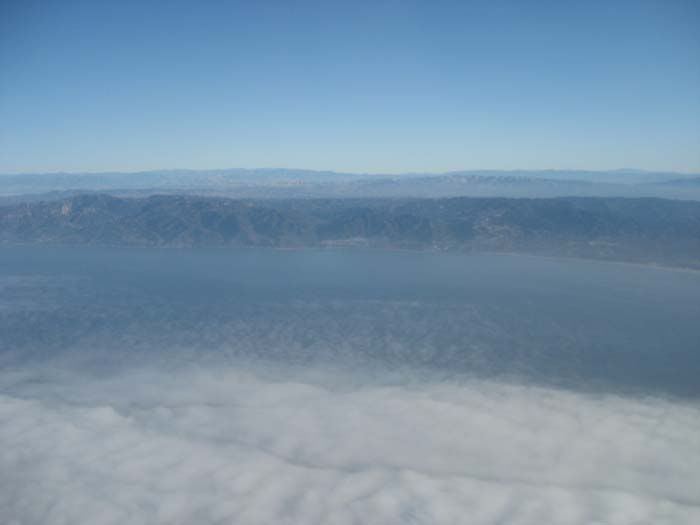 the Malibu Coast
Point Dume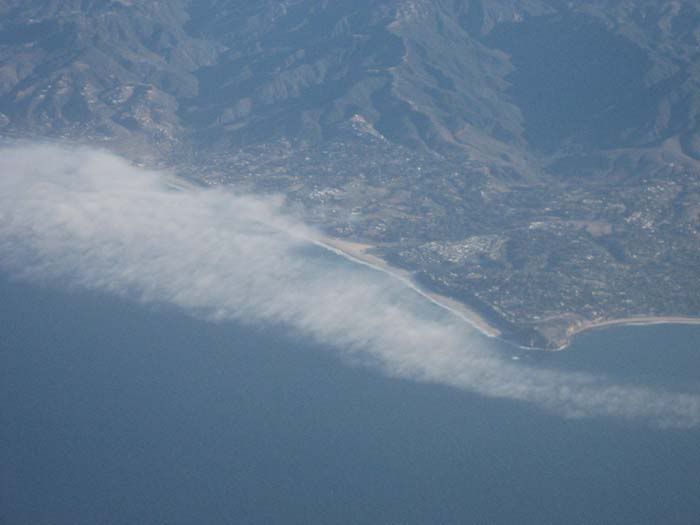 view down to Zuma beach, where me any my wife have been the day before... it was cool and windy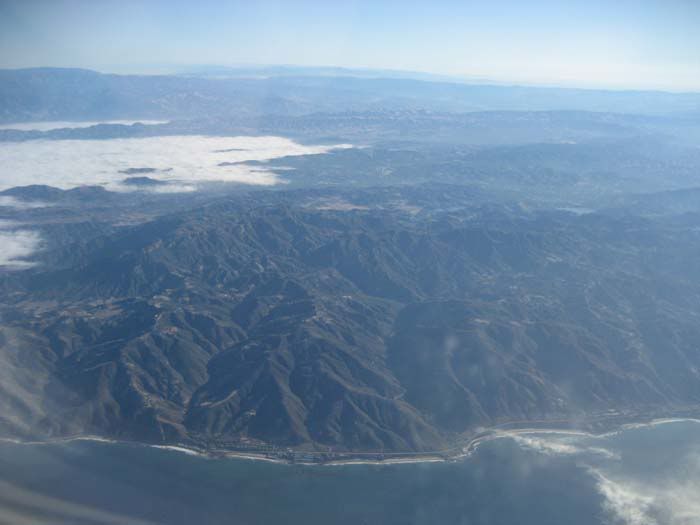 some clouds further inland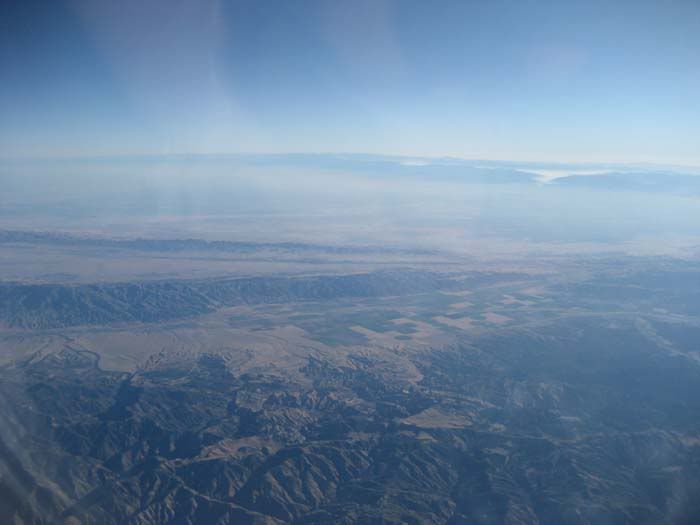 view towards California's Central Valley and the Sierra Nevada Mountains
As soon as we reached cruising level, service started. It consisted of a drink in a plastic cup mostly filled with ice. I continued to enjoy the good views towards California's Central Valley.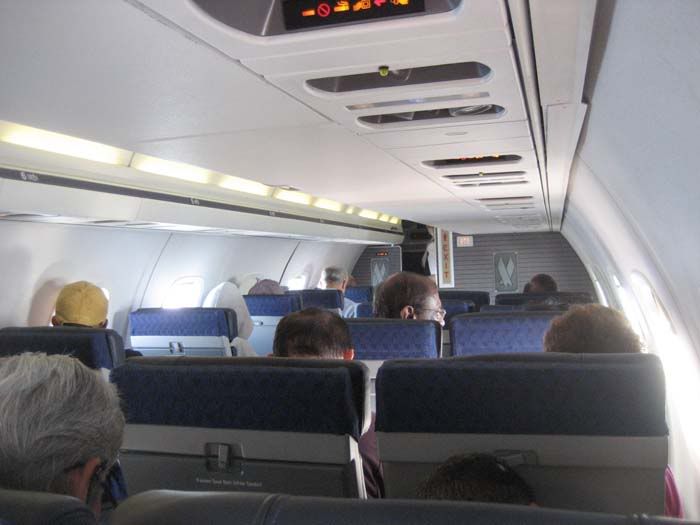 cabin view shot from my window seat
Quite soon, descend towards SJC started. We flew straight-in towards runway 30L. Before landing, we passed over downtown SJC. Sitting on the right side, I had a good view of it. Landing was smooth and we taxied across runway 30R to gate 10 in the older Terminal A, which was quite close.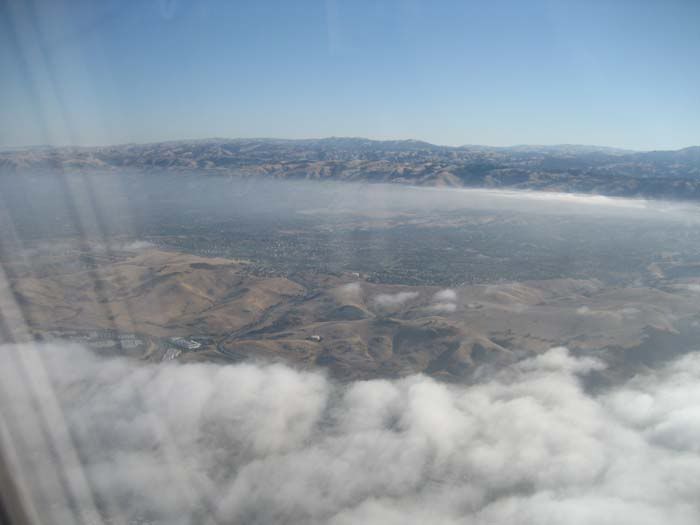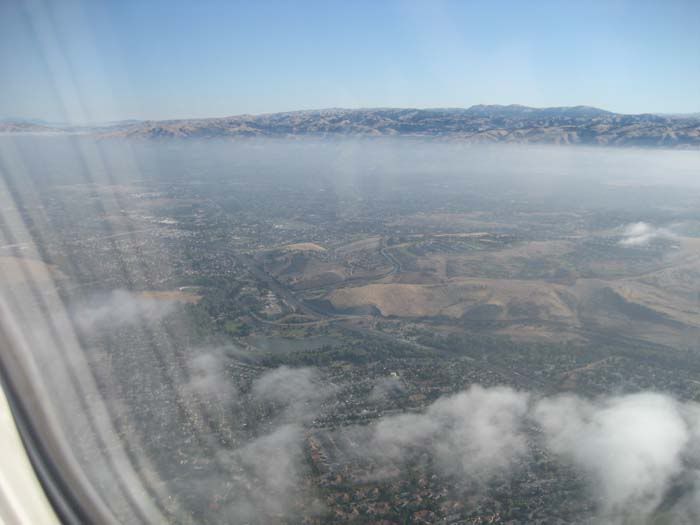 descent through a very thin cloud layer into the Silicon Valley
approaching SJC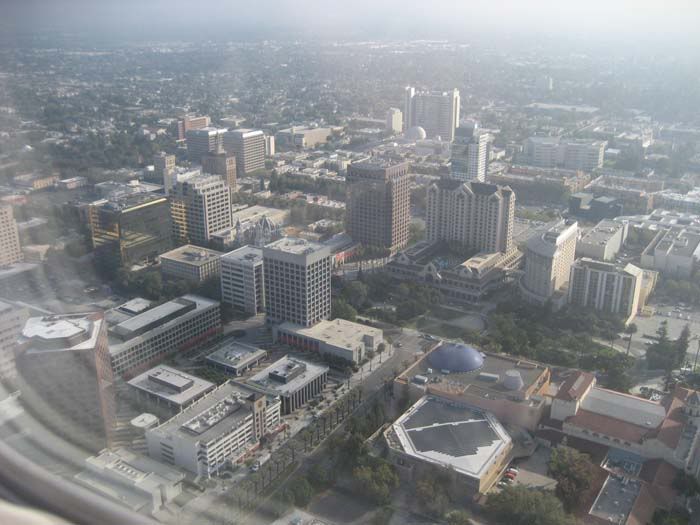 downtown San Jose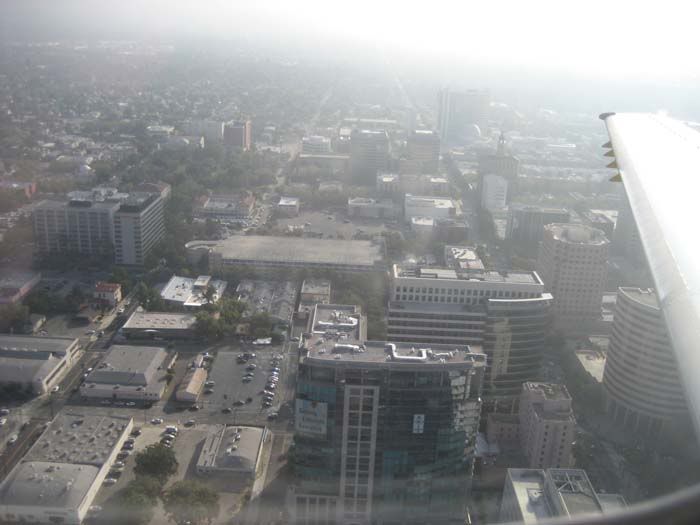 The skyscrapers are quite close! I've last seen something similar when approaching LCY.
Nimitz Freeway, also known as Interstate 880, just before landing
cargo area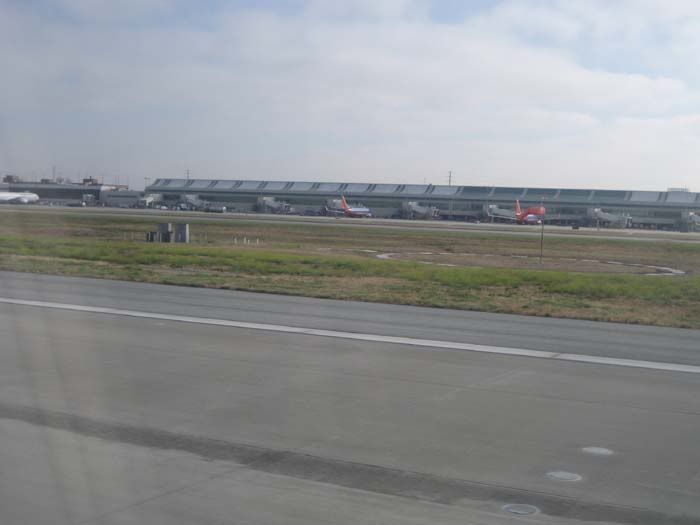 view to SJC's terminal's built along the side of the runways
crossing runway 30R towards the terminal
The gate had an airbridge, which connected directly to the aircraft. In Europe, we don't usually see smaller aircraft like the Embraer RJ's connected to jetbridges. I disembarked and mentioned to the flight attendant that I will probably on board again for the flight back. She was a bit surprised and I explained that I just wanted to try MQ. The terminal looked quite nice inside, and I was finally able to get a nice picture of the aircraft that just brought me there.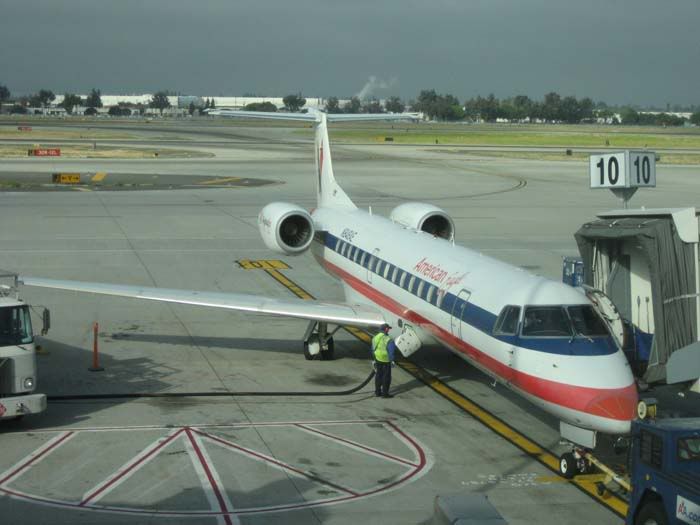 finally a decent picture of "my" ERJ140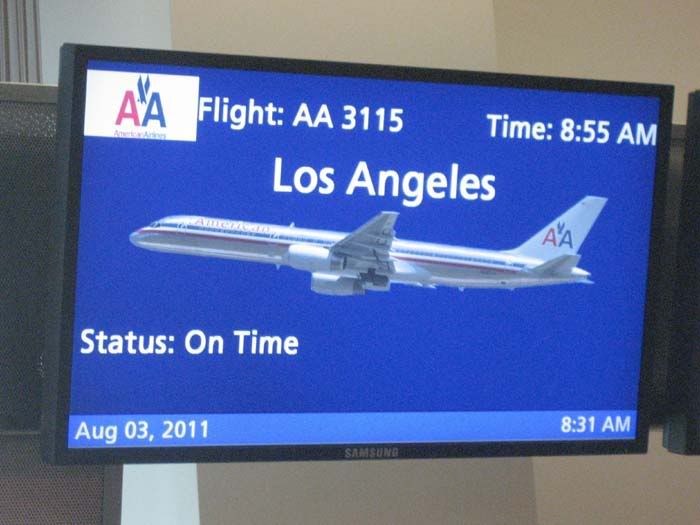 the gate monitor for the flight back to LAX, well the aircraft type is not quite right...
As soon as everybody had arrived in the terminal, I made myself known to the very friendly gate agent. He said that the flight was sold out, but that I should stay around the gate in case of a no-show. Boarding commenced rather soon and after 10 minutes it became clear that I would not get on. He offered to transfer me to the next AA flight, and I said fine, but I would try to catch an earlier flight on WN or AS (operated by QX), for which I had tickets. On a screen, I found the gates for the WN and AS flights and I slowly made my way there. SJC's two terminals are connected to each other and run along the entire tarmac. A Hawaiian Airlines (HA) flight to Honolulu (HNL/PHNL) was just about to finish boarding and I watched it until it pushed back. I loved HA's livery.
gate area in terminal A
interesting seats with power outlets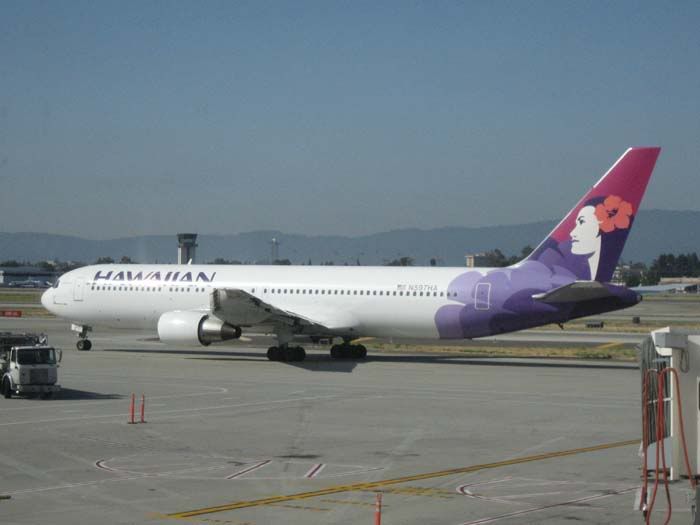 nice 767-300 to HNL
WN's gates were in Terminal B, but the gate for the flight to LAX was not yet manned, so I asked a WN agent at an adjacent gate. He entered my name into the system and issued a boarding pass immediately. I asked whether I was now on stand-by but he said that I am confirmed already! He was very friendly and I was surprised how easily everything went. Having flown WN a couple of days earlier already, I still wanted to see whether there was any chance to go on the AS flight operated by a QX Dash 8Q-400. That gate was located at the far end of Terminal B. Again I met a very friendly gate agent. She was surprised that I had not checked in, but after I explained that I was bumped off another flight, she was satisfied. She said she had only 2 open seats and a waiting list on that flight. I decided not to take the risk, because I would miss my confirmed WN flight which was supposed to depart 10 minutes earlier. Also, there would probably not enough time to catch the following WN flight, departing 30 minutes later.
the modern terminal B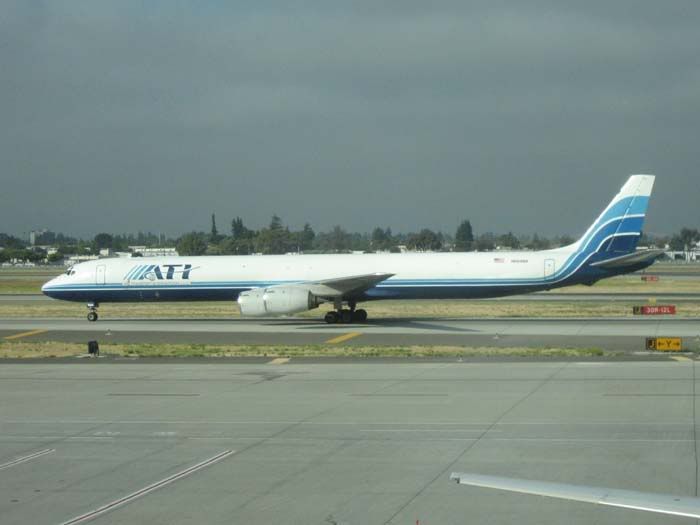 just wow!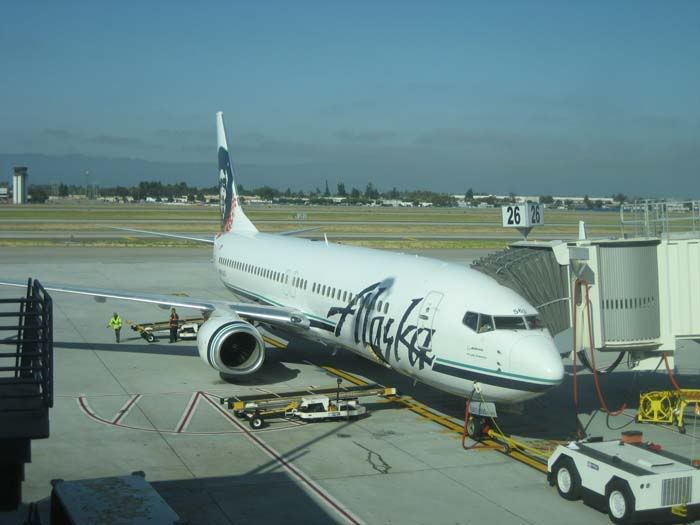 AS special colors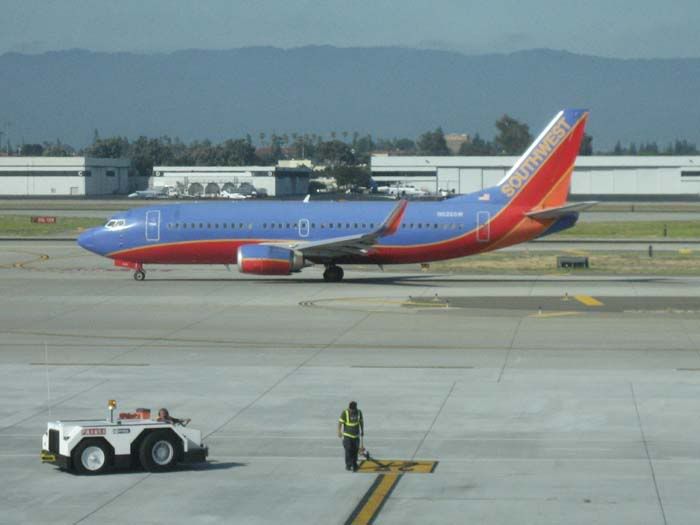 Could my ride back to LAX be on this type and airline?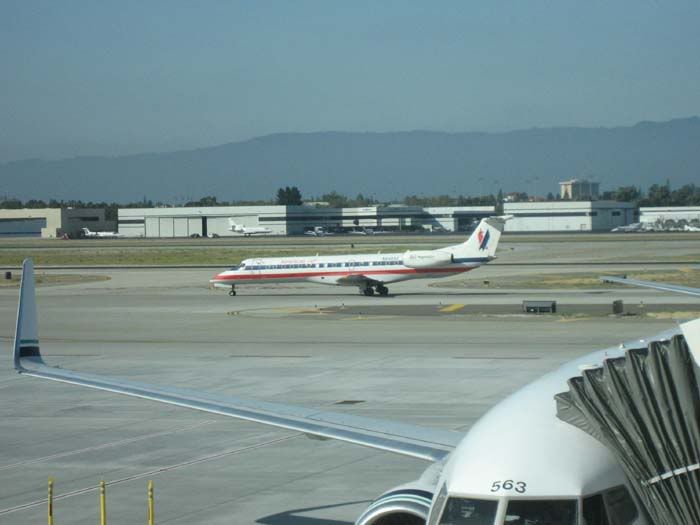 ERJ140 going back to LAX without me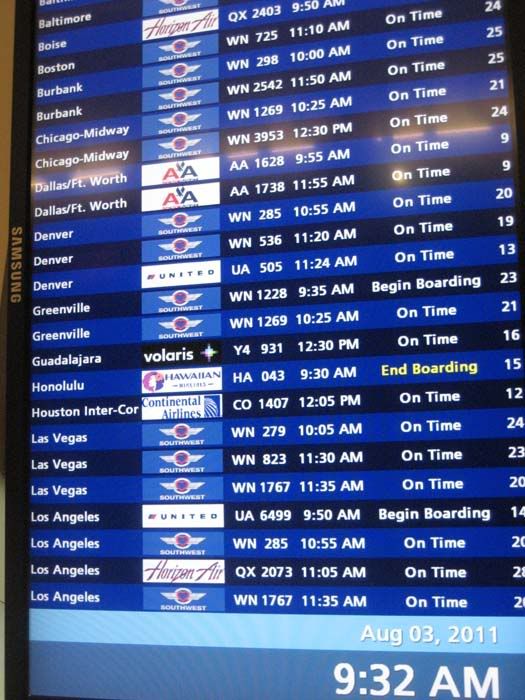 departures to LAX, a soon to depart UA flight is shown
On the departure information screen, I also saw a UA flight to LAX departing within the next 20 minutes. Since I did not have a ticket for UA, I did not previously consider this flight. But taking either the AS or the WN flights would have resulted in an even later arrival than planned at our friends house back in L.A. After all, me and my wife wanted to continue our California trip by rental car and I already lost an hour because I did not get on the planned AA flight. So I went back to terminal A to the UA gate to assess the situation there. When I got there, the gate agent was not busy for a moment and I took the chance to explain that I'm airline staff, got bumped and wanted to see whether she could take me on the UA flight. After examining my tickets, the friendly agent (I only met friendly agents!) deemed the AA ticket acceptable and she checked me in on a stand-by basis. My name showed up on the gate monitor as being on the stand-by list. Nice feature. Since I did not plan on taking this flight, I also did not check the aircraft type. I thought it could be an Embraer 120. Instead, a Canadair CRJ in SkyWest livery showed up. That suited me, too. I especially liked the SkyWest livery instead of a UA Express livery.
the SkyWest CRJ has just arrived, will I get on?
Route: Los Angeles (LAX/KLAX) - San Jose (SJC/KSJC)
Flight number: UA 6499
Schedule (local times): SJC 0950 - LAX 1110
Scheduled block time: 01:20
Airline/Operator: SkyWest (OO/SKW) operated for United Airlines (UA/UAL)
Aircraft type: Canadair Regional Jet 200ER
Registration: N506CA
13th flight on subtype CRJ (CR1/CR2), 19th flight on CRJ (CR1/CR2/CR7/CR9/CRK) family, 1st flight on N506CA, 1280th flight overall
View Large
View Medium


Photo © Thomas P. McManus
UA got the type wrong, too....
my name on the stand-by list
After everybody had boarded, there was one seat left and I got it. And it was even a window, wow! Unfortunately, there was no time to cancel my confirmed seat on WN. Not good, but there was no choice.
I was on board quickly and found my window seat. Being the last passenger to go on board, the door was closed quickly after me. I was very happy to be on board this unexpected flight. We pushed back and taxied along the terminal and lined up on runway 30R. Along the way, the ATI DC-8 freighter which had arrived before was being unloaded. It had arrived before when I was in the terminal. Too bad this type is not in passenger service anymore.... still missing from my log....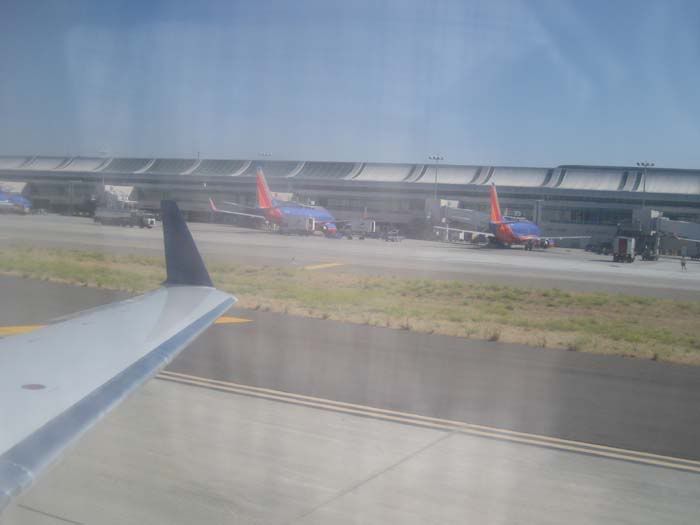 some WN 737's parked along the terminal
just after take off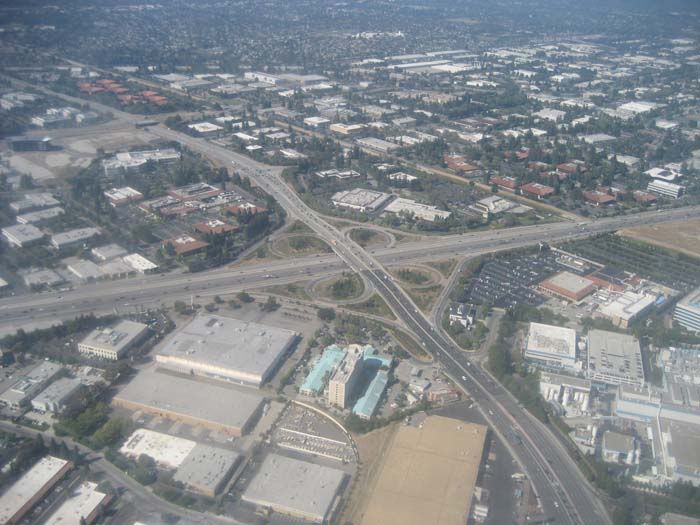 very nice cloverleaf interchange, totally symmetric
Silicon Valley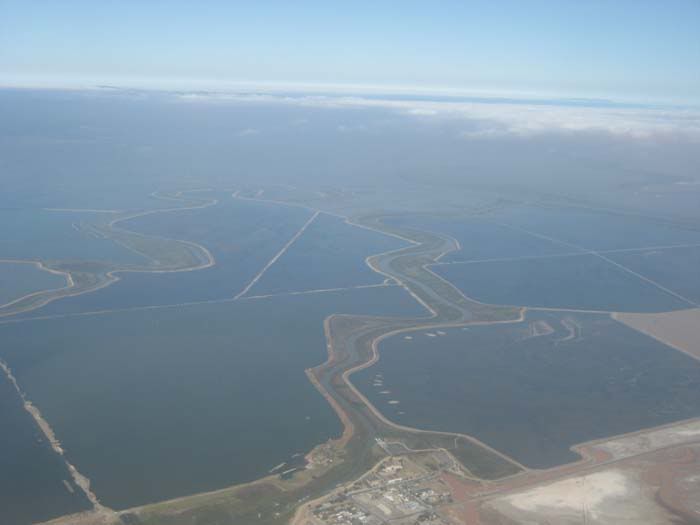 southernmost part of San Francisco bay, are they trying to reclaim land from the bay?
city of Milpitas, view towards the east
San Jose Country Club golf course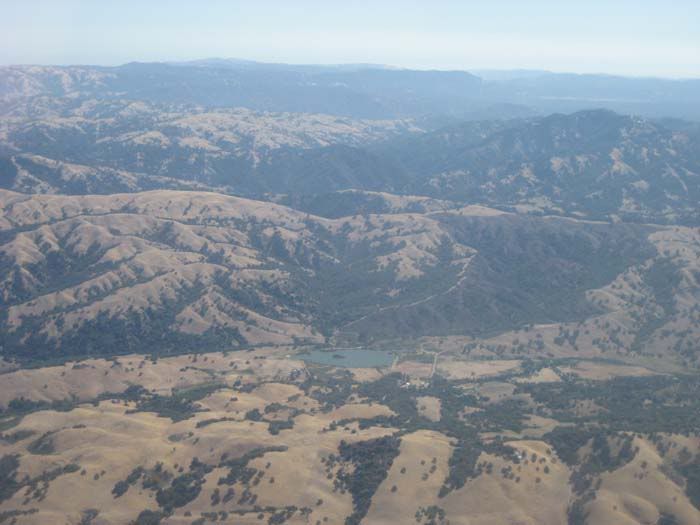 nice countryside in the mountains just east of San Jose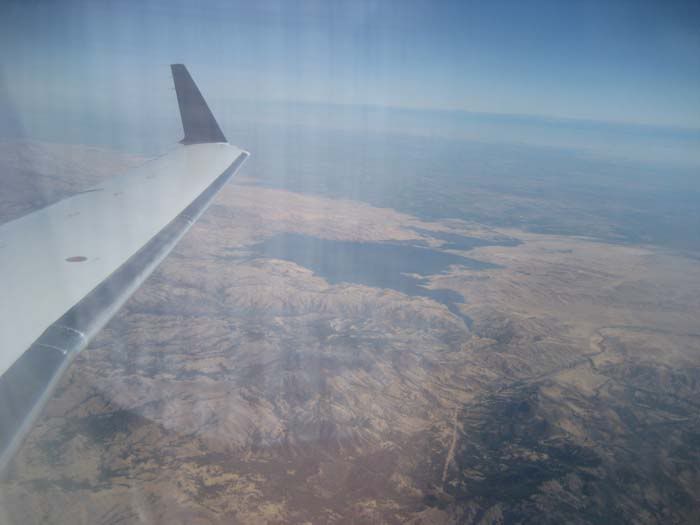 wing view, San Luis reservoir visible
After take off, I got a good view of the Silicon Valley. The route we took seemed to be parallel to the route on my previous flight but a bit further East inland. There were much less clouds than 1.5 hours ago and the views were splendid. Inflight service by the crew, which introduced itself as a "Tucson-based-crew", consisted again of a drink in a cup.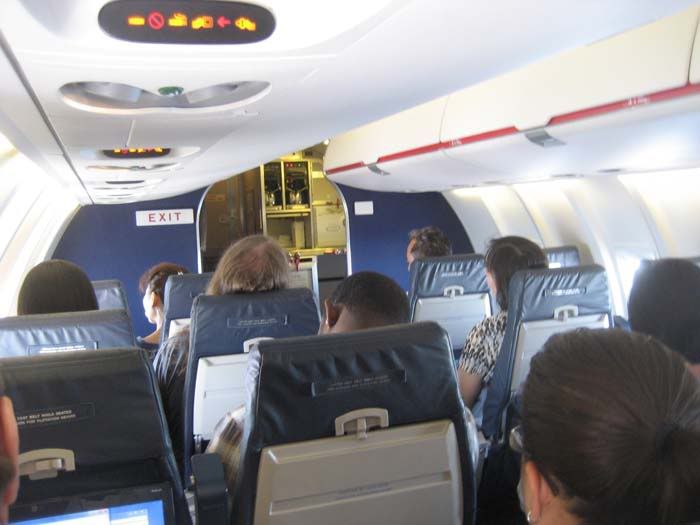 cabin view, interesting round bulkhead
three different landscapes: mountains, desert, agriculture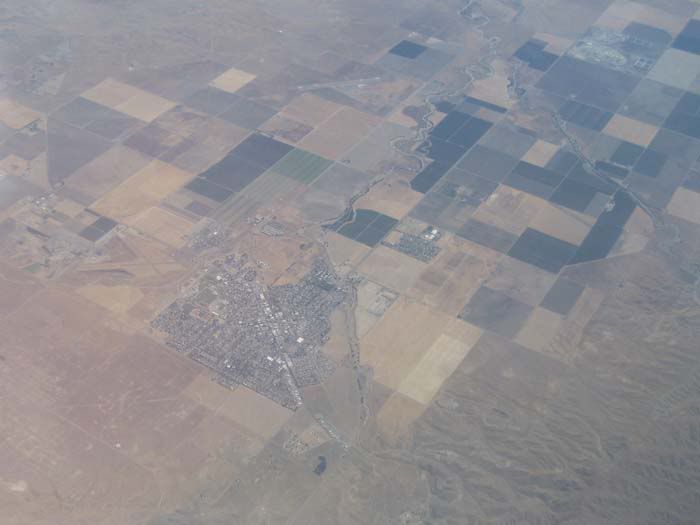 this is the town of Coalinga, population 13'500
green fields with arid land around
what's this? maybe oil fields?
Soon again, we were descending. What followed now was a great approach over Simi Valley, San Fernando Valley and the vast concrete expanse of L.A. As a bonus, during final approach an AA MD-80 flew parallel to us. It was basically a L.A. sightseeing trip in a regional jet! I will let the pictures speak for themselves.
interesting rock formations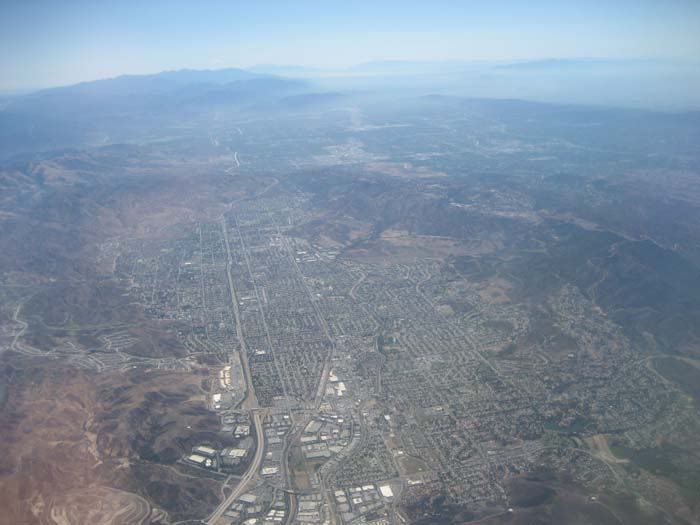 Simi Valley, L.A.'s San Fernando Valley in the background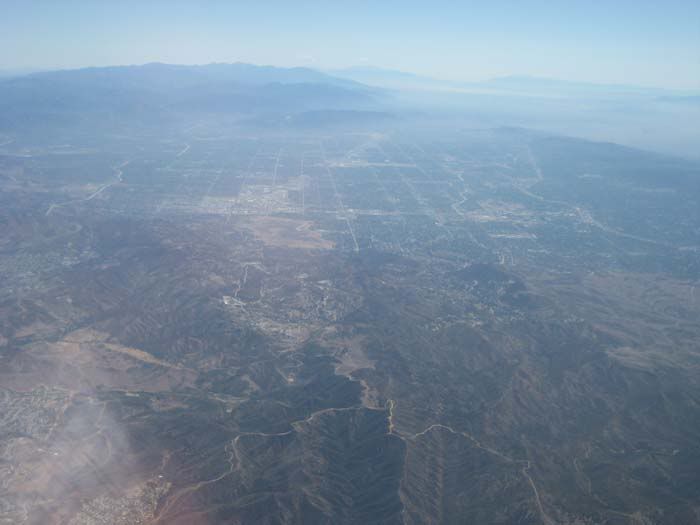 San Fernando Valley, the area where our friend's house is located and from where I had started my trip early in the morning
Malibu coastline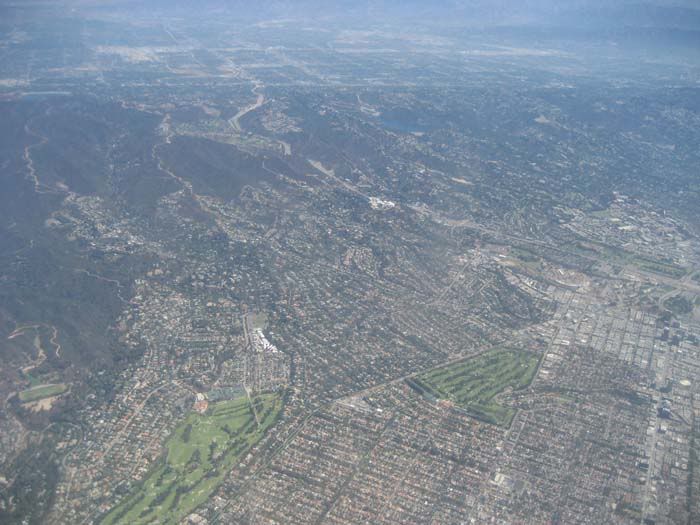 two Santa Monica golf courses, Interstate 405 running north to San Fernando Valley in the background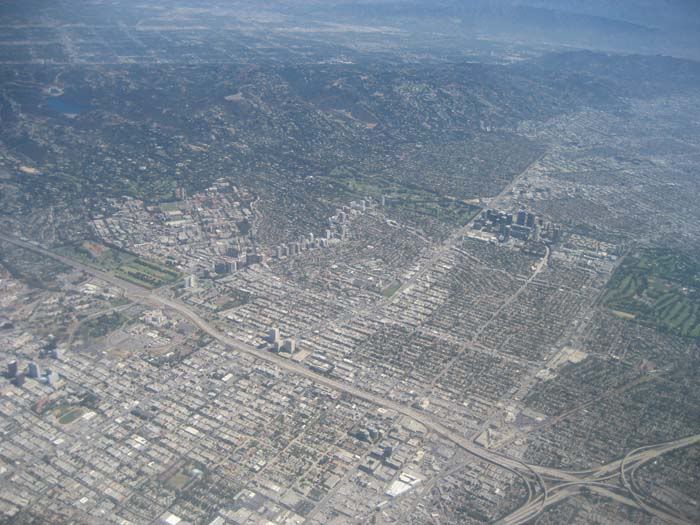 Interstate 405 running from left to right, view to Santa Monica Boulevard (straight road running to top right), Century City (area with skyscrapers), and Wilshire Boulevard (parallel to Santa Monica Boulevard but curved and with skyscrapers along its course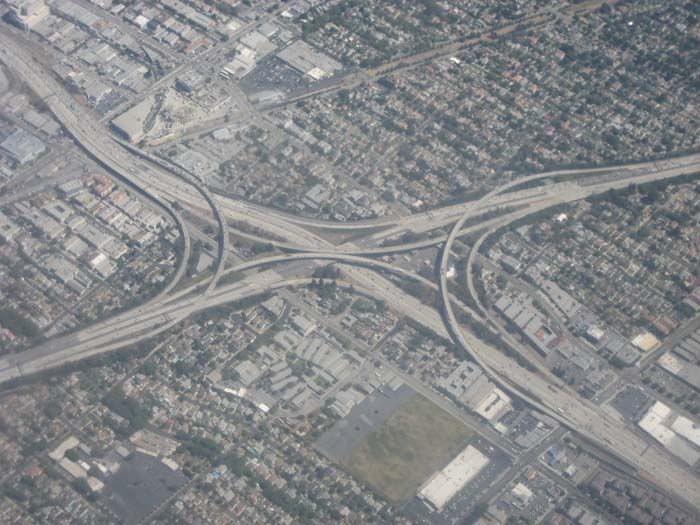 interchange detail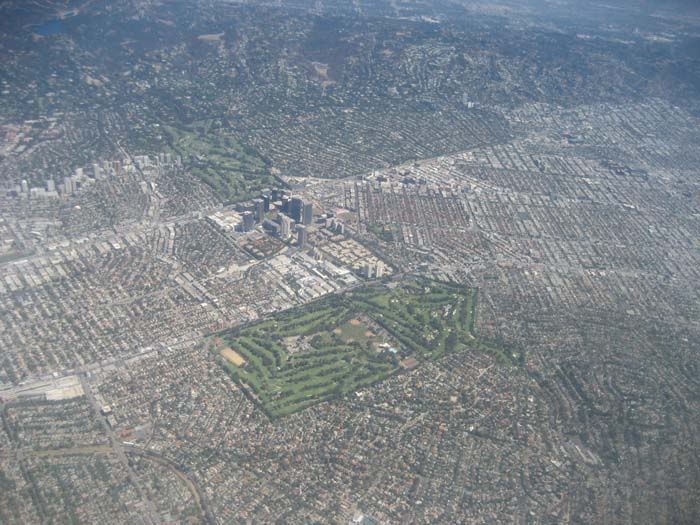 Century City and Beverly Hills in the background
Hollywood, Hollywood Freeway, Hollywood Reservoir - and just barely visible right of the highest point of the mountain - the famous Hollywood sign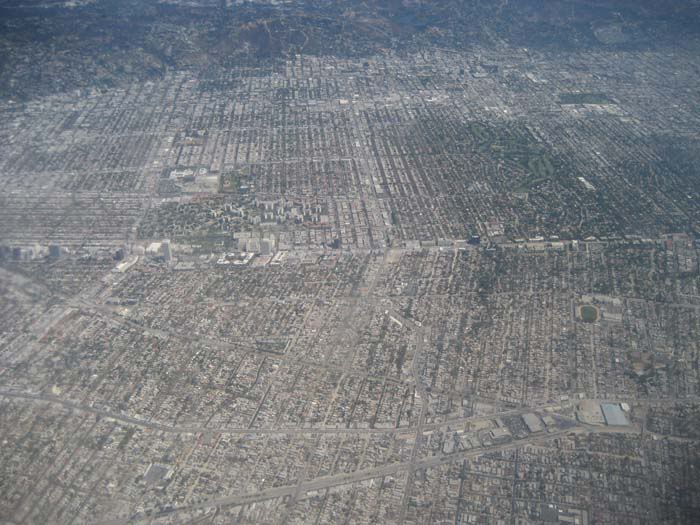 the vast expanse of the L.A. area, Hollywood in the top third of the picture
skyscrapers along Wilshire Boulevard, this area also is known as Koreatown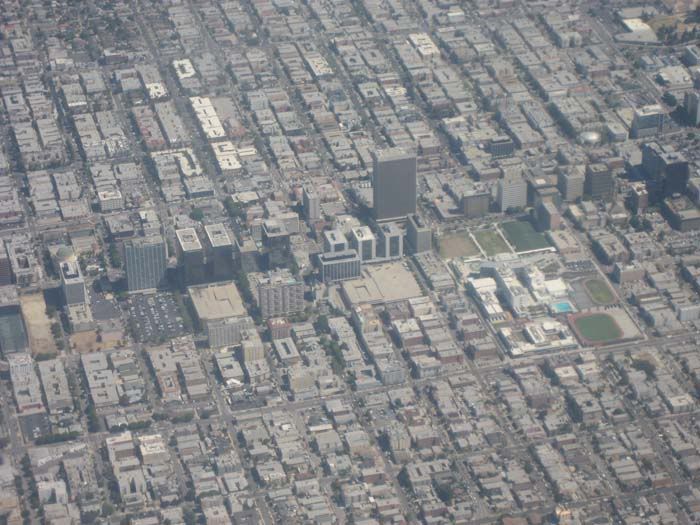 detailed view
view towards the east of the L.A. area, the highway in the middle is Interstate 10 (San Bernardo Freeway)
Los Angeles River
can you spot the MD-80 flying a parallel approach?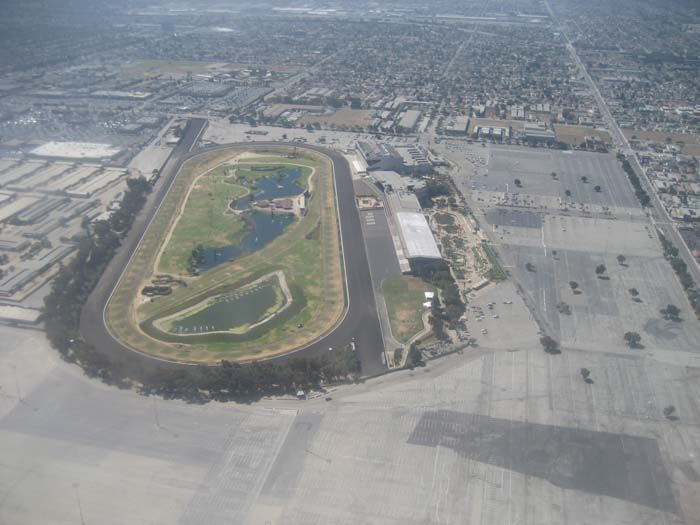 a green race course surrounded by concrete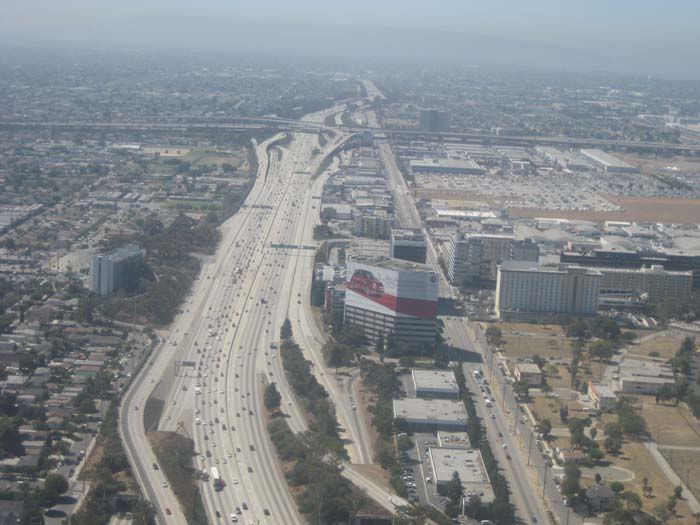 crossing San Diego Freeway (Interstate 405) on final approach
Top