Hi and welcome to my second trip report on A.net. I hope you will enjoy it!
Everything begins as usual with that I sit at the computer and "surf" on various travel sites to possibly find something of interest. For some reason, I begin to look for prices to Beijing in August and caught the route ARN-KBP-PEK-ARN for 3500SEK (360€, 500USD), with Aerosvit and Air China. Aerosvit (!) Are you sure? But wait!
I ask my girlfriend if she would consider a week in Beijing in August. The answer was a short, NO! -Oh, but the price ... Do you know how cheap it is? Well, I just have to accept, there will be no Beijing. But the ticket is still far too cheap to not book! However, I realize that I must look for something that we both will enjoy.
I hints now and then "it's really good shopping in Beijing" .. Plays apparently no role since it is apparently too hot and there is a shortage of beaches.
About a month later it starts to loosen. -Beijing might be interesting anyway! I check if the price is still active the dates we can go and the week after booking was completed.
Aerosvit ... Aerosvit! Is this really a company you want to fly a longer distance? Absolutely, I say! Absolutely not, many people say to me. -It 's like flying with Aeroflot! Absolutely not I say! You can not compare theese two airlines. Aerosvit is what Aeroflot once was. That is worse. I have flown with this airline before and find that it is an ok airline to get from point A to point B, when everything works. I googled around and realize that about 75% of what I read on various forums is negative. But as usual, I'll take people's "opinion" light. A large plus with this combination is that there is a direct flight to Stockholm.
The flights:
The taxi pick us up just after six in the morning. I wanted to be at the airport on time because Aerosvit in Stockholm refused to seat us before departure. We were first in line and got seats 17F / G between Kiev and Beijing. Good!
The plane that will take us to Kiev was late to Arlanda the night before so it will be a delay of about 2h. It makes us absolutely nothing, then I'd rather sit and wait at Arlanda than at Borispol.
Date: 20 august 2011
Route: Arlanda - Kiev
Flight: Aerosvit VV270 (Op Windrose Aviation)
ETD: 0850 (ATD 09:28)
ETA: 1200 (ATA 13:20
Seat: 28C
Aircraft: EMB 190
Flight time: 2hrs 08mins
Registration: UR-WRG
1st flight on Windrose Aviation
1st flight on a EMB 190
Eventually there will be bus out to the apron where Windrose E190 is waiting for us. Registartion was UR-WRG and we ended up almost back on row 28A / C.
It was not too much people on board this Saturday morning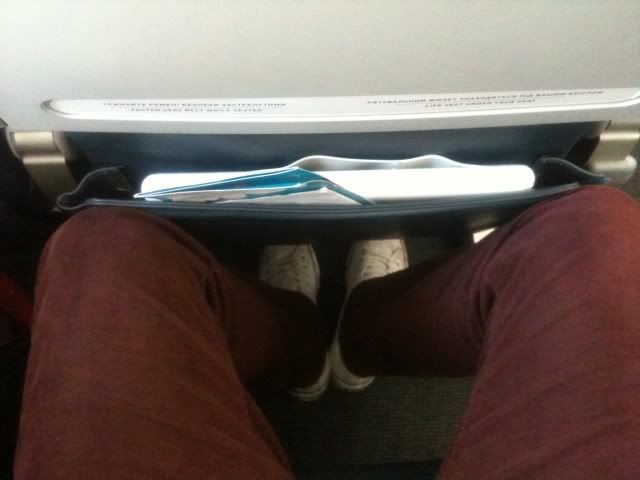 A little cramped but ok for a flight at 2h. (I'm 183cm)
The service aboard was orange juice and a polar sandwich. The service in general was like my previous experience with Dniproavia and Aerosvit. It is not unpleasant but remember that you'll never get a smile. When the inflight service is over flight attendants kept too themselves until it was time to make the cabin ready for landing.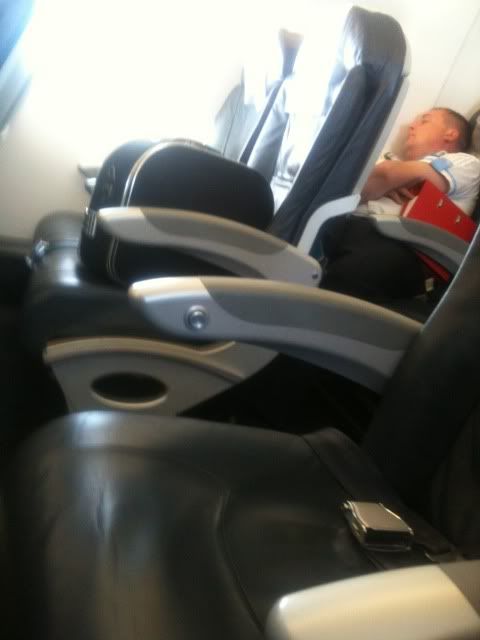 Alternatively, let the girls do the job and take a nap. (Yes, he belongs to the crew)
Date: 20 august 2011
Route: Kiev - Beijing
Flight: Aerosvit VV181
ATD: 15:31
ATA: 04:44
Seat: 17G
Aircraft: B 767-300
Flight time: 8hrs 13mins
Registration: UR-VVF
2nd flight on Aerosvit
7th flight on aB 767-300
A happy girlfriend enjoying the sun before it's time to climb aboard the 767 where we will spend the next 9h. Reg UR-VVF, which incidentally was the same aircraft I flew last year then to BKK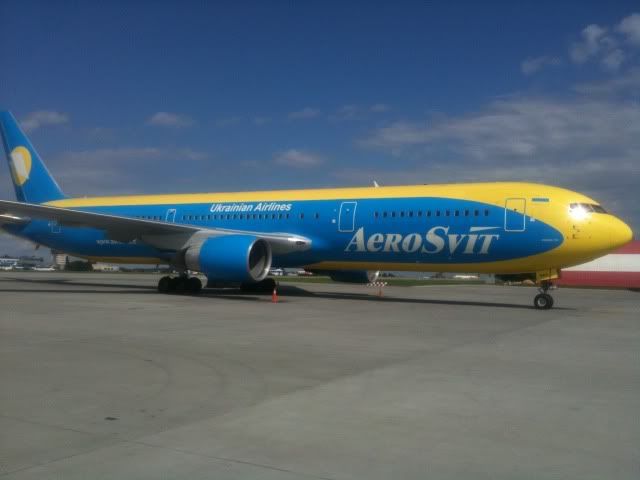 Blue and yellow!
However, our aircraft was the same old white paint
On board, it's not much that is new. Blue chairs and large screen TV.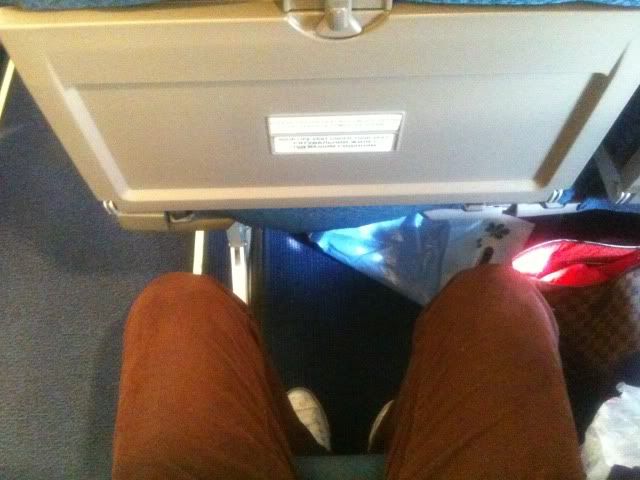 Still red pants but this time much better room for the legs. The girlfriend fell asleep immediately and I put the iPhone headphones in his chair and looked at what was offered on TV.
I agree! The food don't look very good. But luckily it tasted better than what it looks. The bred was very dry and disgusting.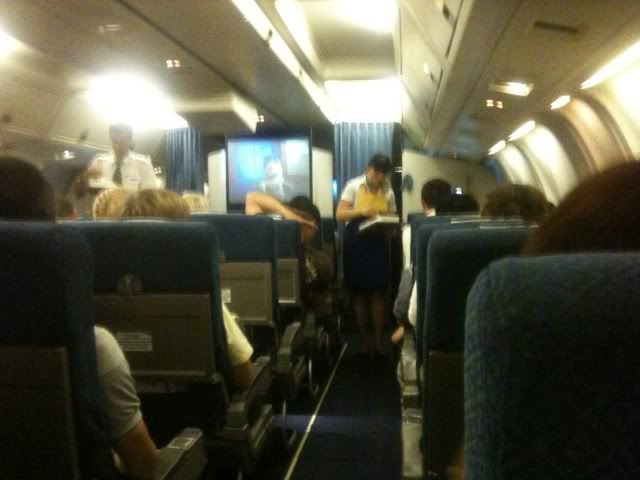 Warm towels handed out before breakfast room started. Or towel and towel, a warm napkin that smells citrus.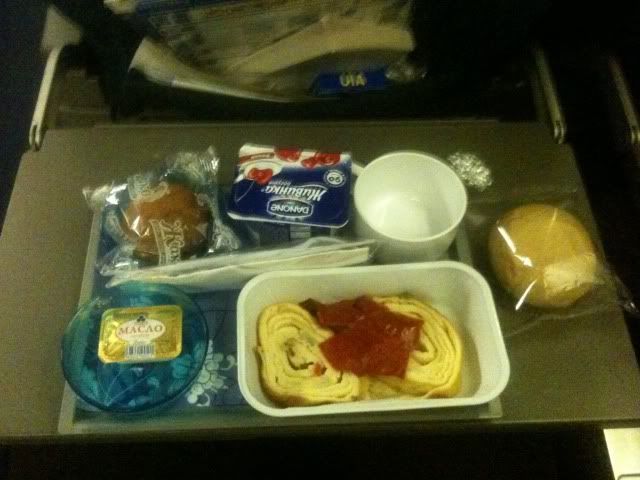 Breakfast was really good, very tasty. But same dry bread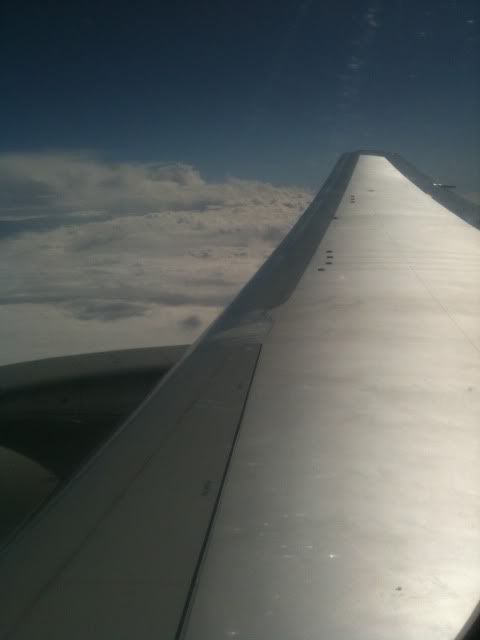 The flight was quite normal, nothing much happened.
PEK-ARN
Date: 28 august 2011
Route: Beijing - Arlanda
Flight: Air China CA911
ATD:13:49
ATA: 16:29 (40 min ahead of schedule)
Seat: 53A
Aircraft: B 777-200
Flight time: 8hrs 40mins
Registration: B-2068
3rd flight on Air China
7th flight on a B 777-200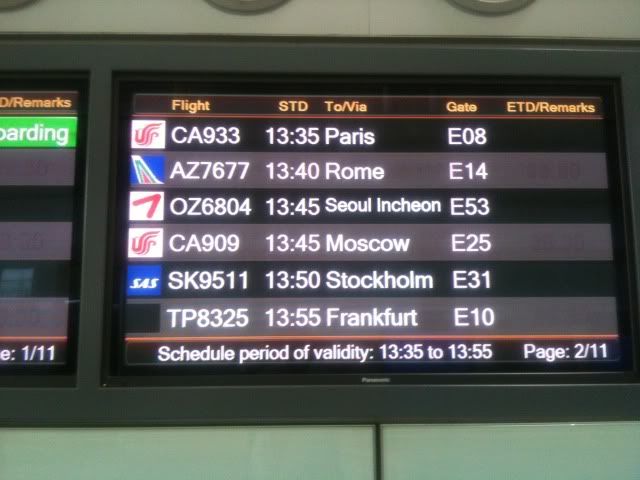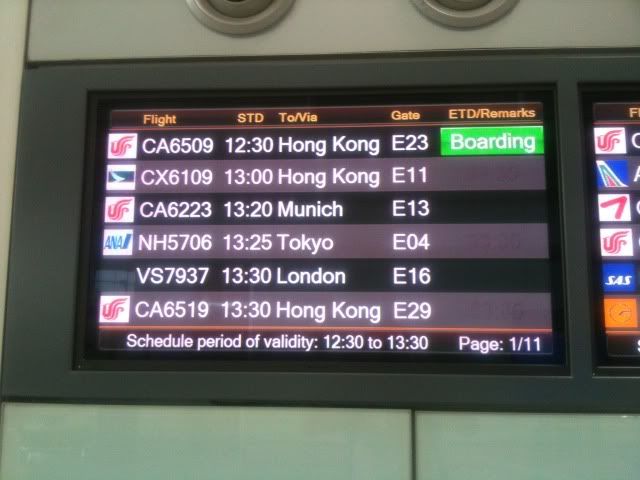 After a pleasant week in Beijing, it was time to fly home!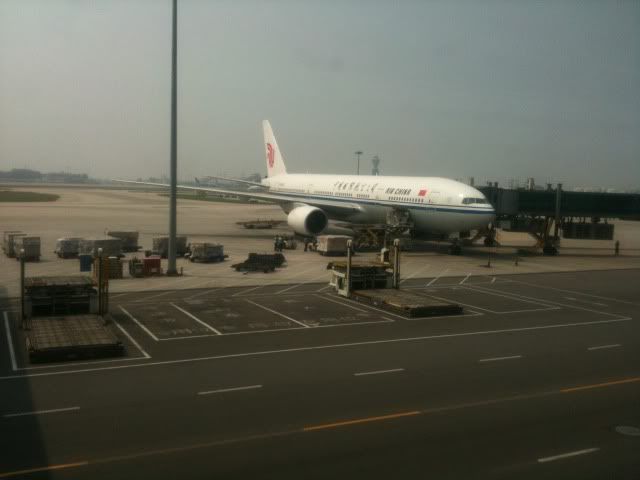 B-2068 had the honor to fly to Stockholm today.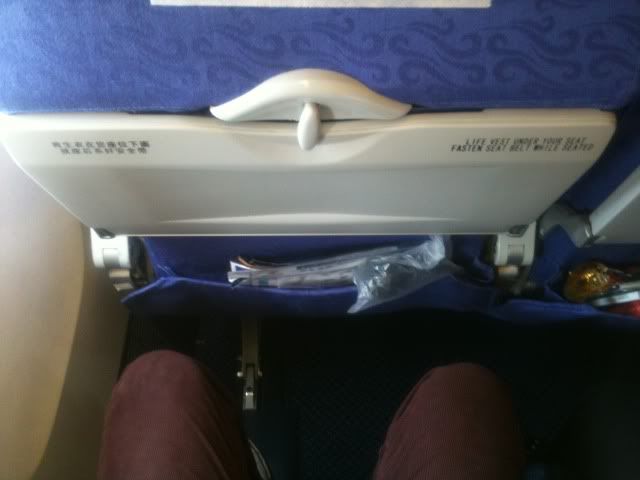 Yes I know. Still red pants. No I have not used them for a week
Legroom was OK. Air China in Stockholm, let us choose the seats before departure. 53A / C it was. It was fortunate that we choosed seats before departure. When we got to the airport, it was a full flight and no windows / aisle seats left. It is horrible to sit in the middle of a long flight like this one when the seat configuration is 2-5-2
The drinks came in either plastic or paper cups. Free drinks on board, including alcohol, which Aerosvit not offer.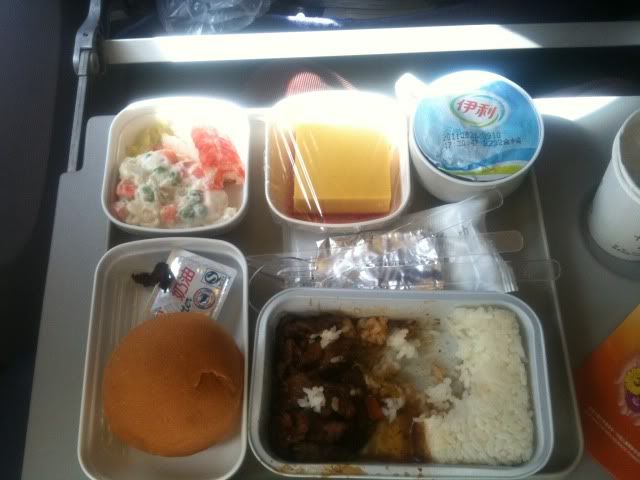 I had the meat and it was not very good, but the Chinese beer was really nice.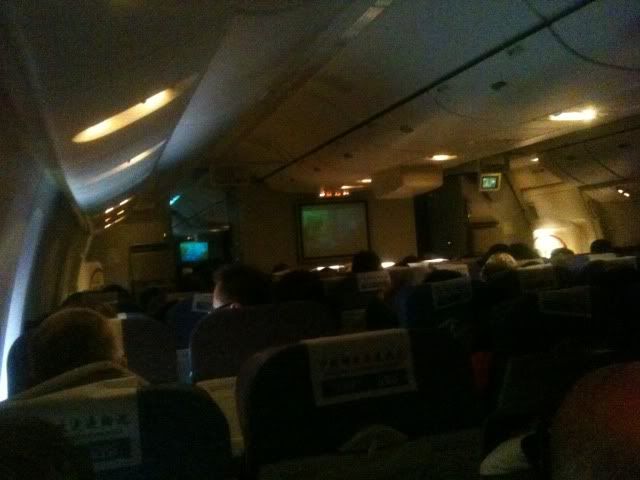 A dark cabin picture
View somewhere over the Chinese dessert
Conclusion:
Nightmare? Absolutely not! Of the two flights to Asia with Aerosvit and Air China, I have only positive experiences. You often get a ticket for a great price. No hidden fees a la Ryanair and (almost) full service onboard.
Just have to share with you an anecdote from my first trip with Aerosvit to Bangkok. At the airport before boarding, I went up to shoot the aircraft and there stood two ladies who started talking to me. They thought it was so nice that they did not have to fly with Aeroflot as one of the ladies son said that it is a horrible company. So I thought, and smiled. I let them live on the illusion that Aeroflot is a bad company and Aerosvit is so much better.