Blue and red take five and an A.net joint flight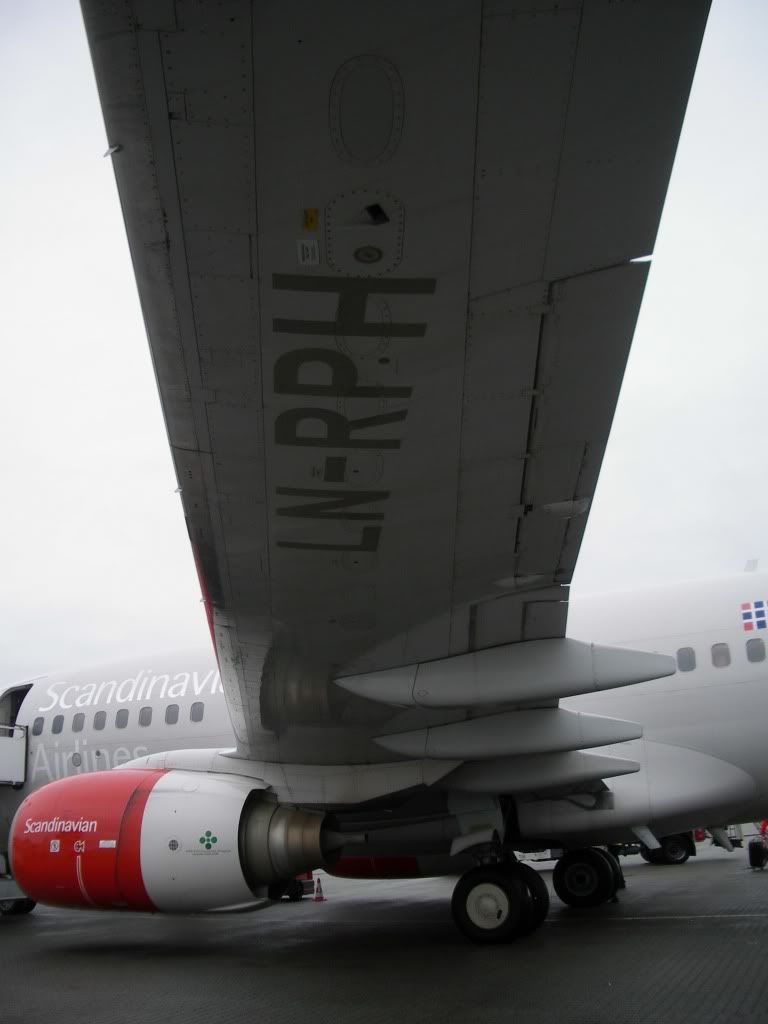 Hei, dear readers,
arrived back from the Ukraine just a couple of days ago
Four Small Engines To Lviv/Ukraine
(by
FLIEGER67
Sep 7 2011 in Trip Reports)
It´s the end of June now and that´s usually the time to spend some days in Scandinavia.
S., the lazy guy from the scheduling department, booked five legs for me, touring around Denmark and mainly Norway. Sure, a new departure airport is important, but also some, hopefully, sunny flying around.
There is incidentally one short connection to fix the schedule. One of five, that should be no problem, at least due to Mr.S answer, when I´ve asked him!. We will see.
Any specialities on his table today?.
No question, Linie, the Aquavit that shuttled above the equator is there and now he is more than ready to follow me again!.
This is the updated log with the departure airports
Departure airports
auf einer größeren Karte anzeigen
and the latest routes
Tripreporter´s Flüge
auf einer größeren Karte anzeigen
So, let me join the nordic skies and not only me, one of our local A.net colleagues decides also, that he is in the mood for some flying around!.
Wednesday, 29.06.2011
.
.
.
.
Service SK 668 operated by SAS Scandinavian Airlines
Scheduled: 07.00 // 08.35
OLCI works properly with LH´s website, the last row window for me, sure nothing else expected.
Boarding is on the paper for 06.40 am, my usual style today. Cell phone set for 04.00 am, on the road at 05.00 am and at the airport at 06.00 am. Pretty ontime and ready to go for the lounge or not?.
No, a quick sidestep to the First class desk is again important today. LH´s system doesn´t want to show my status, nothing new with the status change after booking. Solved within a minute by nice staff. The lounge now?. No!.
Let me show how S. booked these flight first.
A good offer by Exp.de shortened the fare down to 60.00 Euro´s, booked together with the return leg in the evening. Well, with these fares it seems hard to earn much money for SK, but anyway it´s good for me.
Check the screen first, no remarks for my flight from gate 159, the one SK takes usually for the overnighting plane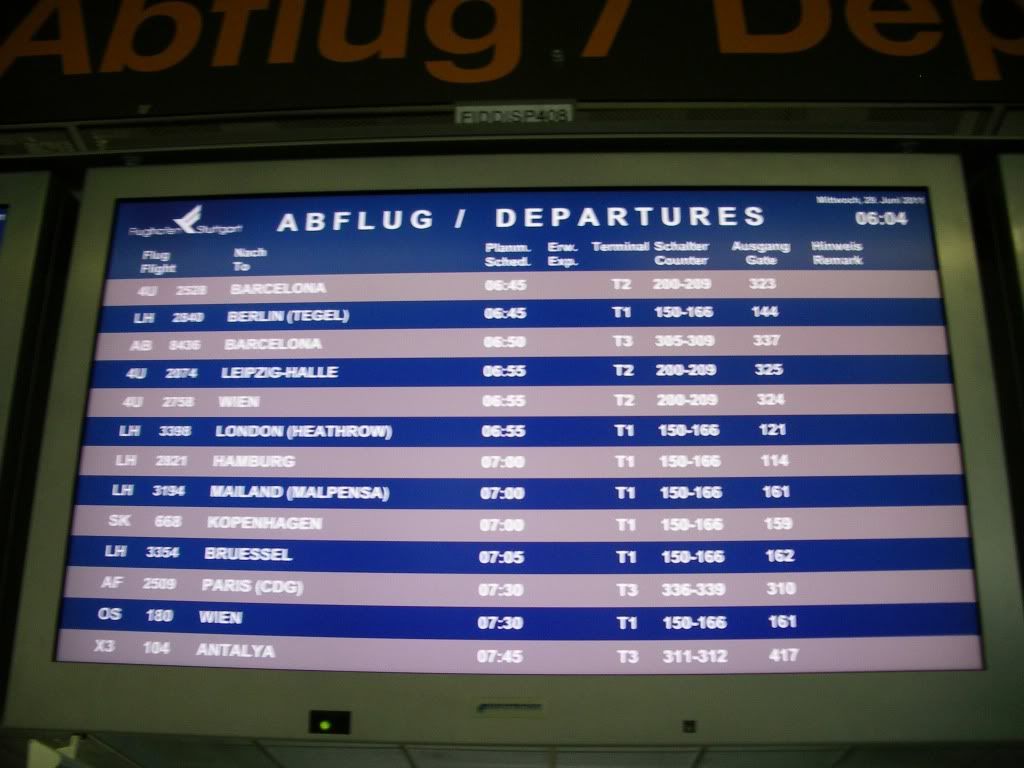 A new idea here in STR now, they opened a separate entrance for premium pax at the T3 security checks, so close to no time to wait for me till I´am in the gate area.
And finally yes, the Senator lounge is the place to go now.
Good for some more breakfast today
Comfy seaters and flat screen TV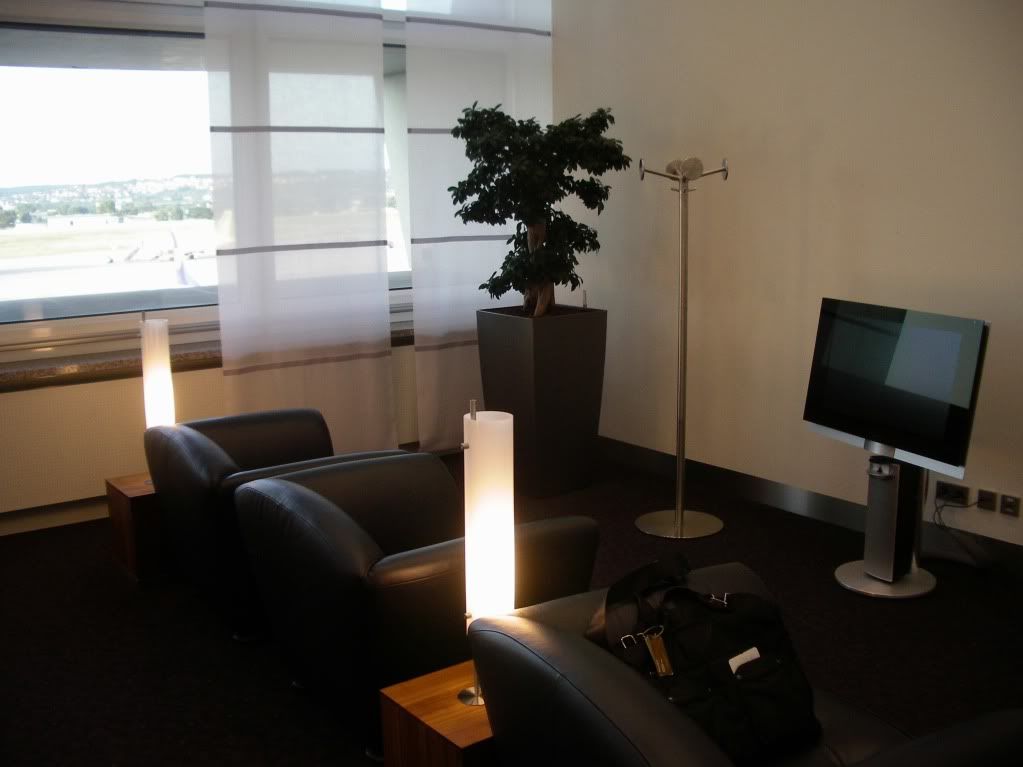 A view outside, no rain, no clouds, but it looks really like STR with Germanwings on the apron and LH at the gates
Not that much customers that early morning time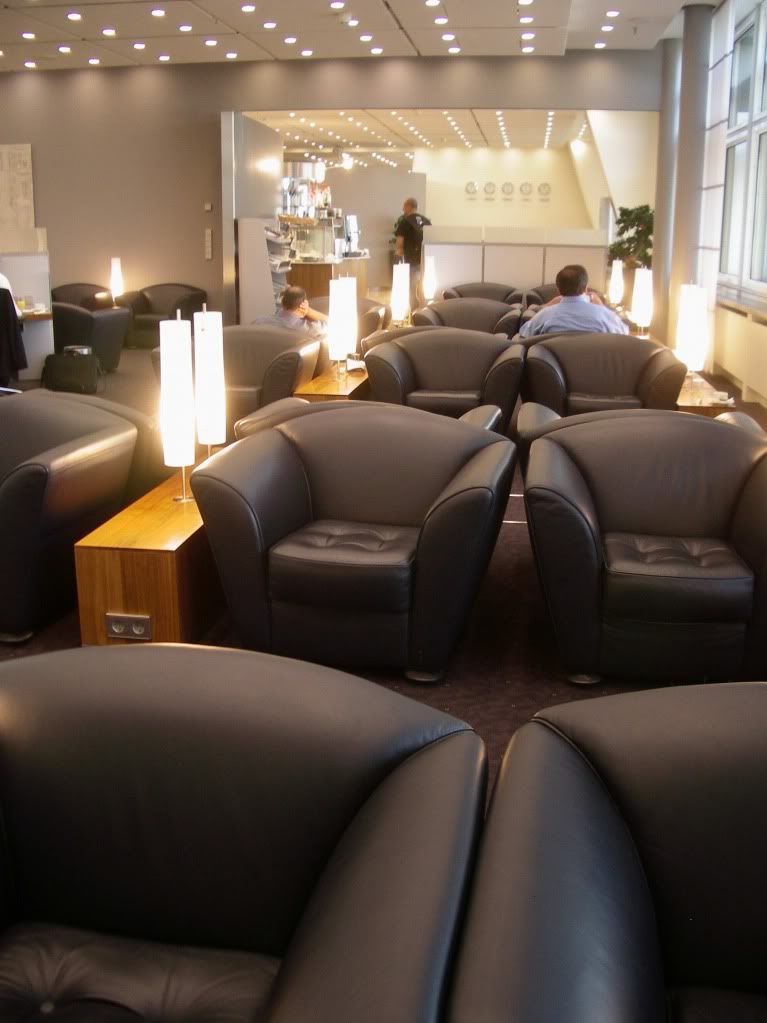 Down to the groundfloor for an ontime boarding.
There are some technical issues with Gate 159, so quickly changed to 158.
Much to my surprise there are close to no pax at the gate, but I´am not late, at least not really late!.
The free apron tour now for these bird.
It looks like the scheduled CRJ900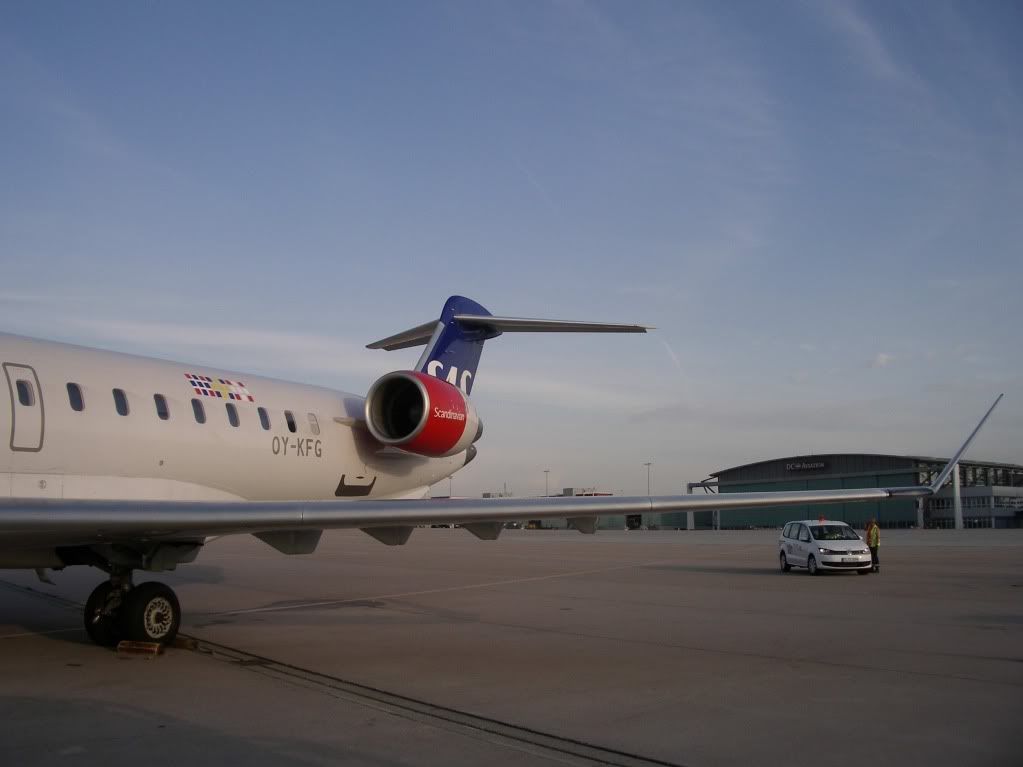 OY-KFG or also known as "Maria Viking"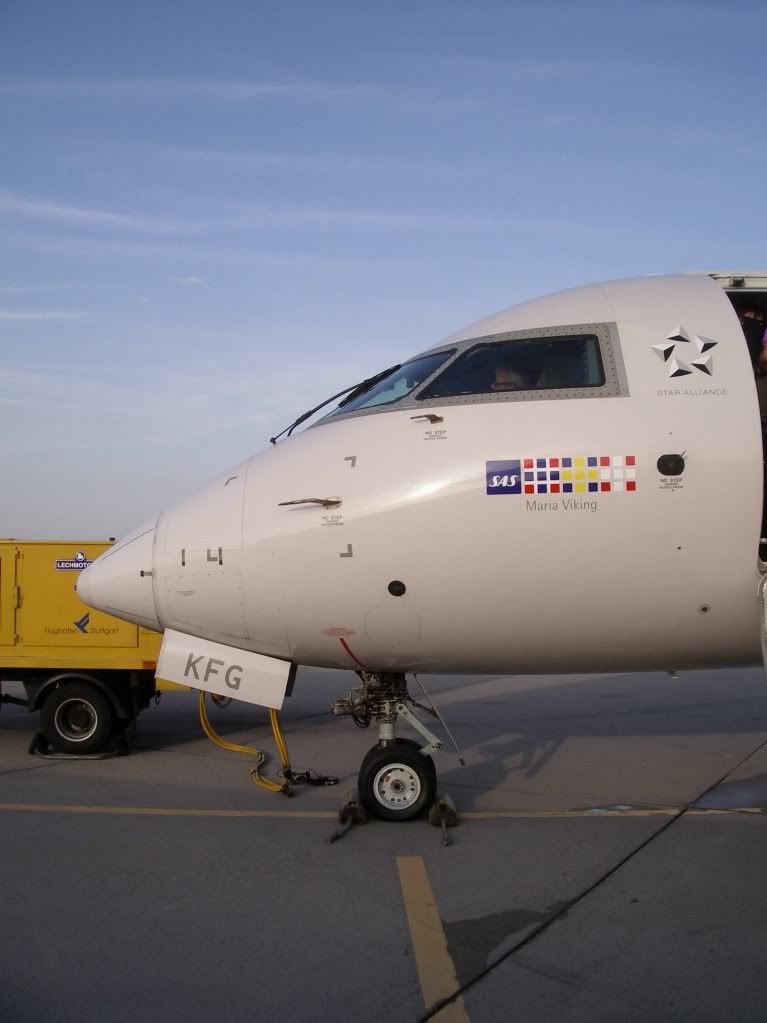 Boarding now. There are 12 examples in the actual SK fleet and this machine is in service with the airline since 07.07.2009.
Leg no. 6 only on type for me and good to start the day with a new registration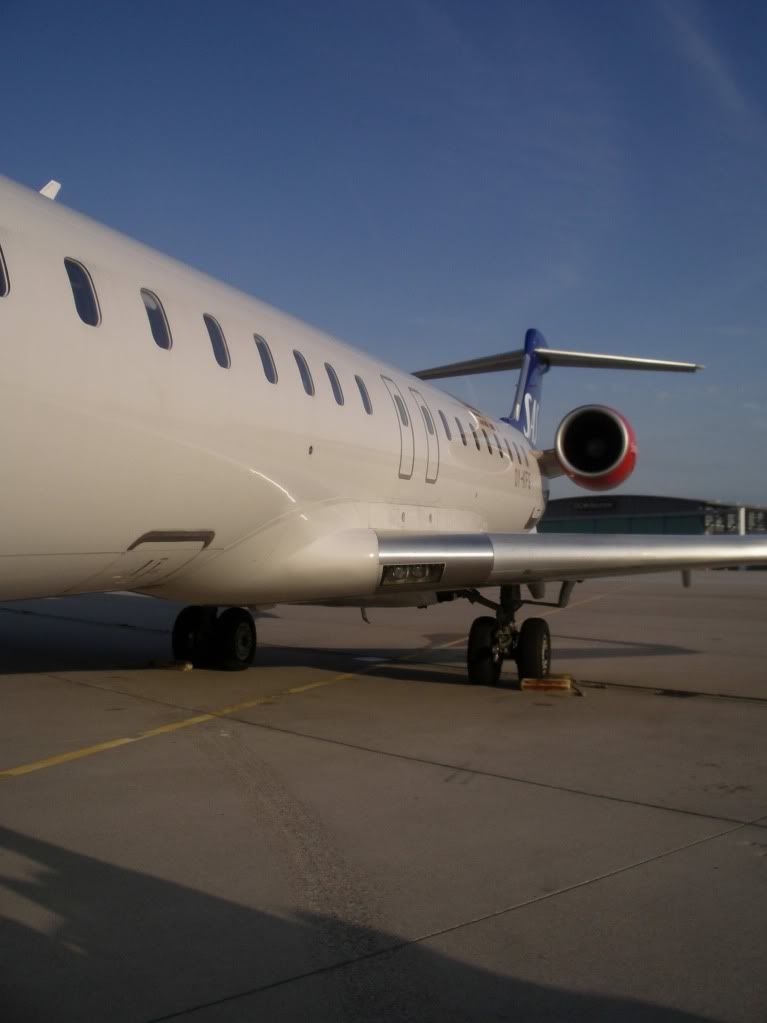 Cockpit crew is from Scandinavia. The captain with a relaxed and detailed welcome during boarding.
Dark blue fabric clean seaters here.
One young male together with one elderly female in the cabin, well biz friendly to say the least.
Check-in is done for 24A, the young male FA approached me after I´ve settled in.
"Please change you´re seat Sir". Not in a really nice style from my impression.
"I´ve checked in for 24A and this seems 24A, it´s not ok here?".
"No, we need that seat open due to security reasons".
Sure ok with 23A and B not taken, but these less friendly behaviour feels awkward to me.
The second to last row window now, two for me, recline is ok.
Note, no window in the last row F seat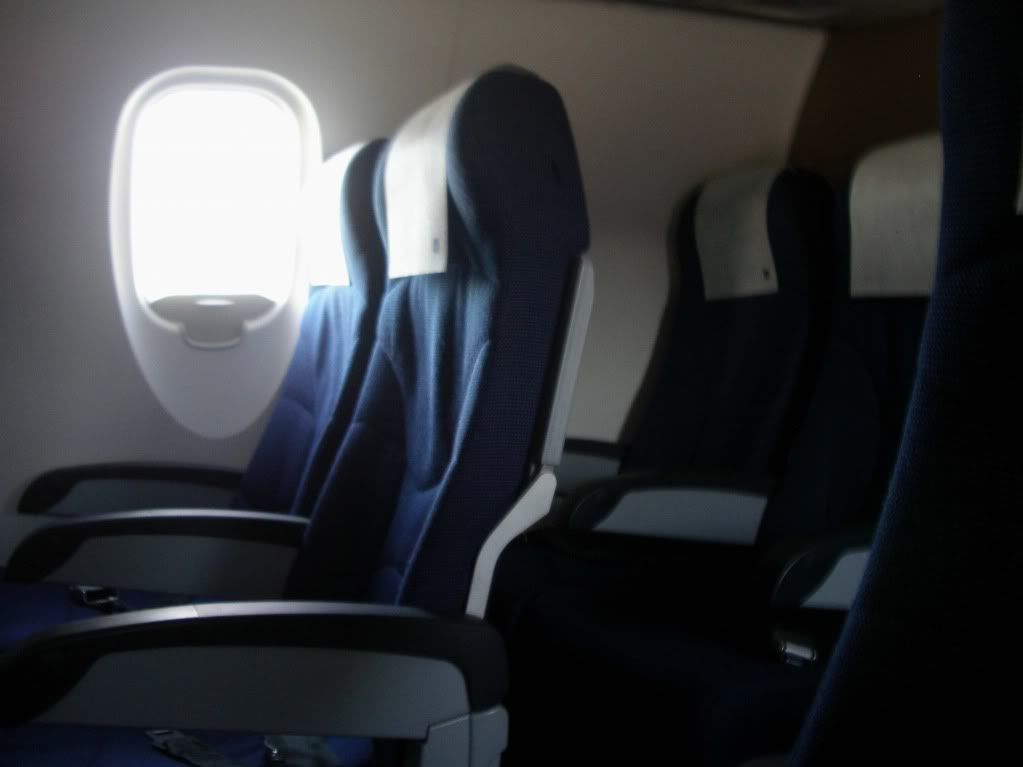 It´s 07.10 am, slightly late, sunny 16 degrees here.
Just departed from 25 with a strange curve in northern direction. 1 hour 05 minutes for CPH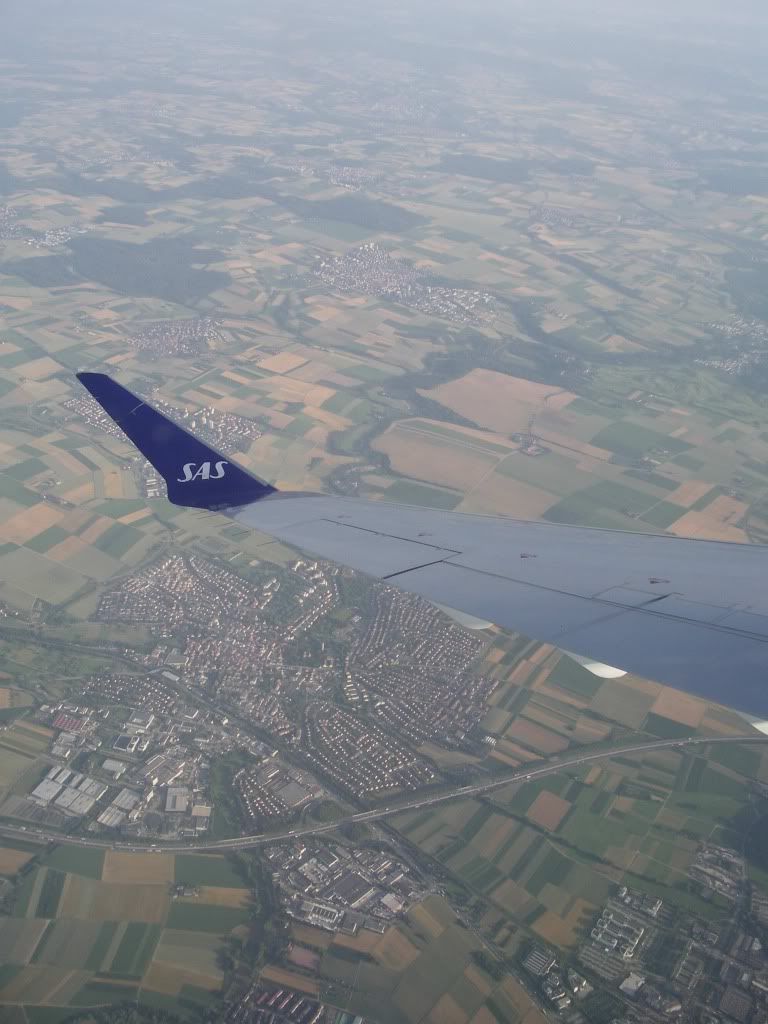 Legroom is sure ok here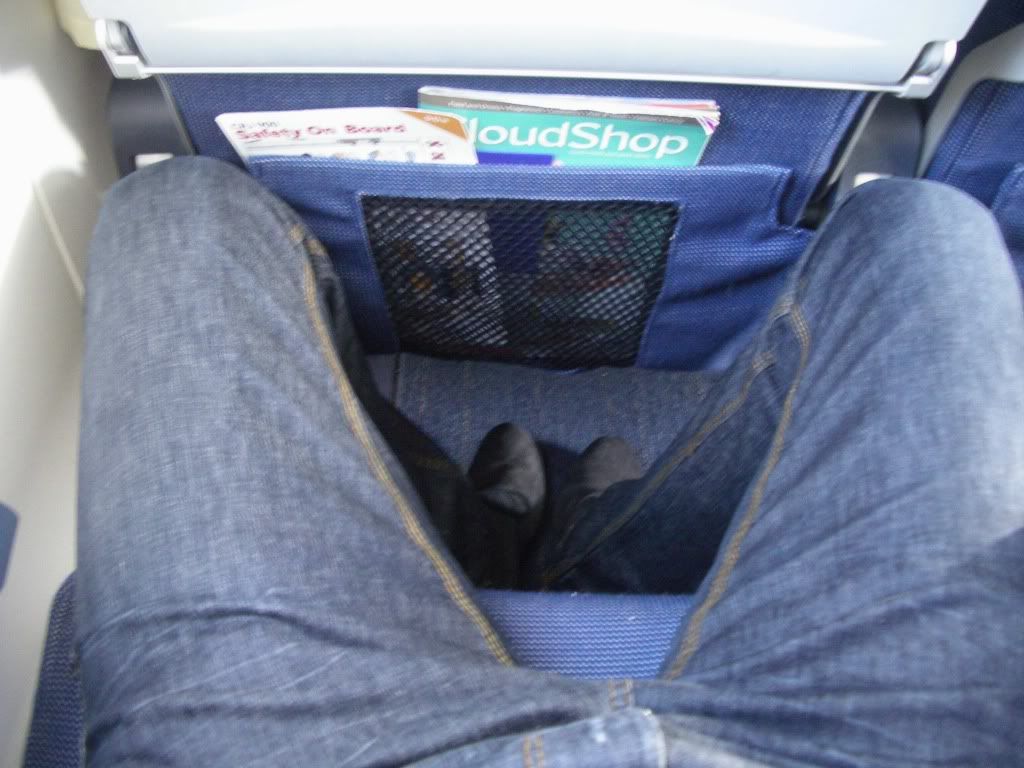 The safety card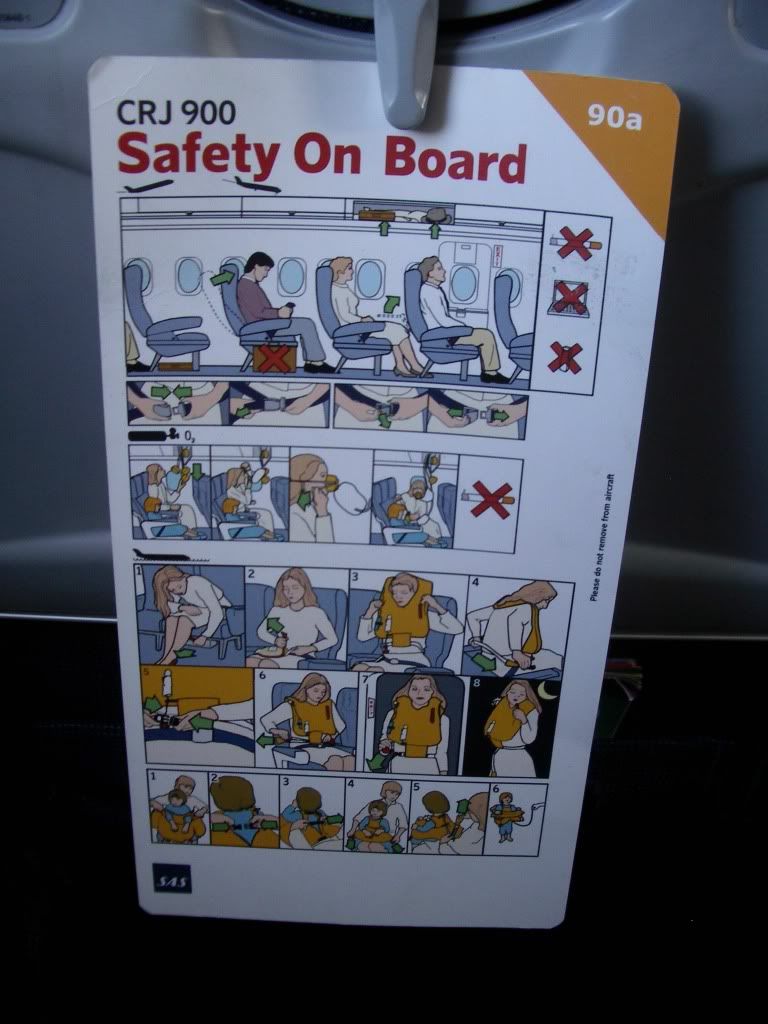 Load is 80 %, no free service.
The modern style cabin ceiling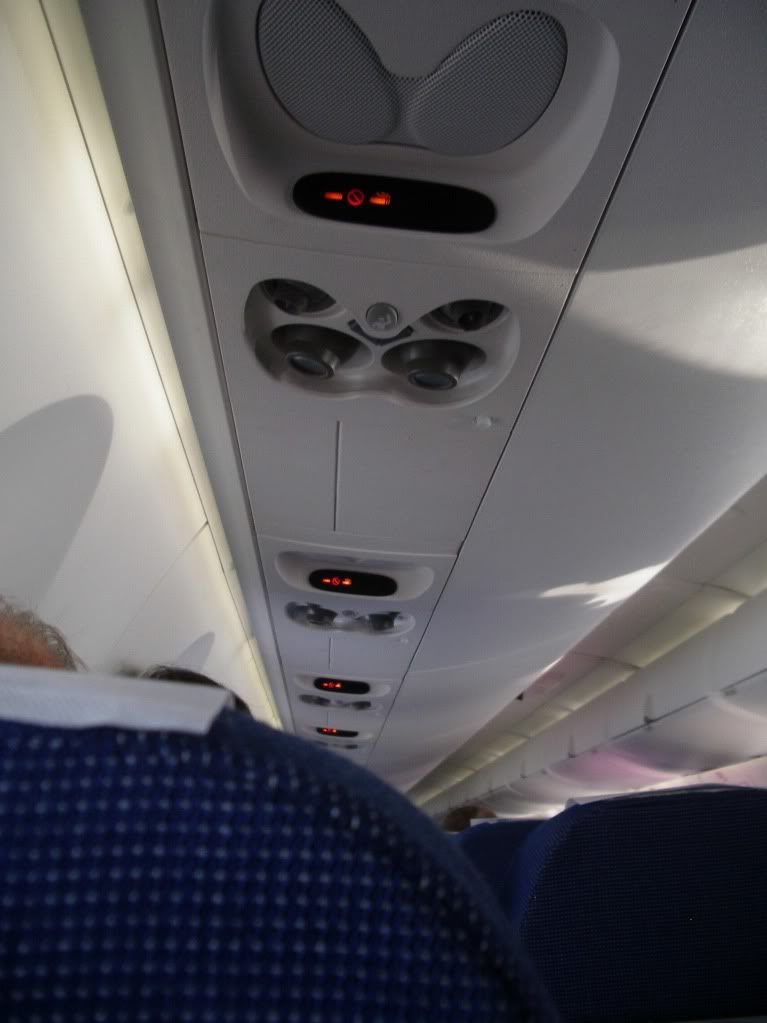 Leaving the clouds for sunny Denmark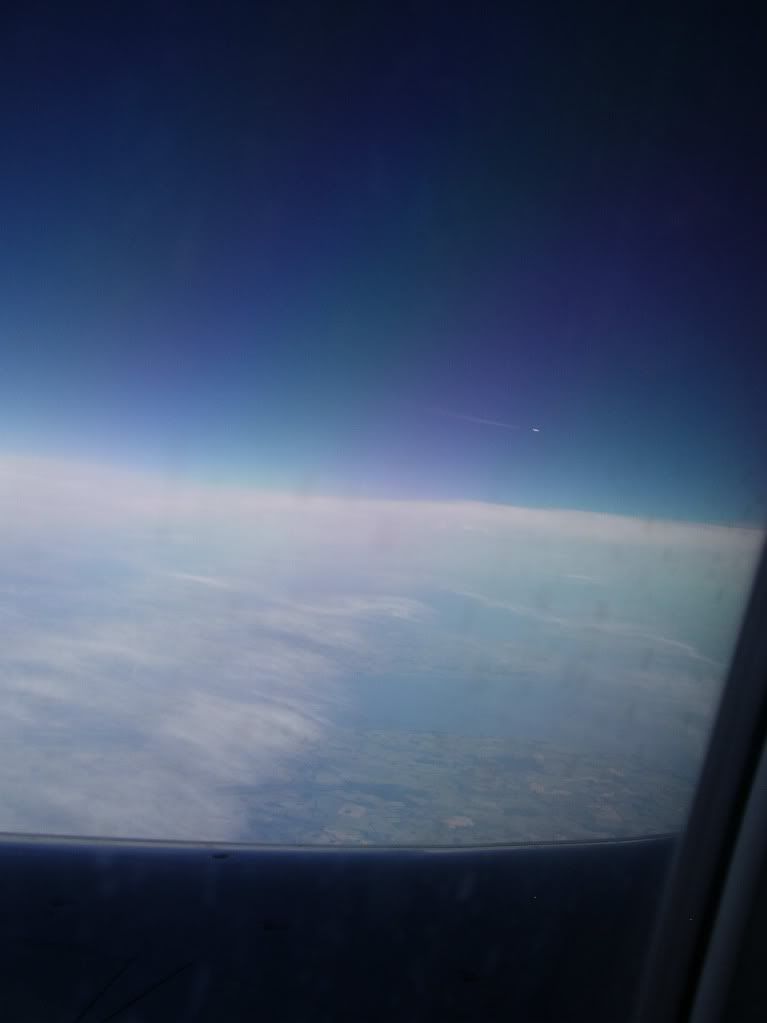 The captain is on the mike again relaxed during approach with a nice bye-bye.
No route or flightlevel information.
Traffic down there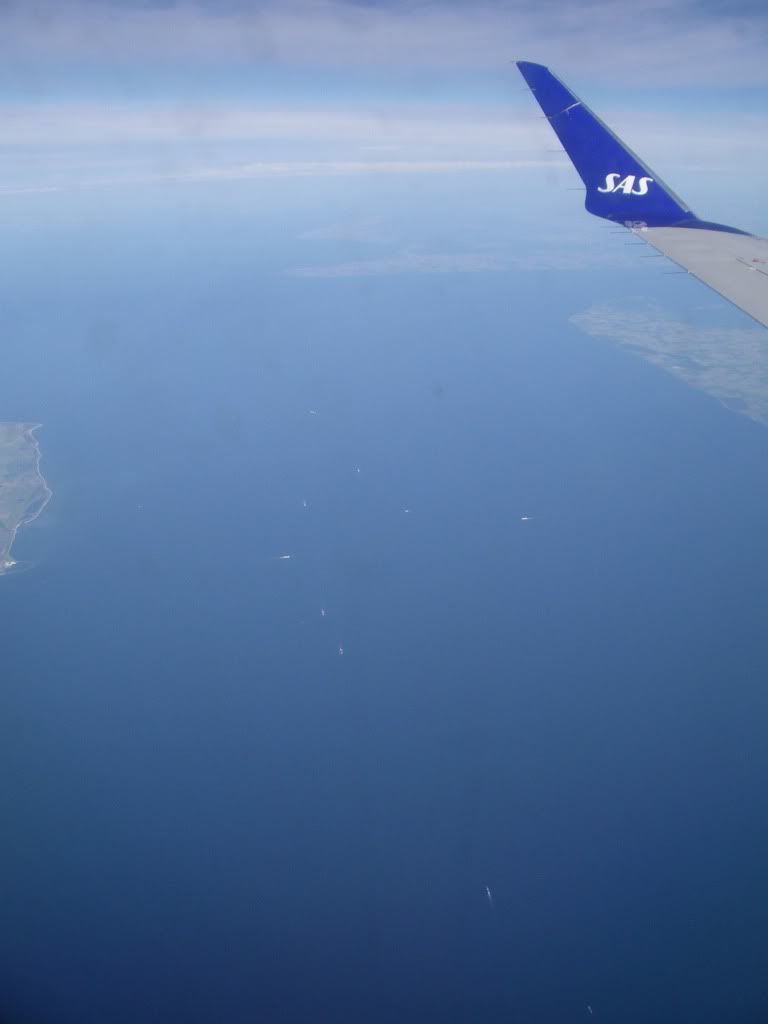 No clouds, no rain, so it seems thats not a bad day to fly around, at least till now.
Should we really need 3600 meters asphalt for touchdown at CPH´s runway 04L?. Not at all, the runway is only partial used today. 08.25 am, ten minutes ahead to schedule. 10 degrees only, but it´s sunny and that´s exactly what I need.
Bye now to OY-KFG, will I fly the CR9 again?. Sure, but hopefully on a new registration
Ok, I´am ready for the next flight, but there is another target in between.
One of these places, where also S. is in a really hard decision to leave his comfy chair somedays!.
Wednesday, 29.06.2011
.
.
.
Oslo lufthavn, Gardermoen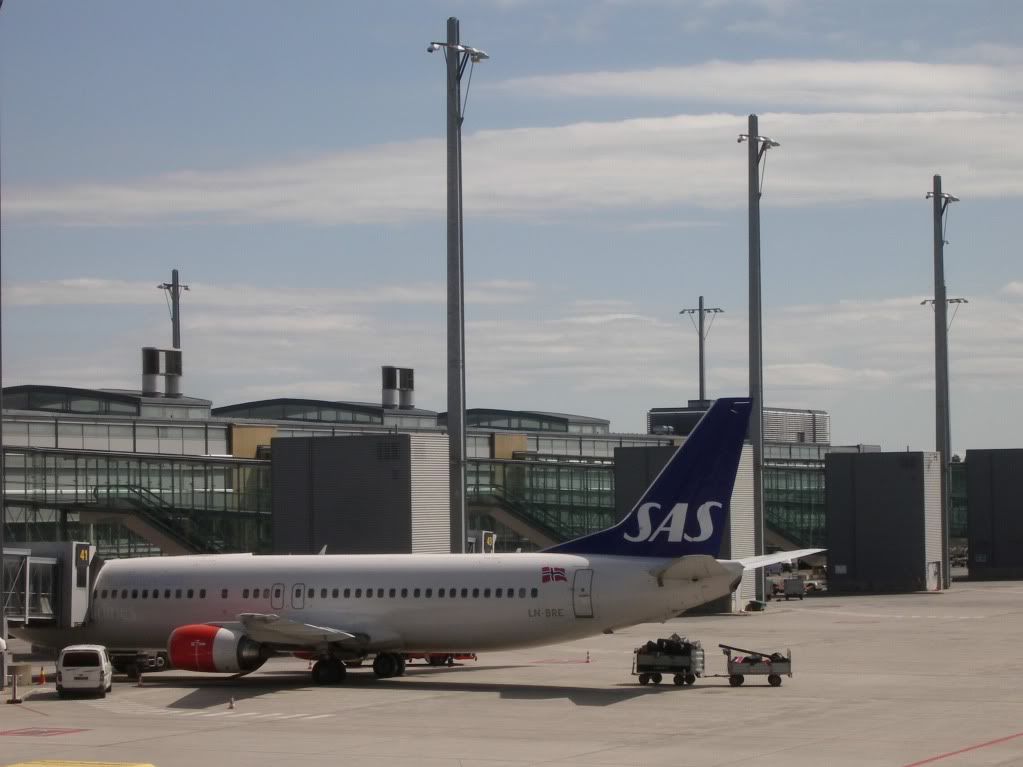 .
Service SK 1454 operated by SAS Scandinavian Airlines
Scheduled: 10.20 // 11.30
The SK lounge at CPH, also recommended by a couple of people as one of the best lounges around in Europe.
A self check is the way to go now.
The entrance
The ground floor is the place for the silver members, the upper floor for the gold holders.
Large and spacious it is
One of the self service corners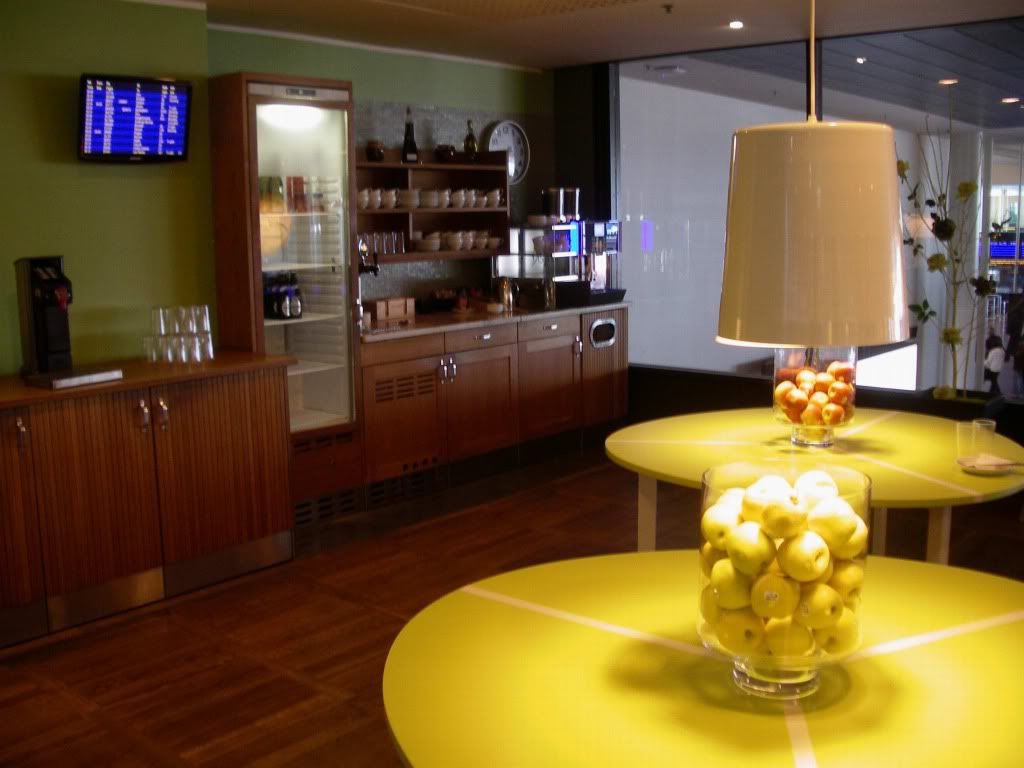 The quiet area
The rear part facing the hotels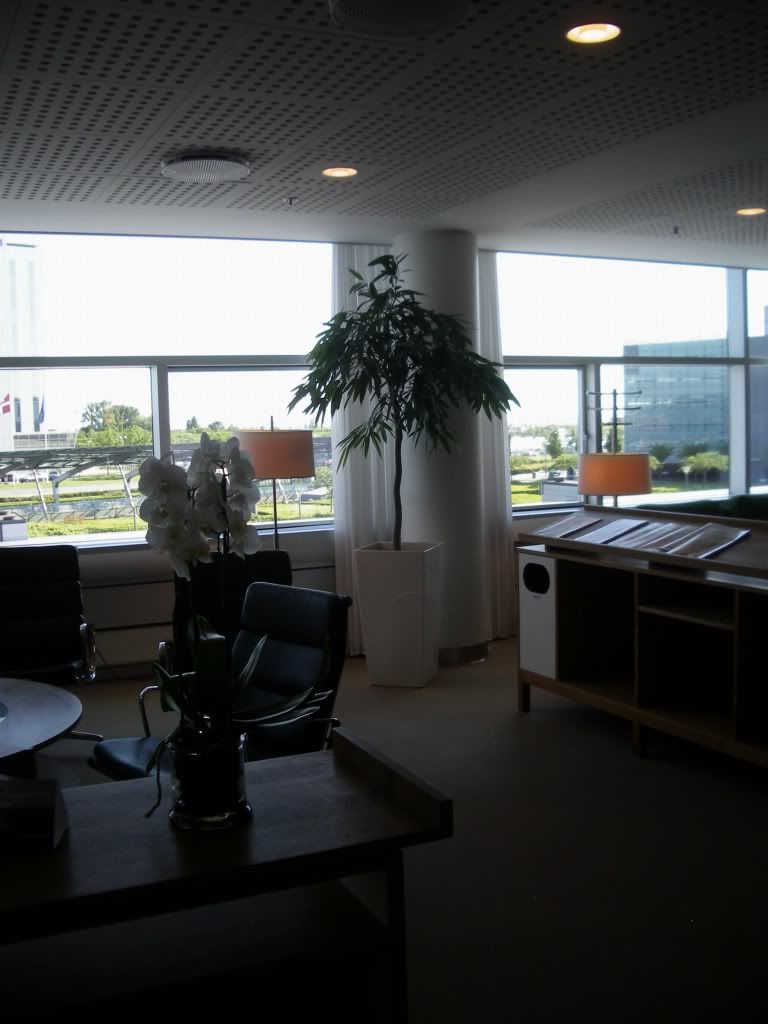 But the quiet area is better for my comfort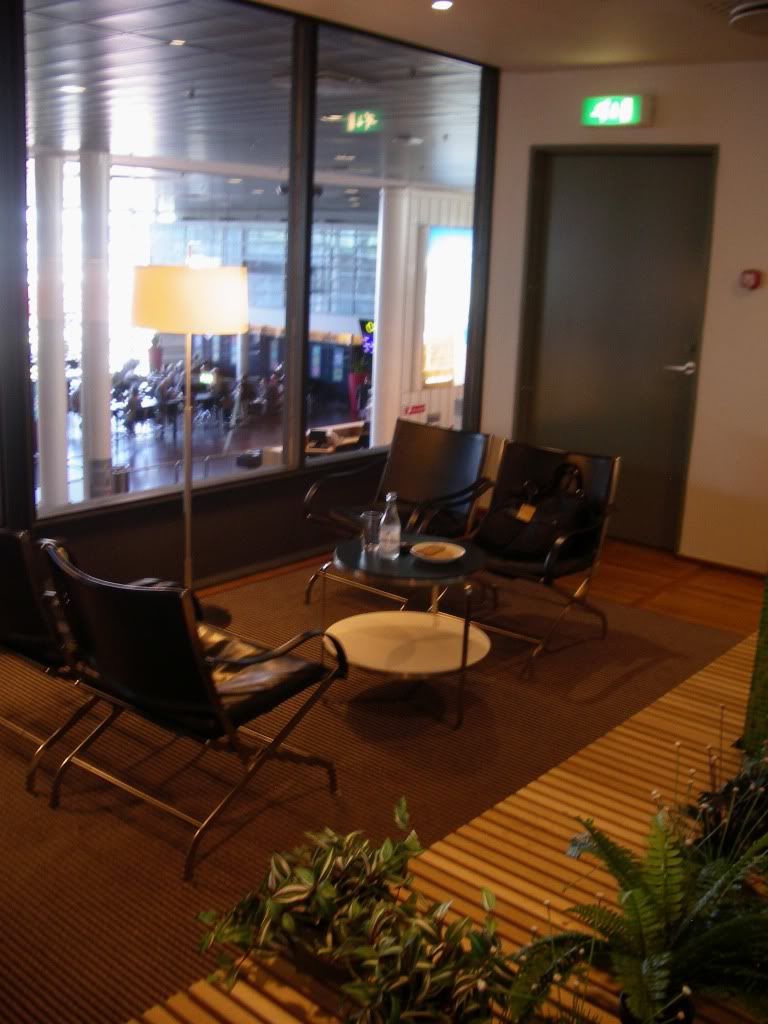 My meal
OLCI for the flight is done the day before, 25F, the last row window and surprise, the SK system shows my gold status.
Mr. S. fixed this leg by Exp.de, the fare 45.00 Euro´s only.
I should go to the gate now, B3 today
The 737-700 is on schedule. Changed a couple of days ahead to the flight for the 737-400. Sure the 734, don´t really know that SK operates these type actually.
Maybe an system error?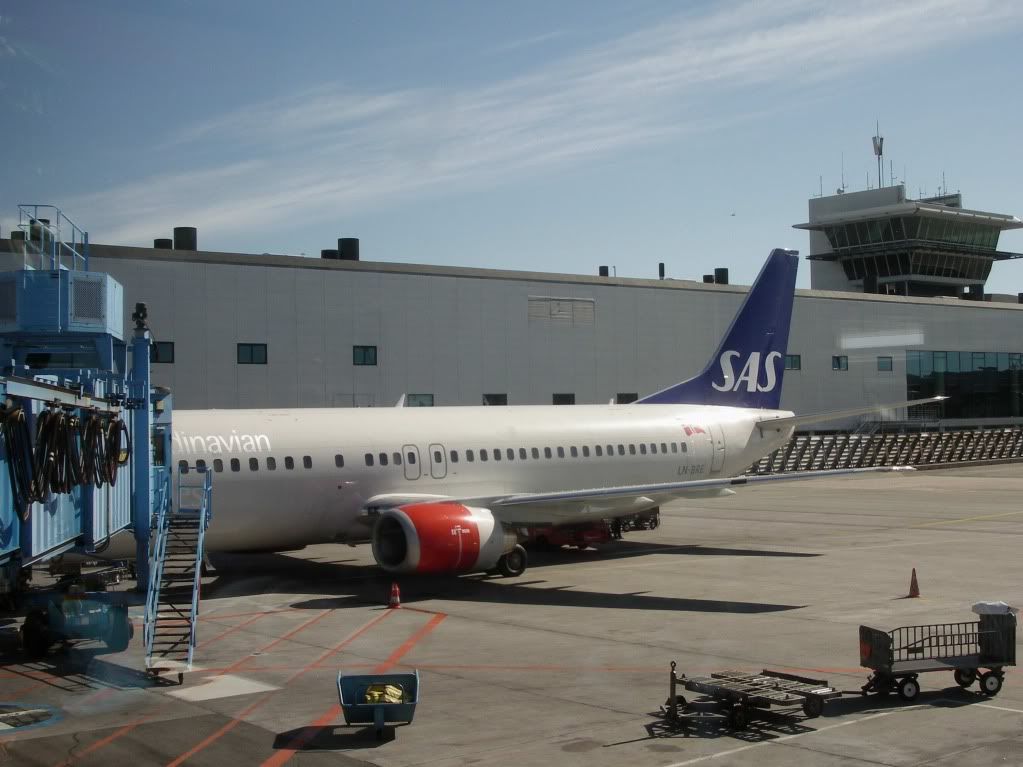 The Malev 738 at the gate opposite
This is LN-BRE, the 734 for real.
In service with the SK group since 18.05.1990.
There are 3 planes only on type in the fleet.
Leg no. 14 for me on the 734 and the last flight is close to 200 legs ago. Warm welcomed, to say the least, also when I see that this is a new registration again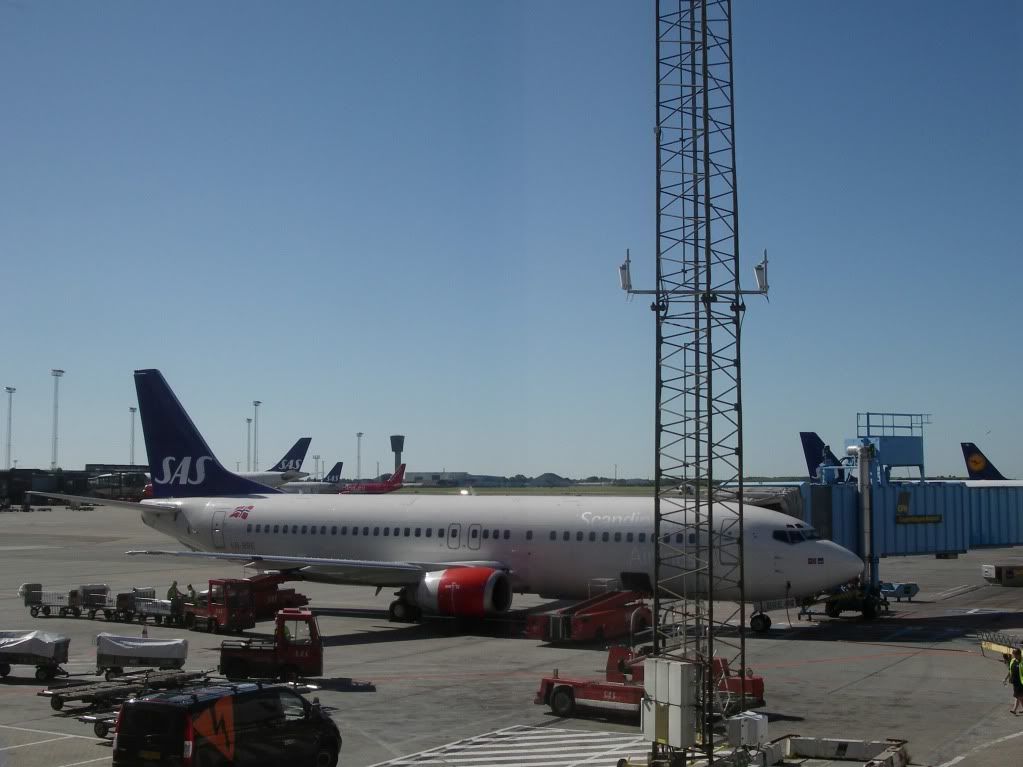 Cockpit crew is from Scandinavia, the captain with a short nice welcome after boarding is completed.
Very oldfashioned seaters, well used, but nevertheless comfy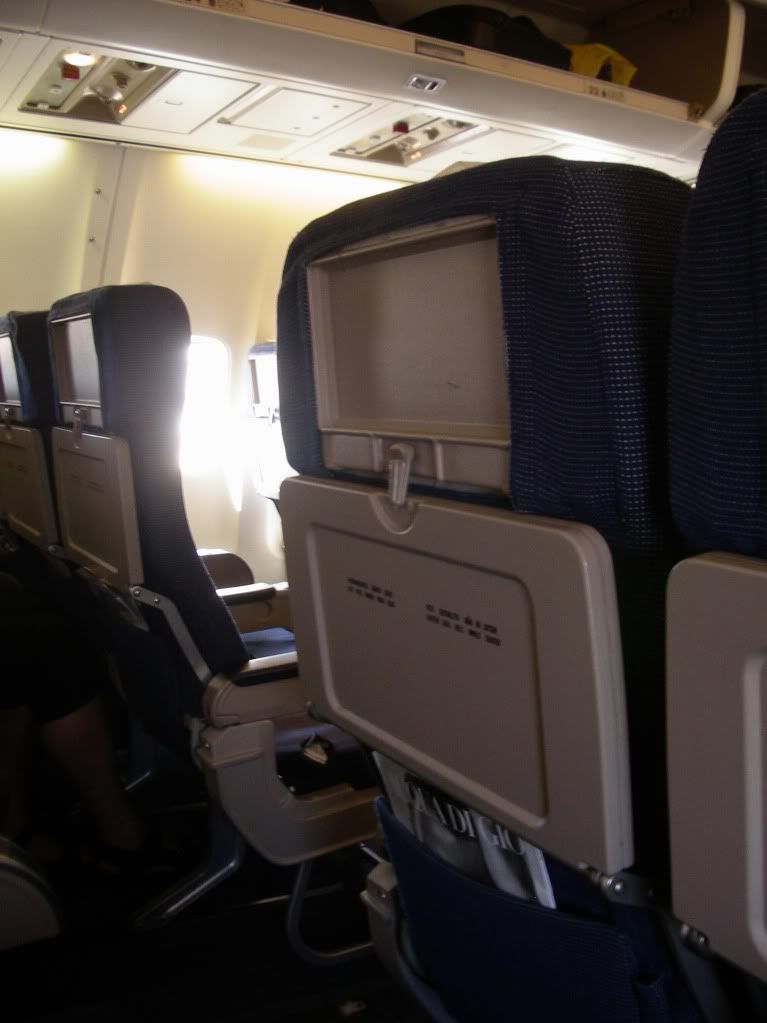 We take the shorter runway 04R for departure, anyway 3300 meters asphalt is pretty enough for us. 10.20 am perfectly ontime, sunny all the time and 14 degrees.
1 hour for Norway.
The safety card
Cabin crew is three female FA´s. Two elder, one younger, all together nothing special, biz friendly to say the least.
Legroom is ok here, three seats for me, but no recline
Cabin view, more oldfashioned feeling. The load is 70%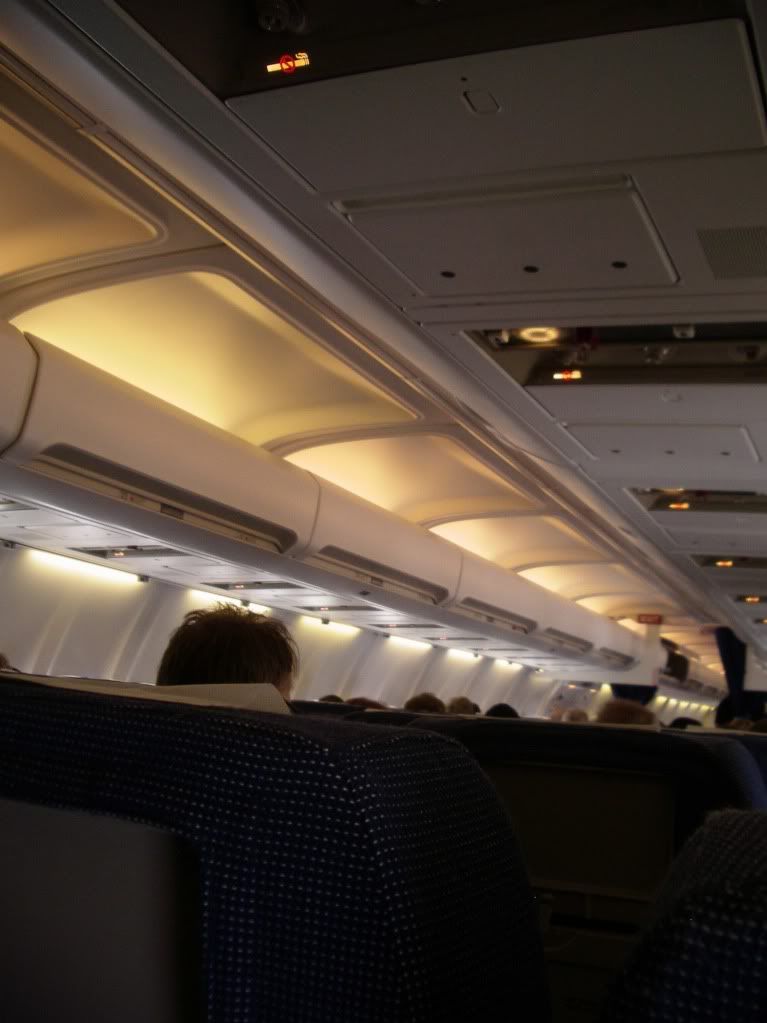 The bridge to, well, nowhere, sure we know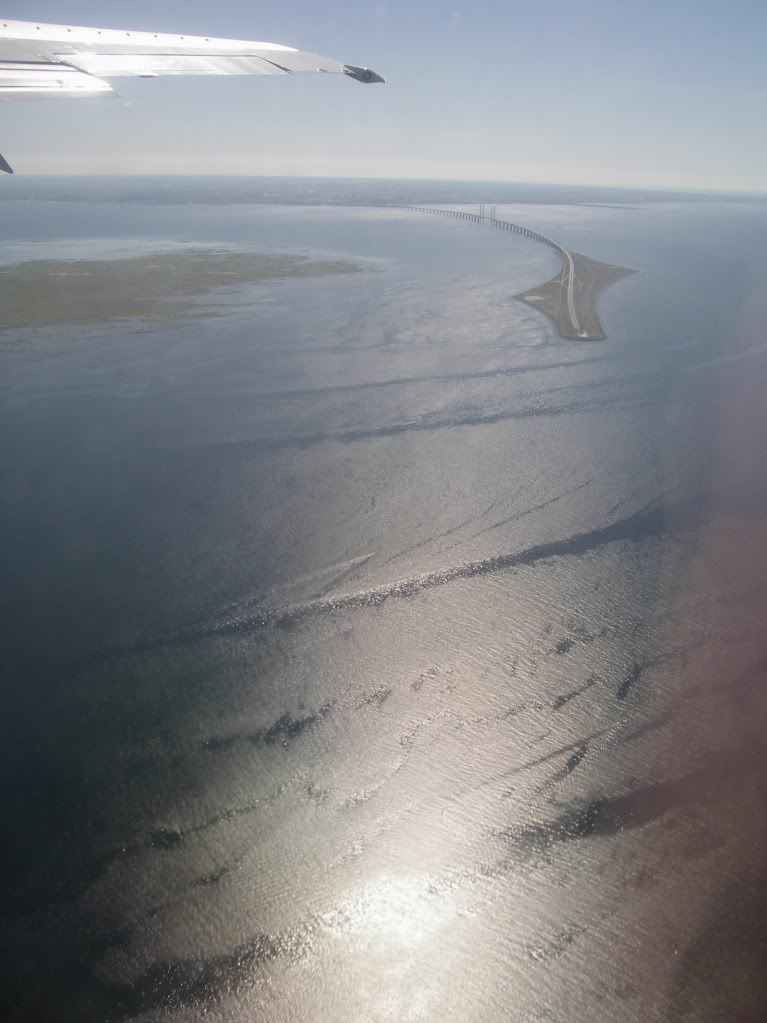 Service is BOB.
The cabin ceiling
An airport on the way
The captain is once more on the speakers, relaxed during approach with weather informations. No route or flightlevel details.
Yes, that looks like Norway down there
19L or 2950 meters on an asphalt/concrete mix is ok for us now at OSL. 11.25 am, short ahead to schedule, 21 degrees and partly cloudy here in Norway.
S. confirmed by SMS immediatelly that Linie Aquavit is the perfect companion for him and compliments me with the less covered 734.
Wednesday, 29.06.2011
.
.
Oslo lufthavn, Gardermoen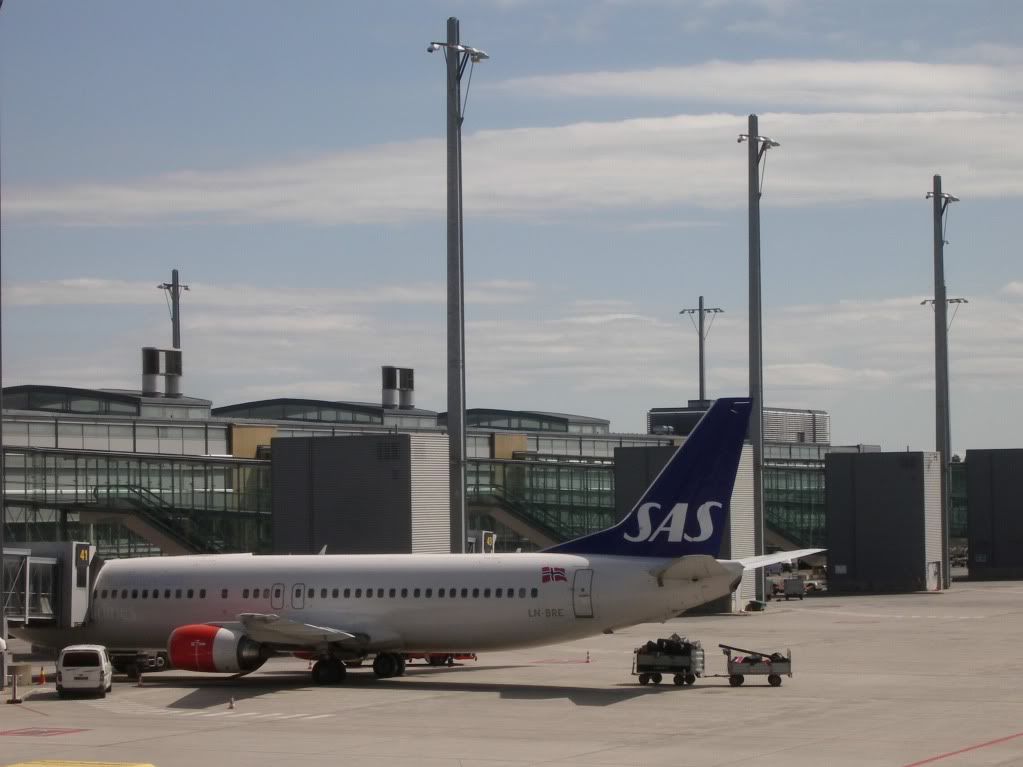 .
Kristiansand/Kjevik Airport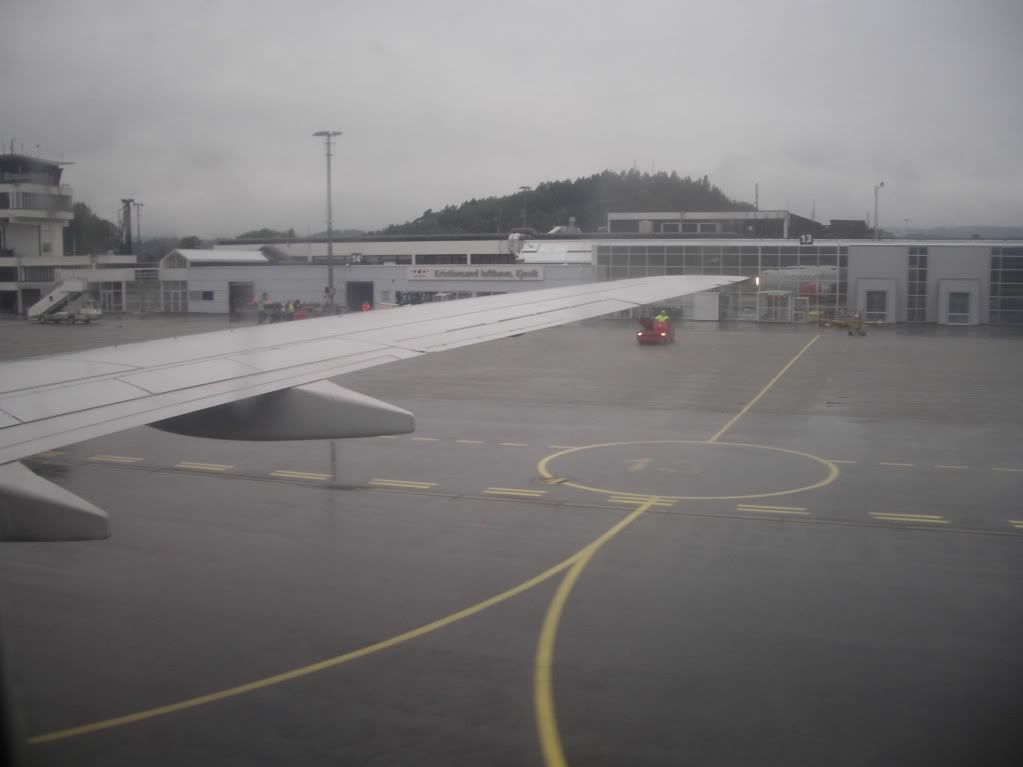 .
Service SK 215 operated by SAS Scandinavian Airlines
Scheduled: 14.35 // 15.20
The way from the plane on international arrivals leads you to the baggage area and finally out in the public. Well, good to catch some sunrays.
And what is parked accidentally close by?.
LN-BRE!.
Super nice weather, so why not spend the time in the sun?.
And why not have a chat with a nice young woman doing exactly the same like me in between two flights?.
Well, live is good, not every day but sometimes definitely!.
I should go for security now, some minutes there and back in the gate area.
This leg is fixed by Fly.de, cheaper this time than the other offers, 40.00 Euro´s only.
OLCI whenever possible, you know. There is a two seater on offer in the last row, sure my place to go.
What about a lounge?. Sure it is, but not in the domestic part of the terminal.
Wideroe on the go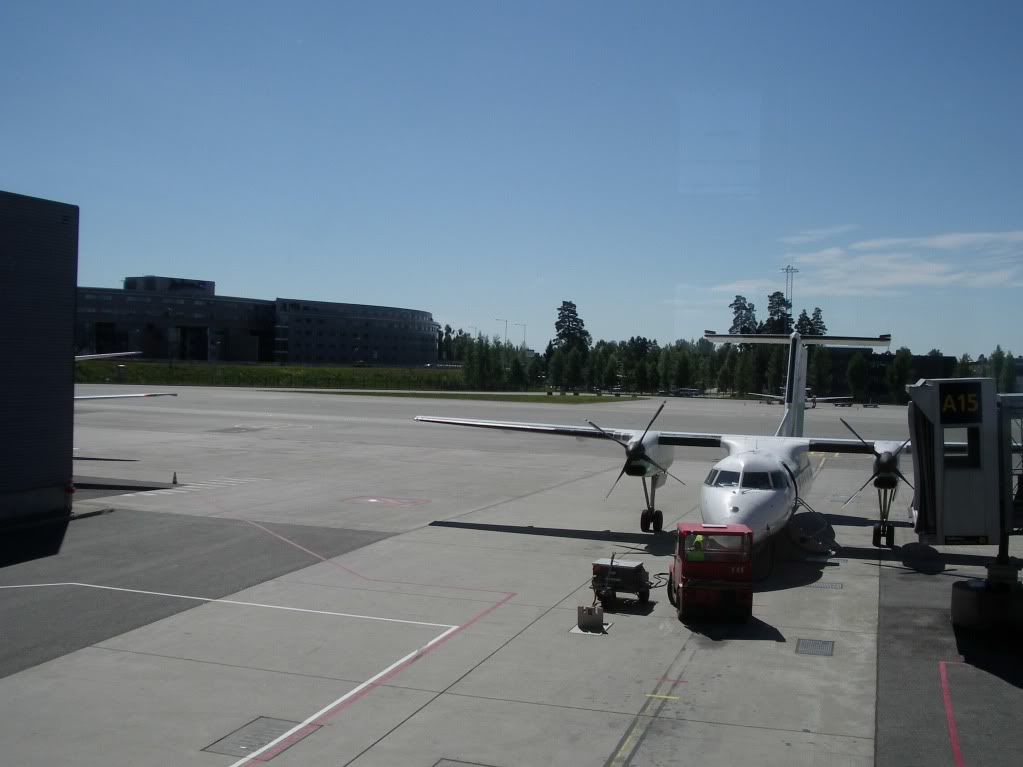 My second leg with the 737-700 was on this machine, years ago
Well, I should send a letter of complaint to the scheduling department immediatelly.
This is the upcoming tight connection and my flight to KRS shows a delay
My machine finally at the gate, 17 today
The guys down there are in no hurry at all
Blue and red in the shiny sun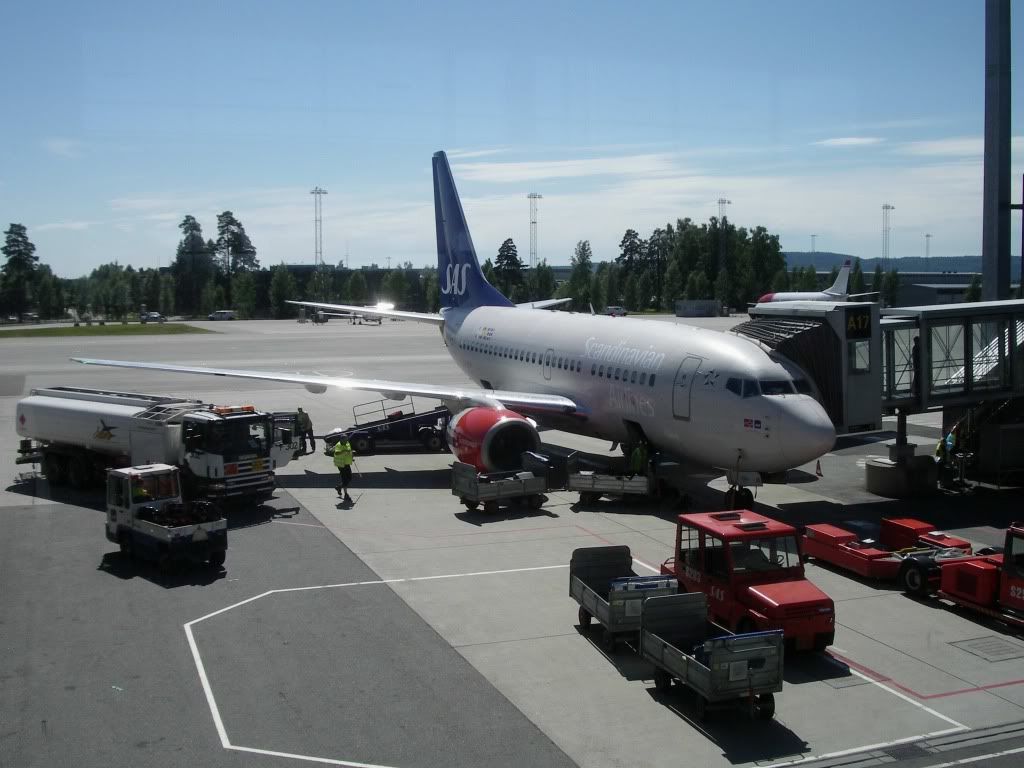 This is LN-RPH, the scheduled and warm welcomed 737-600. Leg no. 6 only for me on type and a new entry
to my log.
"Hamder Viking" is in service with the SK group since 03.09.1999. One of actual 28 737-600´s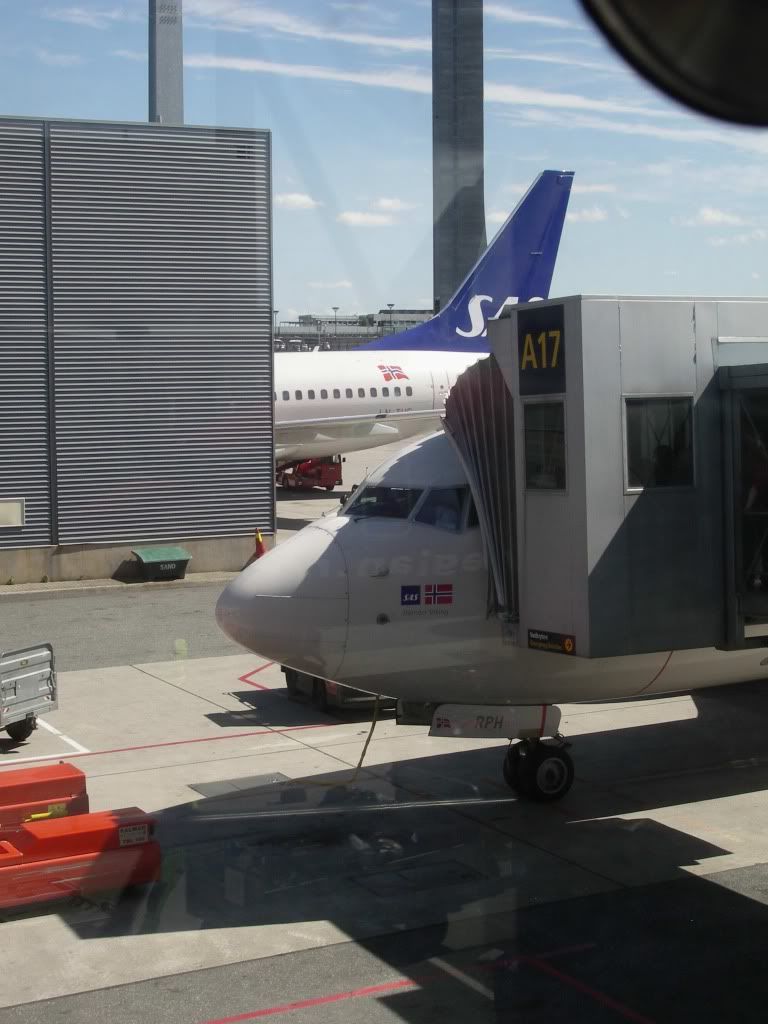 Boarding now, 3.00 pm, 25 minutes late. There is 1 hour, 10 minutes, from scheduled arrival to departure at KRS and by now there are 45 minutes left. 24 degrees, sunny and a few clouds only here at OSL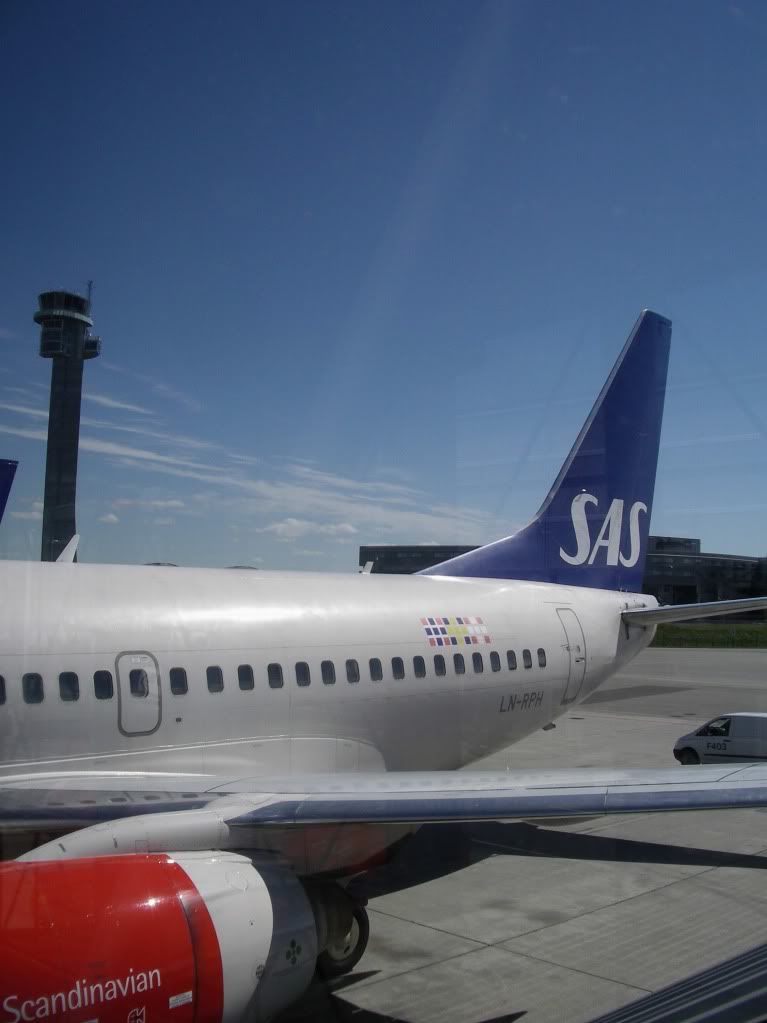 Cockpit crew is from Scandinavia. The captain with a real detailed welcome during boarding in a nice style. Despite to the late arrival we had to wait for other pax from a late LHR service. The other flights to KRS are fully booked and so there is no other way for the connecting pax to rebook.
Above OSL just after departure from again 19L like arrivals. 35 minutes only for KRS
Cabin view, different seaters to the earlier 734, dark blue fabric, clean so far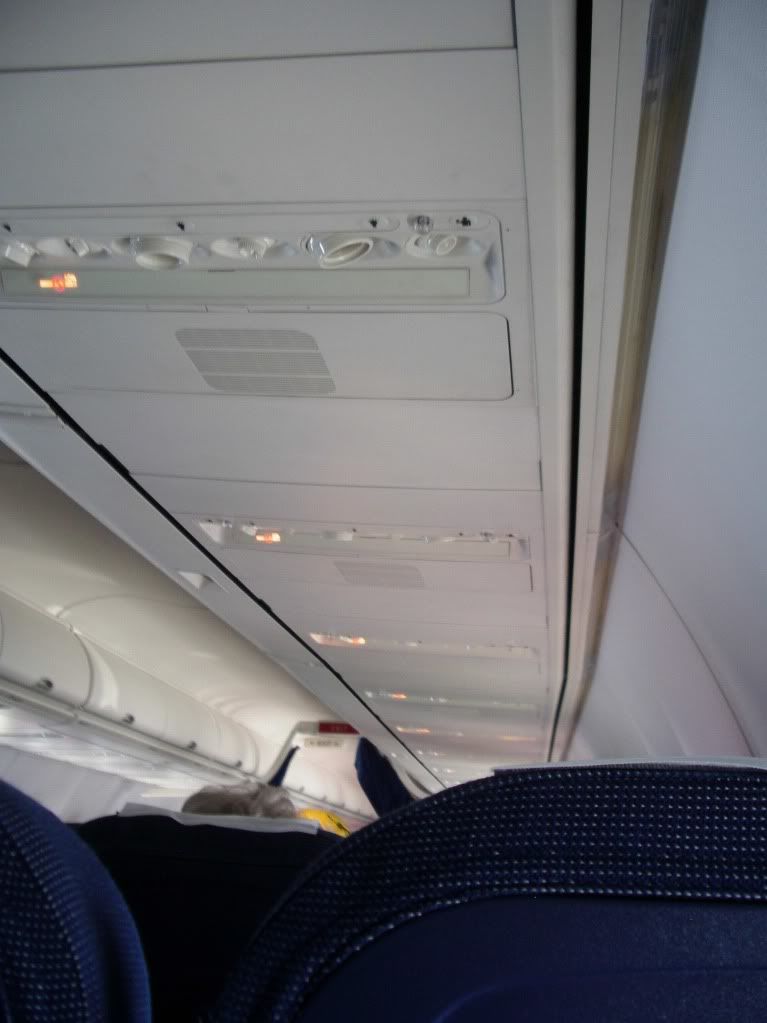 Cabin crew is one male, two females all together biz friendly here again.
The safety card
Legroom is ok here, two for me and recline is ok. The load is very close to 100%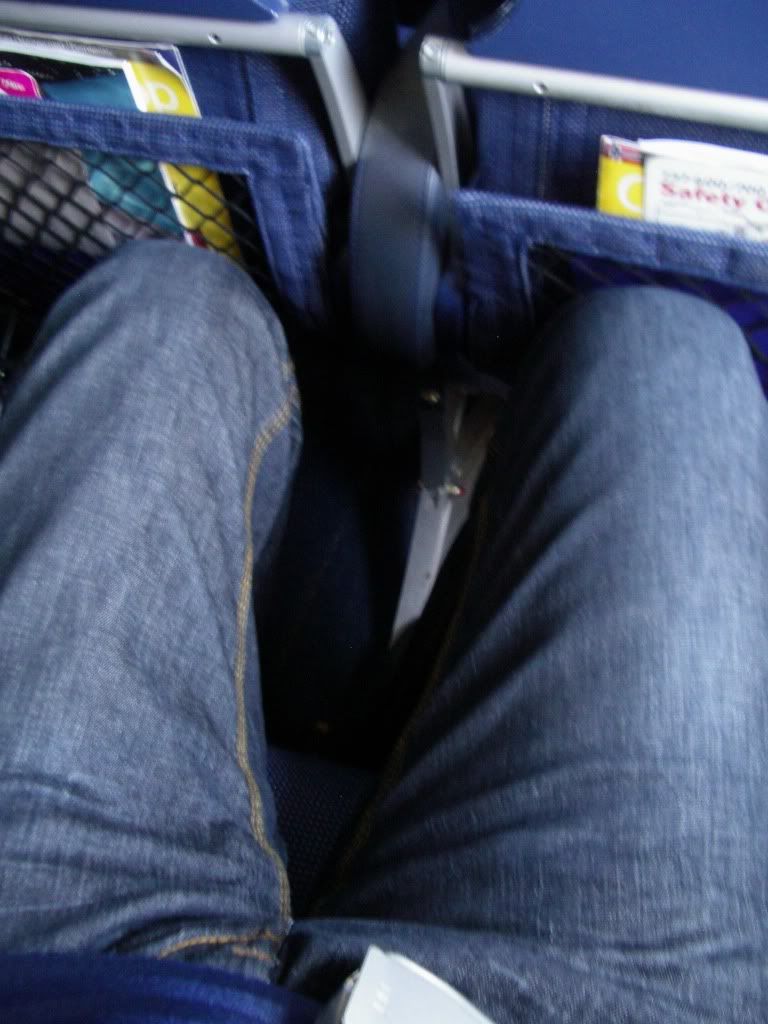 The different seats en detail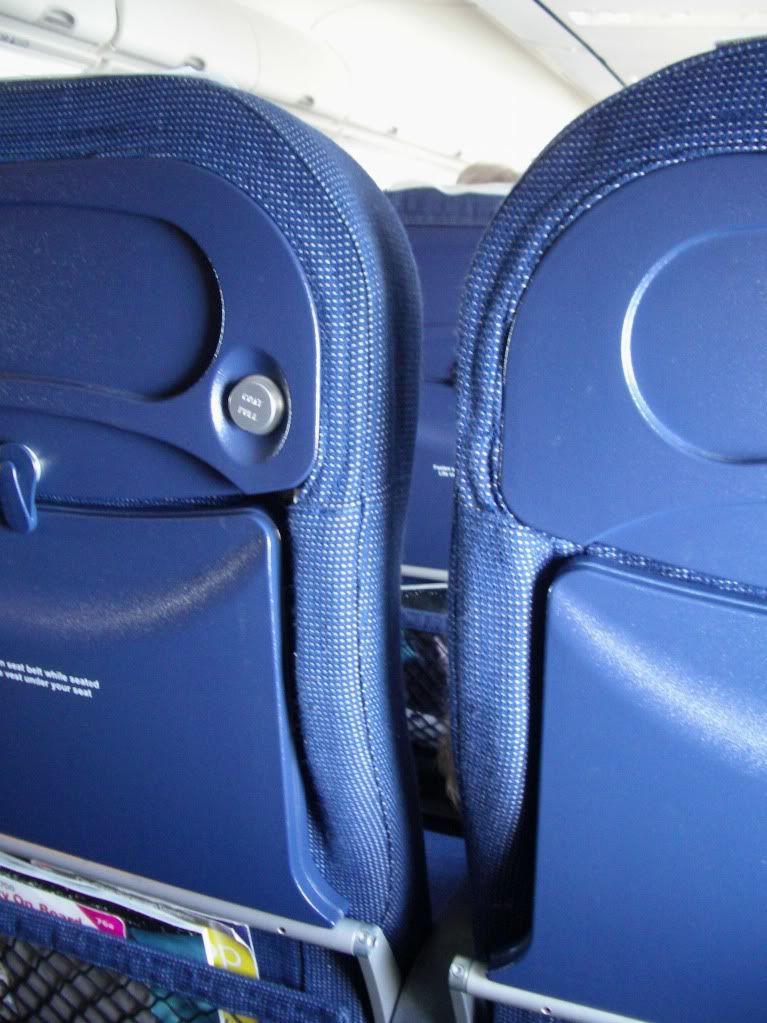 Service is BOB again.
Scanorama summer edition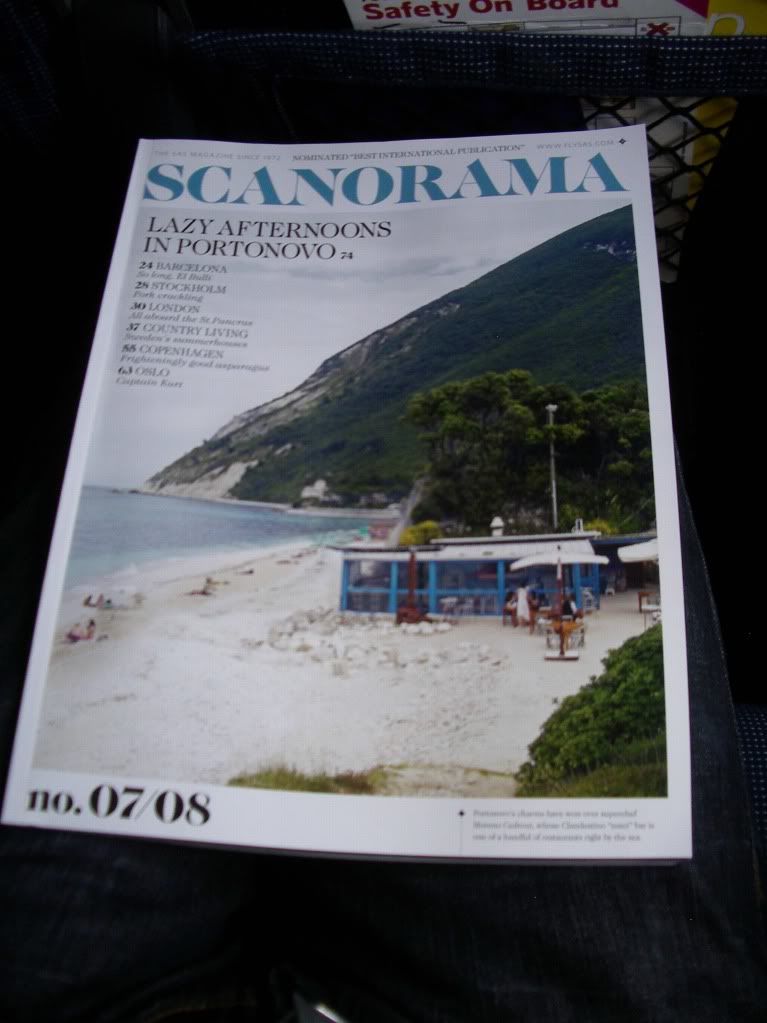 The captain is once more on the speakers with weather informations for KRS. No route or flightlevel details.
Sun in STR, CPH and OSL, but not here at my final target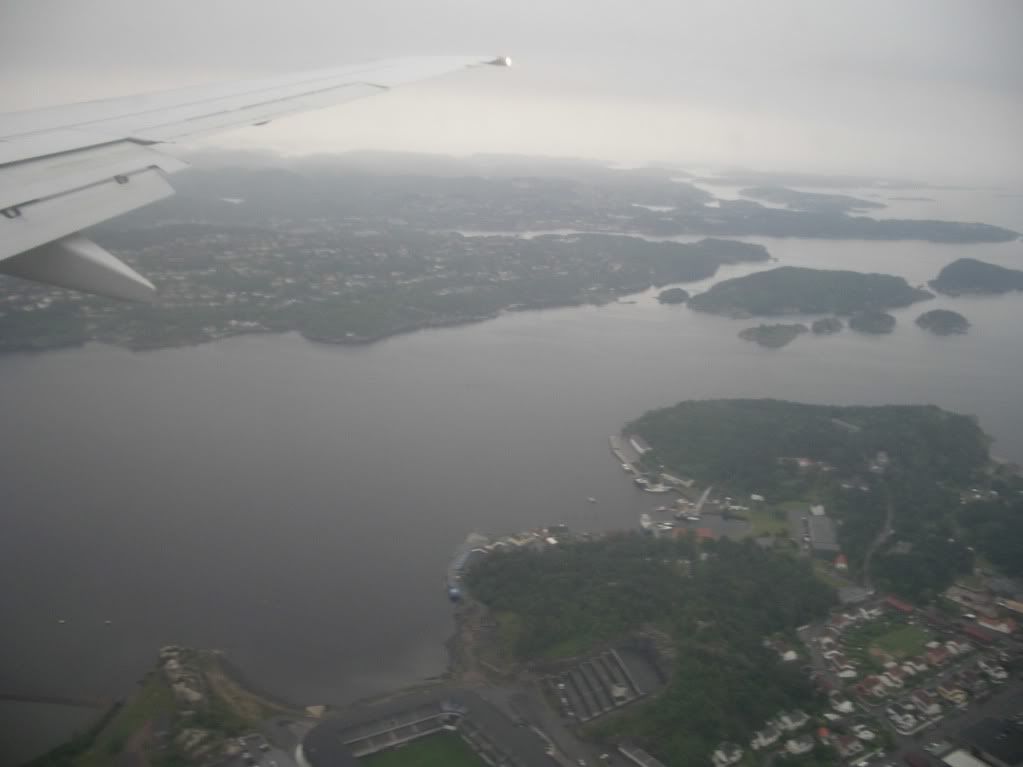 Wet air and heavy contrails inbound for KRS
Feels like a night flight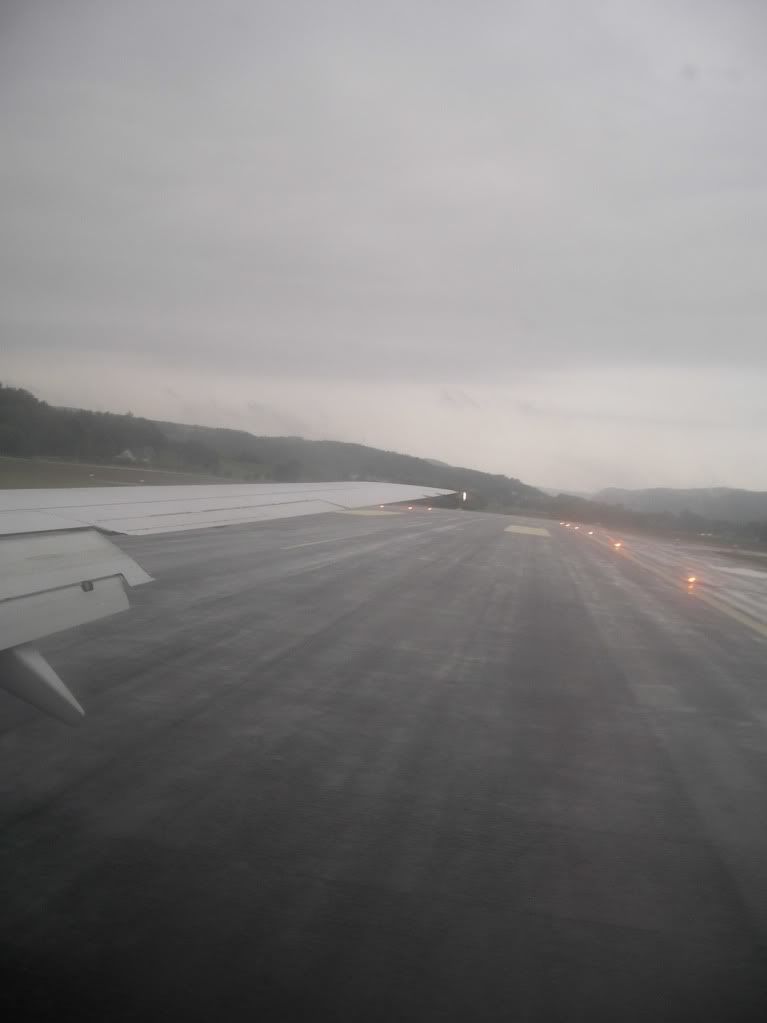 The asphalt runway 04 is short here, 2030 meters only, but also with these conditions enough for us. 3.45 pm, 25 minutes late, wet and 16 degrees, but thankfully not the announced thunderstorms by now.
45 minutes should be enough for the next flight.
The destination is right, Kristiansand Kjevik airport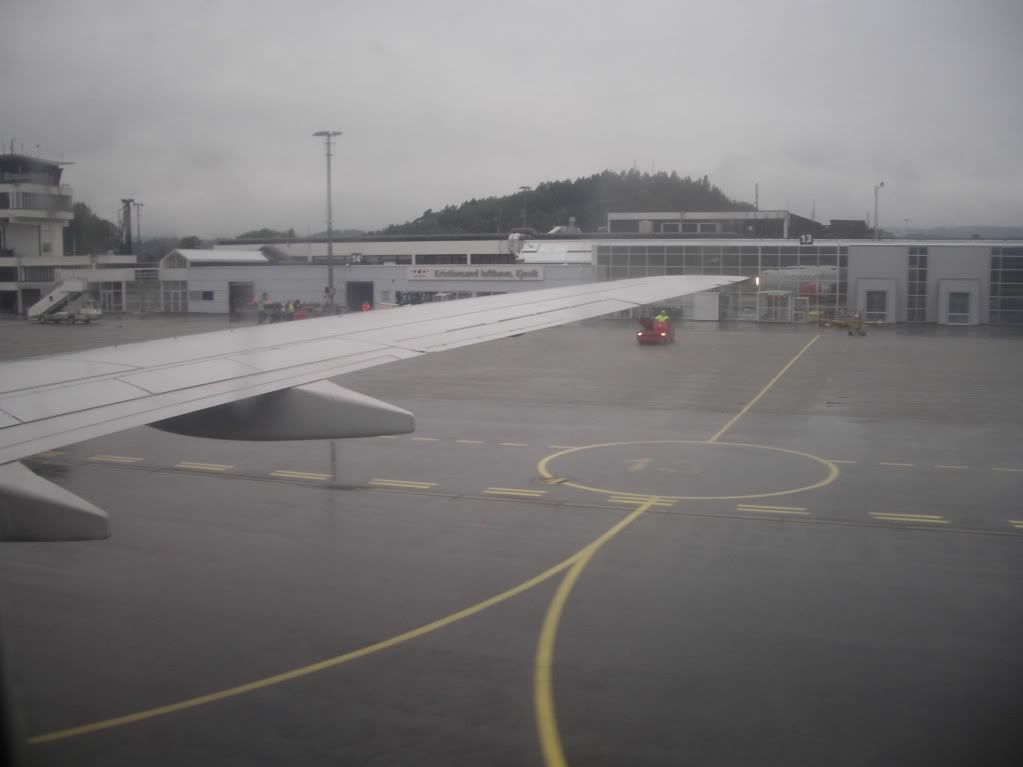 Apron disembarking, self service to the terminal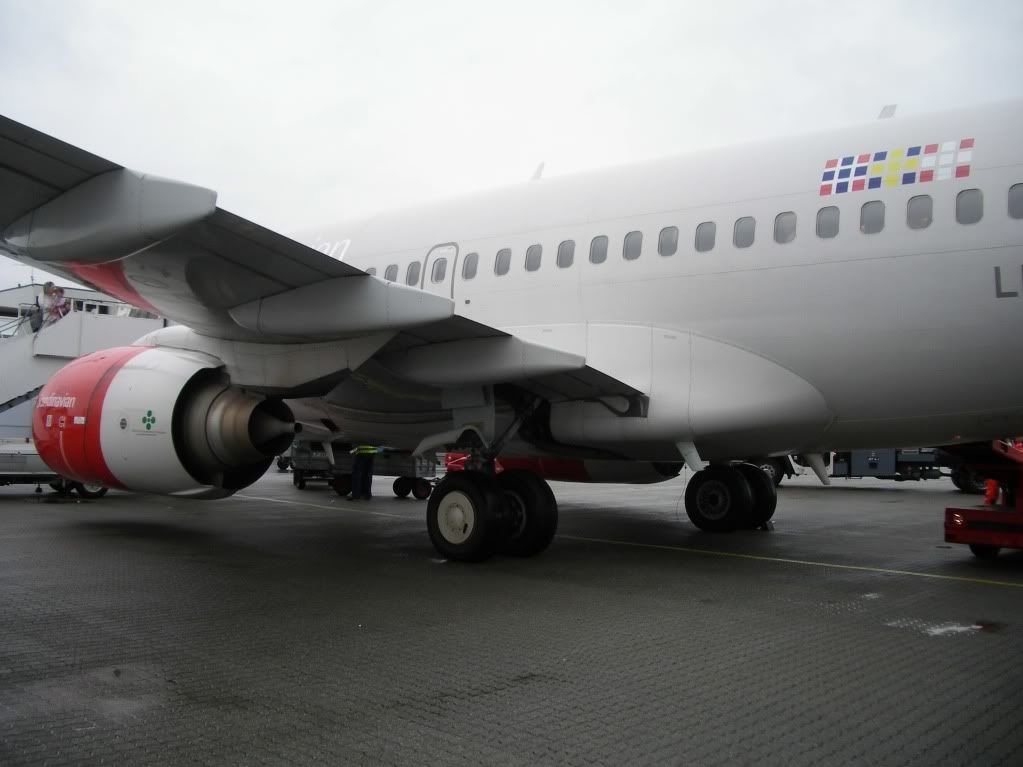 I like under the wing shots, you know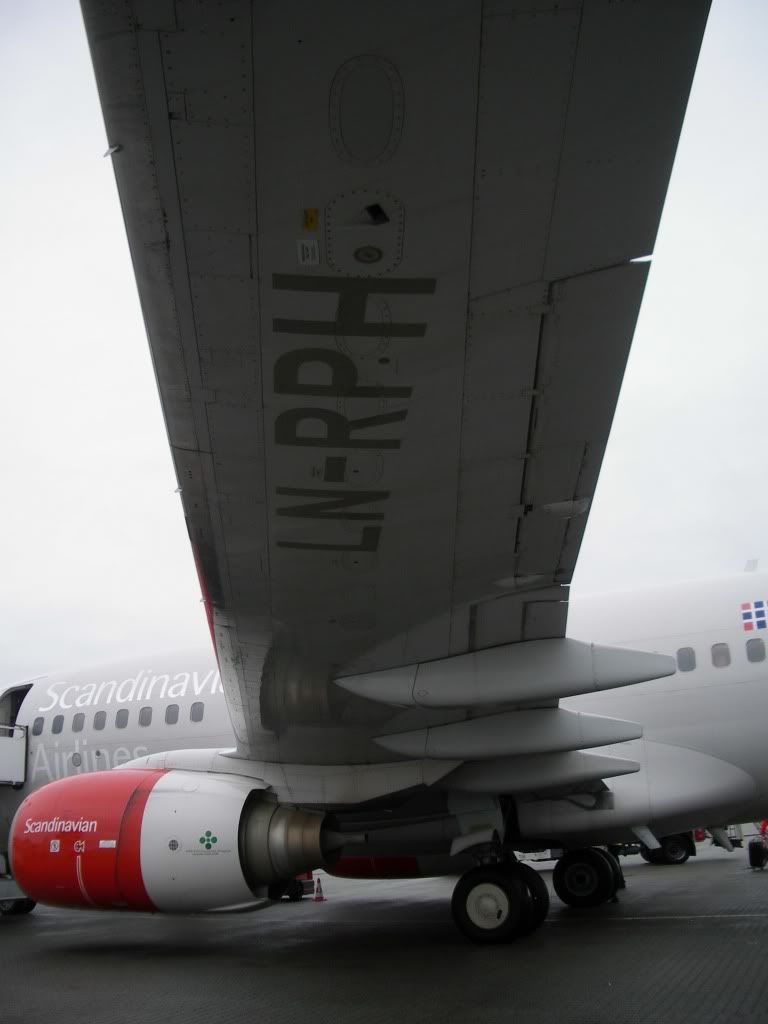 Immediatelly when I switched on the cellphone I see a notice from S.: "Connection ok?".
Well, I better don´t answer right now and he should be going a bit nervous in his comfy armchair!.
Wednesday, 29.06.2011
.
.
Kristiansand/Kjevik Airport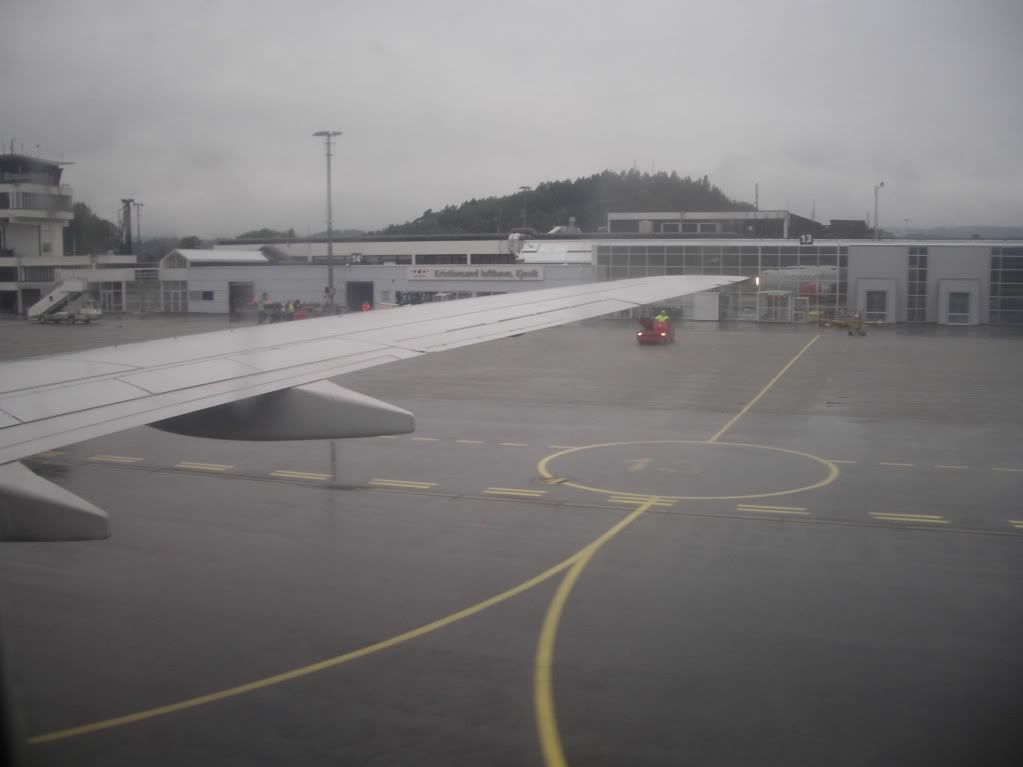 .
.
Service SK 2889 operated by SAS Scandinavian Airlines
Scheduled: 16.30 // 17.25
Welcome to my new departure airport.
Let me tell you now, how S. booked that leg.
To my surprise Exp.de has the best offer this time, 45.00 Euro´s, also ok from my point of view.
OLCI, no question again for this flight.
It´s wet outside, no real need for me to leave the terminal.
Functional or it looks more like an industrial garage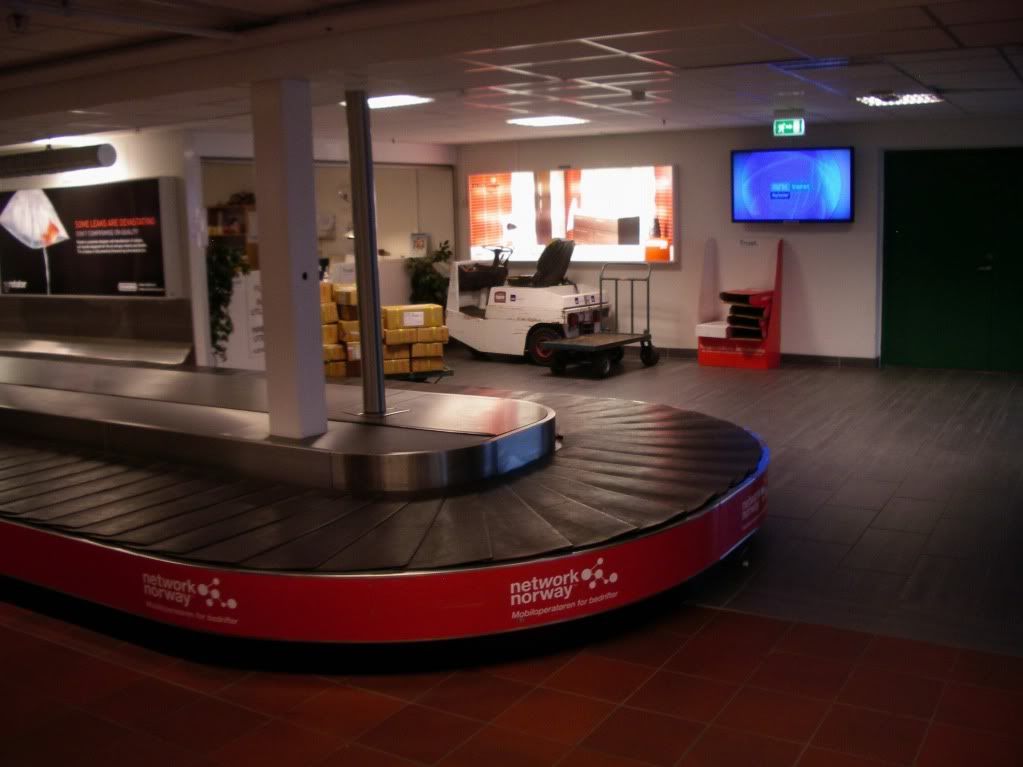 Well, also the next flight is late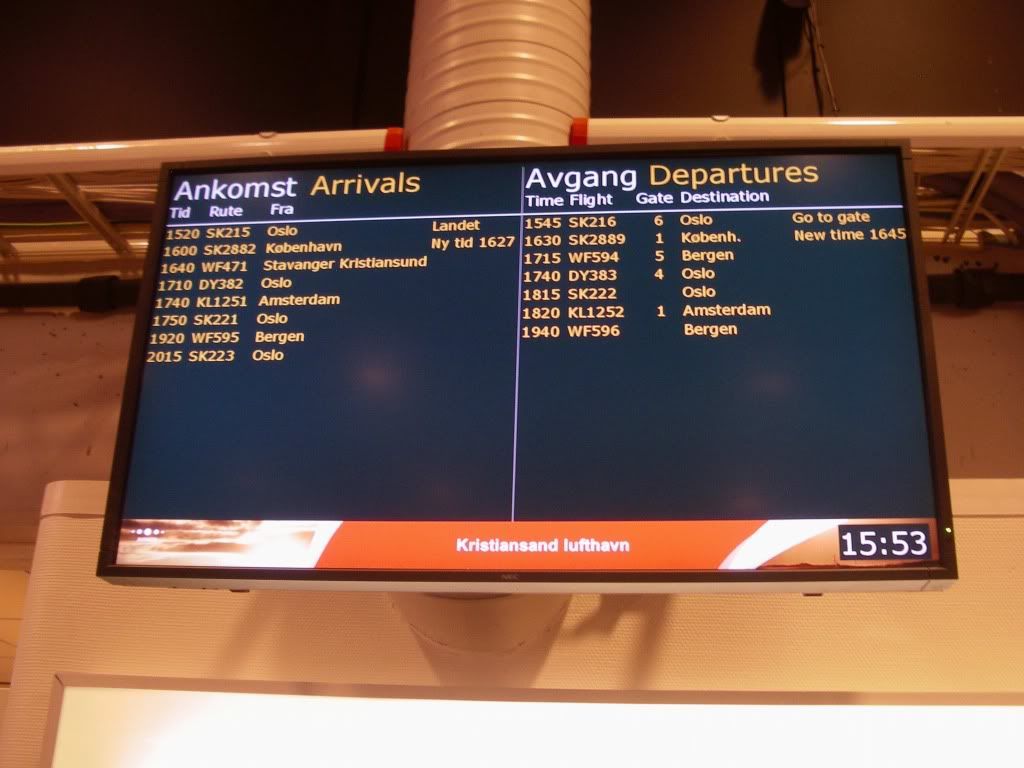 This terminal is compact to say the least, everything on one level.
The empty SK check-in counters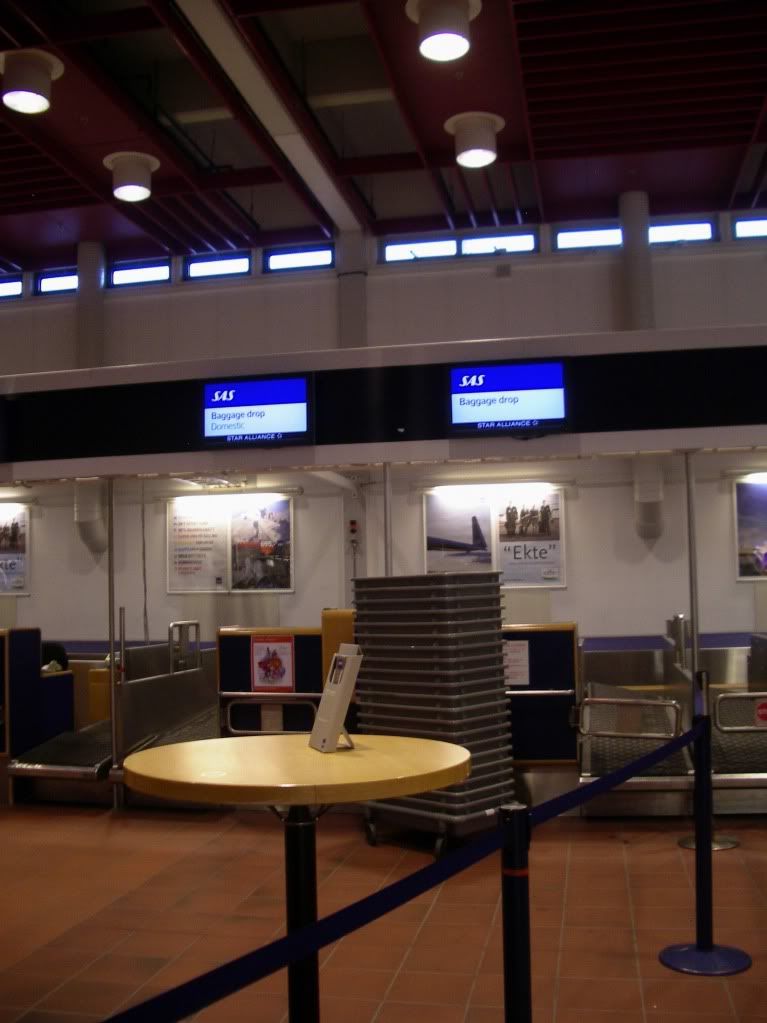 Pasta or security?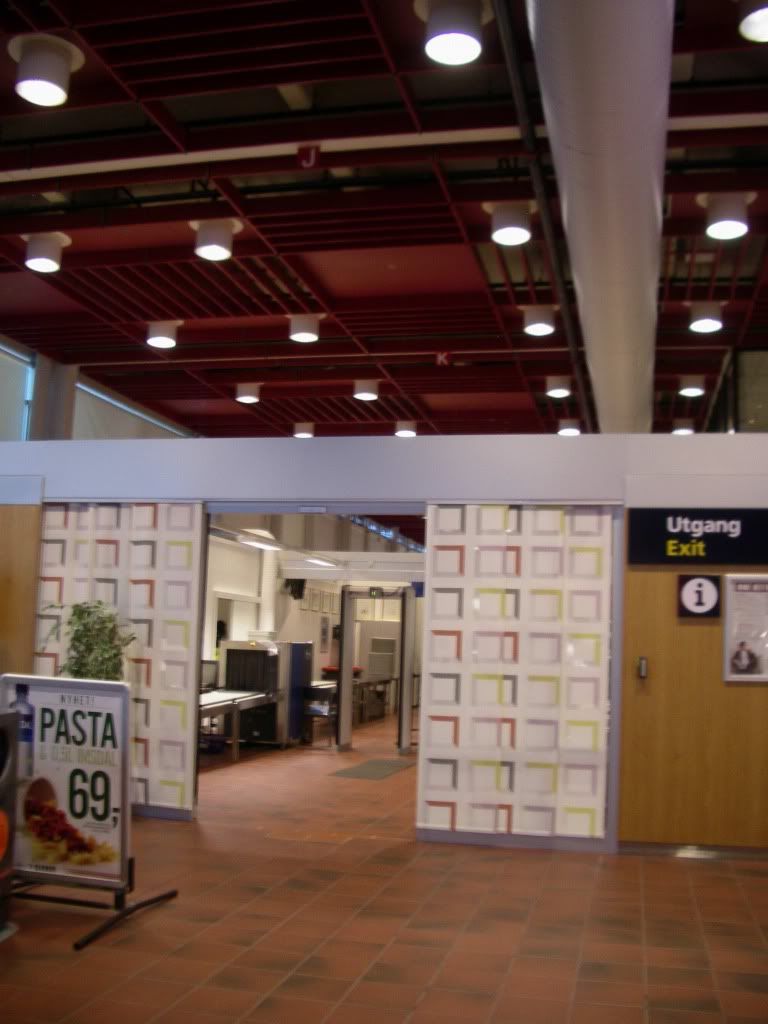 This is oldfashioned and the empty beer can´s doesn´t help for a better impression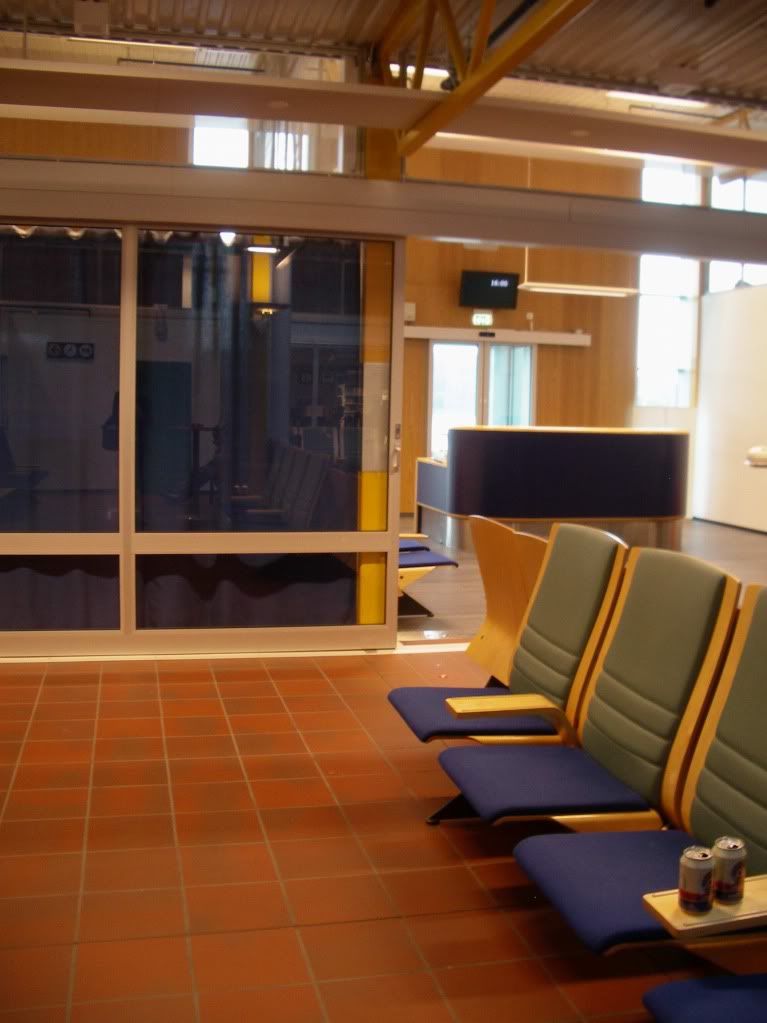 Is there a lounge here?. A lounge, here, surely not!.
My plane is ready to go back to OSL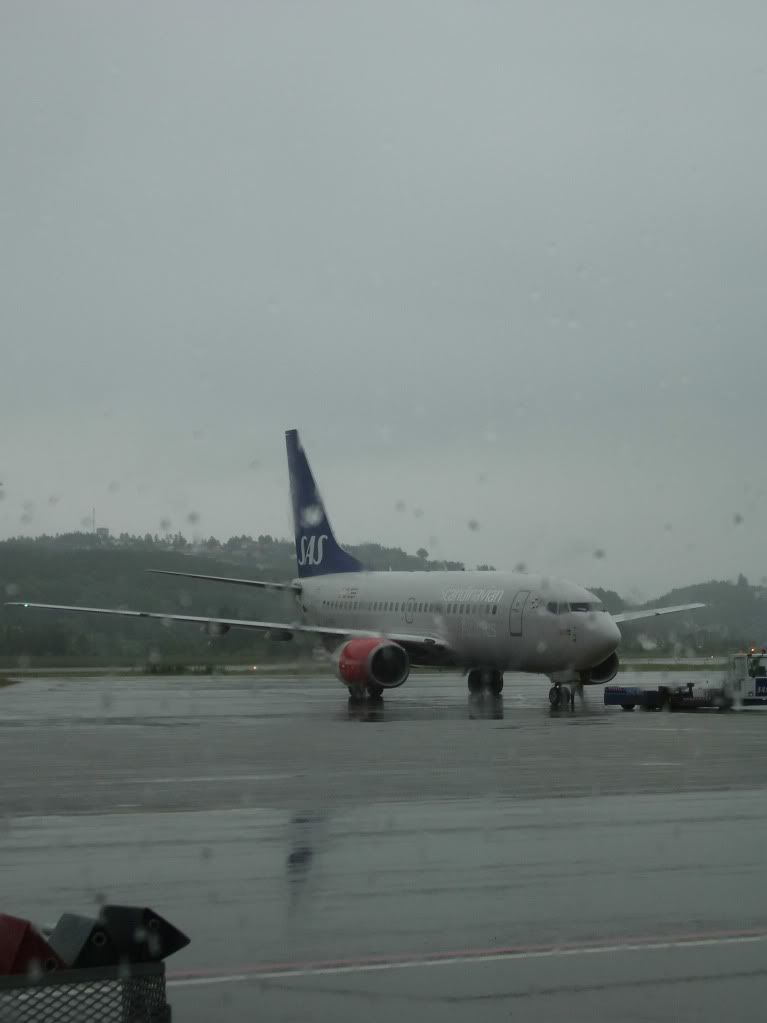 Spraying down the runway
Closely followed by the touchdown of these bird. According to the airport timetable and the type, it´s the scheduled CR9 to CPH
No, double checked, I don´t want to believe my eyes.
That´s exactly the same bird like on my STR-CPH flight in the morning
Oh no, I´am not amused.
This is leg no. 7 on the CR9 and the second now on this machine.
The small gate is packed with people.
It looks like lots of vacationeers going for a connection at CPH.
Boarding starts finally from gate 1. Well, there are not that many other gates around!. Me as one of the last pax, as usual.
A nice young female agent working the gate.
The boarding pass screen produced a red light.
"Sir, we have a new seat for you, 04C".
"An aisle is not what I usually prefer".
"Also when it is an upgrade for you?".
"Well, in this case!".
Rushing around the wet apron to the plane.
4.50 pm, 20 minutes late, 16 degrees and 50 minutes for CPH.
Departure from 04 like arrivals.
Cockpit crew is from Scandinavia, the pilot with a nice relaxed welcome during boarding.
A first view to the safety card
And from my seat upfront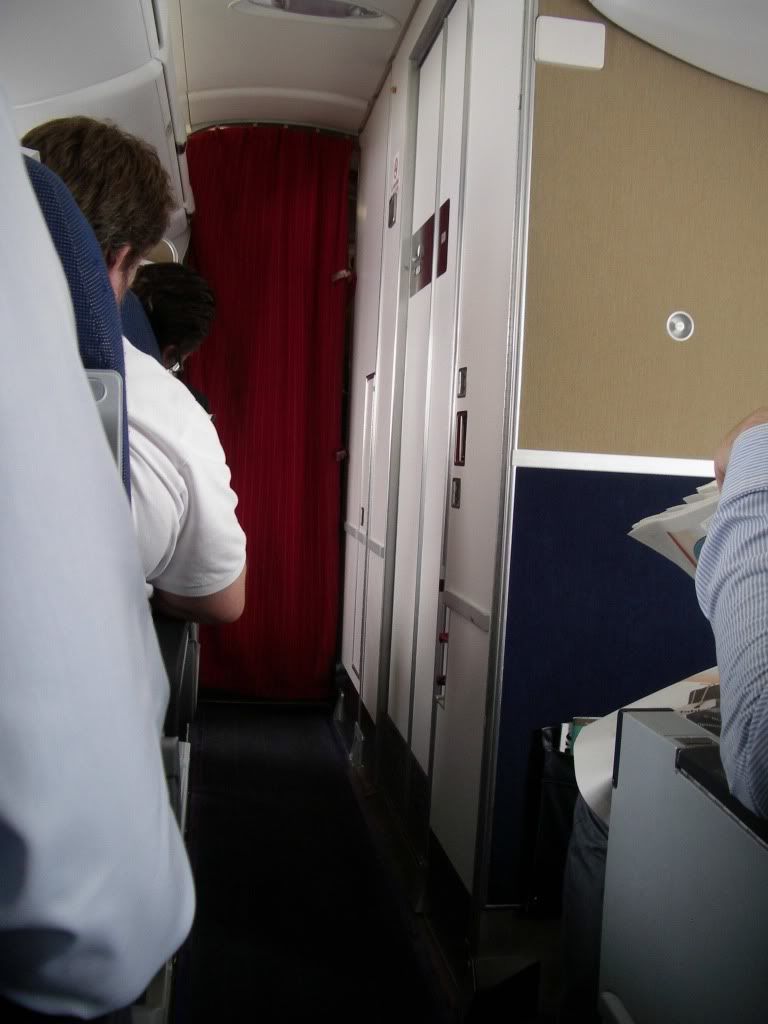 The load is 100%.
Legroom is sure ok here, also the forward cabin is clean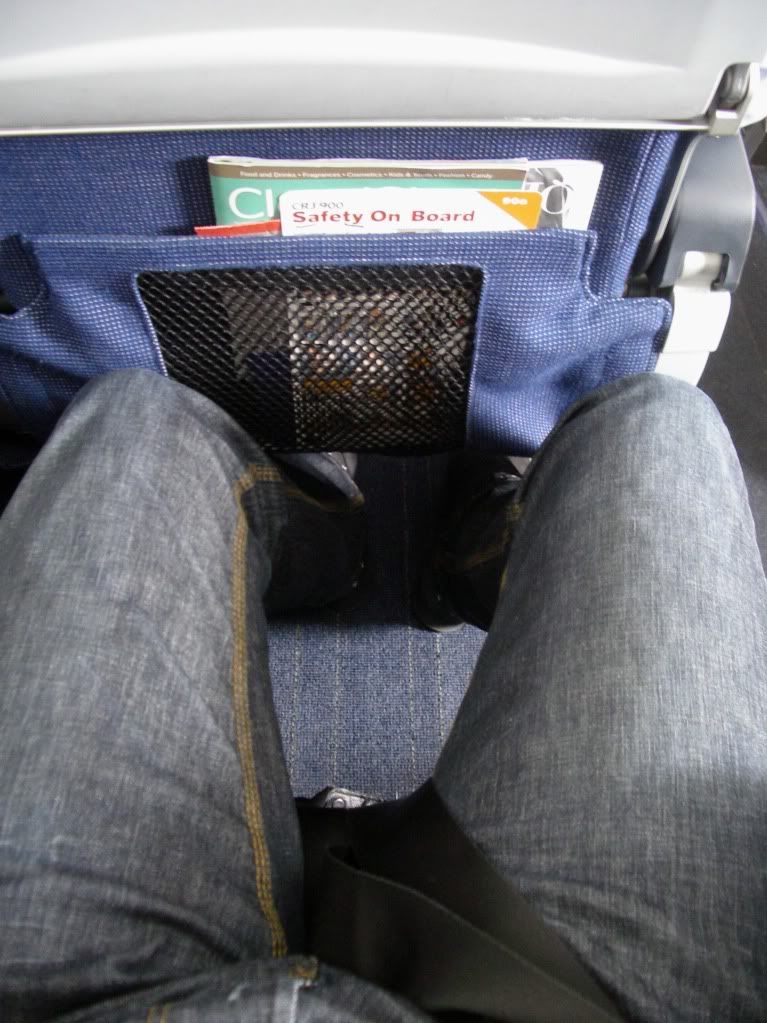 Cabin crew are two female FA´s, both senior and really nice. A good change from the earlier legs.
So, we will see what SK has on offer today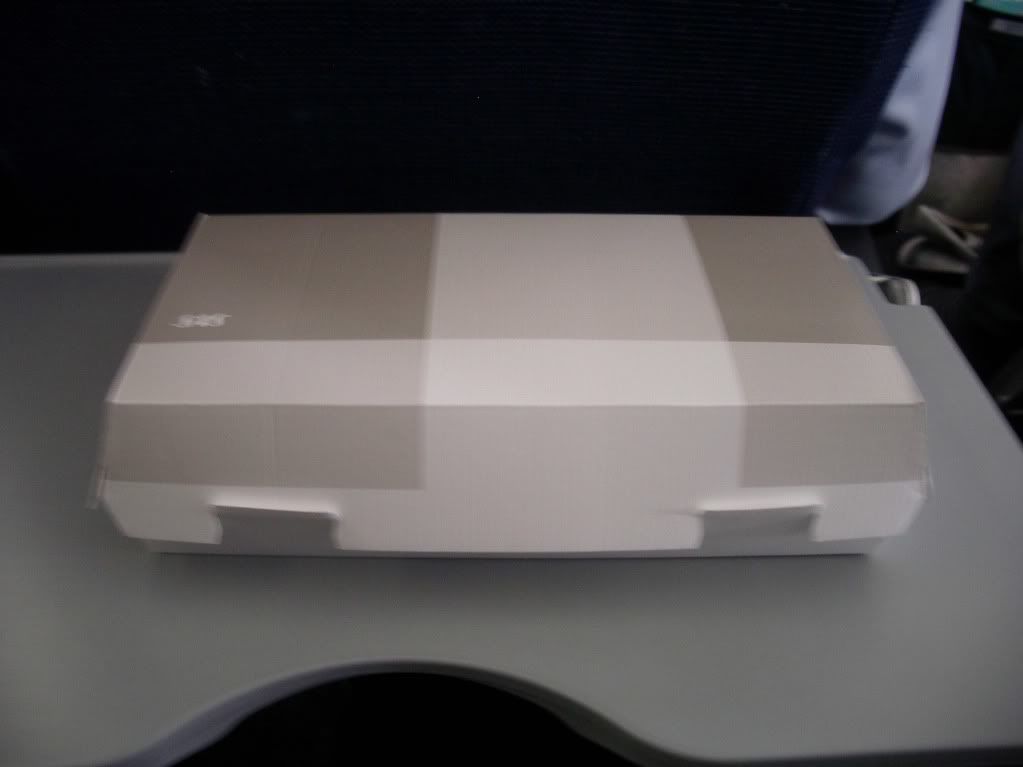 Open the box for a view inside
The captain is on the mike again short prior to approach. No route or flightlevel details.
No more pictures with my elderly female seat neighbour.
Not a single view out of the window to notice, but she is for sure in a need for the window seat. Well, I prefer the window also in this upgrade case.
3300 meters 22L is the place to return to CPH, 5.40 pm, 15 minutes late, 23 degrees and partly cloudy.
Bye now, OY-KFG, hopefully for the last time today
Well, Mr. S. is the guy who knows in advance that the connection works, at least according to his SMS by now!.
Wednesday, 29.06.2011
.
.
.
.
Service SK 667 operated by SAS Scandinavian Airlines
Scheduled: 20.05 // 21.45
Anyone remember the introduction?.
Our nice A.net colleague Robert//parton87 decides to ride the next plane together with me southern side to STR.
A couple of SMS in and out along the day and so we´re ready to meet at the lounge entrance.
Sure ok for me to visit the lounge twice in one day!.
The nice female agent accepted Robert as my lounge guest today, so we´re free again to use all the offers.
Upstairs to the quiet area again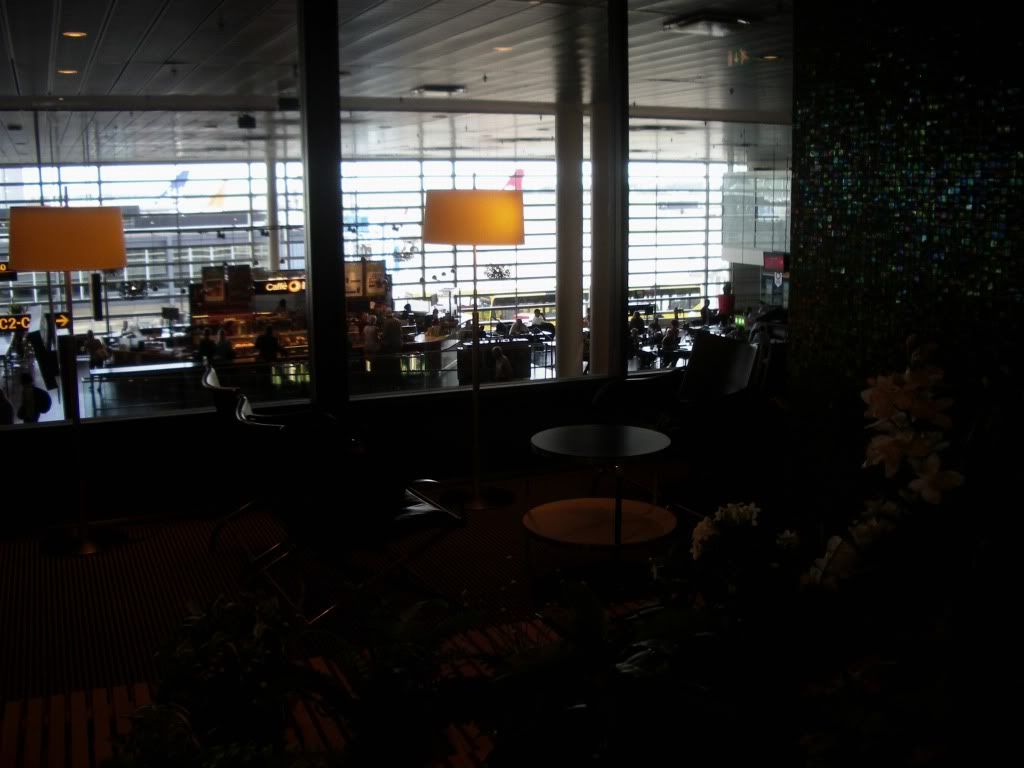 Comfy chairs here, that looks like Mr. S. relax example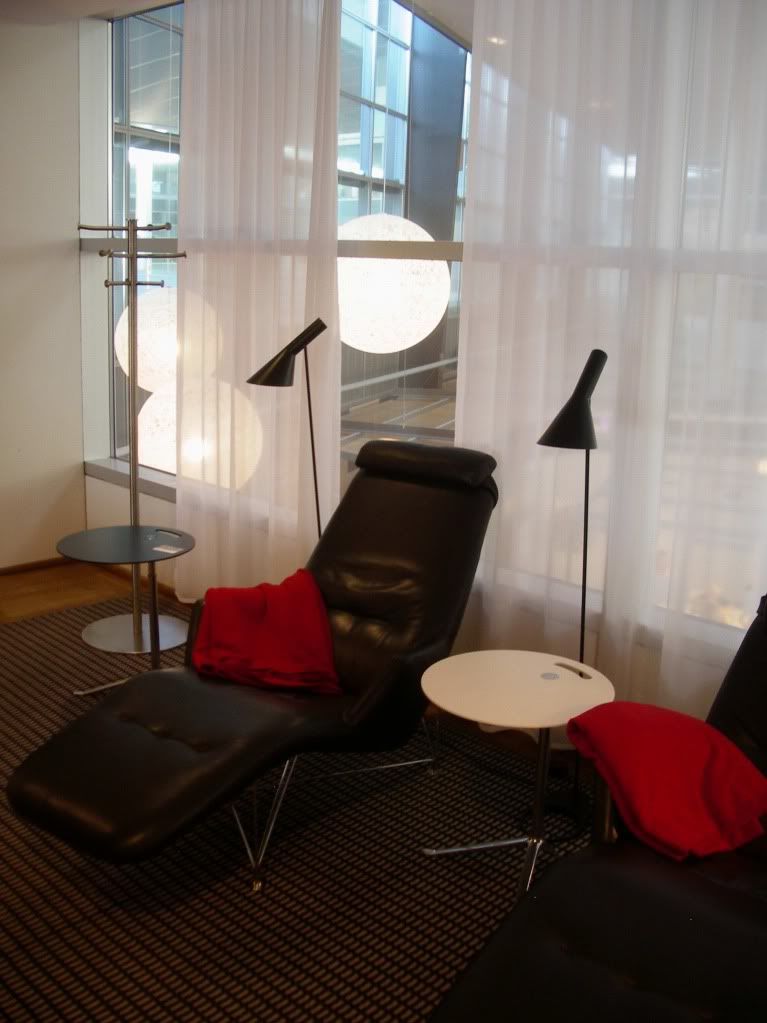 The flight seems ok from gate C3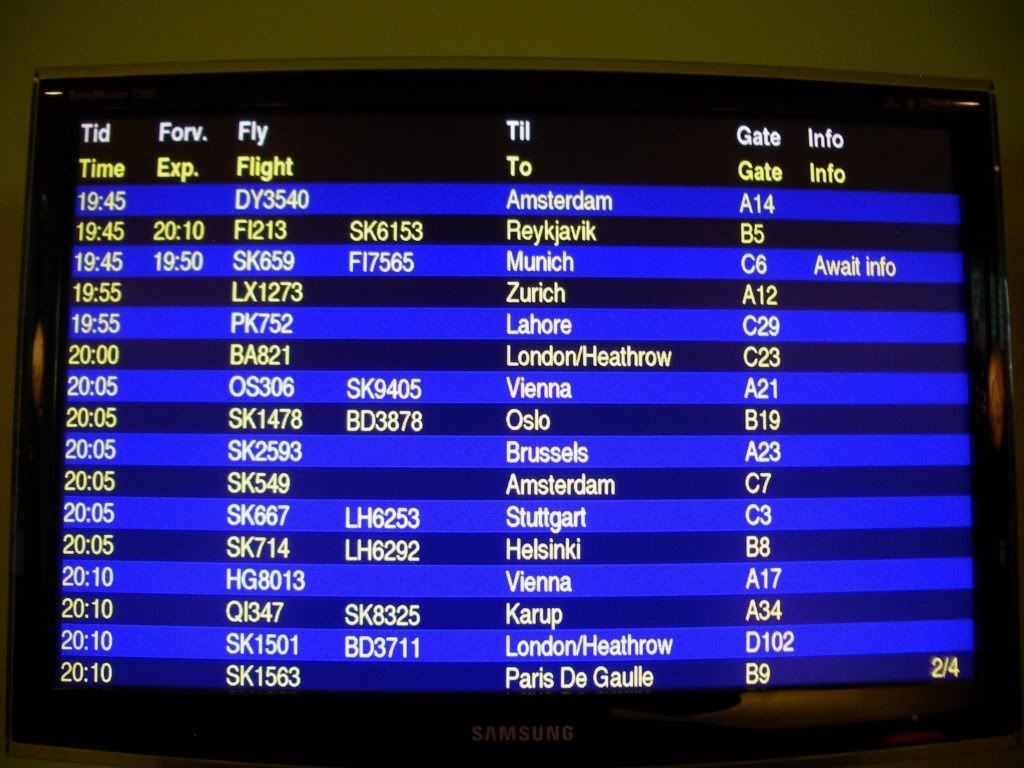 Well done offers scandi style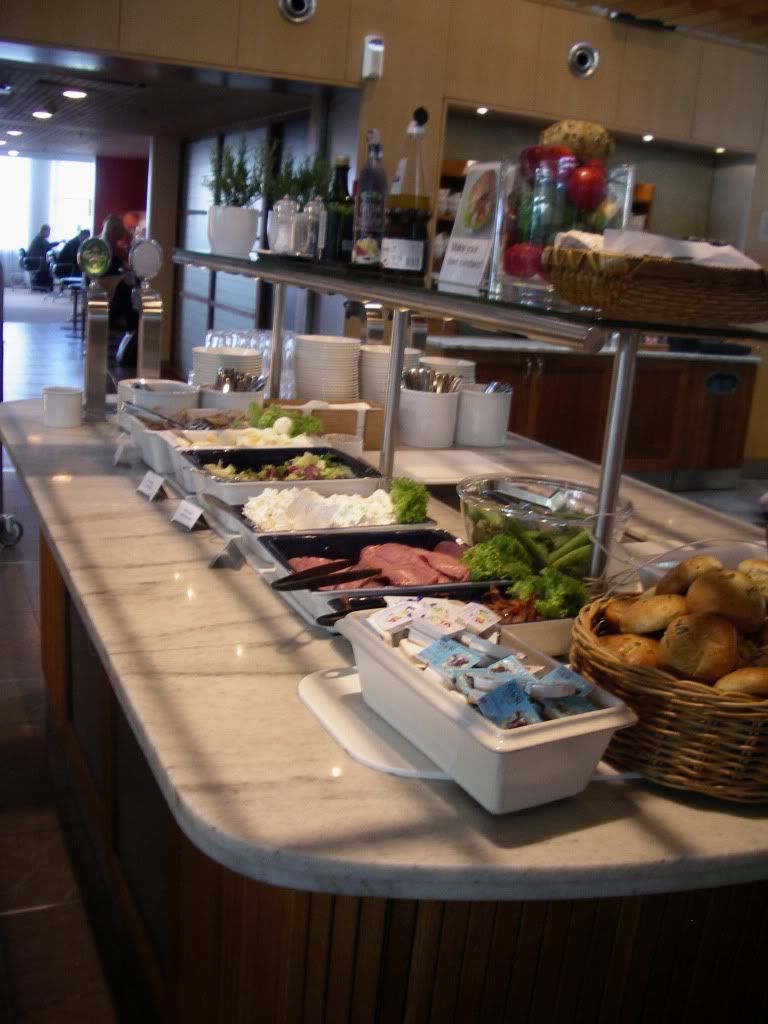 We decide to go for the gate close to boarding time.
Only a couple of meters around the corner.
This is the return leg from the early morning STR-CPH,
the fare 60.00 Euro´s.
OLCI, what a question, 21F, no more windows behind that seat available.
Gate C2 finally, that examples where they screen the boarding pass at the first floor and you need to wait again downstairs in a small area for the bus to the plane.
Sure ok to fly the CR9 again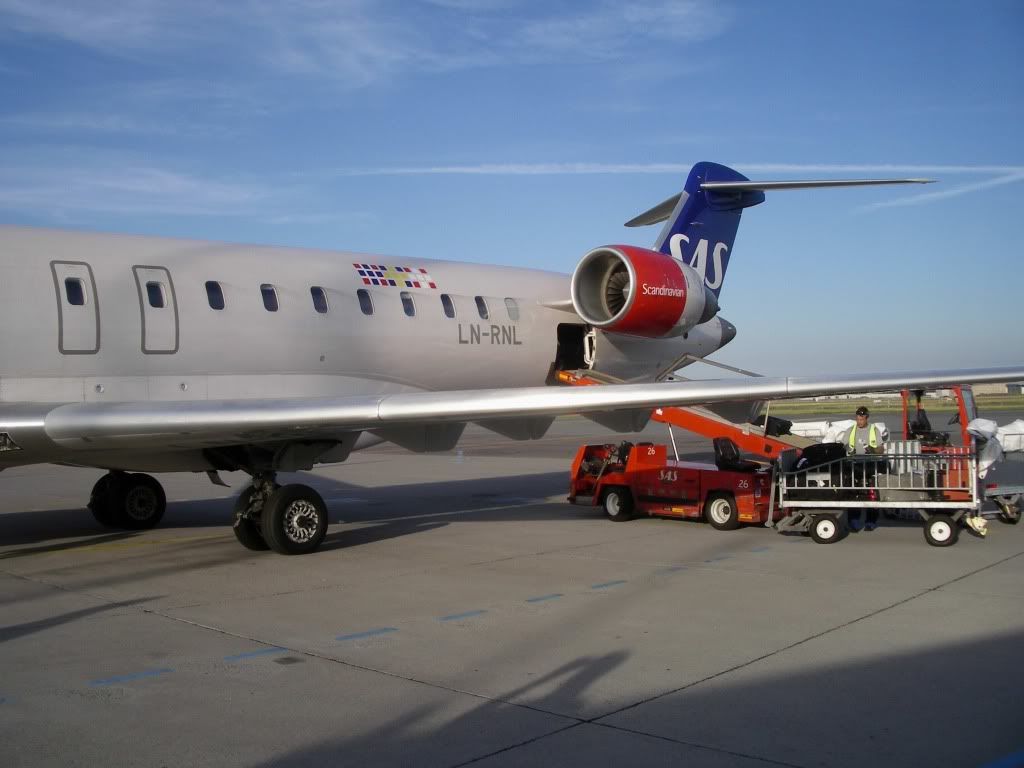 Always these guy´s doing pictures on the apron!
This is LN-RNL, the single SK CR9 in the Norwegian register.
Leg no. 8 on type and yes, that´s a new registration.
"Fafner Viking" is in the air with SK since 01.10.2009
Tripreporter.net