London – San Diego via CDG/LHR. U2 and BA Y+
Hi!
Welcome to the first in a series of reports covering my September travels to France, the USA and Mexico. As most of my other trips, this journey started with an email special offer. BA were offering half price redemptions for economy and economy plus (World Traveller and World Traveller Plus (WTP) booked within a 10 day period. Hmmm. I had a lot of miles in my account, and free time – where should I go. I started off booking a flight to Hong Kong for next Easter. Still more miles left……I had enough for a premium economy return to North America. After evaluating where had redemption seats to places I wanted to go, I was torn between Bermuda and San Diego/Mexico City. What with the high costs of hotels etc in Bermuda, and a much shorter flight (costing the same number of miles), I decided to go with the San Diego/Mexico City option. As I was in WTP, I was subject to much higher ex-UK departure tax. I circumnavigated this by starting my travels in Paris. It was cheaper to buy an easyJet flight to Paris from London, then fly back via LHR with BA, than get a direct LHR-SAN flight. I had friends and an uncle in Paris too, so it was a fortuitous course of events. If the British Government try to sell the higher departure tax as a 'Green Tax', then I'd be happy to show them how it 'forced' me to take two extra flights!
I investigated taking the Eurostar to Paris, but the one way fare were really not economical, so I used my Nectar card points (which I'd been saving for no particular reason), and spent them on an easyJet flight out of LTN instead. Whilst the Eurostar is more expensive, if travelling city to city, it DEFINITELY trumps the plane.
To briefly outline the other flights on the itinerary, from SAN I'd get some AA flights routing SAN-LAX-DFW-SJD (San Jose del Cabo), and then a further Aereo Calafia Cessna Caravan flight LAP-MZT, before finally flying back from MEX-LHR on a B744.
A map of my whole itinerary:
This reports' flights:
It was a little strange starting out on a 3 week long international trip by flying out of LTN, but there has to be a first for everything! I got a taxi to LTN, and managed to time my arrival with an enormous downpour. Soaked, I made it to the terminal, where I was checked in in no time, and upstairs to security.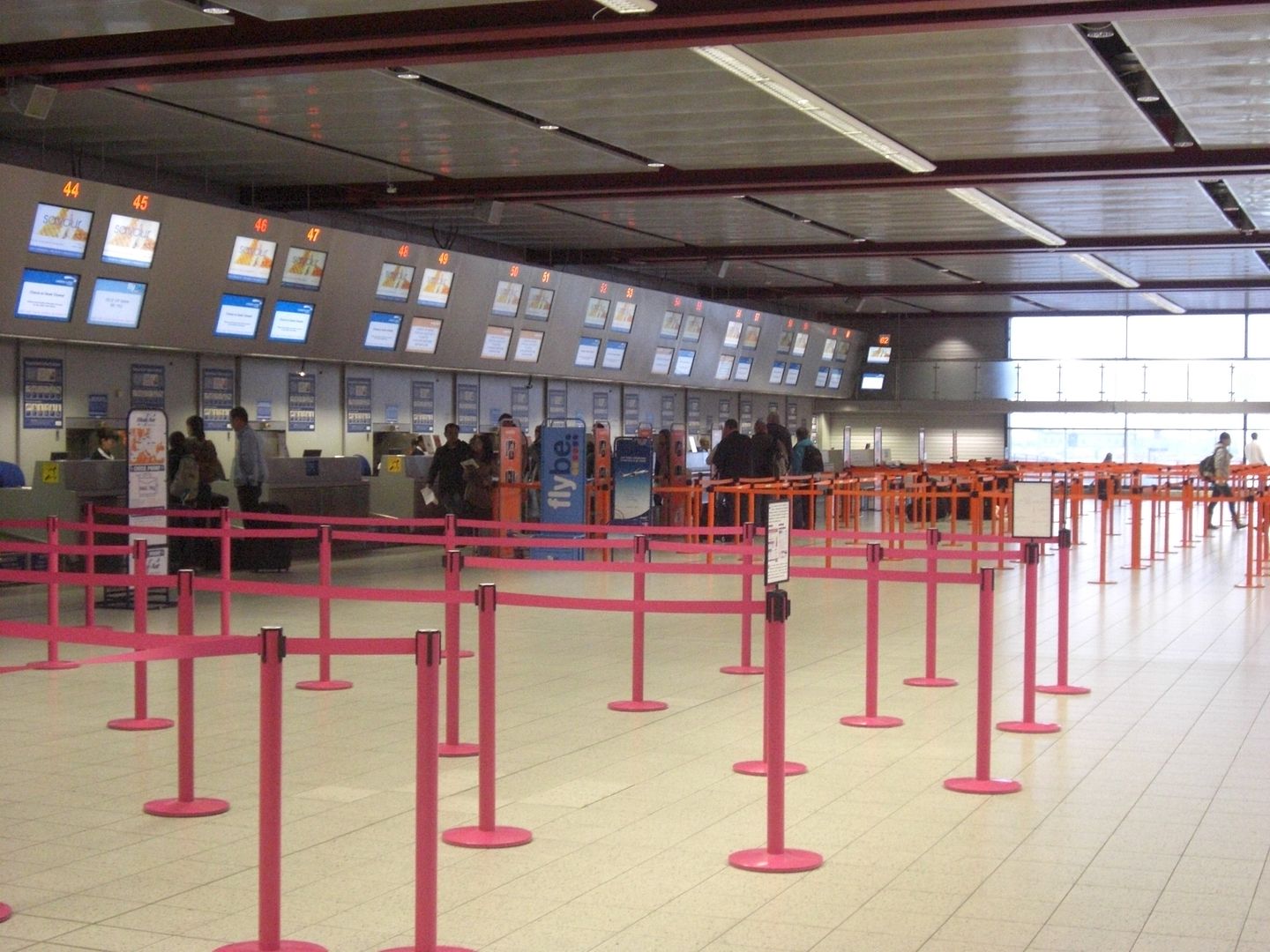 The queues were short, and despite the rude staff, I was in the departure lounge around 15 minutes after getting out of the taxi.
I had heard about these holograms before – 'she' was telling everyone about what to do concerning getting reading for security. People seemed far more interested in looking at the hologram than what she was saying.
Departures this afternoon. The Wizzair flight for Dubrovnik and Burgas seemed to have a nice long delay.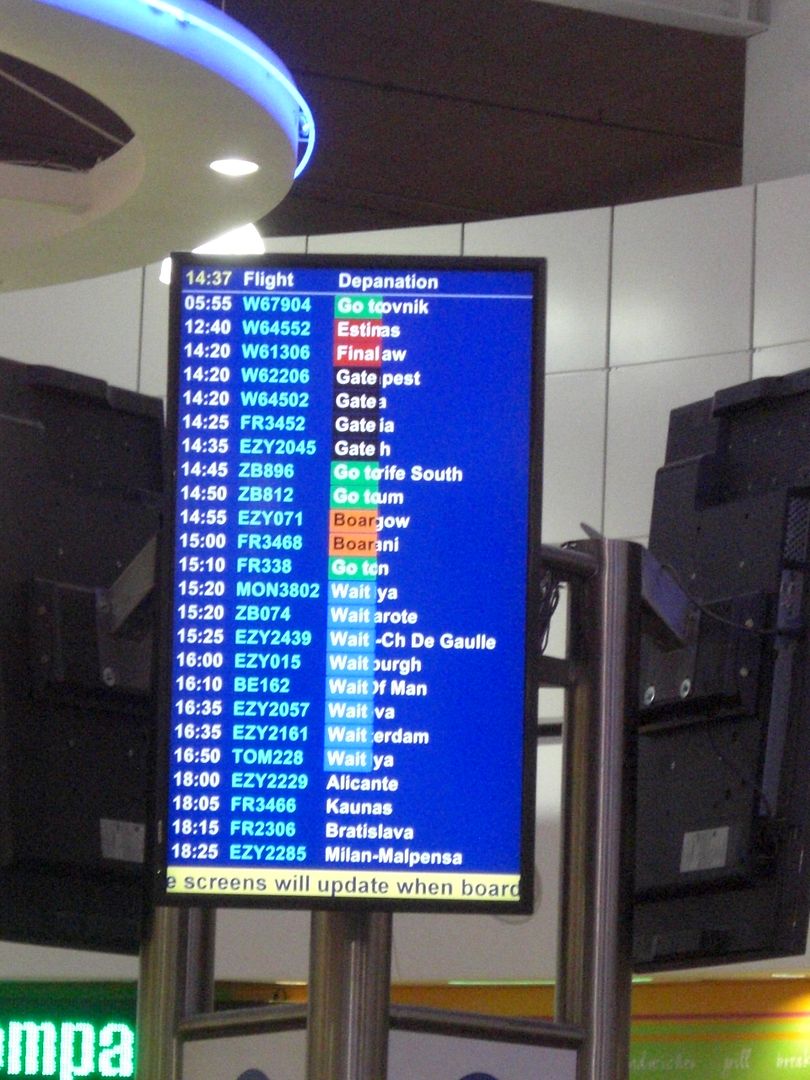 A bad photo of a couple of Monarchs, and one of the two last B737s flying for U2.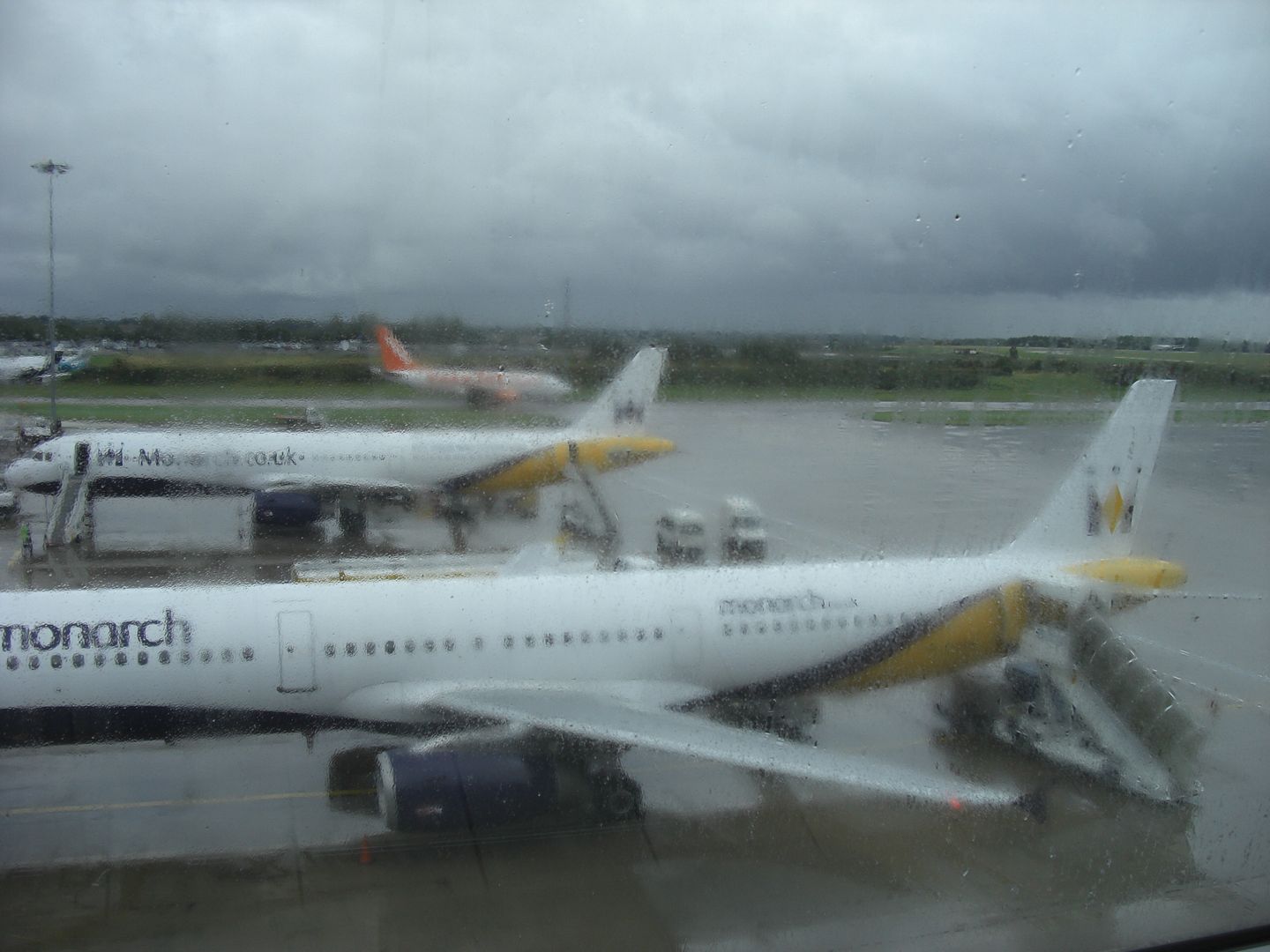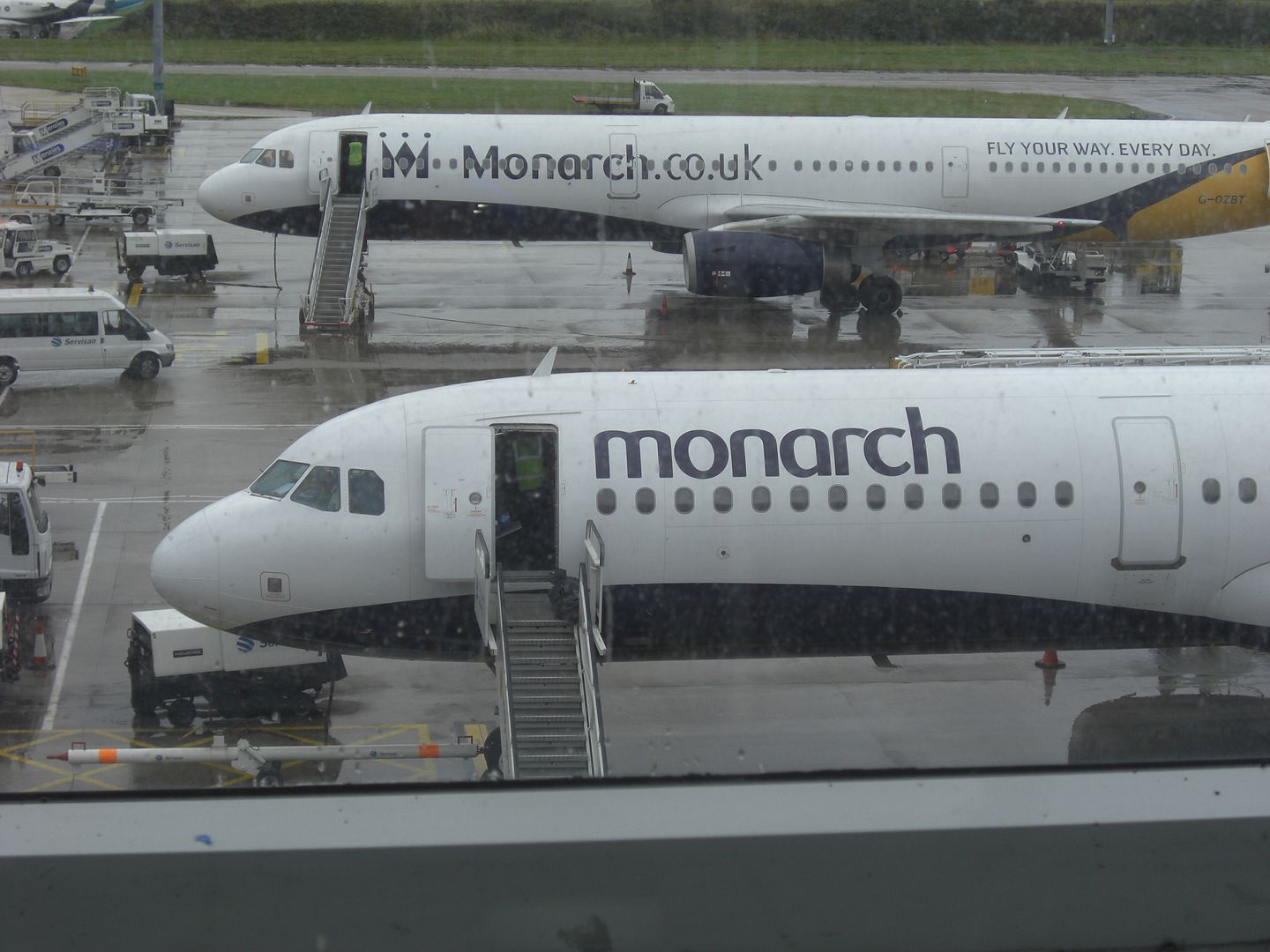 Once the gate was announced, there was a long walk down some uninteresting tunnels to the gate. People seemed to think that the plane would leave without them, and there was plenty of pushing in the queues.
September 2011
London Luton (LTN) – Paris Charles de Gaulle (CDG)
easyJet U2 2439
Scheduled: 1525-1745 (1h20m)
Actual: 1535-1730 (0h55m)
Airbus A319 G-EZAN
Economy
The pushing continued (worse than any other 'no-frills' experience I've ever had) enroute to the plane. Despite it looking like it was mid-winter, it was early September! Nice summer we've had!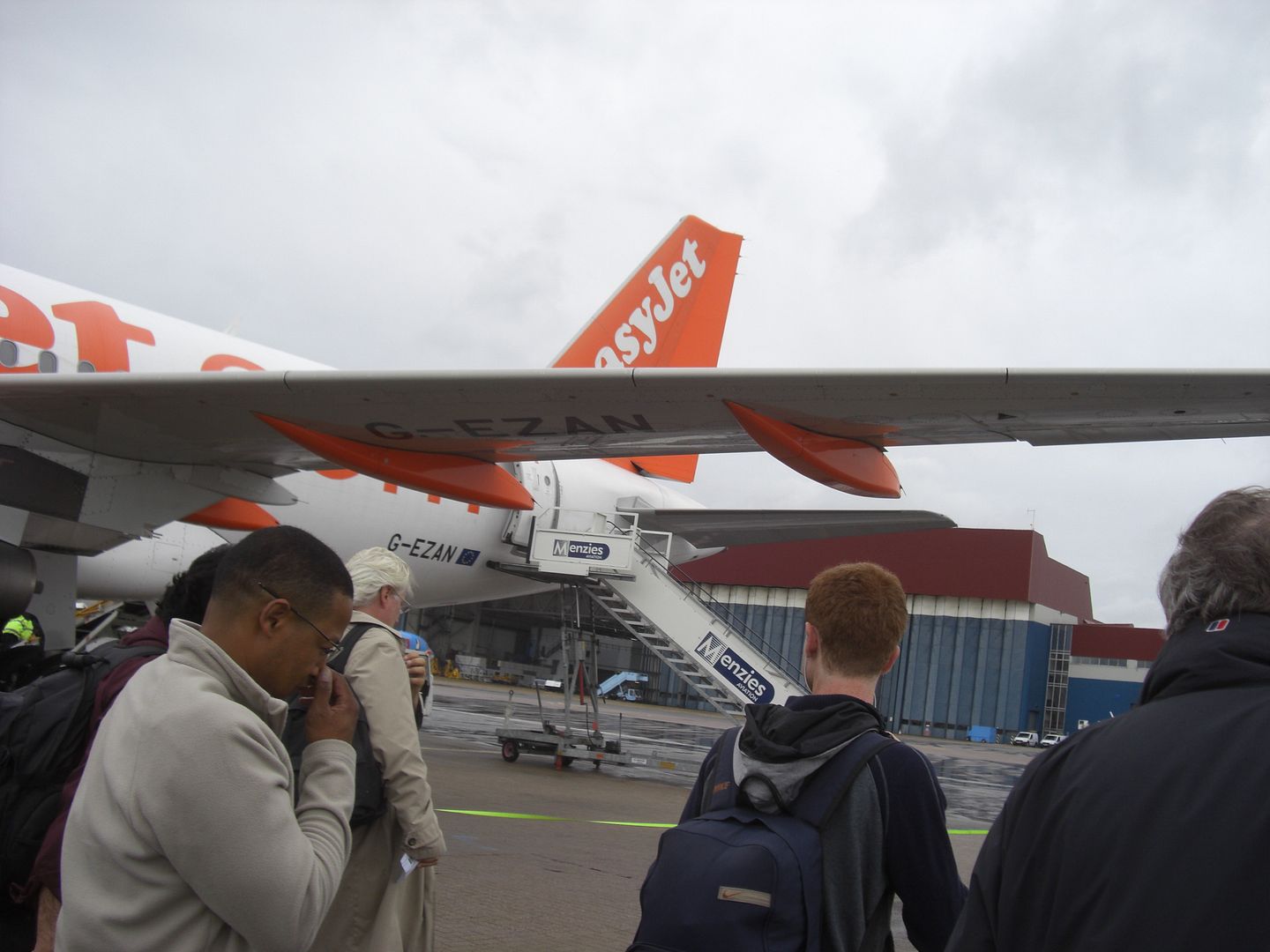 I got a window seat near the back. Despite a LF of around 95%+, I got an empty middle seat.
Legroom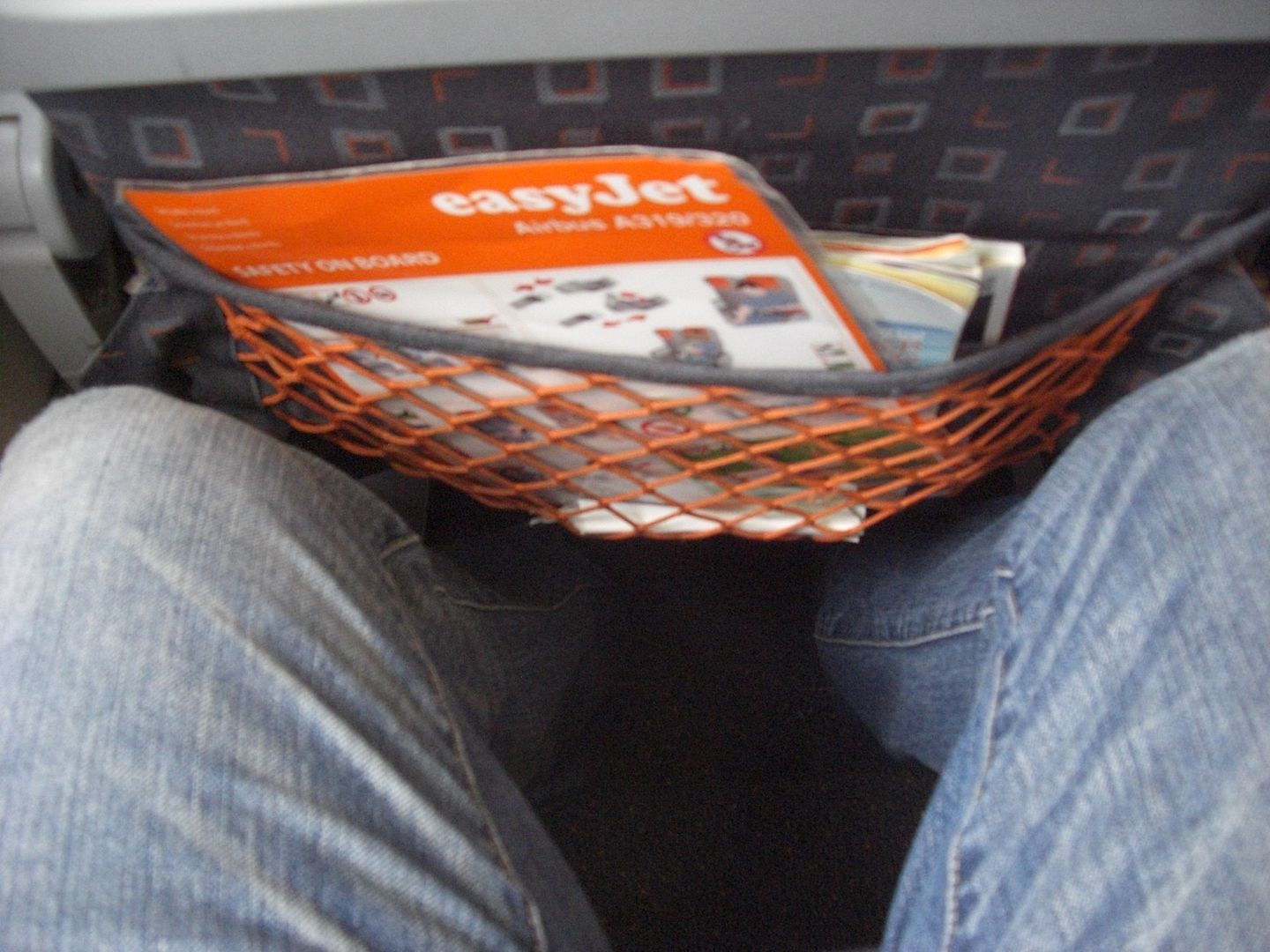 Some LTN views en route to the runway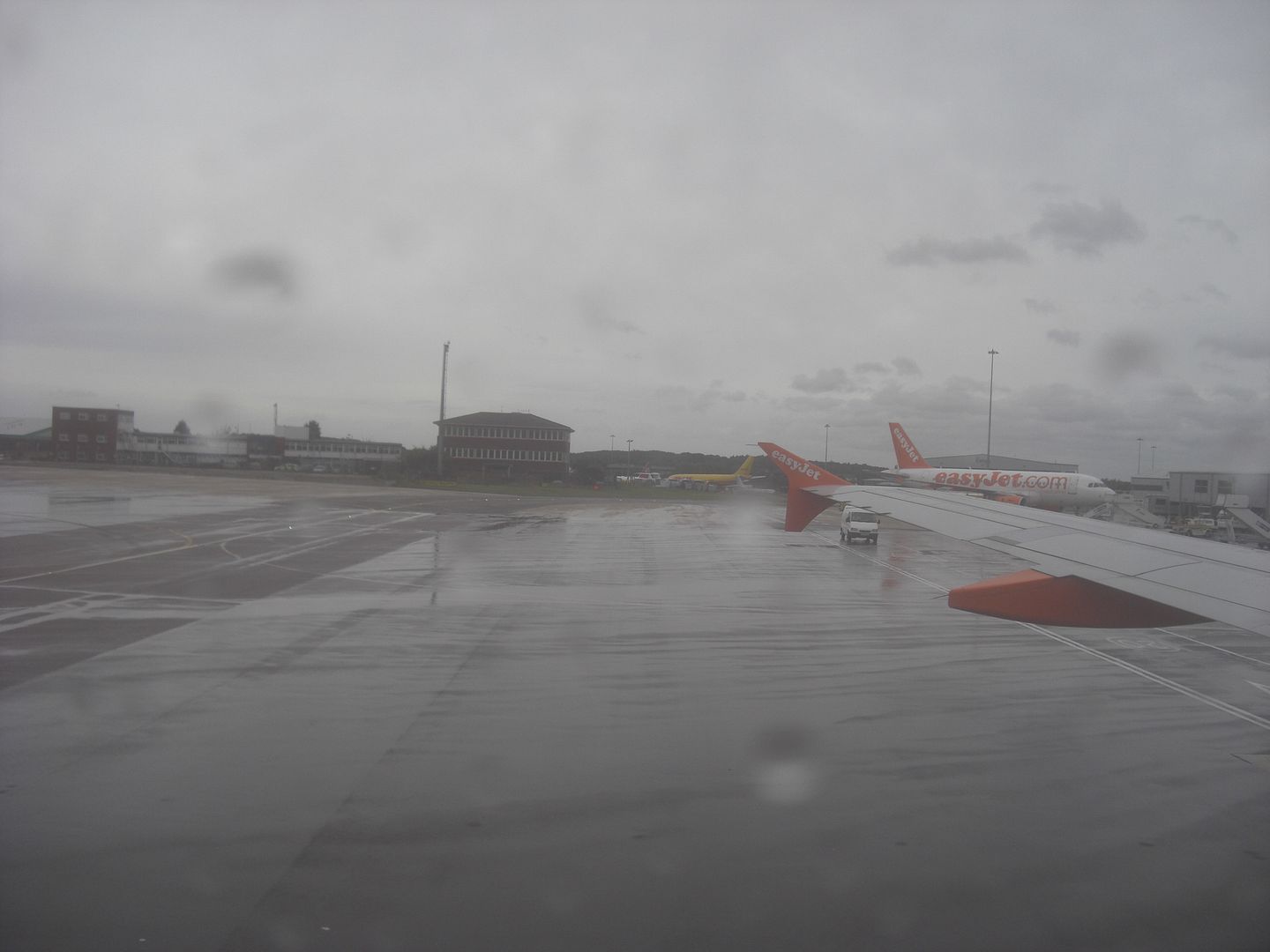 The Kingfisher' CEOs private jet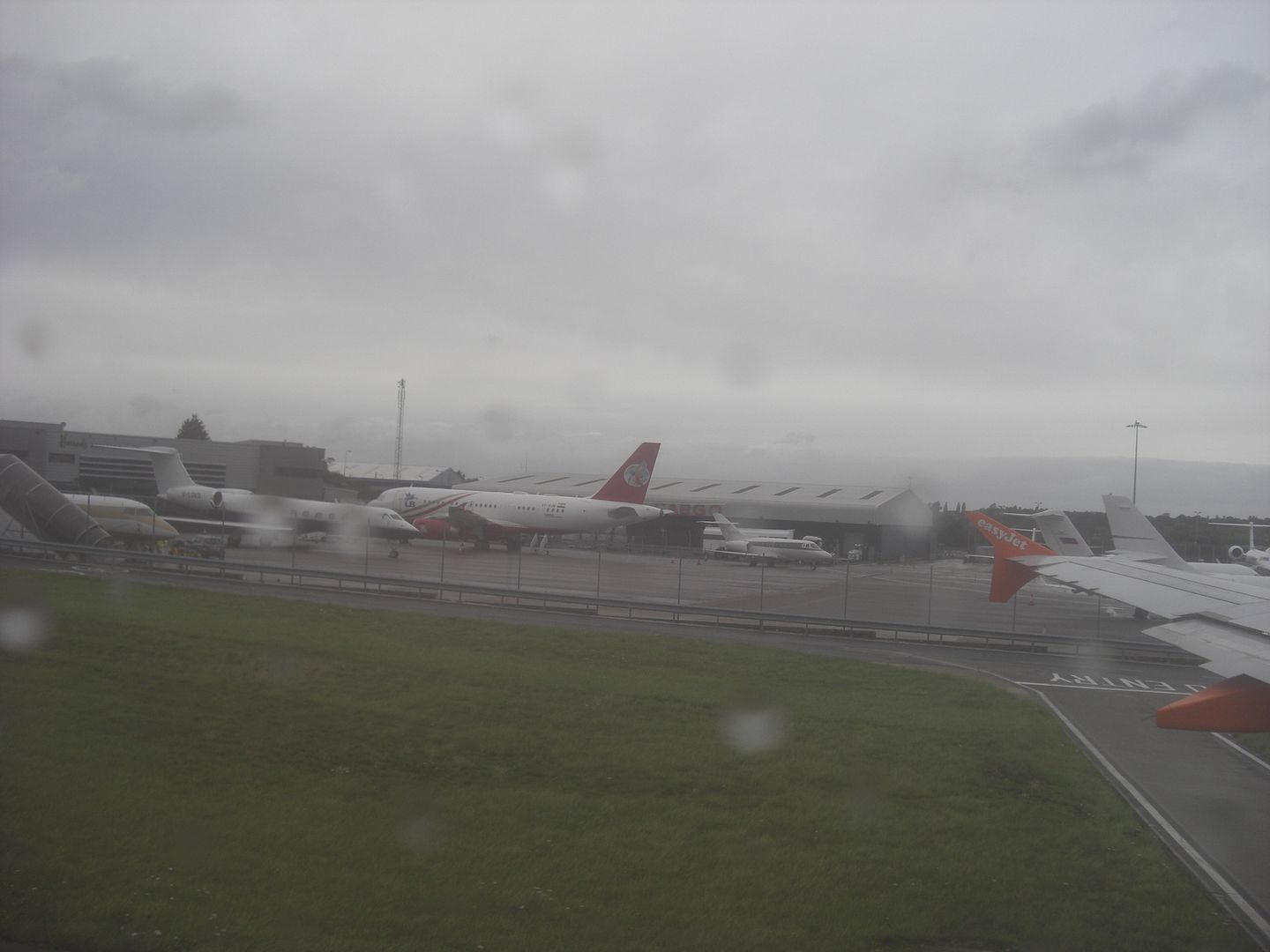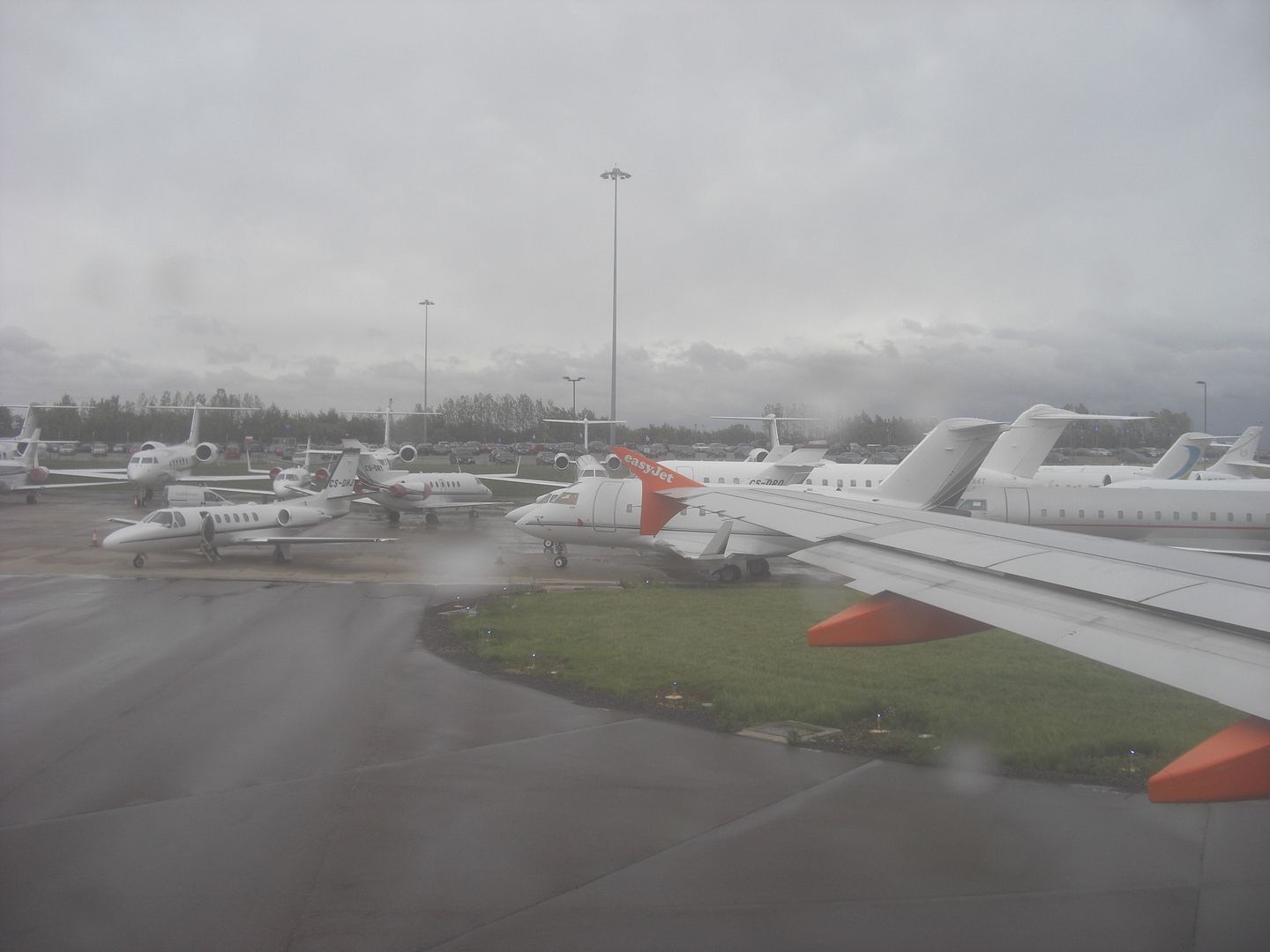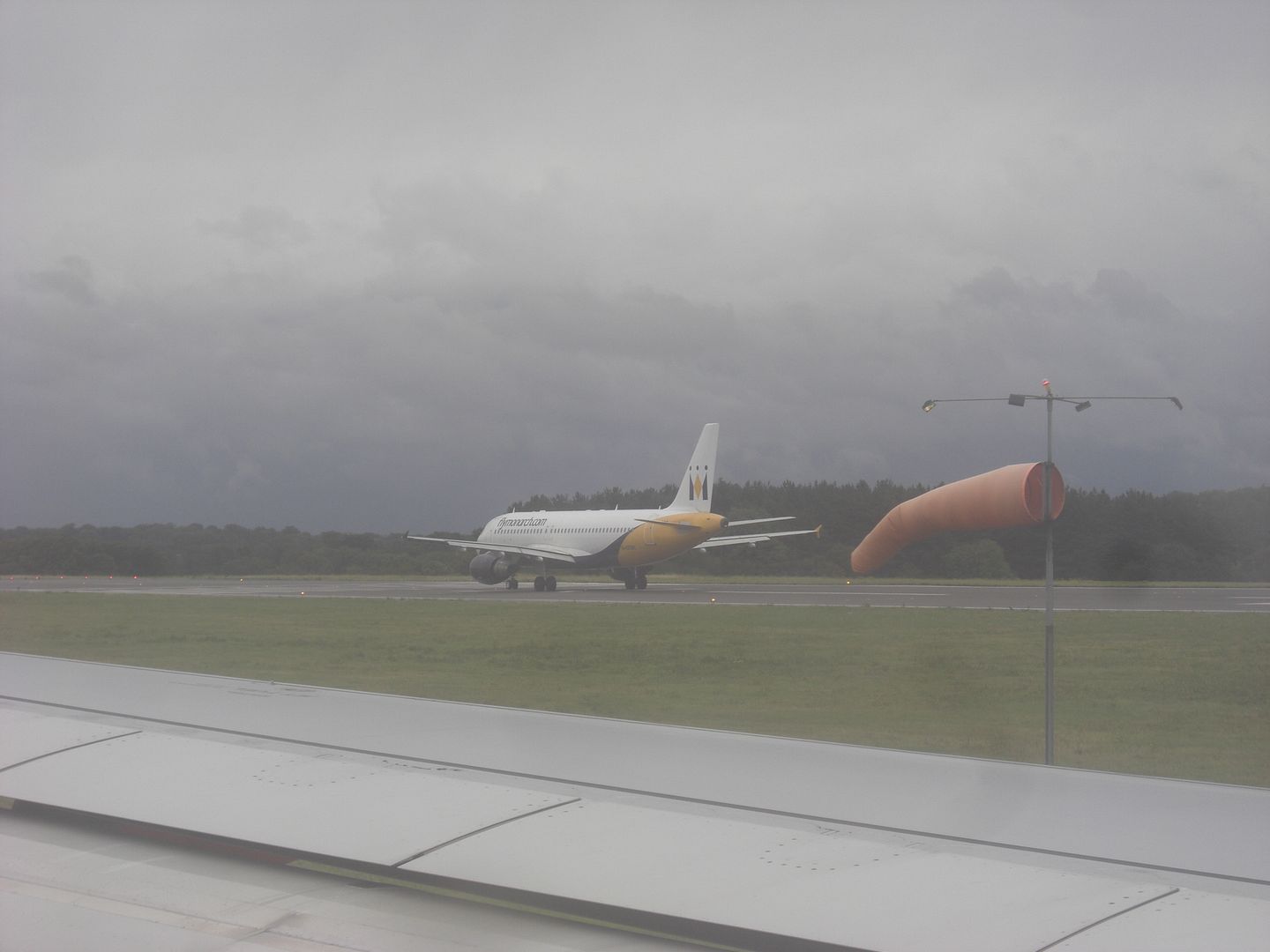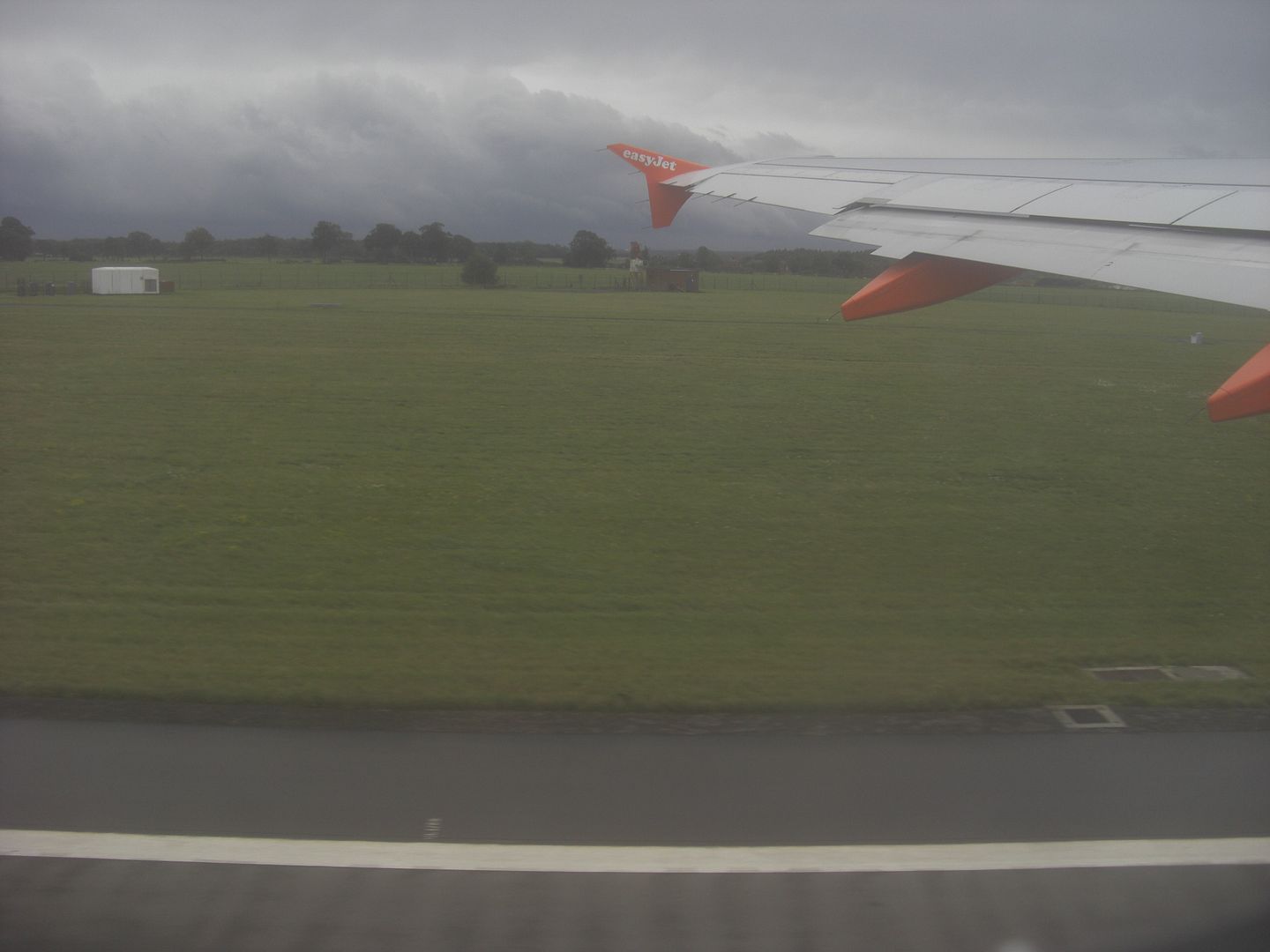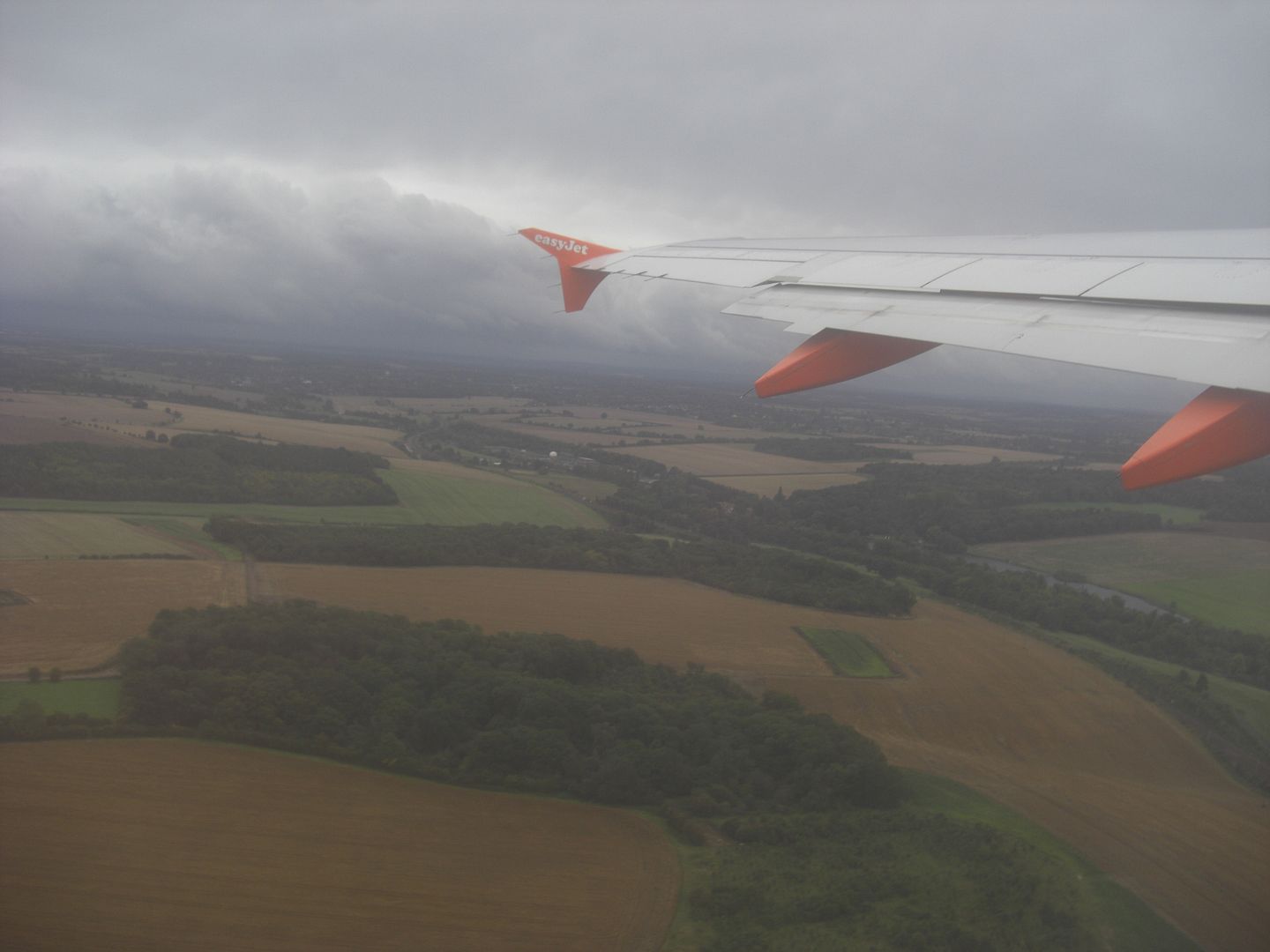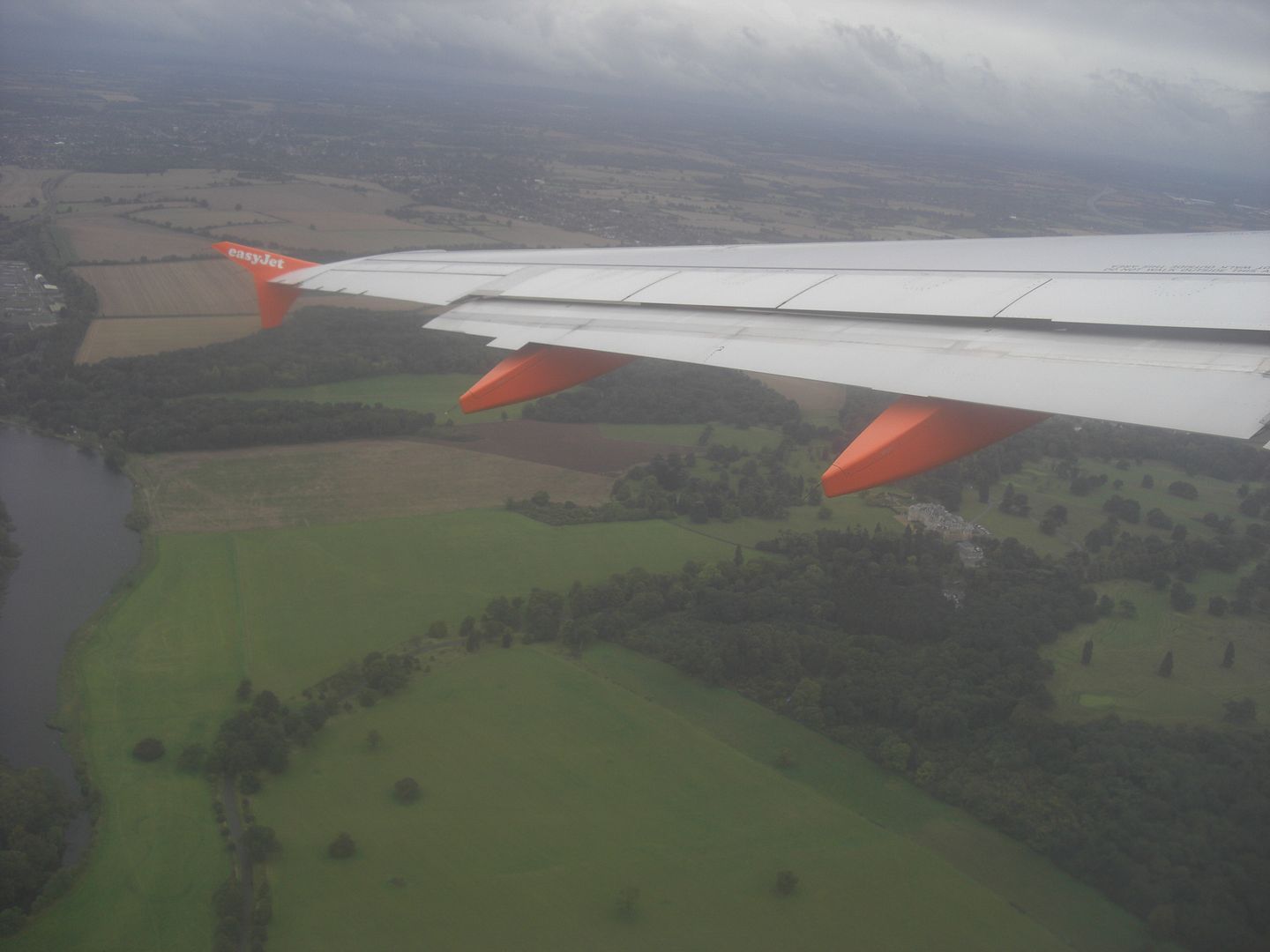 Drinks prices were better than FR, but still more than I was willing to pay for a G&T. Interesting that along with other well regarded brands, they use Skyy Vodka.
Luton Hoo, a posh hotel and spa near LTN
Weather today was pretty grim. Wet and cloudy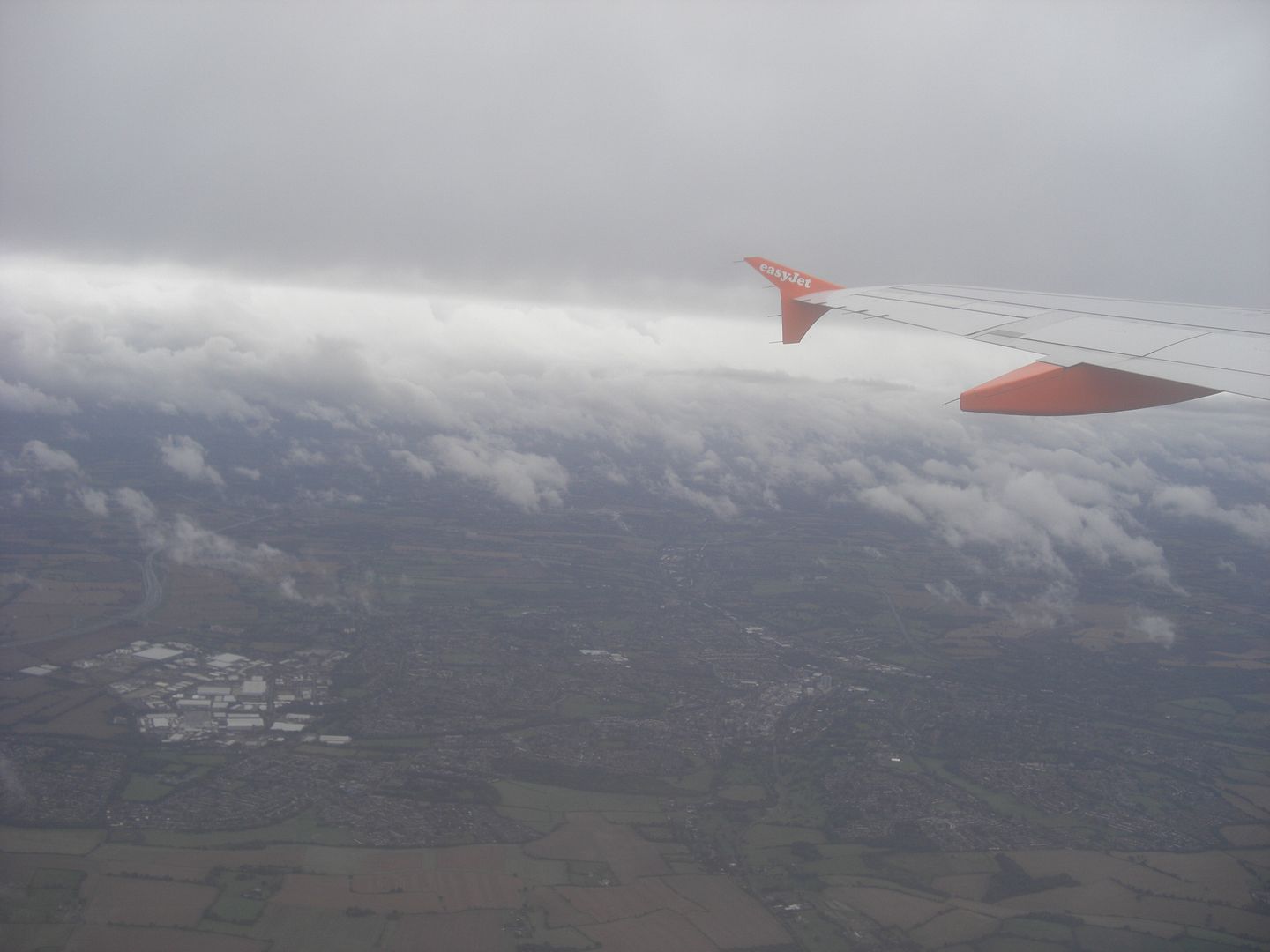 Nothing much to say about the flight. I sat and watched the crew try and sell some drinks, whilst listening to some music.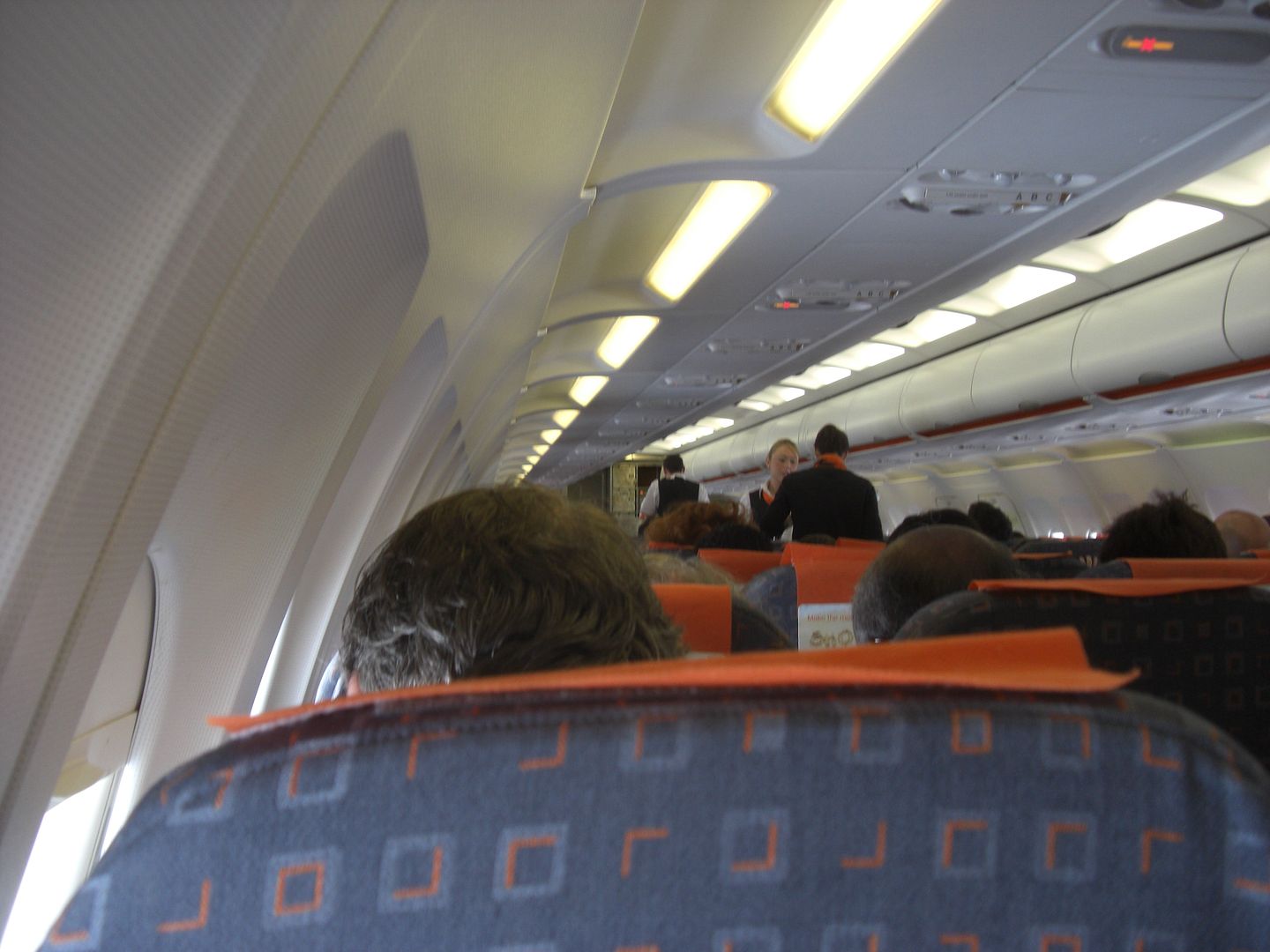 Before long, we started our approach into a grey, but dry CDG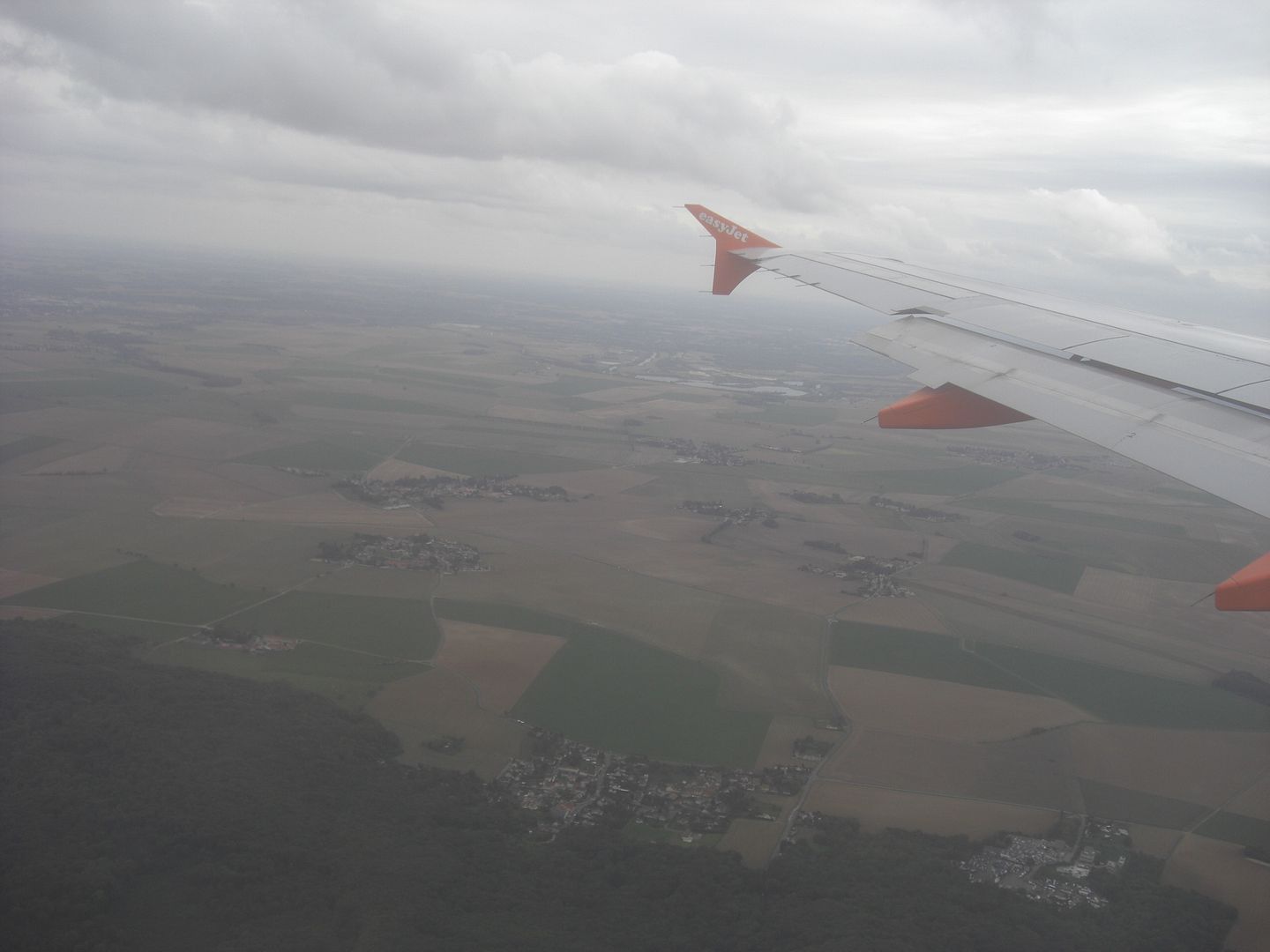 Thanks to a well padded schedule, we arrived 15 mins early.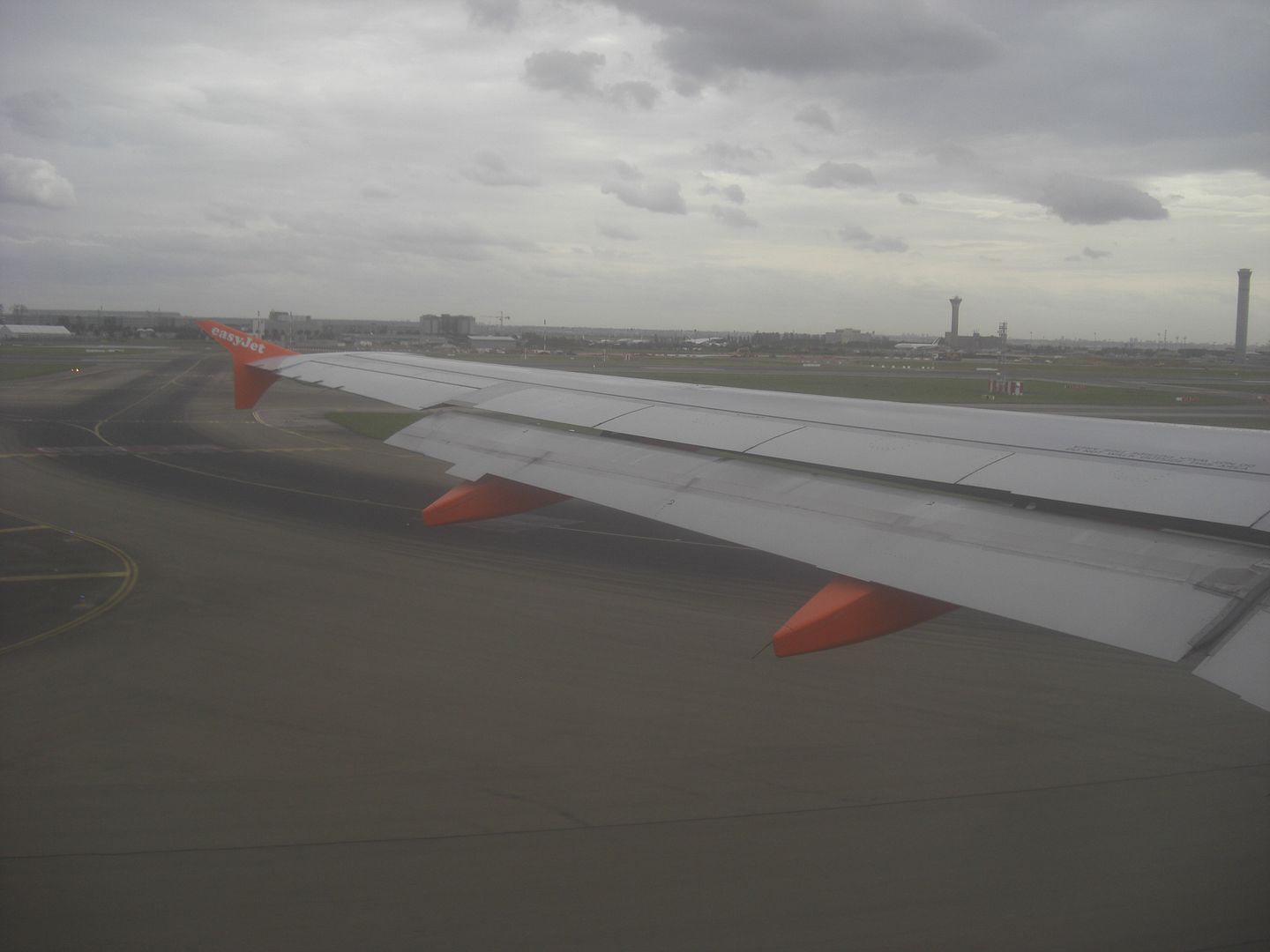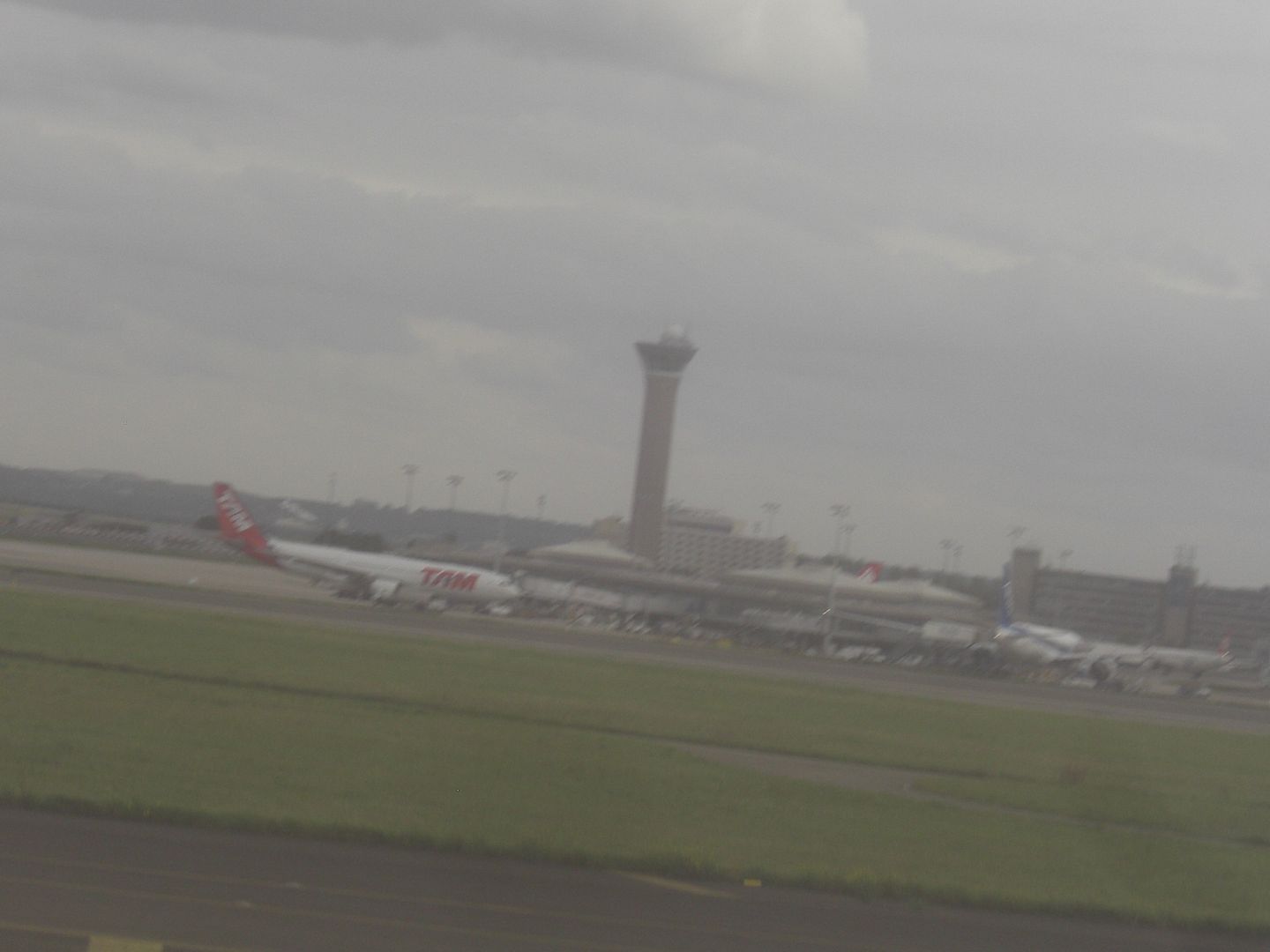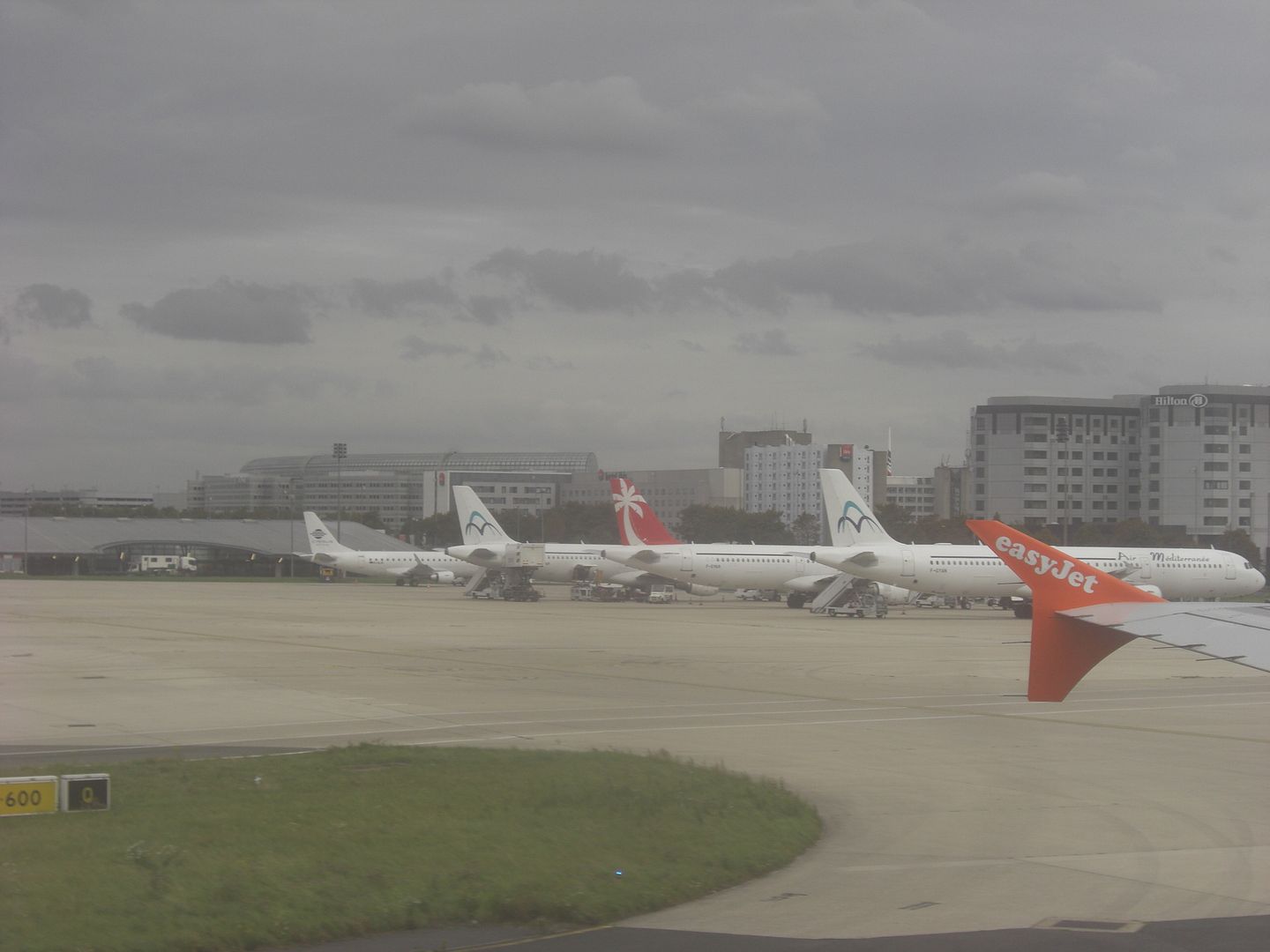 The famous AF Concorde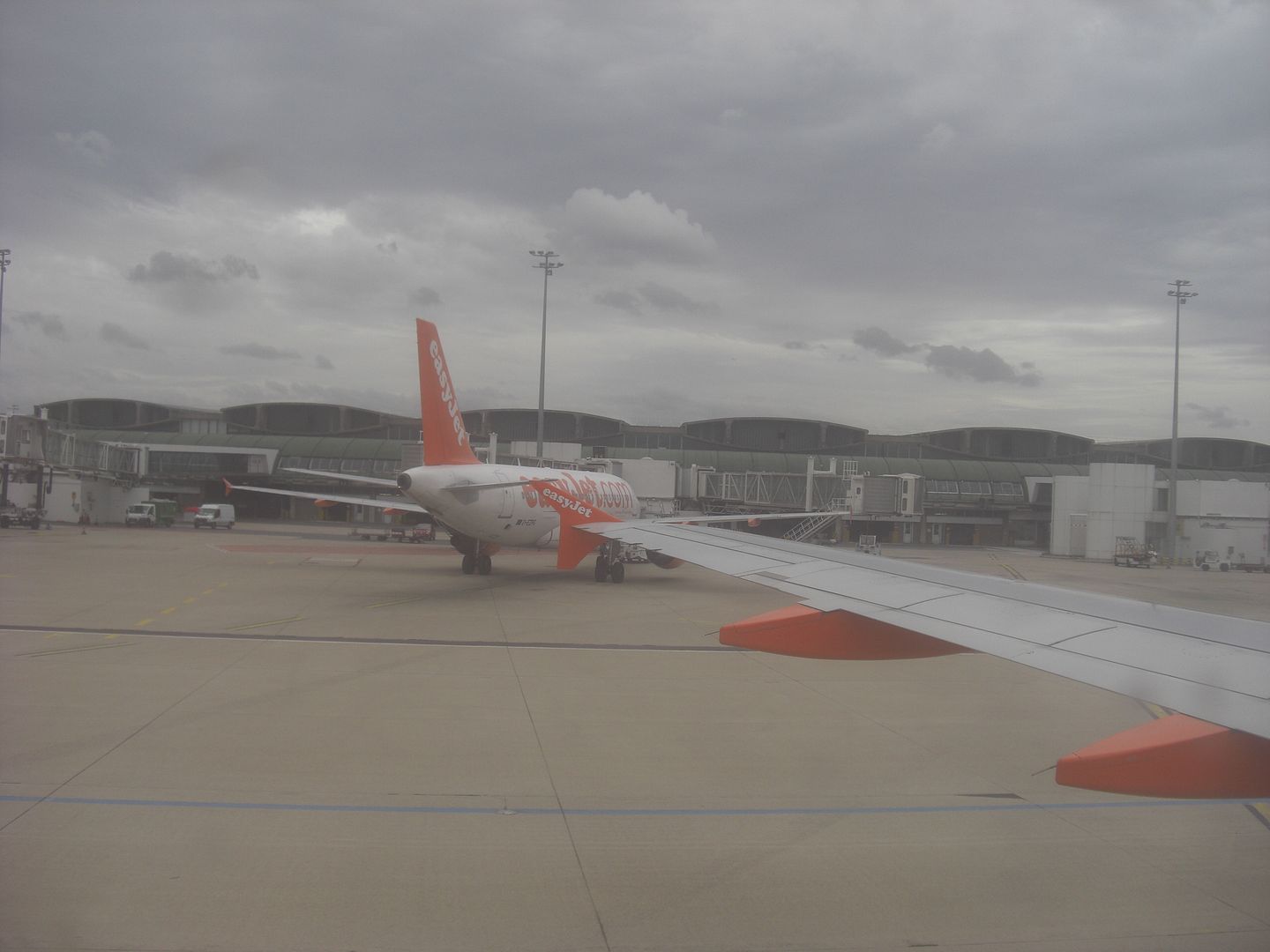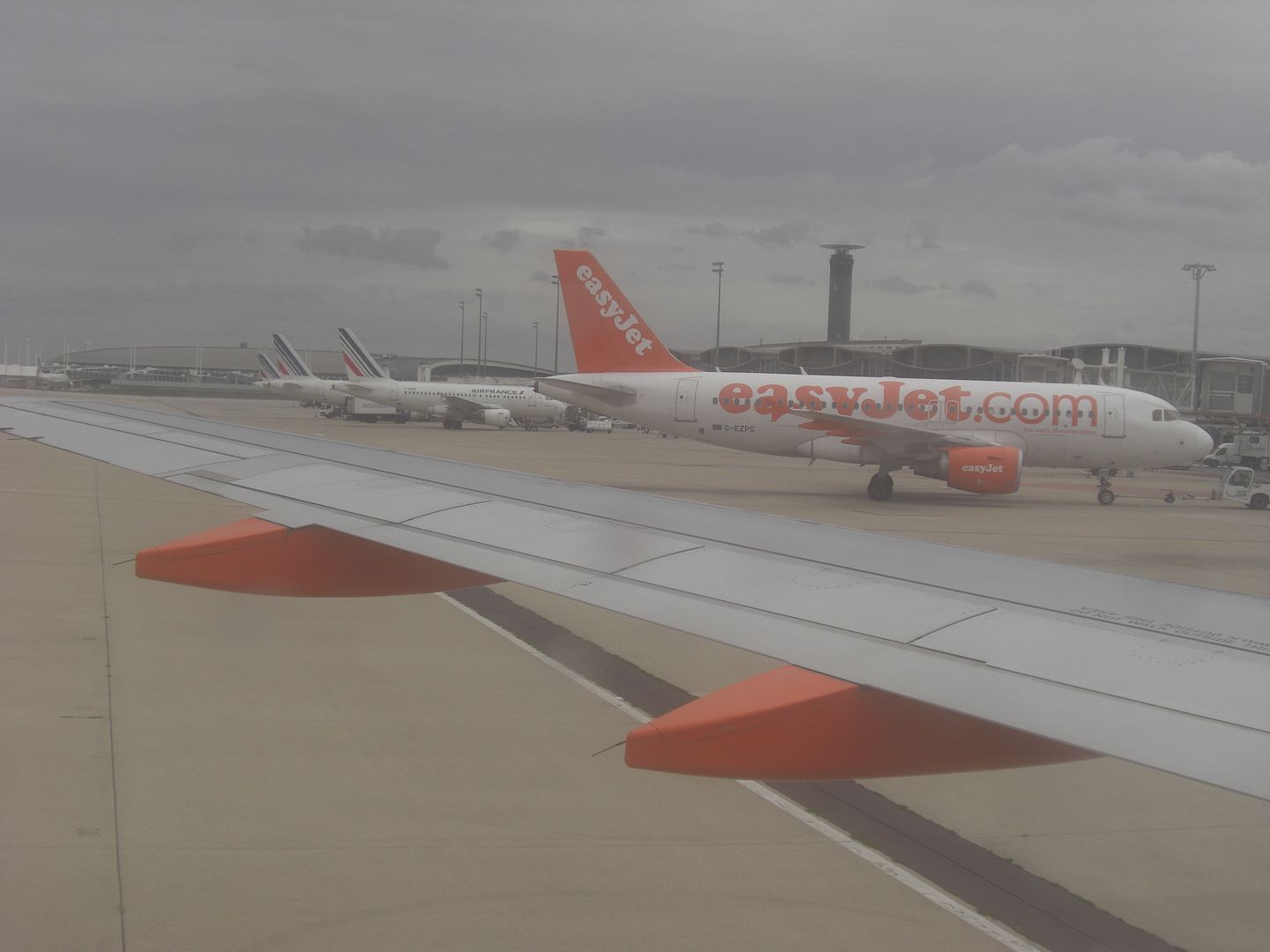 I noticed a BA B737 sitting on a remote ramp looking like it was receiving some mechanical attention – diverted from somewhere no doubt. I was quite surprised that U2 had proper airbridges here in CDG. The walk from the plane to the curb was very short, although I must say, WTF were they thinking when they built this terminal? (in fact all CDG terminals). I'd only flown through T1 before, which was just bizarre. Terminal 2B – mess! So unnecessarily cluttered and confusing. And very harsh and grey and concretey. Not very aesthetically pleasing!
Passengers trying to work out the public transport – that board was pretty complicated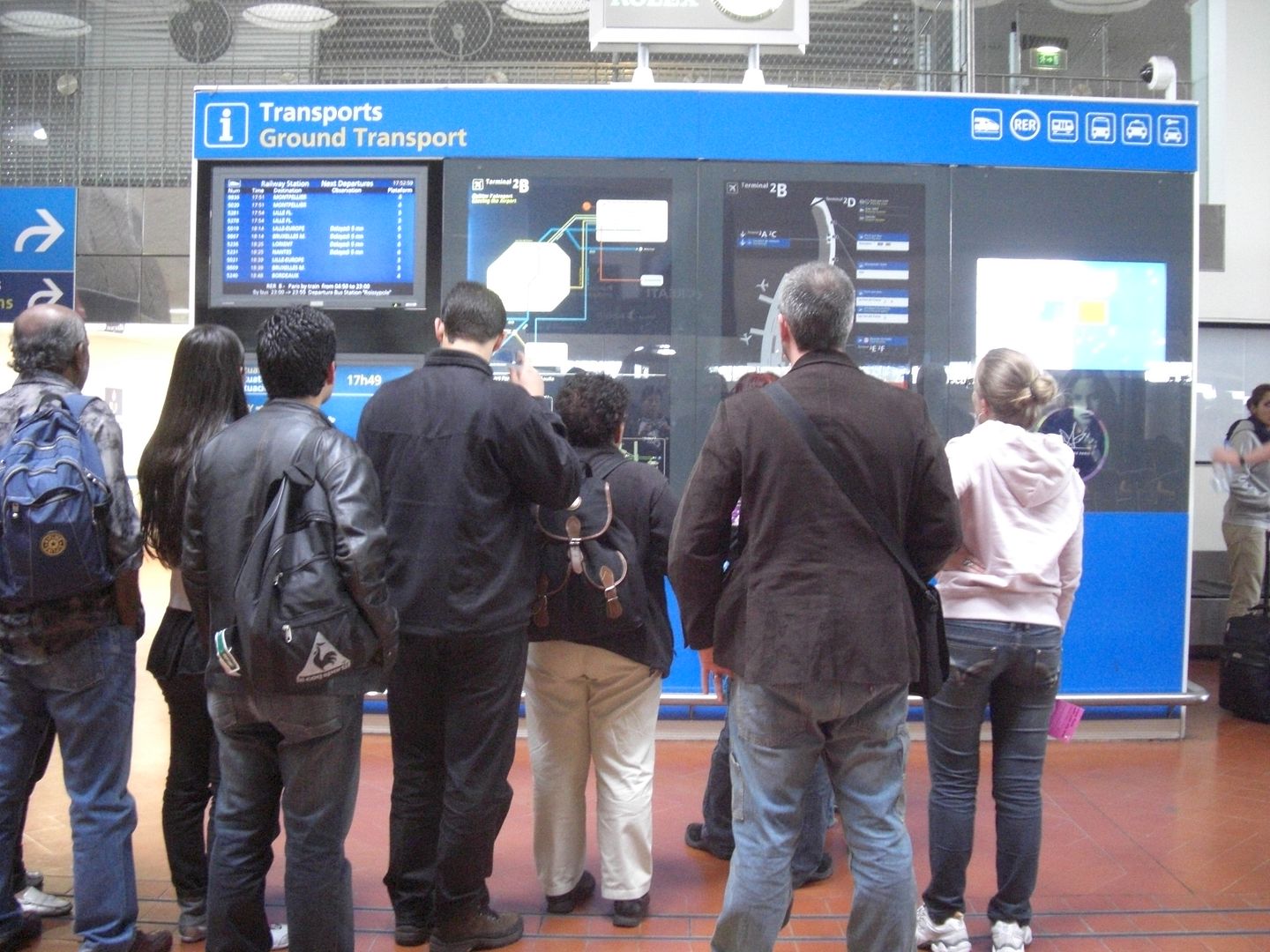 Waiting for bags. I was delighted to see my bag appear first – maybe the rampers saw my BA Silver tag?!
I then took a long walk though innumerable passageways before ending up at the massive railway station, where there was a long wait to buy a ticket.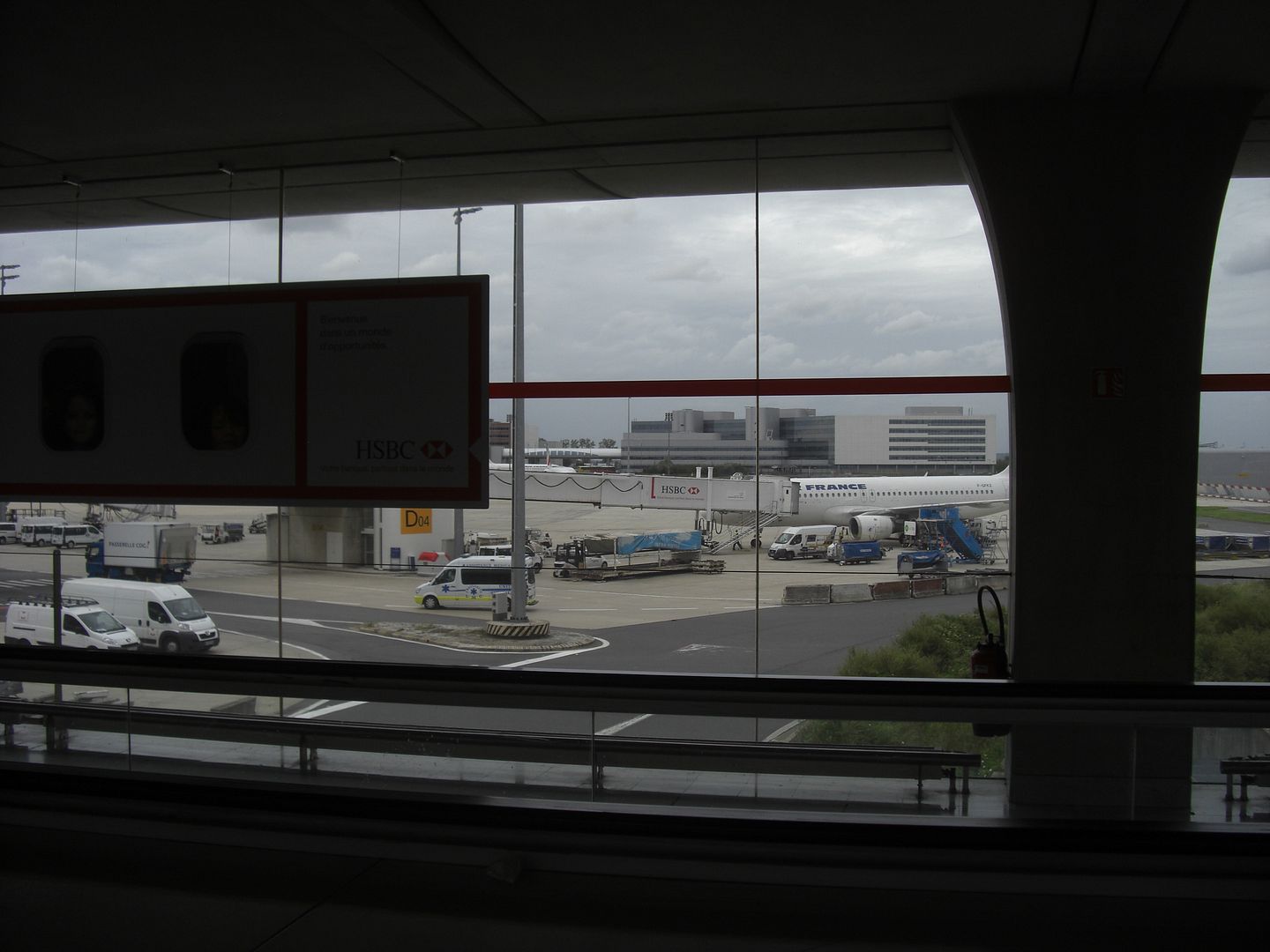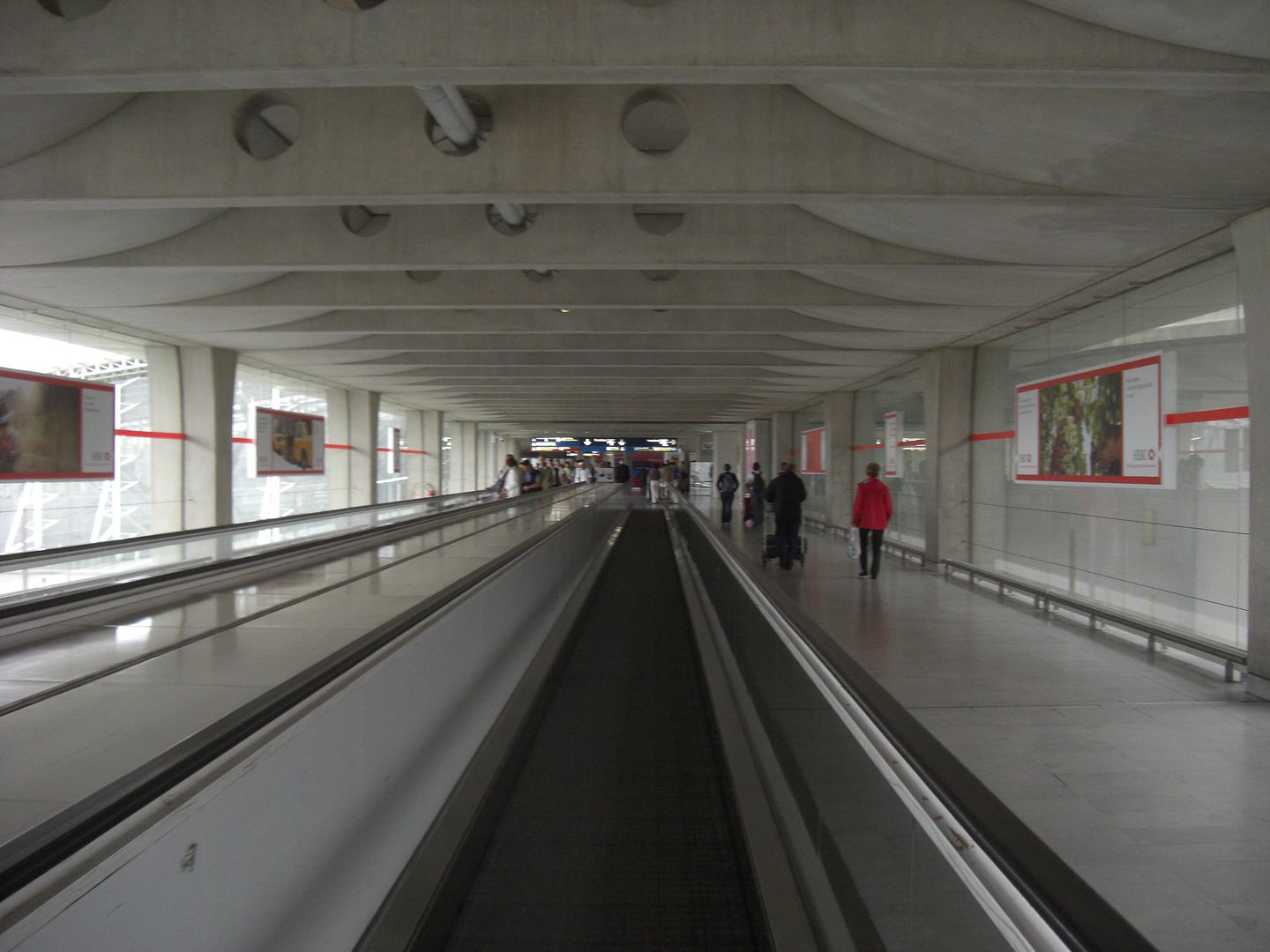 I finally got a train, which got stuck in a tunnel somewhere, and ended up taking over an hour to get to Luxembourg RER station. Just adding the flight time, and train time in Paris, and you've got the same amount of time that Eurostar takes – don't fly to Paris from London!
During my time in Paris, I visited the Père-Lachaise cemetery, which was pretty interesting.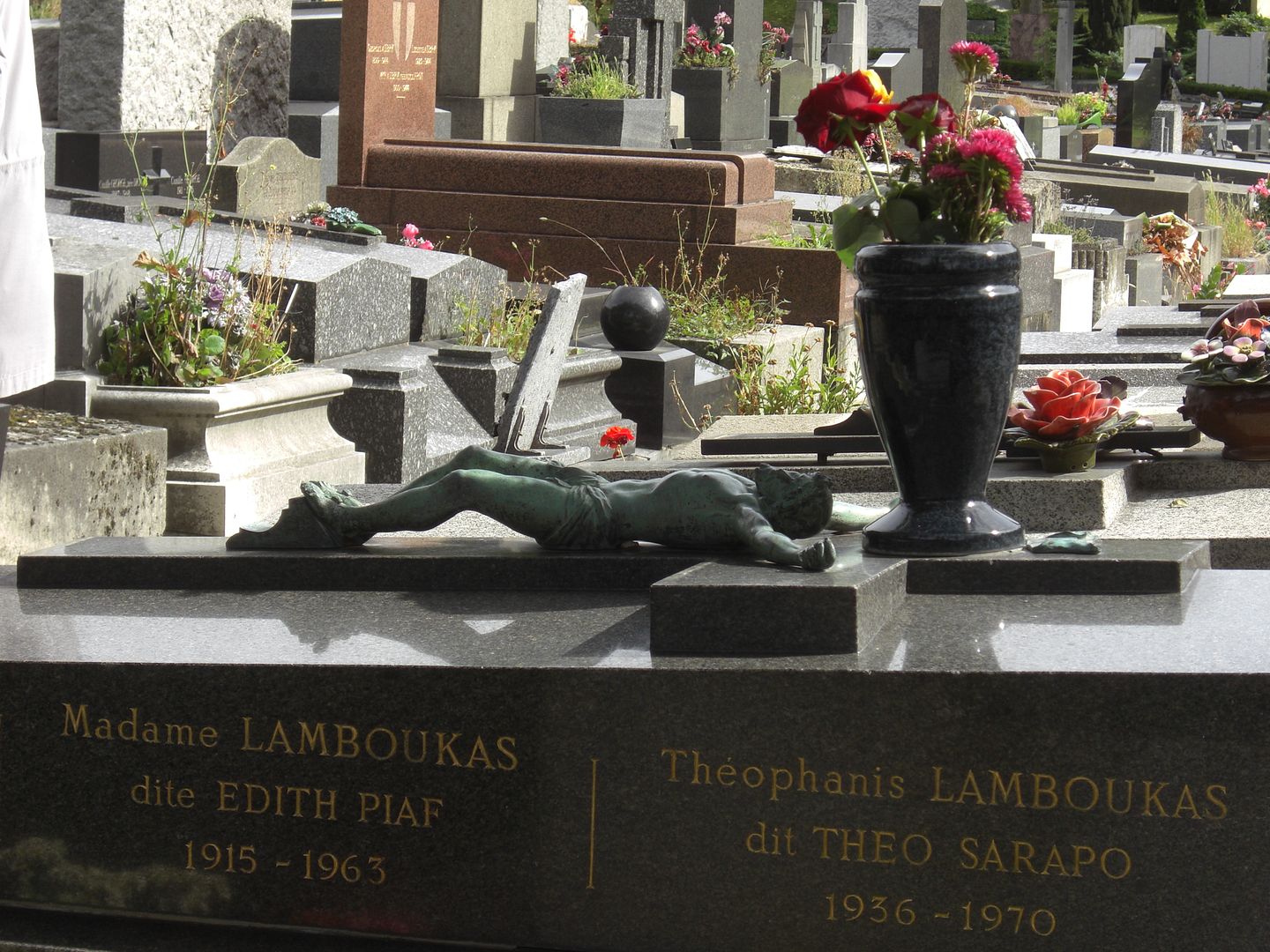 Before long it was time to head on to San Diego, by way of London. This would be only my second time transiting through LHR (despite it being my 'preferred' home airport and having flown from it well over a hundred times), and the previous time I was on a purely domestic itinerary (MAN-LHR-EDI-INV). I was interested to see what the LHR transit experience was like!
I caught the RER back to CDG, which luckily was much emptier and quicker than the way out.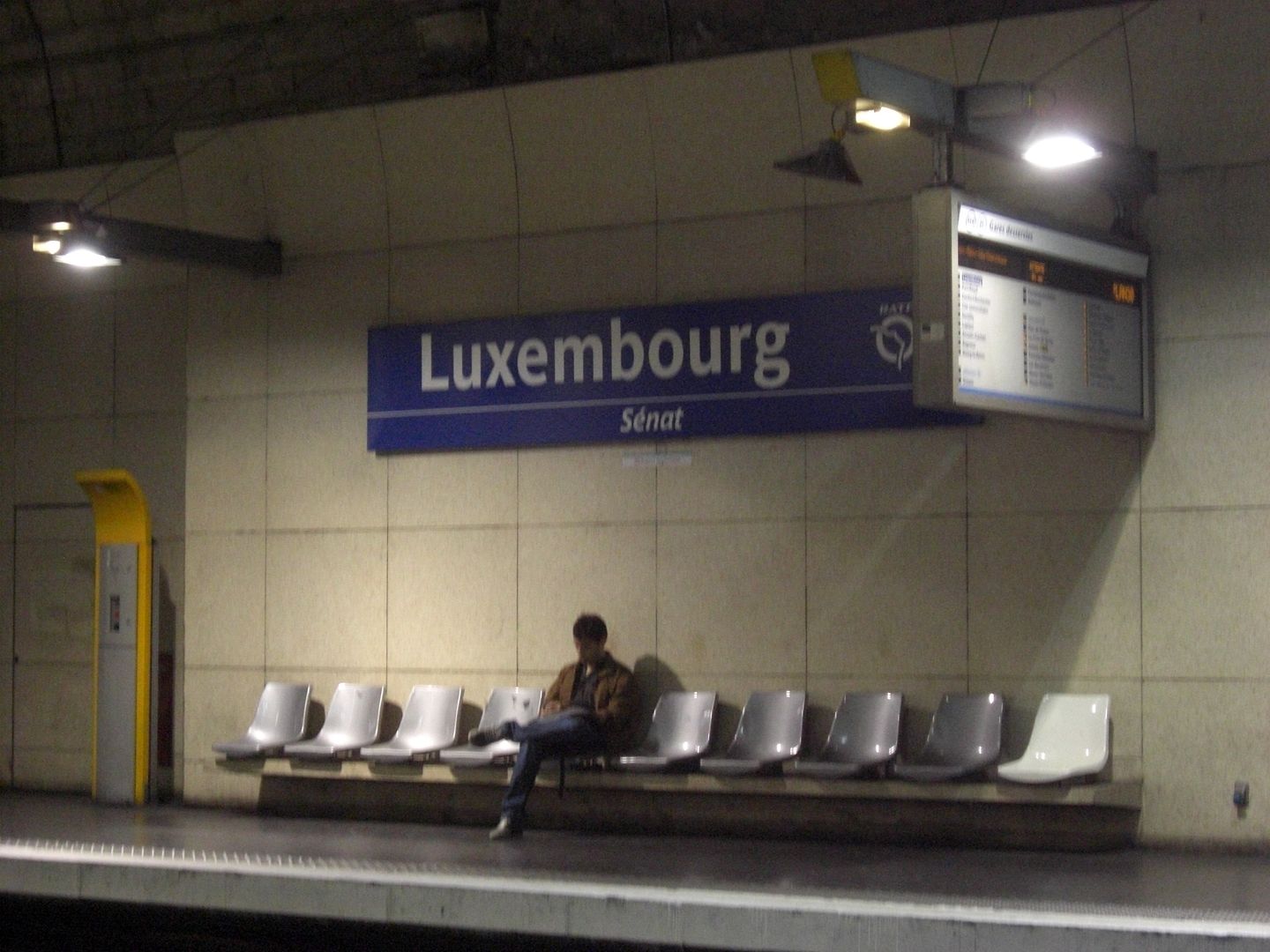 On arrival at CDG, I was confronted by an enormous curved departures board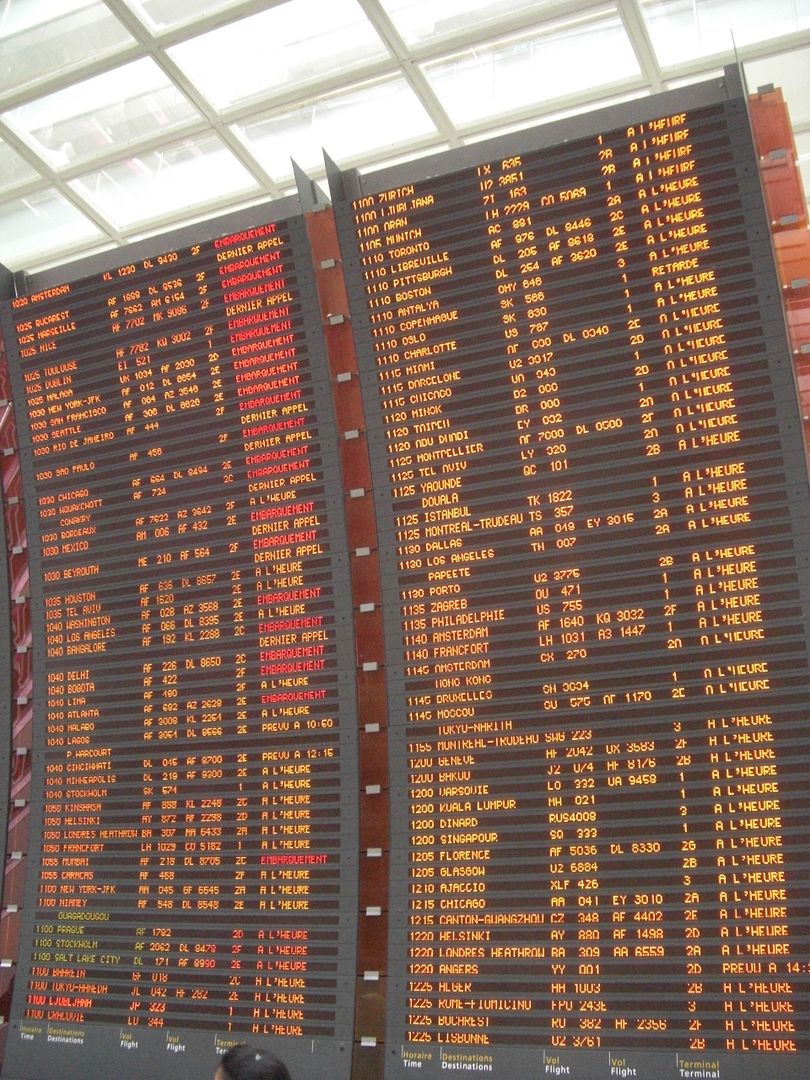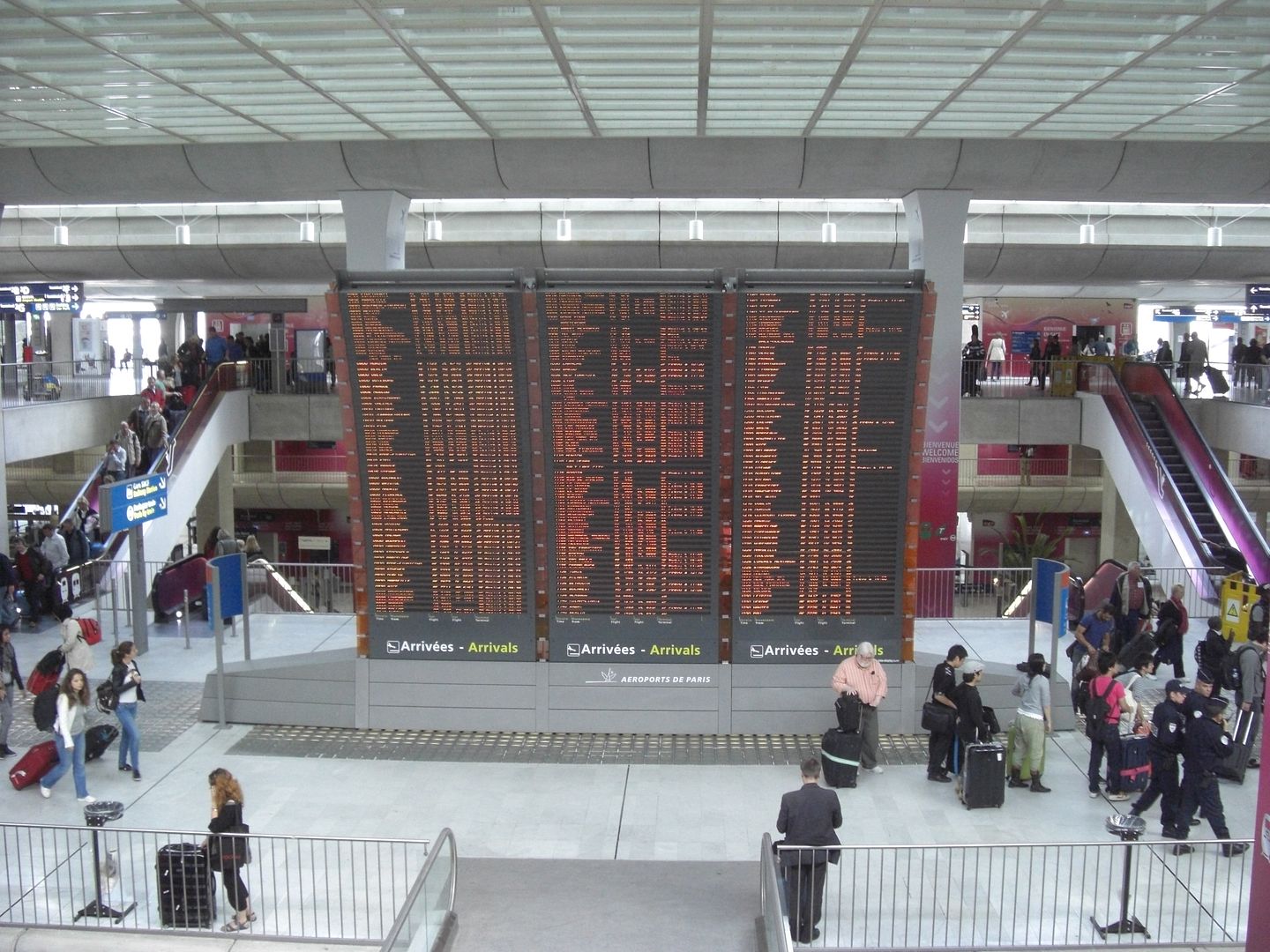 From here it was a ten minute march to T2A, home of most oneWorld carriers. I stopped en route to buy a TSA padlock. View from the walkway.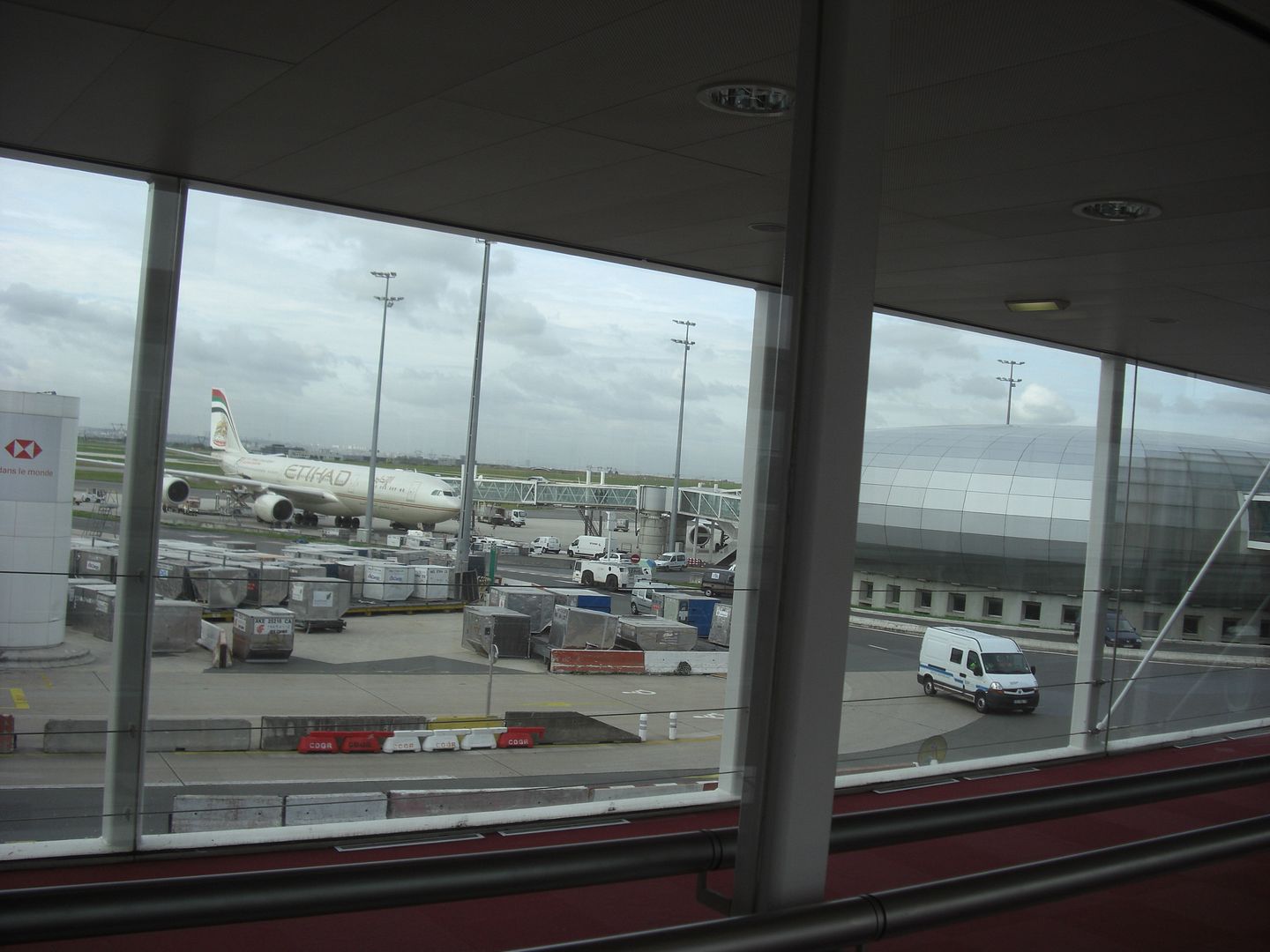 When I finally found the BA check in area, I went to the ticket desk to see about upgrading to Club World. The lady at the desk said that it was impossible on my ticket, so I just went to drop my bags off instead.
There was very little queue for immigration and security, and before long I was in the very long and narrow departures area.
BA's preferred premium lounge is the AA Admirals Club. However, this is a) located in a different pier, and b) not very nice. There is also a CX lounge, which is much more centrally located, and with far better F&B, but is also much smaller. However, it is only open to coincide with the CX departures, so only around 10 times a week, for 3 hours a time – not suitable as a default lounge for BA's numerous daily departures. Interestingly, when I mentioned that I was going to go to the CX lounge to the BA check in lady, she had no knowledge of the lounge. I did, however, go along to the AA lounge first, mainly as I had some ticketing questions I needed to ask ahead of my SAN-LAX-DFW-SJD flights.
Walking down to the AA pier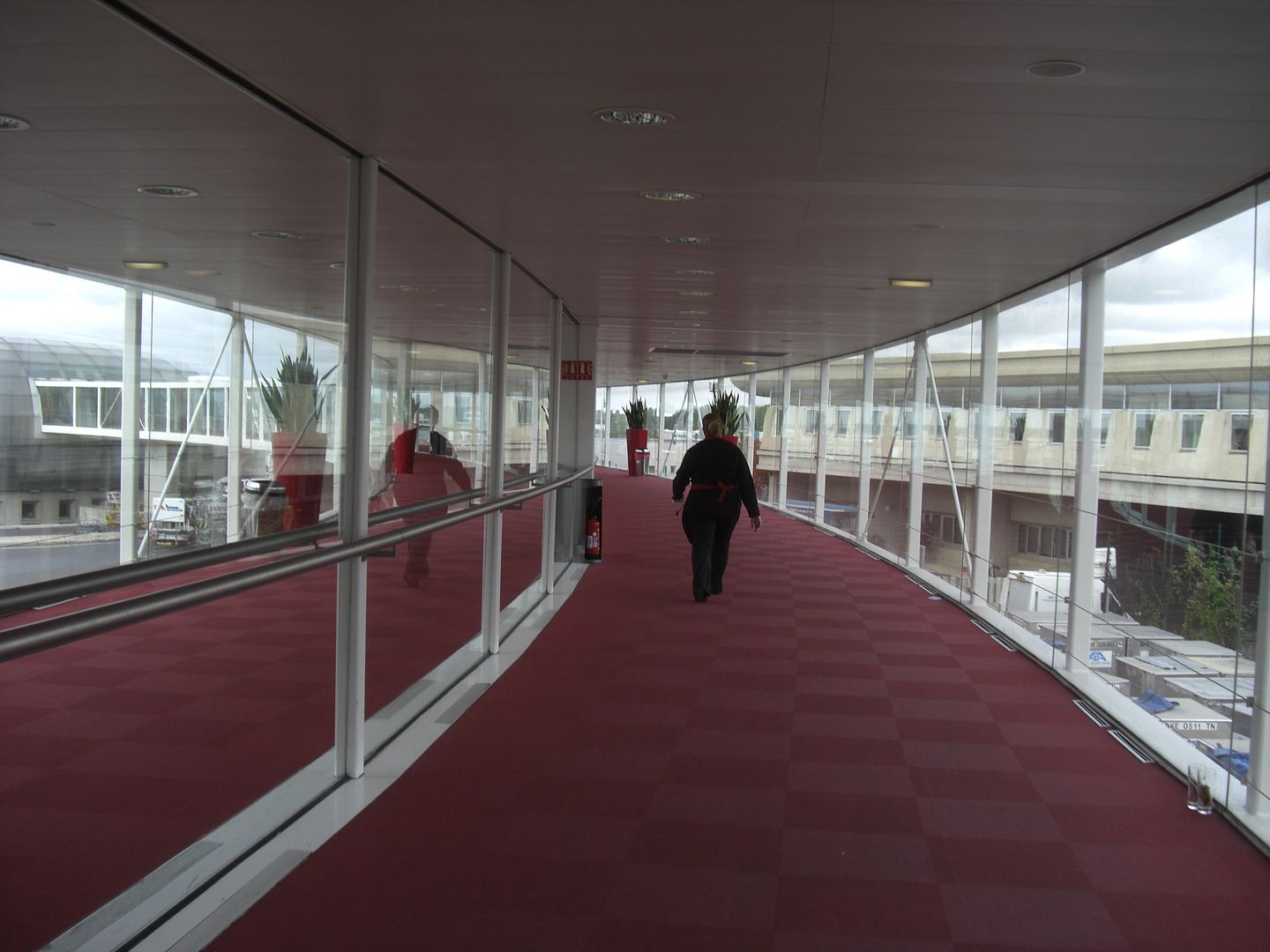 AA pier
Admirals Club, CDG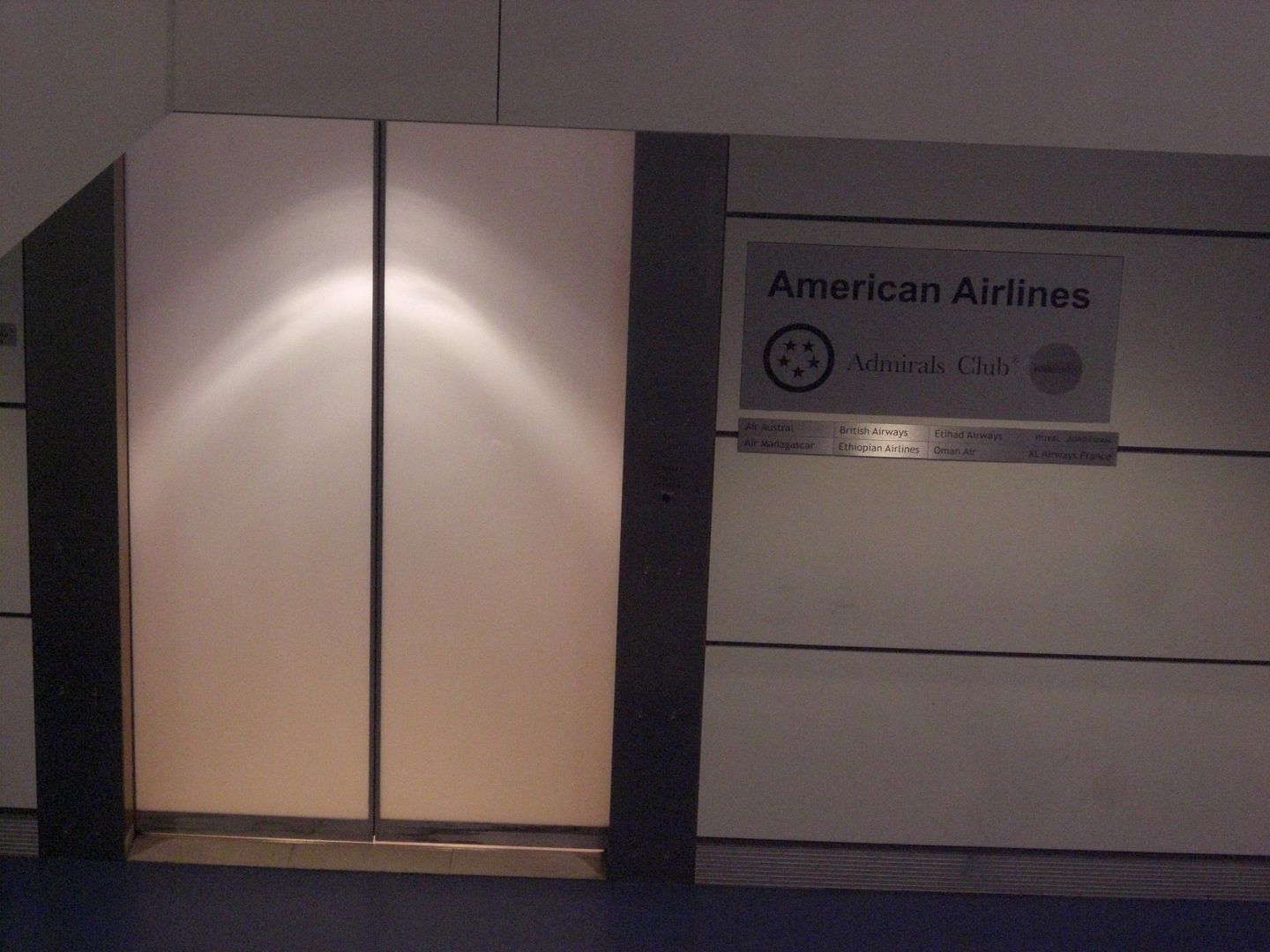 I was welcomed into the lounge. There wasn't a lot on offer, and the lounge was quite busy. I got myself a water, and some reading material.
Lounge plan
FIDS
I was bored of the AA lounge pretty quickly, especially as there was no proper food to speak of. I packed up my things, and walked back to the main terminal to find the CX lounge. I was lucky enough to happen to be departing at the same time as one of the few lunchtime CDG-AMS-HKG flights.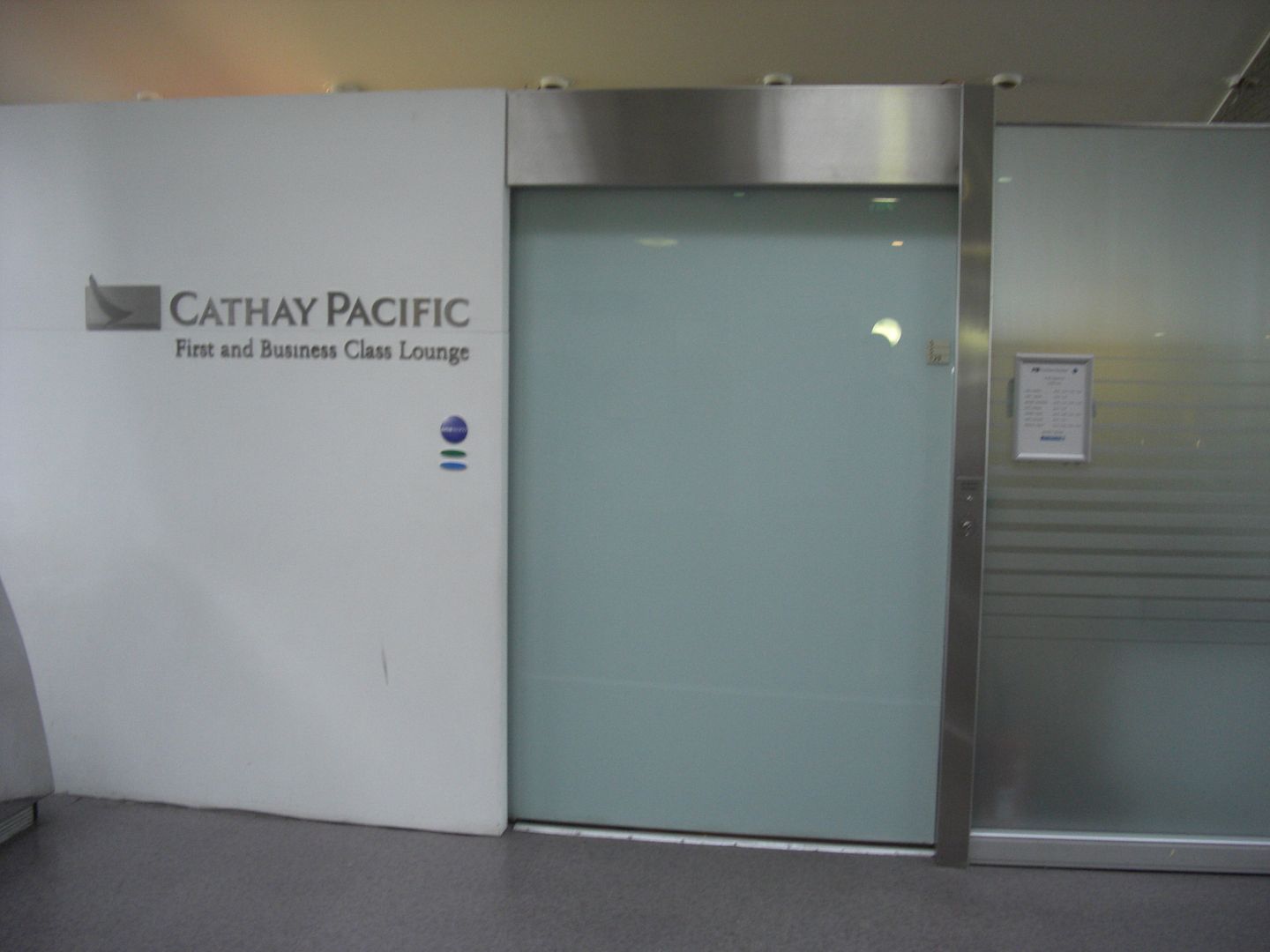 The F&B options were FAR better here. As I arrived, they were switching from breakfast to lunch, so I had a few pain au chocolats, before they brought out teriyaki chicken and rice, salmon sandwich, fruit, OJ and champagne. Yum! Interestingly, CX don't offer champagne on the business lounge in LHR (only in the F section) – being in France has some benefits!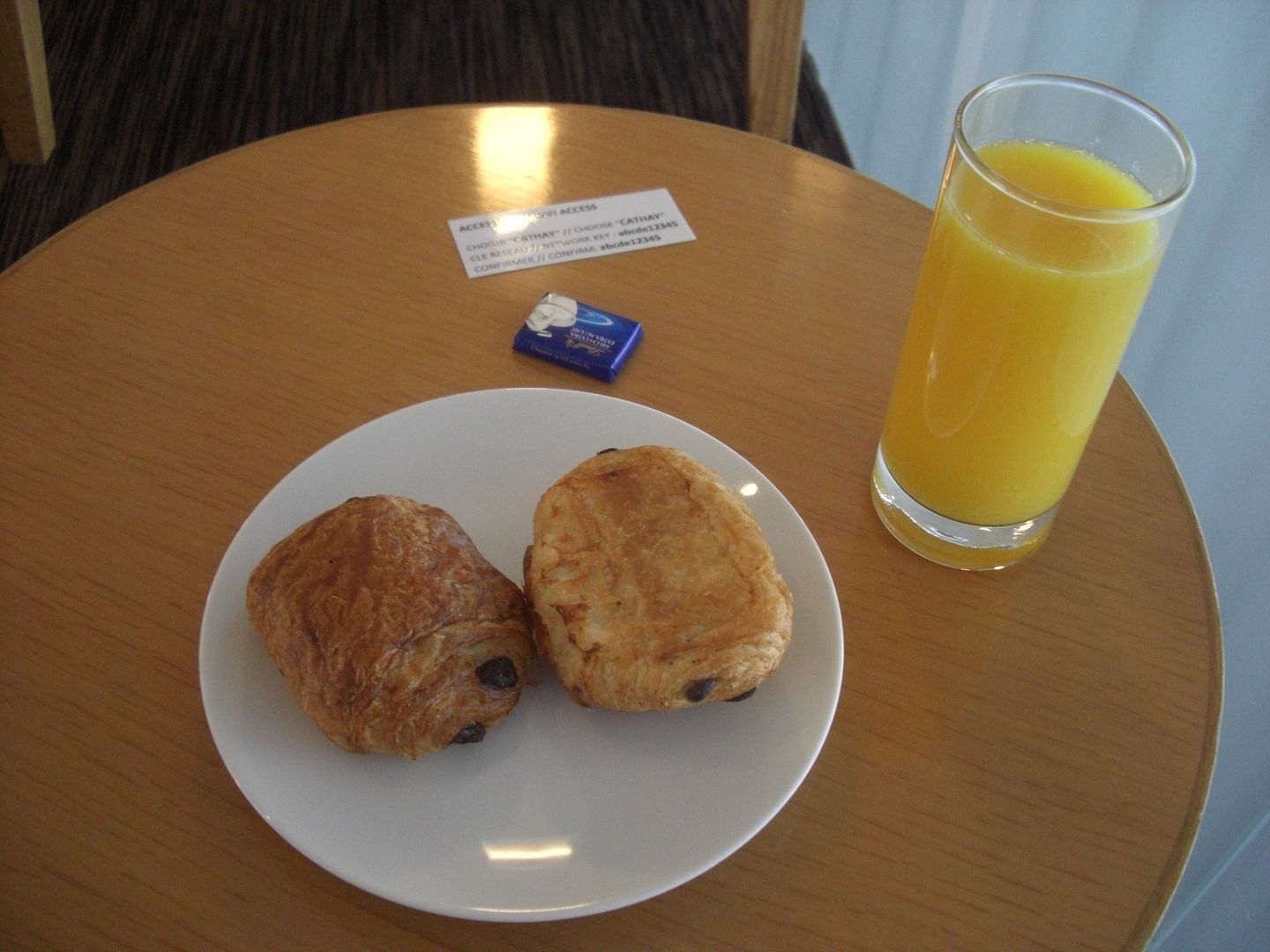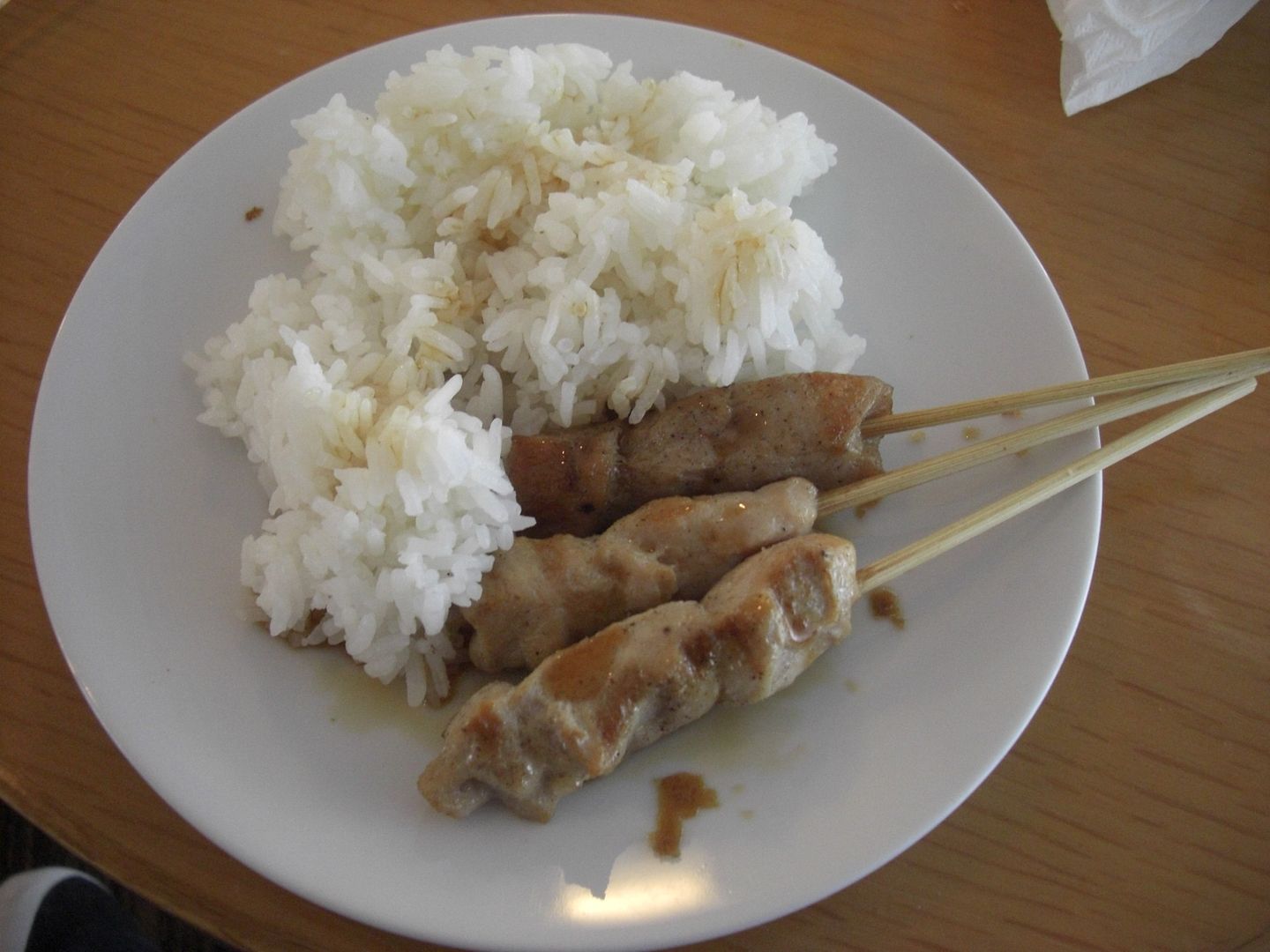 Location
The lady on the door was very friendly when I arrived, and said she'd come and find me when the BA flight was boarding. The aircraft arrived a few minutes late.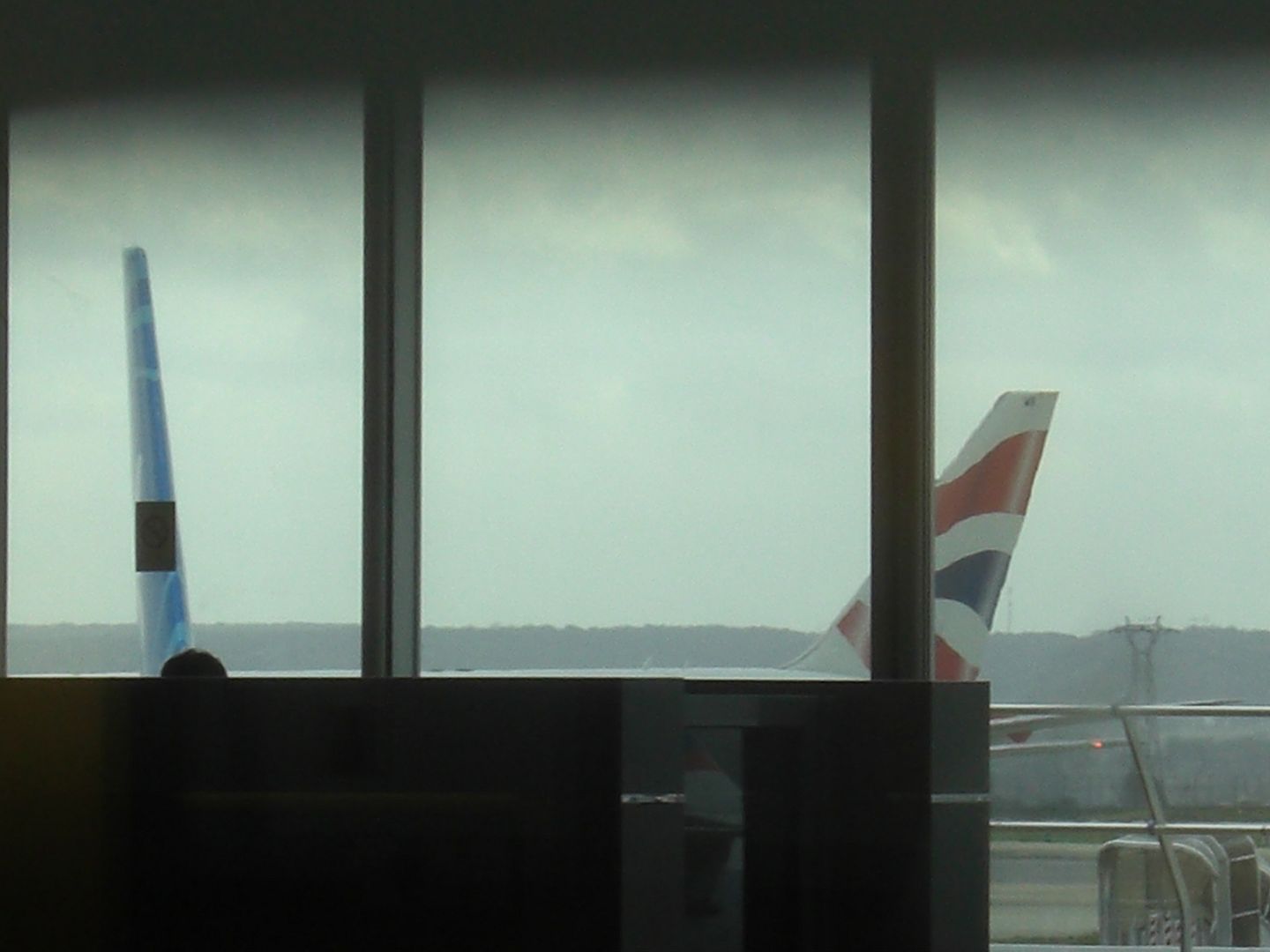 CX
Air Tahiti Nui
I headed down to the gate area around 30 minutes before departures. Very strangely, CDG was designed so that some gates, including ours, can only be accessed via 2 flights of stairs (no escalator/lift), and via a food court. And there was far too little room for a full B767. when I booked the flight, I hadn't realised that BA had re-introduced the B767 on the CDG route, so I was glad that it happened to fit into my schedule.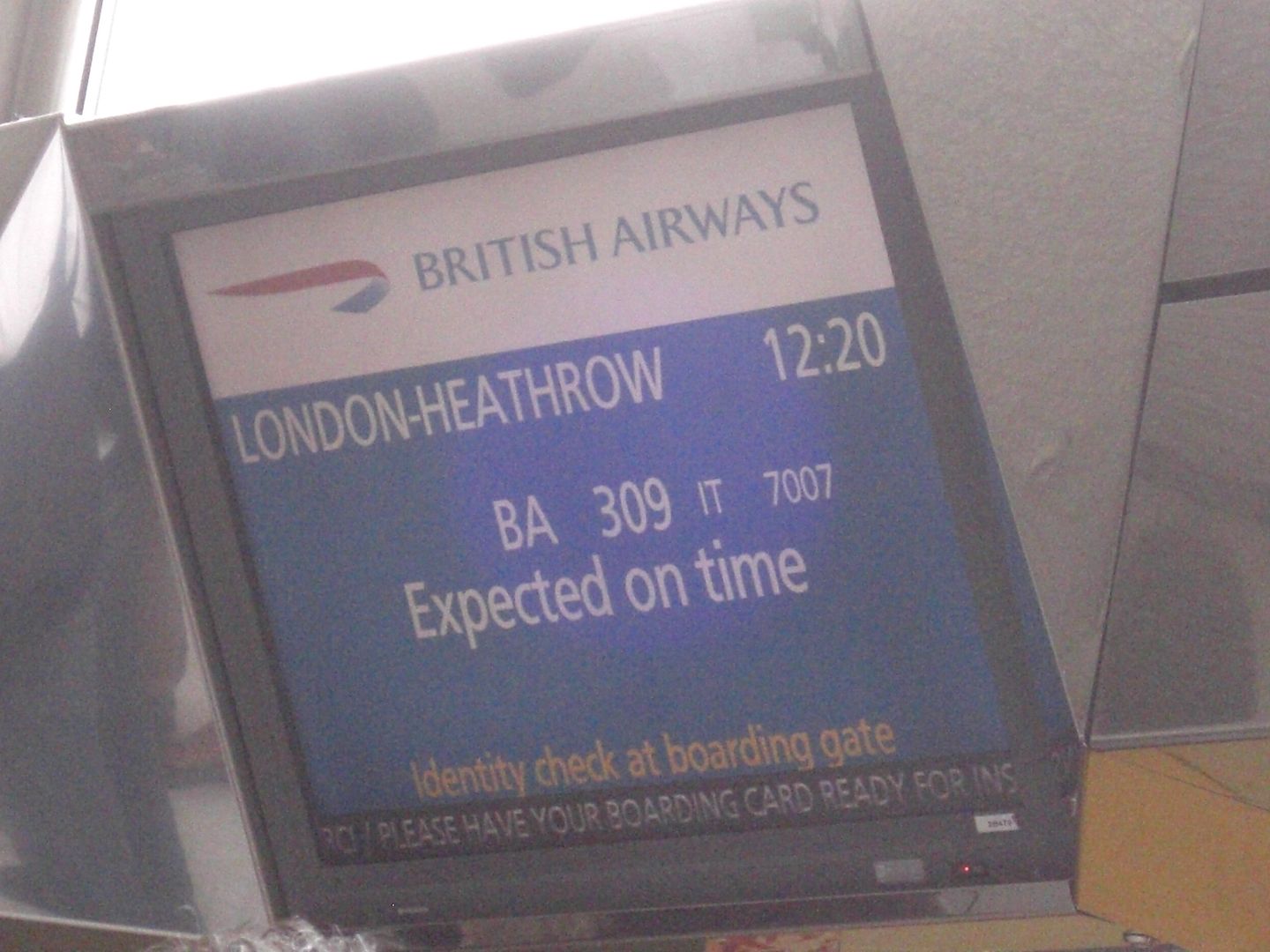 Boarding was delayed for no apparent reason, but after a 10 minute delay, we were let on.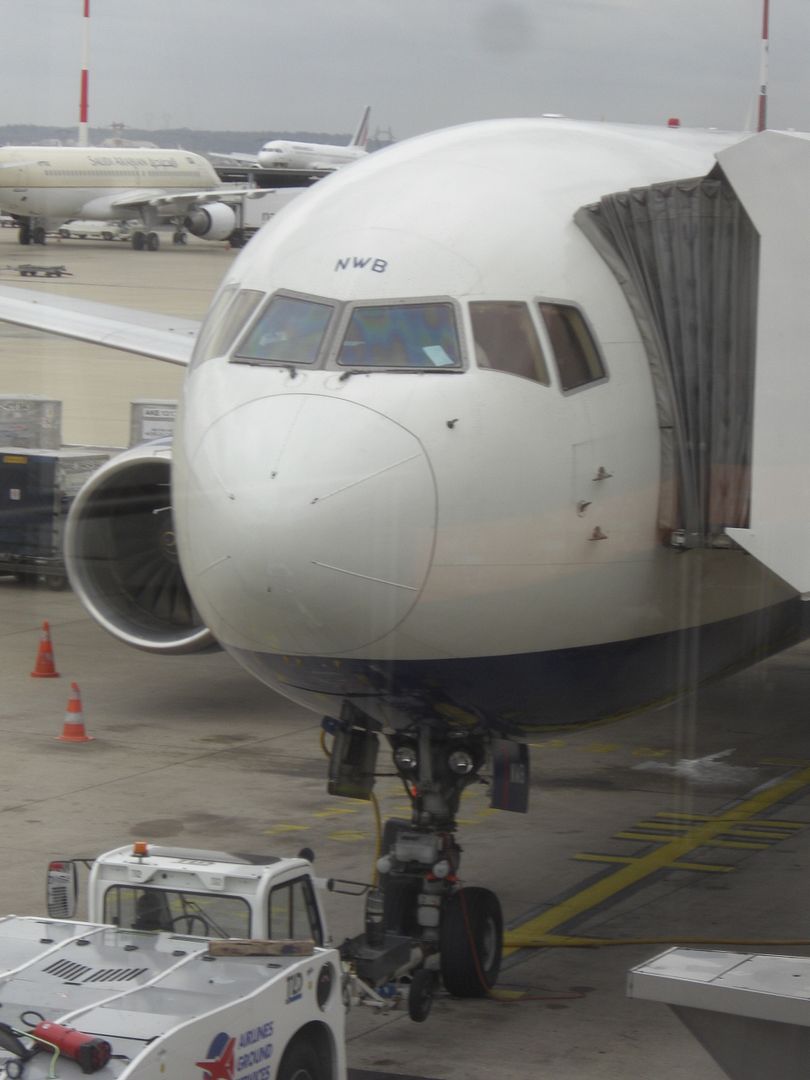 September 2011
Paris Charles de Gaulle (CDG) – London Heathrow (LHR)
British Airways BA 309
Scheduled: 1220-1240 (1h20m)
Actual: 1247-1244 (0h57m)
Boeing 767-300 G-BNWB
Economy

I managed to get a few snaps before everyone else boarded.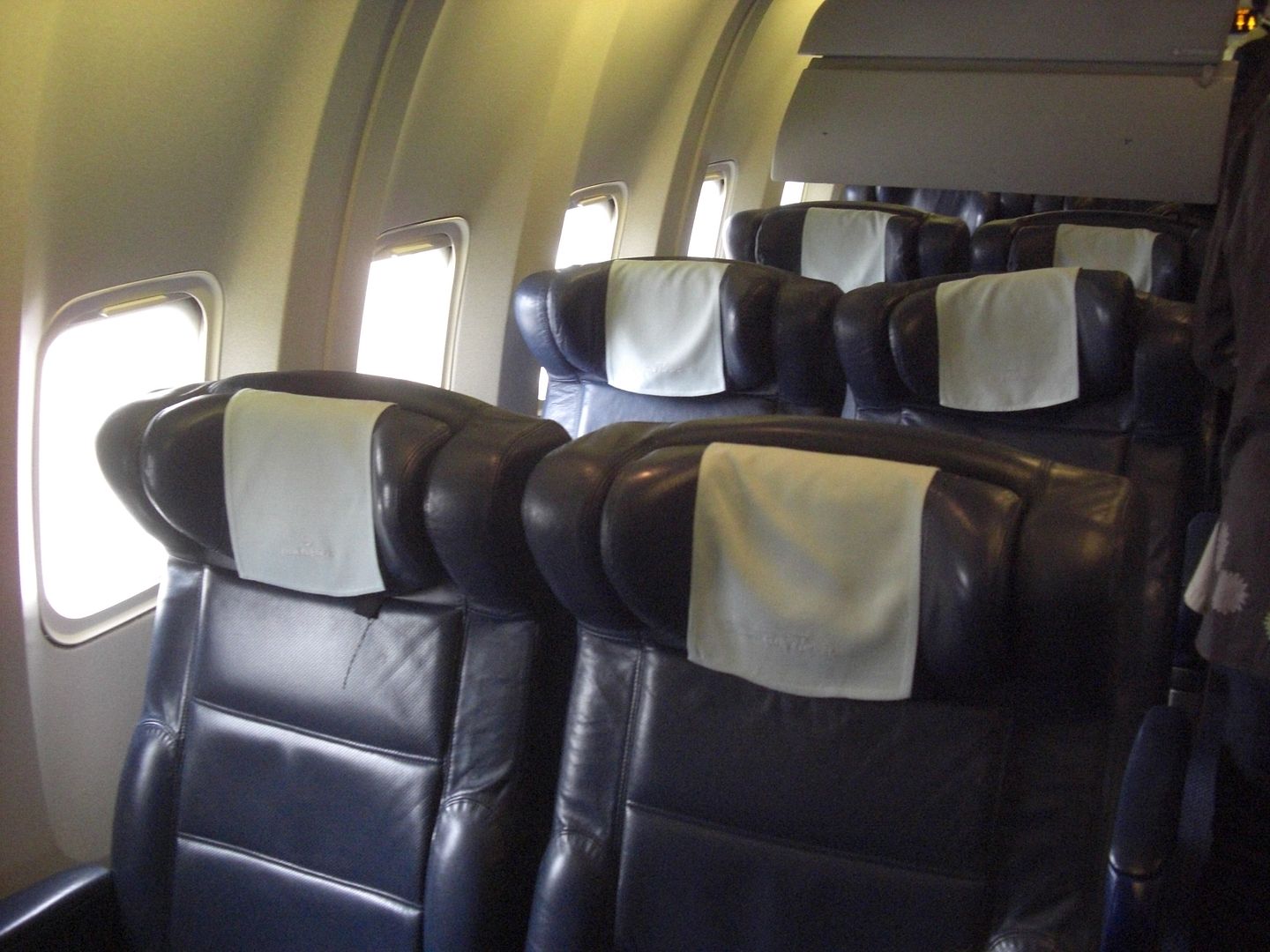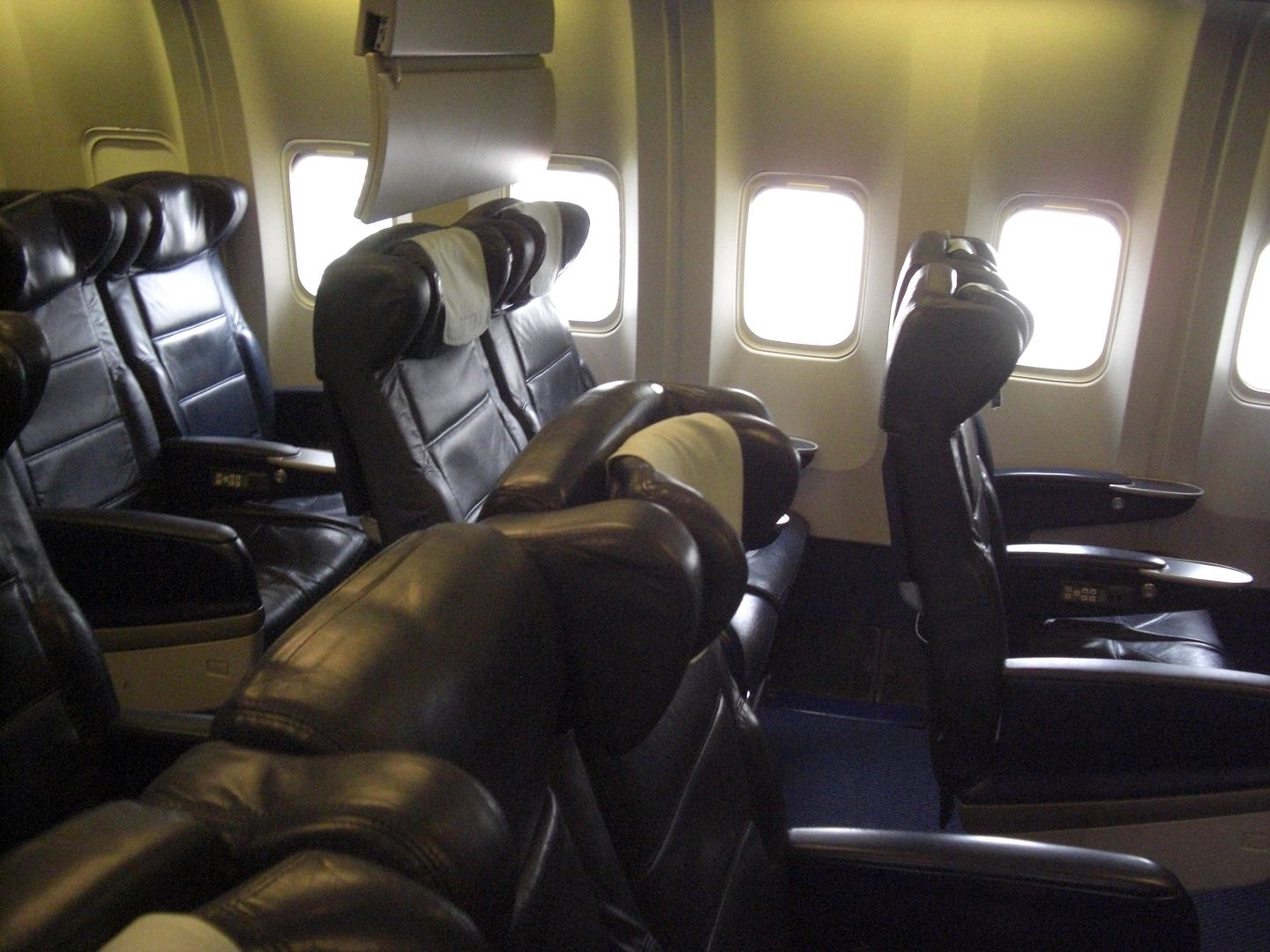 The plane filled up pretty well, although as I was sitting in the small forward cabin, I couldn't tell you the rough LF. Most seats from what I could see were taken. There were quite a few big French tour groups. There was mumbled apology about the delay, before the safety demo was done on the small, and very fuzzy screens. The BA shorthaul B767s are known for being in an awful state of repair. They look very 80s., and not in a good way.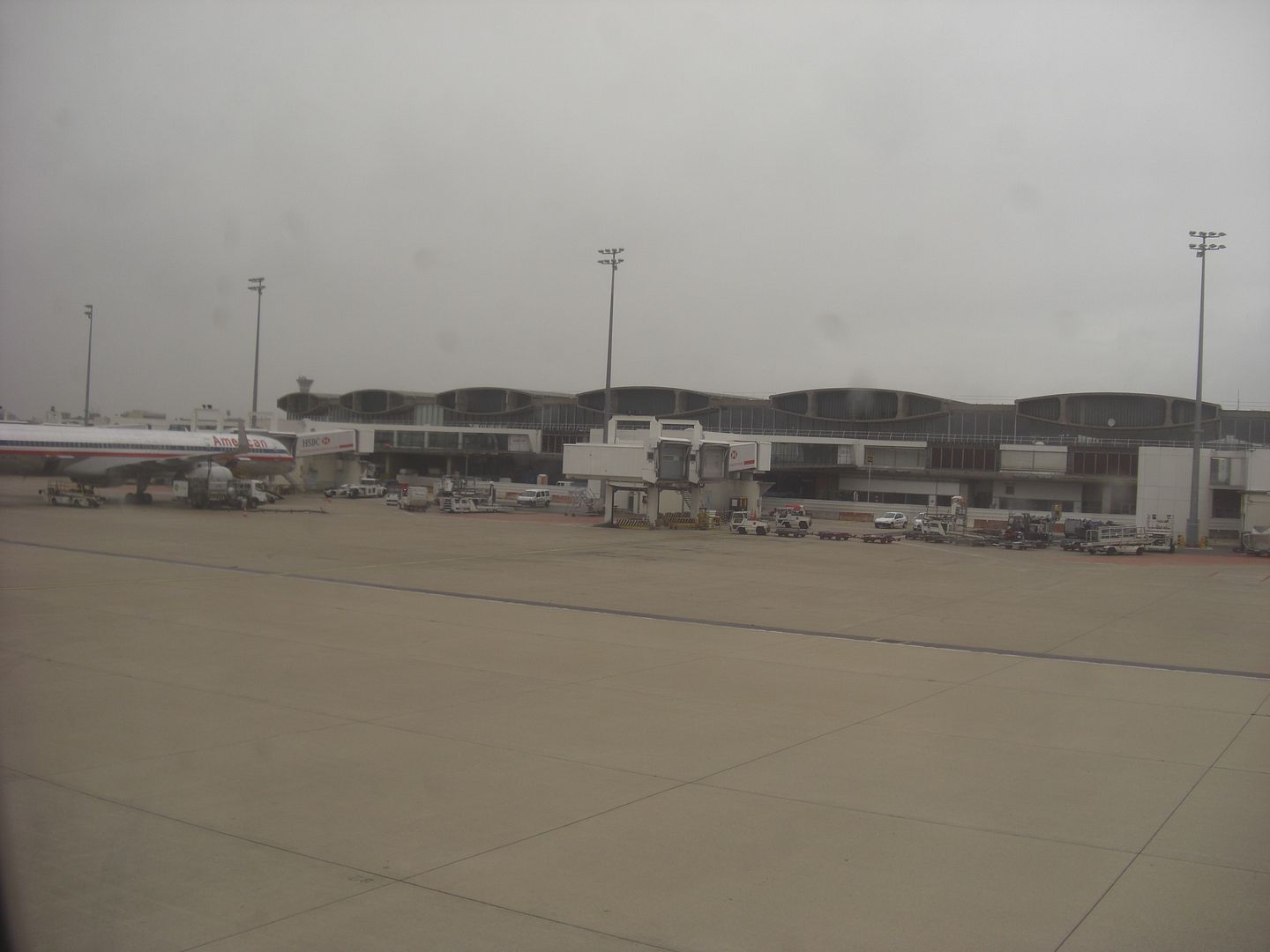 We rotated into the rain nearly half an hour late, and we soon enveloped by clouds.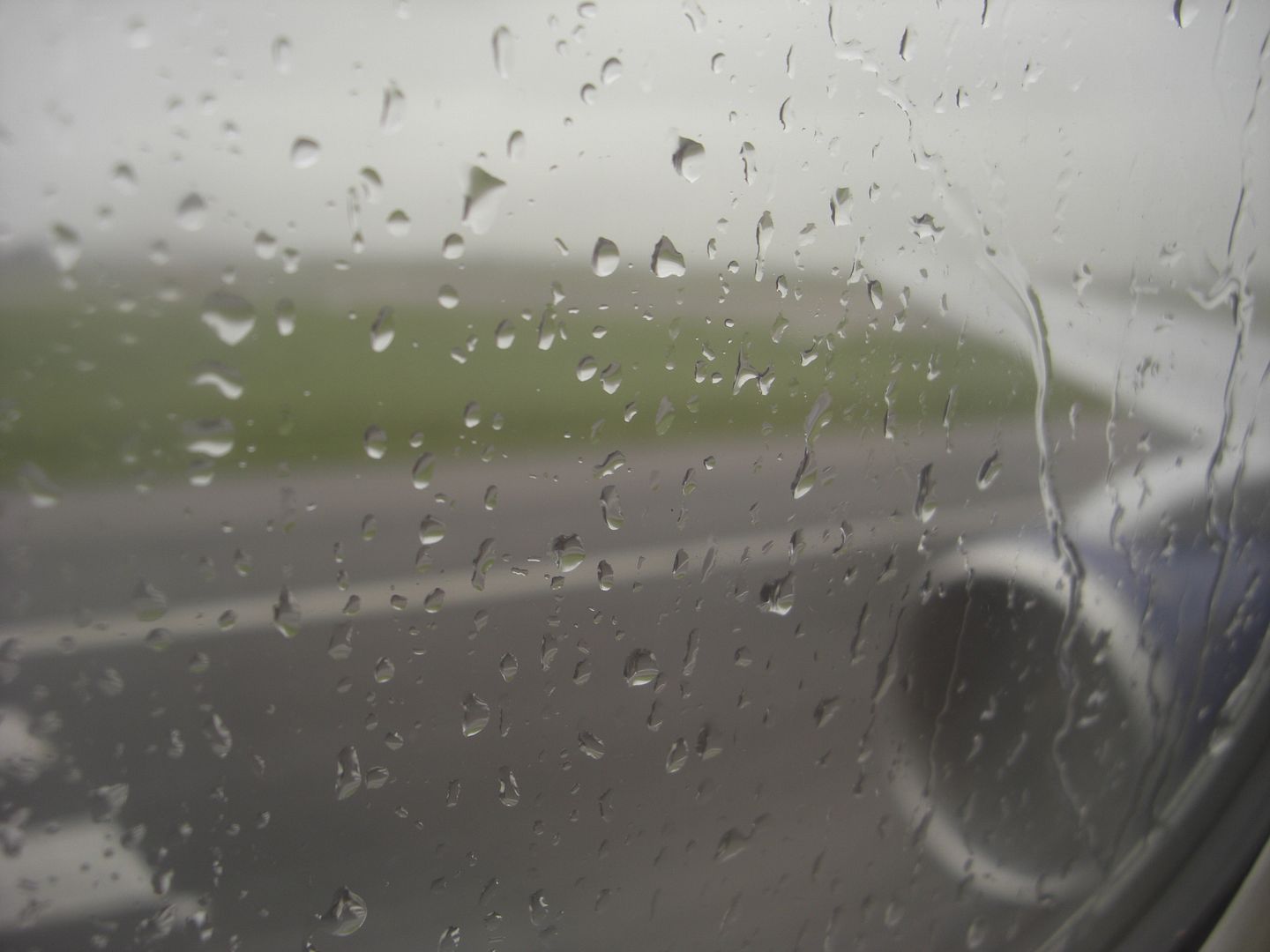 Legroom at the front was reasonable
Before long, the cabin crew set about serving everyone a drink. Once again, there was no choice of snacks, just whatever the cabin crew had to hand. I asked for 'a couple' but was only given one – fair enough, it's a short flight!
Most of the flight looked like this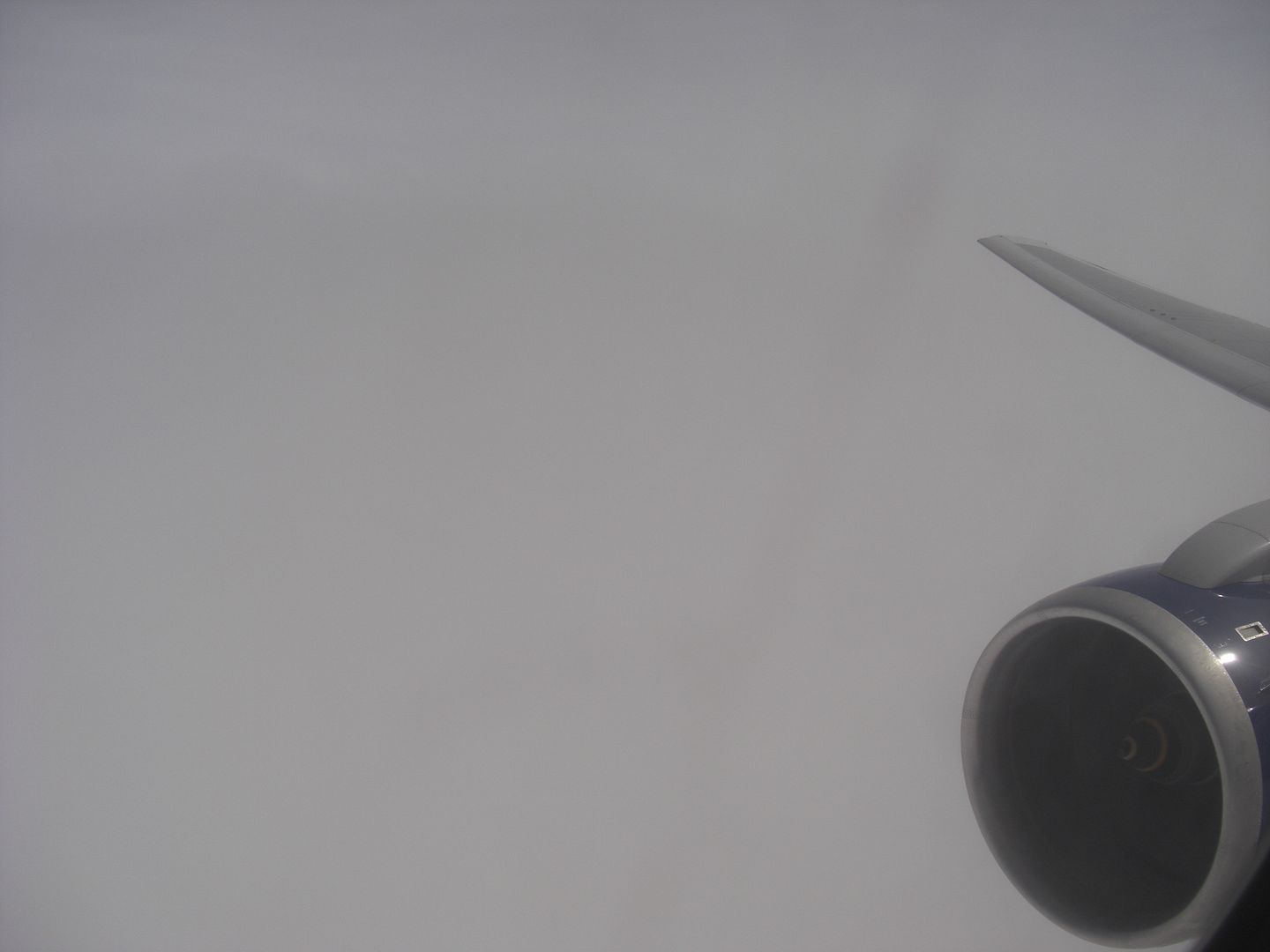 View into Club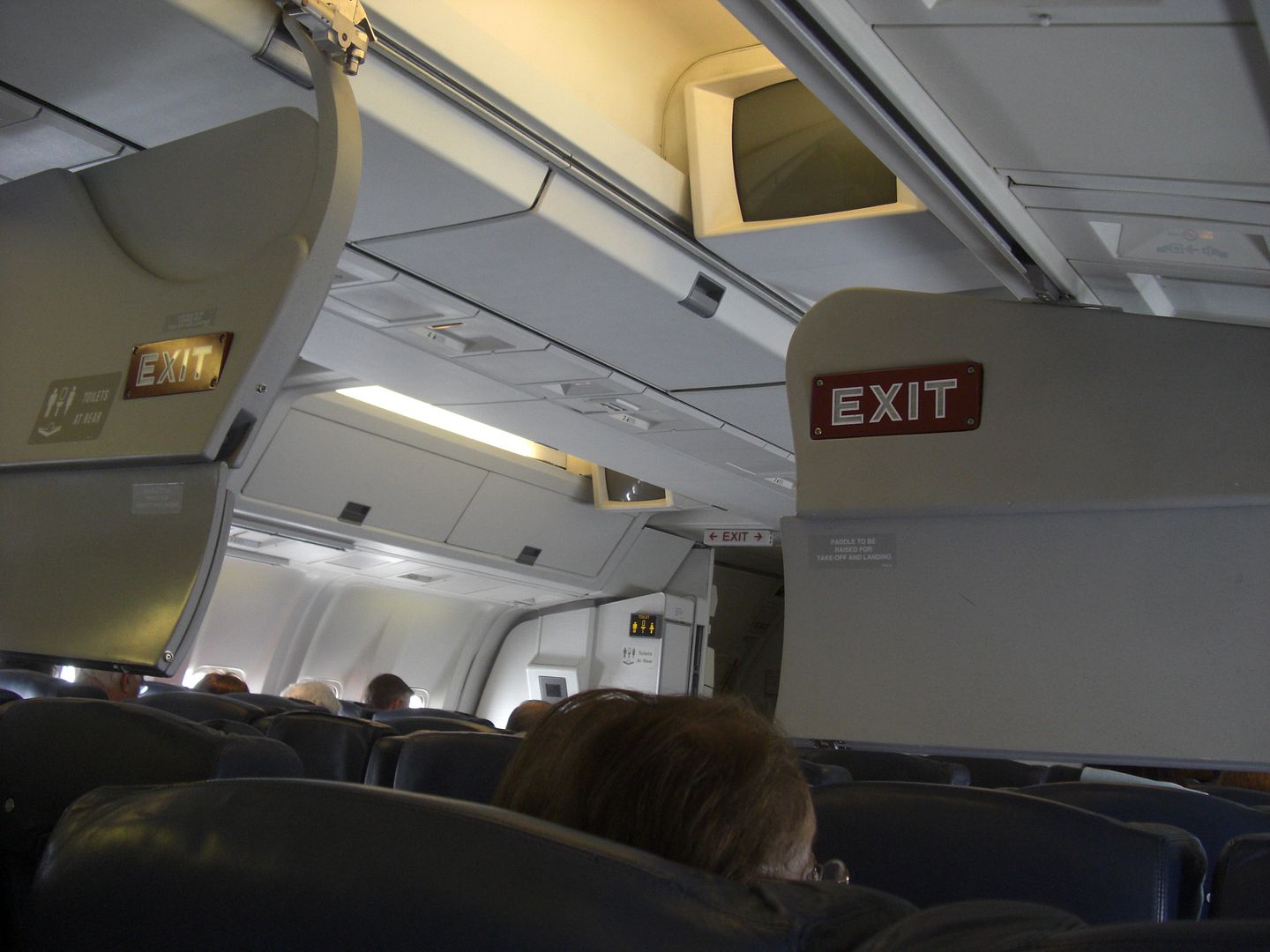 The crew managed to miss me repeatedly when clearing the cabin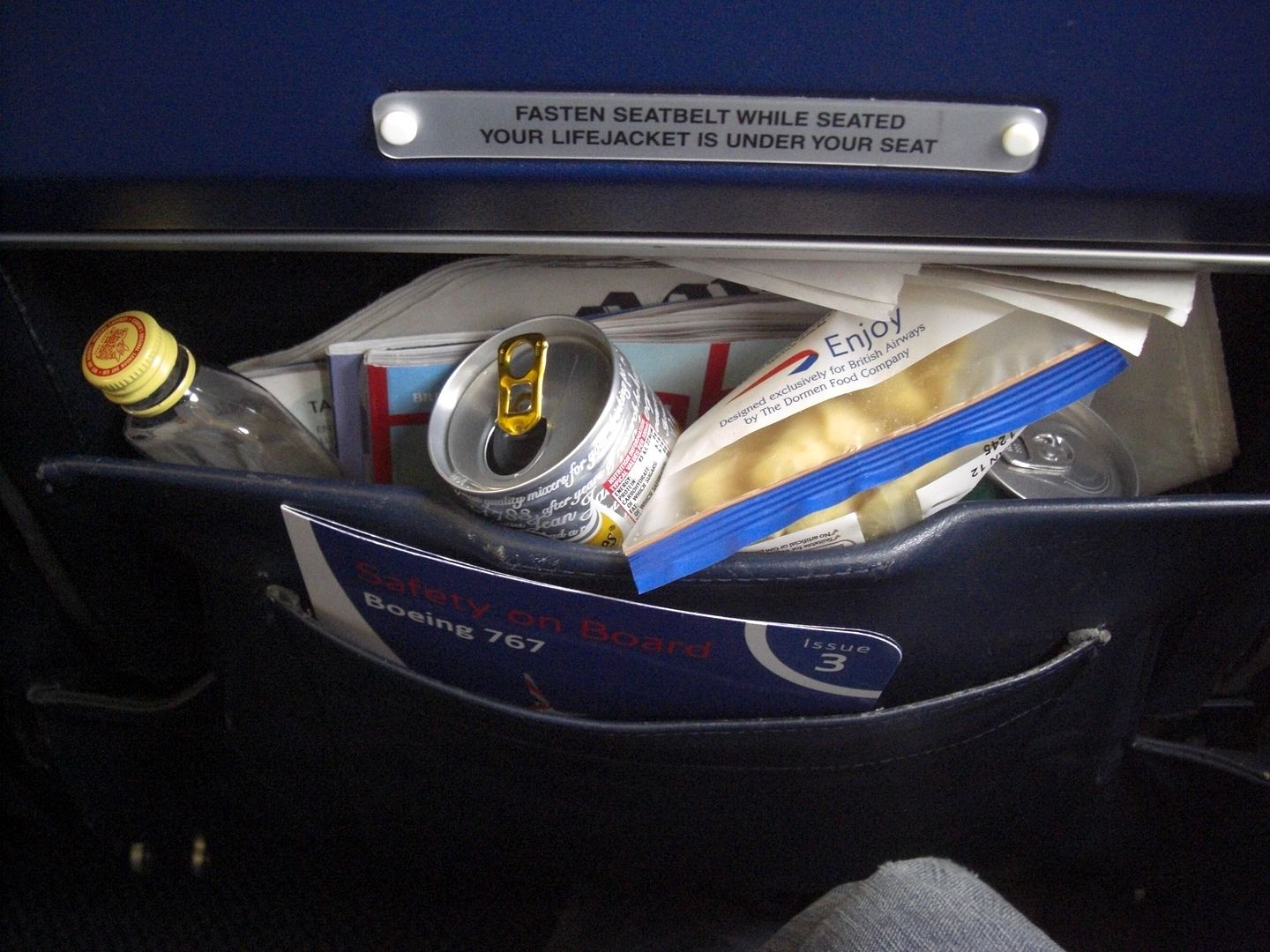 Safety card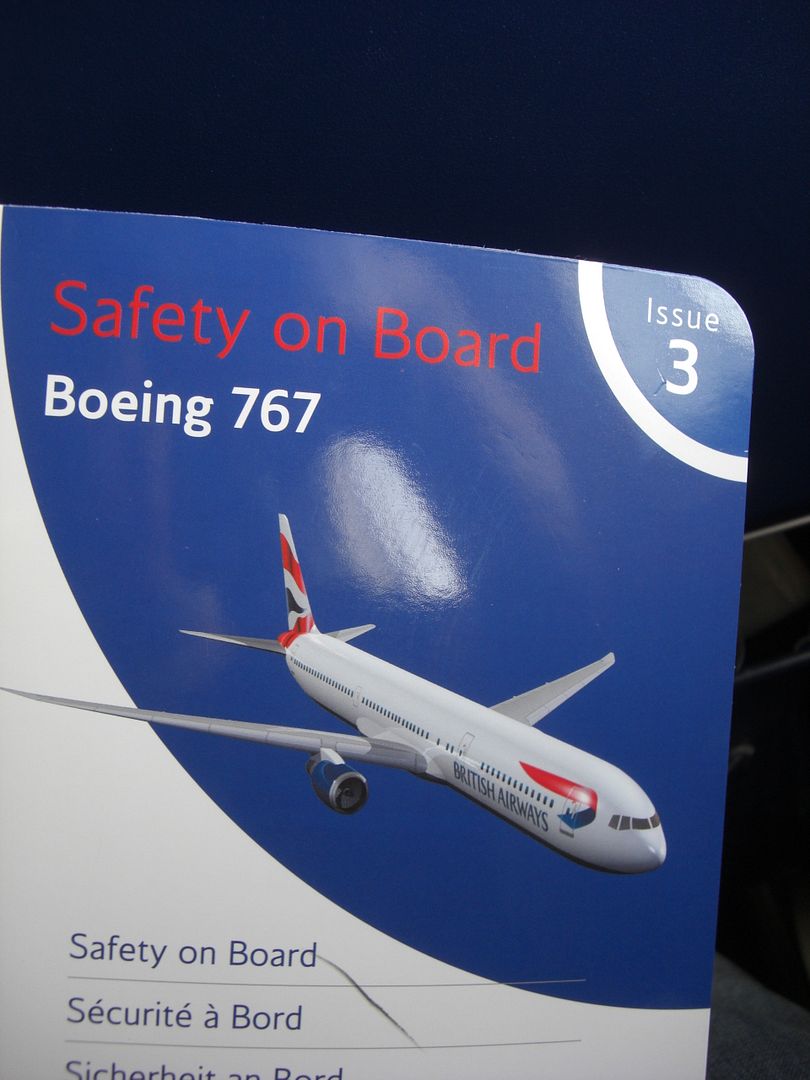 We were kept holing for a while, before finally touching down at LHR T5 just 4 minutes late.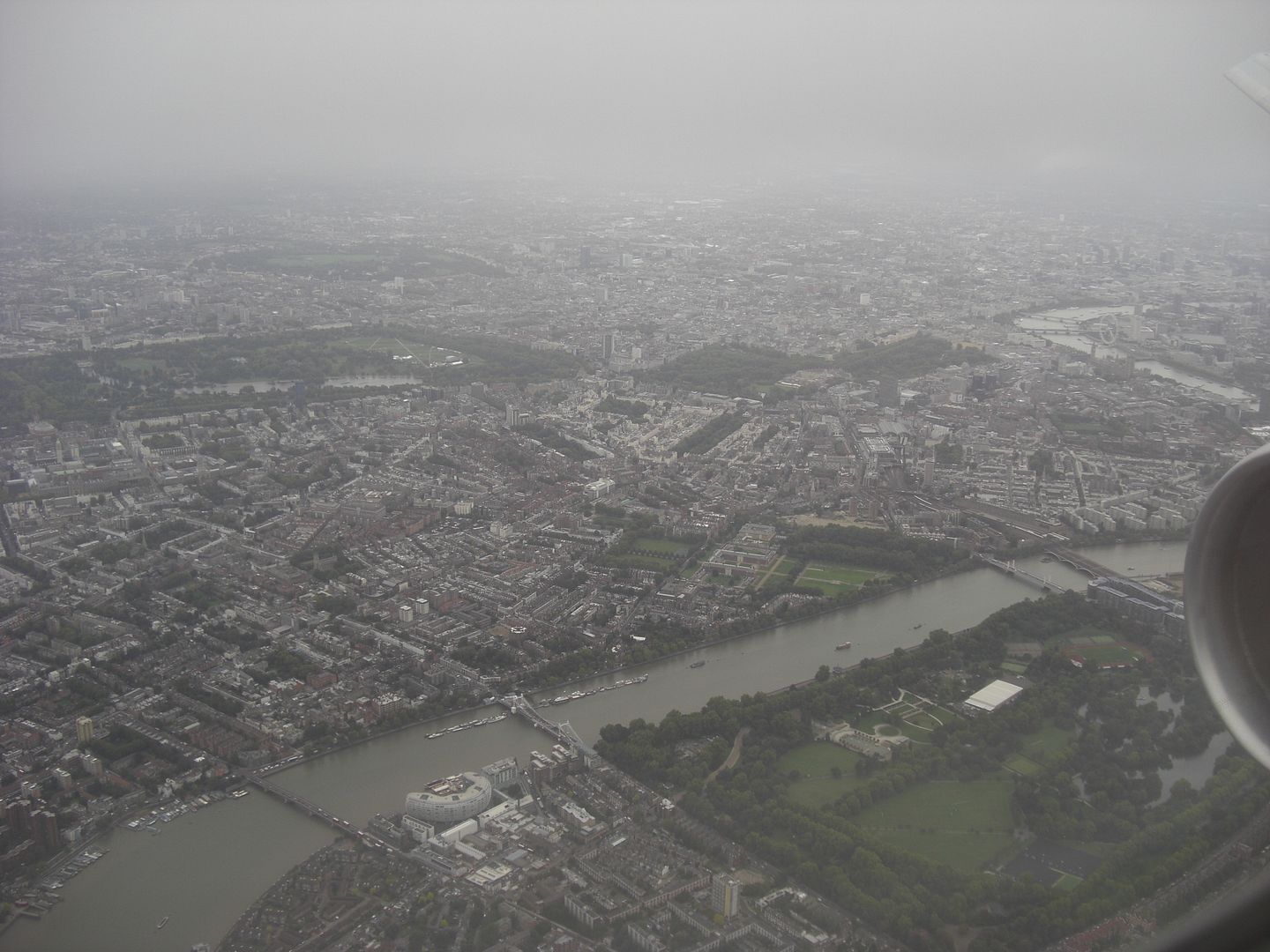 Kew Gardens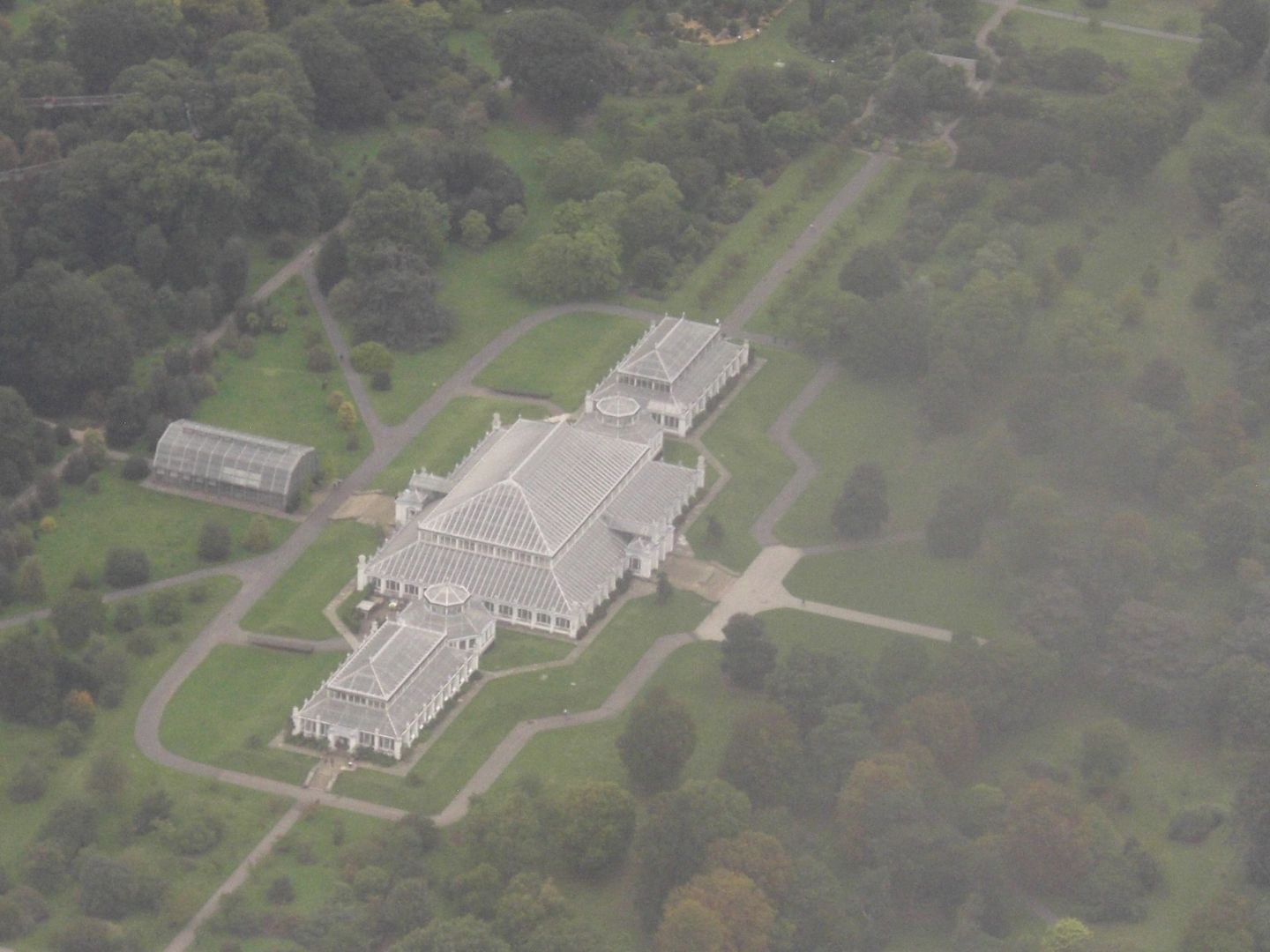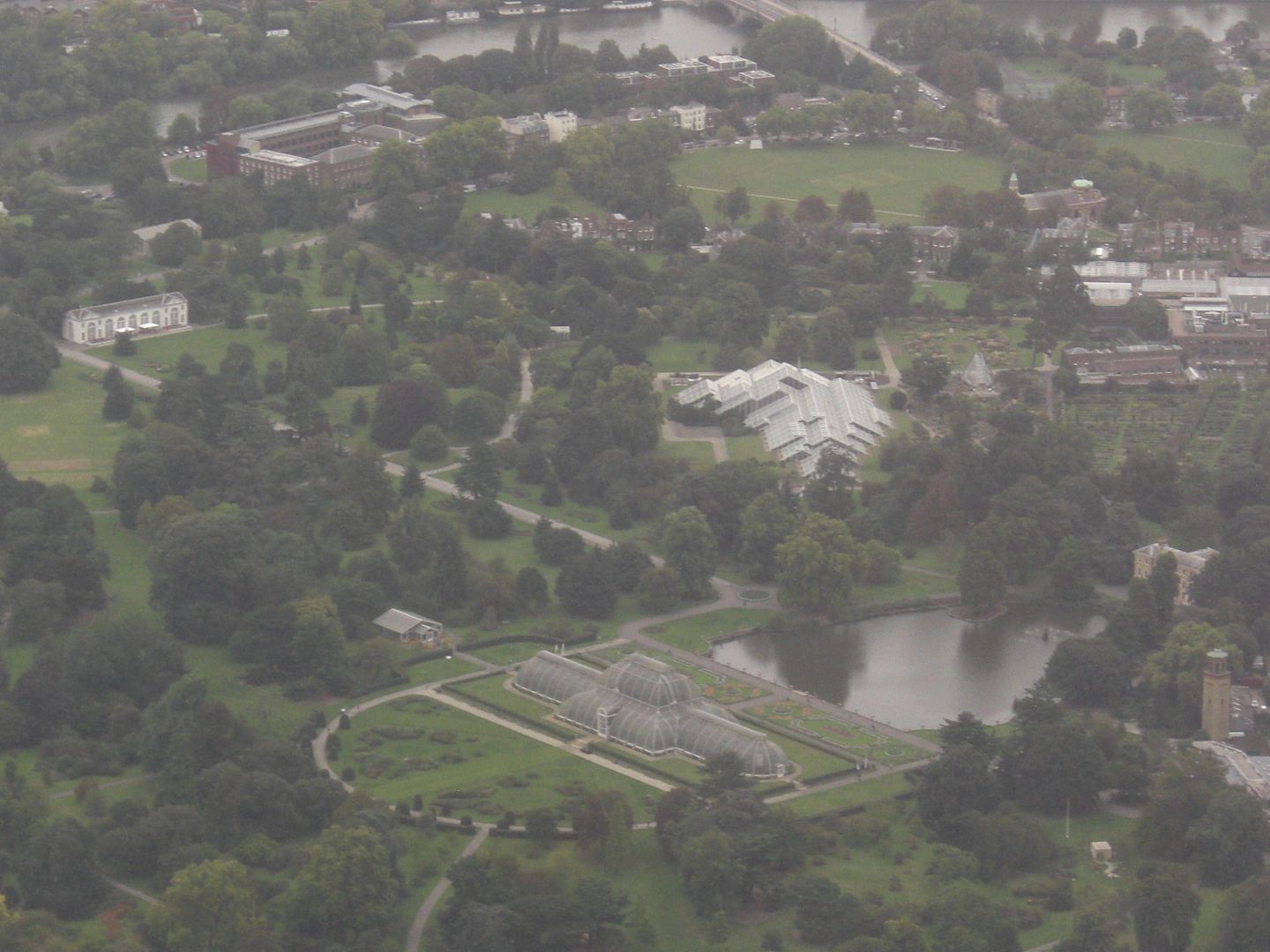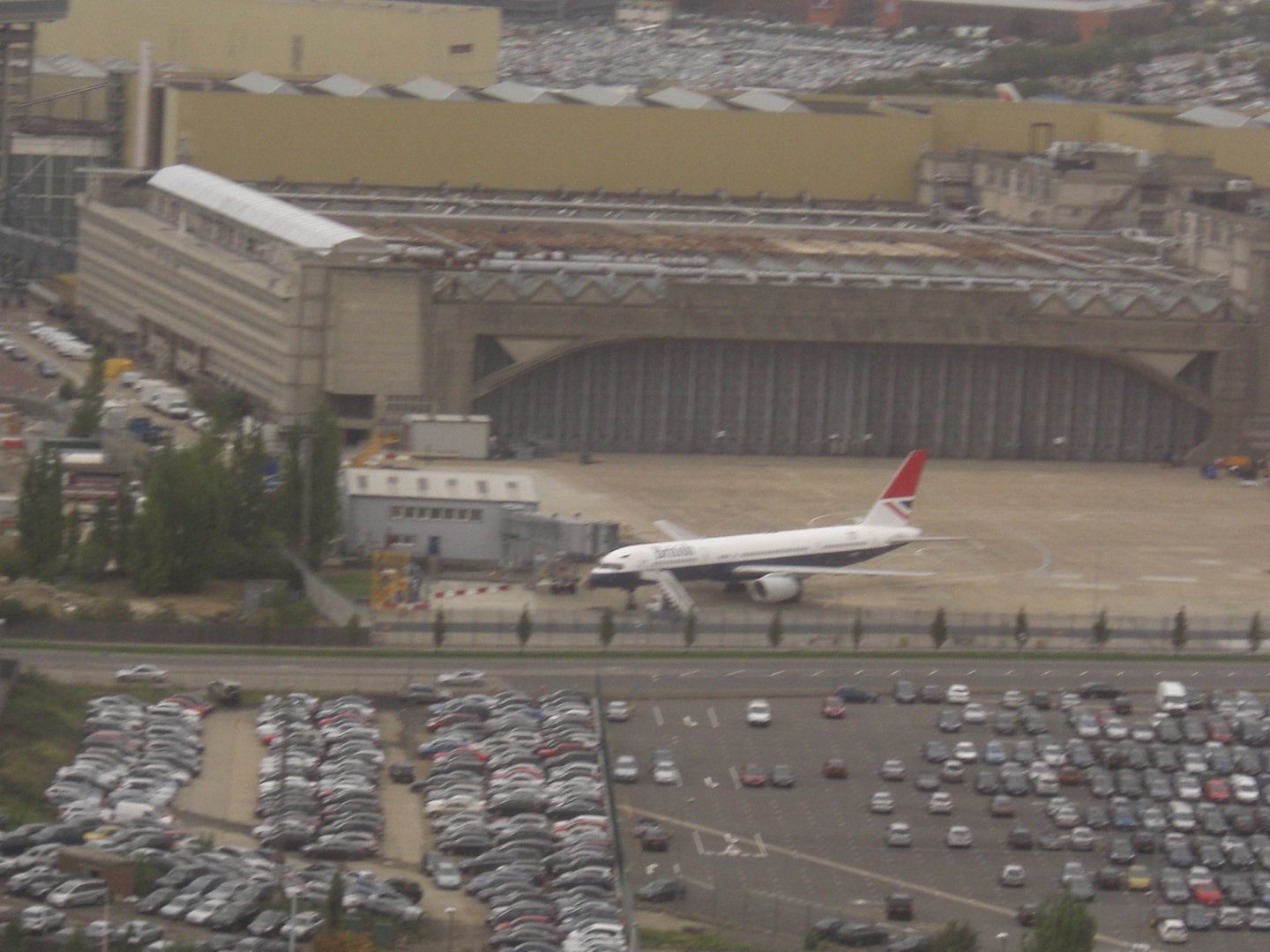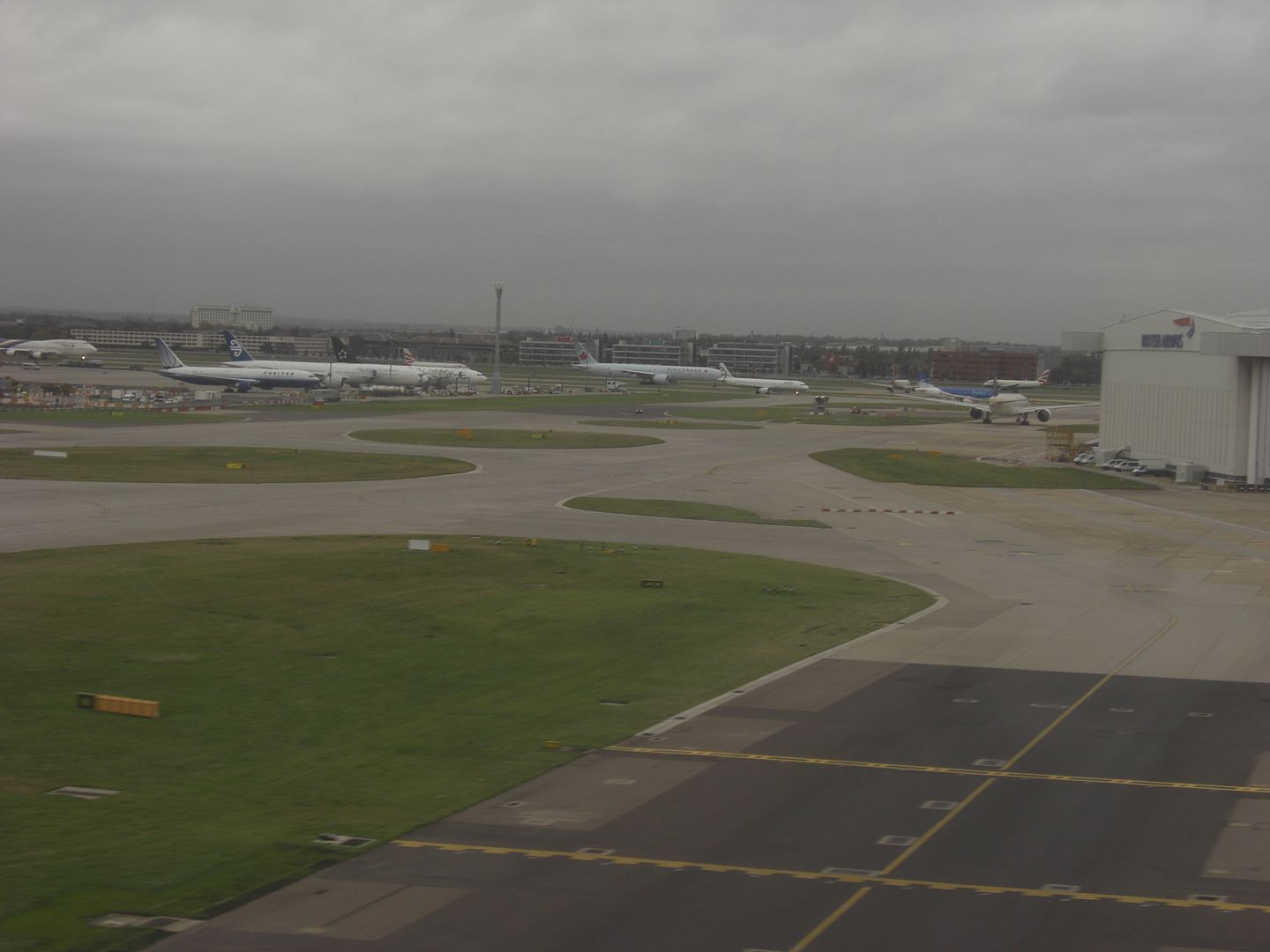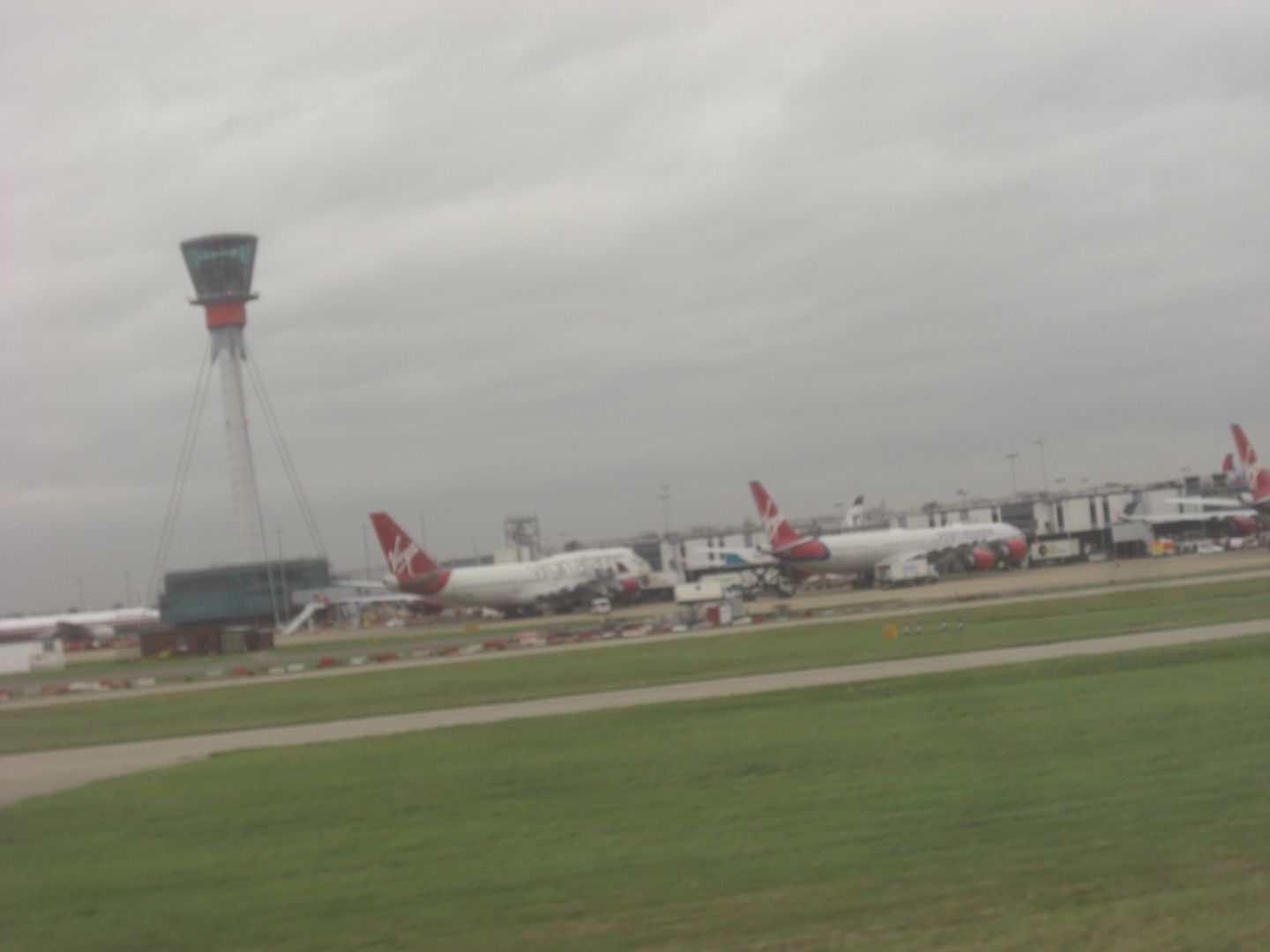 I was very surprised to see this B744 (headed to SFO) at T5A – normally all B777/744 go from T5B or C.
Being sat between doors 1 and 2, I was off very near the front when we disembarked from door 2.
It was a very short walk to the transit area. There was a fast track lane for checking boarding passes, which was good, until a BAA agent decided that the queues would all go faster if she put non fast track people into the fast track lane. Unfortunately, this is standard behaviour at LHR. Anyway, I got from my CDG flight to the lounge in just over 10 minutes, so that's not bad at all.
Hello Horse!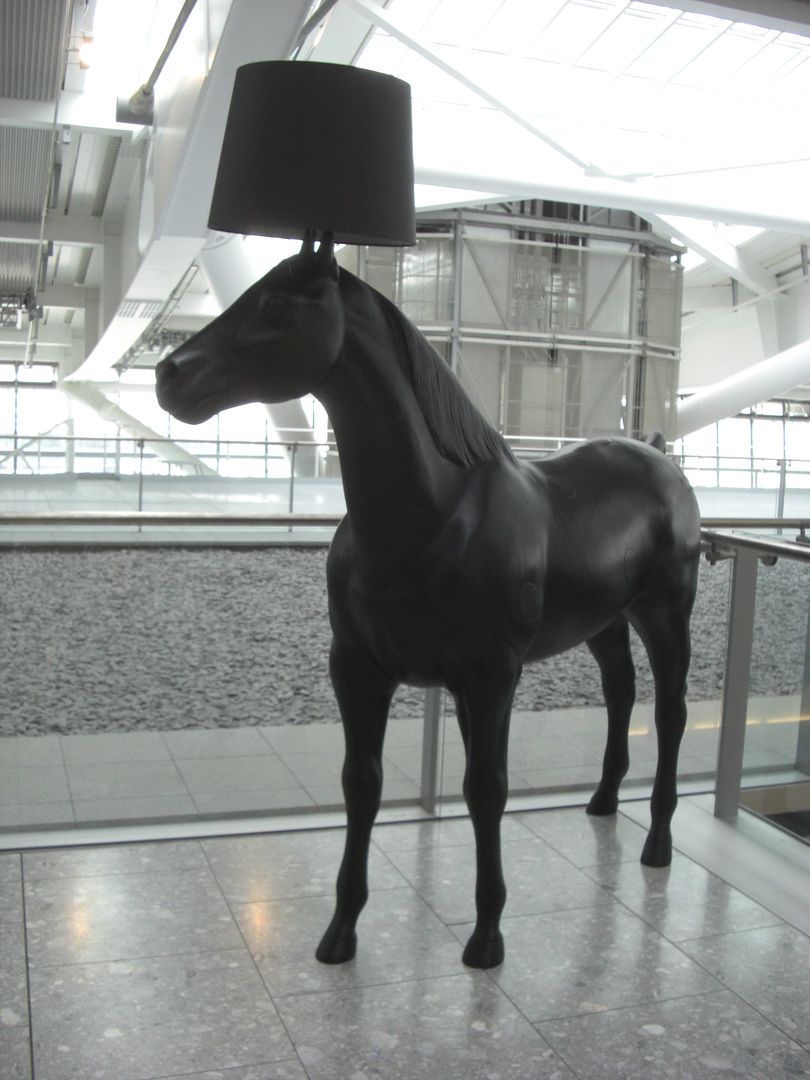 The South Galleries lounge wasn't too busy. When entering, I asked about paying for an upgrade. I was told that the ticket was upgradeable (the CDG lady was wrong) – GBP 179 for Y to Y+, and GBP 399 for Y+ to C. Bit too expensive for me today – on a night flight, it'd be better value. Still, I'd rather spend 400 quid on something else. I was quite happy to see that they'd introduced some cold noodles into the lounge offerings. Perfect with a Grey Goose and tonic!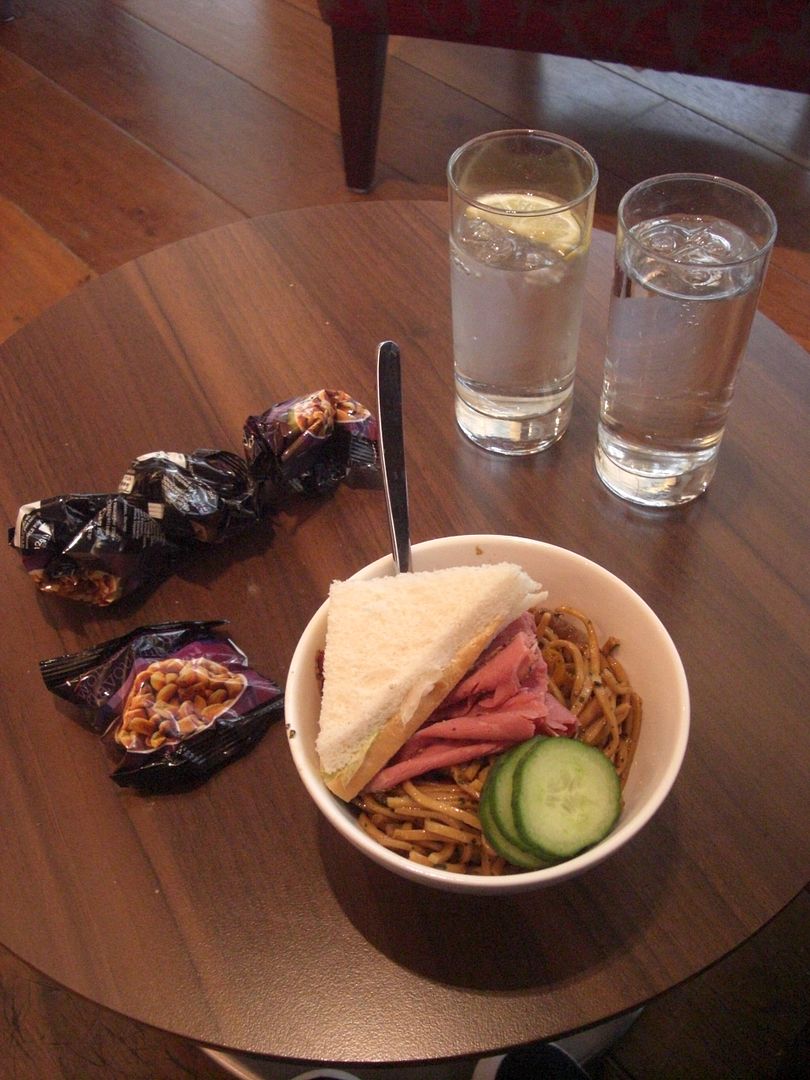 Now that I'd found the ice cream freeze, I was also able to avail myself to some very nice Green & Blacks Vanilla.
http://my.flightmemory.com/shefgab
Upcoming flights: AMS-RIX-BUD-VDA,ETH-TLV-FCO-LHR,STN-TXL-LCY,LTN-CPH-LTN,LGW-SZG,MUC-LHR