Hey everybody,
now it's time for my second trip report
! Me and my brother decided to join a short AIDA cruise in the Mediterranean that departed from Palma de Mallorca. We decided to fly there with SWISS in Business Class and enjoy some nice Swiss hospitality!
So our routing was as follows:
Nuremberg - Zurich (SWISS AvroRJ 100)
Zurich - Palma de Mallorca (Edelweiss Air Airbus A320)
.................
Palma de Mallorca - Zurich (SWISS Airbus A321)
Zurich - Nuremberg (SWISS AvroRJ 100)
So just fasten your seat belts and join the journey
:
12th of September 2011
SWISS LX 1197
Nuremberg - Zurich
06:45 - 07:40
AvroRJ 100
Early in the morning we arrived at the quite small German airport of Nuremberg and entered the check-in hall. Only the check-in area of Air Berlin was somehow crowded - the rest of the terminal was quiet. Check-In for SWISS in Nuremberg is done at the Lufthansa check-in counters. There was one counter for Business Class. When we arrived there, one passenger was already handled at that counter - so we were directed to the adjacent First Class counter and were checked in there by an olderly quite reserved lady. Luggage was checked through to Majorca and also our boarding passes for the connecting flight from Zurich were printed although that being operated by Swiss leisure carrier Edelweiss Air.
The small duty free shop in the passenger area was not that attractive, so we made our way to the rather busy and quite small Lufthansa Business Lounge. This has not been renovated in the new Lufthansa lounge design yet and still features the old leather arm chairs. The buffet offered a good selection of continental breakfast with excellent warm crossaints!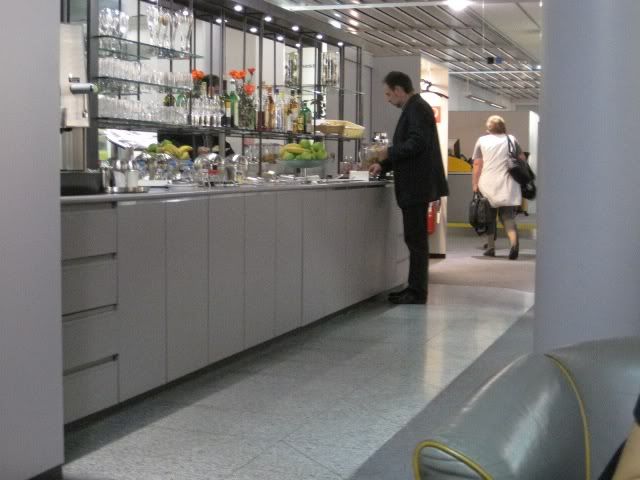 After some waiting we proceded to the gate and directly walked down on the bus as boarding was already nearly completed. Newspapers were available in the boarding bridge from a Lufthansa trolley. Then out to the remote stand to board our short flight to Zurich: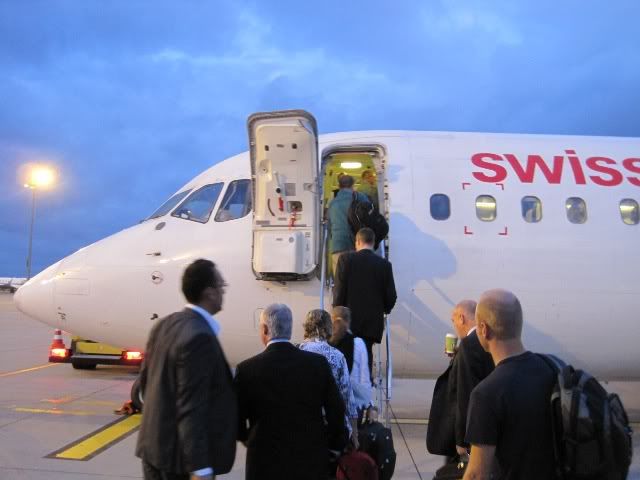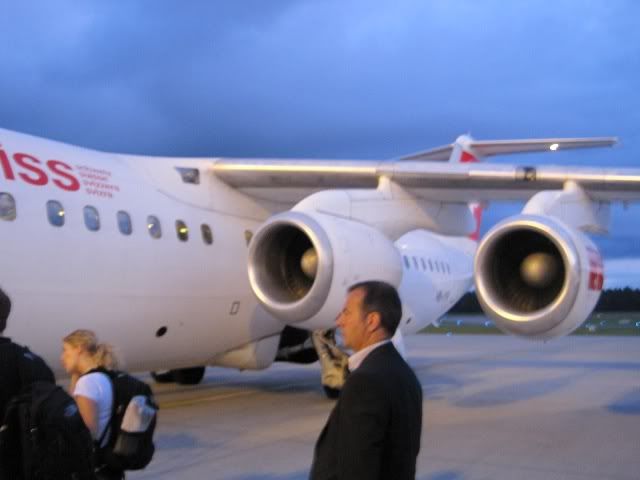 Next to us was a nice Regional Embraer 170 operating the morning Air France flight to Paris CDG.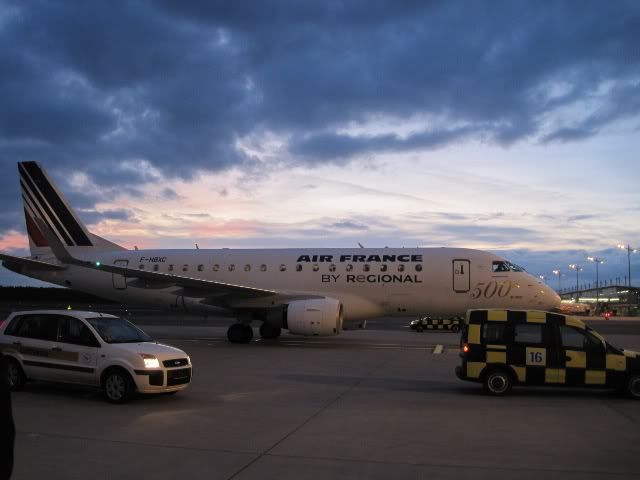 We were welcomed by the friendly male Maitre de Cabine and I took my seat 1F. Only moments later we were offered a bottle of water, a refreshing tissue and some more newspapers. Looking out of the window I could see a nice Eurowings CRJ 900: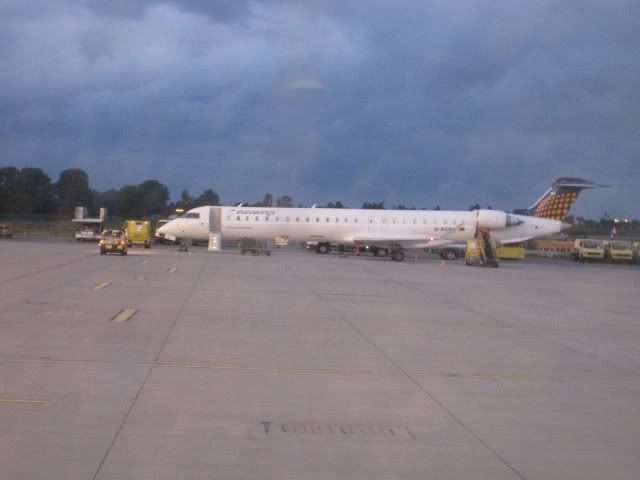 Flight time was announced as short 40 minutes and a short manual safety demo was down using a recorded tape. Taxiing along the terminal started and soon we took of into a rather cloudy morning sky.
Business Class consisted of two rows with five passengers seated there. Soon a trolley was rolled out and a nice small breakfast featuring warm croissants and muesli was offered. I opted for tea and tomato juice to drink. The flight attendant was very friendly and even offered refills on that really short flight.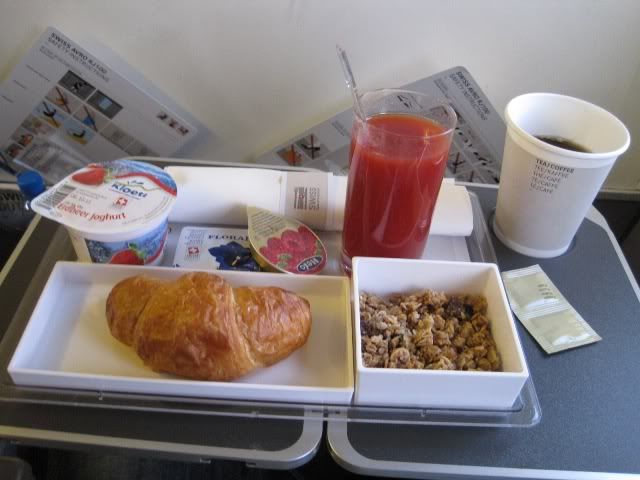 Breakfast finished and we already were on approach to Zurich overflying nice Swiss countryside lying in a charming morning atmosphere: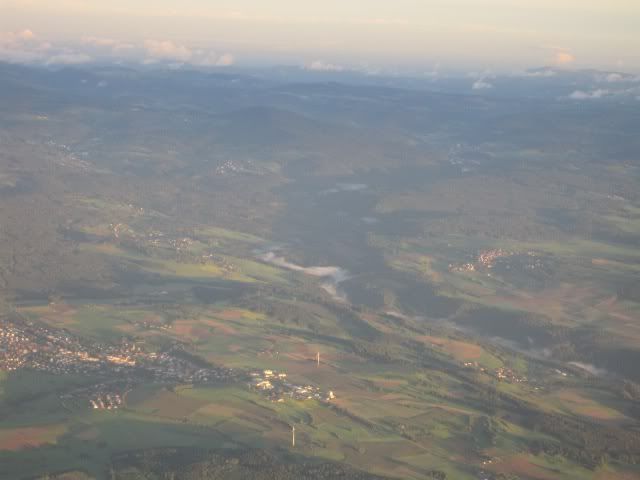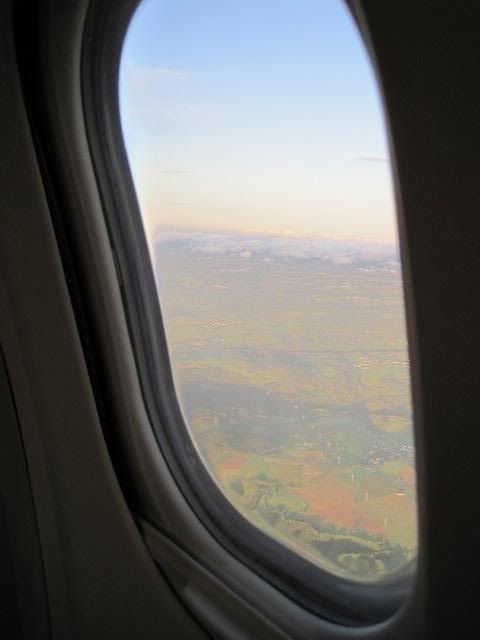 We touched down from the west and taxied to our remote parking position located on the apron between Dock A and Dock E of Zurich's airport. A short bus ride brought us to the terminal where we strolled around the duty free area in the airside center before entering SWISS Business Lounge and waiting for departure. The lounge was quite nice but very, very busy - so no pictures here, sorry. After some time we headed to our gate and already spotted our very nice Edelweiss Air Airbus A320: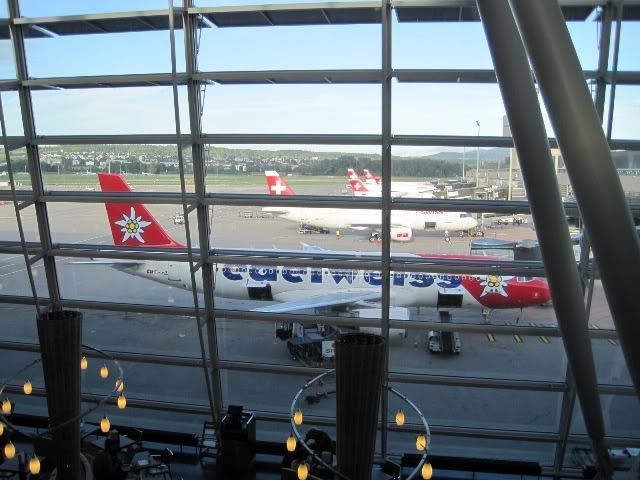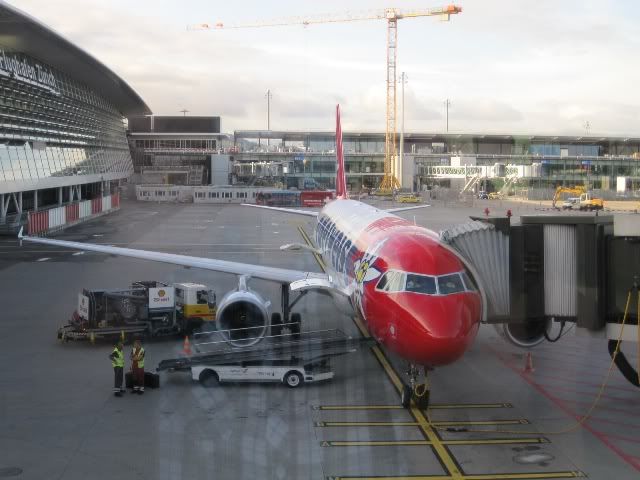 12th of September 2011
Edelweiss Air WK 246
Zurich - Palma de Mallorca
09:00 - 10:50
Airbus A320
Boarding was already in full swing with almost only Swiss holidaymakers. Greeted by a nice cabin crew and then took my seat 2F. The atmosphere in the cabin was very cosy and there was good mood around: The first three rows were reserved for Business Class and divided off by a curtain as on regular scheduled airlines. Middle seat remains empty here too and a comfortable pillow was already waiting on each Business Class seat. Some cabin shots: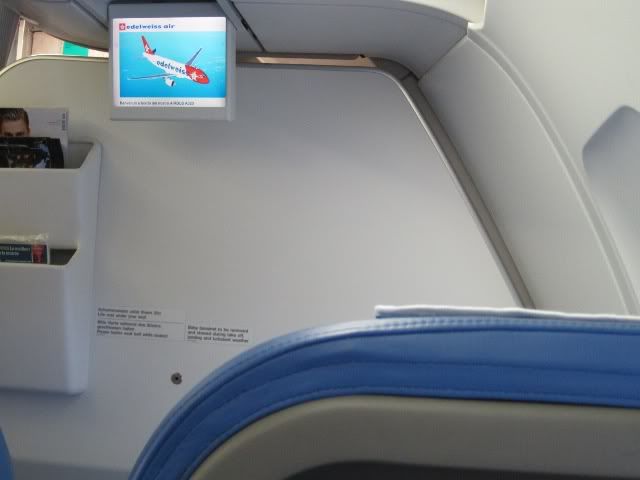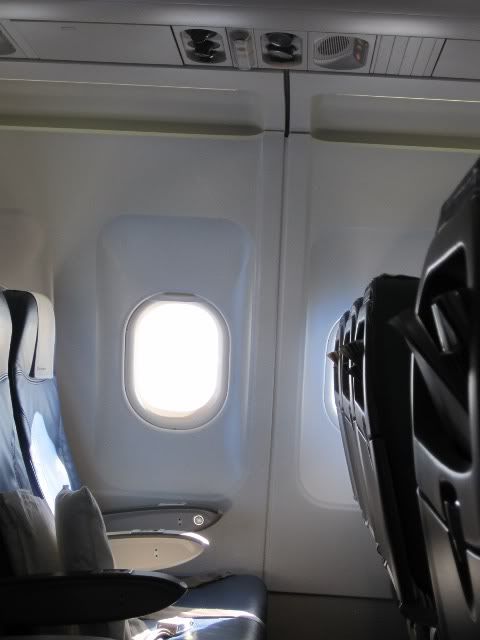 A very nice flight attendant offered newspapers and distributed high quality headsets, refreshing towels and a welcome drink. The grapefuit juice tasted really good and refreshing.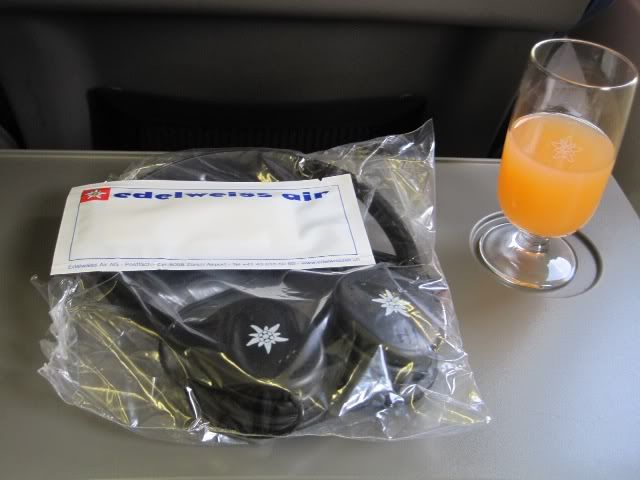 Pushback was about ten minutes late and we were greeted onboard with flight time being announced as 1h30min. A comic safety video was played and we taxied out passing a nice SWISS AvroRJ 100 featuring funny special colours: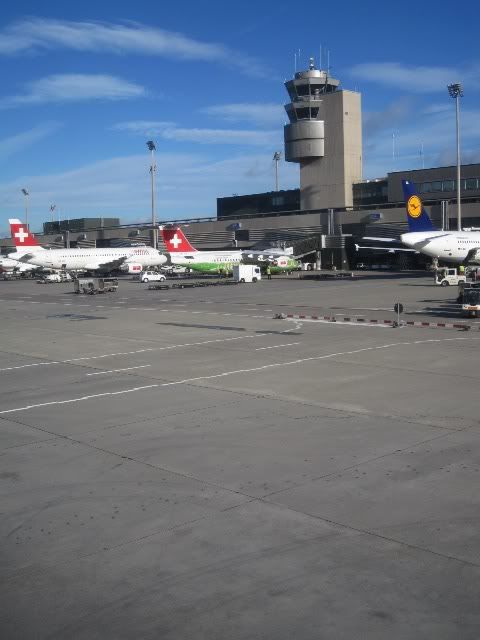 We took off in a southerly direction and continued over the Swiss lake region overflying Lake Biel and Lake Geneva.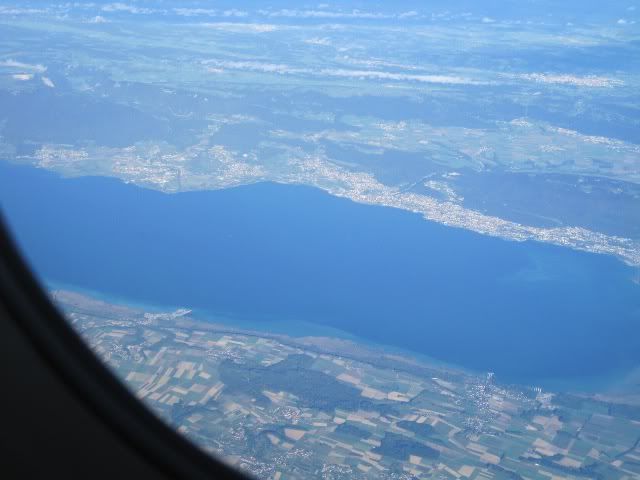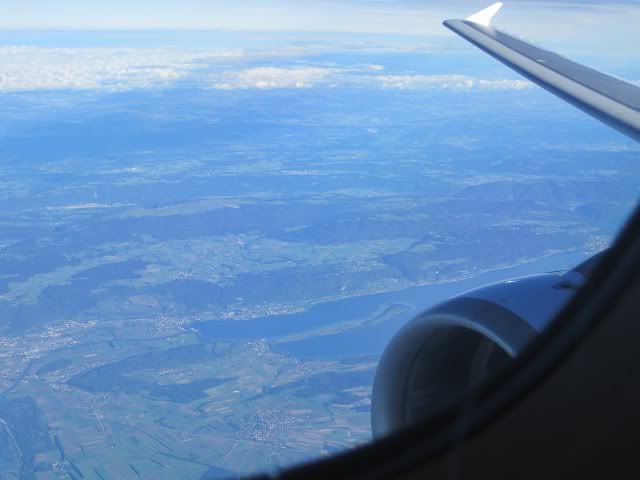 The video monitors showed airshow for the whole flight and I listened to some music on the audio channels awaiting breakfast. There were seven passengers in Business Class today and service started with a trolley from the back. I was offered a nice cold breakfast with really excellent presentation on a big tray. A selection of warm breads from a basket and all kinds of drinks were offered continously - the friendly Maitre de Cabine who attended Business Class really provided fabulous and very personal service. Several kinds of tea were available and served with hot water to brew individually - very nice!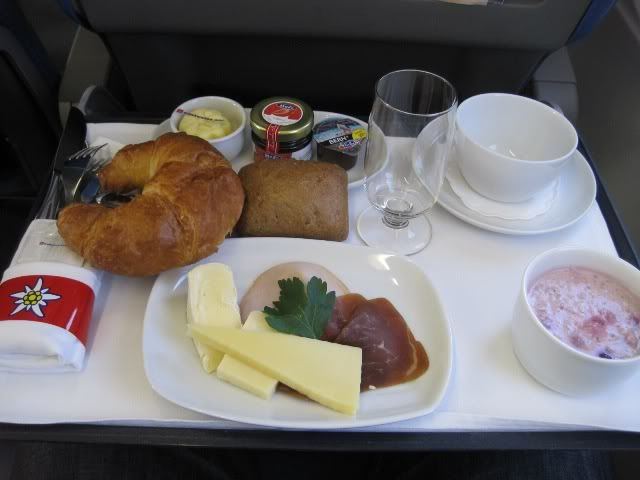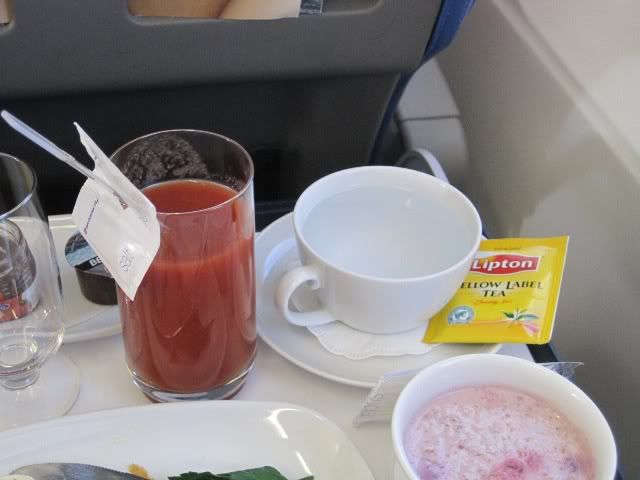 Flight time went quickly and we soon left the coast line and continued over the Mediterranean Sea straight towards the Balearic islands.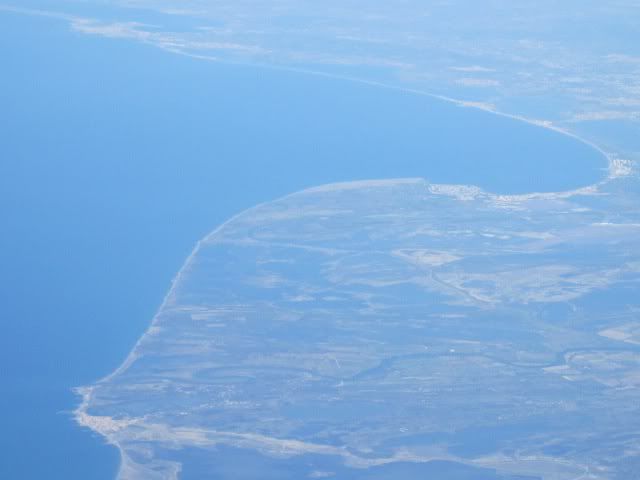 Although flight time being quite short one even had the opportunity to buy things from the inflight duty free shopping before descend. We reached the island of Majorca from the North and overflew it passing along Palma the Mallorca airport.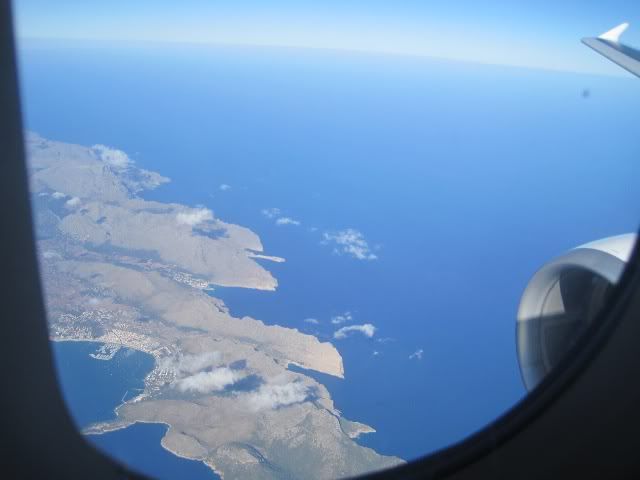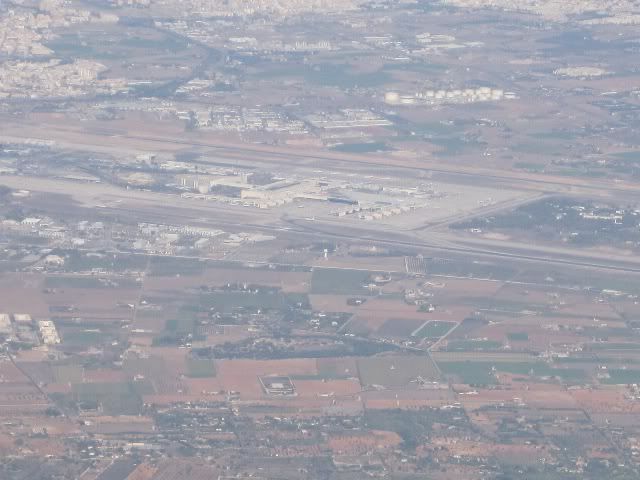 Due to some military exercise taking place at Majorca airport we had to circle for about ten minutes over the sea before touching down from the south.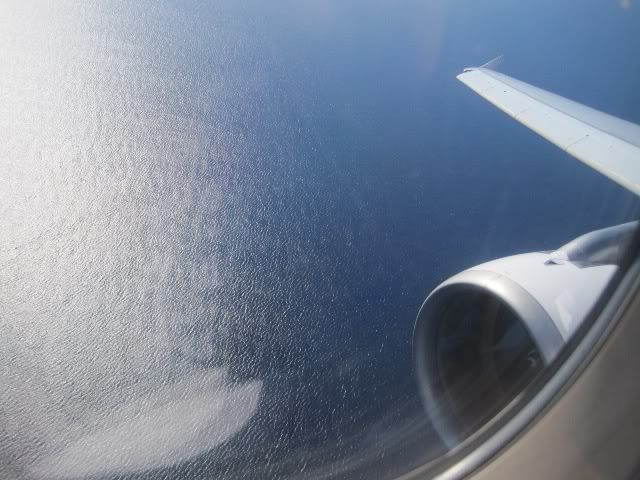 We parked at a remote position and were bussed to the terminal. Coming up are some impressions from our cruise on AIDAbella featuring the following routing:
Majorca - Day at sea - Cannes - Barcelona - Majorca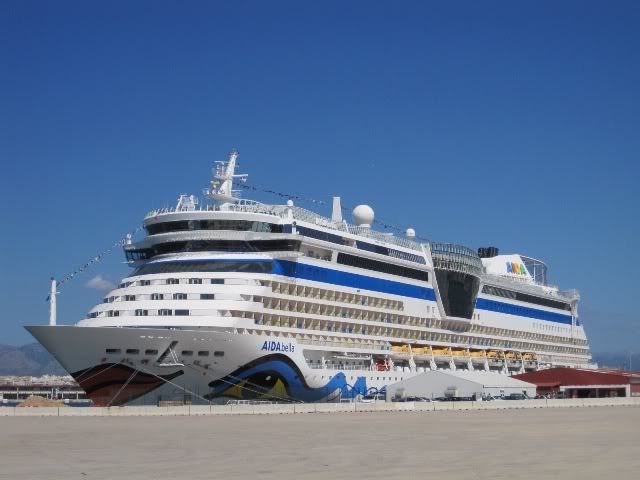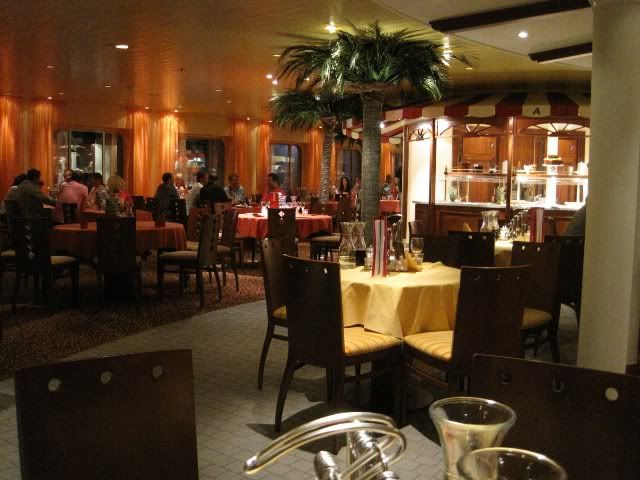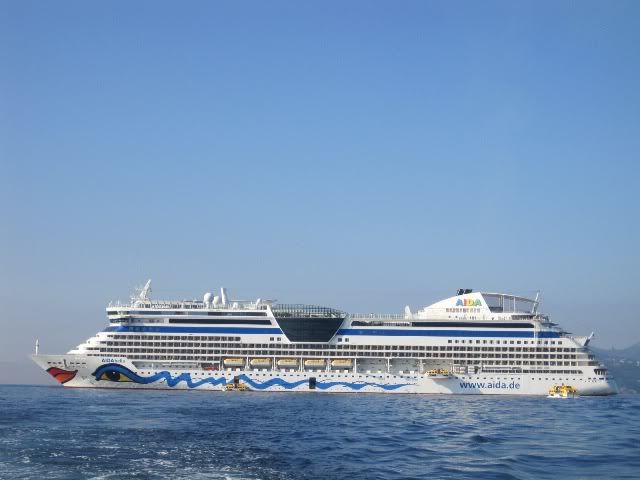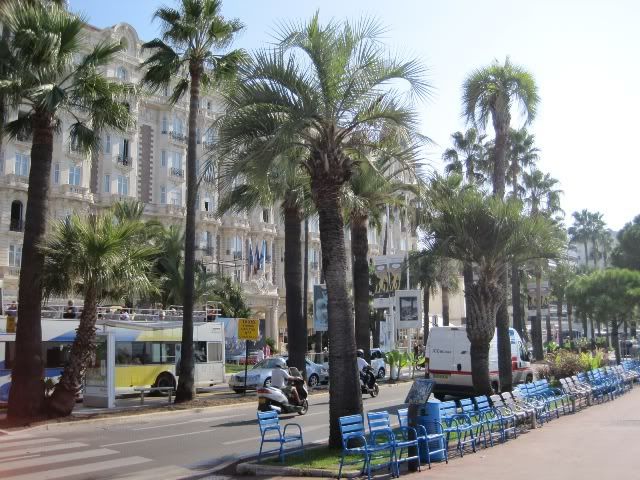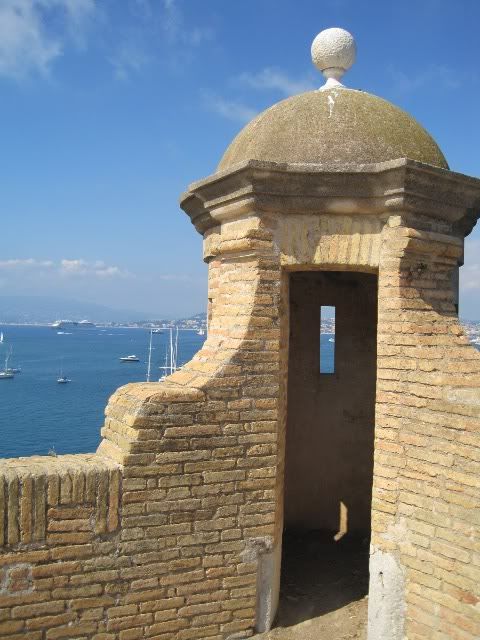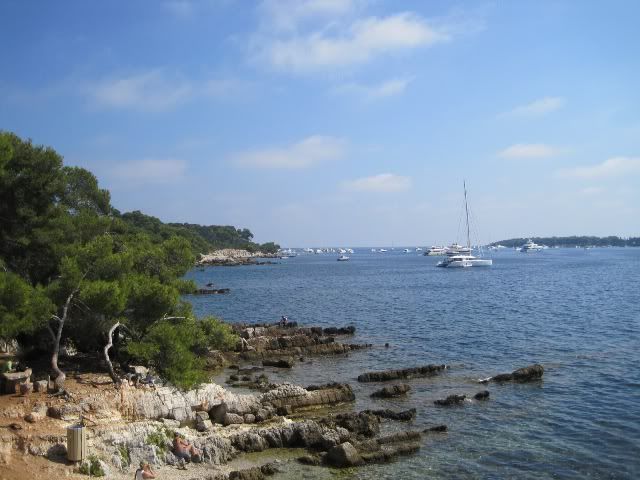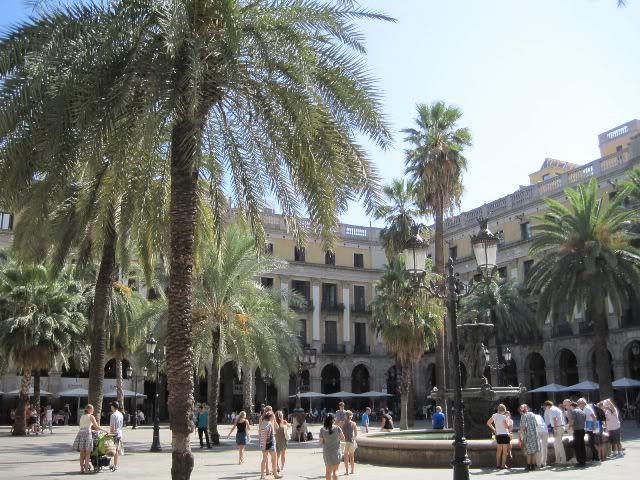 The really nice cruise came to and end ways to early and so we found ourselves back at Palma de Mallorca airport to start our return journey. The check-in counters for SWISS were located in quite dull area of the terminal and we checked in at the Business Class counter were three passengers were waiting in front of us. The agent gave us invitation cards for the Sala Miro Lounge and explained us the way to the separate VIP & Business Class security controls.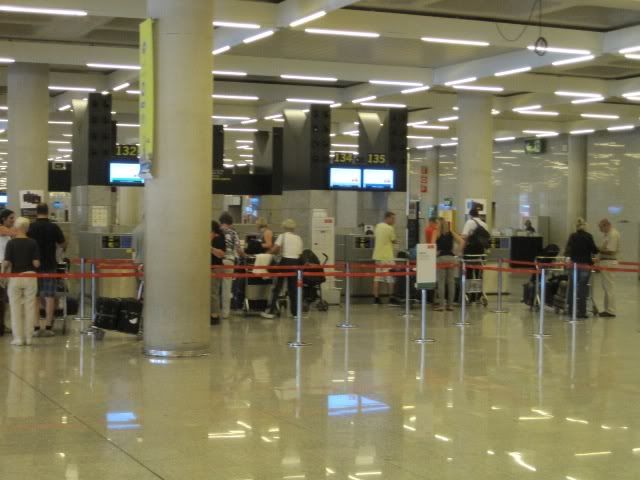 Security control was a swift with no one waiting there and we visited the Sala Miro Lounge for some time. It was a quite basic lounge with absolutely no windows and a limited offering of drinks and some small snacks as peanuts, chips and sandwiches.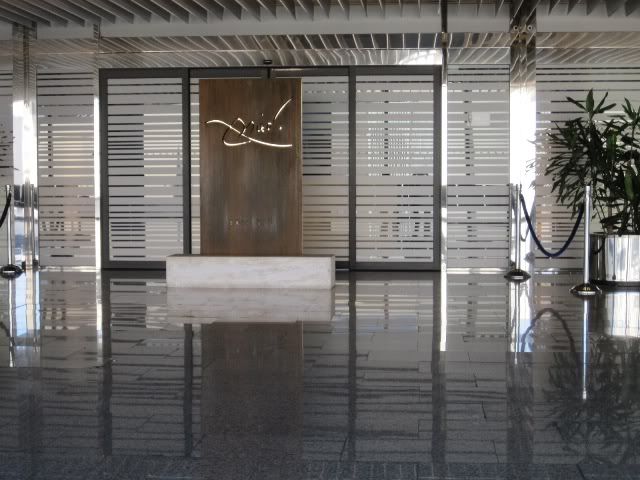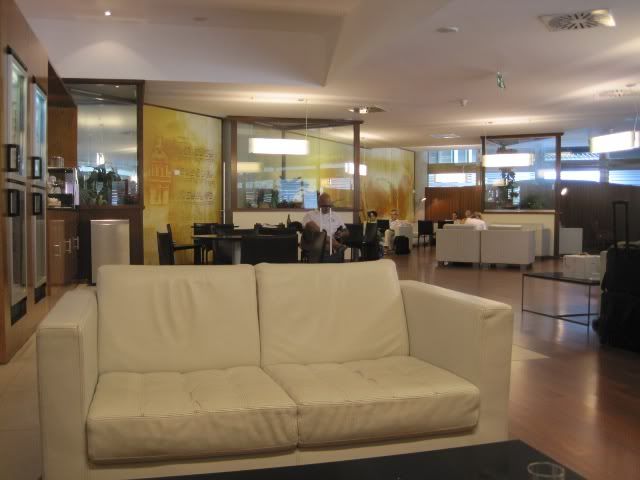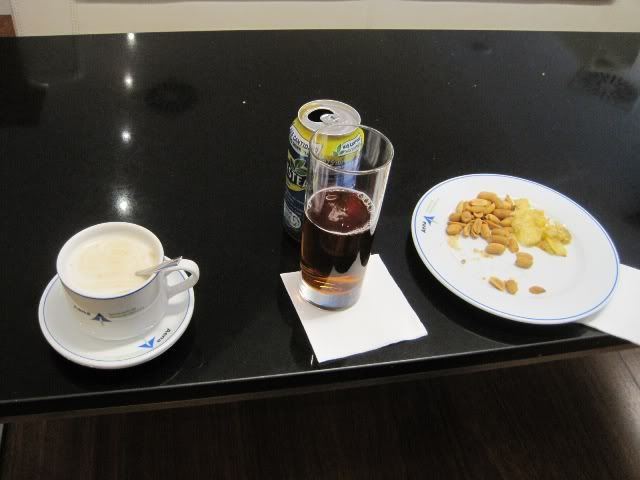 We then made us on our quite long way to our boarding gate at concourse C. Walking there I saw a nice Air Europa Embraer 190 being pushed back.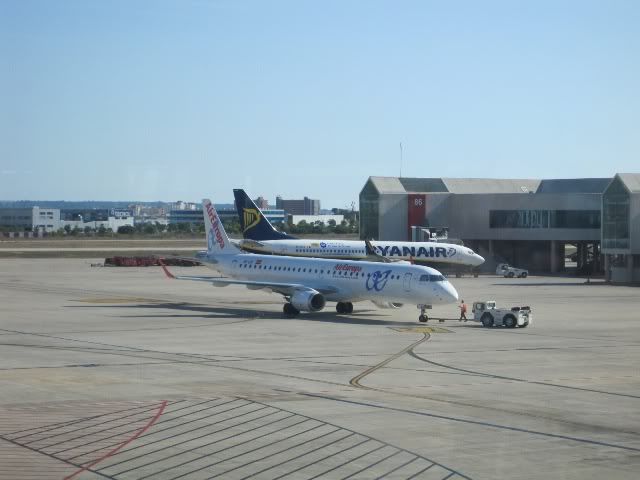 When we reached our gate there was no aircraft in sight altough boarding should have started some time ago. The screen here also showed a new departure time 10 minutes later. So a delay was obvious. Shortly after the SWISS Airbus taxiied in and boarding started really not long after.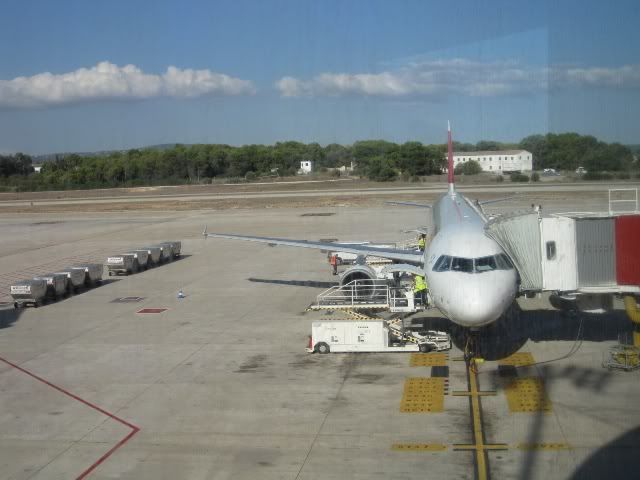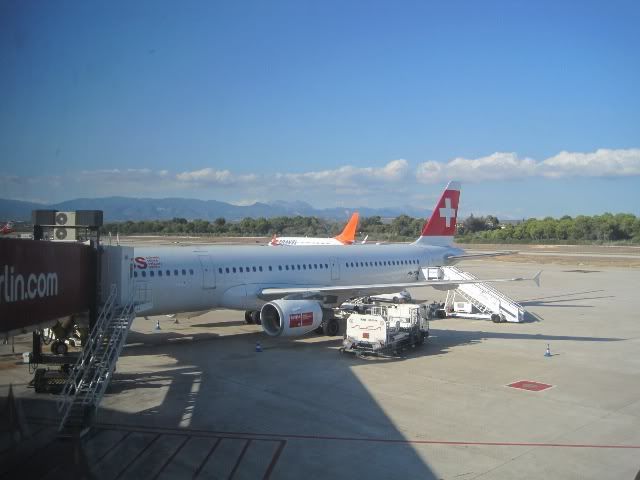 16th of September 2011
SWISS LX 2151
Palma de Mallorca - Zurich
17:35 - 19:30
Airbus A321
A long queue was forming in the extremely hot boarding bridge and when I reached my seat 3F I was happy to find a bottle of water and refreshing towel already placed on the middle cocktail table.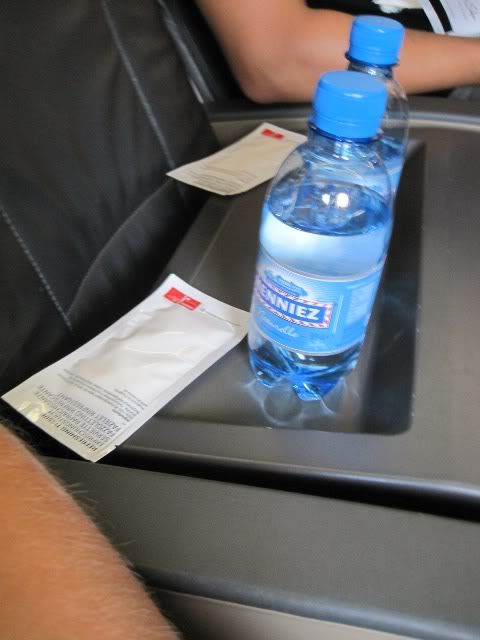 Business Class was quite big on that mainly leisure destination flight offering six rows in which almost all places were taken. Cabin attendants offered newspapers and a flight time of 1h35min to Zurich was announced. The safety video was shown as I spotted the action out on the tarmac - not a lot to mention, only some Air Berlin traffic visible that late afternoon.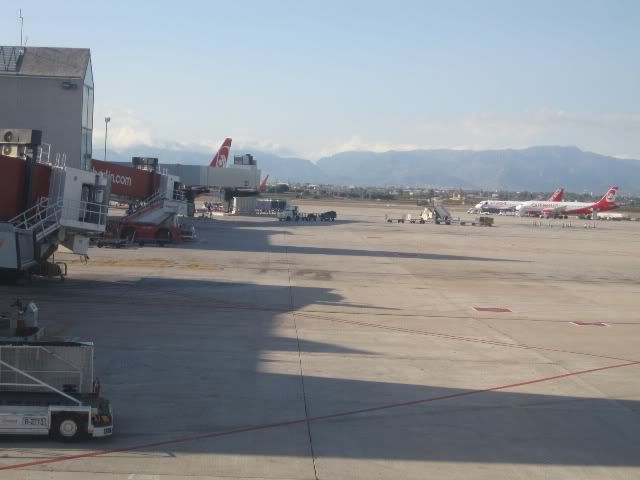 We took off nearly half an hour late towards the south offering some nice views of Palma de Mallorca and also our cruise ship AIDAbella still lying in the port.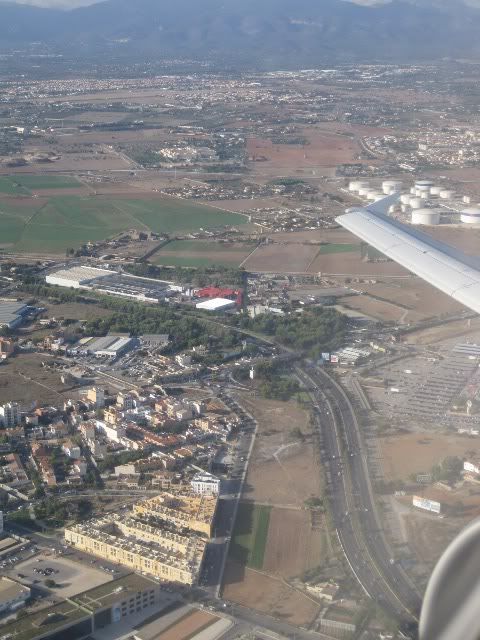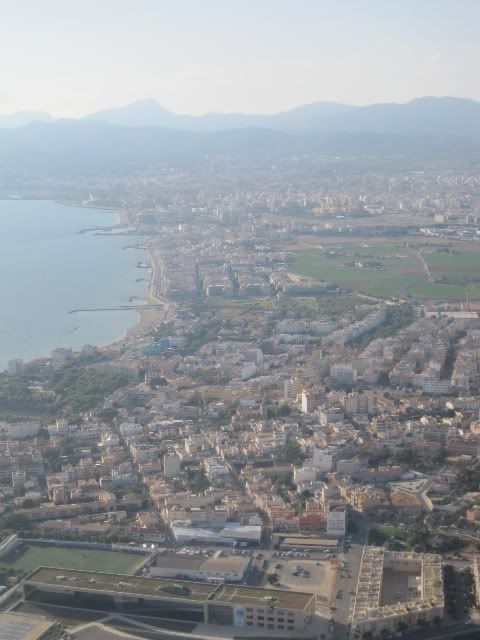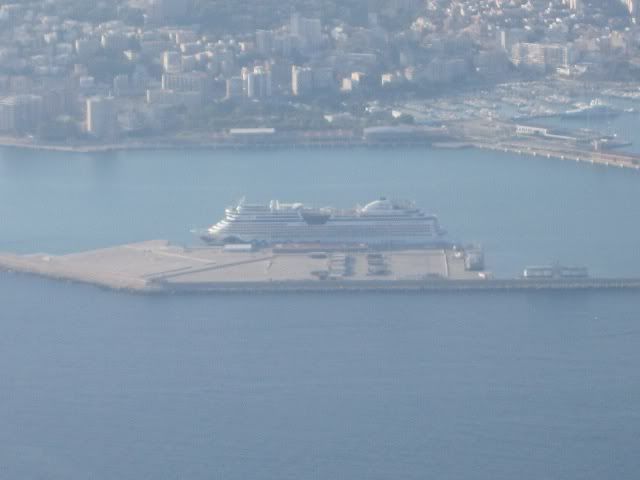 Shortly after food and drink trolleys were rolled out and we were served a nice cold meal featuring some kind of lentile terrine, salmon, cheese and a small dessert. A basket of warm bread was presented several times as well as drink orders taken continously. After some time trays were cleared and coffee, tea and digestifs offered.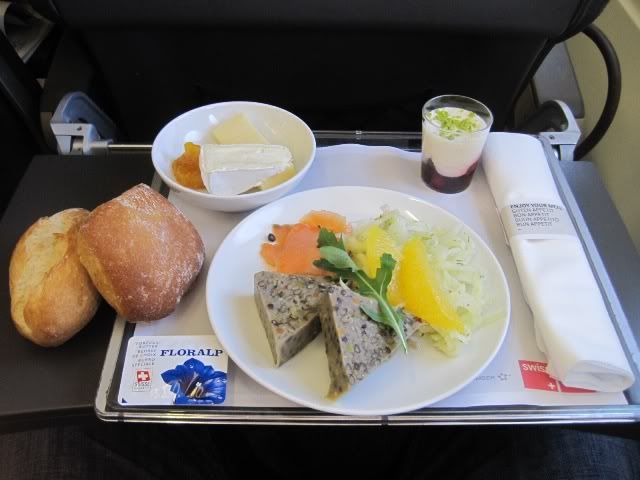 Really a nice end of the day enjoying sun set down over the Alpine countryside enjoying some nice drinks
.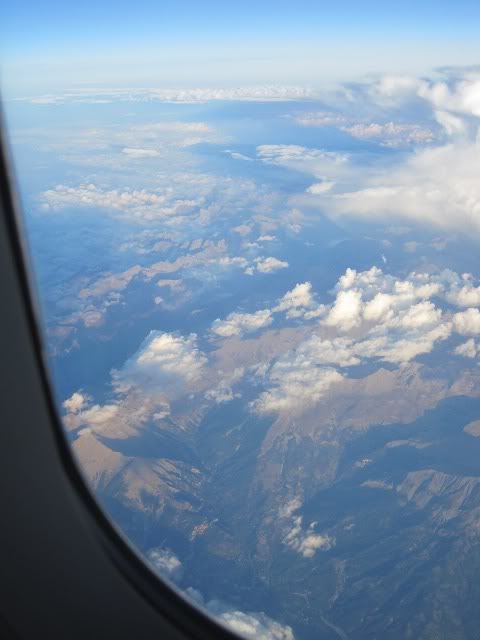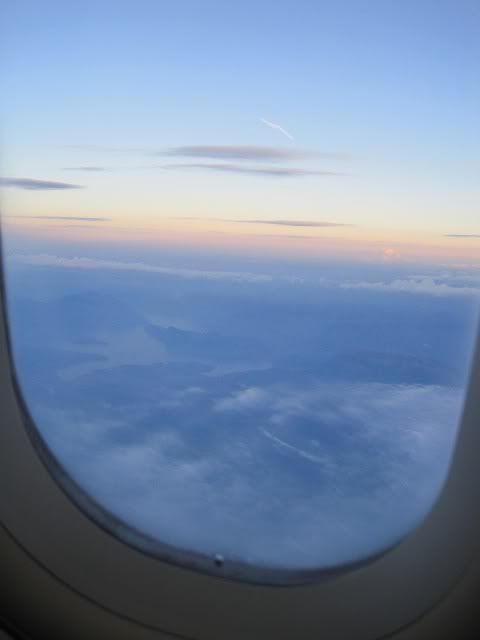 Duty Free sales were conducted and then we were already approaching Zurich airport from a westerly direction before touching down smoothly and taxiing along Dock E featuring some SWISS widebodies being prepared for the late evening departure rush to the Far East.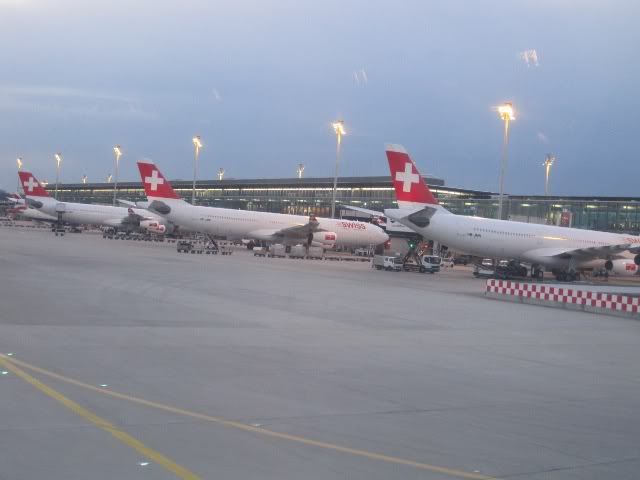 We parked at Dock A and directly made our way to the SWISS Business Lounge having not too much connecting time left. The lounge was packed again but offered some good dinner selection including soup, asian noodles or cheese noodles. Enjoyed some bites of that and a drink before continuing to our bus gate on the bottom floor.
16th of September 2011
SWISS LX 1196
Zurich - Nuremberg
20:30 - 21:30
AvroRJ 100
Our AvroRJ 100 looked nice and welcoming that evening and we boarded the small Jumbolino on the remote position.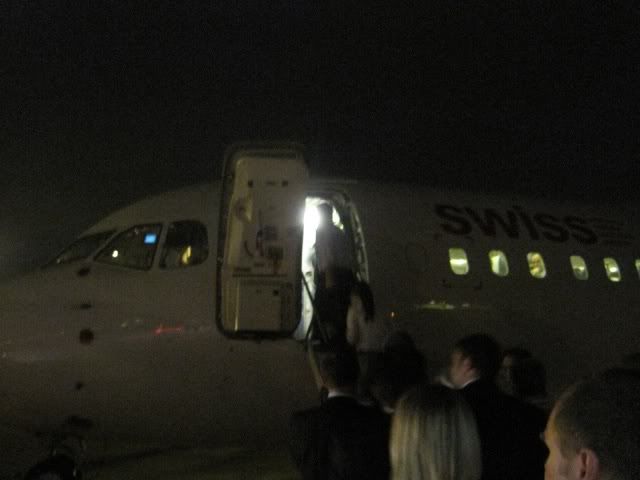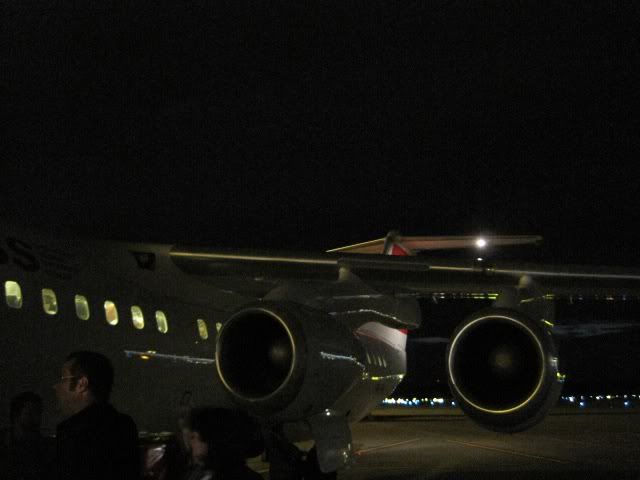 The flight was very full but it featured only one row of Business Class that however was occupied completely with four passengers. Once on board the Maitre de Cabine distributed a bottle of water, refreshing towels and newspapers in Business Class as it is common on SWISS flights.
We soon left our parking position and took off into a dark sky again in southerly direction turning left soon after lifting off and setting a north easterly course towards Nuremberg. Minutes later the Maitre de Cabine served a small plate featuring a sandwich and some excellent apple cake in Business Class taking each passengers drink orders. After serving those drinks he helped out serving drinks in the full Economy Class cabin.
Really nice was that the dividing curtain was closed even on that short flight - seldom found on AvroRJ flights. Some minutes later the Maitre de Cabine returned to Business Class offering refills - really nice on that short 40min flights. We already started descend into Nuremberg while it had begun to rain outside: Welcome back in cold Germany!
I really enjoyed all those flights - I always love the atmosphere on SWISS aircraft and the nice Swiss hospitality on board their flights! Comparing all the flights the Edelweiss Air segment really was the best one. The service on their Airbus was fabulous for such a short intra-European flight with proper welcome drink, headsets, pillows and a beautiful presented and well tasting breakfast. So the service on SWISS' leisure subsidiary Edelweiss Air even outplays SWISS own inflight product on European flights.
Thank you for reading - I hope you enjoyed the report and I'm looking forward to all your feedback.
Regards
Departurex