SAN airport tour, and AA SAN-LAX-DFW-SJD
Hi, welcome back!
This is part two of four, covering my trip to Paris, the US and Mexico.
Part 1 covers my easyJet flight from Luton to Paris, then my BA flights from Paris to San Diego via LHR in World Traveller Plus
. This part will cover my tour of San Diego Airport, as well as my American Eagle/Airlines flight from San Diego, to LA, then on to Dallas, then finally down to San Jose Cabo/Cabo San Lucas. The next two reports will cover my Cessna flight from La Pax to Mazatlan, and the final report, my BA flight from Mexico City back to London.
A map of my whole itinerary:
This reports' flights:
When I was researching this trip, I spent quite a while looking at the best places to go, and the best flights to take. I had quite wanted to go up to San Francisco, but as this trip was mainly about Mexico, and given that I wanted to spend a decent amount of time in SF, I thought I'd leave it for another time. This meant I wanted a cheap one way flight from SAN to San Jose Cabo (SJD). There were direct flights from SAN to SJD, but where was the fun in that. For a few pounds more (around GBP100) I go get a flight via LAX. Ok, not bad. What else could I find? Well, for GBP121 (USD 190/EUR 140) I could route via DFW as well. And with the wonderful 24 hour rule, I could schedule a full day in both LA and Dallas. Excellent!
After the excitement of a citywide blackout on my arrival, it was a bit disappointing to have the lights come on around 11pm. It seemed like most of the city had got together with neighbours in an effort to drink the city dry. Once the lights came on, the magical camaraderie seemed to disparate.
The next morning, with my friend at work, I decided to walk down through Balboa Park – beautiful place!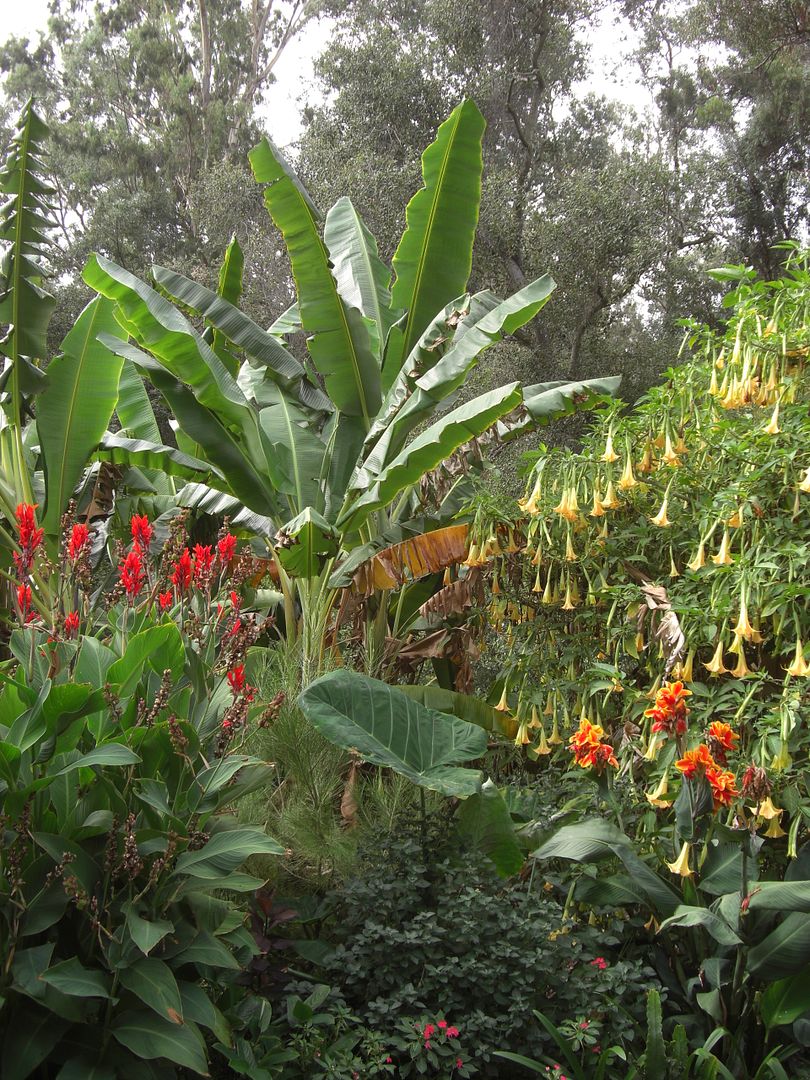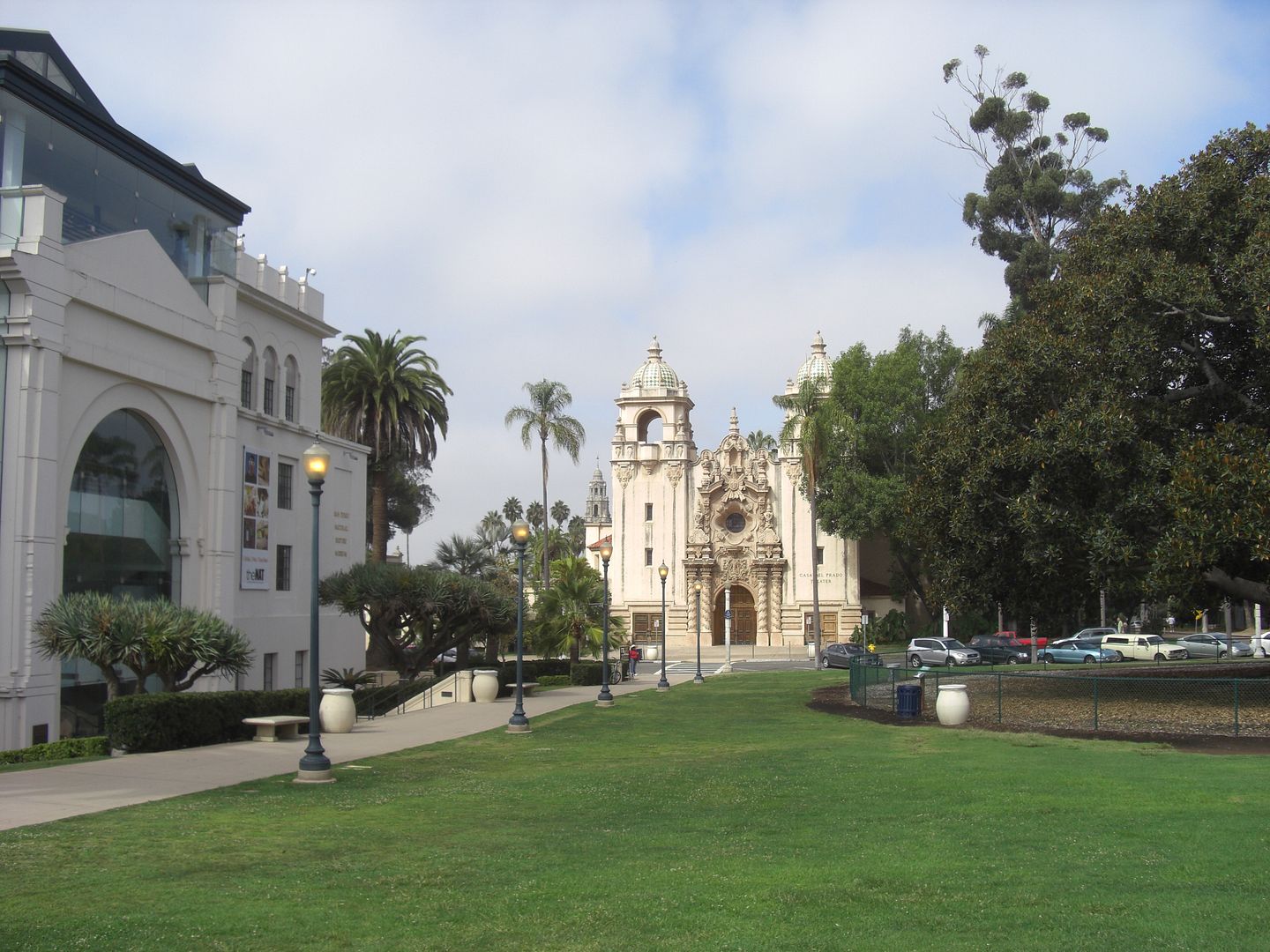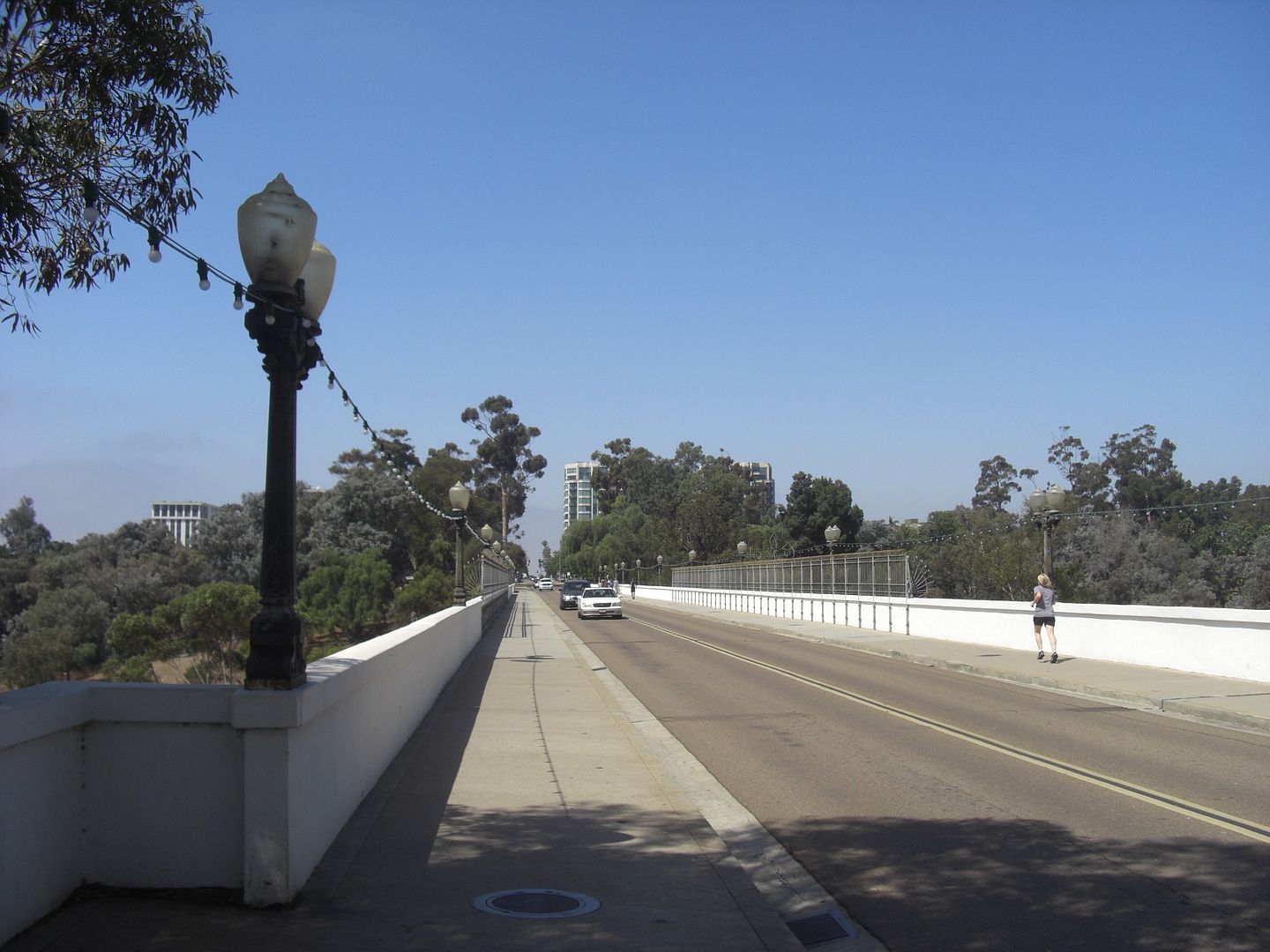 As mentioned before, I stopped at this bridge to take a few photos. I managed to mistime most of them.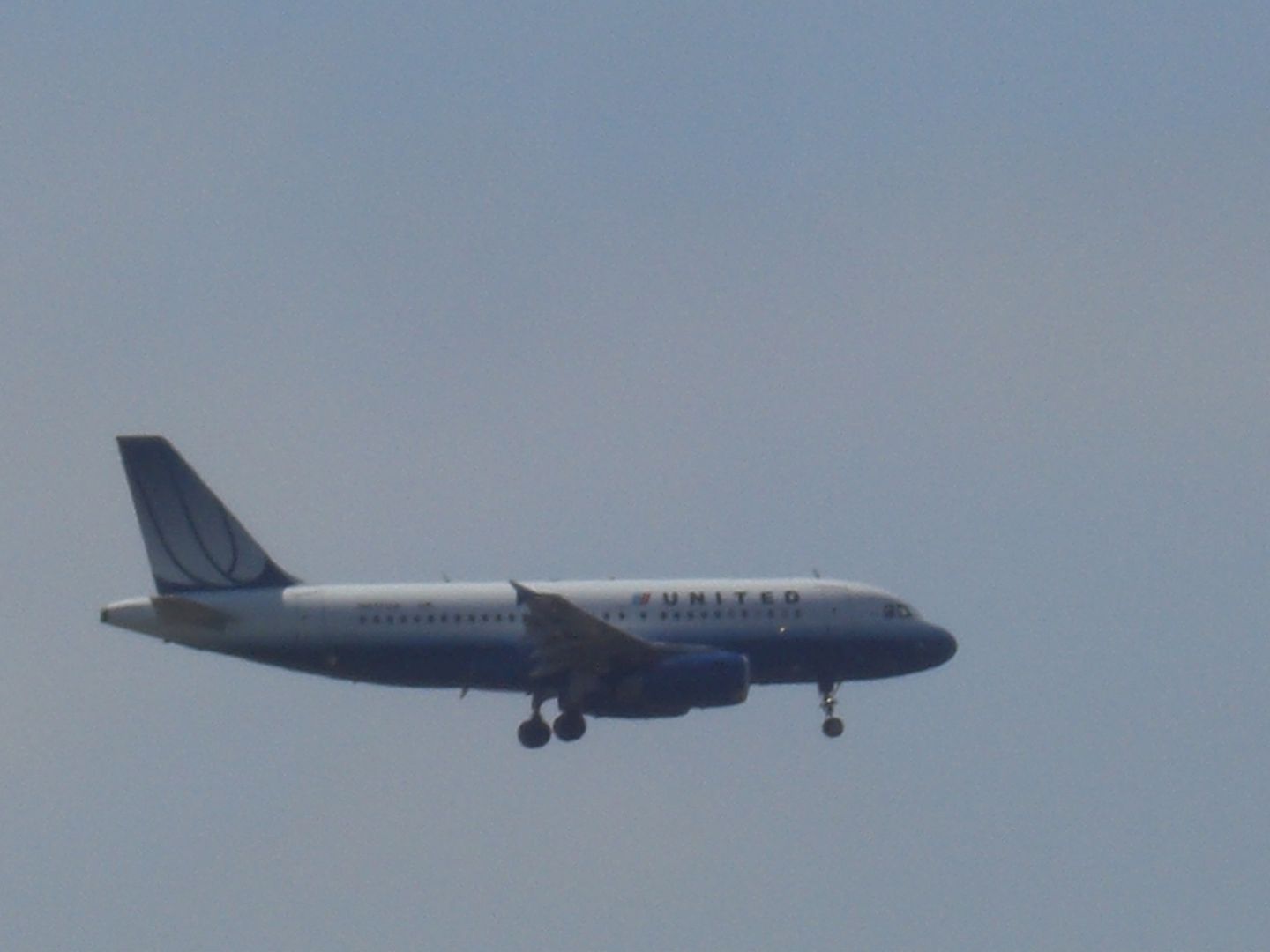 When looking at the SAN website before flying out, I noticed that the airport offers a free
Terminals to Tarmac Tour
. These only run a few times a month, but I was lucky enough to happen to be in town on one of those days. The tour was quickly confirmed.
From the park, the airport was an easy walk. San Diego is one of those rare cities where walking to the airport is possible. You get some great views of arrivals too!
I was delighted to see that the BA B777 I'd arrived on the previous day was still there. Obviously, BA decided to cancel the flight that night. Strangely, however, it was rescheduled for 5pm (thus arriving into LHR around 10am) – how come they didn't try and get the plane out ASAP? A 1pm flight would have arrived at 6am, great for onward connections, and no so long a delay.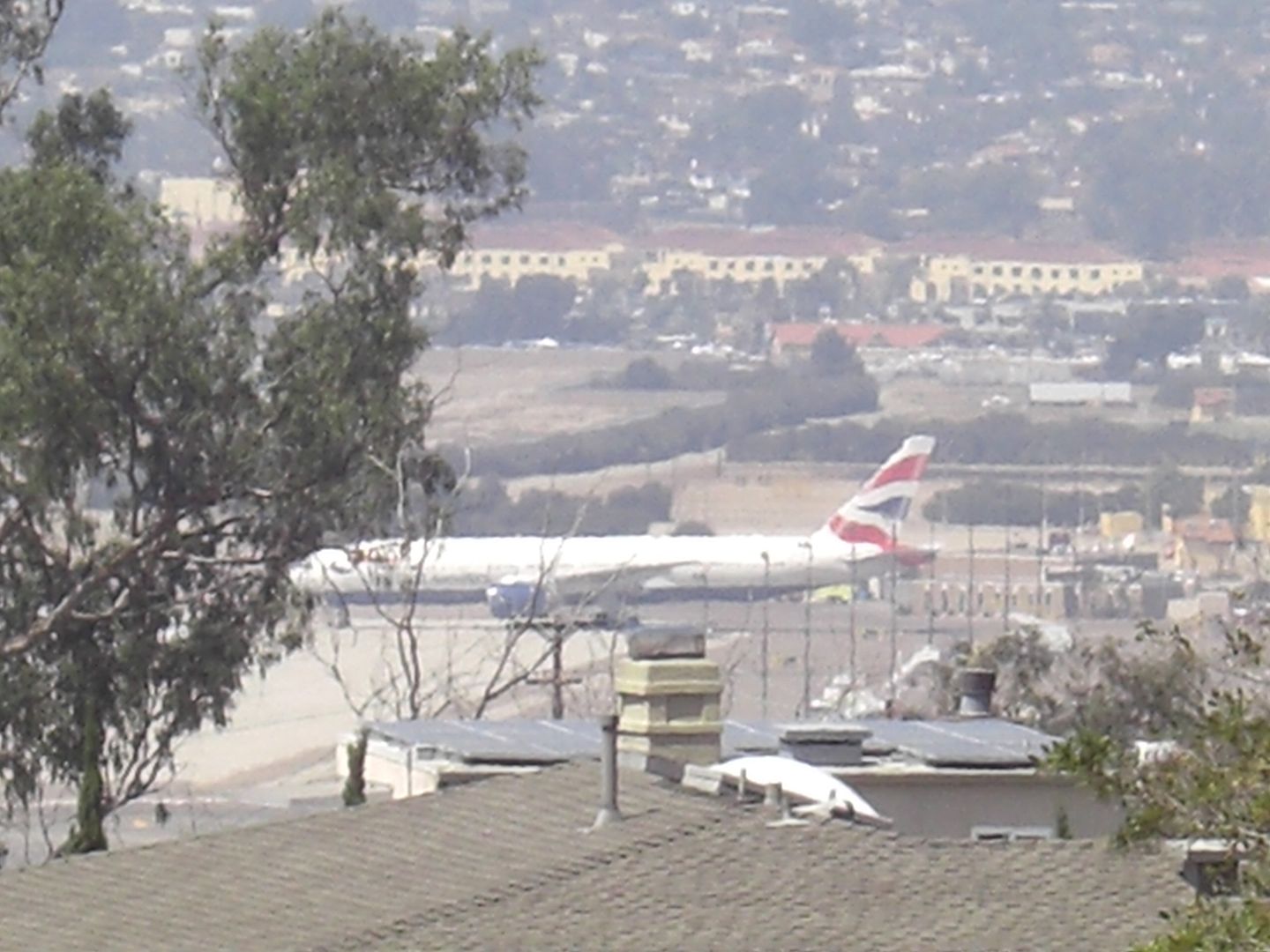 Walking closer to the airport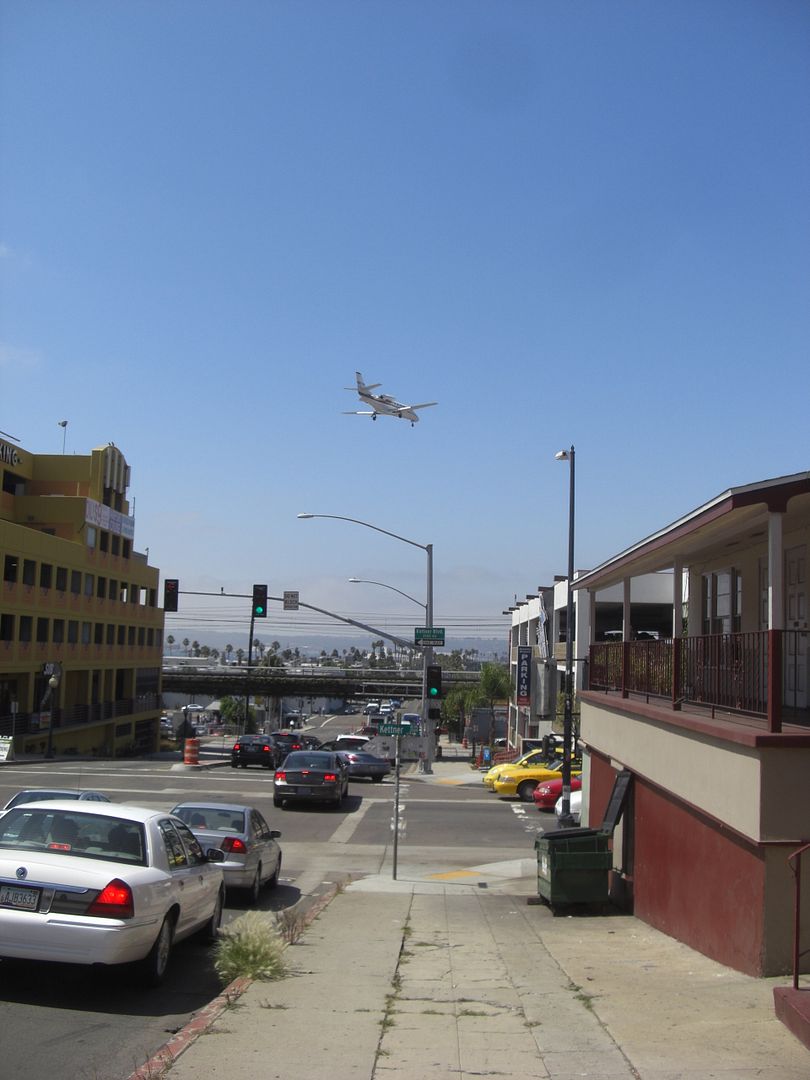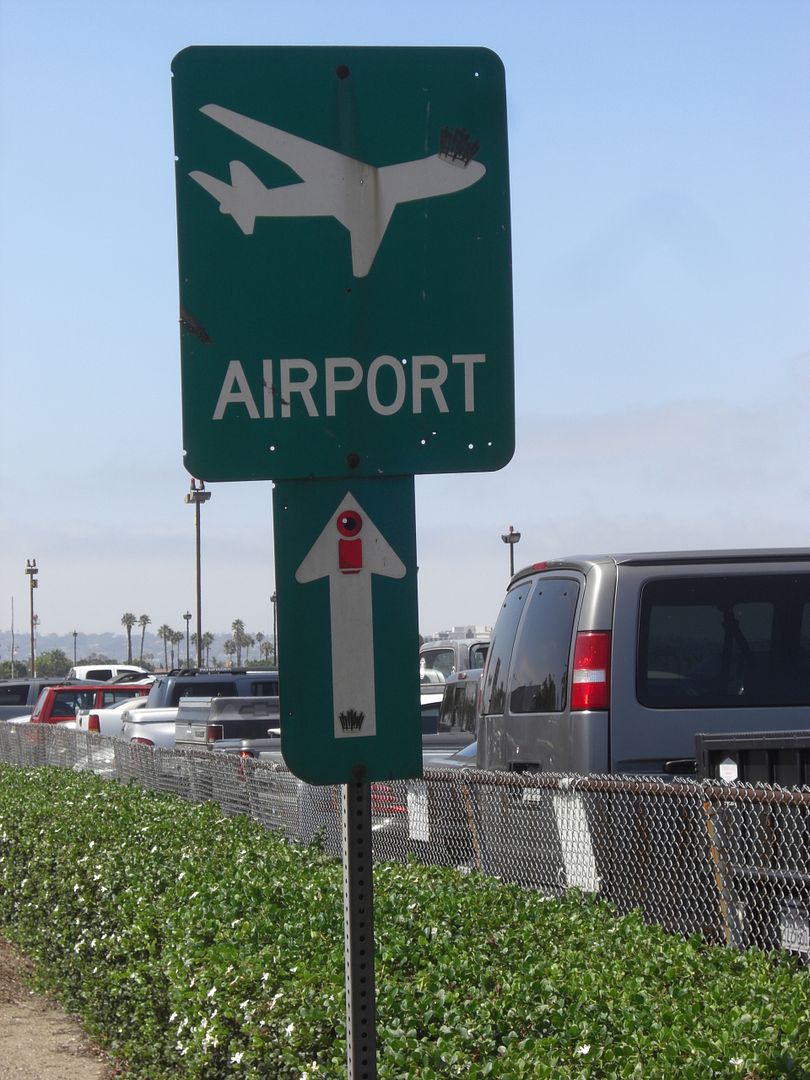 The tour started at the Commuter terminal, where everyone (a group of aspiring pilots, an employee who'd been advised to take the tour to get to know the airport, and another employee with her son (all the schools had been closed due to the blackout, even though there was electricity today)) was given some info about the tour/airport, and some headphones. We had a private bus, and the tour was lead by the Head of SAN Planning.
We drove over to Terminal 1, where after a quick briefing in the bus, we donned our headsets, and took a walk of the terminal.
The USO, one of the largest in the US
Terminal 2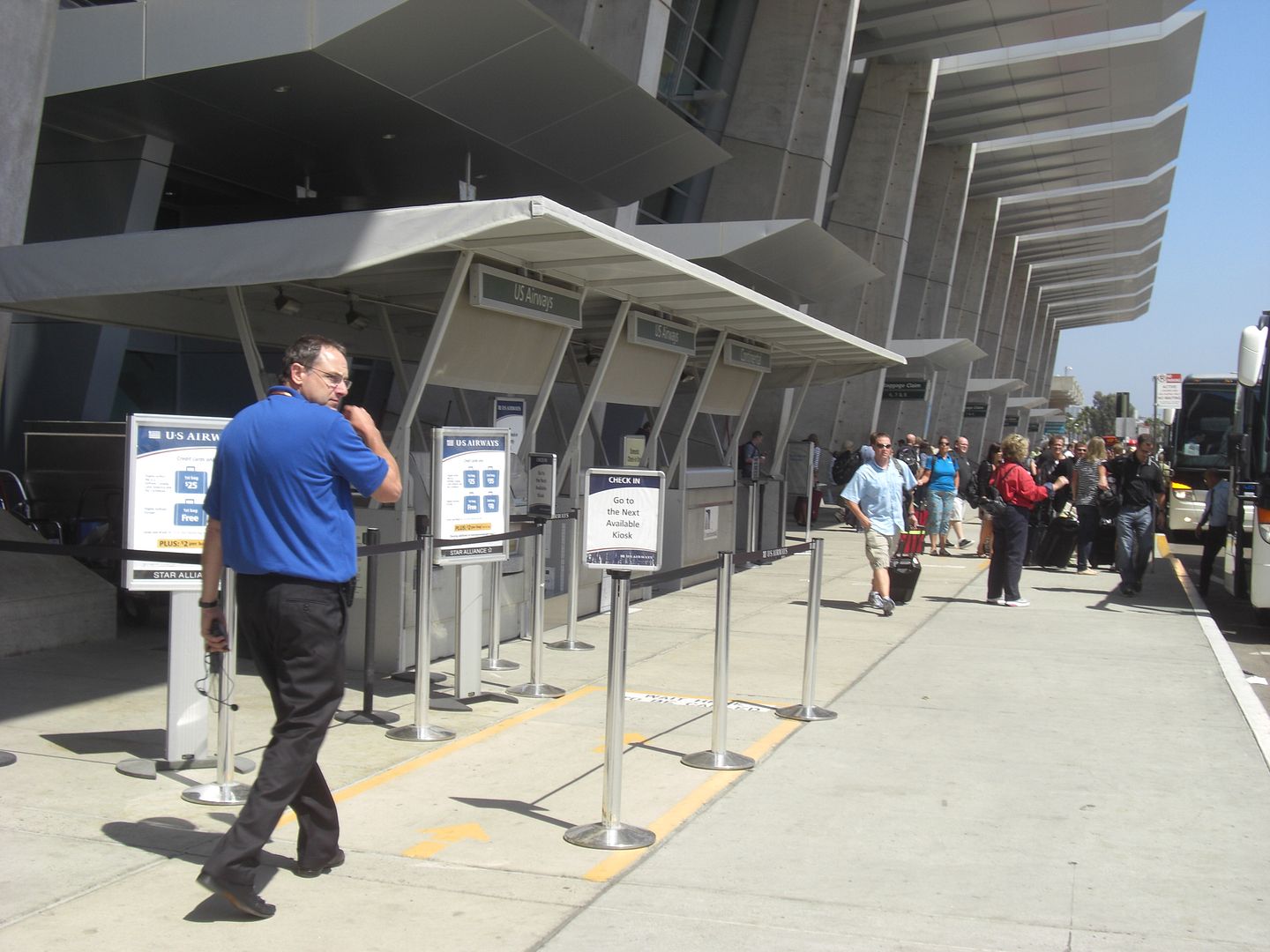 Misconnected bags from yesterday
The very rare sight of 2 BA flights headed from SAN to LHR on the same day – first time ever?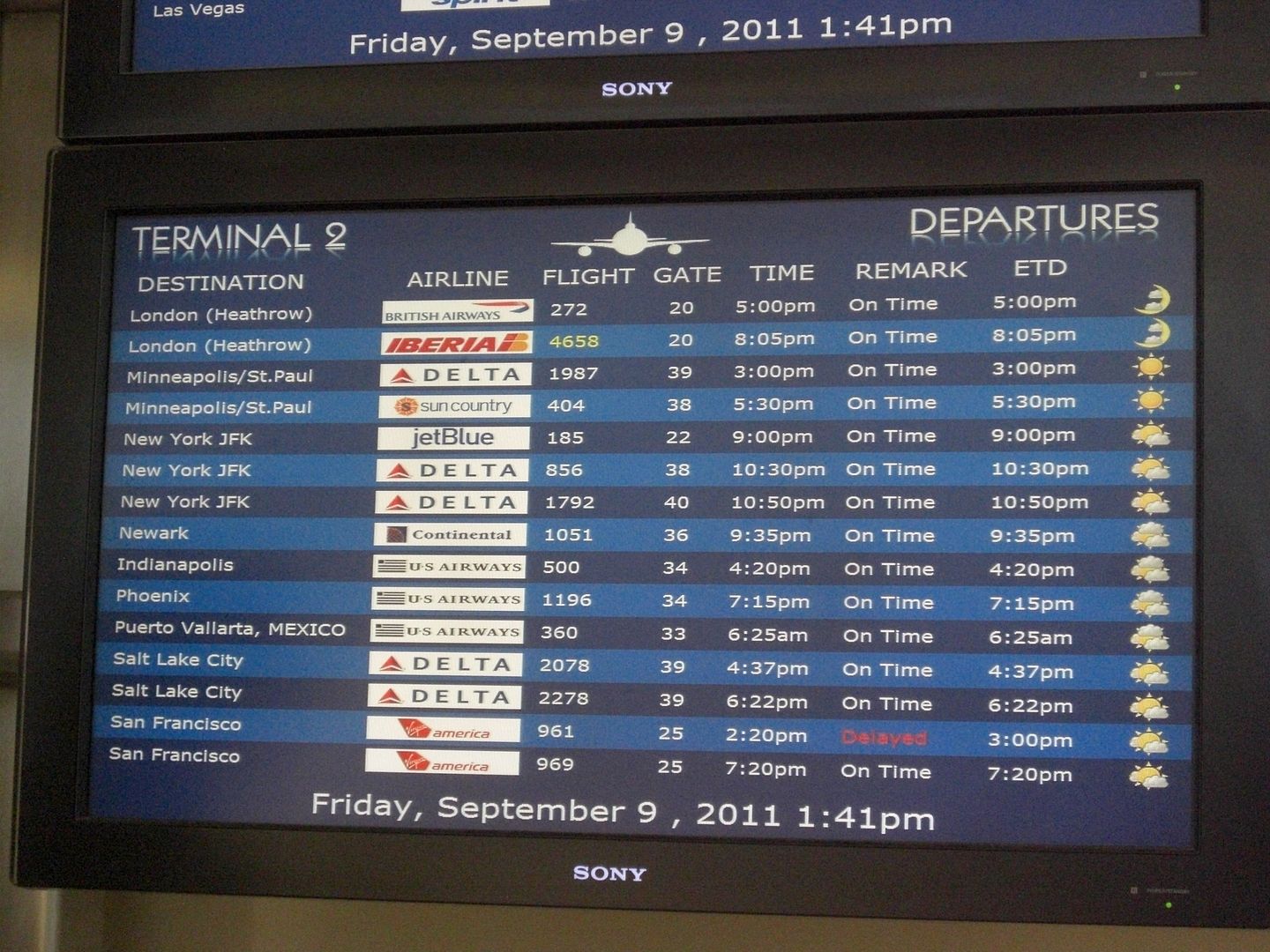 After seeing the terminals (alas, only landside), and hearing about the various challenges of dealing with airline customer needs, we were back on the bus, and driven airside. (sorry, a lot of photos were taken through tinted glass).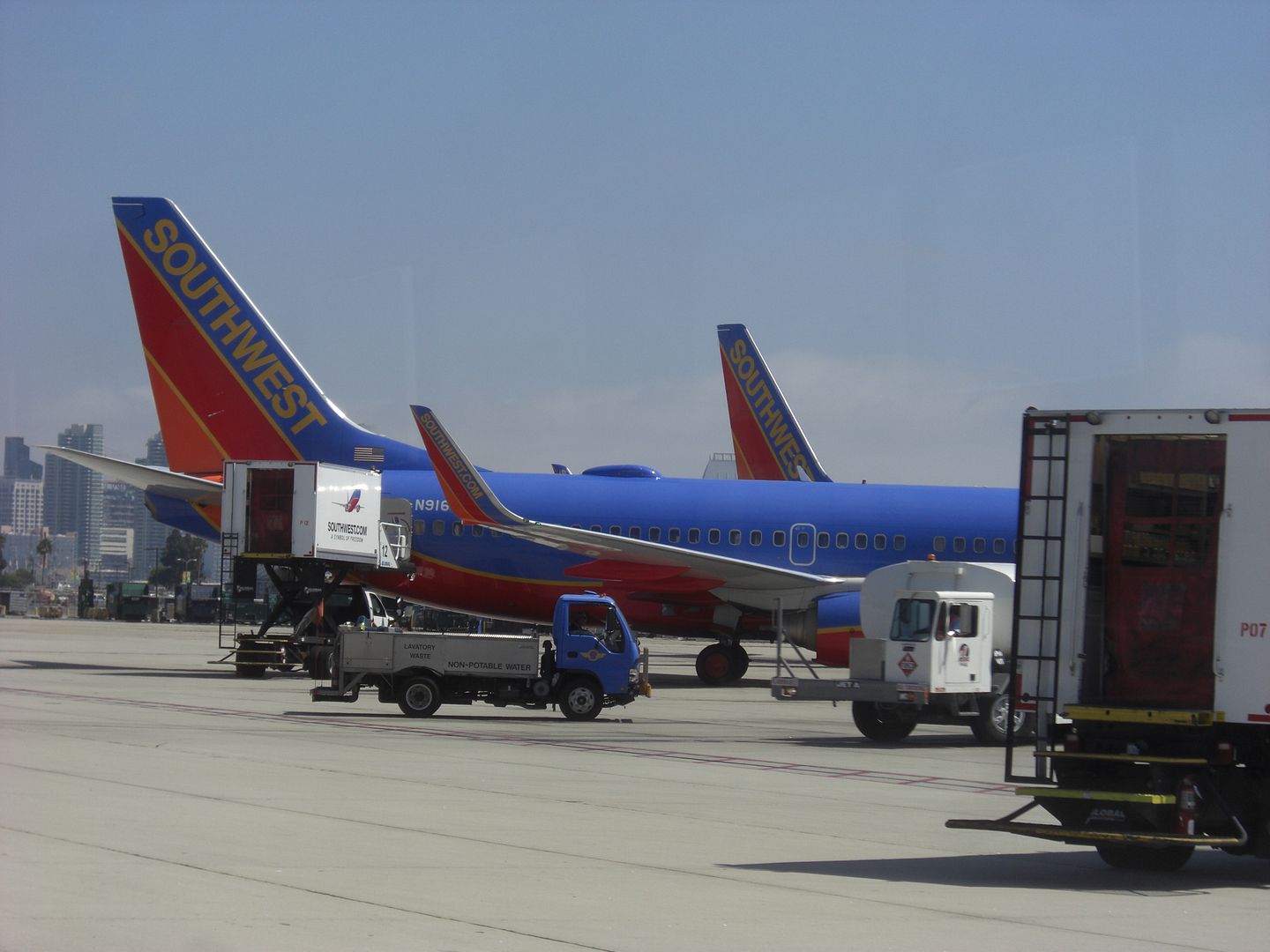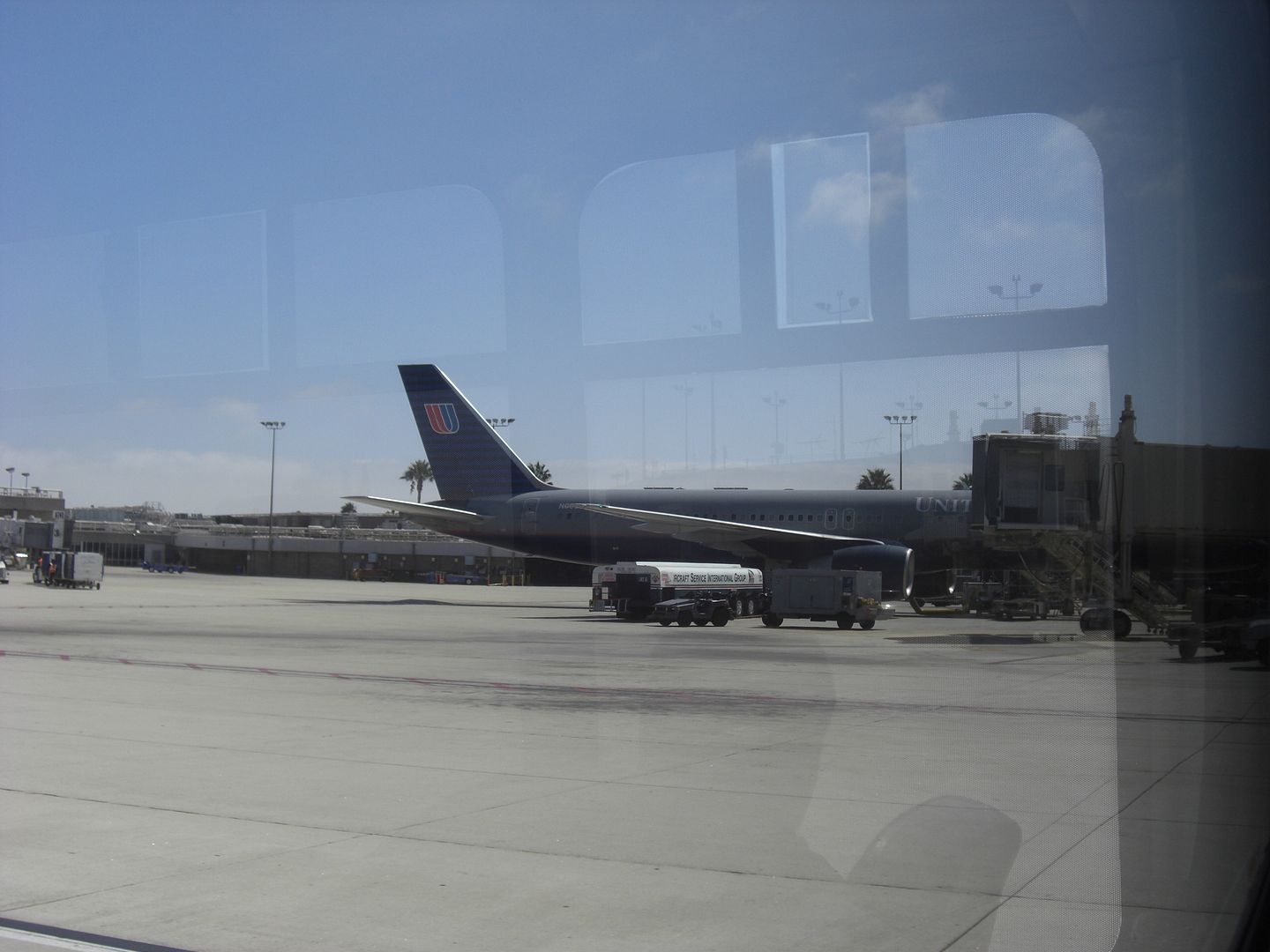 My lovely BA 777! It had been parked on a remote stand all day, but *just8 as we were approaching it, it was towed to the terminal. Such bad timing, especially as we ended up being able to get out on the same stand area for a few minutes – everyone was quite disappointed! The Head of Planning was saying that it was the first time he'd actually seen the BA plane in the flesh, as it normally arrived and left outside office hours.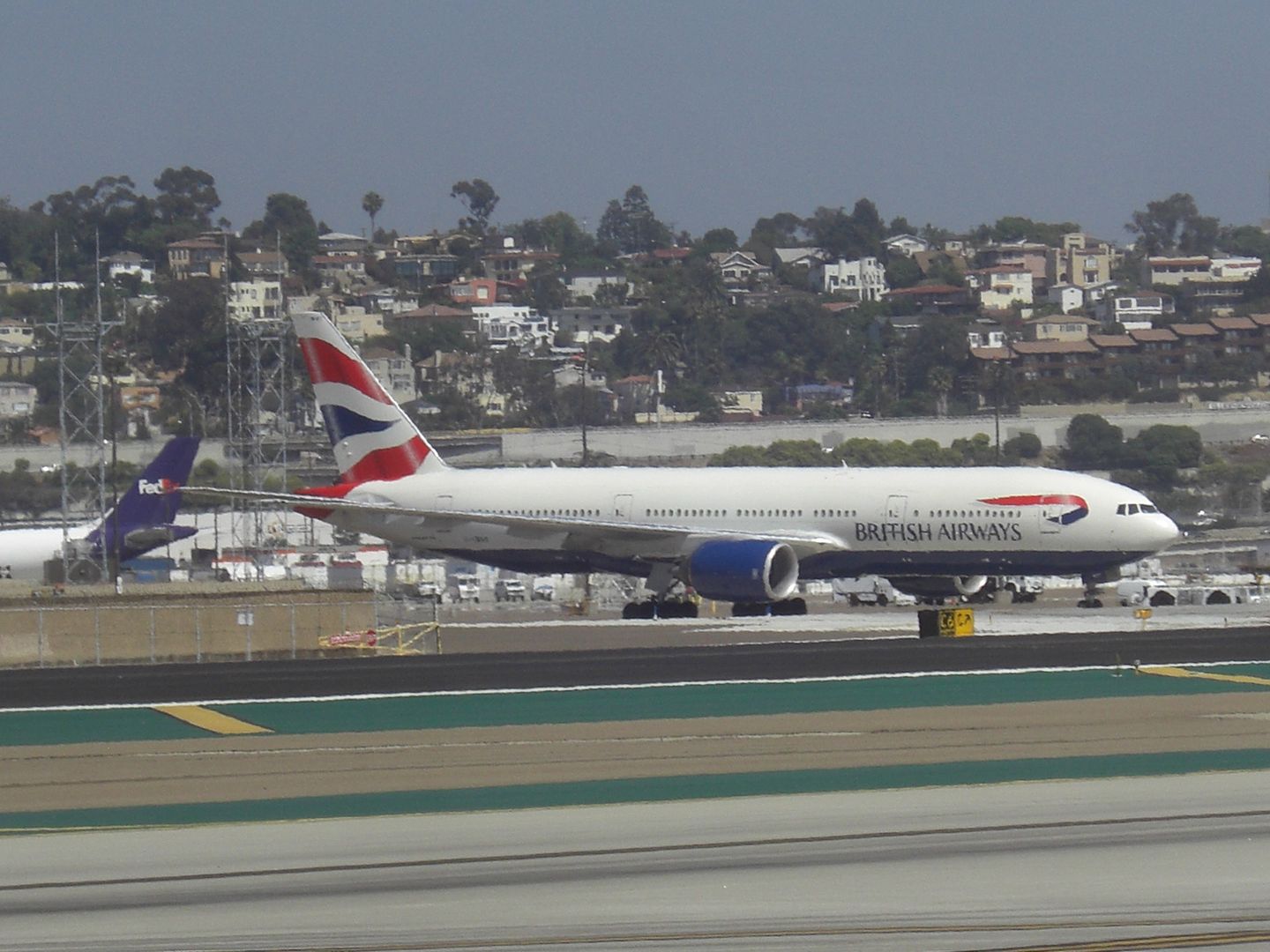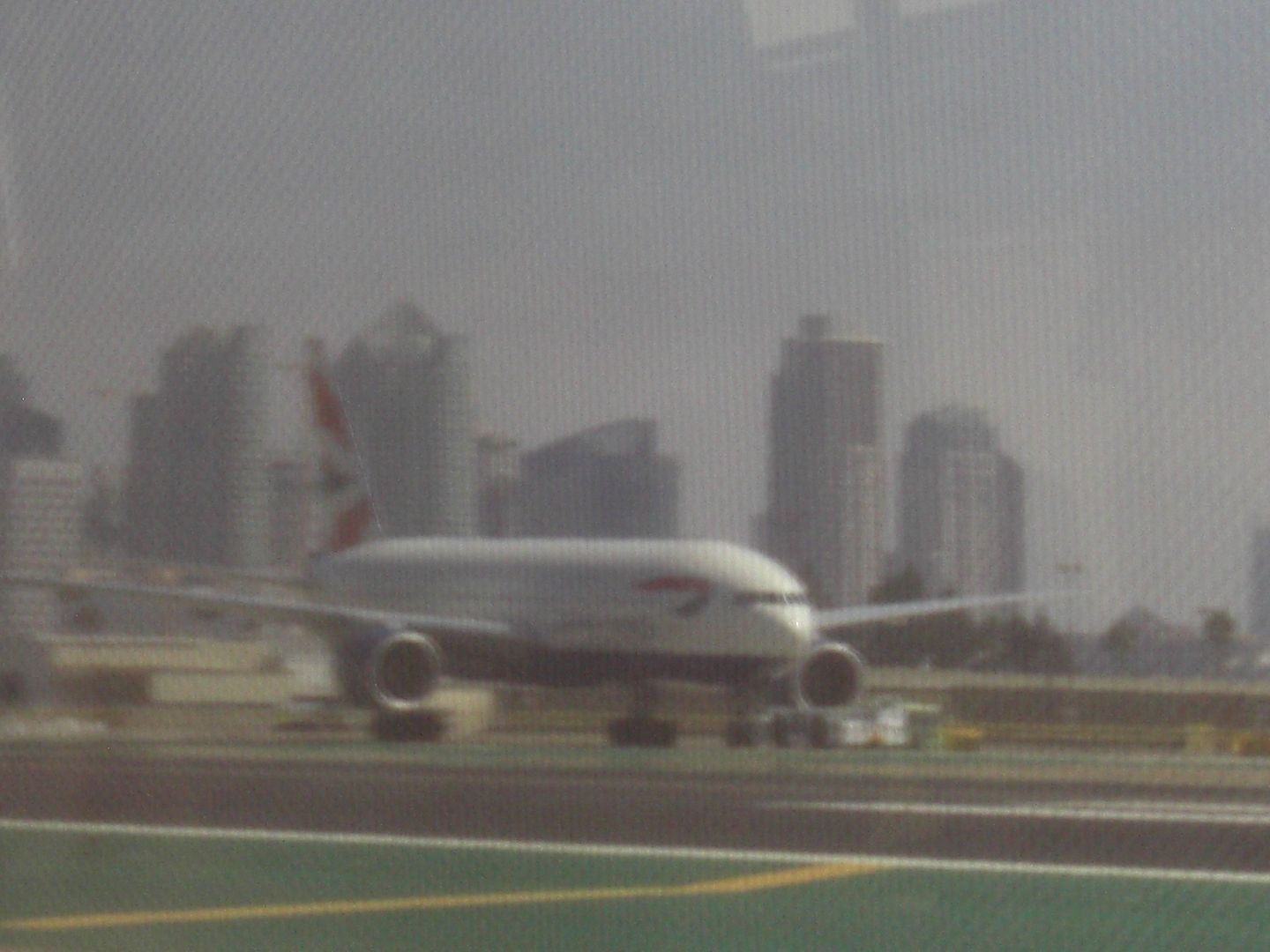 And a few more pics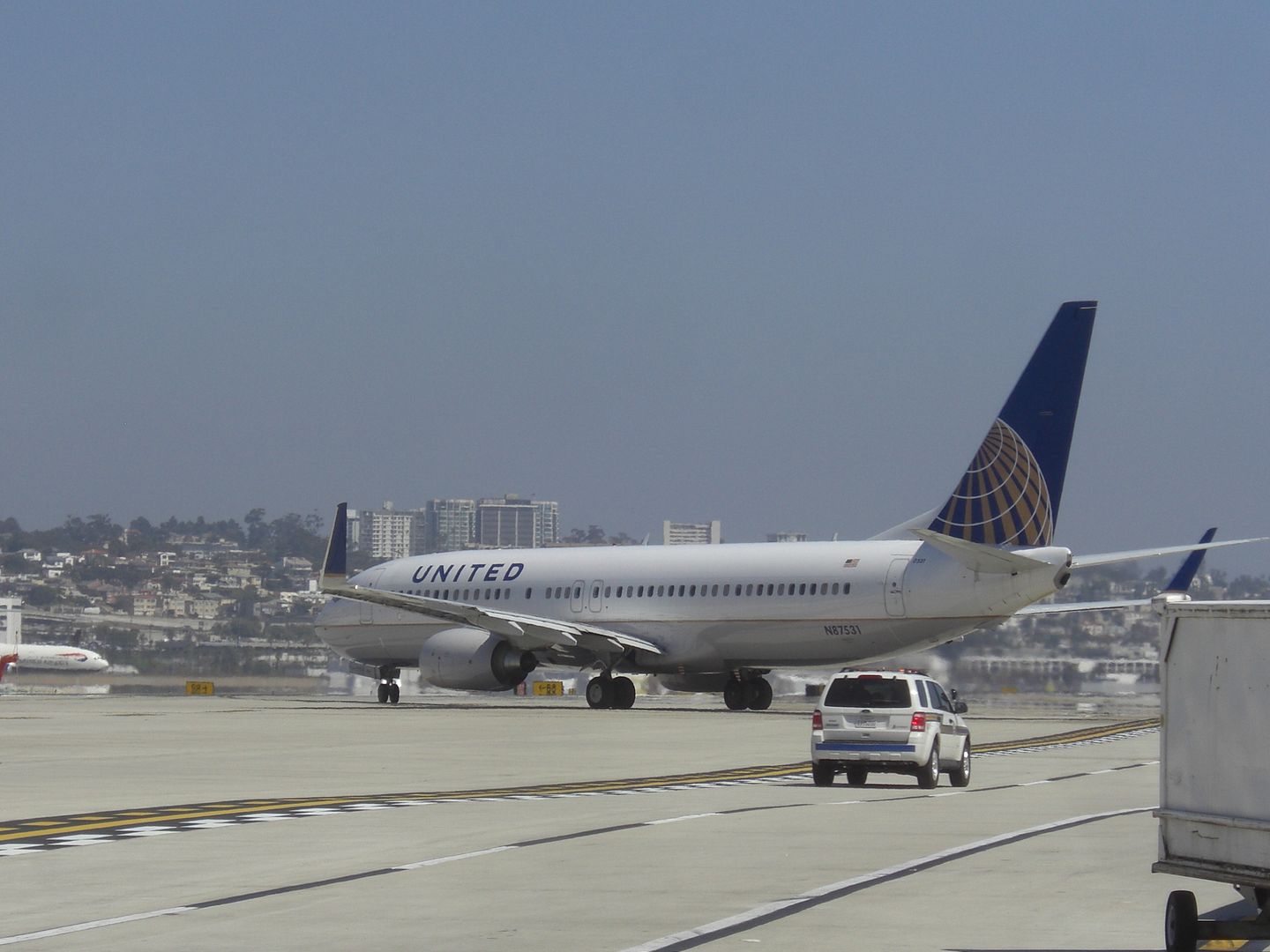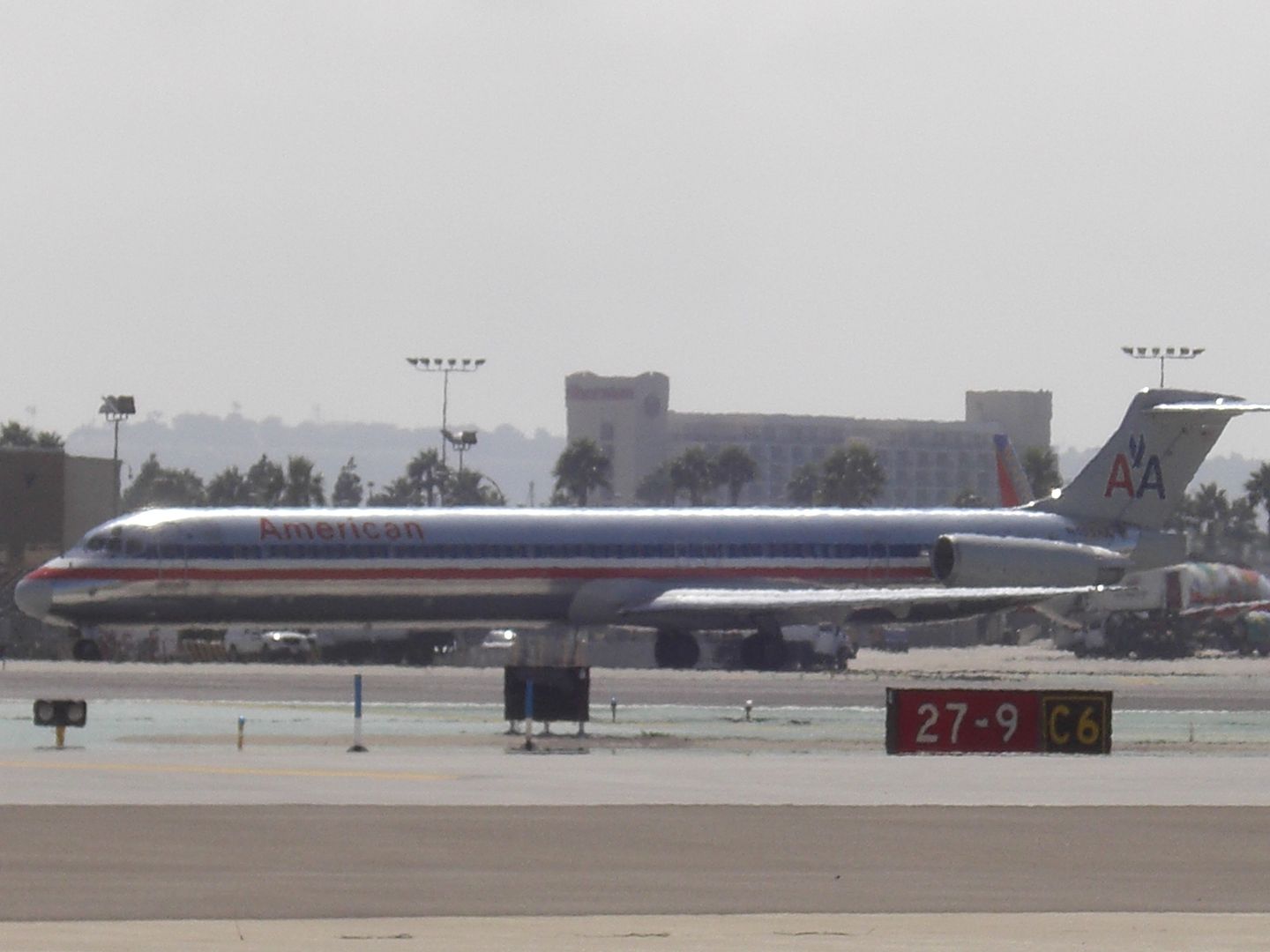 We were then driven over to the cargo area. The guide really didn't have much of an idea about plane identification (which surprised me, especially as he's got his license – sorry, I shouldn't be mean – he was trying!). At first he mistook this for a B767:
He then corrected himself and said it was a DC 10. Nearly. To his delight he realised that this next one was a B767. Again, not quite.
Some UPS and DHL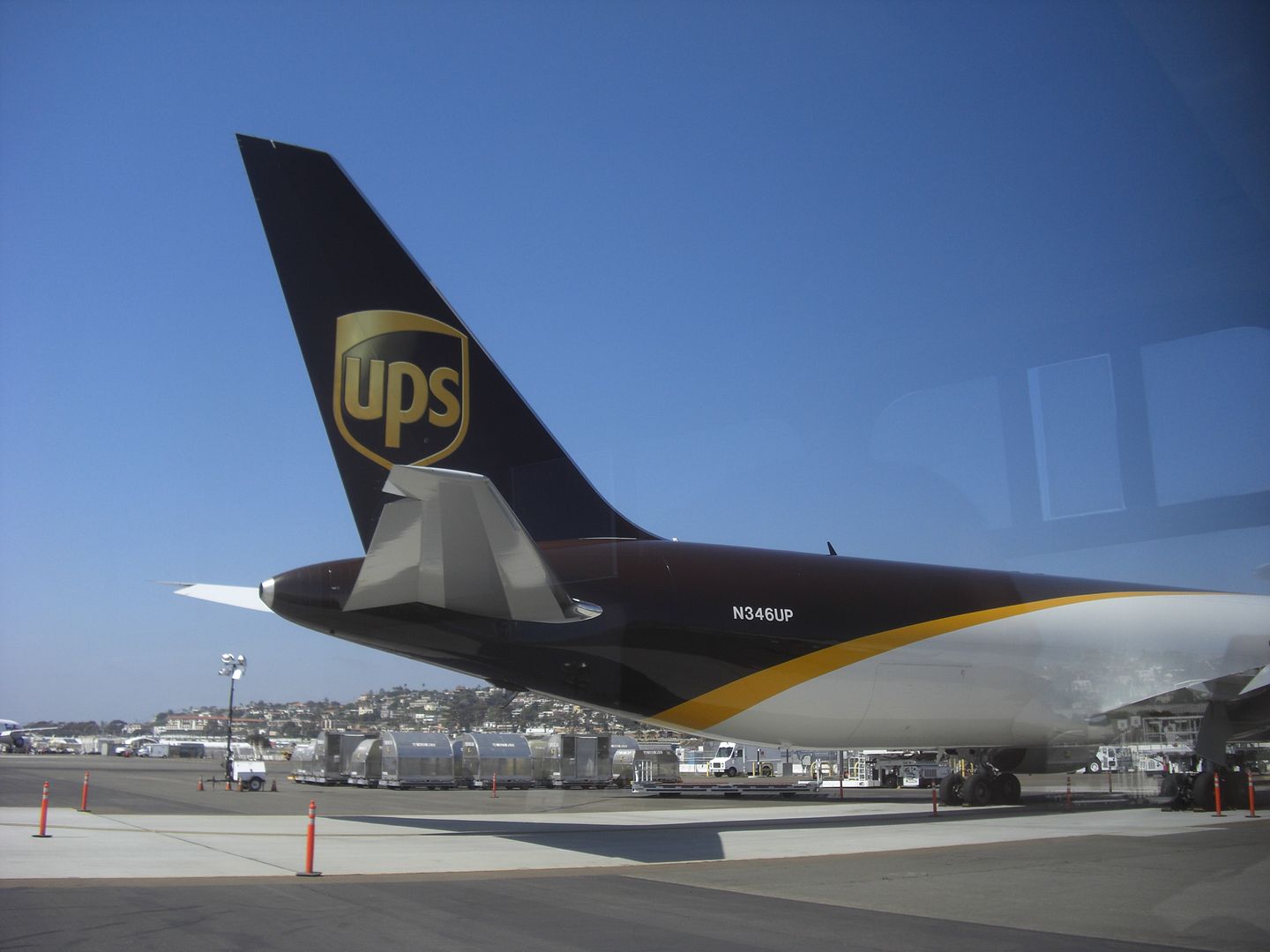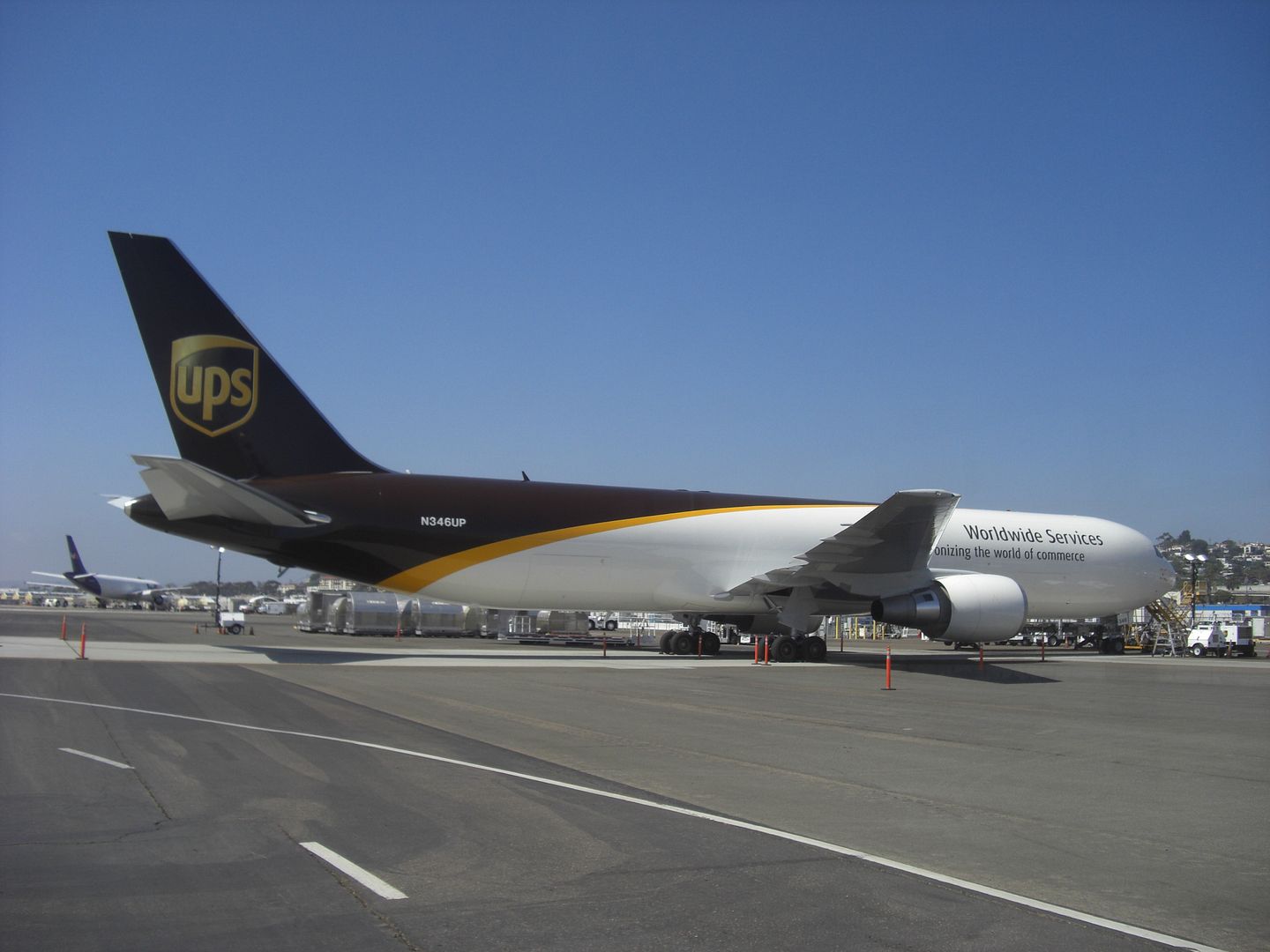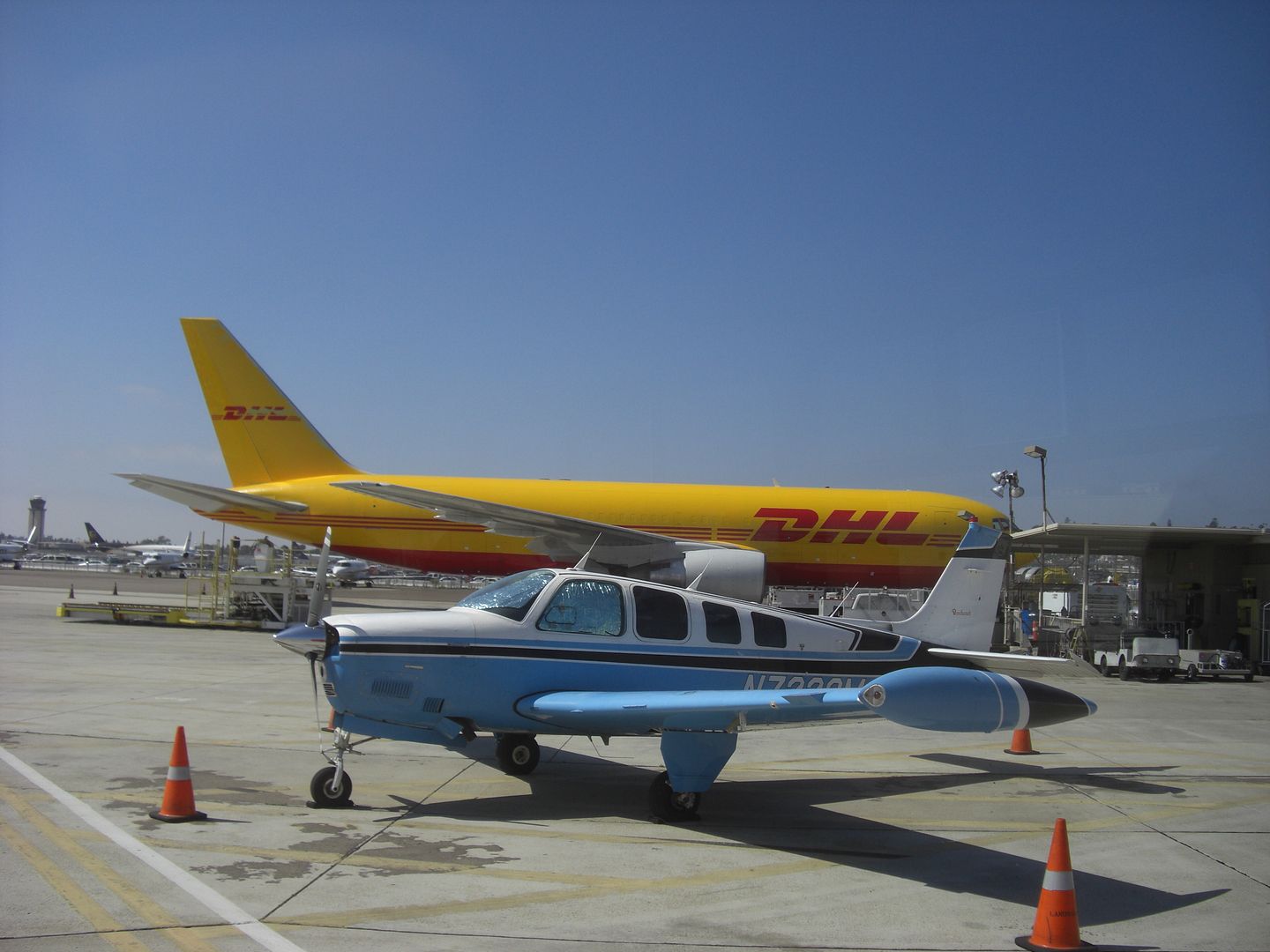 And then the private aviation tarmac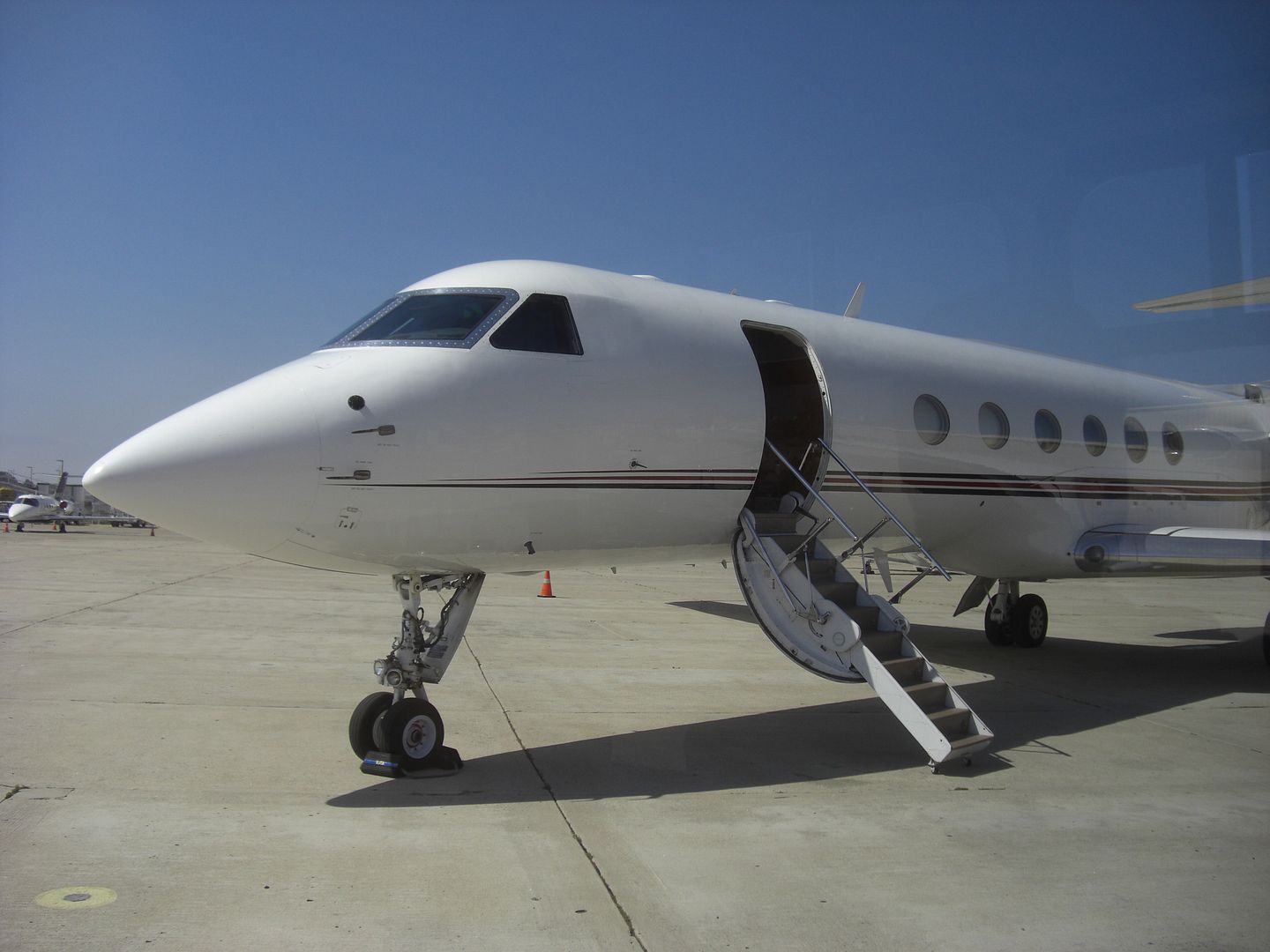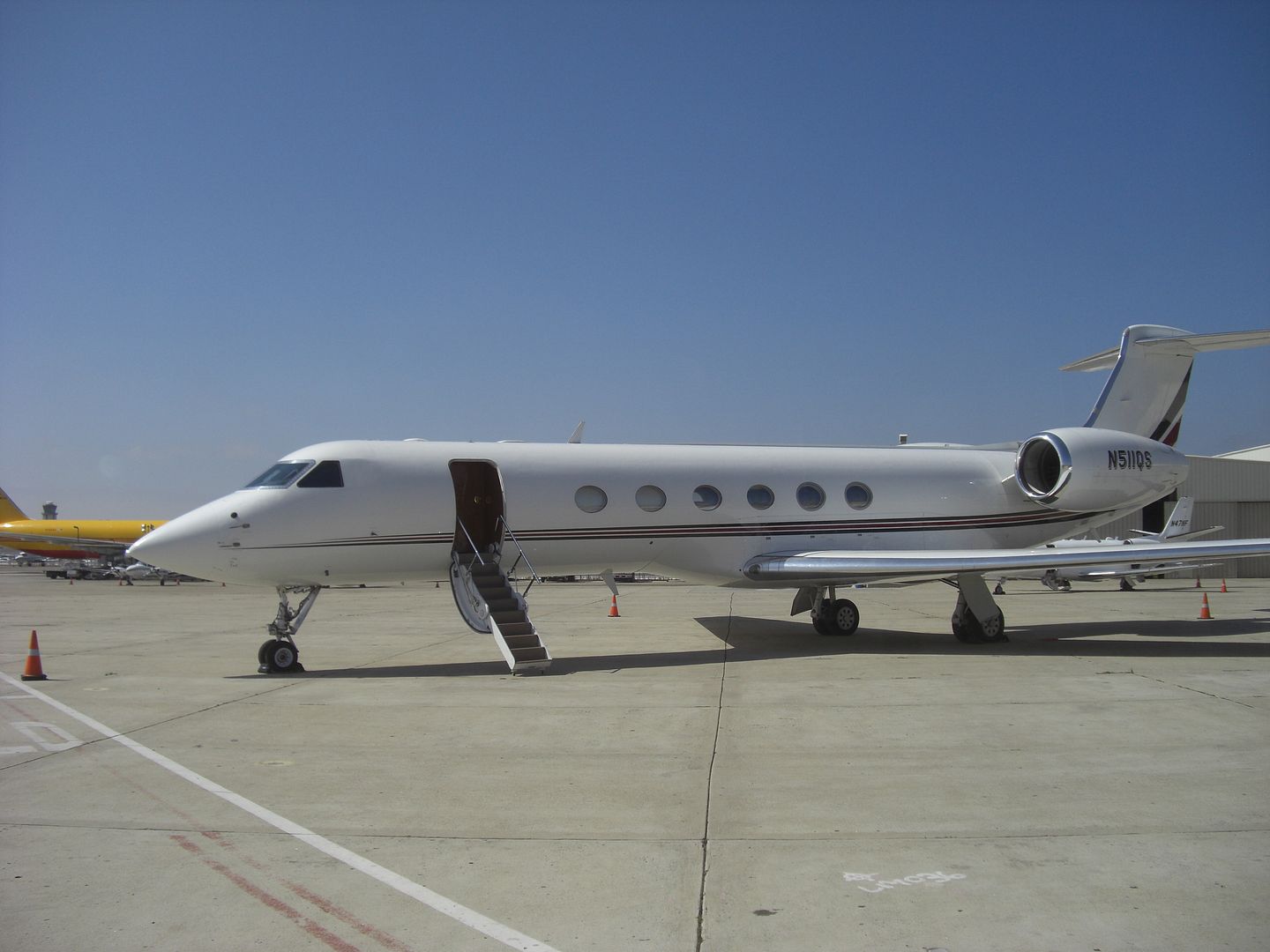 Owed by the Minnesota Vikings
Due to SANs location, there are strict departure curfews
On the bus
Behind the landing lights
Not something you see everyday – where the toilet trucks are emptied
Flying overhead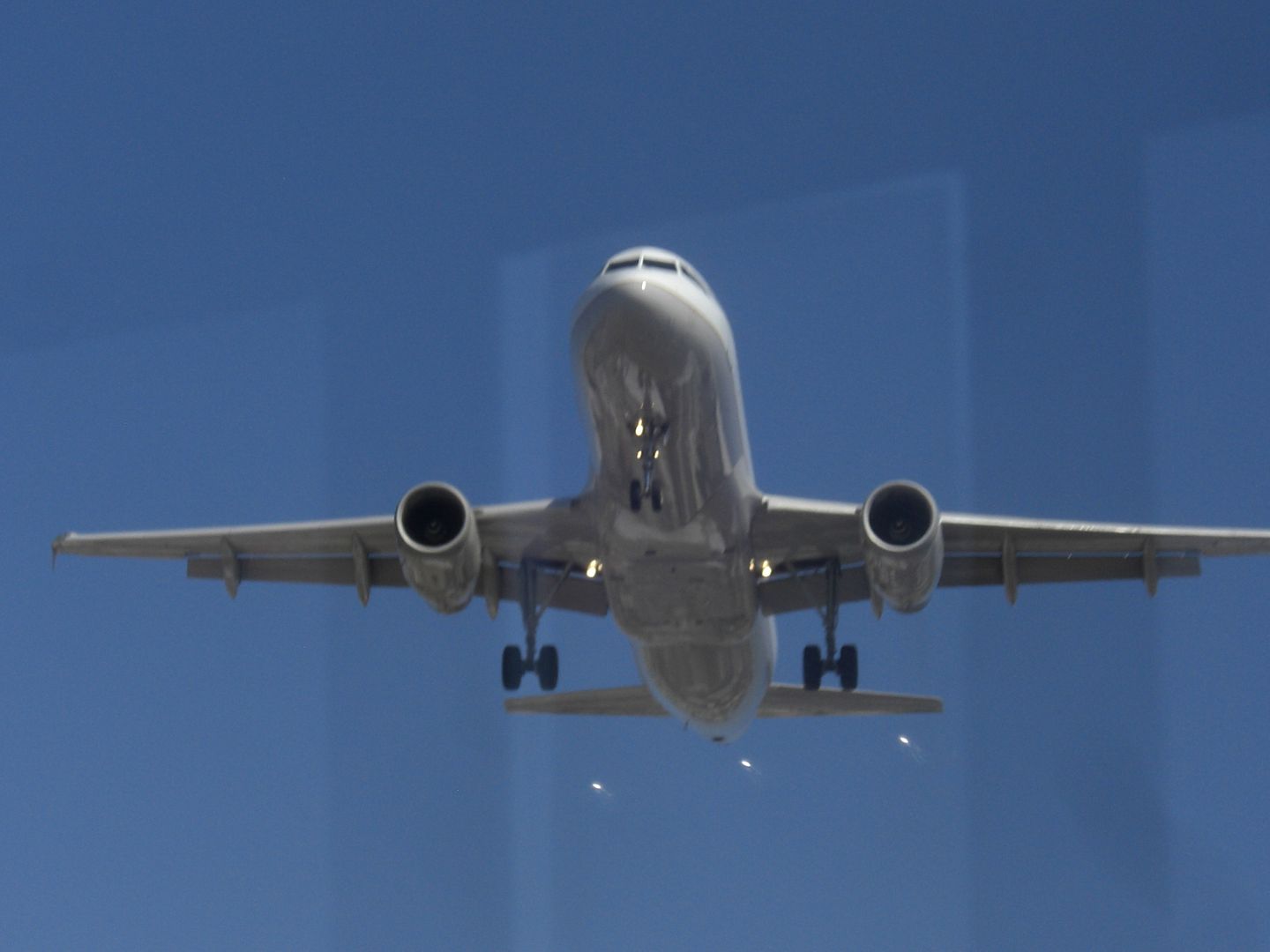 A bird scarer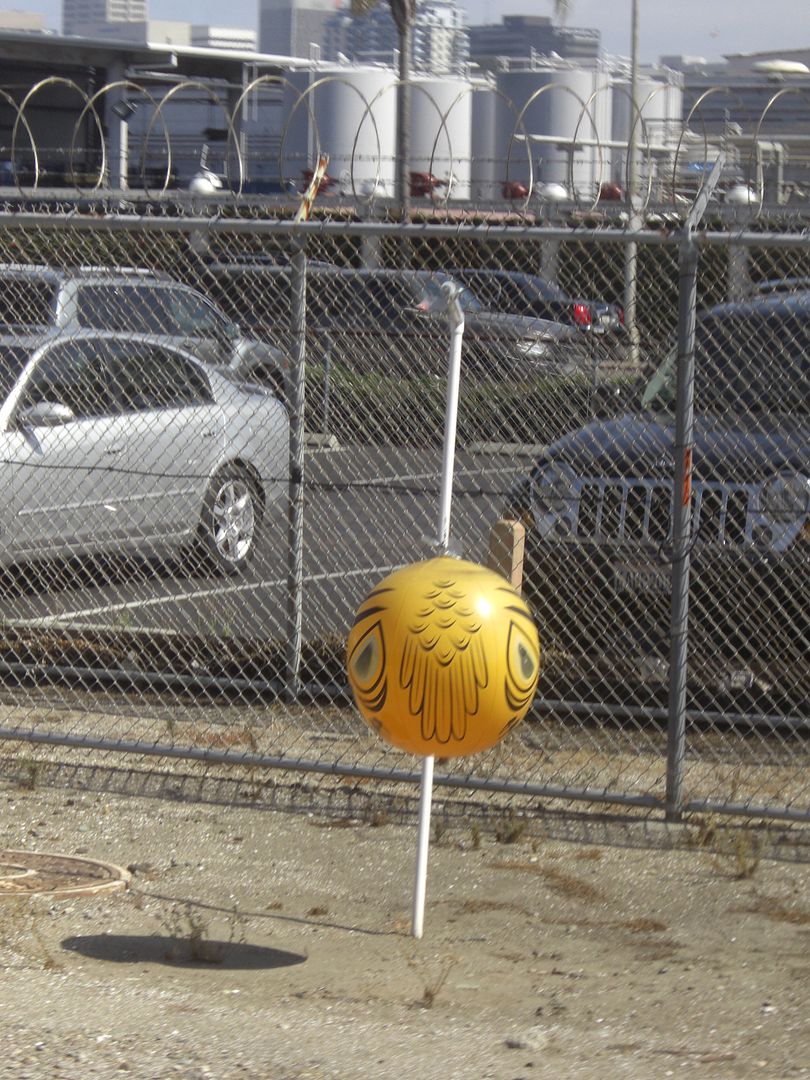 A few more shots. I hadn't realised there were still so many old old UA colours flying around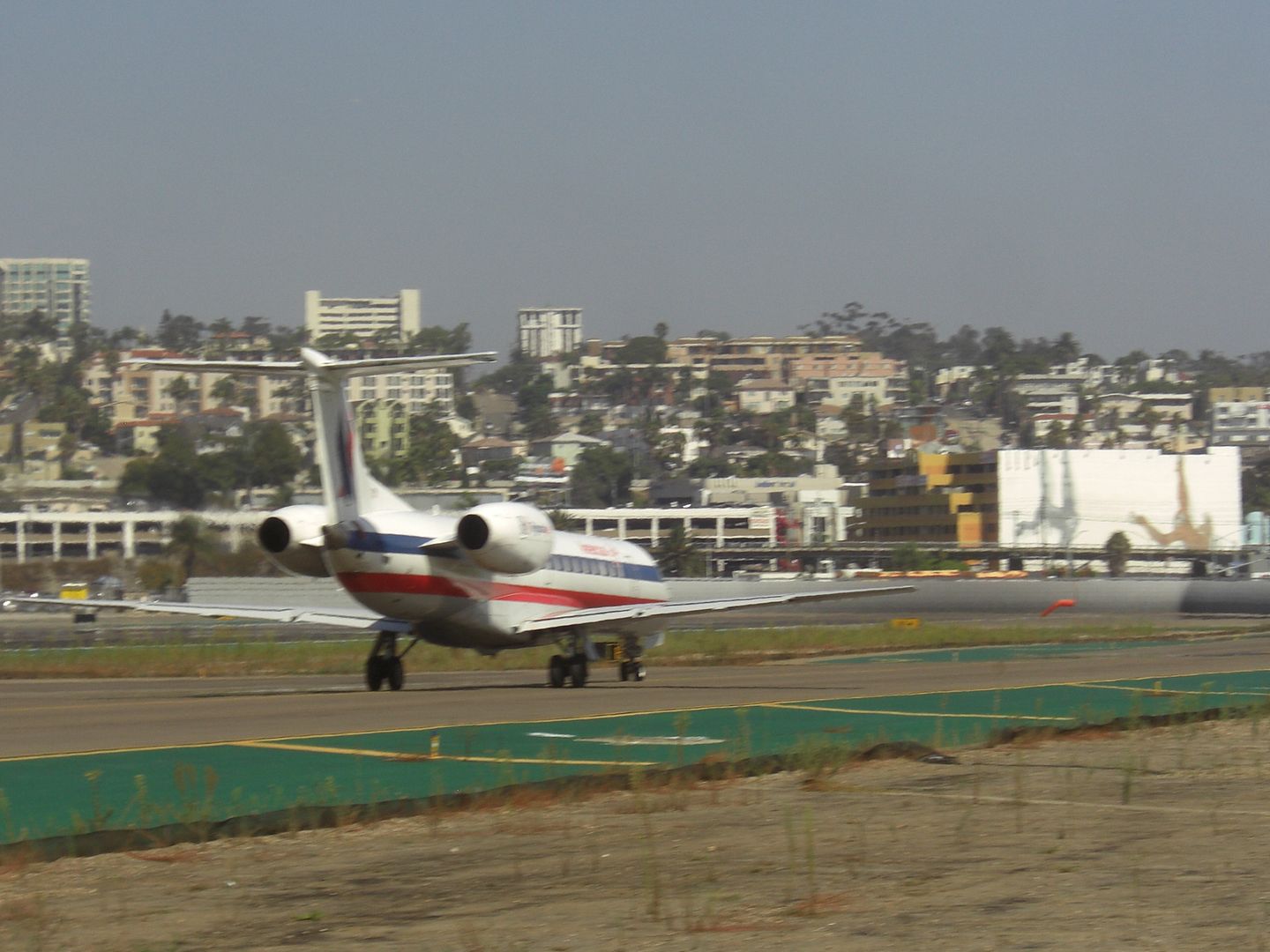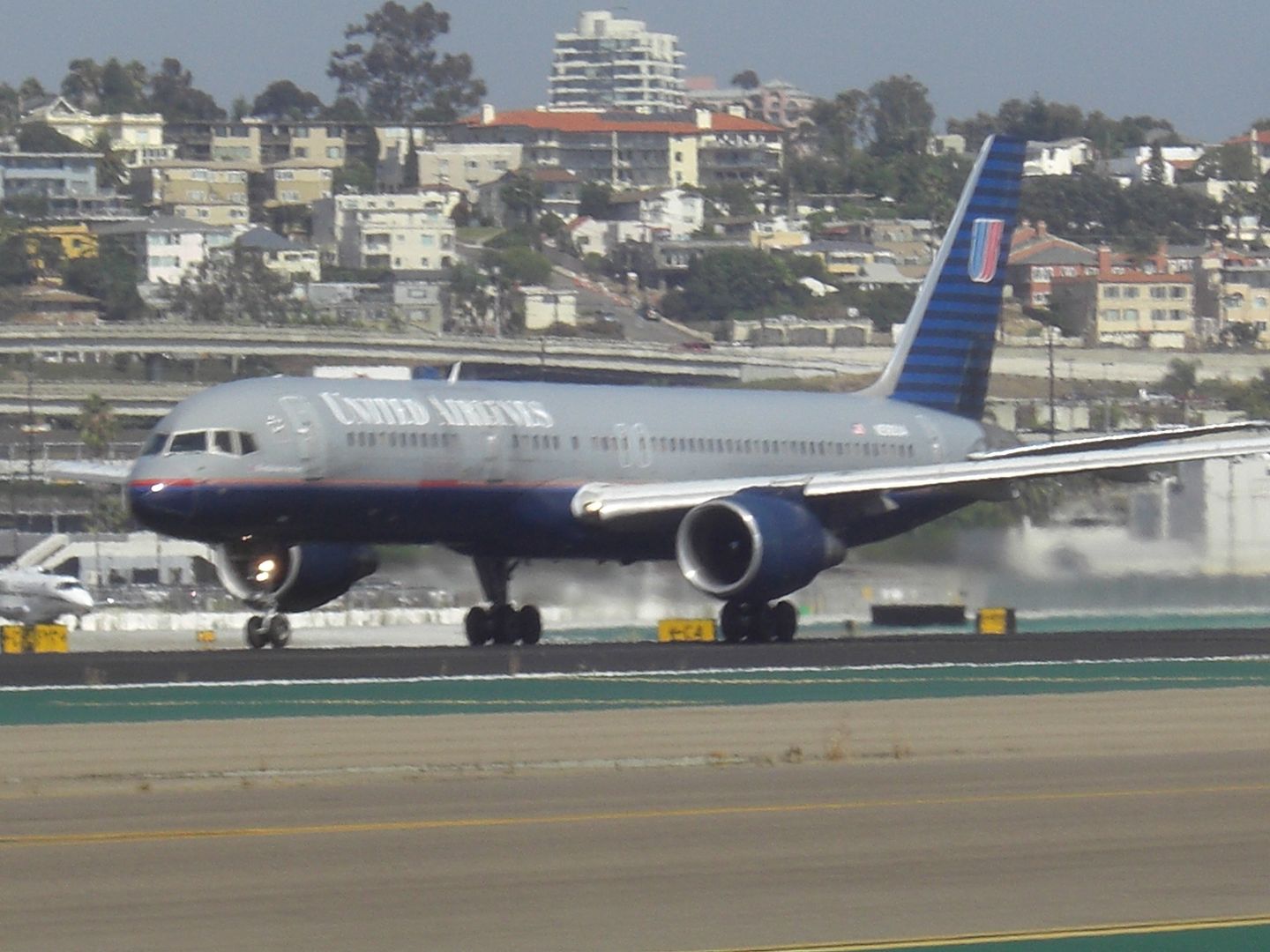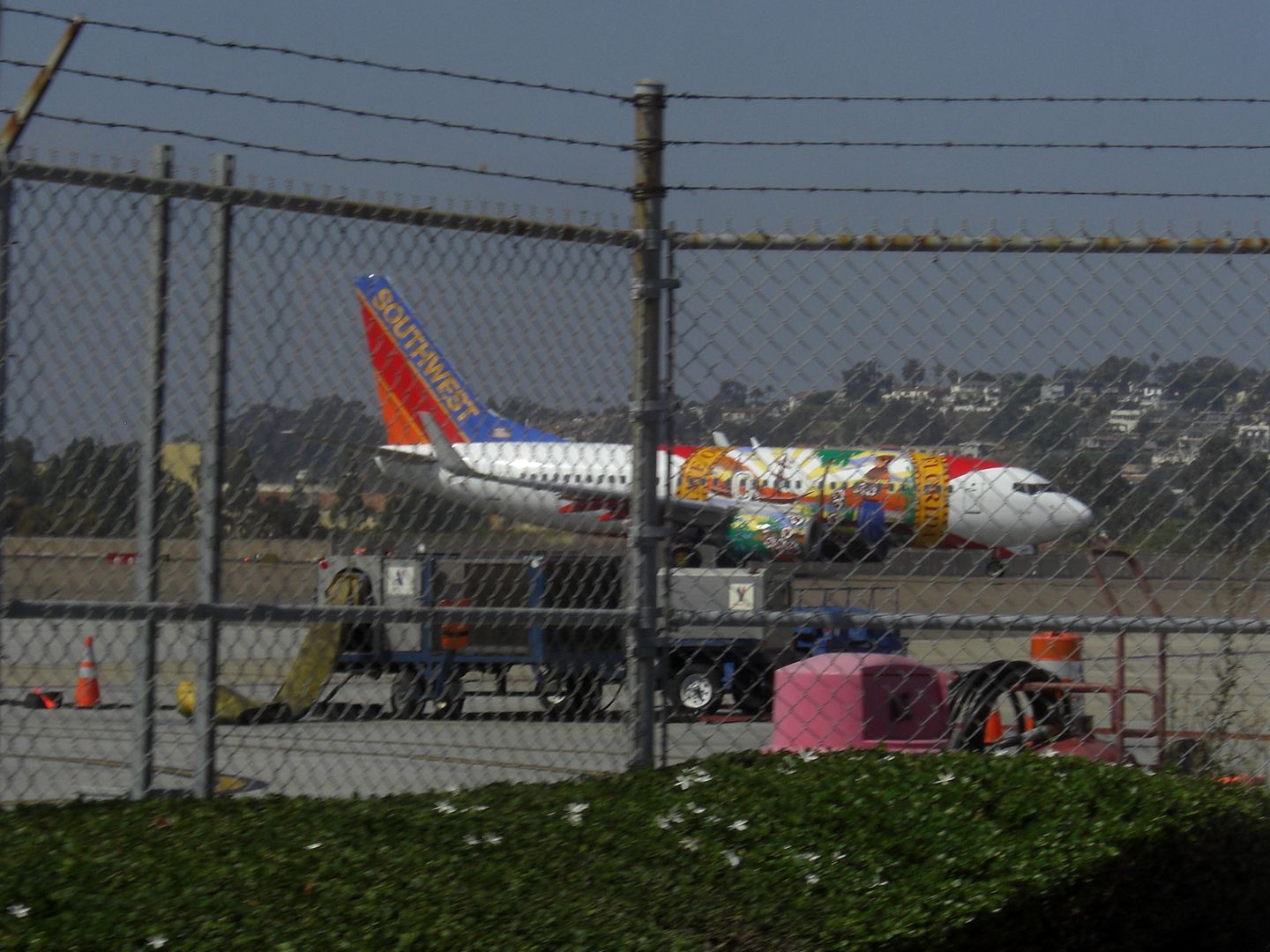 The tour was really good, especially for free. I'd definitely recommend it to anyone passing through SAN – it's a shame the dates are so limited though. From SAN I caught the airport bus to downtown.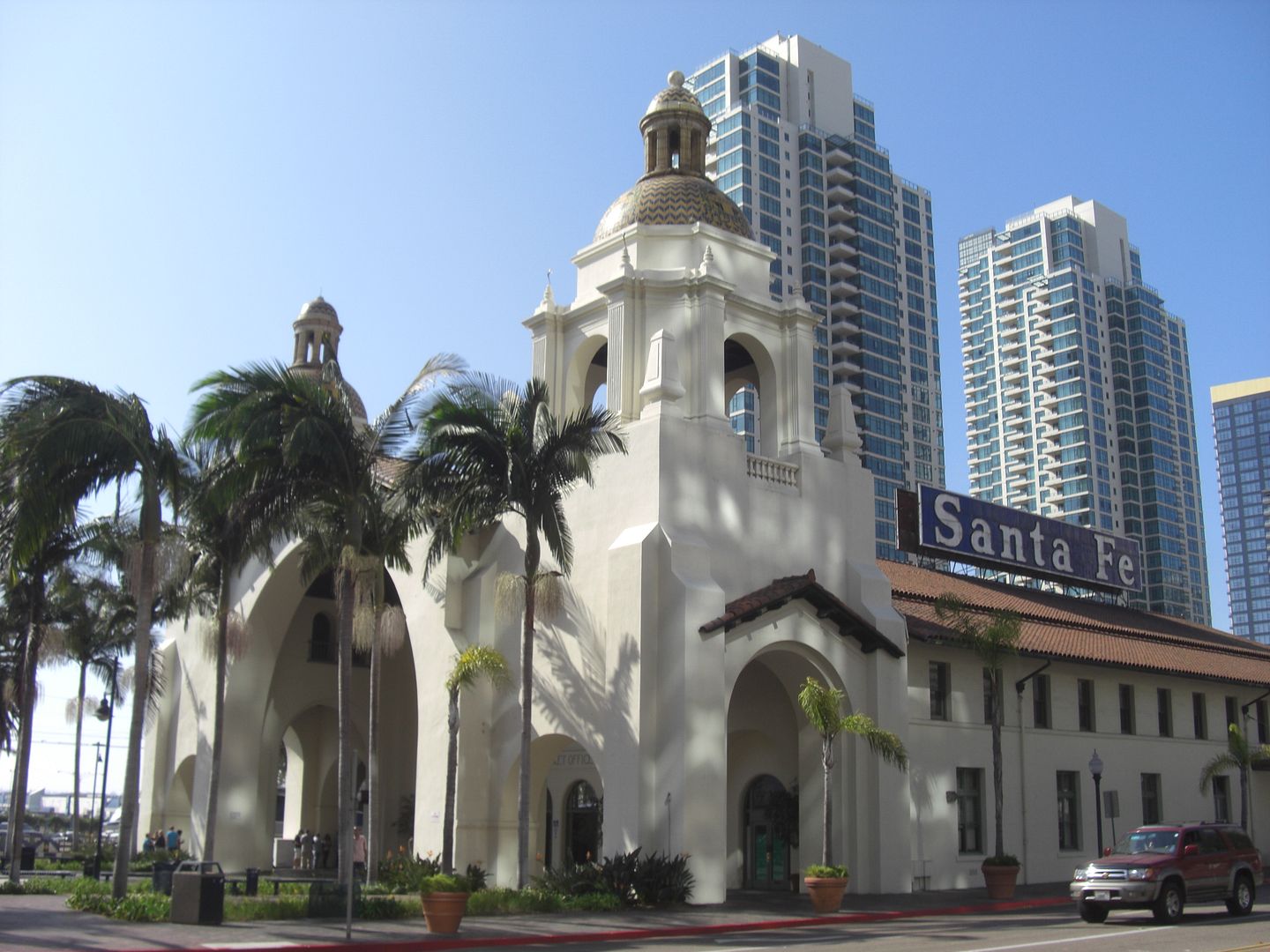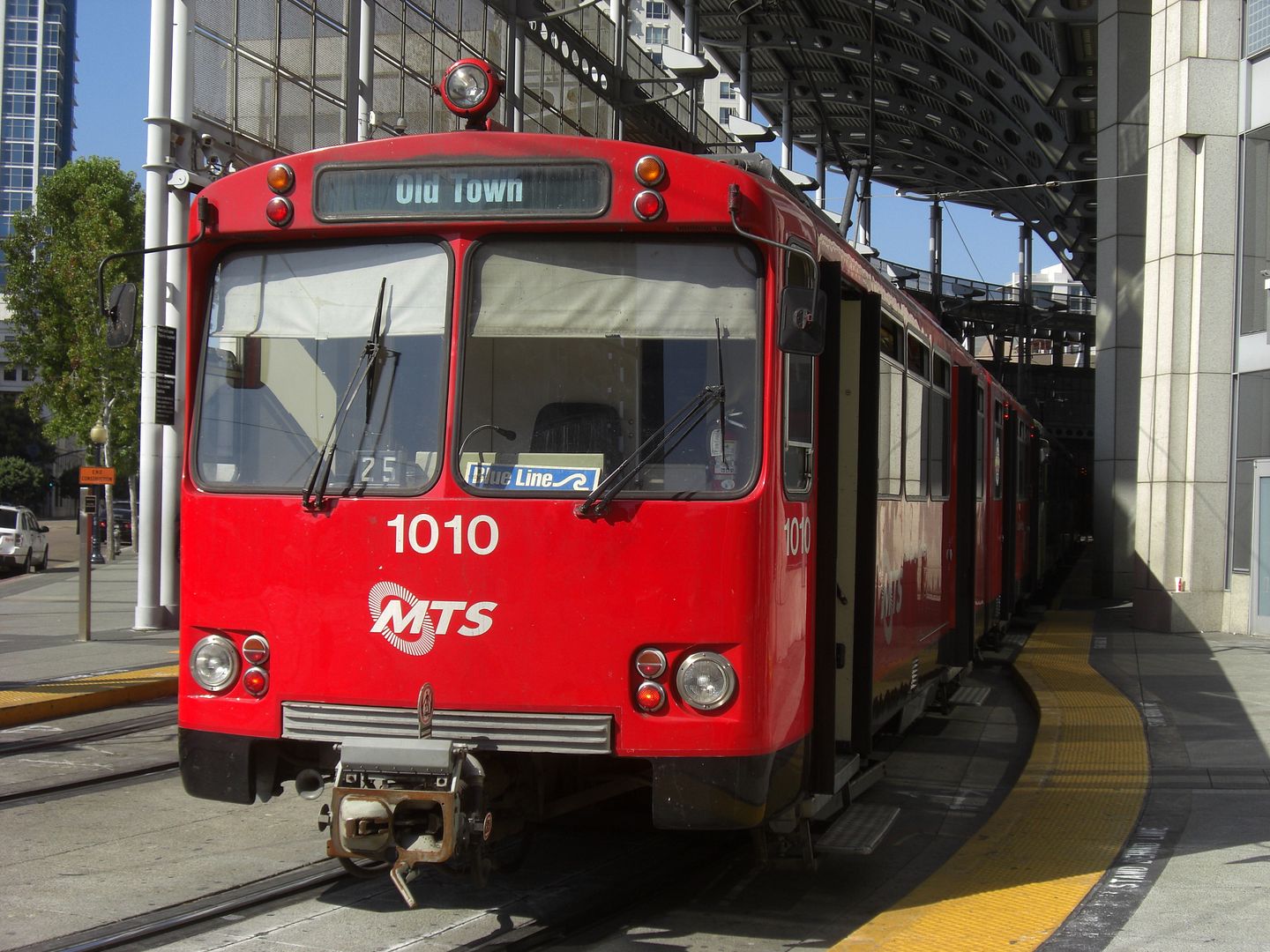 From there I started a long walk around the edges of Balboa Park back to my friends house. It was a long walk, so I stopped in a nice park and did a bit of underside plane spotting. Sorry, my timing was pretty lousy, so I missed a lot of good pics! It was interesting photographing and tying to identify from underneath.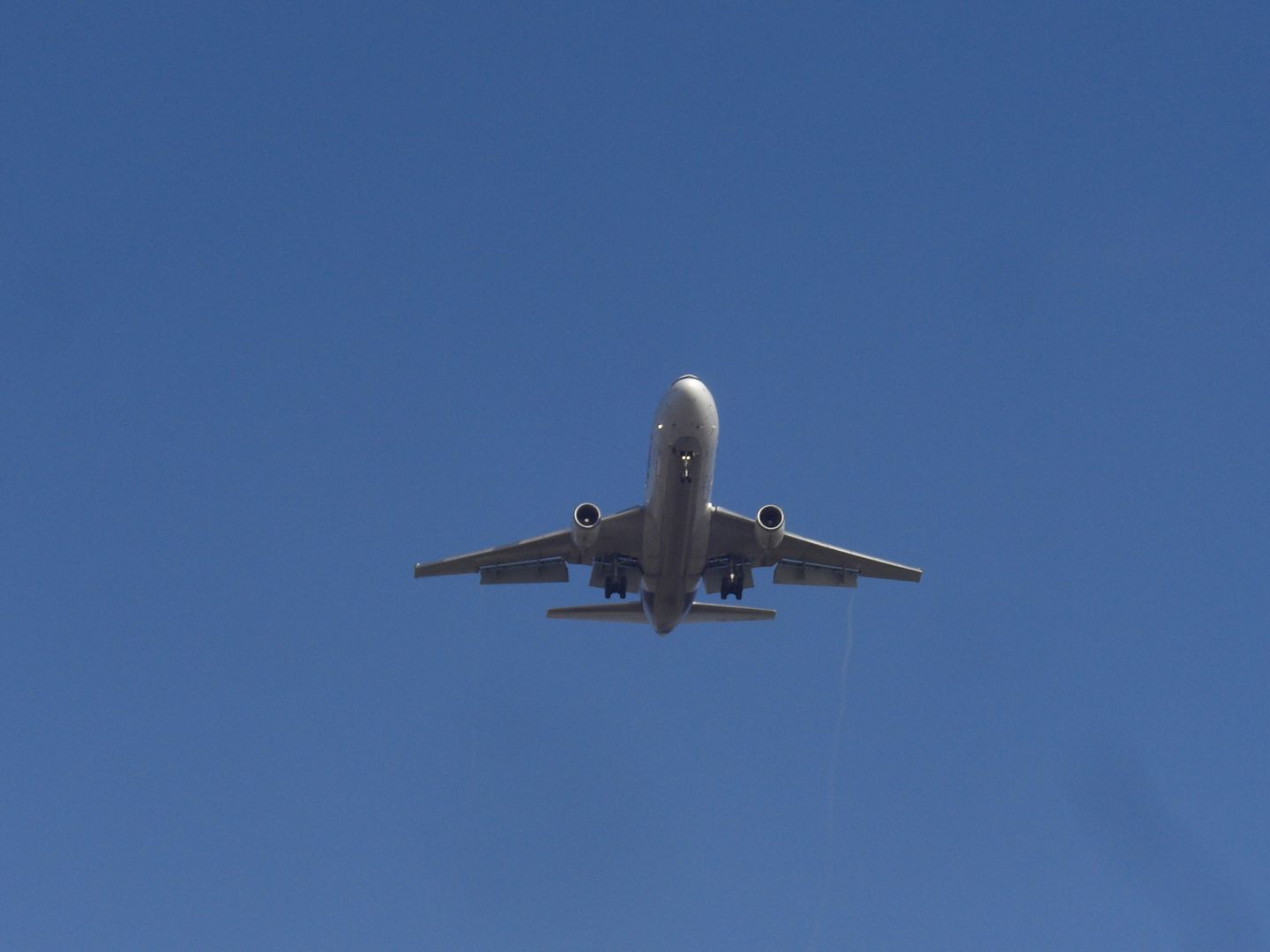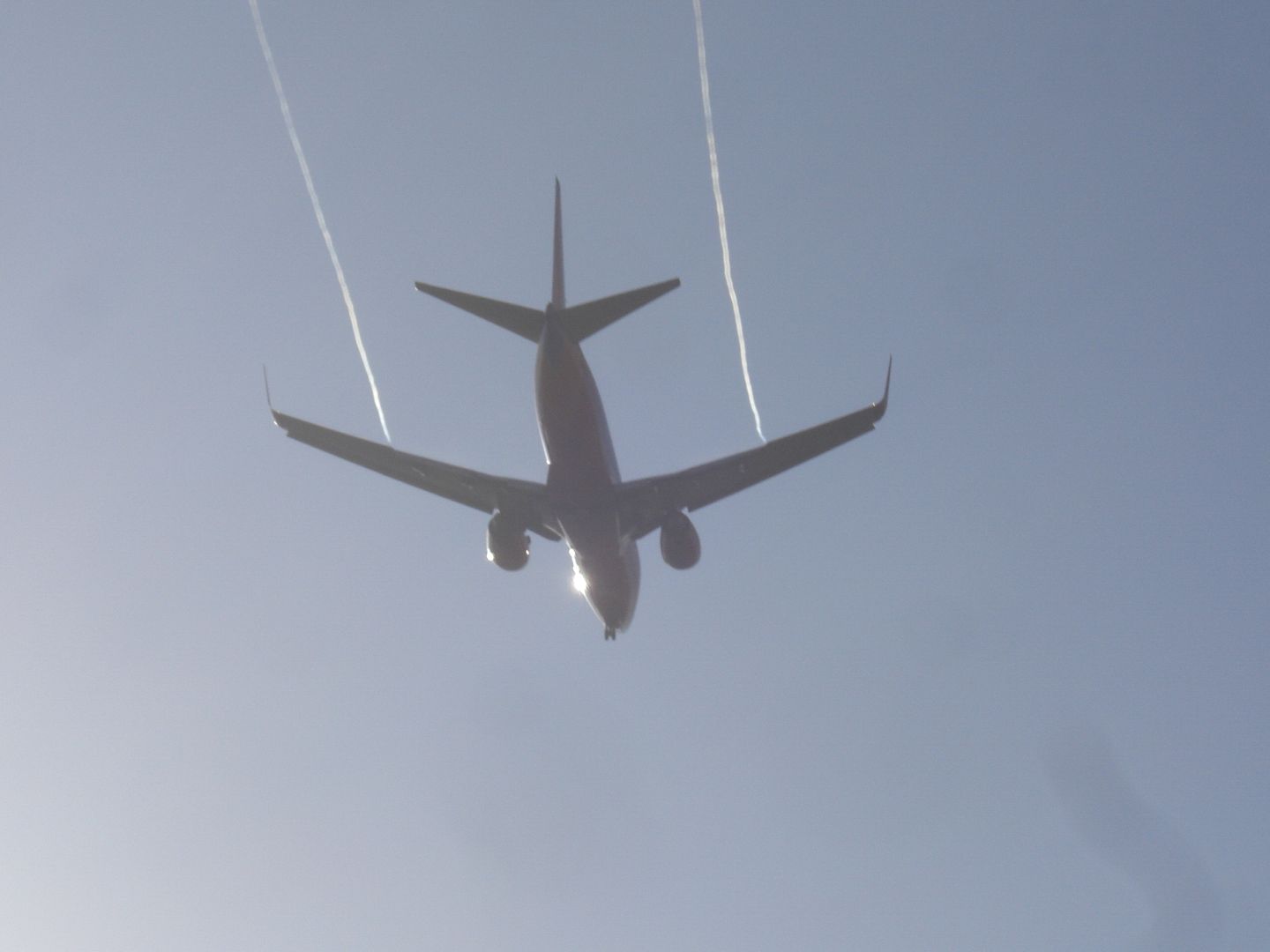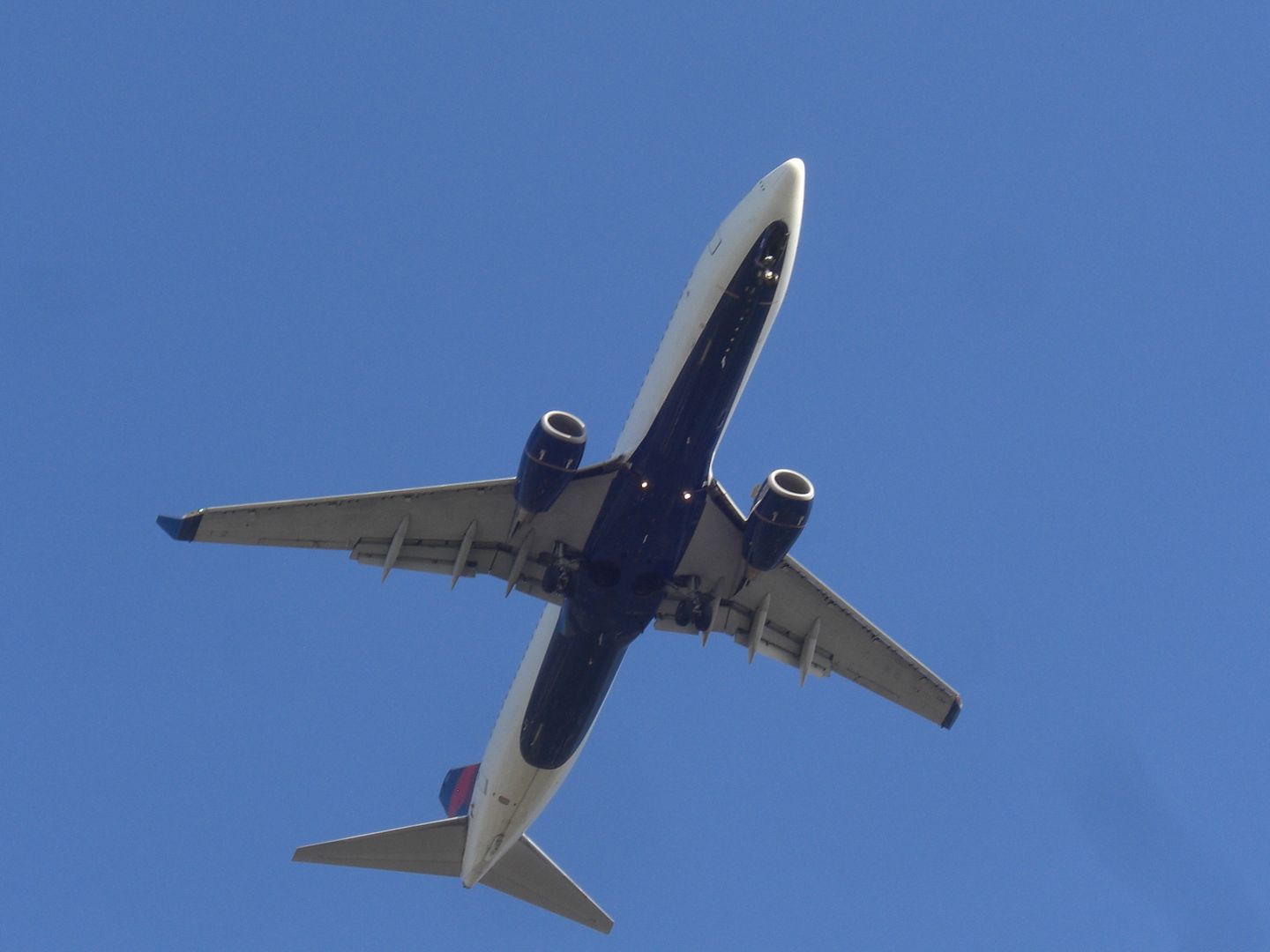 The park
I also did a day trip to La Jolla to go kayaking with sealions – nice day trip. Also saw a glider place.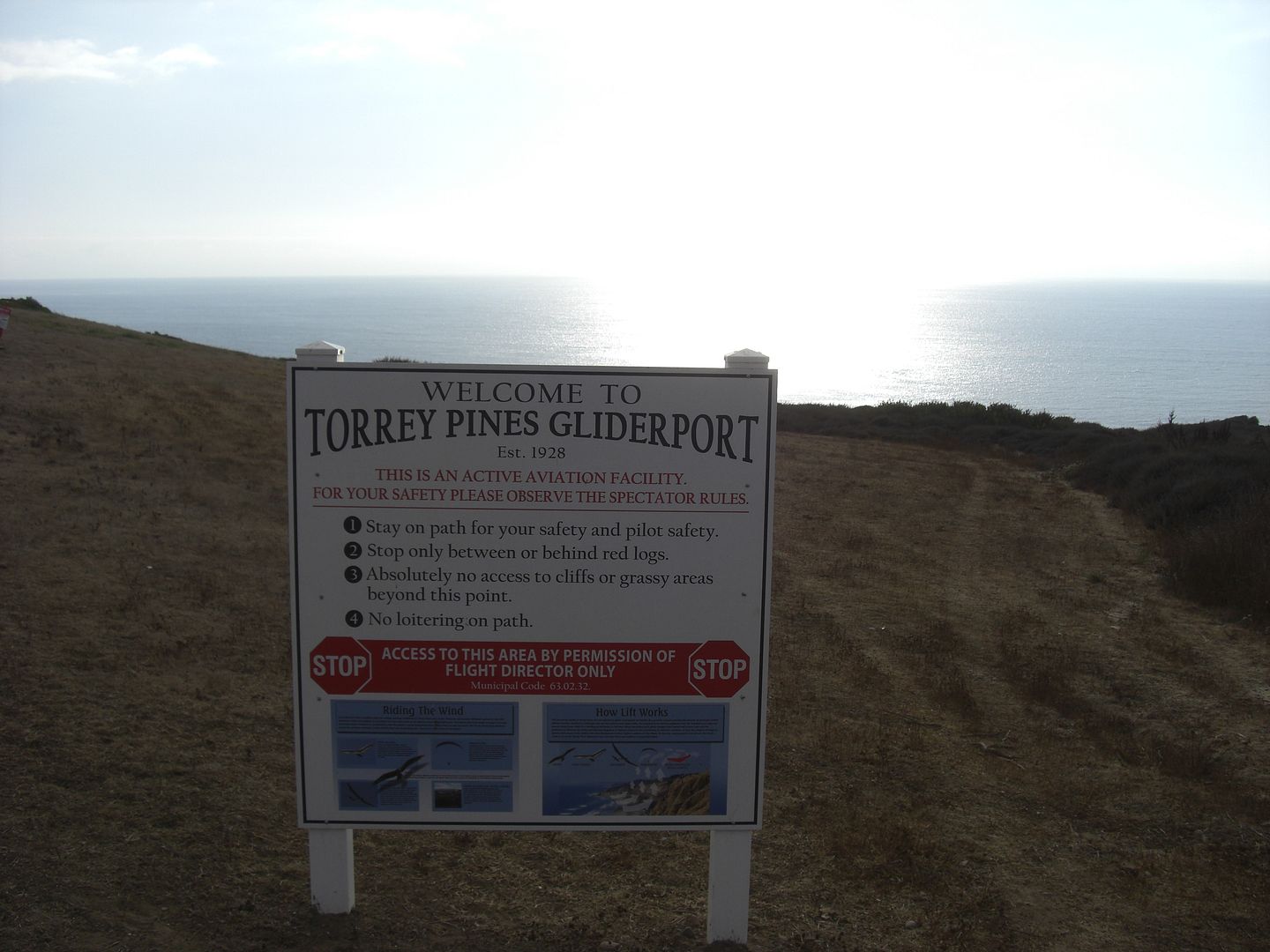 Saw this hummingbird – very exotic for us Brits!
A few more San Diego pics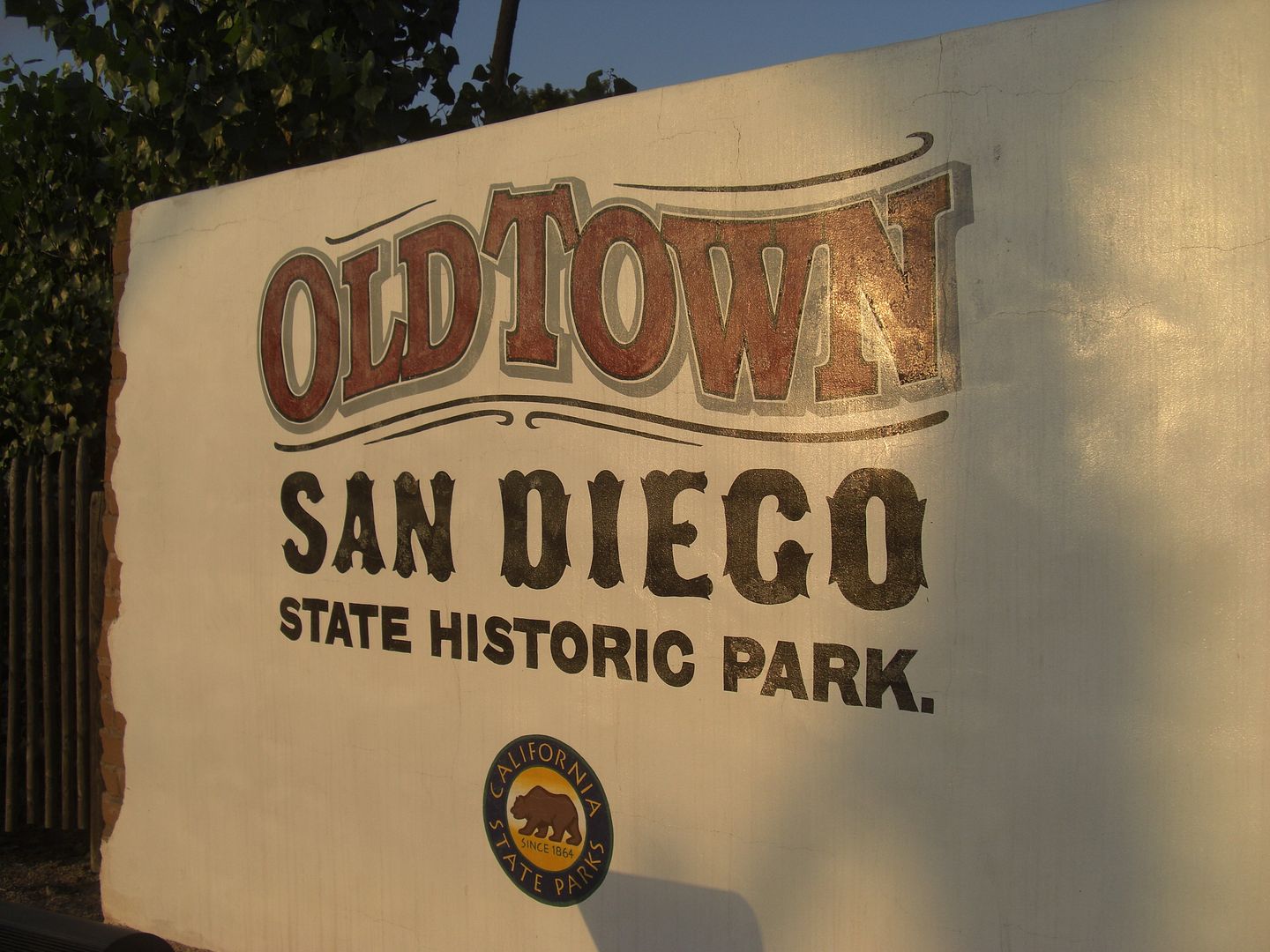 It was soon time for my first domestic US flight, happening to coincide with the September 11th attacks. As you might imagine, I was rather wary to taking any obvious photos, so most below were sneaked, hence the very bad composition.
I took the bus from town - cheaper than a shuttle.
There was only one person ahead of my in the check in queue. My bag was about 2kg over the limit, so I was asked to take some stuff out, and put it in my carryon (not sure how this would reduce the amount of weight on the plane though….). I moved 2 paperback, and the woman said that that would be ok….I hate pointless exercises. Incidentally, the lady at check in was wearing a football jersey – ever heard of a uniform?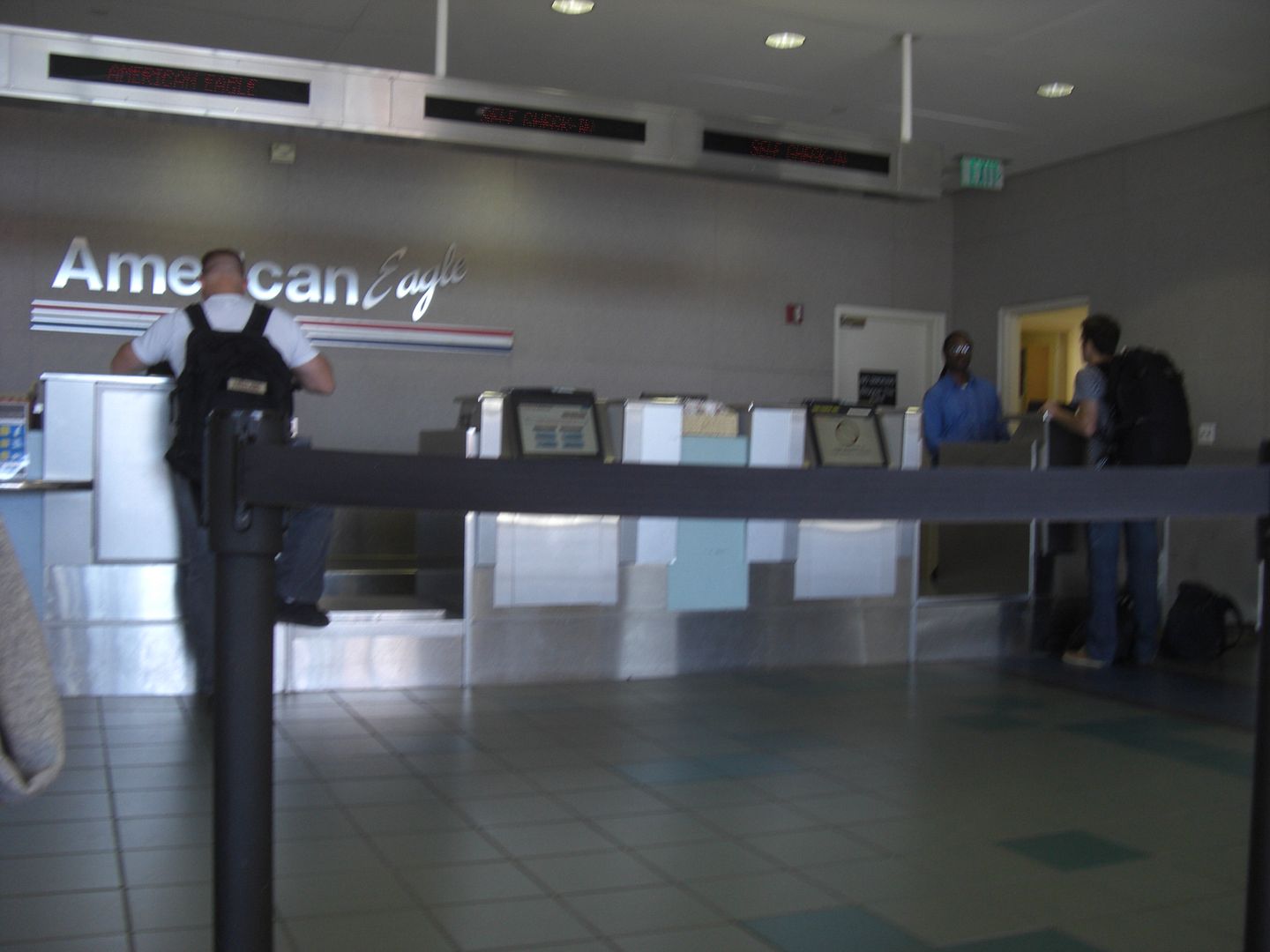 There was no one in the queue for security, so it was actually very quick and pleasant. No SSSS, despite being a foreigner on a one way ticket. I wasn't waiting in the small departures area for long. Being BA Silver, I had Priority AAcess, so was the second onto the plane.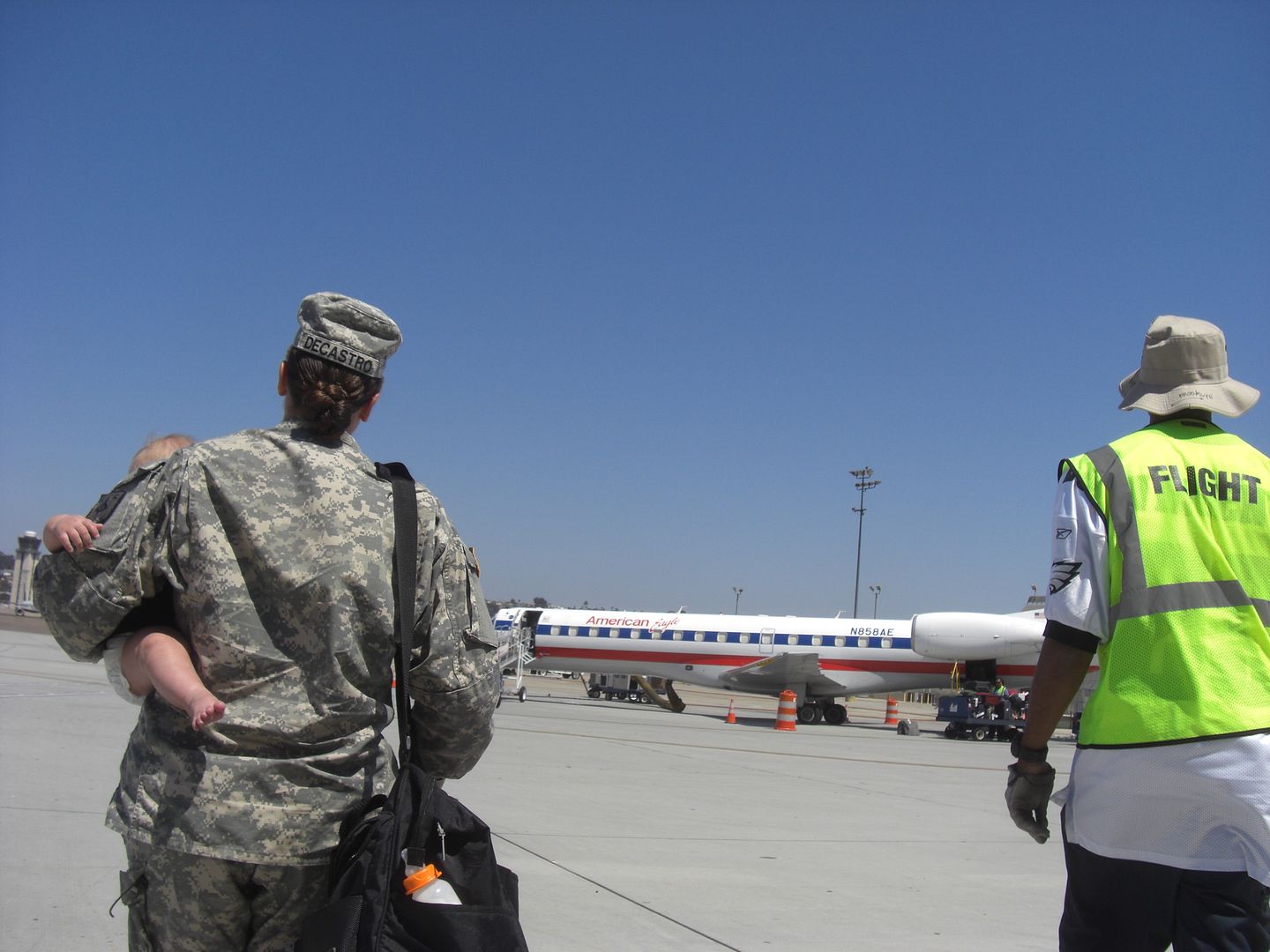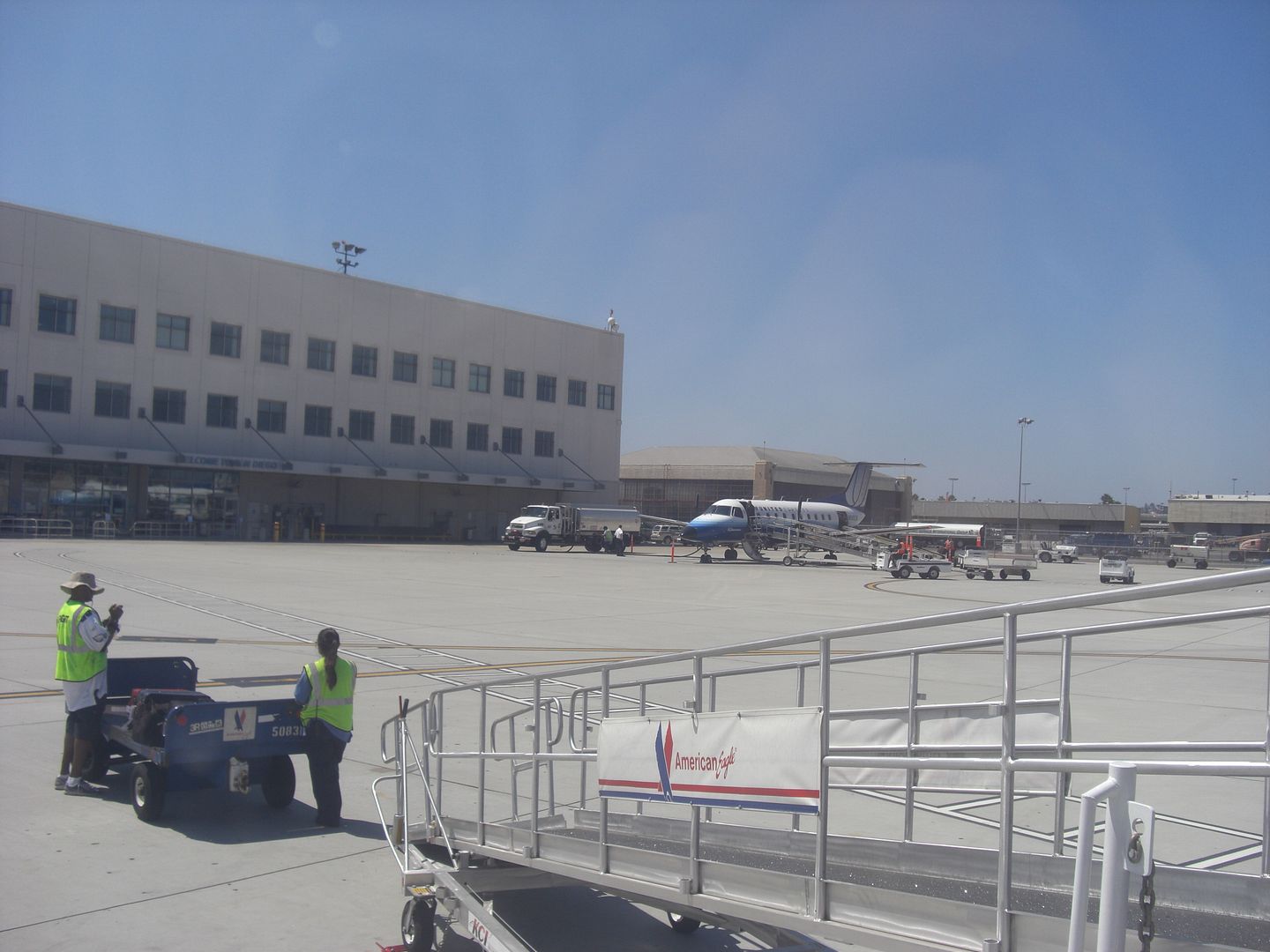 September 2011
San Diego Lindburg Field (SAN) – Los Angeles (LAX)
American Eagle AA 3070
Scheduled: 1325-1410 (0h45m)
Actual: 1324-1348 (0h24m)
Embraer E140 N858AE
Economy
Upon boarding, I made my way down to my seat. The sole male cabin crew was busying himself in the galley on his phone. He didn't look up or acknowledge a SINGLE passenger. Clearly, it wasn't part of his job description. Once everyone was sat down though, he did make a very perfunctory 'welcome' message. Flight time was announced from the flight deck as a very exact 23 minutes.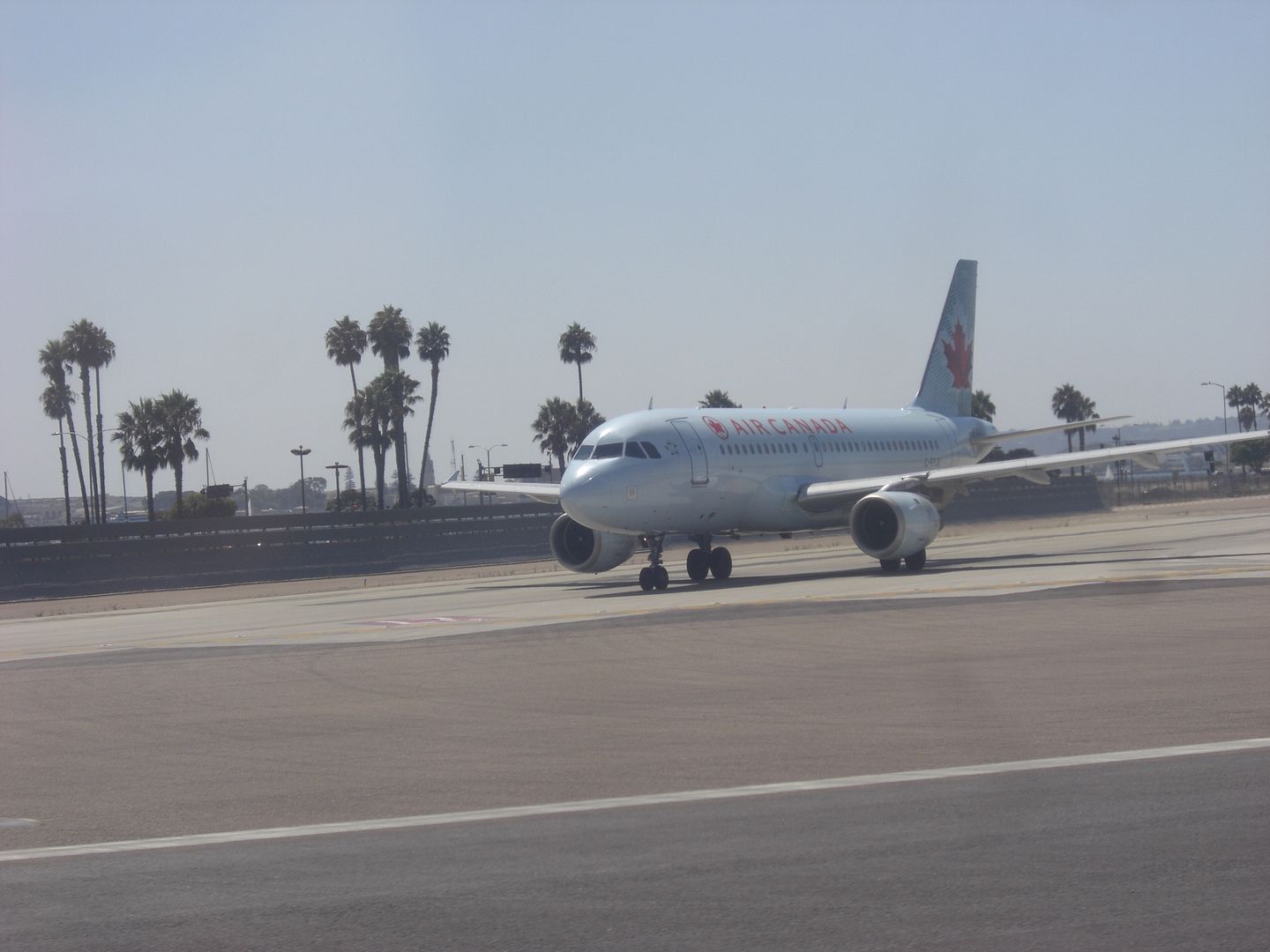 As I'd learnt the previous day, 95%+ departures are not over the city, so there weren't many good views. I'd gone for an A seat on the left, which meant I had very few views of the coast, and missed the Hollywood sign.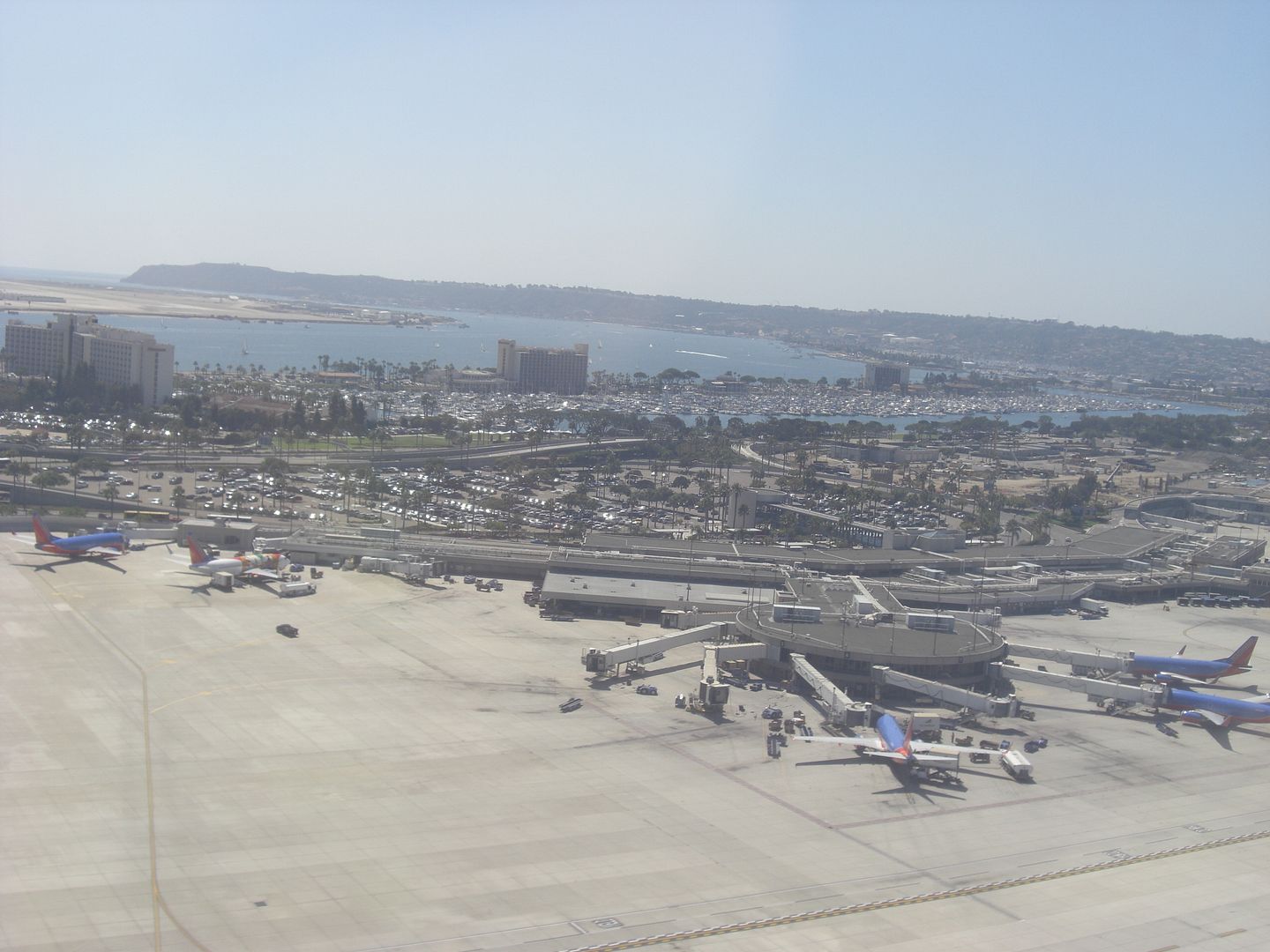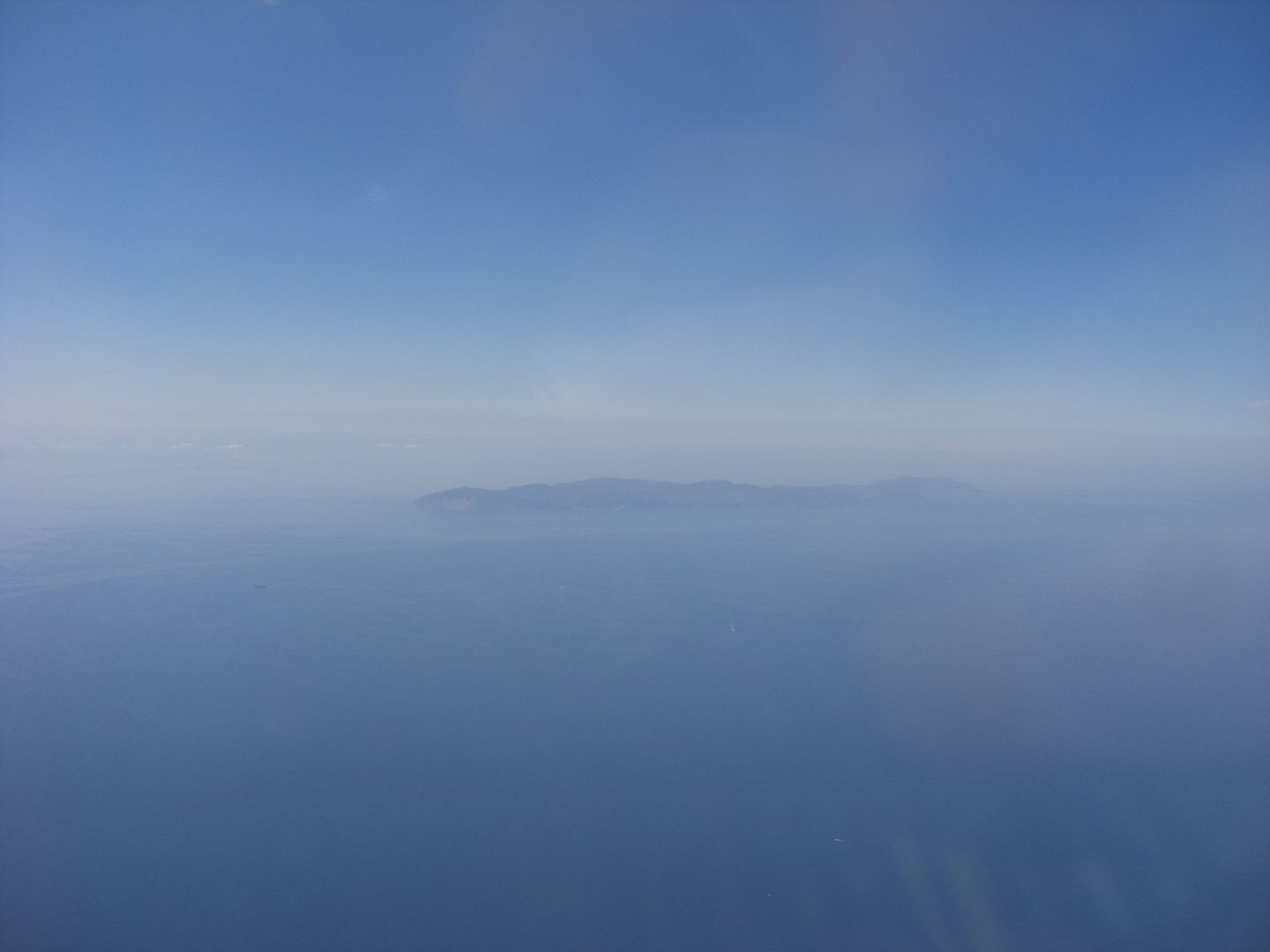 The FA stood nonchalantly in the galley on his phone for most of the short flight. I noticed that the trolleys were all full of cans – there was (just) enough time for him to have done through the cabin and throw a can at everyone, but he didn't. Before arrival, he did, however, read out a list of connecting flights. There was quite a range, including Shanghai, Dubai and London, as well as plenty of domestics.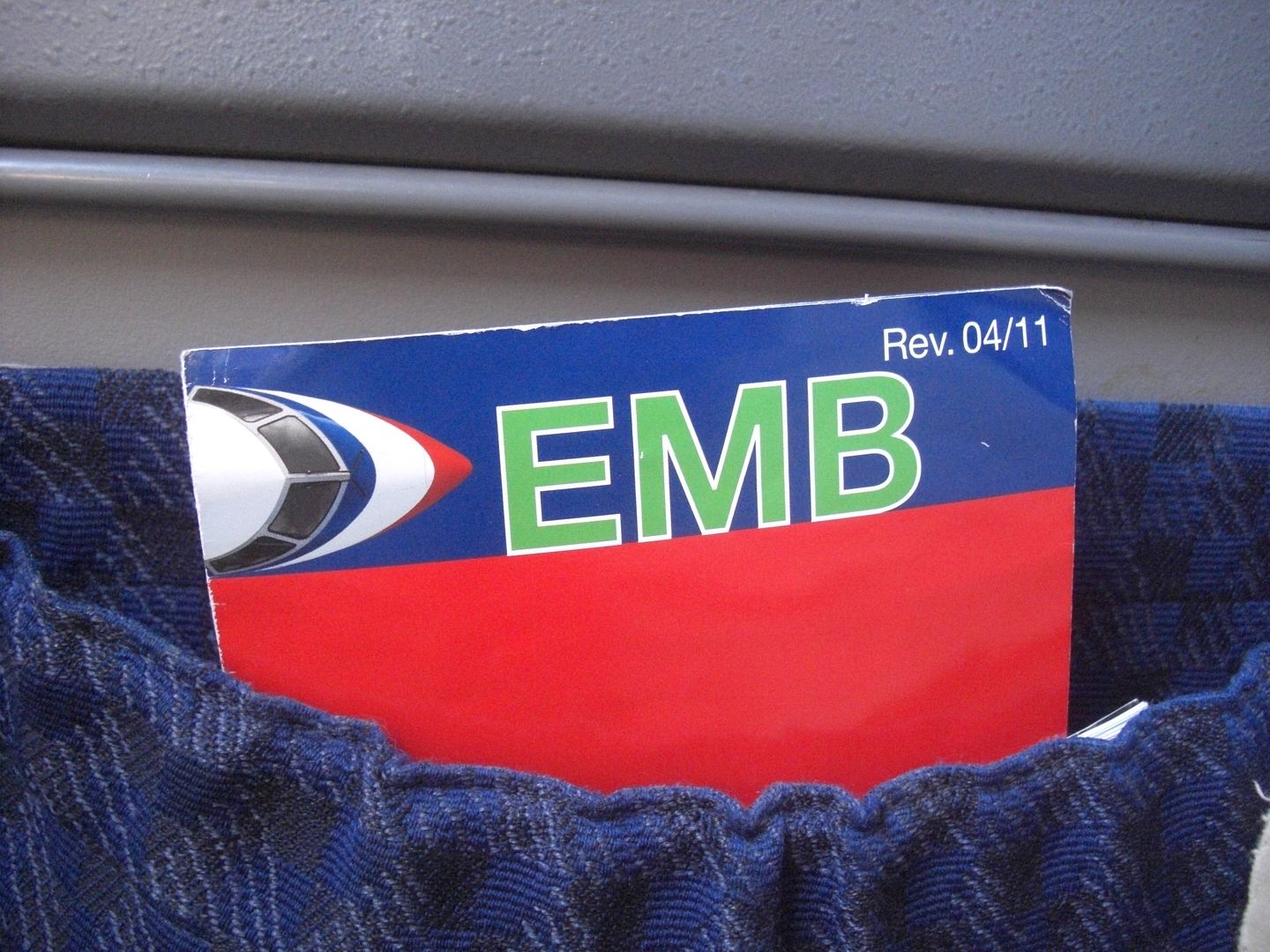 Approach into LA was interesting – lots of roads and houses.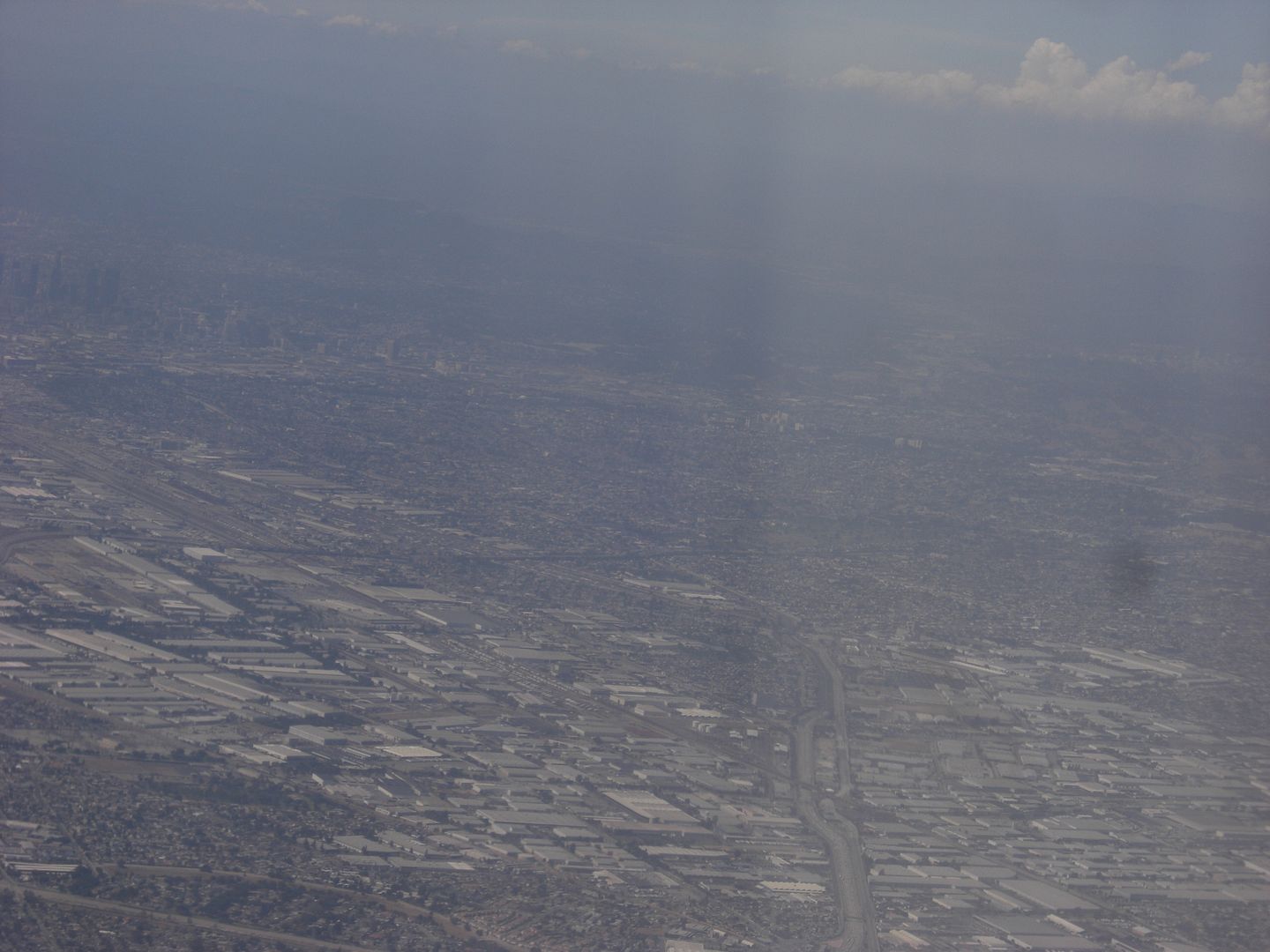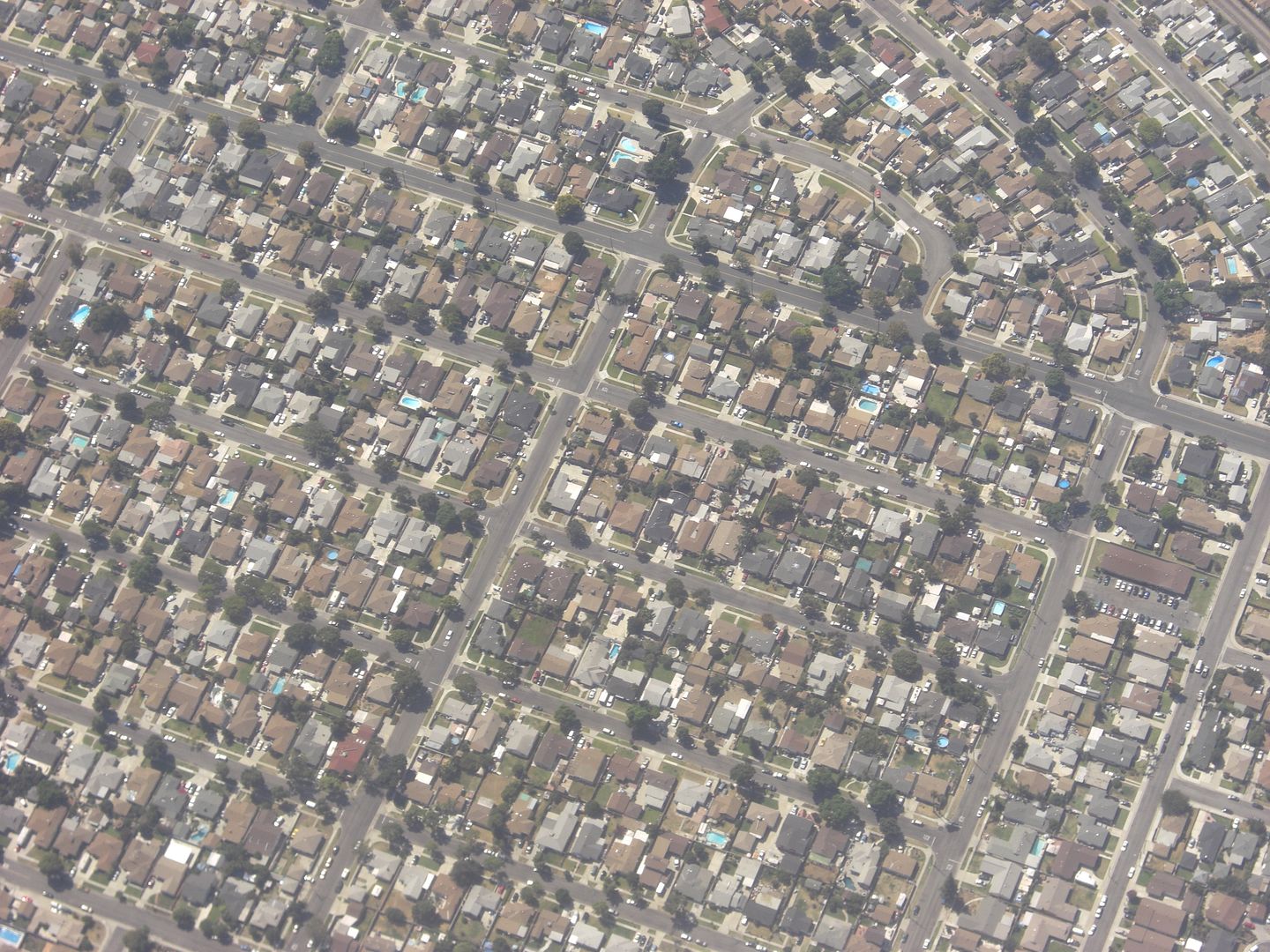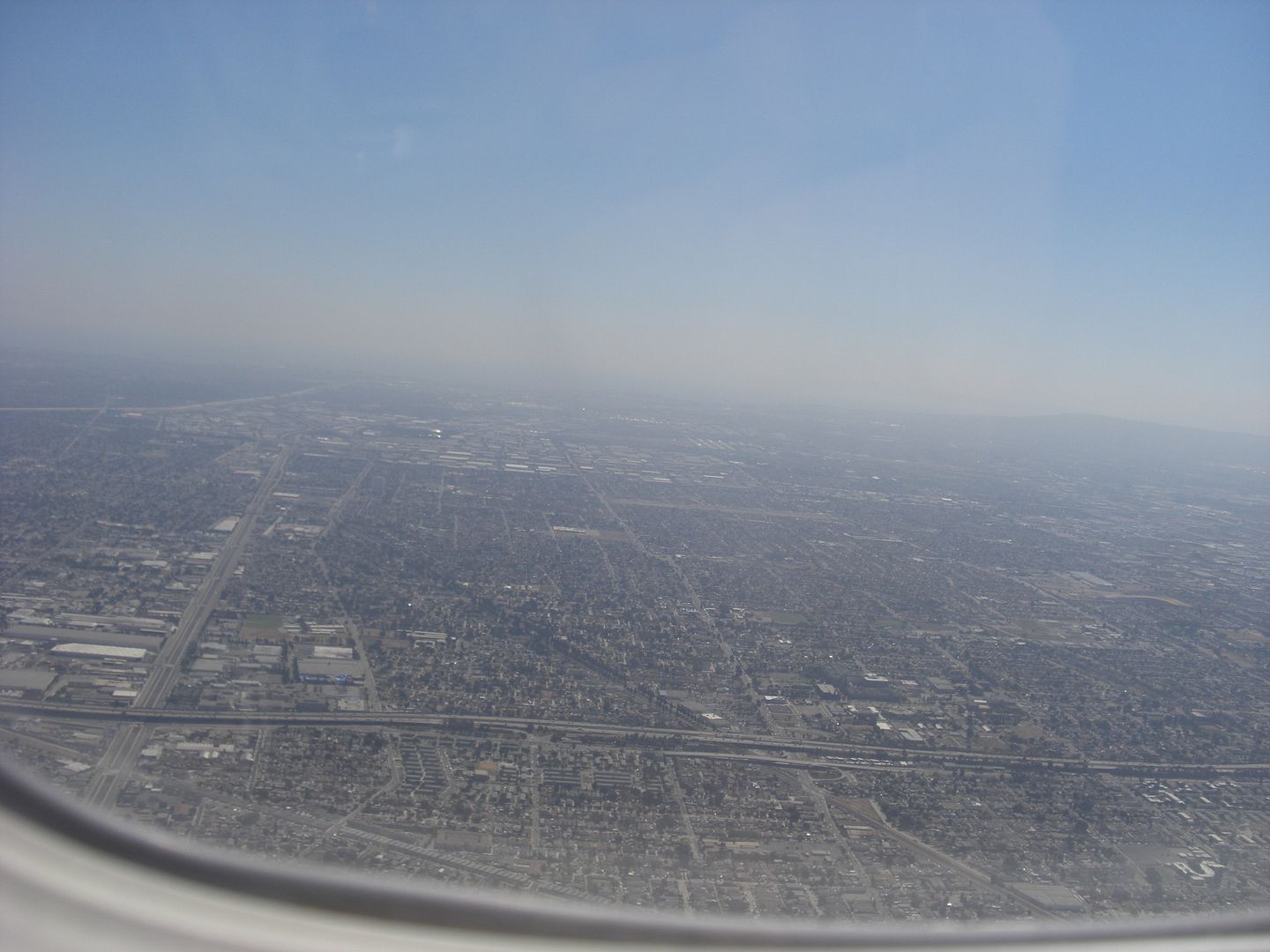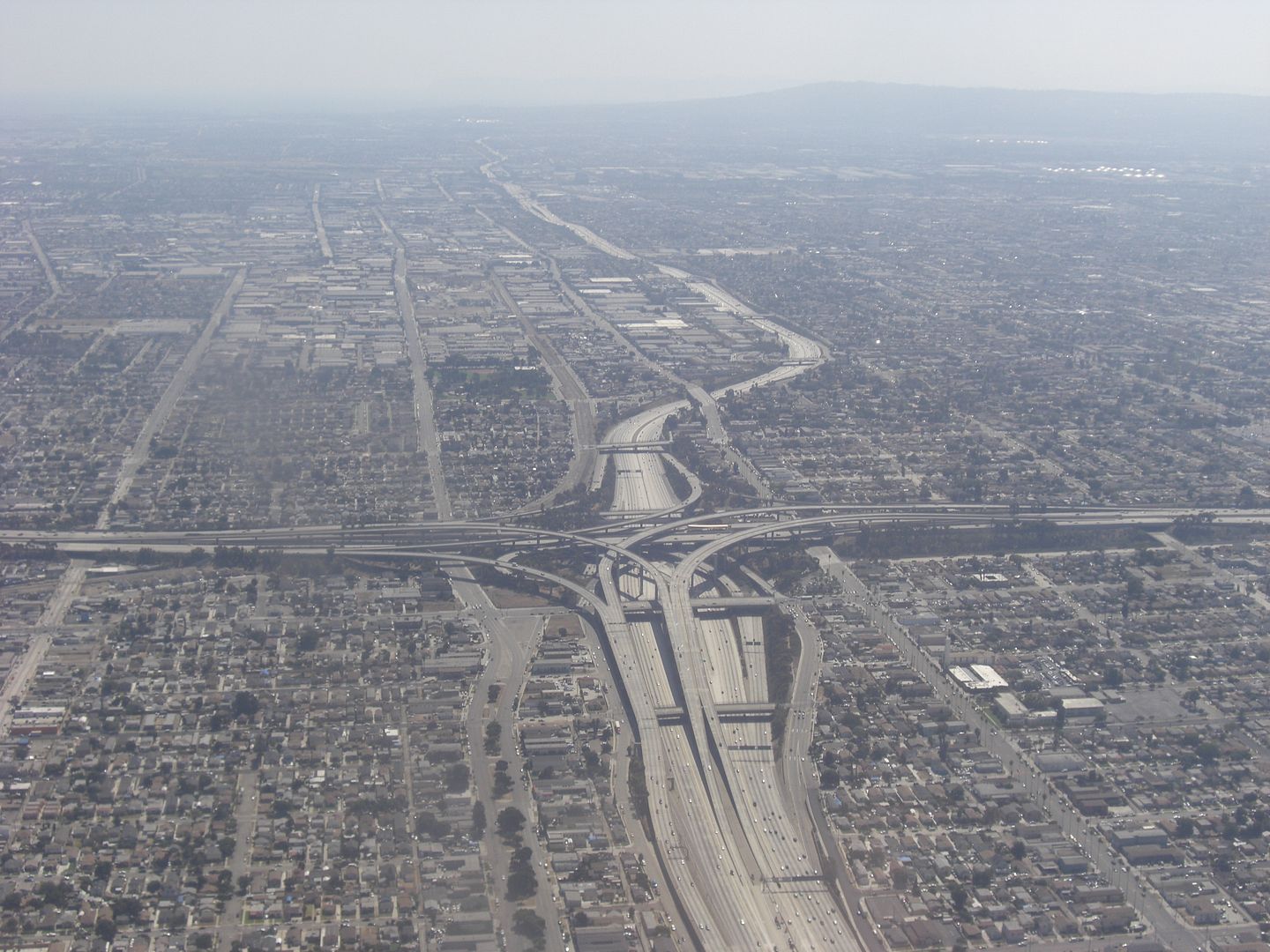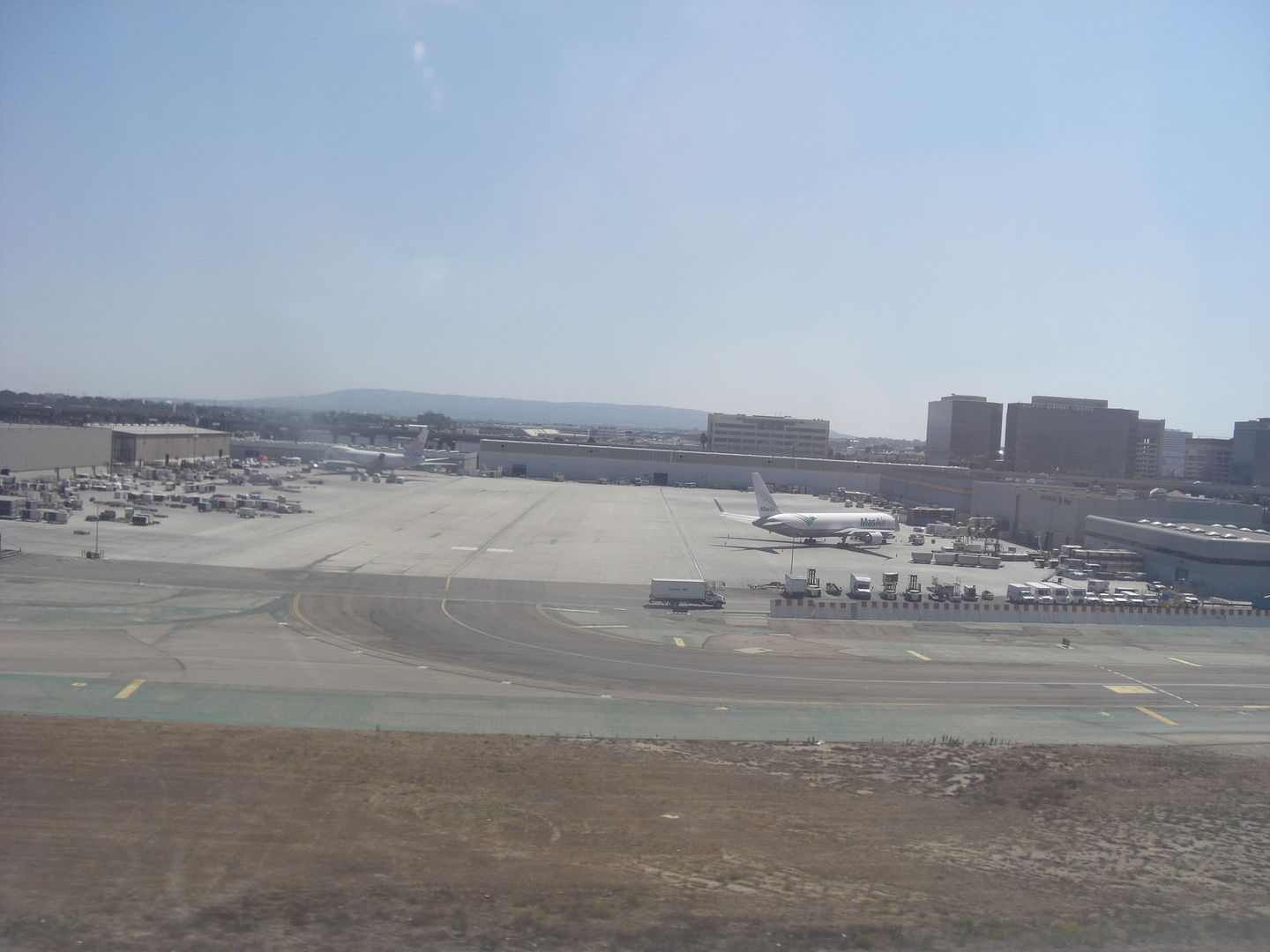 We touched down over 20 minutes early – a usual occurrence on the route I believe. The taxi to the American Eagle terminal was a short one.
As was pointed out by LXM83 last week, there are some interesting air bridges at the Eagle terminal
Once the tarmac bags had been loaded onto a trailer, the cabin door was opened, and everyone filed out into the shed, sorry, I mean American Eagle terminal.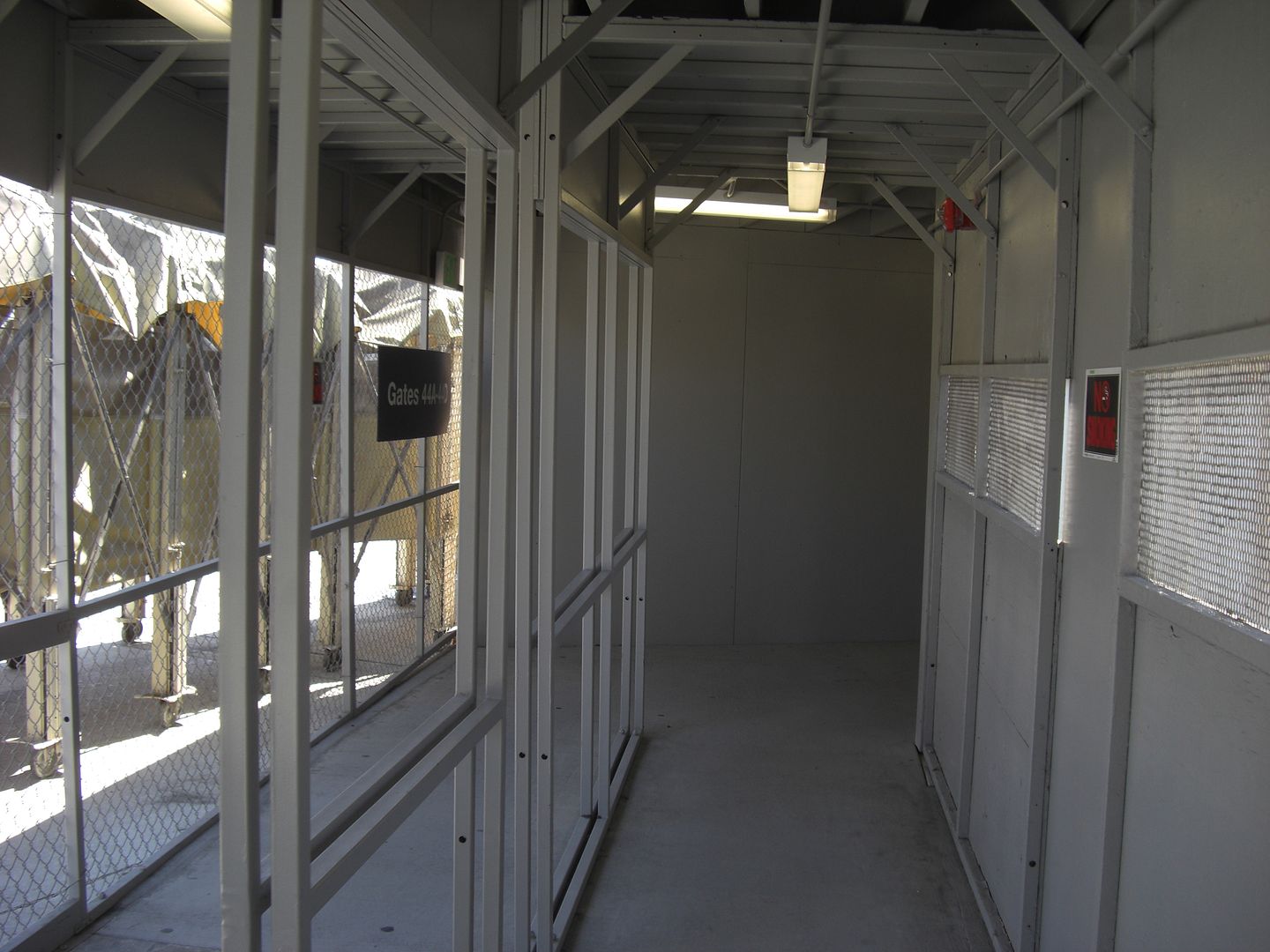 The Eagle terminal is way out in the middle of nowhere, and you had to get a shuttle to the main AA terminal. No doubt due to the distance from the Eagle to main terminal, my bag took nearly half an hour to get to the luggage belt.