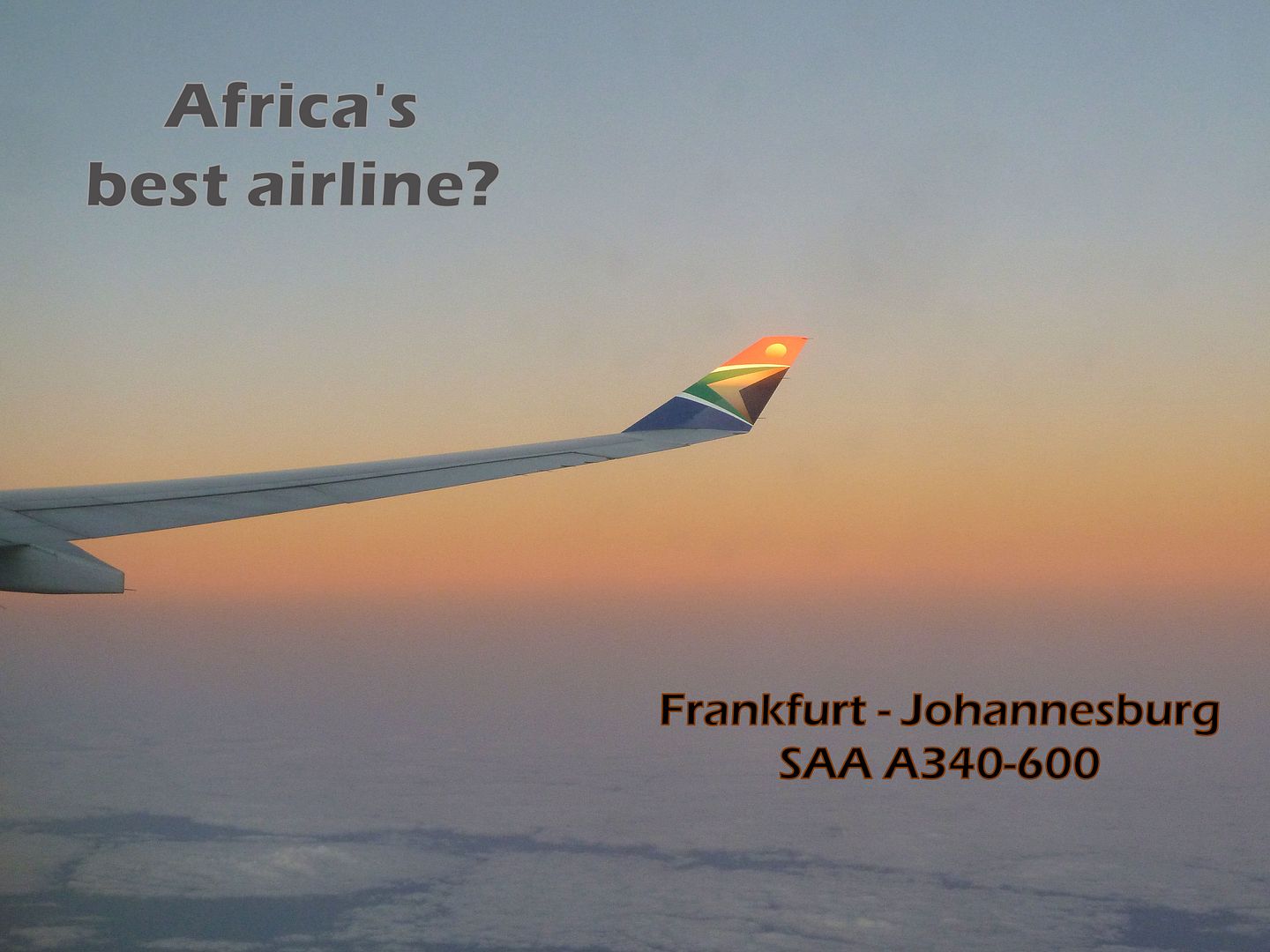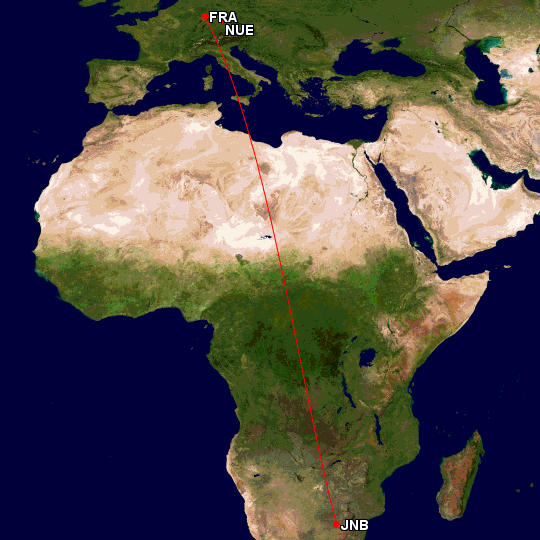 Map generated by the Great Circle Mapper - copyright © Karl L. Swartz
Background
After returning from Dubai in March, it was time to plan another trip - preferably a long-haul trip over a weekend. So I considered going to Canada, the United States or somewhere in the Gulf region again. I was planning to depart on Saturday and return on Monday or Tuesday. Additionally, I was trying to add some domestic hops to the itinerary. After checking countless flight options, I earmarked an itinerary including a flight on Austrian's Boeing 777 from New York to Vienna. That would have been a nice flight on a new carrier and a great plane, but I could neither find an overly exciting westbound transatlantic flight nor really interesting domestic flights.

Just out of curiosity, I checked flights to South Africa where I had always wanted to go. South African Airways - high on my list for a long time - had some special fares from Germany. After discovering an exciting itinerary including three interesting widebodies, I also found highly interesting domestic flight options. Now I couldn't resist any more and started booking. First of all, I booked Nuremberg-Frankfurt-Johannesburg (departure on Saturday) and Cape-Town-Johannesburg-Frankfurt-Nuremberg (arrival on Tuesday) on Cheap Tickets. Operating carriers: Lufthansa (A380), Lufthansa CityLine (CRJ700 and Embraer 190) and South African Airways (A330-200 and A340-600). Then I added a Johannesburg-Durban flight and a Durban-Cape Town flight on two different carriers (details to follow). Since I would spend two nights on the plane, I only needed to book a room for one night at a Cape Town airport hotel. Four days, three new airlines, three new airports, two four haulers and a brand new A330-200 - I was really looking forward to that short trip.

By the way, I also considered flying to/from Munich on SAA's A340-300 (in place of LH's A380), but I didn't want to end up on one of two former Iberia frames with original (out-of-date) Iberia interior. Those all-white planes, actually planned to be refurbished by mid-2011, have been used on all SAA A340-300 routes. And even though I had already flown on LH's A380, I didn't mind doing so again - actually I was even curious to find out how comfortable it would be on a 10 hour flight.
Saturday, May 2011
Frankfurt (FRA) - Johannesburg (JNB)
South African Airways SA261
Scheduled times: 20:45-07:15
Actual times: 20:46-07:14
Flight duration: 10:01 (hrs)
Distance: 5380 miles
Economy Class, seat 72K
Airbus A340-642
ZS-SNC (MSN 426)
Delivered in 02/2003
1st flight on ZS-SNC
3rd A340-600 flight
14th A340 flight
116th airline
There was no need to rush on departure day, because I had already conveniently checked in online for both the NUE-FRA and the FRA-JNB flights on the evening before. Actually I had even pre-reserved my seats on all three widebody flights shortly after booking. I had simply called SAA's office in Frankfurt and a female agent had blocked the desired seats for me.
Lufthansa CityLine CRJ700
D-ACPK
- a new registration for me - flew me to Frankfurt in 31 minutes. During the bus tour to Terminal 1A I logged some registrations and was watching out for my SAA A340-600 which would be a special one as I had found out on ACARS in the morning.
Once at Terminal 1B, I went straight towards my gate. However, while walking, I suddenly spotted my plane being towed to the gate. I headed to the window and quickly took out my camera, but I had to wait because a cleaning lady was taking a picture of the plane with her mobile phone camera. Finally, it was my turn. Here it is,
ZS-SNC
, my favorite A340-600 in the SAA fleet - what a stunning bird: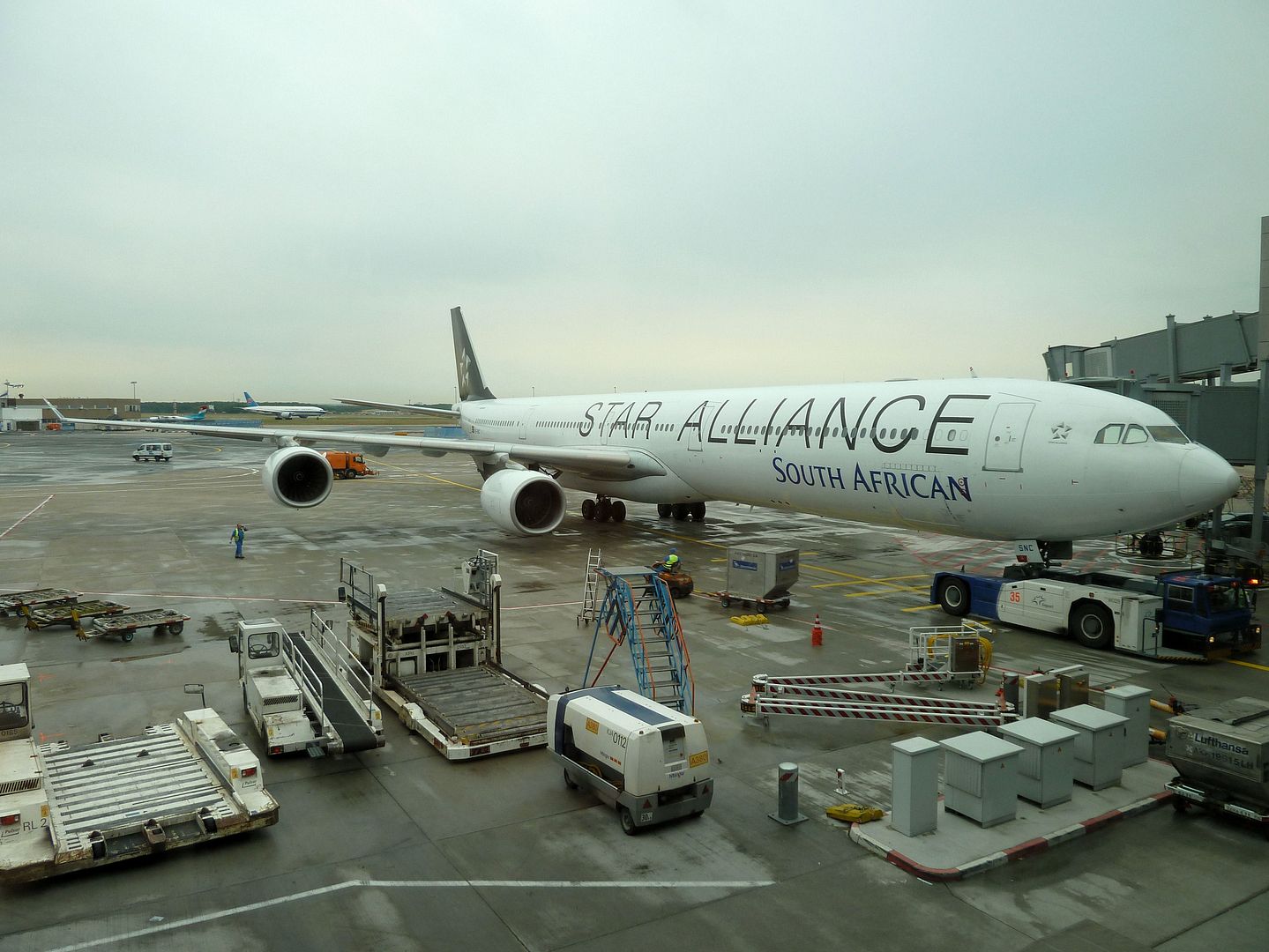 ZS-SNC
was delivered in February 2003 and painted in Star Alliance colors in January 2006. It's currently the world's one and only A340-500/600 wearing the Star Alliance paint scheme: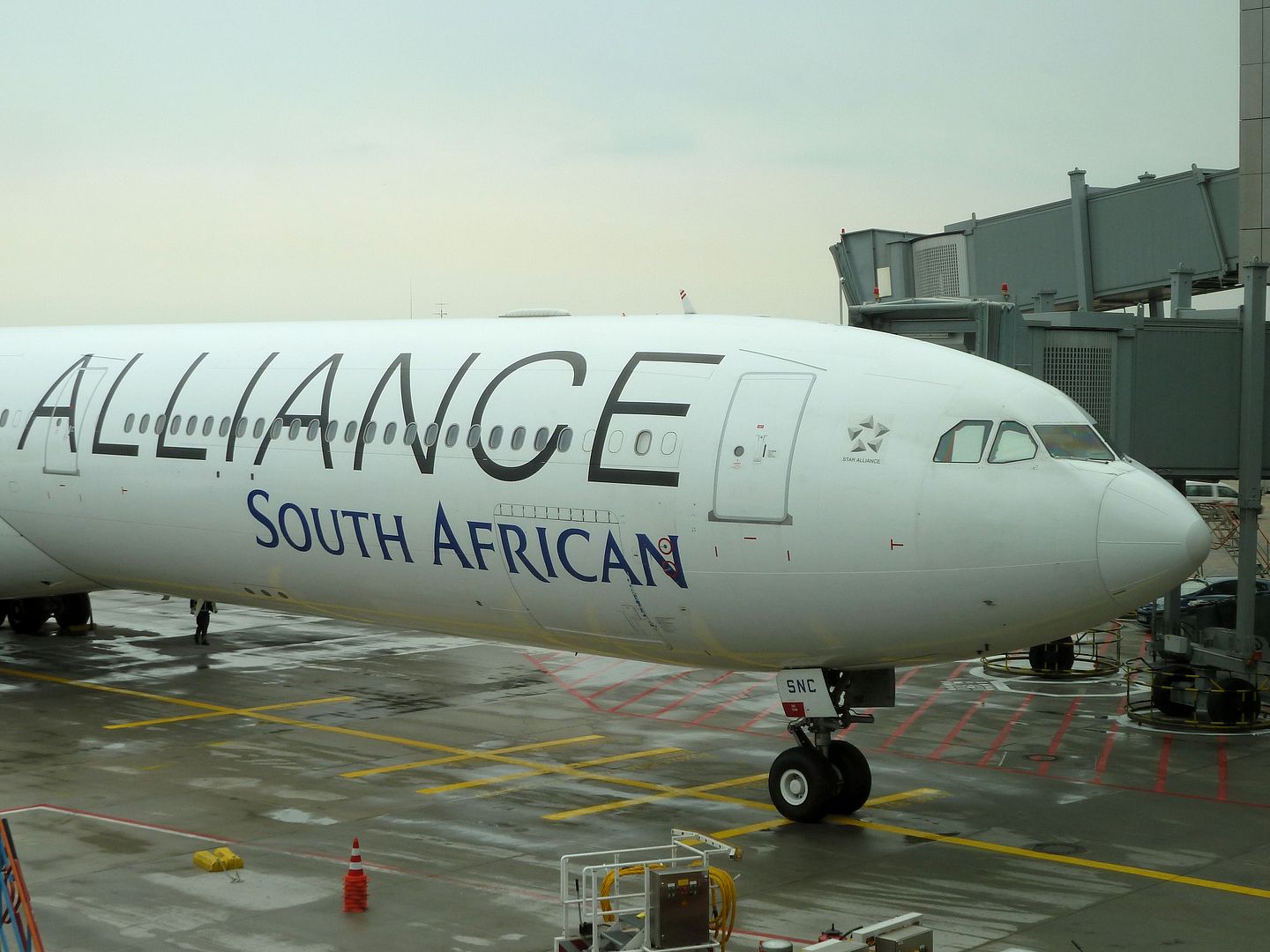 If SAA had asked me in advance which frame in the 9-strong A340-600 fleet I'd like to get, I would have demanded exactly that one. I couldn't get enough of it:
This was my third A340-600 now - and for the third time it turned out to be a special one. My first A340-600 had been Lufthansa's oldest frame (
D-AIHA
) and my second one had been Virgin's
G-VGOA
, the oldest A340-600 in commercial service. What comes next?
Numerous people were already waiting in the gate area, but it wasn't cramped. A gate agent announced boarding by row numbers, but after the process had commenced for priority passengers, I didn't hear any separate invitations any more. People were just lining up and I joined them.
A friendly female flight attendant welcomed me at the door, but two others further down in the aisle didn't greet. Finally, I arrived at my row in the very back of the world's longest plane in commercial service. The 17 inch wide Recaro seats were a bit hard, but still quite comfortable: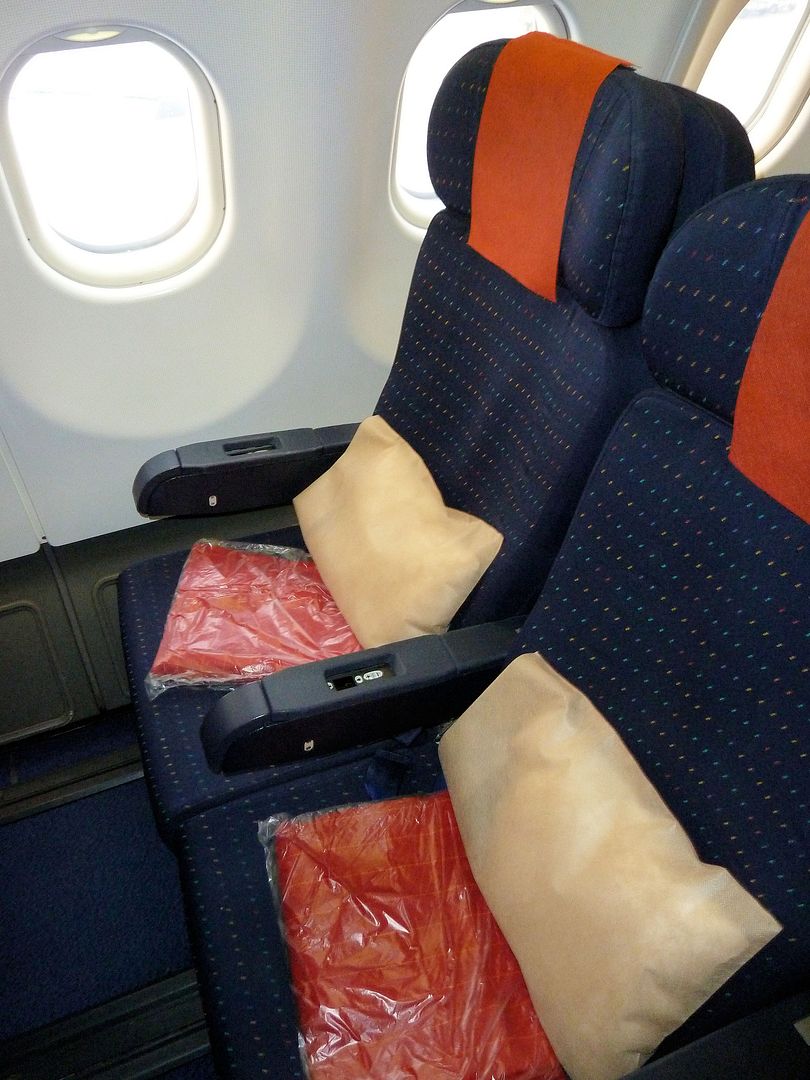 The interior was in good condition - and had been cleaned well: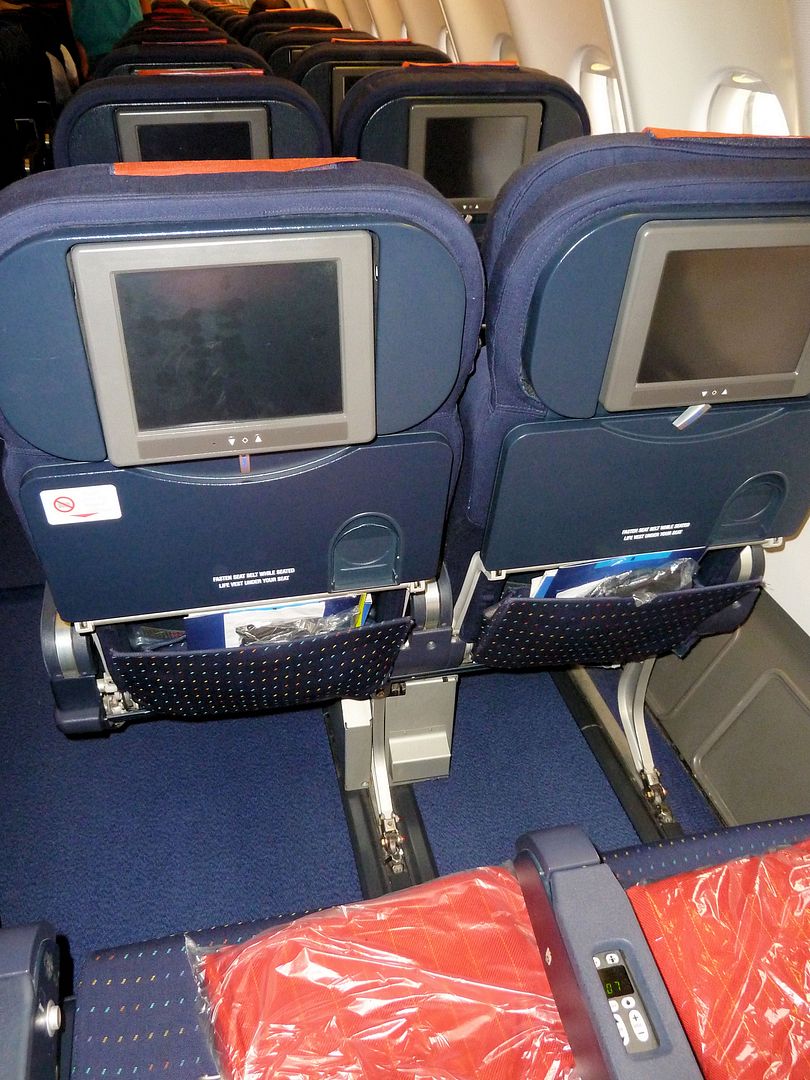 SAA provides a generous 33.5 inch pitch on the A340-600:
Due to its location, the big old-style IFE box doesn't take away much room: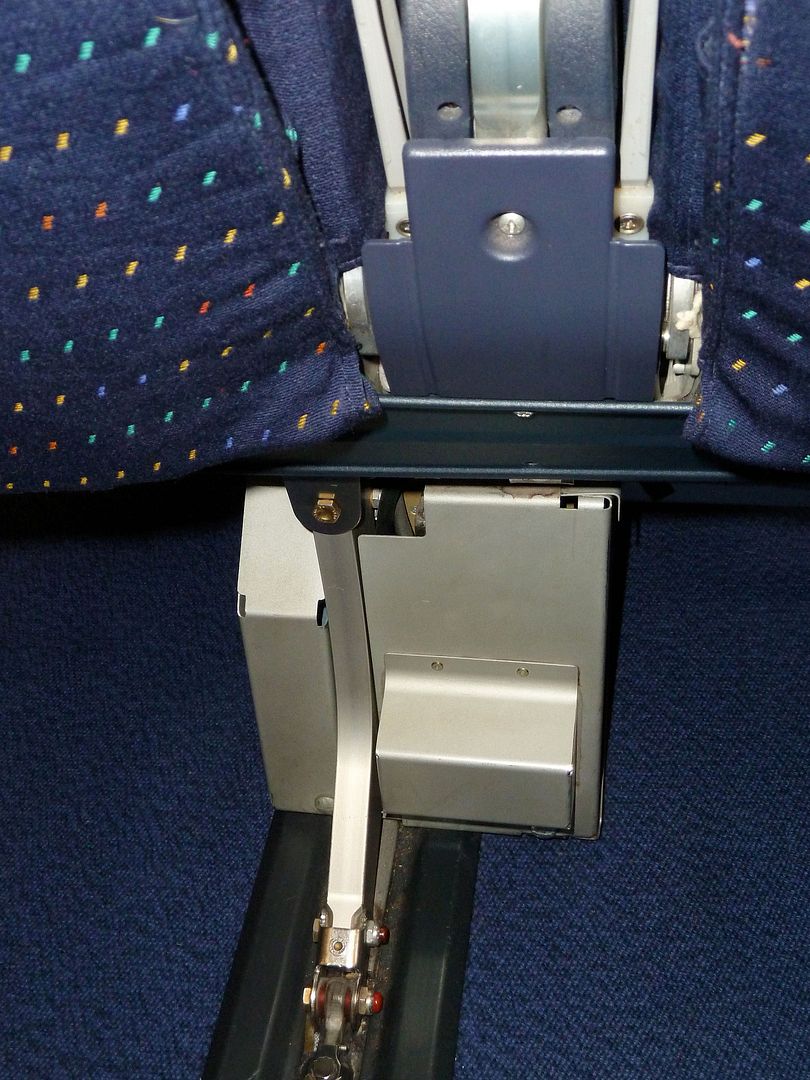 The aisle seat next to me remained empty for a long time...and luckily that wouldn't change any more. I was glad when I heard that boarding had been completed.
There were several empty seats in the rear section, but I cannot estimate the load factor, because I didn't check the other two Y Class sections.
Two Russian speaking guys in the 40s were seated behind me and judging from their alcohol odor, they had already drunk too much...I wasn't amused, but once the air conditioning was turned on, I didn't smell anything any more.
What I found very nice was an announcement about the 60th birthday of a passenger. The flight attendant, most likely the purser, wished all the best on behalf of the crew - I guess the very passenger was quite happy about that special congratulation.
In-flight and shopping magazines: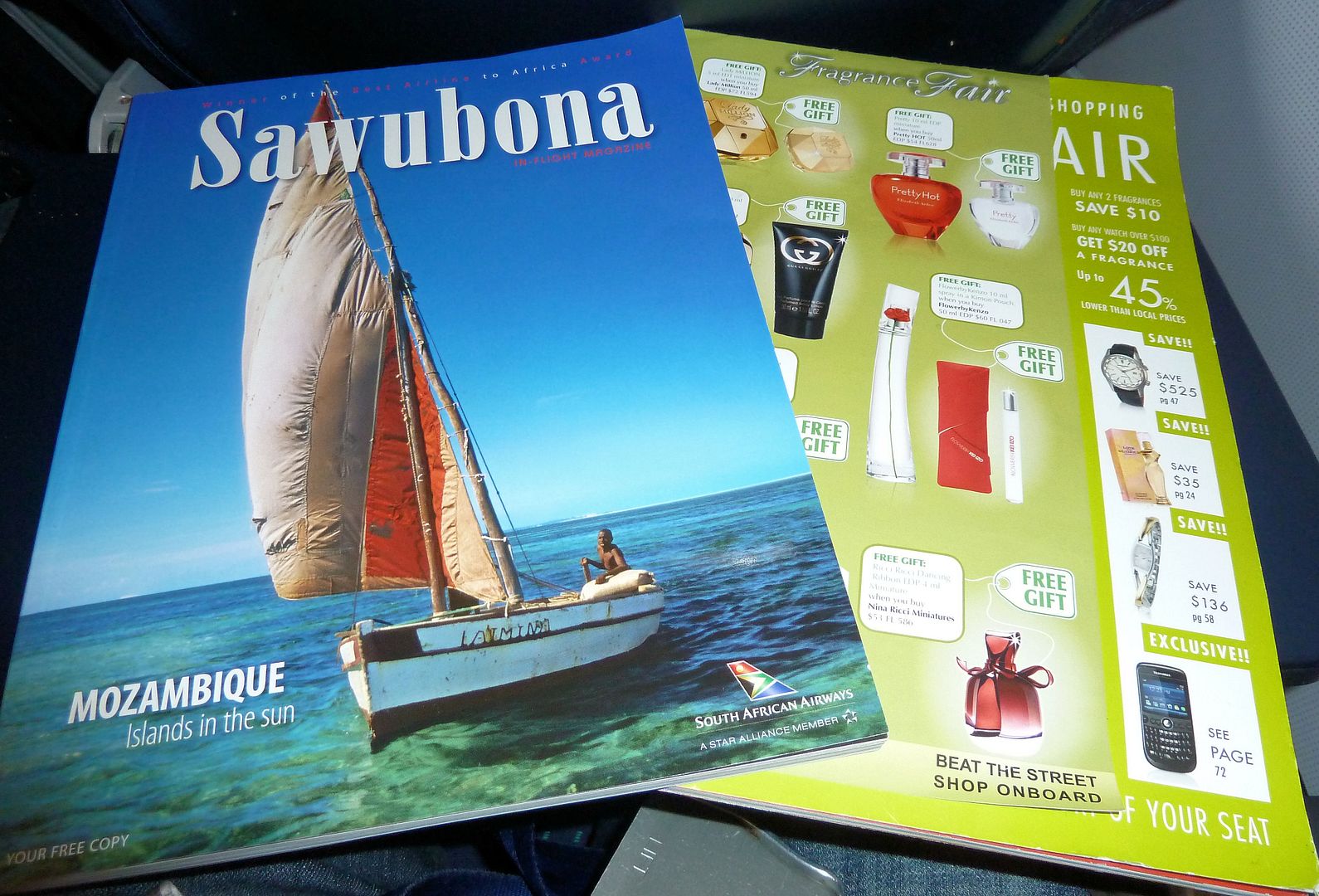 Headphones and IFE controller: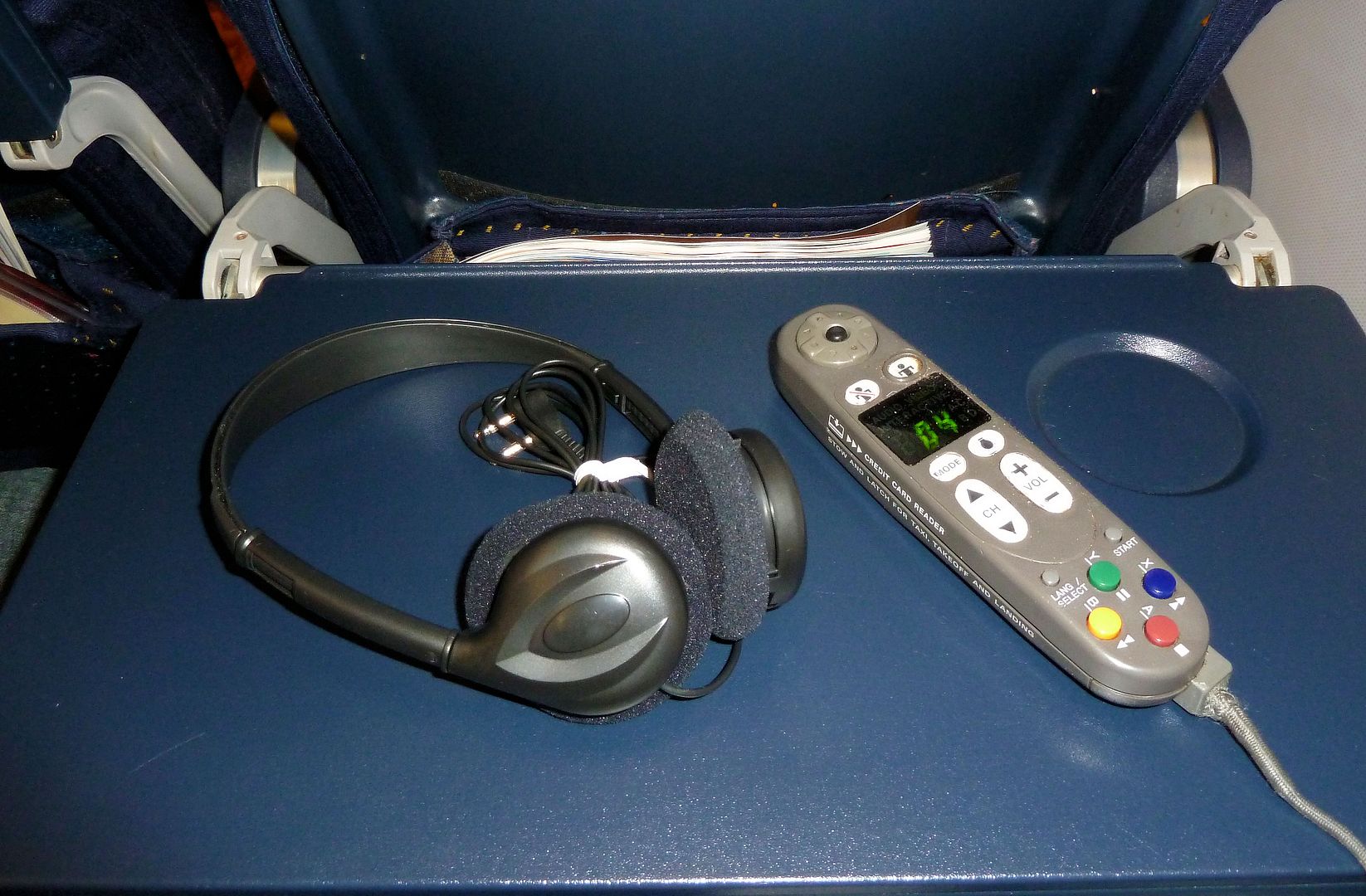 Amenity kits in different colors were distributed, I got a beige/orange one: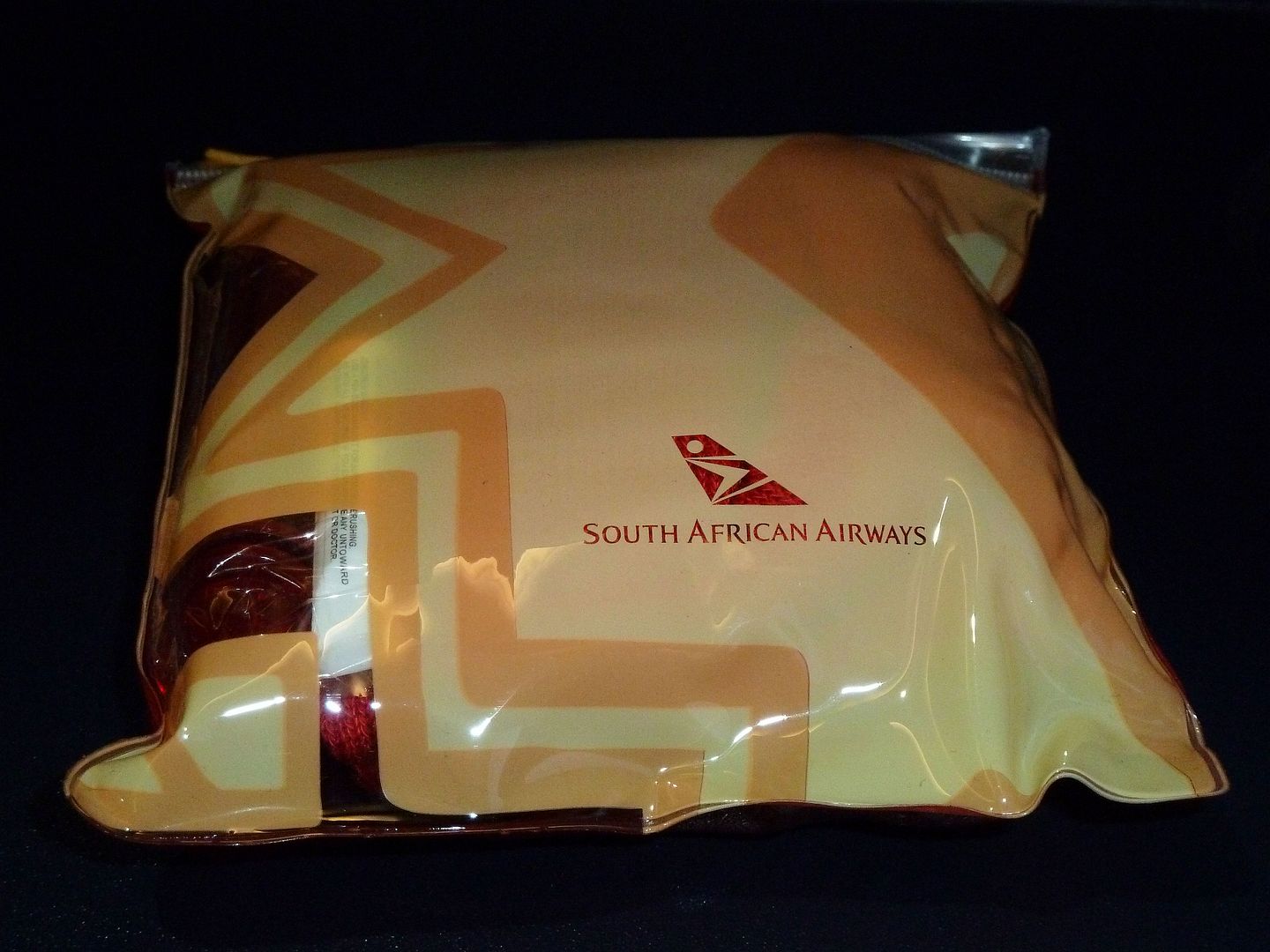 German newspapers were also offered - in addition to magazines which had been available in the gate area. No doubt, I was quite impressed by SAA's pre-flight offerings.
SAA's winglets definitely belong to the prettiest ones in the industry, just like Virgin Atlantic's: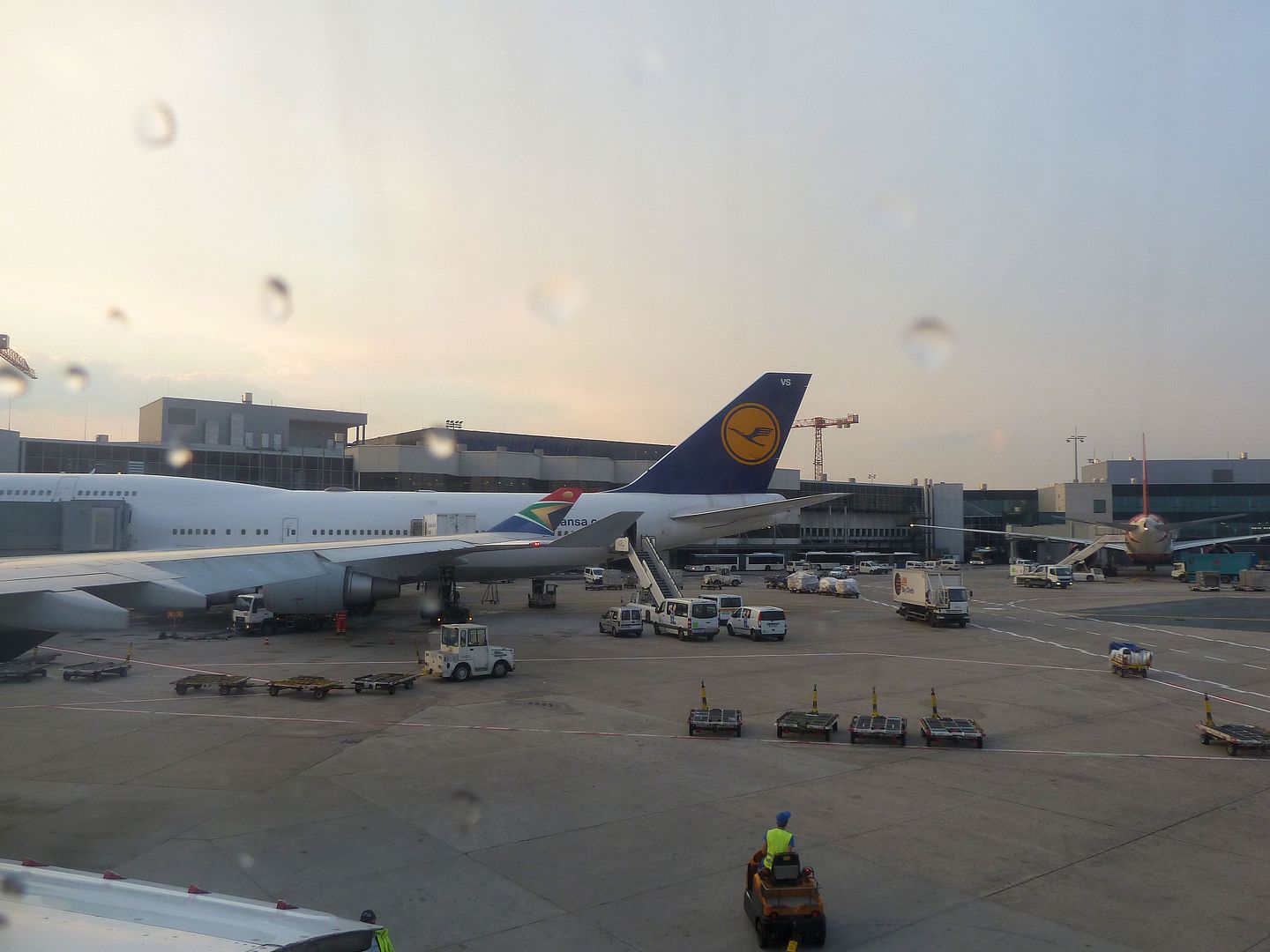 One of the pilots, most likely the captain, gave a short welcome speech and informed that we would take off in southerly direction. He referred to
"good conditions for flying"
and mentioned that we would only encounter some bad weather over Central Africa.
The following comic-style safety video was quite funny, but the reflection on the PTV screen was too strong for a decent picture. The flight attendants were really serious about safety, they even closed the seatbelt over blanket and pillow on the empty aisle seat next to me.
ZS-SNC
was pushed back almost exactly on time and soon started taxiing to runway 18. I felt very comfortable and was really looking forward to the flight on this nice bird. Great reflection: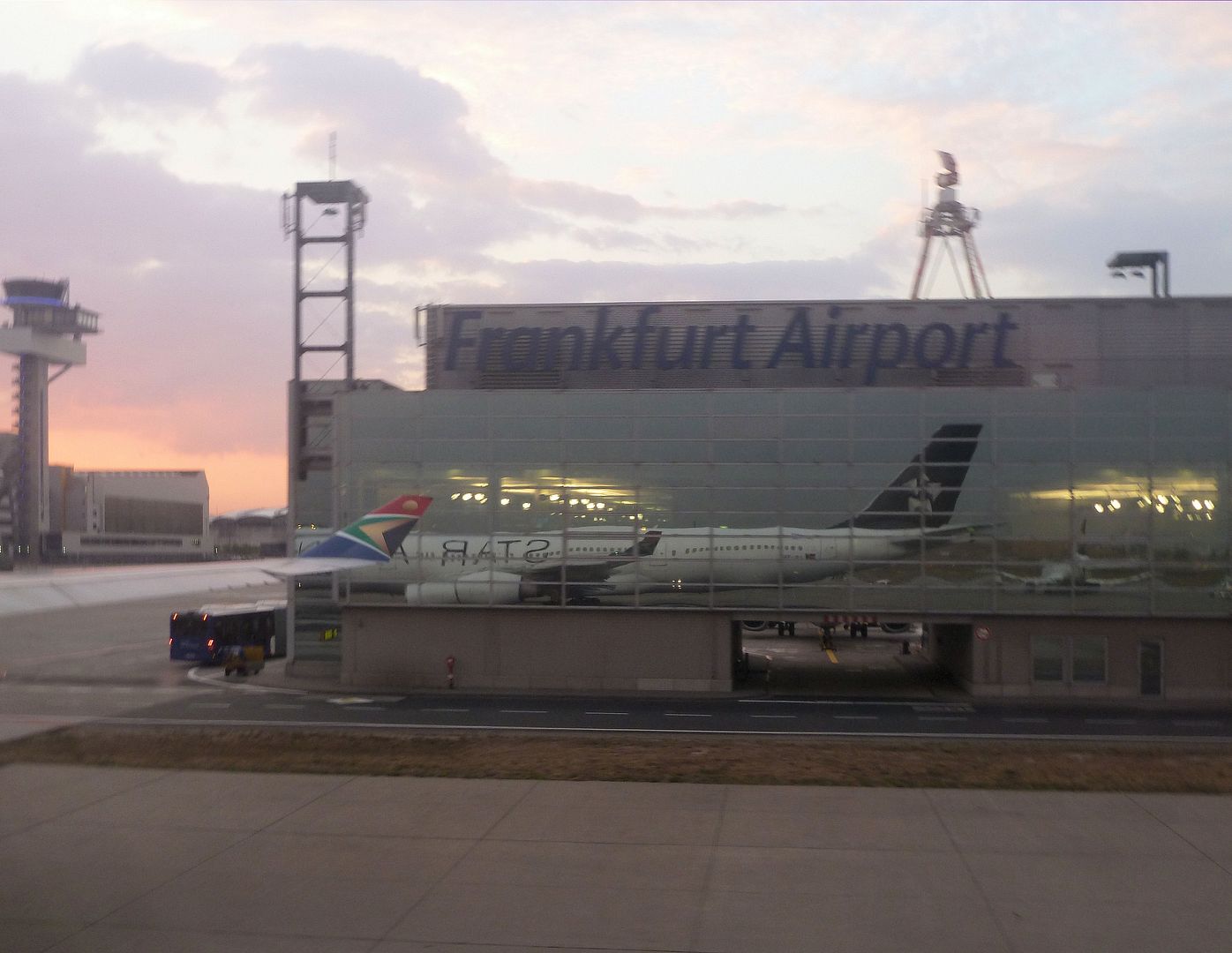 What I had been looking forward in particular were the tail camera views on SAA's A340-600:
Front camera view was also available, but that's not as spectacular as the tail camera view. It wasn't easy to get clear shots of the screen, so I was constantly taking pictures during taxi. Judging from his look, an older man in the middle row found that quite strange. Sorry, but that's what it is when travelling on the same plane as
PlaneHunter
.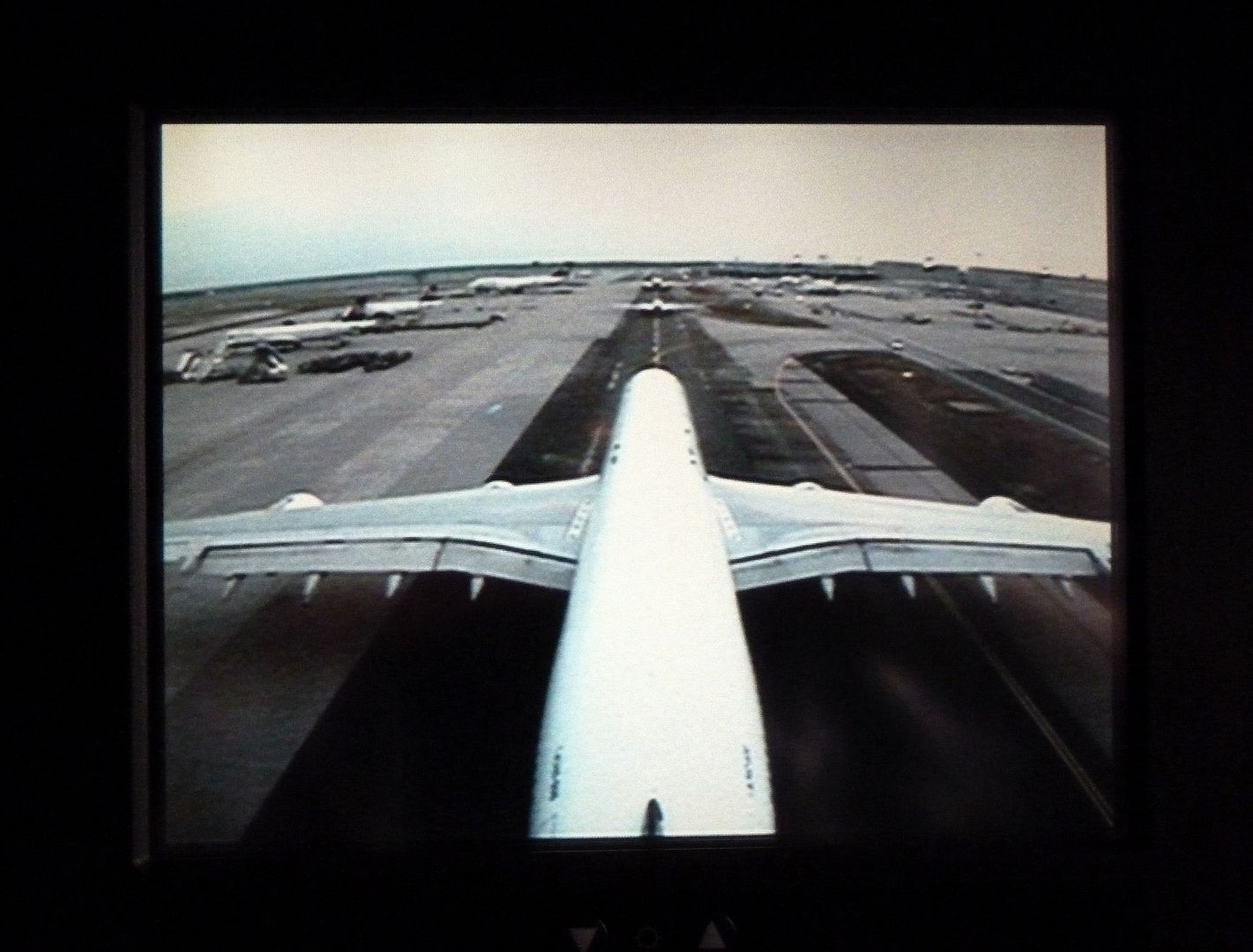 Beautiful evening light: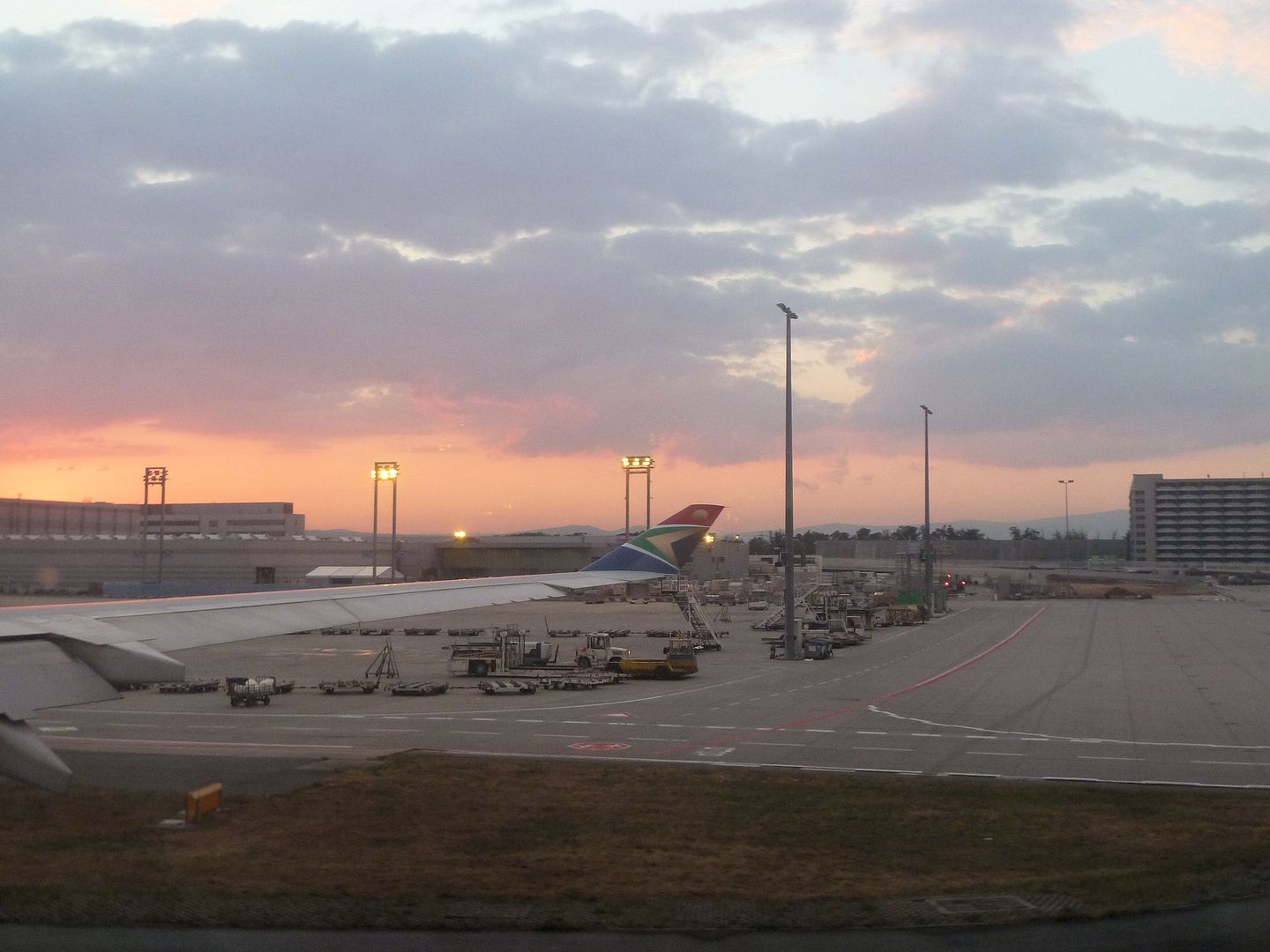 Lufthansa CityLine E-Jet: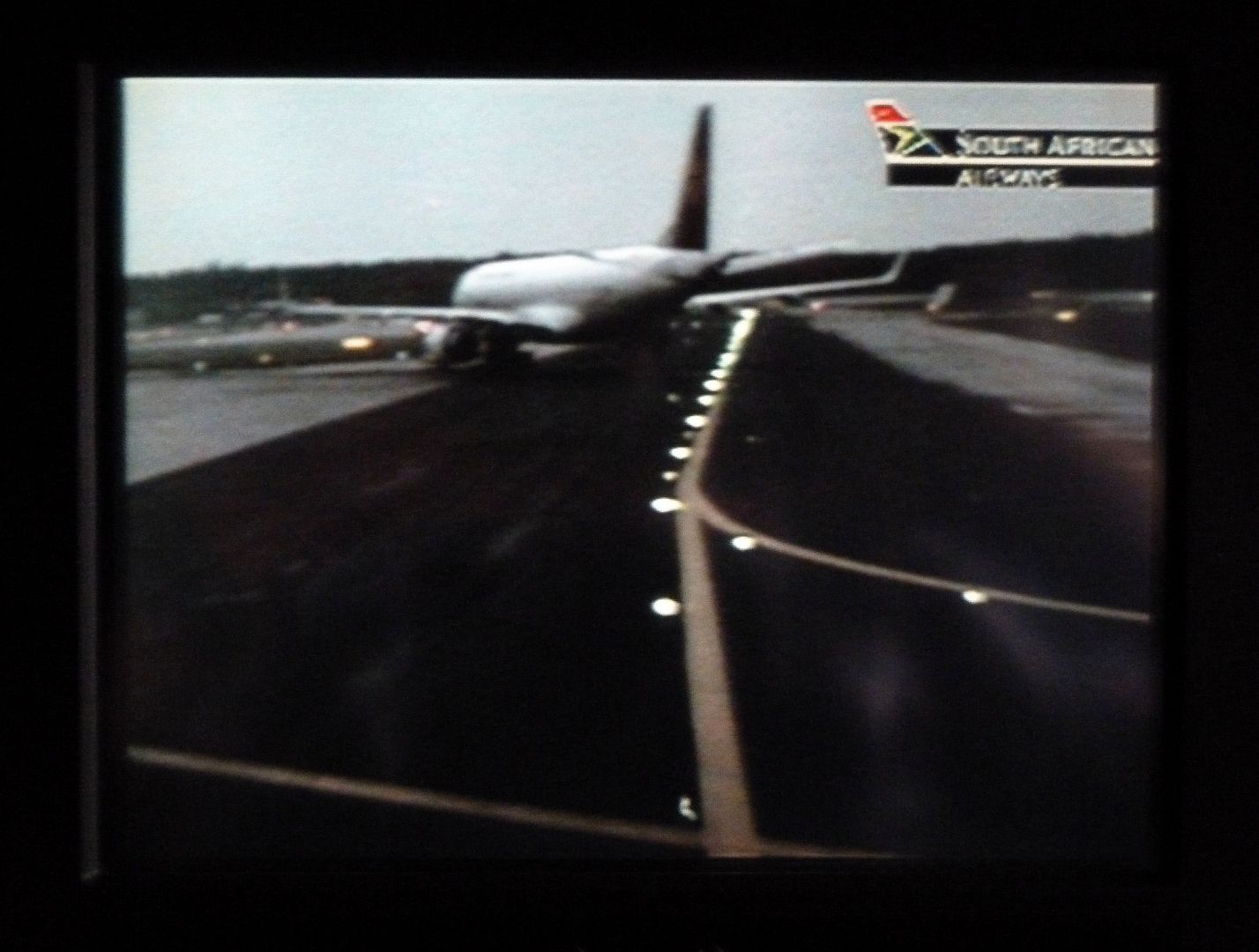 Now it was our turn. What a fantastic IFE feature: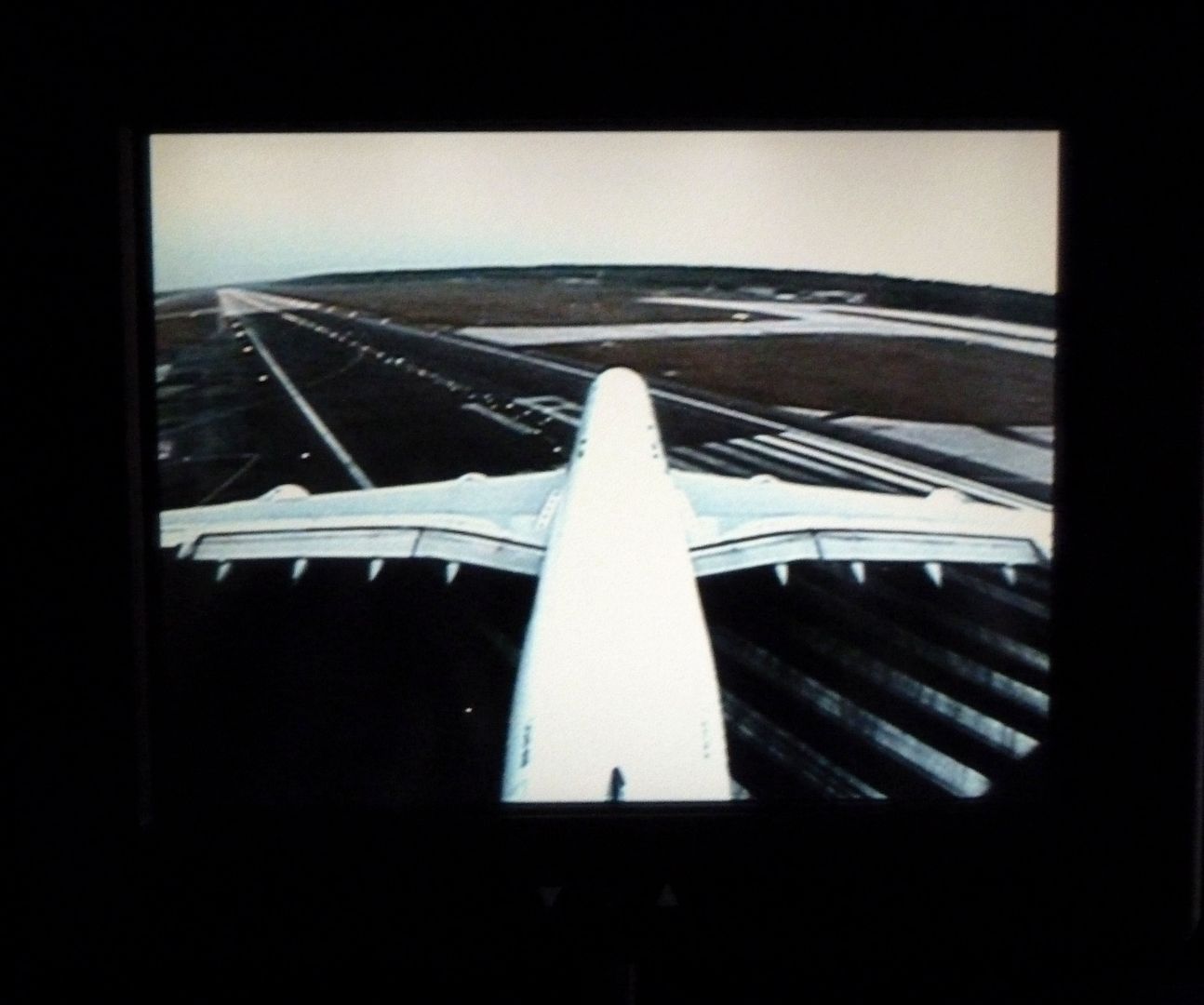 "Springbok 261"
almost ready for takeoff: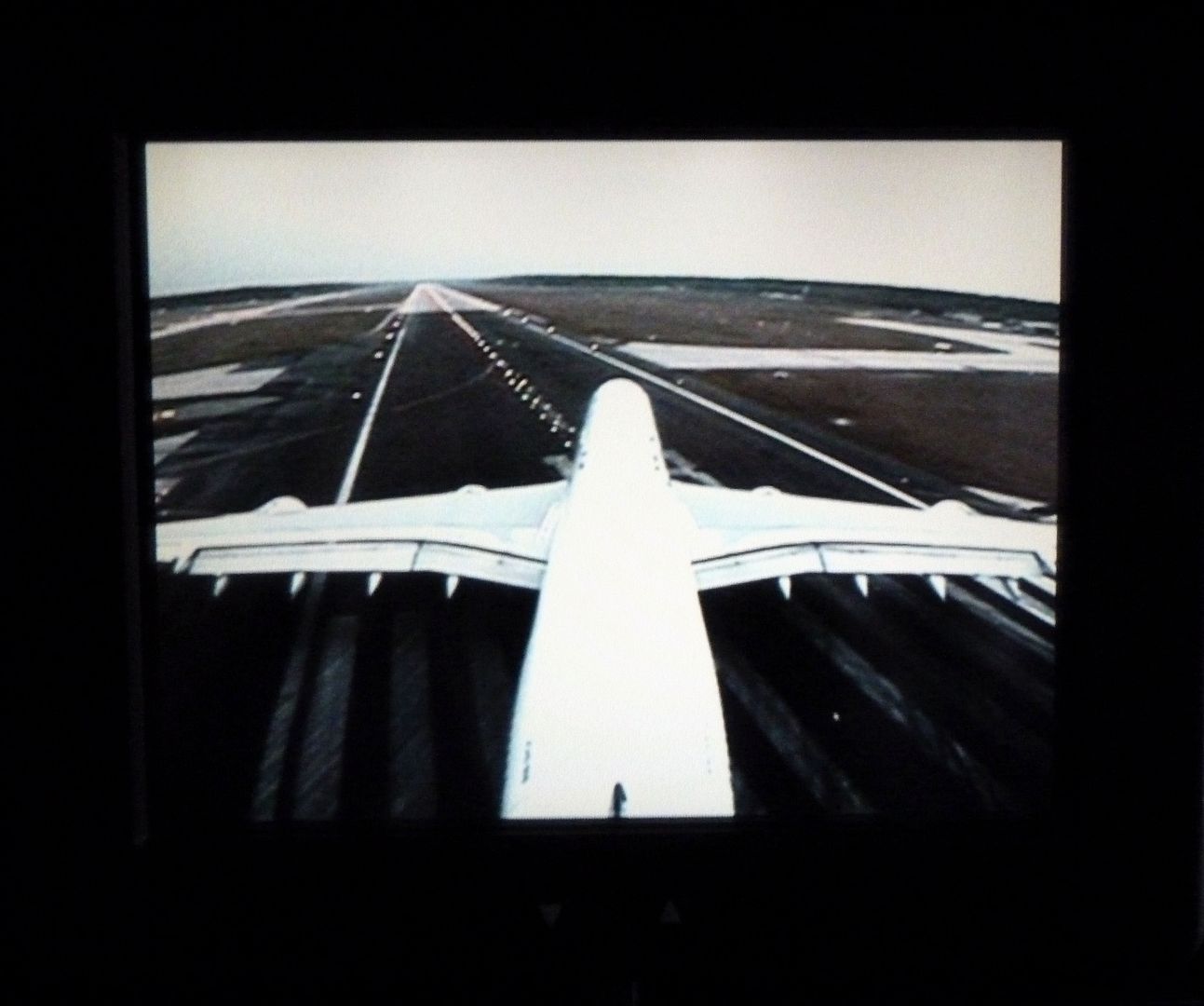 Some moments later, the four Rolls-Royce Trent 556 powerplants started howling and
ZS-SNC
lifted off gently after a long takeoff roll. Simply awesome view:
Gear up and locked, doors closed:
Goodbye, Germany: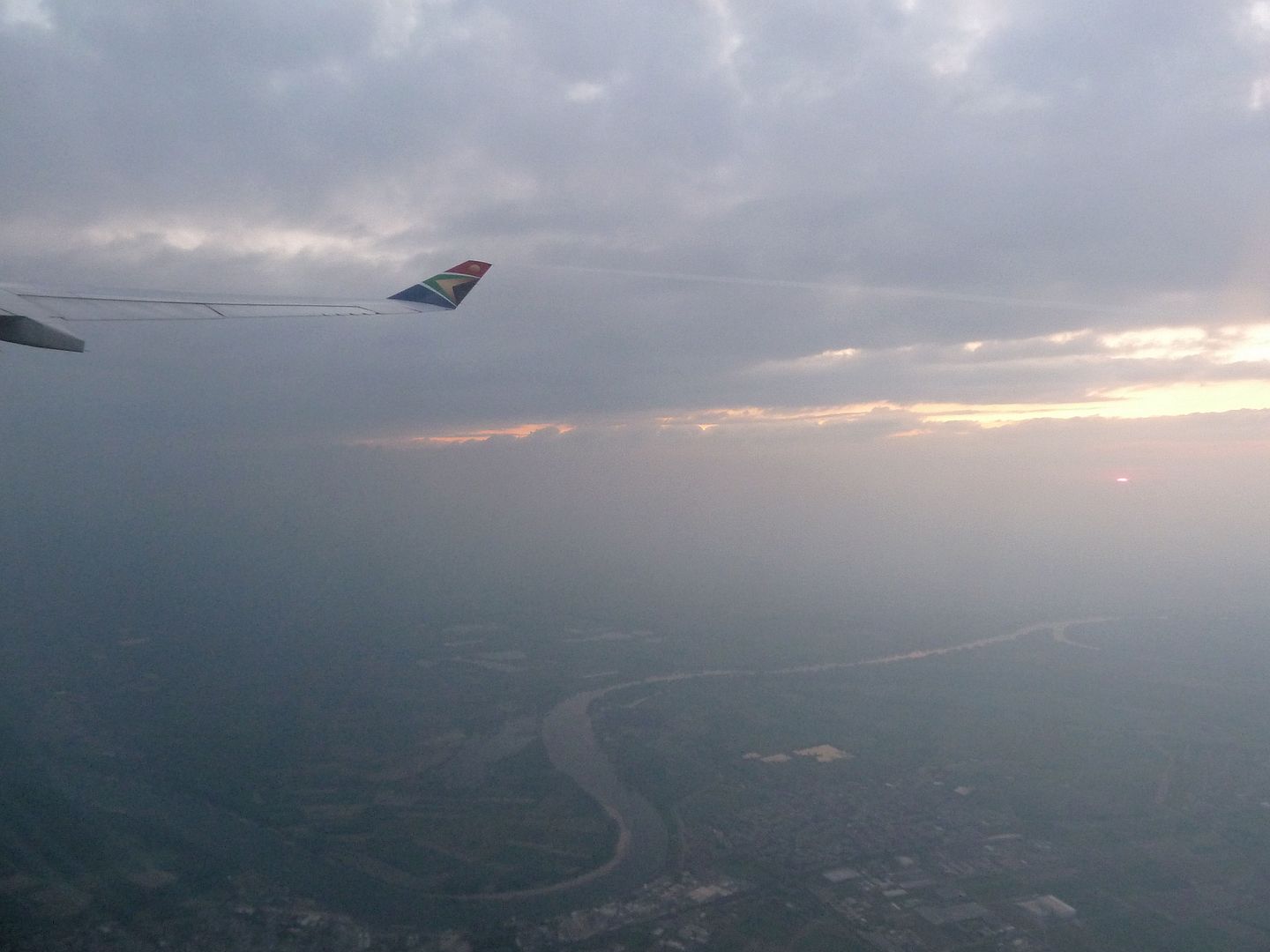 Breaking through the clouds is always such a pleasure, especially during sunset: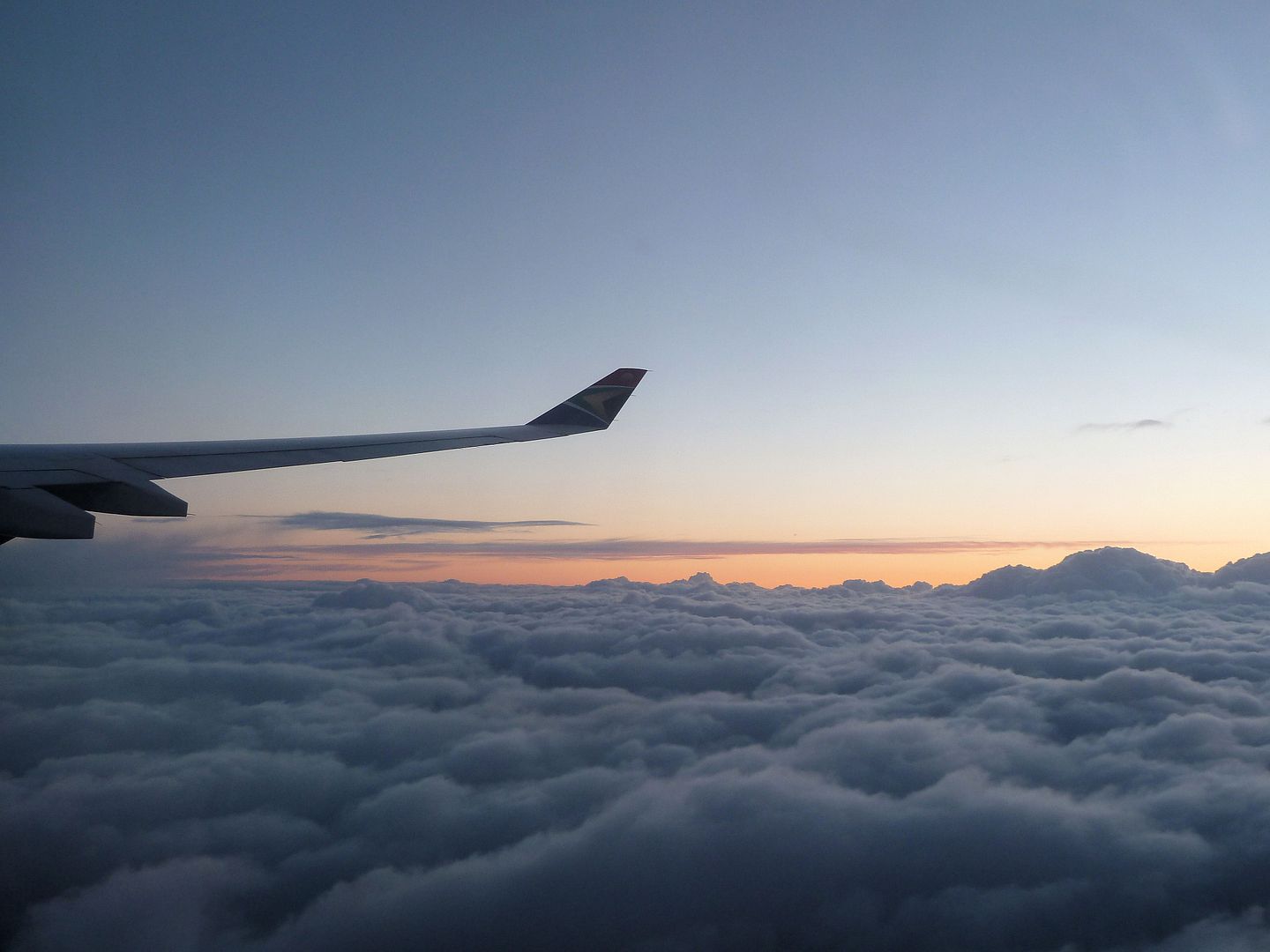 About 20 minutes after takeoff, two charming female flight attendants started serving drinks. They took their time and asked all passengers very nicely about their drink wishes. I ordered ginger ale with ice and got two cans (Schweppes!) as well as a bottle of water.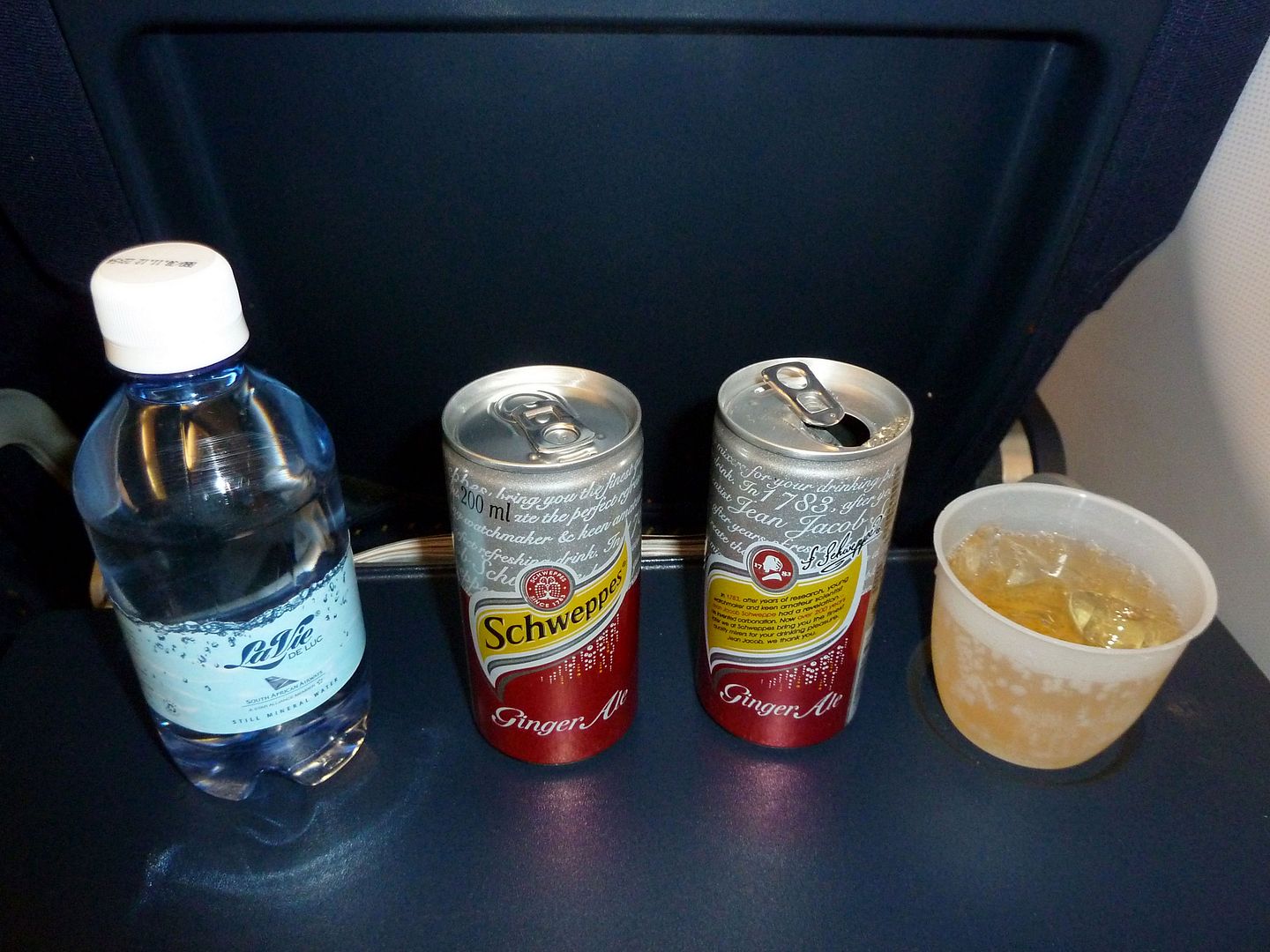 Now it was time to explore the
AirScape
audio/video on-demand IFE system. Welcome screen:
Main menu: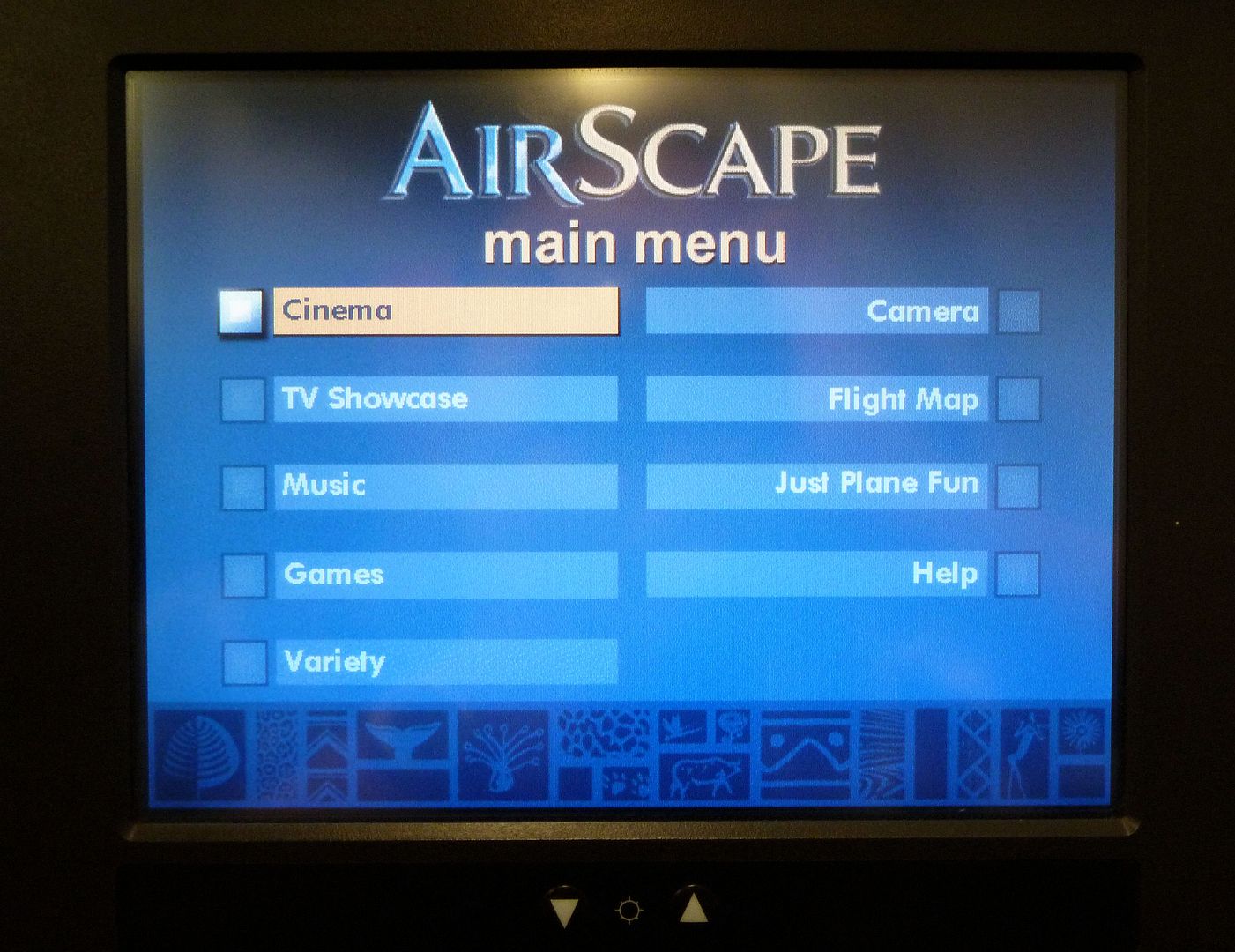 There's even a kids' main menu: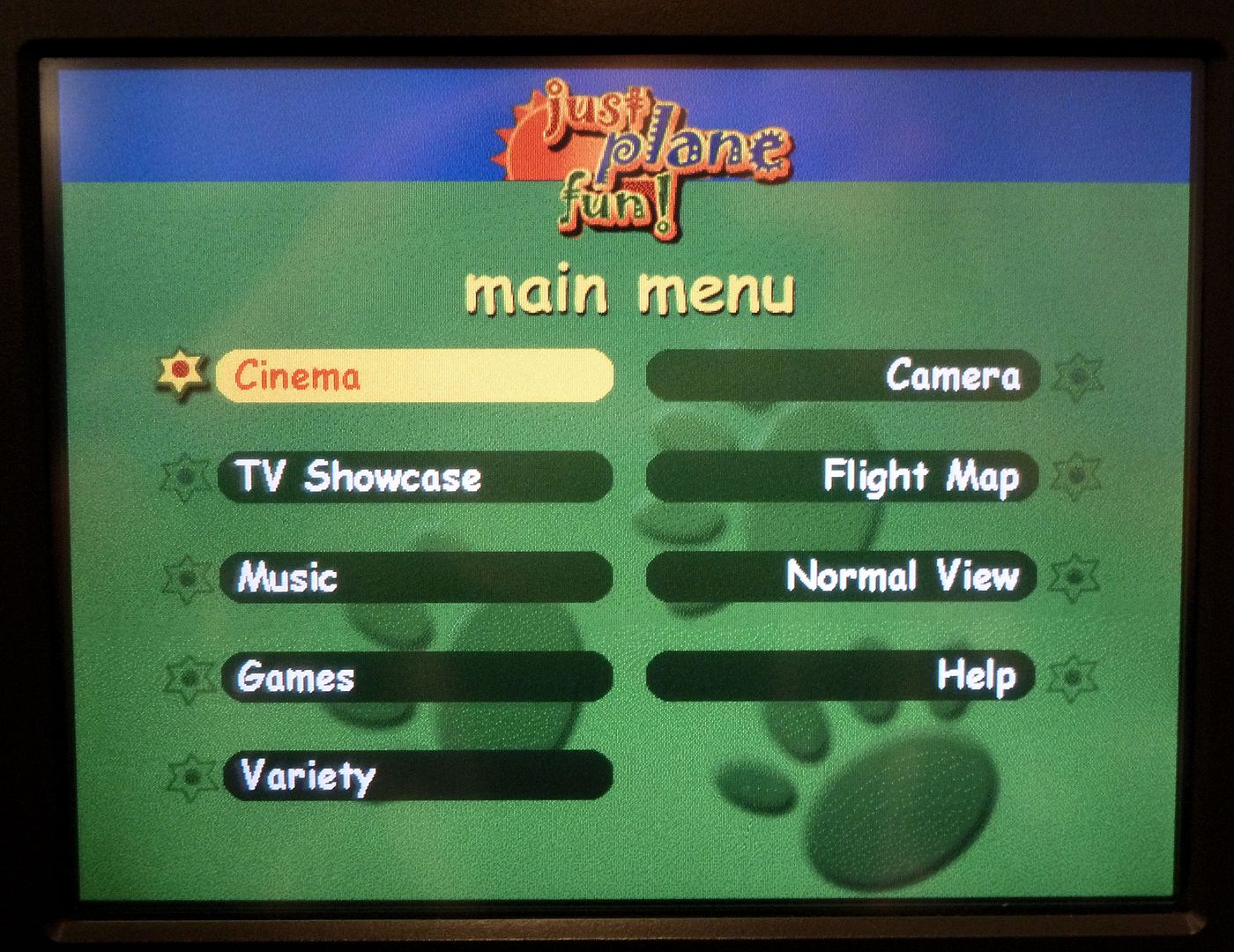 Touchscreen navigation is quite easy, you only need the handset for playing games. The system offers a choice of 40 movies, 50 TV features, 10 games and 102 music albums. As usual, I watched the airshow most of the time. You can zoom in and out if you wish to:
While certain carriers interfuse the airshow with ads, SAA chose health tips - actually a very good idea: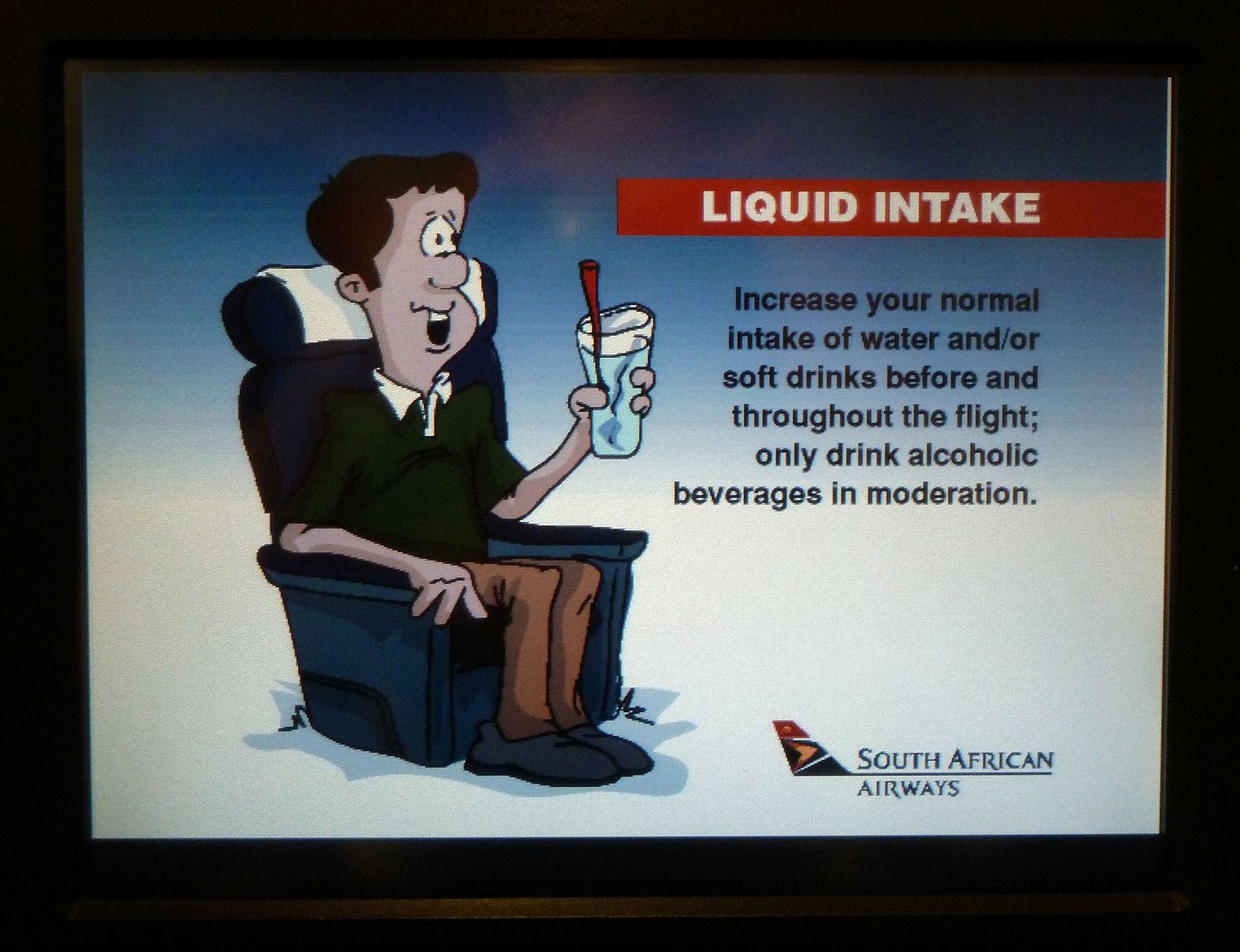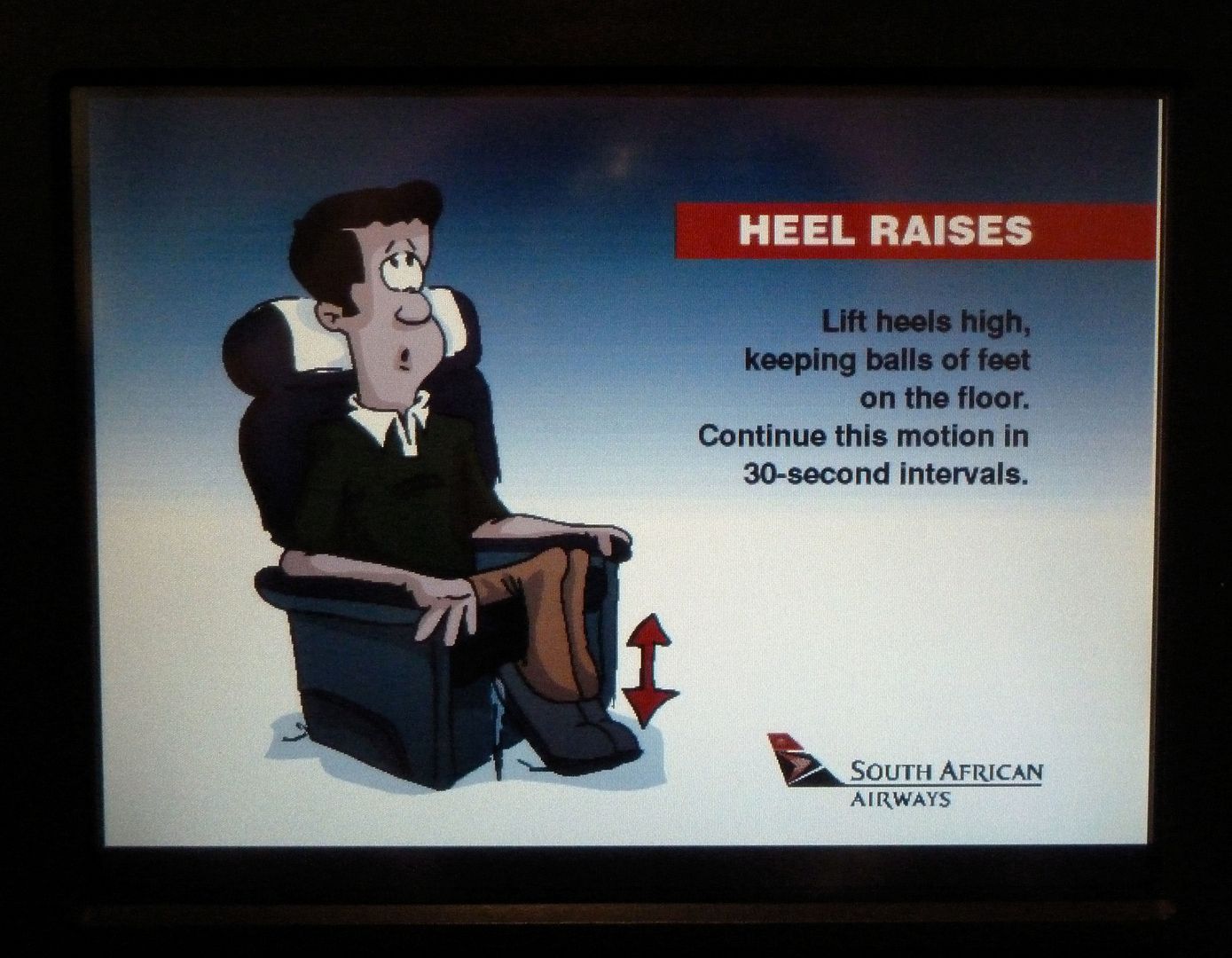 Menu cards would have been nice, but the dinner choices were only announced by a flight attendant. The announcement was difficult to understand, but when the "charming team" arrived at my row again, one of them kindly told me that beef, chicken and a vegetarian option were available. I ordered beef and got this highly impressive tray:
I was really surprised that an African carrier was serving German classics such as
"Rinderbraten"
(braised beef),
"Semmelknödel"
(bread dumplings) and potato salad. I usually love to eat these specialties and was a bit skeptic how this airline meal would turn out. The presentation was great - there was even parsley on the dumplings - but how would it taste? Tender meat, crisp vegetable, dumplings with "right bite" - apart from the bland sauce, the main course tasted very good. The potato salad tasted fine as well - and the cherry cheesecake was the perfect finish. No doubt, it was one of the best meals I have ever received in Economy Class.
After dinner, I leaned back and relaxed while watching the airshow and listening to music. I fell asleep after a while - not long after we had crossed the Mediterranean Sea: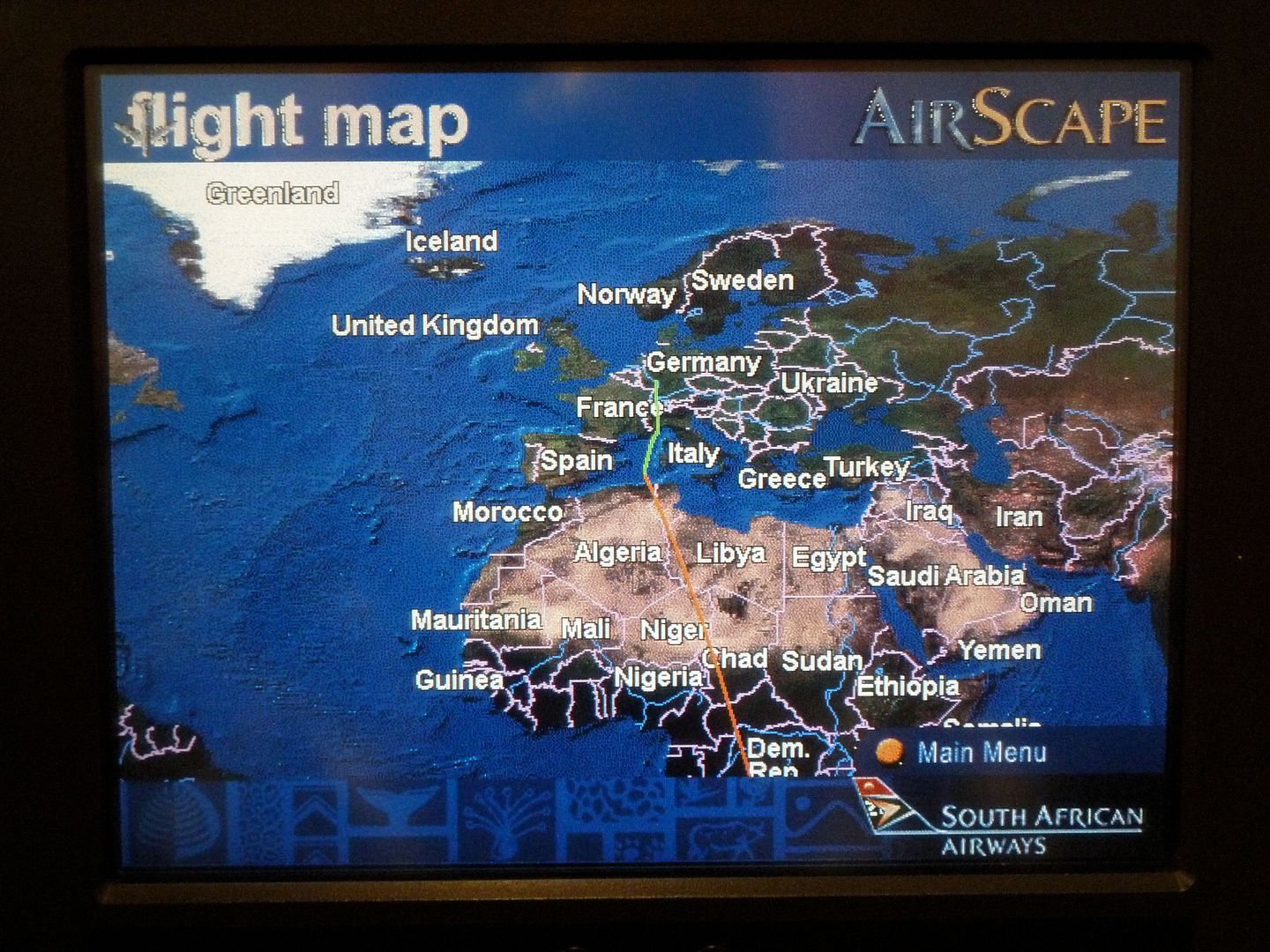 I woke up several times during the next few hours and also noticed some turbulence, but always fell asleep again. When I felt fully awake again, I was quite surprised to find out than more than 5 hours had passed:
The small plane icon was still stuck in the top left corner: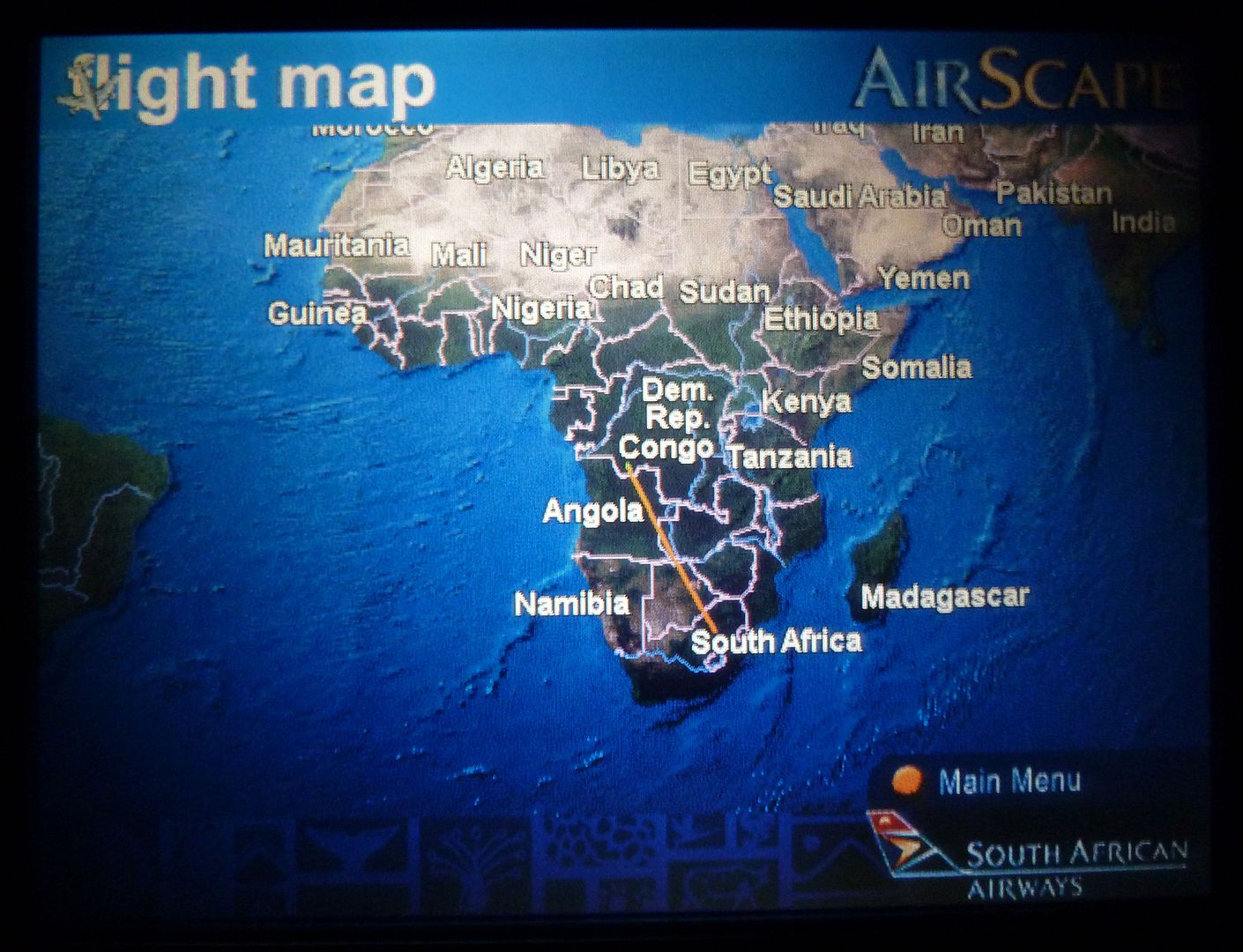 Brazzaville, Kinshasa, Luanda? I'd opt for LAD in order to try TAAG's 77W: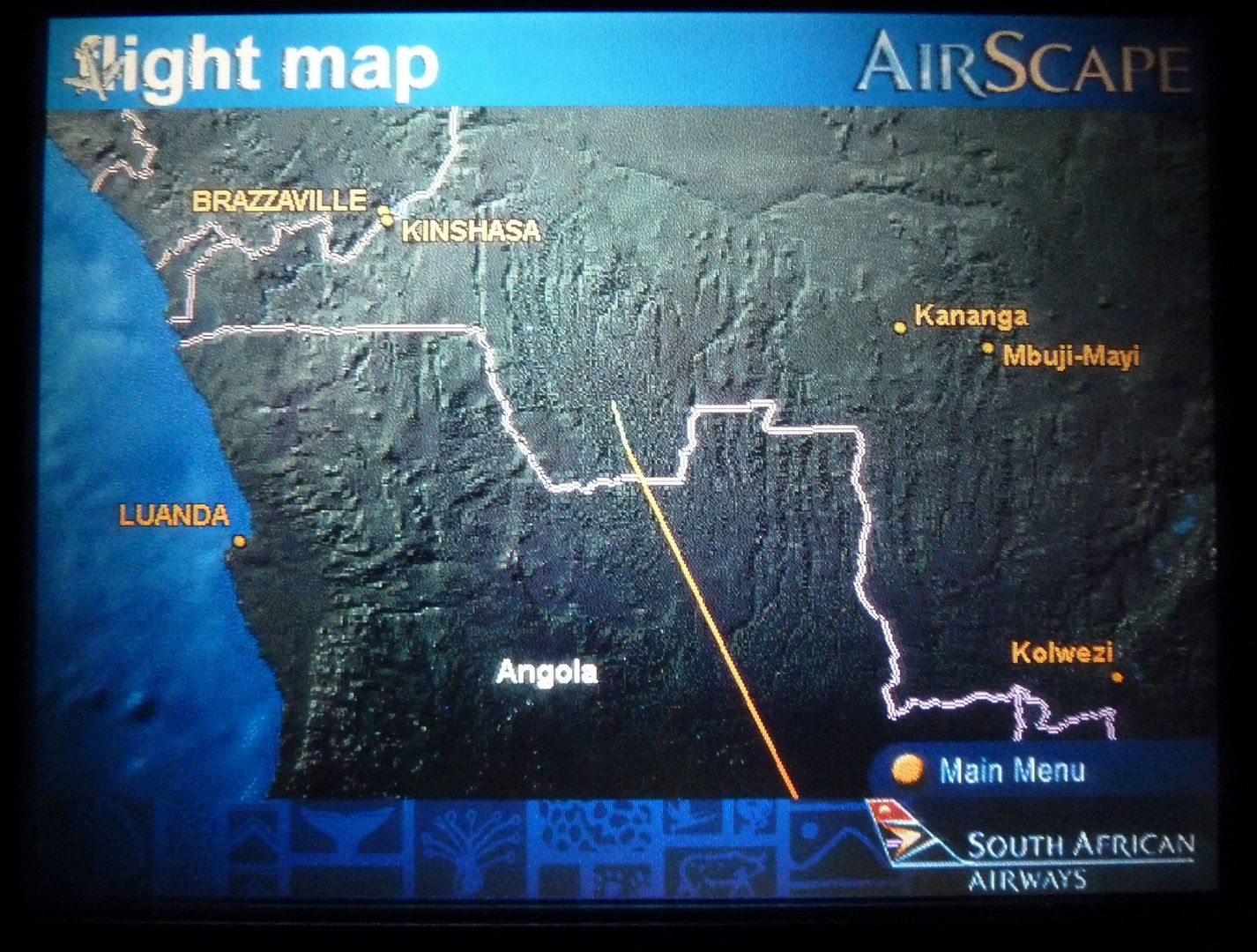 Breakfast was served 1.5 hours before landing. There was a choice between continental and hot breakfast - I ordered the latter, of course. The presentation was very nice again: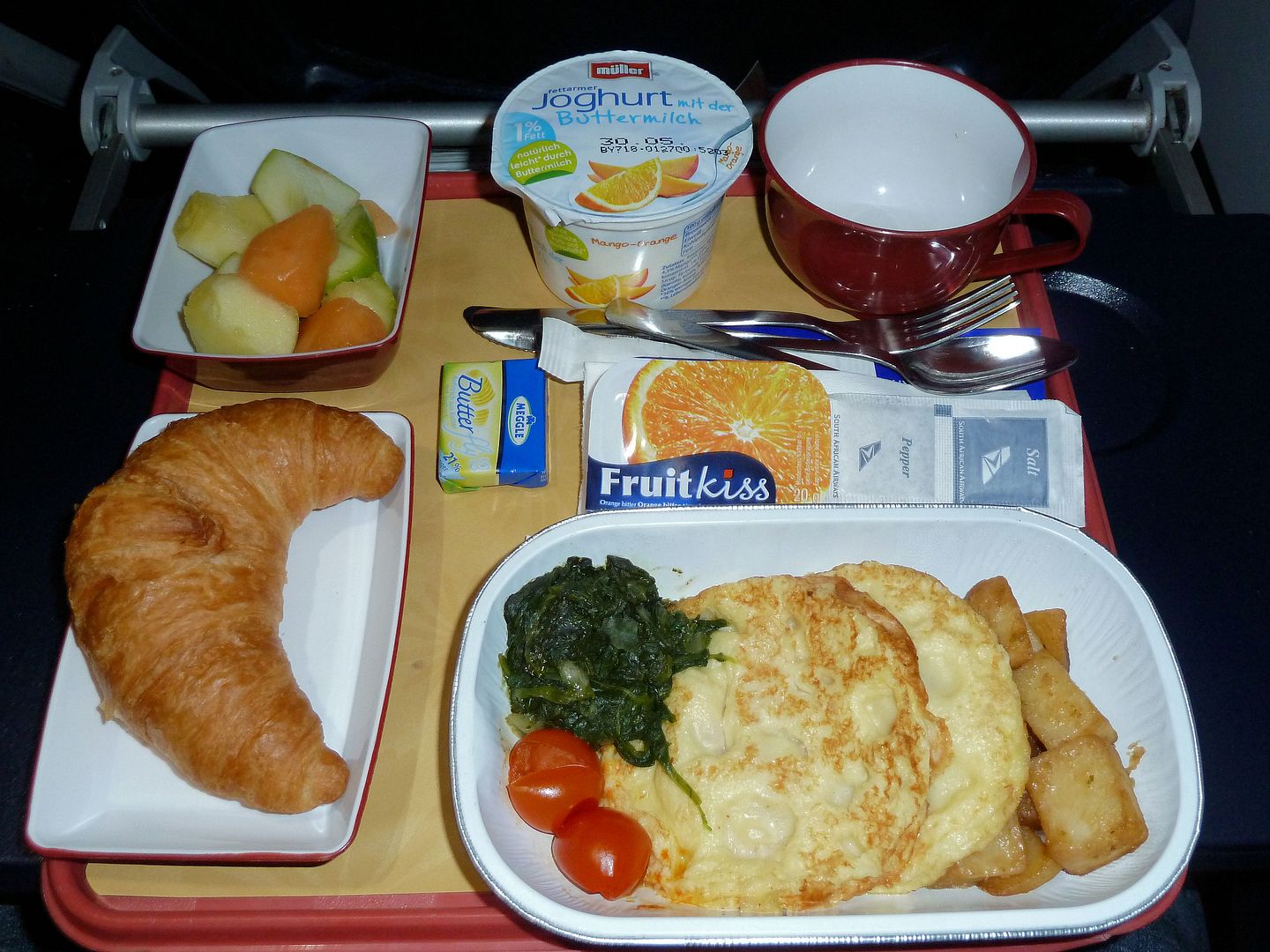 The pancakes tasted quite good, but I didn't like the greasy baked-in pieces of bacon. Everything else was fine - it was a large and filling breakfast. I also liked SAA's black tea, but it was served a bit late.
Bright sunlight ahead...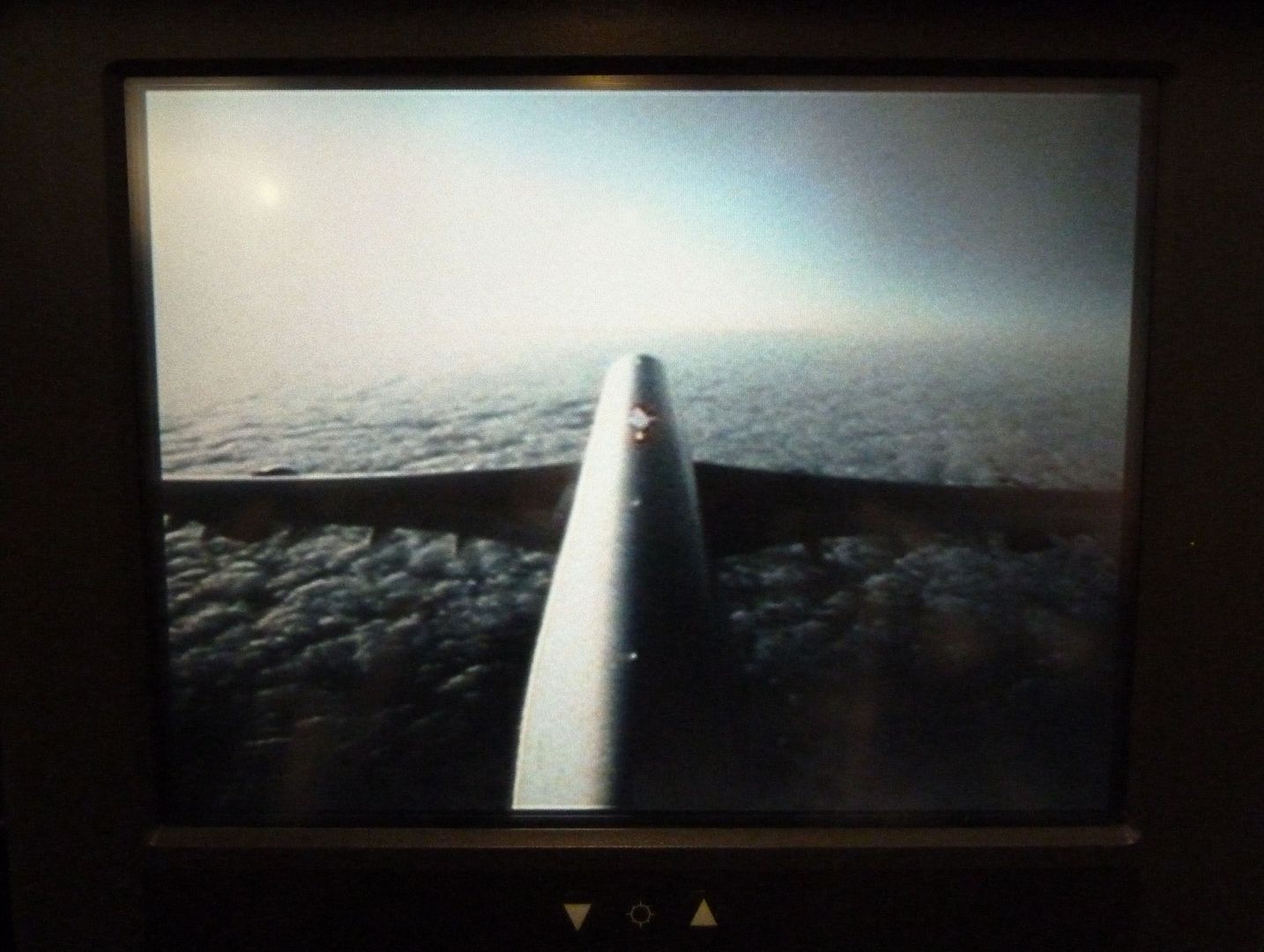 ...what a beautiful composition of colors: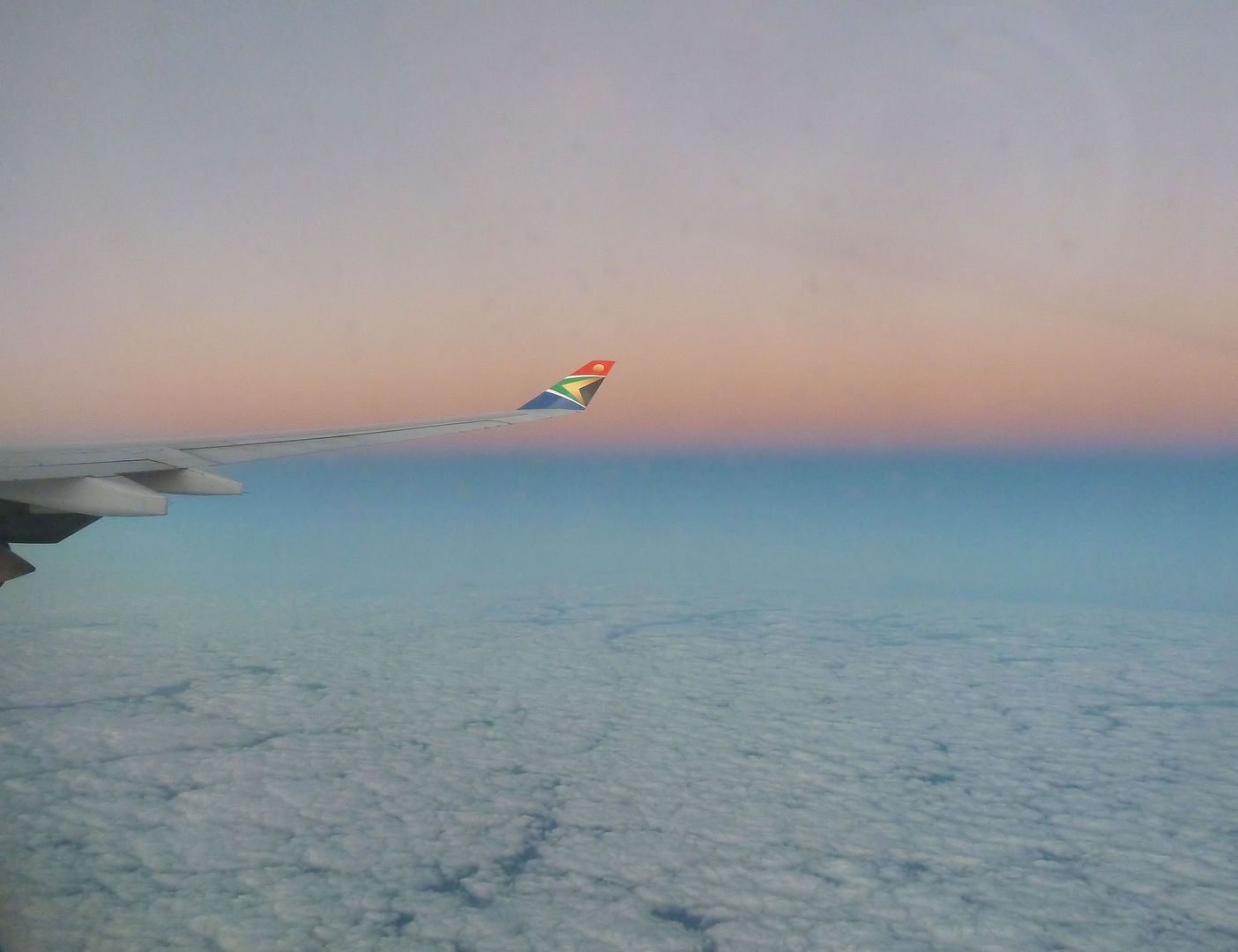 The small sun on the winglet seemed to be rising as well - stunning views like these are one reason why I love flying so much: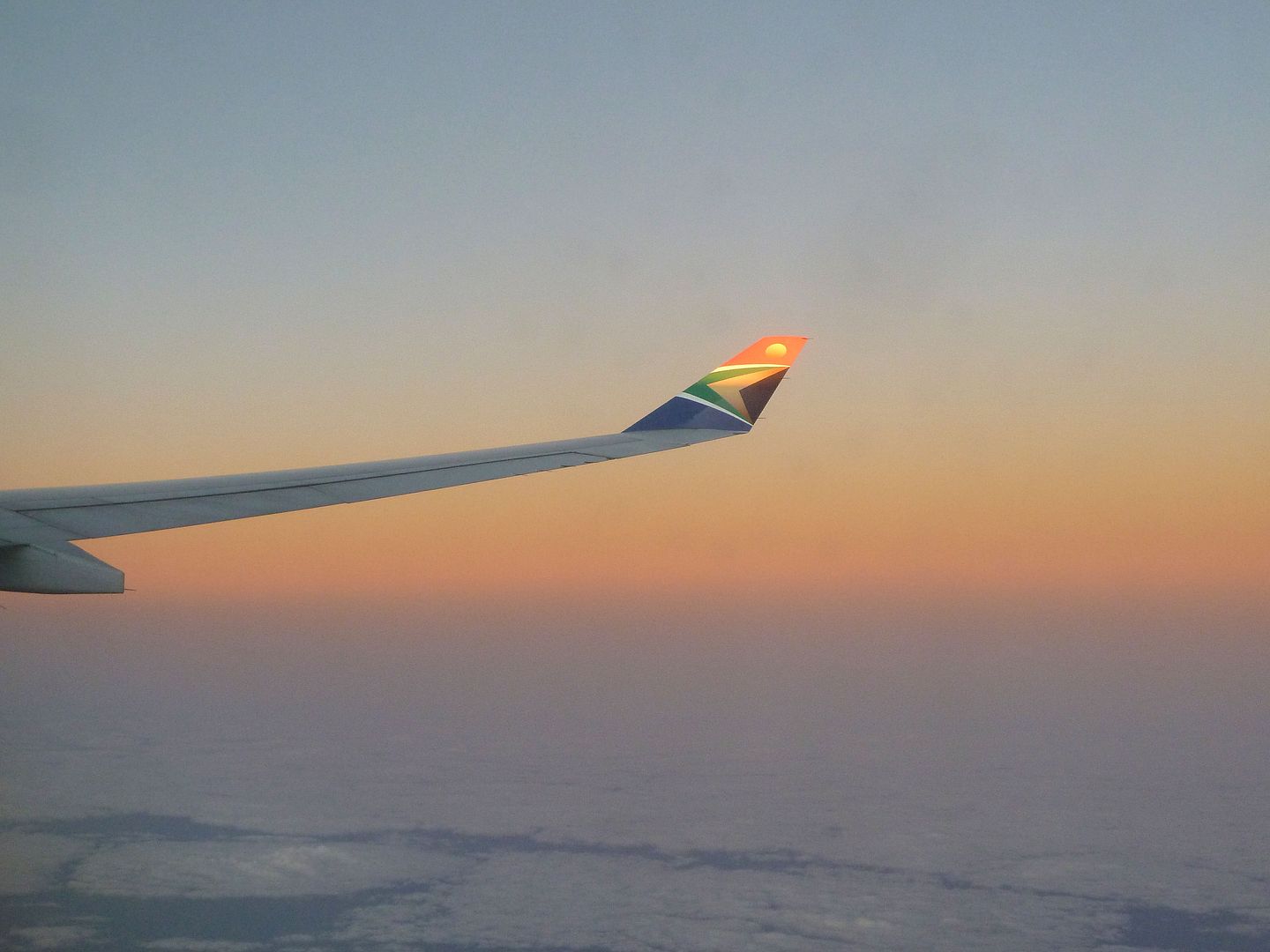 Bright sunlight flooding the cabin: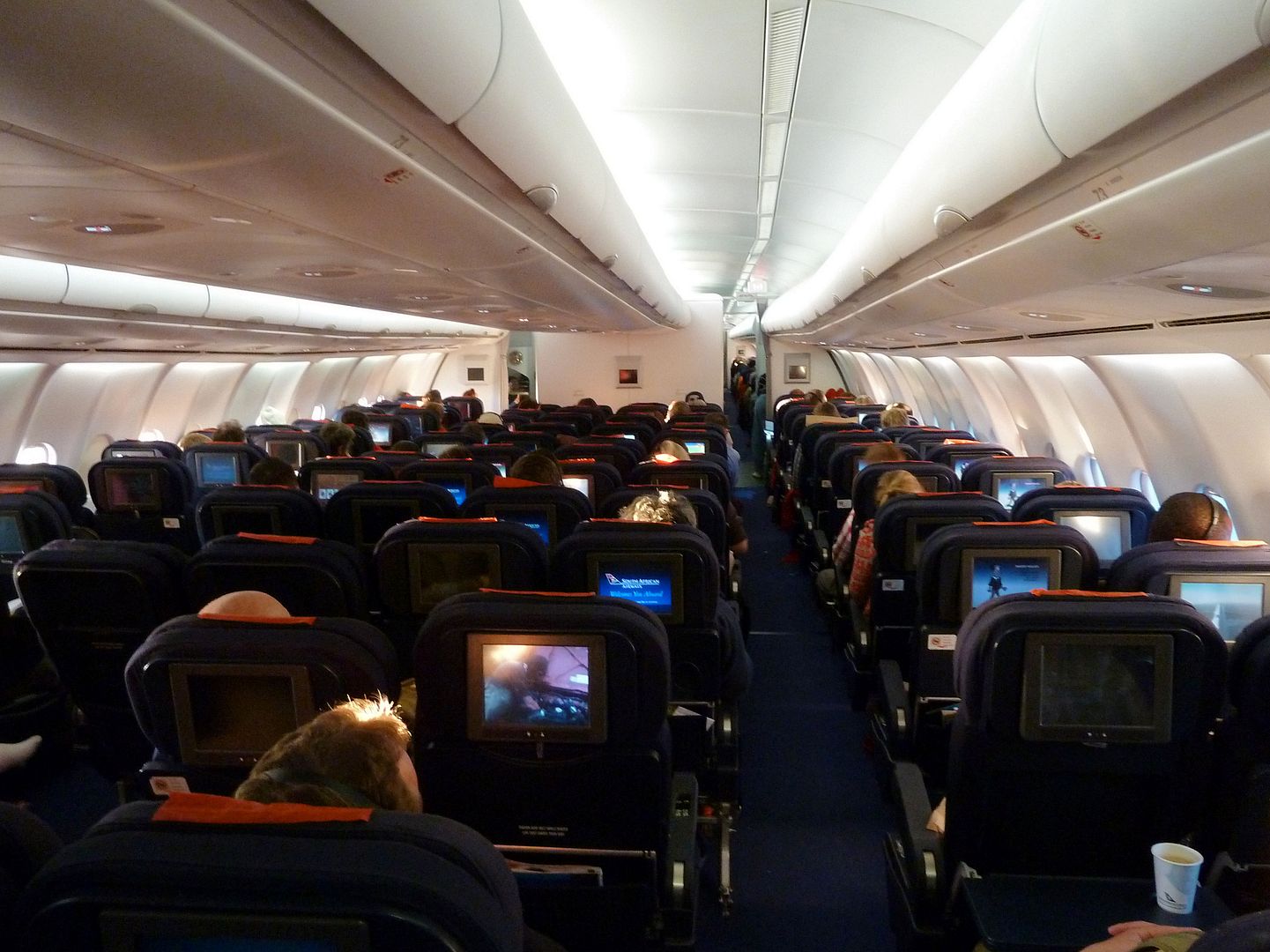 20 minutes before landing, the IFE system was deactivated - camera views weren't available any more either. However, I preferred looking out of the window this time anyway: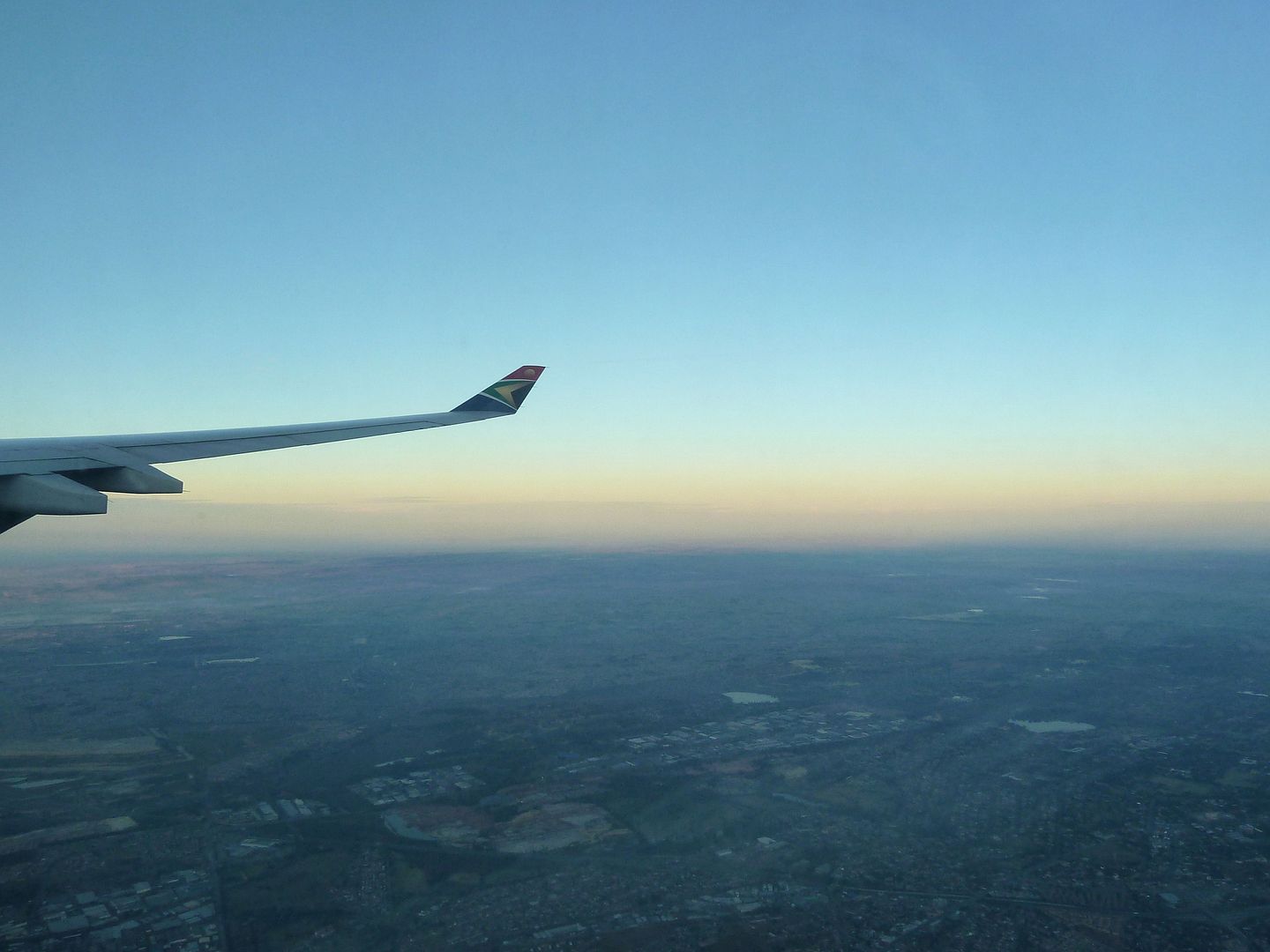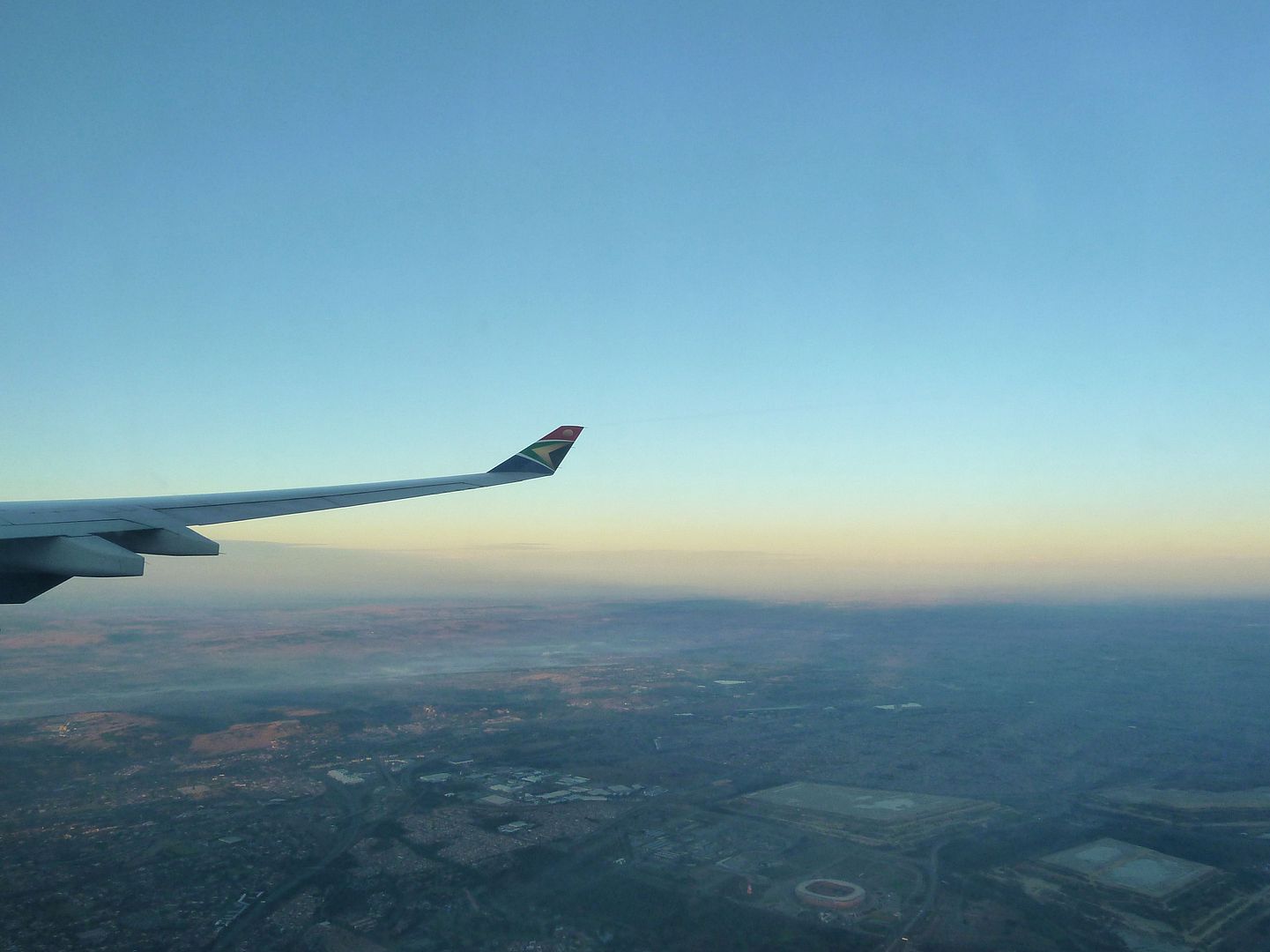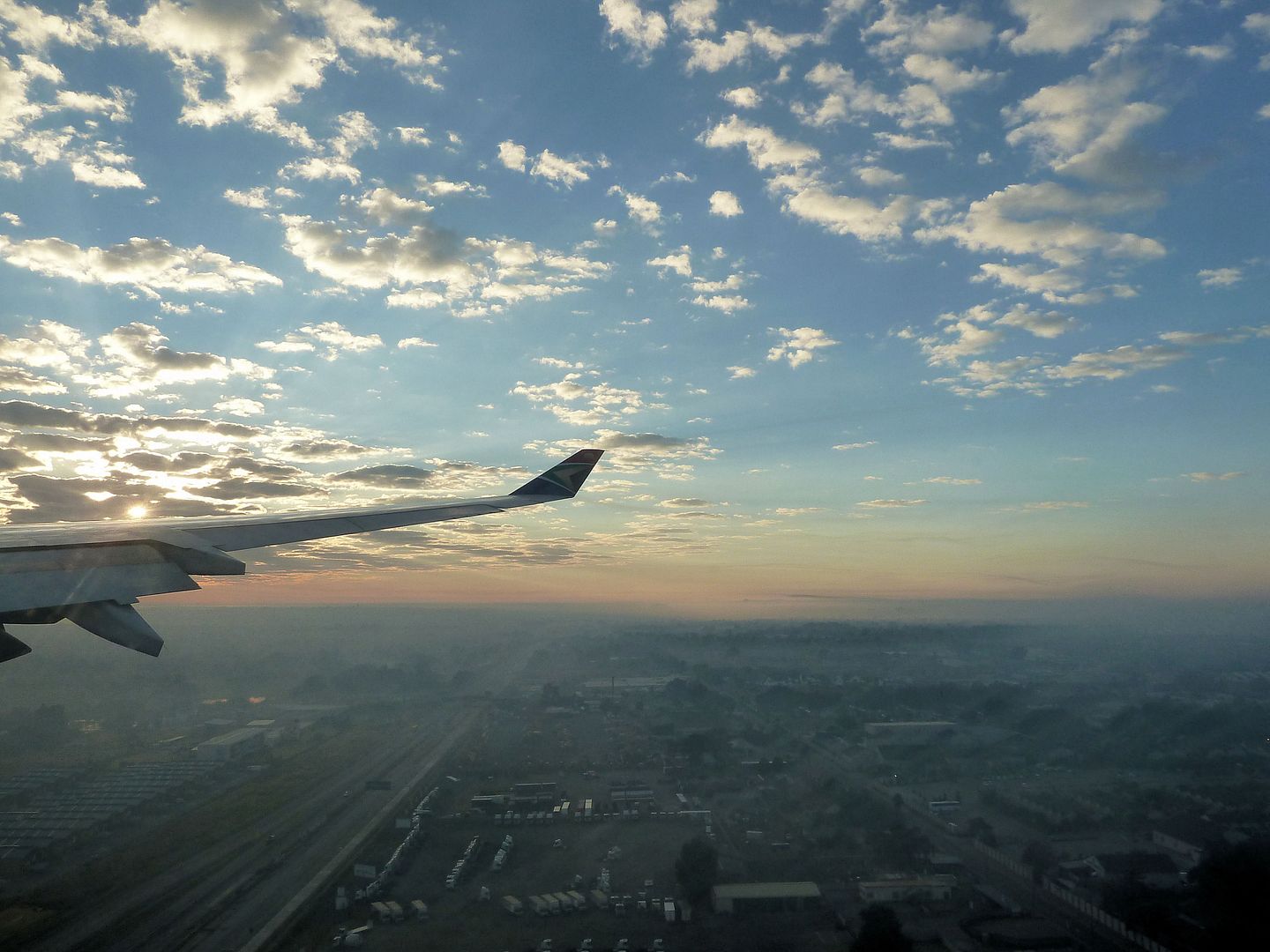 We touched down gently after a flying time of 10 hours and one minute: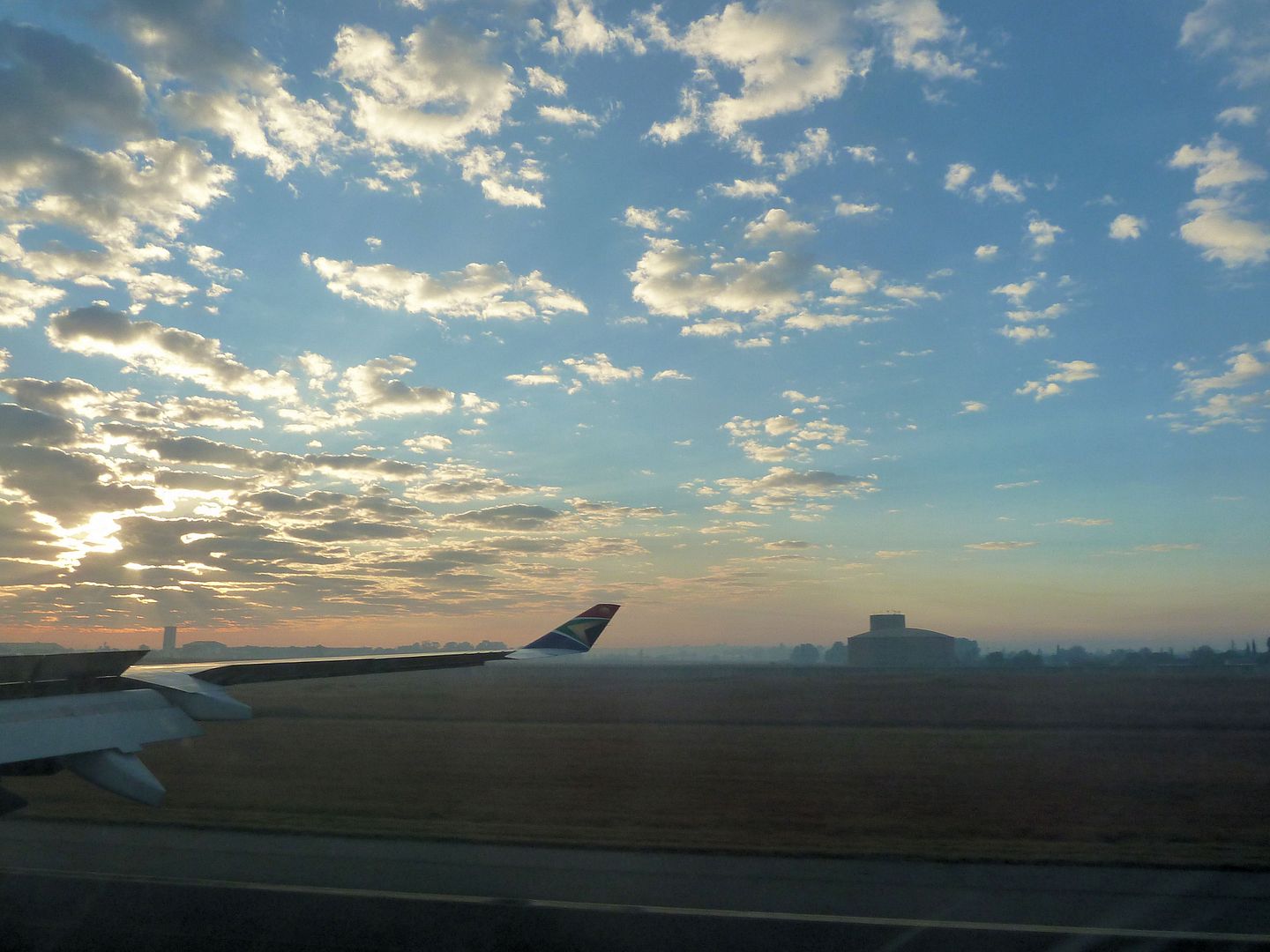 After spending about 10 minutes on the taxiway, we arrived at the gate almost exactly on time. I was fascinated by the low clouds over the airport - and various aircraft on the ground. Here's an Arik Air 737-800:
JNB Spotting
Due to the central location of our arrival gate, it was only a short walk to immigration. After waiting about 20 minutes in queue, I quickly got my passport stamped - without being asked anything. As soon as I had changed some money, I checked in for my domestic flight to Durban and went straight to the observation deck on the fourth floor of the International Terminal:
This statue of anti-apartheid politician
Oliver Reginald Tambo
was unveiled on the occasion of the renaming of the airport in October 2006: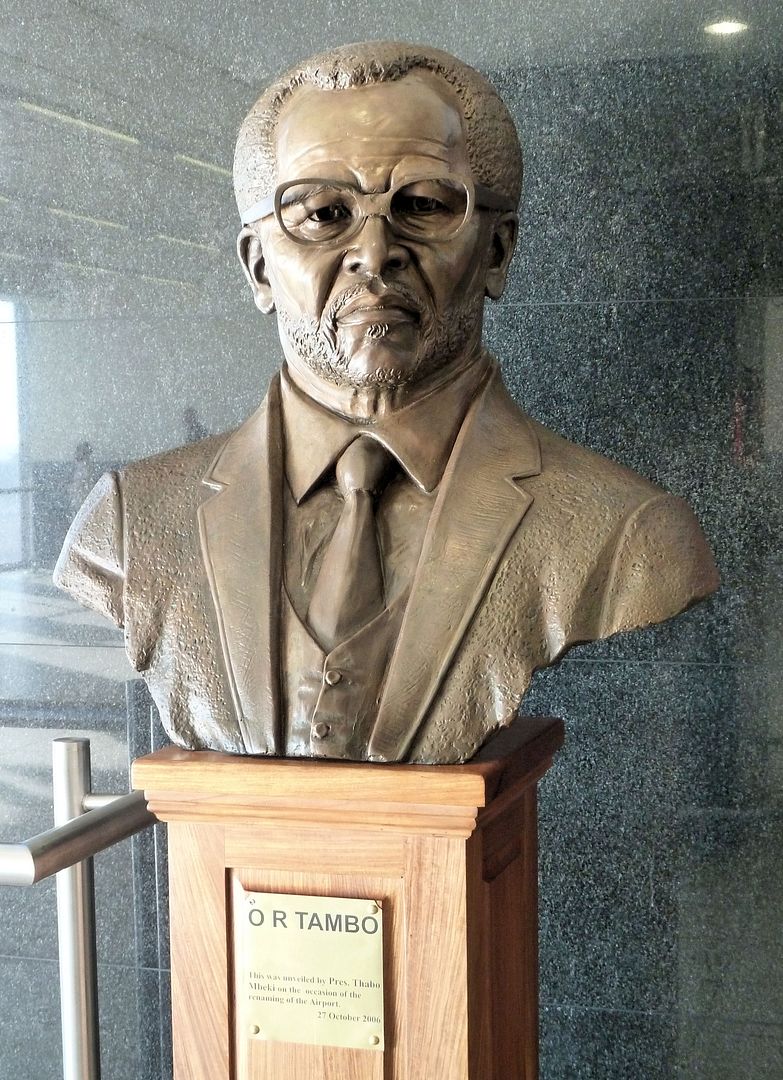 There's only a limited number of chairs, but I preferred standing after the long flight anyway: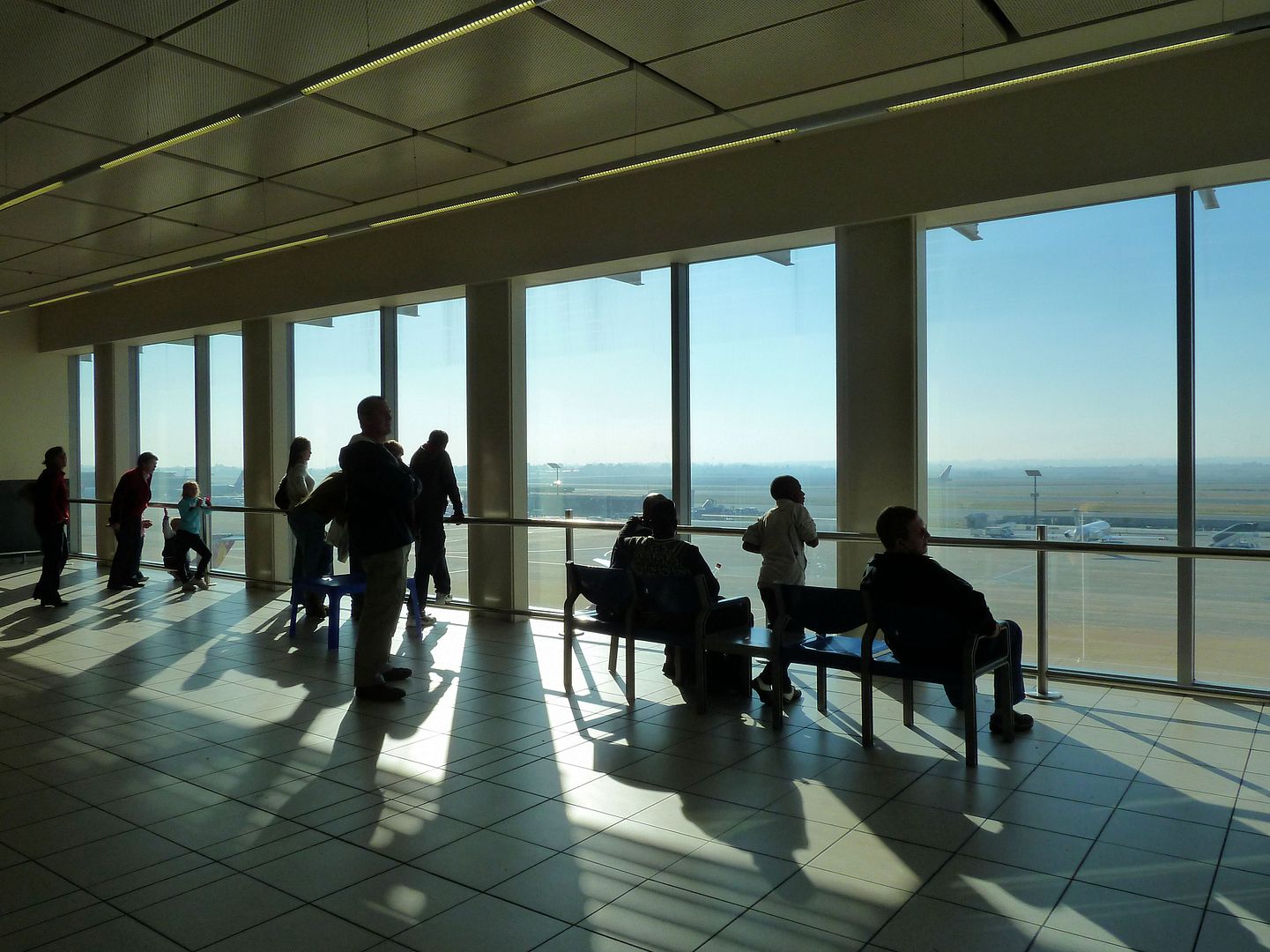 The facility is not suited for photographers - as clearly visible on the next two pictures - but excellent for registration spotting:
I really enjoyed hanging around there - I was able to log registrations of most arriving and departing planes, all these interesting movements kept me very busy:
After 1.5 hours, it was time to leave, unfortunately. I didn't have enough time to visit the observation deck on the domestic terminal, but I was able to continue spotting for a while in the gate area. I logged a total of 62 new registrations in about three hours at JNB which was very pleasing.
Story to be continued...
Conclusion
South African Airways was named the best airline in Africa at the 2011 World Airline Awards. Justified or not? Probably. What I can say without hesitation is that SAA belongs to the best long-haul airlines which I have flown on. Seating comfort, catering, staff and service were great - and even though the IFE system on the A340-600 is a bit outdated in general, it offers most enjoyable tail camera views. I wouldn't hesitate to take a SAA long-haul flight again, but I wouldn't want to get on the remaining A340-200s (to be retired later this year) or the two ex-Iberia A340-300s. I can only hope that the latter ones will get refurbished soon.
Best Regards,
PlaneHunter
P.S.: Just in case you missed them - my previous trip reports:
Fuel Dump & Return To CDG: Enroute To LAX On 9/11
Greek Quality: Aegean, Olympic & Istanbul Spotting
Exploring A Virgin: VS A343/A346 & Dubai Delights
Superb Stübli & Crew: LAS-LAX-ZRH-MUC, LX J Class
Grand Canyon & More: Scenic Flight On Dornier 228
San Francisco Sunshine...and A Frontier Fiasco
Fully Flat Bed to SFO: SWISS' New Business Class
Mountains, Meals & More: SunExpress Vs. Pegasus
Crossing Two Oceans: AKL-SFO-MUC, NZ 777 & LH A346
Bad Weather & Other Bad Luck: Touring New Zealand
Trans-Tasman Treat: Aerolineas Argentinas A340-200
Detours To Sydney: Wildlife, Tiger, REX & QFLink
Thai Fails To Impress: MUC-BKK-BNE On 744 & 777
Painful Delay & My 100th Airline: AF A380, VO F100
Fifth Freedom Tidbit: Kuwait Airways A300-600
Ship Vs. Plane: Porto Santo Line & Sata Air Açores
Awesome Approach, Splendid Scenery: LIS, FNC & TAP
Guernsey, Ash Cloud Alarm & Mostly Empty SQ 77Ws
Totally Thrilling: Scenic Flight On Lufthansa A380
Cirrus D38, Adria CRJ & Captain Niki Lauda On Duty
Monarch Hot Meal, E195 & More: PMI-ALC-MAN-MUC
Premium Meal & Palma Spotting: MUC-PMI, DE 757-300
The Dead Slow Transfer: PEK-MUC On Air China A332
Cancellation Brings Joy: HKG-PEK on Dragonair A330
A380 Cacophony, 777 Star Livery: DXB-SIN-HKG on SQ
The Next 5* Carrier? MUC-MCT-DXB, Oman Air A330
Turkey For 1.5 Hrs: Daytrip To AYT On Sky Airlines
CO Scores Again: ATL-IAH-EWR-FRA On ERJ, 752 & 764
Riding The Ultra Long-Haul Twin: Delta 777-200LR
Pacific Coast Jaunt: 3 Carriers, E120, E140 & Fog
The Ultimate 737: LHR-IAH-PDX On CO 777 & 739ER
Bye Bye, Hell! TRD-OSL-TXL-NUE - DY/AB/HE DH4
My Trip To Hell: NUE-CPH-OSL-TRD On Cimber & SAS
SFO-YUL-FRA: Map- & Sleepless On Air Canada's 77W
Sin City Gloss & Virgin America's Chic First Class
Seat Dilemma & Canyon Glamour: FRA To LAX, AC 763
On Par With Air France? DTW-AMS-MUC, KLM A330
Goodbye, Red Tails! DC-9-40/50 & Chicago Tour
Champagne & World Of Coke: Air France A340 To ATL
"Mission A380": Disappointing Legs On BA/BD/EI
Delights Of Doha, 773 & 77W: DOH-DXB-LHR On EK
A380 Really a Step Forward? LHR-DXB-DOH On EK
Quality & Style: HKG-LHR On Air New Zealand 744
Taiwan Trio: TransAsia, UNI Air And The Taipei 101
"The Wings Of Taiwan": EVA Air A332, 744 Combi
SHA-SZX, Shanghai 757: Delayed By The Military
PEK-SHA, China Eastern A330 & Shanghai At Night
Striking Newcomer: Berlin-Beijing On Hainan A330
Short & Splendid: MXP-MUC On Air Dolomiti's 146
3 Hours On Blue1: HEL-MXP On The MD-90
Winglets On A Classic: MUC-RIX-HEL On Air Baltic
BCN-MAD-ZRH-MUC: UX Shuttle Meets Swiss Quality
MUC-MAD-BCN: Star MD-87 & The Pain Of Vueling
Low Fares, Lovely Island: AK & Best Of Langkawi
4 Stars Or 5 Stars? FRA-KUL-FRA, Malaysia 777s
First And Last Time? JFK-FCO-MUC, Alitalia 777
JFK For 1 Day: Transatlantic Hop On CSA's A310
Sardinian Sun, Shiny New 73Gs & Cramped Mad Dog
Top And Flop: KIX-HEL-MUC, Finnair A320 & MD-11
The 524-Seat Twin-jet: HND-ITM On ANA 777-300
Kobe For 1 Hour: 767-Quickie On ANA & Skymark
Rocketing To Tokyo: FUK-HND On JAL (ex-JAS) 777
Oddities & Okinawa: JTA 734 & JAL 744D(Domestic)
MUC To Nagoya: Finnair E170 & (Old) "New" A340
Mad Dog, A320 Tech Delay & Best Of Lanzarote
Canaries Prop-Hopping: Islas Airways & Naysa
Canaries And Confusion: LH CRJ900 & Spanair A321
Hubbing For 162 Miles: HOQ-FRA-STR Ret On IQ/EW/LH
BOS-JFK-AMS-MUC: SSSS-Check And KLM 777
ATL-PIT-JFK-BOS: FL B717, JetBlue E190 And Delays
MUC-AMS-MEM-ATL On NWA A332 And 40-year-old DC-9
FRA-BKK-FRA Via CMB: SriLankan A332 & A343
BNE-SIN-DXB-MUC On Emirates B772ER & B773
2 Hours In Paradise: Hamilton Island (JQ/DJ)
BNE-SYD-BNE: Domestic Run On QF's Oldest B747-400
Testing Qantas: SYD-MEL-SYD-BNE (B738, B763, A332)
Going Down Under: MUC-DXB-SYD On EK A332 & A345
Surprised By NIKI's Newest A320 & Screw-up By AB
Leisure Vs. Full Service: Condor & SN Brussels
"betterFly" On LH: Business Class For 99 Euro
Weekend Transatlantic Trip (2): US A321 & B762
Transatlantic For A Weekend (1): MUC-DCA On US
[Edited 2011-09-23 13:07:31]