I know there are already quite a lot of reports on SAS/Blue1 trips on that or similar routings. Because of that I had not planned to write a trip report - but then travelling turned out be quite intersting so I will make a short report.
This trip was planned within a quite short time. Two weeks ago I had been on a trip to the USA (report on that will come soon). During my stay there I got an email from my boss if I would like to go for a meeting to Helsinki (or better the town of Espoo beside). I said yes and then realized that I would have to leave quite shortly after my return from America. Well - could happen
Some weeks before I had been at Arlanda Airport (Stockholm) for some spotting. There I got my first B717 in my log. I had never seen these before. Well - that now gave me a chance to fly one. I looked on the Blue1 and SAS webpages and ended with booking a return trip like this:
wednesday morning, 9:10-11:10, Arlanda to Helsinki on Blue1 B717
thursday evening, 19:45-19:45, Helsinki to Arlanda on SAS MD80
additionally I got myself train tickets here from Linköping to Arlanda airport. That trip would give me a lot of "new"
- first time Finland
- first time ARN
- first time HEL
- first time Blue1
- first time SAS
- first time B717
I already had the MD80 on a Alitalia domestic route - nice plane but in horrible conditions .... so I was looking forward to get maybe some better experiences on a MadDog.
But well, the trip didn't turned out the way it was supposed to be....
My trip started with getting up a 3AM in the morning - which is a horrible time if you still have some remaining jetlag. After getting some breakfast and stuff I took my car to the train station where my train would leave close to 5AM. Here the first misfortune stroke. The ticketing machine for parking charged my credit card without printing any ticket - so I spend about 10 minutes on the phone with the hotline until I had a number to put in my car instead of a ticket. But this guy of the nightshift was only able to give me 24hours of parking so I had to call them again from Finland... Well, in the end it worked out and I had my car parked.
There are trains running through from Linköping to Arlanda airport. I had booked a quite close connection with 1.5h transfer time at ARN so I didn't had to get up even earlier. Well ... at one small station inbetween our train got stuck. There was an announcement that we will have to wait roughly ten minutes. OK, that would still be managable for me. After these 10 minutes there came another announcement that we will be stuck here for another half an hour - OHHHHH... not good. That will become quite tight. But luckily the train continued some minutes later so we had only a quarter of an hour delay. In Stockholm we had to change the train "due to technical reasons", so we again lost some minutes but I finally arrived at ARN about 1 hour before my flight was scheduled. Luckily checkin and security were really fast so I even had some time left at the gate to get me some second breakfast. My plane wasn't even here yet.
But there she comes - nice one, isn't it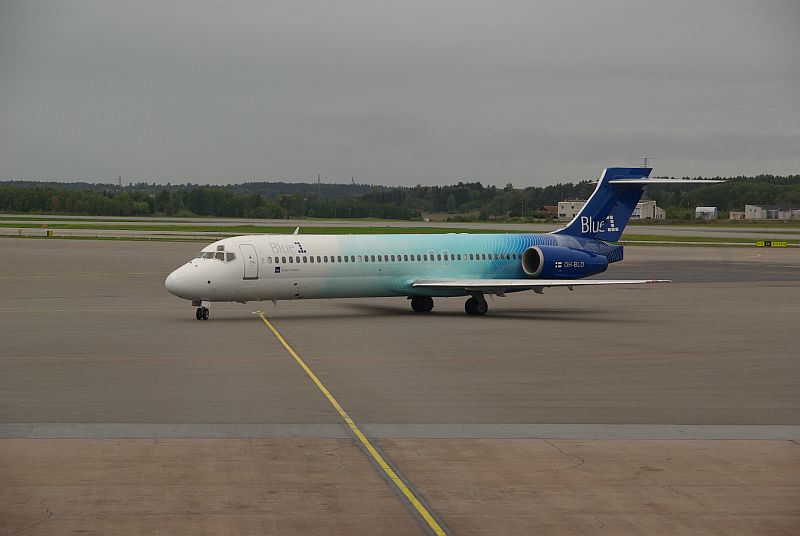 Our plane today: OH-BLO
boarding went smooth and fast with a very light load of maybe 40-50% and mostly businessmen who knew what to do. So quite soon we were pushed back and a short safety demo (only in english) was done. We left ARN on RWY 19R in southerly direction.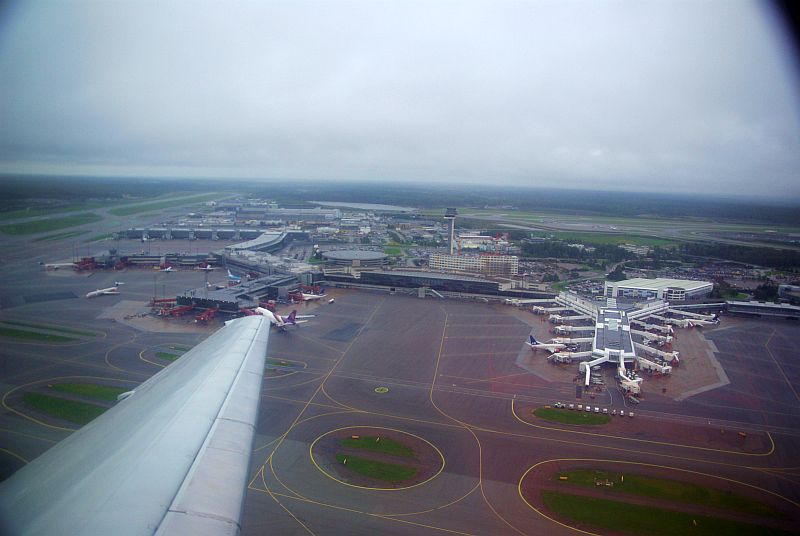 ARN terminals 4 and 5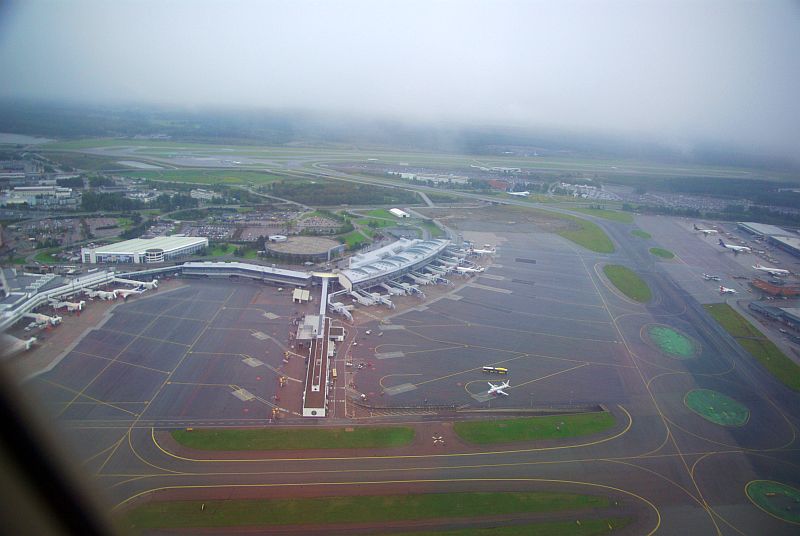 ARN terminals 2 and 3
The announced flight time of 45 minutes was not the real flight time but gate-to-gate so we arrived 15 minutes ahead of schedule. During the flight some hot drinks or water were served in economy. In premium they got a full breakfast and a wider drink selection.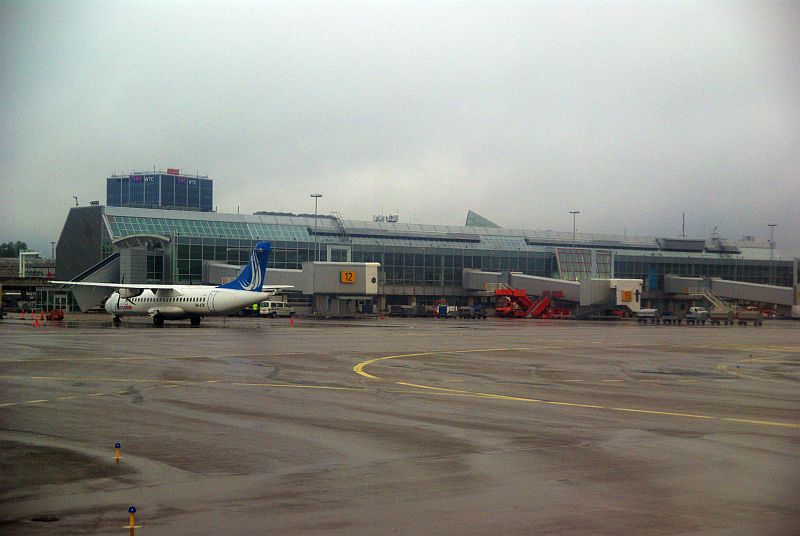 arrival at HEL terminal 1
I spend one-and-a-half quite rainy days in and around Helsinki before I wanted to return home.
On thursday morning (still in my hotel room) I made the online check-in for my return flight. Here they showed - as expected - the MD80. Well ... in the afternoon I had some spare time and decided to check if my flight would be on time. I went for the SAS homepage and looked for my flight status. It said 19:45 so everything fine. Then I looked on the check-in page to see if the system had accepted my seat request in the morning (I had not been able to print the boarding pass at the hotel so I was not sure if everything had been saved). Oh, there is no seat selected for me. Maybe the system had not saved my checkin. But ... hey, what's that ... now my flight is 18:55 instead of 19:45 ... ??? I rechecked my e-ticked but there I had the 19:45 flight. And at least the SAS webpage showed my flight on time ... hmmmm. Then I checked both airport websites of HEL and ARN and both showed my flight as cancelled ... damnit...
SAS had rebooked me to an earlier flight without any notice. So in the end I had to leave my meeting earlier and I missed some part to reach my flight. I made the online checkin (again) now for another Blue1 B717 flight. Sadly I had not been able to choose a later flight as I then would have missed the last train going to Linköping. Well ... no MadDog this time... I am just wondering why I didnt get any information (they have my frequent flyer number so they also have email and even mobile phone). If I would have come in time for my planned flight (I had done OLCI already so I would have been able to come quite close in time) I would just have missed it. I was really lucky to be curious and that I had rechecked my flight during the afternoon.
Well, I left the meeting a bit earlier and took a taxi to the airport. Check in and safty were fast again and I was airside soon. I spotted some nice planes while waiting for mine.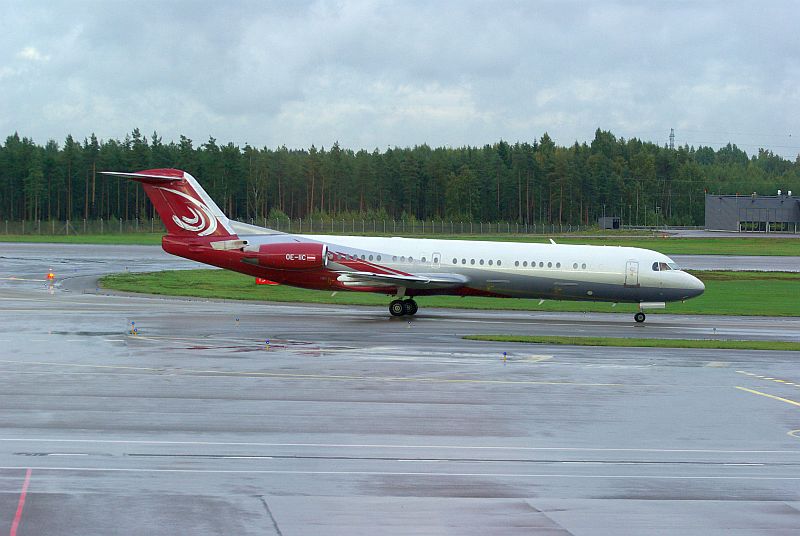 Fokker F100 in business version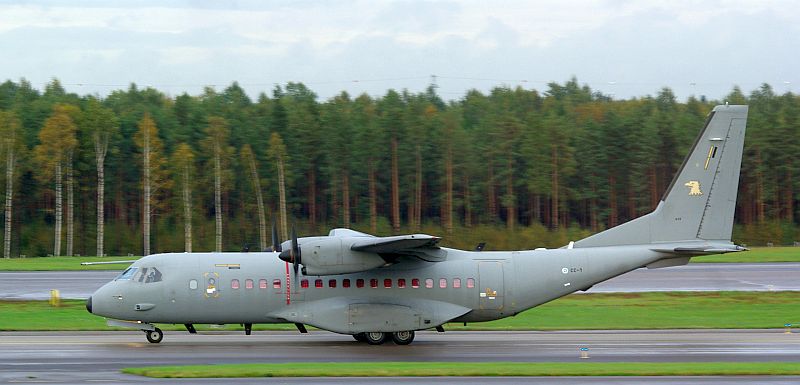 CASA 295 of the finnish airforce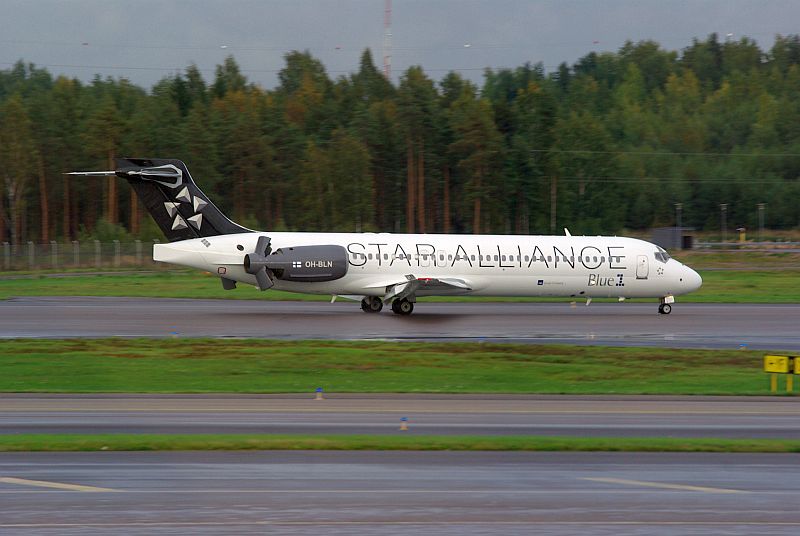 StarAlliance Blue1 B717
StarAlliance SAS MadDog
That will be mine now, Blue1 B717 OH-BLJ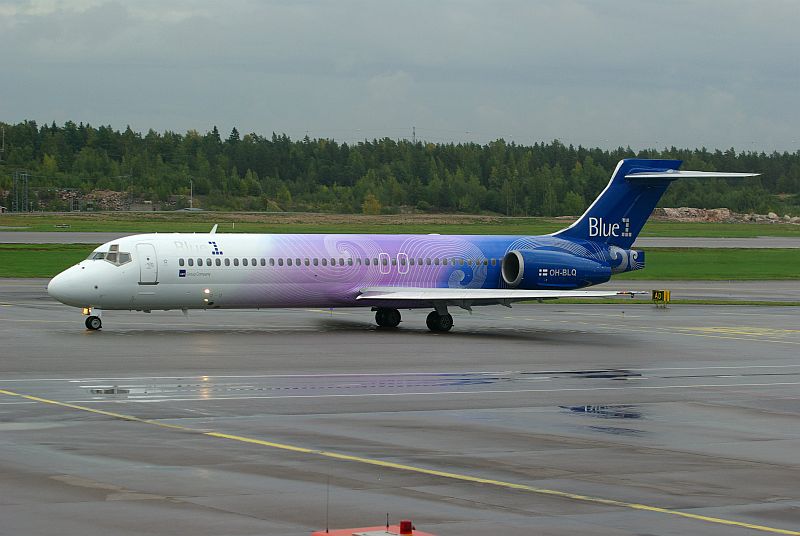 Ugh, what a strange color combination ....
We soon started boarding again but this time the plane was 100% full - most likely due to other passengers of the cancelled SAS flight. We even had seroius problems to find space for all the on board luggage. Just one legroom shot - not much - but enough for these 45min-hops.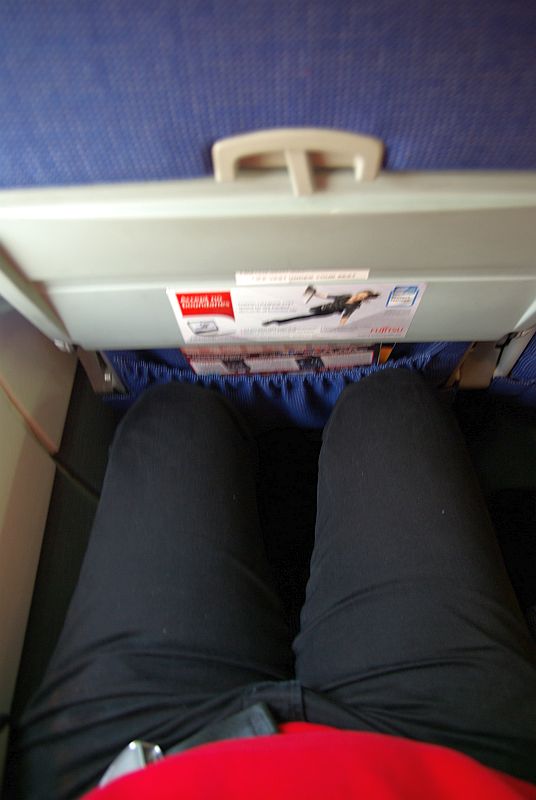 Blue1 B717 legroom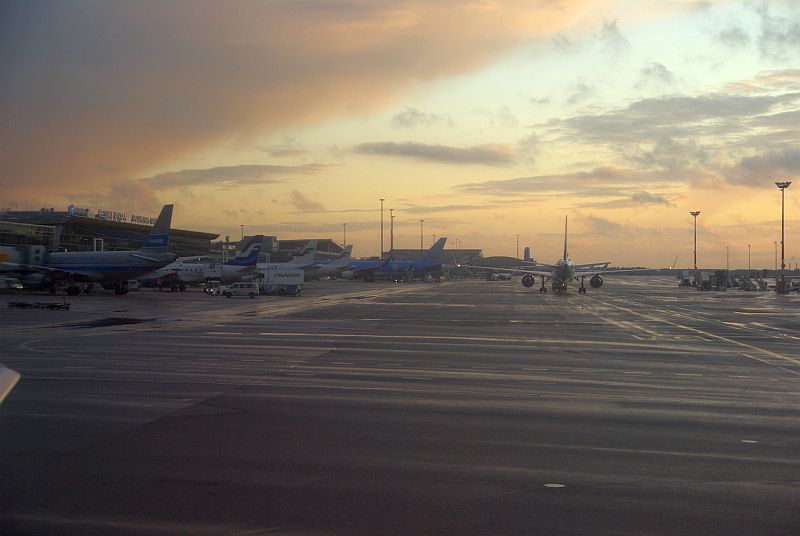 view along HEL terminal 2 with Finnair retrojet and one TUInordic B767
One last view in direction to Helsinki - well, at least the weather is getting better when I leave
archipelago at the finnish coast
The window blinds on this plane were a bit loose. Mine was coming down now and then by its own ... its not good if you are taking pictures in that moment and suddenly half of your image is black. but it seems other blinds had the same problem:
window blind with paper-stopper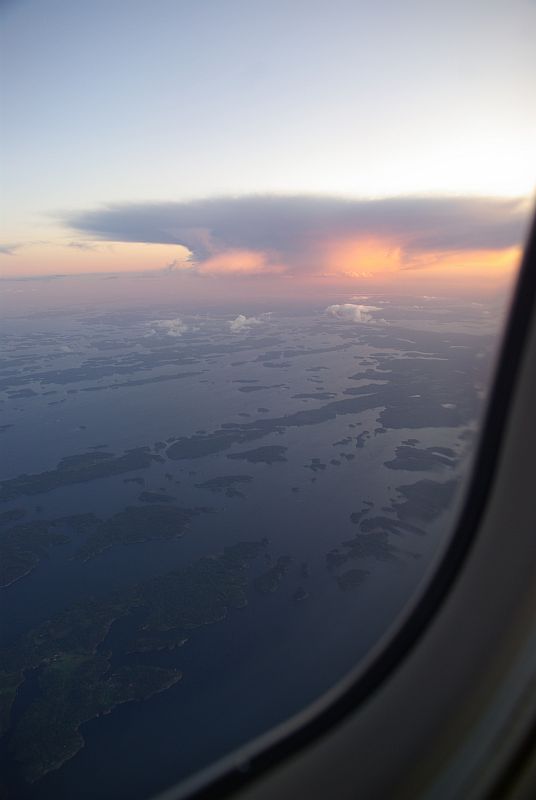 archipelago along the swedish coast
Well, after docking at arlanda I had some spare time as I was now too early for my trains. So I had enough time to leave the plane as one of the last passengers. When going to the front I asked one of the staff if I would be able to have a look into the cockpit and that was granted
here it is: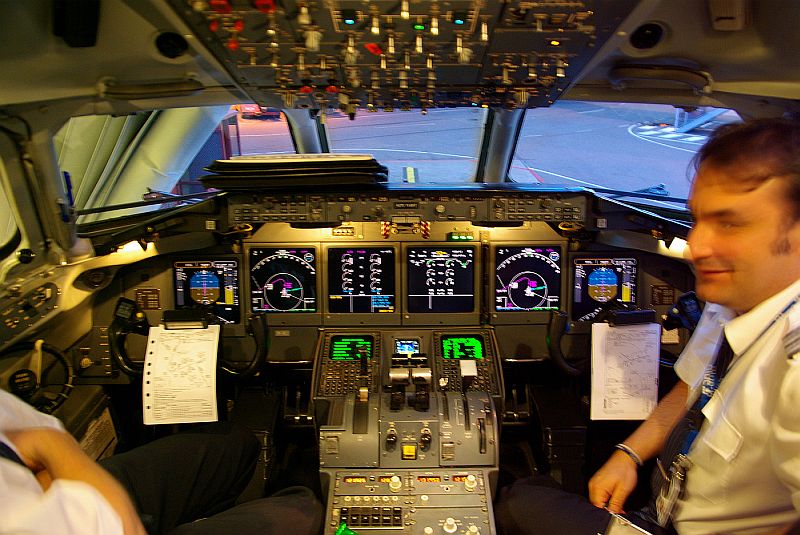 B717 cockpit view
Well at least one nice thing on that trip
Thanks to the crew for that! After getting my bag I went straight to the SkyCity to get some dinner during the remaing time. From there I had a good view on one of the more rare guest at ARN: A Korean Cargo B747 (slowly) taking of in front of me (sorry, no photo - it had been too dark). The trainride back on the Arlanda Express and on one reginal train went smooth and without any hassle and I was back at home half past midnight.
Thanks for reading and for all the comments that will (hopefully) come
PHILIP