Stalin´s tooth or how to take SP-LIA to meet SP-LTA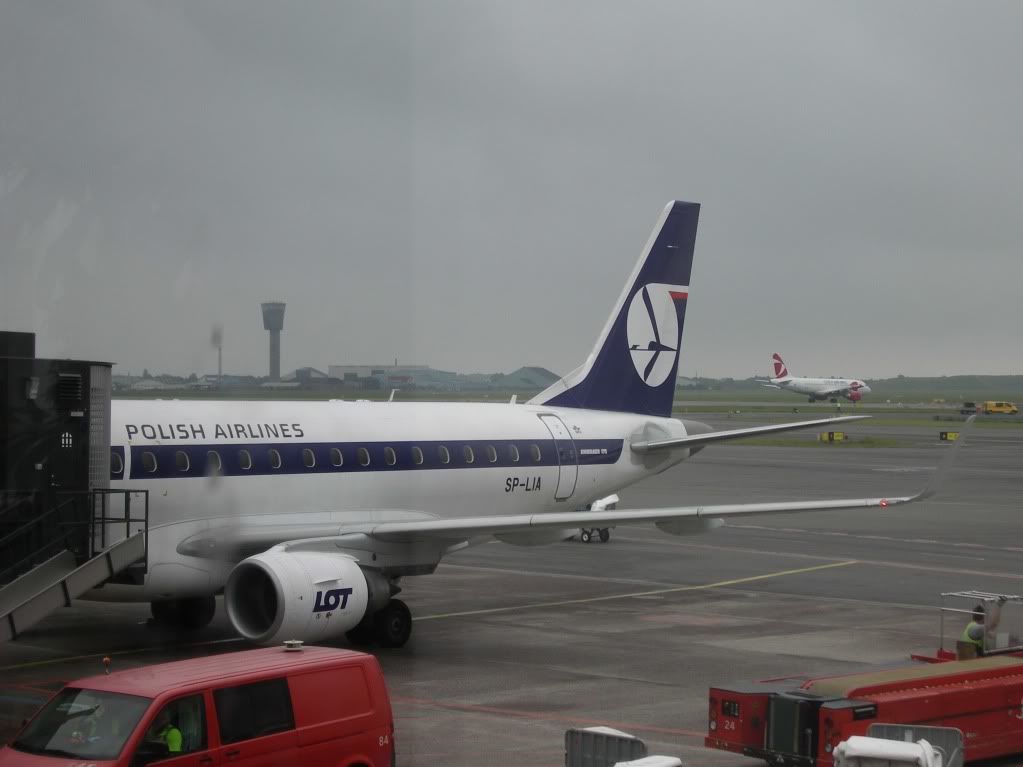 Czesc, dear readers,
turning the calendar around, for the second half of the year, that´s finally done and now it´s early July.
I was in Warsaw some years ago, but abandoning the city on the Warszawa-Berlin Express train. So it seems a good idea to catch WAW as a new departure airport. Beside that, to climb up this super special building called Pałac Kultury i Nauki or better know as Stalin´s tooth is also on my to-do-list.
A good friend here contacted me some days prior to the trip and what´s better than to do this with local companion at your destination?.
Logged five flights on SK the last time
Blue And Red Take Five And An A.net Joint Flight
(by
FLIEGER67
Sep 17 2011 in Trip Reports)
So it seems also a good assignment to Mr. S., the lazy guy at the scheduling department, to go for a bit more variety today in airlines and aircrafts.
He responded some days later, four airlines, four different plane types, three lounges, anything else needed?.
Ok, no complaints here.
Well, some sun will be also nice!.
Here is the updated departure airports map
Departure airports
auf einer größeren Karte anzeigen
and the latest routes
Tripreporter´s Flüge
auf einer größeren Karte anzeigen
Thursday, 07.07.2011
.
.
.
.
Service SK 668 operated by SAS Scandinavian Airlines
Scheduled: 07.00 // 08.35
SK is on a summer campaign, so it seems, a number of good offers also on the STR-CPH route.
S. secured the first leg of the day by Fly.de for as low as 55.00 Euro´s one way. Web-Check-In is ok, again with the LH website, seat 23 F, the second to last row window for me .
No need to change the cellphone alarm from the last experience, 4.00 am is well ontime to reach the airport
with a good time buffer.
It looks like, that the car found the way close to without any action from me, also the usual parking spot with the shortest walking distance to the terminal is open.
The well needed sidestep to the LH First Class Check-In desk now, to update my Senator status which is hopefully in the system for further bookings.
Well, I received the classic paper boarding pass, ok so far.
Let me check the screen. Everything ok with my service
from the well known gate 159?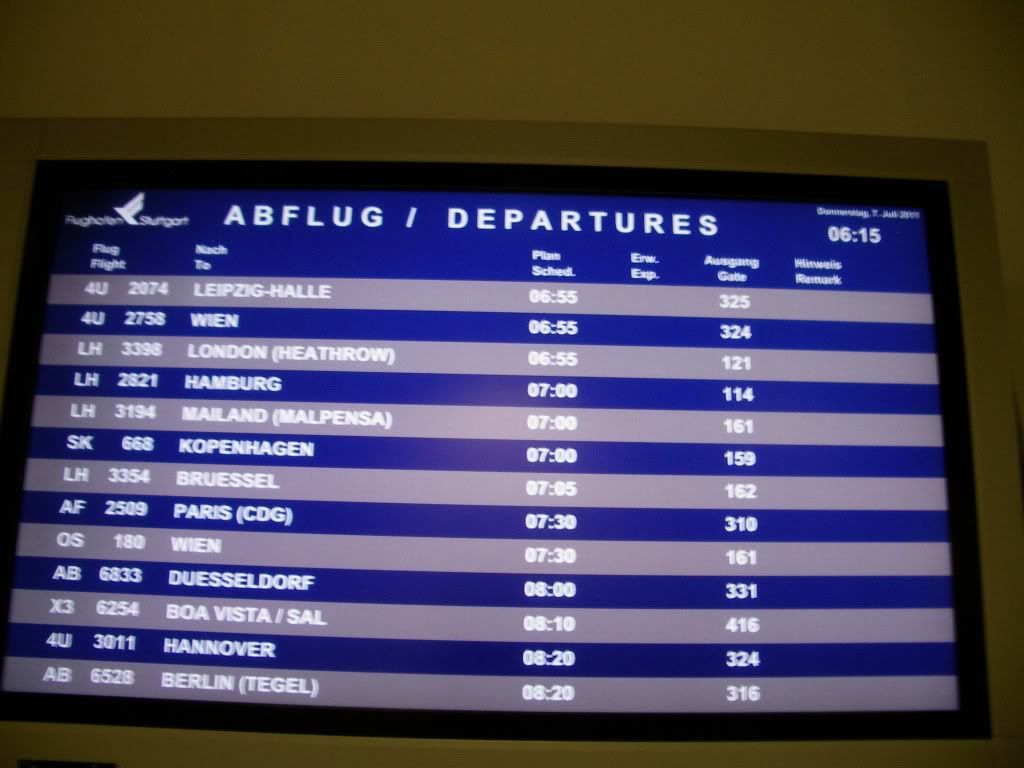 No time to wait at security today.
No need to go down to the groundfloor first, I know the way.
Upstairs right now to join the Senator lounge.
Well presented and welcoming looking offers this morning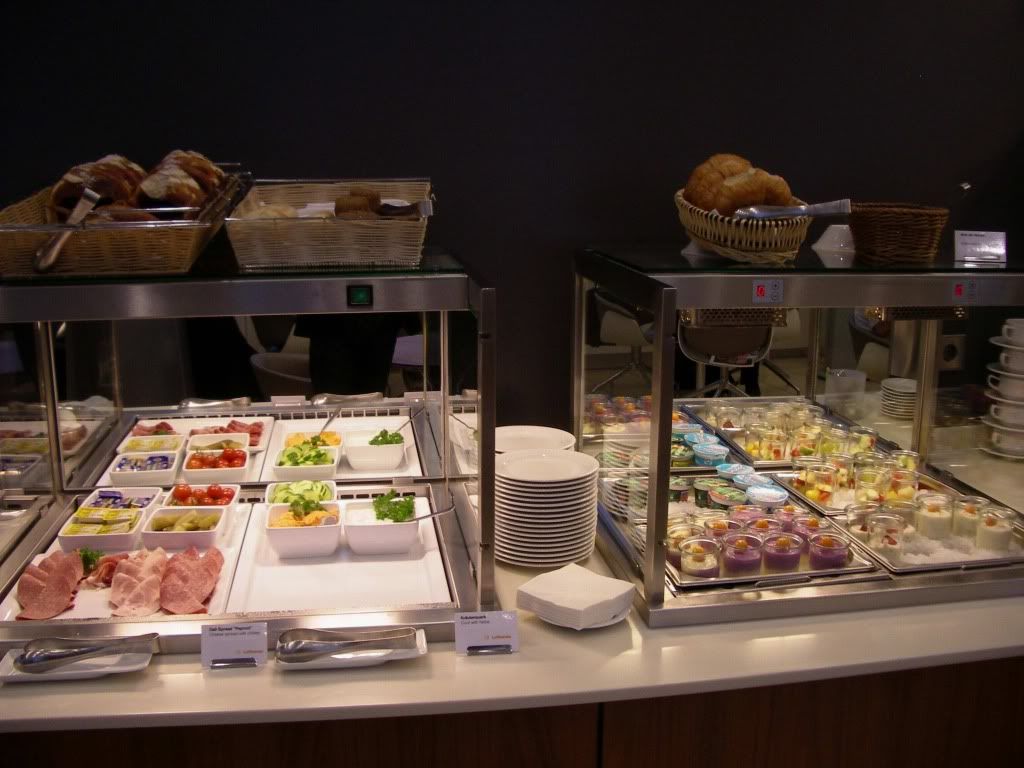 Boarding is on the screen, time to head for the gate now.
Where is the sun gone?. It´s summer here in Germany, at least according to the calendar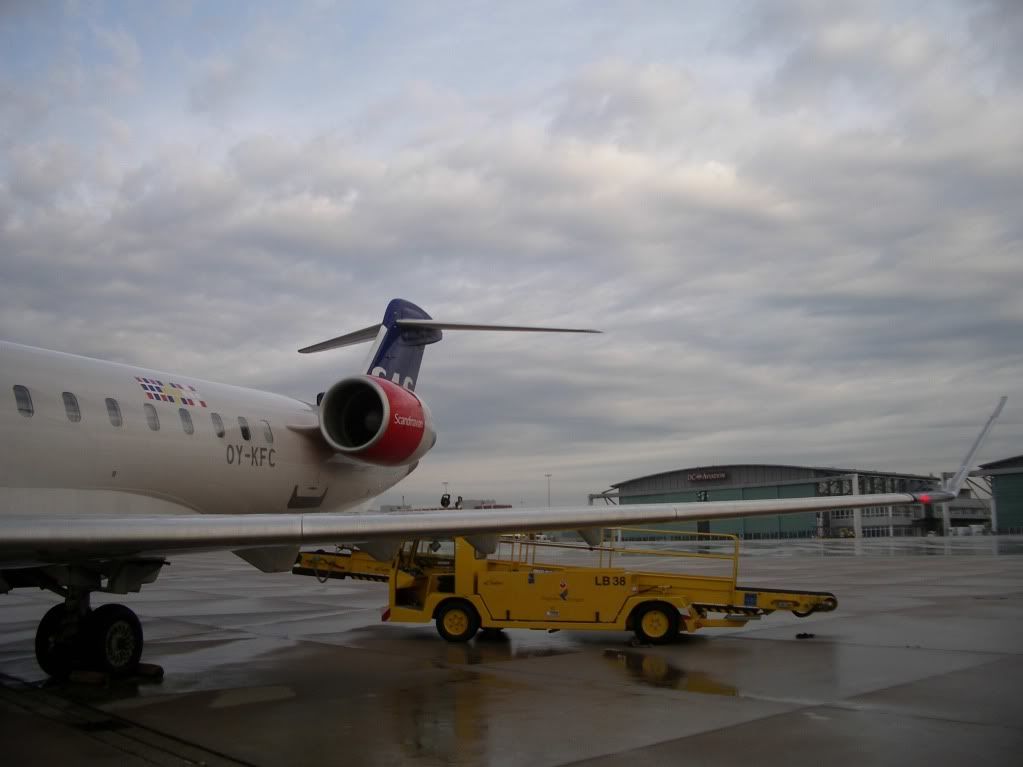 "Bertil Viking" or OY-KFC will shuttle me to CPH today, that reg sounds new to me.
So it is, leg no. 9 on the scheduled CRJ900.
This plane is in service with SK since 20.02.2009.
There are 12 examples in the actual CRJ900 fleet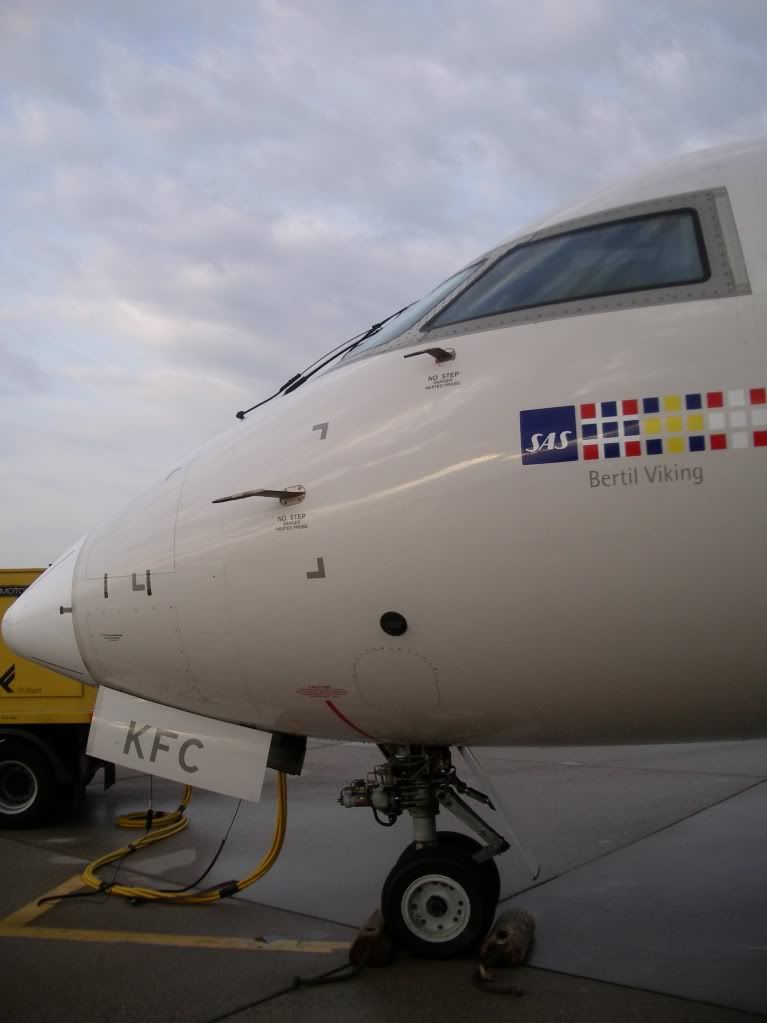 And we know, I like the themes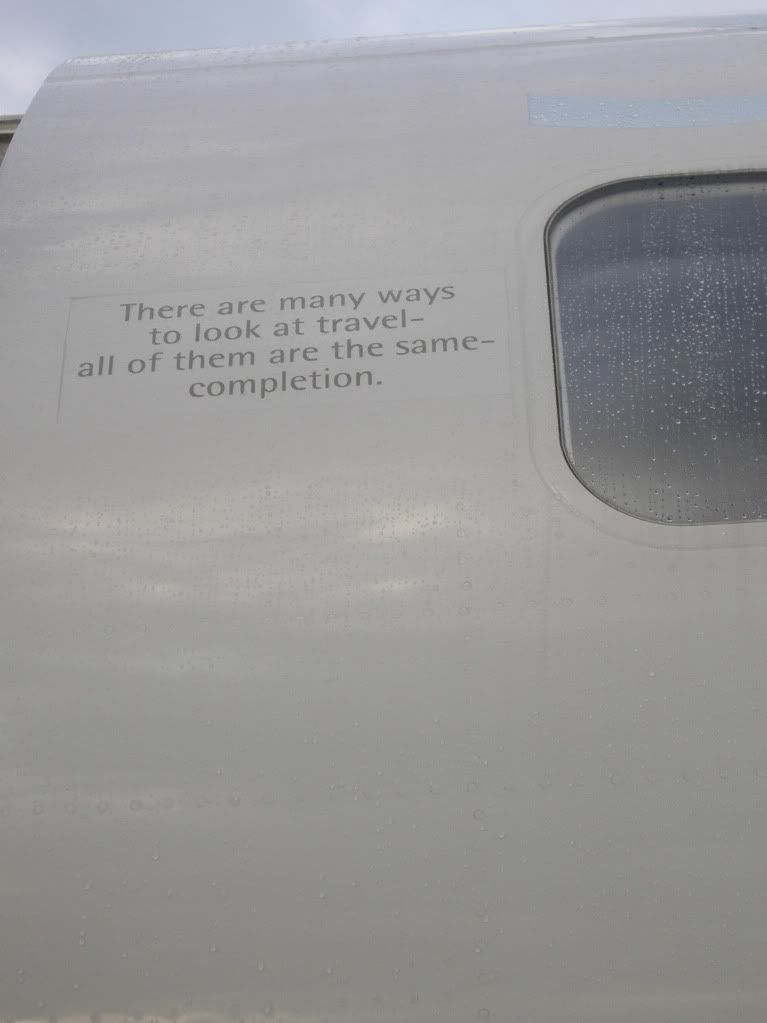 Boarding now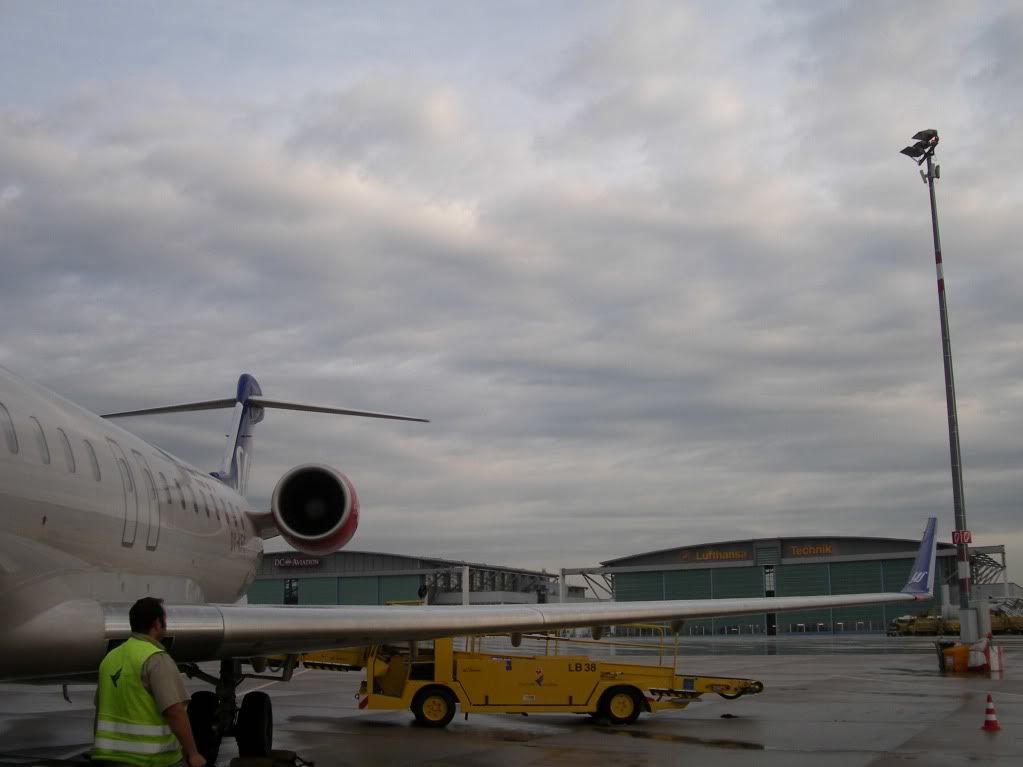 Cockpit crew is from Scandinavia. The captain with a short welcome during boarding.
06.55 am, short ahead to schedule, 15 degrees. It´s wet here, but thankfully no more rain right now.
1 hour, 05 minutes for CPH, departure from runway 07.
The modern style cabin ceiling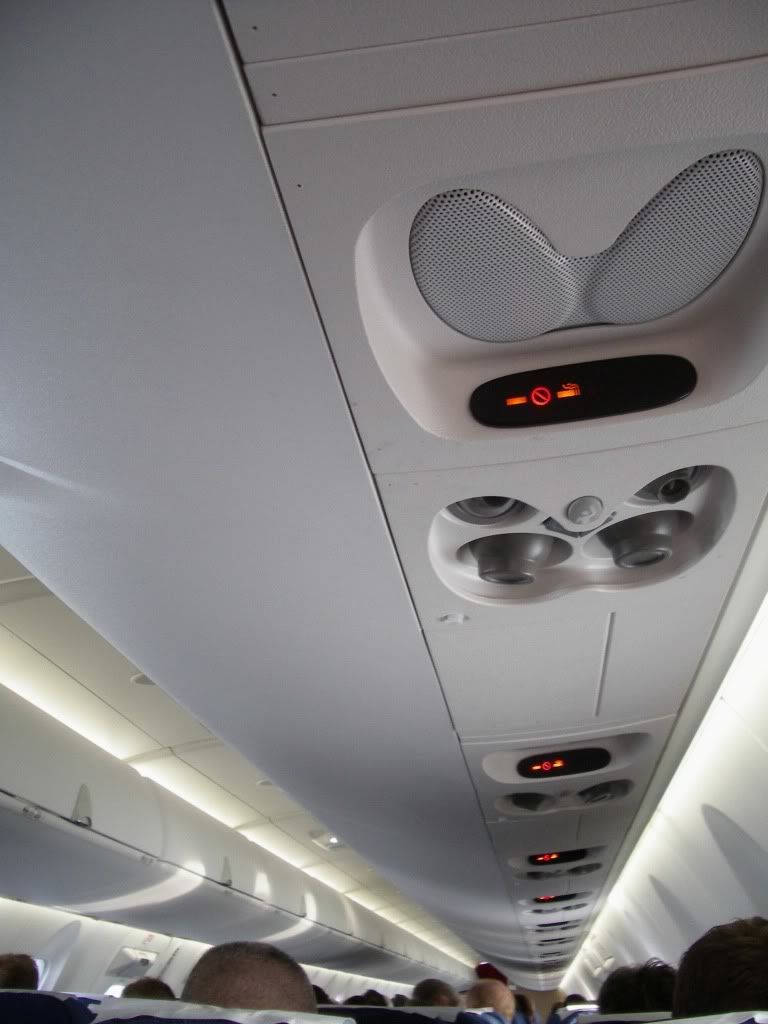 Cabin crew is one young and nice male, together with a very nice young blonde female.
Service is as good as usual, nothing for free!.
The safety card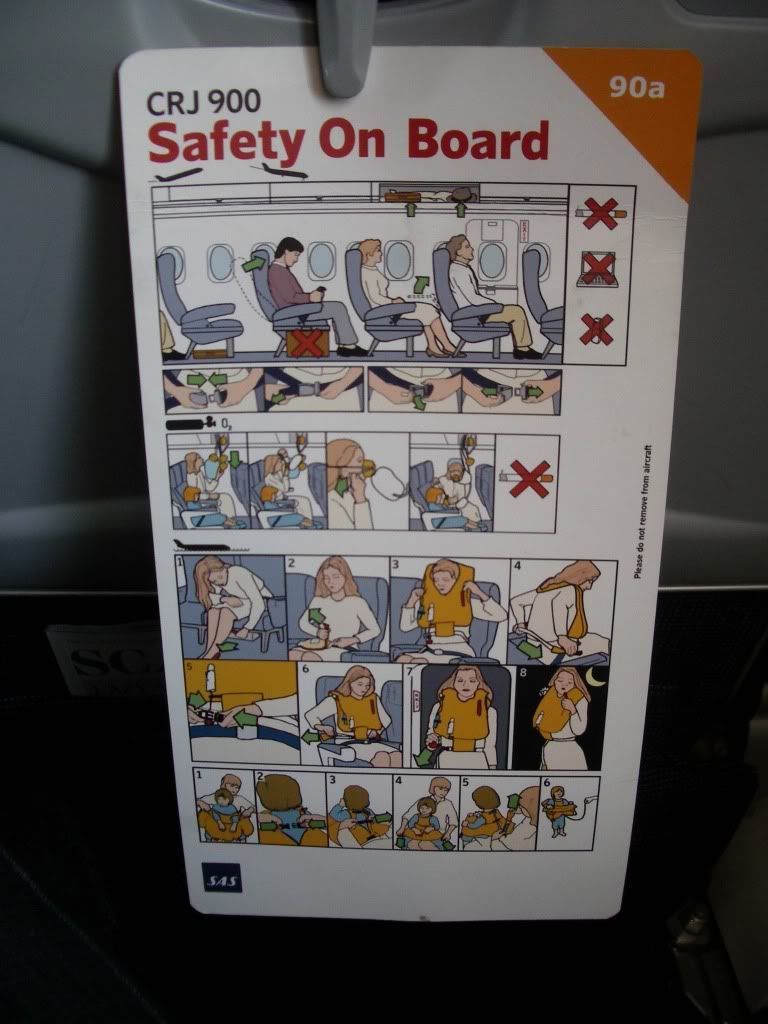 Load is some 60%, mostly biz pax today.
Nerved loud music from the pax in 22F. If he like this kind of stuff, ok, but imagine there are other pax around who maybe don´t like it. It was a terrible cheap mix up and down the charts from some years ago.
He falls asleep with his headset but I want to read my book.
Comfy legroom here with the darkblue fabric seaters. Two for me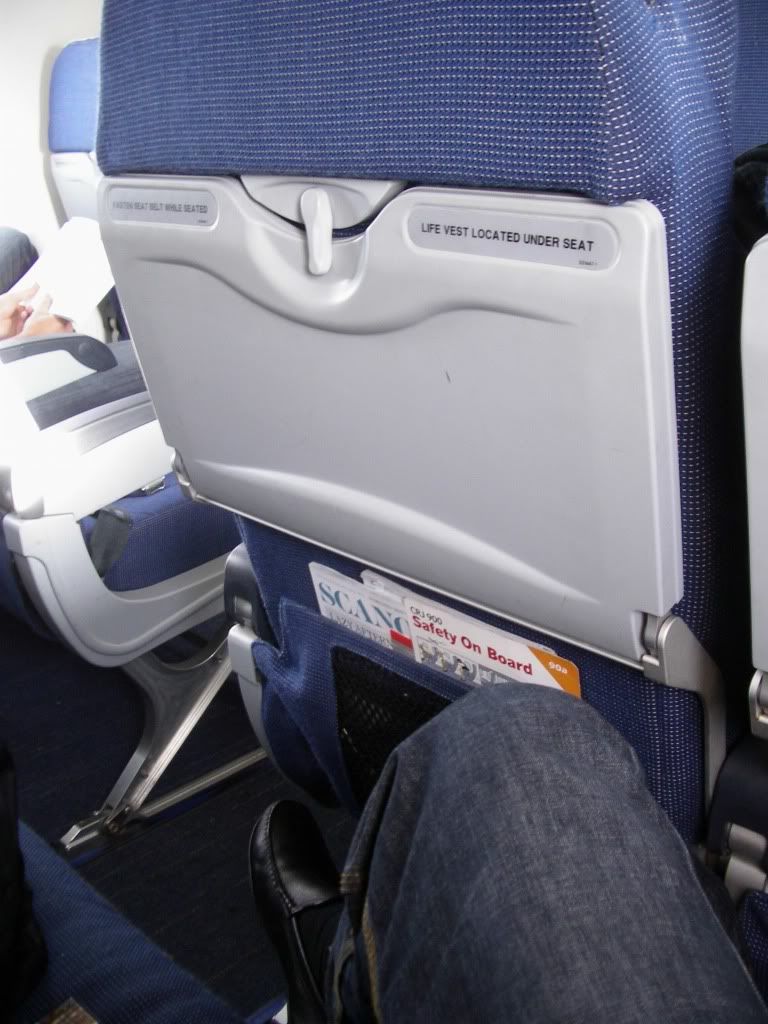 The captain is on the mike again, very nice and detailed. We´re cruising east of HAJ at 36000 feet.
Clouds ahead, it seems also not the expected summer weather in Denmark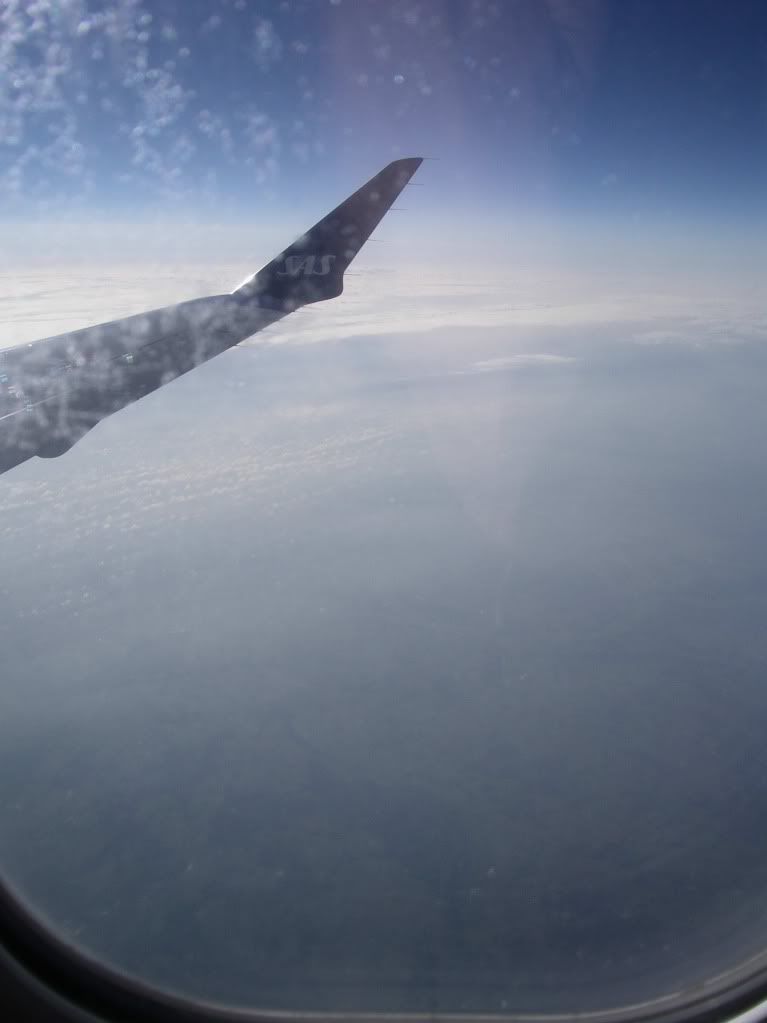 The captain again with weather informations very nice on approach.
3300 meters runway 22L is doubtless enough for us today. 8.20 am,15 minutes ahead to schedule, 17 degrees and light fog around.
Bye now to OY-KFC, if nothing goes wrong, no chance to fly this machine twice today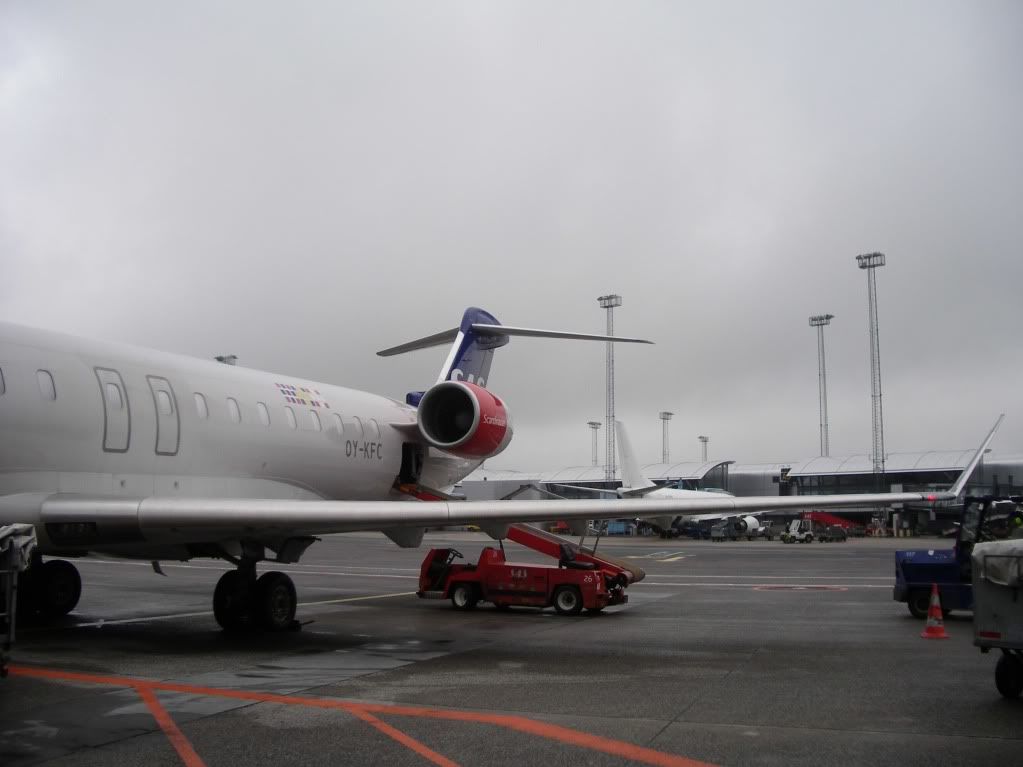 Up the stairs to the terminal entrance, en route for the next step now.
"Are you satisfied?". S. texted me immediatelly after my arrival at CPH, sitting in his comfy armchair, a bottle of Koneser Vodka from Praga on the table to prepare himself for my visit in Warszawa.
Well, there are no complaints till now!.
....................................