Due to the length and the amount of pictures I devided this report in three part - this is part three
------------------------------------------------------------------------------------------------------------------------------
LPI-AMS on KLM Fokker70
AMS-JFK on KLM B744 (my first time B747)
JFK-CLE on Delta Connection CRJ200
CLE-MSP on Delta Connection CRJ200
MSP-AMS on Delta B763 (my first time B767)
AMS-LPI on KLM Fokker70
routing of the whole trip
This part three of the report will cover the last two legs MSP-AMS-LPI.
-------------------------------------------------------------------------------------------------------------------------------
After arrival at Minneapolis-St.Paul I had some hours before my overnighter to Amsterdam would depart. As I got the information where to find an observation deck at MSP this was the first point to go to as long as the light was still good for spotting.
Delta, Delta, Delta ... as far as the eye can see ...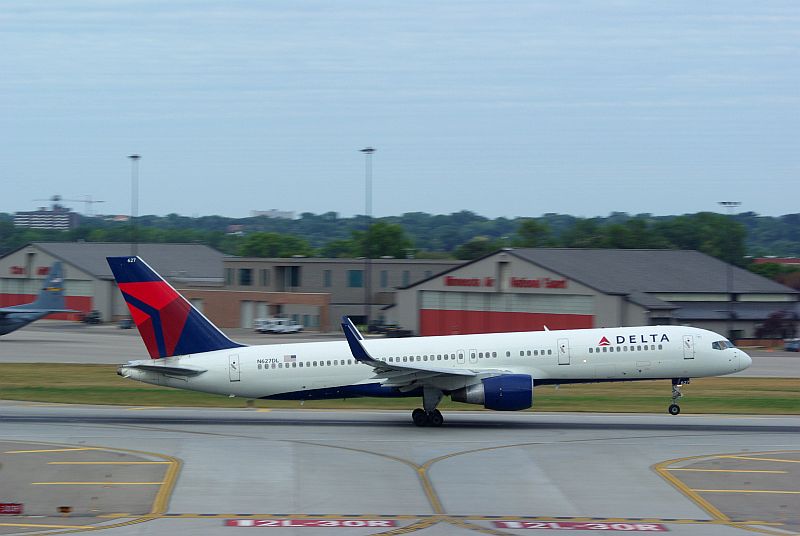 Delta B757 during takeoff
old United paint scheme - and really dirty ...
US Airwas Express E-Jet
a little bit of Sweden at MSP - Saab 340
quite a lot of traffic now - and mostly Delta in the lineup for takeoff - and there was another line beside that one fo the same RWY !!!
nice - new Airline for me!!
After some time I decided to move to some point closer to my departure gate and to look whats going on at the other side of the terminal
and another new airline for me (sorry for the reflections)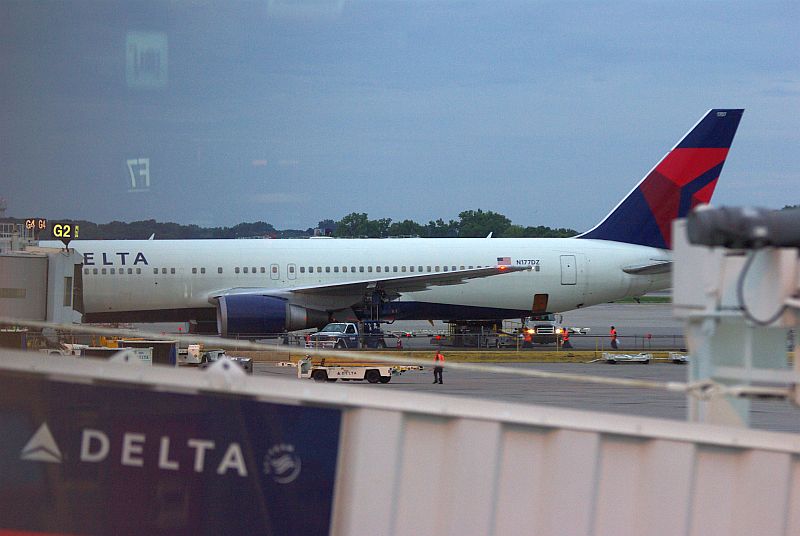 that will be mine for the MSP-AMS connection - looks like an old one - even without winglets
Well, now it became really too dark for normal shots - so I made some test with panning shots - they worked out better then expected
Delta Connection in special livery
Delta Connection E-Jet
Delta MadDog
SunCountry - another new airline for me...
Then I went for some dinner and to spend the last dollars of cash for a magazine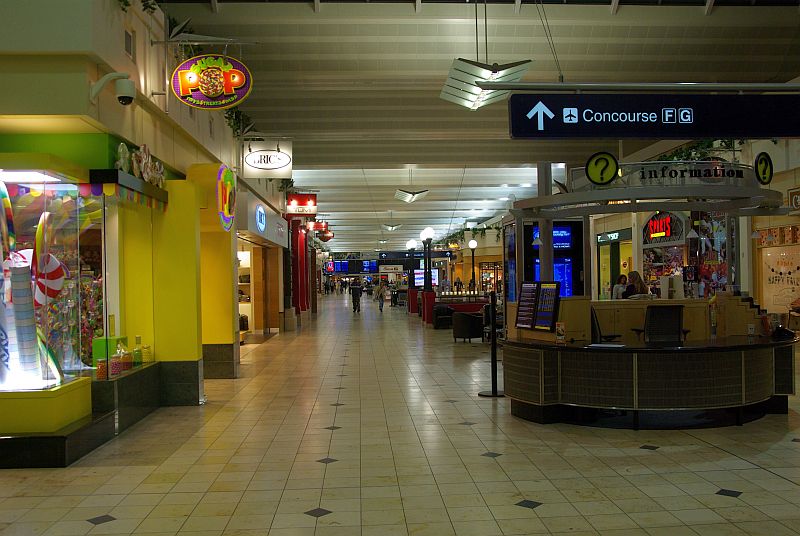 MSP Lindbergh Terminal inside view
There are a lot of shops and Restaurants airside - a bit old style but everything you need (and a BurgerKing with view onto the apron)
Boarding went smooth and it seems most of the people stuck to the zone-system. Soon I had my seat - this time standard economy with smaller legroom
legroom
It seemed we got one of the older B763ER - no AVOD, only the screens in the aisle - really old-school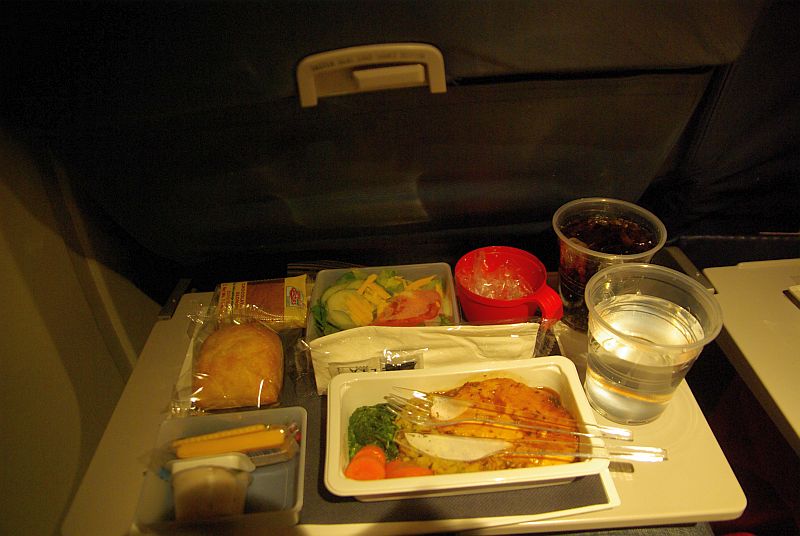 The meal was served about 2 hours after takeof. I opted for the chicken instead of the pasta.
It consisted of chicken, rice, some vegetables, salad, cookies, crackers, a bit of cheese. Well that was it.
Drinks were served quite often during the flight. Mostly water but you could also ask for something else.
the night comes to an end
daytime !!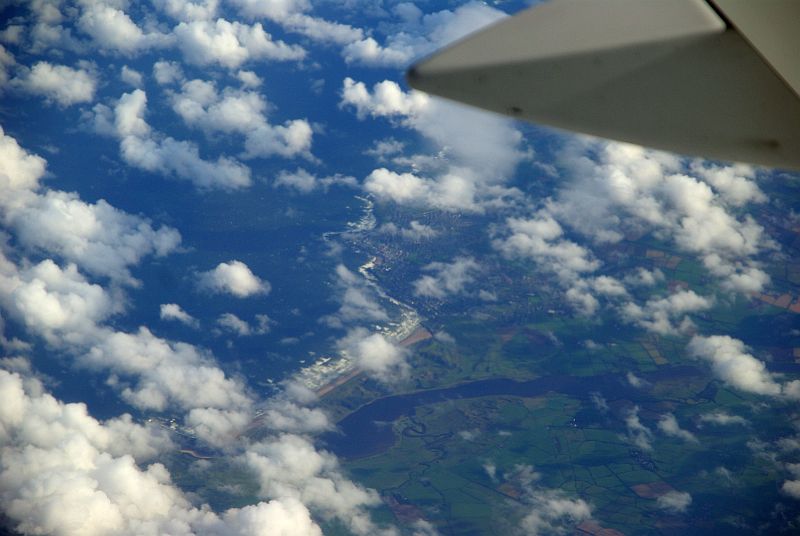 crossing the irish coast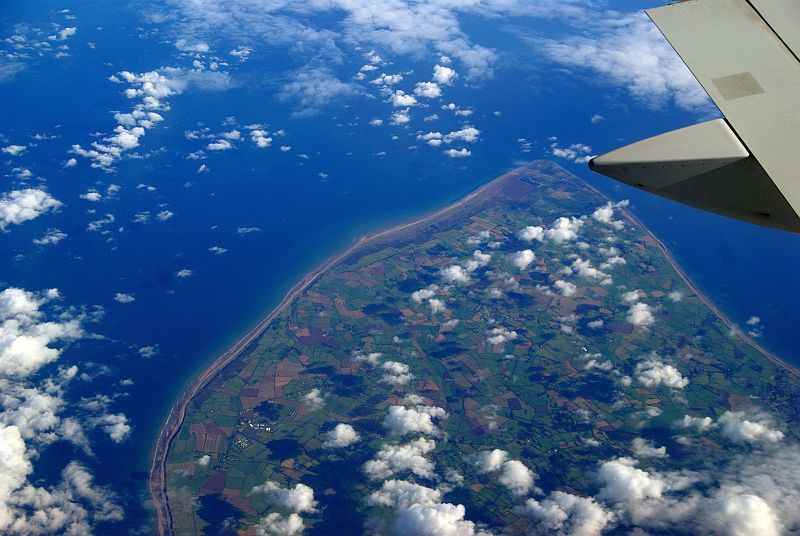 our route went across northern ireland, isle of man, liverpool and the down to AMS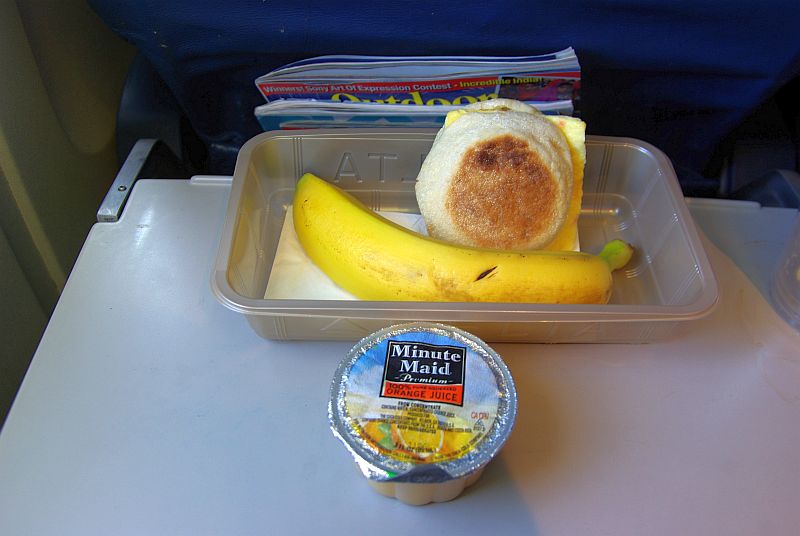 WOW, thats all??? Our (not so) great breakfast...
leaving Great Britain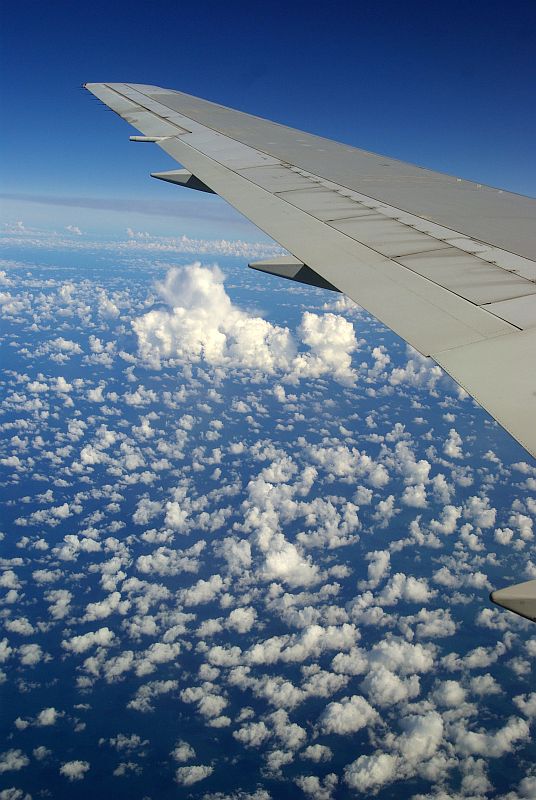 I love this dotty clouds
Without any announcement we started circling for about 10 to 15 minutes what seemed to be close to the dutch coastline.
During that with the often changing light and a lot of moisture in the air (we were within these dotty clouds) I saw an effect I had never experienced before. It only showed up very briefly and I was lucky to get a shot of it. The condensing moisture above the wing generated a beatiful rainbow!!!
rainbow on our wing
crossing the dutch coastline
touch down on Polderbaan at AMS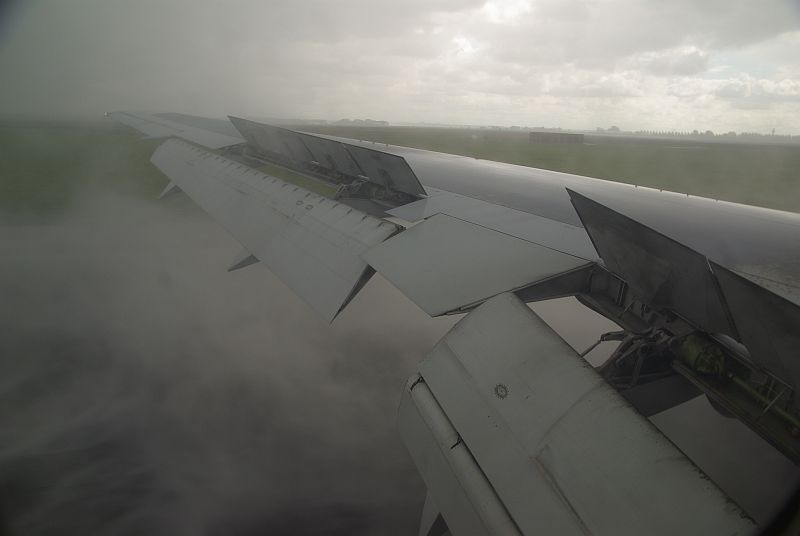 lots of spray due to the thrust reverse ....
During deboarding at AMS I asked the crewmember at the door if a look into the cockpit would be possible. His answer was just "sure, go on" followed by a loud "YOU HAVE A VISITOR" in direction of the pilot
Great guy ... I had some nice chat with the cockpit crew and was even allowed to take a seat on the pilots chair and he made a photo of me (which I will not show here - I look horrible after 24 hours awake and many hours on the plane). He also explained why we were kept on hold outside of the coast. AMS was completely closed down for some time due to heavy thunderstorms. That also explained the amounts of water on the runways.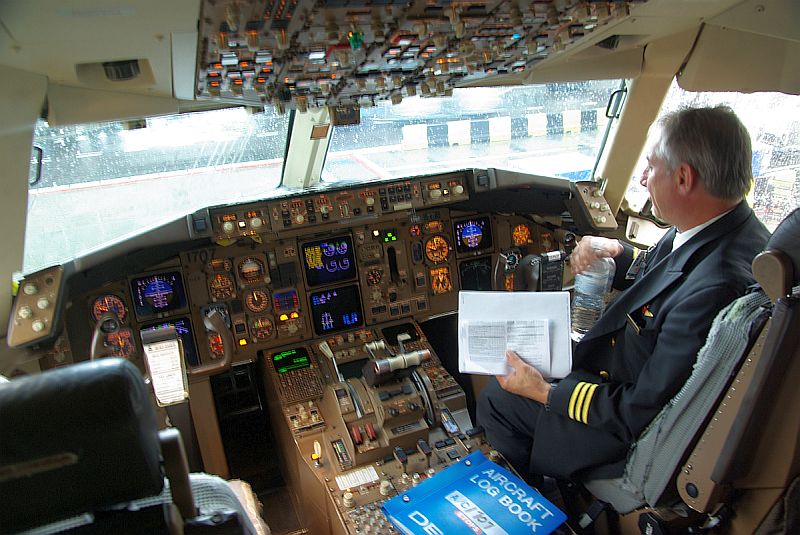 B767-332ER Cockpit view
Then I took my way through passport control and one more safety check towards my connecting flight to Linköping that was scheduled for about one hour later.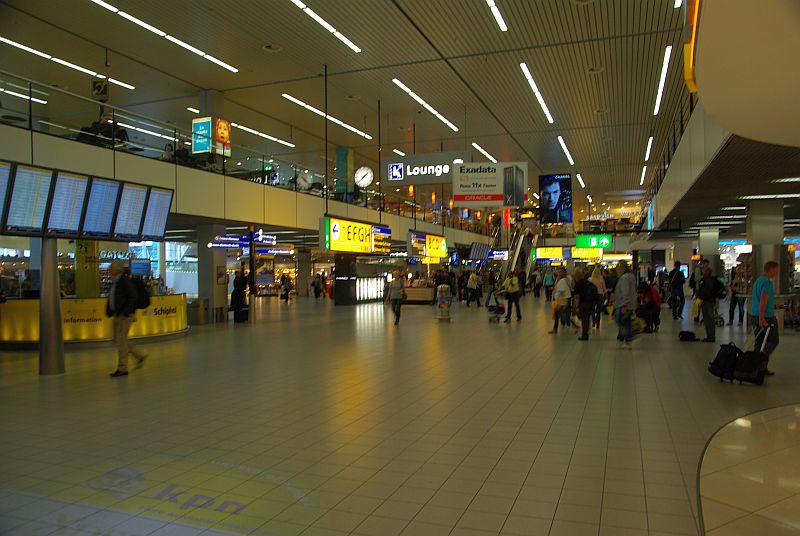 AMS terminal view
AMS terminal view second edition
When I reached my new gate it was nearly time for boarding and soon after the "gate open" appeared on the screen ... but nothing happend. And nothing. And nothing. Then there was an announcement from the gate agent that our flight will be delayed "due to technical reasons". What a great news for the last leg and after being travelling for such a long time. Delay was announced to be 15 minutes. Ah, thats still managable. But the they announced a delay of about one to and-and-a-half hours. OHHHHHHHhhhhhh..... So I went to grab myself a dring and a muffin for the waiting time. After about one hour delay boarding finally started. After being brought to the plane by bus and seated the captain explained that the plane had some electrical problems and they had to get another aircraft and move everything to the new plane. Thats what took them s long. Well at least we were on our way now...
nice view on AMS terminal section E, F, G and H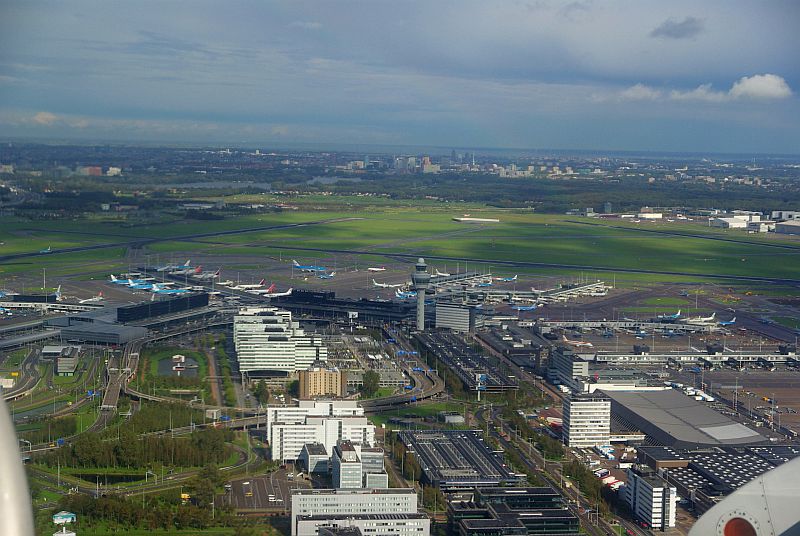 here you have nearly the whole terminal complex with sections (from right to left) B, C, D, E, F (G and H not visible any more)
I slept nearly the whole flight (which is only 1.5 hours).
After arrival at LPI I asked again about visiting the cockpit, and it was allowed - hurray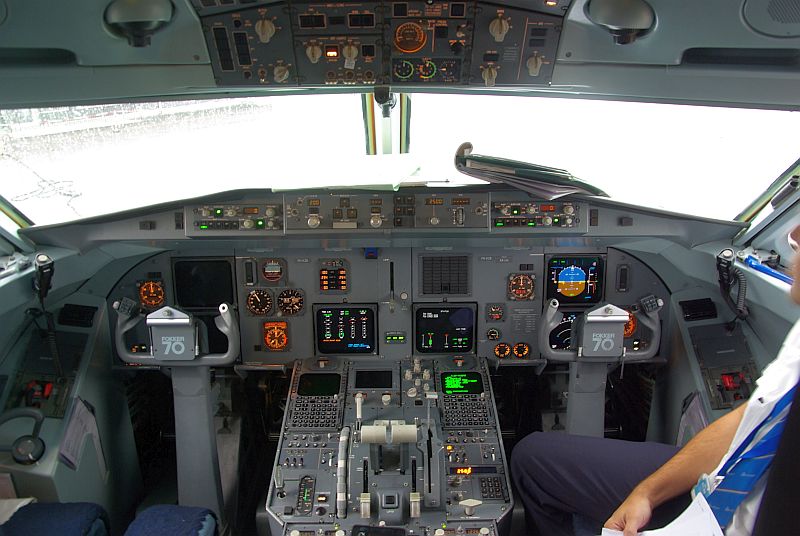 Fokker70 Cockpit view
This was maybe my last F70 flight for some time as the LPI-AMS route will be switched to an E-190 from end of October
nice one
as it had started raining the replacement crew for the return flight had gotten shelter below the wing ...
... and my next trip was to the supermarket for some dinner and my next breakfast ... and into my bed after being awake for abou 30 hours...
If I now have to compare KLM and Delta I would prefer KLM. Even if I found the DL staff more friendly, the equipment and also the food were a lot better on KLM.
Thanks for reading!
PHILIP
------------------------------------------------------------------------------------------------------
Other Trip Reports by photophil:
Tatl On KL And DL - Part 1 - LPI-AMS-JFK
(by
photophil
Sep 24 2011 in Trip Reports)
Tatl On KL And DL - Part 2 - JFK-CLE-MSP
(by
photophil
Sep 25 2011 in Trip Reports)
Two T-Tails Across The Baltic Sea - ARN-HEL-ARN
(by
photophil
Sep 24 2011 in Trip Reports)
LPI-AMS-CDG On KLM And AirFrance (long)
(by
photophil
Jul 4 2011 in Trip Reports)
CDG-AMS-LPI On AirFrance And KLM
(by
photophil
Jul 5 2011 in Trip Reports)
MUC-AMS-LPI And Back On KLM
(by
photophil
Jul 11 2011 in Trip Reports)
NUE-ZRH-NCE And Back By Swiss
(by
photophil
Jul 4 2011 in Trip Reports)