Feedback always appreciated.
I > Background:
After my amazing Suriname trip, and my PY flight from PBM to POS (reviewed here:
Suriname Airways PY 9916: JAN/11: PBM-POS: Y Cabin
(by
abrelosojos
Aug 14 2011 in Trip Reports)), my business meeting in MIA meant taking a BW flight from POS to FLL. I love self constructing connection itineraries and this was no exception. The BW flight was bought on Caribbean Airlines website at
http://www.caribbean-airlines.com/.
Surprisingly, there have not been many reviews of Caribbean Airlines/BWIA's operation, and I believe this is the first review of their operation between POS and FLL.
II > Pre-Flight:
a) Before Airport:
Caribbean Airlines is the national airline of Trinidad and Tobago. The airline is also flag carrier to Jamaica through the purchased Air Jamaica. The airline began operations on 1 January 2007, replacing its predecessor, BWIA West Indies Airways. Caribbean Airlines flies from the Caribbean to the United States, Canada and South America, with most services originating in the T&T capital of Port of Spain.
b) At Airport:
Port of Spain's airport is one of the most generic ones I have seen out there. Trinidad & Tobago has so much culture, and its unique multi-racial history should have been a great framework for an airport - but instead, POS feels like a random airport somewhere in the middle of the U.S.
Anyways, since this is not really an "airport review", I will skip my rant on POS' design and focus on the check-in experience. BW's CSA's were rather aloof and the girl who checked me in did not have much to say. Thankfully, she was able to give me a seat at the bulkhead because I wanted to clear US CBP fast. The agent finally looked up at me and smiled when I told her I had no check-in baggage. Haha. It seems Trini's do travel with their kitchen sink as well.
After check-in, I went through a quick security to the gate. POS had recently got rid of exit immigration procedures and this had thrown a lot of people in the loop. Since I had some time before the flight, I went to one of the cafés, got a large coffee, and watched airplane movements.
50 minutes prior to boarding, I went to the gate and was amused at the sea of humanity that were taking BW's flights to the U.S. and Canada. I wondered why the airline has had such a checkered financial history given the natural VFR traffic, and the oil wealth of the country. Anyways, when boarding was called in, everyone jumped and we all eventually made our way to the B737-800 aircraft.
There was no greeting at the door, and the crew pretty much stayed out of the way of the passengers - all felt very impersonal. Y load was 90% .
Airport - External:
(Port of Spain Airport)
Check-in: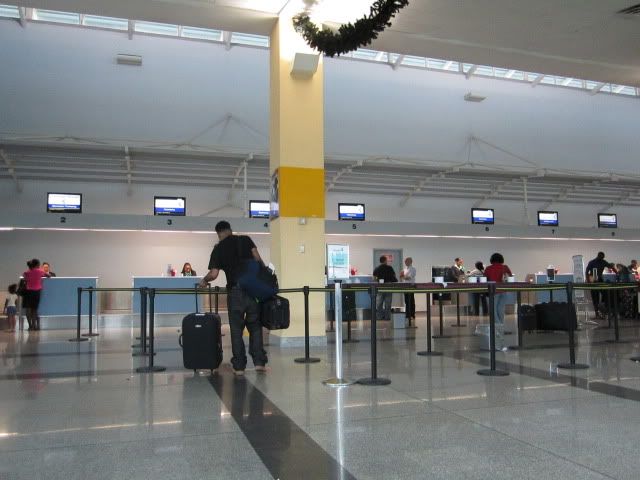 Airport - Internal:
*
*
(FIDS)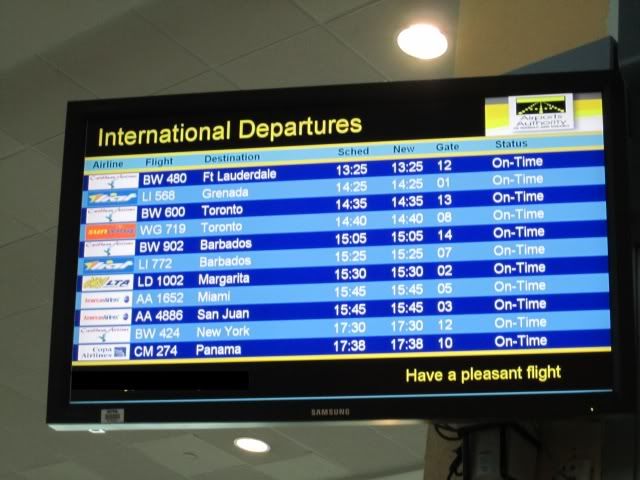 (Post Security @ POS)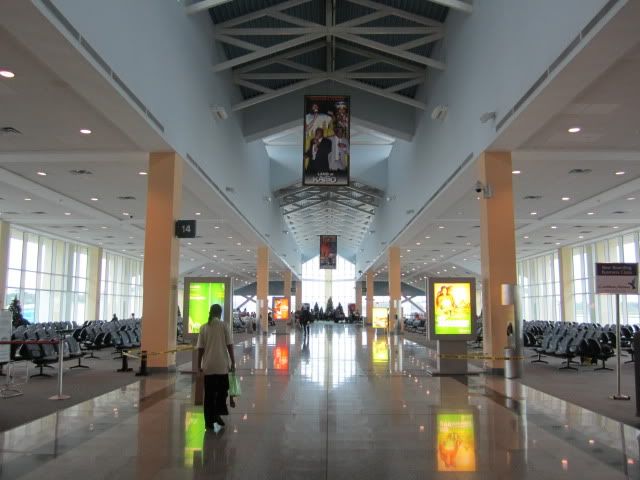 *
Scenes of the tarmac:
*
*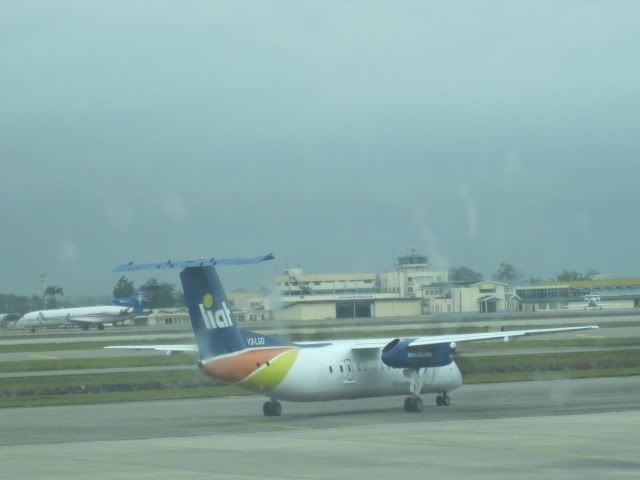 Lounge: NONE
Boarding:
(Gate Area)
(Boarding)
NONE
III> In-Flight:
a) Service Schedule + Impressions:
Snack boxes were distributed around 30 minutes after reaching cruising altitude followed by a beverage service. Nothing beyond that - which was surprising as the flight was over 4 hours long.
b) Aircraft + Seats:
I have not been a huge fan of BW's hummingbird 737 look, but the aircraft looked well maintained from the outside. Inside, it was a different story. The cabin looked tired and worn out. The cloth interior with hues of ugly grey, charcoal, and dark blue made it seem very 1980's corporate staid. Having pieces of clothing on the seat and around the cabin torn further created a depressing aura. This was also present in the bathroom ... complete with dingy lighting. Seriously people, we are in 011. Not 1988.
The seat itself was your average old school economy class seat. Recline was average and the pitch tight in every seat ... except mine
.
Aircraft:
(BW 738)
Views from Aircraft:
NONE
General Seat Views + Seat Legroom
(Seat)
NONE
*
(Front of seat)
NONE
*
(Seat controls)
*
(Legroom: plenty at this particular Y seat)
Seat Recline + Angle View:
*
Cabin:
*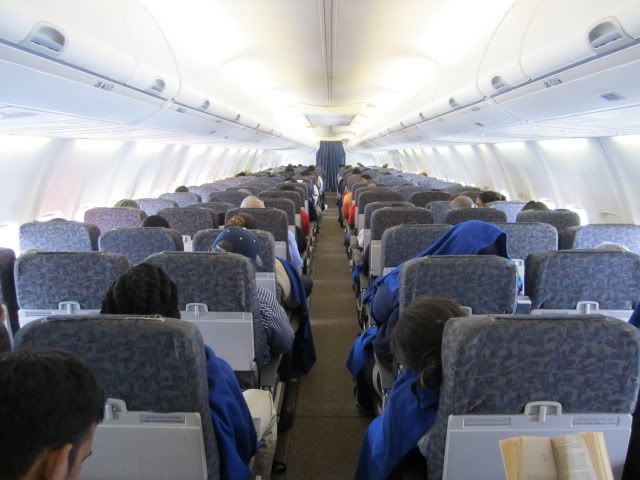 (Blanket ++)
(Bathroom)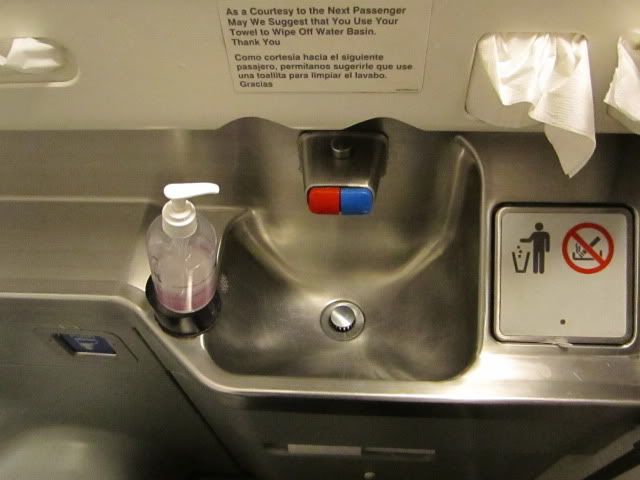 (Carpet and other parts were not well maintained)
c) Meal + Beverage:
30 minutes into the flight, the meal service commenced. This consisted of a one of those ubiquitous snack-boxes that are becoming a staple on so many short flights by "ex-flag" carriers. On BW, it consisted of a very plain croissant with a strip of ham, and a rather filling chocolate wafer biscuit. It was OK - and very average - but common on flights in the Americas. Sadly, the drinks cart took forever to come to my row, and I settled for a Diet Coke and some water.
No other meal or beverage service offered, and the crew did not come with water or anything. Pretty poor for a flight of this stage lenght.
(Snack box)
*
(Contents of aforementioned snack box)
d) Inflight Entertainment:
There was no in-flight magazine in the form of audio and video - thought it was sad because they had the hard equipment to show stuff. For a flight over 4 hours, this was not acceptable. Perhaps those familiar with BW's product can comment on whether this is a regular experience? Their in-flight magazine "Caribbean Beat" was fairly informative and gave an update of the cultural calendar of the remarkable diversity that is present in Trinidad and Tobago.
(TV monitors onboard)
("In-flight magazines", Boarding Passes, etc.)
e) Crew:
I can generally chat with anyone ... just not the Caribbean Airlines crew. They were very informal, rarely smiled, and I never saw them interact with any of the passengers. It felt like they all had somewhere else more important to be. From boarding to the minimal service, they pretty much did their own thing and stayed away from the passengers. Very sad given how naturally friendly the Trini people are. Perhaps it is an one-off, but I did not get the best impression from the cre.
IV> Post-Flight:
I significantly prefer landing in FLL than MIA ... and this time was no exception. Immigration and customs was fast, and I was out curb side in 20 mins. This would not happen in Miami!
V> Impressions + Scores:
My experience with Caribbean Airlines can best be described as mediocre. Nothing really stood out besides being transported from point A to B safely. From their average ground handling to the lack of any charm in-flight, I kept on wanting more. Alas, this was not to come. While I can tolerate their hard product for flights of this stage length, their crew needs an attitude change before Caribbean Airlines can be serious about service. Unfortunately, this will only happen when there is further competition in the region.
A totally forgettable flight - thumps down. If offered choice and alternate airline, I would probably chose the later.
VI> Other Trip Reports:
PREMIUM:
9.27: JET AIRWAYS **FIRST** (110): LHR-BOM: 10/2010
9.27: THAI AIRWAYS **FIRST** (108): BKK-LHR: 07/2010
8.66:
Brussels Airlines (93): FIH-BRU: 01/2010
8.64:
Turkish Airlines (59): JFK-IST: 11/2008
8.63:
Jet Airways (88): JFK-BRU: 10/2009
8.61:
Air Canada (49): YYZ-SCL: 06/2008
8.54:
Turkish Airlines (77): GRU-DKR-IST: 04/2009
8.36:
Kingfisher (98): BOM-HKG: 01/2010
8.30:
Jet Airways (74): KWI-BOM: 04/2009
8.23:
United Airlines (72): SFO-SYD: 03/2009
8.11:
Aeroflot (33): MOW-DEL: 09/2007
8.05:
Air India (80): CCU-JFK: 06/2009
8.04:
Korean Air (40): NRT-ICN: 10/2007
8.02:
Delta Airlines (24): JFK-CDG: 08/2007
7.82: UNITED AIRLINES **FIRST** (110): SFO-ICN: 10/2010
7.82:
Singapore Airlines (06): EWR-SIN: 09/2006
7.66:
Sri Lankan (104): DEL-CMB: 07/2010
7.64:
Royal Jordanian (91): AMM-YUL: 12/2009
7.61:
China Southern (103): LOS-DXB: 04/2010
7.57:
Pakistan Airlines (102): ORD-BCN: 06/2010
7.46:
LAN (55): YYZ-JFK: 09/2008
7.38: AMERICAN AIRLINES **FIRST** (112): LHR-JFK: 10/2010
7.38: CATHAY PACIFIC **FIRST** (109): HKG-LHR: 10/2010
7.25:
Iran Air (88): BOM-IKA: 12/2009
7.23:
Virgin Atlantic (81): BOS-LHR: 07/2009
7.14:
Swiss (52): SCL-GRU: 06/2008
7.11:
Aer Lingus (105): MAD-IAD: 05/2010
7.11:
Austrian (79): VIE-JFK: 06/2009
7.07:
Privatair (84): BOM-FRA: 08/2009
7.02:
Qatar (68): DOH-JFK: 01/2009
6.96:
Etihad (61): JFK-AUH: 12/2008
6.93:
Delta Airlines (18): SEA-JFK: 11/2006
6.84:
ConViasa (65): CCS-DAM: 01/2009
6.82:
Air Burkina (106): BKO-OUA: 06/2010
6.81:
Air Canada (17): ICN-YYZ: 10/2006
6.75:
Afriqiyah + Libyan (113): CAI-TIP: 11/2010
6.70:
KLM (32): EBB-AMS: 08/2007
6.52:
Emirates (99): LHR-DXB: 02/2010
6.39:
South African (97): EZE-JNB: 01/2010
6.36:
Privatair (60): MUC-BOS: 12/2008
6.29:
TAM Brasil (96): POA-EZE: 02/2010
6.25:
Korean Air (45): NAN-ICN: 10/2007
6.21:
Iberia (87): BOS-MAD: 10/2009
6.11:
A SKY (107): OUA-COO: 06/2010
6.11:
TAP Portugal (53): GRU-OPO: 06/2008
6.00:
Gulf Air (75): BOM-BAH: 04/2009
5.88:
African Express (89): DXB-NBO: 11/2009
5.75:
Singapore Airlines (16): CCU-SIN: 10/2006
5.64:
SATA Azores (101): BOS-PDL: 04/2010
5.64:
NorthWest (46): ICN-NRT-SEA: 10/2007
5.54:
Ethiopian Airlines (95): ADD-BOM: 01/2010
5.46:
Icelandair (83): KEF-BOS: 08/2009
5.39:
LOT (54): WAW-JFK: 06/2008
5.21:
Egypt Air (73): CAI-IST: 02/2009
5.11:
Tunisair (115): TUN-ORY: 12/2010
5.07:
TACA (66): JFK-SAP: 01/2009
4.89:
TAAG Angola (117): TMS-LAD: 12/2010
4.42:
Air France: CDG-JNB (25): 08/2007
ECONOMY: Long + Medium:
9.26:
Air India (48): JFK-DEL: 02/2008
7.38:
Avianca (01): BOG-LIM: 07/2006
7.07:
Sri Lankan (62): KWI-CMB: 12/2008
7.00:
LAN (94): IPC-SCL: 01/2010
6.81:
STP Airways/Euro Atlantic (116): LIS-TMS: 12/2010
6.41:
Avianca (78): JFK-BOG: 05/2009
6.41:
American Airlines (58): LHR-BOS: 11/2008
6.39:
Condor (85): SEZ-FRA: 09/2009
6.26:
Jet Blue (21): CUN-JFK: 02/2007
6.06:
Air Canada (04): YYZ-YVR: 09/2006
6.11: Caribbean Airlines (119): 01/2011
5.89:
USA 3000 (19): PUJ-BDL: 01/2007
5.85:
Spanair (69): MAD-LPA: 02/2009
5.79:
Air New Zealand (42): RAR-NAN: 10/2007
5.52:
Aerolineas (86): USH-AEP: 10/2009
5.46:
TAP Air Portugal (23): OSL-LIS: 05/2007
5.19:
Air Europa (70): LPA-MAD: 02/2009
5.16:
Iberia (71): MAD-BOS: 02/2009
5.11:
Air China (82): FRA-PEK: 08/2009
ECONOMY: Short
8.56:
Paramount Airways (38): BLR-MAA: 09/2007
8.56:
Kingfisher (64): HYD-CCU: 12/2008
8.24:
Kingfisher (14): IXA-GAU: 10/2006
7.87:
Indian (34): BOM-MAA: 09/2007
7.72:
Alliance Air (13): CCU-IXA: 10/2006
7.57:
Indian Airlines (10): DEL-CCU: 09/2006
7.23:
West Jet (03): YYC-YVR: 09/2006
7.15:
JetLite (37): BOM-GOI: 09/2007
6.98:
Air Koryo (100): PEK-FNJ: 04/2010
6.70:
Spice Jet (09): CCU-DEL: 09/2006
6.63:
Air Fiji (44): NAN-SUV: 10/2007
6.63:
Jazeera (67): DAM-KWI: 01/2009
6.58:
Air Tran (02): EWR-MDW: 08/2006
6.48:
Air India Express (63): CMB-MAA: 12/2008
6.44:
CO Micronesia (39): ROR-YAP: 10/2007
6.41:
Pacific Sun (43): NAN-SUV: 10/2007
6.37:
Skybus (47): SWF-CMH: 02/2008
6.33:
Kenya Airways (29): NBO-BJM: 08/2007
6.33:
Sky Europe (56): LTN-BTS: 10/2008
6.31:
Indigo (15): GAU-CCU: 10/2006
6.31:
easyJet (57): BUD-LTN: 11/2008
6.22:
Air Link Swazi (28): MTS-JNB: 08/2007
6.22:
Air India (36): HYD-BOM: 09/2007
6.13:
Adam Air (07): SIN-CGK: 09/2006
6.13:
Air Rarotonga (41): RAR-AIT: 10/2007
6.04:
Suriname Airways (118): PBM-POS: 01/2011
6.00:
Transairways (27): INH-MPM: 08/2007
5.95:
Air Canada (05): ALB-YYZ: 09/2006
5.85:
SAS Norge (22): OSL-AES: 05/2007
5.81:
LAM Mozambique (26): JNB-MPM: 08/2007
5.69:
Air Deccan (12): IXZ-CCU: 10/2006
5.67:
Rwanda Air Exp (30): KGL-NBO: 08/2007
5.52:
Sevenair (114): TOE-TUN: 11/2010
5.37:
Felix Airways (92): SCT-SAH: 12/2009
5.11:
Aero Republica (76): BOG-CCS: 04/2009
5.07:
Go Air (35): MAA-HYD: 09/2007
5.00:
Sky Airline (51): IQQ-SCL: 06/2008
4.96:
Valuair (08): CGK-SIN: 09/2006
4.78:
Air Comet Chile (50): SCL-IQQ: 06/2008
4.74:
Fly 540 (31): MYD-LAU: 08/2007
4.33:
Viva Aerobus (20): ELP-MTY: 02/2007
4.11:
Air Sahara (11): CCU-BOM: 09/2006
(Note on Codes: Y – Economy, J – Business, F – First :: I/D – International/Domestic :: SR/MR/LR – Short/Medium/Long Haul)
(Note on Date: Dates are modified to be +/- 3 days from actual flight date to not reveal actual flight pattern)
VII> Other Pictures:
NONE