This is part IV of this trip report, the reason for visiting Malta is due to transformation of the new bus system there in early July.
I planned to take Air Malta's direct flight from LHR, but when I book the ticket, all the cheapest fares were gone, with the higher booking class, I found that Swiss's LHR-ZRH-MLA was cheaper. As I never use LX before, it is good to try one more airlines in my life.
The day start from here, LHR Terminal 4, where Yotel located
Waiting the train to Terminal 1 at 6:30am
Inside the train made by Siemens
Arrived LHR Terminal 1, SWISS counter is at Zone G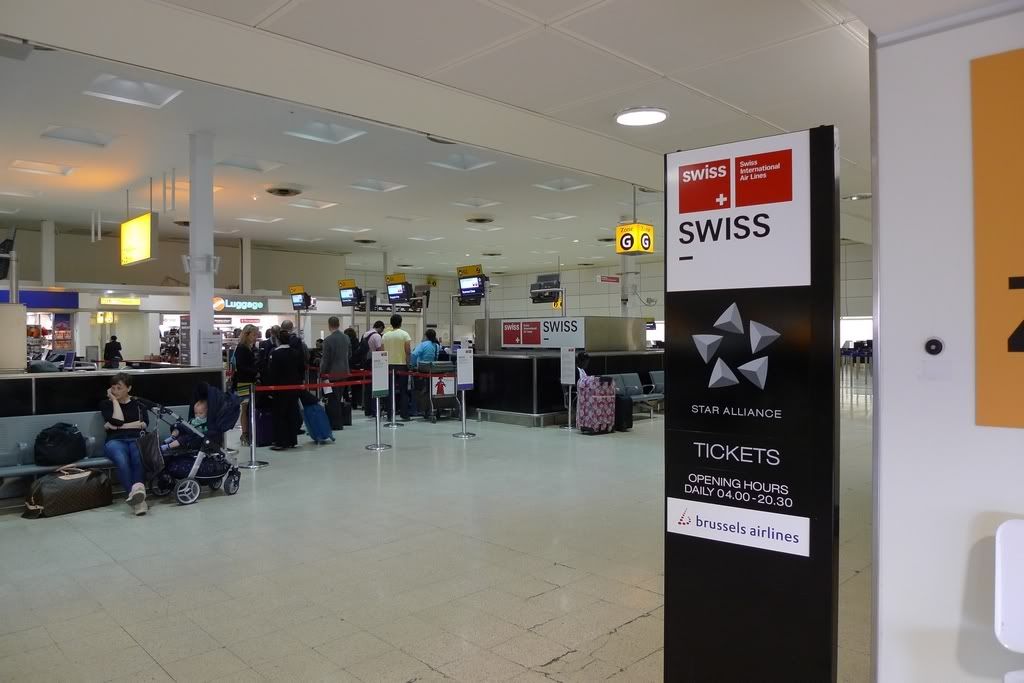 After checking-in, I headed to the departure area, there was a Fast Track there
Passed the security check, let's go to the Star Alliance Lounge to have some food
There were many passengers in the lounge already, after walking around, I found a quiet corner to sit down
It's what I can have…European style!
After the breakfast, it's time to go to the gate
Oh, Hong Kong (without the iconic IFC)
BMI's A330
27 June 2011
London Heathrow (LHR) – Zurich (ZRH)
Airline: Swiss International Air Lines
Flight: LX 317
Aircraft: A320-200
Registration: HB-IJW
Seat: 8F (Business)
Gate: 33B
Gate 33B
Boarding Pass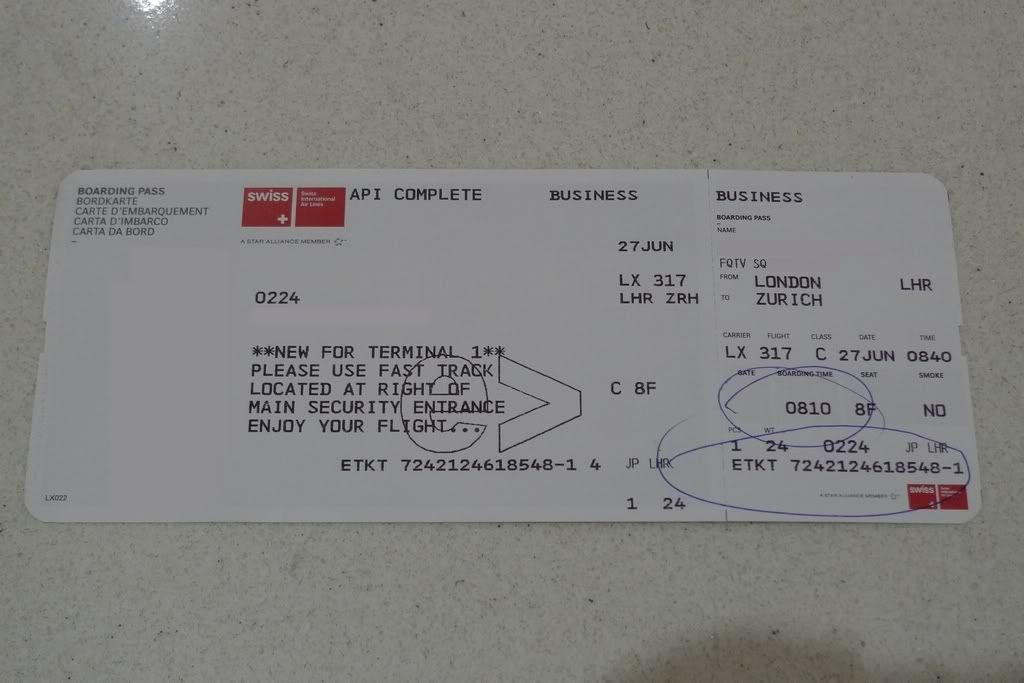 HB-IJW, my first ride on Airbus A320-series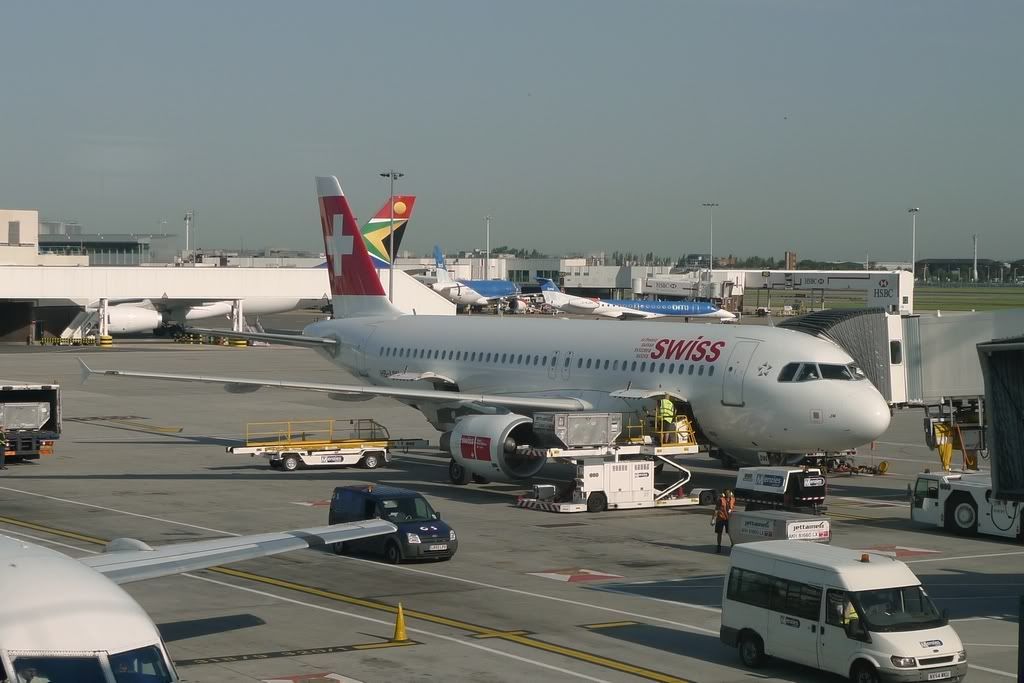 While waiting, LH's A320 arrived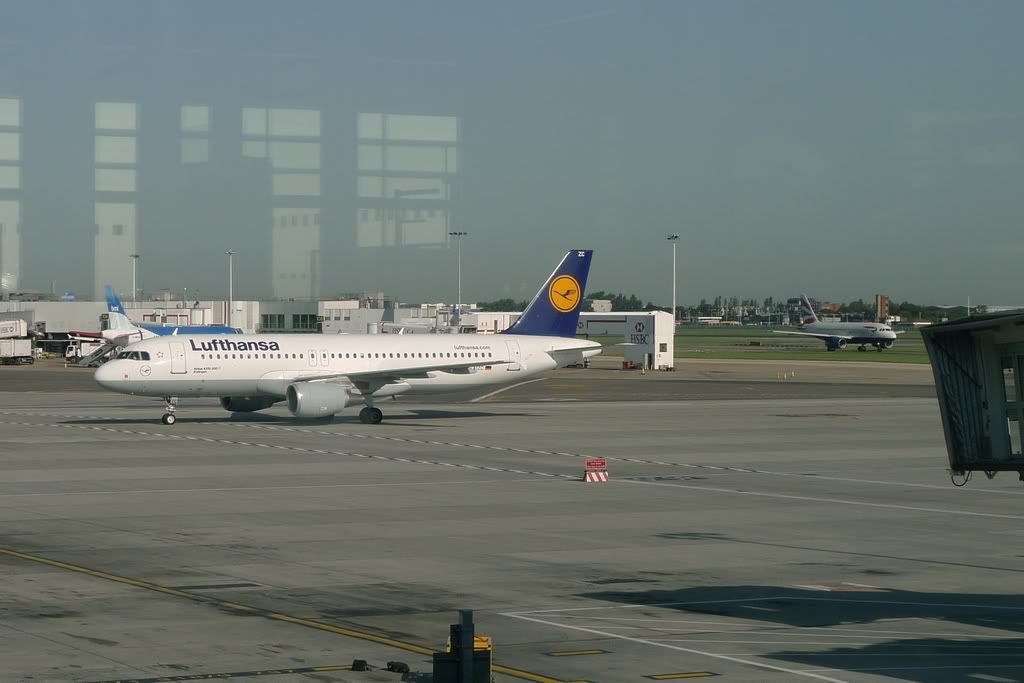 Waiting area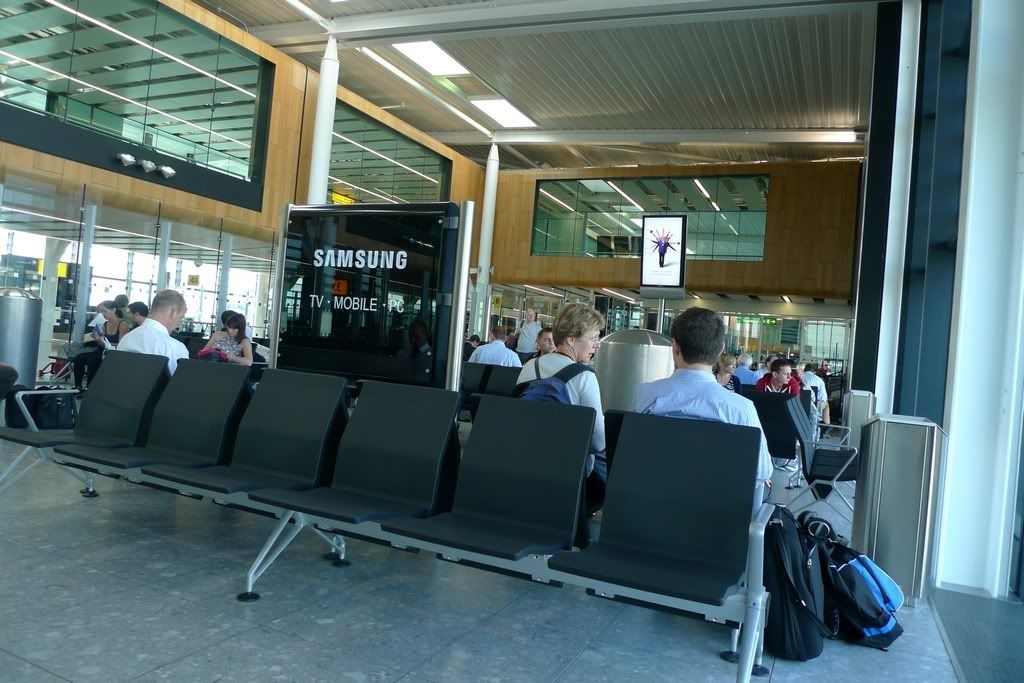 Finally boarding started, here is my seat 8F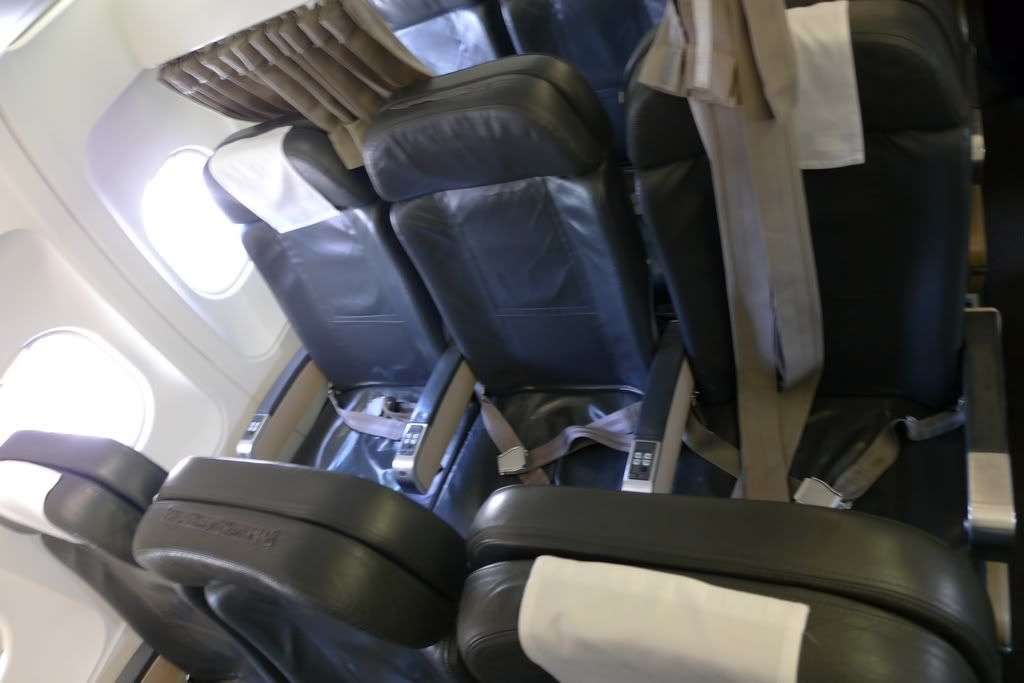 Wrong decision…the seating pitch in row 8 seems tighter than the first few rows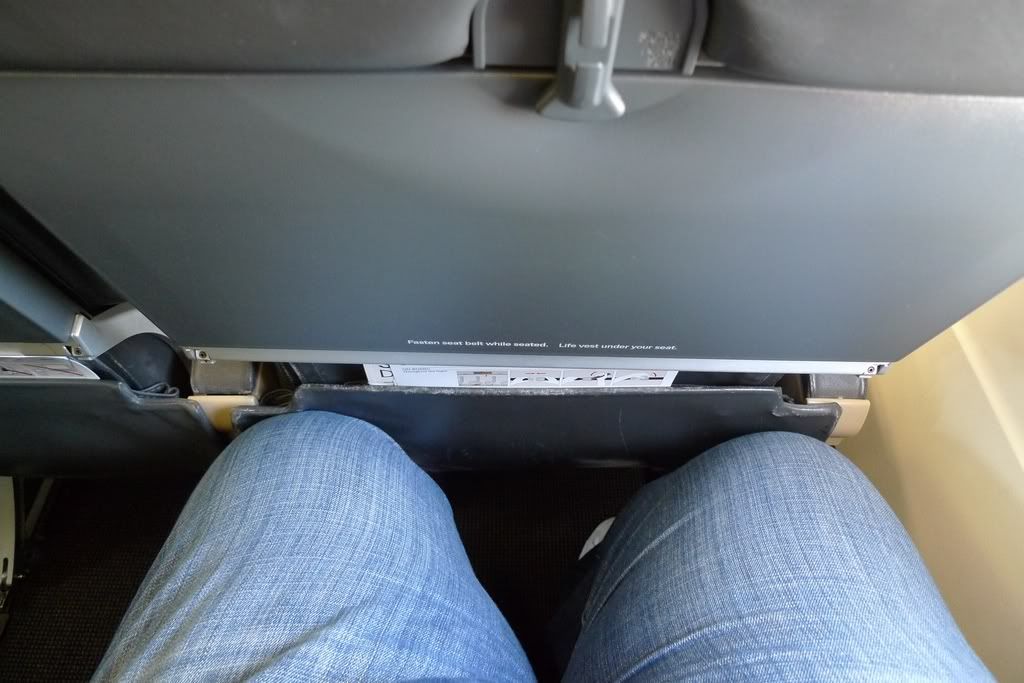 View from my seat, the flight was full in business class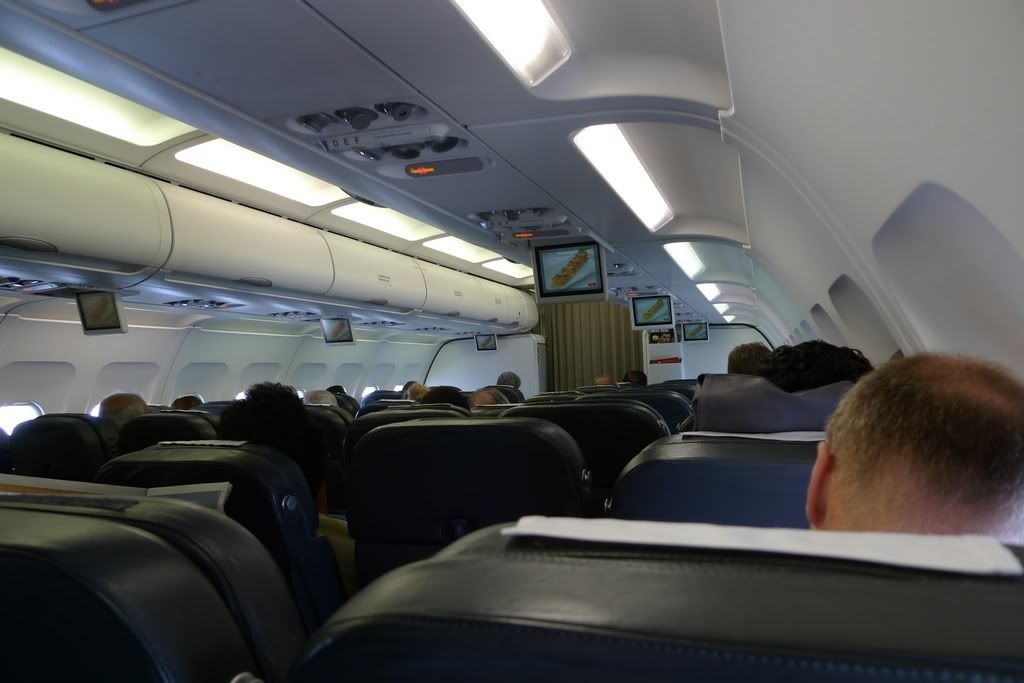 Safety Instructions Card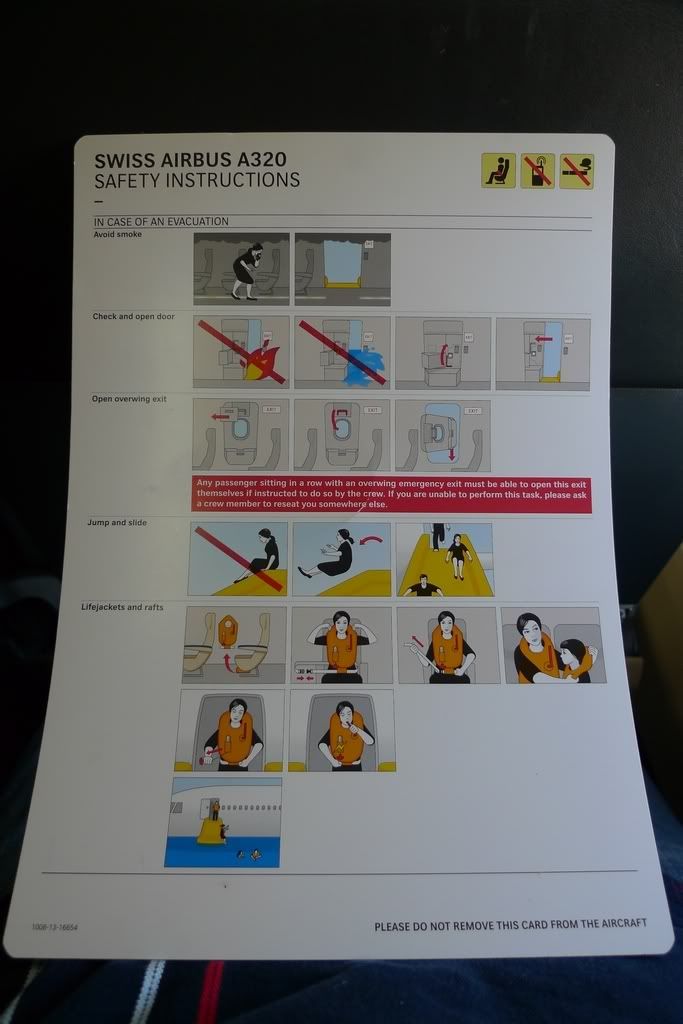 Pushback on time, and we were airborne 10 minutes later
Once the seat belt signal was off, breakfast was served, hush brown again…
Not a long later, arrived Zurich
Parked at the remote gate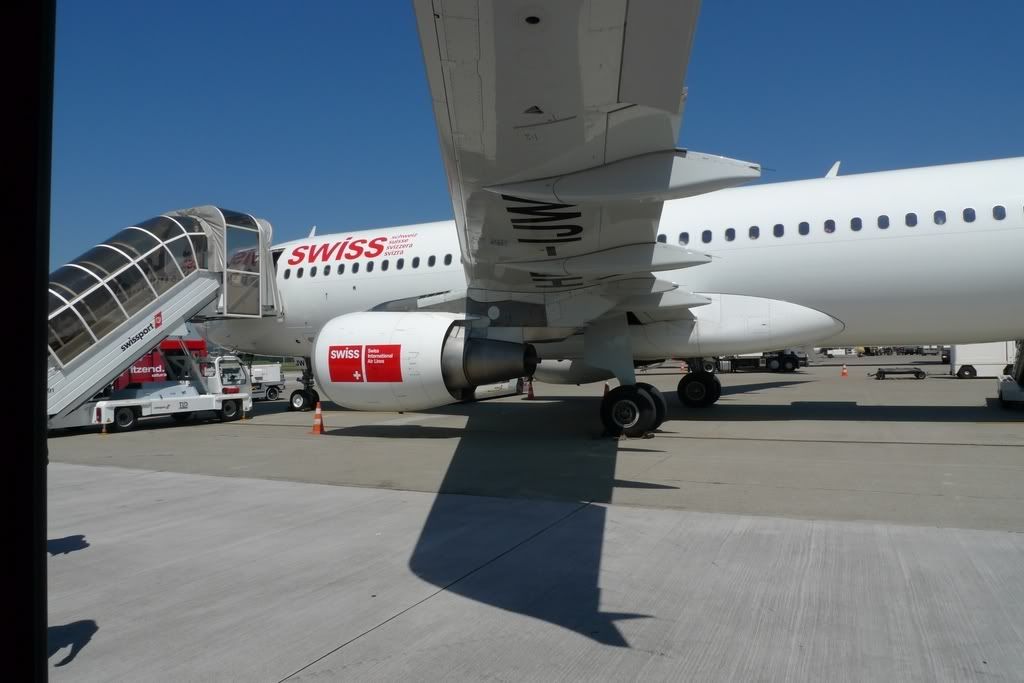 Transfer seems so complicated…
Finally found my way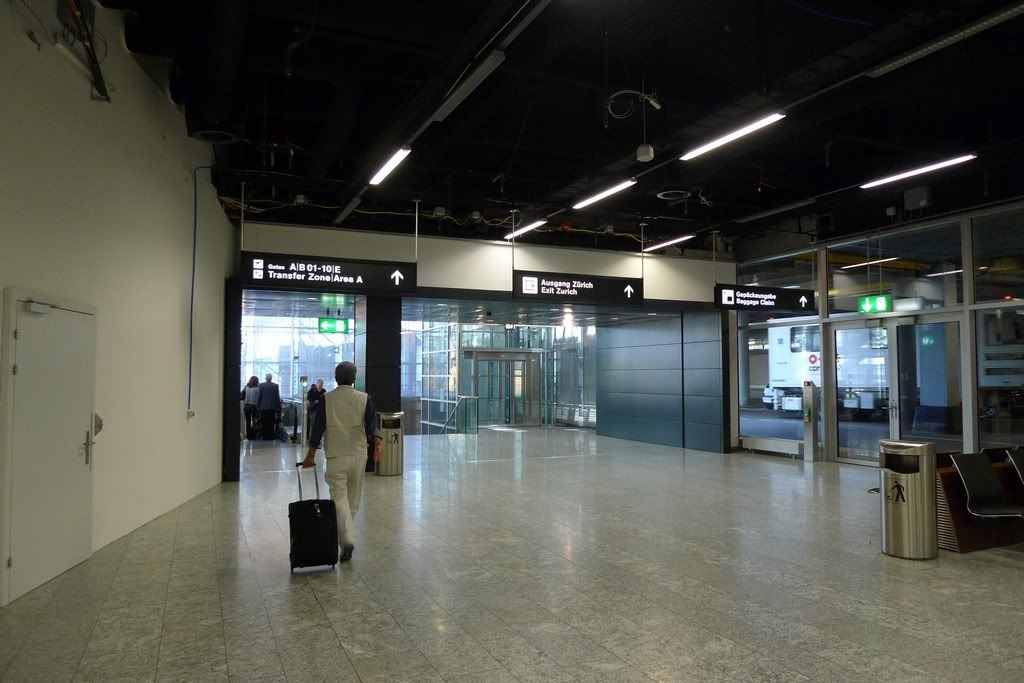 After the passport control, finally inside the transfer zone for Schengen area
The terminal was very nice, however the room temperature was quite high, I kept sweating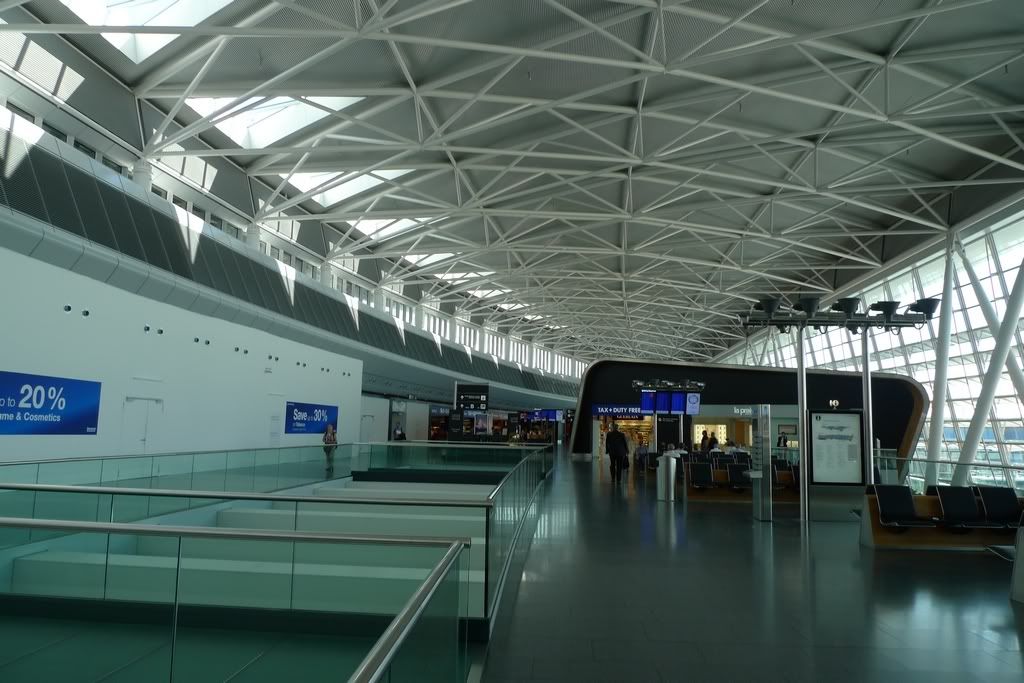 Visiting the SWISS Lounge
Simple and finctional
Dining area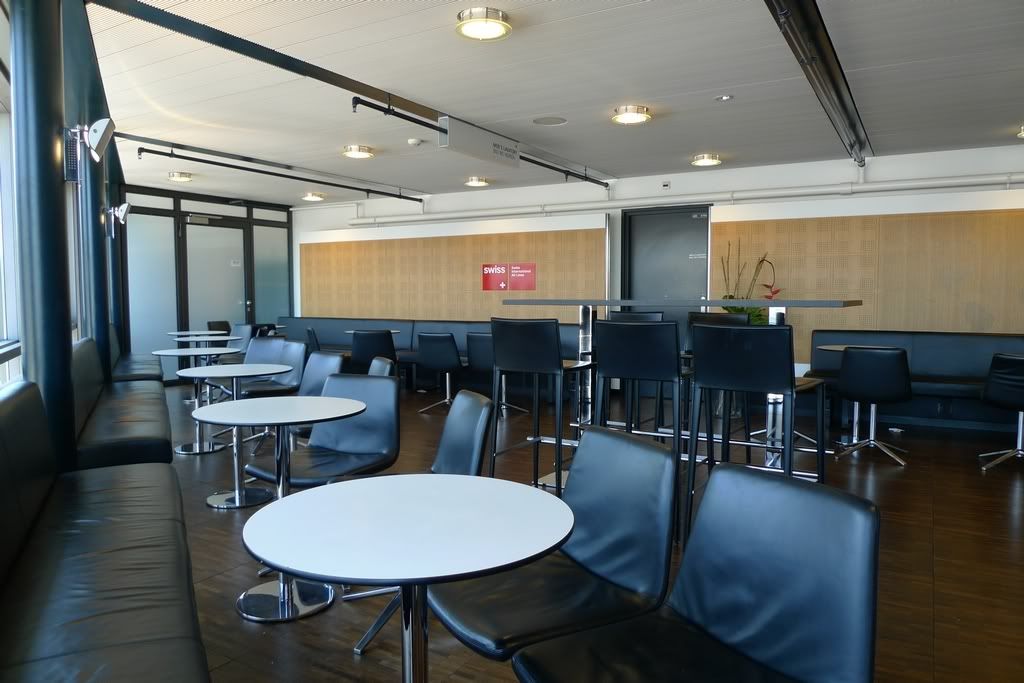 View from the lounge
Only hot food available was pasta
Sandwiches
Most attractive was the Movenpick ice-cream. You can ask for Wifi voucher for 1 hour free access
It's about time to go to the gate, with some plane spotting
LH's 737-500
Contact Air's F28, D-AFKA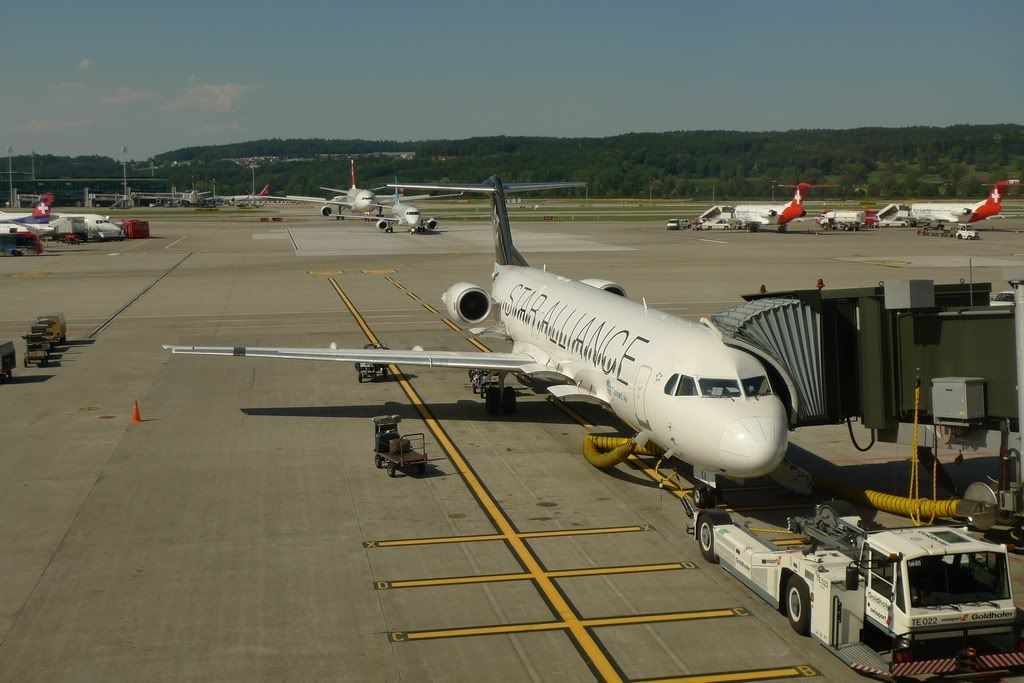 27 June 2011
Zurich (ZRH) – Malta (MLA)
Airline: Air Malta
Flight: KM 491
Aircraft: A320-200
Registration: 9H-AEO
Seat: 2F (Business)
Gate: A86
Gate A86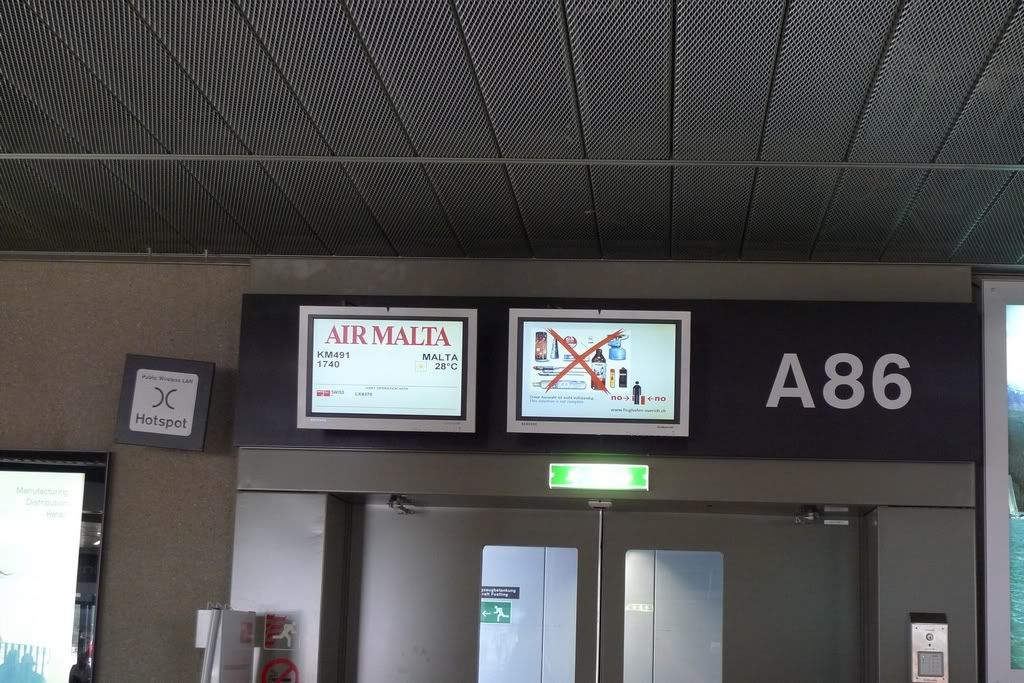 Boarding pass
9H-AEO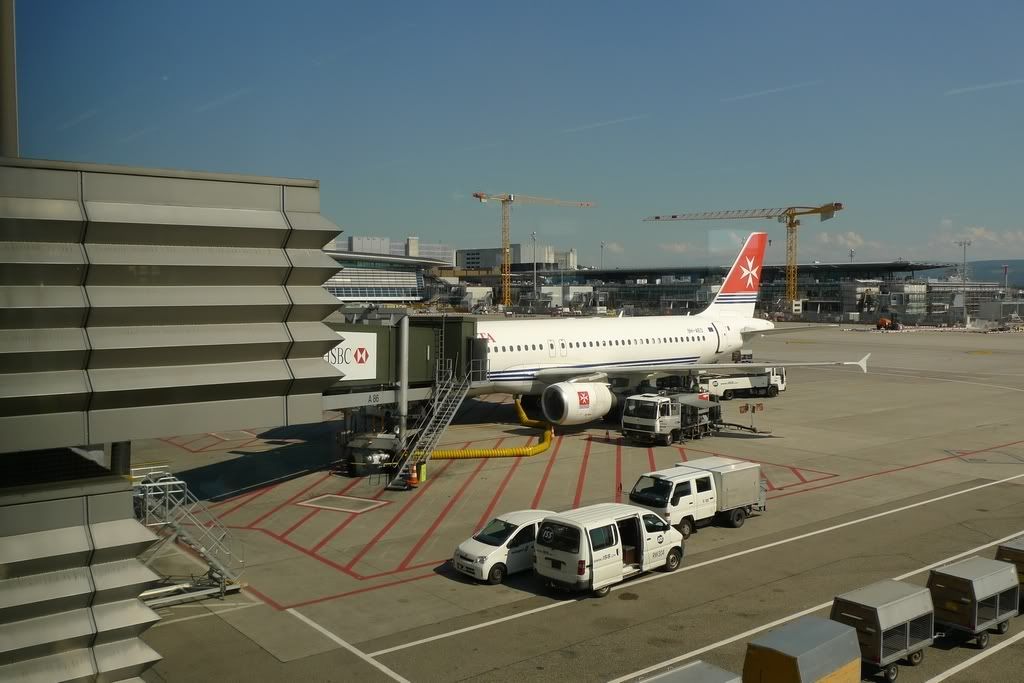 Another angle
Boarding was commenced, and I was at my seat 2F very soon
Normal seating pitch for intra-Europe business class
Only 3 passengers today in Business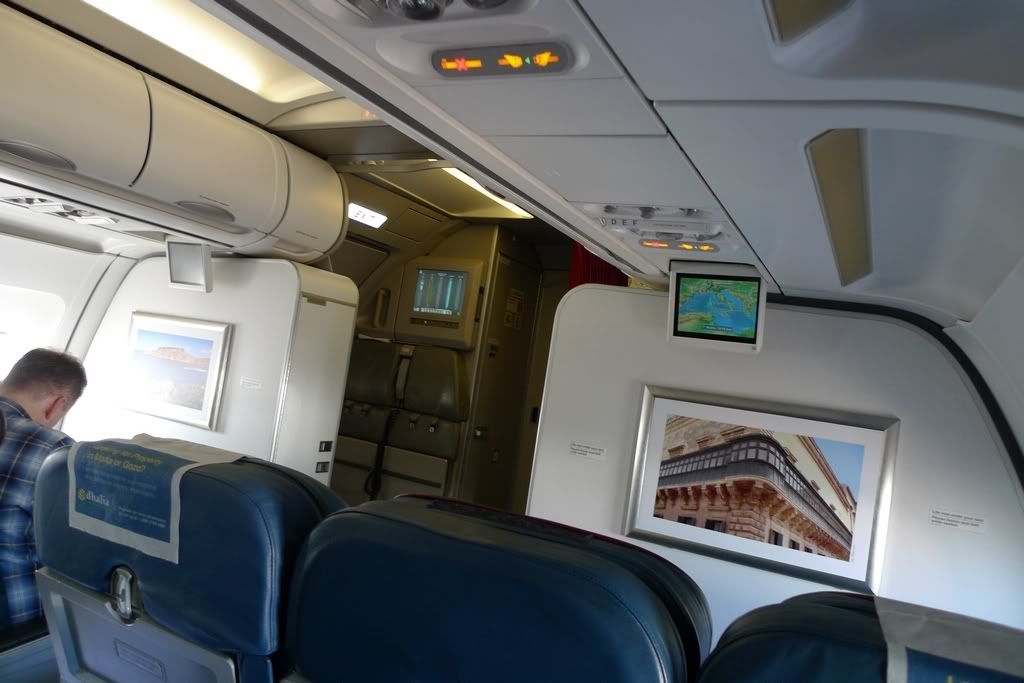 I have my own row
Safety Instructions Card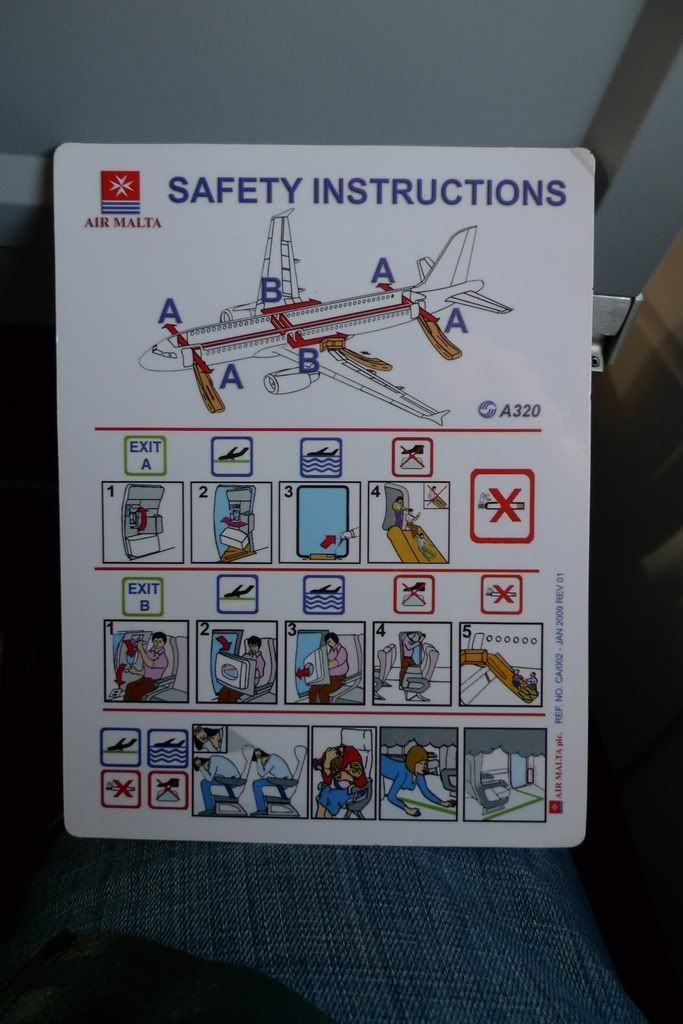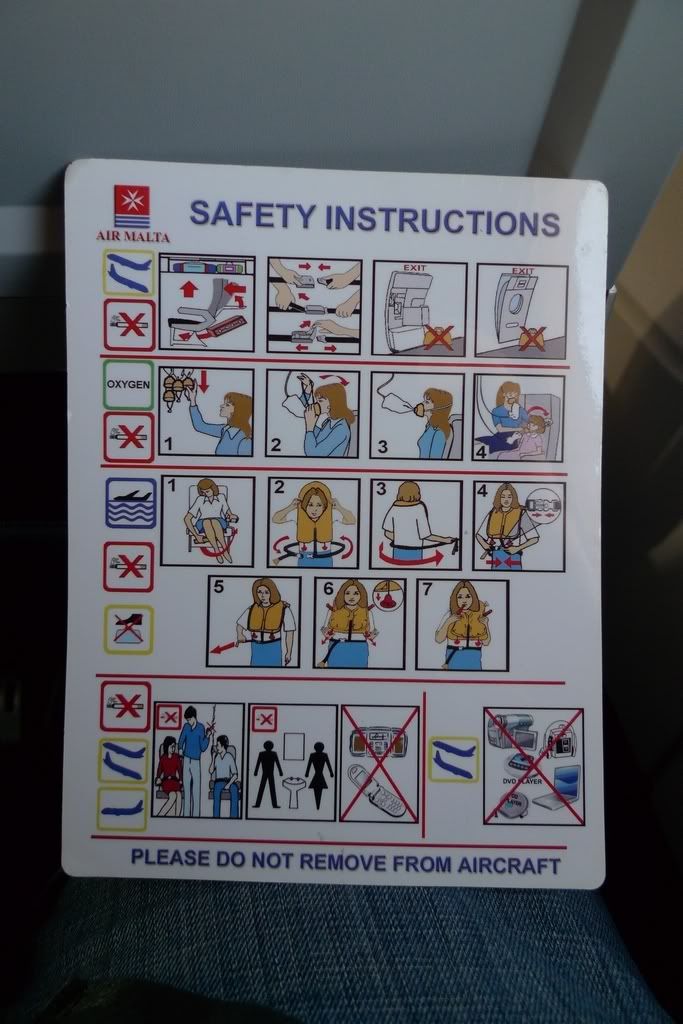 Pre-takeoff drink, I chose water
Takeoff was powerful with the light load, and the meal was distributed soon after take off
AFAIK, no hot meal for flight within 2 hours, but the cold meal was good enough!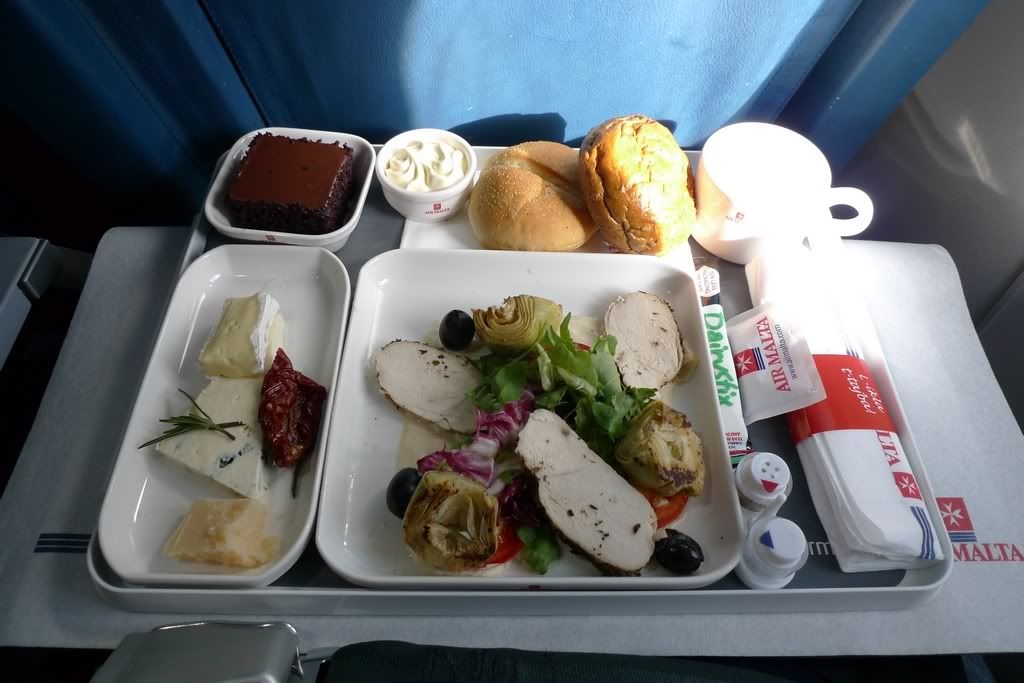 After the meal, take a look to the in-flight magazine
Yes, I go Malta because of them
LH brought their A380 to Malta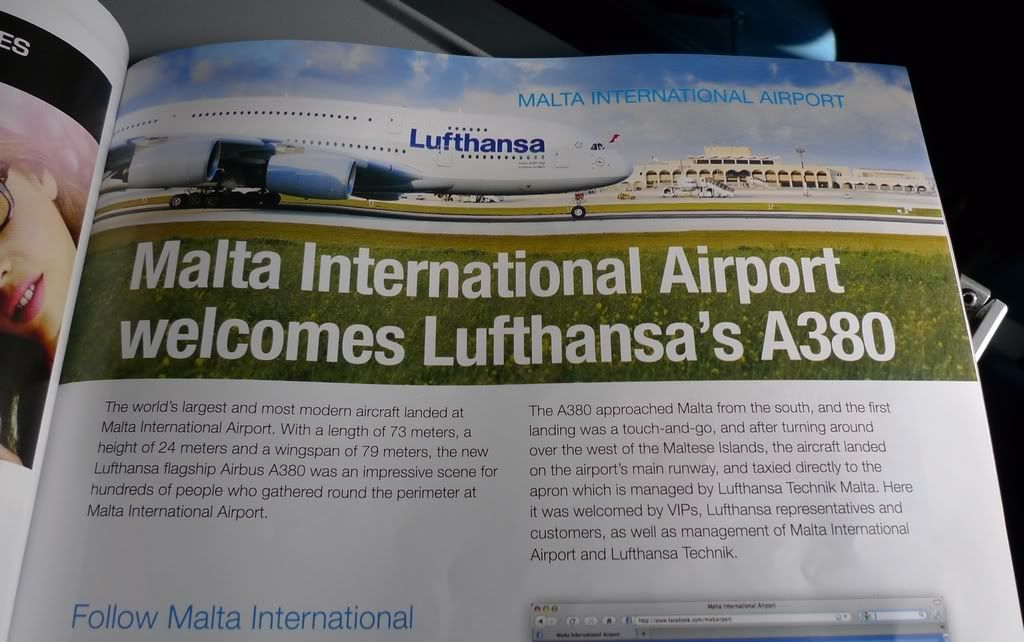 Touched down after 1 hour 45 minutes, did a quick u-turn in the runway, and finally stop outside KM's hanger
All passengers was on the bus already, but we were still waiting for good 5 minutes. Finally realized that we have to wait for the flight crews and cabin crews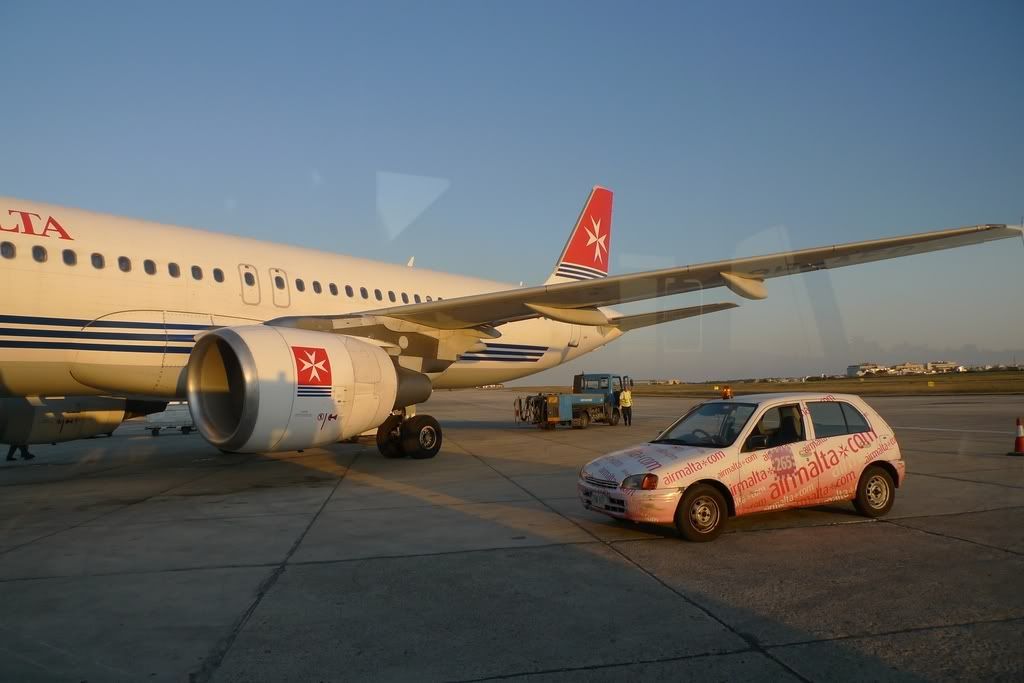 As Malta is in Schengen area, so no passport check was needed and we proceed to the baggage reclaim directly
Got my bag 15 minutes later, and I have pre-booked the transfer to the hotel in Valetta city center
My past TR:
Three 5-Star Airlines In 8 Days (102pics) (June 2008)
First Touch Of China Southern MD82 (31 Pics) (August 2008)
China Airlines HKG - TPE (47 Pics) (August 2008)
HKG-BKK With China Airlines In C (61 Pics) (November 2008)
HKG-BKK F On Emirates' 777-300ER (67 Pics) (May 2009)
HKG-TPE Turnaround On TG's A340-600 (33 Pics) (June 2009)
HKG,MFM,TPE,SIN,BKK In CX C And BR Y (201 Pics) (August 2009)
SQ Y HKG-SIN In 2009 w/MH And 1st A380(128 Pics) (Year 2009)
Ooop! I did it again Part 1 EVA Air MD-90 (May 2010)(50 Pics)
Ooop! I did it again Part 2 CX HKG-SIN run (May 2010)(116 Pics)
Photo Report: My Trip For BG's DC-10-30 (June 2010)(63 Pics)
First Time To Japan Part I: AI HKG-KIX In F (August 2010)
First Time To Japan Part II: JL KIX-HND In J (August 2010)
First Time To Japan Part III: OZ NRT-ICN In C (August 2010)
First Time To Japan Part IV: OZ ICN-PEK In NEW C (September 2010)
First Time To Japan Part V: IR PEK-NRT In C (September 2010)
First Time To Japan Part VI: NH FUK-ITM In C (September 2010)
First Time To Japan Part VII: AI KIX-HKG In F (September 2010)
EK A380 Inaugural Flight HKG-BKK In F (107 Pics) (October 2010)
Europe Trip 2011 Part I - HKG-BKK On TG F (June 2011)
Europe Trip 2011 Part II - BKK-SIN On SQ J (June 2011)
Europe Trip 2011 Part III - SIN-LHR On SQ F Suite (June 2011)
[Edited 2011-10-04 13:38:56]