Introduction
For various reasons I ended up with over four weeks without any flights. That was a bit too much and after several things clicked I ended up booking some. The things that conspired to make this trip possible were:
- Oulu airport (OUL) recently opening its new terminal extension.
- My desire to log some qualifying segments on SAS group for Gold status requalification.
- KF selling very cheap tickets on the HEL-OUL route for 36 EUR one way (the DY competition working here...)
- The aforementioned tickets being available on same day turnarounds, fitting quite nicely to my business schedules.
So here we go, I really had no choice but to book a quick trip up to OUL to check out the brand new terminal.
The route, very simple by my standards: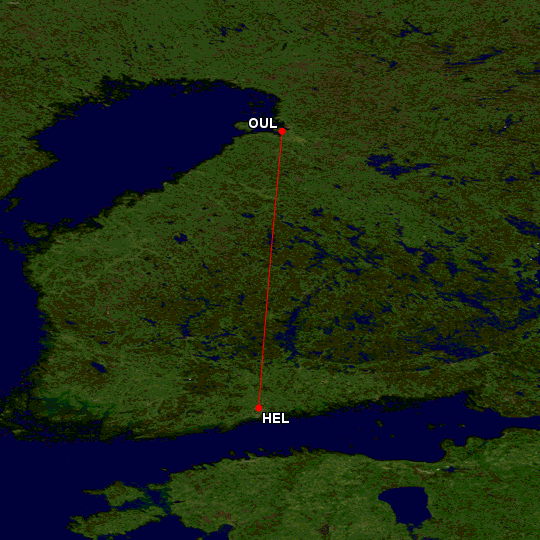 Wednesday 5.10.2011
Working in my home office during the morning I then catch the bus to the airport, arriving to T1 around 13.20 or so. For once Fast Track security is very useful as there's quite a bit of a queue in the normal lanes. Quickly to the lounge where I dump my stuff to one of the working desks intending to do a bit of work while waiting. When I put my hat on the table I notice my neighbour eyeing it a bit curiously. When heading to get myself some grub and drink I notice that he is also browsing a familiar looking website...
Well, what do you know, by the time I come back he opens a conversation and it turns out that he is another fellow frequent flyer (well, people in lounges tend to be! Unless they are famous. Some are both.) .Sadly just a lurker here on a.net, but active on many other frequent flyer websites, including some German forums - he's a German living in the US for the time being (but moving back to Europe) actually. So the hour or so until our flights are boarding (he's heading to FRA with LH just five minutes later than my flight) is mostly spent chatting - about aviation of course, what else - forget about work (ok, I did manage to send off a few emails!) - a very pleasant time, I might add!
The departure screen manages to turn from not boarding into "Final Call" in less than five minutes for my flight, so we set off. Approaching my gate I snap a photo of my chariot of the skies, OH-BLO is delightfully a new registration for my log: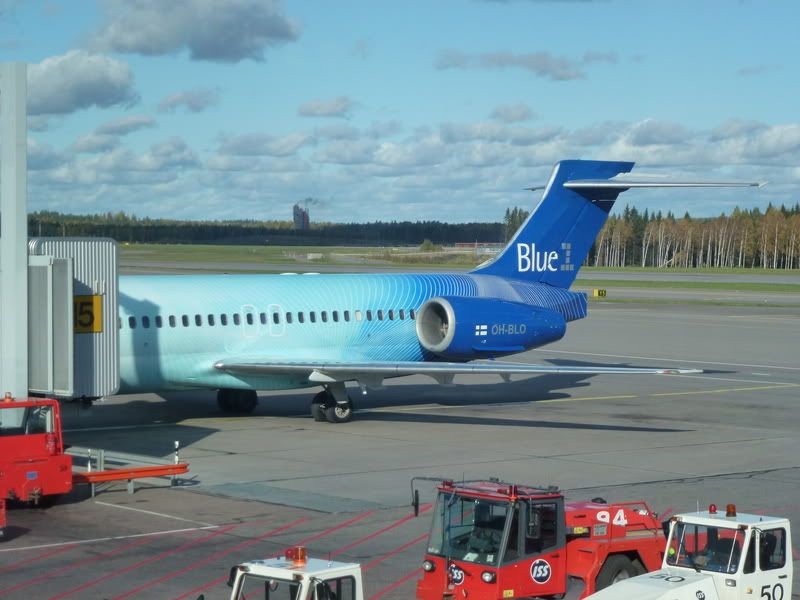 An interesting sidenote - I'm not the first trip reporter in this forum to have flown OH-BLO, fellow a.netter makeree has beat me to it, and in addition another two members have flown her when she was still known as EC-KFR.
At the gate I bid Guido farewell (I have a hunch we will see again sooner than later!), ask the gate agents if I'm the last one ("No, there's still one more passenger trying to buy a ticket at the ticket desk!") and stroll down the jetway.
For PlaneHunter: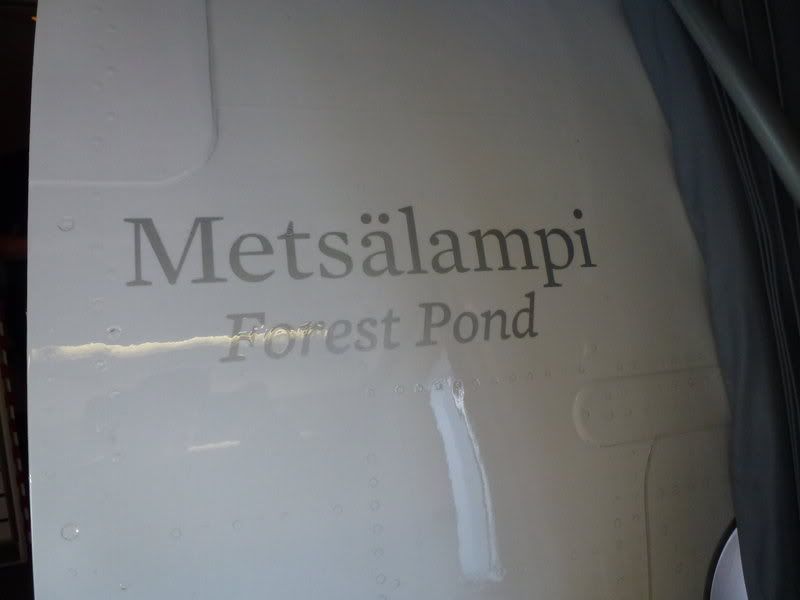 Just before snapping that photo I tell the waiting purser "Apparently I'm not the last one so I have time to take a photo!".
She is a bit confused and asks "A photo of what?"
- "This", I point and snap away.
- Oh, I thought you were going to take a photo of *me*
- I can do that too, do you want me to?
- Thanks for the offer but not today.
- Shame you'd made a great model!
- (laughs)
That kind of conversation and a nice person certainly puts me into a mood for a great, relaxed flight.
HEL - OUL
KF205
B717 OH-BLO "Metsälampi / Forest Pond"
Seat 15F
14.40 - 15.40
The flight indeed is relaxed on the load front as well - three rows of Premium have one or two passengers and economy is around half full. I decided to go for the exit row for comparison purposes - the legroom definitely cannot be beaten: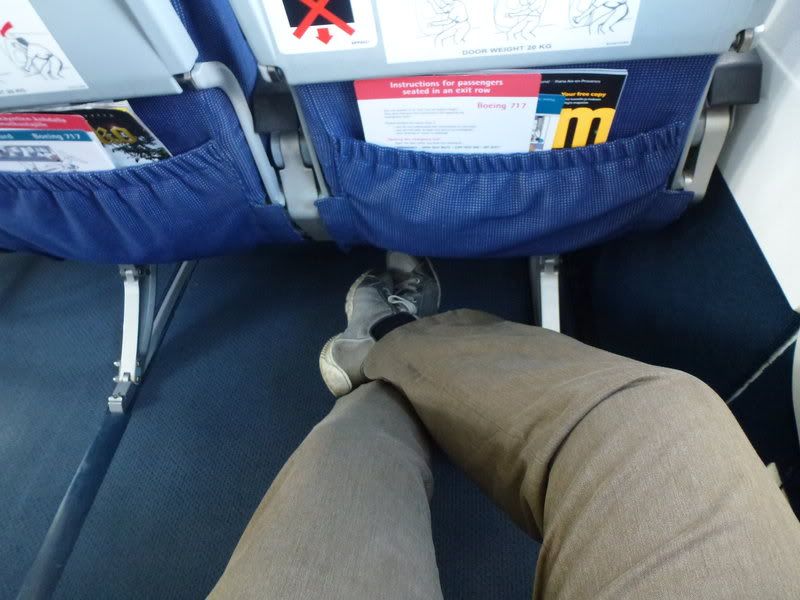 Really hot in the cabin - I comment this to the FA (wo)manning the exit rows and ask if the APU is off again - indeed it is. I wonder why they seem to always have the same issue with the 717s - or is it some sort of new fuel saving measurement since KF isn't doing very well at the moment (well it never has, actually!).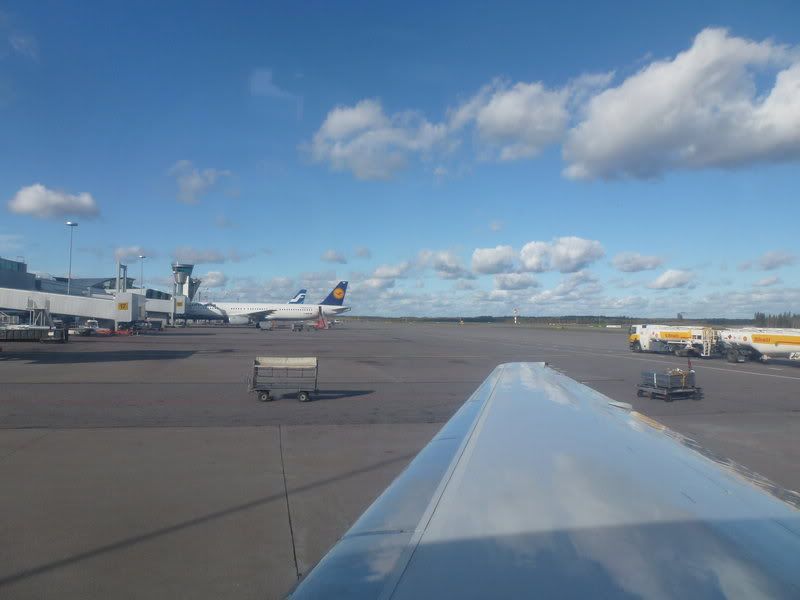 Guido's ride to FRA a few gates over: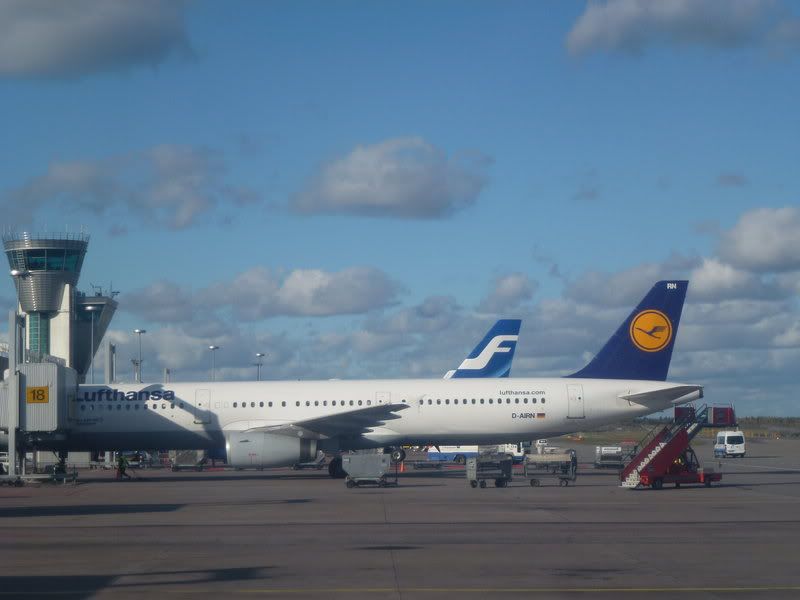 I'm not sure if the passenger buying the last minute ticket made it to the plane, but some five minutes after I boarded the doors are closed, the flight time announced as 55 minutes and push back initiated bang on time.
"Athens" still wearing the FC color scheme: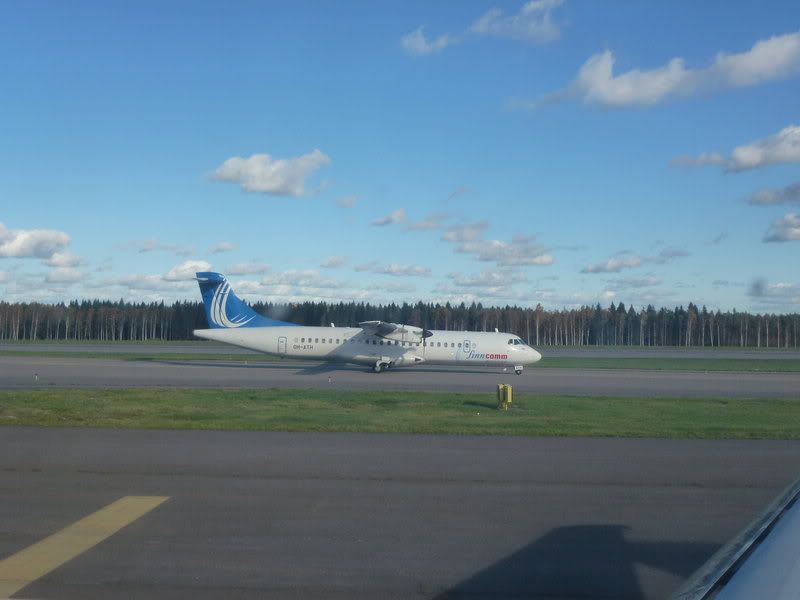 The weather forecast looked a bit harsh, but it turned out to be a perfect autumn day: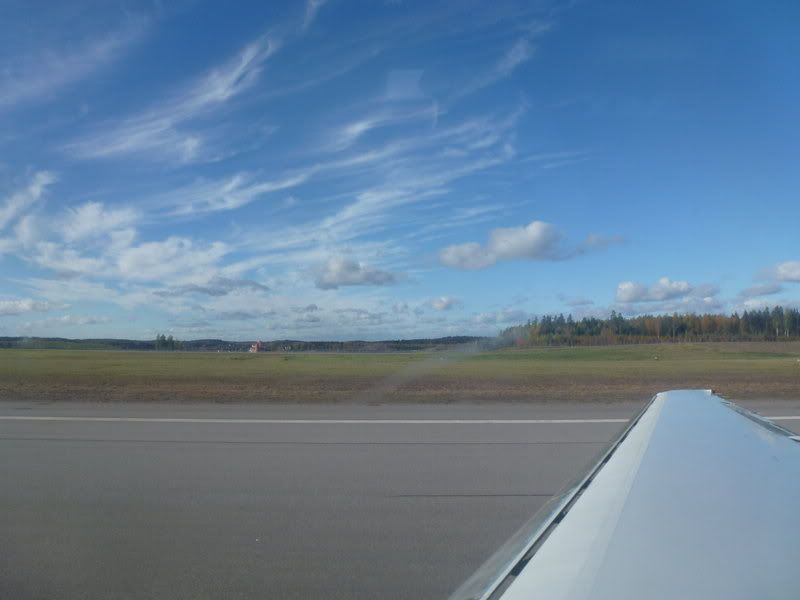 Take off is from 22R around ten minutes later: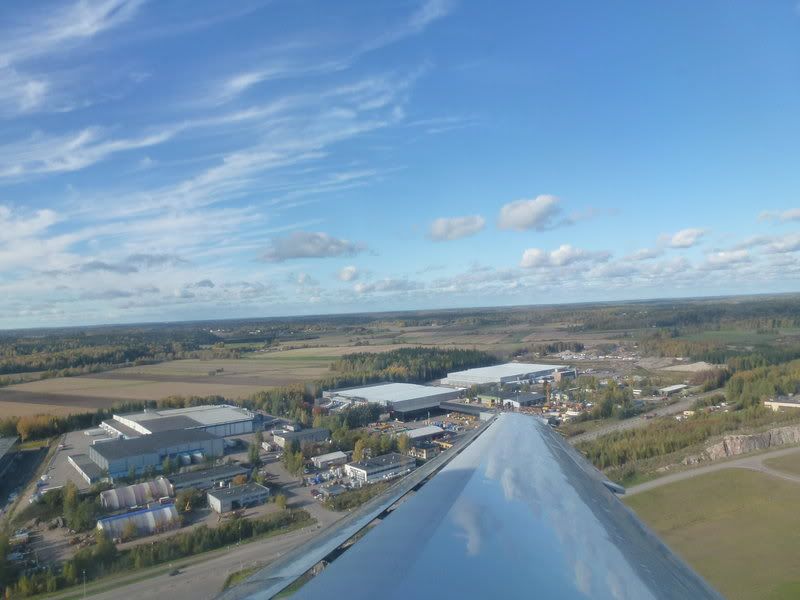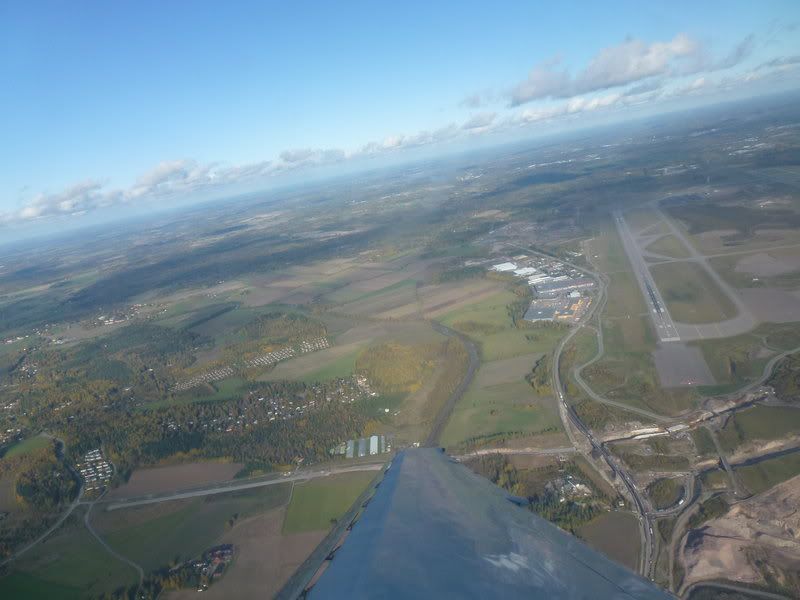 The Helsinki-Tampere motorway - I drove there and back just the previous day: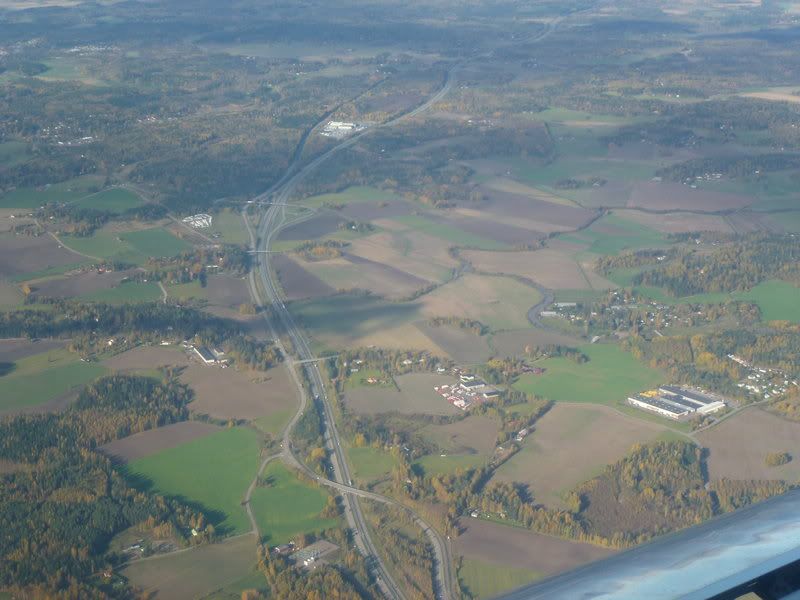 Passing HEL: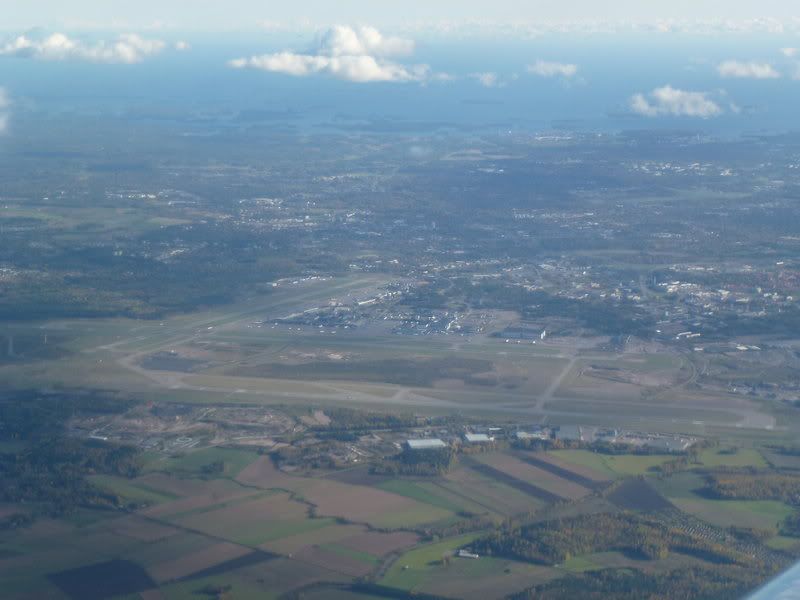 Interestingly they announce the Premium class service as "A light meal with drinks" - is this a sign that they have upgraded the domestic Premium offerings - it used to be just a lousy sandwich and coffee/tea? I wish I had spent the 28 EUR to upgrade at least one of the legs to Premium to check it out - but alas I got cheap and let it pass.
In economy the service is the expected coffee/tea run: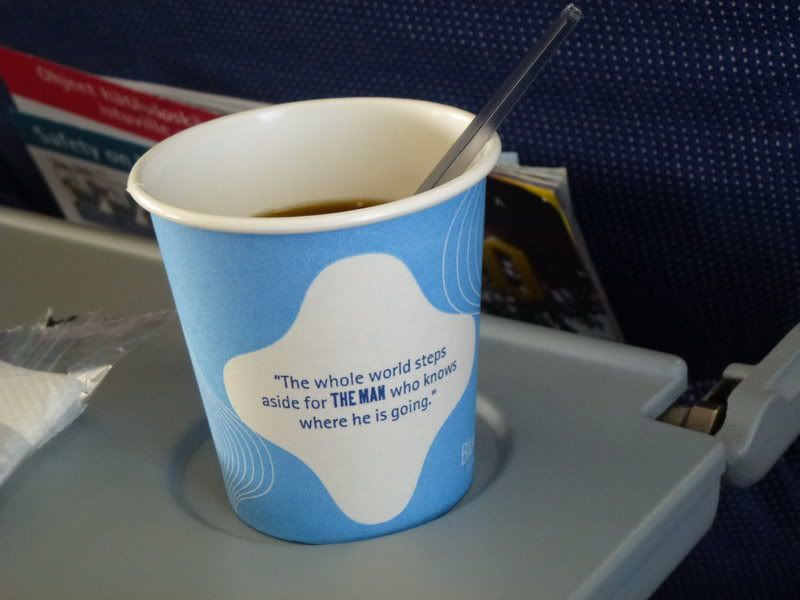 That looks very dirty and nasty:
The route is the usual one - this is Tikkakoski airport (JYV):
The further north we go, the cloudier it gets. The weather forecast promised rain, but luckily the first officer announces the weather in Oulu to be just overcast and ten degrees. Notice the shadow of the tail and engine over the wing: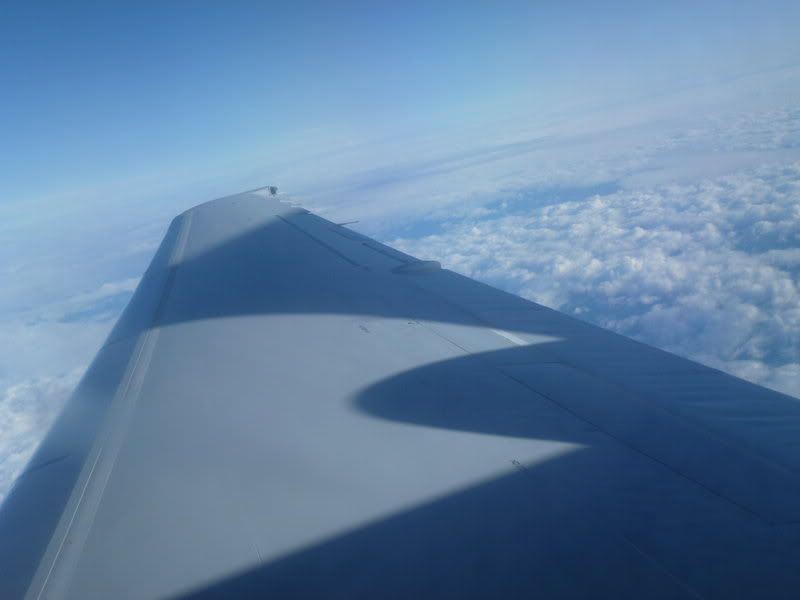 These hops are quite short and quick ones, so soon after the trash is collected (seconds are offered but I decline) the engines spool down and we start our descent, breaking the clouds over landscape so typical to this part of the country: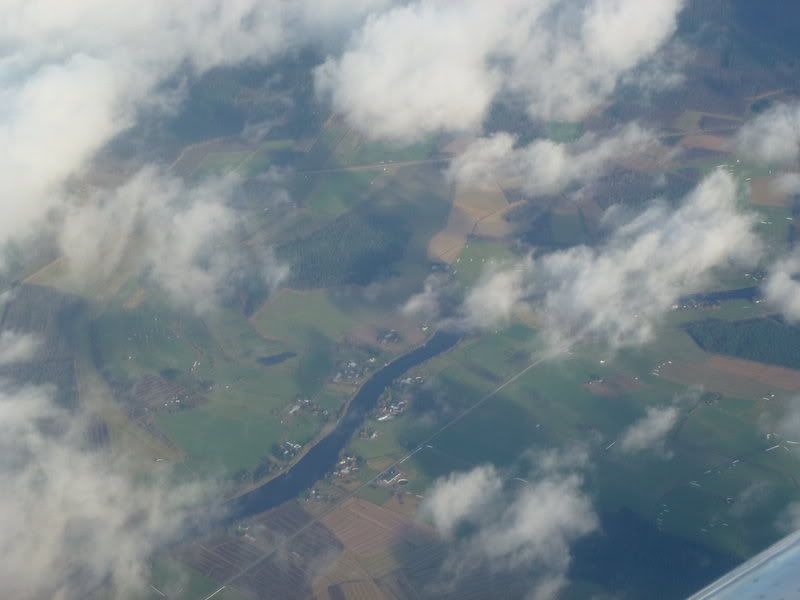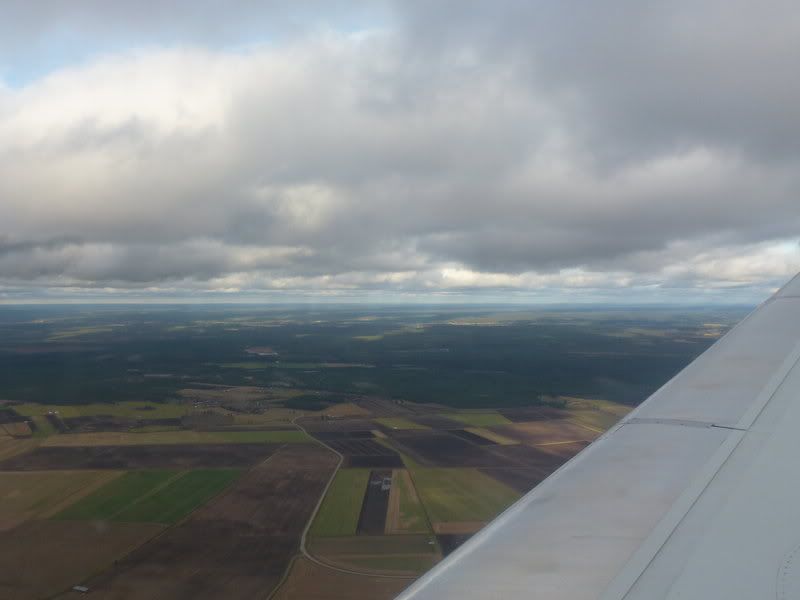 The highway number 4 coming all the way from HEL, together with a huge mall at Kempele called "The Zeppelin" - I've got some relatives living nearby so I've been there many times: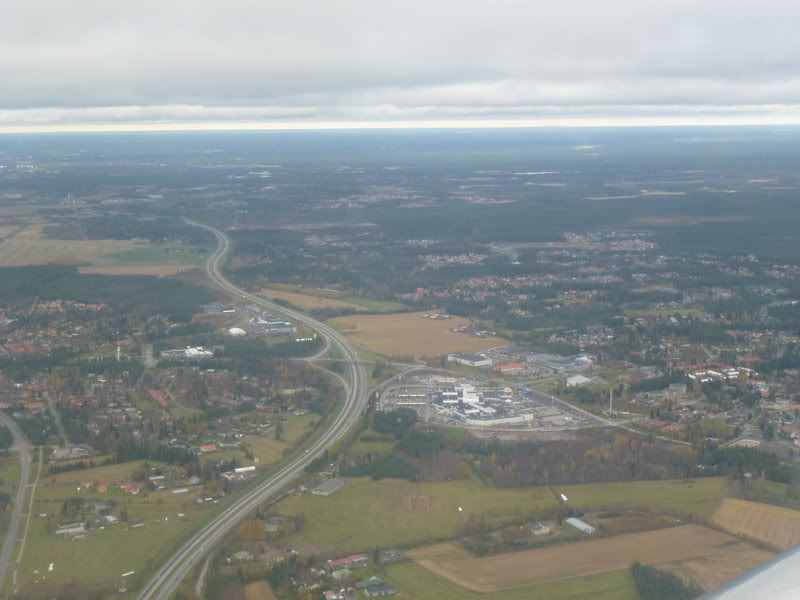 The city of Oulu and its heavy industry: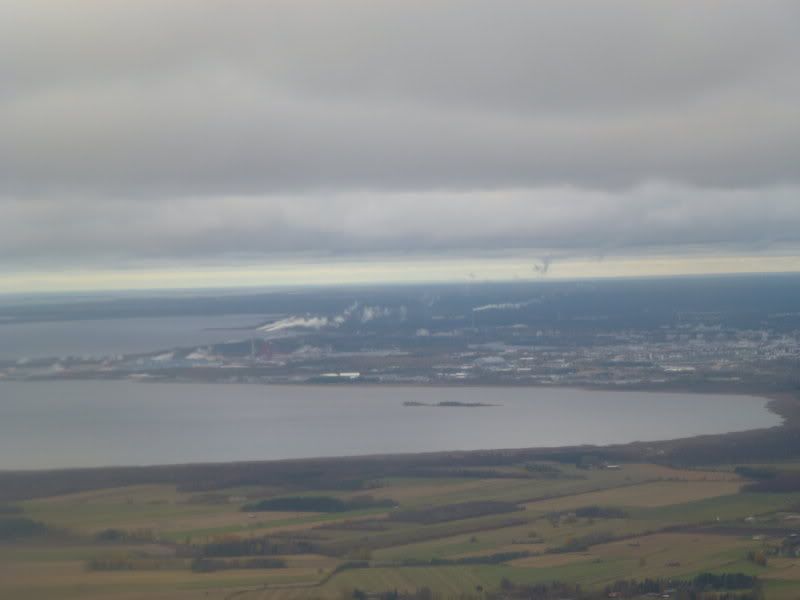 The suburban bliss of Kempele and Oulunsalo: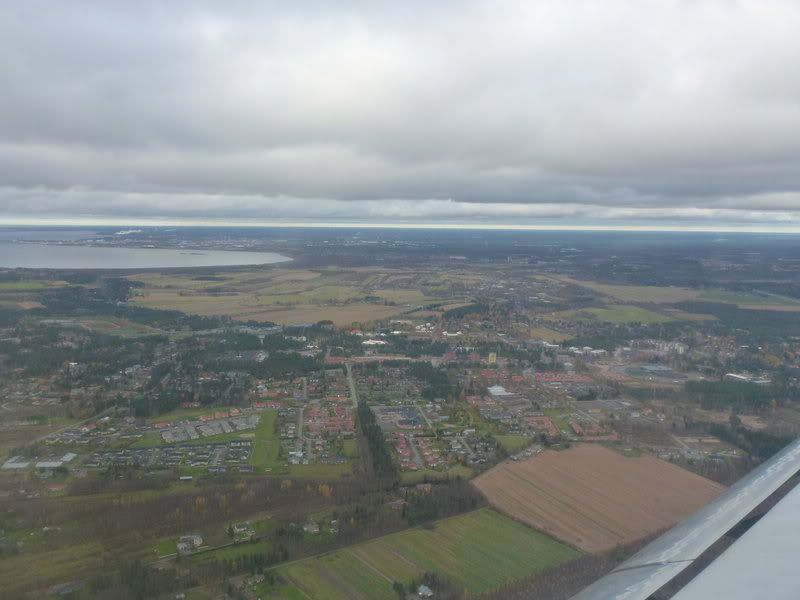 Landing is very wobbly and uneven on runway 30 after exactly 50 minutes of flight time.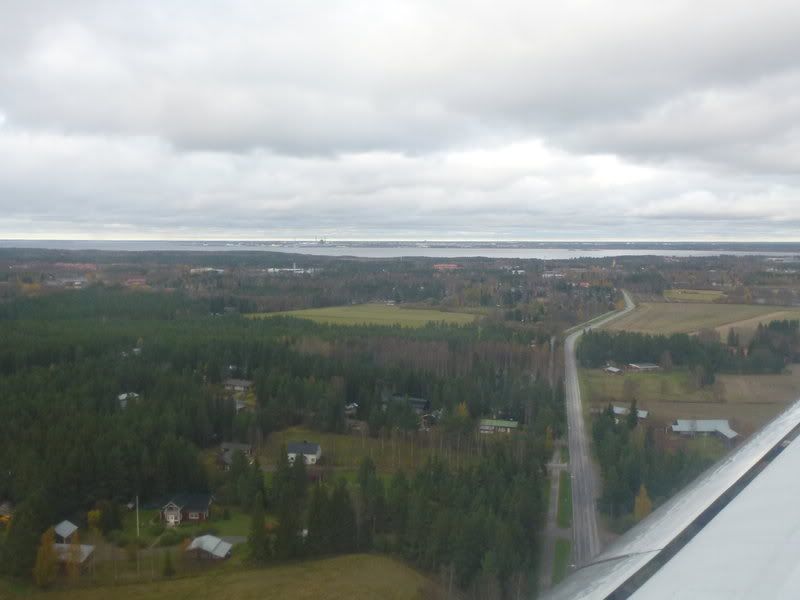 My first glimpse of the new terminal: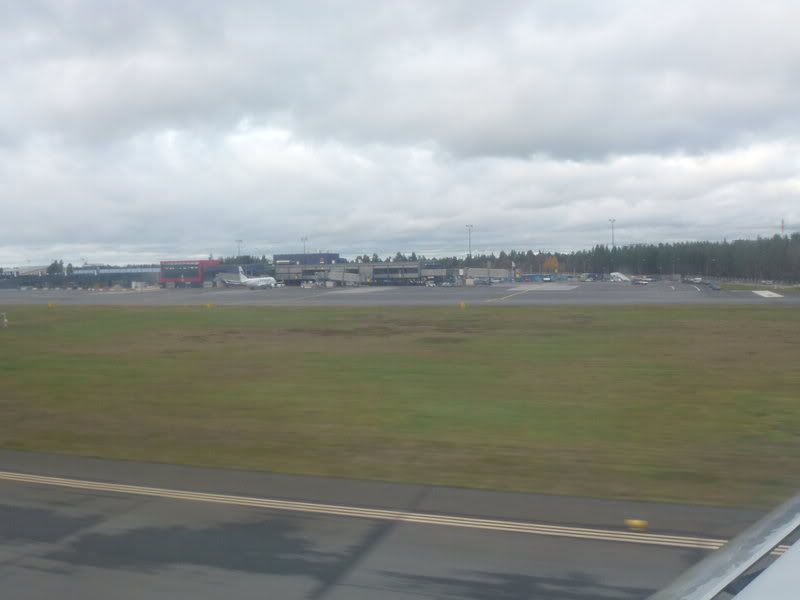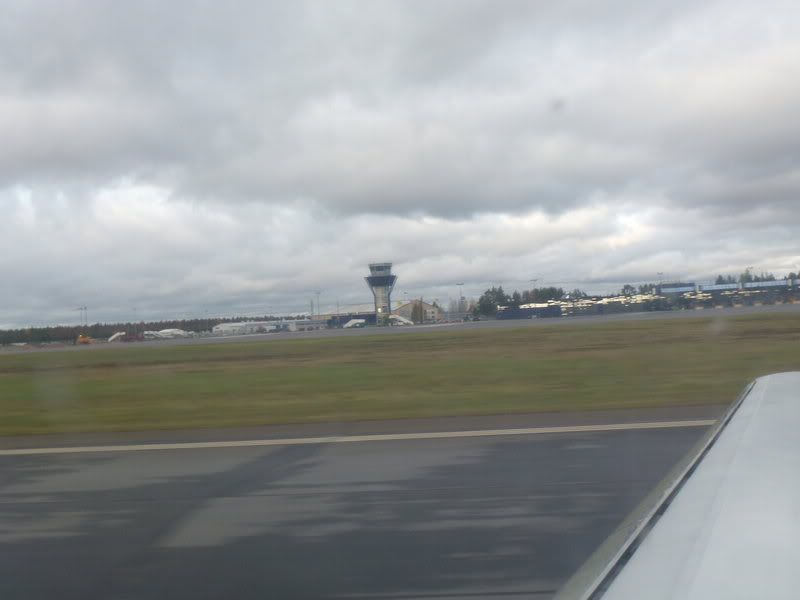 Ok, this is probably the reason for the uneven approach: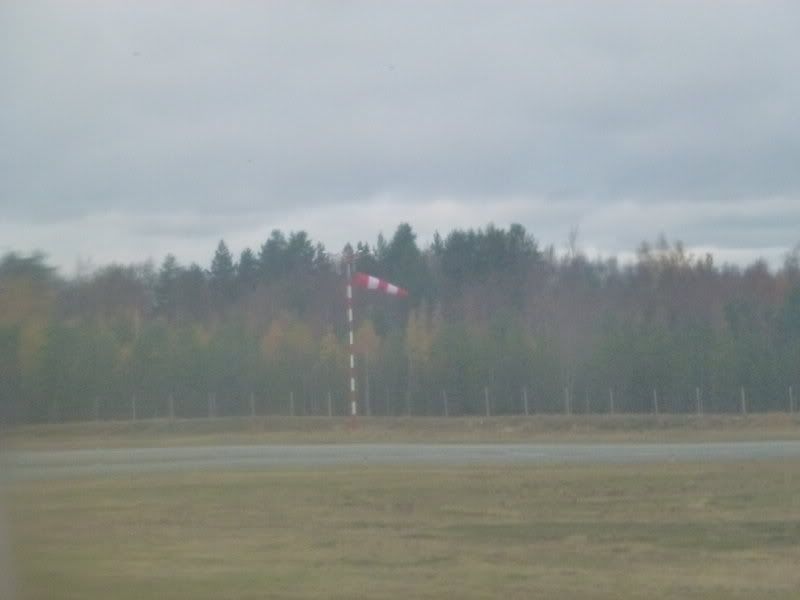 Jetways, jay: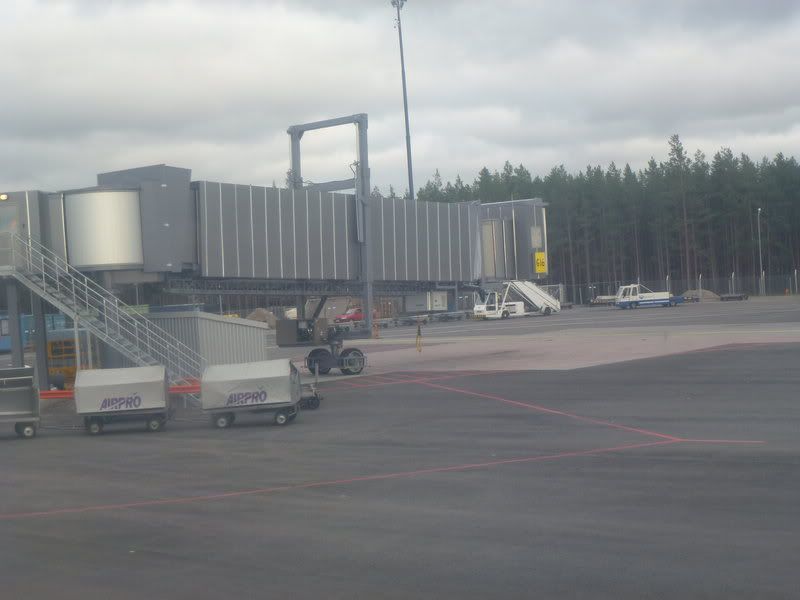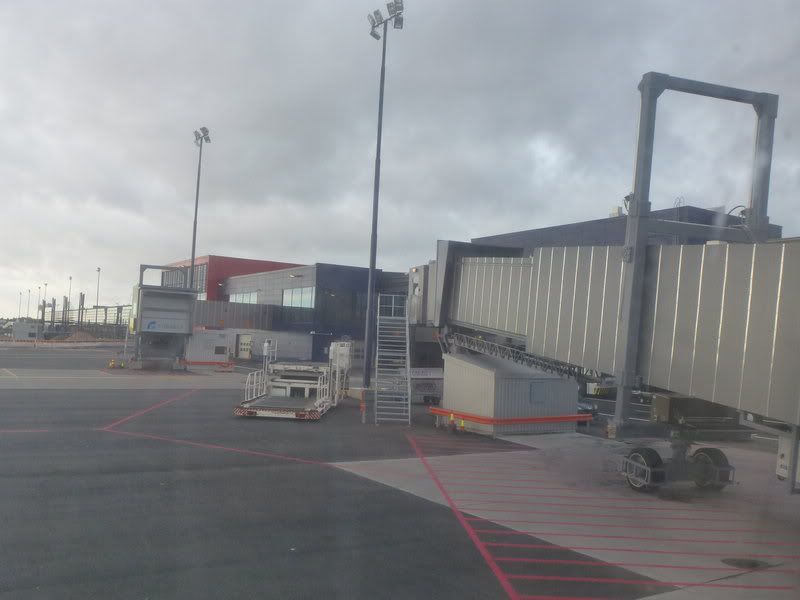 These tubes of metal make OUL the third airport in Finland with jetways, after HEL and RVN!
While disembarking the purser says to me "I hope you didn't forget your camera!" - "Of course not! Thank you and good bye!".
Bye OH-BLO (or so I thought):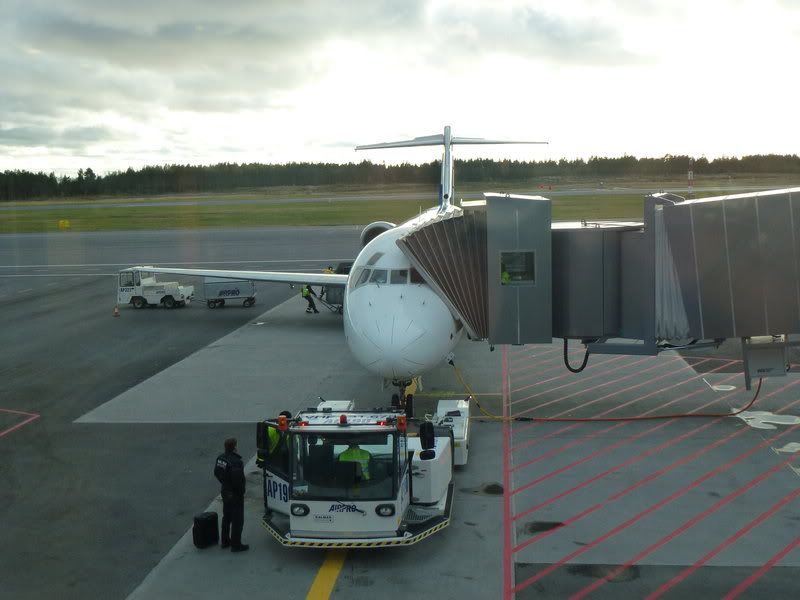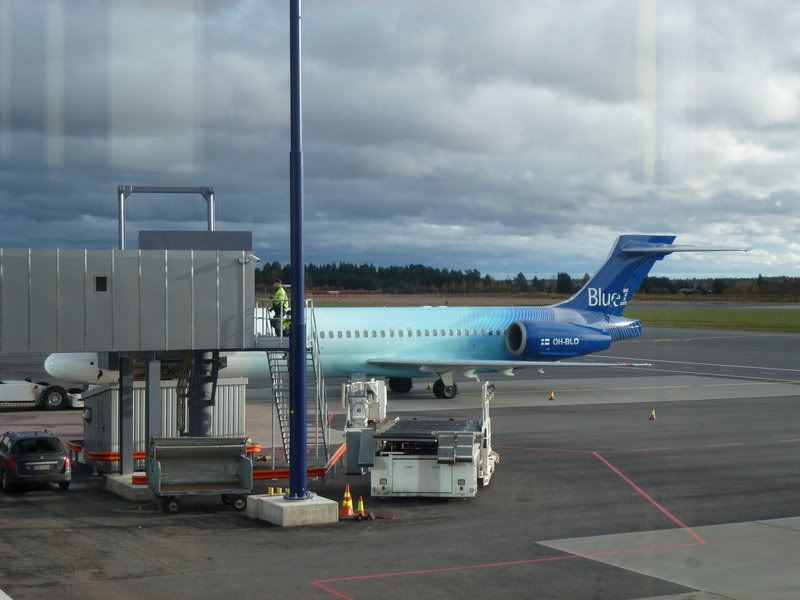 The New OUL Terminal
Let's take a terminal tour, shall we?
Airside seating areas: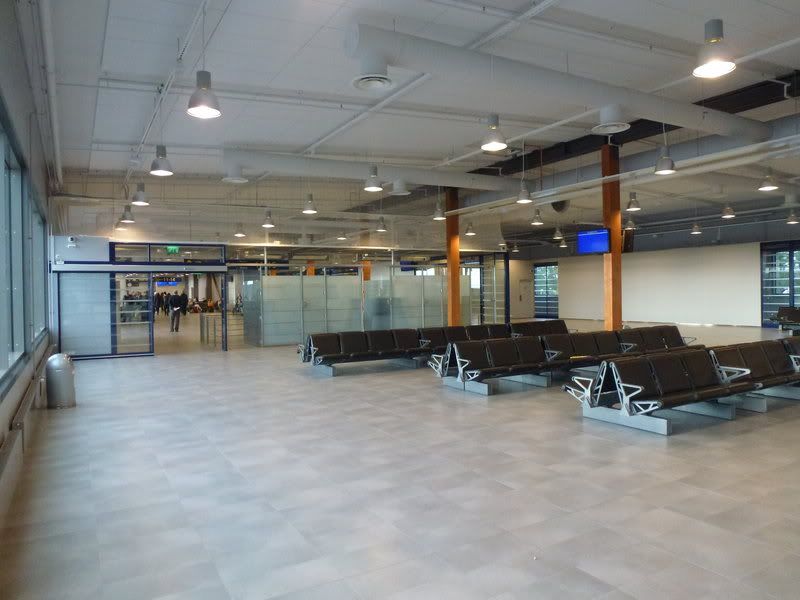 Empty gates: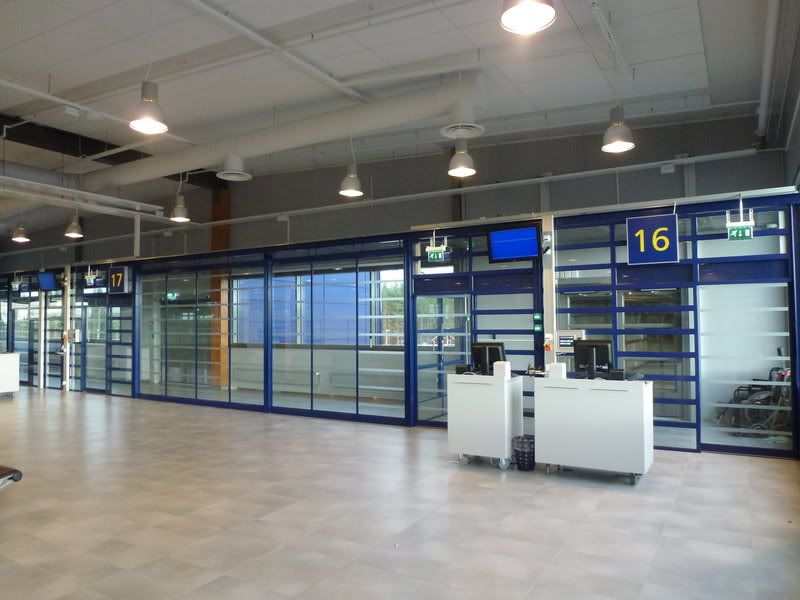 I'm not sure of the numbering - why do they have to have a gate 16 when there are four jetways and once everything's complete there will be maybe eight gates?
This monitor was empty for some reason:
The end of the terminal can be used for non-Schengen departures (not that they have any scheduled ones - just the odd charter) - this is the barrier separating it from the Schengen area: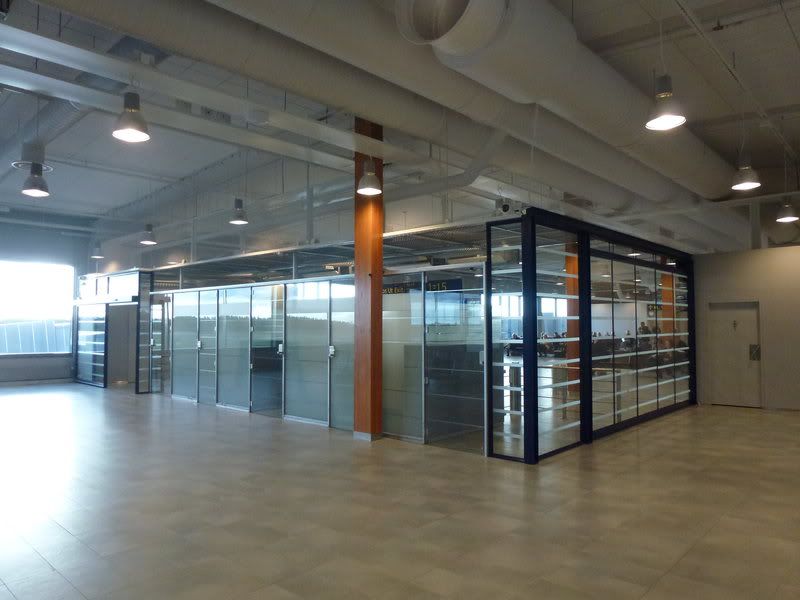 From the other side of the barrier: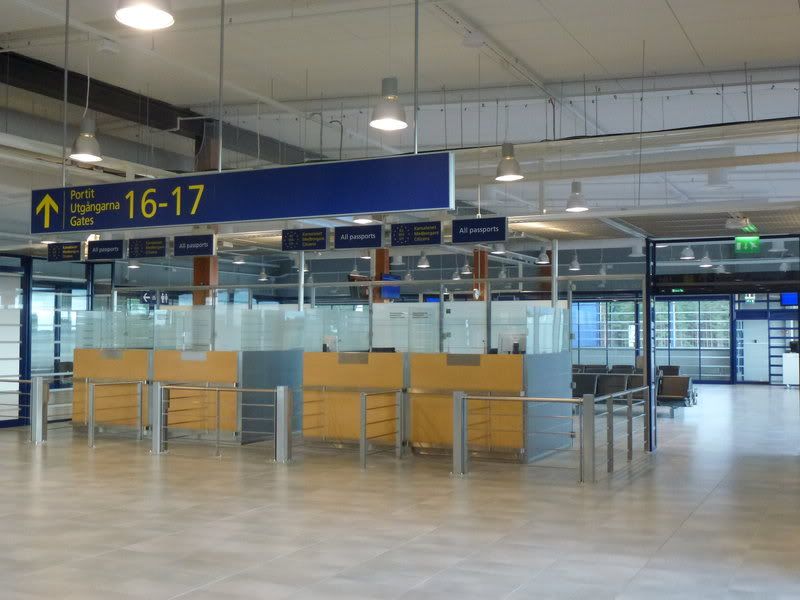 Passengers waiting for the return flight to HEL - the load looks to be quite a bit better than on my inbound flight: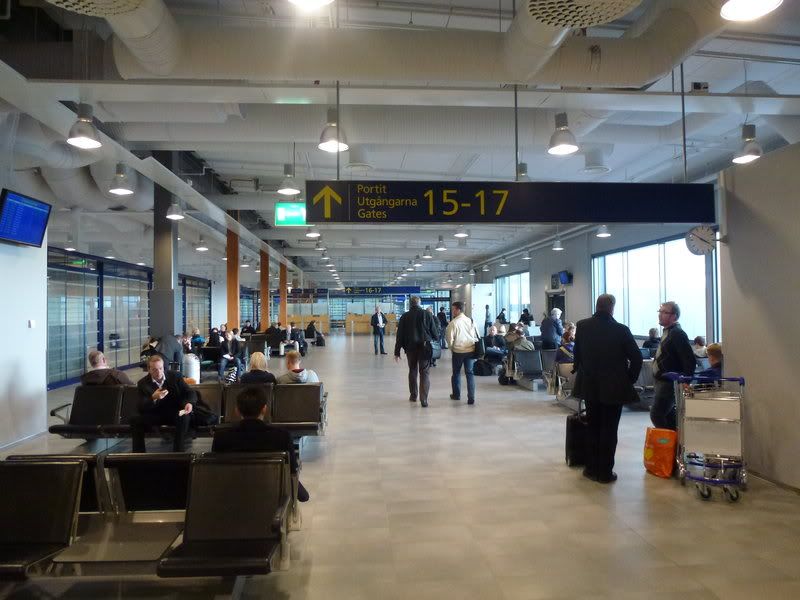 Working FIDS - not that there's much variety in destinations: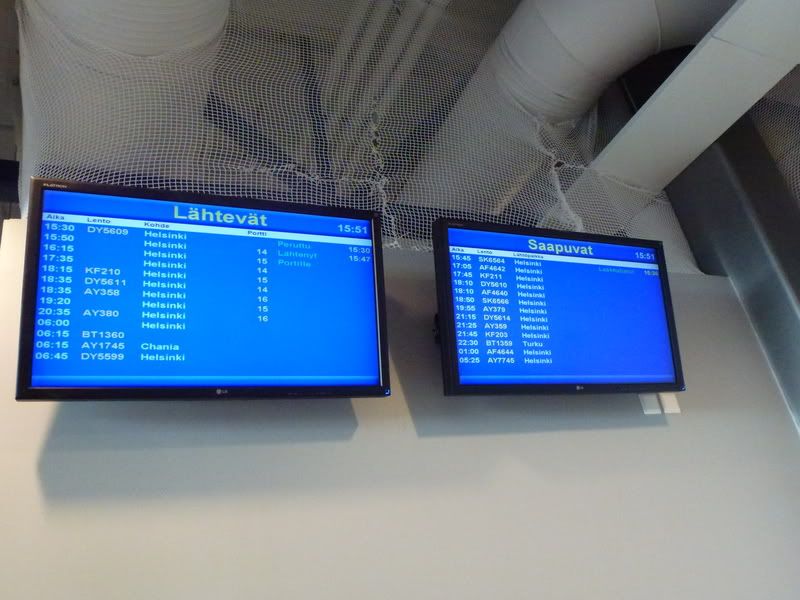 "Finished in winter 2012" - looks like the part that was the old terminal is now undergoing renovations: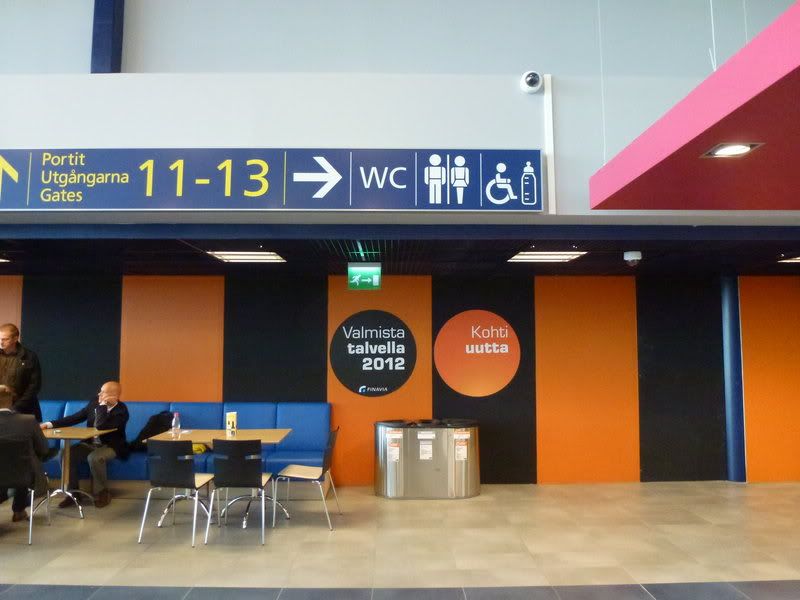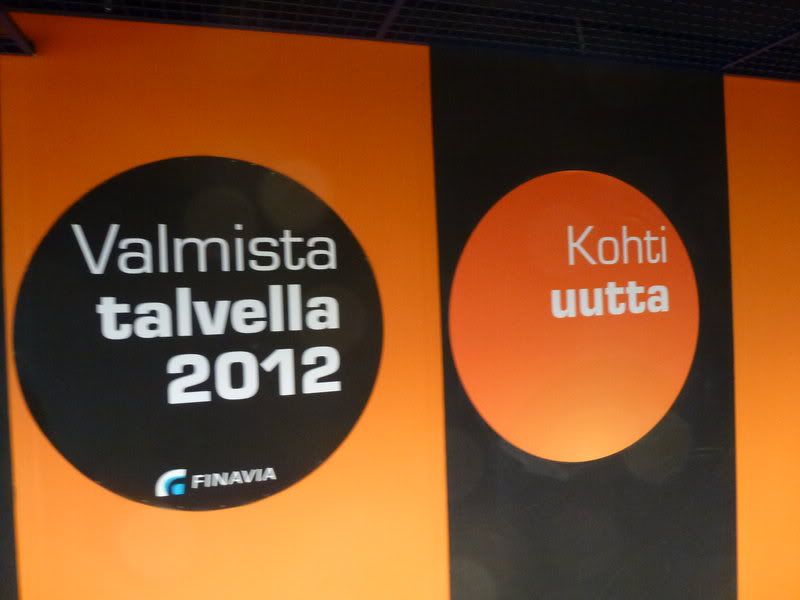 There's only a single cafe/bar open and it's airside. The rather nice one they had landside is now closed: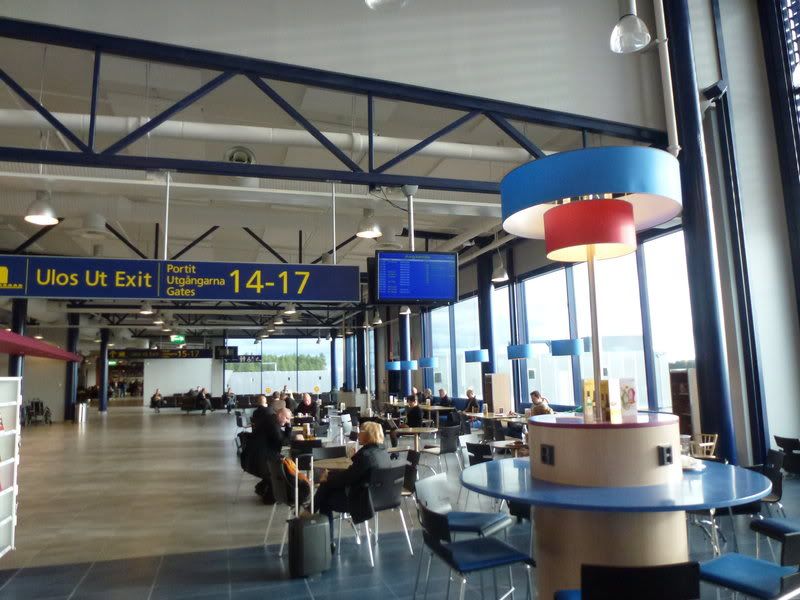 Of course there has to be the obligatory travel value/general purpose store: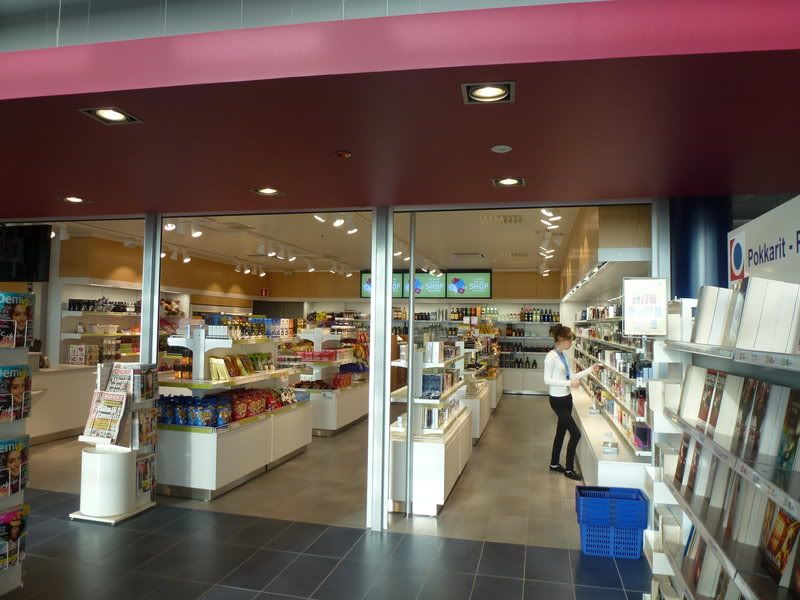 View down to the sparkling new luggage hall - that crew turned out to be the crew of the Norwegian's afternoon flight back to HEL, more on that later: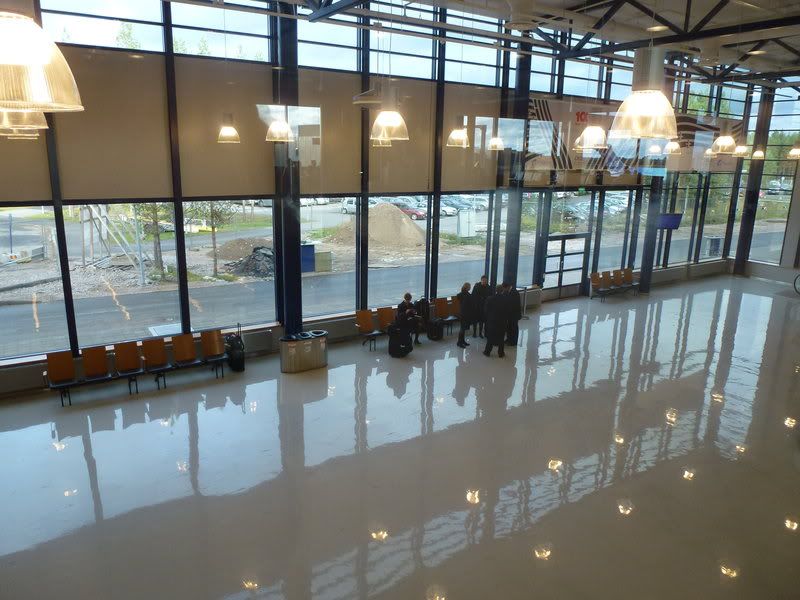 Some leftover equipment from the official opening reception: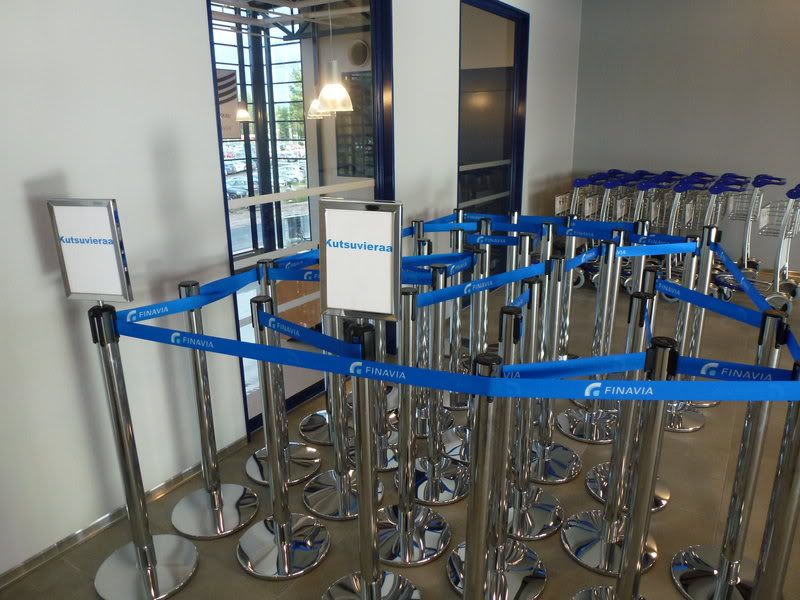 A smoking aquarium - people at these northern latitudes certainly smoke more than in the south: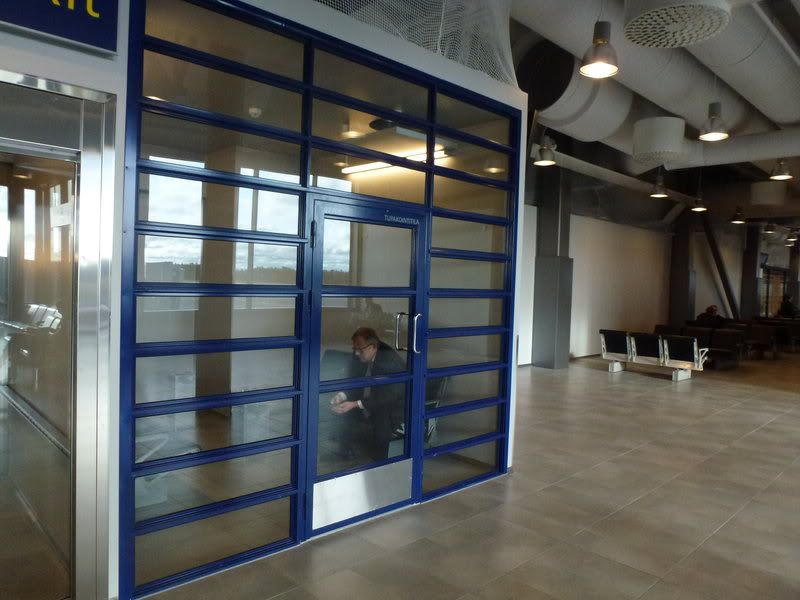 Stairs down to the luggage hall: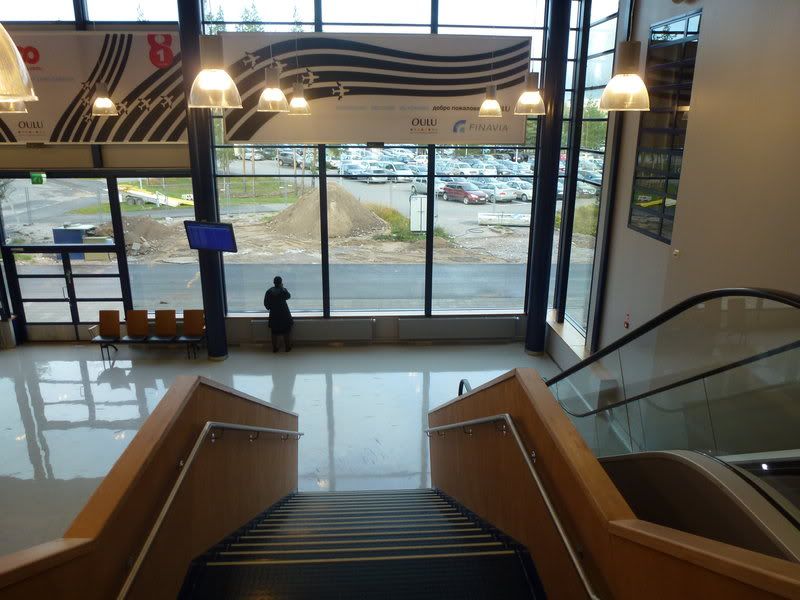 Nice: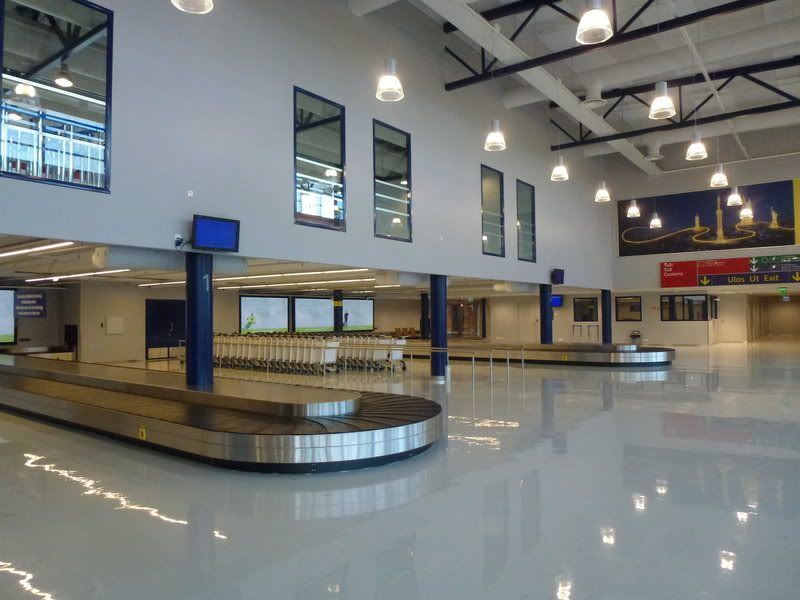 Not so nice - this is the exit from the luggage hall even though it's kinda hard to tell as there are no signs whatsover: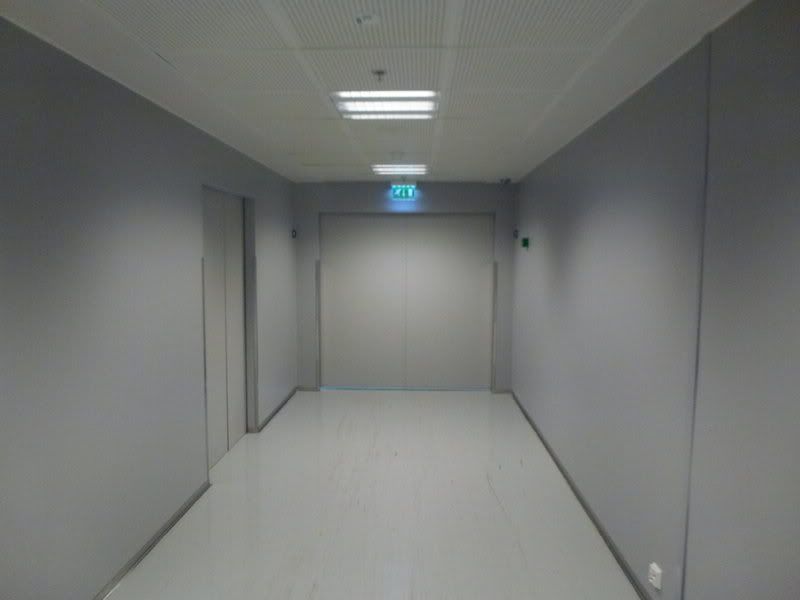 Landside - looks like everything's not quite finished yet: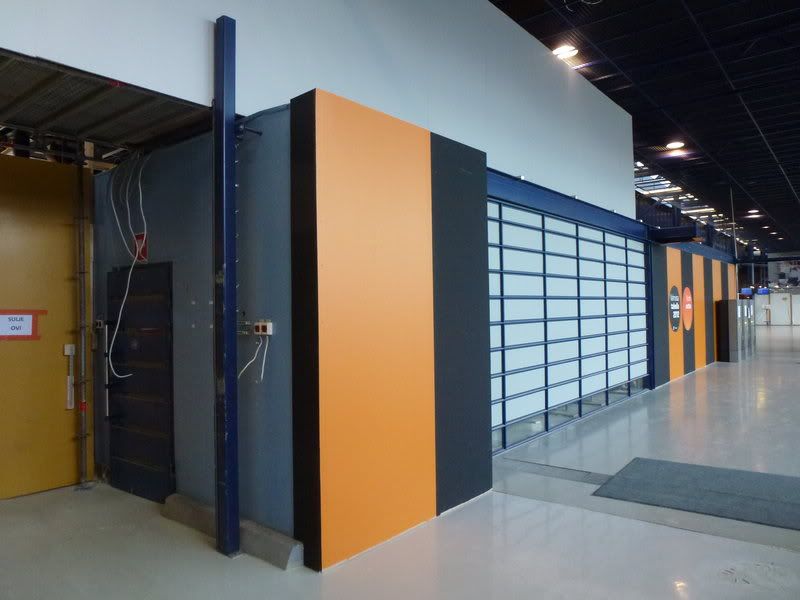 I love the washing machine:
This is where the landside restaurant used to be - hopefully they will open a new one. Notice the spider lamps: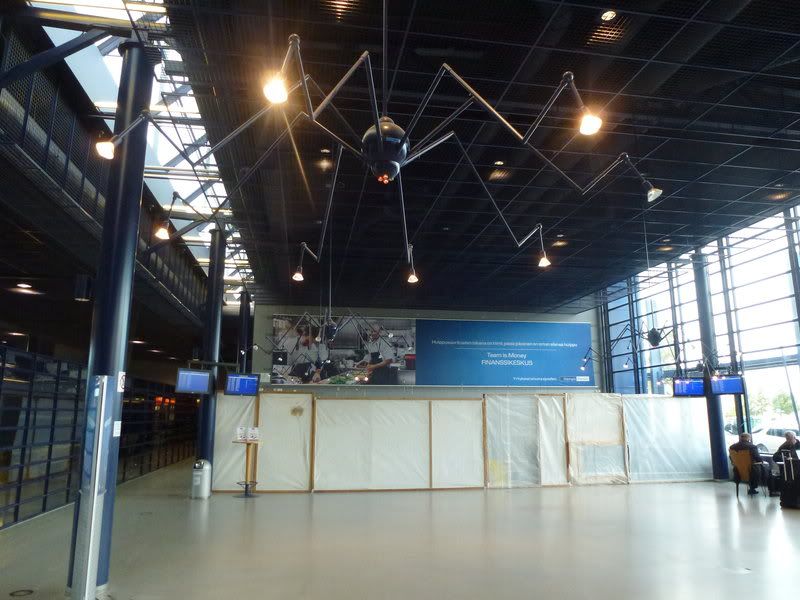 The new extension outside, again not quite finished yet: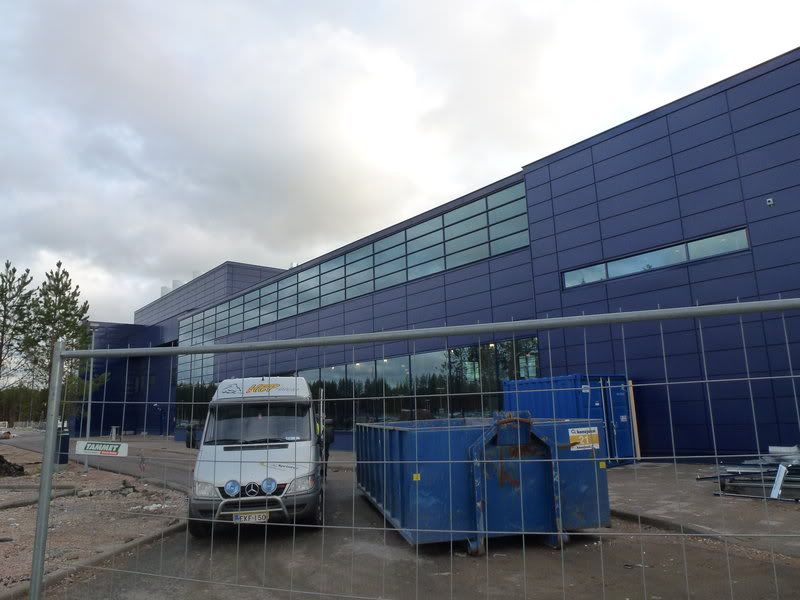 It's not exactly very flashy: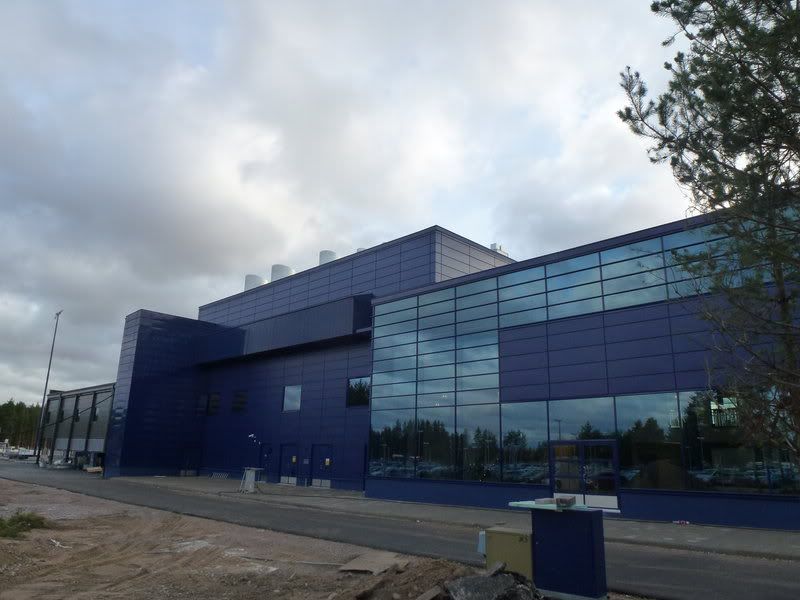 ...but at least it matches the style of the old terminal part: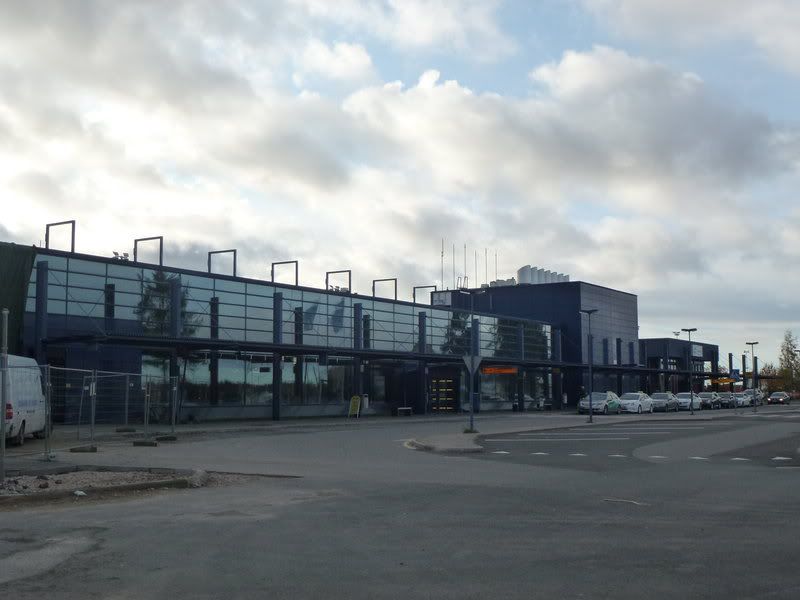 Here are a couple of pictures when departing. Immediately after security control there's a sign pointing towards gates 1-4 in the old terminal part: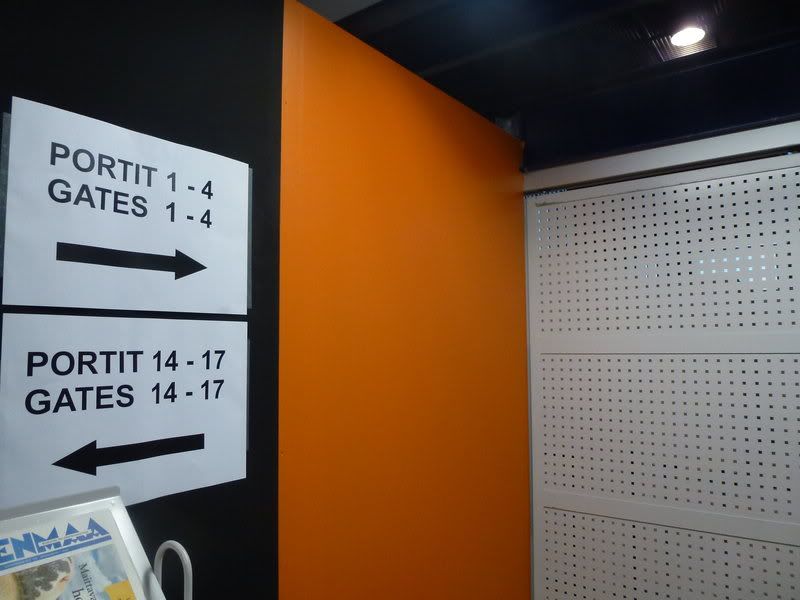 ...but this is on the way: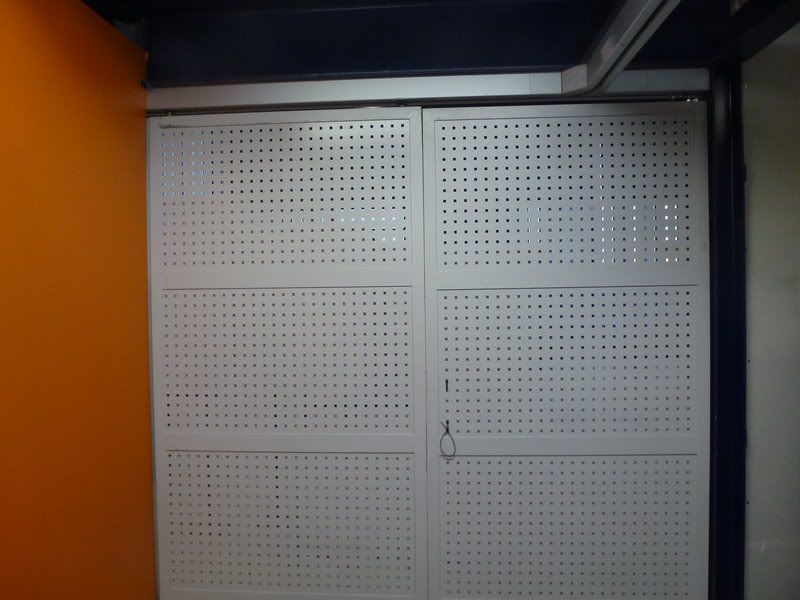 Apparently that part will become the bus gates once the renovation has been completed next spring. I'm actually a bit curious where BE will board their ATRs when they start the TLL-OUL route in November - it's not like you can hook those birds to the jetways...
A very temporary looking corridor leads towards the departure gates: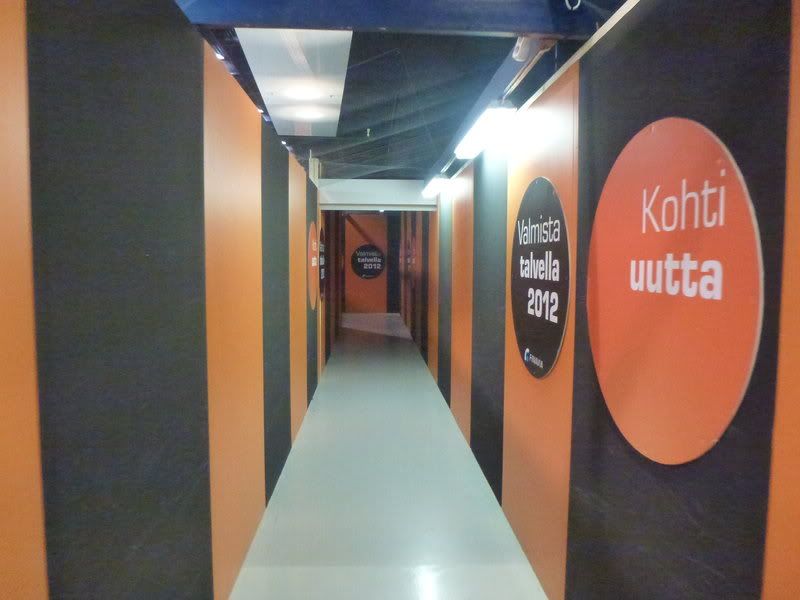 Ending in these stairs which take you next to the cafe. I wonder who wheelchair pax and other people with mobility issues will cope: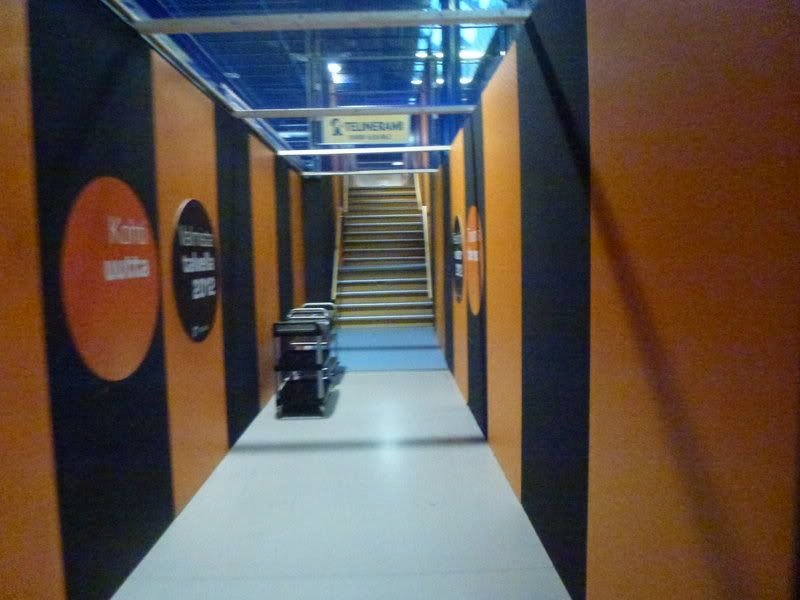 Oulunsalo
Having explored the terminal and airport enough I still have a few hours to go. I decide to head to the nearby town of Oulunsalo, some two kilometers away.
Finns are crazy, and the norther you go, the crazier we get: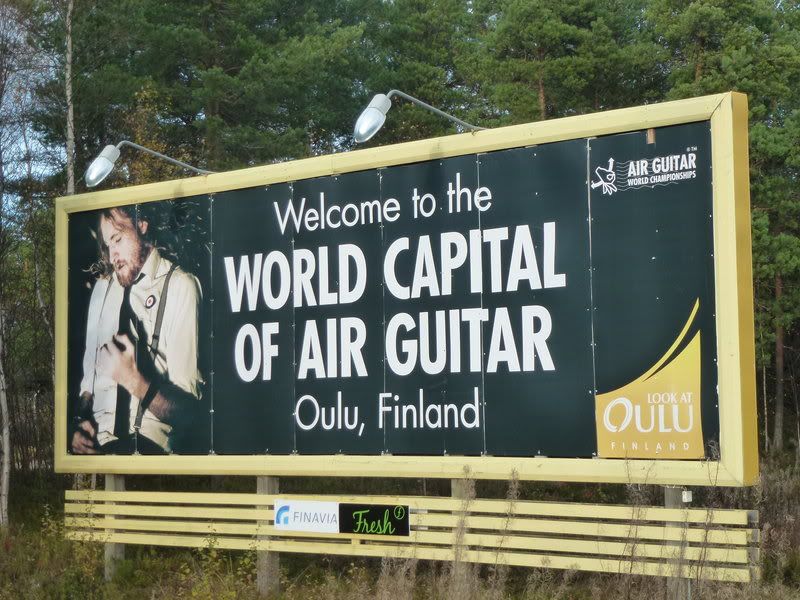 Walking down the "Silicon Alley" - these flashy buildings were constructed during the IT boom around the turn of the millennium when this area was a real boomtown: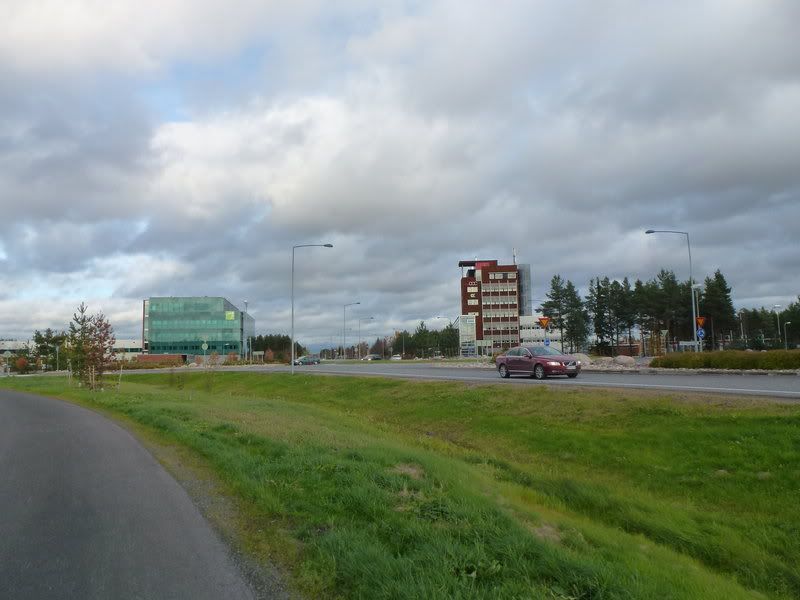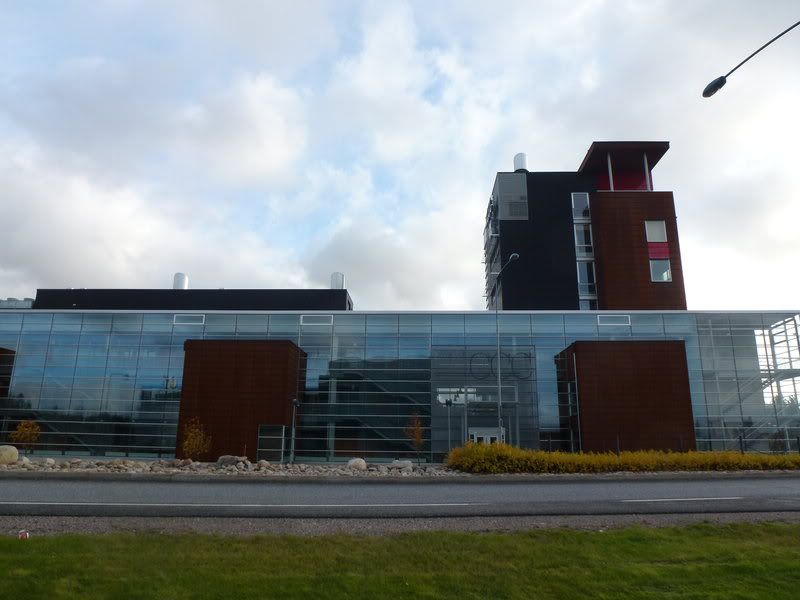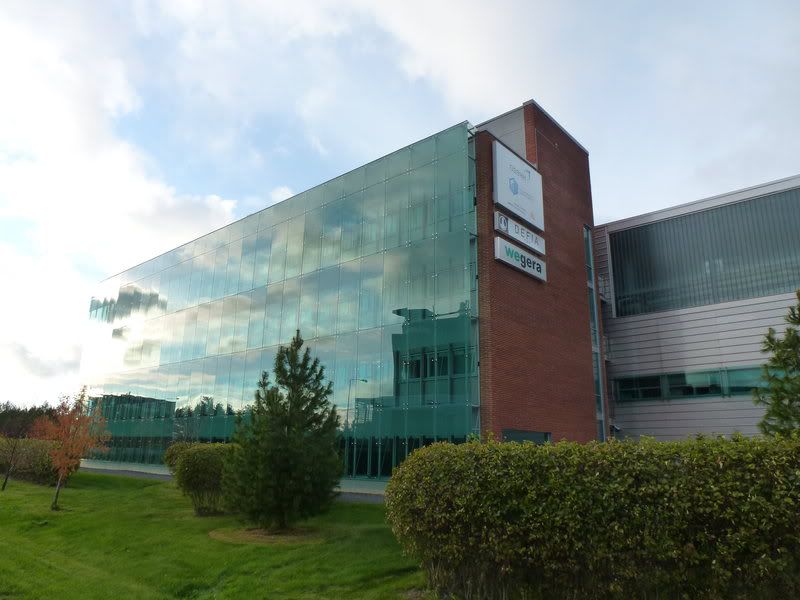 So I'm walking along a sidewalk paid by the EU? Ok, now I'm eternally grateful, please take my tax money and use it to support your failing banks who couldn't get a grip (masqueraded as "Emergency Aid to our friends in Greece" of course):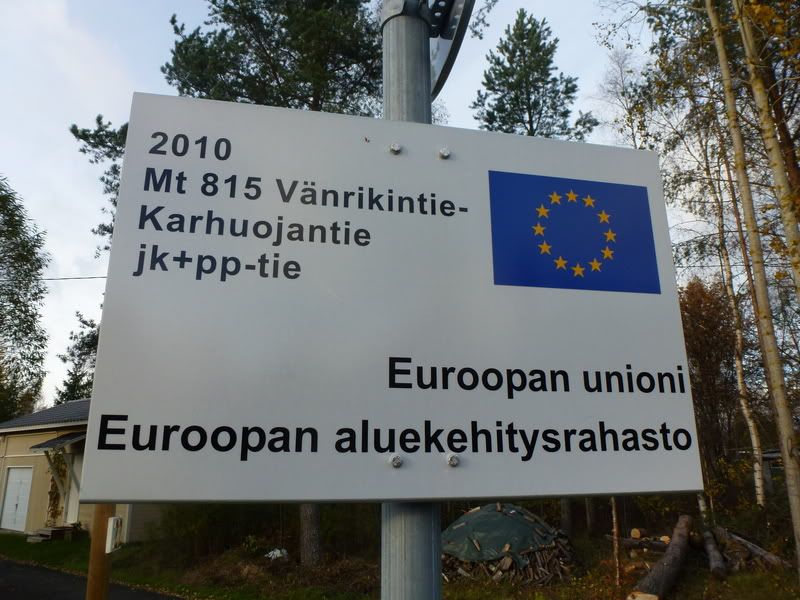 Oulunsalo is a major metropolis and one of the largest cities in Finland: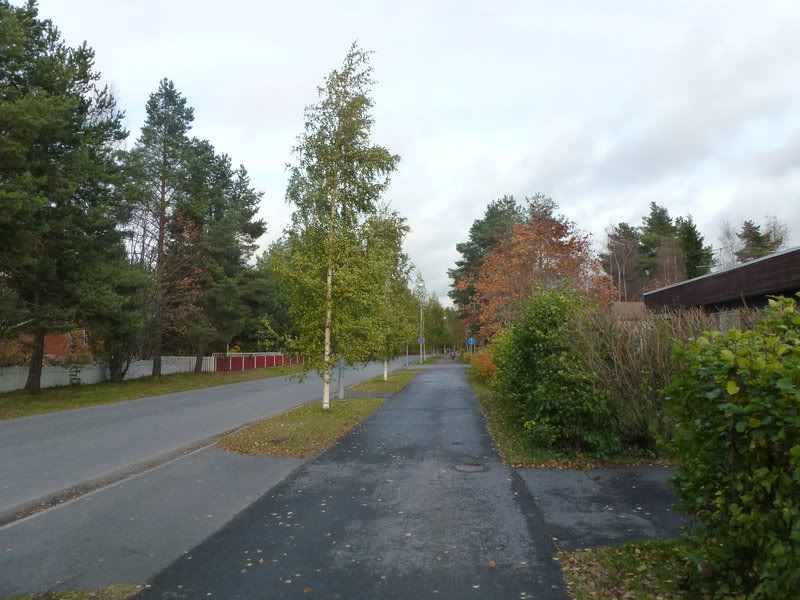 The sleepy town centre - everything's noticeably new, courtesy of the IT tax revenues: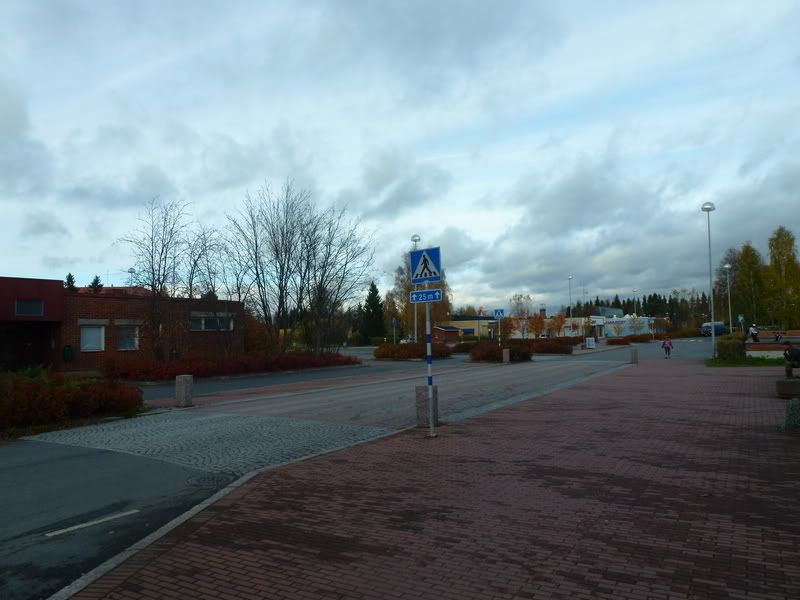 Nice autumn colors: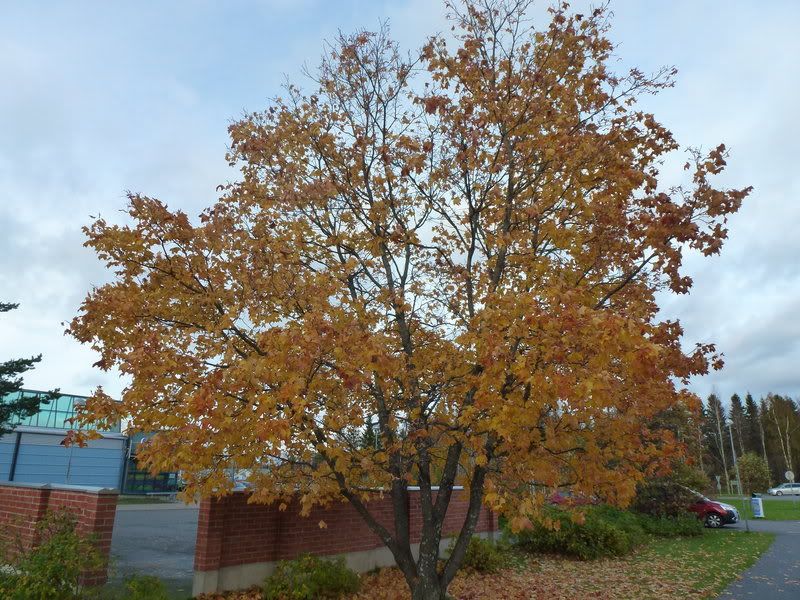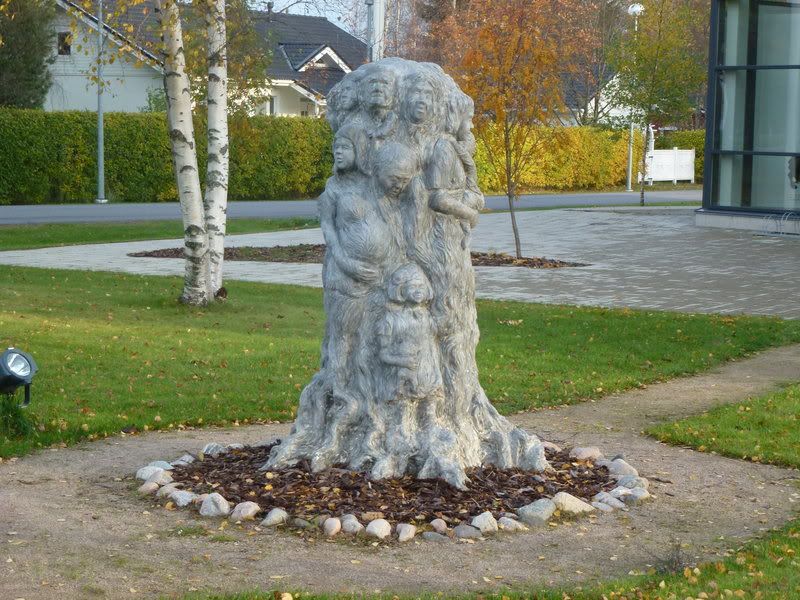 The local church isn't that impressive, but looks quite nice in the low light: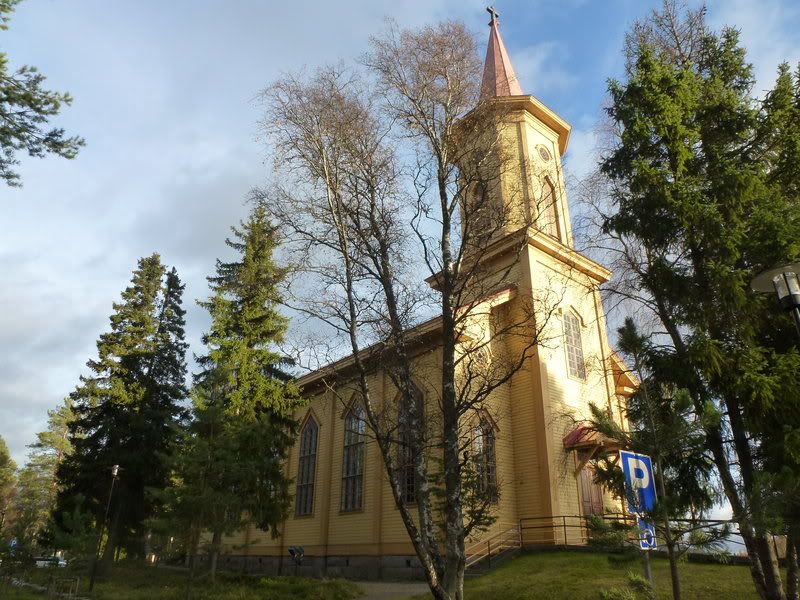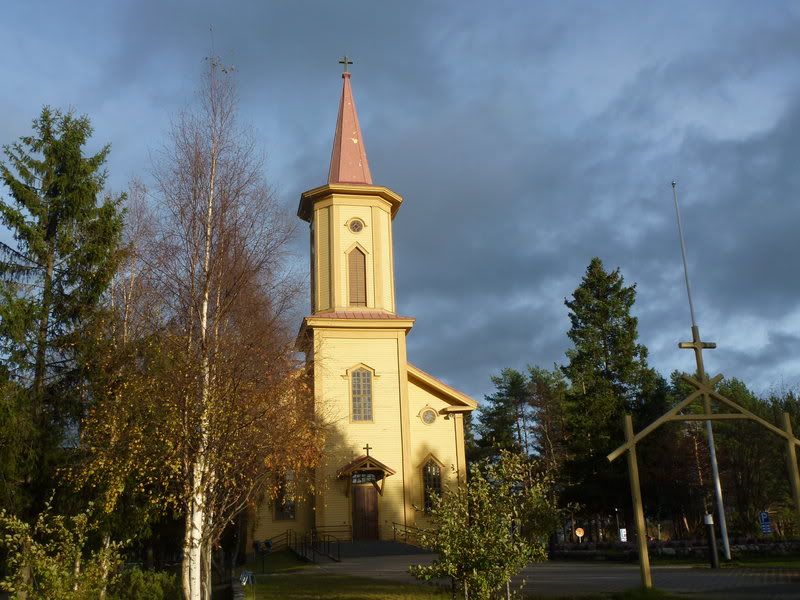 A very interesting town - I see maybe three people up and walking around. There's also an unhealthy amount of day cares in the town centre, but this is of course explained by the area around here lying deep in the Finnish bible belt, and not just any bible but a particularly nasty interpretation of the book whose rules about various aspects of the modern life, including birth control and watching TV make even the Pope in Vatican look like a liberal...
There's exactly one place to get food in town - well, an immigrant-run kebab place, what else: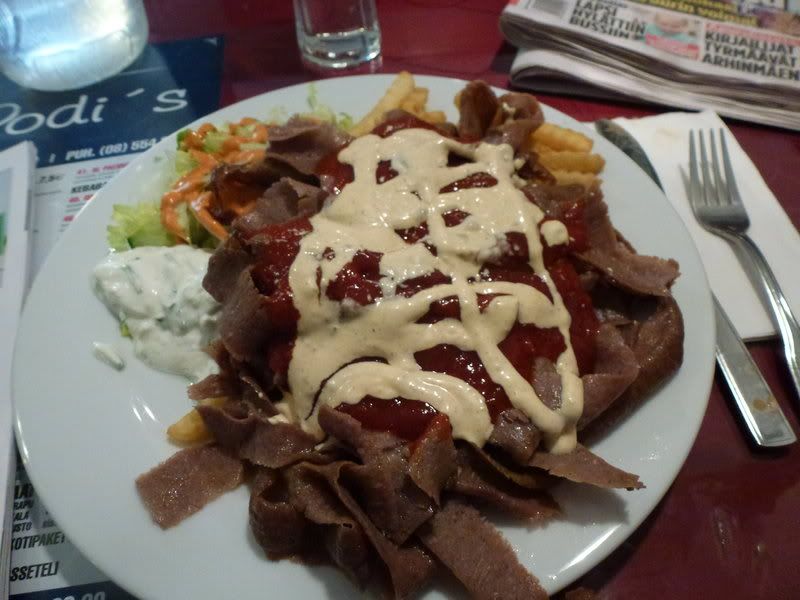 The town hall - quite grandiose for a place this small: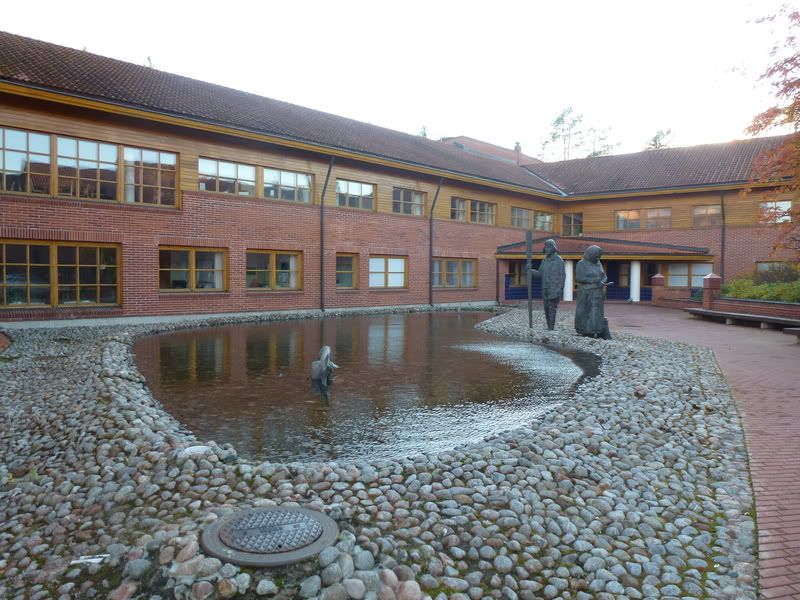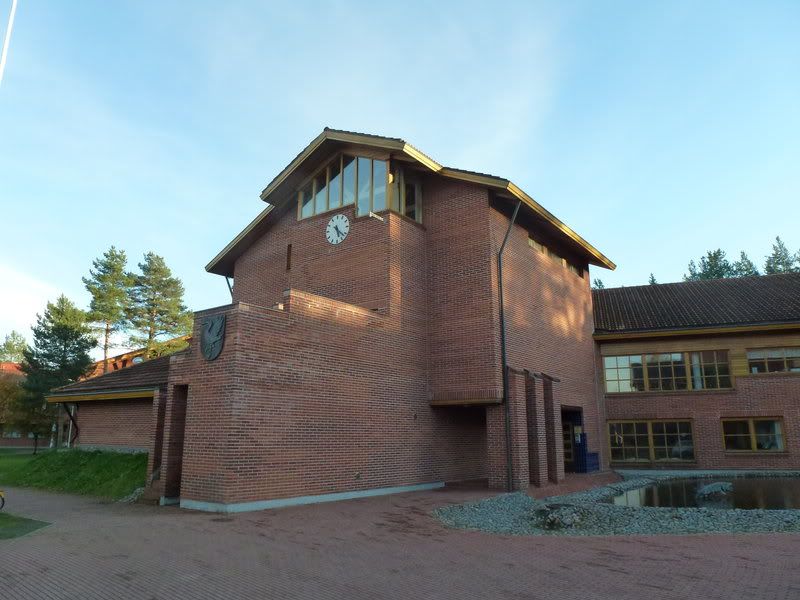 After filling my gut and downing a beer in the only bar in town (where I felt like stepping twenty years back in time) it is time to head back to the airport. I kinda like the way this picture turned out - the ATC tower at the end of the street being lit by the setting sun: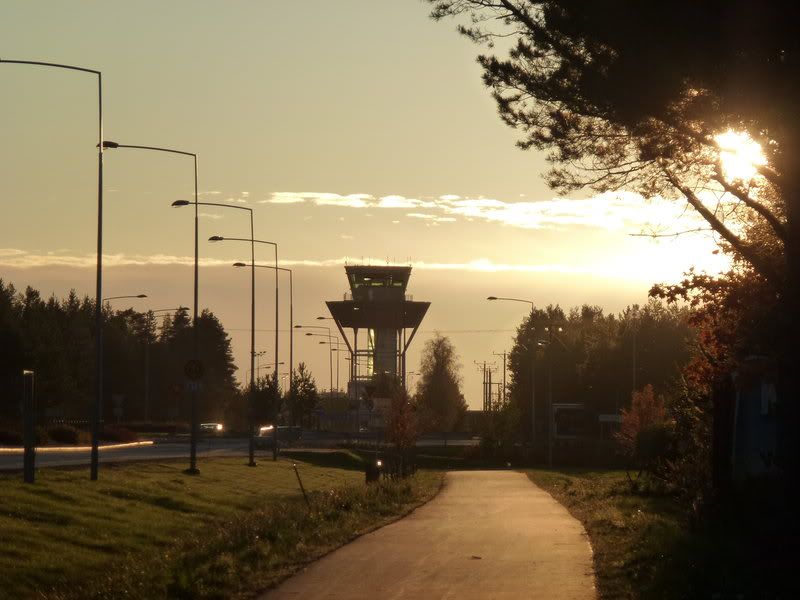 The bright green airBaltic rental cars are also available here: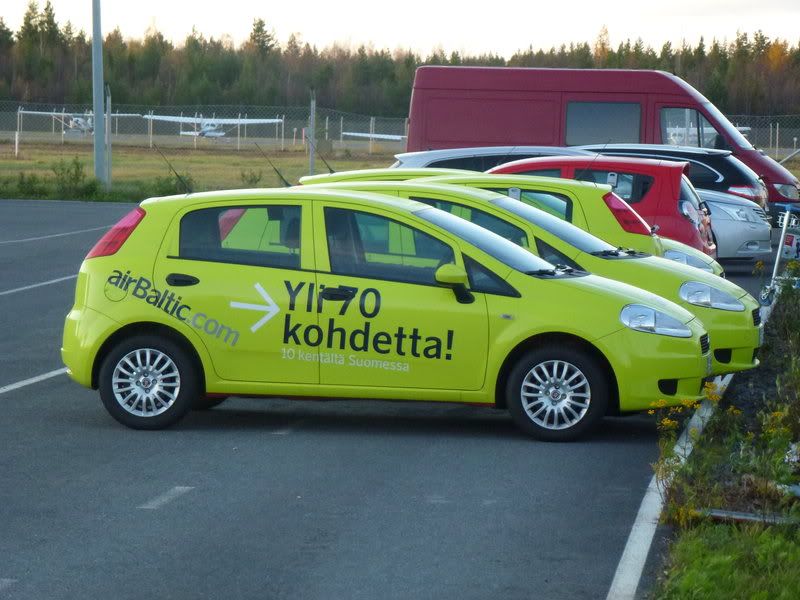 You get a nice discount over the normal going rate if you agree to look like a dingus and drive around advertising the airline...
Oulu Airport
Back at the airport I first notice quite a few people walking around, being quite annoyed. Well, the reason sun becomes apparent - the afternoon DY flight was canceled and now the evening flight is already showing a 3+ hour delay. Apparently one plane suffered a birdstrike earlier today and is out of action for the rest of the day, throwing a major spanner in the works. The passengers and the waiting DY crew are less than amused by this. I actually talk with quite a few ones who had to buy a new ticket from KF there on the spot to be sure that they would make their commitments in Helsinki... Good luck trying to get that money back from Norwegian...
I will end the report here - the plane ended up being the very same one that took me up here, bugger and nothing interesting happened on the way back. We left seven minutes early, landed some twenty minutes early, load was better, 80% or so but nobody in Premium. More coffee, more funny cabin crew members - this is the KF I like a lot.
Some pics: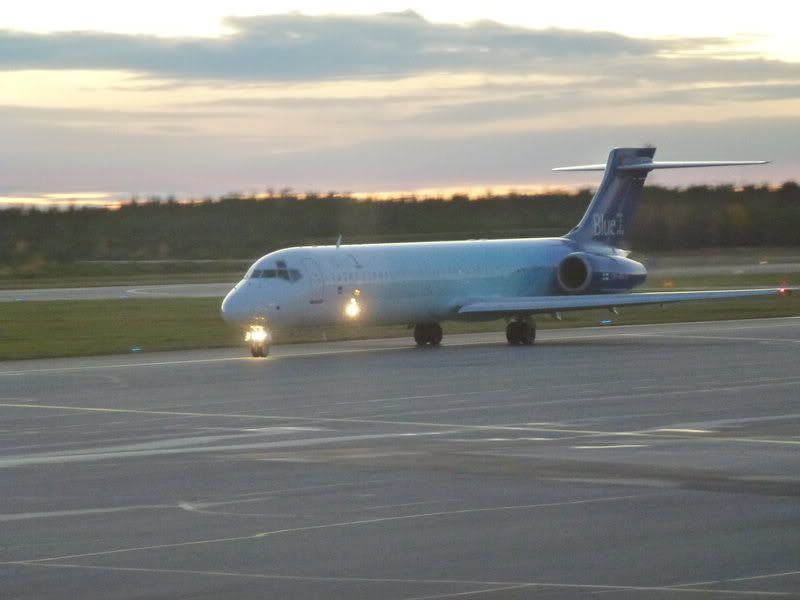 Yes, I think I will prefer the exit row from now on: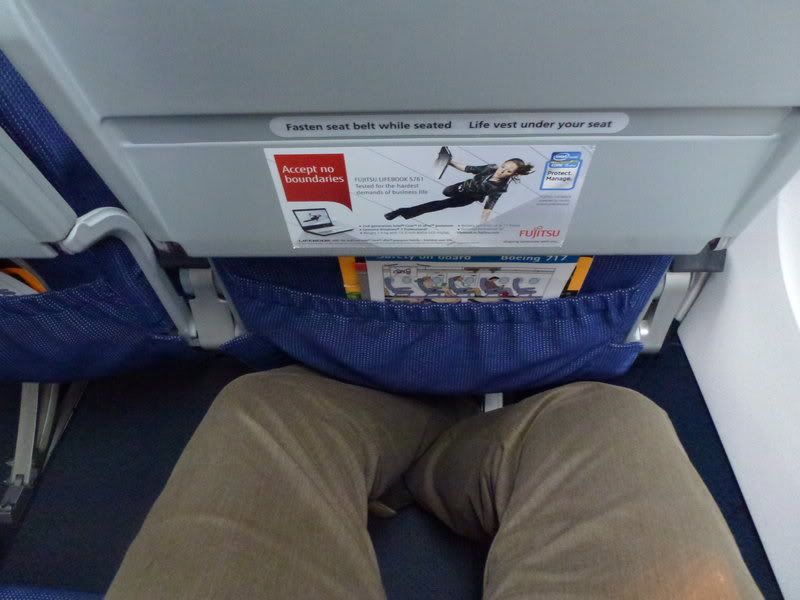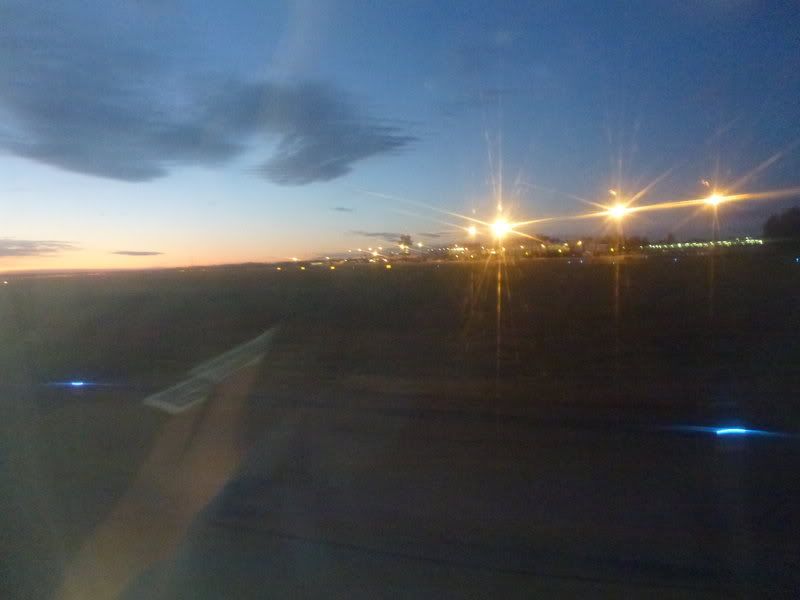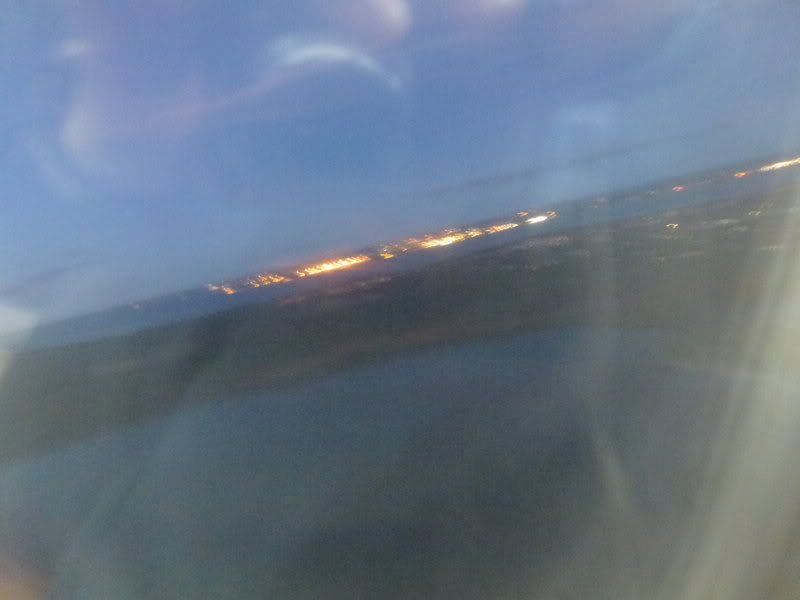 The island of Hailuoto - in the summertime connected to mainland with a ferry, during the wintertime there's an ice road instead: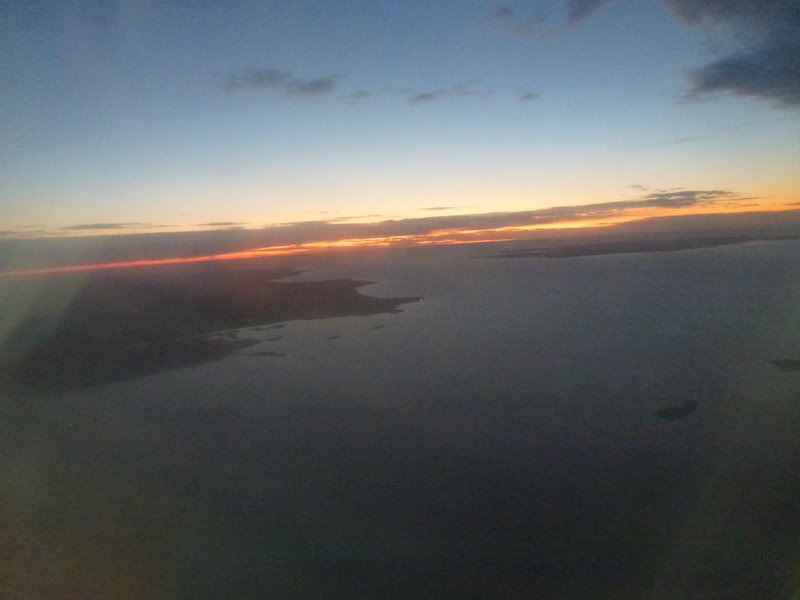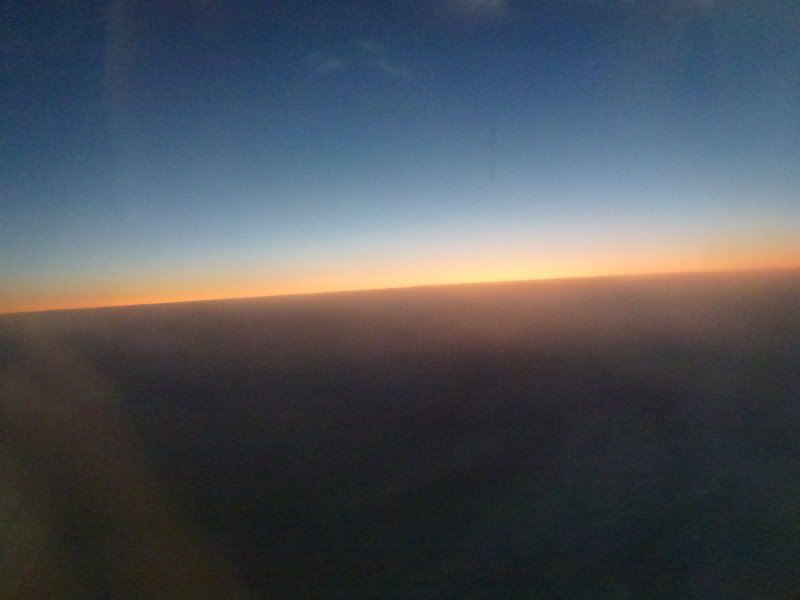 After landing at HEL - I've never noticed these lights before. Is this KF's version of mood lighting: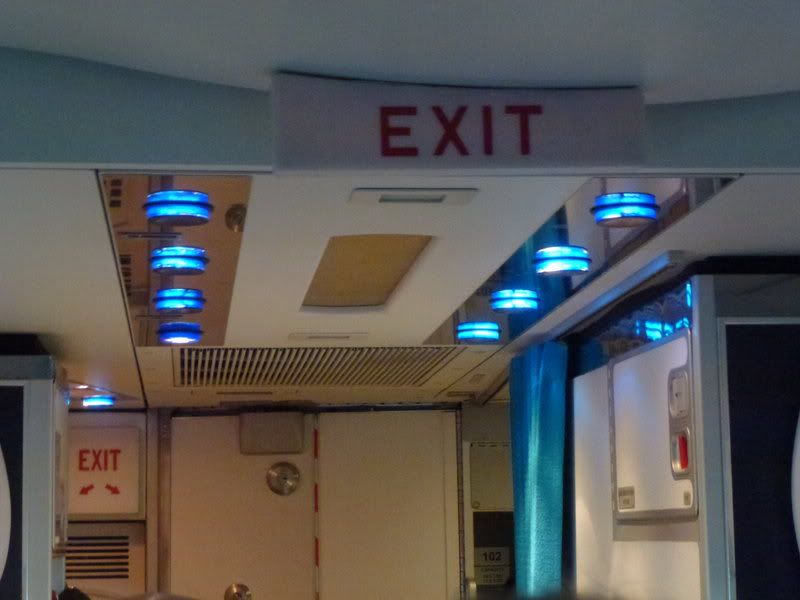 Conclusions
Well, a nice quick trip up to OUL with KF - very standard flights with them, but that is not to say they were bad, not by a long shot. On time or early departure on both flights, early arrival on both - well done. Very pleasant cabin crew as usual, plus scoring a new 717 (although twice) was nice as well, still a few to go until I've logged the whole fleet.
The new Oulu terminal certainly was an improvement over the old one which had a tendency of getting really packed during rush hour. The jetways will certainly make it more pleasant during the harsh winters they have up there. Right now it is a bit unfinished, so I guess I will need to make another trip up there to check it out once it is completed... Also there's too much space there for the current traffic levels, hope they manage to attract some new traffic, now that the planned BT hub operation will probably not come into fruition...
And finally, special thanks and greetings to Guido! It certainly was a pleasure, hope we can implement some of those plans we talked about! I'll send you mail soon. Keep watching for the hat!
I booked another spur-of-the-moment trip for next weekend, but not sure if I'll bother writing another report on that as there's nothing really new, just my last flights aboard BT's Fokker 50s and a farewell to the "Midnight Fokker" - let's see what happens. Anyway one upcoming trip I most certainly will report on is a daytrip to Sweden to catch another rarish bird for my log: HEL-ARN-KSD/TYF-HFS-ARN-HEL! Stay tuned!
Happy contrails!