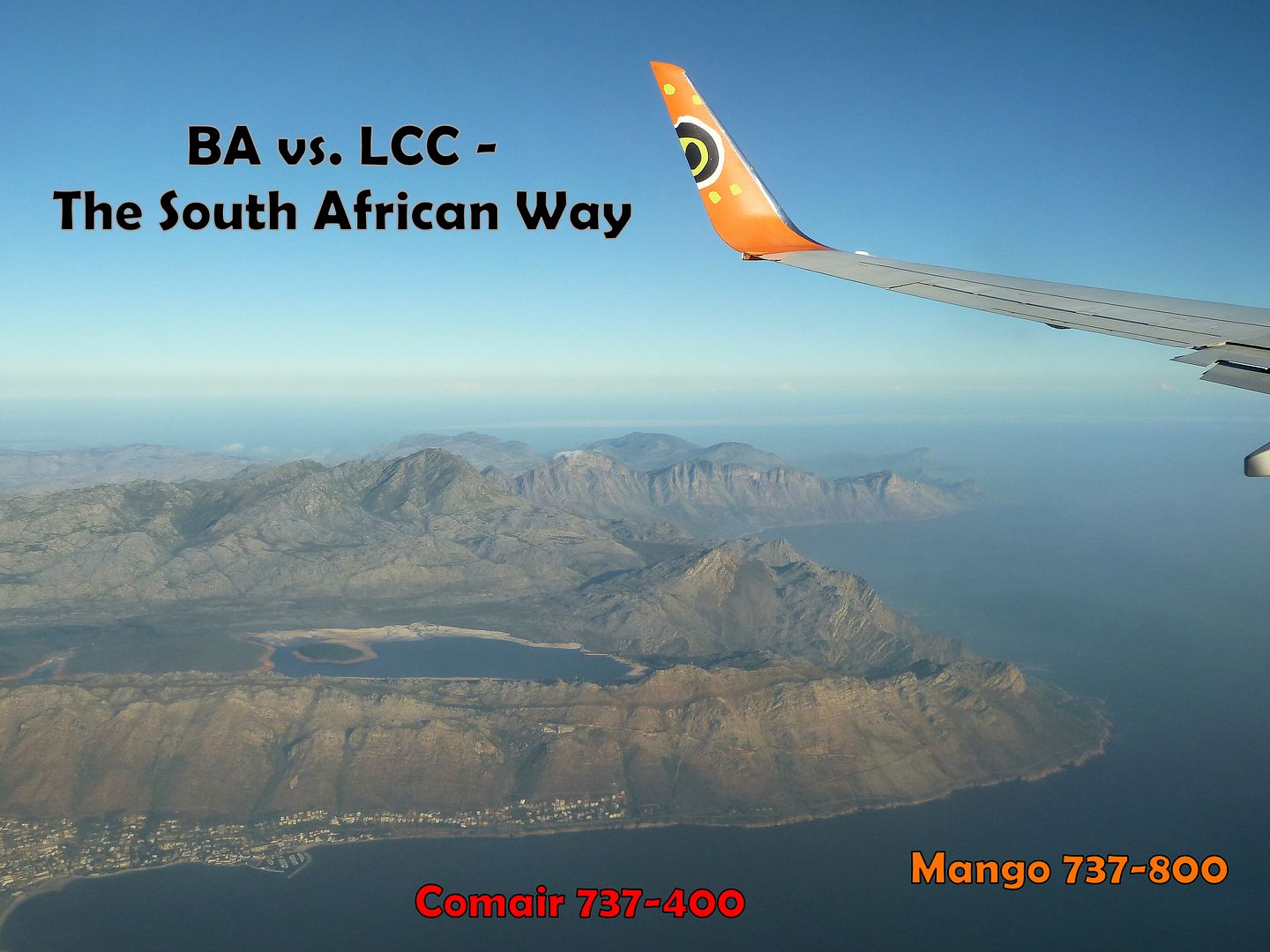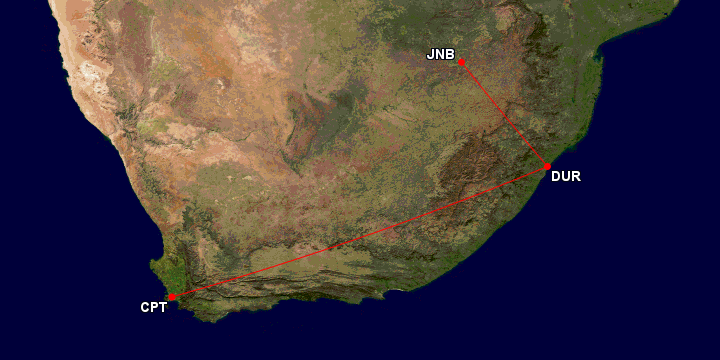 Map generated by the Great Circle Mapper - copyright © Karl L. Swartz
Background
After returning from Dubai in March, it was time to plan another trip - preferably a long-haul trip over a weekend. So I considered going to Canada, the United States or somewhere in the Gulf region again. I was planning to depart on Saturday and return on Monday or Tuesday. Additionally, I was trying to add some domestic hops to the itinerary. After checking countless flight options, I earmarked an itinerary including a flight on Austrian's Boeing 777 from New York to Vienna. That would have been a nice flight on a new carrier and a great plane, but I could neither find an overly exciting westbound transatlantic flight nor really interesting domestic flights.

Just out of curiosity, I checked flights to South Africa where I had always wanted to go. South African Airways - high on my list for a long time - had some special fares from Germany. After discovering an exciting itinerary including three interesting widebodies, I also found highly interesting domestic flight options. Now I couldn't resist any more and booked Nuremberg-Frankfurt-Johannesburg (departure on Saturday) and Cape-Town-Johannesburg-Frankfurt-Nuremberg (arrival on Tuesday) on Cheap Tickets. Operating carriers: Lufthansa (A380), Lufthansa CityLine (CRJ700 and Embraer 190) and South African Airways (A330-200 and A340-600).

Btw - I had also considered flying to/from Munich on SAA's A340-300 (in place of LH's A380), but I didn't want to end up on one of two former Iberia frames with original (out-of-date) Iberia interior. Those all-white planes, actually planned to be refurbished by mid-2011, have been used on all SAA A340-300 routes. And even though I had already flown on LH's A380, I didn't mind doing so again - actually I was even curious to find out how comfortable it would be on a 10 hour flight.

It would have been the cheapest and most convenient option to book a Johannesburg-Cape Town flight on one of various airlines, e.g. British Airways (operated by Comair), kulula.com (operated by Comair), SAA's low-cost airline Mango, 1Time or even Velvet Sky. However, I wanted to get two new airlines in addition to SAA, so it took a while to find a suitable routing. Finally, I decided to fly Johannesburg-Durban on a Comair 737-400 (operating for British Airways) and Durban-Cape Town on a Mango 737-800. That meant that I would have to leave Johannesburg again only three hours after arriving from Frankfurt, but I was ready to take the risk. In the case of a heavily delayed arrival at Johannesburg, I would still be able to book one of countless nonstop flights to Cape Town.

While the booking process on Mango's website was faultless, I faced a problem on BA's South African website. When I had to enter my name, I couldn't find "Mr" in the drop-down list. I restarted the booking process, but it didn't work either. So I simply chose "Sir" and I was finally able to finish my booking. Later, when I was checking again, "Mr" and "Mrs" suddenly showed up. I was concerned that I may face problems with "Sir" on my boarding pass, but a quick search on various forums revealed that it would be a non-issue.

Since I would spend two nights on the plane, I only needed to book a room for one night at a Cape Town airport hotel. Actually there's not much choice - the Road Lodge is the one and only hotel in close vicinity of the airport. However, it was quite cheap - and clean and safe according to Trip Advisor. Four days, three new airlines, three new airports, two four haulers and a brand new A330-200 - I was really looking forward to that short trip.
Part I can be found here: Africa's Best Airline? FRA-JNB On SAA A340-600 (by PlaneHunter Sep 23 2011 in Trip Reports)
Sunday, May 2011
Johannesburg (JNB) - Durban (DUR)
British Airways BA6215, operated by Comair
Scheduled times: 10:20-11:25
Actual times: 10:23-11:27
Flight duration: 00:55 (hrs)
Distance: 297 miles
Economy Class, seat 26F
Boeing 737-436
ZS-OTH (s/n 2222)
First delivered to British Airways in 02/1992 as G-DOCK
1st flight on ZS-OTH
6th 737-400 flight
26th 737 Classic flight
57th 737 flight
117th airline
Former appearances in kulula.com colors:
Former appearances as
G-DOCK
:
After spending about 1.5 hours on the International Terminal's observation deck, it was time to leave. I had already checked in online at home on the day before, so I could go straight to security. Here's a part of the check-in hall: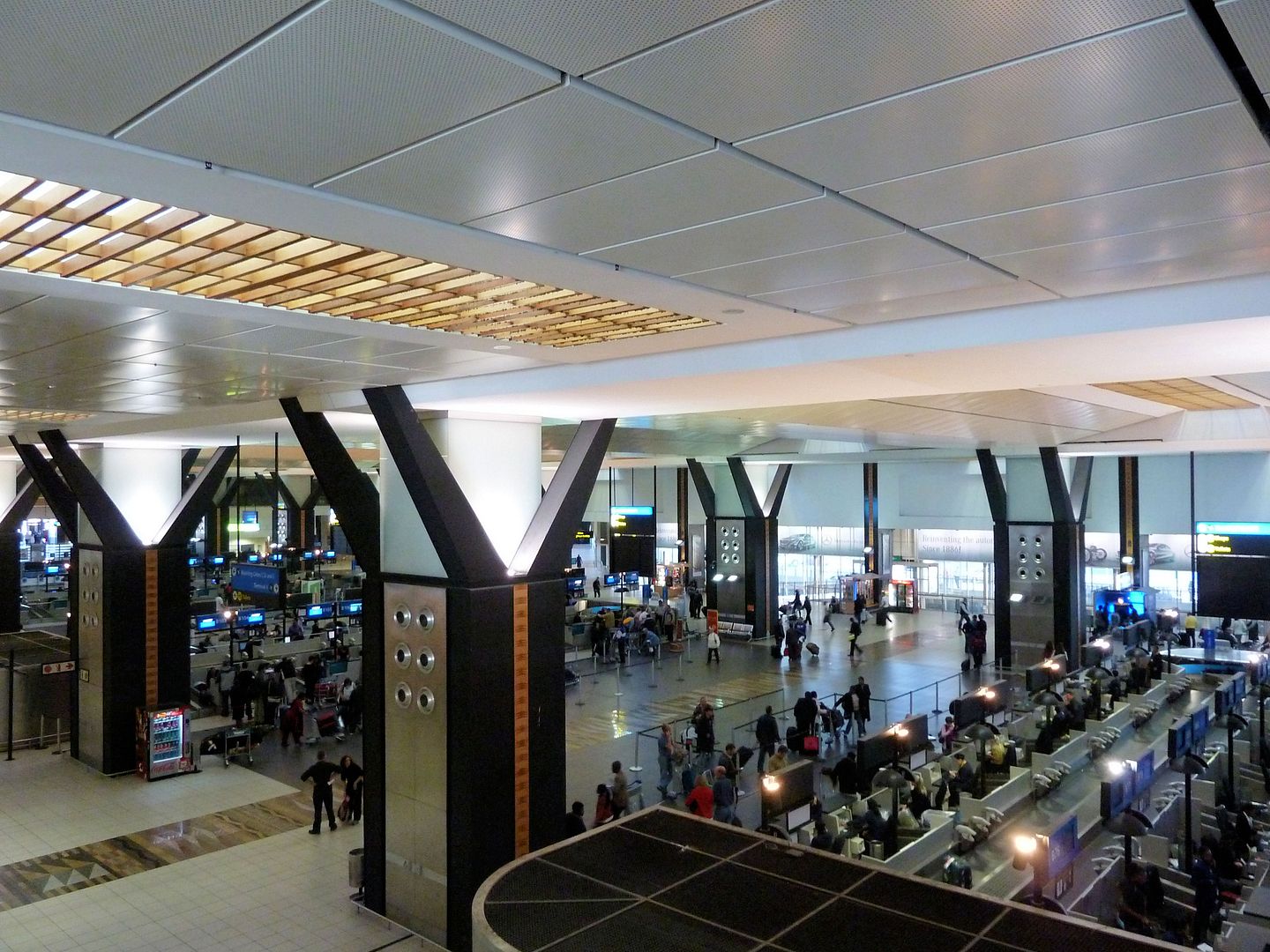 I soon found myself stuck in a long queue, but after waiting for about 20 minutes, I could finally pass the security checkpoint. It was just a short walk to my gate, but I couldn't find any windows there. So I returned to a spot near the security checkpoints where I continued spotting for a while. What a nice variety in one picture - Comair 737 Classic (BA colors), Air Namibia A319 (leased from BH Air), South African Airlink Avro RJ85 and a stored TAAG 747-300:
Another South African Airlink Avro RJ85 and a South African Express Dash 8:
Due to the unpleasant gate layout, I wasn't able to see my aircraft until I arrived at the door - and it turned out to be
ZS-OTH
, a 737-400 which I had seen from the observation deck earlier. The former British Airways plane - once registered G-DOCK - is one of five 737-400s in the Comair fleet flying in BA colors on the basis of a franchise agreement. Five other 737-400s are operated for subsidiary kulula.com.
After receiving a friendly welcome at the door, I quickly walked down the aisle and took a cabin picture. The interior was in good condition and had been cleaned well:
The leather seats were comfortable...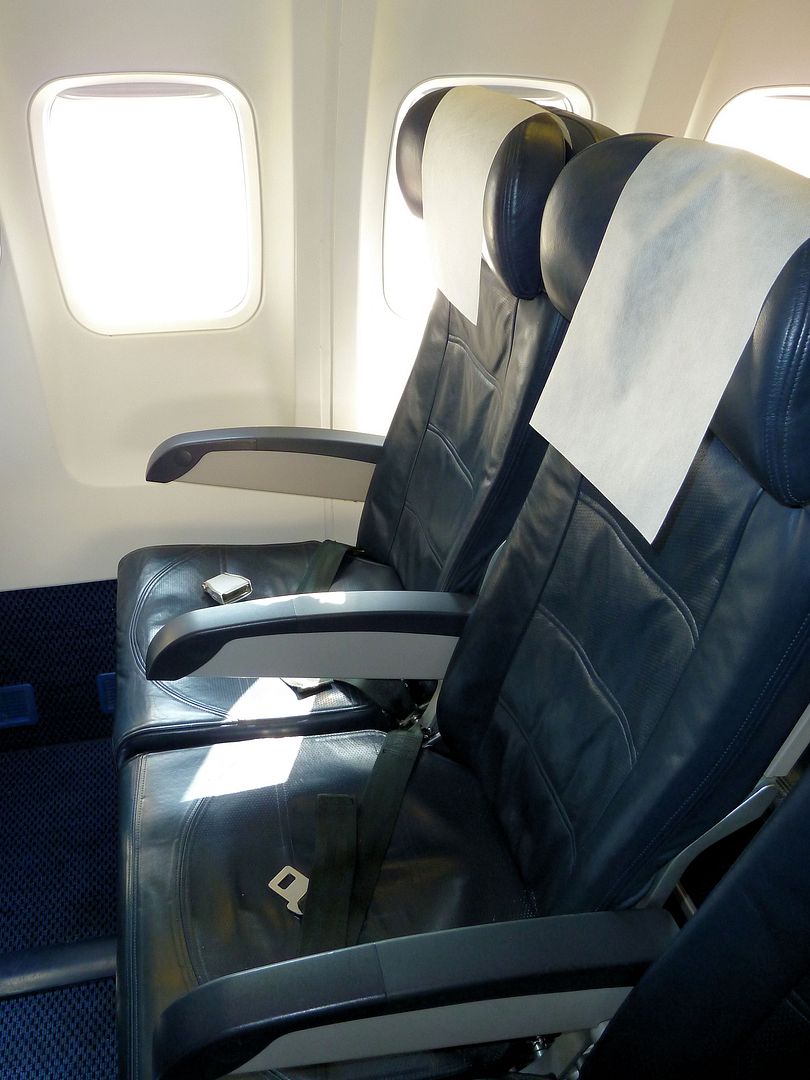 ...and legroom was absolutely sufficient:
BA's international and South African in-flight magazines: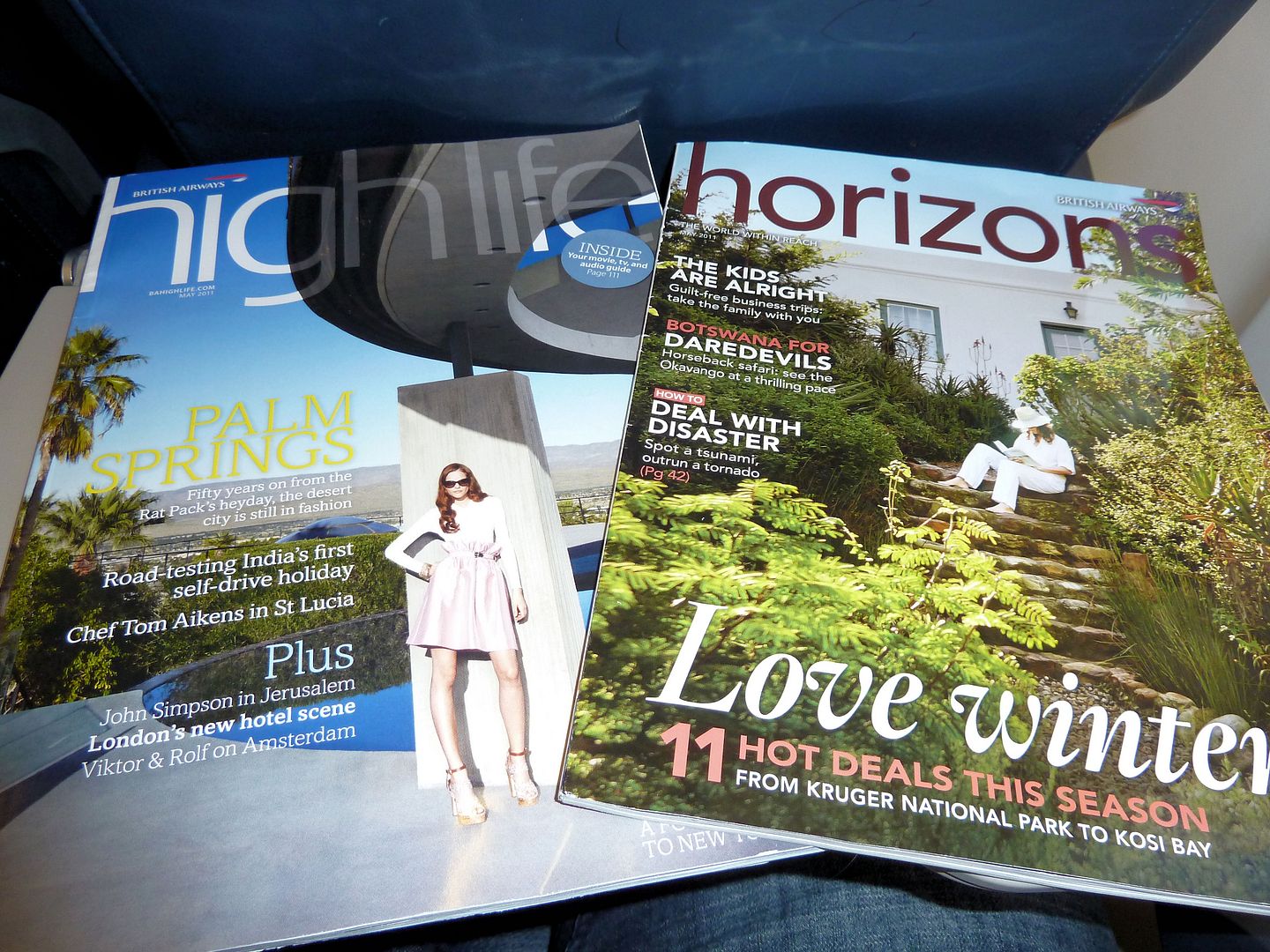 Parked next to us was ZS-SPU of Velvet Sky, a new low-cost carrier which started operations in March: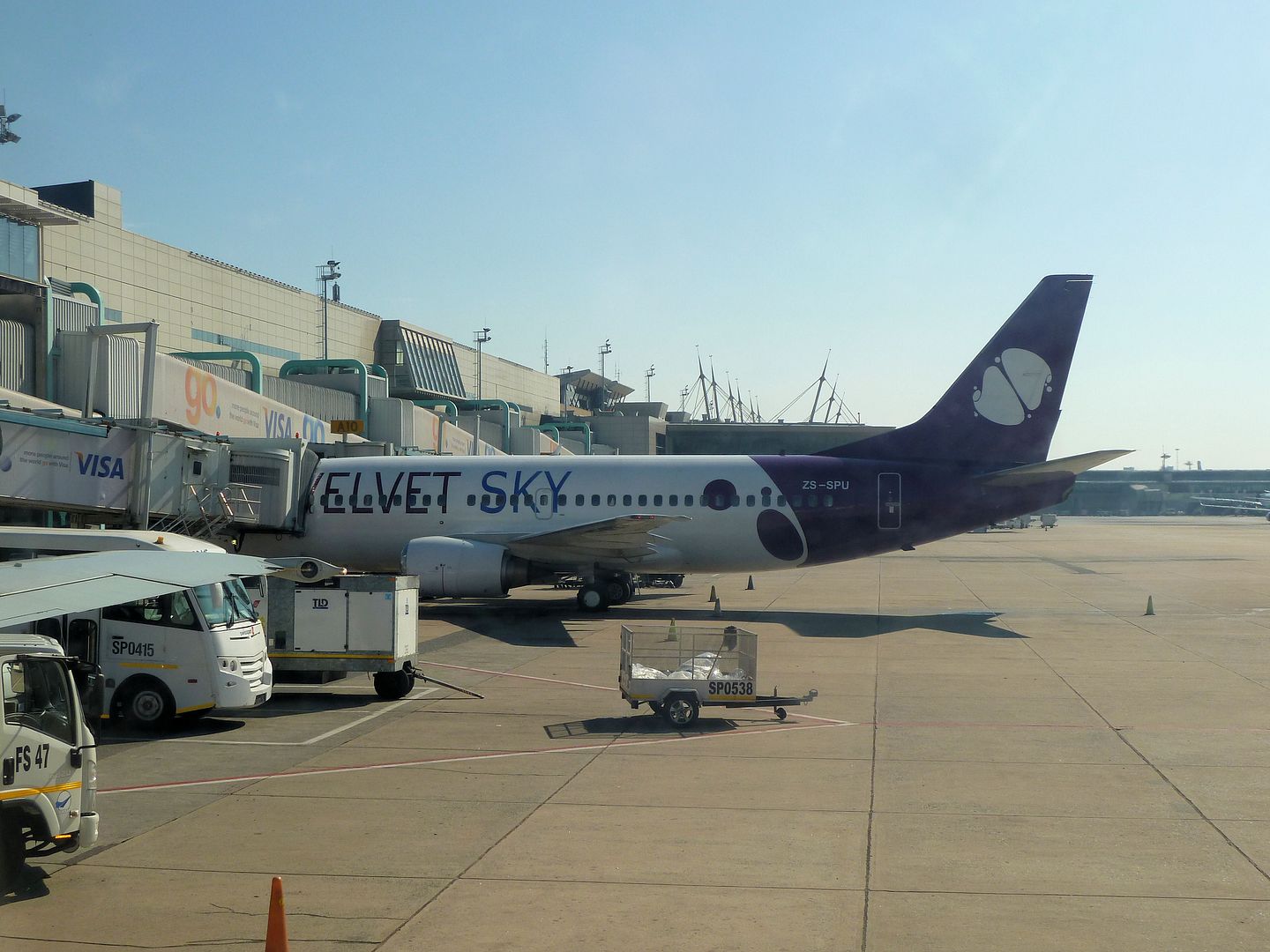 The load factor was in the 60 to 70 percent range and I was glad that the two seats next to me remained empty.
The female captain made a welcome speech and informed about a flying time of 46 minutes. Finally, we left the gate three minutes behind schedule. kulula.com 737-400 in Europcar colors: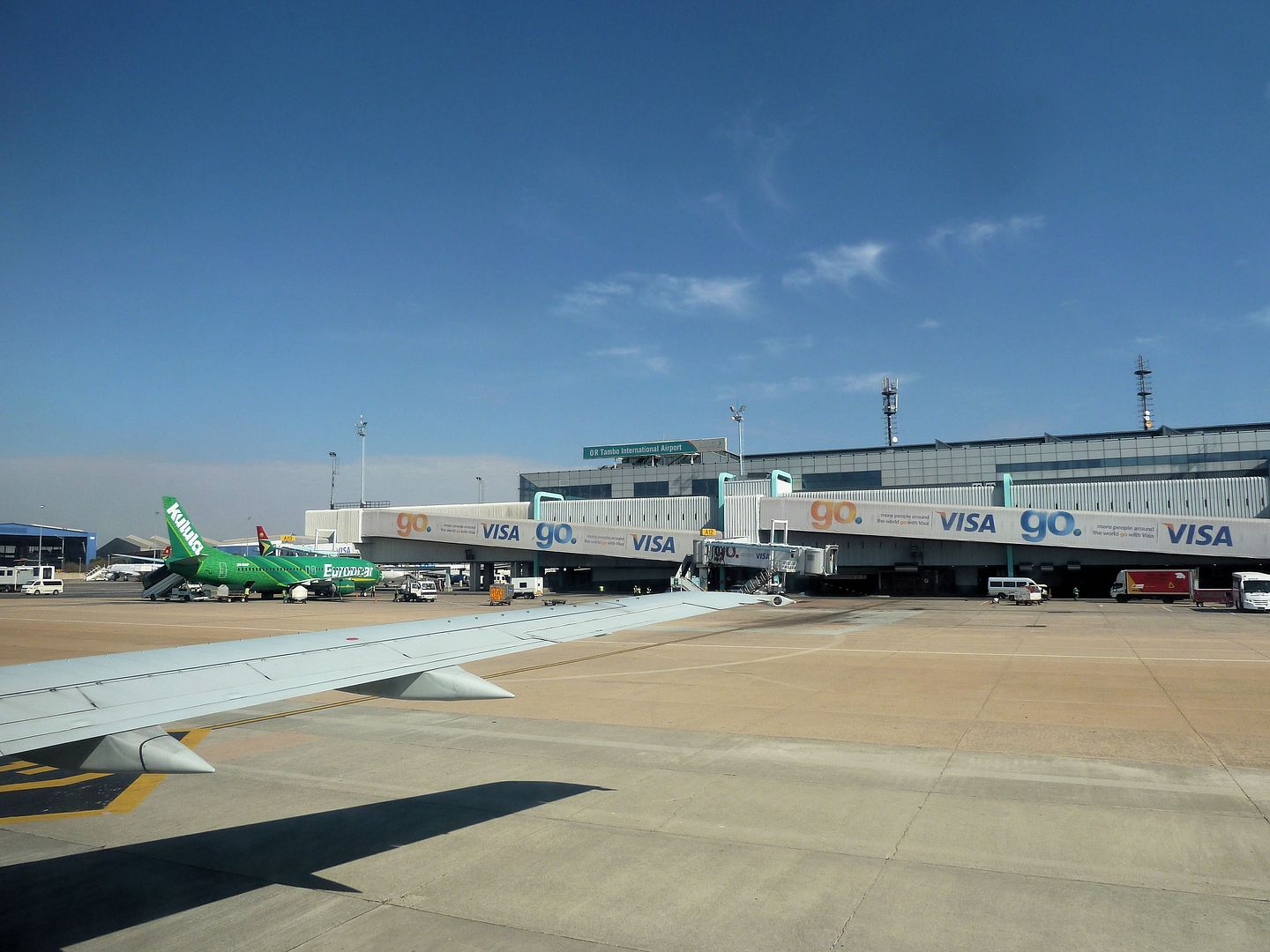 Here you can see the window front of the observation deck where I had been hanging around - I'll be back!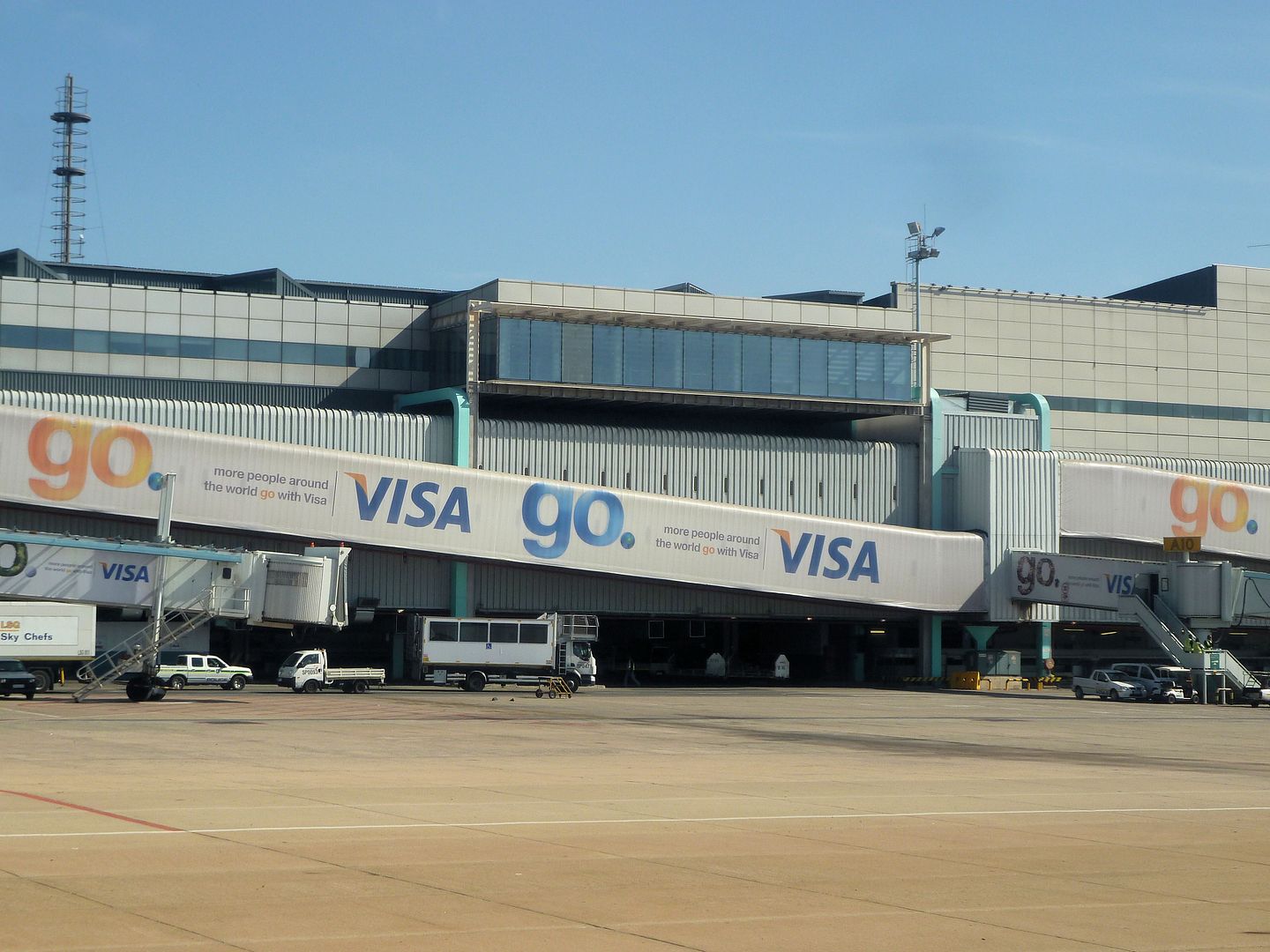 I was really busy writing down registrations during taxi: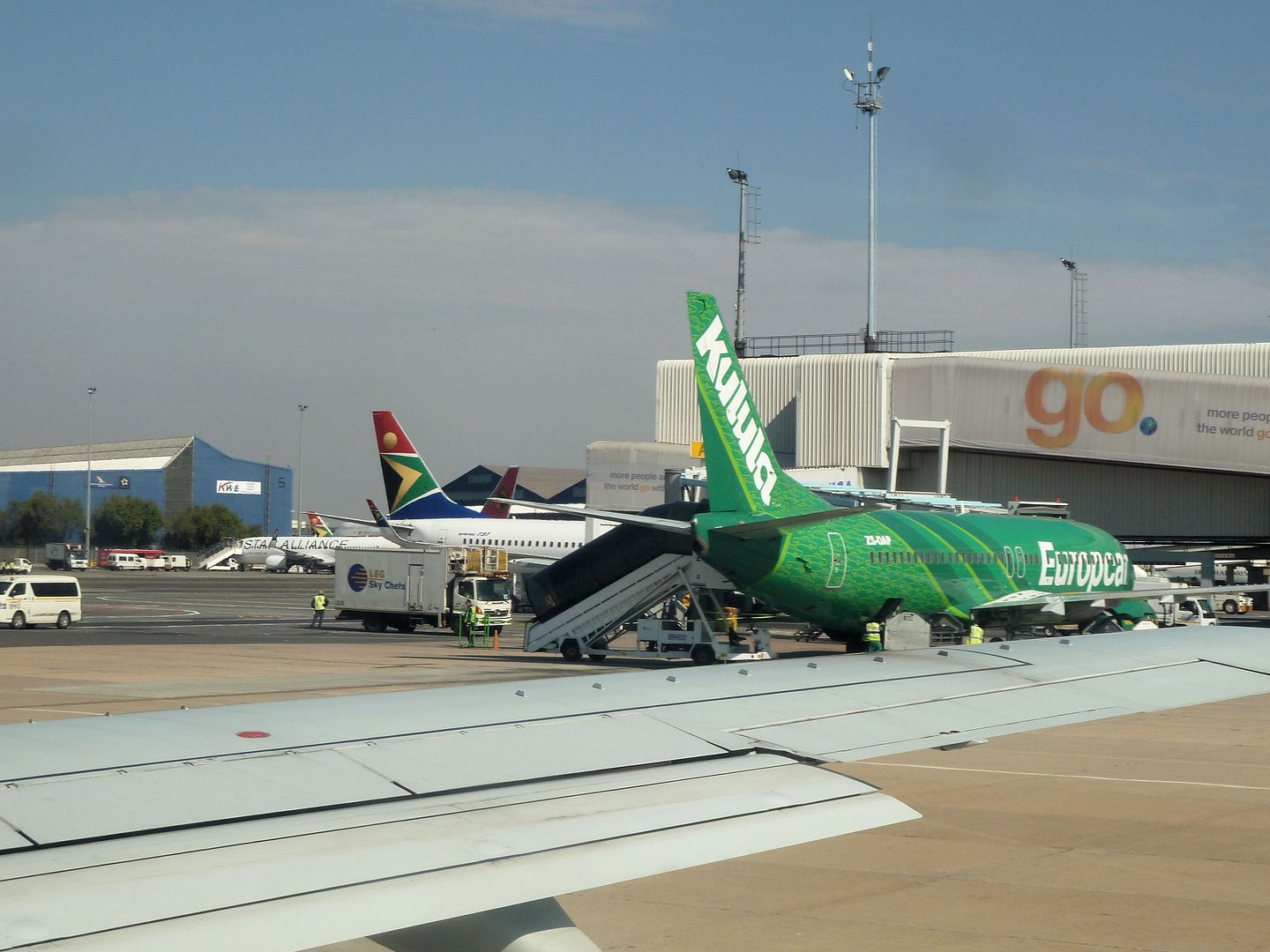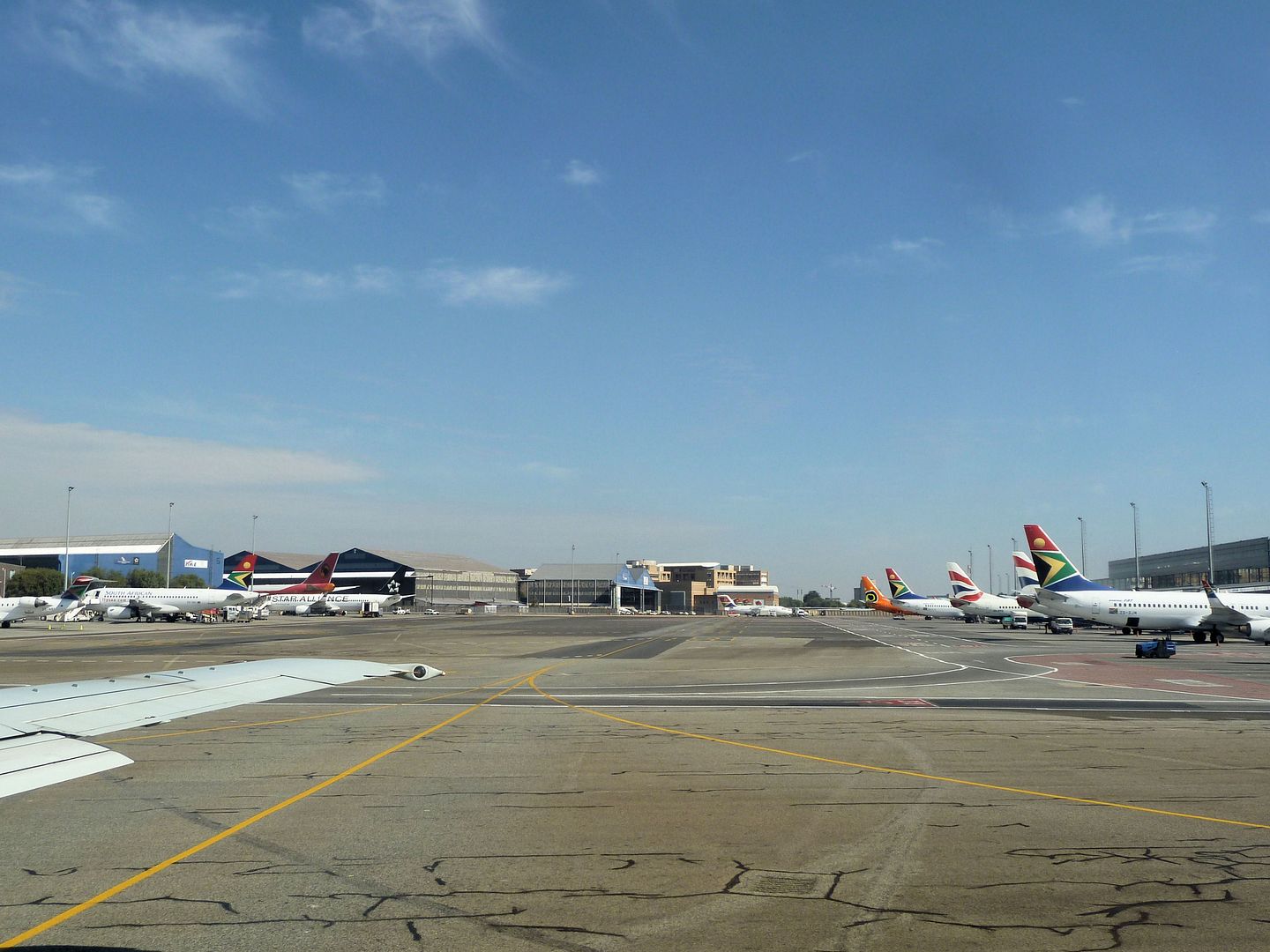 Malaysian low-cost carrier Firefly in Johannesburg?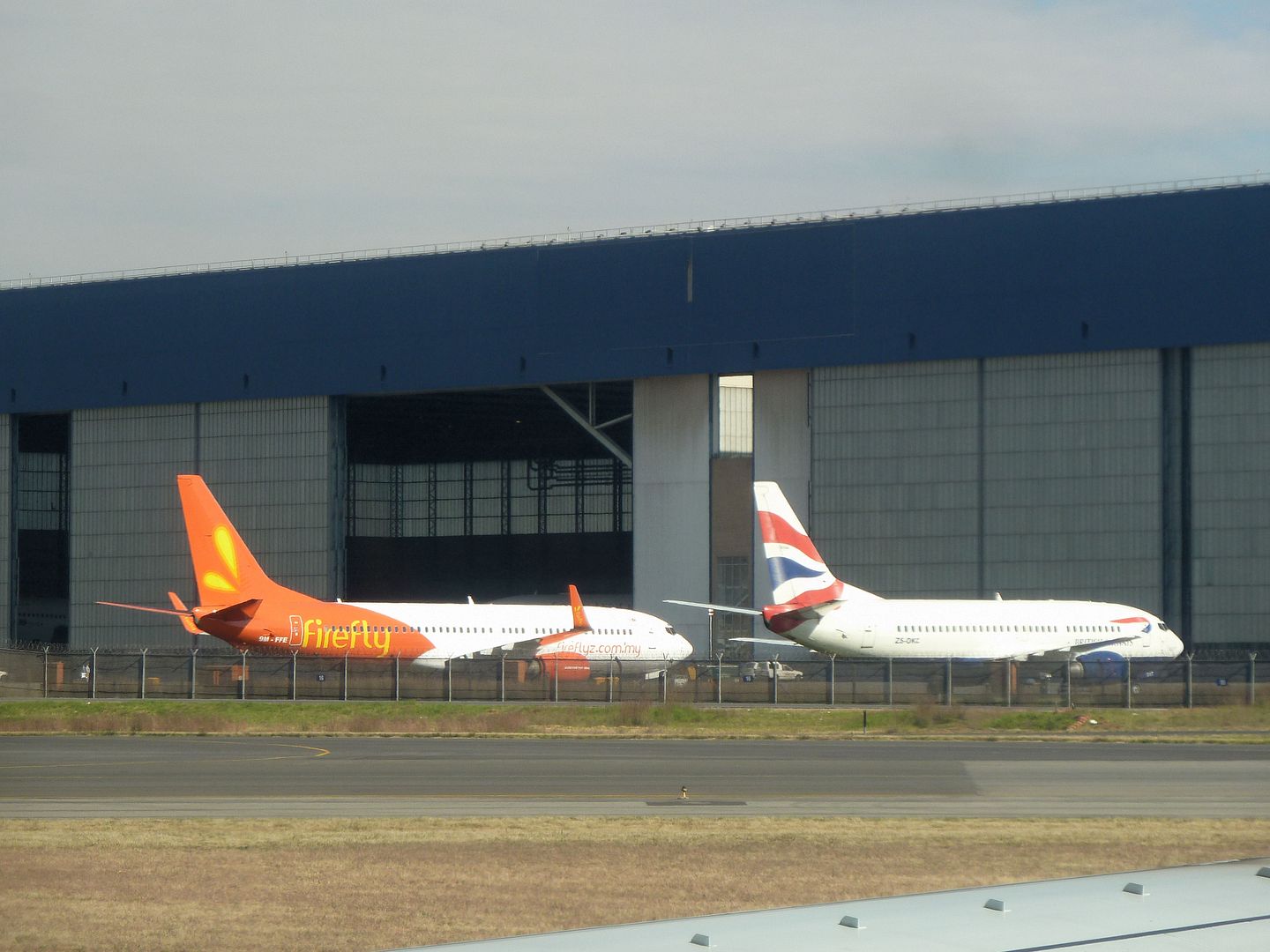 737-800 9M-FFE used to operate for SAA as ZS-SJJ: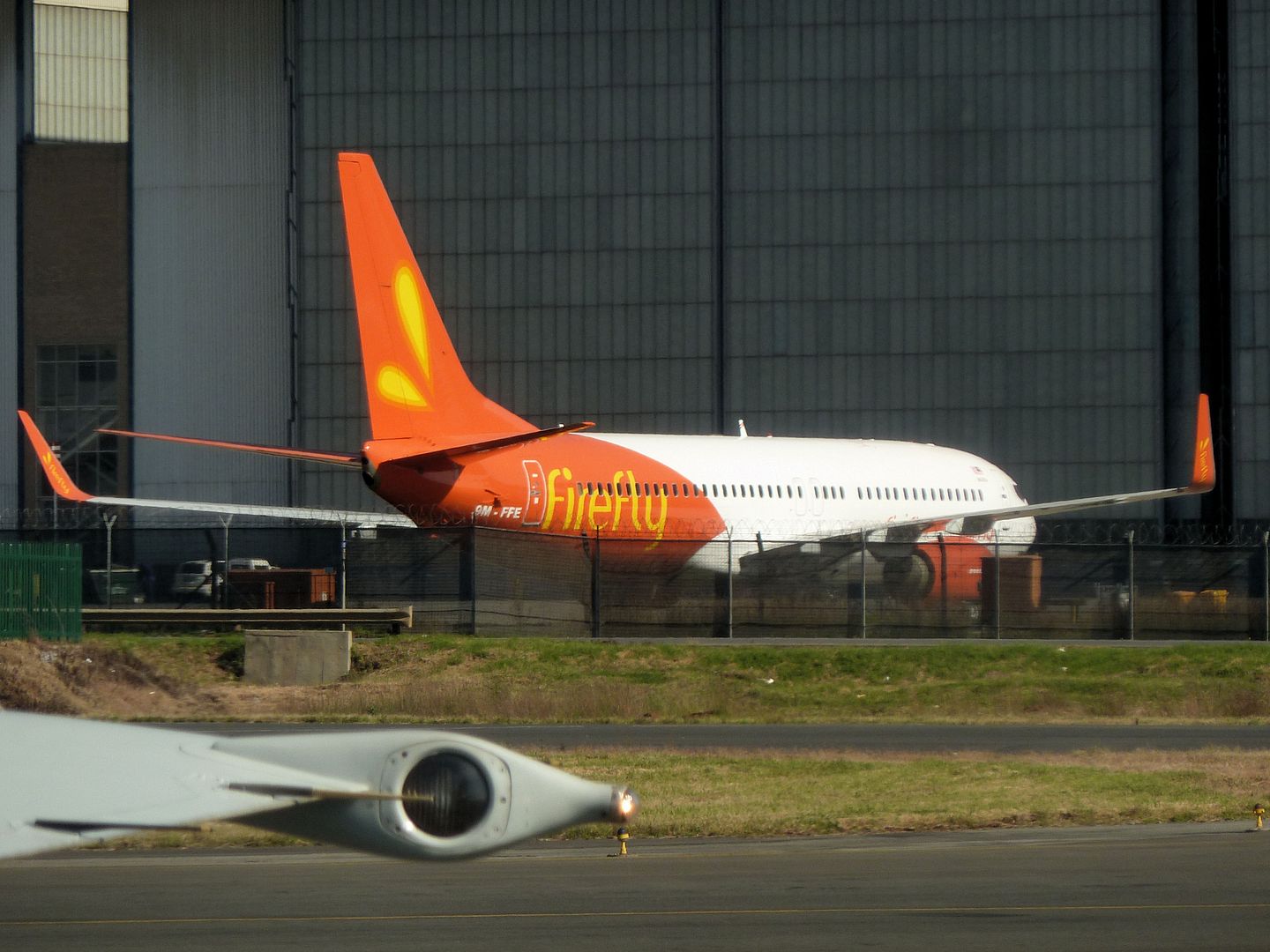 This is ex-SAA 747-400 ZS-SAZ
"Imonti"
, meanwhile being prepared for Transaero: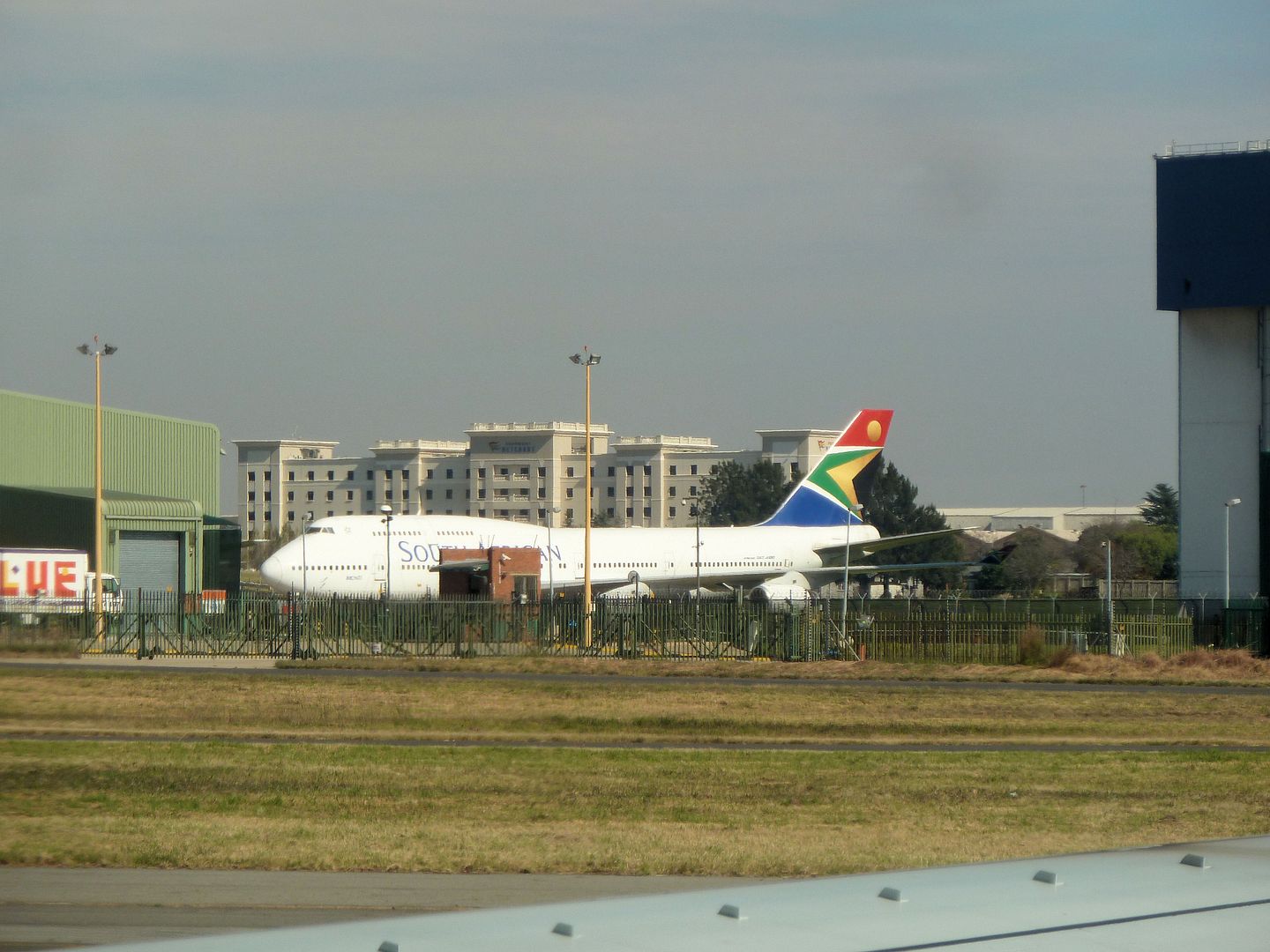 Powerful takeoff from runway 03L imminent: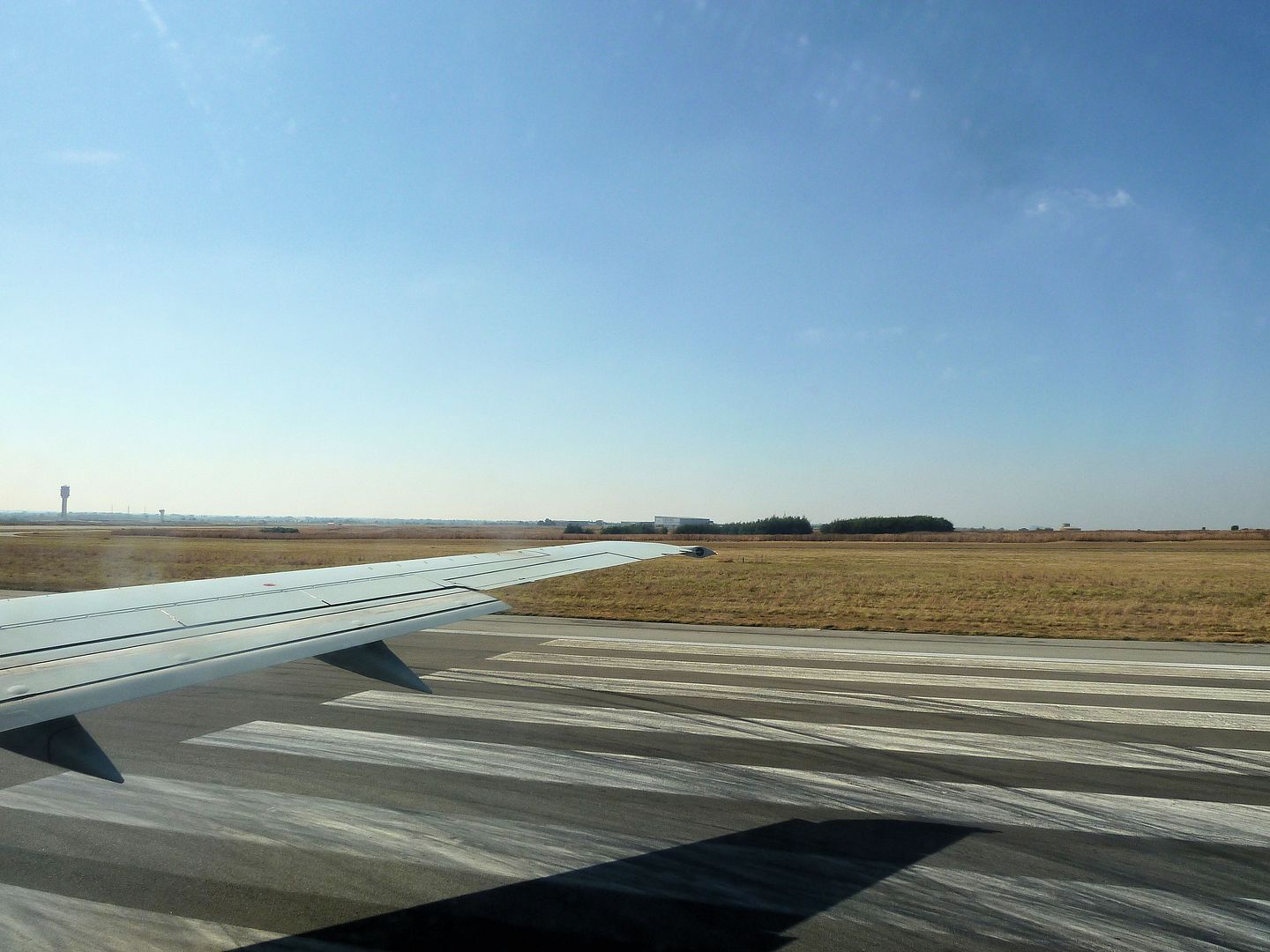 Unidentified 737 Classic and Ilyushin Il-76: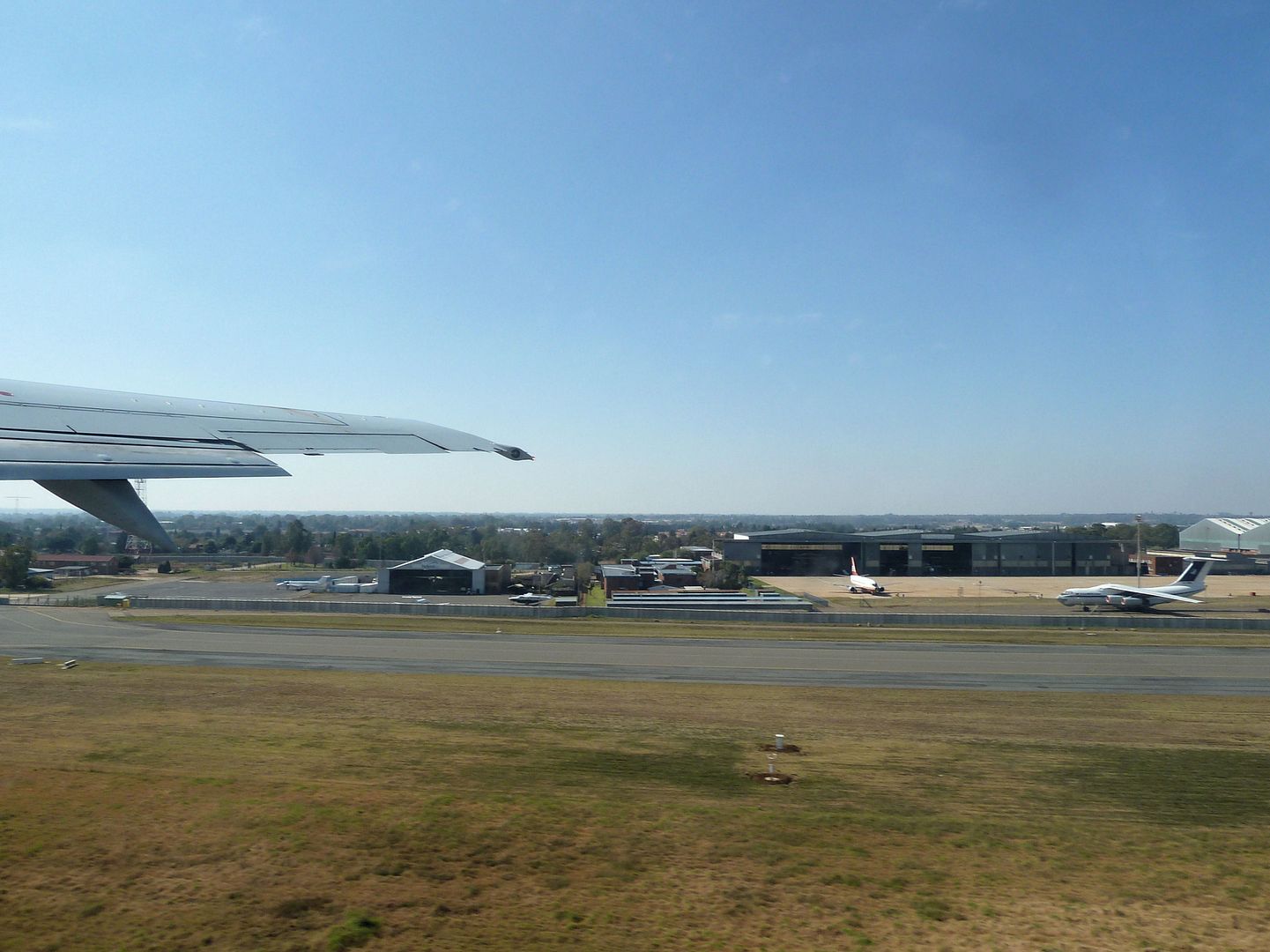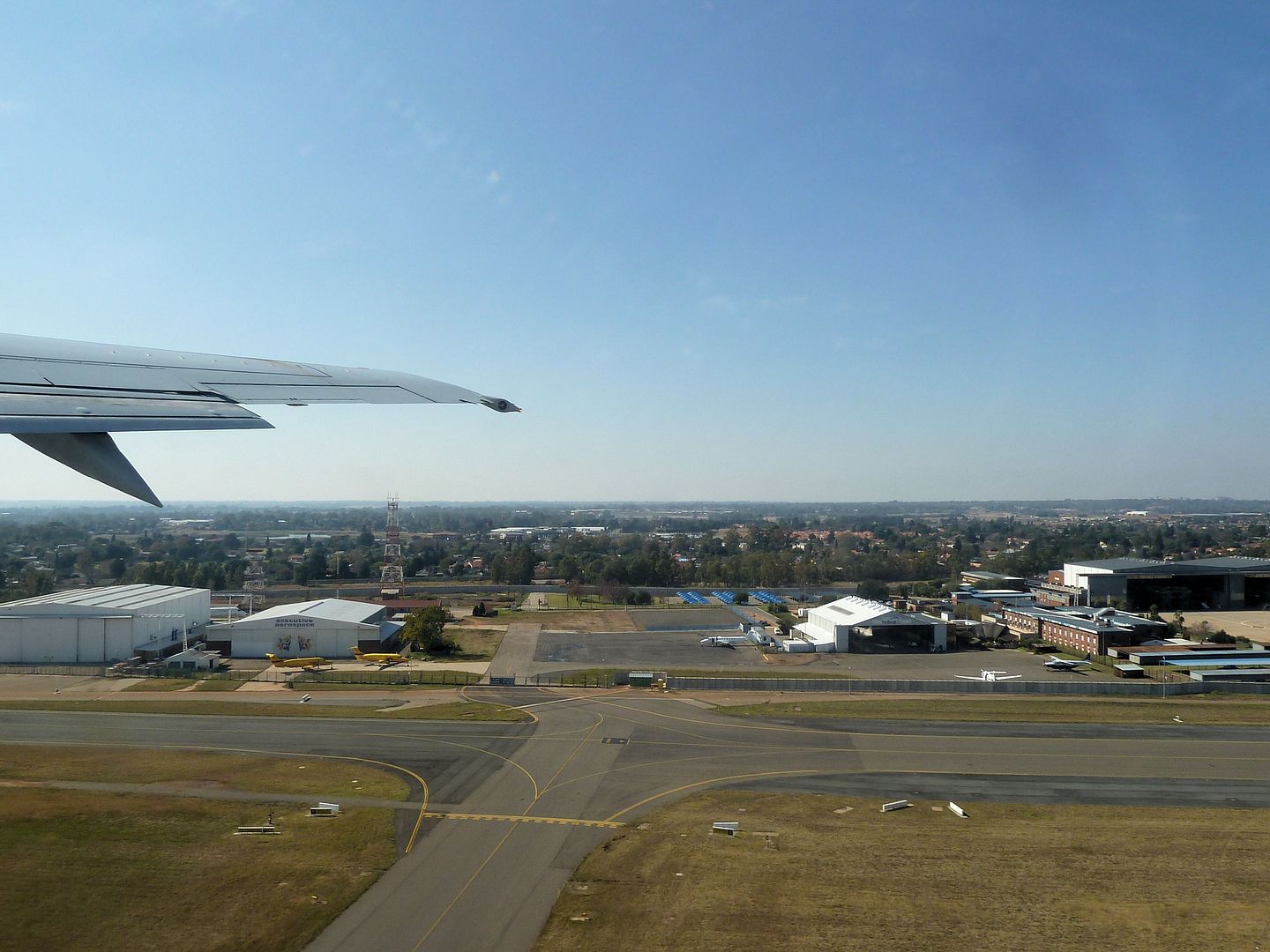 Several stored South African Airlink BAe 146-200s: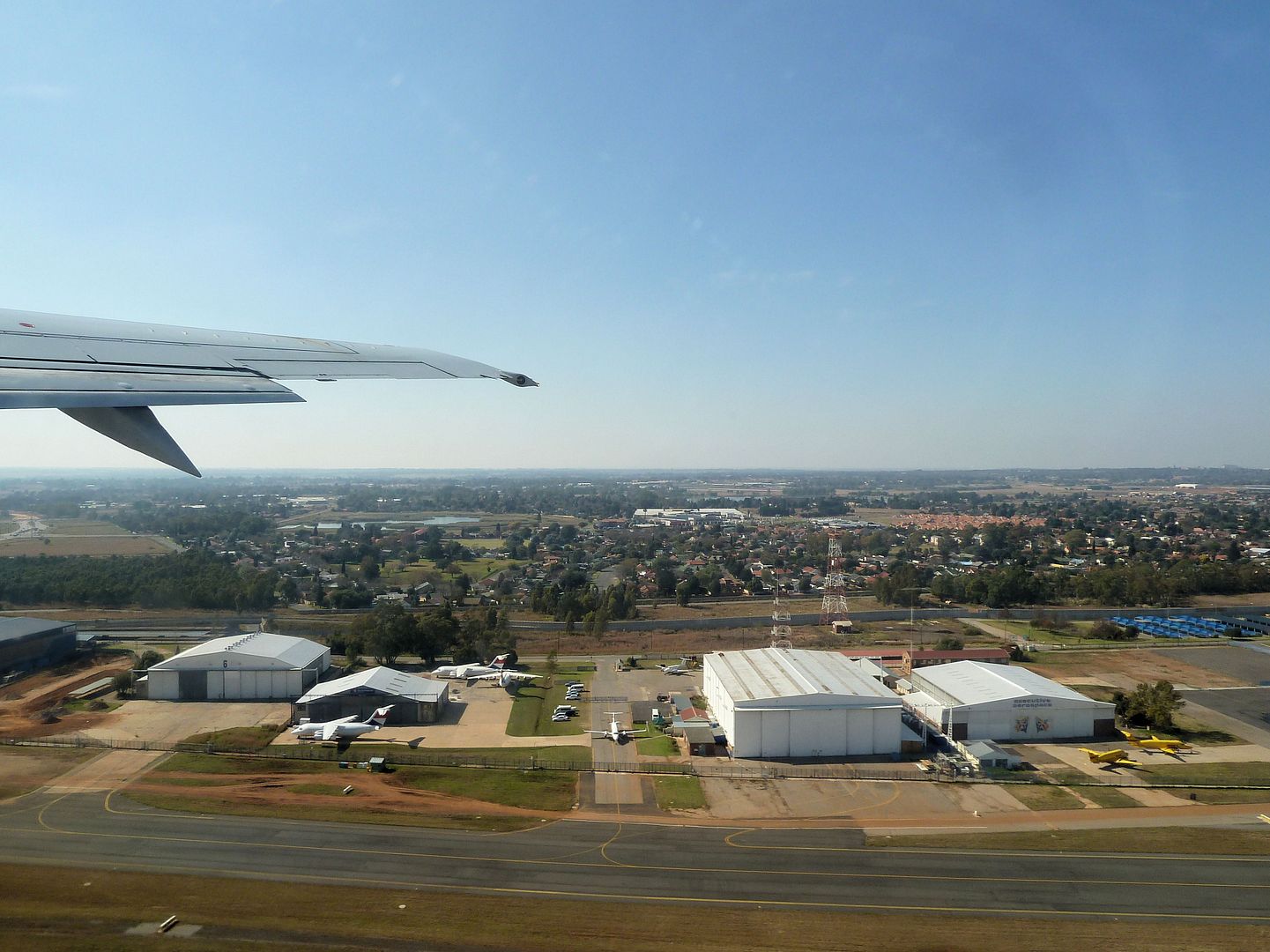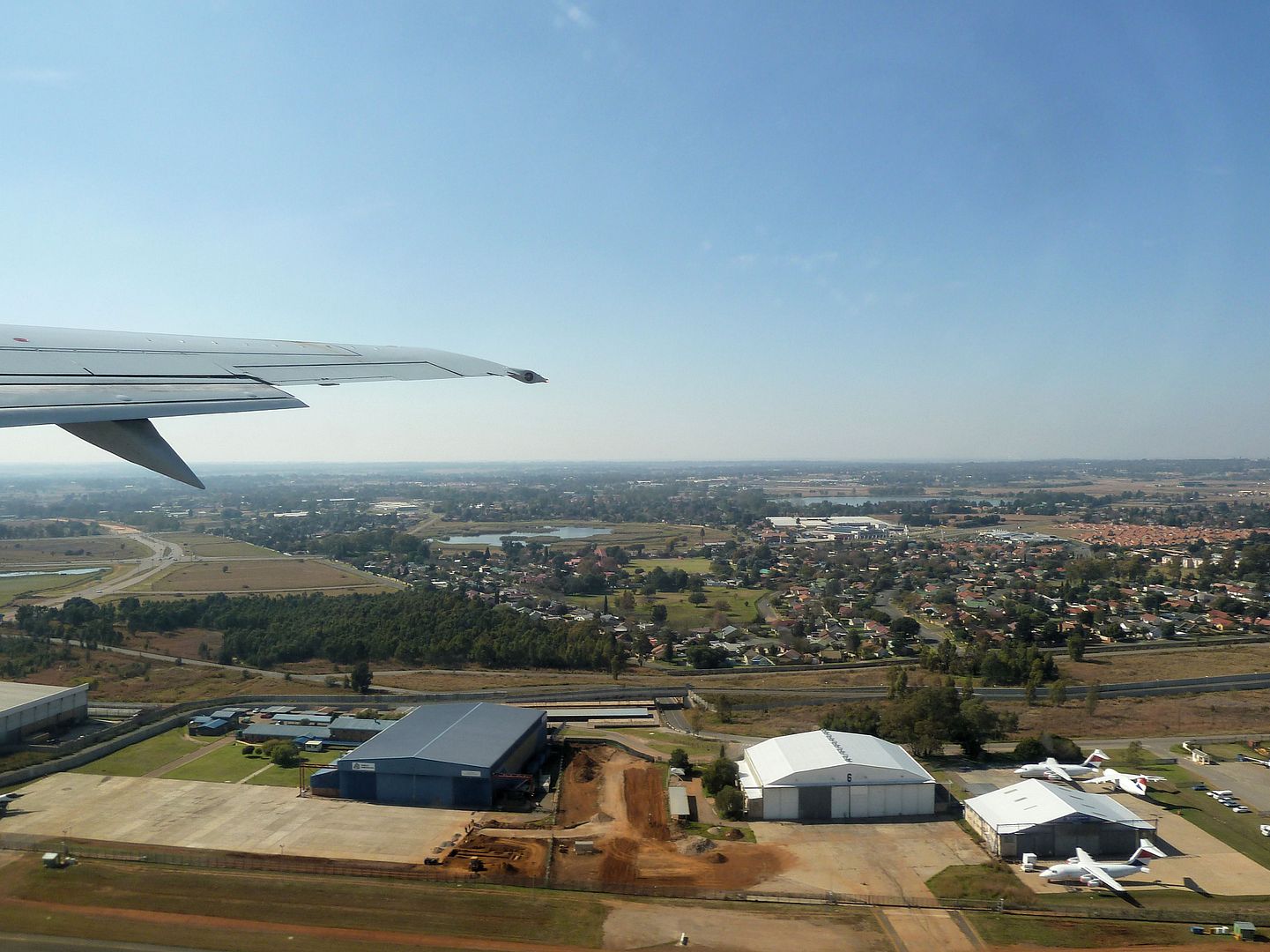 Nice brown and green color tones: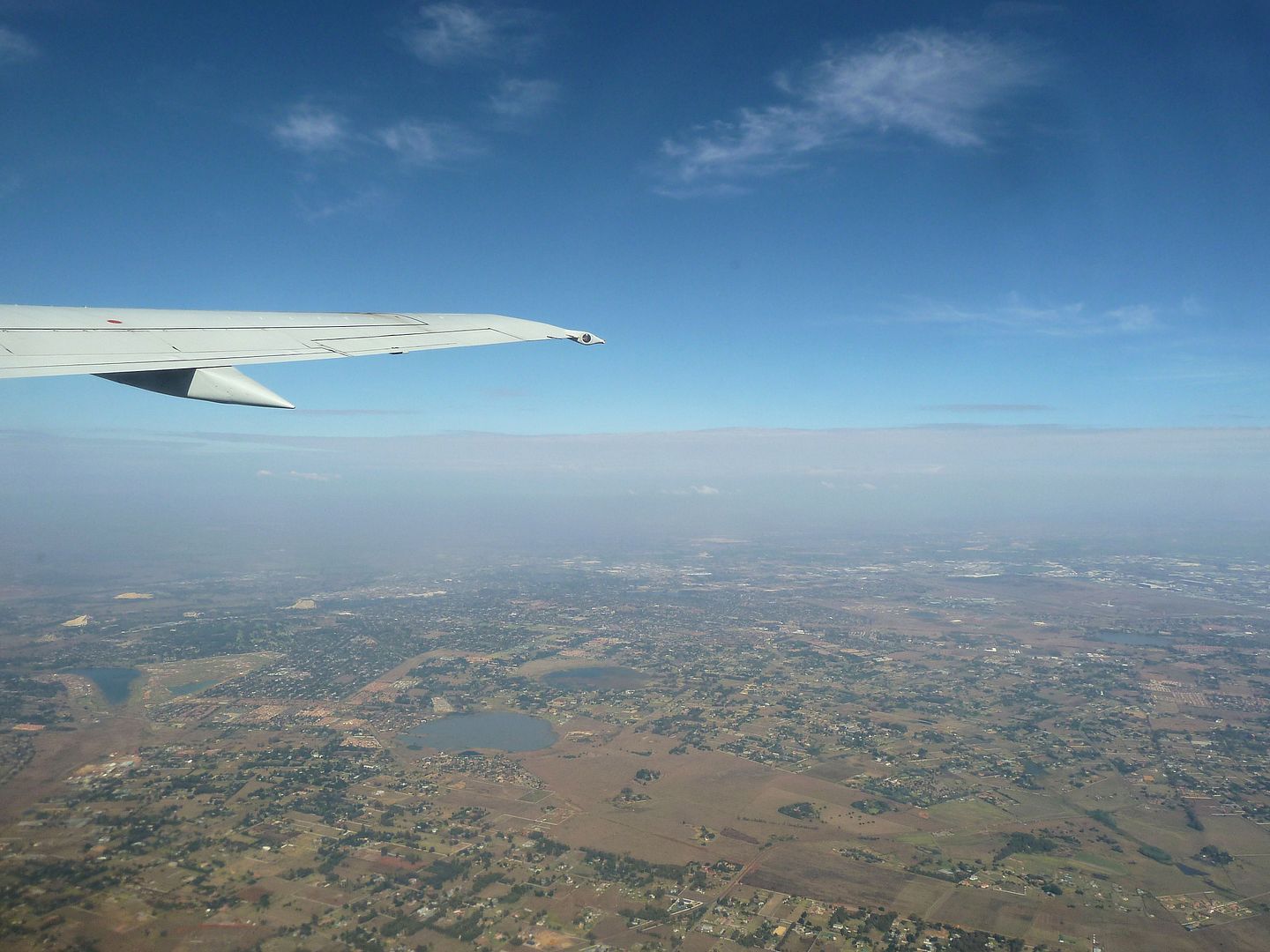 Drinks and snacks were served as soon as we had reached cruising altitude. Ginger ale wasn't available, so I ordered a lemonade which tasted alright. The cashew nuts were fine, but I didn't like the sticky fruit strips at all:
We soon left cruising altitude again...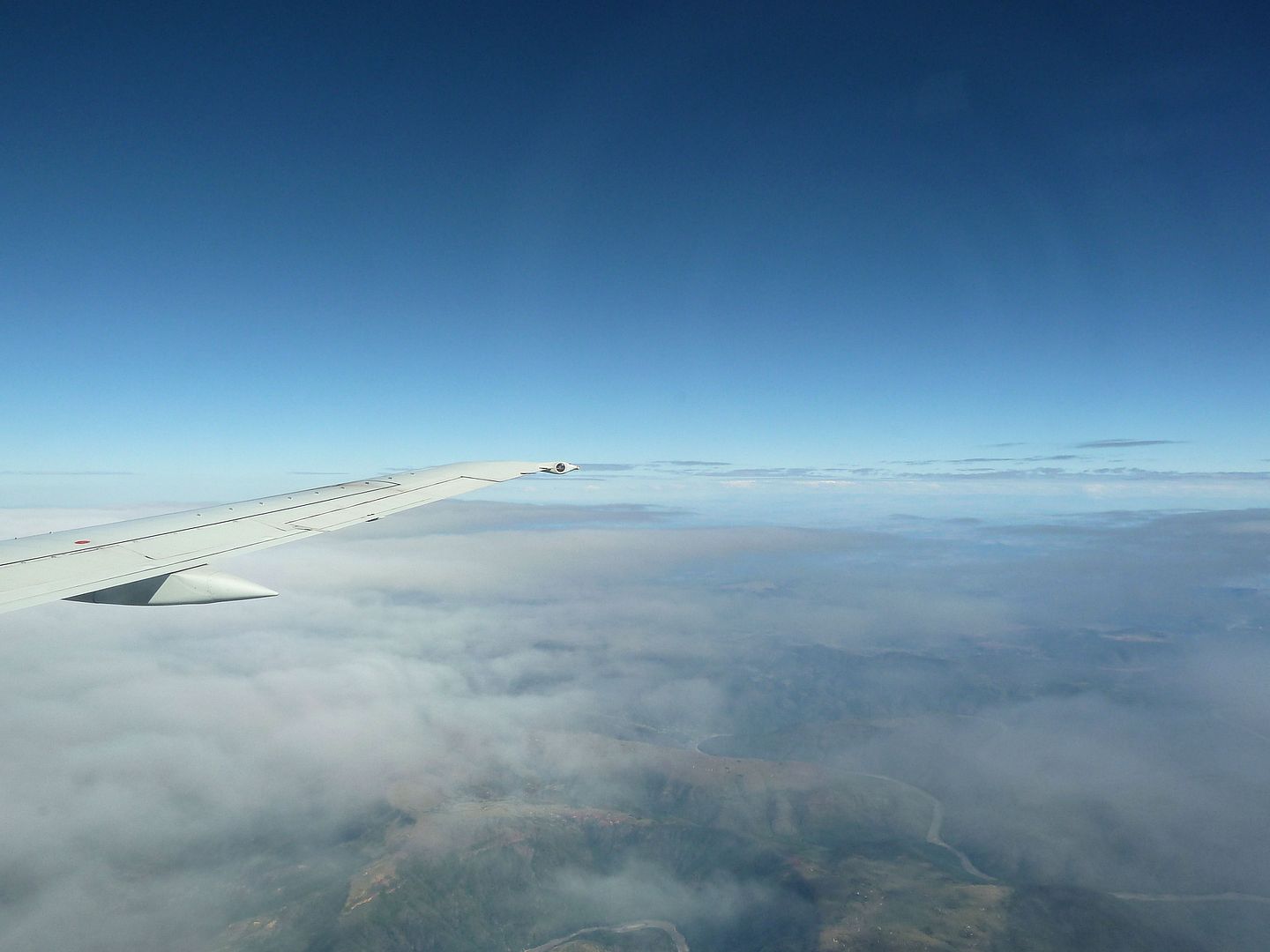 ...and kept flying under the clouds for a while: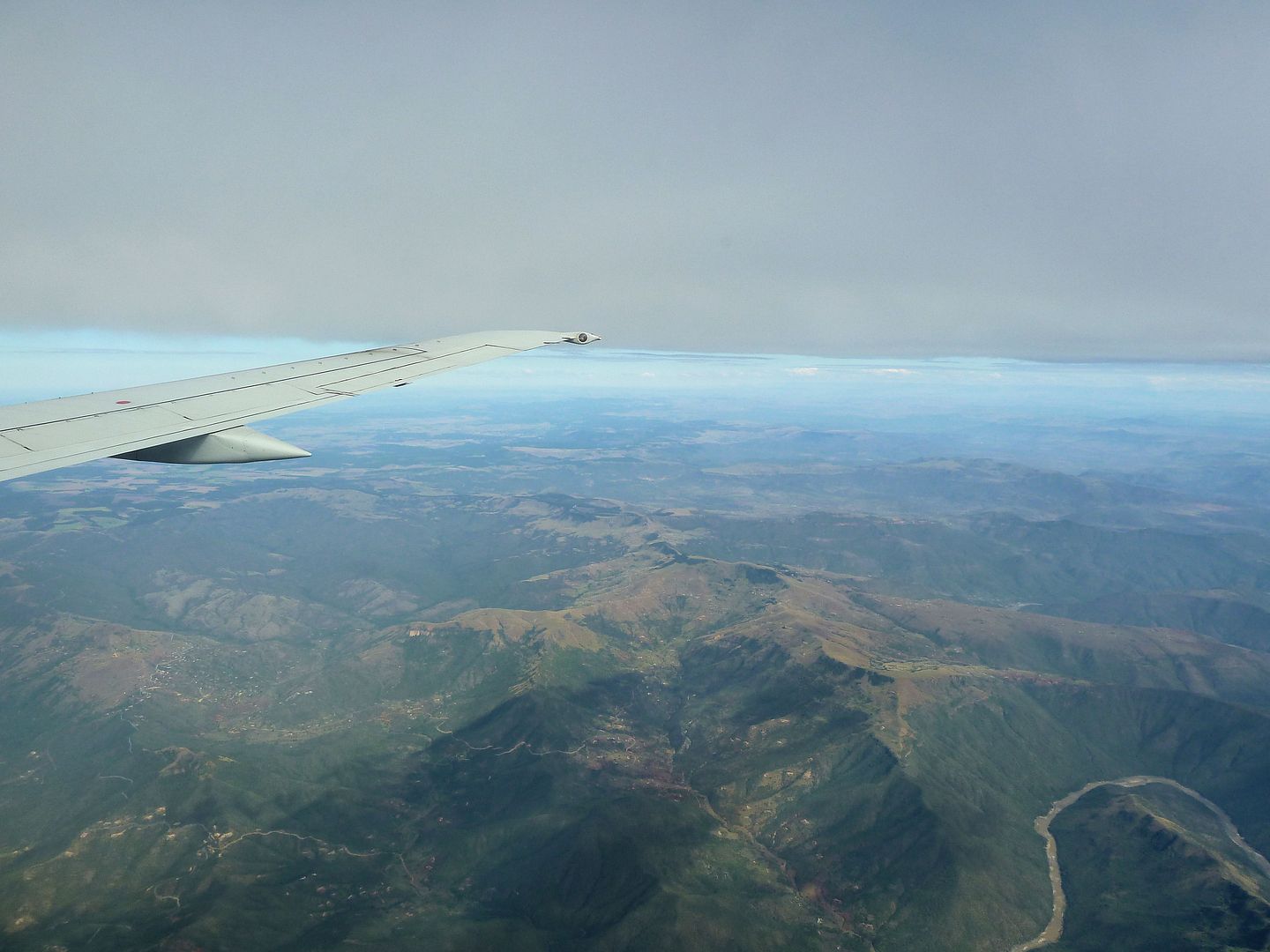 I really enjoyed watching the beautiful landscape near Durban: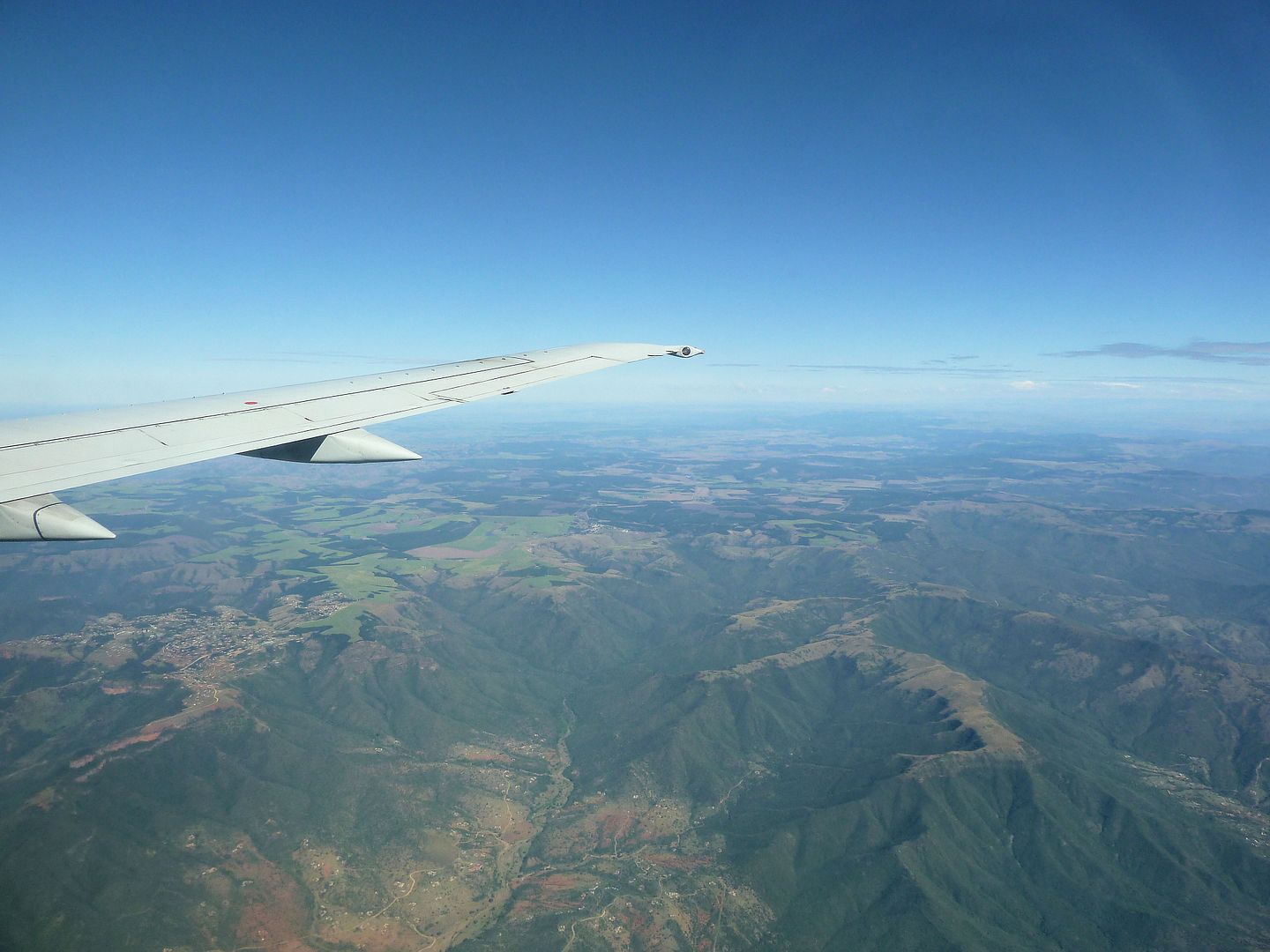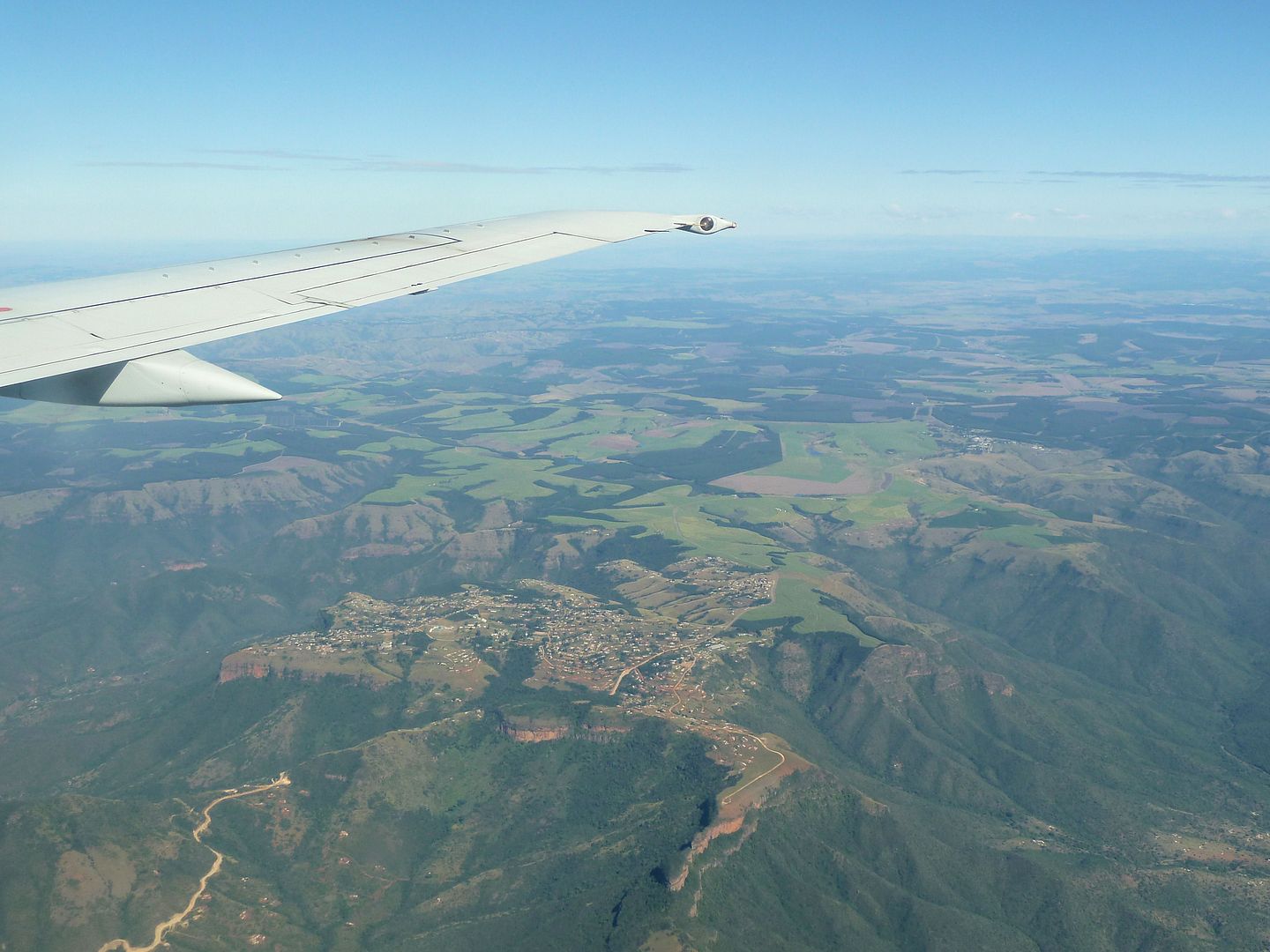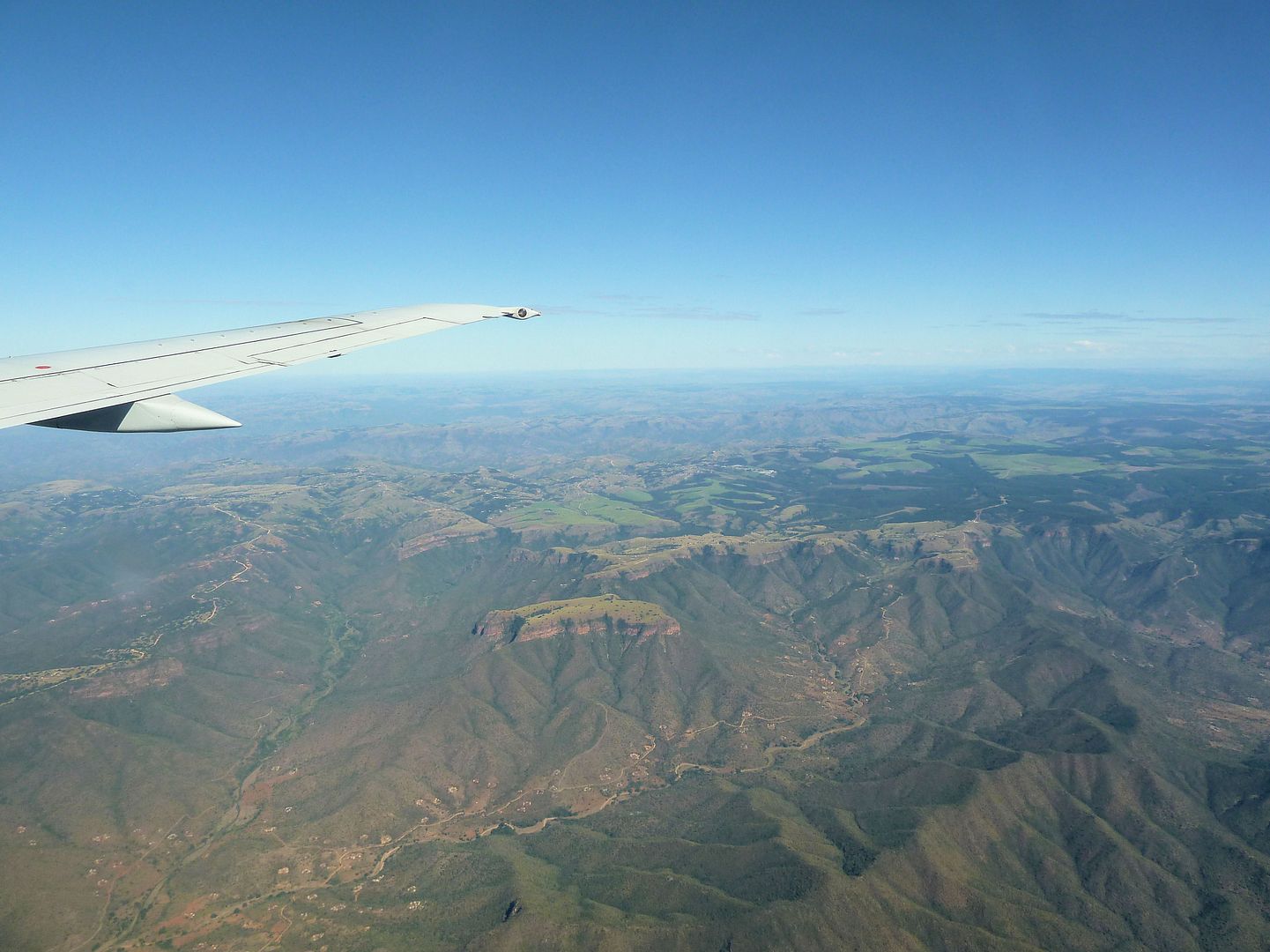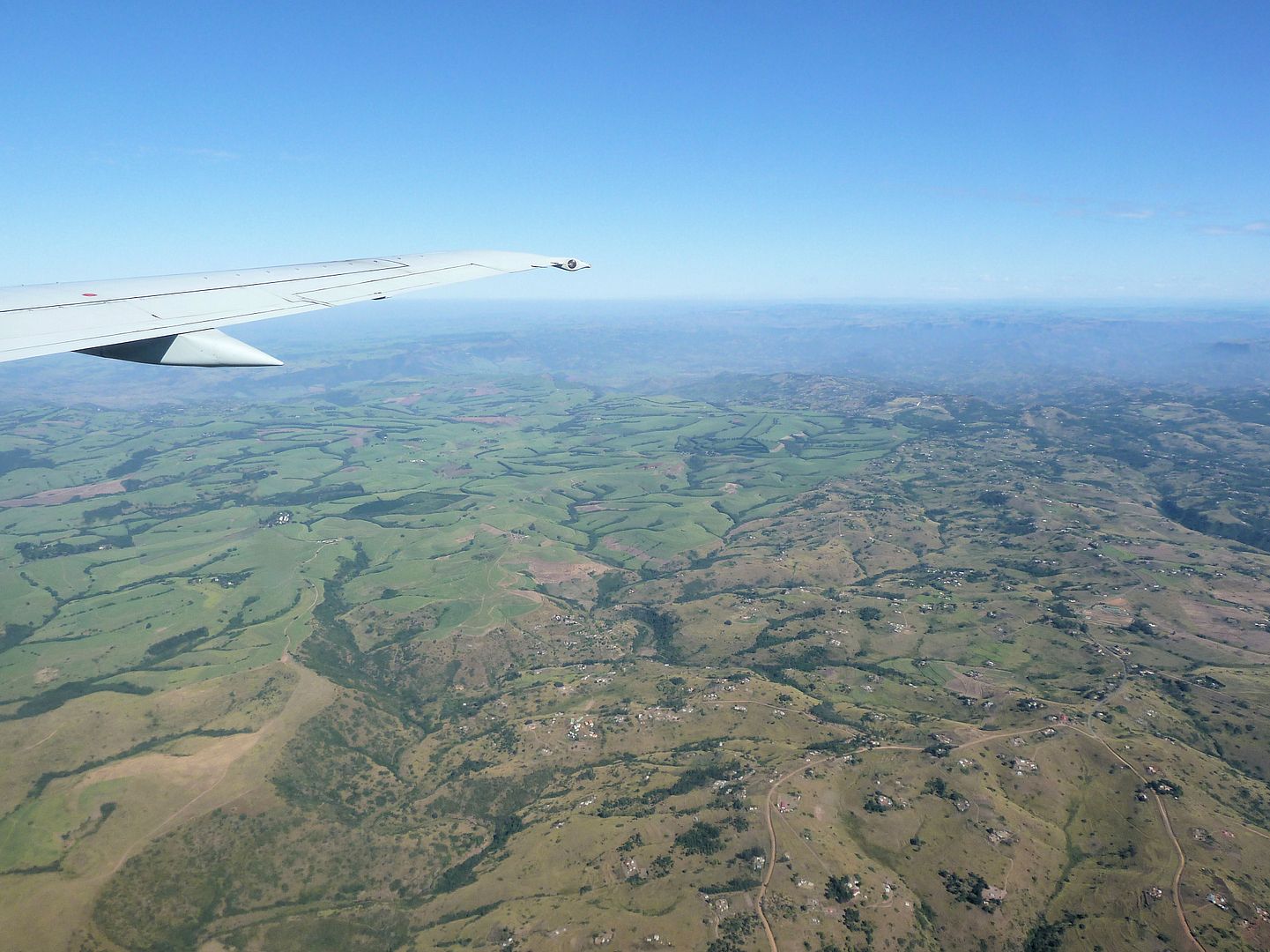 On final approach: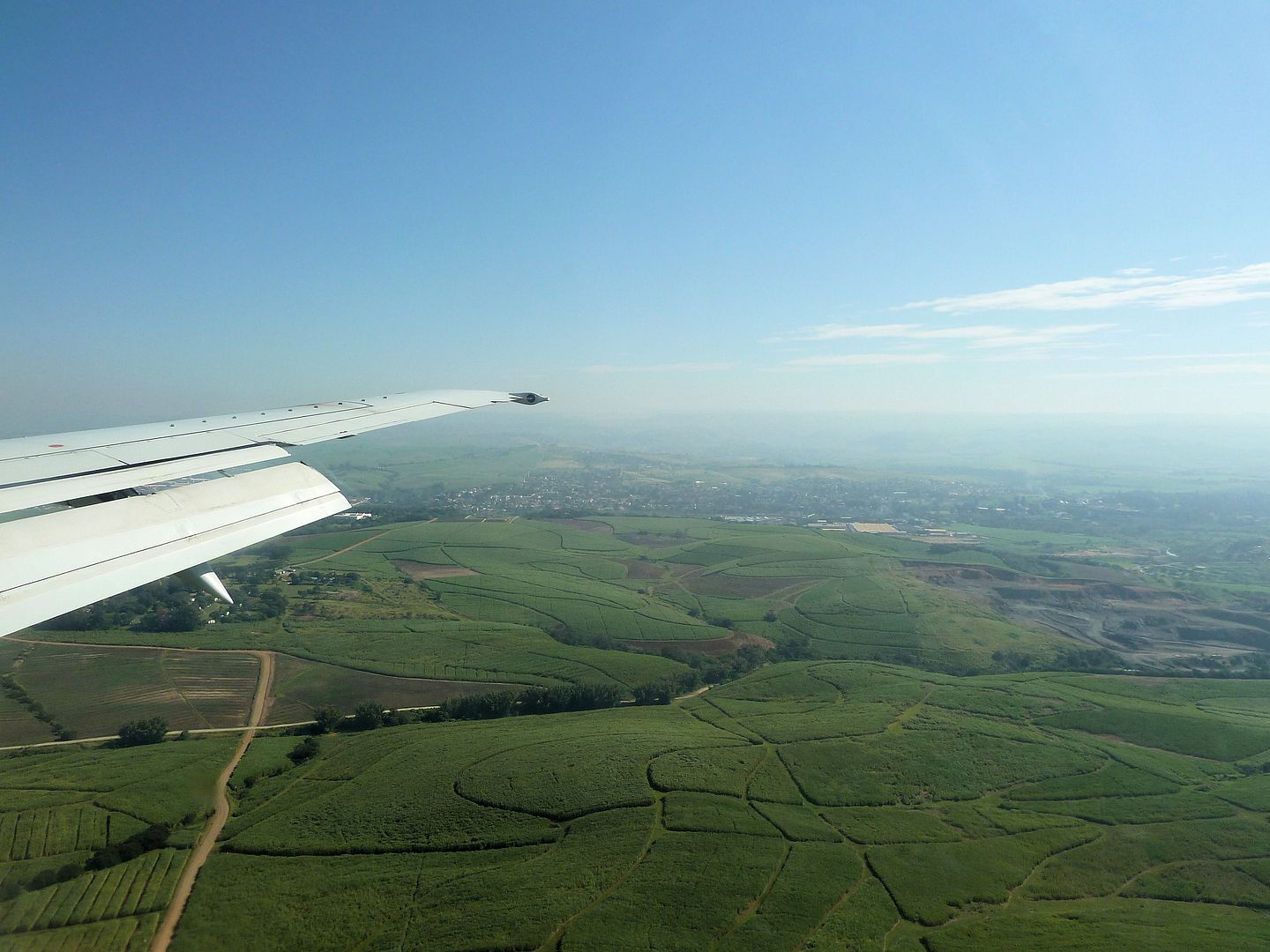 Perfect locations for spotters?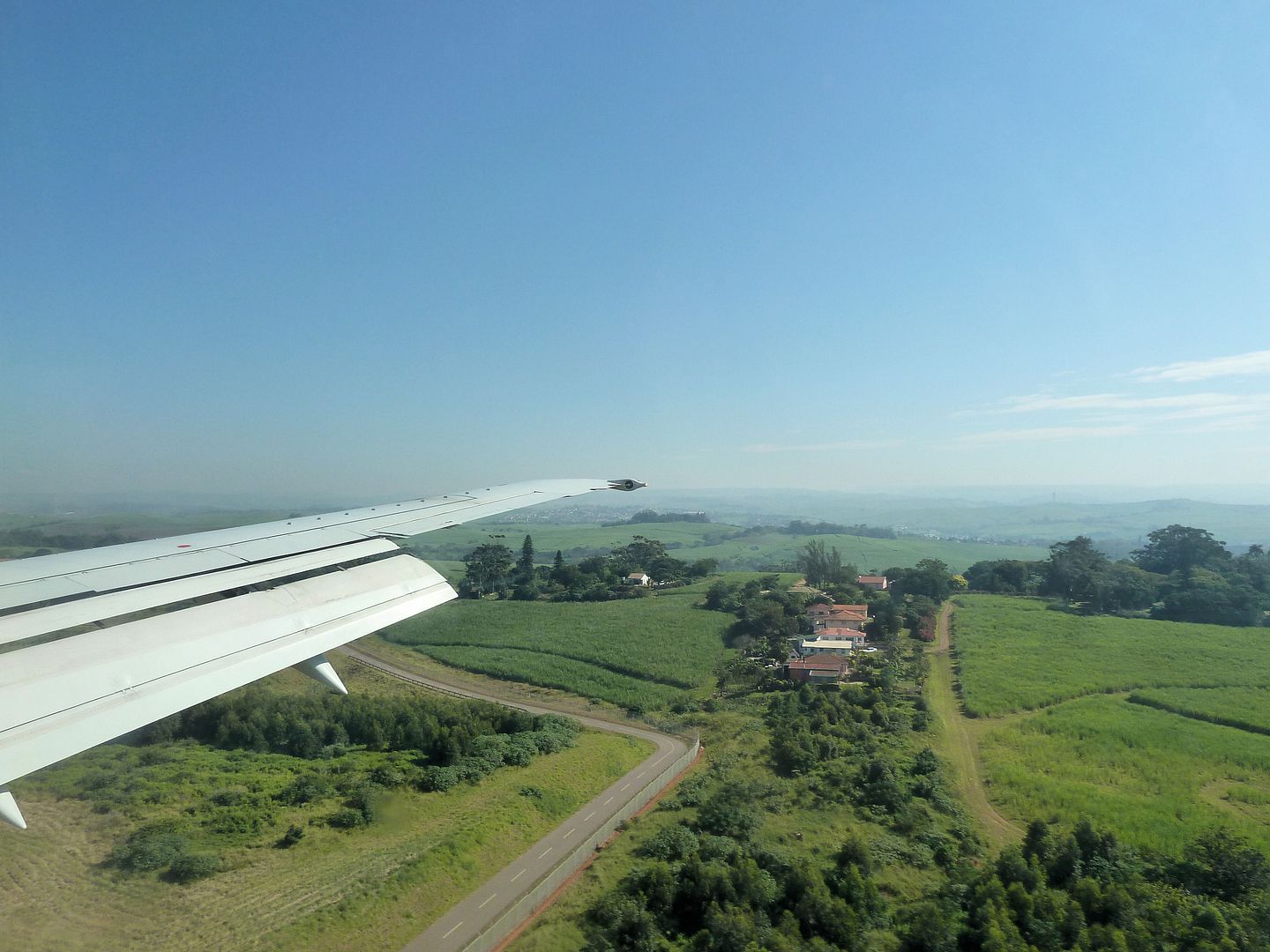 We touched down at
King Shaka International Airport
after a flying time of 55 minutes, a bit more than originally announced. Colorful planes in a colorful country: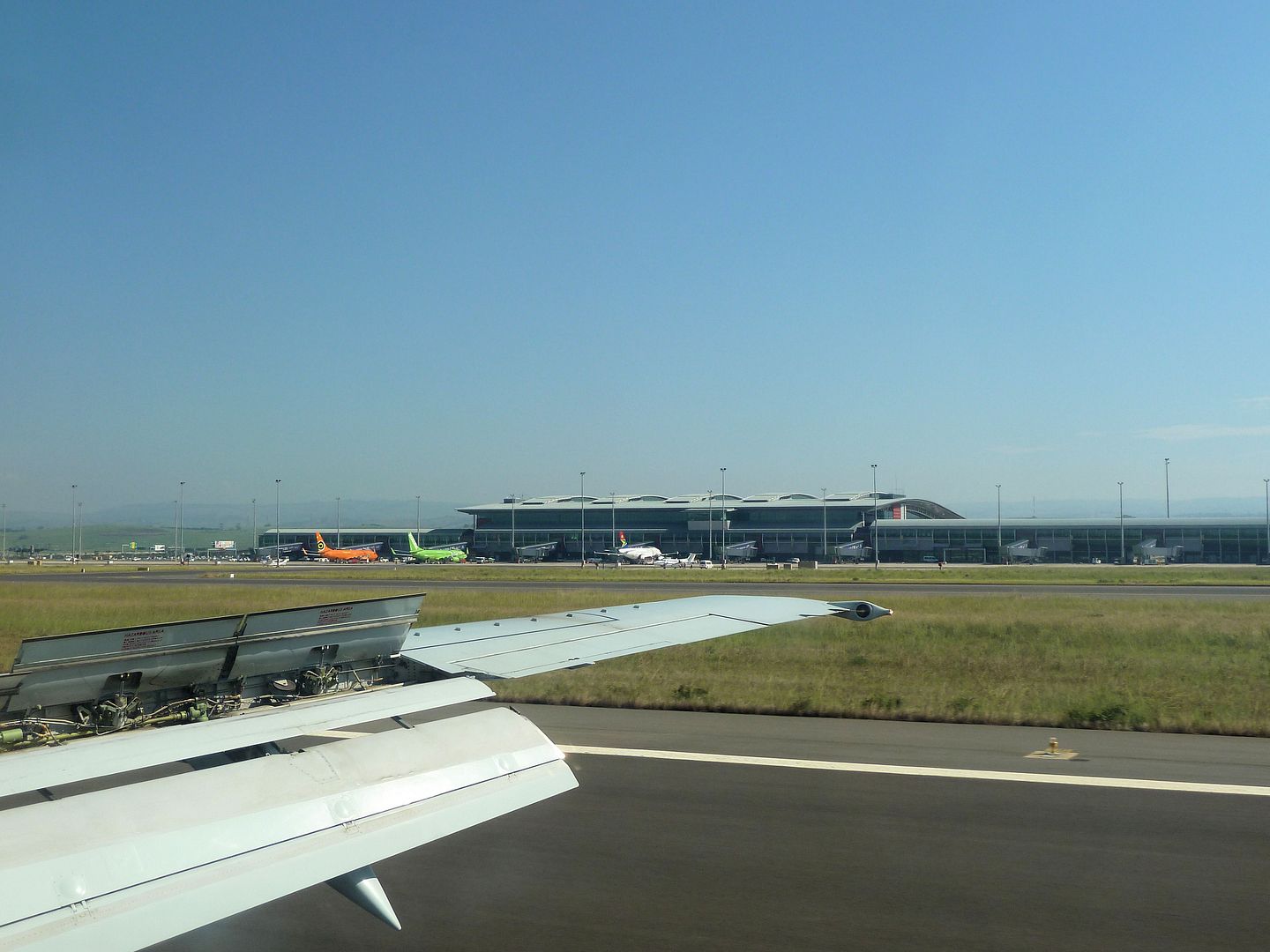 My Mango flight would depart in three hours, so there was no need to rush. After disembarking, I went to the check-in hall of the modern terminal complex: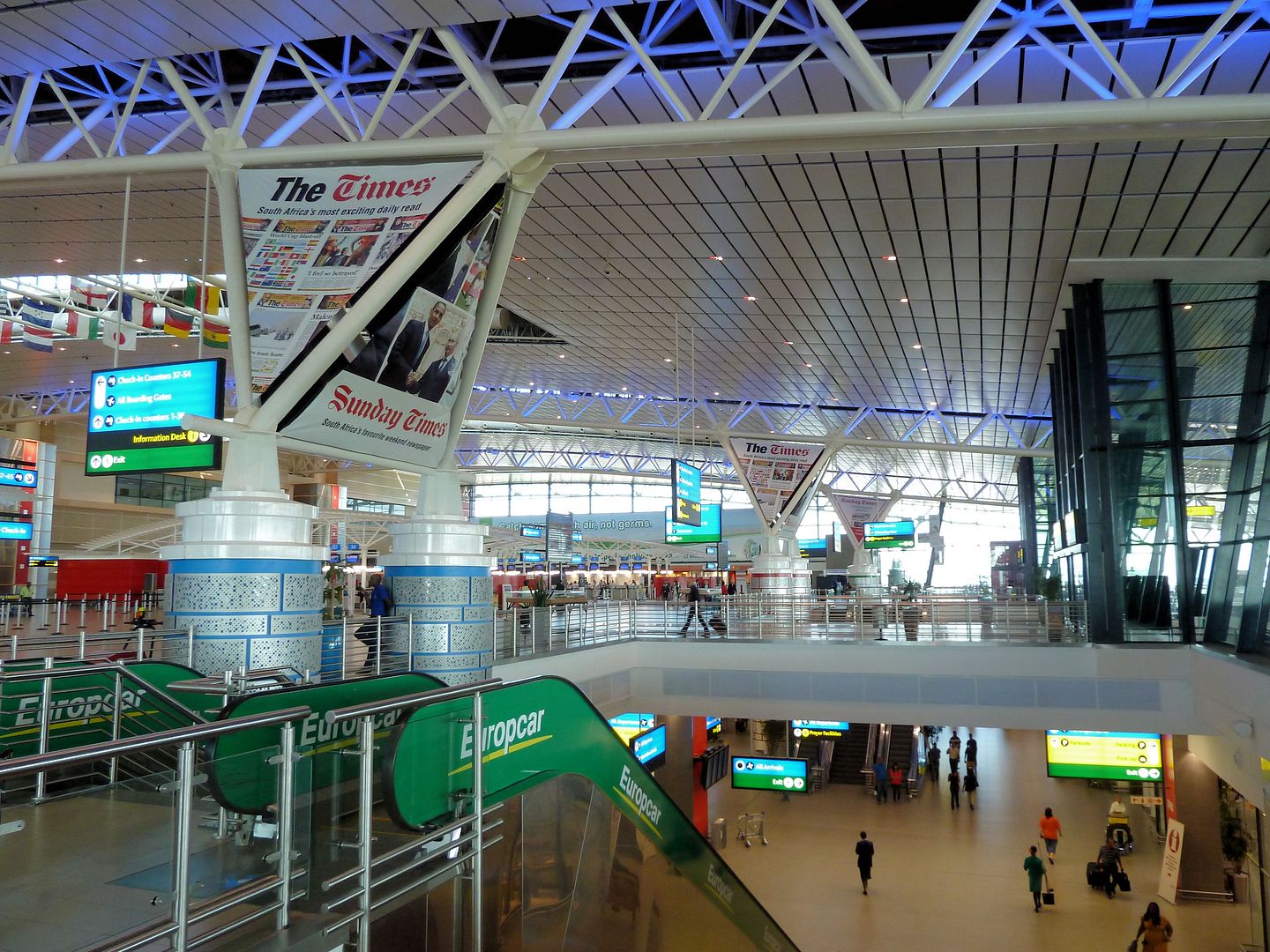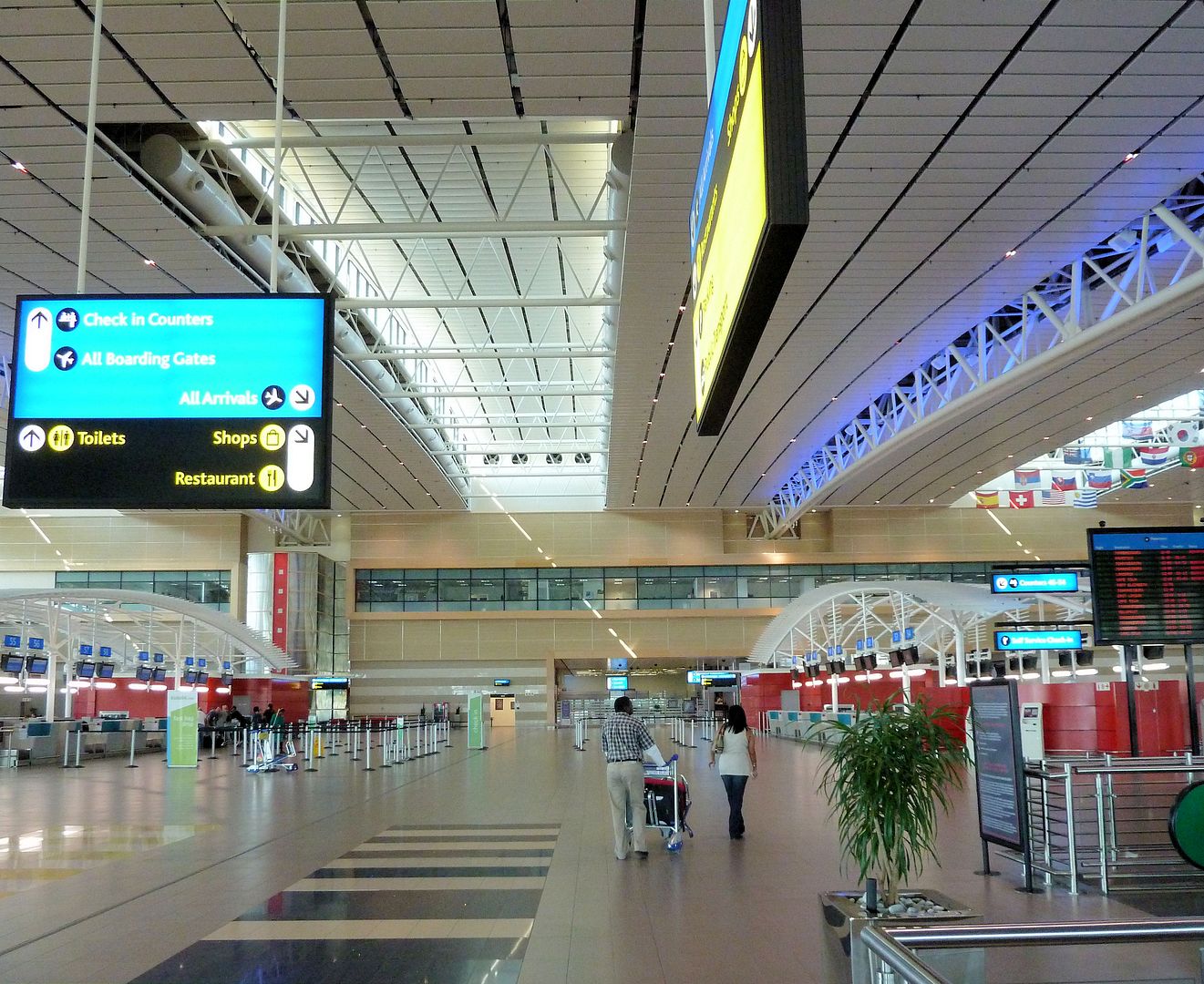 I walked outside and enjoyed the warm sun for a while: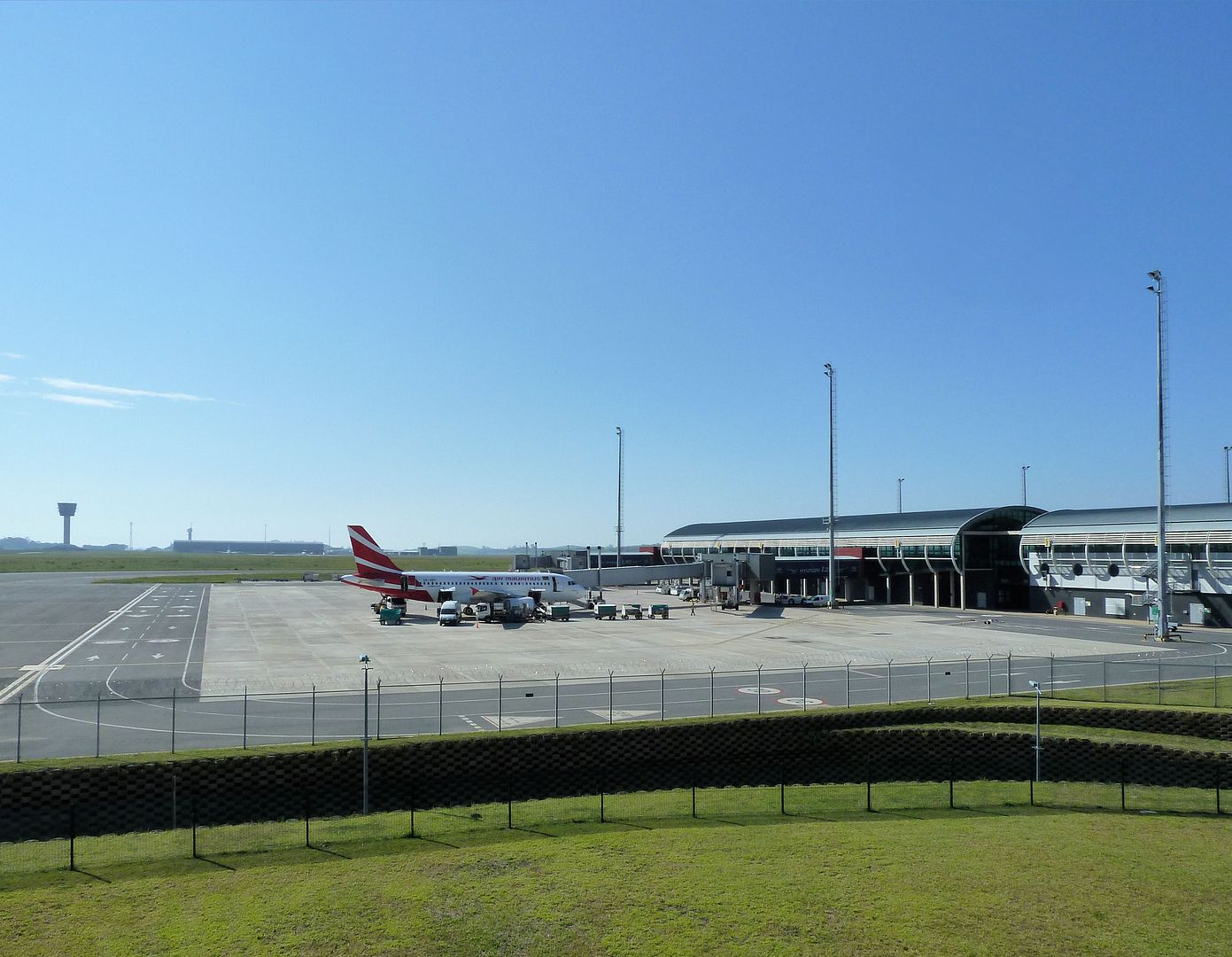 3B-NBF is one of two A319s in the Air Mauritius fleet - definitely a rare sight from a European perspective:
Sunday, May 2011
Durban (DUR) - Cape Town (CPT)
Mango JE337
Scheduled times: 14:40-16:50
Actual times: 14:33-16:30
Flight duration: 01:49 (hrs)
Distance: 794 miles
Economy Class (single class), seat 31A
Boeing 737-8BG
ZS-SJG (s/n 711)
First delivered to South African Airways in 11/2000
1st flight on ZS-SJG
22nd 737-800 flight
32nd 737 NG flight
58th 737 flight
118th airline
Former appearances in Excel Airways and SAA colors:
About 2.5 hours before departure, I printed my boarding pass at a check-in kiosk and passed security. The basic fare itself hadn't been cheap, but nevertheless, I had decided to invest an additional 20 Rand (= 1,85 Euro) for a seat reservation (31A, second last row).
I took a seat in the gate area and enjoyed spotting through large windows. Here's my Comair 737-400 again: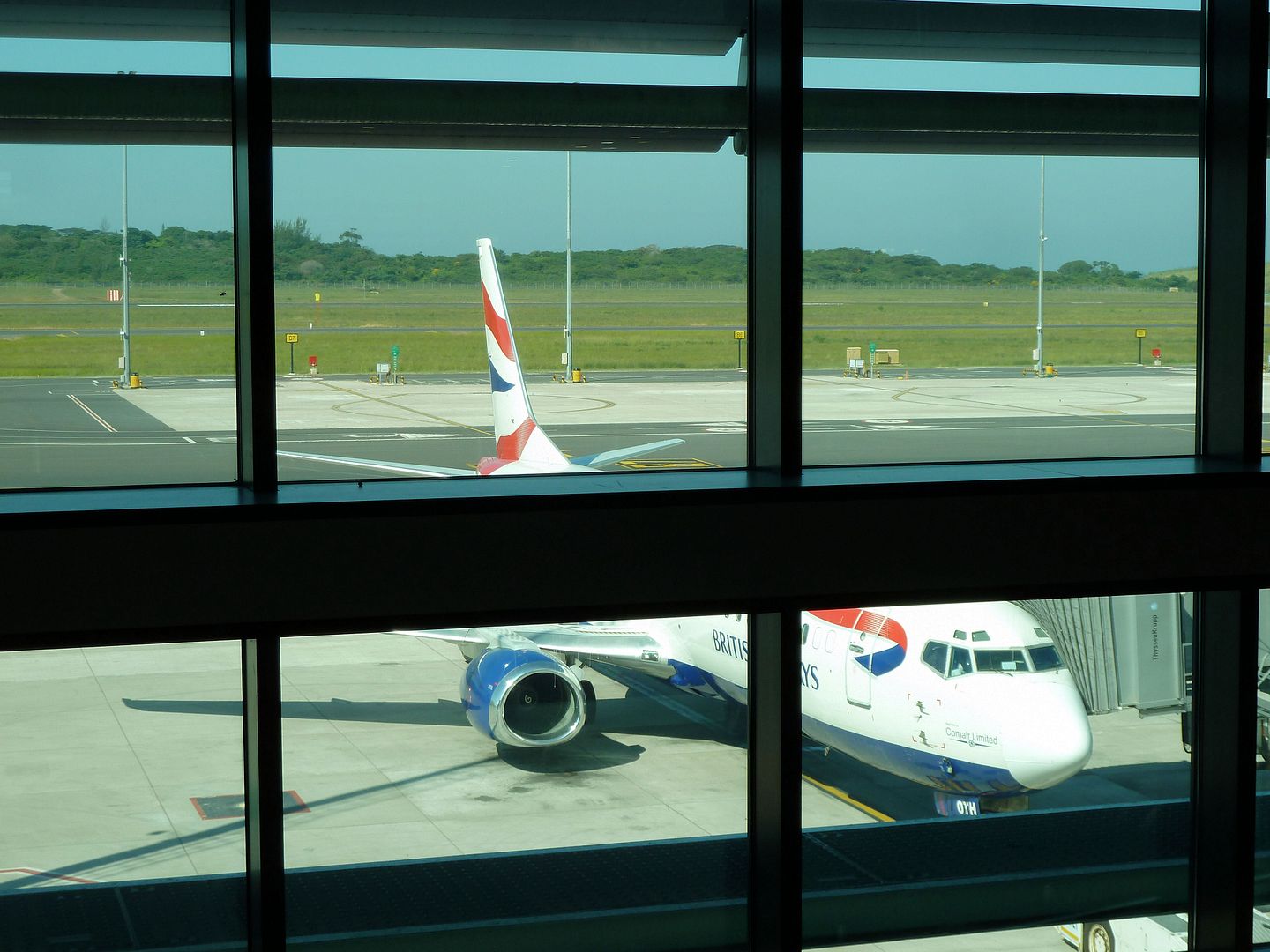 kulula.com 737-800 ZS-ZWP in "flying 101" livery - probably the funniest paint scheme ever: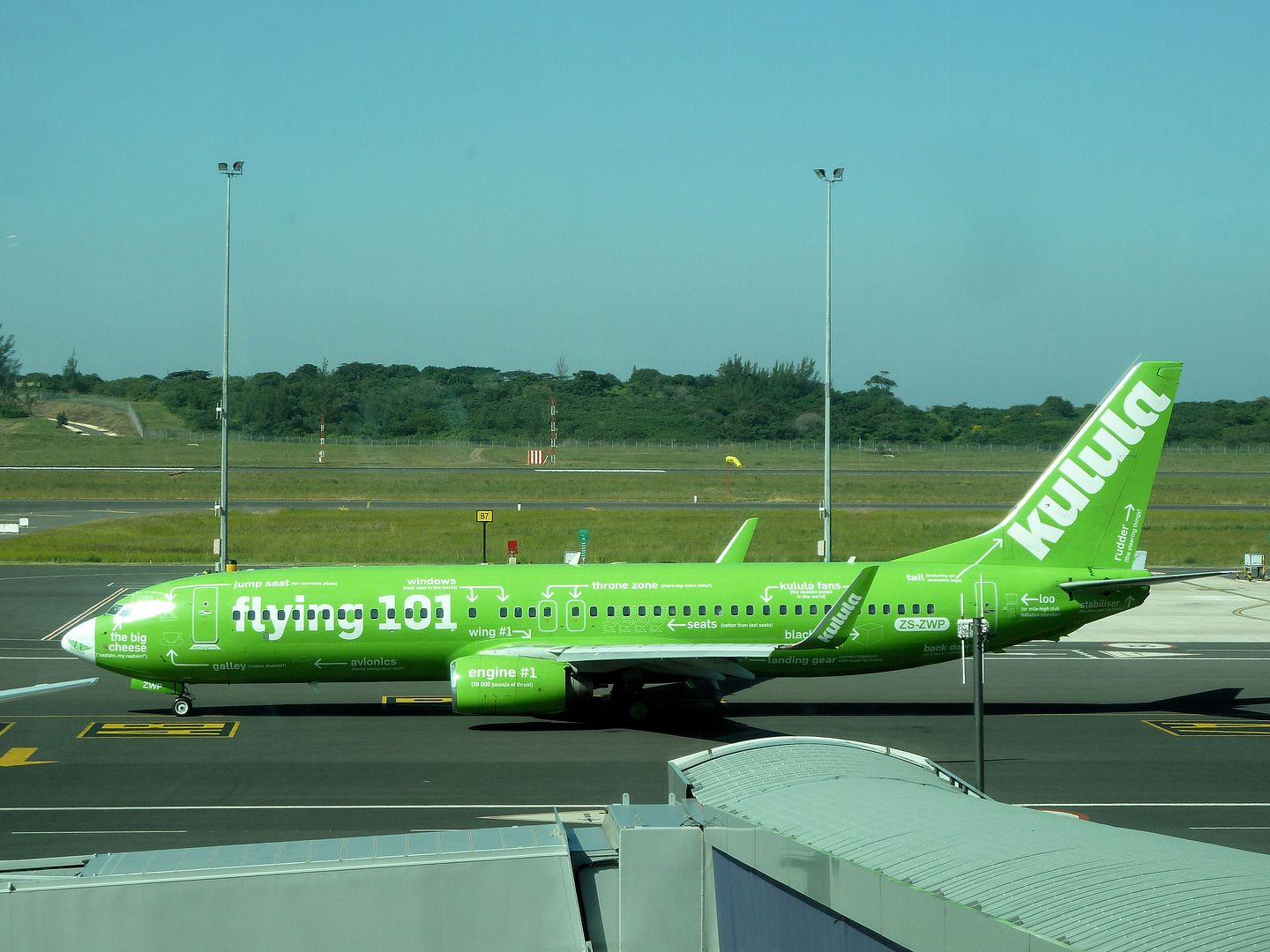 One operator, two totally different brands: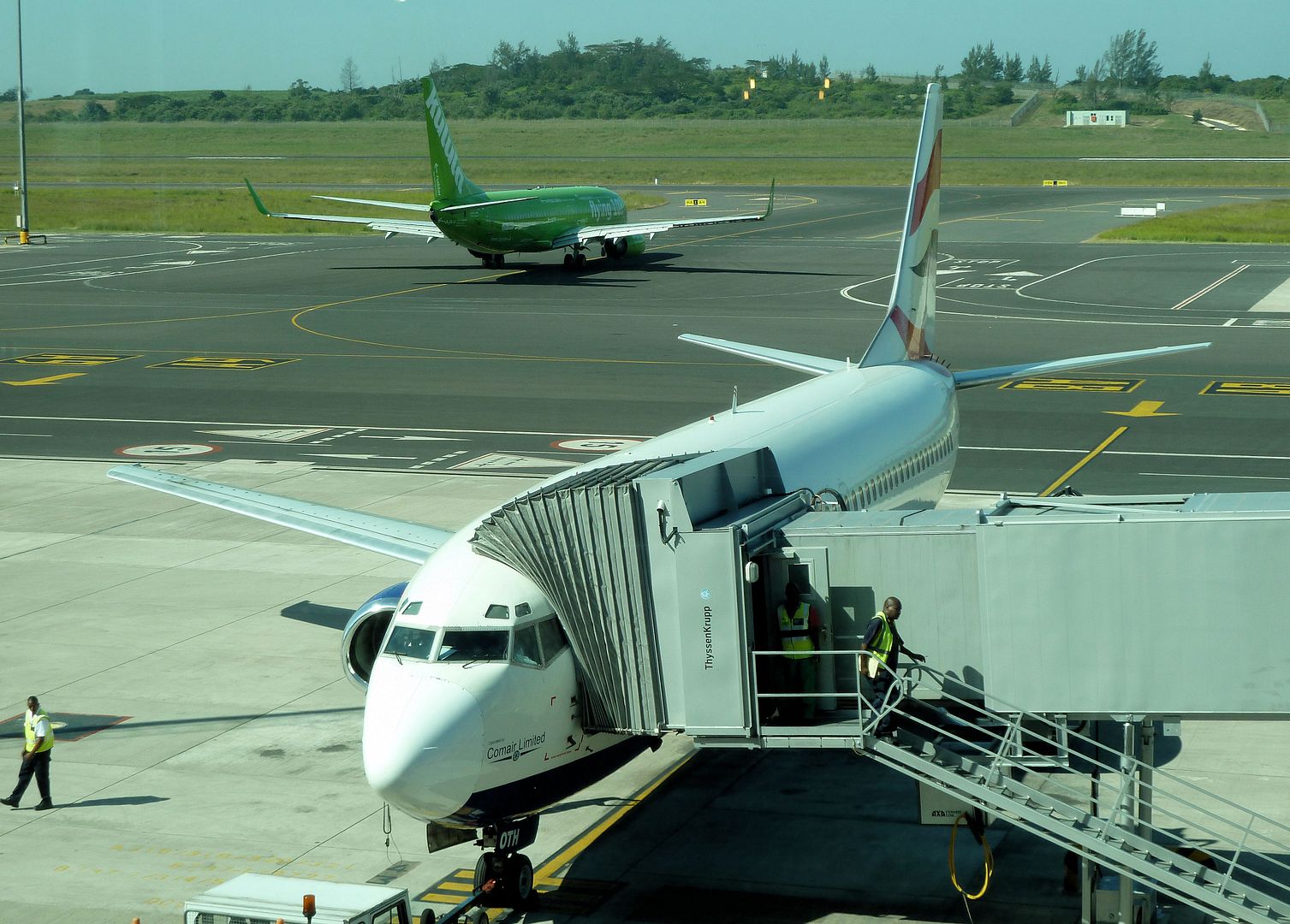 My orange plane arrived on time - unfortunately, taking pictures through the windows wasn't easy. Striking livery, isn't it?
ZS-SJG
is one of five 737-800s in the fleet - all of them were transferred from SAA: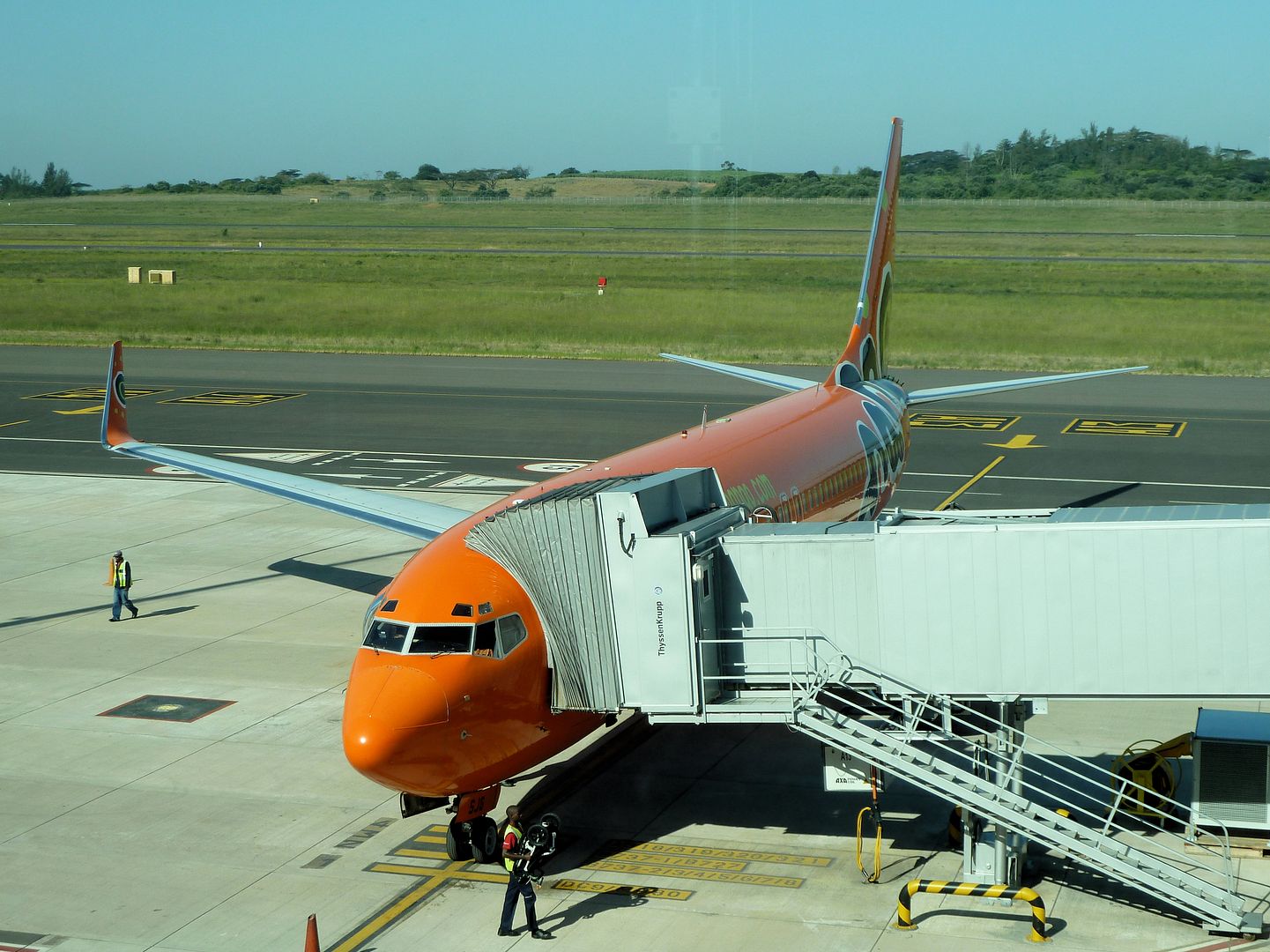 Mango pilots wear orange shirts - and black leather jackets (as I would find out later):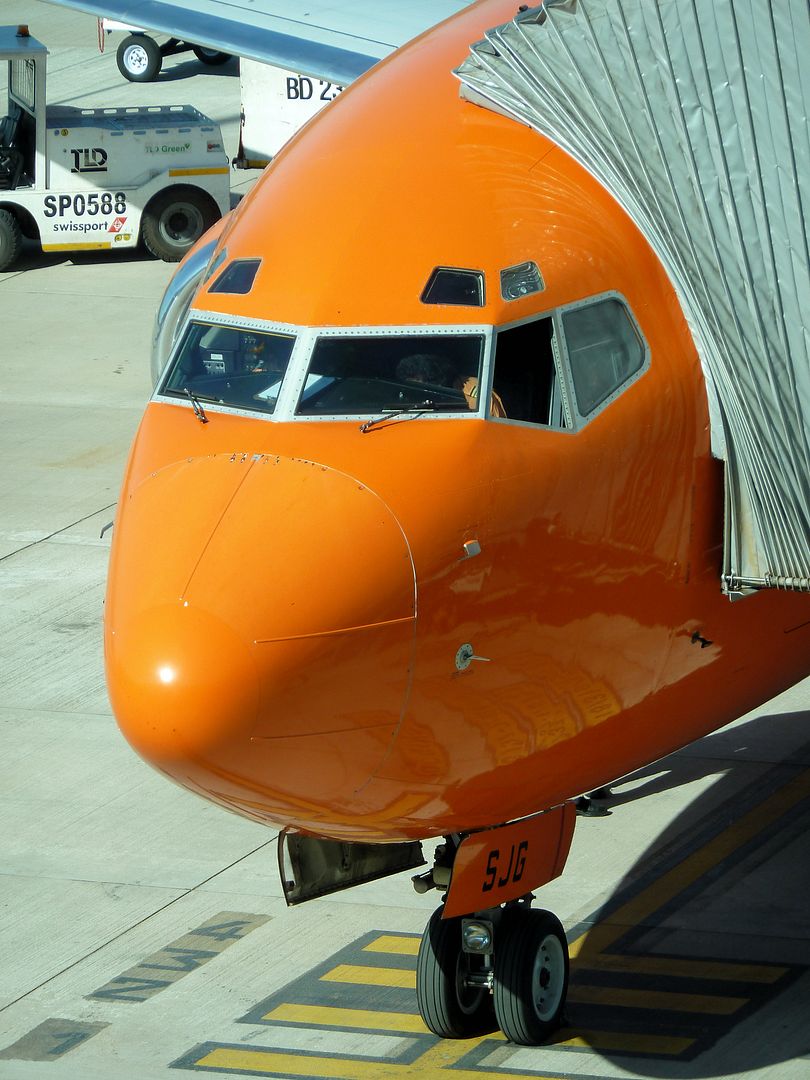 Boarding commenced early and friendly flight attendants in orange shirts/dresses welcomed me on board. The leather seats were as comfortable as on BA/Comair...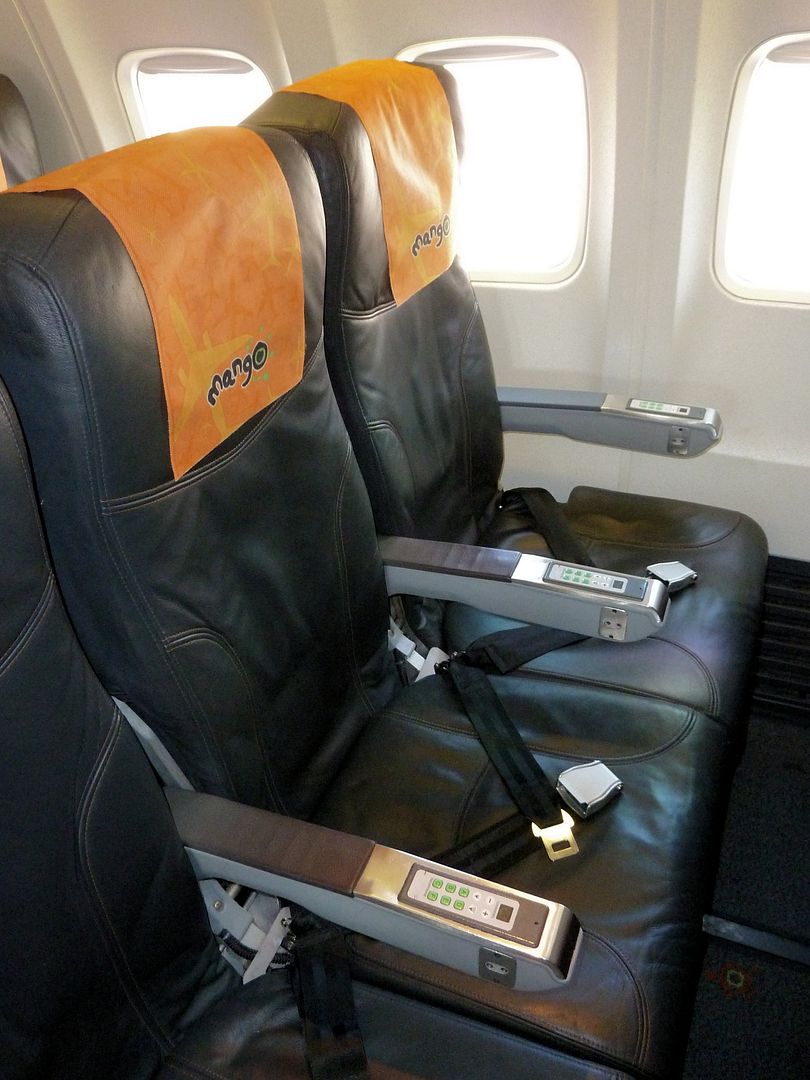 ..but legroom was tight: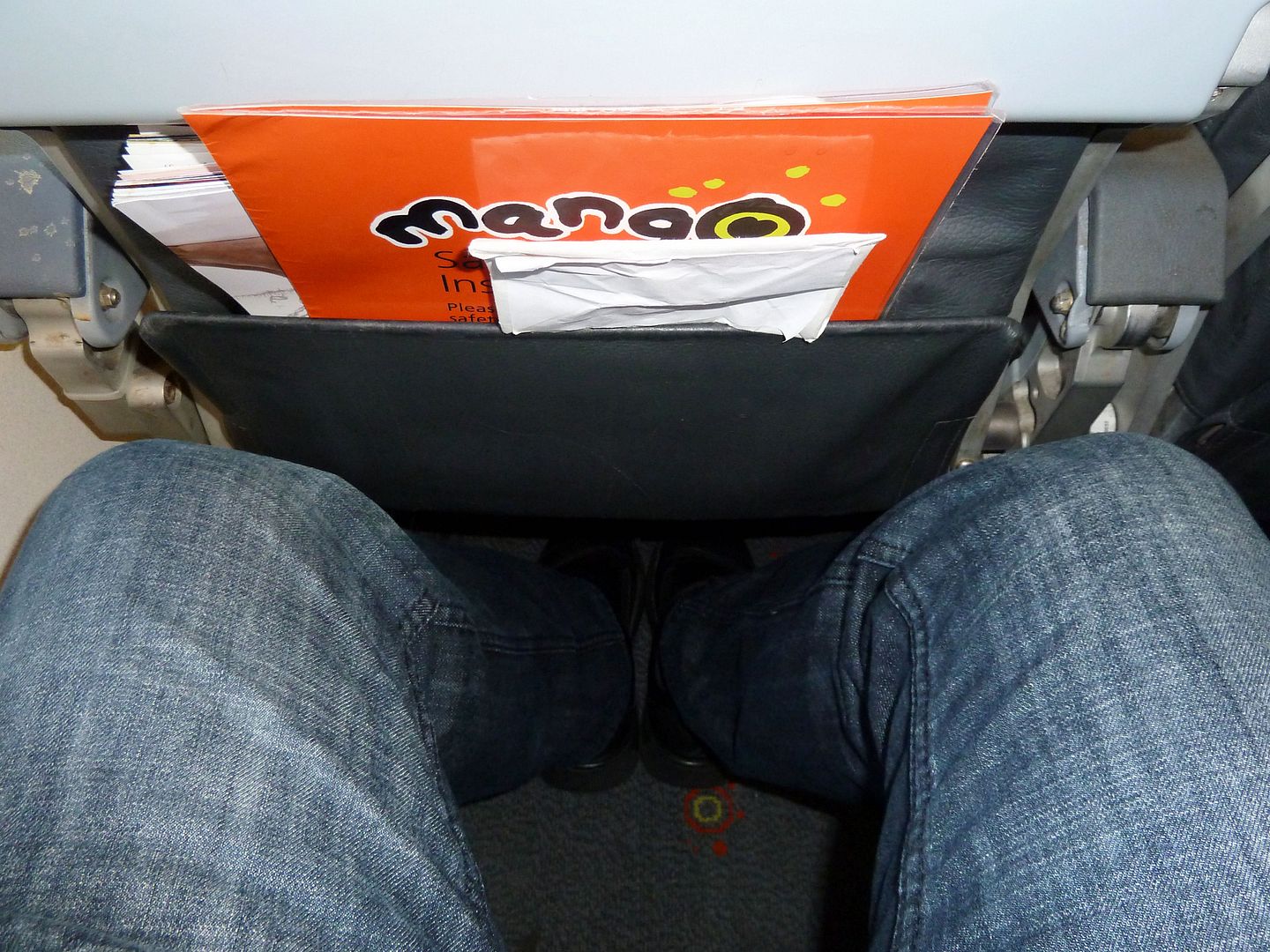 The cabin wasn't in bad shape, but I noticed a few dirty spots - just have a look at the seat frame and the armrest covers on the picture above.
It was clear soon that I wouldn't have a row to myself this time, the flight was packed and I didn't see an empty seat. Parked next to us was Comair 737-400 ZS-OAV, covering a 1Time MD-80: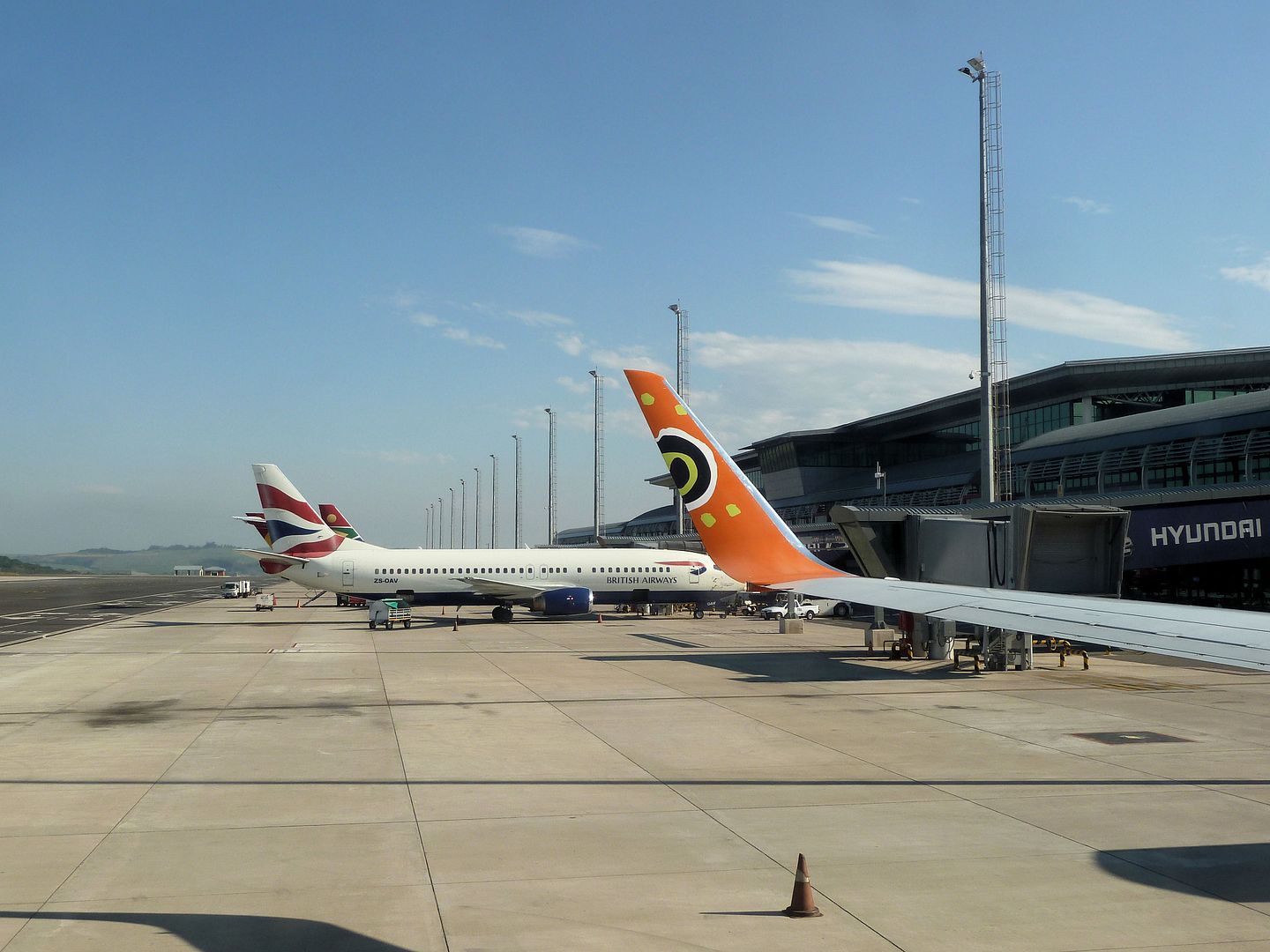 Sister ship ZS-SJK arrived when we were about to leave: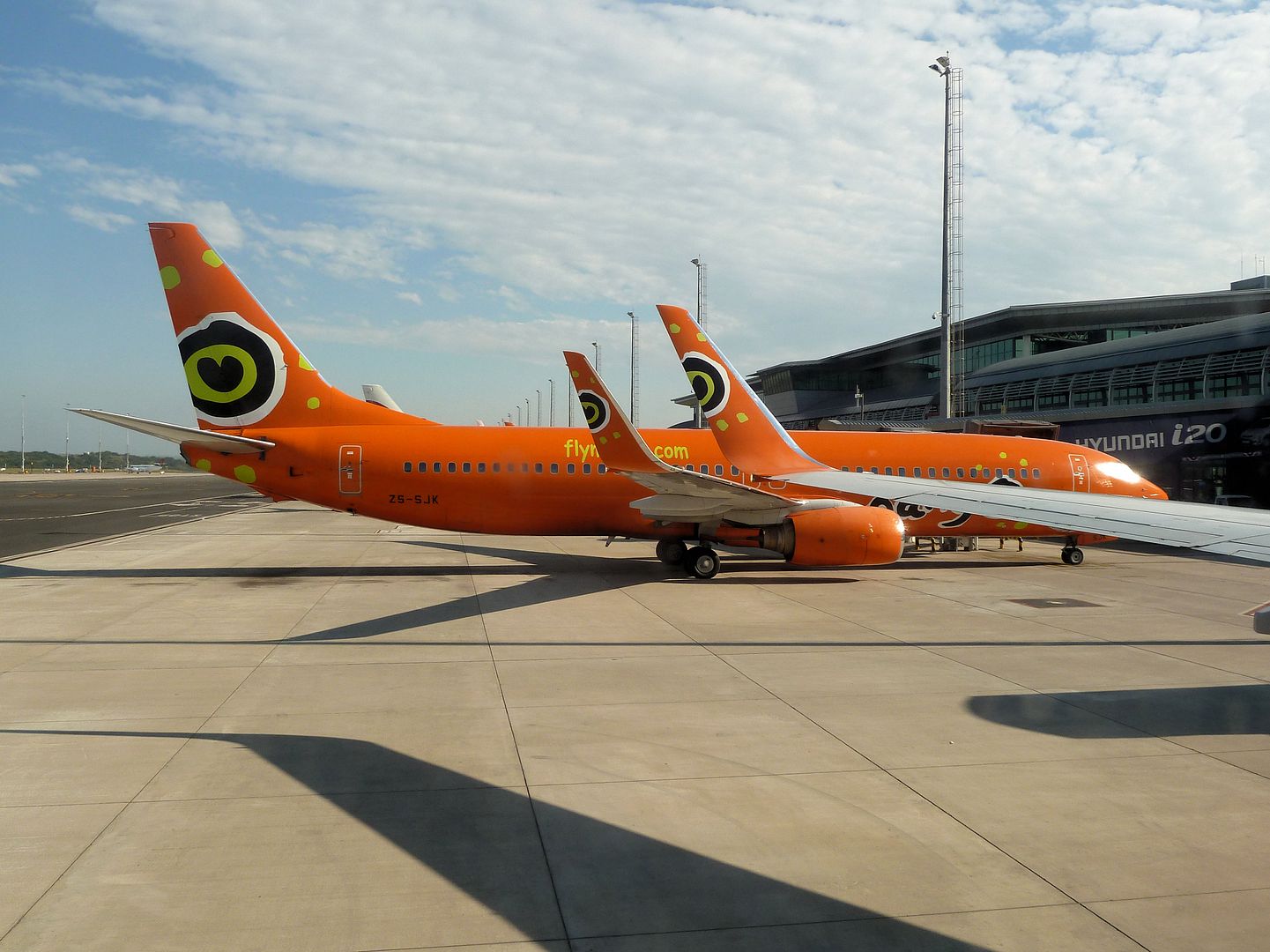 The comic-style safety video is almost the same one as on SAA: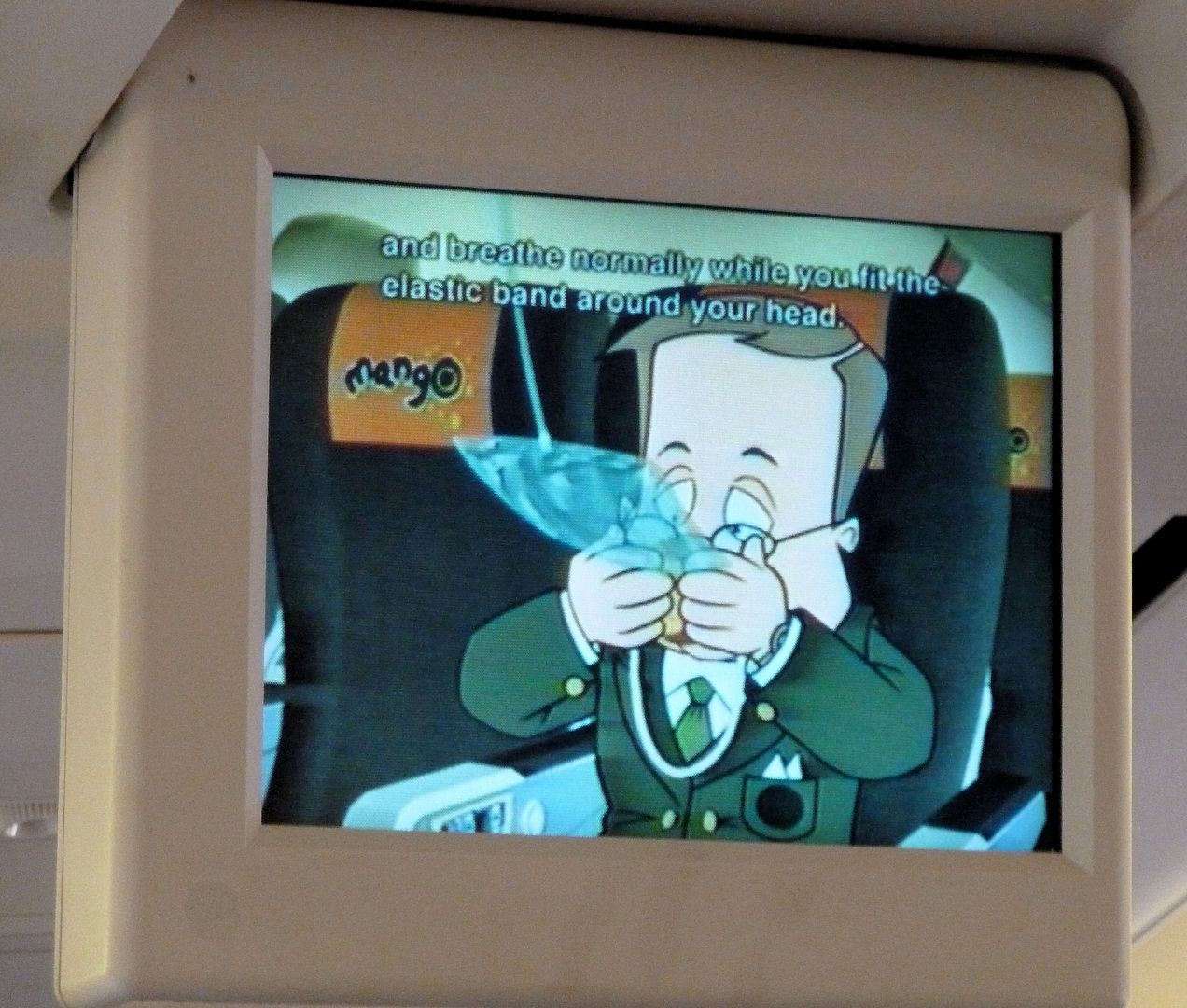 We were pushed back seven minutes early and headed to runway 06, passing a South African Airlink Jetstream 41: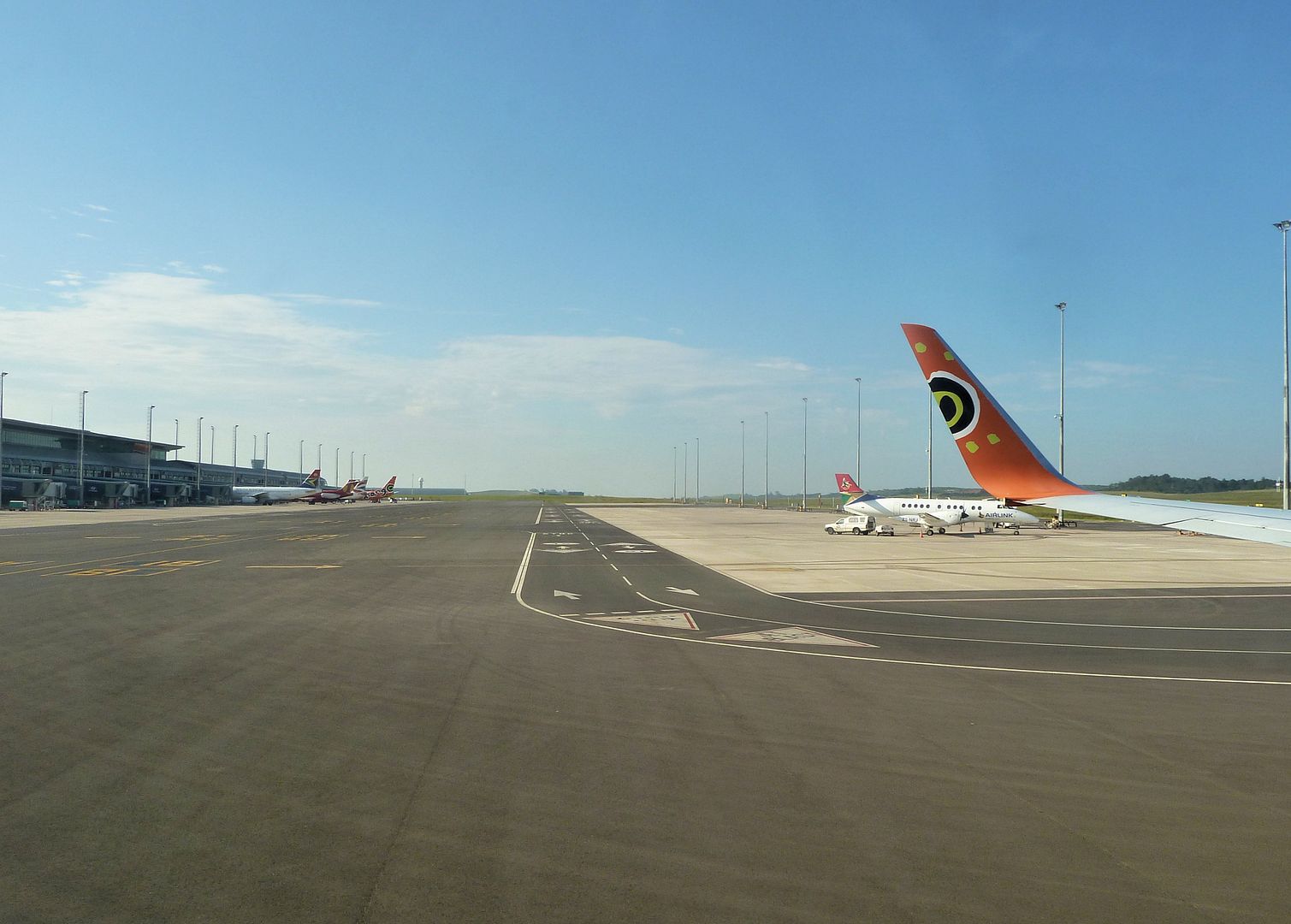 "Tulca 337" turning in: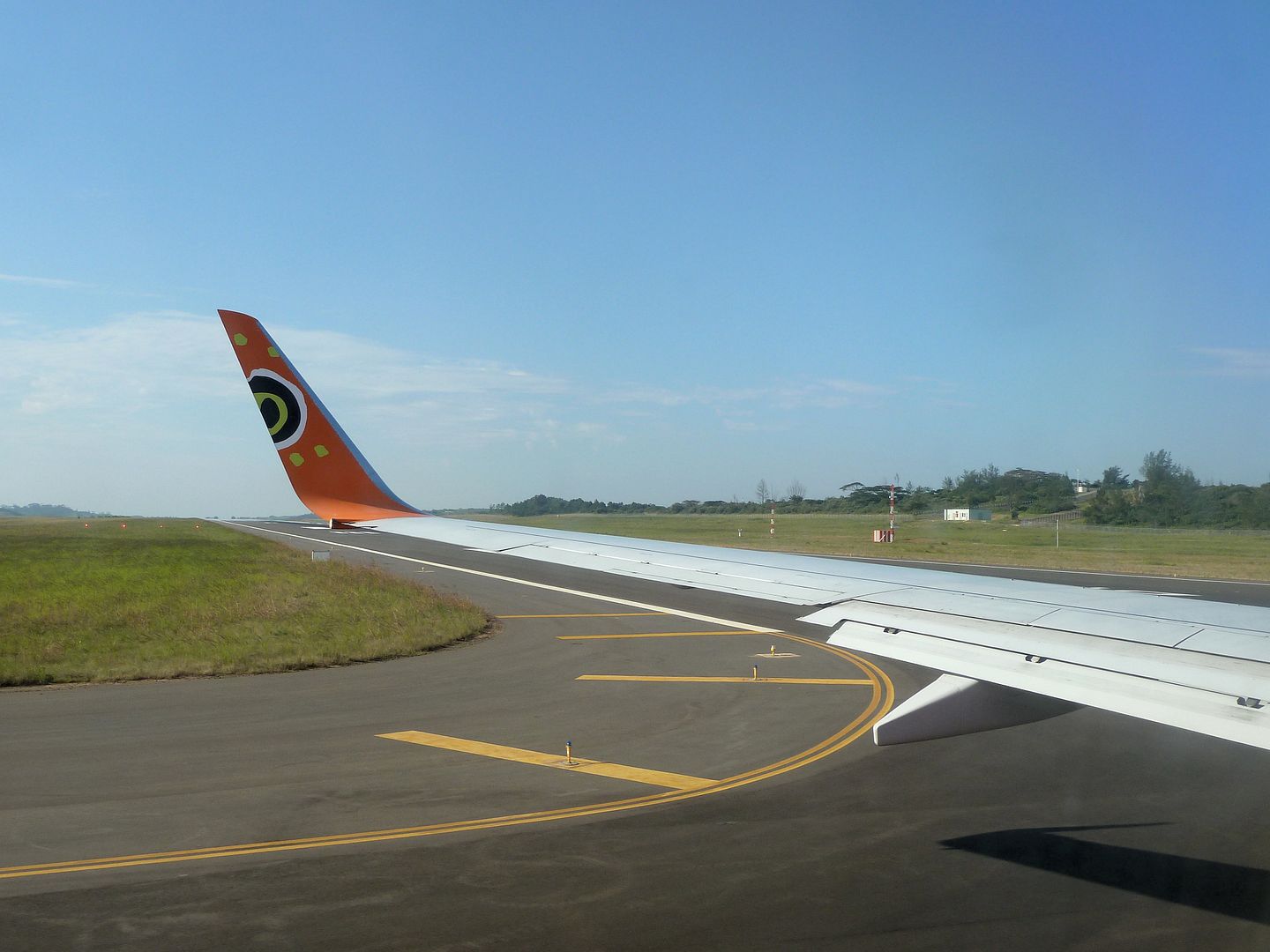 Powerful takeoff in northeasterly direction...
...followed by a right turn - bright orange winglet and dark blue sky: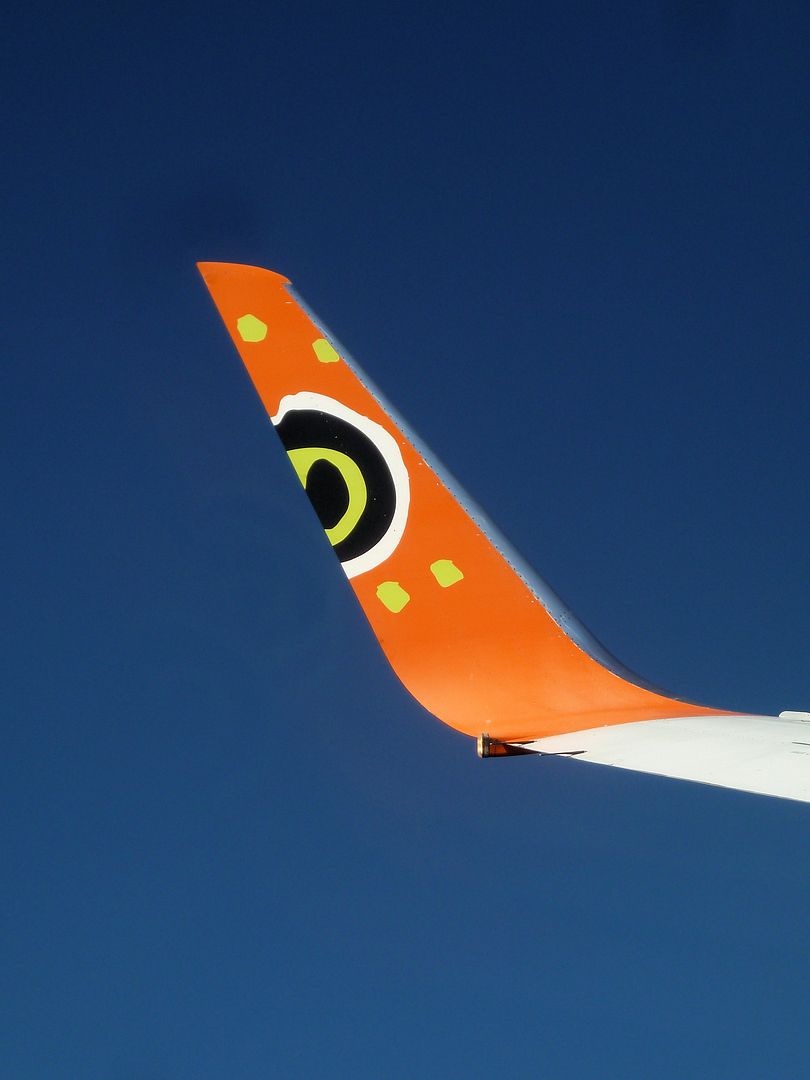 The coastal waters were full of ships which was not surprising considering that Durban has become Africa's busiest general cargo port and home to one of the largest and busiest container terminals in the Southern Hemisphere: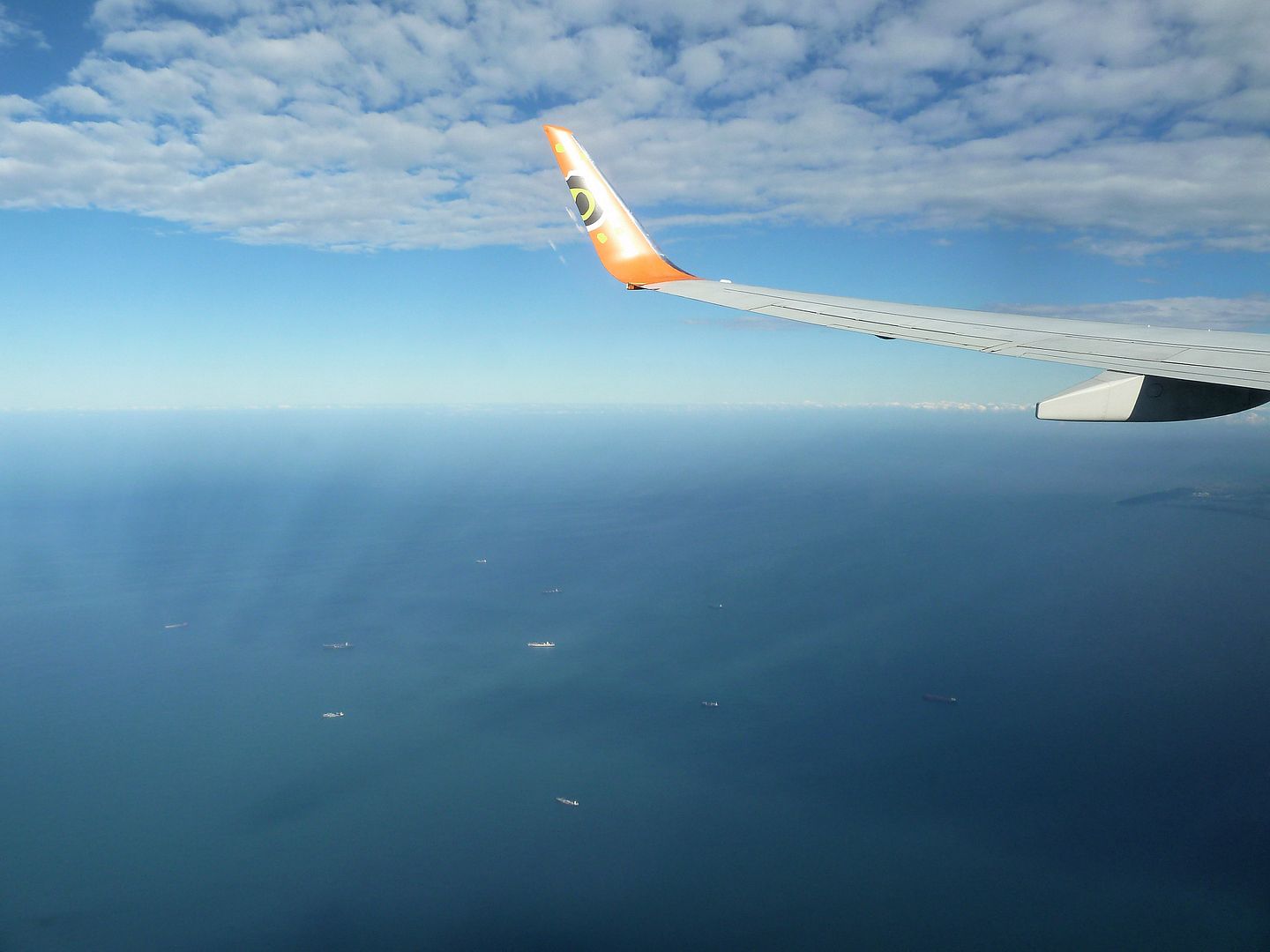 Back over land: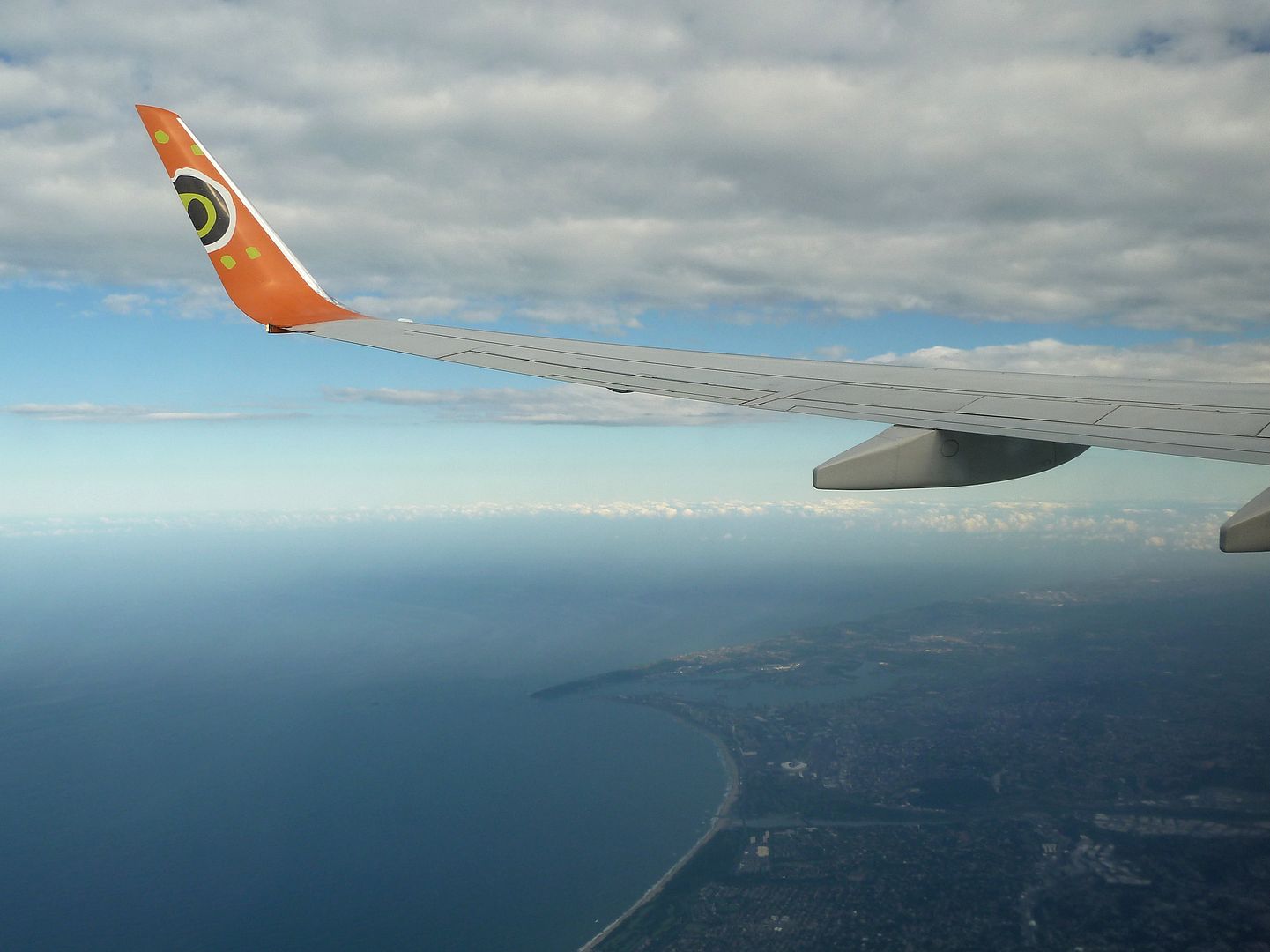 Here you can see central parts of the city and the
Moses Mabhida Stadium
where Germany lost to Spain in the semi-finals of the 2010 FIFA World Cup: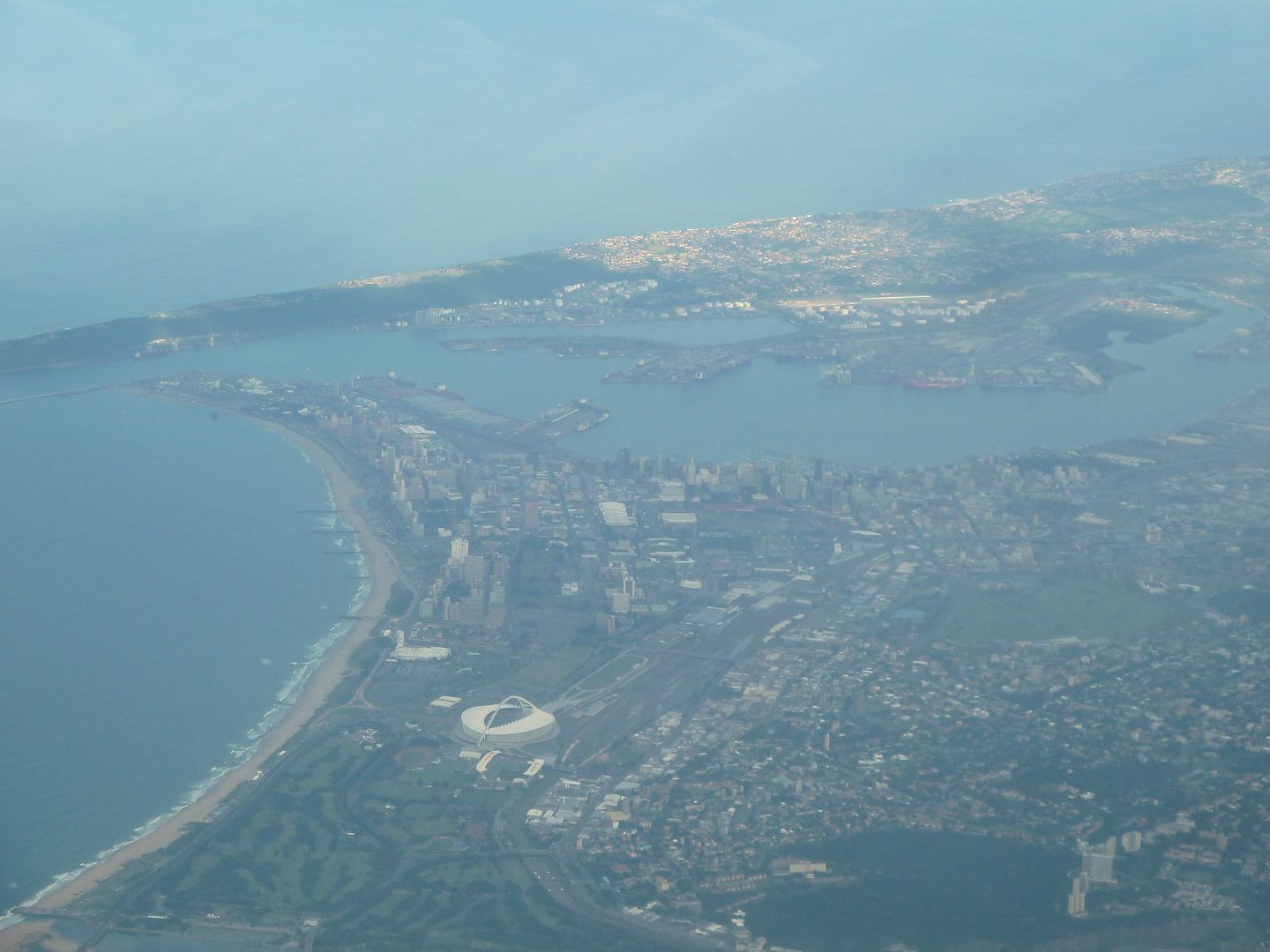 The city - South Africa's third largest - has been built around the natural port: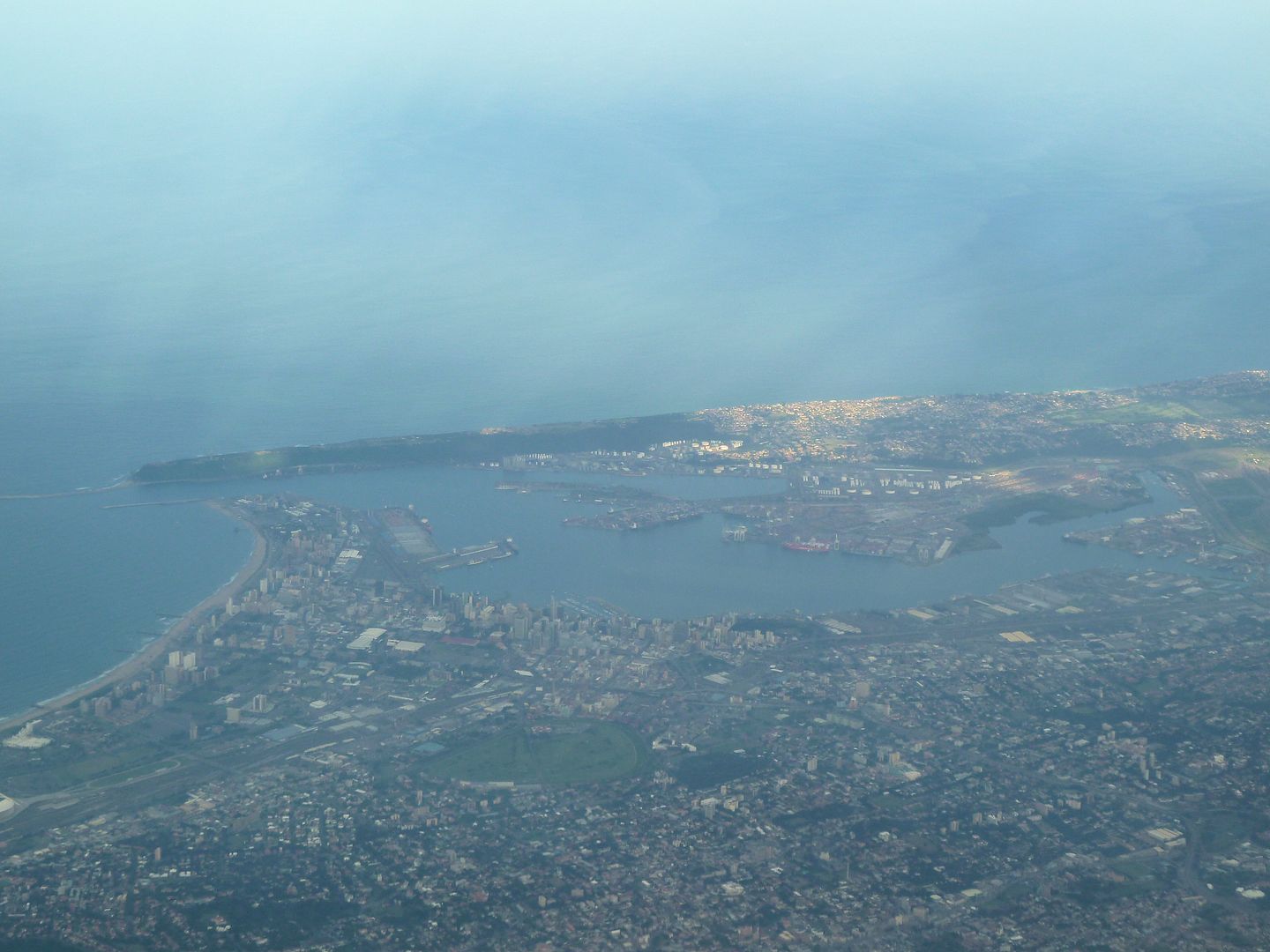 Clouds were soon blocking views of the landscape...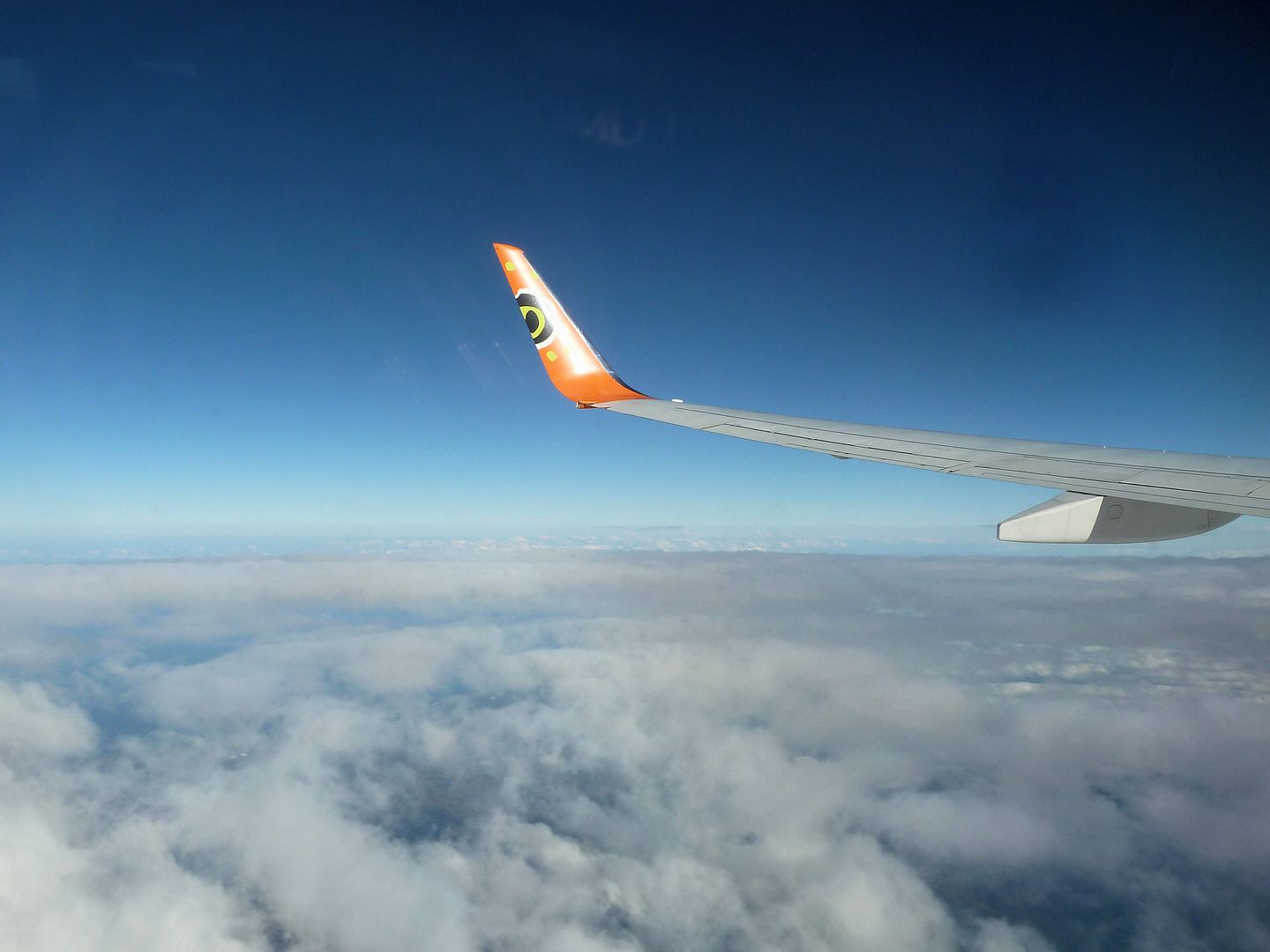 ...so I had a look at Mango's in-flight magazine, appropriately called "juice":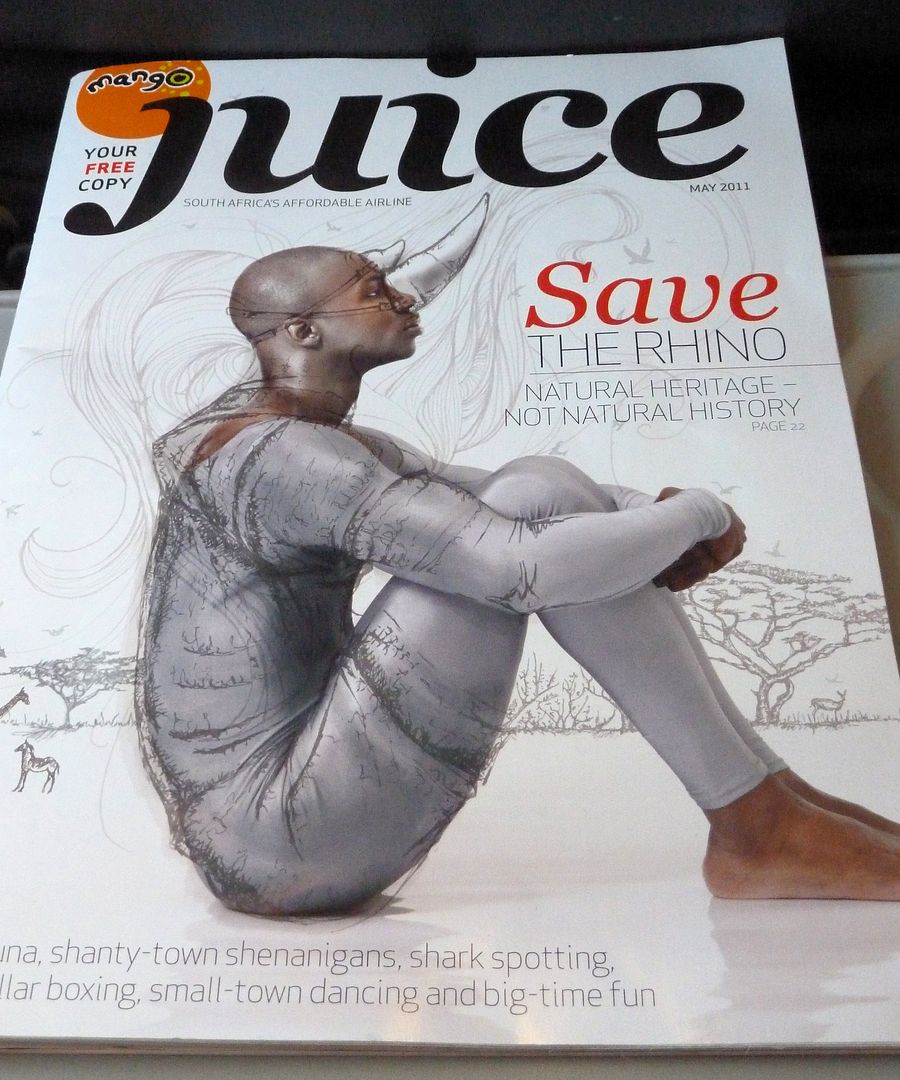 SA's most on-time domestic airline: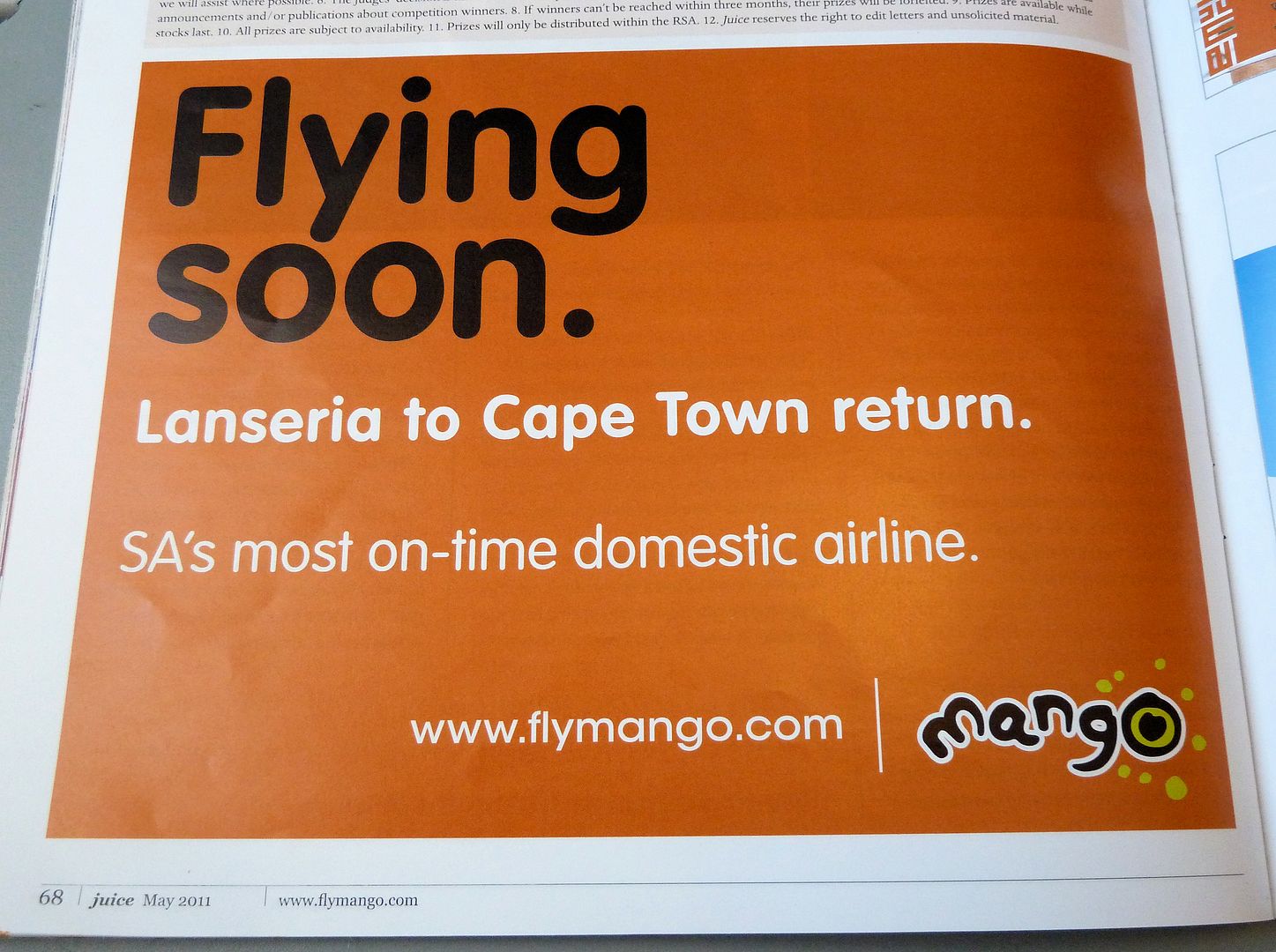 Mango's "spaza" buy-on-board menu: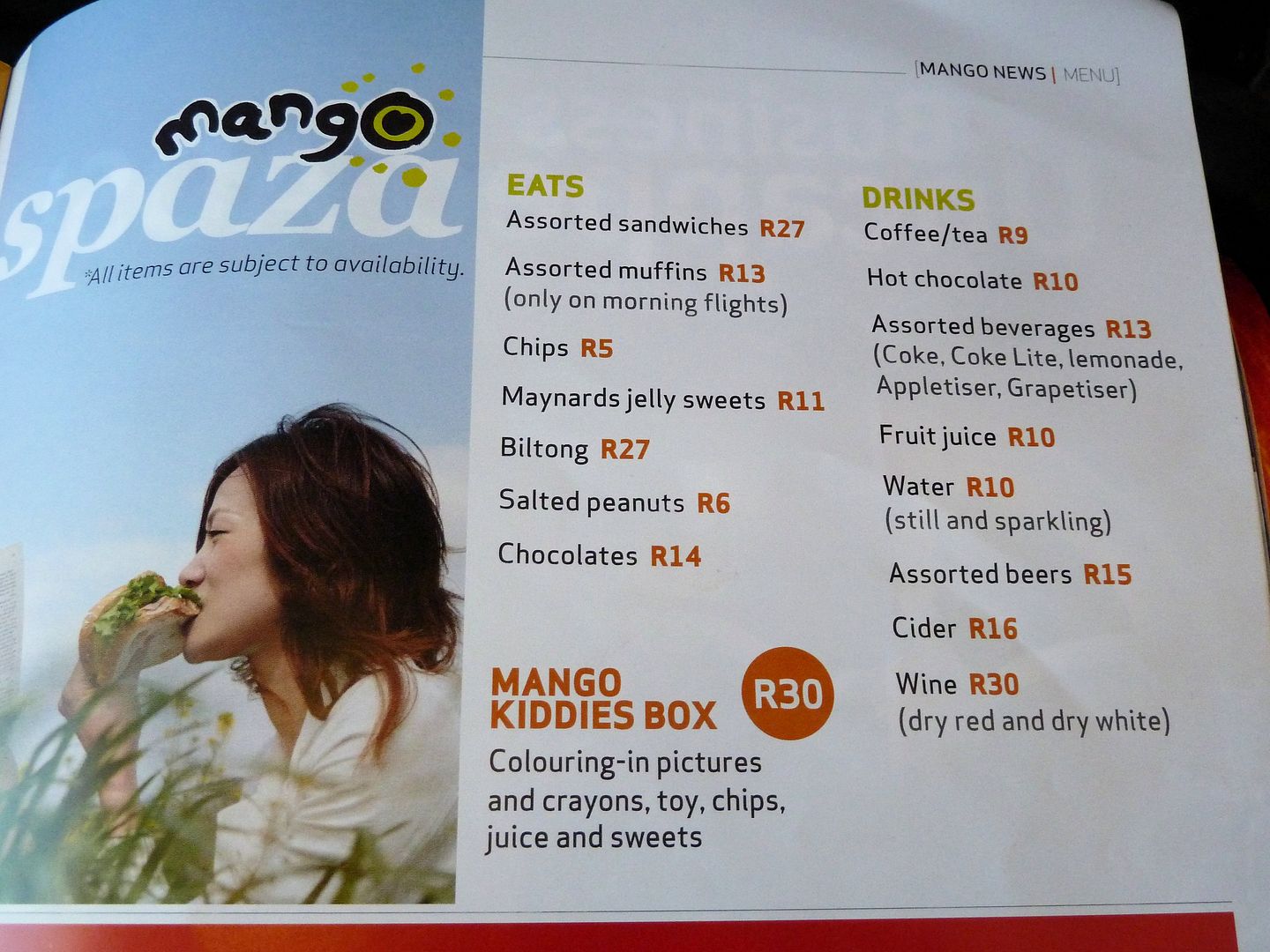 I decided to try a chicken sandwich (the alternative was beef) and a lemonade for a total of 40 Rand (= 3,70 Euro):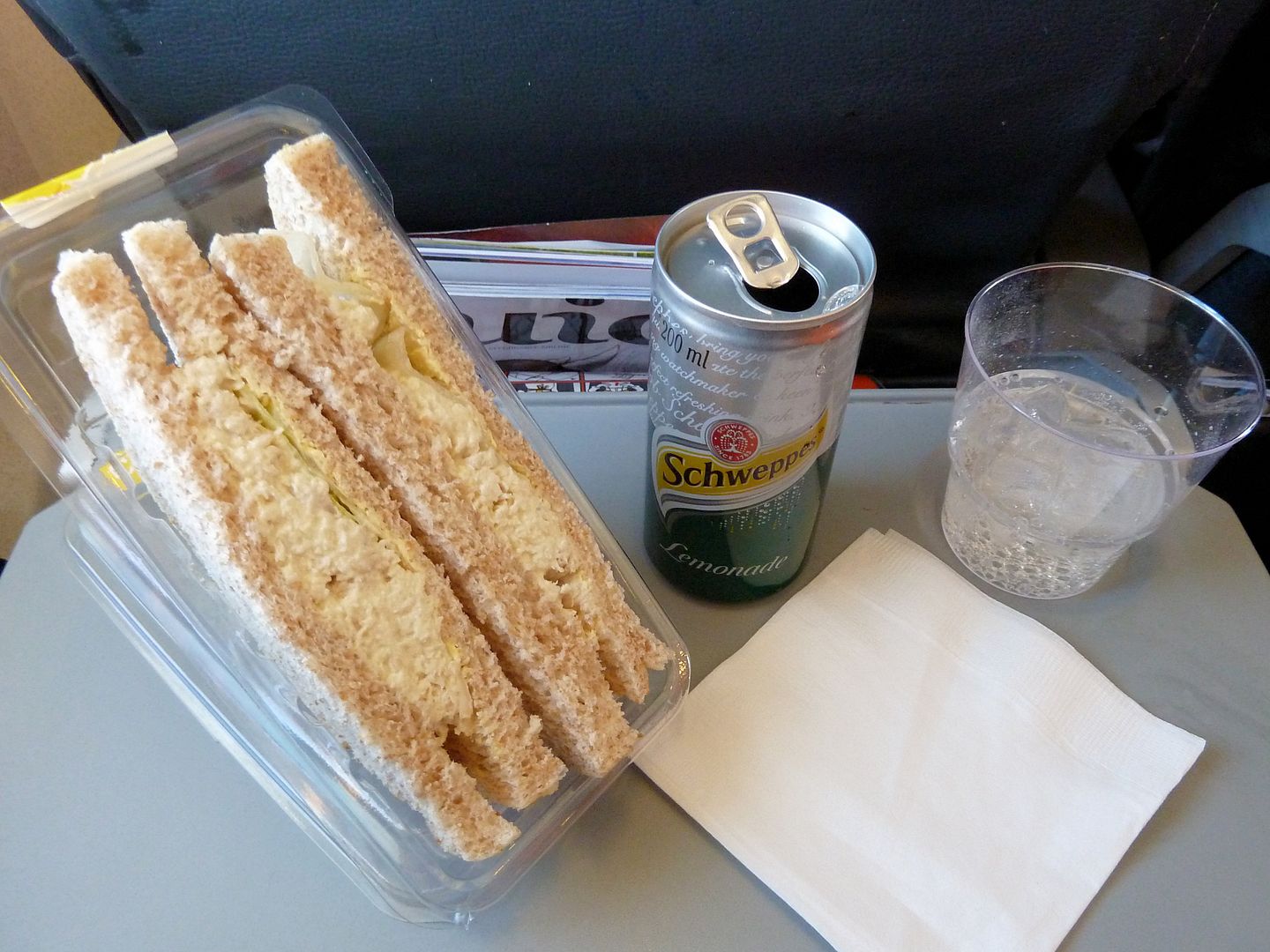 The sandwich tasted very good and the Schweppes lemonade wasn't bad either.
Fortunately, the cloud cover finally dissipated...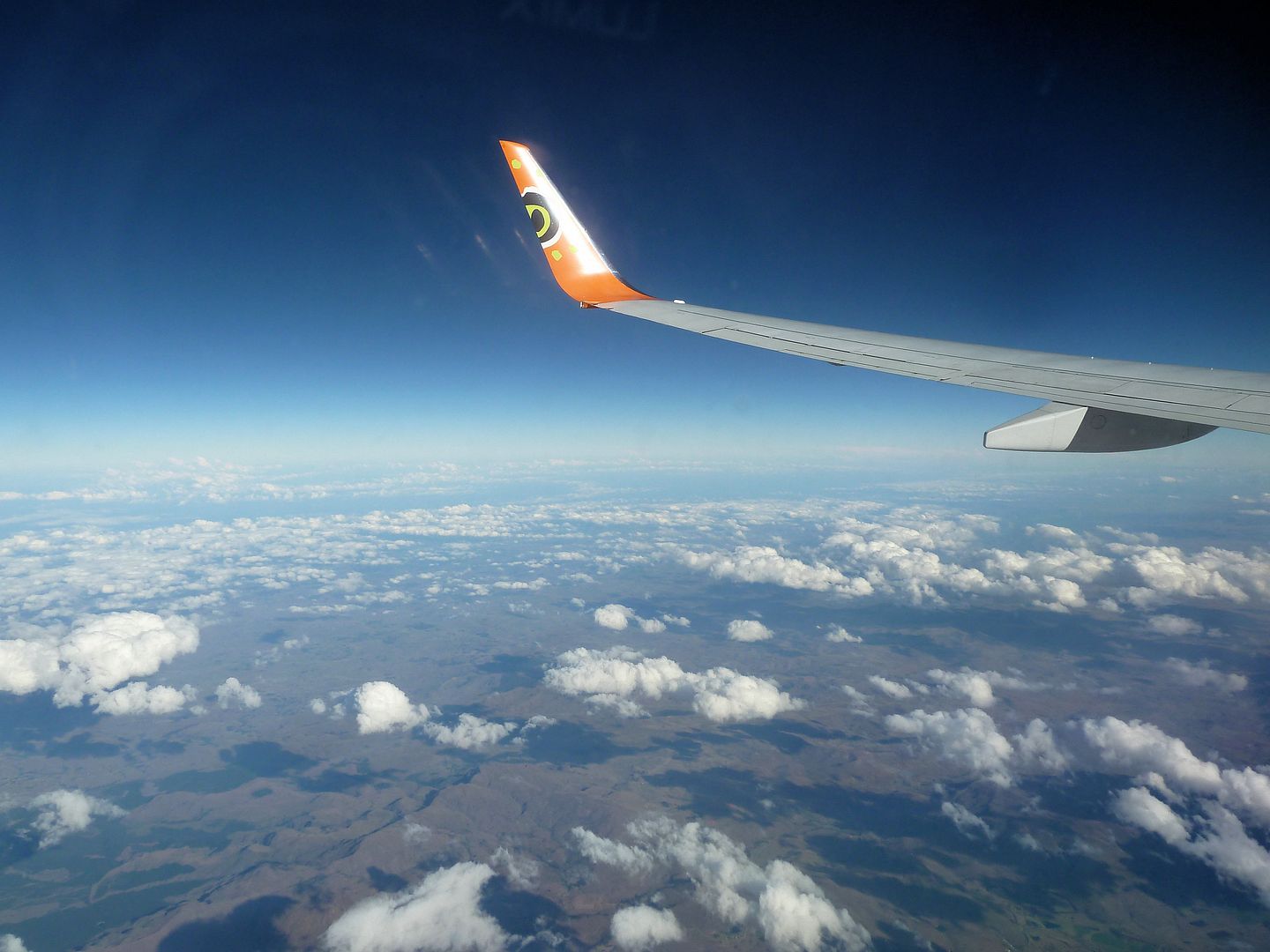 ...and I was able to enjoy the beautiful scenery for the rest of the flight: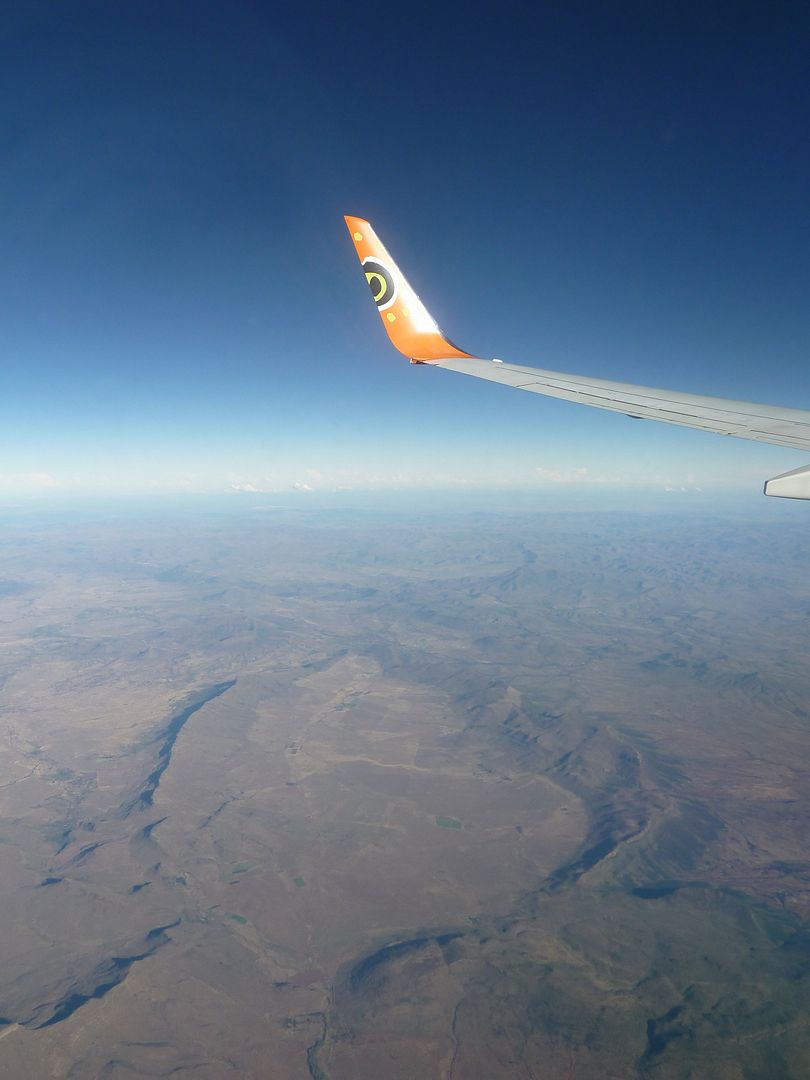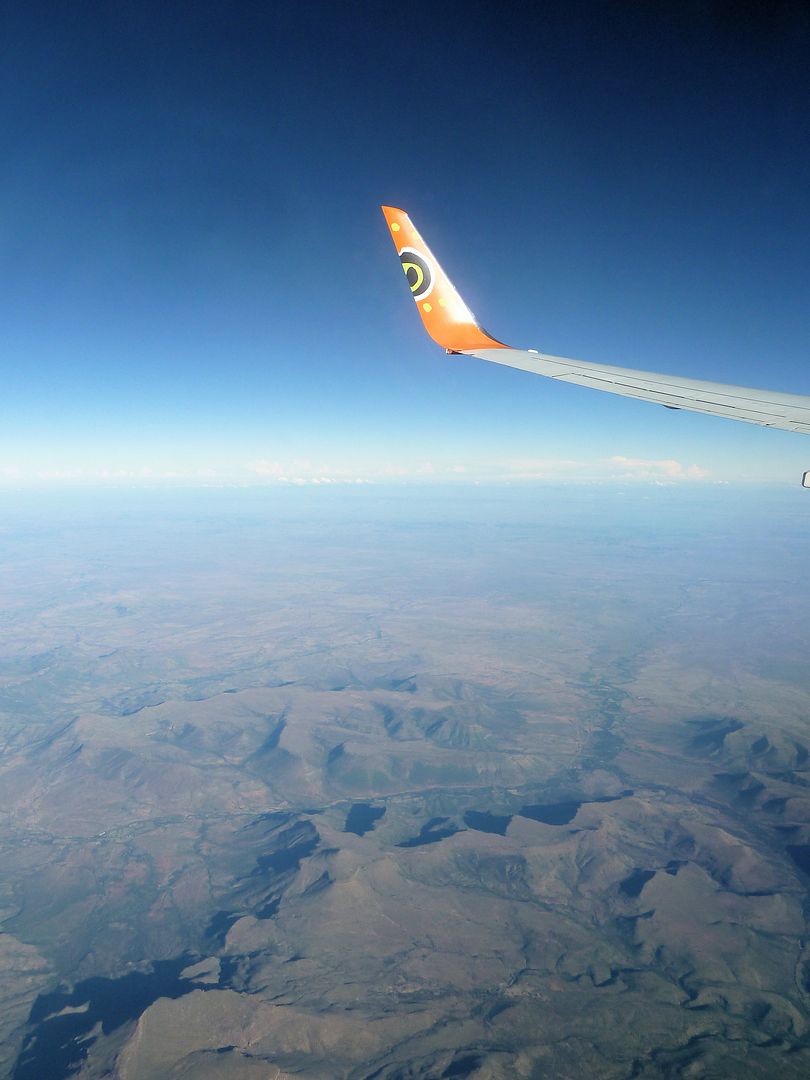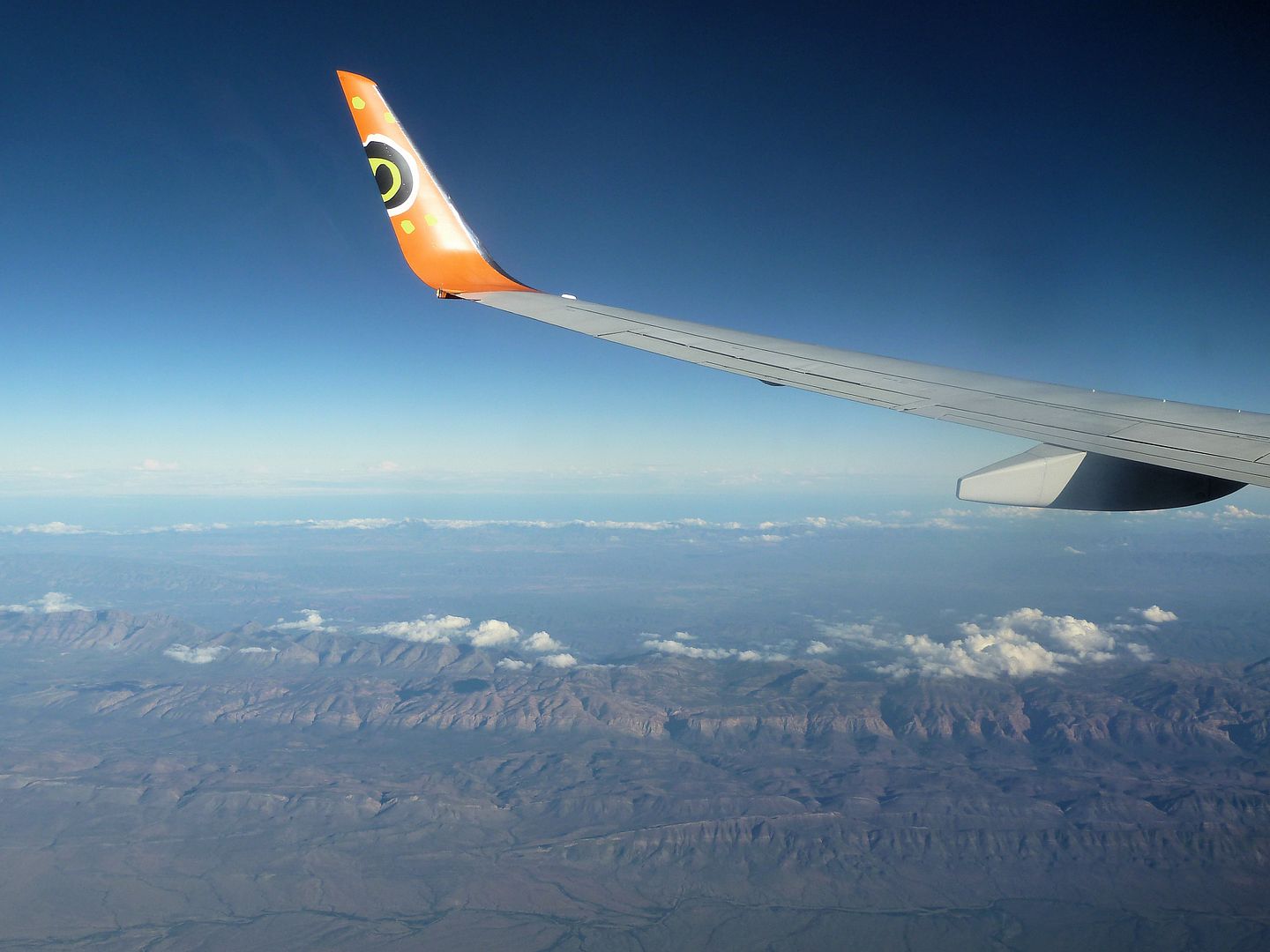 Can you see the ocean in the distance?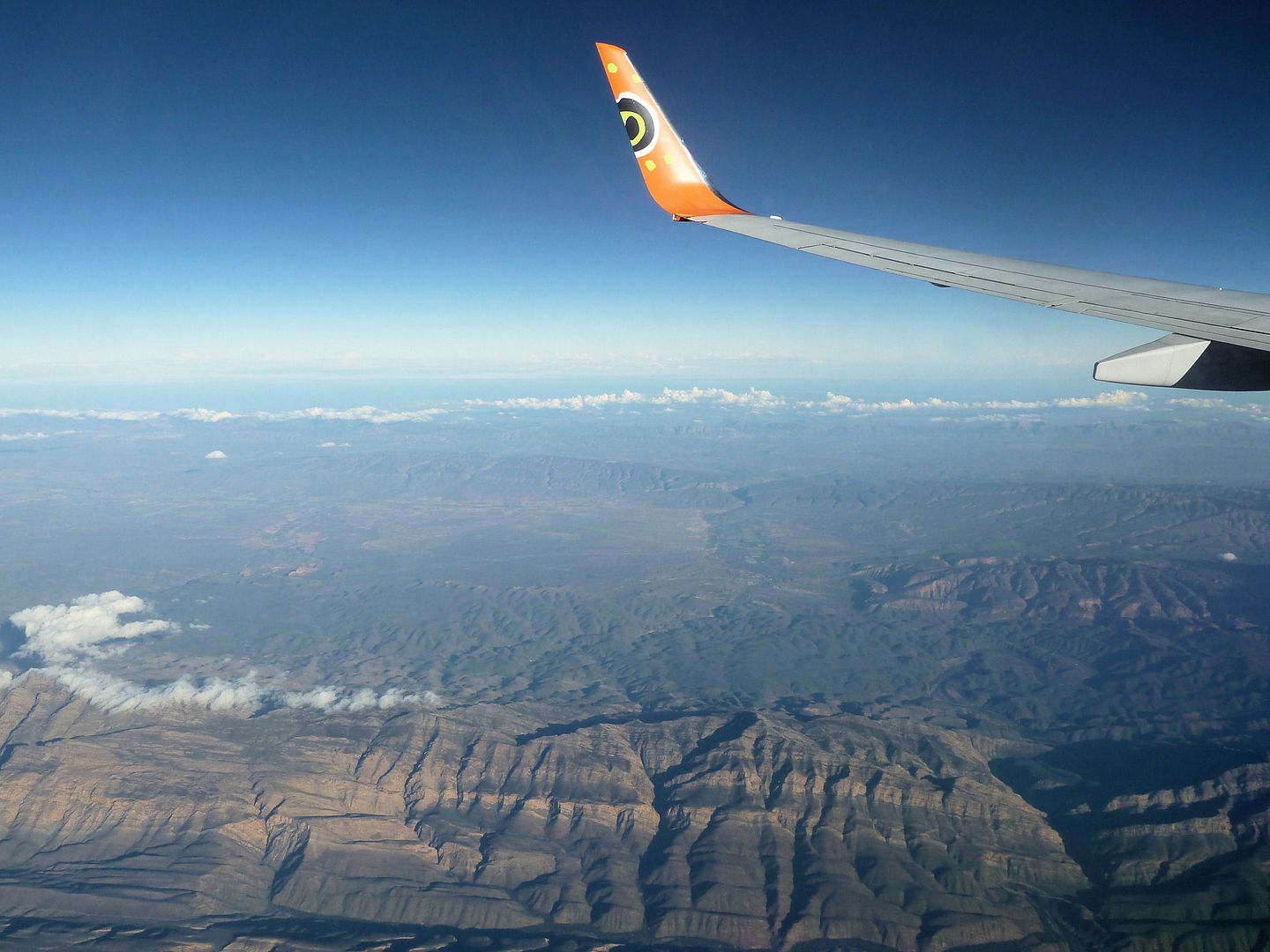 On descent:
Awesome landscape: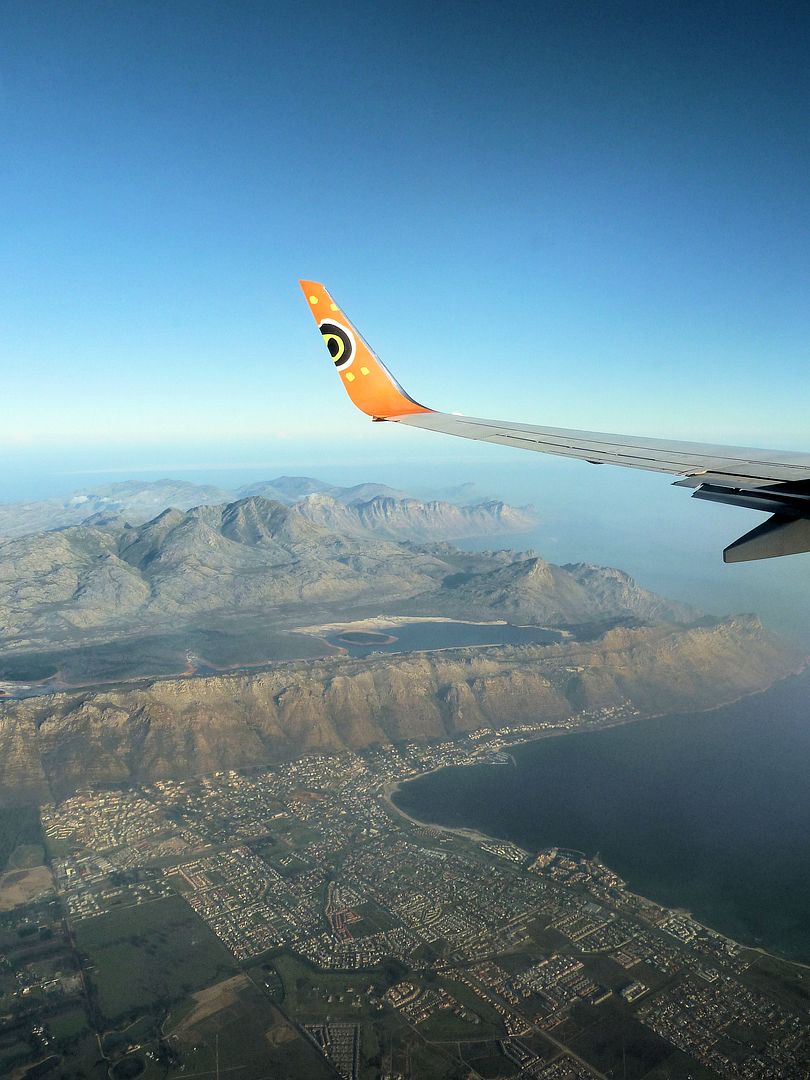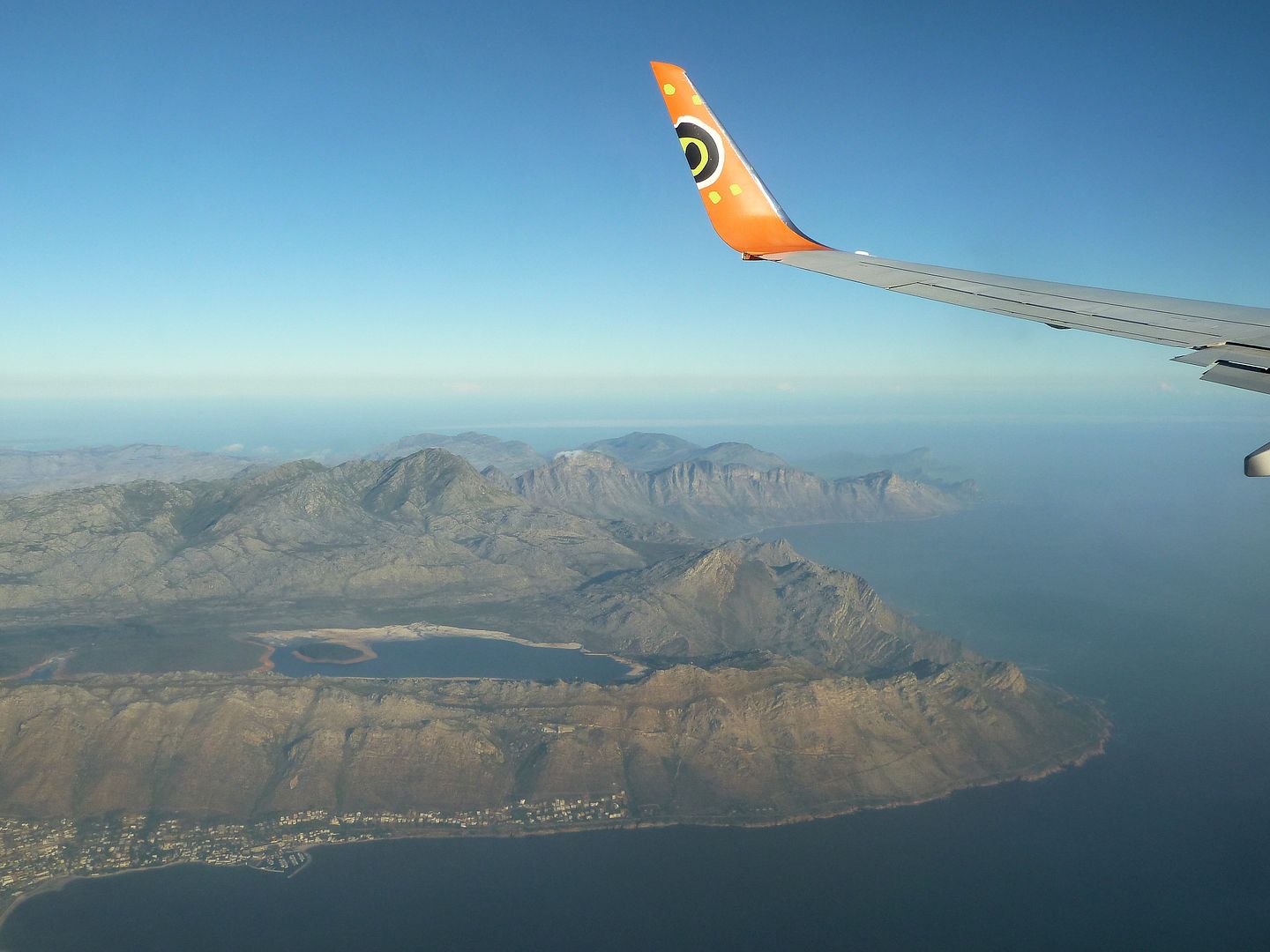 Then we turned right onto final approach and the bright sun prevented me from seeing downtown Cape Town or the Table Mountain.
Apparently not the best neighborhood down there: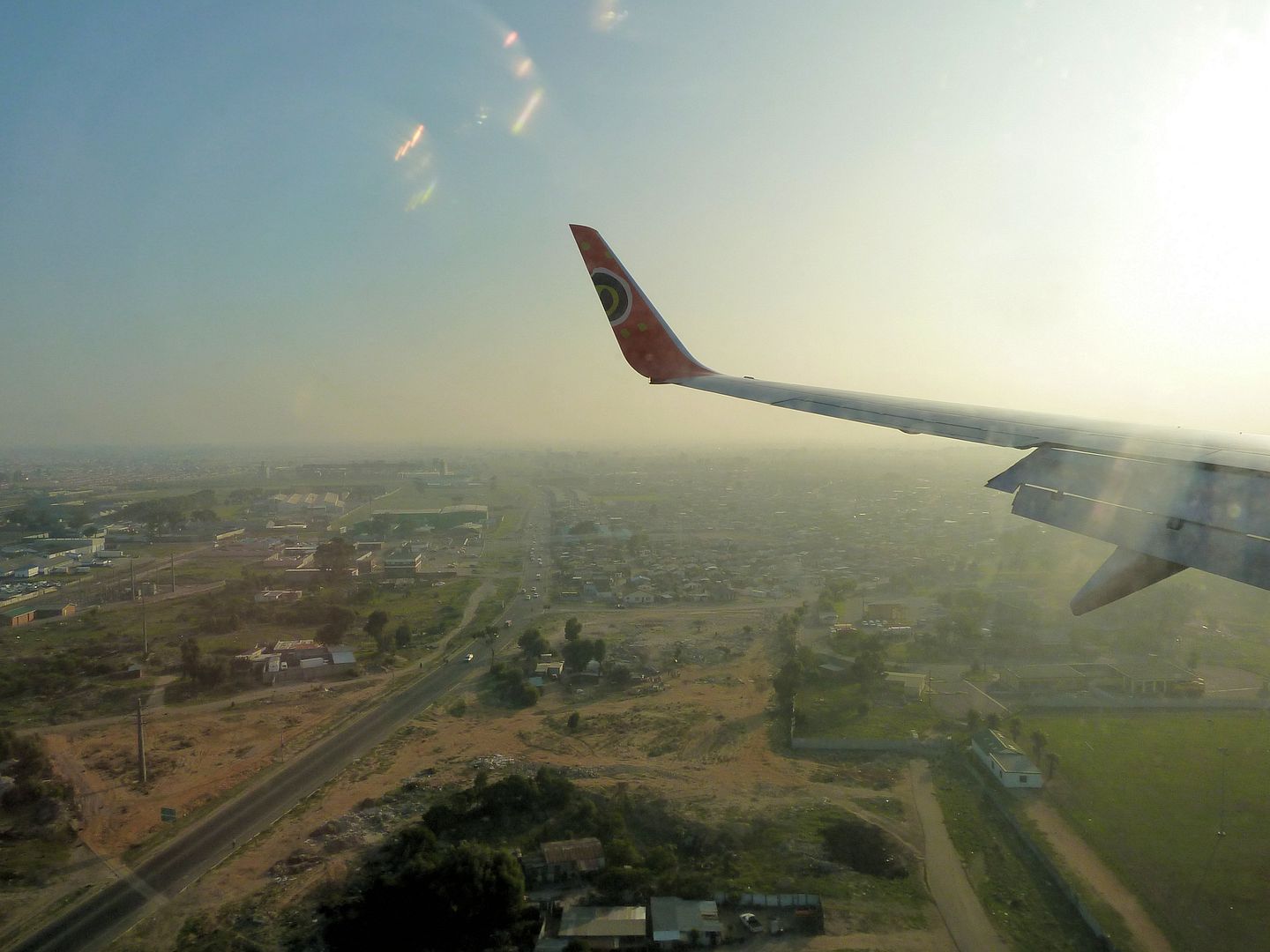 We touched down after a flying time of 1 hour and 49 minutes and quickly taxied to the gate where we arrived 20 minutes ahead of schedule. Yet another South African Airlink Avro RJ85:
One of
ZS-SJG
's former sister ships:
Congo Express was formed by South African Express and a local investor in Congo, but both CRJ200s have meanwhile returned to the parent company again: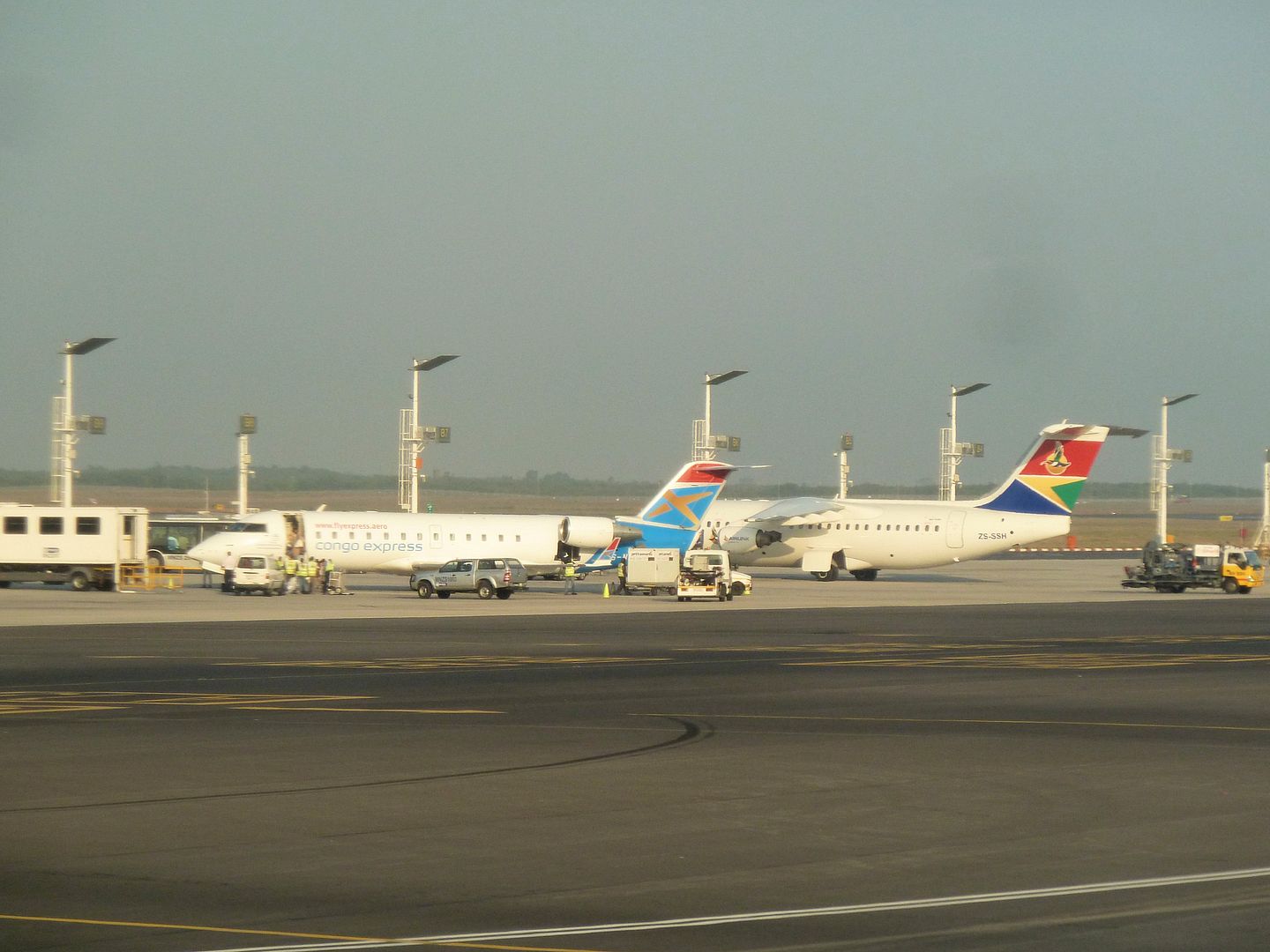 Cabin after most passengers had disembarked:
Last picture of my "fruit plane" - goodbye,
ZS-SJG
: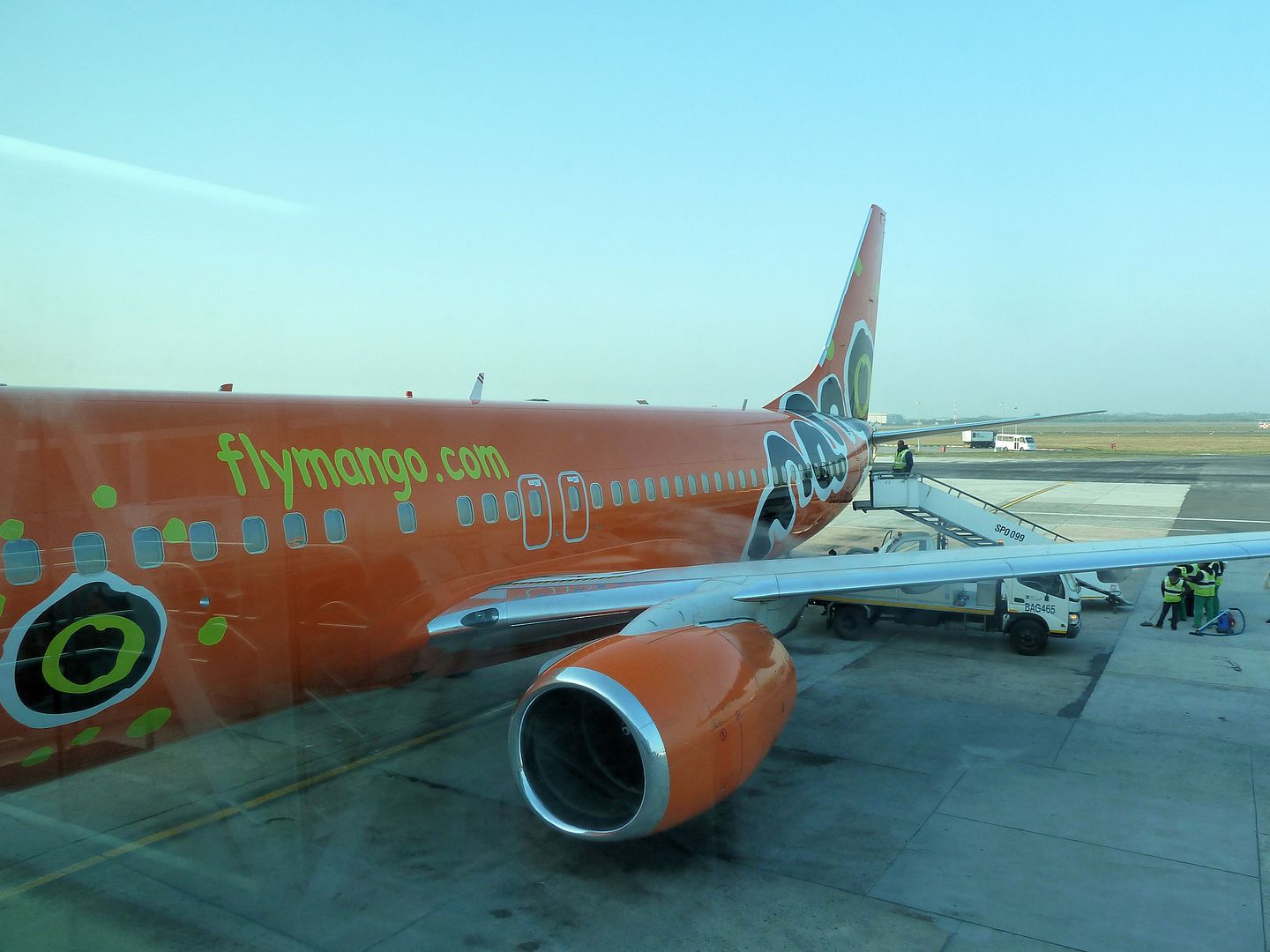 While walking to the official taxi stand, I passed a nice elephant statue: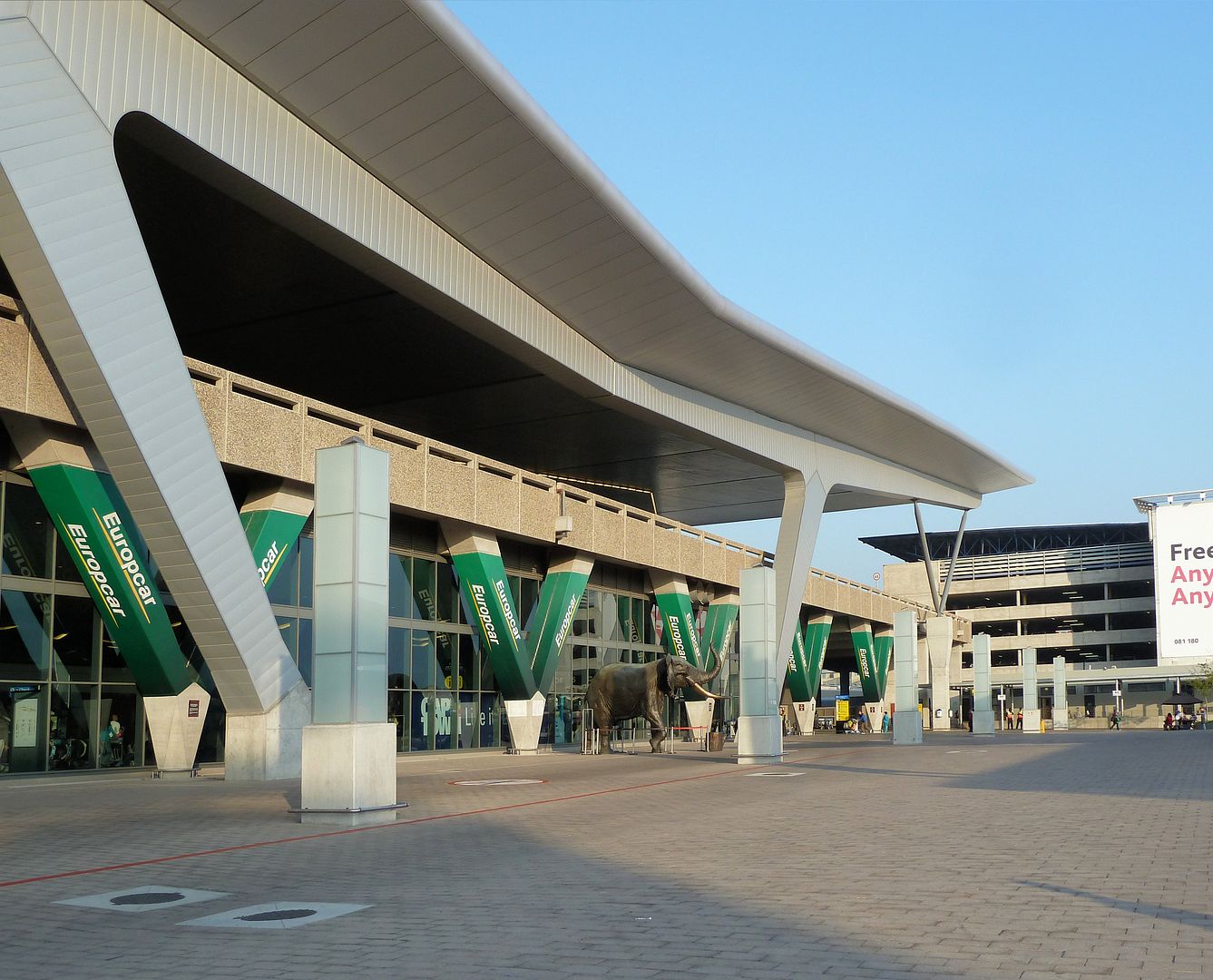 After a 3 minute taxi ride, I arrived at the
Road Lodge
- not luxurious, but clean and safe: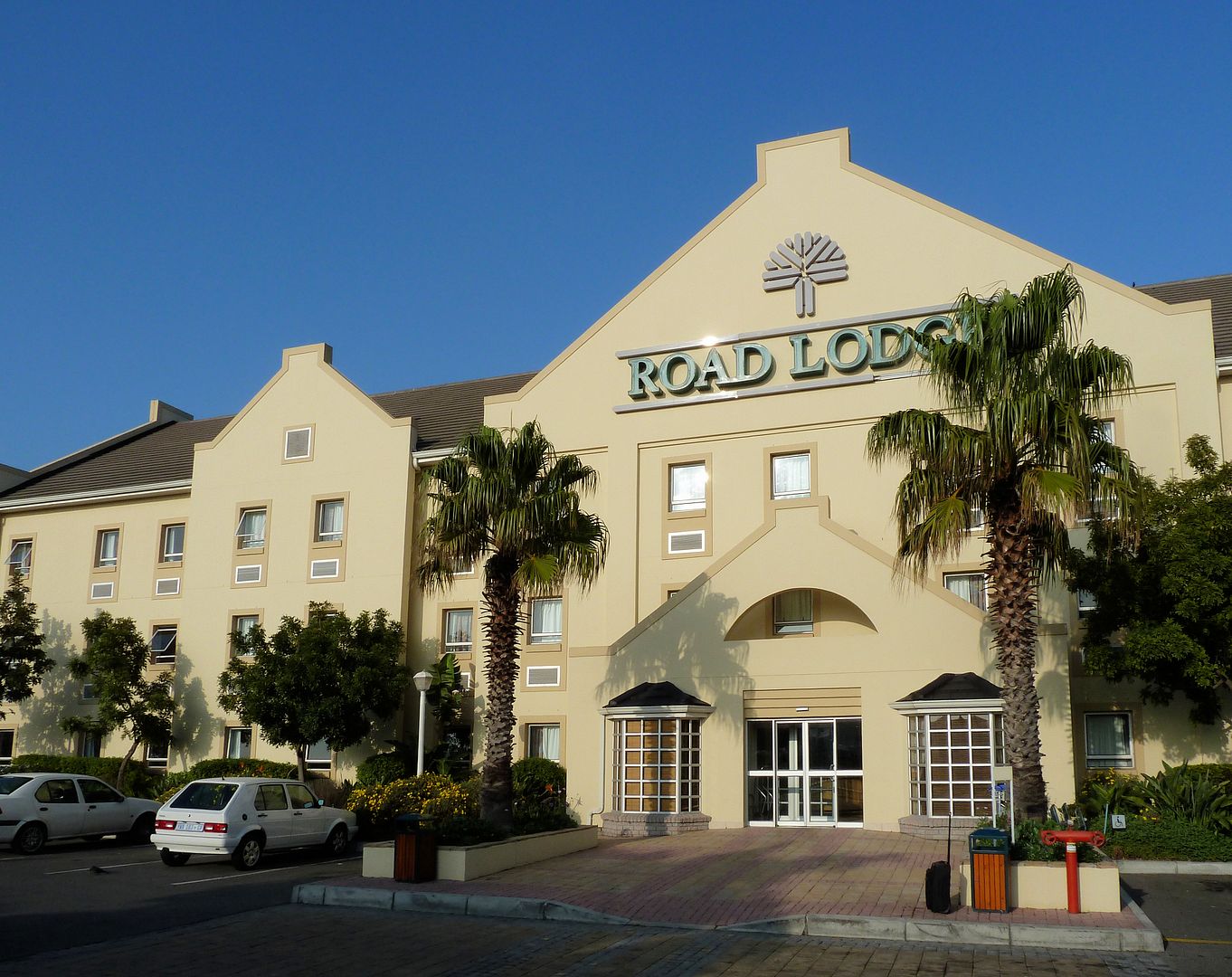 Views from my room - this one is quite nice...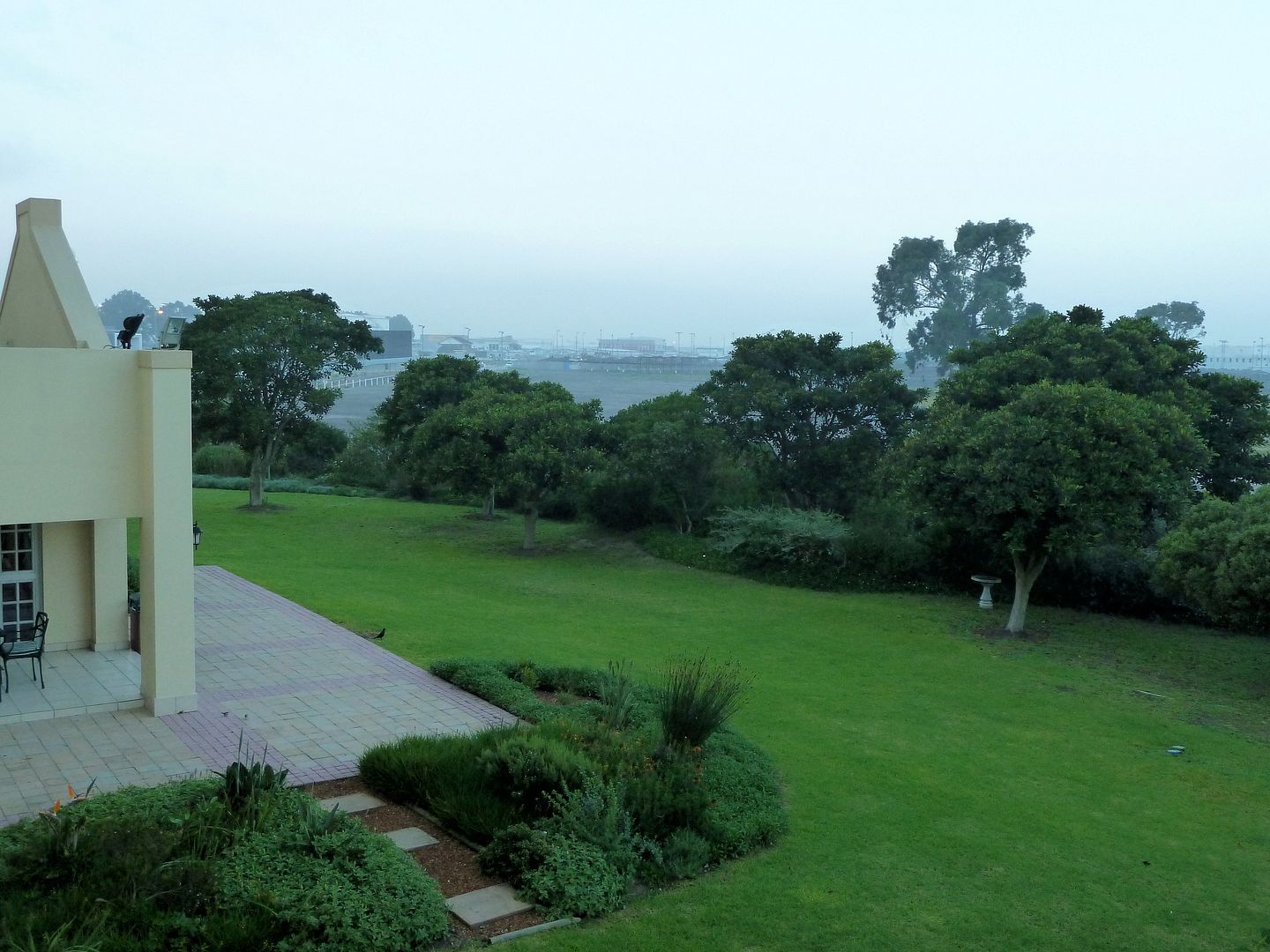 ...and this one isn't, but I couldn't care less.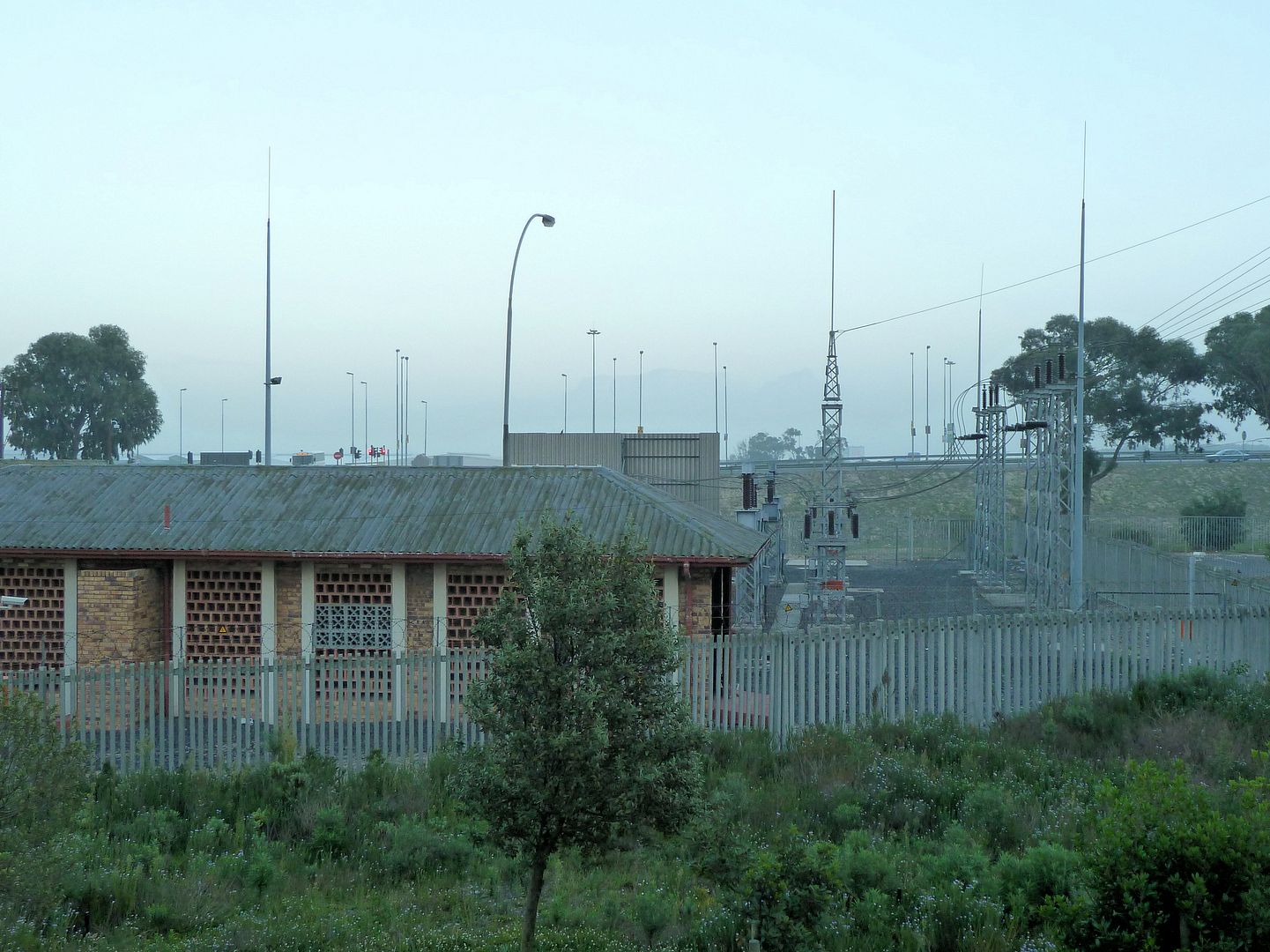 After buying some food and drinks at a nearby gas station, I finally went to rest after a long journey.
Story to be continued...
Conclusion
I had a seamless trip on BA/Comair and Mango - both carriers operated on time, both planes were staffed by friendly flight attendants. However, seating comfort on Comair was better and the cabin was cleaner. When flying Mango, you may need to add some extras to the basic fare, but prices are reasonable. My impression is that Mango is one of the better low-cost carriers on the globe. I would take both airlines again, depending on travel time and fare.
Best Regards,
PlaneHunter
P.S.: Just in case you missed them - my previous trip reports:
Africa's Best Airline? FRA-JNB On SAA A340-600
Fuel Dump & Return To CDG: Enroute To LAX On 9/11
Greek Quality: Aegean, Olympic & Istanbul Spotting
Exploring A Virgin: VS A343/A346 & Dubai Delights
Superb Stübli & Crew: LAS-LAX-ZRH-MUC, LX J Class
Grand Canyon & More: Scenic Flight On Dornier 228
San Francisco Sunshine...and A Frontier Fiasco
Fully Flat Bed to SFO: SWISS' New Business Class
Mountains, Meals & More: SunExpress Vs. Pegasus
Crossing Two Oceans: AKL-SFO-MUC, NZ 777 & LH A346
Bad Weather & Other Bad Luck: Touring New Zealand
Trans-Tasman Treat: Aerolineas Argentinas A340-200
Detours To Sydney: Wildlife, Tiger, REX & QFLink
Thai Fails To Impress: MUC-BKK-BNE On 744 & 777
Painful Delay & My 100th Airline: AF A380, VO F100
Fifth Freedom Tidbit: Kuwait Airways A300-600
Ship Vs. Plane: Porto Santo Line & Sata Air Açores
Awesome Approach, Splendid Scenery: LIS, FNC & TAP
Guernsey, Ash Cloud Alarm & Mostly Empty SQ 77Ws
Totally Thrilling: Scenic Flight On Lufthansa A380
Cirrus D38, Adria CRJ & Captain Niki Lauda On Duty
Monarch Hot Meal, E195 & More: PMI-ALC-MAN-MUC
Premium Meal & Palma Spotting: MUC-PMI, DE 757-300
The Dead Slow Transfer: PEK-MUC On Air China A332
Cancellation Brings Joy: HKG-PEK on Dragonair A330
A380 Cacophony, 777 Star Livery: DXB-SIN-HKG on SQ
The Next 5* Carrier? MUC-MCT-DXB, Oman Air A330
Turkey For 1.5 Hrs: Daytrip To AYT On Sky Airlines
CO Scores Again: ATL-IAH-EWR-FRA On ERJ, 752 & 764
Riding The Ultra Long-Haul Twin: Delta 777-200LR
Pacific Coast Jaunt: 3 Carriers, E120, E140 & Fog
The Ultimate 737: LHR-IAH-PDX On CO 777 & 739ER
Bye Bye, Hell! TRD-OSL-TXL-NUE - DY/AB/HE DH4
My Trip To Hell: NUE-CPH-OSL-TRD On Cimber & SAS
SFO-YUL-FRA: Map- & Sleepless On Air Canada's 77W
Sin City Gloss & Virgin America's Chic First Class
Seat Dilemma & Canyon Glamour: FRA To LAX, AC 763
On Par With Air France? DTW-AMS-MUC, KLM A330
Goodbye, Red Tails! DC-9-40/50 & Chicago Tour
Champagne & World Of Coke: Air France A340 To ATL
"Mission A380": Disappointing Legs On BA/BD/EI
Delights Of Doha, 773 & 77W: DOH-DXB-LHR On EK
A380 Really a Step Forward? LHR-DXB-DOH On EK
Quality & Style: HKG-LHR On Air New Zealand 744
Taiwan Trio: TransAsia, UNI Air And The Taipei 101
"The Wings Of Taiwan": EVA Air A332, 744 Combi
SHA-SZX, Shanghai 757: Delayed By The Military
PEK-SHA, China Eastern A330 & Shanghai At Night
Striking Newcomer: Berlin-Beijing On Hainan A330
Short & Splendid: MXP-MUC On Air Dolomiti's 146
3 Hours On Blue1: HEL-MXP On The MD-90
Winglets On A Classic: MUC-RIX-HEL On Air Baltic
BCN-MAD-ZRH-MUC: UX Shuttle Meets Swiss Quality
MUC-MAD-BCN: Star MD-87 & The Pain Of Vueling
Low Fares, Lovely Island: AK & Best Of Langkawi
4 Stars Or 5 Stars? FRA-KUL-FRA, Malaysia 777s
First And Last Time? JFK-FCO-MUC, Alitalia 777
JFK For 1 Day: Transatlantic Hop On CSA's A310
Sardinian Sun, Shiny New 73Gs & Cramped Mad Dog
Top And Flop: KIX-HEL-MUC, Finnair A320 & MD-11
The 524-Seat Twin-jet: HND-ITM On ANA 777-300
Kobe For 1 Hour: 767-Quickie On ANA & Skymark
Rocketing To Tokyo: FUK-HND On JAL (ex-JAS) 777
Oddities & Okinawa: JTA 734 & JAL 744D(Domestic)
MUC To Nagoya: Finnair E170 & (Old) "New" A340
Mad Dog, A320 Tech Delay & Best Of Lanzarote
Canaries Prop-Hopping: Islas Airways & Naysa
Canaries And Confusion: LH CRJ900 & Spanair A321
Hubbing For 162 Miles: HOQ-FRA-STR Ret On IQ/EW/LH
BOS-JFK-AMS-MUC: SSSS-Check And KLM 777
ATL-PIT-JFK-BOS: FL B717, JetBlue E190 And Delays
MUC-AMS-MEM-ATL On NWA A332 And 40-year-old DC-9
FRA-BKK-FRA Via CMB: SriLankan A332 & A343
BNE-SIN-DXB-MUC On Emirates B772ER & B773
2 Hours In Paradise: Hamilton Island (JQ/DJ)
BNE-SYD-BNE: Domestic Run On QF's Oldest B747-400
Testing Qantas: SYD-MEL-SYD-BNE (B738, B763, A332)
Going Down Under: MUC-DXB-SYD On EK A332 & A345
Surprised By NIKI's Newest A320 & Screw-up By AB
Leisure Vs. Full Service: Condor & SN Brussels
"betterFly" On LH: Business Class For 99 Euro
Weekend Transatlantic Trip (2): US A321 & B762
Transatlantic For A Weekend (1): MUC-DCA On US
[Edited 2011-10-08 06:19:25]